Part 18. Hanging out in Buenos Aires
==========================
Friday, 16 January, 2009
---------------------------
It was hot when we were roused by the activity of others. At 09:30, Javier arrived and started working on a red KLR with California plates. I thought the bike looked familiar, especially the tall custom-made Corbin flat seat. I joked about taking the motor from that bike, but he told me that the bike wasn't available.
Don said that sleeping outside had been okay, but it never cooled off through the night. And the ants that decided to have a party in his tent were fairly annoying.
We ate the food I had gotten yesterday and I took another shower to wash off the night sweat. We needed to get a visa for Brazil, so Chuck took us back into the city to show us how to do that. He had been here a week, and he's been through it already.
We walked down to the train stop just as the train to the main Retiro station arrived. We hopped onto the train like it was the thing to do, trusting Chuck to know the ropes. The train was a commuter, simple and casual. People were standing in the open doors of the cars while the train was moving--something that would never be allowed in the U.S. It was actually the most comfortable place to be, since you got more air flow that way. It became my favorite place to ride, and I took a seat in an open door whenever one was available.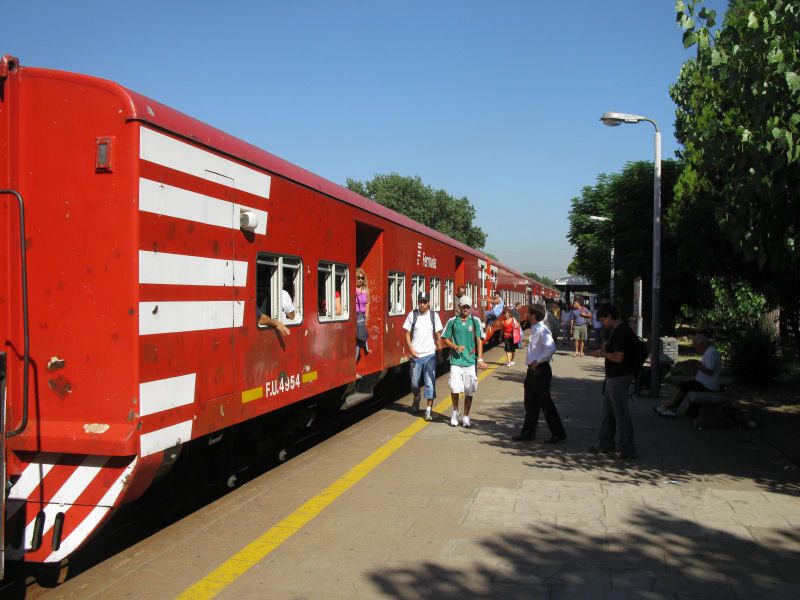 When we got to Retiro, we had to exit through some gates, but we found that you couldn't get out without a ticket. Chuck walked around with a one-Peso coin in his hand, trying to pay one of the ticket-takers, but they kept waving him away. What we learned is that you have to buy a ticket on the other side of the platform where we boarded. And so you know, the train is cheap--it was under one Peso for each direction, and that's only about 30 cents.
Eventually, the ticket-takers called a manager who probably asked us if we were stupid. I actually understood not one single word he said. Partly it was due to the local accent, and partly due to his rapid-fire chatter. Maybe partly, too, because I'm stupid.
Anyway, he finally waved us through the gates and we were free. It would have been better to pay the tiny train fare. How Chuck didn't know that is a mystery.
From the Retiro station, Chuck took us down to the subway system. This was a teensy bit more expensive, one Peso and ten centavos (about 33 cents), and as long as you made connections within the subway system, all the connections were included. (The trains and subways ran frequently, so we rode them often over the coming days and never had to wait very long.) We got our tickets at the little booth, ran them through the turnstiles and rode the next subway tram to one of the downtown stops.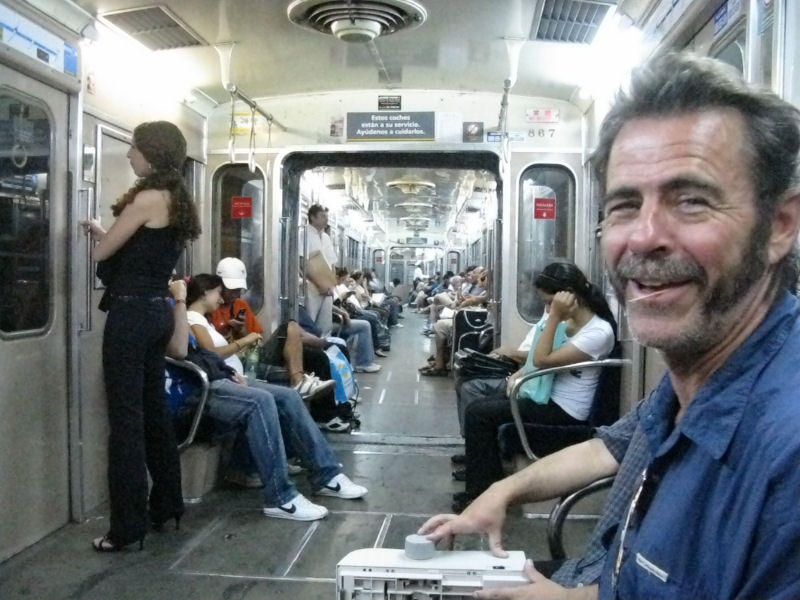 We took a taxi to the Brazilian Consulate. I still had the info paper the guard at the Embassy had given me and we could have walked, but Chuck didn't want to walk that far. We went up the to 5th floor and into the office waiting room.
Chuck showed us the computer stations where you filled out a visa application form, and he had the name, address, and phone number of a hotel in Brazil for us to use. This information is required (even if it isn't where you actually intend to stay--shhhhh). You also need to put similar info for where you are currently staying in Argentina. The form asks where you intend to cross the border into Brazil, and we put Iguazu, even it wasn't likely that we would go back that way.
Two other things crossed us up. When we finished at the computers and hit the "submit" button, we got in line with a few other people. When we got to the window, we learned from the nice (but weary) lady that we also needed a color 4cm x 4cm photograph and a copy of our return airline ticket. Huh?
Chuck had forgotten about the need for a photo. U.S. passport photos are a different size, I think, and I didn't have my extras with me anyway.
We explained to the nice (but dreary) lady that we were on motorcycles and had no plane or boat tickets. She told us (in basic English) that we needed to write out a statement indicating our intent, describing our bikes, and a few other things. She gave us blank pieces of paper to write it on. Chuck had been through this before, so he coached us to write it out. I wrote something to the effect of:
"Hello, my name is Martin MacSchizininskiO'vitch and I am a citizen of the U.S.A. I want to enter the beautiful country of Brazil on the 25th of January, 2009 and would like to stay for 90 days. I will cross the border at Iguazu on my motorcylcle, a red 2005 Kawasaki KLR650, VIN number xxxxxxxxxxxxxxxxxxxxxxxxx, and registration plate number XXX-ABC. I will be staying at the Fawlty Towers Resort Hotel in Brasilia, (and I wrote the address and phone number here again)."
We were given basic directions to a place nearby that does passport photos, so we left the Consulate and walked there. We had to ask several more people along the way, since the directions were too basic, but we eventually found a shop that could do our photos. We each got six photos (of the correct size for Brazil) for a small cost. We might need the extras at some other point. While Don and I headed back to get in line again, Chuck waited for the photos to be ready. This was intended to save time, you see.
When we got back to the Consulate, the place was much busier. We got in line and were still there when Chuck arrived with our photos. With my photos, I should say. Somewhere along the walk back, he had lost Don's photos. Don sped off to get another set made. When I got to the window again, the nice (but bleary) lady read my statement and had me sign it, cautioning me to use the exact same signature as was on my passport. It was a good thing that she mentioned this, because I haven't signed anything that way in a long time. She asked what type of credit card I was using, but this seemed an odd question to ask. Nothing in this process (or at the bank later) would take a credit card. When I asked her why it mattered what type of credit card I had with me, she just stared at me with a practiced patience until I sighed and mumbled, "MasterCard." She wrote that on the bottom of my computer application that she had printed out. I still don't know why they need to know that. She didn't want the card number, just the type of card. Whatever.
The nice (but stern) lady took my written statement, my passport, and maybe made a copy of my bike's title (I don't remember) and she gave me a payment chit that I was to take and pay today at a specific back that wasn't far away. It turned out to be near the passport photo shop, so that was familiar turf.
The nice (but busy) lady also told me to bring the bank's payment receipt back there on Tuesday at noon. (Don't bother getting there early--they don't even bring the finished passports out until noon). It's always a 3-day process, and weekends don't count.
Don returned with his photo and got back in line. When he got to the window, he learned that his passport was too full to get a Brazilian visa. They needed two full pages for the visa, which is a big sticker thing on one page and a printed advisement on another. It's probably best to have two facing pages together, not on opposite sides of the same page. Don had to go to the U.S. Embassy first to have them add more pages into his passport.
We went to the bank and I paid the P/521.25 fee for the visa, which is a bit more than $150. Cash only, in Pesos only. No other payment accepted. The cashier stapled a receipt to my Consulate form and gave it back to me. We grabbed lunch at a sidewalk cafe, found some tourist maps and guides for things to do while our wives would be here, and headed for the U.S. Embassy.
For some reason, Chuck had been there, too, so he knew about where it was. We hopped another subway ride to the area and walked to the Embassy. That turned out to be a long walk, since the main road was blocked off by barricades that looked like they had been there a while. Chuck had taken a taxi before.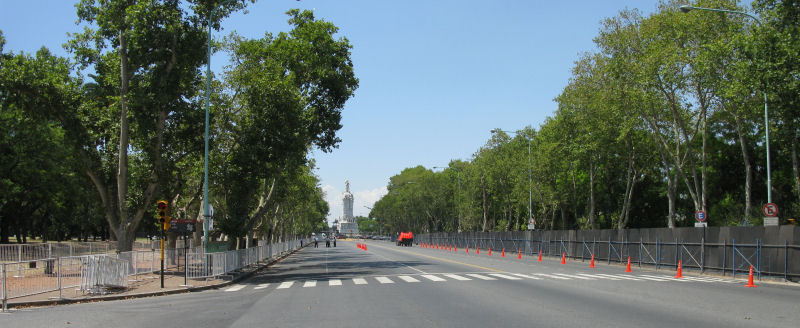 We waked past the Buenos Aires zoo (on the right, above), turned left at this statue...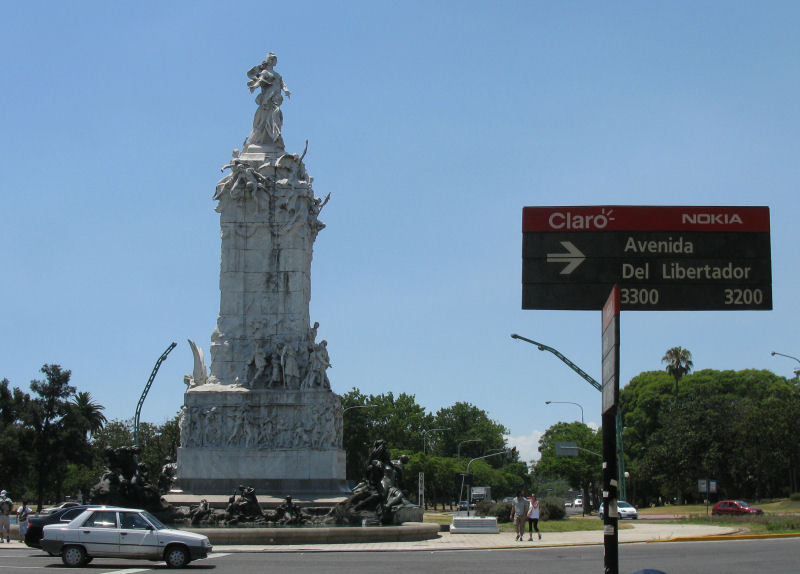 ... walked until Chuck recognized the area and we went up to the first building we saw with a U.S. flag. Nope, that was the Ambassador's residence. The Embassy is down the road a bit more. The one with even more security in front of it. When we got to the right place, we took a while to get through the intense security screening (made a bit more intense because I left a small knife and my cell phone in my fanny pack). They put all our prohibited items in a tray and we got a numbered token for that tray.
Inside the Embassy grounds, we were directed to the passport office where only one other guy was waiting. Don went right up to the window and they took his passport from him. Half and hour later, they handed him his now-fatter passport and we were out of there. We got our tray full of cameras, phones, knives, fingernail clippers, etc., from the security guards and walked back along the closed street to the subway.
Chuck showed us how to get to the Casa Rosetta, which is the Presidential Palace. It's not a residence anymore, just for official business. It's popular now because Juan and Eva Peron had given their speeches from the balcony above the central arch.
There were police all around the plaza. We later learned that there are frequent protests and marches here.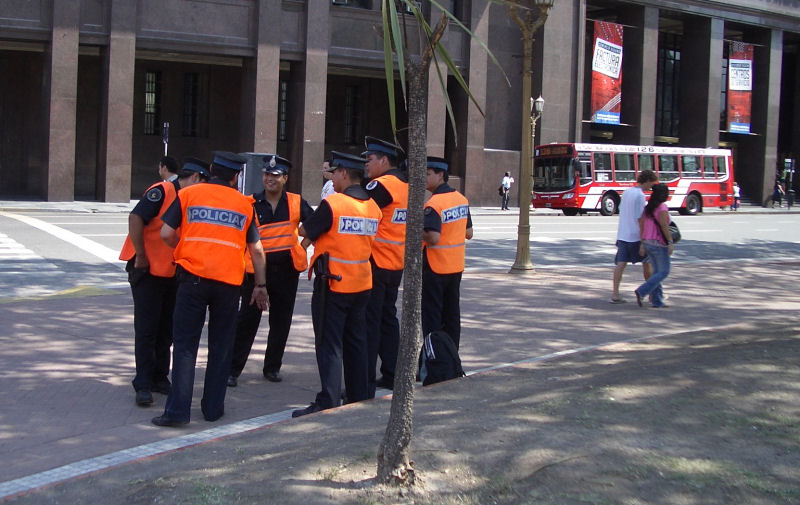 As we were leaving the plaza area, I approached a couple police officers sitting in a van and asked if we could have a photo with them. I told them that we were retired police officers from the U.S. and they nearly jumped from the van to pose with us. Chuck took the photo.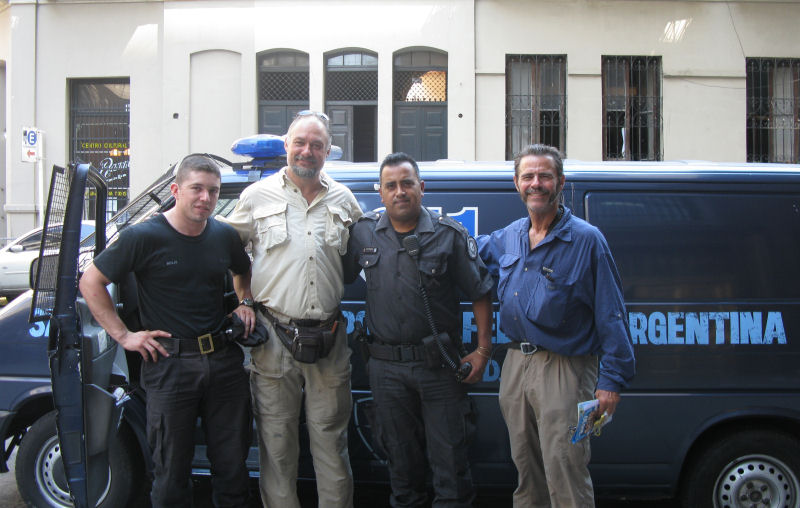 We then walked to the San Telmo neighborhood, where we would have an apartment for the next week. When we had ridden through here before, we had a limited perception of the area. This time, we stopped in Plaza Dorrego, right around the corner from where our apartment would be and got a better appreciation for the place.
It's a nice plaza, and tango dancers perform there once or twice per hour for tips. The Serious-Looking Tango Stud must have been well known, because we saw his photo on one of our tourist pamphlets. His dancing partner-of-the-day was a waif of a gal that we only saw this once. She had pants that were tight across her rear end. She knew what her best feature was. Most of the other women wore dresses. And she was very flexible, so that was another nice feature.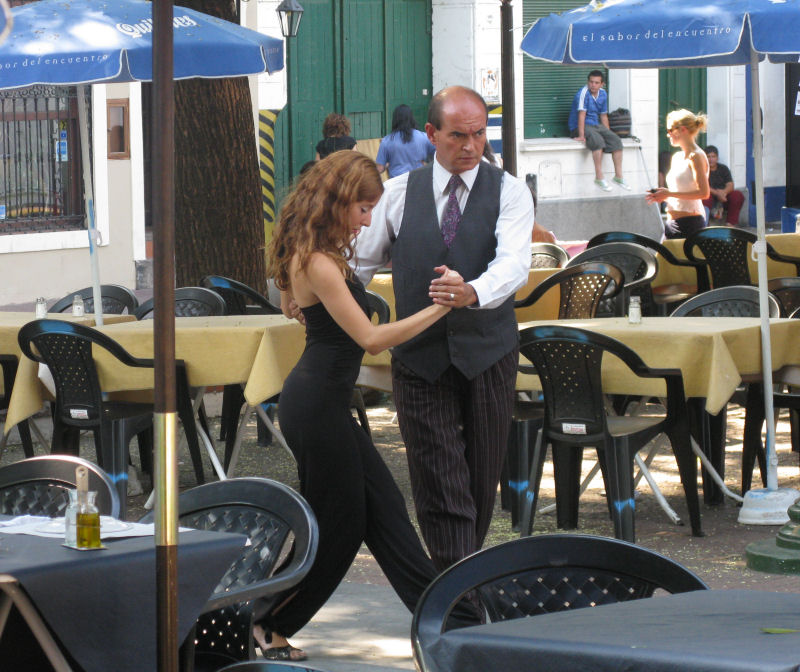 We came to know this plaza very well indeed in the days to come.
Chuck was done walking, so we took a taxi to the Retiro train station (below) and caught the next ride back to the Florida station, which is the one nearest Dakar Motos.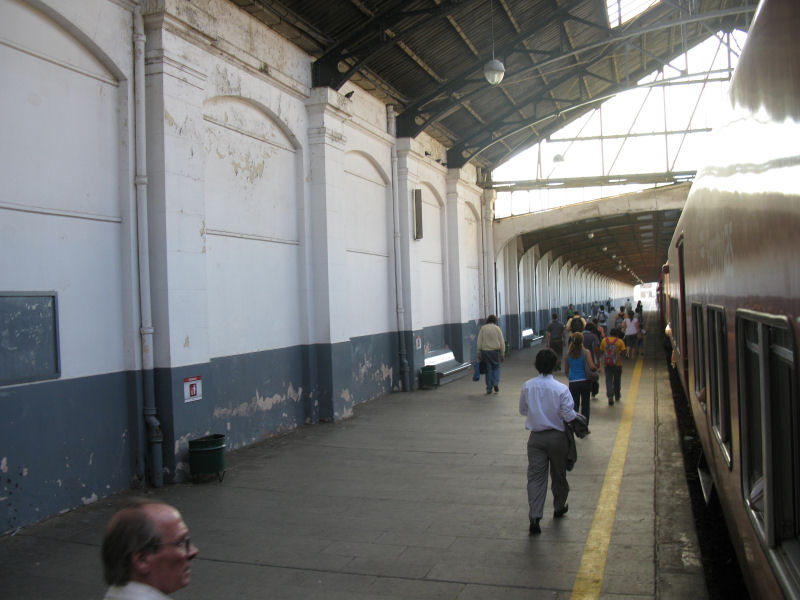 Back at Dakar Motos, we chatted with others for a while, then Don and I walked to the pizza shop where we ate and I wrote for a while. It was still hot at midnight when we got back to the shop where I clambered up to the upper bunk and Don camped again with the ants in the back yard.
Saturday, 17 January, 2009
----------------------------
Laurie was coming in today and we could move to our rented apartment. We got up early and we agreed with Chuck, Pete, and Steve to meet them in Plaza Dorrego at 16:00.
I went to find a cab near the small train depot. Don went on his bike, and managed to find me a cab along the way. He followed the cab to the airport so that he would know the way and not take up space in the cab on the way back.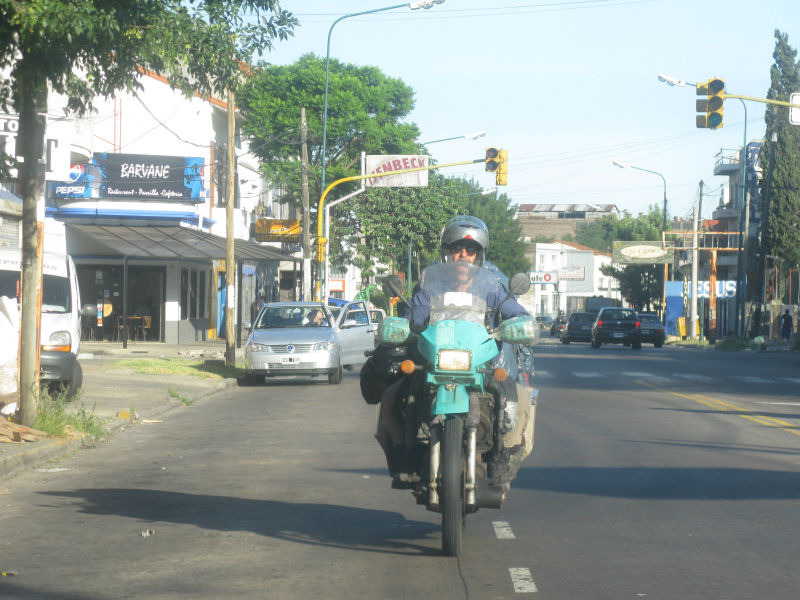 It cost P/72 (on the cab's meter) to get from the Vincente Lopez suburb to Exeiza airport. Others had paid as much as P/130 as a pre-agreed fare. Hmmm...
We waited in the arrivals terminal for quite a while after her plane landed. I saw a huge group of young and older men arrive. They each had one push cart with similar luggage and identical light-blue shirts and khaki pants. No idea who they were. A couple hundred of them got onto some buses.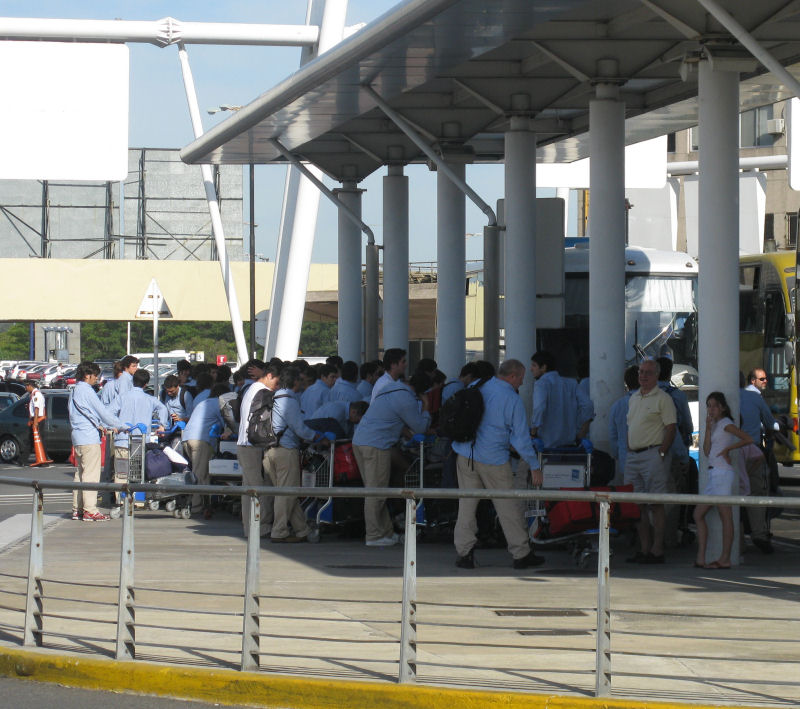 Laurie finally cleared customs (they had just waved her through when her turn came) and joined us for a snack in the little cafe there.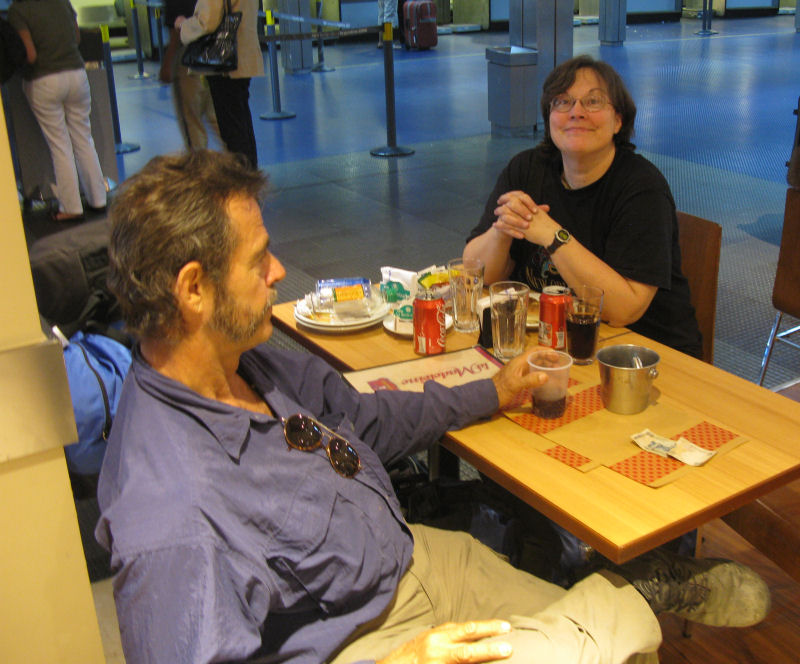 Don zoomed off off on his bike and I later learned that his bike blew the main fuse right when he was at a toll booth on the highway. That caused him some trouble, since he was in everyone's way. He got the fuse replaced and was soon on his way.
Laurie and I went out to find a cab, and it was a typical drama of taxi scalpers haggling over every tourist that arrives. I rejected every person who approached me and went up to one of the taxi station sheds. I asked for a taxi to the San Telmo neighborhoods, and made clear that I would pay only P/70 for the trip. Yes, yes, they said, and one guy ran off past all the waiting taxis and into the parking lot. He soon returned in a car that had been painted to resemble a taxi. He started putting Laurie's luggage into his trunk and I confirmed that it would cost 70 Pesos, right? No, he said, it was a 100 Peso ride. No, I said, I would pay only 70. He stopped putting luggage into the trunk and said he could do it for 90. I started removing the luggage and he said, okay, 80 would be enough. I took all the luggage out and we walked away from him. The guy from the taxi shed came over and asked what the problem was and the pretend taxi driver told him. Yes, the guy from the shed understood, I was to pay only 70 per our agreement.
The guy from the taxi shed carried one of Laurie's bags and I followed with the others. He took us to a real taxi that was parked out of the line of taxis. The driver was washing his windows. He told the driver where I needed to go and what I would pay, and the driver agreed. Once we were in the cab and moving, I confirmed again the fare, that I would pay only 70 Pesos, and he said okay.
When we got to the first of two toll booths, he told me that I had to pay the toll. Now, on the ride here from Vincente Lopez (a longer ride), I had paid P/72 on the meter and not paid either of the tolls. I told this driver that I would not pay the tolls and that really made him angry. It was only four Pesos, but I felt that he was trying to get a bit more money out of me. He finally stopped arguing and said, "Si, si. No problema," but he didn't mean it. He glared at me in the mirror for quite a while. When we got the next toll booth, he again told me I had to pay, but I refused. That made him angrier and he actually muttered something about my mother. He started cranking his head from one side to the other like a boxer loosening up his neck.
When we were in the San Telmo neighborhood, he missed the exit and that just made things worse. For a moment, it seemed as if he might turn around and go back the wrong way on the highway. I finally touched him on the shoulder and asked him to relax, that I would pay him a little more for the trouble. He took a deep breath and relaxed. In a few minutes (as he got off the highway and headed back to where we wanted to go) he started talking to us and gave us a business card for someone who could help us with guided tours.
I have to say here that I have since been told by other travelers that the customer usually pays for the tolls, so I didn't know what to feel. The first taxi driver (on a meter) paid the tolls and the second one (off the meter) got furious when I told him I would not pay the tolls. In the end, the tolls would have been only about $2.40 and not worth the argument. I wish I had simply paid them with a smile.
The now-relieved driver dropped us off in front of our apartment and we rang the buzzer. The rental people were to be there to meet us, but we were early. Eventually, a woman came from one of the other apartments in the building and said she could let us into the apartment that we had rented. She then called the guy who had the rental agreement and he soon arrived. We signed the contract, paid for the week (in cash, U.S. Dollars) and handed over a separate envelope with the refundable deposit (in cash, U.S. Dollars). That made the deposit return easier later. The apartment was okay. The building was interesting, with a small inner courtyard that was overgrown with plants.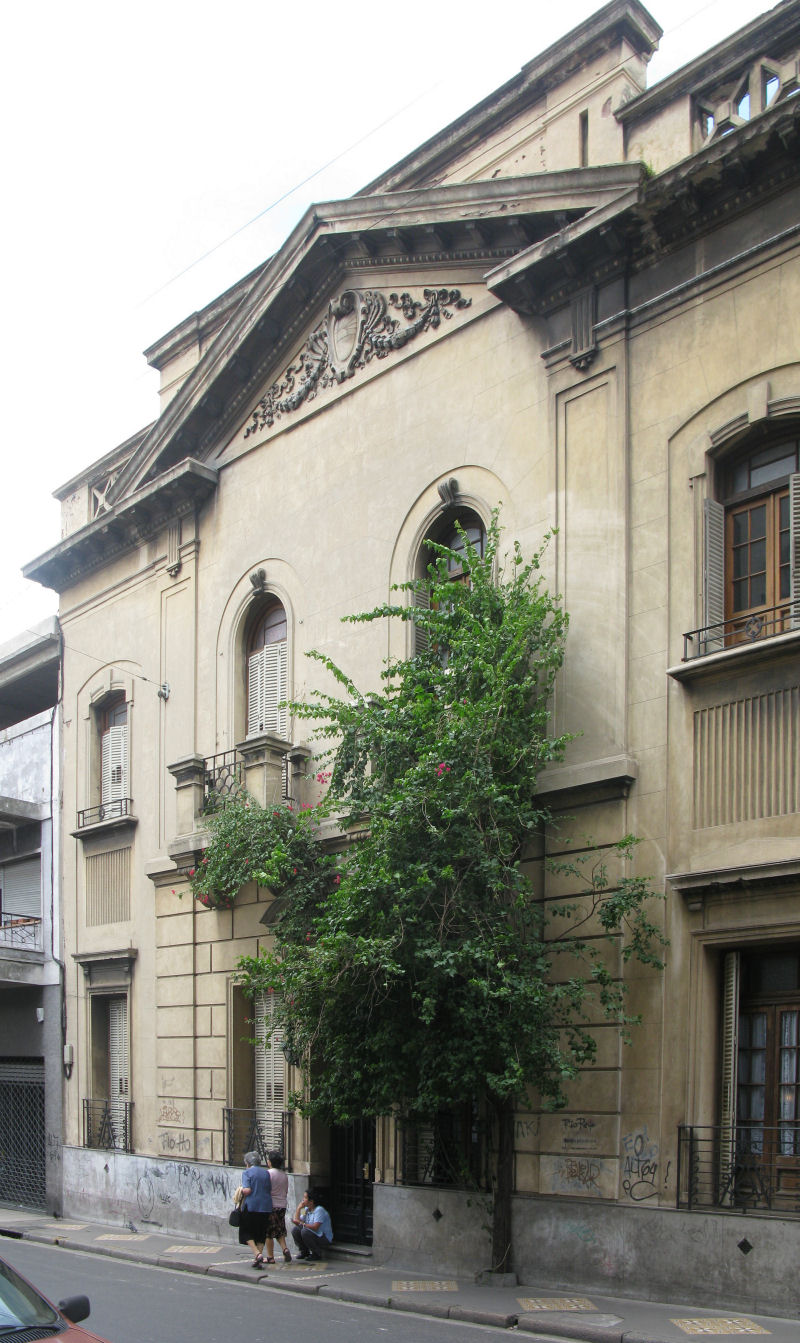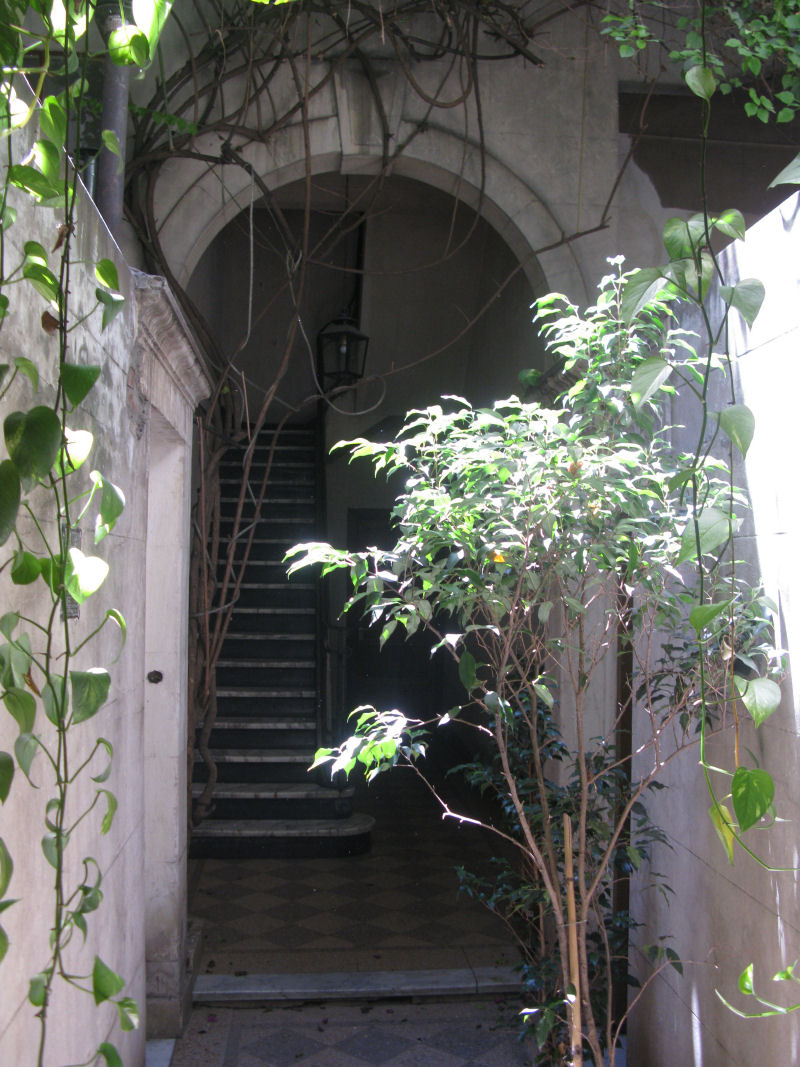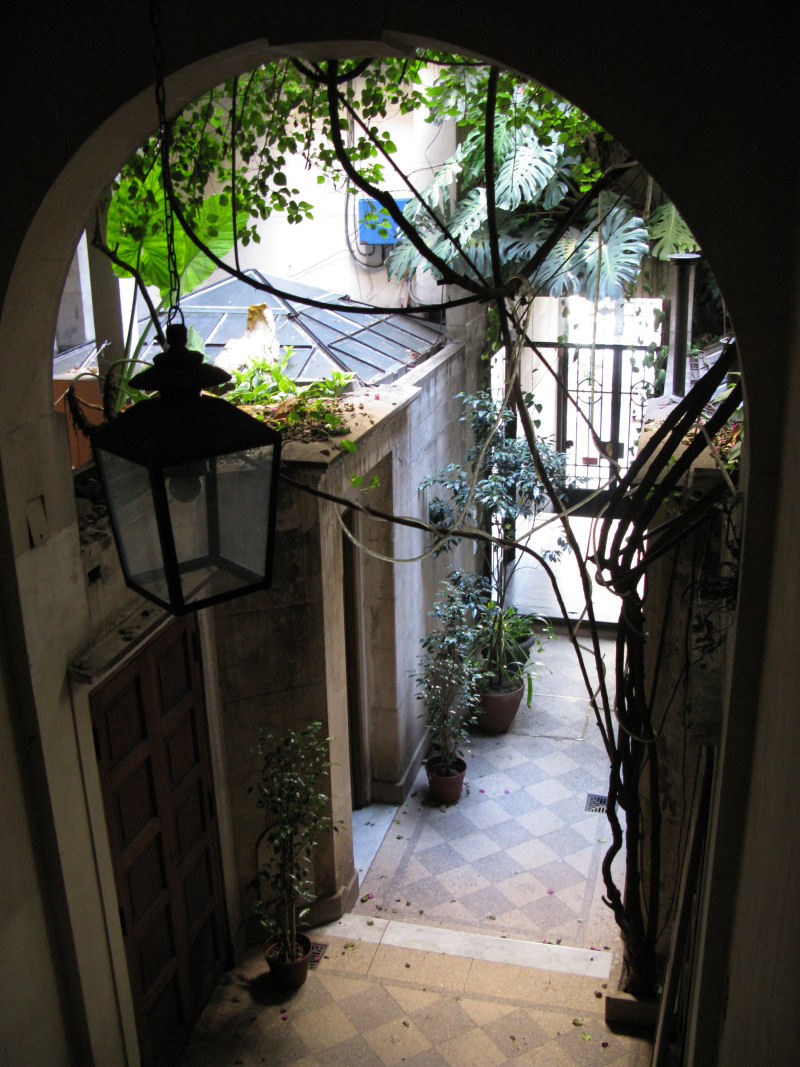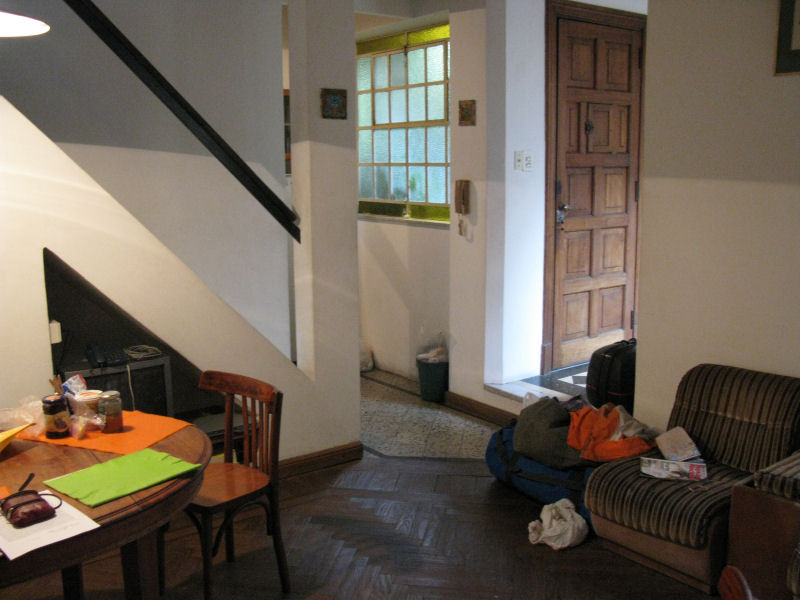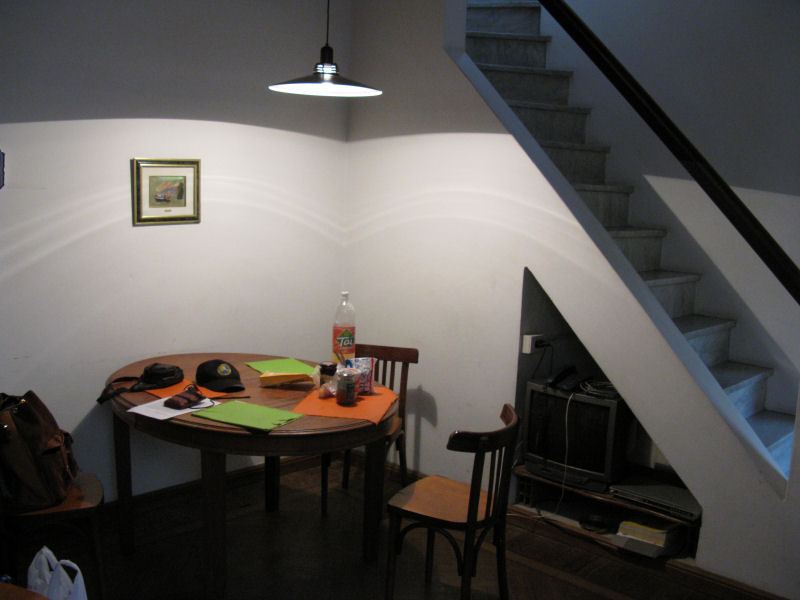 Our apartment was one floor up, and it was two stories. The two bedrooms and a small bathroom were up a steep, narrow set of marble stairs. It was odd in a few other ways, but I won't bother to describe it in detail.
I took a shower (only one shower, in the downstairs bathroom) and we relaxed for a while. At 16:00, we walked around the corner to Plaza Dorrego where the other guys were already waiting. Pete did some videotaping of the plaza and the dancers.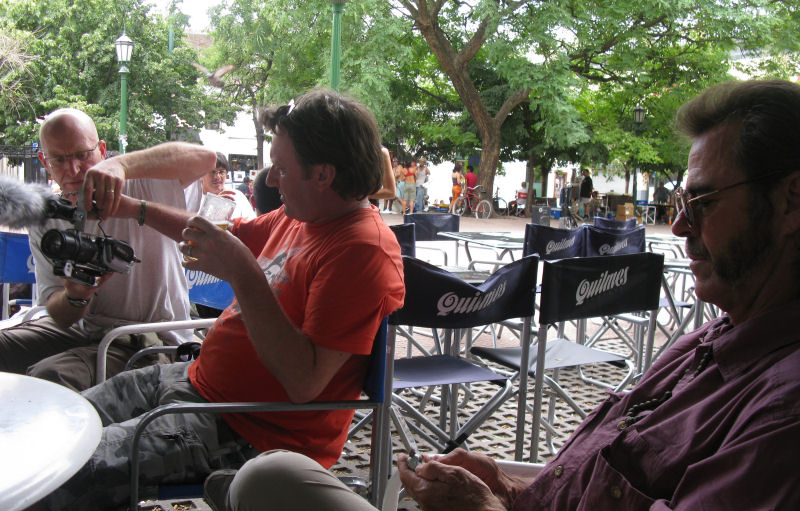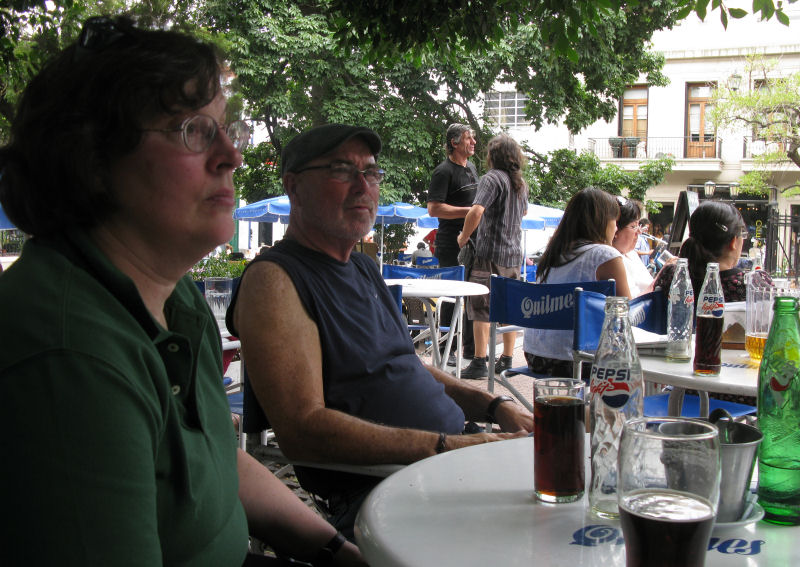 In the upper part of the plaza, musicians often play, and they alternate with some tango dancers.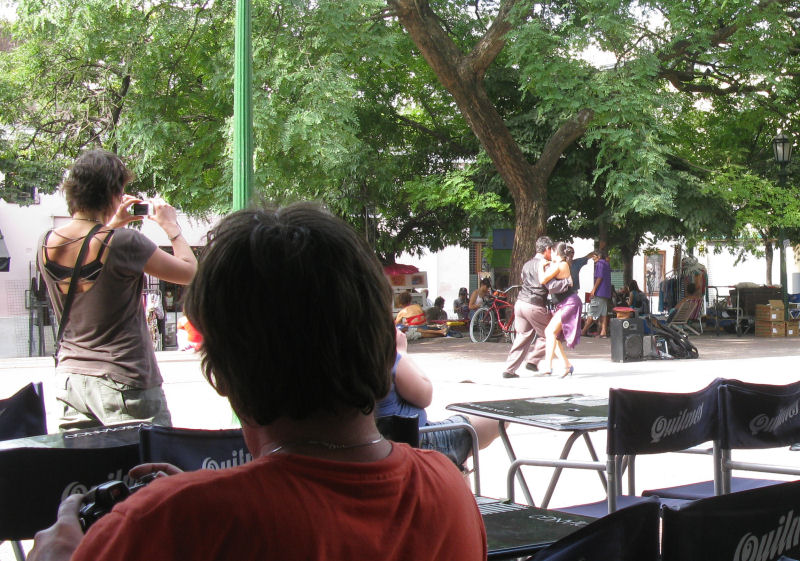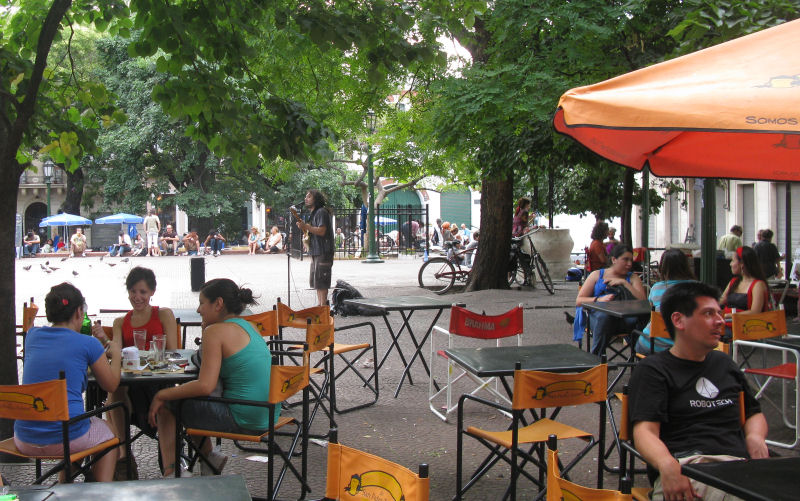 In the lower part of the plaza, The Serious-Looking Tango Stud had a new partner this time. Each time we saw him, he had a different dance partner. Must be nice.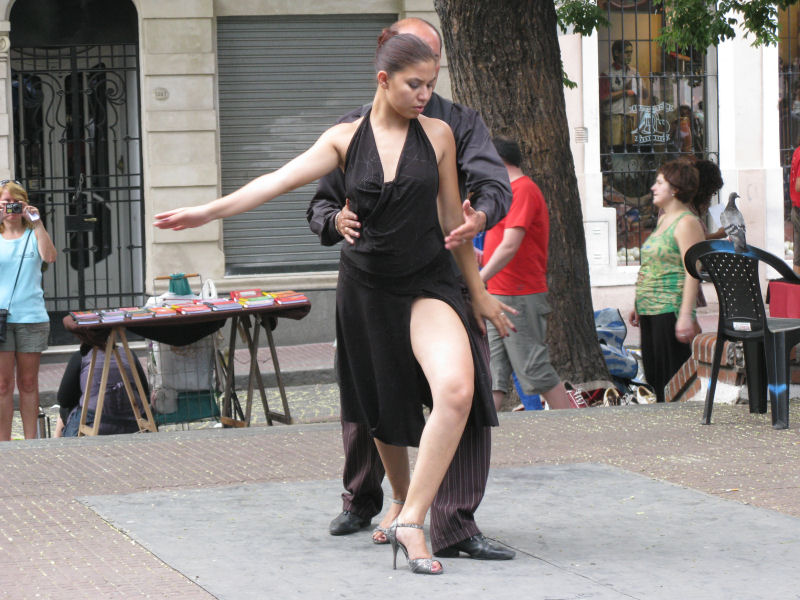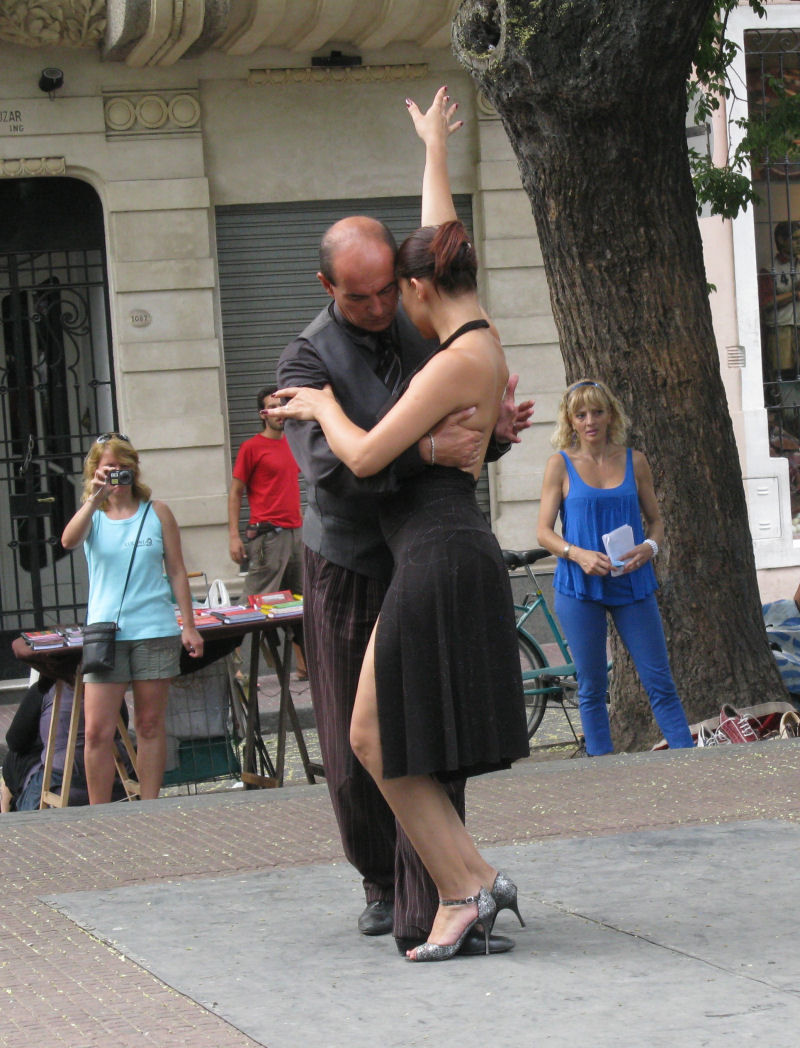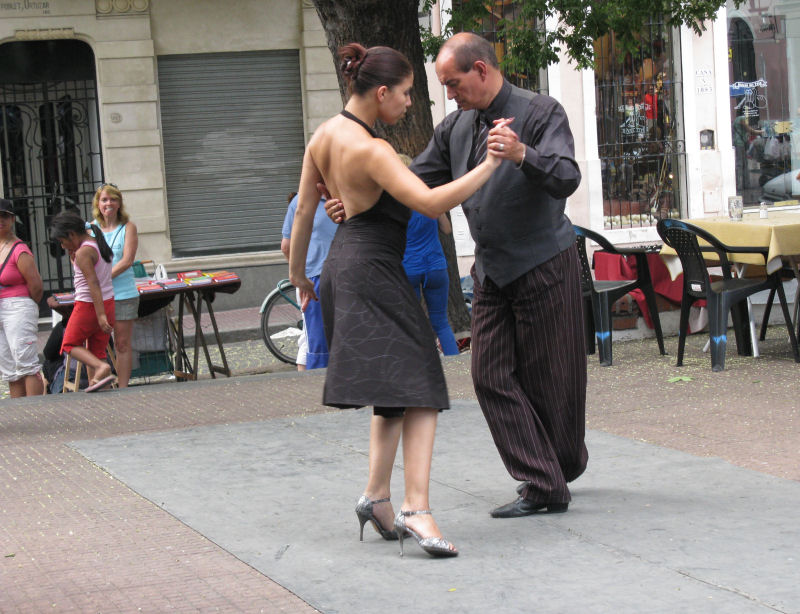 Since this was a Saturday, there was a bit more of the arts-and-crafts booths and stalls set up around the plaza. Tomorrow, and every Sunday, the entire plaza and about a mile of Avenida Defensa is closed off and becomes a huge flea market and street performers' fair.
Don, Laurie, and I went walking around the area, eventually walking about a mile to find a gas station that sold bags of ice. There two guys were having a furious game of ping-pong, and the ball went out into the street twice as we walked by.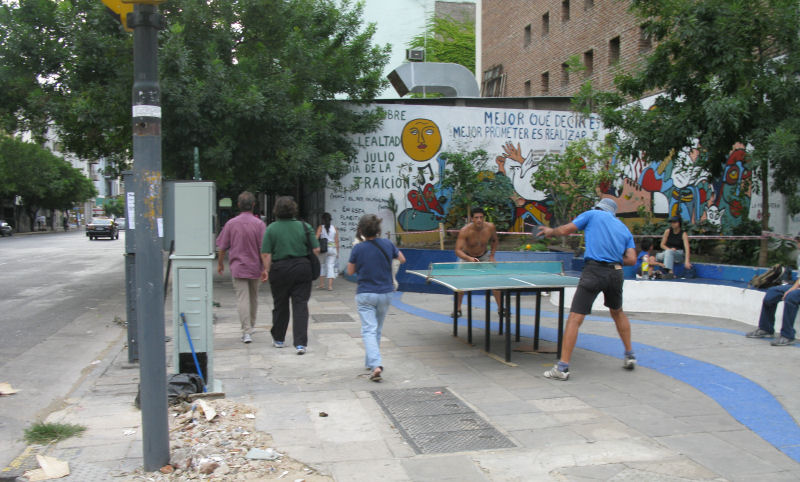 On the return trip, I watched a guy throw a rope into a tree and tie up a tire. It was for his pit bull to play with. The dog would jump and grab the tire, swinging for a bit before dropping down and doing it again.
We also stopped in a few places and got some food, snacks, drinks, and other stuff for the apartment which was otherwise fully furnished and fully equipped in the kitchen.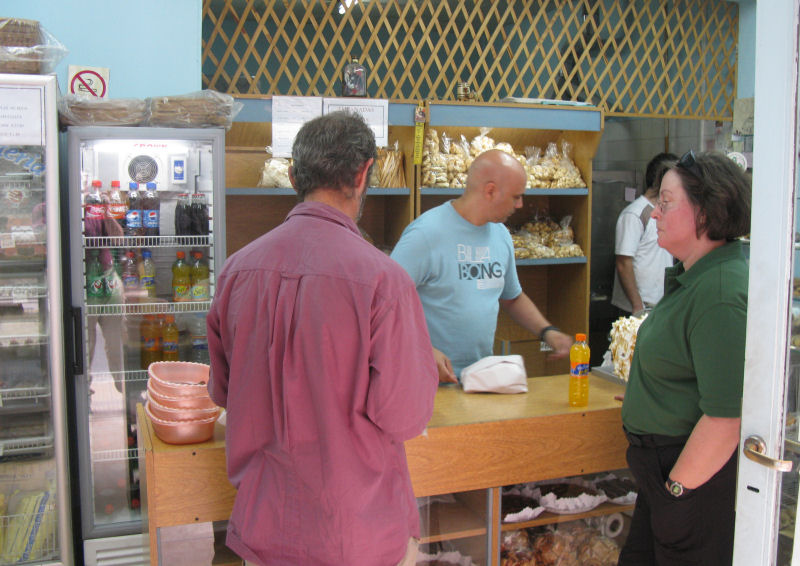 When we got back to the apartment, Don and Laurie went inside, but I stopped to watch some street drunks chase each other around and get into an argument with some other guy on the 4th floor of another apartment building. When the guy on the 4th floor balcony mooned the drunks below, I just missed catching it with my lazy camera finger.
We chatted a while in the apartment and I wrote some. There was an Internet connection in the apartment, and they had loaned me a cable to plug in, but for some reason I could never get my ride report updates to upload. I didn't know if the problem was the web host site, the Internet connection, my computer, the FrontPage software... I got error messages I hadn't seen before, and like typical Microsoft error messages, they gave no clue as to what the problem actually was. (More than a week later, I found that it was a check block in FrontPage that changed the passive FTP setting. How it got changed will forever be a mystery.)
We went out later for ice cream, but Laurie and I stopped at a bar for milk shakes while Don went in search of a real ice cream shop.
About midnight, we finally settled down.
Sunday, 18 January, 2009
---------------------------
We slept late and had breakfast in the apartment. It was very nice to have no forced schedule and to get up or snooze as we wished.
I did some writing and a lot of photo management. If you didn't already know, this report has only a fraction of the total photos taken, and each one needs to be selected, copied, resized, sometimes cropped and/or edited, imported to the proper in-computer folder and put into the report. Then, the most time-consuming part is uploading the photos to the web server. Depending on the Internet connection, this can take hours online--when I can depend on the connection lasting that long.
Since it was Sunday, the plaza and some of the surrounding streets were dedicated to an art and crafts fair and a flea market of new and antique items. Most of the cafe tables had been removed from the plaza. There were lots of street performers, too.
Photo interlude: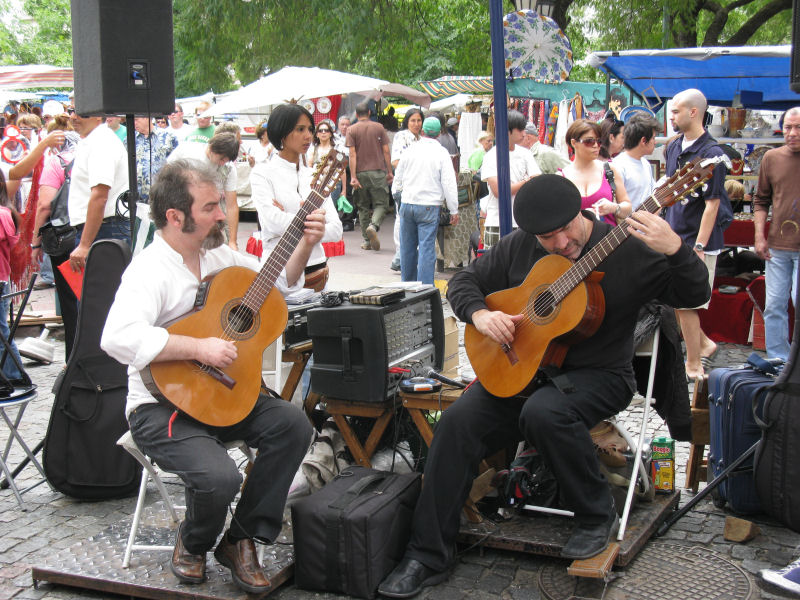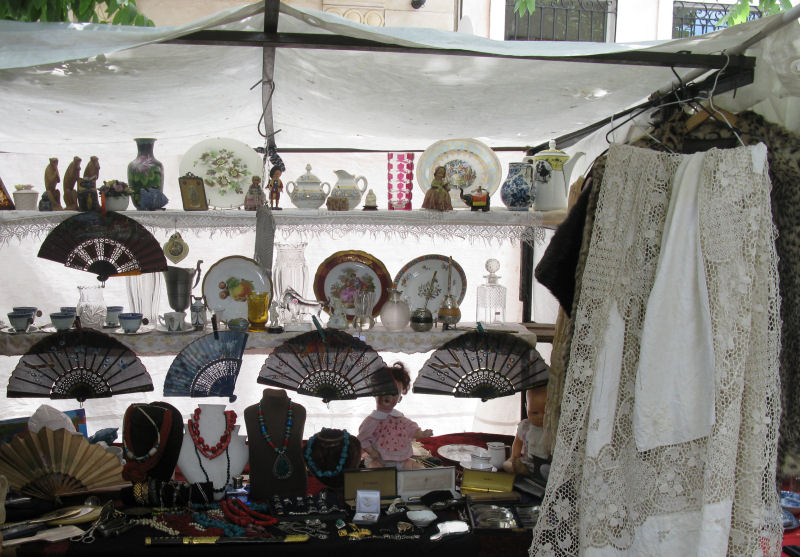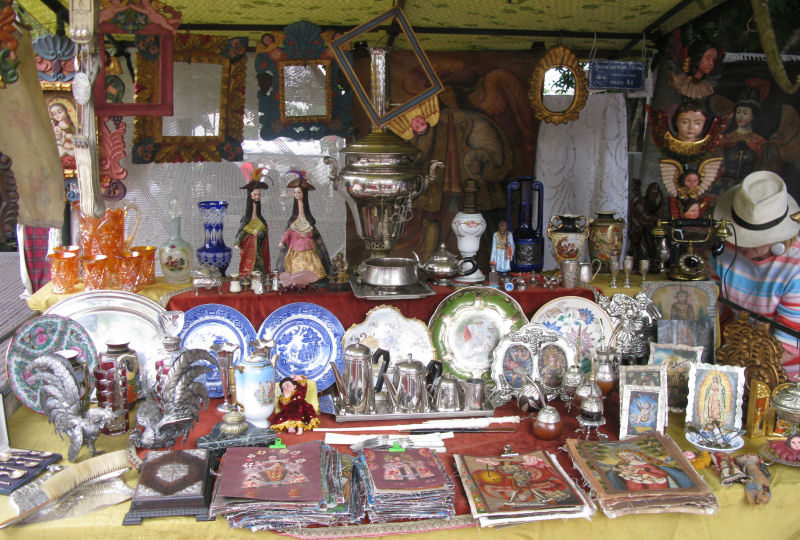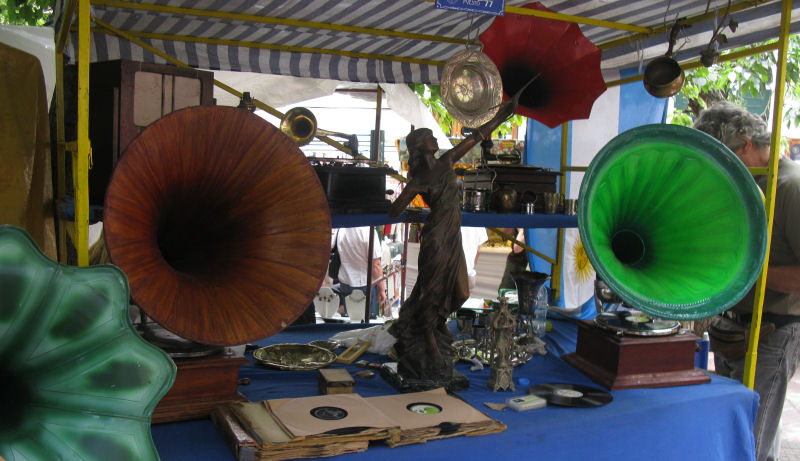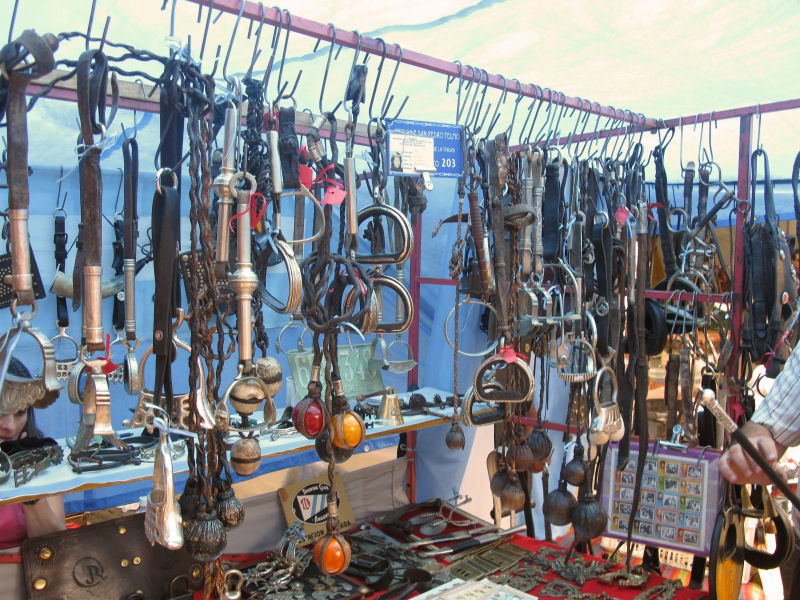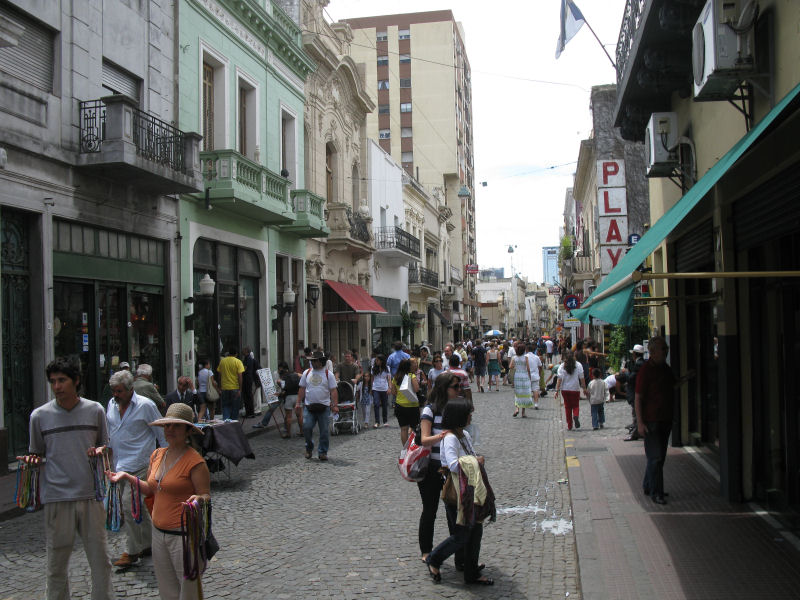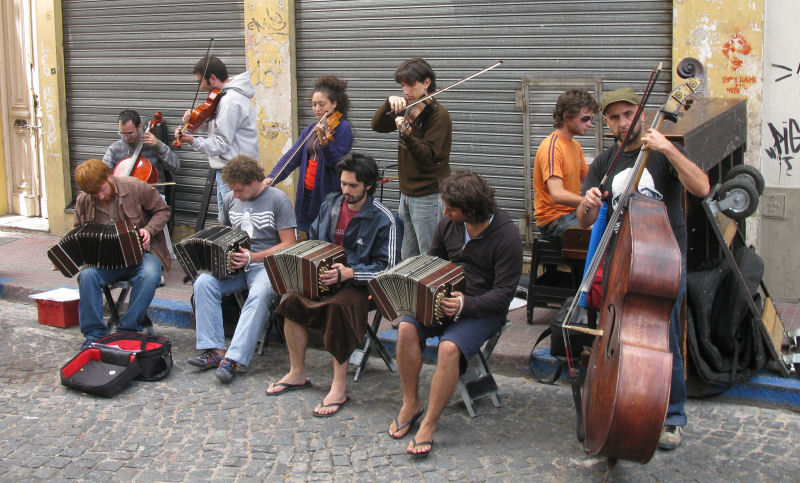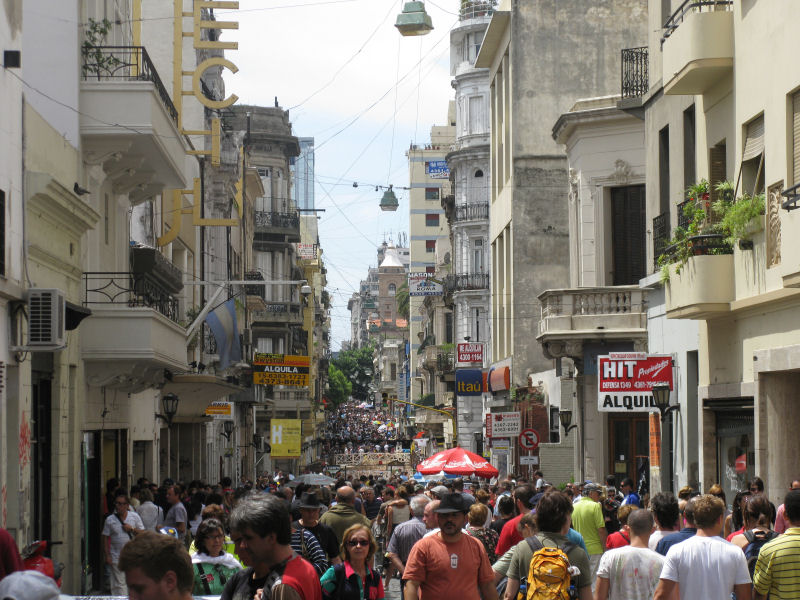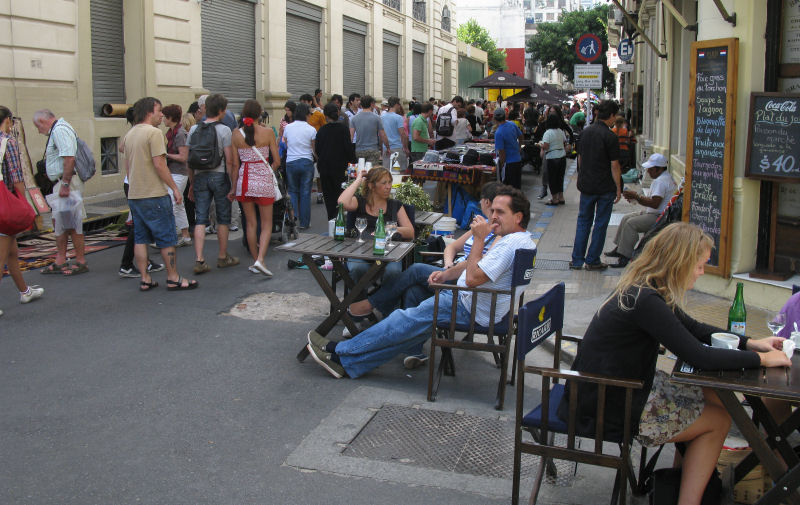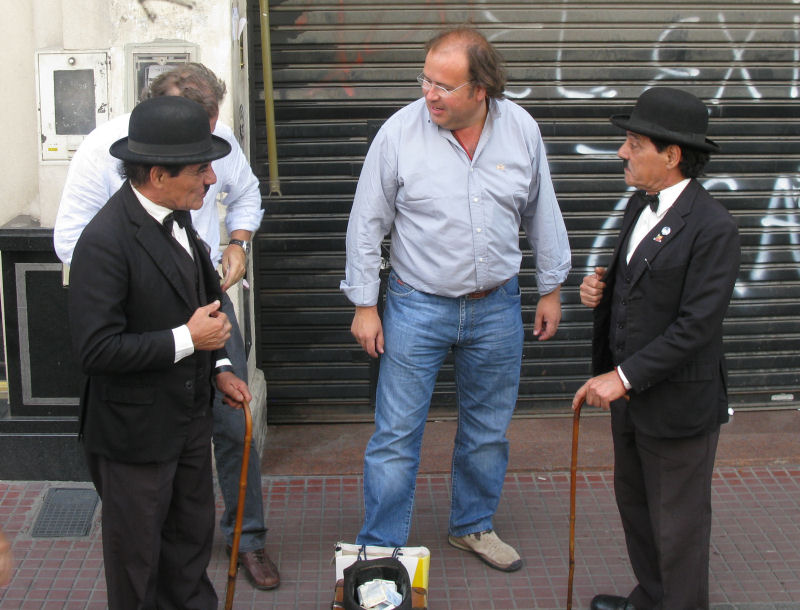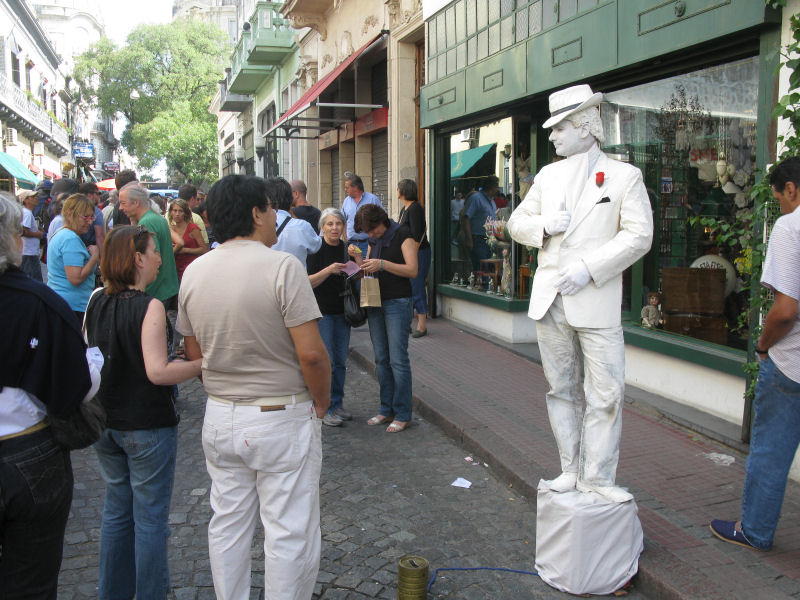 If you suddenly needed to break out into a Tango, you had the opportunity and lots of spontaneous partners. High heels and cobblestones were a challenge only few would dare.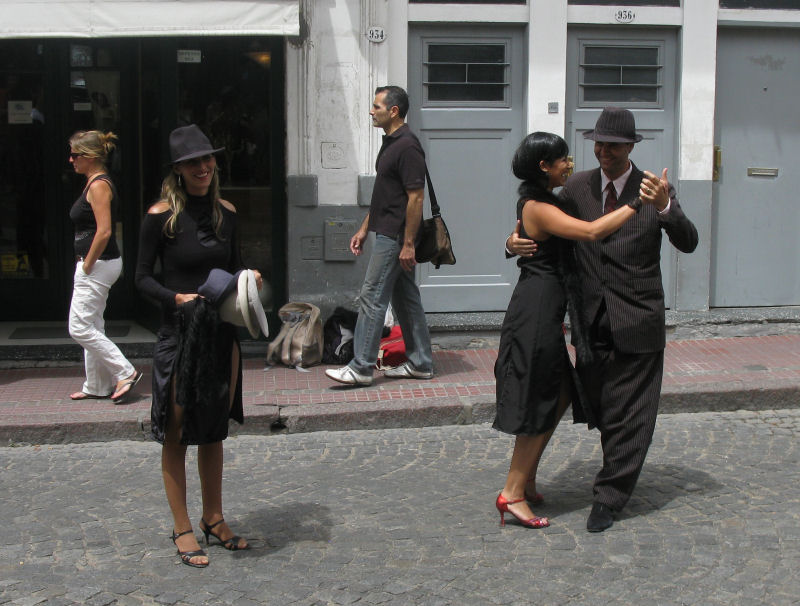 We saw Steve and Pete on the street and had them join us for a quick bite at a corner restaurant, then we headed back to the apartment to drop off the souvenirs and trinkets that we had bought. We hailed a cab and took it to La Boca, the oldest neighborhood of Buenos Aires. This is the famous Caminito street. This building is well-represented on most souvenirs--from post cards to refrigerator magnets.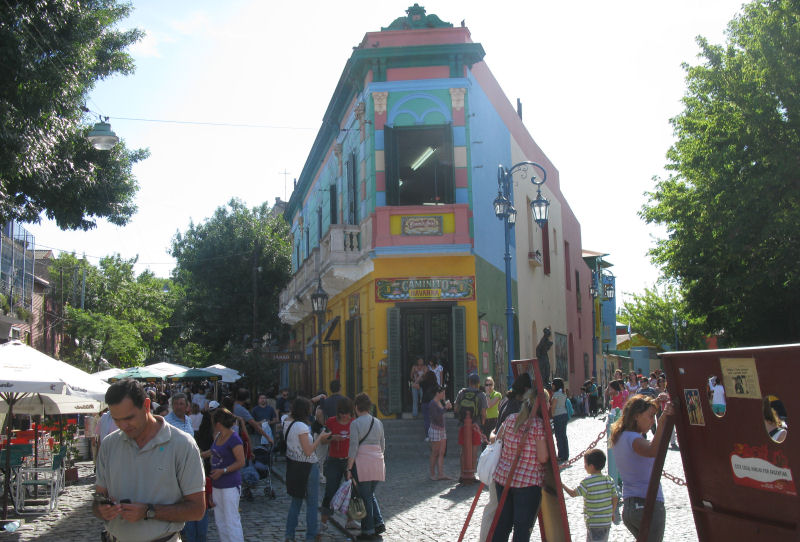 Anyone can look like a tango star. Give the gal (or guy) a tip, they throw a hat, jacket, and scarf on you and tell you how to pose. She did a few more energetic poses with this guy but I was Mesmerized and forgot to take a photo.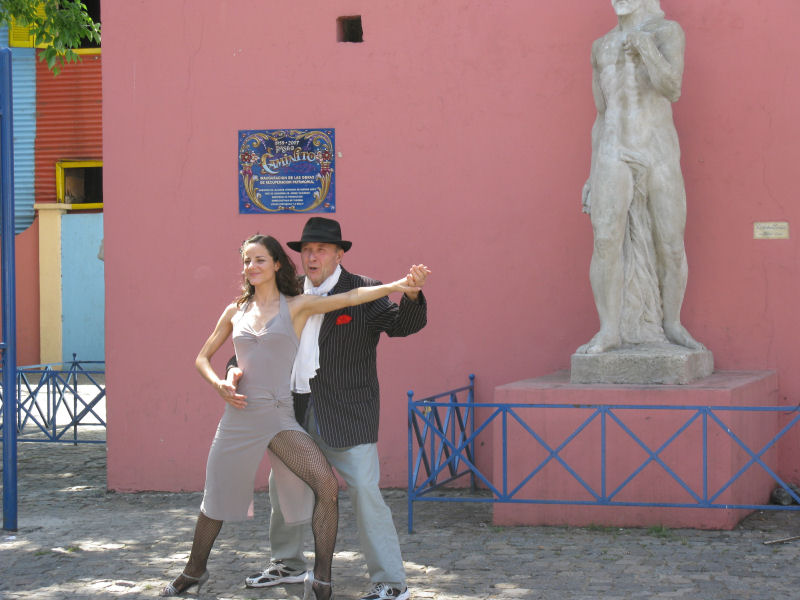 The gal in red, below, is asking Don to come dance with her. She wants the tip, of course.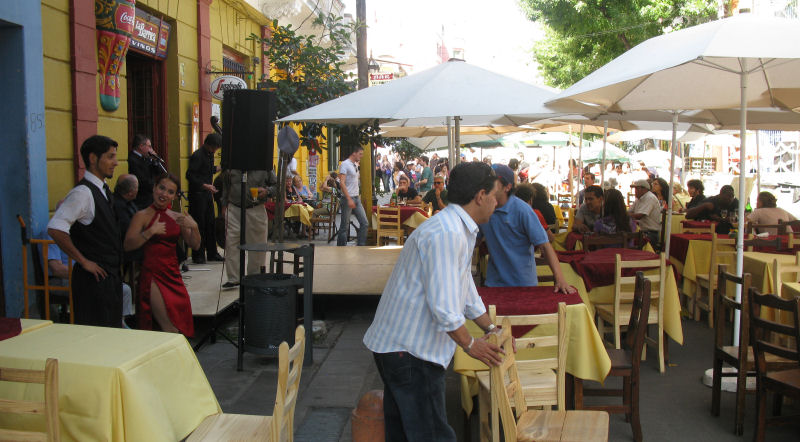 La Boca photo interlude: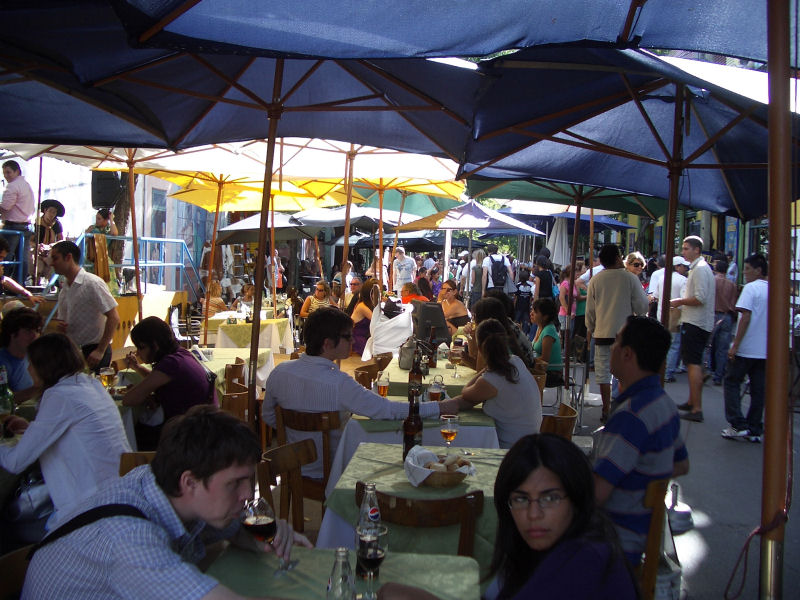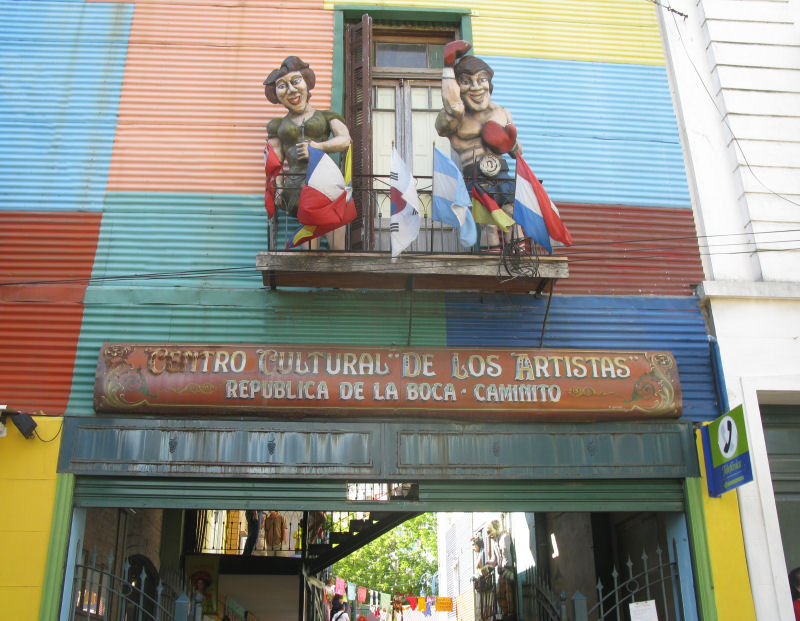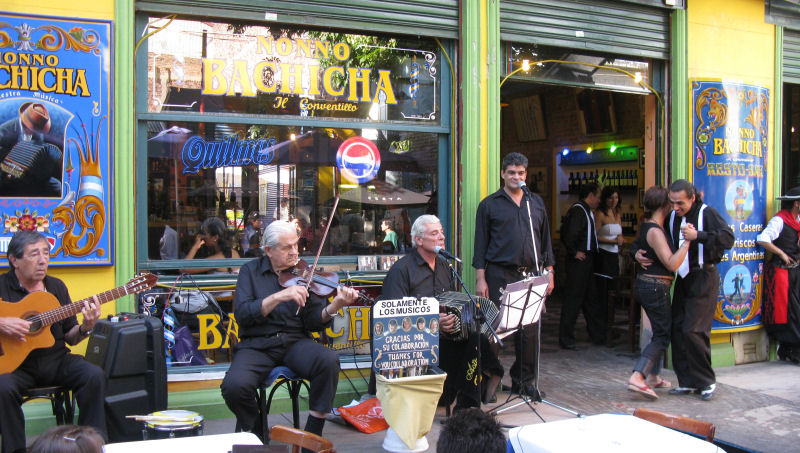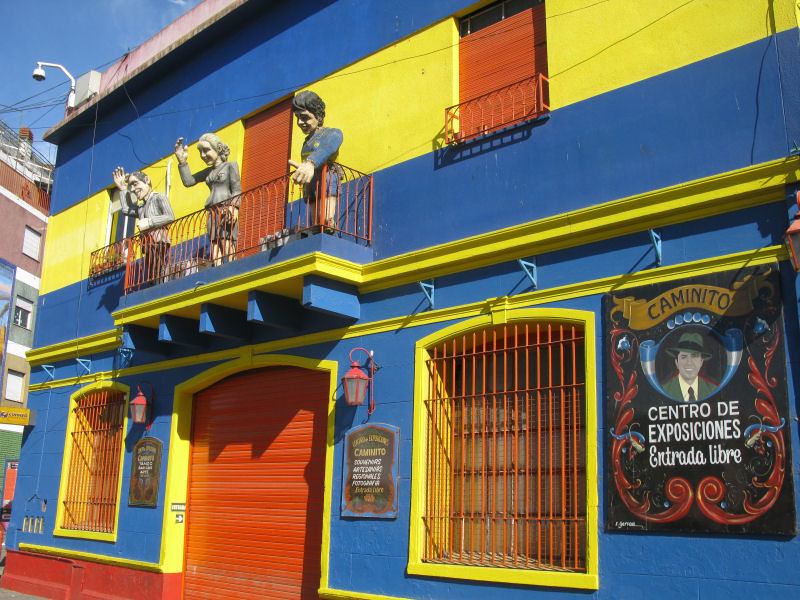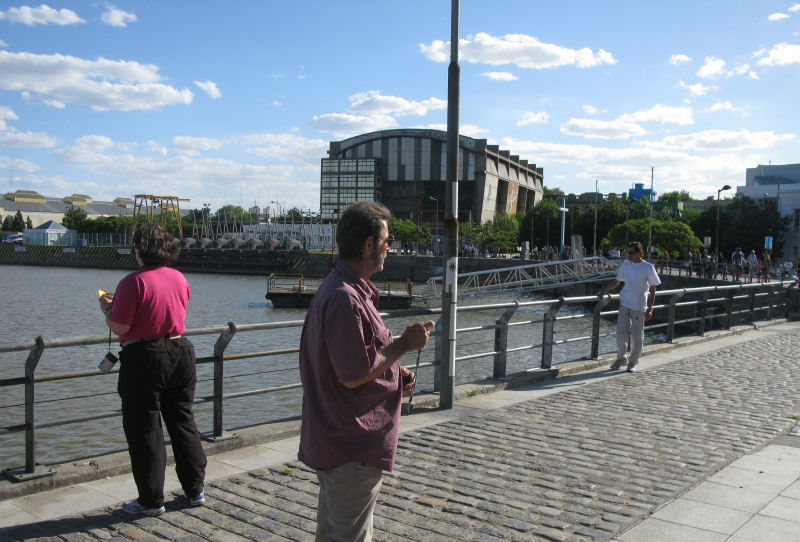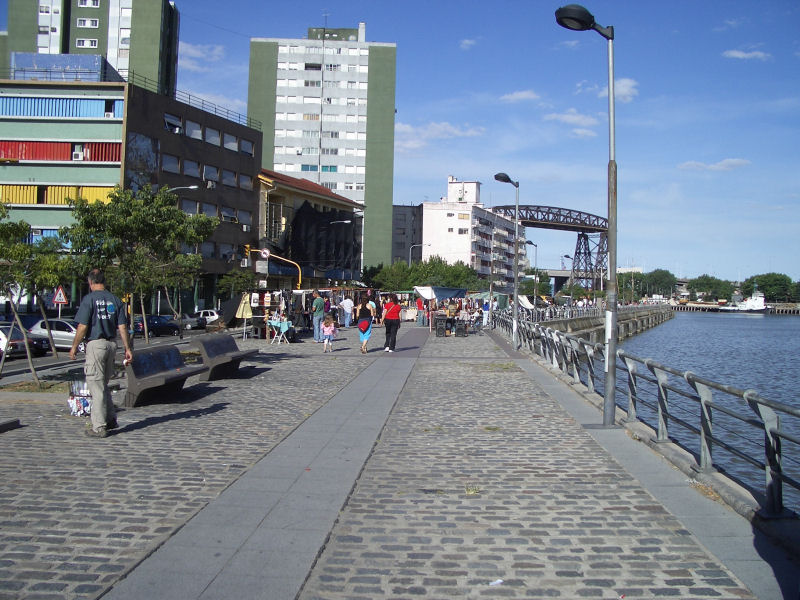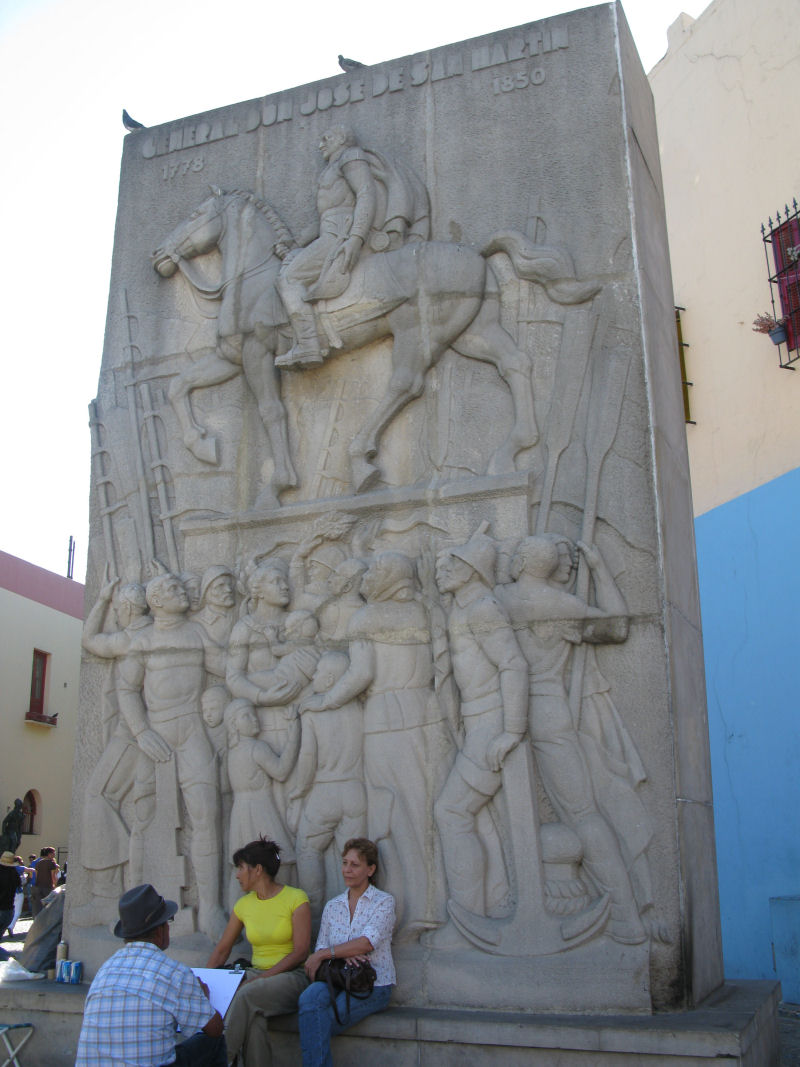 I made up a story for each of the people in this next photo.
First, look at the next photo, then come back and read their story. From left to right:
Pepe was too skinny to be a real working Gaucho, so he left his father's eucalyptus tree farm and now dances in La Boca and does his best not to look like a weenie with painted sideburns.

Raul wants to be a real waiter for the obvious prestige that it will bring him. Until then, he clears tables and flirts (often successfully) with all the rich, single tourist women.

Ron is an old CIA operative with a bad poker face. Waiting tables in La Boca is his current cover, but he's waiting for his next assignment. He's been waiting a long time.

Lulu is a sad girl. She wants me, but she knows that she will never have me.

Clarence is still pissed off for not getting royalties from the producers of The Simpsons. They didn't like his voice-over work, but they did steal his appearance for the animated character of Mr. Burns. He fled from the U.S. to Argentina and now buries his smoldering anger in warm beer and constant overtime work as a bad waiter. Secretly, he hopes to kill a tourist soon. He saw me take his photo. Time to go.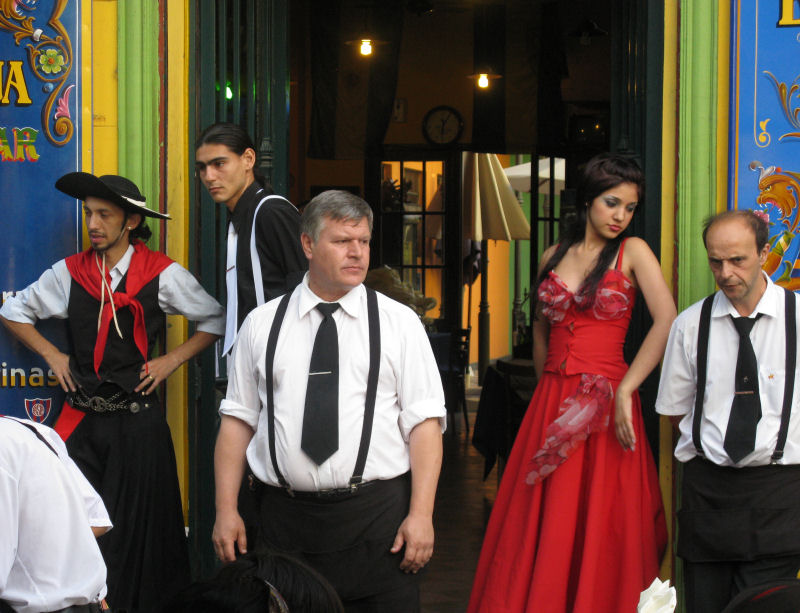 Okay, I need someone to explain to me why a fire truck was driving all over La Boca (with its siren blaring) while guys in drag threw candy and crayons at the tourists.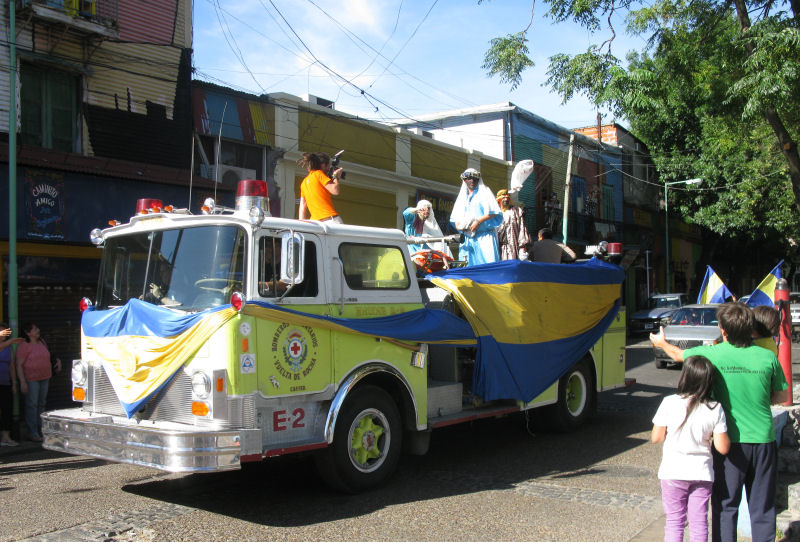 The taxi from La Boca to San Telmo cost almost twice what it cost from San Telmo to La Boca. You have to watch these guys. We know the taxi driver sort of wandered around on some streets, but the traffic was busier, so maybe that was the best way to go. It was a difference of only a couple dollars, so not worth an argument.
Since Don had to get up early the next day, he conked out early. Laurie and I lazed around. It was late, about 22:00, when we went out for dinner. That was the popular local hour for dining, so we wandered around for a while before finally settling into a restaurant near our apartment. Dinner for us both (ravioli with beef stew topping for me, a quartered chicken for Laurie) cost us about $21, and that included a salad, a beer, a glass of wine, and the tip.
Monday, 20 January, 2009
---------------------------
Don was already gone to the airport when we finally got up and ate. He and Bev got back to the apartment at about 11:00, so we took a while to chat and catch up with her.
There was a laundry across the street, so I dropped off a load ($3, ready in a few hours). We then decided to leave Don and Bev alone for a while (ahem), so we went walkabout.
I showed her the subway and train system by taking her to Dakar Motos. First the C subway (Subte) to the main train station at Retiro.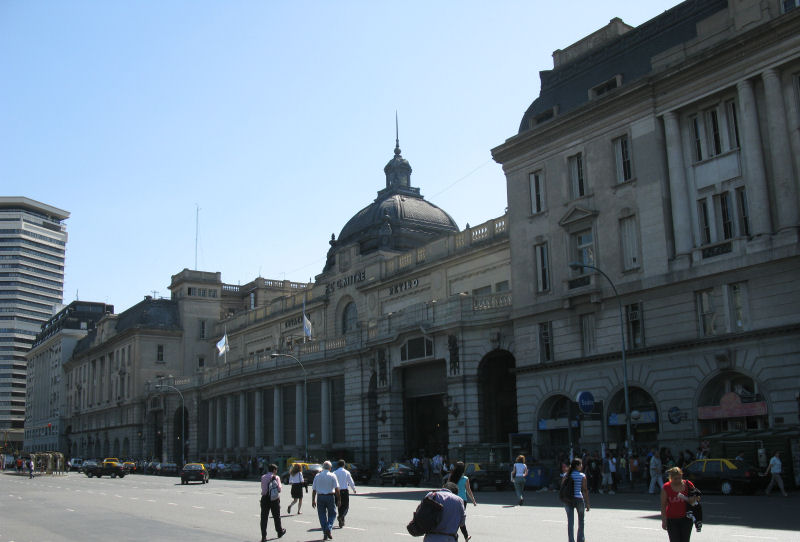 Next to the main station is the smaller station with the trains to the Vincente Lopez suburb.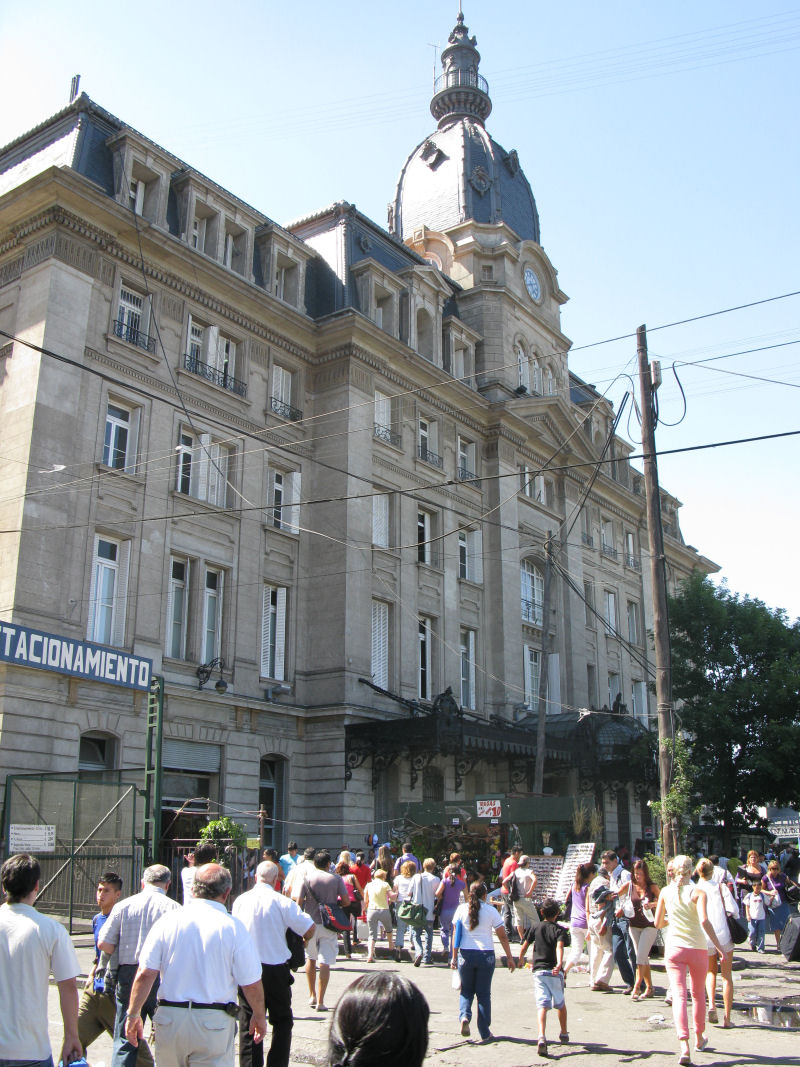 You get your ticket at the window by telling the cashier what your destination is along the route. I'm not sure it matters much, since the price was always P/1.20 each time we took it. About 36 cents.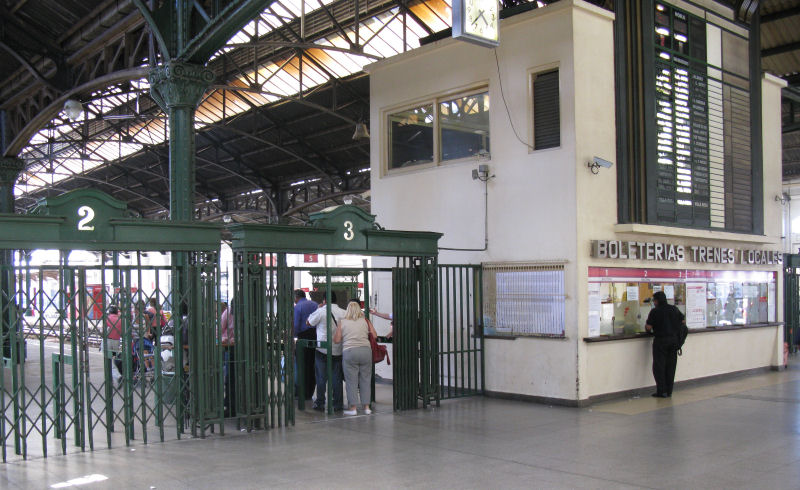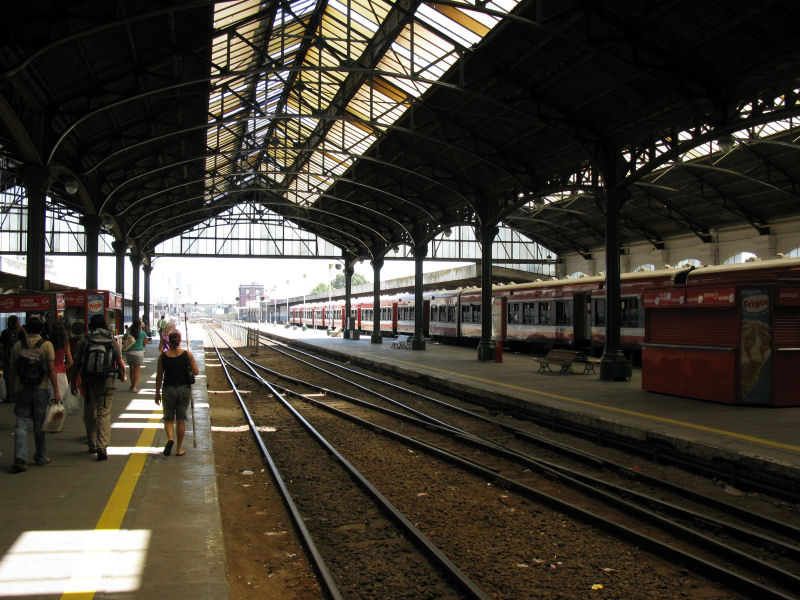 If it's a controlled station as this one is, they check or punch your ticket there before you enter the platform. Otherwise, you just get on the train and they collect your ticket when you exit at your destination. We noticed that some small platforms along the route had no control at all, so you could get on and off within a short distance without anyone checking you for a ticket. It's cheap, so there's little incentive to cheat, I suppose.
Laurie finally got to sit in the open door of a moving train.
We got off at the Florida neighborhood platform and walked about 8 blocks to Dakar Motos.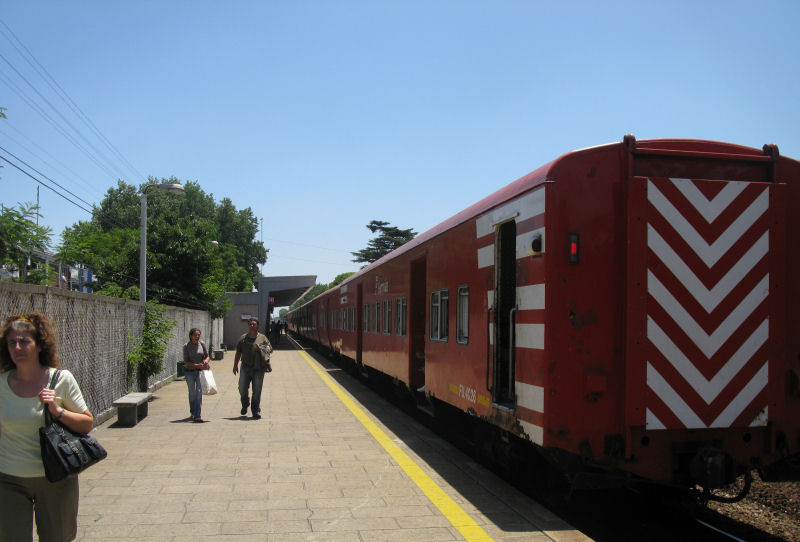 It was a busy day at the shop. People working outside, people working inside. More travelers camped out back.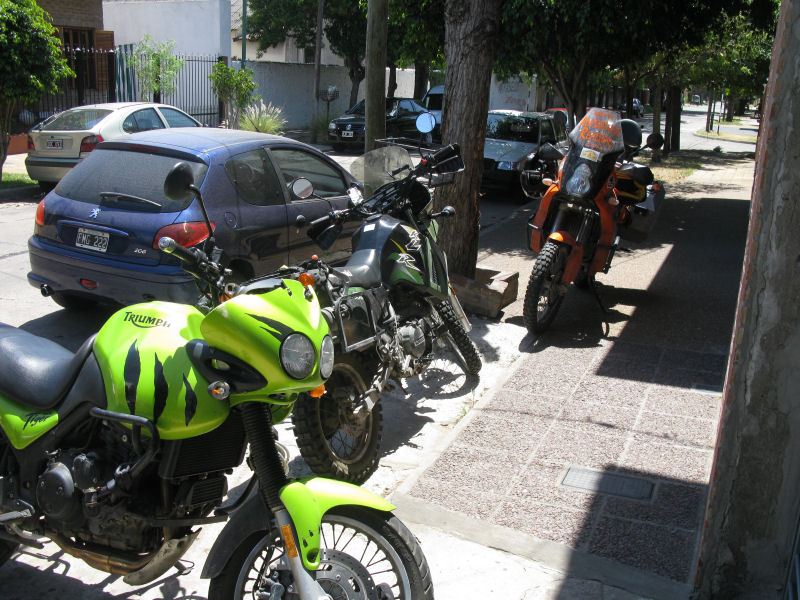 Ken, from Australia, was always tweaking his bike. He had a few moderate repairs to manage as well. He'd been in Buenos Aires with his wife, Carol, for a while, and they aren't sure when they'll continue around the world. Ken isn't staying in the hostel; Javier found them accommodations elsewhere. (Ken and Carol later moved back into the hostel here at Dakar Motos.)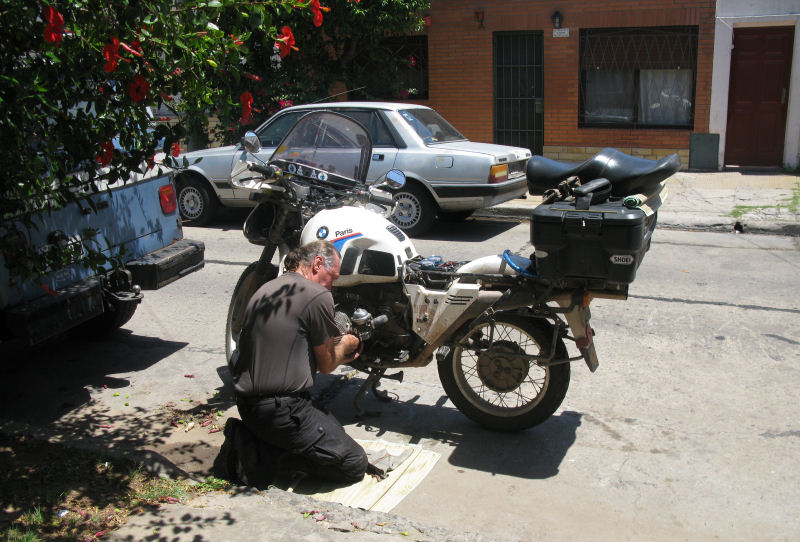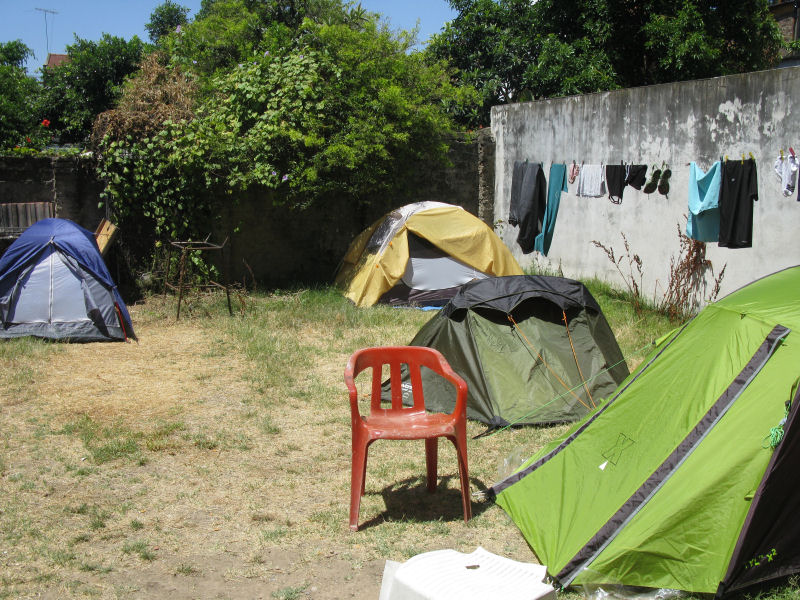 Inside, we met someone we knew from Colorado. Chris and Erin Ratay are world riders we have met at Horizons Unlimited meetings twice before. They hold a Guinness Record for their 4-year, 101,322-mile ride around the world as a 2-bike team. They had now been in South America for a few months at this point, and were planning on leaving their bike in Argentina until they return again later in the year.
Their site is http://www.ultimatejourney.com/. They are realtors in Boulder, Colorado if you are looking for something in the area (and it's not winter, in which case they are probably off riding somewhere).
Javier, Chris, Erin, Laurie. That's some of my gear stowed over Erin's head. That little room is the sink/shower/toilet room. Arranged in that order.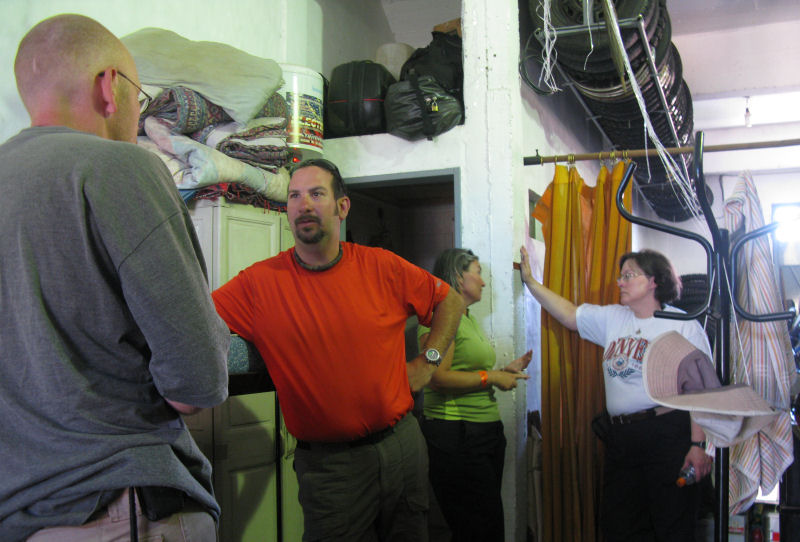 My bike was now in the shop area, but mostly because it was in the way. Chuck's R100GS was on the table, about to get its drive shaft and gearbox taken off.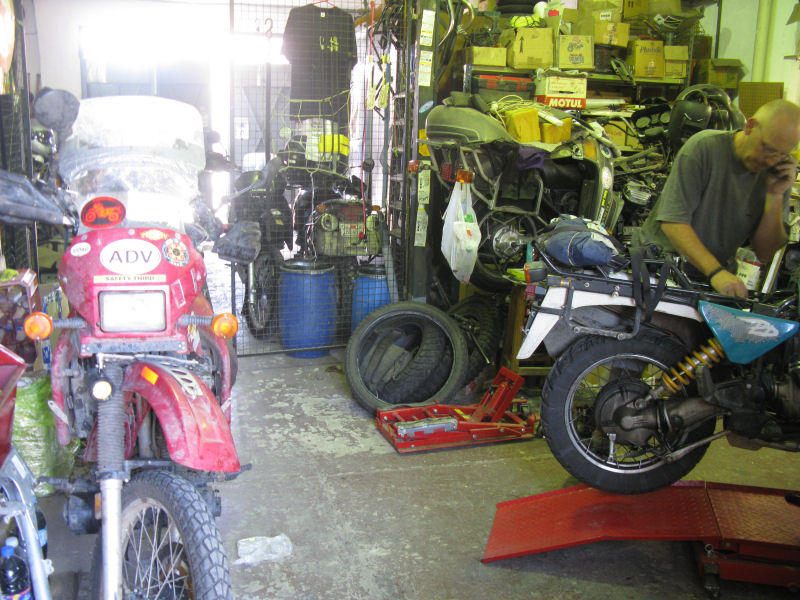 This KLR with California plates seemed familiar to me. Maybe it was the custom, taller Corbin seat. Javier was doing some work on it. It was later bought from the owner by a Dutch couple who had been backpacking long enough and wanted to do something different.
Javier told me that a guy with a KLR for sale had been there briefly just before I arrived. He was leaving for a ride, but would be back in a couple weeks. The bike has been in-country for a long time, and its import papers have been long expired. That means that it would be all but impossible to legally leave the country with it. All I wanted was the motor, so it was a possibility. Javier gave me the guy's business card and email. (I later emailed him and learned that he would be back in BsAs in mid-February. I told him that if I was still here then, it was because I would be waiting for his bike.)
After Laurie got to see Dakar Motos, we left. Back to the Florida station platform.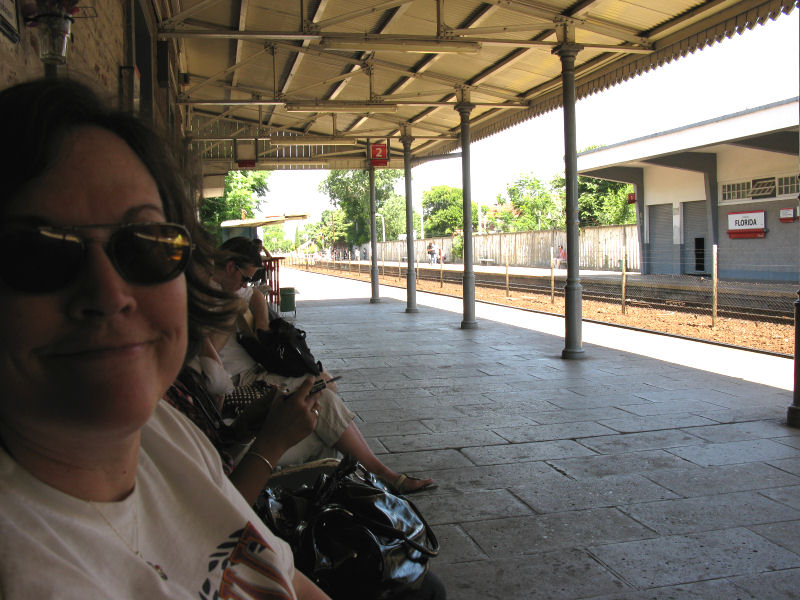 As we walked from the nearest Subte stop to our apartment, we bought some fruit to take back and I picked up my laundry. Don and Bev were gone, probably off on their own for the evening. Laurie and I went out for dinner at about 21:30, and we went back to a German restaurant that we had seen earlier. The sausage was pretty good, so I had another. The beer (Warsteiner, produced in Argentina) was good, too, but since it was already in a liter bottle, I didn't get another.
Don and Bev were back in the apartment when we returned. We made plans to take a bus tour around the city just to get our bearings and see what we might want to return to later. Also, I had to get my passport back from the Brazilian Consulate at noon.
Tuesday, 20 January, 2009
----------------------------
After a lazy breakfast, we took a taxi to the Consulate at noon and picked up my passport. One whole page (normally used for four stamps) had a big sticker on it, and the facing page had a printed advisory about tourist not being allowed to stay in Brazil more than 180 days in any 12-month period. It also indicated that a tourist is not allowed to study or work in their country. So, you need two facing pages in your passport for the Brazilian visa. It was dated as valid until 90 days after I applied for it, not from when I indicated I would be entering their country. Time on that visa was already ticking.
Don finished applying for his own visa and left his passport there. We walked to find the bus tour location, and that took a while. Since we hadn't booked through a hotel or cruise ship, we were the first ones on the bus, but we had to endure the lengthy shuttle run to pick up the other tourists.
Our 3-hour bus tour wasn't bad for P/50 ($15), and the gal giving the tour spoke good English and Spanish. The bus made only three stops, as it was mostly a driving tour. The first two stops were brief, so your could only take a few photos and find a restroom if you needed one.
This giant stainless steel sculpture opened during the day and closed at night. It was maybe 100 feet tall.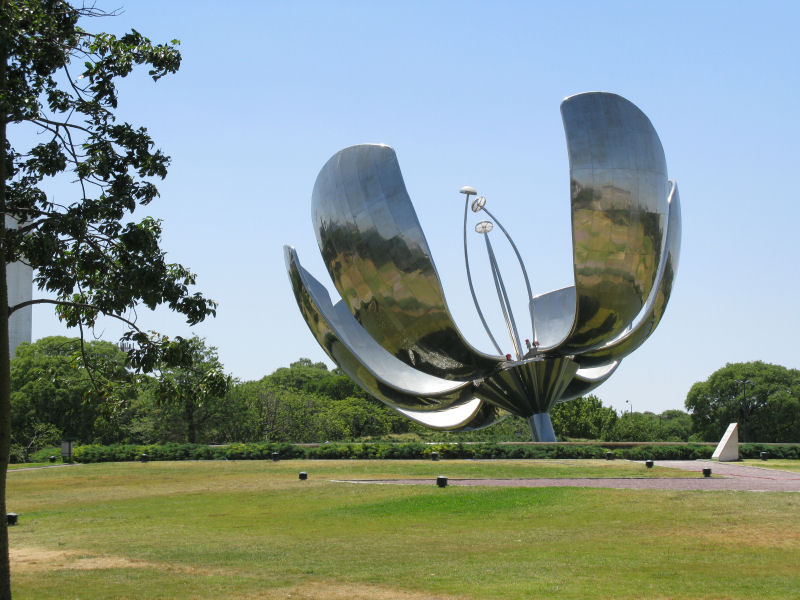 Another stop was the Casa Rosetta, so Laurie and Bev got to see that.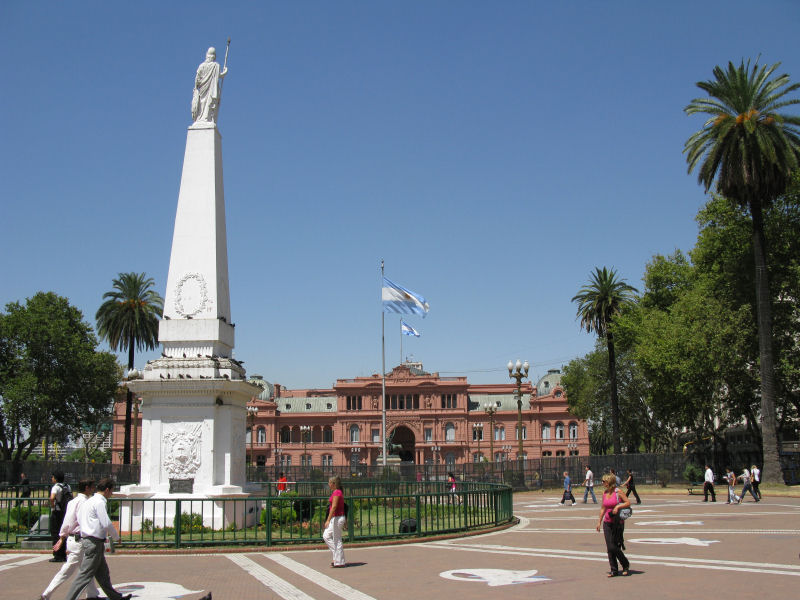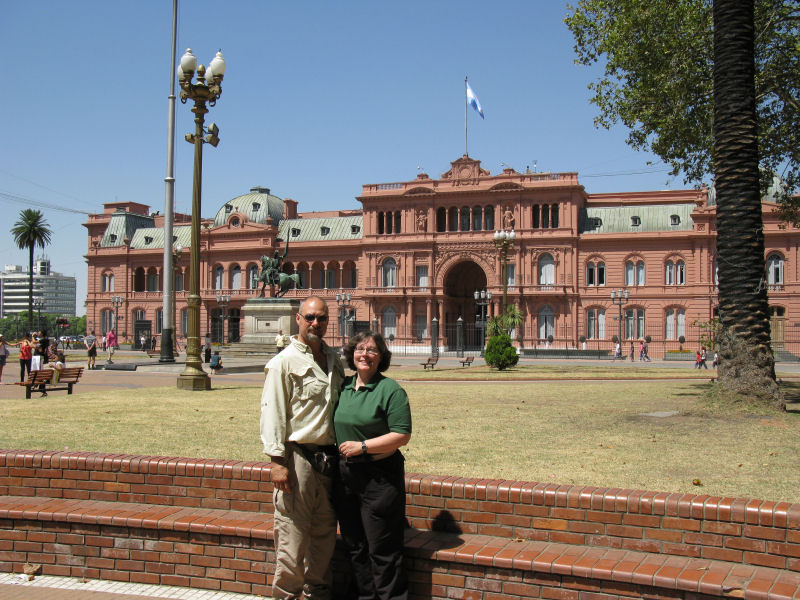 These are the emblems (representing white headdresses) for the women who walk here every Thursday in remembrance of their children who were "lost" during a previous regime.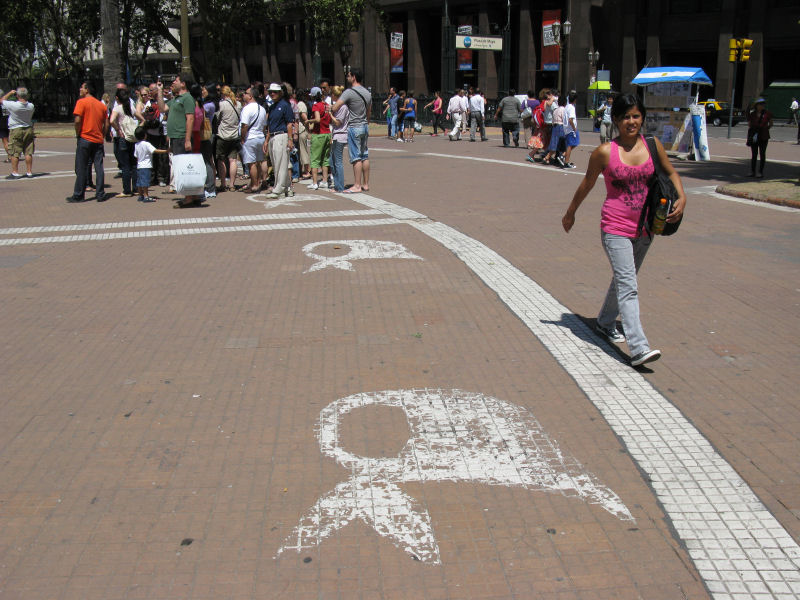 The bus made a longer stop at La Boca, since they wanted you to spend your money there.
As the bus wound its way back downtown, they gave passengers a few choices of where they were dropped off. We chose to get off at the Av. Florida pedestrian street and walk a while.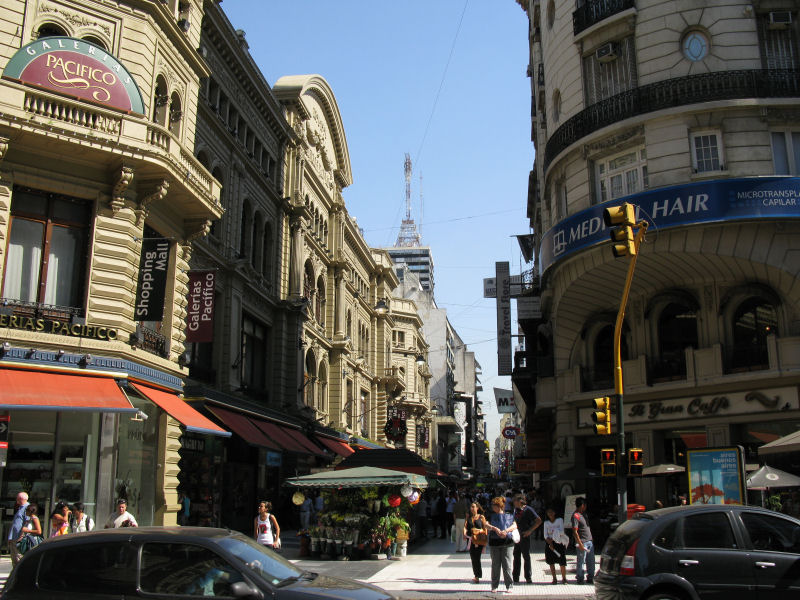 I think this was a 4-lane road.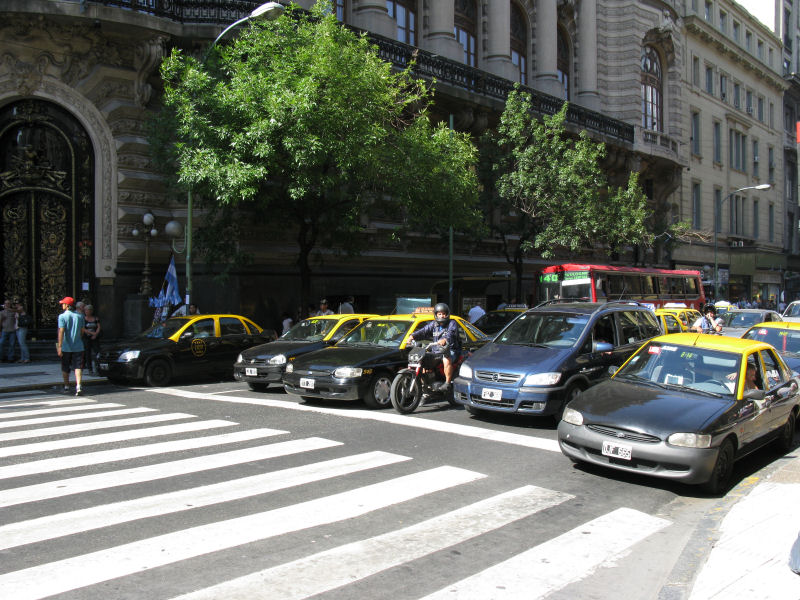 A lot of the buildings were old, and some were probably built to appear older than they really were.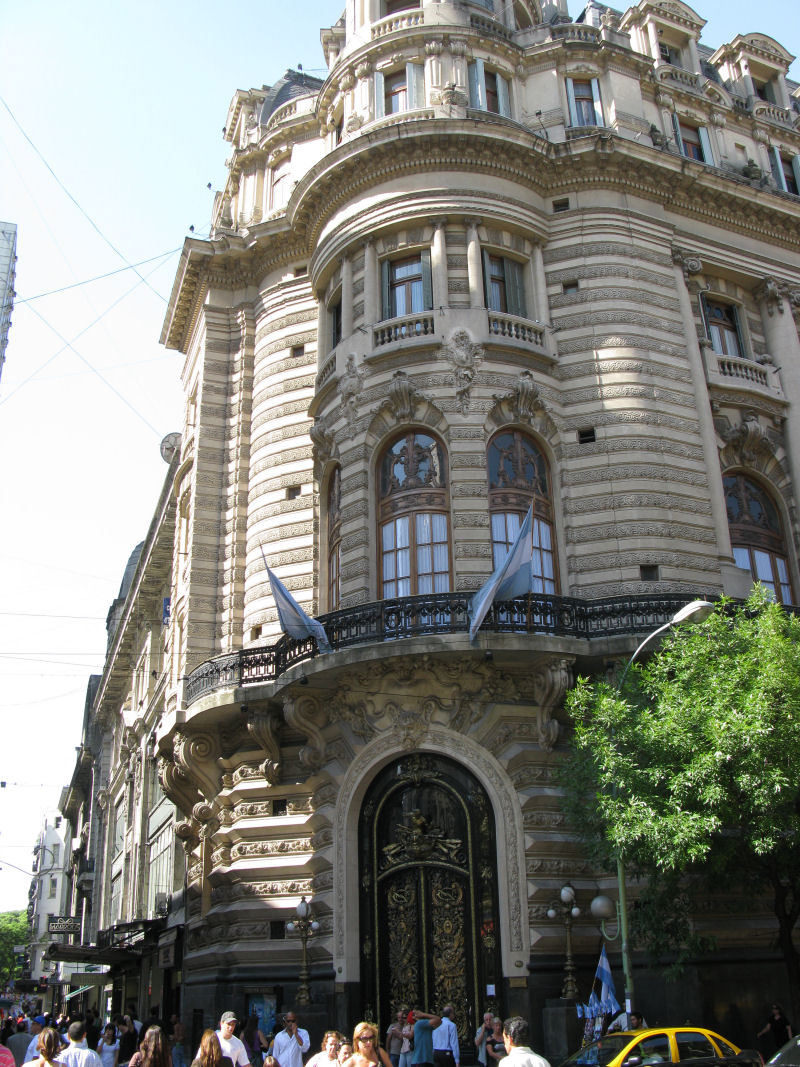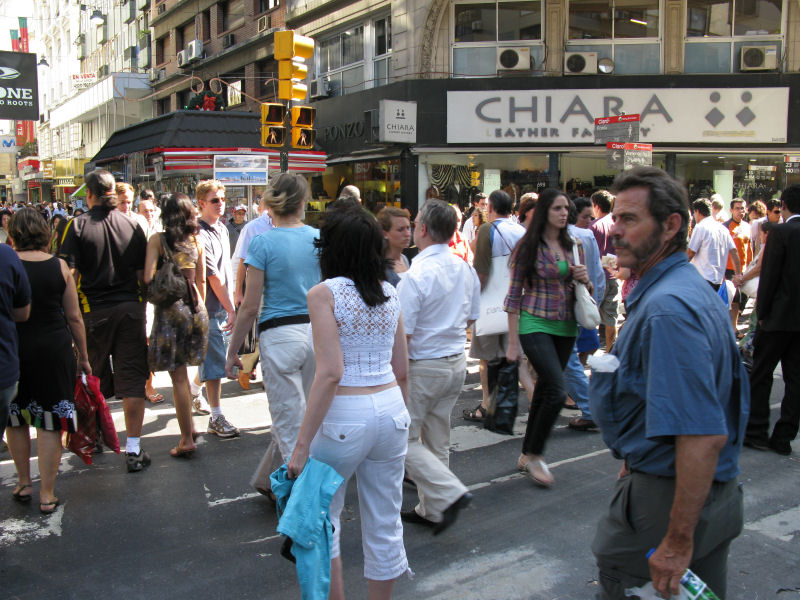 We stopped for a while to rest.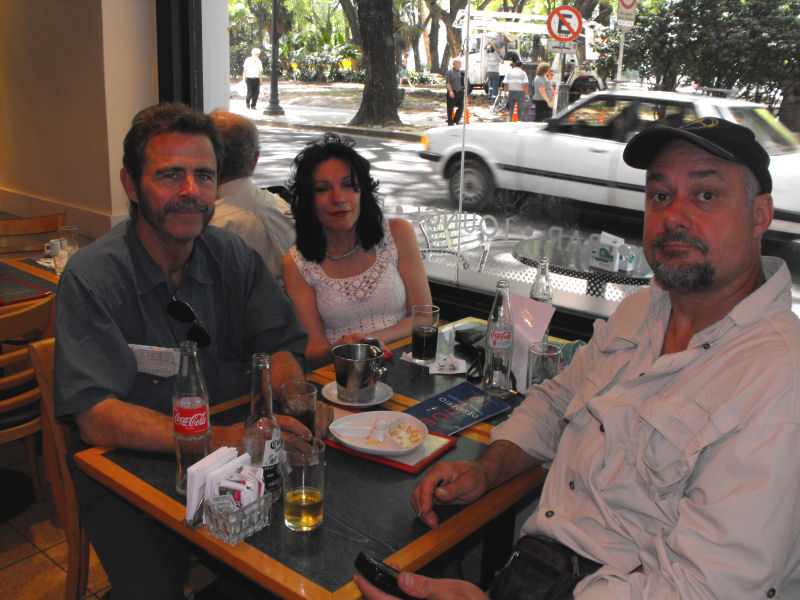 Along the way back, Don and Bev were going slowly, so Laurie and I went on alone to let them spend more time alone. We continued along Av. Florida until it changed to Av. Peru and kept going all the way back to our neighborhood of San Telmo.
These kids (probably brothers) were very good. The older kid played lead and did the singing, and the younger brother strummed out a vibrant rhythm and looked bored. Really, they were very talented. We stopped to enjoy them a while before leaving a tip and continuing.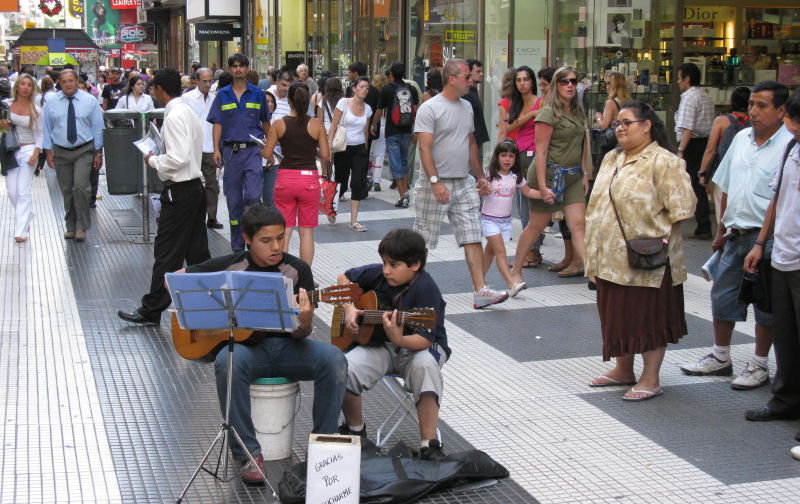 Weird looking guy, right? And the dude in the green shirt is odd as well.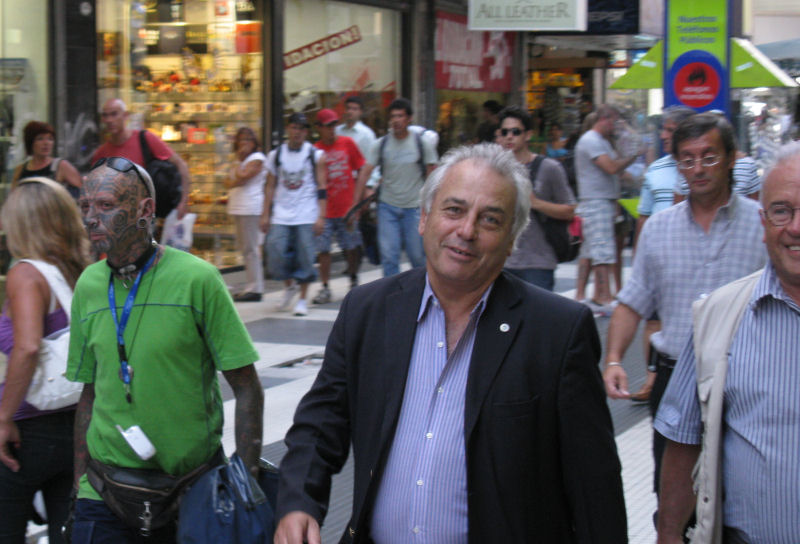 More musicians. Many of them had to be professionals doing side gigs; they were that good.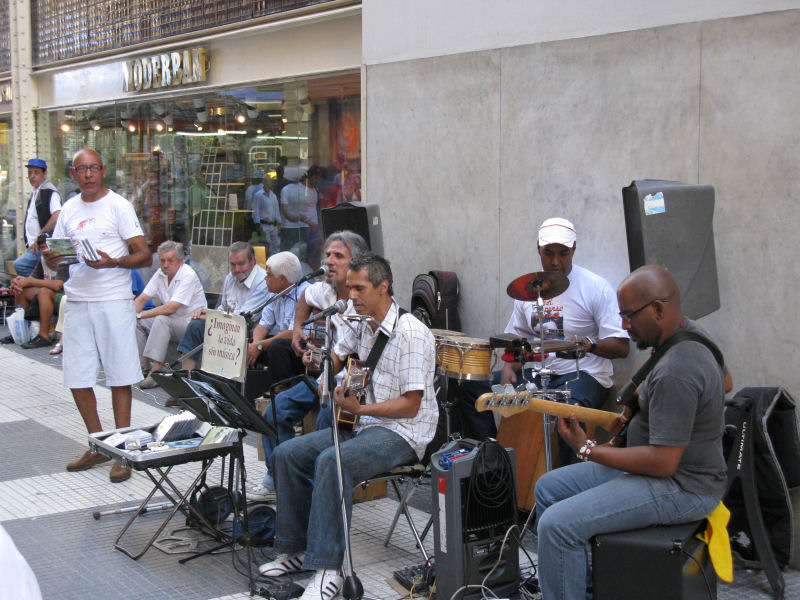 When we got back to the apartment, I took a shower to wash off the day's sweat. After writing for a while and trying to fix the upload problem, we went back out for dinner at about 22:00, and got back to the apartment at midnight. Lots of restaurants around San Telmo, and the more we got to know BsAs, the more we realized that there was always someplace to eat, even if it was something small and frequented only by locals.
Something we have noticed in all of Latin America is that their pizzas are all the same. Mozzarella is the only cheese you can get, and there is never any tomato sauce. It's a matter of taste, of course, but regardless what toppings you may put on it, it will be bland. Green olives are popular. The last good pizza I had was at a Pizza Hut in Lima, Peru. That's sad, but it's true.
Wednesday, 21 January, 2009
-------------------------------
We were all up and having breakfast by 10:30, and we decided to go see more of the places we had seen from the bus tour yesterday. First, we took Bev on the Subte and the train to see Dakar Motos. She had heard the stories about the place and wanted to see it. Back to the train station.
Before we got onto the Subte, Don noticed these odd trees. They had pear-shaped trunks that had thorns. I had not seen thorns grow from the bark before.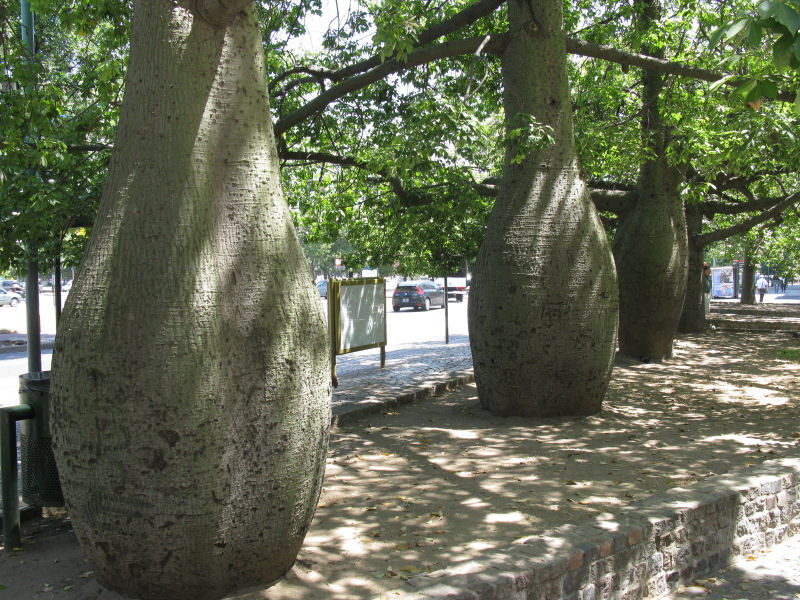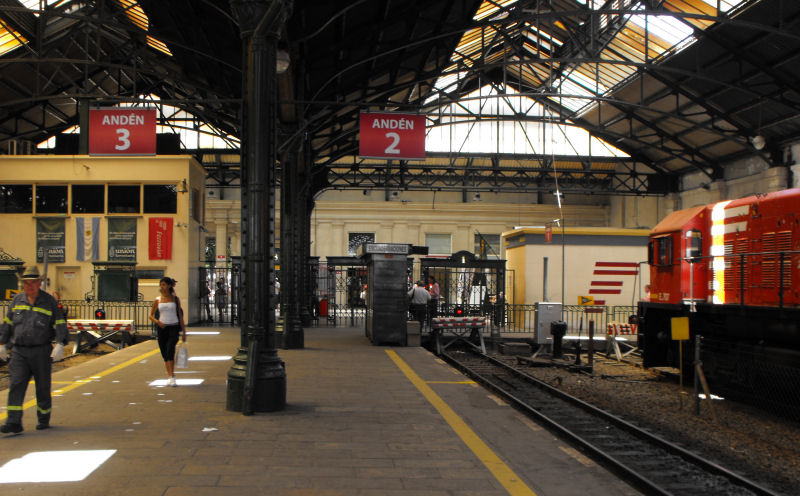 While we waited for the next train, I noticed a spigot that was leaking. I noticed it because all the pigeons had also noticed it. They were fighting for a position under the dripping water. In this photo, one pigeon actually flopped over onto its side and raised its wing to wash its armpits (wingpits?). Then it did the same on the other side. Then a larger bird chased it off. Next!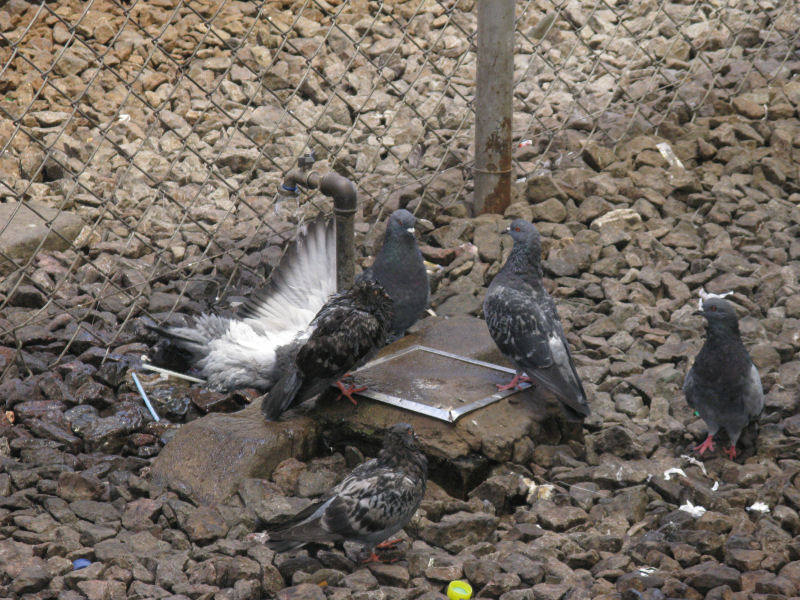 Javier and Ken had Chuck's gearbox off and were diagnosing his chronic oil leak problems. It would take several days and new parts shipped in from the U.S., but they eventually found that some bolts had been put back in the wrong places during some previous work. That caused one problem. Another problem was also attributed to faulty work.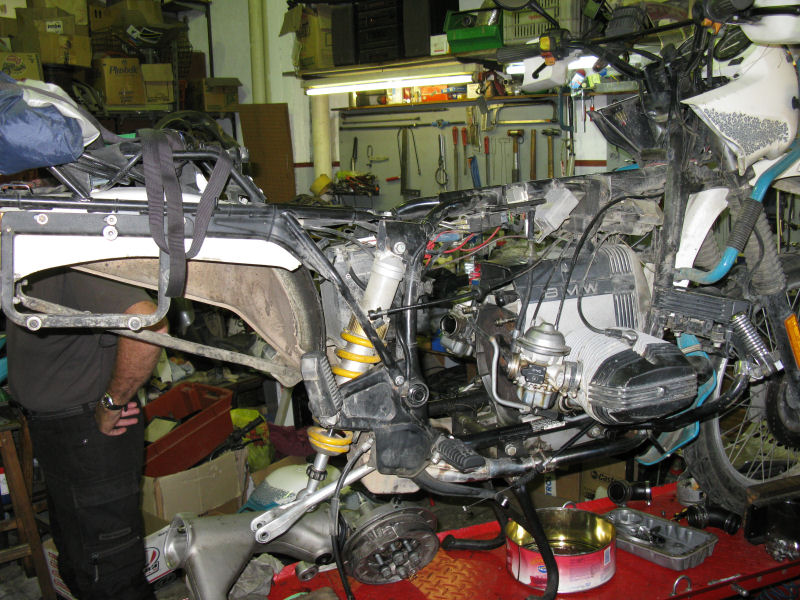 While we were there, a young Dutch couple were loading their baggage onto the red KLR seen earlier. He had very little riding experience, and she had never been a passenger on a bike before. They had bought the bike online from the owner, and Javier had serviced it to get it ready for them to ride. They eased out of the garage and we watched them creep the bike down the street. We wished them well. (We heard a week later that they had made it to Iguazu and seemed to be doing fine.)
Laurie chatted with Ken and Carol a lot, and they really got along well. They are very chatty in a warm, friendly way, so they're easy to like.
We left Dakar Motos and took the train back to the Retiro station. From there, we took a taxi to the Recoleta Cemetery. It's mostly famous for Eva Peron's internment site. Actually, it's the Duate family's crypt. The cemetery is large and has many ornate crypts, some of them housing the remains of very famous people from Argentina.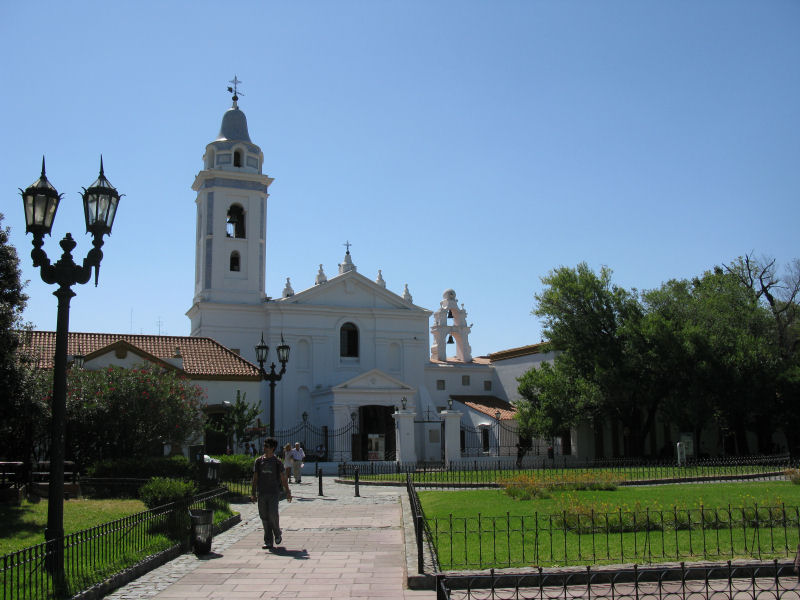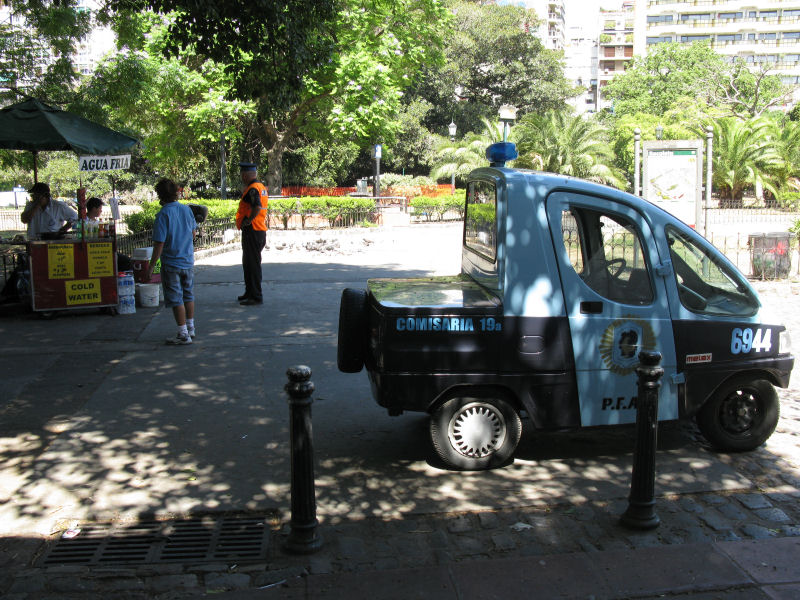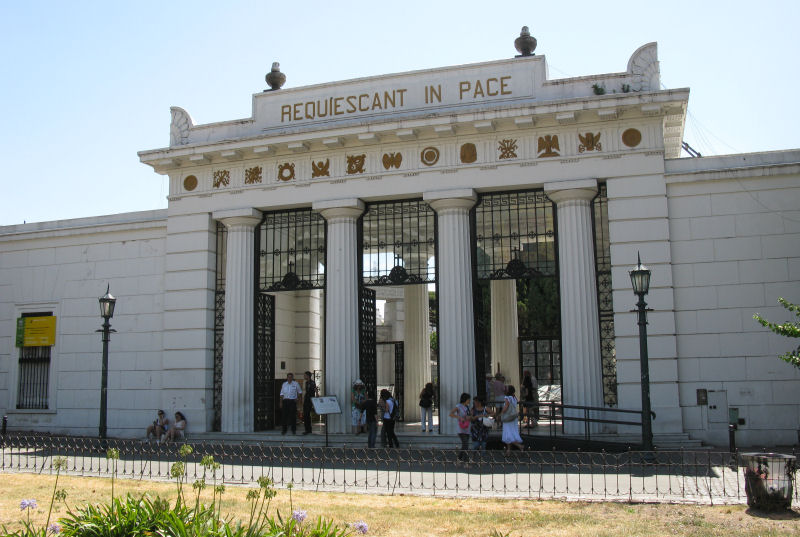 Recoleta Cemetery photo interlude: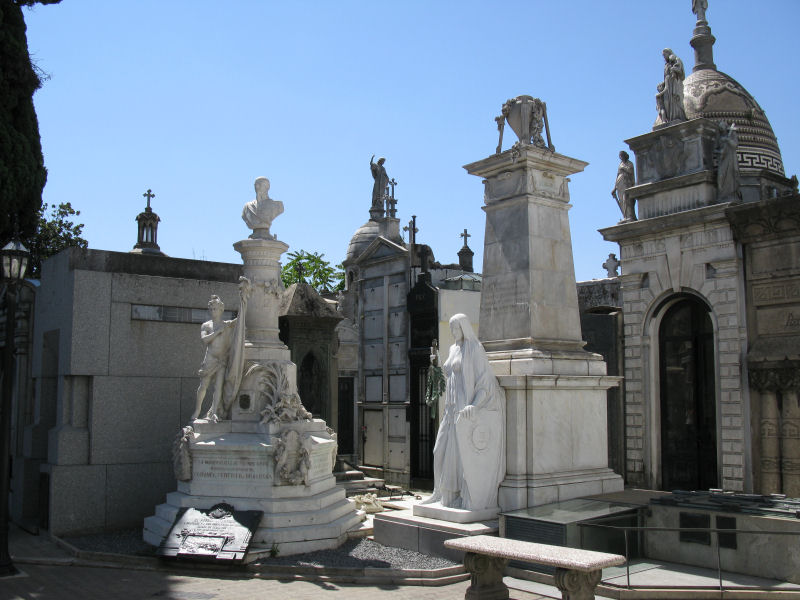 (Bev talked Don into shaving off the muttonchop sideburns, I noticed.)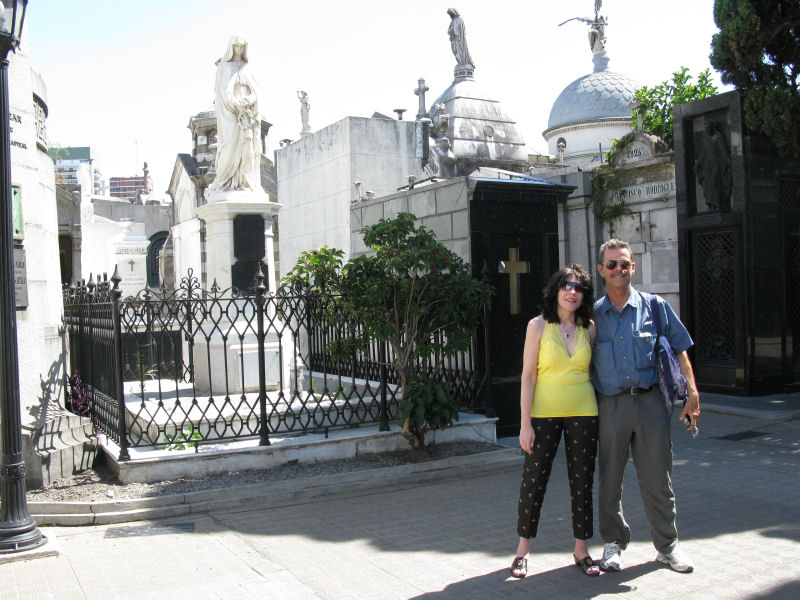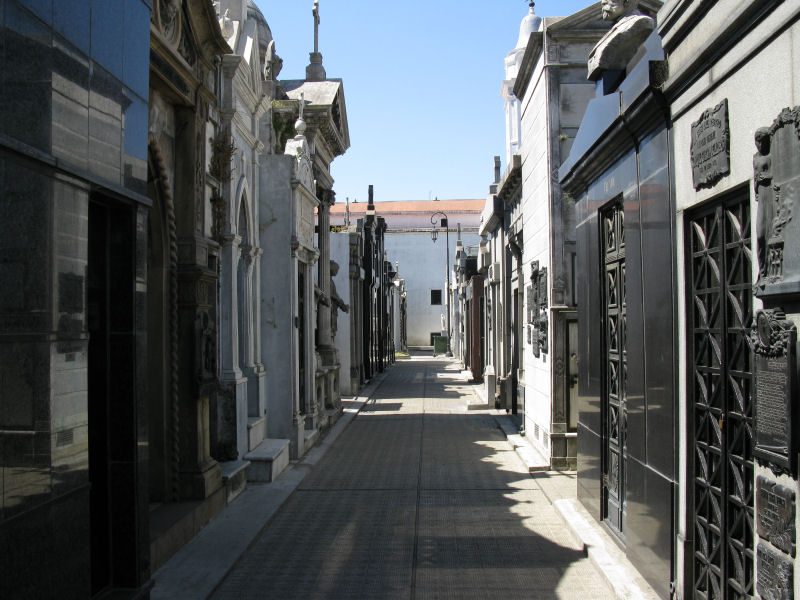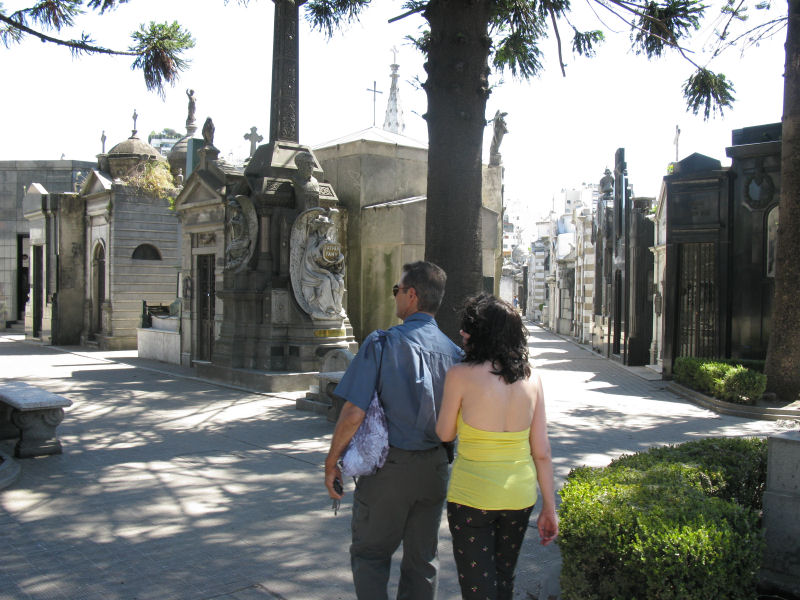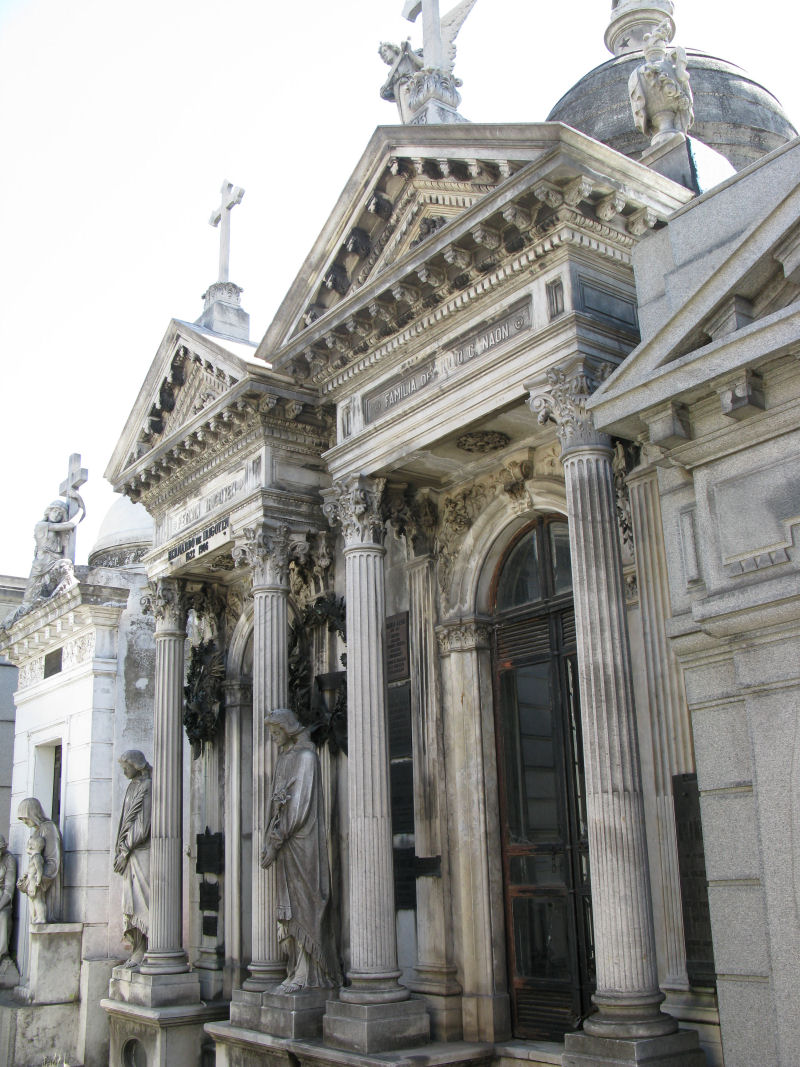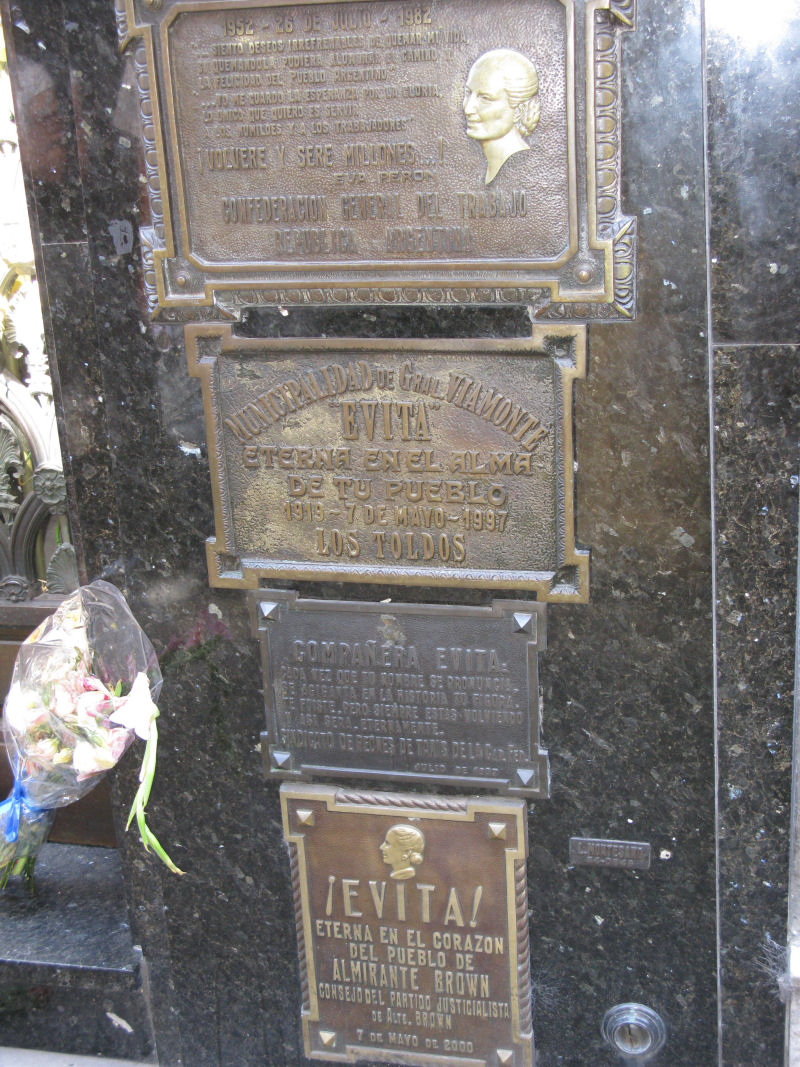 A busload of French tourists came through and there was nothing to do but get out of their way.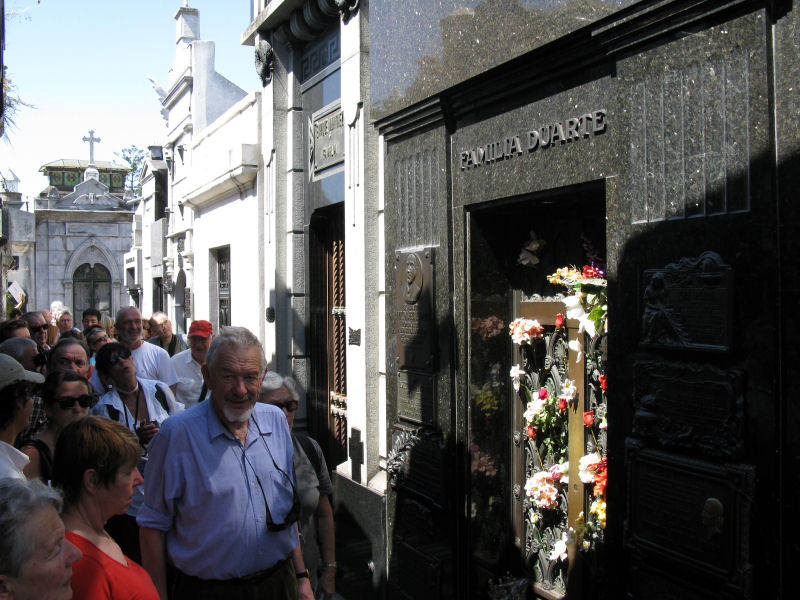 After leaving the cemetery, we went to the nearby business area for ice cream. On the way, I was amazed by some of the trees.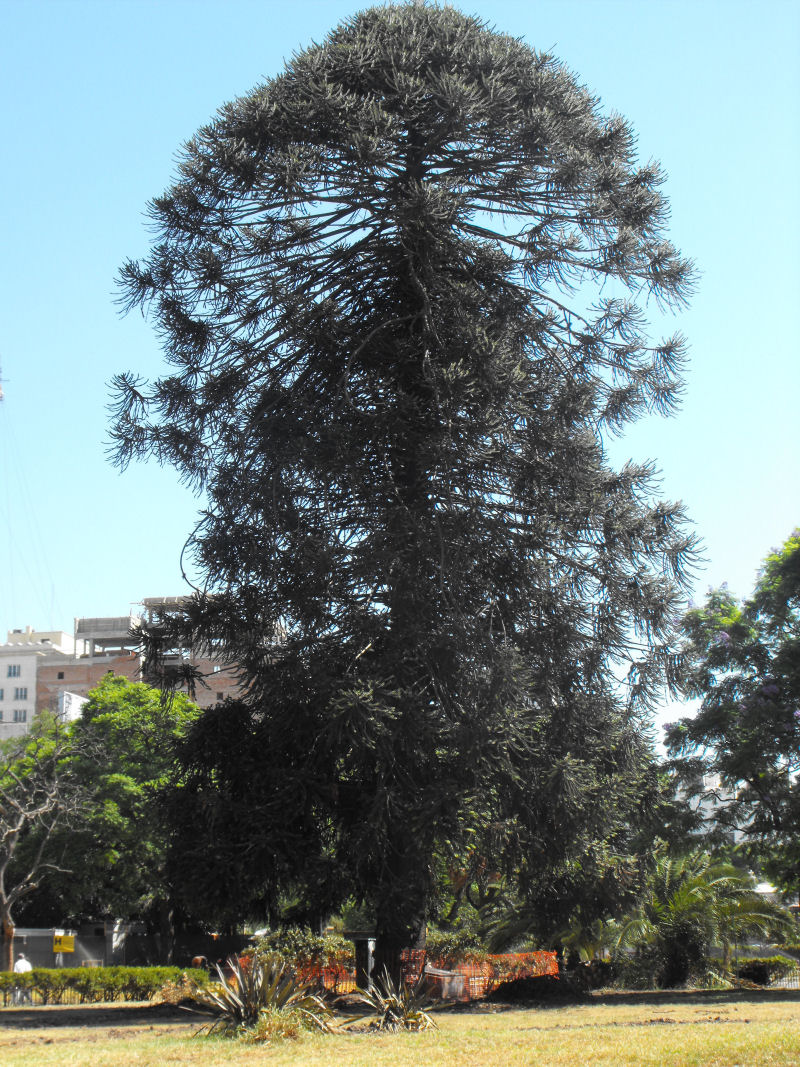 I mean, look at the size of this next rubber tree. Some other rubber trees near here were also huge. This particular tree seems to be famous--it certainly deserves to be. It was so large, they had built supports under its wide-ranging branches to help support them and provide more shade.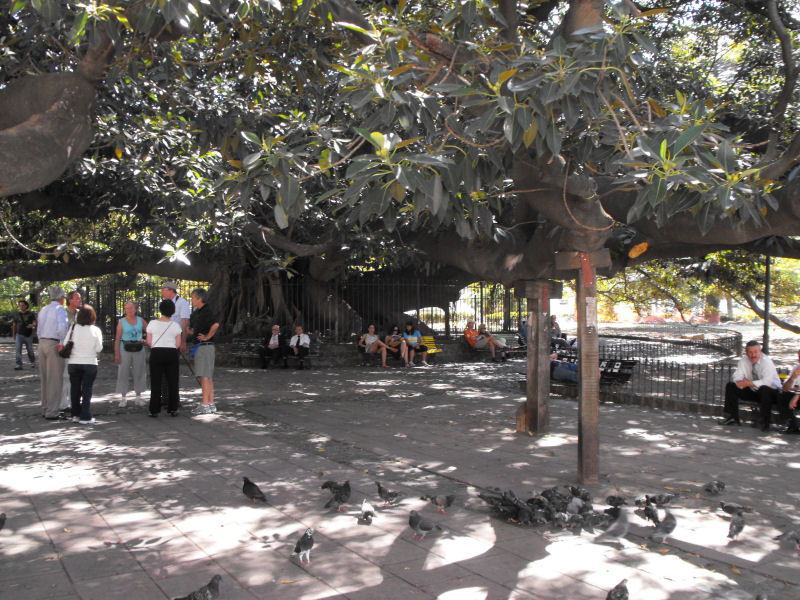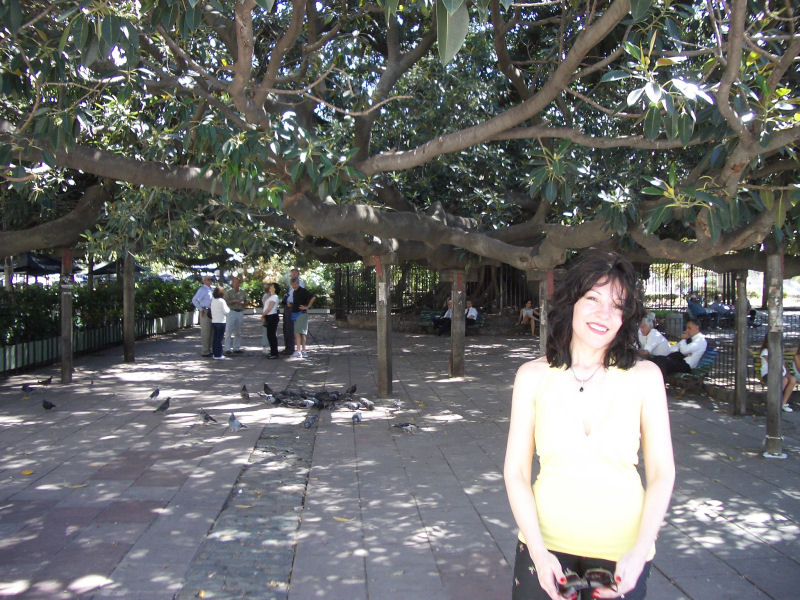 I saw some English girls laughing and taking each other's photos in these phone booths. Their generation must think that phone booths are relics. I once slept in a phone booth in Kaiserslautern, West Germany in the '70's, but that's another story. It was 'West' Germany back then.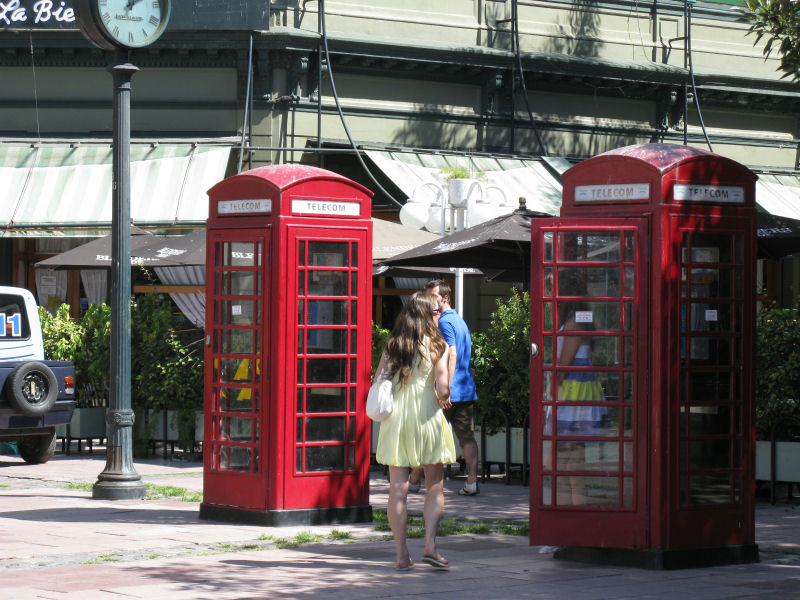 I liked their dresses. I wished that it had been a windier day, though.
After ice cream in the marble-lined basement of a nearby shop, we caught another taxi to the nearest Subte station and rode it to the A line, which was the oldest subway line in Buenos Aires. The cars still have wood seats.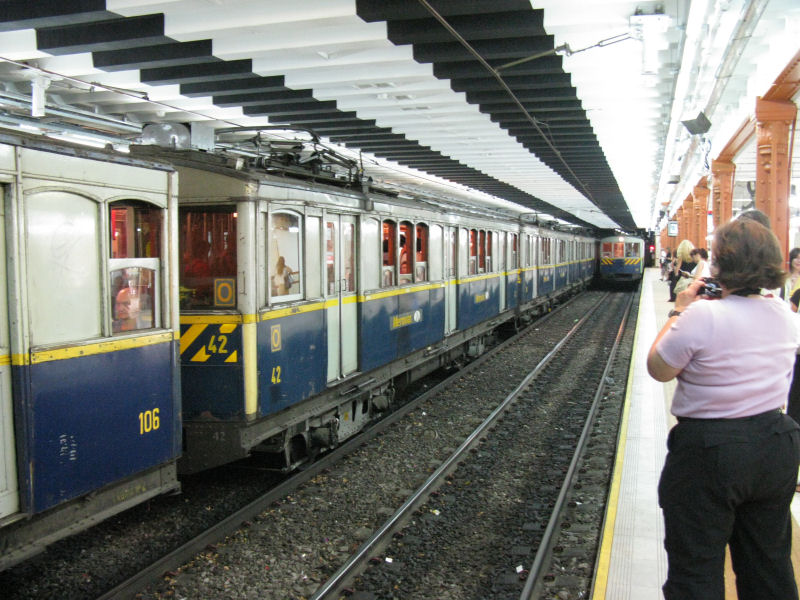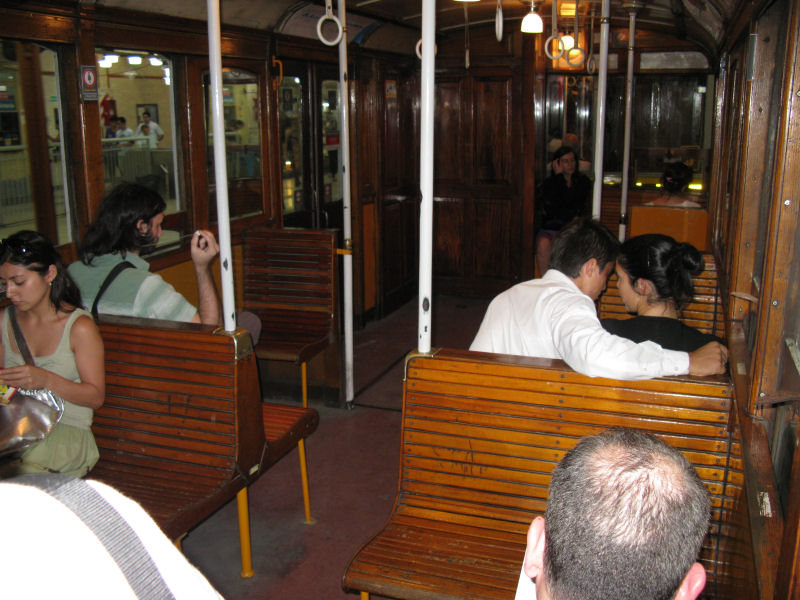 We caught the A line at the Plaza de Mayo, and we were lulled by how long the tram waited before starting. As it turned out, that was only because that was one end of its line. At the other stops, it halts only very briefly and then the doors close and it starts moving whether you are stuck in the door or not. This old line doesn't have the door-safety sensors that the new lines have. We learned this lesson the hard way.
We had intended to only ride the A line for one stop, then switch to another line. What happened was that when it made the next stop, the local commuters who knew the problem immediately jammed the doors to get on and Laurie and I barely made it off the subway car. I looked back to see Don fight his way off the car, but Bev was still on the car and being pulled back in by the crush of people. The doors started closing and the train started moving. Don was still holding Bev's hand through the crowd of people.
I've know Don a long time, and I know that he functions well under pressure. When he saw that Bev could not get off the car, he pushed her back into the car, away from the closing doors and then jumped into the moving train and fought and pulled his way through the doors that had closed on him. In seconds, the narrow tunnel would be a hazard to him, but he managed to pull himself through the doors and into the subway car. Then they were gone.
I had no fear for them, since I saw that they had both made it back into the car. I also knew that we didn't need to be in each other's company to be okay. We'd see them later.
The main problem (aside from the lack of any safety equipment on the old cars) seemed to be that this was the height of rush hour. It was just after 18:00, and the trams were running every 3-4 minutes. In that brief time, the platform got crowded fast by those whose work day was done and were headed home. There was no graciousness at all in the free-for-all of people fighting their way on or off the A subway. The other subways had safety doors that had to be closed before the trams would move. Not the A line.
So, be advised, folks. If you ride the old A line Subte, get on or get off quickly and be prepared to fight at the doors at rush hour. Don't be shy about it, either. And if you are in a group, decide what to do if you get separated.
Laurie and I stayed in the underground subway station and went to the C line connection. The C line is the one that goes nearest our San Telmo neighborhood. Since it was rush hour, we decided to not fight the crush of people. Instead, we sat in the subway station and watched the commuters cram themselves into each car for the next half hour. Sometimes, the doors worked back and forth several times before everyone got all their body parts inside.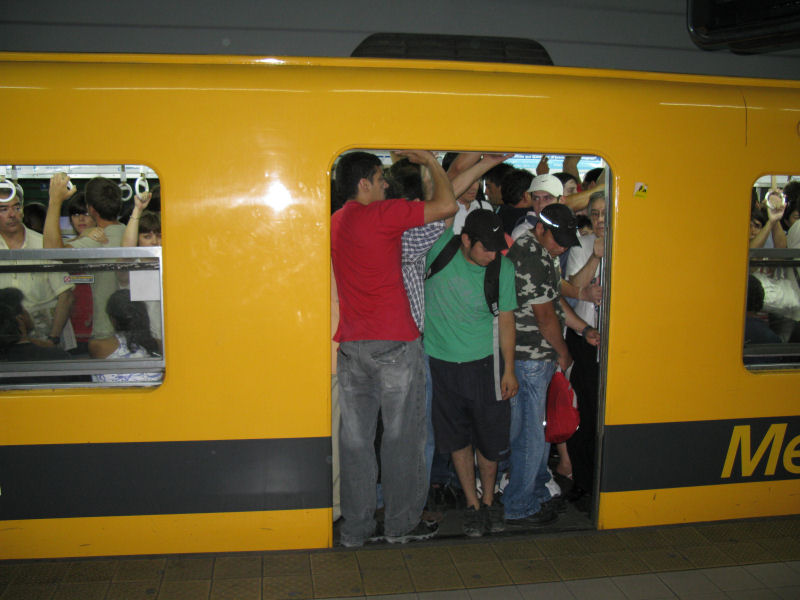 When the trams started appearing less crowded, we finally got on one and headed back to San Telmo. We walked the last several blocks from the nearest C line subway station to our apartment. In a market near our apartment, we found Don and Bev, also shopping for a few things. Don told us that his last-second decision to get back on the train was due to his concern for Bev in the crush of people. Would she be able to get off at the next station? It wasn't obvious, so he decided to stay with her. It's not the first time I've know him to risk himself for the benefit of someone else.
After relaxing for a while, we went out to see a tango show. On the bus tour, the guide had pointed out a few of the oldest tango dance halls, and we chose El Viejo Almacen, which wasn't far from our apartment. At 20:45, we headed out in a taxi, and after a mixup with the location of our destination (our error, not a game by the taxi driver), we got to the show on time. We had made reservations, calling ahead earlier. (Do use the tourist information booths around the city when you see them. And have a recent copy of either the Lonely Planet guide or Footprints guide for wherever you are going.)
The show was okay, if a bit 'lightweight' and aimed at tourists. The dance was given in the form of various young performers portraying the evolution of the tango from the late 1800's. The skits were lively and fast. I never got a better sense of the tango from this show, though. The dancers in Plaza Dorrego were as good, and seemed a lot more authentic. But what do I know?
This was the stage.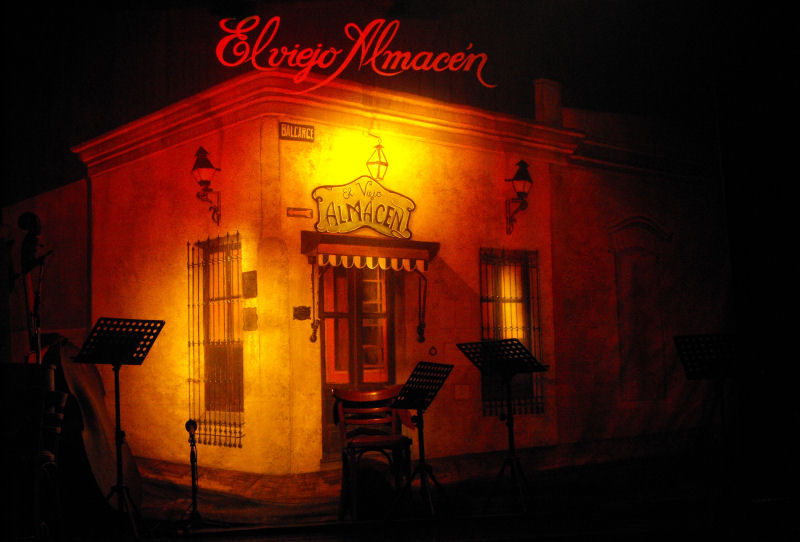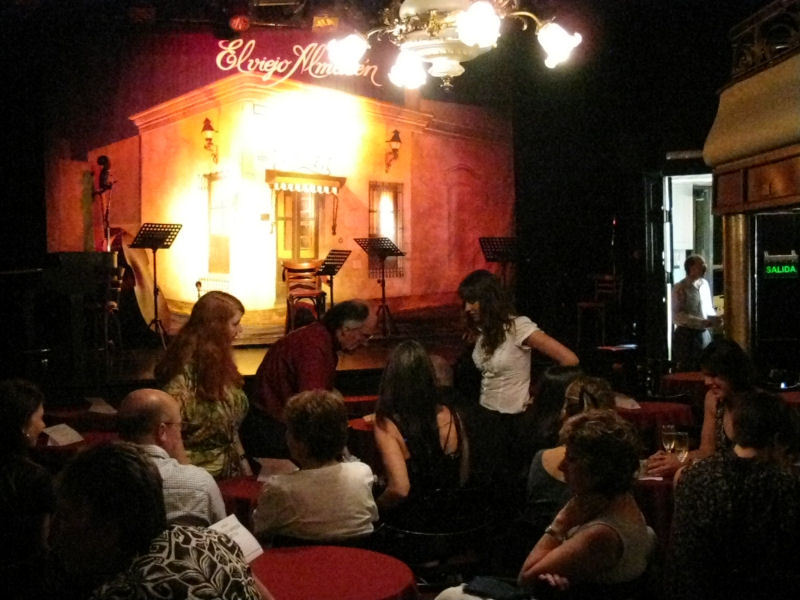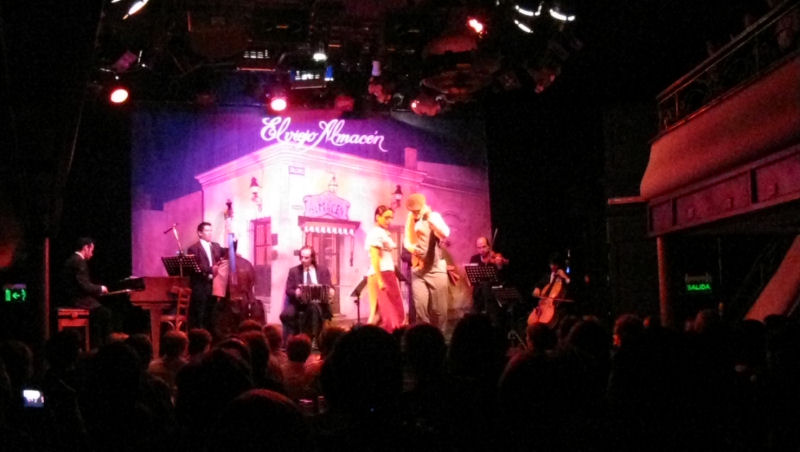 Most of those in the audience were from hotels and cruise ships. Well, okay... we were tourists too. Bev brought Don the shirt with the naked ladies on it, and Laurie had brought me a silk shirt as well. No naked ladies for me, though. Story of my life. *Sigh*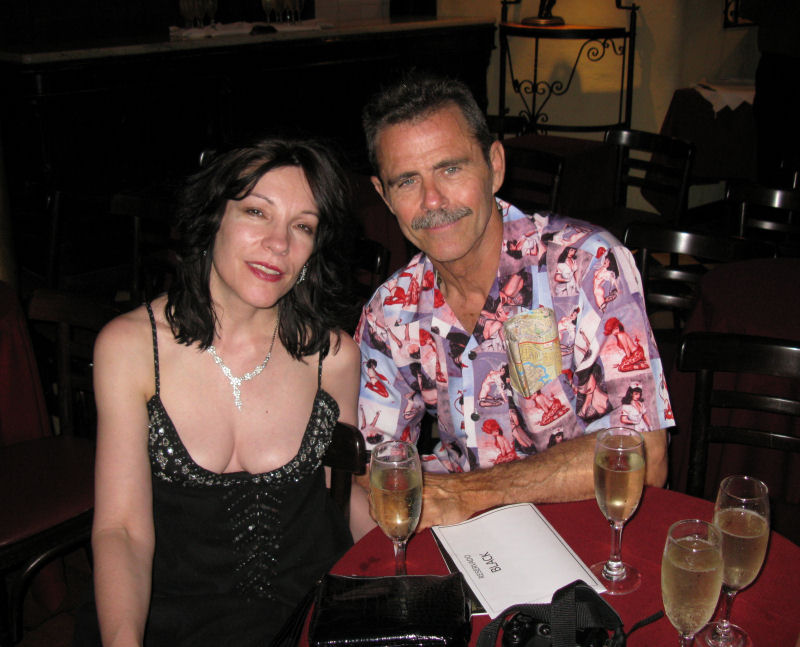 After the main dance numbers, the band did a few gigs. Then a group of other musicians did a few songs. The flute was very nice.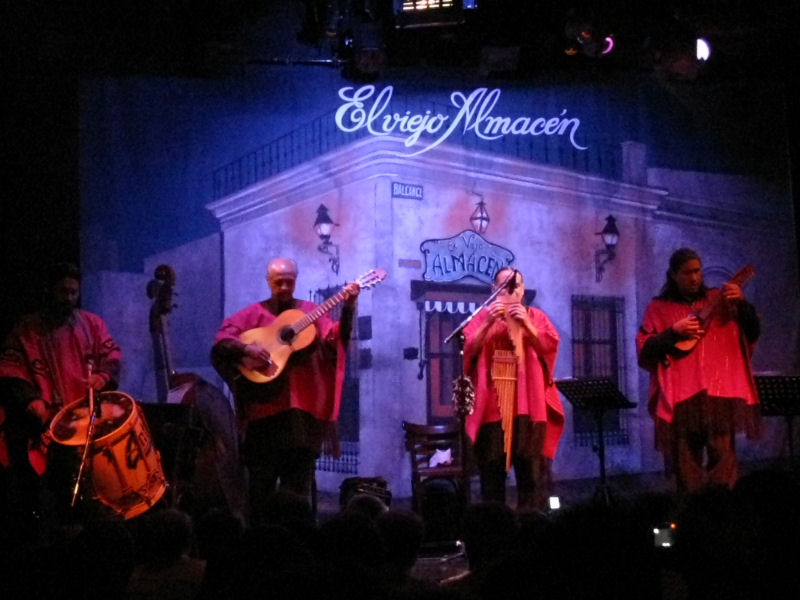 Then the primary band did anther gig with a featured accordion player who looked just like Tony Curtis (in his later years). It was nice, but too long. After that, some old, lively gal came out on stage to some fanfare, so we assumed that she was famous. I have no idea who she is. She did a couple of torch songs, one of them seemed to be sung to a glass of champagne. Must be a story there for the tourists who read their cruise ship guidebooks, but it was lost on us.
All in all, it was okay, but a bit disappointing. If you have the chance, try another of the many tango shows.
Back in San Telmo later, we split up again for different dessert places. When Laurie and I got back to the apartment, we did email and I wrote until about 03:30. It was nice not to have anything else to do but relax.
Thursday, 22 January, 2009
----------------------------
We all slept late. The ceiling fan in our room was nice, but it was aimed at the foot of our bed. Fortunately, the room was narrow but long, so we dragged our bed until it was under the fan. Much better. I also had hung my Permethrin-treated mosquito net up in the room, just to kill the ones that came in contact with it. I was tired of them eating my ankles at night.
Don had already gone to get his passport back from the Brazilian Consulate. When he got back, we lazed around a bit, then decided to 'do' something. Laurie had read something about a building in BsAs that had been built as an homage to Dante, and it had an architectural "Dante's Inferno" theme to it. I think it is the Palacio Bartolo. Anyway, we hopped the C and A subways (not rush hour, but still fast on the doors for the A line) until we were close. A short walk brought us to the building, which houses many offices and businesses. When built, it was the tallest building in South America.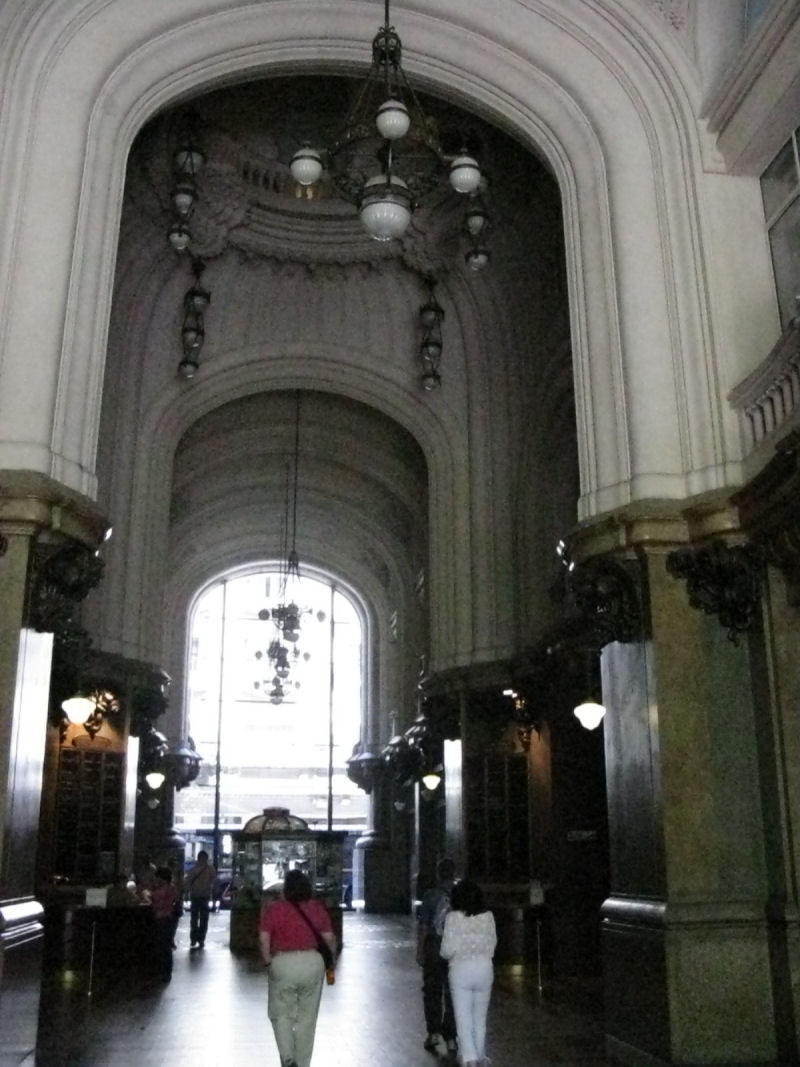 Being stupid U.S.A. tourists, we assumed that we could just explore the building. Laurie had read something about a tour, but we didn't want to wait for it. We took one of the many old, iron-gated elevators up as high as they would take us...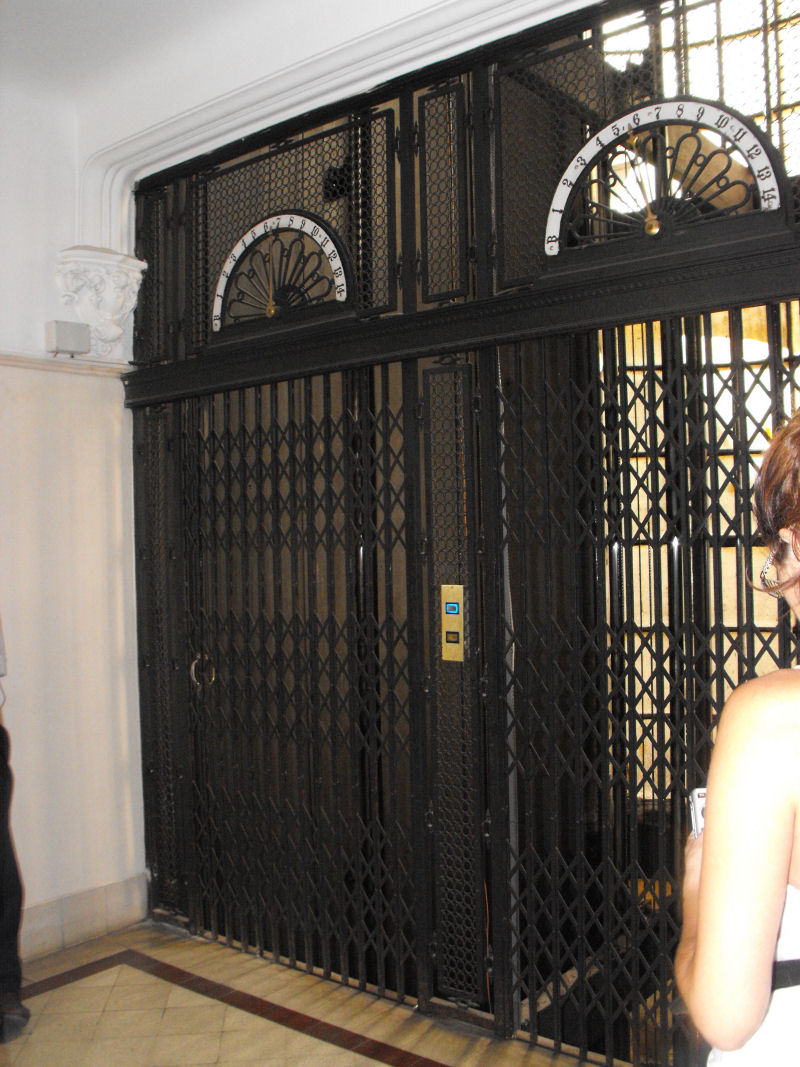 ... then crowded into a small elevator that would take us to the very top. There was an old lighthouse at the top that we wanted to see.
As soon as we crammed ourselves into the tiny elevator, a guy leading a small tour group came down the stairs that spiraled around the round elevator and he freaked out when he saw us. As our car started upward, he shouted, "Where are you going!?" The elevator stopped suddenly and started back down. It seemed that he had a master key and was now in control of our passage. Once he had us back within his excited control, he explained that this was a private office building and he would provide official guided tours if we wanted to see the place. He was also very concerned about us crowding into the antique elevator, which was designed for two people only. Oops. Sorry.
Well, yes, we would like to see the place, we told him. He sent us to the ground floor to wait for him, since he had to finish his tour that he was currently conducting.
So, okay, you can't just wander around the building. The tour wasn't expensive, and the guide's explanations of several things made it worthwhile. On our own, we wouldn't have understood much of the building's features.
Briefly, the building was built by an admirer of Dante, and he hoped that Italy would relinquish Dante's ashes to be interred here on the ground floor under the tower. That never happened, of course. Still, the building's lowest level was a representation of Hell, with dragons and designs in the floor that were supposed to be fire. The floor designs looked more like flowers to me, but I'm just a goon in polyester pants.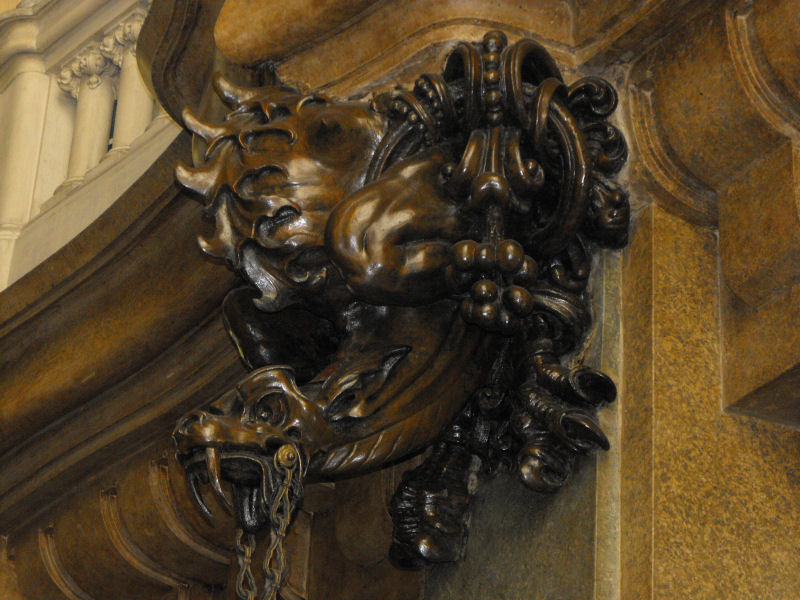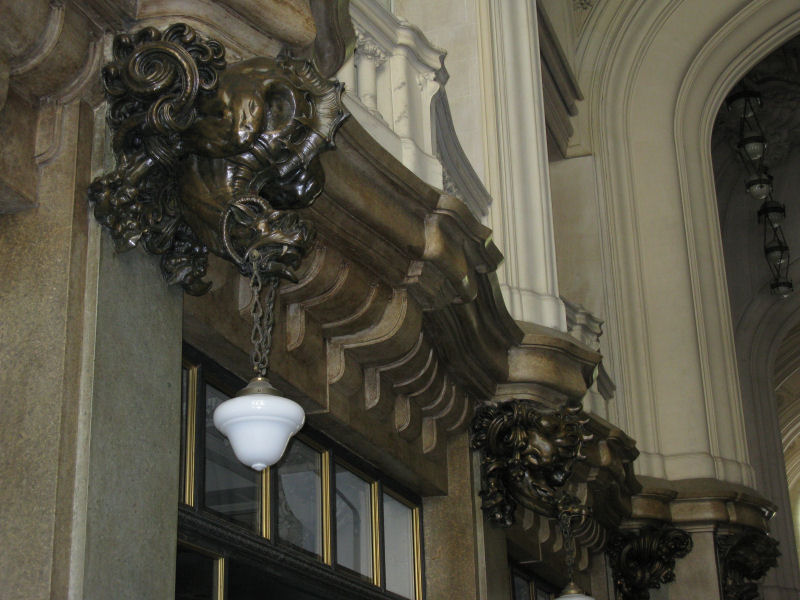 As you ascended the building, the architecture changed and became more flourishy. Okay, my spell-check doesn't like 'flourishy,' but I'm leaving it in.
The idea was that the middle levels of the building were a depiction of Purgatory, and the upper levels were Heaven. The building's exterior was interesting all over, but on the inside, only the lower level and the central rotunda tower were interesting in design. The various floors of offices were just plain and uninteresting.
Down there, in the center of the floor under the tower is where Dante's ashes were supposed to have been placed. Yeah, right. It was the height of arrogance, if you ask me, that some architect built a building in Buenos Aires expecting that Italy would give up Dante's ashes.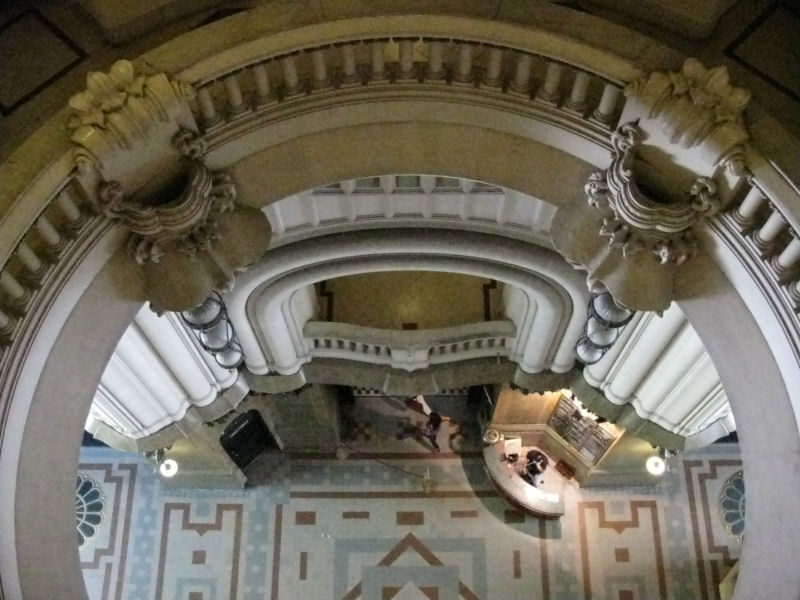 "Hello, Italy? Yeah, see, I'm an architect in Argentina... Argentina... It's a country in South America. Anyway, I just built an office building and I want you to send over Dante Alighieri's ashes to me, okay? Huh? Well, it's because I built this building for him, you see. What? I want to put his ashes here on the ground floor of my building under a tower. Oh, come on, Italy, work with me here. Hello? Hello?"
Near the top, there was an observation level with views from several windows around the tower. Argentina's Congress building there.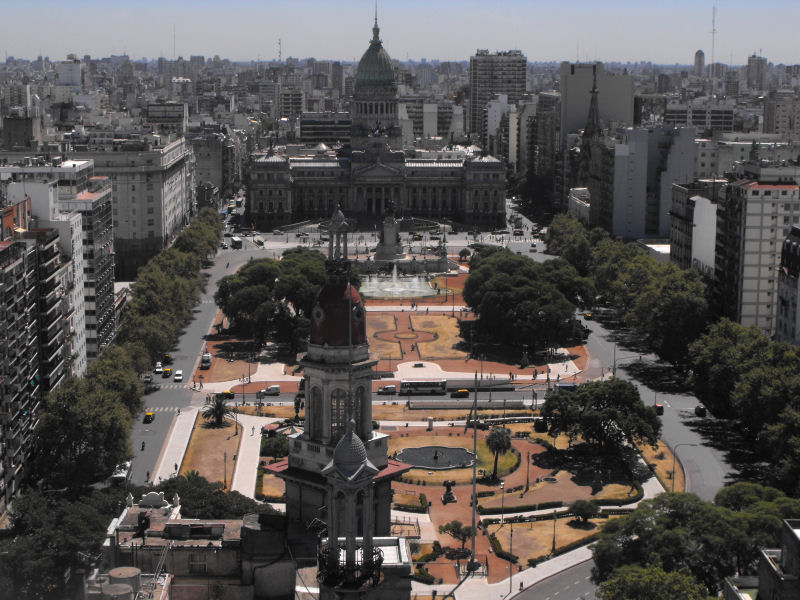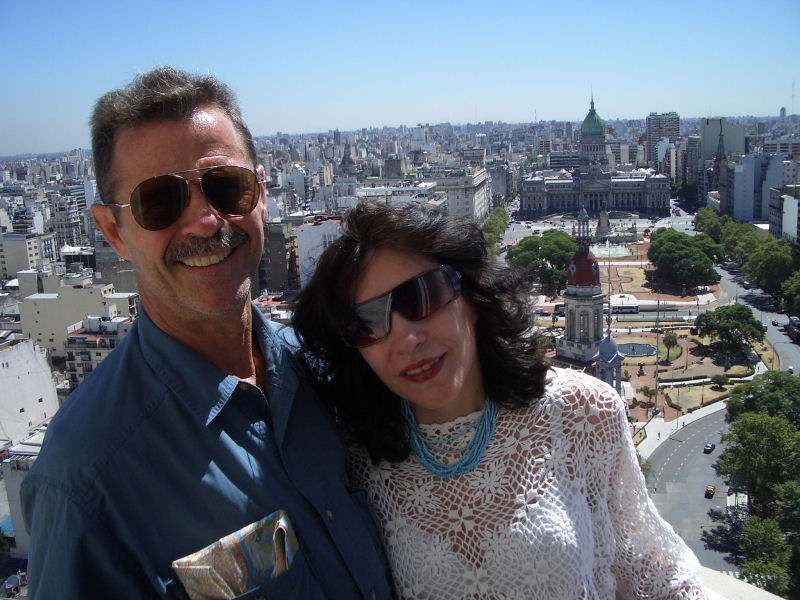 A lot of the skyline looked like this.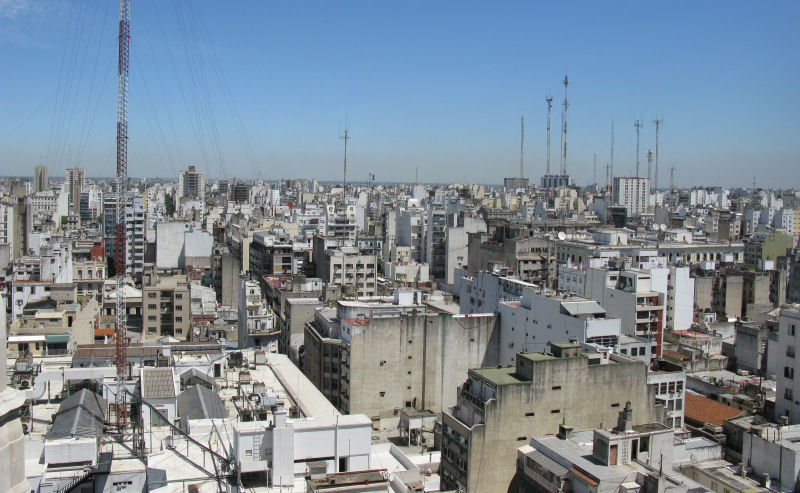 In the very distance on this next shot, you can barely see the muddy water of the Rio Plata, the wide mouth of the river that separates Argentina and Uruguay.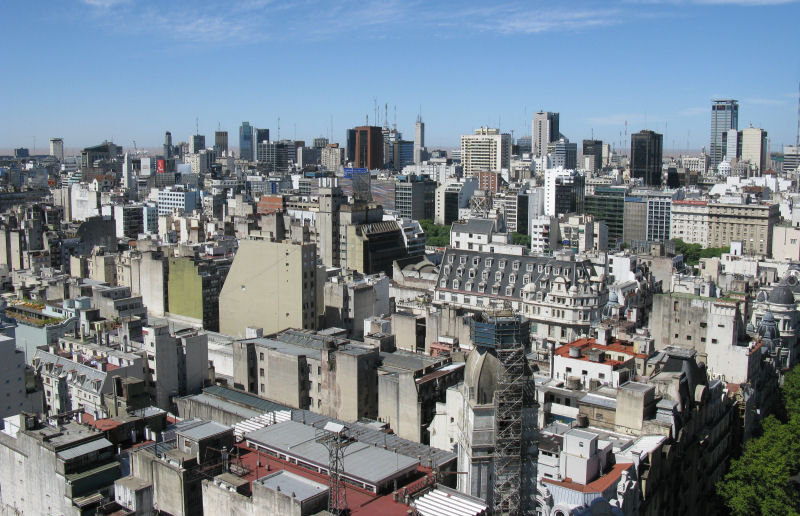 Buenos Aires has lots of plazas and parks, so don't let the urban density fool you. They knew to include open space every now and then.
Well, okay, I admit the lighthouse was interesting, too. After climbing the spiral stairs around the tiny elevator (which you can take if you can't manage the narrow stairs), we emerged in the cramped space and sat around the lighthouse beacon while the guide told us the rest of the building's story.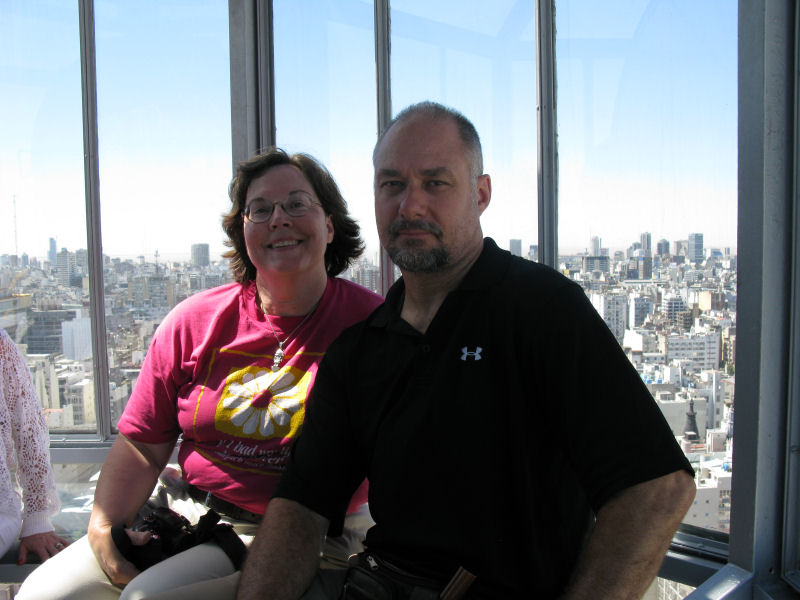 That's our guide. Nice guy, if a bit high-strung.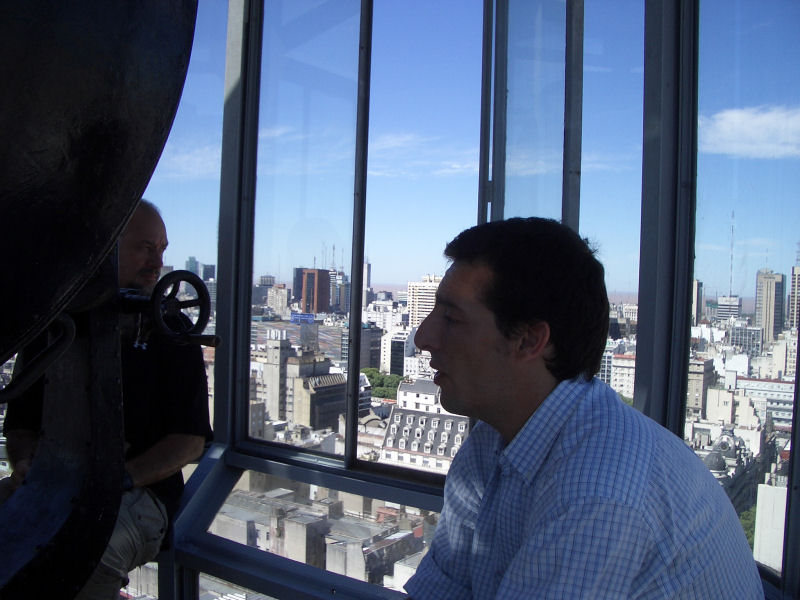 We had picked up a British tourist along the way, in the same manner that our guide had found us. She was exploring the building on her own, but we drafted her into our tour.
From the Palacio Bartolo, we found the Cafe Tortoni, one of the oldest cafes in Buenos Aires. The prices were reasonable, but we only had salads.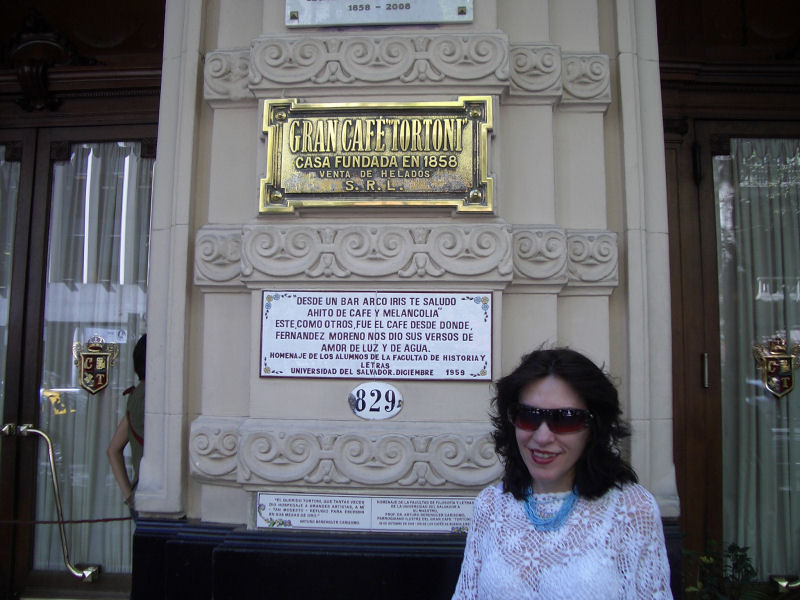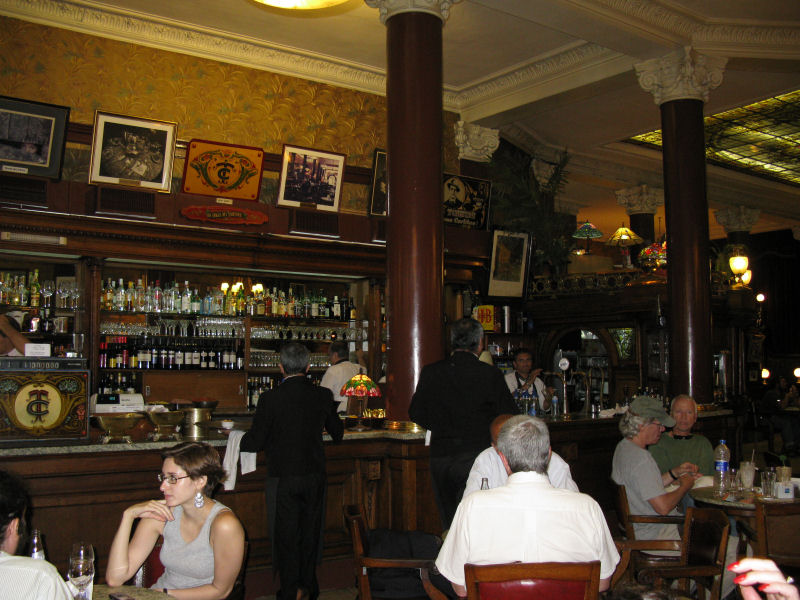 Outside, there was yet another protest going on. The police were casual about it, but had blocked off the street.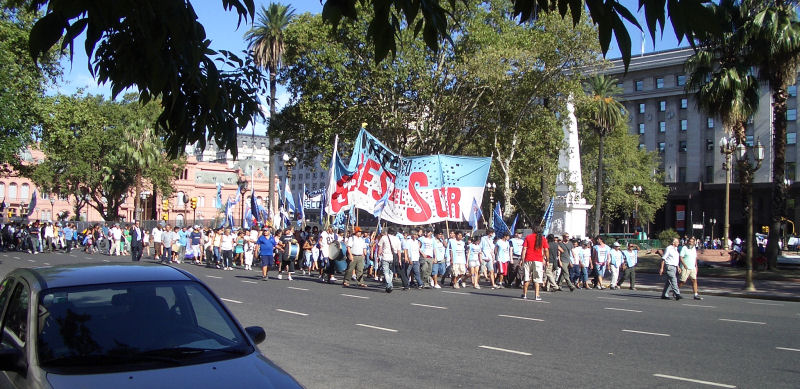 We had heard earlier that Peruvian immigrants were often protesting for more rights, but we're not sure what this was all about.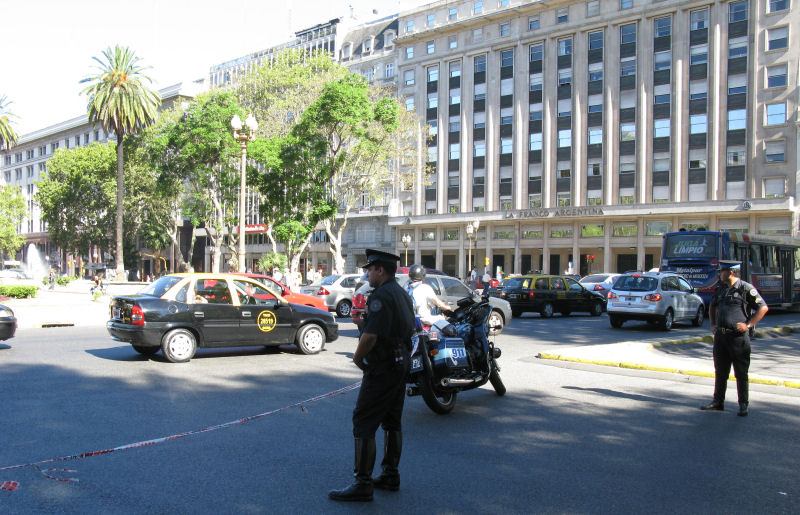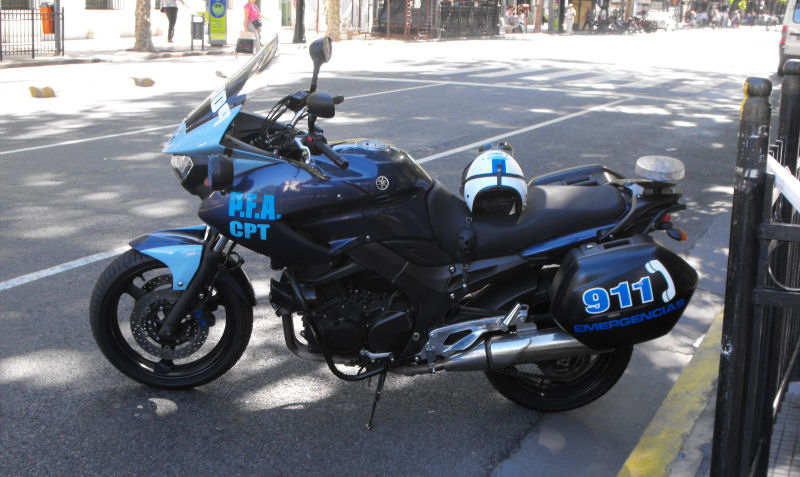 Bev was already used to cuddling cops.
We took another taxi (hey, they're cheap for local rides) to the redeveloped waterfront area. The old warehouses had been converted to restaurants and high-end condos and offices. The bus tour guide had told us that this was the most expensive part of the city, per square foot. The old cranes are there now only for ambience.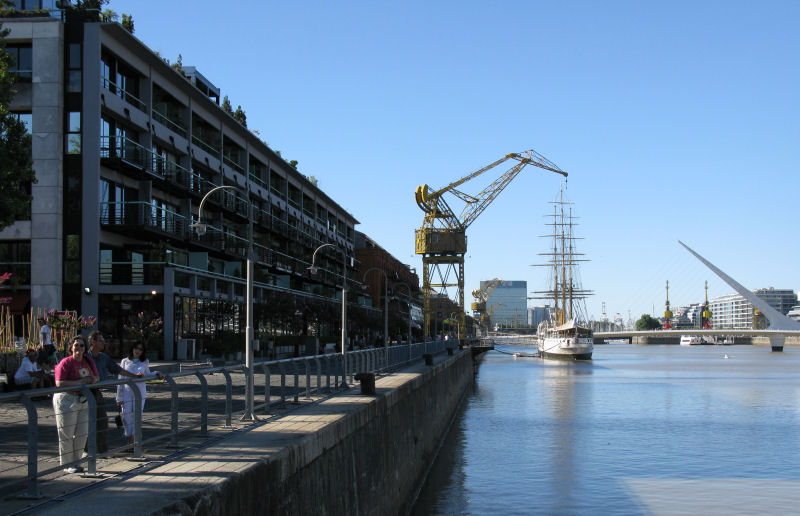 There are a few of these old navy ships along the former dock waterfront. They get moved every now and then, and you can go on them and see them.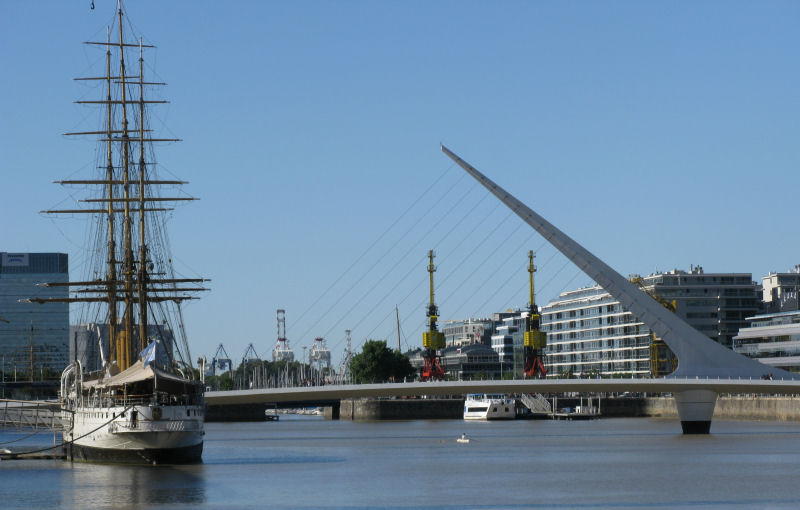 Don and I sometimes walk faster than the gals.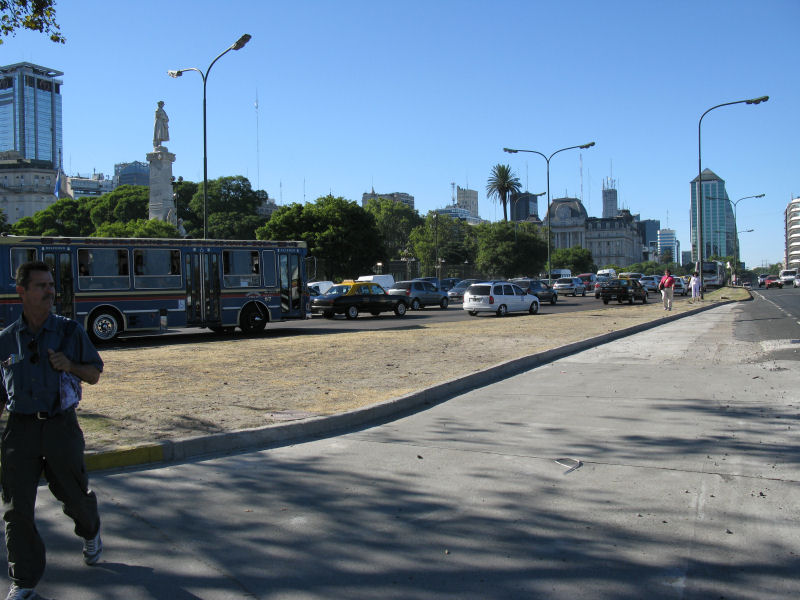 We walked and found an ice cream stand where we lounged a while. The sun was harsh, though, and we wandered on.
Back at the apartment later, Laurie did some online research on shipping our bikes from Brazil or Venezuela back to the States. There seemed to be several options, but I was tired and wasn't paying attention. If my bike repairs take very long, Don will go on by himself, so he paid more attention that I did. I'll find my way later, as needed, if I have to ride alone. It'll be okay.
We all went out to a local steak house later, and it was okay. I have yet to experience the famed Argentinean beef, and am beginning to suspect that it is all just publicity. I've had great steaks back home, so I wasn't interested in the expensive steak houses here.
On the way back to our apartment, I saw a couple of motorcycles parked near Plaza Dorrego that I recognized. These bikes belonged to Joe and Charles Seguin, whom I had met up with in Panama. I've been following their ride report on Adventure Rider, so I knew they were due in BsAs at any time. It was maybe coincidence that they landed near us. I pointed out their bikes to Don (he hadn't met them yet), and that proved to be fateful later.
Friday, 23 January, 2009
-------------------------
We again made a late morning of it, finally getting out in the afternoon. We took the Subte to the train station and found our way to the Tren de la Costa, a limited-run route that runs along the coast. It was suffering from lower ridership from the locals and had been remarketed as a tourist route. Each stop was touted for its restaurants and shops. The trams were all newer and were air-conditioned.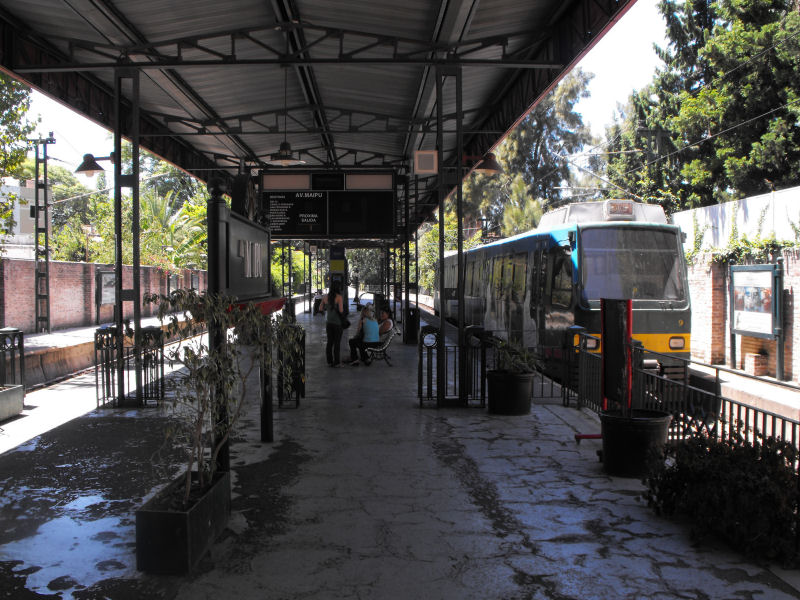 Really, the shopping at the stops along the way looked pretty disappointing, and the one stop we got off at was not very interesting. Once you buy a ticket for this train, you can get on and off wherever you want. A conductor comes through and checks everyone for a ticket.
We rode the line to the end, in the Delta region. On the platform was this large advertisement for breast cancer awareness. Won't see this in the States.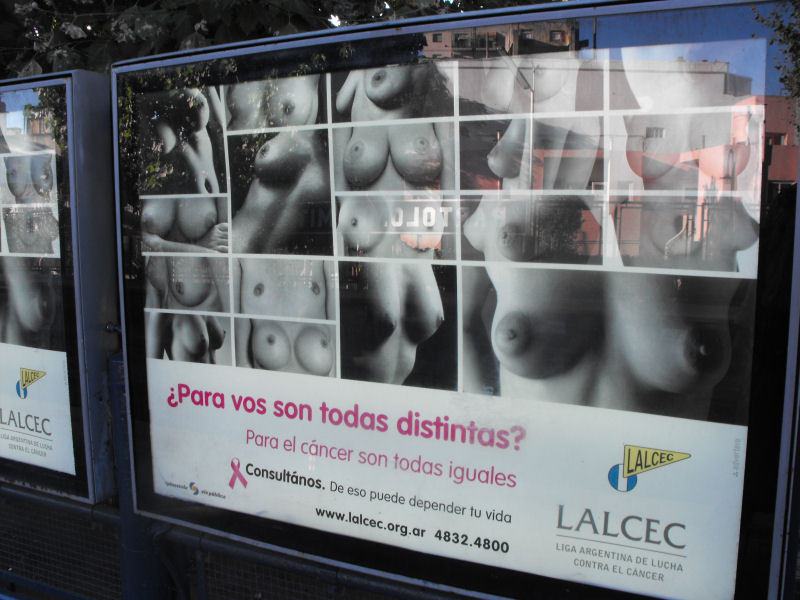 There was a lot of touristy things to do in the area, and a family could spend all day here. The amusement park looked nice, and there were a lot of people there.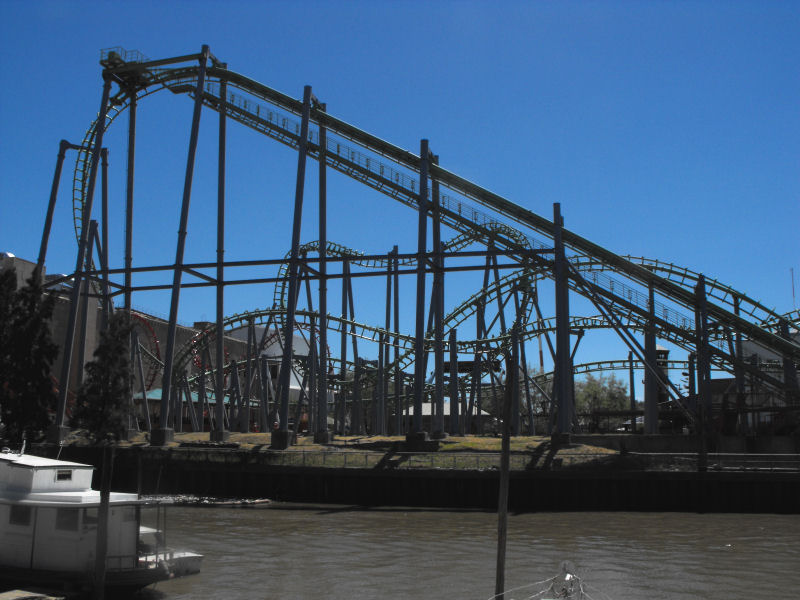 We had intended to take one of the boat rides around the islands, but we hadn't decided which to take. A salesman on the platform tried to interest us in a longer ride in a small Zodiac boat that goes into shallow waters and more interesting places. In the end, the gals decided they wanted a shorter, more leisurely ride on a larger, two-deck catamaran that went around one of the islands.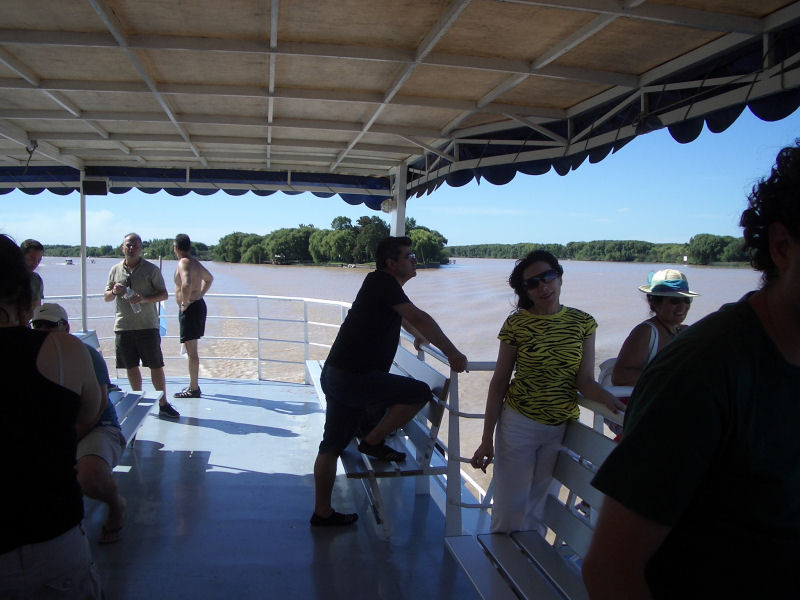 The water was brown with sediment, but there were lots of people swimming and wading. Many of the properties along the water had small beaches. The area certainly sees tidal effects, and the beaches would be under water at high tides.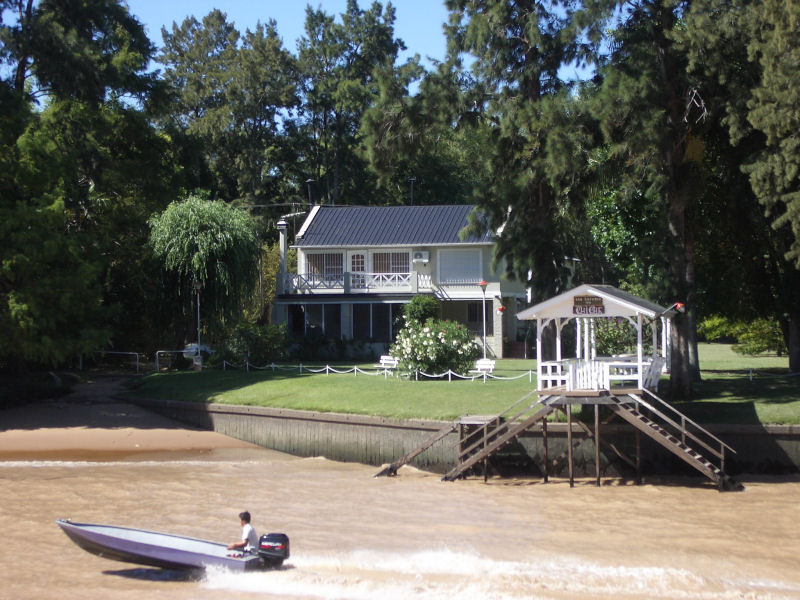 Most of the shoreline that we saw on this boat ride looked like this. This was its own community, too, with schools, churches, and shops along the coast.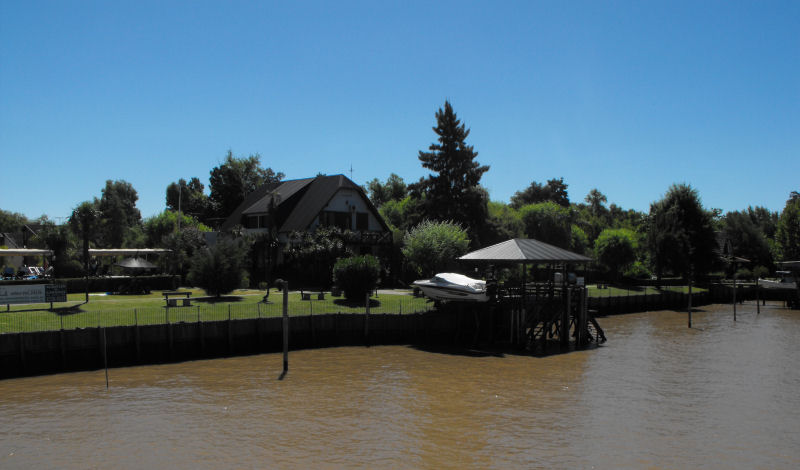 Almost all the houses had boat docks, but not all had boats. There were some smaller water passages that split off from the main waterway, and we could see more houses and boats there. The tour boat coming behind us in the next photo is just like the one we were on.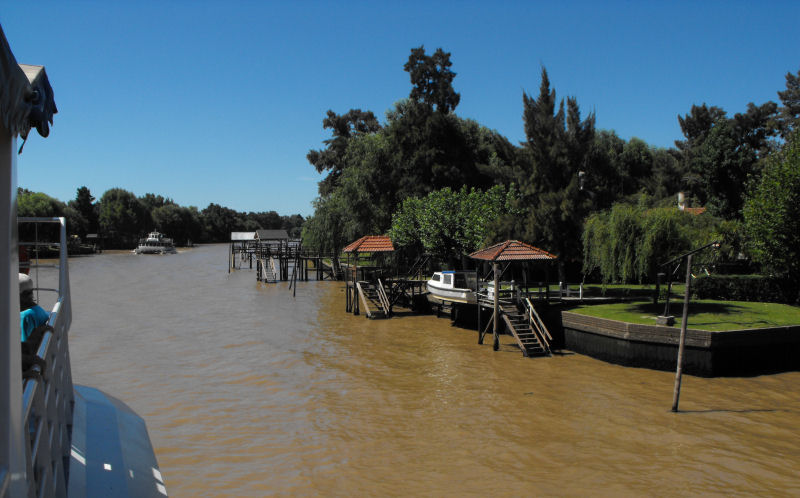 There were also several small and large resorts along the water. Some were casual, like the one below, and a few were fancier.
The boat ride was okay, but I would have rather done the Zodiac ride that goes more inland and allows you to stop and walk around in the shallows. Maybe next time.
As we got more out toward open water, we saw a dramatic increase in recreational watercraft. Lots of speedboats, lots of jet skis.
It was something different to do and not very expensive, so it was worth doing.
Back in the city later, we split up again. Don and Bev had dinner plans on their own, so Laurie and I walked the length of Av. Florida again before taking a taxi to Plaza Dorrego. We got there not long before one of the restaurants (on the lower section of the plaza) put on a Flamenco show. I thought it would be a guy with a guitar, but it turned out to be a nice band and a couple of very talented dancers. The man and woman took turns stomping the crap out of the small stage they were on. We were sitting right in front of them, so we had a nice view as we ate.
The gal was maybe in here 40's and looked great. I didn't get the best photo of her, sorry. The guy was a fantastic dancer. His feet were too fast to see and he strutted the small stage like a matador. He's the one on the left with the green suede shoes. The gal playing guitar (hidden in the photo below) was a total hottie with tight pants. She was a good guitar player, too, just so you know that I noticed.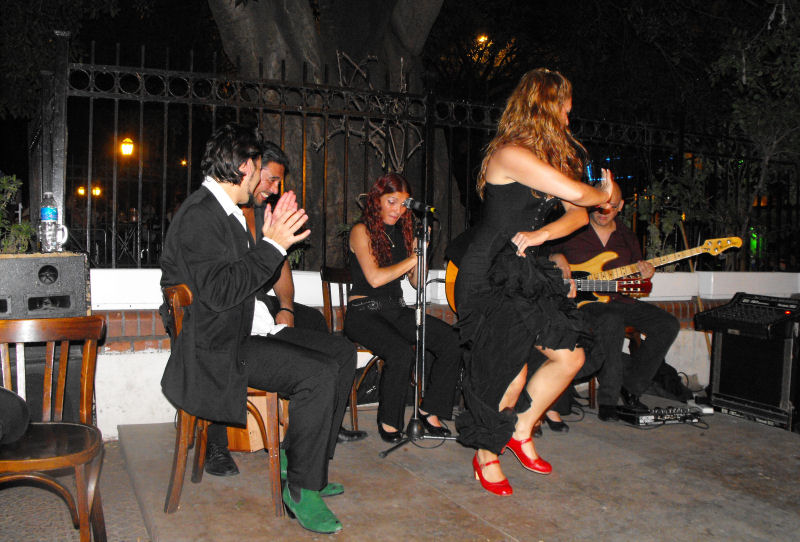 Okay, here's one that shows the guitar studette.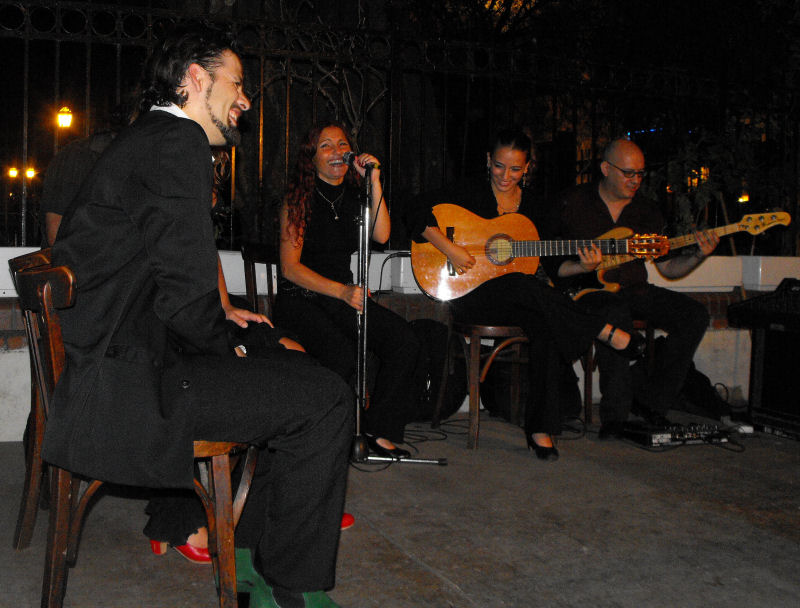 They danced so hotly that I was sweating and my feet hurt when they were done. Or maybe it was because the temperature was still in the 80's.
Oh, and a pigeon crapped on my shirt while we were there. We were under the trees, so I should have seen that one coming.
When we got back to the apartment at about 01:00, we assumed that Don and Bev were upstairs, so we stayed downstairs for a while. When they come home even later, we were surprised.
Saturday, 24 January, 2009
----------------------------
After breakfast, Don and Bev went out to see the smaller market in the plaza. Since she and Laurie were flying home this evening, Bev would miss seeing the full market on Sunday. Laurie and I went to Dakar Motos to drop some stuff off there. Don and I could stay one more night in the apartment and would have to check out tomorrow.
At Dakar Motos, we met Joe Seguin, one of the brothers. He was dropping off his DR650 here to be stored until the guy who bought if from him came to get it in six weeks. Joe had already been paid for the bike, but he still had to pay Javier for storage.
Laurie got to meet Joe. We had first met him briefly in Colorado last year at a get-together of ADVRiders.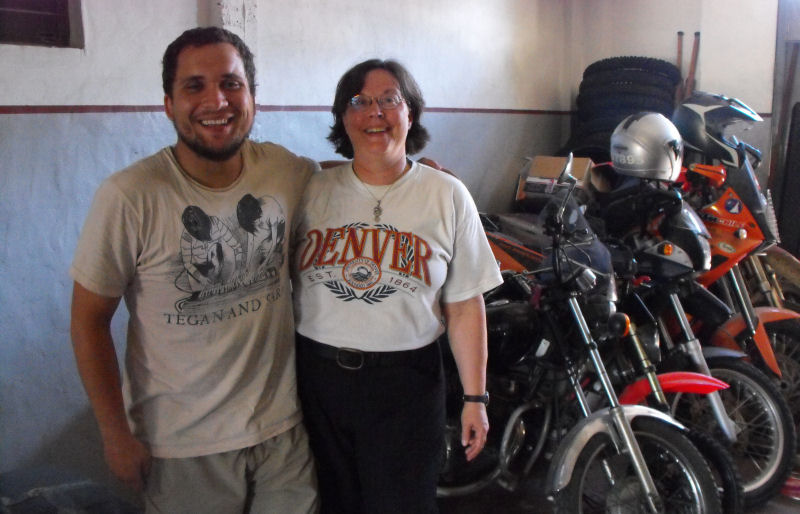 Laurie also said goodbye to Chuck and Ken.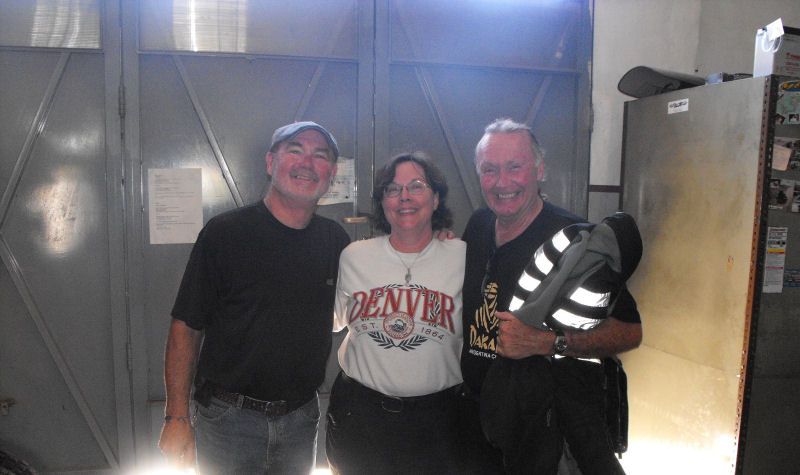 Steve and Pete had gotten their Nortons out of Customs and were now gone. Joe was interested in two suitcases that the Brits had left behind, so he asked Javier about them and Javier told Joe to just take them. That worked out for everyone. Joe and I agreed to meet in Plaza Dorrego at 20:00 for beers. He'd find Charles to join us, too.
Laurie and I took the train back to Retiro and a taxi to the plaza for a meal.
Joe came by and sat with us a while for a snack. He told us that someone had tried to steal Charles' bike, but that Don had stopped the thief.
Don and Bev arrived and joined us, then Charles came by, so I got to hear the whole story.
Don and Bev had been walking back to the apartment from the plaza and since I had already pointed out the bikes to him, he was aware of the brothers' bikes. Joe's bike wasn't there (he was at Dakar Motos with me), but Don recognized Charles' bike. It was being pushed down the street by a drunk guy who looked like a street vagrant. Don had never met the Seguin brothers, so he asked the guy with the bike if he was from the U.S. Quickly seeing that the guy with the bike wasn't from the States, he asked the guy if the bike was his. The drunk first said it was his bike, then changed and said that he was a mechanic who was working on the bike. When Don asked him for some papers for the bike, the drunk guy parked the bike and walked away. When he got to the next corner, he ran off. Don pushed the bike back to the hotel where Charles was staying and told a policeman about someone trying to steal the motorcycle. They went into the hotel to see if Charles was there, but he wasn't. Meanwhile, Charles arrived outside and was starting to ride his bike, but Bev stopped him and asked if he was American and if it was his bike. Unaware that they had just saved his bike from being stolen, he thought it was odd to be accosted in such a manner. In the end, it all worked out and everyone got to meet everyone.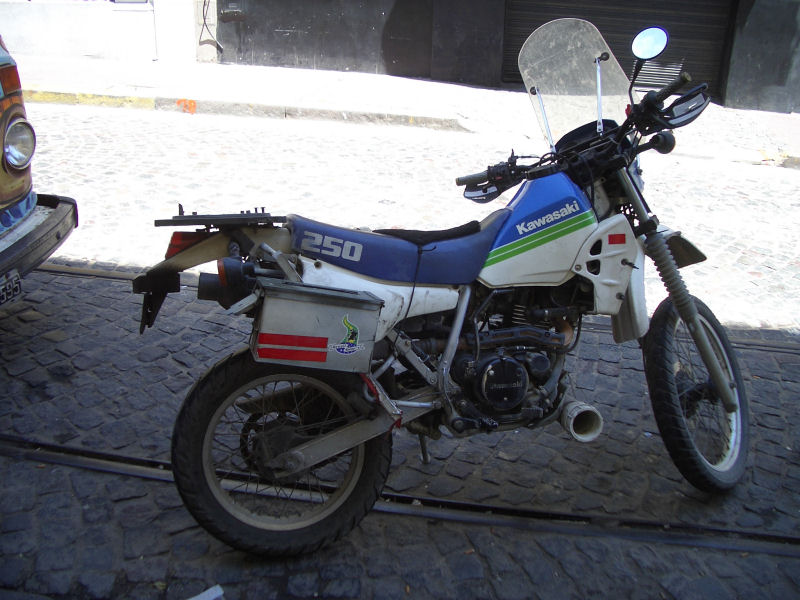 It was just one of the those small coincidences (me pointing out the bikes to Don a few days earlier) that makes you wonder about how everything is connected to everything.
Charles had already arranged online to sell the bike to some guy here, so Don saved him some money.
Laurie and I went to the apartment where she got packed up. Once the gals were packed and ready to head for the airport (you needed to be there three hours prior to your flight, since there were Immigration and Customs issues to deal with), I said my good-byes to Laurie there and put them in a taxi to the airport. I didn't go because I would then have to get a taxi back to the apartment afterwards. Since Don still had his bike, he followed them to the airport to see them off.
When they were gone, I went to the plaza and waited for the Seguins to join me. I had intended to consume mass quantities of beer, but I had earlier seen someone with a pitcher of something that looked like wine and fruit salad mixed together. Let's give that a try. I thought that the wine I had seen was a blush wine, so I ordered the tinto vino with fruit. The waitress brought me a pitcher of dark red wine with slices of oranges. It wasn't sangria, and it was not what I was in the mood for, so the waitress and I worked out what it was that I wanted. She finally brought me the right stuff, a white wine. It was the strawberries that gave it a pinkish tint after a while. Mighty tasty, and the fruit chunks made nice snacks.
All the waitresses were good-looking. They, too, adhered to the local fashion rule that visible bra straps don't count. The waitress with the short hair and tattoos had some Asian blood in her heritage. She also had huge pointy breasts that were all over the place. Some nights, she wore two bras. I'll leave it with only this one photo. Sorry, guys.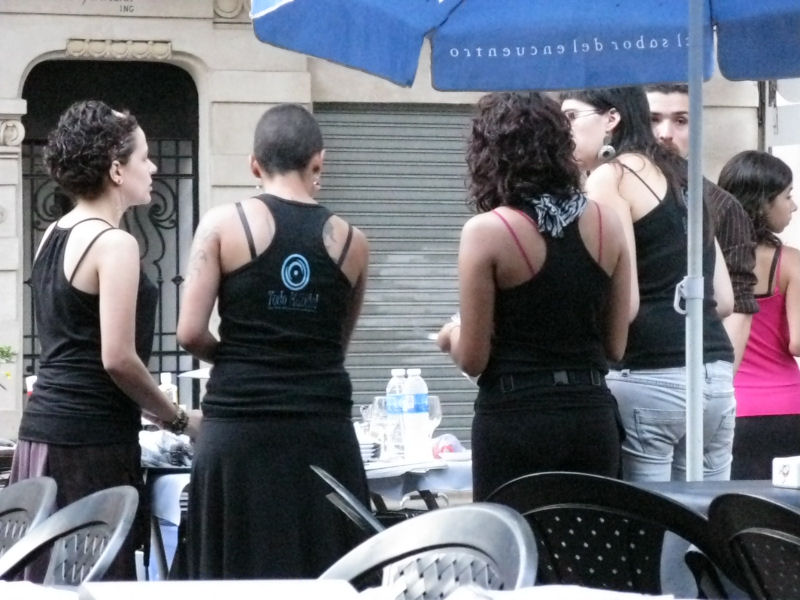 The Brothers Seguin arrived and chided me for my fruity wine drink. I told them that it was cool and refreshing. I may have also told them that it made me feel pretty (I had already drank much of it so I didn't remember so well). We had some fun with that. We talked about our respective rides and common places we had been. They were at the end of their ride and were now headed home. They had been on the road a bit longer than we had been, and they had moved at a slower rate. I envied that they had seen some things along the way that Don and I had ridden past. In the end, they decided to skip going all the way down to Ushuaia. Patagonia had drained them and they weren't having fun, so they made the right decision to bring it to an end.
Their long ride report is on the Adventure Rider website, and the link again is:
http://www.advrider.com/forums/showthread.php?t=377792
Don returned from the airport and joined us at about 23:00, just before tonight's Flamenco show started. On most nights, the restaurant had some theme to their musical show, and they had usually been inside the building. The Flamenco show that Laurie and I had seen was different, so we thought that maybe it was only once per week that they performed outside. Not so. They do Flamenco twice a week, maybe always outdoors.
Some of the musicians tonight were the same from the other night, but some were different. The hottie with the tight pants was replaced on guitar by two hunky guys that I just wasn't prepared to appreciate as much. The only dancer tonight was also a total babe. Much younger than the other dancer, she had youthful energy aplenty, but not quite the same ambience and experience that the slightly older dancer had shown. Not that we didn't appreciate her... um... skills any less, you understand.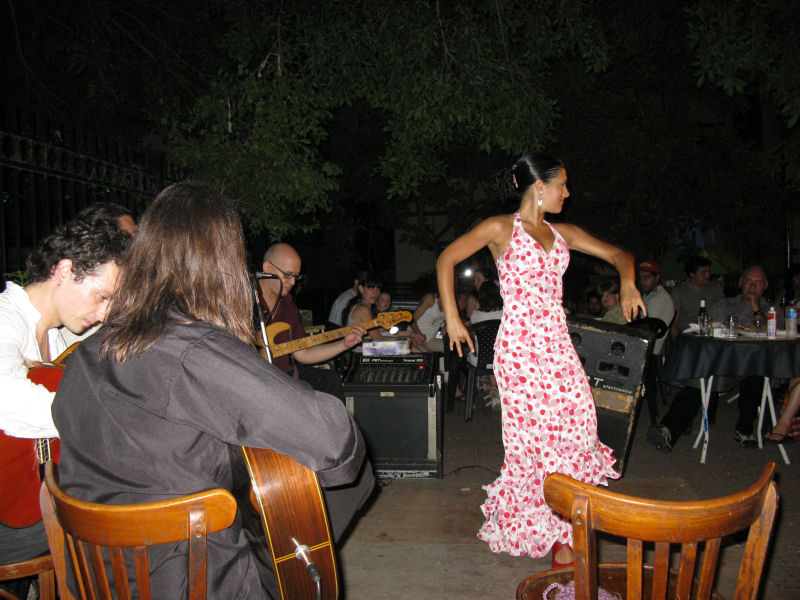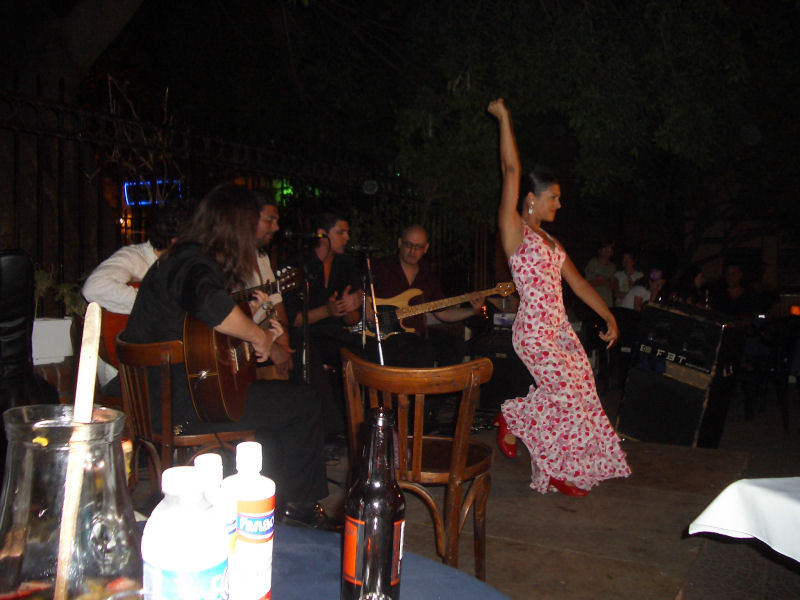 Don faded away to the apartment, and the brothers eventually called it a night. I didn't get crapped on by a pigeon, so I hung out a while and finally finished the pitcher of wine at about 01:00.
Sunday, 25 January, 2009
---------------------------
We had made arrangements to check out of the apartment at noon, so we knew that someone would be coming to look at the place and return our cash deposit. Just before noon, the woman who had been doing some occasional maid duties in the apartment (fresh towels, toilet paper, etc.) came to the room and just handed me the deposit envelope. I expected her to inspect the place, but then I remembered that she had been in the apartment several times during the week, so she knew that we weren't problem people. She collected our keys and that was that.
I only had two bags to carry, so I took the Subte and the train to the Florida station while Don rode his bike. After I got to Dakar Motos, I met Alain and Marie-Christine, the French magazine writer and his wife who we had partied with on New Year's Eve in Ushuaia. They had just arrived, and would be staying in the garage hostel for several days. There were several different tents in the back yard, too.
One of the other guests was a Slovakian rider (I never could understand his name, sorry) who had some decent English. He didn't seem to be in a hurry to go anywhere, and he mostly seemed to be taking a break from riding.
Another occupant of the hostel was Mathias, a Swiss rider who had been a lot of places around the world. His next destination was Australia, and he had a lot of things to do before he flew his bike there. Mathias had been in South America for a couple years, so his Spanish was pretty good. Australia is very strict on protecting their isolated country, so your bike has to be spotless. They don't want any insect or vegetable infestations. I've read stories of riders having their bikes rejected at the inspection, and they had to take the bikes back out of the country.
Another Swiss couple were only at Dakar Motos for a few days. Didn't get to know much about them. They were on two KTMs, he was on a 950 and she was on a 640.
Theo, from Germany, was there for several days, so we talked with him a lot. He later found a hotel elsewhere (a couple of train stops down the line), so he was only in the hostel a day or two. His big BMW GS took up a lot of room.
A Canadian rider, Glen, was a hang glider instructor who was working his way up to Brazil to lead a hang glider group expedition. He had also been a lot of places and was an experienced world rider. He was on an '09 KLR650. He was familiar with the bike--his second KLR--but he wasn't very aware of many of the bike's minor issues or with the active web sites dedicated to the bike. He said that he went to a few sites when he needed to learn something, but he didn't really spend much time there. That seemed to be the case with almost all riders we had met. Glen's first KLR was an '08 model. That bike's notorious oil consumption problem had bitten him in Nevada. His motor had burned up all its oil and the motor ran dry and seized up near Las Vegas last year. (I sympathized with him.)
Chuck, of course, was still in the hostel. A lot of work had gotten done on his bike, but nagging issues with his oil leaks kept popping up. He was starting to get tense.
When Don arrived, we did some work on his bike, using parts that Laurie had brought with her in her baggage. These were parts that I had dropped off here earlier.
We replaced Don's bent fork tube--another remnant of his crash in Peru. The best and coolest place for us to work was on the sidewalk outside, which was good, because the garage was packed with bikes.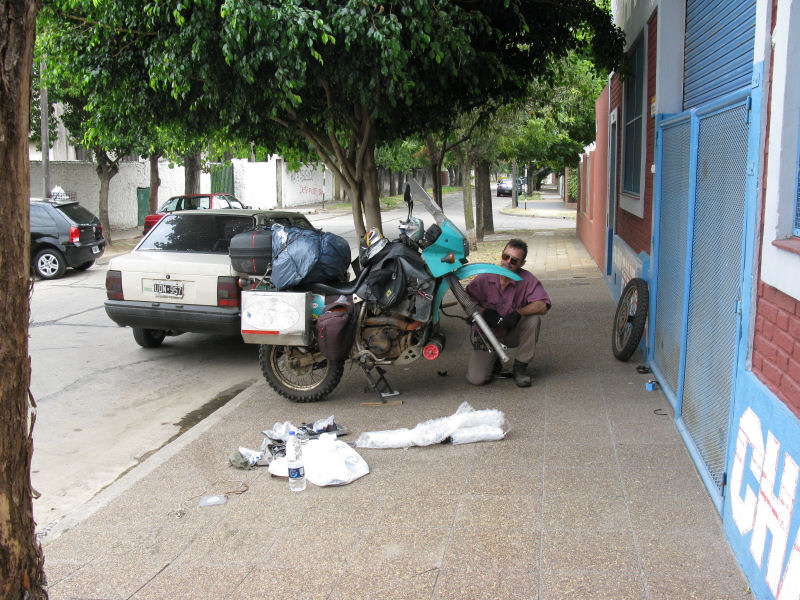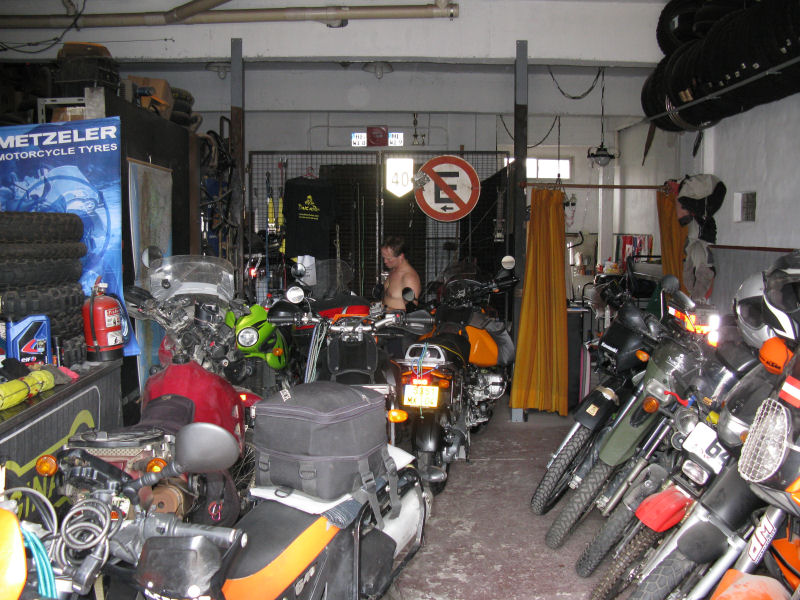 We also replaced his faulty speedometer hub with one that Laurie had brought from home. She had cannibalized it from my Ol' Blue KLR. After replacing Don's brake pedal return spring with a new one that Laurie had also brought, we cleaned and re-oiled our air filters and we were done.
For the night, we settled into the only hotel we saw in the area of Dakar Motos. It was P/50 per night ($15) and was close to the shop. As usual, it had a tiny bathroom with a shower over the sink and the toilet, but the room had a window and a good ceiling fan. The hostel provided a refrigerator and a kitchen, but our tiny room was good enough for us. It was less than three blocks from Dakar Motos.
It was also not the first time we had seen a defective in-wall flush tank for the toilet. The control was long gone, so you had to reach in and pull up the plunger to flush the toilet. Not such a big deal, but it was another cultural reminder that we weren't in the States. Things just don't get repaired down here.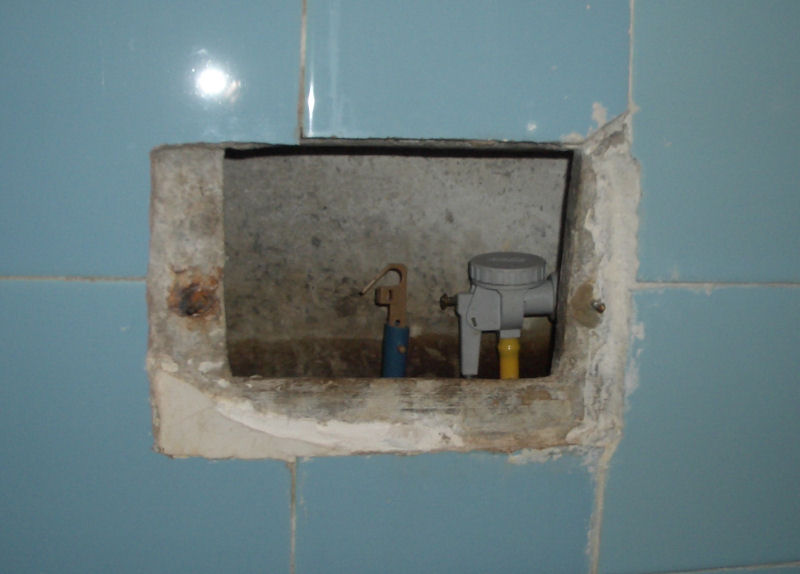 We put Don's Bug Hut net over the big window and my Permethrin-treated net over the window in the bathroom, since there were 'skeeters in the area. Don also set up his camp cot over the bed, putting it on the mattress to maybe create more airflow around him. Also, the mattress looked a little suspect.
We ate near the train platform, in the pizza shop with the cranky waiter. I just wanted to hang out with beer and pizza, so that's what we did. Pizza in Latin America is a constant disappointment. Always bland, never any (or enough) tomato sauce. It's a matter of local taste, of course.
Back at the hotel, we settled in and got oriented to the outside street noise. Never have I heard such noisy street traffic--and it was only a 2-lane one-way street. It took us a couple days to realize that many big trucks zoom through mostly at night, and the short section of rough road outside the hotel really shook them up. It was amazing. We were sure several times through the night that a truck had come through and crashed into every parked car along the block. We had to leave the net-covered window open for the (hopefully) cooler air, but that allowed the astonishing truck noise in.
We were awakened many times during the night, thinking that a cargo truck carrying explosives had gone off outside.
Monday, 26 January, 2009
----------------------------
Our fitful night ended with more noise at about 08:00, so we fell out of the hotel in search of breakfast. We paid for another night, hoping to find someplace better after that (but we eventually just stayed here since it was cheap and close to the shop). A neighborhood restaurant between the hotel and Dakar Motos became our typical breakfast or lunch spot. At about 11:00 the guy fires up the big grill and throws a lot of meat on it for the afternoon meals. We had his sausages once, and they weren't bad. The buck-toothed gal that waited on us each day was patient with us, but we came to know each others' patterns. For us, breakfast was usually a ham and cheese sandwich and a couple pastries.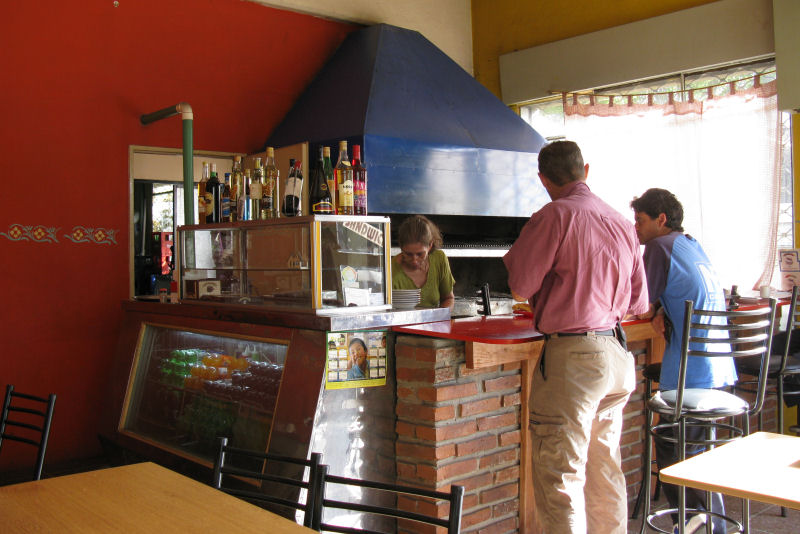 What is it with ham and cheese down here? Sometimes the whole menu is nothing but variations of ham and cheese. Ham and cheese sandwiches, empanadas, pizzas. And the cheese is always mozzarella. There's a Monty Python sketch there, I'm sure.
At the shop, Don and I took my KLR apart and removed the motor. I noticed along the way that my chain's masterlink clip was gone. The link still looked secure, though. I'll replace it later. We put most of the parts back on the frame so it wasn't in the way.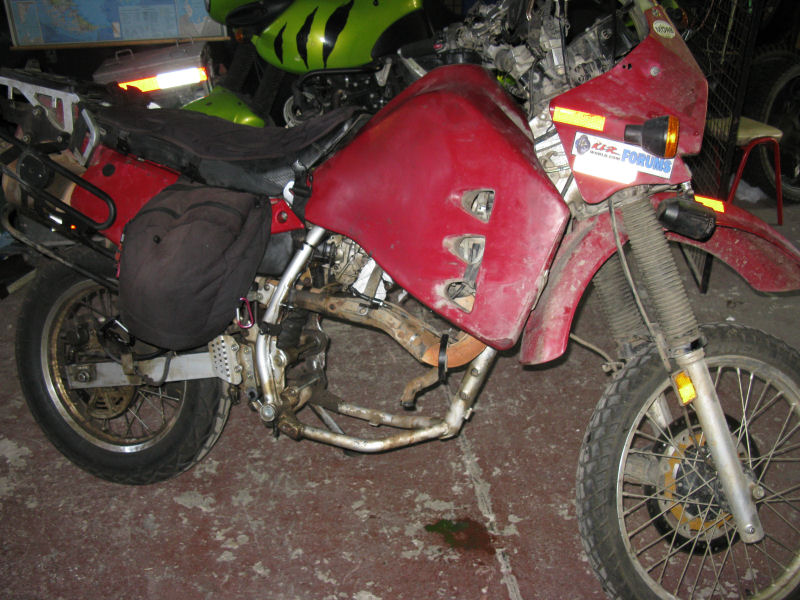 That's my motor on the floor and Chuck's bike still on the table. Javier is working on Chuck's gearbox.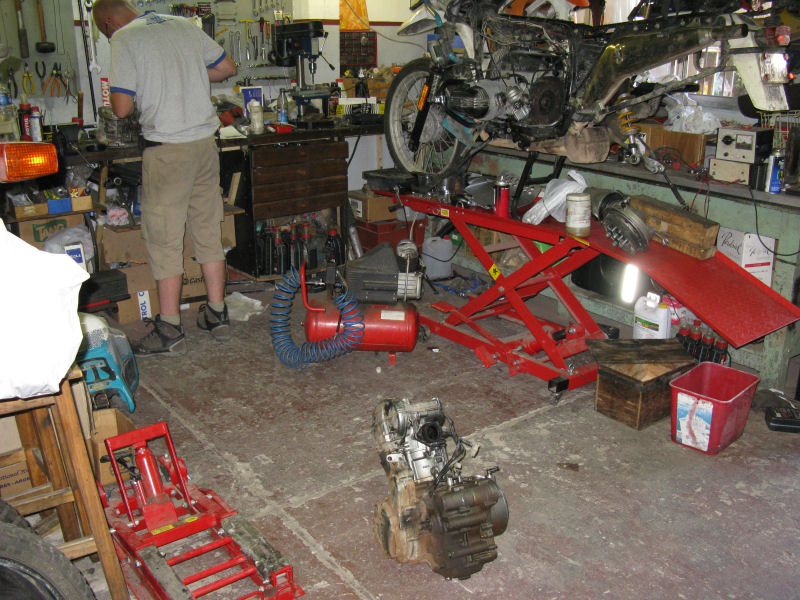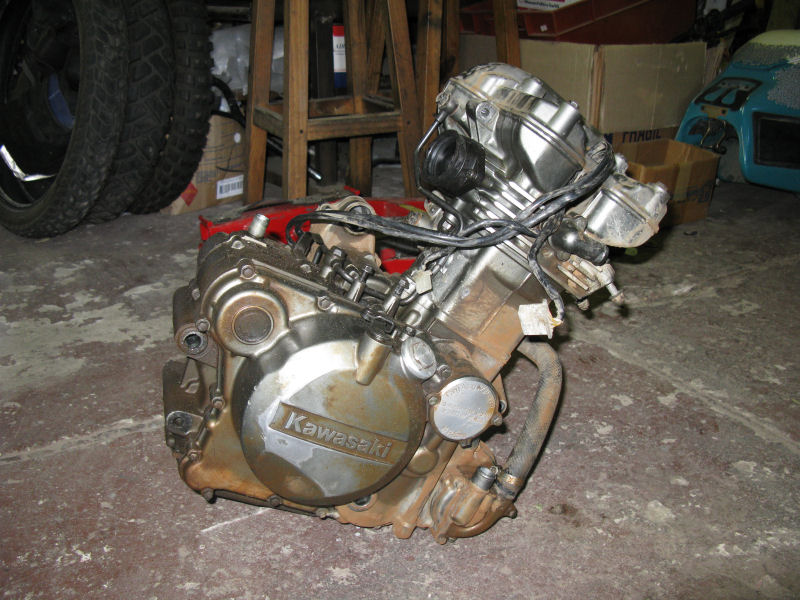 Don did an oil change on his bike, since Javier had oil for sale there. When he had worked on Don's bike yesterday, Don had stripped the threads on his front brake bracket. Since we had larger brake disks on the bikes, they needed a bracket to move the brake caliper outward more. This aluminum bracket is what stripped out. Fortunately, Javier had thread-repair kits on hand and replaced the stripped threads with a Heli-Coil (or similar) set and that was much better.
We stopped back at the hotel where I needed a shower and to do some laundry. That is usually the same procedure. Travelers get used to doing their laundry in the shower or the sink. I might try the bidet for laundry one of these days, too.
It was not as hot today, so that was nice. The breeze also looked like it was bringing in some weather, so we were wary.
Since the hostel was crowded and busy and our hotel was not so great, we rode the train to look at the hotel that Theo was staying at.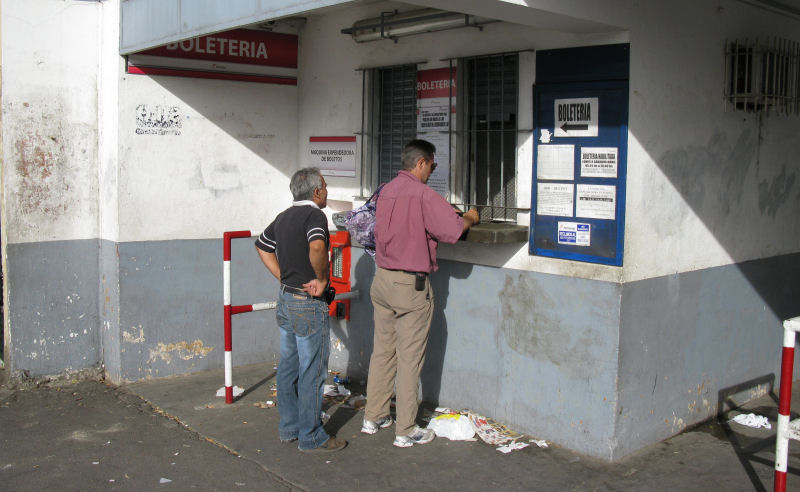 The hotel was at least a half-mile walk from the nearest train station, and was P/150 for an air-conditioned room (maybe P/80 for a basic room without a fan). Parking for a bike was 6 Pesos more. They did have a restaurant for breakfast, and they did have Wi-Fi, but no thanks.
On the way back, Don stopped at a hardware store for a small car jack that would be better than just a stick for propping up the bike. He was preparing for having to ride onward by himself, so he needed to be self-sufficient. He had also picked up a huge C-clamp for breaking the bead on the tire in case he needs to fix a flat.
I popped into a pharmacy to ask about getting some more Doxycycline, but they had none and referred me to a hospital for a shot. I realized that they thought that I already had malaria and needed treatment. Oh, well... they didn't have any so that was that.
Back off the train at the Florida platform, we got some empanadas from the cranky pizza guy, then went back to Dakar Motos. We spent a lot of time chatting with the other riders and using the Wi-Fi connection to spend time online. Being a hostel, the place is decorated with stickers and flags and t-shirts and other mementos from the many riders who have stayed here. On the refrigerator was a photo of a t-shirt that I thought was funny.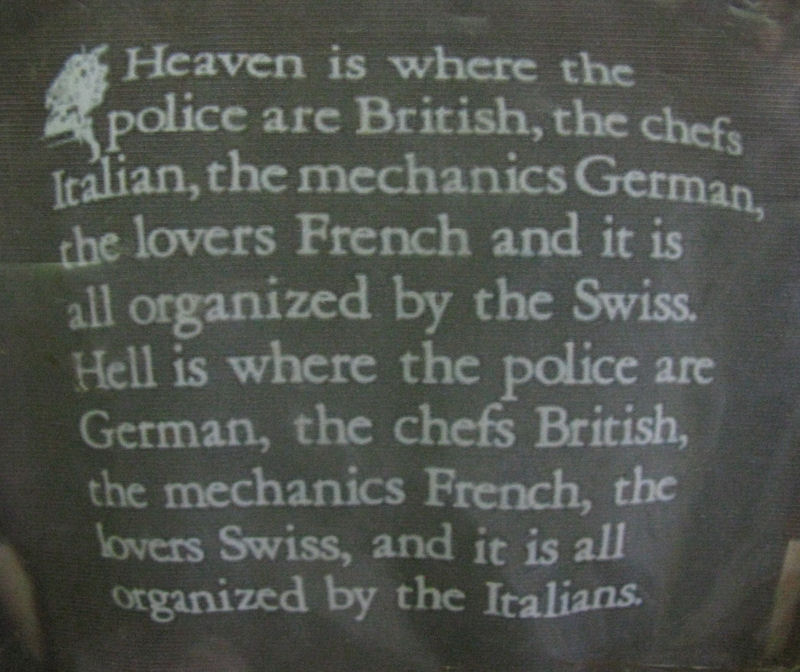 After making late Skype calls back home (late for us, that is), we went back to the hotel.
Taking a shower is a process in our tiny room. Everything will get wet, so you have to relocate the toilet paper roll to someplace dry. There were some plumbing fixtures high up on one wall, so I hung my towel and dry underwear there and took care not to splash the water up very high.
The door to the bathroom hadn't closed in decades, I suspect. It was so warped that it would never close again. I finally took to using the long-handled squeegee and wedging it between the door and the opposite wall to hold the door semi-closed. This meant that I was standing over the squeegee while showering. Also, the floor was not sloped at all toward the drain, so it took a while to push all the water from the tiled floor toward the drain. It was not a very good squeegee. Then, since everything in the room was wet, it was just polite to wipe down the sink, toilet, and bidet (laundry basin?). There was also a ratty towel to wrap around the squeegee to use for trying to dry the floor. The tile was very slippery when wet. This did not work very well.
Despite the crash-bang clamor outside, I managed to sleep. There were a few, "GOOD GOD! What the hell was that!?" moments during the night. If a mechanized infantry battalion had screamed through during the night, it would have been quieter.
Tuesday, 27 January, 2009
----------------------------
We slept later, getting used to the noise. I really like the ceiling fan turned up high, but Don didn't, so we had to compromise. Since we decided to stay here (again, it was cheap and convenient).
At the shop, we tried to relax and spend time online, but there were so many people there that it was impossible to settle down anywhere. The conversations between the travelers was interesting, but sometimes it was just too much. We bugged out and took the train to one of the stops that we hadn't seen yet.
At the A. Del Valle station, we got off the train and walked around a while. I finally found a Wi-Fi cafe and settled in. I did some online research and finally identified the problem with my web publishing software and got it fixed. That allowed me to send in a large ride report update.
The Internet connection crashed several times, so that was annoying. I then had some weird snafu with lots of the photos for the report. Some were uploading, some were not, some were not in the upload folder where they should have been, some were duplicated. There is no explanation for it. It took a couple hours to fix, and being in a quiet cafe, tucked into a corner, allowed me to focus and get it all taken care of.
We rode back to the Florida neighborhood, checked in at Dakar Motos (nothing had been done with my motor), then went to the hotel for a nap.
When we went out for dinner later, it was overcast and the weather was still rolling in. We walked a couple miles toward the coast, but finally found a restaurant (the only one that had Wi-Fi, I noticed). We sat outside at a table on the sidewalk. The food was pretty good. I had a steak that wasn't bad, and Don had an excellent salad. The beer was good, too.
The long walk back was a bit tiresome.
The day had been cooler, and rain was in the near future.
Wednesday, 28 January, 2009
-------------------------------
The near future arrived with a splash. Rain and distant lightning came in with determination. That made things very nice and cool during the night.
We had some food left over from the rented apartment that we had been keeping in the refrigerator at Dakar Motos, so we needed to eat that. We bought some bread and strawberries at a market next to the hotel and went to the garage. We ate there with all the others, and shared the strawberries with them.
Chuck's bike was back together and he took it out for a test ride. That's the Slovakian guy watching Javier make some final adjustment on the bike. Chuck was suited up and ready to give it a ride. He had been waiting here for about three weeks. I know the feeling.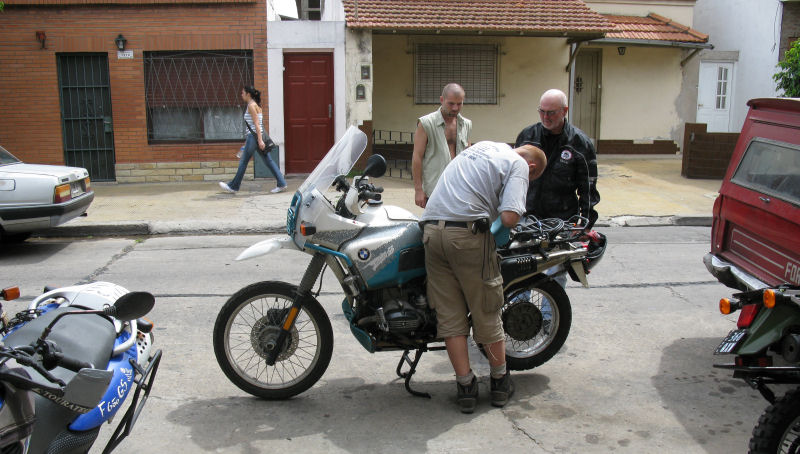 Everything seemed okay, so he was good to go whenever he was ready. He knew that Don might ride on before me, so he had been trying to get Don to agree to ride earlier with him. Don decided he could wait another week for me.
When he saw that I had arrived, Javier got to work on my motor. I had done a lot with the KLR motor, but splitting the crankcase and mucking about in the guts was new to me. I had feared what we would see.
Ever since the crash in Peru, shifting had been clunkier and the motor had a rougher vibe to it. I suspected some damage in the gears.
When we had drained the oil from the motor (before removing it from the frame), I saw a lot more metal bits mixed in. There were a lot of bronze bits, too. That confirmed Javier's first diagnosis that the con rod at the crankshaft had frozen up. It had bronze spacers on either side of it and a bronze or copper spindle-thingy (sorry for all the technical talk) that was also probably torn up.
The oil filter was downright scary.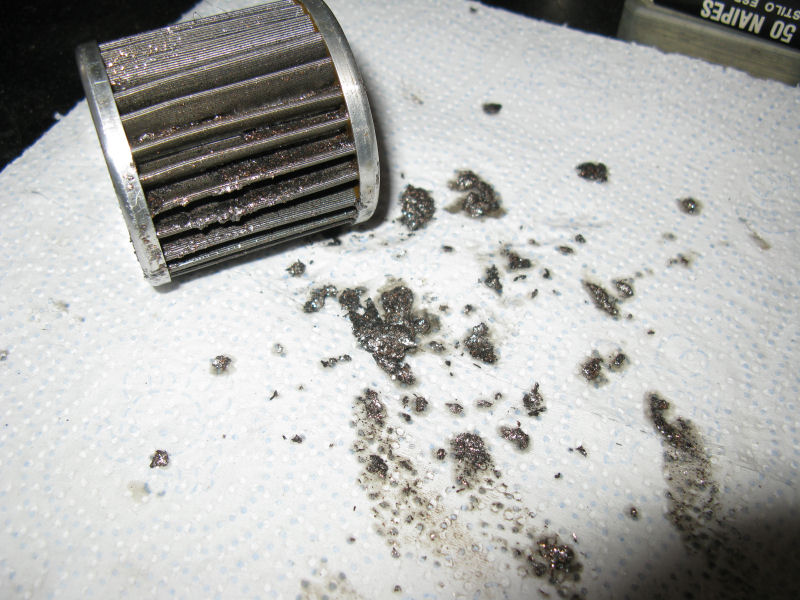 The oil screen.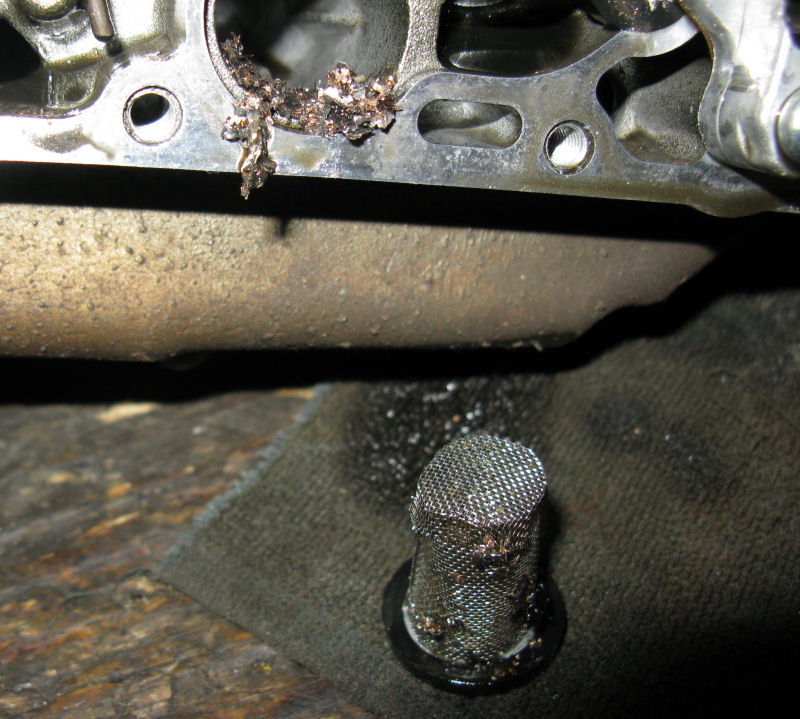 The sides of the piston were scraped all up, and the walls of the cylinder were deeply gouged. Since the cylinder had already been bored out for the 685 piston, there was no hope of re-boring it out to clean it up. Also, the rings on the 685 piston were unique, and finding ones that were right for a re-bored cylinder was a faint hope indeed. The wrist pin (the black tube) was badly scored by the seized rod.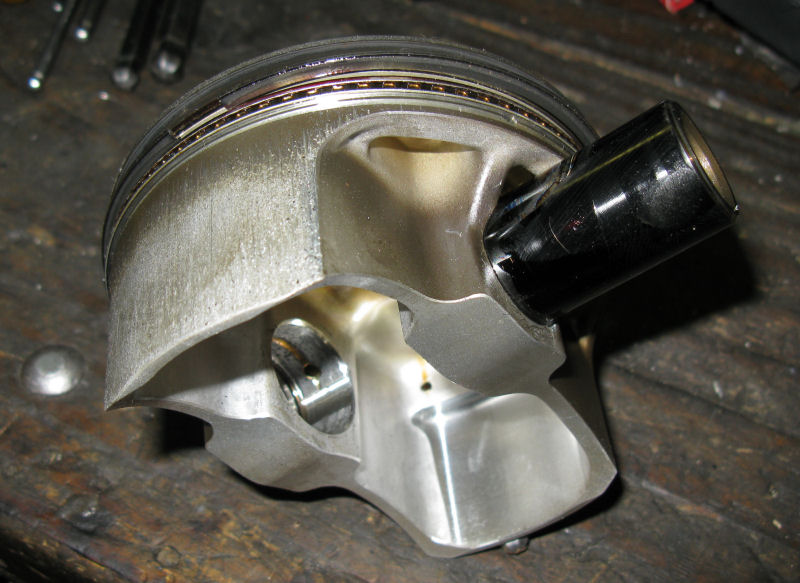 The bottom of the crankcase had also been scraped by the seized con rod, but that damage wasn't critical. It did account for all the alloy mush in the oil. Here's the crankshaft and the con rod.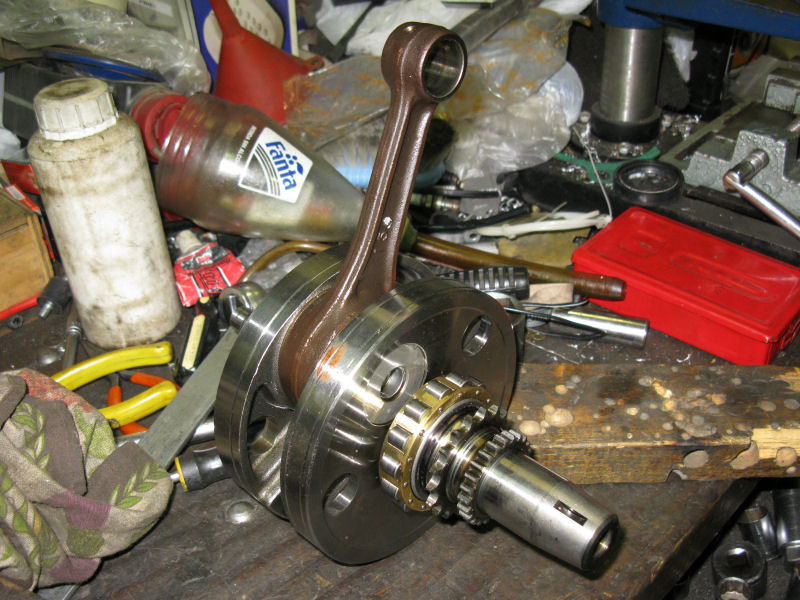 The whole connecting rod set, 13044 on the graphic here, needed to be replaced. 92026 and 13034 are the bronze pieces. 13034 isn't a roller bearing as it appears here; it's a solid cage of copper-looking metal. The con rod connects to the piston at the top and the crankshaft at the bottom.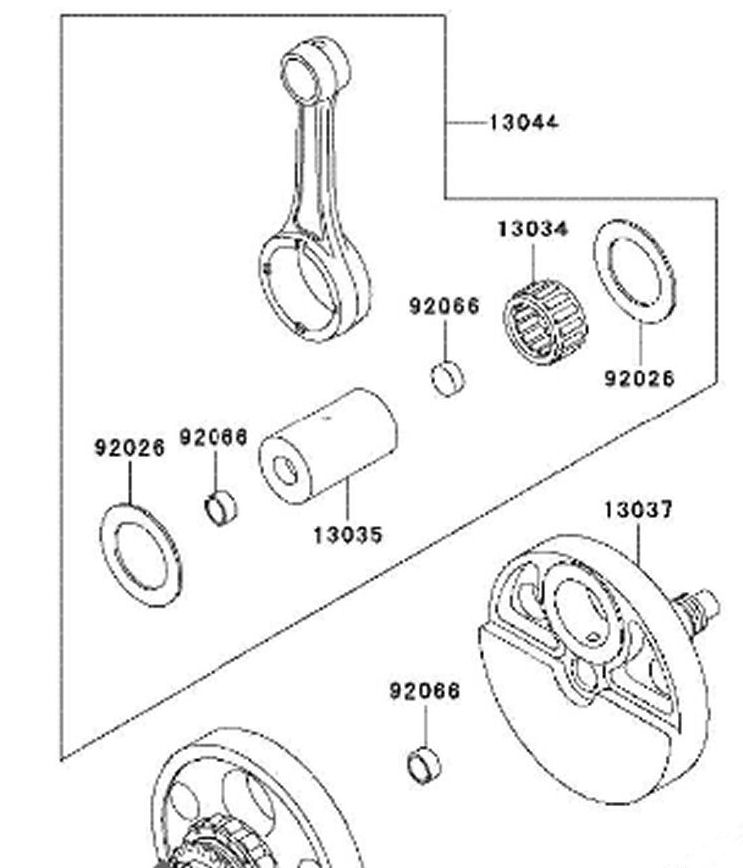 The bearings all looked good. In fact, Javier could find nothing that looked bad in the transmission at all. One of the bearings in the crankcase felt a little gritty, but after washing it out in a solvent tub, it smoothed out. The head and valves all looked good, too.
So, the decision was made to rebuild rather than replace the motor. It needed a complete connecting rod set, a new piston set, a new cylinder, and it was best to replace the oil pump unit, since it was badly scraped up inside. All the debris, you understand.
I already had another 685 piston kit and a re-bored cylinder at home, since we had intended to do the 685 upgrade to Laurie's KLR when I got home. That meant that I needed only the other parts from a dealer.
I sent the information and parts list to Laurie back home, and she contacted Fay Myers, a dealership near Denver. They confirmed that with overnight shipping (a moderate extra cost), the parts could all be ready for pick up in two days. That led to a conversation about how to get the parts here.
If Fay Myers shipped them directly, it would take a bit longer and I would have to pay a hefty Customs duty on the imported parts. Bringing the parts here as luggage would be faster.
I tried to talk Laurie into coming back down here for another mini-vacation, but that was asking a lot of her. With the parts on hand, I expected that we would be working on the bike non-stop and have little time to go do things with her. She said that she could go do touristy things on her own, but that wasn't the only issue.
She had already made the long flight, and wasn't keen on doing it again so soon. Also, she had some personal and family issues that she needed to attend to. That meant that I would have to fly home for the parts and bring them back here.
The round-trip air fare is a bit over $1000, more expensive than paying duty on the parts, but it would be a lot faster. Speed was worth it to me, since Don had a deadline to be back home. If this took a long time, he would have to ride on by himself and I would get going whenever I could.
I would also have the opportunity to take a few unneeded things home and bring a few other things back with me, so that became the plan.
With my bike's motor open, Javier was surprised to see the big torsion spring on the little doohickey.
Okay, I'm not going to explain what the doohickey is, so rest assured that it is a light-hearted term for a small part of the motor's balancer system that sometimes breaks. I know the guy who makes the best aftermarket replacement doohickey, and he also recently started making a different kind of spring for keeping tension on it. The stock spring also sometimes breaks, but the new-designed torsion spring is not only a more dependable design, but it attaches in such a way that it was very interesting to Javier.
There was a completely-disassembled KLR in Javier's shop (and in the garage, and on the back porch, and in the back yard...). He had been trying to find a way to fix the broken post in the motor where the stock doohickey spring usually attaches. The new torsion spring doesn't use that post, so it was a perfect solution for Javier's problem.
I told Javier that when I returned with the motor parts, I would bring him a torsion spring. He said that he could use two, and another doohickey lever as well. No problem, I assured him.
I was pretty sure that I had the parts at home, but to be sure, I had Laurie call EagleMike (go to http://eagle-m-e.com/ for Eagle Manufacturing & Engineering's website) and arrange to get the parts shipped overnight to her. If I didn't already have the parts on hand, they would be there when I got there, and if I did have the parts in my garage, the new parts would re-supply me.
I got another ride report update uploaded while at Dakar Motos, we chatted with Alain and Glenn a while, then we left to go to the pizzeria. We had the chicken, and it was pretty good.
I got a text message from Laurie confirming that all the parts would be there before I arrived on Saturday, and that Mike was sending the doohickey parts overnight.
Mike is a great guy. He's a true guru on the KLR motorcycle and a tremendous resource for those who attend his tech days in southern California or get help from him online. He's EagleMike on most of the online forums. Mike is one of the three people I contacted a few years ago for advice when I started hosting KLR tech days at my home.
The weather was still blustery, and the walk back to the hotel was coolish and nice.
Thursday, 29 January, 2009
-----------------------------
After a late breakfast, Don went off on his own to run errands, and I went into the city to walk around. I walked the waterfront again, poking around in a few more places.
There was another protest near the waterfront, and a HUGE line of police had blocked off at least a mile of the road around there. Actually, they must have been a type of reserve police, since they weren't armed. But, what do I know? There were maybe a thousand of them, and plenty of barricades.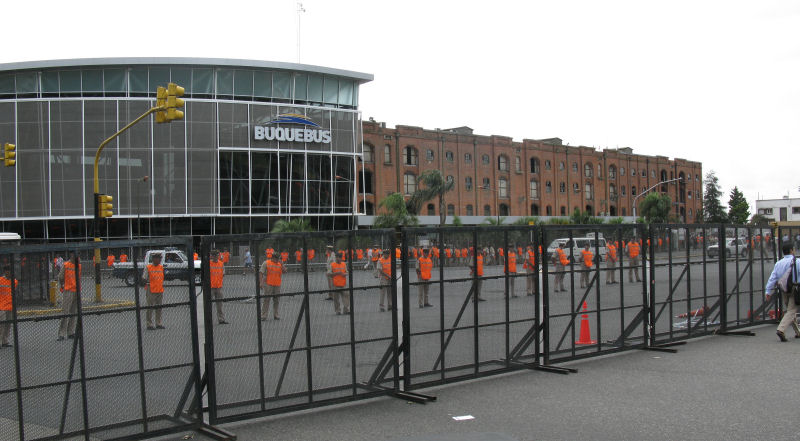 By the way, in the photo above is the BuqueBus station, where the ferries across the river to Uruguay can be found.
More of the renovated area along the former dock yards. Ok, a Hooters girl anywhere is just like a Hooters girl anywhere else.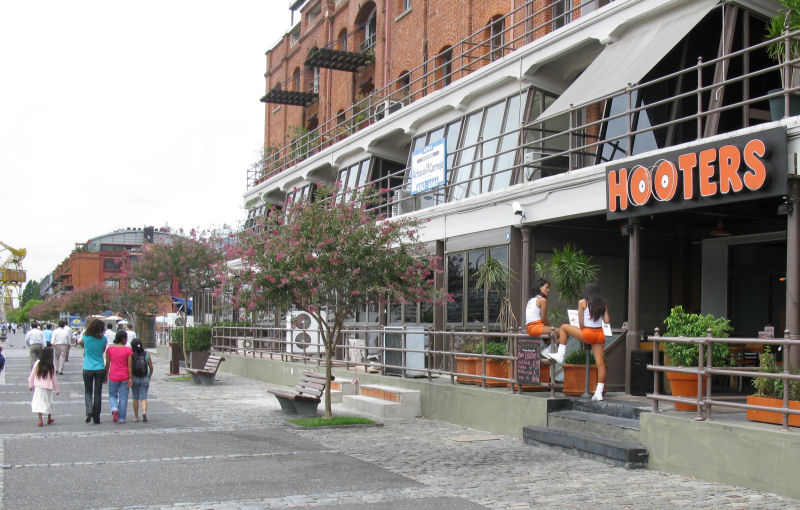 When this was a working dockyard, it was convenient to have the main Customs (Aduana) building right across the street.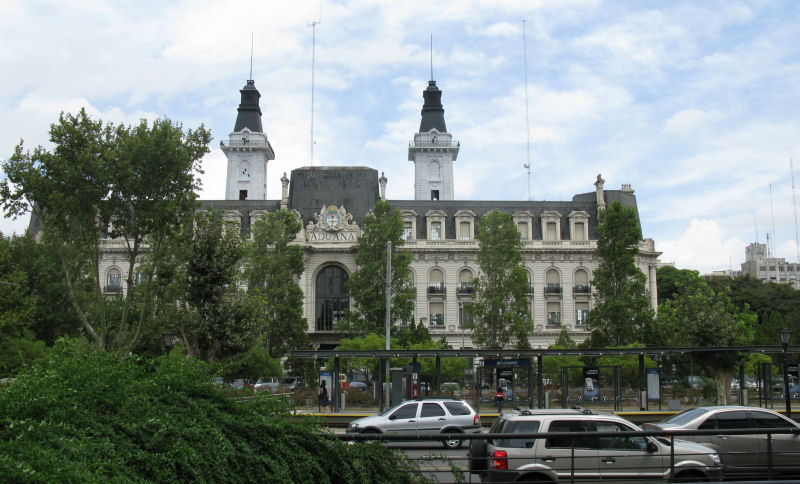 I took a Subte to the Palermo neighborhood and got off at the Plaza Italia stop. The U.S. Embassy is near here, too. I walked a few blocks and found a nice restaurant with Wi-Fi, so I settled in for several hours of food, beer, writing, uploading, and email.
Laurie contacted me with my travel schedule. I had flight reservations to Denver on Friday evening (arriving there Saturday morning) and back on Sunday morning (arriving here on Monday morning). Less than 24 hours at home, about 28 hours of flight time. Layovers each way in Atlanta.
I decided to take a bus back to the Retiro train station, since I hadn't ridden a bus here yet and you can't see anything from the subway.
I made a guess and got on a 111 bus, which was a good guess, but that particular bus was going the wrong direction in its route. An elderly woman on the bus spoke very good English and she gave me directions where I could catch the bus going back the other way. To use the bus, you get on and put coins in the ticket-vending machine. It spits out a tiny ticket and that's that. The bus fare for me was P/1.20, about 36 cents. The ticket machine was finicky, and I had to re-insert a couple coins before the machine accepted them.
While I waited for another 111 bus, I saw one of the bus signs that had destinations listed on it. I chose a different bus (152) that eventually took me back to Plaza San Martin, near the Retiro train station.
It rained a bit as I eventually made my way back to the Florida neighborhood.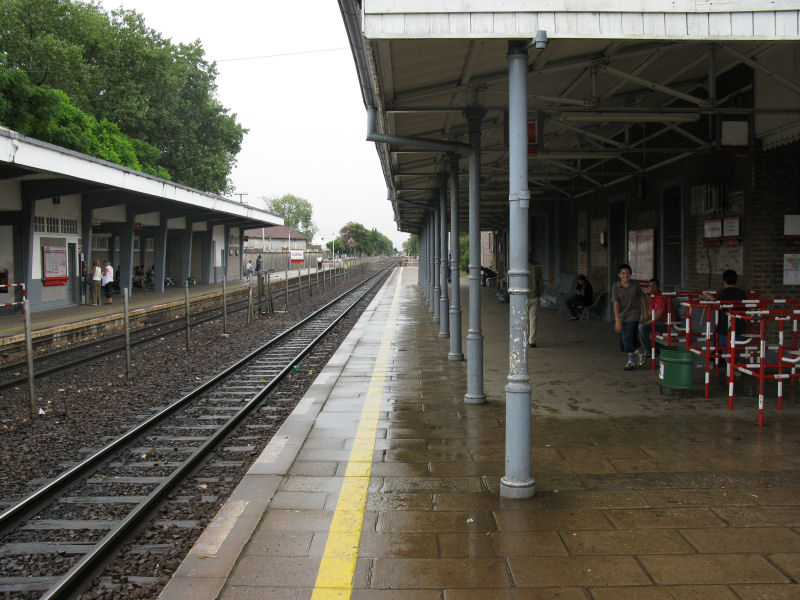 After a shower, I was writing when Don got back to the room at about midnight. He had done a lot of wandering around, and had also gone to the Palermo Soho neighborhood and ridden a bus back. Another coincidence. Of course, he had ridden the bus because it was then too late to take the subway. Apparently, they don't run all night.
Don was later talking to Bev on his cell phone while I was writing. At one point, I flicked something off my bed sheet and the pen in my hand came apart. It was one of those small aluminum Space Pens that are pressurized so they will write upside down and underwater. I had used that same pen to take notes for this whole trip.
The pen didn't actually come apart. The main body of the pen gets reversed and stuck back into the cap, and that makes it longer when you are using it. When I flicked my wrist, the body of the pen separated and flew across the room, leaving me with only the cap.
Now it seems silly to dwell on this little incident, except that after an hour of searching, we couldn't find that little red pen. We turned the beds over, we moved all the stuff off the floor, we searched and re-searched everything. It had gone into another Twilight Zone hole, I suppose.
It's weird, the things we get attached to. I was really going to miss that dependable little pen. It tucked nicely into the wire coils of the notepads that I was using. We finally had to stop looking for it because we were making ourselves crazy and getting on each other's nerves.
Friday, 30 January, 2009
-----------------------------
There was no reason to get up early, so we snoozed until about noon. I had to fly out that evening, and there wasn't much that I needed to do beforehand.
Javier had taken the crankshaft to a guy he knows to have the seized con rod assembly pushed out. The motor needed to be cleaned before reassembly, but I thought that Javier would do that while I was gone. I was wrong.
There was a small pharmacy a block away from our hotel, and on a whim, I went in there to ask about Doxycycline (my daily anti-malaria pills). Chuck had gotten something from this pharmacy, and he had told me that the pharmacist spoke good English. He was right. I showed the pharmacist my Travel Health prescription and he said that he could have the meds there by 17:00 that day. I ordered two 30-packs of the pills. They were $15 per pack, as I recall.
At Dakar Motos, I had a long chat with Ken and Javier about the roads in southern Argentina. They raved about their favorite rides, and showed me on a wall map where I should go next time. Javier got out a photo album to show me some photos of the area along the southern Andes. Very pretty.
A new rider was there, too. An extremely bearded Canadian from British Columbia. He was only staying the night, I guess. Like virtually all riders these days, he had his laptop out and was doing something online. Chuck was gone, Alain and Marie were gone, Glen was gone, the Slovakian guy was still around, maybe, but wasn't there at the time. Mathias still had his tent out back.
After a lot of talking, I went to the pharmacy to pick up my extra supply of Doxy, then went to the hotel to get showered and packed. Don would hang out here while I was gone. He told me later that he rode some more of the trains and subways, and walked around more of the neighborhoods.
I took the train downtown, then took the C Subte to the E line, then rode the E line to its end at Plaza de Los Virreyes. I did this to save on the taxi fare, which was only P/46 to the airport instead of something closer to P/70 or P/80.
On the way to the Ezeiza airport, the driver asked if it was okay for him to stop for fuel. I said okay, knowing that my meter was still running. He pulled into a fuel station and told me that I had to exit the vehicle while it was being refueled. That seemed odd. I then saw that the fuel line was a high-pressure gas line. This taxi was running on Propane or natural gas. That reminded me of something that I had heard Ken say about these stations sometimes going up in flames. The usual suspect was static electricity igniting the gas.
As I thought this, I took the following photo. The taxi driver (on the right) is talking with someone else, the fuel pumper dude isn't paying attention to what he's doing because a friend of his had just walked up to greet him.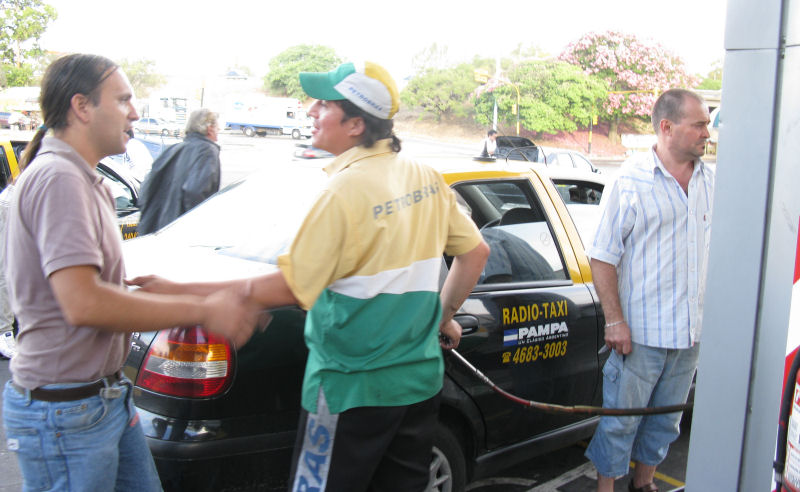 About a half-second after I took this photo, the gas nozzle popped off the fill port and there was a loud WIZZZZ-POP! and a white cloud of high-pressure propane (or whatever it was) blew out around the guy who wasn't doing a good job of monitoring his work. A spark of static electricity at that moment would have been the end of him, and maybe everyone else.
I had also heard Ken previously say that on big trucks, after they fill them with this stuff, they let them sit for a while just in case they explode. There's a warm, fuzzy feeling for you, right?
Anyway, I understood then why I had been made to exit the cab while it was refueling. Whew!
Once we were on our way again, I saw that the stop had only cost me a few pennies on the meter, so no big deal.
This was also the only taxi driver on planet Earth who obeyed every speed limit, always used his turn signals, always stayed in his lane, let other people merge in front of him... It was annoying as hell.
I checked in at the Delta counter and stood in line for the customs window for a long time. Once I got to the front, I learned that it was only for Argentinean nationals who had to register their valuables before leaving the country (so they didn't have to pay import duties when they returned). Well, that was one hour of my time lost.
I went up to the departure gate area, but got sent to another window to pay the airport tax. Hey, I'm a motorcycle rider, and I was used to border crossings on the ground.
Once headed to the departure gates, you still have to go through the security check scanners (didn't have to take off my shoes), the Immigration control point to get stamped out of Argentina, and the Customs check where I handed in my filled-in form and was waved through. I had only my computer backpack and one carry-on bag, so it was quick and easy.
Laurie told me that when she and Bev had left, they had needed the whole three hours to get through all those lines, so I was lucky.
At the gate, each carry-on bag was opened and inspected. Something to be aware of if you have anything you don't want to have waved around for everyone to see. Put your sex toys in your checked bags, okay? (Or not, your choice.)
The wait wasn't long to get aboard the Boeing 767 to get in the air. I had an aisle seat, which I prefer, and the very young and very cute blond gal next to me slept the whole way to Atlanta. She didn't speak English anyway, so I did Black Belt-level Sudoku puzzles and tried to sleep. I did neither very well.
Saturday, 31 January, 2009
----------------------------
The layover in Atlanta was short, and Laurie was there at the Denver airport to pick me up. Once home, I tried to sleep since I hadn't slept on either of the flights. My mind was still too busy with things that I needed to do, so I got up and started organizing for the return flight.
I couldn't find my yellow card anywhere (immunization document, which had my yellow fever and Hep-B record on it). Theoretically, I might need it to enter Brazil, although few travelers had been asked to show theirs. I had searched for it before leaving Buenos Aires, and thought that I must have accidentally sent it home with Laurie. Nope. I didn't have time to get another one, so while I puttered around, Laurie went off to a Kinko's shop with a USB pen that had digital scans of all my documents. I carried another memory stick with me, hidden on the motorcycle. Never know when you might find yourself without any documents. I had copies on the laptop, too. And Don and I carried photocopies of each other's documents. Lots of redundancies.
We started to pack the motor parts into my carry-on bag, and I scavenged a few other things that I wanted to take back with me. Bev had also given us some things that I would take back to Don. I did some laundry and sewed up a few things that had gotten torn. These were things that I had brought here with me so that I had something in my carry-on bag. My fatigue finally caught up with me, and Laurie finished packing my bag while I managed some sleep that night.
Sunday, 1 February, 2009
---------------------------
I did some repacking to organize my carry-on better. The small motor parts went into the bag I would carry to protect them better. I would check the large bag that had the cylinder, con rod set, and piston. Laurie drove me back to the airport.
We stopped at the Kinko's copy shop along the way and picked up the replica yellow card that they had made for me. It was too long to fit on a regular sheet of heavy paper stock, so they had heat-sealed two larger, thinner sheets of paper and printed the document on that. It was okay, but was obviously stiffer than the original, and the digital scan from which it had been printed hadn't been very high resolution. As we drove on to the airport, I folded and scuffed up the duplicate card until it looked like it had been in my fanny pack for months. It should pass any casual inspection.
I got a seat at the boarding door of the plane, so I had plenty of leg room and was the first person to disembark in Atlanta. After a gate change in Atlanta, I saw that there was a lot of confusion by the Delta gate crew. They hardly knew anything. Lots of travelers were getting conflicting information and were starting to get angry. The jet was late arriving, too, so that added to their attitudes.
Whether or not it added to the delay, the gate crew kept asking for people to volunteer to take another flight (for a $600 travel voucher and a later flight via New York and Santiago, Chile). I've seen this before, of course, but they kept asking for volunteers long after they said the plane was ready and they were going to start boarding soon. More delay.
Finally we loaded and I slogged my way to my uncomfortable middle seat. As soon as I started to sit, the good-looking gal next to me on the aisle seat asked if I would be willing to trade so her friend could sit with her. Any other seat could only be as bad or better, so I agreed. She scrambled down the crowded aisle to get her friend and soon came back another good-looking gal who told me that I was going to seat 23A. A window seat, so that was better.
As it turned out, I didn't get to sit next to either of the pretty gals, but instead got squashed against the bulkhead by a fat guy in camouflage hunting clothes who complained that he had left his chewing tobacco in his pickup truck. Great.
At least he slept most of the way to BsAs, and so did I. Thank goodness.
But, before we got started, another delay while a faulty display panel in the cockpit got replaced.
Monday, 2 February, 2009
----------------------------
We arrived at 08:30, only a little behind schedule. Apparently we had a tail wind most of the way. Or maybe they flew faster.
After the long line getting through the Immigration control gates, I got my checked bag and headed for the Customs line. They hadn't given us a Customs declaration form on the plane as they usually did. When I asked a flight attendant about it, she said that they hadn't been given any to hand out. In the Customs area, I asked one of the agents about a declaration form, but he told me that it was "No problems," and waved me into line. There, I saw that all baggage was being ran through a security scanner.
Uh-oh.
Each time Laurie had muled motorcycle parts in her baggage, she had described them on her Customs declaration form, but the agents had just taken her form and waved her through without even reading it. Maybe I came in at a different terminal that ran all the bags through the scanners. Lucky me.
Yup, as soon as my checked bag came through the scanner, one of the women agents took possession of it and asked whose it was. I claimed it and we slid down the long table to spend some time together. She asked what was in the bag, and I told her that I had gone home for some motorcycle parts to repair my bike that was still here in BsAs. She asked what the parts were as she started opening the bag. It was a Cabella's dry bag with a roll-top and lots of snap buckles. As she fiddled with all the buckles, I told her what the parts were. She asked if they were new parts (they would want the duty fees for new parts), and I semi-lied to her by saying that the cylinder had come off another motorcycle at home.
When she saw the heavily-taped box with the parts, she didn't seem interested in cutting it all open. She had me confirm that these were used parts for my person use, and I assured her that they were only intended to repair my motorcycle so that I could continue to explore their beautiful country of Argentina. She chewed me out for bringing the parts in my luggage and told me to ship the parts with a commercial carrier next time. I promised I would. What really mattered was that she waved me through and that was that.
Once in the clear, I went to a bank window in the terminal and changed P/500 ($150) into currency for Uruguay. We would (hopefully) be there soon, and would need some cash. I was sent to a different bank window elsewhere in the terminal, but they did the exchange for me. Just a bit less than P/500 (they gave me some change) bought me 2850 in Uruguay's cash. Or it should have done so. When I counted it out afterwards in the taxi, I was missing one of the bills, so I came out 200 short. The bank cashier had taken a small tip, it seems.
It took two tries to get a taxi into the city for the price I would pay. After I got out of the first taxi (once we started moving, he told me it would cost more than we had initially agreed to), I was more clear to the second driver who shrugged and said okay. I noticed that he paid the tolls on the highway and never asked me to do so.
I took the train back to the Florida platform and walked back to the hotel. I had sent a text to Don, so he knew to expect me. After getting unpacked, I took the motor parts to Javier. Don took off to get the remaining insurance papers we would need for Brazil and Uruguay.
No work got done on the motor today, though, although Javier took the new con rod set to his friend who had the hydraulic press (and my crankshaft). Since I had nothing else to do, I took a train and a couple of Subte rides to Plaza Italia and walked to the U.S. Embassy. I had decided to get more pages put into my passport, since I only had a couple clear pages left. Maybe I would see about a Venezuela visa too, while I was still in BsAs, but that would take a few days and with luck, we would be out of here before the weekend.
After getting my passport back (took about an hour), I walked into the Palermo Soho area and found a restaurant with Wi-Fi. That turned out to be pretty easy, since there were lots of restaurants and most had Wi-Fi.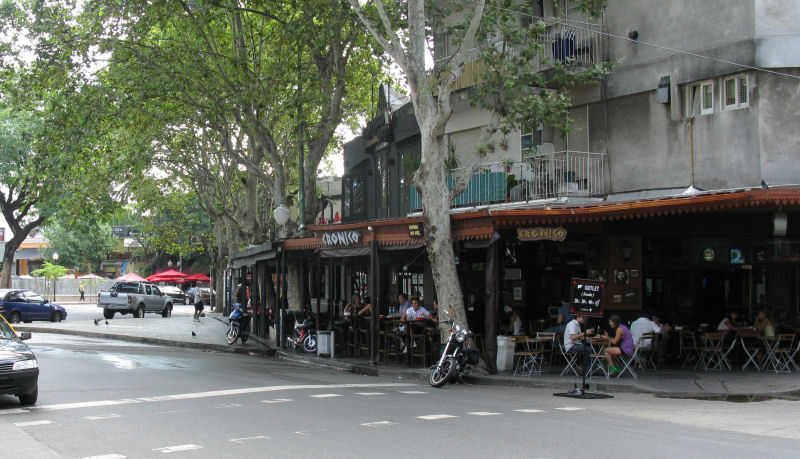 I spent several hours camped there. Just to the left in the above photo, you can see a small plaza area. Everything around the plaza was intended for nightlife and dining. This area was about ten blocks from Plaza Italia, at the intersection of J.L. Borges and Honduras.
Another bus ride during rush hour got me back to the Retiro station in time to see a motorist smack into a bicyclist and send him sprawling on the street. A crowd quickly formed, but at least no one was moving the injured man around, so that was good.
Once back at our hotel, I took a shower, did laundry, and wrote. The ceiling fan was good for drying wet synthetic clothes quickly, but you had to put them out where the moving air could get to them.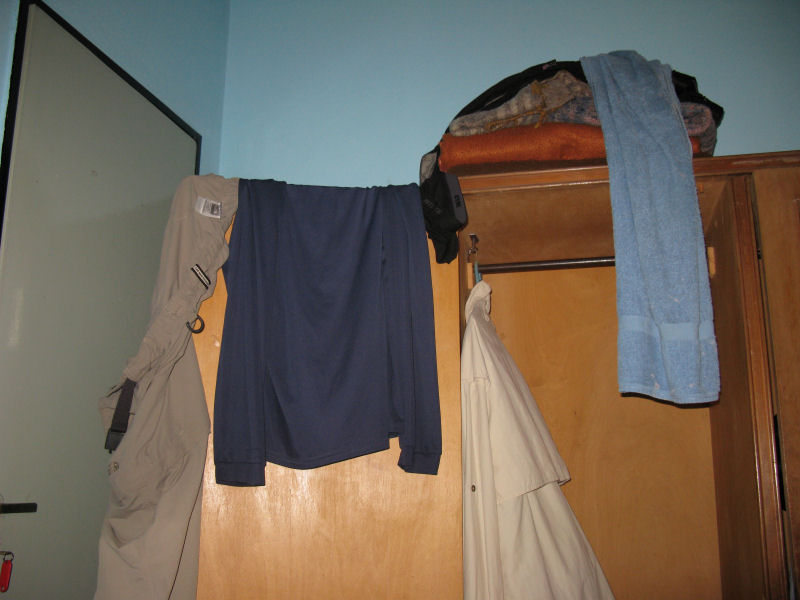 While I had been gone, Don had walked around the local Florida-Vincente Lopez area, looking at the typical houses in the neighborhood. Some homes were worse, some were better than these in his photos.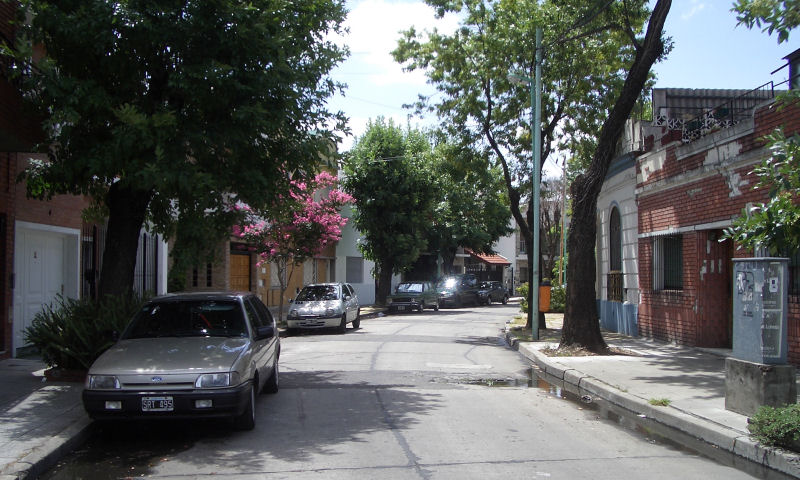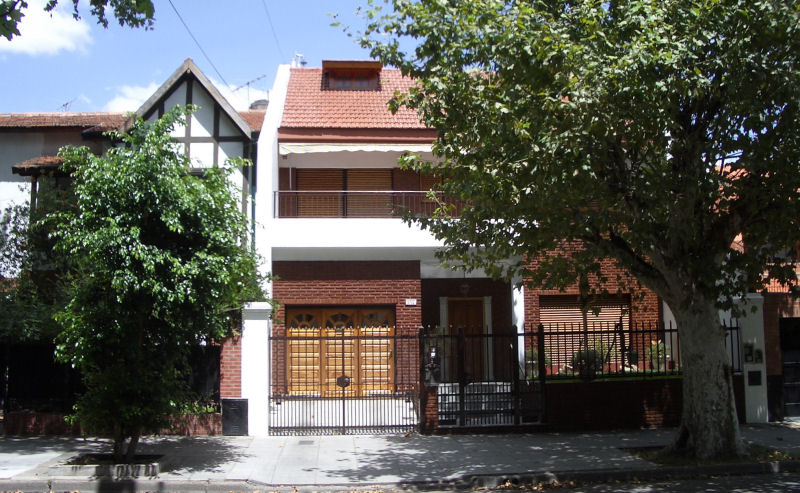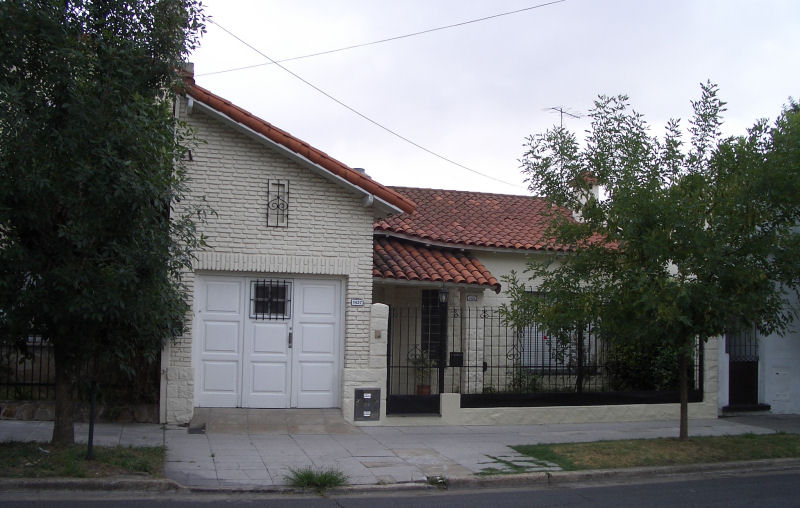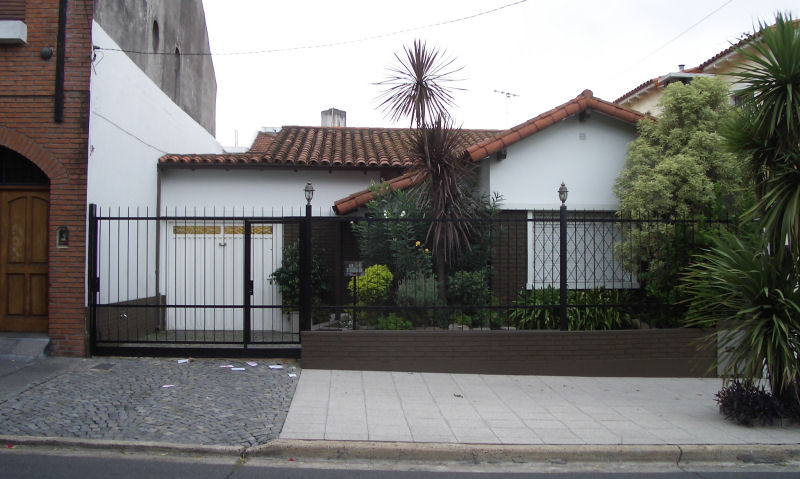 The residents weren't naive about security, as most homes had iron gates and fences, most with sharp spikes on top. Most houses also had evidence of courtyards in the back.
He had also gone into the city for some more wandering around.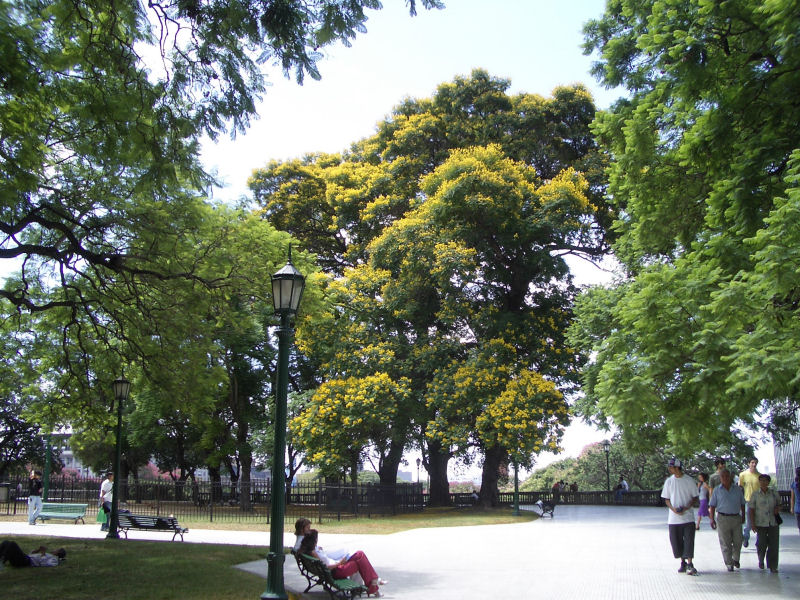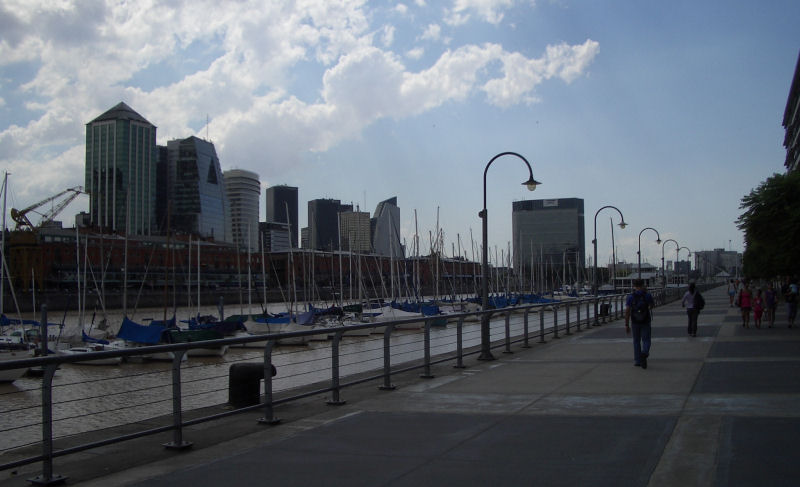 He told me that he had stopped a pickpocket team while he was out. He had been going down the stairs to the Subte station in front of the main train station and saw that the man and woman in front of him were working on the backpack of a tourist in front of them. After they got the backpack unzipped, Don hit the guy's neck nerve and drove him into the woman, pinning them both against the wall. He then smacked the tourist victim to get his attention. The victim realized what was going on and secured his pack before moving on. The woman ran off, and Don finally let the still-squirming man go. The subway stairs were packed with people, and it would have been difficult to take the guy to find a police officer (who probably wouldn't have done anything anyway without a victim). Still fighting crime, even in South America.
That reminded me of a sign that someone had pinned up on the bulletin board at Dakar Motos. I think the little bit of money was just in case a victim need a few Pesos.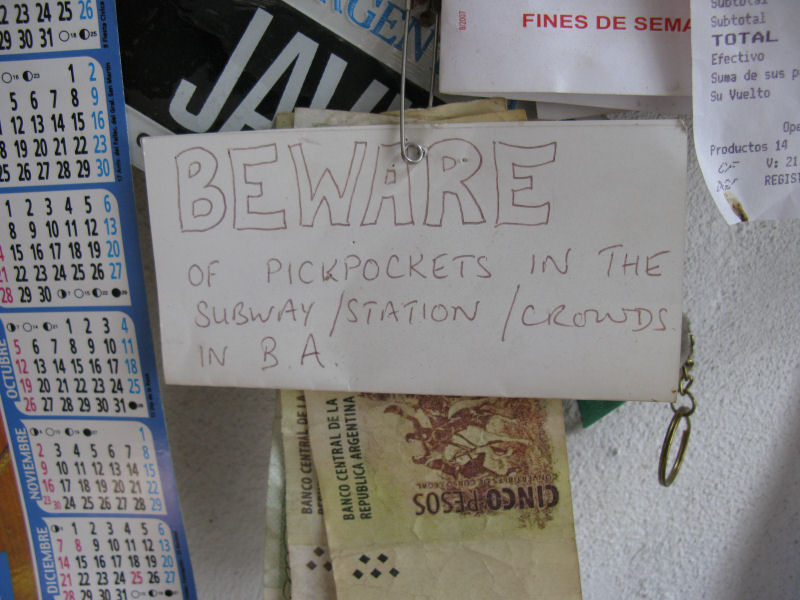 I tried doing some uploads on the occasional Wi-Fi signal that I found from the hotel room, but it was a weak signal and crashed often, so I gave up and called it a night.
Tuesday, 3 February, 2009
----------------------------
It rained hard during the night, and the strong winds drove the water through the netted window over Don's bed. Finally, he closed the shutter most of the way.
Up at our typical 10:00, had more ham and cheese sandwiches for breakfast, and went to the garage. Javier said that his friend with my crankshaft wasn't working today, so maybe it would be done tomorrow. Instead, we both worked at cleaning the motor. We took turns at the solvent tub washing out the oil and debris, being careful to flush out the oil lines and passages.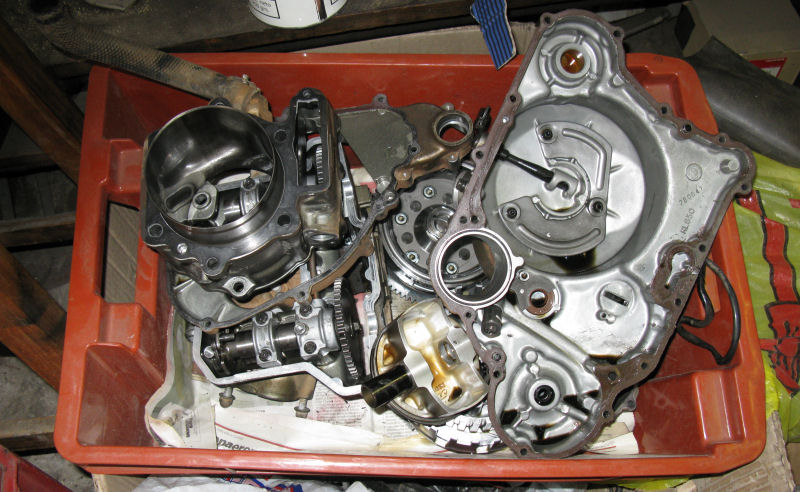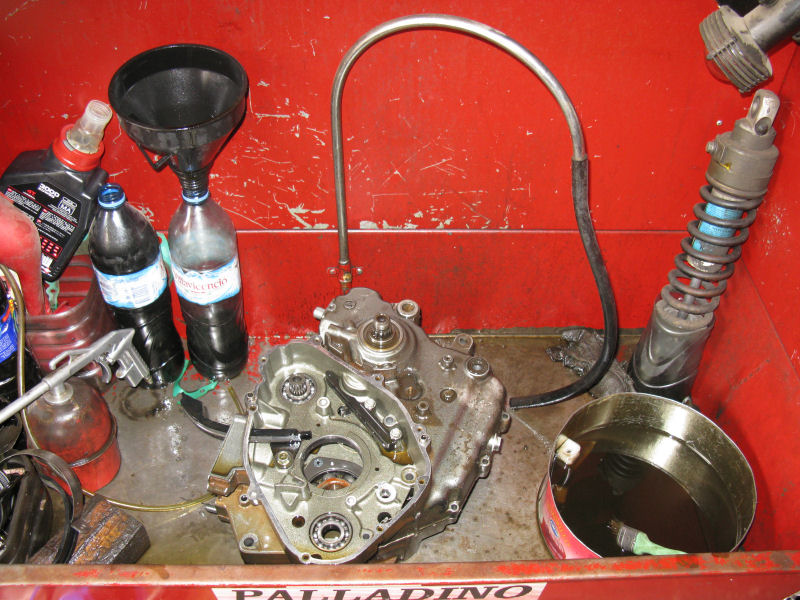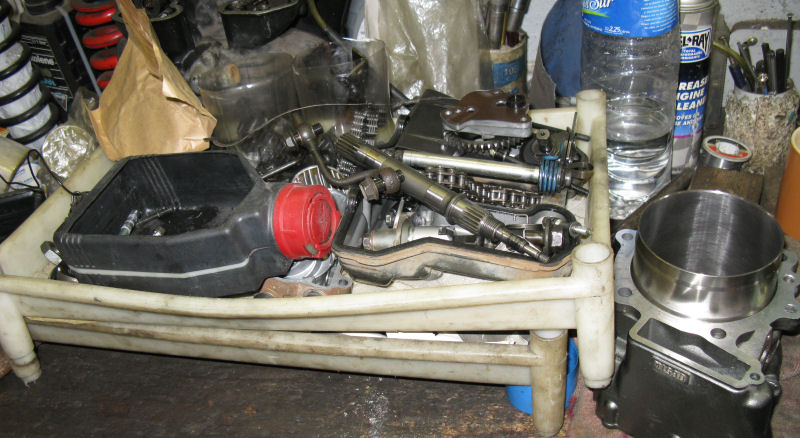 I then cleaned off all the mating surfaces on the crankcase and side covers. The clutch side cover gasket was torn, but the other gaskets were good. The reason why the clutch cover gasket didn't come off well was because when the guys rebuilt my clutch, they put gasket sealant on the gasket. I've always had good luck using the gaskets dry, and never had a problem with getting them back off. Never had a leak, either.
I had brought extra gaskets with me, so that was no problem.
I also cleaned my chain and re-lubed it. It was a lot smoother after that. I had another clip-style masterlink with me, but I decided to use the rivet-style link that had come with the chain. The chain tool that I had with me was capable of mushrooming out the rivet links that were hollow on the end, as these were, so I gave that a try. It worked pretty well, and the link looked very secure without the o-rings being squashed.
The advantage of the clip-style masterlink was that you could remove and replace the chain without taking the swingarm off the bike. So, with the chain now riveted together, I would replace it through the swingarm when we reassembled the bike (since the swingarm had to be removed again anyway to replace the motor).
Ken and Carol had now moved into the hostel, using two of the bunk beds. Very chatty, very likeable, they were fun and easy to talk with. We again listened to them talk with Mathias about the common places they had been. Malaysia,, Singapore, etc.
I did get a few other maintenance items taken care of, such as putting a replacement headset in my helmet and attaching another sun shade strip to the new face shield.
Don did a makeshift repair to his cracked coolant overflow bottle. It has been evaporating away his coolant since Peru, so he topped it off with fluid and taped it up. It would need to be replaced when he gets home. He also took off his torn-up front chain guard (the one that the chain had eaten through and into the stator wires) with the used guard that I had brought from home. Another part scavenged from Ol' Blue.
I found a few parts that I should have taken home with me, but I had forgotten. Rats.
Out of curiosity, I had bought a porn DVD yesterday. I was curious what kind of porn you get for $4 at a train station in Buenos Aires, so I fired up the laptop. As it turns out, you get some pretty mediocre porn, bad video quality, amateurish dubbing into Spanish, and a section of gay porn. Hey, what do you want for four dollars?
When we were done at the shop, Don and I walked again to the restaurant a couple miles away that had Wi-Fi and a decent menu. We parked in a corner booth and stayed there for a few hours. At that hour, they had a limited menu, so we got a pizza and hoped it would be good. It was okay, but not what I would call good. The beer was good. Don doesn't drink much, so the beer was always just for me.
At 23;00, Don headed back to the hotel, and I followed a couple hours later when the restaurant started closing.
Wednesday, 4 February, 2009
-------------------------------
More ham and cheese sandwiches. We really need to find someplace else to eat. We have both noticed what the lack of roughage is doing to our diets. And to our intestinal behaviors. They aren't big on lots of vegetables down here, so you have to get a big salad with your meal if you want any.
At the shop, we had a long talk with Ken and Carol. Javier left on some errand and we didn't see him for quite a while. I spent some time online and got caught up with email and the forums. It was a lazy day.
When Javier came back, I asked him about taking my crankshaft and new parts to another shop that had a press and could do the work sooner. That really offended him, and he shook his head in bewilderment. He reminded me that I wasn't in the States and the job belonged to the guy who had already started it. I said that I wanted to get it done as soon as possible so we could get the motor back together, but he just shook his head again and walked away from me. Okay, it will get done when it gets done. Got it. He later told me that maybe the crankshaft would be done that afternoon or evening.
Later in the afternoon, Don and I grabbed the train downtown and took a couple subway rides and walked around Lavalle street, which like Av. Florida was mostly a pedestrian road with lots of shops and restaurants. I didn't see much with Wi-Fi, though, and I really wanted to get the ride report updates uploaded since I was getting close to being caught up. We walked almost back to the waterfront before finding something that was more than a coffee shop or pastry cafe. I had a couple beers and told the waiter that we would eat later. The menu looked okay, with several combination meals that looked good.
Don left for a while to go to the Copa Airlines offices and ask about flying the bikes from Brazil to the States. When he returned, he said that the people at the Copa office here gave conflicting information from what we had been told earlier. It seems we would have to go there and find out for ourselves. Don left again for a while to go shopping while I wrote and uploaded a lot of photos.
When I was ready to eat, I tried to order one of the meals on the menu. but the waiter told me that that menu was no longer available at this hour. What they had now was sandwiches. There were only two sandwiches on the new menu that were not some variant of ham and cheese. I picked one and hoped for the best. It turned out to be a pita bread affair with several veggies and a light sauce. It was a light meal, but was different and pretty good. Another beer, please.
Don left to go do his own thing while I finished writing. At about 18:00, the waiter brought me my check, which was a surprise. Usually, they don't bring your check until you ask for it. I looked around and saw that they were waiting for me to leave so they could close. Oops.
I paid and packed up. Seemed a bit early to close, but it was likely that they would open again later for the evening meal hours.
I walked down to the waterfront and then toward the Retiro train station.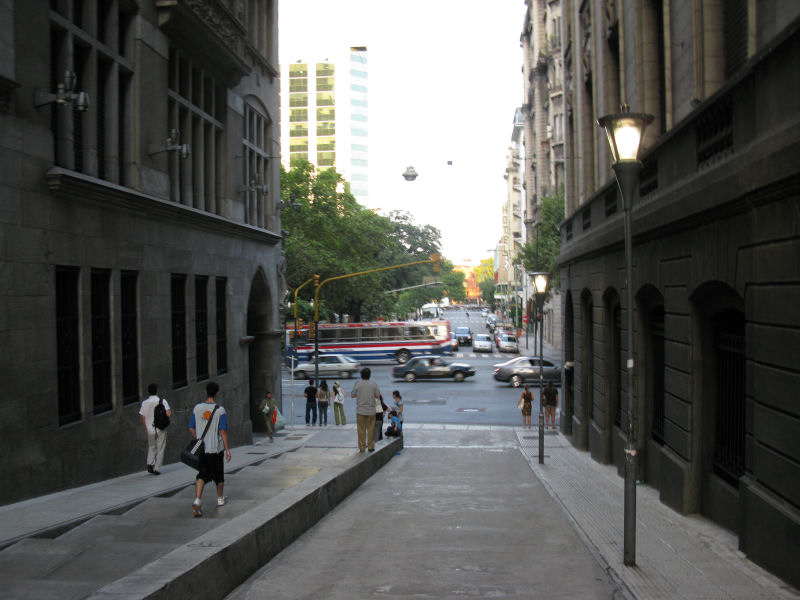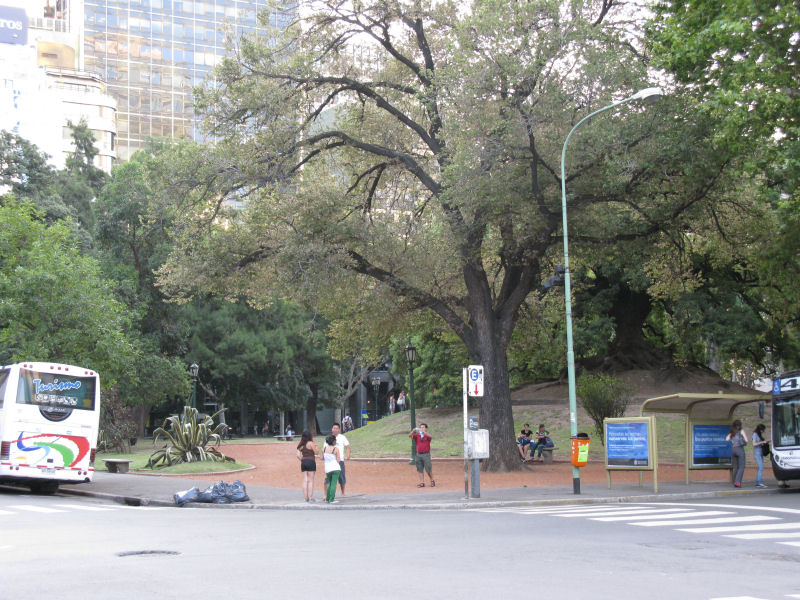 This area has all the newer office buildings.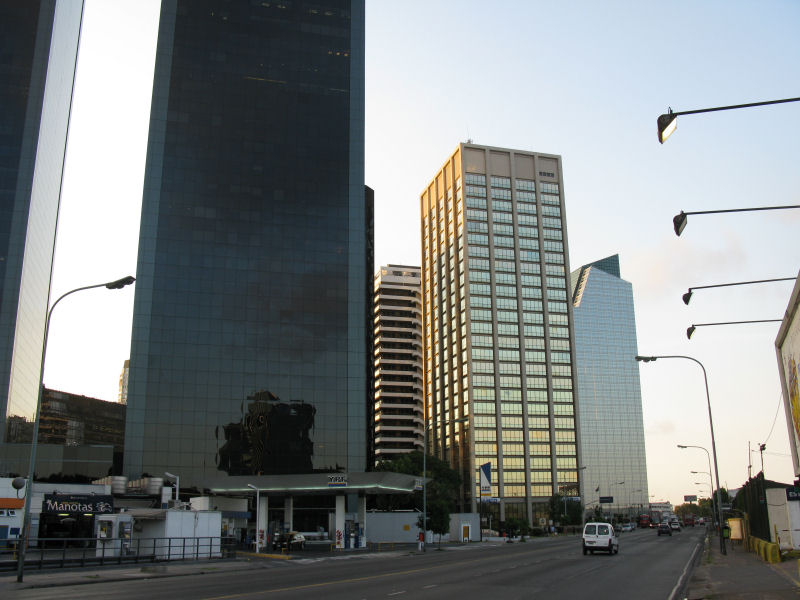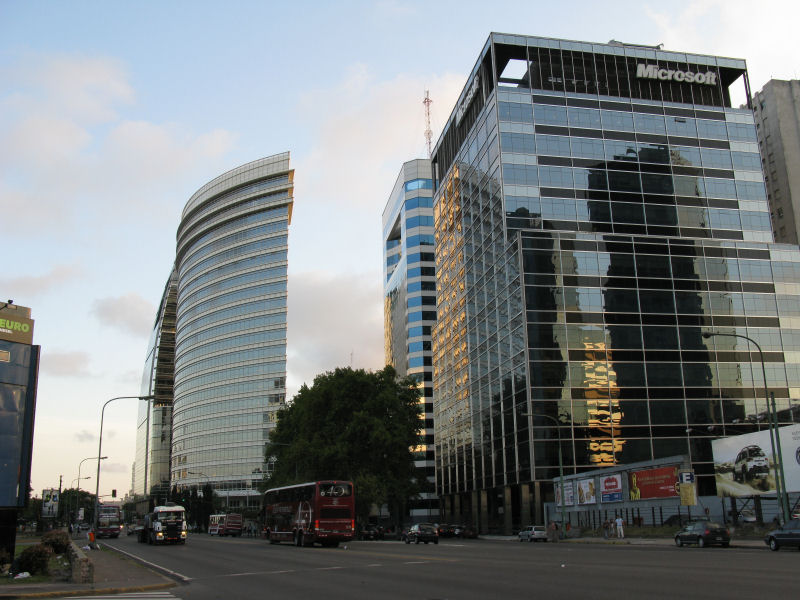 Near the train station, I paused to watch some kids play soccer and took their photo. That led to some odd interaction that I still don't understand.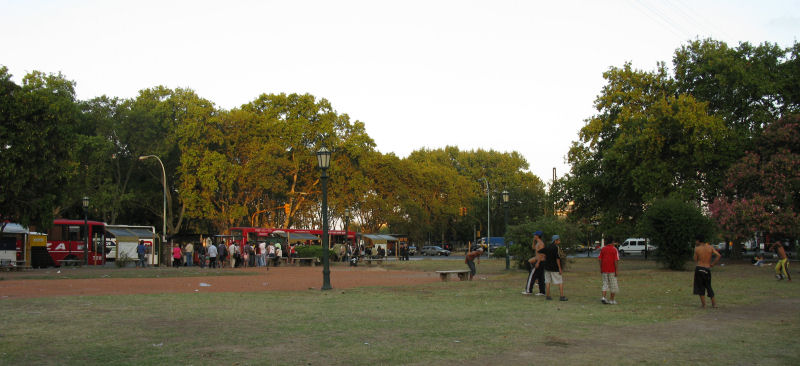 When they saw me take their photo, some of the kids started yelling at me, but I couldn't tell if they were having fun with me or demanding a tip from me. Some of the people in the field who were watching the game also yelled at me, but again I couldn't understand them. I walked over to them and smiled and just stood there. Eventually, the boys started playing soccer again, but one of the younger boys ran over to me and just grabbed onto the 2-liter bottle of soda that I was carrying. It was as if he just assumed that I would share it with him. We had a strange little struggle over the plastic bottle, and I kept laughing and telling him no. Lots of people were watching, so I didn't want to make a big deal of it. Still, I didn't want his spit all over my soda bottle.
When the kid gave up and went back into the game, some of the people standing around were glaring at me as if I were a villain. I took a swig from the bottle and gave it to another kid in the audience, telling him to share it with the kid who had tried to get it from me. He took it and said that he would. The whole interaction had been strange. I went on to the train station.
On the train, I saw the huge stainless-steel flower sculpture through the trees. It was evening, and the flower was slowly closing. The center of the flower was glowing in a moving iridescent pattern that was as beautiful as it was unexpected.
Don was gone when I got to the hotel, so I took a shower and chilled out for a while. He came back and said that there was nothing going on at the garage.
Thursday, 5 February, 2009
-----------------------------
We were up early and walked past the railroad tracks to a different restaurant for breakfast. Don had eaten here while I was gone, but I hadn't been before. For some reason, the waiter/cook/owner? didn't understand the word huevos. I wanted eggs for a change, so I asked for eggs. Nowhere has anyone not understood the word huevos. This guy, however, simply did not know what I was asking. It's weird.
I finally ordered a spinach tart from a display case and it turned out to be a very nice quiche. A quiche with eggs. Con huevos.
When we got to Dakar Motos, Javier was there and was working on my motor. I mentioned the piston rings to him, and advised him that they had not yet been gapped to fit this cylinder. He said he knew how to do that. He was very terse when I tried to talk with him, and he later told me to go away from the workshop because I was making him nervous. Hmmm... Now, I was sure that I had honked him off the other day by asking him to take my crankshaft to another guy to work on.
It was a cool, cloudy morning and that was nice until it started raining. There isn't much covered space in the back yard, so it was hard to sit outside. I did manage to get the ride report totally caught up and uploaded. Later in the day, someone on one of the online forums pointed out that some of the links on the report were dead, so I managed to get those fixed, too.
Don did more research on how (and from where) to ship the motorcycles back to the States. Fortaleza was still a possibility, but if we got moving soon and made good time, we might make it to Belem and be able to catch a boat up the Amazon to Manaus, riding from there up into Venezuela, Sipping the bikes home from Caracas was another possibility.
We had long conversations with Ken and Carol. Their experience was impressive and they were very willing to share it. We heard about their riding in Africa and their homeland of Australia.
At 19:30, Javier told me that even with help from Mathias, it had taken him two hours to get the piston into the cylinder. That concerned me, because when I had done my first 685 upgrade, it had taken me two minutes to insert the piston. (I had worried about it being harder so I had a friend standing by to help, but it had turned out to be a piece of cake.) Javier said that the bore angle where the piston is inserted was badly done, and the angle was too abrupt.
He finished working at 21:00 and quickly left the shop. It was the first time I had seen him work all day on anything. That might be an unfair observation, but I had heard others make similar comments, so I wasn't the only one.
I finished a few other things online as Ken cooked chicken and veggies for himself and Carol. They were very used to staying in various hostels, so they were always at home wherever they were.
We read Chuck's latest blog entry. He had ridden north and crossed into Uruguay on a bridge. He was now in Brazil and working his way as directly as possible north toward Venezuela.
Don and I headed back to the hotel at 22:45, not feeling like we had gotten much done today.
Friday, 6 February, 2009
--------------------------
Another ham and cheese sandwich made our typical breakfast. We wanted to be at the shop early, so we didn't want to walk the distance to the shop with the quiche that was so good.
When we arrived at Dakar Motos, Javier started working on the motor. I asked him about the ring gaps, and he said they were fine. When I asked him if he had to change the gaps, he seemed confused. I showed him the specs that came with the piston, and he studied them a while. That did not make me feel good. He finally said the 0.018" ring gap called for okay, and the rings looked fine.
I don't want any reader to think that I am criticizing Javier's work; it's more a discomfort not being able to see the work done or being able to do it myself. I suppose I could have told him to stop working on the motor and that I would do it myself, but I was in his workshop, and he had already done most of the motor work. I tried my best to be relaxed about it, but the piston rings were nagging at me.
When Cary Aspy (may he rest in peace) had sent me the first 685 piston kit, he had already gapped the rings to fit the cylinder that he had bored out. With this piston kit, the rings had no indication that they had been gapped, and the cylinder had been bored out by a different shop in Colorado. It's best to measure and adjust the end gaps of the rings using the cylinder they will be mounted in. This allows for minute variances in the machining.
Too many people had confidence in Javier's work for me to be stupid about it, so I let it go.
Don and I rolled the KLR into the shop and started stripping the frame again. Soon after we had it done, Javier set the motor in place and we set about getting it installed. Two hours later, we were done. With new oil and coolant installed, we fired it up and the darned thing ran!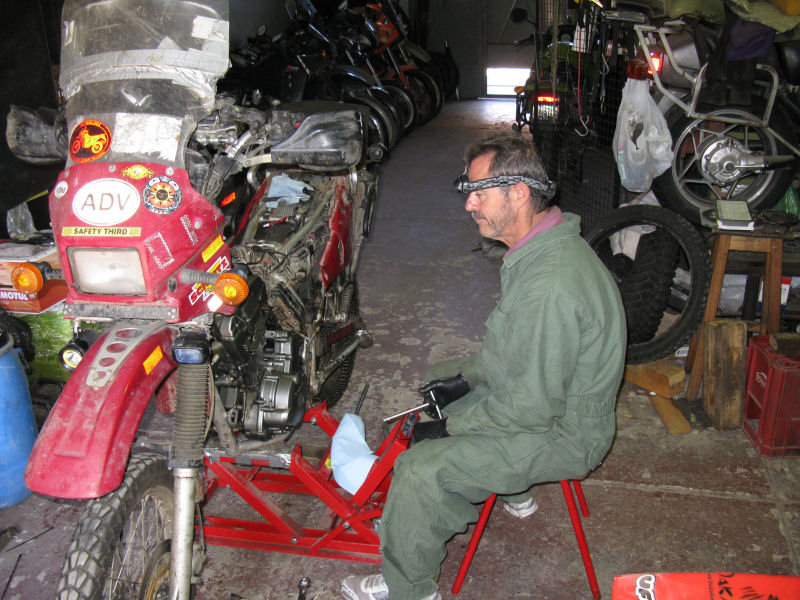 It also heated up very quickly and ran very hot. I started fretting about the piston rings again. What would happen if they were gapped too small and were now heated up (expanded) and were in conflict? When I had done the first 685 upgrade, it had been cooler weather, so maybe that was why it didn't seem to run as hot. Hmmm...
Don got on his KLR and followed me around the neighborhood while I carefully followed Cary's break-in procedure for the new piston. Lots of easy acceleration and engine breaking, lots of shifting and slowly working through the gears. Easy at first, slowly increasing the strain on the motor. The worst thing to do was run the motor at a steady speed (RPM) or load for any length of time. My clutch hand started cramping after about 20 minutes.
If you have your own thoughts on breaking a new motor in, please keep it to yourself. Cary designed this forged aluminum piston, and I was doing it his way.
After about 20 miles of that initial break-in riding, we found ourselves near a busy street, and I was moving slowly through the gears at moderate speeds. We saw a McDonalds, and that was like a beacon calling to us. One of the things I wanted to avoid on this ride was eating as such places as this--although there have been times, you know? This was one of those times. We really enjoyed a predictable hamburger and large soda in a cup full of ice. I added a large salad to it, just because we haven't had a lot of veggies lately.
Don then went to the BuqueBus station for information on getting across the river to Uruguay, and I continued my break-in riding. Since I hadn't ridden in three weeks, I really enjoyed it, but both of my hands started to ache. My butt, too. I had lost my riding butt. No worry; it'll come back.
I rode up a major road, which was good. It was afternoon stop-and-go rush hour, and that was exactly what I needed. As I rode, I passed two police blockades where protesters were in the road or on a side street. BsAs must have a lot of police, and they sure had a lot of barricades. I had to get used to the lane-usage problem again, too.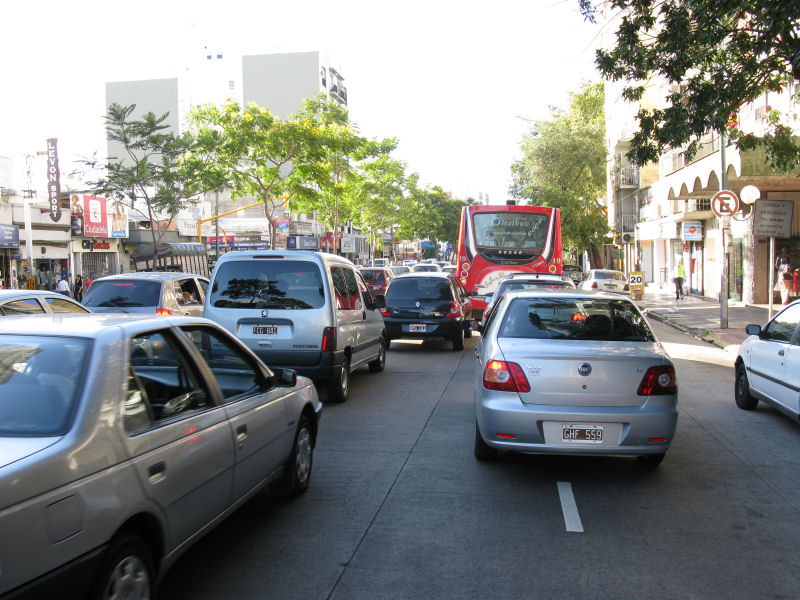 I found myself in the Tigre neighborhood, where we had taken the delta boat ride. Working my way back, I chose some side streets, and some major streets now that the traffic was getting lighter. The motor was running extremely hot.
When I got back to the shop, Javier was gone, but Mathias came out and commented on how hot the motor seemed. He asked about the piston clearance, and that caused me to express my concern that Javier hadn't measured the ring gaps. He asked how the motor ran, and I said it seemed to run fine. He didn't think there was anything to worry about. He's an experienced world rider, too, so I trusted his opinion.
His site is http://www.GlobalBiking.com if you're interested in his travels.
I did an oil change, checked the coolant level, looked for leaks, and let it continue to cool down. It's best for the break-in regimen to be done in two or three sessions, with a cool-down between.
Don zoomed back to the shop and told me that if we hurried, we might make it back to BuqueBus in time to secure ferry passages for tomorrow afternoon. Woo hoo!
It took us an hour to go the short distance in the evening traffic. I never got to any high speeds, which was good.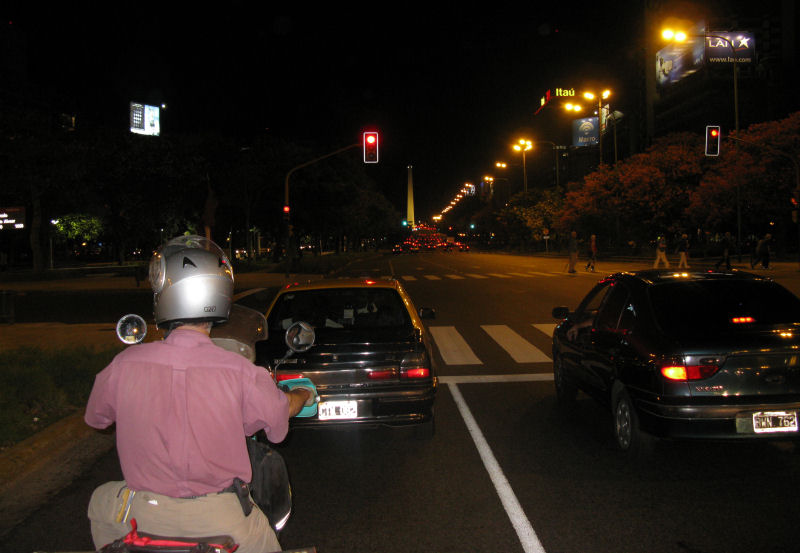 When we got to BuqueBus, we got in line and managed to snag late reservations for the 15:30 fast ferry to Colonia, across the river. The cost was P/286, about $85 each.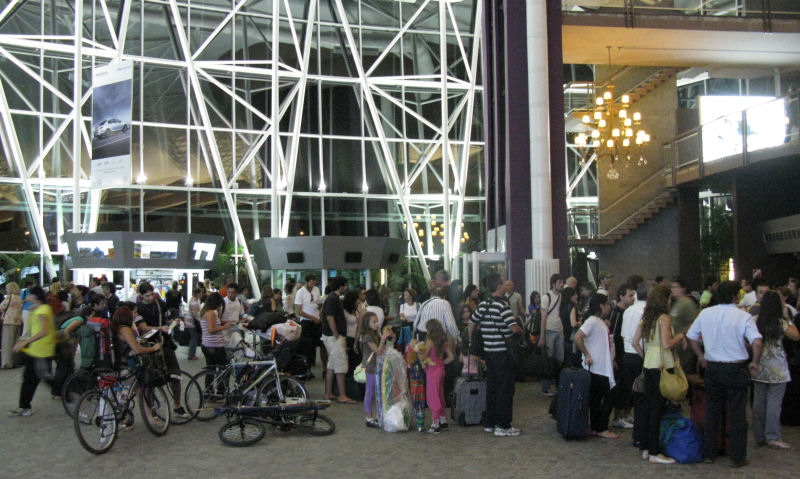 Don and I compared temperature gauges while we rode, and we were always in the same range, so my fears of my motor running too hot got eased.
When we got back to Dakar Motos, we stashed the bikes in the garage, chatted with the others a bit, then staggered back to the hotel.
We had gotten a lot done today, and that was a good feeling.
Saturday, 7 February, 2009
-----------------------------
We were up at 09:30 and headed for Dakar Motos to get packed and on the road. We carried all our gear there, so we arrived looking like Sherpas. Javier was there chatting with someone we hadn't met. Ken and Carol had already breakfasted and came out to watch us load the bikes. Mathias dragged himself out of his tent, too (it was already too warm to stay in the tent, anyway).
A Canadian couple that had arrived yesterday were starting to get their green Tiger fitted with a few things. Their bike had been here a while, but they had left it and gone away on their own, apparently. You see their bike in some of the shop photos.
They took our group photos for us. Me, Don, Mathias, Javier, Ken, Carol. And that's not a tumor; it's a bag hanging around my neck.
We headed back to BuqueBus, stopping (again...) at McDonald's for a late breakfast at a plastic table next to a kid who kept staring at us. On the way, we passed a local police station that we had walked past before. There were a few crashed cars parked there, which might be their version of evidence storage.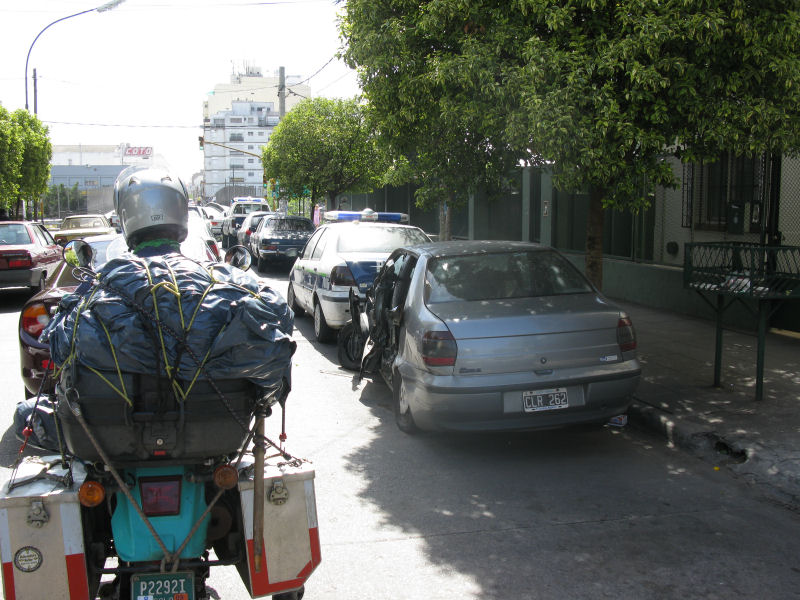 The McD's was in the Alto Palermo neighborhood, which looked nice.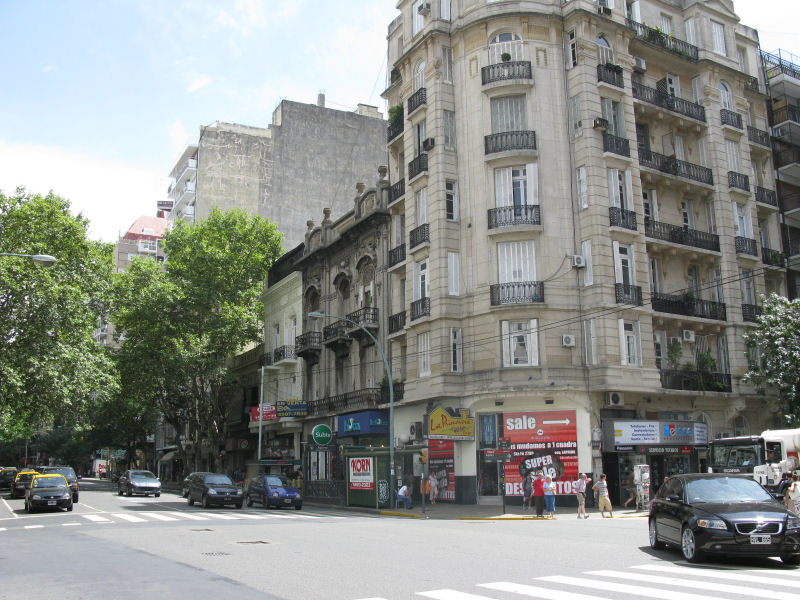 When we got to BuqueBus, we rode around to the back and parked where the attendant directed us. We were early. There were only a couple other cars there.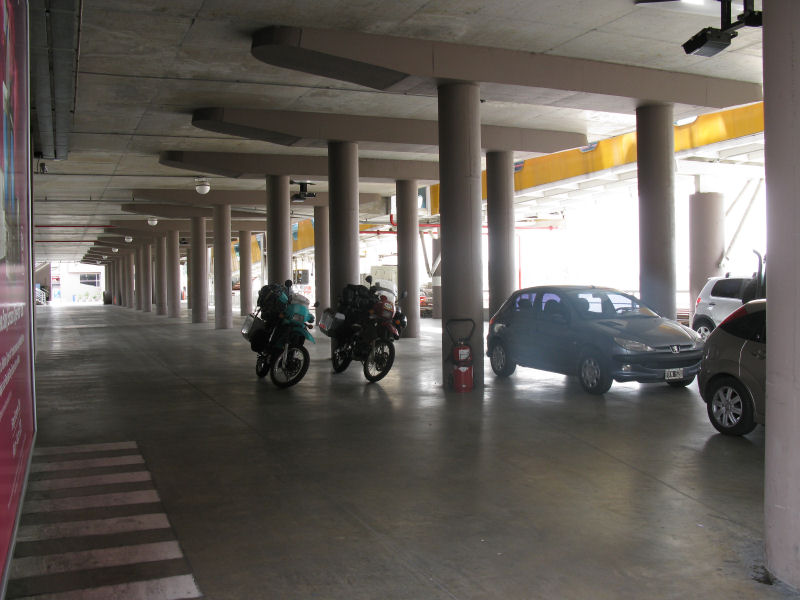 Inside, it was too early for any crowds. We were told to wait until 14:00 before checking in. We wandered around a while.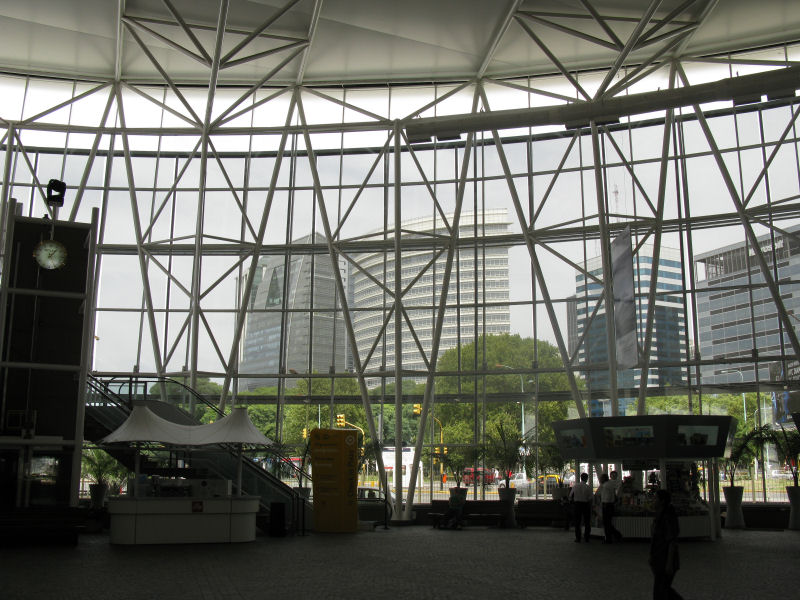 We watched a smaller ferry (still a big boat) come in and unload cars.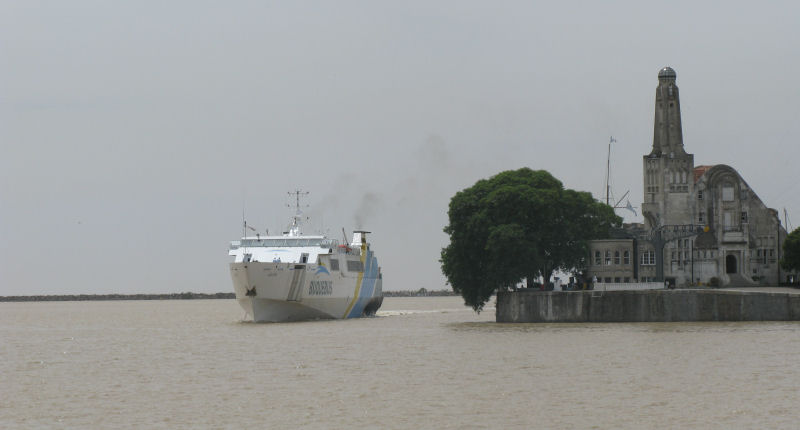 When it was time, we checked in at the counter and gave the attendant the tickets we had gotten last night. He gave us our boarding passes (one for each of us, one for each bike), and pointed up the escalator. He also told us that the Customs people would be checking our bike papers, including our insurance.
Insurance? Nobody has ever asked to see our insurance at a border crossing. And why would they check for our insurance as we were leaving the country? If we didn't have any, what would they do? Make us stay here without any? Silliness.
We went up to the Immigration and security checkpoint. Typical airport-style scanners for luggage and people. When Don went through, his big monster-killing pocket knife set off the metal detector, but the "security" guard was talking on his cell phone and didn't notice.
Then we went to the Customs control point (or so I imagine--it was all very casual). The gal there looked at our boarding passes and asked to see our bike papers. She did some stuff and then some other stuff, and gave us another slip of paper which she had stamped. We didn't think anything about this other paper, but it turned out to be important later. Don't discard anything until you are clear in the next country, trust me.
And no, she never asked to see our insurance.
We asked about how to get our bikes on the ferry, but they just kept directing us forward. We went past a large wall of trickling water which was meant for decoration and ambience, but which mostly caused the humidity level to skyrocket. I was sweating just walking along beside it.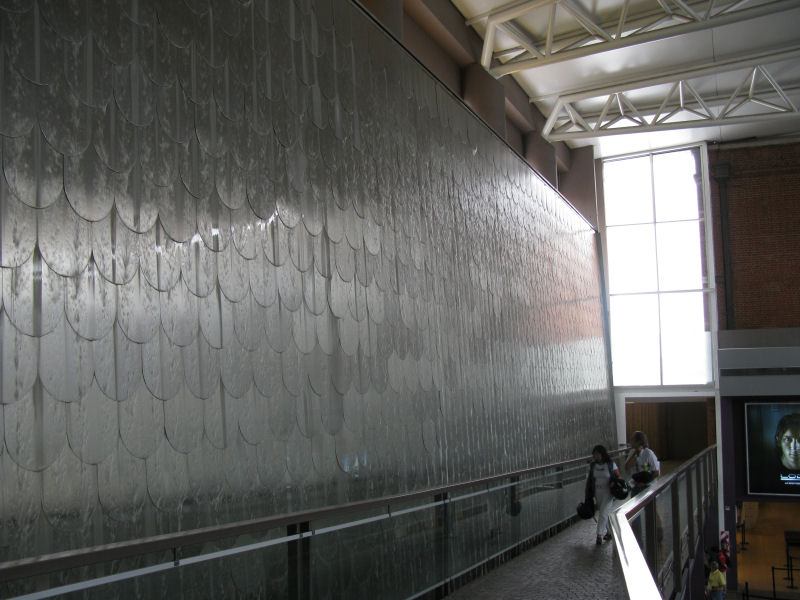 We got the the waiting area, I saw a model of the BuqueBus depot, which was newly constructed, apparently.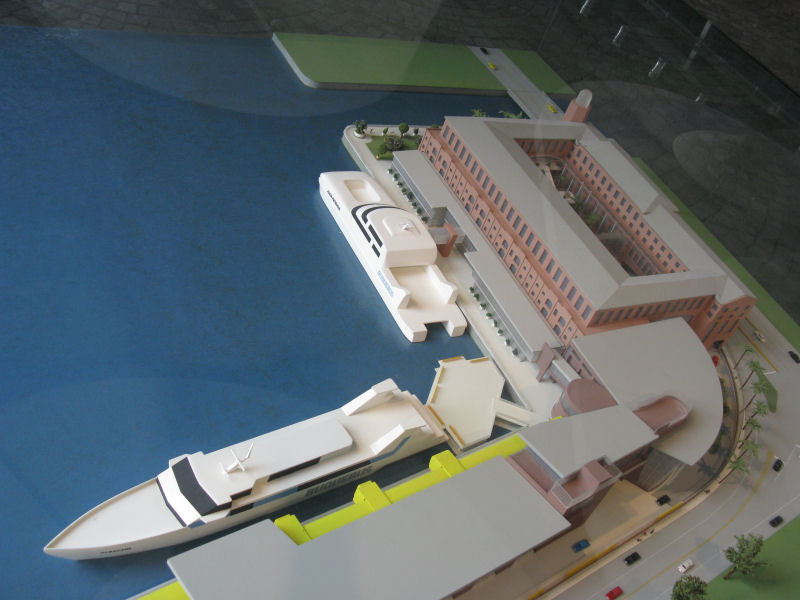 We saw that drivers could use an exit to get to their vehicles, so when they let us pass, we went down some stairs and back to the parking lot where our bikes were waiting. More cars had showed up. Most had blue plastic markers under their windshield wipers. The Customs people were wandering around, too.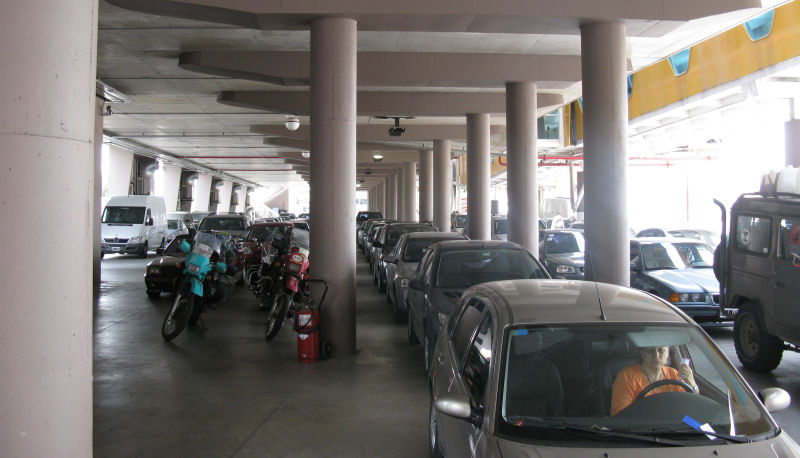 We watched another, wider ferry come in. This one was ours.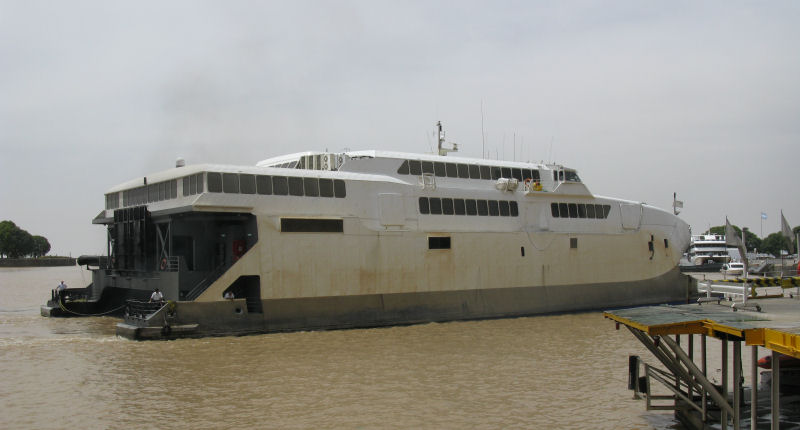 We figured out that the cars with the blue tags had been cleared by the Customs people, so we got the attention of one of them who checked our passports and bike registrations. We were each given a small scrap of paper that had a logo from the Customs office. I guess we were cleared. No one ever inspected our bikes or luggage.
When the time came, we were all waved to drive onto the ferry. This is the best shot I could get one-handed while navigating the floating ramp platform.
You entered on the right, made a big U-turn inside the ferry and parked facing out the back again at the other ramp. We were waved to the front, but they squeezed a Land Rover in front of us.
We parked and got off, but a guy on the deck asked us to put the bikes on the center stands. He also told us that he would strap the bikes to the deck later. We then got shooed off the vehicle deck and told to go upstairs.
The huge passenger compartment was like an aircraft, but much wider. There was a restaurant in the front and duty-free shopping in the back. Upstairs was the VIP area, with lounge chairs and recliners. Many passengers rushed to the duty-free shop as soon as we were away from the dock and they announced that the shop was open. I suspect that this was a regular shopping excursion for many of them.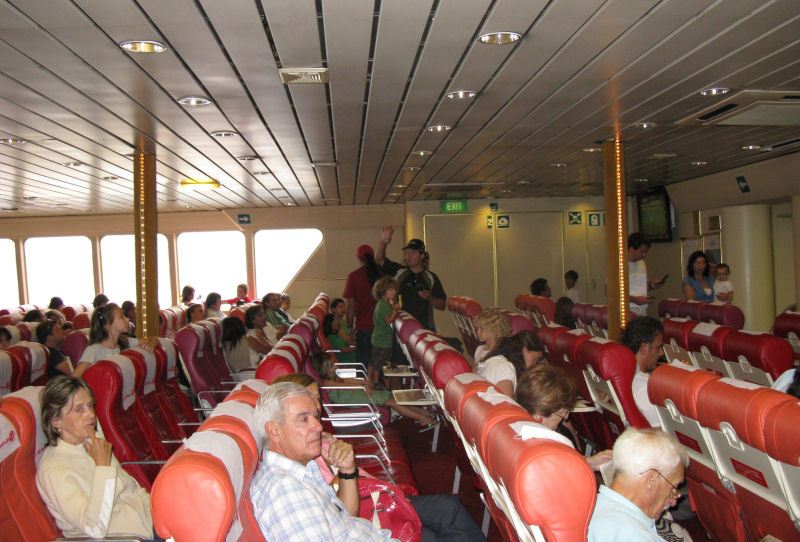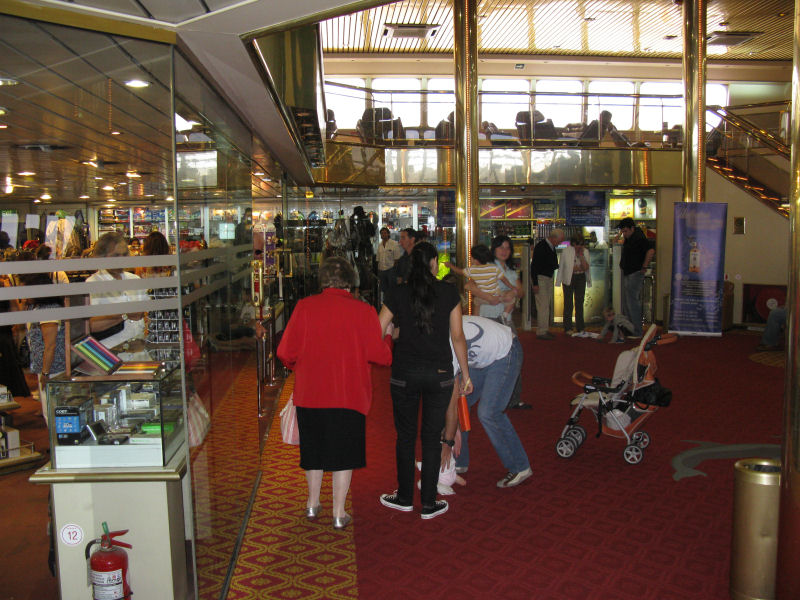 Don and I had something to eat, and I tried to nap, but the crossing was about an hour and there wasn't a lot of time to relax.
Somewhere in the middle of the Rio del Plata, we crossed from Argentina to Uruguay.
<< Link to PREVIOUS report: Argentina Up Again >>
<< Link to NEXT report: Uruguay Up >>
[ ERRANT-RONIN HOME ] [ Prudhoe Bay to Ushuaia Home Page ] [ Ride Reports Home Page ]