Part 9. Colombia down
=================
Saturday, 15 November, 2008 (continued)
-------------------------------------------
It was noticeably cooler in Bogota, which was a relief. The altitude makes all the difference.
We were out of the airport in no time. Baggage claim was fast and easy, customs was only a slight delay that was my own fault. On the customs form, we had put that we might be in Colombia for 180 days because we might be passing through here again within that time. That caused my customs agent to blow a fuse and she handed me over to a supervisor who eventually explained that they could only grant 60-day visas here, and that if I wanted an extension, I would have to go to the Embassy in the city. No problem. Don's agent had let him through without a hitch. The visa they stamped into our passports has no time limit on it. Whatever.
We found a couple of banks in the airport to change some money. A kid on the flight had told us that the dollar would bring maybe 2,100 - 2,300 Colombian Pesos, and maybe better exchange rates in some places. (It looks like we were getting a bit more than 2,300 pesos per dollar at the ATMs in Bogota while we were there.)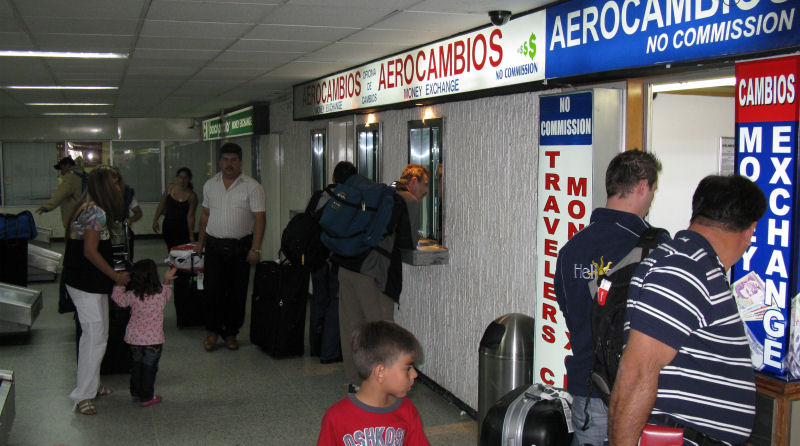 The El Dorado International Airport in Bogota was smaller than I expected, but it was well-run and clean. Police everywhere. Some were regular police, some were military police, some were Policia Turismo, and some were perhaps transit police. Not all were armed, and we couldn't see a pattern to that. No one was allowed to wait for arriving passengers inside the terminal, so they were all waiting outside.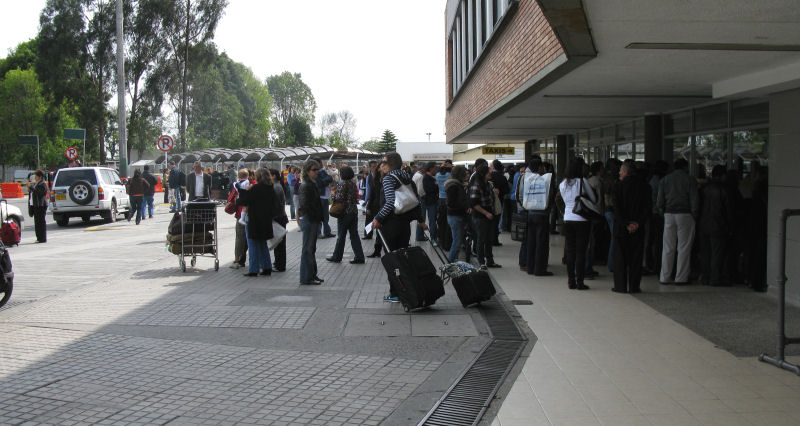 There was a group of college-aged people filming a movie or maybe a commercial outside the terminal. One guy playing the villain grabbed another actor's luggage and ran off with it. Then he came back and did it again from a different camera angle. Maybe it was for a public-safety announcement.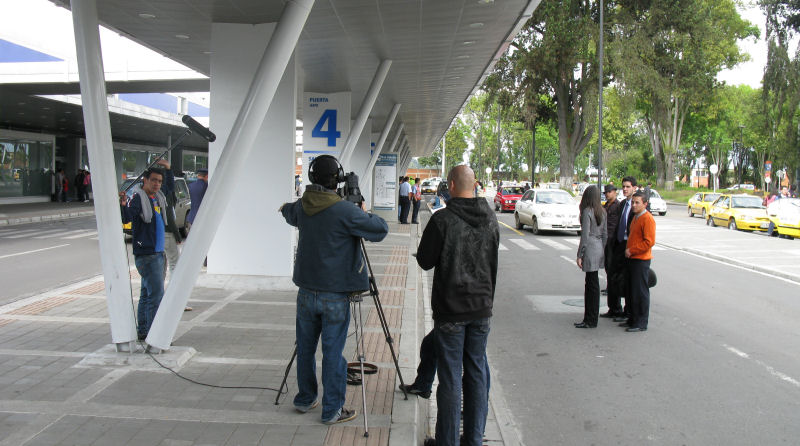 We ignored the hotel shysters that swarmed us when we left the airport terminal. We were obvious prey, since we had several large bags on a cart, no particular course to our wanderings, and confused looks on our faces. Don asked two young policemen about tourist information, and they put us in touch with Diva (shown in the next photo), who showed us her tourist/airport ID card. We've seen ID cards like this before, so it didn't mean much, but she also had a book full of hotel business cards. After some negotiations, we settled on a hostel near the airport. Anything near here would be more expensive anyway. The one we chose was US$70 per night.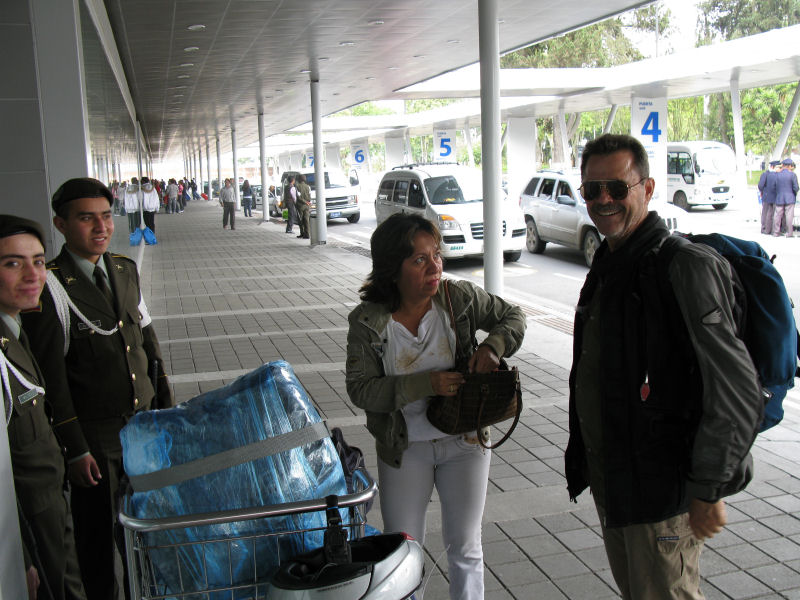 Diva took us in her car to the hostel, which was in a decent neighborhood, two blocks off a major road. The hostel itself was unmarked on the outside. Our room was on the second floor and opened onto that balcony you can see in the photo. (If Don looks kinda poochy, it's not because he suddenly got fat on this trip--it's all the crap hanging around his neck under his shirt. I think he hides a sandwich in there, too.)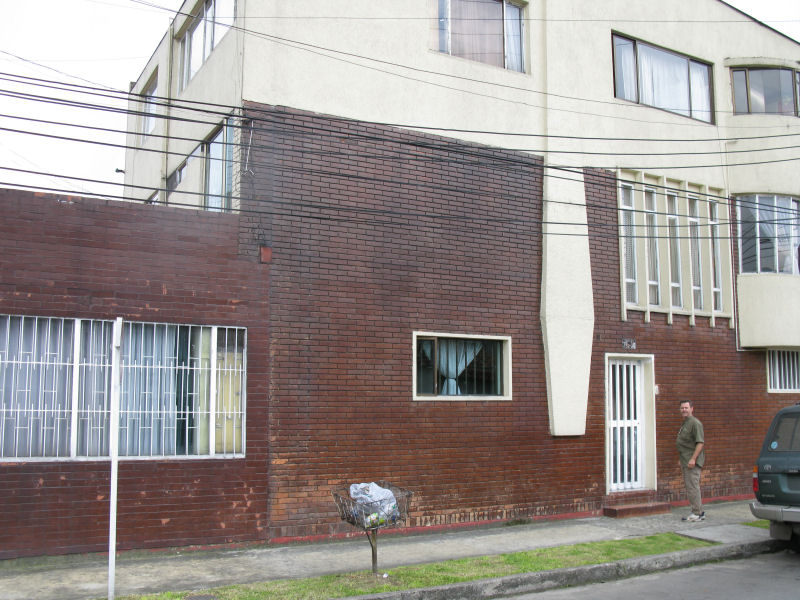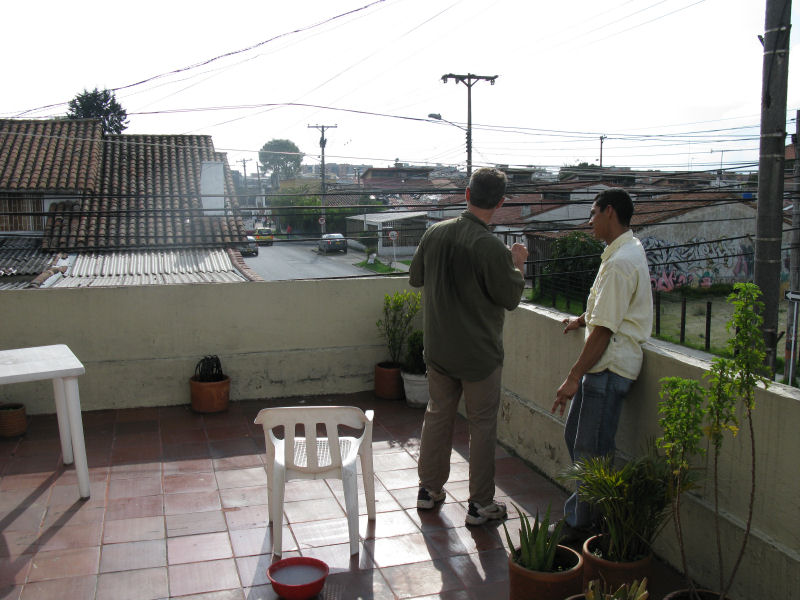 The place was overpriced at US$70 per night, but some of that would doubtless go to Diva for delivering us there. We had a private bathroom instead of sharing one, so that was something. No need for air conditioning or heating here. Blankets on the bed were probably good year-round. We were charged 280,000 pesos for two nights, which came out to US$122 at the ATM exchange rate.
After getting settled, we hailed a taxi and asked him to take us to El Centro. This was a sure bet in every other country we had been in, but here it caused some confusion. Or maybe the taxi driver was only used to taking tourists to the shopping malls. Anyway, after a lot of one-sided conversation (him doing all the talking), we ended up being dropped off in front of the largest new shopping mall in Bogota. This was not what I wanted. What the heck, we'll go inside and look around.
It was like any other modern shopping mall anywhere. That's what kept it from being interesting. Don bought a SIM card for his new cell phone and made a friend. Mimes aren't funny here, either. She was kinda cute, though. Lots of pretty girls, we noticed.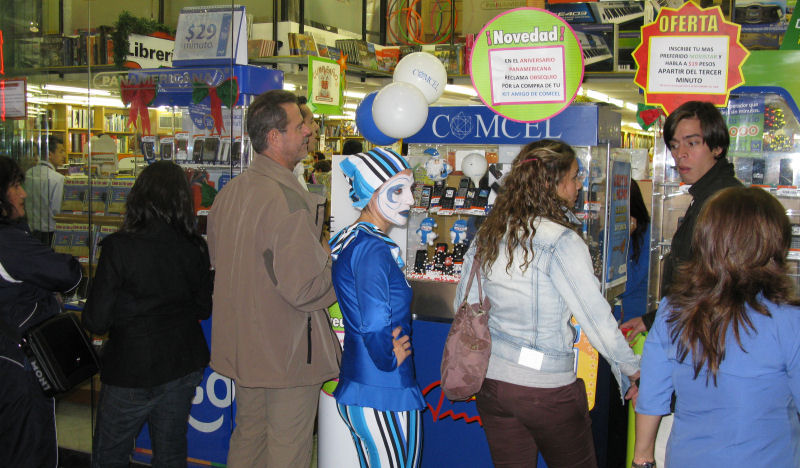 It was raining when we left the mall, but we didn't understand the local bus lines and didn't want to pay for another cab. We decided to walk to another major street (I had bought a map of Bogota) and see about a tram or rail system.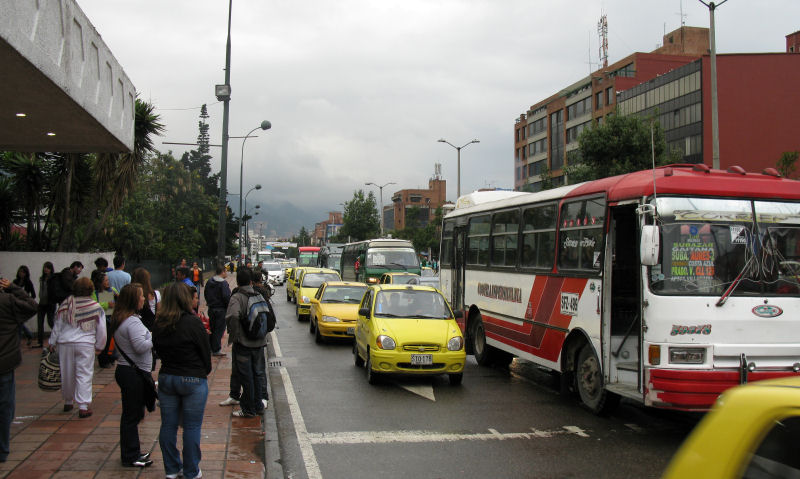 We walked maybe half a mile and I stepped awkwardly off a curb along the way and really tweaked my right foot. It was mostly healed from when I had dropped the bike on it in the Copper Canyon, but every now and then it got torqued wrong and it hurt for days. I suspect that the metatarsal(s) that had been broken hadn't healed right and it was still vulnerable.
When we got to a major road, we saw that it was neither a tram nor a rail line there, but was a route for long, articulated buses. Every mile or so there was another big bus station. First we needed food and a break from the rain. We found a strip of restaurants that included Middle-Eastern cuisine with Spanish influence.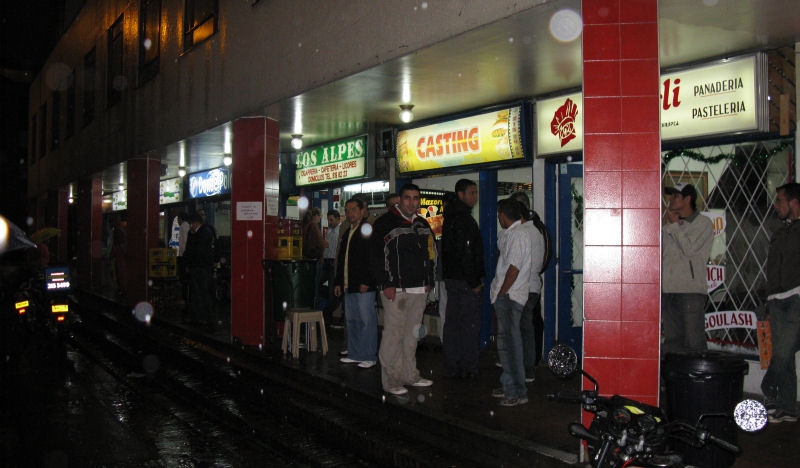 The hawkers outside each restaurant were very competitive and crowded us, shoving menus for us to see. It was all very friendly, though, and none were offended when we ignored them. We finally chose one and went inside. The hawker became our waiter and took our order for some kind of lamb dish served over corn and covered in finely-grated fried potatoes. It was very good, especially for under US$4 each.
The rain let up a little, so we walked over this very large aluminum bridge to the median of the highway. The bus stations were all in the medians. I don't suppose it ever freezes in Bogota, so that explained the sloping metal sections of walkway. They would be hazardous if they were ever icy.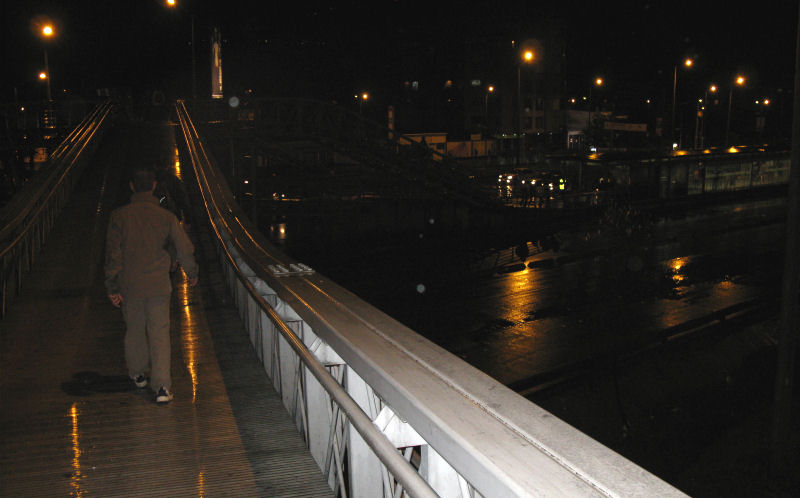 The bus fare was explained to us by a local kid who spoke decent English. (We had heard several people speaking English in the mall, and some appeared to be locals.) Taking the bus across the city would cost less than US$2. We watched much of Bogota pass outside our bus window for quite a while. The buses were usually full, so this was a main transport system in the big city.
We were headed for the "real" downtown El Centro, and we knew where to get off the bus. We walked around (still in the rain) for a while, and Don eventually found a pair of cheap shoes that suited him. A bunch of teen girls had quite the laugh over our inability to communicate well with the sales clerk. After taking Don's credit card, she asked him some question that we didn't understand. Something about one month, two months, or three? The gaggle of girls (giggle of girls?) each tried to explain it to us, but we have no idea what that was all about. Finally, a manager told the cashier to go with one month just to end the confusion. Maybe something to do with spreading out the payments?
We wandered around the more historic part of town, but since it was late on a Saturday, nothing was open. The stores on the main streets started closing, too. We'd come back. We asked a couple of female police officers (both were cute and both were using cell phones) for some directions.
We also saw several graffiti with swastikas. They seemed to be anti-Nazi, so at least that was good.
Thinking that we would walk a short ways and catch another bus to get us near our hostel, we started walking. We got a bit disoriented and ended up off the main bus line, so we thought that we would keep walking and make a decision later. The rain wasn't so bad, actually. Somehow, the constant heavy drizzle in Bogota seemed drier than the oppressive humidity in Panama. At least the rain smelled better than my stinky sweat.
After a couple hours, we stopped in a small bar that had rap music in Spanish. The customers (average age looked about 15, but was probably more like 20) were hanging out and flirting with each other. Dancing to the Latin rap. To me, the music was just noise. At least we were out of the rain long enough for one beer.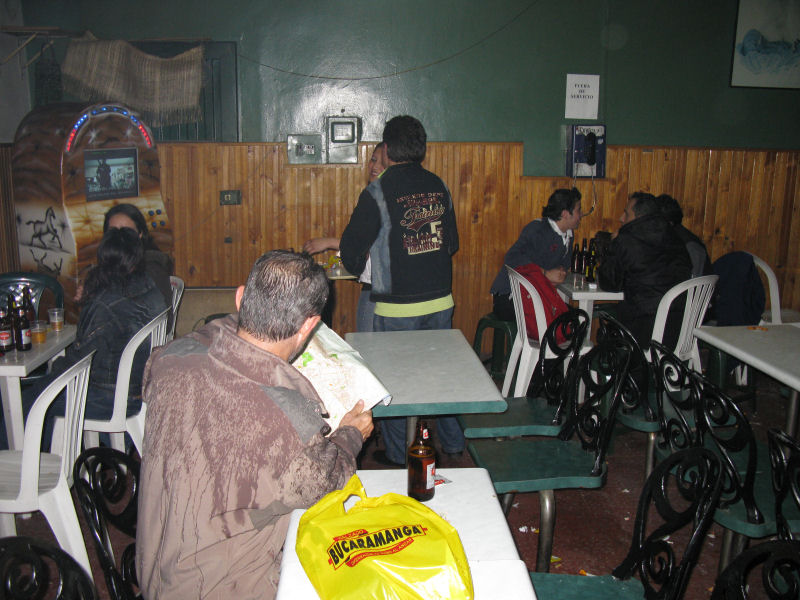 Don had a light jacket, but I was only in light synthetic clothes. Aside for being a little cool, I was fine, though. My foot hurt a lot. We went through an industrial area and some residential areas. All-in-all, I saw nothing that looked really bad.
We walked another hour or more and stopped again in a coffee shop for another break.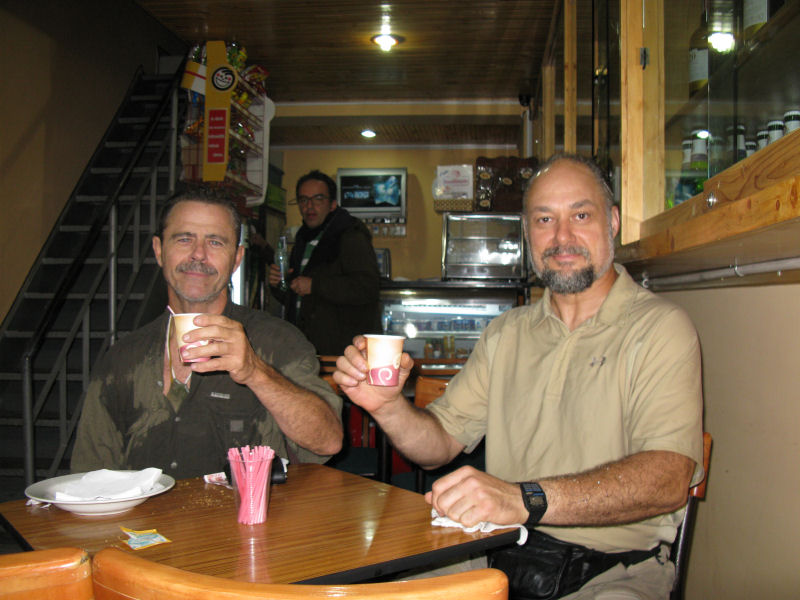 My cell phone received a text message from Tigo, the local phone service, maybe. It said something about information about making calls. I called the toll-free number, chose English from the menu, and got a canned message on how to place calls in Colombia. I had to replay it several times and take notes to get it all. We have ran into trouble making international calls in most countries. Different rules, I guess. Anyway, the Tigo message was unexpected and was very helpful.
One of the employees (or the owner) is in the background in the above photo. He spoke pretty good English and took it upon himself to brief us on all the most important sights to see in and around Bogota. That took a while. Then, off into the rain again.
The rain won, and we eventually waved down a taxi (that took only about 45 seconds) to take us to the hostel. The taxi was only about US$3 for the ride, so we should have hailed one earlier.
Don zonked out while I did a lot of photo management and a bit of writing. I shut the computer off at about 02:00.
Sunday, 16 November, 2008
------------------------------
We had been told that this was still the rainy season, but we were assured that the rain should stop in December. It was cool and overcast when we got up, so the rain wouldn't be far away.
We walked a short distance to one of the many, many eateries. We each had one of the chicken tamales, and they were good (except for the many small bits of gristle and bone---what's up with that?). The tamales were wrapped in large (palm?) leaves. The coffee was good, of course. This is Colombia, after all.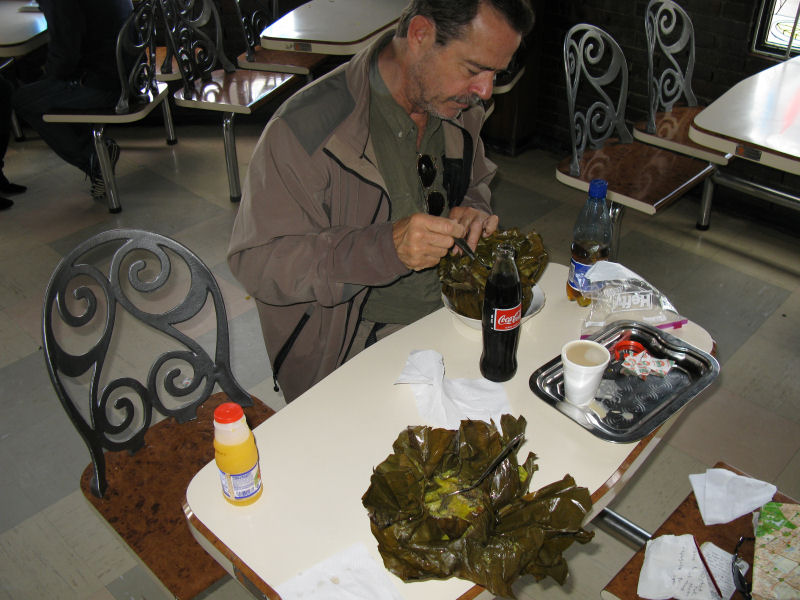 We found an ATM and took out some money. Many ATMs were in alcoves or rooms off the street, so that was good. Many had armed guards, too, so that was better. I saw very few ATMs that were out in the open. I had read advice about using the ATM system in Colombia, so I knew that if you were too slow entering your PIN or making selections, it would time out and you would have to start over. This one also asked if you wanted to make a donation to something, but it didn't wait long for you to decide and quickly went on to the next step.
The daytime manager at the hostel spoke good English and he instructed us about the local buses. We were ready to go be tourists. We waited for a bus that had Germania on its sign, and got on. The fare was 1,250 for nights, weekends, and holidays (only 1,200 otherwise), so that was just over fifty cents. (1,000 pesos was about 43 cents at our ATM rate).
Germania was the neighborhood near the downtown area we wanted. We saw other references to Germany, such as a cemetery with Bavaria in the name, and a hotel named after Munich.
We saw now in the daylight some areas we had seen last night in the rain. It was a nice area, well-maintained and very popular.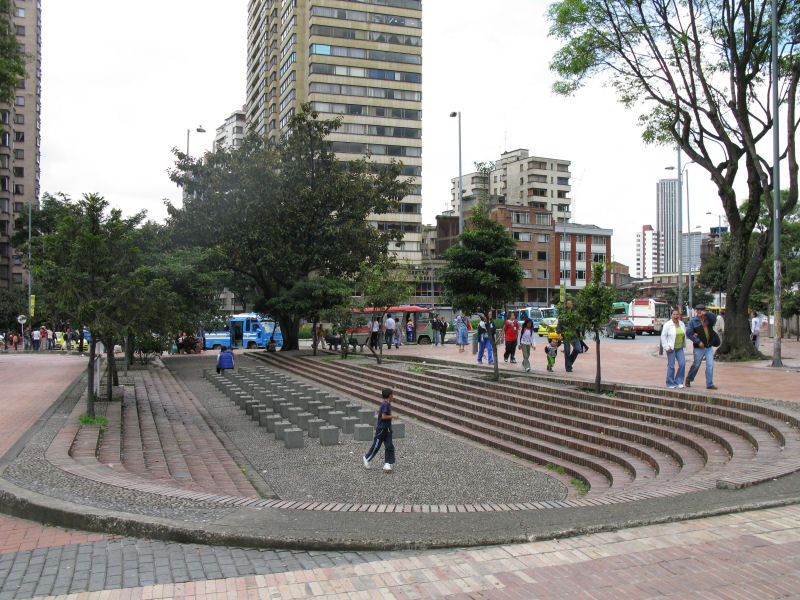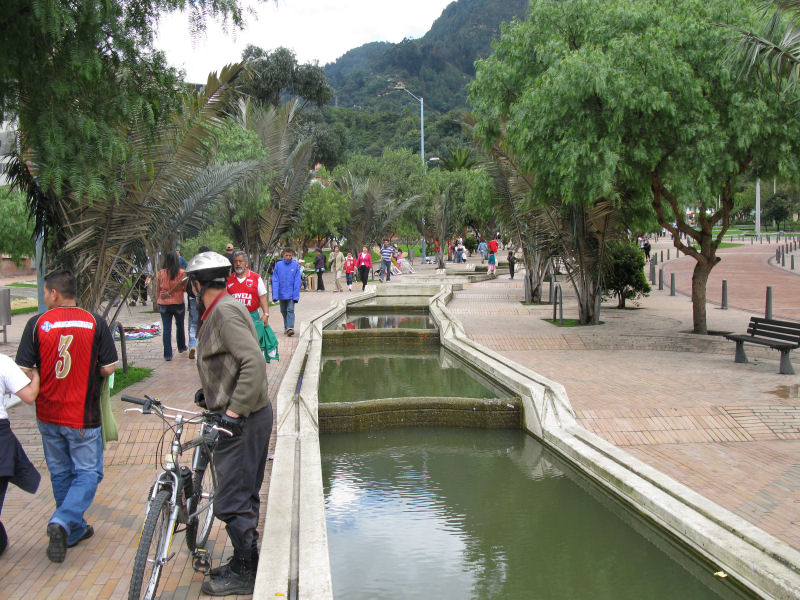 It seems there might have been a natural waterway here before the urban take-over, and this artificial canal is probably still fed with water running off the mountains to the east of the city.
We were aiming for San Montserrate, the monastery overlooking Bogota. There were a lot of vendors (food and goods) along the road that leads to the station from which you can take the cable car or the tram to the top.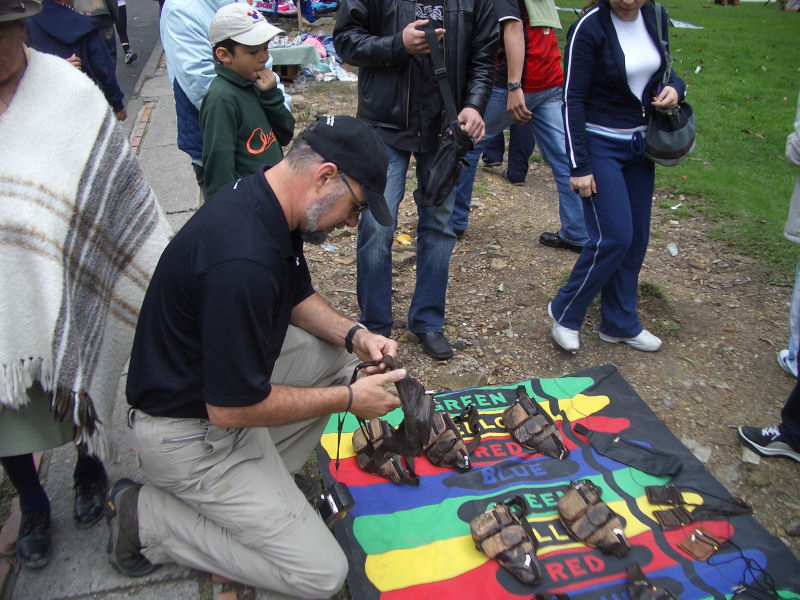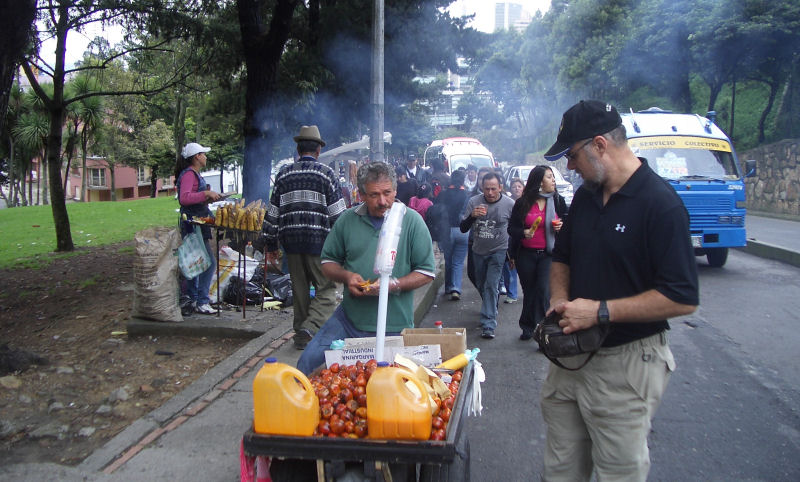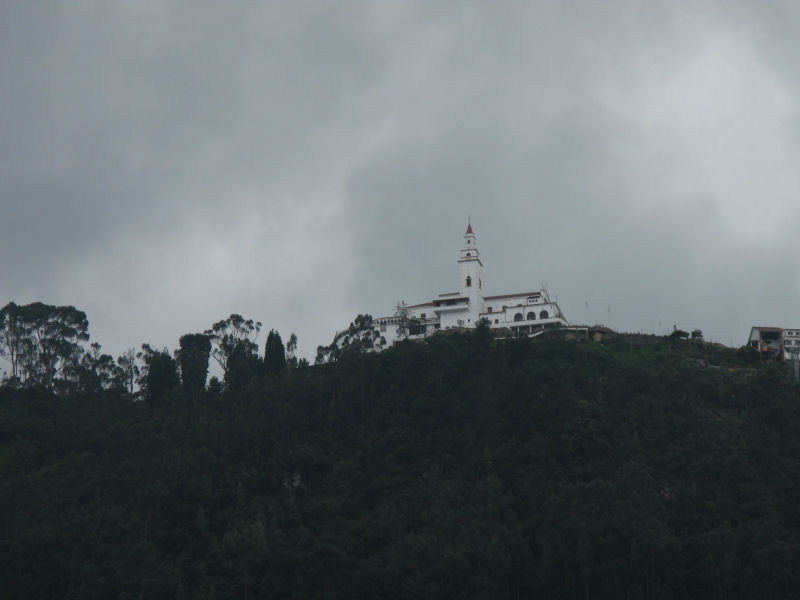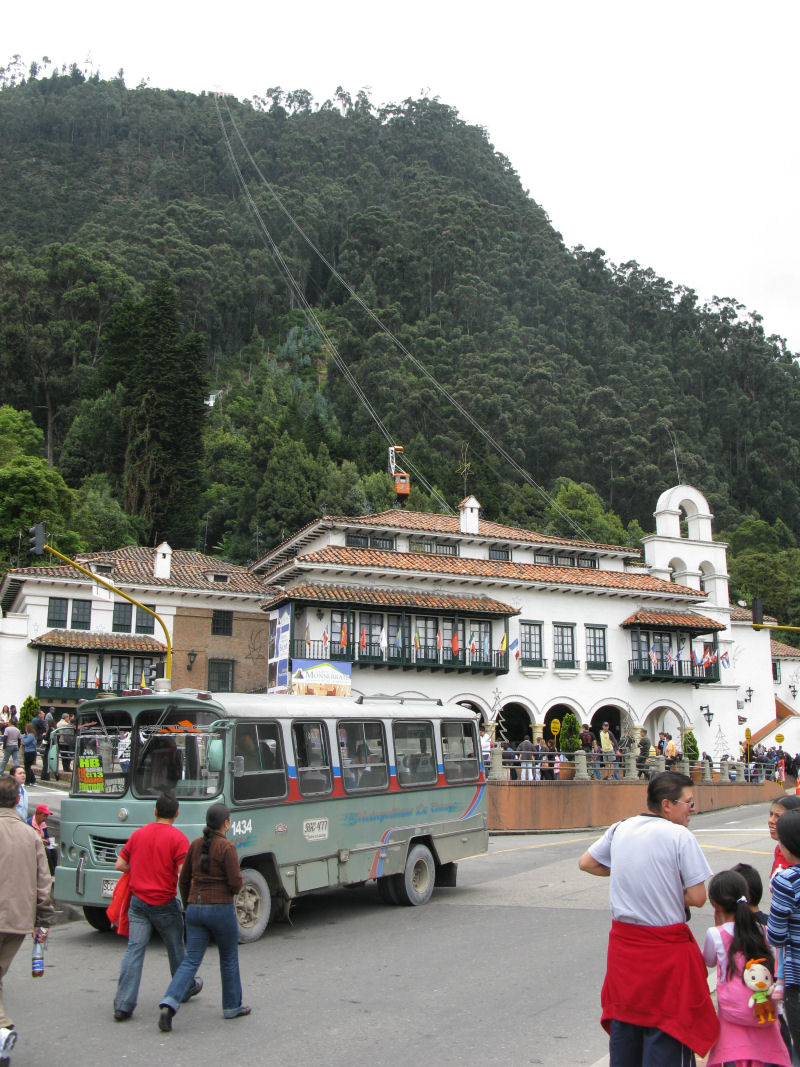 Don bought two round-trip tickets (since we didn't want to hike the 2,000-foot ascent), and we chose the tram for the upward journey.
Since it was Sunday, the place was a popular destination. Everything was crowded, and the main church was packed with people attending the service. Some of the songs being sung were traditional, but some were contemporary--even recent popular songs that kids were singing along with.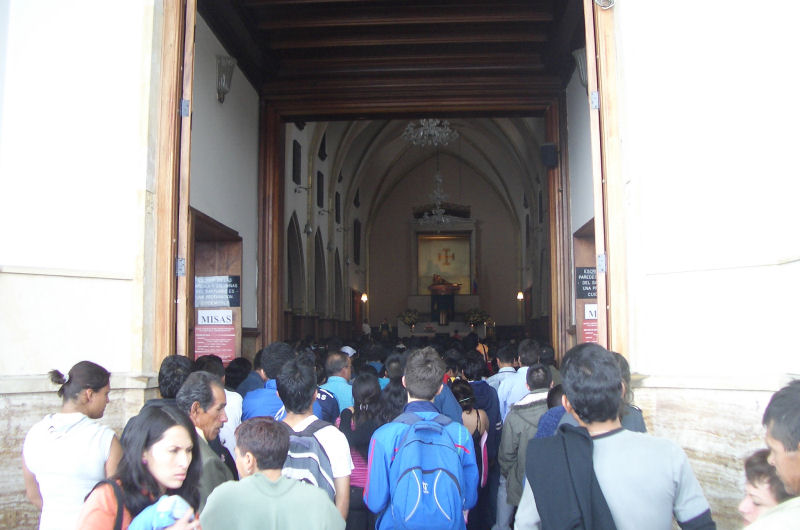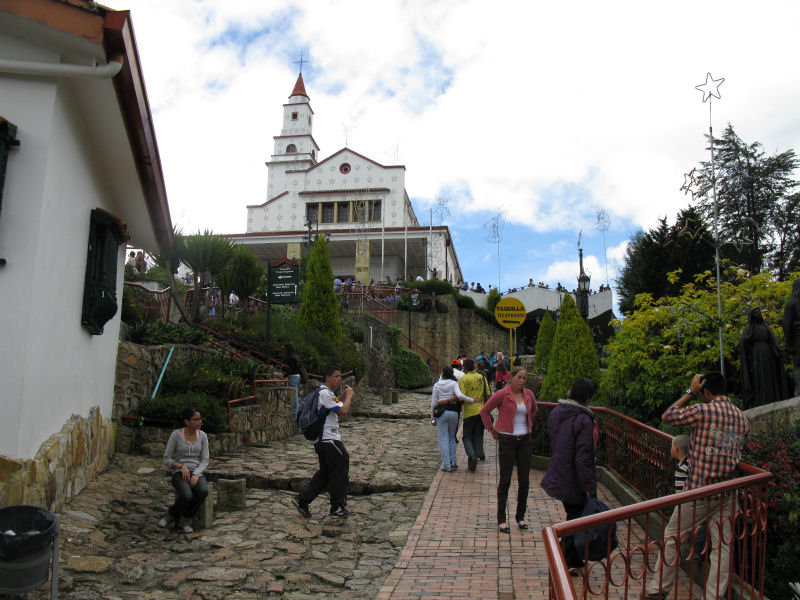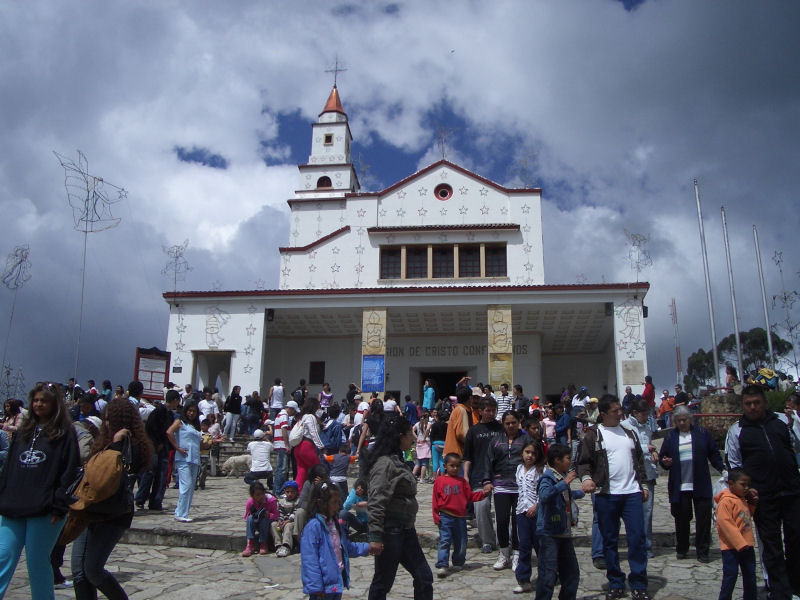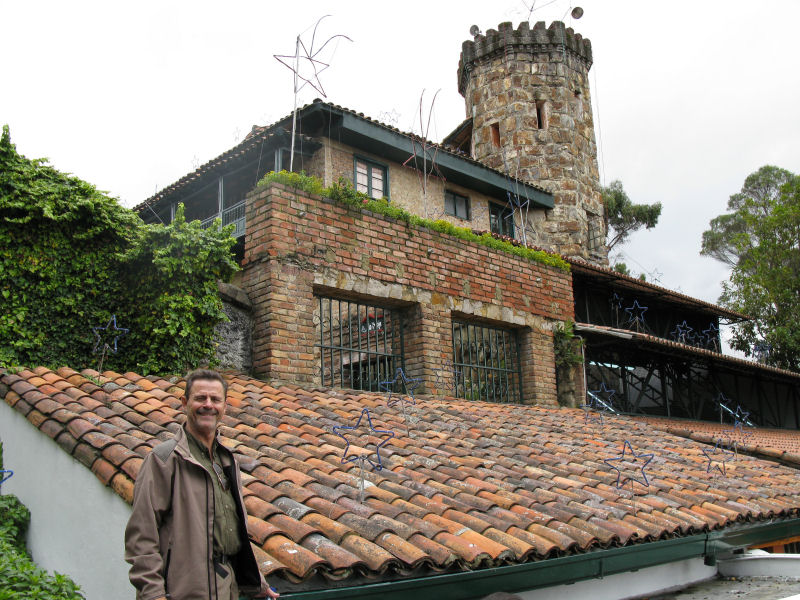 The views of Bogota were nice.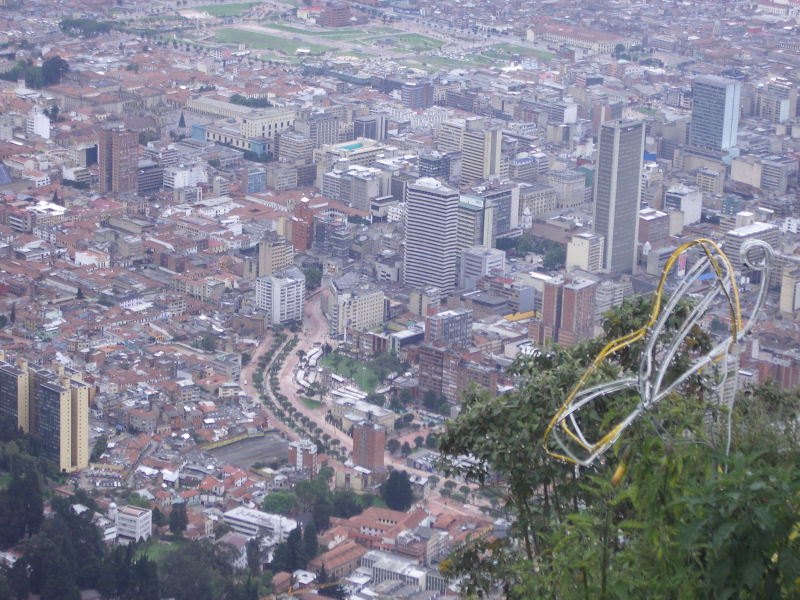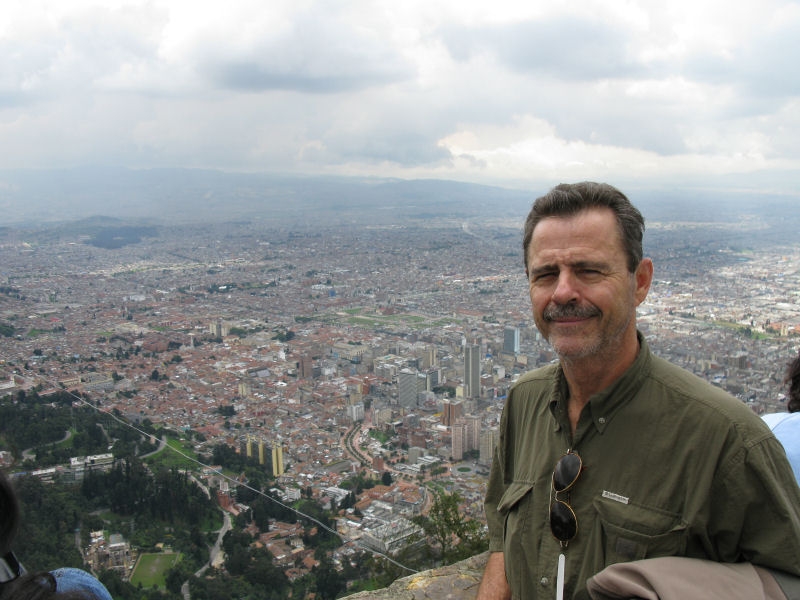 Next to the main monastery was an alley-like corridor of food and trinket vendors. They must make cheese at the monastery, since that was a popular snack item. A dry, white cheese (goat or sheep cheese?) with varieties of fruit and caramel toppings. It was very good, and very cheap.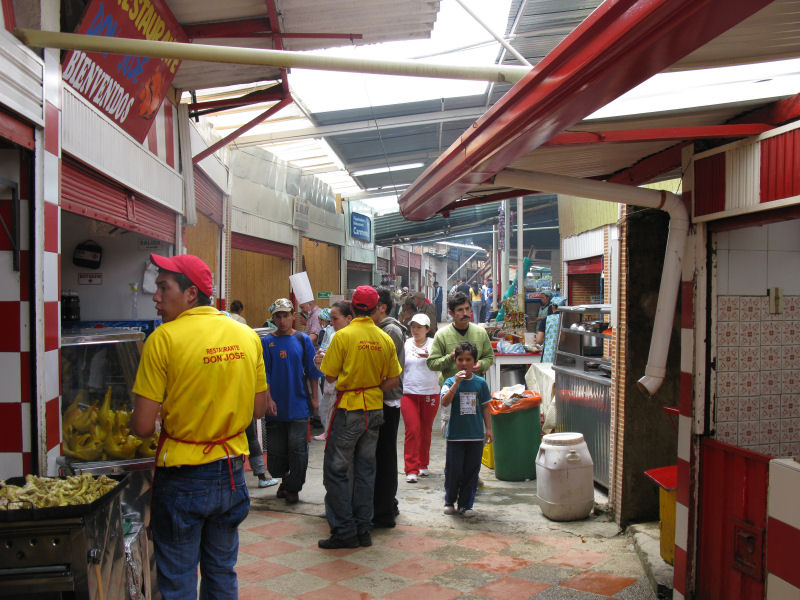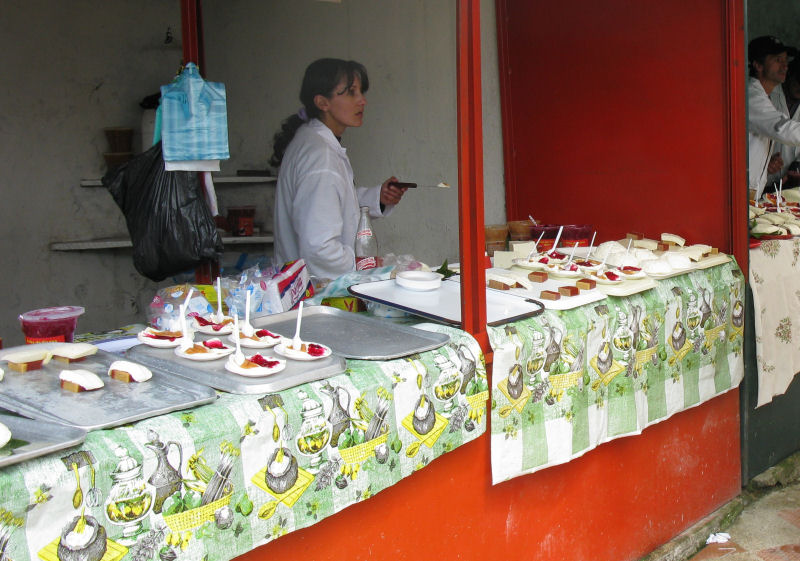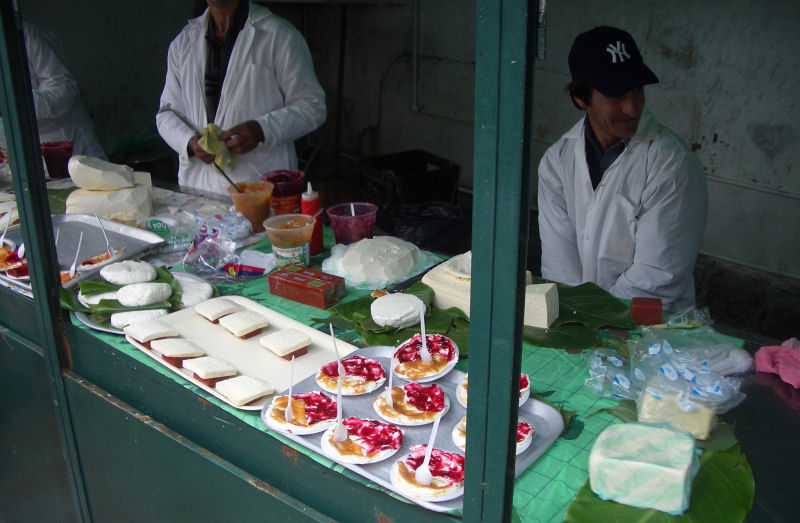 After passing through the gauntlet of shops, there was a rocky outcropping behind the monastery with views of the forested mountains beyond.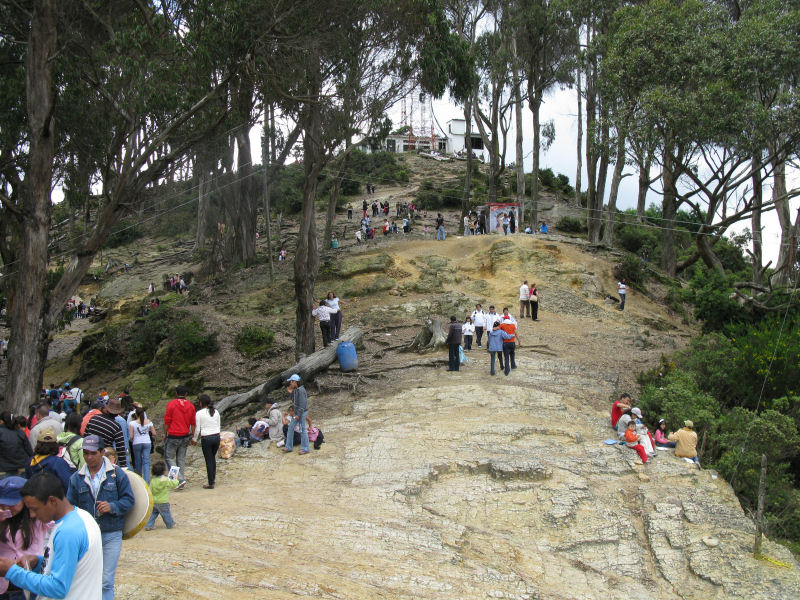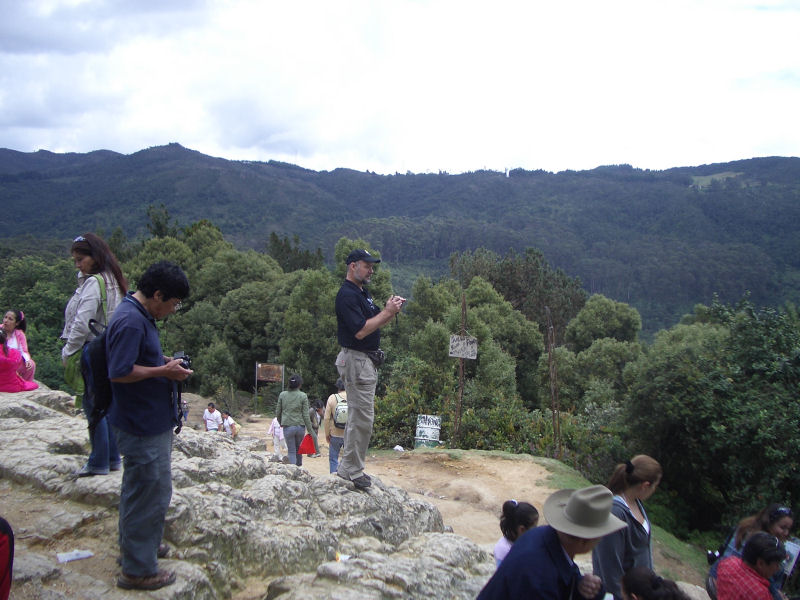 On the way back through the snack aisle, Don couldn't resist trying what looked like a fried banana stuffed with cheese and meat jelly.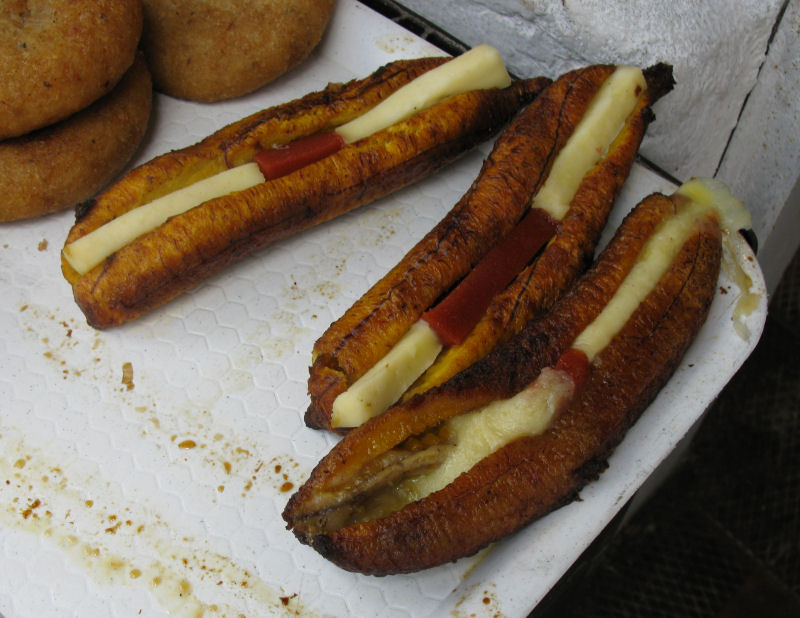 It turned out to be a plantain (tougher than a banana and not so sweet) and the local cheese was accompanied by a fruit jelly. (Whew!)
We took the cable car back down, just for something different. The view was better.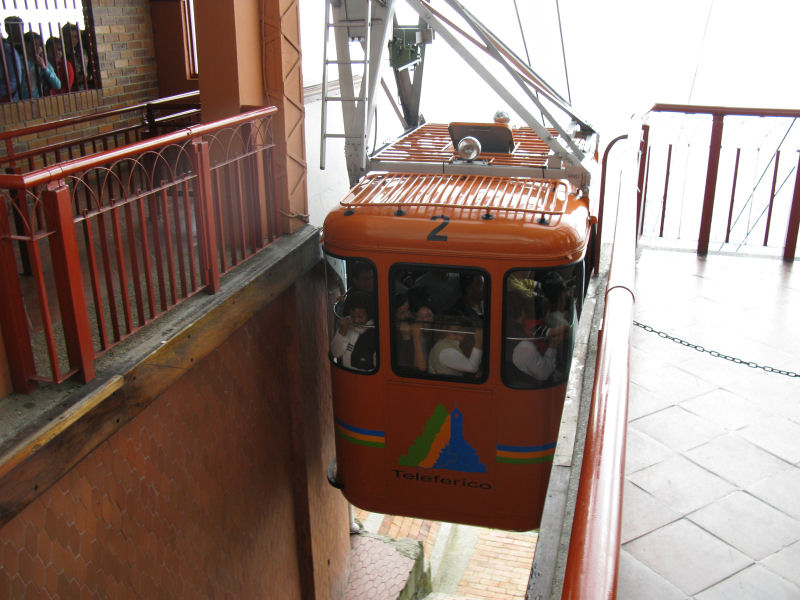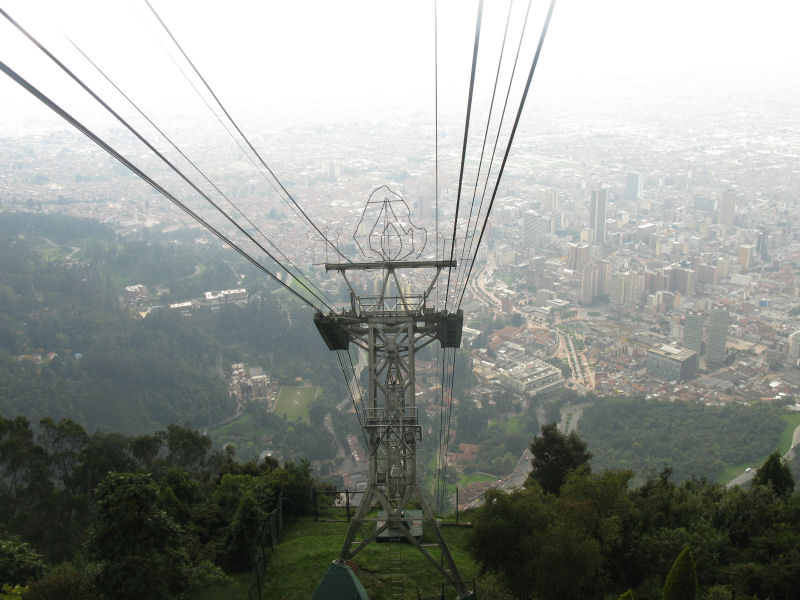 We shared the ride down with a couple from the U. S. (and a couple dozen other people), and chatted with them a bit. They had come from Miami on a sort of a whim. They had no plans, but had a nice hotel. They were also just taking in the most-suggested tourist sights. Like us, they were headed for the Museo de Oro next.
On the walk back down from Monserrate, we had several snacks and listened a bit to a musical group that looked like Apaches but played Peruvian music. The guy on the left saw me take his photo and he came over to try to sell me a CD of their music. All the songs were pop songs played with the flutes. They played ABBA's song, Chiquitita while we watched.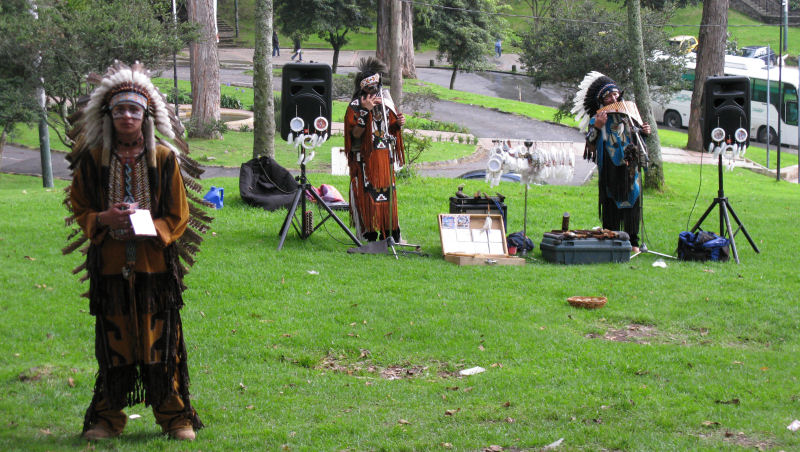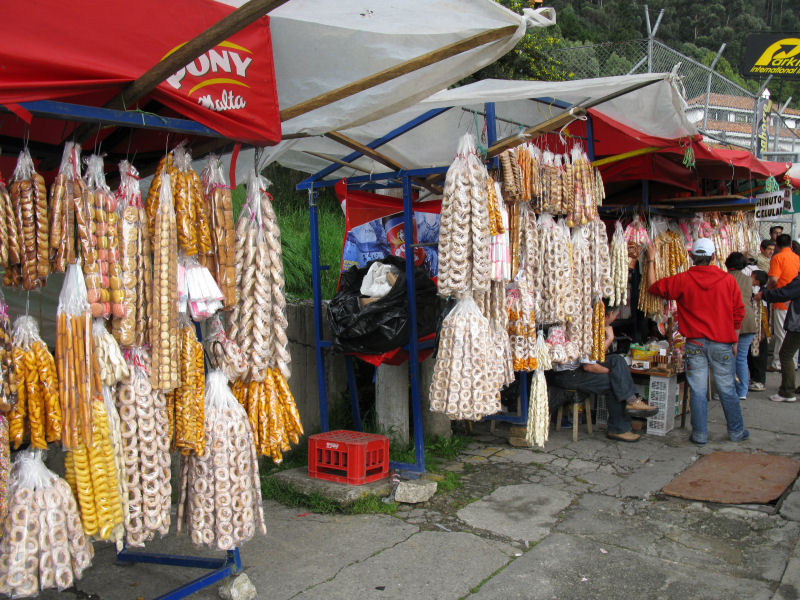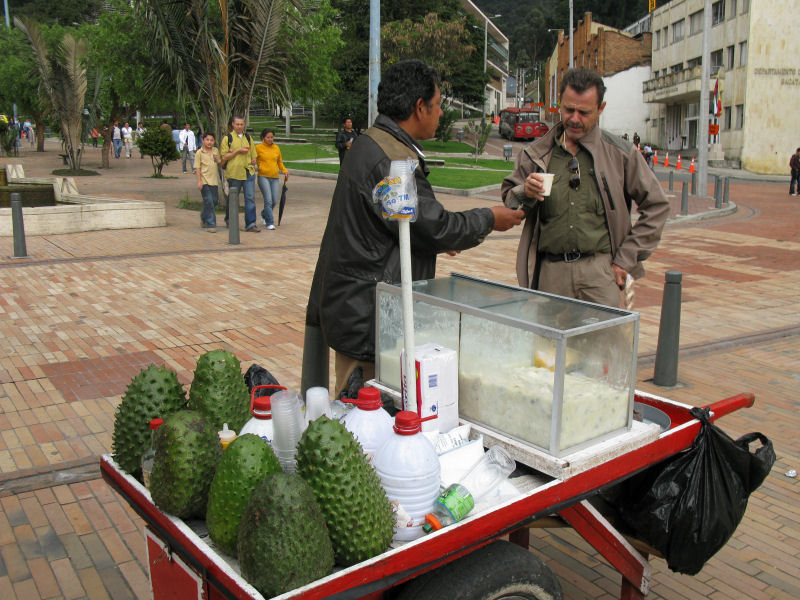 Most of the snacks (pastries, fruit) were 1,000 pesos, so that's less than 50 cents. Not bad.
Back in the main El Centro area there was a flea market going on. Probably every Sunday. Lots of very cheap stuff, nothing new. Nothing worth much of anything. Lots of things were broken, so maybe it was selling for parts.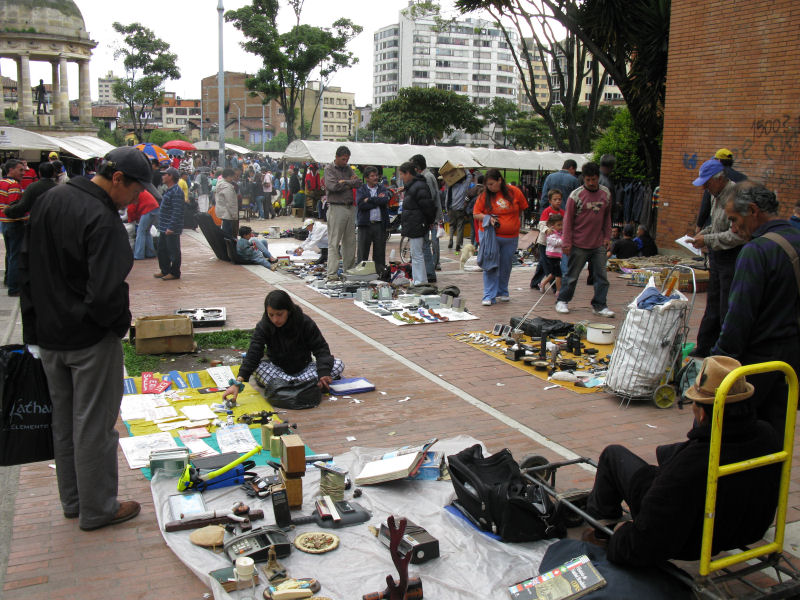 Lower down, there were fewer random pedestrians. Lots of the police were women, and all were very pretty.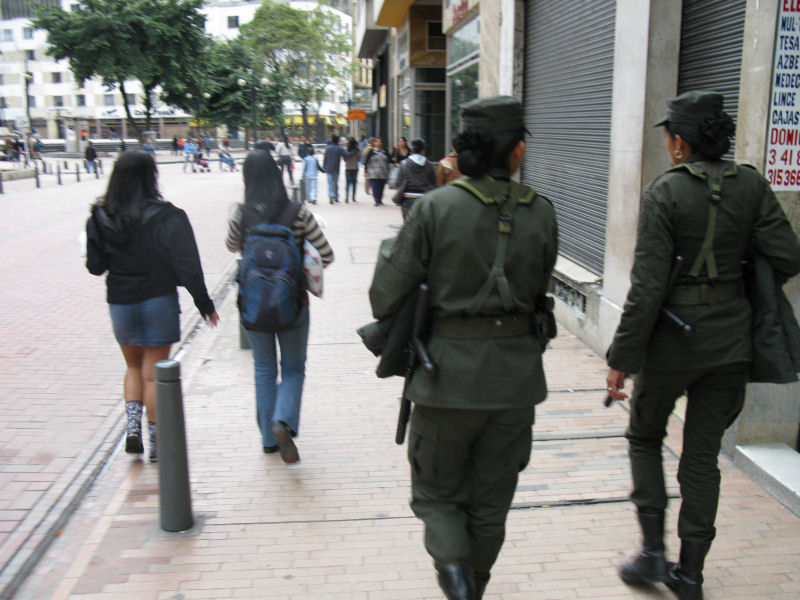 Next up was the gold museum. The Museo de Oro was free on Sundays, so there was a long line. The museum closed at 16:00, and things were moving slowly for a long time. Finally, at 15:00, they sped things up by making another line and going with quick frisks instead of scanning with the metal-detector wand.
The museum had a huge display of gold artifacts from all over Latin America, spanning centuries and showing the evolution of gold craftsmanship in different regions. Most works were in good shape, some were distorted. Thousands and thousands of pieces. I really liked the gold-covered conch shell, where the shell had long since turned to dust. It's hard to tell the scale from the photos, too. Some pieces were tiny but intricate, some were large but plain. Everything in between, too. I took lots of photos, but will only put some here.
Photo interlude: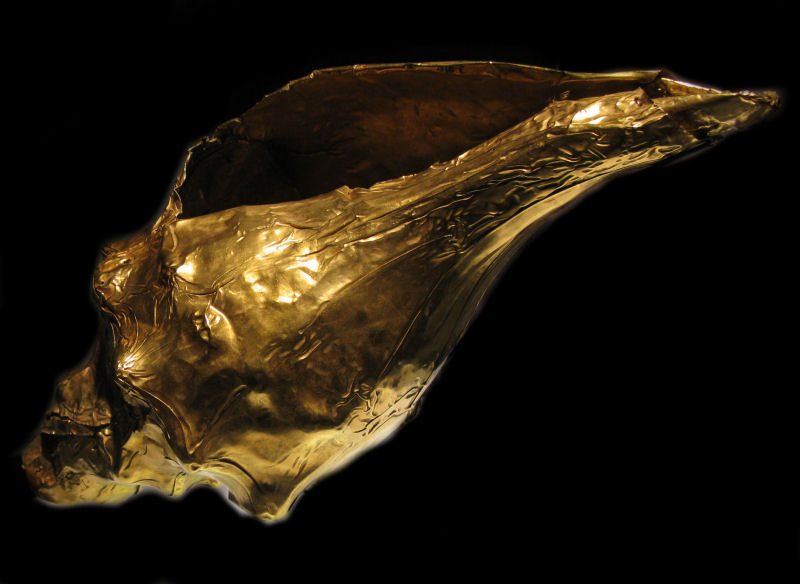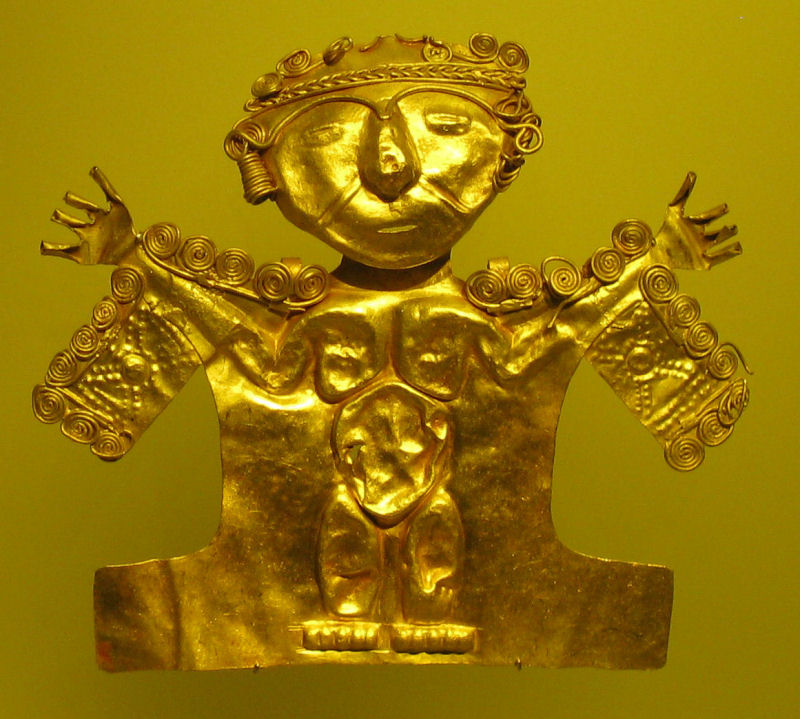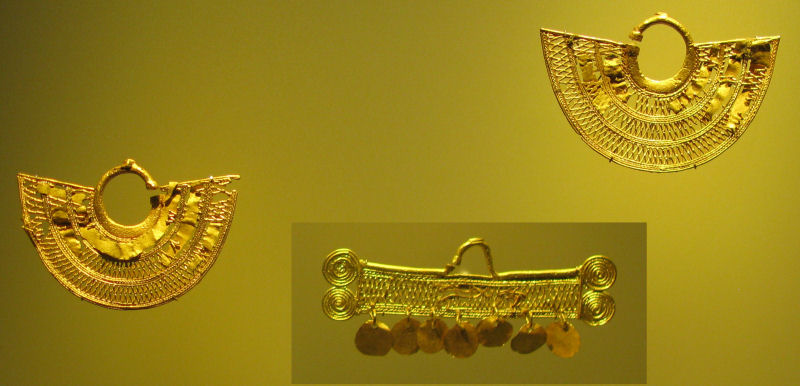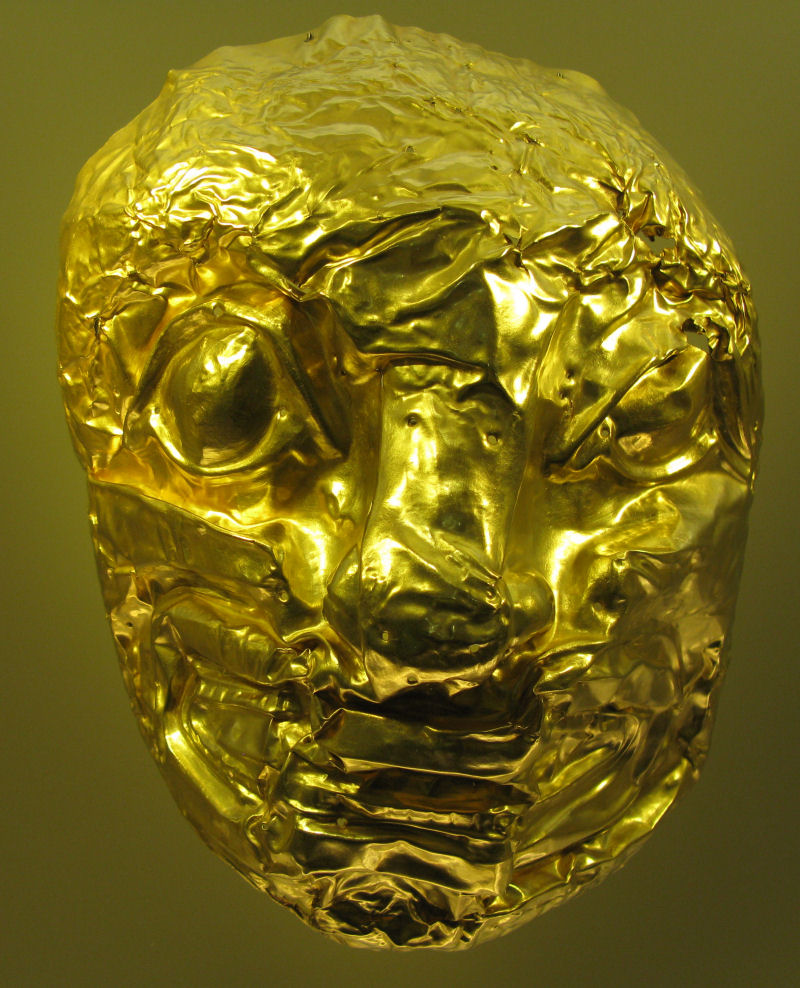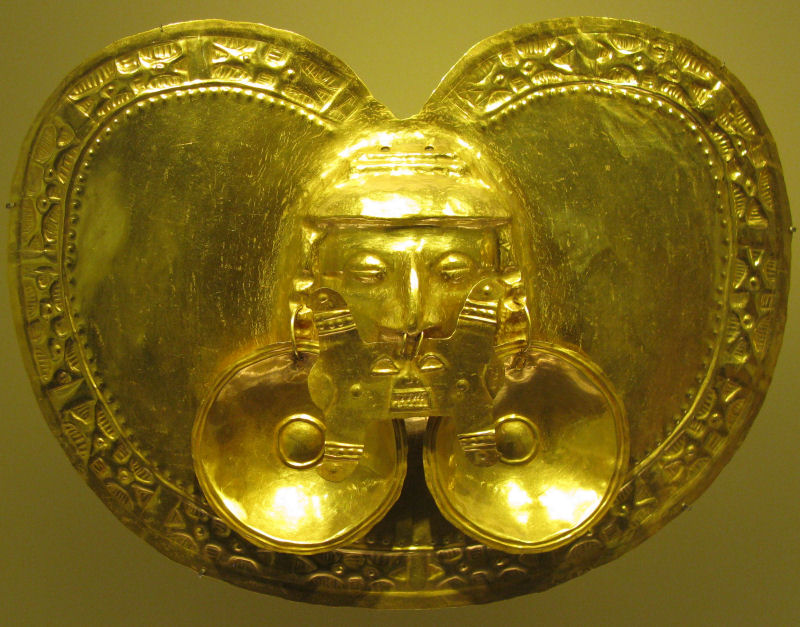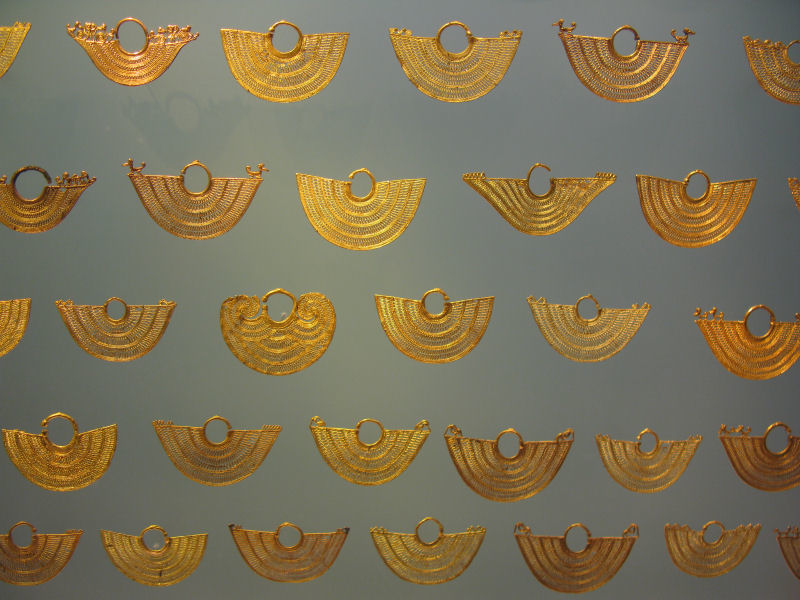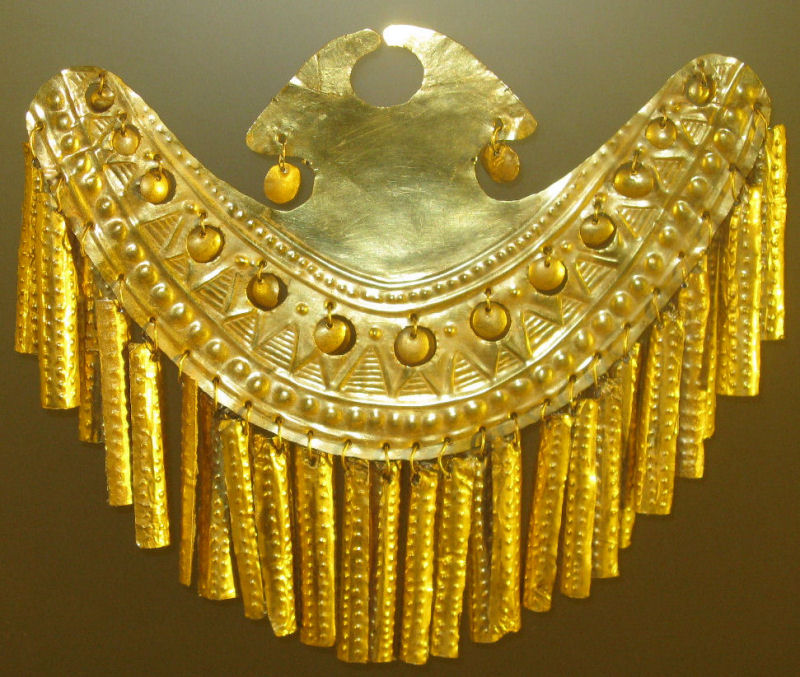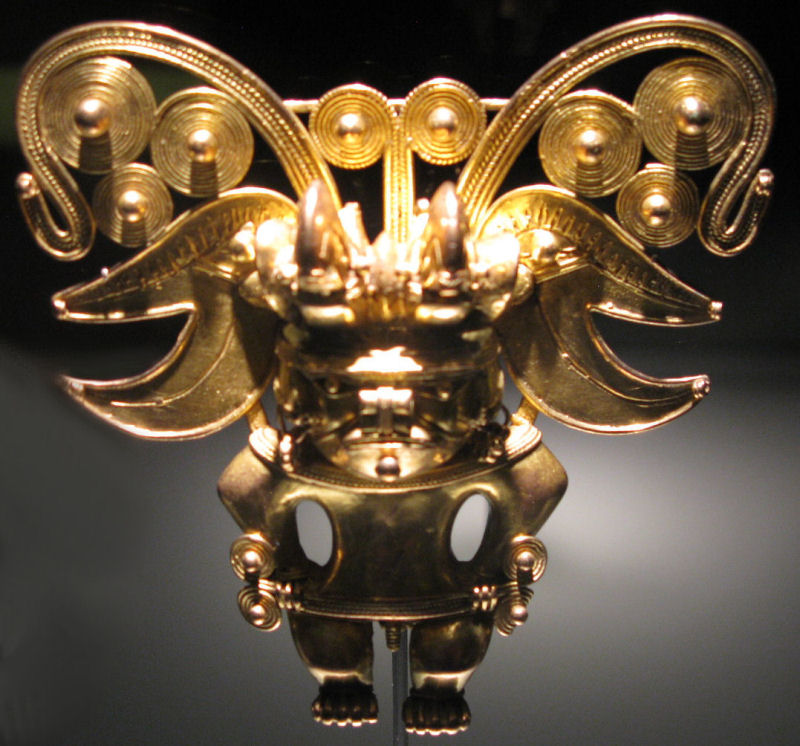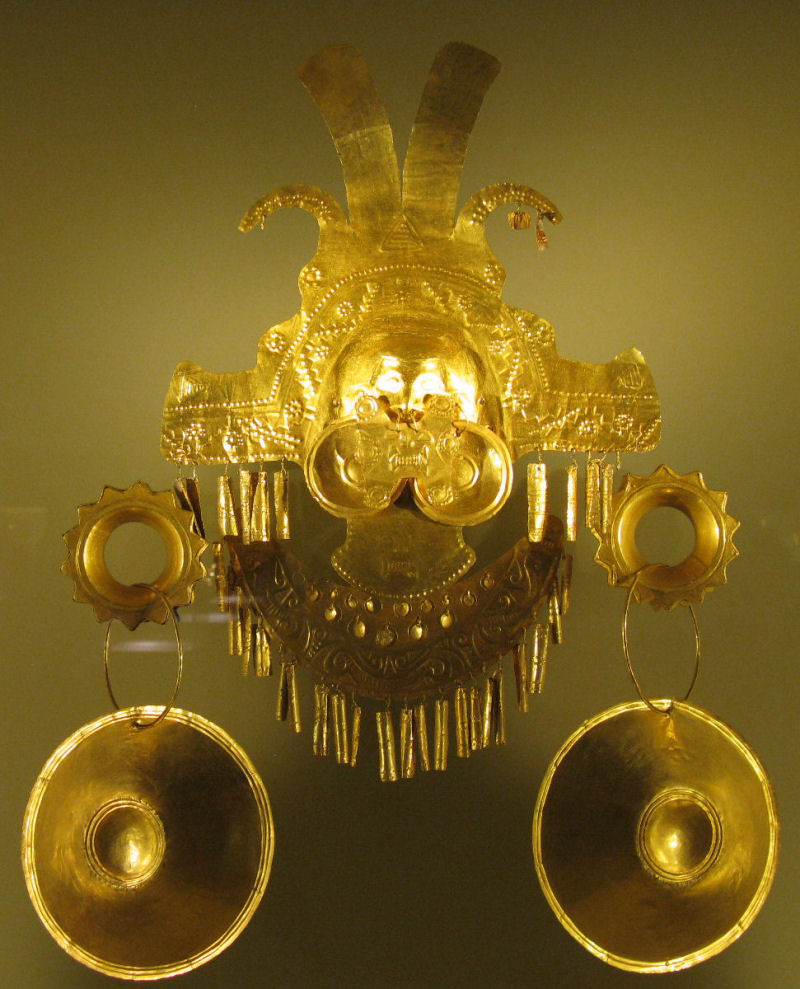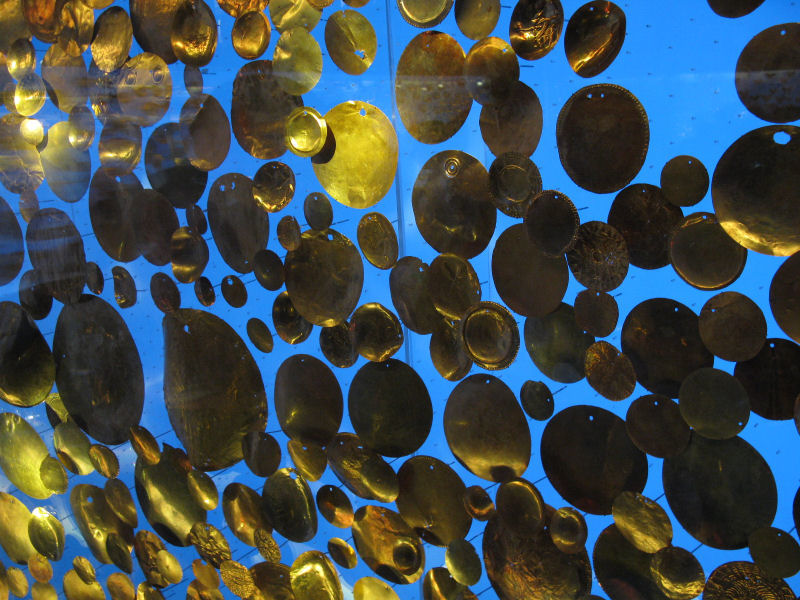 This last piece is quite famous. It's maybe 7-8" long, in a room by itself. It's the El Dorado piece.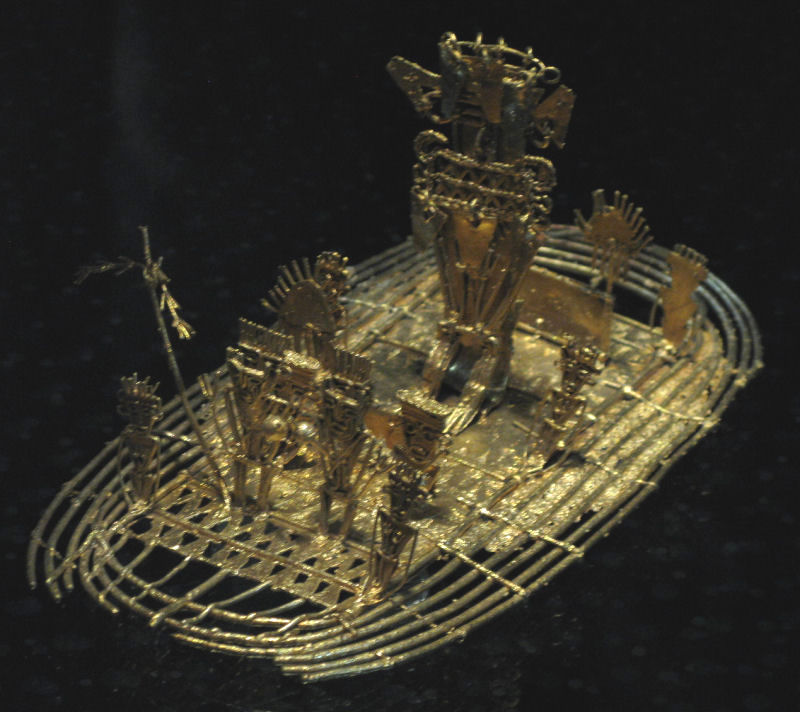 Since we had only an hour, we had to rush through it all. Could easily have spent several hours there. In the gift shop, you had to be ready for a shock. The jewelry for sale were not historical artifacts, but they were priced as if they were.
We found a small chicken fast-food shop. Lots of chicken, not so much beef here. We'll make up for that in Argentina, I'm sure. Our chicken and potatoes were hot off the spit, came without utensils, and was hard to handle. Instead of a fork, the meal came with plastic gloves. That didn't help much.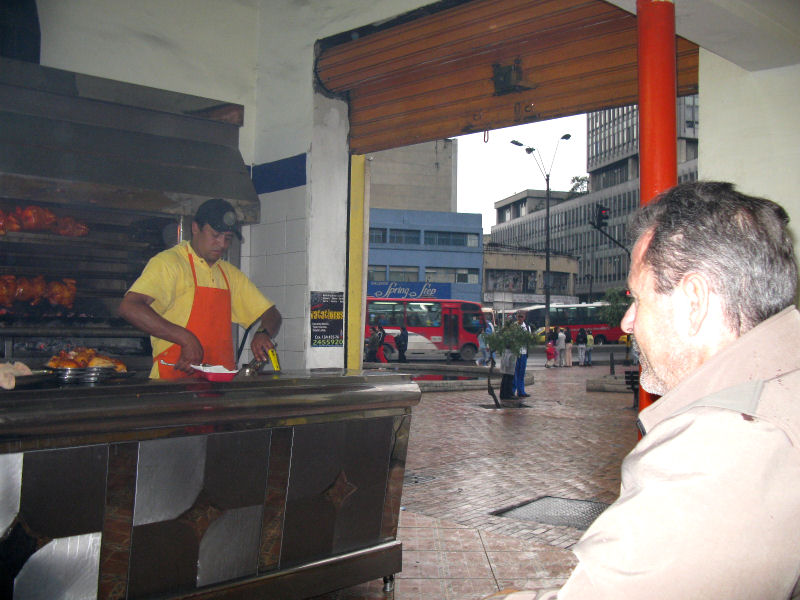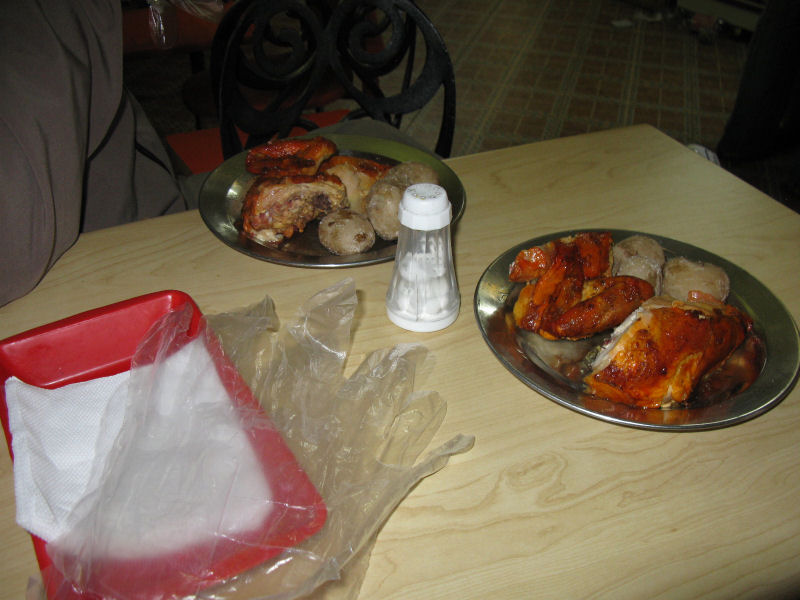 Back out into the rain, then.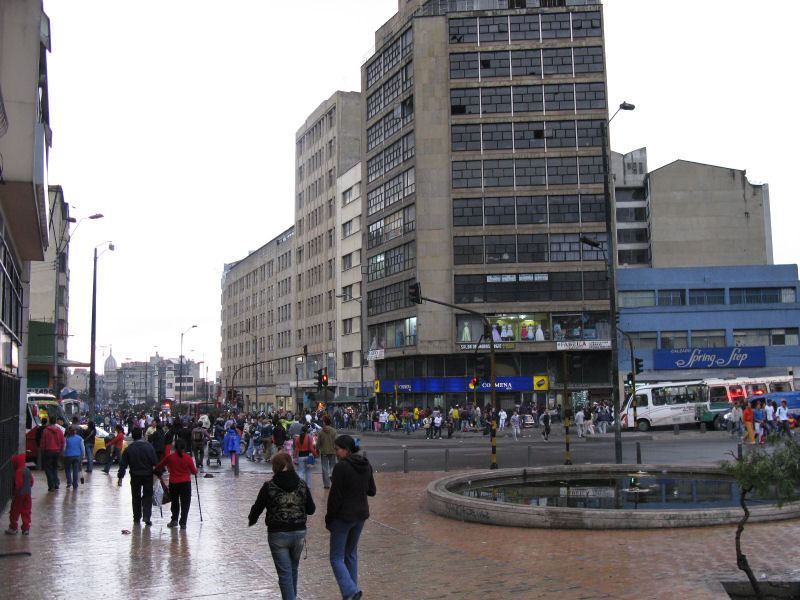 We took a local bus back to our hostel. Two very young boys sat behind the driver and were probably his kids. They took turns playing games on a cell phone and putting each other into a headlock. It was funny for a while. Later, a juggler got the driver's permission to ride for a while and entertain the passengers for tips. At the end, I declined his request for a tip, mainly because he dropped one of his balls and it landed in my lap.
We grabbed the laptop computer and walked a short ways to the cluster of restaurants, bars, and Internet cafes. We spent a long time in the cafe, taking turns on the computer and wandering around having snacks. The Internet cafe was still being built, so we put the laptop on one chair and sat on another.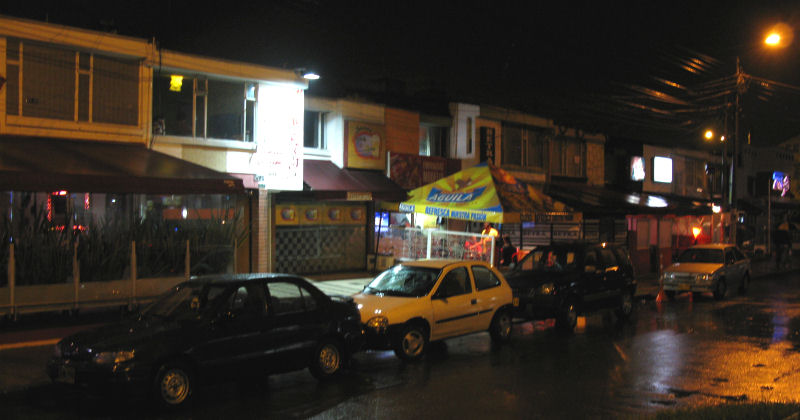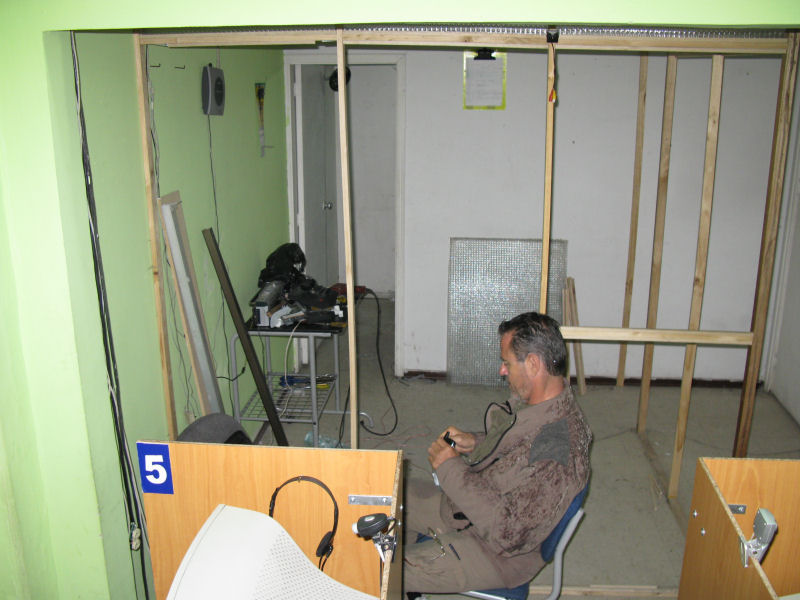 Back to the room to be done with the rain for today.
Monday, 17 November, 2008
-------------------------------
We got up early and grabbed breakfast at another nearby shop. Our hostel was in the Modelia neighborhood, and I would expect that it was a upper-middle class area. The houses all looked nice--some were fairly large--but they were all built in a townhouse style, with connecting structures and small yards. Most had small gated garages, and there were often private security guards wandering around.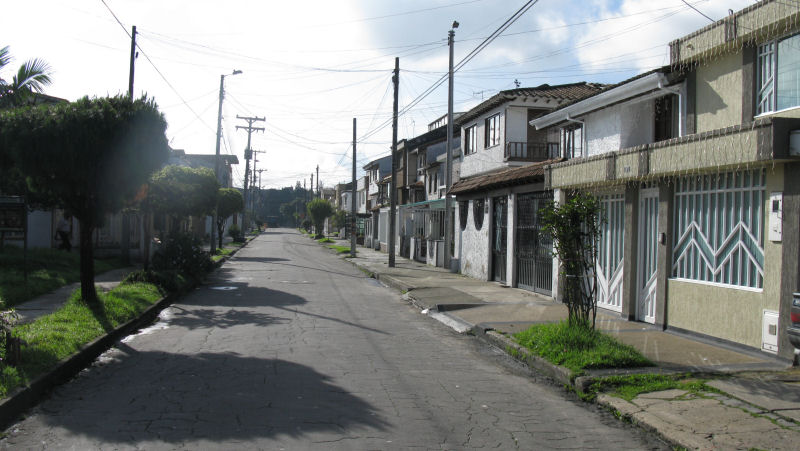 We got our helmets and waited outside the hostel for Diva. We had arranged for her to take us to the airport today and help find our bikes. She spoke no English, but she knew how to ask people for what we needed. She showed up a bit after 08:00, and took us to the main airport terminal. From there, we took the free shuttle bus to one set of cargo offices. The Girag office was very obvious, but we didn't see PACT or Copa there. No one seemed to recognize the PACT name. Great.
We took the shuttle again to the international cargo terminals, and again we saw a Girag office. Near it was a Copa office. We started there, but we ran into another problem right away. Today was yet another holiday. That explains the fireworks we heard last night and the light traffic today. The clerk at the Copa office was friendly and apologetic, but there was nothing we could do. Come back mañana. Frick.
We asked about insurance, which I knew we needed, and we were told that we could get the SOAT insurance in lots of places, primarily gas stations. Not today, of course. Today was un Festivo. Also, we made the mistake of asking about the numbered vests and helmets that all motorcyclists wore. That led to lots more conversations with police and customs agents, each time resulting in different answers. The tourist police asked the regular police who asked the transit police who asked Diva what she thought. It was a cop convention for a while.
The official popular opinion was that every biker needed the vests and helmet numbers, us included. I had read other riders' stories about not needing them unless your bike was registered here, so we were undecided what we would do. Eventually, one of the customs agents said they were not needed for tourist riders just passing through the country. Many of the police didn't know the details, I suppose.
Diva dropped us at the hostel and we paid her for her time (a bit much if you ask me, since we didn't get anything done, but she did handle a lot of questions for us). We spent some more time in a different Internet cafe, then we turned into tourists again.
We caught the bus to downtown, walked around the Germania area and found some older neighborhoods. The white building on the right was a police or military (hard to tell the difference) museum. Behind the gates was a display of military vehicles and large weaponry (such as artillery guns).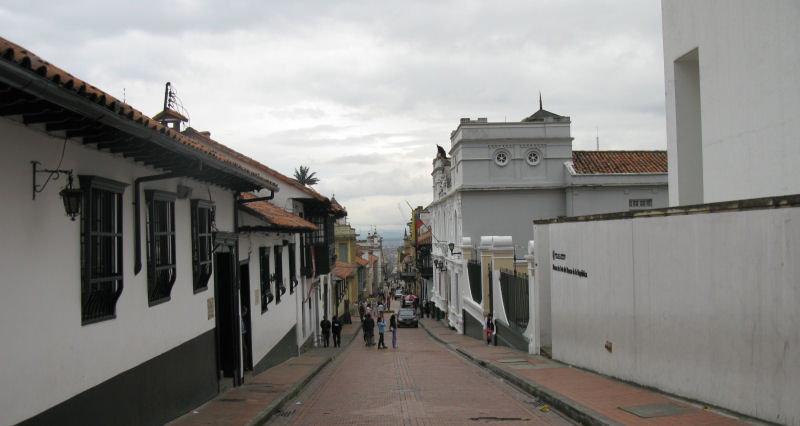 We came into a large open area and found the Plaza de Bolivar. There was a political demonstration rally taking place, and a crowd of people protesting the paramilitary government. Lots of police stood around the plaza ready for a riot, but I saw nothing that indicated there would be violence. There just wasn't the necessary chemistry or fervor in the crowd. Palace of Justice in the background of the next photo.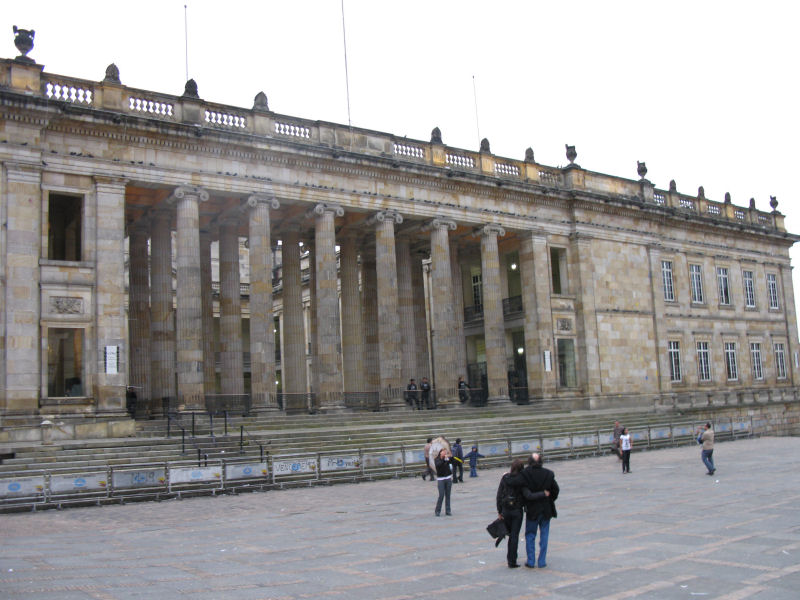 Back on the main road, we took the bus line to the extreme north terminal, then back to the south end. Bogota is a big city, and we spent three hours just riding the bus for a cheap tour. Since the buses were crowded, we stood most of the time. Didn't see much anyway, since it was dark by then. We could see some well-lit neighborhoods up on the hills. Probably upscale suburbs.
We got off the bus in search of food and restrooms, found both, and took a local bus back to our hostel. We would attempt the recovery of our bikes again in the morning, so we sacked out a bit early.
Tuesday, 18 November, 2008
-------------------------------
Up again at 06:45, we set out with high hopes. Breakfast brought more frustration for Don, who can't seem to get his scrambled eggs without onions, even after repeatedly asking. I, on the other hand, got two croissants with both ham and cheese, even after they assured me that the croissants with ham were sold out. So, breakfast was a bonus for me and another upset stomach for Don.
We had been assured that the insurance we needed (SOAT) could be purchased in many places, especially gas stations, main bus stations, and several other stores. Don asked a motorcycle rider, and he directed us to a local shop that was primarily a phone-call shop and also sold insurance. We were there before 08:00, but found that they didn't open until 09:00. Don went back to the hostel to get the laptop computer. We were already carrying our helmets.
I hung out at another bakery/coffee shop. Did I mention that the coffee is very good here?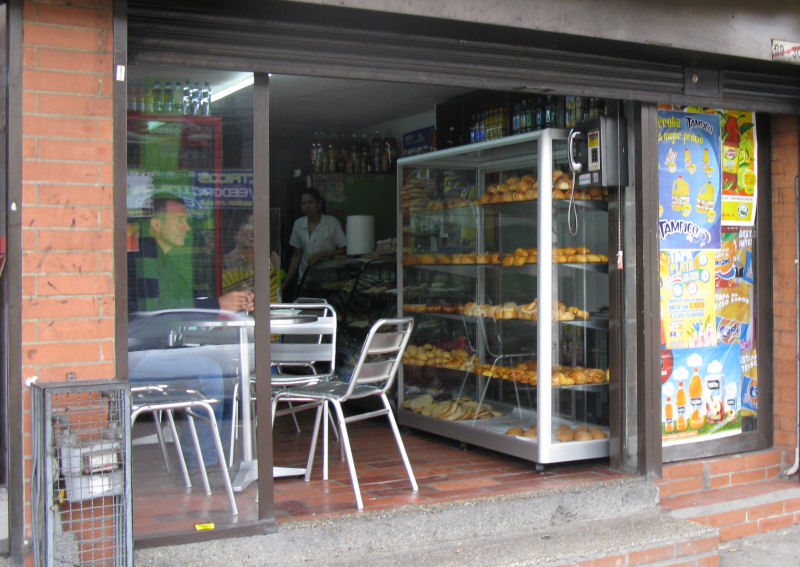 When Don came back with the computer, I tried to find and use an unsecured Wi-Fi signal in the neighborhood. My war-walking was successful, but it was a weak signal. I started to upload this ride report's latest update, but the signal kept cutting out and finally could not be found again. That boogered up the web site's report, and I apologize to the millions and millions of faithful readers who had their day messed up by not getting a nice, neat dose of this ride report.
Ahem.
Anyway, I finally gave up trying to upload the update and we hung out at the insurance shop until the owners showed up (at 09:20). The nice lady was confused by our request for insurance and needed to make a long phone call to someone. We could see by the official insurance cost poster on the wall that a policy for our bikes would be P/277,000, which is over US$100. Probably a six-month or year-long policy.
The lady finally told us that she was not able to sell insurance to tourists with bikes not registered in Colombia. She gave us the address to the main Colombia insurance office, which we found was located at the extreme north end of Bogota. We considered taking a cab, but opted for the cheaper (but longer) bus trip. The local buses have signs in the front windows showing the various locations on its route. You watch the buses approach and wave down the one you want. You pay the driver, he gives change as needed. Again, the fare was usually 1,200 pesos during the day, which is a little over fifty cents. You ride the bus as long as you want.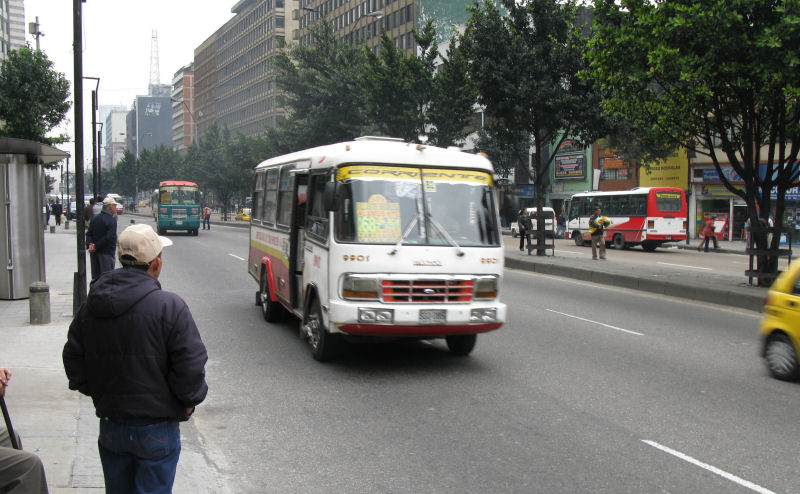 Two long bus rides later, we were near our destination. We had gotten used to the hawkers and vendors who got on and off the buses as we made our way. Only a few blocks to walk, and there we were. There were no other customers in the lobby, so the clerk got right to us. We found that we could get a one-month policy for about US$10. That was for us, and in only minutes, we were armed with the important document. Yippee!
Another long bus ride tool us through a part of Bogota that we hadn't seen before. Lots more places it would be nice to get to know better. I'd like to come back and hang out in Bogota for a week or two at some point. If you are a young, single, good-looking guy, trust me--you want to come hang out here, too.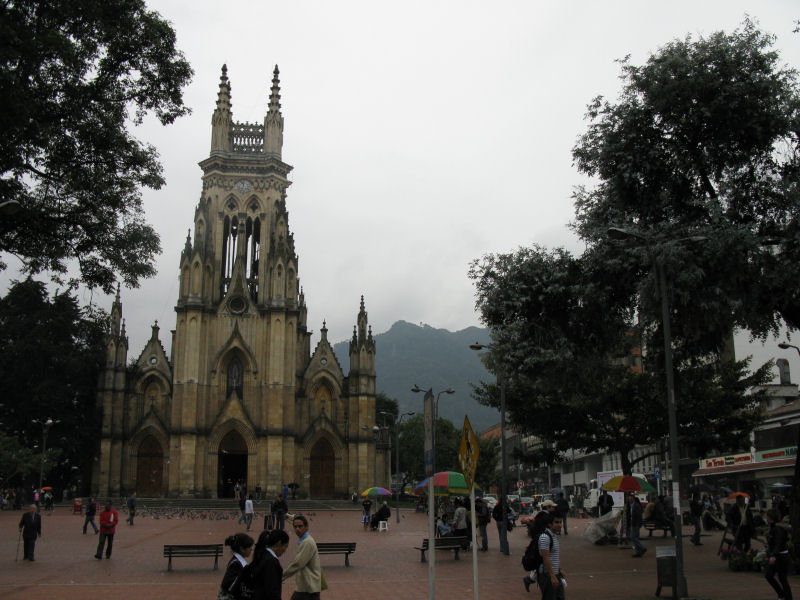 The bus we boarded for the airport eventually brought us (and a light drizzle) to the international cargo terminals we had found yesterday. We showed our papers to someone in the Copa warehouse and she took us up to the administrative offices. (Copa was the airline that had flown the bikes here, but we still weren't sure they were the company from whom we would claim the bikes.) In the office, we paid about $40 each for final handling charges, and were given another bundle of papers. We were very relieved to see that they had documents for our bikes in their office. That's worth another Yippee!
We were sent to the customs office in the same complex, and walked in (got semi-frisked by a cute gal at the door) with our forms in hand. It was 13:10, and we had come during their lunch break. A manager-type lady told us to come back at 14:00, and told us which work station to go to. We went there straight away, as if we were going to wait there, and the lady who was working there asked what we wanted. The manager explained to the clerk that we were a couple of sorry, pathetic, ignorant tourists who hadn't a clue as to what we were doing (that's how I would have explained us), and the clerk and manager decided to get us taken care of right away. Here is another example of people helping us out when they didn't have to.
The clerk took our papers and had us fill out only one simple form. We walked twenty feet to a copy machine where another pretty gal made two copies each of our passport main page, passport page with the Colombia visa stamp, bike title, the form we had filled out, and two of the forms we had been given earlier. Total cost for the copies was 1,000 pesos. Again, less than fifty cents.
The copies and original forms went back to the over-worked clerk, who filled out more forms and entered a little info into a computer. Don commented to her that it was a lot of work, and she nodded in agreement. We knew that she was working through her lunch break, so we thanked her many times. After almost an hour, she personally walked us and our paper bundles back to the Copa warehouse (got frisked again leaving the customs office... no idea why). We were taken to the back of the warehouse where we found our bikes parked off by themselves in a gated-off corner. The customs lady inspected the bikes and compared the VIN numbers to the shipping forms. Satisfied, she had us sign the acceptance forms.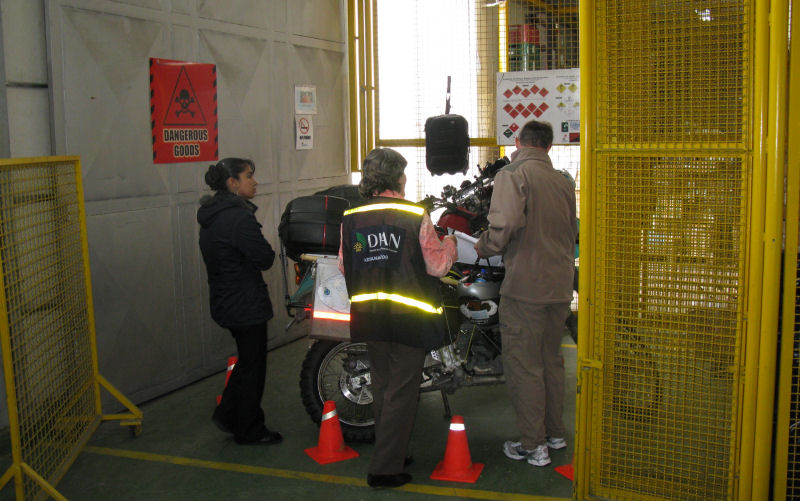 I hesitated to sign mine, because there was a brand new dent in my right side box. The Copa officials took a photo of the damage and quickly claimed responsibility for the dent. They found a guy who spoke a tiny bit of English, and he explained that a buckle from the strap they had used to secure the bike to a pallet might have caused the damage. Later, they said that there had been three bikes on the large pallet, and when the bikes shifted during transport, another bike had fallen against mine. Whatever.
I was frustrated, but it was a minor thing and I did my best to keep a sense of humor about it.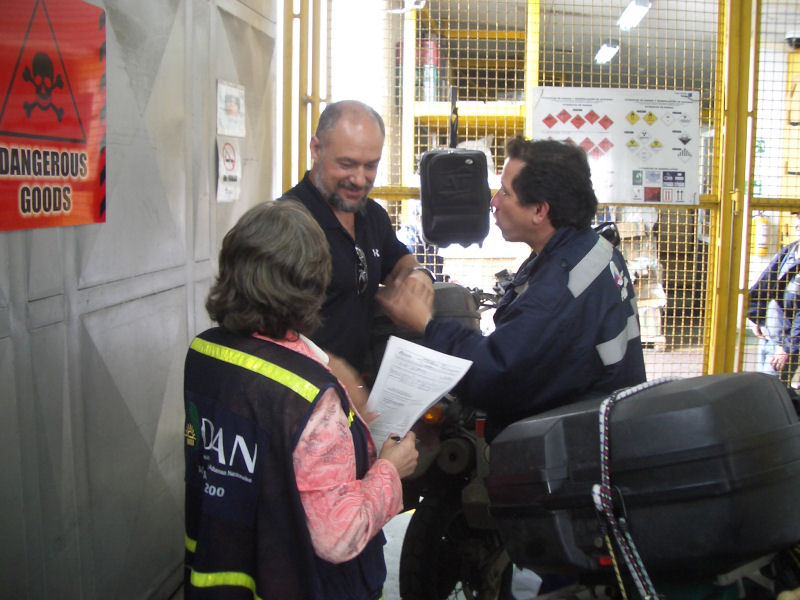 The damage was slight, and was partially camouflaged by the dents that I had previously put in the same box. I was impressed that they made no argument at all about the damage being their responsibility, but I was confused about what was to happen next regarding the damage. The guy who almost spoke English had said something about me writing the damage on some form.
After the customs lady was done, she took us back upstairs to the office and handed us off to the Copa clerks there. We thanked her again for her very efficient, professional service. The Copa clerks quickly finished our paperwork and we were done. Just like that, and much quicker than we had expected, we were done. I decided to forget the dent in the Jesse box; the damage was inconsequential. (No one had asked to see our insurance, by the way.)
Back down in the warehouse, the workers were ready to help us get the bikes out of their building. The problem was one that I had read about in other riders' reports (each rider found a solution). The warehouse was made to deal with trucks. There were no ramps down from the warehouse floor to the parking lot. The stairs were too narrow (handrails), and we were dubious about their first plan to manhandle the bikes down the three-foot drop. Eventually, they got a forklift with a huge steel tray up to the cargo platform . The tray was maybe eight feet wide and fifteen feet long.
I rolled my bike onto the big cookie sheet as they directed. The forklift backed up and lowered my bike to the parking lot. They did the same with Don's bike. Ta-da! We were outta there.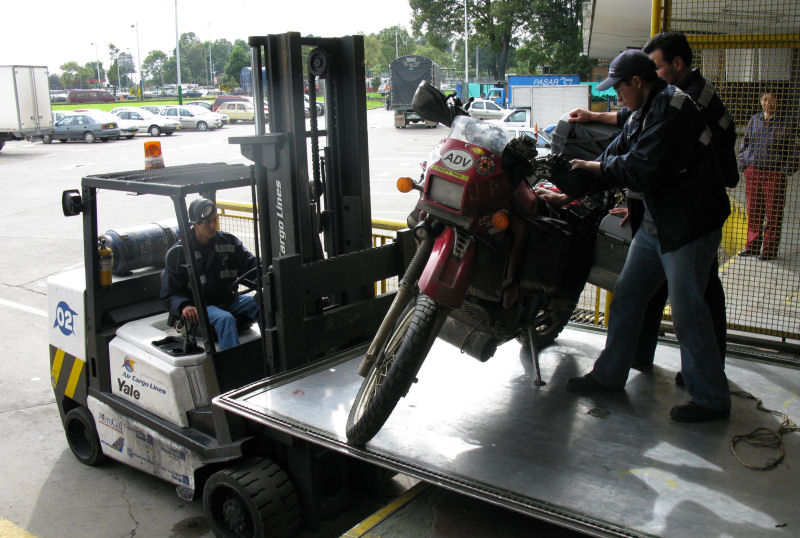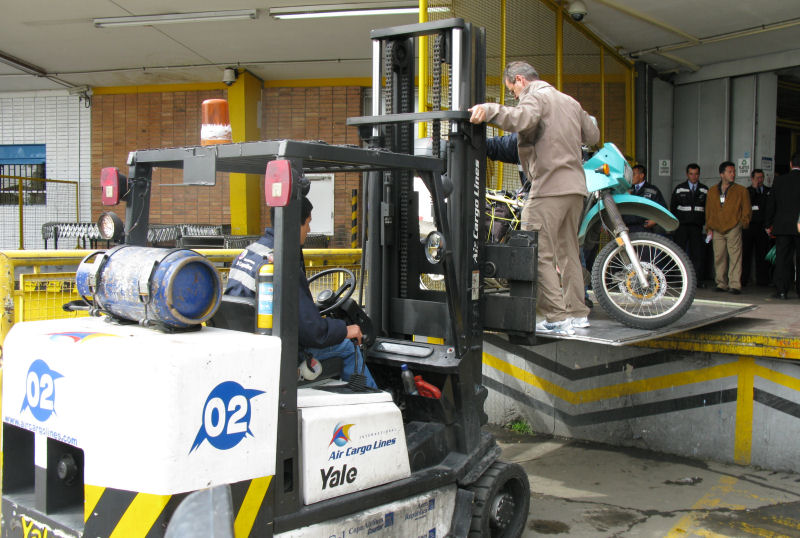 We rolled the bikes to the other side of the parking lot and set about putting the bikes back together. (It wasn't raining, so that was nice.)
Battery re-connected. Check.
Mirrors back on. Check.
Windshields re-installed. Check.
Other miscellaneous adjustments got taken care of. Everything in the boxes had been closed-in for several days, and some things were moldy. My leather heated gloves were green. I rubbed off most of the crud and they didn't look too bad. When I get a chance, I'll scrub them with a mild detergent or diluted chlorine wash. Hopefully, they'll be okay.
We collected quite an audience while we worked. Many of those who worked in the cargo area rode their own bikes over near ours and we chatted for quite a while. They were amazed at our planned ride route. Other guys in suits also talked to us and wanted to know about the bikes. Having maps on the side boxes of the bikes helped when pointing out where we were from and where we were going.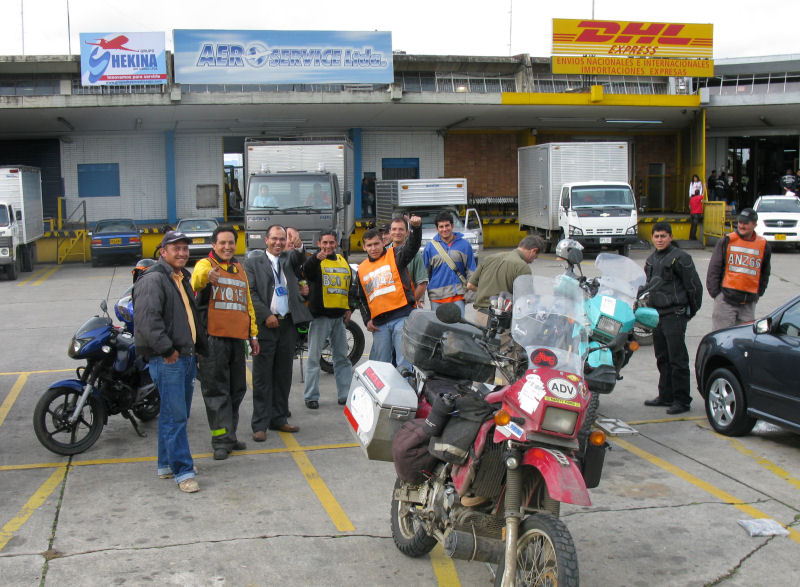 My rear tire was very low on air pressure, so I hooked up my pump and fixed that. Must be a very slow leak. When we were ready to go, the bikes started up right away. One relief after another. That was nice. If Don could get eggs without onions, this would be a fairy tale at this point.
All in all, I thought that PACT and Copa really had their stuff together at both ends and everyone was very professional and helpful. I had read accounts of people taking hours and hours getting their bikes out of cargo and customs, but we fared much better than that.
One of the riders in our audience led us through a round-about to the nearest gas station, then waved farewell and was gone. We were back on our bikes and we were in Bogota, Colombia. Kinda gives you a chill, doesn't it? It does me.
We had been cautioned to get numbered vests and numbers on our helmets by the riders we met, but during our ride back to our hostel, we passed lots of police (it was impossible not to) and were even passed by some motorcycle cops, and none of them bothered us. Once back in our familiar neighborhood, I wanted to stop and get something to eat before putting the bikes away in the nearby garage that had been pointed out to us, but I couldn't get Don's attention to stop him. We got separated for a while, but reconnected back at the hostel. He had already put his bike away in the garage, so I rode back to the restaurants to eat and spend some time online at one of the Internet cafes. I got the ride report fixed, so that must have been a relief to those millions and millions of faithful readers who...
Aw, forget it.
Got to get up early tomorrow if we want to make it to Cali before nightfall.
Wednesday, 19 November, 2008
----------------------------------
We got up at 07:00, hoping to get out of Bogota and maybe reach Cali before dark. That's not what happened.
The GPS (always less useful in the cities) wanted to route us to the middle of downtown Bogota before putting us on the road we wanted to go south-west. While debating whether or not to follow the GPS, my rear tire went flat. It had been really low yesterday when I picked it up from Copa, but it held up fine in the riding we did afterwards.
We hadn't had breakfast yet, either. We just wanted to get on the road and find breakfast someplace outside the city. My rear tire had gone flat in front of a strip of shops, including a couple of bakery cafes, so at least finding food was simple (even if still in the city). Don managed to get his eggs without onions by repeating "No cevollas, por favor" until the waitress started laughing. After eating, we went back out to the bike.
I could air the tire up and ride to find a tire shop, but I like being self-sufficient, so I decided to change the tube myself. I borrowed a crate from another bakery there. At least I had the shade of a tree right where I was working. Well, there was shade when it wasn't cloudy, as seen in this photo.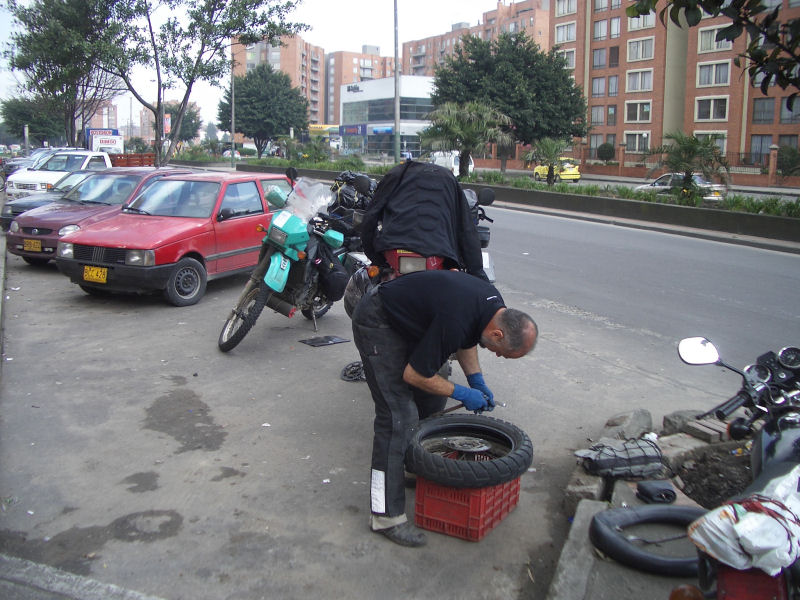 I found a couple punctures in the tube, but nothing in the tread. I pulled the tire completely off and found part of a rusty nail rolling around inside the tire. The tube was repairable, so I saved it. After I got the tire off, Don rode off to go shopping for another Spanish-English dictionary since he had lost his somewhere. A couple people stopped and watched me re-mount the tire and stuff a new tube into it. Then they got to watch me do the whole thing over again, since I had mounted the tire backwards.
After getting it re-mounted, I hooked up my air compressor and let it run a long time, waiting for the bead to seat. I finally decided to put the wheel back on the bike and find a service station with a more powerful compressor to finish seating the bead. As I sat on the ground behind the bike working the axle into place, the tire suddenly went Pssssssssshhhh! and all the air come rushing out. My first thought was that there was still something in the tire carcass that I had missed, and it had punctured the new tube. But I had inspected and felt the inside of the tire while I had it off, so that wasn't likely. If I had pinched the tube while mounting the tire, the damage should have been evident right away, and the tire should not have inflated at all.
Anyway, off came the tire again and there was a small split in the tube. What the...? I must have pinched the tube with a tire iron, but I hadn't seen that delayed behavior in a damaged tube before. Out came the tube, in went another new tube (I'll worry about patching the tubes later), and on went the tire. Again. Don returned as I was airing up the darned thing, and he was surprised to hear that I had dis-mounted and re-mounted the tire three times. The tire inflated just fine and the bead popped into place as it should. (I use a squirt of WD40 around the rim to help lube the bead for easier seating. If you do it differently, well... bully for you. This works for me.)
We got underway and the GPS was still leading us into the center of Bogota. We decided to just follow it, rather than risk exploring ourselves into another unintended tour of a city we didn't know.
While fighting through traffic, a rider on a KTM 950 pulled up next to me and asked where we were going. I told him Cali, he shouted back, "Me too!" and I asked him if he knew the way. He said, "Follow me," and we did.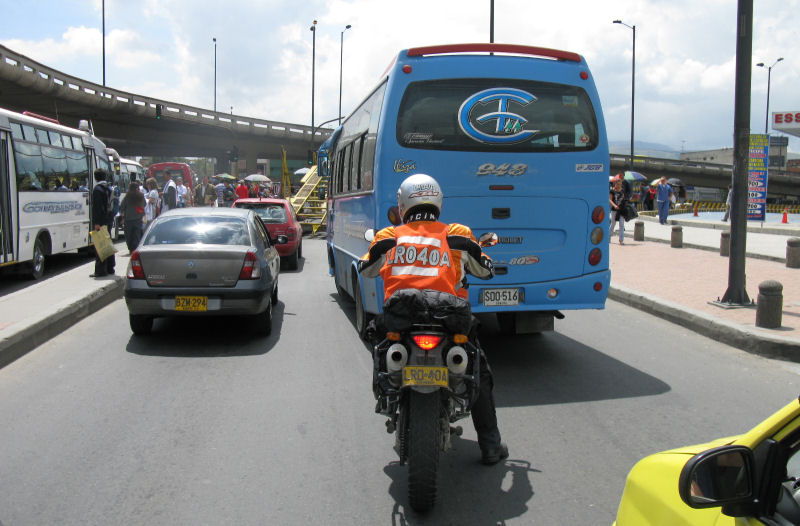 His bike was registered in Colombia, and he had the required vest and helmet numbers. He also rode through the traffic like he was born to it. At times he reached out and touched other cars with his hands to make them move aside, but he usually just swerved and shimmied his bike in ways that were amazing to see. Small bikes do it all the time, but his big bike was even more impressive to watch maneuver in the chaos. At one point he was riding next to a bus that swerved into him, touching his handlebars. He banged on the side of the bus with his fist and it moved back to its own lane. It was all Don and I could do to keep up with him. Actually, he waited for us several times.
Once out of the city (our guide was far more helpful than the GPS was), we started moving much easier through the traffic. It rained very lightly for a while, and it got coolish. There were a few areas where repairs were taking place, but the road was very good for the most part. The repair crews were much more modern than we had seen in Central America. Because we were following the KTM, I was reluctant to stop for photos, and our pace was too fast for many action shots while on the move.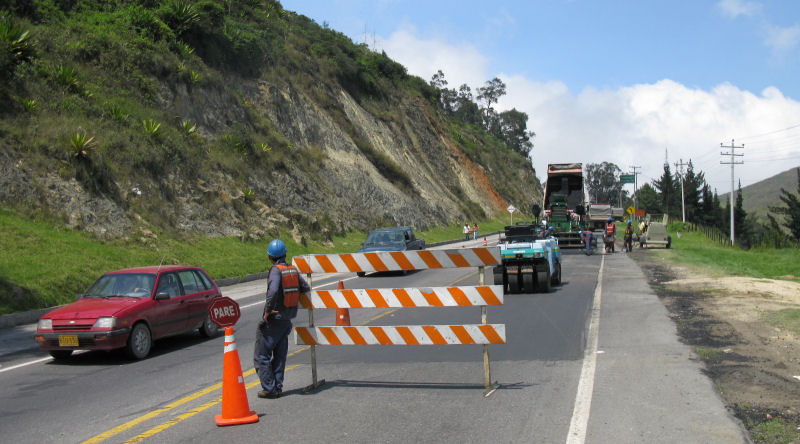 Out in the country, Don was picked out of traffic and waved over by one of the many police teams stationed along the road. The KTM rider and I had a chance to talk while waiting for Don a ways down the road. His name was Daniel.
Daniel had recently ridden with a few friends around Brazil and he was totally in love with his bike. He had recently sold his car and another bike, and this was all he had anymore. He told me that to get around Bogota in a car was too hard, but with a bike you could go faster and get more things done in a day. He was right about that. He was a rare rider in Latin America, with such a large bike. Almost all bikes were under 200cc, and most were under 150cc. His 950 was a monster here. So were our 650's.
Daniel was going to Cali to watch a friend in a motorcycle race in a couple days. He would stay in a motel somewhere tonight, but he hadn't decided where yet. Don caught up to us, told us that the police just wanted to see his bike and his papers, and they had been very casual and professional. We motored on.
We crested some mountains at 2780 meters (9120 feet), and later it got warmer. Then it got hot for a while. The road was good, and the scenery was great, too.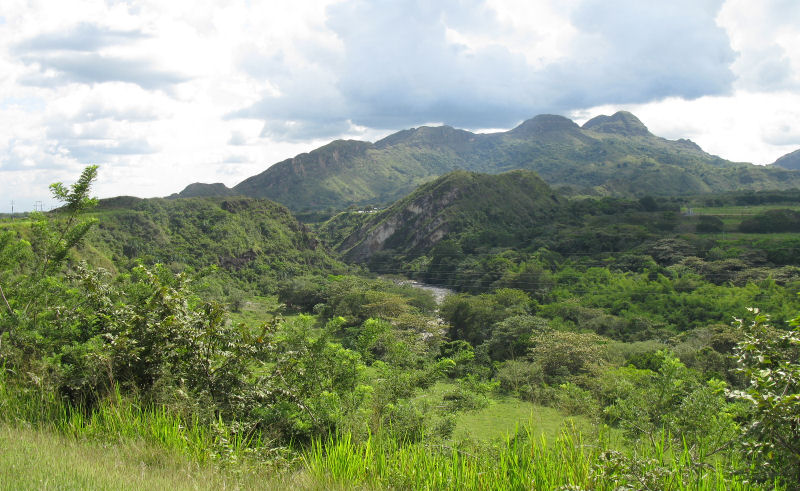 Daniel was really zooming, and Don and I decided to take a break and let him go on. We pulled over at this small roadside cafe and had a cold soda and I had a fruit parfait that was really good.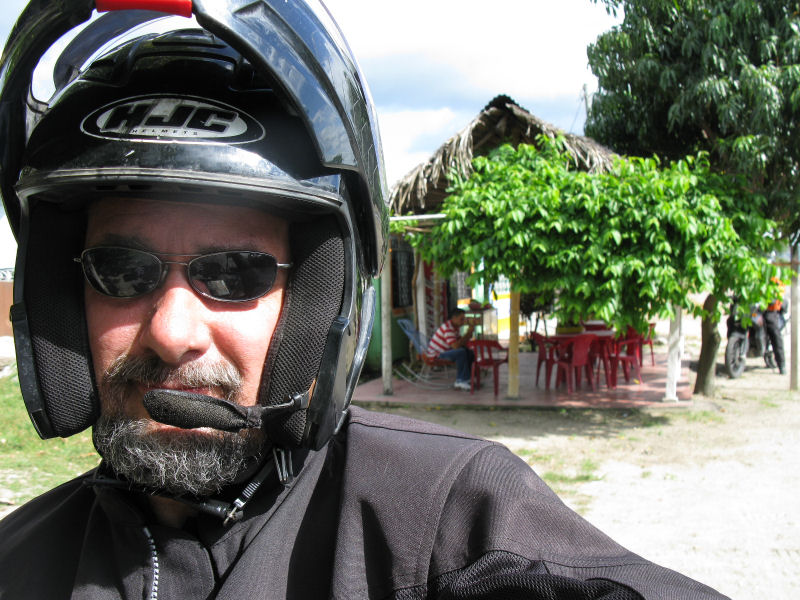 Daniel rode back to us and had a soda, then told us there was a good restaurant for lunch maybe a half hour down the road. We mounted up and chased Daniel some more.
He must have known the place, because we would likely have ridden past it, especially in the scraggly town it was in.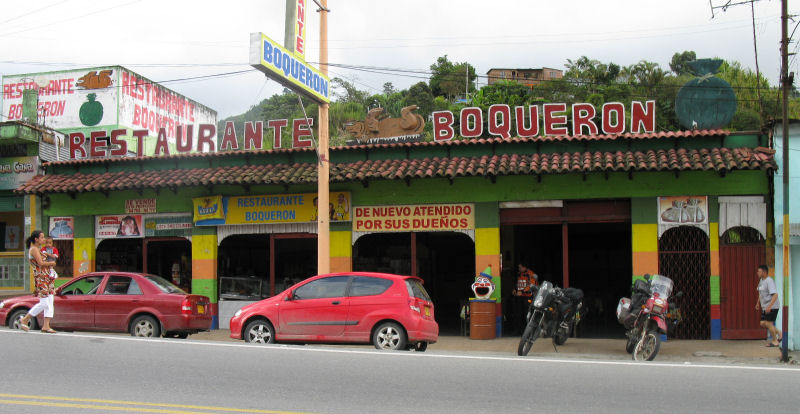 As it turned out, it was pretty good, and the food was not bad. I had a combination plate (Mixto), with beef, pork, chicken, french fries, rice, salad, plantain.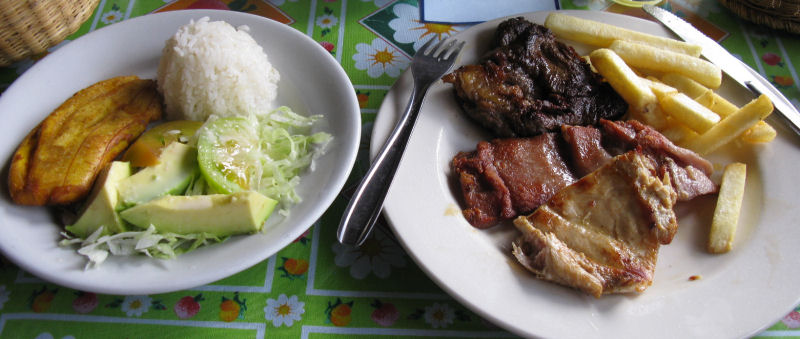 Daniel told us that he had gone to college in the USA, and often returns there on business trips. He works for a cosmetics company that is trying to break into the North American market.
Daniel told us a lot about Colombia. He said that most people were happy with their president because he was willing to put the police and military to good use, reducing terrorist- and drug-related crime. He said that the rainy season should have ended three weeks earlier, but it was really hanging around longer than usual. Yeah, we told him... we noticed.
Daniel said that Cali and Medellin were the most dangerous cities for the women. When I asked what he meant, he said that if you go there, you will fall in love with a beautiful woman and marry her and stay there forever. Ah... I see. He meant that Cali and Medellin were dangerous to men because of the women, not dangerous to women. He told us that the women of Colombia were the most beautiful anywhere. I won't argue with him; I saw lots of beauties there.
I bought Daniel's lunch and he objected, saying that we were guests in his country. I convinced him that he had earned his lunch by helping us get out of Bogota efficiently and by telling us about his country. That settled, we rode on.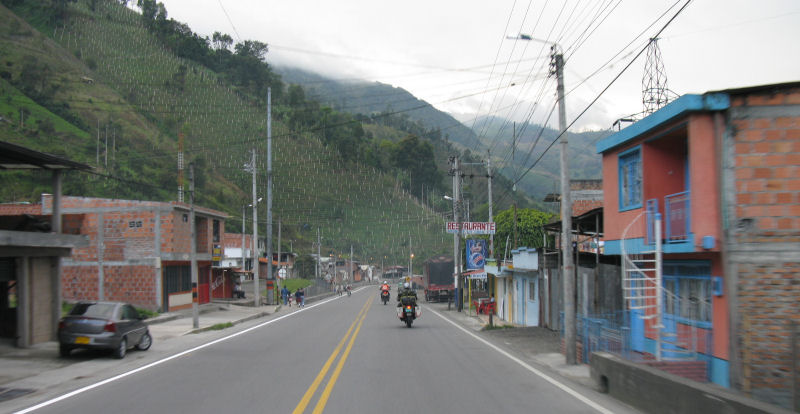 We crested 3595 meters (11,795 feet) soon after that, and spent a long time zooming down the mountains to lower and warmer terrain.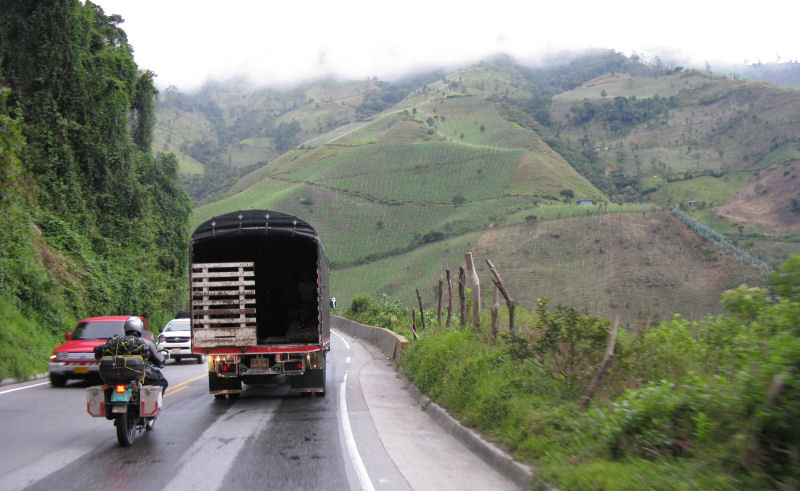 We soon encountered our first toll road in Colombia. I had known that motorcycles don't pay tolls in this country, and that I was to look for a bypass around the toll lanes. Some riders had missed the bypass lanes, and I can understand why. This was a typical toll bypass lane (sometimes narrower), and they usually started and ended with this big speed bump. Do NOT use the toll lane. They will make you back up and that really pisses off the traffic behind you.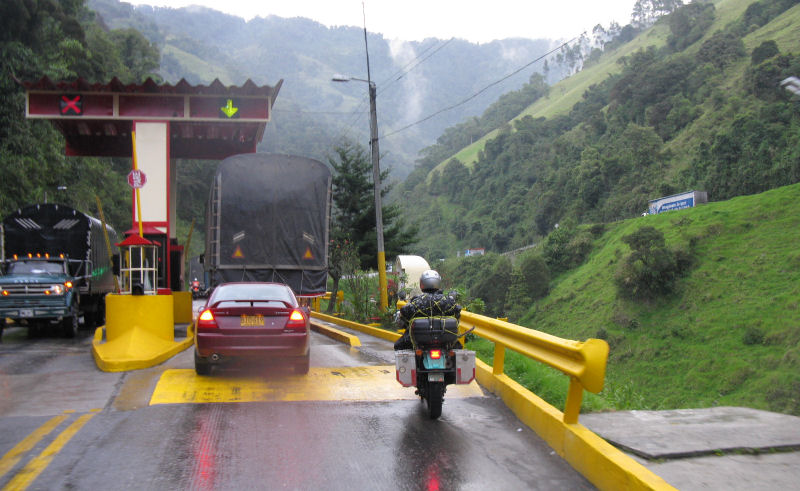 The wet stayed with us, though it wasn't very cold. Low clouds hurt the views some at first, then the dense fog totally killed the views.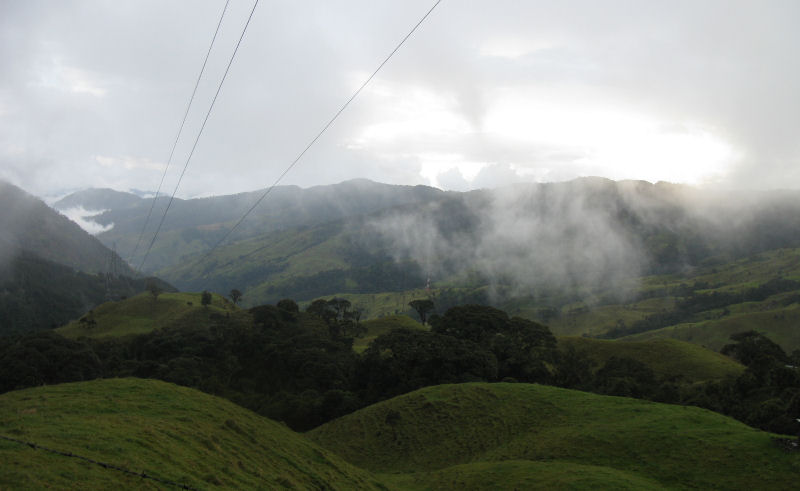 The fog was dangerous, not only because of the limited road visibility, but also because not all traffic uses headlights. The trucks and buses do cross the center line on the hairpin turns (and just about any other time).
On the steep descent, the wet was worse than it looks. There is an oil sheen to the road, left by the many, many poorly-maintained vehicles. The water makes it worse. Don saw bicycles riding down the road totally out of control and skidding all over the place. I saw a bicyclist with a different strategy.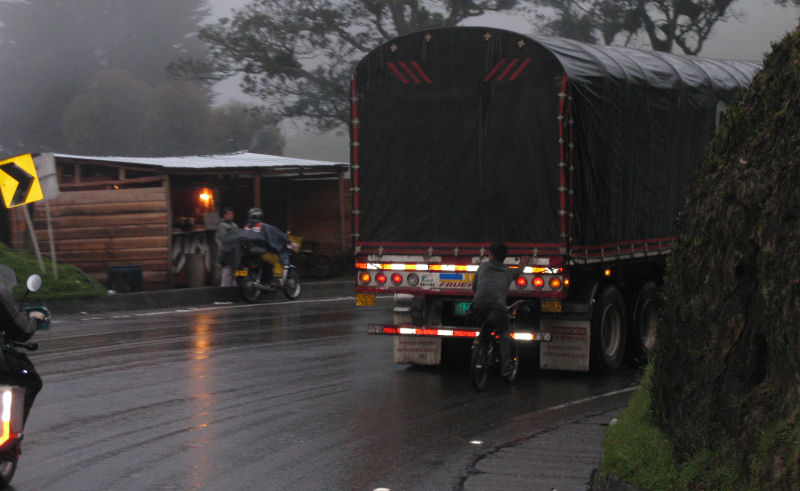 When this truck braked right after I took this photo, the bike's front tire hit the back bumper of the truck and the rider almost lost his grip on the truck. I have since seen this behavior several times. I wonder how they catch those trucks in the first place?
Lots of small villages here, too. Some are just three or four buildings. Here, there is a couple houses, a small restaurant, and a shrine next to a waterfall.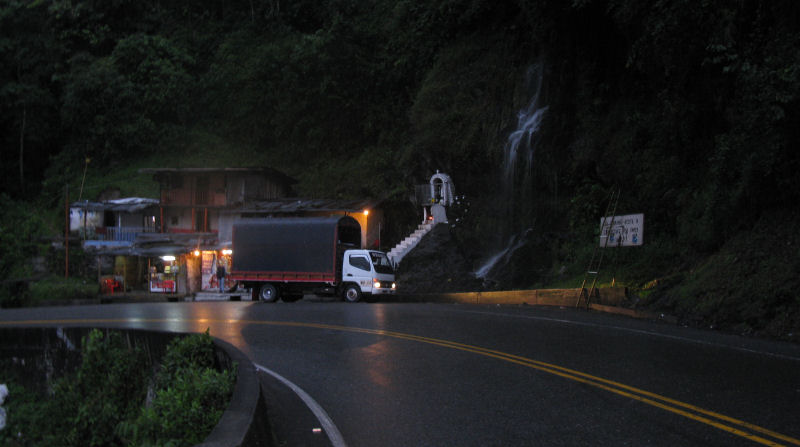 Daniel had gotten far ahead of us by the time we got to Calarca, and it was dark. We wished him well (in his absence), and decided to stop for the night. We gassed up and joked around with the teens running the gas pumps. The girls were very flirty. The tall one wanted to go with me. Seriously. I waved for her to jump on the bike, and she yelled, "Vamos!" (Let's go!)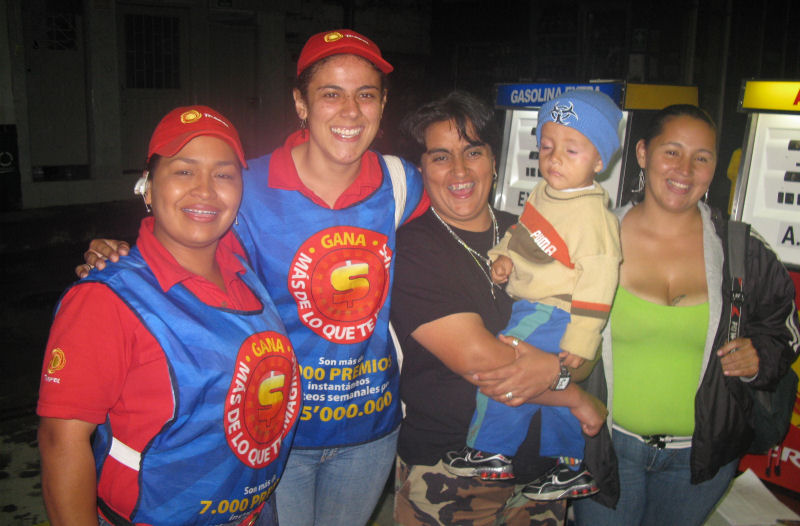 Okay, the kid in that shot looks like he's been drugged, but he's just tired.
The hotels at the edge of Calarca were all pretty pathetic. Cheap, sure, but not very savory or safe for the bikes. We rode on and then turned into the center of the city to look for El Centro. On a side street, we found a possible hotel, but Don had parked around the corner and needed to circle the block to get the bike back here. Lots of one-way streets.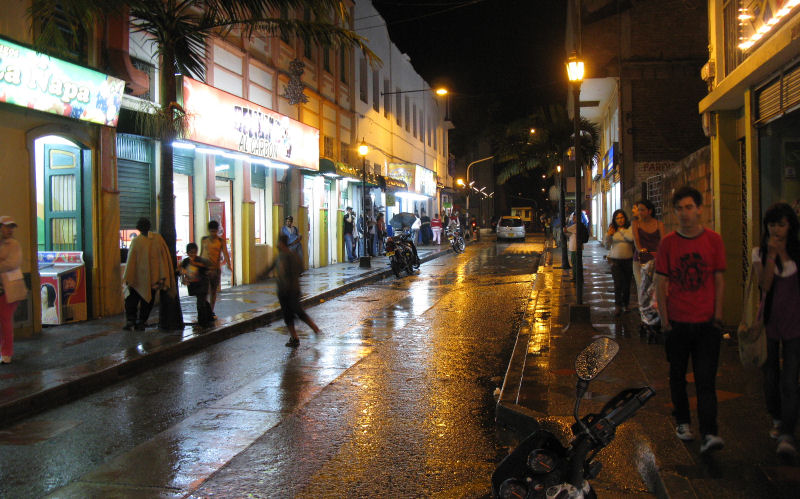 I started to unpack (in the rain...) at the curb while being cautious of all the young boys (10-12 year olds) who watched my every move and looked intently at all the widgets and gizmos on the bike. I gave them some candy and that seemed to make us buddies.
Don finally came back around the block and told me that he had found a better hotel a block away. Okay. I repacked (in the rain...) and we circled the block and pulled into the underground parking garage through a big gate that was being held open by an employee of the hotel. The steep ramp down to the parking level was semi-tiled and our tires screeched and skidded whenever they were on a tile. The concrete between the tiles was the only traction our wet tires had on the way down that ramp. Who would use polished ceramic tiles on a steep ramp in a country where it rains all the time? Geeez...
Our room was on the 4th floor of the surprisingly fancy hotel.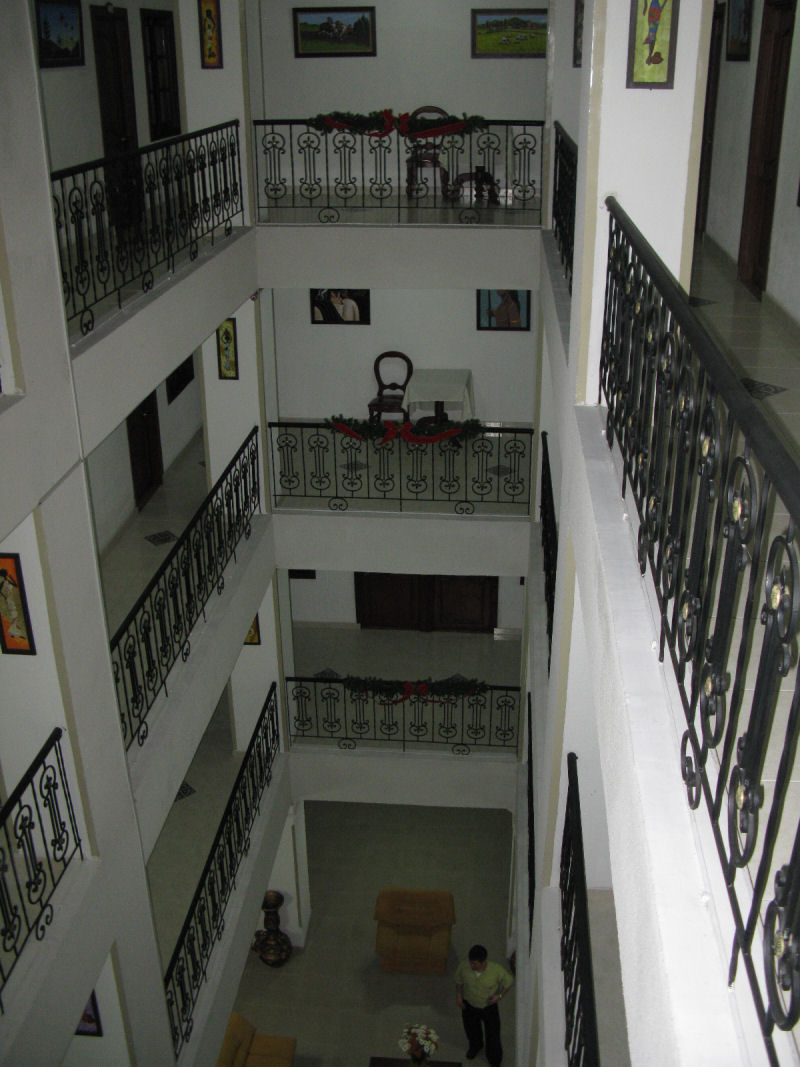 The acoustics in Latin America suck. Everything is stone, tile, concrete.
After getting settled in, we walked around El Centro and had some munchies.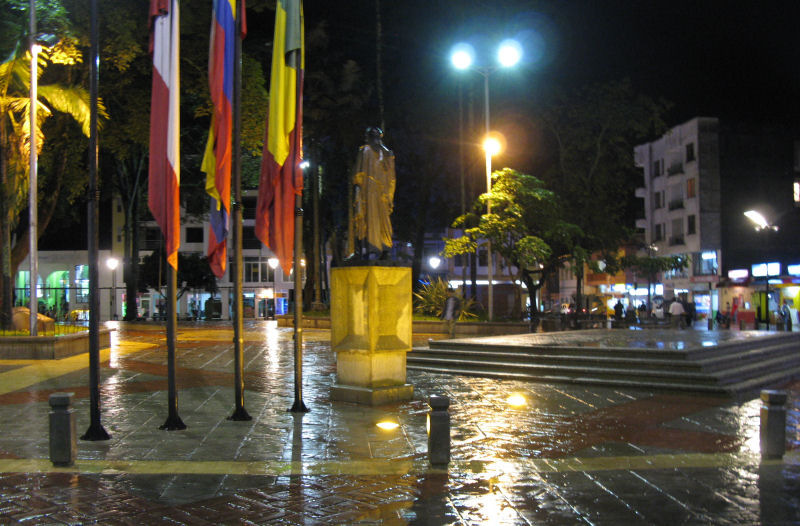 The hotel supposedly had Wi-Fi Internet access, but I never could get my computer to connect to it. I sat in the lobby and had the guy at the desk try to help, but he had no idea what he was doing. The signal was strong, but my laptop kept telling me that its attempt to communicate with the wireless router was not getting a response. I tried to get the guy to reset his LinkSys router, but he either didn't understand or didn't want to mess with it.
My cell phone wouldn't make a call, wouldn't send a text message, and I had no idea if it would receive a call. Don's phone worked.
Go figure.
It rained very heavily during the night, and over my bed was a vent (it was a big hole in the outside wall with a screen over it). The rain splattered on the vent (big hole) and provided a light, refreshing wet mist that wafted down on me all night.
I may have misused the word "refreshing" in that previous sentence.
Thursday, 20 November, 2008
-------------------------------
The noise outside came early.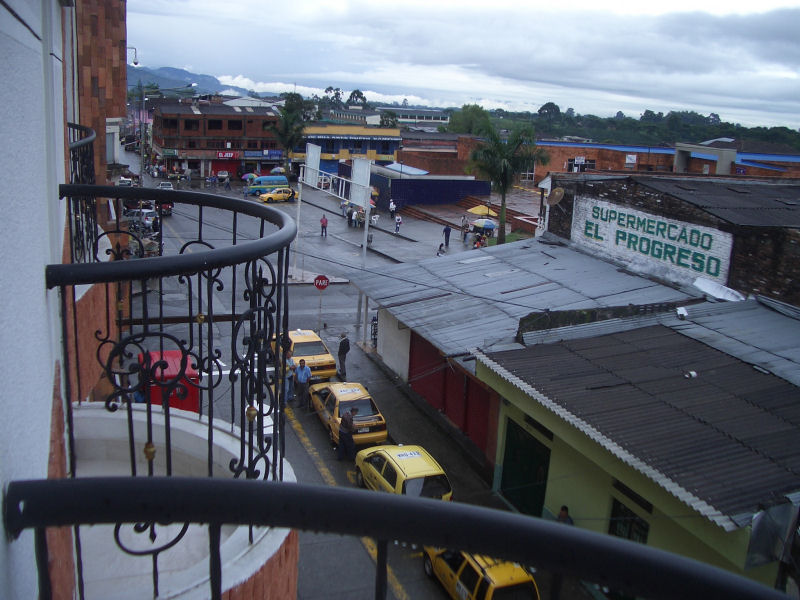 When we were finally up for breakfast, we went up another flight of stone (marble? ceramic?) steps to the 5th floor, which is where the restaurant was. We were the only guests there, and maybe the only guests in the hotel. The breakfast was "American Style," with scrambled eggs with ham (more of an omelet), juice, coffee or tea, bread, goat cheese, and rice. Hey, this is in the Americas, so this is American Style.
View from the rooftop restaurant (the city looked better from ground level):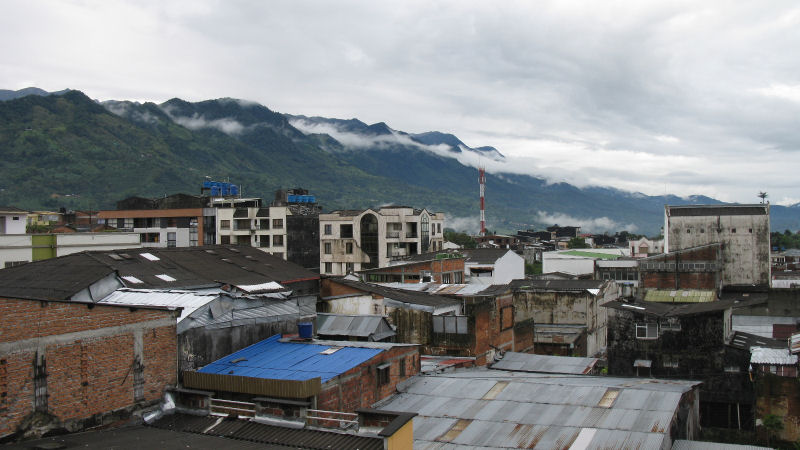 We tried to get in touch with Bruno, who might be able to meet us in Quito tomorrow. I left him a couple voice messages from Don's phone, but it wasn't likely that this meeting would work out. He needed to leave Quito about the time we would be arriving--assuming that we arrived when we planned. (That's not what happened.)
Leaving Calarca, we somehow got off the PanAmerican Highway and ended up going west on a parallel highway that was twisty and very scenic. It was probably slower than the PanAm, but I liked it just fine. We passed a very long line of cargo trucks that were stopped coming into Calarca. Hundreds of trucks. Some looked like they had been there for days. Don't know what that was all about. All the traffic was now in our lane.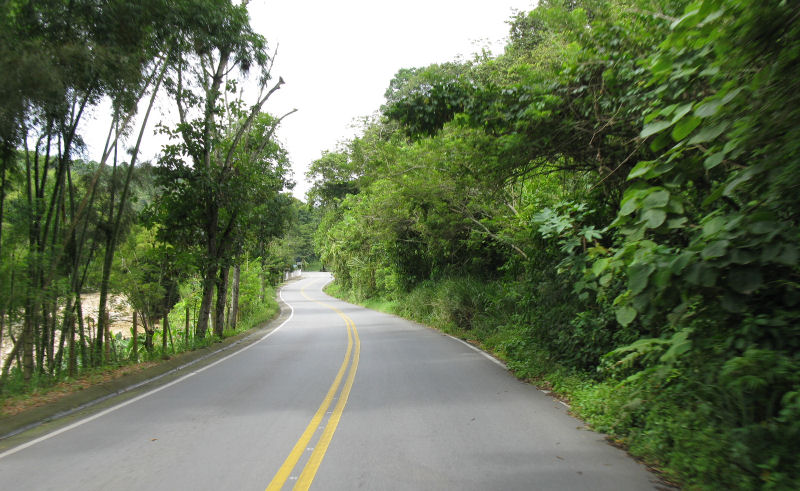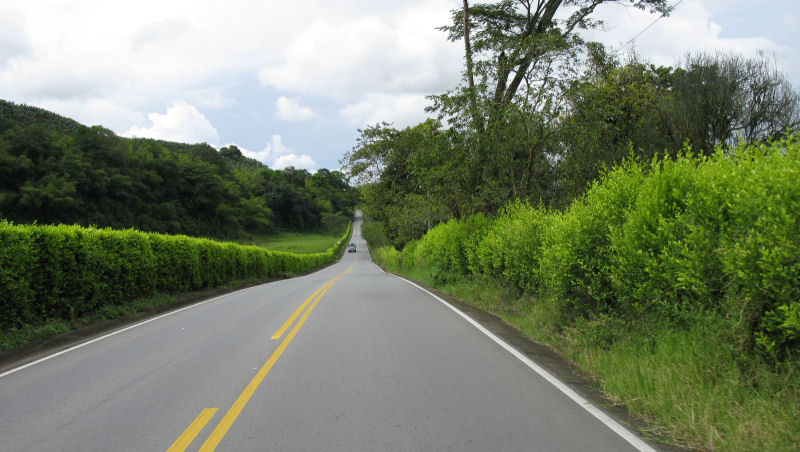 The hedges in the photo above were used instead of fences in many places. We went past miles of these hedges, and most were very neatly trimmed.
We got waved over by the police (or military) on a rural stretch of road. It was obvious from the beginning that they were bored and were just interested in seeing the bikes. The one who talked to me took whatever papers I have him, looked at them and at the bikes, and gave them back to me. I never gave him my license or passport as he had asked. The guy who talked to Don looked at his passport but didn't look at other papers. They played with my GPS for a bit trying to show me where we were, and that we were not on the PanAmerican Highway. They must have thought we were lost. We told them we were going west to Highway 25, then south to Cali. They were okay with whatever we told them. I gave them some mints and took their photo. They were casual the whole time and they only delayed us about ten minutes. This is them with fresh mints in their mouths.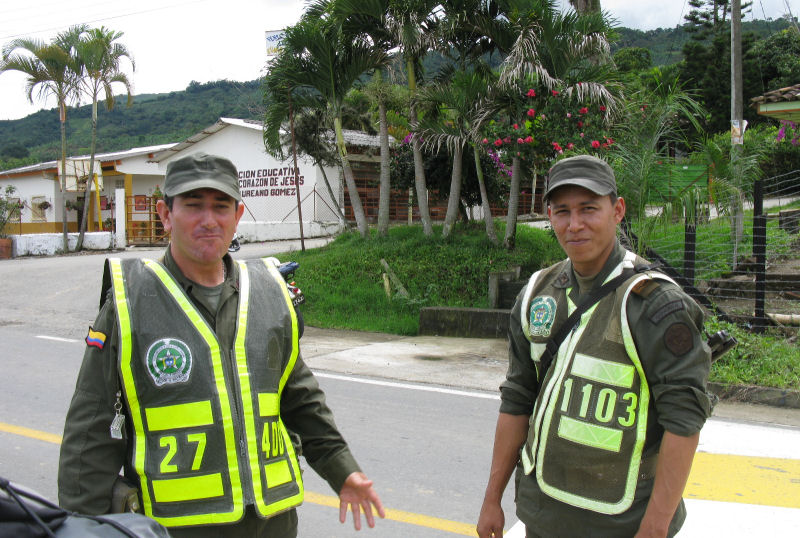 We came to a section of road that was very bad. It was under repairs in one place, but could have used it in a bunch more places. These few miles were an exception, and the road was otherwise very nice. We were south of the PanAmerican Highway, mostly parallel to it, but I don't know the road's designation.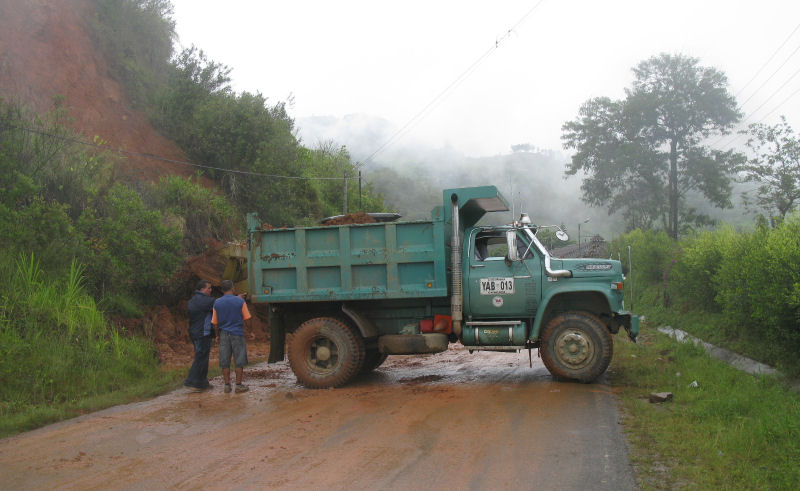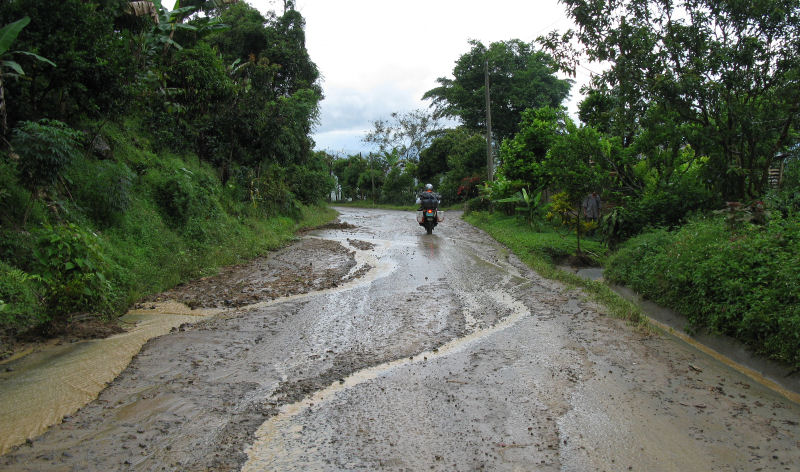 Then it was back to being merely wonderful.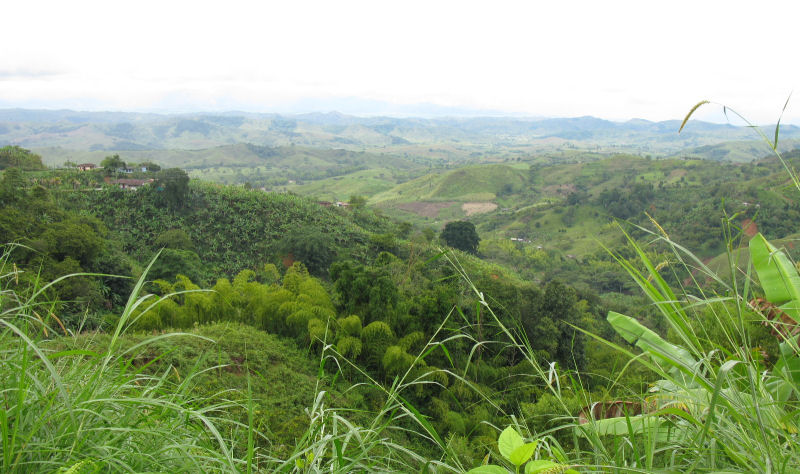 We intersected with Highway 25, turned south onto it, and started cruising with some serious speed. It was multi-laned most of the way, but had yet to be widened in a few sections. It was fast and convenient, but honestly it was far less interesting.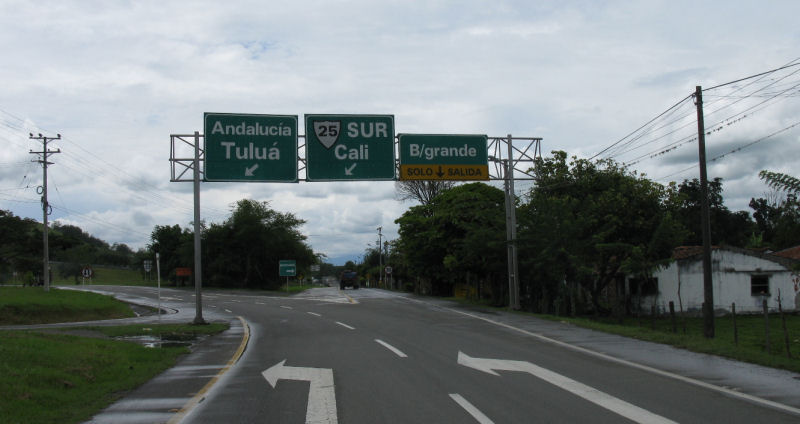 We somehow got off Highway 25 in some town, and were again parallel to the PanAm. The road was okay, but we would have to get back to the west somehow. We came to an exit with a sign to Cali, and the GPS liked that route, so we turned there. Along that road, I saw a sign for a Vulcanizadora (vulcanizer), so I decided to stop and have my two punctured tubes repaired. The guy was very busy with trucks pulling over on the road and having tubes or tires repaired. These big tires all have tubes in them. This is a truck driver working on his own tire here. I failed to get a photo of the tire repair guy.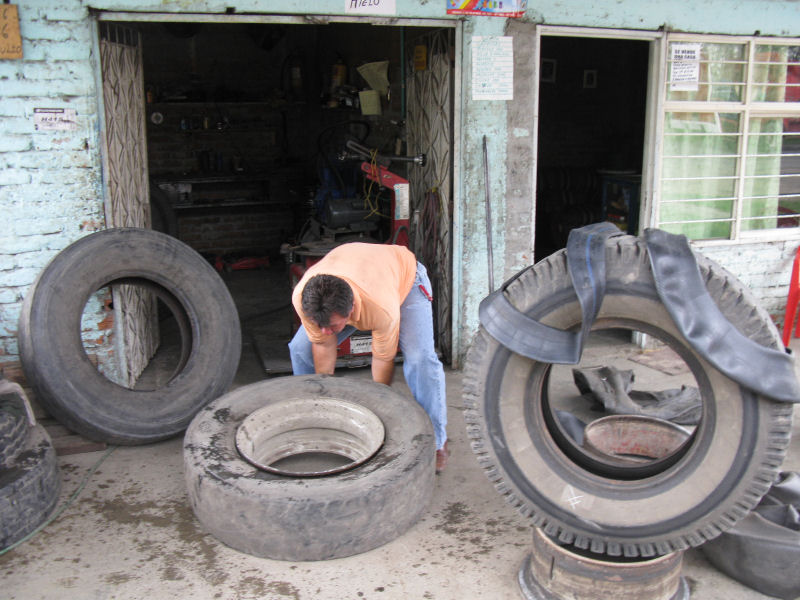 I showed my two tubes to the vulcanizer (seen on the upright tire in the above photo), and he repaired them between working on truck tires. I bought him (and myself) beer from a cafe next door, so that worked out for both of us. First one tube, then a while later the other tube went under the heated press to patch the holes.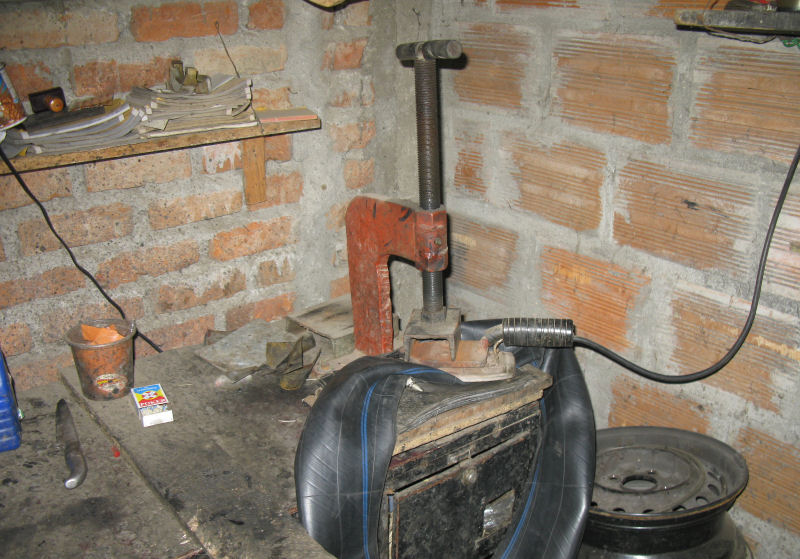 So, as far as I know, I have two good tubes on hand. He charged me less than US$3 for the two vulcanized patches.
We got to Cali during a break in the rain, but had no particular reason to stop. We missed a turn (duh) and had to circle around a while before finding the PanAm again. We got out of the city as it started raining again. We never did see the dangerous women that Daniel had warned us about. Probably just as well...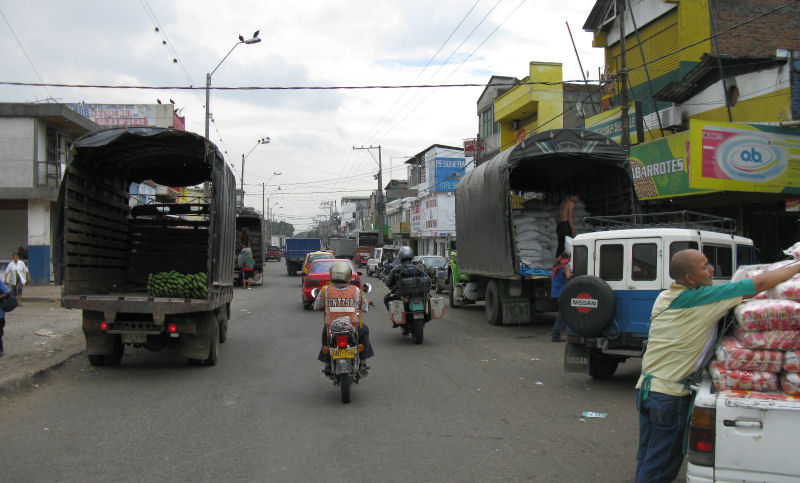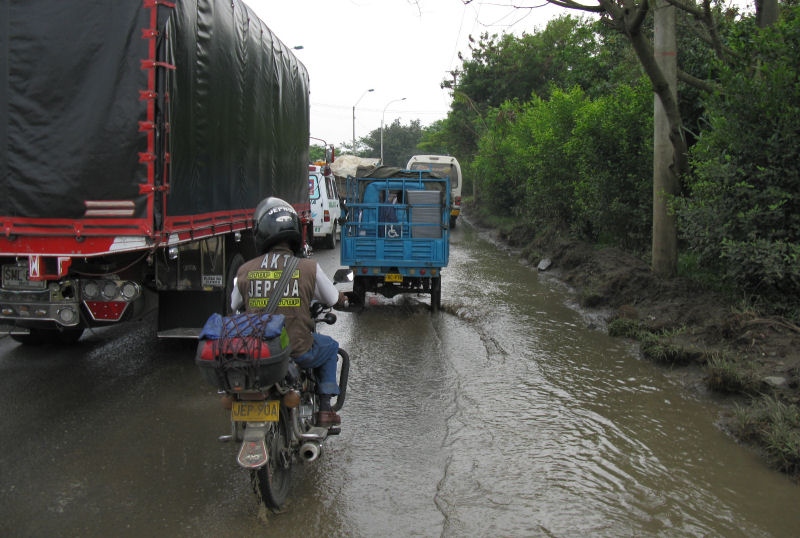 We were ready to be done for the day when we got to Popayan. The mountains had been very nice, but had taken longer to get through than we had planned for. Getting to Quito tomorrow would be a long ride.
We found a hotel on the PanAm, which of course meant traffic noise all night. It rained while we get registered and maneuvered our bikes into the lobby of the hotel where we were directed to park for the night. More wet tires on wet, slick tile. Yay.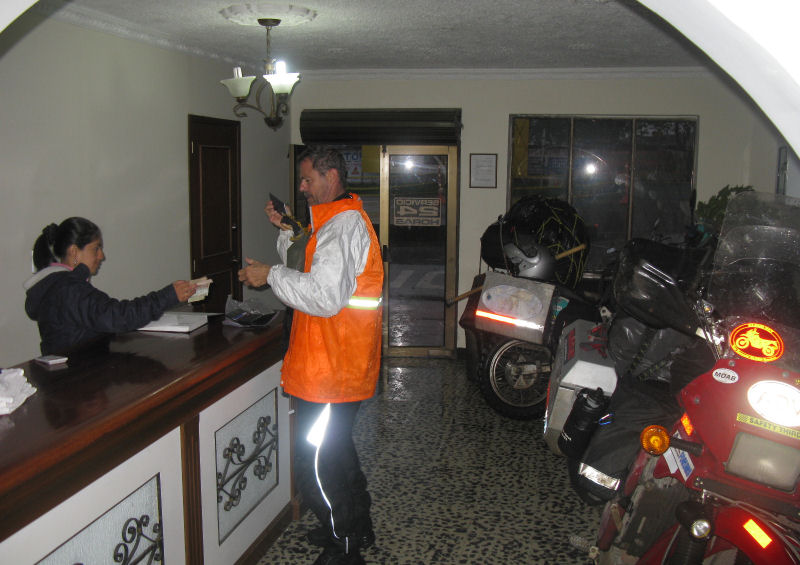 The room was cheap, only 35,000 pesos (about US$15). They certainly weren't over-charging the guests to heat the water. We again had been told there was hot water, but we couldn't find any in our shower. No toilet seat, either. Do guests steal the toilet seats? They must steal shower heads, too, since ours was missing. The cold water came out like a water cannon from a fire truck.
We sloshed out and around the corner for dinner. The restaurant was fine, although the restrooms were behind only doors that looked like they were from an Old West saloon.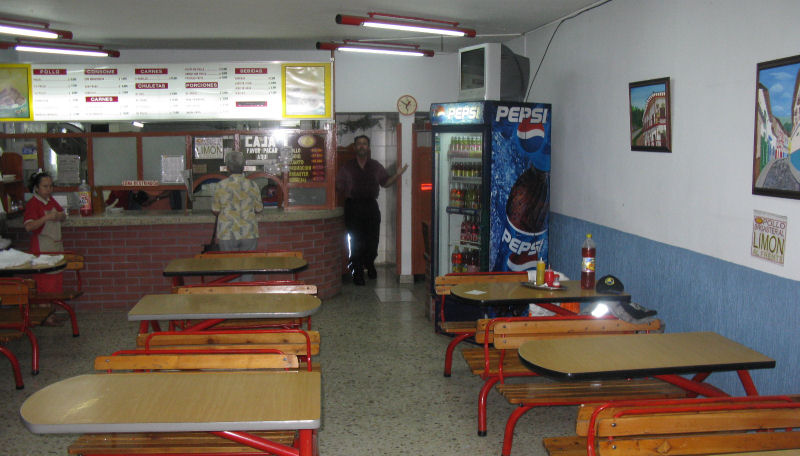 The beef (here, with plantains and thick potato chips) was as chewy as I had come to expect. I have yet to have any beef in Latin America that was tender or anything other than well-done-to-death. More chicken meals than beef, anyway, and the chicken has been better prepared. I have been assured that the beef in Argentina will be better than I've had anywhere. I hope so.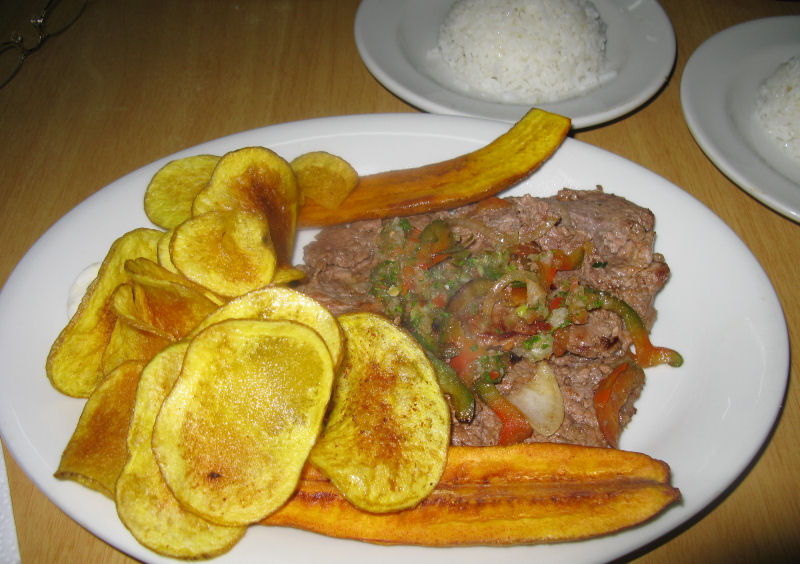 There are actually three starches on that plate. Peeking out from under the chips is a small ball of white bread dough. (Don't ask me. I don't know.)
On the way back to the hotel, the wafting aroma from one of the bakeries enchanted us and we simply had to stop for dessert. I had a pastry consisting of a springy cake layered with caramel icing. Yum. Don had something that looked like cheesecake, but was some kind of custard made from corn juice. (Corn juice? Don't ask me. Still don't know.) It looked good. He said it was good. It must have been good. The gals in the shop (and a customer or two) enjoyed our antics while deciding what to have.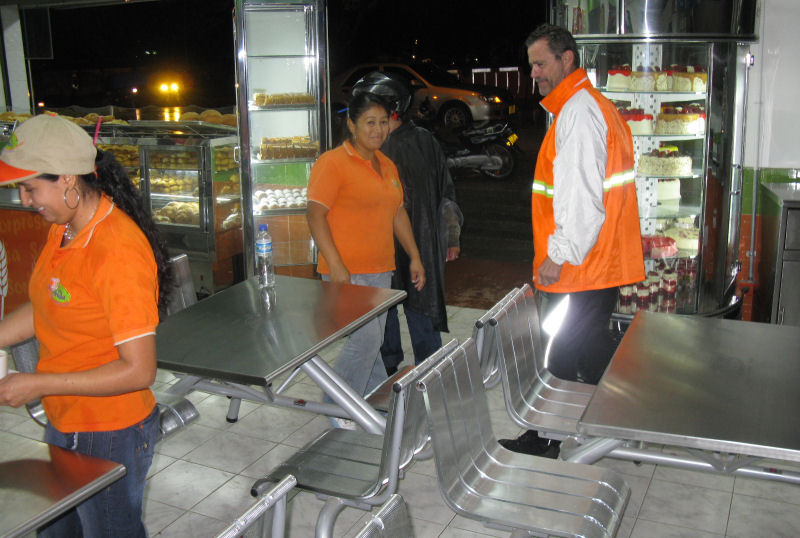 On the same block as the restaurant were three motorcycle shops, two other restaurants, a small bus station, a mini-casino (slot machines), a grain store (rice, corn, wheat, etc.), a phone store (ubiquitous in every town), a small hotel (upstairs above the mini-casino), and a few other shops. Small shops, each with limited goods.
I got my laptop from the hotel and asked directions to an Internet cafe. We were directed back into the neighborhood, where I would not have thought to look. The first place we hooked up in had a problem and lost its Internet connection right after we got there. He sent us around the corner to another place that was full of kids playing games online. They gave us directions to the next street where they unplugged one of their computers and let me use the Internet cable. They had to fiddle with my laptop's IP settings before my computer saw their network, but it worked.
Don Skyped Bev and I handled email. We also got to meet Juan Phillipe, the son of the woman who ran the place. He was six years old and didn't quite know what to think of us. How come we didn't understand him? Were we too stupid to understand Spanish?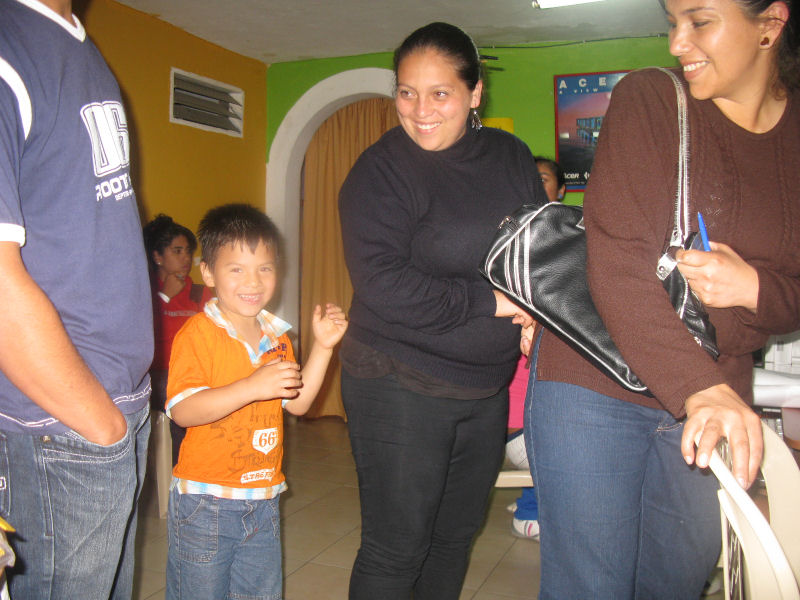 Back in the room, we had some things that needed to dry out. That wasn't likely in the cool, damp, still air, but we did the best we could. Don made a clothesline, zig-zagged across the room over our beds (it was a small room).
My wet socks and gloves dripped on my bed as I slept. At that point, I was used to it...
Friday, 21 November, 2008
-----------------------------
As usual, it was very noisy outside before we wanted to get up. That's what happens when you find a hotel on a busy street. I'm not sure there are quiet streets, though.
We went back to the same bakery for breakfast. We had learned that just about anyplace was able to provide eggs, so a bakery was fine. I had a cheese-filled croissant with my eggs, coffee, juice. The desserts were beckoning me again, but it was too early. Or was it...?
Nope, don't need the sugar buzz this early.
We found a shop that sold lengths of extruded metal, but nothing suitable for repairing Don's helmet microphone. We needed flexible, about the size of a popsicle stick. Aluminum or copper would be best, but even brass or tin would work. Nada. We'll work on it another time. Don can hear me when we are riding, but can't talk back (since his mic is stuck to the back of his helmet). He can still push the transmit button to get my attention, though.
The ride that morning was very nice. More great views, good road, nice weather. Some sections of road were being repaired. One guy was chunking up pieces of broken pavement with a huge steel pike, then throwing the pieces aside. I assume they will fill the ragged potholes in soon, since they were very hard on tires.
Photo interlude: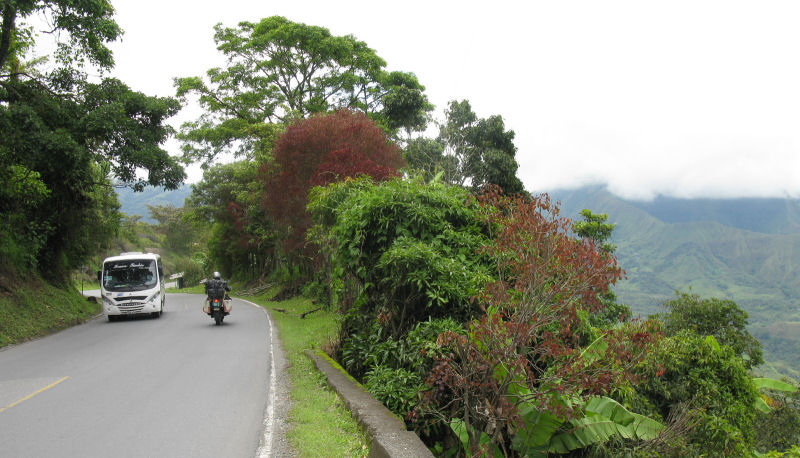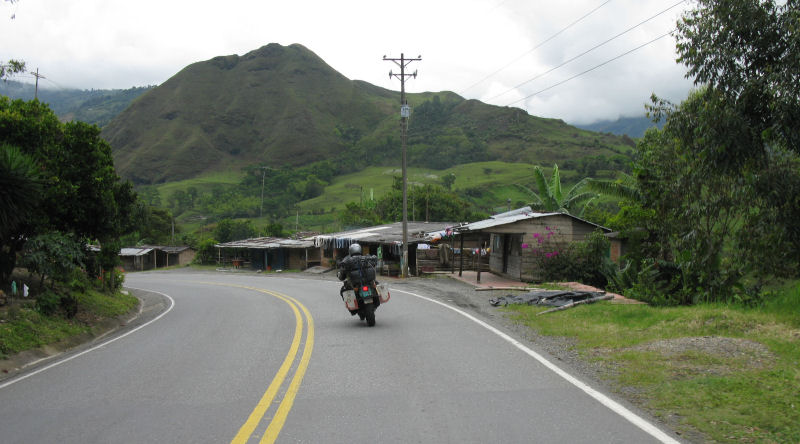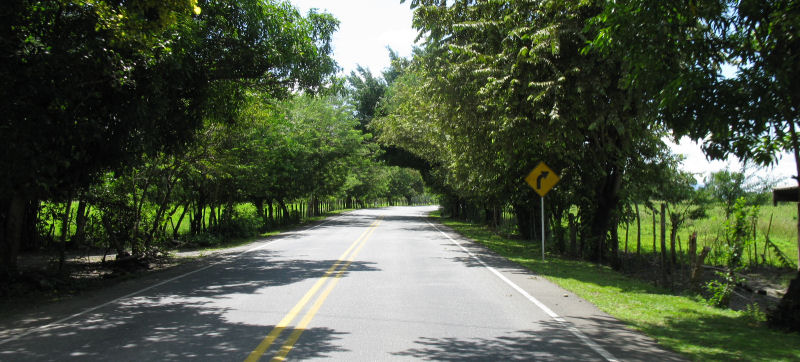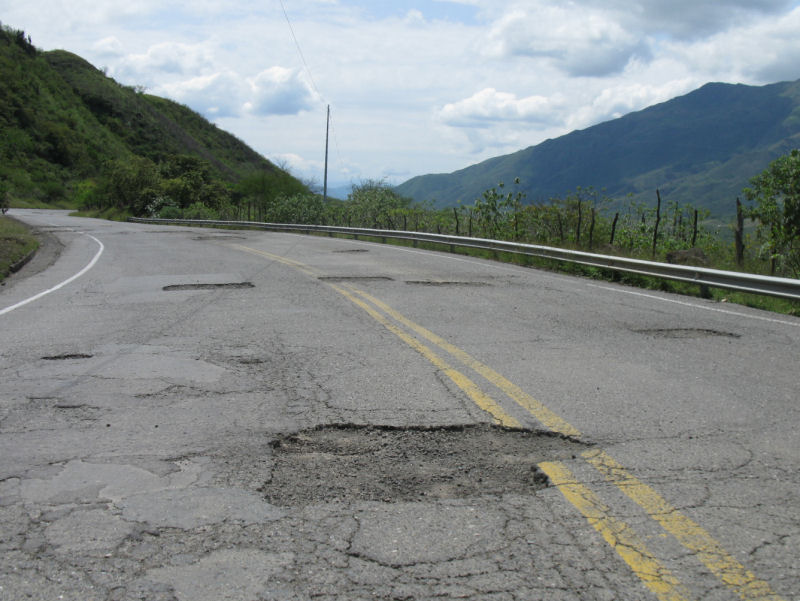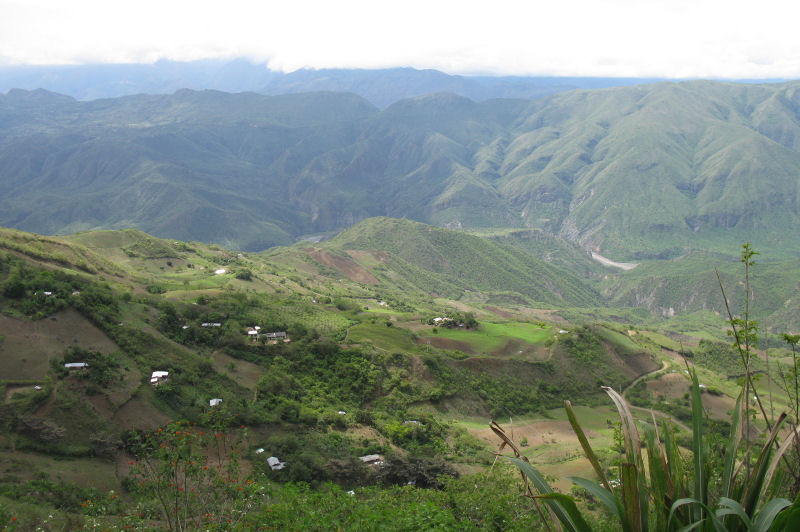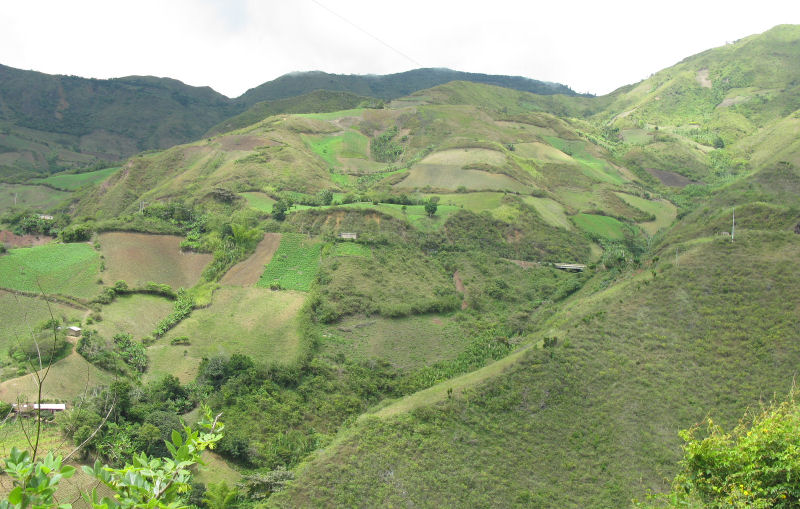 It started to drizzle lightly, so it wasn't uncomfortable yet. More high passes, low valleys. We could see the road ahead going into a mountain tunnel (right in the center of the next photo). Turned out there were two tunnels one after the other. Both looked the same. They were smaller (narrower) than I expected, since big trucks had to use them. I was prepared for a semi rig to be in the middle of both lanes as I went through, but we passed no other traffic in them.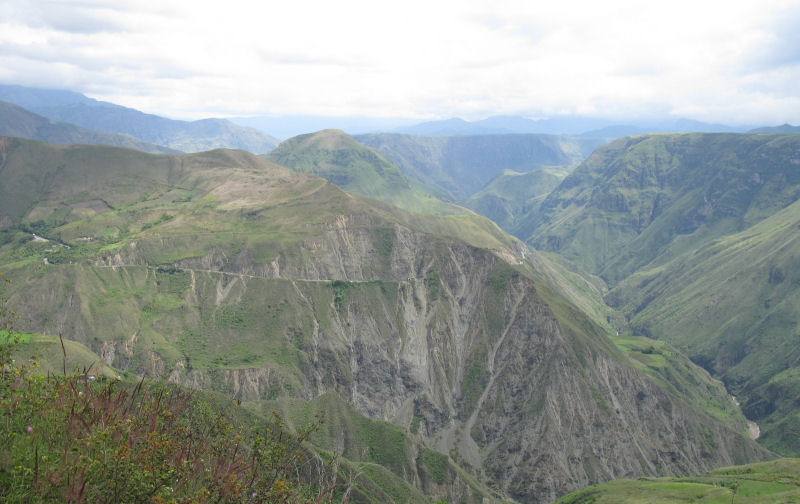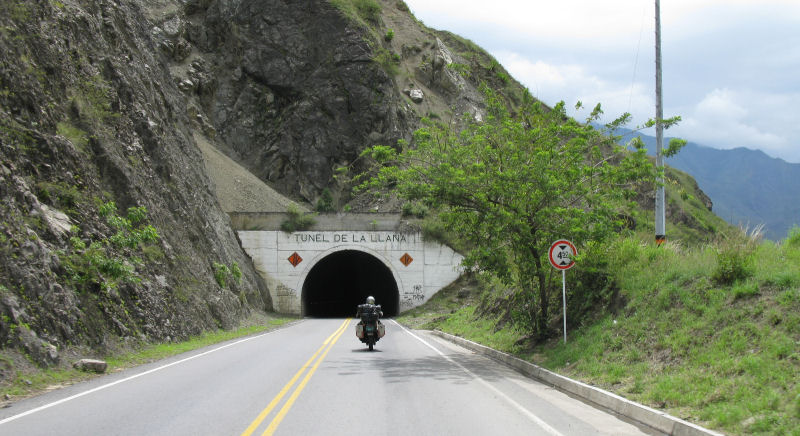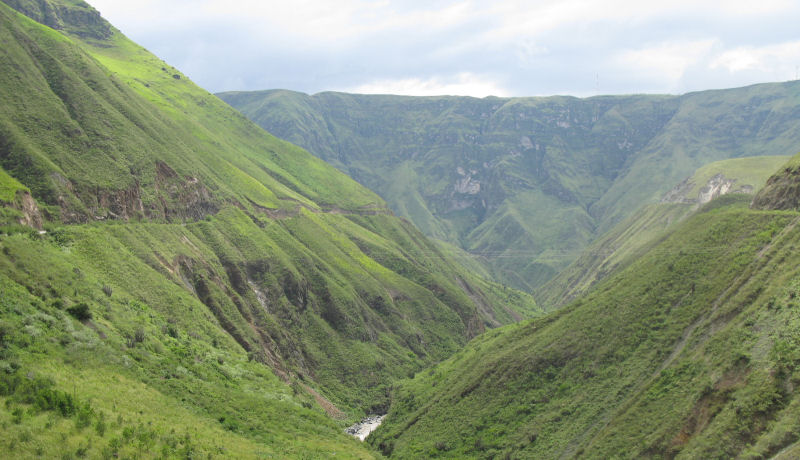 Again, merely gorgeous.
It started cooling off, and a fog developed over the valley.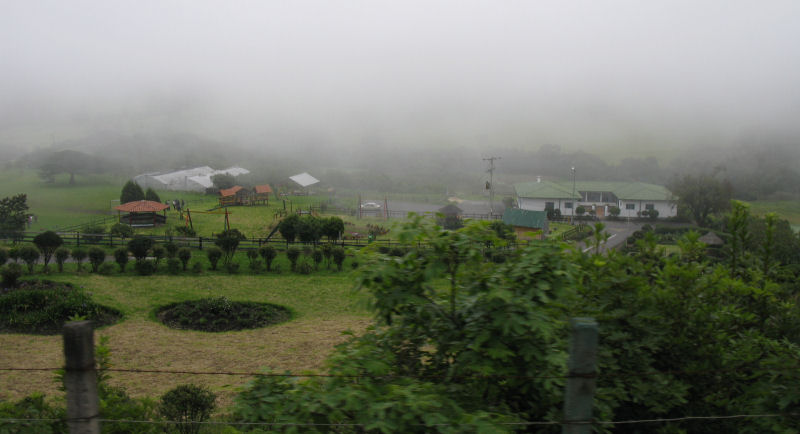 The fog got lighter, but only because it turned to rain. The twisty road was a rider's dream, curving down the from the mountains in endless easy slaloms of good pavement. I was really enjoying it. So much so, that I left Don far behind as I zoomed ahead passing every vehicle I came to. Wheeee!
I hardly even slowed for photos, and didn't take many. One coming down into Pasto.
The rain ended, so we stopped in Pasto for a meal. Don parked his bike in front of the building next to the restaurant, and an old lady in the restaurant warned us to watch the bikes. All the men hanging around the area came to look at the bikes (which was typical), but the lady grew worried. She then went out and stood there while we ate, making it clear that she was guarding our bikes. When some teens came closer to look at the bikes, she went and stood with them and talked to them in a friendly manner. They saw me watching them through the window as well, then they walked on. Who knows? Maybe nothing to it. We did give a big tip the the old lady. And a mint, which seemed to brighten her day.
More of my Candy Diplomacy.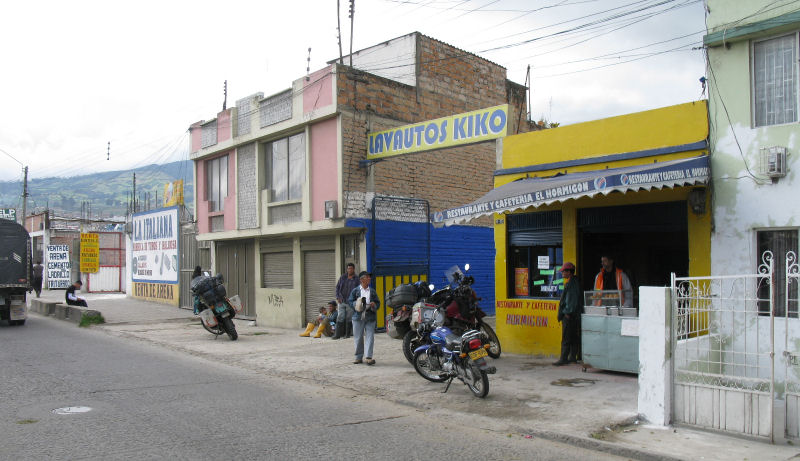 More riding.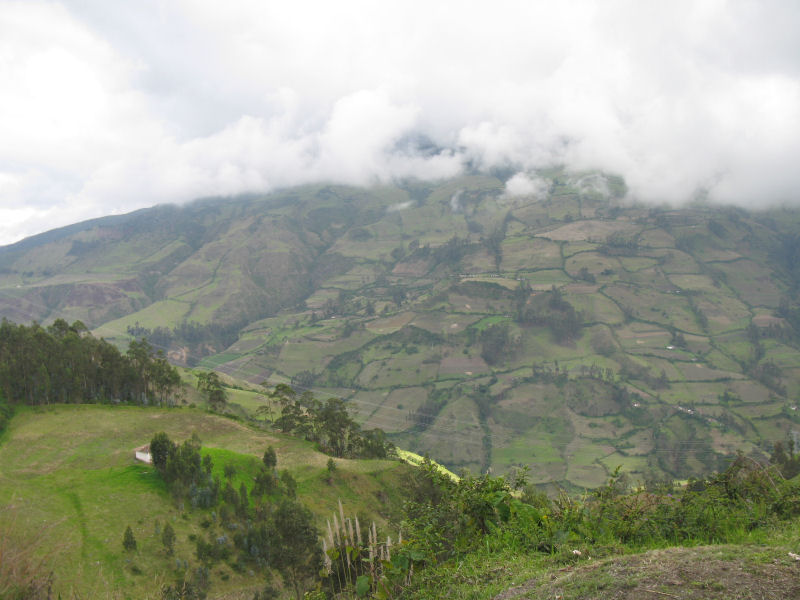 As we neared Ipiales and the border with Ecuador, I looked for the turn-off to the Sanctuario de Las Lajas. It's only a few miles from the PanAm Highway. It was built long ago to incorporate a rock on a cliff over a river, since the image of Mary had appeared on the rock. They had to build a bridge first, to build the church on. I've seen many photos of the Sanctuario, and I wanted to see it for myself.
This is where you turn off the PanAm, so look for it as a landmark. The signs were good in one direction, but missing from the other direction. It may or may not still have the graffiti on it when you get there.
We slowed to let a kid finish herding his cattle down the road and up a trail.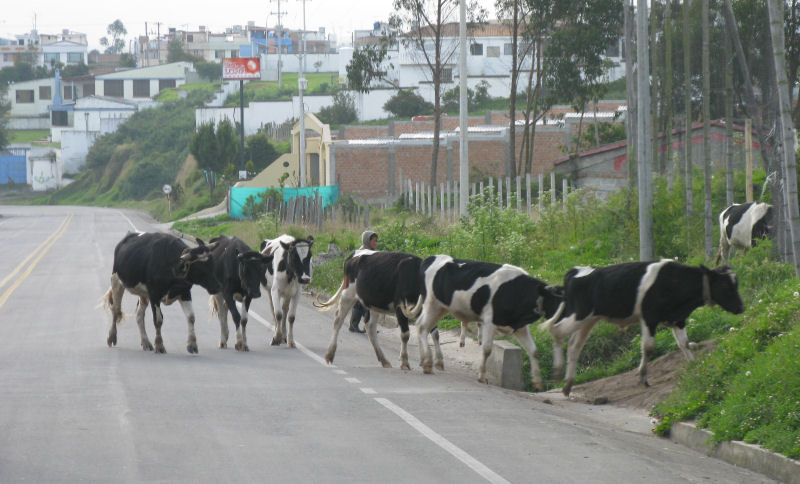 We could see the Sanctuario from the road above it, but didn't stop for photos (yet). At the bottom of the road (which was under severe repairs, so there were piles of gravel and debris all over the place), was this junction. You got straight to some other town, or you turn right into the Las Lajas parking lot.
It was clear as you entered the parking lot that it was the end of the road. You had to walk from there. A long ways, it looked. Bummer. We didn't want to spend much time here, since it was only a convenient destination detour.
Like so many touristy places, the photos you see don't show the true area. Most photos of the pyramids at Giza show only those monuments, not the squalor of the surrounding tourist shops. Same here, but to a much lesser degree. The parking lot was surrounded with shops and taxi cabs. Back up the road we went.
We stopped at an overlook, intended to provide the best view of the Sanctuario from that road. We parked our bikes to one side of the small parking area, next to where a policeman and another guy were drinking beer. There were two very pretty girls at the overlook, drinking beer and dancing to music that came from a radio they had set on the fence. I took their photo as I approached.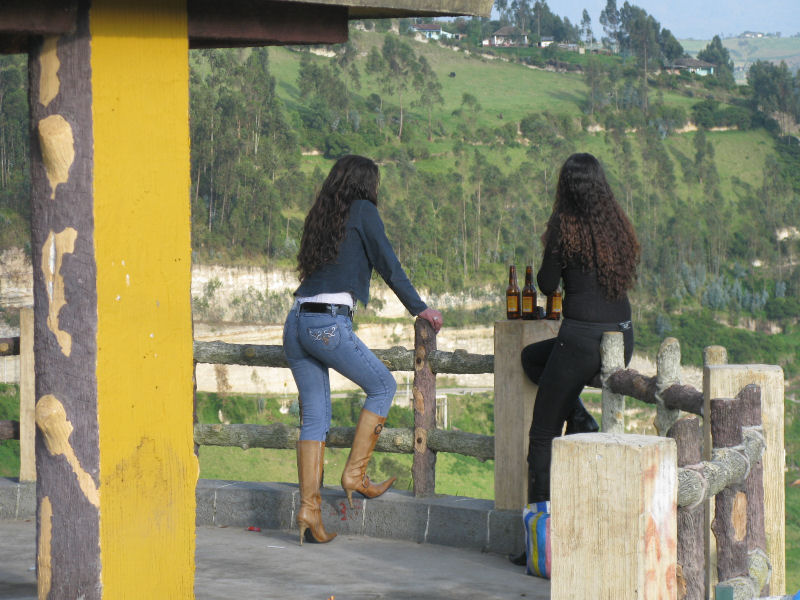 I showed the photo (above) to the gals, and they laughed and enjoyed the attention. The two guys nearby did not enjoy the attention, so they came over and made it clear to us that these were their girlfriends. Hugs and kisses (and some groping) made that clear. The policeman was pretty drunk, and he and I kidded about the photo, which I also showed him. He had the gals pose for another photo for me.
The harsh light is unflattering to the gal on the left. She was prettier than this photo shows. When you are done with the gals, notice the Sanctuario in the valley down below, between the beauties.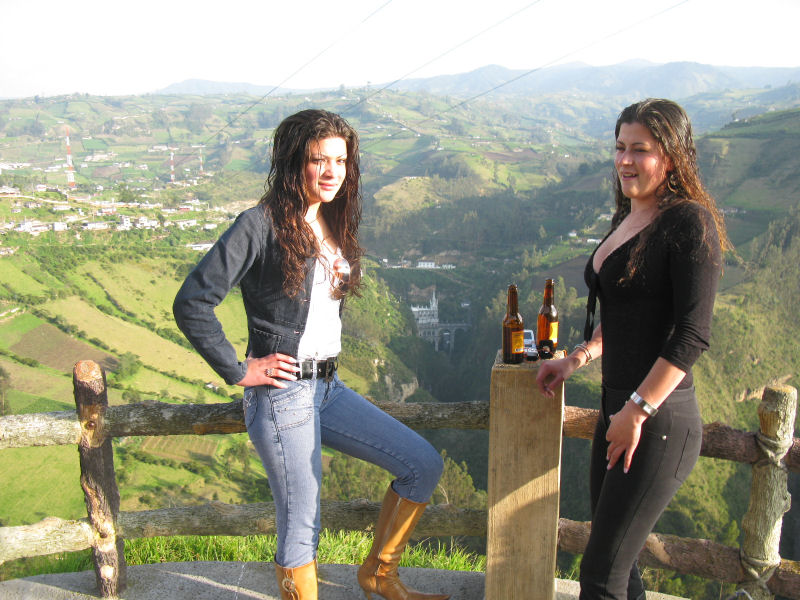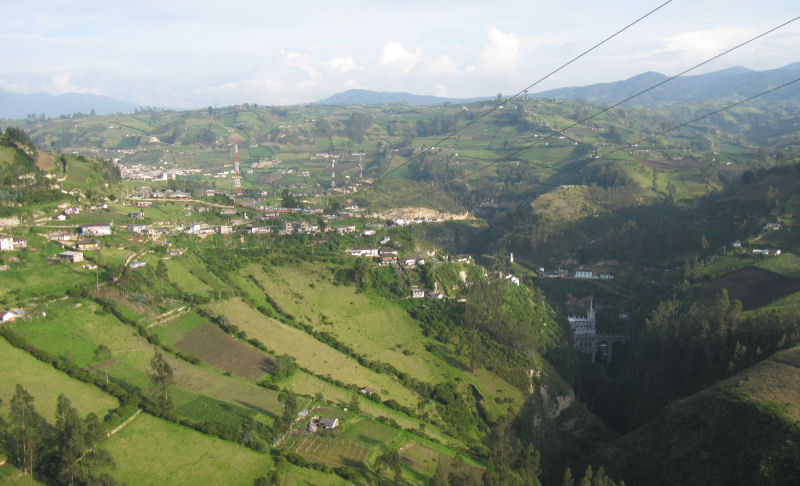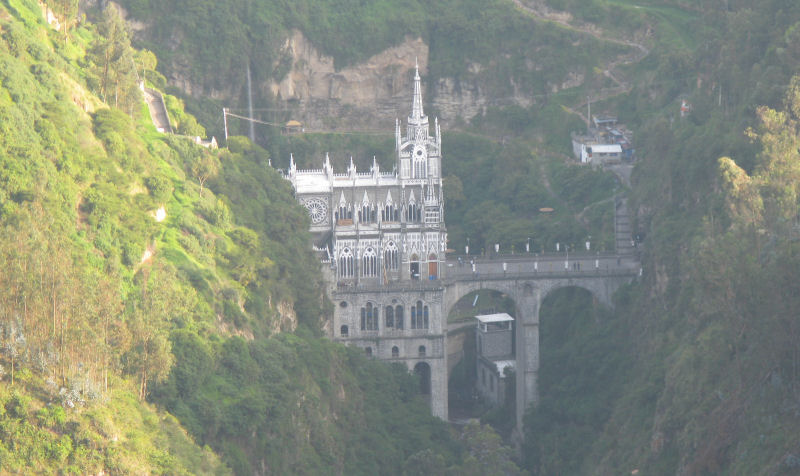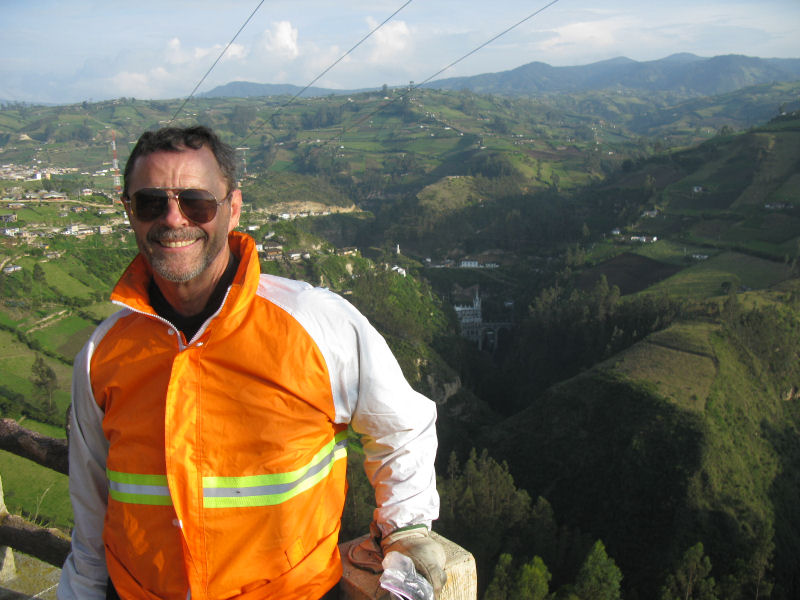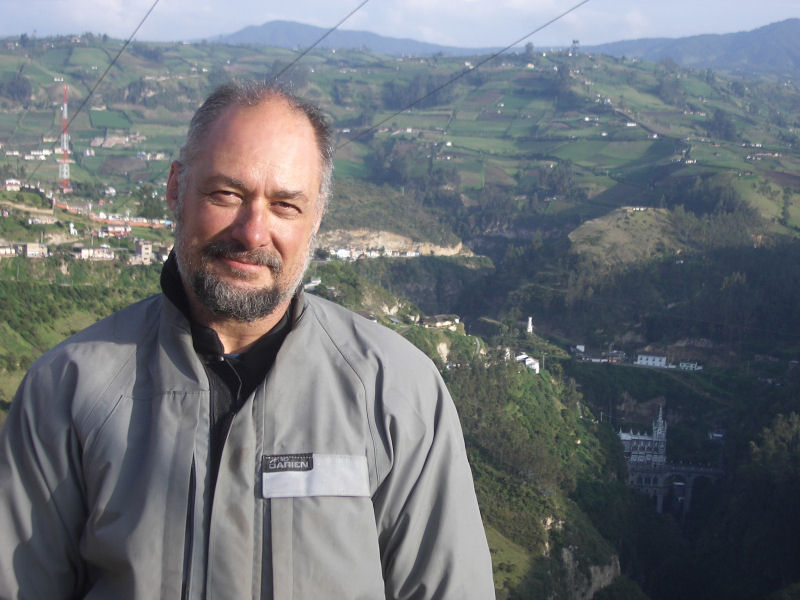 Many miracles are reported to have happened here. I'll have to come back some other time and take a closer look. For now, we headed back to our bikes. The drunk policeman followed. He asked about our journey and about the bikes. He wanted me to take his photo on my bike, so I did. Don held his beer while he posed.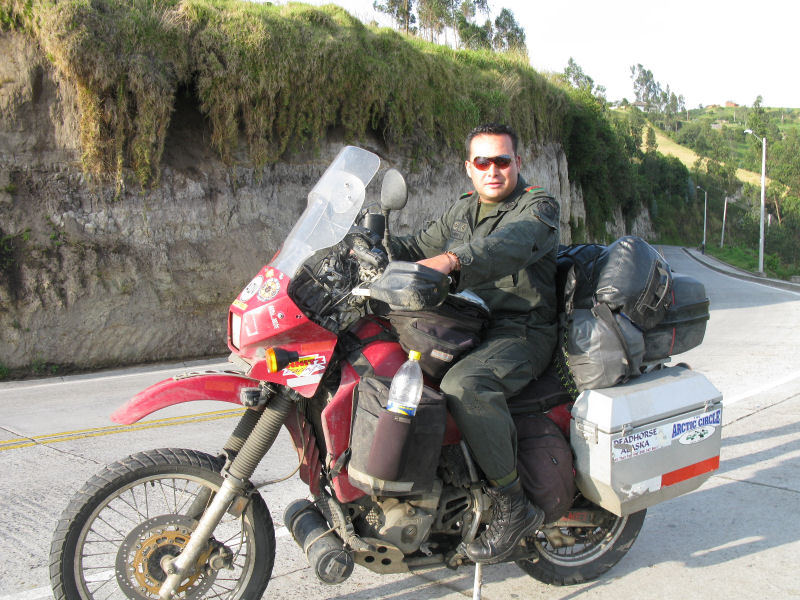 He was very pleased with the photo, and he gave me his email address so I could send him a copy. He wrote sideways on my notepad in big, bold letters. That took half a page of my notebook.
We got to the border well before it was dark. Not that that mattered. We were there a while.
The first building is for exiting Colombia. Go to any of the windows (on either side of the building) and give them your bike import paper packet. They will keep what they need and give the rest back to you. The second building is the Immigration office. Passport only and a short wait, then you are stamped out of there. I exported both bikes, but we had to go separately with our passports (while the other watched the bikes in a small parking lot off to the right of this first photo).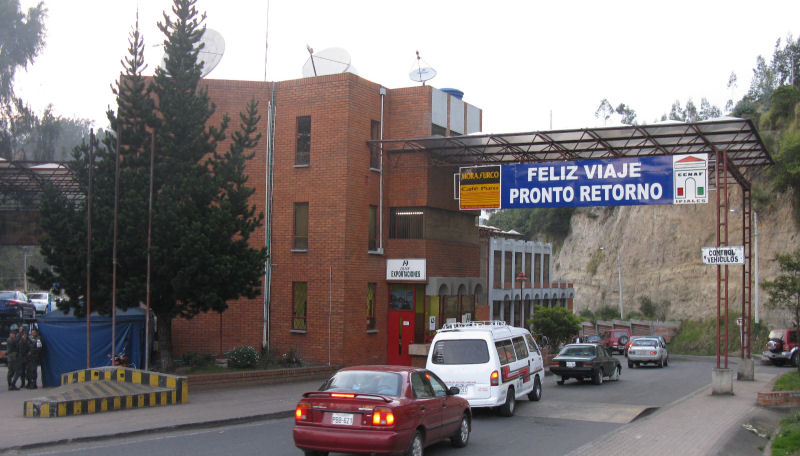 You can see the second building better in this next photo. The building is U-shaped with an inner courtyard. You have to go around and up some stairs to the office windows.
The guy coming over to me is a money changer. He was very polite and low pressure, unlike the ones in Central America. He asked if I needed pesos for Colombia, but I told him that I was going into Ecuador. He said okay, wished me a happy journey and wandered off.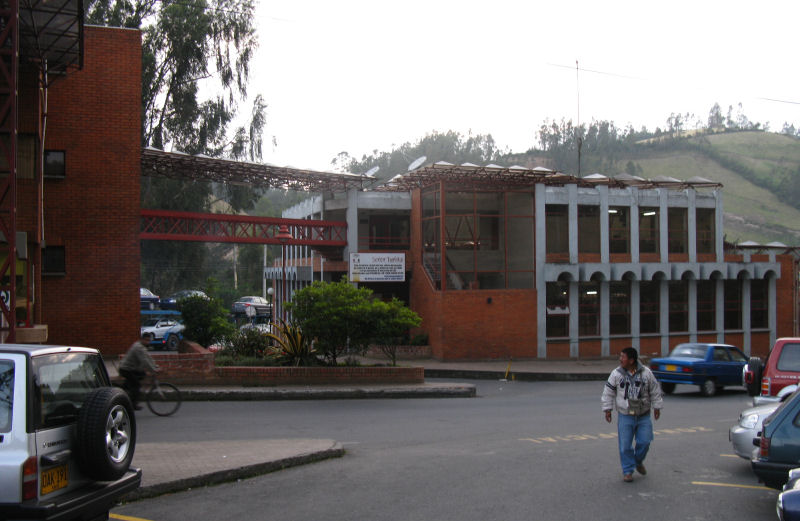 We were out of Colombia pretty quickly. No cost to anything.
<< Link to PREVIOUS report: Central America Down >>
<< Link to NEXT report: Ecuador >>
[ ERRANT-RONIN HOME ] [ Prudhoe Bay to Ushuaia Home Page ] [ Ride Reports Home Page ]