Part 16. Argentina Up from Ushuaia
=========================
Saturday, 1 January, 2009
---------------------------
Happy New Year!
We woke for some strange reason at about 08:00, but after looking around a bit, we did the right thing and zonked out again.
Up finally well after noon, we ate alone in the hostel kitchen. It was a clear and sunny day, only a little bit coolish. We had agreed to meet Richard and Chuck in the campground this afternoon. They were riding into the park today to get their photos with the sign at the end of Ruta 3. They were also planning on leaving tomorrow, as we were, but their plan to leave later and ride only to Rio Grande. We would leave much earlier and aim all the way for Rio Gallegos.
Before heading for the campground, we rode around in town doing some final souvenir shopping. Most shops were closed, so we had limited choices. I picked up a few final things, and I regretted not being able to get a couple maps that I wanted. We then got to the campground in time to see and say good-bye to our new friends. Alain, the French rider/writer, was also there and we got to see his ever-smiling face again.
W topped off our gas tanks and did some final work on the bikes. Don's speedometer was flopping around in the instrument panel, so we took that apart. We found that the two screws that secure the speedometer were missing, but we had spares, so that was a fast fix. The speedometer cable seemed okay, so the problem seemed to be the speedo hub itself. That was not something we were able to resolve, so we left the cable off, taped over the speedo hub and the bottom of the speedometer (where the cable ends would have connected). A few other bike checks and we were done with that.
Don kept himself busy while I wrote for a while, and it was nice to not have anything specific to do. When we finally wandered down to the middle of town for dinner, we found most places were still closed for the holiday. The restaurant we chose was popular, mainly because it was one of the few that were open. We were in the mood for seafood, but Don was dubious. He doesn't care much for most shellfish, and the mysterious Seafood Special meal that we ordered (for two) was mostly a mix of shellfish. He pushed the whole thing toward me and ordered a steak. I didn't care much for the Seafood Special either, and I didn't bother with much of it.
When we left the restaurant, they were closing unusually early and we had to have someone unlock the door to let us out. The lock was to keep other late-diners out.
I wrote until about 00:30, and I don't think we took any photos all day.
Friday, 2 January, 2009
-------------------------
We packed and were on the road by 09:30. It was cloudy and cold, and we feared a dreadful day. Riding all the way off of Tierra del Fuego didn't seem likely. Most of the views were blocked by low clouds.
This statue was at the entrance to Ushuaia. An homage to the native people, I suppose.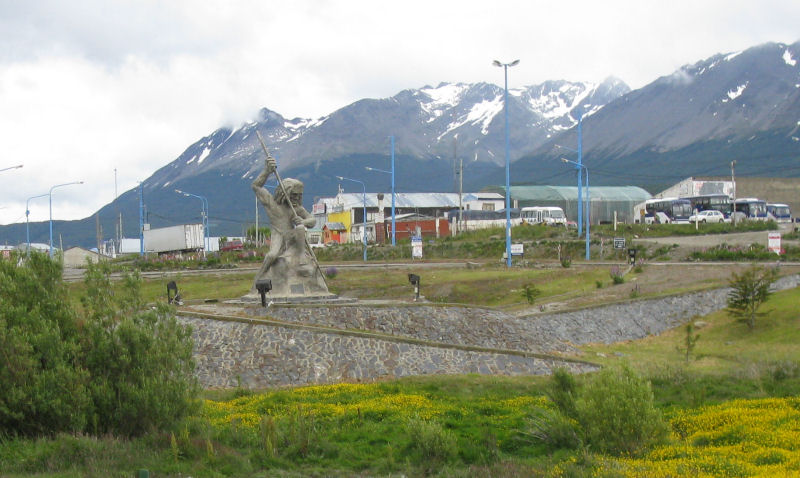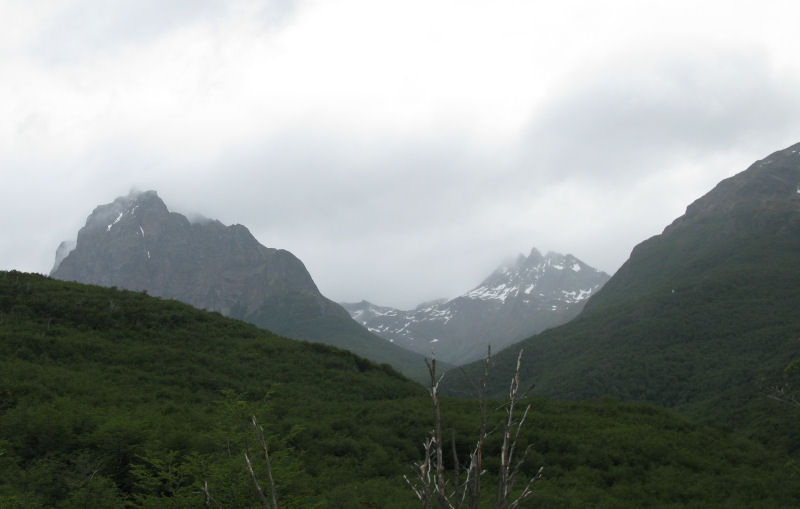 After crossing most of the mountains, things cleared up a lot. It was still bleary, but most of the bleariness was up higher.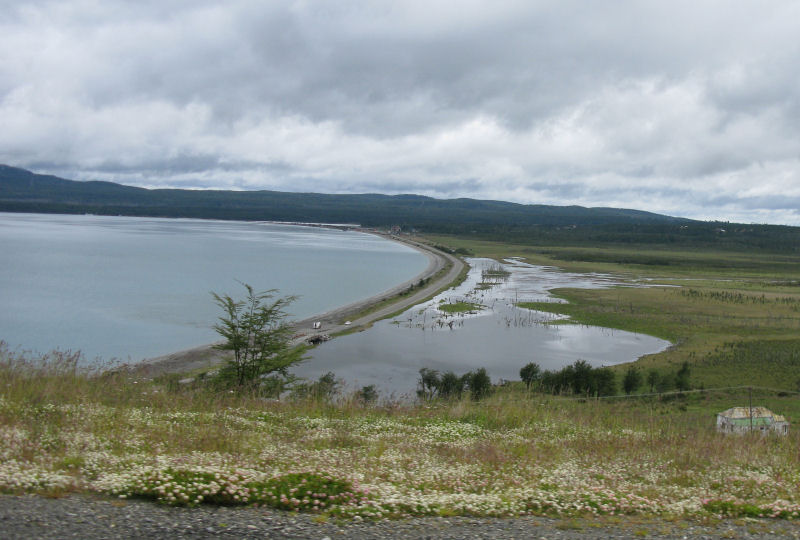 It took us two and a half hours to get to Rio Grande, and the view looked like this most of the time, once we were out of the mountains. It was the wind, you see.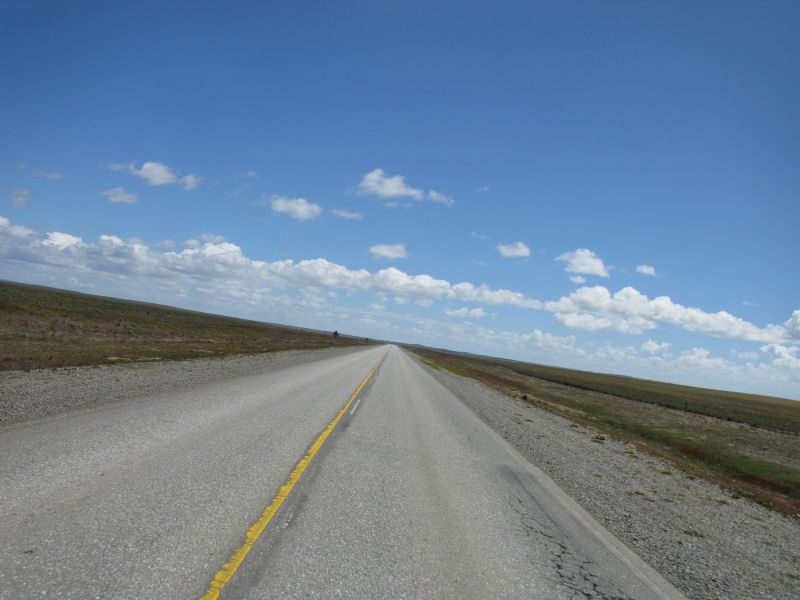 It got a lot warmer as we continued north, so that was nice. It was still cool, but 'cool' is a perfect riding temperature for me.
We breezed past Rio Grande and headed north to San Sebastian, Argentina. The wind was just as strong as before, but it was a lot gustier, which made it more hazardous. Sometimes we had a hard time parking the bikes. You have to be wary of how easy they blow over.
As we had expected, the on-coming traffic now caused brief blockages of the wind. When an on-coming truck went by, we felt a strong shove to the right, a quick suck back to the left, then the final shove to the right again as the truck passed and the side wind hit us again. Mostly, you just had to keep a good lane position and keep aiming forward. The slamming around is quick, and there is no need to compensate for it. Just endure it.
At the exit from Argentina, we fueled up and got through with no problem.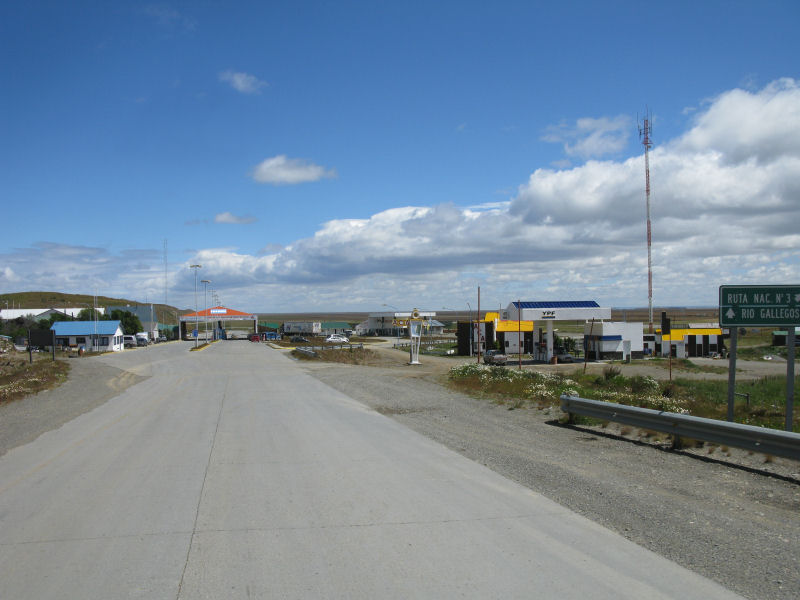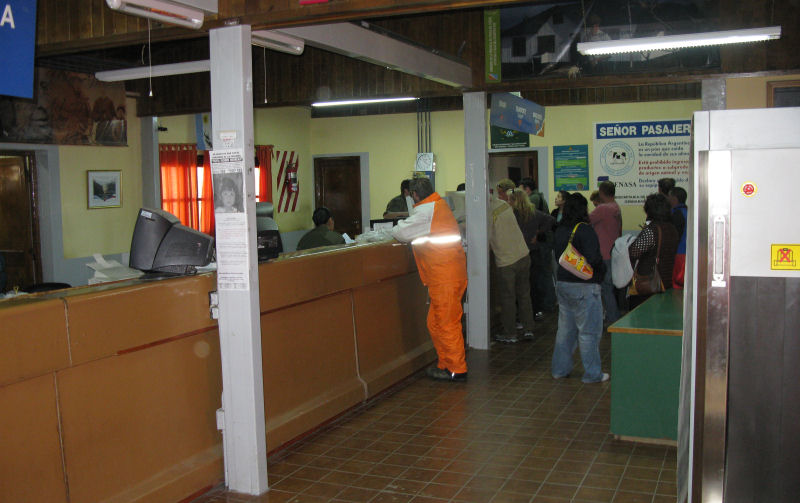 The gravel road started here, and our tires needed to be aired down. Don's TKC 80 was again better than my Pirelli MT60. He thought he was having too much trouble on the gravel, though.
In the dozen kilometers or so between border control points, I saw more flamingos again. I managed a dreary shot of some.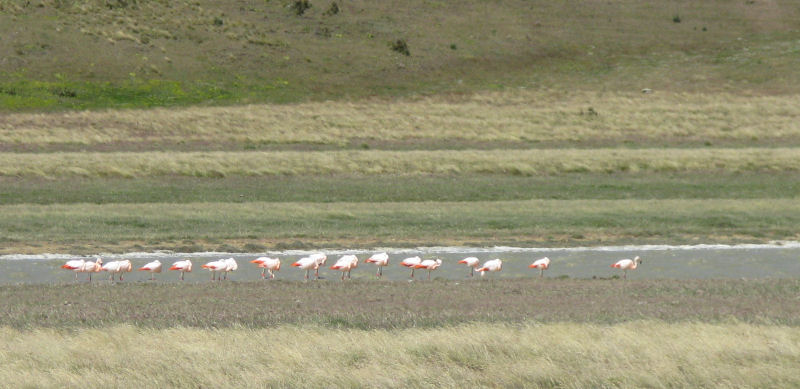 There were lots of cars and trucks parked at the Chile side of the border, and that did not look good.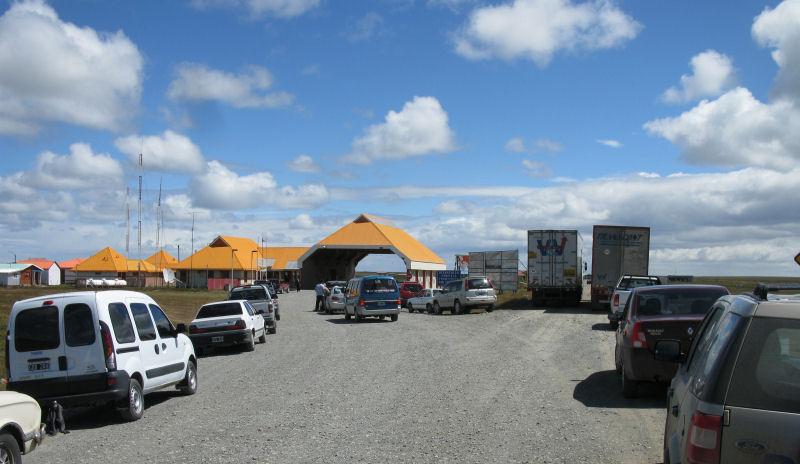 It wasn't. Maybe they had had a computer problem or some other glitch, but there were a hundred people in line, and the line wasn't moving. It took us an hour and a half to get through. One of the officials finally passed out forms to those in line, so they could start filling them out.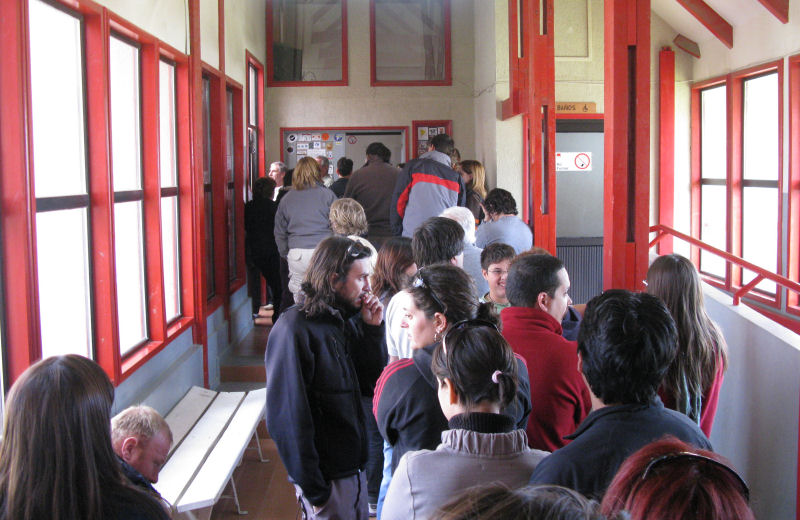 Meanwhile, I went out to the bikes while Don stayed in line, and I saw that his bike was peeing. What it turned out to be was his rear shock. No wonder he was having trouble finding a smooth line. His shock had puked. Nothing to be done about that our here.
After we finally got through the border, we took it easy on the dirt. In Ushuaia, Richard had told us that the inland road was better gravel than the road we had taken down, so we continued west, taking a new road. It was much better, and there was no grader tearing it up. Less traffic, too.
The wind was now mostly a headwind, so only a bit of leaning. It slowed us down a lot, though.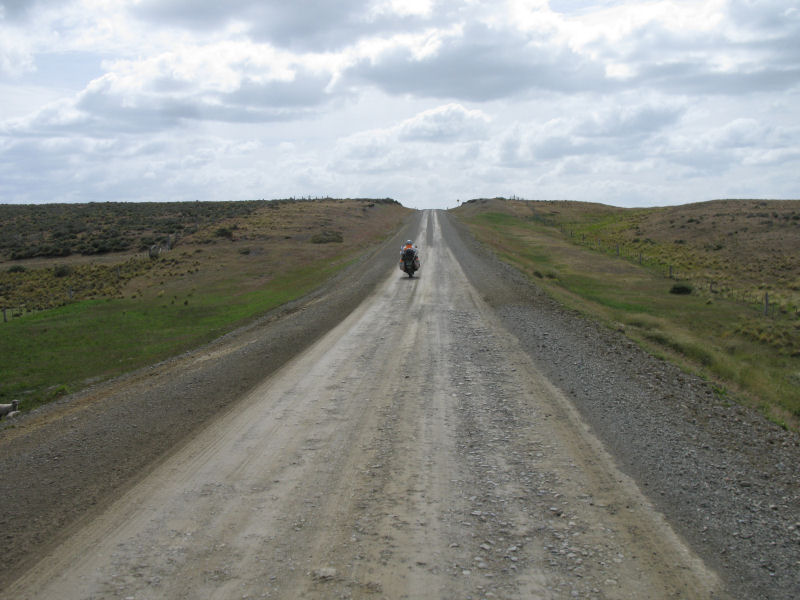 This was a good thing, since Don was basically riding on a pogo stick. With all the hydraulic fluid gone, his rear shock was just a spring. It didn't take much to get it bouncing, and that became worse when the road was washboard. He had a few dire moments in there when he was almost out of control. He had to slow way down.
It rained a bit, so that added to the day.
Turning north, it was good gravel road for most of the way, but as Richard had warned us, the last five miles or so were bad. Don had to creep. The wind was again mostly broadside.
We were both happy to see the pavement again, near Cerro Sombrero. Don was visibly relieved.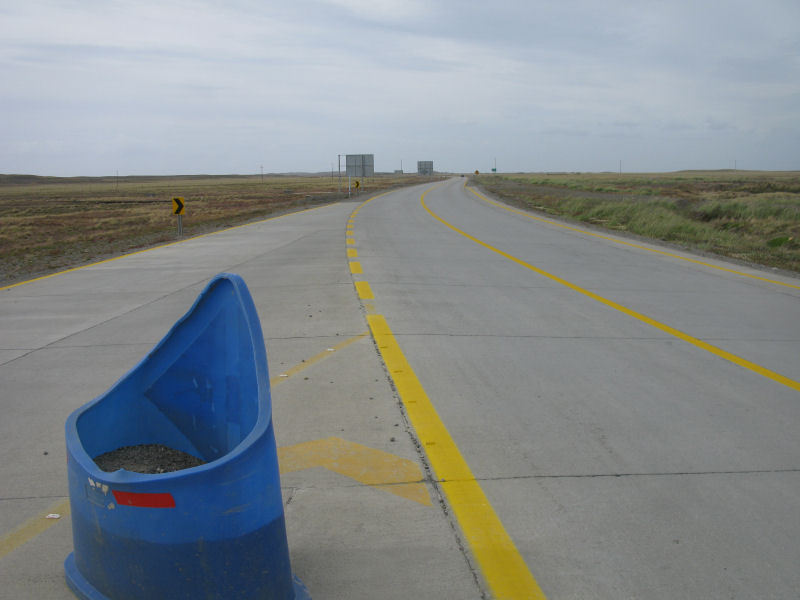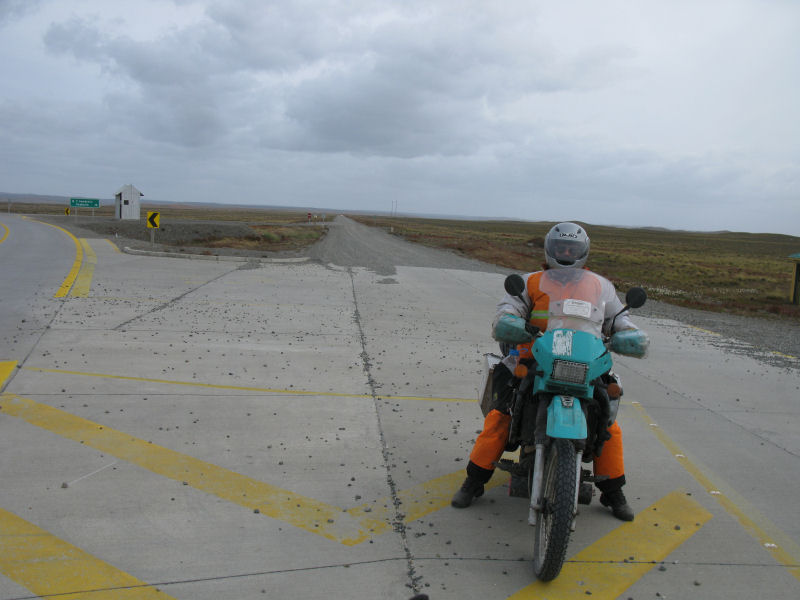 Even on the pavement, he had to be careful to not create any rhythms that would start him bouncing. We got to the ferry crossing under skies that threatened again. It did not bode well, but in the end we were lucky. We got to the ferry crossing and got in line with others who were leaving Tierra del Fuego.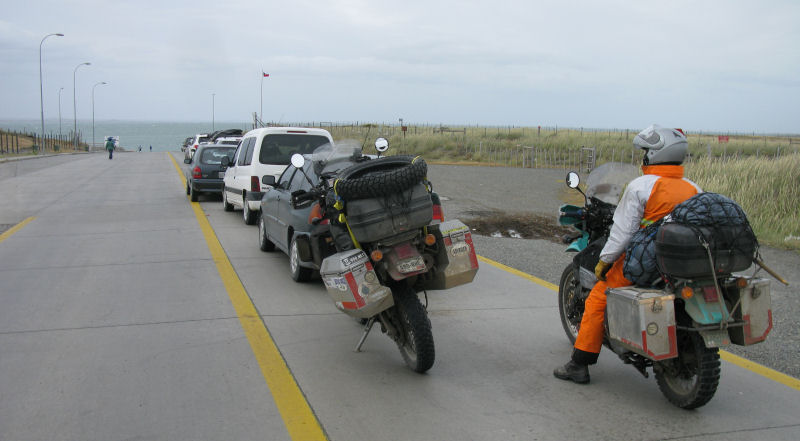 While we waited, we realized that it was going to be a while. We pulled out of line and rode up to the restaurant where we again met the Italian riders we had first seen in Bariloche. They were still heading south and were taking a break after getting off the ferry earlier. As the ferry approached, they mounted up and sped off to be ahead of the vehicles that would be disembarking.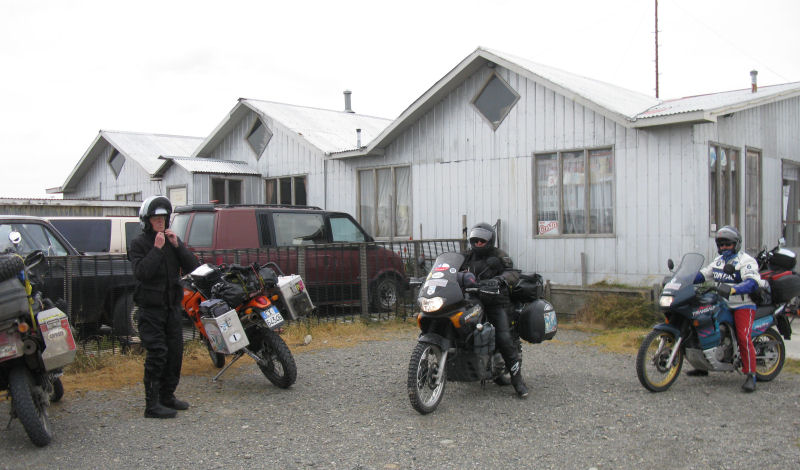 We also met a British rider, and he was headed our way. He was on a Honda NX4, a 400cc motorcycle that he had bought in Chile. His plan was to ride it around for four months and sell it back to the dealer for a decent price. It would work out to a minimal cost for him. He had only one bag on the bike. It held one change of clothes, one spare tire tube, a hand-powered air pump, and nothing else. I asked him if he had the tools to do minor work on the bike and he said no. He had no spare parts, no rain gear, no shoes to walk around in, no first aid kit, no nothing. In a way, I envied him, but he would be unable to deal with any problems that arose. That's just not my nature.
When they started loading cars from the waiting line, we snuck up to be obvious, and the guy directing the loading waved us to come forward.
Photos of the ferry across the Strait of Magellan: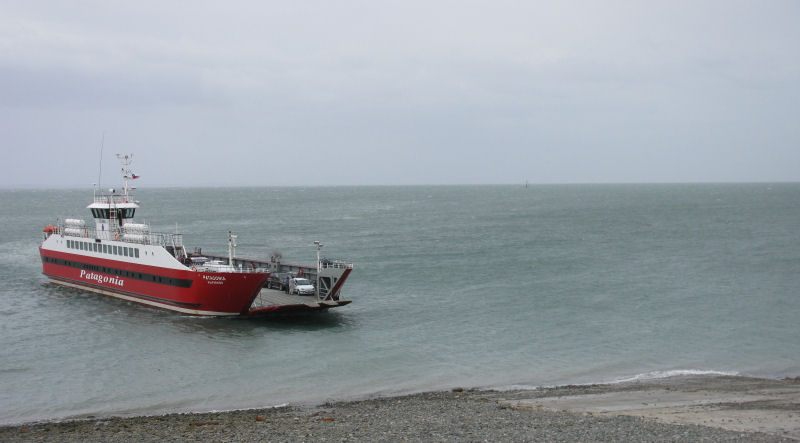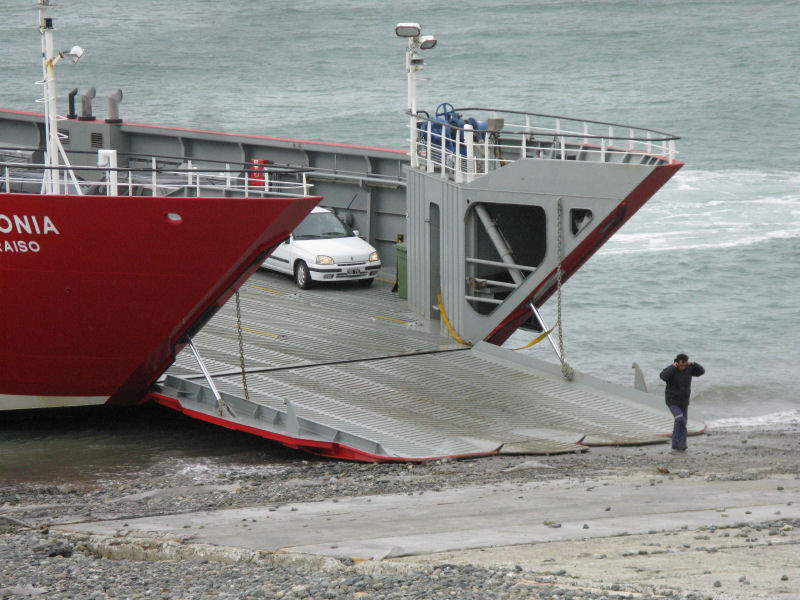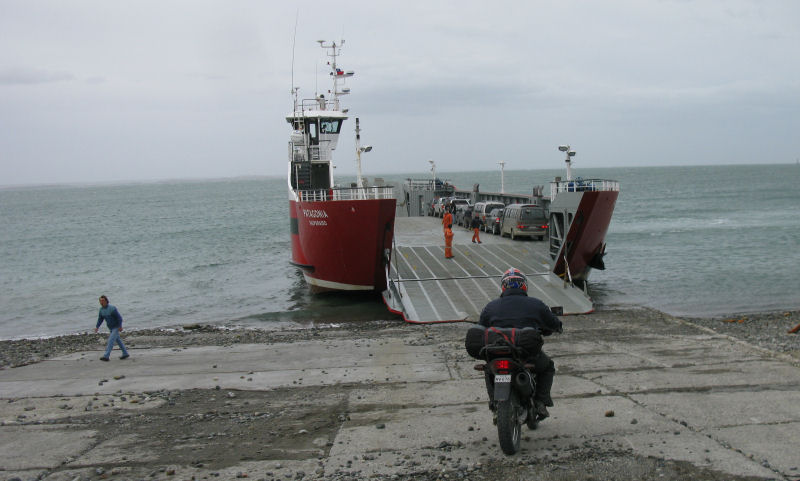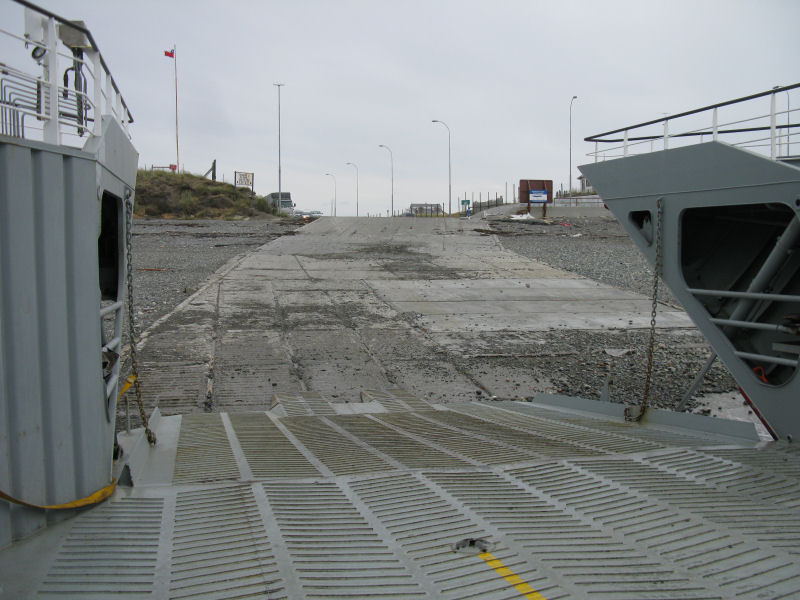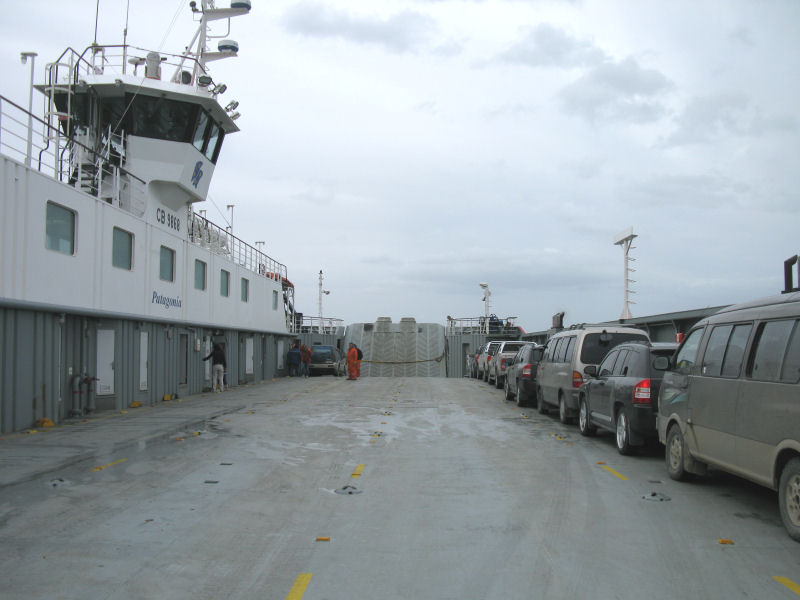 After we were aboard, they filled the ferry with other cars and trucks until it was full. The crossing back to the mainland was rougher than the first time, and we had to hold the bikes the whole way.
Once off the ferry, we rode with the Brit briefly, but he was riding a lot slower than we were, so we quickly waved Bye! and sped off.
The nice pavement got us to the border in no time, and getting back out of Chile was a breeze. Getting back into Argentina was also easy, and the Migracion Oficial wrote "90 dias" under our visa stamps. I suppose they know that riders such as ourselves were now going to be back in Argentina for a while.
We got to Rio Gallegos and went back to the Hotel Paris where we were given the same room. The first time we were here, we walked around a lot looking for a decent restaurant, but this time we had experience. We took the laptop and went directly to the place we had found before and had a nice dinner there. I had the lamb pizza. Not bad. Their Wi-Fi allowed us to spend some time online, and it was 00:30 by the time we got back to the hotel.
We were back on the mainland and done with Tierra Del Fuego.
<< Link to PREVIOUS report: Argentina Again Down - Ushuaia >>
<< Link to NEXT report: Argentina Up Again >>
[ ERRANT-RONIN HOME ] [ Prudhoe Bay to Ushuaia Home Page ] [ Ride Reports Home Page ]