Part 20. Brazil Up
=============
Sunday, 8 February, 2009
---------------------------
So, this was our view as we got off the bridge in Brazil. Another border town.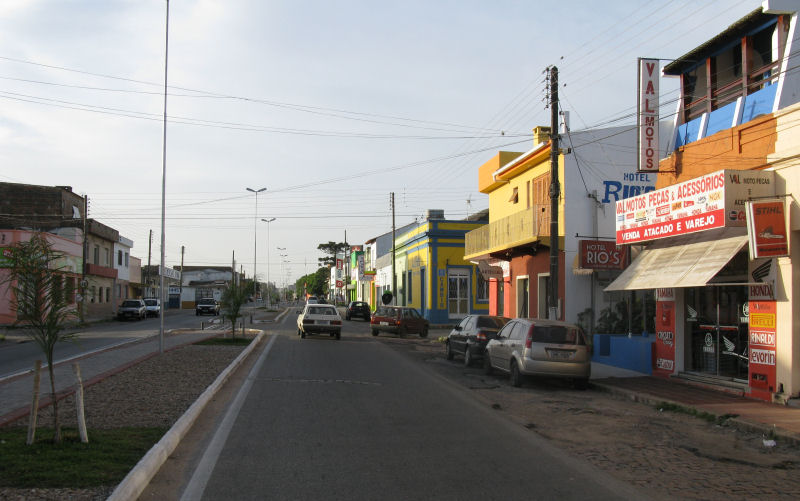 We stopped at the end of the bridge and I walked back across it to ask the under-worked Customs guys what we needed to do to get stamped into Brazil. They stopped eating long enough to point me down the road a ways and then to something on the right. They went back to eating, and I walked back across the bridge to tell Don that we were going down the road a ways and then to something on the right. Okay, easy enough.
We rode about a mile, and just as we were leaving town, there was a large white and blue official building with closed gates all around it. We stopped, and I asked two policemen leaning on the fence where we needed to go with our passports. They answered in perfect Portuguese (probably), but it was all lost on me. Finally, they pointed around to the back of the building, so we walked back there. We found a small, separate building within the fenced compound. The only approach was obvious, so we walked up and rang the doorbell.
I heard the woman's voice, but it took me a few seconds to realize where she was. Behind Don in the next photo, you can see a ventilation window where she was calling to me. After a while, we made our need clear and she took our passports, bike titles, and registrations through the window and disappeared for a while. When she came back, two truck drivers had come to the window with what looked like traffic tickets. I guess this is where you pay your traffic fines. When she was ready with our documents, she handed them out to Don and we were done. Welcome to Brazil.
Don found that his cell phone didn't seem to work in Brazil. We'd look into that later.
We rode on as it got dark, turning off onto a rough cobblestone road before getting to the city of Pelotas. After a mile, we came to a motel, and were ready for anything, so we turned in. In Brazil, a hotel is a hotel, but a motel is a sex motel. Motels elsewhere might be regular motels, but if it's called Eros, or The Stallion, or Samurai Nights, or Sinless, or something similar, then don't automatically take the kids there, m'kay?
Actually, the ones we had stayed at were fine, even if a bit creepy at times. Some of the finest, cheapest hotels we stayed at were used to customers who rented by the hour, but we never had a problem at any. Don't shy away from them if you need a place to stop for the night. I sometimes wanted something more 'authentic' for the region, and sometimes just didn't feel like staying at some of the ones we saw, but Don was happy to stay anywhere that was inexpensive and was right there right now.
Like elsewhere in Latin America, there was nothing nasty about these motels, they were just places for couples to go when they had no privacy at home. This one was a slight exception in that the office was also a full sex shop. The stuff on display at the desk would make old ladies keel over dead in Birmingham.
The guy rubbing his eyes in this next photo was the attendant who ran the yard and parking area (the manager is in the office). The other guy seemed to be his buddy who putted up on that small motorcycle just after we got there.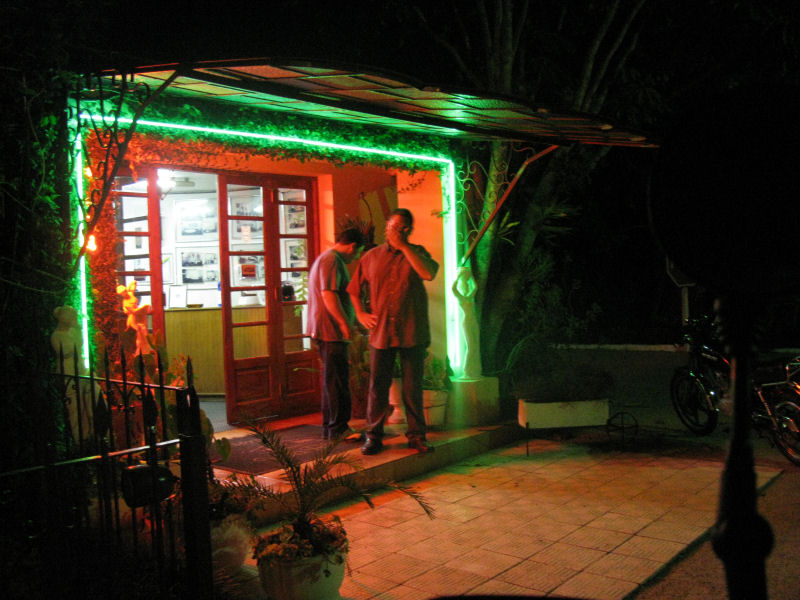 They asked to make clear that we wanted a double room to actually sleep in overnight, not that I think they cared. The room cost 96 Brazilian Real, which should be about US$40-45. Not cheap, but it was all we had seen. They took my credit card and we rode down to our room and into the parking space, pulling the garage door down behind us.
The room was large, two double beds, a separate seating area with chairs, a refrigerator, and a moveable room divider. On the fridge were a number of items that might be handy for an actual date. A bottle of wine, wine glasses, corkscrew, bottle opener, scented body oil, napkins, a plastic bag with lacy panties and a push-up bra. You know, the stuff you find in any motel.
Each bed had plastic under the sheets (duh), and more sheets and towels in heat-sealed plastic bags. Shower slippers over there on the floor, too. Very civilized.
The bathroom was large, with another 220-volt heated shower head. I took a shower with a cricket that didn't seem to like the water, but he wouldn't go away.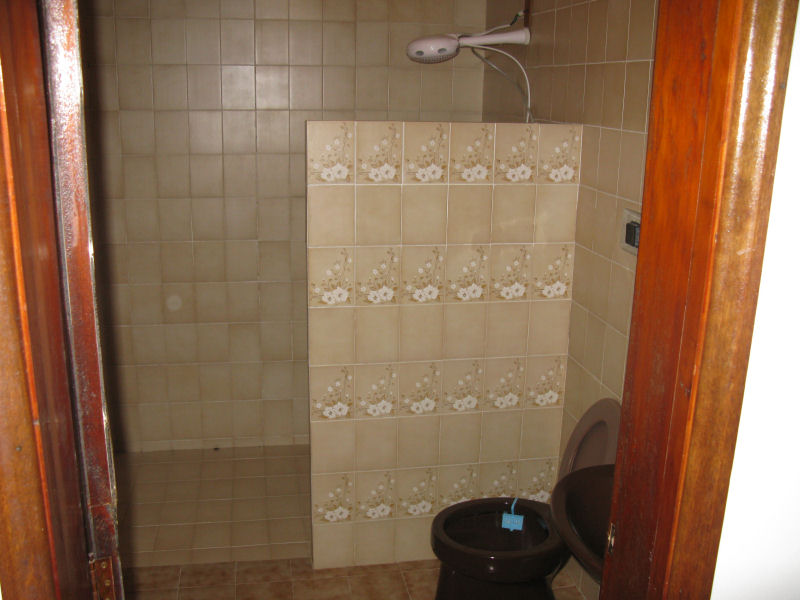 The refrigerator also had a variety of beer and soft drinks in it. In a typical hotel, you know that you get charged if you drink or eat any of the goodies they have in the room, but here, I wasn't sure if they were included or not. They room wasn't cheap, so maybe the stuff was ours. I considered taking the wine, but in the end, we left everything there.
The air conditioner was good at making noise, but if it cooled the air, it did so very slightly. We again used our mosquito nets, but my bed was too large to wrap all around with my net, which I hung from the light fixture overhead. The biters got to me again.
Monday, 9 February, 2009
----------------------------
We didn't get up until about 10:00, and the morning was already warm and humid.
This was our motel. We had the last room down there on the right.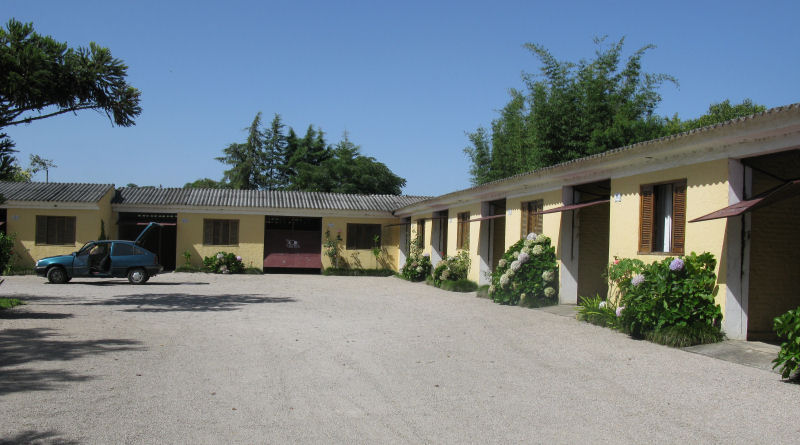 We exited back onto the rough cobblestones that were giving Don some fits on his pogo stick.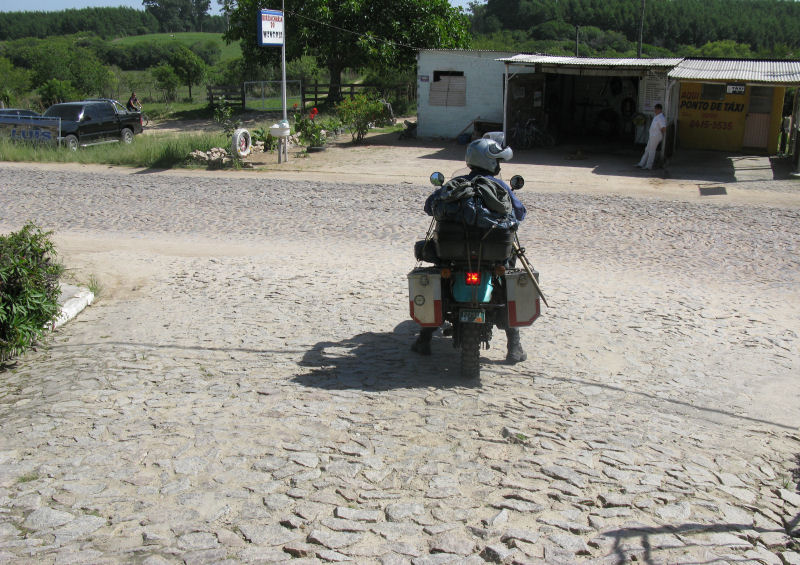 Back on the highway, we soon came to a blockage that looked like construction. The GPS wasn't much help in this area. Traffic looked like it was detouring to the north, so we went that way. After several miles, we weren't sure that was the best way to go, so we turned around and went back to the guy manning the construction barricade. We found that the road was either completely out ahead or a bridge was collapsed (depends on how you interpret the hand gestures). We tried to ask him about getting to Puerto Alegre, but language was again a problem. He understood our need, but even after a lot of pointing and repeating, we didn't understand where we should go. He called another guy over, so that made four of us who weren't communicating. Finally, they convinced us to go back on the cobblestone road to another road to Pelotas, and that looked on my GPS to be a way around the road blockage.
After a mile of cobblestone, we detoured off on a frontage road that was dirt, and it was easier than the stones. It eventually came out onto pavement, and then to a better road that got us back on the highway we wanted. We stopped for gas and ate at a buffet restaurant next door.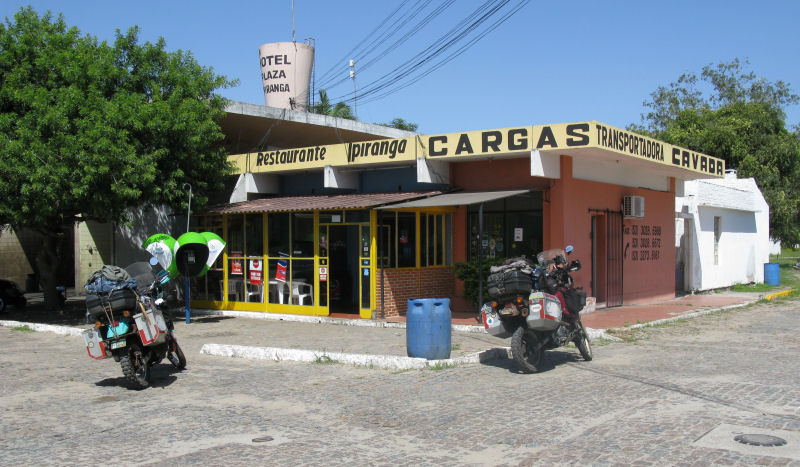 Buffet meals are a big thing in Brazil, but only in the early afternoon. After about 15:00, most seem to close up.
I paid for gas and the meal (very cheap for a lot of very good food) at the gas station, and we were lucky that they took credit cards (as the motel had done). We didn't have any local money yet. Should have tried to get some at the border.
For a long while, it looked like this. Nice, but it gets boring.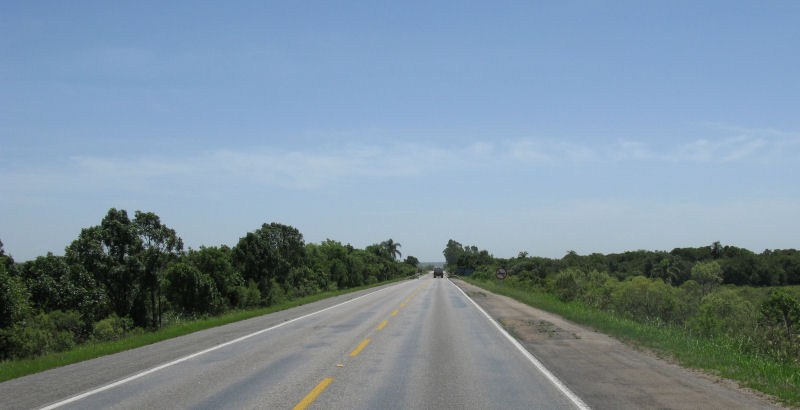 This was a toll station with no bypass lane for motos. When you see this sign, you have to go to one of the booths and they raise the gate to let you through. One at a time, as they raise and lower the bar, so that the sensor in the road gets each of you.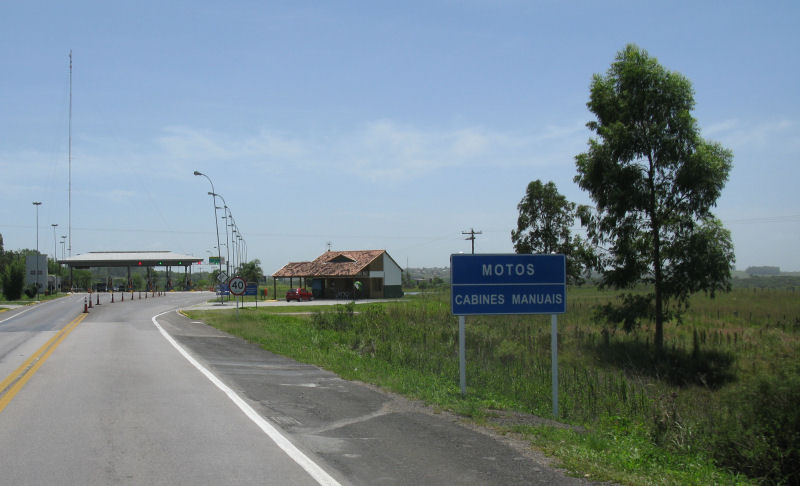 As we neared Puerto Alegre, we crossed several bridges. The city was very large.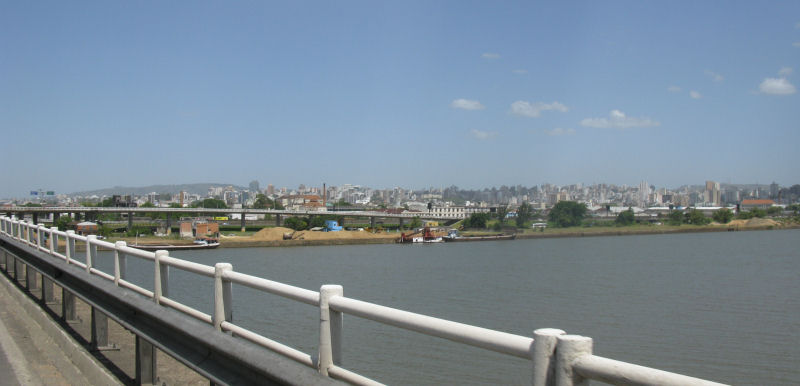 The city was also very business-like. No open spaces, no greenery, no plazas that we saw, no parks that we noticed. I have to believe there were some of these things, but we missed them. And we were there a while.
After I mistook a bus ticket station for a bank (hey, it had a big ATM on it), we finally found a bank and got local currency from the ATMs there.
Don looked for a Kawasaki shop for his shock, and we rode around but didn't see one. We saw Honda, Yamaha, Suzuki, Moto Guzzi, Harley Davidson, but no Kawasaki and no BMW.
We stopped at a Suzuki shop and asked about Kawasaki, but they told Don that Kawasaki wasn't very common in Brazil. They gave us directions to the only small shop they knew of. As we left, Don and I got separated in heavy traffic and I spent the next couple hours trying to find him or the shop that they had given directions to. Finally, I returned to the Suzuki shop and waited a half hour for Don to return there, which he eventually did.
We headed back to the small Kawasaki shop again, which was several miles away. Like a lot of big cities down here, you simply can't turn left on major streets. You can drive down here for miles and not be able to turn left. There were only a few places where you could loop back a block or so and cross at one of the few traffic signals. What a pain. Buses were the major public transport, and maybe a thousand people stood at the bus stands in the middle of the street.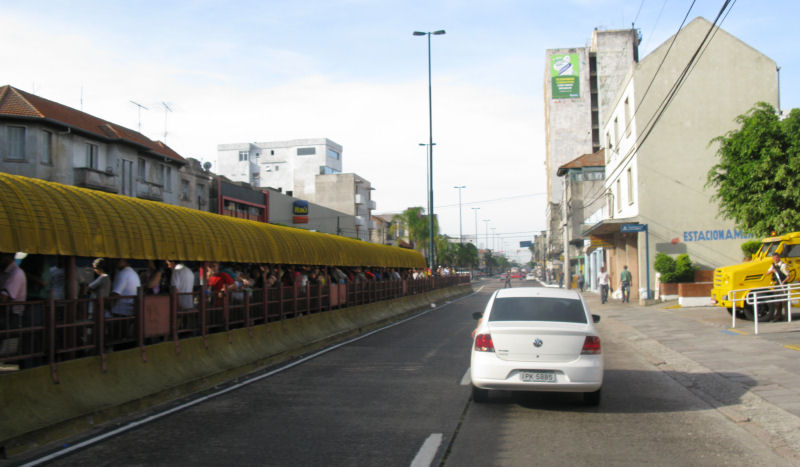 It was often impossible to distinguish between the police and the military. Near the airport, there is a large complex with a sign that says Brigada Militar.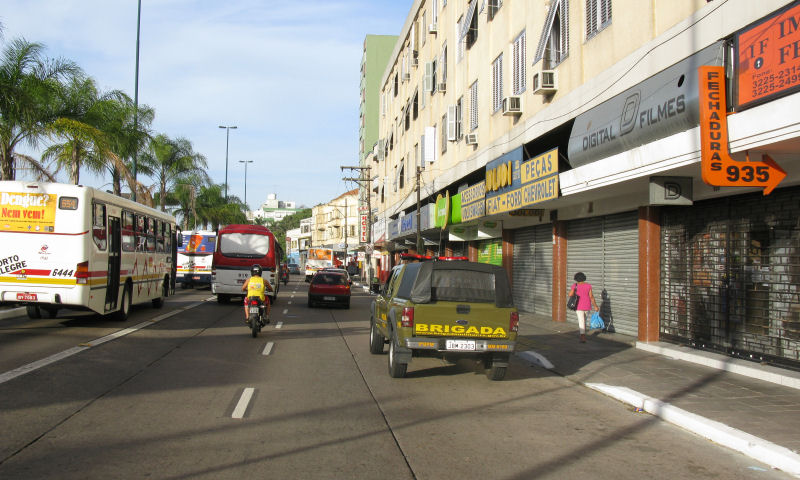 It was then too late, and the bike shop was closed. It wasn't even a Kawasaki shop, just a bike shop that had a Kawasaki logo on in, along with other bike logos.
We decided to stay here the night and get up early to get Don's shock looked at. After driving around the not-fun city, we found ourselves back out near the airport. I rode to the departures area and went inside to ask at the tourist counter for a hotel. The gal called one of the hotels near the airport, but they were full and told her that the others were full as well. She sent me to another tourist information desk that had more resources. The young guy at the second desk also spoke some English, and he called a few hotels and finally found one that was decent, cheap, and supposedly had parking for the bikes. It was all the way back downtown, of course.
Bummer.
We tooled back downtown, and as we got there and started looking for the hotel, a fat guy on a tiny scooter and wearing a starched white shirt and an orange vest rode up next to me and started shouting at me. I thought it was another traffic enforcement dude, so I shouted something meaningless back to him (so that he knew I didn't speak Portuguese) and kept riding. He kept up with me and seemed to be asking me something. I finally pulled over and found that he had a plastic nametag that identified him as working for the city's tourist office. Maybe, maybe not. We've seen that gig before.
I showed the guy the name of the hotel I was looking for, and I think he said it was a good hotel but it had no parking for the bikes. He suggested another hotel nearby, and he led us there. That one was too expensive, and when I started to leave, our guide insisted that he would take me to a cheaper hotel that was also good. He did that, and the next hotel was okay; the Hotel Metropole. We parked the bikes in an alcove right in front of the lobby's glass doors, where the clerk said he would watch the bikes all night. He also showed us that the gates outside the office would be closed soon, so the bikes would be secure.
As we started to unpack the bikes, our guide sat on his bike and stared at us. We finally realized he was waiting for his tip. Maybe he worked for the city, maybe he didn't, but I tipped him. He had found us a nice hotel that was cheaper than the one the guy at the airport had sent us to.
The air conditioner worked, but the toilet lid and seat couldn't be open without being in conflict with the sink. The lid and seat were plastic, so you could bend them and get them past the sink so they would stay up. Again, who designs and installs stuff like this? It's crazy.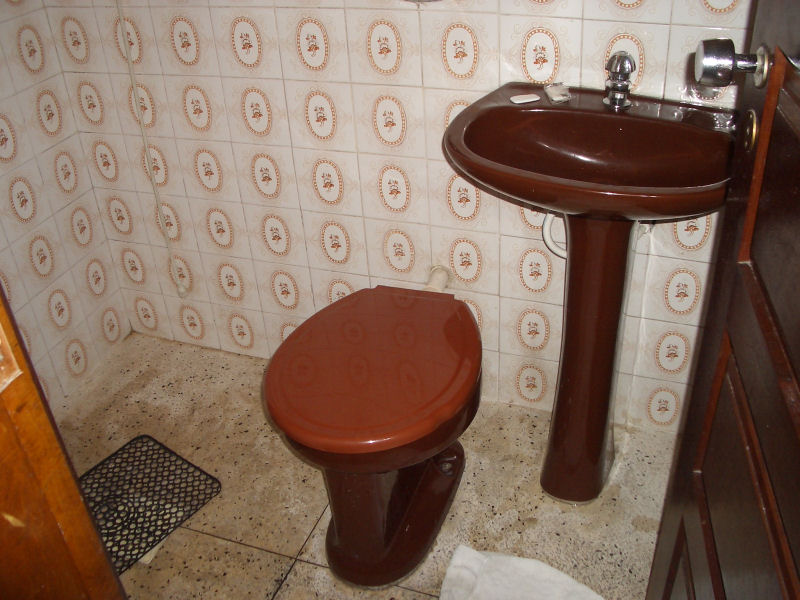 Tuesday, 10 February, 2009
-----------------------------
We slept past the 07:00 alarm and finally got up at 07:45. Breakfast in the hotel's restaurant was pretty good. Ham and cheese, of course. But they also had different kinds of bread, fruits, juices, coffee, milk.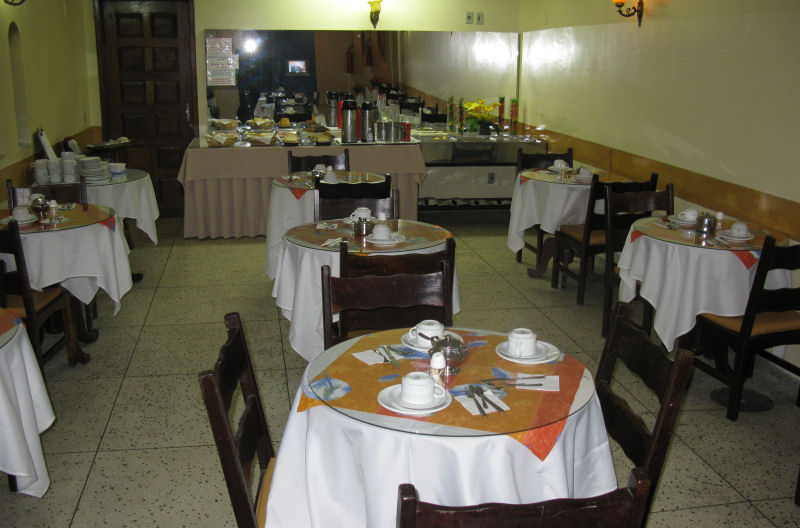 After we were on the road to the bike shop, some guys in a pickup truck rode up next to me and the passenger hung out the window waving his arms and trying to give me something. I ride closer to him and took from him what turned out to be a decal for a local bike club. They were laughing and giving me a thumb's up sign. Obviously, they have been reading my ride report and I am their hero. Of course, Don told me later than they had given him one of their decals yesterday, so he must be their hero, too.
Nah.
Traffic was stop-and-go in the morning rush hour. Not that it was ever any better than this. The upper road in the next photo is an exit to another highway, I think. The lower road goes through town. There were a lot of obvious, barely-dressed prostitutes in that area, and a surprising number of them were pretty good looking.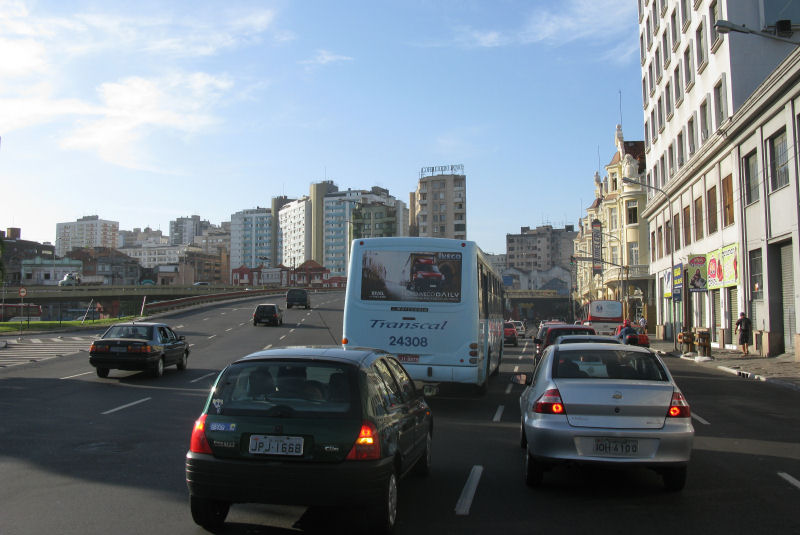 At the bike shop, they understood Don's problem with his blown shock, but they couldn't help him.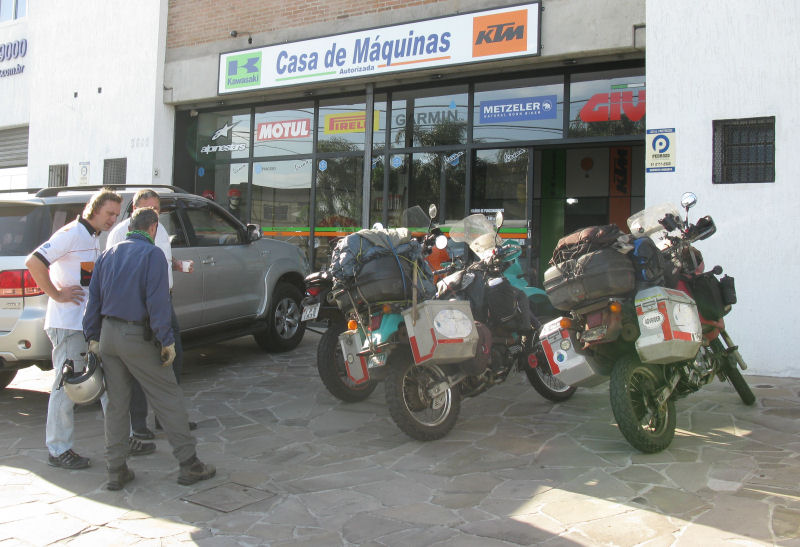 Fortunately, a guy there (maybe a customer) spoke very good English, so he translated their suggestion to us. They had a customer's KTM 990 that needed to be delivered to a suspension specialist about 60 miles north of here, and we could follow the bike to that shop if we wanted.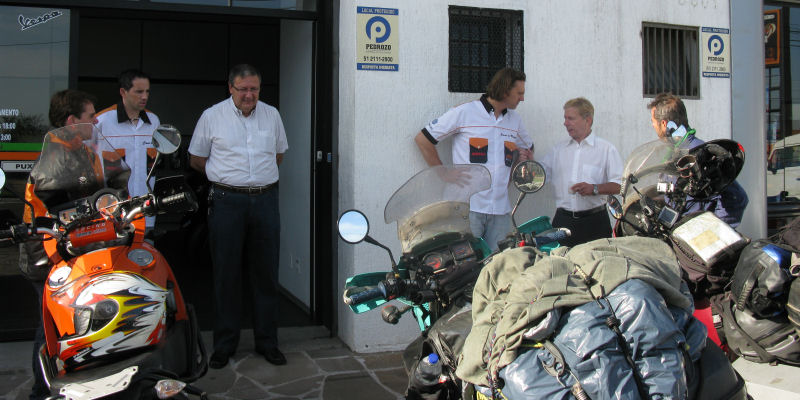 Hmmm... Let's see now. What do do? Don needed a suspension specialist, and we needed to keep riding north. Hmmm...
So that was an easy decision. We followed the shop's rider as he led us carefully out of the city and onto the open road. He knew that Don's shock would slow him down, so he took it easy. A couple times he stopped and waited for us to catch up.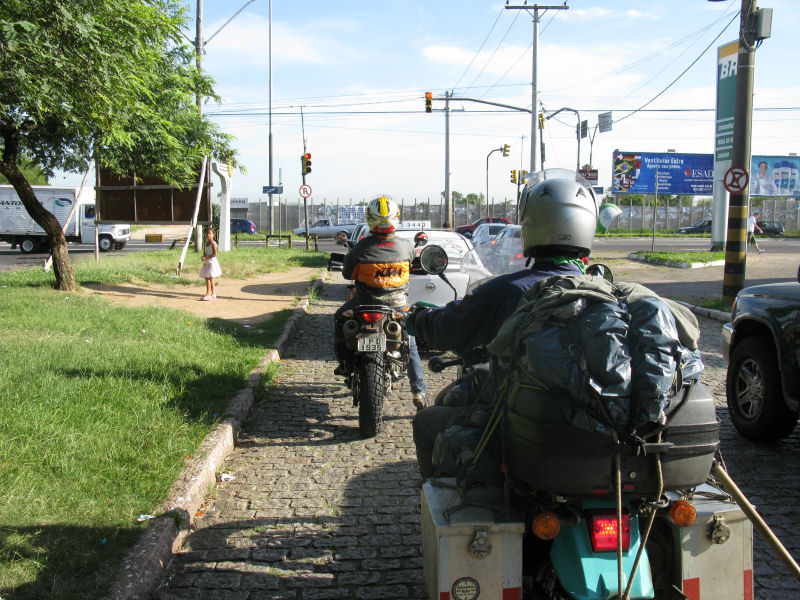 The ride at first was only so-so, but when we were completely out of the metro area, it was wonderful. Great mountain road, twisty and scenic. We went through several very German towns. I saw a Wursthaus, a Biergarten, and a Weinstube. When I passed a Gasthaus named Franci & Fritz, I just smiled. Lots of buildings like the ones below.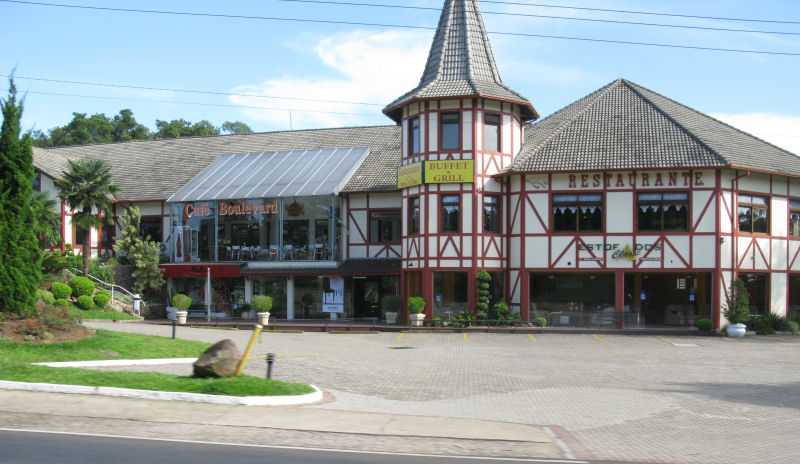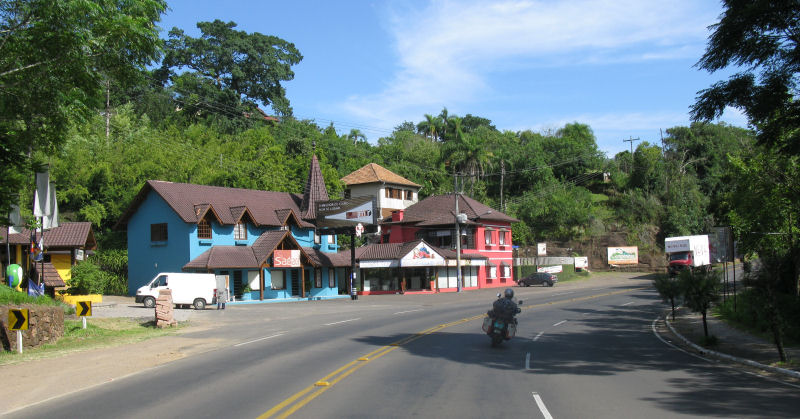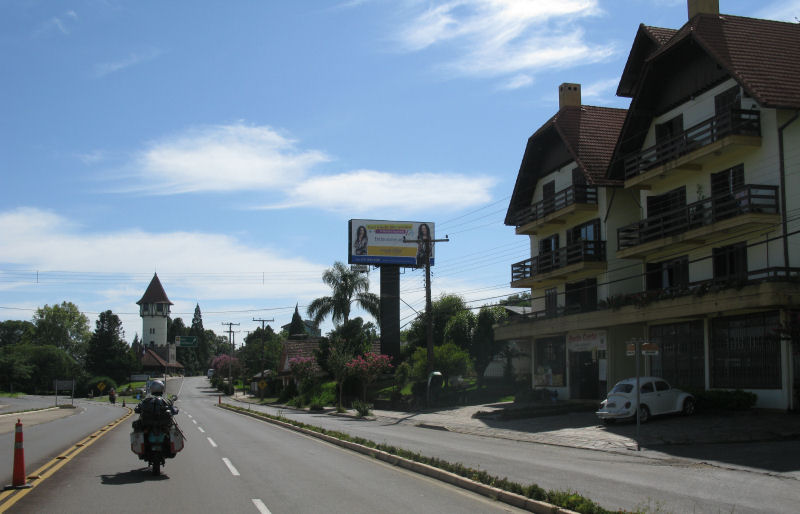 Even the speed bumps were gently sloped and didn't send a shock wave up your spine.
The KTM rider (I never learned his name), finally led us to the city of Caxias du Sol, and did some negotiating around the local roads before pulling into the M3 shop.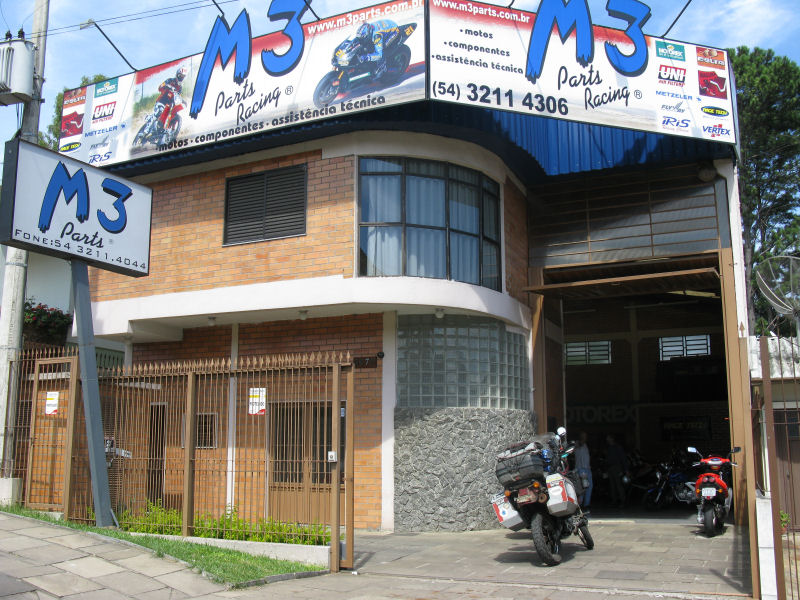 As soon as we parked in the driveway and walked in, a big guy walked up to us and introduced himself as Jimmy. We belonged to Jimmy from that moment on.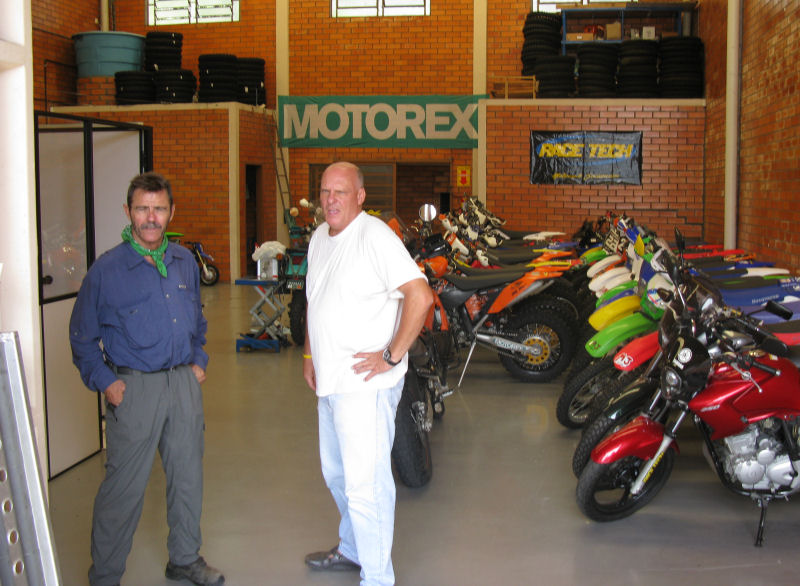 As it turned out, Jimmy had been called by the guys at the bike shop back in Puerto Alegre, and they had asked him to meet us at M3 and help us out. At first, I thought that Jimmy owned or worked at the suspension shop, but he later told us that he just knew the guys there. Jimmy's English was good because he now lives in the States (in Ohio) and only comes back to Brazil for a few months each year.
After Don and I removed his shock, the shop owner, Marcello had it apart immediately and saw that the part that had been replaced last time was an inferior part. He showed us another similar part and then another that was obviously more substantial. He knew his business. He said that he would get the parts he needed in a few hours. That gave Jimmy time to entertain us.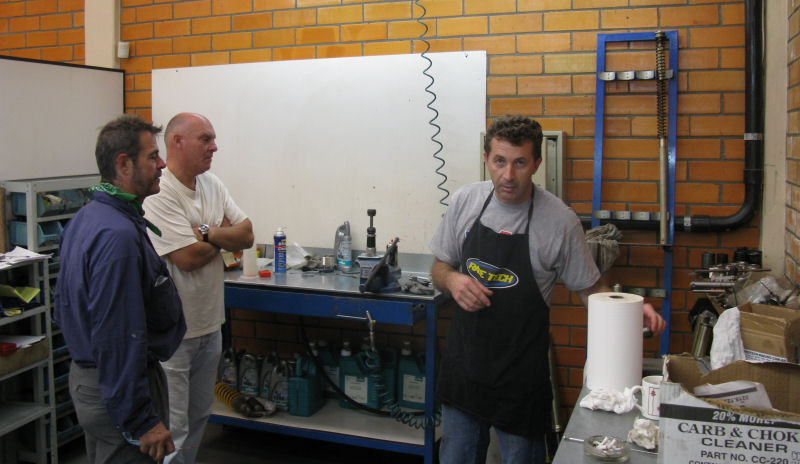 Jimmy got permission from the KTM owner to use that bike, and I unloaded my KLR for Don to also ride on. Jimmy blasted off, and I followed with Don perched precariously on the back. Because I had soft bags in the passenger pegs, he had nowhere to put his feet. That must have been no fun. Look how big my KLR is, compared to that wimpy 990. Okay, it's a trick of perspective, I know.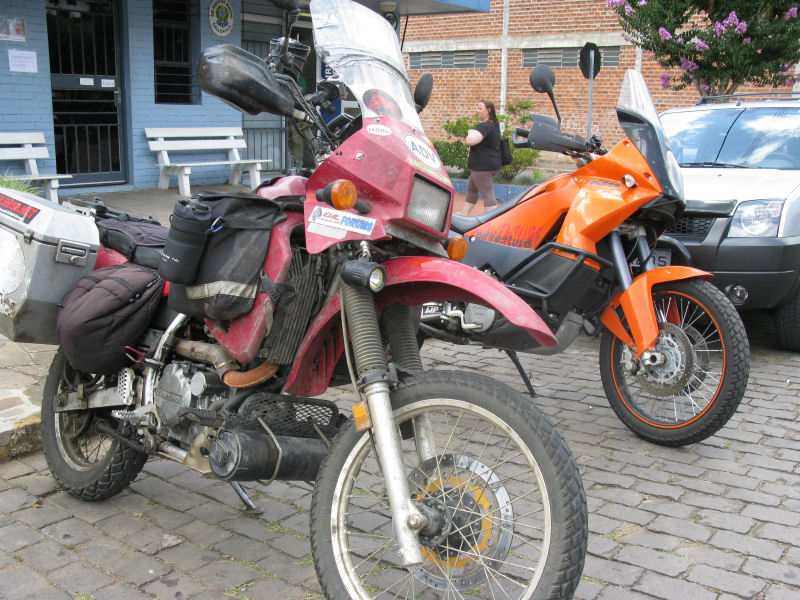 Jimmy took us miles out of the city, then turned into a neighborhood that he knew well. It was where he grew up. He bought us lunch in a small buffet restaurant and introduced us to the owner.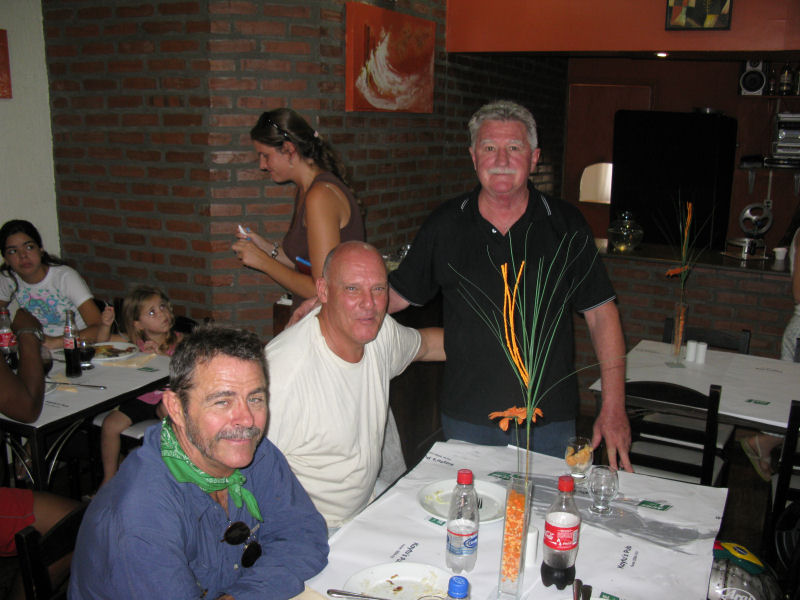 Then he took us to the workshop next door, where a mechanic he knows is restoring a '70's model Triumph TR6. Jimmy had gotten the TR6 from someone who had left it in storage for 23 years. The frame was a rusted mess, but the motor started up after they changed the oil and put some gas in it.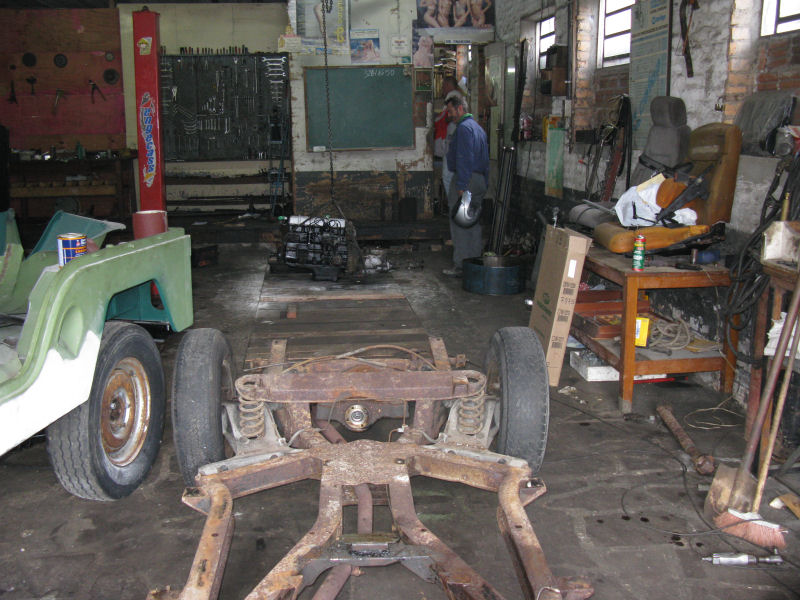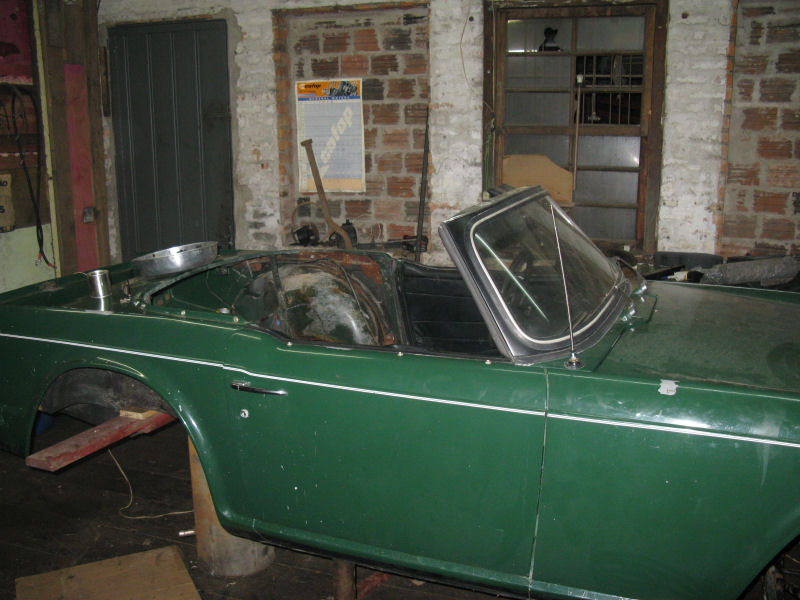 Jimmy then walked us to the next street and showed us the house that his mother used to live in. She had died two years earlier, but Jimmy kept the house so that he had the garage to keep his toys and collections in. Another woman rented the rest of the house.
Jimmy had lots of autographed posters of racers, lots of jerseys, lots of flags, photos, other memorabilia. He had an old Sinclair gas pump that he had somehow gotten here from Indiana.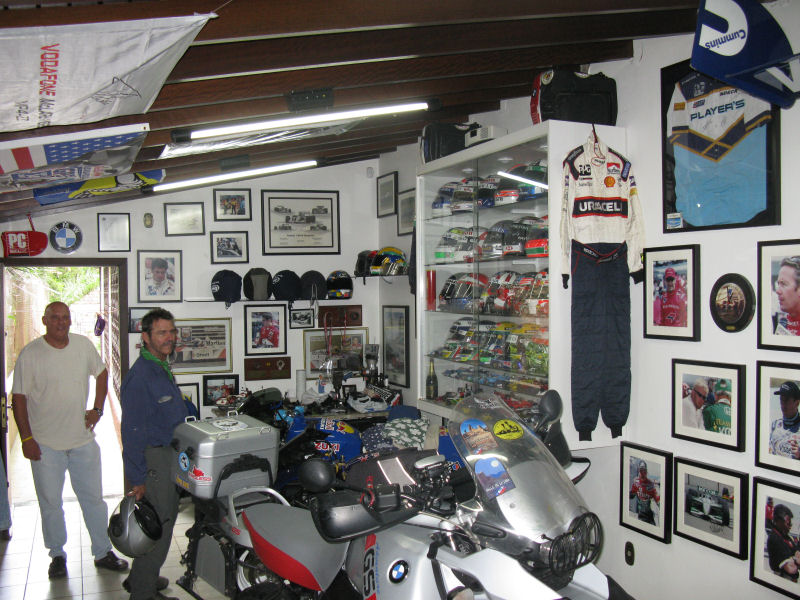 He had a sport bike, an old race bike, a couple of scooters, but his favorite was the big BMW 1150GS.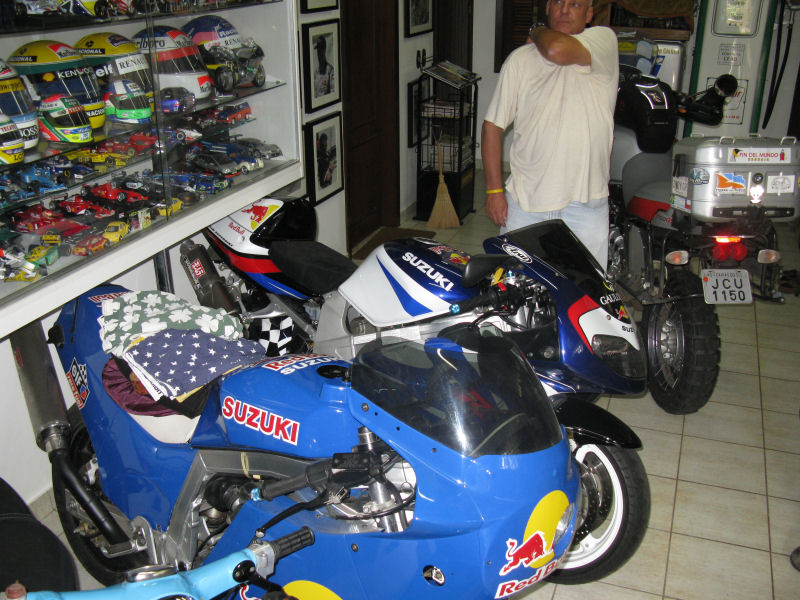 Jimmy worked in Ohio doing something with swimming pools, but we didn't ask him too many questions about his personal business. He was obviously successful at what he did.
While we rode back to the shop, I took a photo of a large sculpture in the distance. At first it look Egyptian, but I later saw that it was Christ. It was maybe 200 feet tall.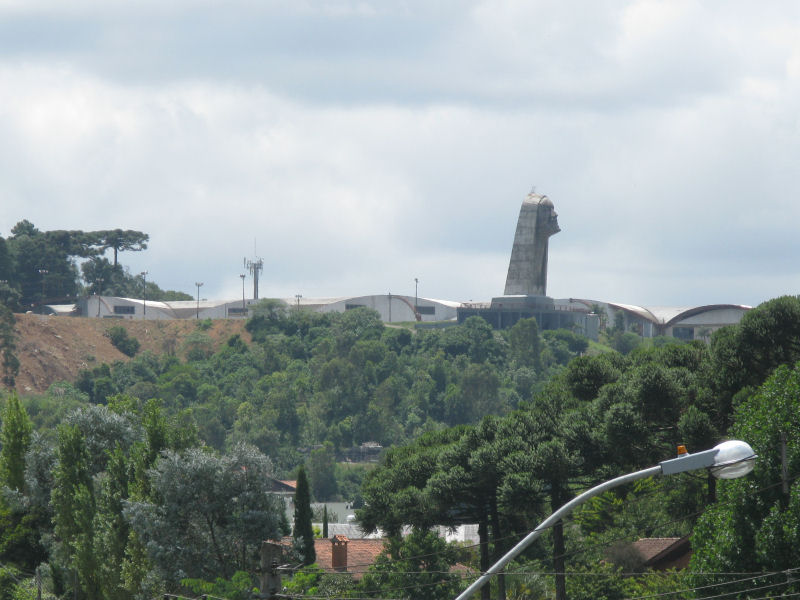 Marcello had the shock back together and recharged. He had replaced one seal and the Schrader valve. That's it. Parts and labor, $70. Plus, they gave us two T-shirts and some decals from the shop. After Don and I got the shock reinstalled, one of the shop employees drove a truck to lead us through town and to highway 116. Great guys.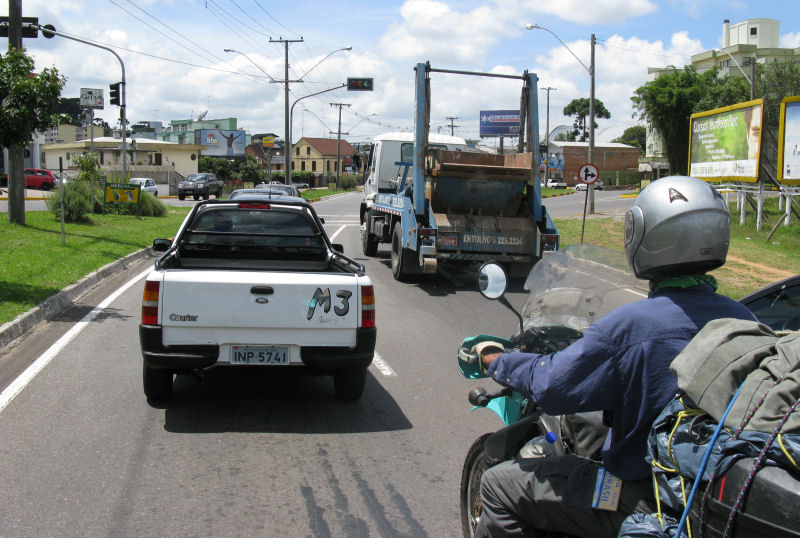 Highway 116 was okay, and nice at times. Lightly rolling countryside. We saw a lot of these conifer trees.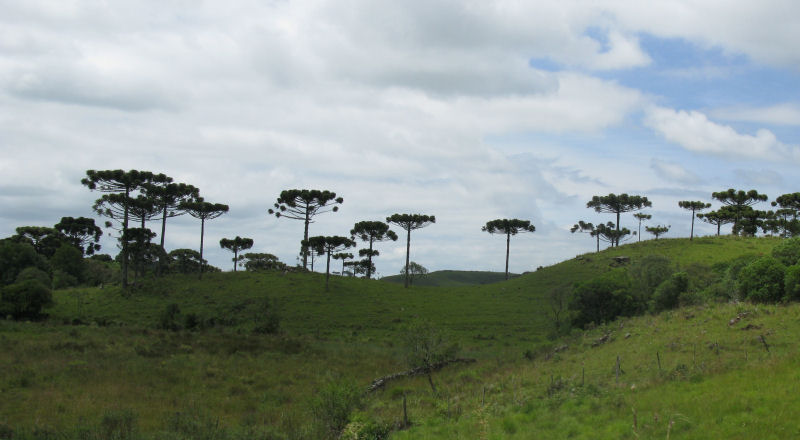 After a long stretch, we were low on gas. I rode right past a big gas station, but Don caught up to me and took me back. What we found there was that construction next door had taken their electricity out for the day. No gas.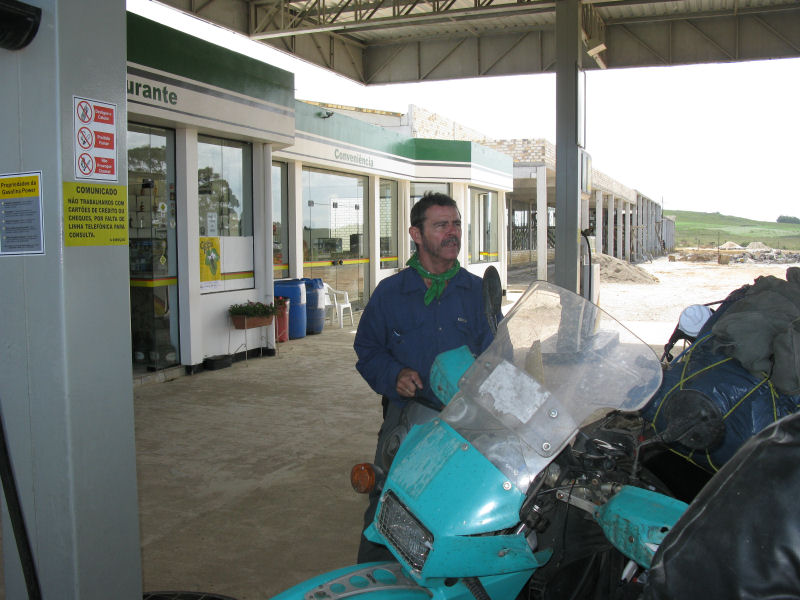 We had gone about 200 miles at that point, but neither of us were on reserve, so after the gas station attendant told us that the next gas was only 25 kilometers ahead, we knew we were okay. We rode on.
It was another very warm, humid day, and although I was lightly dressed, I was still sweating. The traffic was sparse, so that was nice.
With little warning, we made a turn and started descending. There had been no indication that we were about to drop down into a large valley.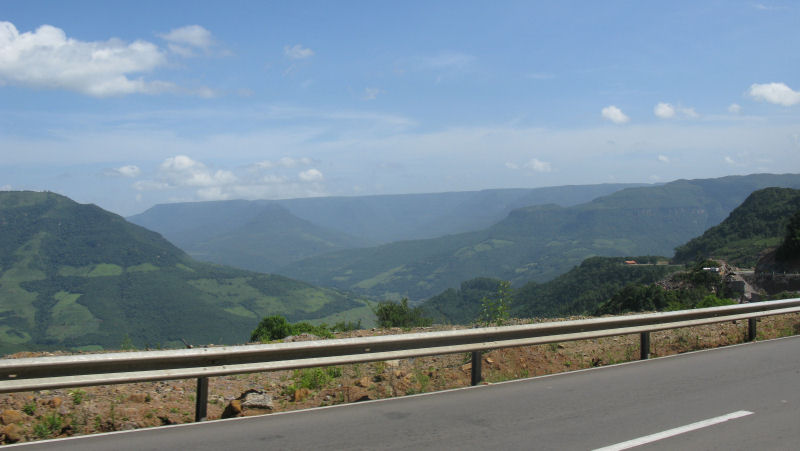 The descent was good riding. Lots of turns and only a little bit of construction. In the valley floor, we got to the next gas station. A 12-year old boy started pumping my gas, but something distracted him and he went away. I finished pumping my gas and another guy came to fill Don's tank. That's something else we've seen in all of Latin America; you don't pump your own gas. The few times I did so during my stay in Tocumen, Panama, they always shook their head at me and gave me a tisk-tisk sound of disapproval.
It got windy after we dropped off the higher land. The valley eventually opened up and you could see that wind was a regular thing. Some of the palm trees were shaped by the wind.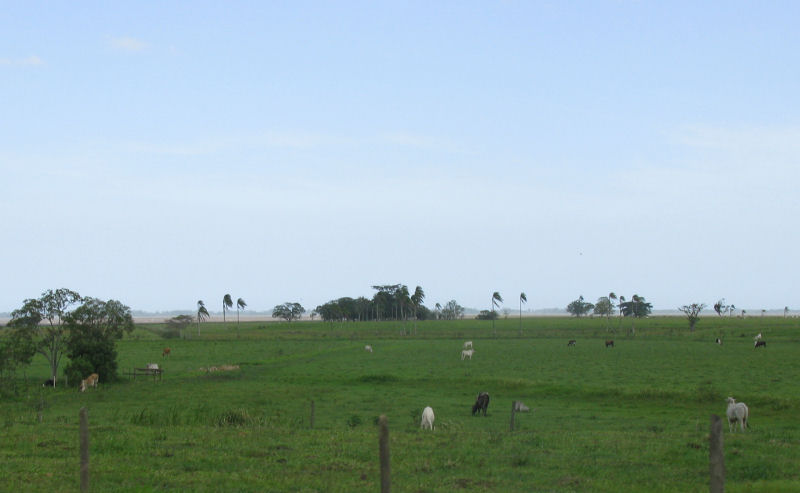 Then we had 60 miles of non-stop road construction. It was very tiring. On pavement, off pavement, gravel, detour on side roads, back on pavement, more gravel, more detours, more gravel. What should have been two or three lanes of highway was one lane for all those miles.
Eventually, we made it to the coast and turned north on BR-101. Then there were more construction zones there, too.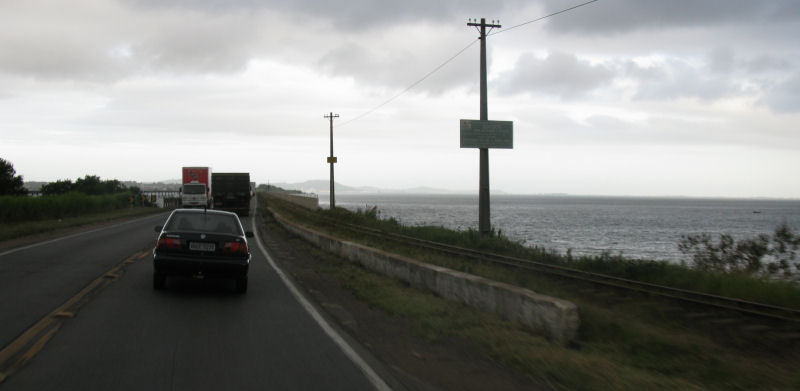 Don told me later that he had cars passing him on both sides at crazy speeds, but I never noticed that. But then, I tend to ride faster than Don does.
We turned off the highway at Imbituba, and started asking around for a hotel. We got several people to point in several different directions, and we finally found a hotel that suited us.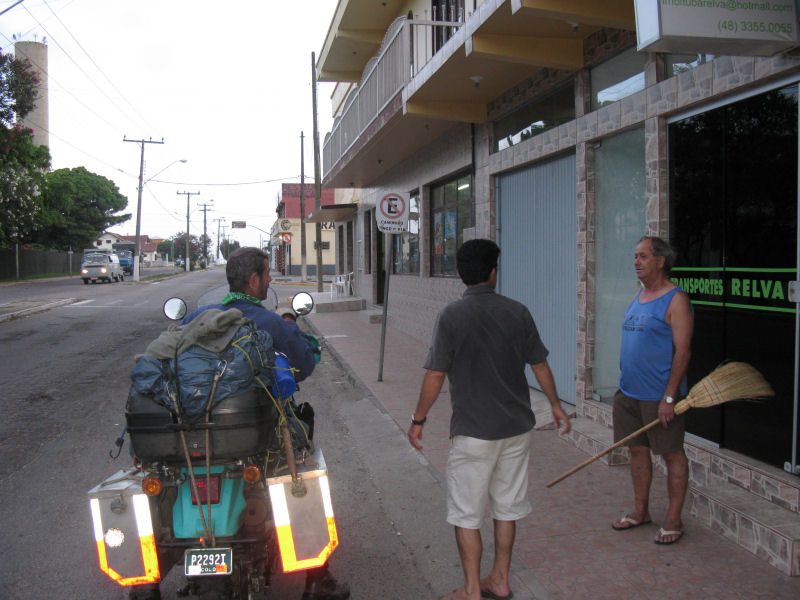 The Sozi Hotel was pretty good, and a decent price. Some people must live there full time, and we were given a small apartment that had a small kitchen, living and dining rooms, bedroom with a bathroom. Around the corner was their enclosed parking lot, so we unloaded and then put the bikes away there. The hotel attendant moved his pickup truck from a covered parking space and had us park our bikes there in the better location.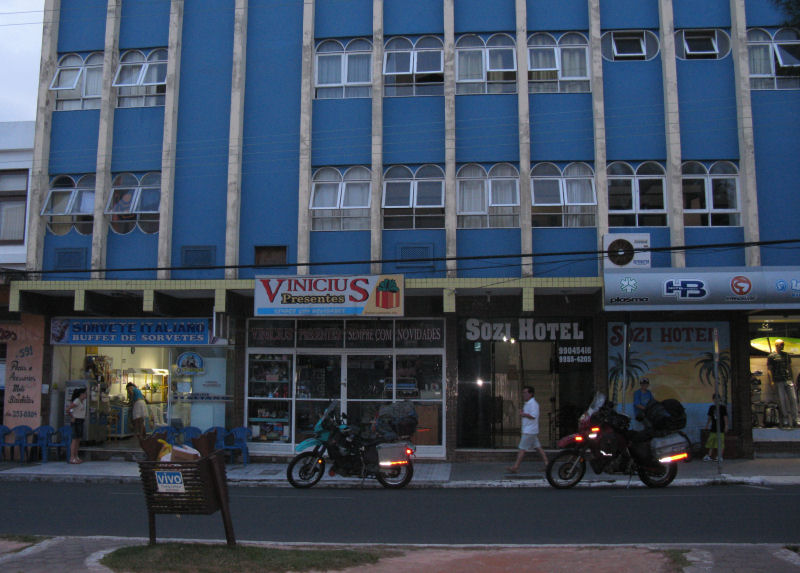 We walked a couple blocks in a light drizzle to find where the hotel guy had suggested we go to eat, but what we found there was an outdoor seating area with plastic tables under umbrellas and food being prepared in a small shed. It was called Speedy Burger, and they did not live up to their name. Maybe because we didn't have the burgers.
The table next to us was soon occupied by a group of teenagers. Like teens in any developed area where they didn't have to herd sheep or tend crops in the fields, they were obsessed with their cell phones and MP3 music players. Even their interaction with each other was usually related to their gadgets. They didn't actually talk about anything. One of the girls took a photo of Don and I, then tried to pretend that she hadn't.
Blindly, we had ordered from the menu after trying to get a suggestion from the waitress. We were (finally) served what looked like a big chalupa-taco thing full of chopped meat and veggies. A hard-boiled quail egg was speared to it with a toothpick. It was pretty good. The beer was good.
Don realized after we had left that he had tipped our young, chesty waitress with money from Uruguay. I sure hope she had a sense of humor.
After walking back to the hotel in the drizzle, we went to the ice cream shop next door. At the entrance was a young woman tending a soft-serve machine. She got a bit ticked off when I pointed out the 'scoop your own' ice cream further back in the store. He decided on the soft-serve, so the young gal was happy again. He tried to pay her with more money from Uruguay, but she didn't fall for that old trick. He needs to separate his currencies better.
Meanwhile, I mashed two big scoops of ice cream into a waffle cone that couldn't stand the strain. When I started to pay the young gal, an old lady from the back of the shop ran up and grabbed me, dragging me by the arm and chattering. What I then realized was that the soft-serve machine at the front was a separate business from the rest of the shop. No wonder the young woman had been miffed earlier--I had almost stolen her customer away by pointing out the pistachio and the Swiss chocolate.
The old lady dragged me to another old lady at a cash register, and they both just stared at me. I looked around to see what I was supposed to do, and they kindly pointed at a cone-holder device on the counter next to the register. It took me a moment to realize it was on a scales, and I was going to pay for my ice cream by its weight. Seems simple now, but it was confusing in the moment. After I paid, they gave me another waffle cone to put my crumbling cone into, so I got two cones for the price of one. Score!
The old lady who had snagged me to the register then did an odd thing. When I thanked her in Spanish, she folded her arms and bowed and said, "Origato," and started laughing. Did she think I was Japanese? The other old lady then started laughing and they had fun with that between themselves for a while. Maybe they got a lot of Japanese tourists here.
(edit: No, they hadn't thanked me with "Obrigado," which means "Much Obliged" in Portuguese. You had to be there to see them squinting their eyes and holding their crossed arms out in front of them as they bowed. They were doing a stylized imitation of being Japanese, but I still don't know why. Thanks for all the responses, by the way.)
Wednesday, 11 February, 2009
-------------------------------
I had zonked out last night, so I showered this morning. The air-conditioner had been noticeable, but it hadn't been great. We went to a nearby cafeteria for breakfast, and ate a bunch of fried stuff.
A shredded chicken and cheese thing and a sausage and cheese thing.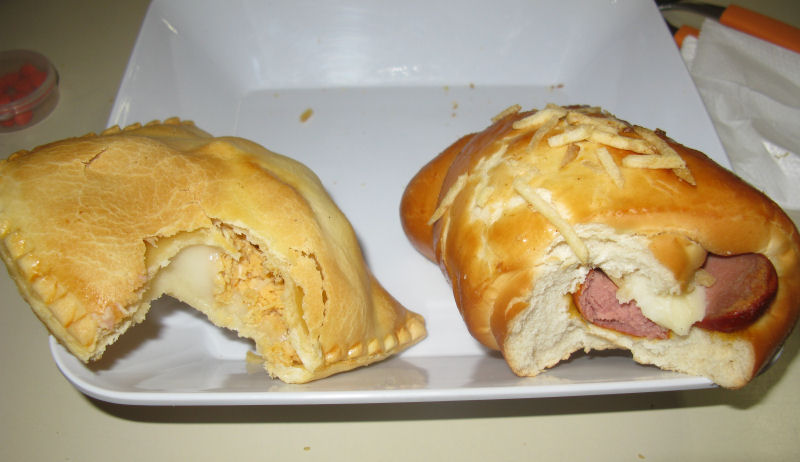 We saw several restaurants like this, where they put your order on a credit-card device that you take to the cashier afterwards to pay. You should be careful at the register, though. My card had some other food item on it, so the total was wrong and the cashier had to correct it. I suppose it hadn't be erased completely the last time it was used. The difference was less than one Real, so it wasn't enough to worry about.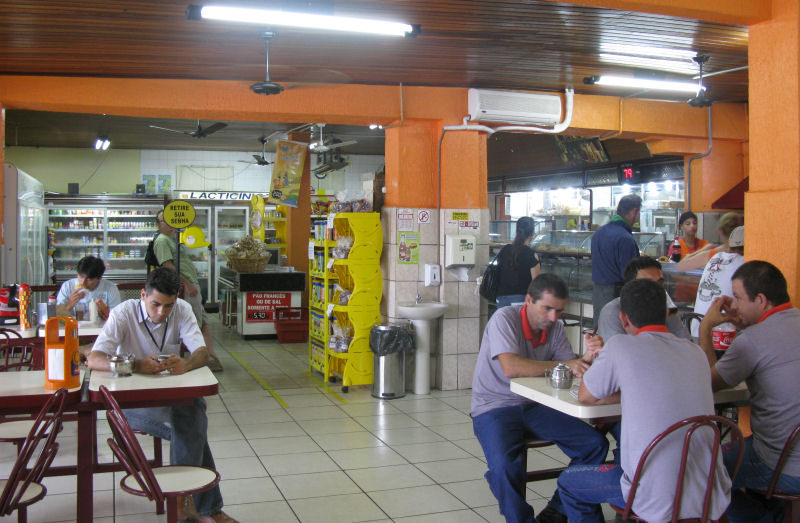 After we checked out of the hotel, an older hotel employee (manager? owner?) opened the garage to let us out. I thanked him by tipping my bike over and almost knocking him down. He was spry, I'll give him that. He jumped out of the way very quickly. What had happened was that I had failed to raise my sidestand as I backed the bike out, and it hit a raised area on the ground and knocked the bike over to the right. Not that an explanation make it any better, I know, but that's how I made myself a goofball so early in the morning.
We gassed up and Don went in search of a SIM card for his phone. What he found was that his phone (the one he had bought in Santiago) was only a tri-band phone and the one frequency he was missing was the one that Brazil used. No good. Make sure you get a quad-band, unlocked phone if you plan on getting SIM cards as you travel.
After I replaced my rear brake pads and tightened both chains a bit, we were ready for the road.
The road was nice enough, but it was another drizzly, dreary day. Traffic was heavy, with a lot of trucks. Brazil needs more railroads.
After a while, we stopped for a break, and I tipped my bike over again in the parking lot when I stopped in a turn. Stupid, stupid, stupid. I have been getting lazy and too casual about such things, and I have to wonder if it is due to being tired of riding or just being tired.
Before we got to Itaperiu, we came upon a miles-long backup. It was not moving. We passed hundreds of cars and trucks on the left, on the right, and went weaving between then when necessary to keep advancing. There was not much on-coming traffic, and most of that was cars turning around to go back the way they came.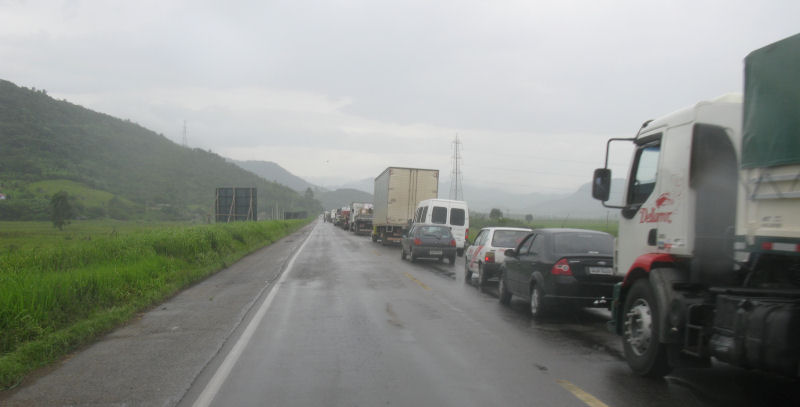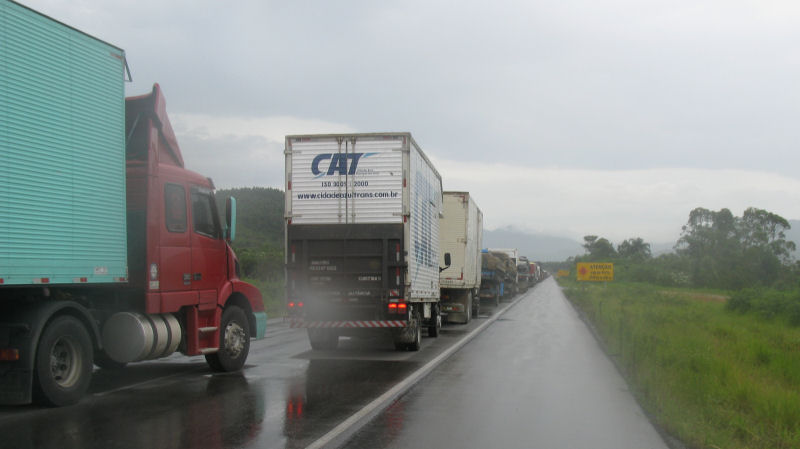 After a few miles, we came to find the problem. Don't know how it happened, but the sedan was caved in and there was blood all over the car and the street. Probably everyone in the car was killed. Most likely, the driver had tried to pass another car and didn't have room to get back to the right lane. We eased our way past the wreckage as the tow truck was backing up to pull the vehicles apart. We made good time after that.
We cruised for a while, enjoying the open road.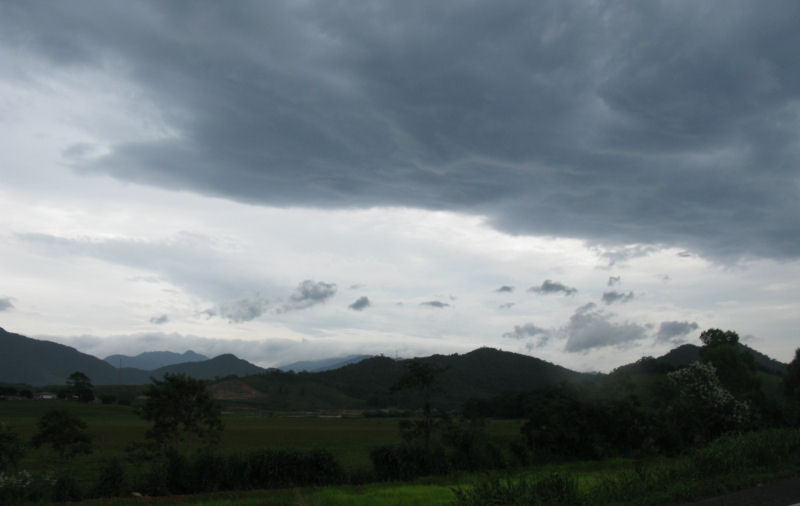 We entered Itaperiu and just kept going. No need to stop.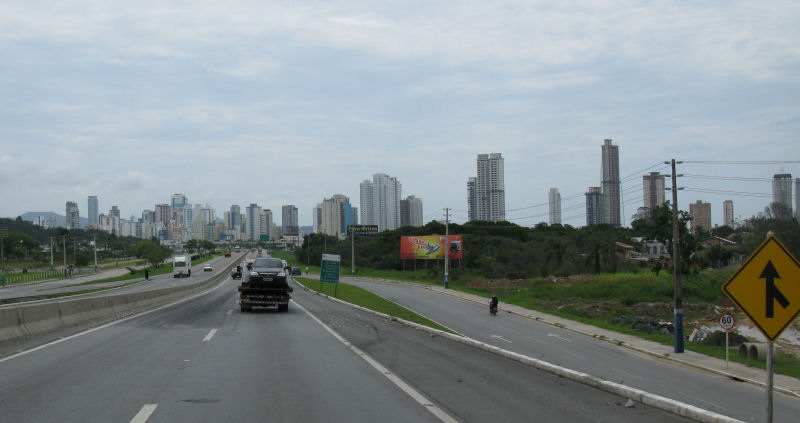 We didn't get far out of the city, though. Another backup. We again used our freedom of being on the motorcycles to pass all the stopped traffic and we worked our way to the front.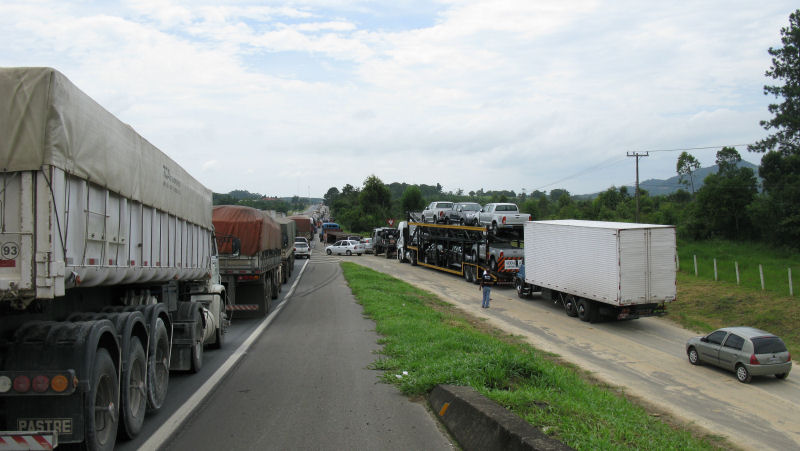 A semi truck had jack-knifed and went off the highway. The tow trucks were slowly pulling it back onto the pavement. Very slowly.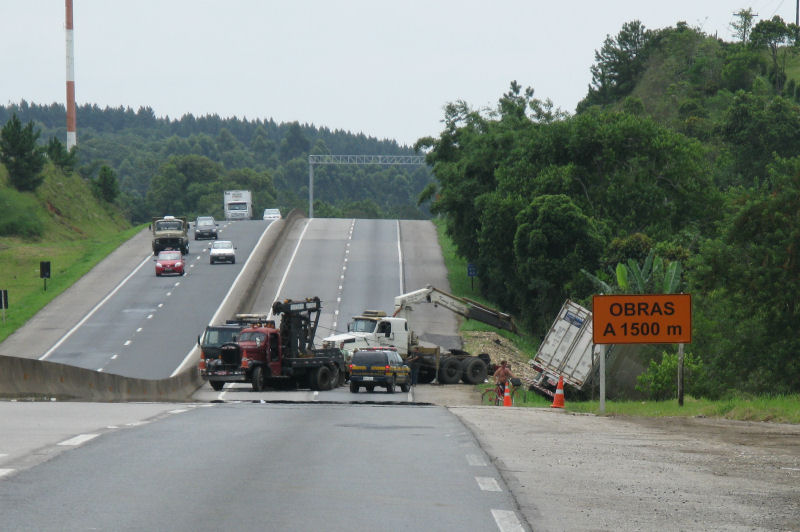 All the bikes collected at the front and we got to chat with several of them. After a while, many of them turned around and went back. We decided to do the same, taking advantage of the delay to go back several miles and then far off the highway to visit the city of Blumenau.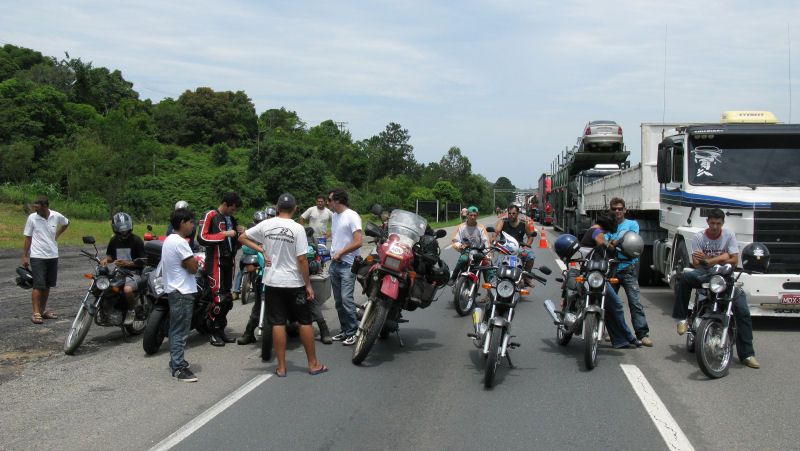 Blumenau is one of the region's cities with a history of German influence. We didn't see much of that at first, but eventually found signs to the touristy area. When we stopped here to eat, we saw that this complex had only been built a couple years earlier, so it's not as if this was old or historic. It was a tourist trap. The buffet was good, but it was relatively expensive.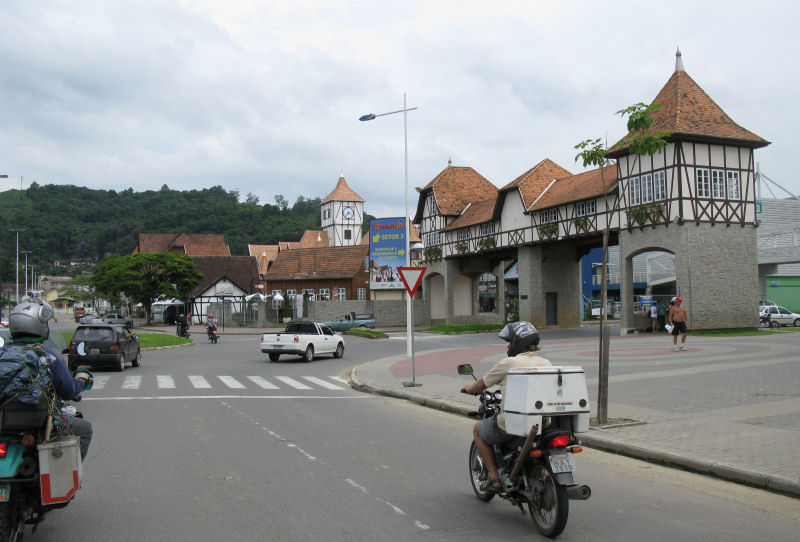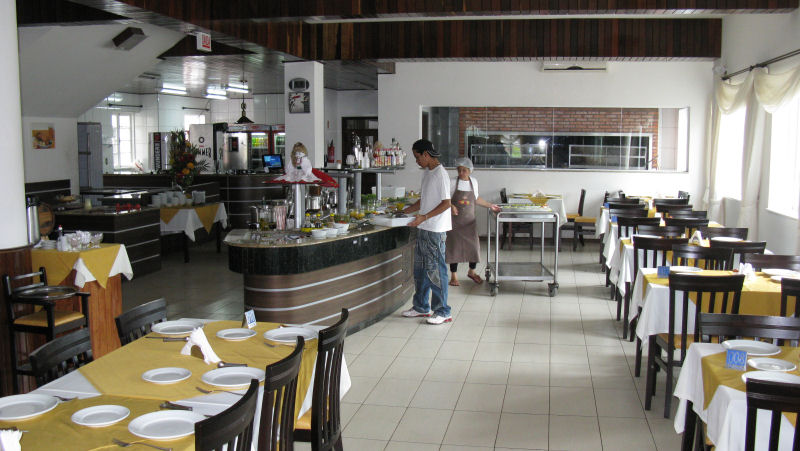 We gassed up and I entertained the kiddies.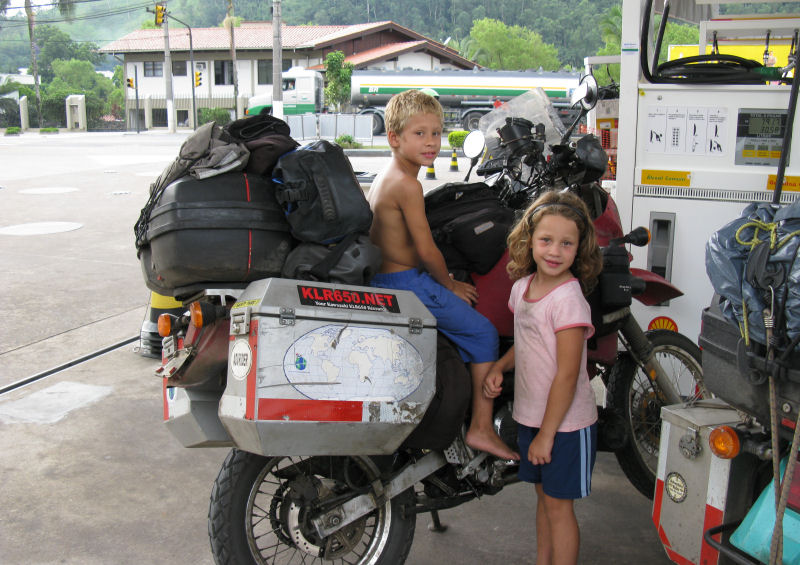 As we were leaving, we saw an old railroad bridge that then went through a tunnel, so we took that. It crossed a river and we saw some older part of the city along the water. It looked interesting, so we looped back and rode along the river, crossing the bridge again before heading back toward the highway.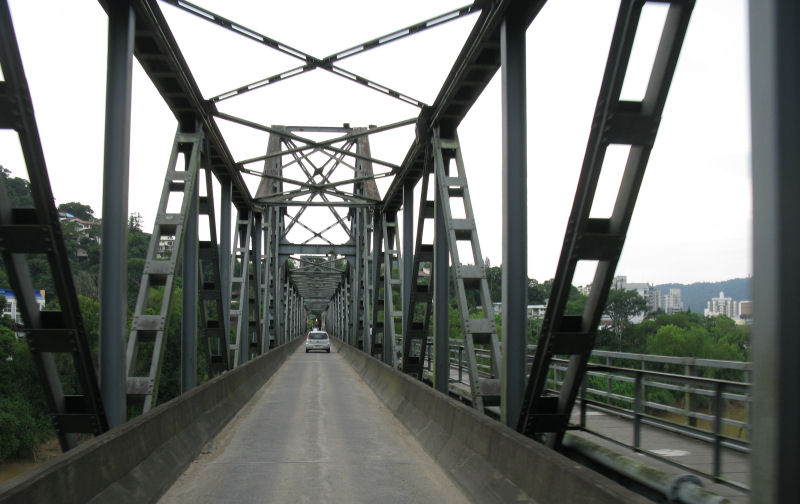 The detour to Blumenau hadn't been worth it, since we didn't have time to stay. As we left the area, I saw scores of shops selling women's lingerie, so that must be a local textile industry. Lots of skimpy clothing on cute mannequins . Been on the road a long time, obviously.
We headed back north, and the wreck had been cleared so the highway was open once again. Therefore, it had to rain.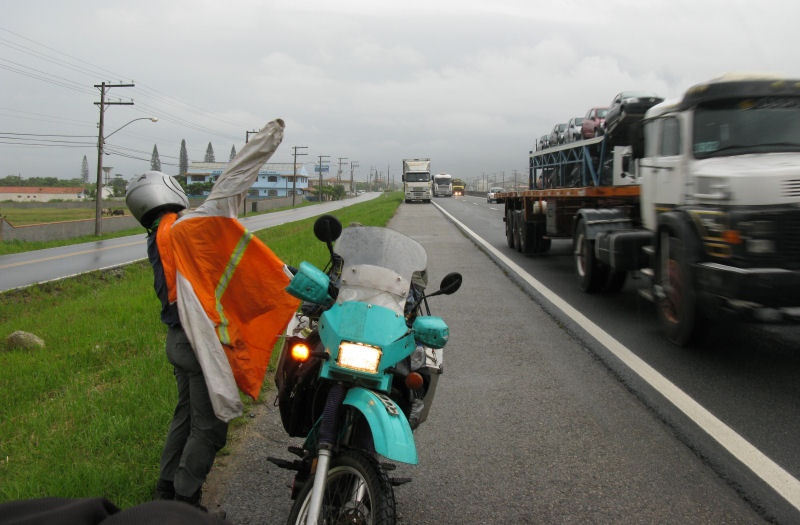 It started getting dark due to heavy clouds. Then it got darker. We saw some clouds that were very threatening, but never turned into tornadoes or anything bad. Just really heavy, wet clouds that blocked the sun.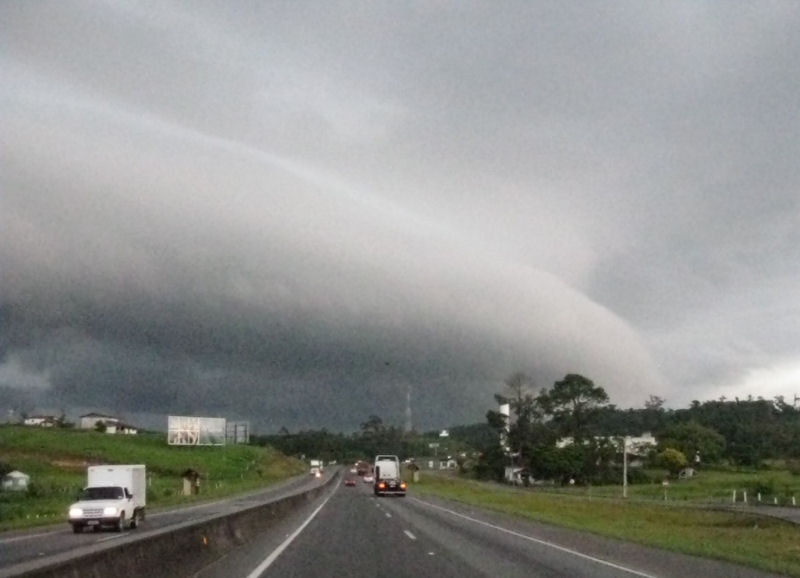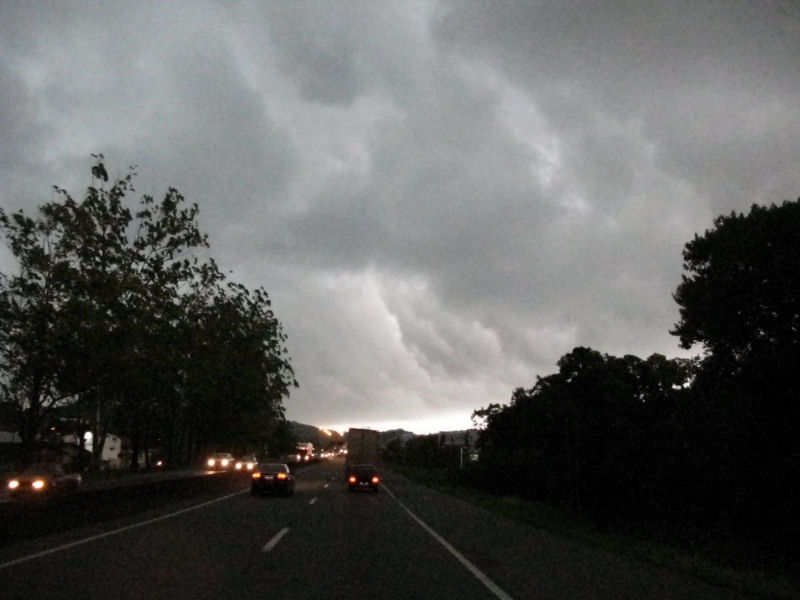 We came to a toll booth where we were supposed to pay 55 centavos each, but the gal at the booth waved us through. Onward.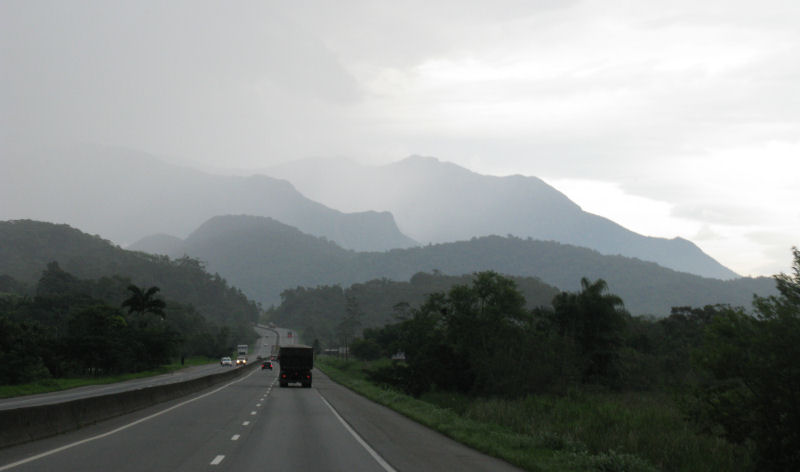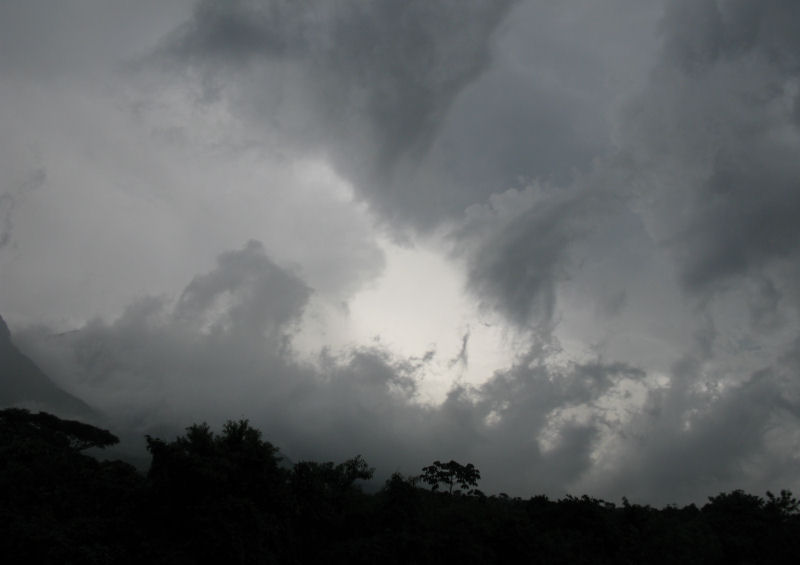 We came to one of the many truck stops that also had a decent restaurant and a hotel. It was cheap, it was fine for us. I think these are open 24 hours.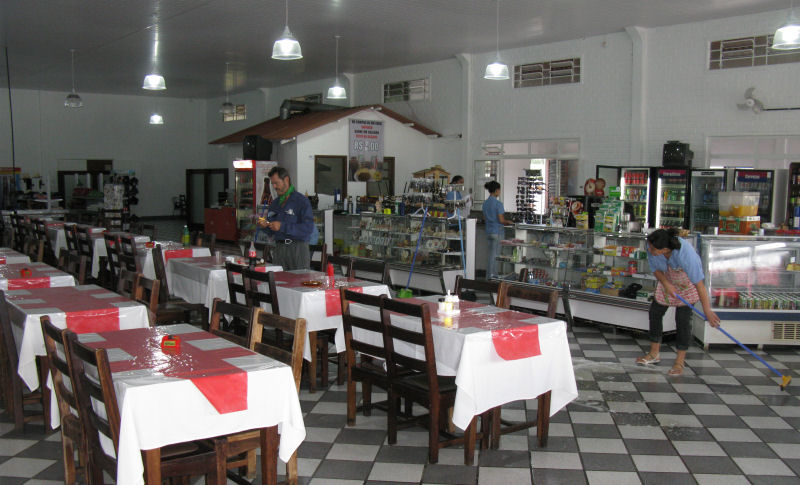 We have noticed that in Brazil, they use a lot of fluorescent lights activated by motion sensors. It's energy efficient, but it takes some getting used to... having to walk into a dark hallway or room, trusting that the light will come on at some point.
Most of the electrical outlets take both the smaller round plugs and the U.S.-style flat plugs. We even saw some that were labeled for 110 volts.
I didn't get much cell phone signal along this route, so be prepared to have no communication. Also, we saw no Internet anywhere. We didn't look for any in the cities, but along the country highways there was nothing.
Out of nowhere, I suddenly received a text message from Laurie. That's weird. I hadn't been able to call anyone, even when I got a weak signal. She did some research and found that Brazil has five different cell phone companies, and they each have different prefixes you have to use when dialing. Unless you know which tower is getting your signal, you have to try dialing each one. I won't bother putting the details here, just know that it was a major pain. Brazil needs to get its cell phone act together.
I wrote in the restaurant until 23:00, then snuck into the room trying not to wake Don.
Thursday, 12 February, 2009
------------------------------
This was our truck stop hotel for last night. We had put put our bikes in a storage room, so they had to open it to let us out.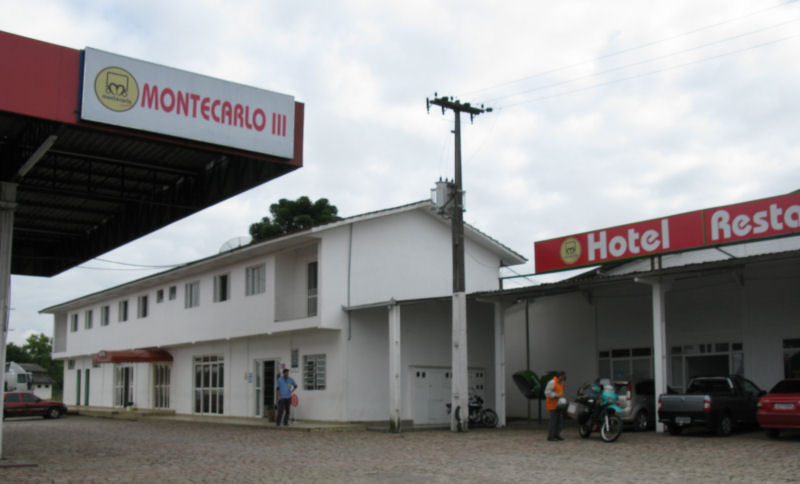 Breakfast in the diner was decent. There is definitely better food here in Brazil than we had experienced in most of South America, with the obvious exception of Raul and Lucia's wonderful hospitality and cooking in Santiago.
Cloudy and cool again, but at least it wasn't oppressively hot and humid. The road was good to Curitiba, but the signs were terrible, so we hard a hard time finding BR-116 to Sao Paulo. We noticed that they are doing road construction almost everywhere, and building more toll booths to make up for it.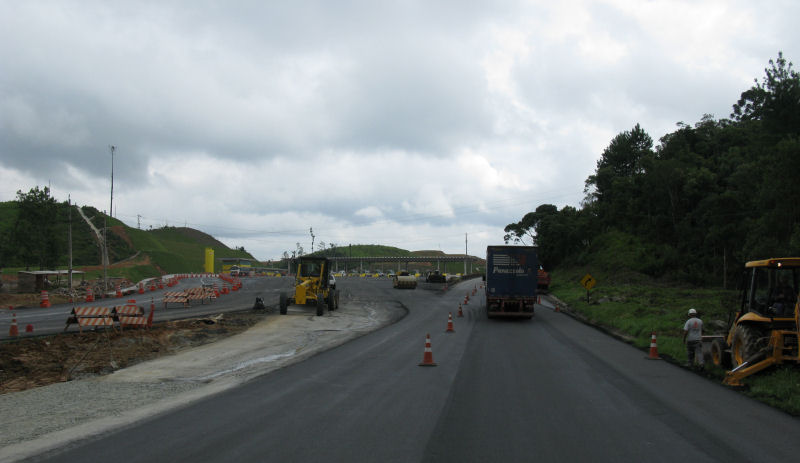 Riding in the mountains was nice, and we would have enjoyed it more but for the rain and the need to make good time. The next operating toll booth charged us B$/.75 each. I think that was the last of the cheap ones. Then more routine scenery.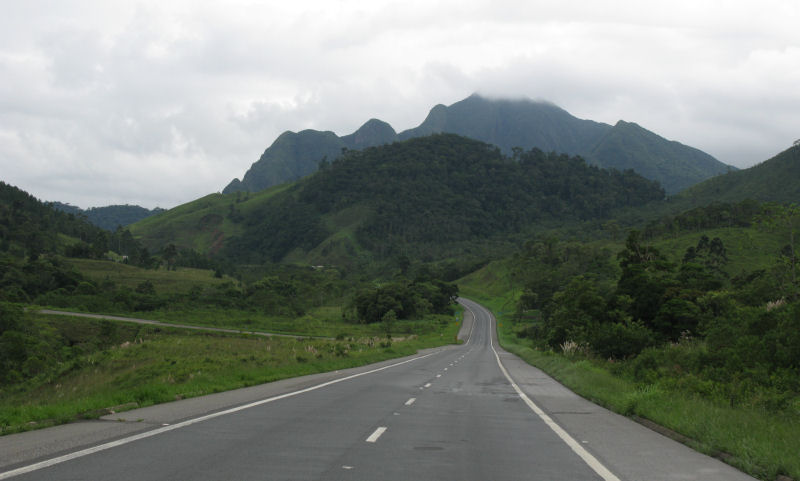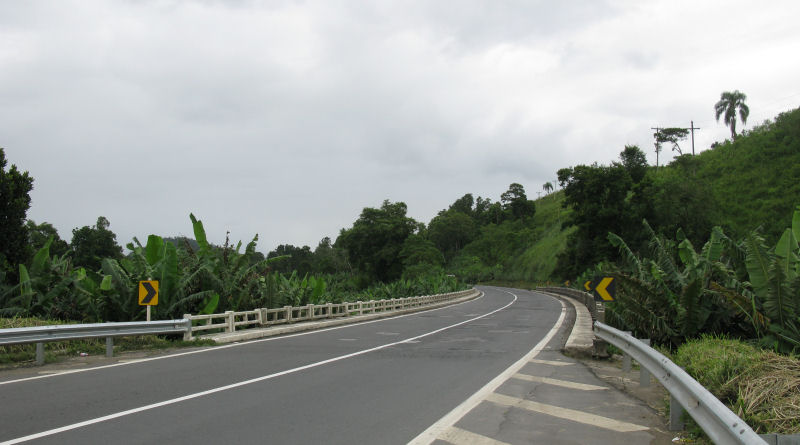 The forest was often tending more toward jungle, but we were still far from the Amazon region. We stopped at another roadside restaurant, but all they had to eat was a combo meal of beef and rice, with some other side dishes. Good, but we had no choice at this hour.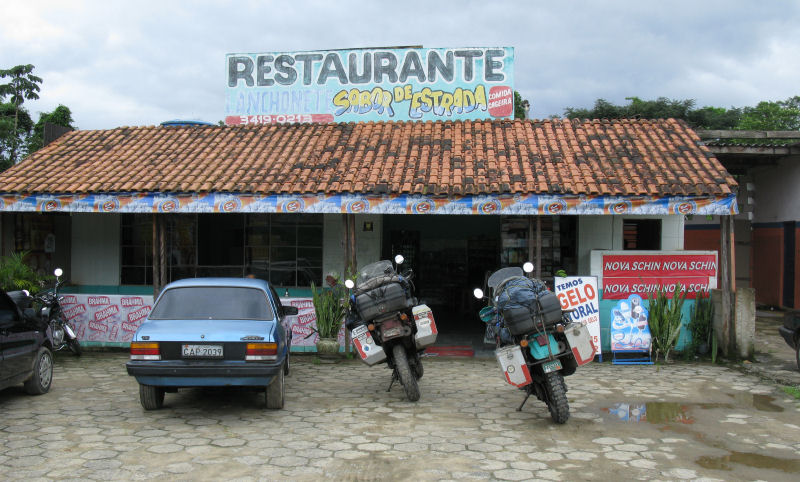 Going past the city of Registro, I noticed scores (maybe hundreds) of hotels along the highway. There had to be a reason for them, but I didn't see one. It wasn't even on the coast where tourism and vacationers would need hotels.
I don't remember (as I write this) where we crossed the Tropic of Capricorn again, going north this time, but although I kept looking for a sign, we never saw one. Bummer.
We turned toward Santos, on a busy coast road to avoid Sao Paulo. We had to wait a long time for the one-lane bridge to the island to open for traffic going our way. Street vendors had plenty of time to hawk their wares to a captive crowd.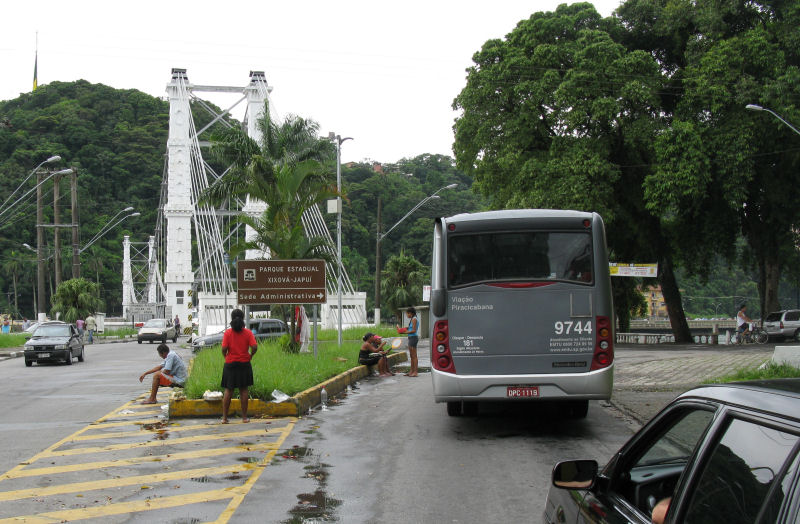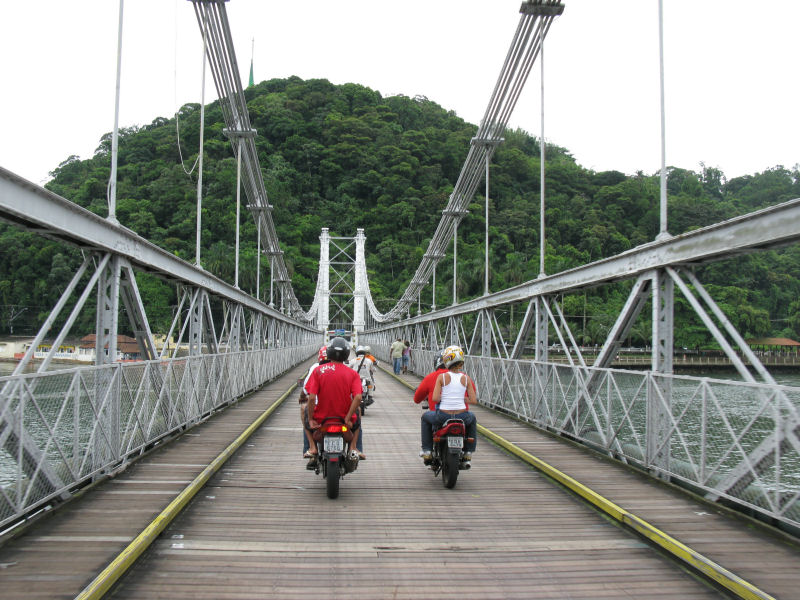 There were lots and lots of riders, most on small motorcycles, but many on scooters. Half the riders were women. I also saw a nice feature to their traffic lights. There were four red or green light dots next to the main signal light, and they counted down how long the red or green light was going to last. In some other places, we also saw digital countdown timers on the lights.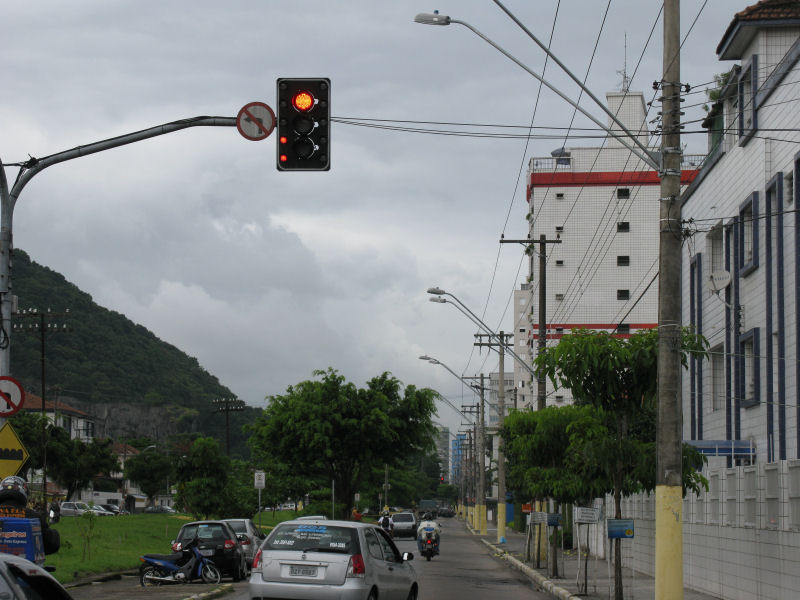 The island, south of Sao Paulo, was a resort area as best I could figure out. Lots of nice beaches and big hotels and apartment buildings. Even though it was drizzly, people were on the beach and in the water.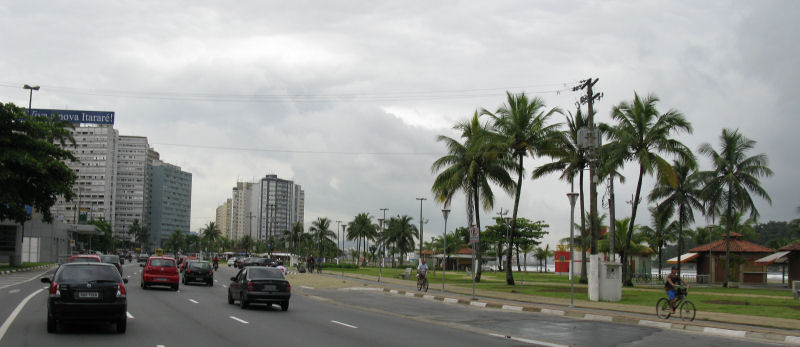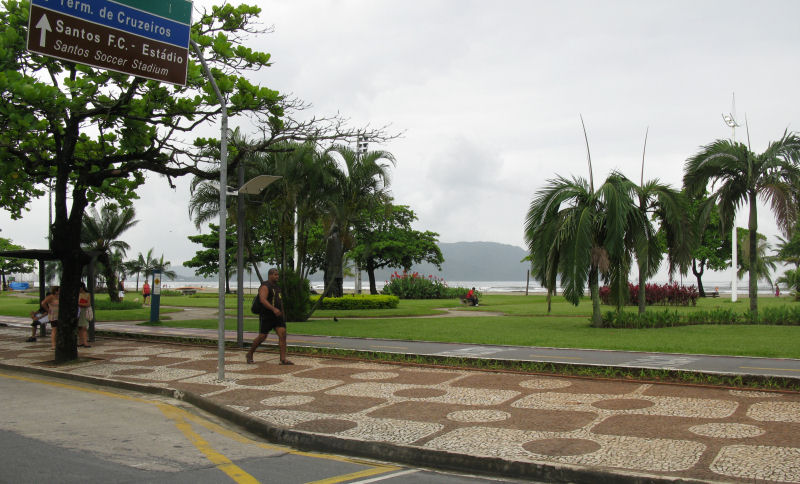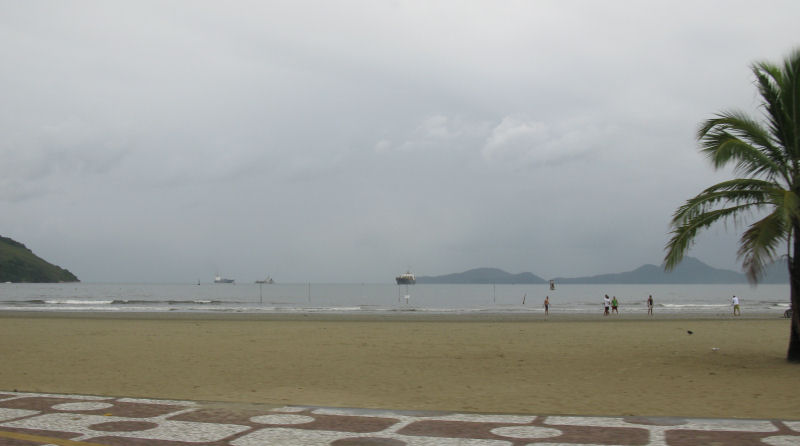 We saw some upscale homes along the waterfront in what might be the Copa Grande area. Some of the houses were mansions, with large gated properties.
Leaving the island, we headed east past quite a variety of boats in a marina harbor.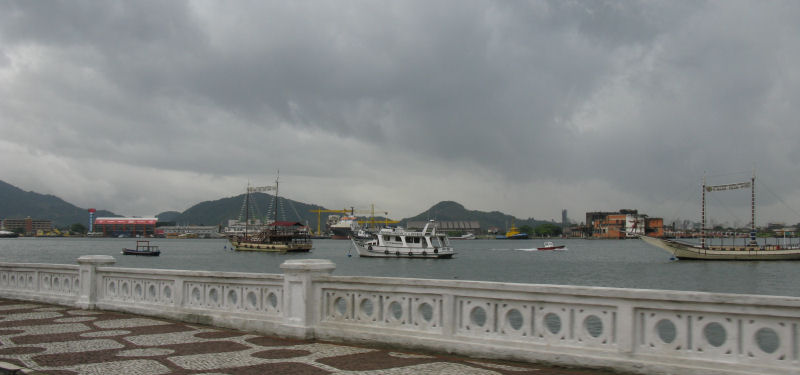 We were surprised when the road turned into a ferry crossing. The GPS only showed the road crossing the water, so I had assumed it was a bridge. It wasn't expensive, and it was quick. When the small ferry got to the other side, it rammed the dock and all the bikes and cars shook a bit.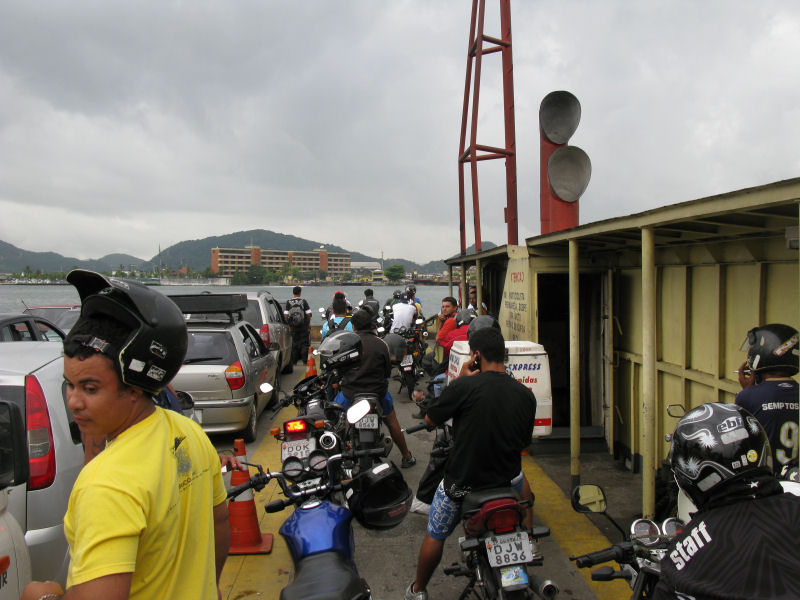 Back on a bit of the mainland, we splashed along the coast some more, looking at more nice homes and condos. Smaller beaches here, not as developed.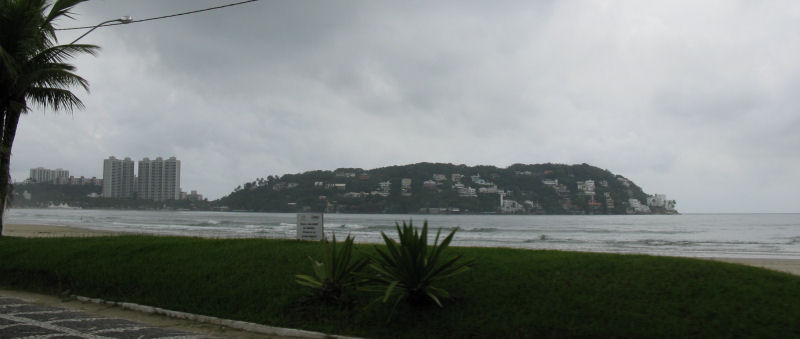 More small marinas with small and large boats. There was another ferry that crossed a river or a small bay. Another bump at the opposite shore, and the pilot then had to reposition the ferry since he had messed up getting it aligned with the exit ramp.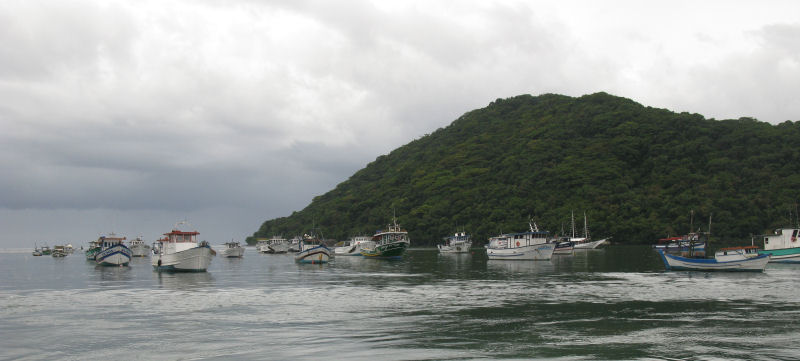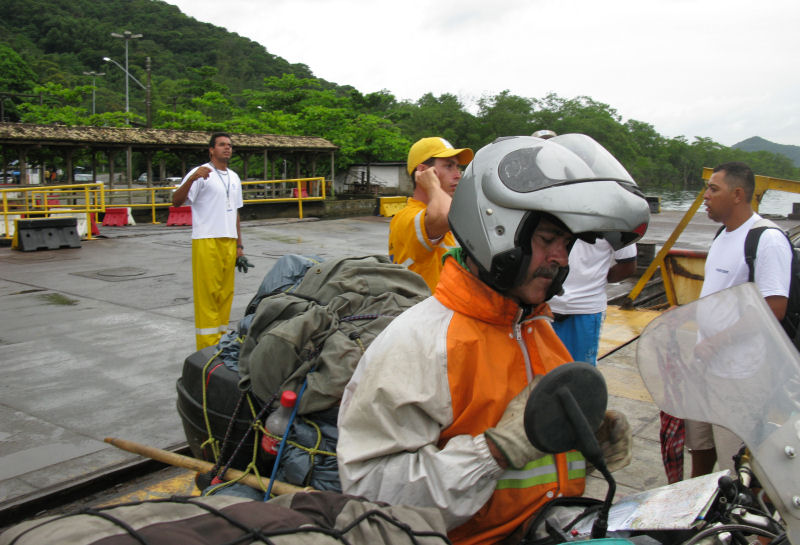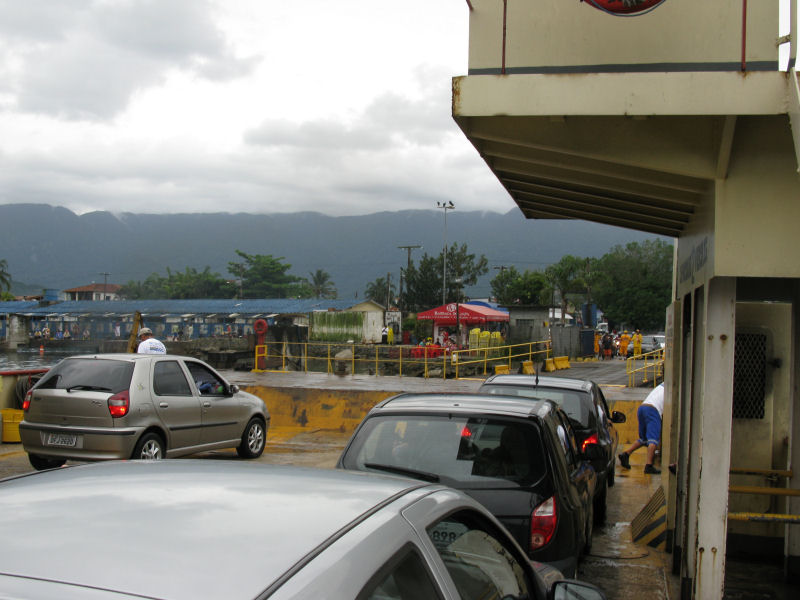 The GPS maps for Brazil are stark, missing any detail in any cities. It was good for gross navigation only. We got lost and all bumfusticated in one town, and rode on some mud roads and bad cobblestone before finding the right road again. That road led us north, and that quickly became a rising mountain road. Quite the ascent in the rain.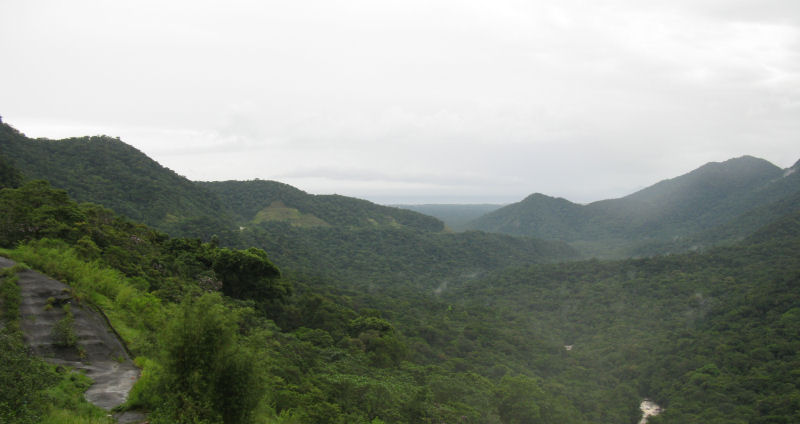 That's a raging waterfall in the next photo, although you can hardly tell.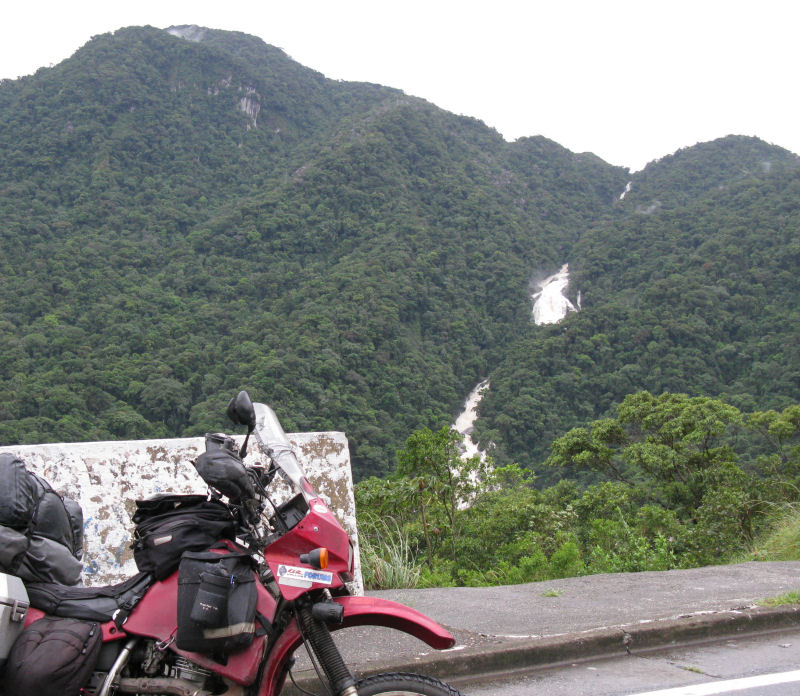 We saw lots of smaller waterfalls and many flowering trees. There were many beautiful purple-flowered trees that I never got a decent photo of because of the riding or the light or something. Once we were on the higher terrain, the road leveled out and the riding went faster.
We cruised into Moji Das Cruzes (or Mogi das Cruzes, on some maps). Don thought the city was one big ghetto, and I have to agree it didn't have much open space or greenery. I saw it as an older, stark city with little that was interesting. We had a hard time finding a hotel, and we finally found a small plaza (not very cheerful) with a couple hotels. The prostitutes were leaning up against one, so we checked the others and they were not so good. Eventually, we asked an got some directions, but the one-way streets made it hard to get to where we were going and we ended up finding another hotel that was sufficient. And it was cheap at B$/30, so that was also good. One of the biggest challenges is finding a place with secure parking for the bikes.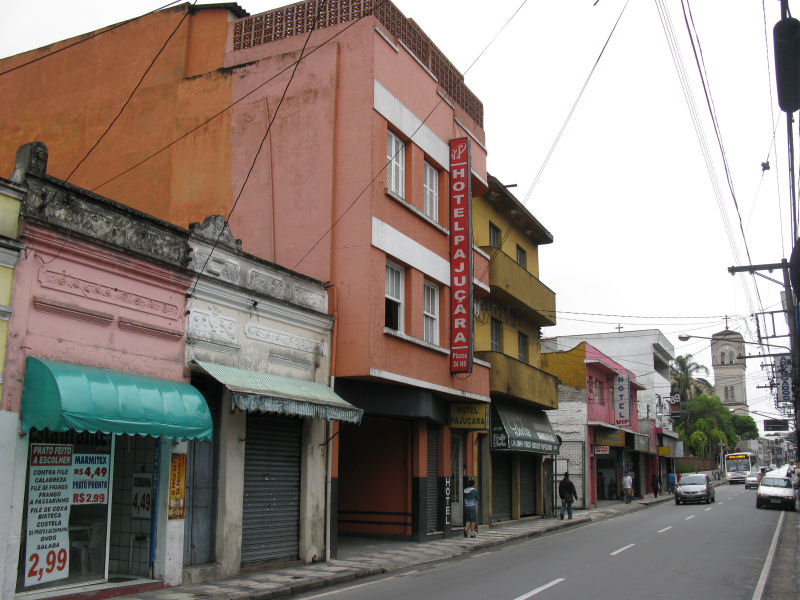 We walked across the street to a Japanese or Chinese restaurant for a snack. That was enough for today.
Friday, 13 February, 2009
---------------------------
We had breakfast in a diner a few blocks away. They made us sandwiches and made coffee and juice. How's this for a photo? I cut Don off and didn't even get the one cute waitress in the shot. Need more wide-angle in my camera lens.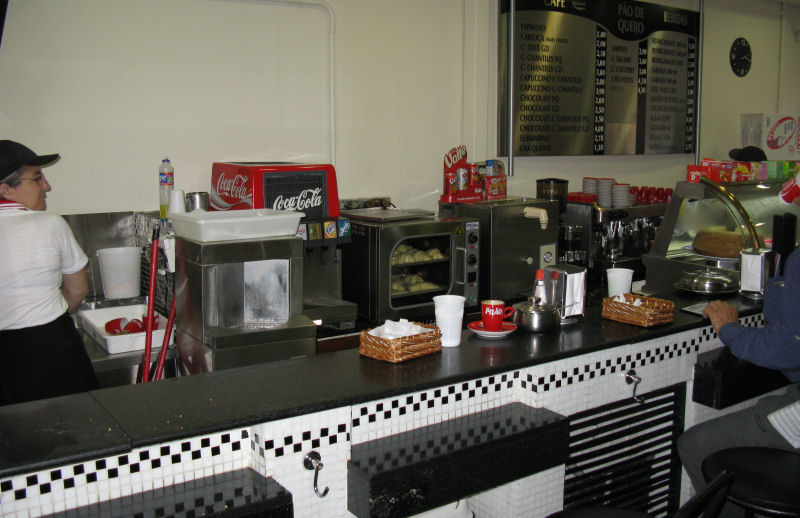 Here's a shot of a typical street in downtown Mogi das Cruzes. Narrow streets, not much of interest. No sense of style, except in most of the graffiti.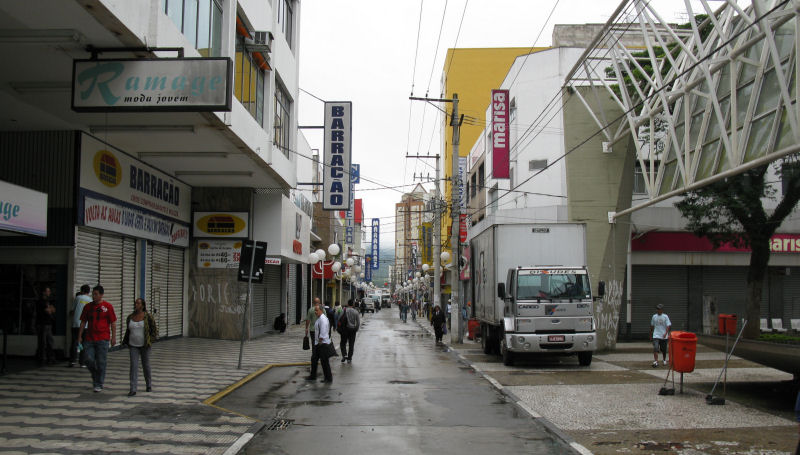 Getting out of town proved a challenge. Right off the bat, the GPS took a while to get oriented, so I started in the wrong direction. Then I tried to get back to the main road, but I had not paid enough attention last night and had not noticed that we were still far from BR-116. We ended up on a long rural road that paralleled 116 for many miles before we found another road (not on the GPS) that went north and got us back on the highway.
Our speed increased on the highway, but we ran into several slow-downs. Some were traffic related, some weather-related, others were construction. Here, they are knocking down some soft dirt alongside the road that would have fallen soon anyway. Better to do it when you can divert traffic.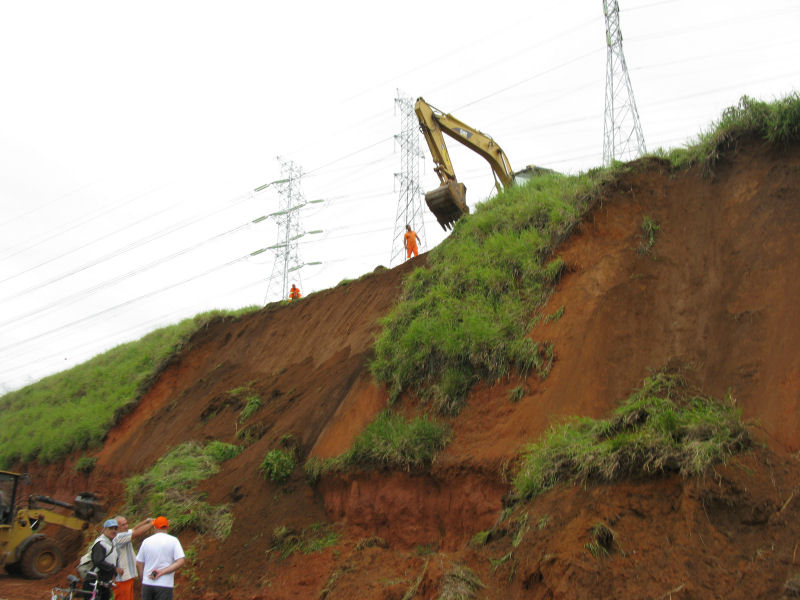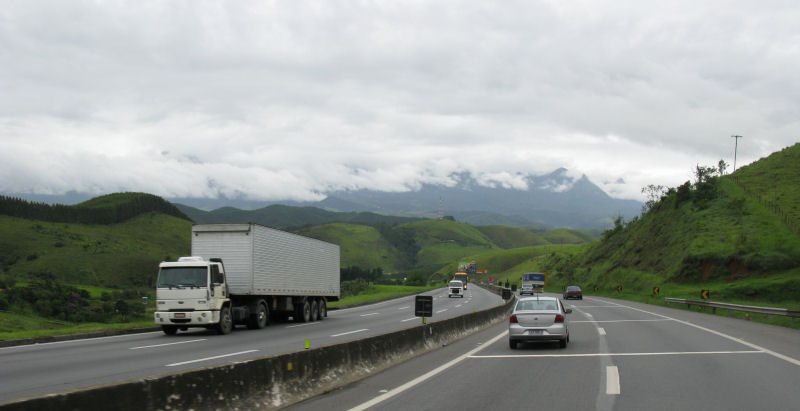 We passed several toll booths, and the fare was now much more. Almost two buck each time.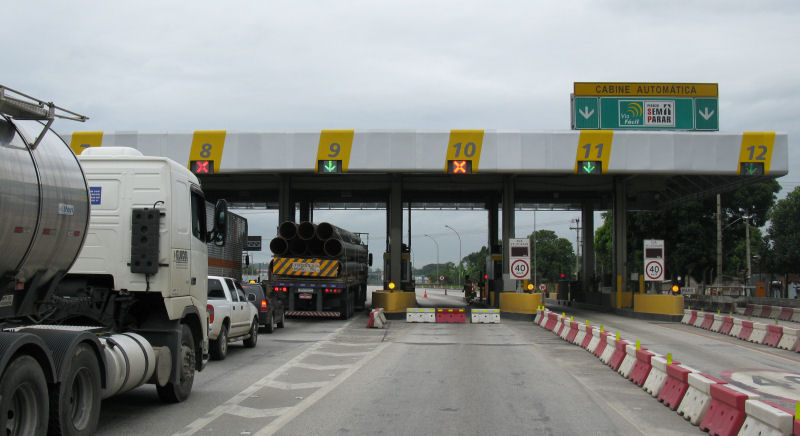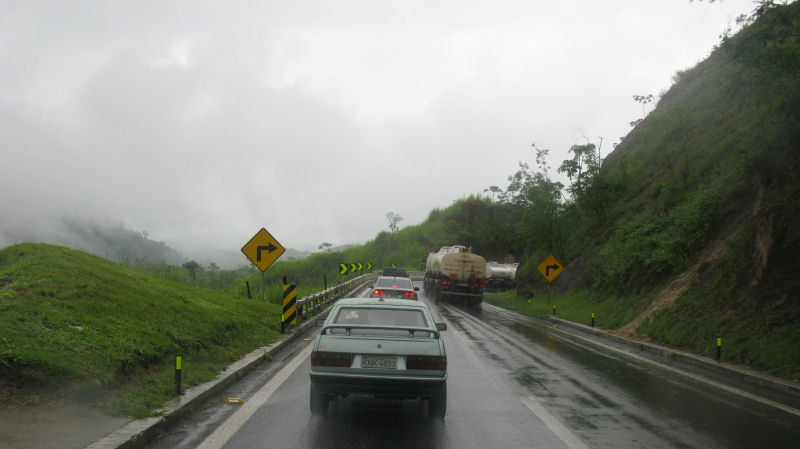 Coming into the area of Rio de Janeiro took a while. It is a large metro area, and there were a lot of highway exits and ramps that we didn't understand. We rode down to the southern area and rode along the beach, looking for Sugarloaf and Copacabana. They were wet when we found them.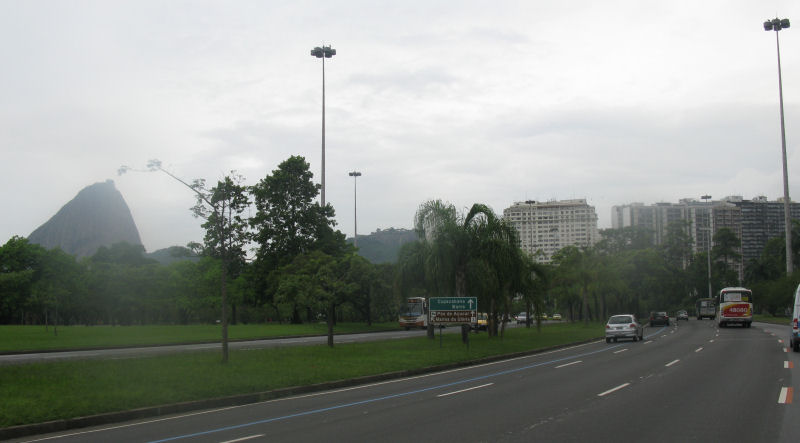 After going along the beach a while, we stopped at a large hotel or office building, thinking that we would leave the bikes there and wander around the beach a bit.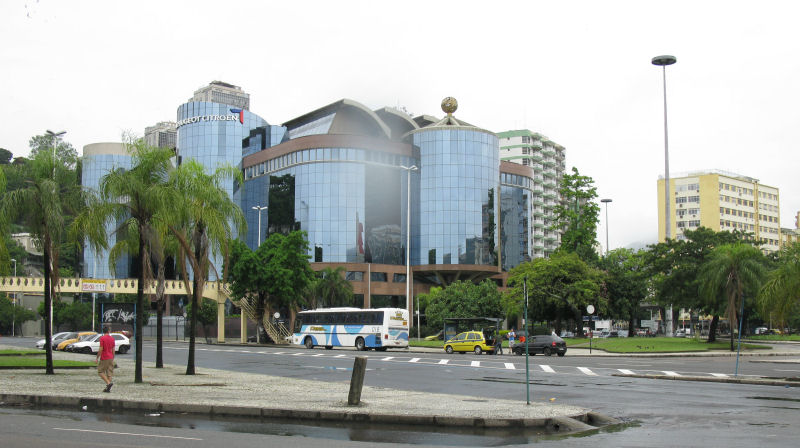 Some of the people staring at us seemed too interested in the bikes as we walked away, so we changed our minds and decided to ride to another area. That didn't happen any time soon. My bike wouldn't start. Dead.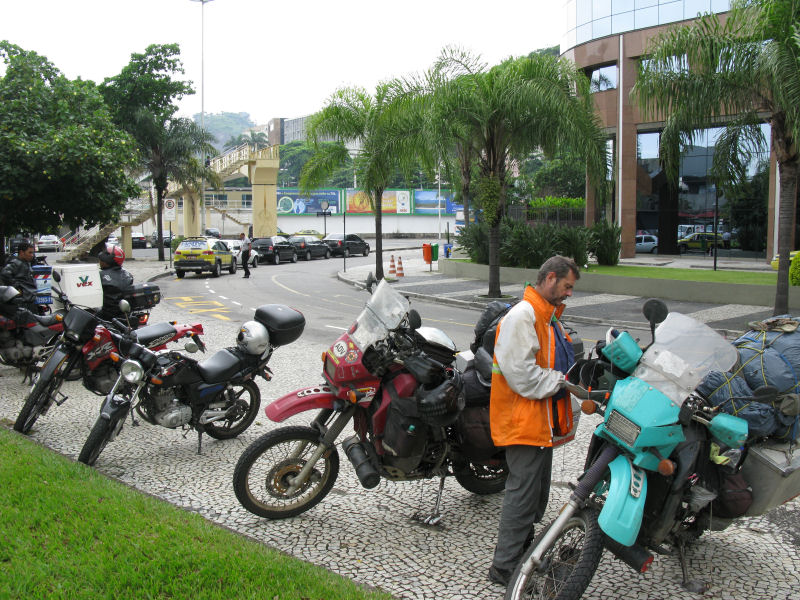 Ever since the motor had been rebuilt in Buenos Aires, it's run well, but there were a few times when the starter didn't work right away. Eventually it would work and I presumed it was just a problem with the button or something. This time... nada.
Two and a half hours later, I'm still working in the light rain and I'm no closer to a solution. I checked everything. All I can figure is that there was a broken wire making intermittent contact or a starter (or lockout) relay was going bad. I traced the wiring as best I could, but I still couldn't account for all the relays in the starter circuit. All the taxi drivers and pedestrians who stopped to watch me take the bike apart on the sidewalk didn't make things easier.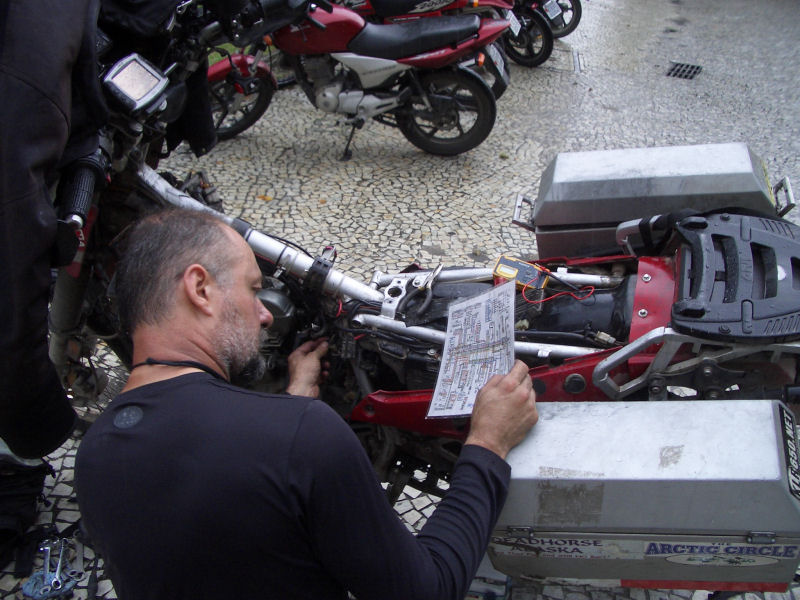 At one point, I was trying to get the starter to work and I bumped against the bike and the starter motor turned over. That was a surprise, especially since I hadn't actually fixed anything.
I'll take what I can get, so after verifying that it worked again, I put the bike back together. Maybe it was just a loose connection somewhere. However, once it was reassembled, the starter was dead again. I stared at Don and didn't know what to do. I stood there punching the starter button over and over, greeted each time with silence. Then I happened to bump the bike as I was holding the starter button down, and the starter motor ran. What the hell?
To make a long story short, I now write this more than a week later and I am still dealing with occasional starter motor failure. Sometimes it starts, sometimes not. The bike can be push-started, but I only managed that once on a hill in Rio. Usually, what I do when I have the problem is I hold down the starter button and rock the bike back and forth in gear until the starter kicks in. Then I have to pull in the clutch right away and keep the button down until the engine fires up. (For those who know and notice such things, I have a side-stand and clutch safety lock override circuit on my bike, so I can start the motor when it's in gear.)
It's a real pain when I can't start the bike in traffic or when I have to leave it running all the time for fear that it won't start again.
Anyway, after a long time getting the bike to start again, we just wanted to find a hotel.
We rode into Rio and looked, but didn't see many choices. We managed to follow some ambulances that seemed lost, so that got us through a lot of stop-and-go traffic. We turned back toward the water and finally stopped to eat. The only place to park was on the sidewalk, and we ate pizza in a corner restaurant. One of the waiters went with me when some employees from a hotel (one that was out of our price range) came and told us to move the bikes. He helped me push the bikes away from where we had blocked their driveway.
After we told the waiter our need for a place to stay, he said that when we were done eating, he would show us a place. Don waited while I went with the guy, who walked a few blocks with me and took me to a street that had at least three hostels on it. The first had only a single room, the second was having some construction done and they were full anyway. I don't remember why we didn't go to the third one, but we talked with a guy in the street who apparently is the private security guard for that street. He said something about watching our bikes if we parked them outside. The waiter had to go back to work, so he took off.
The second hostel had a small restaurant, and one of the waitresses there took me to their office where another hippie-looking guy made some phone calls and eventually found a hostel in Copacabana that had a room. The biggest problem was that we were less than a week from the start of Carnaval, and things were filling up fast. I got the directions to the Rio Backpackers hostel and went back to the restaurant to get Don.
We eased through the heavy city traffic and found the tunnel we were looking for that crossed under the mountain and into the Copacabana area. When we got to the street for the Rio Backpackers hostel, there was a security gate near the bottom of the hill. This is where I once again dumped my bike over by parking it on a bad angle and where my sidestand went between two of the cobblestones. The security guard helped me pick the bike up. Don watched and shook his head.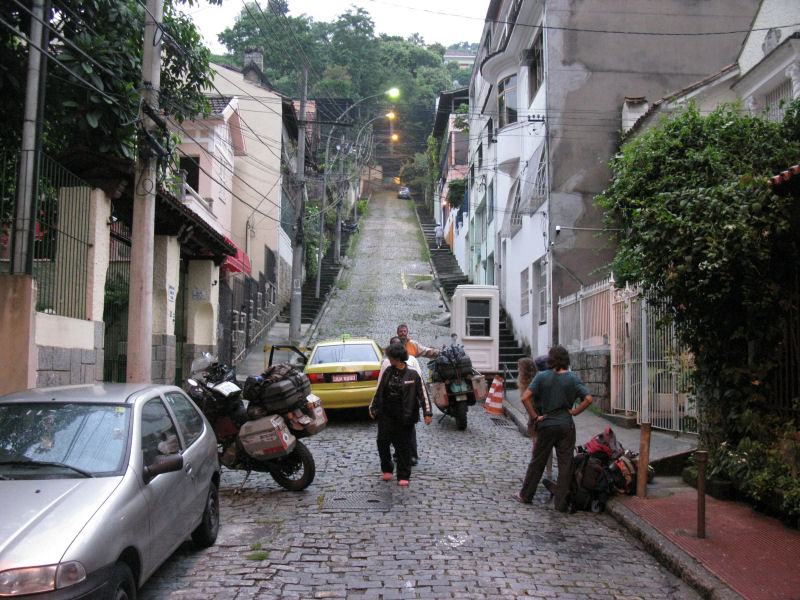 The Rio Backpackers hostel is halfway up the hill, and some backpackers were standing near the bottom. I walked up and found the place full of European backpackers. The place only had a single small one-bed private room available, and all the dorm rooms were full. I walked back down. The security guard saw our problem and he walked me to the next street over where he knew there was another hostel.
That hostel was full except for two bunks in a large dorm room. I tried asking the gals at the desk if they knew another hostel, but they were in a conversation with a red-haired gal who was talking to them in Portuguese and English. Her accent was hard to place, and she was talking very fast. When I tried again to ask about another hostel, the red-haired gal suddenly turned to me and said (in English) that she had a double room in her hostel that she could rent to us for B$/50 per night. That was a better price than I had expected, so I told her okay. She got so excited that she almost jumped up and down.
She took me by the arm and said, "Let's go!" Up the hill she went, running and talking about how this was the very day she had opened her hostel and that I was her very first customer. I was afraid she was going to run up the entire hill, but she then slowed to a fast walk and told me that she really hoped I liked the hostel and the room, because she needed my rent money to go buy sheets.
She was so excited and having so much fun that when we got to the front of her hostel (at the very top of the hill), I pulled out the money and handed it to her. She stared for a moment and asked if I even wanted to see the room. I said that I was sure it was fine, and that I was just happy to have a place to stay tonight. This time she did actually jump up and down, clapping her hands. Yippee!
She said her name was Alegra, but I had to have her repeat it since she was still talking so fast. She whisked me through a quick tour of the empty hostel (and showed me the garage where we could put the bikes) and gave me a choice of two rooms that had bunk beds. I picked one and she gave me a set of keys for the building. She asked me for a deposit, because she was trusting me with the keys to the whole place while she rushed out to the store to buy sheets for the beds. Within seconds, she was gone in a whoosh! and I was alone in the building.
Well, okay then. I locked the place up and opened the garage, then I walked down the hill and to the next street to fetch Don. We took turns riding up the rough, narrow, wet cobblestone hill and making the daring turn into the garage. You didn't want to make a mistake here.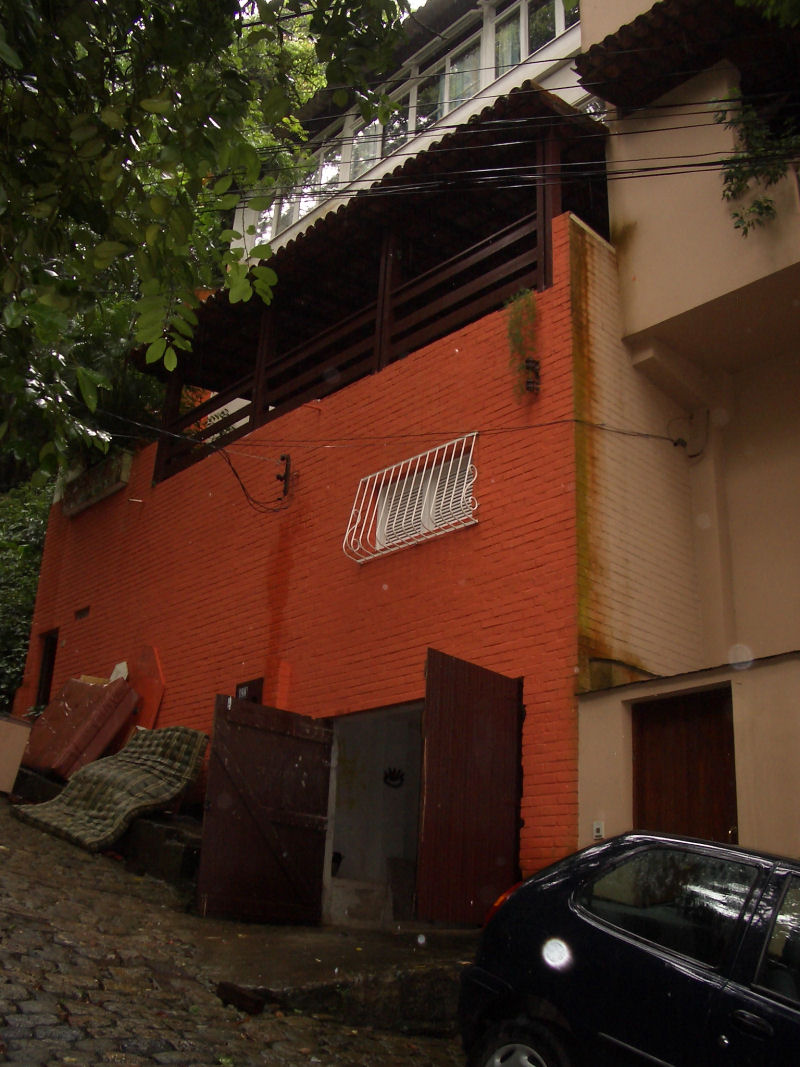 That furniture in front of the hostel had been removed by the building owners today and it was being discarded. When Alegra rented the place two weeks ago, it had been in need of some work, so that mostly got finished today. Alegra had moved in to the house today as well. The timing had been great for us.
The building was perfect for a hostel, with a large balcony and two separate areas where the bedrooms were clustered together. It was a 3-level home, and had a nice spot at the end of the dead-end street. That it was at the top of a hill was maybe going to be the only detriment. Alegra was confident that the young backpackers would not have a problem with the hill. She will have a shuttle service from the airport or bus station eventually.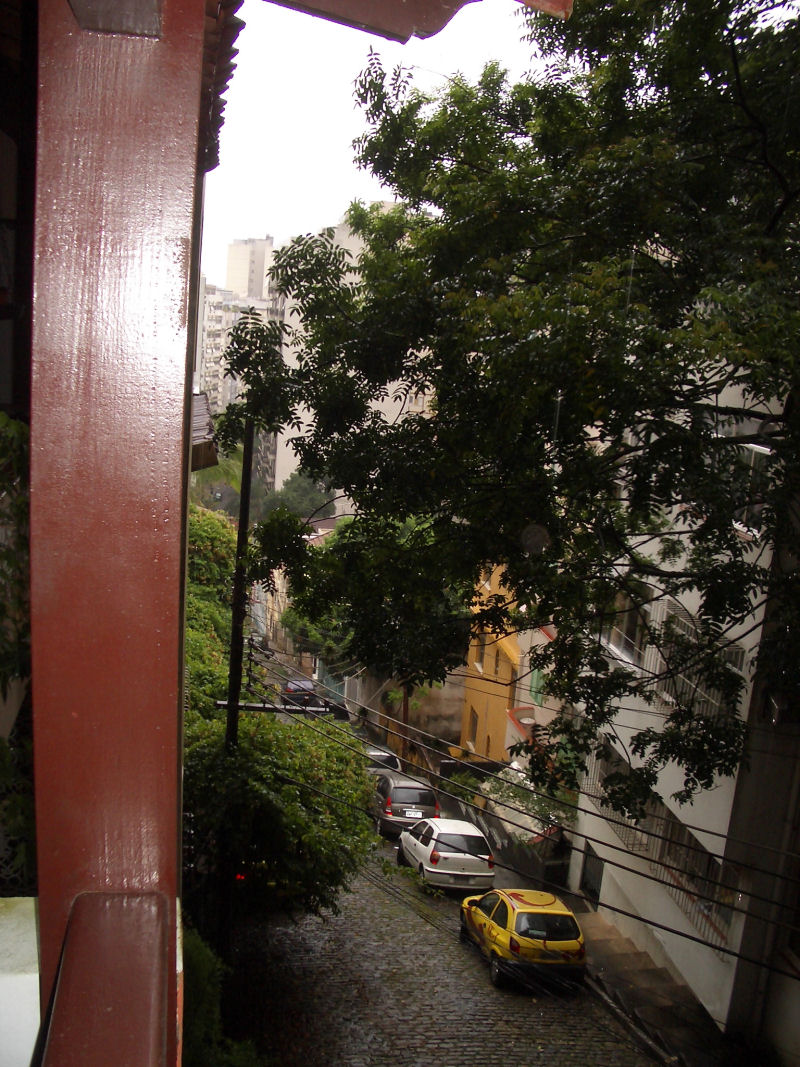 We showered and relaxed until Alegra returned. We learned that she was Australian, and her accent was now more noticeable since she was talking slower. She was a ball of energy. She apologized for not having Internet Wi-Fi hooked up yet, but she reminded us again and again that she had just moved in today. She was still so excited, it was fun to watch.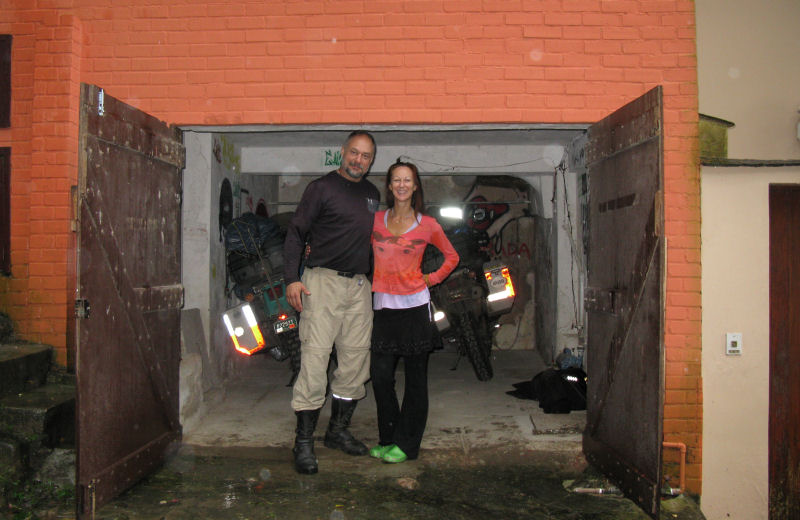 Things we learned about Alegra:
She studied Japanese language in school and went to Japan several times as a kid.

She was a professional belly dancer.

She had been dancing and living in Japan while she taught belly dancing.

She spent eight years in Japan, married a Japanese guy and eventually opening her own dancing school.

After getting divorced, she and two Russian girlfriends went to Cuba for a short vacation, but she liked it and stayed there for six months. She partied and danced all over Cuba and had a blast. (They probably still talk about her.)

Eventually, she came to Brazil and settled in Rio, where she fell in love with the place and decided to open a hostel.

It took six months of bureaucracy to get her residency and business license, during which time she traveled for a while in Mexico, India, and Europe.

She found this building through a Thai monk she knows in the neighborhood. She rented it two weeks ago, moved in today.

She can't talk about music or dance without moving her body, and she moves it well.
Alegra was definitely a fun person. She had a boyfriend, Favio, whom she had met on Copacabana beach last year on New Year's Day, right after she arrived. She referred to Favio as "my Brazilian guy." I got to meet Favio briefly when he arrived later that night to help her with some chores around the place. I was still up writing, but Don had conked out.
Alegra has a website for her hostel. Check out www.casacarioka.com if you need a place in Copacabana or Rio. Tell her that her very first customer said that she and her place were both totally cool.
She already has a boyfriend, guys. Keep that in mind.
I also have her email and cell phone number and you don't, so there!
Saturday, 14 February, 2009
------------------------------
We slept past the 07:30 alarm and finally flomped out of bed at about 09:00.
That's right, we flomped. I just like the sound of it. Flomped.
I went out to the hostel's balcony and Alegra soon came out to join me. She had just showered, so her hair was all wet. She asked me what I thought about solving the problem of her hostel's location, especially since there were several other hostels lower on these steep roads. I had no advice for her, and she had more experience that I had in hostels. She said that maybe she would get a scooter to bring people's luggage up the hill. Not a small scooter, I hope.
When Don came out, we got geared up and loaded the bikes. I was sorely tempted to stay here and let Don go on his own, since Alegra had a garage where I could safely take the bike apart and try to solve the starter problem. Plus, it was cheap accommodations in Rio, and Carnaval was next week.
Alas, I had already decided to ride with Don until he shipped his bike home, so I stayed with that plan. We rode away after exchanging emails and web sites with Alegra, and we went back through another tunnel to the Rio side. It was again cloudy and raining.
(Actually, the photo of Alegra above is the one we took as we were leaving, but I put it up there so you could see it while you read about her. That's why her hair is wet.)
We found a place to eat and parked on the sidewalk, which was common. After breakfast, we rode down to the beach.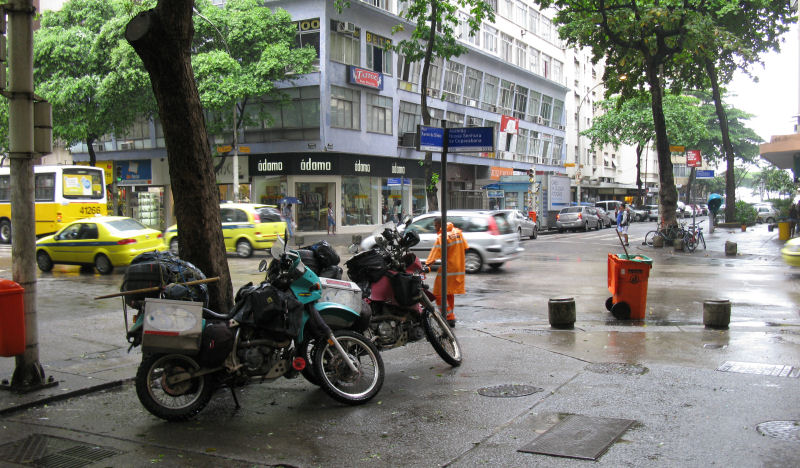 We parked first on the wide median strip, but later parked on the beach side of the road.
Christ the Redeemer was briefly visible in the clouds and rain. Then he was hidden.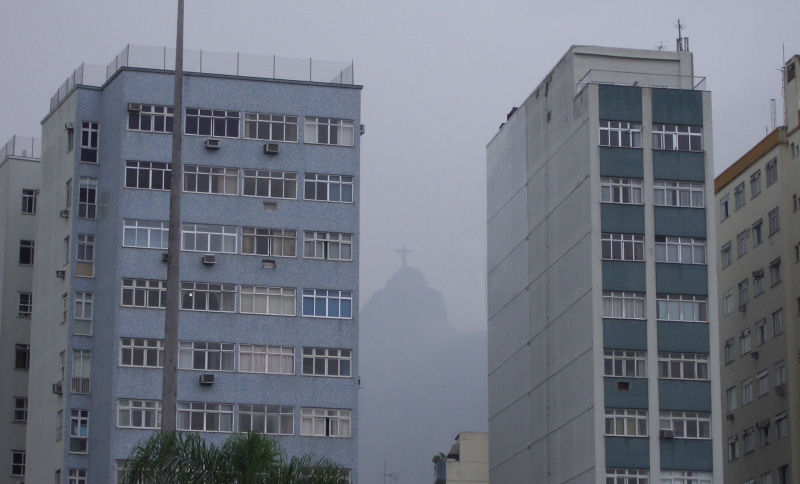 The Copacabana beach, I think. A very large Ferris wheel there in the amusement park.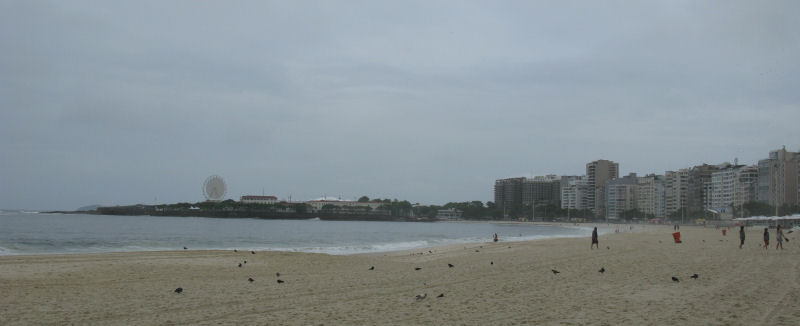 On the Rio side, there was Sugarloaf in the haze over the marina. A couple of cable cars take you up to the first hill, then across to Sugarloaf peak. We didn't do any of the touristy things.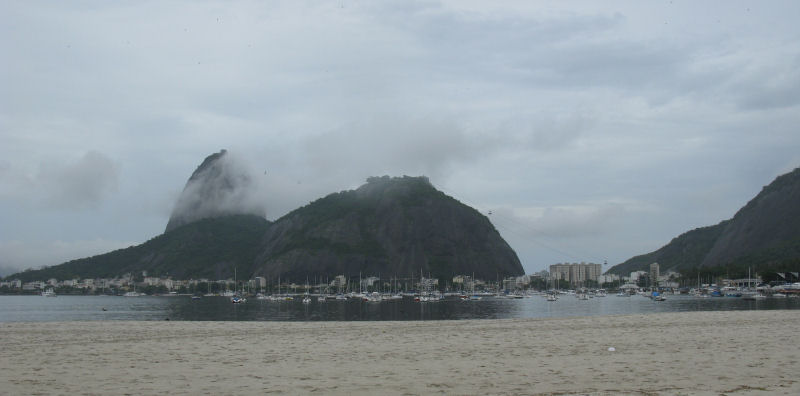 Christo popped out again briefly while we walked along the wet beach in our riding gear, but we didn't get a decent photo. Later, as we rode to the cargo terminal of the airport, we got another chance for a photo. He's way up there.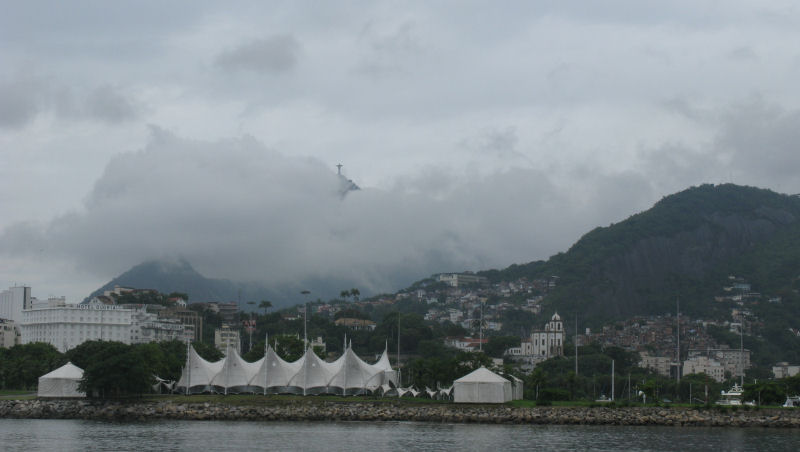 The cargo offices were shut down for the weekend, another case of bad timing for us. Bad timing has plagued us all along, with a few exceptions (such as finding Alegra's hostel). We typically get someplace late, or during a weekend or holiday, or in bad weather. Typical adventure riding.
We tried to find our way across the bay on the long bridge, but despite a few determined attempts, we never found how to get to it. It's the very long bridge faintly visible in the distance, not the shorter one in the middle of the photo.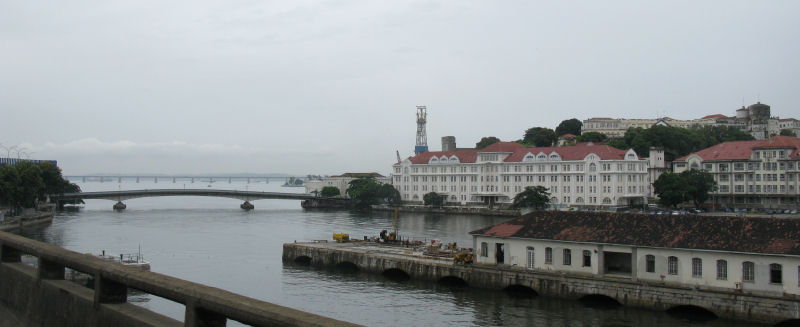 After giving up on the bridge, I decided to just ride north out of Rio. I didn't know which route was faster, and they both looked about the same distance. Along the highway, we passed several cruise ships in port.
The zipper on the left leg of my Darien riding pants had fouled up yesterday while I was working on the bike, so now it had come completely open from the top, from my waist to my left ankle. The bottom zipper head was still working, but that didn't let my zip it back up. I finally put a couple small bungee cords around my leg to hold the pant leg closed and try to keep drier. The cords started to make my leg go numb, so that wasn't a great solution. I resisted using duct tape to wrap it up.
We went through a couple toll plazas, paying B$/3.75 each, both times, and at the second one, I had another problem. When I pulled in the clutch to start slowing for the toll booth, the engine died. I coasted up and paid the toll, but the motor wouldn't start. The starter motor was working at the time, but it wouldn't fire up. So I had to futz with that for a while, finally getting it to run with the choke turned on. That allowed me to ride out of the toll lane and over to the side of the road.
I couldn't get the engine to keep running without the choke (enricher) staying on. Something wrong with the carb? With fuel flow?
When I got the engine started with the enricher on, I could then keep the revs high and turn the enricher off. As soon as I started letting the RPMs drop below 3,000 or so, the engine died. I adjusted the idle mixture screw a bit, then cranked the idle set screw until the engine would idle at about 4,500 RPM and keep running without the enricher being on. Not great, but it get me going again. I planned on working on it more somewhere other than the side of the highway.
I had to take care, then, when I let the bike idle in gear, since it wanted to keep zooming. When stopped, I was concerned about getting it started again, so I let it idle fast. At least it was a cool day.
The ride north took us into the mountains again. Foggy and wet, some of the views were great, even if the traffic was slow and the road surface questionable at times. We came to a struck stop area that also had a convenience store and a shop that sold decorative plants. Don't know why it was there, but it was.
I was surprised to turn around and see the view, shown in the photo below. I hadn't seen it at all during the ride up.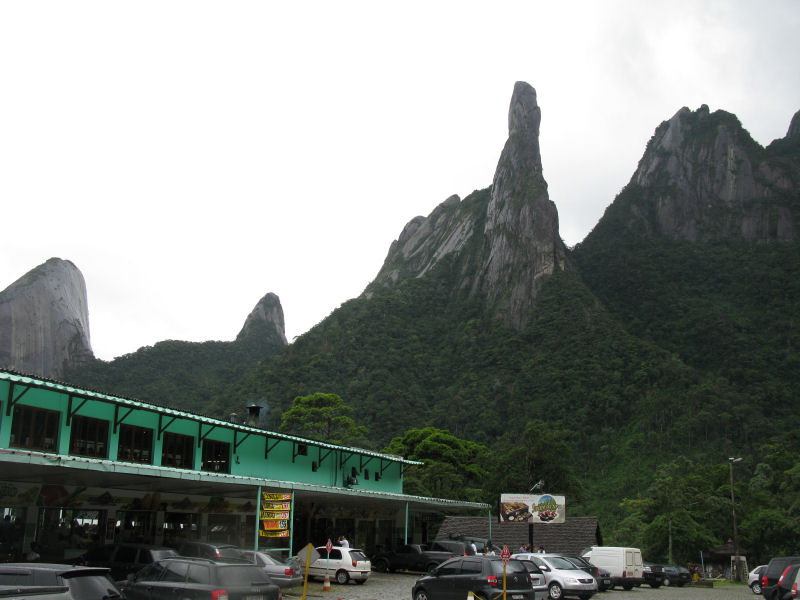 I futzed with the carb some more, and whatever was wrong earlier had resolved itself. I was able to readjust the idle mixture screw and bring the RPMs back down to normal. Must have been something in the float bowl.
We kept riding up the mountain.
I am using these similar photos of the rocky peaks because I like each of them for different reasons.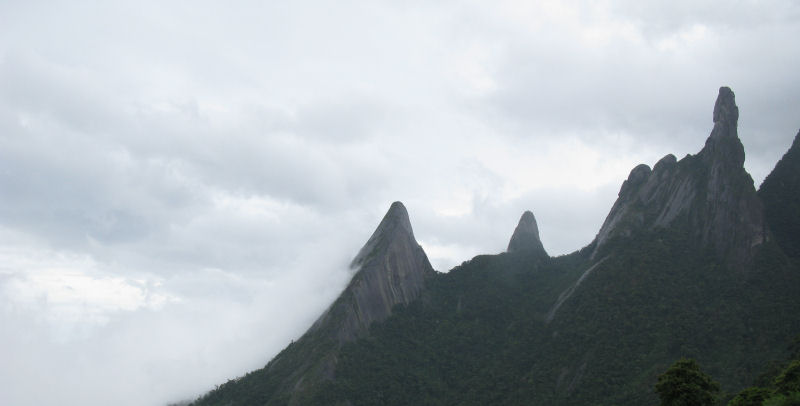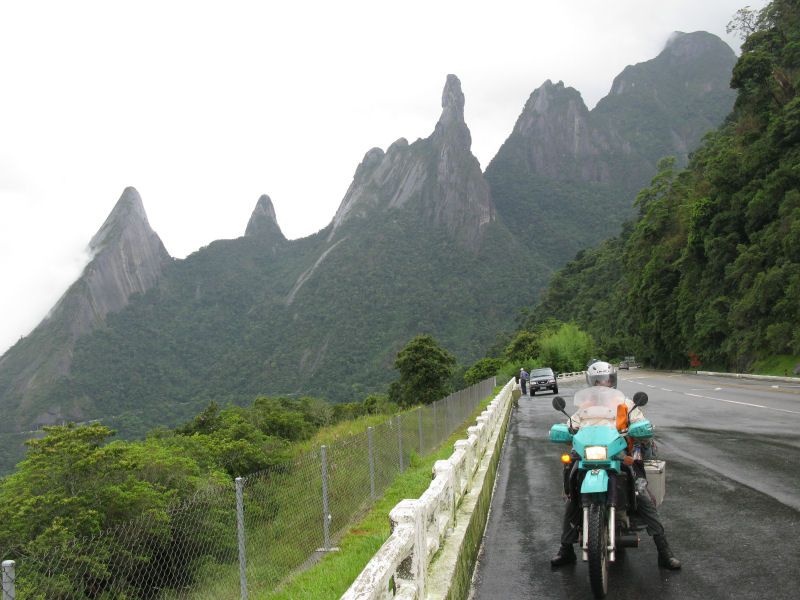 This road would be wonderful if it was dry. Eventually the traffic thinned out, so that made it nicer. There were a few places where the shoulder of the road was caved in, and asphalt curbs had been made around them. That made the road one lane in those places. Also, the soft red dirt on the hillsides had sometimes eroded onto the pavement, and that made for a colorful hazard. It was very slippery mud.
The countryside was very scenic.
I finally got one photo of a purple tree.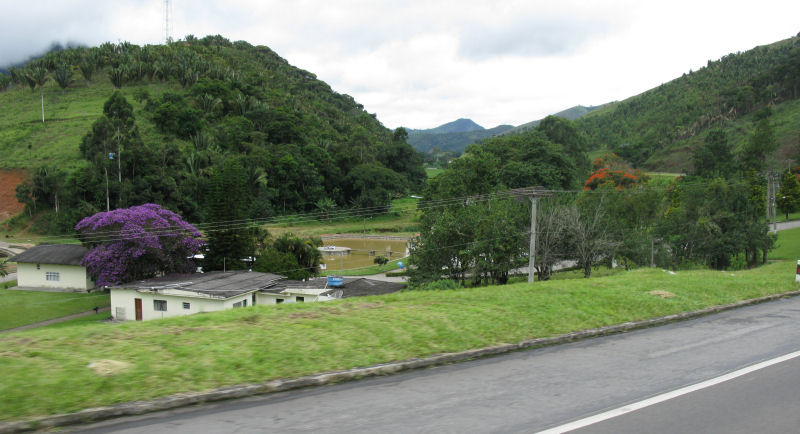 More small towns that looked a lot like Central America, and every now and then a large gas station and restaurant. This was a very large buffet restaurant, but we were there at the wrong time. The buffets shut down at about 15:00, by our best guess. Some were open longer hours for the truckers.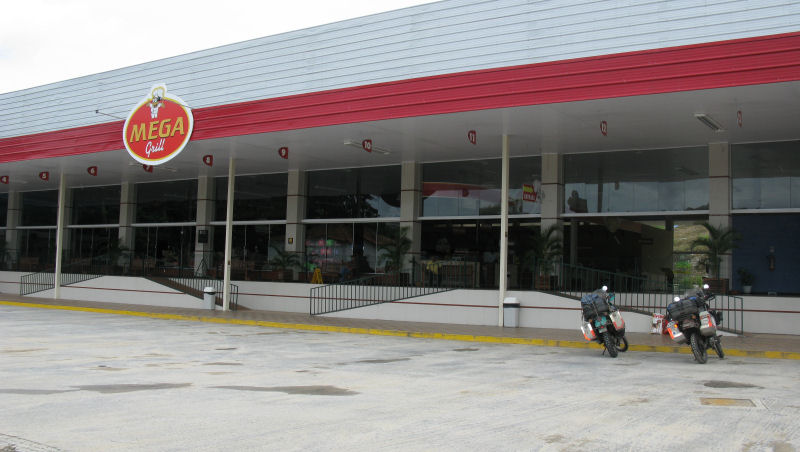 In one town along a river, Don saw where the water had overflowed its banks and flooded the lower buildings. Couldn't get a photo from the bridge, though.
We didn't stop to eat, but just kept riding. Don wanted to get to Salvador or Fortaleza in time to ship his bike before Carnaval shut everything down. Onward, then.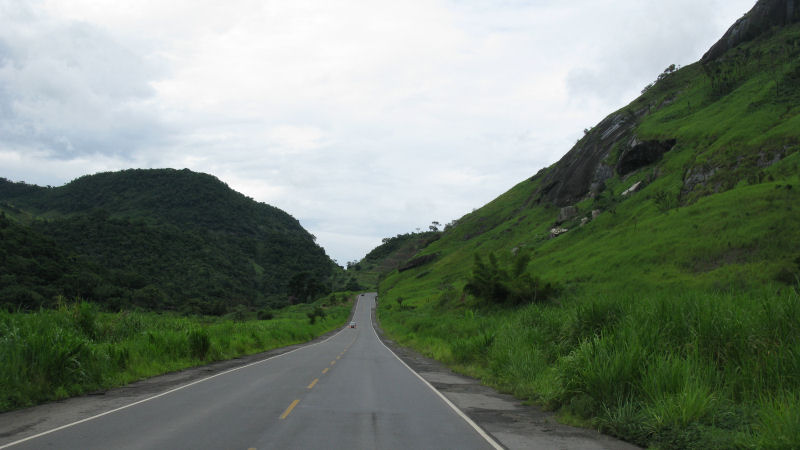 Here's one of the collapsed roads. This looks like it has been like this for quite a while.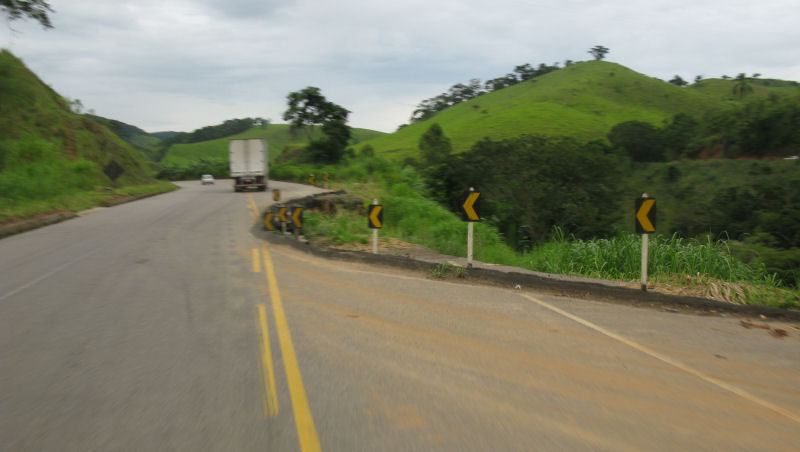 And I finally got a photo of the red mud on the road, although this was a very minor erosion patch. Others were spread all across the road.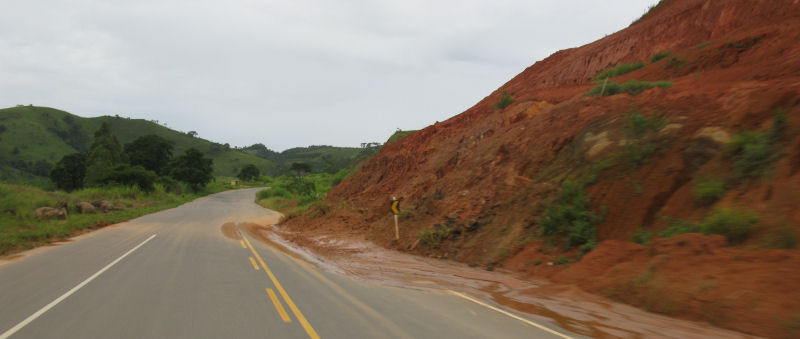 We stopped at about 19:00, before it got dark, concerned that the next hotel might be far away. The manager, seen here leaning on my bike for the photo, was limping on a bad foot. When I asked him if it was a soccer injury, I don't think that he understood that I was joking, and he very seriously told me that it was not from football. He spoke a little Spanish, so that helped.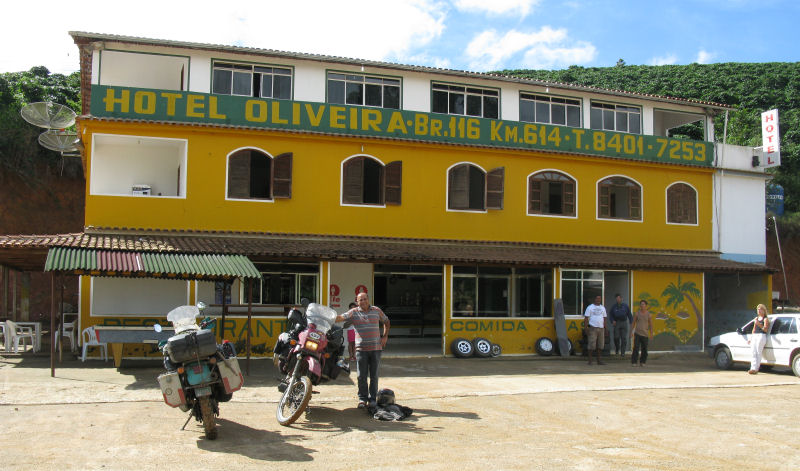 We parked the bikes out back, next to a Nautilus weight machine. The manager was a great guy, taking care of us at each step. After we got settled, he convinced us to eat, but the only thing they had (aside from empanadas on display) was some kind of mystery meal that neither he nor any of the ladies could explain to me. I finally asked to see the food, and I was taken to the kitchen where an old woman showed me several pots and pans full of various meats and other foods. Okay, but what were we getting for our meal?
It turned out that we got all of it. No wonder that their descriptions and gestures of small foods didn't make sense.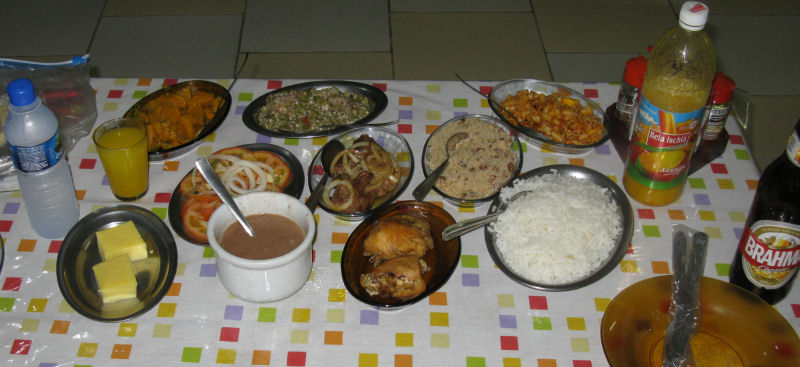 So there were a couple beef dishes, two chicken dishes, some veggies, some macaroni, steamed rice and another rice and beans dish, and some squares of fried mush or cornmeal. It was a lot of food, it was very good, it was pretty cheap, too. The beer was good.
The room was cheap, as well, and very small. Two single beds took all the floor space there was. The tiny bathroom had no door, so we hung a plastic sheet over it for a little privacy. Don has taken to a photo documentary of bad bathrooms.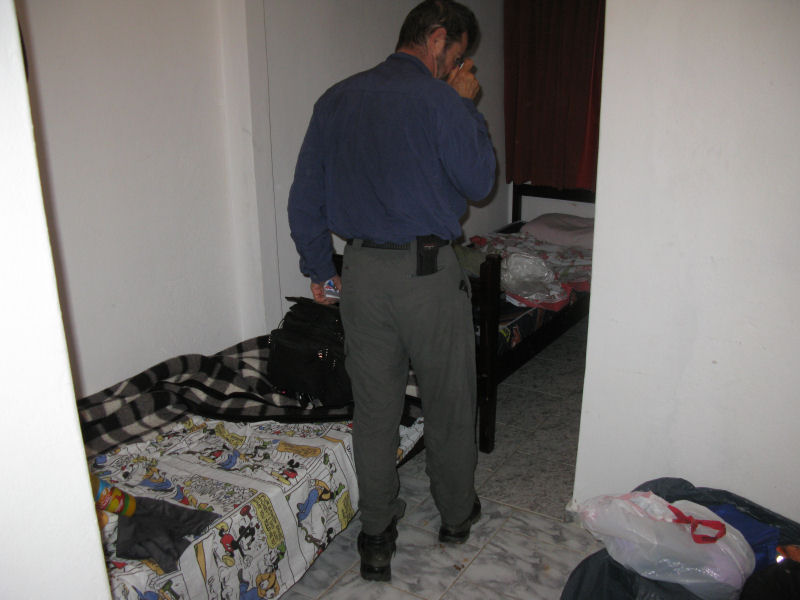 The ceiling fan really helped in the heat. Our sheets (only one sheet per bed) had Mickey Mouse cartoons on them. The blanket was overkill; another sheet would have been better.
I spent some time fixing up my Darien pants. It took a while to work the lower zipper all the way to the top, but once I had it there, I sewed the top of the zipper closed. I could then unzip it from the bottom, which was sufficient, but could no longer unzip from the top to get to my inner pants pockets on that side. A minor issue.
Sunday, 15 February, 2009
----------------------------
We had bread and butter at the hotel, then tried a couple odd-looking dumpling things that turned out to have a shredded chicken filling that we have seen a lot of in Brazil. Such was breakfast.
We had not seen anything with Internet access or had dependable cell phone service since leaving Rio. The infrastructure in the inner country seemed limited to roads and electricity. Each town probably managed its own water and sewage, and TV and telephone service looked to be managed by big satellite dishes.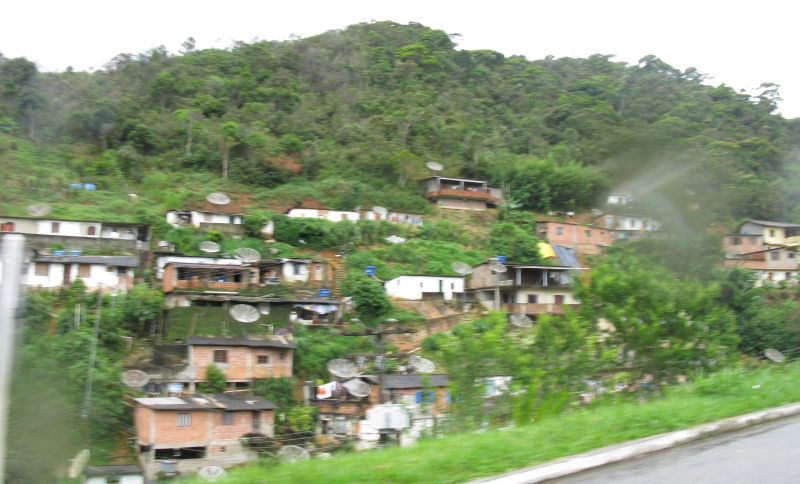 Last night, I had gotten no cell service, but for some reason I had a signal this morning. Yesterday had been Valentine's Day, but we hadn't been able to communicate from the road. Don didn't have a useable phone anyway.
Using my phone, we exchanged text messages with our wives and I sent a SPoT signal. I also watched some locals play pool in front of the hotel. The pockets were very small, and someone used to regular pool tables might have a lot of trouble sinking a ball. Of course, these guys had a lot of trouble, too.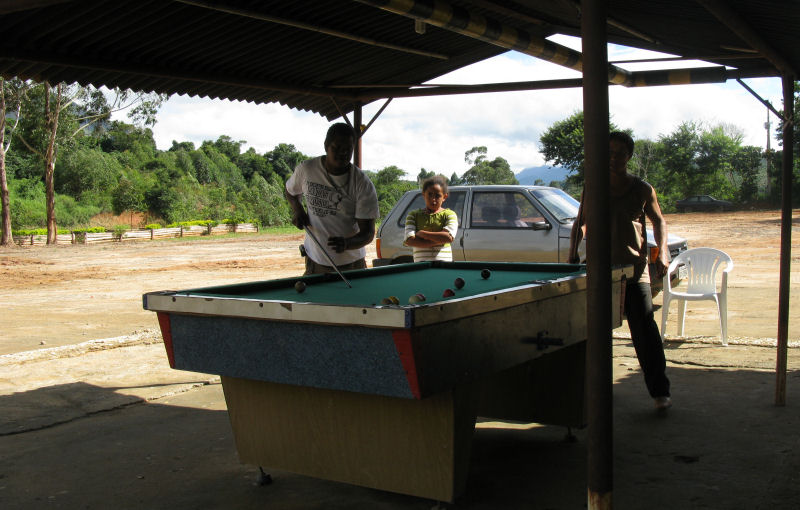 The weather was much better and the ride was nice, except for the constant trucks. You can pass a thousand trucks and find yourself behind a thousand trucks. It took us a while to pass a convoy of trucks carrying big pipes. Dozens of these trucks, each loaded down and moving slow.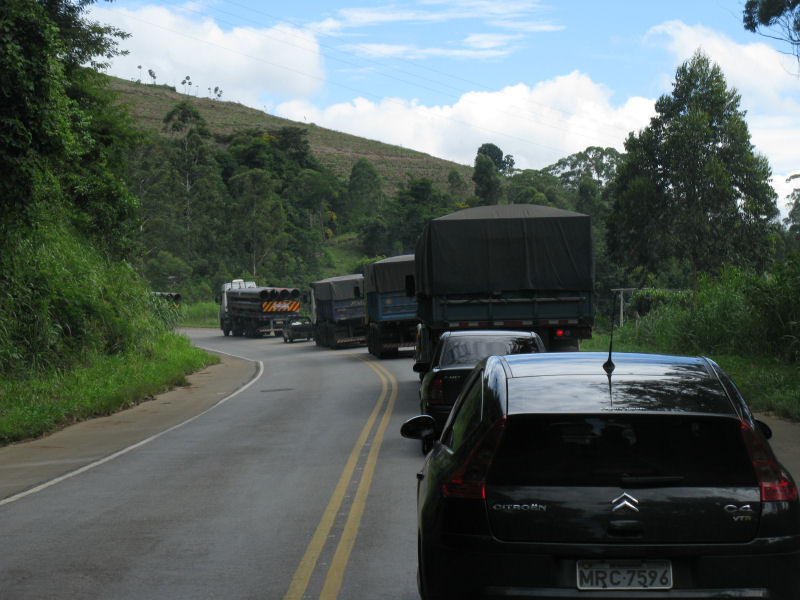 The road was decent, with most damaged areas in good repair. At least there were few potholes. The farms were all over the hills.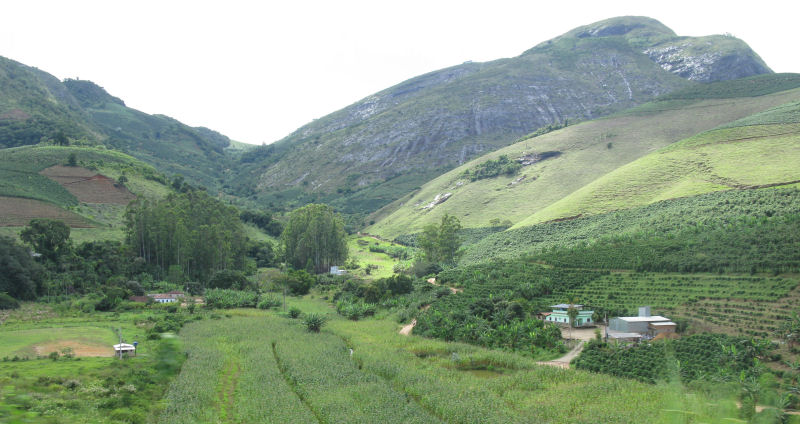 Here's one of the red flowering trees.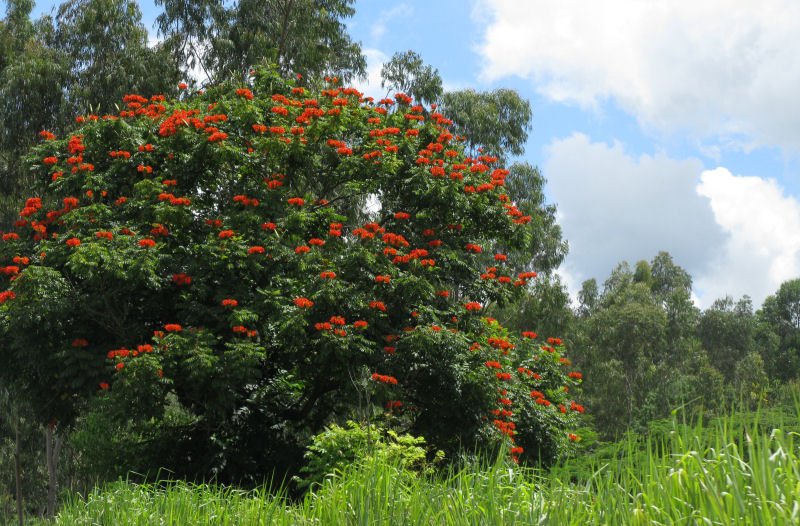 I had read in the Lonely Planet guide for Brazil that the population tends to be more of African descent as you travel north, and more of European descent in the south. People we had met had told us the same. We saw this as we traveled. Alegra had told us that in the north, the music was much more African-based and had much more percussion. She had done a little shimmy as she said this, unable to keep still while talking about music.
I've heard and read many times that it's impossible to find a place near a road where there are no people. Even seemingly completely abandoned areas have someone there, even when you don't see them. I learned this for myself (again) when I pulled over to the side of the road to untangle my camera tether and maybe take a pee in the tall, wild grass. Right after I stopped, a guy with a bright yellow shirt stepped out of the foliage behind me. Out of nowhere he appeared. I suppose he was tending the crops or something. Makes you wonder how many people are there that you do not see. Always someone around.
The day was getting hotter, but getting more cloudy as it wore on.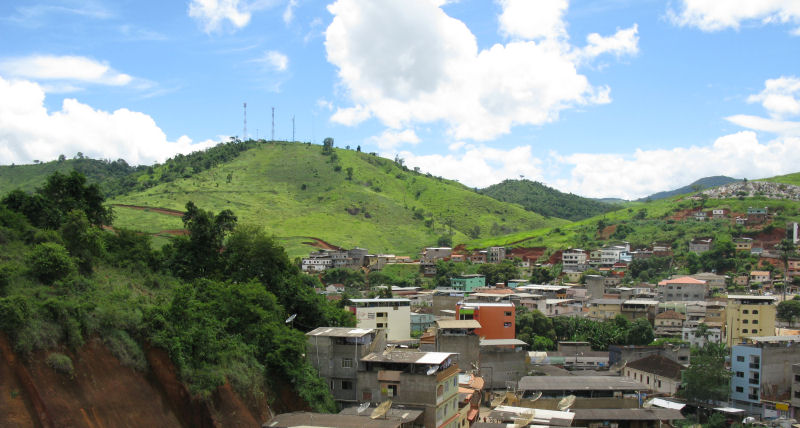 We pulled in to a gas station that had motorcycle oil and changed ours out. They only had four liters, so I had to use the last liter of oil that I carried as backup.
At the next Lanchonete buffet, we stopped to try their rodizio-style skewered meats. The buffet again was cheaper without the meats that the servers brought around to the tables, but it was only R$/38 for both of us (including drinks, which were separate), and all the meat we wanted to gorge ourselves on.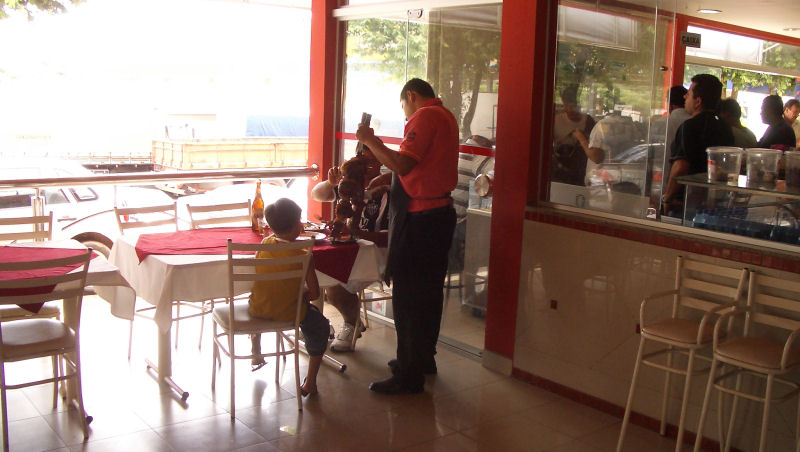 At this restaurant, they gave us a bar-code card and a meal ticket when we entered, and each thing you get (drinks, desserts, stuff from the souvenir shop, etc.) is added to the card or the ticket. You give both to the cashier on the way out and pay all at once.
Restrooms were Masculino or Ele for the men, Feminino or Ela for the women. Either way, it might look like this. At least it flushed. Bring your own TP, just in case. And with a toilet like this, the paper goes in a bag or bucket, not down the hole.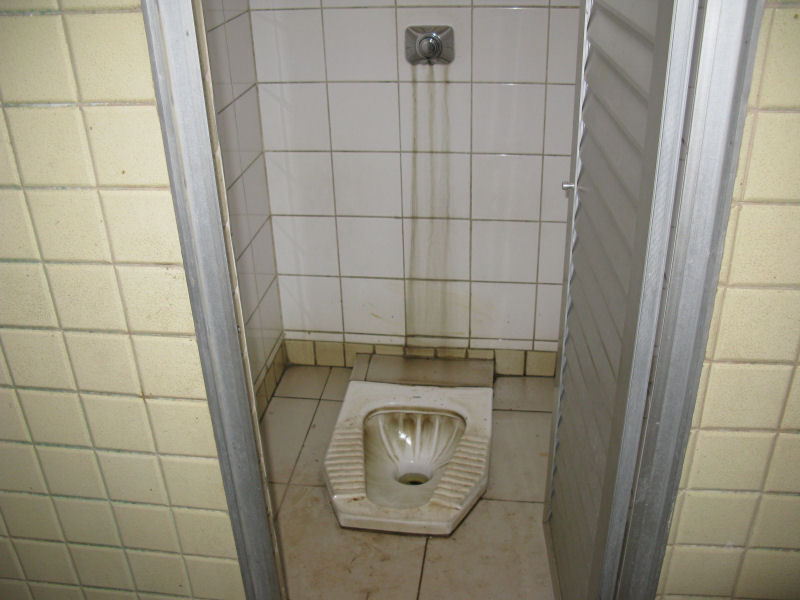 We got back on BR-116 and kept heading north. We had to pass the convoy of pipe-carrying trucks again, since they had gone by as we ate. Passed another accident on the road, but this one wasn't blocking traffic badly. Actually, we were moving pretty quickly when weather and traffic allowed.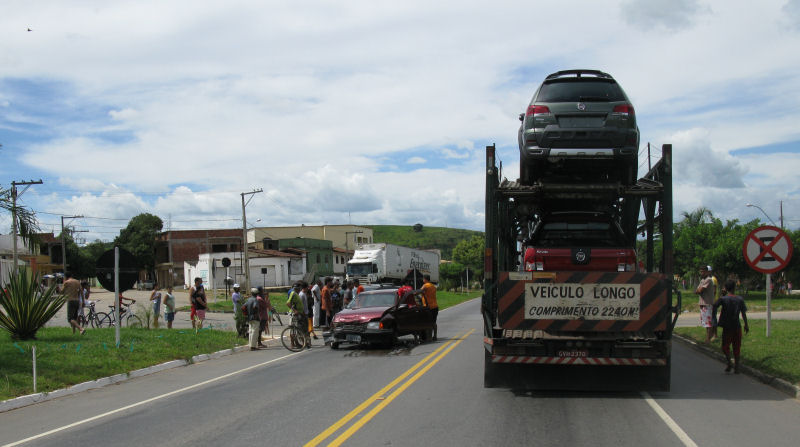 I was glad to see that Calvin was known down here. But where was Hobbes?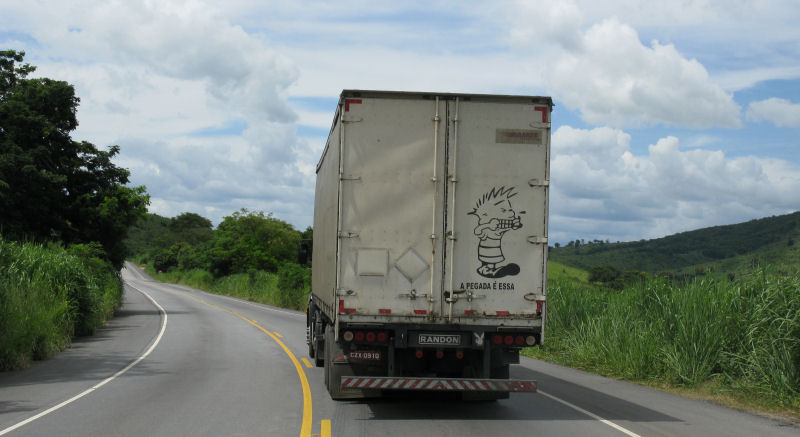 Coming down a long mountain descent, we passed a semi truck on its side, and later saw where another seemed to have slid sideways off the road completely. Long skid marks went off the pavement, took out a bunch of grass and trees on the shoulder of the road, and then went down a chasm. People were standing there looking over the edge, so maybe it had just happened. Don't know.
More small cities and towns.
These trees looked mostly like bamboo, but were fuzzy like ferns. There were very dense in places.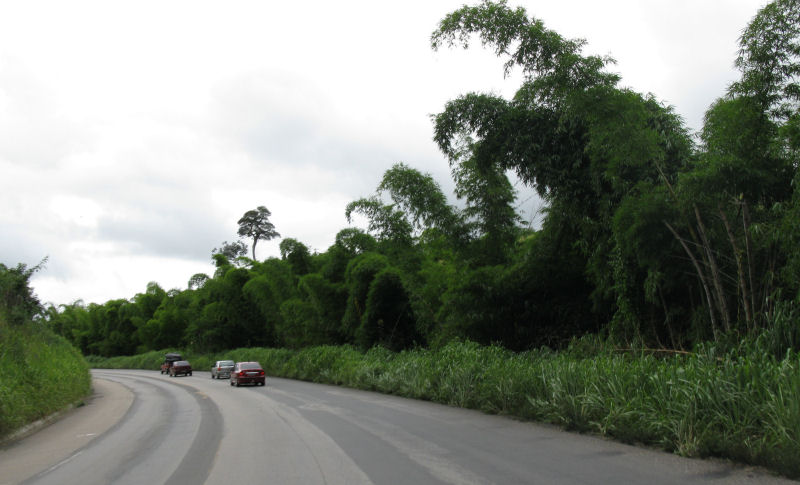 After leaving the mountains, we went through a region with large rocky peaks and spires.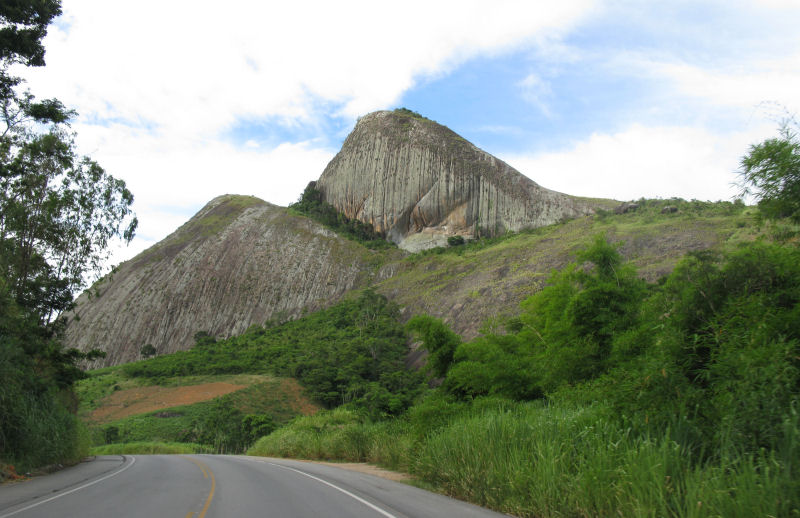 We managed to outrun this rainstorm, but it eventually caught up to us.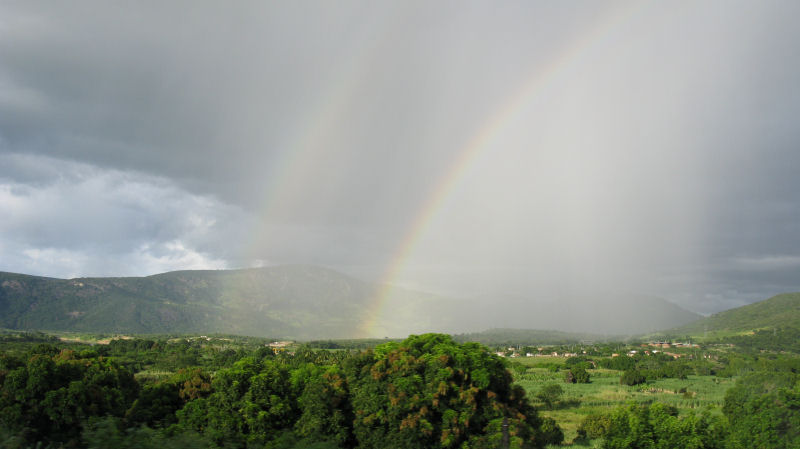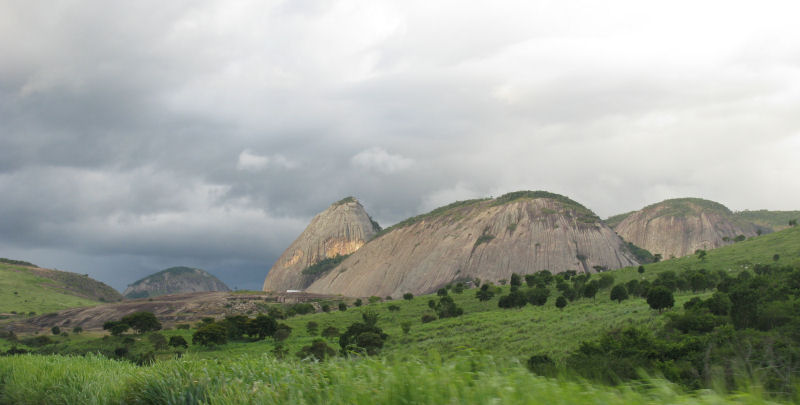 Along one stretch, we passed lots of small fires that had recently been set along the road. Probably to kill off the wild grass. This was my best over-the-shoulder-and-behind-me photo.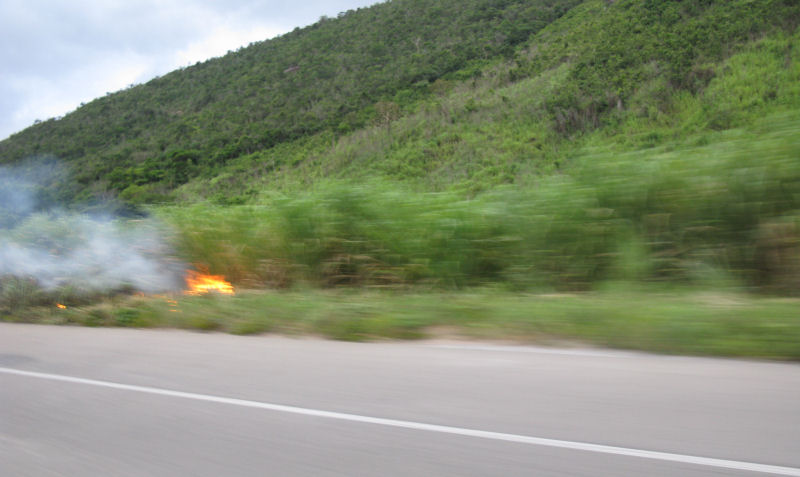 When we stopped briefly to put on rain jackets, we were in danger of being hit. There were no shoulders of any kind to pull off onto and the traffic used the whole road, so it wasn't very safe. What looks like a painted shoulder line is actually a lane that the trucks use. This was a short straight section of road, so it was the best we could find.
Sometimes there are different speed limits for trucks and buses, and occasionally a different speed limit for motorcycles. The car in this next photo spent a long time in the wrong lane, very slowly passing that truck. When he finally got up next to it, an on-coming car caused him to hit the brakes just as I took the photo.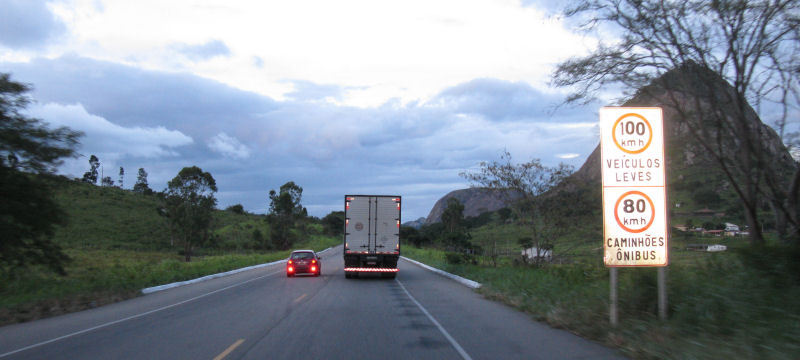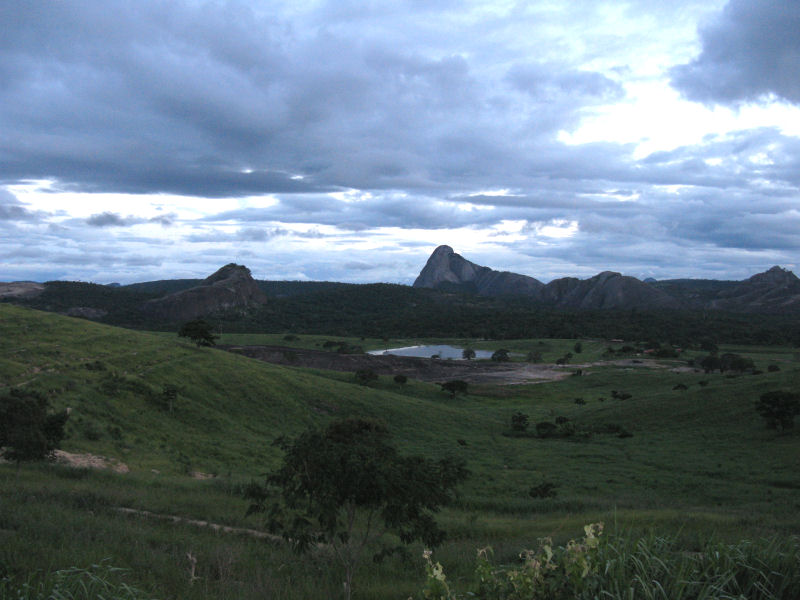 It got dark early again, due to the clouds. We pulled in to a hotel in Candido Sales. There was a small store in the hotel (on the left in the photo) where I got a couple beers and Don got some water. They opened a big sliding gate to a secure parking lot next to the hotel, but I almost took my head off when I rode into the lot standing on the pegs. I hadn't seen all the laundry wires strung across the lot. It was a close call.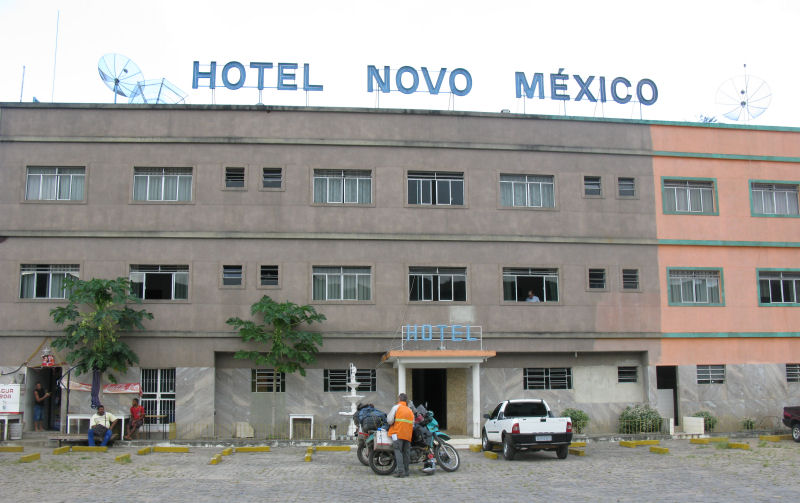 Another 220-volt heated shower head with exposed wires. Don't try to adjust these, folks. They don't swivel, and Don has shocked himself twice. If the shower has a small hose coming from it as this one does, it can be used to get the water to more intimate places.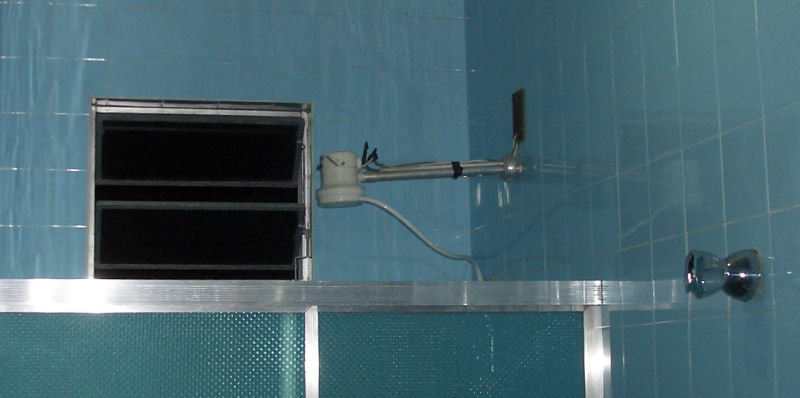 I got out my leather awl and stitched up my boots. Shoe Goo didn't work as well as I had hoped, and it eventually peeled off everywhere I had used it. I'm not sure why the heel part of the left boot came unstitched, but it had been letting a lot of water in. It's probably from hooking the sidestand with that part of my boot. I also stitched the shifter pad back on the front of the boot.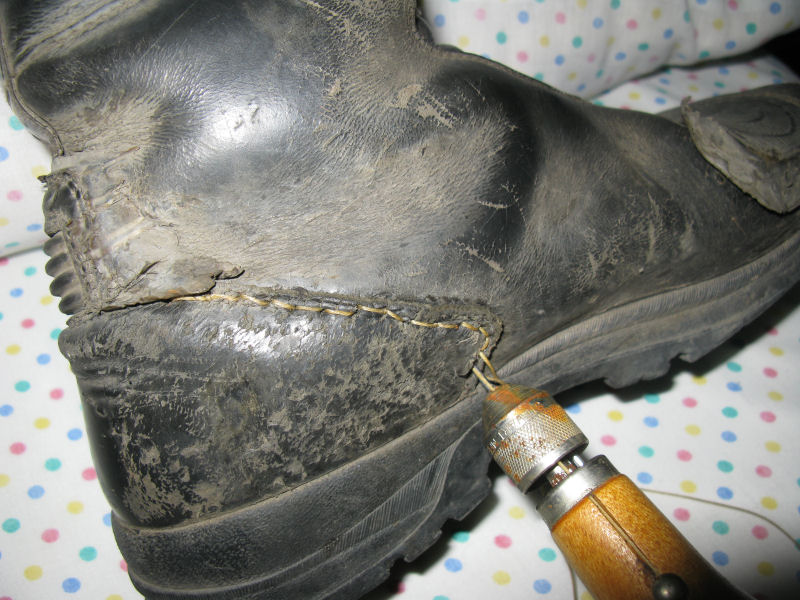 I spent an hour doing photo management for this ride report, but didn't get any writing done.
Monday 16 February, 2009
----------------------------
We made out way to a truckstop for breakfast. That's when Don noticed that his Chinese waxwood walking stick was gone. It might have fallen off the bike yesterday on the road or someone might have taken it when we were at the rodizio buffet, but the photos I have show that it was missing when we got to the hotel last night. It probably fell off. Rats.
I noticed as we were riding that there were lots of trucks hauling new cars in both directions. We were two hundred miles from any dealership or showroom, so it was odd to see a truck carrying small Chevrolet cars passing another truck carrying identical small Chevrolet cars going the other way. Couldn't they just turn around and go back to where they came from to accomplish the same thing? I'm sure there was more to it than that, but it caught me as funny. I later saw two trucks carrying VWs doing the same thing.
We had seen several places--usually small towns--where the asphalt was very deeply rutted. It looked like they hadn't done very good roadbed preparation before paving it, and the trucks had pushed the asphalt down into ruts that would be very bad for a motorcyclist if he or she didn't see them coming.
There were a lot of prostitutes working the truckstops, and they were sometimes just hanging out on the highway near the speed bumps where everyone had to slow down. I saw a few women climbing down from the cabs of trucks while readjusting their clothing. One gal had not quite managed to get all her clothing back on first, but she fixed everything as she walked back across the road in front of me. A tube top and short skirt are certainly convenient.
It drizzled again, but didn't get very heavy this time.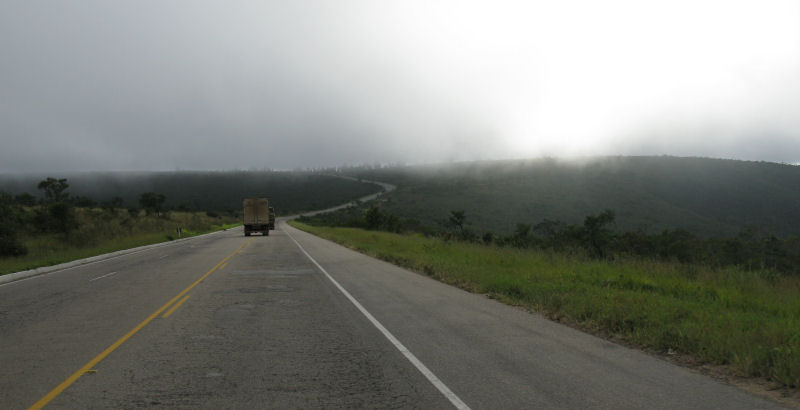 We passed another crash. There's a semi truck and trailer on its side down there in the center of the photo. Looks like it wiped out a roadside vendor, maybe? The police hadn't arrived yet, but the crowd of spectators had. Most were on foot or bicycles. Like I said before, people come from out of nowhere when you least expect it.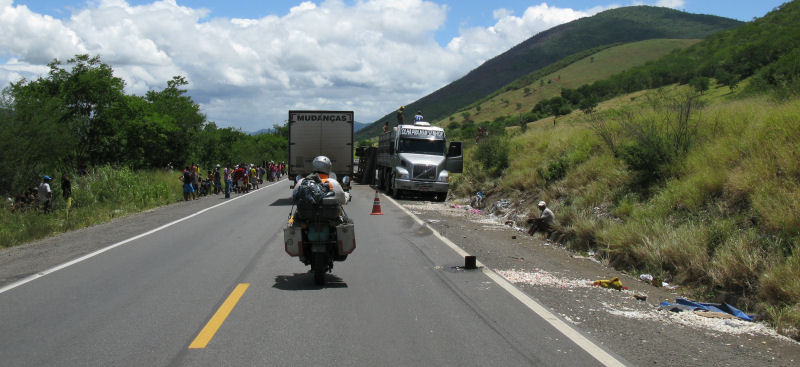 I saw dozens of these shops that repair or install exhaust pipes and mufflers. They all had old exhaust pipes stuck in the ground and painted as a type of artful advertisement.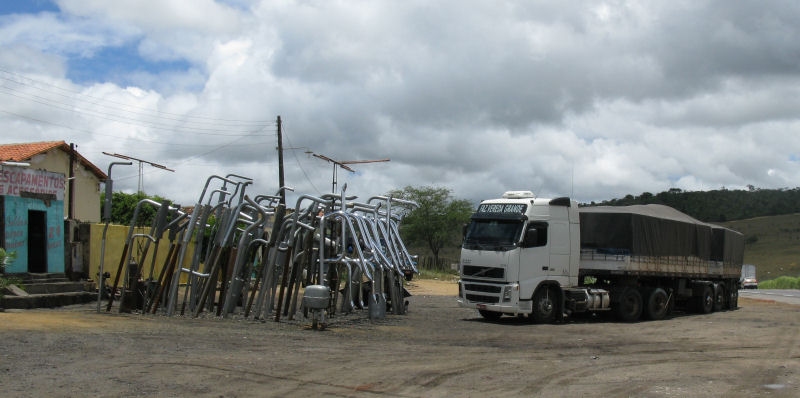 Like Central America, speed bumps were also where people stood to sell water, sodas, fruits and vegetables, cheese, snacks, and a variety of other things that motorists might want.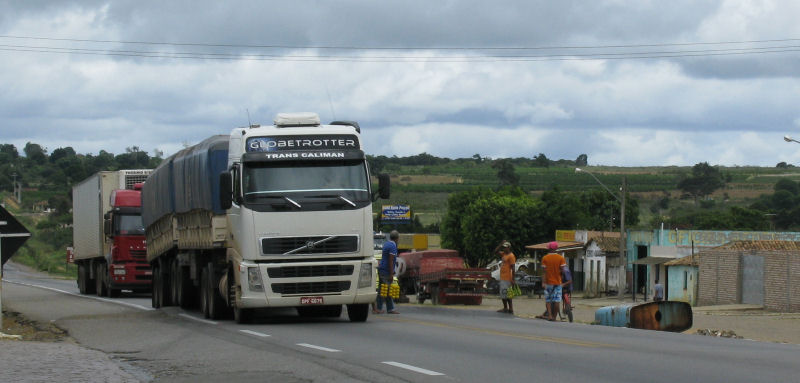 More nice scenery.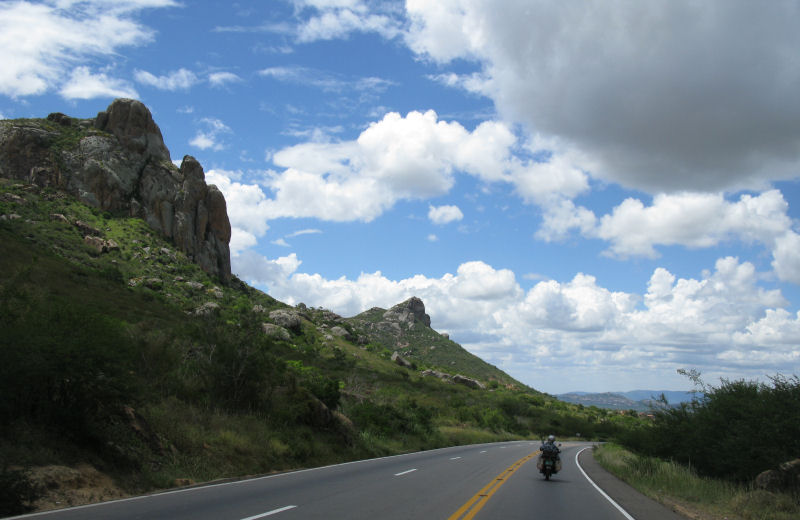 The big penis rock seemed an unlikely result of erosion.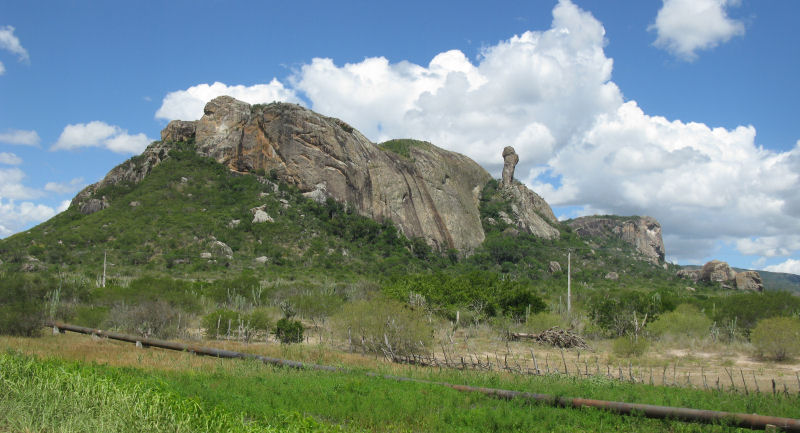 Earlier, we had seen roadside crafts that looked like enameled wood carvings and implements that I didn't recognize. This area had mostly pottery and woven straw hats.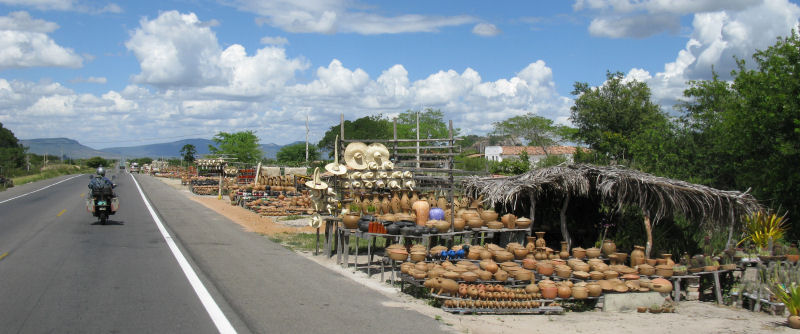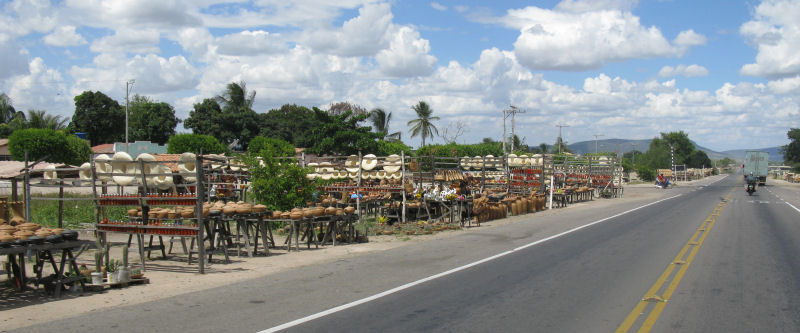 We had lunch in another buffet. It wasn't as large or as good, and the meats were sometimes chewy. It was cheap, though.
We turned at Fiera de Santana and headed down BR-324 on the peninsula toward Salvador, Brazil. Don would try to ship his bike home from here, and we would go on to Fortaleza if he was unsuccessful.
<< Link to PREVIOUS report: Uruguay Up >>
<< Link to NEXT report: Salvador, Brazil >>
[ ERRANT-RONIN HOME ] [ Prudhoe Bay to Ushuaia Home Page ] [ Ride Reports Home Page ]