Part 10. Ecuador down
================
Friday, 21 November, 2008 (continued)
-----------------------------------------
Down the road a short hop were the offices for Ecuador. Many more street side vendors and people just hanging around. The road diverted off through a military checkpoint (they just waved us through), then the road continued. We had to circle back to find the Immigration and Customs building on our own. There was nothing stopping a person from just riding onward, but if you got stopped in the country, you'd be in serious trouble.
I went first, finding the Immigration office nearby. I filled out the one short form the official gave me, and returned it and my passport to him. He ran my passport through a scanner/printer that printed my visa into the passport. He signed and stamped the form, tore the bottom part off at the perforation, and gave that back to me. That became my tourist permit, I think. Anyway, I kept it with my passport. I watched the bikes while Don did the same. No cost to anything. (They use the American dollar here, by the way.)
Don then took our bike papers and all of our other documents (title, registration, driver's license, passport, Colombian export papers) and disappeared for a while. For quite a while. It got dark during this process, so making Quito was out of the question. Besides, everyone I asked said it was between three and five hours to Quito from the border.
Right next to where we parked the bikes was a makeshift farmer's market. A bunch of produce (much of which I did not recognize) was unloaded from trucks and spread around the parking lot. People came in went in cars and taxis, getting a crate of eggs or a few bushels of fruits or vegetables. It was quite lively. Many people walked over to look at the bikes. I had already gotten used to the fact that people like to stand right next to the bike, sometimes touching this or that. With me standing right there, they all seemed pretty self-conscious, which was good. When one guy rapped on the gas tank, I asked him not to touch the bike, please. "No tocar la moto, por favor." I told him the tank was plastic, and that satisfied him. I never had the sense that any of the people were looking for something to steal, only that they have a different sense of personal space and of property.
A guy pulled into the parking lot for some groceries, but he chatted with another guy who had been standing around the whole time I was there. They he lifted the hood of his car to show the motor to his friend, and part of the hood latch fell off. Embarrassed, he tried to screw it back on with a key. I handed him a screwdriver from my tool kit and held an LED light for him to see better. After fixing his mighty steed, he thanked me sincerely. I gave each of the men a mint, and we were buddies.
I tried making a phone call, but my AT&T cell phone wouldn't connect to anything. Again. At least it wasn't raining.
It was too dark for photos, and I didn't want to use a flash, so no shots of the farmer's market. They were doing business by the headlights of the customers' cars. They were quite wary of my camera when I brought it out. Maybe my imagination.
Don came back and told me that we needed two copies of our passports, driver's licenses, registrations, bike titles. We barely had the copies we needed, so we will have to get more copies made at some point. Off he went with the copies. When he came back, he sent me to the office to sign the import forms. The officials (one looked civilian, the other was military or police) were very polite and efficient. The one in uniform wore a captain's rank and spoke decent English. I signed the forms and they followed me out to the bikes. I held the LED light again while they inspected the bikes and the VIN plates. They kept one copy for each bike, gave us the other copies, and we were done. No charge.
We rode from the border on the PanAm (which doesn't look like much as you leave the border area--we wandered if we were on the wrong road for a while) and on to the first city, Tulcan. We found El Centro with no problem, and it looked like a decent place. Very busy, lots of people bustling about. No hotels right on the plaza, so we started circling the area.
When I pulled up next to a motorcycle policeman, I asked him for directions to a hotel. He shouted out through his helmet and made gestures, so I understood him, but he decided to lead us there. We followed him and he pointed to the hotel as we passed it, but he kept waving for us to follow. He circled the block, bringing us to the parking garage entrance for the hotel. Nice guy. With a wave, he was off.
Don checked out the hotel while I waited. A few vendors in the area stared at me, but none returned my wave or my greeting. These were a native people, and kept to themselves. I tried to give a mint to some of them, but the mother of the bunch waved them away from me. There was no hostility or fear, just a caution not to accept candy from strangers. I can appreciate that. Besides, they already had lollipops. I did take a photo of one of the girls carrying around her younger sister.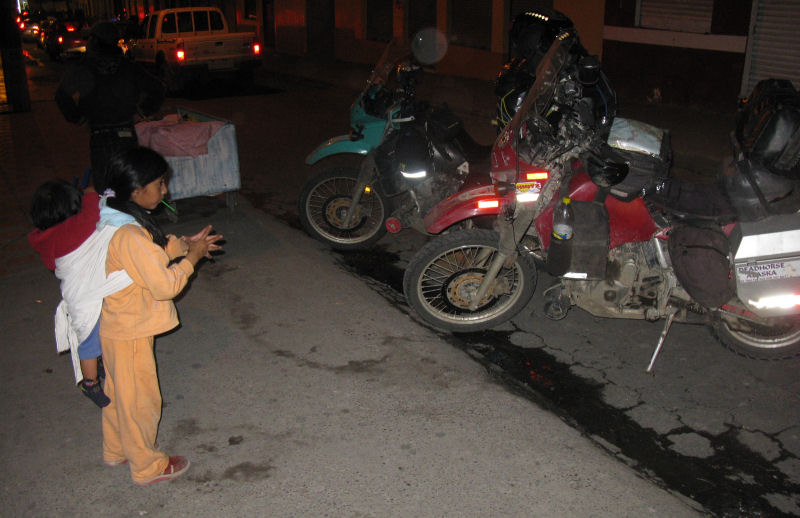 The baby kept sticking her lollipop into her big sister's hair.
The hotel wasn't quite what we wanted. It was cheap, but they only had a room on the 6th floor. I haven't mentioned it yet, but we have yet to see an elevator in any of the cheap and mid-range hotels.
I waited there while Don went looking around. Several locals stopped and chatted with me as best they could, given my limited Spanish. One guy said it was going to be cold going south, and he told me to put a newspaper under the front of my jacket to cut the wind. To make sure I understood, he jammed his own newspaper under his shirt. I assured him that I understood.
Another guy walking with several younger men stopped and asked about the bikes. He said his son (one of the young men with him) was in a race tomorrow, but I didn't understand if it was a motorcycle race or a bicycle race. He said "motocross," but he made a pedaling motion with his hands, so it could have gone either way. I wished the son luck and we shook hands.
Don eventually came back and led me to another hotel farther away from the central plaza. It was cheap but barely worth it.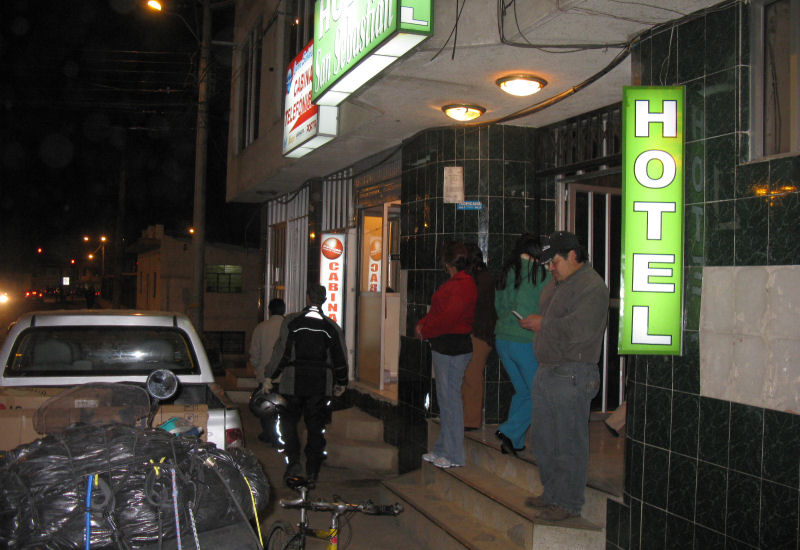 We unpacked the bikes out front and then rode the bikes to the enclosed parking lot in the rear. The room was small, the ceiling light was hanging by its wires, the door to the bathroom had no knobs on either side, the shower head was missing, the TV cable was torn apart, and the toilet didn't flush well. None of this really matters, of course. I only mention it so you can share in the atmosphere of the place.
When I took the top off the toilet tank to see why it didn't flush well, everything looked okay. I flushed it to see what was happening, and water shot straight up from the fill valve and hit me in the face. I slammed the ceramic top back onto the tank and decided that if it flushed at all, that was good enough for me. I wasn't going to try to fix anything. Now, where's a towel?
Each bed had three blankets. Very heavy blankets. It must get very cold here. What you see is all the floor space we had.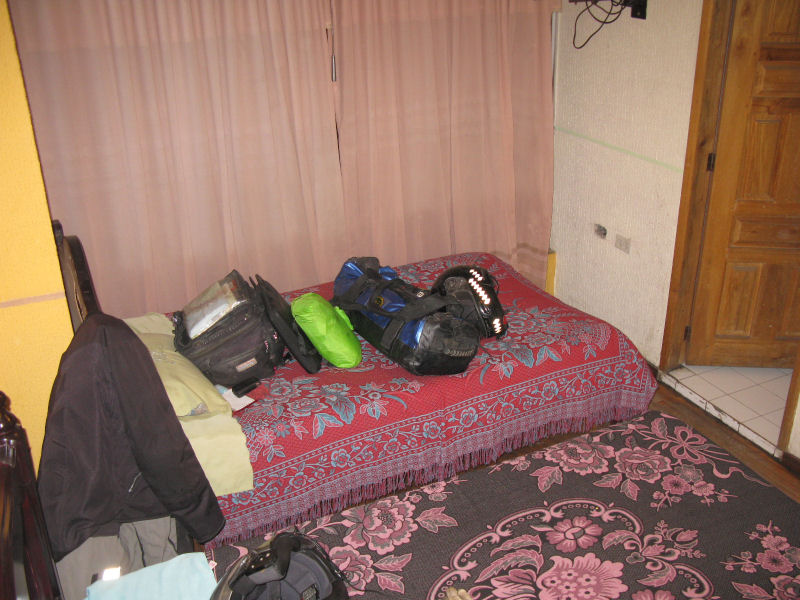 There was only one electrical outlet in the room (aside from the one at the TV mounted up high in one corner), and again they looked like the U.S.-standard plug but were slightly larger. Our plug-in devices worked, but were loose in the sockets.
When I took a shower (again like a fire hose, since there was no shower head), the knob for the hot water came off in my hand. Figures. At least there was hot water, so all was good.
We left the hotel to find an Internet cafe, but the ones we found were all about to close. Apparently, Tulcan shuts down at 22:00 on a Friday night.
So did we.
Saturday, 22 November, 2008
-------------------------------
Someone knocked on our door at 07:15 and said something, but we didn't get a reply to our questions. We ignored it. Probably the hotel staff wanting to tell us (or ask us) something.
When we did get up, we packed the bikes and got a woman from the hotel to open the big gate so we could leave the parking courtyard. We stopped along the road later for breakfast.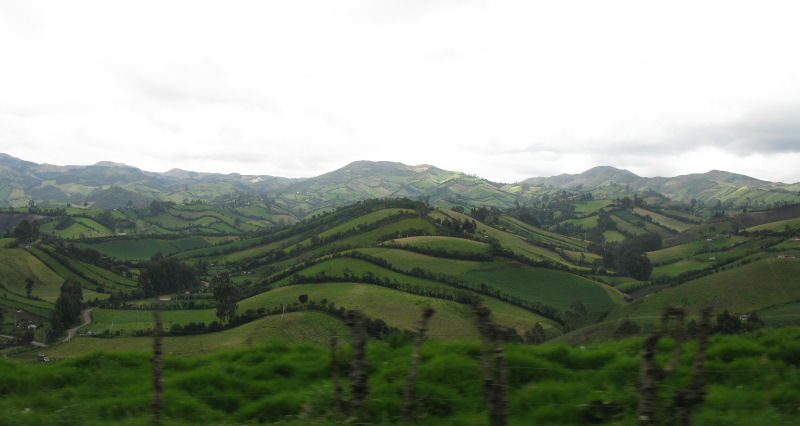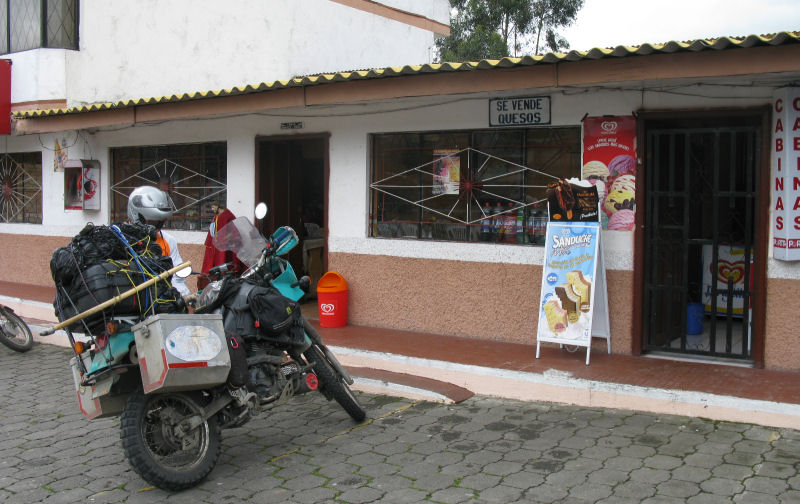 The breakfast was nice, and it was cheap. Less than $3. That's three dollars American, buddy. The bills were all U.S. dollars, the coins were a mix from the U.S. and Ecuador. As in Panama, the local coins were in the same denominations and exactly the same size and weight as their U.S. equivalents. Just different designs.
Lots of small cities and towns along the road to Quito. Many had interesting statues, but I haven't been much for photographing statuary.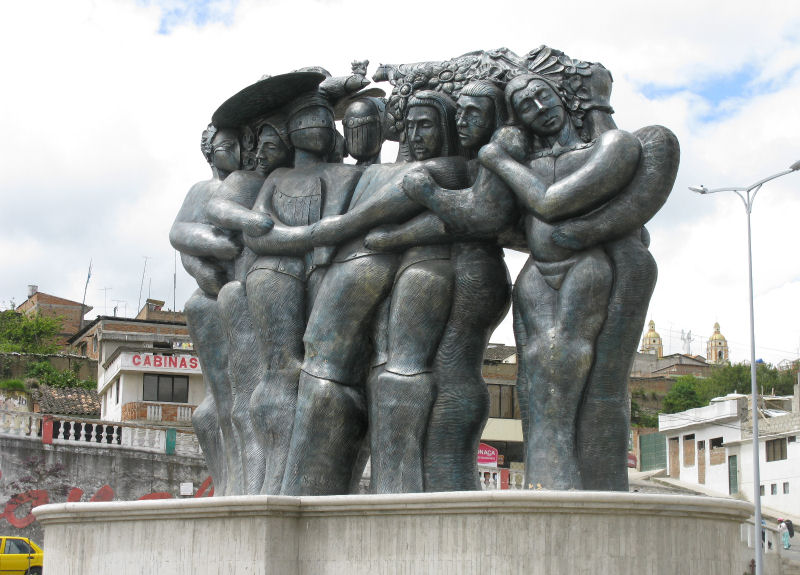 In one city, there was a series of huge statues, painted and very detailed. I think this was a bus stop. Why there were Neanderthals hunting big, green saber-toothed tigers and mammoths, I could not guess. The guy in front of the mammoth saw me trying to take a photo, but he ignored me. So this is Senor Jerkwad with the mammoth.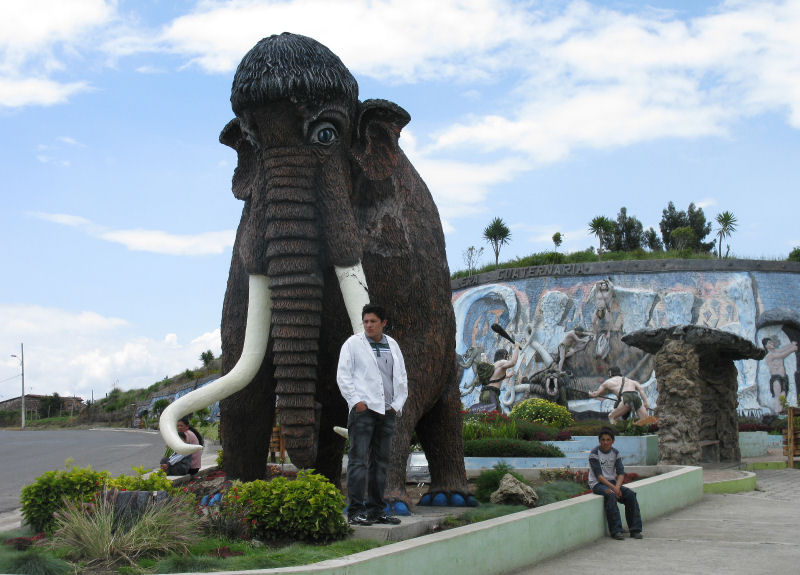 These statues were about fifteen feet tall.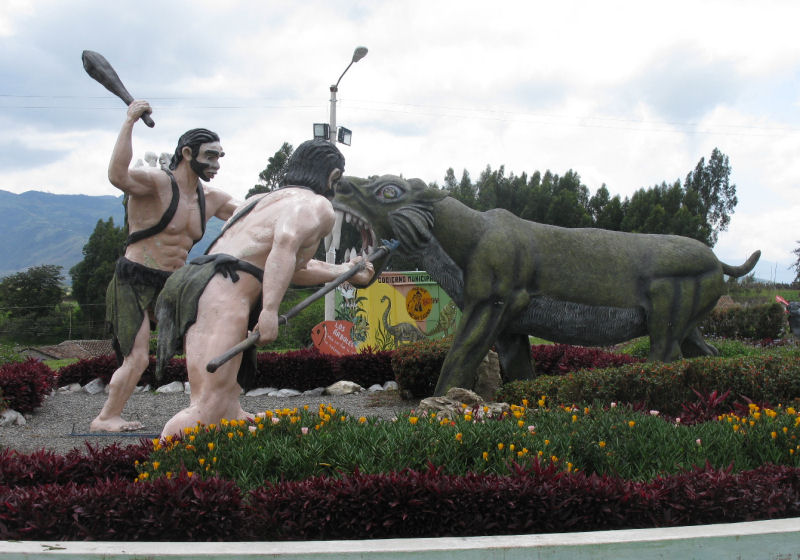 In Ecuador, the PanAmerican Highway is E35, and we were reassured to see the signs confirming we were on the right road. At some point, though, the highway and the Garmin GPS map separated again, and we weren't sure what road we were on. According to the GPS, we were diverting away from the PanAm, on a big loop that eventually came back to E35. No matter; the road we were on was new and wonderful, and the extra mileage went by nicely, even if there were some crops being dried on the road. Out of the mountains, the low lands were also very nice. The farms along the road were all well-tended.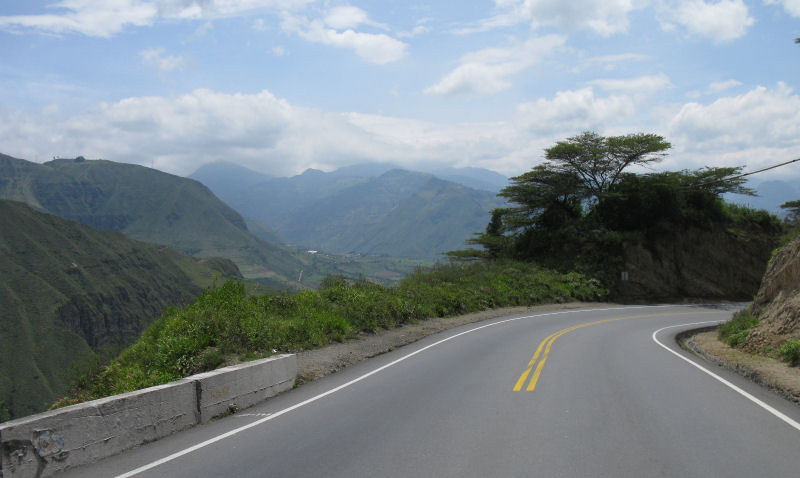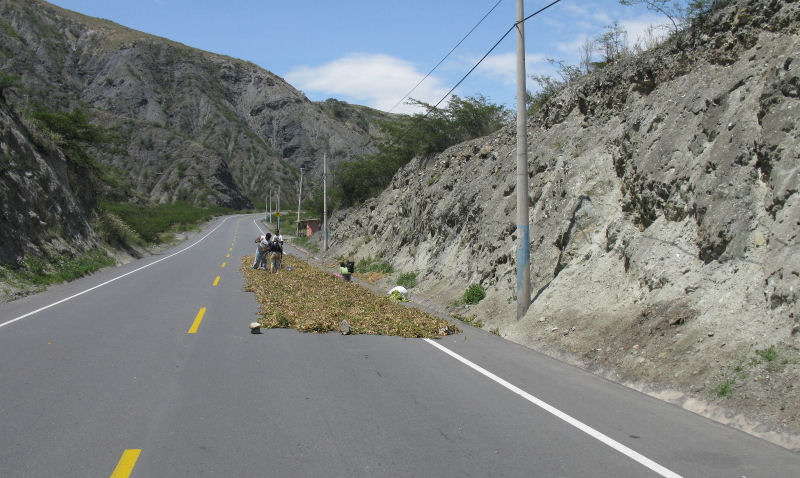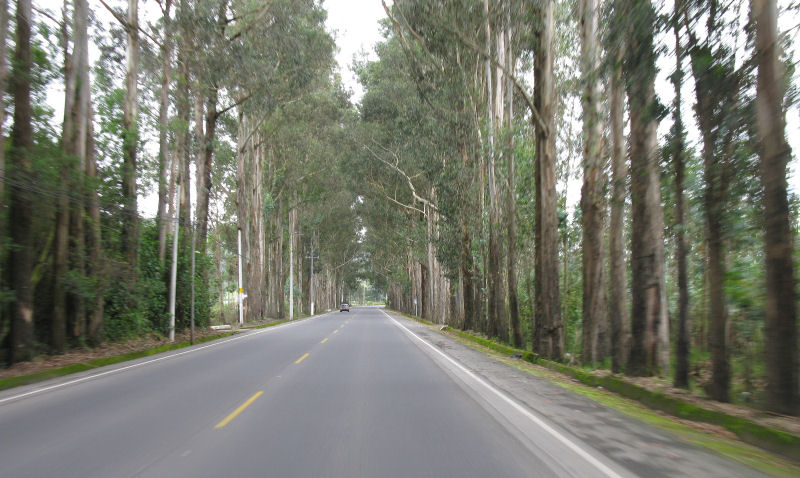 At one point, the road was closed and we were diverted through what looked like a customs inspection station, but there was nobody there so we just rode through. Maybe it was siesta. We passed a truck that has turned over on a curve and was laying on its side on the shoulder of the road. People were unloading crates of eggs, and most seemed to be intact!
We passed through several toll stations and had to pay. No toll bypass lanes for us anymore. One of the toll-takers agreed that Colombian toll roads were free, but we had to pay in Ecuador. Twenty cents, please. Well, okay, that was easy enough.
We found gas to be about $1.48 per gallon, so that was easy, too.
I was watching the GPS closely, because we would cross the equator before reaching Quito. When we were only a few seconds of angle from the equator, we slowed down. As it turned out, it was hard to miss.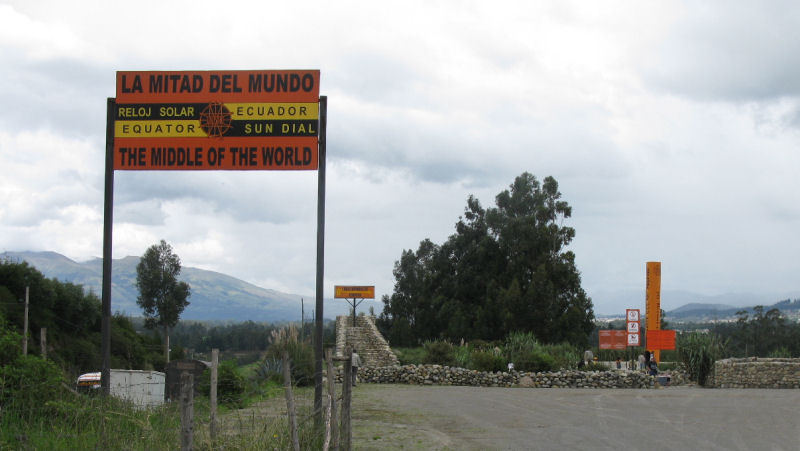 A group of tourists from Finland were just leaving the huge sundial monument as we arrived. We talked with them a bit, and they told us that the men attending the monument would let us take the bikes out into the center. When I asked one of the attendants, he said he would move the stones aside for our fat bikes to pass through the walkway.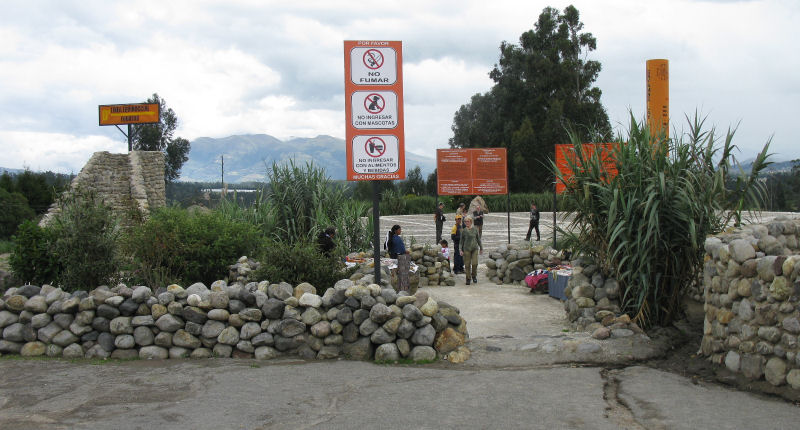 We put our bikes next to the big tube (it has a mirror at the bottom of it that catches the sun exactly at noon on the equinox, directly overhead). We listened to the attendant give his canned speech about the equator and why Ecuador (which means equator in Spanish) is known as the center of the world. Something to do with the unchanging climate, but his accent was too hard to follow most of the time.
I bought a CD/DVD/map/pamphlet set about the equator ($25) and the guy took photos of us.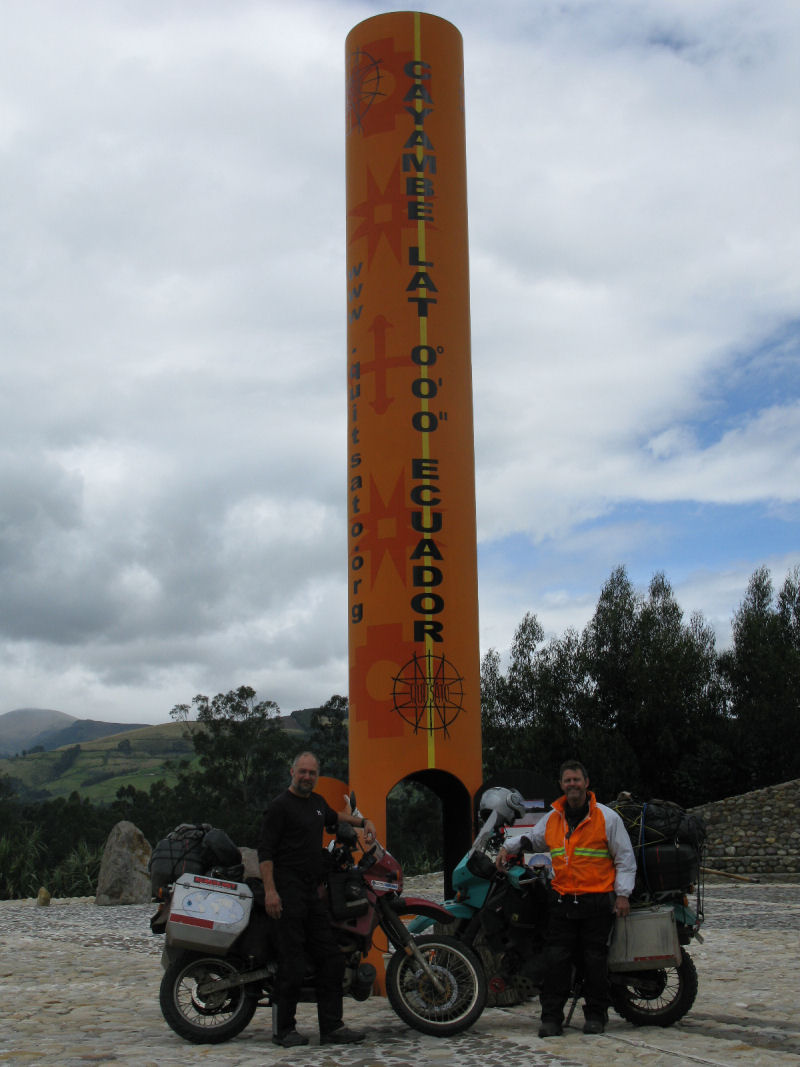 I hiked up onto one of the overlooks and took a photo of the sundial. This monument is located where an ancient sundial used to be, and its functions have been recreated here. The lines track the shadow from the orange tube as it traces the patterns of the solstices, the equinoxes, the seasons, etc.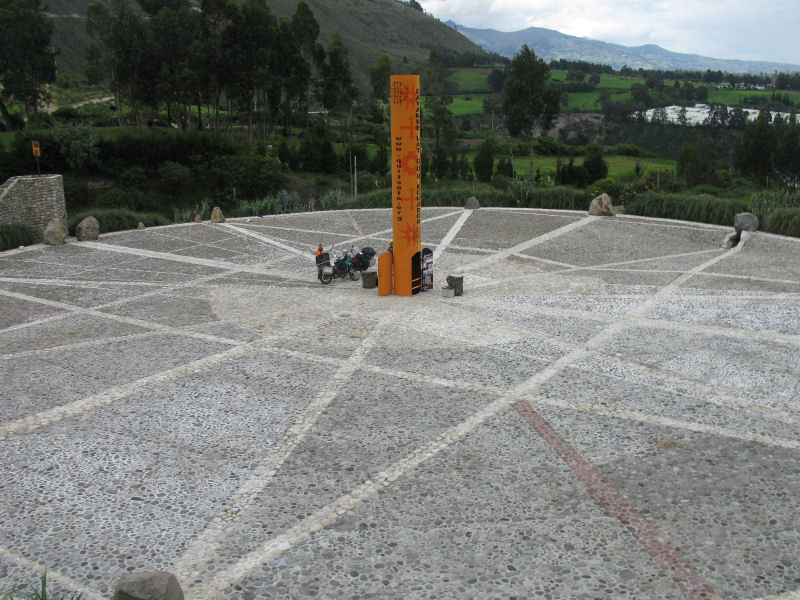 I've been getting some sun.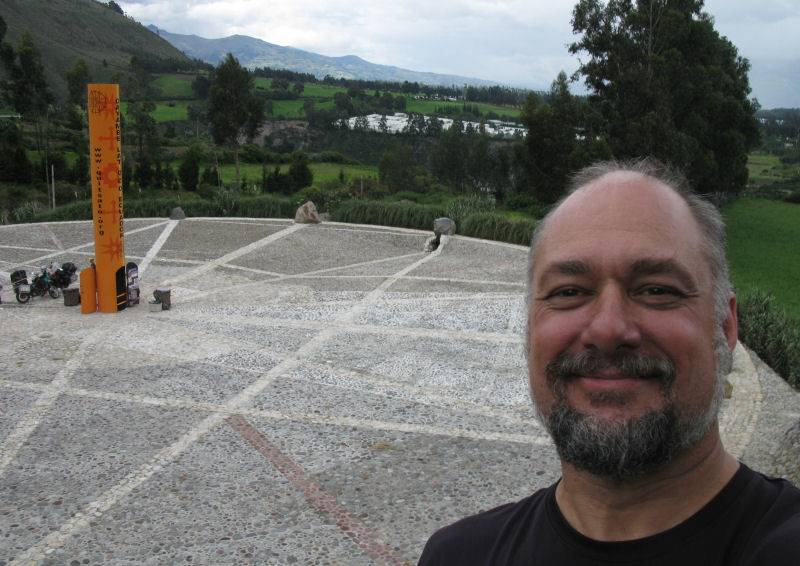 I decided that the route for E35 must have been changed since the Garmin GPS map was made. This was definitely the PanAm the whole time, so they must have taken a lesser road and rebuilt it to become the new highway. That would explain why it was a wonderful new highway with toll booths.
We had been well over 3000 meters at times, and it got pretty cool, but not cold (by my measure--but I'm more comfortable in cold than most people are). It was also very warm at times. You have to be able to add or shed layers often.
Quito is a huge city. I had no idea, having done no research. We rode for miles and miles after entering the metropolitan area, and we were still far from the center of the city. Bigger than Bogota, surely.
The traffic was challenging, but not as bad as we've seen elsewhere. A bit more civilized (again, that's by my measure). We got somewhere near El Centro, but didn't quite find it. The second hotel we looked at was okay; everything we wanted except Internet. There were Internet cafes all over the place, so that was not big deal. We were on a busy street again, near a plaza that was having a music festival to raise funds for the local theater (which was also right there).
This was our corner. The Teatro Sucre plaza is just down there on the left. Police all over the place because of the festival.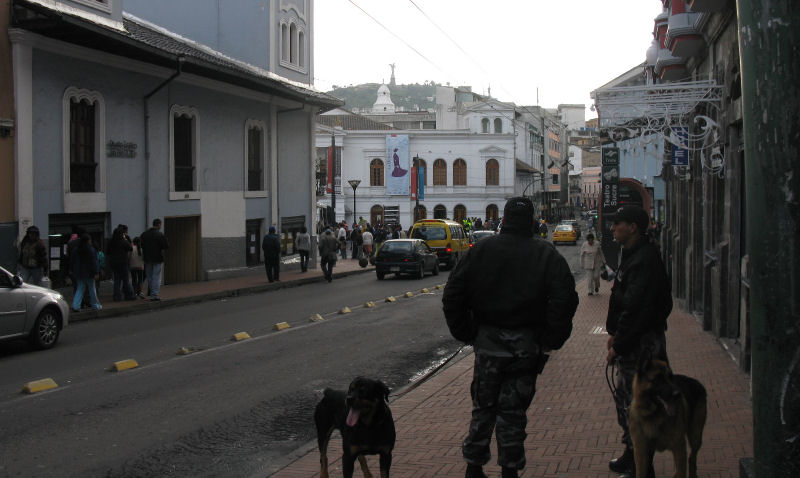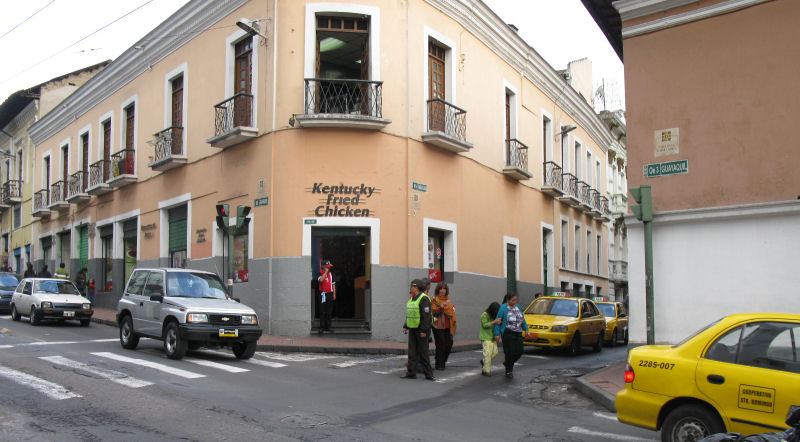 KFC right across the street, huh? Must be civilized. This street had electric bus-trams that shook the building when they passed. Lots of street vendors, prostitutes, local knuckleheads shouting all the time. Yup, very civilized. Our room was nice, three beds, right in the corner of the hotel. We had them unlock the steel bars so we could open the windows.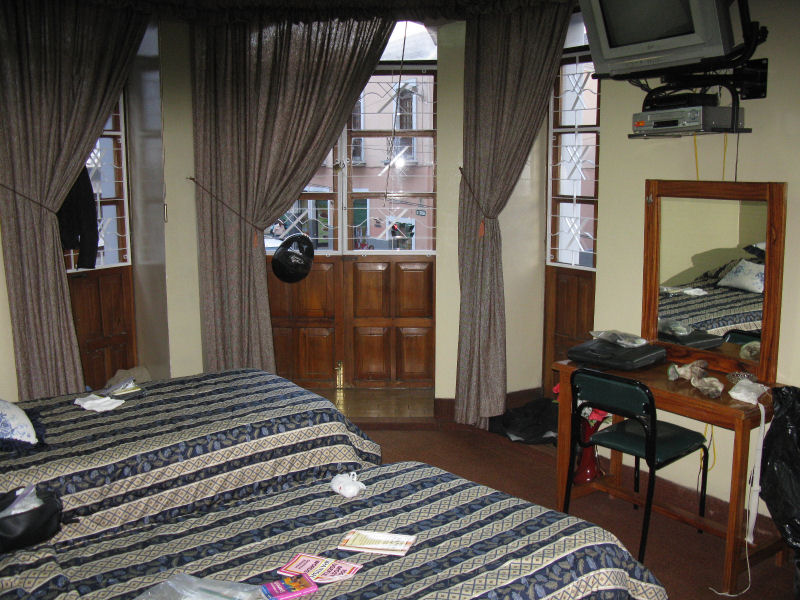 Inside the hotel was an access to the underground parking area. The garage access miniature-stairway dropped steeply through a hole in an inner courtyard floor that OSHA would never approve of. The hotel floor was marble everywhere. Again, bad acoustics.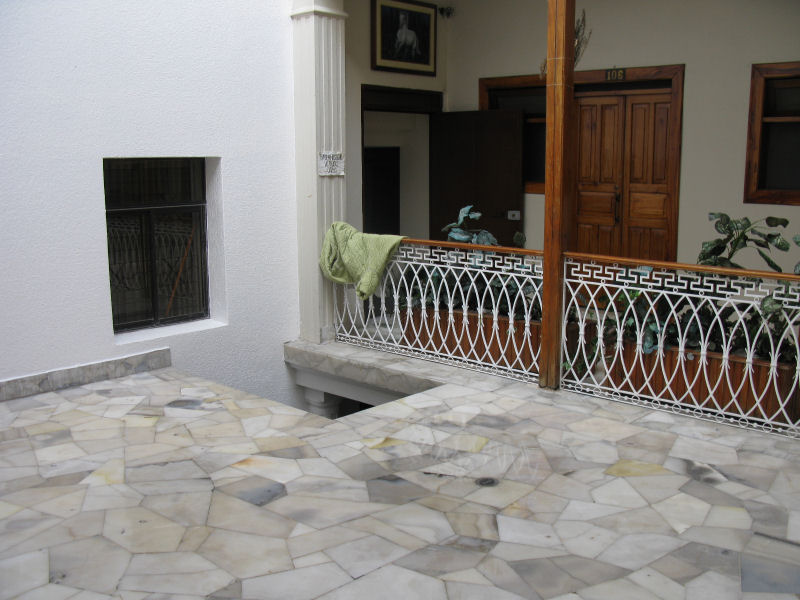 We went out for some food, but Don had a cold that was zonking him. He had some soup and went back to the room. I walked around the plaza for a while, then up to see La Basilica a few blocks away. I found that my camera has a simulated high-speed exposure setting, but it creates grainy shots. Better than dark shots, so some of these were the best I could manage. When it rained a little, umbrellas came out, but people stayed and danced in the rain. The band was very good. Mostly modern versions of traditional songs--at least that what it seemed to me.
Photo interlude: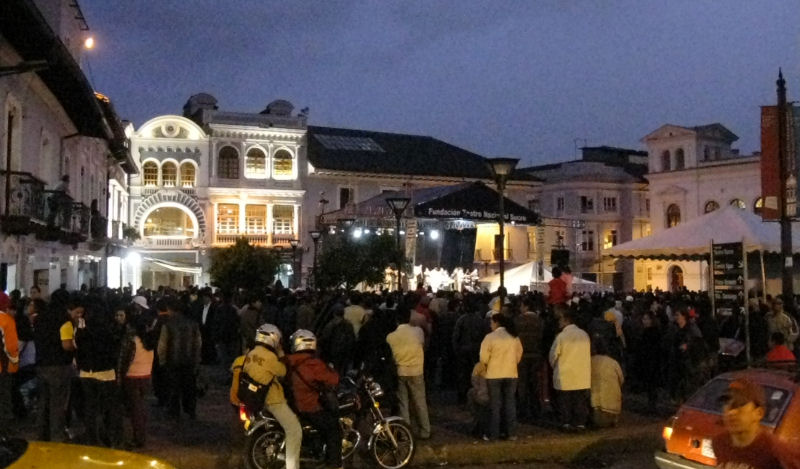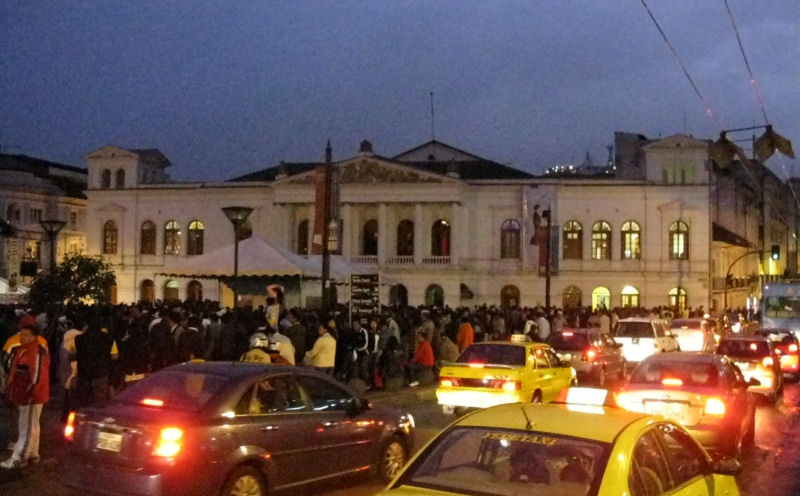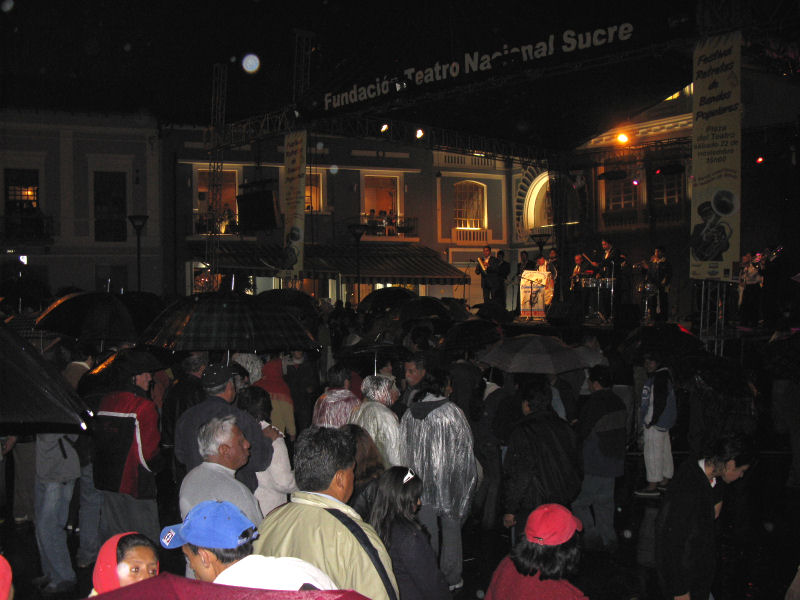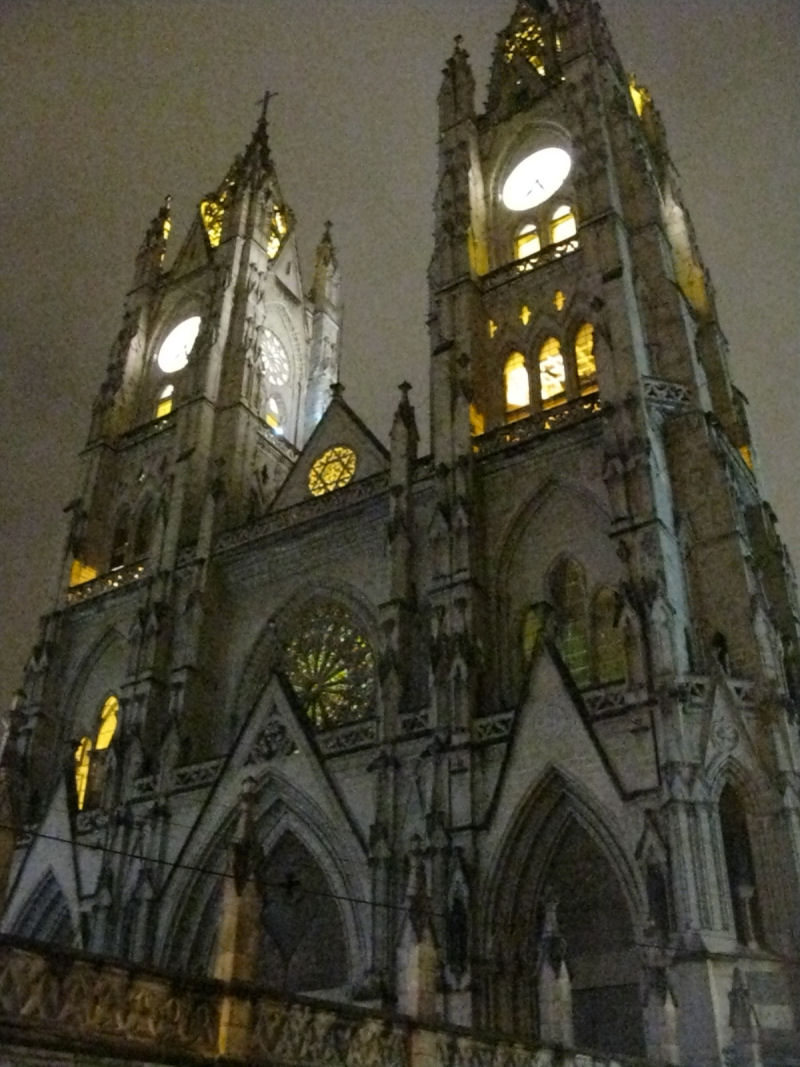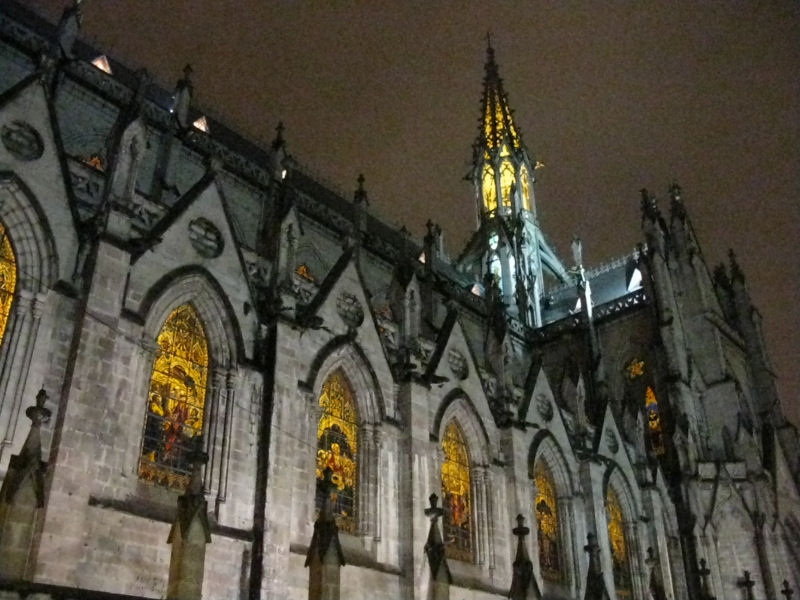 (Wow, that grainy effect came out nice on this one. Kinda Gothic looking.)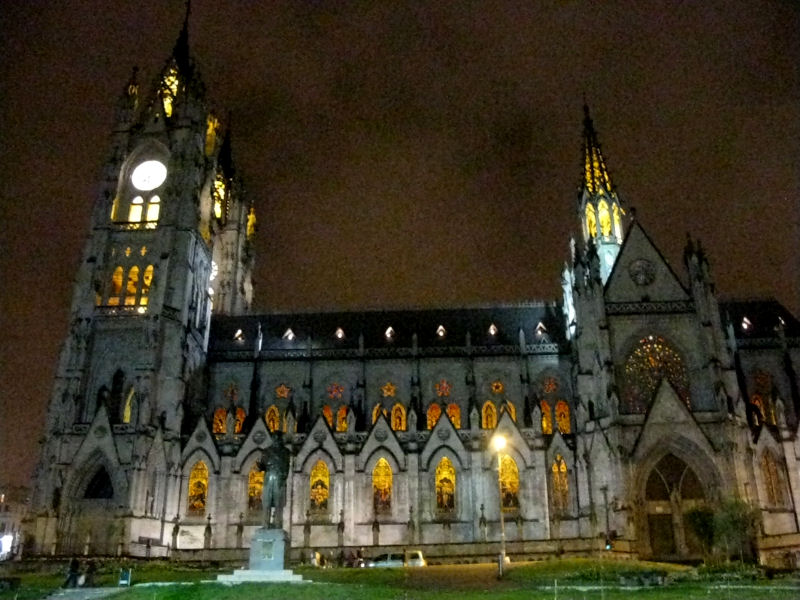 That was our room, second floor. Above the shoe store.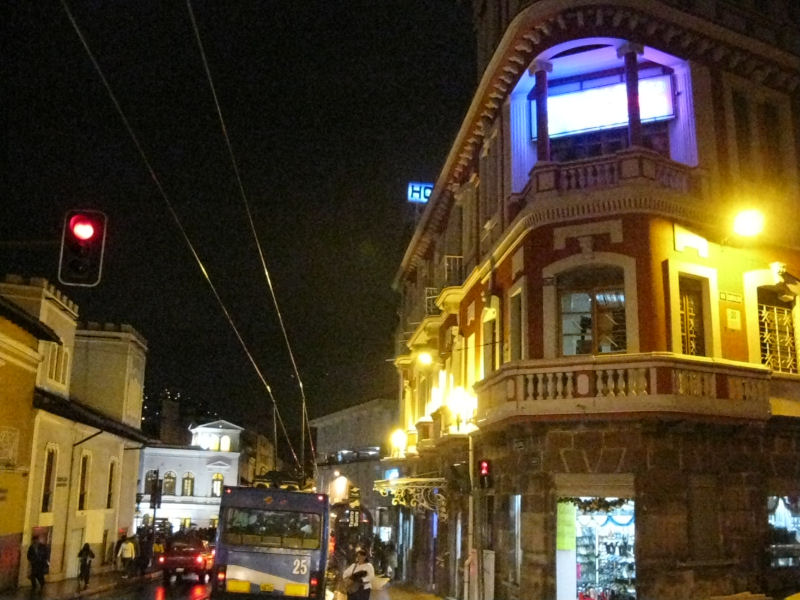 This big native woman was a hoot. She danced like crazy, grabbed guys from the crowd to dance with, and didn't take no for an answer. (I hid whenever she looked my way.) Here, she just finished dancing with a guy who took off his coat and acted like a matador, waving his coat like it was his red cape. She played along, twirling and charging at him until he got tired. The guy is putting his coat back on as I took this shot, and she is chewing him out for leaving her. All in fun. The crowd had backed off and given them a lot of space. They had needed it, the way she was zooming around. Video would have been better, sorry. The music was great.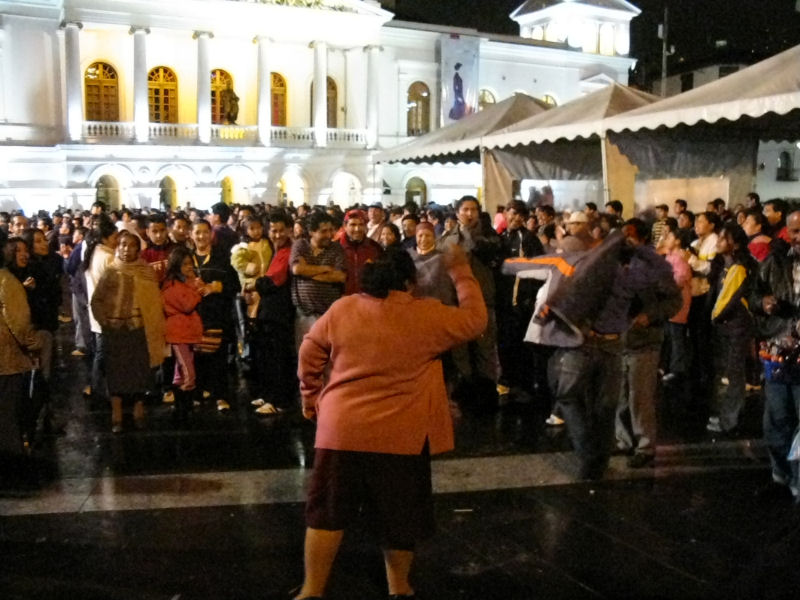 I had seen a group of transvestites near the plaza earlier, and when I made my way back to the hotel, I saw them again later, right on our corner. They were yelling and shouting at traffic and each other. Great. Even the prostitutes gave them a wide berth. In the room, Don was zonked out, so I wrote for a while, unable to sleep with all the traffic and people noise outside.
Finally, even the street people called it a night. So did I.
Sunday, 23 November, 2008
------------------------------
We were awakened at 07:30 to move the bikes in the garage. I had asked last night to move the bikes away from the other cars in the narrow space, but things were too crowded then. So, apparently now was the time. Don was groggy from his cold medicine, so I went down and moved the bikes to the back of the garage. Back to bed.
I woke again to the street noise. It was after 09:00, but we had nothing much to do today. We wanted to get Don's helmet fixed, wanted to located the embassy for Bolivia and/or Peru, maybe do some other shopping. Nothing much, really.
Don was a zombie, so I wrote until after noon. Then I got up and went out for a walk and some chow. I found a large park that was nice and had some snacks from vendors on the walking trail. I also found a large market area, but most of the shops were closed on Sunday. Only the cell phone stores, tourist shops, shoe stores, and a few other things were open. I did find a large plaza near our hotel. You can get a nice cardio workout on some of the streets. Also, La Basilica wasn't quite so Gothic during the daytime.
Walking around photo interlude: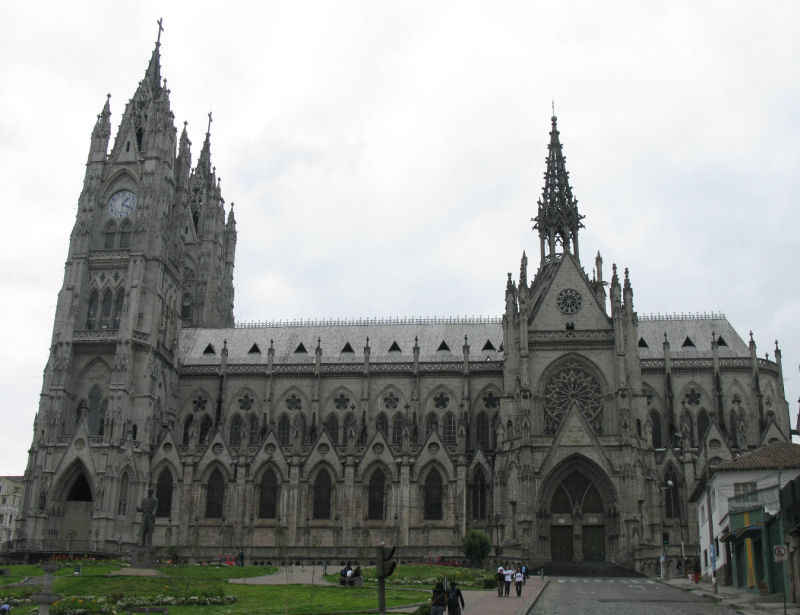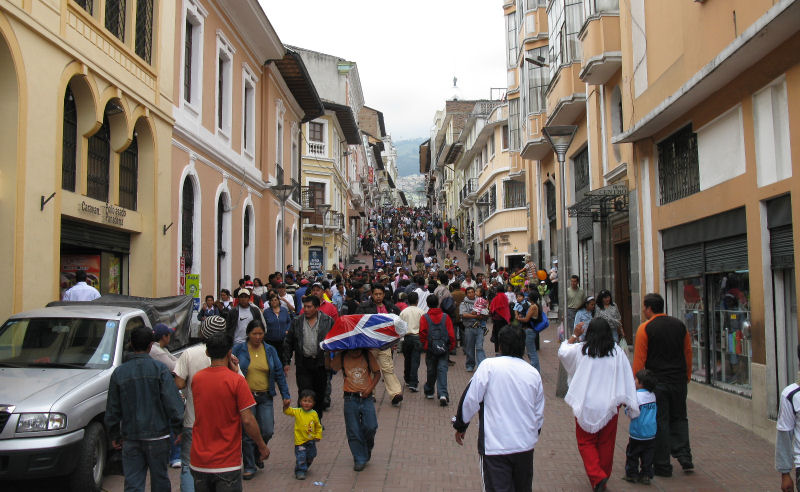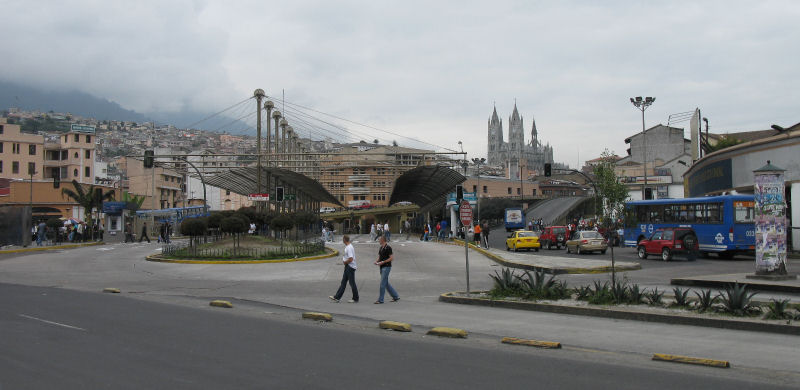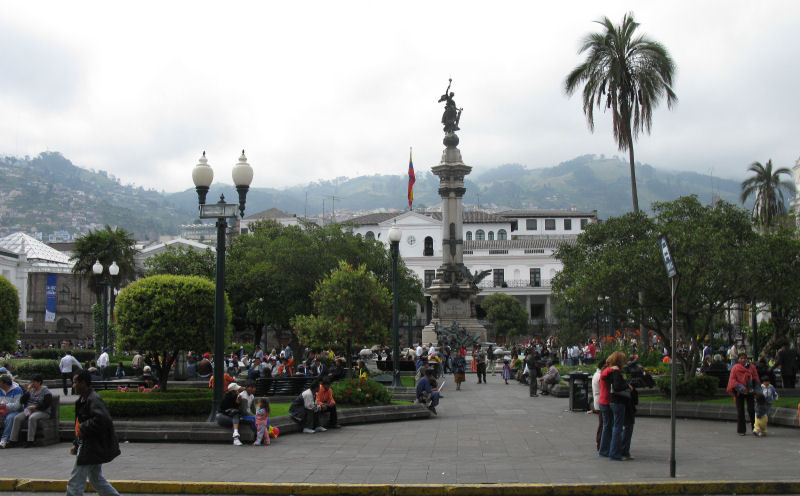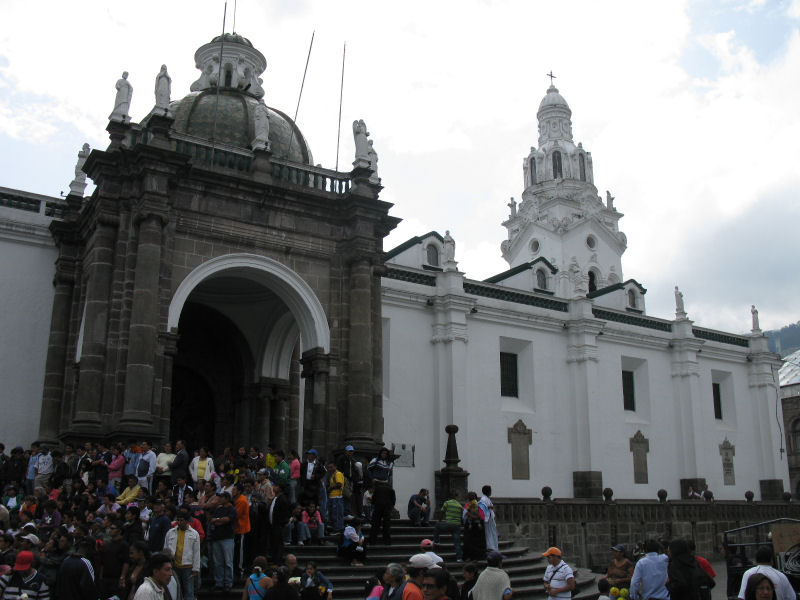 When I got back to where the music festival was last night, I couldn't resist getting up on stage and doing my rendition of "Grandma Got Run Over By A Reindeer" for my adoring fans. I think there was a guy just out of the photo who was singing along. Maybe not.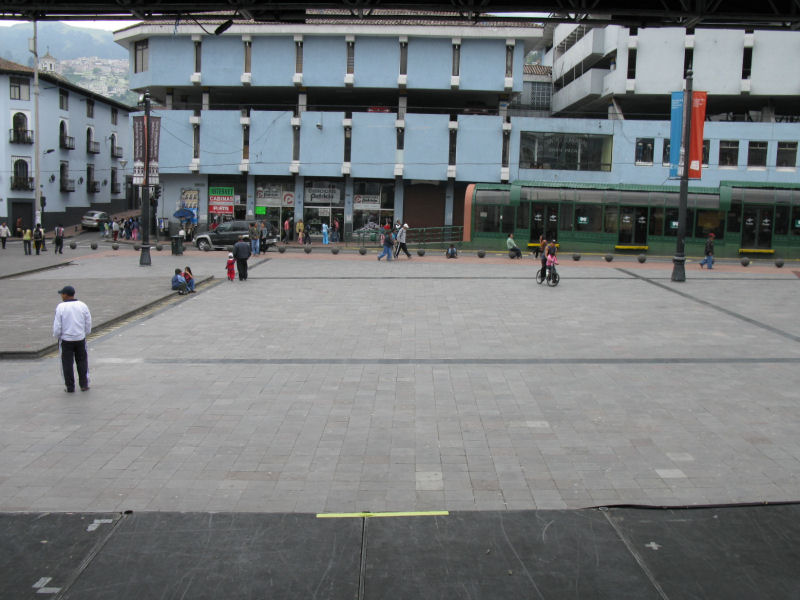 I found a restaurant (3rd floor in a food-court plaza) that had free Wi-Fi, so I went back to the hotel for the computer and hung out here for a while. Finally had some nice beef. Got a ride report update done.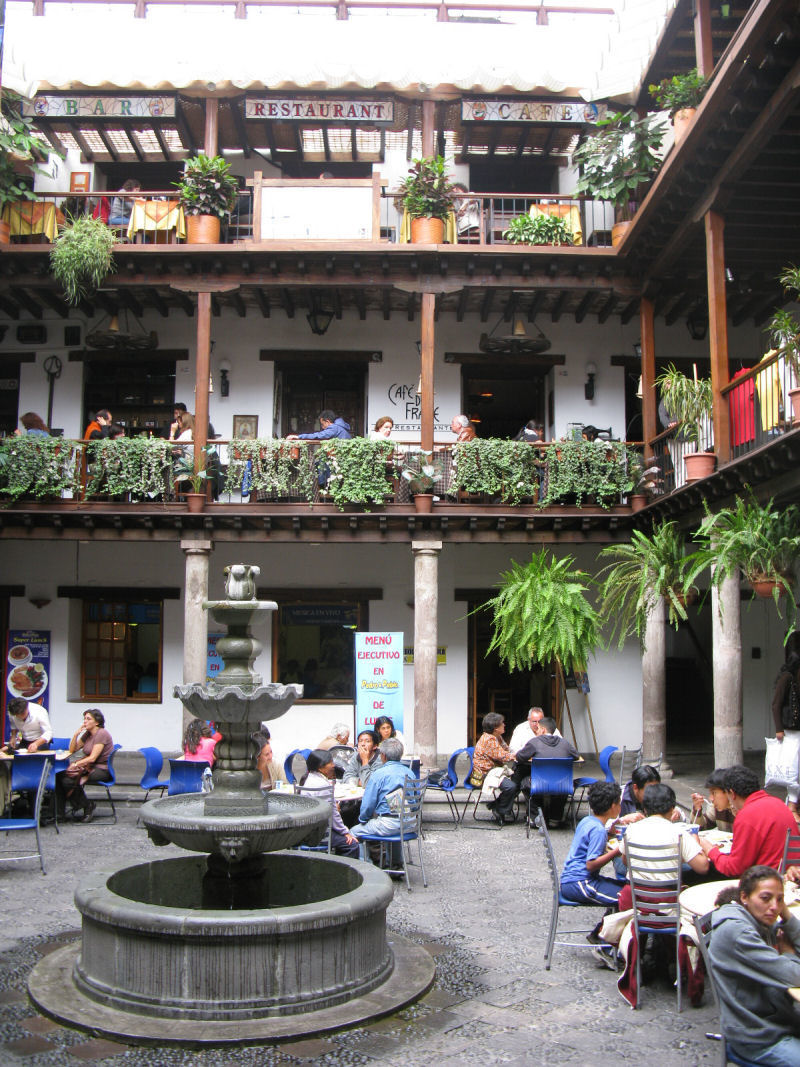 When I got back to the hotel, Don was just coming outside. He looked a bit like the walking dead, but at least he was walking. After getting something to drink, he was back in bed.
I wrote until I was tired. Too tired to go back out (it was only 20:30), but not tired enough to sleep. So I laid in bed and listened to the street noise for a long time. The intersection outside had a traffic light that became a 4-way flashing yellow light after midnight, so EVERY vehicle that went through there honked its horn to alert cross traffic. It was hard to see cross traffic because of the buildings, so that made sense as nobody stopped at that intersection. Still, it was NOISY ALL THROUGH THE NIGHT.
Finally slept, thank goodness.
Monday, 24 November, 2008
-------------------------------
Don was back among the living, but was still weak. We decided to stay in Quito another day and get chores done today. He was up to walking around, so we went out. All we found open early was a coffee shop on the plaza, so we had coffee and tea and watched the shoe-shine gal outside the window. She was constantly busy with all the people in suits going to work. There were lots of other shoe-shiners, and all were busy.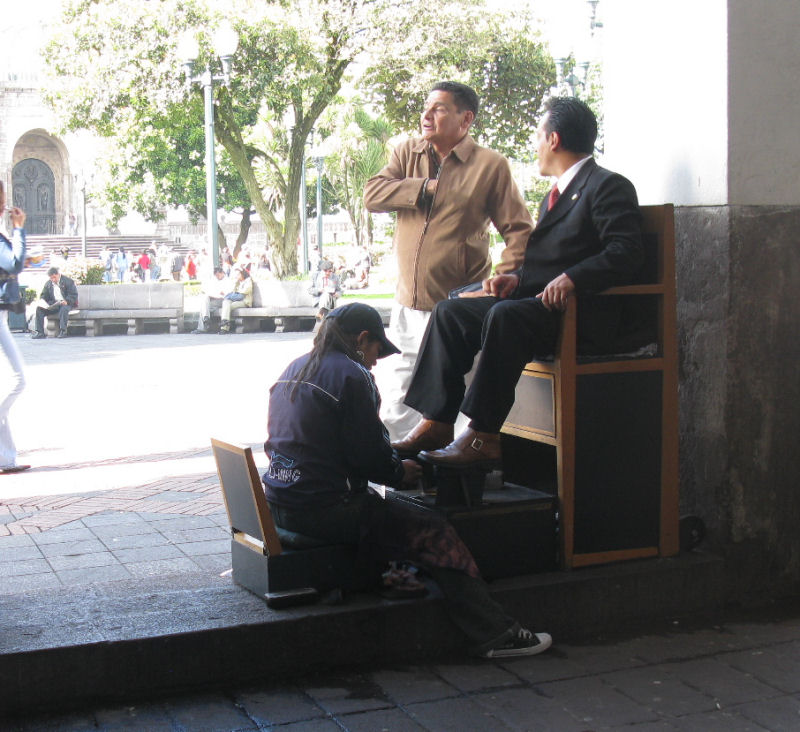 Then, after 09:00, back to the Wi-Fi restaurant for breakfast. Scrambled eggs was easy, but my meal came with some kind of curdled cheese in a cornmeal dough ball. They were each almost the size of a baseball. It was very filling.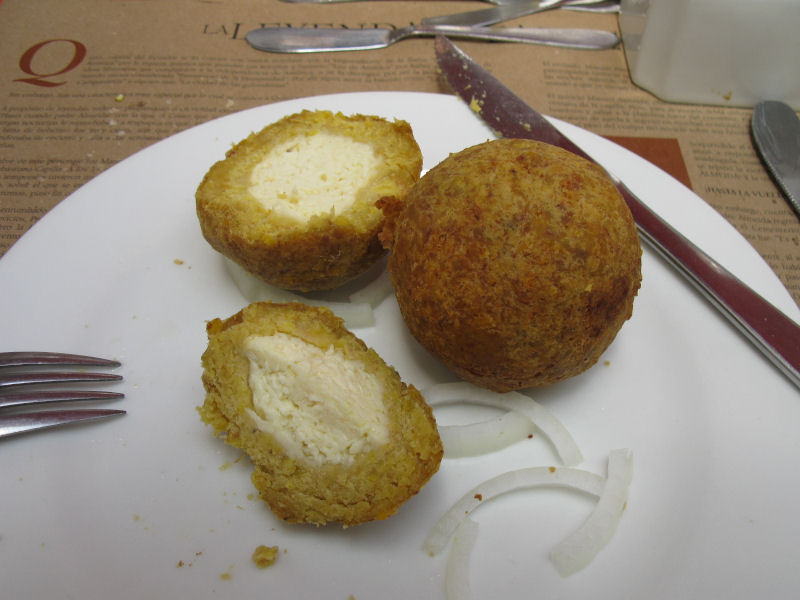 That was about Don's limit of activity, so he went back to the hotel while I stayed and wrote and did things online through the midday. After a nap in the room, I went back out to see if I could find a DHL office that I had passed yesterday while walking around. (I was considering sending another package of unused items home.) I didn't find it, but I did find a leather backpack/pouch thing that was a good deal. It was big enough to carry the laptop computer and that would help camouflage it.
I went to bed after doing some maintenance work on the computer (virus scan, backup the hard drive to another portable drive that I carry with me). Today was a lot of time on the computer, so I'd be happy to not fuss with it for a few days.
Tuesday, 25 November, 2008
-------------------------------
Don and I went out for breakfast and to look again for the DHL office. The clerks at our hotel were no help finding either a DHL or FedEx, and the phone book gave street intersections for their locations. Neither of the hotel clerks knew those streets, but one suggested that it was in the north part of the city (which was far away back the way we had come).
Don was in the mood for a ham and cheese croissant, and we had seen them all over Latin America. I had enjoyed many of them, but Don hadn't wanted them then. Now that he wanted one, we were unable to find one in the dozens of shops we stopped in. It was weird. We settled for a steak and eggs breakfast that was pretty good for a couple dollars. We never did find the DHL office that I had walked past on Sunday.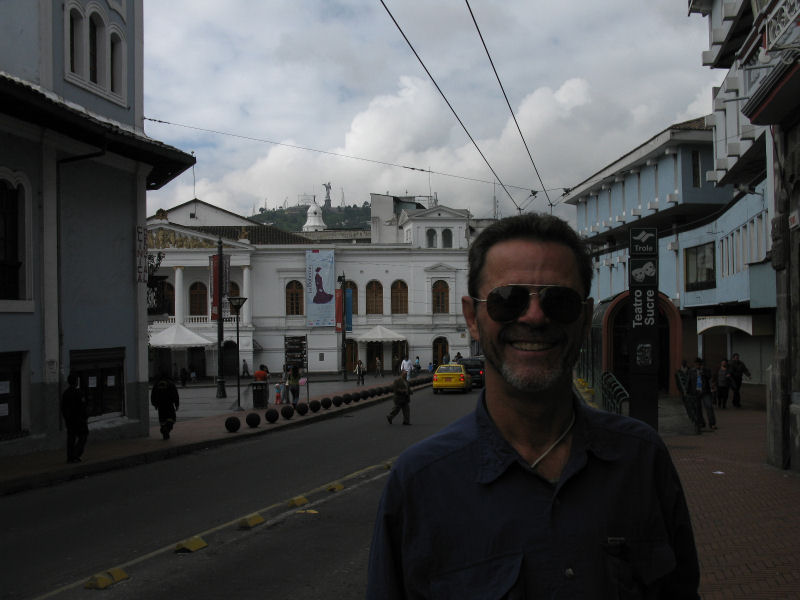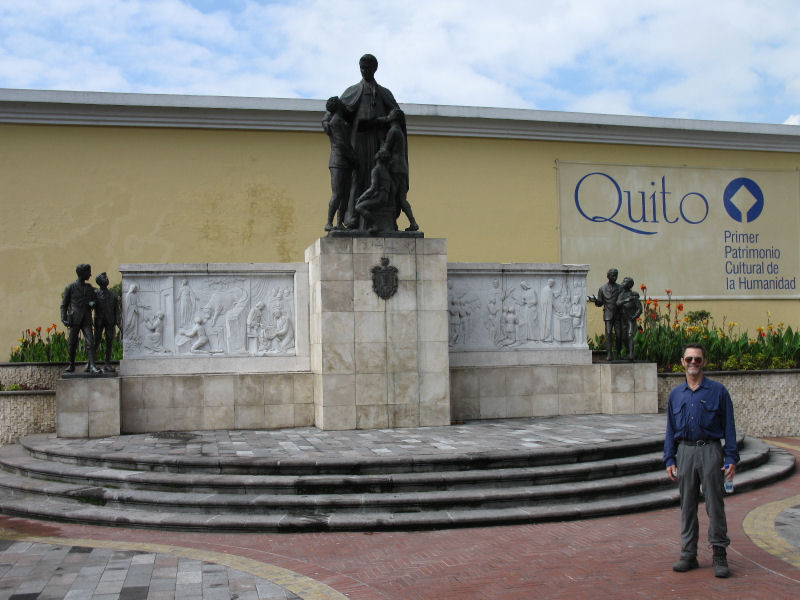 We packed the bikes and waited for the manager to find the guest whose car blocking the small garage exit.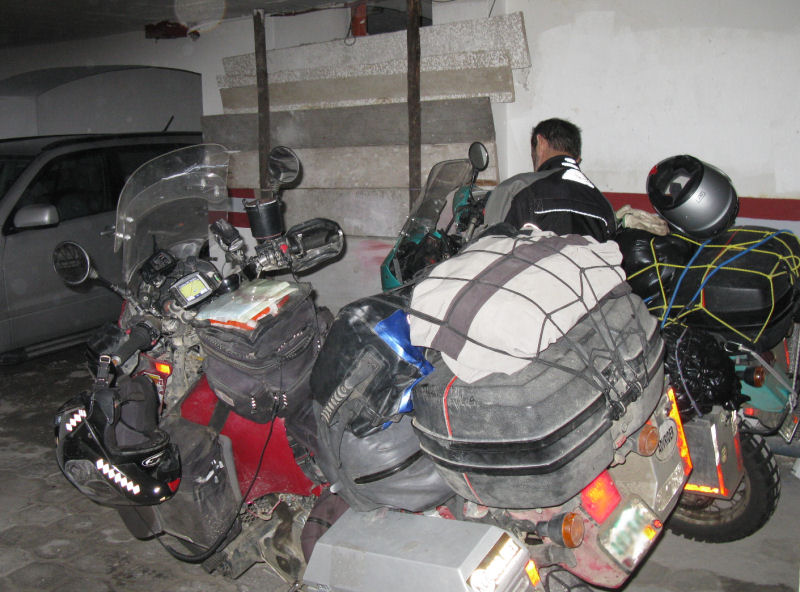 Eventually, the car was moved, but by then we had discovered that Don's battery was dead. He had left the Chatterbox plugged into its power cord, so it was constantly trying to charge its battery from the bike. When the garage was clear, we pushed his bike out onto the street where he coasted (the wrong way on a one-way street) down to the corner. When I rode down to join him, we pushed his bike on the busy street and thankfully it bump-started right up.
We got out of Quito easily, and the highway was very nice. At one point, we passed miles of vehicles that were stopped or creeping along. I never saw what the hold-up was, but if we hadn't ridden a long while on the shoulder of the road, it would have taken hours to get through there.
Some of the towns we rode through had detours to deal with, but it wasn't too bad. I have noticed that pretty much every town and city in Ecuador has at least one traffic circle (which are better than intersections) with a statue in it. Some are odd (like a giant ear of corn), some are traditional or religious, and some are simply unexpected. Like St. George slaying the dragon. Easy to expect anywhere in Europe.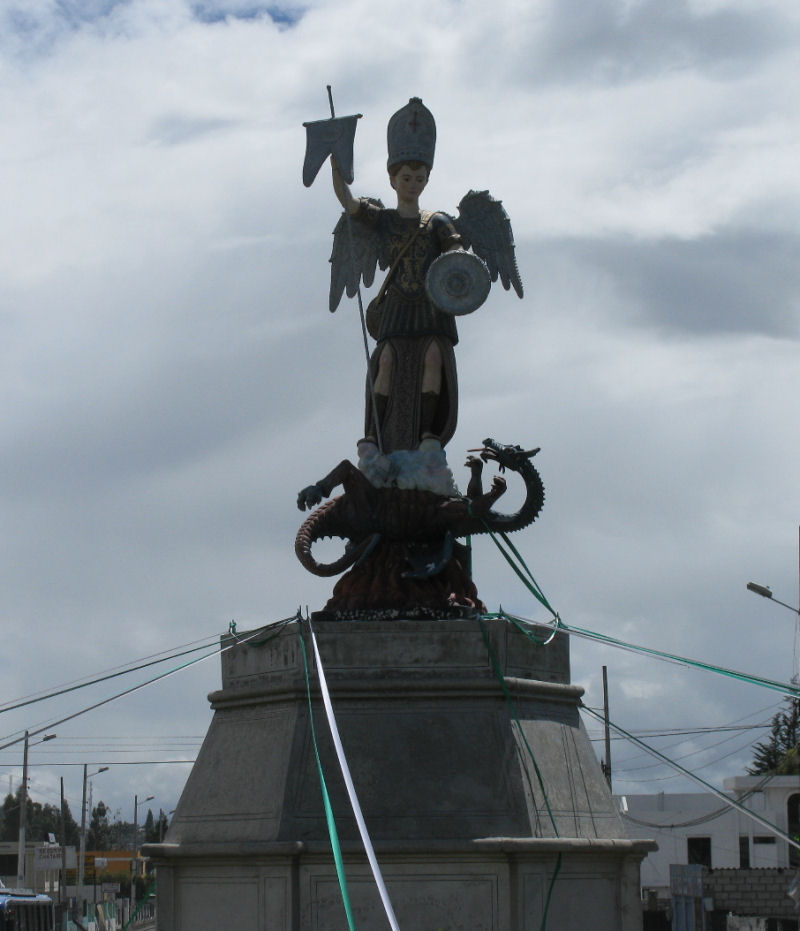 I did like the statue that was in honor of Giant Mosaic-Tiled Naked Women With Large Erect Nipples. Maybe it was a religion. This thing was like thirty feet tall.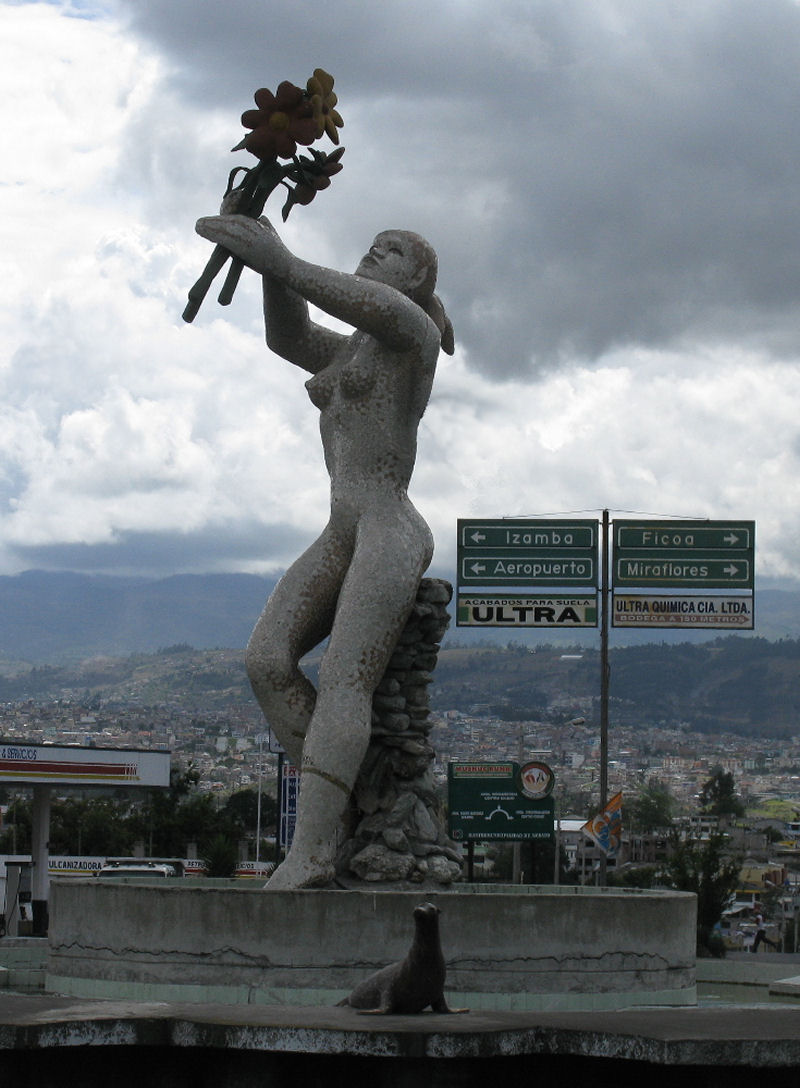 More naked, tiled women and an unimpressed guy taking a siesta in the median.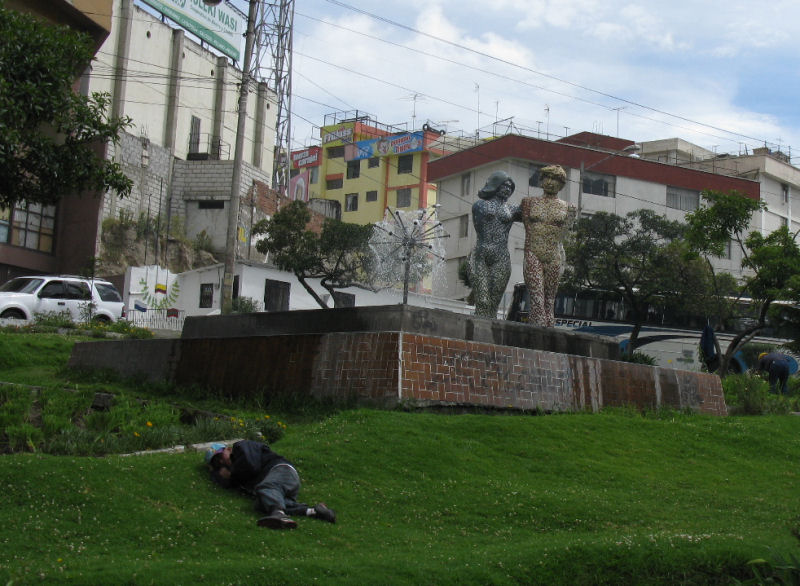 We started climbing again into mountains. I saw that some of the steep hills had farms on them, right up to the top.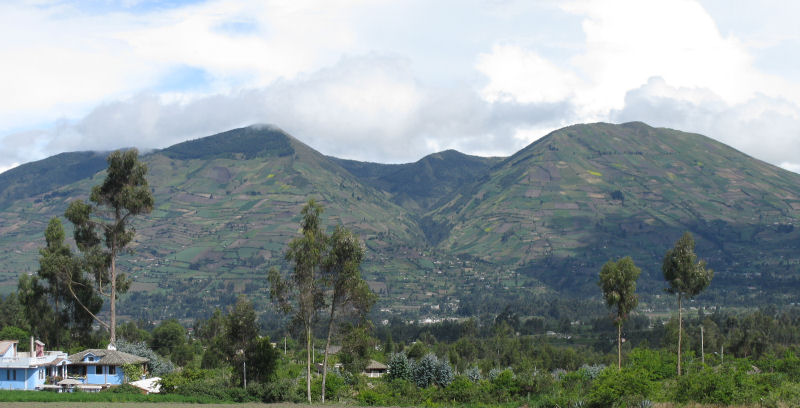 We crested the mountains at over 3,400 meters (11,150 feet) and it got warm again. We stopped in a small city for ice cream and something to drink. We saw on a TV set that there was a riot somewhere in Ecuador, and watched that for a while. Looked just like a riot would look anywhere. It was probably at a rock concert or soccer game.
Gas was a steady $1.48 everywhere (a bit more for Super, but some stations were out of Super). We were running Extra most of the time, but Don thought his bike ran a bit better on a tank of Super. Our carburetors were set to a balance between sea level and the high plains and Andes of South America, so they were running rich right now at this altitude.
Once we were moving again, it was more uphill. We got over 3,625 meters (close to 12,000 feet) and into a cold rain and dense fog. We saw hail along the side of the road, so it must have stormed like crazy just before we got there.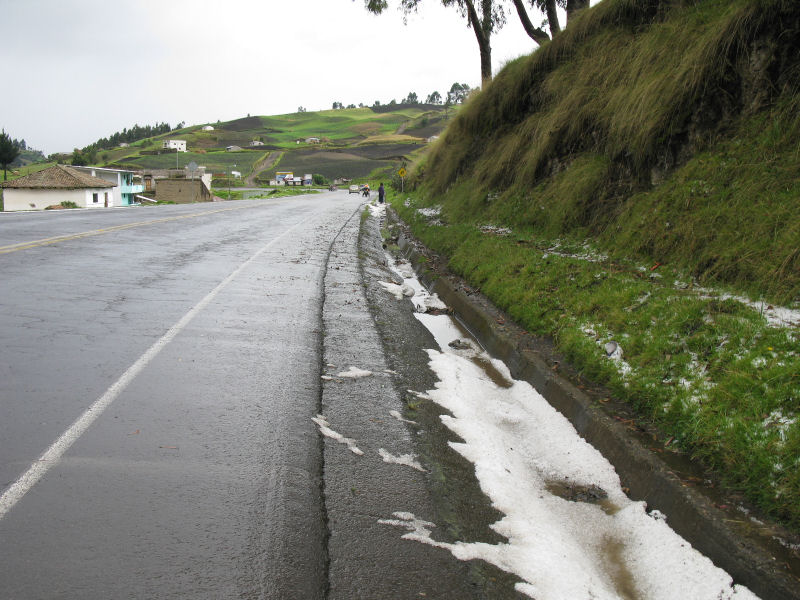 More up and down the mountains, more wet, more fog. Why is it that drivers in Latin America don't use their headlights in limited-visibility conditions? I have heard that it is unlawful to use headlights during the day in some countries. I don't get it.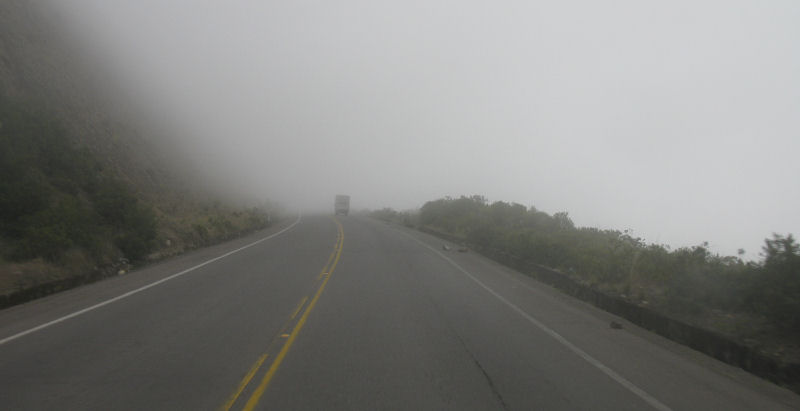 Sometimes you come out of a patch of fog and almost get Ol' Betsy right in the udder. I almost ran over her rope as I passed behind her.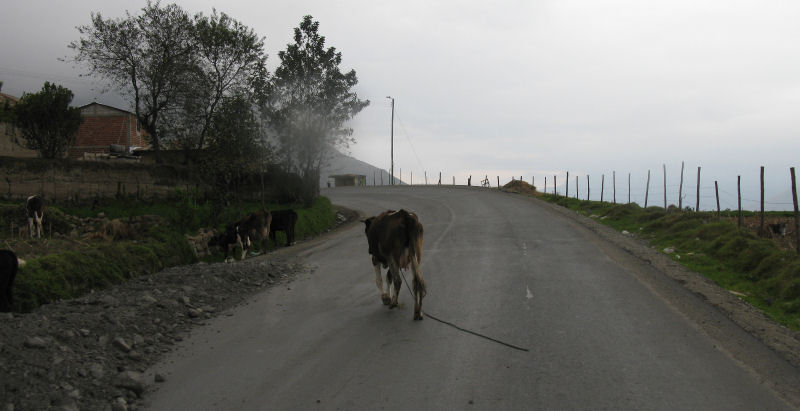 Then the road went to hell for the next couple days. Some sections had recently been paved with concrete, other sections were dirt or mud. It changed on a regular basis. Lots of work being done. At times, it looked like they were re-routing the highway.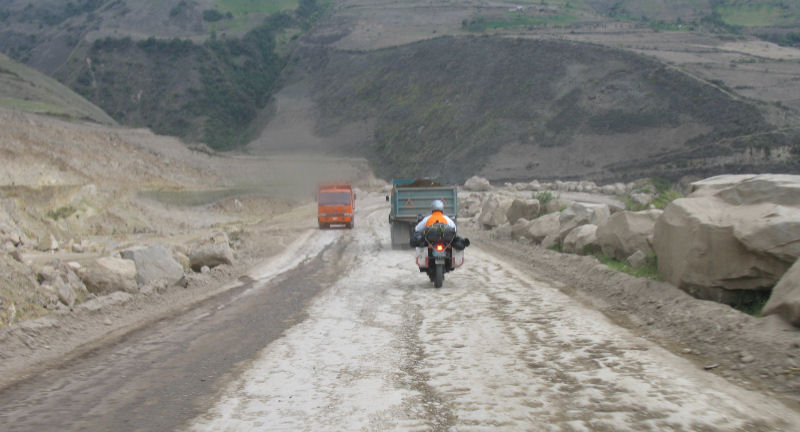 We were above the clouds, we were below the clouds. It never got as intensely cold as we had feared, so that was good.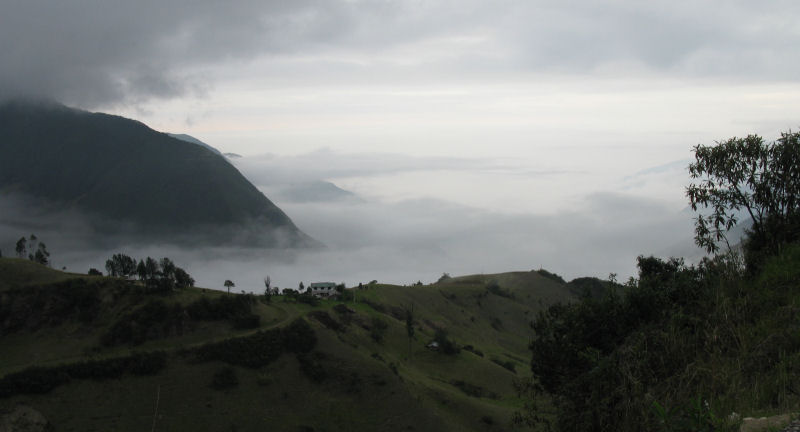 Erosion takes its toll, so watch out.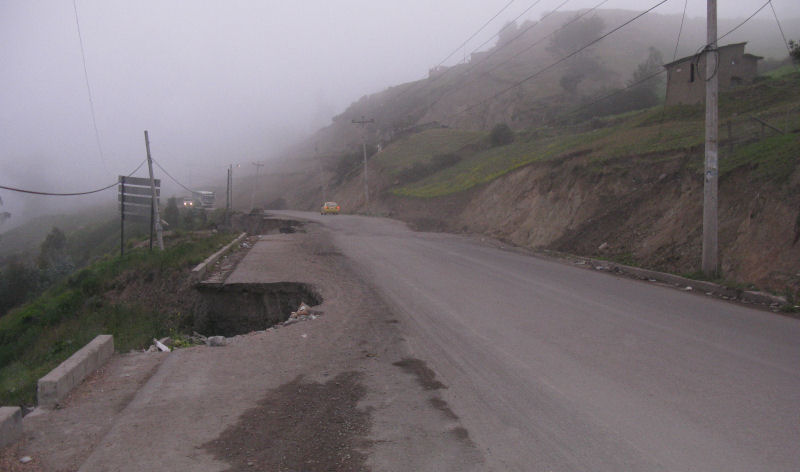 The GPS was having fits with the winding roads. It would indicate that it was 72 kilometers to the next destination, then several miles later it indicated that it was 92 kilometers. Then it would decide that it was only 62 k. What the heck...? I decided that the generalized map in the GPS did not take into account the incredible zig-zaggy, twisty highway, and it had to recalculate the distance over and over. When the GPS said it was 16 k to the next town, it was more like 25 k. This was something to keep in mind. And the going was slower than expected, due to the weather as much as the mountain road.
We stopped at a hostel (spelled hostal) before we got to Canar. It was very basic ($10) and the room was small, but they had very warm, heavy blankets for you if you needed them.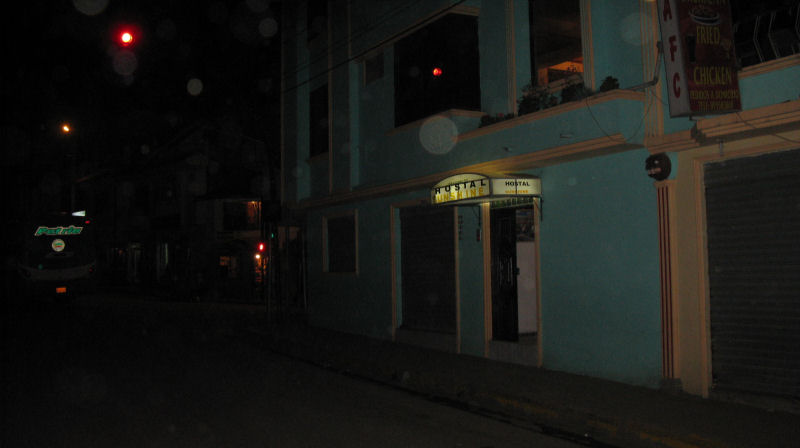 Parking was in a lot out back, but we couldn't talk them into closing the gate. The owner would be coming home later and he also parked there. We ate at a small cafe down the street (chicken, rice, fried potatoes... what a lack of variety), and returned to find that the hotel had no running water. That turned out to be a temporary problem that soon got better.
Soon, it was almost trickling enough water to allow a toilet to be flushed.
Wednesday, 26 November, 2008
----------------------------------
Today the water worked fine, so that was better. When we left the hostel to find breakfast, there was a big diesel truck parked right outside the open hostel door. It was just running, unattended. Probably left to warm up. Definitely filling the hostel with horrible fumes. Nobody but us seemed to notice or mind. Ugh.
We chose a cafe and sat down to eat. The gals running the place had a lot of fun trying to understand us, and they ended up making some of our food choices for us. That isn't much of a problem, since the food hasn't had much variety anyway. Everything was pretty good, and it was a large meal for $2.60.
I have learned that if you order café con leche (coffee with milk) what you often get is hot milk with some coffee added. This time it was a cup full of hot milk and some instant coffee to add myself. Ask for Café negro if you want it black.
We got packed and on the road by 09:30. I have been careful not to be obnoxious taking photos of the native people just because they look interesting to me (just some passing tourist). I have seen them get upset when I take the camera out, so I have usually respected their apparent wish not to be photographed. I snuck this one in while a couple women weren't looking.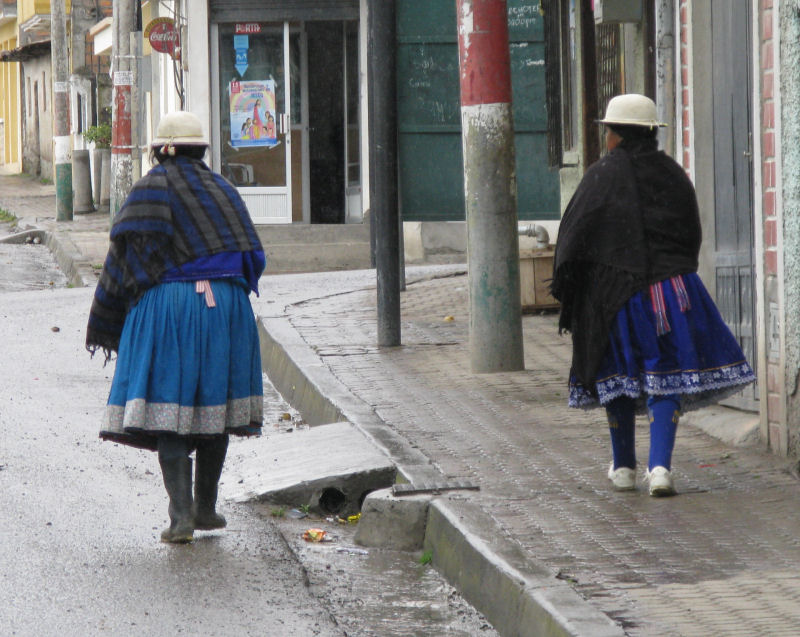 The most colorful clothing I have seen was in Guatemala, but I rarely had a chance to even sneak a photo of the people we passed on the road.
Right away we were in wet fog and more mountains. When we could see them, the views were great. In one town, we passed several roadside restaurants preparing the day's meals.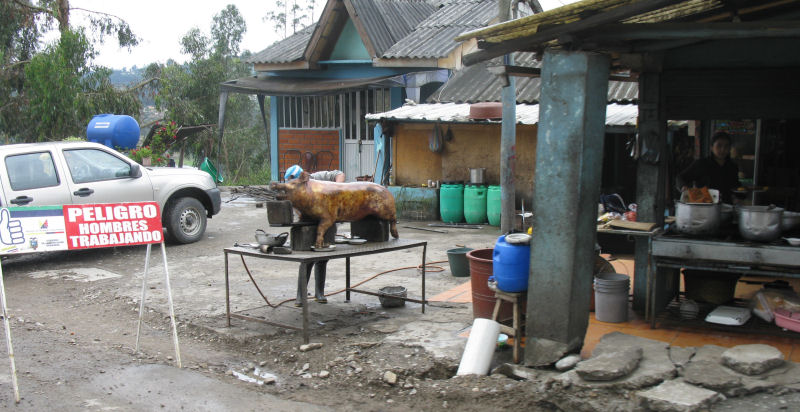 The sign warns that men are working. What they were doing was endless road repairs. These particular men were digging holes next to the road. Why, I'm not sure. Maybe a new drainage system. I have to think that they get buried now and then when the holes collapse on them. The dirt is very loose and the ground is wet.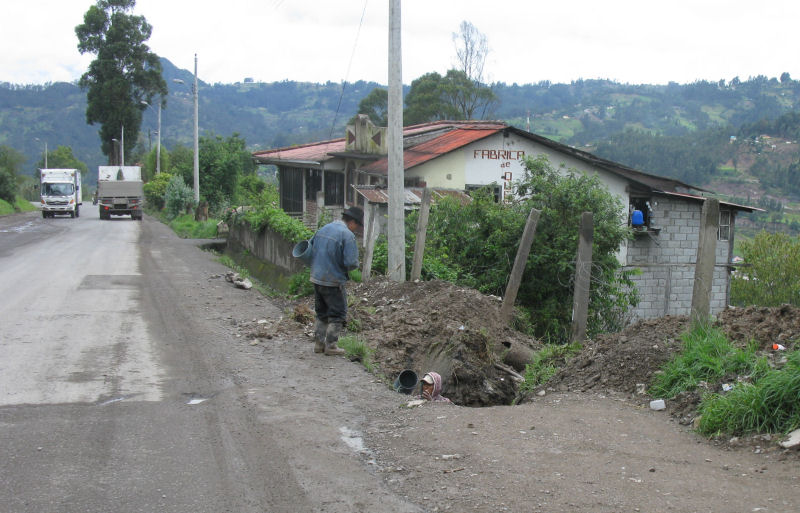 In the town of Biblian, I saw an interesting building on a hill. Probably a church. We didn't stop, because we were in a moving mode.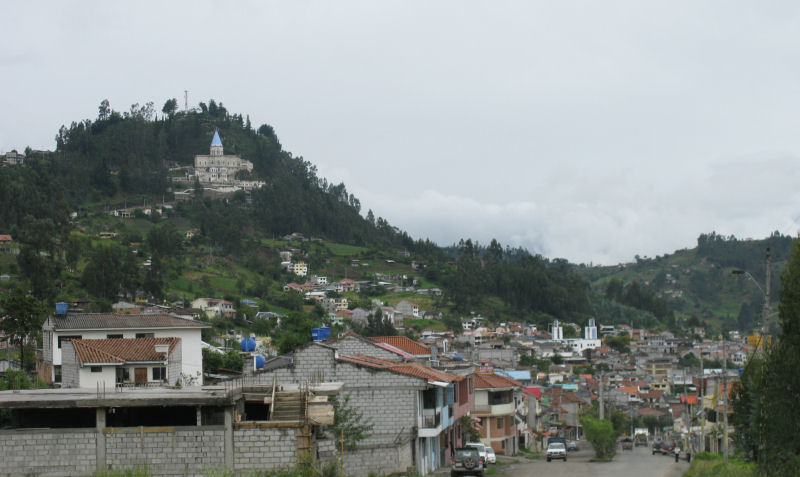 The fog cleared a bit in Cuenca, but then more rain came. Then more stops at road construction sites. In some places, they were putting in new concrete roadbed. This was treacherous, because you often didn't know which side to ride on.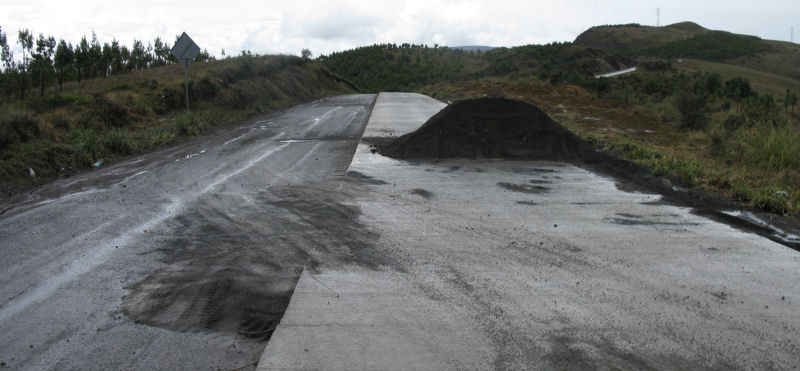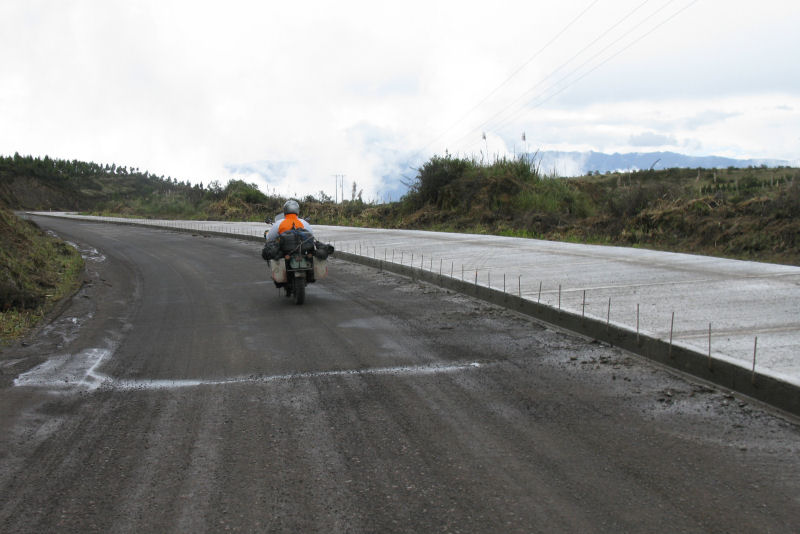 Sometimes you didn't know if you should be on the road at all.
Nice views most of the time.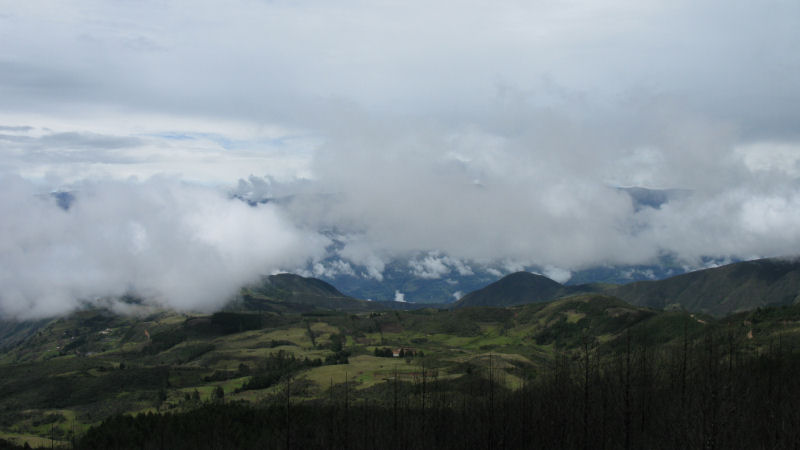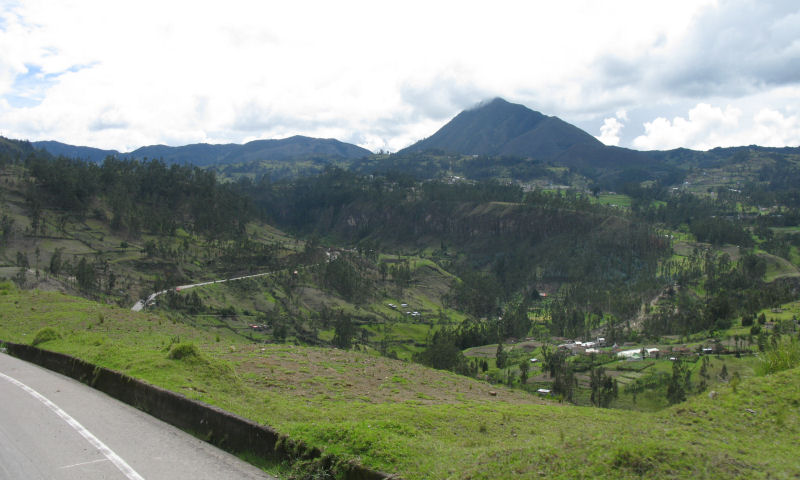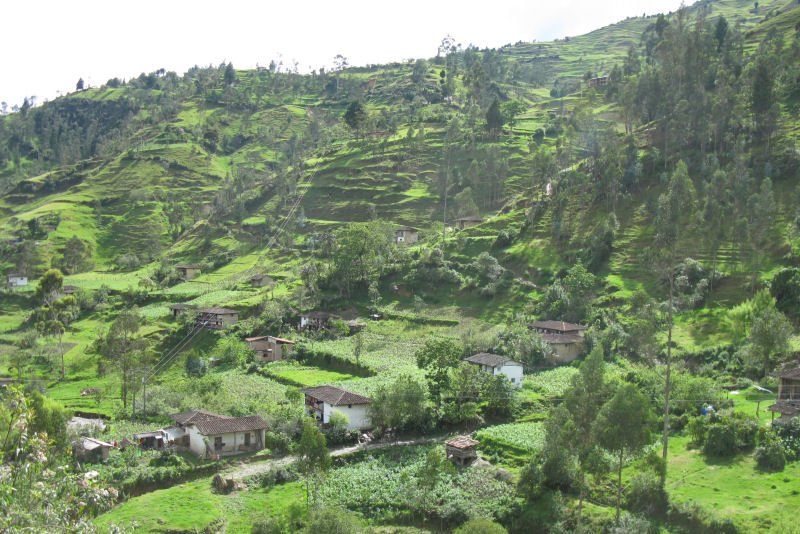 At one stop, I rode up to the front of a long line of trucks and buses.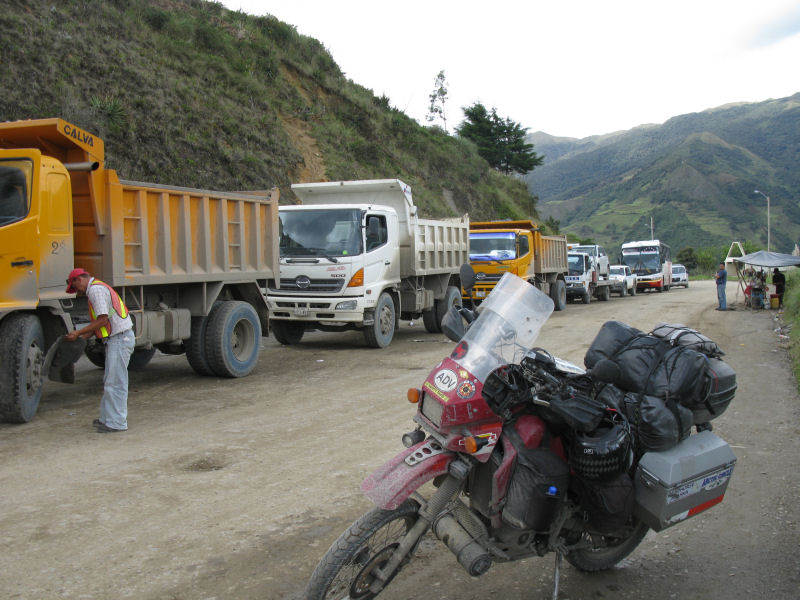 While waiting for Don to catch up, I chatted with the truck drivers who warned me not to proceed (as I had indicated). They were probably right, since it was a one-lane road and on-coming traffic was usually big trucks. Don and I had some snacks from a conveniently-located gourmet restaurant (chicken and fries).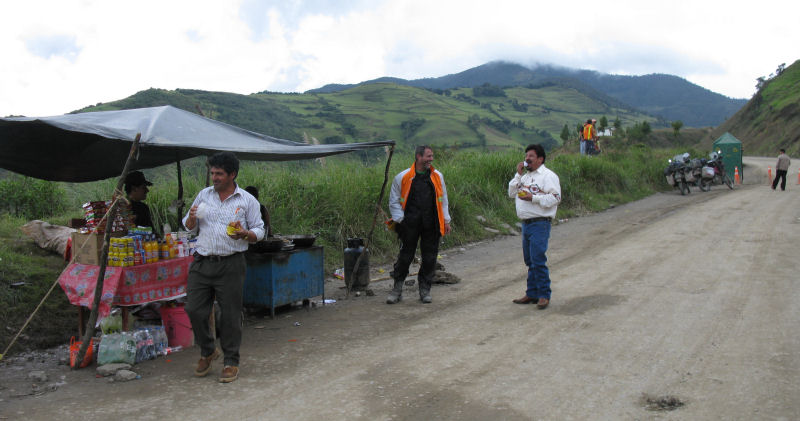 The guy in the previous photo (in the white shirt talking to Don) spoke good English. He lives in the USA, near Fresno, California, where he drives a truck for several months each year and has a family. He lives here in Ecuador the rest of the year (where he has another family and collects unemployment insurance--go figure). Don is laughing in the photo as the man told his story.
The on-coming traffic finally ended and all the truck drivers ran to their rigs. I was first out of the starting gate, but kinda wished I hadn't gotten out front. The trucks rode close behind me all the way to the next construction stop. The concrete lane that had already been put down was a neat, continuous slab. I saw the paving machine when I later had to stop right next to it. It was laying the adjacent lane at this section.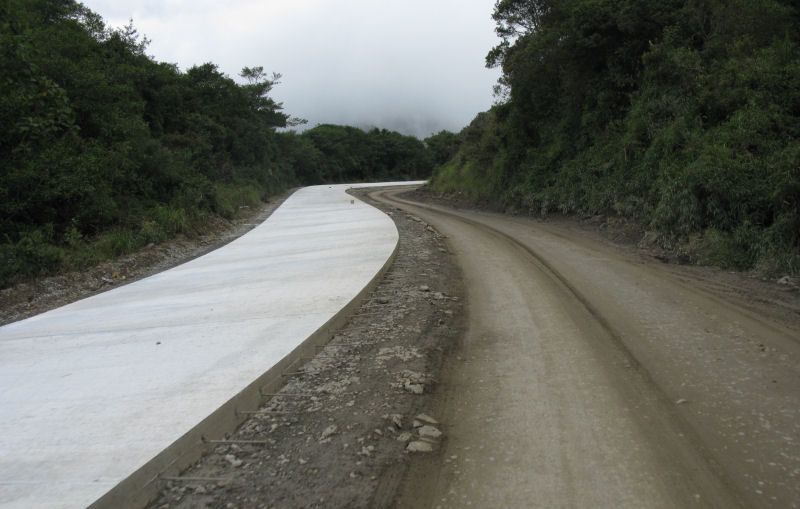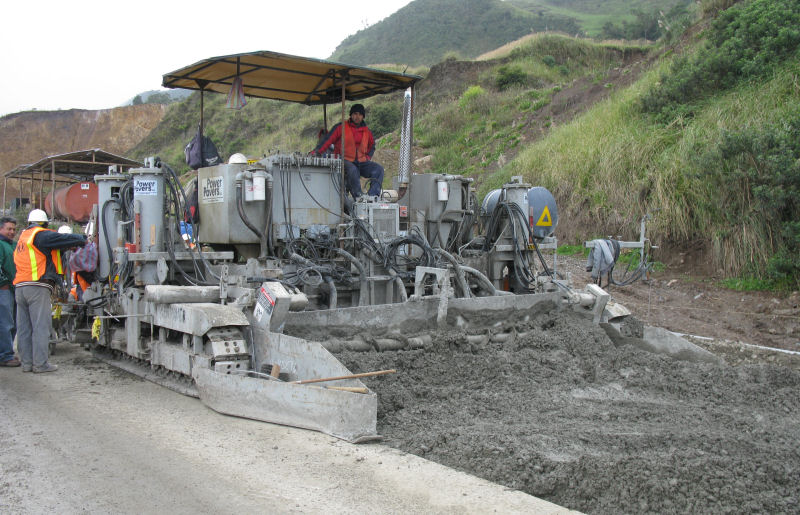 The trucks were being held up, but I waved that I wanted to go past, and one of the workers waved for me to go. Woo hoo!
After several minutes, I realized that Don was not behind me, so I stopped (in the rain...) and waited for him. And waited...
Eventually, they opened up the blockage and Don caught up with me. We worked our way down the mountain.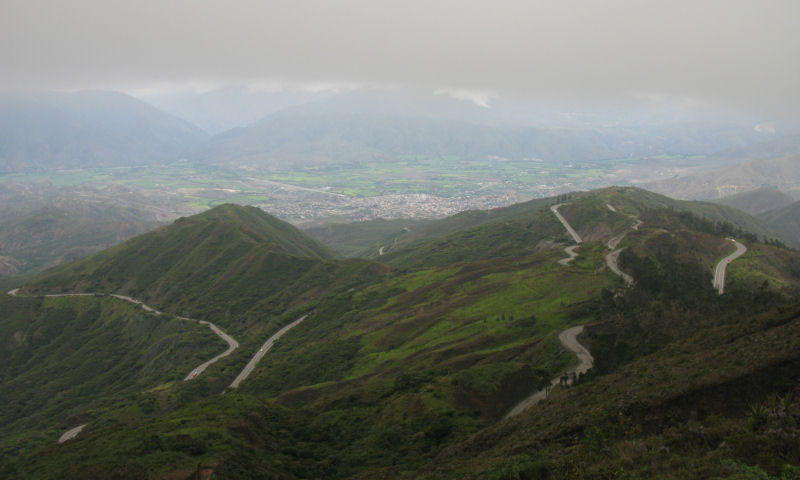 We lost the PanAm Highway in one town, but found it again. Signs had been better in Ecuador, but sometimes you still came to a big T-intersection or traffic circle that had no markings. The GPS continued to be almost useless in towns and cities. More towns with statues in the traffic circles. This was in homage to Any One Of The Many, Many Cattle That Almost Killed Me.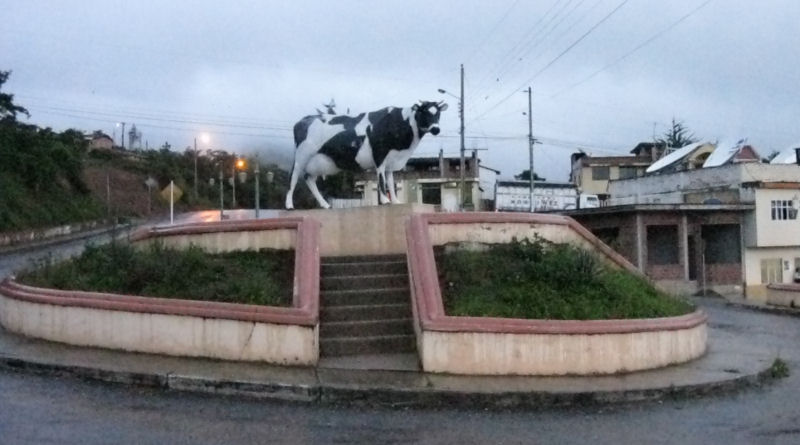 We got off the PanAm Highway again, but we were sure that we had found it again. We were wrong.
Anyway, the road we were on was okay in places, and bad in places. It was interesting, though.
We stopped in Gonzanama, at a cheap hotel ($6 each for a double room). The lady running the place opened a big metal door and let us park our bikes in a large hallway that seemed to be for that purpose. The room was nice and large. Three beds, so we got to spread stuff out on one of them. We hadn't seen one of these 220-volt electric heated shower heads since Costa Rica, but the wiring job was the same. They are okay as long as you keep the water flow low enough that it can heat up as it flows.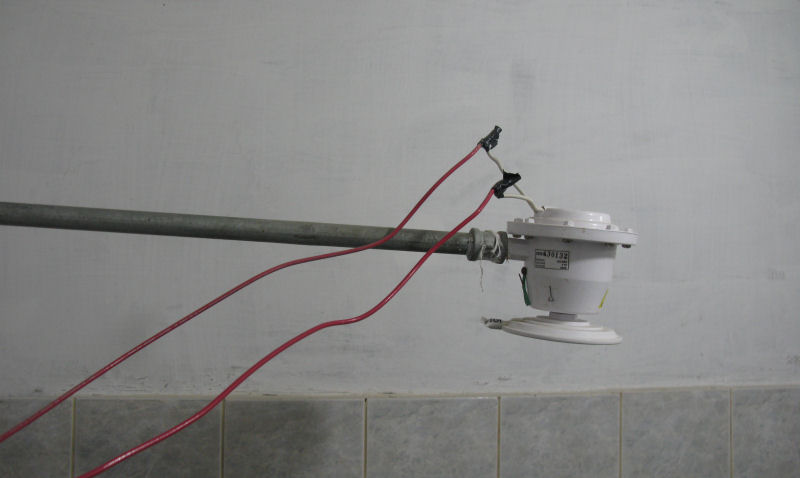 We walked in the drizzle and found an Internet cafe (had to ask a teenager, because the adults kept giving us bogus directions).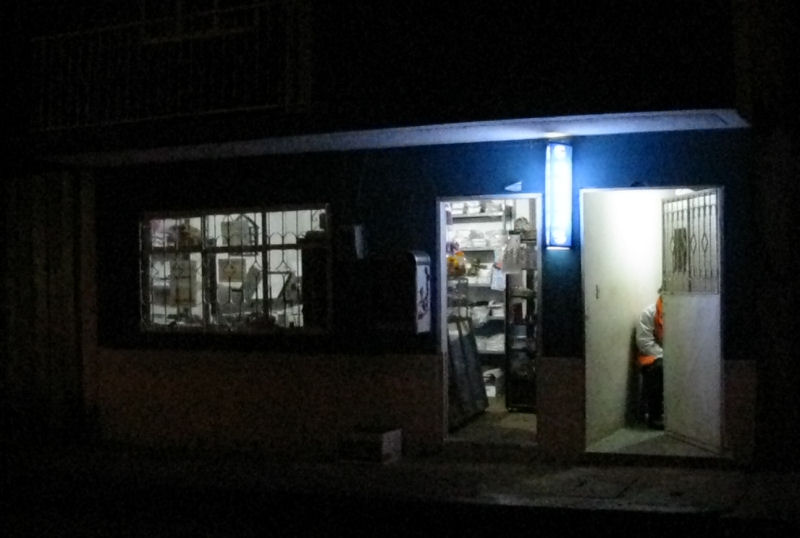 I walked around the plaza while Don talked with his wife. The Internet cafe was bigger than a typical walk-in closet, and had only two computers and I had to unplug the cable from one of them. A kid was using the other computer, so there wasn't room for both of us in there. So I took photos of the interlocking pavement stones around the plaza for no particular reason. In the rain, as usual.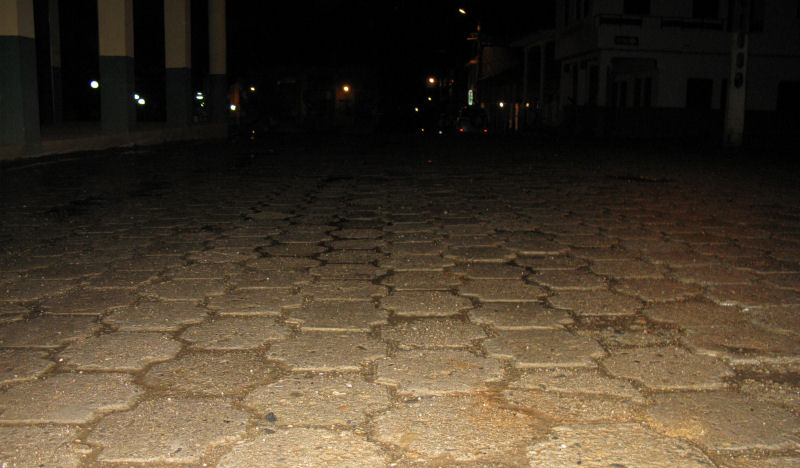 After Skype calls, we went back to our room. I wrote while Don coughed and wheezed. He was getting better, but still had coughing spells that wracked him.
Thursday, 27 November, 2008
-------------------------------
Up and ready for breakfast, we walked around the central plaza but were not pleased with the choices. Nothing looked very good. Don tried to find some cough syrup, but found nothing that he needed. He even looked in a veterinarian pharmacy, but that wasn't helpful.
Out of town, cool and cloudy. At a gas station, we chatted for a while with a policeman who was taking a break there. He was interested in the bikes and our rides, but his English wasn't up to any more than our Spanish was. So we pointed and grunted as men usually do.
We stopped in Cariamanaga for breakfast, but found ourselves on mud streets that were unexpected in such a large city. We saw workers shoveling dirt on the streets, so maybe they were re-doing the whole thing. We were also surprised at the quality of the restaurant that I found by accident on a side street. The food was very good and cheap. Christmas decorations going up all over.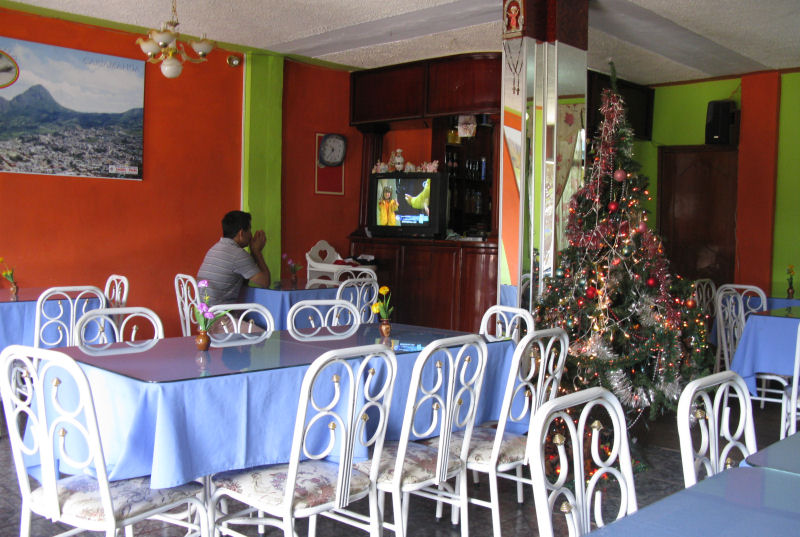 On the way out of town, we were wish a happy journey by the town herald, perched on his pedestal.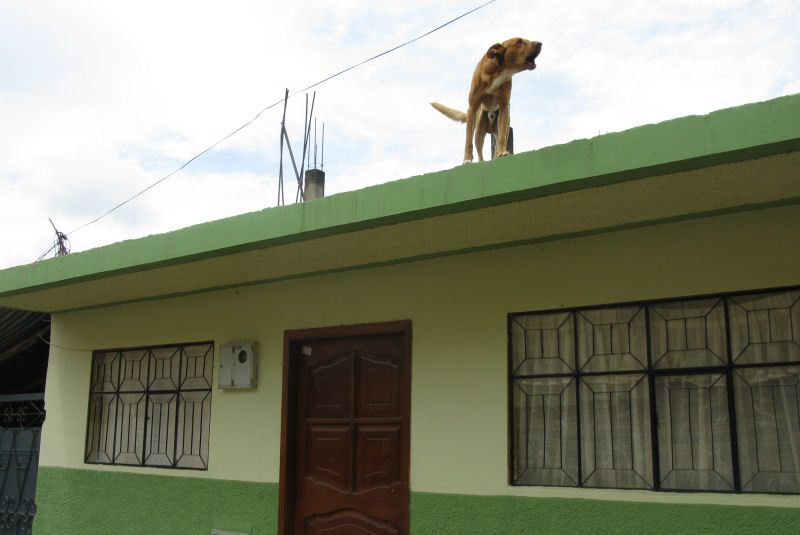 The views we saw coming into Cariamanga were hampered by fog, and were not much better leaving town. After fighting through a terrible clay-mud section of road (we each went down once, and the workers immediately ran to help us pick the bikes up), we then started back up into the mountains.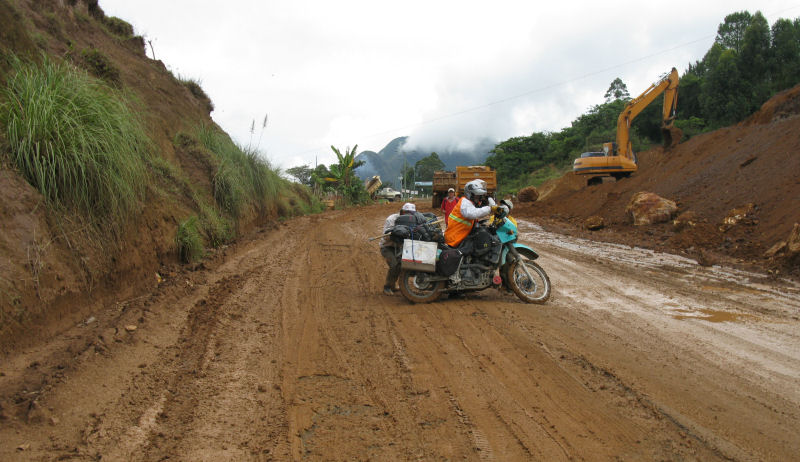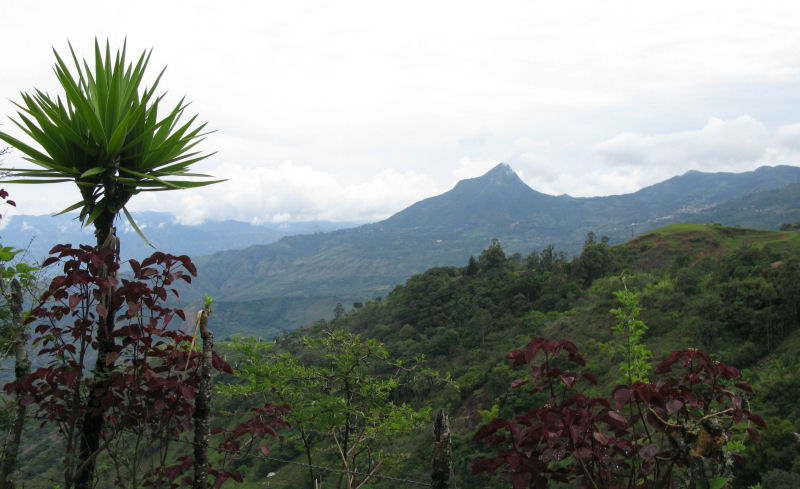 Another well-wisher paused in the road and waved us off.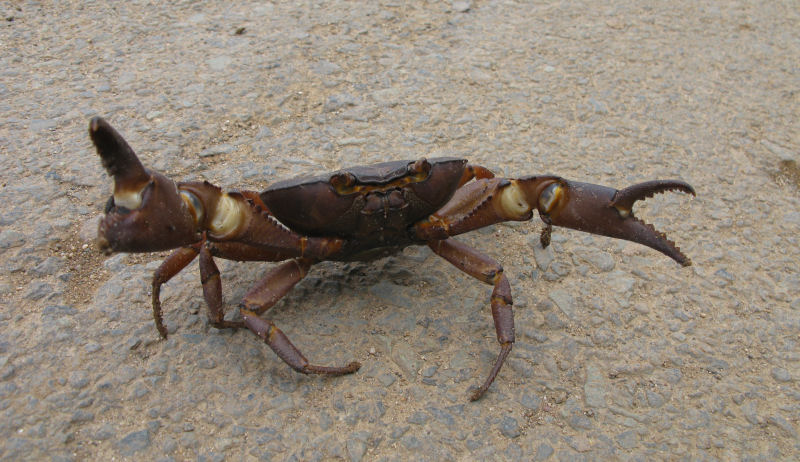 A crab? Up here? Who would have thunk it? Not me, that's for sure. About 6" across the body of this beast.
The road got worse and worst, mostly due to damage and unfinished repairs. Some of the pot-holes were huge. Sometimes the road was gone.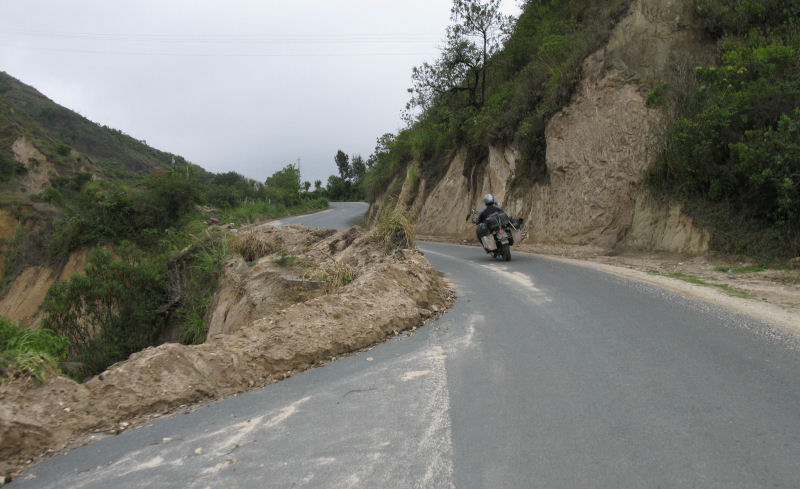 We stopped to change our rain gear, and some customs agents stopped to check our papers. They were only slightly interested in us, and after seeing the import papers for the bikes, they went on their way.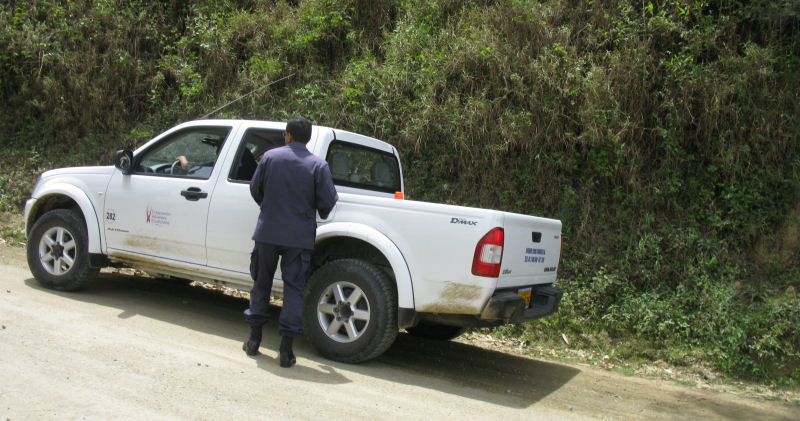 Due to changing altitude, we went from cool and damp to warm and dry several times in rapid succession. Other hazards challenged us.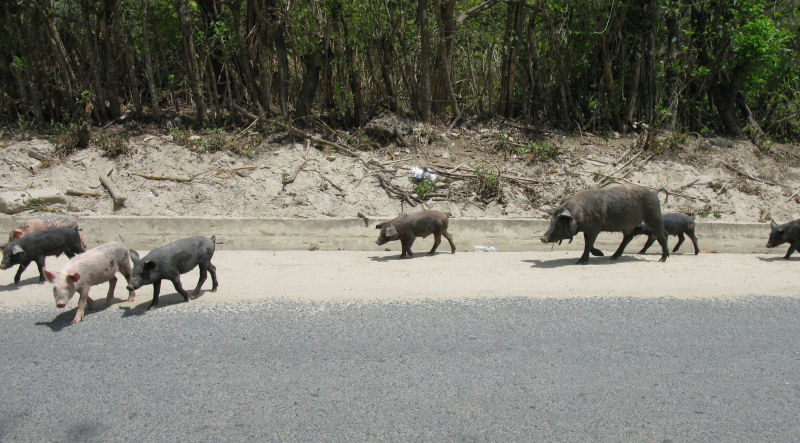 We didn't see much traffic, and since we were not on the PanAmerican Highway at this point, that explained much. The GPS has mis-led me, and I hadn't paid enough attention to the map on my laptop computer last night. Anyway, we managed along just fine, and we got to see some great views along the way. I saw an eagle snatch a snake from the road in front of me.
We dropped rapidly to 500 meters altitude, where it got hot and sunny. As we neared the border of Peru, I started to wish it would rain.
We re-joined E35 as we got to Peru at the city of Macara and crossed the Puente Internacional (International Bridge).
Don saw small, green monkeys in the trees, but he didn't get pictures so I will assume he was hallucinating.
Leaving Ecuador couldn't have been easier. First to Emigracion where they only wanted our passports and the tear-off slip we had filled out upon entering the country (so don't lose it). Exporting the bikes simply involved handing over the import forms.
Then we crossed the no-man's land to the Peruvian border.
<< Link to PREVIOUS report: Colombia Down >>
<< Link to NEXT report: Peru Down >>
[ ERRANT-RONIN HOME ] [ Prudhoe Bay to Ushuaia Home Page ] [ Ride Reports Home Page ]