Part 7. Mexico down
===============
Friday, October 10, 2008
--------------------------

We slept in until 09:00, had breakfast at the hotel, then got packed and on the road by 10:15. We got to the Mexico border and were waved through with almost no discussion. When I happened to mention that we were headed for Panama, the border guard told me that I had to get a "personal pass" and a pass for the bike. I knew that I would need a visa stamp (what the guard called a "personal pass") and that I would need to import the bike, so this was not a surprise. For those crossing the border but remaining in the free-trade zone (about 20 miles as I recall), no visa or import stickers were needed.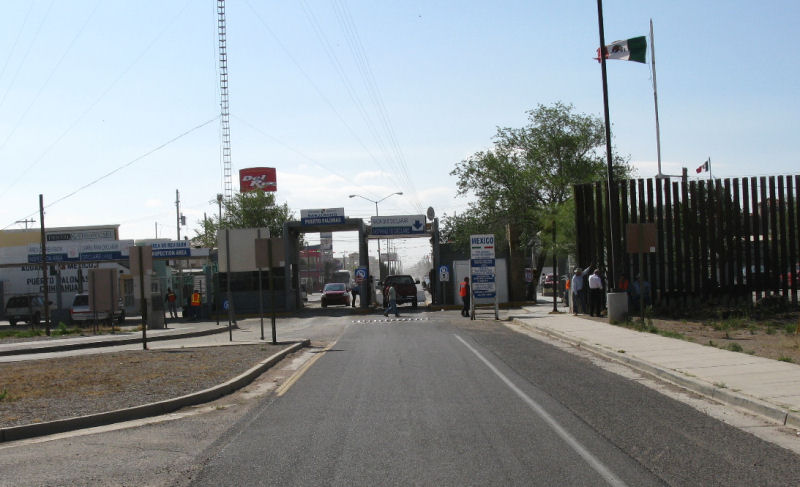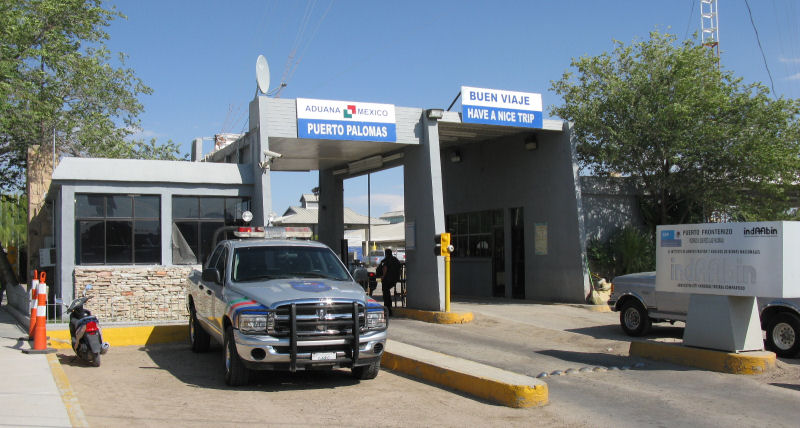 It took us an hour to get the paperwork done and to pay the fees. It was my first border crossing other than into Canada or through an airport, so it was all new to me. What I had been led to expect was exactly what happened. I went first while Don watched the bikes, then we switched.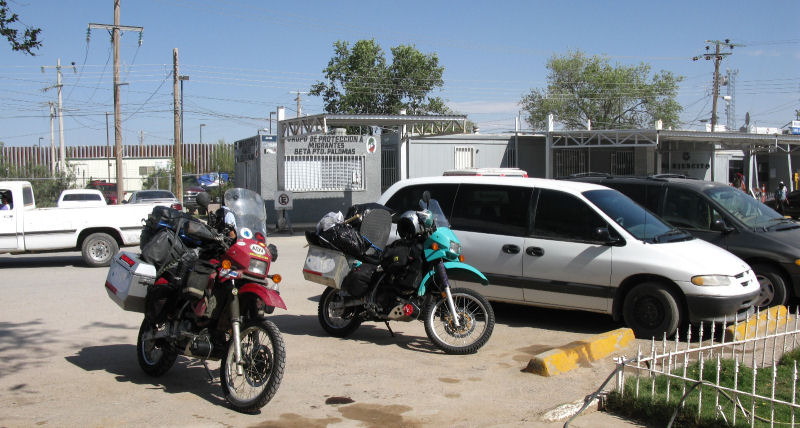 I'm showing my Schnitz Racing sticker here, because it's a reminder of Cary's death. I'm partly here now because of his wonderfulness.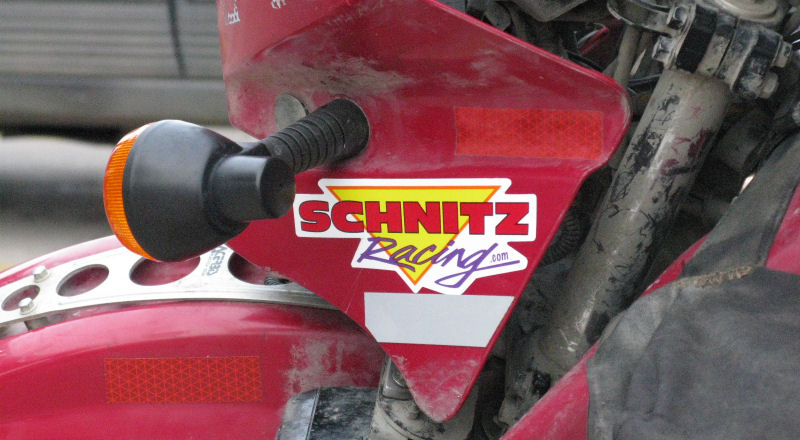 I was directed first to the Banjercito (small bank?) for the paperwork, and they sent me back to the border guard building. The guard there handled my paperwork with a practiced ease that comes from repetition. He saw right away that the ID that I gave him (driver's license) was a copy, and he asked for the original. He filled out the forms and had me sign in a few places. I was sent back to the Banjercito with the forms, and after doing something to them, the clerk there added a form or two and sent me to get copies of everything. Don and I had made numerous copies of most of our documents, but in this case they gave us new forms to have copied with ours, and only one copy was needed.

As soon as I exited the office, one of the local men (who obviously knew that I would be coming out to seek copies) immediately attached himself to me and told me that I needed copies. He all but physically pulled me to the copy shop that had him in their employ, but as we passed another copy shop (big sign that said COPIAS), another man intercepted us and directed me to yet another shop. I though it was amusing and frustrating at the same time, so I just left them both and went into the nearest shop. The two men argued outside while the pretty young lady made my copies for US$2. Back to the Banjercito, ignored by the men still arguing about who had me first. This is the first guy who attached to me, but the other guy is out of the photo.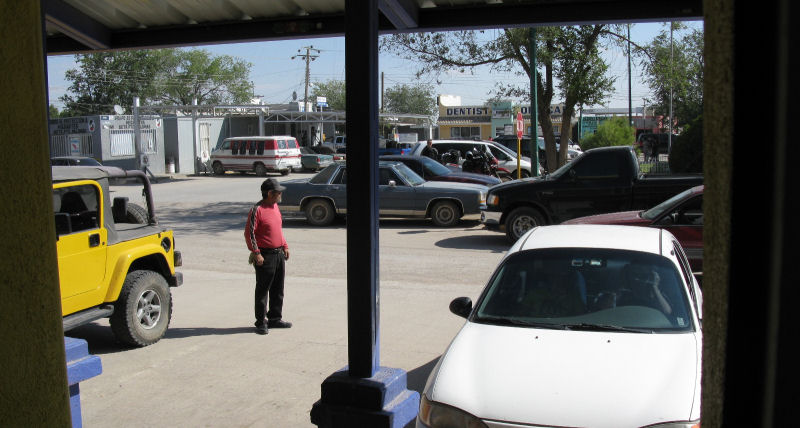 The visa cost about US$30 and the bike import cost about US$40. The sticker that comes with the import form goes on the inside on the windshield so that the serial number can be seen through the windshield. I did not know that. After I put the sticker on my faring, one of the local boys (hoping to wash your bike/car/motorhome for a small fee) shook his head at me and pointed to the windshield.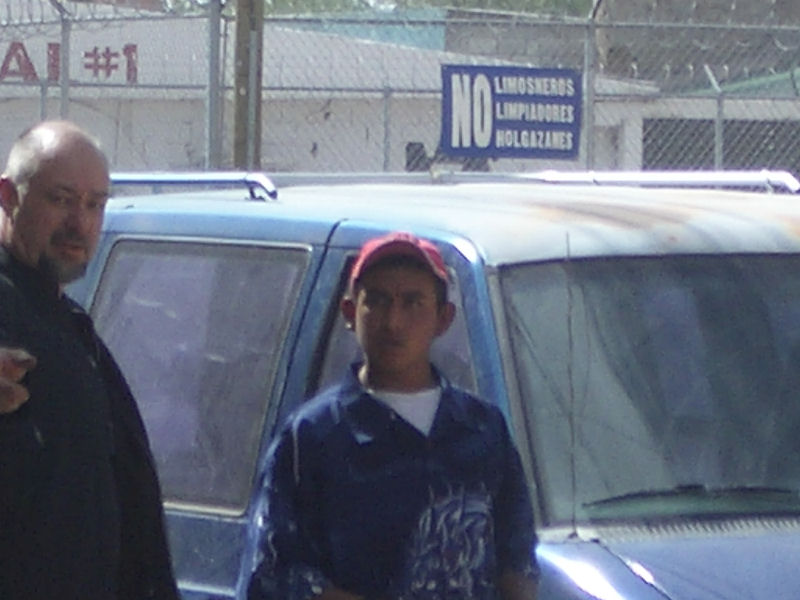 It was hard to remove the sticker, and it left parts of the sticker on the plastic faring, but it stuck firmly enough to the windshield that I wasn't worried about losing it. I was concerned that it would look like it had been removed from another vehicle and transferred to this bike.

Don went through the same process while I watched the bikes. Small children came around, being taught how to beg by their mothers. I had three toddlers come up to tug on my clothes and hold out their hand. One girl had a nursing bottle hanging from her clenched teeth as she was sent over to hit on me. I had mixed feelings about this behavior, so I decided to think nothing of it.

We asked about buying insurance (seguro), but after going to the Farmicia as we were directed, the woman there said she had no insurance for a motorcycle. I asked around some more, but found nothing. One of the "helper" men saw my plight and took me confidently back to the Farmicia but sulked away after the same woman told us both that she could not sell any motorcycle insurance. Mostly he sulked because he got no tip from me.

We decided to risk looking for insurance along the way, and we got the heck away from the border.




We gassed up at the next PeMex station and started cruising.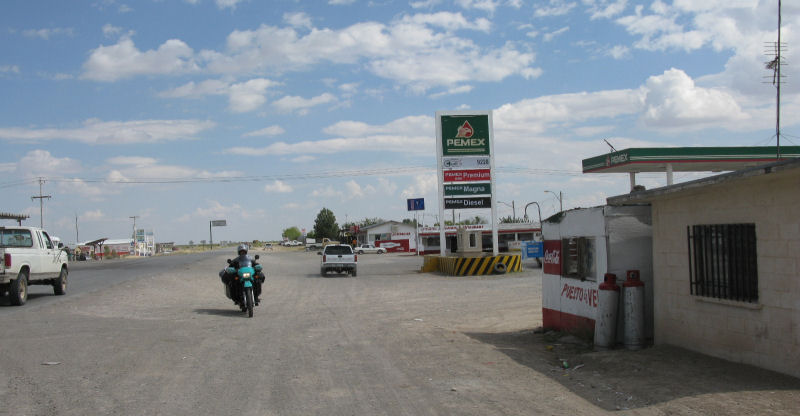 Soon after we started making good time, the RamMount cup that was attached to my handlebars came off on this road.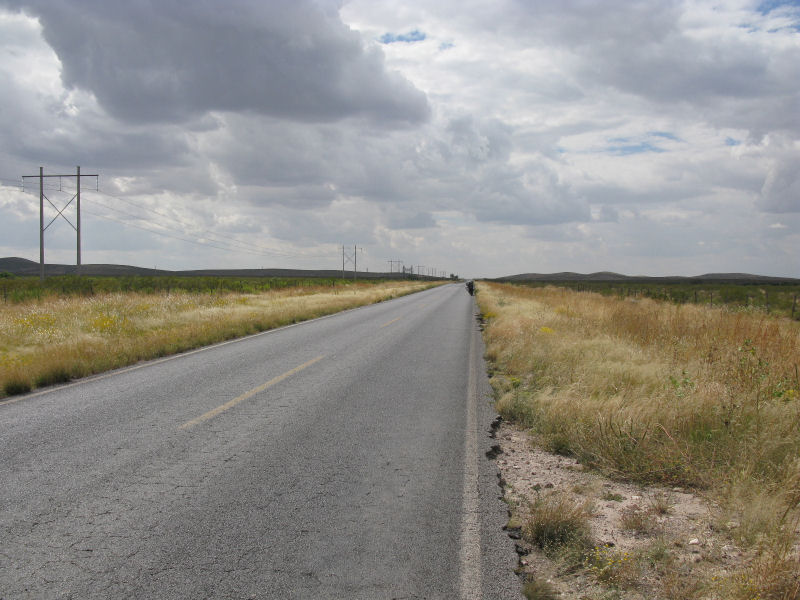 That was unexpected, especially on a nice, clear road. The biggest problem was that my camera was in the cup at the time. It hit the road at about 60 mph and got badly damaged. I've had a camera bounce out of the cup before (that's how I trashed a camera near Dawson City, Yukon), but I've never had the cup detach before. I walked back and recovered the camera, and it seemed to mostly work but with some glitches with the controls. I had made pains to get this exact camera, since it suited one-handed use with gloves, and this really frustrated me. I suppose I might go through a few cameras on this trip, but I didn't expect to do so in the first few days.

In Janos, we stopped to buy insurance, but Don was told that it could only be had at the border. Hmmm... The person Don talked to also told him that while on our way to Creel, we should watch out for bandits and roadblocks by the drug cartels. Apparently there is an escalation in hostilities in the area. So, with that information, we headed to Creel.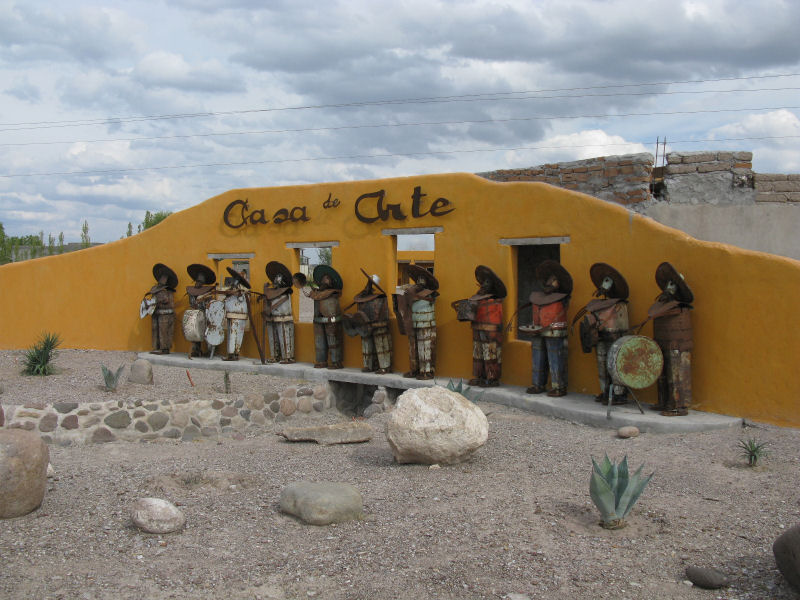 On the way out of town, I saw this horse on a trailer. I sure hope the guy drives slow on these roads.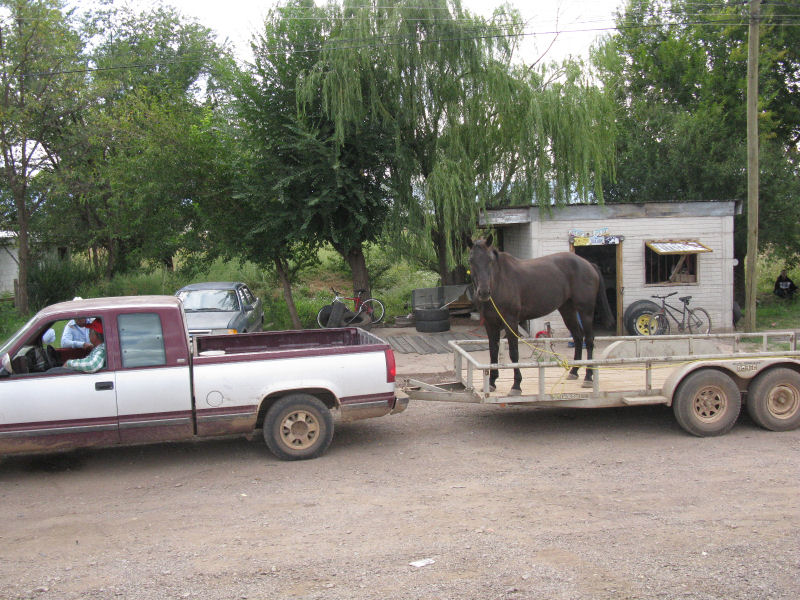 There was a lot of construction on Route 10, so the going was slower than we expected. They were widening the road in some places, laying down new road bed. The trucks had a tendency to just get sideways on the road suddenly. At least there was usually a flag bearer there to pretend to give warning.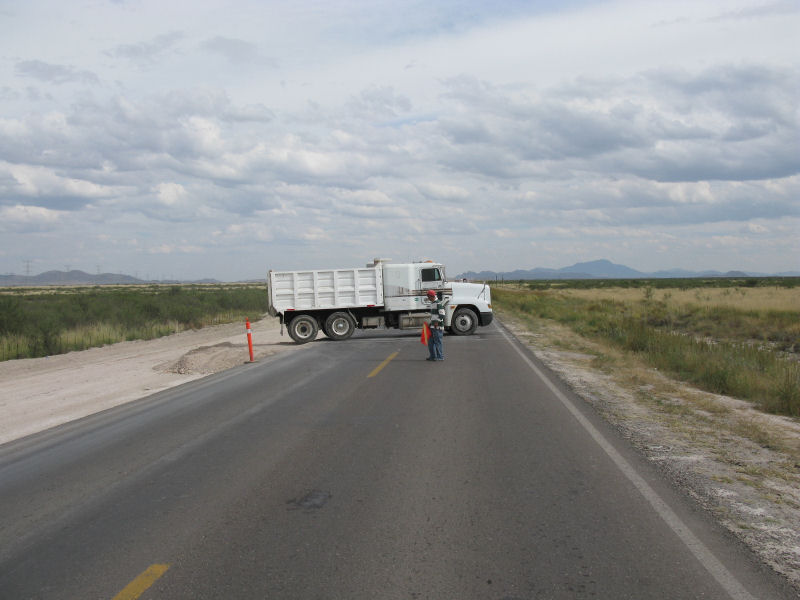 We stopped for a late lunch in Buenaventura and fumed over the maps a bit more. Afterwards, we made a stop at an ATM so Don could get some Pesos. The ATMs here automatically ask you to donate a small amount (50 cents) to a children's fund, so Don did that.




We got back on the road, choosing Ruta 28 which was a great motorcycle road--twisty and curvy though a climb into the mountains. One oncoming big yellow truck took most of Don's lane and almost took Don, but he managed to get past it. What the heck, that could happen at home, so it wasn't special to Mexico.

It got dark earlier than usual due to heavy clouds that were being pushed along by a hurricane coming off the Pacific coast. In Gomes Farias we decided to stop for the night. Don had spotted a large hotel with a secure courtyard and Policia Federale vehicles all over the place. We stopped in and found that the Federales were living there for a while. Probably due to the local drug wars. That settled that... this was the safest hotel in that part of Mexico. We got a room and parked our bikes amongst the Federale trucks and their helicopter.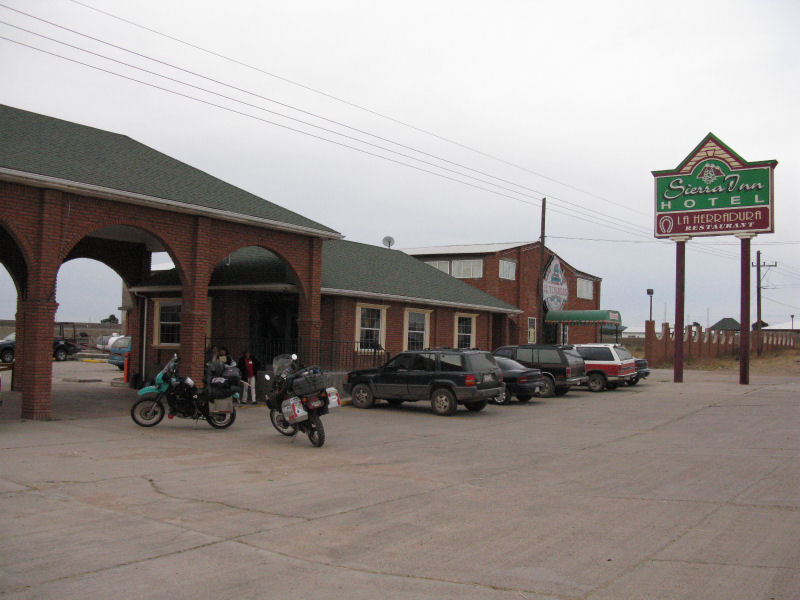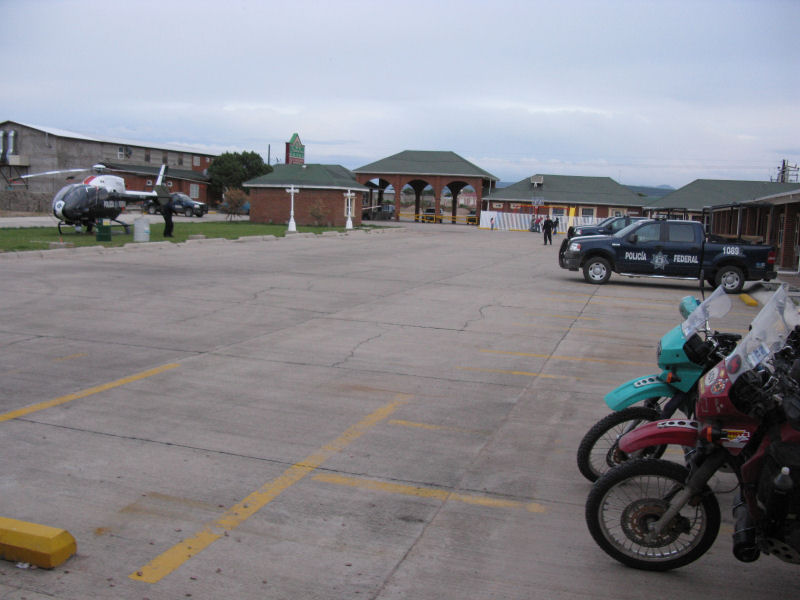 The Federales had overwhelmed the hotel's restaurant, so it took a while to get a table cleared off, but it was nice to have a casual meal and consult the maps.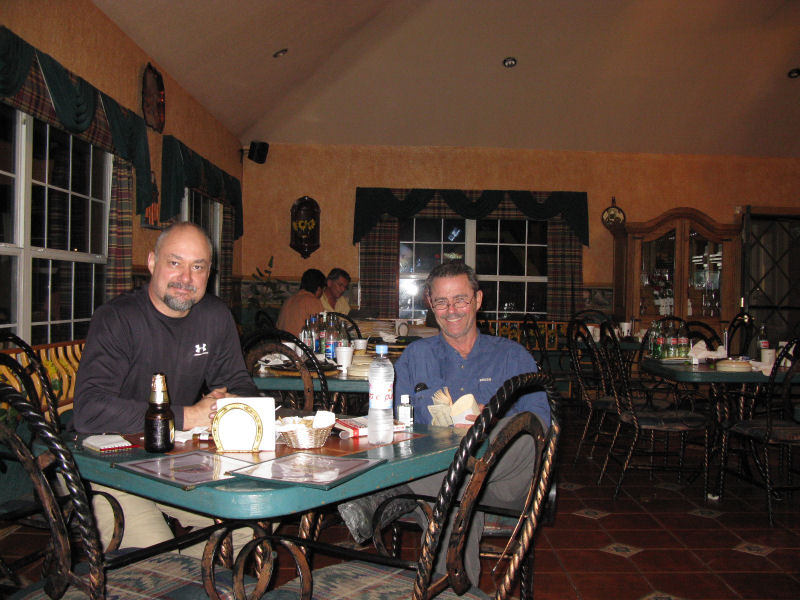 One of the biggest issues already is the inaccuracy of our maps. I have a Mexico map and two GPS maps, and none of them agree with the others. The paper map has general detail, but shows roads that we have not found. The Garmin GPS world basemap is routable (it will calculate routes and distances), but has little detail. I bought a detailed mapset from an aftermarket source, and it definitely had more detail, but it strangely omits some major towns and roads. Some of its details are silly, indicating every tiny village in the area even if they are not along the roads. This detail causes the view on the Zumo GPS to become cluttered and confusing. Orientation became a bigger problem as the next couple of days passed.

Our room was large, but had only a single King-sized bed, so we had to share. Not a problem, but I thought it was funny that Don slept under his Bug Hut. There were mosquitoes, sure... but I still thought it was funny.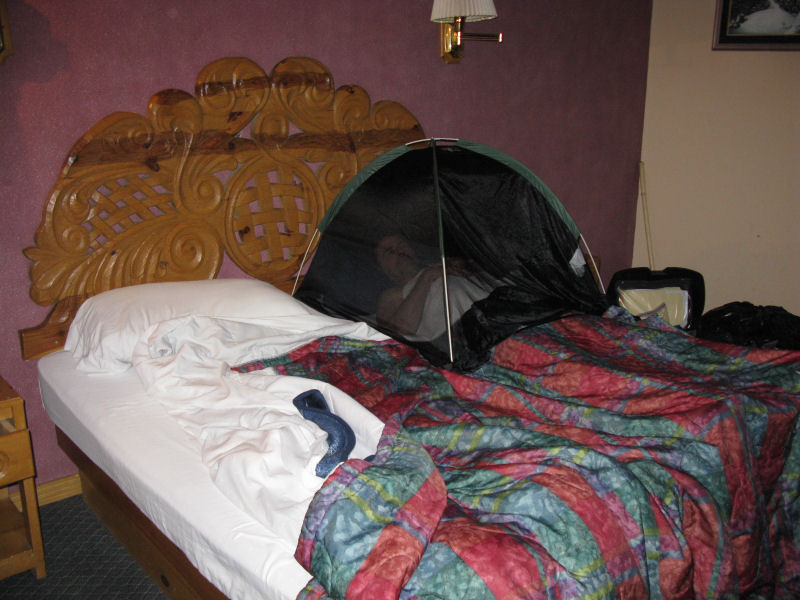 We were HERE


Saturday, October 11, 2008
-----------------------------

The Policia Federales left early, for whatever their mission was for the day.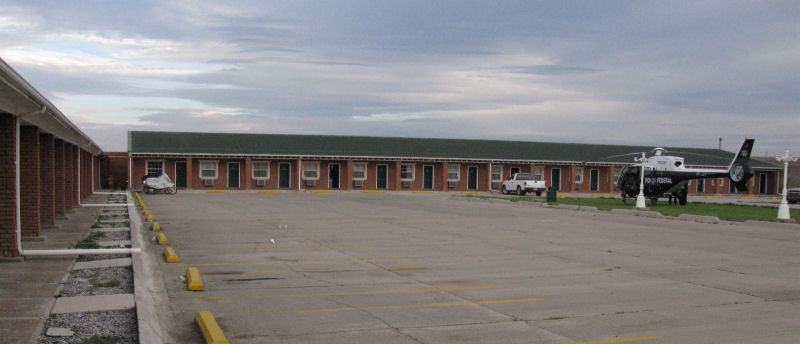 As we packed our bikes, their helicopter warmed up and took off. It turned and went directly over us (on purpose?) so we got sandblasted pretty badly. At breakfast, Don again tried to give too much money to the waitress, but she corrected him. We were on the road by 08:30.

Ten minutes out of town, Don remembered that he had left his stick at the hotel and went back to get it. It is a Chinese waxwood walking/fighting stick that he wanted to take along for some reason. I have a bet with him that he will eventually give it away to someone rather than carry it the whole way. The way he carries it makes the bike look like it's wearing a Samurai sword.

My damaged camera finally went completely schitzo and now responds to its controls in unexpected ways. Fark. We met a German couple, Martin and Nadine, who had been on the road for five years, bicycling around the world. When we told them we were headed for Ushuaia, they told us that they had left Ushuaia two years ago. They have been averaging 80-100 kilometers per day. I would have taken their photo but my camera wouldn't cooperate. A bit later when we passed them, Don stopped and took their photo and talked with them a bit more. Their website is www.weltenbummler2003.de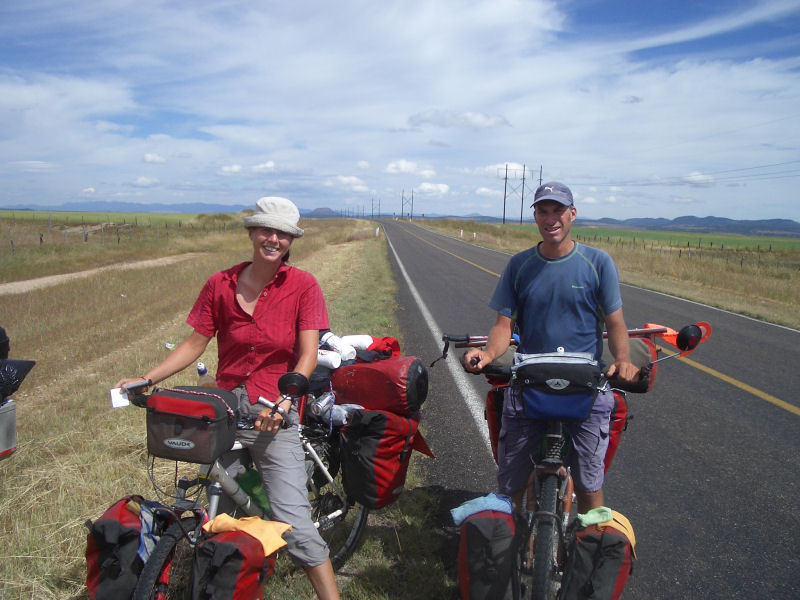 Going through San Juanito (a small town), I started to pass a slow-moving truck and was almost plowed-under by a minivan that chose that moment to overtake us both. I was inches from being creamed. Largely my fault due to inattention. Some other odd driving behaviors here, too.

Then, into the mountains.




We got to Creel despite the confusion between the maps. The highways here have almost no signs once you are on the road, so if you wanted confirmation along the way that you were on the correct route, forget it. The GPS had showed for many kilometers that we were on a path that matched none of the maps that the GPS had installed. When we got to one intersection, the signs didn't indicate any destinations that we recognized, so we went with the plan of just heading toward Creel, and that finally worked out.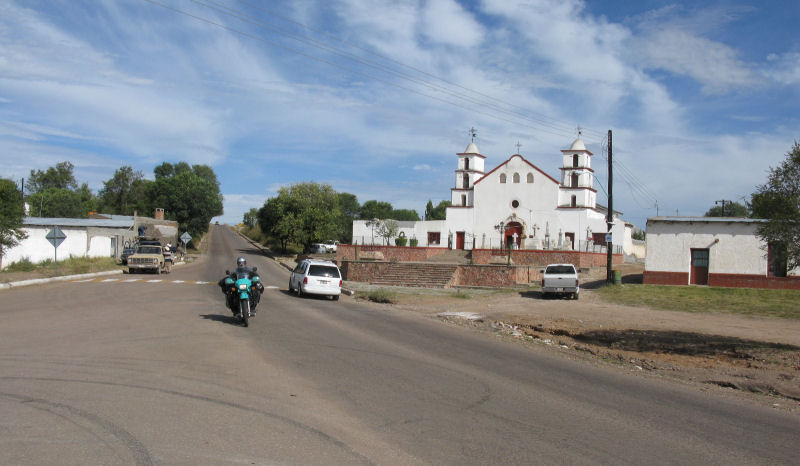 In Creel, we ate at a nice restaurant on a hill. The sign looked interesting, and the road went under a big pink cement arch, so it was worth a look. At the top, the buildings we saw first were under construction or repair, so we thought that we'd turn around. Then I saw a small wood sign that pointed to the restaurant, so we wove through the construction and past some rental cabanas (cabins). This looked more like a time-share resort than anything else. The food was okay, not expensive, and I got directions to a camera store from the gal at the desk.




When we left the restaurant, we saw again what I had first taken as construction fencing. It was the tiger that caught our attention. We walked over to see three tigers--big ones--in two cages. Weird.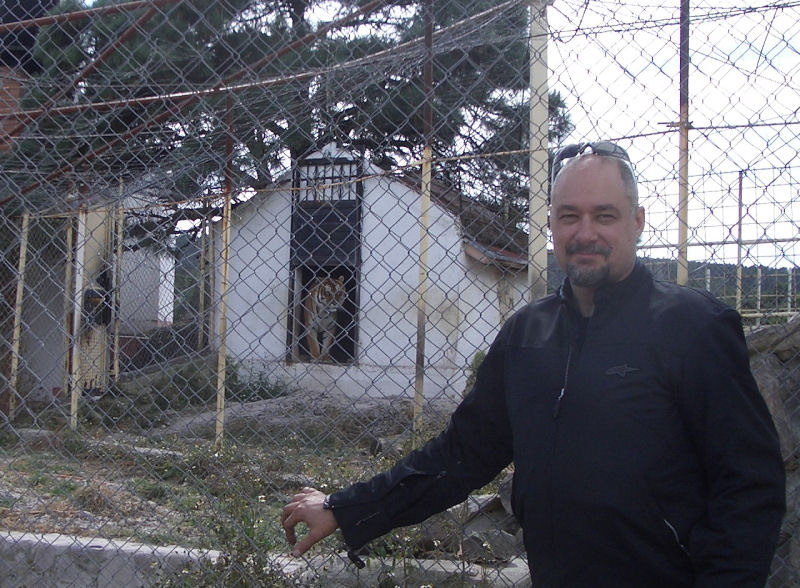 I got the only digital camera in Creel for US$115 (they accepted my credit card), and for extra value it came with two dead batteries. Probably been on the shelf for a long time. I didn't have any Pesos so I got $500 Pesos from an ATM, but it gave it to me as a $500 Peso bill. It'll be hard to break that in many places.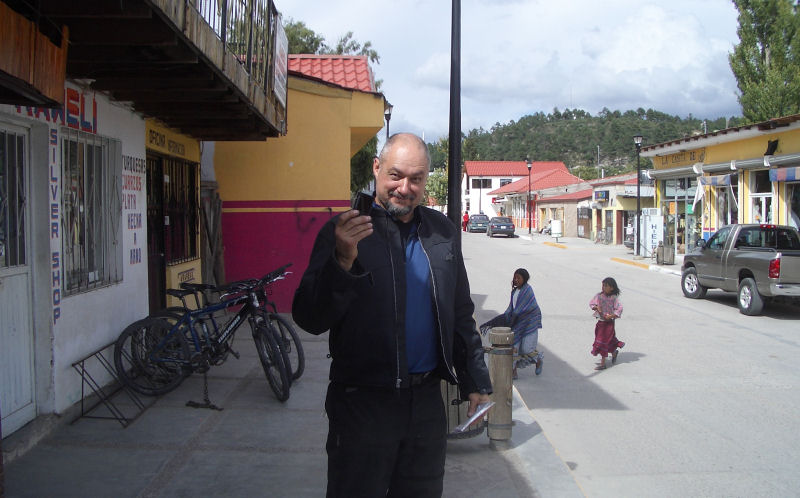 We left Creel for Batopilas, in the heart of the Copper Canyon. We met a group of local riders doing a multi-day ride in the region. We stopped and chatted with them for a while, took photos of each other, exchanged business cards. You know, typical rider-meeting-rider stuff.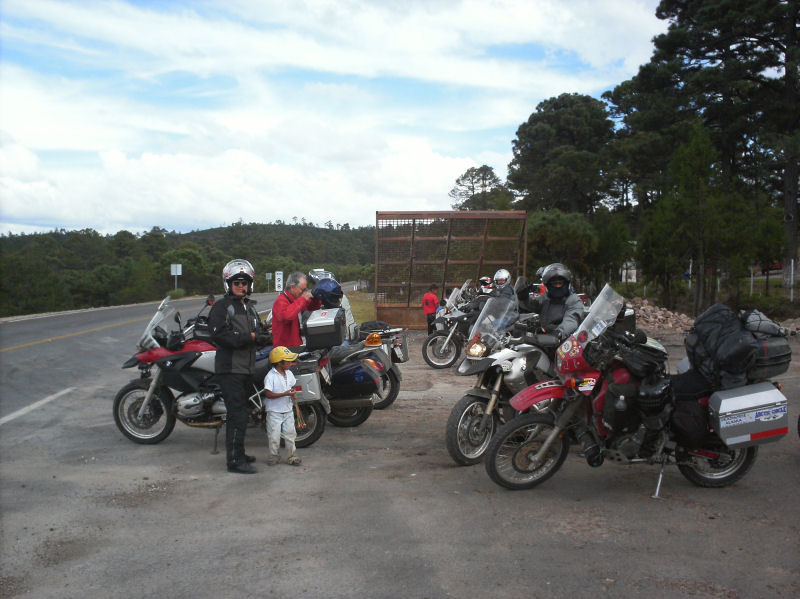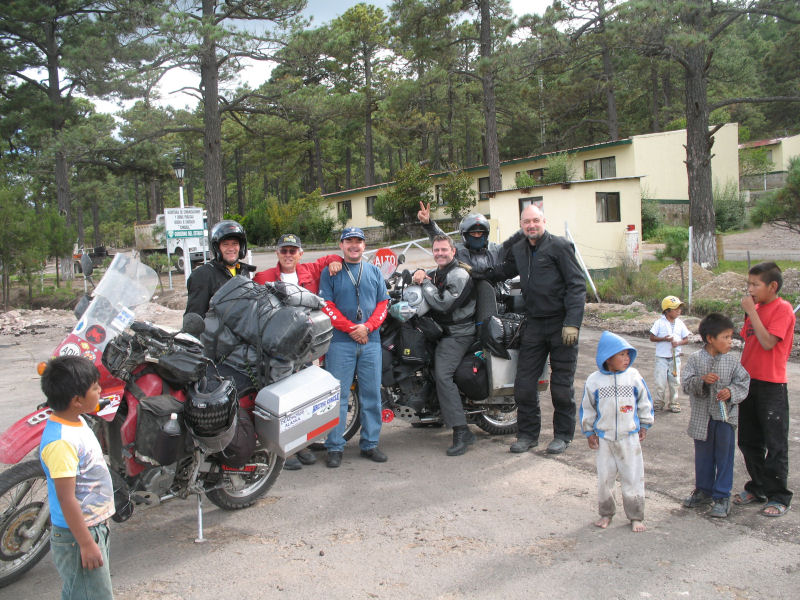 We missed the turn off the main road, so we wasted a half hour backtracking to find the sign.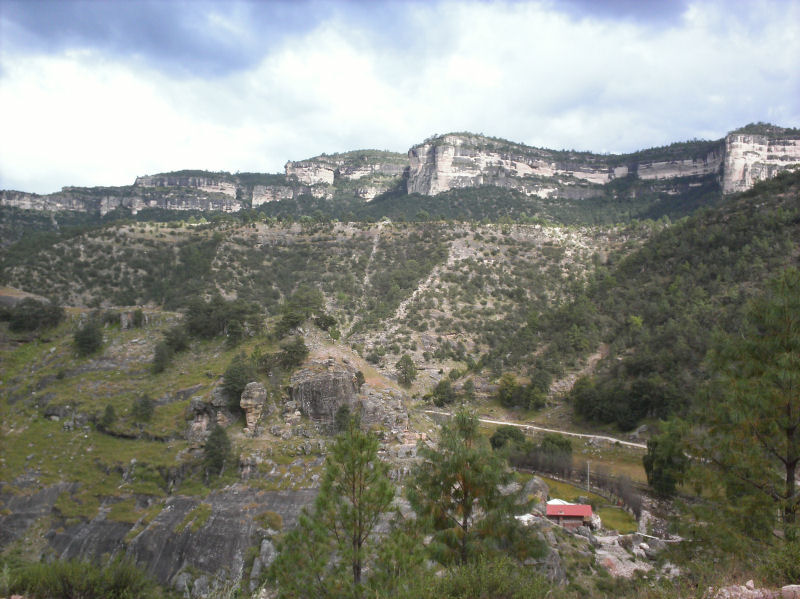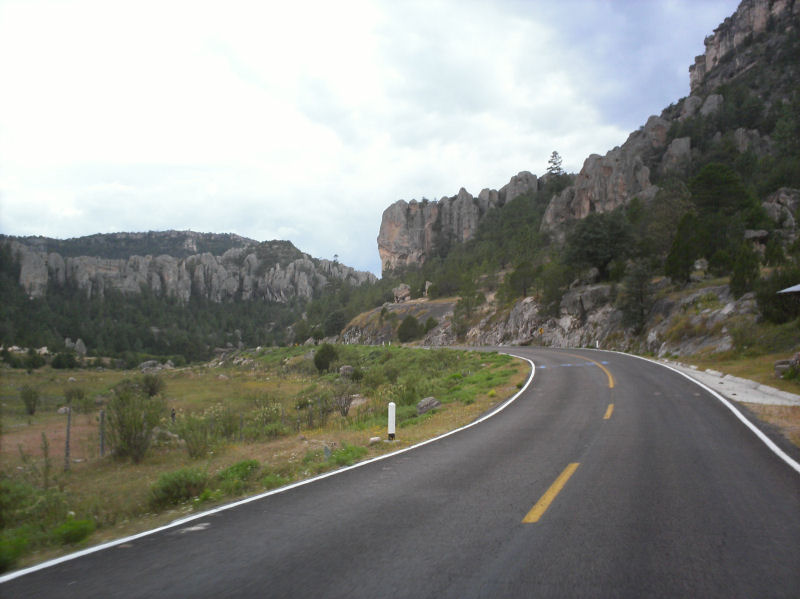 The start of the unpaved road to Batopilas has been reconstructed recently, and is undergoing even more rebuilding. There was rubble and road carnage everywhere, and we had to go through detours and divots for the first 20 kilometers or so. The worst parts didn't get photographed. That, too, is typical.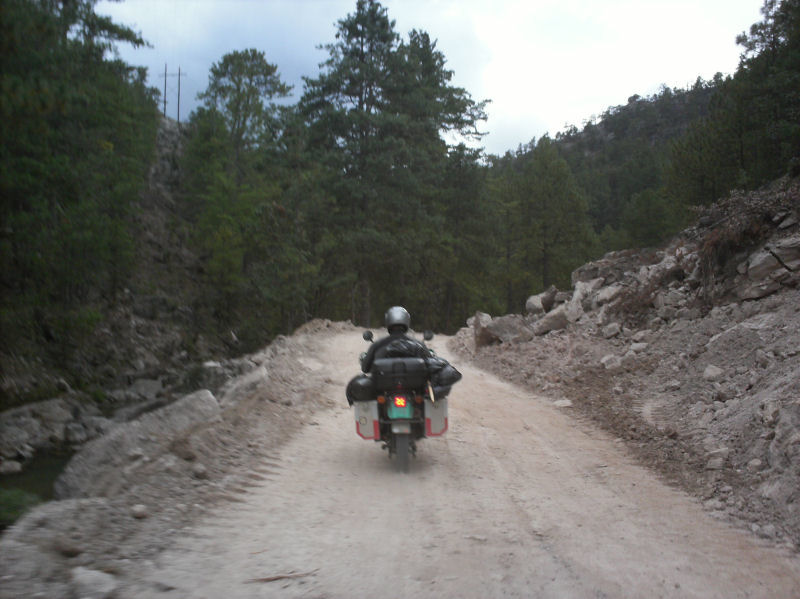 Eventually the road settled down into the well-worn road that would take us the rest of the way. The going was slow and our tires were not the best for this road. At times it was rolling gravel, at times deep soft dirt. It was rarely a solid road surface. This would be more fun on a lighter bike with better tires, but as it was it was work.

Don and I each had a tip-over, and I planted my foot under the bike when mine fell so I have a very gimpy right hoof. Nothing broken (I thinků), just real sore and swollen. (edit: nope, it was broken)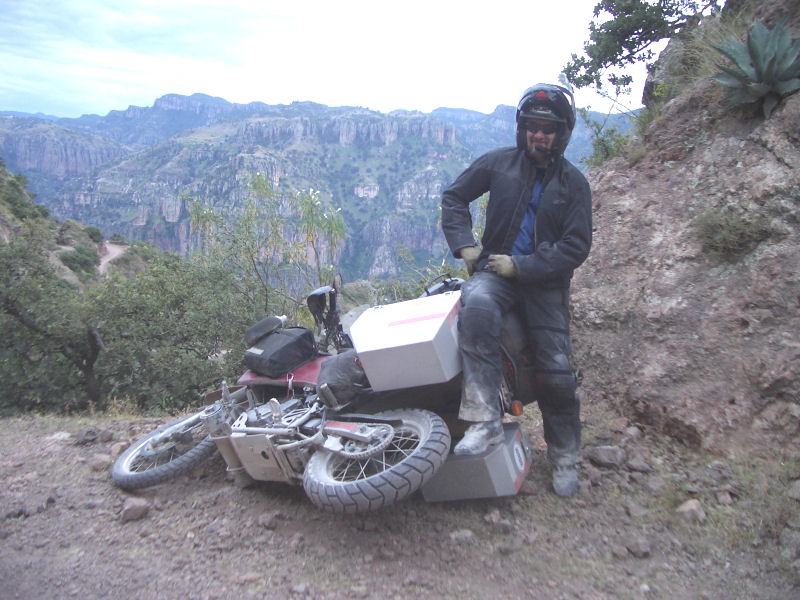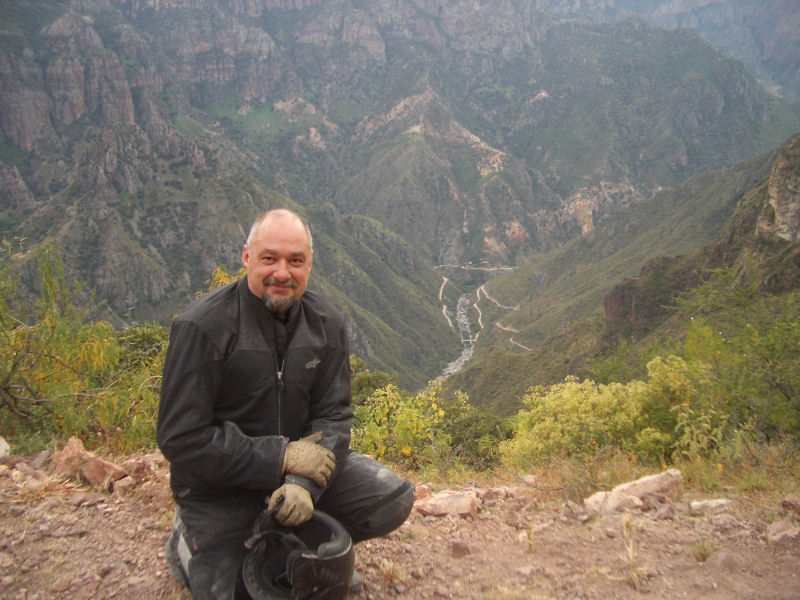 We saw several horses, some cattle, lots of donkeys, and a herd of goats on the road. The scenery was nice.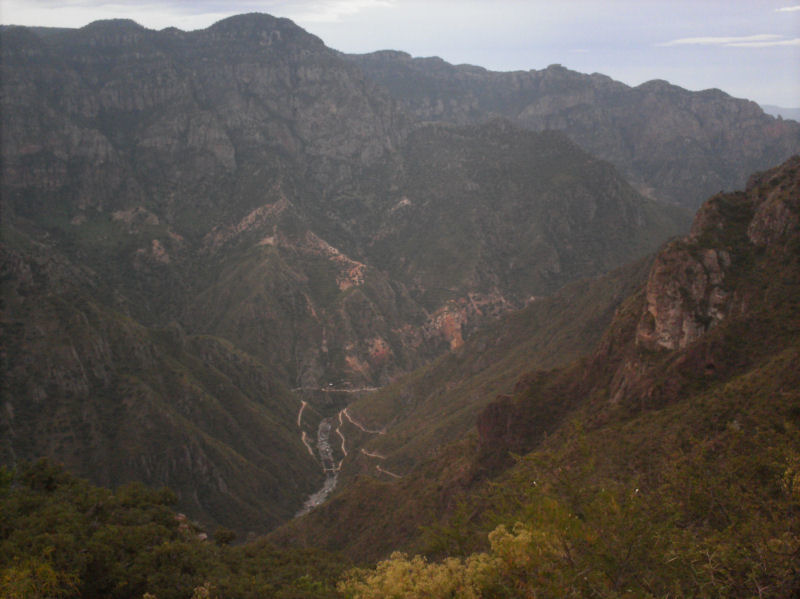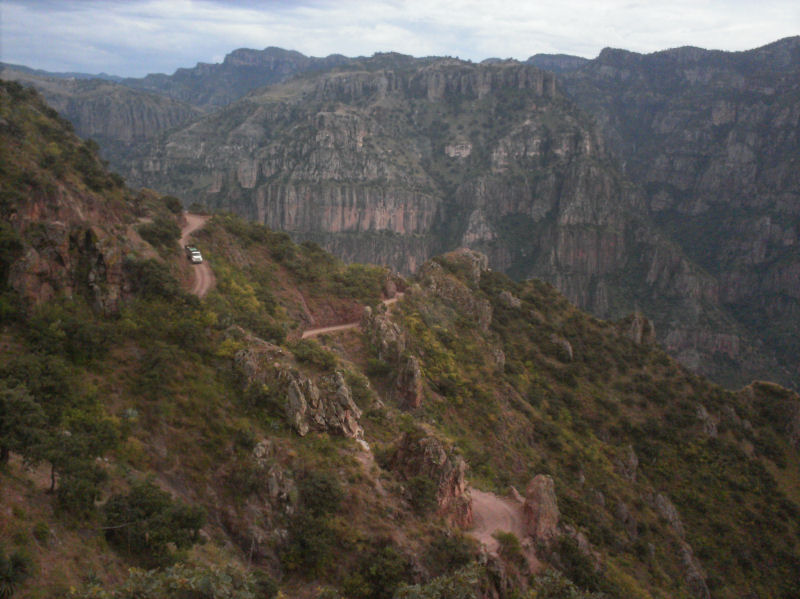 A big truck was going our way and after we passed it, it passed us when we stopped to pick Don's bike up, then we passed it, then it passed us when we stopped to pick my bike up. They were going as slow as we were, so we were in each other's company for a while.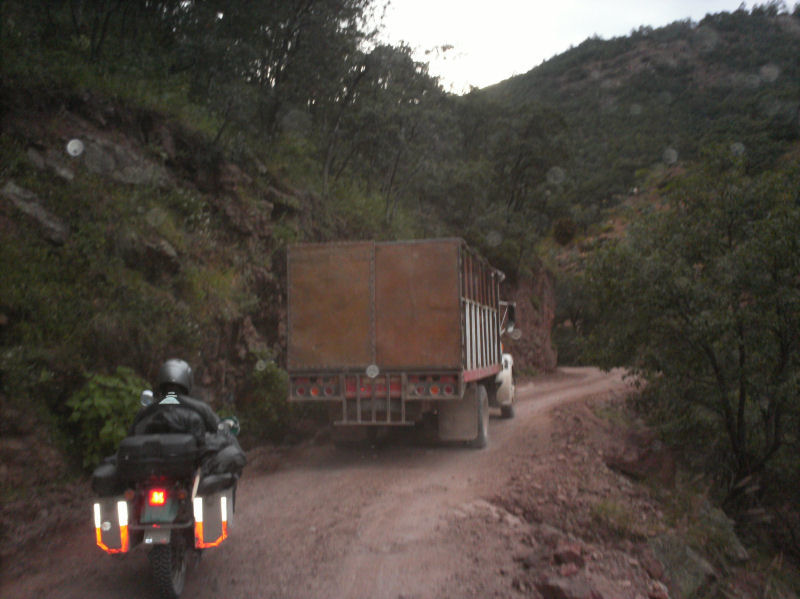 The incoming weather was still darkening, and getting to Batopilas was not likely. When we got to La Bufa (consisting of two houses built on old mine tailings), it was dark and we asked about the road ahead. We then got their permission to camp in their dirt yard.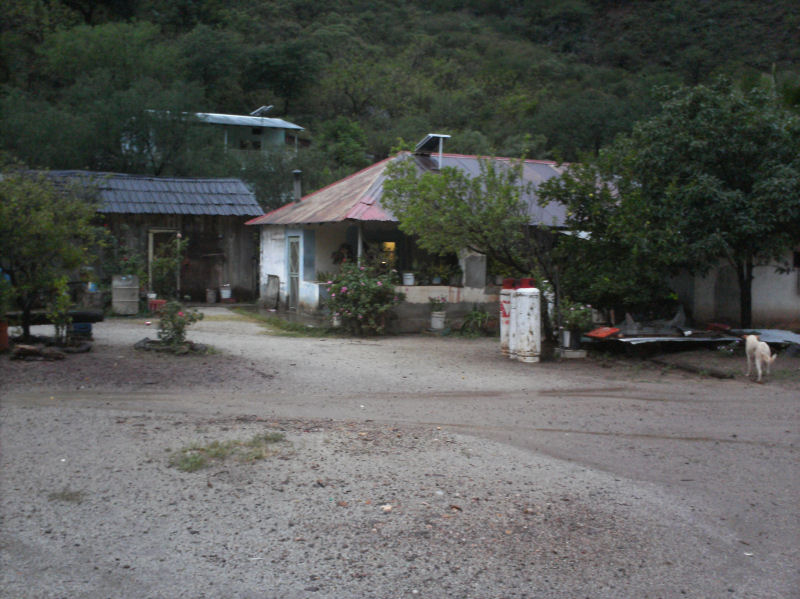 We made our shelters and I asked Don if he had what he needed in case it rained. He said yes. I thought so, too.

It was warm and calm when we finished snacking and bedded down. Crickets were everywhere. I sent a SPoT signal.

The farm dogs played with us for a while, then one of them came and curled up with me on the ground as I tried to sleep. It would have been cute, except that he wanted to play and I wanted to strangle the hyperactive cur. I managed maybe a couple hours of sleep.

It was the rain that finally chased the dogs away to their secret shelters. It was the same rain the made Don and me miserable through the night. Oh, and the gale winds weren't friendly, either.

I had made a shelter with a tarp on the ground and another over me, attached at one end to a barbed-wire fence and staked to the ground at the other. I slept in my rain gear, concerned about getting my sleeping bag wet. When the storm really picked up, the shelter was about to be blown away, so I pulled it from the fence and pegs and just rolled up in it like a wet burrito on the muddy ground.

Don had a camping cot that he had covered with plastic sheeting. He was fine in his sleeping bag until the wind blew his shelter all over the place. He, too, finally just wrapped himself in the plastic, but by then his sleeping bag was soaked and so was everything else. In the middle of the night, I peeked from my own plastic burrito to see Don grabbing at a huge sail of plastic like a desperate sailor trying to furl a snapping sail. If it wasn't for all the misery, it would have been funny.
We were HERE


Sunday, October 12, 2008
---------------------------

At 07:30, the weather had eased up and it was light enough that we had no reason to stay in our wet burritos. We packed everything away wet, which made it heavier and bulkier than usual. I was a bit better off, since I hadn't risked my sleeping bag. Don's was ten pounds of mush.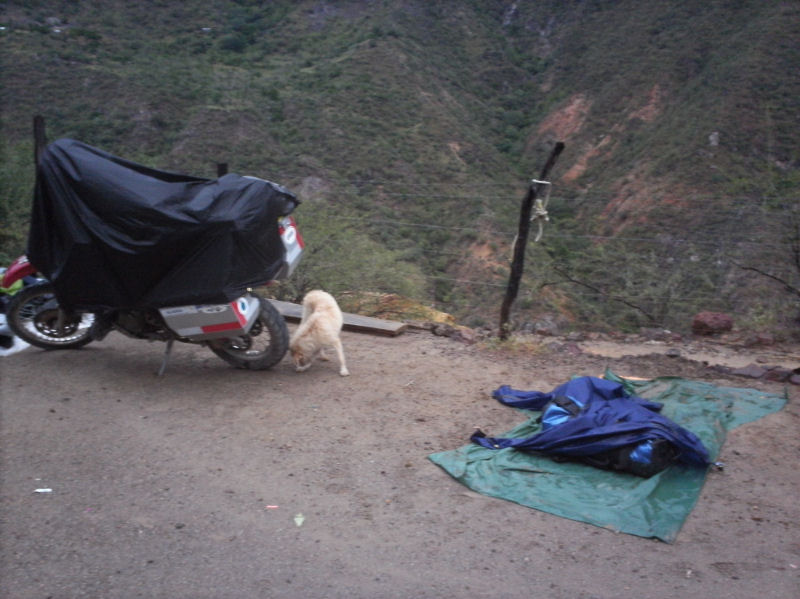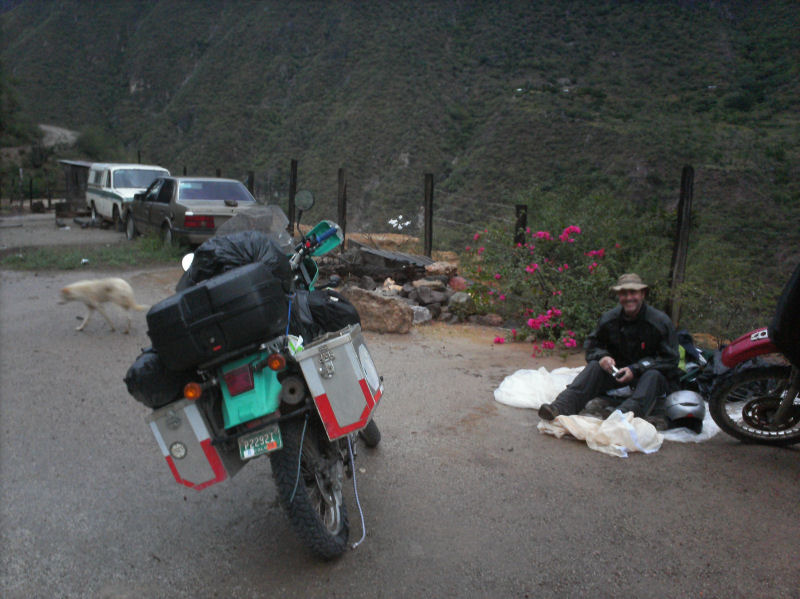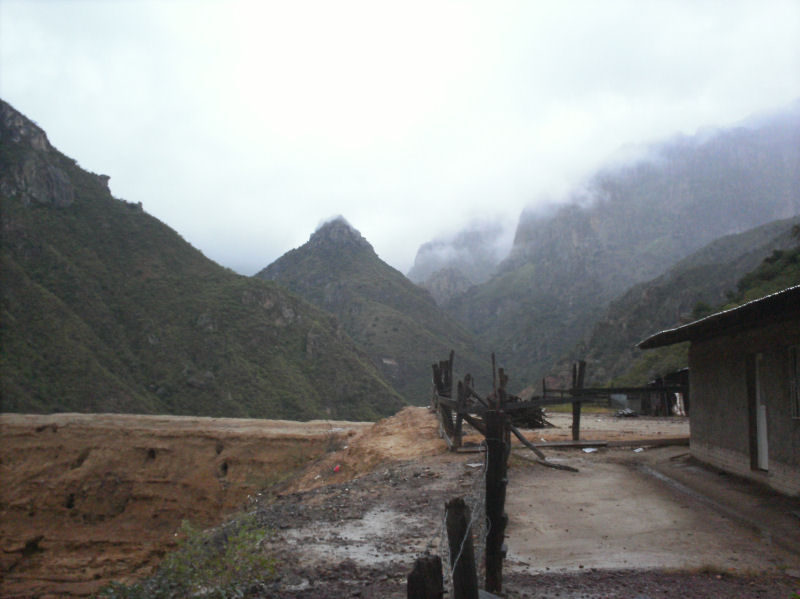 Don gave a tip to the lady who let us out through her gate, and we slogged our bikes though the muddiest roads we could have cursed ourselves with. There was no firm line to ride; everything was mud. We each had more tip-overs, so I'm not counting them anymore. My right foot was really stiff and sore, and the mud that stuck to our boots became a problem. We had hardly any footing to pick the bikes up, and when one of us walked back to help the other, the weight of the mud on our boots wore us out. Our tires were packed with mud, our chains were packed with mud, the front chain guards were packed with mud and rocks, and the fork braces... well, they were packed with mud.

Three young men walking the road passed us and we passed them and they passed us and we passed them. Just like the truck last night. Once, they helped pick one of our bikes up when our footing in the mud was too bad to do it ourselves. All in all, they were making better time than we were, and they weren't working as hard.

Photo interlude: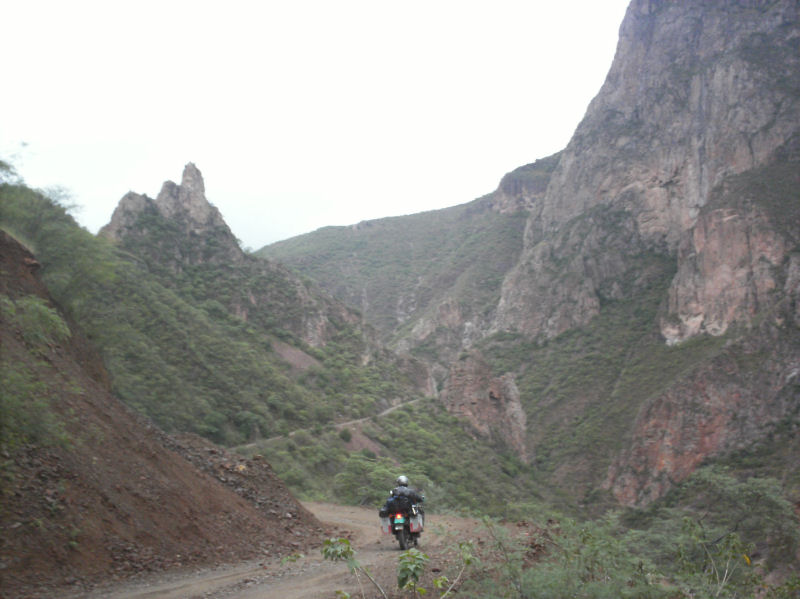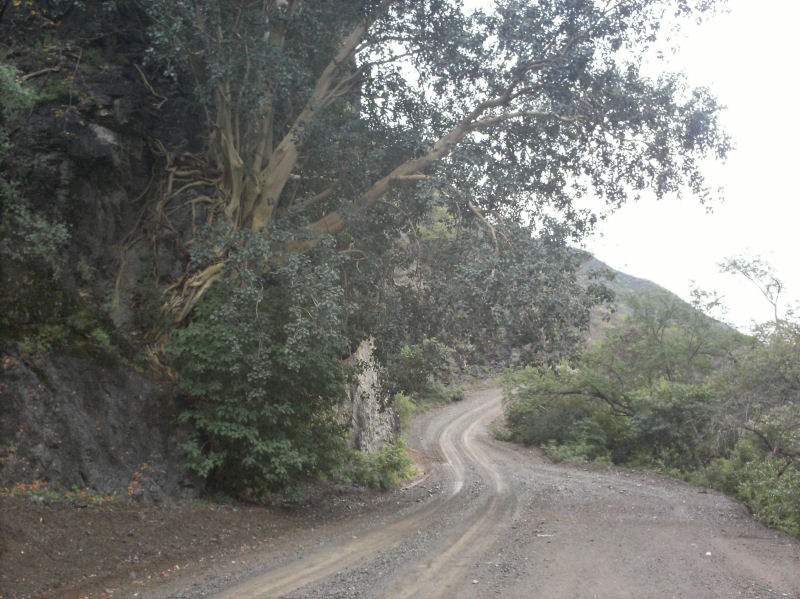 When we got to Batopilas, we were relieved to see the impressive structure on the side of the road. It had taken us three hours to go this short distance from La Bufa. The impressive structure (whatever it was) was chained shut, so we rode on into the town.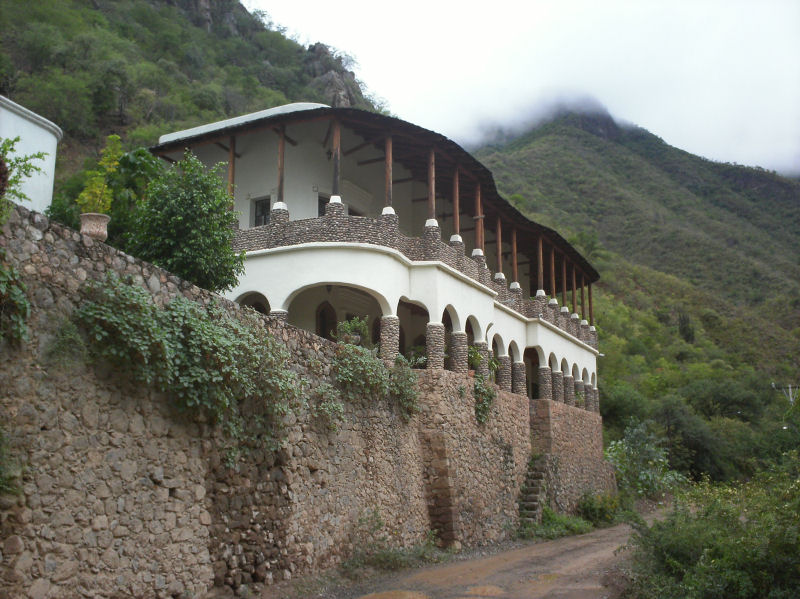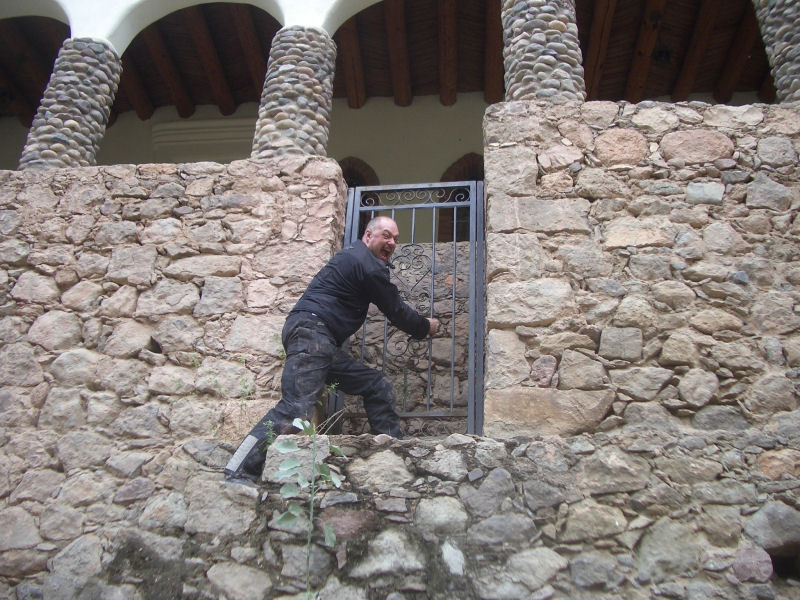 We managed to find the guy who pumps gas from a hose that comes out of the wall from who-knows-what source, and we got directions to restaurants and hotels. Batopilas lies along the river and the town is elongated, so the direction to everything was "straight ahead."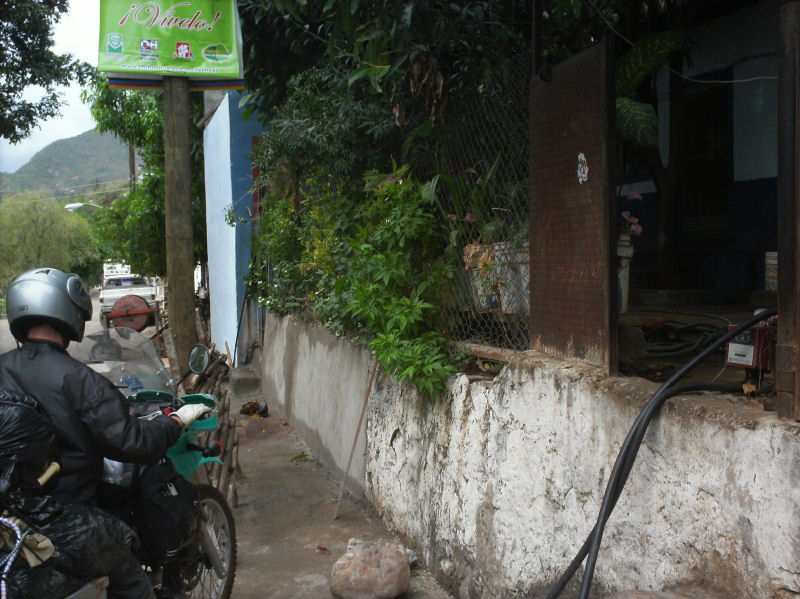 It was not yet noon, but we were beat. We decided to call it an early day and find a hotel. It was probably best, but I hated losing another day's travel time. The road south from Batopilas was apparently a bad one, and if it was still muddy tomorrow then nothing we did now would make a difference.

Batopilas was without electricity when we got there, and we learned that this was common. The guy who sold us lukewarm beer at a cantina said that maybe the electricity would be back at 13:00. He was wrong.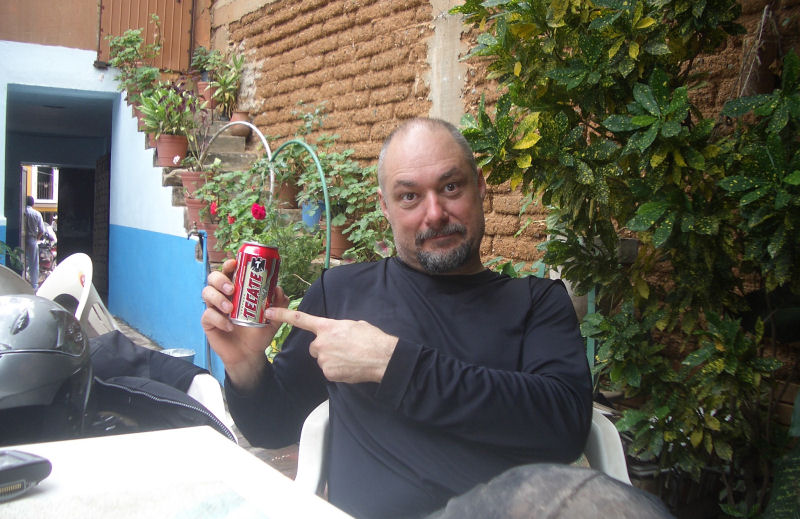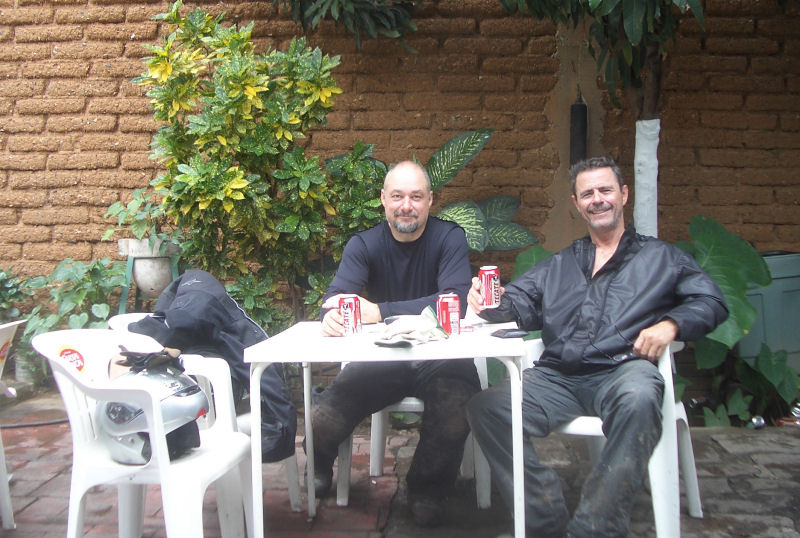 Here's me trying a one-handed, over the shoulder photo of Don and a small part of my own face. I got the shot just right.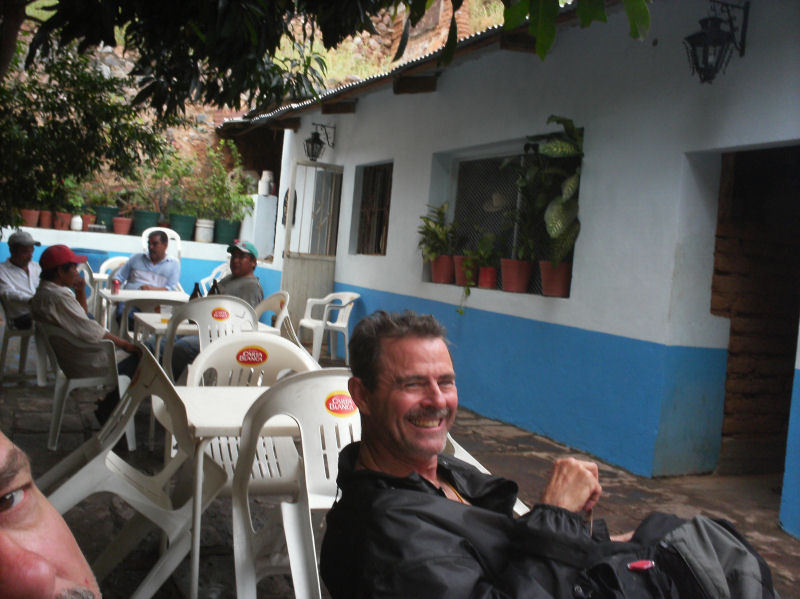 We got settled into a nice hotel with a secure courtyard for the bikes, got cleaned up and started getting our gear dried out.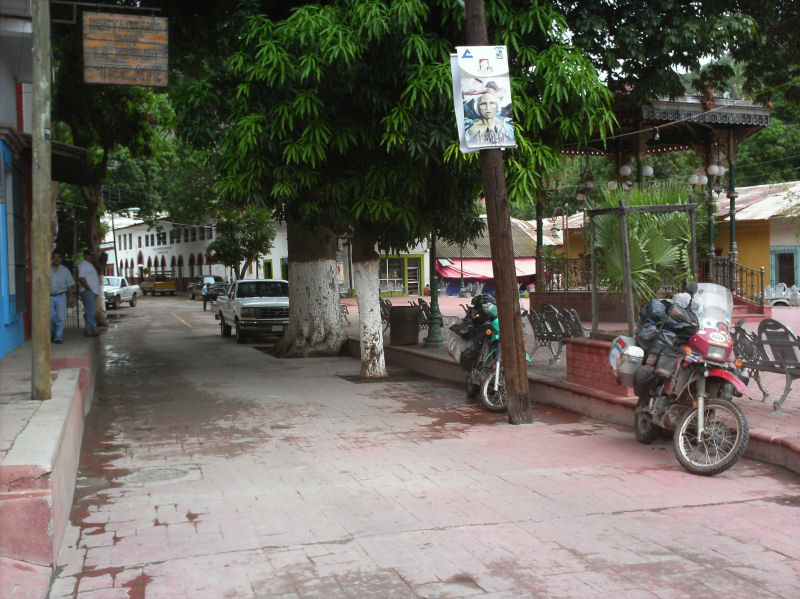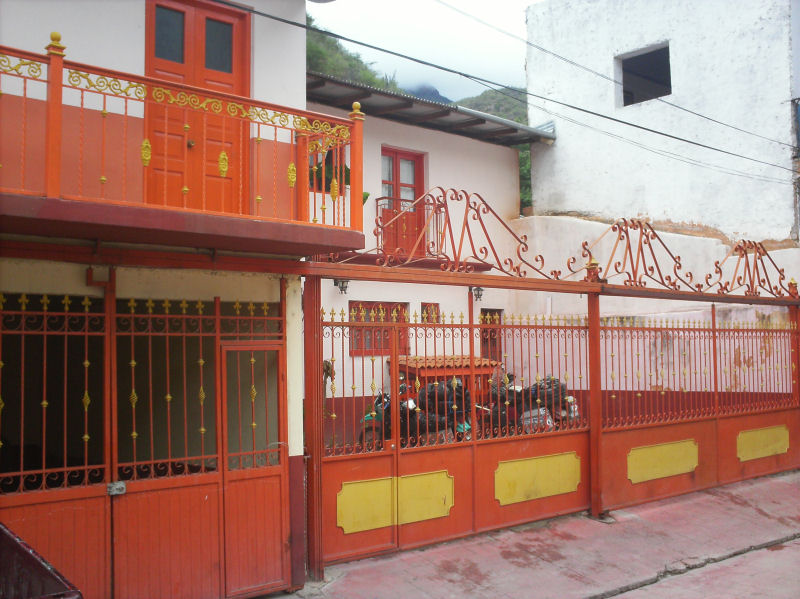 This is the common patio area outside the individual rooms.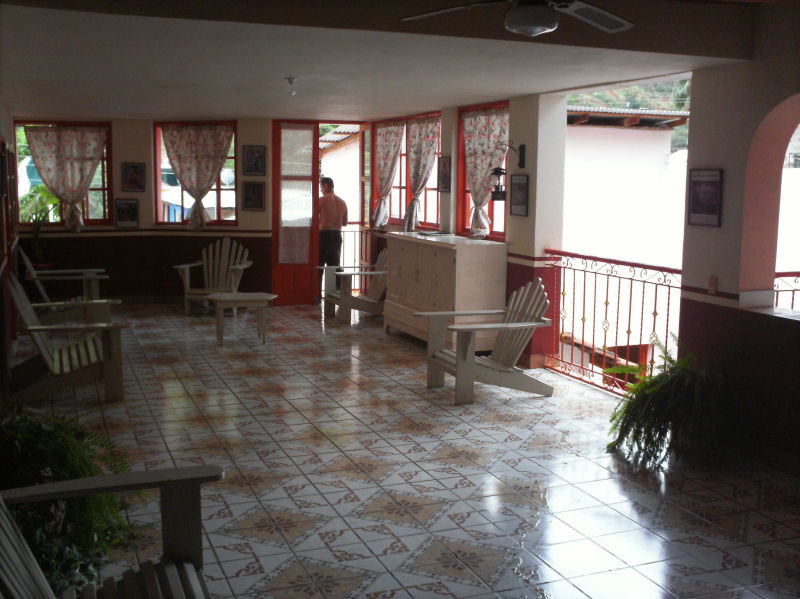 Don's cell phone was full of water, so it might be a goner. No cell service in Batopilas, anyway. We found a restaurant with a gas stove so we had a nice early dinner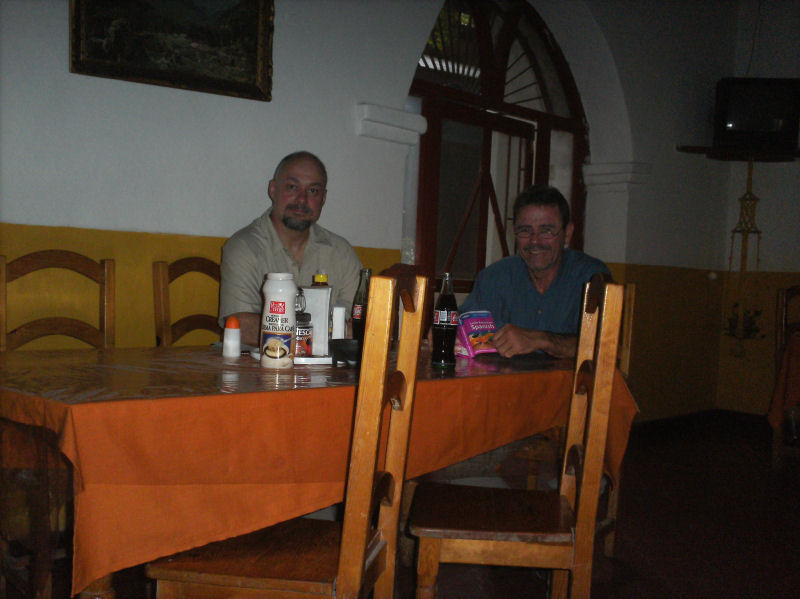 While we ate, a dog was hit by a vehicle and badly wounded right outside the restaurant. Its yelps and yipes didn't last long. The dead dog was still at the curb when we left. It was a pretty, golden, medium size dog. Too bad.

There is an old pedestrian suspension bridge across the river, but there isn't much on the other side to get to. Several old buildings--mostly in ruins--and a few houses. We later learned that Batopilas used to be a big mining area, but is now mostly a farming and ranching community. I think the population is 1,600, which surprised me.




Back at the hotel, we met another guest who is a local businessman. He told us that the hurricane had eased up and was diverted more to the north, so the weather tonight should be better. If it doesn't rain tonight, the road out of Batopilas might be passable for us. We toyed with the idea of hiring a local truck to get us to the next paved road, but we skipped the US$300 price we were able to find.

The electricity came on sometime in the afternoon, and we found an Internet cafe that was open on a Sunday. I got my laptop connected and we sent some Skype chat messages. When I tried to do any other Internet activity, the mouse pointer started acting strangely and Internet Explorer wouldn't make a connection. I shut my laptop off and we tried to use their computers, but finally gave up on getting much done. Didn't really need to do anything else, anyway.

I plopped down in the common area outside our room to write this, and Don is currently working on his bike. Some things got goofed up during all the mud gymnastics on the road. Not sure what time it is right now, since my watch's display is all fogged up from the water that got into it. Probably about 20:00.
We were HERE



Monday, October 13, 2008
----------------------------

We were up early, had breakfast at a nearby cafe. We had a lot of trouble ordering anything from the menu, since everything came in fixed meals. Can't just get two eggs, for instance. We ended up with more food than we needed
It took a while to clean the mud and rocks out of the bikes. The owner of the motel provided a garden hose that managed a slow flow of water, so that really helped.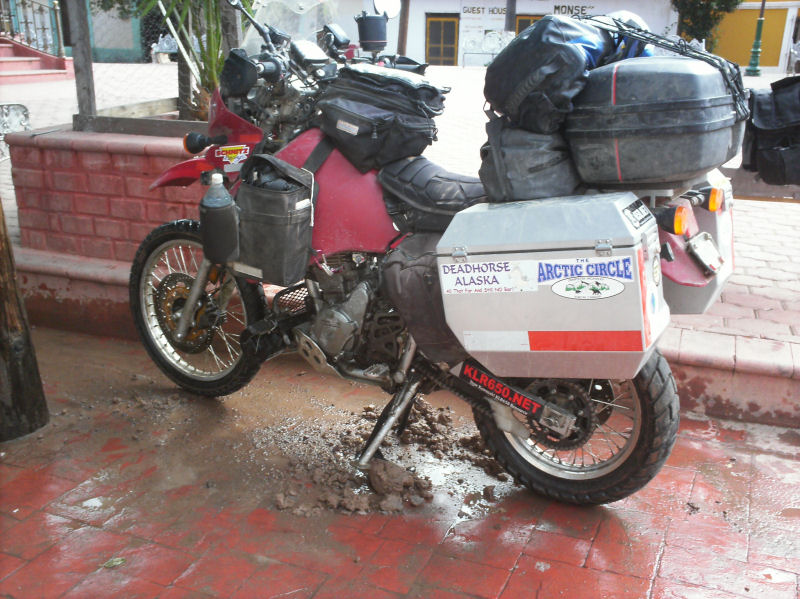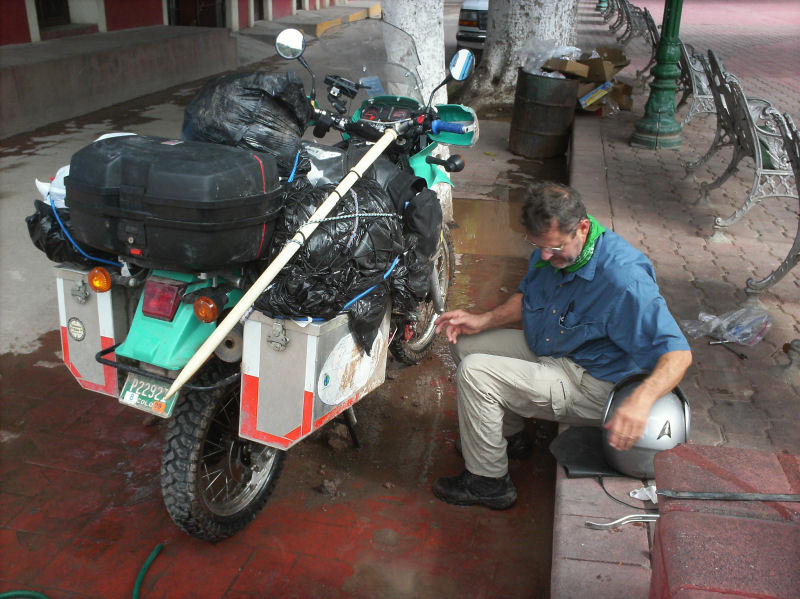 We had given up on continuing south on the same road through Batopilas. We had been warned by everyone that the road was much worse than the one we had come in on, and it would take seven hours to get to the next paved road. That is, it would take only seven hours if the dirt road was mostly dry. If it was still wet and muddy, we would likely be camping on the trail again. Screw that
Back the way we came.

The views were again marvelous.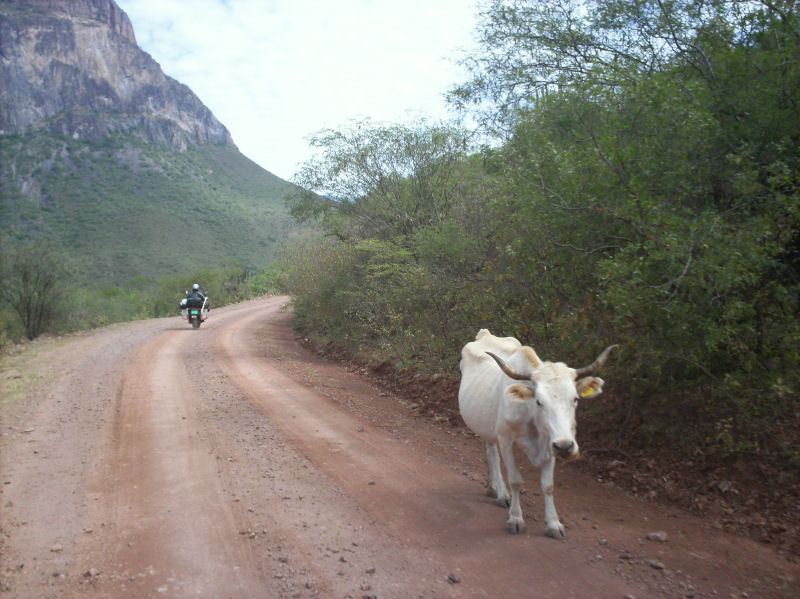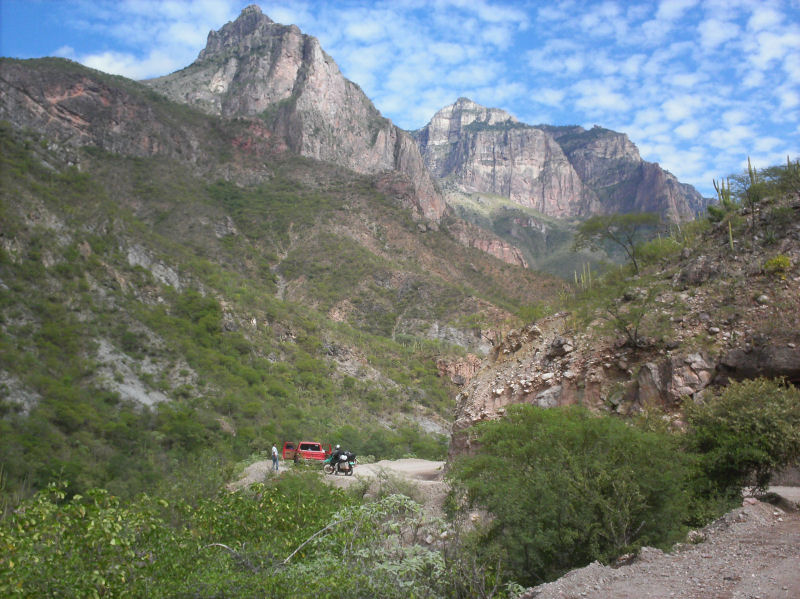 Here is La Bufa, where we had camped in the rain two nights ago. The mine tailings are piled far out into the canyon.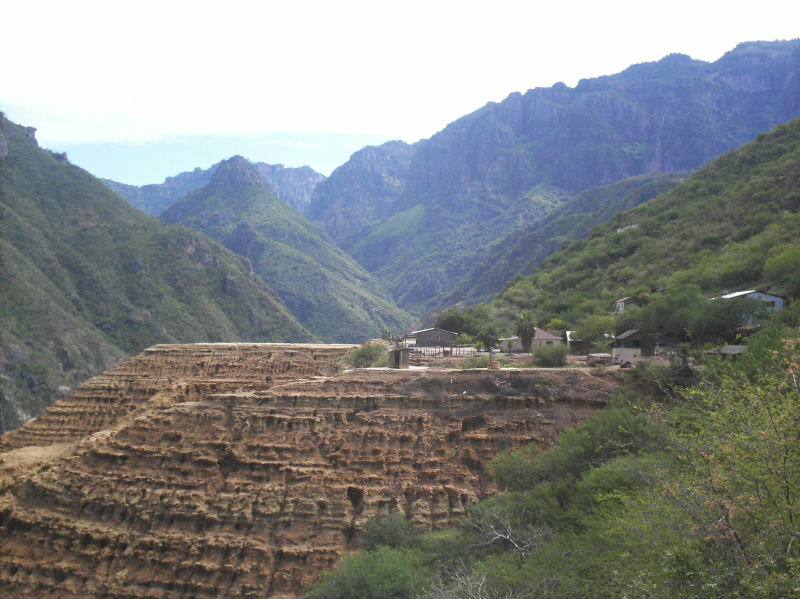 We met a rider, Jeff, who was on his way into Batopilas. He said that most of the road behind him was okay, but the construction area at the top of the mountain pass was still muddy.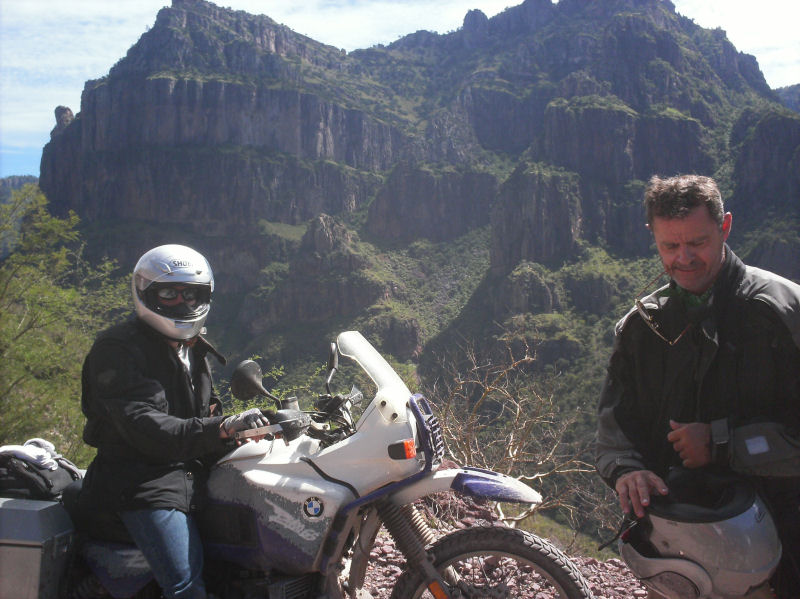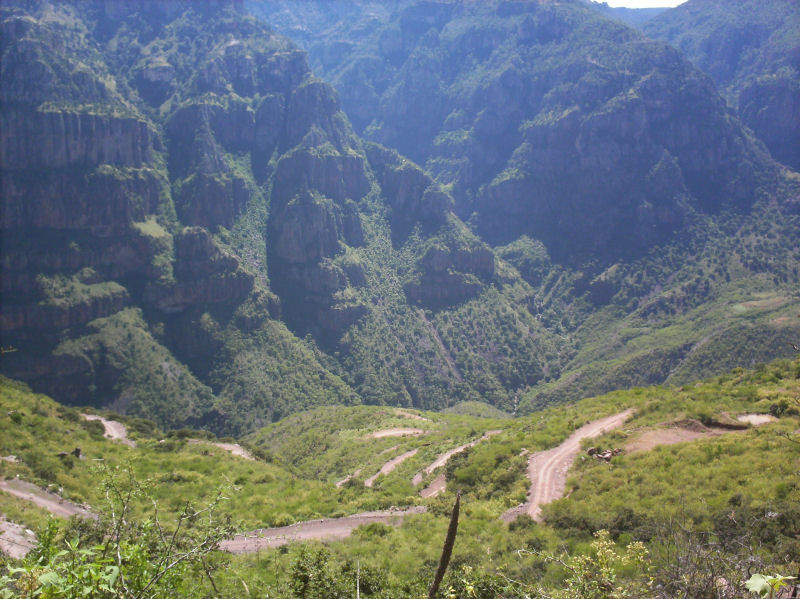 There are a few small villages on the road, and we saw a lot more people walking and sitting along the road.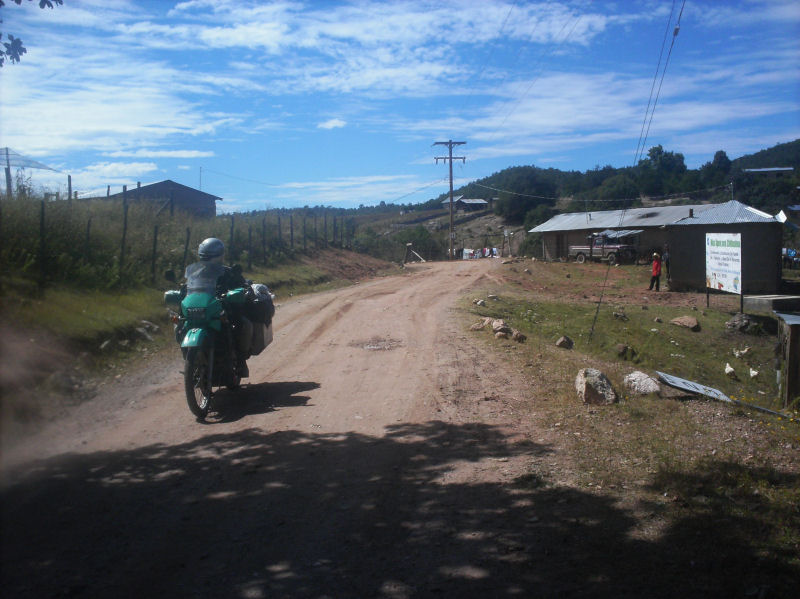 I stopped at an area that caught my attention on our way in two days ago. A series of water pools had been carved by erosion in a rock crevice. It really looked inviting, so I stopped and climbed down to lay in the water. It was very cold, but after the initial shock, it felt good in the day's heat.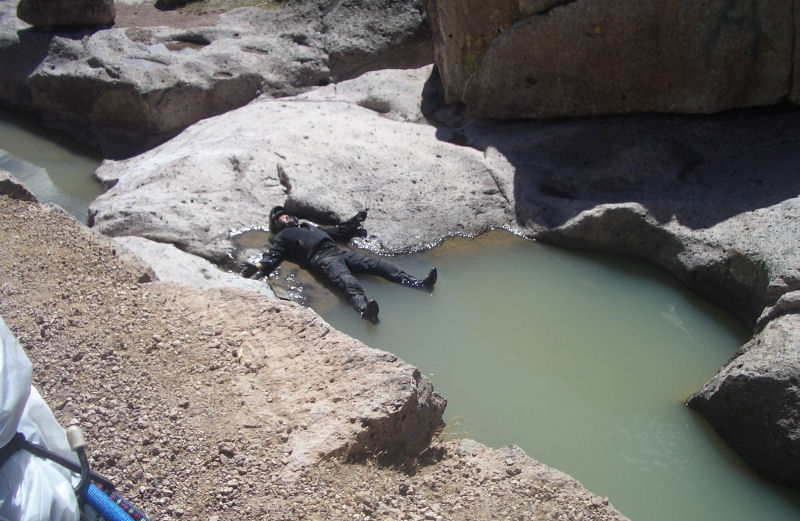 The construction area was indeed bad. The flat road had poor drainage and the surface was more clay and less gravel, so the water just sat there. Don had a tip-over and then realized that his Chatterbox radio was missing. After searching the immediate area, it became apparent that it had fallen off somewhere earlier. Don forged on ahead while I zoomed back to look for the radio. It was moderately useful for communication (we were getting a lot of static and poor clarity for some reason), but it was also nice for giving our MP3 players a sound boost into our helmet headsets. Gotta have music.

I found the Chatterbox in pieces a couple miles back on the road where it had fallen from Don's bike. The battery was nearby, but the battery cover was gone. As it turned out, the thing still worked, although it sometimes starts beeping and squelching for no reason. Got some of its circuits jangled up, I suppose. Onward.

Getting back to pavement was a blessing. After two days of hard work, it was nice to just cruise along for a while.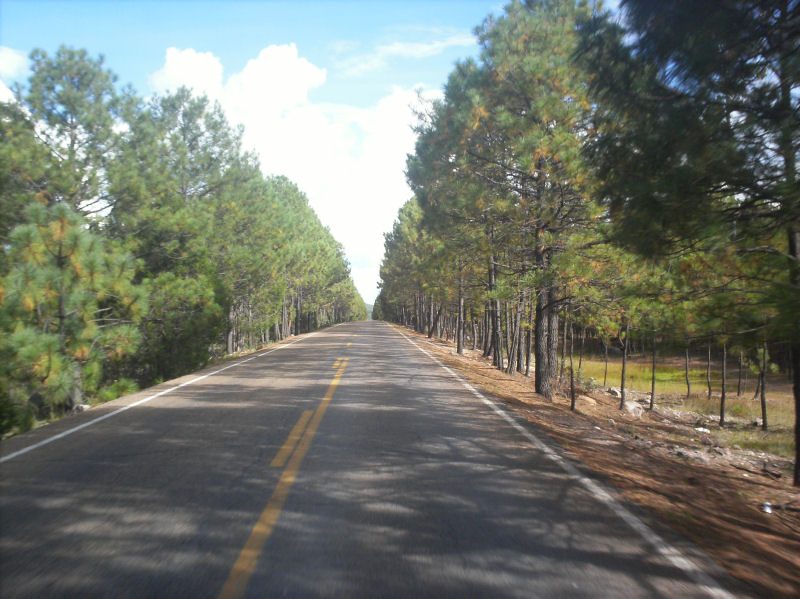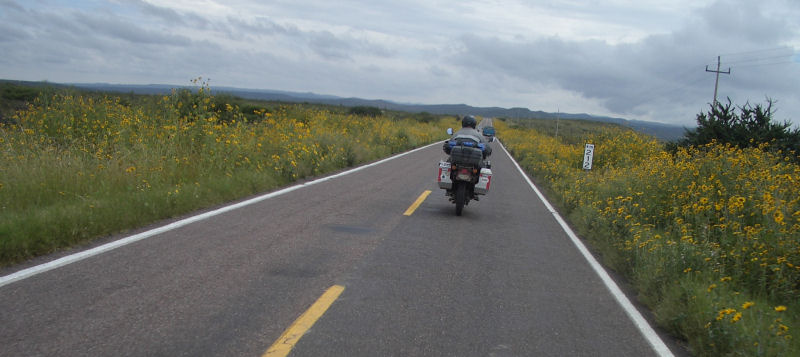 After a couple hours, it started to cloud over and there was a rain storm ahead. It mostly stayed ahead of us, be we got lightly rained on for a couple more hours and got some nice rainbow and lightning displays.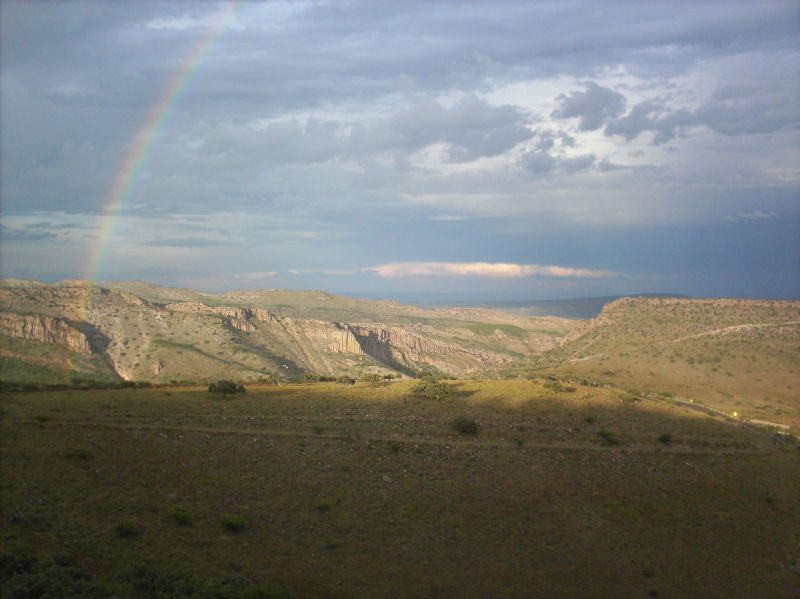 It got dark before we got to Hidalgo Del Parral. The rainy sunset was very nice from the gentle mountain slopes.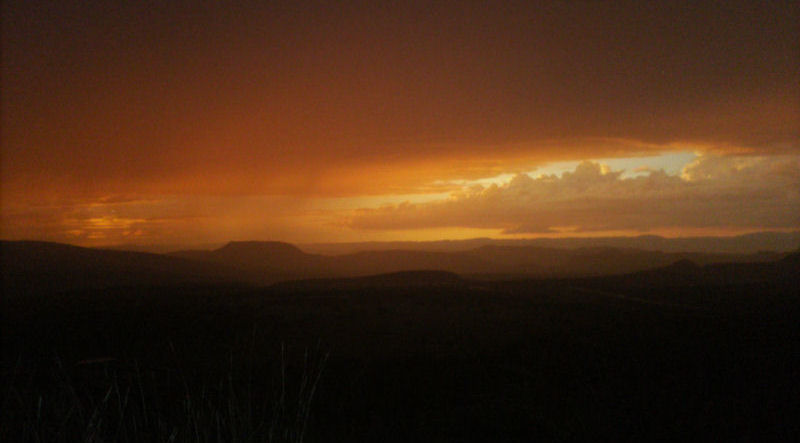 We passed another military checkpoint that night. The soldier asked me in Spanish and then in English where we were headed, and I told him we were headed for Mazatlan (which was a possibility at the time). Right after me, Don told the same soldier that we were headed for Hidalgo Del Parral (which was true). I was briefly concerned about our disparate answers, but one city was on the way to the other, so the soldier didn't care. They gave us no further attention. A couple more times over the next few days, we stopped at checkpoints, but we were always greeted politely, asked where we were going, and we were sent on our way with wishes for a happy journey. No problema.

In Parral, we cruised through the city, finally stopping at a large motel. It was still raining lightly, and we didn't want to hunt for a cheaper place. Plus, the motel had Wi-Fi Internet access, so we made Skype calls to our wives and checked email. I was up late writing, so we slept late as well.
We were HERE



Tuesday, October 14, 2008
----------------------------

It was STILL raining when we got up at about 08:00. The motel had a nice continental-style breakfast, and it was nice to have some packaged yoghurt for the protein. We rode out of town with rain gear on, but the weather broke ahead of us and it was soon too warm (and dry).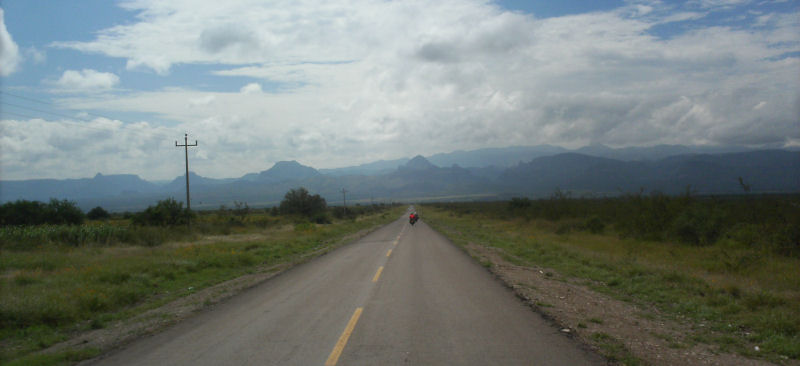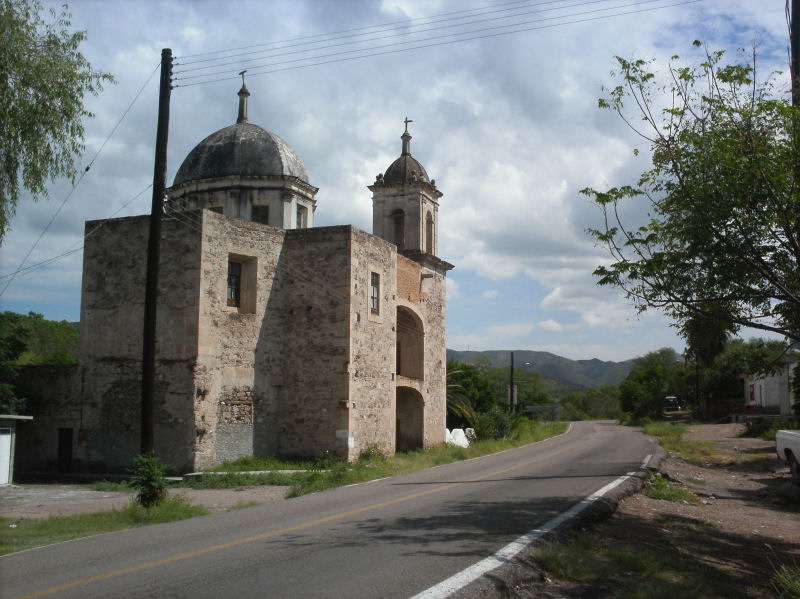 We stopped to unwrap, and saw a couple groups of riders pass us. All looked as if they were on long trips. Later, two of the bikes were stopped at a PeMex, and we pulled in to talk with them. Matt and his friend (who was busy, so we didn't actually meet him) were on their way to Ushuaia as we were, and also hoped to be there by Christmas. We will likely run into them again (and again, and again...) since there are few roads in some places. They are headed for Durango today, and then will go west to the coast and Mazatlan. Don and I have decided to skip Mazatlan and just keep headed south. We rode a while with Matt (and the unnamed other guy), but eventually separated in some small town.

As we entered the Durango metropolitan area, the military presence was more obvious. I saw several checkpoints (mostly unmanned) and several armed soldiers walking along the road. We passed a couple of trucks full of troops, too. After cruising down through the center of the big city, I was disappointed that it wasn't easier to stop someplace and just walk around a bit without worrying about the bikes. But, as it was, El Centro was very busy with rush hour traffic and it was too hectic. I saw some nice buildings, but the traffic snarl was too bad to risk taking photos. Go there yourself and see some nice architecture and historic buildings.

We stopped at a Burger King just for a snack and something cold to drink. We ended up speaking for awhile with a guy whose daughter lives in Denver. His English was excellent, and he gave us some tips on motels, where I can shop for a camera, what time the stores will close, etc. I had been under the impression that in most of Latin America, businesses don't stay open late, but at least in the big cities that isn't the case.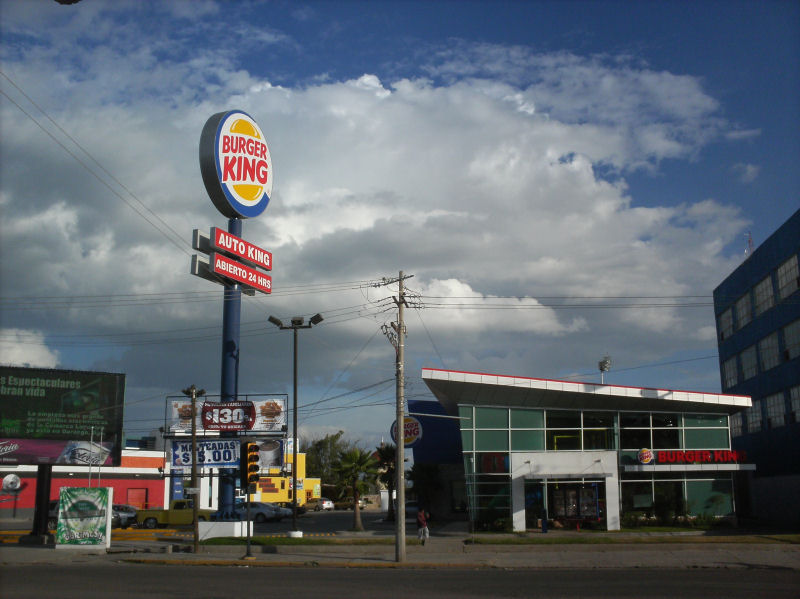 We tried an ATM, but it wouldn't accept either of our cards, then tried to get an oil change from a Honda bike shop but they said they didn't have any oil. The directions they gave for where we could get oil was lost on me, so we will think about that tomorrow. I stopped at Wal*Mart and bought another decent camera. The one I got in Creel was too basic, and hard to manage with one hand. Then we hunted for a place to stay.

Our first thought was to get out of the center of town, so we headed in the direction of Zacatecas since that was our next intended destination. At the edge of town, we found a motel next to a "Gentlemen's Club." Only once we were in the courtyard did it become apparent that this was a "love motel" intended for brief stays. They rented rooms by the hour, and each room had a private garage entrance for privacy. There are supposedly common, but it's the first I've seen. The manager insisted they were full and shooed us away.

We found another cheap motel nearby, and the swamp next to it provided us with plenty of company in the form of mosquitoes. I hung my Permethrin-treated mosquito net up in the room, and it seemed to kill a lot of the buggers. They weren't a problem in the room after a while. (Permethrin is a contact poison for insects and is quite effective.) Don slept under his Bug Hut again.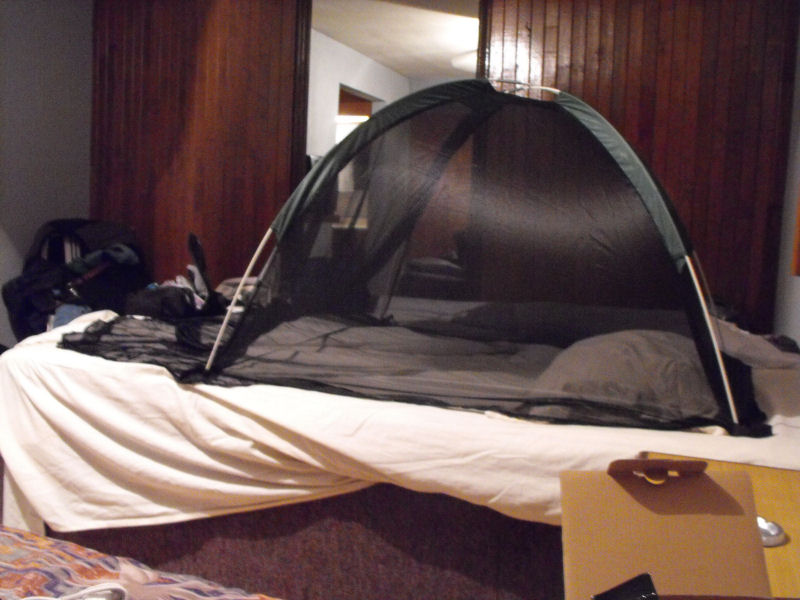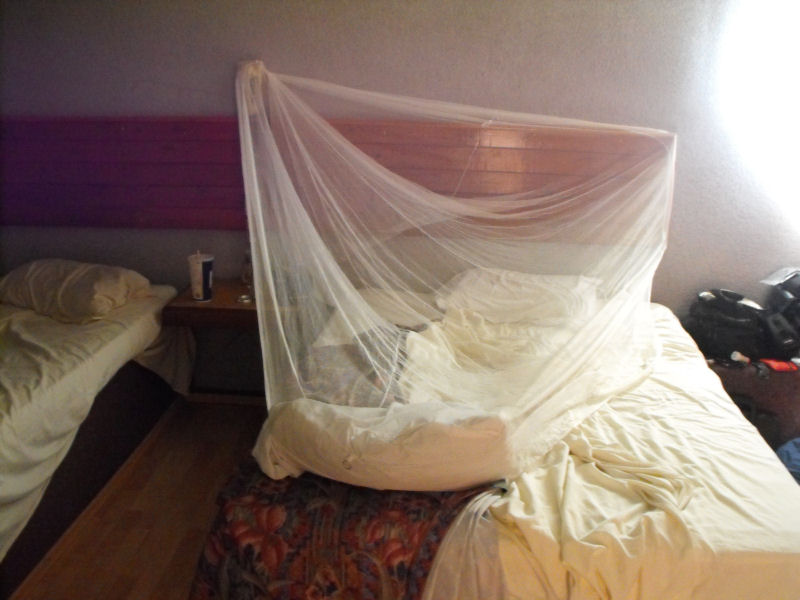 We were HERE


Wednesday, October 15, 2008
--------------------------------

At about 02:00, the stink from the nearby swamp (or more likely, a sewage treatment plant) was so bad, it woke Don and I up. Nothing to do but ignore it. The truck drivers started their rigs at about 06:00 as if they intended to prevent any further sleep by anyone in the metro area. Eventually they left and I got a bit more snooze time. When we were later getting packed up, the local prostitutes approached us in the parking lot. They got frustrated when we played stupid and kept saying, "No entiendo." The gal here in the miniskirt was the more aggressive, and she eventually decided that we were stupid or gay. She then went after the last truck drivers who didn't get an early start.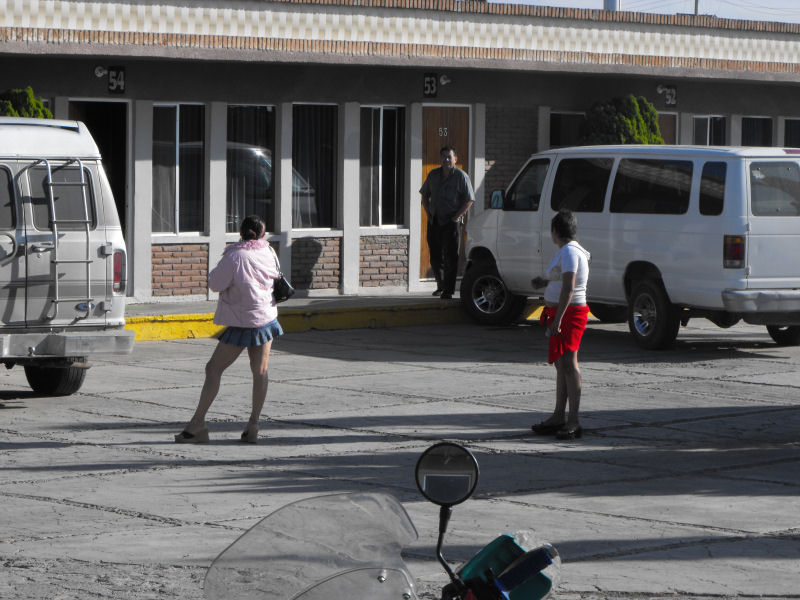 This is the love motel that we first pulled into last night.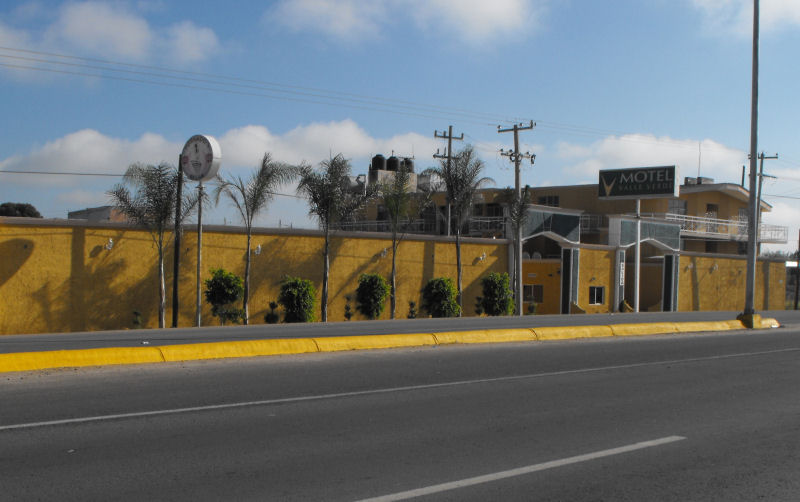 We rode for more than an hour before stopping at a diner in a small town. The cook (probably the owner) showed us a local map that looked more like a comic book, and he gave us some improbable directions. The map had travel times listed that were completely ridiculous. The map made it look like you could drive the length of Mexico in several hours. Whew!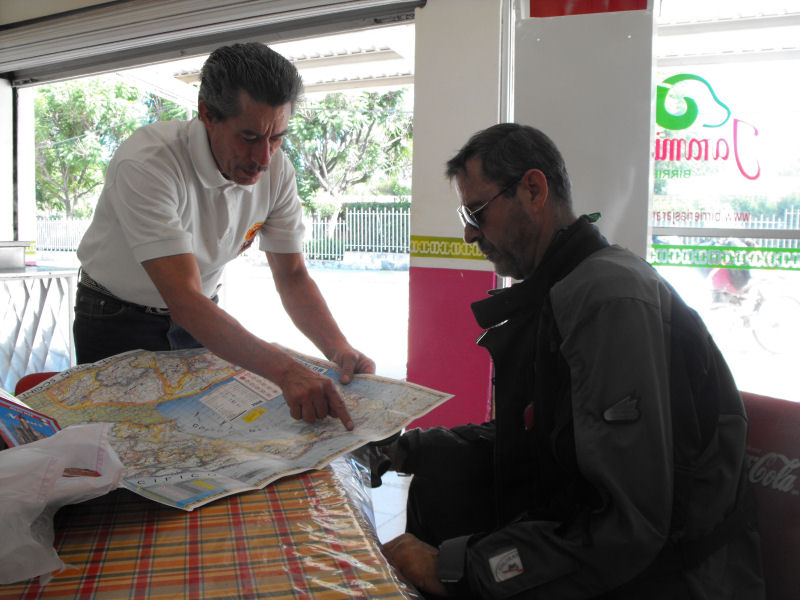 We bought some local candies, which were a light caramel, and they were very good.

A while later, while negotiating a construction zone, we passed the Tropic of Cancer, so we went back (against the flagman's emphatic flag-waving) to take photos. The roads in this area are again lined with lots of small yellow sunflowers that we have seen a great deal of in Mexico.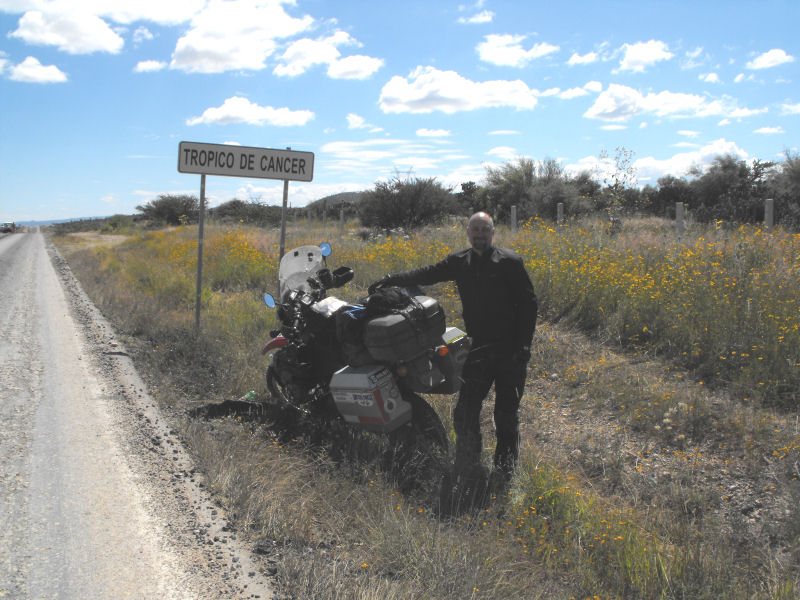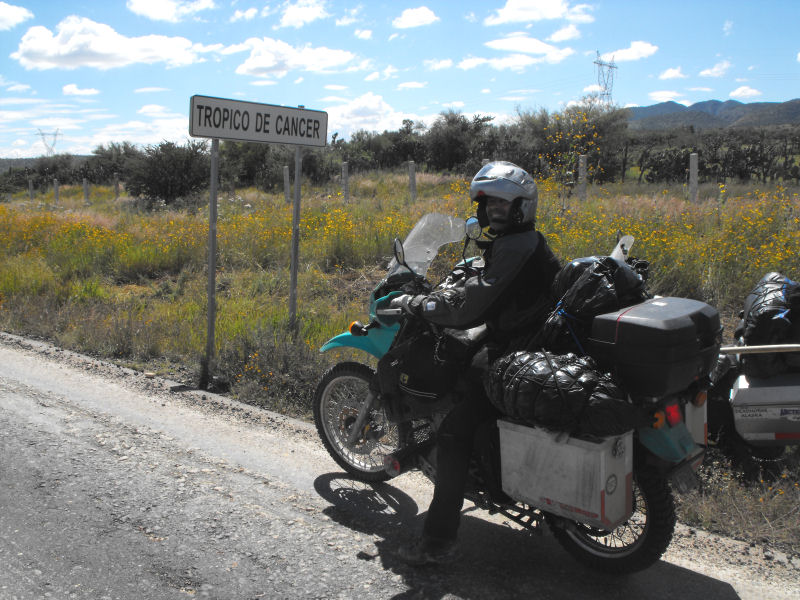 The highway turned into a toll road, and we had missed the exit, so we paid the US$5 at the first toll booth and less than that at the second. The toll booths gave eleven Pesos per US dollar, so that was the best exchange rate we've gotten.

Coming into Zacatecas, there were several very loud explosions overhead, and I saw the powder puffs in the air. Whoever was setting off the fireworks were hidden among the buildings alongside the road. The military posts were nearby, but on the other side of the road. It's a mystery.

We again managed to get into a major city at afternoon rush hour. Either that, or it's always this crazy in large Mexican cities. Probably the latter. The photos don't do justice, since it was hard to take pics when things were hectic.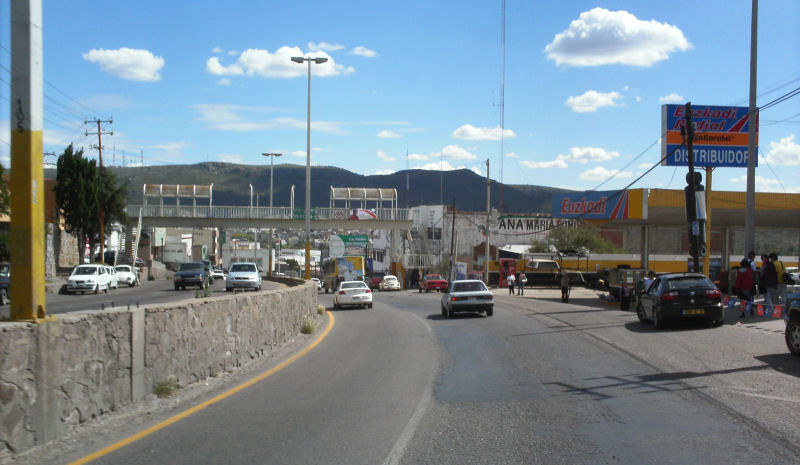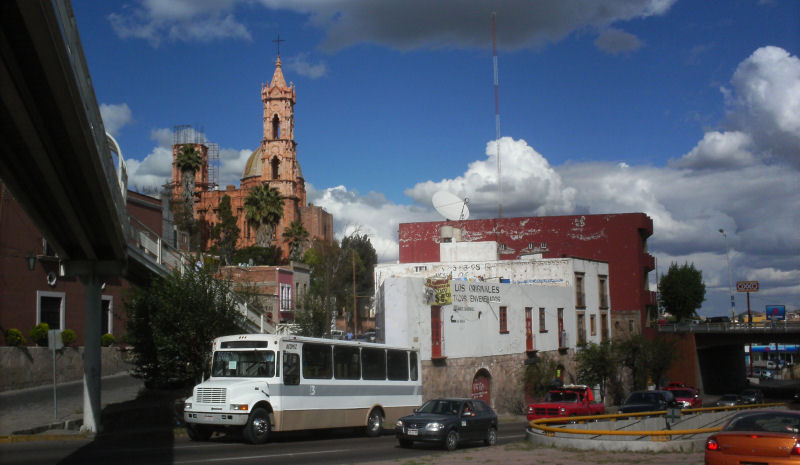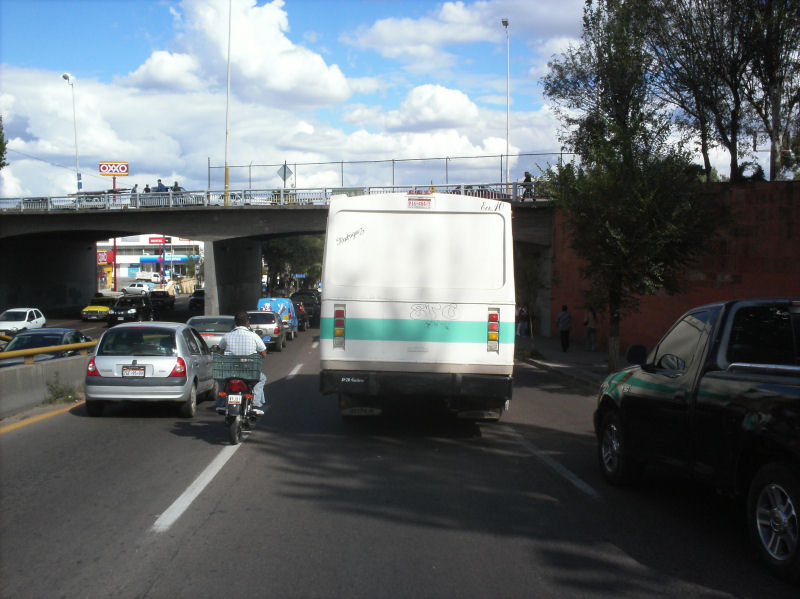 We found a motorcycle shop, bought some oil, and the mechanic provided everything we needed to change our oil in his parking lot. We tipped him, of course. Didn't take his photo, though. Too busy. We had done a bit less than 2,000 miles, but we had really beaten that oil up, so it was time for new.

We stopped at a store so I could but a couple more extra headlight bulbs. I had burned one out, replaced it but probably damaged it in my hurry so it burned out quickly. Luckily, I had the extra lights on the bike. Leaving the shopping area, I saw this little girl on a rental go-cart zipping around a track. She saw me taking her photo and almost crashed. Oops!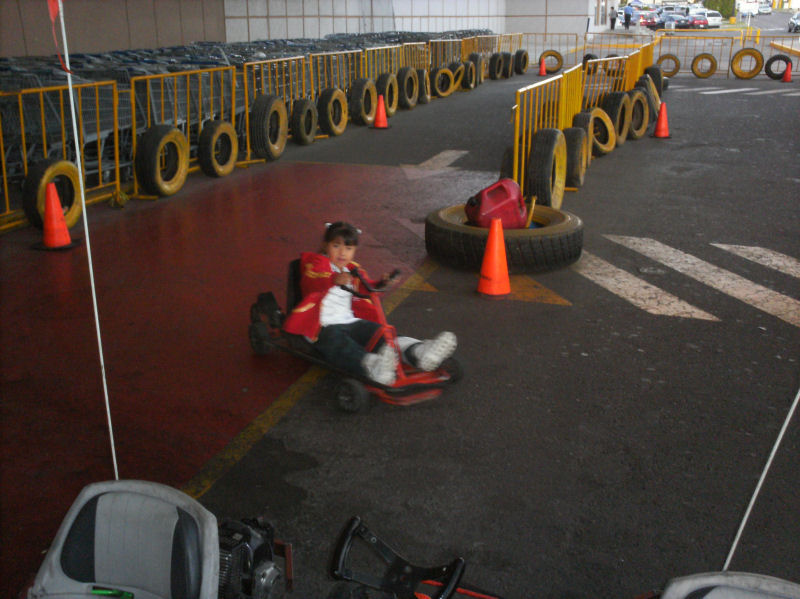 I got stuck at a red light leaving Zacatecas, and had a chance to take a photo of a kid who juggled big rocks in front of the stopped cars. He then went up and down the lanes collecting tips. He got a few, so his schtick worked. Street performers--and street vendors--were common in all of Latin America.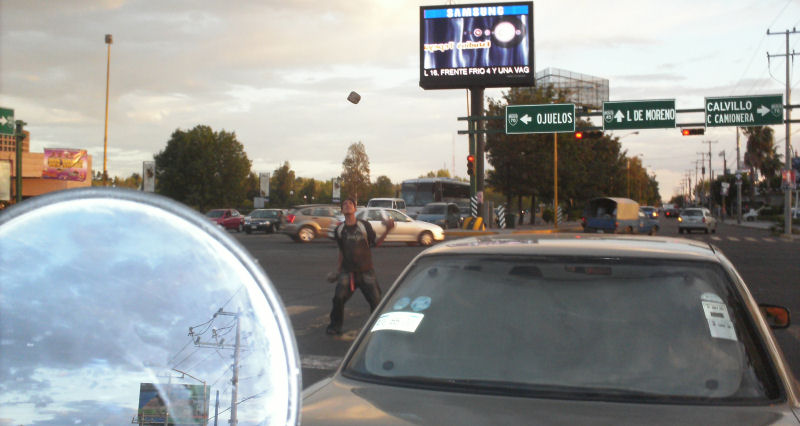 We drove through Aguascalientes, another very big city. We tried a couple of motels, but they were too expensive. As we were going through the center of the city, we were pacing a guy on a bicycle for a long ways. We passed him a dozen times, only to be passed by him when we got stopped in traffic. Even more impressive was that he looked about 80 years old and had a HUGE sack of apples on his handlebars.

It got dark as we left the dense part of the city, but we kept going
After stopping briefly to look at two love motels...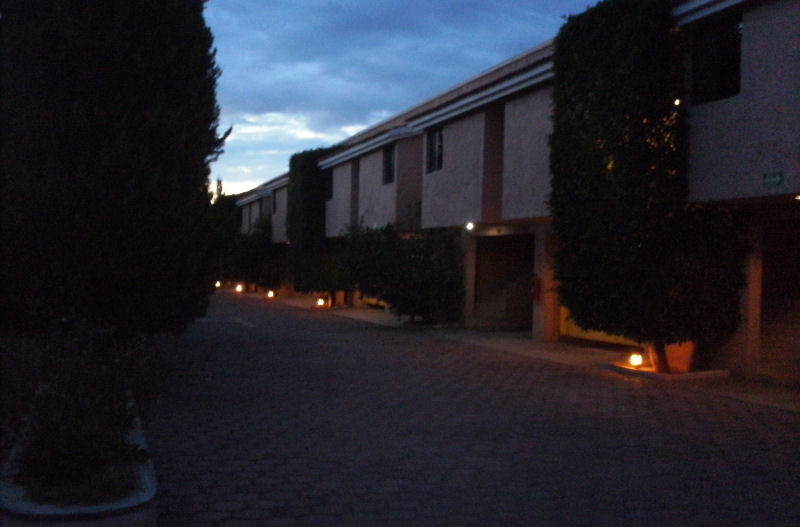 ... we detoured to see the airport, just in case there was a hotel there (there wasn't), then got back on the highway. The GPS wasn't detailed enough to show which road to take, and when we came to two successive exits, we got briefly separated. Radio communication is really good in these cases. We got back together and onto a non-toll highway to Encarnacion de Diaz. The truck traffic was very heavy and was a real problem.

When we got to the town, we were surprised to find a great hotel for US$25 that had Wi-Fi Internet. It was a new hotel, heavy on the stone and tile work. They had us squeeze our bikes between other cars in their small covered parking area. The hotel was affiliated with a deli-style shop that was showing a soccer game (the local team scored to make it Canada-2 Mexico-2). The guy running the deli made quesadillas and a burger on his little grill. Food and several bottled drinks came to about US$6.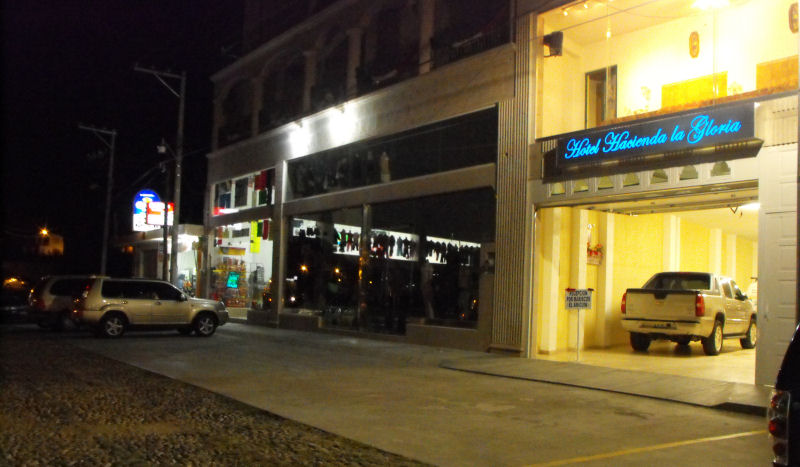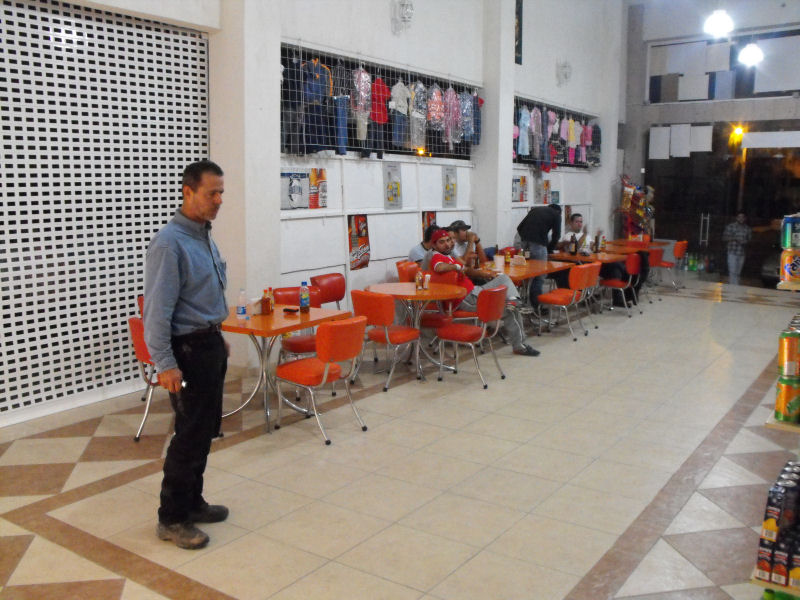 The room was a small suite. Very nice.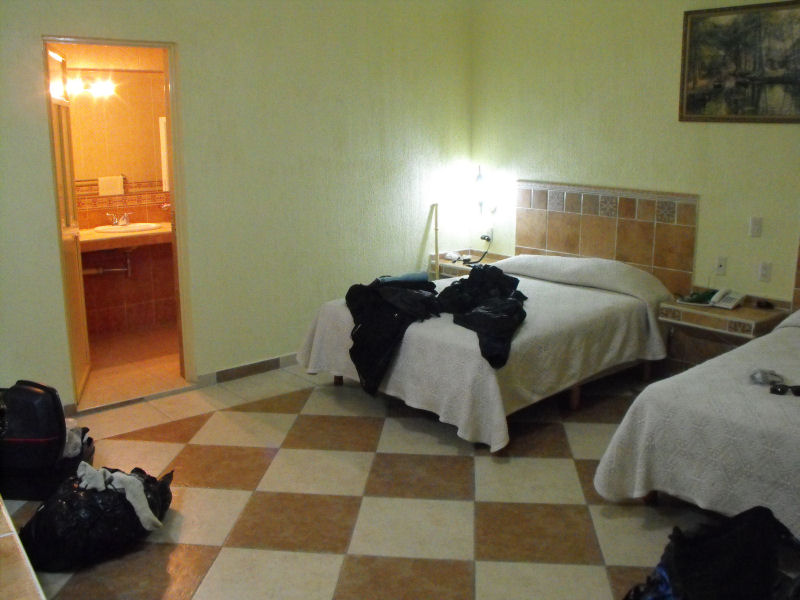 I couldn't get an Internet connection in the room (all that stone and tile, I suppose), so we went out to a small balcony to make Skype calls and handle email. Some Policia Federale troops were directing traffic on the roadway under the balcony, which was silly, since all they could do was direct the trucks and cars to keep going straight.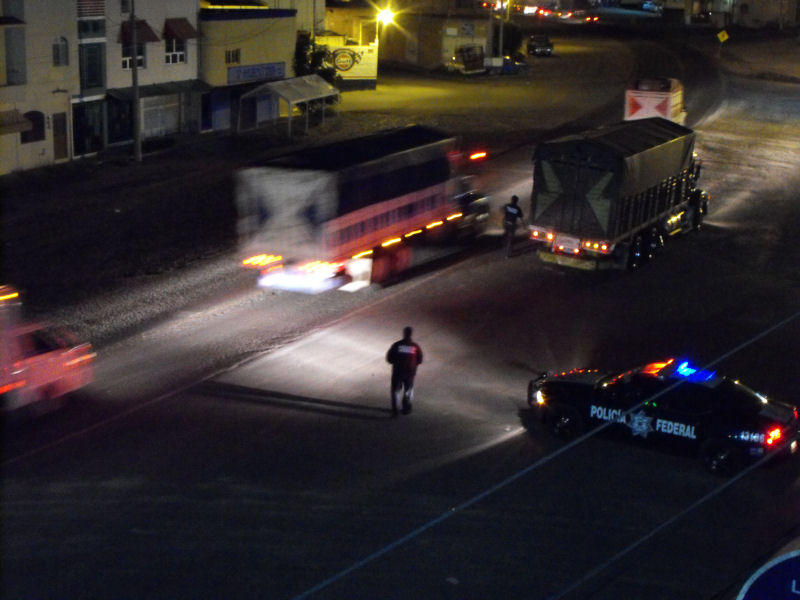 We were HERE
Thursday, October 16, 2008
-----------------------------
After breakfast at a cafe, we headed off. In Leon, we again got lost in minor streets and alleys trying to figure out where the main road was supposed to go. It is like a magic trick the way a major street evaporates into nothingness in the cities. The major highways in American cities (and most of the European cities I've seen) are distinct from the lesser roads, and you cannot mistake one for the other. Not here.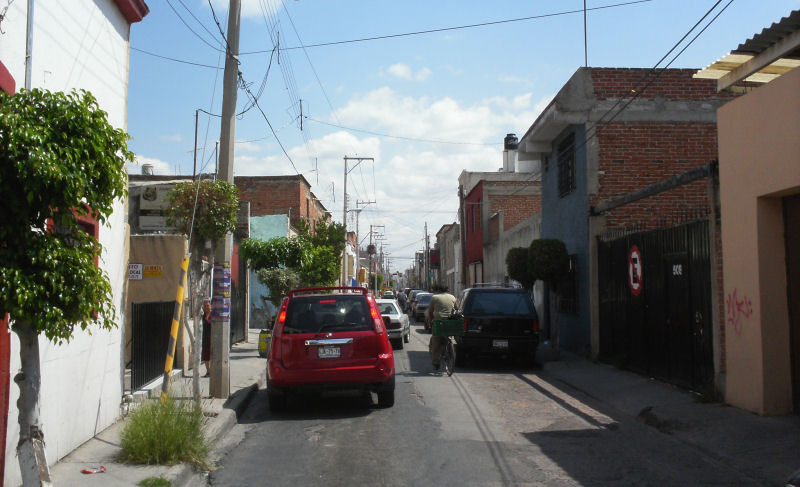 After extracting ourselves from Leon, we headed south and saw what looked like a huge citadel or fortress on a mountain top outside of town. I would have stopped for a photo, but it would have been suicide on that highway. When we passed closer to it (still a few miles away), it clearly had some radio towers, but the main building was hard to see clearly. I briefly followed a truck load of huge, pissed-off pigs on their way to dinner, probably.
We made good time on the highway which turned into a toll road. The toll highways are fast and well built, but the riding is so boring that it's a sacrifice to stay on them. Fighting through the small town on country roads is hazardous and slow, but it is far more interesting and engaging. The topes (horrible speed bumps) were still zonking us now and then. Sometimes the topes were in the form of big steel bumps, like helmets lined up across the road. These presented their own unique challenges to two-wheeled travelers.
Other traffic was still coming to nearly full stops at every tope, and there were often dozens of them in some towns. I nearly rear-ended a few cars because they would approach the speed bumps at a regular speed until the last second, then suddenly come to a stop and creep over the tope. We got a lot more aggressive about passing traffic at the topes, because we could handle them at greater speeds than any 4-wheel vehicles could. In other ways, too, we've had to adapt our riding style to suit the needs of the local driving style. Hey, we're in Rome, right? (When in Rome...)
On the open roads, there is a stunning diversity of traffic--in both driving style and what constitutes "traffic." Very fast cars are few, but they are indeed fast. Most trucks struggle on the roads causing rolling roadblocks, and most cars and light trucks are always trying to pass each other at every opportunity. I've nearly been taken out twice by cars that started passing me just as I started to pass the car ahead of me. Peripheral vision saved me both times.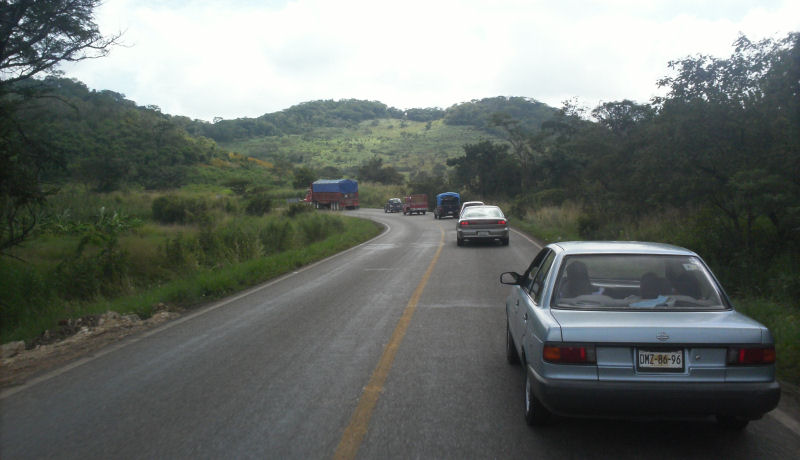 Other "traffic" might be buses, bicycle carts, pedestrians, animals of any kind, etc. The roads through the mountains are the only way for locals to get about, so they drive herds (goats and cattle, mostly) along the roads. We've seen several dead dogs on the roads. In towns or open country, the contrast between vehicles and their movements are always apparent and often causes hazardous conflicts
We've adapted.
Towns are adding traffic circles in some places, but they are not well marked. Each exit is a mystery, and a few times we've had to pick one and see where it goes before knowing if we are on the right road.

We stopped in Maravatio de Campo for a break. We found a couple Farmacias for some toiletries and sundries, then got directions to a nice restaurant. The directions took us to a back alley where we expected to be ambushed, but as it turned out, that was the back way to a row of very nice restaurants along the highway. The only other way to get to them was to pull directly off the toll road. The attendants in the shared parking lot fought over where we should park our bikes, each waving their arms and towels to park in front of whichever place was paying them. We were the only customers in the lot, so we were the center of attention until we picked one. It turned out that we were directed though a gate to park our bikes in a grassy courtyard where our sidestands sank into the soft, wet ground. The waiter helped find rocks to put under the bikes to keep them from falling over, then sat us outside where we requested. The place had seafood and tropical fare. It was a nice meal for $30.
Leaving the parking lot was like pulling off the shoulder of the highway back onto the toll road. A toll road that didn't show on my map or on the GPS, by the way. This happened several times. We headed for Toluca, which is a big city. It was dark before we arrived, and again we got to see interesting parts of the city whether we wanted to or not. We had a few near-misses before getting through the city. On the way out of Toluca, we decided to try one of the Auto Hotels.
Most Auto Hotels are a form of "love motel" where the rooms are sometimes rented by the hour for amorous liaisons. Most of the ones we looked at had nightly rates, sometimes with a Jacuzzi or other amenities. The main problem was they didn't have double beds...
Anyway, we chose an Auto Hotel that had a secure garage for locking the bikes. The way these hotels/motels usually operate is the driver pulls directly into any open garage or parking bay and pays the attendant that comes to you. (The lady waits in the car until the garage is shut or the curtain is pulled closed.) Access to the rented room is directly from the garage or parking nook, so privacy is preserved.
The rate was nice, $26 for the night. We liked not having to unload the bikes or carry things very far, and the secure garage meant we didn't have to cover or chain the bikes together as we usually did. The room was very nice, with lots of space with tile work all over. The bathroom was less private, with clear glass doors to the toilet and shower... Well, the room wasn't meant for travelers such as ourselves.
The bed was huge, which made sharing it pretty easy.
Before calling it a night, we did some bike maintenance. The garage made a nice, clean workshop. My steering stem had started to knock around some, so I loosened the lower fork clamps and tightened the steering stem bearing nut. We checked the wiring on Don's bike, concerned that his Chatterbox wouldn't charge when plugged in, and the accessory power cord didn't charge his MP3 player. We couldn't solve those issues, though, so from that time on we've been swapping Chatterbox units each day so he could have the one that had been fully charged on my bike. We hadn't bring wall chargers for these units since we didn't think we would need them.
We took turns doing laundry in the big sink, and hung clotheslines in the garage to hang wet clothes from.
After quick phone calls home, we called it a day.
We were HERE
Friday, October 17, 2008
--------------------------
The clothes were not completely dry since there was no air flow in the garage, so we packed wet things in mesh bags and strapped them on the bikes. The restaurant in the Auto Hotel wasn't used to regular walk-in customers, probably more used to delivering room service. The tiny dining area (three small tables) was right next to the mini-kitchen where the cook/waitress worked. She assured us that everything on the menu was available, but when we ordered, she sadly informed us that those particular menu items were not possible. Okay. She made a comedy act out of getting our meals prepared, and was a complete failure at producing a cup of hot tea for Don. When he first ordered hot tea, she offered instead to bring him warm milk (!). Don said, no, he wanted hot tea, and she said okay. After bringing him the warm milk, she went off to cook for us. Eventually, Don found that you just can't get hot tea in some places. Where he did find hot tea, it was always herbal. Caffeine was often in the form of Coca Cola for Don's breakfast.
After getting on the road again, we decided that the most direct route for us was to stay on the highway through Mexico City. We had initially intended to completely avoid the Metroplex monster, but other than going down to the coast, there were few choices to get east from where we were. We figured that our experiences in other big cities (getting lost on minor roads) was not likely to be the case in Mexico City. We were mostly right, but it was still a bad decision.
The day was cool and blustery, threatening constantly to turn into a rainstorm.
Immediately after entering Mexico City on the highway, the construction detours began. And more construction/destruction detours further diverted us. Then, the pressing traffic got us into roads we didn't always want to be on.
Oh, the horror.
When we saw a driving school, Don and I both had to laugh. They can't be doing much business there.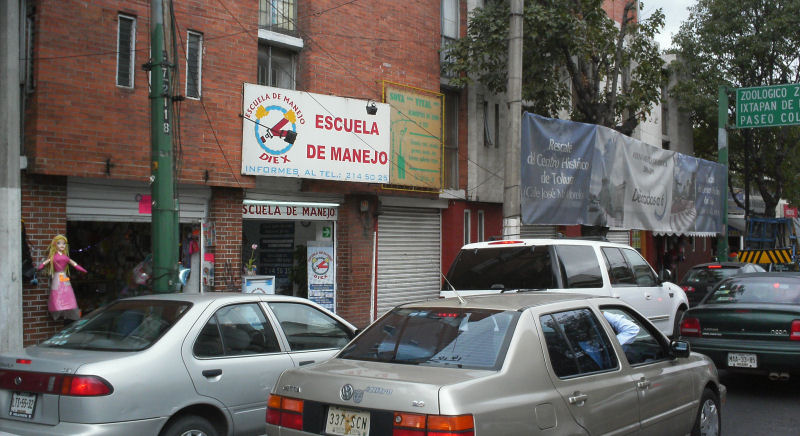 It took us over two hours to get through, and I think that we were lucky at that. As I wrote earlier, the American concept of a highway through a city is not the case here. Even if the construction hadn't unraveled everything, there were still local intersections and traffic lights on what should have been an Interstate highway! It is simply impossible to drive on a major highway through any city in Mexico without getting caught in local traffic. I've decided that that is the case, so don't bother telling me otherwise.
The GPS helped a little by showing the highway beyond the city, and we just kept aiming for that.
Climbing into the mountains out of Mexico City, things got colder and it rained a little. The toll road was the only reasonable route to start with, although it again did not show as a toll road on my map. We made for Puebla, happy to be alive.
The pass was about 10,500' altitude and rainy/foggy enough that we went along slower and stopped to clear our visors. We picked a lesser road when we could, and ate at a cafe there. The ride into Puebla was rough due to traffic and topes in the towns. Typical, as we've come to expect.
In Puebla (a very big city), we once AGAIN got diverted, detoured, redirected, and nearly devoured by the roads and insane traffic. Lost, we wandered around until finally finding our intended road. The extended suburbs of Puebla went on for an amazing distance and we fought through the cross traffic in a commercial and warehouse Twilight Zone before finding another Auto Hotel with a secure garage. The attendant met us in the lot, told us the room was $40, and told us he would not take dollars. They don't take credit cards, either. Their usual clientele pays cash and quickly, so we had thrown them off their rhythm.
Of course, Don had arrived in the lot and immediately threw his bike to the ground, so they were leery of us at the start.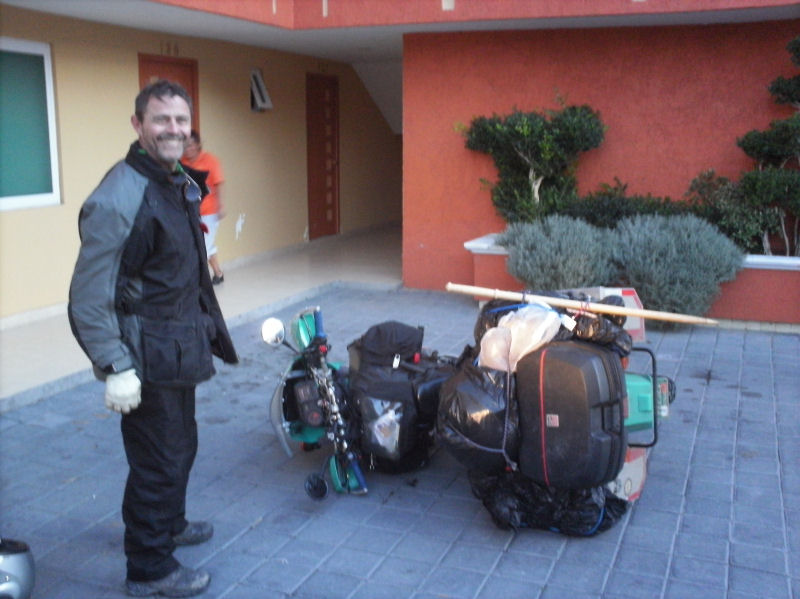 To be fair, I have dropped my bike in several parking lots and roadside stops. I'm just a wee bit quicker at getting the bike back up before Don gets his camera out. These bikes are tall and heavy, so once they start to tip, there is little you can do to stop it.
For some reason, the parking lot guy eventually got tired of watching us try to come up with 400 pesos, and he agreed to take $35 dollars. He rejected one of the $5 bills I gave him, probably because it was nearly worn out. So, he got a mix of dollars and pesos. The garage was again a nice treat, and the room was again large. Glass doors to the bathroom and shower again, but at least this time the glass was frosted.
As soon as we settled in, a train rumbled and screamed right behind the hotel.
We were HERE
Saturday, October 18, 2008
-----------------------------
We were up early (for us), and we headed into Tepeaca and the El Centro area. Nice town, off the main road. Lots of restaurants, an old fort (not shown in the photo below) and other interesting buildings surrounded the central plaza. The meal was nice, not expensive, and we found a bank to change some money to improve our cash status. We wandered around some of the shopping stalls and I bought a small leather wallet that had TEPEACA tooled into it. It was cute, but it turned out to be too small to be functional. More of a kid's toy wallet. It was maybe $2, so what the heck.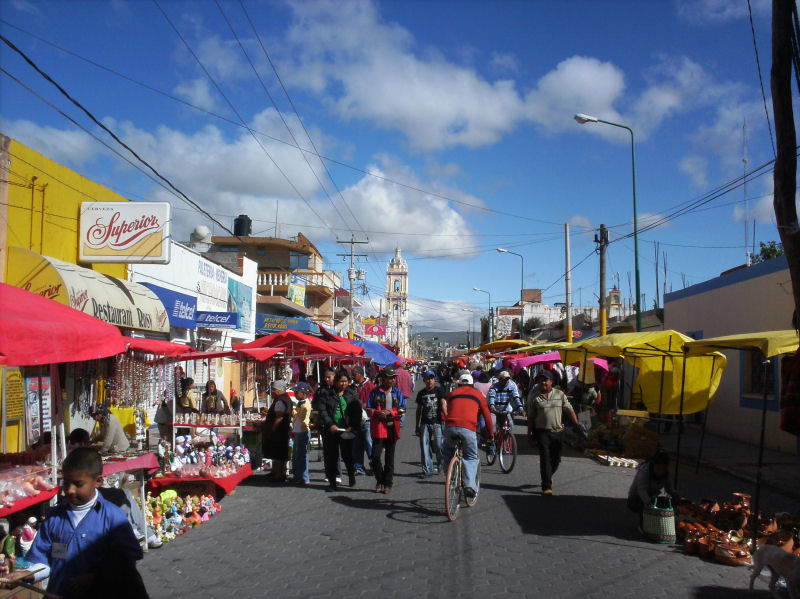 Our altitude dropped down to about 500' and the air was obviously thicker as we continued east. Passing a military checkpoint, we were stopped and examined for the first time. The soldier who waved us over wanted to see the paperwork for our bikes, and I gave him only the import form that matched the sticker on my windshield. He wanted something more, so I gave him a laminated copy of my Colorado registration. He got the same from Don as I took his photo. They didn't seem to mind being photographed.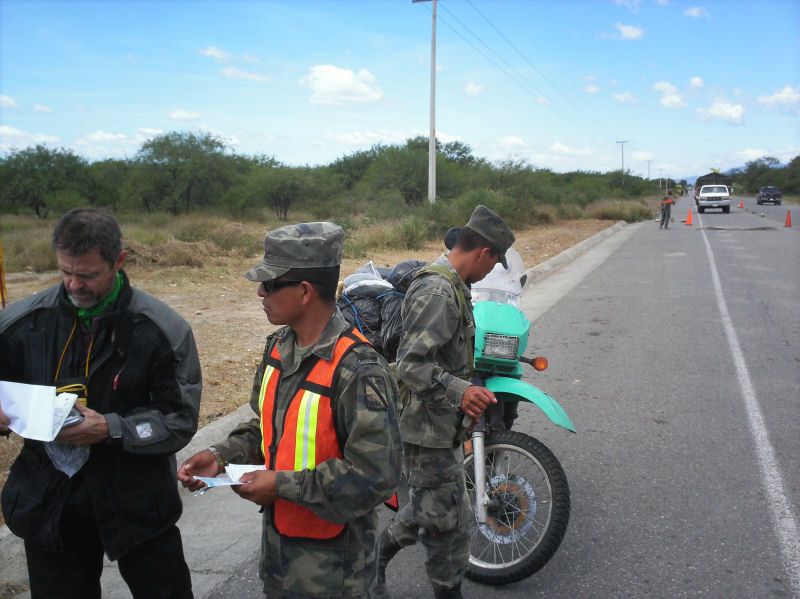 The solder went away with our papers, appeared to talk with a boss-type guy standing under a tree, then brought our forms back to us and wished us a pleasant voyage. The soldier then noticed a Ghurka knife that Don has strapped to his bike. Don allowed the guy to handle it, and the soldier said it was a nice knife. Don told him that a rifle was better, and all the soldiers laughed and agreed. A moment later and we were back on the road.
The road we were on was in terrible shape for several miles. Lots of potholes and many places needing serious repair. We saw many small work crews slowly filling in the potholes with tarry gravel from wheelbarrows. Slow, hard work, that.
Suddenly, at some small town, the road got better. In fact, it turned into a great motorcycling road. Nice, smooth tarmac, with well-banked curves and no topes. I had a blast cruising along in the light traffic for many miles into the mountains again. The pass was only about 2200' altitude, but we got there quickly. We were greeted with a cool, cloudy sky and light rain.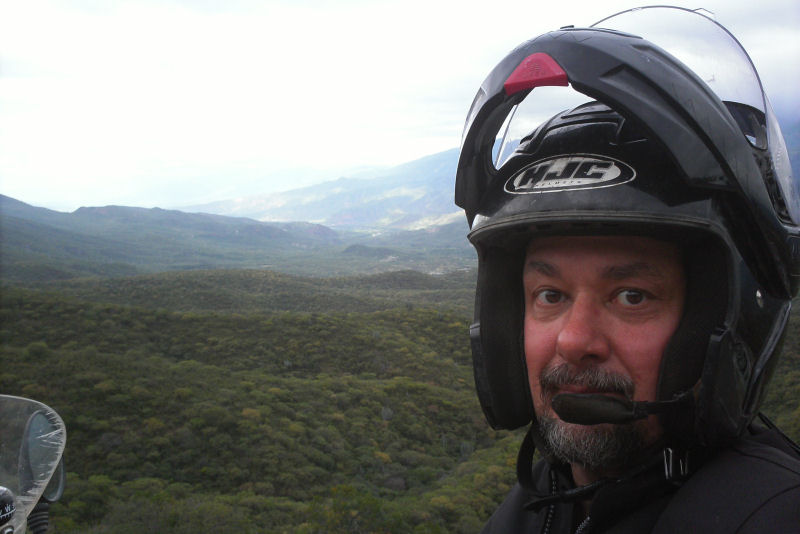 Many small cities in this region have these small 3-wheel taxis that zoom all over the place. They were often carrying people (so they must be cheap transportation) and sometimes carried small cargo.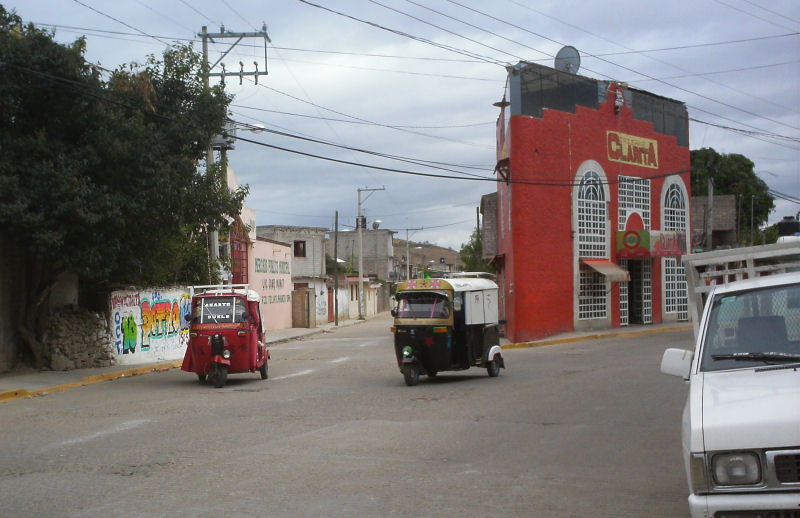 We stopped in Oaxaca (another big city) at another Burger King. Getting safe ice in our drinks has been a rarity, so the BK again was mostly for that purpose. We saw an Internet cafe along the road, so we stopped for a while. The rate was 70 cents per hour, so that was cheap. I hooked my laptop up and we got a lot of email and Skype calls done. I uploaded some photos and answered some forum messages. An hour and a half online cost me $1.
Don was having more shifting problems with his bike. He had taken his KLR to a shop in Denver after he got back from Moab last June. They had tweaked or adjusted something in his shifting mechanism that solved the problem, so hopefully it is something simple again. We tried sending an email to that same shop from the Internet cafe, but for some reason it wouldn't accept the email service. We will try again later. Maybe give them a phone call if it gets bad enough. It would be nice to talk to the same mechanic and ask his advice from somewhere near Guatemala.
We had decided that the Auto Hotels were a pretty good deal for the price, so we found a couple more. The first one didn't have a garage, just a curtained parking space, so we went on. The second one refused to allow us to stay, clearly stating that two men were NOT the type of customers they would accept. Well! If they're going to be that way, we'll move on.
We stopped at a PeMex station in the dark to get gas and ask about hotels. The young girl who pumped our gas directed us to the city of Mitla, not far from the main road. It was very good advice.
We pulled into Mitla, found El Centro, and immediately found a nice inexpensive hotel with two beds in the room. Yay!
While unloading the bikes, I saw that I had forgotten to tighten the lower fork clamps two nights ago. The reason I noticed this was because all four nuts had vibrated off and were gone. Fortunately the bolts were there, but only because they would have had to work themselves loose "uphill" before falling out. This was not good. If the upper clamps had slipped at all, the forks would have collapsed and I would have went down in a bad way.
We had thought to bring plenty of spare parts, nuts, bolts, and washers included. I got the clamps back in shape in not time, lucky that nothing had come of my omission. Whew!
(stupid, stupid, stupid...)
The hotel we landed at was old, made of stone and concrete. We were directed to ride our bikes into a hallway, past a parked car that had been squeezed in there, under the hammock, and down to the far end. Our room was right there, so it was convenient. We were either in room 7 or room 12, I couldn't tell.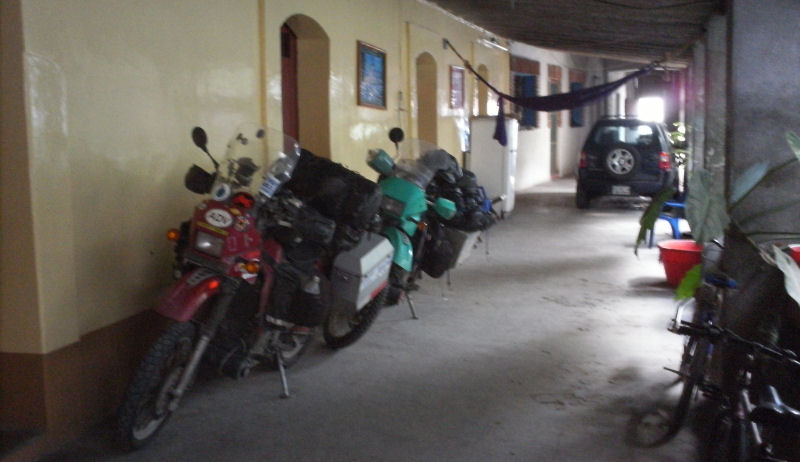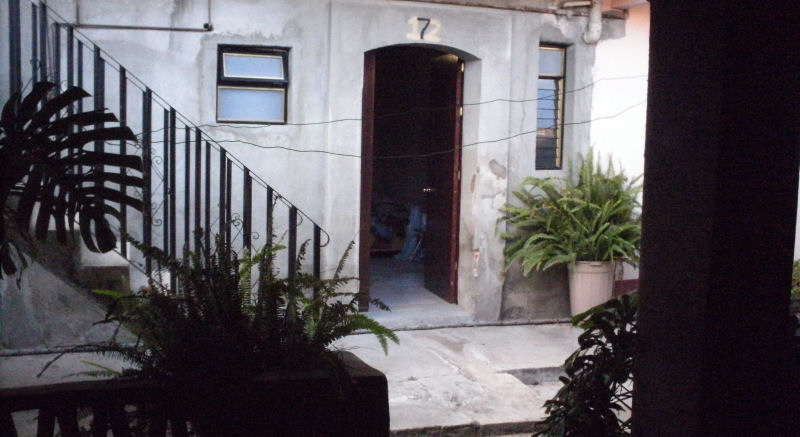 While unloading, another customer approached us and said he liked our bikes. His English was pretty good. He told us that he had ridden a similar bike to Canada and then down to Tierra del Fuego some years ago, and he was excited to hear that we were doing the same. He gave us some tips to keep in mind, then told Don that he was packing "too much shit" on his bike. He assured us that Mexico was more expensive than the countries further south, and things would get cheaper and cheaper as we went. That was his experience years ago, and I hope that things haven't changed.
The lady who showed us to our room turned the hot water on for us, which was nice. She forgot to mention that the water to the toilet was turned off. I had to discover and fix that myself.
The hotel's dog was a mottled pit bull with the unfortunate name of Osama bin Laden. The manager/owner thought it was funny.
As it turned out, we were locked into the old hotel at night. When I tried to go out to the plaza to send a SPoT signal, I couldn't get out. Secure, yes, but inconvenient. I climbed some stairs and put the SPoT device up as best I could, but the high walls must have blocked it because the signal never made it out. I'll have to create a SPoT link to match our location later.
We were HERE
Sunday, October 19, 2008
---------------------------
I got up and walked around the town a bit. More of the ubiquitous 3-wheel taxis and some of the helmet-style topes: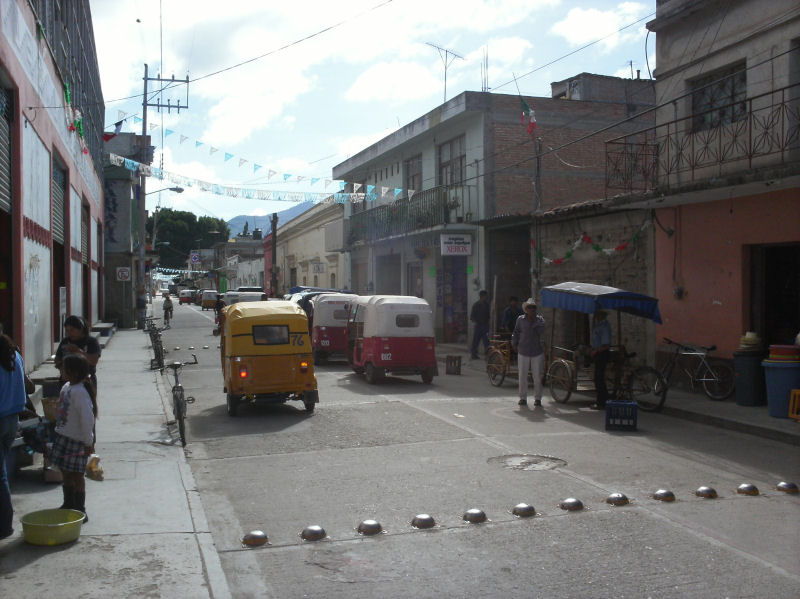 We ate at the restaurant of another hotel on the plaza. I had a traditional breakfast that was some kind of sauce poured over fried corn chips, sprinkled with what might have been a kind of goat cheese. Not sure what it was, but it was pretty good. I'm squinting like that because of the sun, not because of the food.
Nice mountain roads, lots of ups and downs. We traded bikes for several miles so Don could see how the 685cc upgrade handled. He liked its increased power and smoother feel. What I learned about Don's bike was that since it sat lower on its suspension, I could easily (too easily) scrape the centerstand on the hard turns, and it scrapes on some of the topes. Don's tank panniers had my knees sticking out in the wind, too, but I got used to that.
We saw and smelled the many Mescal distilleries in the area. I was temped to buy a small jar as a memento, but wasn't temped enough to stop. Agave orchards were everywhere, on every hillside, on odd bits of land that weren't expected. It would be hard to harvest those on some of the steep slopes.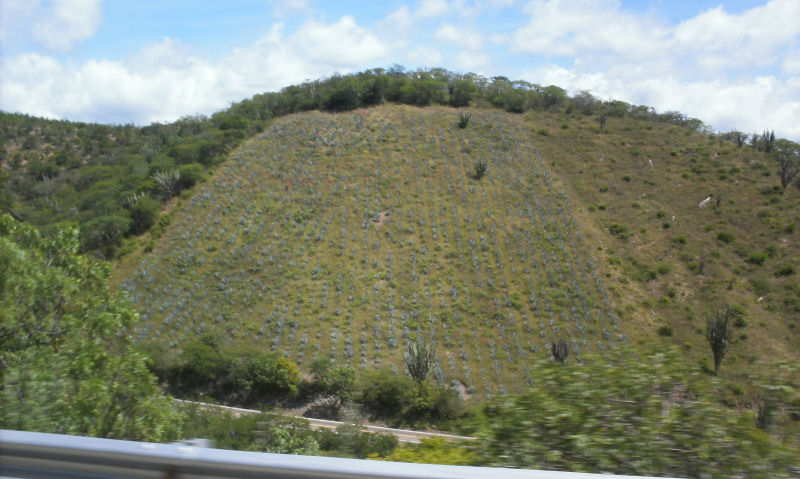 We dropped to about 500' altitude again, cruised through small towns with light traffic. We tried to get to the lake that we passed by, but couldn't find a road that led to the towns shown on the GPS and on the map. Must be unpaved, minor trails. We ended up on a hill, on a dead-end road that made us turn around in someone's yard. Got a nice pic of the lake for my trouble.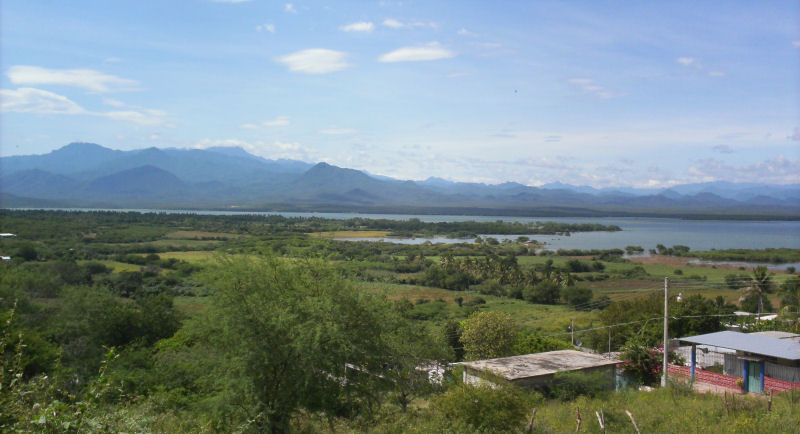 We gave up on getting to the lake, and stopped for a soda instead at a roadside stand. Riding onward brought us to more great riding and more animals in the road. Some animals were being tended, but many roamed freely. I can understand why they get hit so often. More hills for a while, too, then some cities.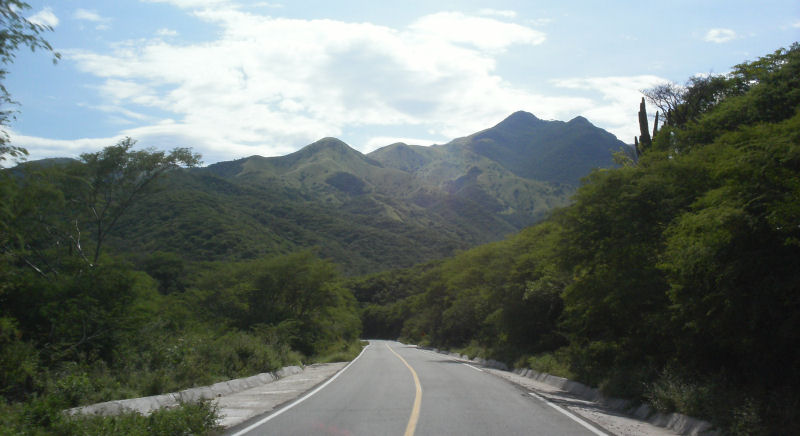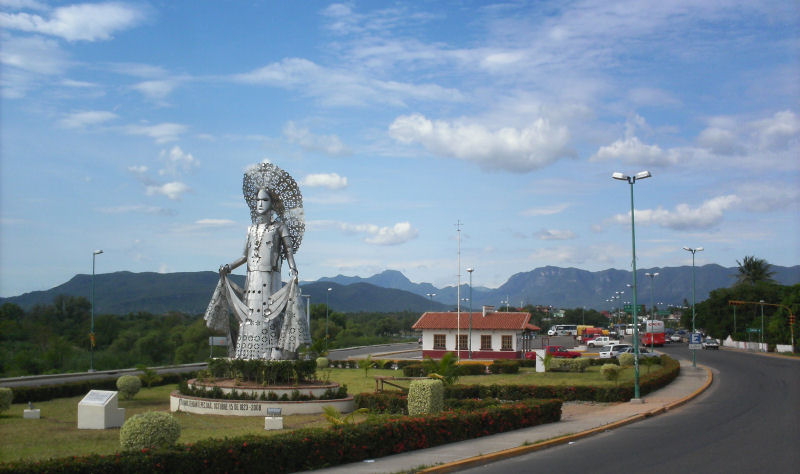 Our altitude dropped to a mere 100' as we crossed a very windy flatland. Huge wind farms were on both sides of the road, but the first batch of wind turbines weren't spinning at all. The second batch were happily churning out the electricity.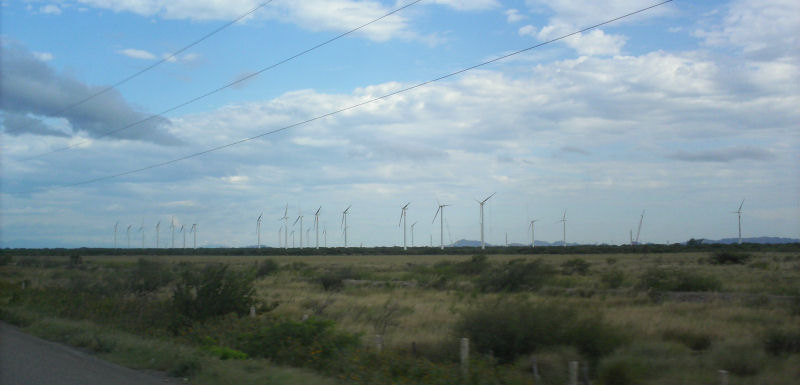 We thought we had left the wind behind as we worked out way back into the mountains. Wrong.
Coming over the pass, we were in and out of strong winds several times. At one point, we came around a sharp curve and got smacked right in the face with a headwind so strong that Don's bike was almost stopped dead in its tracks. I was riding with my helmet's visor up and the wind caught that and almost broke my neck. My head snapped back and I almost went off the bike. Yow!
T'was a tad gusty there for a while.
Back to lowlands, and the road became lined with thick tropical vegetation.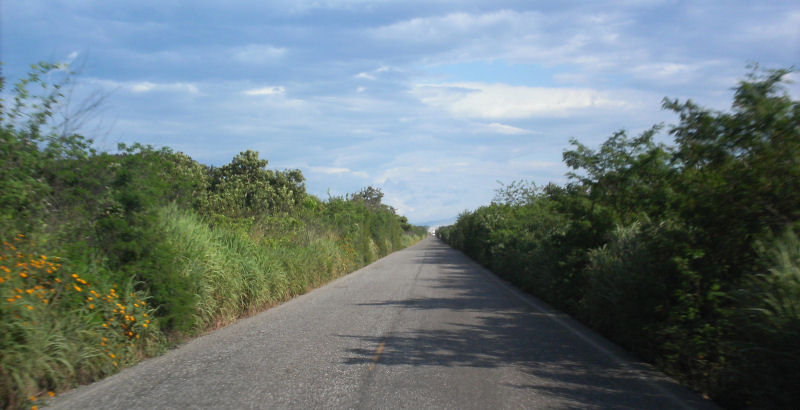 More hills, and a cow that was walking right in my lane. I gunned my engine as I closed in on it, camera in hand. It freaked at the last second and ran along in the other lane as I passed it, so I got this photo.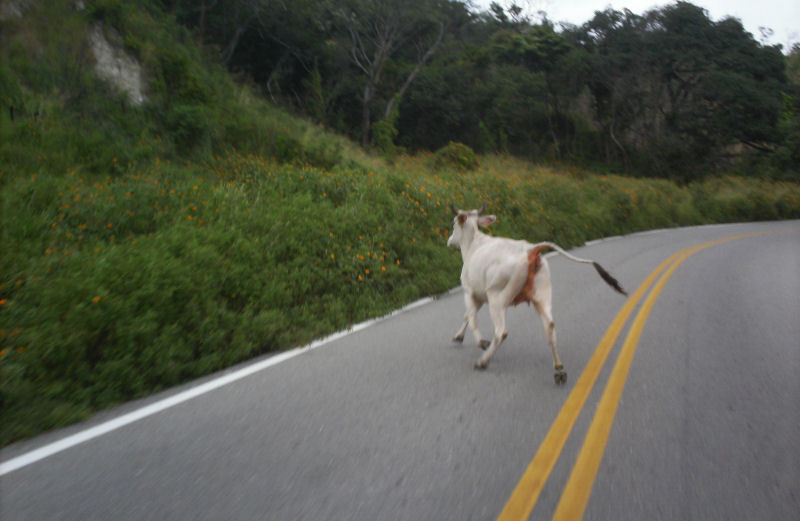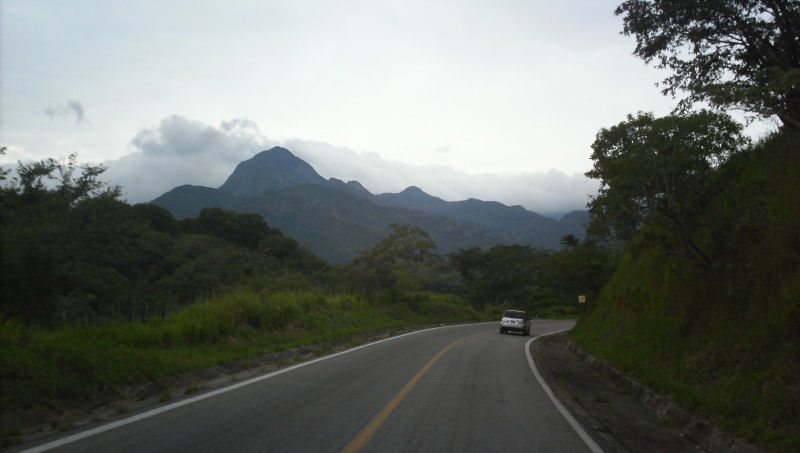 As it was getting dark, we got to Cintalapa de Figueroa. It took a while to find the central plaza due to the maze of one-way streets and close buildings, but once there we parked the bikes at the plaza and ate at a nice restaurant that overlooked the plaza and our bikes.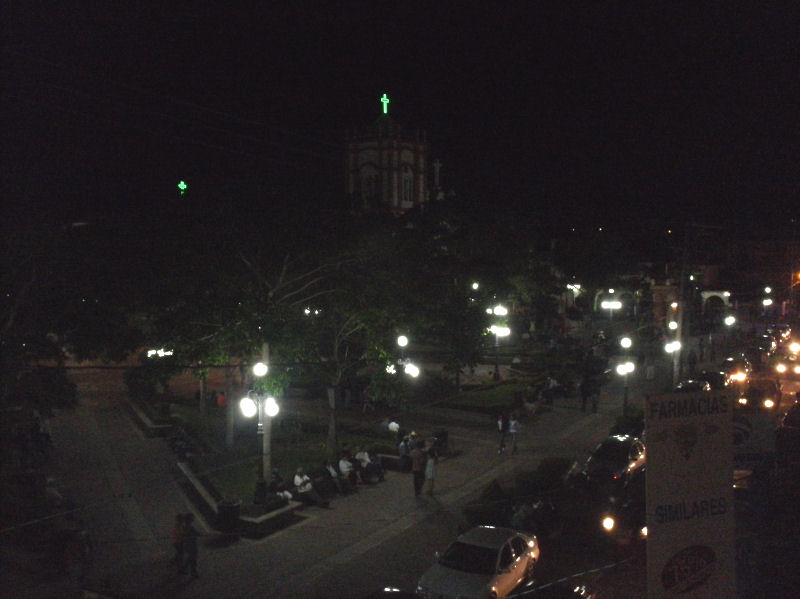 The hotel was okay, and it had Internet Wi-Fi that I paid them to turn on ($5 for four hours). My SPoT signal didn't make it out again. Trees and high building walls were hard to get out through. We made Skype calls and got online chores done. Well before the four hours ran out, the Wi-Fi signal suddenly went dead, so I guess I was through with whatever I was doing at the time. Not worth trying to get more time from the not-so-accommodating women at the reception desk.
The ceiling fan in the room was great. A bit too great, actually. The huge metal beast was loud, unbalanced, and moved a shitload of air. It was like sleeping under an aircraft propeller. It could have made for bad dreams, but we managed just fine.
Don had no shifting problems today, which was a nice day's riding.
We were HERE
Monday, October 20, 2008
----------------------------
We had breakfast at a small restaurant on the road, then kept riding east. We saw more and more indigenous people, and fewer with European ancestry. Pretty much every man we saw was either carrying a machete or was using one. Lots of men cutting grass alongside the road with machetes and curved sticks. They would hook a section of grass with the stick and whack it with the blade. We saw lots of people--men and women--carrying large bundles of wood. Firewood, most likely. Most of the women were wearing brightly colored clothing. It's impressive how bright some of those colors are, especially the blues. I rarely had a chance to stop for photos of the people on the mountain roads.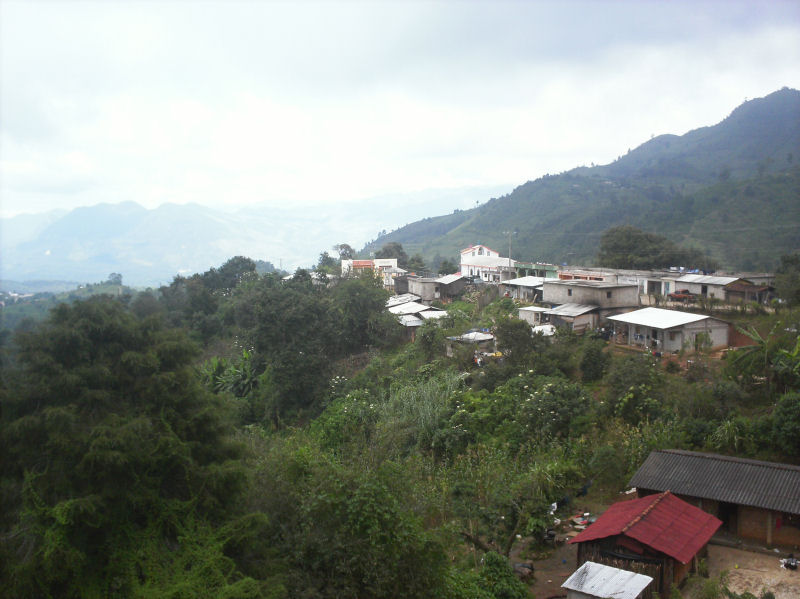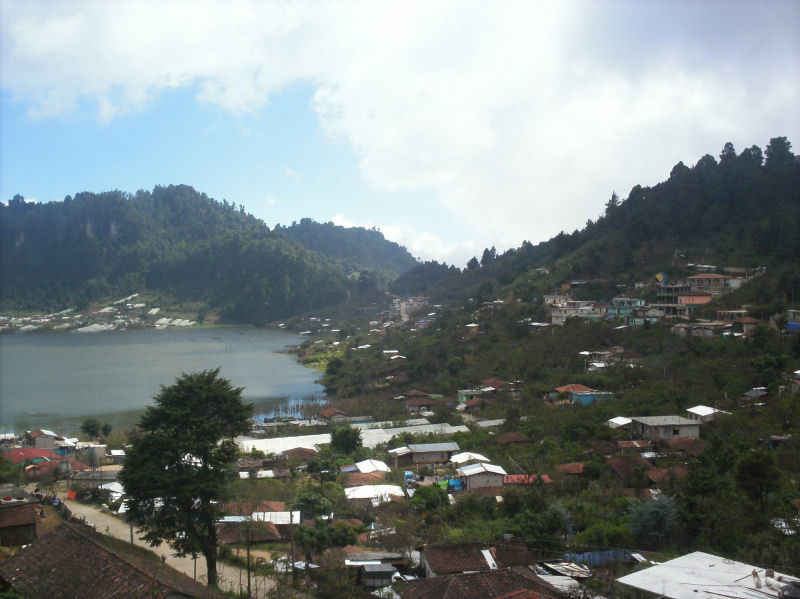 We saw corn fields now, more than any other obvious crop. Lots of large fabric-covered greenhouses, too, but no way to know what was in them. (edit: we later saw that they were small plants, maybe strawberries, and the netting was to keep the birds and bugs off.)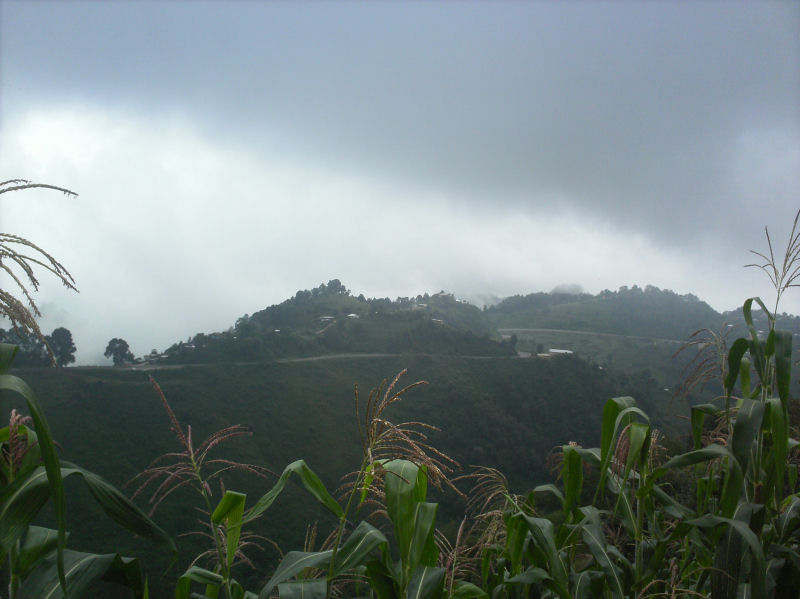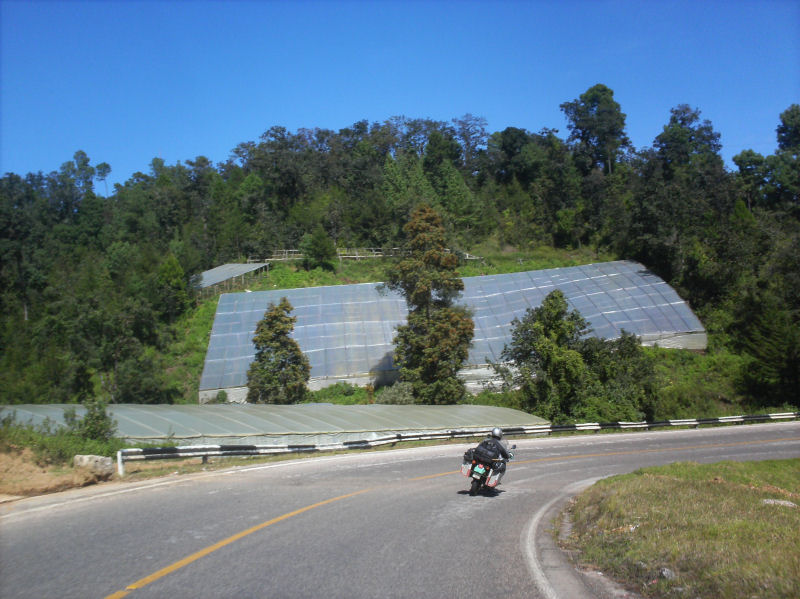 Sheep were now more common. Small, black sheep that were always tended by someone herding them along the road.
We passed several military bases; one artillery battalion and one infantry battalion. More military check points, too.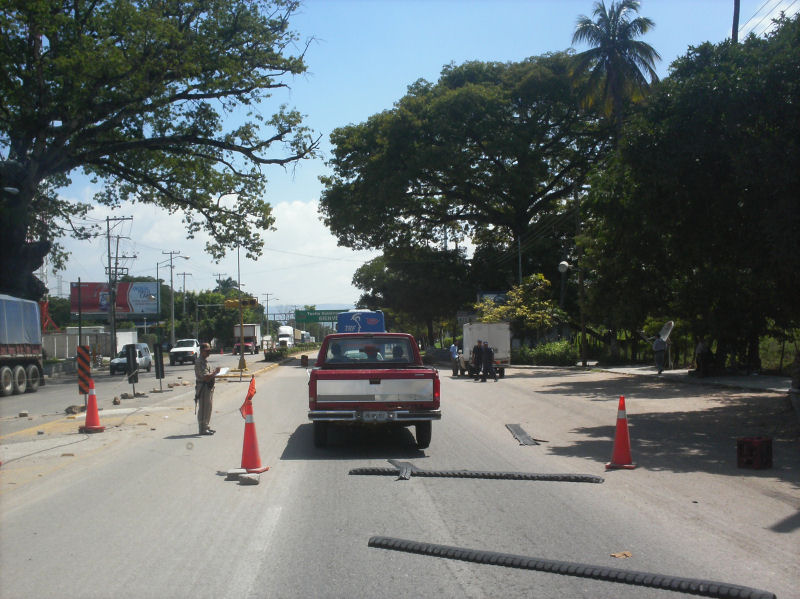 The mountain pass was over 8,000' and cool, but the weather stayed nice all day. One if the best days riding, aside from the thumb-sized beetle that crushed itself on my forehead at 50mph. Ouch. Like the small bird that dive-bombed me near Prudhoe Bay, I saw the bug crossing the road ahead. The gusty winds pushed it around and it just cleared over my windshield and under my raised visor. THWOK! I stopped to see if I was bleeding, but found only bug goo on my riding glasses and face. Onward.
We got to Comitan (a city of over 125,000 people) at about 16:00, and could have pressed on to the Guatemala border, but we decided to call it an early day. This was a nice break. We could get an early run to the border and get well beyond it tomorrow. In the meantime, we had several hours to enjoy this nice town. We had to explore a bit to find El Centro because (again) all the streets were one-way and the narrow streets and close-in buildings keep you from having any kind of perspective. Some of the streets were like being in San Francisco, with steep drops and climbs.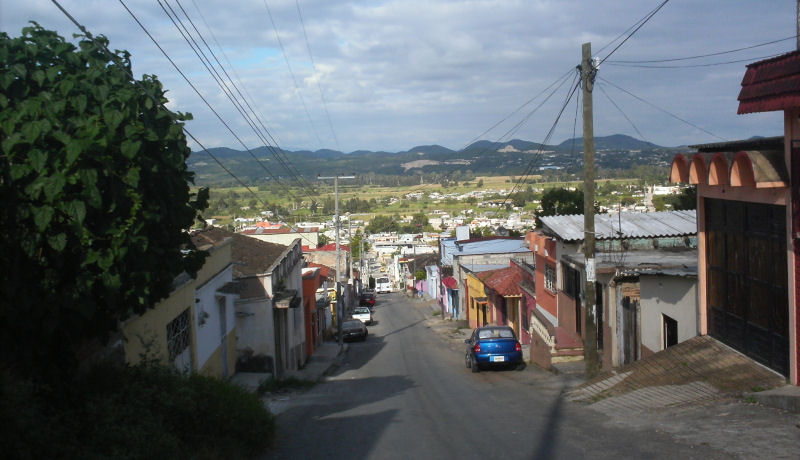 Once we found El Centro, we were golden. Got a parking space along the plaza, had a nice meal right there, had a local policeman give us tourist advice and some pamphlets, Don got a $1 shoe shine from a kid while his sister watched (and we shooed-away the other dozen kids with things to sell or services to render), and we found an ATM and a hotel right there on that block. Sweet.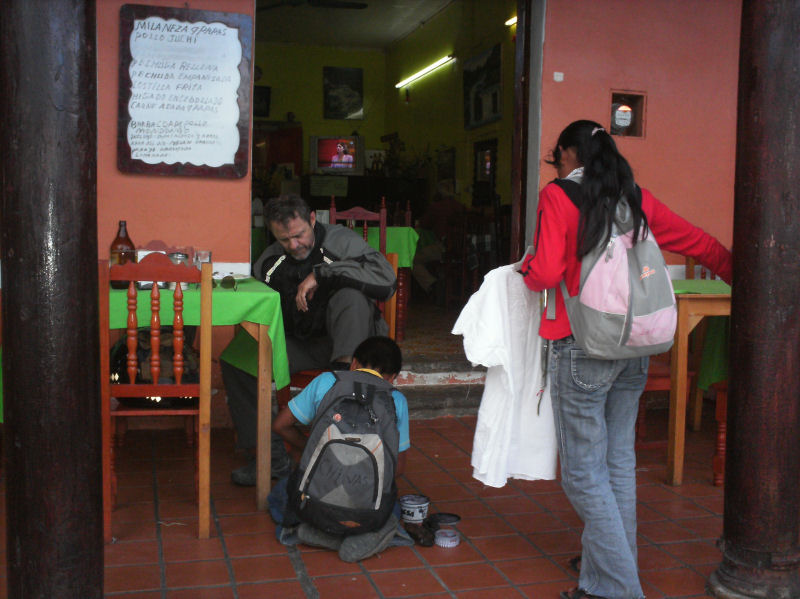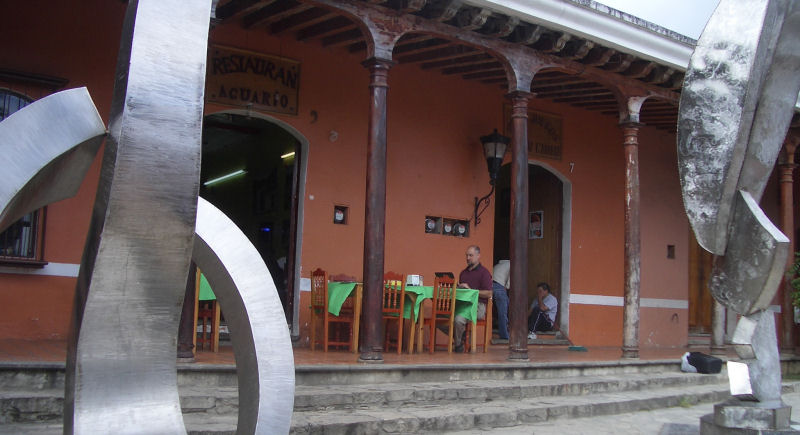 Our hotel had a small parking courtyard, and like many hotels we've seen, it had some kind of central garden.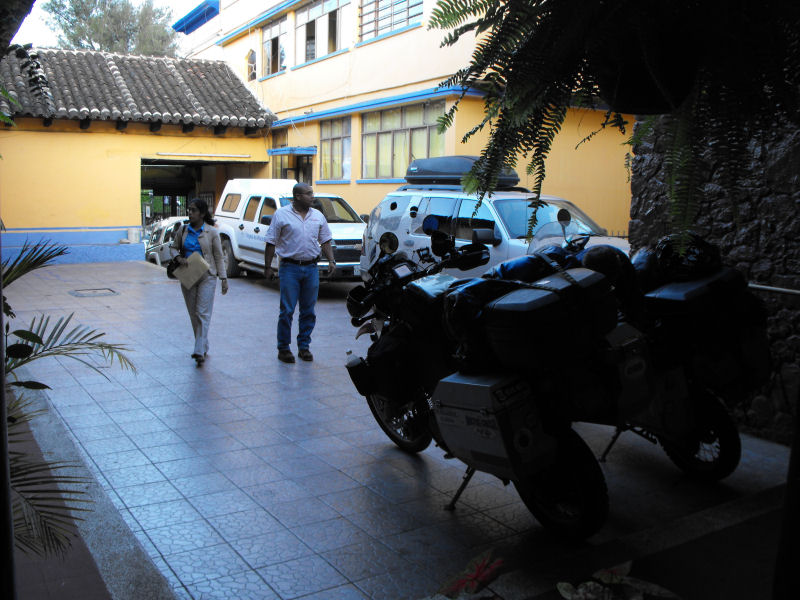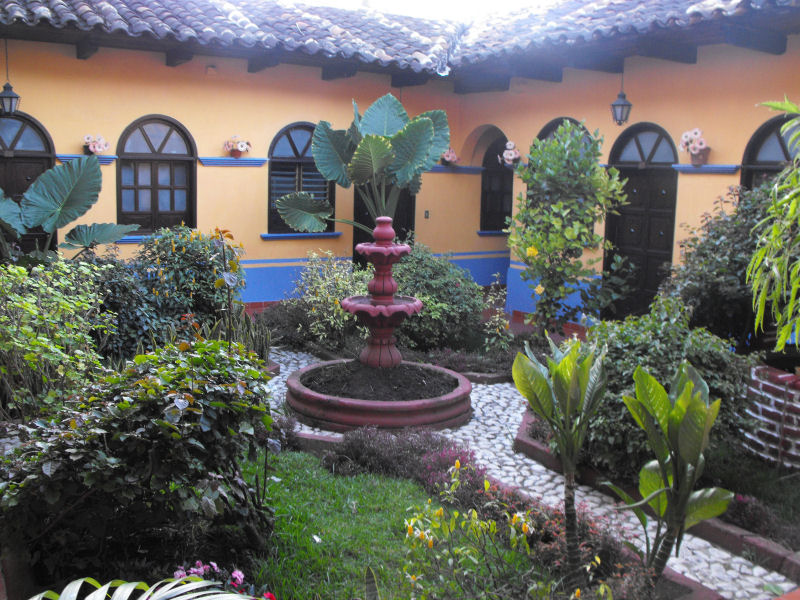 With all routine duties done, we had our first actual break from riding and chores. We walked around the plaza and some of the surrounding streets looking at the shops. We had ice cream from a street vendor and later sat for a while having coffee/tea and watching the people. The central plaza was a popular place for young and old alike.
Mexico seems to recognize Halloween, too. It's The Day Of The Dead to them. We've seen Halloween ornaments and other items for sale all over Mexico.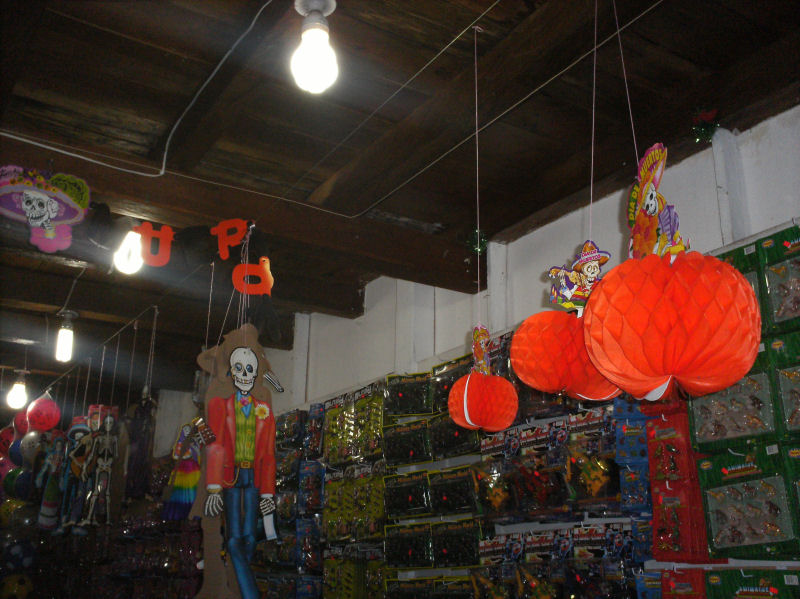 At 21:00, the church bell chimed off the hour and the plaza slowly settled down. Bedtime for most folks, apparently. I took some photos of the plaza.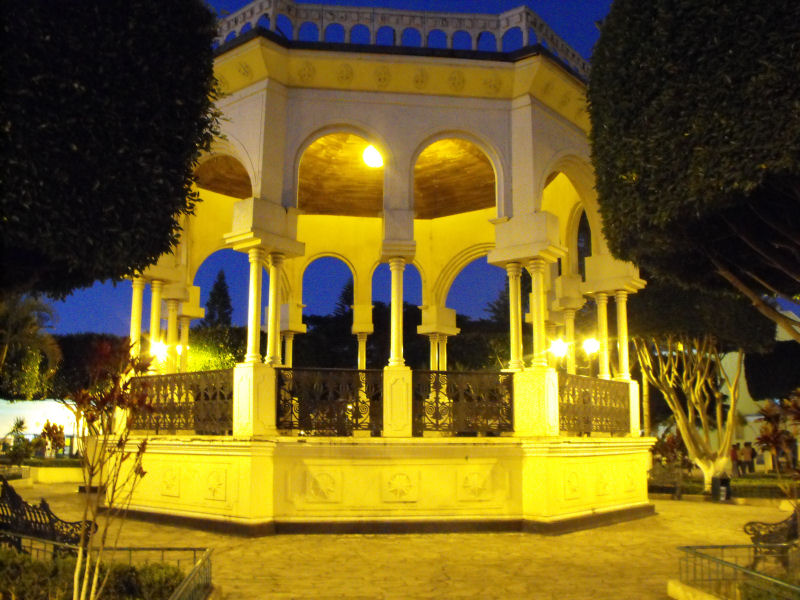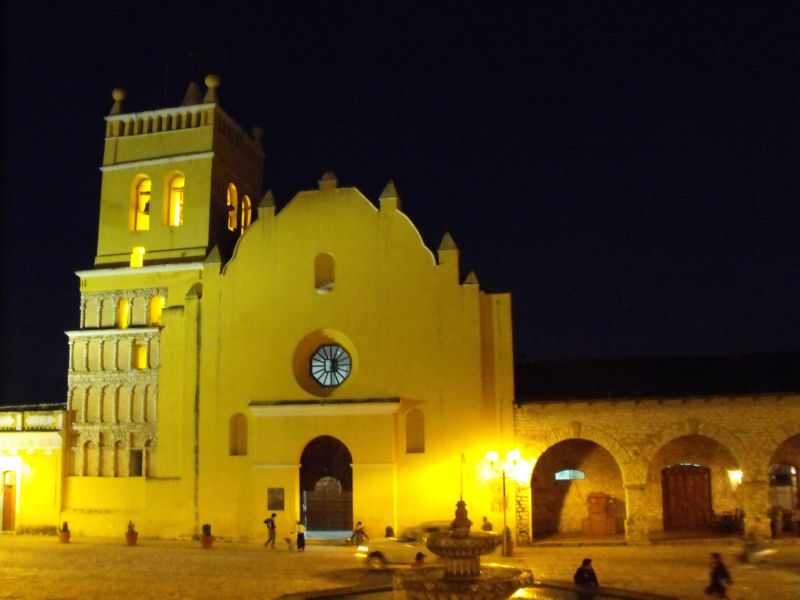 The plaza is replete with dozens of stainless steel sculptures (as well as stone carvings). A winged horse here: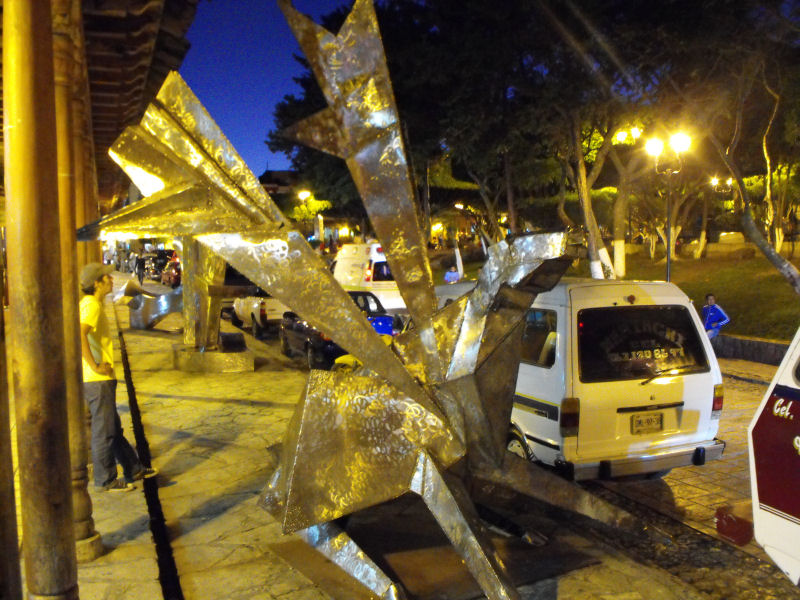 I found a Wi-Fi hotspot in the plaza, and we made some Skype calls and sent some emails.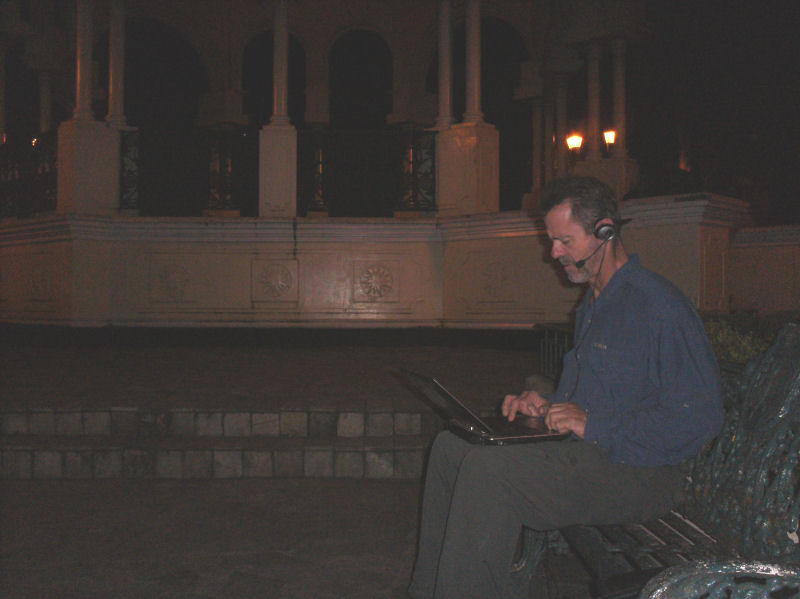 Don finally zonked out and I wrote the last few days' worth of this report. Now I'm done, too.
We were HERE
Tuesday, October 21, 2008
----------------------------
It was a cool morning. We had breakfast next to El Centro and we were soon joined by Steve, an American who used to live in Colorado but lives here now. Steve is trying to establish an Eco-Tourism ranch, and he told us many stories of local politics and corruption that have made things difficult for him. His ranch has some significant archeological and historical sites (caves, ruins, ancient astrological lines) on it, and he has finally gotten past some of the Zapatista attitudes and made some influential contacts that have helped him. See www.ranchojixhil.com if that's your thing.
(Photos of Steve and many more were lost before I backed them up. Another camera bites the dust...)
We got a later start than we planned, but finally got back on the road. Outside of Comitan was a large trash pit dug into the side of the road. It was hard to miss, since it was on fire. Probably been burning for years.
It was an easy 80k to the border of Guatemala and our next crossing. The place was a zoo; much more hectic than the crossing into Mexico.
<< Link to PREVIOUS report: USA to Mexico >>
<< Link to NEXT report: Central America >>
[ ERRANT-RONIN HOME ] [ Prudhoe Bay to Ushuaia Home Page ] [ Ride Reports Home Page ]