Part 6. USA Down to Mexico
=====================
Wednesday, October 8, 2008
------------------------------

I had been up late again, busy packing the bike. I had gone through this last-minute packing ritual before, but this time I was taking more tools and spare parts, more clothes, more inner tubes, etc. Making final selection of tools and dividing them into three kits. I keep the most often-needed small tools in the tankbag, immediately accessible. The mid-range tools are in a tool roll in one of the soft bags, and the largest tools are in another tool roll that I keep in the plastic tool tube mounted across the lower part of the bike's frame, behind the front wheel. Many people use a tool tube here, which helps keep some of the weight forward and low.

Don arrived at about 08:30, and we needed an hour to get things sorted out. While we worked, Laurie broke the news to me that Cary, who had helped me with the 685 cylinder fix, had been killed in a motorcycle crash a couple days ago. What a shame. I had talked to him on the phone a couple times, had dozens of email chats with him over the years, but had never met him. That was my loss, I suspect. He seemed a great guy by all accounts. He will be missed.

We ran out of things to delay us, so Don and I posed while Laurie took our photo in the driveway and we headed out. It'll be interesting to see what we look like when the ride is over.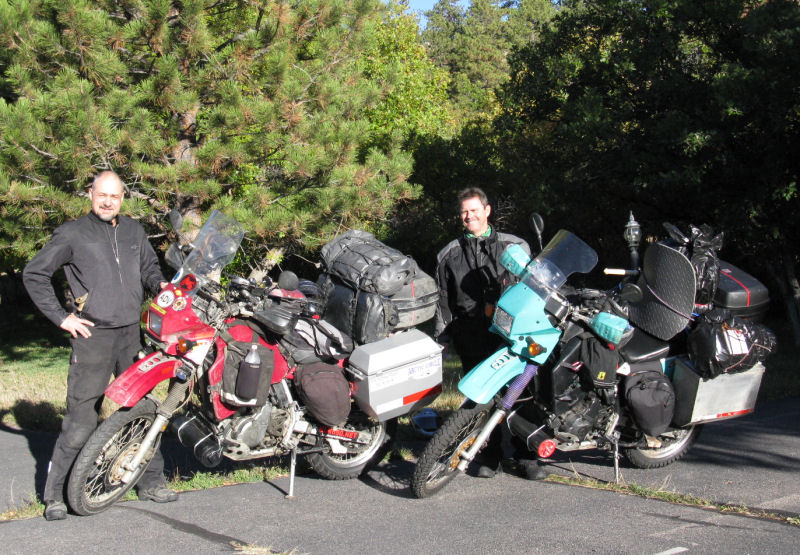 Since we didn't have a firm route planned, we just headed south on back roads until we needed to use I-25 to get into Colorado Springs. US-24 is a familiar road, and a very pleasant one. There was not a single cloud anywhere all day, only a light breeze, and although it was cool, the sun was relentless. Here's a sideways view of Pikes Peak.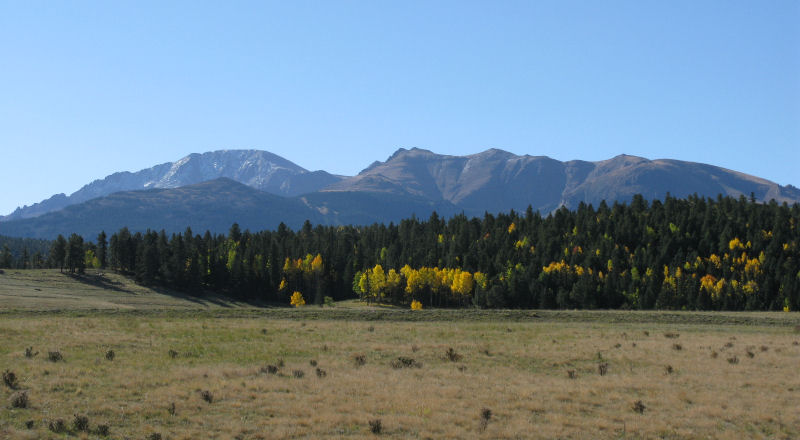 At Wilkerson Pass, I stopped for a few photos, but became briefly fascinated by a woman trying to get her Bassett hound to pose just so. The dog just didn't understand why it had to stand on that rock, and was obviously not used to staying when the lady said Stay! The confused hound was unimpressed with her command bearing and kept stepping down from the rock.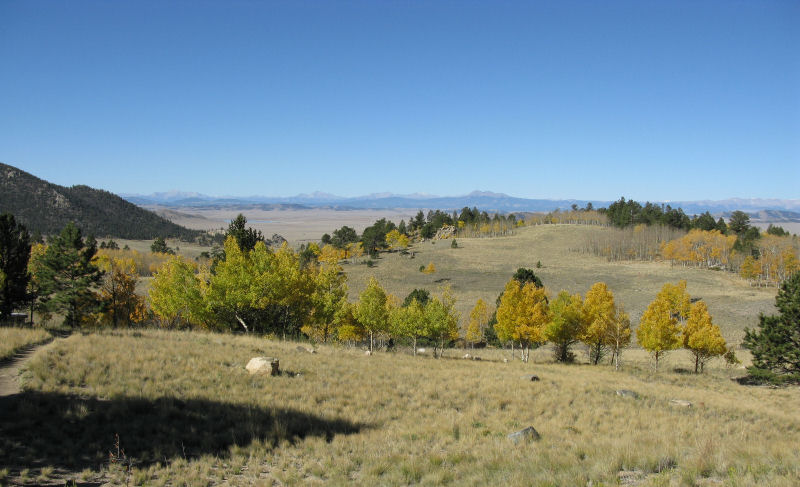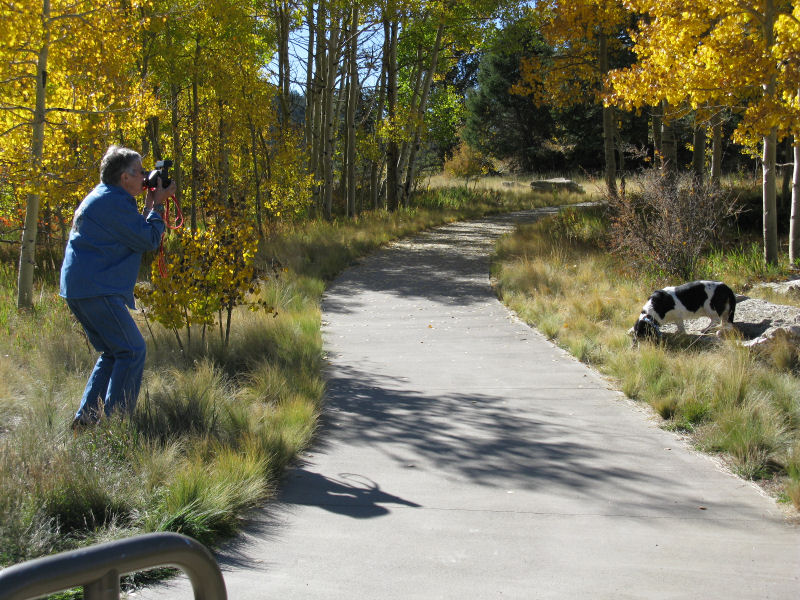 A few mundane photos. Sorry, but I hope the photo ops will improve as the ride progresses.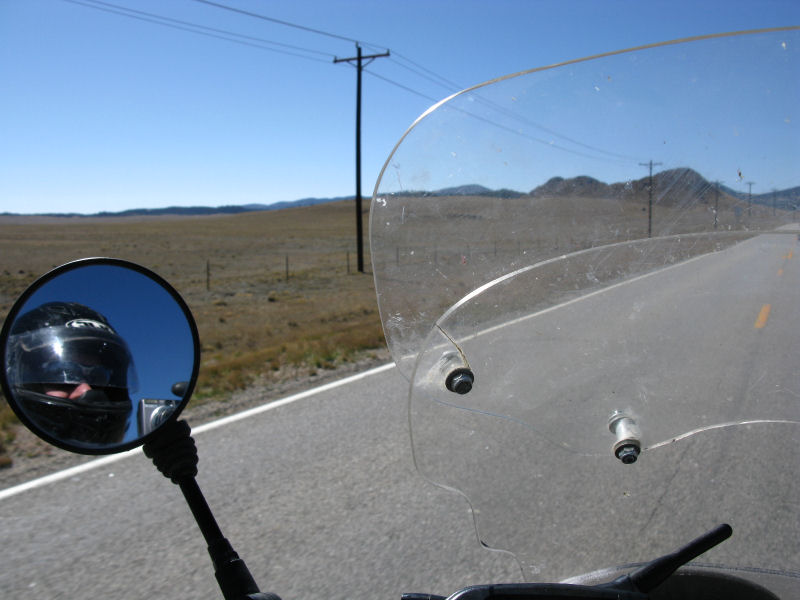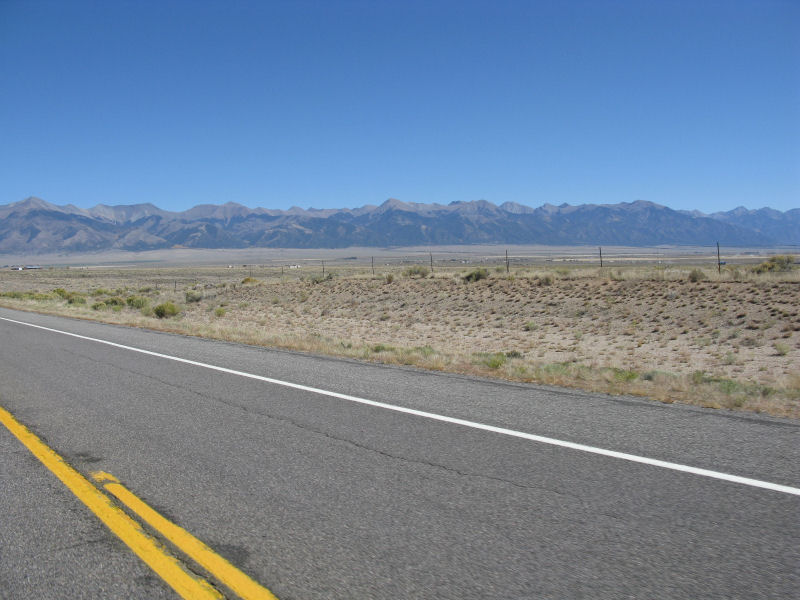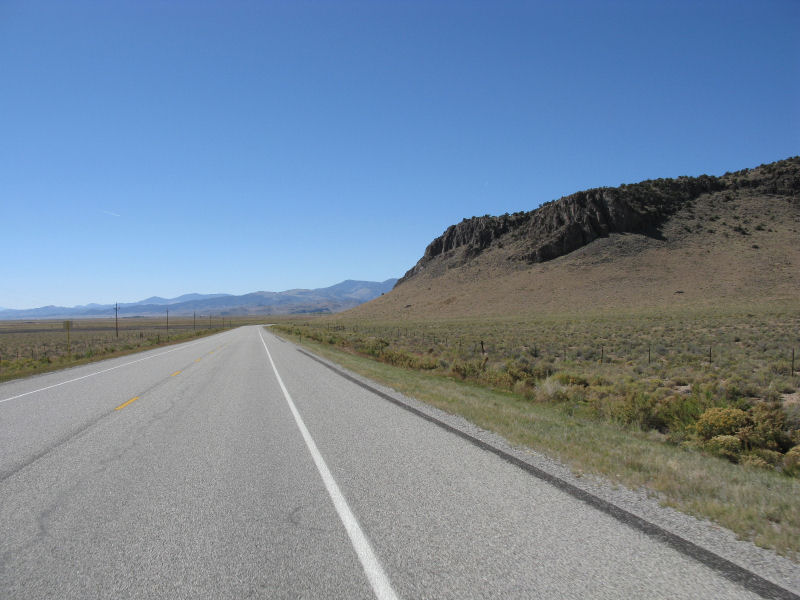 When we got to US-285 we headed south, intending to stay on that roadway until deep into New Mexico. South of Poncha Springs, we had our first unplanned event. I was riding lead, and Don came over the Chatterbox radio saying that he had a serious problem. I went back to find that his rear tire had gone suddenly flat, nearly dumping him. He had managed to get the squirming bike to the shoulder safely, though, and that is where we worked.

We had a few sets of spare tubes, which is good, since Don pinched the first replacement tube right away. We got the second tube in safely and were on our way. Only an hour or so delayed. I kept the pinched tube to patch up later. Actually, it was intended for practice patching. It had several holes in it.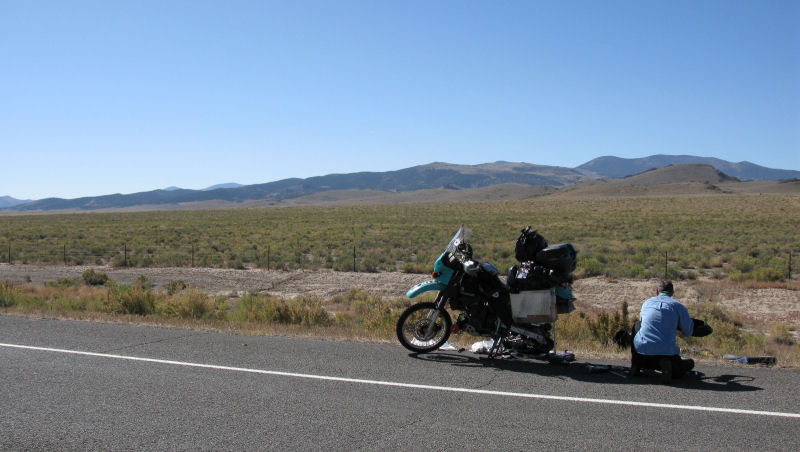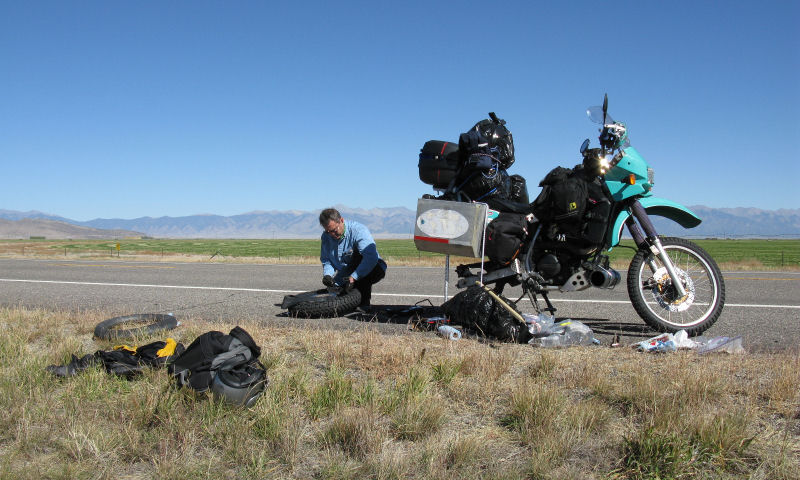 In Alamosa, we went to couple bike shops to stock up on extra tubes. Don was having to re-pack every time he needed to get to anything or add anything to his load, and I can sympathize with him. I had done the same at the start of my Alaska ride, and I had gotten better at putting things where they could be found and retrieved efficiently.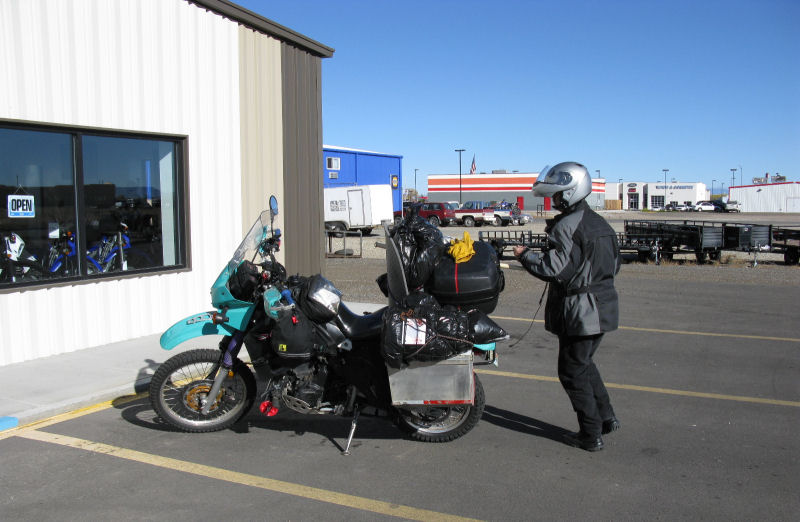 We cruised onward, hoping to be deep into New Mexico by nightfall. I stopped in Manassa, Colorado to take a photo of the sign announcing the Manassa Mauler's hometown.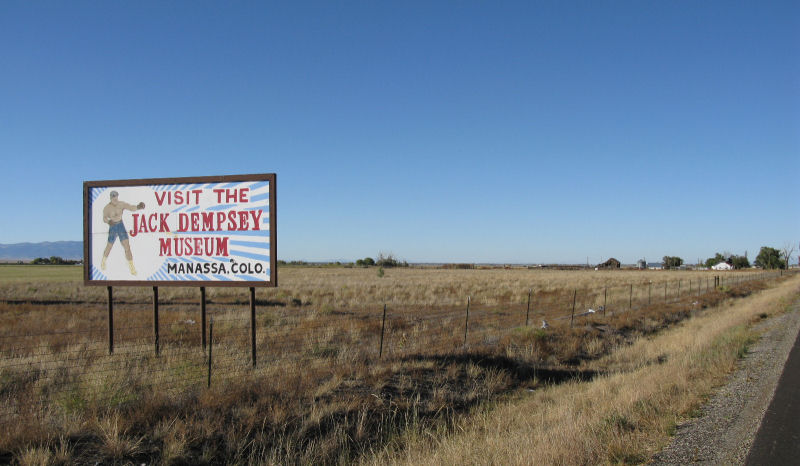 A while later, we were looking for fuel and the GPS assured us that there was a gas station ahead on US-285. What we found was a former gas station. A gas station no more. A building previously referred to as a gas station. An ex-gas station. It looked like it had been closed for some time. The GPS indicated that the next closest gas stations (there were several clustered together, apparently) were east of us. The road that the GPS kept trying to lead us onto didn't exist, and we doubled back to look for it again. It simply wasn't there. I took a lesser road to the east and had the GPS re-calculate to the nearest fuel. It again tried to guide us to the same station as before, but again the map and the road were not in agreement.

Finally, we decided to turn around and keep going south to Ojo Caliente, the next town on US-285. The GPS didn't indicate that the town had fuel, but it was on the way to the Sante Fe metro area. After we turned around, I stopped to consider the GPS some more. When I looked up a couple minutes later, I saw Don on the side of the road, the bike on its side. He had intended to pull into a convenience store, but the deep gravel on the side of the road had gotten him. The setting sun had obscured the gravel with raking shadows. Don was okay, maybe a sore knee tomorrow. His left hand had been smashed a bit, too. (edit: that sore hand bothered Don for the next six months.) Once I confirmed that he was alright, the next most important thing to do was get the photo. A guy from the store had come out to help Don before I even knew that Don was down.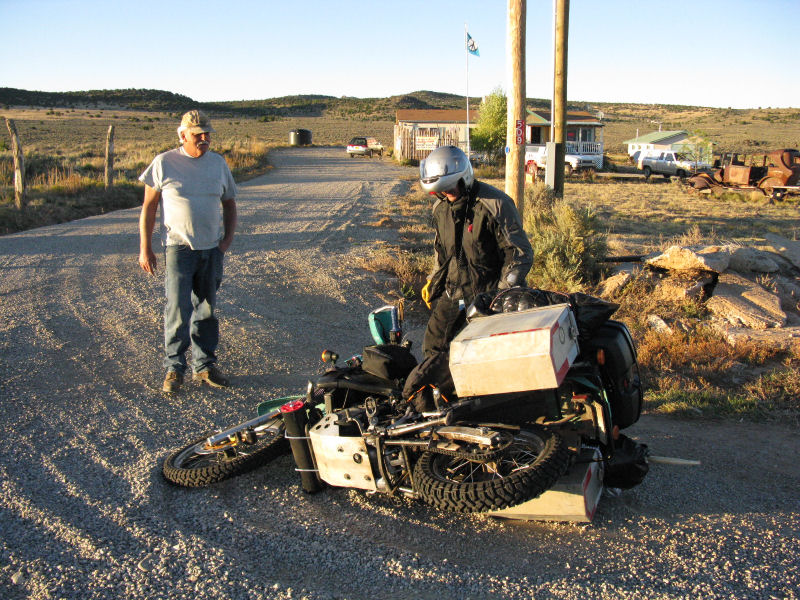 That turned out to be a fortunate coincidence, since the people at the unexpected convenience store sold gasoline in two-gallon cans for $5 per gallon. We bought two can's worth (and returned the plastic cans) before heading back to US-285.




In Ojo Caliente, we were ready to be done riding. We hadn't intended to ride at night if it was avoidable, but the weather was nice, the road was good, and the traffic was light. The only accommodations we found in Ojo Caliente was a hot springs spa resort. Ojo can mean "hole" as well as eye, so "hot hole" seems to make more sense than "hot eye." The only room they had available was $270. Yeah, right.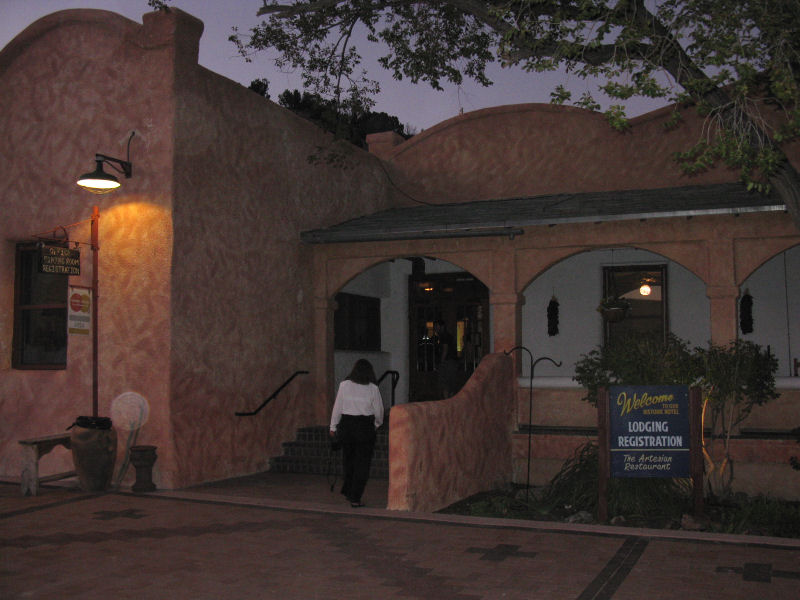 We found a perfectly good gas station on the other side of Ojo Caliente as we continued south, so the fuel worry was over. Once we neared Sante Fe (Espanola, actually), there were plenty of places to stay, so we found a motel and after some dinner, we spent some time getting re-organized. Don basically unpacked and repacked his bike, making things more efficient and accessible. I wrote this entry and sent a SPoT signal.

Don and I practiced patching the tube, even punching a couple more holes in it to have more practice time. Between us, we had three different patch kits. I had some conventional glue-and-patch kits and one of the new Scabs pre-glued patch kits. Don had a different Scabs patch kit with larger patches. We'll air it up in the morning to see how we did with the five holes we patched.

The Internet connection at the motel was down due to equipment failure. I still haven't sent out the promised notice to interested readers, but I'll try to get that done at the next opportunity.

We had done 400 miles today.
We were HERE

Thursday, October 9, 2008
-------------------------

We deliberately slept late, which was good because after riding all day yesterday on only a couple hours' sleep, I had been kinda fuzzy at times. A full eight hours of sleep was wonderful.

We had a light breakfast at the motel, then we checked our tire patch experiment by inflating the tube. The two Scabs patches held well, and the two small glued patches held well. The larger patch had been used to cover two pinch holes at once, but we had just missed one of the holes. Since the unrepaired hole was right at the edge of the glued patch, we were unable to get another patch to cover the edge of the patch that was already there. All in all, the Scabs pre-glued patches seem impressive.

We lubed our chains and hit the road at exactly 10:00, continuing down US-285 to Sante Fe where we picked up I-25 southbound. I didn't want to ride the Interstate at all, but it was more direct and faster. Boring, mostly. We averaged 70+ mph, and that impacted our fuel economy. We were rolling at over 70 mph and I hit a top speed of 90.2 mph (per the GPS) briefly to see how the bike handled. It handled poorly and started to wobble, and it took a while to ease up carefully and let the wobble settle down. There was a cross wind that might have contributed to the wobble, but it was the fastest I had ever gone on the loaded KLR and it was information that I was looking for. Must remember to not do that again.

I was tempted to detour off to see the Very Large Array (http://en.wikipedia.org/wiki/Very_Large_Array), but it'll wait for another day. One of the other drawbacks of buzzing down an Interstate highway is the tendency to just keep racking up the mileage. If we had been on a lesser roadway, I probably would have take the detour. Alas.

We zipped through Albuquerque without pausing...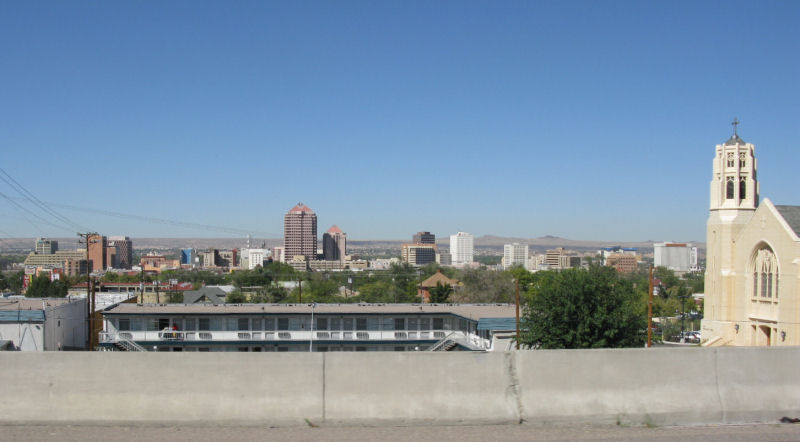 ... then stopped for lunch in Belen.




The food was THIS good.




Or maybe I was just that hungry. The dill rye bread on my patty melt was so good that I asked the waitress for a few slices to take with me. She wrapped up some bread and I will enjoy that later. When the waitress asked where we were riding, Don told her that we were out looking for bread and I told her that we were out looking for hookers. After that, she knew we were trouble on the hoof.

We gassed up in Belen, adjusted our doohickeys (it's about the bike, not our anatomy) and Don increased the pre-load on his rear shock.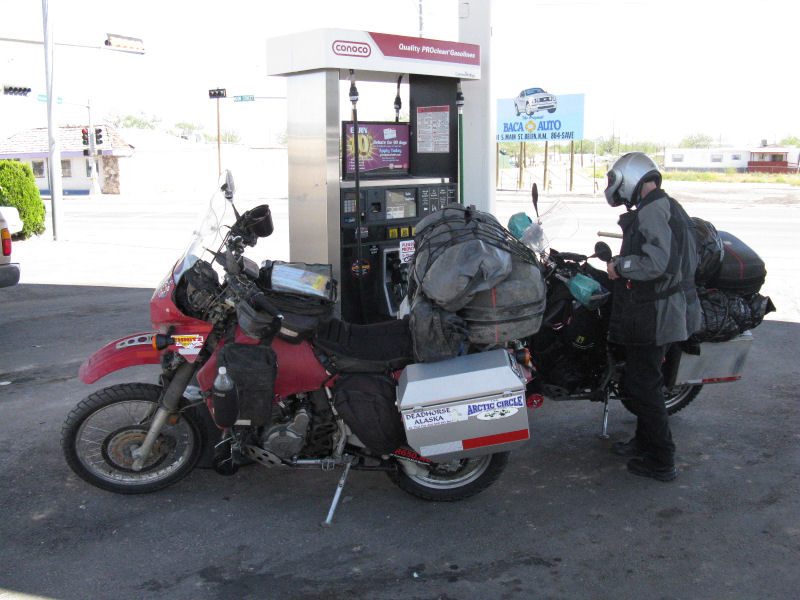 We passed by Truth Or Consequences, NM, a town named after the old television show.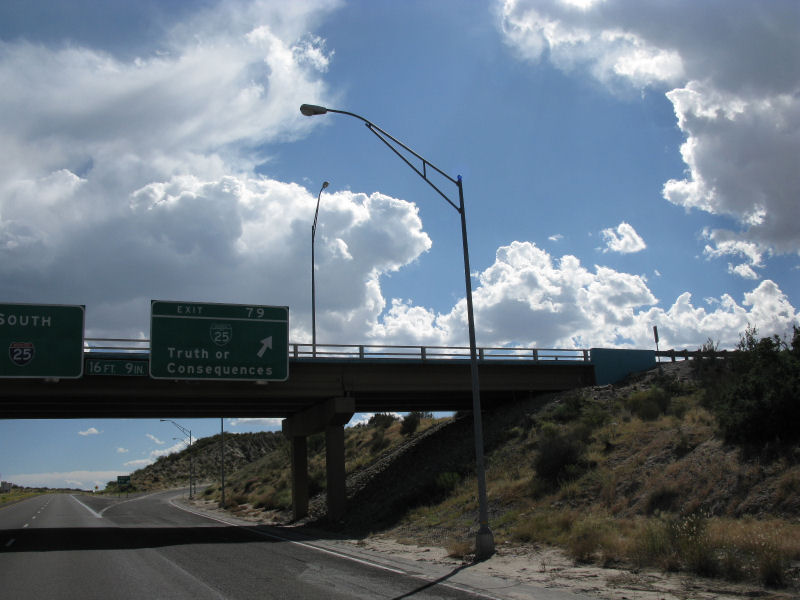 The GPS showed a cutoff from the Interstate that kept us from having to go to Las Cruces to get onto I-10. At Hatch, NM, we went southwest on NM-26 toward Deming. Most of the ride looked like this: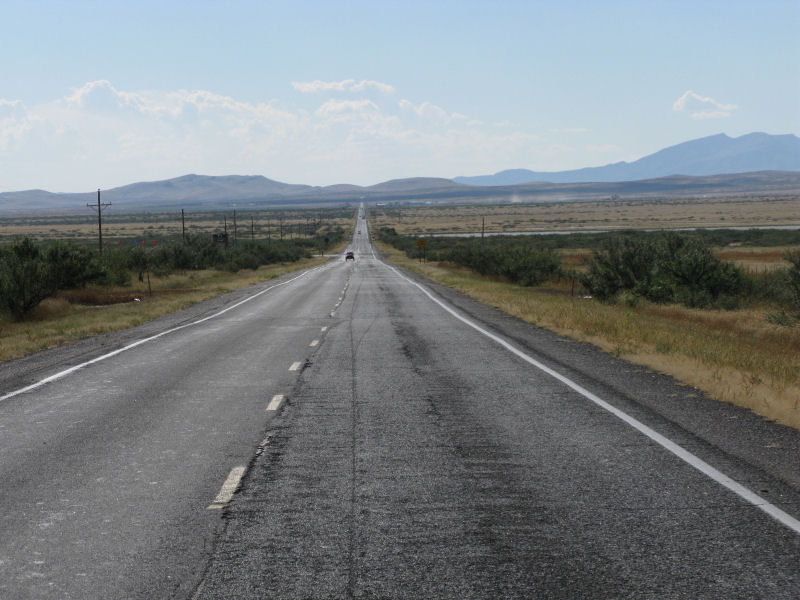 There was a small rugged mountain range south of us that looks less impressive under a cloudy sky.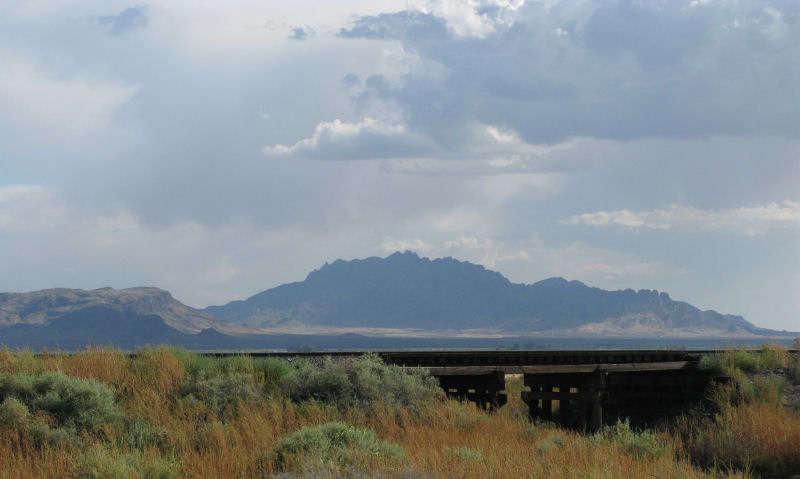 With 178 miles on the odometer, I hit reserve. I was therefore reminded that high speeds drastically impact fuel mileage. (I had hit reserve even earlier once in Canada.) We now knew that maintaining about 60 mph would get us about 230 miles before reserve, but 70-80 mph had us both on reserve about 24 miles short of the next gas station (at Deming, NM). We rode slower--about 50 mph--until we were about a mile away from Deming and that was where my bike went dry. Don helped me lay the bike down on the left side ("secret" reserve gas then dumps from the lower-right part of the gas tank to the left where the fuel tap can get it). Between us, we were easily able to pick the bike back up, helped much by the empty gas tank, of course.

Those few ounces of extra gas got me into Deming and to the first gas station. Don must have been on fumes, too, because we each put exactly 6.6 gallons of gas into our tanks. Nice to know.

We wanted to cross into Mexico and get completely away from the border before finding a place to stop for the night, but it was getting too late. A local resident also advised us to wait until tomorrow morning before crossing the border. We found a decent hotel with Internet access and called it a day. They let us park the bikes right in front of the office windows.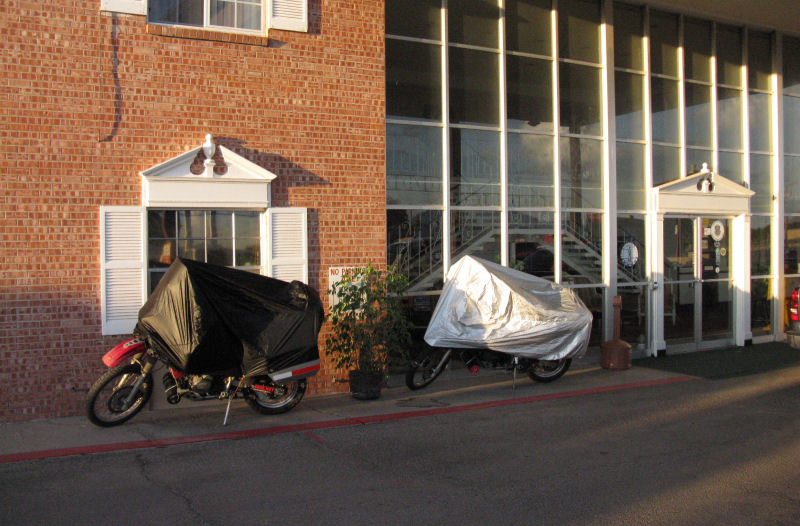 After getting settled in, we had a light dinner in the hotel restaurant and parked ourselves in the lounge for a few hours. We made Skype calls to our wives on my laptop, then I got photos and report updates uploaded.

And that brings me up to this very moment (as I type this). So that's a wrap for the day.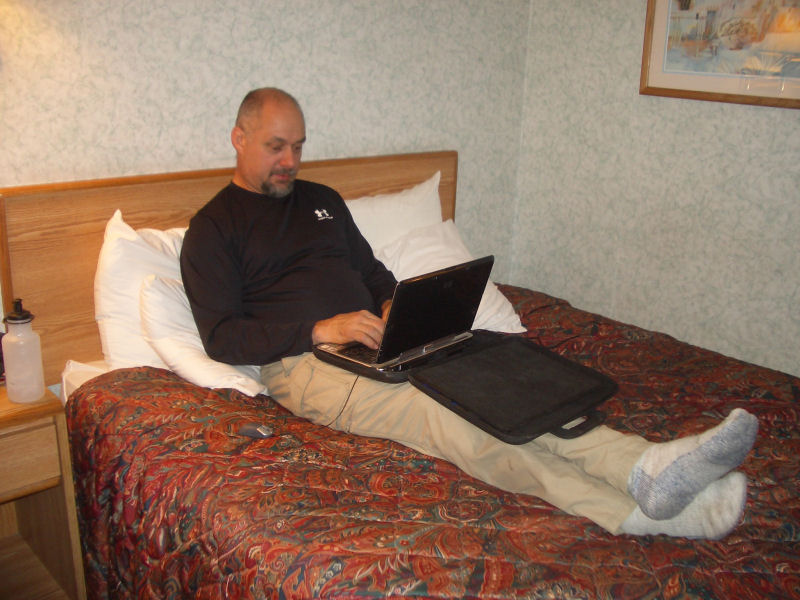 We were HERE
<< Link to PREVIOUS report: Intermission in Colorado >>
<< Link to NEXT report: Mexico >>
[ ERRANT-RONIN HOME ] [ Prudhoe Bay to Ushuaia Home Page ] [ Ride Reports Home Page ]