Part 15. Argentina Again Down - Ushuaia
=============================
Saturday, 27 December, 2008 (continued)
-------------------------------------------
It was a few kilometers to the Argentina border checkpoint, then a few more to the other San Sebastian.
We saw free-range cattle for the first time in a long time, and then the largest sheep I have ever seen. These had been marked with spray paint (for shearing, I presume). They must have carried a hundred pounds of wool each. They were the size of ponies.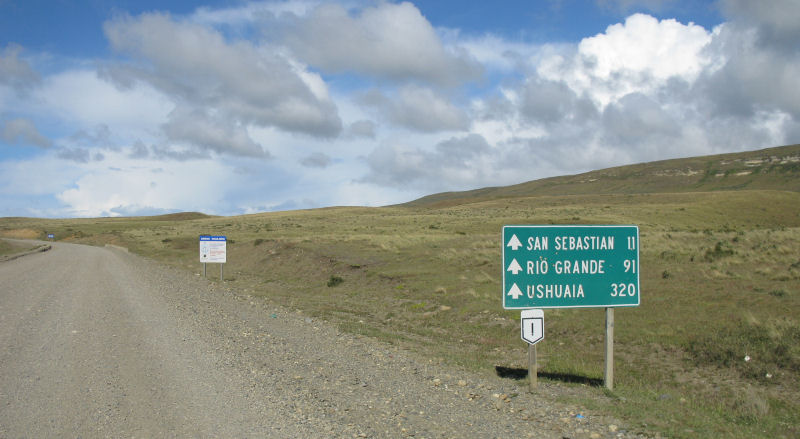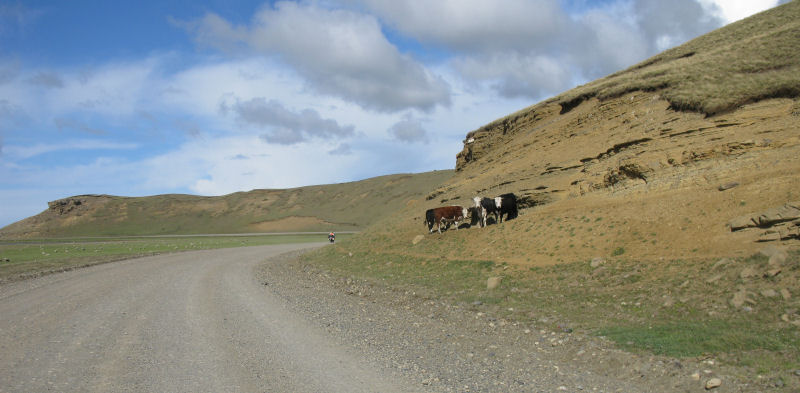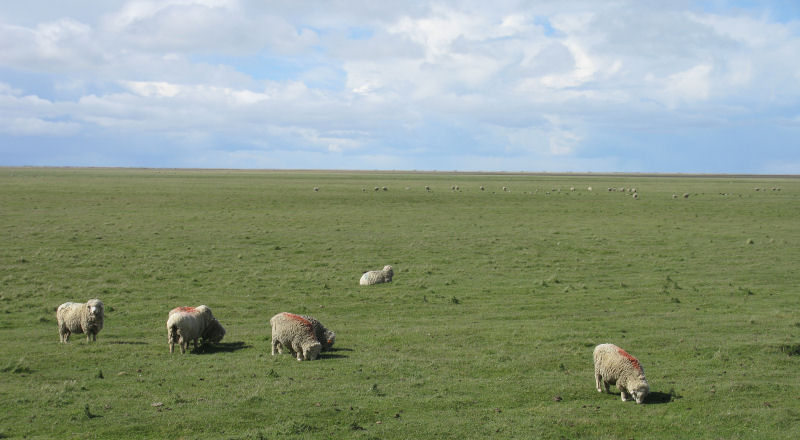 We were very happy to get to the border post, largely because the pavement started again. Getting back into Argentina was a breeze; the ususal form, the usual stamp, the usual quick convenience. Again they did not even look at our bikes.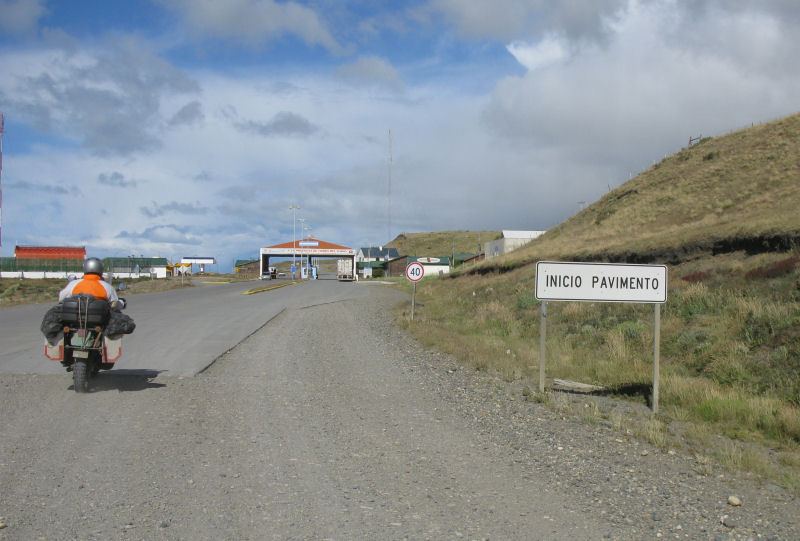 We rode south on Ruta 3 again, along the coast much of the way. Still cold and very windy, but the paved road made it better.
Don's instrument panel went all wonky, and the speedometer gauge started rattling around inside the housing. I thought that it had to be related to his speedometer dying earlier, but now I wasn't sure if the cable broke, the gauge broke, the instrument panel came apart inside, or what the heck. We'd look at it in Ushuaia.
When we got to Rio Grande, we decided to stop a little early. It was only a couple hours or so into Ushuaia, but there was no need to hurry anymore--we were almost there. We'd finish the ride in the morning.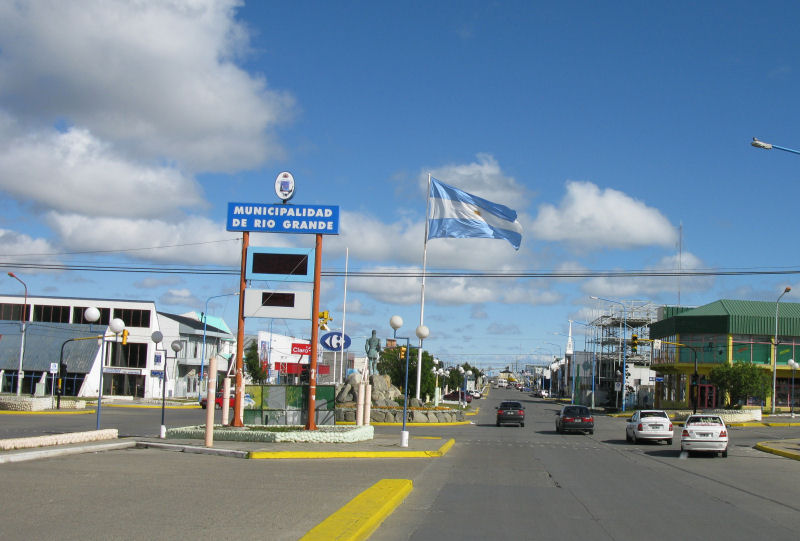 We saw a couple hotels, but decided against the very expensive casino hotel (duh) in favor of the more reasonable one across the street.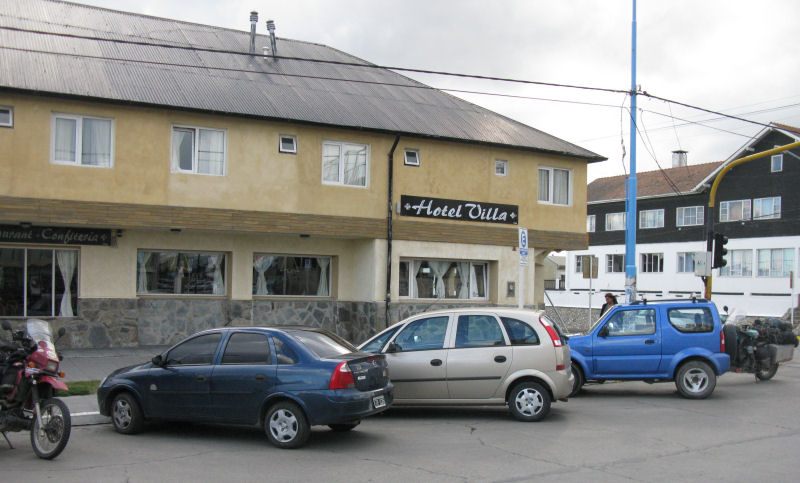 The Hotel Villa only had a parking lot in the back, and it wasn't very secure, but it was the best we had seen there. As usual, we had no problems with anyone ever tampering with the bikes.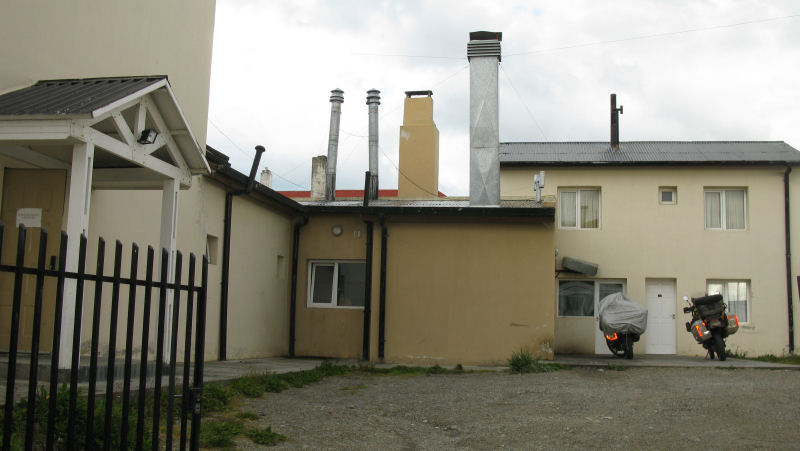 There is at least one military base in Rio Grande, and a lot of military memorials along the shore. The ones we could read as we rode past were to the heroes of the Falklands and the Malvinas.
We walked in a light drizzle and found a Wi-Fi restaurant near a small plaza, but the connection was so slow and kept breaking up that we didn't stay. The weather must play havoc with their satellite dish.
Back at the hotel, I laid claim on their office computer for a couple hours and did some research on hotels in Ushuaia. I was a little concerned about arriving with no reservation a couple days before New Year's Eve. An online search found lots of hotels that showed vacancies. I also tried to find a means to buy insurance online, but I again was unable to find the link or the website that someone had sent me months ago.
We saw that they had Skype loaded on their computer and tried to use it, but with my headset plugged into their computer, we were unable to hear anything and wasn't sure if anyone could hear us.
After handling email and spending some time on a few forums, I let them have their computer back.
I spent some time on my laptop doing photo management and a little writing.
Sunday, 28 December, 2008
-----------------------------
We had the unsatisfying breakfast in the hotel and got packed up at about 08:45. The morning was windy, but not as gusty as it would be later in the day.
Apparently, Rio Grande is famous for its trout fishing. We did see and cross several rivers south of the city that looked good for trout.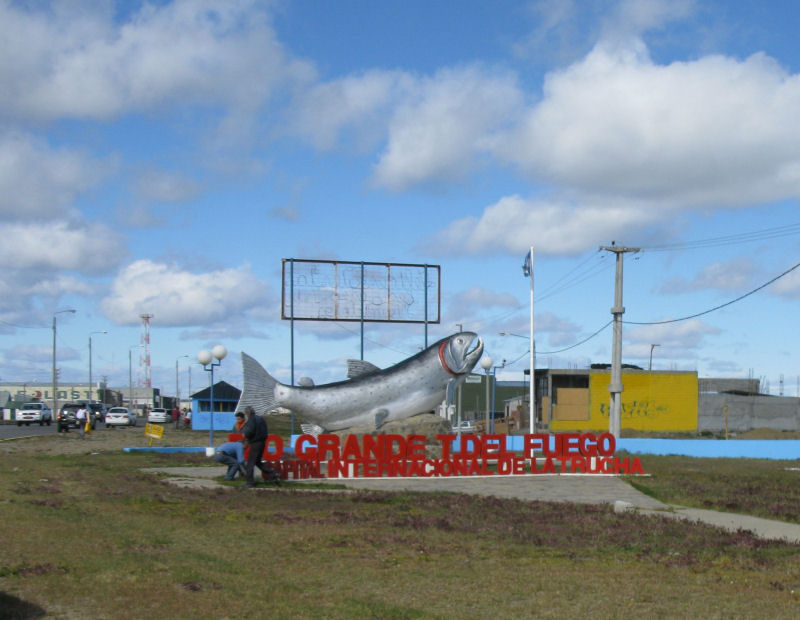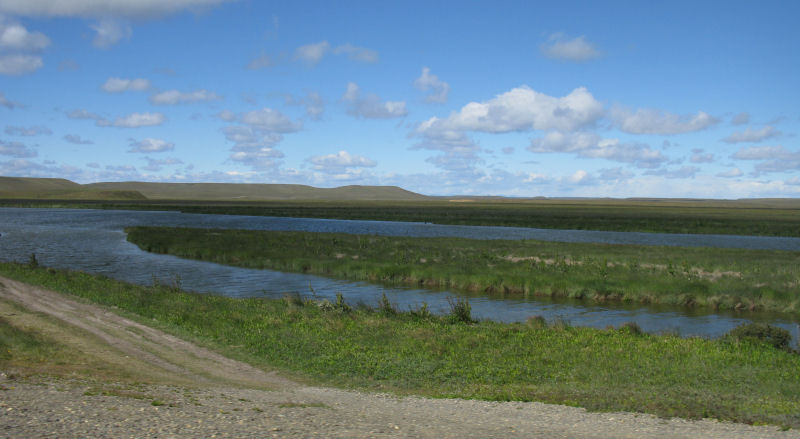 After leaving the coast, Ruta 3 goes inland and into a mountainous region. As the foothills began, we saw some old forest that was covered with moss. It looked very odd. We saw some people camping in the trees.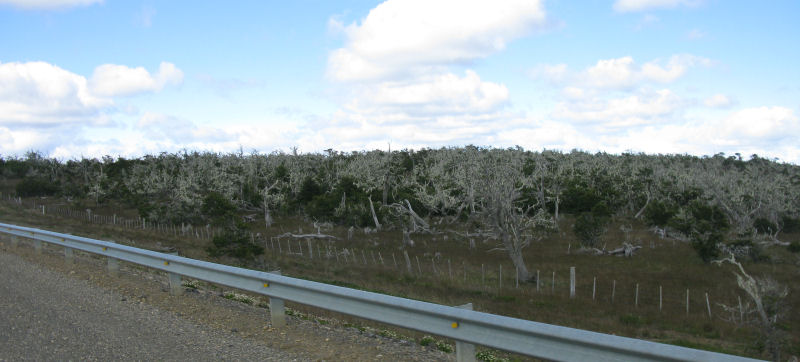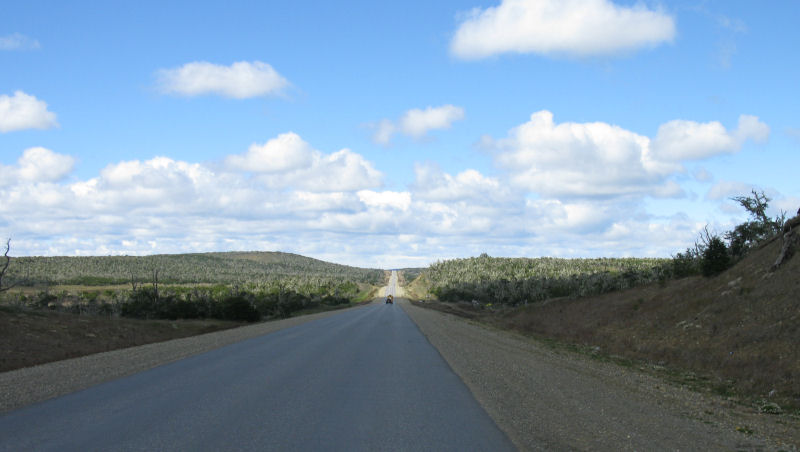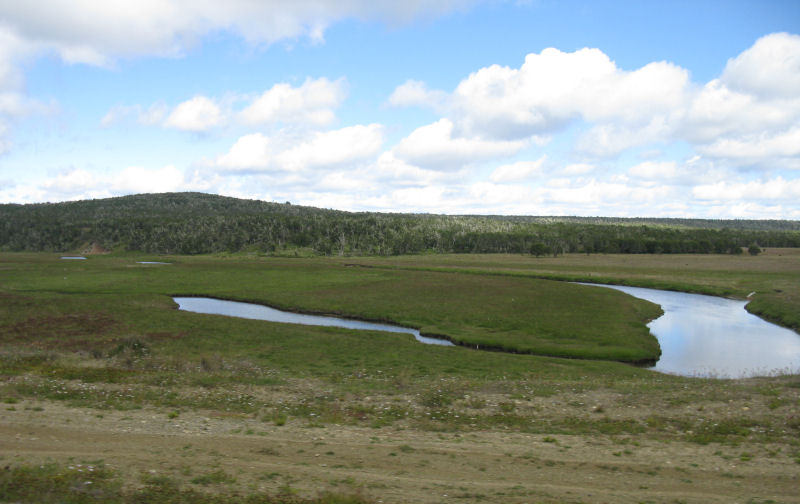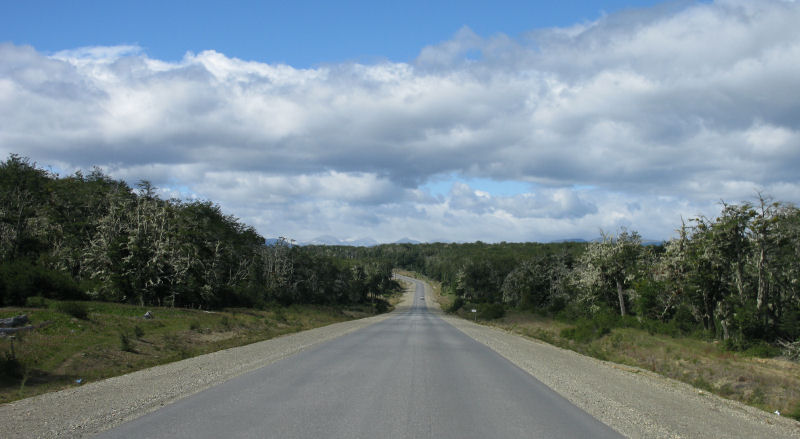 We passed some riders going north, and passed some long-distance bicyclers as well. The wind must really wear them down.
At a gas station in Tolhuin, we stopped for a snack (very good beef empanadas and hot chocolate) and to watch the very hairy dogs wrestle around. The collie refereed as the big puppy jumped all over its hairier mother. Very hairy dogs, again a result of the cold. The puppy won by three pins out of five, but the mother didn't seem to be fighting back very hard.
We met a French rider who was coming out of Ushuaia. He had shipped his bike to South America and had been riding for about four months.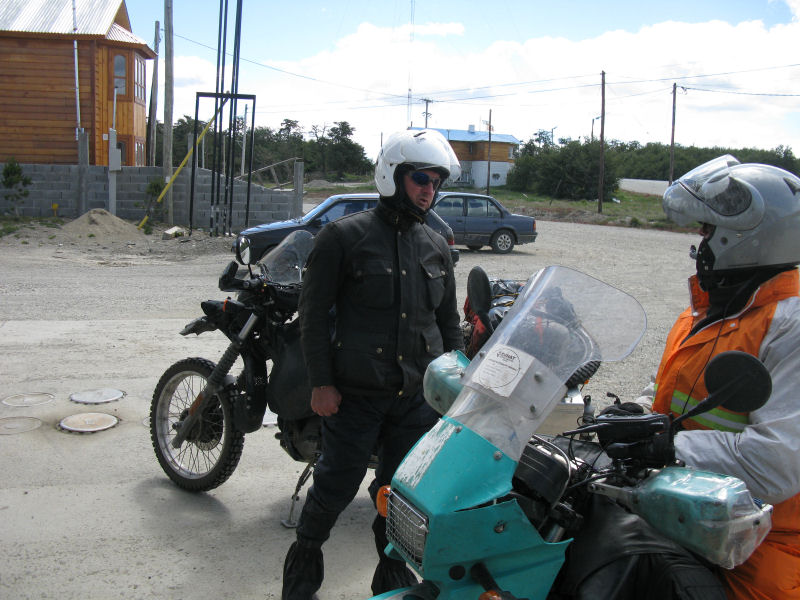 We could see large mountains to the south, most with snow on them. It looked stormy in some areas, too. The road was very good.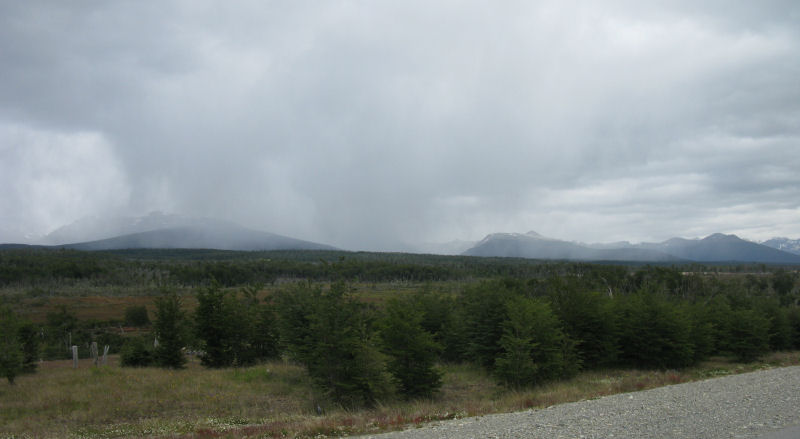 Lago Fagnano is a large lake, long and narrow. We rounded the east end of it, and turned west along the south shore.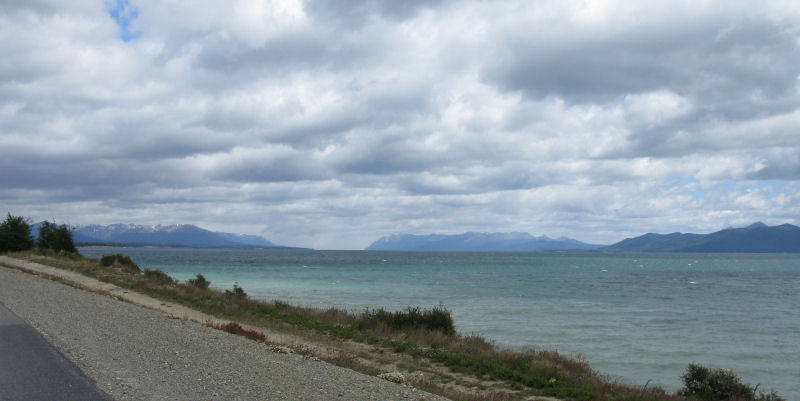 As we got further into the mountains, it was impossible to point your camera without getting a great shot. We also passed Lago Escondido.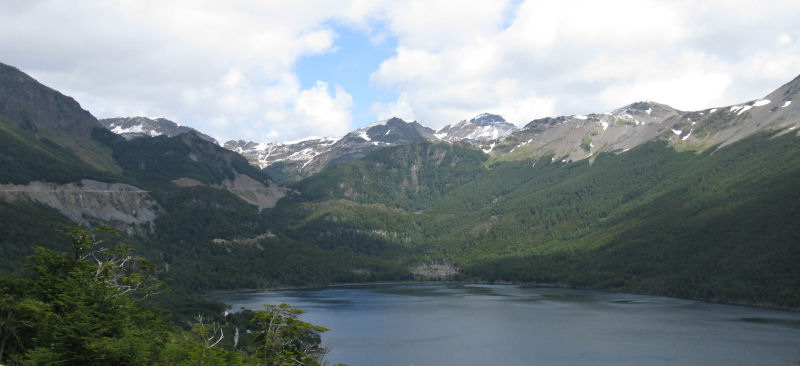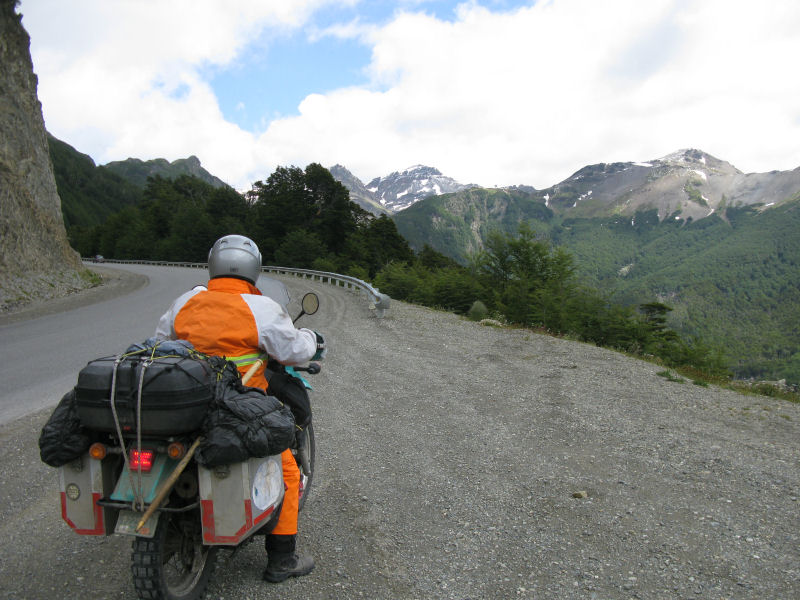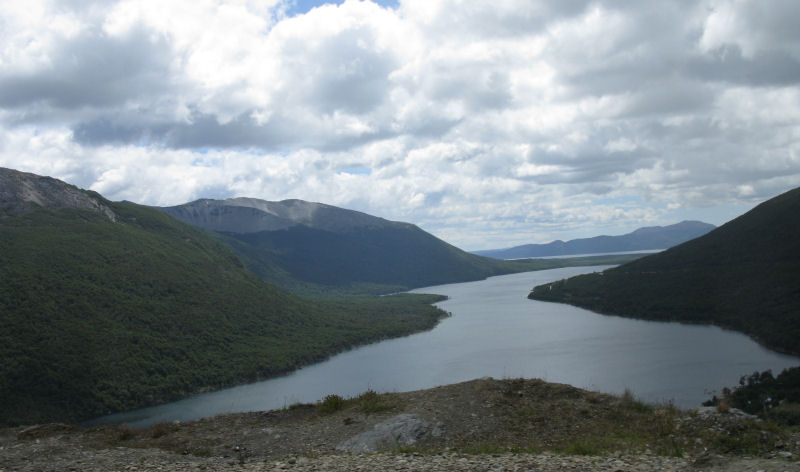 This was right after Garibaldi Pass.
Photo interlude: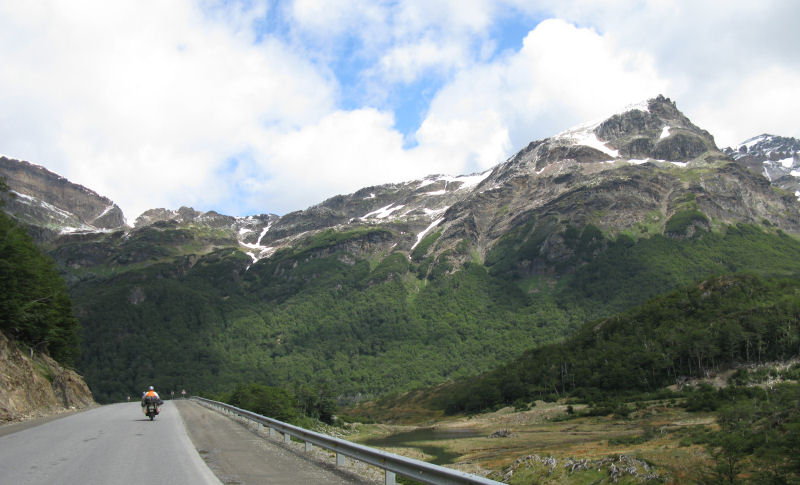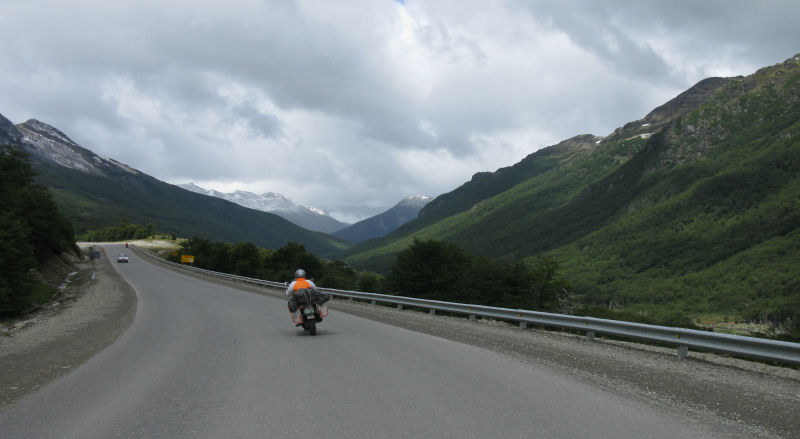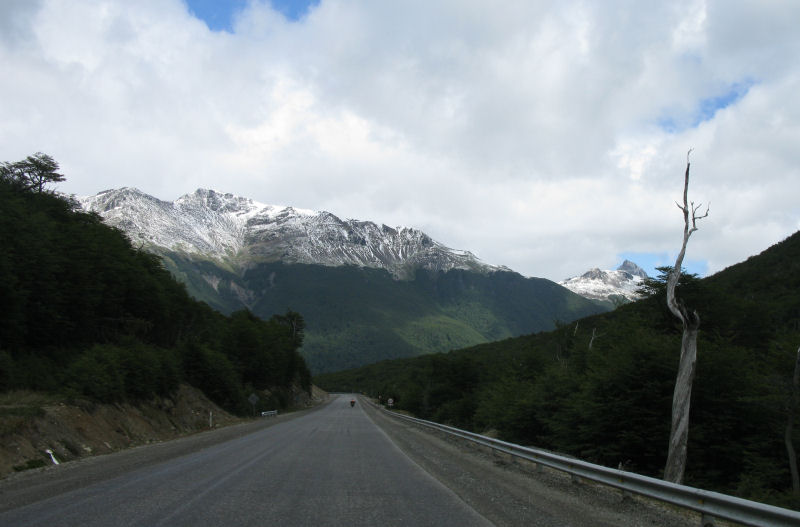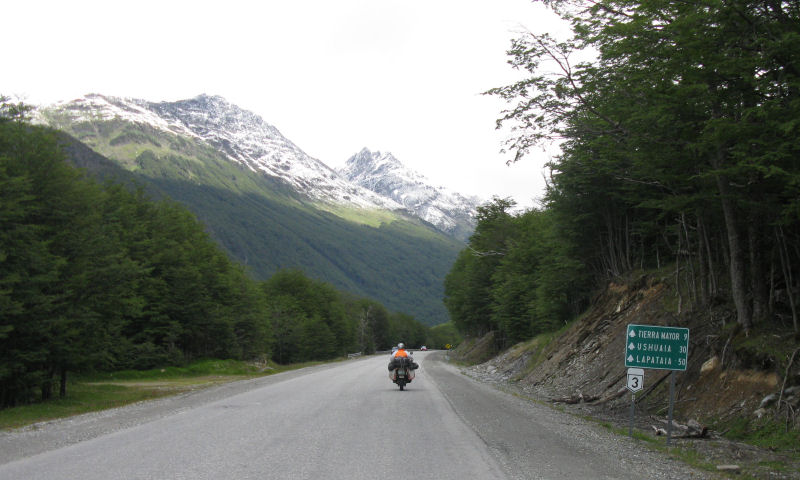 We went through a ski area just before getting to Ushuaia. I hadn't expected that.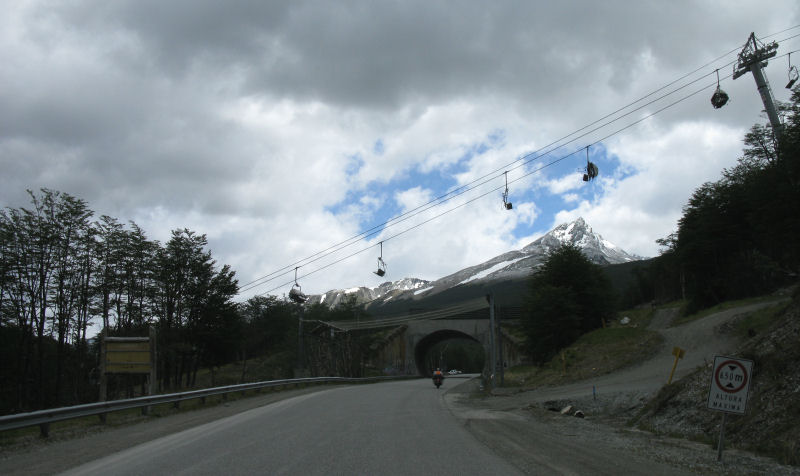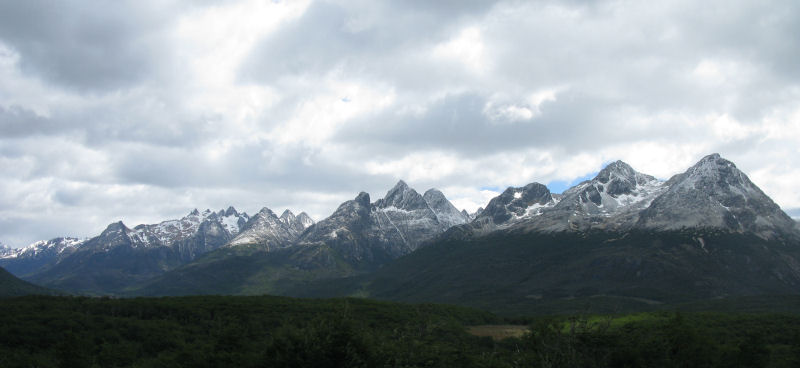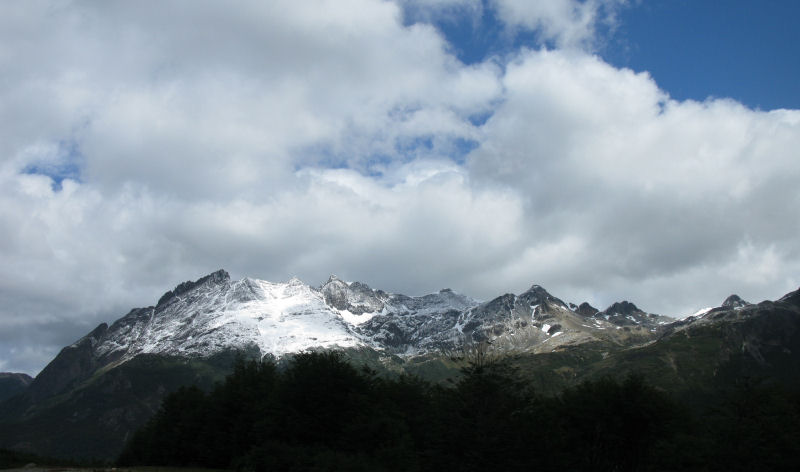 Quite abruptly, the wilderness ended and we were in Ushuaia.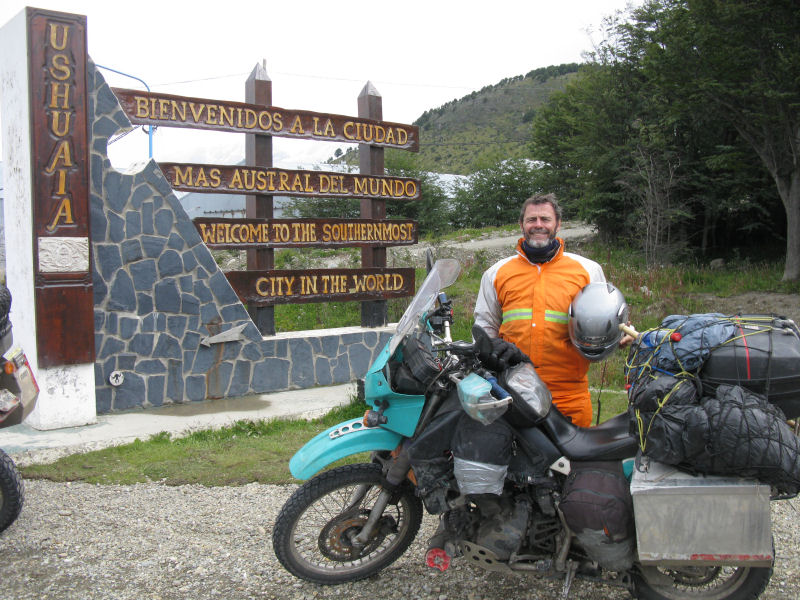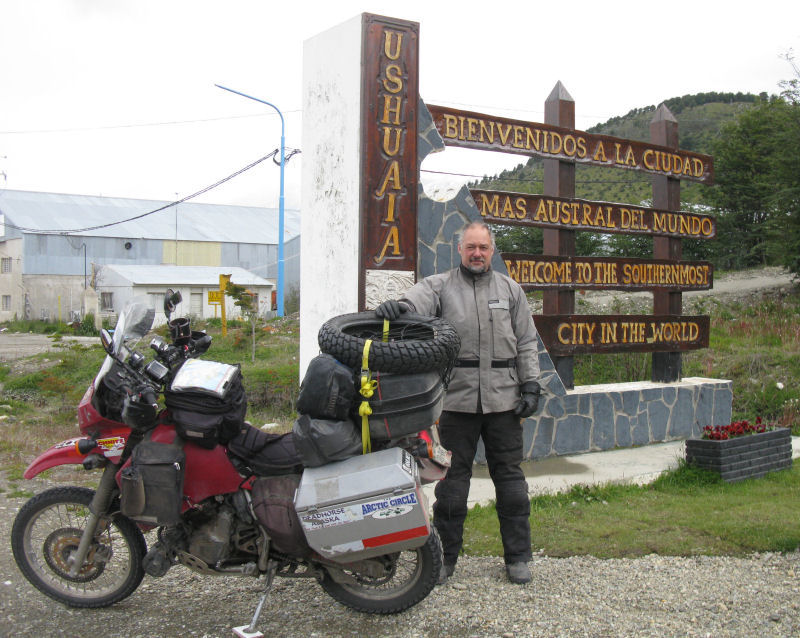 There were a couple cruise ships in port, and several cargo ships. That, folks, is the Beagle Channel, by the way. It's only 1,000 kilometers to the nearest part of Antarctica from here. At some point, I need to jump in that cold water with my Prudhoe Bay-to-Ushuaia t-shirt. Brrr...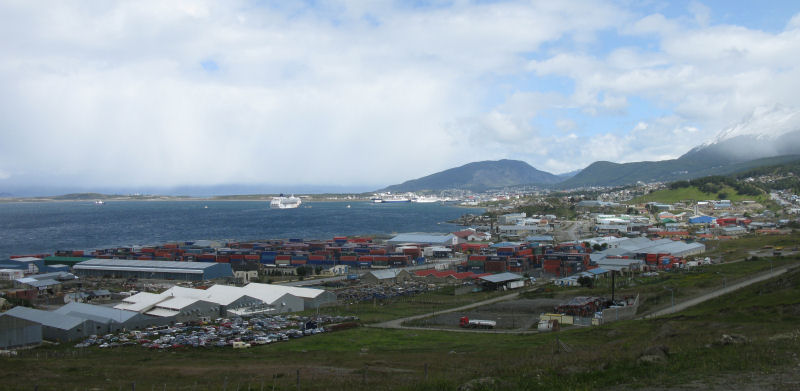 We rode through town and stopped for some food. There were lots of restaurants and tourist shops on the second street from the water's edge. It looked European. The place we ate was a little expensive, like most places here, and the food wasn't great. We must be missing the best food everywhere we've been. Two Russian tourists sat at the table next to us and ordered beer and three large orders of french fries.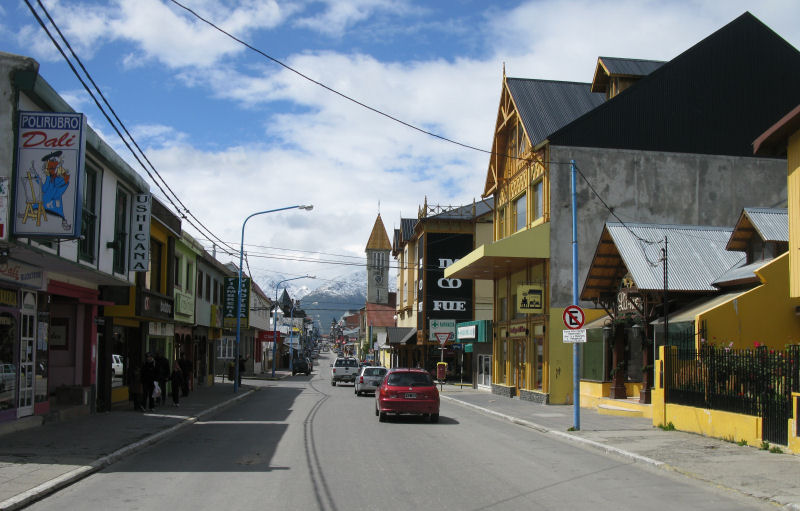 We called and texted our wives to let them know that we had arrived in Ushuaia. Yay!
The French rider we had in Tolhuin had recommended the Hostel Aonikenk to us, so we went there. It was pretty good. We had outside access to our room, which made coming and going easier. We were still in the city, not on the outskirts. We were the only ones using the driveway. Four motorcycle riders (including the Frenchman) had just left there, according to other guests.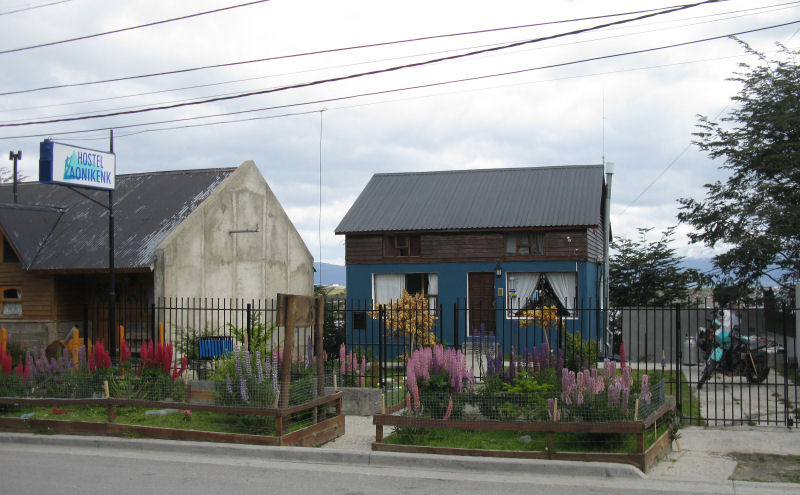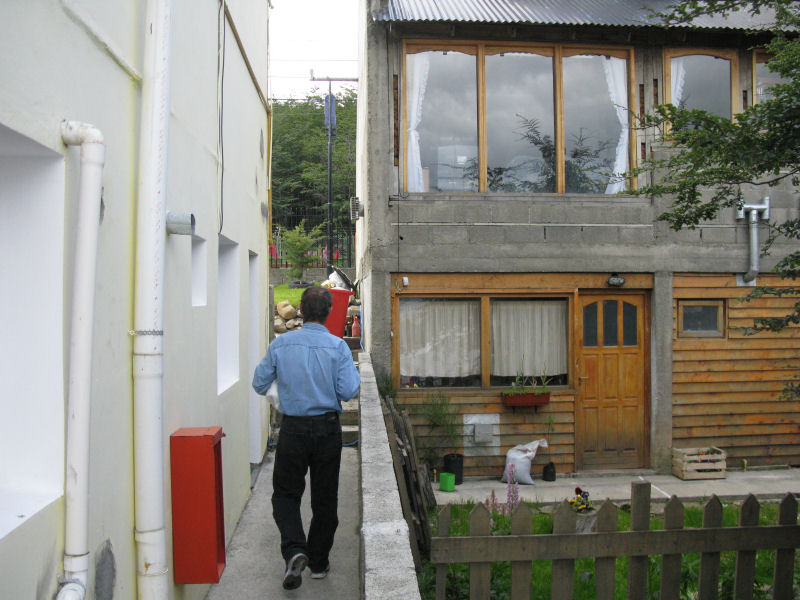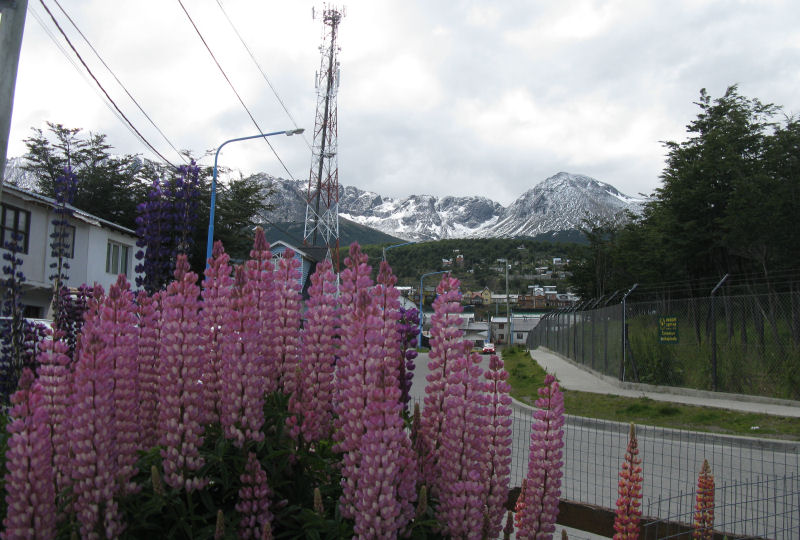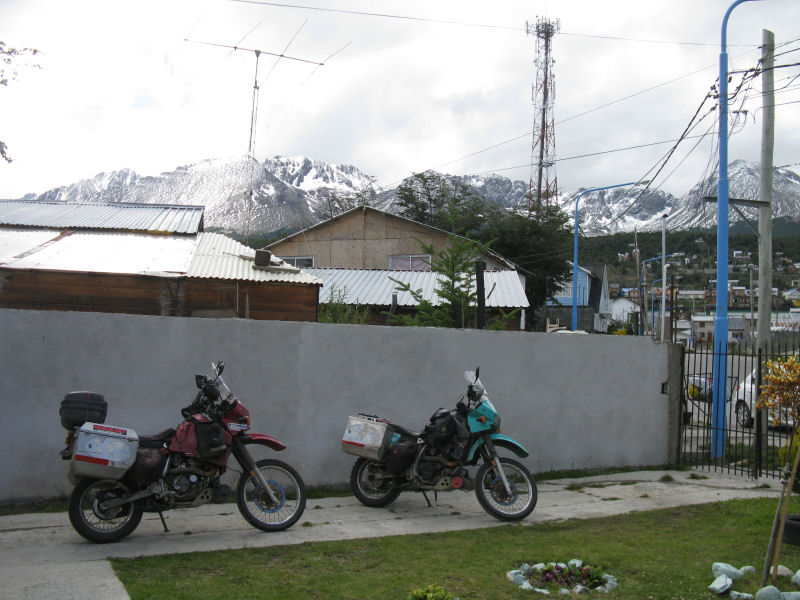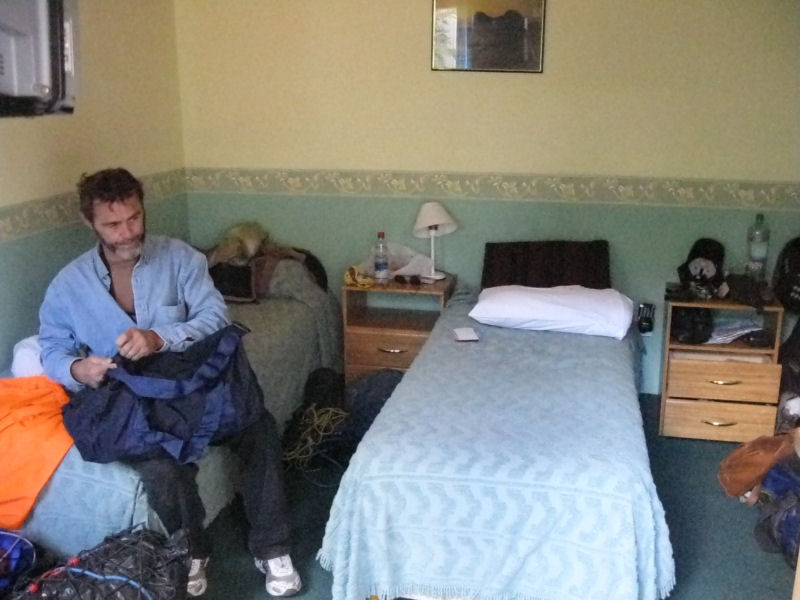 Out back, we had a view of the neighbor dog, too. The poor animal had a tiny triangular yard and no view. He would climb up on the broken fence (on the left) and bark just to hear who would answer. I answered him a few times, be we didn't speak the same language.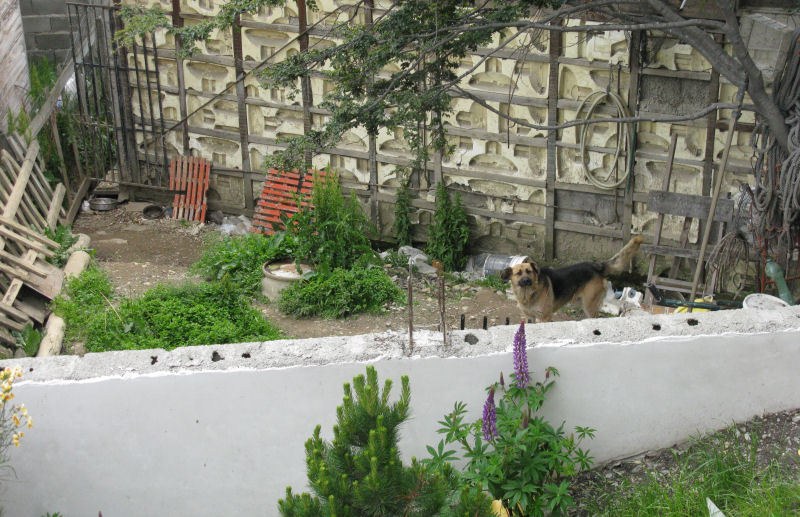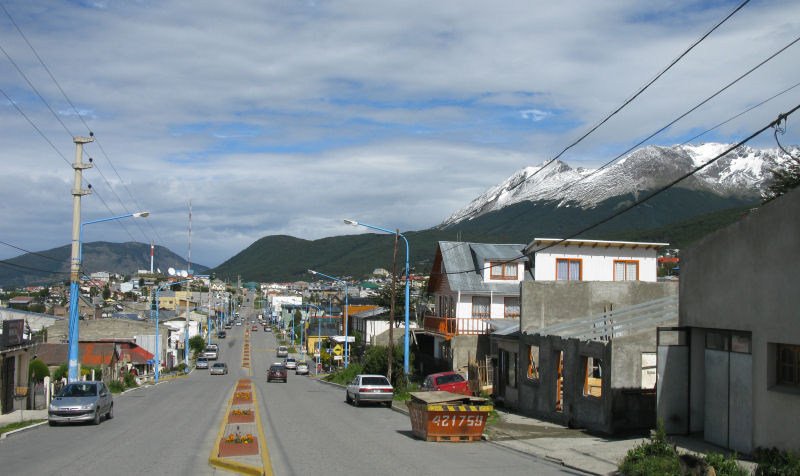 I had seen tourist photos of Ushuaia, but none that showed the surrounding scenery. The place was very pretty. The weather changed constantly. Sunny and almost warm one second, socked in with clouds and threatening to rain the next. Windy, always.
My SPoT device hadn't successfully sent a signal in several days. The limitation down here was not the satellites, it was the lack of base stations to relay the signal. I'll have to manually edit some Google Map links for the ride report when I finalize it. That will wait until I get home.
We lazed around in the room a while and I did some writing, and later we went out to cover our bikes. All the hostel's other guests were gathered in the common area and they invited us in. We chatted a while with some Brazilian couples, a couple from India, and I think there were some Canadian hikers staying there one night before going to the campground tomorrow.
I found that they had Wi-Fi at the hostel, but it took a couple phone calls and an interpreter to find someone who knew what the password was. I suppose that few of their guests have traveled with their own laptops. They did have two computers in the hostel for guests to use.
One guest from Brazil started to talk about U.S. politics, and it took me a while to shake him from that. He didn't quite click with me, so when he asked what I did before retiring, I told him that I had been a teacher. Hey, that's still the truth.
The talk was interesting, but we wore down before they did, and we went back to the room to conk out. As it turned out, I wrote until about 03:00, but I think I was asleep much of the time.
Monday, 29 December, 2008
------------------------------
We got up a bit late, and after showering and having breakfast in the hostel, we decided to to some touristy things. First on the list was going to see the old prison museum. Ushuaia was little more than a native village before Fitz Roy discovered the passage here that served as an alternative to both Cape Horn and the Strait of Magellan (which was controlled by the East India Company). Years later, Charles Darwin came through on the H.M.S. Beagle, and his writings gave his ship the credit for the passage, now known as the Beagle Channel.
Argentina built a maritime prison here, which operated from 1902 until 1945 (as I recall the literature). The prison now houses a maritime museum and the prison museum.
Photo interlude: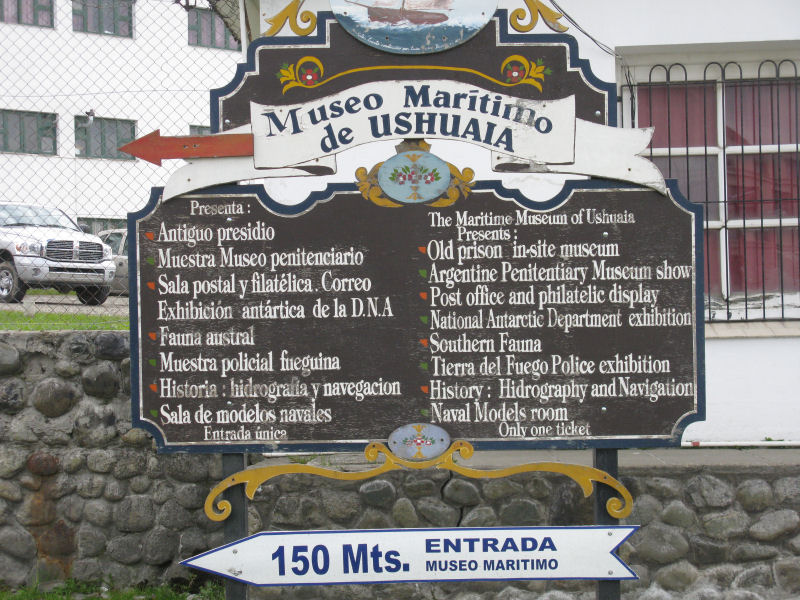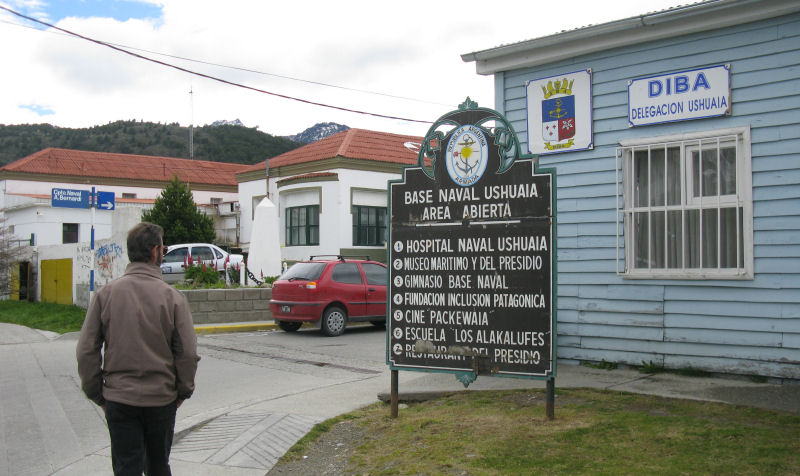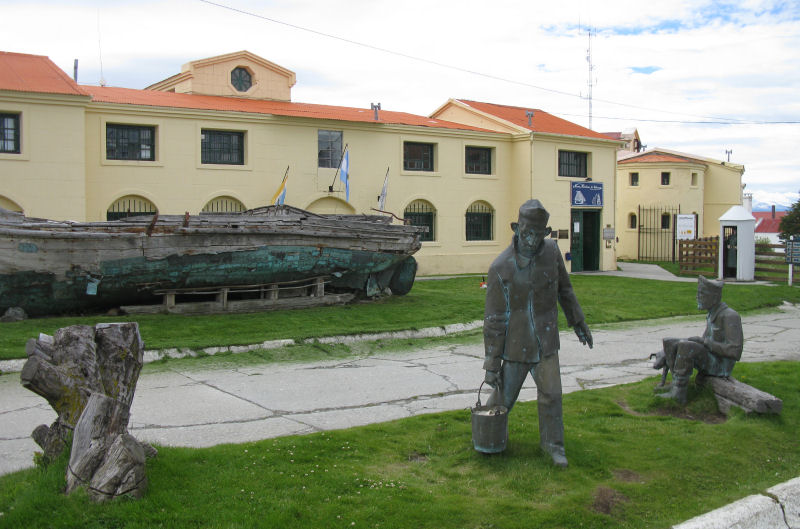 There were lots of very detailed models, including this one of the H.M.S.Beagle.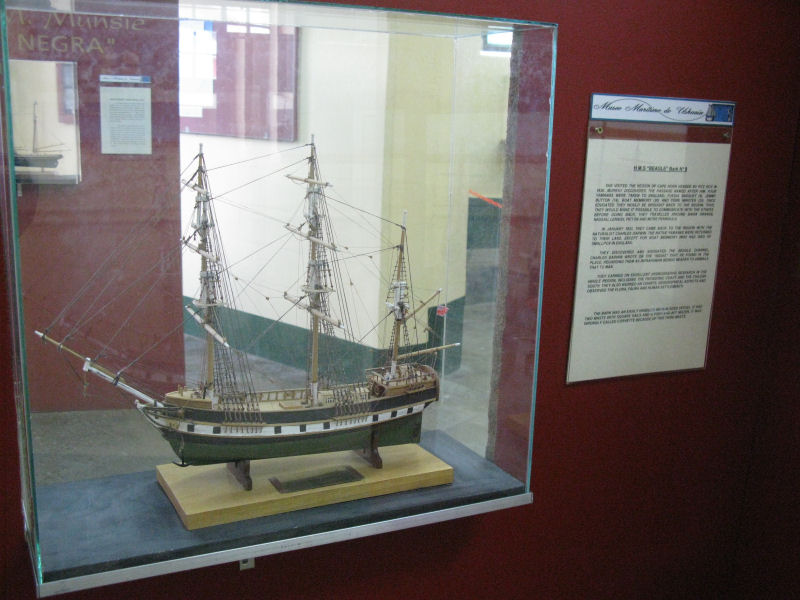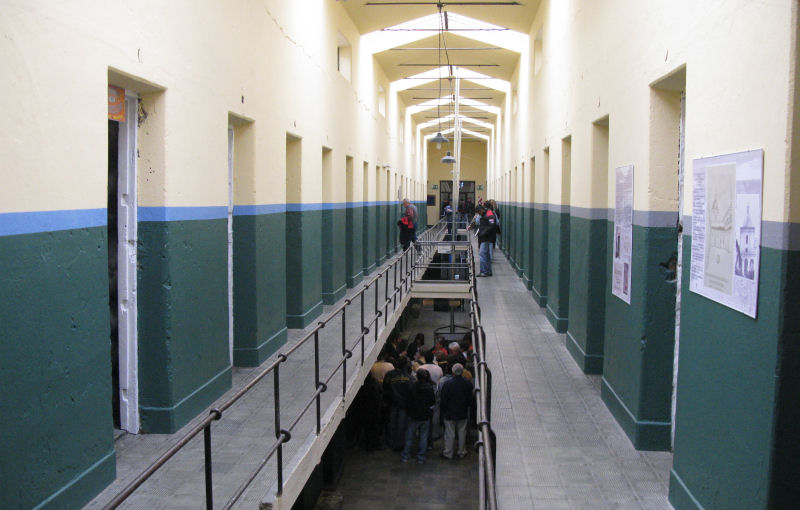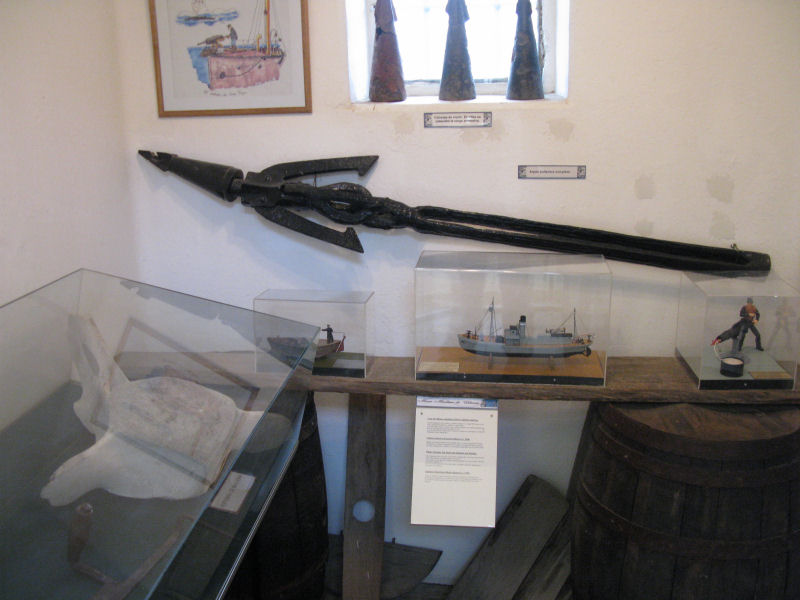 I think that I worked for this guy at one point...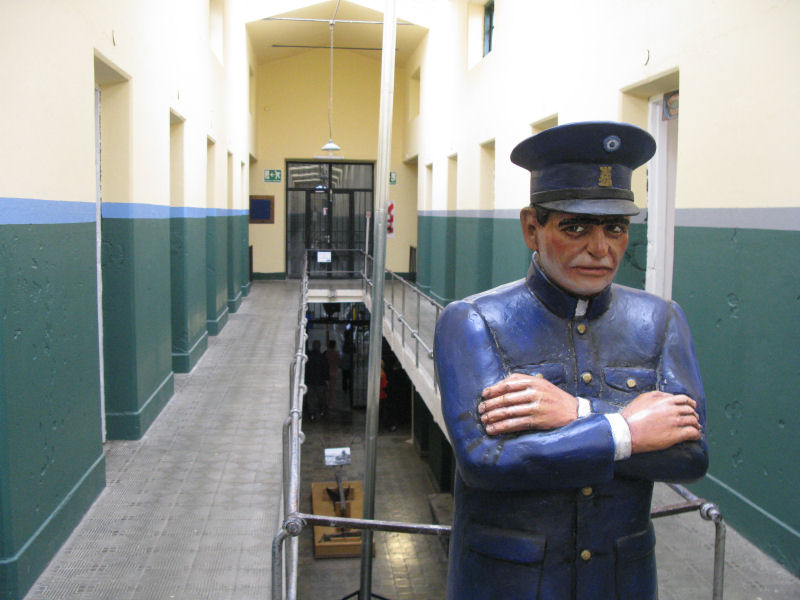 They needed some skills training here.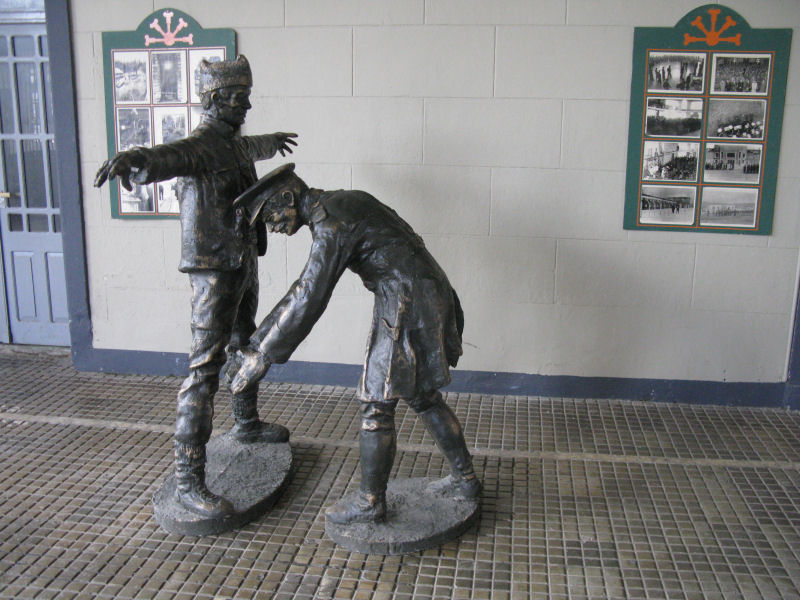 At least they practiced what they preached.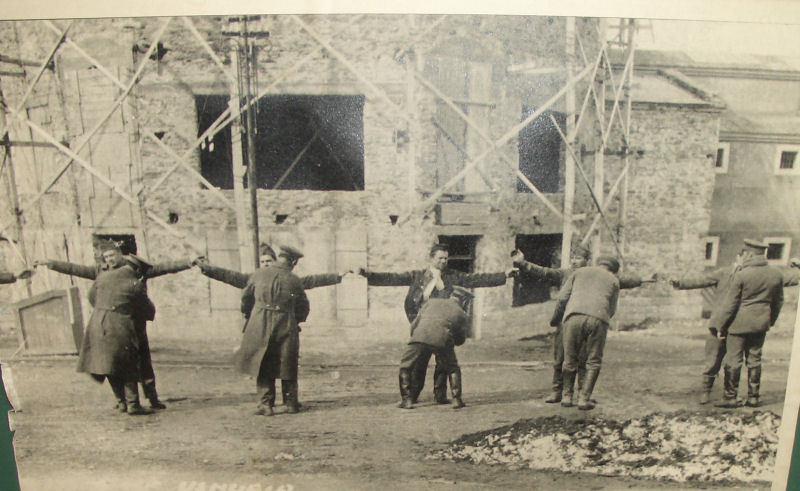 This Russian Blue probably lived next to this heater. He barely roused when I scratched his ears.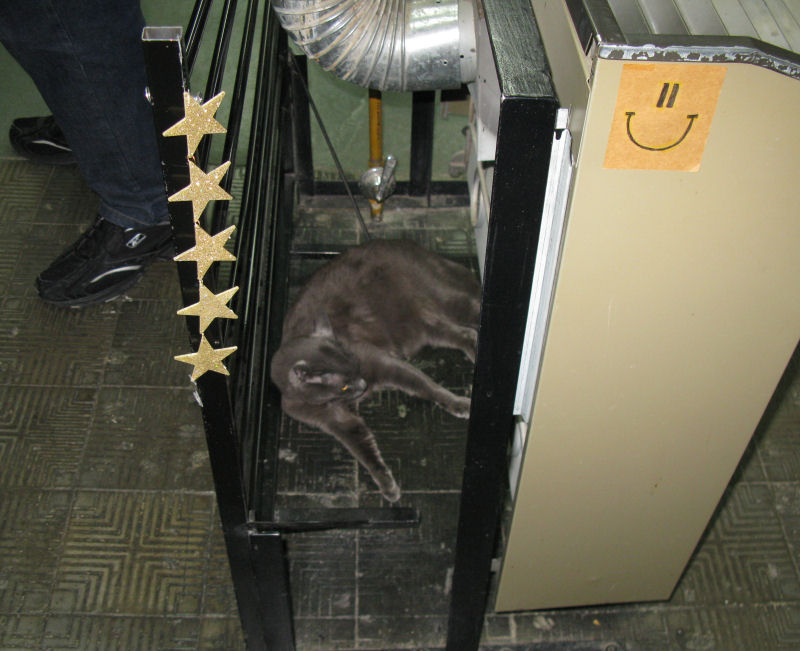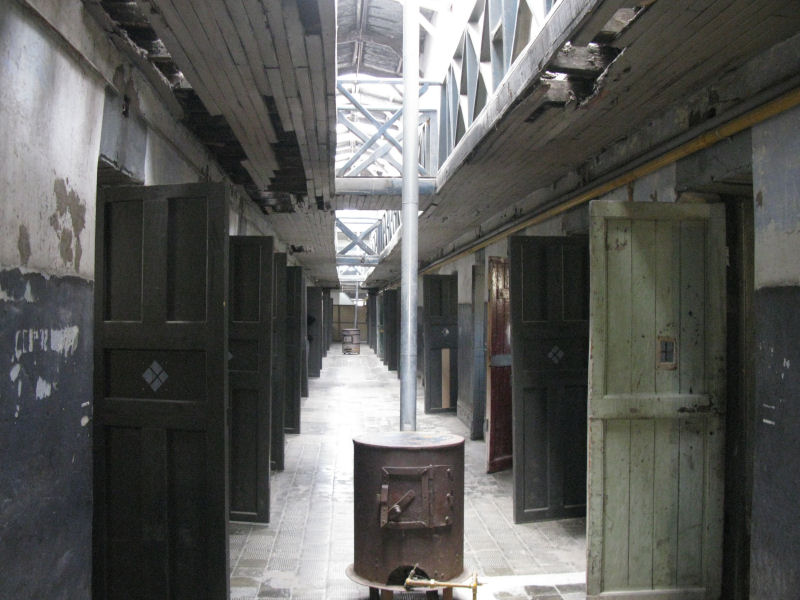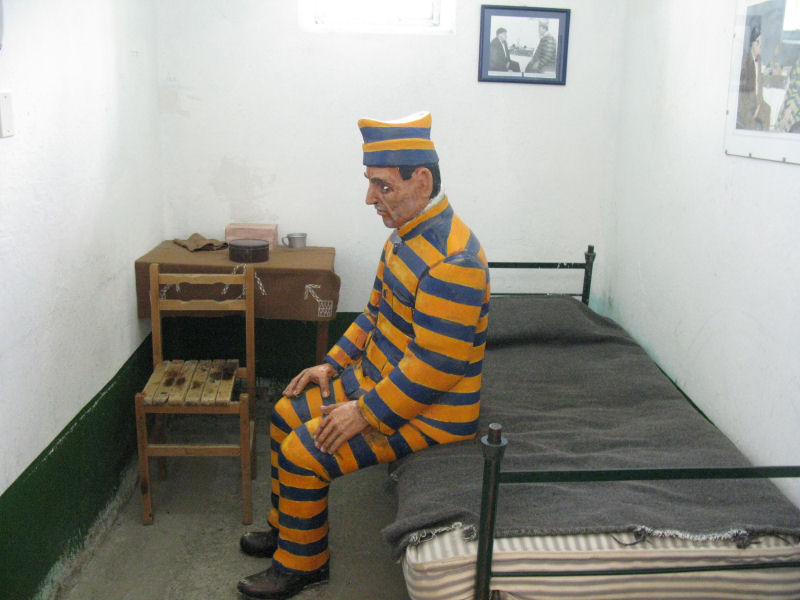 There is also an old lighthouse museum here, with its own mannequins.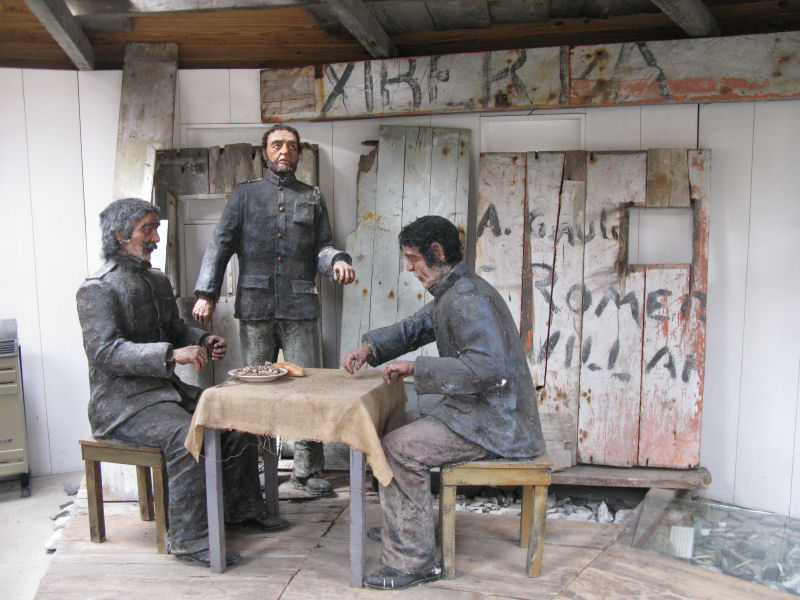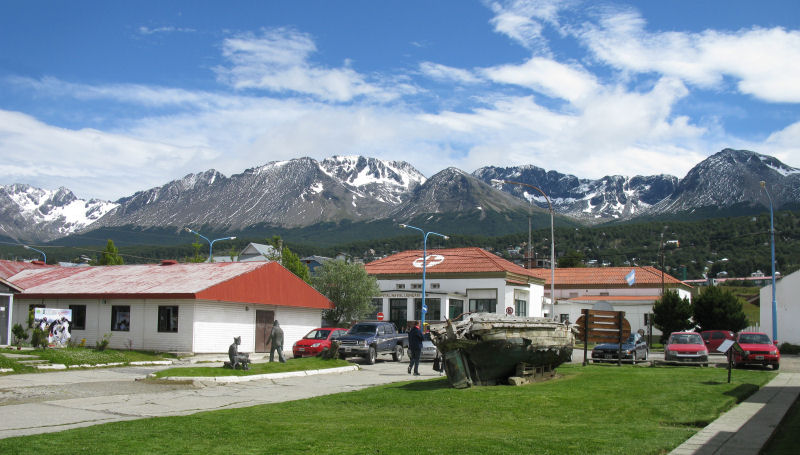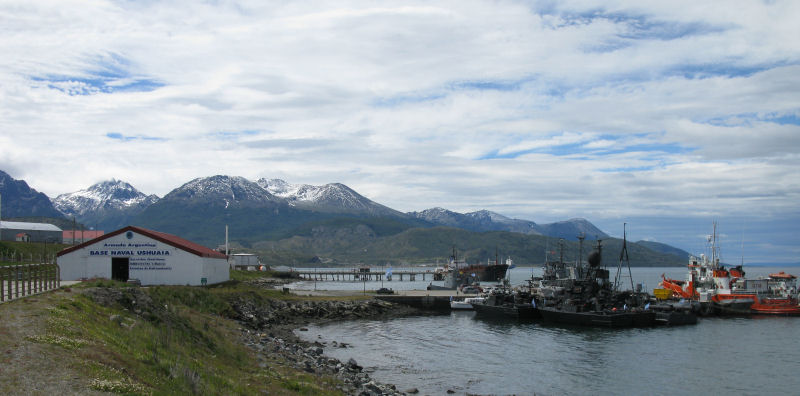 Done with the museum, we walked down to the docks, where the cruise ships and most cargo vessels arrive.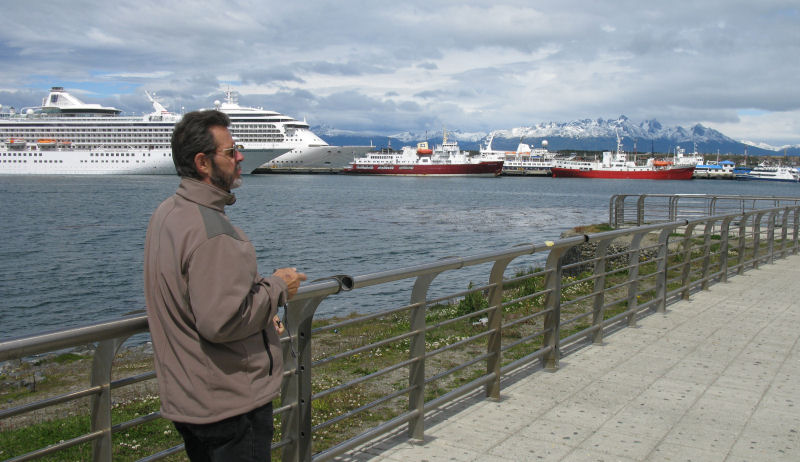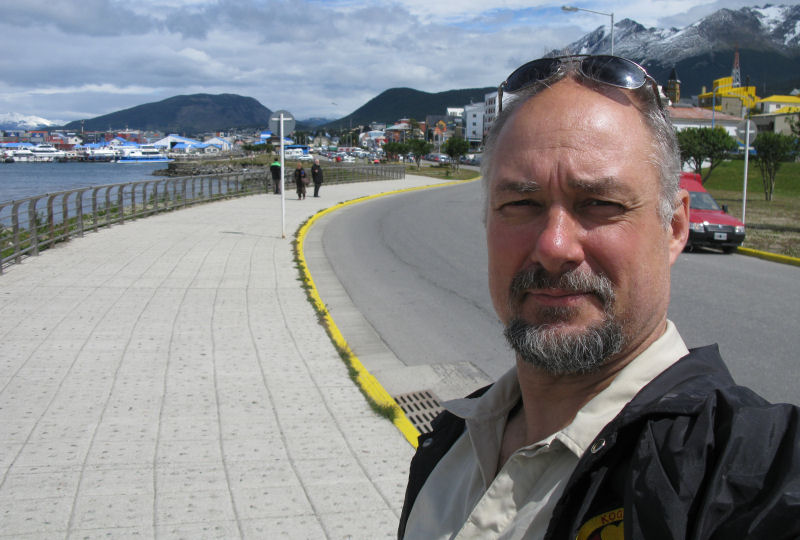 We went to one of the tourist offices, and they put some stamps in our passports just for fun.
We took photos for some other tourists, and they returned the favor. The couple who took our photo were on the smaller of the two cruise ships, and their cruise was 18 days from Valpraiso, Chile, through the Beagle Channel, then up to Buenas Aires. Ushuaia has a clear "End of the World" theme to a lot of its propaganda.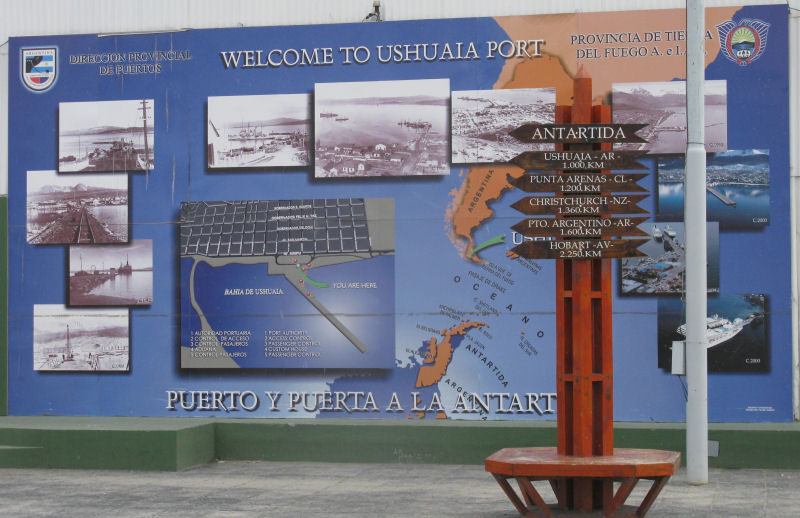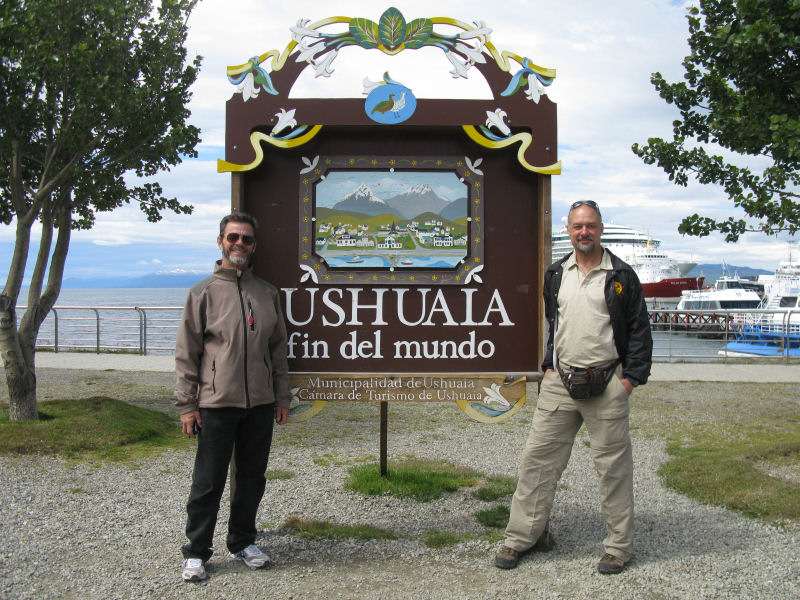 We checked around some to see about getting our bikes taken by boat or truck to somewhere north enough to bypass all the Patagonian winds, but there were few choices that were practical. It would take a long time, would be expensive, and would be a hassle. We had to give up the idea. Personally, I was okay with riding back through the wind, but if we could have found something cheap and easy, I would have been okay with that as well.
I was in the mood for seafood, and we settled for a hotel restaurant. I had a small paella, which was pretty good. The scallops were the best part, and a few more shrimp wouldn't have hurt anything.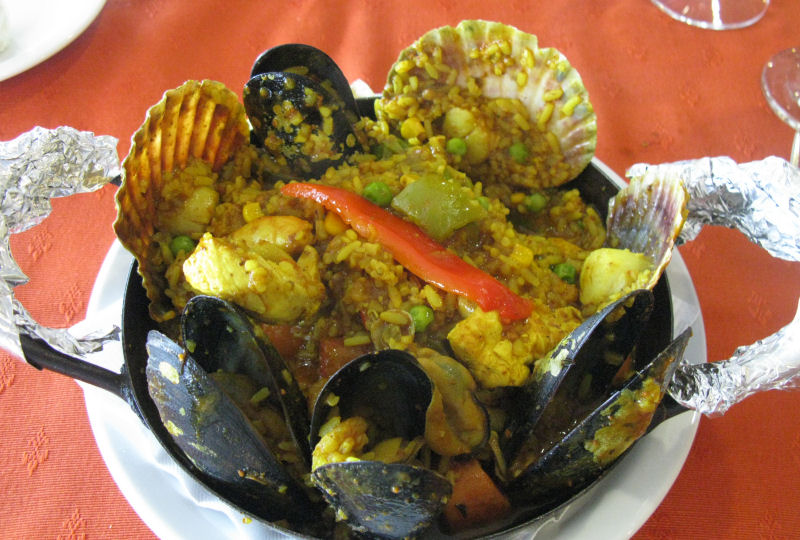 We stopped at a bakery to get several things to have with breakfast for the next few days. The hostel had bread with several types of jam and spreads and coffee/tea, but nothing else. I got some apple empanadas and some cream cheese pastries. Don got some gooey thingies. We'd put them in the refrigerator in the hostel.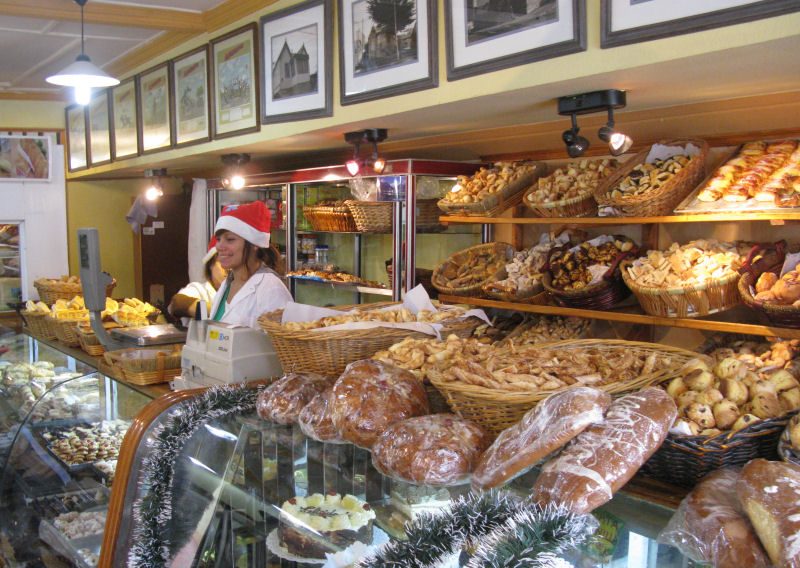 We found another place for dessert. I had two. Orange cheesecake and caramel ice cream.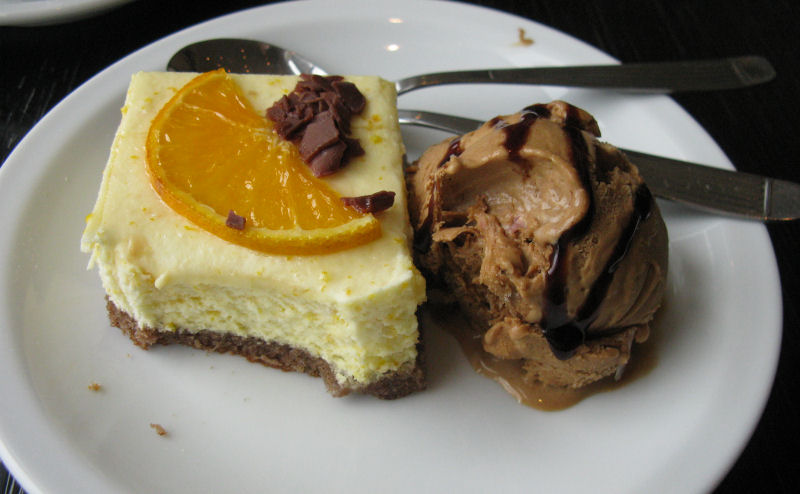 Our hostel is just off to the right, off this main street. This road is Magallanes, looking to the west. By the way, down here, they pronounce the double-L as an "SH" sound. Mah-gah-SHAH-nays. The word for chicken (pollo) is usually pronounced POY-yo, but here it is PO-sho. The regional variances to Spanish really throw us off a lot.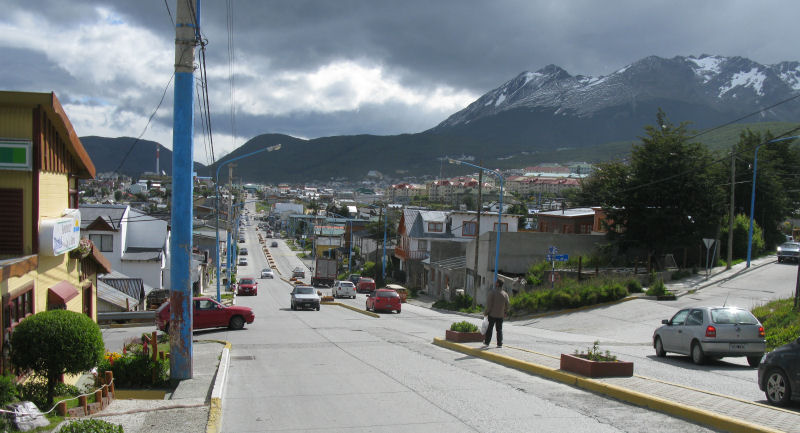 Our hostel was north of Magallanes on a street called 25 de Mayo. Lots of streets and locations in Latin America are named after dates that must have some historical significance.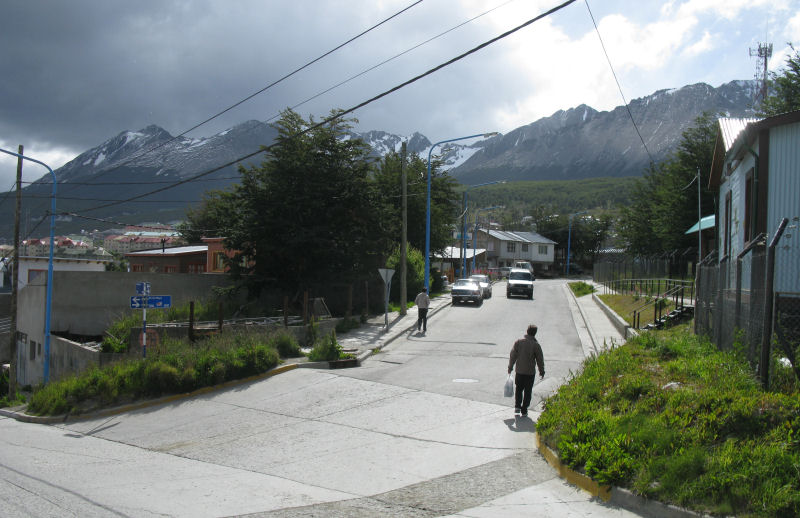 Back in our room, we had a siesta, then ate some of the pastry we had gotten. We asked about reservations for a boat ride tomorrow, and the hostel office guy took care of the arrangements. There were several options to choose from, and we chose a 4-hour ride to see various animals, including penguins. He added the P/200 each to our room bill.
Tomorrow, we walk with real penguins.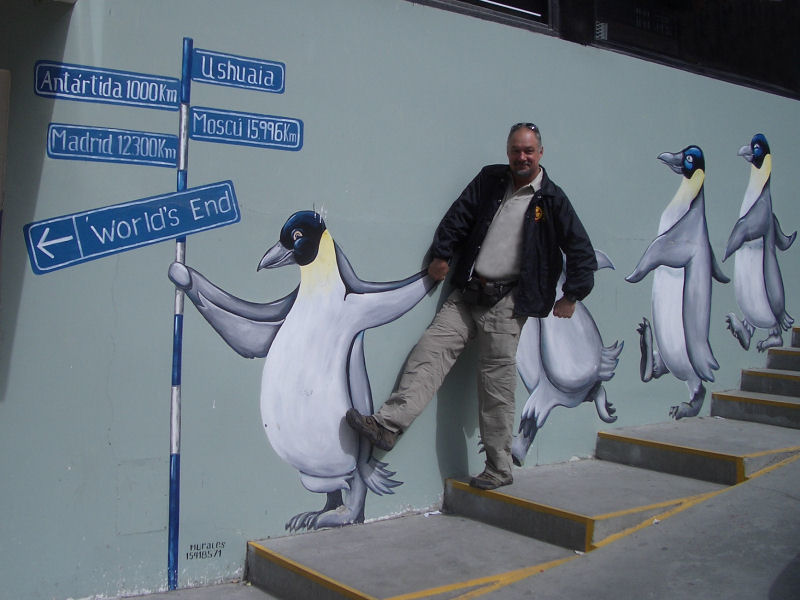 Tuesday, 30 December, 2008
------------------------------
It rained all night. That wasn't so bad, really. It's easy to sleep to the sound of rain.
We got up to have breakfast in the hostel. There was a long countertop along the back of the hostel where guests ate while looking out over the city and the Channel. There was coffee, tea, several types of breads, and several types of spreads and toppings for the bread. We had some sliced ham and cheese, to add more protein to our meal. And there is nothing wrong with an apple danish for breakfast, right?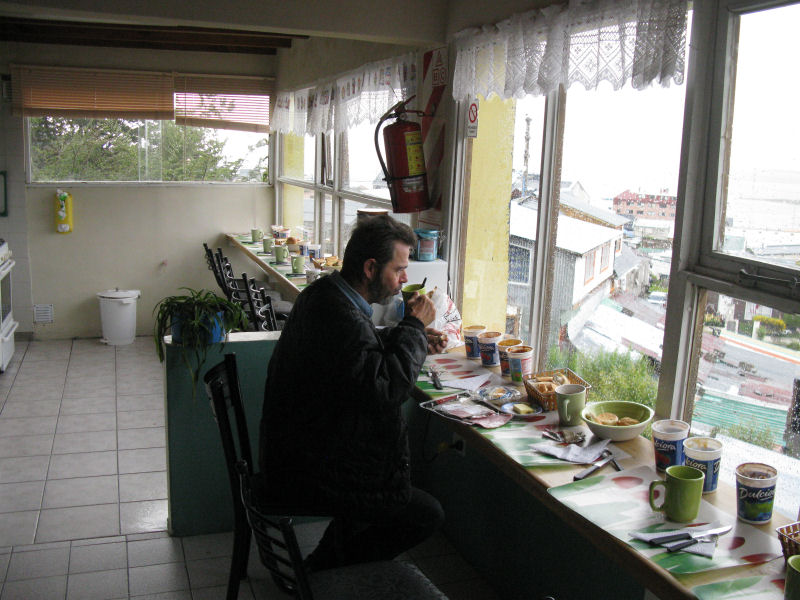 This is Ivan, one of the other guests. He's from Brazil, but he is certainly Russian in his heritage. He and some of the other Brazilians were on vacation together and were staying here several days. He must have partied hard last night, because when we came in for breakfast, he was asleep in that couch. He was still kind of snoozy when we woke him up.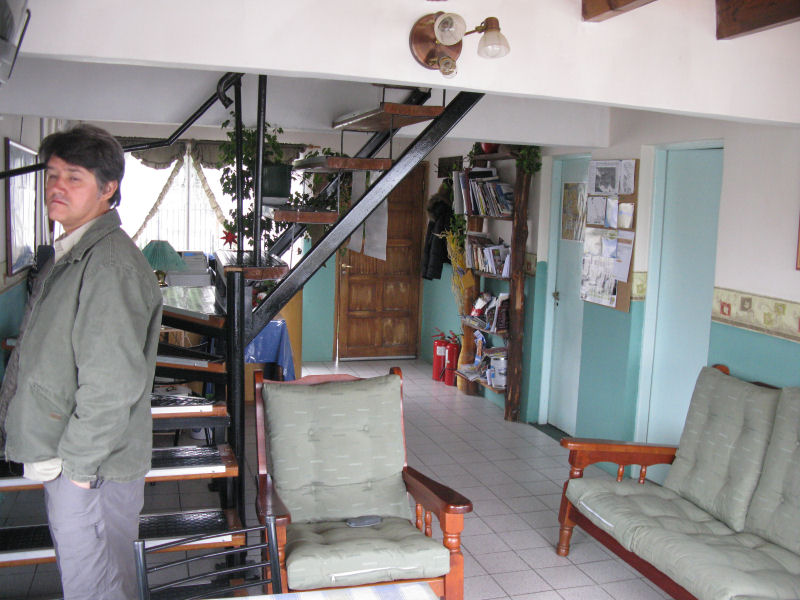 The hostel dude gave us our chit for the boat ride, and we headed to the water to exchange it for our tickets. It was still drizzly and cool.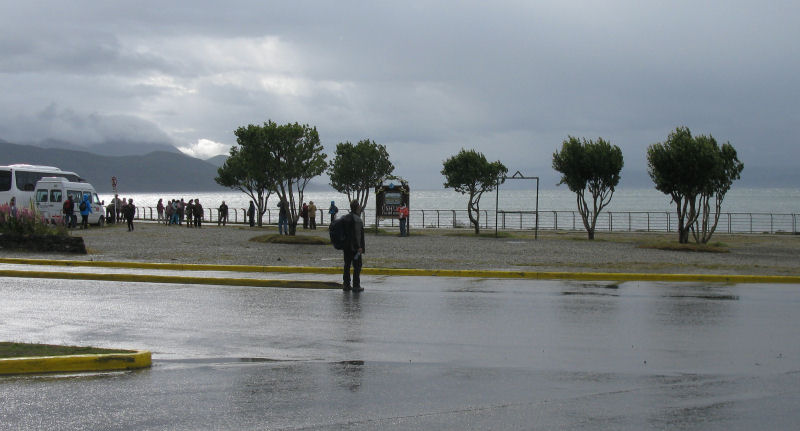 The large catamaran was full, and no seats were spared. Lots of European tourists, a few from the U.S., a lot from Japan, and many from other South American countries.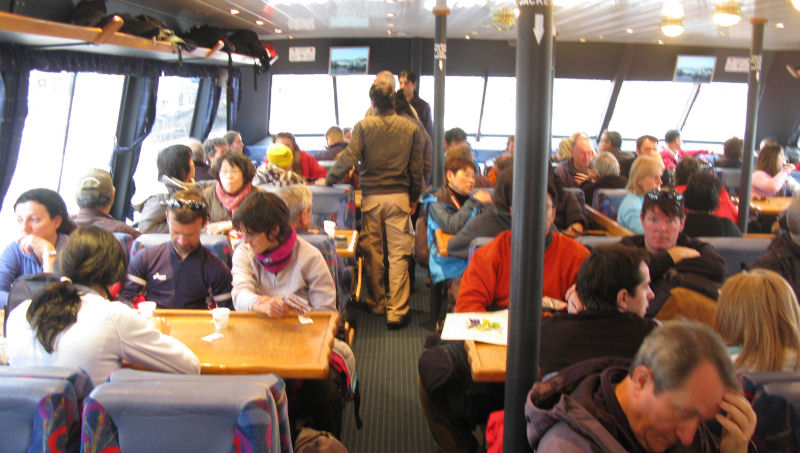 The weather was rough, so the altered plan was to take a short boat ride to some of the local sights, then go back to Ushuaia. At 13:00, we would load onto a bus and take a 90-minute ride to where smaller boats would take us out to the islands where the penguins were.
As the boat departed, we could see that the rain had been snow at the higher elevations. The sun was absent pretty much all day.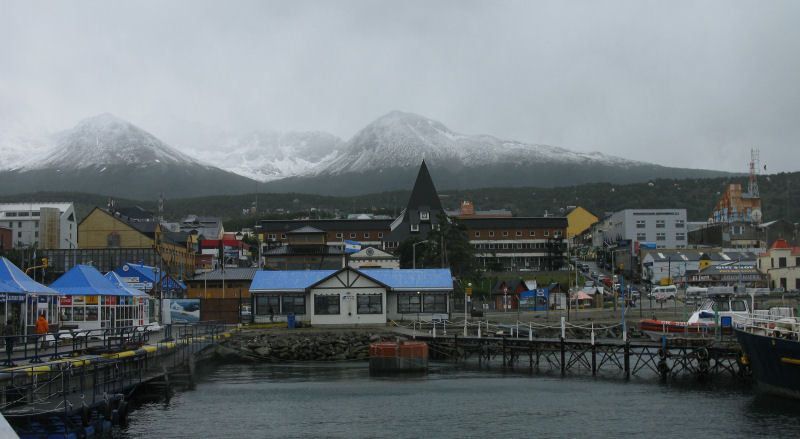 Our boat guides were these two. She did the Spanish and English speeches about what we were seeing, he did the Japanese.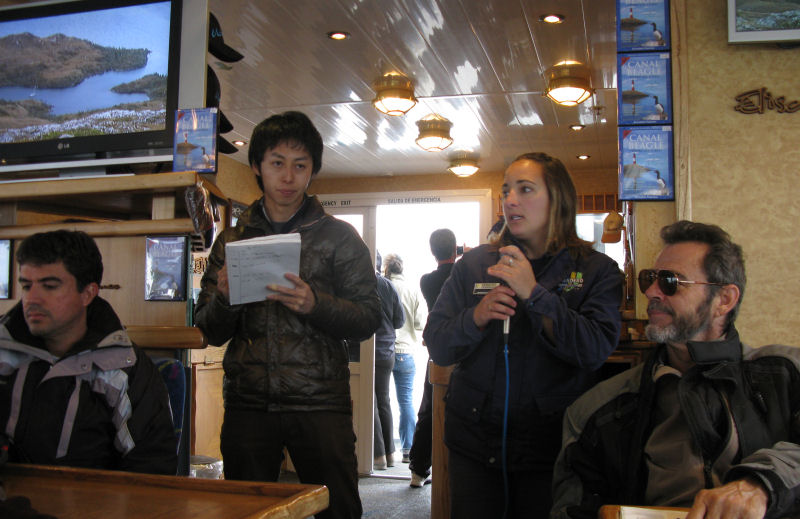 It was easy heading east, with the wind behind us. We were quickly at several islands to see birds (a type of cormorant, I think), and larger critters.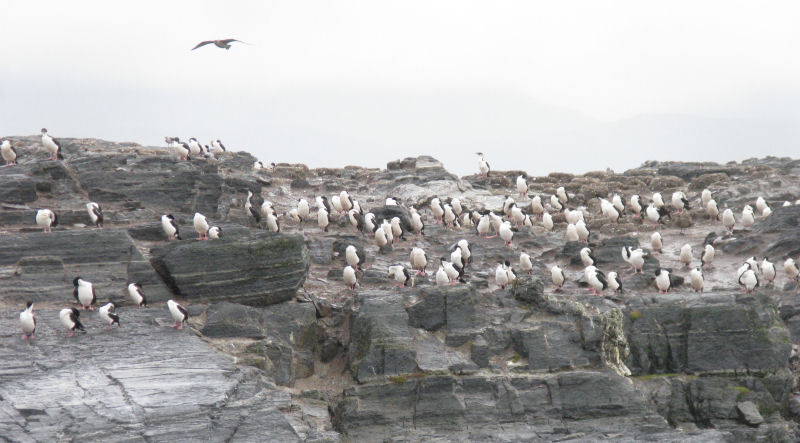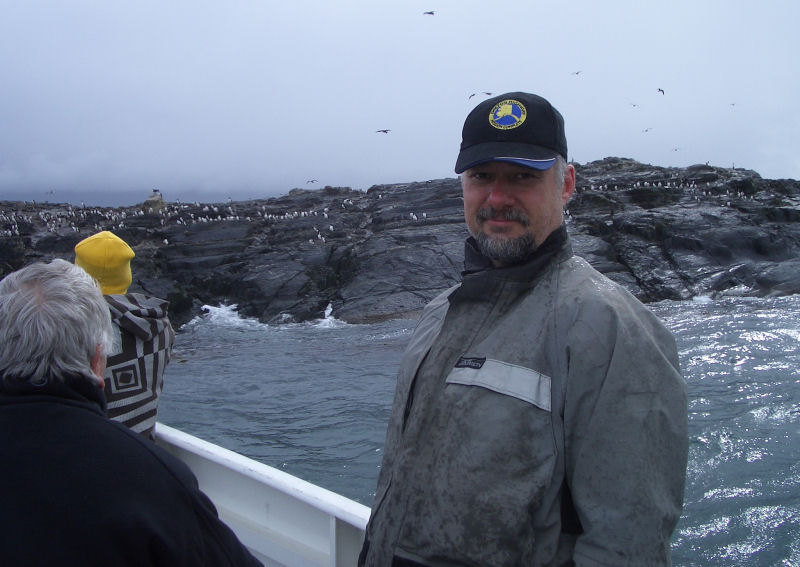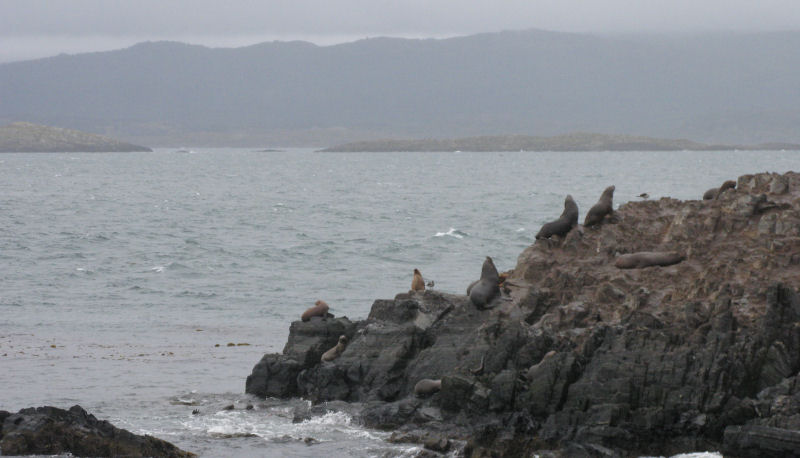 The white is bird droppings, not ice.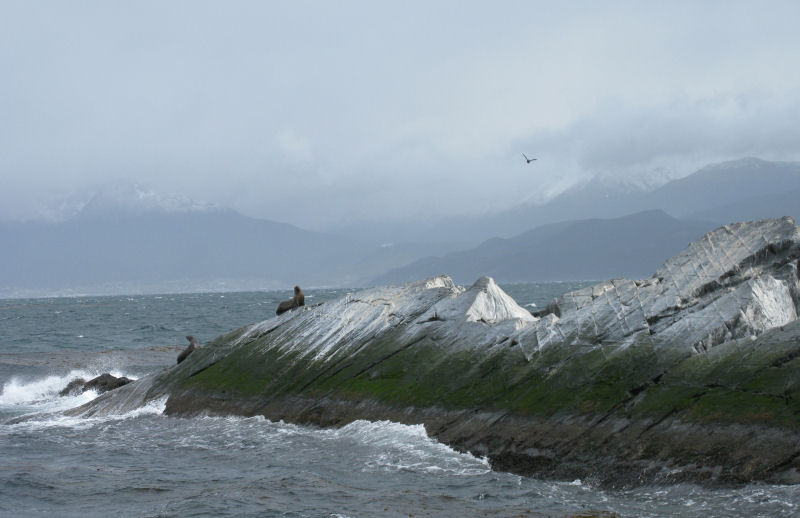 Some bread and baked goods were free, as were coffee, tea, hot water. The other goodies were for purchase.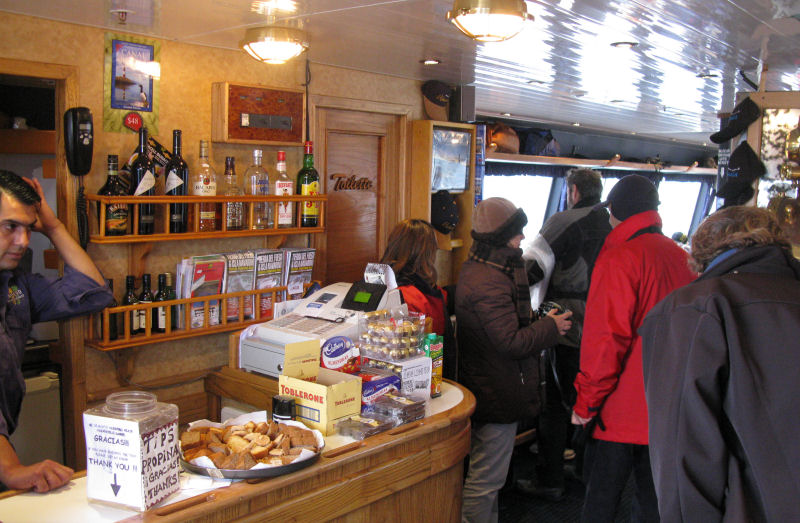 The last stop was at this lighthouse, one of the southernmost in the world. Built in 1920, I think.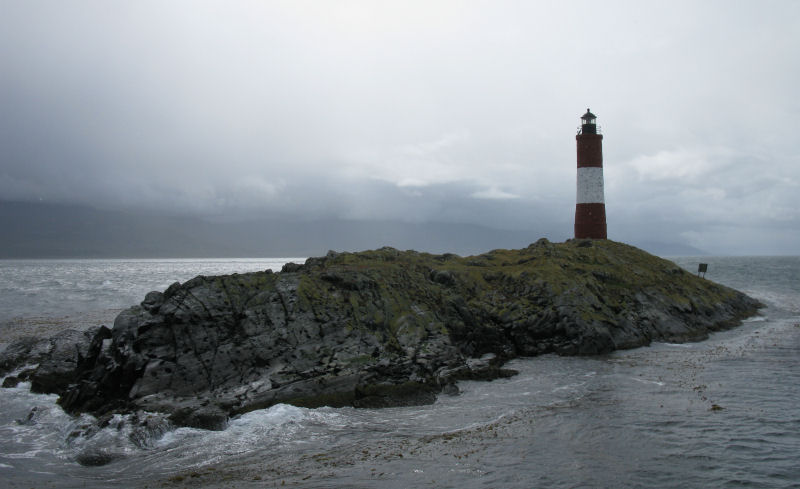 The ride back was into the wind, and not as enjoyable. Very bumpy. Took longer, too, so the misery was extended for some.
Back in Ushuaia, everyone went their separate ways. Don and I ate empanadas at a nice little restaurant that only had a few booths. They were playing some nice music, too. Ray Charles sounds good anywhere.
We asked around at a couple places, still exploring the idea of avoiding riding back through all the wind, but it wasn't easy to manage. We were leaning back toward toughing it out and riding back. That was part of the whole adventure.
At 13:00, we were loaded into one large bus and a small bus. Don and I were in the small bus. The hour-and-a-half ride wasn't too bad. There were others on the bus who spoke English. We rode through some interesting landscape once we were off the highway, and finally arrived at some kind of ranch.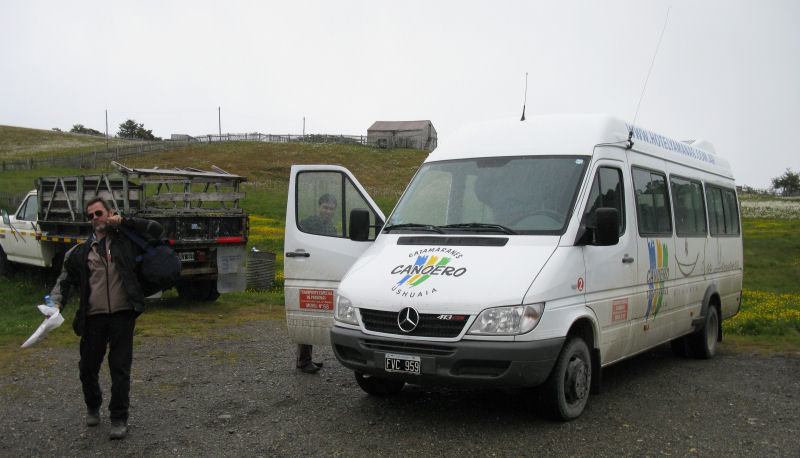 We walked down to the shore and were helped down from the dock into a covered Zodiak inflatable boat for the short ride out to one of the penguin islands. Our boat was behind the one you can see here. That bird swooped in just as I took the photo. Probably just wanted to be in the shot.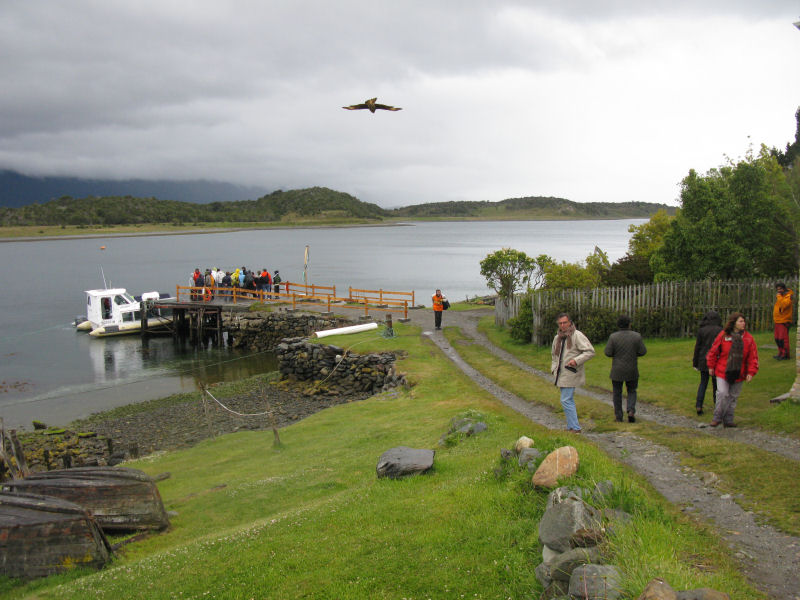 Our pilot said that he has been doing this trip several times a day for six years. Dude needs some variety in his job, I suspect.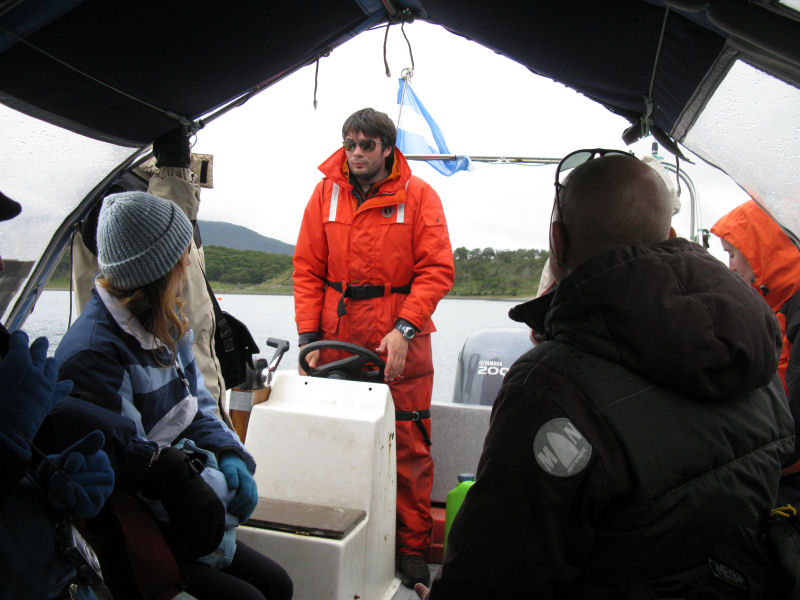 We beached on easy sand and we helped down from the boat. If you jumped, you might scare the penguins away, so you had to be quiet. On the island, there were areas marked off with driftwood, to keep you away from the nesting areas.
Some of the photos have water droplets on the lenses, so they have blurry spots. Photo interlude: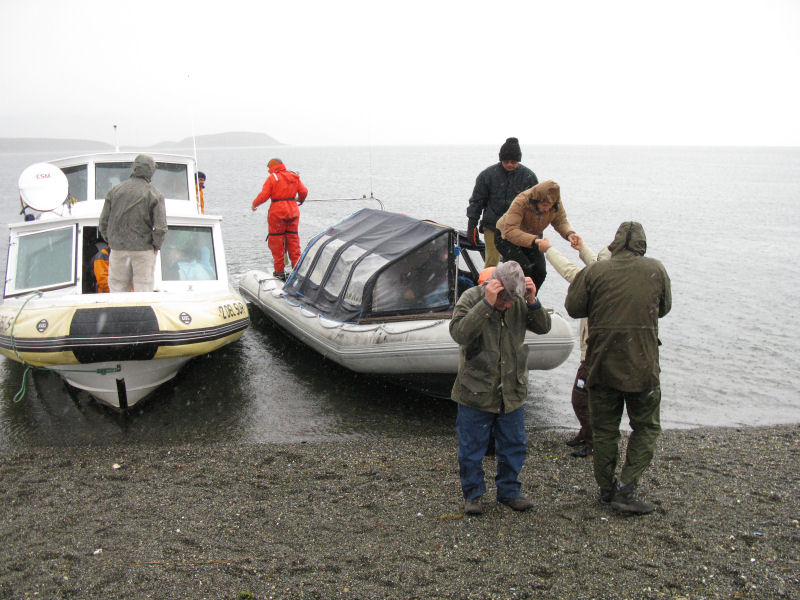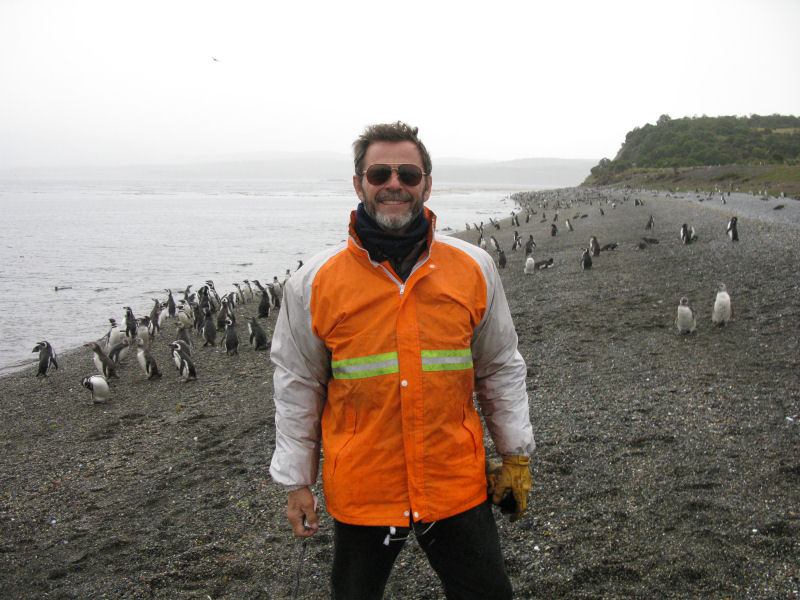 (My police instincts were still fresh; I could sense these two sneaking up on me.)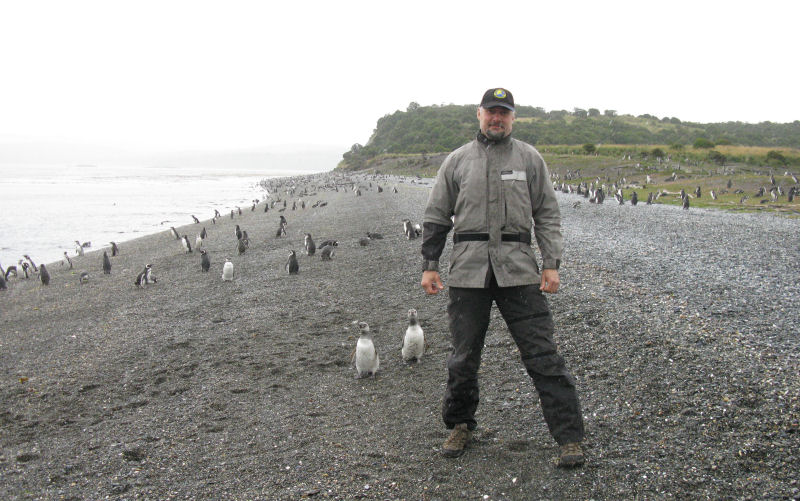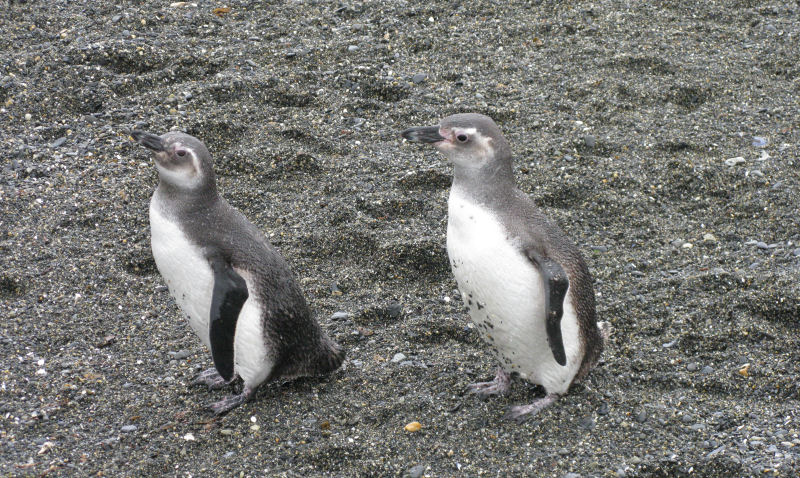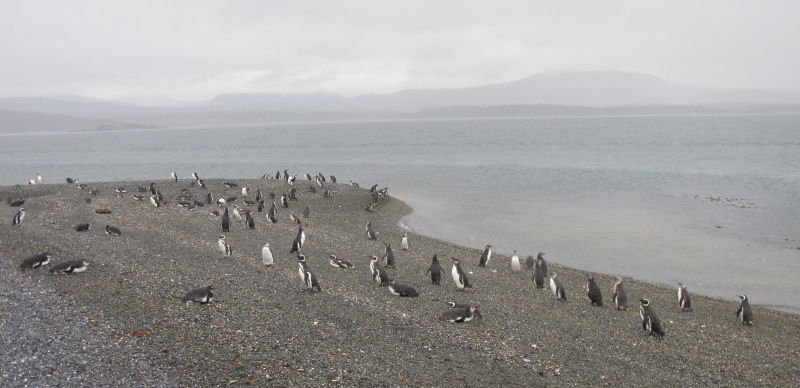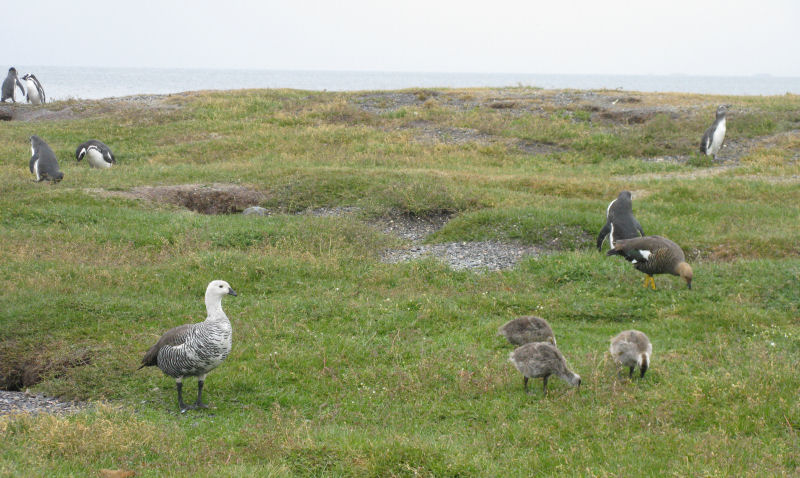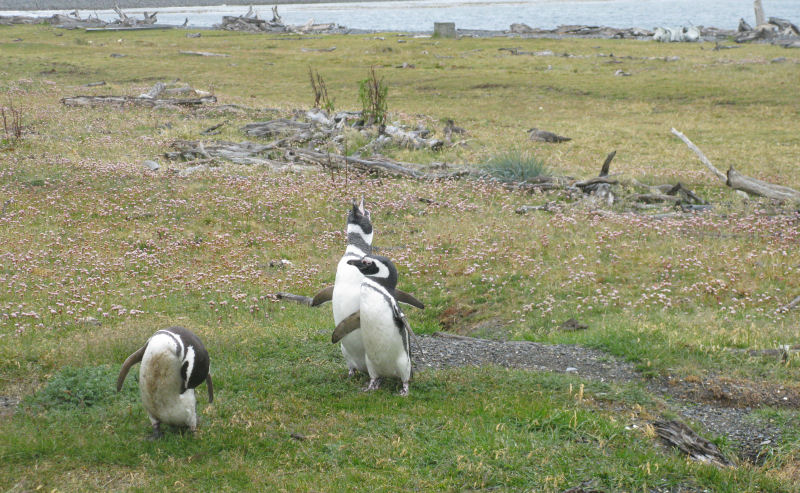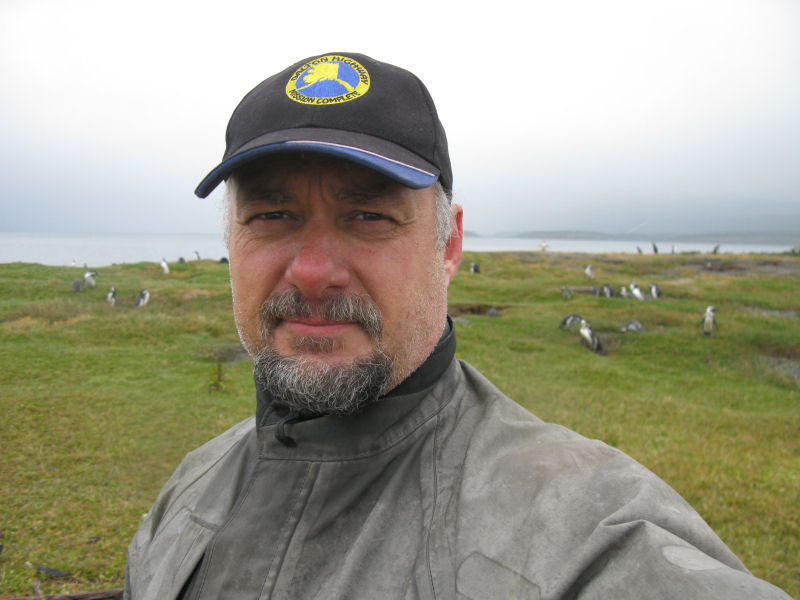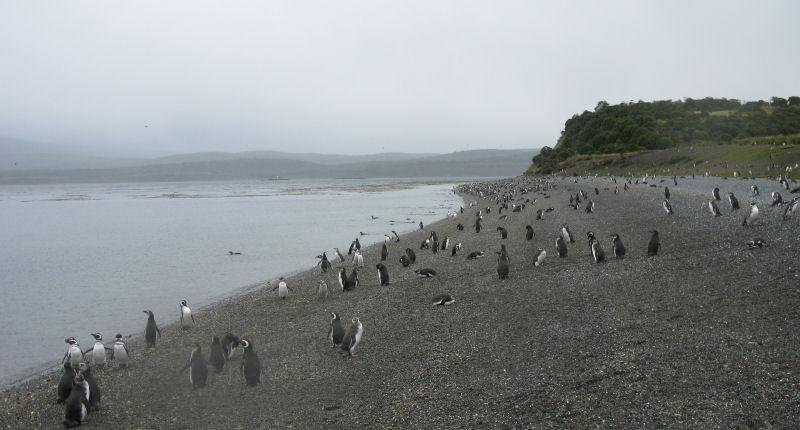 Okay, enough of that. It was interesting, but wore off quickly. Back onto the Zodiak, back down the channel to the ranch, back on the bus. On the ride back, I heard one of the other guests comment that it would have been criminal to have taken any rocks or shells from the penguin island. Uh-oh. I had taken a couple small stones and shells. Don't tell anyone, okay? Shhhhh...
On the return ride, we stopped at an area where all the people with cameras piled out to photograph the wind-shaped trees. I was one of them.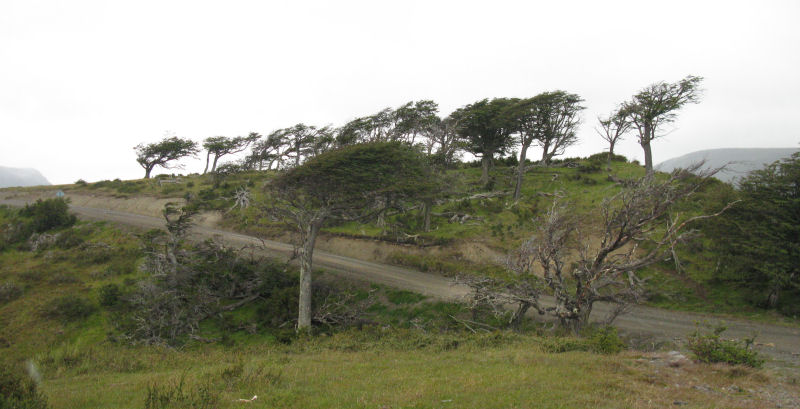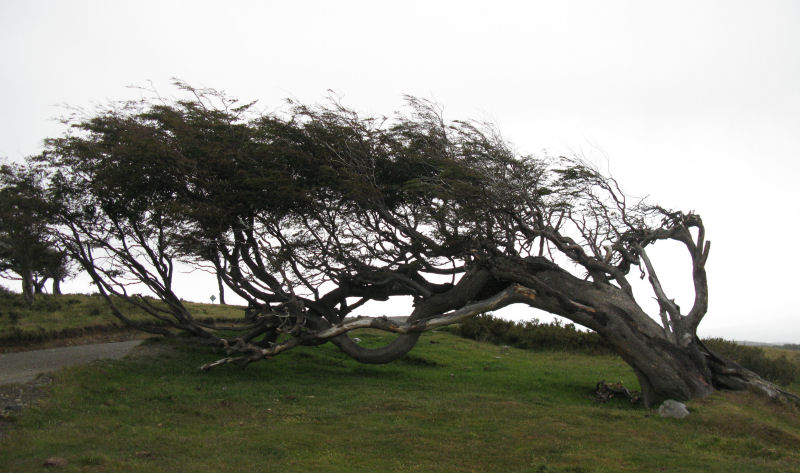 In town again, we did some souvenir shopping and I picked up a few things. We returned to the hostel and took showers, then went back out for dinner. We had seen a few of the restaurants that had large roasting pits for lamb, and a couple of them had buffets, so we tried one of them. Turned out that the lamb was not included, but the buffet was pretty good anyway.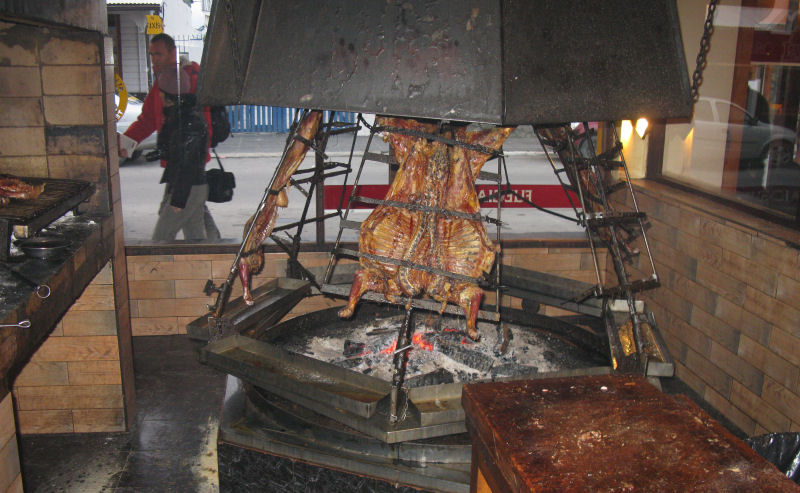 After dinner, Don paid with his credit card. The waiter brought the charge slip for Don to sign, but he was too busy to wait, so when Don hesitated, the waiter took the pen back and scrawled a doodle on the signature line with a laugh and indicated that it was good enough. Well, I'm sure the charge was pre-approved, so the actual signature wasn't important. Still, that was odd.
Wednesday, 31 December, 2008
----------------------------------
We slept later, then decided to ride out to the end of Ruta 3, which is in the National Park. That's a nice trick, since you have to pay for park entrance in order to get the photo you really want. Not a bad ride. Very pretty.
Photo interlude.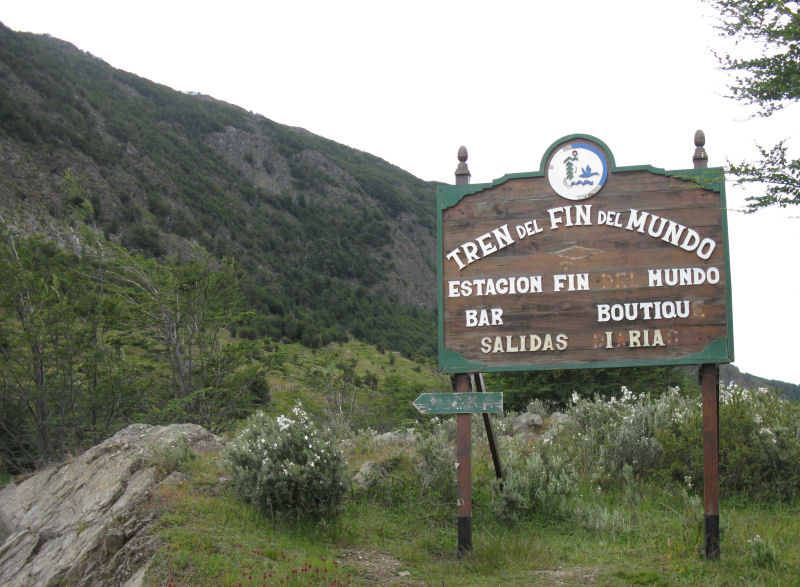 A better golf course than the one in the desert of Chile.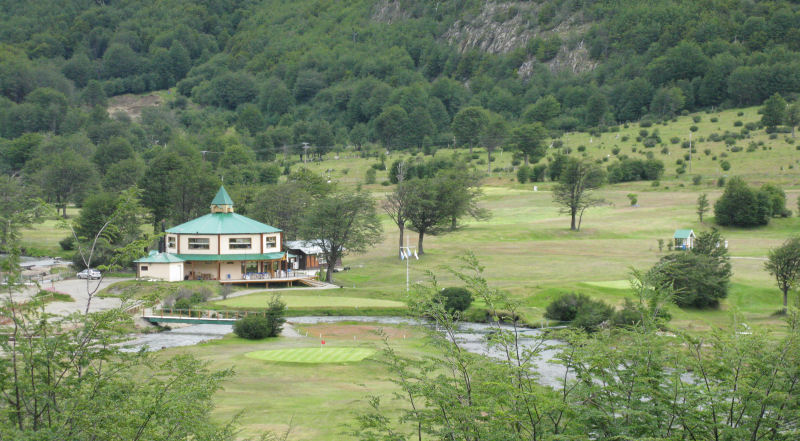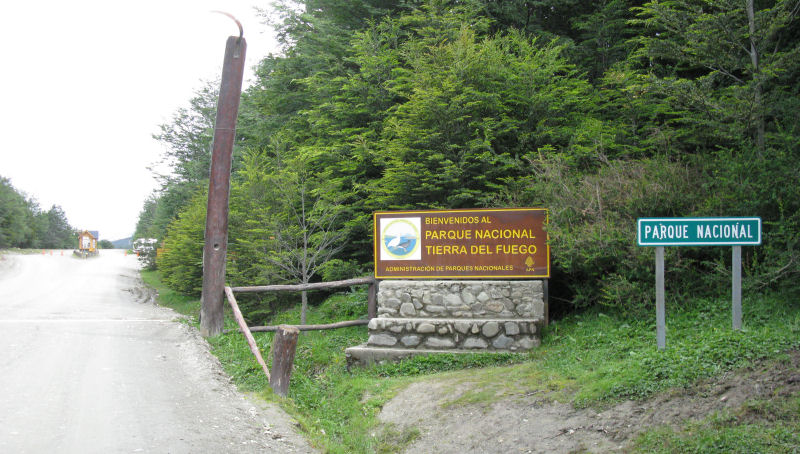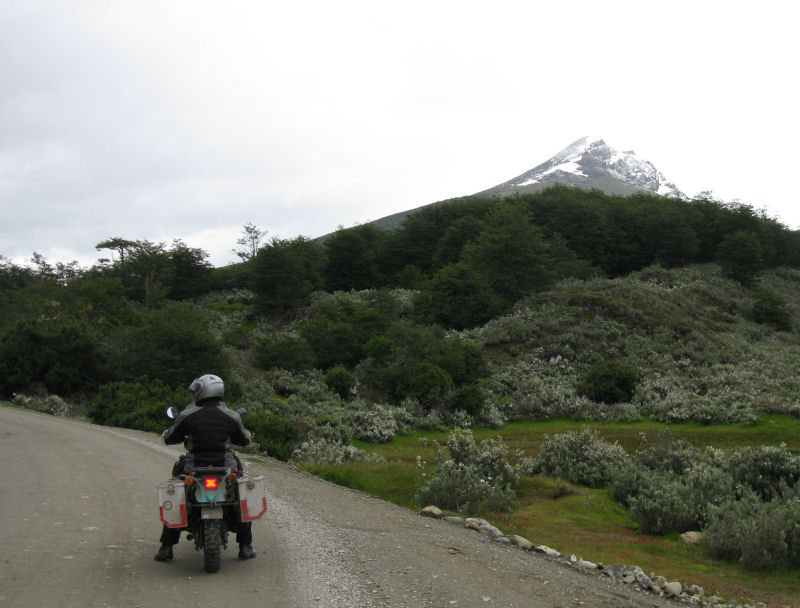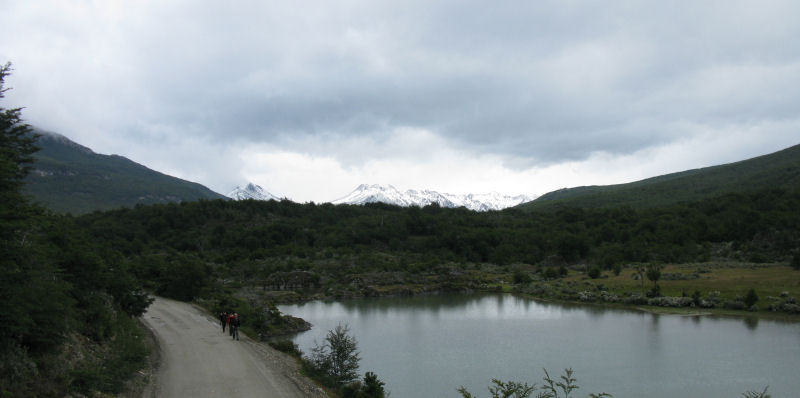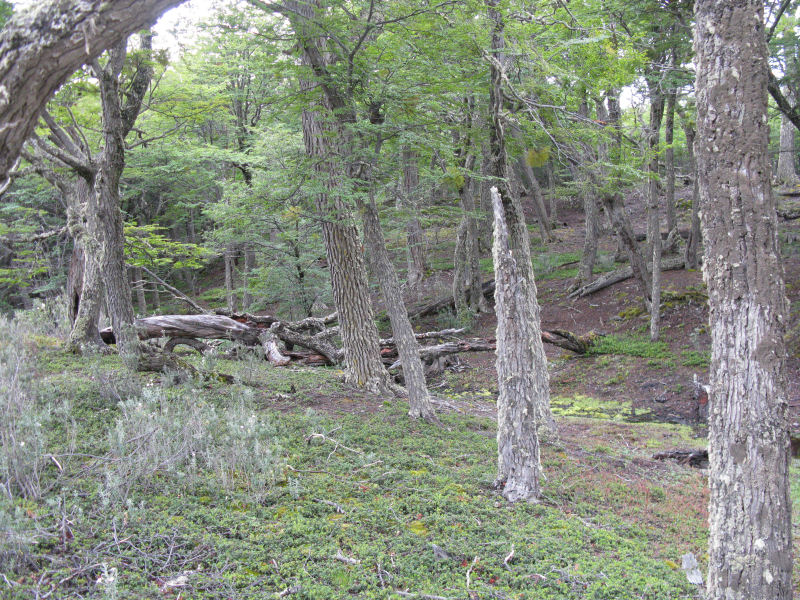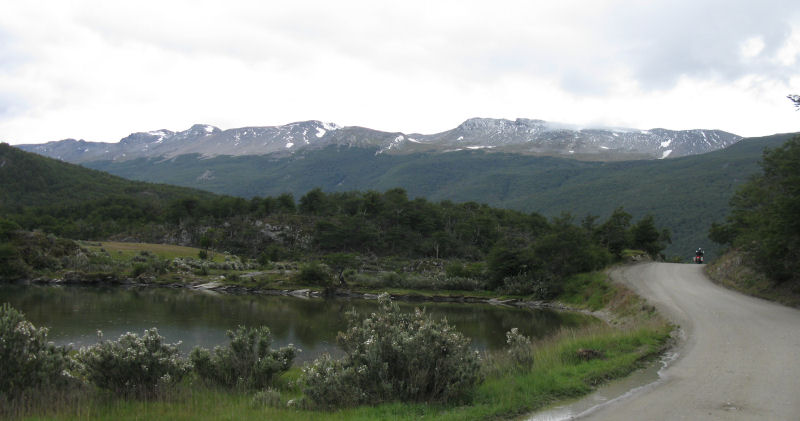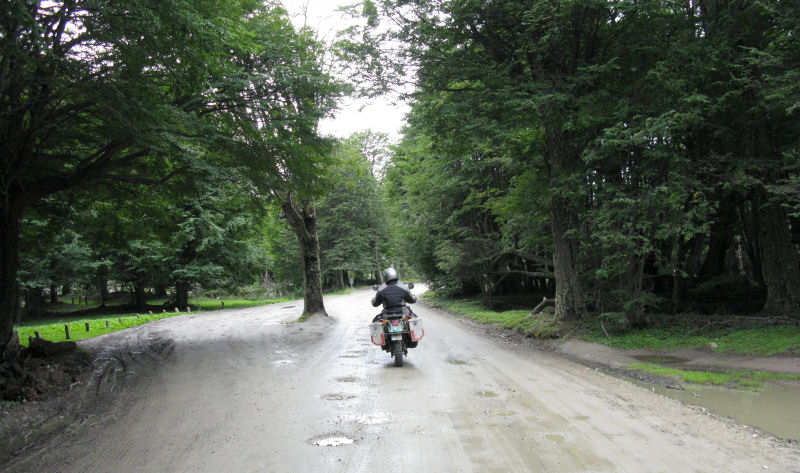 The money shot. Don's camera had another water splotch on it.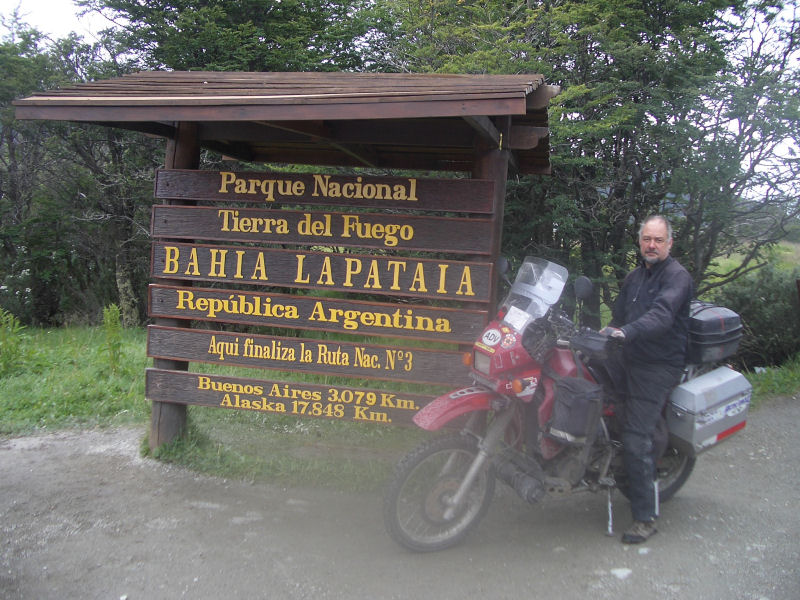 A common tactic for getting other tourists to take your photo is to take theirs first. Two women from one of the many tour buses were taking each other's photos, so I offered to take their photo together. They were from the U.S.. They handed me their camera and posed by the sign, and just before I took their photo, I yelled, "Show me your tits!" I took one photo of them with surprised expressions, then another while they were laughing. Then they assured me that they were not that sort of ladies (still laughing), and I took one more photo. They were then happy to take my camera and snap a photo with Don and me in it.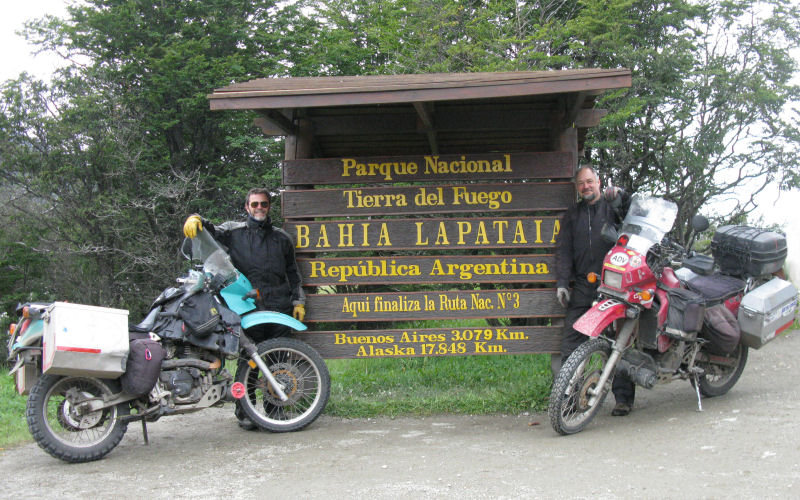 You had to wait your turn at the sign; all the bus tourists were crowded around it most of the time. Some posed with our bikes and had their photos taken. One gal sat on my bike for a photo so her boyfriend could take her photo.
As we had ridden to the park, we had passed the campground, so we stopped there on the way back out. We met a few of the other riders who were there for New Year's Eve. This is Chuck. Definitely from Texas.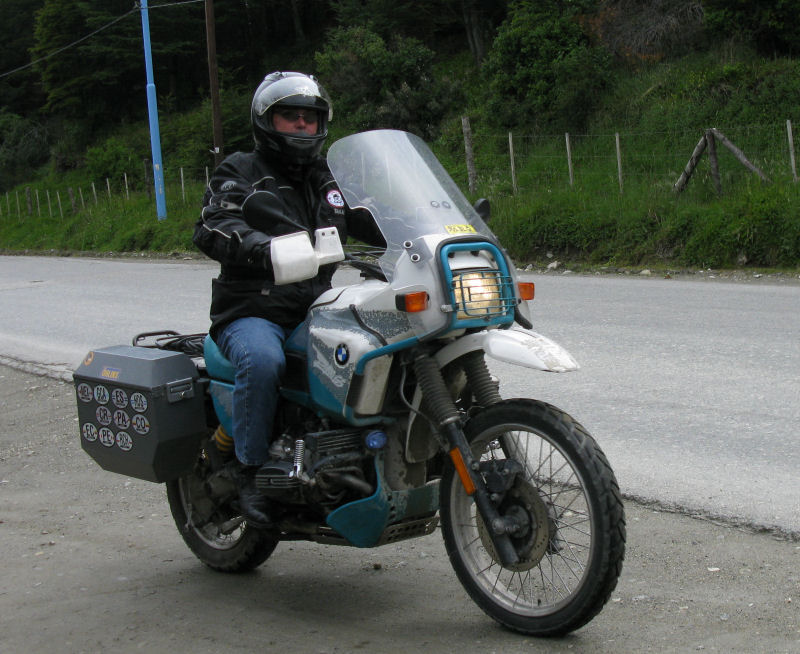 This is Richard, from England, but he's been just about everywhere. Three times around the world on a motorcycle, by his own account. He had stories to tell.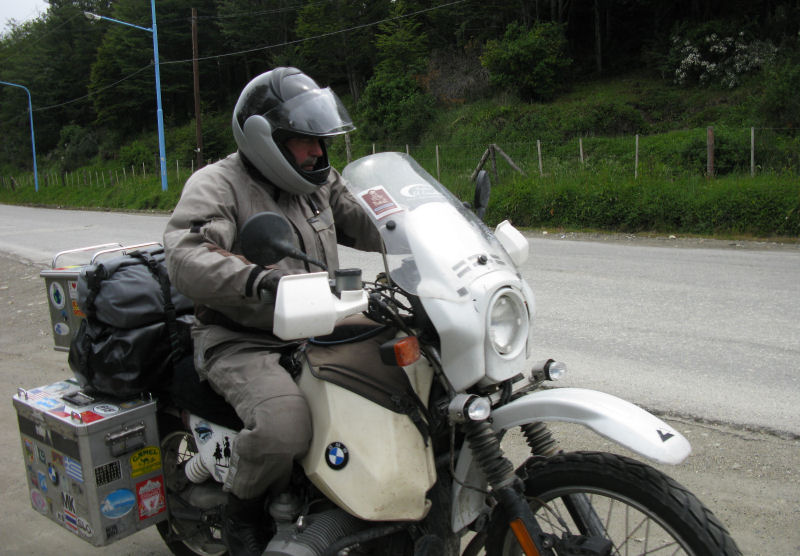 Back into town.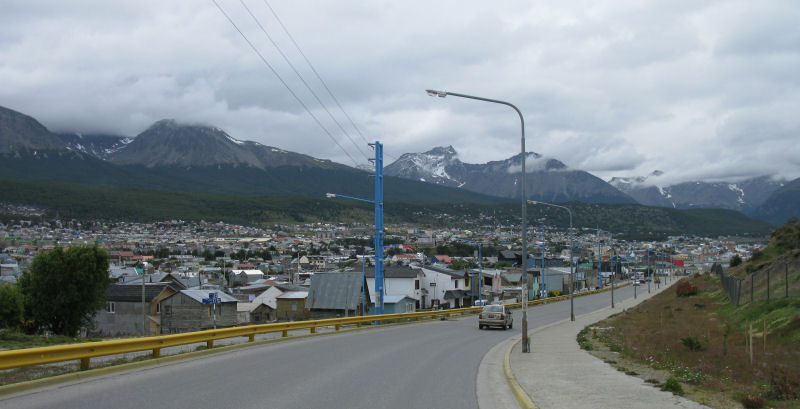 We also met Marc, from Luxembourg, and he was arranging the riders' group dinner tonight. We pitched in our share of the money (half of which was later refunded), and agreed to meet in the camp's dining room later that evening.
Meanwhile, we had some errands to manage. We wanted an oil change, so Richard and Chuck led us to MotoPablo, where we bought oil (expensive down here) and changed it ourselves in the street. Pablo let us borrow his basin, and we dumped the old oil in a barrel that he pointed out to us.
A KLR rider pulled up (we had passed him on the road) and we learned that he was a professor in a local college. He was also the president (and possible the only member) of a local rider's club. He gave us stickers. He had a new, red KLR, but he didn't know anything about it. He asked me about tires and other things. He was a big guy, and he wasn't happy with the KLR. He wanted a larger bike.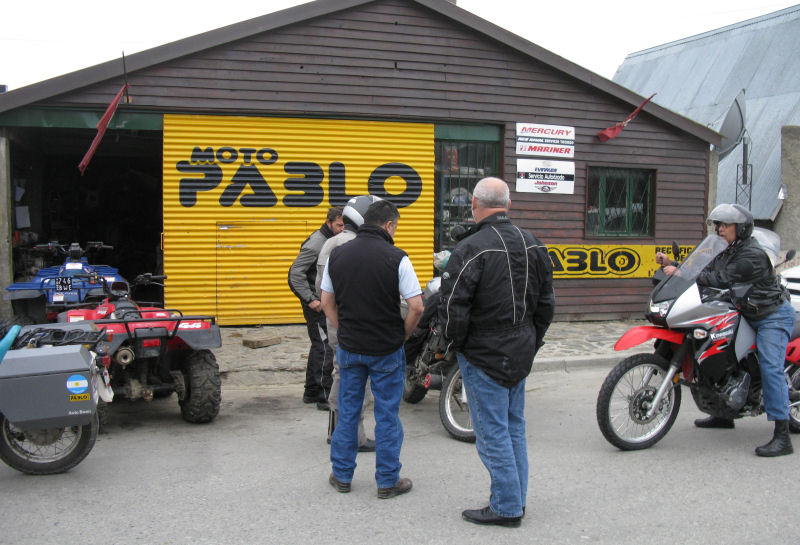 Pablo had a decent shop. He also had teens and pre-teens working on customers' bikes and quads. Just a head's up.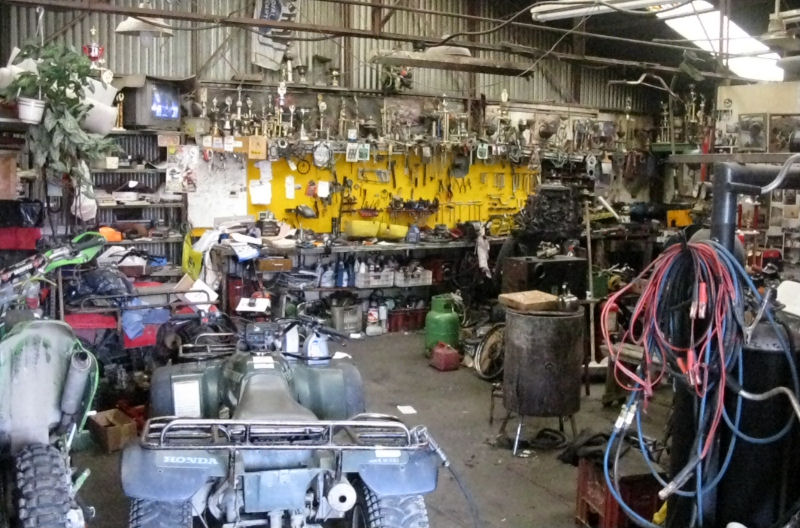 The final task for today was to get wet. My goal had been to go from Deadhorse, in Prudhoe Bay, Alaska, to Ushuaia, Argentina, in 2008, and I only had a few hours left to take care of one more minor detail. I had my t-shirt with me (the one that I had worn into Prudhoe Bay), and I needed to jump into the Beagle Channel with it to complete the deed.
Where to do it was a problem. Much of the coastline was inaccessible, and most of it was rocky and hazardous. I walked along the water's edge, but it was completely covered with sharp rocks and mussels. The shellfish type.
We stopped at the tourist info office just to use the restrooms and get chased by very aggressive dogs. Some motorcycle rider must have kicked them in the past. Can't imagine why. Honestly, if I could have killed a couple of them quietly, I would have done so. The almost wrecked us a couple times.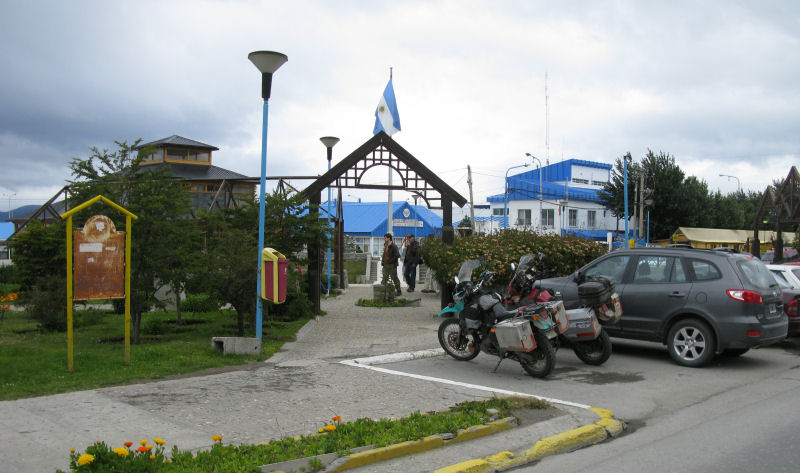 On a peninsula (where the airport is), there was a small boat dock jutting into the Channel. That's the place.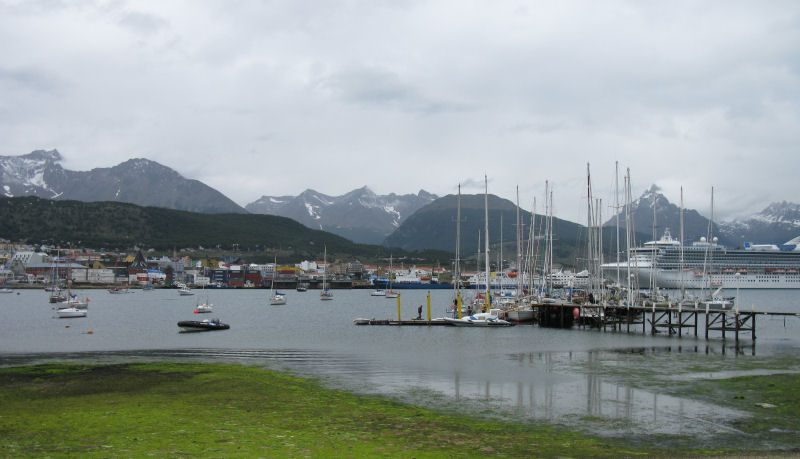 I stripped down to the t-shirt and synthetic pants. Don took photos.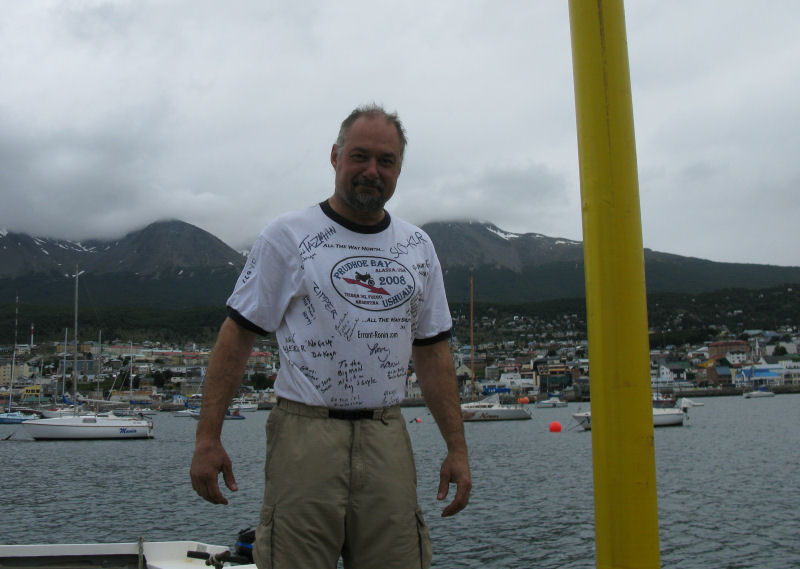 And into the water I dove.
Cold. Very cold. I came up with a Whoop!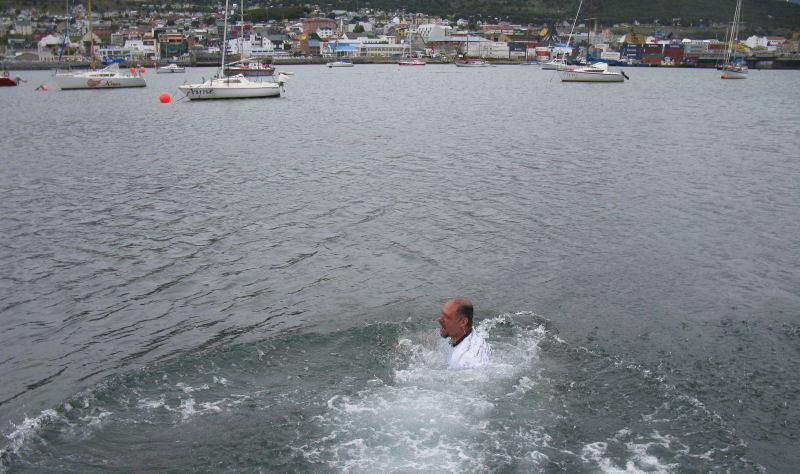 The first smile was genuine. Happy to get it done.
So this is me, in Ushuaia, Argentina, in the Beagle Channel, 15:30 hours, 31 December, 2008. Latitude about 54 degrees south, 1,000 kilometers from Antarctica, water temperature a bit above freezing, testicles somewhere in my abdomen, I think.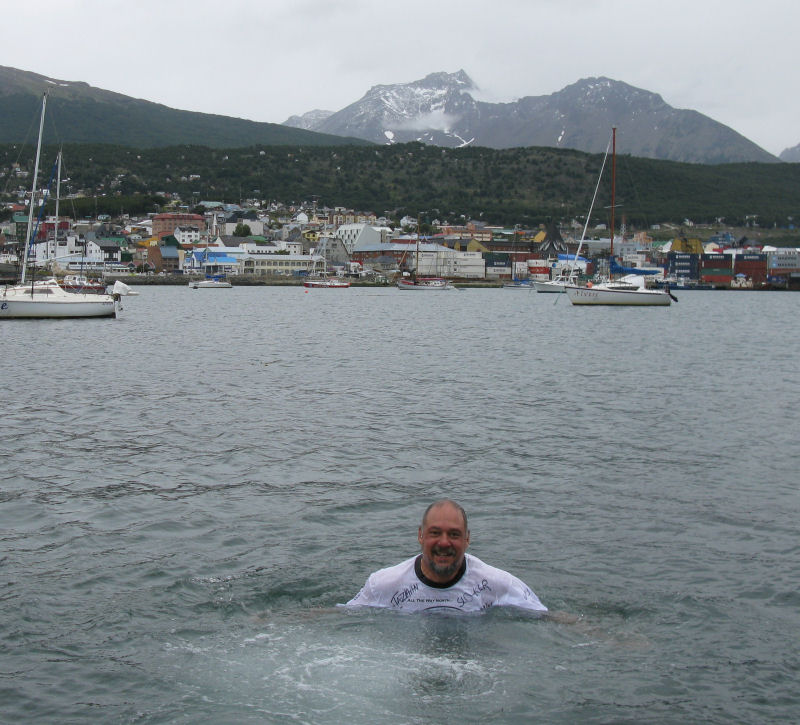 I tried to paddle backwards and float so more of the shirt would show, but I was already starting to shiver. This next smile is all I could manage. I wanted out.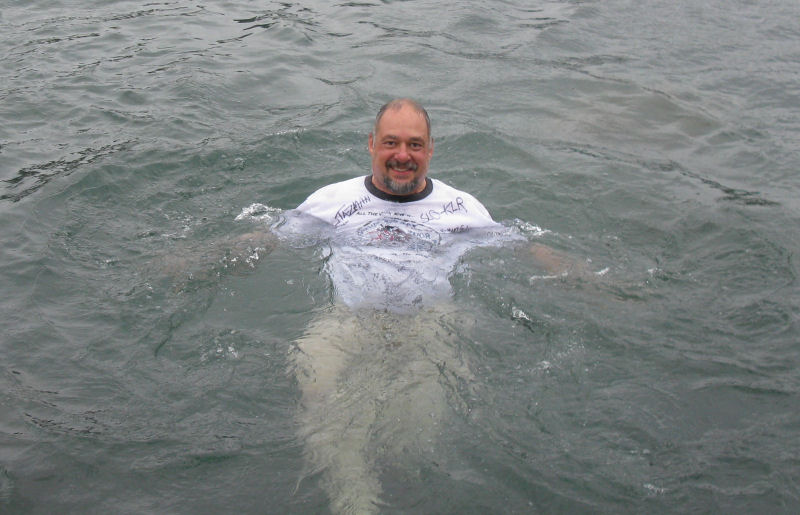 Don kept taking photos, and I worked my way back to the dock. I hadn't even considered how to get back out of the water, so Don had to help pull me up onto the dock.
He's going to have to clean his camera lens at some point.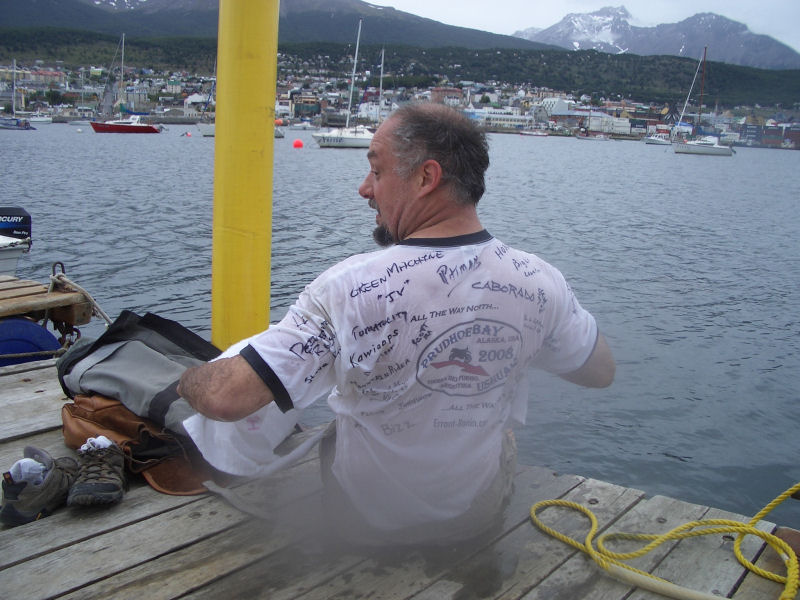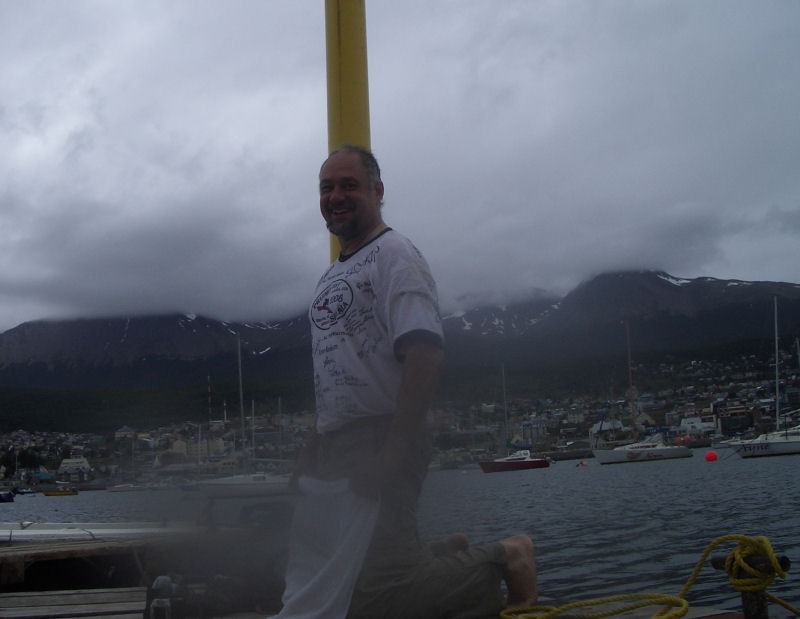 I had a towel with me, and I dried off as much as I could in a hurry. As we walked off the dock, two guys working on a sailboat yelled over to me that I was nuts. One of them said that he had been in the water yesterday, but with a thick wetsuit. I said something back, but it was mostly my teeth chattering.
Back at the bikes, I got my Aerostich Darien pants back on for the wind protection and we went back to the hostel. I needed a shower.
After taking a break, we headed back to the campground. There were thirteen riders and passengers in our group, most were from France. There were at least a hundred people in the campground, and they were gathering in several large groups in the dining room. Some groups were cooking on their own outside, and others (like our group) had contracted with the campground management to have dinner provided.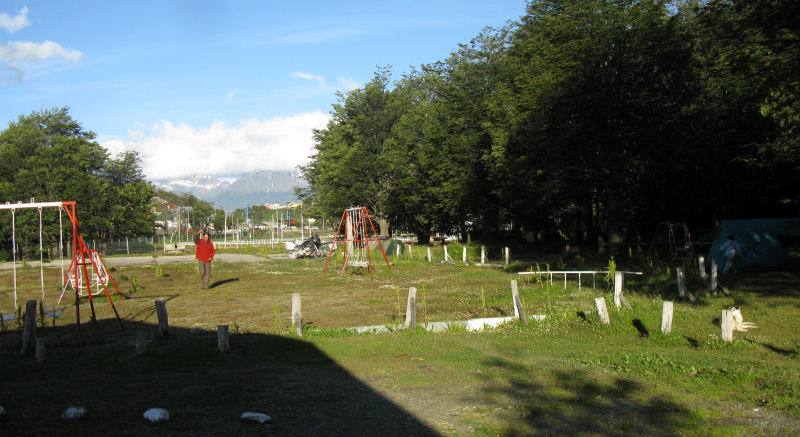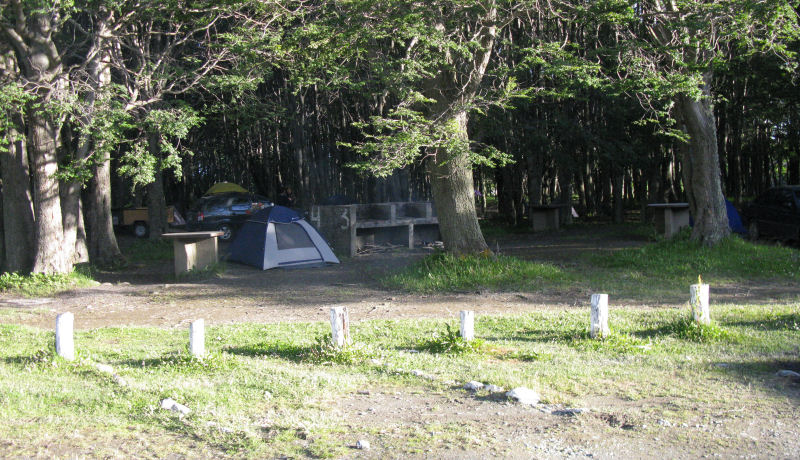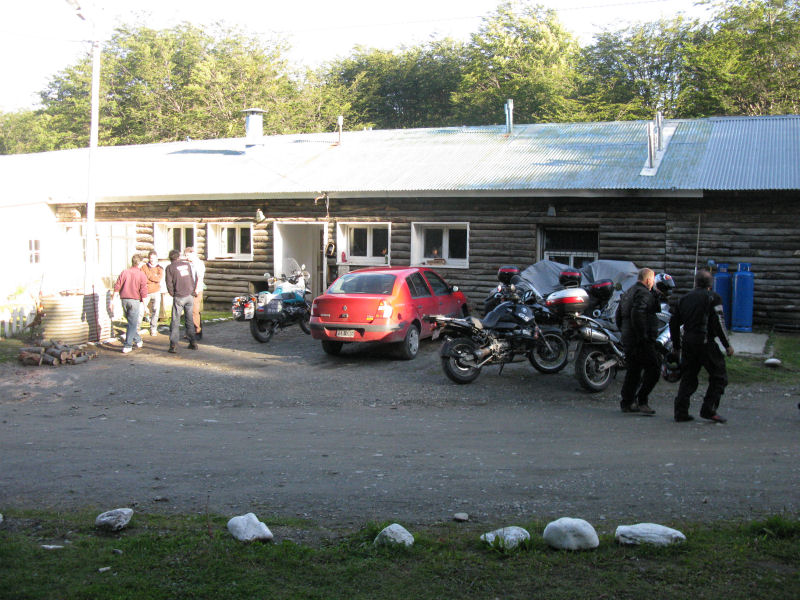 We mostly hung out and talked with Chuck, Richard, and one of the German riders, Huberto, shown here in the center of the next photo. Huberto worked for German customs, and fortunately his English was very good. Richard, on the right below, was fascinating to listen to. His favorite riding area was northern Malasia.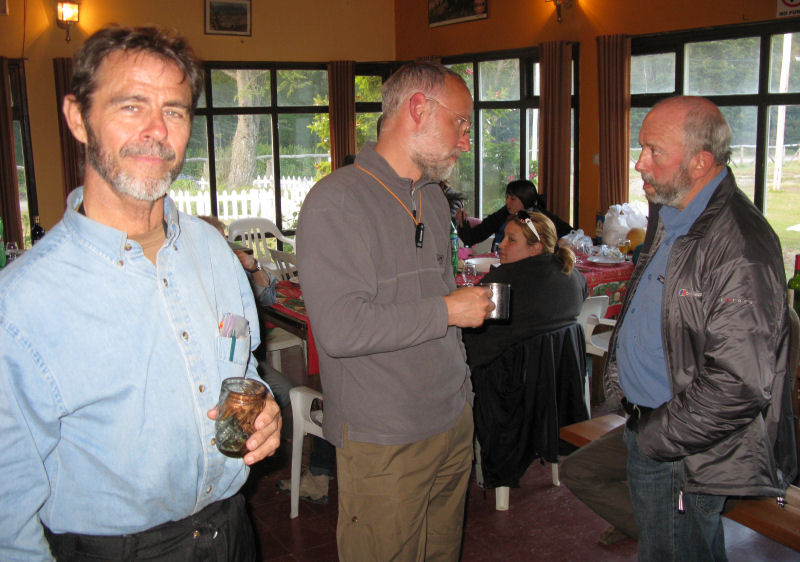 We also talked for a while with Carl and Kelly, who were two-up on a KLR650. They were from the U.S., somewhere in New Mexico. Carl didn't know about his KLR, and they had done little to prepare it. We talked for an hour about the bike and I gave them some suggestions.
The French riders, including Marc who had arranged the meal, were used to eating late, so we grew hungry. Other groups in the dining room were eating well, and we had to wait, snacking on olives and cheese-on-crackers.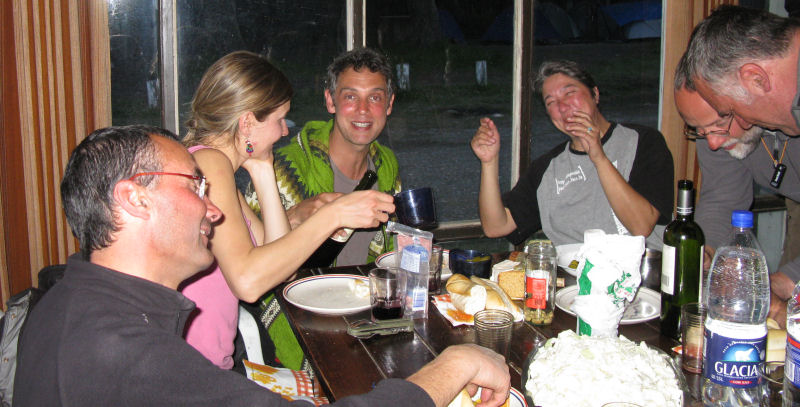 Our meal finally arrived and it was okay, especially considering that it only cost us $15 each.
Aside from several large family groups, there was a group that were touring Chile and Argentina in a large truck that was more like a bus. They were all European, of one flavor or another.
This guy (below) was a French rider in our group. He was writing for a French magazine and interviewed most of us briefly. He and his wife had been on their bike for over a year, working their way around the world. The two Germans are conferring in the lower corner, probably talking about how much they don't like French riders who yell a lot.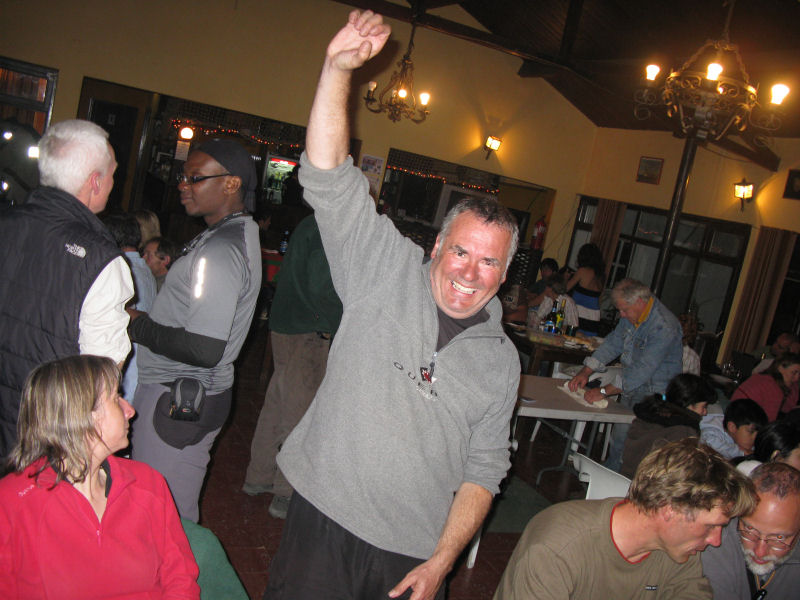 Don and Richard talked a lot, but it was pretty noisy in the room so I missed most of it.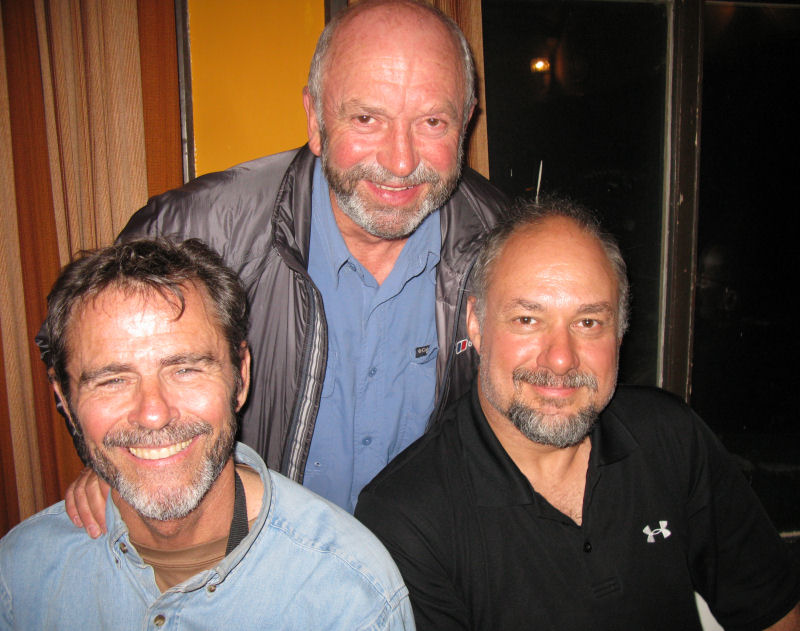 When midnight arrived, the European truck herd climbed up on their chairs and loudly counted down the last minute. Then, the typical drinks and hugs and kisses and public group sex...
Okay, less sex and more hugs and kisses with strangers.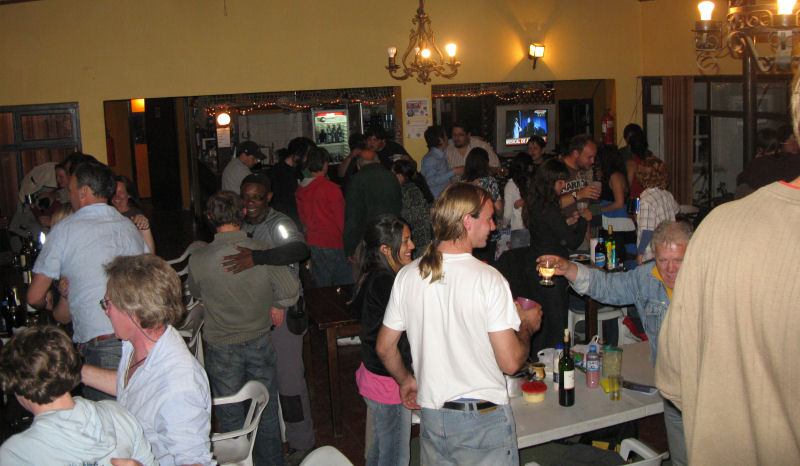 The two gals in green were in the truck group. They were from Denmark. They were awesome. They had been in Santiago, Chile when we were, and they told Don that they had seen us arrive in El Centro and park the bikes. Best not to talk about them too much. Best to just let some thoughts go. sigh...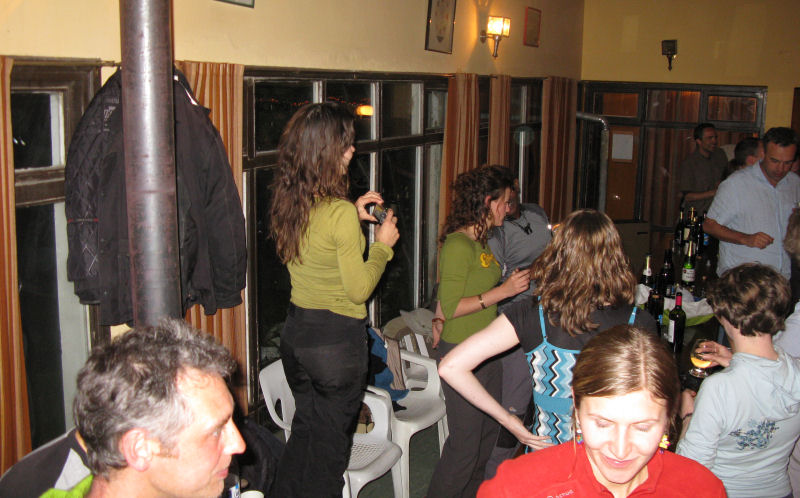 We called or text-messaged our wives after midnight to wish them Happy New Year from Ushuaia. It was still four hours away for them in Colorado.
This is Marc from Luxembourg, Richard from the U.K., Don from the Klingon homeworld.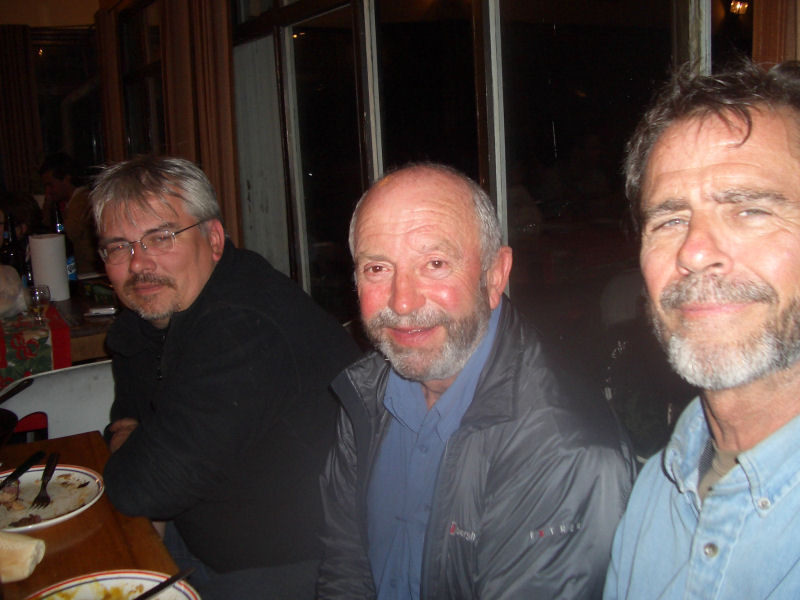 After the New Year festivities were over, we said good-bye to our new friends and made our way back to the hostel. We made Skype calls and I wrote until about 04:00.
The old year was already four hours gone. The ride down was done. Now to return.
<< Link to PREVIOUS report: Chile Again Down >>
<< Link to NEXT report: Ushuaia - Tierra del Fuego Up >>
[ ERRANT-RONIN HOME ] [ Prudhoe Bay to Ushuaia Home Page ] [ Ride Reports Home Page ]