Part 31. Back in the USA
==================
Wednesday, 20 May, 2009
----------------------------
We had breakfast and I went down to the moto shops to pick up my reflective vest. They had tailor-made one to fit me, and it looked pretty good. I had asked for a small change to the zipper and for extra-long sleeves. They did a good job with it and sewed on the reflective letters and numbers while I waited. I took the opportunity to pick up another nice vest for about ten bucks.
Back at the hotel, a quick shower and getting the bags final-packed were all the things I had to do. We checked out of the hotel and grabbed a taxi to the airport. I already knew what the taxi ride should cost, so when the driver told me the fare was P/25,000, I gave him P/20,000 and told him that was all I would pay. He shrugged and took it.
I learned that morning that American Airlines won't accept checked baggage that has been plastic-wrapped. I learned this right after I paid some gal on the sidewalk outside the airport fifteen bucks to plastic-wrap my bags.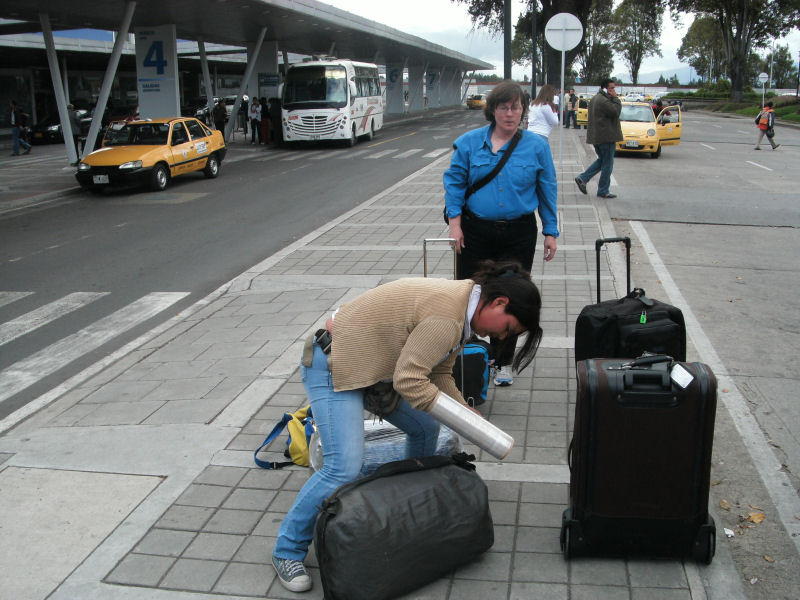 The check-in line was enormous and it wasn't moving. After a while, we learned that the airplane that we were supposed to fly to Miami had never arrived. Fortunately, that was because it never left Florida due to some maintenance concerns. They had to find us another plane, and that caused a four hour delay.
Since we had been in Colombia more than a couple days, we didn't have to pay a departure tax. One of the American Airlines employees helped Laurie get the tax-exemption form completed.
It took so long to get through the check-in line that they gave customers a food credit voucher for the airport's food court. We ate at a burger place (the choices were limited) and had to pay a little to cover the meal. The voucher was worth about twenty bucks. Airport food is expensive.
We killed some time in a lounge before heading for the departure gate. We had passed through security already, but our bags got searched twice more before we got to the gate. After we got our seating assignments, they called me to the service desk and gave me a "transportation expense" voucher that was worth US$15.20. I asked what it was for, and they told me that I could use it to pay transportation expenses. I was glad we had cleared that up. Only a few other passengers got that voucher, and I had no idea what I had done to deserve it. Maybe it was my good looks.
Nah.
We had another hour to wait, during which time Laurie was paged and was whisked off by the security police. When she returned, she told me that they wanted to search one of our bags. My bag with all the tools, GPS, Chatterbox radio, SPoT satellite device, etc. No surprise there.
The flight itself was without incident. An hour after landing, we were in a rental car looking for our hotel.
Welcome back to the United States of America.
We were very disappointed to find that we didn't get Internet access in our hotel room. Especially since Laurie had specifically made sure that they did when she made the hotel reservation. Such a small annoyance, really, but I was ready to have everything be perfect in the Good Ol' USA.
At least the bathroom was intact and everything worked. Shower head, toilet seat, and everything.
I wrote while we watched Jay Leno. I hadn't watched much television in the last seven months, but I knew that Leno was giving up the Tonight Show in less than two weeks. I didn't miss the inane television chatter at all. After Leno was done, we gave Jimmy Fallon a few minutes, but it was too painful to watch. Craig Ferguson was much better (as usual).
Thursday, 21 May, 2009
--------------------------
After breakfast, I got online and found an email from Veronica advising me that the bike did not ship last night as planned.
She explained that the carrier (Centurion) had aircraft problems on the flight that the bike was supposed to be on, and the flight was cancelled. The motorcycle was scheduled to be on another flight early this morning. That wasn't so bad, since the bike was either already in Miami or would soon arrive.
Oops. Not so fast.
A few emails down the list was another message from Veronica advising that the 02:00 flight from Bogota was cancelled for some unknown reason, and the 05:00 flight was intended for perishable cargo that had priority. If the bike didn't get on that flight, it wouldn't go out until Friday, and that might mean that I would have a slim chance of getting it out of U.S. Customs Friday afternoon. Otherwise, I wouldn't get the bike until Tuesday, since Monday was Memorial Day.
Fudge.
A phone call to the Centurion office in Miami proved useless, since the local office had no control over what was happening in Bogota. They recommended that I call the Bogota office to inquire about the bike. That was not the customer service answer that I wanted.
I sent a very critical email back to Veronica, expressing my dissatisfaction with the matter, and telling her that I considered the matter to be a breach of contract by LynCargo and Centurion.
We had to register for another night in our hotel, which was not the original plan. If the bike arrived the next day, I wanted to be here to claim it. If it didn't get on an overnight flight, we would drive to Orlando to do some diving with my brother, then return to Miami for the bike on Tuesday.
That would put me at least a day behind my planned arrival in Moab at the end of May.
Screw it. Change of emotional perspective.
Laurie and I decided to spend the day driving to Key West for dinner and back. About 300 miles, but we had nothing else to do.
So that's what we did.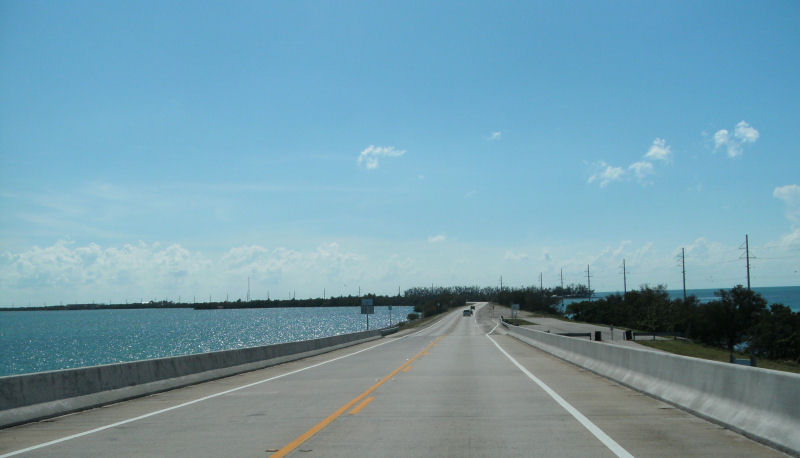 Southernmost point in the continental U.S.? Bah! That's nothing. Five months earlier I had been at the southernmost city on Earth.
We walked around the tourist shops for a while, then had a nice seafood dinner near Mallory Square, where everyone gathers to watch the sunset every evening. It was too cloudy for a good sunset, but some of the street performers were pretty good.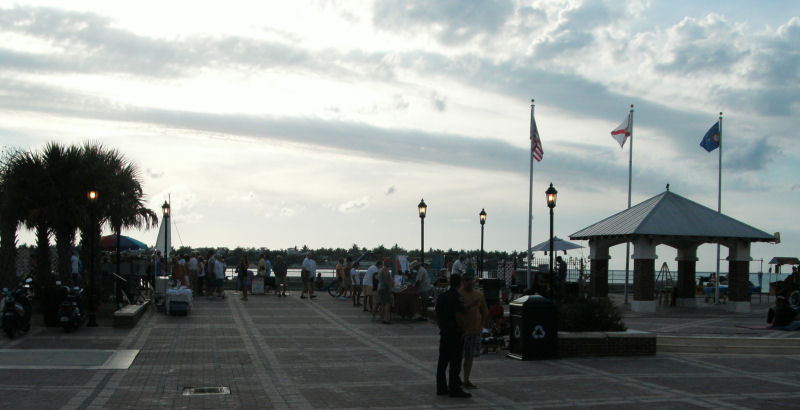 Laurie had to do all the driving, since the car rental agency wanted an astronomical fee to add an additional driver to her reservation. I volunteered to drive back to Miami anyway, but she was content to steer the big SUV that we ended up with. The mid-size car she had reserved wasn't available when we got there. Reminds me of a Seinfeld episode.
We got back to our Miami hotel well after midnight, and there was another email from Veronica. She had copied to me a response from Centurion expressing their understanding of my feelings. They confirmed the bike was on a flight to Miami that morning, and that they wanted to improve the impression they had made by their poor service. Here's the BabelFish translation of their response:
The considered flight is CIU 300 from exit to the 3:30 of the 22 of May We know the important thing that you are, and the commitment that we as transporting we must offer to him, in this week had problems with two of our equipment which I cause the delays to us in our habitual itineraries, the idea is to fulfill our commitments we lamented the disadvantages that we have had. CENTURION POSITION wants to change the negative image that they have in front of us since the events are not habitual, For future it embarks we will serve better to them. Thanks
That all sounded nice (even taking into account the awkward translation). We'll see what happens.
Friday, 22 May, 2009
-----------------------
We got up at 09:00 and I immediately checked email. There was a confirmation that the bike had flown that morning and should now be in Miami. I sent Veronica a response and we checked out of the hotel.
The weather was dark, dreary, drizzly. Great...
We had breakfast as some diner, then headed for the cargo terminals. I called Centurion for directions, and we got there with no problems. The final cost for receiving the bike was US$895.70, cash only. Exact change only. The gal at the counter sent me to the Customs office a short distance away, and gave me a stack of papers to take there.
At the Customs office, I didn't get either of the cute ladies at the service windows. I got the surly guy with the bad haircut.
He took my papers from me and asked where I was bringing the motorcycle from. I told him that it had been shipped from Bogota, Colombia, and he asked if I had shipped it to Bogota in the beginning. I told him that I had shipped it to Bogota last November. He demanded to see some paperwork showing that I had exported the bike from the U.S.
I had no such papers, and that caused a hiccup in the process. He gave me my packet of papers back as if we were through and I was out of luck getting my bike back into the States. I told him that I had left the U.S. by riding into Mexico, and I had no export papers from that crossing. He accused me of changing my story, and got a little hostile. I calmly explained my journey, including having shipped the bike from Panama City to Bogota as I had mentioned earlier. I was now returning the bike directly to the States.
He still didn't like that I had changed "my story," and he demanded to see my passport. There was plenty of evidence there that I had been where I had claimed to have been, so he eased up and finally stamped my papers for getting my bike.
Laurie and I went back to the Centurion warehouse and paid for the bike. With final papers in hand, we were sent into the warehouse.
I handed the papers to a guy who looked like he should have died years ago. Was he a zombie?
In minutes, my bike was fork-lifted to me, and the workers started unstrapping it from the steel pallet. They had something like eight straps on the bike, which had been put on its center stand.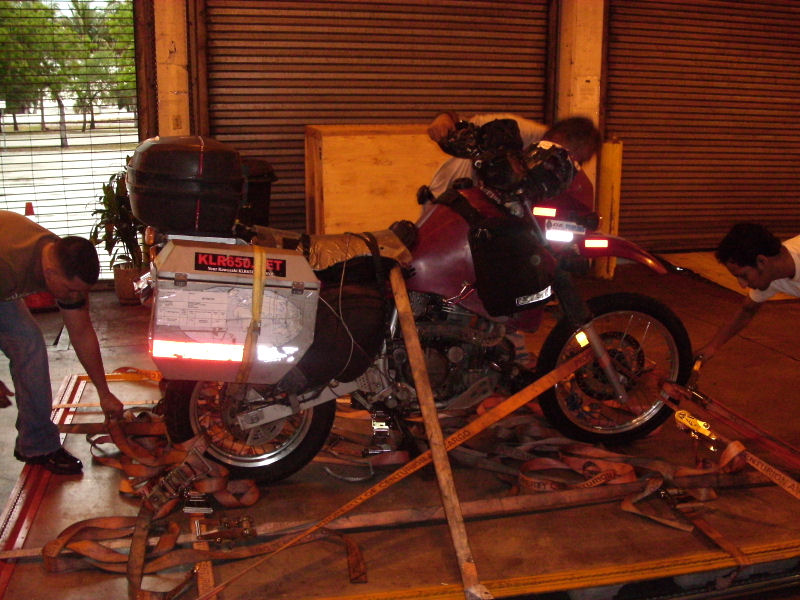 See that front strap that is wrapped around the fork tube? It's also wrapped around my speedometer cable, and that didn't look good. Sure enough, after the bike was off the pallet, there was an obvious kink in the cable that looked vulnerable.
I attached the windshield and mirrors, then rode the bike out of the warehouse just as a huge rainstorm came in. Bad timing.
Out in the parking lot, I changed into wet-weather riding gear. I was pretty wet by the time I got the Aerostich gear on, so it had hardly been worth it.
I followed Laurie's SUV for a while, but took the lead to get us out of Miami. The GPS maps for the U.S. were pretty detailed, so that helped. Once we were on I-95, I rode ahead on my own for a while. The speedometer cable had snapped after only fourteen miles, so I just paced along with other traffic.
The first cultural thing I had noticed after returning to the States was simply being able to communicate with everyone. The second thing (now that I was riding again) was re-adjusting to the driving habits here. I had to restrain myself from lane-splitting and weaving through traffic when it got backed up.
I let Laurie catch up, and we stopped at a truck stop for a meal. I also put some more air in my front tire, which was a bit low. I had started to have some wobble issues at higher speeds, so that wasn't good. The front wheel wasn't balanced well, and I'm sure that contributed to the wobbles.
It was a couple hundred miles from Miami to Merritt Island, where my brother, Mike, lived. He had come to Florida many years ago with a Martin Marietta space project (Magellan) that had gotten launched from Cape Canaveral. He liked it well enough that he returned when the project was over. He is now a SCUBA instructor at one of the local dive shops, and we had made plans to do some diving with him while staying the weekend.
We arrived at his house and got to meet his girlfriend, Stephanie. As soon as we put my bike in his garage, Mike saw that it was leaking oil. That figures. It was a steady drip from somewhere on the left side of the motor. All those old issues just keep reappearing. I also saw that I was again missing one of my left footpeg bolts. The one that Baia had supposedly re-tapped and fixed in Manaus.
After we got settled in, we went off to the dive shop to check out some diving gear. Laurie had brought all of our main diving gear with her, so we didn't need much else. We borrowed some wetsuits and weight belts, spent some time in the pool just relaxing and refreshing some basic skills, and made sure that everything was working well. We were scheduled for a two-tank dive trip the next day.
After dinner at a local Chili's restaurant, we went back to the house and zonked out.
Saturday, 23 May, 2009
-------------------------
We had a two-hour drive to get to the dive site, so we got up at 04:00 and got packed up. On the way, we picked up another diver, Jan, and hit the highway. I hadn't slept well, and I was feeling sluggish, so I tried to doze on the way. I could nod off well enough, but I couldn't stay asleep. I was pretty tired when we got to the dive boat at Boynton Beach.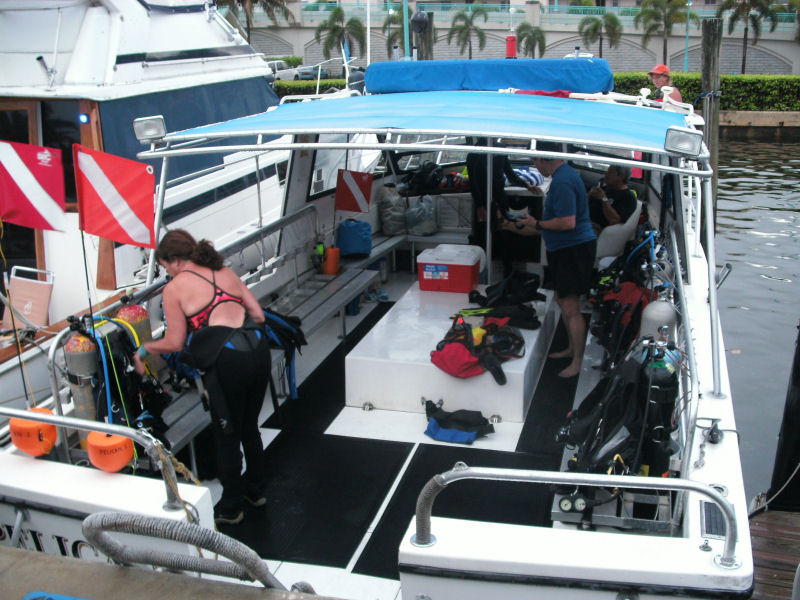 There were supposed to be more divers with us, but the rough weather had probably kept them away. They called to say they were having car troubles. They were smart. We were stupid and went out on the boat.
The boat was really being tossed around by 6-8 foot seas as we left the shore. I was surprised that they didn't just cancel the whole thing. Mike was having no problems since he was an habituated diver, but Laurie and I hadn't been on a small boat in rough waters like this for several years. She wasn't feeling well, and I started getting feeling ill.
When we stopped the boat to drop off a spear-fisherman, it was worse. With no forward momentum, the boat really heaved up and down in the water. The best thing for this is to get underwater quickly, but we had to move to another reef first. Jan had already decided that she wasn't diving at all, so she was going to wait on the boat. That seemed worse to me, but she was concerned about being able to get back on the boat.
When we stopped again to dive, I wanted off the boat as quickly as possible and had already gotten into my gear. Mike and I went to the rear as soon as the captain told us we were clear to dive, and I was so happy to take that giant stride into the ocean.
While waiting on the surface for Laurie, the heaving water was only a little better than the heaving boat. Once she was in, we submerged into weightless bliss.
Ahhh... much better.
The light was subdued from the storms overhead, so most of the reds and yellows were gone. The blues and greens were still pretty good. The reef was okay, and we saw lots of big lobsters that knew that it wasn't the right season for them to be worried. Every now and then, lightning overhead lit everything up in a diffused flash.
Aside from the pool session on the previous day, this was our first dive in nine years. I had pretty much forgotten how to use the dive tables, so I just stayed with Mike, who had a dive computer. (I know this isn't best, but it's what we did.) Laurie had a computer on her regulator, but we just all stayed together.
The reef wasn't very tall, and it had a sandy bottom at about sixty feet. Our dive profile, therefore, was 60 feet for about 40 minutes. (We haven't gotten the info off the computer to put in our dive logs yet.)
After a free-floating safety stop, we surfaced and waited for the boat. Being on the surface was terrible. Laurie went back down to about ten feet to get away from the waves. When the boat was ready, she went up first. For those of you who haven't done it, getting out of the water onto a heaving boat is both difficult and dangerous. It's easy to get slammed by the boat or the ladder, and possible to get tossed into the air by the heaving boat.
We all made it aboard without drama or injury, but as soon as I was finished switching my gear to a fresh tank and had nothing else to focus my attention on, I started getting sick. Laurie was sitting on the deck being ill in a very polite way. Me, I heaved chunks over the side of the boat.
Yuk.
We picked up the spear-fisherman (he'd had no luck), and casually motored to the next dive site while off-gassing on the surface interval. He and Mike casually chatted about their dives without discomfort. Again, they were used to this, and we weren't. Years ago, when we were diving regularly, the boat wouldn't have been so bad for us.
Laurie and I both skipped the second dive. Being underwater would have been nice, but the surfacing and getting back on the boat wasn't attractive.
Photo interlude from Mike's camera: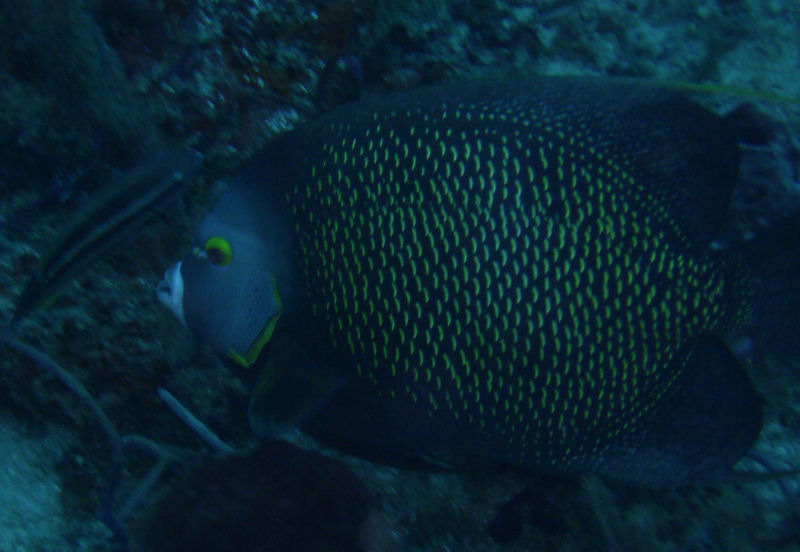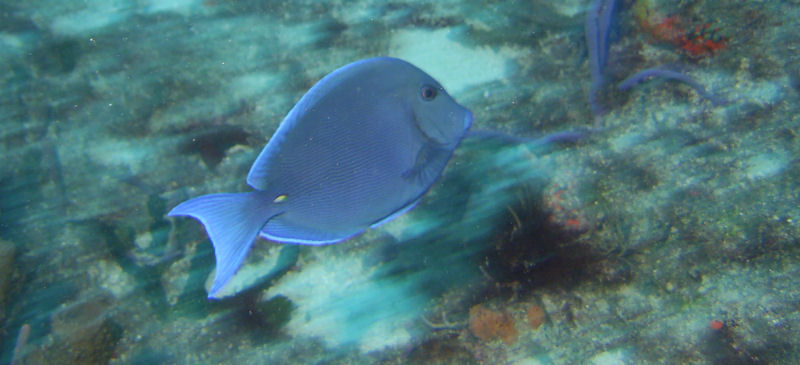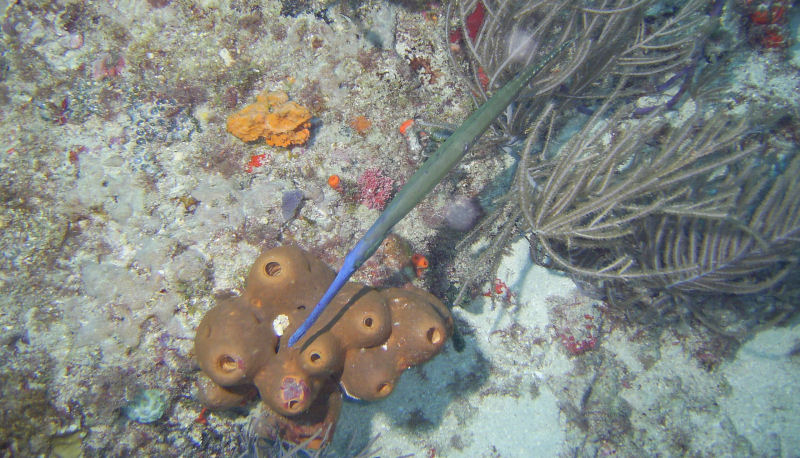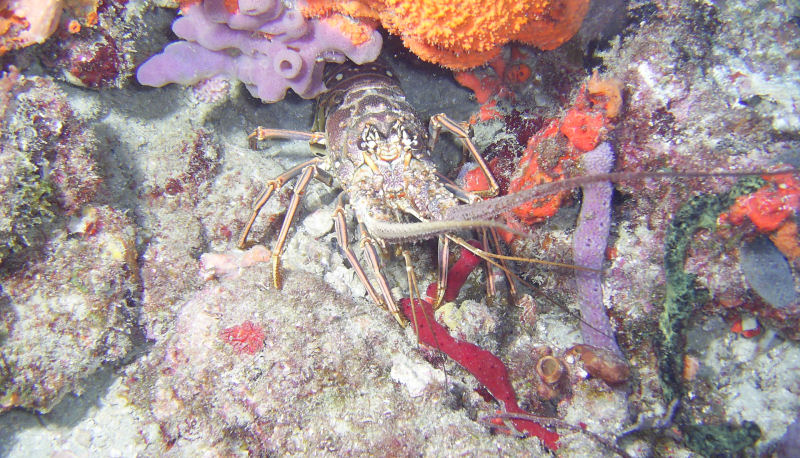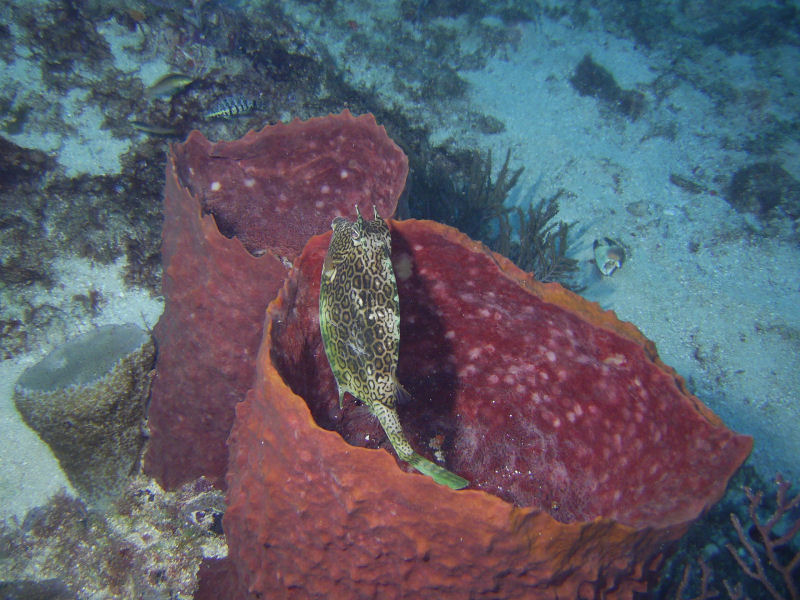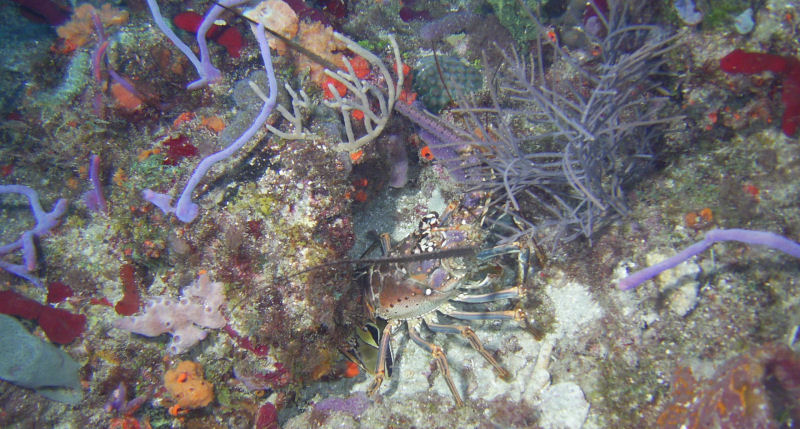 Nurse shark that Mike had awakened.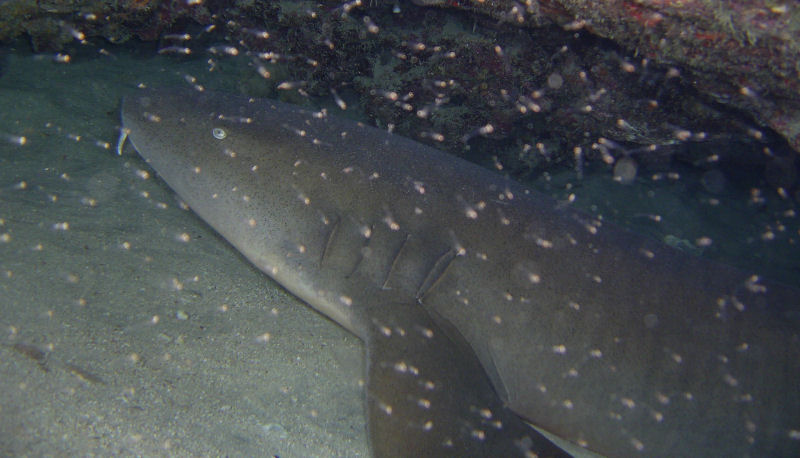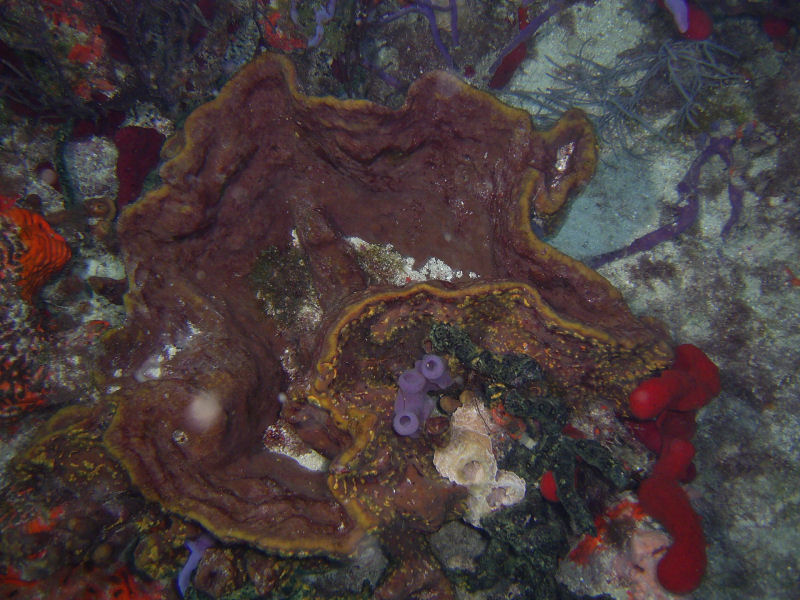 Sea turtle that didn't like having company.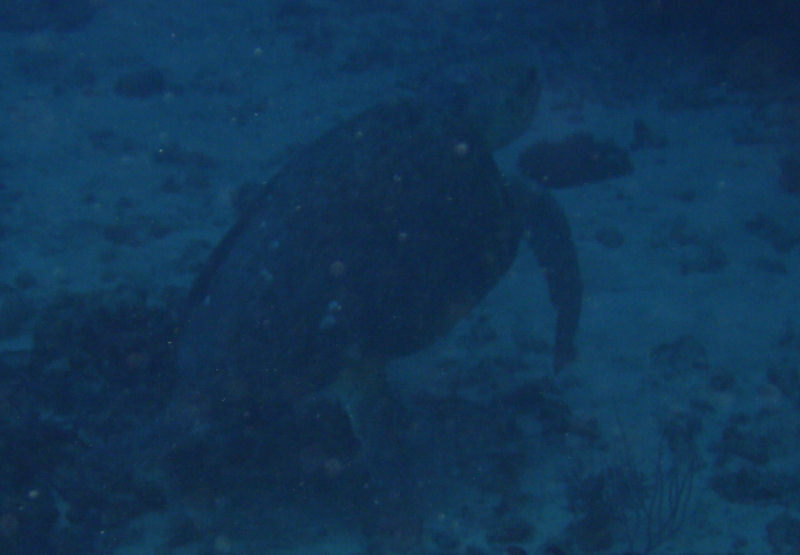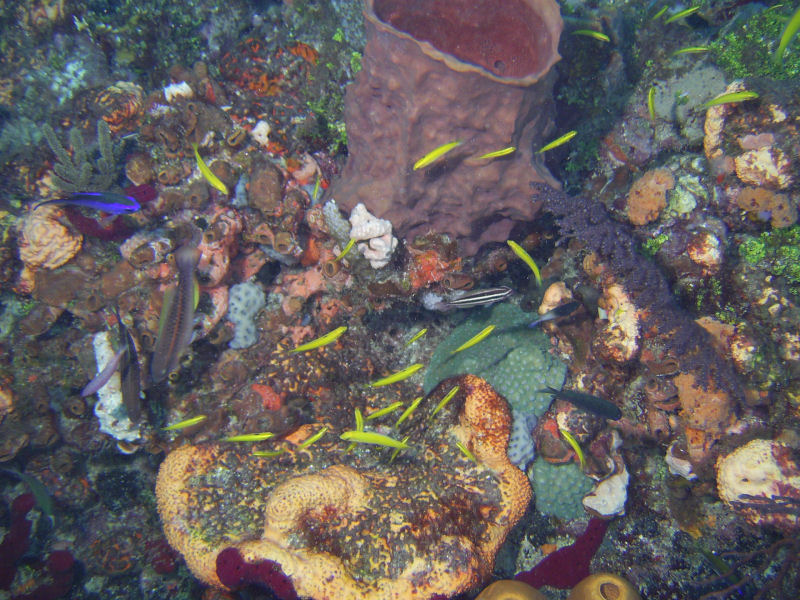 Green moray.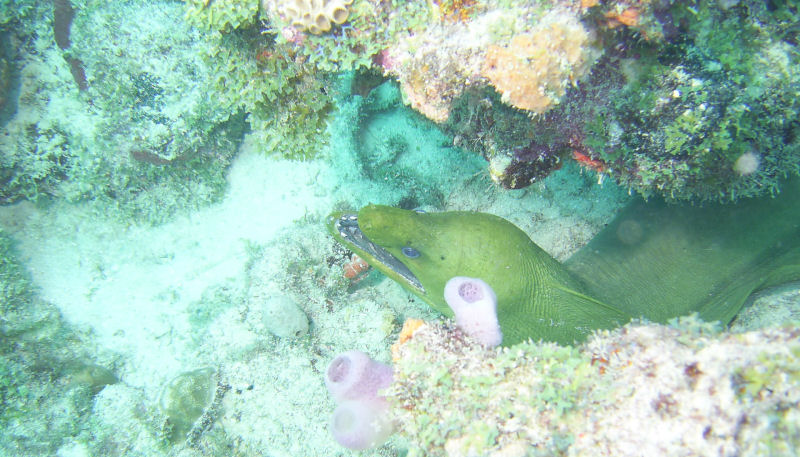 Another arrogant bug that knows that it's not lobster season.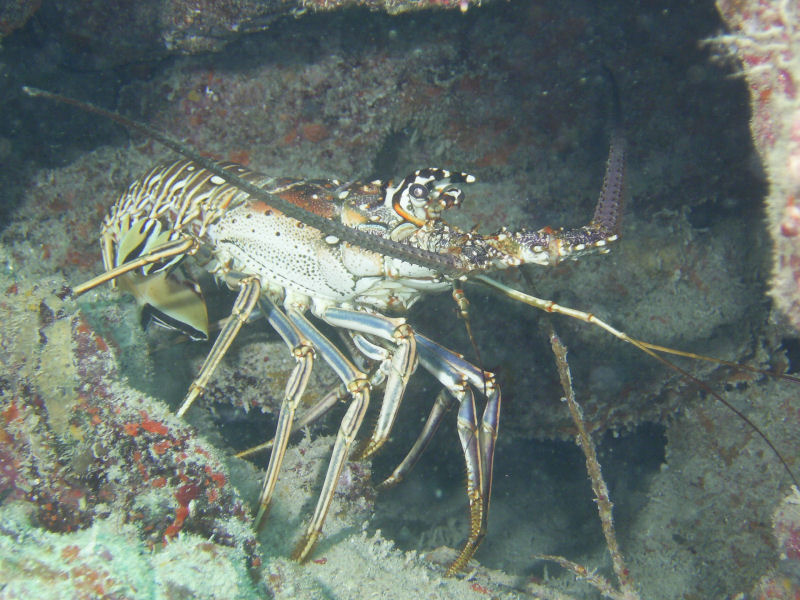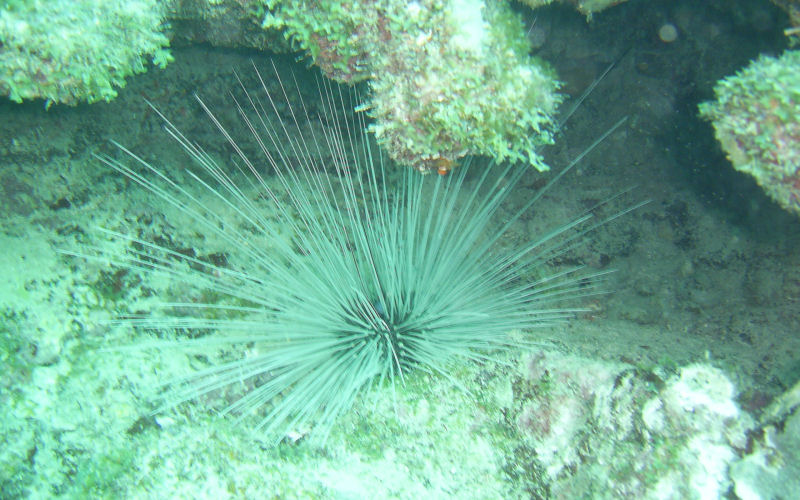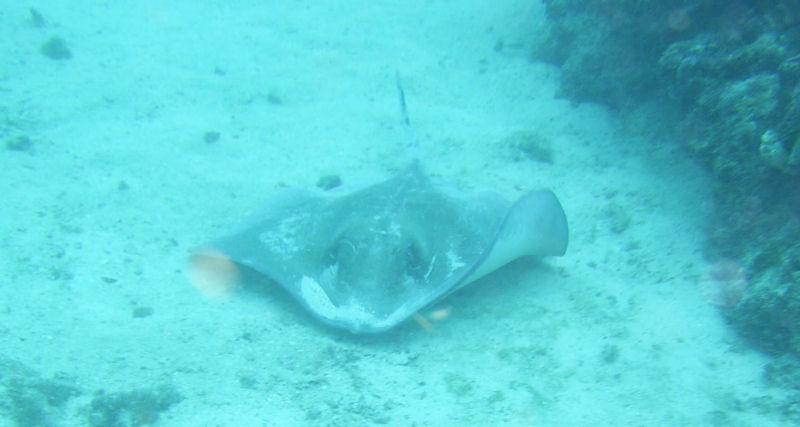 Spotted moray.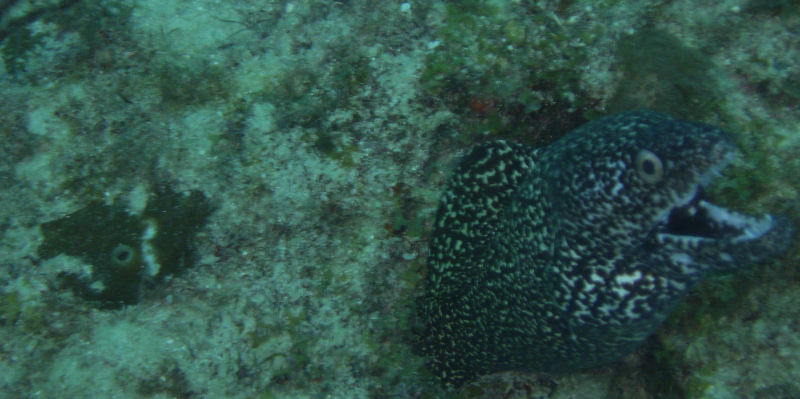 Another French Angelfish.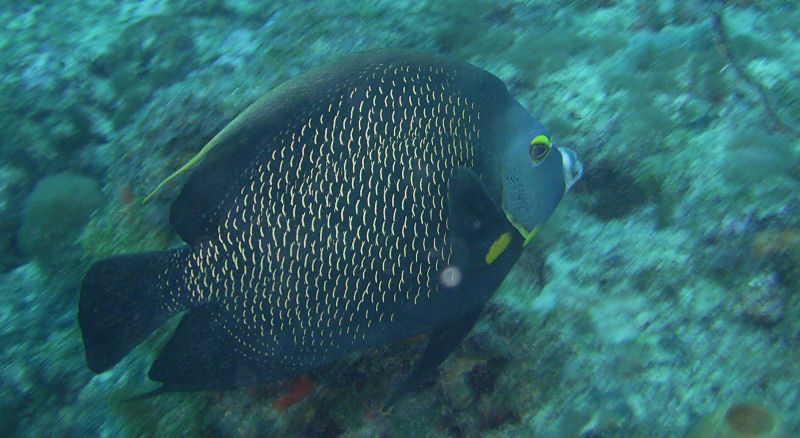 Squirrelfish are happy to pose.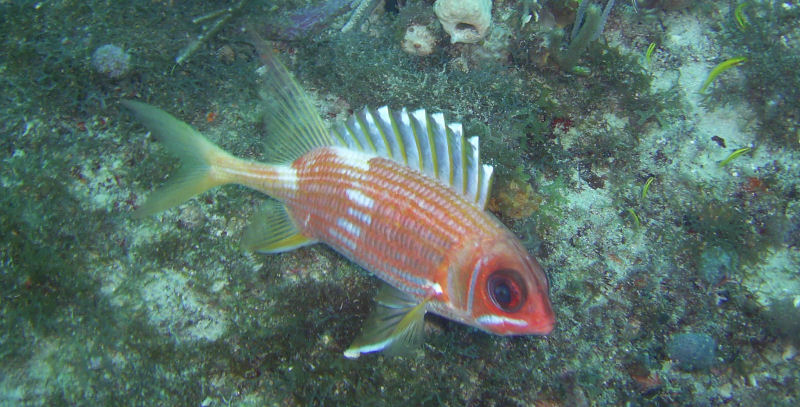 So, we missed all the good stuff. Sucks to be sick.
By the time we got back to shore, the weather had eased a bit, but it was still raining.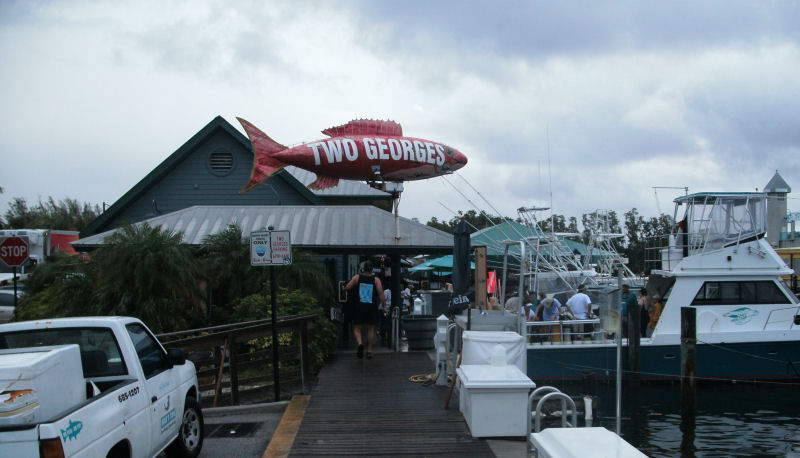 Laurie and I felt well enough for dinner, but I was still achy and iffy. After eating, I felt better for a little while, but on the drive back to Merritt Island, I felt worse and worse. Once at Mike's house, I just went to bed. Good thing, too. I had been hit by some kind of bug or food poisoning that completely wiped me out for the next day.
We had already made reservations and paid (non-refundable) for a three-tank dive trip the next day, but Laurie and I decided to blow that off and endure the expense. It was a good decision.
Sunday, 24 May, 2009
------------------------
I woke up at 02:30 very ill. I took some antibiotics and some pain killers, but was never able to get to sleep again. I had been sicker on the Amazon river, but this was bad enough. Whatever I had (food poisoning probably), it would zap me for the next 36 hours.
I stayed in bed most of the day despite being unable to sleep. Mike was away on the dive trip, and Laurie just hung out in the house with me. I finally managed to get up and work on my bike for a couple hours before I felt too weak and sluggish to continue.
While I was able to work, I swapped out the broken speedometer cable (I carried a spare), readjusted the chain, checked the brake pads, and checked out the oil leak on the left side of the motor. It was coming from the lower section of the rotor cover, dripping steadily. I had lost over half a liter on the ride up to Merritt Island from Miami. It hadn't been leaking like that before being shipped from Bogota, so that bothered me.
I took the bike out to the sidewalk and leaned it over onto a light post. By doing this, I was able to remove the left side motor cover without draining the rest of the oil. I saw nothing wrong with the gasket or the mating surfaces, so the leak was a mystery. While I had the rotor cover off, I adjusted the balancer to see if it would work properly, and I was glad to see that the torsion spring did its thing and the lever adjusted. Baia had gotten that reassembled correctly, so score one for him.
With everything back together, I topped off the oil and ran the bike up and down the street. Seemed fine. When I parked it back in Mike's garage, it promptly started dripping oil again. Crap.
I would deal with the oil leak and the missing footpeg bolt later. I put some plywood and a stack of napkins under the oil leak and left it alone.
After spending some time back in bed, Laurie and I went out to see a movie (Star Trek--what an interesting twist to the new story line!) and that was all I was good for that night.
Monday, 25 May, 2009
-------------------------
I stayed in bed as long as possible. I continued taking the antibiotics and meds for the soreness that I felt all over my body, but the constant trips to the bathroom kept me from getting any real sleep.
Mike made breakfast late that morning, and I managed to eat a little. I was doing my best to keep from getting dehydrated, but keeping fluids in me was difficult.
I wrote for a while, and although I had a major headache and general lethargy and weakness, I started feeling better overall.
There was at least a quarter liter of oil under the motorcycle. It was a worse leak than it had been before I had taken it apart to inspect it. Since this was Memorial day, Mike was off from work, and would be off on Tuesday as well. We would deal with the bike on Tuesday when the motorcycle shops would be open.
In the afternoon, we went to visit Stephanie. She was house-sitting for a friend of hers, and it was a very nice river-front home. Stephanie's brother was visiting with his family, so we got to meet them. The afternoon was spent lazing by the pool watching the kids try to drown each other.
In the evening, we went out for pizza and I was able to eat more food without suffering too much. Back at home, we just lounged and talked for a long time, then watched Laurie pack her bags. She was taking a lot of my stuff with her, so I wouldn't have to carry it all on the bike. She would fly back to Denver the next day, and her two carry-on bags were stuffed.
My original plan had been to ride to Moab, Utah before the end of the month to see friends at the Canyonlands Motor Classic. With another day of motorcycle maintenance in store for me, I had to give up on that plan (with many regrets) and readjust my schedule.
In the original plan, after visiting in Utah, I was going to ride home and then Laurie and I would go to South Carolina to deal with some family issues there. Now, I would plan to ride casually to South Carolina directly and Laurie would drive from Colorado with our big SUV so that she could tow a trailer back home afterwards. I wanted to finish my ride back to Colorado, so I would ride home on the bike. Not that I intended to take the same roads that she would be on, you know.
Tuesday, 26 May, 2009
-------------------------
After breakfast, Laurie finished packing and we took a photo with Mike. Stephanie wasn't feeling well that day.
Me, Laurie, my brother Mike. He got the better hair.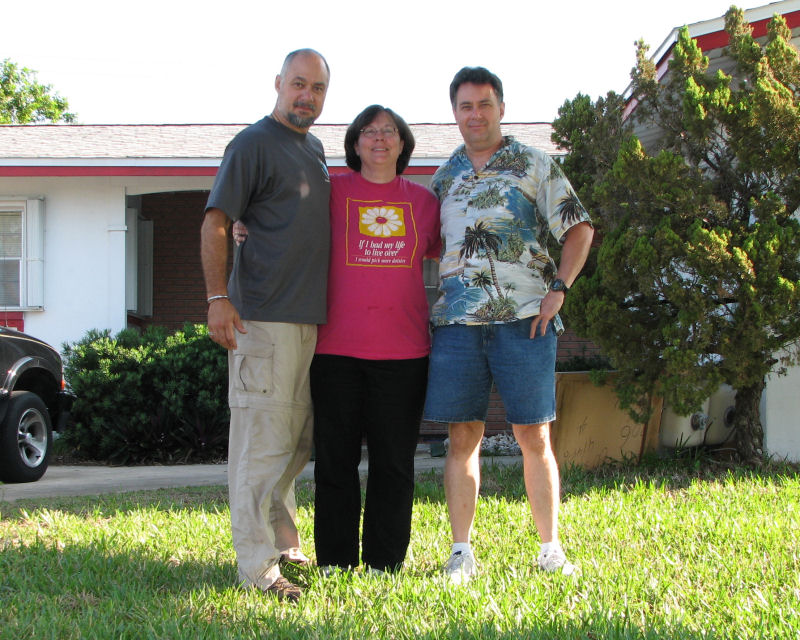 Mike had a photo of him and Stephanie, so meet Stephanie.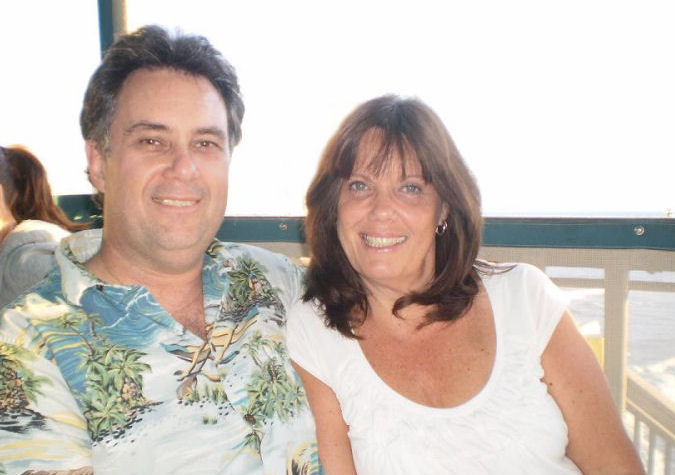 Laurie hit the road back to Miami at 09:00. I stuck another 12mm footpeg bolt in the stripped-out hole and slapped some QuickSteel epoxy over it to hold it in place. I had done the same thing months ago, but Baia had taken that off when he supposedly fixed the stripped threads. It wasn't great, but it was better than one bolt. At least the footpeg wouldn't rotate.
Mike and I went to a couple stores to get supplies, then returned to work on the bike. After draining the oil, I took the bash plate and the motor's left side cover off again and inspected the gasket. It looked fine. After scrubbing the mating surfaces, I found a couple places where there were some dings in the aluminum. Baia might have used a screwdriver to take the cover off, and that caused some small deformations. I trimmed those with a knife and put some gasket sealant on both sides of the gasket and the cover itself. I left the motor cover bolts finger-tights while I reassembled everything else. When that was done, I tightened down the cover bolts and added new oil. No drips. That's good.
I had new nuts and bolts for the Jesse box hinges that kept failing on the left box. I removed all the old hardware and replaced it with bolts that I could tighten down with a regular wrench instead of a teensy-tiny allen wrench. I added extra nuts just as insurance--I was tired of the hinges coming apart.
After a test ride, I was satisfied that the leak was cured, so that was nice. I had noticed during the work, however, that my extra-long rear brake line (the one I had installed in Argentina) had been chewed up by the tire a couple times and was almost at a failure point. That was a new task.
We went to a couple local bike shops, but no one had any hydraulic lines that would work. Mike made some phone calls and found a shop that was forty-five minutes away that had a braided steel brake line that would work, so we went there and picked it up. It was a bit too long, but that wasn't too bad. At least I didn't have to put a big loop in it as I've had to do twice before. I carried brake fluid with me, so we got the line bled through and all was well.
Mike took me to meet his friend, Jeff, and we hung out there for a while chatting. It was nice to meet him and his family, and I was happy to be able to enjoy the BBQ ribs and other food that they treated us with. My stomach was almost back to being completely normal.
Mike ran a few errands on the way back home, and then I did some catch-up writing. I would ride off the next morning when he went back to work.
My plan at the time was to amble in the direction of Saluda, South Carolina. I didn't have to be there for a few days, so I might go explore small roads on the way.
Wednesday, 27 May, 2009
----------------------------
I got up at 07:30 and was packed and ready to ride soon after. I waited until Mike arrived to say good-bye, then pointed the bike north.
I rode up Merritt Island toward the Kennedy Space Center, thinking that I might stop in at the visitor's center. I had been there several years ago, so it was only a lukewarm idea. When I got to the visitor's center, I decided to skip it.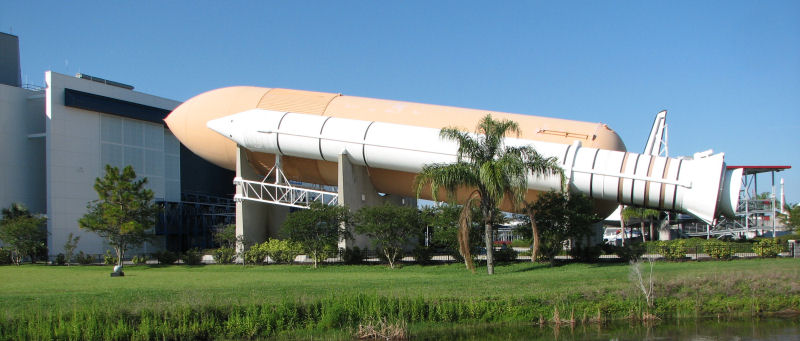 I rode to the Astronaut Hall of Fame, but my interest was drawn more to what was next door.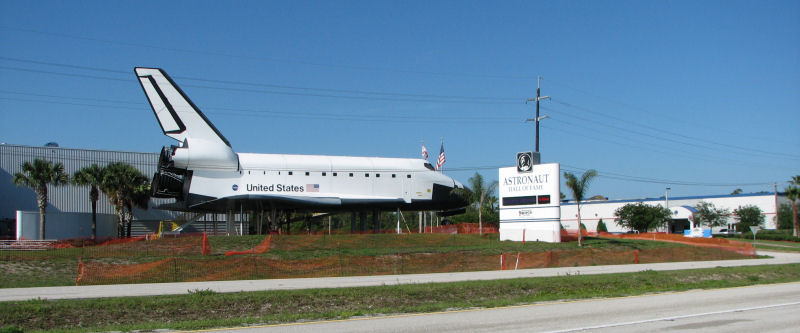 The American Police Hall of Fame & Museum.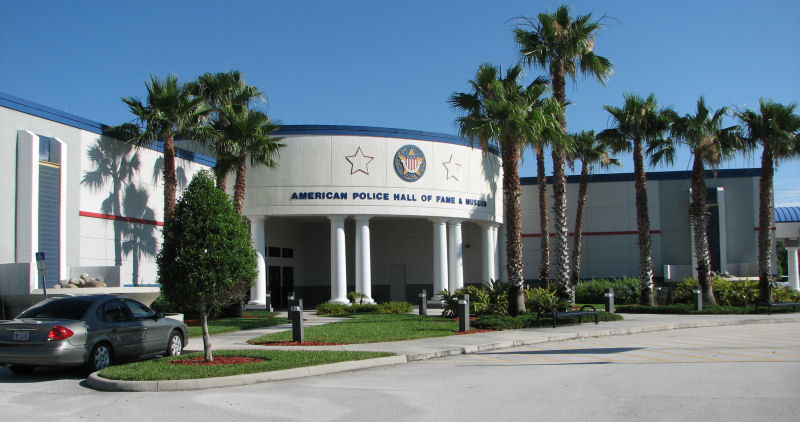 I was too early, and a guy raising a flag out front told me curtly to come back at 10:00. I went to a nearby gas station for coffee and to consult a map to kill some time. When I returned, I found that as a retired police officer, I got in for free. Score!
The place wasn't huge, but it had a nice array of vehicles, weapons, tools, memorabilia, and other items of interest. There were small displays for K-9 and CSI (including some crime lab activities for kids). Some historical items about Old Time Lawmen (Wyatt Earp, Bat Masterson, etc.) were interesting. The same with some items about famous criminals.
In the center of the building was a memorial, with the names of LEO's who have died in the line of duty etched into marble walls.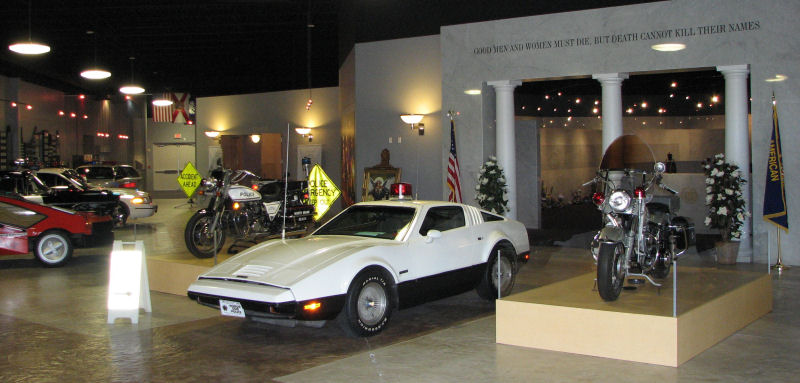 The actual Blade Runner prop police car.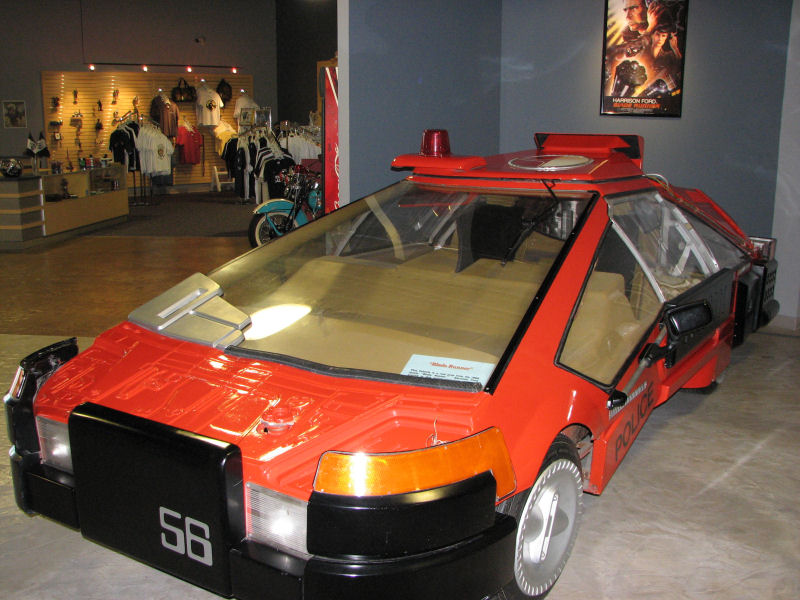 A 9-11 memorial display.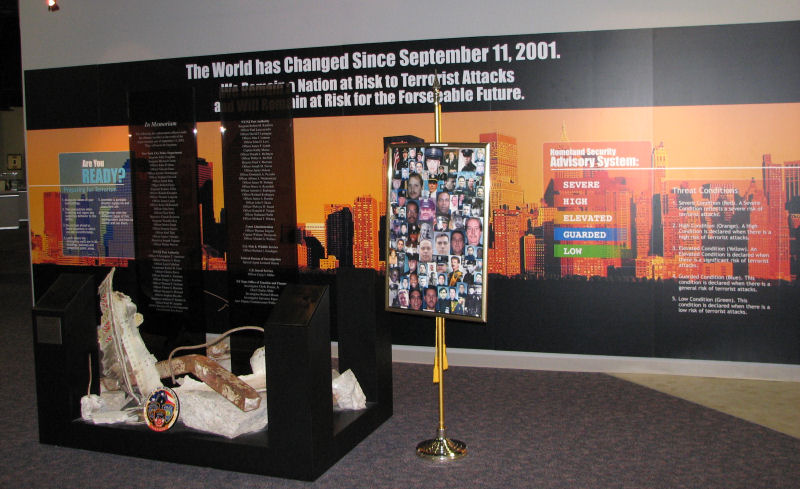 Batons. I like the one with the knife blade.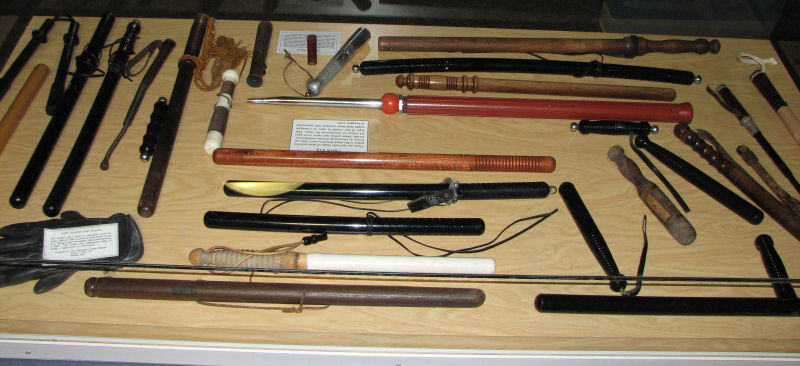 Some more-effective tools.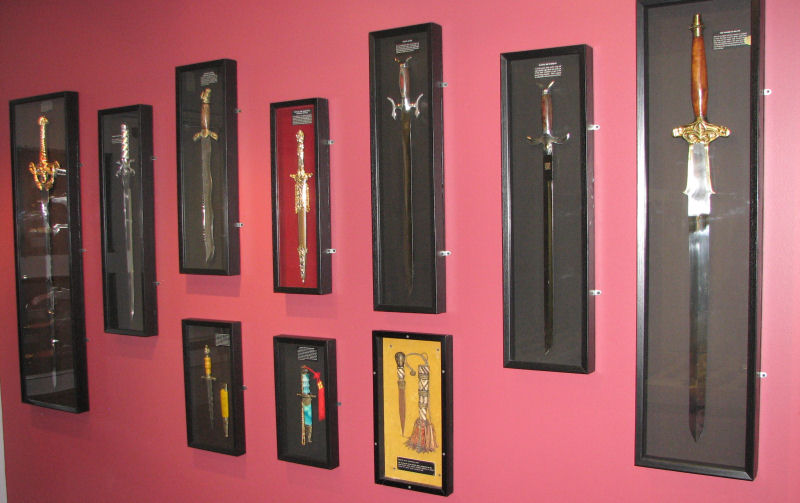 There was an interesting display of items from the Kennedy and Nixon presidencies, although I don't know why. Most interesting was the ACTUAL Nixon resignation letter, complete with Kissinger's initials (he was the recipient of the letter). I would have thought that this letter would have ended up in a U.S. Government archive somewhere.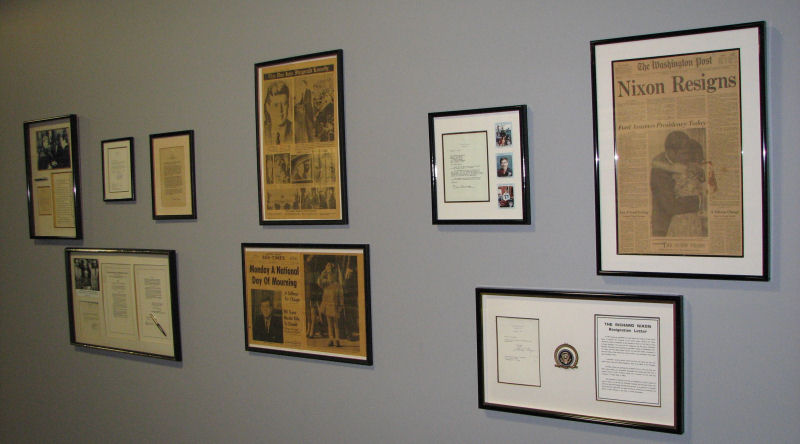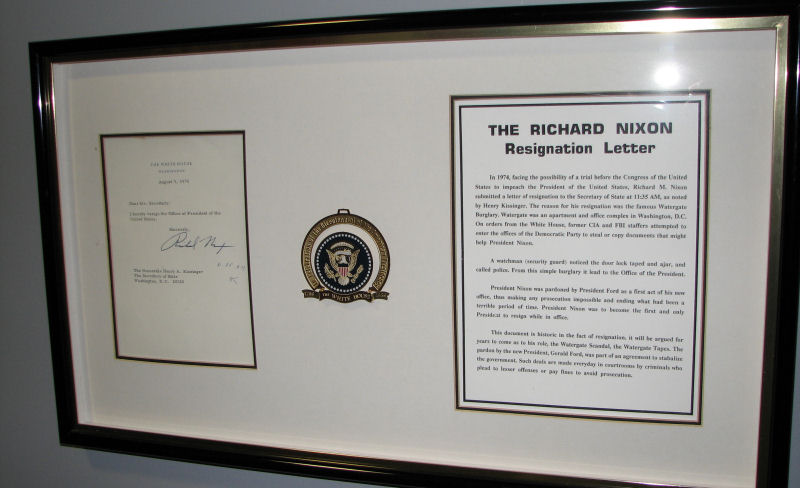 Underused memorabilia.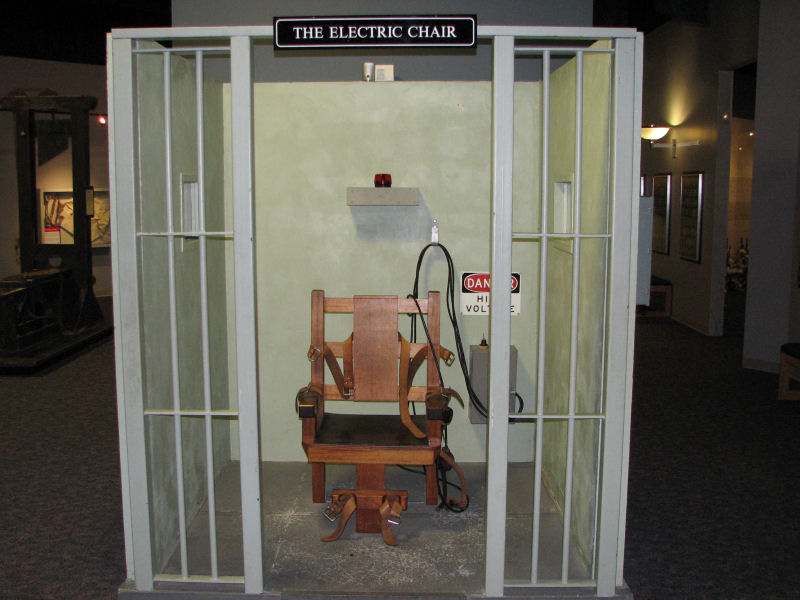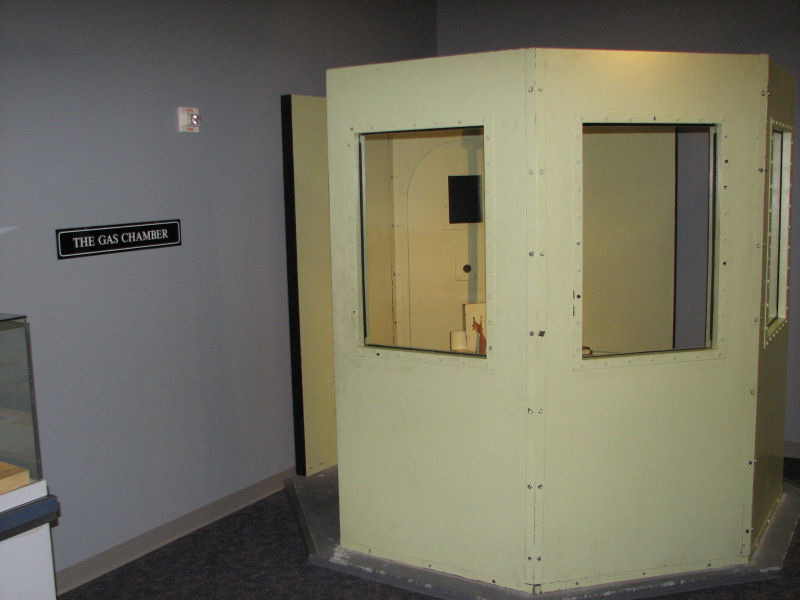 The memorial area took up a lot of space, unfortunately.
Two of my police academy classmates had been killed on the job early in our careers. Debbie Corr and Tom Dietzman had graduated the police academy with me in 1980. We three and two others were the top five graduates of our class.
Debbie was killed by a repeat murderer she had stopped for DUI. That happened just after we had been on the job for one year, and she was the first officer killed in the line of duty on our department. Her killer committed suicide in jail. I have a copy of his lengthy, rambling suicide note.
Tom was killed negligently by another officer on our department's shooting range. To me (and many others) it was criminal negligence, but the offending officer (a sergeant) was never prosecuted. A terrible failure of justice.

Ed was killed by a pattern armed robber he had hunted down and stopped just prior to another robbery. Ed lost the ensuing gunfight. His killer was chased and caught by other officers.

Doug died recently in a traffic crash while responding to a life-threatening call. Crashes kill almost as many law officers each year as criminals do.

EDIT: I'm ashamed to have realized too late that I had missed Mike Thomas in the list of APD officers killed. After Deb and Tom, I had known Mike best. Mike was shot and killed while sitting in his car at a traffic light by a semi-deranged nut job criminal who had shot at some woman earlier for no apparent reason. The killer stayed on the scene and admitted to the next officer who arrived that he had done the killing because he had recognized Mike. He, of course, was quickly arrested.
So many names....
You have to consult a book to know where to look for the names you seek.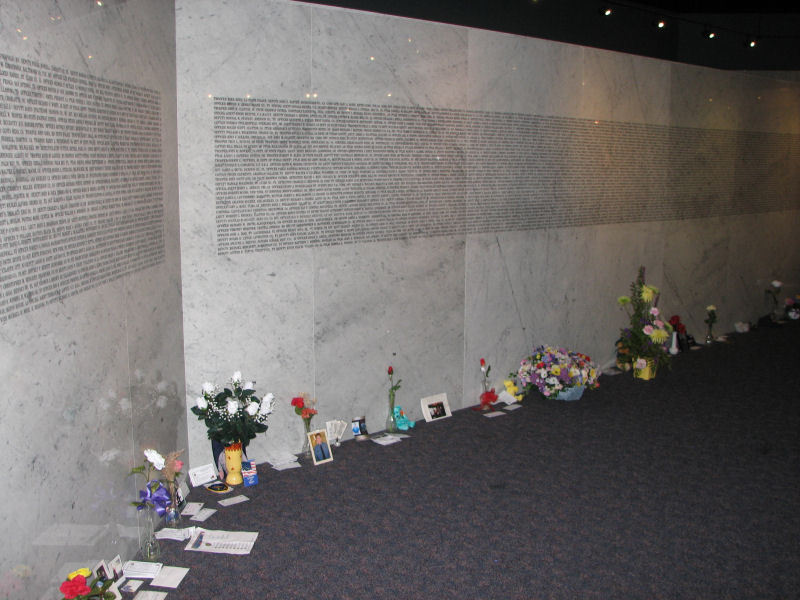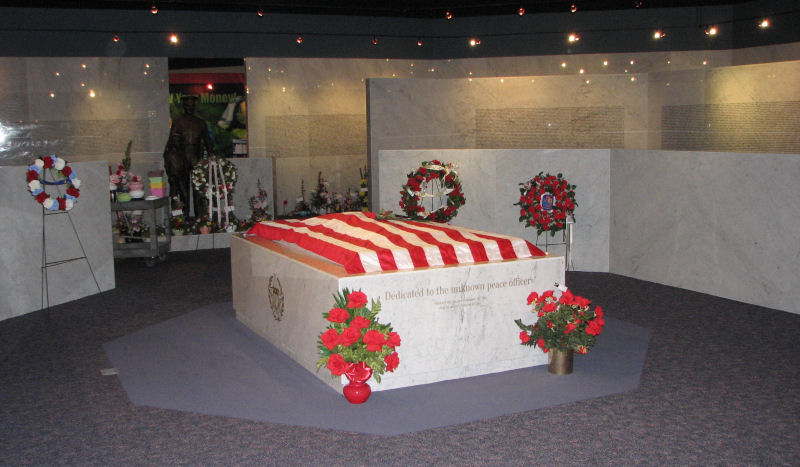 It was somber, and I just stood alone there for a while in the quiet. I didn't cry then, but I cry a little now as I write this.
After spending an hour in the museum and an hour in the memorial (I made rubbings of the Aurora officers' names for myself and for my police department), I then spent an hour talking with George--the guy whom I had first met while he was raising the flag that morning. He was either a volunteer or an employee, and was a retired police officer from somewhere. (The RoboCop statue has a voice synthesizer that greets guests... it's a bit too corny for me.)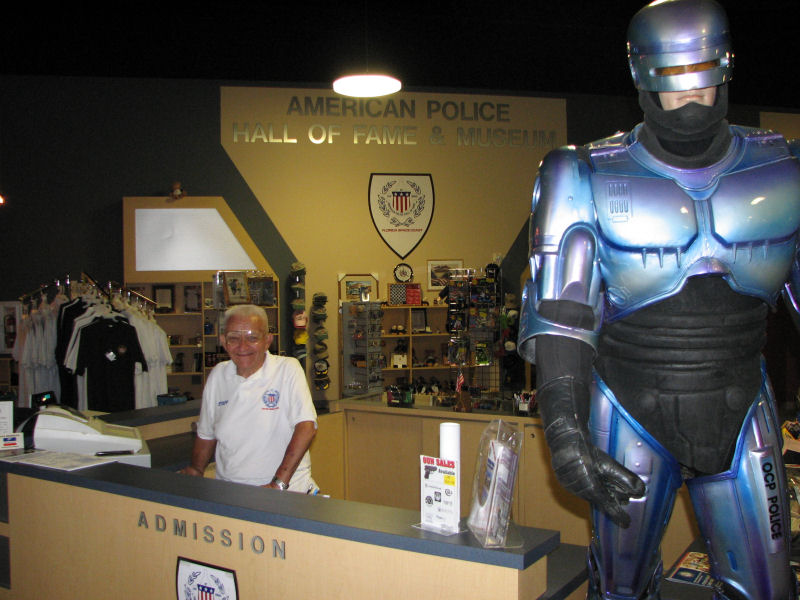 George was a character. He was missing his left hand except for the thumb and palm heel, and the scars suggested it had been some great trauma. I didn't ask how that had happened. He was friendly and engaging and entertaining, but when we talked it was all about him.
Unfortunately, George was also a racist jerk who used every possible derogatory racial epithet while he told me some of his "war stories." It took him a while to warm up and start talking more freely, but I didn't care for his stories. I don't know who he thought he was impressing, but I found him to be a terrible representative of the place. He needs some supervision or he needs to be fired. Simple as that.
After spending months and months in Latin America and seeing not a single sign of racism, it had taken only a few days back in the States to meet George and be shocked by his racist demeanor. I bought a few things from the gift shop (and he gave me a patch for free, not that it helped my opinion of him) and I got out of there to get away from him. What a shame.
Do go to the place if you are in the area, but avoid George if you see him. That's just my advice. Of course, your experience with him might be different than mine (I hope).
Anyway, back on the road. I stopped for lunch at a diner and had a club sandwich. That was different.
I was going to ride US-1 all the way up into South Carolina, and would probably go right past my next destination and go up to the Blue Ridge Parkway for a couple days. I had time to return to South Carolina later.
I stopped in Daytona to look in the motorcycle shops for another Chatterbox unit. Mine was really acting weird, and I couldn't listen to music through it anymore. I found a shop that had the X-2 unit, so I got that instead of hunting further for the X-1. It was good enough for my needs.
The rain started and continued for most of the afternoon. Got a little chilly, too.
Getting through Jacksonville was not so easy. US-1 jogs all over the place, and you really have to watch for the signs.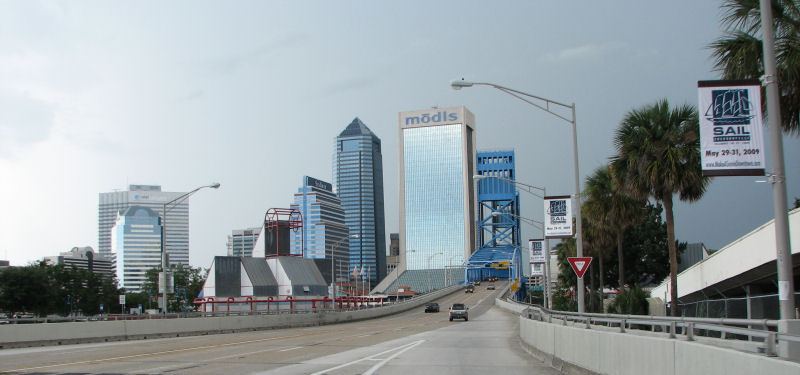 Once US-1 had left the coast of Florida, the scenery had gotten less interesting. Trees now lined the highway most of the time, and that gets old fast. The road was in excellent condition, though, and I didn't have to watch for killer potholes and speed bumps.
Or animals being herded down the road.
The rain stopped and the sun set around 20:00, and that put me near Vidalia, Georgia. I left US-1 to hunt for a motel, and I stopped to check out a few places without feeling good about any of them. The chain hotels and motels were too expensive for me. I finally found a cheap place (US$30) that was acceptable and unloaded there. None of the motels I had stopped at had Internet access. The gal at the place I stayed told me that the nearest Internet access was at the Wal-Mart store about 4-5 miles down the road. No, thanks.
Dinner was at a Mexican restaurant behind the motel. I then watched part of the Denver-Los Angeles basketball conference playoff game while sucking on a huge margarita, but it was late and I got kicked out of the place. I tried watching more of the game in the motel room, but Denver was letting the game slip away so I decided to concentrate on writing. It had been a neck-and-neck game until early in the forth quarter. Okay, I'm not much of a basketball fan, anyway.
I finished this sentence just before midnight.
Thursday, 28 May, 2009
-------------------------
I didn't get up until 10:00, and wasn't in a hurry to get anywhere. I rode casually up US-1, and I liked it better when it was a smaller country road. In busier areas, it was like an Interstate Highway. The scenery was usually more of the tree-lined-canyon effect, but there were some interesting sections. The road was in such good shape that I welcomed some minor construction areas just to break up the monotony.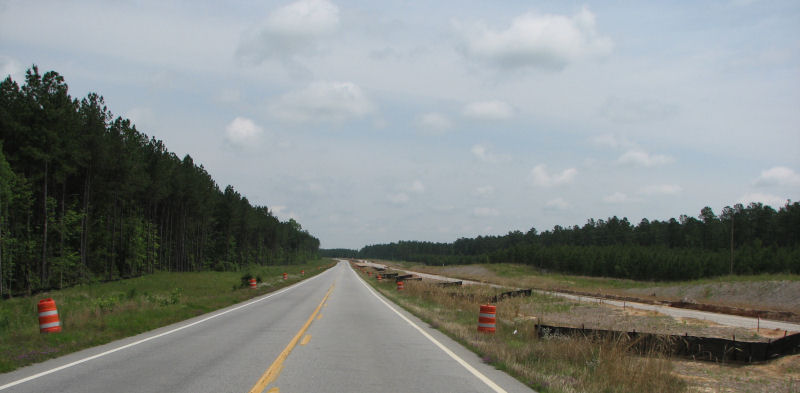 I stopped in Swainsboro to get gas. After topping off the tank, I got on the bike and hit the starter button.
All I got was a pathetic, fading whirring sound. The battery was dead? How did that happen? The bike had started right up that morning.
I let it set next to the gas pump for a couple minutes, then tried it again. Same result. I pushed the bike up to the convenience store and left it there while I got something to eat and drink. The heat was draining my energy. Meat loaf with a few side veggies hit the spot. I wanted a beer, but I settled for sweet tea.
Finally, I got to work on the bike. I checked all the wiring, fiddled with the starter relays, poked, prodded, and wiggled all the things that seemed worth poking, prodding, or wiggling, and then took all the luggage and seat off the bike so I could get to the battery. See the shadow under the bike? There was no escape from the hot sun.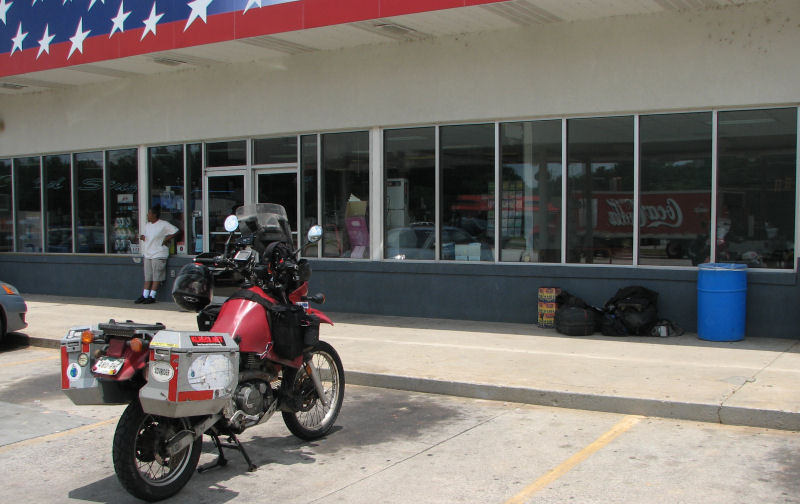 I found one broken wire at the battery's positive terminal, but that turned out to be to an accessory plug. I soldered it back together anyway. It was something I could fix right away, so I did.
I put a voltage tester on the battery and it showed almost twelve volts, but when I hit the starter button, the voltage dropped to almost nothing. That's a bad battery, folks. That sealed battery had lasted over 40,000 miles in the last year (Alaska and Canada included), so it had served well enough. (I had thought it was dead in Buenos Aires, but that turned out to be a different problem.)
Swainsboro wasn't a large enough town to have a motorcycle shop. Some of the passing customers told me where I could most likely find a motorcycle battery, but it was usually far away. A few people recommended a go-kart shop nearby. The cashier in the convenience store dialed the nearest NAPA auto parts store and handed me the phone.
The NAPA guy thought that he had a motorcycle battery that would fit my bike, but he couldn't be sure. I thought about taking a taxi to the NAPA store, but the guy on the phone said he would find someone to drive down to where I was.
The guy he found to drive down to me was himself. He showed up in a NAPA truck and took my dead battery back to the store with him. He returned after a while with a battery that was the same size. Like many motorcycle batteries, it had the polarity of the poles reversed, and that caused me some problems with my wiring. Once I determined that I could re-route the wires and make it work, he told me the price of the battery. Doesn't US$83 sound a little steep to you? It does to me. He said that they only had a few motorcycle batteries in stock and they really don't sell them very often. That was the price for any of them. Rats.
I told him that I would take the battery, and he left again with it so he could put the acid in it and get it charged up at the NAPA store. I got back into waiting mode, chewing ice from the convenience store's soda fountain. The gals there didn't seem to mind.
I talked to several people who asked about the bike. They didn't seem to understand the distances involved when I told them about having ridden to Alaska and all around South America, but they thought it was impressive that I had ridden all the way from Colorado and was going back all that distance. Weird.
When the NAPA guy returned, I installed the battery and juggled the accessory fuses and relay until it all settled into place. Since this was not a sealed maintenance-free battery, it had a drain tube (where the acid can drain off when it gets hot and expands), and the drain was on the wrong side of the battery. I used some tubing that I carried with me to make an extra-long drain tube and re-route the drain line back over the battery and down to the bottom of the bike. I fixed it there with some zip-ties.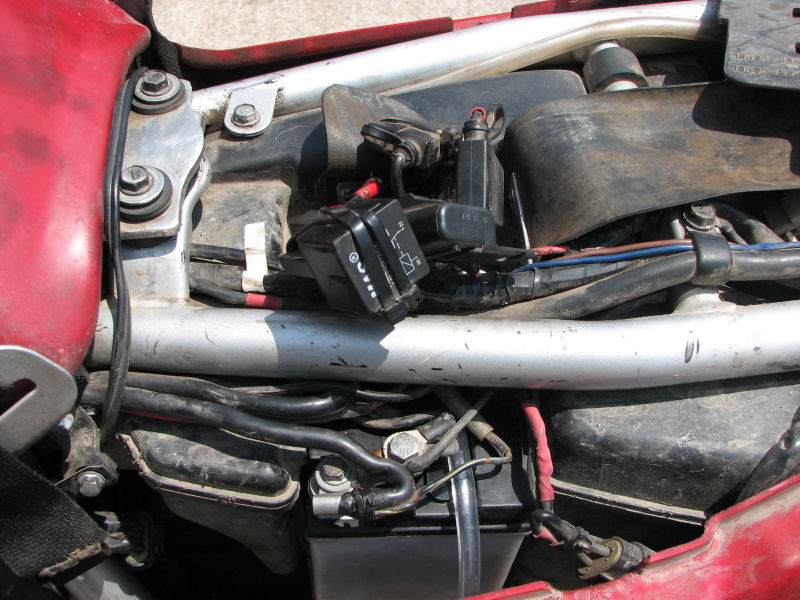 The bike started right up like a champ, so that was that. I gave the NAPA guy my credit card and he zoomed off again while I got the bike reassembled. While I worked, I saw battery acid draining from the tube at an alarming rate. Sitting in the sun wasn't helping--it was getting hot. I dumped a lot of water on the pool of acid that was collecting under my bike.
The NAPA guy returned and we completed our business. I mounted up and headed north, happy to be moving once again. It had been a couple hours' delay, but that didn't really matter. The expensive battery bothered me, though.
US-1 was nice, sometimes looking like this: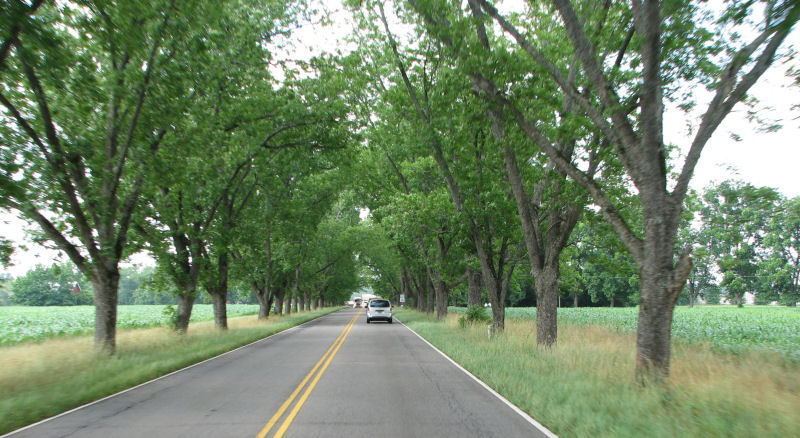 But it was often unattractive, so after I passed through Augusta and entered South Carolina, I turned off onto US-25 and went north on that. It was a little better. I had driven this road a few years ago, so parts of it were familiar.
I made a point of getting past the Greenville metro area before looking for a motel. I checked out a few along the way, finding that they were averaging about US$50. The States are expensive. I had liked staying in hotels in Latin America for less than ten bucks much of the time. Oh, well...
I found a decent small motel in Traveler's Rest, South Carolina. The name of the town had seemed promising when I saw it on the map. It was US$42 for the night, but I was able to get their Wi-Fi signal in my room. I ate at a diner down the street, but the meal was pretty basic and bland.
It rained on me when I started walking back to the motel.
Friday, 29 May, 2009
-----------------------
I slept in, getting on the road after 10:00. US-25 took me to Asheville, North Carolina, and I stopped for gas at a small station. The clerk there was a real Good Ol' Boy, and he shore thought mah bike was mighty diff'runt from all them thar Harleys. I said, "Yep, shore 'nuff."
He listened to my short story about having ridden around South America and now slowly heading back to Colorado, then he tried to whistle but his mustache got in the way. Again, he just didn't understand where South America was. "Dang," he said. "Colorado shore is a long ways to ride a motorcycle."
"Yep," I agreed. I let it go at that.
He told me that he had to quit riding motorcycle because he was sure to kill himself. Several of his friends had died on motorcycles, but he told me that they were mostly drunk at the time.
"Yeah, Ol' Jethro got hisself all drunked up an' kilt hisself right off," he told me. Rode off the highway somewhere on an old Harley.
For one thing, this was the first time I ever heard of someone named Jethro who wasn't a television character. For the second thing, all of this guy's friends seemed to have died on old Harleys while drunk. This guy wasn't young anymore, so he had probably made the right decision to stop riding bikes.
I got onto the Blue Ridge Parkway just south of Asheville, North Carolina and headed northeast for the day.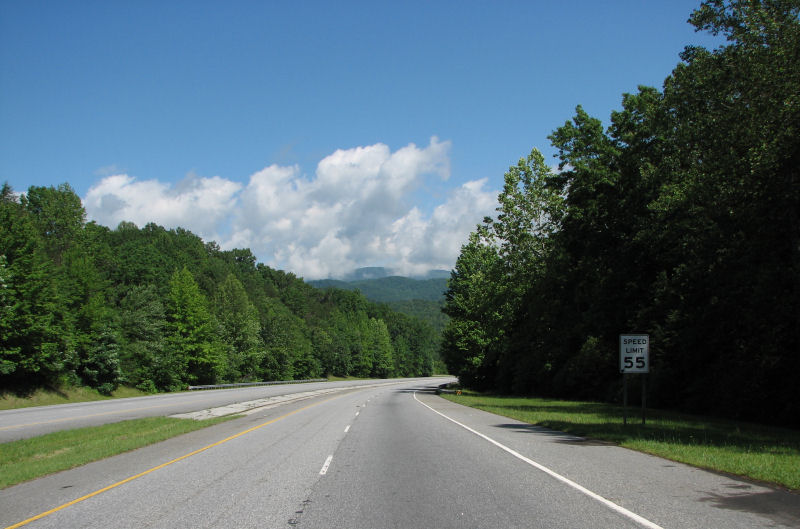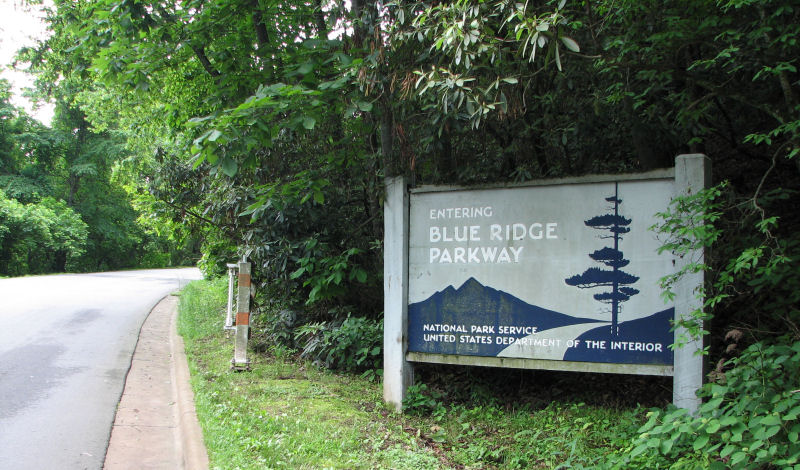 It was cool on the BRP--almost cold at times. There wasn't a lot of tourist traffic, so that was nice. Lots of riders.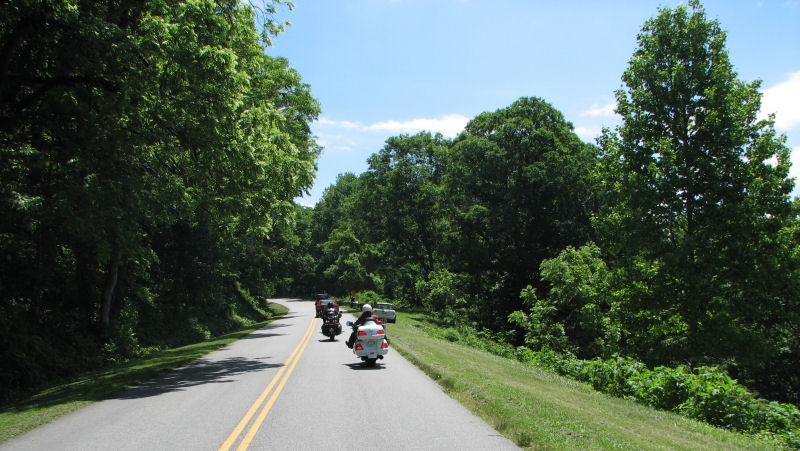 Most of the BRP was in great shape, but there were a few areas of construction.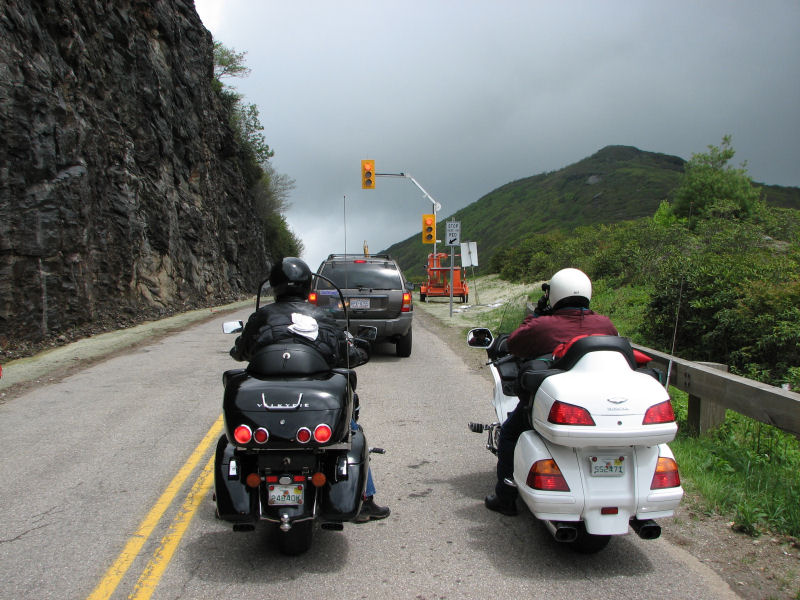 Twice, the BRP was closed altogether and traffic was detoured onto other roads for some distance. Eventually traffic was detoured back onto the Parkway.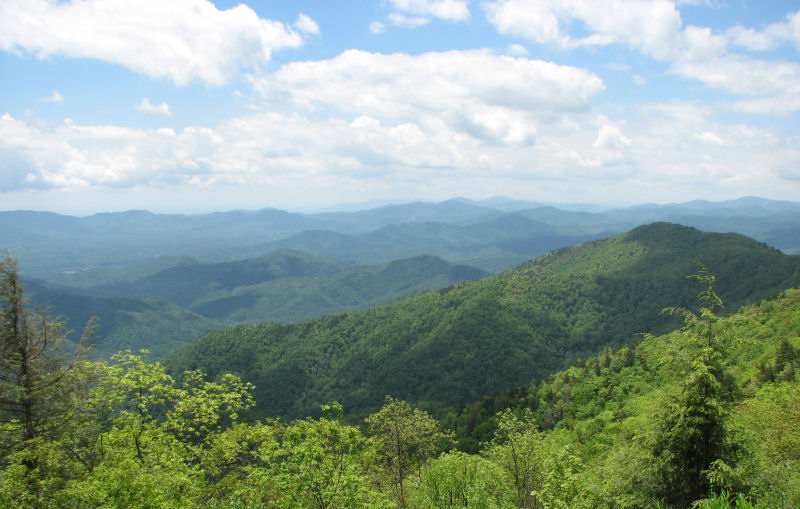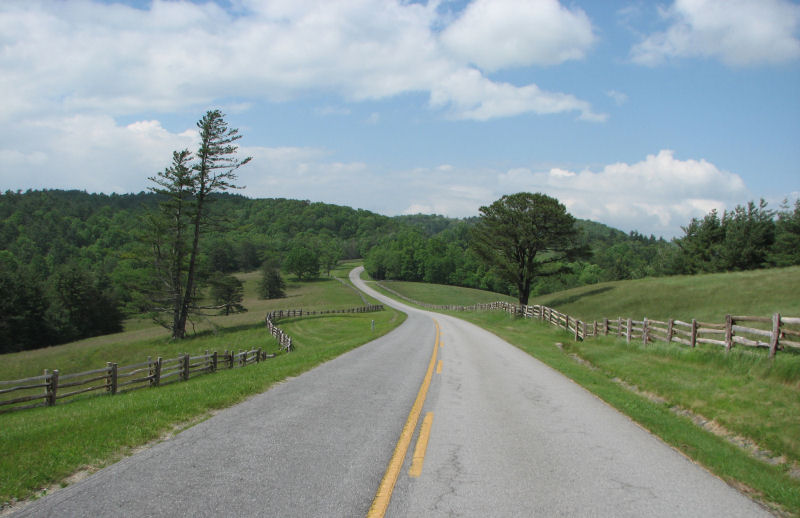 I had a late lunch somewhere, but I don't remember where. Some small diner in some small town during one of the detours. Cheeseburger with chili and coleslaw (all on the burger, which was messy). I later learned that this was called a Carolina Burger.
Several hours later, and the BRP was looking more and more the same. Very pretty, but not much diversity.
I was low on gas when it started to rain, so I got off the BRP and made it to a town with a gas station before getting totally soaked. While I was refueling under the station's canopy, the rain started pounding down very heavily. I left the bike at the pump and ran inside to pay and get out of the torrent. It cleared up very suddenly soon after, and I was on my way again.
When I got to Roanoke, Virginia, it was late enough that I started looking for a motel. None of the ones I saw around the city looked interesting enough to investigate, so I decided to head back south on another road. I chose US-221 pretty much at random, but partly because it paralleled the BRP back the way I had come.
An hour later, and I hadn't seen a single motel anywhere. When I got to city of Floyd, I circled around a bit, but saw nothing that looked like it would do. A lot of people were stranding around outside some shops in the center of town, so that must be a Friday night thing.
At one of the large chain motels, I asked the gal at the desk if there were cheaper motels anywhere, and she told me to keep going until I got to I-77, where there would be more hotels and motels. It was almost dark, so I hoped she was right.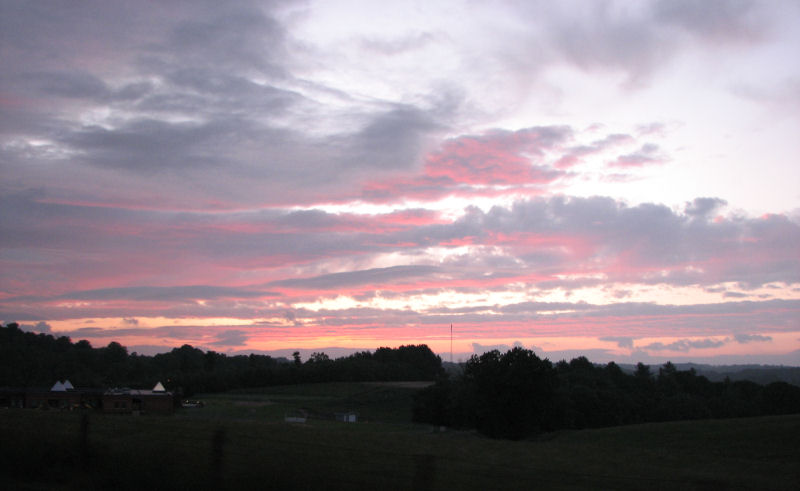 I stopped to investigate one smaller motel and got into a long discussion with the very friendly old, crippled manager. After chatting for over half an hour, he offered me a room for $40 cash, which was a big discount. He didn't have Internet access, so I had to decline. That seemed to make him sad. I think he was looking forward to more conversation.
A bit closer to the Interstate, in Hillsville, I found a cheap motel for $30, and they had a cable connection to the Internet. Score!
All the restaurants were closed, so I had to settle for a couple beers and a bag of chips from another gas station.
After settling in, I found that the cable Internet connection didn't work.
Bummer.
Saturday, 30 May, 2009
-------------------------
The hash house near the motel had been closed the previous night when I had gone in search of food, but it was open when I needed breakfast. They had a breakfast bar set up, and you could help yourself to many of the typical morning foods. They cooked your eggs, hash browns, and French toast when you ordered them, so that was fresh. The coffee came in a mug that was big enough to drown a monkey in. Well, maybe a small monkey. If it wasn't fighting too much. Anyway, it was a huge coffee mug.
Two tattooed riders were at another booth and some of the local customers were talking with them. I heard the riders say that they had been on the road for three weeks, having come down from Long Island, New York. When one of the locals asked me where I had ridden in from, I couldn't help but steal the other guys' thunder. At least these folks knew that South America was far away.
After breakfast, the owner of the diner told me of some local lore, then said that I should stay in Hillsville all day since there was a beach party in the town that afternoon and evening. There would be food vendors in the streets all day, then they would all clear out at sundown and the streets would be closed off for the beach-music party all evening.
It sounded interesting, but not enough to keep me around. There was also a Civil War museum in town (I noticed that he called it the 'Civil War' and not the 'war between the States'--that's unusual down here). The owner/cook/waiter/cashier/bottle washer/story-teller also insisted that I should stop in at the Harmon's store south of town, since that was where all the bikers did their shopping.
Whatever.
I could be in Saluda, S.C. that afternoon if I just headed there, but I still had a couple days to spare. I considered heading east to see some of the historic sites in the area. I also considered heading west into Tennessee, hunting for the Tail of the Dragon. (It's a popular section of curvy road that riders treat like a Mecca of sorts.) I decided that the Dragon would wait for me, and I didn't want to get too wrapped-up in all the historic stuff yet, so I wimped out and headed back south on small roads.
It turns out that small roads are hard to find, and harder to stay on. They kept having a tendency to join up with larger roads and even with Interstate Highways.
I liked it when the road was like this: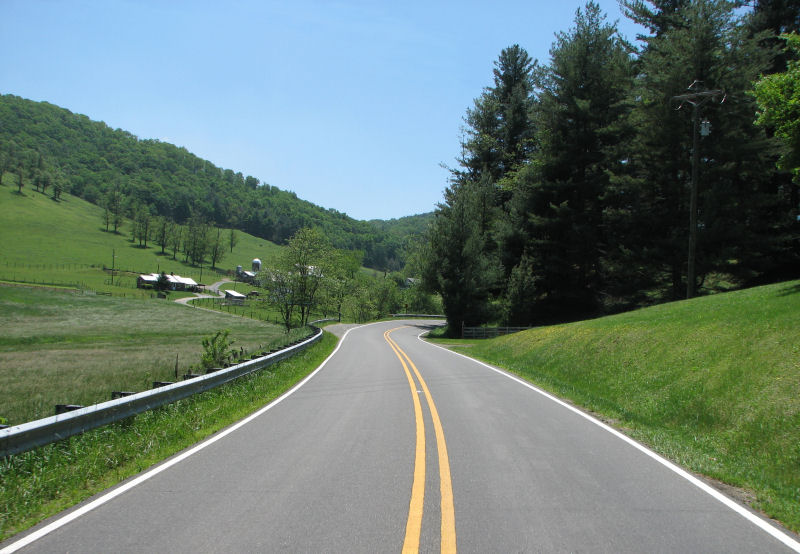 But even this was tolerable: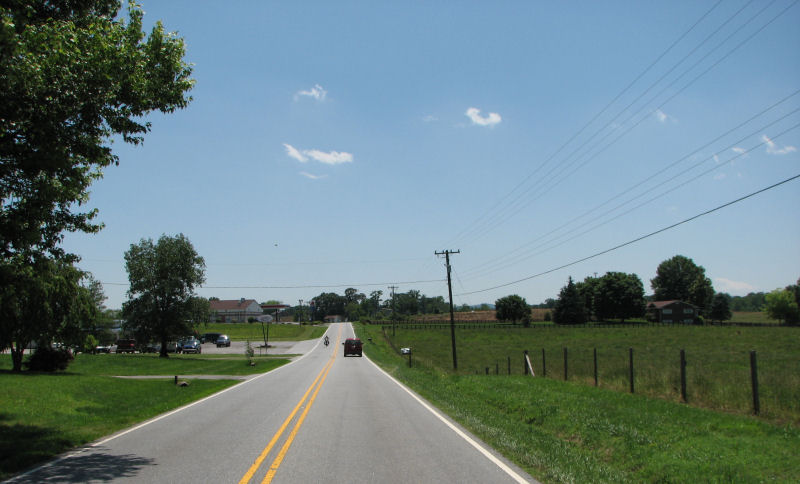 The day was nice, and it didn't rain on me for a change. Before crossing the Blue Ridge Parkway again, I was on a twisty section of Highway 18 west of Sparta, North Carolina, when I saw a Harley Davidson rider had ridden off one of the tight curves and was crashed on the side of the road. There were other riders helping him, and an EMS truck had just arrived. They sat him up as I went slowly past, and that surprised me. I suppose he was not badly hurt. The bike looked trashed.
The two photos above were taken after I left the mountains, and I regret not having taken more photos. It was beautiful at times, even though most of it was fairly mundane.
I must admit that one of the reasons I wasn't taking as many photos anymore was because I had a sense of "being home" and not in some foreign country. That's not fair to the USA, of course, because it's just as photogenic here as it was elsewhere.
Another reason I wasn't taking photos was because of my mindset. I was totally relaxed and simply enjoying the small, twisty roads and small, twisty towns. I forgot I had a camera for most of it. Very relaxing.
I also didn't take notes all day. That was a first. Another symptom of having the sense that the "adventure ride" was essentially over and I was just killing time before heading back home. Hopefully, when my family duties are complete in South Carolina, I can wander back to Colorado and find some more of that adventure along the way.
I can hear that dragon's tail whipping in Tennessee...
Eventually, I worked my way south, crossing Interstate 40, and later Interstate 85. When I got to Jonesville, South Carolina, it was only about 17:00, but the sun had drained me. I stopped at a gas station for something to drink. There were several old Black men sitting out front, just watching the traffic go by. When I got off the bike, a couple of them nodded to me, but none spoke. I came back out with my Gatorade and sat with them, hoping for some conversation. I didn't get much.
I saw the men look at the bike and look at me. A couple times one or another of them seemed about to say something to me, but they never did. After a while, I asked them for directions to Saluda, a city near where I had to be in a day or two. I didn't need directions, of course, but it was an easy enough tactic.
To my surprise, none of the men knew where Saluda was. Heck, it wasn't far away and was a decent-sized city. "Nope," one of the old men said with a wise, slow shake of his dark grizzled head. "That ain't nowhere nears here." Another man added that the Saluda Mountains were somewhere to the north.
I asked if Columbia was "that-a-ways" while I pointed in the direction I had been going. I was sure they would know the State's capital city. Nope. None of them were sure where anything was, the Saluda Mountains notwithstanding.
Okay, then. Time to mosey along. The men all nodded at me as I mounted up, and one of them wished me a nice day.
I hadn't ridden far when I was overtaken by the desire to end the day earlier than usual. Saluda was only about sixty miles away, and there was no need to be there today. Also, I had been riding late a lot, and I wanted to change that. As I made that decision, I passed a motel that seemed worth investigating. It was a decent place, about $30, and had a Wi-Fi signal that actually worked. Yay!
It was still relatively early when I was finished writing, so I took the bike out in search of food. I found a family diner nearby, but it was a hectic zoo. It took over ten minutes just to get a waitress to notice me, and by then all I wanted was a small pizza to go. I think they burned my first pizza, and the second one was under-done. I no longer cared--it was food and I wanted out of there. Pete's Family Diner (or whatever it was called) needs a couple more waitresses.
I ate the pizza in bed as I did some online research about things to do in the area. I decided to head into Tennessee and ride the Tail of the Dragon (Deal's Gap) the next day and on Monday. That still gave me time to get back to Saluda, SC by June 3rd, which was my actual deadline. Plenty of time.
Sunday, 31 May, 2009
------------------------
I was tired from having been up late on the Internet, but I managed to get checked out of the motel before the 11:00 deadline.
I headed north into North Carolina on I-26, intending on one route to Deal's Gap, but I changed my mind along the way and curved back south into South Carolina to take a different road. It didn't matter since I had plenty of time. When I got to Greenville, SC, I took US-123 west and then Highway 28 north through the tip of Georgia and back into North Carolina.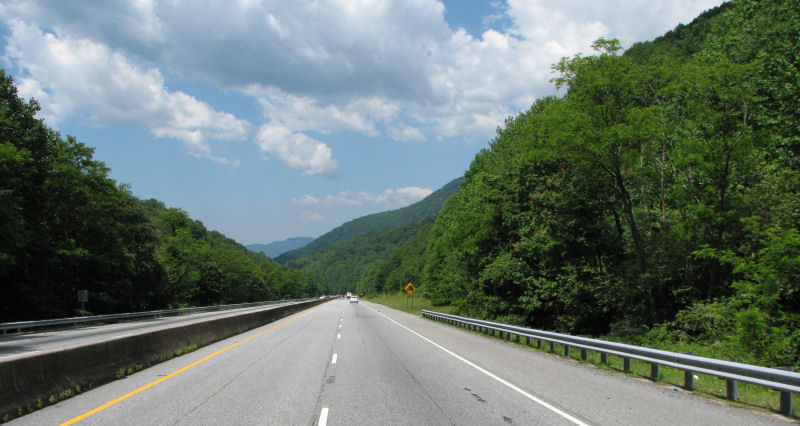 I could have stayed on 28 west to the area of Deal's Gap, but I chose to look at Highway 19 instead, a slightly longer route. It was okay, easy riding.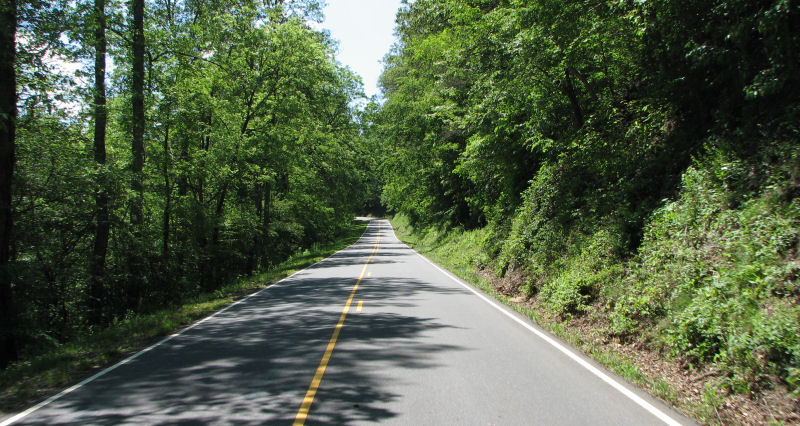 There is a lot of kayaking and rafting activity in the area, so when I saw an interesting stretch of river, I stopped to give my butt a rest.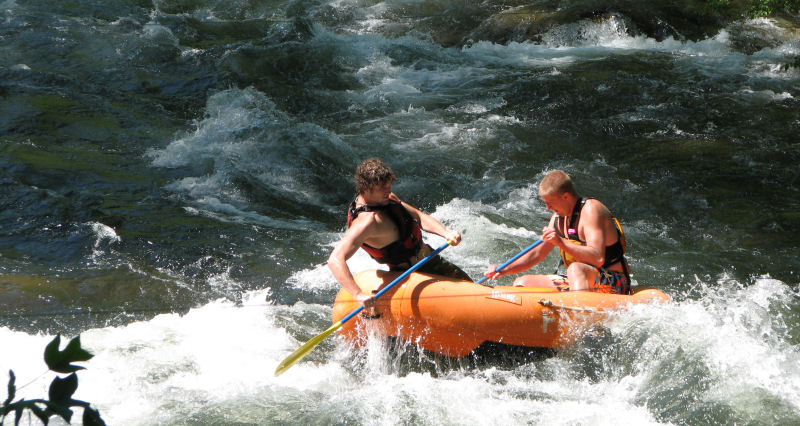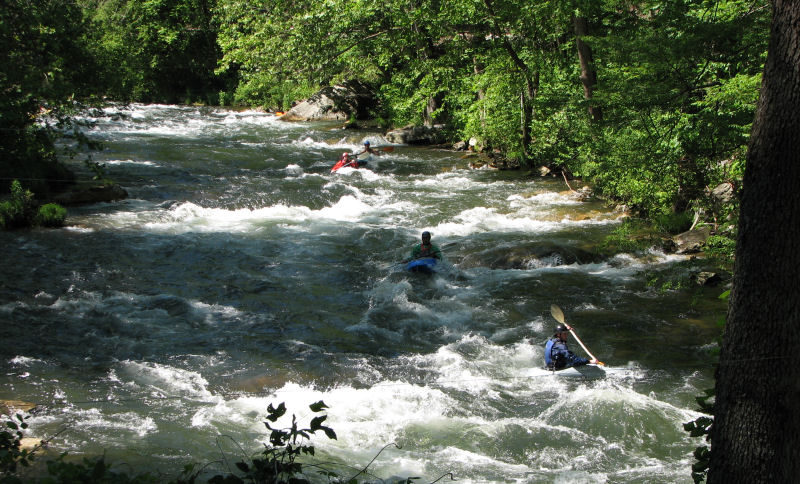 The motorcycle traffic was getting heavier, due to all the nice riding in the area. US-129 (The Tail of the Dragon) is only one draw--there are several other great roads in the region.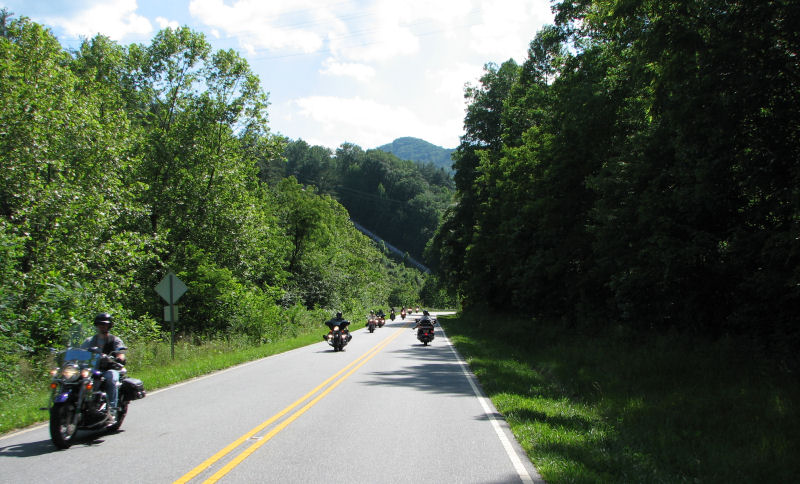 Still on the North Carolina side at the junction of US-28 and US-129, I passed the Deal's Gap resort area, and saw lots of riders gathered there. I would stop there on my way back down.
I saw a guy tip his full-dress Harley over at an intersection, and his passenger (probably his wife) got dumped on the road. (He's the guy in front of me in the photo above.) He had stopped suddenly while starting to turn the bike, and that put him on his side. I whipped around to help him get his bike back up, but other people beat me to it and got him back on his wheels. He didn't look too steady as he started out again.
For the time being, I just headed up US-129. At the bottom of the Dragon is a dam on what was labeled as the Little Tennessee River. My map showed it as Cheoah Lake. Supposedly, this is where Harrison Ford's character jumped from the dam in the movie The Fugitive.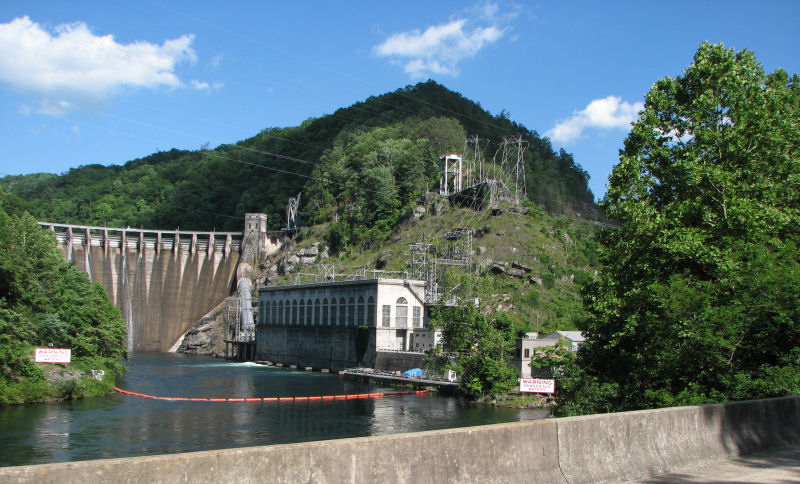 The guy who had tipped his Harley over was in front of me, and there were two other riders going very slowly in front of him. I had stopped briefly at the dam, but I was going a bit faster than they were, so I caught up to them in no time.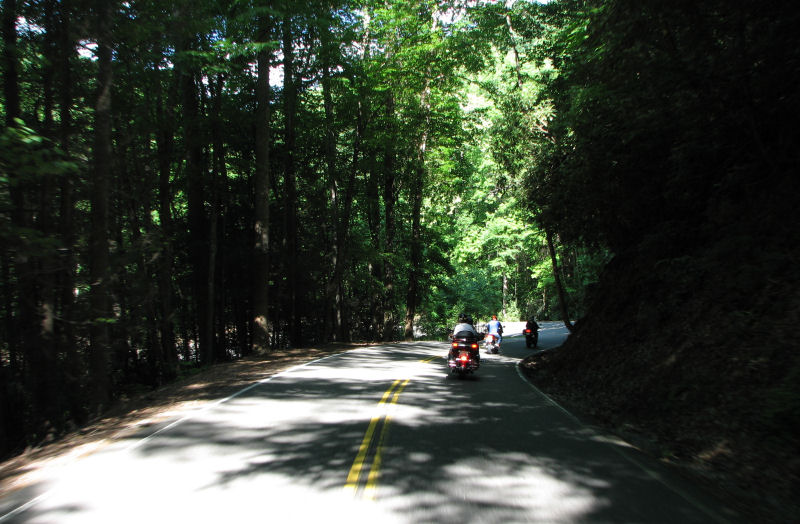 After cresting the Gap at the Tennessee border, it was mostly downhill. During one tight left curve on a slight upgrade, the Harley rider went off the right side of the road and into the ditch. He had been wobbly on some turns, and I suspected that he was either drunk or was too old to manage the big bike. The crash was at low speed, and neither the rider nor the passenger looked injured. There were several riders stacked up behind me at the time, so I rode past the downed bike and went to the next curve to slow traffic down. When I looked back, there were several riders parking to help the guy who had gone down.
On-coming traffic was light, and the sport bike riders who were going fast just ignored me when I waved them to slow down. Most of the big bike cruisers did slow down. I moved a bit further up the road to a better location to warn traffic, and after a while I saw riders going by that had stopped to help the guy who had crashed. The clumsy/drunk Harley rider never passed me, so I suppose that he had turned around.
The Tail of the Dragon is a short section of US-129, very twisty and narrow. But honestly, I've ridden much harder roads than this, and I found it to be a bit disappointing. Most of the way, you can only see the road and nothing else, since the trees are so thick. This is a good thing, since you need to be watching the road anyway. Only at the north end of the Dragon was there a decent view, and a place to pull over.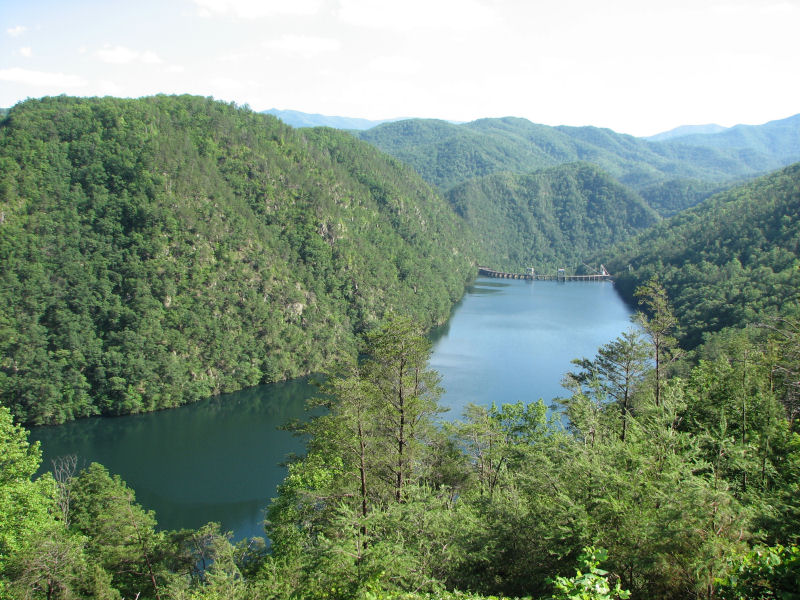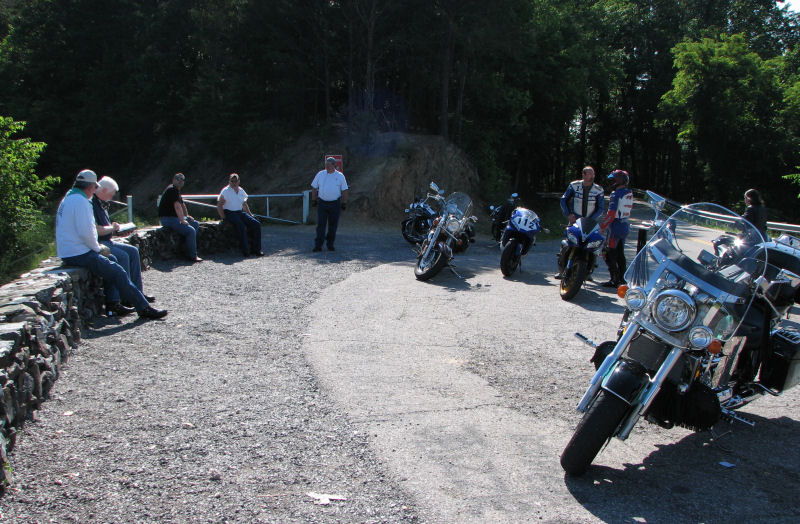 Like most riders, I turned around and headed back. It was after 17:00, so most of the day's traffic had finished the Dragon and things were moving a bit faster. I rode about half the way back with the road to myself, and was able to ride at my own pace. That was very nice, but eventually I caught up to some moron in a pickup truck who was going really slowly and refused to pull over at any of the turnout areas to let people get by him. Eventually, I had a dozen or so bikes behind me. Only one guy on a motard-style bike passed us all and took his chances that there would be no on-coming traffic. The road was so curvy, you could never see far ahead.
When I got back to the Deal's Gap Resort area, I stopped to take a break. I bought some souvenirs from one shop, then took some photos of the Tree Of Shame. It's decorated with broken bike parts, damaged protective clothing, crutches, etc. Some of the parts had stories written on them with marker pens.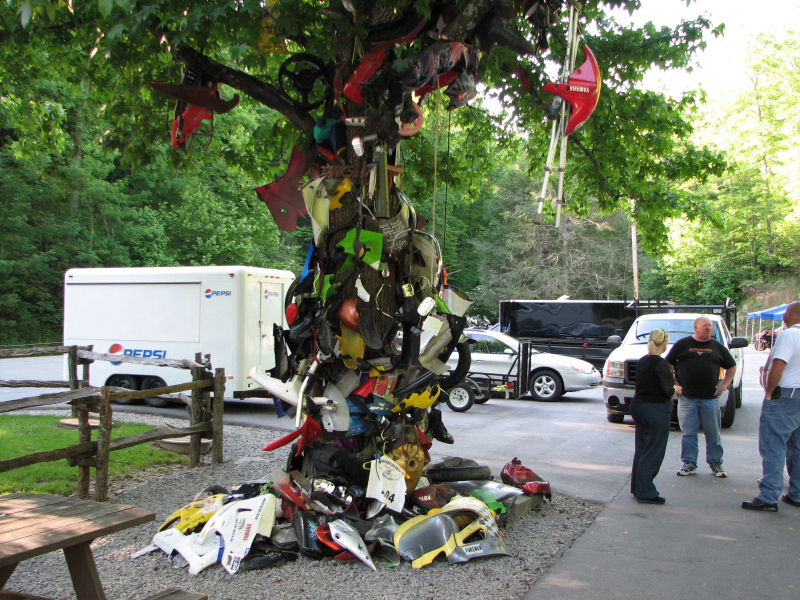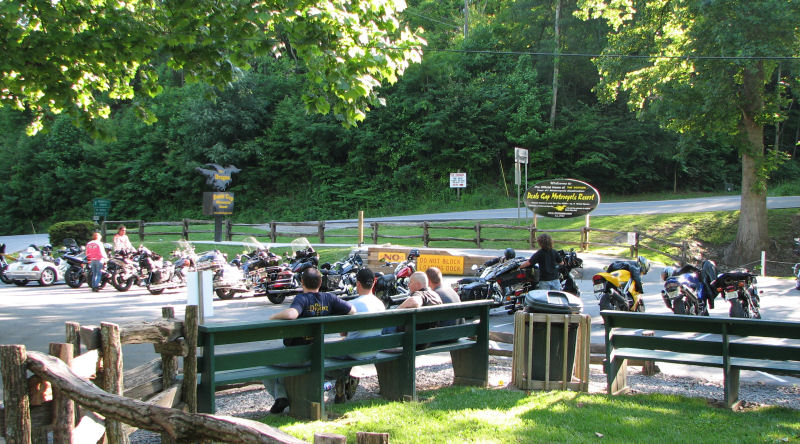 The resort was really just a motel with a restaurant and a gift shop.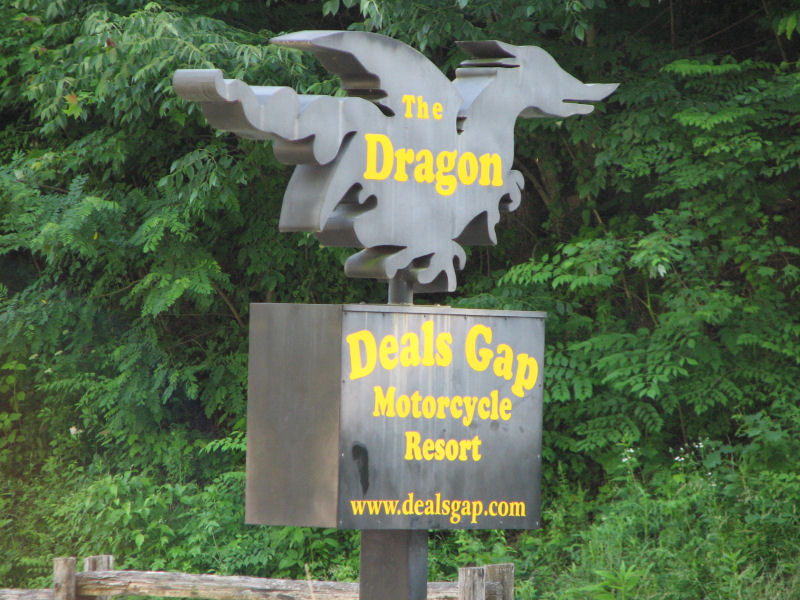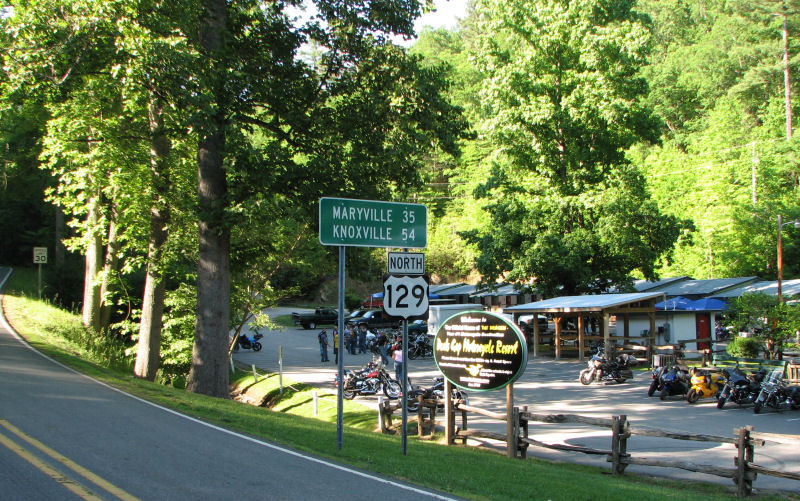 Dig the old Harley Davidson with the racing faring in the foreground. There were a few interesting bikes in the parking lot, but most were just factory bikes. Lots of younger riders were zooming in and out of the lot, heading back up the Dragon before the sun set.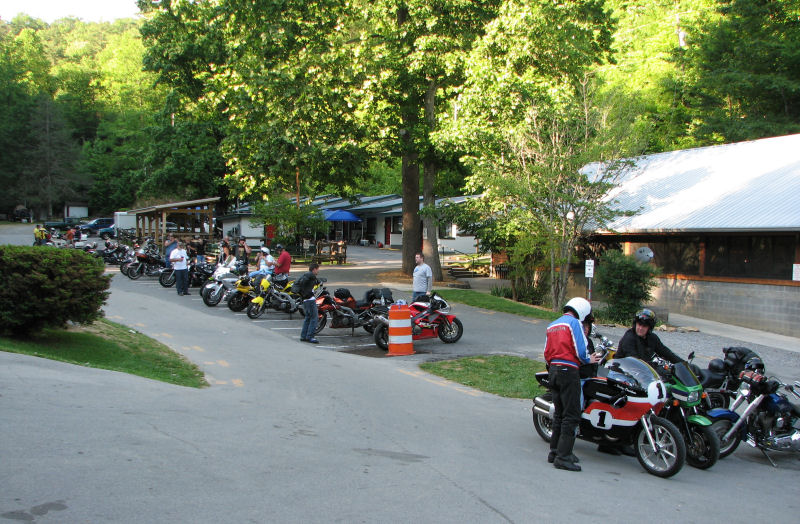 I barely got into the restaurant before they closed at 19:00. The gal at the "Order Here" counter said, "Okay what do you want, but I recommend the BBQ burger because it's the fastest and the bestest and I'm trying to close?"
Well, okay. I guess I'll have the BBQ burger.
After the fastest and bestest (?) BBQ burger, I headed south the way I had come. This was a mistake, I realized later. I had originally intended to take US-28 out of the area, since it also looked like a good road, but I had forgotten that plan. Anyway, the ride back down to Robbinsville was again nice. And traffic was lighter than before.
I looked at a couple motels in town, but one didn't have Internet and another was way too expensive. The tourism in the area (rafting and riding, among other activities) had kicked the cost of lodging way up. I ended up at a mid-size motel for $60, and that kind of honked me off. I didn't want to ride into the night, though, so I accepted it and settled in.
As soon as I parked my bike in front of my room, two guys came over from the other side of the parking lot and started talking to me about the bike. They both owned KLRs, but they were now on their sport bikes. They didn't know me from the Internet forums, but they were familiar with the KLR and many of its modifications. We talked about my trip a bit, and that earned me a beer from them. Thanks, guys!
If I had known that this was a 'dry' county, I would have stopped earlier for beer, too.
When I was ready to get online, I found that the Internet connection was dead. Fook.
I went to the office and saw that the family that ran the motel was at the dinner table. I sat on the porch for a while chatting with another rider until I saw the people inside moving around. I asked them to check their Internet connection, and they fiddled with it a while. The other rider and I talked about the Tail of the Dragon, and he almost got upset when I told him that I had found it to be a bit disappointing. He brightened up again when I added that the Dragon was one of those rides that most riders needed to do at some point.
The owner's wife managed to get the Internet connected again, so I was good to go.
Monday, 1 June, 2009
-----------------------
Before starting out for the day, I checked my oil and saw that it was low. There were no obvious leaks, so I had to believe again that the motor was burning it up.
It was a cool morning, and at 10:00, I got a bit chilled as I rode east along the southern edge of the Great Smoky Mountains National Park.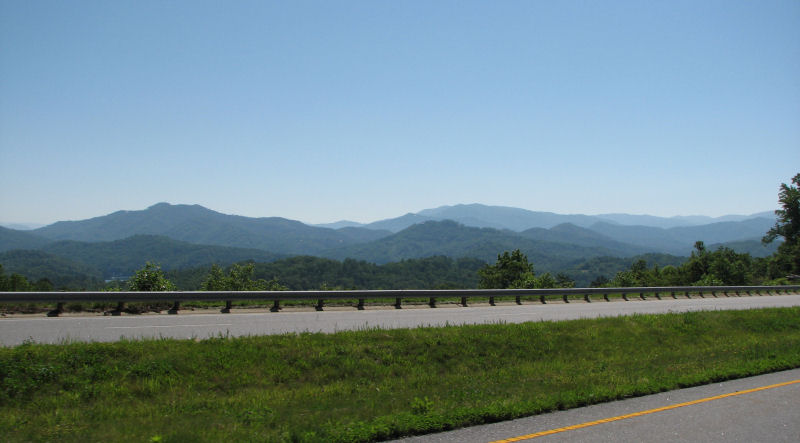 I went through the Cherokee Reservation and into the town of Cherokee, which was very touristy. The draw for me was that the Blue Ridge Parkway began here.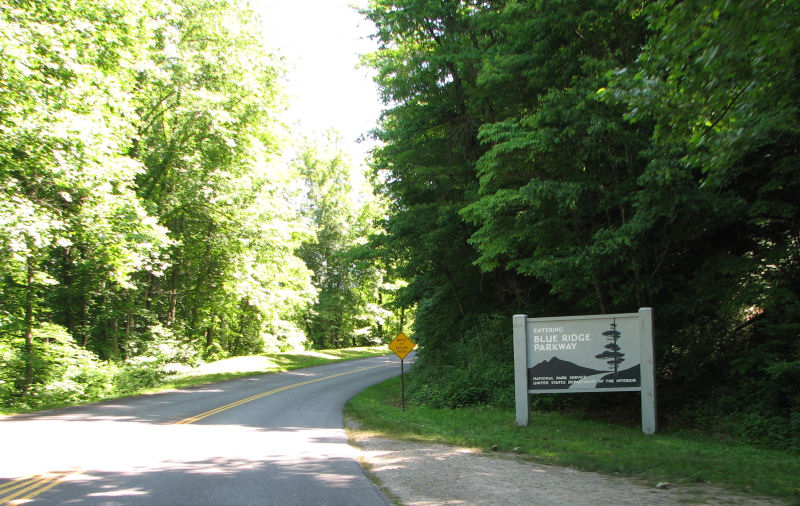 I had decided to ride the BRP from Cherokee to Asheville, where I had picked up the Parkway a few days ago. Along the BRP, the traffic was light and the weather was a bit cold. The Parkway got up to over 5000 feet altitude in places, and there were several tunnels. Each tunnel was like riding through a freezer.
As I mentioned before, the views were great, but there was not much change. You saw this view for a couple hours.

Hey, I was from Colorado where the trees had those big rocks sticking up out of them.
When I got off the BRP past Ashville, I just started heading south on whatever road was going that way. Some of the roads were good, and one of them (labeled as both US-64 and US-74-Alt) was extremely nice. It was more fun than the Dragon. That took me to the town of Lake Luke, located at Lure Lake (go figure). The resorts there all looked very nice. Beyond that, more good twisty roads and then easy, meandering country lanes. At some point, I picked up US-221 south. The day had heated up nicely, and was even uncomfortable hot. I stopped in some town for a cold drink and some sunblock for my forearms and nose.
After passing over Lake Greenwood at about 16:00, I was on a local road when my back tire went flat very suddenly. Fortunately, I hadn't been going very fast, but still it got all wobbly right away. I had a heck of a time getting the bike off the road and into some shade.
I had been carrying a heat-patched rear tire since Colombia (last November), so I got that out and quickly removed the back wheel (which was almost too hot to handle). I could find no puncture in the tire, but when I took the tube out the mystery was solved. The valve stem had ripped off the tube very cleanly. I suspect that the heat had taken its toll on the tube.
I put the patched tire in and was on my way in about half an hour.
When I got to Saluda, I went into Rosie's, an Italian restaurant I had been to before (a couple years ago). I got the day's notes caught up as I ate and cooled off. There was only one motel in the town, so I decided to stay there for the night. I was still two days early, but there was no sense in just burning up fuel in the area.
The back tire looked a bit low on air when I mounted up. The motel was only a couple blocks away, so I decided to go there first.
I never even made it out of the parking lot.
The tire had less air than it looked, and when I started riding, it was clearly almost flat. I pulled into another parking space and got the tools out again. I found where I had pinched the tube while mounting it. It was a tiny pinch, and could be patched again later. For now, I had one remaining new rear tube that I had been carrying for the whole trip. If needed, I still had two front tubes that could be used in the back tire.
As I mounted the tube, a friendly, chubby couple sauntered up in the parking lot and talked with me a bit. They asked if I needed anything, and if there was anything they could do for me. I assured them that I was good. The guy said that he owned a motorcycle shop in town, and he would come back this way later to check on me again. With a wave, they continued their evening stroll.
I was more careful with the tire irons and got the tube installed and the wheel mounted without mishap (as far as I could tell). The tire held very high pressure while I put everything away, and afterwards I lowered the air pressure down to the appropriate level.
I went to the town motel and rang the office doorbell. After a few minutes, I noticed a sign taped to the glass. "Gone to feed my dogs."
I waited a while longer, but before it got dark, I decided to ride up to Newberry, where Laurie had made motel reservations for us. I was a couple days early, but it would be convenient to not have to change motels for the next couple nights.
When I got to Newberry, I had a small problem. I couldn't remember which hotel we had reservations for. I went in to the first couple motels I saw, but those were not the one I was seeking. I checked my cell phone, thinking that Laurie had sent me a text message with the motel information, but my phone's battery was dead.
I was a tired, dirty mess when I plopped down in a fast-food restaurant and plugged my cell phone's charger into an outlet. I had a soda and joked with the cashier about all the smudges on my face. I told him that I had been conducting an impromptu tire-changing seminar, but I don't think the kid understood at all.
When the phone was working, I checked my test messages and found nothing about our motel. It must have been in an email.
I had to let the phone charge a bit longer before I could call Laurie. I found that she was only in Salina, Kansas, having gotten a late start out of Colorado that day. She still expected to be in Newberry on the evening of the 3rd.
With the motel information refreshed in my mind, I went there and registered. I was early, but we'd work out the daily/weekly room rate later.
Shower. Ibuprofen. Air conditioner.
Ahhhh...
June 2-12, 2009
-----------------
Okay, I spent the last two weeks helping with family duties (I'm being vague for a reason--it's just stuff that isn't important here). Another week or less and I will start riding back to Colorado. It doesn't look as if I'll have to make any detours along the way, so I should be free to pick my route back home.
I stopped at a motorcycle shop near Prosperity, South Carolina today and had a nice chat with the owners. Bruce and Faith have had the Twisting Throttle bike shop for six years. They tried selling Royal Enfield bikes at first (!), but there just wasn't the right market for those around here. He's got one left if you're looking. Here's Bruce (caught him in a blink--sorry), with Faith in the background.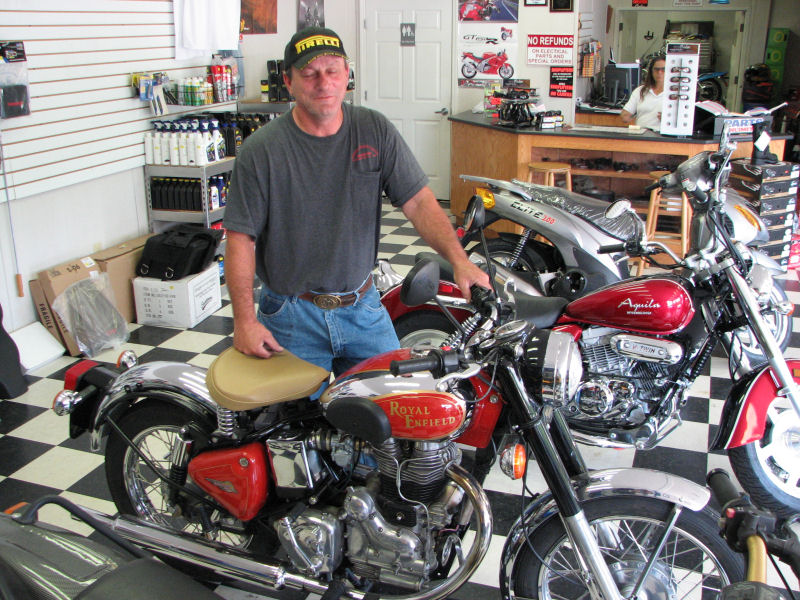 Instead, they have been managing to sell Korean bikes. After seeing a wide variety of bikes in South America, I was surprised again to see the bikes they had for sale here.
I had never even heard of Hyosung bikes. You ever heard of them? Apparently, there are three Hyosung dealers in South Carolina, and more slowly appearing elsewhere.
I liked the lines of their bikes. 90-degree V-twins, mostly. This is Bruce's main street bike. 450cc, I think.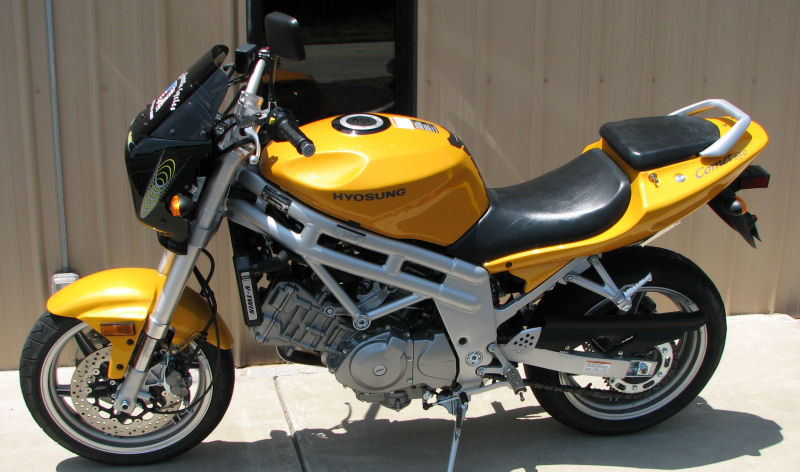 Here's the 650cc sport cruiser, a 30th Anniversary Edition that had special paint and other fancy bits. Price tag was $7600, including a two-year unlimited mileage guarantee. I really liked the looks of this bike. The black bike and motor made the red frame and rims pop out.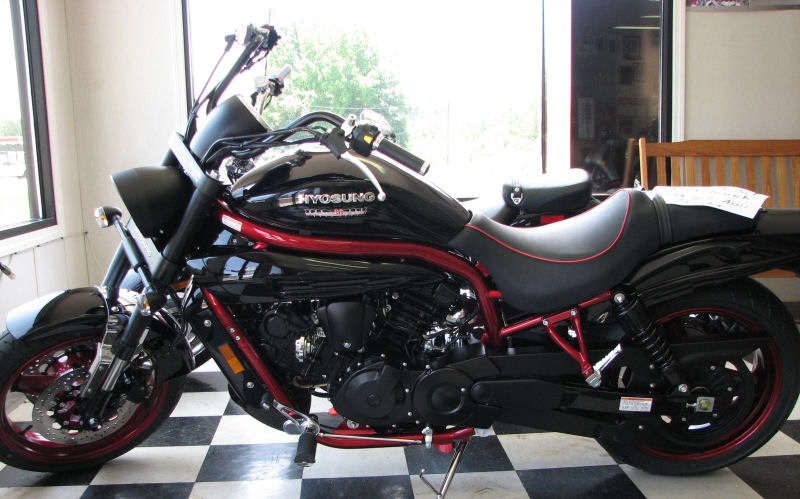 I should have taken notes. I think this bike was belt-driven. All of them were fuel-injected, maybe.
Here's the non-anniversary model, about $6700. (This was a customer's bike, in for some routine service.) Very pretty silver and blue, and a lot more chrome than the anniversary version (which had almost none).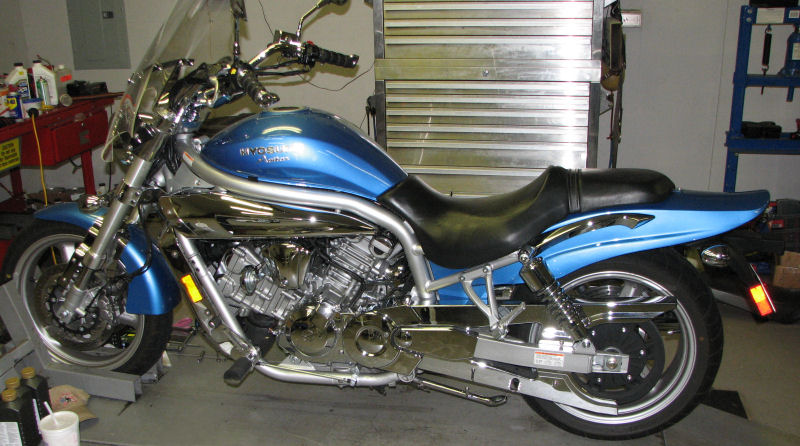 Hyosung also has some smaller cruisers, dual-sports, and scooters. There were a couple 250cc bikes that looked bigger than the motor suggests. The 250cc cruisers sell for $3600. A small scooter in the background, and a larger one not in the photo.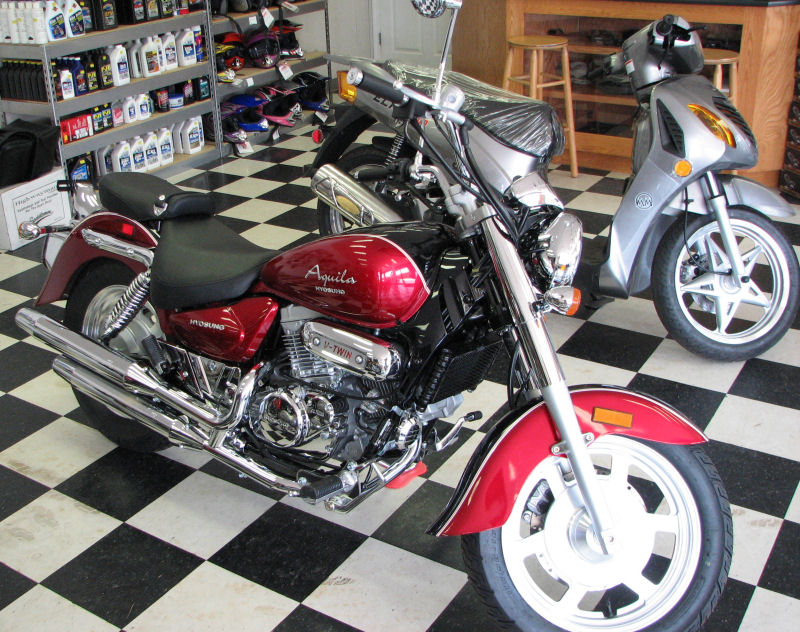 This is Faith's bike. They offered to let me take it out for a test drive. I promised them that I would stop back in on Monday or Tuesday with Laurie and maybe take them up on that offer. I sent a message to Laurie to bring her helmet with her when she returned.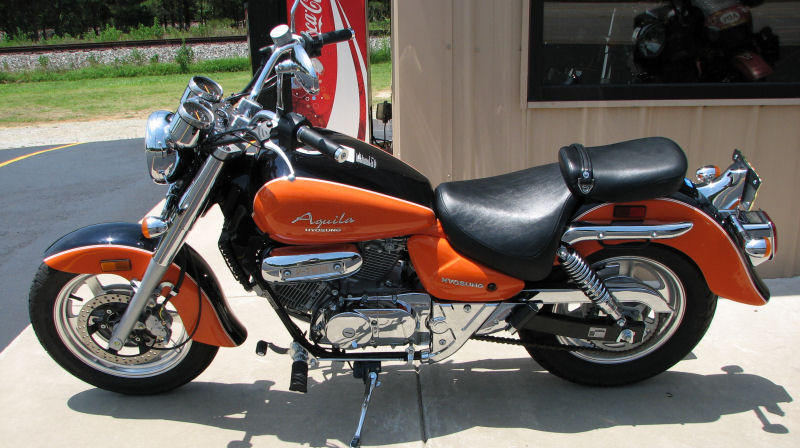 All in all, I thought they were nice bikes and a good value.
Bruce and Faith were heading for Wyoming and Montana next week, where Bruce will be competing in some enduro championship races. He competes in the "over-50" events anymore, and he had just recently won in Daytona.
I bought the oil, chain lube, and a new rear tube that I had come for, and thanked Bruce and Faith for their time. I'll see them again before I head home.
In the evening, I went to a sports bar to see what was happening. The bartender was a heavily tattooed woman who spilled my beer all over the bar. Her assistant was a young guy with a medical "halo" unit bolted to his head and strapped around his shoulders. Looked like he was wearing a birdcage. I was going to ask him what his injury had been, but just before I did, I saw him treat another customer very rudely, so I decided to skip it.
The band was doing covers of rock-and-roll songs. They weren't great, but they were good enough. During a break, the bass player told me that they were playing with their "regular" band the next night in a suburb of Columbia.
Saturday, 13 June, 2009
-------------------------
With nothing that I needed to, I had expected to just relax at the motel all day. That didn't last long, though, and I got really bored. I drove into Columbia and found a multiplex showing cheap movies that had already been out in theaters for a while. I hadn't seen any of them, so I chose two and sat through them. Good thing they were only two bucks each.
I took the Tahoe to a service station and had the air-conditioner serviced and recharged. It hadn't been working well at all lately and I didn't want Laurie to have to drive back to Colorado in an oven.
I went to the bar where the band was appearing, ate and just hung out there for a few hours until they started playing. They were popular with the local crowd, but if I had had something else to do I would have done that. As it was, it took up the evening, so it served its purpose.
Sunday and Monday, 14-15 June, 2009
-----------------------------------------
Laurie returned and more of her family arrived, so it was back to more family duties.
Tuesday, 16 June, 2009
-------------------------
While other family members were busy, I took Laurie back to Twisting Throttle to test ride their bikes.
This is another bike they sell, a German-made MZ Baghira 660. Never heard of it, but it looked nice. It was a motard-styled dual sport bike.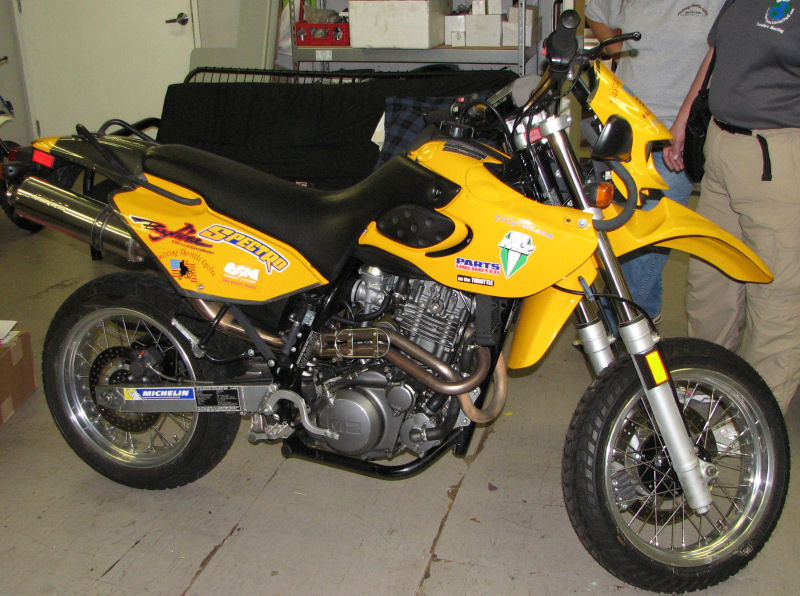 Laurie couldn't resist sitting on the Royal Enfield.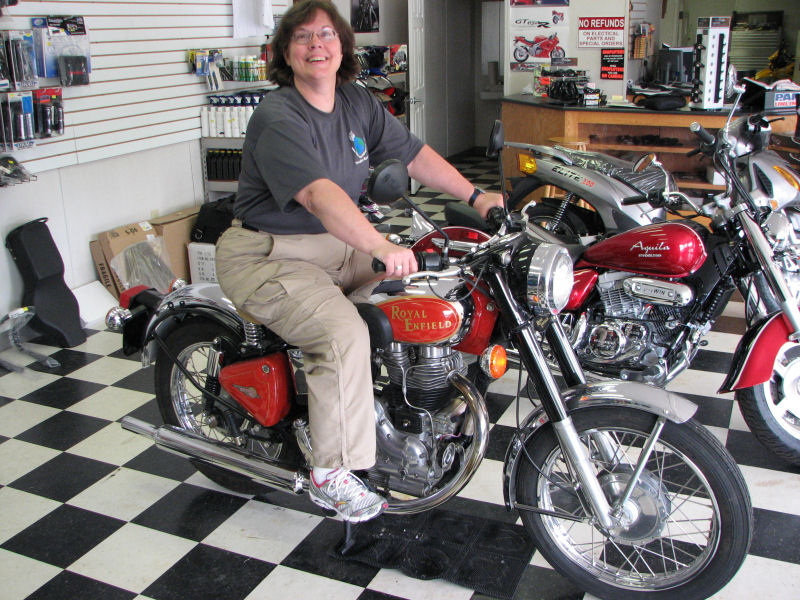 Here's the right side of the 30th Anniversary Edition of the big cruiser. A bit of chrome on the exhaust.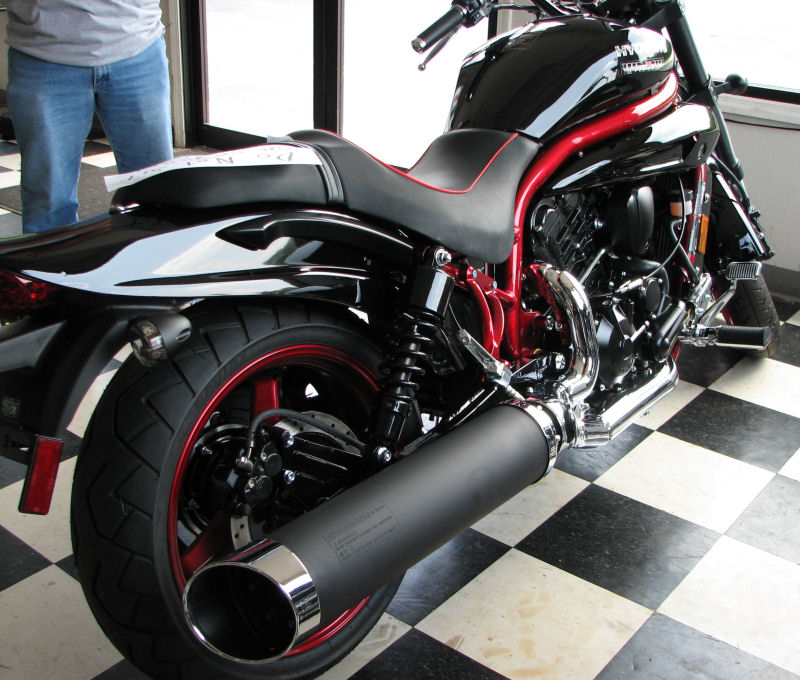 Laurie had brought her riding gear, so after she got geared up she took Faith's 250 cruiser out. I was surprised when Faith called Bruce and got his permission to let me take his 450 sport bike out. I'm not much for the sport bike riding position, but I took the offer and joined Laurie for a half-hour ride in the area.
All in all, I still think the Hyosung bikes are a good value, but neither bike suited us enough to be interested in. They would be great starter bikes for someone.
Now, if the 30th Anniversary Edition had been ride-prepped, it might have been a different story.
Okay, back to family stuff for the rest of the day.
June 17-20, 2009
------------------
A few more days busy, busy.
Sunday, June 21, 2009
-----------------------
Okay, it's all over here. Time to move on.
Laurie took off with our Tahoe, towing a trailer back to Colorado, but I decided to wait out some rain and get back to riding in the morning. My rough plan was to head west while staying off the highways. I wish that I could ride all the roads and see all the sights that people have recommended to me in the last few weeks. Alas, not enough time this time around.
I watched TV and puttered online all day. Not very exciting. The SciFi channel had a marathon of Eureka episodes, and then I found a few hours of UFC ultimate knockouts, so the evening wasn't completely wasted.
The bike, however, was outside the motel room whining at me, hungry for some mileage.
Monday, 22 June, 2009
-------------------------
I was up, breakfasted, and on the road by 10:30, headed generally west. There were no roads that went due west, so I had to zig-zag. I suppose it had something to do with the terrain that discouraged east-west roads.
I went through lots of small- and medium-sized towns. Don't remember them all. When I later tried to recover my path from the Zumo GPS, I had a recurrence of an earlier problem. The touch screen wouldn't work right when the GPS was out of the bike's powered cradle, and it was impossible to control what the damned thing was doing. Plus, the screen would kinda jump around a bit like it had the jitters. What's up with that?
The Zumo has been well protected during this trip and has never suffered an impact, so I can't account for any trauma-related damage. It's not turning out to be as rugged as I had hoped, but I'm not sure that any other GPS would have been better.
Come to think of it, sometimes the Zumo's touch screen also acts up when mounted on the bike. Just not as often.
Anyway, I took this next photo in... um... well, it a small city in either in South Carolina or North Carolina. Or maybe it was Georgia, Tennessee, or perhaps Alabama.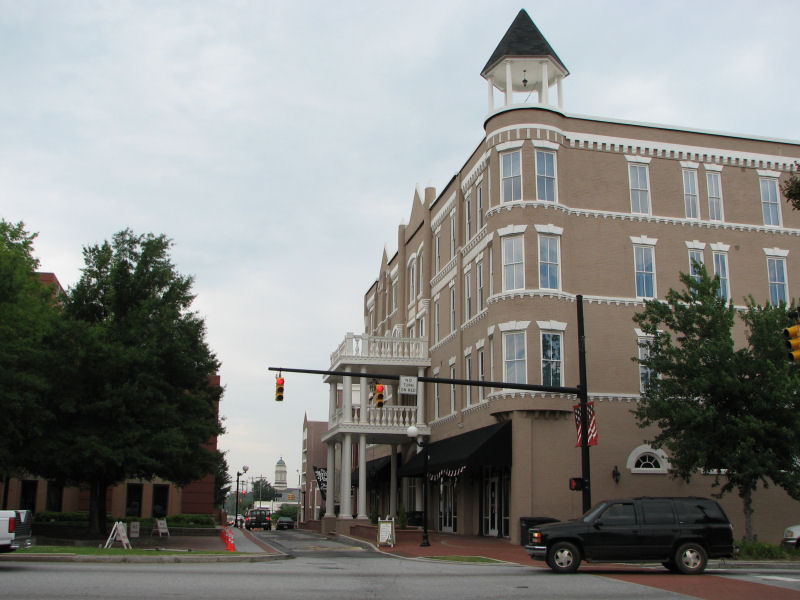 I took no notes, and didn't mark my map. Aside from knowing that I had been in five states, I didn't pay much attention to where I was. Someplace along the way, I passed an area where part of the 1996 Olympics had been held. The river venues still looked great.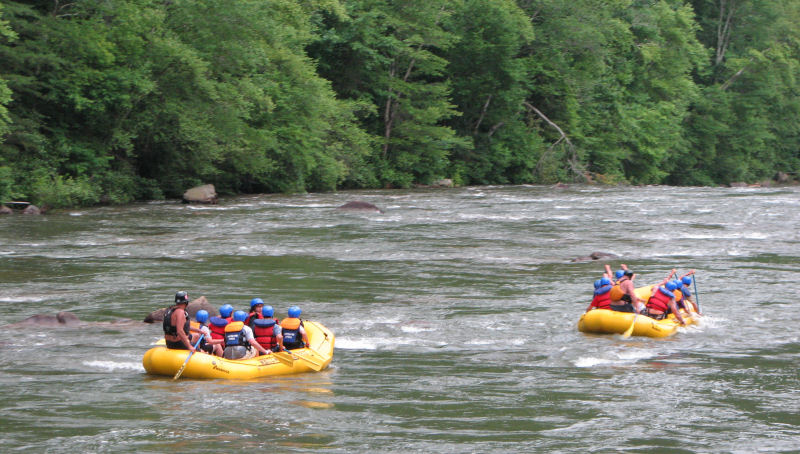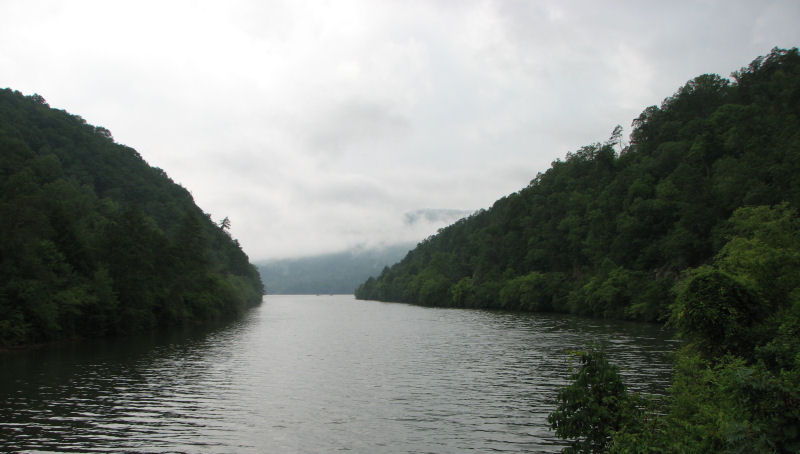 (I'm afraid that my ride-documentary skills have lagged. It's not very specific to say that these photos were taken somewhere in the United States. Sorry.)
I stayed off major roads when possible, choosing roads like this most of the time.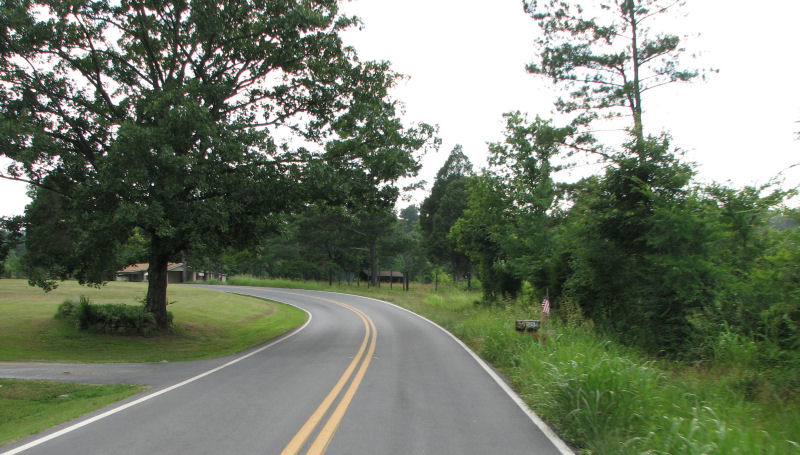 I didn't get any decent photos of the kudzu-covered forests, but Good Grief! that stuff is an incredible menace to everything around it. It grows over everything. Bad Japanese weed! Bad! Bad!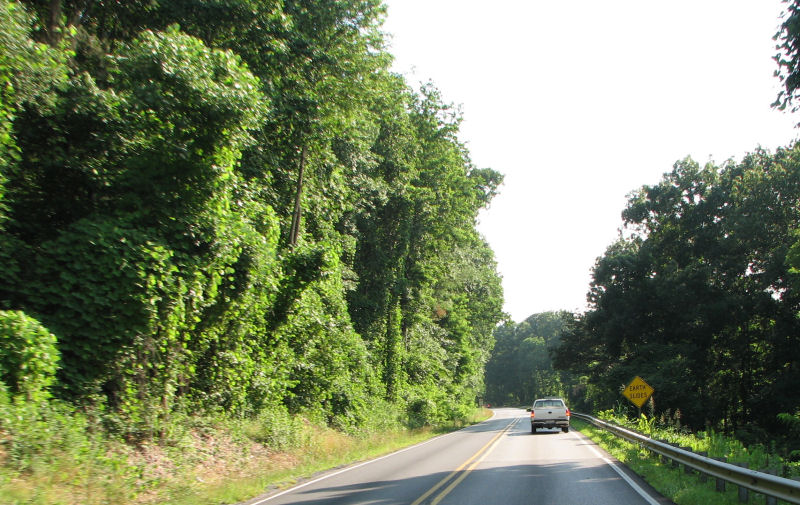 It drizzled on and off during most of the day, but it never got cold.
I was in some small town in Alabama by the time I had had enough of the sun in my eyes, so I snagged a motel there. A restaurant nearby provided the absolute worst meal I have had on this entire trip. I didn't even know that salmon could be made to be that chewy. I think that a salmon somewhere had lost its shoe, and that is what I had been served.
I still don't know what route I'll take as I continue working my way back to Colorado. Mostly westward, I would think. And a tad upward.
Duh.
Tuesday, 23 June, 2009
-------------------------
The trains didn't start blaring past the motel until after 23:00. Lucky me.
I've had a persistent lower abdominal pain for the last couple days that hasn't hindered me yet, but it kept me from sleeping well the last two nights. Feels like what I might think a bladder infection might feel like. It doesn't bother me while riding, so I'll get it checked out when I get home.
I was on the road by 10:00, and it was a hot day. I had to resort to major roadways to get farther west, so that wasn't fun. My goal was to pick up the Natchez Trace Parkway near the Mississippi border and take it down to Natchez where I will cross into Louisiana.
I was SO grateful to get off the highways and onto the Parkway.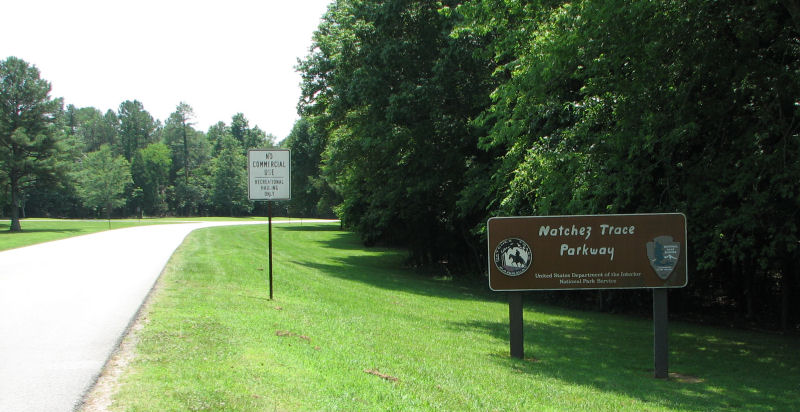 Much better.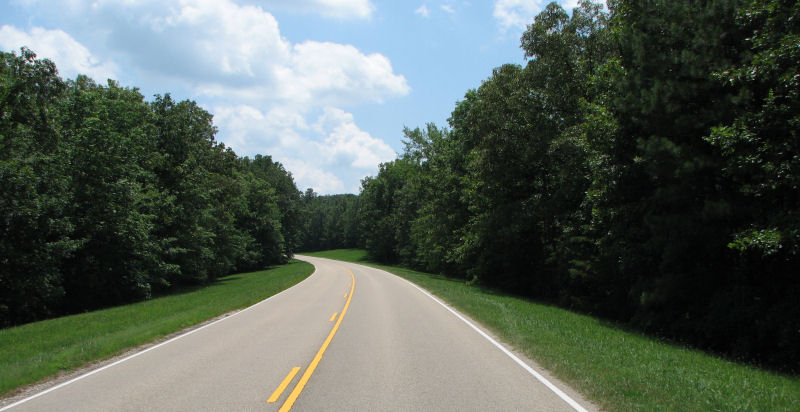 The Parkway had little traffic on it and the road was in great shape. There were a couple places where they were doing work on it, but the rest of it was wonderful.
Every few miles there was an historical marker or some other interesting sight. I only stopped a couple times, though, preferring to enjoy the easy riding.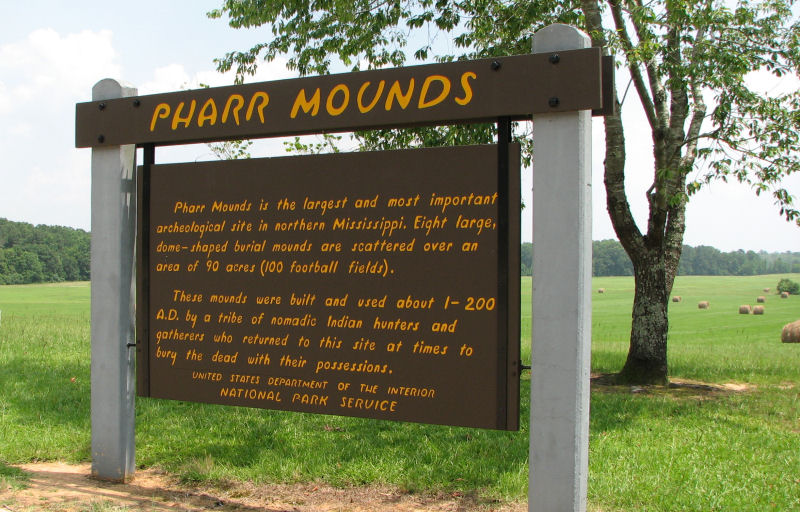 The weather cooled off and that was nice. I could smell rain in the forecast, however.
There was a thirty-minute wait as a wrecker pulled two crashed cars out of the trees. One car on either side of the road. Don't know if they hit each other, but each was badly damaged.
Soon after we got moving again, the road was wet from a heavy rainstorm that had passed through. Leaves from the trees were all over the road, and that made for some very slippery riding. In two places, trees had fallen on the road, and work crews were out with chain saws getting the road cleared.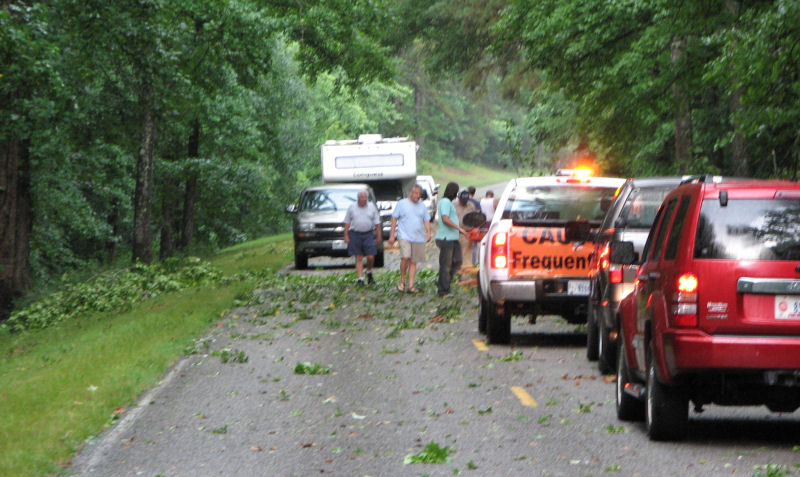 Right after that, I ran into the rain. It was heavy and it had a bad attitude. My helmet's face shield fogged up right away and that made things worse. I took the next exit off the parkway and into the town of Kosciuska, Mississippi. The only motel there was pricey, but I was tired from the wet riding, so I took the room.
It wasn't until I was in the room that I realized that all the power was out. I sat on the bed and tried to will the air-conditioner to come to life, but the force was not strong in me that day. I napped instead.
When the AC came back on, I felt better. I walked down the street to a Mexican restaurant and had a terrible meal. And I had thought that the salmon the previous day was bad... geez. The place seemed popular, so I have to believe that none of the customers knew what a chalupa was. Or what a chili relleno was supposed to be.
Fortunately, the beer was good.
When I got into bed (earlier than usual), I started to have chills, and it wasn't from the air-conditioning. I had a bout of shivers that lasted about ten minutes, then it was over. My lower abdomen was still very sore and sometimes had painful spasms. I considered asking if there was a hospital in the area, but judging by the size of the town it wasn't likely that there was one nearby.
I managed to sleep eventually.
Wednesday, 24 June, 2009
----------------------------
I felt a bit better, but still lingered in bed as long as I could. By the time I had the bike loaded up, I was feeling tired and lethargic already. This was going to be a short day, I could just tell.
I got back on the Natchez Trace Parkway and continued south. It was easy riding, but it was almost boring, since there was little to see but trees along the road. The occasional open area helped expand the scenery.
At one point south of Jackson, Mississippi, I was cruising along at about 70 MPH, when I noticed a white SUV zooming up behind me. I was already going twenty over the speed limit, so this guy was flying. He passed me, got in front of me and turned on his hidden emergency lights.
Uh-oh... It was the local law enforcement.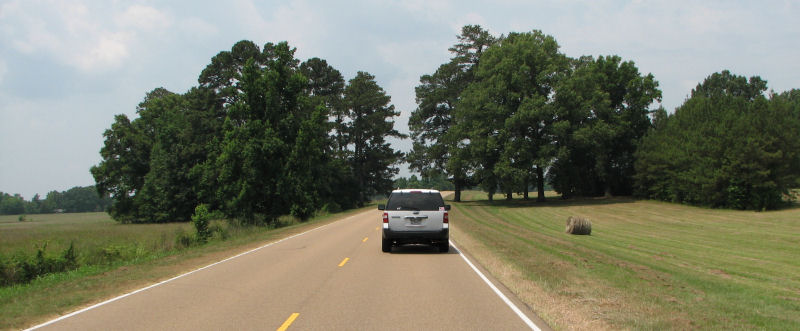 Fortunately for me, once he had me slowed down to the speed limit he turned off his lights and just kept on cruising along for the next ten minutes while I followed behind like a good boy. Two motorcycles then went past us in the opposite direction going really fast, and the SUV turned around to go give them the same gentle treatment, most likely.
Okay, here's a self portrait in Darth Peach style. Me, in the middle of the Natchez Trace Parkway in southern Mississippi.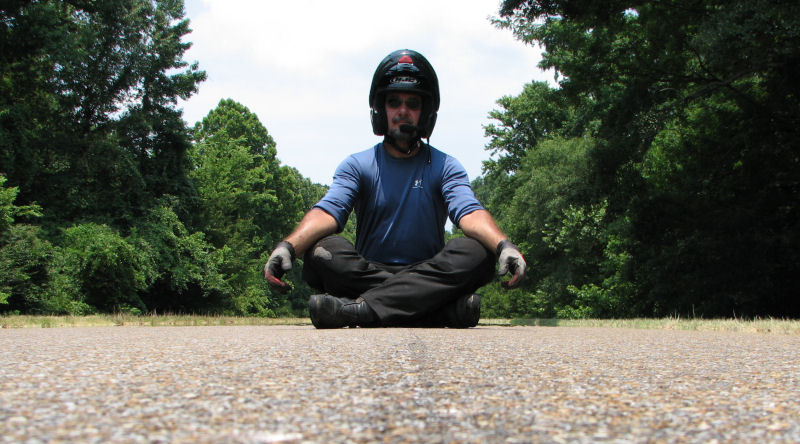 If you don't know what "Darth Peach style" means, don't worry about it. All YFFs out there knows what it means. If you don't -- shame on you! Go read her ride thread. The gal's got a beautiful soul (and beautiful eyes).
When I got to Natchez, I was really tired. The bright sun had my face hurting from all the squinting, and since I was tired when I started, my stamina was just about gone at this point. I went ahead and crossed the Mississippi River into Louisiana.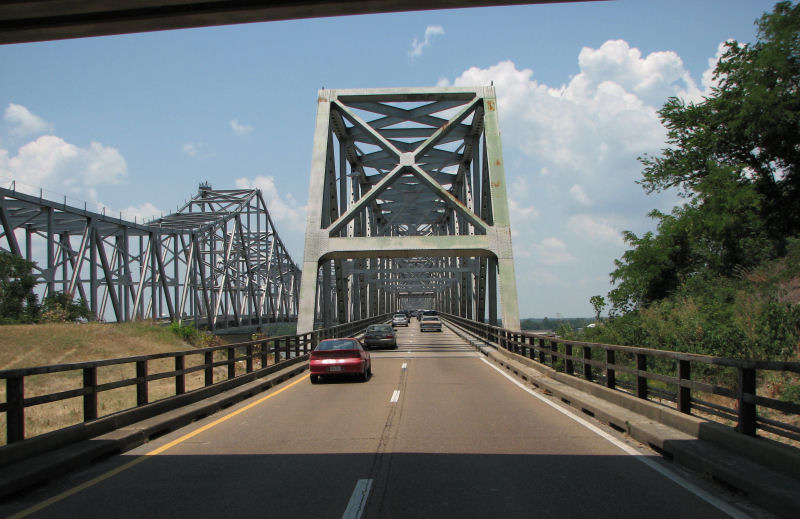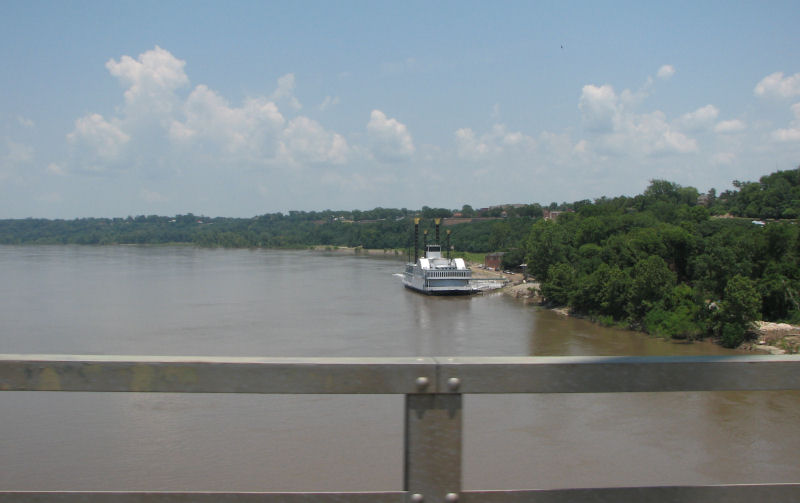 Once across the river, I pulled into the first fast-food restaurant I saw and had a large, cold drink. The air-conditioning was wonderful. I hadn't eaten all day, since I hadn't been hungry when I had gotten up and I wasn't very confident in the state of my guts. I basically camped out in a booth for two hours, just cooling off and resting.
When I felt like riding on, I went out to the bike and checked my oil level. On each of the last two mornings, I've added more oil to my motor to make up for the leaks (at least two). I had used up the two quarts of oil that I had carried, and I needed more. While I was checking the oil level, a guy walked up to me in the parking lot and told me that he owns the only motorcycle shop in town and asked if I needed anything. Well, that was a welcome stroke of luck. He gave me directions to his shop and I went there and picked up some more oil to carry along.
Since the Zumo GPS was still on the fritz, I was unable to use it to see where I wanted to go. I had paper maps, so I used them to select US-84 west across Louisiana and into Texas. Along the way, I saw signs that identified this section of US-84 as part of the El Camino East/West Corridor. The link in the previous sentence shows that US-84 goes into Colorado. Might make things easier, but it's supposed to be a 4-lane highway most of the way west of where I am, and that's not attractive. I still don't know what route I will take home.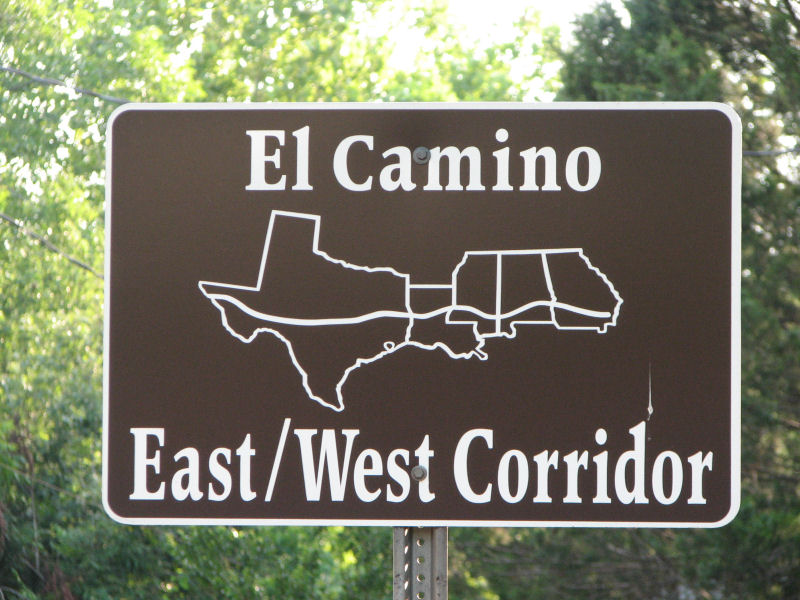 Before I had gone very far, my stamina wore out. I had a headache and my eyes were starting to hurt from the sun.
I stopped at the next motel I saw and was through for the day. A little over 200 miles makes for a very short day.
After a shower and a nap, I felt well enough to eat something. I talked for a while with a group of people who were having a tail-gate cook-out in the parking lot. Seemed like they had been staying in the motel for a while. There was a restaurant with the motel, so that was convenient.
I was feeling better, and was able to have a large meal--the first food I'd had all day.
Thursday, 25 June, 2009
-------------------------
Hot.
Hot, hot, hot.
Drier, too, as I later crossed from Louisiana into Texas.
After a couple hours west-bound on US-84 (which wasn't four lanes most of the way), I stopped for gas and some fluids. I then hung out in a diner cooling off and having something to eat. I still hadn't been able to eat that morning, but my guts weren't hurting as bad. I had no idea what was going on in my nether regions, but it was getting better and that was good enough for now. A cold turkey sandwich and a chocolate shake never tasted so good.
Louisiana went by in no time, and I didn't stop to see or do anything else.
Well, I did find the time to catch up to a bright blue bird that was too stupid to get out of the way. It was a very pretty explosion of feathers off my windshield. Poor thing.
Onward.
Texas was going to take a while, though. And the road looked like this: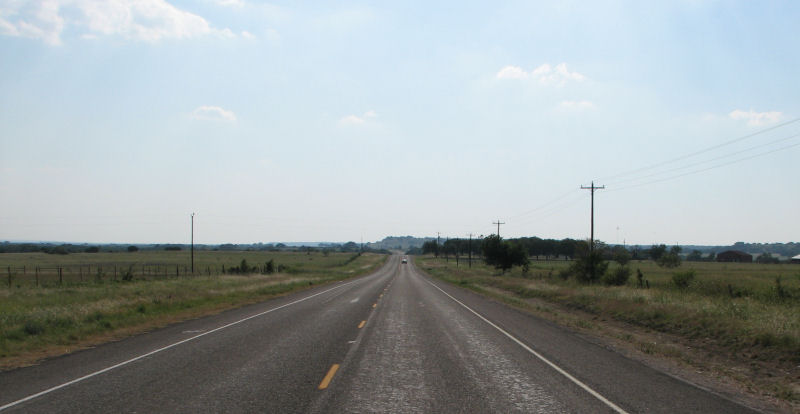 For a long time it looked pretty much like that.
Nothing to like about riding across mid-Texas in 100-plus heat. After passing Waco, I stopped at some small town (Coleman, Texas) that had a motel and a convenience store where I could get some beer. That was all I was interested in.
Friday, 26 June, 2009
-----------------------
I had some juice when I got up, and that was good enough. I have been staying up late each night watching TV--which was pretty odd for me--so each morning was beginning late.
The rest of Texas was monotonous, but at least the increasing altitude was keeping things cooler than the previous few days. Some nice breeze also felt good. There was enough wind to justify several large wind farms.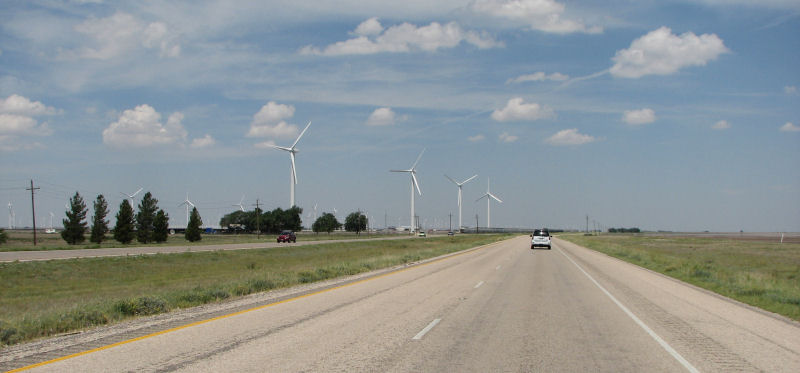 Okay, I'm going to let this truck's sign speak for itself. A breeding farm, I suppose.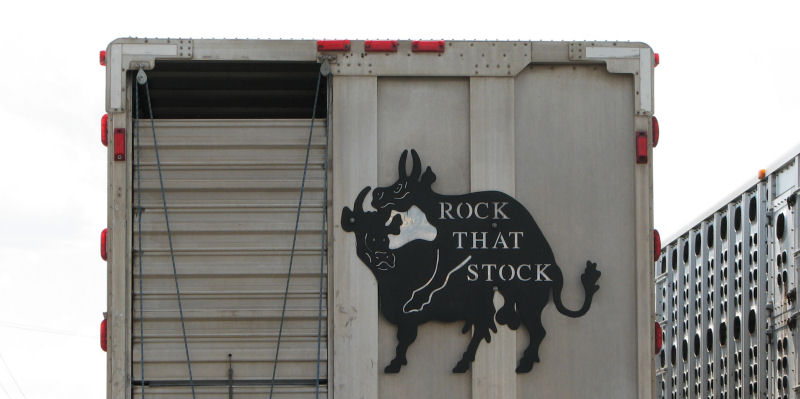 Once in New Mexico, little changed. The altitude kept increasing and things stayed cool. I went right through Clovis and on to Fort Sumner. Before I got there I had to switch to reserve gas, but I had plenty of fuel left to get me to the next gas station. I had spent the whole day at high speed, so my mileage wasn't very good.
In Fort Sumner, I saw the Billy The Kid museum. No, I didn't stop.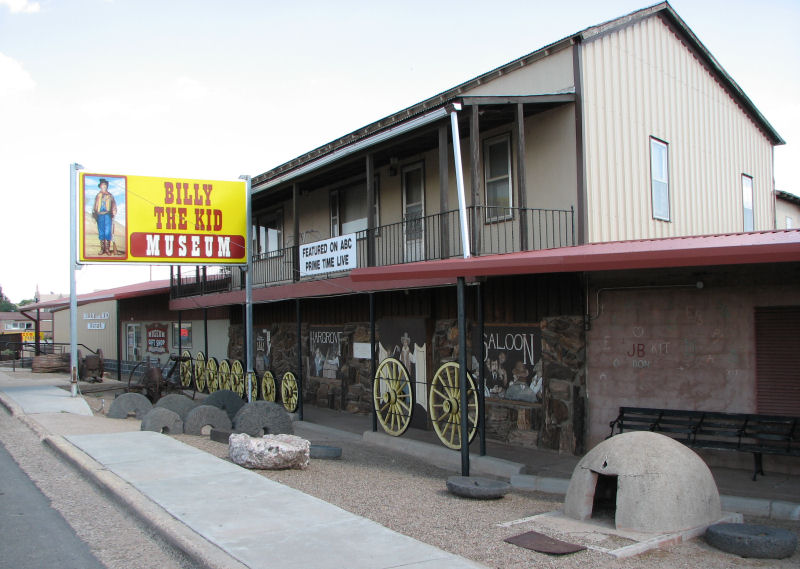 I continued on US-84 to the north, but that eventually merged with I-25 and I didn't want to go home on the Interstate. The early evening was getting stormy all around me. The road was wet and I could see rain in the distance.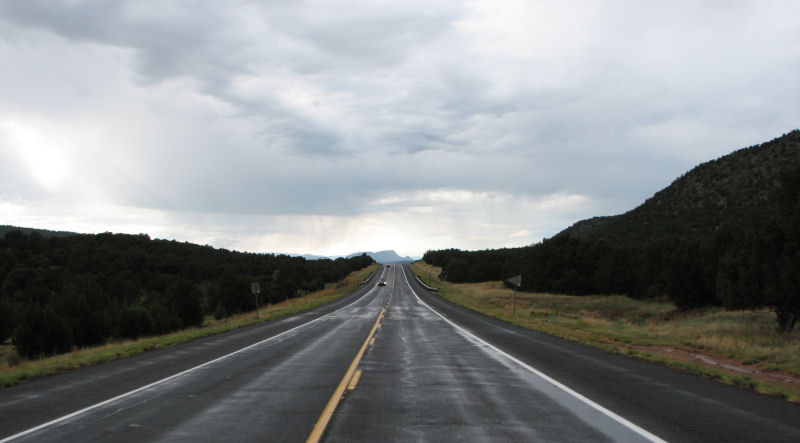 The bike was making a weird noise that I couldn't understand. It was also vibrating lightly, but it seemed to be running fine.
I stayed on the Interstate as little as possible, getting of in Las Vegas, New Mexico. I rolled into a gas station to take a break, and when I started to back out of the parking space, there was a *clunk* and the bike lurched to a stop. I got off and saw that my chain guard assembly had fallen free from the swingarm and was caught in the chain. I pulled it free. It was really torn up.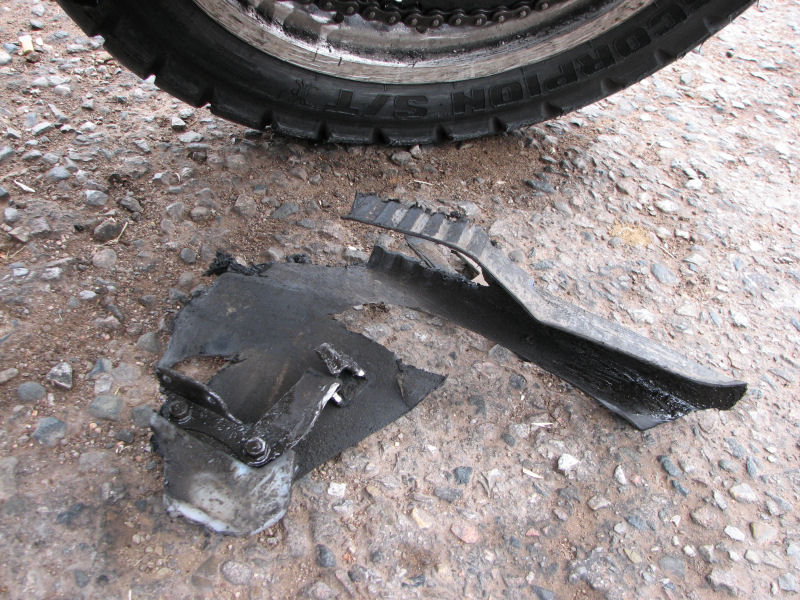 Much of the forward part of the chain guard has been missing for months, ever since it had gotten pushed into the tire and got worn down. Now, it was all mangled up. The tire had some minor shredding on the outer knobs, but no real damage. How had I not noticed this thing breaking apart today? I have no idea.
Noise and vibration mystery solved.
I found a motel and had a surprisingly good meal (and a few beers) across the street. It was a real dive bar, and the locals there were a very odd crew. I was almost home, though, and thoughts of exploring the local color and characters didn't last long. I went back to my motel to catch up the ride report and handle email.
Saturday, 27 June, 2009
-------------------------
It was a cooler day, and again the increased altitude got the credit. There was an art fair in the motel's open space, but nothing was of interest to me.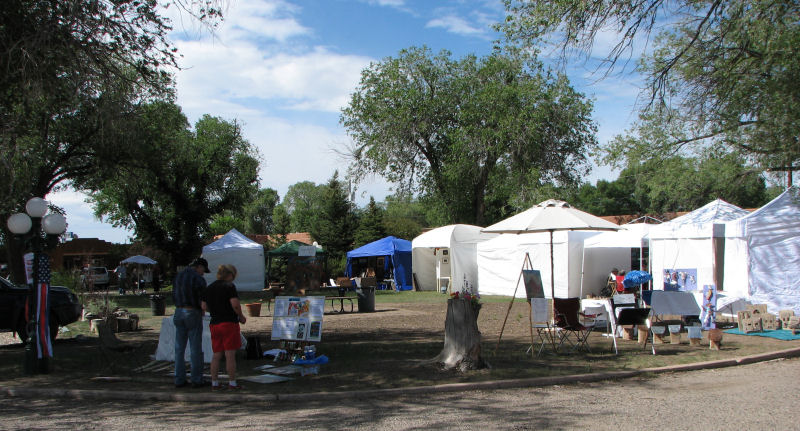 I headed north, choosing the road that goes past the Sipapu Resort area. The ADVRider.com West Fest rally had been held there a couple years earlier and I had ridden the area, so I knew that the roads would be good.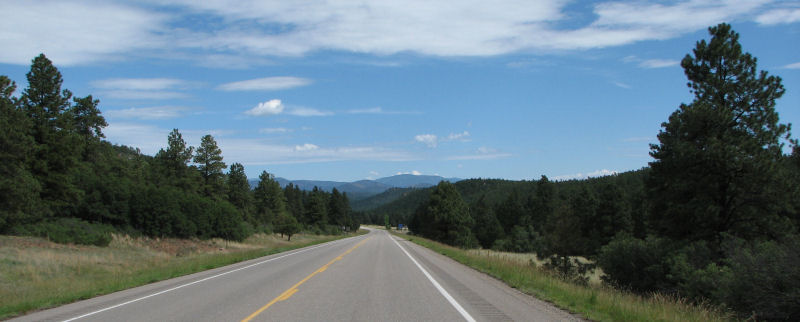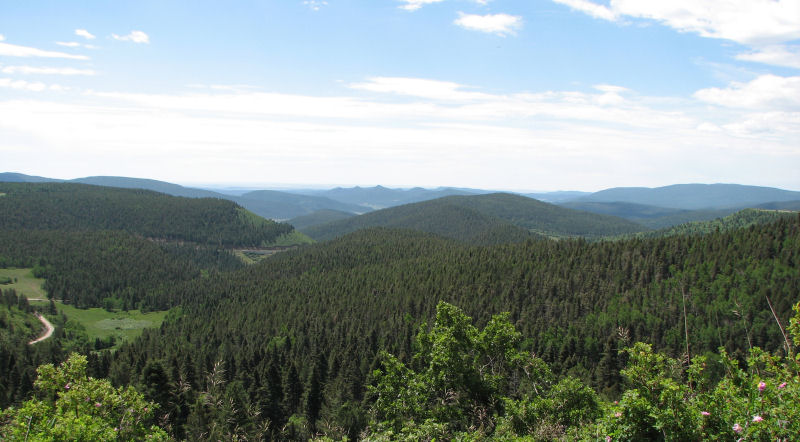 I passed north through Taos, continued past all the odd energy-efficient homes in the area, and went up to Taos. I had intended to stop in Taos to eat, but it was too crowded for me. I kept riding, crossing the Rio Grande river gorge and heading toward Colorado.

I headed up US-285, the same route that Don and I had taken south out of Colorado. When I got to US-50, I made the decision to take that east rather than go up to US-24. That decision made it easy to stop in Salida and see if a couple friends were at their shops.
Duke and Tami are popular riders in Colorado, and active members on ADVRider. All YFFs would know them as Hayduke and Bonnie Abzug. I pulled up in front of BeadSong and Fat Tees, their shops.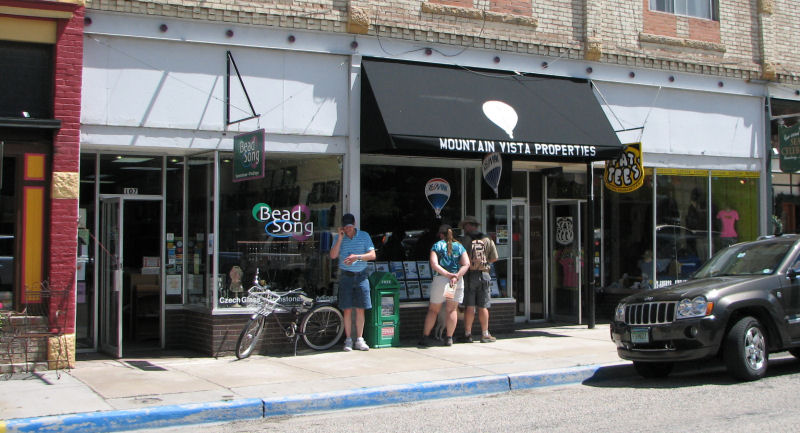 I had barely gotten of my bike when this chick started flirting with me from the sidewalk.
It was great to see Tami and Duke. Both are really good people. Duke had a lot of customers, so we only got to chat a little while. There was a Moto Guzzi rally in town, so there were a lot or riders gathered there.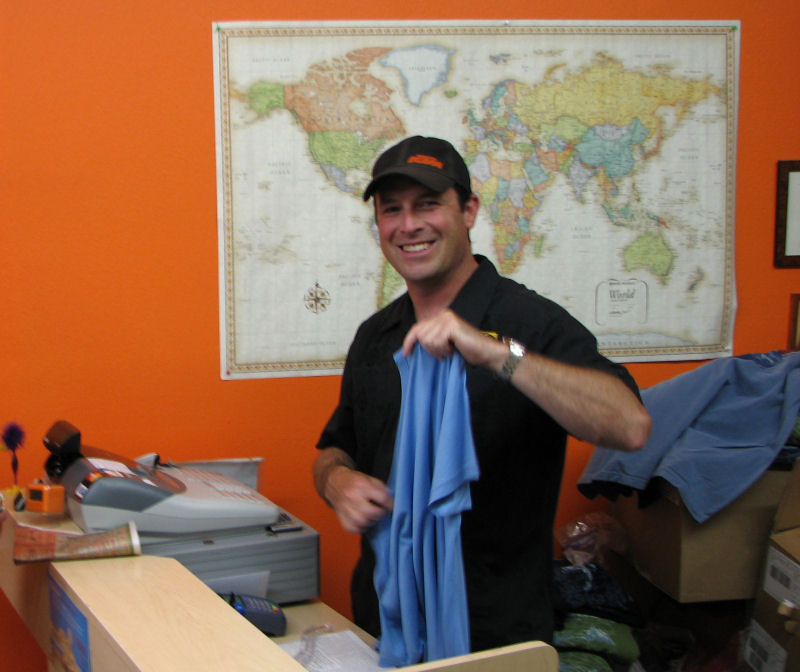 I intended to ride home, but I had plenty of time. I saw lots of riders on US-50 as I headed east.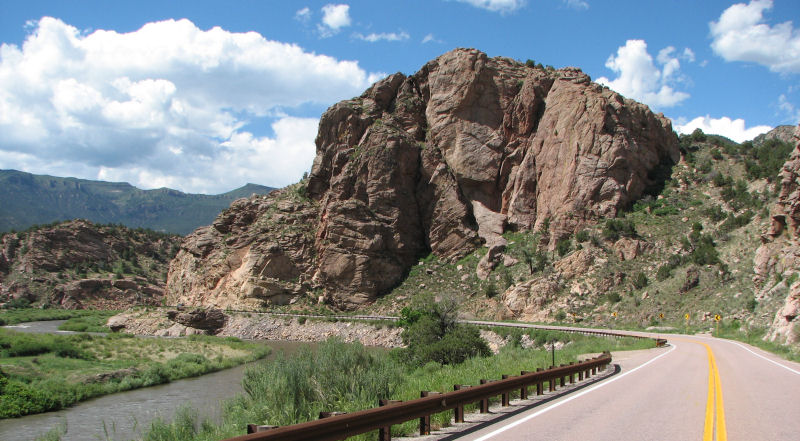 Lots of rafters on the river, too. It was a nice day to be out.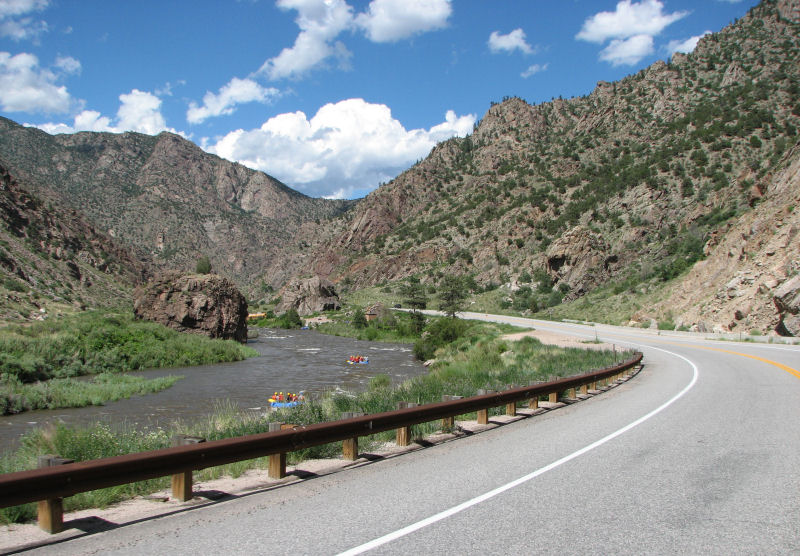 As I neared Caņon City, I turned off on Skyline Drive. It's a short by dramatic ride along a ridge.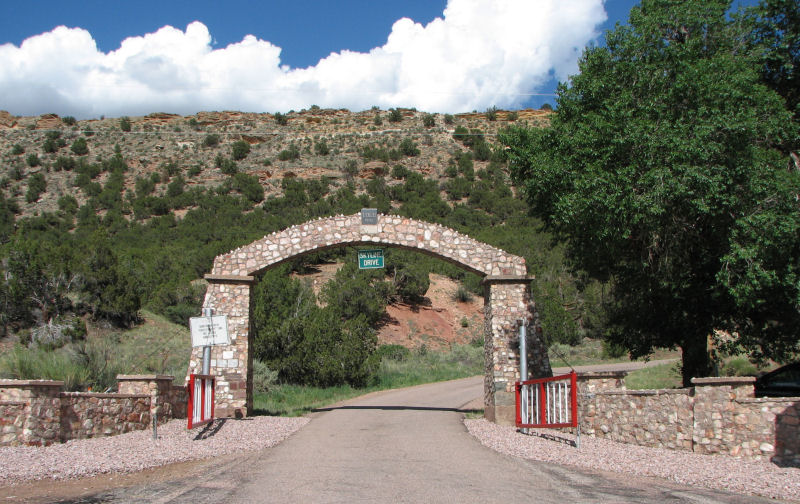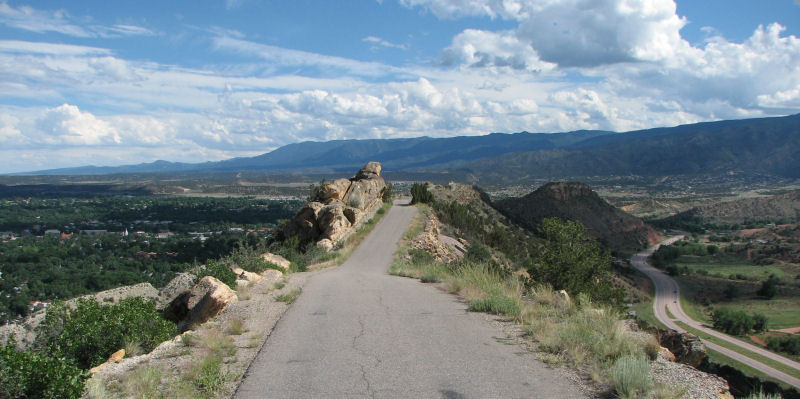 I got something to eat in Caņon City and called Laurie. I changed my plans, wanting to ride some dirt roads before getting home. I just felt like I needed some time off pavement before ending this ride. I didn't want to explore any new roads with the bike loaded down the way it was (and with tires meant more for the street), so I chose Shelf Road. I knew that road well.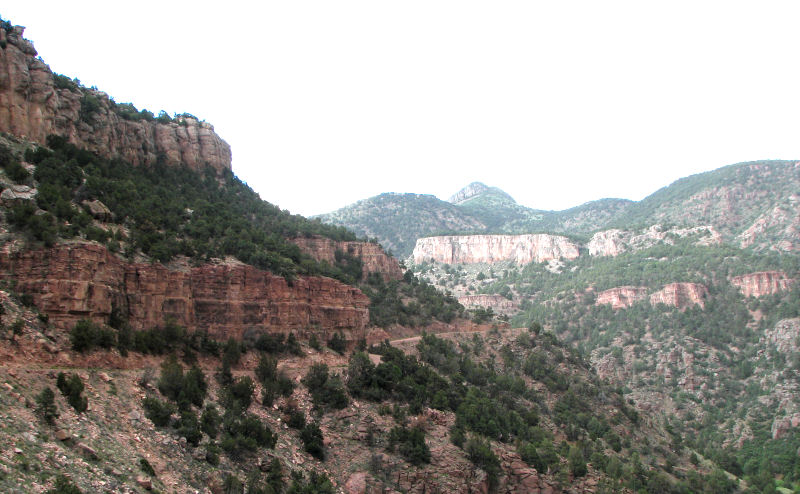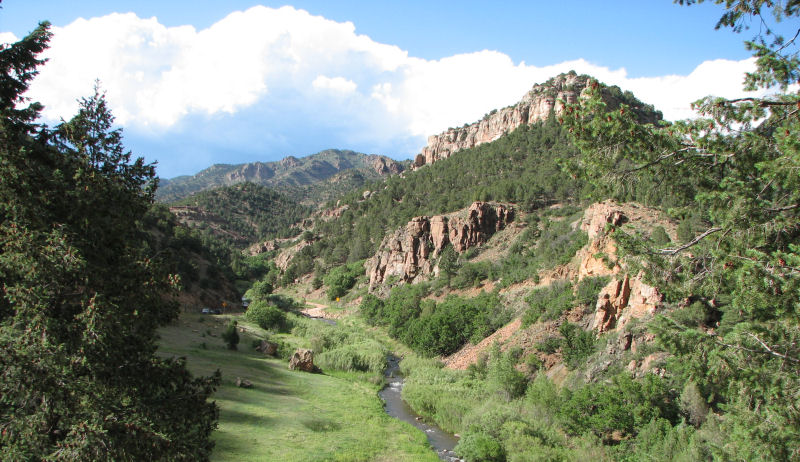 A quick storm came and went, but the rain was light. By the time I neared Cripple Creek it was clear again.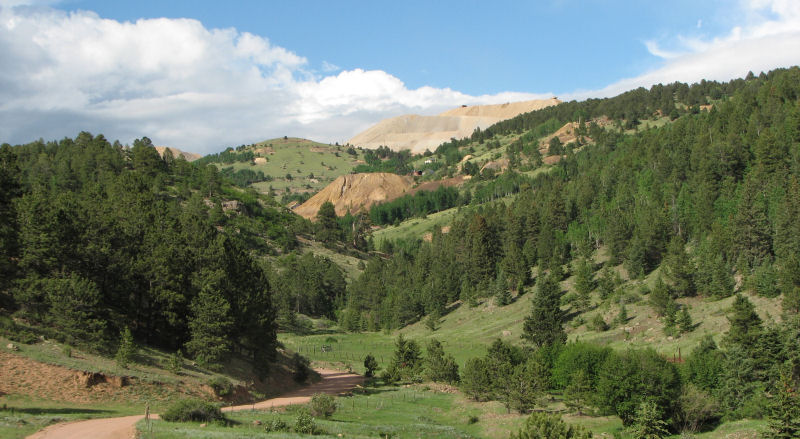 I could have gone home, but I decided to stay the night there. After checking into the Imperial Hotel and taking a shower, I went to my favorite casino and played blackjack until 02:00. I lost money, but I got to play for six or seven hours.
Sunday, 28 June, 2009
------------------------
It was less than two hours from there to home, so again there was no hurry. I just took the easiest ride up and out of Cripple Creek.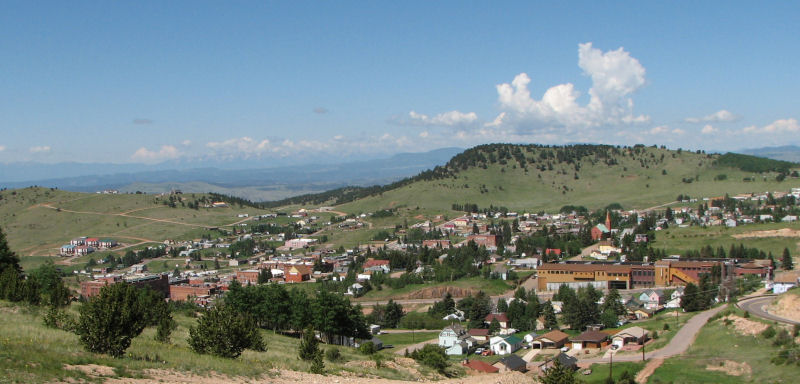 When I got to Monument, I stopped at Rosie's diner. I hung out there for quite a while after eating. I had no particular reason to stay there, but I had a hard time forcing myself to ride the last short distance home. I suppose that part of me was reluctant for it to be over, even though I was also feeling like I wanted to be home.
I read the newspaper and all the comics, did the crosswords, the Sudoku, and all the other puzzles. When I finished my chocolate malt, I was out of delaying tactics. Nothing to do but go home.
Into my neighborhood...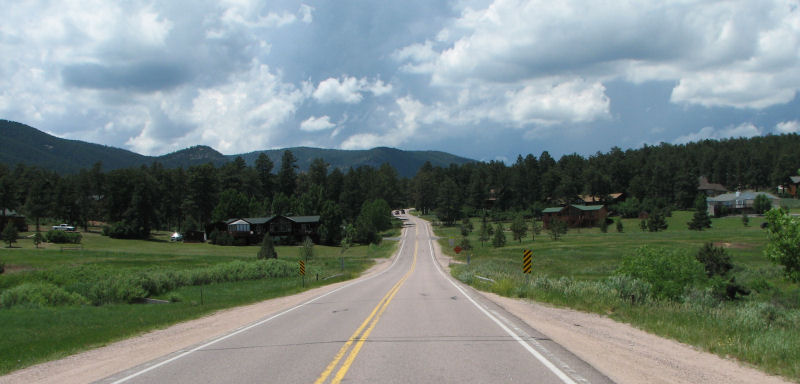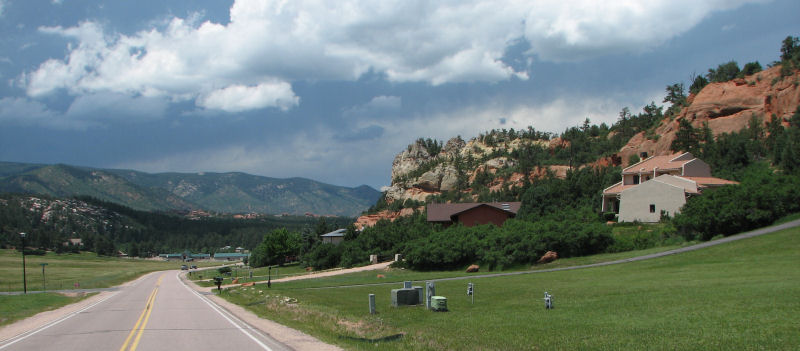 ... and into my driveway.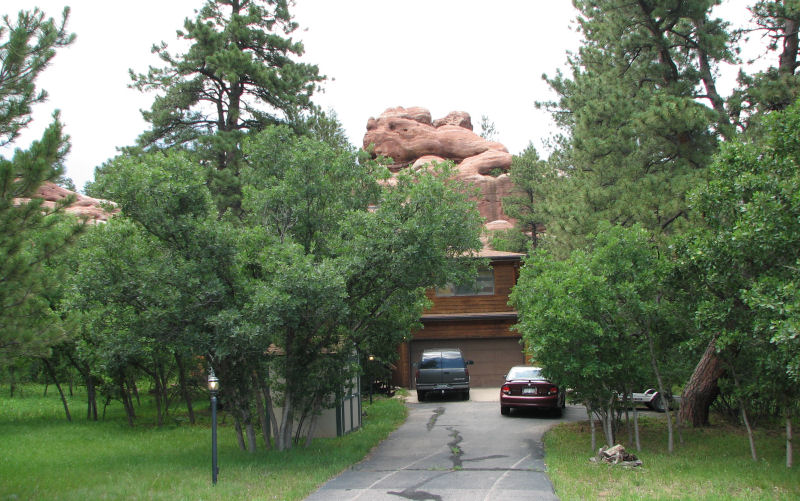 At 14:00 I was home and the ride was therefore over.
From my home to my home, by way of the southern tip of South America, it had taken 30,301 miles and almost nine months.
With the six-week ride up to Prudhoe Bay, the total for the whole north-to-south-and-home ride was a bit more than 43,300 miles.
Enough for now.
The Honey-Do list that Laurie would have waiting for me was going to be huge.
After unpacking, I plopped down on my favorite couch and had a beer.
The End
<< Link to PREVIOUS report: Colombia again >>
<< Link to NEXT report: ?? >>
[ ERRANT-RONIN HOME ] [ Prudhoe Bay to Ushuaia Home Page ] [ Ride Reports Home Page ]