Part 8. Central America down
=====================
Tuesday, October 21, 2008 (continued)
----------------------------------------
(I took lots of photos, but again, many were lost later along with my camera on a road in Honduras. Sorry. These next several shots are mostly from Don.)
We got to the Guatemalan border early in the afternoon, so it was hot. Getting out of Mexico was easy.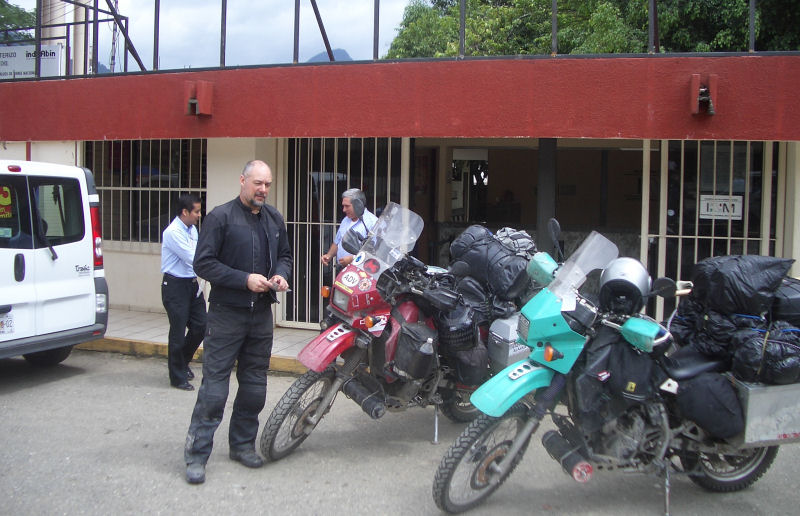 Getting in to Guatemala took a while longer. We had no "helpers" come to "help" us, but we managed just fine. The border zone was a crush of vendor stalls that were packed with cheap junk. Everything from clothing and household goods to trinkets and tools. It must be where a lot of locals do their shopping, because I can't imagine any tourists buying anything here. The shopping zone was a mile long. The soldier (policeman?) shown here is at the actual Guatemala border, and the offices are to the right.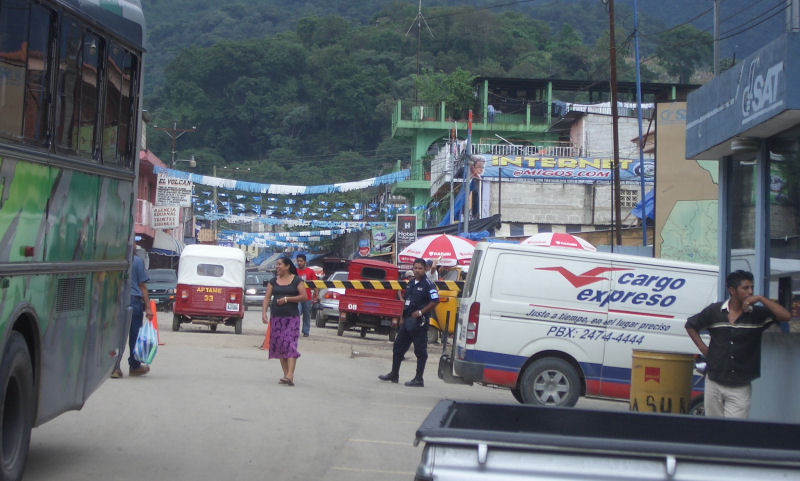 We eventually paid less than a $2 fee each to get our bikes fumigated (sprayed on the tires) to kill all the nastiness of Mexico that we must have brought with us. I first refused to pay this fee, and I told the quasi-official dude in the metal hut that I didn't want to get fumigated. He showed me on his computer where it said the fee (if not the fumigation itself) was mandatory. A money changer was hanging around the office the whole time, knowing that his service was going to be needed even though we had brushed him off at first. So, okay, we changed a few dollars for Quetzals and paid the fee. We went next to the Immigration office for our visas, then to the Customs office for the bikes. The bikes were always more difficult and expensive. The bikes cost Q80 each, a bit more than $11 each bike. ($1 = Q7.) No photocopies were required.
There were even toilets on a nearby side street, but you had to pay to pee in a non-functional toilet. Used toilet paper went into a bucket.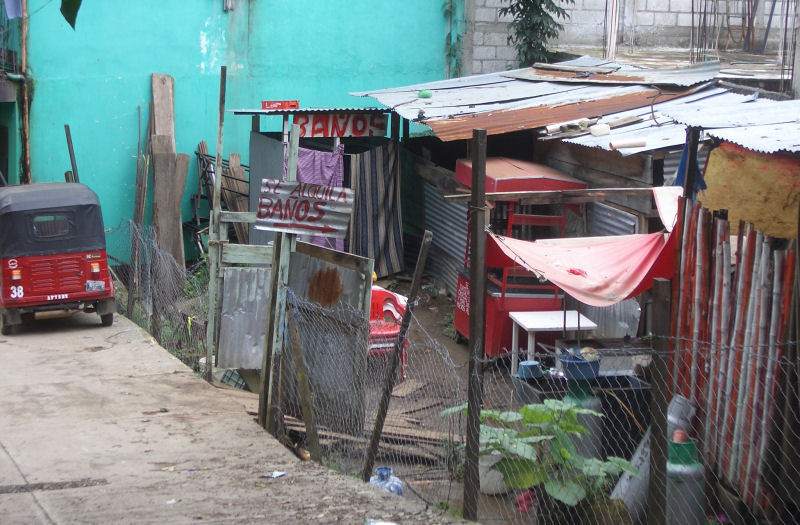 The crossing went pretty quickly, and was even easier than Mexico. Each office we needed was right there, including a small limited-purpose bank office to pay the import fees (paid in Quetzals, so back to the patiently waiting, all-knowing money-changer guy). Don later went to another nearby bank to change some more money). Little did we know at the time that the border crossings to follow would be much worse.
In Guatemala, the topes are called tumulos, and they were tumultuous indeed. They were more abrupt, even if they were fewer. PeMex was no more, and Esso, Texaco, Shell, and other gas stations were everywhere. We saw plastic jugs of cheap gasoline for sale along the side of the road in the villages, but the price was about $4-5 per gallon at the major stations.
We crested 9200' altitude in the mountains, passed one recent crash site where a truck had not managed a curve and had gone off the road. They were about to pull the truck back onto the pavement as we passed. The vegetation was heavy, and the air thick with humidity at the lower elevations. Even here, there were love motels.

Many, many photos lost when my camera later decided to leave me...
The curvy mountain road made passing very difficult and it was sometimes necessary to follow plodding trucks for long distances. We finally came to a very busy crossroads town where the intersection itself was a war zone of chaos and insane driving. We got gas and got out of town, but it was late, so we turned back and found a decent hotel near the intersection. After a fast-food meal of chicken, we walked around the intersection just to get a feel for the place. The local commuter buses (all brightly colored and with loud, over-used horns), were the main problem. They disregarded the single traffic light and did as they pleased. There was no such thing as "wrong side of the road" to these drivers. I really mean it when I say that there is a kind of insanity to the way these guys drive. The constant honking was enough to make other people crazy, too.
The hotel we were at gave us no key, so they had to let us through the gated courtyard and into our room.
Wednesday, October 22, 2008
--------------------------------
Up early, we were eager to get the hell out of this noisy hell. The trucks and buses never stopped and my sleep was fitful. We ate at one of the truck stop cafes, and although the food was okay, the ambience was mostly sucky. The coffee was good, and it came sweet.
We rode onward and upward, eventually cresting over 3000 meters (9885'). There was a lot of roadwork--something that we saw all over Guatemala. The business of widening the highway (CA1) was a major undertaking. The engineers had cut deeply into the mountainsides to make way for the wider road. The mountainsides, however, were in rebellion. Mostly compacted sand and clay, the the soil was sodden from the just-passed rainy season, and there were landslides everywhere. The highway engineers had cut the hillsides too steeply, and they were now coming down.
We were stopped at several sites where they were bulldozing the rubble and mud from the road. Twice, we rode to the front of the long line of waiting cars and trucks and were waved on through the construction zone by the guy directing traffic. I suppose that's normal, because no one else reacted. Some of those vehicles had obviously been waiting quite a while, because they looked more like campers than commuters. At one site, there was a backhoe up on the mountainside slowly pushing rocks and dirt down to the road below. We actually rode through this zone, with an eye to the work overhead. (The backhoe is in the center of the photo, and another rock-breaking machine to the left.)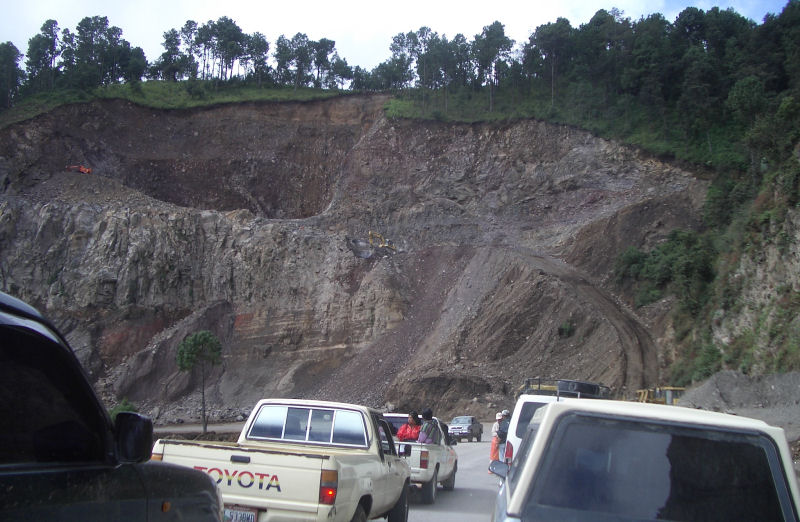 At another site, we were directed forward and had to weave through working machinery. One of the front-end loaders bumped into the back of Don's bike, but caused no damage. Fun.
I saw lots of local crafts shops along the roads. Pottery and baskets, mostly. Lots of food vendors along the highway, too, but that's been normal. Some women were selling dead armadillos. Road kill? Hmmmm...
There was a greater variety of food crops. Corn was still common, but other less-obvious crops were on all possible farmable land. We encountered very few tumulos, and the ones we crossed were mild. Most of the buildings seemed better-built.
We again had to make a decision to either take a long detour around Guatemala City or go through it on the highway. We chose the shorter, more hectic route. Silly us. The highway was again unmarked through the city and we got lost again. The few direction signs were for locals, so they were useless to us. You'd think the Pan American Highway would be obvious. No. Gas in Guatemala City was $3.50 - $4 per gallon. We saw lots of armed security guards at many businesses. Shotguns, usually.
Before we got out of the big city, I almost rear-ended a truck and tipped over on the roadway. The only damage was one of my mirrors, and I later used a reflective Mylar sheet (that I had brought with me) to make a decent replacement. After we got out of the city, we saw weather ahead and I put on a rain jacket. Don toughed it out. The mistake was his.
At first the rain was full of pollution from the city, and it smeared in an oily manner on my visor. As the rain got heavier, it got cleaner. There was significant erosion coming off the hills, and we crossed some muddy flood water rushing across the road, sometimes tumbling big rocks along with it. We were reduced to going slowly through the towns and villages when we finally decided to take a break. Don was soaked. At a roadside cafe, we had coffee and hot tea, and they let us park our bikes in the cafe to get out of the rain. We tipped them for leaving a wet mess on their floor. Very nice people.
The rain got lighter and we carried on. Don had changed some of his clothing, and now had his rain gear on, so of course the weather got warmer and drier. No problem. It rained again before long.
When we got the border of El Salvador, it was only a light drizzle. We were swarmed with "helpers," but I mostly ignored them and refused to even acknowledge them until they settled down. When I went into a small shack for copies, four of them insisted on coming in with me (each wanting to be my designated helper for the anticipated tip). I went back out of the shack and just stood there like a statue, staring straight ahead until they all came out of the shack. When I started in again, they went in too, and I went back outside. They were all talking at the same time but I refused to speak with them. Finally, I directed them (by gesture) to come out of the copy shack and they did. I went in alone and they finally got the message. Copies cost twenty-five cents, and they had no coins, so a couple copies cost me a dollar.
We were stamped out of Guatemala with no official hassle, and went on to enter El Salvador. The El Salvador border was on the other side of a bridge, and the guards and agents there were totally uninterested in helping us. They made no effort to communicate with us, aside from talking faster. Eventually, we figured out that they needed copies of the stamped vehicle import/export papers from Guatemala. The problem was that the papers had been retained by the Guatemala agents. So, back across the bridge for copies. The more helpful agents there got us the copies that we needed. You'd think they would know that we would need the copies once across the bridge...
Back to the uncooperative El Salvador border agents. We had to make even more copies, and although we retrieved some copies that we had brought with us, they somehow managed to require more copies. They had made clear to us what copies we needed, and when we gave them those copies immediately, they talked about that for a while and decided that they needed copies of our passports where we had been stamped out of Guatemala. Anything to get our copy business, if you get the idea.
If you take a trip like this, I recommend you bring many copies of your main passport page, driver's license, vehicle registration, and vehicle title. (Also, have the originals with you--sometimes they are okay with a copy, sometimes they require the original.) I also suggest you carry photos of family members to show to the copy guy/gal while he/she makes even more copies of stuff that you could not plan for. Sometimes, they want a copy of the copy that they just stamped or scrawled on, so there was no way to prepare for that. You have to emotionally prepare yourself for this, and just know that it is part of the local economy. Roll with it.
We got everything done for Immigration, even though it was a drizzly mess. On, then, to Customs. This was a whole 'nother nightmare. We got to the Customs office right behind two bus loads of Nicaraguans who were having their luggage searched. The hours crawled by, and night came before they got to us. The process itself was relatively painless.
El Salvador uses the US dollar as their official currency, by the way. One dollar, therefore, equals one dollar. This was easier math.
One kid who looked just like Opie from the Andy Griffiths Show kept trying to talk to me. He might have been a little mentally impaired. Or maybe I was. Anyway, he kept asking me something and his solution to my not understanding him was to talk faster and faster and louder and louder until he was standing toe-to-toe with me, fists clenched at his sides, screaming red-faced at me. A matronly-looking woman finally came and dragged him away, which was good, because I was about to throw the imp into the river.
Finally, we were on our way in the dark. Again.
A cool and wet half-hour later and we were in Ahuachapan. We found the unimpressive El Centro and asked someone for hotel suggestion. The guy Don asked was very helpful and gave us directions. While we were trying to find the hotel he directed us to, we encountered him again near a small plaza, waving and shouting for us to notice another hotel that he said was good. It was.
We checked in to the Sierranova Suites and they immediately insisted that we move our bikes from the street to the lobby of the hotel. We parked on their polished stone floor next to the restaurant tables. We got settled in and later sat at a table next to the bikes for a meal.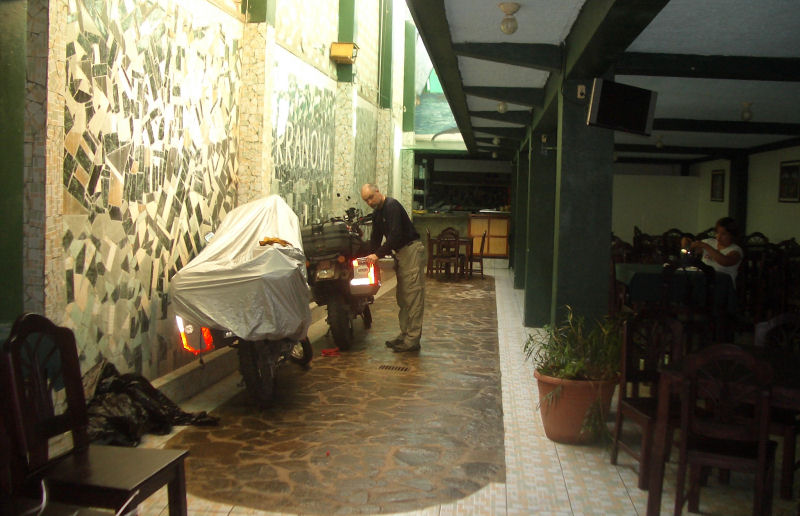 This was the view of the local rooftops from the hotel's 3rd floor patio.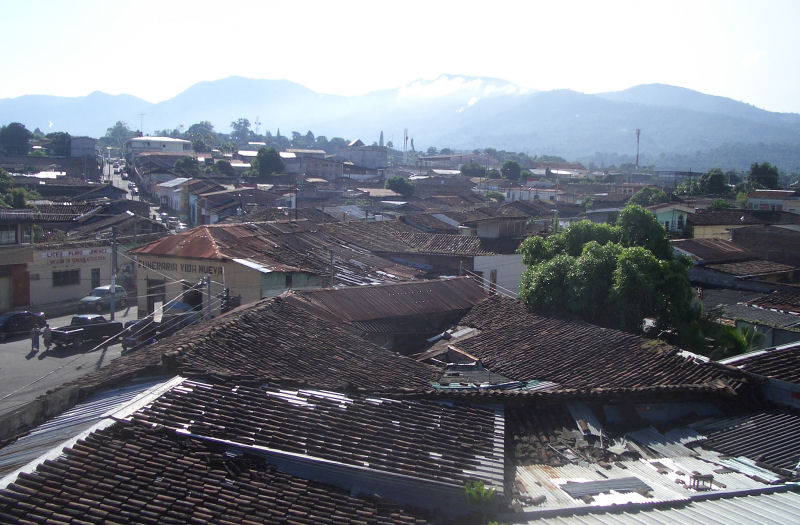 The small plaza across from the hotel: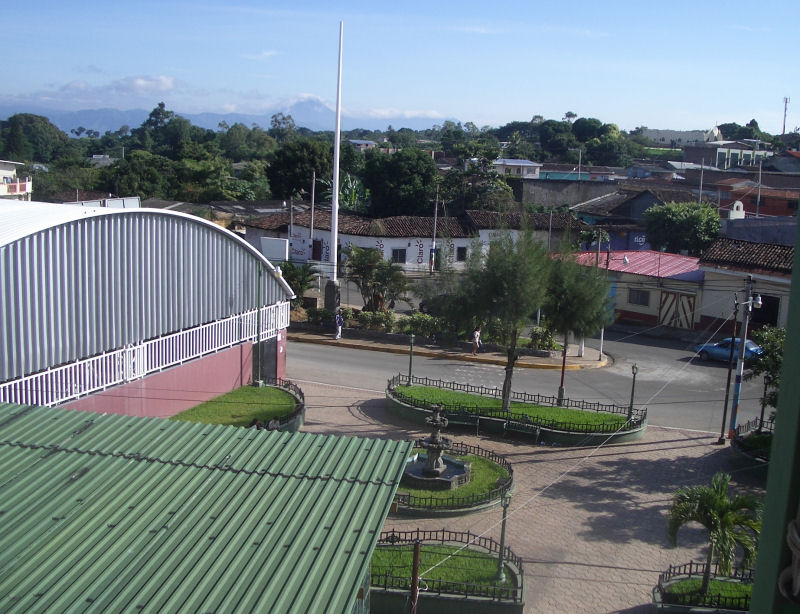 When I went out to the plaza to send a SPoT signal, I noticed a guy separate himself from a few others and walk my way. It was dark, and he was paying obvious attention to me. He made a point of walking past me a couple times giving me the eye each time. He then got on his cell phone and walked around the block. I changed my location, and when he came back around he was surprised to see me watching him from a different spot. He walked on down the street and came back to the group he had started with, but by then my SPoT signal was finished and I was headed back inside.
The owner of the hotel talked with me, but I forgot to get his name. He had lived in the Los Angeles area for a while, and he has owned this hotel for almost a year. He did a lot to fix it up, and it was a nice place.
We spent some time online, make Skype calls, and sacked out.
Thursday, October 23, 2008
-----------------------------
We had a nice breakfast in the hotel and hit the road. The weather was good, the roads had very few tumulos (which were pretty mild), and traffic was fairly light. The signs on the highway were better than we had seen before. Actually, the roads in El Salvador were among the best we encountered. We stopped early in San Salvador at another fast food restaurant for cold drinks. The shotgun-armed guard walked around our bikes and gave us a thumbs-up through the window.
The nice highway through San Salvador was better than in any other major city we had seen, except for a half-mile long section where the multi-lane course was reduced to a single lane through a clogged market area, each side of the road lined with street vendors and heavy with pedestrians. The buses were all spewing black diesel clouds and the going was far slower than a lazy walking pace. It was terrible. Pedestrians crossed between the stopped traffic with a complete disregard for the occasional movement of the vehicles. I stared at the back of this bus for a long time.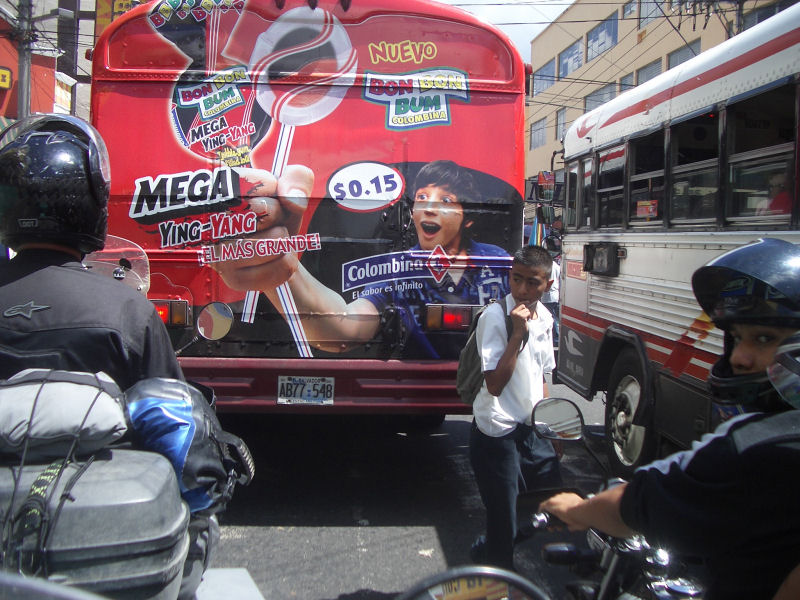 When another bus driver waved me to merge in front of him, I was able to improve our position a bit. We got a little more aggressive in our getting through the traffic, and things eventually eased up. The road widened again to several lanes and we all got moving quickly again.
Once out of San Salvador, we were back in the boonies. Farmers were drying corn or grain on the sides of the road, then sweeping it into sacks. We made a GPS-guided, unintended detour to San Vincente for no good reason and then found our way back to the road we wanted. In the city of Santa Rosa de Lima, the GPS was WAY off and we had a hell of a time. Once again, you'd think it would be easy to stay on the road you're actually on, but no. I'll try to retrieve some screenshots from the GPS at some point and hopefully you'll see what I mean.
Anyway, we made it though El Salvador and to the border with Honduras. Just prior to the actual border, a "helper" started waving and yelling at us, then he jumped in a car and followed us to the border. He and others surrounded us with their persistent offers of their necessary help. They said it would be several hours to get through without their assistance, but I did not believe them. We got stamped out of El Salvador quickly, and soon saw that getting into Honduras was not going to happen on our own. I paid $3 each to get our passports stamped at an agent's window. After that, we were lost. The officials were probably involved in the helpers' scam, because they gave no help themselves.
By a process of elimination and persistence, Jose became our helper. He was the guy who saw us first, anyway. That's his backup helper/scam artist there in the background.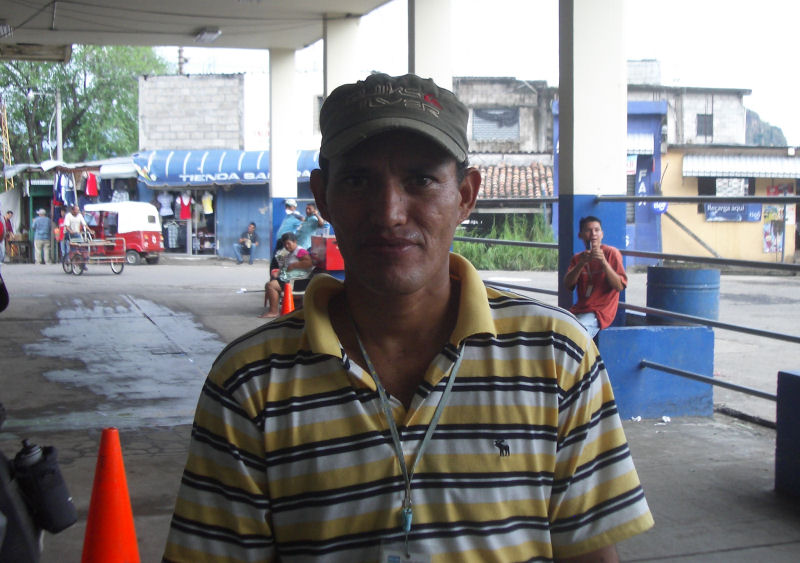 You'll notice that it's light out in that photo. A few hours later, we were still here and it was dark.
Don and I took turns waiting with the bikes and going from one dubious station to another. We still don't know if everything we had to undergo and pay for was officially necessary or was an elaborate show for our benefit, but it cost us $119 each to get into Honduras. Jose collected our documents (passport, original bike title, driver's license, registration, export papers from El Salvador) and took me to one shack amongst other shacks on the side of the road. There, a guy hand typed some form that was supposedly needed by the officials later. He charged $25 per bike. He put the money in his pocket. [edit: I later learned that this was a scam and wasn't necessary at all.]
Jose took me next to another shack and handed the forms and our papers to a woman through a partly-open window. The woman wrote out two receipts and supposedly did the computer data input. I'm not so sure. That cost $11 each. [Probably another scam.]
We switched, and Don went with Jose while I waited in the drizzle with the bikes. It got dark soon after this photo. There were maybe a hundred cars and trucks stopped here going through their own processes. Jose said that if it was just ourselves, the $3 fee was all it would be, but the bikes were the problem. We would pay more to import the bikes than these trucks would pay to bring their goods into the country. He added that Honduras did not belong to some kind of Central American union, and the president had openly said that tourists would pay for more than their share of road tax. Who knows if that is true or part of his scam.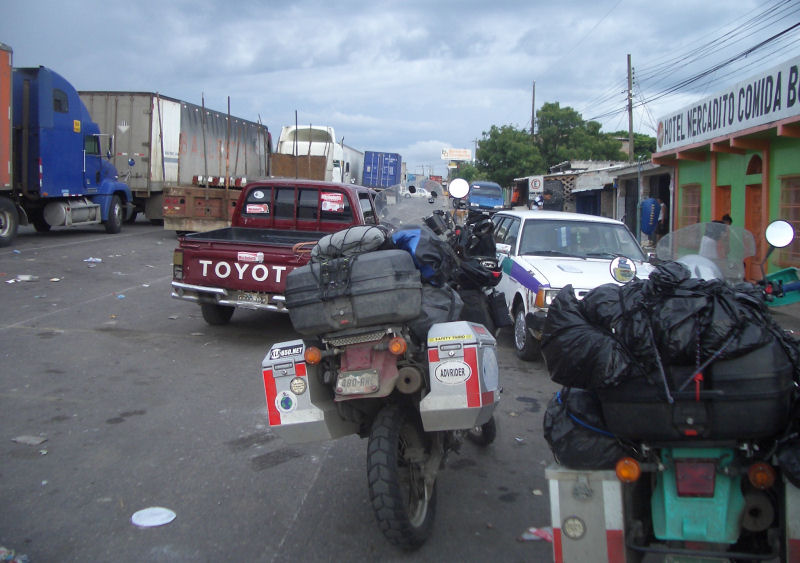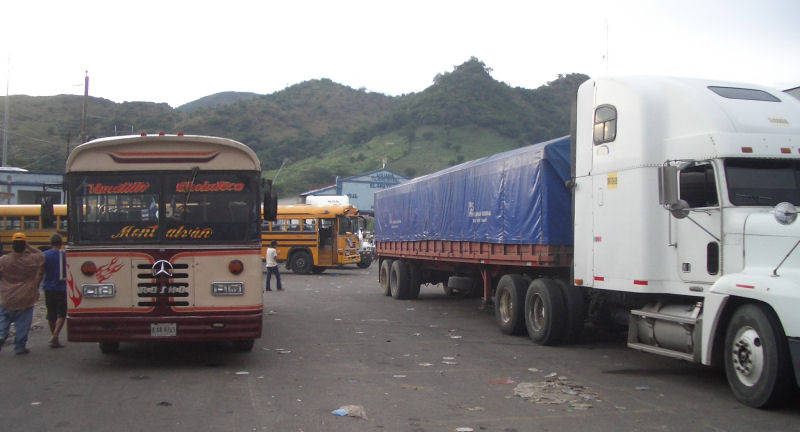 Don was led from one place where he paid $35 for each of us, and another place where he paid $45 each One of those fees went into an official's pocket. Many copies were needed, and the ones we carried with us were not enough. I don't remember what Don paid for more copies.
Anyway, it took hours. It was well after dark when Jose proclaimed that we were done, wished us happy travels and pointed us to the passage officials who let us through. It was ugly.
[edit: Almost all of this process was a scam. We learned from other riders later that only a few fees were necessary. We made the mistake of believing our "helper" and another mistake of letting him have our documents. This made us his captives as he led us from place to place. Okay, lesson learned.]
There were maybe 18 or 19 Lempira per dollar (depending on who you asked), so each was worth a bit more than 5 cents.
We rode to the next town with a hotel that we liked. We were led by an employee to the soggy back yard area, behind iron gates. We rode up to the door, parked next to each other, and became a comedy act. When I got back on my bike to reposition it, the sidestand sank completely into the loose, wet gravel and I tipped over into Don's bike, knocking it and him over. The hotel employee helped pick my bike up, but when I was trying to get a flat plastic "foot" under the sidestand, the bike fell over in the other direction. We finally ran out of tricks and we tipped the employee for his help. He should have tipped us for the entertainment.
The hotel was the Real Vista Hermosa, and was an unusually formal place with marble and stone tile. We saw a few other customers in the restaurant, but not in the large hotel. I can't imagine how they make money in places like this.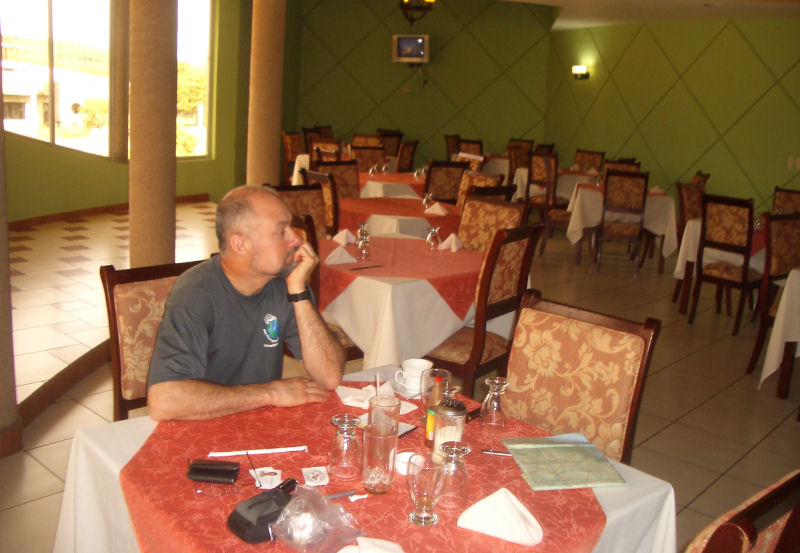 They had a swimming pool, so I didn't care. I floated in the pool for a while in the dark, which felt great.
During the night, the air conditioner completely froze. It started popping, and when I touched it, the cover fell off revealing a sheet of ice all over the vanes. I turned the cooling function off, but left its fan on. Later, while I was still awake (the big light over the yard kept flashing on and off), I heard some terrible shrieking and screaming. It took a while to realize that it was a cat, and I imagined that it had caught itself in some of the razor wire on the walls surrounding the hotel. A half-hour later, I couldn't take it anymore and I got dressed and went looking to kill the thing. When I got to the door that led out to the pool area, I saw that there were two cats squared off with each other, screaming. Just as they started to finally fight (a vicious, rolling, fur-flying affair), I snatched open the glass door, took two big steps and punted them both across the courtyard. One of them went spiraling across the tiles before running away, and the other went airborne. I definitely caught that one more squarely, because it arced right into the pool, over 25 feet away. I watched it scramble out of the water and run off into the patio furniture.
Anyone who has a problem with me kicking those cats, keep it to yourself. I happen to like cats. Just not those two. Not in that moment.
I slept much better after that.
Friday, October 24, 2008
--------------------------
We were the only guests at breakfast. I tried the Desayunos Typical (typical breakfast), and with the exception of eggs instead of rice, it was the same as the typical Honduran dinner the night before. A bit of grilled beef, a small sausage, beans, some crumbly dry cheese, fried bananas, tortillas, eggs/rice.
The highway in Honduras was terrible. Many potholes, and the worst ones we'd seen. Some of them were several feet across, and many were bad enough to split a tire or bend a rim if you hit them. For the highest "road tax" fees we'd paid so far, you would think there would be something to show for it. Lots of usual poverty along the road, lots of poorly-made buildings, lots of pedestrians and roadside food vendors, lots of animals. Lots of nice scenery, too.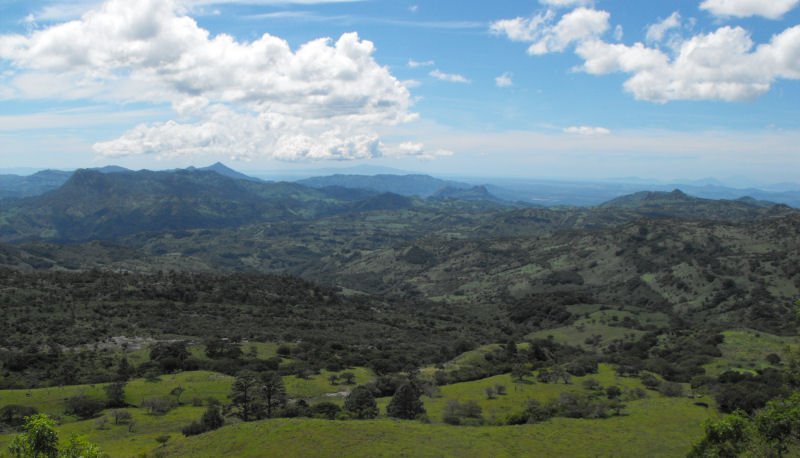 Somewhere along the bumpy road, my smaller camera (the one I used most of the time when on the bike) shook itself loose from my jacket pocket. After finding it gone, I backtracked about 10 miles, but it was gone. Too many people along the road. I lost hundreds of photos. Most were photos along the way that didn't get used in this report, and many were ones that I had had yet to sort through. Most of my shots at border crossings were in that camera, since it was less conspicuous to use. The few photos in the larger camera, along with the few pics Don was taking, would have to suffice. My camera karma is not good. I buggered up one camera in the Yukon, another at home in the garage, and two so far on this trip. Phooey.
At one small town, the police checkpoint was also where local school kids were soliciting donations for something. The friendly policeman told us it would be good to give something, so I put a small wad of local bills (about $6 maybe) in their jug and took their photo. For some reason, my remaining camera sometimes gets whacked out and takes really dark photos. I have no idea why it does that, and it's a hit-and-miss problem. This is the best I could manipulate the photo of the girls collecting money.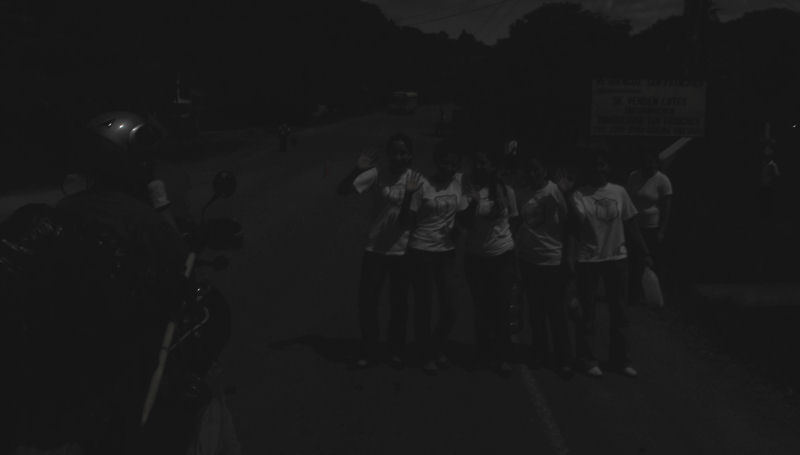 On our way out of Honduras we were stopped short of the border by a very careful scam. Just out of sight of the actual border, there was a metal shed alongside the road with other small buildings. Across the road was a heavy rope, and a guy attending the barricade. Around the bend in the road past the truck down there is the actual border.
The main scam artist came to us and showed a laminated ID card with his photo. He said we needed to give him our passports, driver's licenses, and vehicle papers from Honduras. There was a bus stop there with people waiting, and when I asked one of the men where the Immigration office was, he turned away from me. I asked him much louder, and he walked away from me. That was a clue.
We didn't feel quite right about this, but our way was blocked, so we handed our papers over and the guy went into one of those sheds you see on the left in the photo above. Several minutes later, he came back and showed us where our passport visas had been stamped out of Honduras, and said that we had to pay him $20 each. I argued with him for a while, looked at the passport for any new stamp but not seeing any, and told him that we had paid too much to enter Honduras and weren't going to pay him anything. He was insistent, but he eventually relented and told us we only needed to pay him $10 each. That was a final clue. When I flat refused to pay him anything, he finally asked for a tip (una propina) for his help. I asked him, "OH! Solo una propina?" and he said yes. I said no, started my motor and rolled up to the rope. Don gave the guy one dollar to get the hell out of the way, and the guy did. When we were at the rope, the guy in the white shirt (above) dropped the rope and we rode over it. Total scam. If we had known, and had made to ride over the rope to start with, I'm sure they would have let us through.
We were later informed by a more experienced Central America traveler that in almost every case, when someone approached you at a border, they are not official and should be completely ignored. We found this to be the case. The few times when an actual official initiated contact with us, it was always to simply direct us where to stop, where to put the bikes, what window to go to first, etc. In the majority of cases, we had to find the actual officials we needed if they were not in an office or behind a window. Even the police and soldiers at the borders were suspect, sometimes ignoring us and sometimes only talking with the local "helpers" as part of their scam.
Past the rope, we went a couple hundred yards and came to the actual Honduras/Nicaragua border where I got us stamped out of Honduras for a couple bucks each. Don then did the admin stuff for Nicaragua and I waited with the bikes. The money-changer pests were very persistent and very assertive. You chase them away, they ignore you or come right back. One of the officials behind a window warned me (by gestures) to not use the money changers and to be careful with them.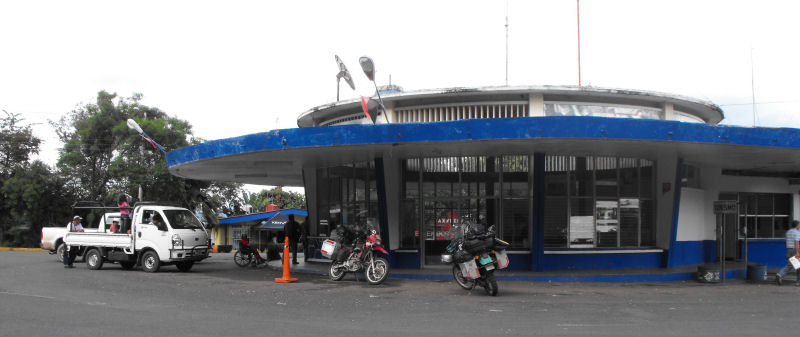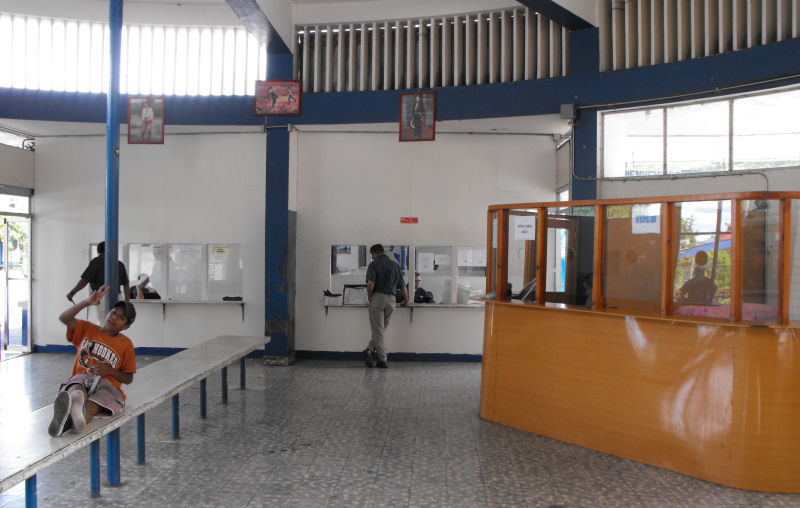 The kid in the above photo probably lived here, trying any and every scam he could. He came to me several times, sometimes offering to assist for a fee, sometimes telling me to pay a fee to a different guy, sometimes offering to watch our bikes or wash them or check the tires... anything he could think of. Being a clumsy oaf sometimes, I accidentally broke a small glass slat in a window and the kid ran into one of the offices and came back to tell me that I had to pay $100. I ignored him, not sure what I would have to pay for the window but certain that I would only pay an obvious official. After the kid later told me I only owed $10, I chased him away. No official ever came to me, and no one ever mentioned the glass slat that I had very obviously and loudly broken.
The exit process went smoothly, only a few copies were needed (available in the fake-wood booth seen in the lobby above), and only $7 to enter Nicaragua. At Nicaragua customs, we needed two copies each of our passports, driver's licenses, and bike titles. $5 each for the import fee, and a final $1 each at the barricade (where we were told to pay a city tax and we got a receipt). Also at the barricade, we were required to buy local insurance right there for $12 each. It was one of the easier border crossings, and not very expensive.
The local currency was the Cordoba, and $1 was worth C$18. Some fees were paid in dollars, others in Cordobas.
It was hot and humid in the hill country. Lots of slow-moving trucks. At one point, I passed a truck in a no-passing zone and found myself right behind the police car that the truck had been dutifully following. I expected to get pulled over at any time, but wasn't. The policemen in the car eventually stopped in a small town to direct traffic at a school crossing. Whew!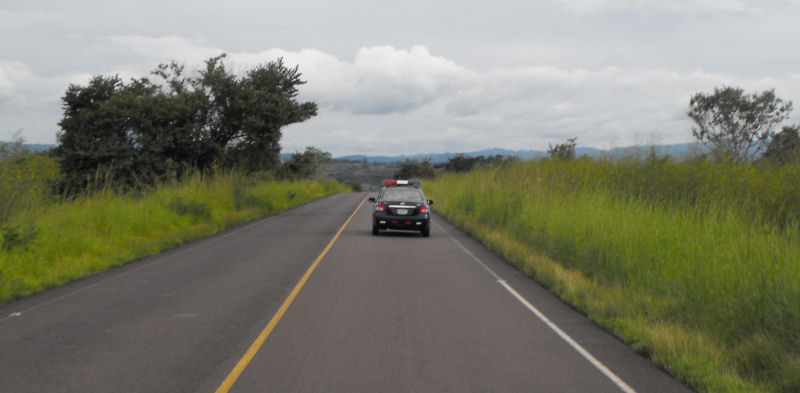 We got to the town of Esteli, Nicaragua, and saw the Panorama Hotel next to the road. We got checked in, found that they had Wi-Fi Internet, and the restaurant area was open 24 hours. Woo-hoo!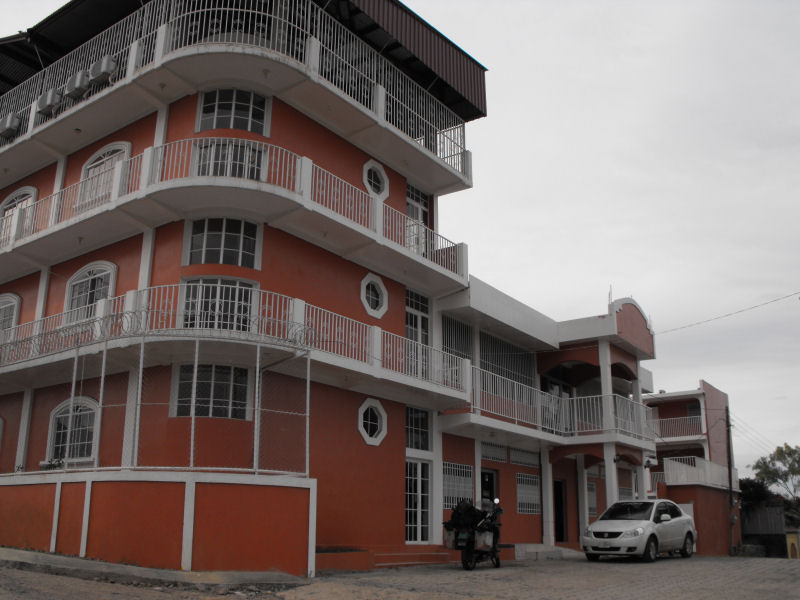 After getting settled and showered, we ate in the hotel and basically camped out there for a while. I did some writing, we handled email and made Skype calls, too.
They had a gated parking lot and said the gates would be closed at 23:00, but they never did close the gates. There was a young man who watched the place through the night. He had parked his little motorcycle next to ours.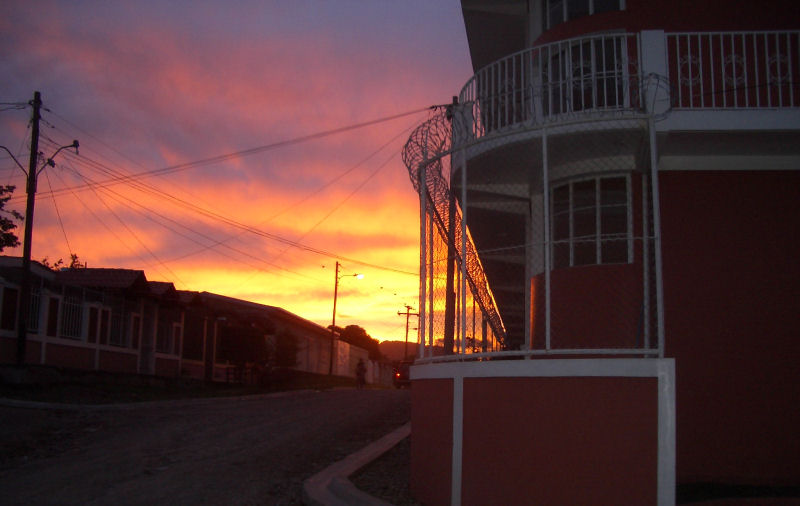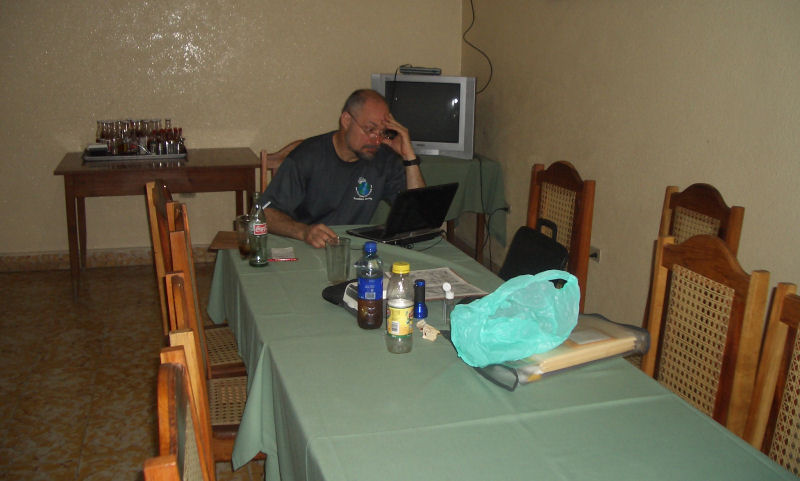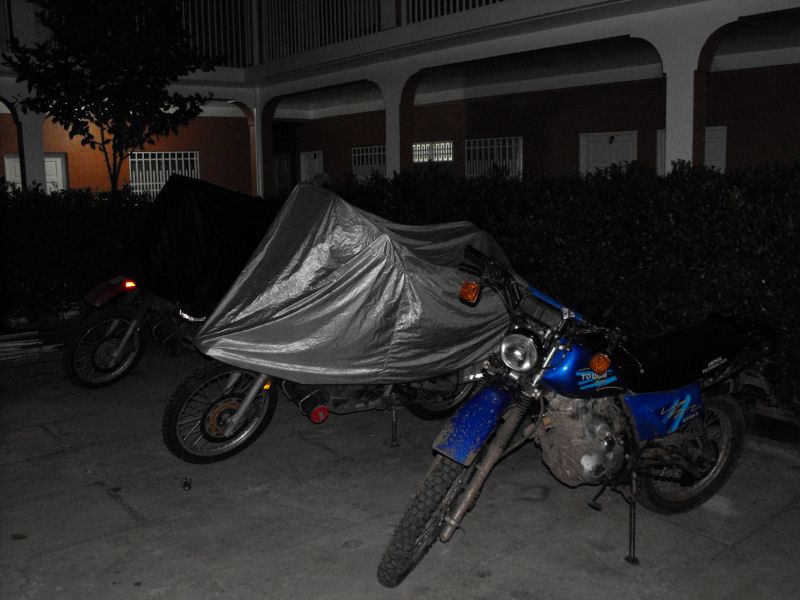 What's funny is that before bed, Don accidentally chained his bike (under the silver cover) to this guy's bike instead of to mine. Mine is the other covered bike, just so you know. In the morning, the guy was waiting for us to wake up so we could set him free. I'm surprised he didn't knock on our door earlier.
Saturday, October 25, 2008
-----------------------------
We got up at 08:00, set the night watchman's bike free, and had breakfast. Then it was time for some bike maintenance. We cleaned and re-oiled the air filters (which weren't too bad), tightened and adjusted several things, and Don did some re-packing.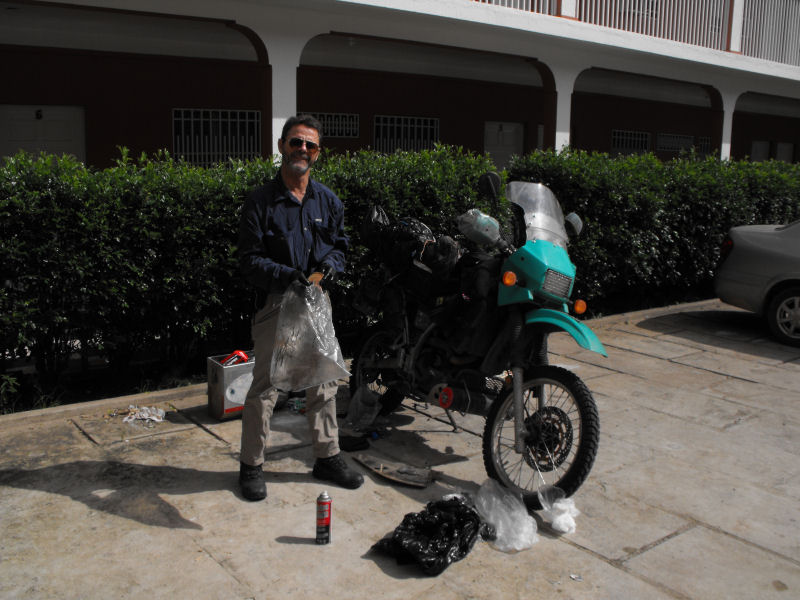 We got to riding late in the morning, so it was going to be a short riding day. What we didn't know at the time was that it was going to be a very short riding day.
The roads were very good, and we saw very few street vendors. The few we saw were selling parrots. Live parrots perched on sticks. For pets, I believe, not for dinner.
From the highway, there was a lot less poverty, too. The small towns a villages had less (obvious) squalor and fewer decrepit buildings. The weather was typical--hot and humid until mid-afternoon when it got hot and rainy.
We decided to not take a side trip to Managua, which would have been a forty mile detour. The idea of going to Managua just to be there wasn't very attractive, and it would just be another big city that we would get lost in, so we skipped it.
We were stopped by police standing on the side of the road with a radar gun. They had us at 60kph in a 45kph zone, so it was a valid stop. We let them tell us all about the expensive citation fine, and how they would have to send our driver's licenses (which they first demanded from us) to Managua where we would have to go get them after paying the official fine. We said, "Okay," which they understood but didn't like. There were three of them, and they took turns trying to tell us that it would be quicker to pay them $20 and be on our way. We continued to play stupid and argue with each other over what to do. We then obviously agreed again that we would follow them to Managua, which was maybe fifty miles from where we were at that time. They didn't like that. They walked away from us for a while then came back, showed us the violation book with the penalty fee list, and repeated that it would be $20 for us to go now. When we felt that we had gotten a $20 show from them, we sighed and finally agreed. I gave a $20 bill to Don and sent him forward so I could get a photo. They definitely focused on him since he had the money, so I got the photo without them looking at me anymore. The third policeman is just off to the left, off the photo. Don is looking at the money just before he handed it over.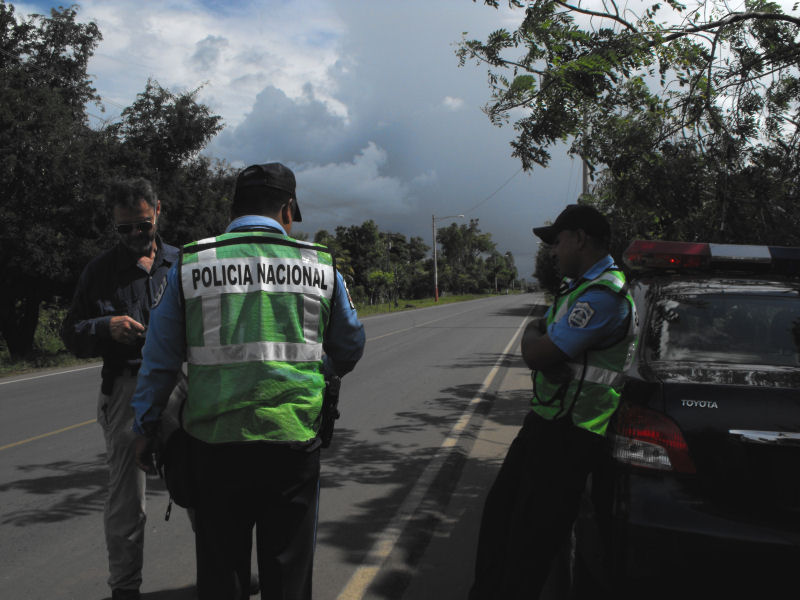 Once we had paid, one of the policemen became our friend and he drew me a map to what I thought was a stop sign next to a police station. He was determined to get me to understand, and he kept turning on my bike's left turn signal. I was a mystery. Anyway we rode on, and at the next intersection was a stop sign. Just beyond the stop sign were several more policemen standing by the road watching Don and I stop at the sign. Aha! The cop had actually been warning me to be sure to use my turn signal at the next stop sign, because there was another police crew there. We got a show and a warning for our $20, so that was a deal.
In the next city, two horses were walking down the side of the road and very casually wandered out in front of me and stayed there, plodding along. I had plenty of time to get this shot, rolling with my clutch pulled in. It's amazing that no one cares about this.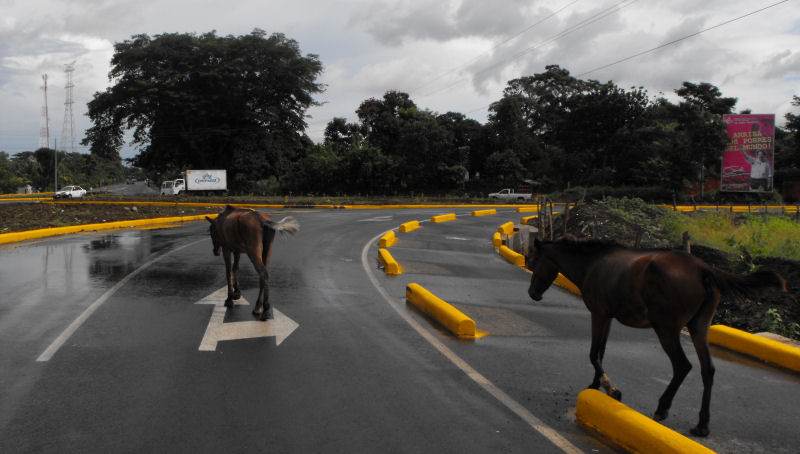 We went through Masaya, trying to follow the GPS, and ended up riding around in a mud neighborhood. The roads were good when they were only rutty dirt, and some of the mud bogs were terrible. We found our way back to pavement, backtracked via the GPS and found a better road out of town. A few miles later, we asked another motorist if there was gasoline ahead, and he told us to go back to Masaya for gas. After that errand, we made our way onward, just in time to get stopped by another police crew on the side of the road.
They casually waved us over to the side of the road, and I saw that they did not have a radar gun. The officer who did all the talking had a clipboard and after getting my driver's license and other paperwork, he started writing information down on his clipboard. This made me feel better. I gave each of the officers some candy--one of my most common tricks. They each took a piece and thanked me. I then very deliberately took out my notepad and started writing in it. I looked at each of their badges and wrote some more in the notebook. The main cop's badge number was #3388. They gave no impression that they cared, but the main officer then handed my papers back to me and only briefly looked at Don's papers before handing his back to him. They wished us a nice ride and let us go. I honestly don't know if my candy-and-notebook trick did any good or not, or if they were honest cops just doing a routine roadside check, but we were grateful in any event.
A short, wet ride later and we were in Rivas, short of the border with Costa Rica. We wandered around the streets for a while, then asked a local for a hotel recommendation. We were directed to the Hotel Nicarao. We arrived at the rear gates of the hotel just as the guard was letting in another tourist's car. We rode into the lot and parked as the guard closed and locked the big, steel gates.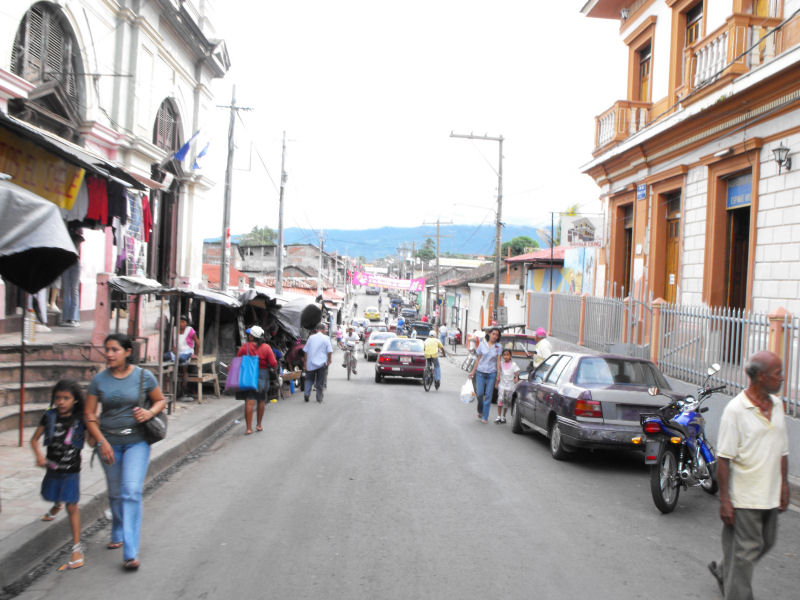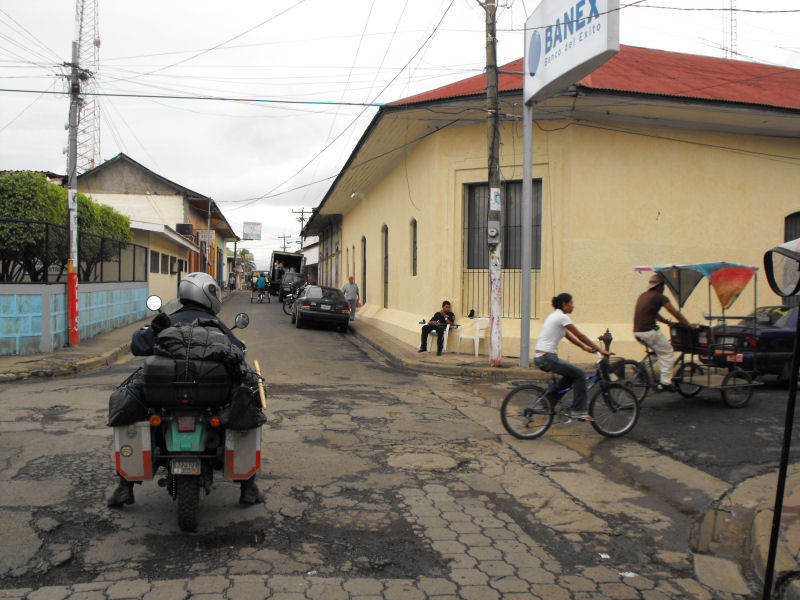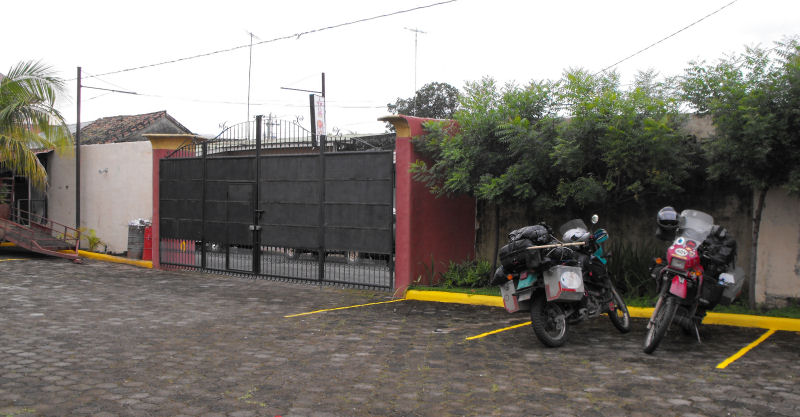 They gave us the room closest to our bikes. They had a very nice restaurant, Wi-Fi Internet access, and a very pretty girl working at the reception desk. After we got showered and changed, I sat out on the front patio with my laptop and a couple of beers to write and watch the people and traffic go by on the busy street.
A vehicle parade passed by, celebrating something with banners, horns, and very loud fireworks. There was a grocery store, a pharmacy, an ATM, and everything else within a block.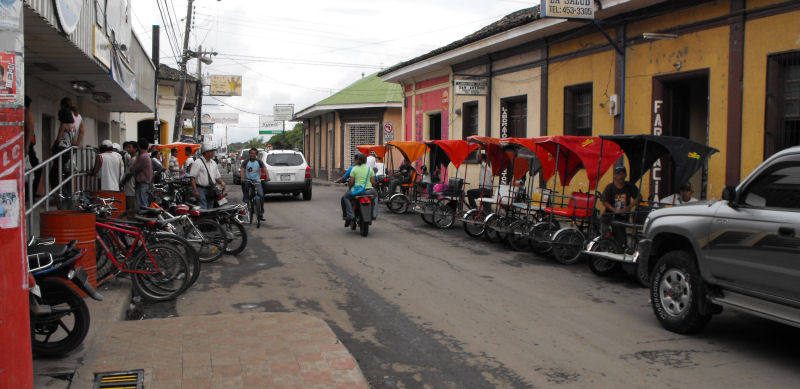 We had a nice dinner, and a music duo (keyboard and vocalist) set up right next to us. I expected Latin music, but they did American songs, all 60's and '70's easy listening stuff. Some of it was in Spanish, most in English. Mostly it was muzak, and just blurred into the background.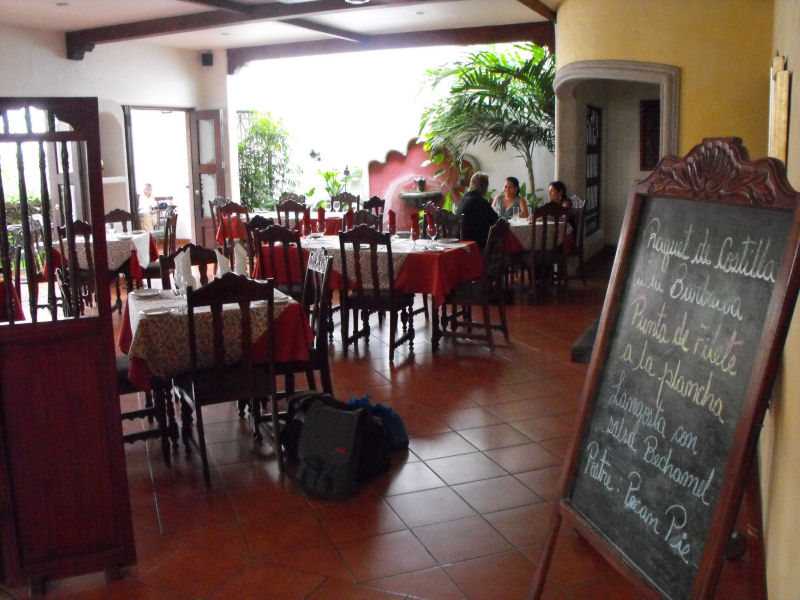 We sat in the lounge and watched a bit of Game 3 of the World Series, but it was too distracting in Spanish when I wanted to write. Back to the room.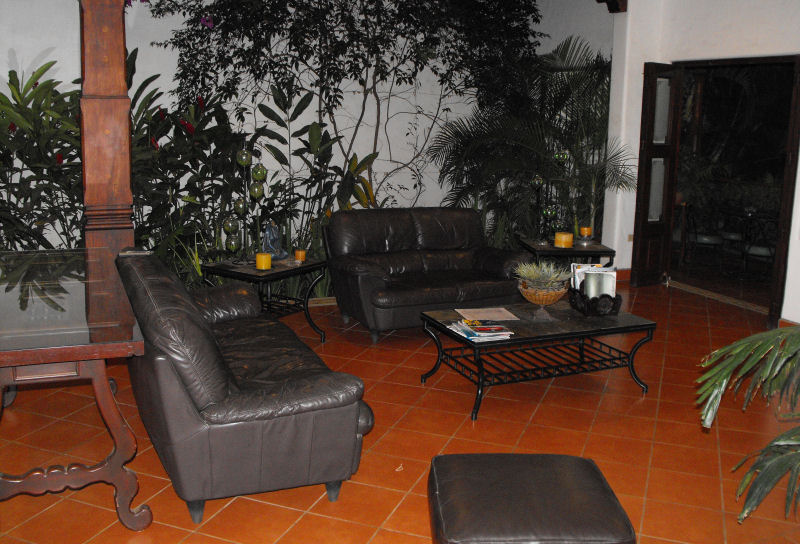 I sent a SPoT signal, we made Skype calls, and were done for the night. I wrote for a long time, did some uploading to my web site, and finally zonked out after midnight.
Sunday, October 26, 2008
---------------------------
We got up early, had a nice breakfast (included) in the hotel, and got back to riding. The weather was hot and clear, but drizzled and got windy at times. We saw some more wind turbines. My remaining camera started acting up again, so some shots came out almost black again.
Getting out of Nicaragua was fairly easy. When we approached the border, they typical helpers ran out into the street to wave us down, but we didn't even slow down. We ignored them and rode right past. There was a long line of trucks and buses on the road, but we went right past them and no one seemed to mind. The border guards let us by.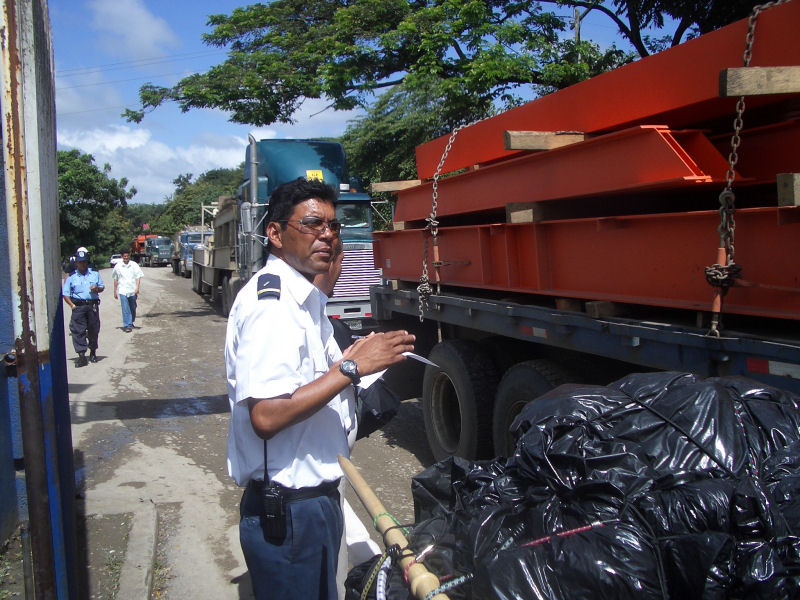 When we got to the official buildings, a uniformed guy pointed to where we needed to go, so we went there. We parked in a large lot with many other vehicles. Some more helpers vied for our attention, but we ignored them and they quickly went away. I learned why. There were several tourist guides (uniformed in blue vests) who were great. I don't know if they were "official" or not, but their demeanor was calm and completely civilized. The one who started pointed where I needed to go was a mute woman, very nice. By gestures and sounds, she got me to sort out what papers I needed and where I needed to go. She went with me to the Immigration counter and helped me fill out the form. It cost me $2 to get stamped out of Nicaragua.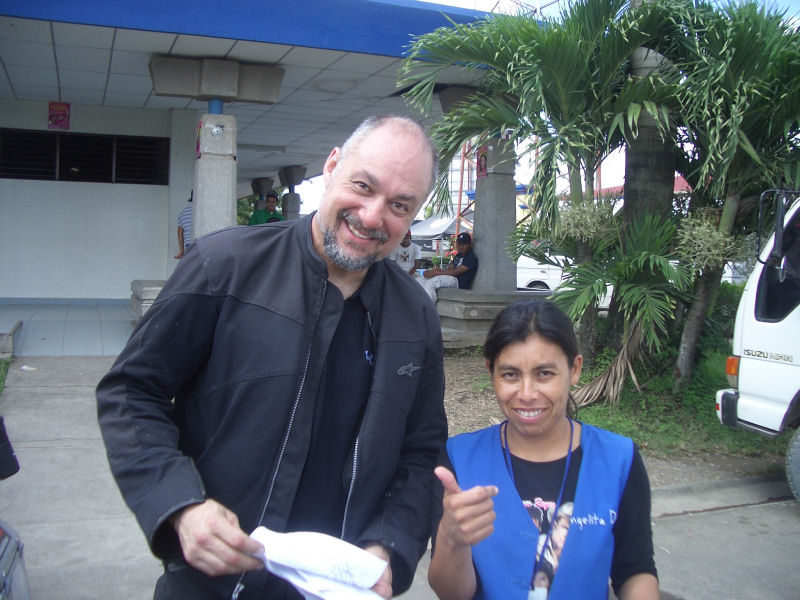 Next, she took me back to the bike and walked Don through the process. She then found the customs woman who examined and stamped out our bikes. No charge.
While there, another rider on a teal blue KLR rode up to us in a flurry and joined us. He was Jaime, a 26-year old Spaniard who has been traveling around the world by truck and motorcycle. He got through the process quicker than we did (he's had more practice and speaks the language). Jaime became one of our saviors.
We tipped our guide and went to where she pointed--off down the road to the border of Costa Rica. Jaime was right behind us.
As we neared the Costa Rica offices, we saw long lines of vehicles (mostly buses) and people lined up along the road. Hundreds of people. All with luggage on the road with them. All looked tired and hopeless.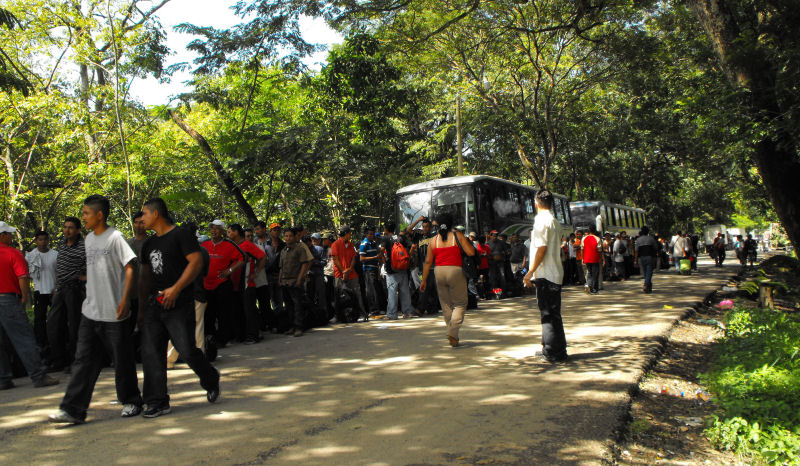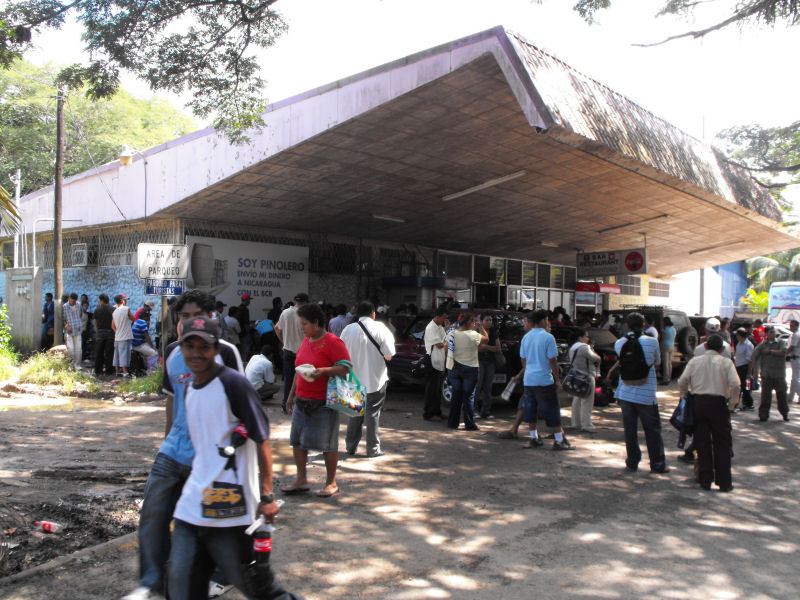 We passed the vehicles and people, rode up to the offices and parked right next to them.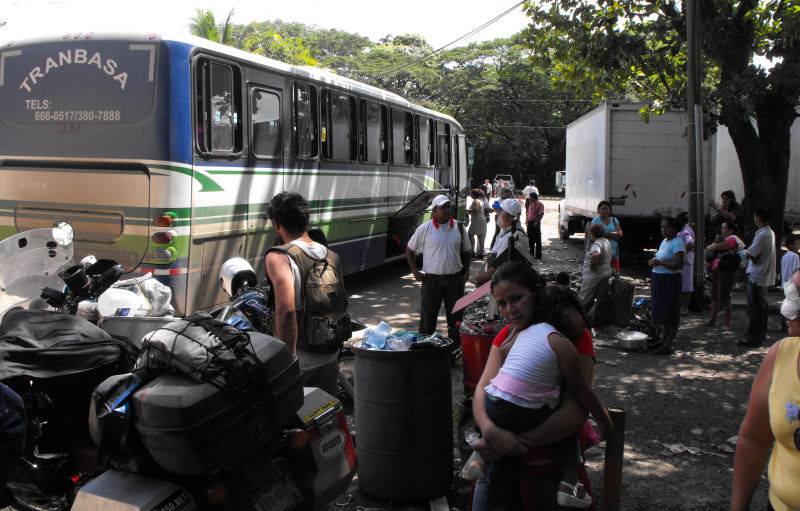 That's Jaime on the right, below, sitting on the table that the customs guys use to search baggage. We spent the next five hours here, getting to know Jaime very well. He lost his license plate long ago, but said that his title and registration have been getting him through.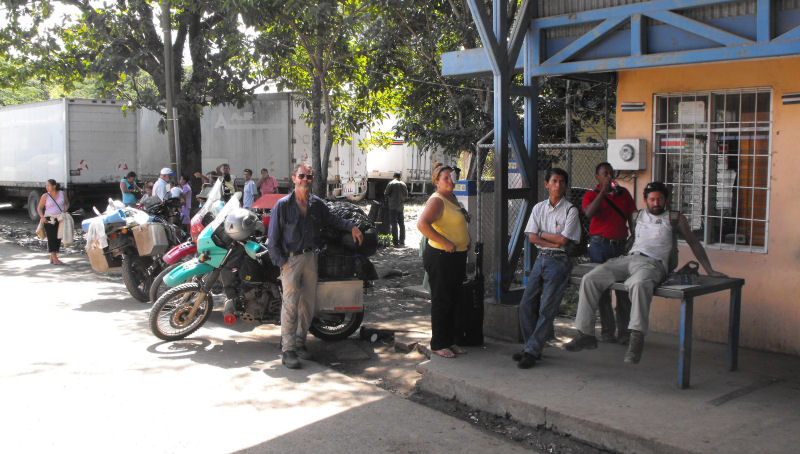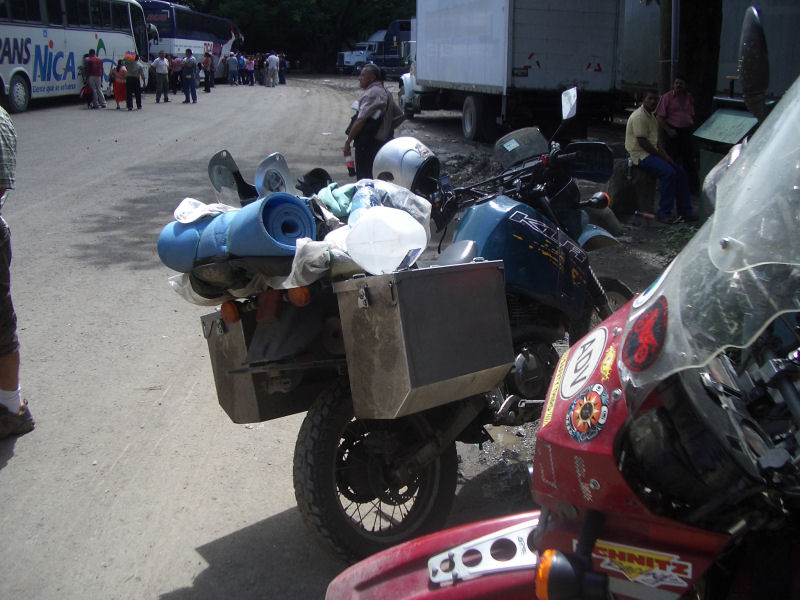 I thought that Jaime must be a writer or pro photographer, but he turned out to be a producer of some kind. His web site (http://www.lavueltaalmundodesarto.com) is heavy with his writing, but my Spanish isn't up to it. He said he's writing a book, too. Quite a few nice photos on the site. He said he spent $60,000 so far on his round-the-world trip. He has thousands of t-shirts with his logo on them, but he doesn't know what to do with them. They are at home in Spain, in big boxes.
Jaime started in a big, red SUV truck when he left Europe for Asia. He said that Nepal was the country that had the greatest impact on him. When he shipped his truck from India to Canada, the Canadian officials opened the shipping crate, saw that the truck was all muddy, and sent it back to India. It's still there, and he'll go fetch it at some point.
Jaime worked in Alaska for a while, then got down to the Seattle area and liked that. Eventually he was in Las Vegas where he bought his low-mileage KLR650 from a sympathetic guy who sold it to him for $1400. What a deal! He fitted the bike with boxes and a few other accessories and rode down through Baja in only a few days, camping on the beaches. When we met him at the border to Costa Rica, he was only three days out of Mexico. Geez... and we thought we were traveling fast. He has to be in Chile several days from now and he thinks he might still make it in time for a family member's wedding. After that, he'll ride up Africa and then to India to get his truck.
We learned that the border processing backup was not a normal situation. The electricity was out, and had been out for a long time. The officials were filling out paperwork by hand and making phone calls to check records that they would normally have done on computers. Photo copiers weren't working either, which must put all of Latin America in a tizzy.
Jaime and I decided to try one of the helpers, and he was able to quickly find a guy who would get us through faster for $50. (There were 550 Colones to $1 at the time we were there.) There was no actual fee for the processing, and the $50 was for the helper only. That was much better than standing in a long, fast-growing line. Jaime did all the negotiations with the helpers. The guy with the white baseball cap on backwards was our helper.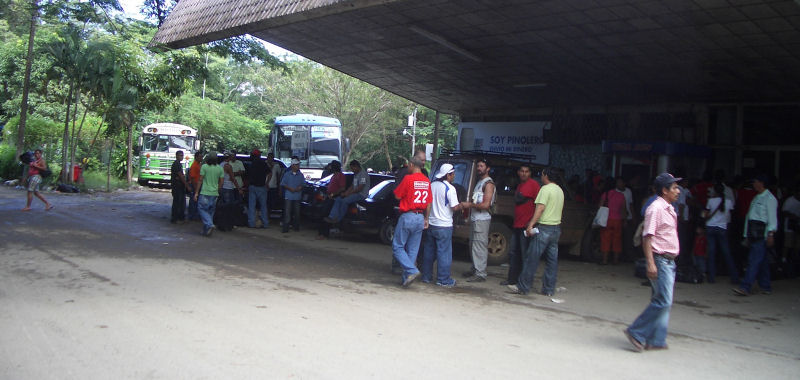 He collected our documents (passports and bike titles) and disappeared into the building. We wouldn't see him again for a long time, but one of his buddies (above, with the fanny pack strung around his chest) kept coming back to us to assure us that things were going as well as could be managed.
We chatted with other tourists. The guy on the left, below, is an American, traveling with others. He's been many places in the world, and was very experienced with borders, too. He's driving a truck his grandfather gave him, and will sell it in Panama and they will continue into South America with only backpacks.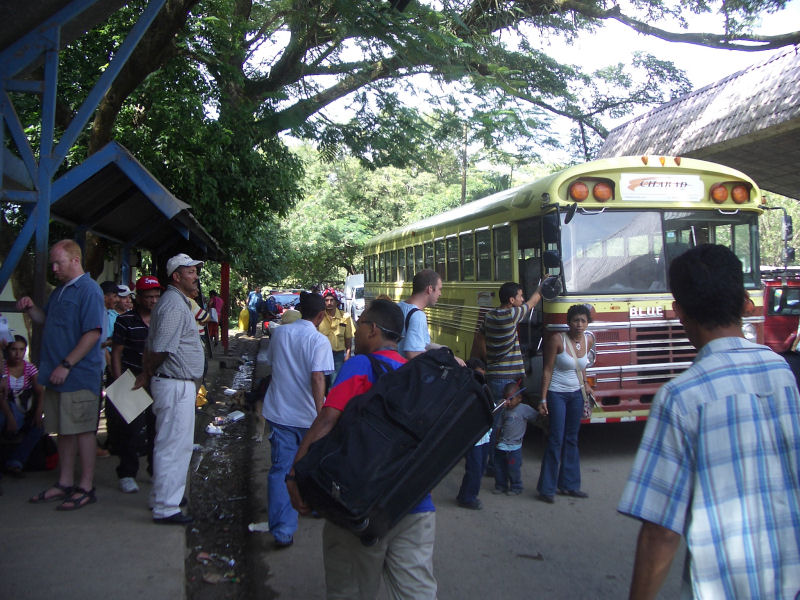 Every rare now and then, a busload of passengers would get cleared and searched by the customs agents. Then they would crowd around their bus, scramble aboard, and eventually roll down the road.
It drizzled a bit, was very hot, and was very humid. The people-watching was interesting, though.
After a few hours, the lights came on in the building and cheers went up from the crowd. Things were slow to improve, but eventually the line started moving. A while later, our helper's helper came and got Jaime and took him into the building. They came out soon after, paperwork done. I paid the helper the $50 for the three of us, thinking that Jaime's help was worth his fee. We then needed to buy mandatory insurance, which Jaime facilitated in anther office in the same building. Insurance was $17 each, and you needed to show a passport and bike title or registration. If you showed a title, you still needed to show something with the bike's license plate number.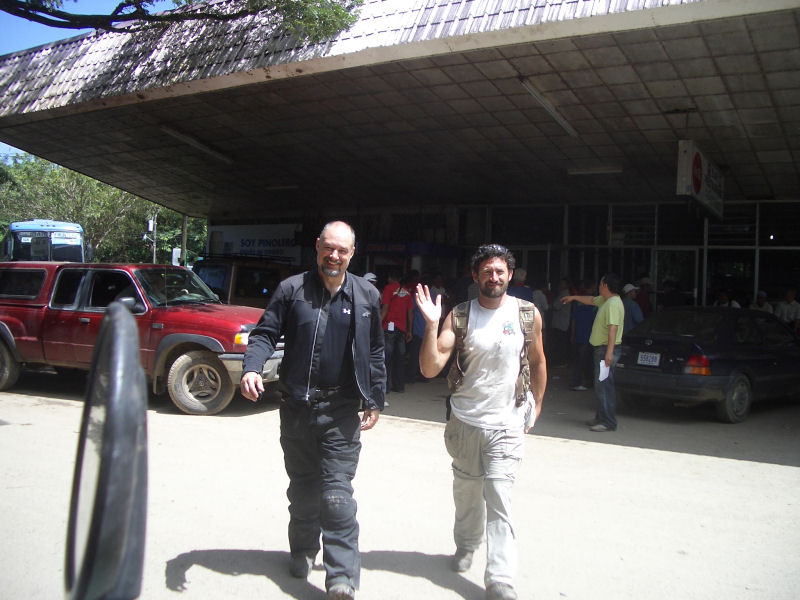 At the customs office, right where we had parked our bikes, we had to fill out the bike import document. Jaime helped translate the simple form, and he and I then went back to the big building to get two copies each of our main passport page, the page where they had stamped us into the country, our new insurance receipt, driver's license, and bike title. Copies were cheap. We were told we needed two copies of each document, but we were later given back one copy of each. Best to get two cheap copies and not risk getting only one.
From the customs building (I don't think we paid anything there; there's nothing in my notes about it), we rode onward about 200 meters to another office off on the right side of the road. There was no way to know that this was necessary if you weren't told. We spent more than an hour here, Don waiting outside where it was cooler, and Jaime and I joined several others inside. I'm not sure what this process was, by the way. Some secondary customs process, I suppose. Jaime did all the talking and forms for us, so I didn't the gist of it all.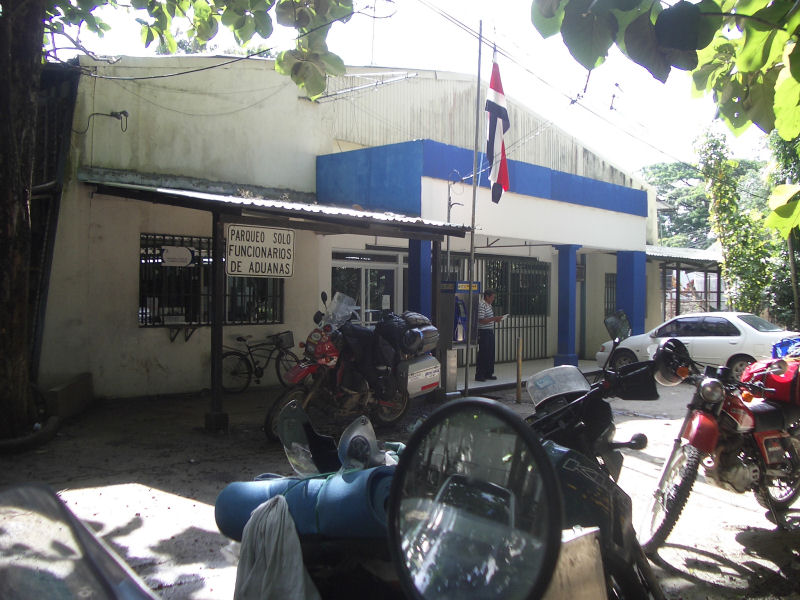 We chatted with other tourists in line, but I had to go outside to cool off every now and then. It was a sweat box in there. There were several truck drivers in line, too, each waiting his turn to enter the small office where one clerk worked. When another American tourist eventually came out of the office, I asked him why it had taken him over twenty minutes in there. He told me that the import process itself was simple, but the clerk wanted to talk to him a lot to practice his English. Oh, great.
I talked for a while with Jehu, a guy who had dual U.S. and Honduran citizenship. He told us all about the northern part of Honduras being the best part, and the southern route we had taken (the Pan American Highway route) was the worst section of road in Honduras. He thinks that it is on purpose, to discourage cheap tourism and divert the tourist crowds to the northern beaches and resorts. Those driving through on their own are not generating as much profit for the country, apparently. I got Jehu's email and cell phone info, and we agreed that if possible, Don and I should contact him on our return so he can show us around.
Eventually a second clerk arrived (after siesta?) and separated the truck drivers from the tourists. When it was our turn, Jaime took my forms and Don's and went inside for us all. He was in and out of there in less than ten minutes, requiring each of us to sign one thing at the end. We were good for Costa Rica, and we said our good-byes to Jaime. In a second, he was gone. He's got places to go and not much time to get there.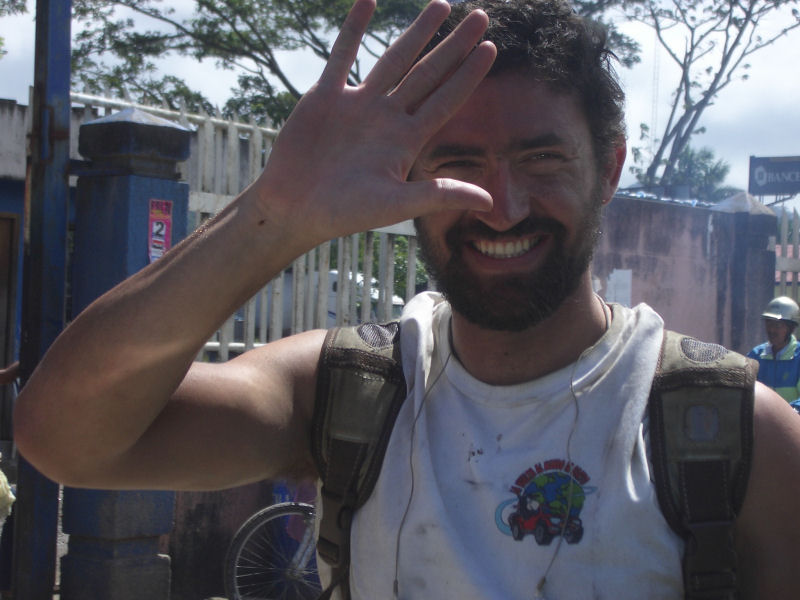 He was a blessing to us, and if he would have allowed it, I would have gladly paid each of his fees for his help.
Beyond this final building was the last barricade where we were to show the customs forms (and another receipt that somehow made its way into our possession but I don't recall where). There was a school bus full of people being delayed at the gate, so Don and I rode past the line of vehicles almost right up to the gate. The guards then stopped the on-coming traffic and waved all our traffic out that way. No one looked at any of our paperwork at all. If we were stopped in Costa Rica, they would want those papers, so the process is still necessary, trust me.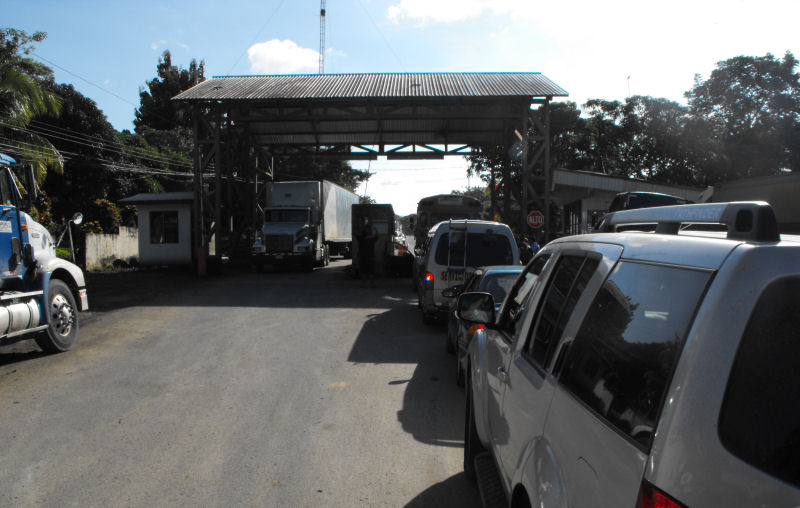 We were now in Costa Rica.
Yay.
We rode to Liberia. The ride there was nice...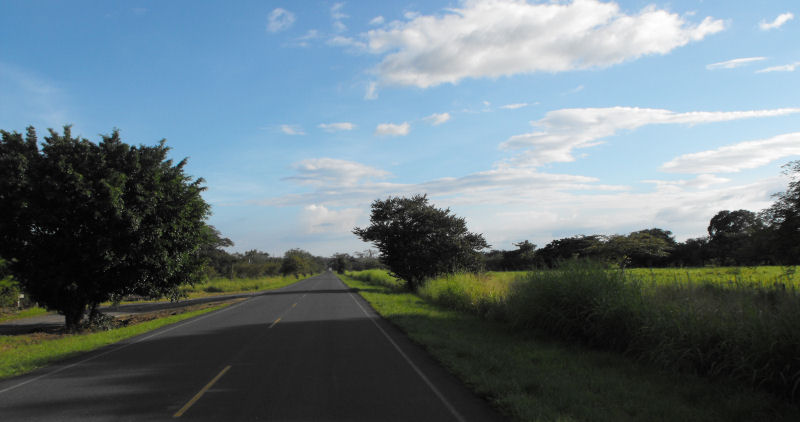 ... but the city was not so good.
I gotta tell you folks, a shitty town anywhere is just like a shitty town anywhere else. The part of town along the highway was like a long, dirty truck stop. We turned off the main road and found El Centro--usually the best part of town.
Usually.
The central plaza area was immediately uninviting. When we parked for Don to go check a hotel, I stood and watched the bikes. Maybe twenty seconds after we had stopped, two men in a truck pulled up next to our bikes and they waved me to come closer. I smiled and just leaned on my bike. They asked if I spoke Spanish, and I said, "Solo un poco." The driver leaned across the passenger to tell me (in Spanish, but I got the message) that the area was very dangerous and I should watch the bikes all the time. I thanked them and nodded. Right after they drove off, I was warned again by an old woman walking arm-in-arm with a younger woman that thieves would take everything if I looked away. I thanked them, too. The old woman kept making grabbing motions at the bikes, then pointed at me and touched under her eye. "Si," I told her, "Entiendo. Gracias." They walked on. When Don came out, he told me the hotel was completely unacceptable, so we got out of there.
Another hotel on the main road would have been okay, but there was no place to secure the bikes. We returned several miles to a hotel/campground we had passed earlier. It was a nice place, and some local tourists were staying there. They had a swimming pool, a nice bar, several rooms for rent, and a restaurant that was unfortunately not in operation at the time. There was a "for sale" sign on the road to the hotel/campground. The room was decent, and we unloaded and covered the bikes outside the room, chained together. We were assured that this place was very safe, even if only a few miles from the city.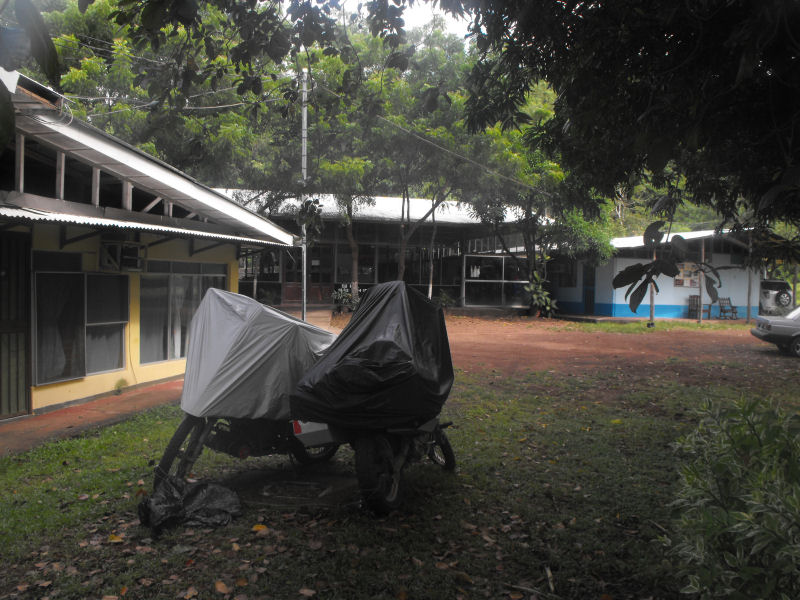 We sat at the bar for a while, watching part of Harry Potter and the Philosopher's Stone, dubbed in Spanish. It's always fun to hear the voices they use for dubbing actors in another language. Sometimes, it's just the wrong kind of voice, you know? We had seen a movie with Danny Glover, and his dubbed voice was squeeky and geeky. Just wrong. Funny, but wrong.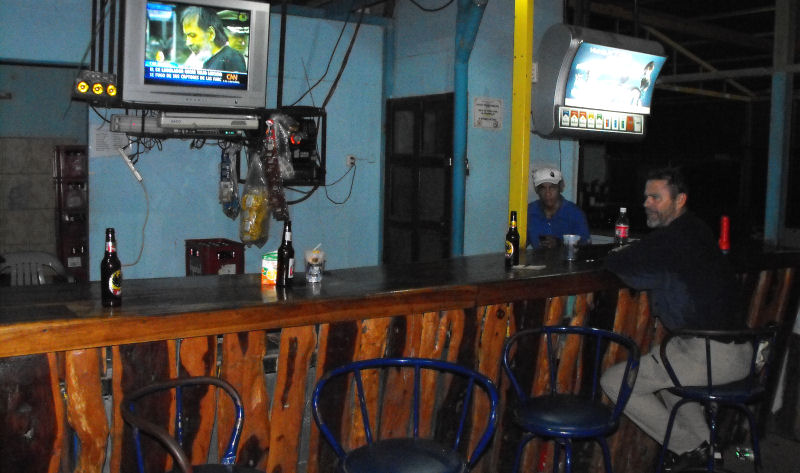 No Internet, and my cell phone wouldn't dial out, but I managed to send a couple of text messages. Don's wife called me back, and I was able to answer so we talked for a while before being done for the night.
Monday, October 27, 2008
----------------------------
The air conditioner was okay, and there was a ceiling fan, so I was fine. It was a tad chilly for Don. He handles the heat better than I do.
We rode to Canas and found an ATM near El Centro, and this was also not the best part of that town. The town centers in Mexico were always nice areas, but that wasn't always the case in Central America. We detoured up to Lake Arenal to see the area. Don has been here before, but I have not. We stopped at a cafe, which is called a Soda in this area, and had breakfast. The menu was also in English, so they were used to more tourists here.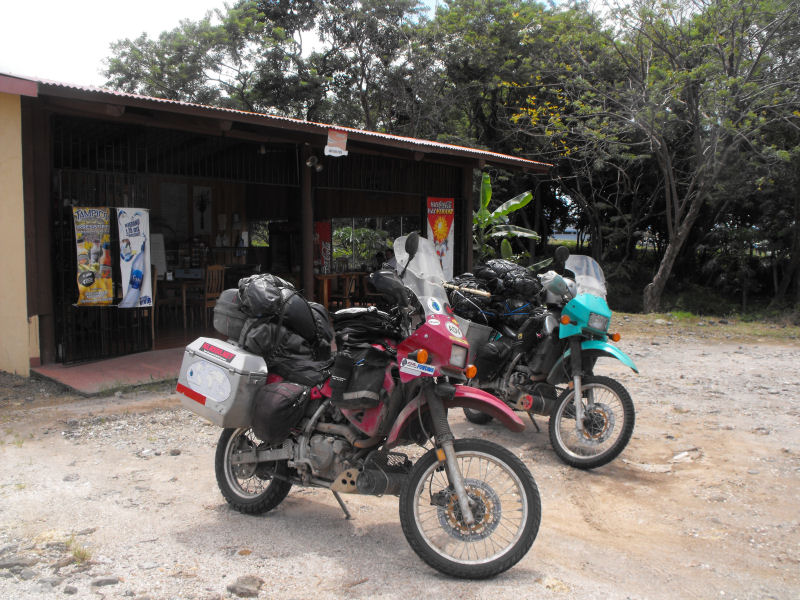 We went to Tilaran and around the lake area, but the volcano was in clouds. Still, it was a beautiful area and the ride was nice.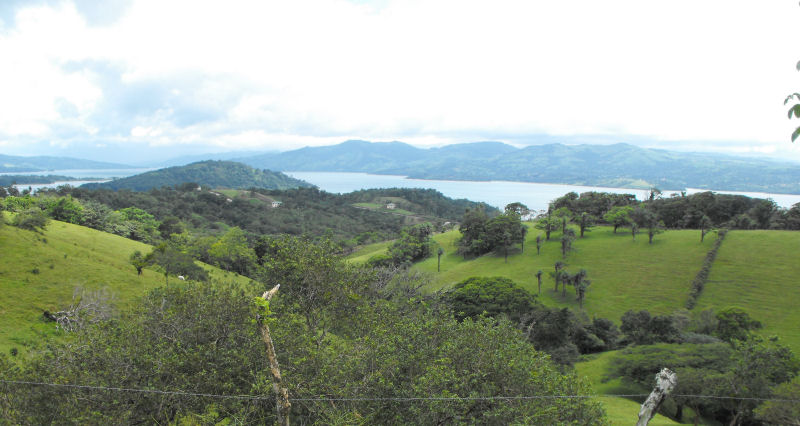 We turned around and headed back, stopping to look at some model homes on display.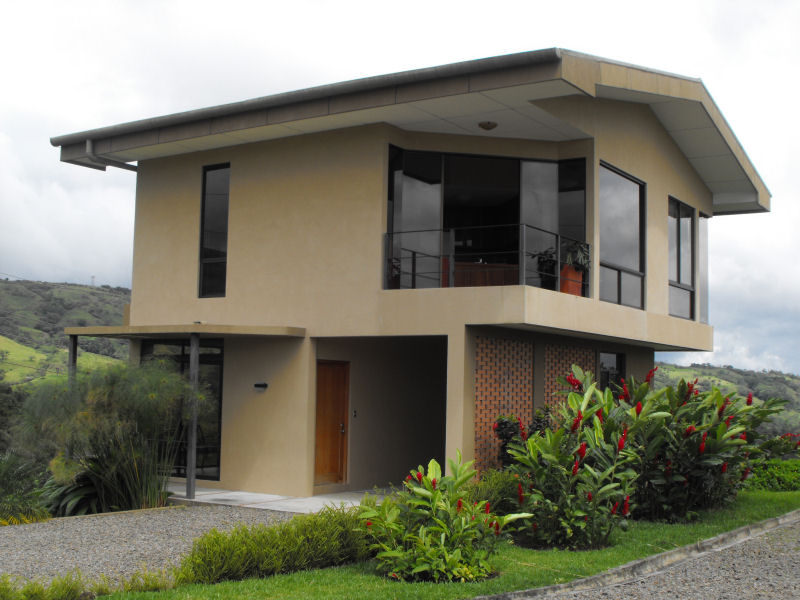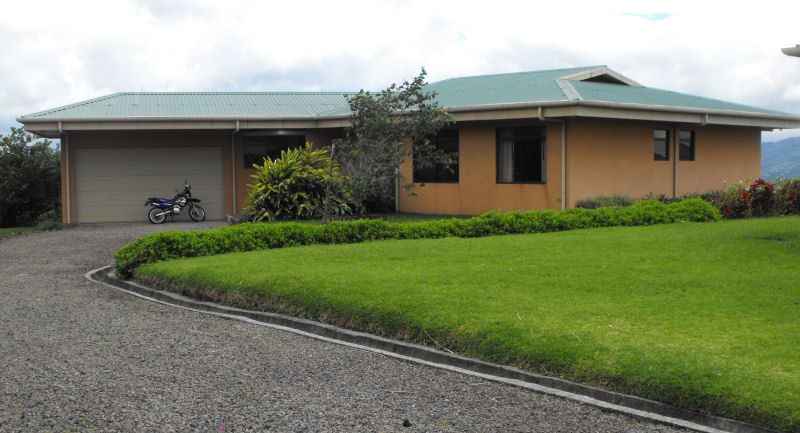 They were nice, and had great views. The guy working there didn't have price information, but he gave us the contact numbers we needed. Don also stopped at another real estate business and talked to the American woman there about living in this area.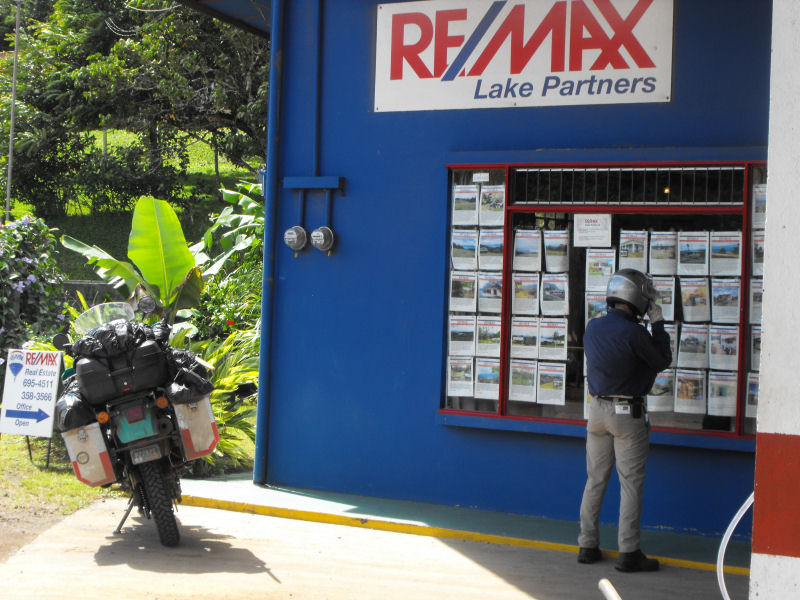 It drizzled a bit as we worked our way back to the main road. Don realized that he had left his rain gear unstrapped on the back of his bike at the last hotel, so we went back there to look for it, but it was gone.
We continued on to Esparza where we decided to try a more direct route on a lesser road, CA3. Maybe it would be scenic and have fewer trucks on it. We didn't get far, though. The road was nice, through a residential area, but it was descending and was very curvy. Too curvy for me, apparently, because I didn't handle one turn and went off the road and low-sided the bike in the soft grass along the road. No injury to me, but the windshield snapped off at the base, and the left Jesse box got torqued off its rack and bent a bit. It was all fixable or replaceable. People along the road told us that this was not a good road to go a long distance on, and they recommended that we return to CA1, the Pan American Highway. We did so.
Back to this.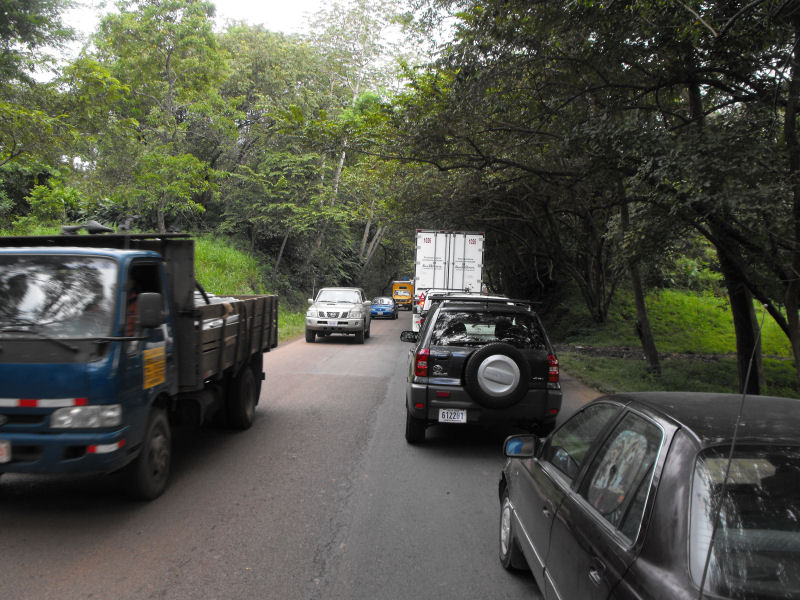 The sunset was very pretty as we got to Alujuela, not quite to the capital city of San Jose, but in the metro area. We really just wanted a large soft drink with lots of ice, so we stopped at McDonalds. The armed guard in the lot made sure that we knew he would watch our bikes and they would be safe. I saw other motorists tip the guard as they left, so that was pretty much the habit. The guard and the store manager gave us advice on where to stay, and we found our way to Hotel Mi Tierra.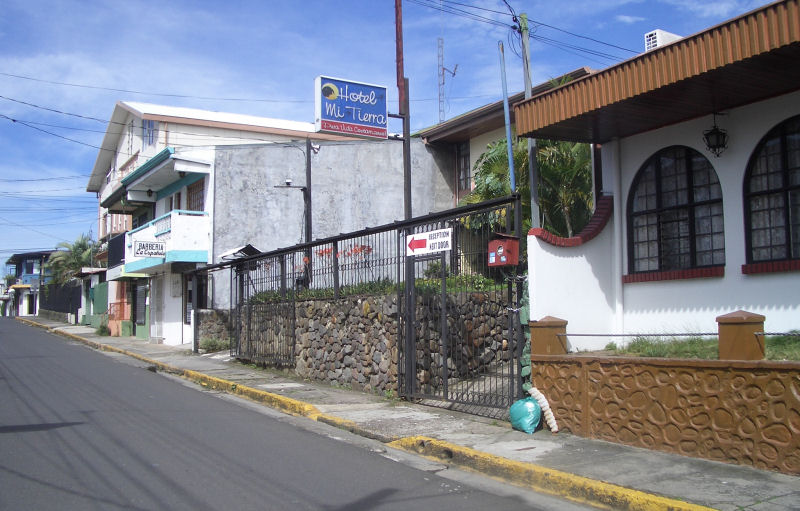 Mi Tierra is a hostel that is well known to kayakers. Yvania and Roberto are the owners, and he works for a kayak business, so they are known through the Internet as being kayak-friendly. There were several other people at the hostel, some from Colorado, some from the Czech Republic. The hostel was very nice, very homey. They opened a gate to the office area and had us park our bikes there. There was a small pool in the central yard and a nice family room with Wi-Fi Internet access. We made Skype calls and I spent some time on the Internet. I was unable to get anything out of my left Jesse box, so no SPoT signal got sent that night.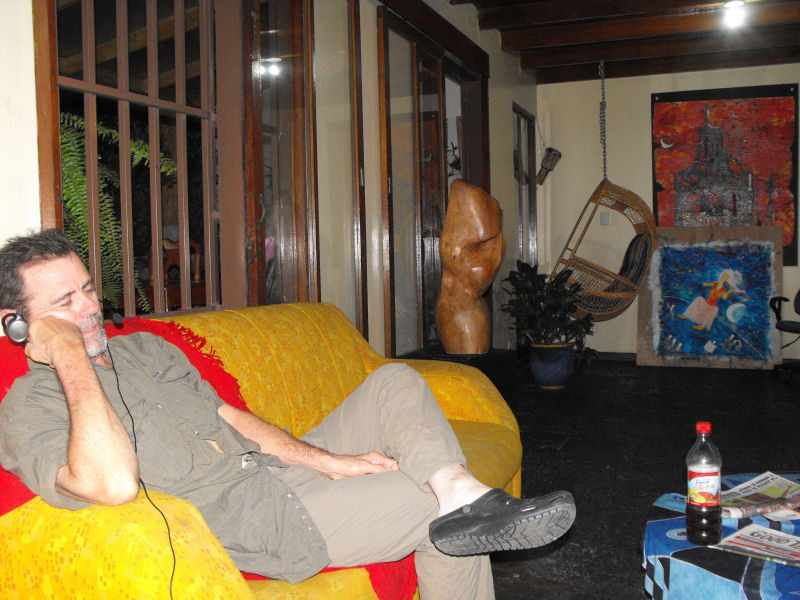 I talked for a while with a handyman at the hostel. He had the nickname "Caracas" because he was from Venezuela, where his father apparently has some influence. Caracas will soon go to Venezuela for eye surgery, which is apparently a free medical service that Venezuela offers to citizens of Costa Rica. Anyway, that's what Caracas told me.
Our wives made plans to meet us in Panama City in a few days, so that was nice. Laurie would bring us some spare parts, too.
Tuesday, October 28, 2008
----------------------------
Breakfast was included with the room. Yvania gave us directions to a friend's shop, where Ricky works with metal fabrication. I took Don's photo with Yvania, since she was so photogenic. Her English was excellent. Just about everything about her was excellent. Ahem.
We didn't have to go far to Ricky's shop. After finding the doors closed, we tried some of the residences next to it, and eventually found Ricky's mother who told us that her son was at the hospital. He had had a motorcycle accident recently, and was having some follow-up treatment to an injury on his neck. He would be back in ten minutes, she assured us. So, we waited.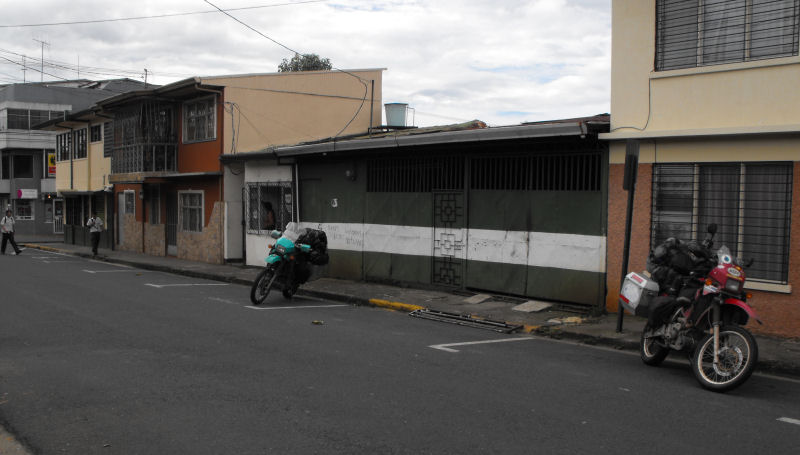 And waited.
I think that sometimes people lie to you just to not disappoint you. Maybe they really think that what they tell you is true. Who knows? Ricky's mother kept coming back out to tell us that he would be back at any time.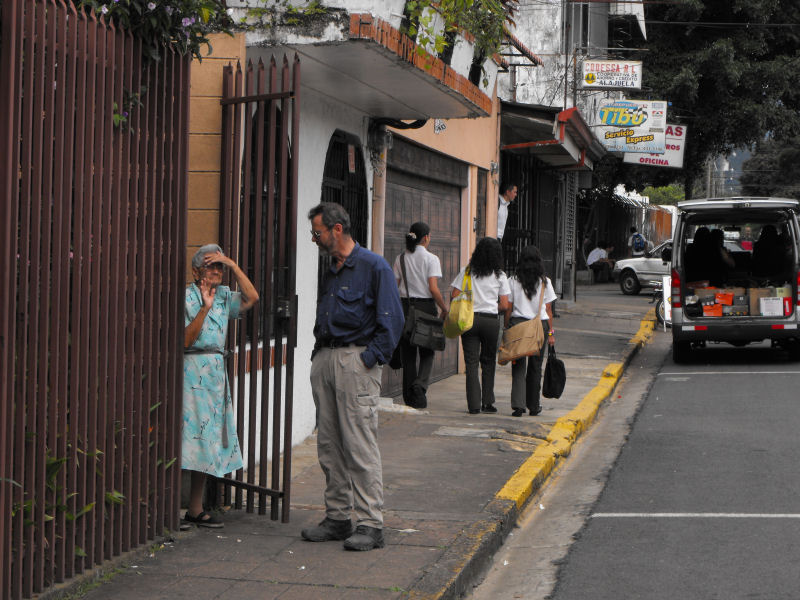 It rained. It stopped raining. Some children at a school across the street came out for a while, then went back inside. It rained some more.
Don went off to look for a motorcycle shop where he could get another set of raingear while I waited. Eventually it stopped raining.
After a couple hours, Ricky showed up, introduced himself as Ricardo, and looked my bike over. I didn't have the necessary language to explain much, but I pointed to the cock-eyed box and he told me to take it off. I finally managed to get it open and emptied out. Ricardo grunted and scowled at the box, didn't like the way it looked back at him, and took a hammer and a board to it. He pounded it (working on the sidewalk) for quite a while, seemingly surprised at how strong the box's aluminum alloy was. Ricardo in the green t-shirt, with a friend of his who helped grunt and swear at the Jesse box.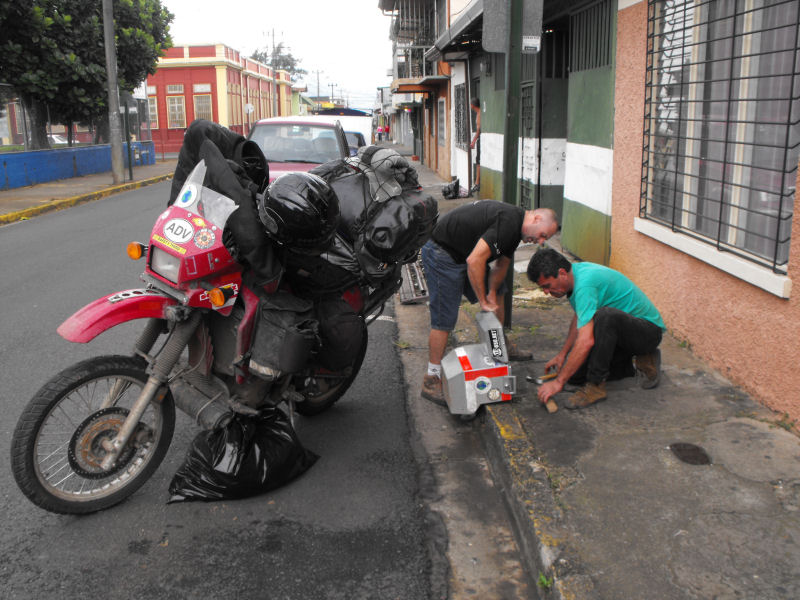 In the above photo, you can see my broken windshield. The Lexan that I had used to support the lower part of the shield hadn't broken, but the acrylic of the windshield was much more brittle than the Lexan, so it snapped off. The stub of the windshield had a spike on the right side (seen above) that looked menacing, but it ended up shielding my MP3 player from the rain very nicely.
Most of the damage to the box was to the back side, where the area around the top mount had been badly bent. The box was also a bit out of square, but after the major pounding was done, the minor pounding took care of most of the rest. I had to do some detailed pounding to get the locking handles to work right, but eventually all the pounding that needed to be done got done. One of the lower mounts needed to be removed and flipped over, since it was partially broken, and Ricardo supplied two longer bolts and nuts to secure it. Good as new, almost.
Ricardo charged me less than $6, and he got a tip.
Don had returned (in the rain) without raingear, so we still had that errand to manage. We found a couple of motorcycle shops and Don got some nice raingear. He had gotten some oil and chain lube, too, on his earlier excursion. His bike was again a half quart low, so we added some. He's got a leak around the oil filler cap or oil filter cover, so we've got to look at that more closely sometime soon.
We started out of town, but ended up at the same McDonalds for lunch, and were greeted by the same guard (who was happy to watch our bikes again).
It took us almost two hours to get through the San Jose area. Again (again!) we had a heck of a time staying on anything that looked like a highway. Sometimes, the press of traffic took us ways we didn't want to go. Grrrrr...
Once in the mountains again, the riding was nice. It was very foggy, though, and it rained on and off in fits. Mostly on. We Stopped to put our rain gear on, and finally crested the mountains somewhere over 3025 meters (over 9,900 feet). Most of the going was slow behind trucks. There were a few construction zones, too. We stopped at the top for something hot to drink. I had coffee, Don had hot tea. We also got a package of miniature pecan pies that were good.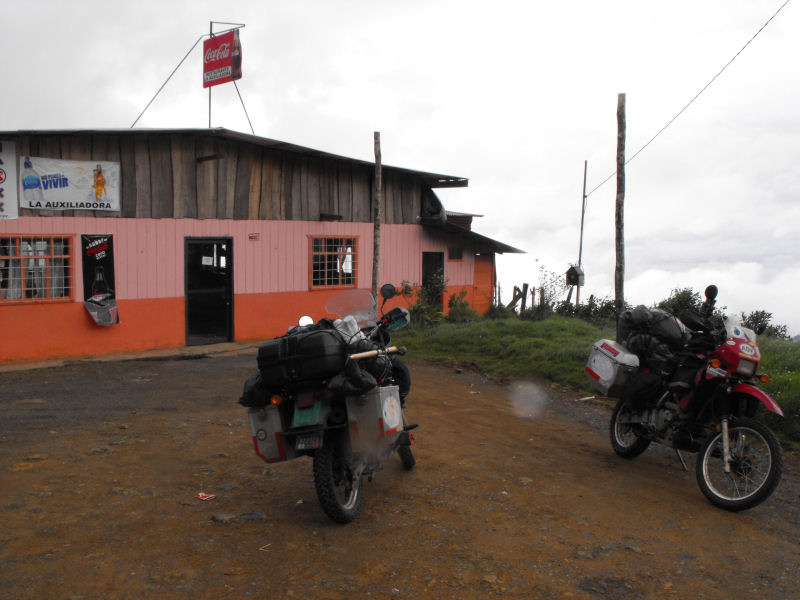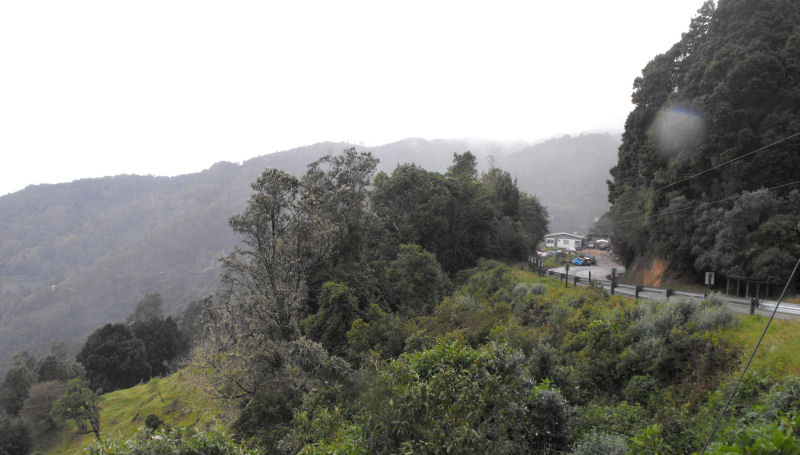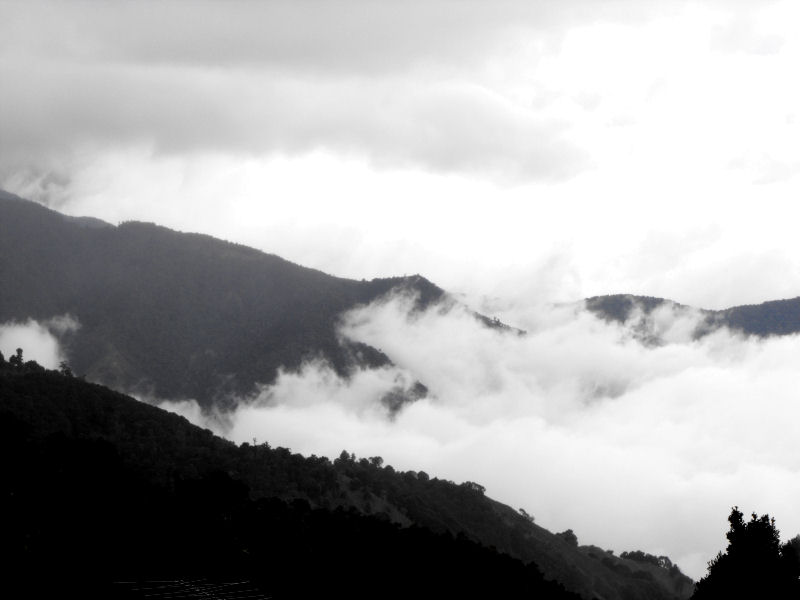 Don also discovered that he had again left some gear behind. When we stopped earlier to put on rain gear, he had put his rain pants and an insulated jacket liner in a bag and set it on the bike to strap down. It's the "strap down" part that he keeps forgetting. I can sympathize with him, since I have lost a couple of cameras one way or another.
When we got started again, it was nearing sunset. I plugged in my heated jacket and gloves for the first time and they were great. These gloves never worked in Alaska, but for no known reason they work now. I don't care... they work.
We went slowly since the road was twisty, foggy, wet, getting darker, and there were slow-moving trucks.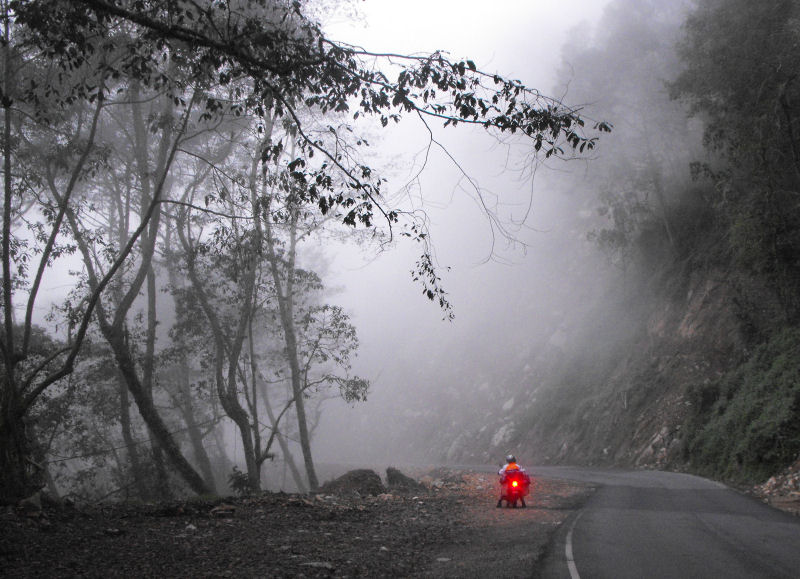 We stopped at a late construction site, rode past the other cars that were stopped and waited for them to let us by. Their work day was done, so when the crew let us through, they picked up everything and got ready to leave themselves. Just as I started to ride on, my clutch cable snapped. This had been a brand new new cable for Alaska, so this was still an early death for it. I carried a spare, so we rolled to the side of the road to let traffic past, and set about replacing the cable. Since the construction crew left, it was completely dark where we were.
It only took maybe 20 minutes or so to change the cable, and we worked in the light of Don's bike's headlight (and an LED head lamp). The 20 minutes was too much for Don's battery, though and we had to bump-start his bike to get going again. It was downhill, so no problem. It's a new battery, so I would have expected more than 20 minutes from it. Oh, well.
We arrived in San Isidro and quickly found a gated parking lot to a hotel. I rang the buzzer and they let us in to park the bikes under the shelter of an inner courtyard. The room was very small, but it had two beds and a ceiling fan.
I sent a SPoT signal from the parking lot when the rain let up. We then walked across El Centro, and got a weird feeling about the place. There were many men sitting on the benches, alone and in pairs. Very few women, and they were sitting with other women. There was no interaction between the sexes, no couples, and most everyone was just sitting there silently with serious expressions on their faces. Police were stationed in the plaza, watching everyone. My impression was that it was a gay hangout.
Anyway, I got the evil eye from everyone when I started to take photos, so I only took one of the cathedral. In the photo, there is one of the serious-looking men on a bench, and two young guys writing things down for each other (exchanging phone numbers?).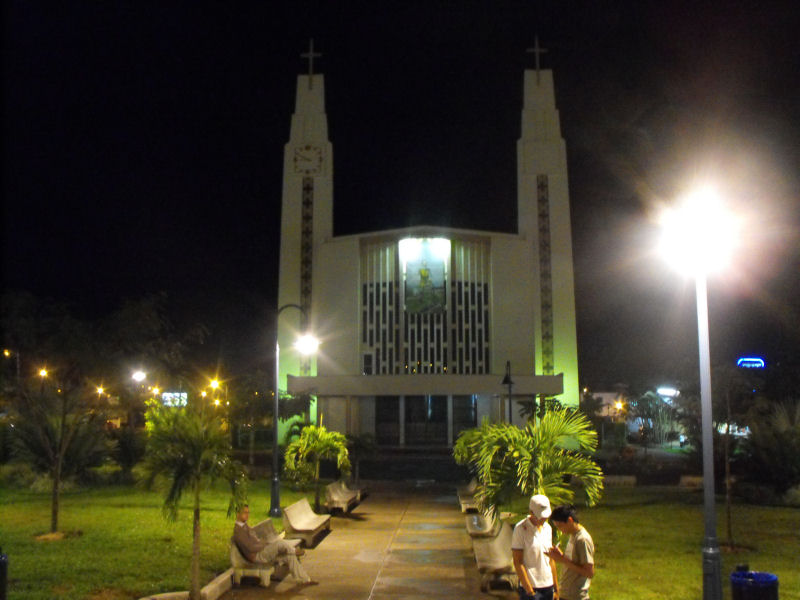 Not that there's anything wrong with that.
Don and I found an Internet cafe in a small galleria and made Skype calls with my laptop. The cost was very cheap, maybe a dollar for an hour.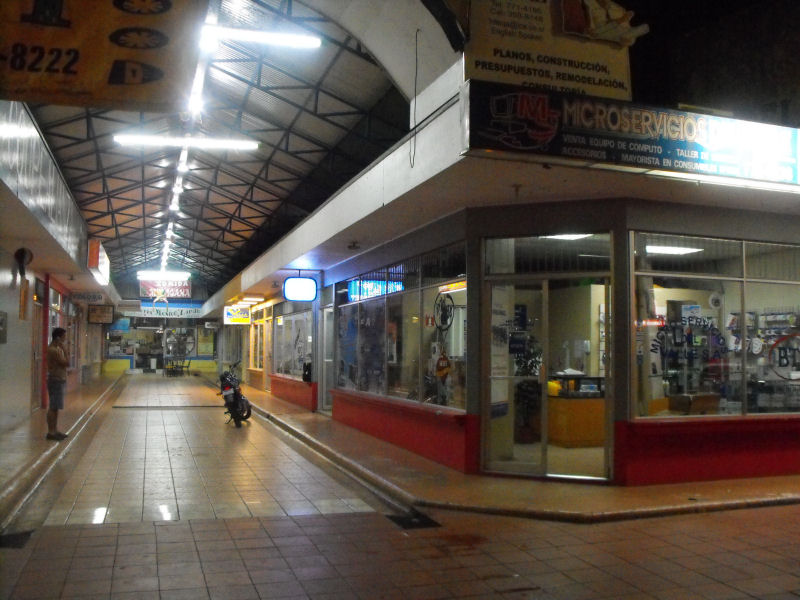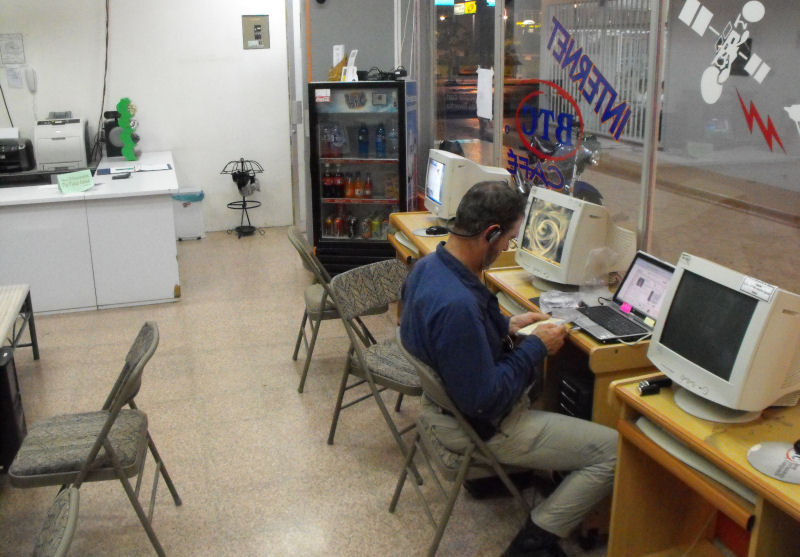 Back to the hotel, then.
Wednesday, October 29, 2008
--------------------------------
I noticed this morning that my right-rear signal was dead. I have an electronic flasher unit (not the stock flasher) on the bike, so it will flash even when one bulb is not working. I changed the bulb, but it still won't flash, so it's a wiring problem somewhere. Another minor bother.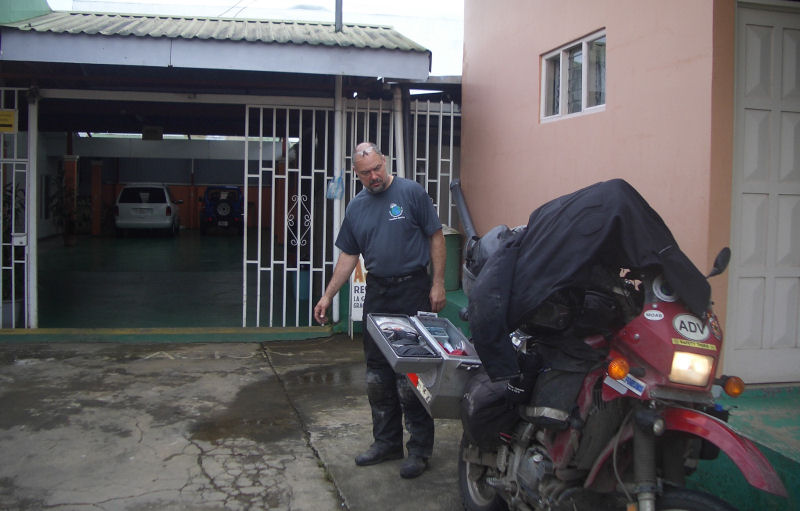 We had a nice ride over the final mountains. The road was bad in places (potholes, mostly) and brand new asphalt paving in places. The scenery was very nice, but there was almost nowhere to stop safely to take photos. When I finally found a bit of ground next to the road, I parked the bike there and the sidestand sank into the ground and the bike came down again. Sigh...
I got it back upright before Don got the photo.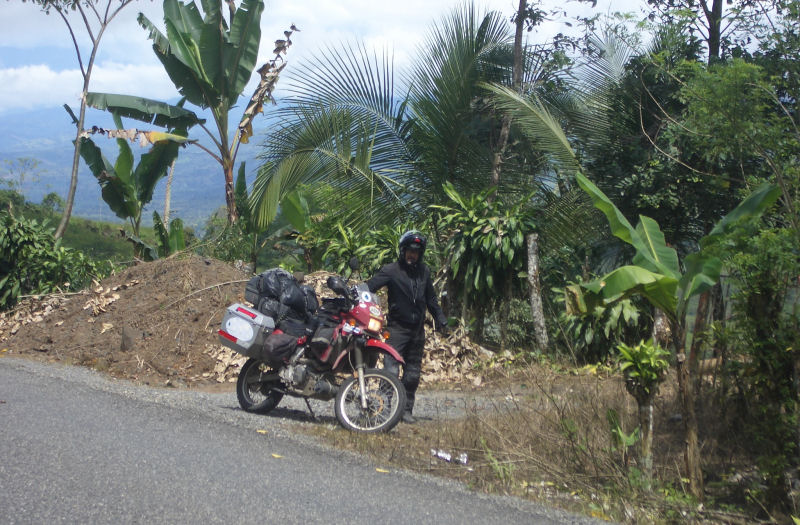 We had to resort to stopping on the twisting roadway when there was a stretch of road that allowed traffic to see you from either direction.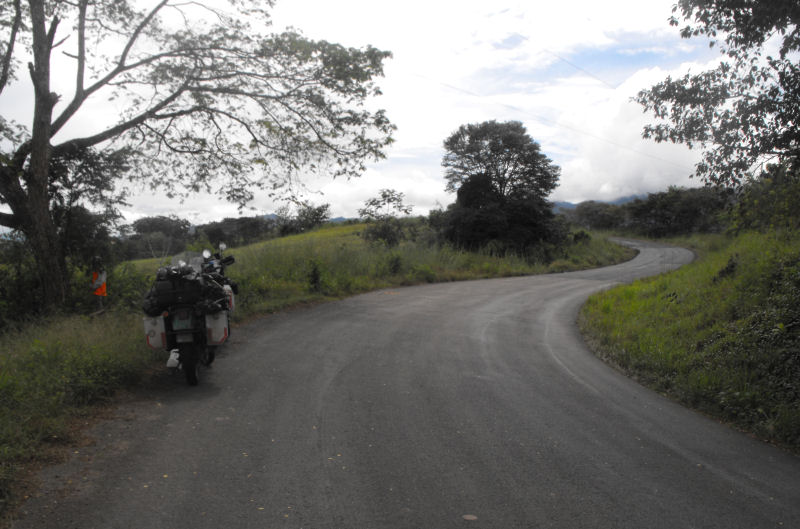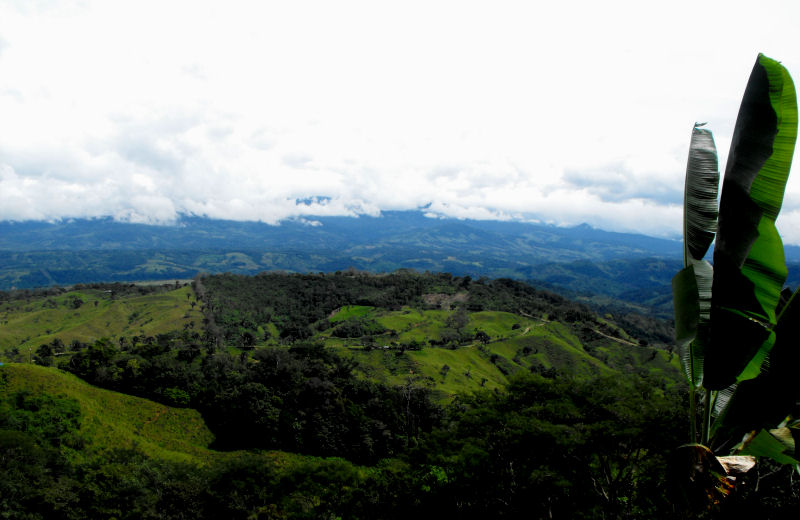 I'm still don't know why this camera sometimes takes photos with odd color saturation or dark exposures. This next shot came out with very muted colors, but it was very vivid green vegetation (as seen above).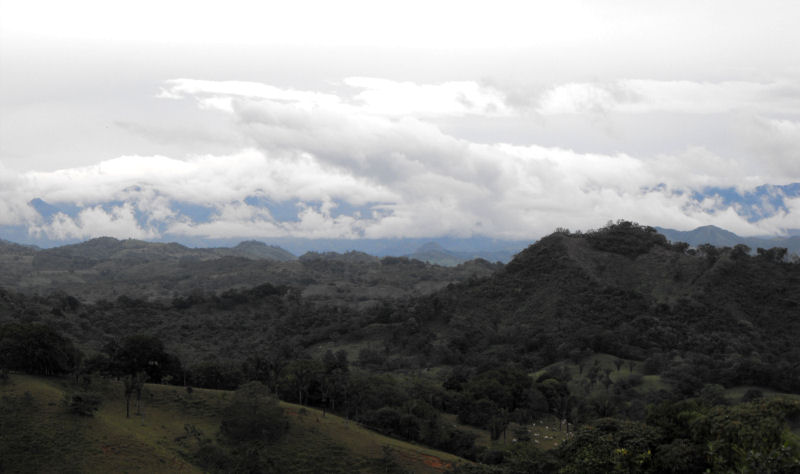 I stopped to take a photo of a horse on a rise next to the road, and caught it just as Don passed by.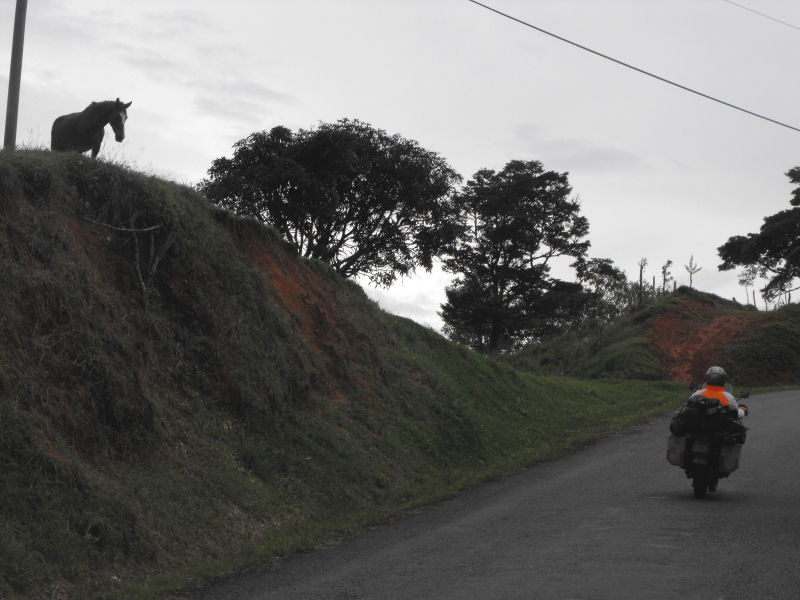 We arrived at the Costa Rica-Panama border about noon, and ignored all the helpers who ran to stop us. We had learned by now to not even acknowledge them, and they left us alone sooner. I went to the Costa Rica Immigration window, got them to stamp our passports out of the country, then to the Customs window to export the bikes. The guy behind the window gave me two forms to fill out (one each of us). Two small boys were following me around, pointing at the windows I needed to go to, and then they watched me start to fill out the forms. When they saw me have trouble with the forms, the 12-year old boy started translating the form for me while the 8-year old boy watched. Before long, my two helpers had me under their wings. They were very nice, not pushy, and never asked for money (although it was clear that they were working for tips).
Once the bikes were cleared from Costa Rica, the boys ran down the road to meet us at the Panama offices. They pointed me from office to office to get into Panama. Back and forth across the courtyard that separates several office areas. We were at one window twice and I still don't know what it was for. I realized during this process that the older boy was teaching the younger boy how to be a helper. I also realized that the older boy was a total pro at this gig. He knew the names of everyone in the offices, they knew him, he knew which offices he could just walk into and which ones he had to knock on first. He went to the front of one line and the officials inside took my papers ahead of others who were waiting. That's the way it goes. No one seemed to mind. I asked the older boy if he helped many tourists each day, and he said no.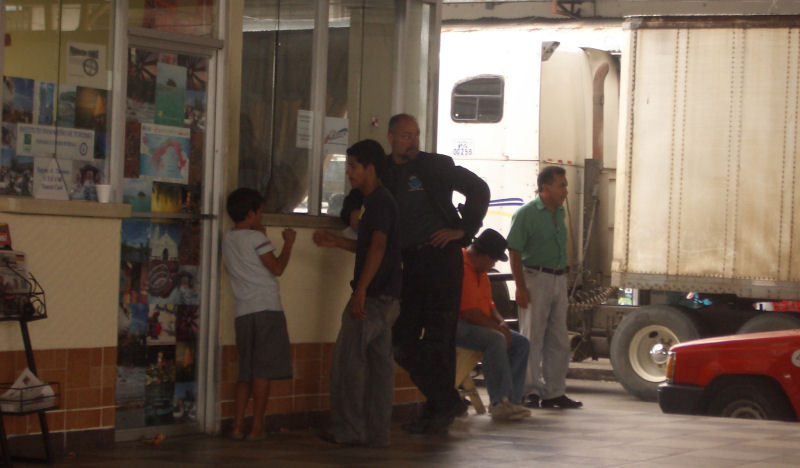 I paid $5 for each bike in one office to get an import form filled out, I paid nothing at the other stations. One office window had a sign in Spanish and English that said that services in this office were free of charge. Don just happened to get a photo at the exact moment the kid pointed the sign out to me.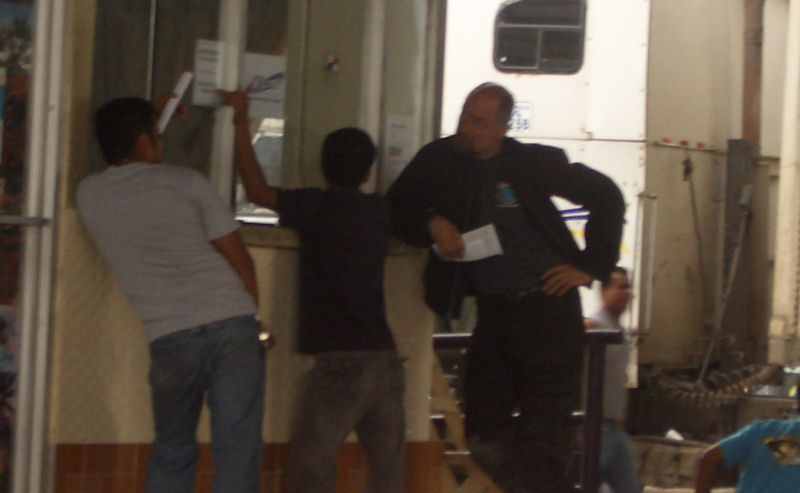 I paid $1 for each of our bikes at a window labeled "Fumigation," and got one of the forms stamped there. I figured that the stamp was more important than the fumigation, so I didn't mind that no one sprayed our bikes.
It was raining heavily during this process, but fortunately the Panama border area is under a huge metal covering. We tipped the boys for their help and they shook our hands. Their help was worth a few bucks.
We waited a while to see if the rain would let up, but it looked like it would go on forever. We geared up and rode away from the border complex. The exit from the covered area went through another covered area, so we just kept going. It turned out to be a huge car-wash thing that sprayed us automatically as we passed through. Here, I must recommend to all others who read this, that it is best to have your eye protection on and your face shield lowered. The fumigation spray tastes really bad. I bet the border agents just laugh and laugh.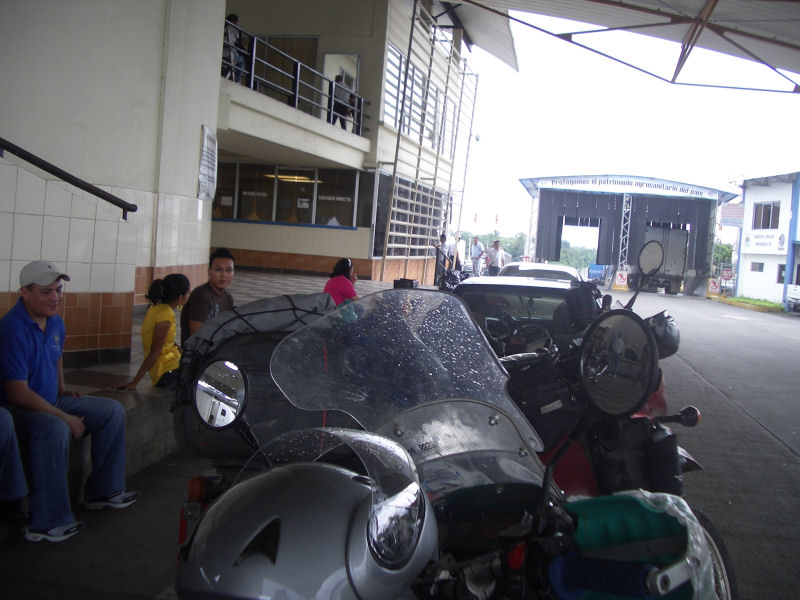 A few miles down the road brought us to a customs check station. It was a small concrete in the median with traffic cones in the lane. We stopped next to the building although no one was evident. A customs agent came to the door and waved for us to hand over our papers. He stood in the doorway out of the rain, so I got off the bike and took our papers to him. He looked at our passports to see if we had been stamped in, and looked at the import papers. That was all he cared about, and we waved us on.
The rain got heavier, so we were going pretty slowly. The heavy weather made things darker than normal, in addition to the curtain of water, making things difficult to see. Many vehicles operate without lights, so I occasionally came up behind a car closely before seeing them. The highway was good, though, so we finally settled into a cruising speed.
It cleared up after a while and we almost got dried off by the wind. Almost. At least I had Aerostich Darien riding pants and jacket, so I was mostly dry to start with. Don was soaked below the waist. We stopped in Santiago at the Black Lion Restaurant. It turned out to be a nicer restaurant than I had expected. Some American ex-pats greeted us as we crossed the outer courtyard, and Don talked with them for a while about living in Panama and Costa Rica. They said that it was 40% cheaper (and safer) to live in Panama, and said that retirees get some good benefits. Don had gotten this information several days earlier from another ex-pat who has been down here for many years. We also learned that this was the height of Panama's rainy season. Duh.
The meal we had was good, and we soon motored onward.
It was well after sunset, and the rain started again. I almost hit a dog that was casually crossing the highway, and it barely even looked at me as I swerved past it. It was maybe a big enough dog to be a problem if I had hit it, so I should have just straightened up the bike and hit it rather than swerve to avoid it. Either way, the dog and I went our separate ways.
As we neared a small city, a traffic cop standing in the rain waved me over with a red LED traffic wand. Don pulled over with me. I thought it would be a shake-down,. but after looking at our licenses and cautioning me to go slower, he let us go.
In the city of Anton, we were done for the night. The tension of riding in the rain at night had zapped our endurance. Also, the highway went right along the coast for a while after this, and I wanted to see any nice scenery that might be seen. The dense vegetation along the roadways really limited decent views from the roads most of the time. For a final reason to stop here, we had been told that hotels were more expensive in the Panama City metro area.
We chose the Hotel Rivera, and it was okay. We parked and covered the bikes in front of the office, where the clerk assured us that all was safe. There was a police station right there, too.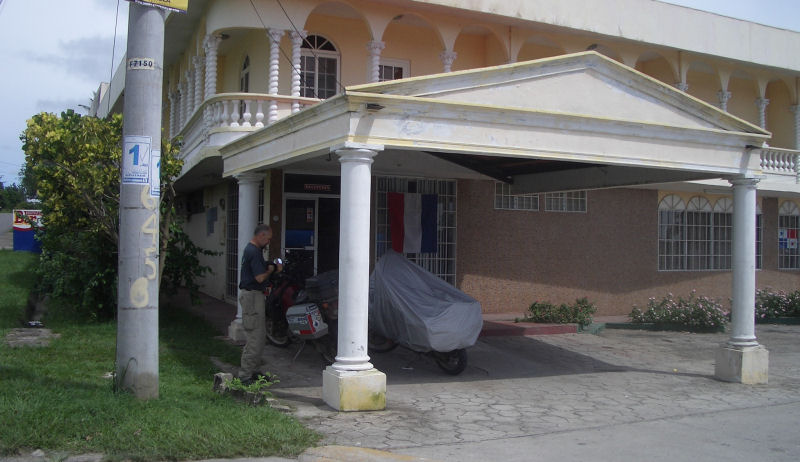 The hotel had no Internet, but I got a cell phone signal. Still can't dial out, though. I sent a text message and Laurie called me back. Don's mother-in-law had fallen and broken her hip, so Bev was going to stay there with her mother. Crap.
Laurie was still planning to come and bring us some parts. She had contacted the Clearview windshield business in Colorado, and had gone there to get a tall windshield that had a blemish (so she got a 20% discount). She's also bringing a rear shock with a heavier spring that Don might want to use. She's not likely to have trouble with this in her checked luggage, but she made sure that nothing looked new in case they wanted her to pay import duties on new parts.
I sent Bev a text message and left Don alone to talk with her when she called back. I went down to the hotel's small bar. It was hot, humid, and loud in the bar. Like so many places in this humid climate, the acoustics were terrible because of all the stone and tile work. The disco music and lively Latin music was just too much. There were two young couples at a table, laughing and yelling at each other over the din. In Alaska or Canada, I would have been able to talk to the one goofy guy at the bar, but here I could only watch his antics and stare back at him when he started swearing at me. He spoke something that was probably more of a local native dialect, since almost none of it sounded like the Spanish that I was developing an ear for. The gal tending bar ignored him, except to replace his empty beer bottles.
The guy was small and wiry, looking like he had worked hard his whole life. He also looked like he had drank hard his whole life. He stood up for a while, suddenly squatted down and chanted (or mumbled) to himself, then walked around before doing it again. At one point, I thought he had fallen down, but when I looked over the corner of the bar to see if he was okay, he saw me looking at him (from where he was squatting) and that seemed to really piss him off. He went back to his bar stool and swore at me some more, staring intently right at me. He never came near me, never was a real threat, but he was intense for a while. Finally he started to pass out and the bartender made him leave. Don later saw the same guy squatting down in the hotel lobby, and saw the manager chase the guy off.
I had two beers (Balboa, at 70 cents a bottle) while my SPoT signal got sent from the parking lot. When I went out to get the SPoT device, I saw a police truck drive down the road, then it came back through the parking lot to look at our bikes. I waved at them as they passed by, but that seemed to surprise them, and they kept driving.
Thursday, October 30, 2008
-----------------------------
Breakfast was fried eggs and plantains. More like a potato than a banana, the plantain is starchy and not sweet. These had been baked, then squashed into cakes and fried. They were good, but a bit bland.
The day was hot and clear into Panama City. Traffic was horrible. We would have liked to get photos of the bridge and the sights as we crossed the inlet that leads to the canal, and other sights, but it was impossible to stop, slow, or be distracted at all. We'll get photos later.
We didn't know which airport Laurie would arrive at, so we went to the local airport first. In the city, the airport was easy to find and get to. This was for local flights only, though, so we needed to go to the International Airport at Tocumen, about 15 miles east. Which highway to take was not clear. We were confused that signs to Corridor Norte were pointing south, and Corridor Sur were pointing north. We tried them, but got dumped out onto a toll road that then dumped us back into the city. We asked at yet another toll booth, and got directions to the highway that we needed, but those directions took us nowhere. We ended up in a dense, congested area where we couldn't go anywhere for a while.
It seems that many of the major roads had recently been two-way streets, since the signs we wanted to follow could only be seen by traffic that was now going one-way in the wrong direction. More madness.
We found a place to stop for a while, so Don went into a hospital to ask directions. While I waited with the bikes, I had to move them twice, because they were always in someone's way.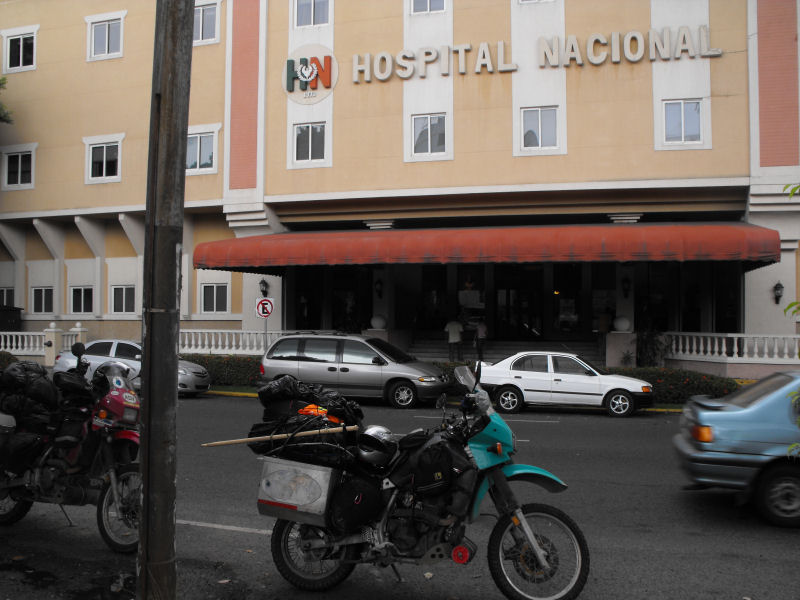 Don finally got directions from a soldier, so we started out again. We got lost again in the fringes of the city.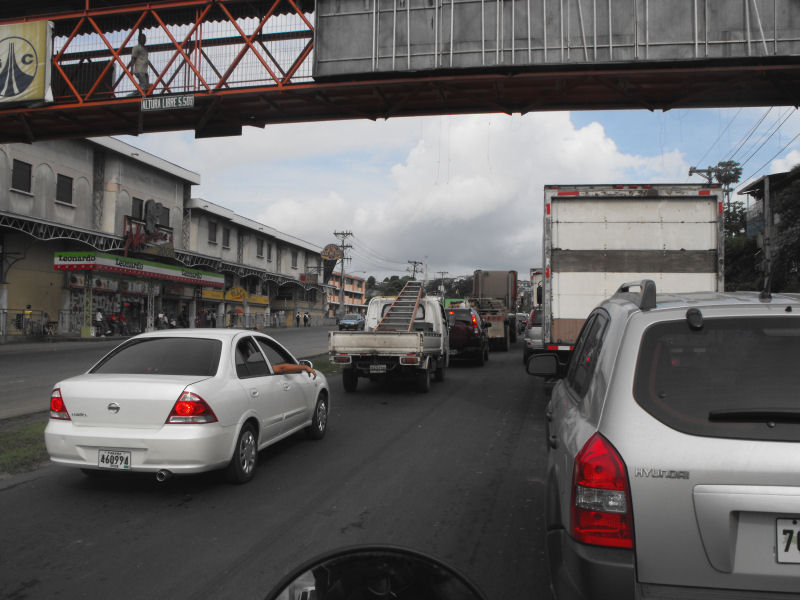 After more than an hour, we were on a highway that had a sign indicating the airport. Compared to everything else, this was a GOOD sign. (Disponible means "available" ad space.)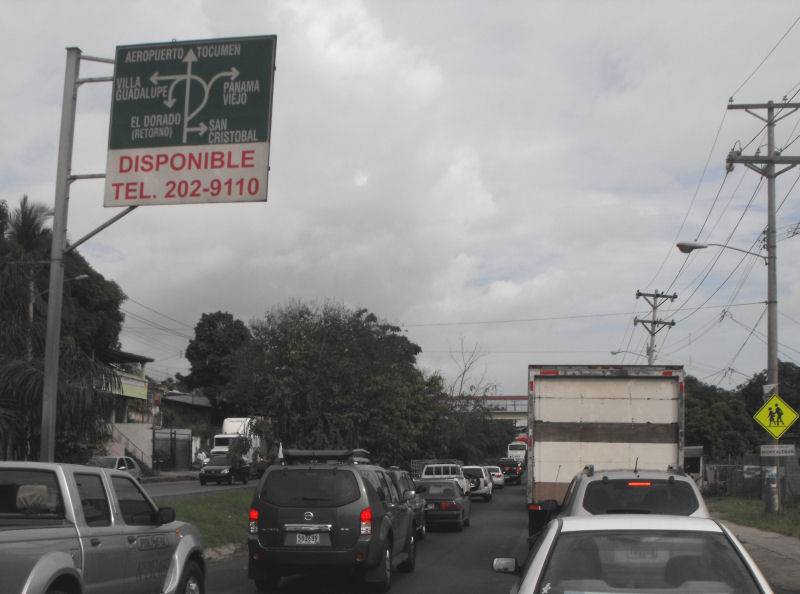 We finally got to the airport, found out when Laurie's flight would land, and decided to go find the hotel where Laurie had made reservations for the next couple days. Before we left the airport, we ran into Jaime again! What a blessing! We talked for a while and learned that he had been here for a couple days. He had ridden like a madman to get here so fast. He had decided to cut off his trip to Chile and go home to see his mother who was very ill. Jaime had done a lot of research regarding the cargo carriers, and he took us under his wing again.
He led us to the cargo area, several miles from the passenger terminal. There, he introduced us to the customs agents who controlled access to the cargo terminals and loading areas. Jaime has a kind of magic touch with people.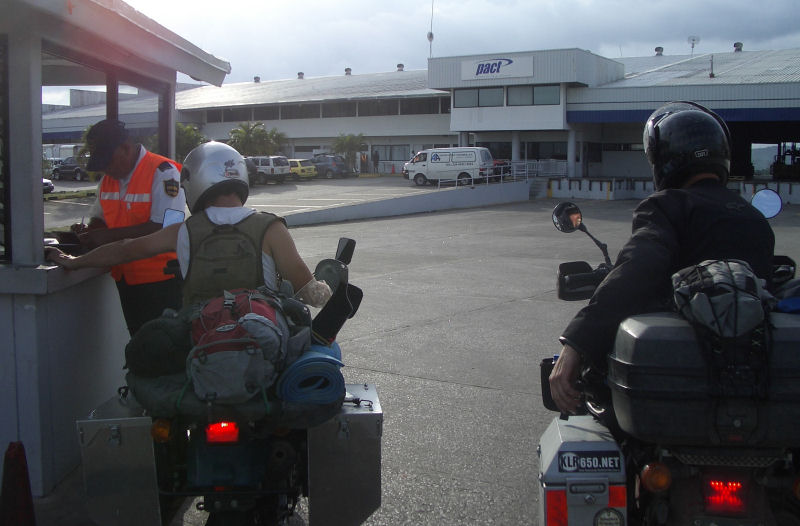 Here, there were three cargo carriers. Girag was one, Copa was another, and I forget the third. Jaime had been to all three, had decided to use Copa to ship his bike to Amsterdam where he would follow in a few days and ride back to Spain.
We learned that Girag had the more open flight schedule but was more expensive. Each of the other carriers had limited flights to Colombia, mostly to Medellin or Cali, and neither was possible for the next two weeks if we didn't ship the bikes tomorrow. Next week was a holiday period, so that botched things up for us. We were not able to ship the bikes yet, since we had work to do on them and wanted parts that Laurie was bringing in tonight. The other carriers were each about $700, Girag was $900, so for the extra $200 we had more options.
After learning what we needed to know, we left for the Riande Aeropuerto Hotel, where we could check in now. I was following Jaime and Don down a busy road when traffic police suddenly stepping into the road to stop traffic for some pedestrians. Their timing was terrible, with no regard whatsoever to the coming traffic. Jaime locked his brakes up, Don swerved to the left, and I went right between them. It was close. Very close... The police didn't care at all. They could have waited a few seconds for us to pass, but no.
That near-catastrophe avoided, we took Jaime with us to the hotel and got checked into our room. It was more than a mid-range hotel, but it would be nice for Laurie while she was here.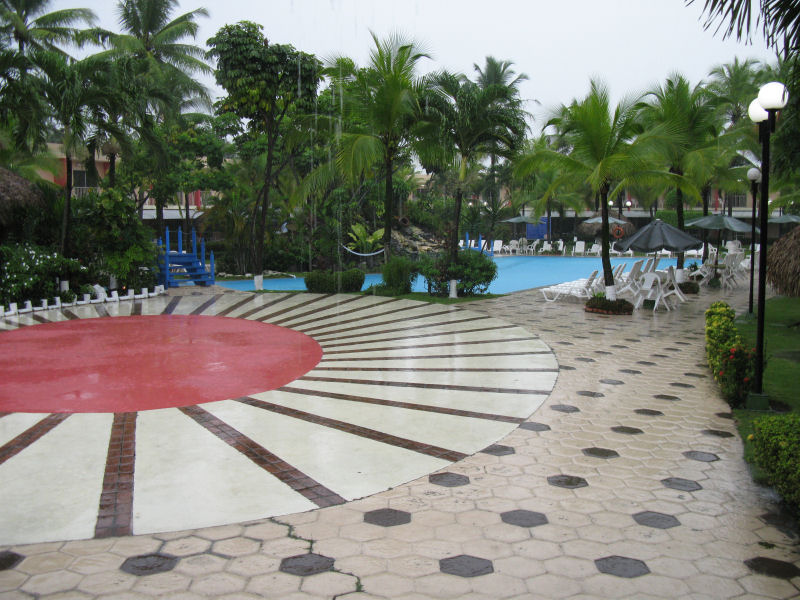 After getting checked into the room, Don and I took the shuttle to the airport while Jaime lounged in our hotel's lobby using their Internet signal. The hotel shuttle was easiest, so that was nice. We got to the airport at about the time Laurie's plane landed. Over an hour later we were starting to get worried. I asked at a tourist info booth and learned that many passengers from Laurie's flight were still in the customs process. I had visions of her being held at gunpoint while they x-rayed her bags to see what the motorcycle shock absorber was in her bag. But no, no drama. She eventually showed up and had no exciting story to tell. It turned out that her plane had been delayed on the runway for a while and it just took some time to get through customs. One of her checked bags (the one with the shock absorber) had been searched by the TSA, but that was to be expected. Laurie had put a note in the suitcase explaining why she was carrying bike parts, and they seem to have put everything back the way they found it and they left a form letter of their own.
We took the shuttle back to the hotel and she got to meet Jaime.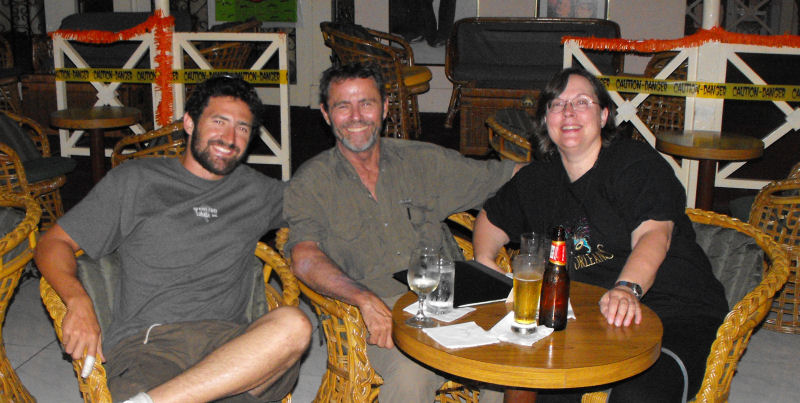 We had dinner in the hotel, and spent some time online with email and Skype calls. Bev was still struggling with her family woes (her mother's broken hip and her sister's chemotherapy), so Don talked with her a long time. We were all sorry that she couldn't make it here, but we understood that she had to stay there. Her mother would have surgery tomorrow, so we wished her well. If all goes well over the next few days, Bev might still be able to come join us, even if briefly.
We three eventually zonked out in our room, and we weren't sure what Jaime's plans were. He had said that he needed to get his bike boxed up tomorrow, so Don and I agreed to meet him in the cargo area of Copa. We thought he had accommodations (he had stayed in a cheap hotel when he first got to Panama City), but we later learned that he slept that night on his bike at the airport.
Friday, October 31, 2008
--------------------------
Happy Halloween! Day of the Dead, down here.
The hotel room included a nice buffet breakfast, then Don and I headed off to the Copadasa freight warehouse. The customs agents recognized us from yesterday and waved us through. We found Jaime there, disassembling his bike in a side alcove of the warehouse area. We siphoned off most of his gas, then I helped him take the bike apart and we helped him arrange it to fit onto a pallet that he had been given. The pallet was too small, and the company eventually added another section from another pallet to make his longer. The worker who had been assigned (for a fee) to help Jaime was very little help. He kept wandering off. Jaime kept calling him back to help. When two other employees showed up, things went faster. One of the men was probably a supervisor.
They tied the bike parts together, but only barely attached to the pallet itself. Then they wrapped the bike in cardboard and then with a tough plastic wrap that was very clingy. The plastic wrap (and a small bit of rope) was all that actually attached the bike to the pallet. I suppose it would do.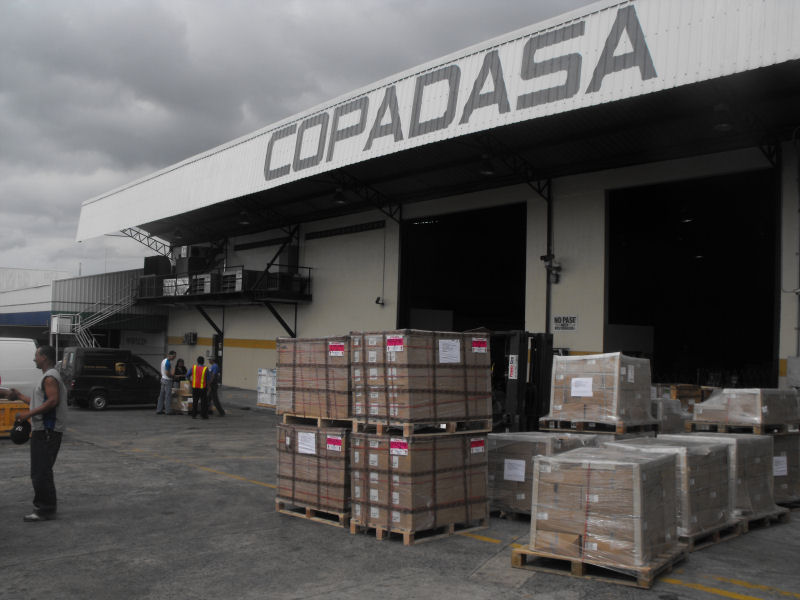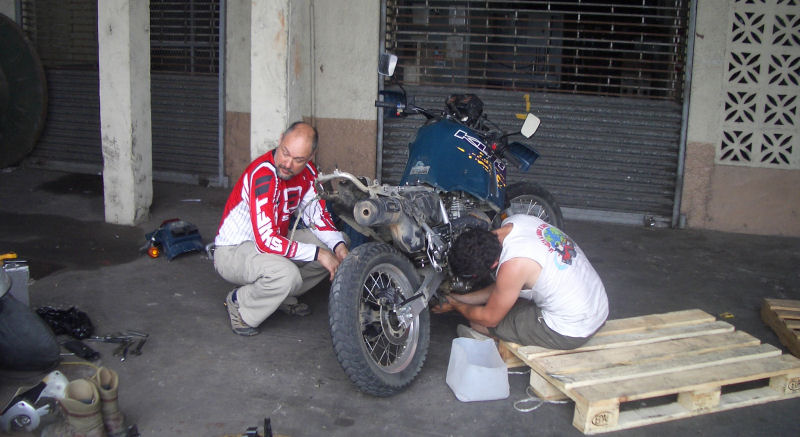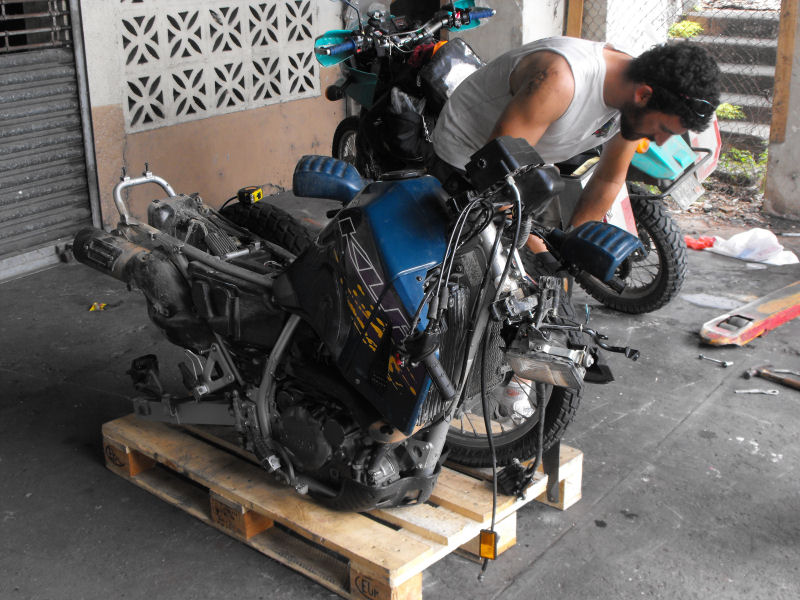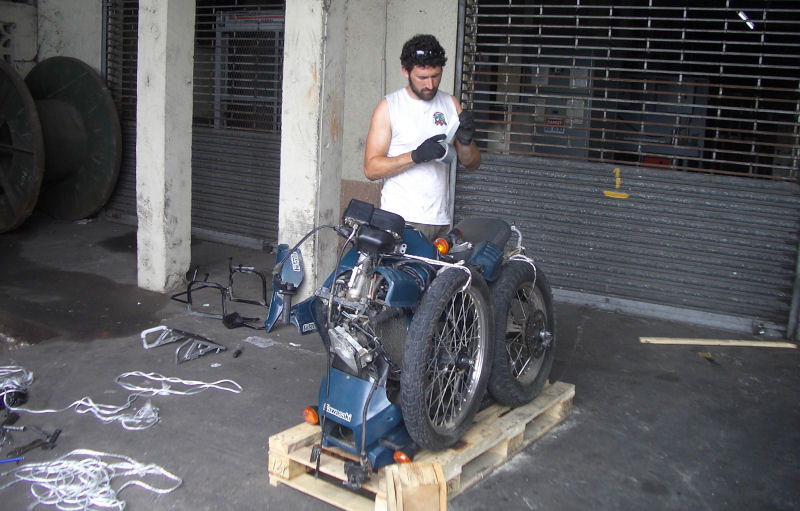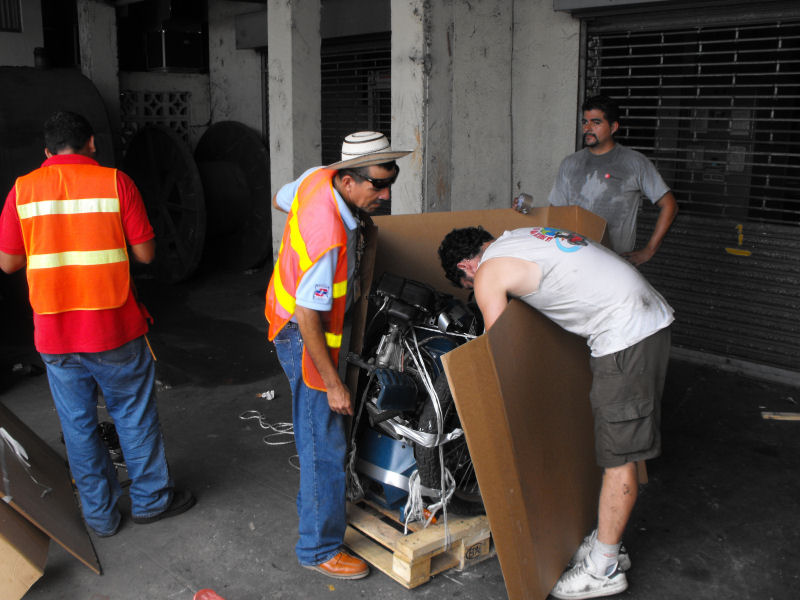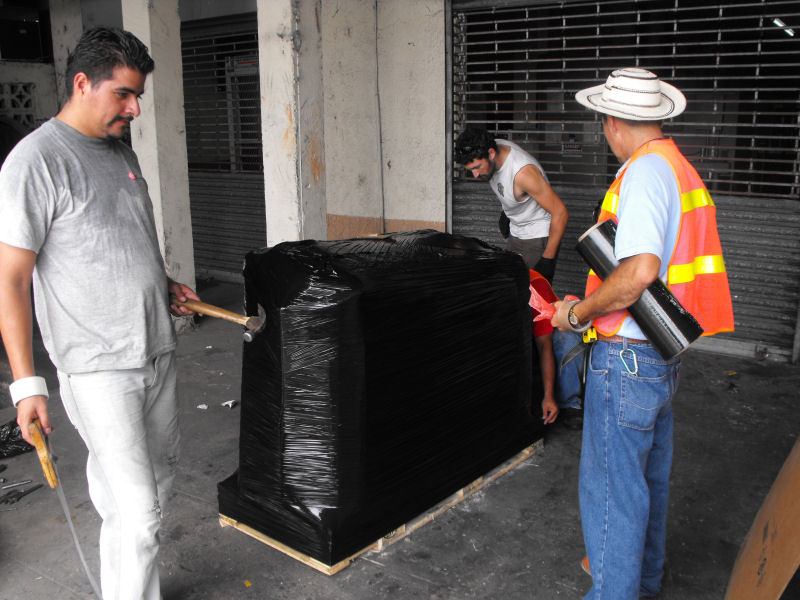 Jaime will carry his aluminum boxes and other luggage with him when he takes a bus to Jan Jose, Costa Rica in a couple days. I used some rope to weave some handles on top of his boxes to make them easier to carry, and he was very grateful for that. He had been worried how he would handle the boxes. He is carrying some cameras and two laptop computers, so he had to take the boxes with him. Nothing but the bike itself went into the big plastic burrito.
Don and I stayed until the deed was done, and Jaime said that he would meet us later at our hotel. We knew he would have no trouble bumming a ride from someone. We were right, and saw him later that evening.
Meanwhile, Don and I went next door to Girag to make arrangements for our bikes.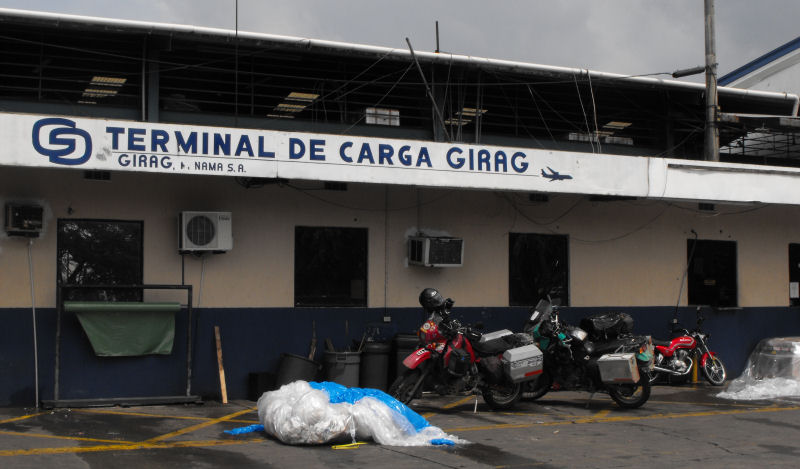 While waiting for the lunch hour to pass, we got to meet a local native man who was also waiting in the small lobby. He saw our need, and tried to help us understand what was needed. He spoke some Spanish, and he tried to teach us some words in his own language, but it was all lost on me. Don bought him a cold soda from a vending machine in the parking lot, and he really appreciated that. It was hot. The man later helped us get the attention of the woman who makes the shipping arrangements. He understood when we thanked him.
The woman took our passports, bike titles, Panama import papers, and made copies. She then started to tell us what needed to be removed from the bikes. When we didn't understand, she found another woman to translate. We learned that Girag had a flight tomorrow (Friday), then nothing until next Friday. The coming holiday was again the problem. After she understood that we needed to work on the bikes for a couple days, she gave us the copies she had made and told us to bring them back when we returned. We assured her that we would be there early next Friday. The bikes would then get shipped early Saturday and be in Bogota for us to retrieve on the following Monday.
The Girag woman had told us that the gas had to be drained, the windshields and soft bags on the bikes had to be removed, but the hard boxes could stay. Anything that could easily be removed (stolen) from the bike had to be removed. We tried to ask if we could secure the bags with wire mesh, but we didn't get that far. We'll see what they will accept when we are here on Friday. We'd hate to have more luggage to take on the plane.
While in the parking lot, I noticed that Don's rear tire had a serious split across the tread and into the sidewall. I had never seen a split like this. It was a radial split, a few inches long across the tire. The minor cracking at the lugs was to be expected with a Mefo tire, but this was different. It was probably from a pothole or debris on the road, and the severed cords in the sidewall could be seen. Maybe someone cut the tire, but not likely. The inner tube was fine. The tire definitely needed to be replaced.
We were going to be in Panama a few days longer than originally planned, but that was okay. Jaime helped find Copa flight tickets for us to Bogota ($280 each), leaving next Friday after the bikes get dropped off at Girag. I later confirmed the reservations and paid over the phone. They sent me an E-ticket to my email. After a late lunch at the hotel, Don and Jaime then went in search a tire. We were sure that a tire could be found in a city the size of Panama City. Jaime took my bike along with Don, and Laurie and I lounged at the hotel, where I got a lot of writing done.
A couple hours later, Don and Jaime returned. No luck. Jaime had worked his magic and found some shops, but they were all closed by the time they got there. They would go searching again tomorrow morning. After dinner, we invited Jaime to share our room, and he slept on Don's small camp cot. Better than sleeping at the airport.
Saturday, November 1, 2008
------------------------------
Don and Jaime left early for Panama City. Laurie and I just hung out at the hotel. It was nice to have nothing to do, and nothing that needed to be done right then. I got a lot of writing done.
When they finally returned, they were frazzled from the hectic city traffic. Don said that they had to ride over curbs and sidewalks to get anywhere. They had no luck finding a tire for the KLR. Apparently, the motorcycle police recently went around the city and bought every tire they could find to fit their bikes. Great...
Maybe we could find a motorcycle cop and buy a tire from him? Um... maybe not.
I sent an email to ArrowheadMotorsports.com who I have done much business with. Fred there does ship internationally, so I hope to hear from him after the weekend. If he can send tires to our hotel by next Thursday, that will work. Otherwise, we should be able to get what we need in Bogota. I did some online research and found ads for bikes shops, and learned that Medellin has a very large motorcycling community. It'll work out somehow. We just don't want to trust the damaged tire very much.
We sat in the hotel lounge (lots of Humphrey Bogart posters) for a long time while Jaime told us his amazing story of crossing Afghanistan in his truck. He had quite the ordeal crossing into Pakistan, and only the fortunate intervention of a passing U.S. military unit kept him from being completely stranded at the border on the Afghanistan side. Some minor glitch in his paperwork caused a minor official to become outraged and stubborn. Local military officers took Jaime back to the official but were unsuccessful helping him out of the country. The commander from the U.S. military unit that came through the border town and did a security sweep finally told the official to solve the problem right away or else. Who knows what the "or else" would have been, but Jaime was sure that things were going from bad to worse. Eventually, other officials intervened and it worked out. At that point, they probably just wanted Jaime to go away. I can't tell the story the way Jaime tells it, and that's a shame.
After a while, a guy walking through the lounge just sat down with us and started talking with us. His accent was Russian, and he had a Russian submarine tattoo on his shoulder. His English wasn't very good, but it was better than my Spanish. We learned that his name was Vadym, and that he has been working in Panama for five months on some kind of technology business contract. He goes home tomorrow, which is why he was staying at this hotel near the airport tonight. Vadym was from Ukraine, and he was very happy to learn that Jaime had been there.
Once Vadym started talking, that was the end of all other conversation. He talked relentlessly, and said it was nice to practice his English. He seemed a nice enough guy, but he already had a lot of vodka in him at that point, and he kept adding to it. We had a brief respite when he went to the bar to get everyone beers whether we wanted them or not. That led to repeated toasts and more of Vadym. It was funny for a while, and we tried to participate in the conversation. Don mentioned his tattoo, and that led to Vadym's explanation about diesel submarines.
Vadym has worked in several U.S. cities, too. When he said he worked in St. Petersburg, it took us while to realize he meant in Florida.
I don't think that Vadym even noticed when I took a couple photos of him. He was an intense talker, and his struggles with English made it worse. He waved his arms around a lot while talking, and I noticed that his armpits were shaved. Probably an old hygiene habit from the submarine.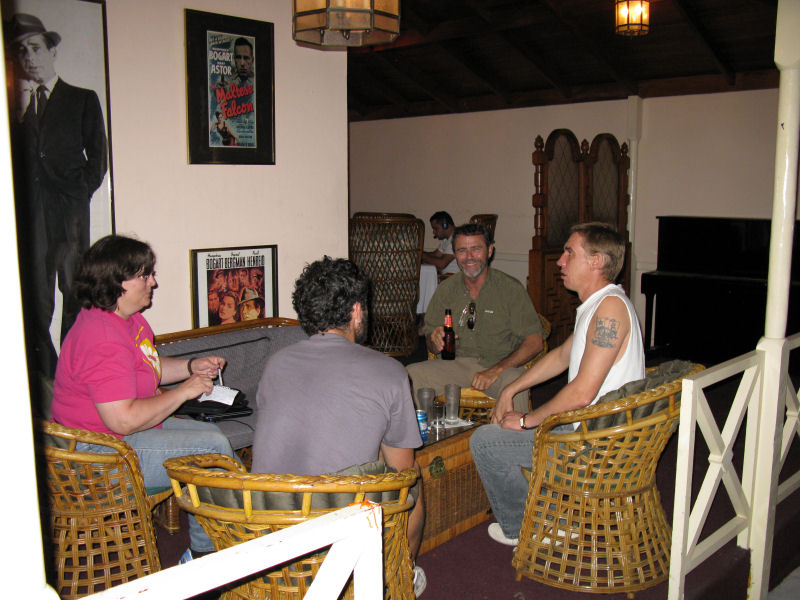 Eventually, Vadym lost his steam and said goodnight. He walked around the lounge for a while, and we later saw him walking around outside in the rain. He talked a few times with another Russian-looking guy who was glued to his laptop computer, so they were probably traveling together.
After dinner in the hotel (there wasn't much else in the area anyway), Laurie helped Don do some cell phone shopping online. His phone never recovered from the soaking in La Bufa.
We'll make Skype calls later tonight, and we plan on doing some tourist activities tomorrow. Jaime said he would come into Panama City with us for a while, then stay there tomorrow night and find a bus to Costa Rica after that. He'll stay with us again tonight.
Sunday, November 2, 2008
----------------------------
After breakfast, we loaded Jaime up and crammed us all into a cab. He needed to be at the bus depot tomorrow, so I suppose he will sleep there tonight. I have no doubt that he will fare well. The bus depot was like a major train station. Hundreds of buses, mostly lined up at stations at the rear of the depot. Each was custom-painted.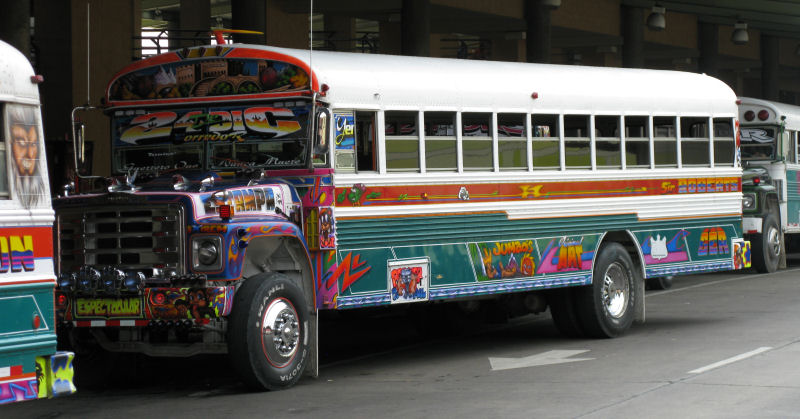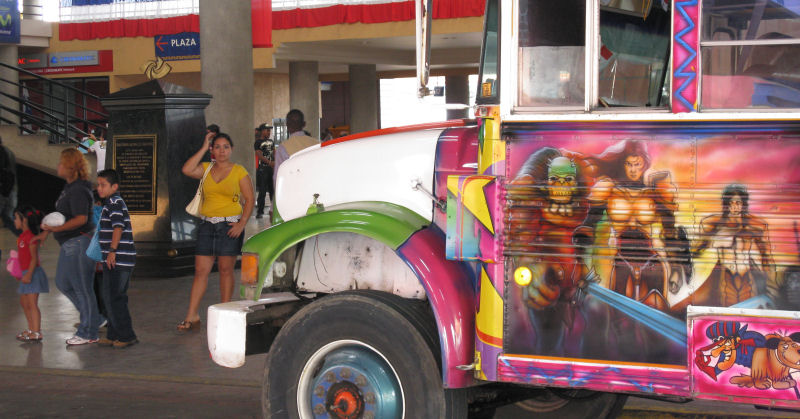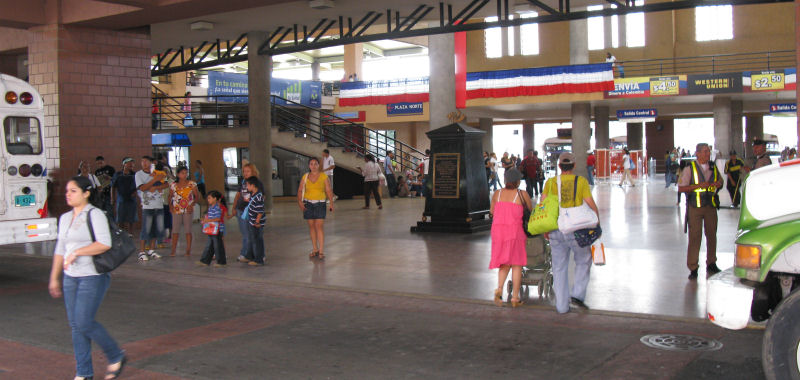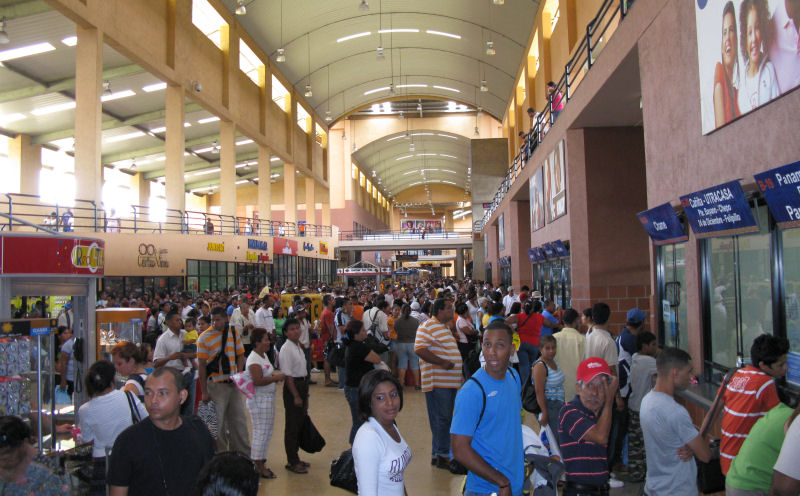 Before we said our sincere goodbyes, Jaime negotiated with a few cab drivers and got one to give us a tour of the city, the canal, the local ruins, and anywhere else we wanted to go.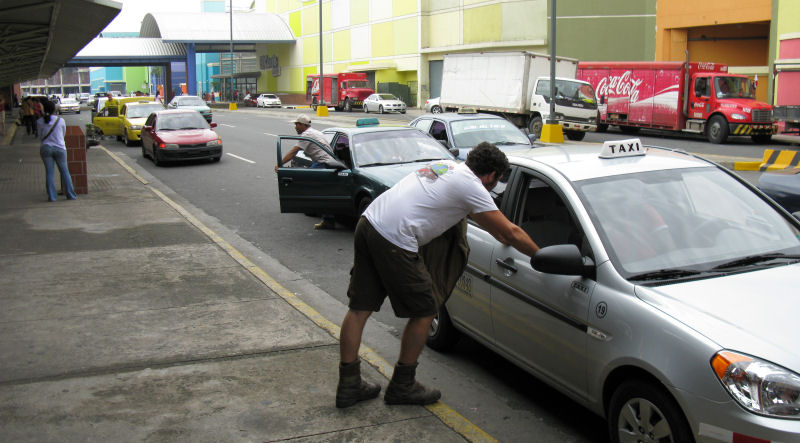 The rate Jaime got us was $8 per hour and $15 to drop us back at our hotel. It was worth it. Our driver was Bismark, and he waited for us at each stop. First to the canal. We went to the Miraflores Locks for the basic sights.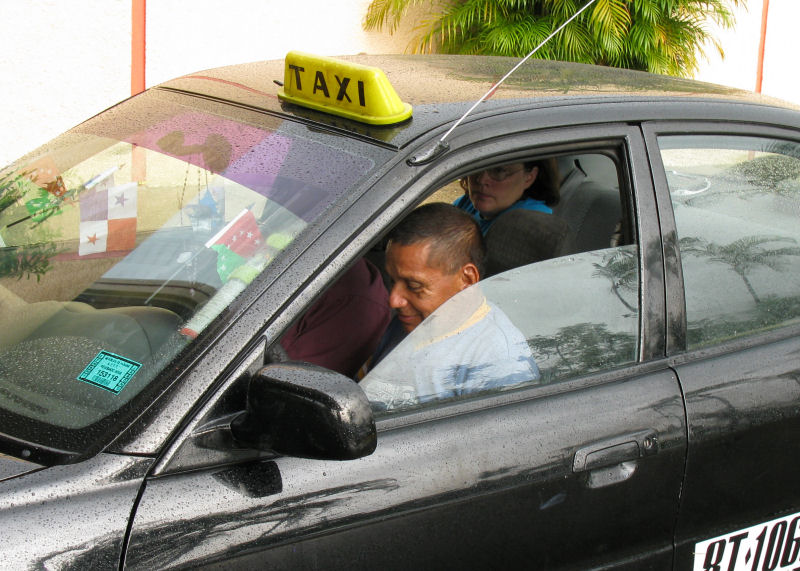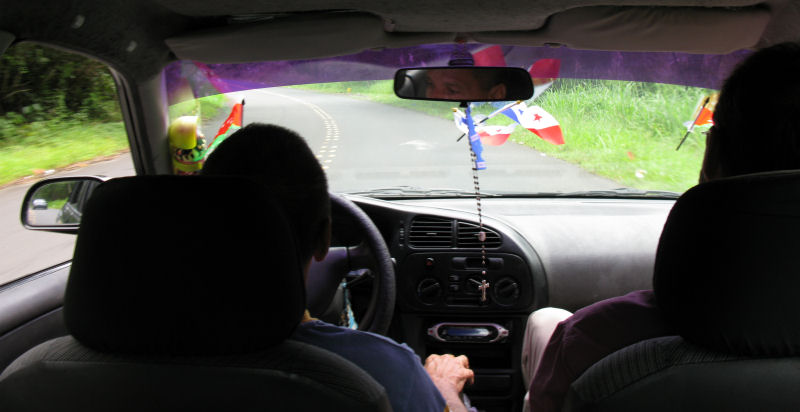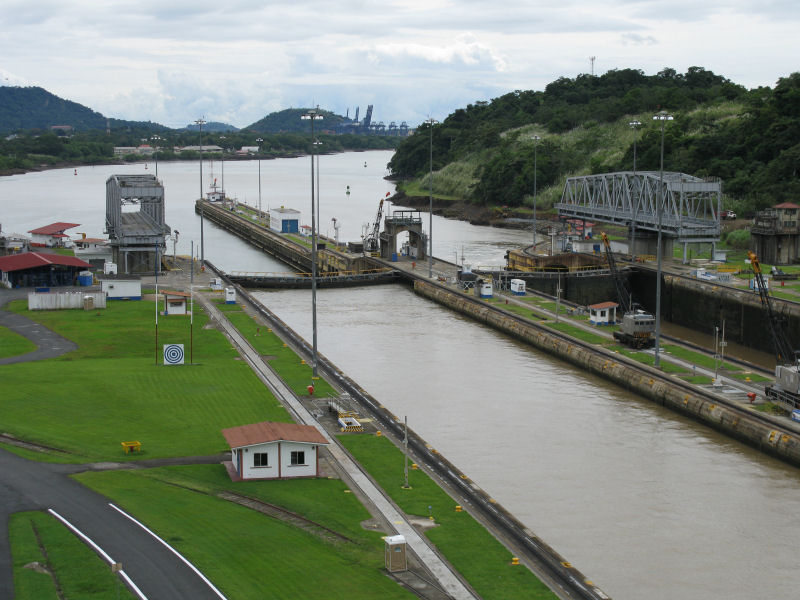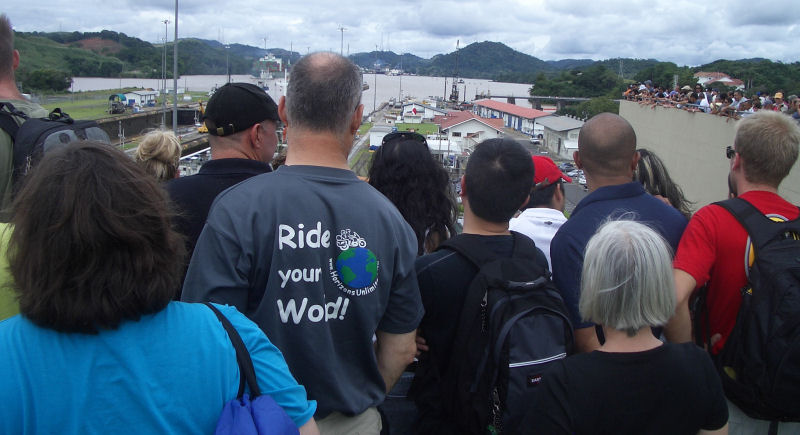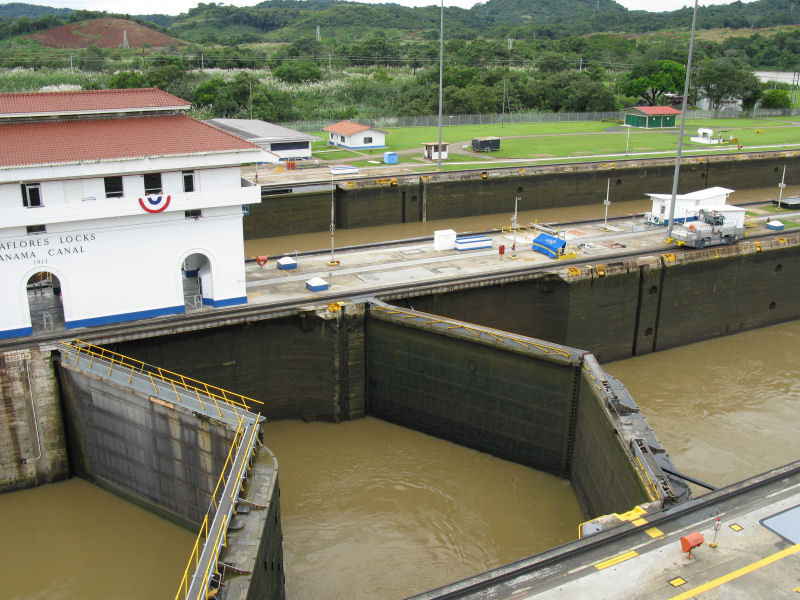 Then to the Bridge of the Americas. We had ridden over this bridge when we arrived, but couldn't take photos. Bismark took us to a viewing area that was very difficult to get to. He had to take several exits, some cloverleafs, underpasses, and minor roads to get us back to the highway.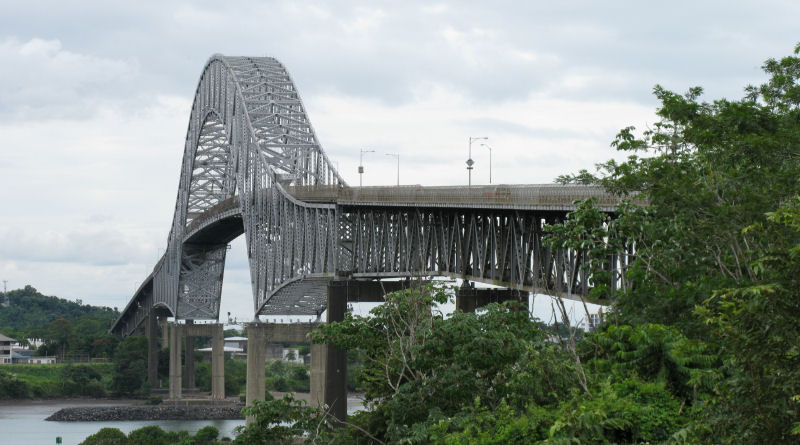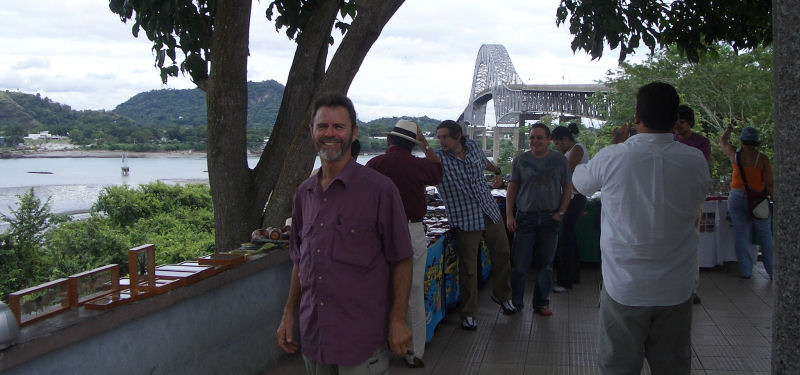 The view area seems to have been built and donated to Panama by China, who made it clear who it was from.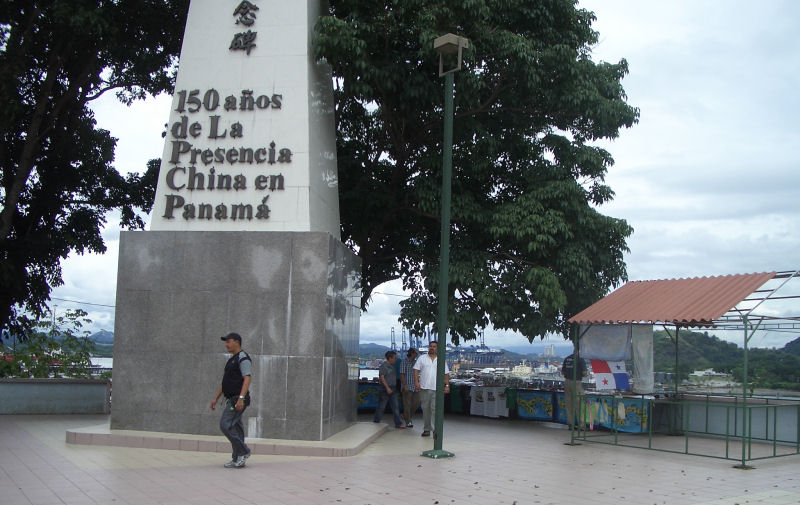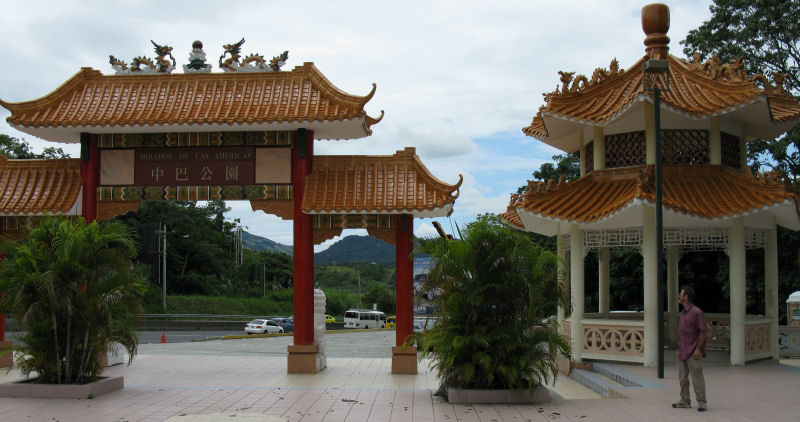 Bismark then took us across the channel on a land bridge that the U. S. military had built. We walked around a resort and restaurant area taking photos of the skyline. A family of raccoons at the waterline proved too elusive to photograph.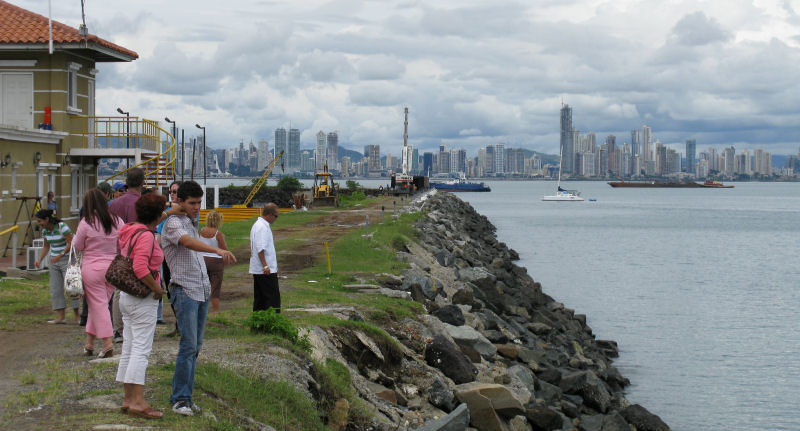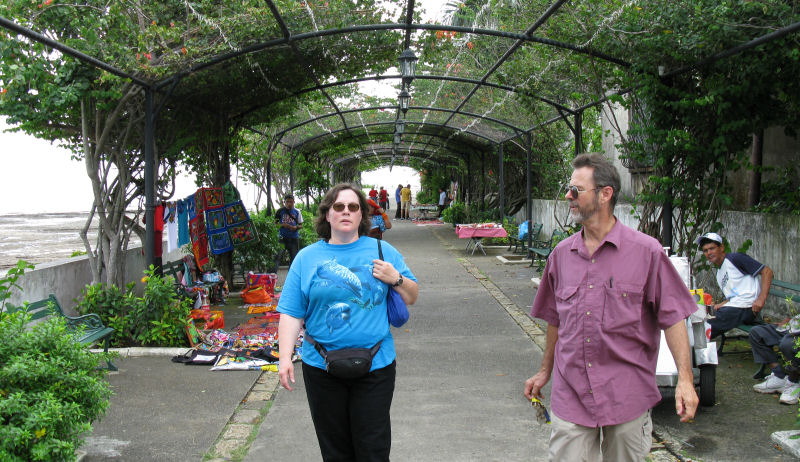 We went through the Balboa suburb (not a good area) then into the old part of Panama City. Some areas had obviously once been prosperous, as evidenced by the architecture and grand scale of some buildings. Several old plazas were still in good shape, but the residential areas were in serious decay and there were no typical retail stores--only local grocery and souvenir shops.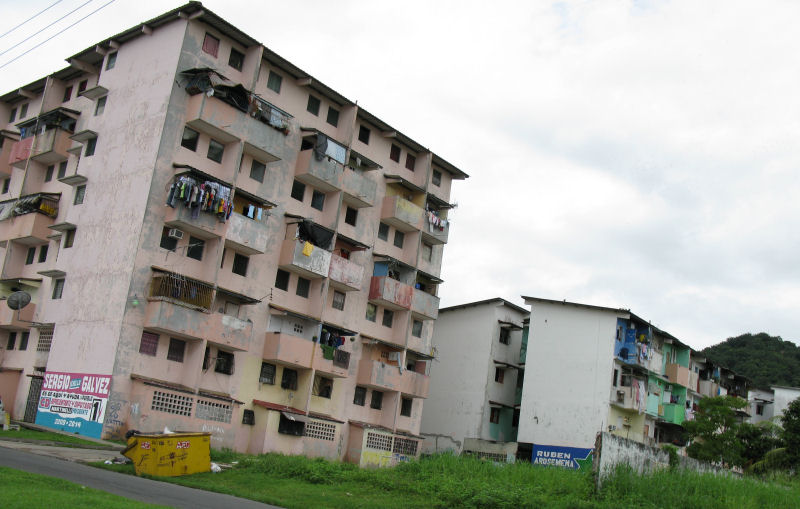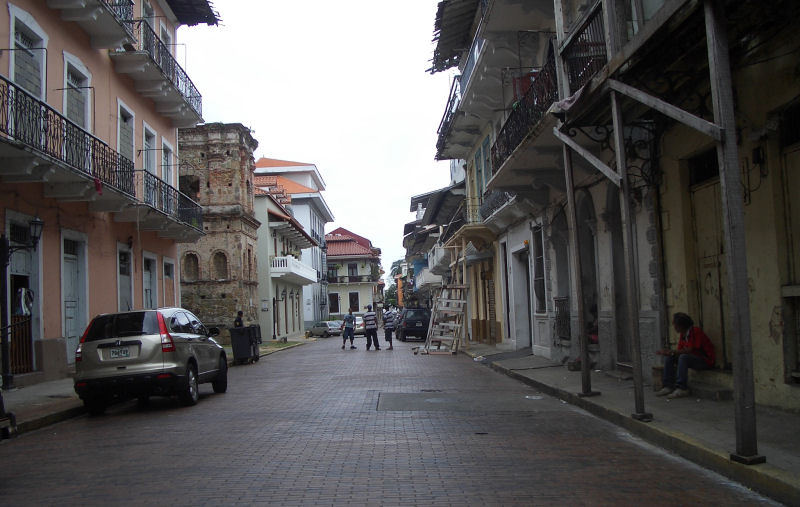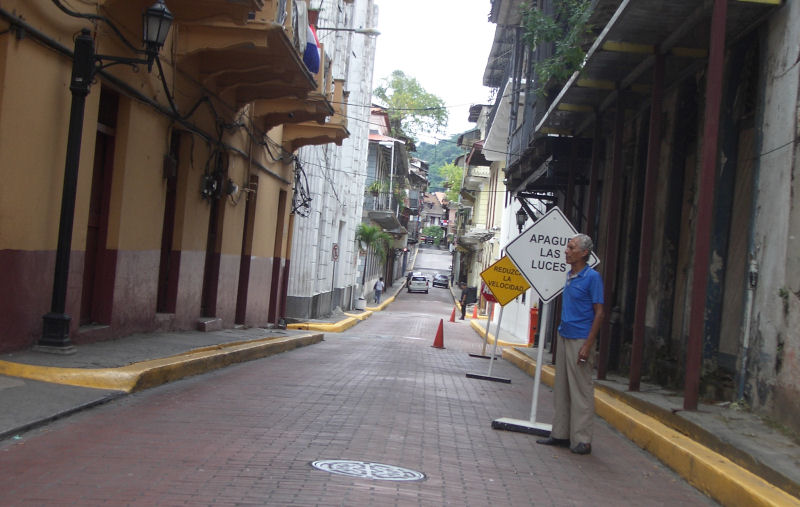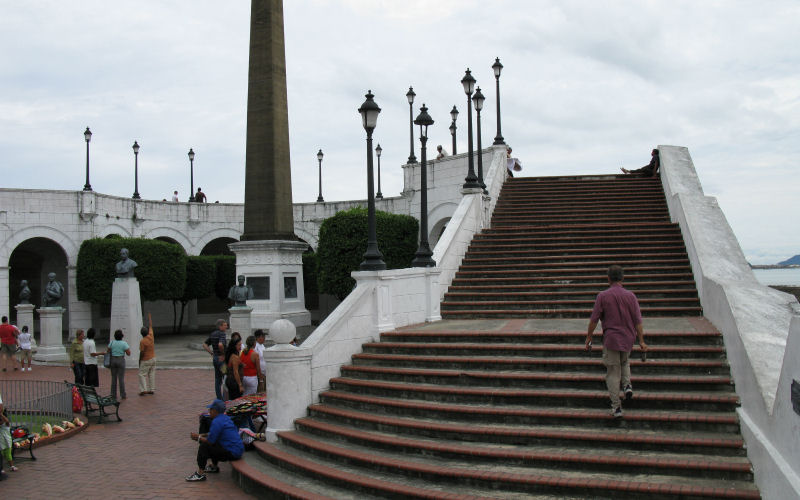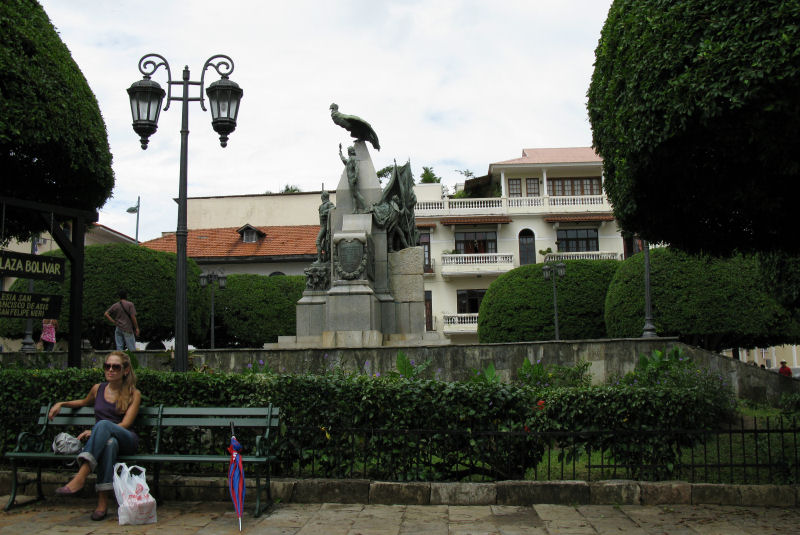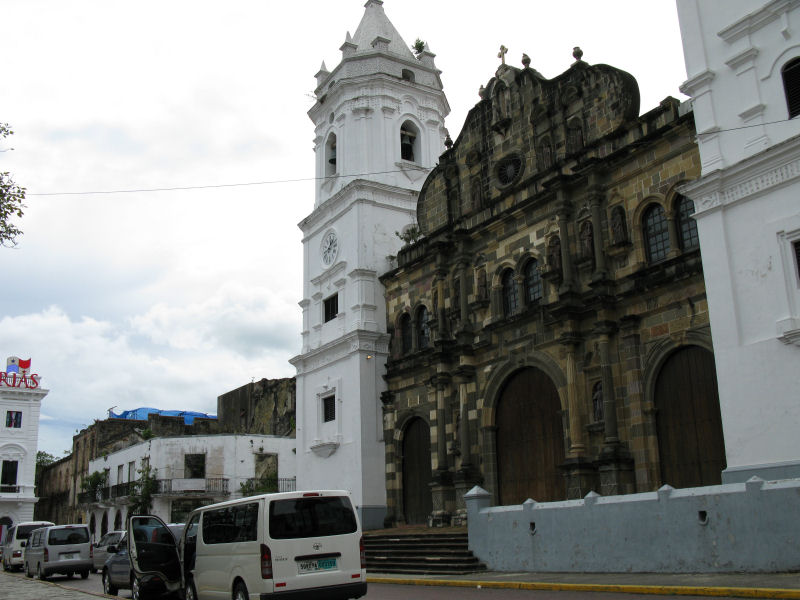 Panama City has many tall buildings, almost all of them are apartment and condo buildings. Many more are under construction.
We wanted to see the ruins that could be seen from the highway, so Bismark waited while we walked around them. Dating back to the 1500's, they were mostly from a convent and maybe a monastery. There were guide signs in Spanish and English, but we didn't read many of them. The main ruins had been repaired many times over the centuries.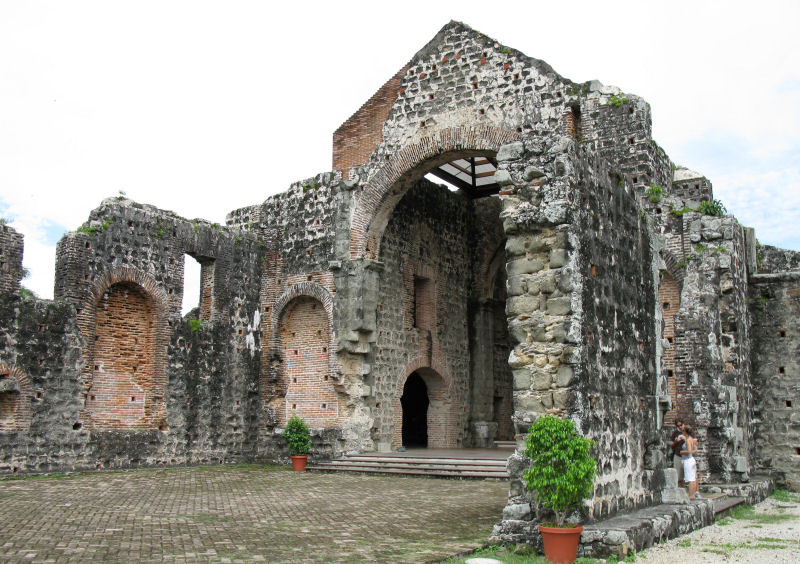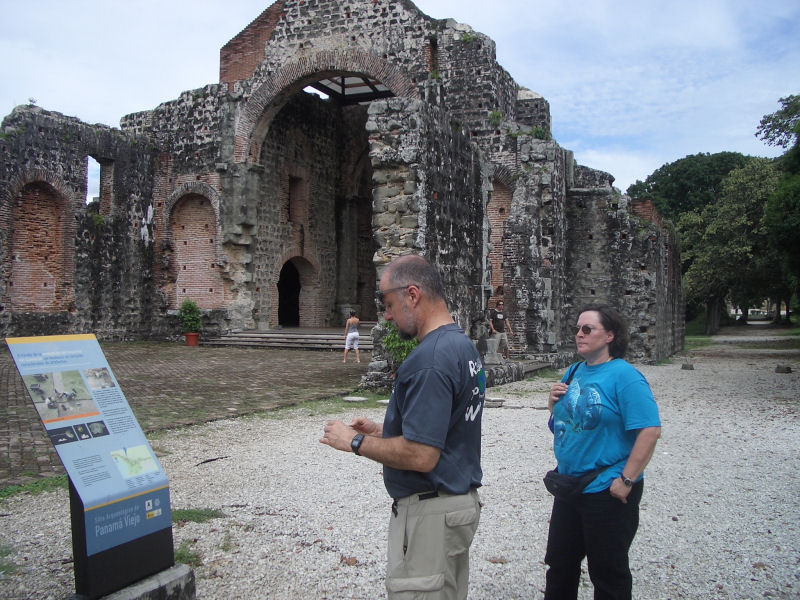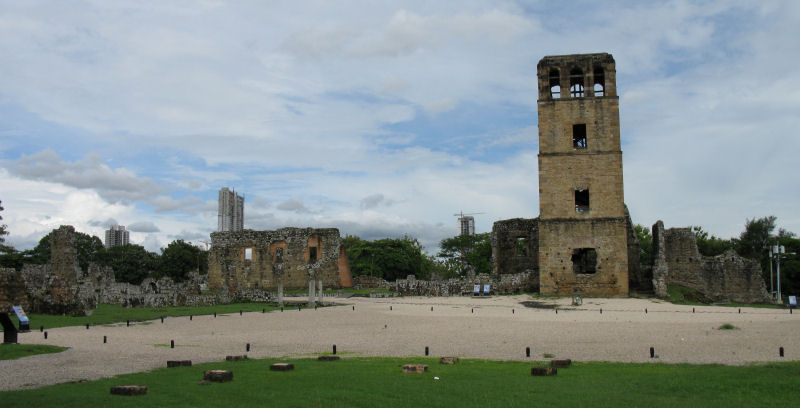 We ran into Bill and Mary at a collection of crafts and gift shops at the ruins. Bill was riding a 2008 KLR650, so we chatted him up. He works part of the year in Alaska, then spends a lot of time in Costa Rica and Panama. He owns property in Costa Rica and might build a house there at some point. He was recently divorced, but found a Costa Rican gal (Mary) who hangs out with him when he is here. He gave me his contact info for when we return this way. He'll show us around the sights.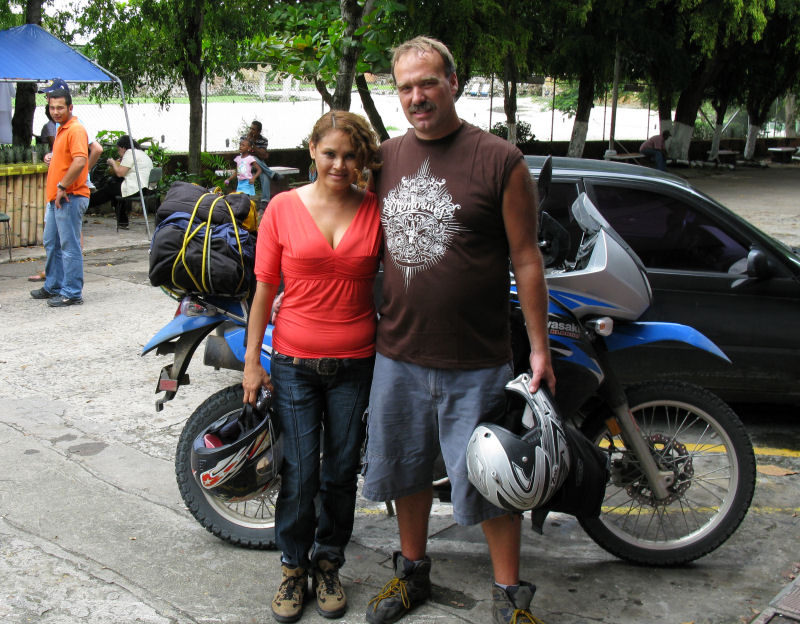 Our excursion was 4 1/2 hours, and that was enough for us. We had Bismark take us to a cafeteria (only a few places were open) and we grabbed a bite. Back to the hotel to be done with the day.
I did some photo management and got caught up with writing this report. I also uploaded several photos to Photobucket for use on some online forums. We watched the Broncos flail around while the Dolphins kicked their butts. The rest of the evening was spent lounging around, which was nice.
Monday, November 3, 2008
-----------------------------
Our delay getting out of Panama was due to the holiday this week. Panama celebrates more than one Independence Day each year, and this one was recognizing their independence from Colombia. Monday, Tuesday, and Wednesday were all kind of messed up (for us) due to this.
We had been told that the Independence Day parade would begin at 08:00, so we were up early and took a cab into the city. What we found was a lot of military and police units standing around waiting for another hour before things got started. Don and I both understand the "hurry up and wait" concept. It was cloudy, but it warmed up fast. By the time the festivities began, it was already hot. The humidity was right behind.
We were located near the staging area where the various groups came from side streets to join the main parade route, so we got to see some of the units' preparations. The parade went past some viewing stands that we had walked past earlier and ended someplace far away.
Several police units were on motorcycles (all were Suzuki GS500) and scooters. Men were on both, women officers only on scooters. They did some simple riding formations every few blocks.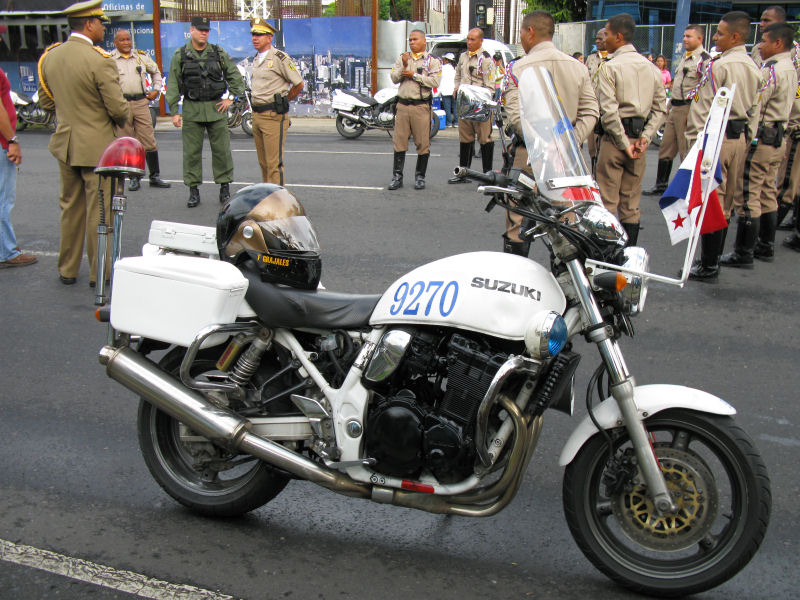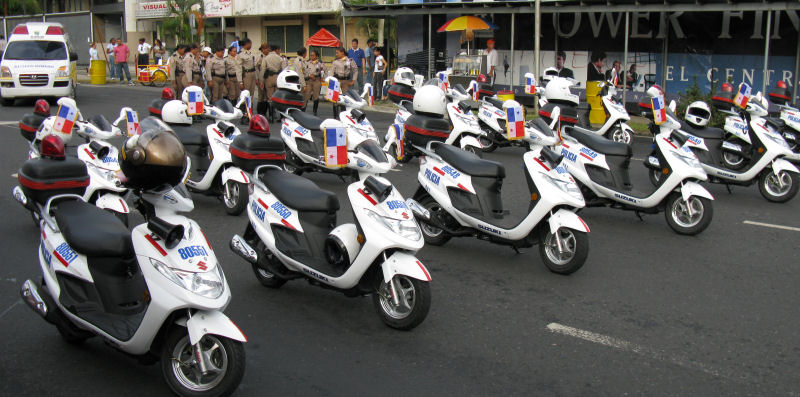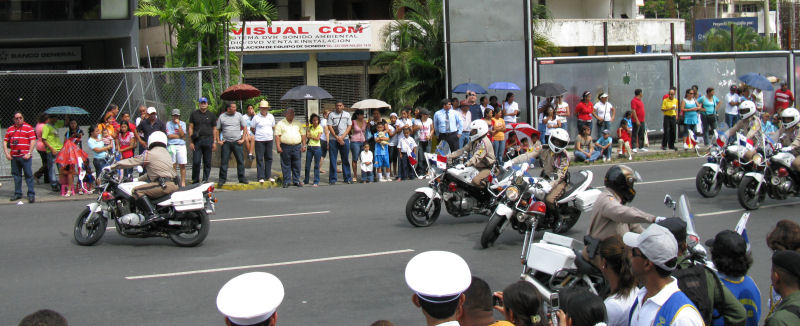 The parade began with the Panama national anthem, and various dignitaries and politicos marching at the front. There were many military and police units, military and police academies, civic organizations, native and historical groups, various primary and secondary schools (mostly represented by marching bands and cheerleaders), Special Olympics, workers' unions, a few political protest or advocacy groups, more dignitaries, etc.
Parade photo interlude: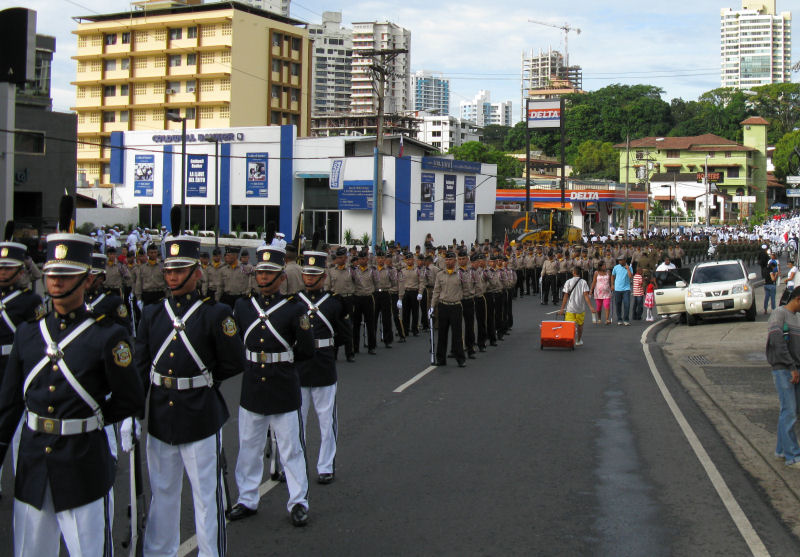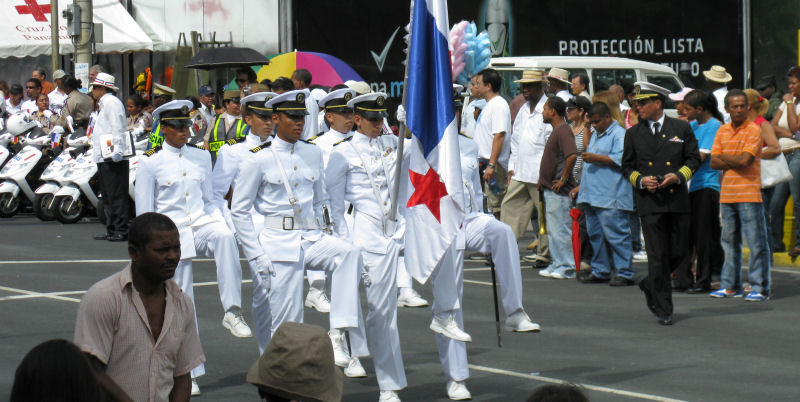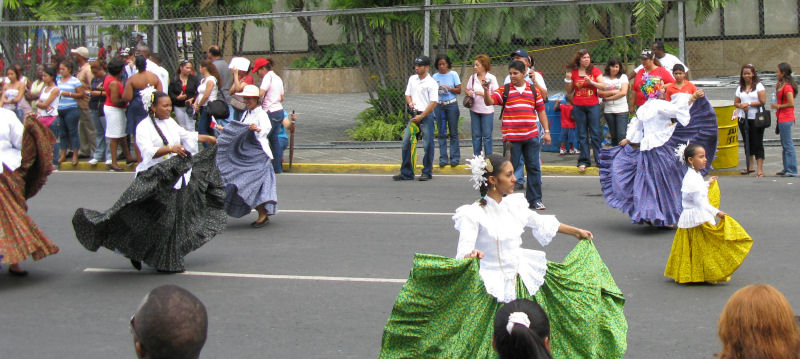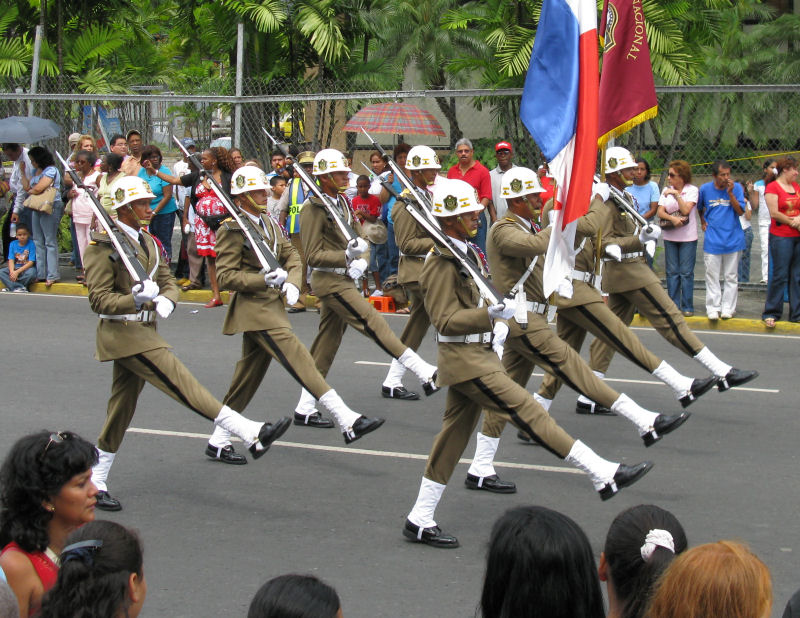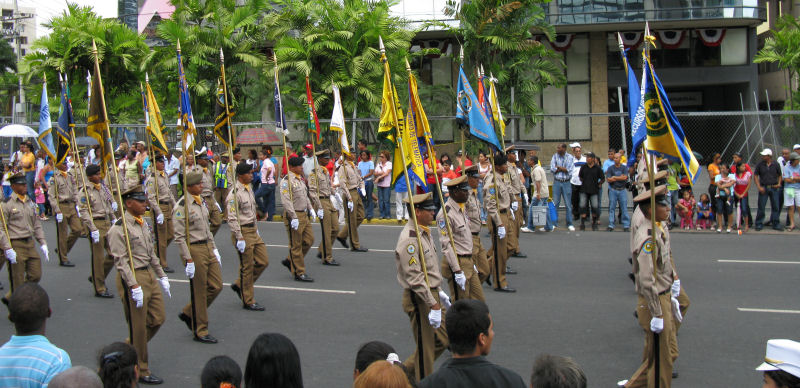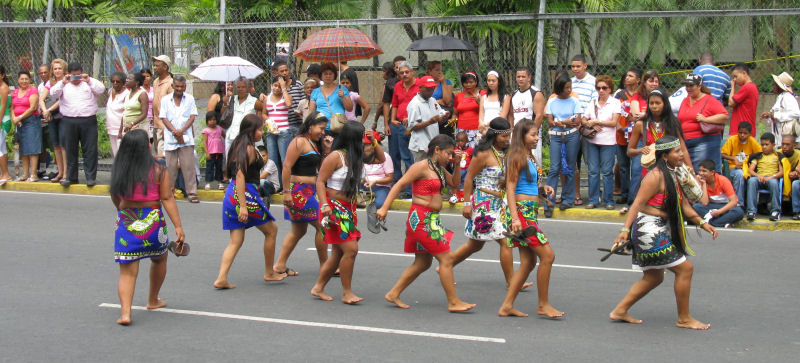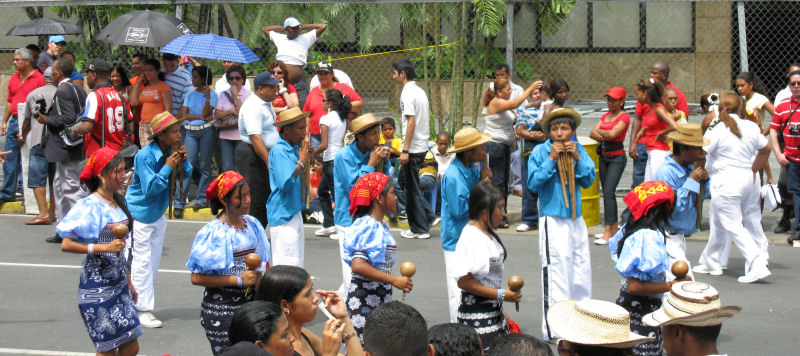 The person who got the most attention must have been an actress or media star. She didn't seem like any kind of political person. She arrived at the staging area in a vehicle convoy and got out of her SUV to walk down the street with a Panama flag. Armed bodyguards in casual clothes walked along with her. Media and citizens rushed up to her for photos when she got out into the street.
After two and a half hours, I though the parade was over when a Volvo road grader came along doing gymnastics with its blade. But no, there were more groups to follow.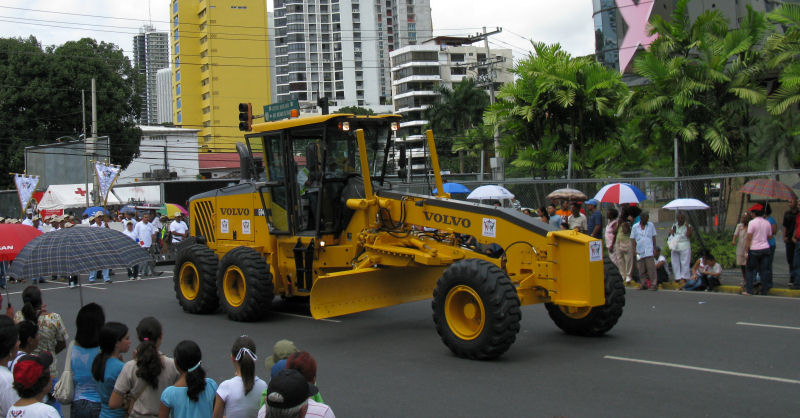 We were done watching, so we walked along while the High School bands went past us. One band was playing the Star Wars theme, which for some reason seemed out of place. The cheerleader groups were all pretty girls.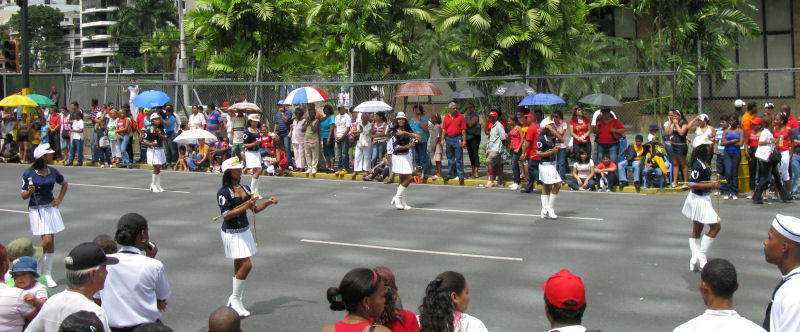 As we worked our way through the crowded sidewalks, we checked out some of the food vendors along the way. National police were stationed all along the way, watching the crowds.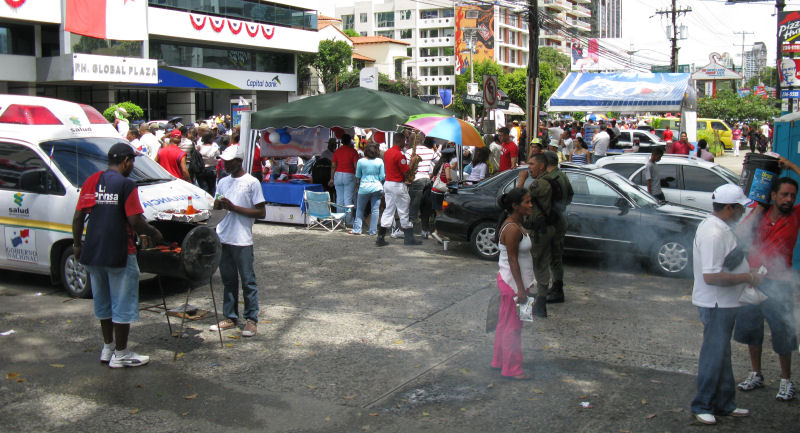 When we finally crossed the street to go find a cab, we found ourselves marching along behind the High School band that was still playing the Star Wars theme. They were getting tired, too, since there wasn't quite as much oomph in their play.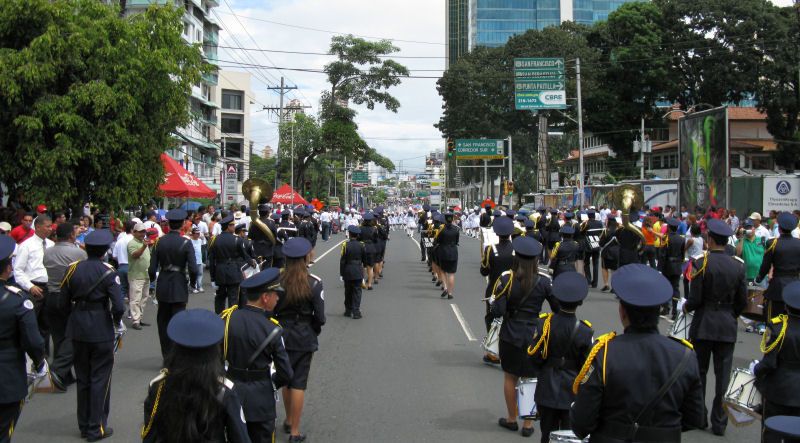 Walking away from the parade route, we had to cross some streets that would have been busy on another day, but the traffic was light today. We (and everyone else, it seemed) ended up at a McDonalds, partly because it was nearby and partly because it was open for business. After a break there, we were easily able to hail a cab and get back to the hotel.
Back in the room, I took a nap and then we just lazed around. Don's wife called and told him that her mother was dying, and would probably not last more than a day or two. She had gotten a staph infection after her hip-repair surgery. It was very sad news, and Don immediately made plans to fly home. These arrangements became difficult to manage, since the evening rainstorm apparently knocked out the Internet connection for a while, and Don was having a lot of trouble getting any phones to work for him. Such hassles as these would be minor in other times, but with the need to quickly arrange travel plans the lack of communication was maddening. My laptop later developed a series of problems that had me up for hours trying to fix. I finally gave up on it.
Our new plan would be that we would work on the bikes tomorrow, including installing the heavy shock that Laurie had brought with her and trying to find someone to temporarily repair Don's split tire. Don would then fly home with Laurie on Wednesday and I would wait here in Panama.
Tuesday, November 4, 2008
-----------------------------
Election Day in the United States.
Don and I rode into Tocumen and checked a couple of tire repair shops before finding one that could patch the tire.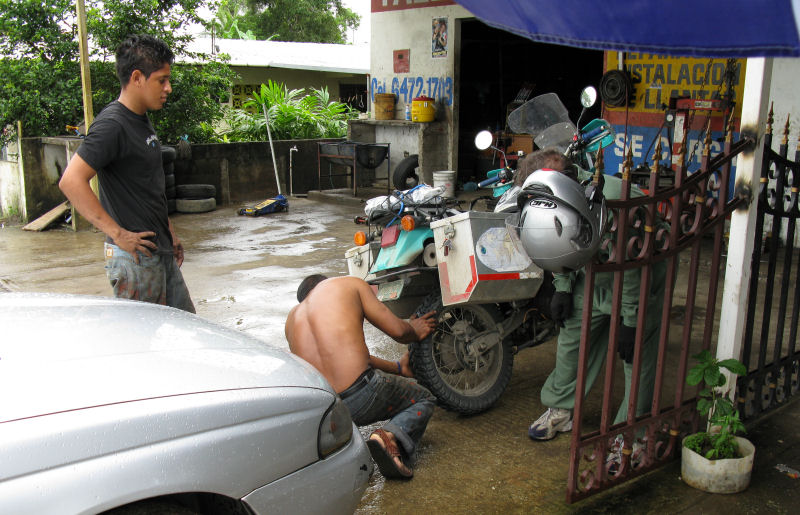 This is the split that had us concerned.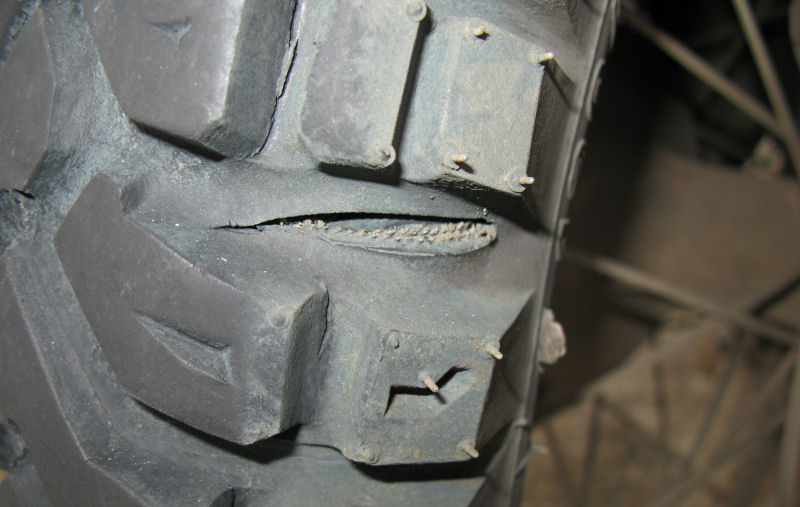 It's possible that Don had hit something sharp that cut the tire and the cords in the sidewall, but it sure looked to me like someone had cut the tire deliberately. The lugs around the split don't look damaged. What would you think?
The guy who did the repair put a patch inside the tire, and it was either glued or vulcanized, since it looked pretty secure. We won't depend on the tire for long, but it will get us to Bogota if I am unable to find a tire in Panama over the next week.
It rained (of course) while we took the opportunity of the wheel being off the bike to change the shock.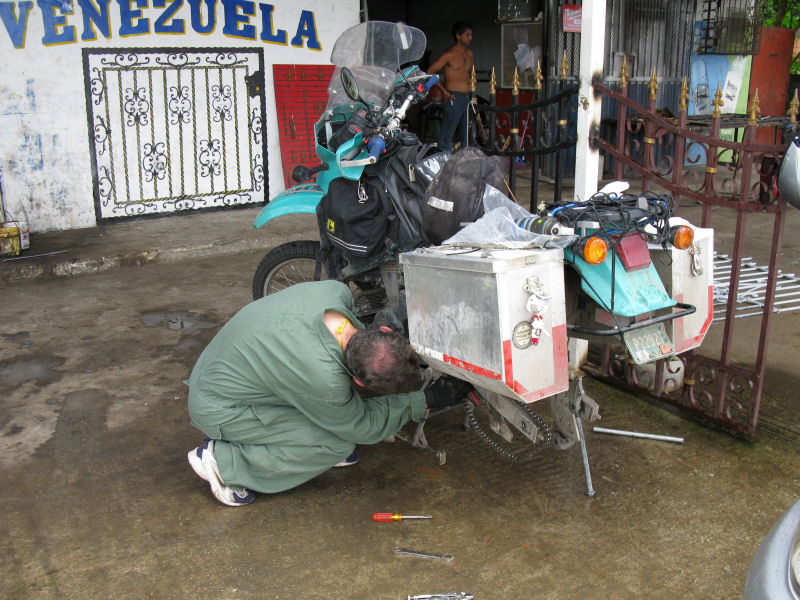 I also installed the tall windshield that Laurie had brought with her. I'll work on the laminar extension later. She had also brought a scrap piece of Plexiglas that I could work with.
Afterwards, we went to Girag and asked about different flight schedules to Colombia. We also went to PACT, which is the third cargo carrier that Jaime had researched for us.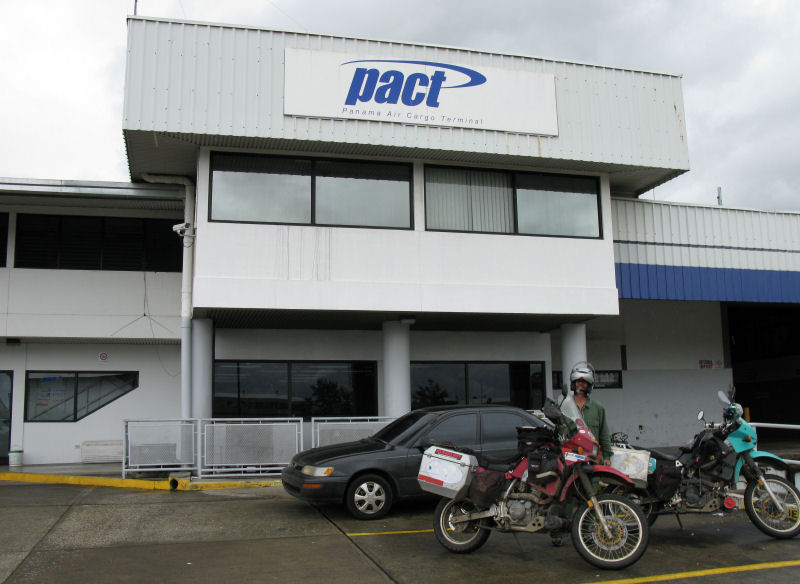 We had originally ruled PACT out (along with Copadasa) when we were planning on shipping the bikes a couple days from now. Now, with another week's delay, they became a viable option again. We learned that they would fly to Medellin or Cali on the 13th, and to Bogota on the 14th. We need to drop the bikes off the day before we ship them. Don expected to be home in Colorado until the 12th or 13th, so we decided to plan on flying the bikes to Bogota on the 14th. Things might very well change again before that. PACT is about $200 cheaper than Girag, so that will be nice (assuming PACT's service is as well-oiled as Girag's is supposed to be).
While trying to explain to the PACT officials that we would have three hard boxes on our bikes, I found myself making a fool of myself. I was trying to describe the tailbox, and that it was big enough to hold two helmets. When I was holding my helmet behind my back (to simulate where it would be in the tailbox), it occurred to me that I was doing a bad imitation of Kevin Costner's similar pantomime in Dances With Wolves, where he was trying to explain bison to his new native friends. They thought that Costner's character was crazy, and the PACT employees must have thought the same of me. Don found the whole thing hysterical. He needed the laugh.
Anyway, I've realized that it might be tough for us to get to Ushuaia by year's end, and I have to be okay with that. It'll be a minor disappointment, but I'll get over it. Don's need is greater right now.
Once we got back to the hotel, we tried to find something that Laurie wanted to do on her final day here, but the shows she wanted to see were all full. It was still raining, and even harder, so we once again lazed around the hotel lounge and restaurant making phone and Skype calls. My laptop booted up just fine today, with none of the troubles I had struggled with last night, so that was a nice relief.
I called Copa and changed our own flight plans to Bogota.
We didn't feel like discussing politics much, but it was the day for it, so we watched the election results come in.
Wednesday, November 5, 2008
---------------------------------
We got up early, packed the bikes up after breakfast, and left the Riande Hotel. Laurie took a taxi to the cheaper hotel that Jaime had used last week ($20 per night), and we followed on our bikes. Don left his bike there in their large garage while I checked in.
I followed Don and Laurie (both in the taxi) to the airport, saw them off, then went back to the hotel. The place is pretty basic, and has no Internet access or any other amenities. The air conditioner really works, though, and the room is actually chilly. No way to adjust it, though, so it's a hot shock every time I go outside.
My camera fogged up when I went out to do some shopping and photograph the hotel.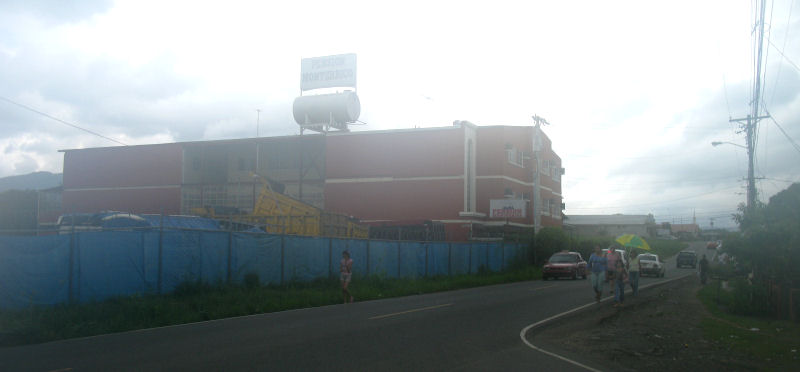 Tocumen is a decent sized city, but most of it is stretched along a couple of business highways. One is the highway that goes past the airport.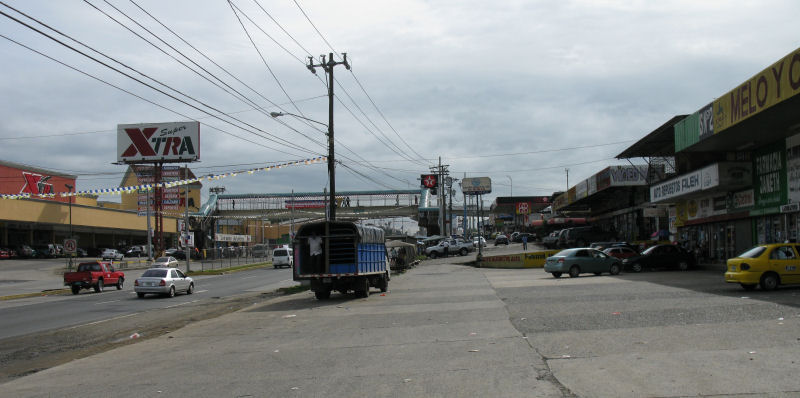 I rode around the city for a while, got lost in some neighborhoods (a specialty of mine), and did some shopping. The Super Xtra store in the photograph is a combination grocery and housewares store. There is a cafeteria there, and I had some chicken gumbo-like stuff that was pretty good.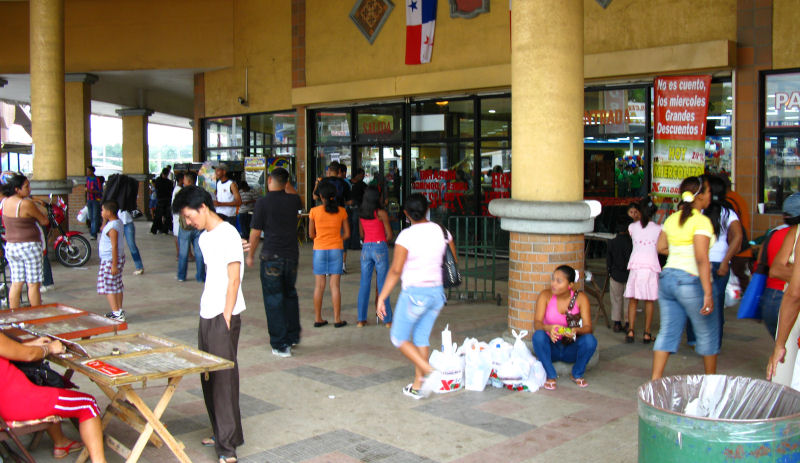 Back in my room, I wrote a while and watched television in Spanish. I need to work on improving my ability to communicate. I need to cut down on the clown-like pantomimes, and the usual point-and-grunt method gets old.
Thursday, November 6, 2008
------------------------------
I dozed until about 09:00, then rode into Panama City in search of Panama Bikers. This was a shop that had been recommended to me by another rider on ADVRider.com. The owner, TC, was supposed to be very resourceful.
The traffic difficulties were back. The holiday was definitely over. Somehow, I had lost the map if the city that had Panama Riders marked on it, so I went by instinct. I knew the major streets I was looking for, and they proved harder to find than I had expected. I ended up riding across the densest part of the city before being able to separate myself from the flow of traffic. I saw parts of the city that tourists usually avoid. It wasn't always comfortable.
Anyway, I managed to get back to the south shore highway and came back across the city. The absence of street signs was a problem and I was sure that I had passed Via Brazil again, but that turned out to be one of the few streets that had a sign!
I had to ride the length of Brazil before realizing that I must have missed Panama Riders, so I got turned around and headed back. My bike stopped suddenly in traffic, but it was just that I had hit the reserve level of fuel. We had deliberately let the bikes run low, since we knew we would have to drain fuel before shipping the bikes. I flipped the fuel tap over to reserve and rode on, much to the relief of the traffic that I had inconvenienced. You'd think they would all have heart attacks because I delayed them for a few seconds. More street vendors walking between the cars.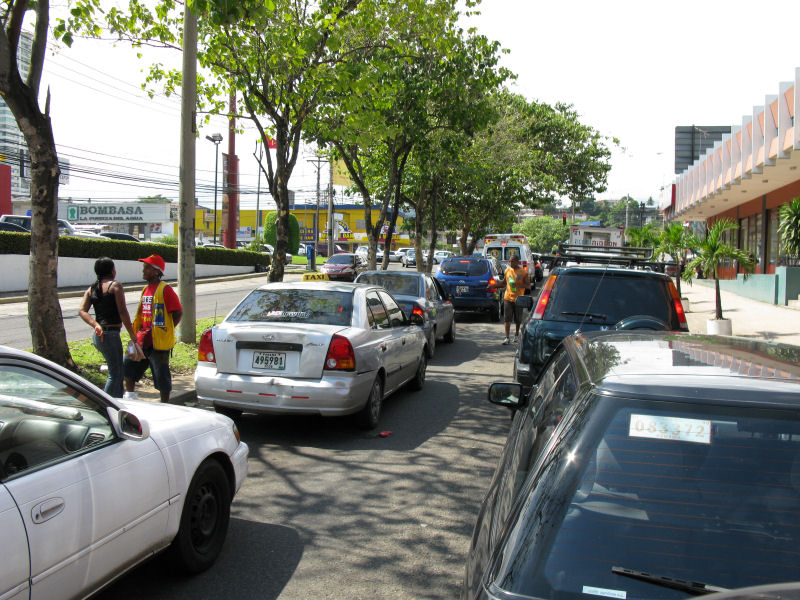 I looked for any bike shop, and I stopped at MPH motorcycle shop without realizing that Bikers de Panama was right next door. So much for my observation skills...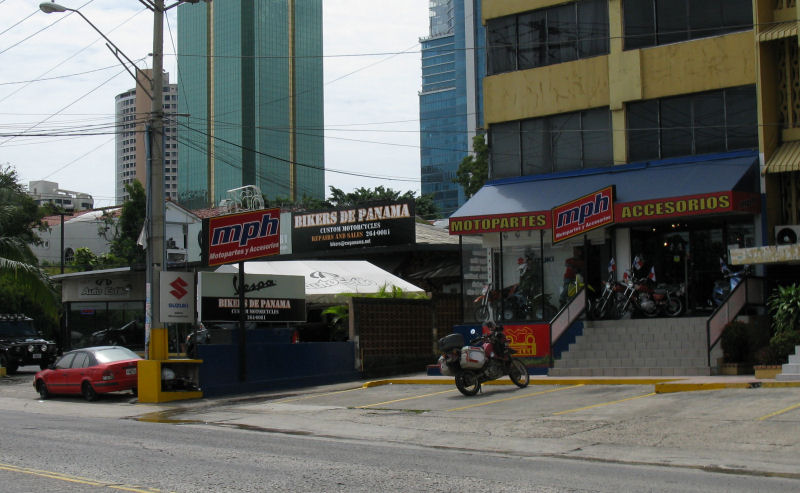 Neither shop had tires for a KLR, but TC was very helpful in making calls and finding one possibility. He found Joe Hummer, a guy who has a shop near the canal's Miraflores locks, but the shop was closed until Tuesday because Joe was on vacation. Joe told TC that he would have IRC tires for a KLR for me on Tuesday. What type of tire was yet to be seen.
Bikers de Panama was a smaller shop than I had expected, and they focused more on Harley-Davison bikes, and the shop had an "attitude," but they were all very nice. I signed the ADV book that they have there, and I wrote a bit about my current trip. TC on the right in the photo.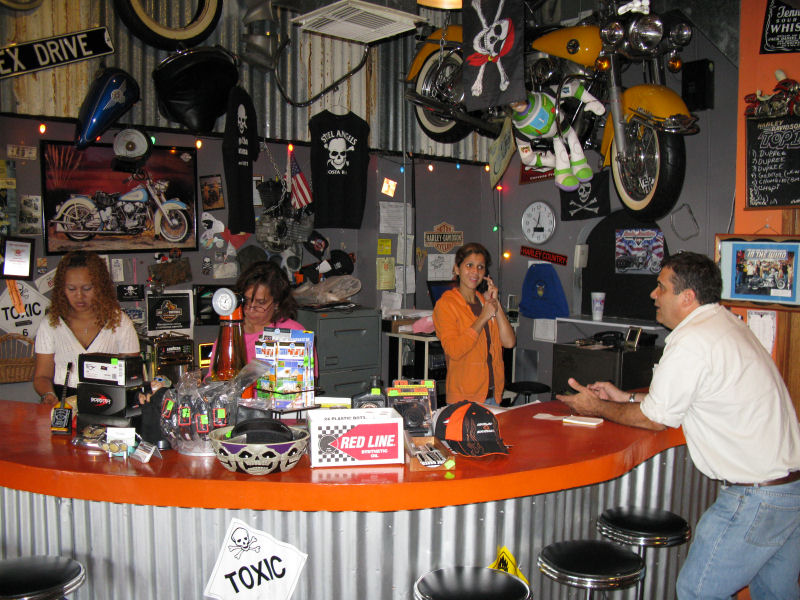 I headed back toward Tocumen, but it was far enough away that I was concerned about my fuel level. I pulled into a gas station and was angrily chased away by a guy working at the pumps. I still don't know why. The next station was diesel only. I knew there were many gas stations along this street, but it turned out that most were on the other side of the divided highway. I also rode past a few stations before seeing them. It's hard to describe the press of the traffic to someone who hasn't experienced it, but trust me, sometimes it was safer to ride past one's intended exit than it was to fight for lane position to take the exit. The buses and taxis were homicidal.
Finally, I decided to head for the Texaco station right near my hotel. I was cruising down the hill toward the Texaco when my tank went dry. I had some nice momentum, so I knew I could coast to the station without a problem. Well, the buses again changed my plans. There is a large, busy bus stop at the bottom of the hill, before the Texaco station, and I had to brake to avoid the crossing patterns of the buses that arrived and departed the curbside depot. That scrubbed off my speed, and I barely managed to get the bike into a parking lot where I swooped in smoothly and silently to stop in front of a small deli. Next to it was a small bank or an ATM kiosk. Either way, it had an armed guard outside, and he was startled when I coasted in quietly and stopped right behind him. His highly trained response was to jump and start to run away. He quickly saw that I was no threat, and he got his "cool" back in order.
I walked to the Texaco station with a plastic gasoline bag that I carry with me. The attendant at the gas pump refused to put gas into the bag, but I finally convinced him that it was "bueno para gasolina." I let him smell the bag (it had a gasoline odor because we had used the bag to transfer gas from Jaime's bike to ours), and he decided that it would be okay. Still, he made me hide the plastic bag behind the pump while he squeezed a little gas into it. I over-paid him a dollar for the gas, which he pocketed. Once I was back at my bike, I nodded to the guard, but he ignored me. I poured in the fuel and rode back to the Texaco to put a few gallons in the tank.
I got my computer from the hotel and rode back to the Riande Hotel, where I had a couple beers in the lounge and used their Wi-Fi. I managed my email and made a Skype call to Laurie.
After uploading the latest update to the ride report, I went back to my cheap hotel. I was in the mood for some local color, so I walked down to the shopping area, which was different at night. It was a zoo of traffic in the parking lots, and the police showed up to direct traffic for a while. I went into a tiny pizzeria and had a small chicken pizza. It was definitely fast food, because it took less than a couple minutes in their very hot oven. It was pretty good for $2.60. The disco there would have been fun for people watching, but it never opened. The other small bar was too small and crowded with the usual customers for me to squeeze into. I watched the people in the area for a while, and was mesmerized by the insanity of people forcing their cars into an already-crowded parking lot for no reason. I watched them honk, wave, and eventually negotiate their way through the lot without ever doing anything else. I suppose it was a kind of cruising. It took a lot of gas to go 200 feet.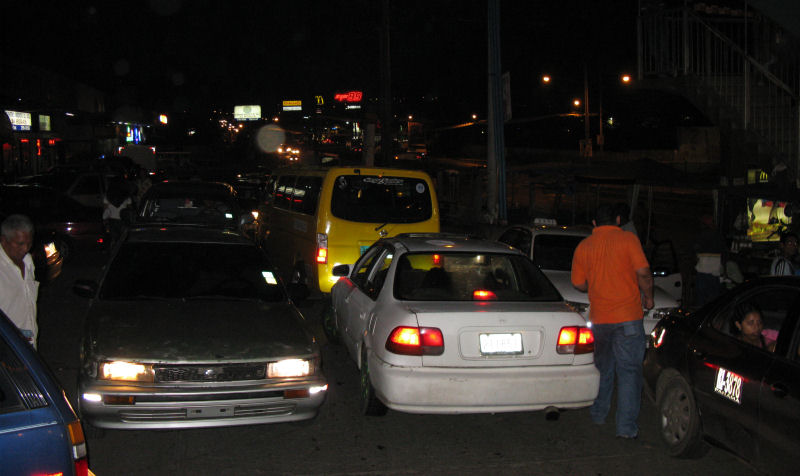 There were a few food vendor stalls here, too, and it was tempting. I'll maybe get a pineapple tomorrow, since they smell so sweet.
The pedestrian cross-over walkway was used by everyone. I saw very few people cross the highway on foot, and I had gotten some odd looks when I crossed the street earlier. I walked over the highway this time, and it was certainly safer. People hanging out in front of the Super Xtra looked like they did that every night. I walked around like I knew what I was doing and no one paid me any attention.
When I got back to my hotel, I paid for another night and was given another receipt for my $20.
Friday, November 7, 2008
---------------------------
I snoozed until the room got warm. The air conditioner was no longer keeping up, and it was making funny noises. I opened the grill and found the cooling vanes were completely caked in ice. Must be all the humidity down here, since I've seen that before. I unplugged it to let it defrost.
I decided to work on the bikes today, so I spent several hours in the parking level.
I found that the wires to my right-rear turn signal had been pinched apart by something under the rear fender, so that took a while to disassemble and fix. I soldered in longer sections of wire to re-route and prevent it from happening again. I replaced the broken switch for my auxiliary lights, swapping it for one that Laurie had brought with her. That was quick and easy. Finally, I removed the gas tank from Don's bike and replaced the Chatterbox power cord with a new one that Laurie had brought. That fixed the problem, so Don will again be able to charge his intercom while riding.
All that work took about four hours and a gallon of flop sweat. I soaked a couple of shop rags, wiping my face and neck every few minutes.
I cleaned up all the trash from my work (mostly a bunch of cut flex-ties and wires), and that seemed to surprise the gal in the office. When I asked her for a trash can, she didn't quite know what to do for a moment. Finally, she brought a small trash can to the window for me to deposit my handful of scraps.
Since it was a covered garage, I had relief from the sun, but it got hot and muggy, like in a moist oven. Good for baking cake, but bad for me. While working in the garage, I had quite the view of the coming-and-going customers. It hadn't been obvious when we first got here that this was a love hotel, but there were clues. It was a very secure building, and you had to be buzzed into the garage or into or out of the lobby. The clerks were in a secure office, too.
I saw many couples come into the garage (after honking at the gate and being let in), and most of them ignored me while they went into the lobby. Some couples seemed uncomfortable with me being in the garage working on the motorcycles. Sometimes, they sat in their car a long time before deciding that I was okay. The young couples were in and gone in less than an hour, and the middle-aged couples were there a bit longer. I saw one older guy arrive with a very young girl, but neither seemed concerned with me. They were back out and gone pretty quickly.
No wonder I got an odd look from the clerk each time I paid for another night. (I was paying day-to-day and told them I might be here a week.)
I went out and walked around the shops, looking for a few tools and maybe a shop with an oven that I could use to bend the Plexiglas sheet that I would use to make a windshield extension. First, I had breakfast/lunch at the cafeteria. A decent meal there was under $3, and I got to watch and listen to people.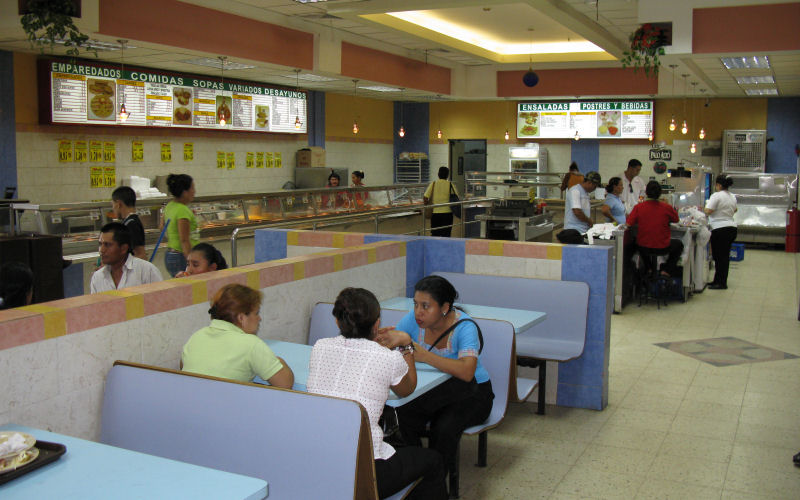 Then I walked up and down the highway checking out the shops. I found the tools I wanted, but the only ovens that I saw were at the restaurants and roadside vendor stalls. Maybe I could tip them to let me heat up some plastic over their carne asada? Probably not.
I stopped in a couple of bars and had a beer in each (70 cents, usually). Mostly that was just to hang out in different places. Again, I found that the more casual I acted, the more people didn't even notice me. I found a couple of Internet cafes nearby, but they closed earlier than I would need (it's two hours earlier in Colorado than it is here). There was also a small casino, but I had tools in my pocket that probably would not have gotten me past the armed guard with the metal detector.
I might back out later to get a snack, but for now I'll just enjoy the thawed-out and rejuvenated air conditioner.
Aaaaahhhh...
Saturday, November 8, 2008
------------------------------
I got up early and decided to ride to Colon, which is on the north coast of Panama. It was only 60 miles or so, but one cab driver had told us that it would be a 90-minute drive. He was wrong; it was over two hours for me, and I thought I made pretty good time.
The GPS was a little help, but again was inaccurate enough to cause me some trouble getting onto the correct highway in Panama City. I got to see a few more neighborhoods, so that was... um... interesting.
Finally on the right road, I still had to wend my way through heavy truck traffic. I stopped for a light breakfast at a gas station, then hit the road again. Such a major route as this certainly be more than a 2-lane road. There were plenty of construction sites along the way, and at times it looked like maybe they were going to build a multi-lane highway. At other times, it seemed they would never successfully build anything. I went through some construction/destruction zones where they were tearing up new pavement that had obviously just recently been laid in place.
The pavement came and went in sections, and when it was a rutty dirt road it was very rutty and very dirty. I was getting better at passing around and through traffic, but still it was maddening at times. My clutch hand started to hurt from being over-exercised.
The weather was good, but there were clouds building to the south (behind me). I stopped only a couple times, and got a nice photo from a bridge. This was more than half way to Colon.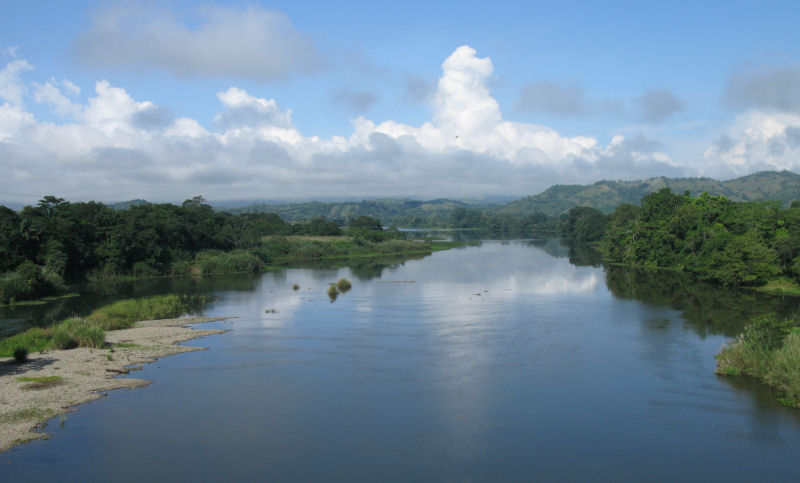 I had heard mostly bad things about Colon, and it was purported to be a dirty, uninviting city. This was the welcome sign to the city.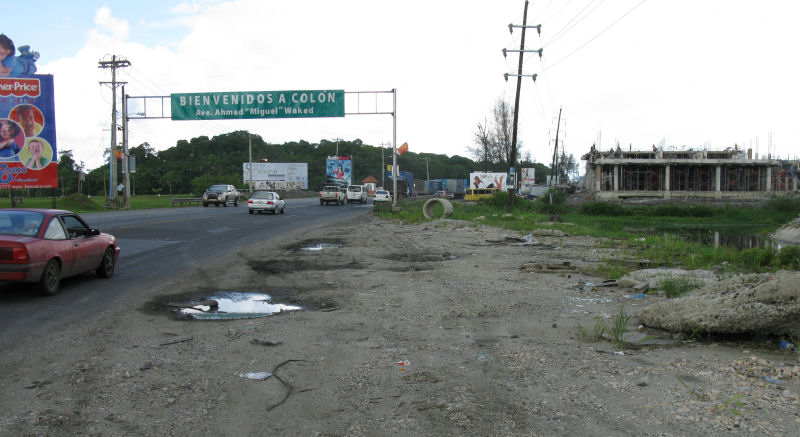 Not very welcoming. That building was like so many--you couldn't tell if they stopped building it or stopped tearing it down.
A while later things got a bit better, but not much. Traffic was too bad to stop for photos of the city center. There is a divided roadway down the center of the city, and it looked like a park area with grassy areas and lots of monuments, but the local denizens looked like they lived on the grass around the monuments, and the few people I greeted completely ignored me. The usual absence of traffic control made every block a free-for-all zone. I felt lucky to have made it to the end of the road, where there is a fairly nice area at the shore.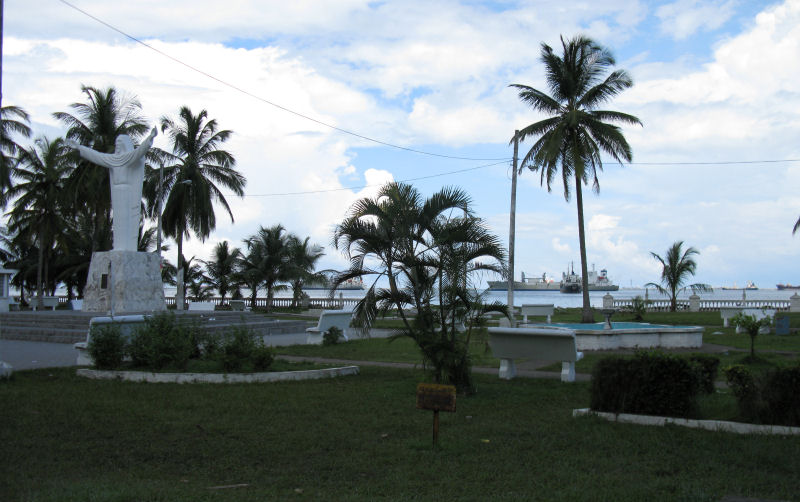 There were lots of cargo ships anchored offshore, and many more moving slowly to or from the canal.
I had heard something about a "free zone" where someone might find merchandise they couldn't find elsewhere. It was worth a look, to see if they had tires for the KLR, but I never found anything called a free zone, and when I asked a man crossing the street, he stopped and stared at me without saying anything. Eventually, I just rode away from him.
I cruised through some of the neighborhoods (Colon is a small city on a peninsula), and found an area with very nice homes. They were all clustered together behind high walls and iron gates with sharp spikes. The other areas were in various states of decay. I was surprised that some of the concrete buildings were still standing, given how crumbly they were. When I stopped to take photos, some teenage kids crossed the street toward me and I really didn't like the way they were focused on me when I brought the camera out. So I just rode on. Later, when I stopped to take a photo of what appeared to be an embassy (for some Middle-Eastern country), an armed guard waved me off with a wagging finger. No photo there, either.
I also saw an embassy for Uruguay, and I suppose there were others that I didn't see. In one neighborhood, someone threw food at me from an overhead balcony so that was enough of Colon for me. I stopped looking for anything other than the way back to Panama City.
A few miles out of Colon, I stopped at McDonalds for a break. I kinda wanted to avoid such places as McDonalds and Burger King, but honestly there were times I didn't want to struggle to order something. I just wanted a McFlurry and I wanted it now. Of course, their ice cream machine was not working, so a large ice-filled cola would have to do. While I rested, a monster rainstorm came thundering in, and looked like it was going to stay a while. When the lightening eased up, I got my gear back on and hit the road.
The heavy rain reduced visibility, but I made better time getting back to Panama City than I had getting to Colon. The traffic was so slow that I was able to zoom past long lines of vehicles at one time. A couple of the muddy pools in the construction areas were challenging, but for the most part I got along pretty well. Only my hands were completely wet, and it wasn't cold, so I was in good shape.
Back in Panama City, the bumper-to-bumper traffic returned, and I had to grunt along with everyone for a while. On the outskirts of the city, as I headed back to Tocumen, I was able to split lanes and make some time through the jam-ups.
Once in familiar haunts, I rode to a small restaurant and parked between it and the local Texaco station. It is impossible to park anywhere and not be in somebody's way, and it didn't take long for some buses and delivery trucks to object to my bike. When they gestured at me through the window, I calmly and clearly gestured back that I was not going to move the bike. They worked around the motorcycle and never gave me any more trouble.
In the Pio Pio (a chicken fast food restaurant), a local guy cut in front of me in line, then sat at the booth where I had put my helmet and rain gear. No problem, I thought, the place is pretty busy and sharing a booth is no problem. When I sat down with my food, I greeted him but he ignored me. When he finished eating, he just got up and left. I dumped his trash along with mine when I left.
It was mid-afternoon, so I rode to the airport cargo area to make reservations for our bikes next week. At the guard shack in front of Copa and PACT, the guard would not let me pass, insisted that no one was at either business today (Saturday). When I pointed to the many people working at both cargo warehouses, he shrugged and insisted that no one was there. He said I had to come back next Wednesday. That was not good for Don and me. That made the timing close again.
I have to believe that the guard meant that none of the clerks or office workers were there, but in any event I had to turn around and leave. Back at my hotel, I called the cell phone for the PACT manager that I had been given a few days ago, but I got no answer.
I'll try again on Monday. Then I'll try again on Tuesday. Wednesday is the last day before we are supposed to leave our bikes there for shipping. We were supposed to be in Panama for only a couple days, not more than two weeks! The holiday and the unfortunate state of Bev's mother were to be absorbed, of course.
I took a shower and lazed in the hotel room, practicing Spanish and listening to local television. Hurricane Paloma was pounding Cuba, and it might have been a laggard remnant of Paloma that had pounded me today.
Once it was late enough to account for the time difference, I rode to the Riande Hotel and set up my laptop up in their lounge. A couple of beers bought me some time on their Wi-Fi, so they never said anything to me. I got the ride report updated and handled email and Skype calls.
It had rained briefly while I was in the Riande, so the ride back (about 8 miles) was a bit cool and clammy. That was a change from the hot and muggy that was typical.
Sunday, November 9, 2008
----------------------------
I had nothing to do today, so I slept in as late as possible. When I went out, it was late morning. The cafeteria was again an easy and cheap place to eat, then I walked around the local shops again. I bought a pineapple from a market stall and took it back to the room for later.
Doing nothing is tiring work, so I took a nap. When I got up, I ate the pineapple over the bathroom sink (I made a minor mess with my pocket knife), then I went out again. It was very warm and I started sweating as soon as I left the hotel. I walked down the street to check out the casino and the guards looked in my fanny pack and scanned me with a metal detector before letting me in. I was disappointed, though, since all there was were rows of slot machines and video gambling devices. They did have a huge video roulette machine that several people were playing, but that wasn't interesting to me either. I walked around some of the other shops and gave up on finding anything to do. I bought a gallon of orange juice and some snacks to take back to the room and decided to get out of the heat. I can use the plastic gallon jug later when I get around to changing the oil in the motorcycles.
I got new towels and more soap from the hotel staff, so I was ready for a few more days.
I wrote a while, watched some TV, worked some more on my Spanish, and basically got bored as hell.
At about 21:00, I went back out and again had a beer in a couple of places. In each place at least one really drunk guy tried to talk to me, but my lack of Spanish was not the problem each time. I guess that tourists just bring the drunkest chatterboxes out from the shadows. One old guy was absolutely insistent that I understand whatever it was that he was trying to tell me. He put his hand on my shoulder, closed his eyes, and repeated again and again the same slurred sentence, each time getting more and more worked up. After a while he stopped and opened his eyes to look at me with a great and sincere need obvious on his face. His moist eyes begged me to understand. All I could say was, "Si," but that seemed to be what he needed to hear. He almost cried, patted me on the shoulder a couple of times, sighed deeply and wandered off.
I have no idea what the fuck that was all about, but somehow I felt pretty pleased with myself for having helped the guy out.
Monday, November 10, 2008
-------------------------------
I thought this would be a good day to ride into the city and get some oil for the bikes. I was wrong. Traffic was light on the highway, and I suspected that I was missing something. When traffic got diverted in one suburb, it seemed to be because they were setting up some kind of ceremony or activity in the highway. Uh-oh.
Yup. Some other holiday, I suspect. Almost everything in Panama City was closed. None of the bike shops were open. Only service-oriented shops (gas stations, fast-food restaurants, laundries...) were doing business in the city. I headed back to Tocumen, got clogged in the traffic diversion again, but managed to see a lot of people standing and sitting along the closed section of the highway as if waiting for a parade.
Shopping malls in the suburbs were open, and I made the mistake of turning in to one to see what was there. What I found there was the loss of half an hour of my life, trying to get back out of the parking lot. Cripes! People could have walked from their homes, done their shopping, and walked back home in less time than they spent honking at the car in front of them in the slowest demolition derby I have ever seen. I got lightly bumped once, and I saw a few other cars bump each other. No one seemed to take offense at it though, so I guess it was normal.
When I was able to zip past the last several cars (Freedom!) and onto the highway, I headed straight back to the hotel to retrieve the scrap piece of Plexiglas that Laurie had brought me. The air-conditioner was not working, so I unplugged it, plugged it back in, gave it a stern talking-to, and decided to bash it with a hammer later.
For now, I wanted to accomplish something today, and the something that I decided to accomplish was the windshield extension. I rode back a few miles to one of the larger tire repair shops that I had seen open along the highway and met Jorge, the only guy working there. Jorge watched me draw and measure on the paper-covered plastic sheet, and he understood what I was doing when I kept holding it up to the bike's windshield.
I asked if he had an oven or some heat, and he eagerly said yes. What he had was a very large acetylene torch that would cut I-beams in two. It took him a while to tweak the flame down enough to be useful for our purpose, but we eventually became an efficient team. He held the flame steady while I moved the plastic under it and slowly bent it. After a test fitting, we put the torch to it again, this time with me holding and bending the plastic and Jorge quickly moving the flame where it was needed. The second fitting was perfect.
Jorge had only a hacksaw for cutting the plastic to final shape (I had left the excess plastic in place so that it would be easier to hold while heating and bending it), and he took a while to cut the rounded corners with small, straight cuts. He stabbed his thumb pretty bad when snapping off a piece of scrap plastic, and his blood was all over everything from then on. When I told him that I was sorry about his thumb, he shrugged it off and ignored the injury. I liked this guy a lot.
The files that I had bought a couple days ago were back in the hotel room, so I used the concrete pavement outside the shop as an abrasive surface to do most of the rough rounding-off on the corners, then used a piece of sandpaper that Jorge have me to finish the work. It wasn't quite the shape I wanted, but with the tools we had, it looked pretty good.
Jorge didn't have a drill, so that was a problem. I had bought a drill bit and a chuck recently, too, but they were also back in the room. Why I had taken them up to my room is still a mystery. Shouldn't I have left them with the bike? Maybe I could use them later to repair (or destroy) the air-conditioner.
A police officer who had been patrolling the parking lot had watched me grind the plastic on the concrete, so he wandered over to see what the primitive gringo was doing. When it became obvious to him that I needed a drill, he took the plastic from me and gestured for me to follow. I walked along with him, but he stopped and shook his head. He didn't speak much, but he gestured that I should bring the bike.
I found the policeman a moment later in front of another mechanic's shop in the same stretch of buildings.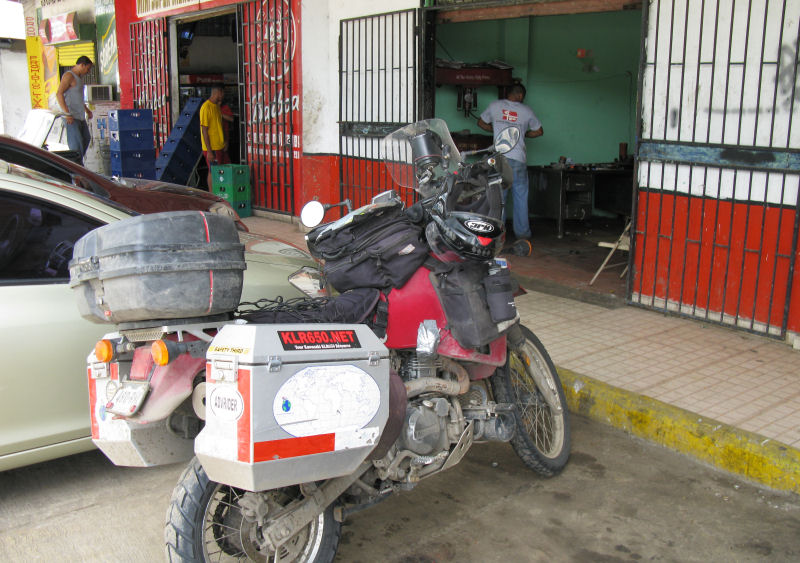 The mechanic there said he could drill the holes I needed, but it would be two hours before he could get to it. I thought this was a negotiation tactic for the price of the labor, so I asked how much it would cost to have "servicio rapido." The guy knew what I meant, but shook his head and said, "Dos horas." The policeman took the plastic from the mechanic and walked to another shop, waving for me to follow.
At the next shop (two doors down), the policeman found Yimmy, who could drill the holes now. The policeman on the left with my freshly-curved and shaped (and slightly scorched) piece of plastic, Yimmy in the sleeveless shirt.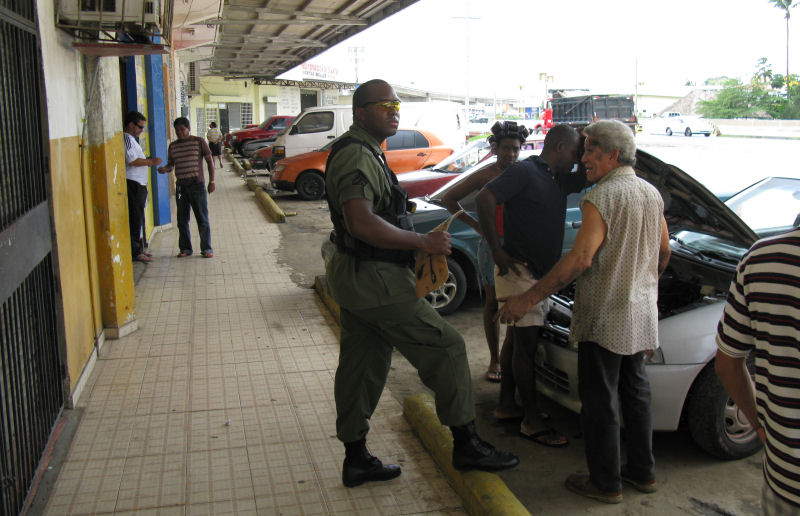 Yimmy had only a huge drill press back in the shop, so I had to remove the windshield. Yimmy was a no-nonsense guy who had other things to pretend to do, so I mostly did what I needed to do, then went to interrupt Yimmy from whatever he wasn't doing at the time to help me again. Several men came to stand at the counter at the front of Yimmy's shop just to watch me remove my windshield and measure where to drill the holes. When I asked Yimmy to pose with the tools (as if he was taking the windshield off), he laughed out loud and walked away. Yimmy gestured for the policeman to pose for the camera, but the policeman only smiled briefly and then went back to looking serious. The T-wrench I was using to remove the windshield is still there, sticking out from where I was using it.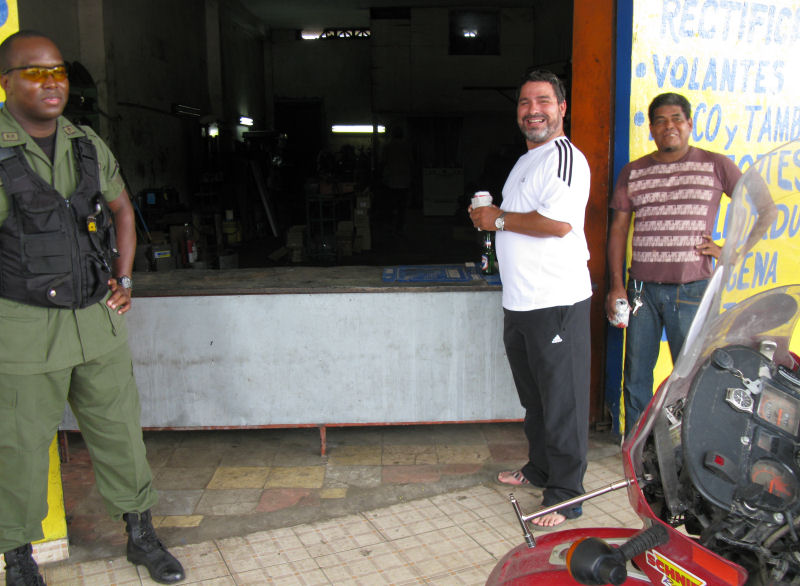 With the windshield off, I met Yimmy at the drill press and we got the holes drilled where I needed them. The holes weren't quite the size I needed (Yimmy had only a small collection of drill bits--odd for such a huge machine), so I worked the pieces up and down the drill bit and got them enlarged. Getting the scorched paper off the plastic took some doing. You can see some bits still stuck to it.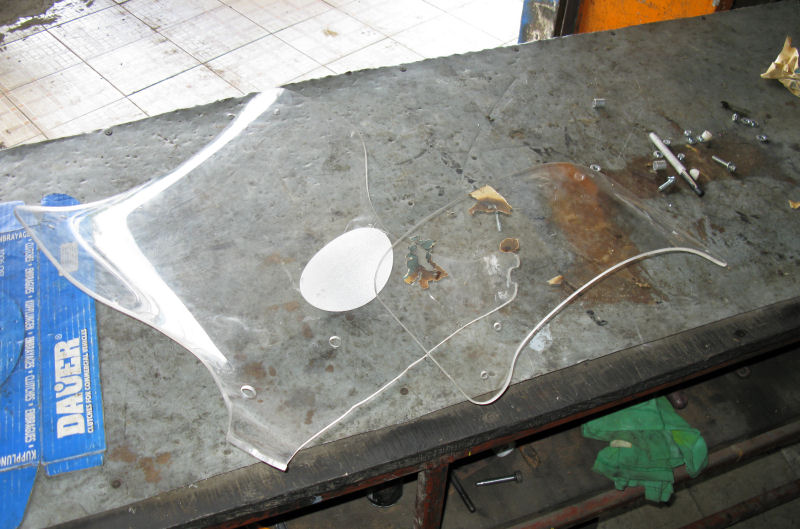 To make the laminar-style windshield extension, a gap needs to be preserved between the two pieces of the windshield. I had retrieved the hardware and spacers from the original windshield, and with the policeman's help (everyone else just watched), we finally got it assembled. The many nuts, bolts, washers, and spacers needed more than two hands to manage all at once. The policeman was very satisfied that he had helped finished the work and he seemed quite pleased.
The small crowd actually cheered a bit when I re-installed the windshield and there it was--all tall and glorious. I thanked the policeman for his help. He hadn't said but maybe five words to me the whole time, but he smiled and was happy to shake my hand when I offered it.
Yimmy charged me $5 for his time and drill press. I thought that was a bit much (given the local environment), but what are ya gonna to do? Because I paid Yimmy first, I was short of small bills when I went back to Jorge's shop and asked what I owed him. He seemed surprised to see me again, and said that $3 would be enough. I showed him that I had only a $20 bill, and told him that I would be back. He smiled and nodded okay, then went to work on some guy's truck. He was still leaving bloody thumb prints on everything, I noticed.
I rode to a convenience store, bought several bottles of sodas, and went back to Jorge. I gave him the $3, but he was actually more excited to get the ice cold Coke that I handed him. That made him smile and hold it up for his other customer to see. It's the little things that count sometimes, you know? I took Jorge's photo (and the other customer) right after he got done shaking his Coke. I hope he waits a bit before opening it. His bloody left thumb is probably making a macabre mess of the money in this photo.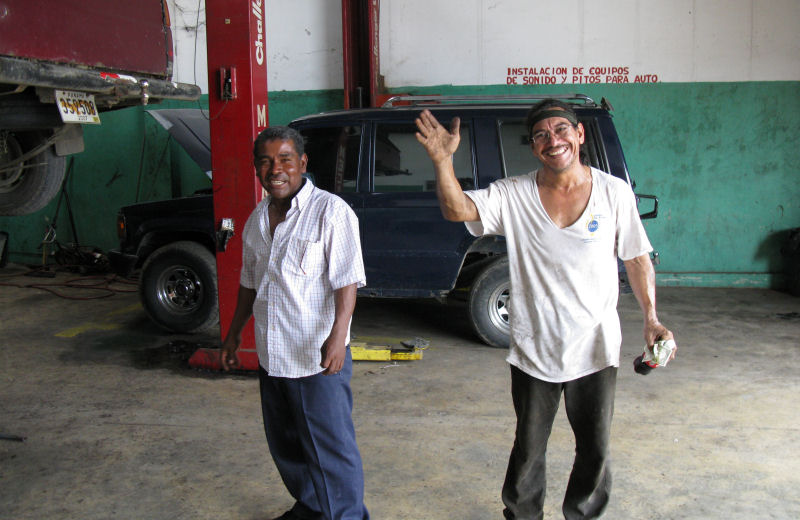 I rode off and found the policeman. When I gave him a cold Coke, he didn't seem to know what to do with it. He looked at it like it was a bomb. I suppose he was dubious about whether it was safe for him to drink. I get the impression that the police are not generally held in high regard in Latin America, so maybe he had good reason to be suspicious. I thanked him and shook his hand again, but when I rode off, he was still standing there looking at the Coke deciding what to do with it. Maybe he just doesn't like Coke. I hope he enjoyed it or gave it to someone else who did.
I rode off down the highway to test the new windshield at speed. What I found was that it was okay, but I should have mounted it an inch lower. The top of the extension is directly in my normal line of sight--not a good thing. I'll have to cut it shorter, mount it lower, or sit up straighter now. I'll make that decision some other time.
Another issue with the extension was the gap between the pieces. On the original windshield, I had cut off the curved top edge, so the extension was parallel with the main windshield. This new windshield still had the curved top edge, and the spacers that I had re-used didn't allow enough space to account for that curved edge. Very little air was flowing through the gap, as it was designed to do. (The two-stage windshield design allows some air through to fill the void behind the windshield when moving, and this helps to dramatically reduce the turbulence that normally occurs over the top of the windshield.)
I'll play with the spacers and various nuts and bolts later, too.
For now, I just wanted to ride. The higher shield certainly kept the airflow from hitting me right across the visor.
The highway east from Tocumen is the Pan American Highway, and it is the only road that goes to the state of Darien. The highway ends somewhere in Darien, and that begins the Darien Gap--where no road connects through the jungle to Colombia.
Soon after leaving Tocumen, the buildings became scarce and traffic dropped off. I did see by a bad accident where a small car drove under the rear of a bus.
The forest and occasional farmland plots quickly changed to burgeoning jungle.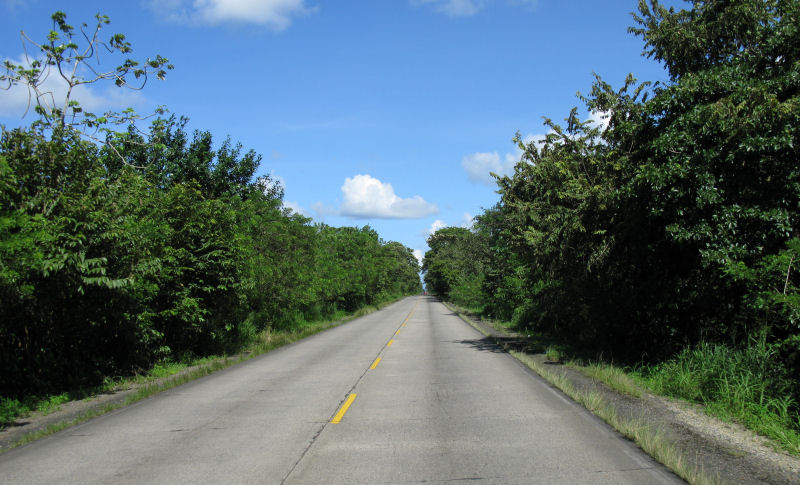 Suddenly... as in "out of nowhere for no reason..." there was a police blockade next to a small concrete police building. There were no other buildings around. Every vehicle was being stopped and drivers' licenses were being checked. When it was my turn, I handed over my license as required, but they seemed miffed that I didn't have my passport with me. I told them that it was back at the hotel and they responded by angrily ordering me and my bike to the shoulder of the road.
Uh-oh, I thought. Here we go.
But no, all was okay. The senior (and grumpiest) policeman handed my license back to me and bruskly ordered me to take my sorry self into the office building across the street. No other explanation was offered. In the office, a sergeant lounged at the desk but never even acknowledged me. Soon, a very young policeman arrived to deal with the silly tourist. He spoke exactly three words of English (Yes, Okay, Hello), so my Spanish would have to do. As it turned out, it was sufficient. He needed my license again, though.
The problem was that since I had no passport with me, my body might be hard to identify if I was killed or kidnapped in the Darien jungle. I'm not kidding. They were concerned about my welfare going on alone. Wow.
The young policeman wrote my name, date of birth, age, nationality, bike license number, and driver's license number in his Big Book Of Potential Dead Or Kidnapped Tourists, and gave me my license back. He asked me to return to my hotel and get my passport before they would let me go on. When I told him that I had a copy of my passport in my bike's saddlebag, you could have heard angles singing! The very fact that I had a copy of my passport (which he never asked to see) was enough for him. All problems were solved, and I was free to proceed. He waved me out the door with a smile, and that was that.
Well, almost. It was mid-afternoon, and when I asked the senior grumpy policeman working outside in the street how far it was to the next city, he said that Darien was the next city and it was eight or ten hours away. He then conferred with the other policemen and told me that there were several small pueblos along the way. No thanks, I told him. I'm going to go back to my hotel. They didn't seem to care anymore.
I went back to my bike and stood under their shade canopy until they got tired of watching me. I was fascinated with watching them, however, and I couldn't figure out how they decided which cars to pull out of traffic for more detailed questioning and which cars they waved through. They must know most of the locals, I suppose. There wasn't a lot of traffic, so maybe only three or four vehicles at a time were stopped here. While I rested, I was able to sneak a photo of the police and my bike. The senior grumpy officer is the one with his back to the camera, second from the left. A couple of the police (none in this photo) were in crisp brown uniforms, but most were in olive drab fatigues. Don't know why.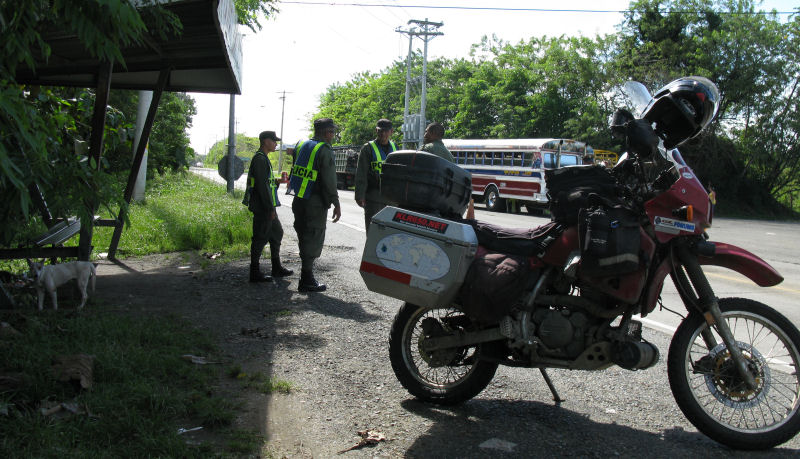 I took the last bottle of soda from my tailbox and started to ask if the grumpy policeman wanted it, but he said yes and took it from me while I was still asking the question. He then walked around the other policemen displaying his trophy before taking it into the office with him. I had mixed feeling about making a gift of that soda. On one hand, it was a small gesture of thanks for his duty, but on the other hand I was happy that I had shaken it up (when they weren't looking) before I offered it to the big lug.
I got out of there before finding out if he had opened it right away.
Back in Tocumen, I coasted into my favorite patio bar just before it rained. One beer later, and another drunk guy had found me. Two women watched from nearby as the guy told me in very bad English that my bike was very good and that I was very good and that the rain was very good and that crocodiles were very good. At least, that's what it sounded like. The women laughed and laughed.
I took a couple of photos of the patio bar (because I had little else to do) from my vantage point at the bar at the back of the place, farthest from the road outside. I later hashed the shots together, not even trying to make them into a blended panorama shot. As is usual, there are no doors to the bar, just an opening at the front of the building. I'm actually surprised that all the video games were working, and they seemed popular with the customers. They were armored against an assault by a tank, though.

A peculiar thing that I have seen only in this bar is that many of the customers (all local regulars, to be sure) have a habit of pouring their beer into a cup full of ice. For a few days, I wondered why the bartender was giving a bowl full of ice to most of those who leave the bar with several bottles of beer. Eventually I saw the beer-over-ice thing. Another mystery solved.
It was no mystery why every bar and countertop was always wet. As soon as a chilled bottle (or anything else) was brought out into the open, it was immediately damp form condensation and was soon streaming with rivulets as the humid air contacted it. A fresh bottle of cold beer was sitting in a large puddle within a minute. You could see the beads of dew grow and start running down the bottle as soon as you wrapped your mitts around it.
(Man, am I bored. This is what I'm reduced to writing about, in a stream-of-consciousness kind of way.)
I rode back to the hotel when the rain eased up a bit, and did a little maintenance on the bike. I lubed the chain while it was still warm, checked the tires' air pressure (the back tire was surprisingly low... I'll have to watch that), and checked some nuts and bolts. I should have taken that opportunity to change the way the new extension was bolted to the windshield (swapping the spacers around), but I was tired of messing with it today. I'll have to remember to take a photo of the new extension, too.
When I slogged up to the room, the air conditioner was working just fine, so I didn't bash its electric brains in.
All in all, it was a decent day. Didn't get killed or kidnapped at the (very) edge of the Darien jungle.
I'll zip off to the Riande Hotel later tonight for Skype calls, but first I need a shower.
At 20:30, I rode of into the night. I was determined to find a new restaurant this time, and I eventually pulled up to a small strip of restaurants. The one that grabbed me was a Chinese restaurant. When I parked the bike in the lot, the young, uniformed guard came over to stand near my bike to watch it, and he was still there when I left. He was armed with only a nightstick, which he kept slapping into the palm of his hand in melodramatic style.
I had more difficulty with the menu than I expected; ordering Chinese food from a menu written in Spanish really messed with my mind. Pictures would have helped. I asked the waitress what was good, and she took the time to point to almost every item listed and described it to me in Spanish with a heavy Oriental accent. That didn't help. Wait, something sounded like "chop suey" and I caught "combinacion" so that is what I ordered. The small shrimp mixed with the noodles, veggies, mystery meat and bologna didn't turn out to be half bad.
I went to the Riande and set my laptop up in the lounge. One beer from the bar and a tip to the bartender got me all the time I needed. Soon after getting online, my brother Mike called me on Skype, so we had a chance to talk for a while. I then called my wife and Don to check on how things were going. Don had bought a tire and was bringing it back with him, so I didn't need to go tire hunting tomorrow. We'll see what customs charges him for import duty.
After managing email and getting a ride report uploaded, I rode back to Tocumen in light drizzle. It actually felt pretty good this time.
Tuesday, November 11, 2008
-------------------------------
I had several missions today, so I was going to be busy.
I had exchanged messages last night with a couple of brothers who are also on motorcycles enroute to South America. Don and I left a month after they did, but they were seeing more sights than we were and were traveling slower. Charles and Joe were now in Panama City and we made plans to meet today.
I got up fairly early in hopes of beating the heat, but when I got down to the garage to work on the bikes, it was already hot. I wanted to do valve checks on both bikes this morning, but it seemed like every small thing was a hassle on my bike. It tool longer than I expected, but all the valve clearances checked okay. About that time, Charles called my cell phone and we agreed on a time an place to meet. It took longer than I though it would to get the bike back together and after a shower I took the Corridor Sur (the south toll road) into Panama City. It was $2.60, but it was much faster and a lot easier.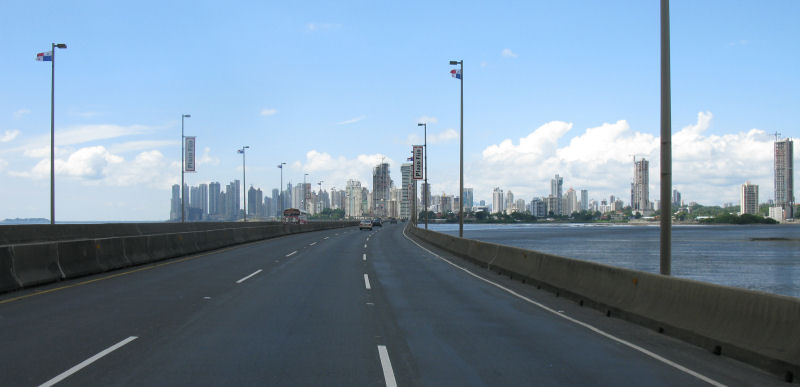 When I took the exit I needed, I thought that only being a little late wasn't bad. Halfway down the exit ramp, cars were all over the place. Some were backing up the ramp, some were turning around and driving back up the ramp. Oh, goodness.
Apparently the road was blocked by an accident, so I rode around some cars and over a curb and managed to get onto a local street. That's when the inevitable happened. I used to think that I had a knack for getting lost in strange cities, but now I think that it's more like a super power. I'm Gets Lost Man! or Aimless Dude! or something like that. Every road I wanted to take that way was a one-way street going the other way. When I crossed three streets in a row that were all one-way streets going the same way, I wanted to stop and strangle a random stranger just for spite.
After nearly an hour lost in the Balboa and Bella Vista neighborhoods, I got locked into another crush of cars at a major intersection. I had no idea where I was. The general lack of street signs was again very frustrating. Charles called my phone again, and I only knew that because it;s set to vibrate. There is no way I would have heard it ring in my fanny pack with all the honking going on. Charles had a hard time hearing me for the same reason. I had rolled the bike to the curb to answer my phone, and I watched a woman cram her car into the space I had vacated and just lean on the horn. It served no purpose, and it had no hope of serving any purpose. Every car in sight was also stopped, bumper-to-bumper and hand-on-horn. It's a kind of societal insanity, I'm sure.
Charles managed to tell me that he would wait longer at the park where we had agreed to meet. I told him that I was near, but still stuck in traffic. After I hung up, I had had enough. I rode my motorcycle into someone's driveway and down the sidewalk to the next intersection where I rode up next to a big van that had managed to create a space to pass through the cross traffic. That got me past the major jam-up.
When I got to the park, I saw Charles and waved to him. I recognized him from the photos that he and Joe have posted online. We chatted a bit after I found a parking space and then had lunch (which was breakfast for me). Joe was out looking for new bearings for his bike's steering stem, so I might not see him. We walked around the neighborhood and popped into a couple of Internet cafes to see if Joe was there (or if he was online somewhere). When we stepped out of the last I-cafe, there was Joe's bike parked right there!
We still had to look around some, but we found him in a health-food store having a vitamin-enriched and protein-packed strawberry flavored something or other. He was with a guy he had met who had helped him find the bearings he needed and get his bike fixed. I only got to chat with Joe a short while, though, since I had lots to do yet.
Check out their ride report on Adventure Rider: http://www.advrider.com/forums/showthread.php?t=377792
I regret not having brought my camera along, so no photos. There's a decent chance that we'll meet again, since our routes are fairly similar in South America. (Edit: Yup, we met in Buenos Aires in late January.)
I left the guys and zoomed over to Bikers de Panama where I bought some oil. They only had synthetic, so that's what I got. I dropped my helmet in the parking lot before leaving, and broke part of the hinge assembly for the chinbar (the part that rotates up on a modular helmet). The hinge still works, if a bit sloppy, but it doesn't stay up well when I raise it. That will be an annoyance for the rest of the ride, I'm sure. I'll have Laurie order new parts for me and bring them when we next connect in Ushuaia or Buenas Aires. Or maybe she can ship them to a friend in Santiago, Chile. That's a thought.
It took a while to get out of Panama City. Again. On the non-toll roads, things were always bad on a work day.
I got to the airport cargo terminal in a light rain. The guard at the control shack (different guy than last time) wanted to talk about Barack Obama more than he wanted to see my ID card. Once inside the PACT offices, I met a Canadian couple who were researching their options for shipping their BMW 1200GS bike to Colombia. I told them what Jaime had found for us. They were leaning toward shipping their bike to Cali or Medellin, since that would get them into Colombia earlier and possibly let them get their bike from customs before the weekend.
After making reservation for our own bikes, I met them again in the parking lot and we talked longer. Again, I forgot to take my camera out. They have a website, YourMileageMayVary.ca in case you want to check out their travels. They might also be folks that we will run into again in South America.
I did some research on local cell phones that Don had asked me to do. He had decided to but a phone down here rather than buy one back in the States. Here, he can get an unlocked quad-band GSM cell phone cheaper, and he can get cheap SIM cards to plug into it in each country. That's the same reason I had gotten the phone I have, but I haven't bothered with other SIM cards yet since I am not using it much. I didn't learn much from the many, many cell phone vendors in Tocumen. Most didn't know much about the phones they were selling, some didn't seem interested in struggling with my bad Spanish. One guy showed me the best suitable phone that he had, which is the same model that he had on his belt. At least Don will have some choices when he gets here.
Back in the hotel's garage, I set about changing the oil on both bikes. I managed to make a small mess, but got most of it cleaned up. After a shower (I'm a sloppy mess after every work session in the garage/sweatbox), I went back out for another night on the town.
There's a nice small restaurant across the street. I asked the waitress what the best thing on the menu was (at least I think that's what I asked her), and she steered me to the fried fish. I have had beer here before but not eaten here. The beer I've had just came in a bottle, but this time she automatically brought me the beer and a glass full of ice. So, okay, the ice thing must be a regional thing.
I decided that since I was in Tocumen, I would do as the Tocumens did. Tocumens? Tocumenites? Tocumenistas?
Beer over ice is a minor variation. It did keep it cold longer.
The fish was crispy. Too crispy. It had been mercilessly deep-fried and was pretty dry. I'll try something else here, maybe, since this fish can't possibly be the best thing on the menu. Maybe I accidentally asked her for the most over-cooked thing on the menu. How do you say that in Spanish, anyway?
I wandered around the now-familiar neighborhood a bit. Nothing new. Another beer in the patio bar didn't even bring out the usual drunk gab buddy. Phooey.
I did notice that there is a carnival being set up in the field near my hotel. That might be fun in a day or two. About the time I'll be leaving.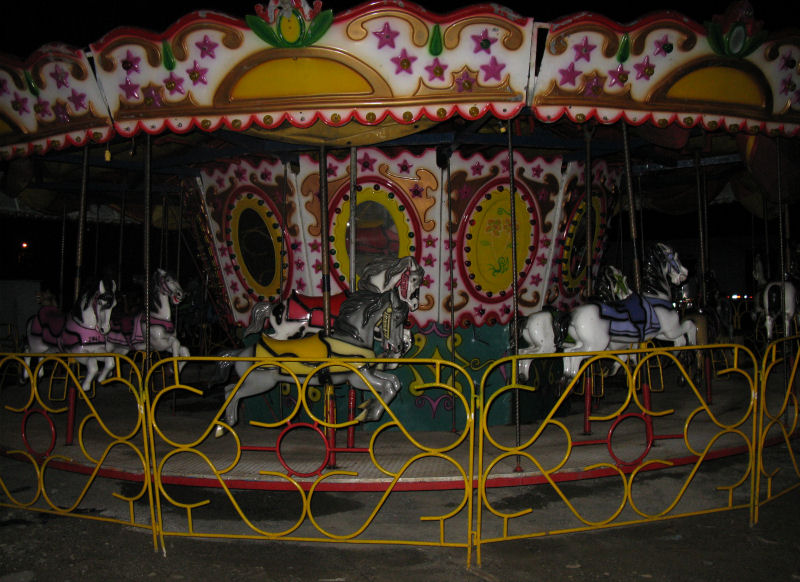 Wednesday, November 12, 2008
----------------------------------
I got up at about 09:00 and went to the cafeteria for breakfast. They had a more limited selection of food at this hour, but still there were several choices. I chose a couple of fried rice cakes (kinda puffy and chewy, like sopapillas) and what looked like a beef stew to go with them. That plus a large glass of fruit juice was $2.
I had taken the windshield extension and some other things with me when I went out to eat, so I went looking for a workshop that had a drill. The other place I had gone before was a few miles away and I didn't want to go that far (or to deal with Yimmy again). I asked at one repair shop and the guy sent me across the street to another shop. I went there and watched the repairman as he tried to fix something at the back of a yellow van. That's him (I never got his name) crouched down there.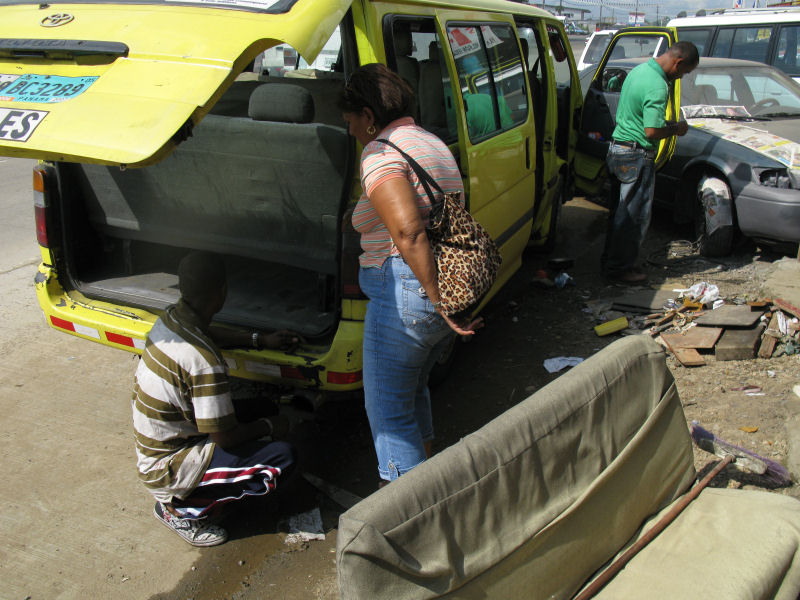 He agreed with the woman that something was wrong with something, but he seemed to be trying to tell her that he couldn't fix it. She kept insisting that he do something. She swore at him a lot, too. Maybe they were related.
Anyway, you see that scrap pile next to the van? The repairman went and rummaged through those bits of wood and metal and crammed some of it under the upholstered floor liner at the back of the van and pronounced it fixed. Maybe it was just rattling.
When he gave me his attention, I showed him where I wanted four more holes drilled in the windshield extension. (I wanted to be able to raise or lower the extension.) He kicked some things around in his tiny workshop and came up with a really sorry excuse for a drill. It had a small drill bit in it that was rusted in place. This drill probably hadn't been used in a long time. He took the 5/16" drill bit that I showed him, and then took a hammer and a bit nail and tried to get the drill chuck open. I took out the new drill chuck that I had bought a few days ago and gave him the chuck key from the package. He finally got the old drill bit out, but it took some work. He chucked in my new drill bit and hammered on the old chuck to get it unstuck so he could tighten it down. He never was able to get it very tight.
I helped him hold down the plastic to drill the holes, and I told him to drill slowly. He tried, but the drill bit was too loose in the chuck. Eventually he got the first hole drilled and it was a ragged hole indeed. But he learned, and the next one went better. He found that if he kept the drill speed really high, it wouldn't bind in the plastic and spin in the chuck. He was careful and got the hole done pretty well, going slowly through the plastic. He got overconfident and drilled too fast on the next hole and caused a couple of cracks. He saw that I was not happy, and the fourth hole came out well.
When it was done, I gave him the new chuck and the drill bit, and he didn't charge me anything else for his time. I hope he puts the new chuck on that drill before he uses it again. That might be in a year or two...
Back at the hotel, I tried switching the spacers (different lengths) and holes to see how it would work, but the curved top edge of the windshield was still a problem for the lengths of the bolts and spacers that I had. I got the extension lowered (albeit a tad crooked), so that was some kind of accomplishment. Those cracks were going to cause me problems eventually, though. I just knew they would.
I took my helmet's modular chin bar off and looked at the damage. One piece of white plastic in the inner hinge assembly had broken off on the right side of the helmet. That's the broken bit there near where it was supposed to be. When the chin bar is rotated up, the missing piece allows the hinge to come out from behind that black retainer projection.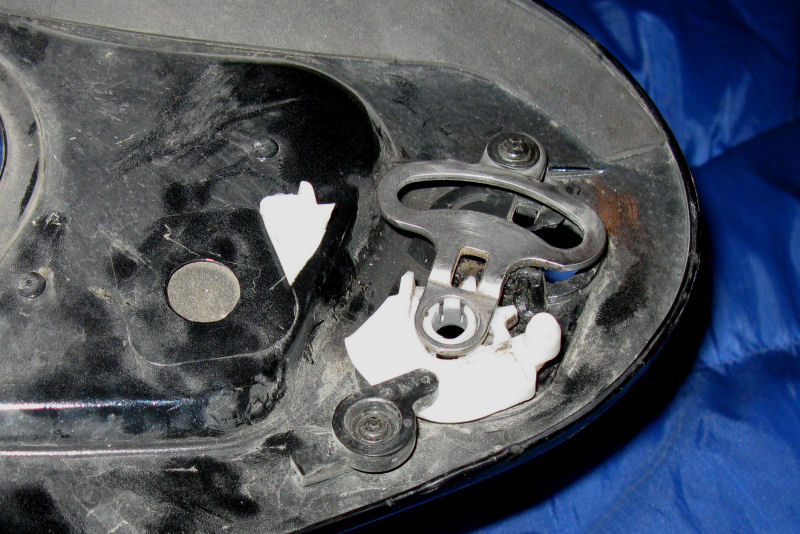 It would be replaceable, but I thought I'd try fixing it. I carried some QuickSteel and QuickAluminum epoxy putty on the bike, and I figured that I would be able to attach the broken piece by surrounding it with the epoxy putty. At worst, I might be able to fashion a replacement piece for the piece that broke off. I wasn't sure the epoxy putty would stick to the plastic (looked like nylon), so that might be a problem.
After an hour of getting the parts epoxied together, I let it set up for a long time. That stuff starts getting hard within a few minutes, and is supposed to be hard as metal in a few hours.
I spent those hours practicing with the Spanish workbooks that I had with me. I wasn't sure that I was getting any better, but it helped pass the time and might sink in at some point.
This was my hotel room. The TV rack made a nice place to hang laundry to eventually dry in front of the air conditioner.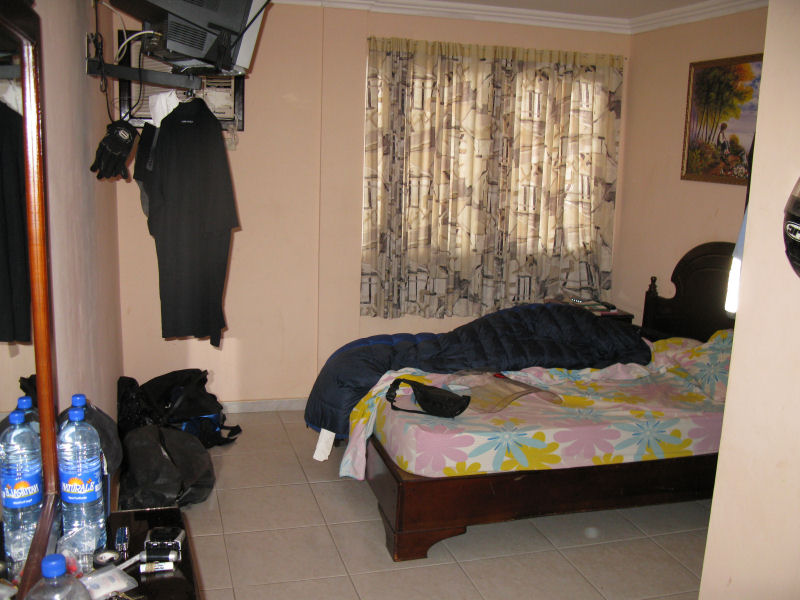 I needed to be at the airport to meet Don in a few hours, and there was nothing left to do today until then.
Meanwhile, after hours of setting up, the helmet hinge fix failed immediately when I put it back together. As soon as I rotated the chin bar up, the broken piece popped off. Maybe I could reinforce that joint better next time.
It rained twice during the day, both times were heavy, violent rain. Both times, it was over quickly.
I had a heck of a time getting the clerk to understand that my friend would be arriving later tonight and that I wanted to move to a double room, with two beds. She had to make a couple of phone calls to someone (the main manager, probably), and after more strained negotiations, she finally agreed to let me move to a double room. What actually happened was that I was moved to the room across the hall from the one I had been in and a folding bed was rolled in and set up in the room. Well, I asked, why not just put the folding bed in the room I had already been in? She told me that this was a better room, but it looked a bit smaller to me. Oh, well. I was charged $75 for three nights in the "double room," so that was okay.
I headed for the airport right at 19:00. Don's flight was to have landed just before 19:00, but it wasn't listed at all on the Arrivals screen. Laurie had flown in on this same flight, and her flight arrival information had displayed for more than an hour after the plane landed. I asked at an information desk and was assured that the plane had landed already. There was no one at the Continental area in the airport. I called Laurie at home to have her get online and see what she could find. She called me back and told me that the Continental web site showed that the flight had landed already. Okay. Why it wasn't listed on the Arrivals screen is yet another mystery.
I waited ninety minutes before Don came out of the customs clearance area. No one had asked him about the motorcycle tire that he carried with him (wrapped in cloth, duct tape, and rope), so he paid no import duty on it. There were other interesting passengers on Don's flight. Jesse Jackson had been on the plane, but had been whisked away from the other passengers when they landed. Much more interesting was the gaggle of large-breasted women who were traveling with a camera crew. I (and everyone else) just stared as these impressive beauties strutted around the terminal before being herded off by a manager-type of guy. The camera crew followed with several large boxes of equipment. I had a camera but I think I must have been hypnotized by all the silicone.
Don took a taxi to the hotel and I followed on my bike. We got settled in and then went out to walk around Tocumen and get something to eat. The restaurant I took him to had been nice and quiet before, but was very boisterous that night. The jukebox was loud, out-blasted only by a really loud guy sitting with others at one of the tables. Fortunately, the human fog horn left and things got quieter. We wandered down the street looking for dessert, and since the place I preferred was closed, we headed for another bakery.
Back to the room, then, and we were ready to call it a day. It was about midnight when we finally crashed.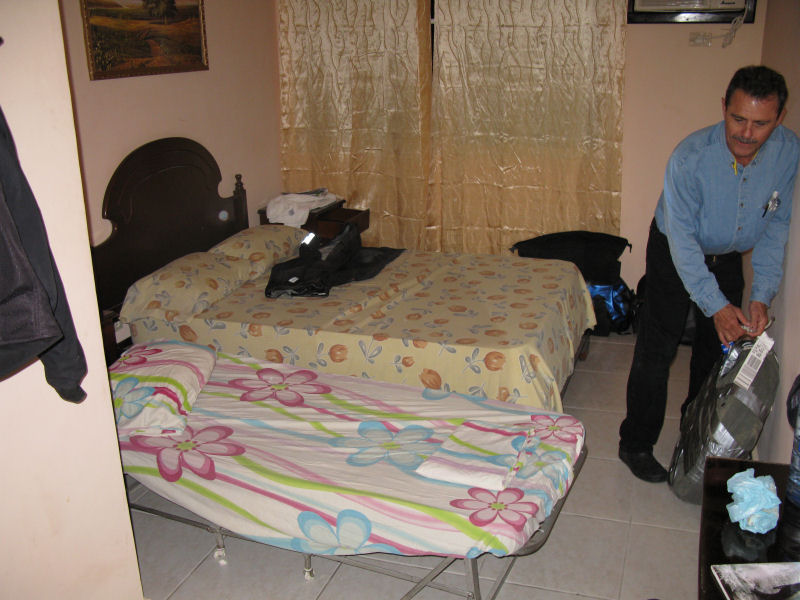 Thursday, 13 November, 2008
----------------------------------
I've changed the was I write the date, since this format is the way it's done down here.
We got up at about 08:00, eager to work on the bikes before it got hot in the garage. We were disappointed to find that it was already hot. We spent a while deciding what to ship with the bikes and what to take with us on our flight on Saturday. Anything that goes with the bike will be unavailable to us over the weekend in Bogota. Don strapped his new tire to his bike and we were off.
We stopped at the Super Xtra cafeteria for breakfast, then went to the same tire shop that had patched his tire last week. They quickly mounted the new Continental TKC80 tire that Don had brought.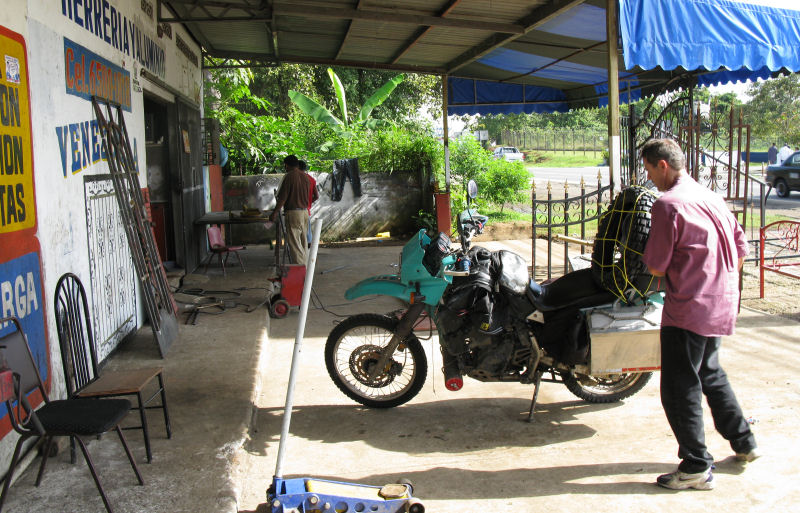 We still had a couple hours before we needed to drop the bikes off at the cargo terminal, so we went phone shopping in one of the strip malls. There were at least six cell phone stores here.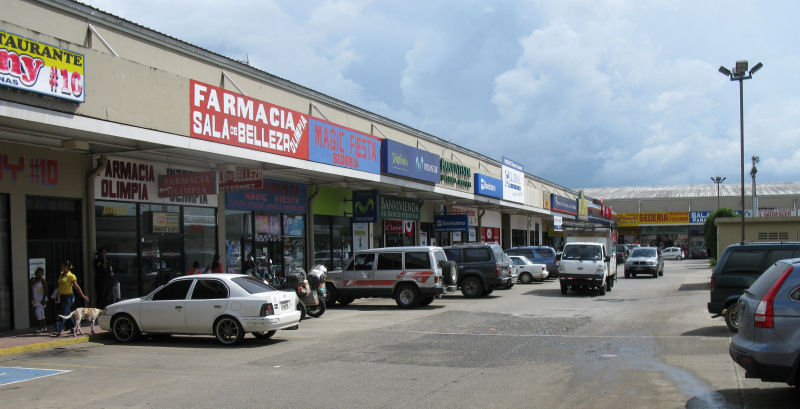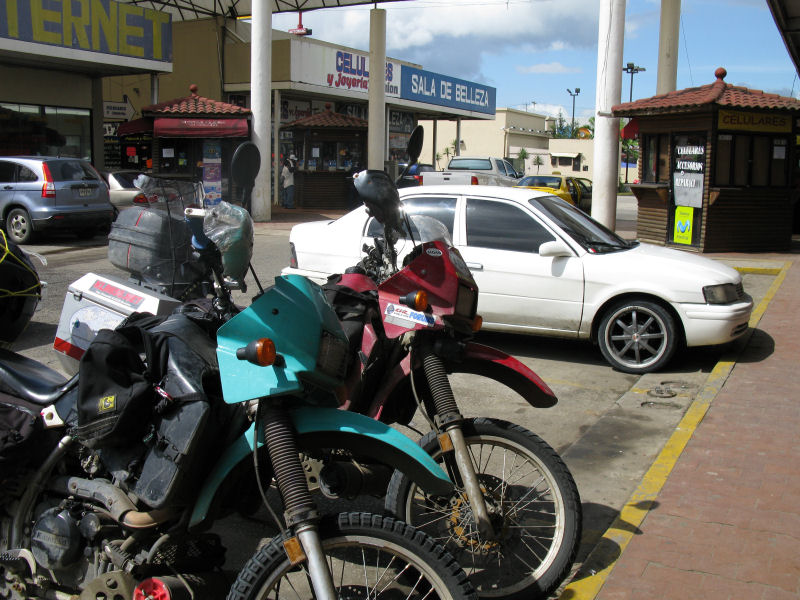 Don's cell phone was still dead from the La Bufa drenching. He had considered buying a new phone while he was back home, but he decided that he would have a better selection of quad-band, unlocked GSM cell phones down here. He talked to a phone salesman for a while and we looked at a couple other shops, but he wanted to do some more research before buying a phone.
We rode to the PACT cargo terminal at about 10:30, just as a mighty rainstorm came through. The PACT agent in the upstairs office delivered us to the cargo loading area, and we were directed to ride the bikes into their warehouse area. We then got to work.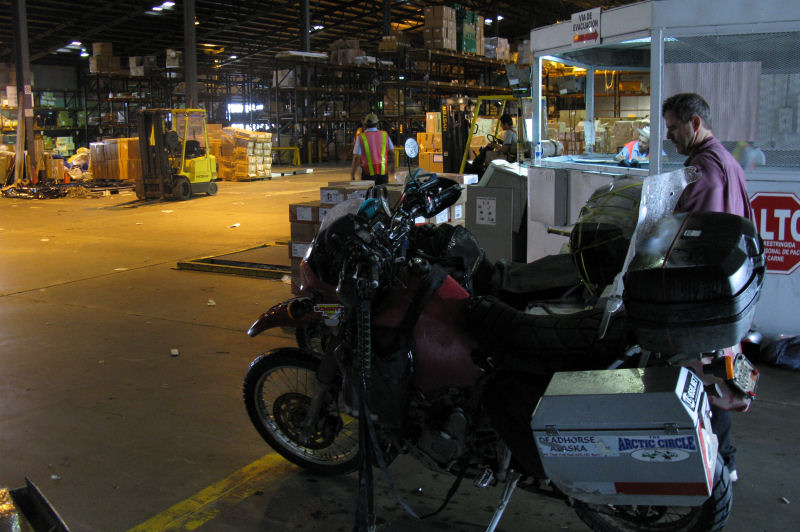 We knew that we would have to remove the windshields and mirrors, so we did that. We also emptied the soft bags but left them on the bikes. We each strapped the windshields down on the seats and wrapped them with wire cable that we locked down to secure them. After we had this all set, the loading agent reminded us that we had to disconnect the batteries. Fudge.
Undoing everything, disconnecting the batteries, and getting it all back secured took a while. It rained again while we worked, and the humidity level stayed high. I was soaked with sweat the whole time.
We filled out several forms, some in duplicate, and filled in the rubber-stamped forms on the back of each form. We then filled them out again after they corrected the spelling on each of our names on all the forms. It took them several tries to get each of our names correct. Then we filled these all out again after it was discovered that the wrong shipment numbers were on the forms. That took a while. The only person working at the computer was a cute gal, and she worked non-stop, even after her lunch was delivered. The Styrofoam containers sat on a desk for a long time while she worked on our shipments and a few others.
When things were about ready, we took photos of our bikes (in their pre-shipment condition) and the cargo supervisor did the same. When we asked her to be sure that nothing was strapped over the windshields that we had put down on the seats, she assured us that the bikes were going in boxes and that nothing would be strapped over the seats.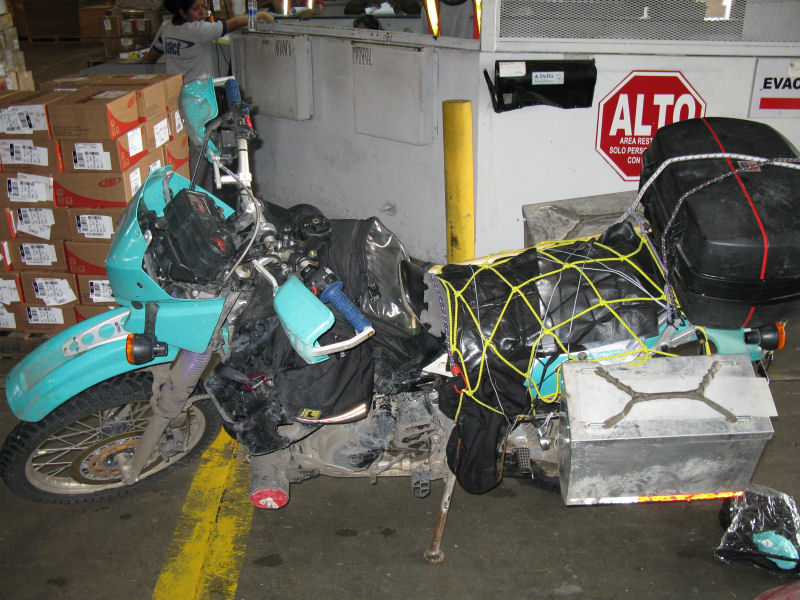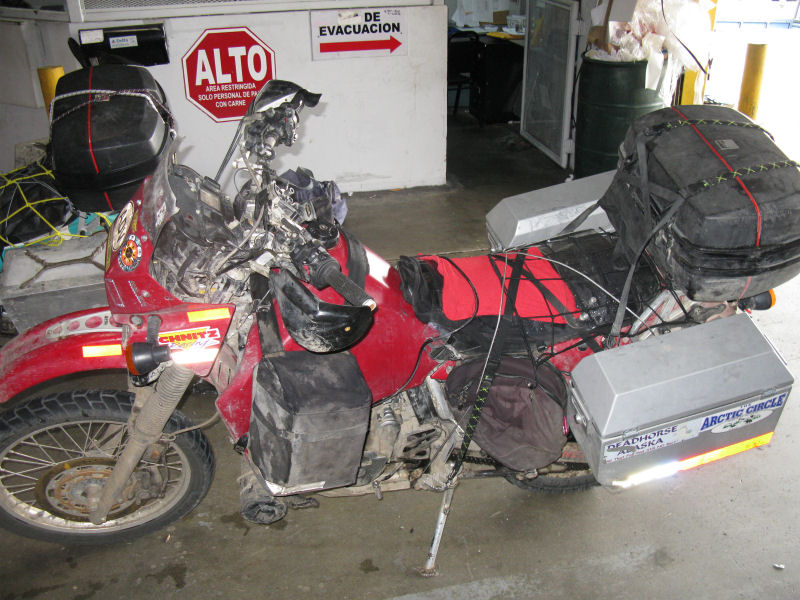 Boxes? We had been told (and I had heard from others) that the bikes would be strapped down to pallets and shipped like that. I guess we'll see.
We were each given a shipping label to put on the bikes. I was concerned about putting the label over the other stickers and decals that I had on the bike, but the loading supervisor told us to put the labels on the farings, so that's what we did. When I asked her if the label would come off (which I considered a good thing), she said, "Oh, no," and shook her head as if to assure me that the label would never come off. Great.
The cargo supervisor on the left, the computer gal and one of the guys who was moving stuff around there in the photo also.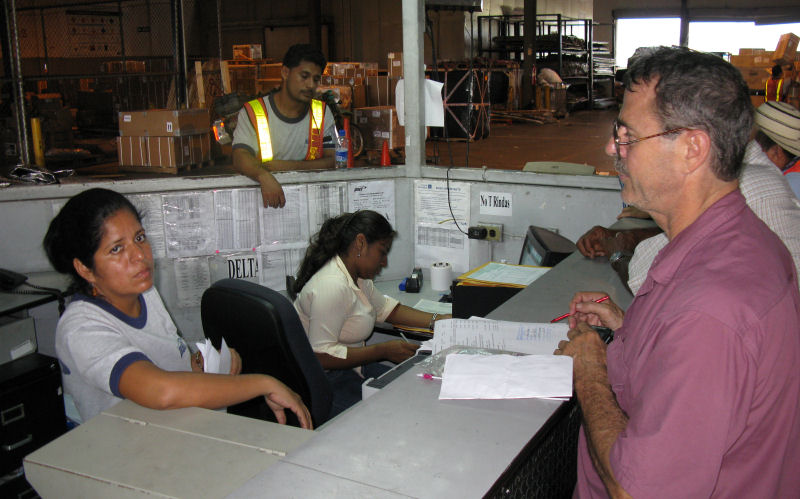 When the bikes were done, they had us roll them onto scales to be weighed. My bike weighed 276 kilos (607 pounds) and Don's bike came in at 251 kilos (552 pounds). I had more accessories on my bike, a heavier seat, and probably more tools.
They had us roll the bikes off to one side of the warehouse and that was the last we saw of them that day. It took a while longer to finish yet more paperwork, and the language disparity certainly caused much of the delay. They needed to see our passports and another form of photo ID (since they needed to see our driver's licenses anyway, that worked fine). We gave them copies of our passports, bike titles, etc, but I don't remember if they kept those or gave them back.
We were then led to the final office where it was discovered that all of Don's forms had the same shipment number as mine. They called the cargo supervisor to the office where she got a tad miffed at yet another error. She took Don back to the warehouse to fill out new forms. He looked so sad walking away.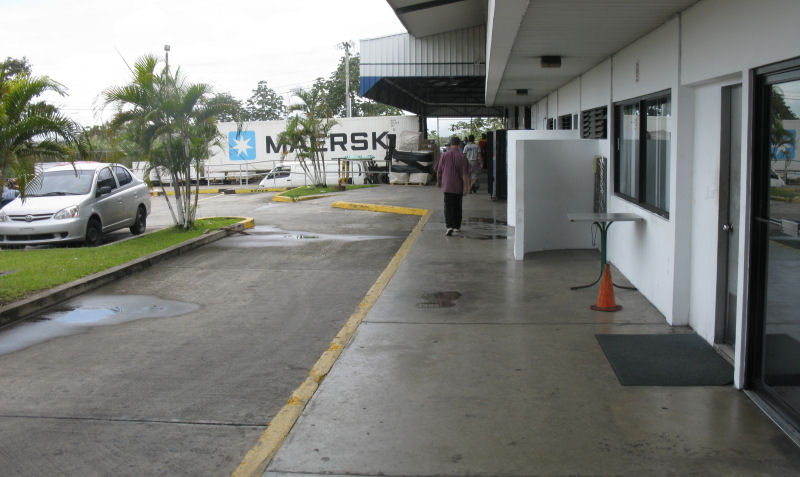 The cargo supervisor had muttered something about the system (or the computer program) being new, and they were still getting used to it.
When Don returned, we were charged $628 each (and they accepted our credit cards!), and they gave us several copies of the shipment forms for customs.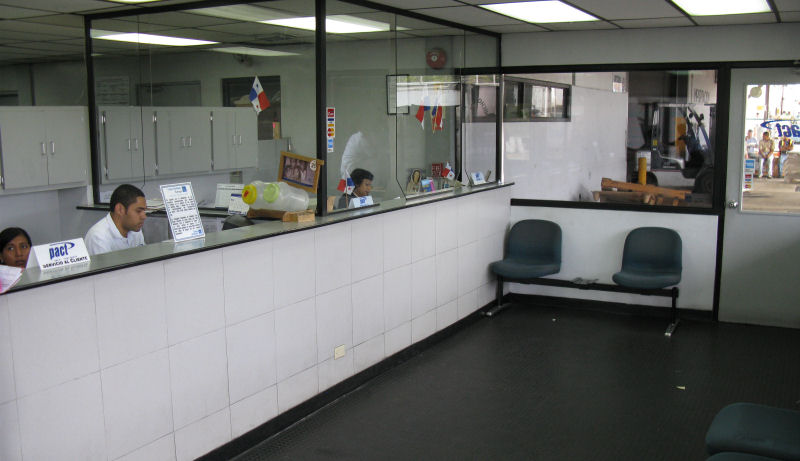 Then we were done. Suddenly we were done. Done! It had taken four hours to "drop the bikes off" at the cargo terminal. Half of that time was spent on paperwork.
We had them call a taxi for us, and we had the driver stop at the outermost customs (Aduana) control building as we left the cargo terminal area. Jaime had told us that this is where we officially exported the bikes out of the country. We handed our bike shipment papers to the friendly customs agent there, he stamped and signed them, handed them back to us, and... that was that.
We had been prepared to spend some time here, but it took maybe two minutes. Done.
The taxi took us back to the Super Xtra store and we went into the cafeteria for a late lunch. We got my laptop from the hotel and walked down the street a short ways to a shopping center that had several phone stores and Internet cafes. Don found out what phones each store had that were acceptable to him, then we went to an I-cafe and went online (80 cents per hour, fast Wi-Fi connection).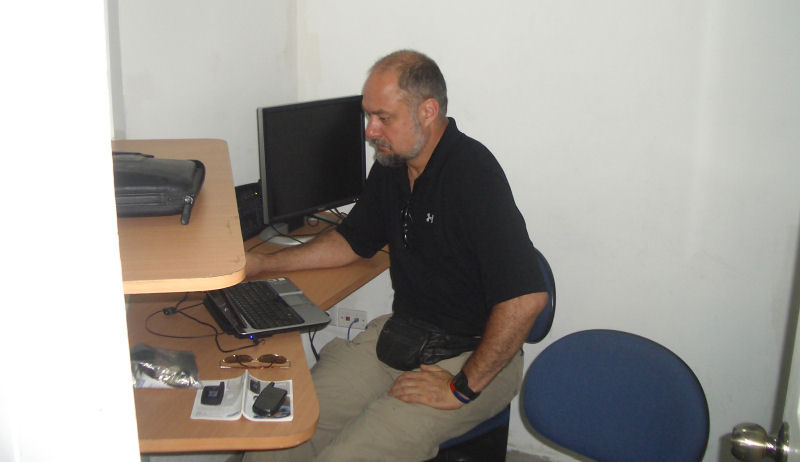 After he made up his mind, we went back to one of the stores and he bought a phone. He also got a SIM card and paid a bit to get it "charged up" with more minutes.
Out last errand of the day was done. We had nothing else to do today, and nothing to do tomorrow except get our carry-on and checked luggage sorted out.
With Don's new phone in hand, we went back to the cafeteria to relax and play with the phone. I realized that I had left my laptop computer in the phone store and hurried back there to find that it was right where I had left it. That was a relief.
We weren't able to get the phone display in English, so Don took it back to the guy who sold it to him, and the guy got it set up in a few seconds. We must have missed something in the menus.
Don was able to call his wife's cell phone, but she was never able to call him back. Something in the international dialing codes, I suspect. I called Laurie and had her Skype Don's cell phone and that worked fine. Bev will get it figured out at some point. Cell phone in Panama have an eight-digit number and the first digit always seems to be a six. Laurie had simply had Skype call Panama (and Skype knew that the country code for Panama was (+507), and then the 8-digit number. Easy as that. Direct dialing from another phone seems to be different, though.
Still too early to call it a day, we went to my favorite patio bar for a beer, but we didn't stay long. The ceiling fans weren't on and the jukebox was way too loud today. Back to the cafeteria, which was simply a nice place to hang out.
After a while, we roamed around the area a bit and got some roasted chicken from a road-side grill. Half a chicken was $2.50, and it was very good. We took the chicken with us, and with some sodas and a few pineapple strudels from my favorite bakery we were all kinds of happy.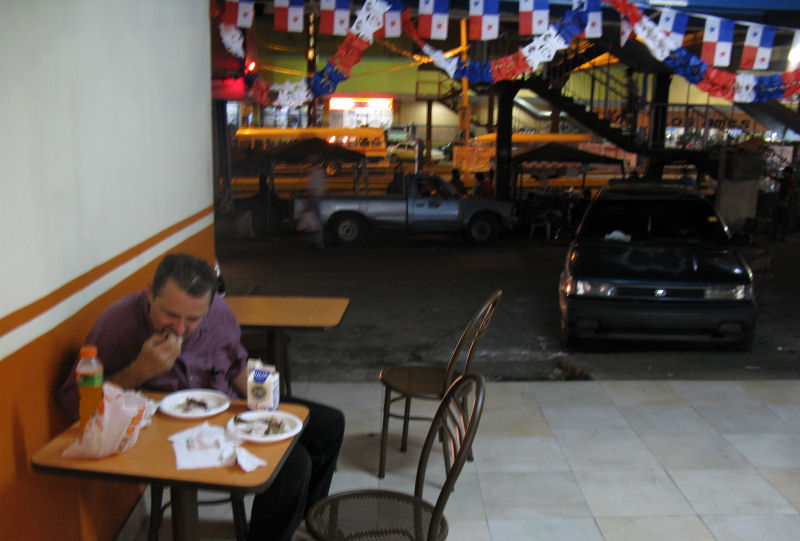 These strudels were the perfect combination of crispy and chewy, had very nice pineapple filling, and were cheap. The shop was out of the cherry ones, which were also very good.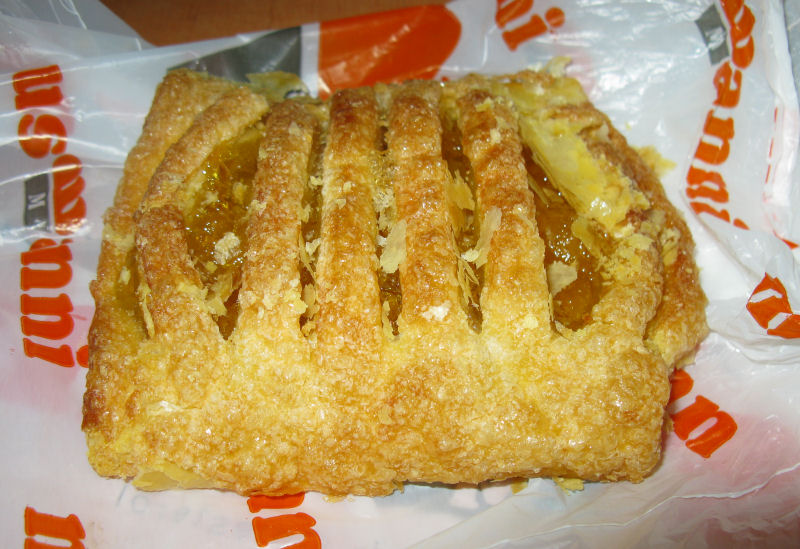 I threw the scraps from our chicken into the parking lot to feed the feral cats that haunted under the parked cars. They probably got more food from that feast than they had gotten all week.
On the elevated walkway over the main road, we stopped to watch the traffic and enjoy the nice breeze.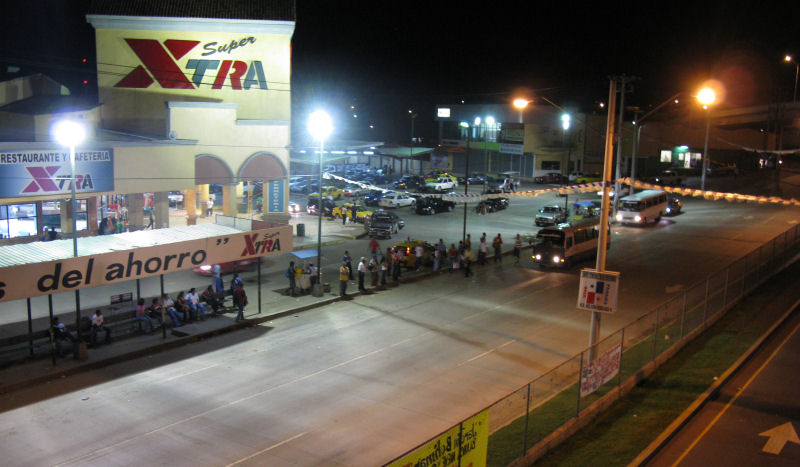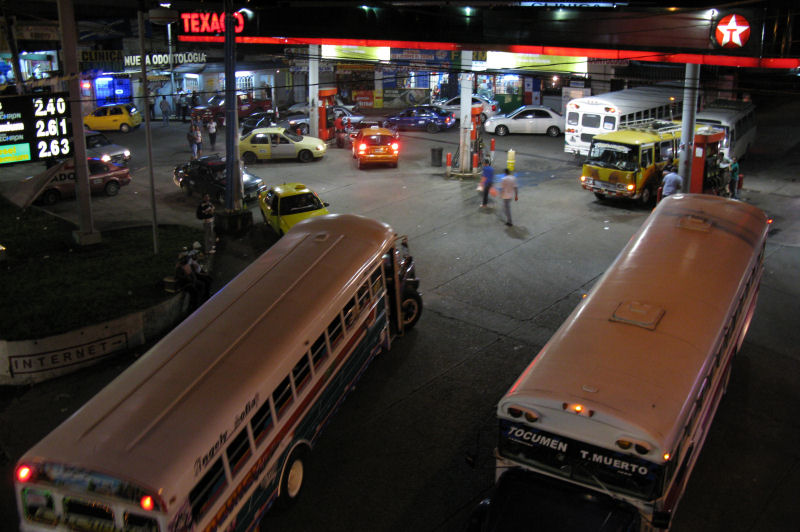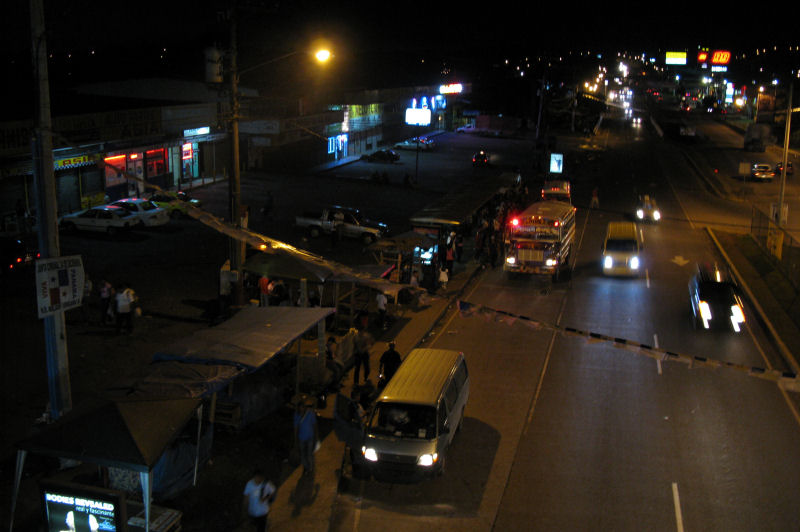 More of the in-coming carnival had been set up, and I couldn't test-riding the duck before getting back to the hotel.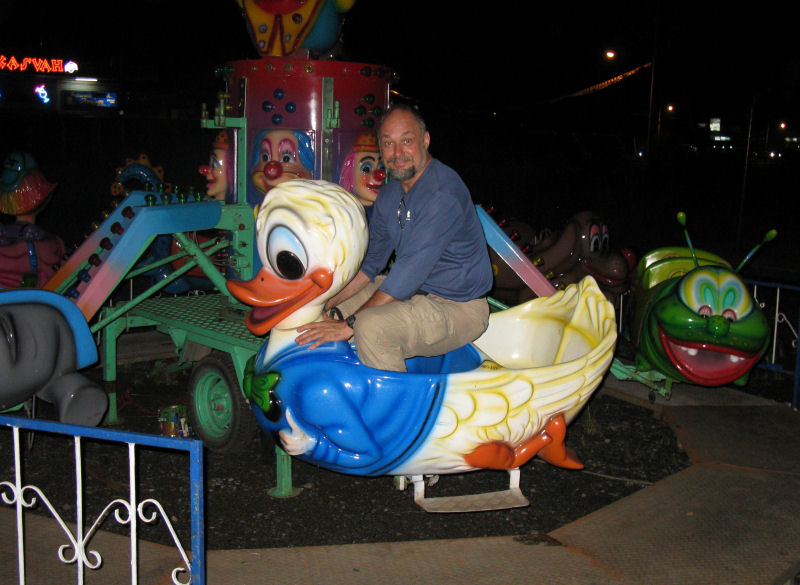 I wrote for a while, Don slept. Bev finally got Skype to connect to Don's cell phone at about 00:35 (our time), so that was good. They talked a short while, then Don fiddled with some of the phone settings, and the day was finally done.
Friday, 14 November, 2008
-------------------------------
We slept in late since we had nothing to do today but get our carry-on and checked baggage separated.
Don's new phone kept ringing, but we couldn't figure out what it was doing. He had problems with the SIM card's PIN, and it seemed that the phone had a mind of its own. The phone could be set for English, but every message that came through the SIM card was in Spanish.
After breakfast, we took some laundry to one of the laundromats, but all the machines were full. I had my laptop computer with me, so we diverted to an Internet cafe where we spent a lot of time online. I printed the Copa E-tickets, we made Skype calls, handled email, and I got a report update uploaded. Back to another coin-op laundry.
This laundry had a few machines available, so we loaded one up and took turns walking around the local shops while the machine slowly (as in very slowly) filled up.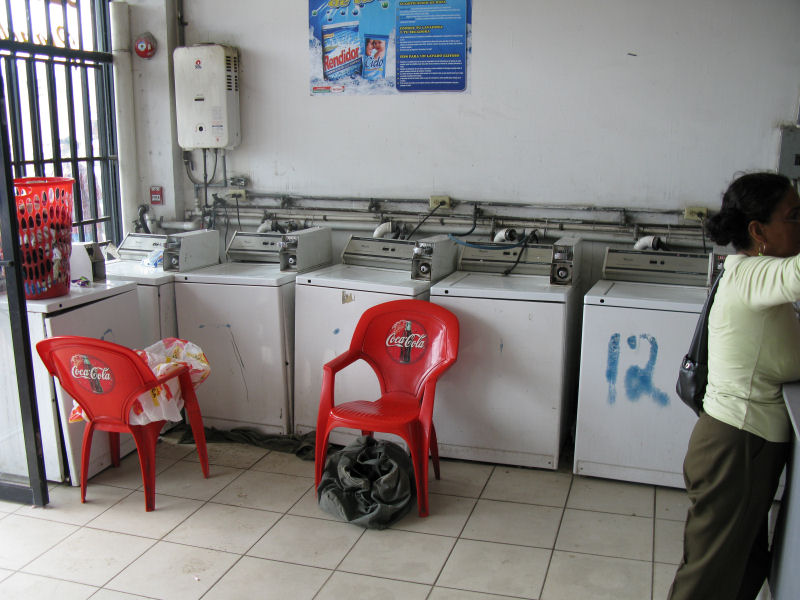 There was one huge industrial dryer and two small dryers, so we threw our stuff in the big one and inserted fifty cents. One of the employees came along with a lighter and lit the gas burner every fifteen minutes when we added more coins. After a while, we decided that the monster dryer was really good at making noise, shaking a lot, and heating the room. It wasn't doing much else. The problem was probably that lint clogged everything and there was no airflow through the darned thing. We eventually gave up on the big tumbler and threw our clothes into a small dryer that finally did the job well enough.
Back in the hotel room, we lazed around until we were hungry again. The cafeteria had some nice stuff, and there were always a few new items on the steam tables. We ended up at the strudel bakery again.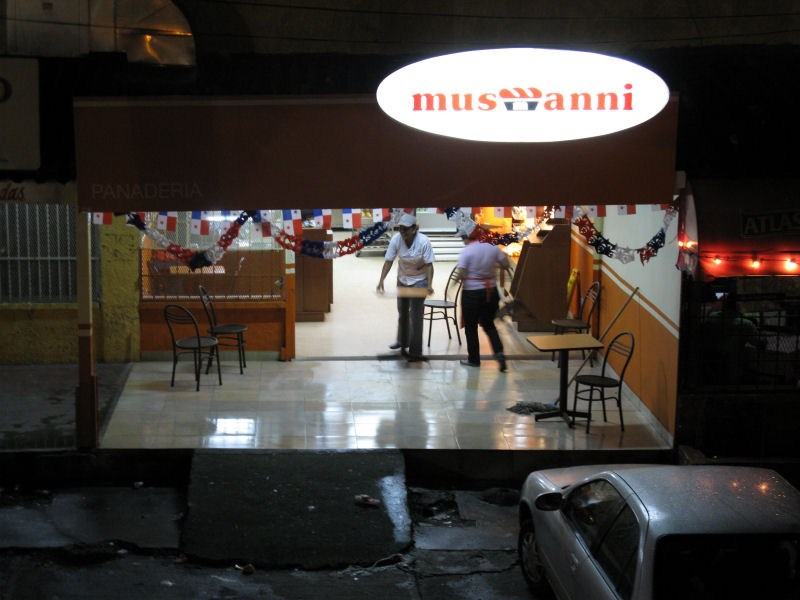 When we got back to the room, the air conditioner was dead. That was not good. Walking around in Panama got you into a sweat right away, and sleeping in a hot, muggy room was going to be uncomfortable. After a while watching TV, I went down to the office and asked about the air conditioner. The gal in the office looked confused for a moment, then flipped a switch on the wall and told me it was okay now. Maybe the 220-volt breaker switch had flipped. Anyway, the AC was working when I got back to the room so we were saved.
Saturday, 15 November, 2008
-------------------------------
After breakfast, we added a couple more strudels to our bellies and Don went shoe shopping. His tennies were getting worn and slick, so any cheap shoe with a decent tread would do. He didn't find what he wanted here, though. We saw a guy tying live crabs to a rope made of bark, displaying them for sale.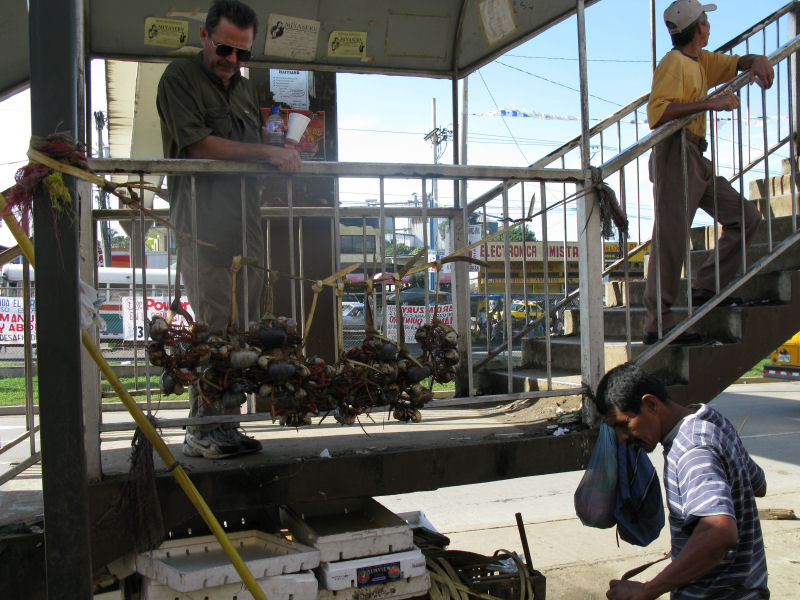 We packed up and caught a cab to the airport where I had my two soft bags (both checked luggage) wrapped in plastic. That supposedly makes them more secure.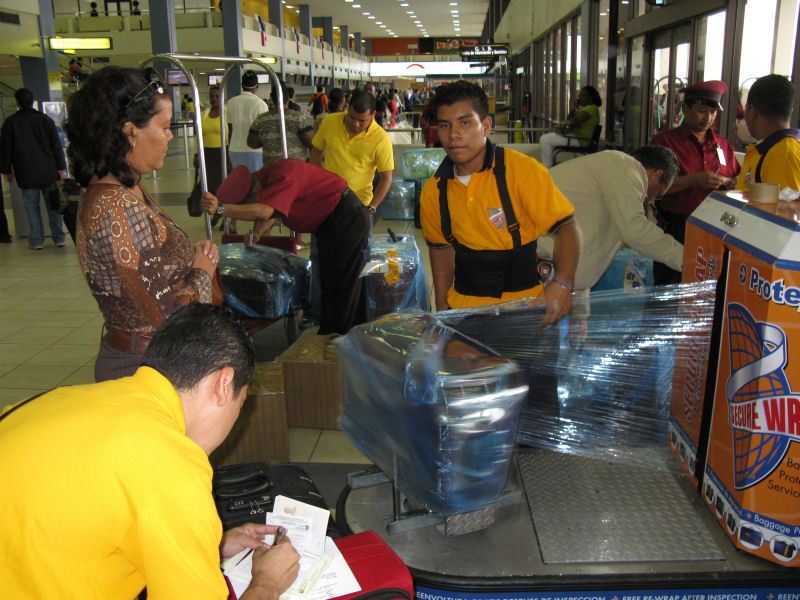 Getting through the airport and onto the flight was easy and like any other airport. I lost another small knife from my carry-on bag that I forgot I had. That was typical for me. The flight to Bogota was a little over an hour and they managed a lunch service on the plane that was very efficient. A nice grilled sandwich, chips, chocolate, and a soft drink.
We were done with Central America.
<< Link to PREVIOUS report: Mexico Down >>
<< Link to NEXT report: Colombia >>
[ ERRANT-RONIN HOME ] [ Prudhoe Bay to Ushuaia Home Page ] [ Ride Reports Home Page ]