Part 14. Chile Again Down
===================
Saturday, 27 December, 2008 (continued)
-------------------------------------------
Back into Chile, then.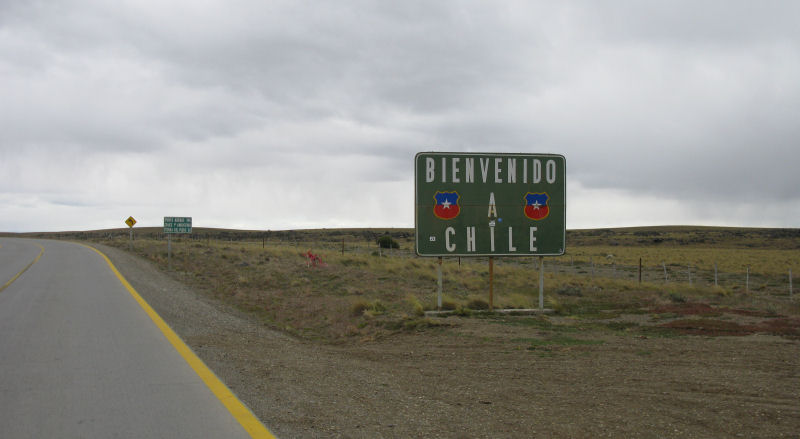 It was a short distance to the Chile border control. Again, we parked with the other vehicles and went inside.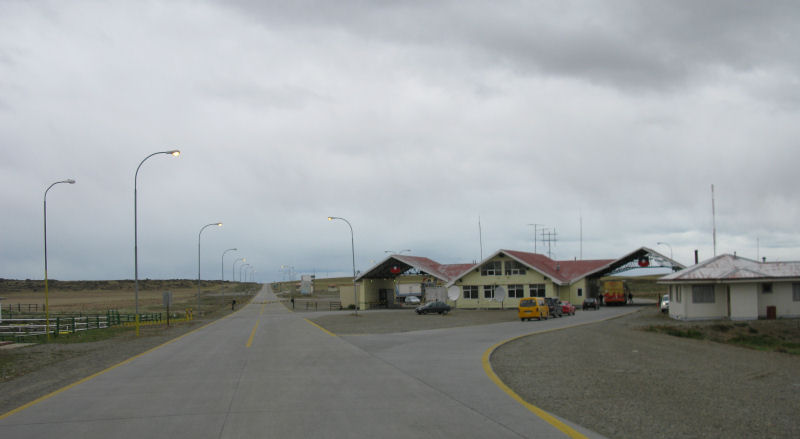 We filled in one form at the Immigration window and got our visas stamped, slid down the counter to the Customs window and filled out another form and got the bikes imported, then slid down again to the inspection station. There was a conveyor-fed scanner, but the agent there sent us out to our bikes where another agent was supposed to inspect our bikes. All he did was ask us about the bikes and our trip. Then he waved us on. I suspect that they have inspected enough bikes to know that they never have anything worth worrying about.
The toilets here required us to pay a small fee, and they accepted Dollars or Pesos from Chile or Argentina. It was only about 30 cents.
As soon as we rode from the border control point, the road was much better. This was clear, new concrete roadway. Very nice.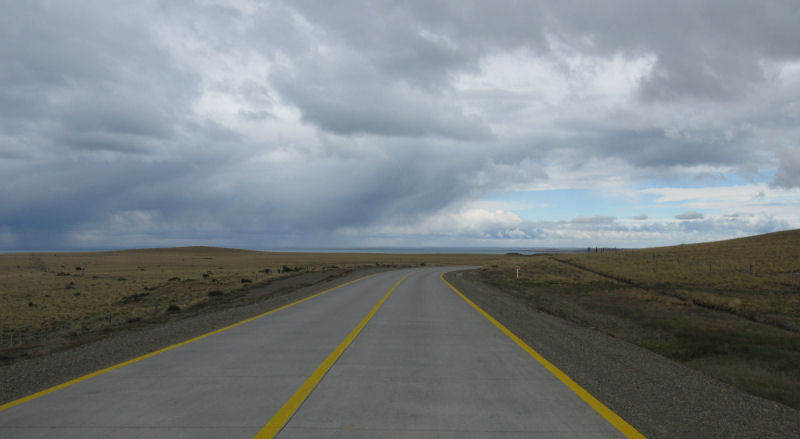 We got our first view of the Strait of Magellan, which we paralleled for a while. There was a large rainstorm over the water, and we didn't like how it looked. As it turned out, we avoided that storm, but we did get drizzled on briefly. It even snowed and hailed on us in a small fit of weather, but only lasted a couple minutes.
We also got our first view of Tierra del Fuego across the water.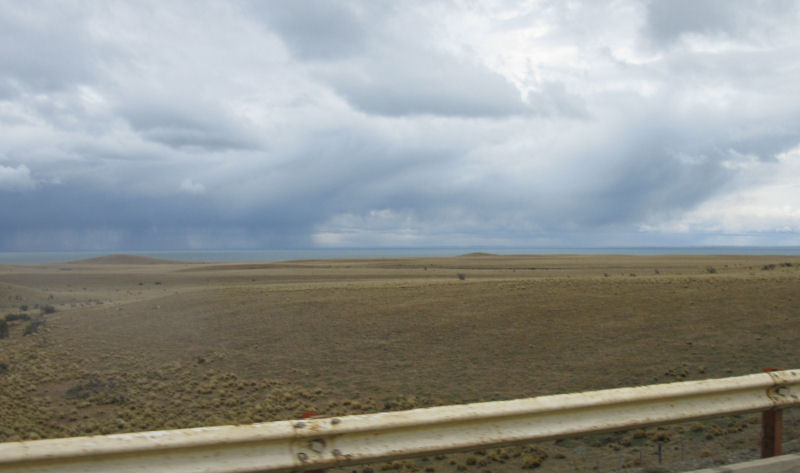 Don's speedometer/odometer stopped working along this stretch of road. Maybe the cable broke. It's happened to me before. I carried a spare, so it was no big deal.
We got to the ferry pretty quickly and got in line behind lots of other cars and trucks. The boat docked soon after our arrival and the off-loading vehicles drove past us. Nothing happened after that, so I walked up to the front of the line to see what was happening. What was happening was that the crew was taking a break, and I learned that they would leave on the hour. It was a little before 13:00, so we had some time to kill.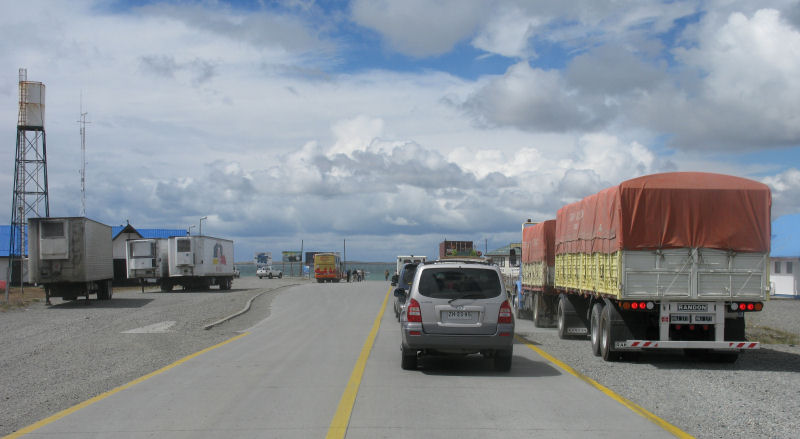 Speaking of killing, I was almost killed by a vicious wild beast.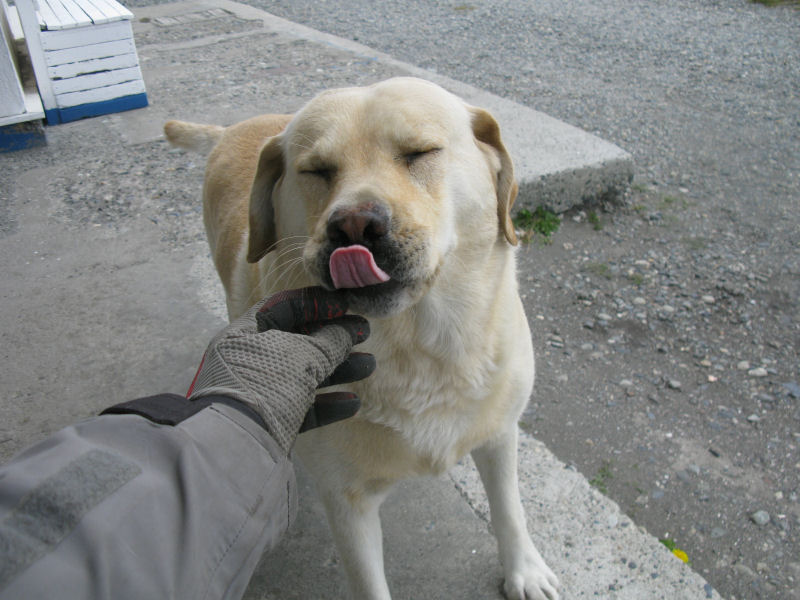 I met the horrid creature at the restaurant there by the ferry dock. It wore the guise of a huge Golden Lab, but it had a layer of blubber like a walrus. I supposed that it had already eaten the last person who had taunted it as I did, so its hunger was sated for the moment. I'm sure that I only narrowly escaped with my life. Anyway, it slimed my glove.
And then it plopped back down by the door to lie in wait for its next hapless victim.
The ferry started loading soon after I got back to my bike. Some cars were put on first, them all the big trucks, then everyone else. We were among the last to load, and the loading crew directed us off to one side. I saw a lot of people crowding into a cabin, so I went to look. It was a cashier's office, and most of the other drivers were paying a fare. I got in line, too, but when my turn came and I said that I needed to pay for two motorcycles, the cashier talked to someone else briefly then waved me off, saying there was no charge. I still don't know if we were supposed to have paid passage and got a favor or if we hadn't needed to pay in the first place.
I walked around and took some photos while Don waited with the bikes. It was a little choppy, and the bikes rocked a lot, so they needed to be watched. On the top observation deck, people were being tossed back and forth. Much rougher and the bikes would have needed to be tied to something.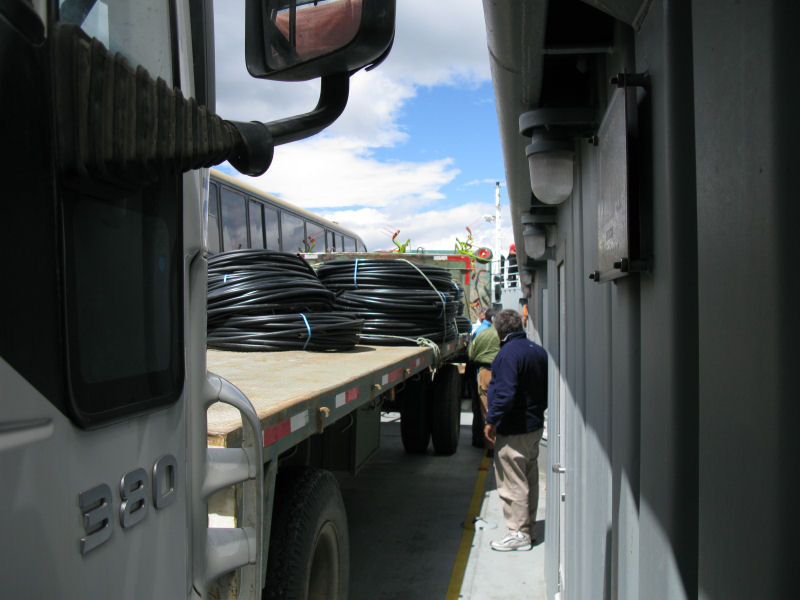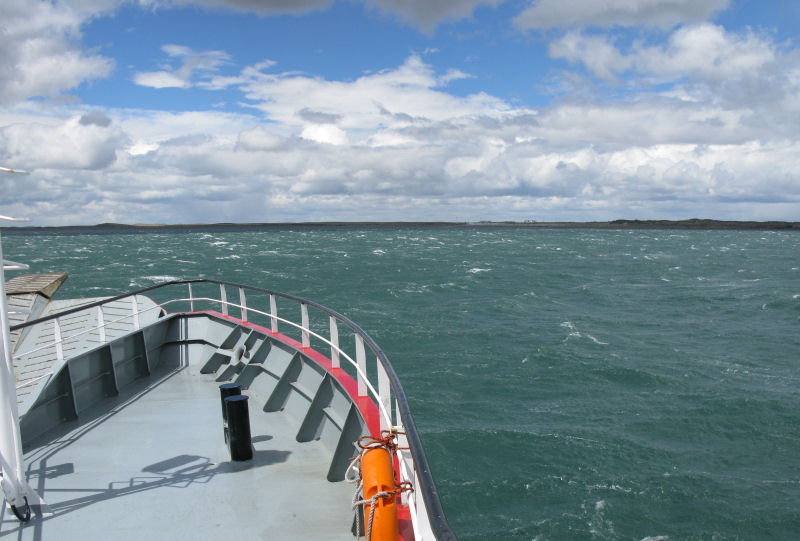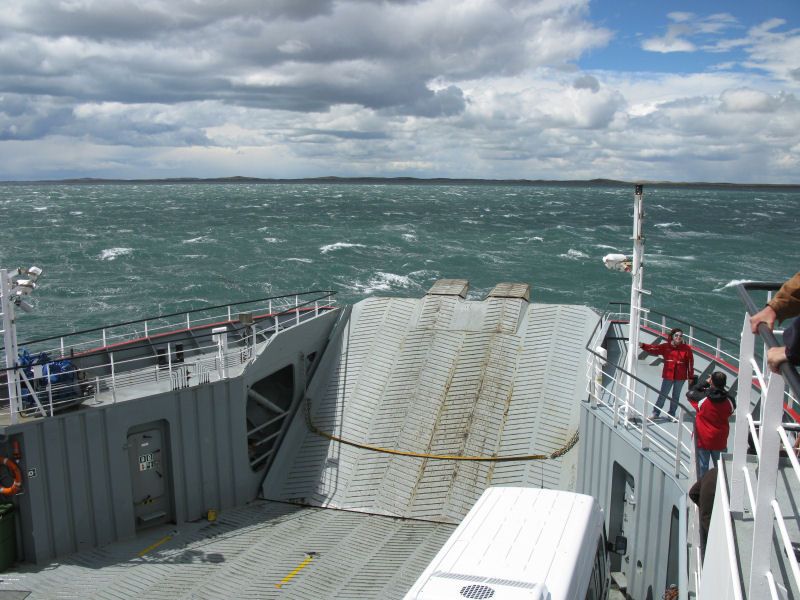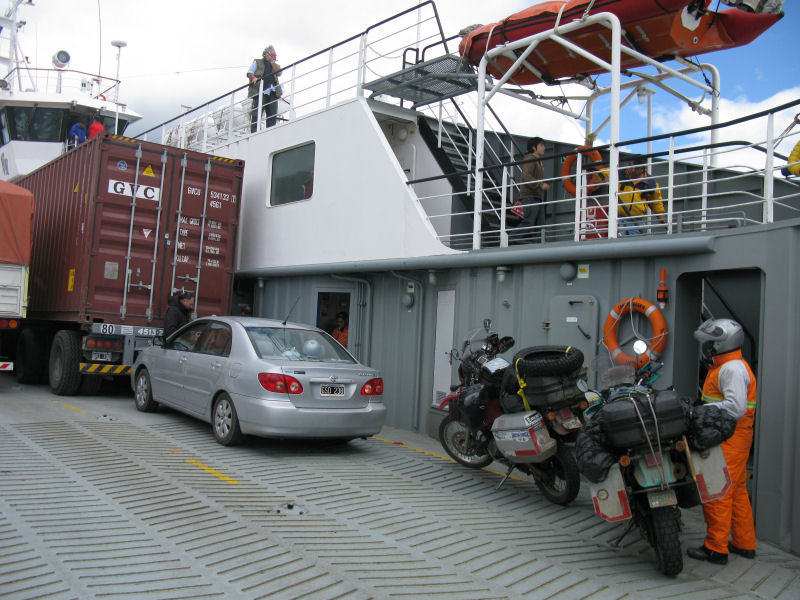 Don then wandered off while I stayed with the bikes. It did get rougher as we neared shore, and a deck hand came and helped me keep the bikes from tipping over. The crossing took about twenty minutes, and the off-loading went very fast. Coming off the ramp was tricky, because as soon as you cleared the hull of the ferry, the wind knocked you sideways and you couldn't maintain your intended path down the ramp. It wasn't hard or dangerous, really, but it was unexpected.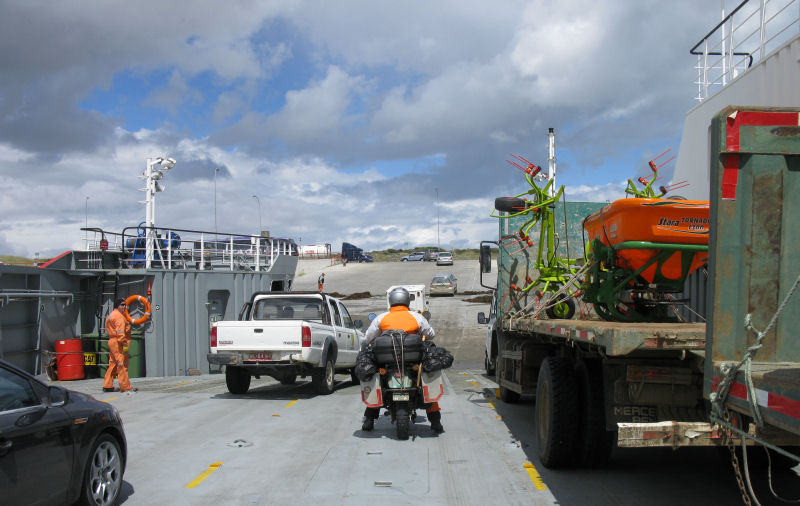 We were then on Tierra del Fuego.
It looked like this for a while. Still in the Chile part, so the road was good here.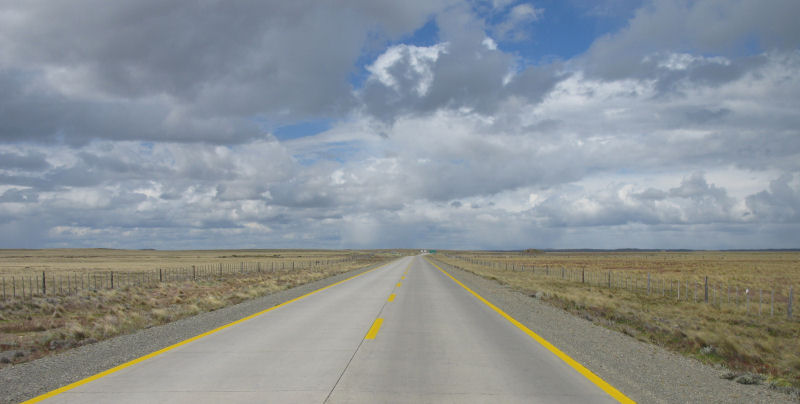 It was colder. We saw more small herds of llamas or alpacas. They were bigger than we had seen before.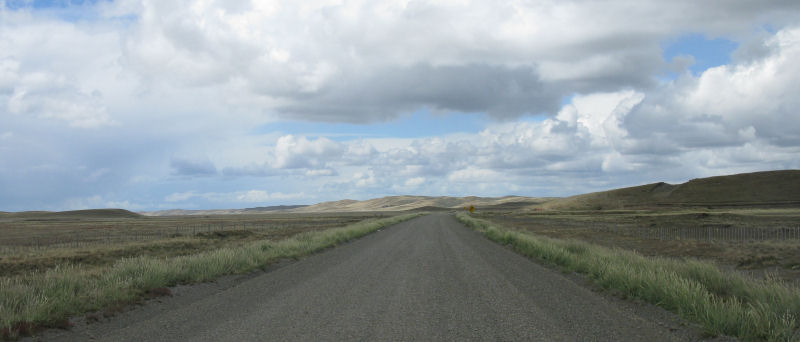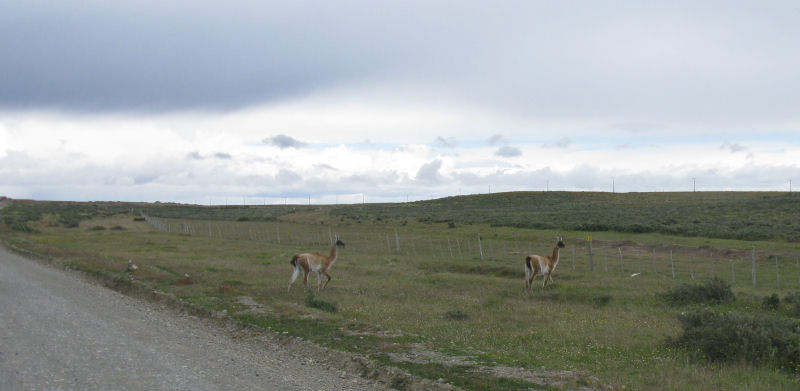 The gusty wind beat us up for a while, and we were glad for the east-bound sections that gave us a tailwind. When we got to the turnoff to Cerro Sombrero, the pavement suddenly ended. I suspect that they will continuing paving in the future. The 60 miles of gravel road wasn't terrible, but the wind made it tricky.
We got to a worse section of road and really had to slow down. Then we encountered a road grader and that made everything even looser. A few on-coming cars were on our side of the road, and when they saw us, they had to cross the ridge to their side of the road. The road graders in Canada and Alaska always meant that the road was going to be worse for motorcycles. They were harbingers of peril.
Just before getting to the border back into Argentina, we got to San Sebastian, Chile and found a nice restaurant. I had the lamb. It was a bit too rare for me, but I was hungry.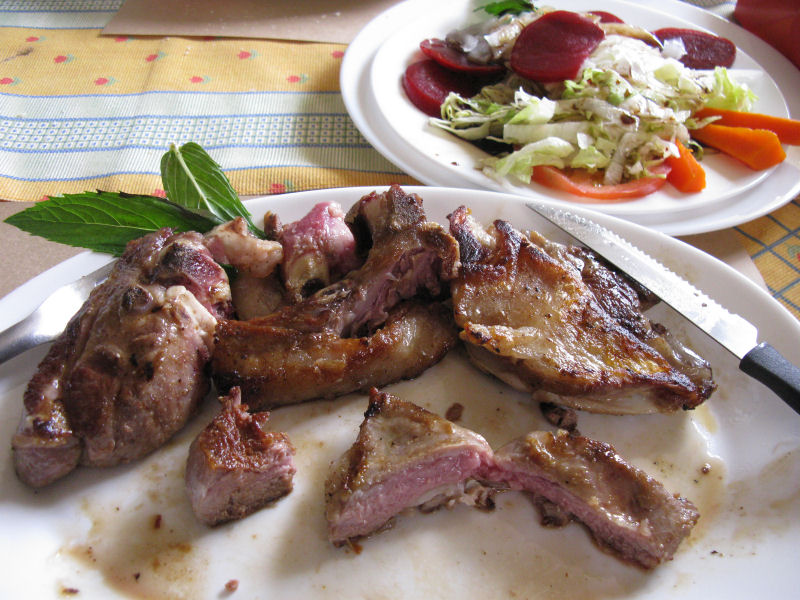 The apfel kuchen (German apple pie) was better. We were welcome to pay in cash, and Dollars, Euros, Chile Pesos, or Argentina Pesos were also welcome.
The waiter spoke decent English, and told us that it was from all the tourists. We learned from him that the border here was open all the time in the tourist season, but is closed in winter.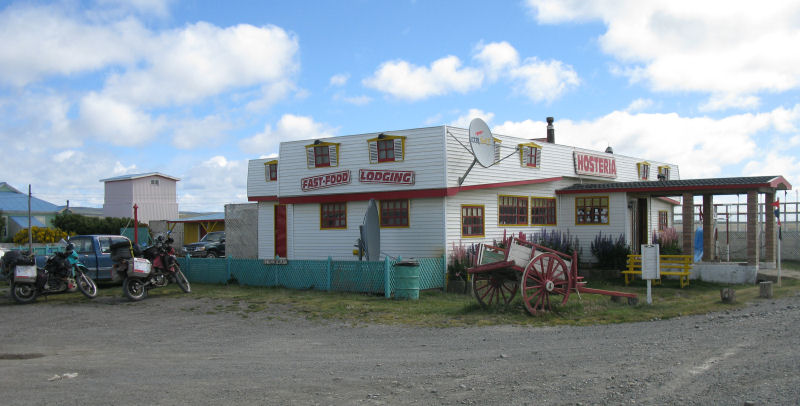 The actual border was not far away. There is a town called San Sebastian on either side of the border.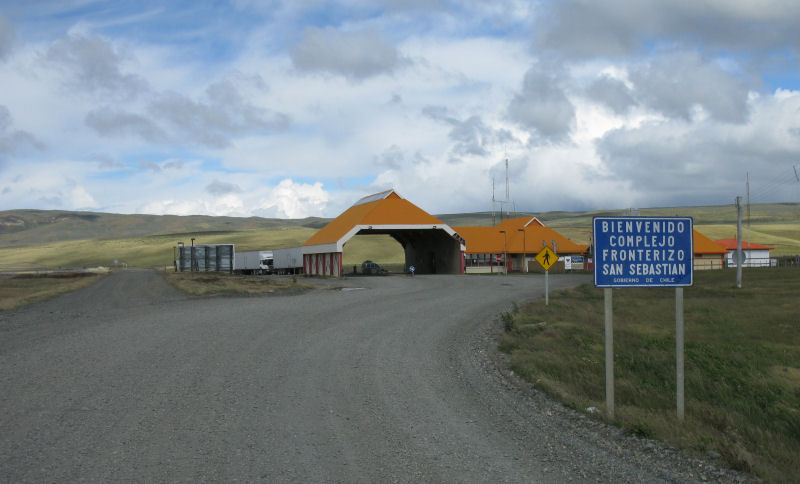 We got out of Chile with no problem, and crossed the border back into Argentina.
<< Link to PREVIOUS report: Argentina Down >>
<< Link to NEXT report: Argentina Again Down and Ushuaia >>
[ ERRANT-RONIN HOME ] [ Prudhoe Bay to Ushuaia Home Page ] [ Ride Reports Home Page ]