Part 5. Intermission in Colorado
======================
July, 2008
-----------
Once back home, I lazed around a bit, reconnected with Don to figure out our plans for getting ready to ride south, and started re-working some issues with my KLR. The soft luggage needed work--especially the straps and tie-downs that had torn loose. I put the bike on a stand and started taking it apart. I also ordered a few more extra parts to have on hand and on the trip.
The second week I was back home was a Koga week. Bob Koga is a police skills instructor who comes to Colorado three times each year to conduct seminars in various skill areas. This week was an Arrest-Control training week, and Don and I needed to attend and teach at this class to maintain our instructor certifications. Mr. Koga will be back in September for the Self Defense week, and we'll be there, too, just before we head for South America.
There are several instructors at these Colorado classes, and law enforcement officers from many agencies attend. The classes are usually held at the Aurora P. D. gymnasium, as seen here.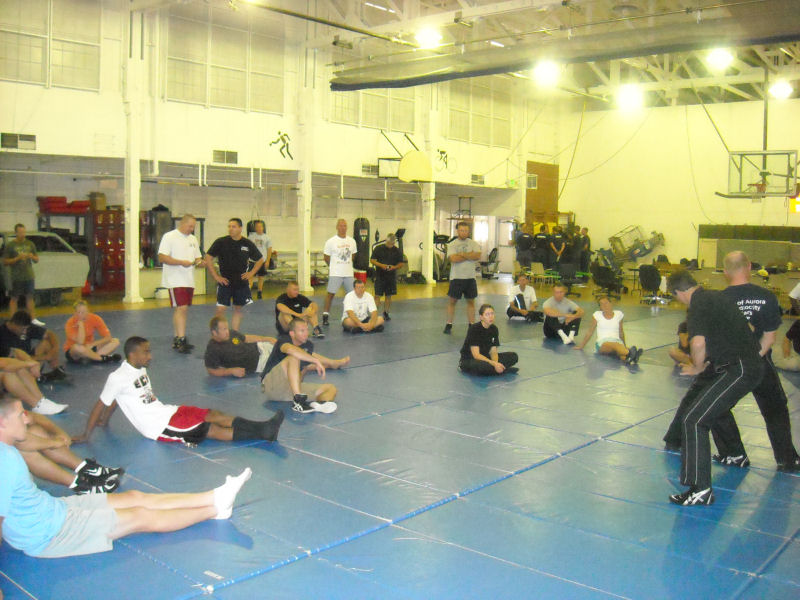 Don is the senior regional instructor, demonstrating a point about positioning when coming up behind someone to take them down.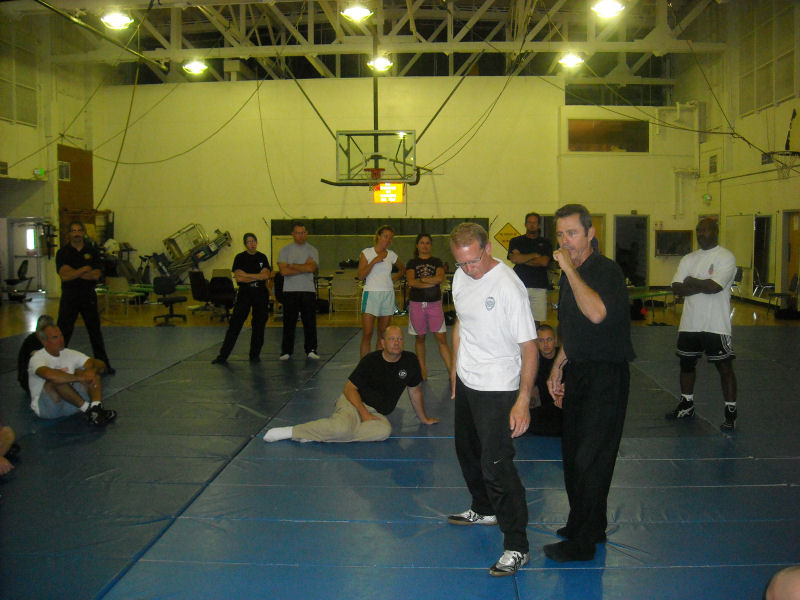 Here, Mr. Koga demonstrates a fine point with a rear wrist lock.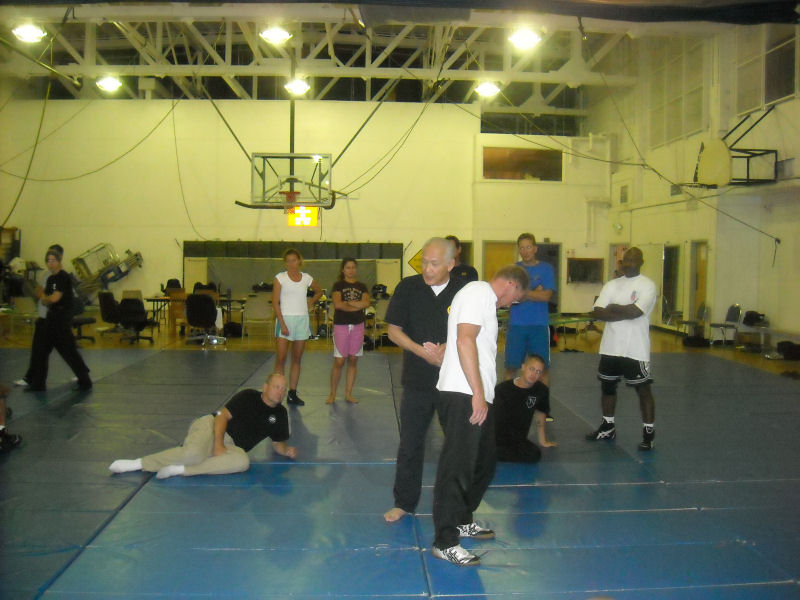 --------
After the week of training and teaching, I was back in bike maintenance mode. I made new straps for the tank bags and made a new, larger tool tube. Don's bike was in the shop having the transmission fixed. His shifting problems kept getting worse after he returned from Moab, and it's too big a repair job for us to tackle. His bike will get a couple weeks' worth of work once its guts get fixed.
There was a KLR tech day near Golden, Colorado, hosted by KLRWorld.com, and I went to help out. As it was, I flitted around helping in small bits, but wasn't needed for much. There were several people there who were able to help others. When I host one of these tech days, I'm very busy, so it was nice this time to take it easy.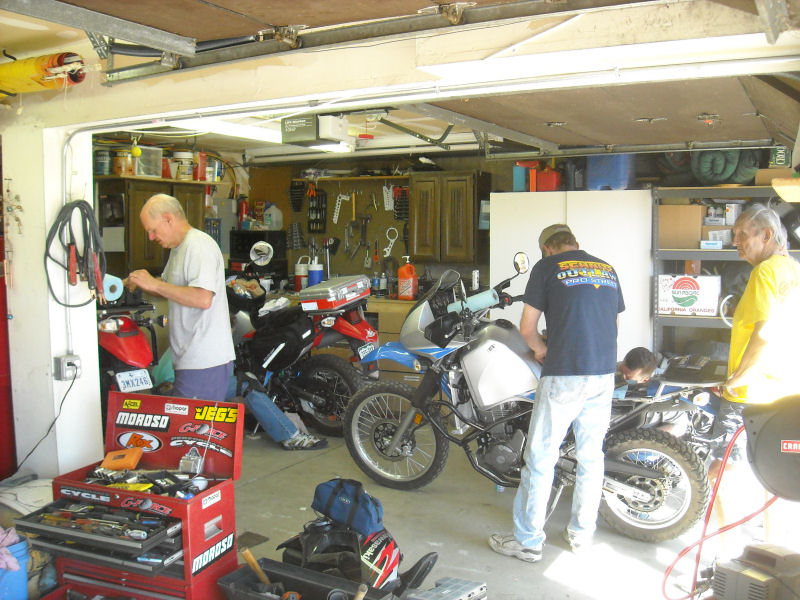 I know a guy who is a Deputy Sheriff at one of the local county jails, and he put Don and me in touch with one of the jail nurses, who was originally from Chile. Her parents were currently visiting, and we wanted to meet them and perhaps visit them at their home when we are in Santiago later this year. We met Lucia and her father, Raul, at a nice restaurant (our treat) and had a nice long talk with them about Chile and many other parts of South America. Raul used to work at the Coors brewery many years ago, when he first brought his family to the U.S. He has since moved back to his homeland. We will try to meet with Raul once more before they head home.
August, 2008
--------------
I was able to catch the very last day of the Renaissance Festival, which is held only a few miles from my home. It's the first time I have ever gone alone, so I just wandered around, ate too much food, drank some beer, took photos of pretty girls.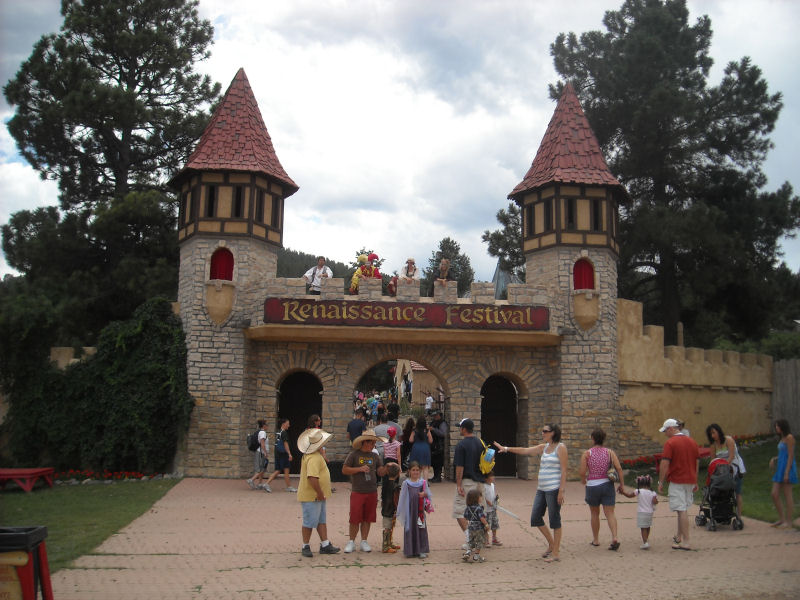 These mighty steeds were about my speed, but I decided to pass.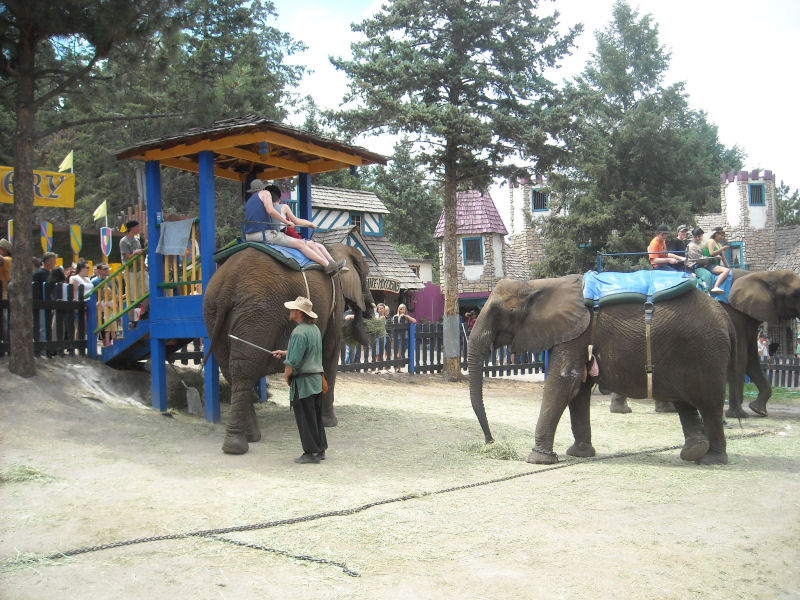 I was tempted to draw down and put an end to a sword fight, but as it turned out, there was no bloodshed.
I allowed this violence to continue, since this wench seems to have needed a good whipping. Several people took turns whacking her bottom, and they were not hitting her lightly. They were really letting her have it. It was what she wanted, apparently...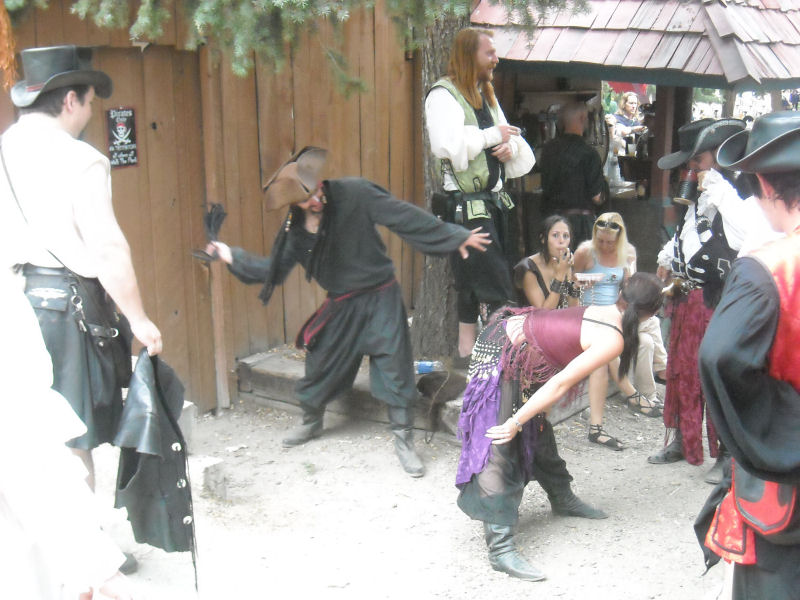 These gals had an adults-only show, taking turns telling naughty limericks and sex jokes. Needless to say, they were very popular. They also invited those in the audience to contribute a rhyme or two.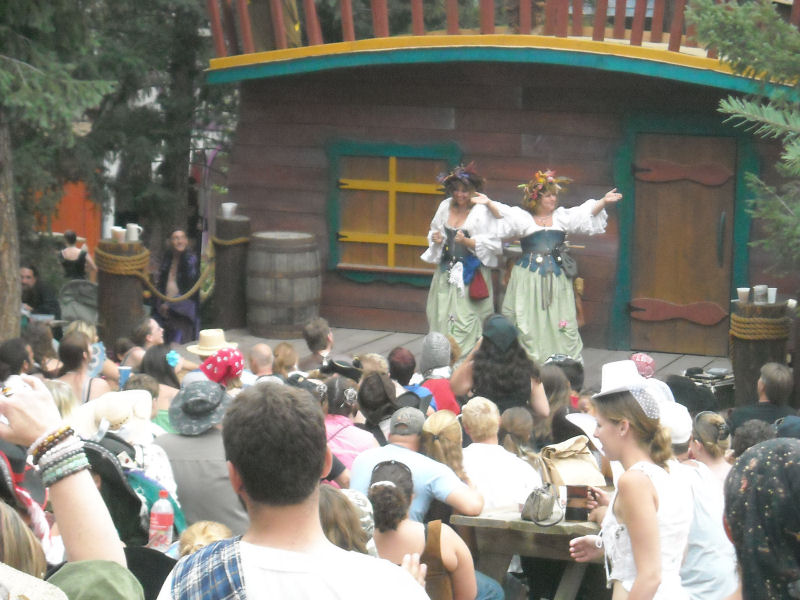 You meet the cutest pixies at my local Renaissance Festival.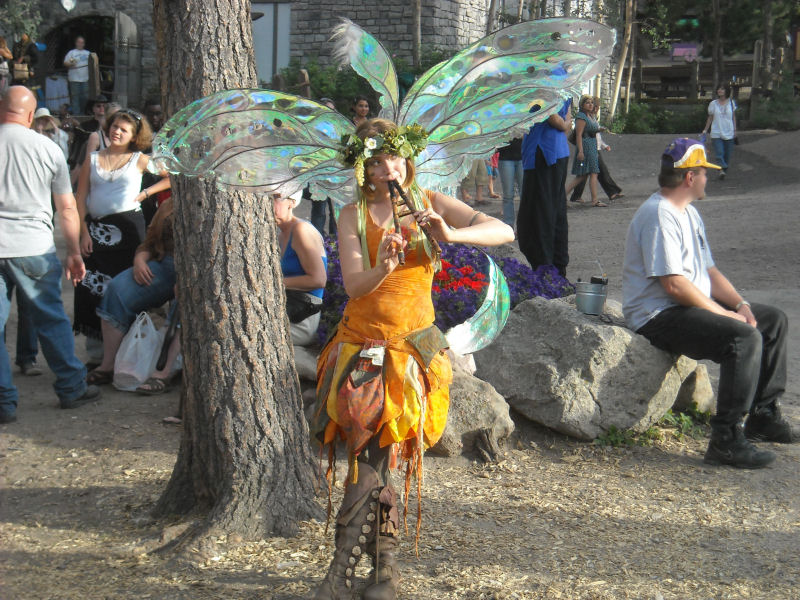 Lots of pretty girls on a nice, warm day.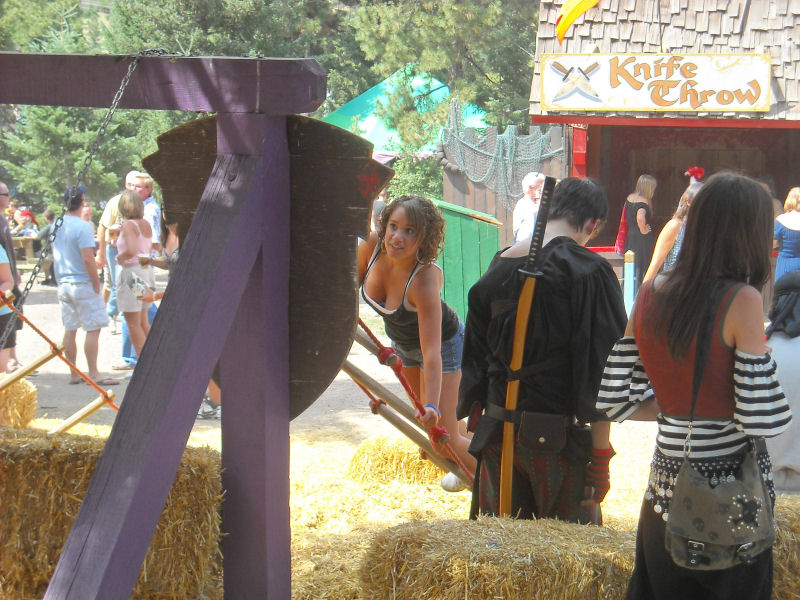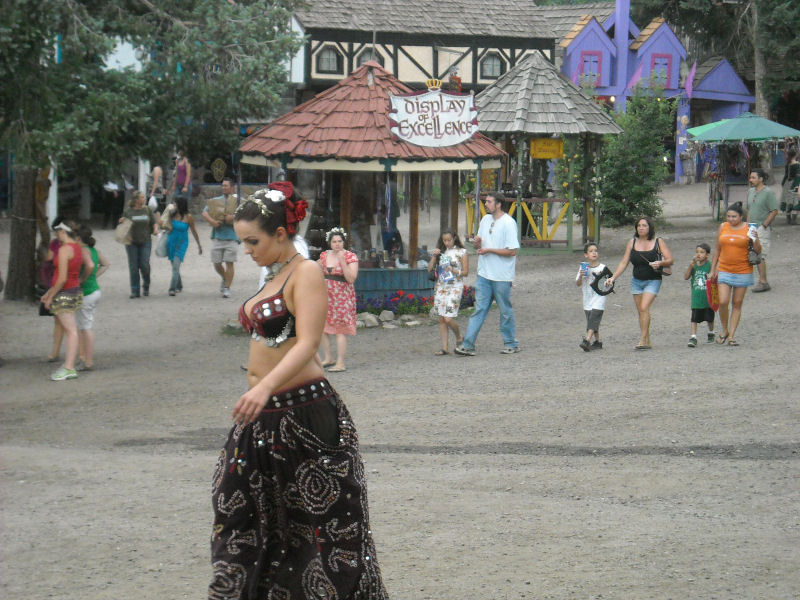 Even the girls were checking out the girls.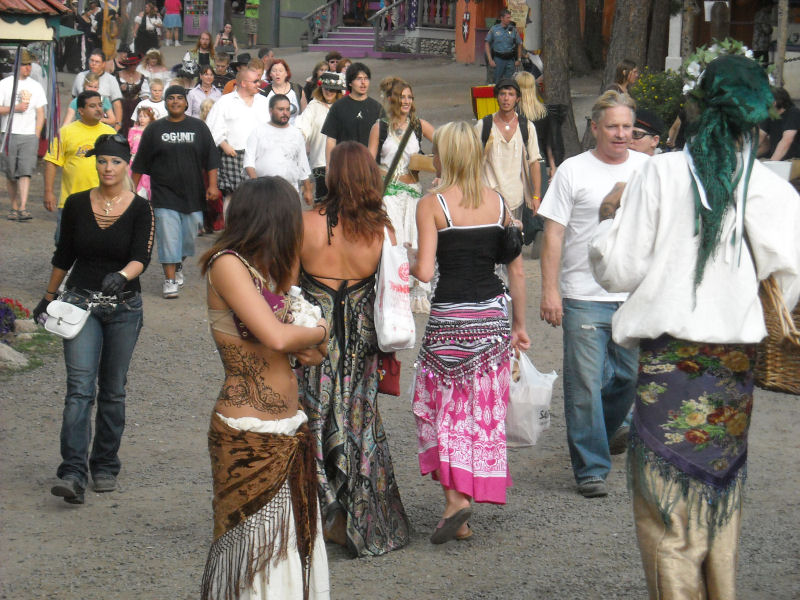 --------
After another week of lazing around, my wife and I headed out to Lake City, Colorado for the ADVRider West Fest gathering. We trailered down with three bikes, so Laurie could have her KLR and her XT225 there to ride. As it turned out, we were totally lazy after getting into the cabin that we shared with friends, and were lazy the next day, too. Others went riding each day.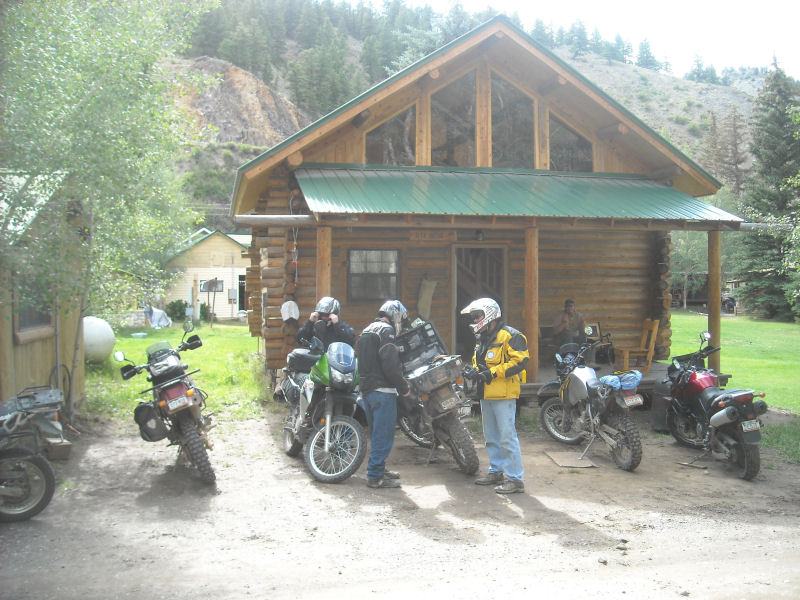 We did take a drive partway up both Engineer and Cinnamon passes so Laurie could see if she wanted to try riding the lower sections.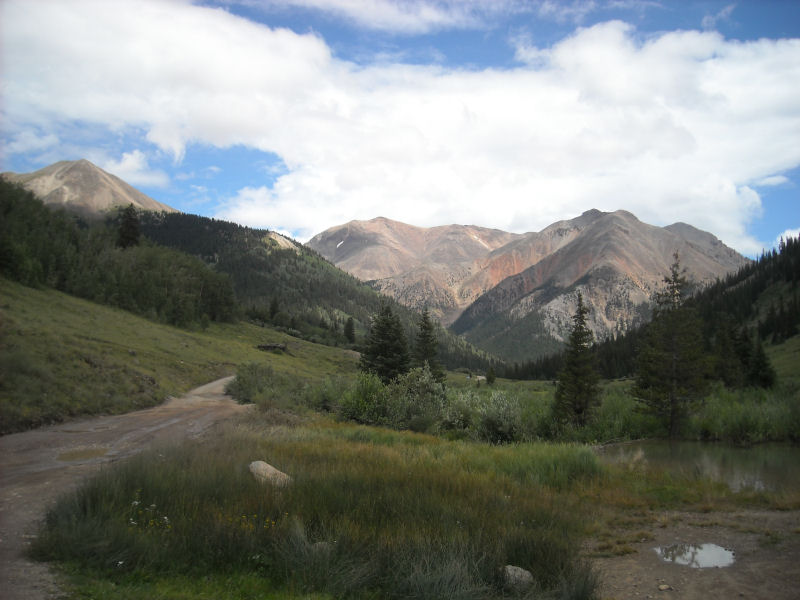 On Friday, there was a dinner gathering. Due to some very unpopular last minute rule changes by the campground owner, the rally organizers had to improvise with dinner catering and a place to get together. We ended up at the city park, unable to officially have a beer party or do the cookout as had been originally planned. Bummer.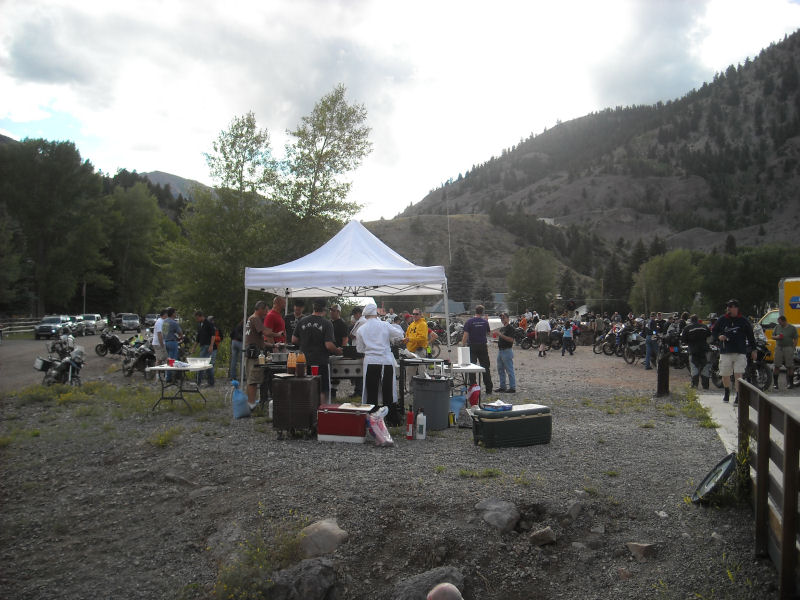 On Saturday, Laurie and I did some easy riding up toward Engineer Pass, going until she got tired and decided to turn around. All the harder stuff was farther up, but was beyond her current skills.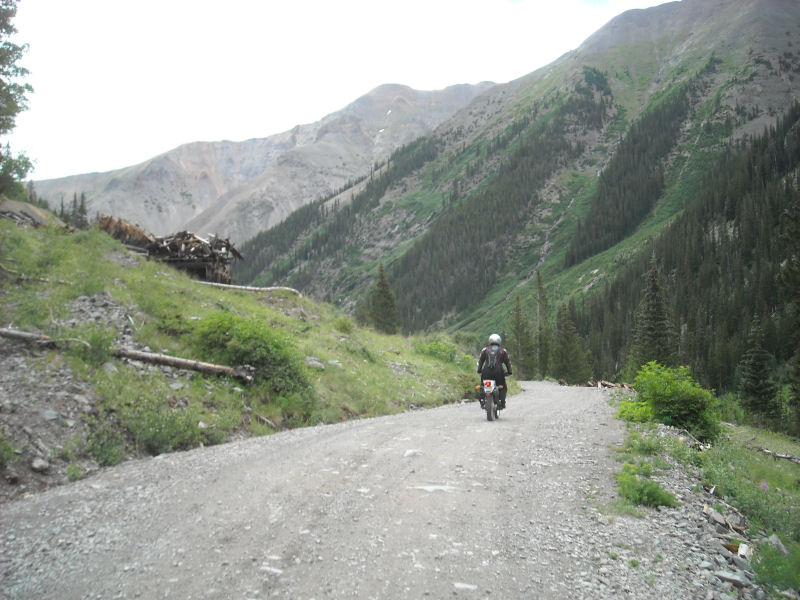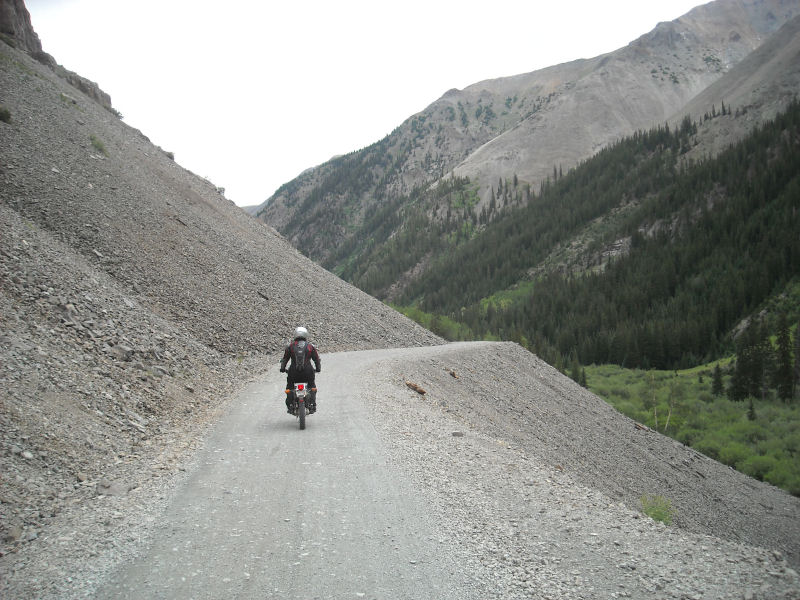 Saturday evening, the group gathered again in the city park for a simple meal in the drizzle. The rain did bless our West Fest with a stunning rainbow. After the rainbow, the rain ended and the afternoon and early evening turned out very nice.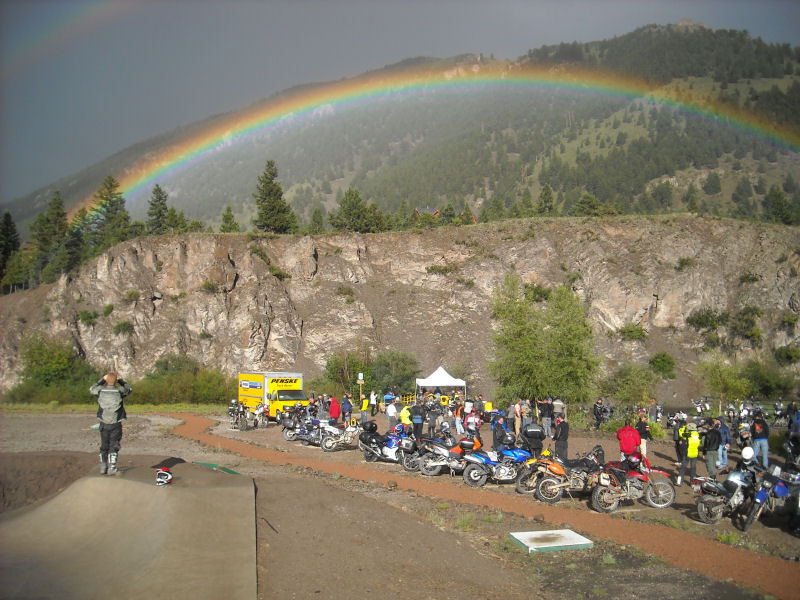 Then it was time for the official ceremonies. I volunteered to conduct the initiation of the noobs (new folks), so I had them all "get in the pit" of the small skate park while the veterans stood around them in judgment. We had a lot of new attendees, so we had to move things along. I had each noob introduce themselves and tell us a bit about themselves, then I (or someone else) asked them a question. If they got it right, they were allowed to exit the pit, but if they got it wrong, they had to pay a penalty. They could either sing, dance, wear the official noob dress, or they could have a shot of mystery liquor that I had concocted just prior to the ceremony. It was cinnamon schnapps, peppermint schnapps, and rum, but don't tell anyone. Shhhhh!
First, the official ADV salute: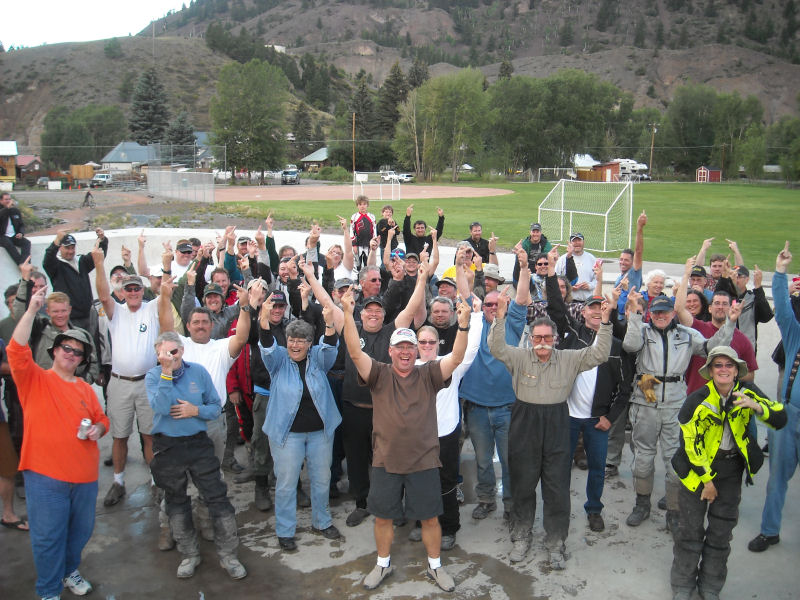 We had a lot of fun with the de-noob ceremony, and there was some zaniness (much of it on purpose). We had so many new people, that we really had to keep things moving along quickly. I had lots of helpers when it came to asking questions. If someone messed up their question (it happened to me...), they had to take a shot of liquor also.
After the new people were indoctrinated, the Mistress of Ceremonies, Jen (aka PlayzNmud, in the light blue shirt) took over gave out the prizes and conducted the drawings with the help of Miss KCDakar (in the black and yellow) and myself. Lots of nice stuff was given out, and we threw lots of trinket prizes out into the crowd. People love that, and no one lost an eye.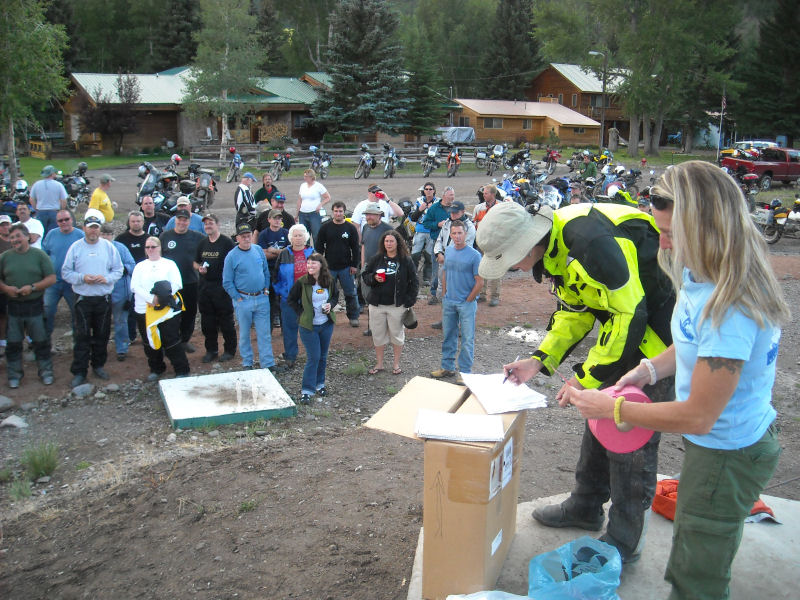 These next photos were taken by others and posted on the ADV website's ride report.

Here's me (in the red pullover) and Jen watching over the noob dress getting bestowed on this (un)lucky contestant from Denmark, with KCDakar showing a bit too much enthusiasm. Photo by Daniii.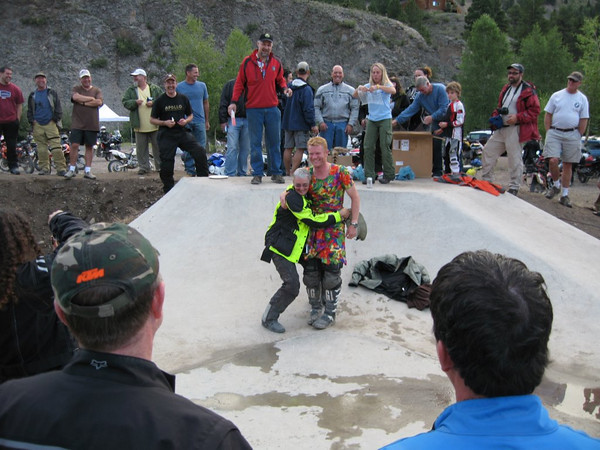 A photo from curbjumper: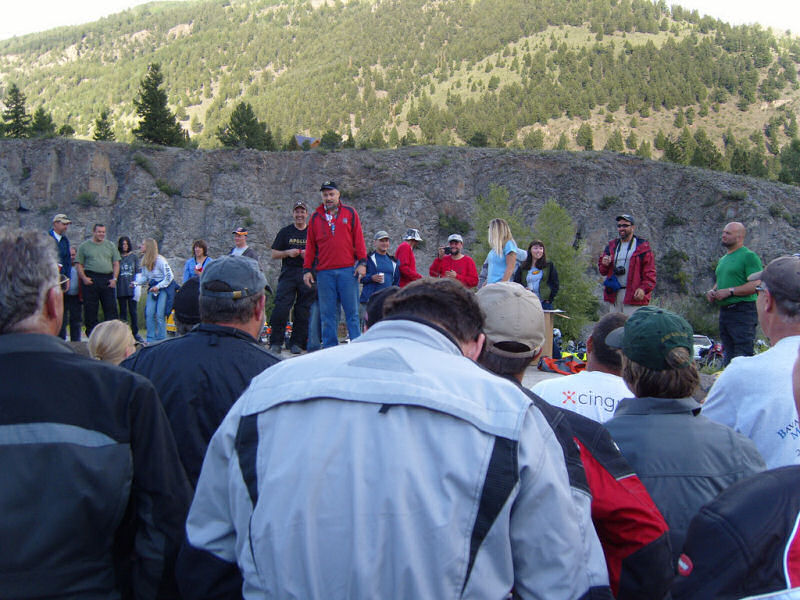 Photos from Ratty2Austin: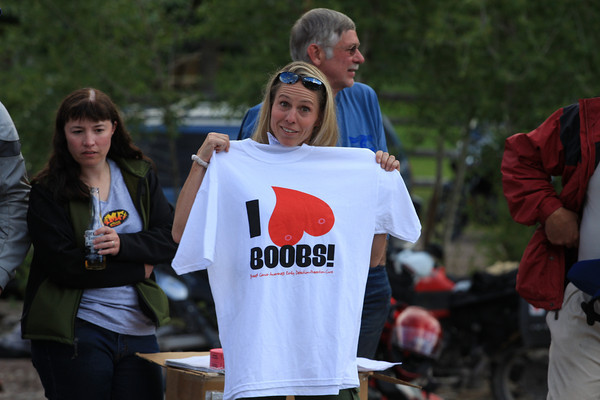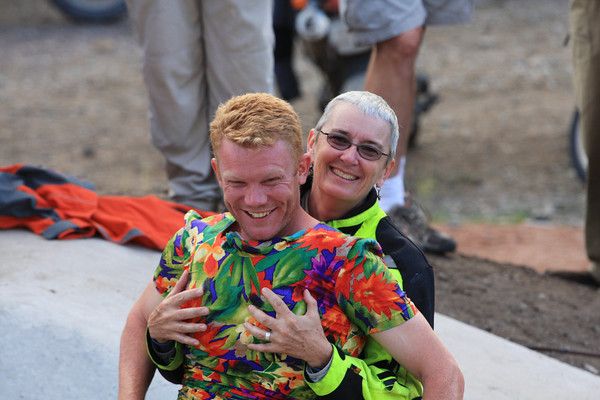 Here's the very last noob in the ceremony, complete with carbon fiber viola. Video posted by ComfyChair.
http://www.youtube.com/watch?v=XPQWhCiZLrg

Everyone made it back to the campground afterwards, where lots of people gathered until late at night to talk about the day's riding. It was after midnight when I made it back to my cabin where I hung out with some folks for a while longer. People were saying their good-byes, too, since the rally was now over and each person was making their own way home in the morning.
Laurie rode her KLR650 home and I trailered the other two bikes. It was a nice, relaxing weekend.
--------
We rode our cruisers to Montrose the following weekend for the Colorado High Country Cruisers summer gathering. This was a comfortable group, and we have been hanging out and riding with them for a few years.

We rode with a group from Denver to Montrose, stopped along the north rim of the Black Canyon on the Gunnison River for a rest.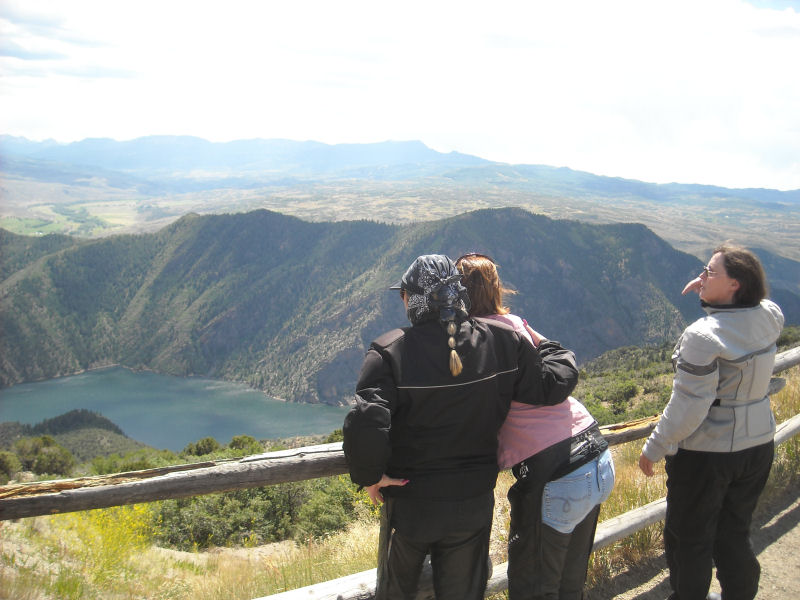 My Valkyrie: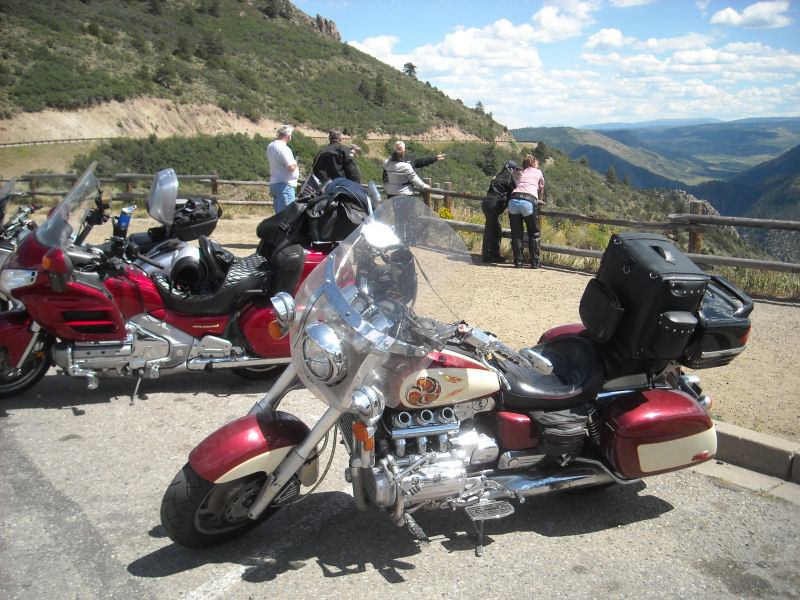 The next day, a bunch of us did the San Juan Skyway loop, starting down the Million Dollar Highway to Durango for a late breakfast. This is a familiar route, and yet it is always a fresh pleasure to ride and enjoy these Colorado mountains. They were doing some paving work, and we had to stop and wait long enough that we started to play in the roadway.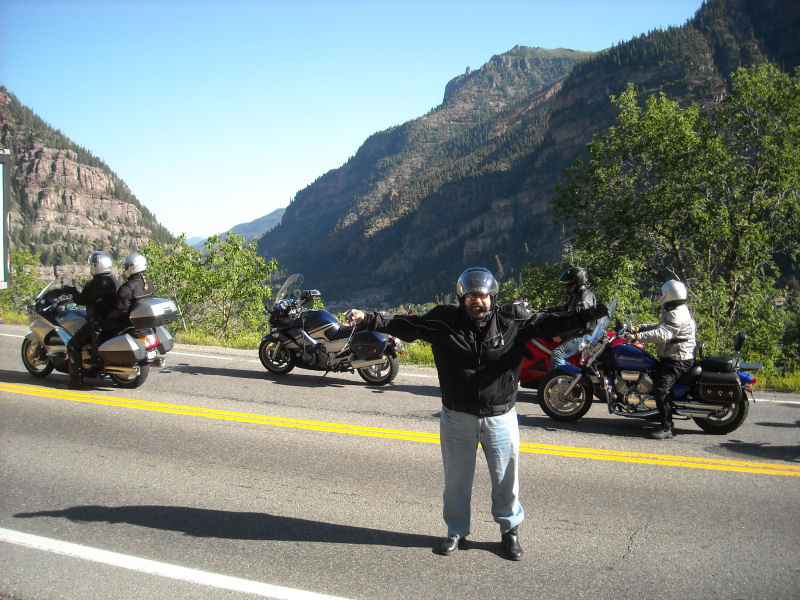 Looking over Ouray, the "Switzerland of the Rockies."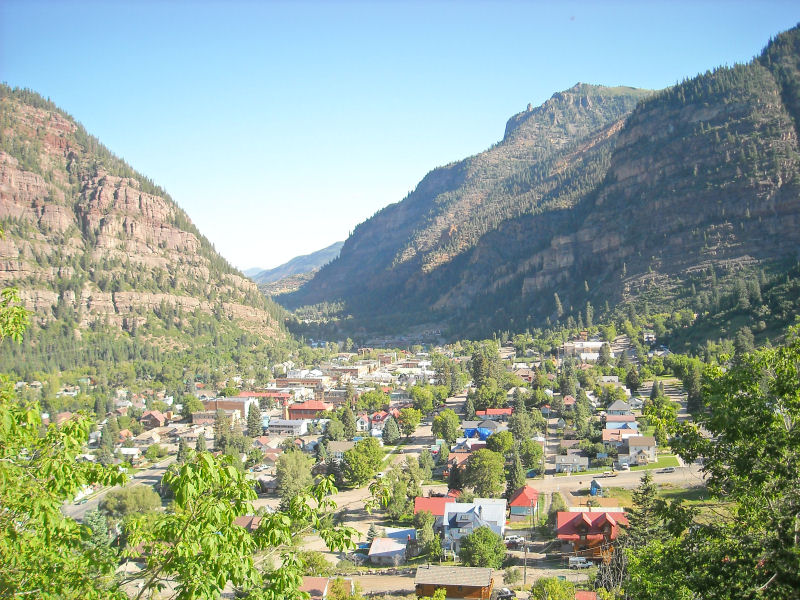 Laurie and I were just down in this area last weekend, but again, these roads never get old.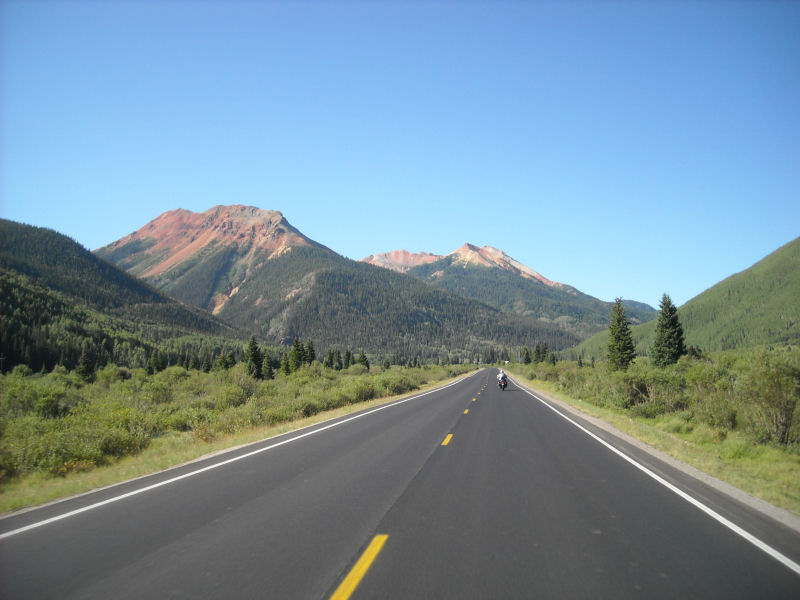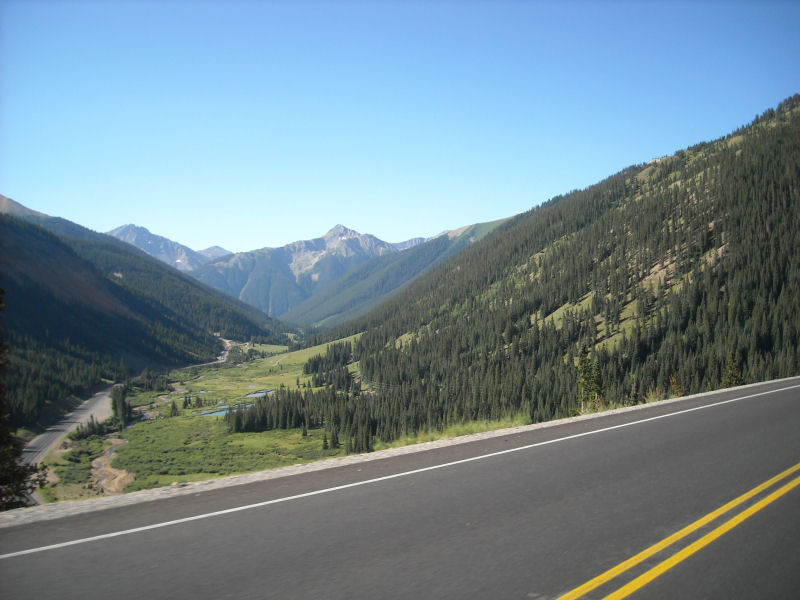 We had a club meeting and decided the fate of Mankind (or something just as serious), and when a couple of the gals took a smoke break, I thought they looked like hookers. I think that I freaked out a couple of tourists when I loudly announced that the prostitutes were at work earlier than usual today.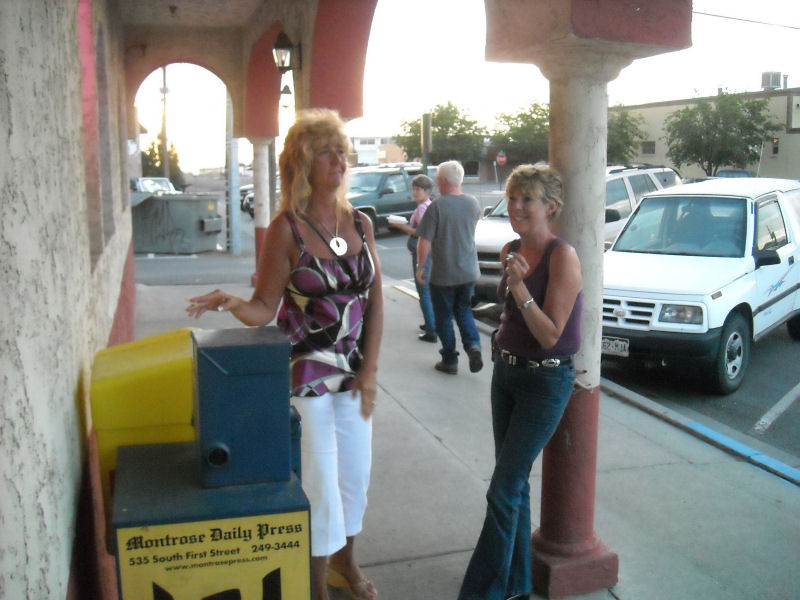 As usual, we hung out late at the hotel telling lies and half-lies. Sometimes it was hard to tell the difference.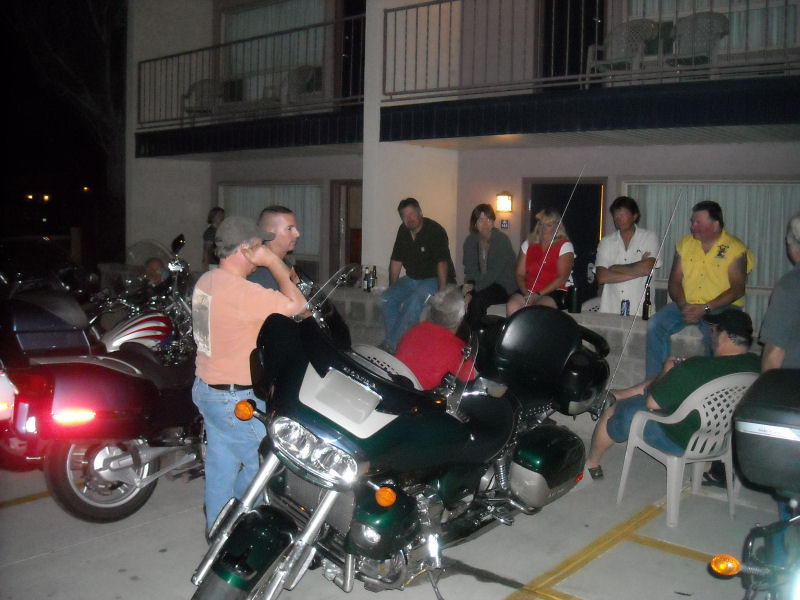 On our last day of riding, we took a long ride to the Colorado National Monument, which is a scenic ride along the cliff edges west of Grand Junction. We stopped at a visitor's center and watched an animated movie about the geological history of the area and how the rock formations formed. Didn't take many photos that day.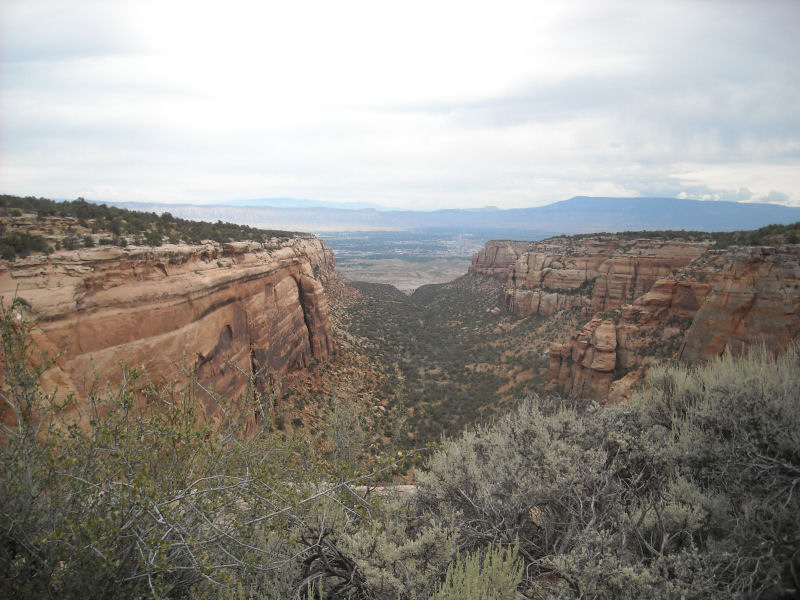 --------
Back home, I got started re-working some things on my KLR and doing some maintenance. Don brought his bike down and we started taking it apart as well. He already had done several mods and upgrades, but there were plenty more to do for a long, arduous ride. In a few days we did a valve check, put in a drill-through subframe upgrade bolt, installed new fork seals, knocked in new double-sealed wheel bearings, removed and re-lubed the swingarm and linkage bearings and bolts, did some carb mods (drilled the slide, shimmed the needle, installed a finger-adjustable pilot needle screw), new brake pads, etc. We'll upgrade his footpeg bolts, install a centerstand and make other mods in the coming weeks.
--------
The Democratic National Congress was in Denver, August 25-29, 2008. Don and went downtown on Sunday, the 24th, to see the pre-DNC activities and protests. There was a smaller crowd than was expected, and very little disorder. Later in the week, while the DNC was in session, there were some activities that led to a few mass arrests. But for the most part, Denver isn't a hotbed city, and things aren't so bad in general that people are getting activated. The war was the only real common theme.

Since we still teach crowd control classes, Don and I went to see how things got handled by Denver and the other various police agencies that assisted. We saw nothing but professionalism and restraint from the officers, and they were never really challenged (this day) by the protesters.

We observed the speeches and rhetoric in front of the State Capitol building for a few hours. There were a few organized groups, but mostly individuals in the audience.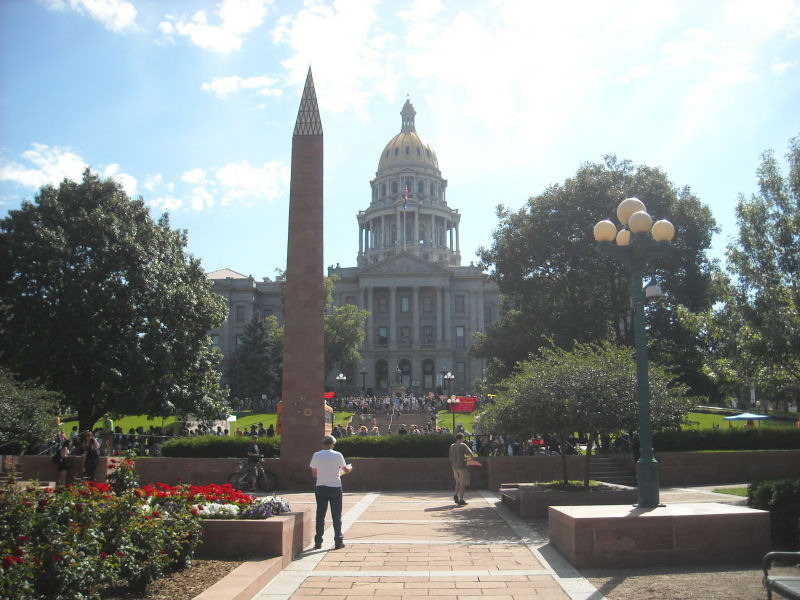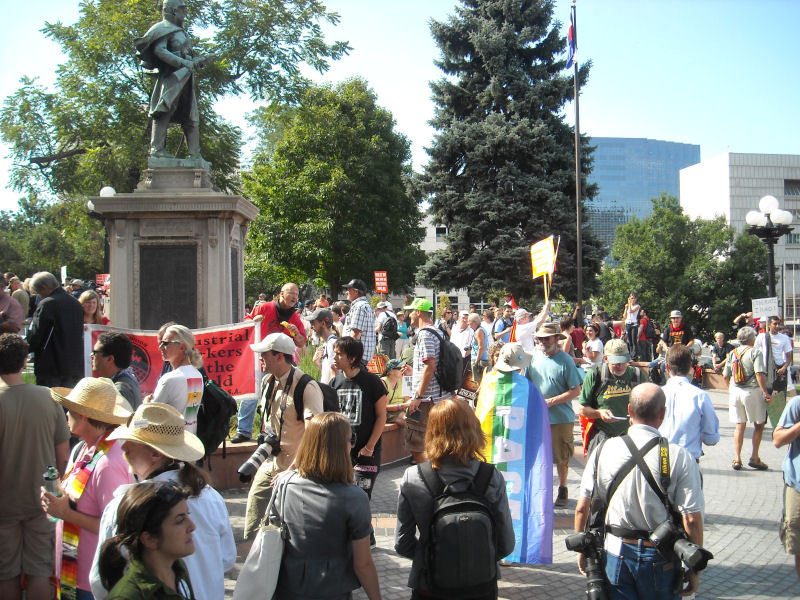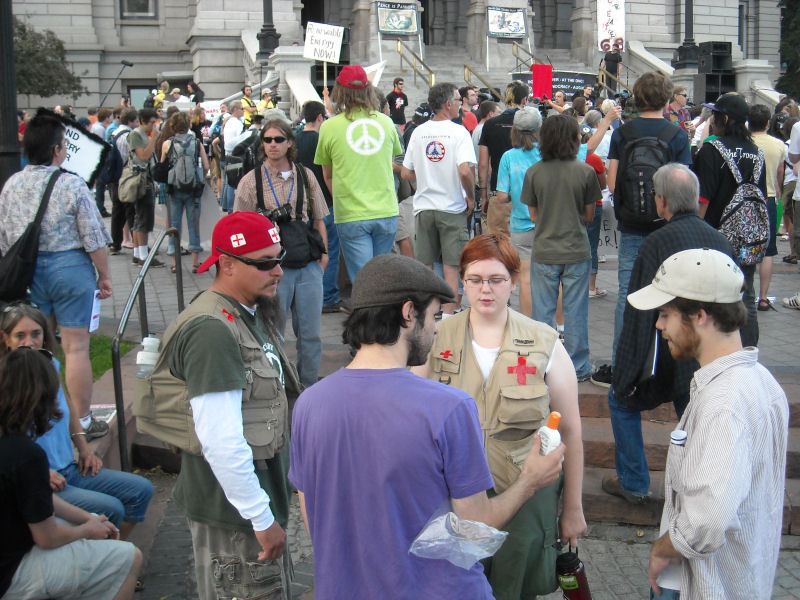 Cindy Sheehan was the most popular speaker.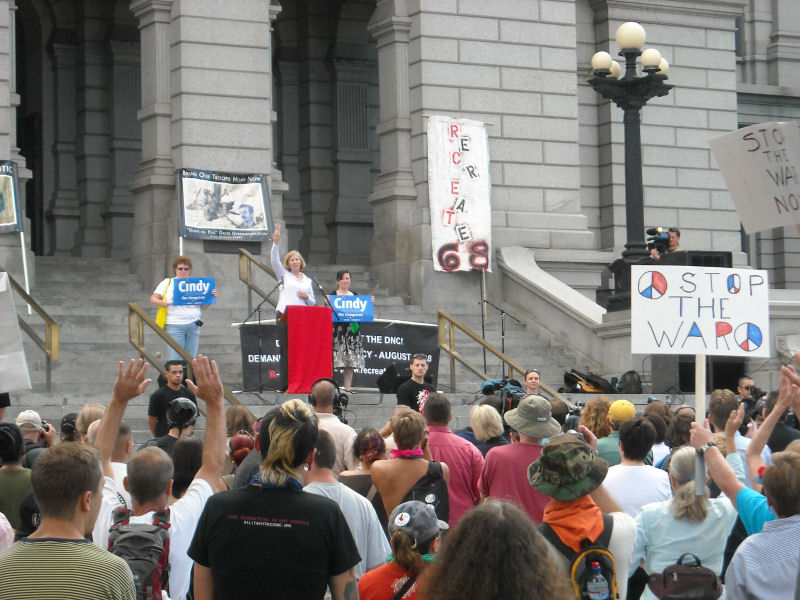 A group of observers (lawyers, supposedly) were taking surveys and watching out for horrible, brutish, uncivilized police behavior, but mostly they were as bored as everyone else.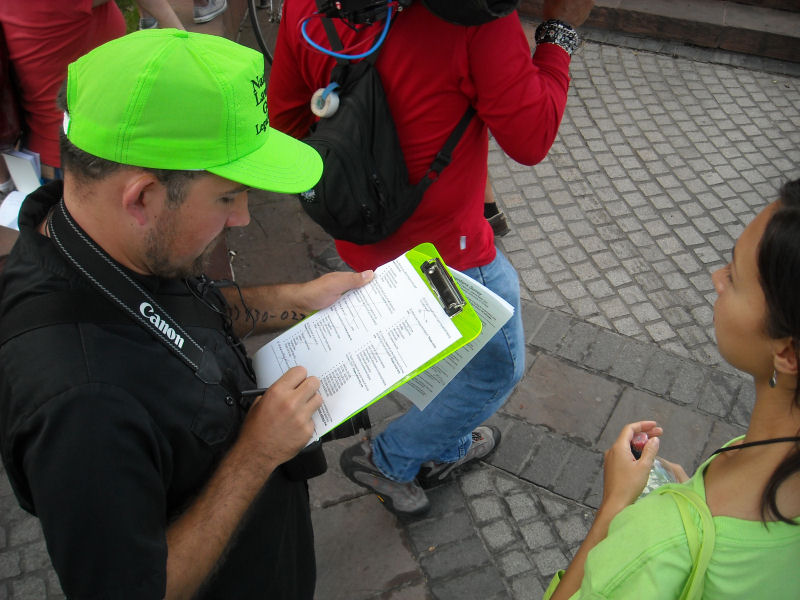 The Denver PD bike patrol was ready to escort the march that would go from the Capitol to the DNC venues at the Pepsi Center.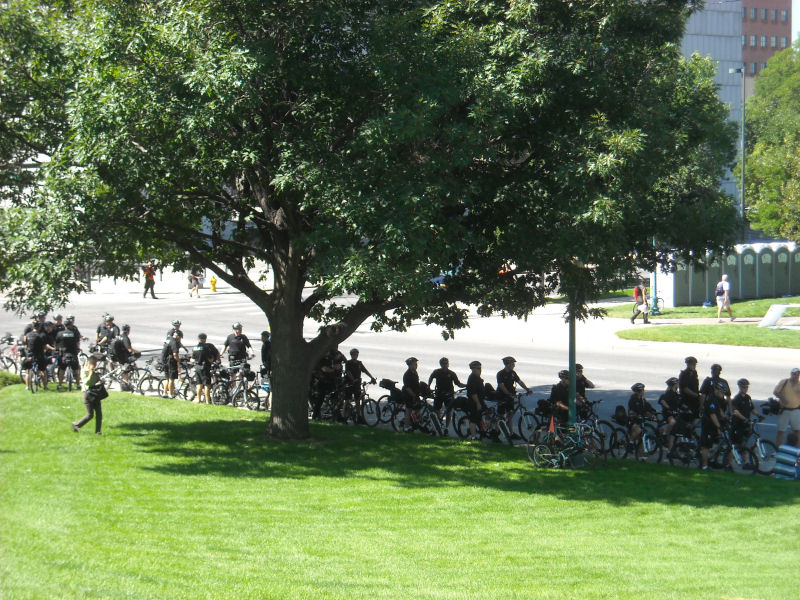 The march was routine, with only some adolescent behaviors from recreational rioters who failed to get anyone very caught up in their nonsense. Those who felt and expressed real issues were civil, even when they disrupted the march to stage brief stand-ins.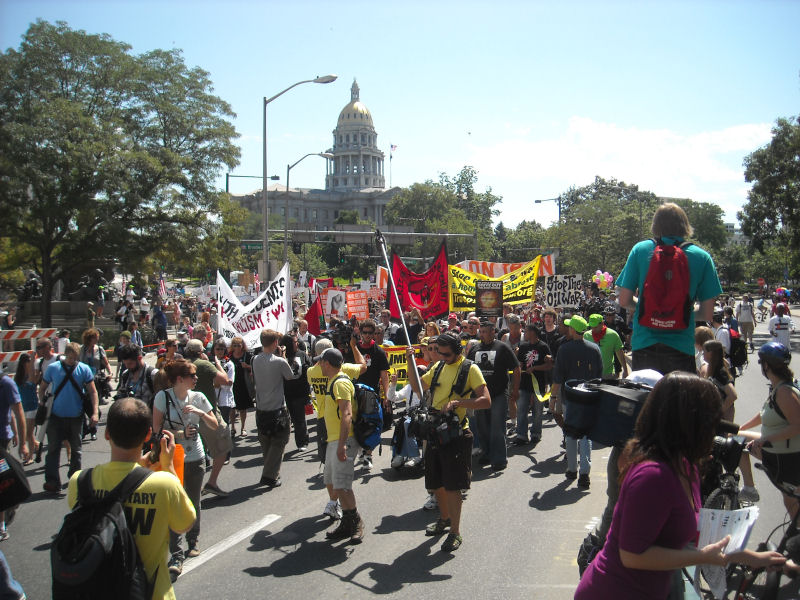 A group wore masks and signs representing soldiers who had been killed in the Middle East.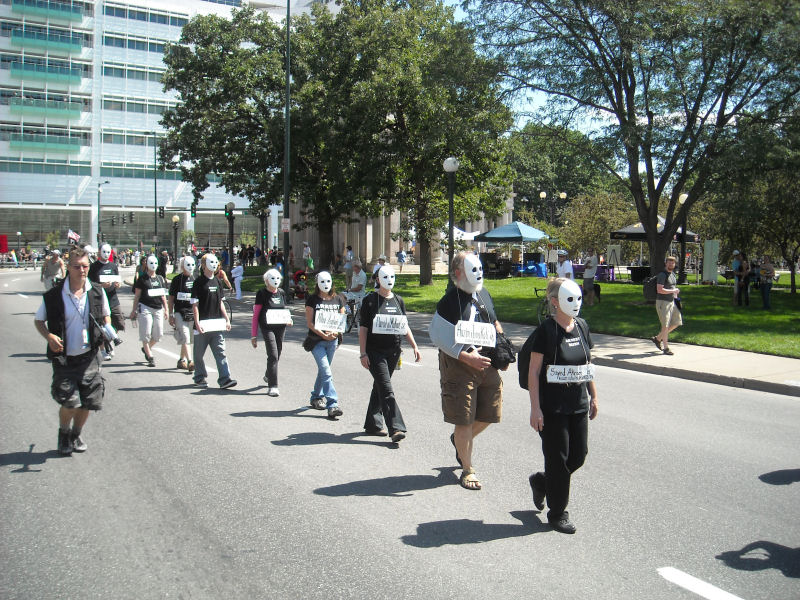 Don and I were in the group at times, but we were mostly there to observe, so we walked alongside or out in front most of the time, with most of the press. I even got a self portrait, with Don behind me.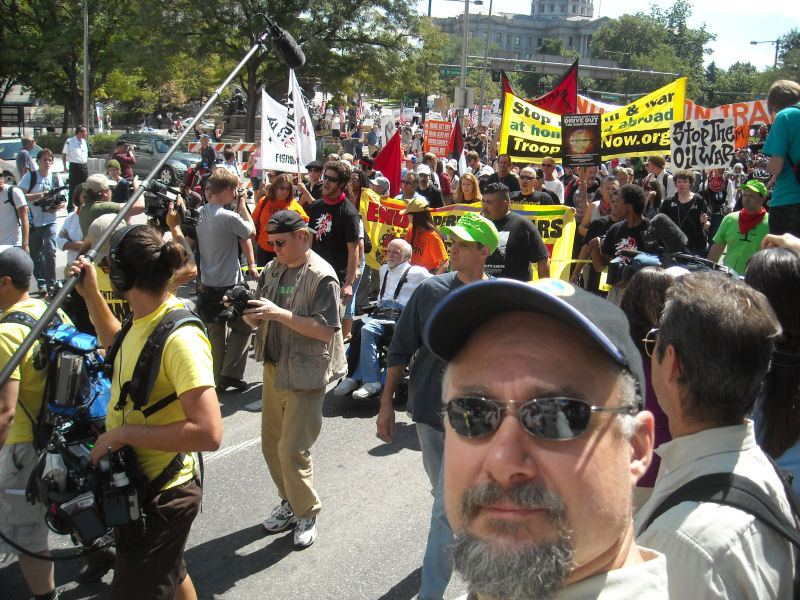 At the Pepsi Center, the area had been closed and secured (of course), and only those with valid press credentials or other official passes were allowed past the barricades. Once here, the groups got as worked up as they did anywhere, since there were the police to face off against and taunt. When a group started shaking and tipping over the short barricades, the police had a calm response; they ignored the idiots. Frustrated at the lack of reaction from the police, the instigators started doing other things to draw attention to themselves. They sat on the street, but it was pretty hot, so that didn't last long. Eventually, people started drifting away, and the Media resorted to taking pictures of each other. It was hilarious watching them trying to find a story or some chaos to justify their presence.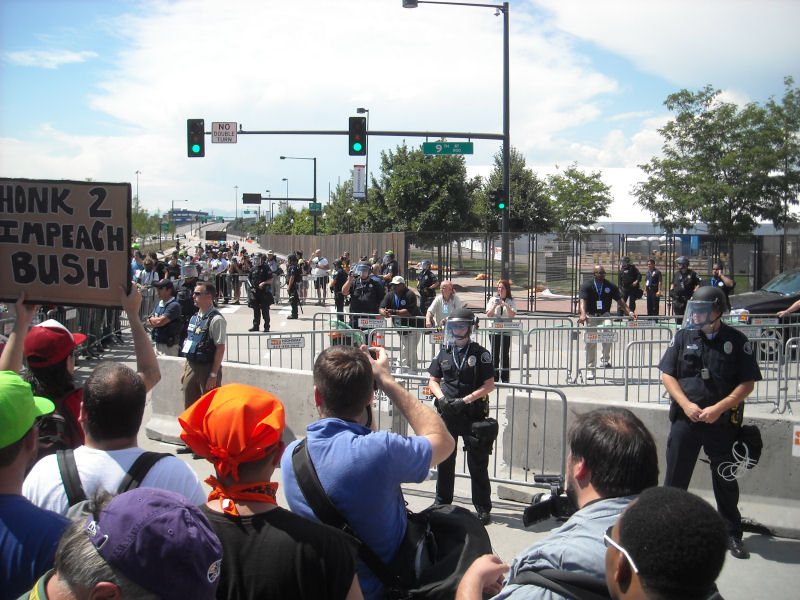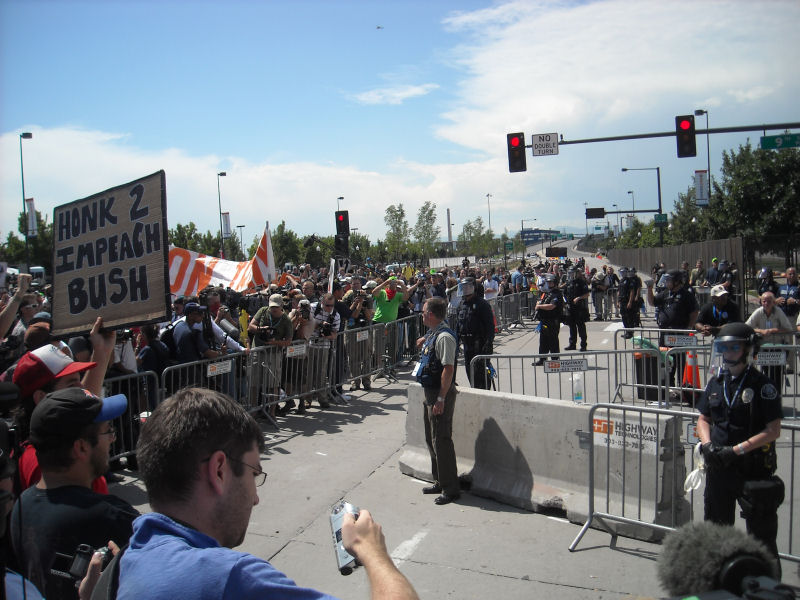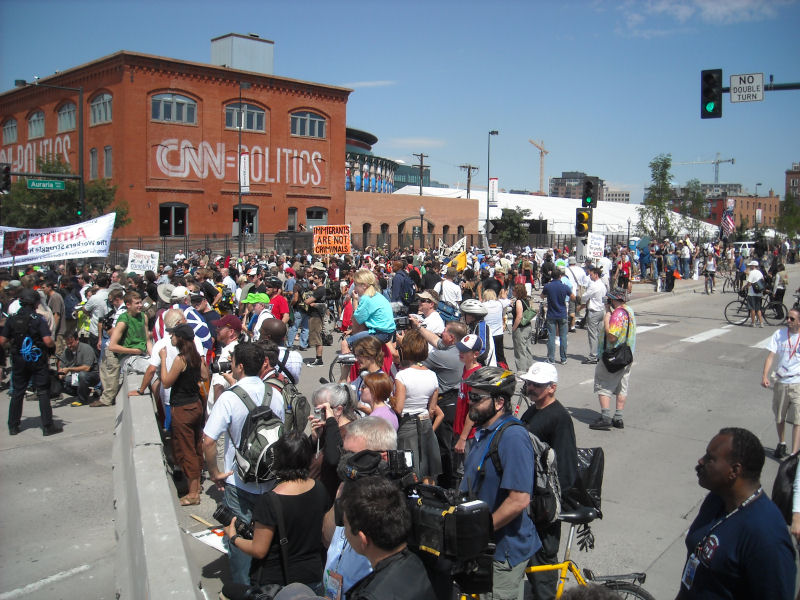 The Press pushed to the front, eager for good photos, but all they got were photos of the officers standing patiently in the heat. When a squad of Aurora officers donned helmets, the crowd got a little excited, but if they wanted action, they didn't get it. The officers just stood ready. Don and I have each trained and supervised this unit, so we knew they were above the nonsense and foolishness.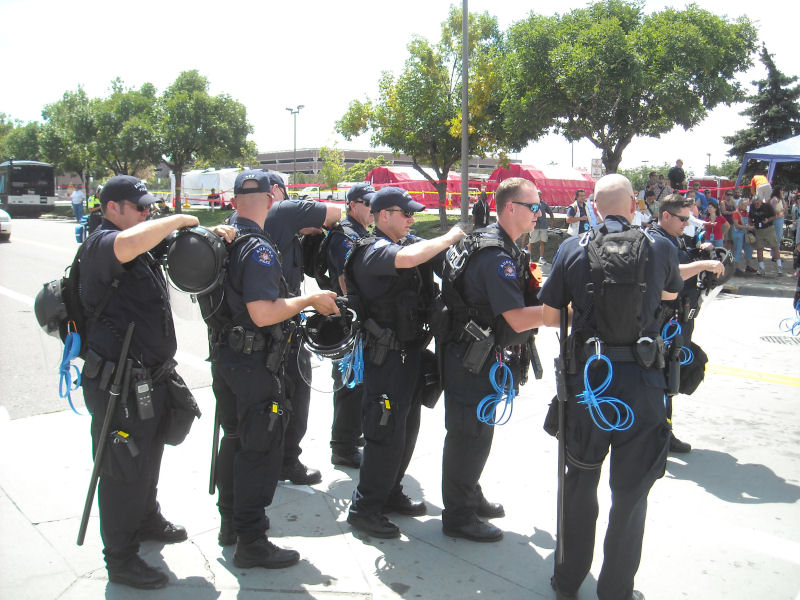 We talked for a while with officers we used to work with, hanging out until most of the marchers had left. Finally, we left, talking to other officers on the 16th Street Mall as we went. It was mostly a boring day.
We have another Koga school week coming in September (a self-defense instructors' class), so that's a week lost to us (as far as ride prep goes). Don and I have gotten our immunizations done (Typhoid, Yellow Fever, Hep-A), and have our prescriptions for malaria meds. Starting to get serious now.
--------
For the time being, our bikes were both getting plenty of attention.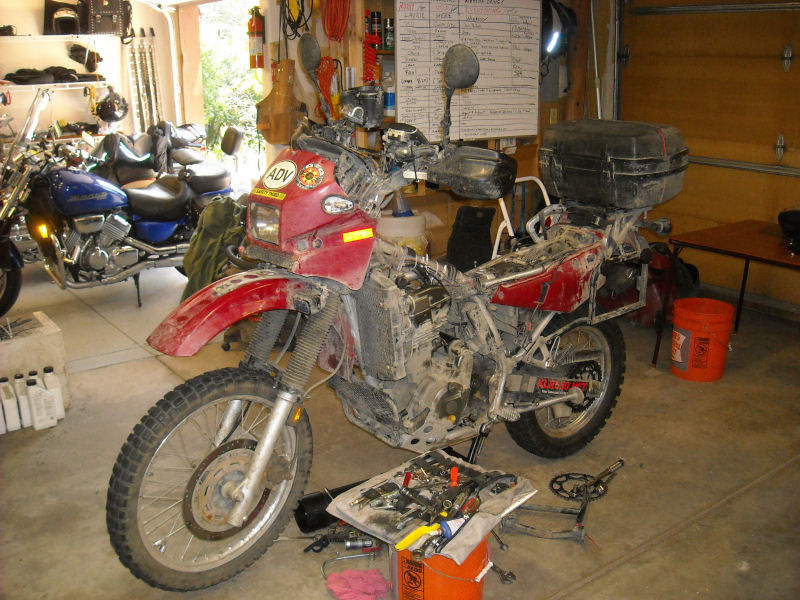 One day, I almost had help in the garage. It could have held a wrench, but only in its teeth.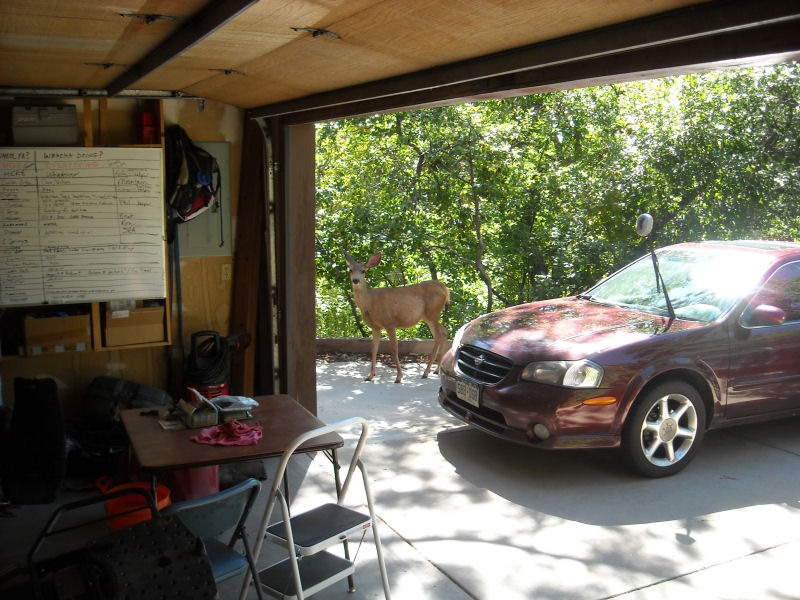 I had a center stand on the KLR when I rode to Alaska, but it didn't have a foot pedal to assist with getting the bike up onto it, so I swapped it for one with the pedal. Later, Don decided he would take it, so he welded a pedal onto it.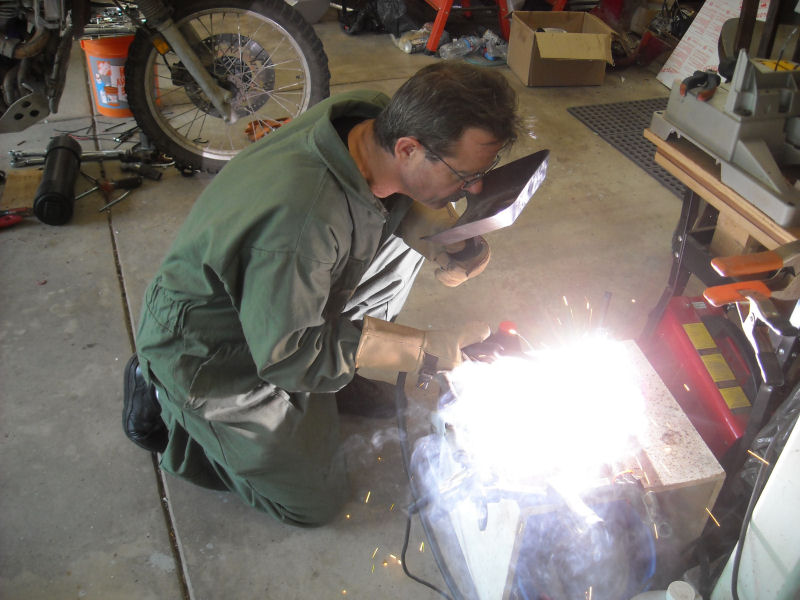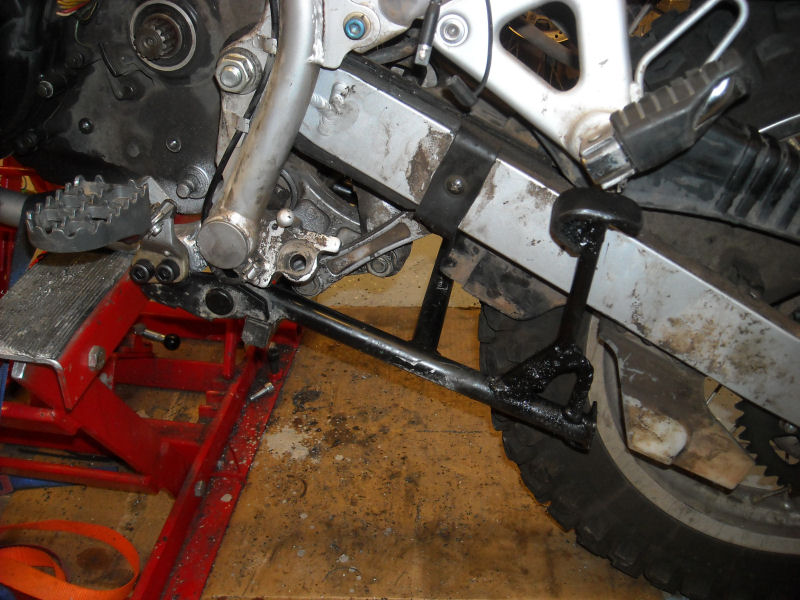 I really liked some things I had done to my bike, so we did some of them to Don's. We extended his broken windshield, adding a Lexan section to the top and another thin piece to reinforce the lower part. Then we made some aluminum braces to stiffen the faring and windshield.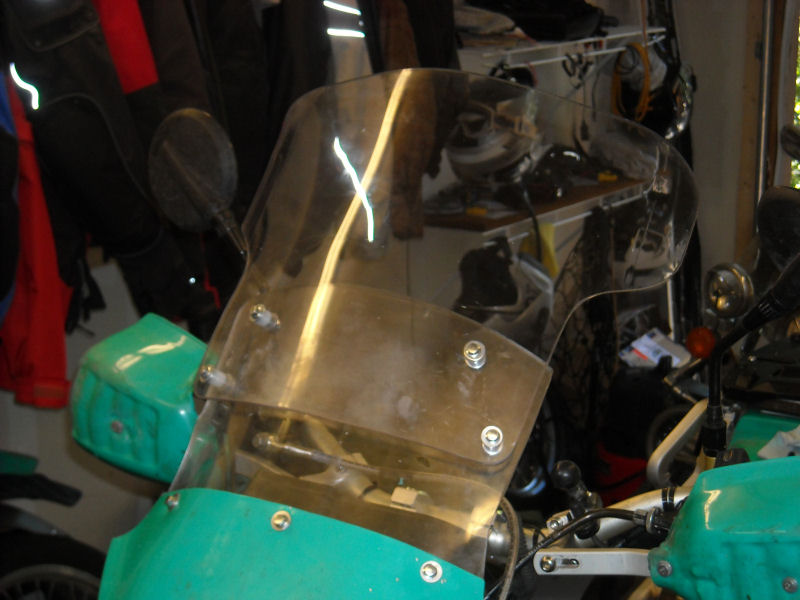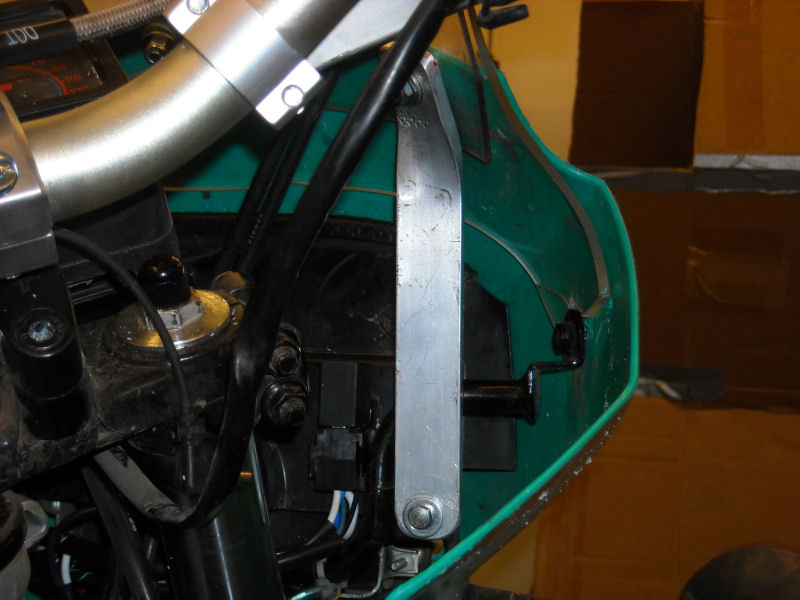 Don wanted more wind protection for his hands, so after mounting the stock hand farings to the guards, he melted and wrapped thin lexan around the guards and trimmed them to some kind of weird, avant-garde artwork. I suggested painting them to look as if he had been riding down the road and WHAP!, a grocery bag wrapped around his handguards.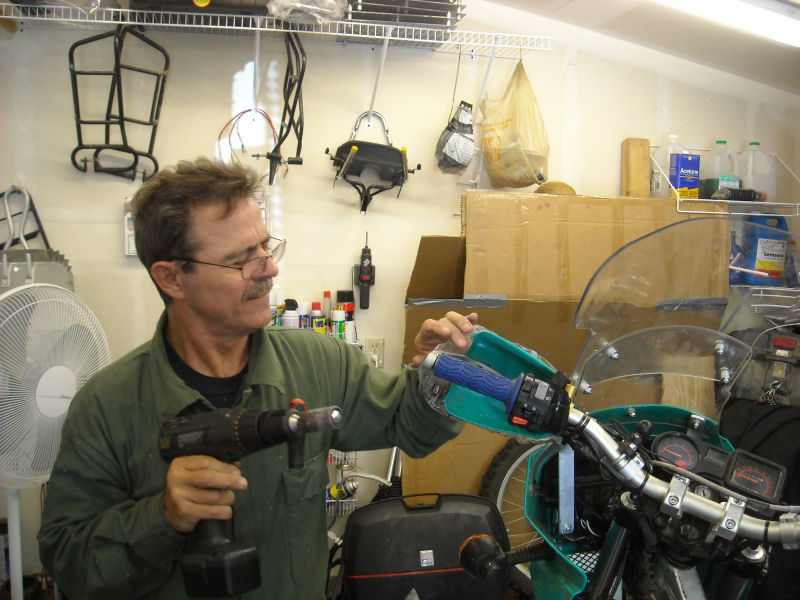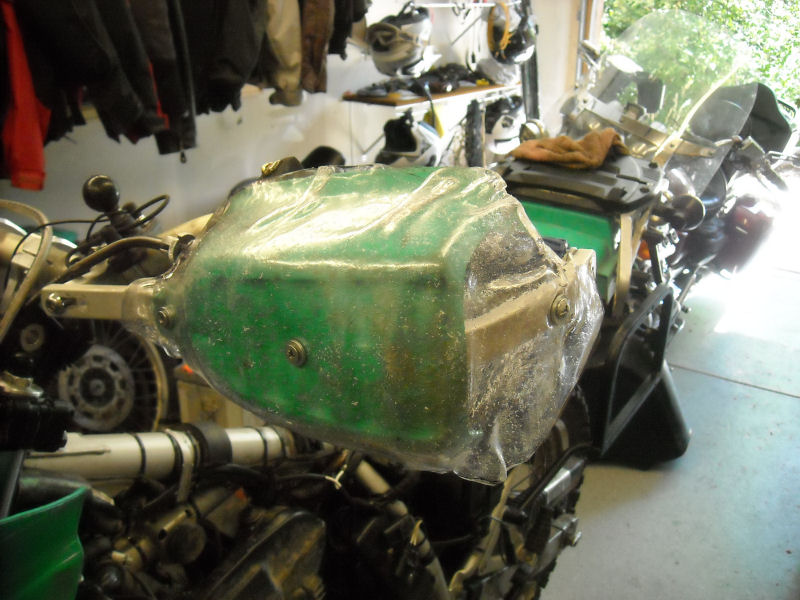 On my Alaska ride, my turn signal flasher failed early, so I had manually turned the flasher on-off-on-off when I wanted it to blink. Now, with the flasher removed, I saw it was deformed so I ground one side off with a belt sander. This is what it looked like on the inside. No wonder it failed. I have now installed an electronic flasher and will carry a spare.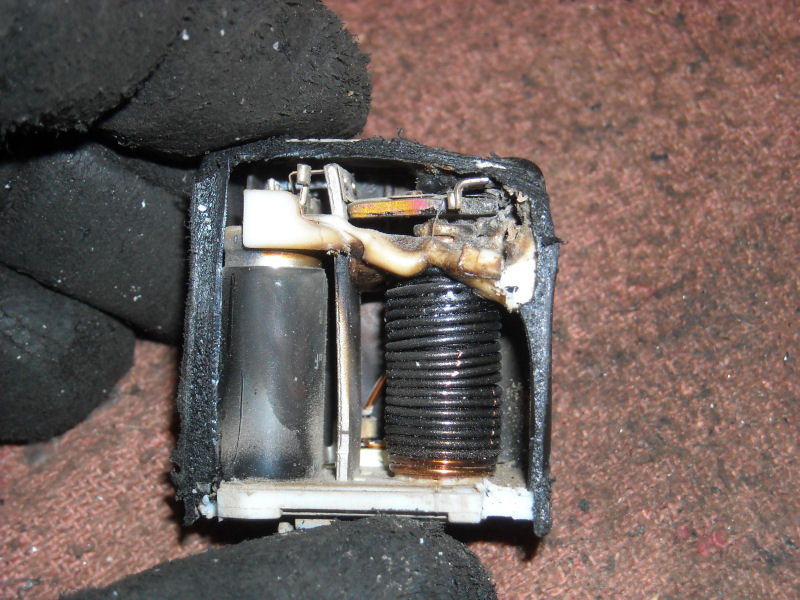 So, Don's bike is about done. His list of mods is close to mine, but he opted to keep the electrics simple and he decided against extra lights, upgraded horn, power outlets, etc.
After one final session, we are now finished with Don's bike. He will attach his soft bags and put a machete on it somewhere, and that will be that.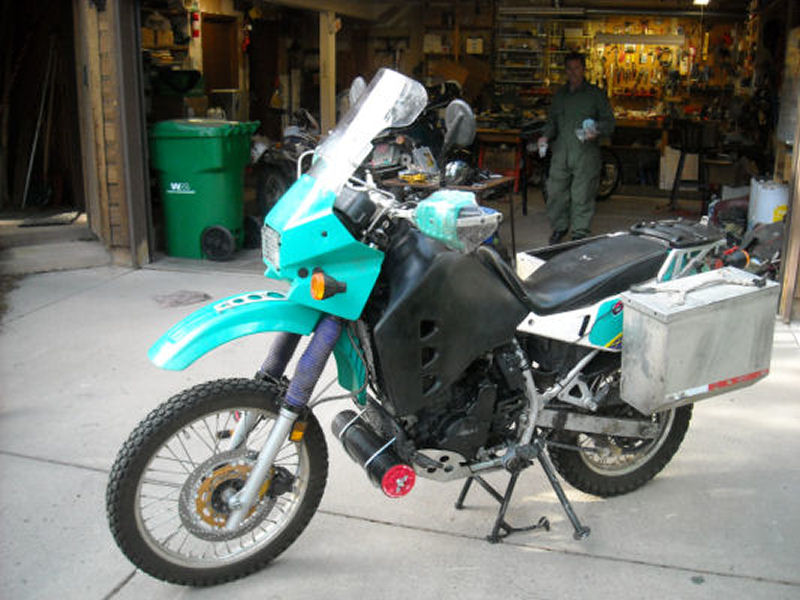 --------
Our final Koga school week is now over, and it was my final obligation for the year.

It was a smaller Koga class than usual, only 20-some students. The class was held in Greeley, Colorado this time, and the venue change might have contributed to the lower attendance. Rather than commute each day (a 220-mile round trip for me), I stayed at a hotel for the week. Mr. Koga stayed at the same place so I got to chauffeur him around for a few days, since Don had to commute some of the time due to other obligations (a court appearance and a college class he was scheduled to teach).

I was taking it easy on myself this week. Self defense classes can get quite physical, and after several years being one of the main crash-test dummies for Mr. Koga, I have been happy to let one of the other instructors get thrown around most of the time these days.

But, hey, at least I was here. I worked mostly with the newer students for the week.
Self portrait: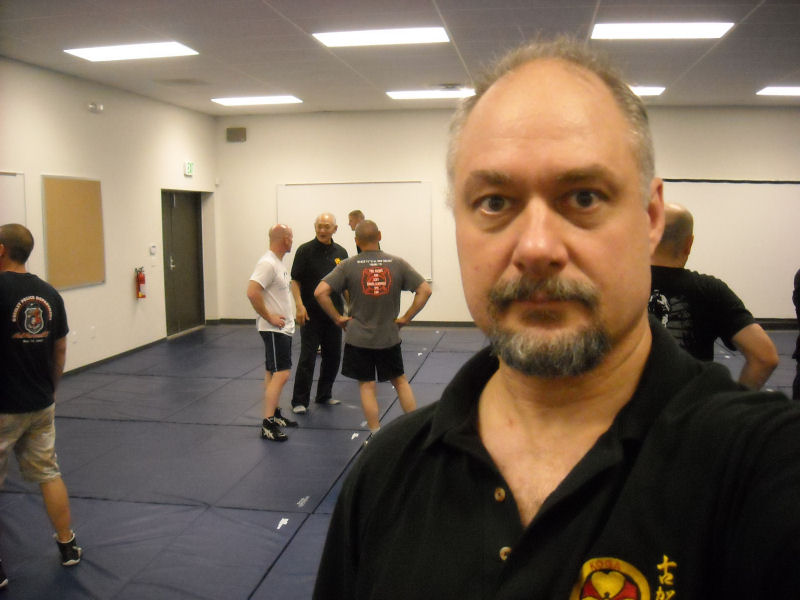 Don was always there to help the students out.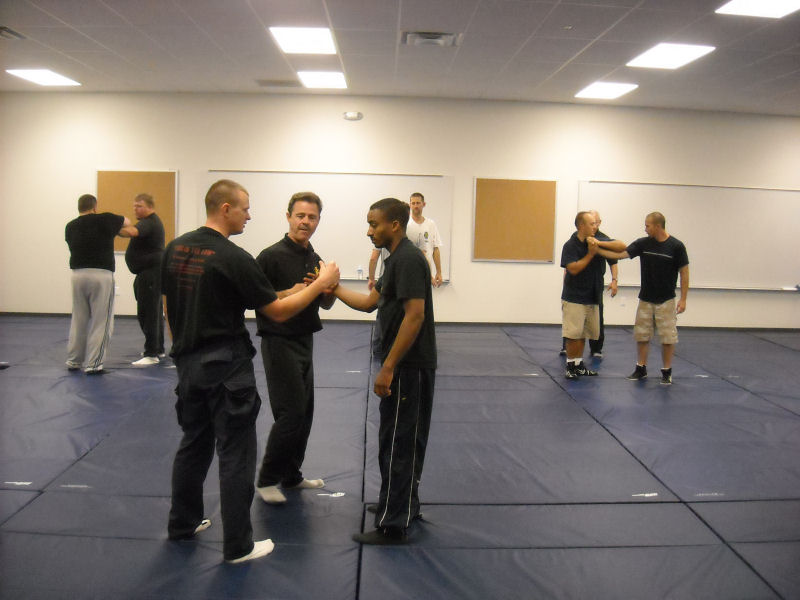 We finished a bit early on Thursday, all the student testing done. We took a break before dinner so that Don could have a shot of wheat grass juice. Man, that stuff was potent and pungent. My fruit smoothie tasted like wheat grass, since the smell from his "beverage" was so strong that everything in the area tasted like wheat grass.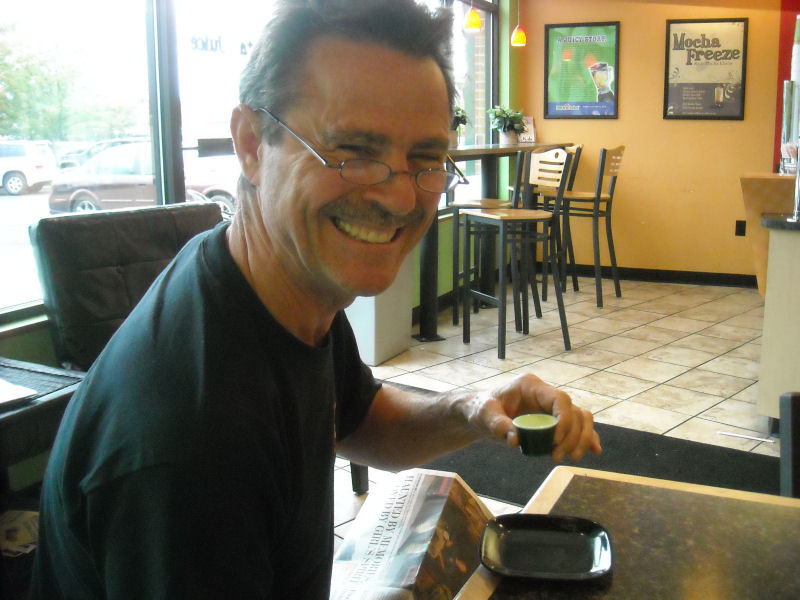 Okay, so that's it for serious obligations. Some final prep work on my bike, some family get-togethers in the next couple of weeks, and we are out of here!

Actually, I have a KLR650 tech day to attend tomorrow, but that is more of an elective obligation. Since I promised to be there, I will be there
--------
Laurie and I drove down to Pueblo so we could bring tools, a bike lift, parts, etc. The turnout was decent; a dozen or so KLRs got worked on to varying degrees. Some were wrenched on inside, others outside.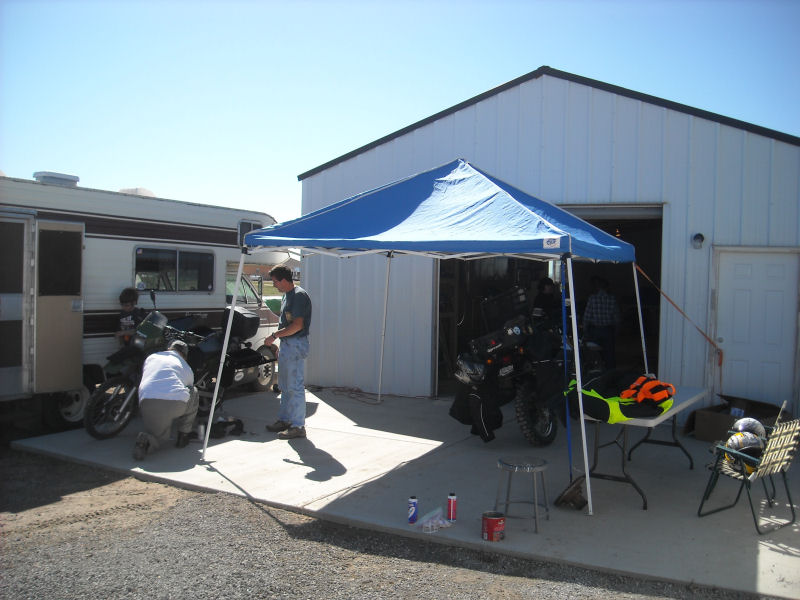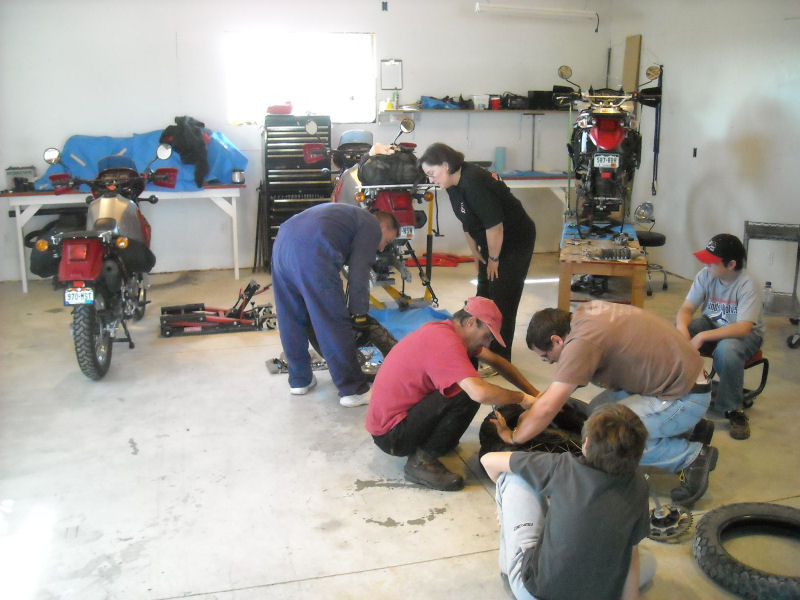 Suddenly, a poker game broke out. We played for no money, so the strategies were loose and we resorted to stealing chips from each others' stacks whenever anyone went bust. It was a hoot, and I have no idea who was closest to "winning" when it just got too late to keep at it anymore.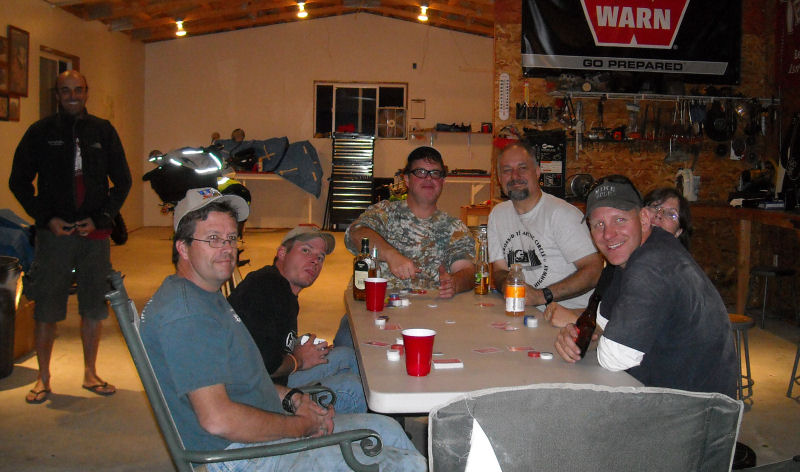 Laurie and I went home, but several others camped in the garage and went on an adventurous ride the next day. I kinda wish I could have gone with them, but I had other things to do.

A few final things to finish on my bike yet. Almost ready to ride. Less than two weeks to launch.
--------
As is often the case, things took an unexpected turn. I was doing final re-assembly of the KLR, and after putting the gas tank on it I tried to start the motor. It cranked, sputtered awkwardly a few times, but something was definitely wrong. I checked fuel, air, spark, compression (as best I could), and all seemed fine. Somehow, it seemed out of timing.
After getting back from Alaska, I had done a valve adjustment. That was over a month ago, but I remember having a problem with the cam chain. Somehow, I had dropped it off the exhaust cam gear, but I thought that I had gotten it back where it belonged. Wrong.
Long story short: I had gotten the cams out of sync, and both intake valves had been struck by the piston. Both valves were bent, and neither was closing fully. It took me a full day to discover this, but I'll save you the agonizing details.
I posted my problem on a few internet user forums, and got lots of suggestions and tips. Eventually, I contacted a guy that I have known (through the internet forums) for a few years. Cary works at Schnitz Racing, a motorcycle shop that tunes and rebuilds bikes for racing. He is one of the true KLR gurus. He and I exchanged email, and I called him at his shop the next day. He had a spare KLR head on hand, one left behind by a customer who had his engine rebuilt. I took him up on his wonderful offer to swap the heads.
The KLR head that Cary was sending to me (I even know the guy who's bike this came off of!) was low mileage, in great shape, and had been just sitting around in case Cary needed it for parts. It was no loss to him to send it to me, except that the head I was sending back had two bent valves in it. I got the better part of that deal.
The head was shipped to me from Indiana, and arrived the next day (overnight at my expense—which was worth it). Here's the replacement head, valves still installed. Fuzzy pic from my phone camera: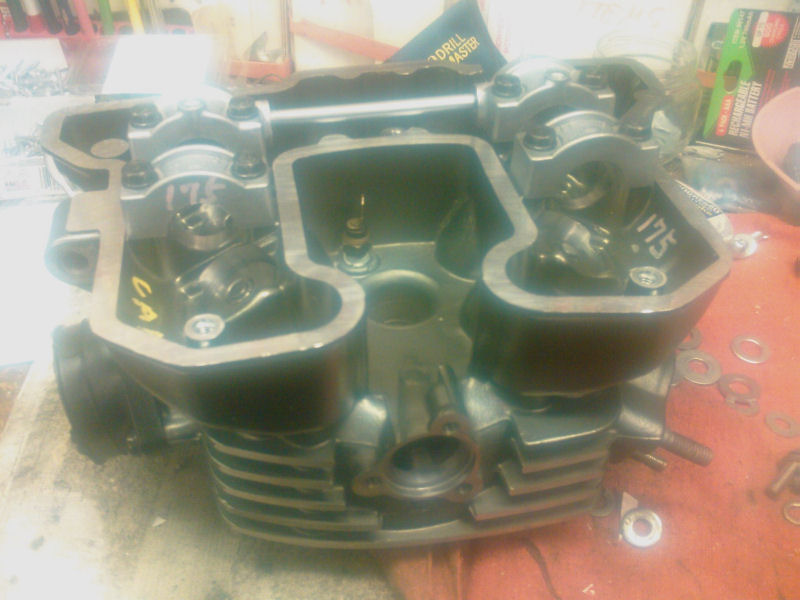 This was the state of the valves in my KLR's head. You can see where the intake valves (on the left) made contact with the piston. That new, shiny spark plug in the middle is the one I had just installed while initially troubleshooting my engine problem.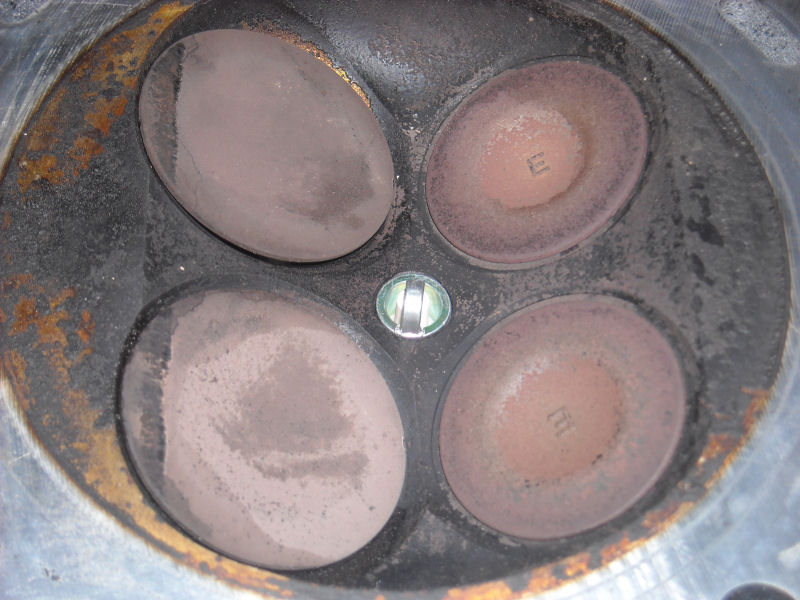 The piston itself looks fine, if a bit grungy. I've been running a rich fuel mixture, apparently. I scrubbed it a bit before this photo, but achieved little at first.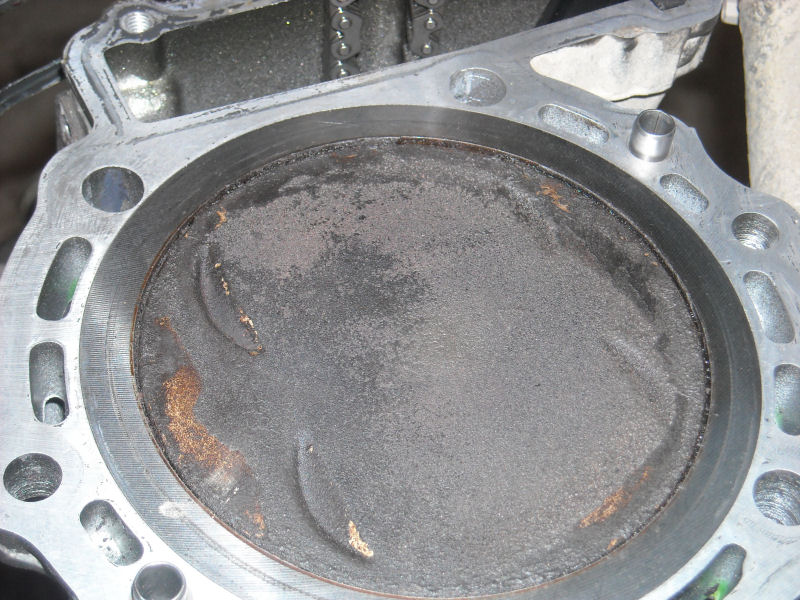 I cleaned up my bike's head and packaged it in the same box that the replacement head arrived it. No need to express mail it back to Cary. It'll just be another collection of parts on the shelf. I got to work on the piston, and after a couple hours with solvent and a stiff nylon brush, finally got it clean. I had to use the side of a dental pick (not the point!) to get some of the tougher deposits off.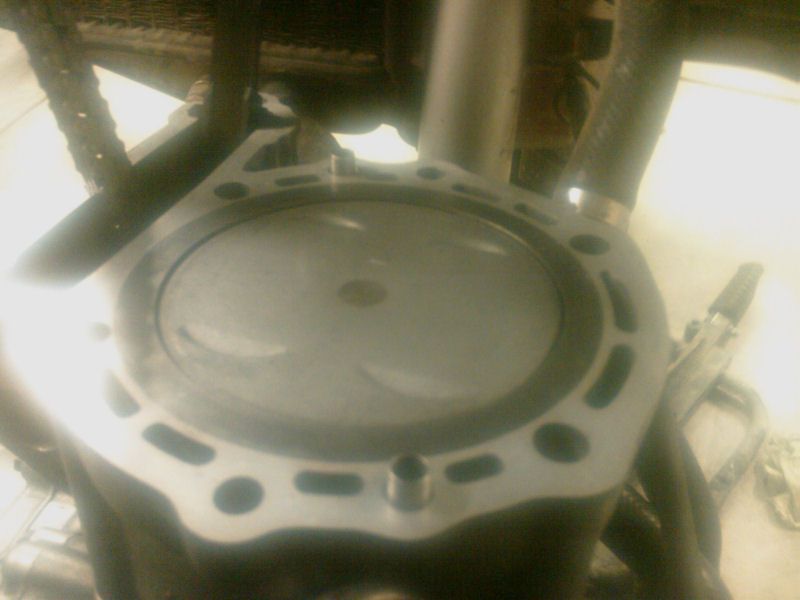 My wife asked me if the piston was supposed to have those "dents" in it, and I advised her that the piston was designed that way, to provide clearance for the valves. I guess I had needed more clearance than they gave me.
I already had new gaskets on hand, so the replacement head got installed and things were going just fine for a while.
For a short while.
There is an oil line that bolts onto the head, and it is attached with a banjo bolt. A banjo bolt is used in lots of hydraulic connections. It is hollow, allowing the fluid to pass through it and into the banjo connector which is also hollow. As I started to torque the bolt, it seemed to be turning too easy, and it quickly became apparent that the threads were stripped. The bolt never got to the torque spec.
Phooey.
There were few choices at this point. I could curl up in a fetal position on the garage floor and suck my thumb, I could scream and throw things, I could hopelessly and numbly stare at the bike, or I could just take the head off again and start looking at a thread repair solution.
After hopelessly and numbly staring at the bike for a while, I let out a resigned sigh and took the head off the bike.
I have a few kits that use thread repair inserts, but none in this size. A 10mm bolt is usually threaded at 1.5mm spacing, but this banjo bolt has a 1.25mm thread pitch. I'll have to wait through the weekend to shop for a thread repair kit in the right size.
Harumph!
Turns out that a M10x1.25 HeliCoil or other thread repair insert is not so common. I was referred to NAPA where I finally found the HeliCoil kit. I had a bit of trouble with the repair, first scratching the surface where the banjo bolt's crush washer would mate, then mis-inserting the first coiled thread insert. After removing the insert, I managed to get another one properly installed.
I put the motor back together and it ran fine, but the banjo bolt leaked and there was a coolant leak from the front of the motor somewhere. I tightened the bolt down until the crush washer did its job and the oil leak stopped. The coolant leak was a completely different problem. It turns out that I had cracked the front of the aluminum cylinder casing while removing the head. Another call to Cary was in order.
Unfortunately, Cary advised me that he had no replacement cylinder on hand, and it would be a while before he could get one done for me. An hour later, and the magic happened again. Another customer, Mike, had a cylinder in Cary's shop being rebuilt and enlarged for yet another customer, Ian. After reading my woes online, Mike, Ian, and Cary agreed to divert that cylinder to me. Cary called me back with the news, and that was that. Not only would I be buying a replacement cylinder immediately, but it would be the 685cc upgrade kit. More power!
Here's the original piston about to be removed.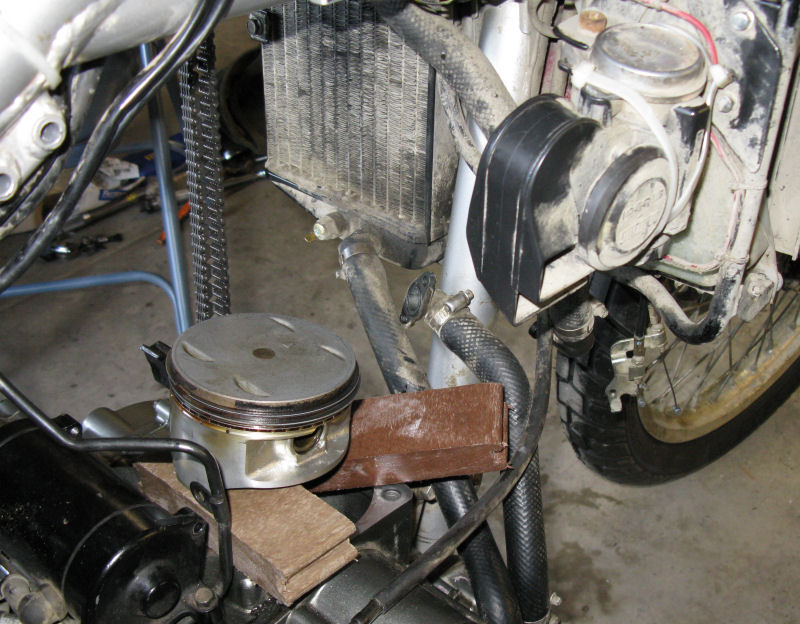 Next day delivery again, and I had the new cylinder and piston (rings already gapped and installed) on hand. Laura, a friend with lots of mechanical experience and expertise, came by to help me mount the cylinder, and it went together easier than I had expected. My wife, Laurie, allowed me to remove the head from her bike's motor, and suddenly I had a complete, undamaged, enlarged motor on my bike. Laurie will swap the removed parts with Cary and he will do a better job repairing the stripped threads on the head that came off my bike. Once returned to Laurie, she will have someone (Laura, maybe) help her get her bike back together while I'm gone.
The new Schnitz Racing 685 piston compared to the removed stock KLR piston. The 685 piston is much lighter, which supposedly makes for a smoother-running motor.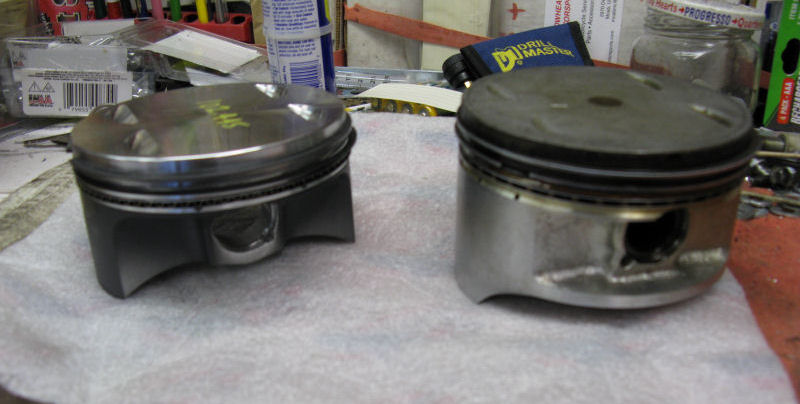 The Schnitz 685 piston installed.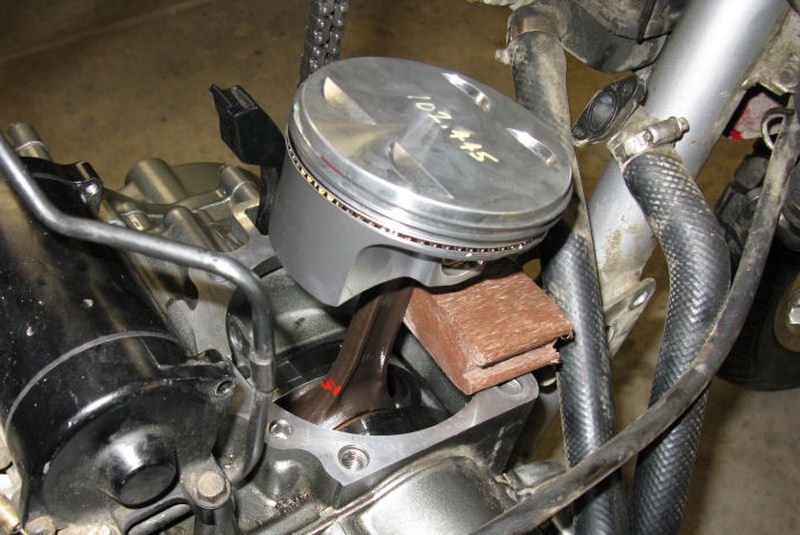 The next day I took the bike out for its first scrub-in, and it ran great. It was noticeably smoother as well as more punchy. After an oil change, I put another 150 miles on it, working the motor and doing a lot of engine braking, per the break-in instructions. I'll put on another 200 miles or so before another oil change, and the bike should be ready for South America.
My thanks again to Mike, Cary, Ian, Laura, and Laurie for helping me overcome my incompetence and clumsiness.
Over the next three days, I put over 200 miles on the motor, and did a couple oil changes and a coolant flush. I'll do another valve check before calling the job done.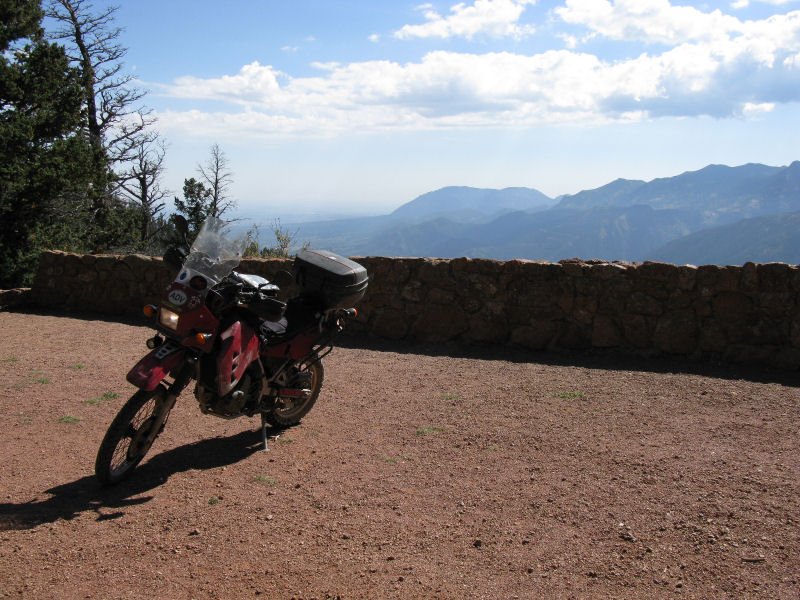 For the final break-in run, I did some easy dirt (Mt. Herman Road to Rampart Range Road), then rode into Manitou Springs for lunch. I picked up a nail somewhere, and after getting started again the rear went flat. I had recently read Ted Simon's latest book, Dreaming Of Jupiter, and saw that he spent two and a half years going around the world (again) on six sets of Avon Distenzia tires. He did almost 60,000 miles on six sets of tires, averaging 10,000 miles per set. Me, I managed almost 200 miles before flatting out a new Distenzia (and an ultra-heavy-duty tube). These were the same model of tires that I had gotten stuck with in Whitehorse, Yukon, but they were not knobby enough for what I needed to do at the time. Since then, I have met several riders who have ridden long distances in Central and South America on these tires, and each of them found the tires to be dependable and long-lasting. I'll give them another try.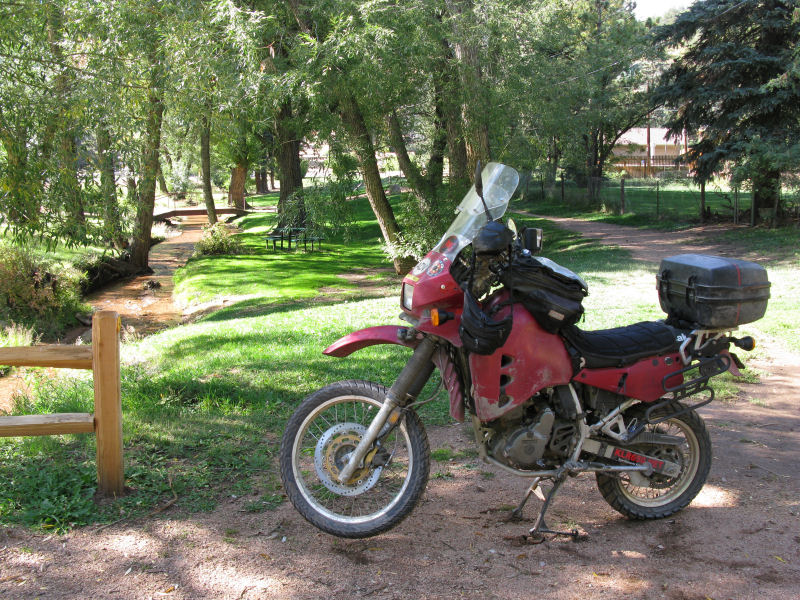 After pinching the spare tube I had with me, I tried patching it (the original tube had been shredded by the nail). The patch job didn't take, so I had to call my wife to bring me another tube.
Once I got started again, it was dark. After Alaska, I had replaced one of my fork-mounted auxiliary lights with an HID light, so I had a chance to test it at night. It takes a few seconds to come on and warm up, but it is extremely bright for the 30 watts it uses. Since they are intended for both wheel-aimed illumination and as back-up lights for the headlight, I'll keep the one incandescent light and one HID for redundancy rather than replace both lights with HID. If the incandescent light bulb fails, H3 bulbs are readily available, and I'll carry a few with me. If the HID fails, it would be very expensive to fix, anyway.
A few days of small tasks and final packing, and we should be ready. Don is also struggling over what to take and what to do without. Most riders (that I have talked with or whose exploits I have read) have regretted taking too much, but it sure is easy to find a reason to take a lot of stuff.
Wednesday, October 1, 2008
-------------------------------
The departure countdown has started. Monday the 6th should be our launch date... or maybe Tuesday.
Today I did a valve check (all ok), and got the bike totally back together, including re-attaching the soft luggage and mounting the new Jesse Odyssey II boxes. I had a hard time getting the highway pegs, bash plate, and tool tube all mounted. For some reason, they didn't want to play well together. I reminded them with a hammer that I am the boss of them. All fixed.
I'll need to replace the light duty tubes in both tires with heavy tubes, then balance the front wheel. After a final test ride, all that will be left is deciding what to take and how to pack it. I had to order more brake pads and spare tubes, so we might not get launched until they arrive.
For some reason, the heated gloves I took to Alaska are now working. I have no idea why, but they never worked on that ride, and today I tested them out on the heated jacket's wires (as I had tried before) and they heated up just fine. There's no explaining some things.
Thursday, October 2, 2008
--------------------------
I knew that I had several sets of extra brake pads to take with us, but I only realized today that I had only one extra set of rear pads. I wouldn't mind having a couple more sets of front pads, too. I placed an order for more brake pads, but they might not arrive by next Monday, so I put out a request for local riders asking for their extra pads. Laurie will swap them back with new pads when the shipment arrives, which will likely be after I'm gone. We'll see what happens.
I mounted a machete behind the left Jesse box. I heated and flattened a 3" PVC tube and made it into a hard plastic sheath that mounted very well for an easy draw, yet will be mostly hidden and secure. It's just intended to be a tool, not a melee weapon, by the way.
I might look for some softer foam tomorrow, and if I find some, I'll remove the gel pad and put in the foam. The gel pad might conform to my butt, but it is even harder than the original Corbin seat. Plus, it makes the seat very heavy. There's always something more to do.
I helped Laurie remove her cylinder. Since her motor was partly apart anyway, she decided to upgrade her cylinder/piston to the 685cc kit as well. She'll ship everything we removed to Cary, and he will return to her one fixed head and the enlarged cylinder/piston kit.
I pre-sorted all the clothing I intend to take, and a few more items need to be treated with Permethrin, an insect-killing treatment to help the outer clothing be mosquito killing. There is a spray-on Permethrin treatment, but I have some soak-in stuff that lasts through several washings. Much better.
Lots of other small chores today, and more tomorrow.
Friday, October 3, 2008
----------------------

I got all the clothing selected and treated, roughed out an inventory of what I'll be taking along, finished copying and laminating documents, did some shopping and finished general chores. I had several extra sets of front brake pads, but only one set of rear pads, so I had to get more. I have an order being shipped to me, but it might not arrive in time. I went to four different shops to get the spare pads that we'll take with us. I was lucky to find those on the shelves.

I also bought a GoPro Hero digital camera that can be mounted in various ways and will serve as a backup camera. I also bought some soft foam for the Corbin seat. At home, I removed the gel pad from the seat, re-carved the dense, hard foam from the Corbin and glued in the softer foam. After reshaping it and refitting the vinyl cover, it feels better than it did with the gel pad. It's a LOT lighter, too. The foam is maybe too soft, so there is no perfection. With the Wal*Mart seat cover, it feels much better than it did before. I wish that I had bit the bullet and had a custom seat made when I got back from Alaska. Oh, well.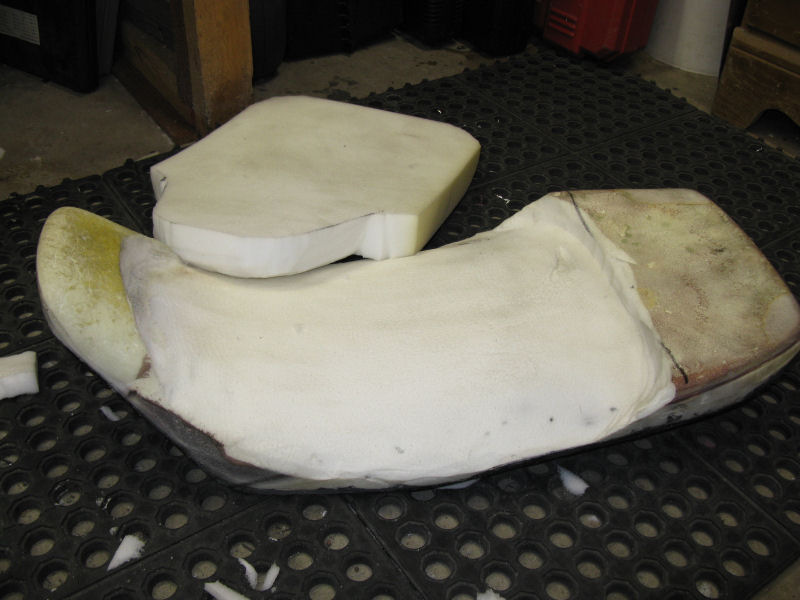 The Hero camera seems defective, so I'll return it for a replacement later. Don will come over tomorrow to finish copying and laminating documents and pick up the parts that he will be carrying.
Saturday, October 4, 2008
---------------------------
Don and I finished with all the document copies, laminating several of them, and each carrying a packet of the other's documents. We also have digital copies on USB memory sticks. That way, if a bike (and the documents in it) is stolen, we each have copies of the other person's stuff.
Don's bike needed some final work, and wouldn't mind finding a stiffer spring for his rear shock. I have a 550# spring on my shock, and it doesn't sag much when loaded. Don's bike is a low rider when loaded down. This might be an issue on any rough roads. I guess we'll find out.
Sunday, October 5, 2008
-----------------------

Laurie and I slept in late, then went up to Longmont to visit old friends. Jerry had been one of my first martial arts instructors a long time ago. He and his wife Marilyn have remained friends with us despite the long intervals of us not seeing each other. Bruce is my oldest (as in longest time) friend, from back in Junior High School. He and I have a lot of mileage together, but we haven't seen much of each other lately, either. He and I used to hang out at the Karate dojo, and that's where he met Georgeanne. They've been married longer than Laurie and me.

This isn't interesting to most readers, but it's a nice photo for those few who know everyone at this table. Georgeanne, Laurie, me, Bruce, Jerry, Marilyn.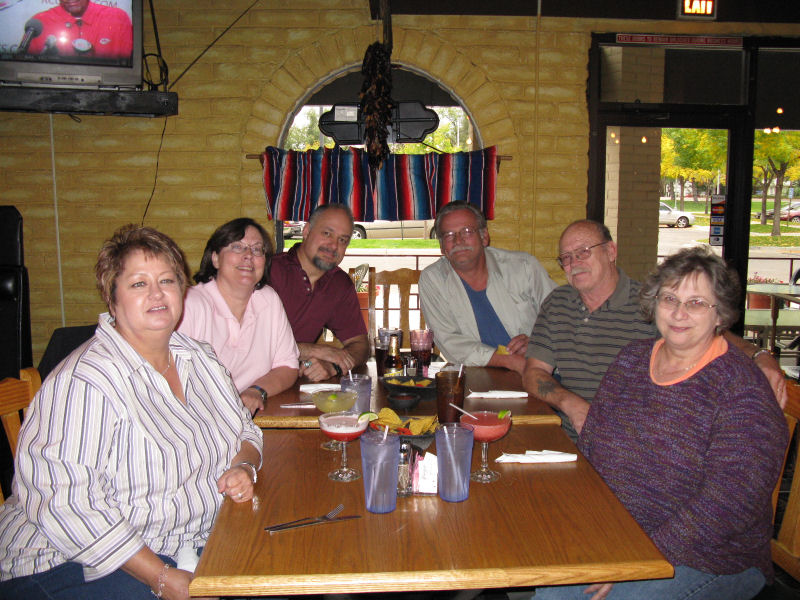 Back home, I did some more research for the trip, did final document arrangements, sorted some things out for packing. Light day all in all, and the Broncos beat the Buccaneers, so that was nice, too.


Monday, October 6, 2008
---------------------------
Laurie did some research and found what we needed. Multisurface Motorcycling is operated by Eldon Carl, a sort of a KLR guru, and by many accounts he's a curmudgeon and a harsh critic of other people's opinions. None of that matters to me, but it was at Eldon's shop that Laurie happened to find heavy KLR shock springs. We ordered a moderately heavy-duty spring, and Laurie cajoled them with kindness until they drove the spring to the nearest UPS shop and sent the spring to us overnight.
Laurie also found a guy near Denver who would mount the spring on the shock whenever we showed up.
I spent about 15 hours finalizing all the petty, picky, nagging things that I had put off until the last moment. Some of those tasks, such as putting stickers on the new Jesse boxes, wouldn't take long, but altogether, all those tasks added up to a long day in the garage.
I culled through my intended wardrobe and eliminated about a third of the clothes I intended to take. Other selections of maps, books, and electronic gadgets followed and some of that crap also got set aside.
Tuesday, October 7, 2008
---------------------------
I had been up late last night, so I slept in. When the new shock spring arrived, I delivered it to Neil, who specializes in motorcycle suspensions and runs a shop in his garage. Neil first tried his usual spring compressor tools, but none worked with the KLR shock, so he resorted to rigging up a jig on his shop press and got the new spring installed. He charged me, "Ten or fifteen bucks... whatever you think is fair." I paid him $15 and I was on my way.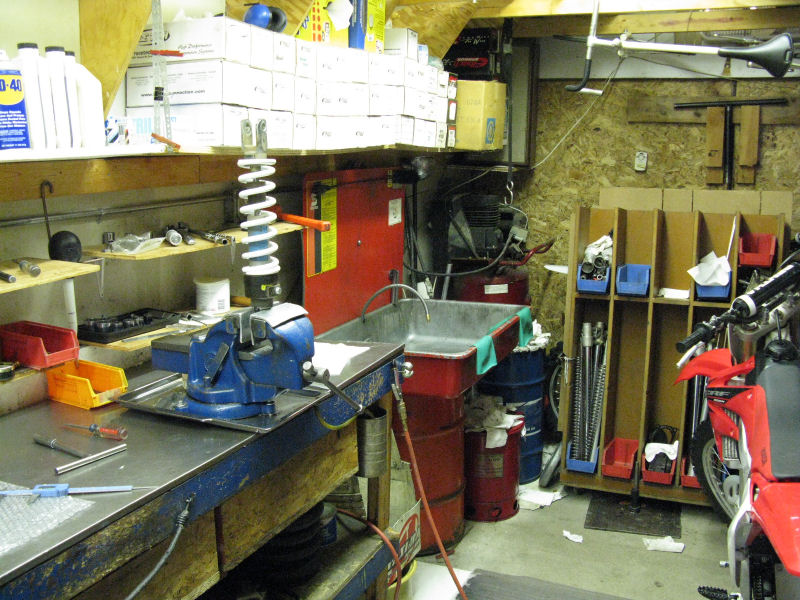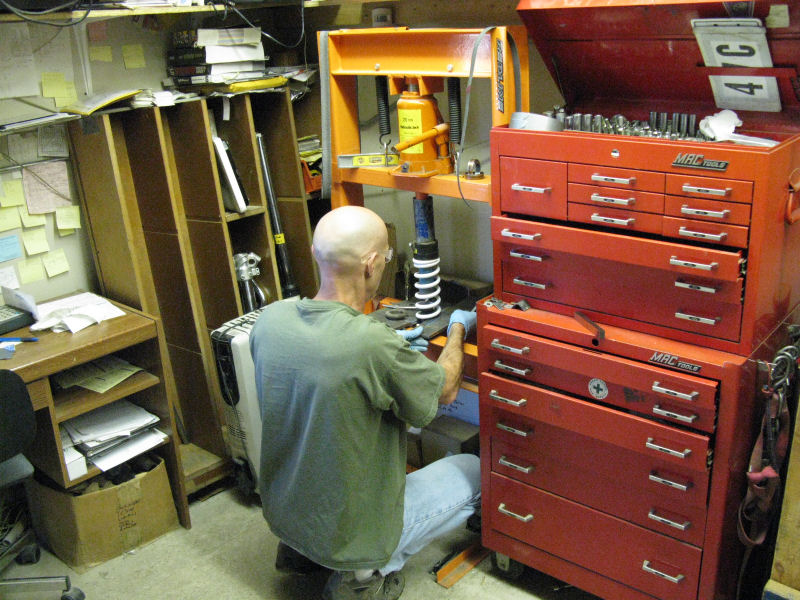 I made some final purchases while I was driving around, getting various spare parts and things from a few bike shops and hardware stores. I delivered the shock to Don, who already had his stock shock off and he quickly had the stiffer shock mounted.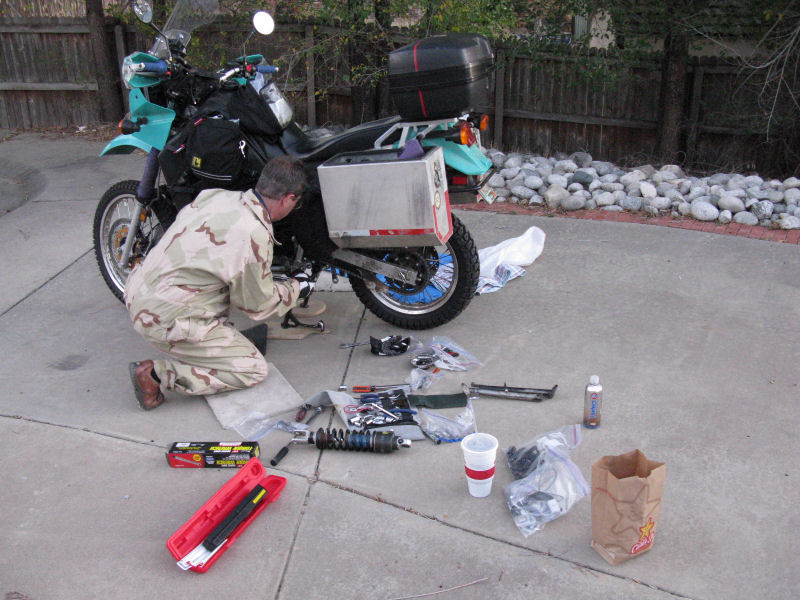 It still seemed a bit weak, and I wished I had gotten the heaviest spring available instead of the second-heaviest. Oh, well. We left the shortened sidestand on the bike, which accommodated the heavy load better and allowed the bike to park at a better angle.
Don and I made plans to meet at my place in the morning and head out.
<< Link to PREVIOUS report: Prudhoe Bay to Home >>
<< Link to NEXT report: USA Down >>
[ ERRANT-RONIN HOME ] [ Prudhoe Bay to Ushuaia Home Page ] [ Ride Reports Home Page ]