Part 2. Moab, Utah to Alaska
====================
Tuesday, June 3, 2008
-----------------------

Up early to do laundry and take a shower. I got packed up and again lamented having kept too much stuff with me. I checked out of the campground, had breakfast at the Diner, and finally hit the road. I didn't get far right away, though. There was roadway construction just north of Moab, and lots of cars were backed up for a long ways.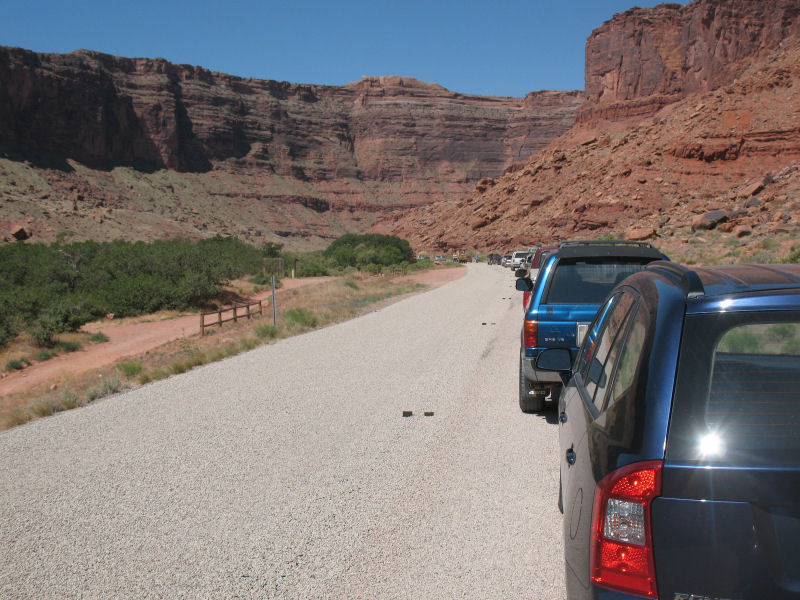 After we got through that, I took a photo of me and the bike, feeling as if the trip had truly started now.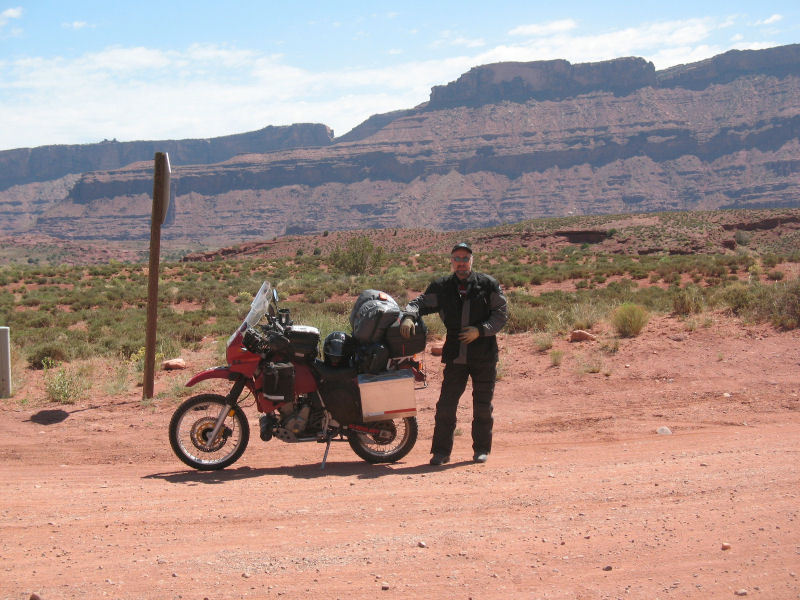 I was HERE



The historic Dewey Bridge had been burned down by a kid earlier this Spring. Too bad.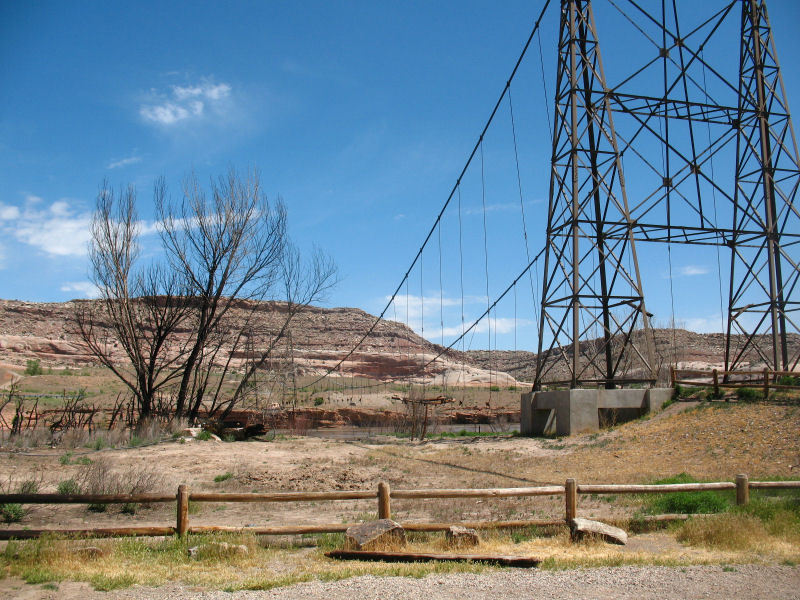 I chose a destination in northern Utah and let the GPS pick the route.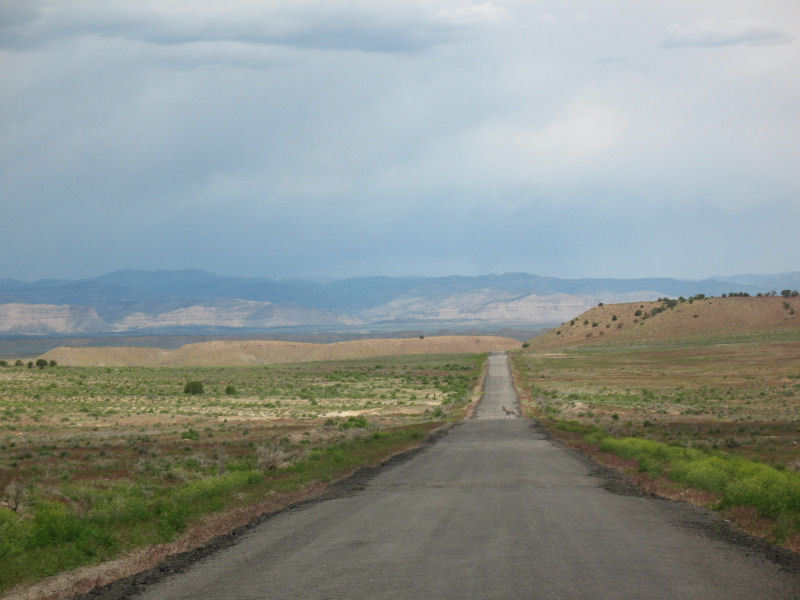 After a short stretch on I-70, I took the exit that had been selected and all seemed well for a while. Nice country roads, not well maintained, very little evidence of recent traffic.

The Utah-Colorado border, which I crossed a few times on back roads.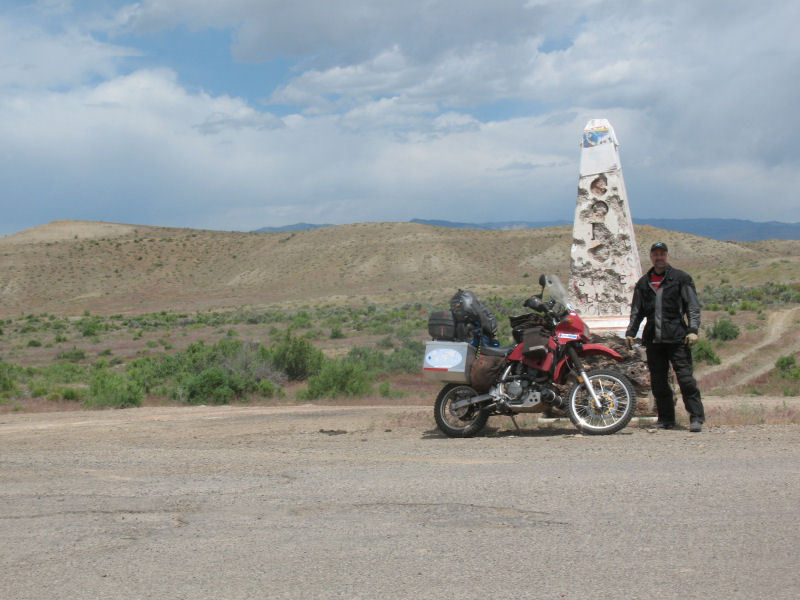 After an hour or so, the road got pretty challenging in spots. As the road wended its way through free-range cattle country, it also climbed into some mountains.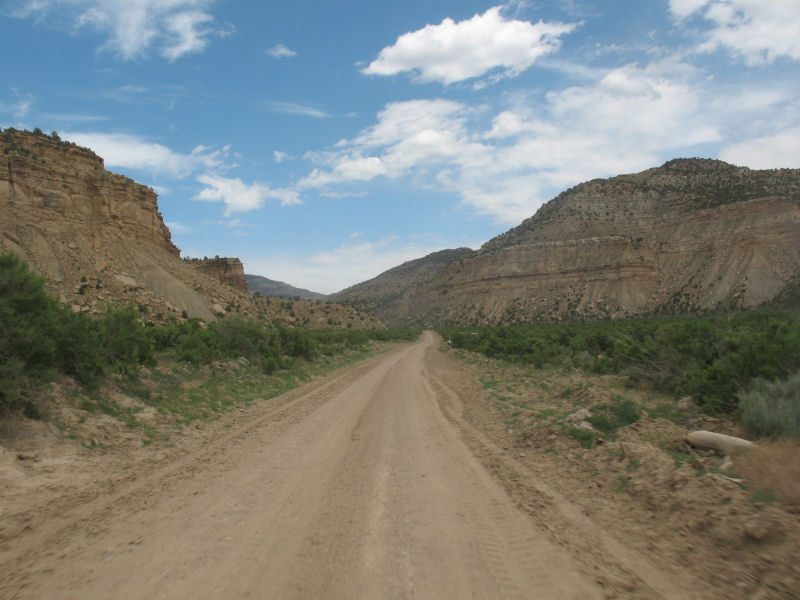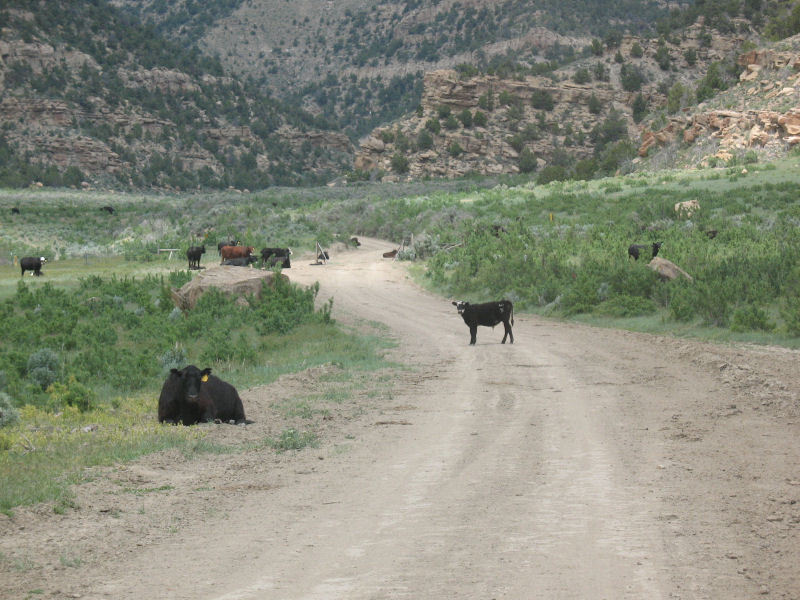 The dirt road was wet in many places from the still-melting snow, and muddy in a few spots. At higher elevations, there was still snow on the road, and I had a hard time punching through some of it. No cars or trucks had been this way in some time. Great. Gotta be careful up here alone.

Of course, it started raining.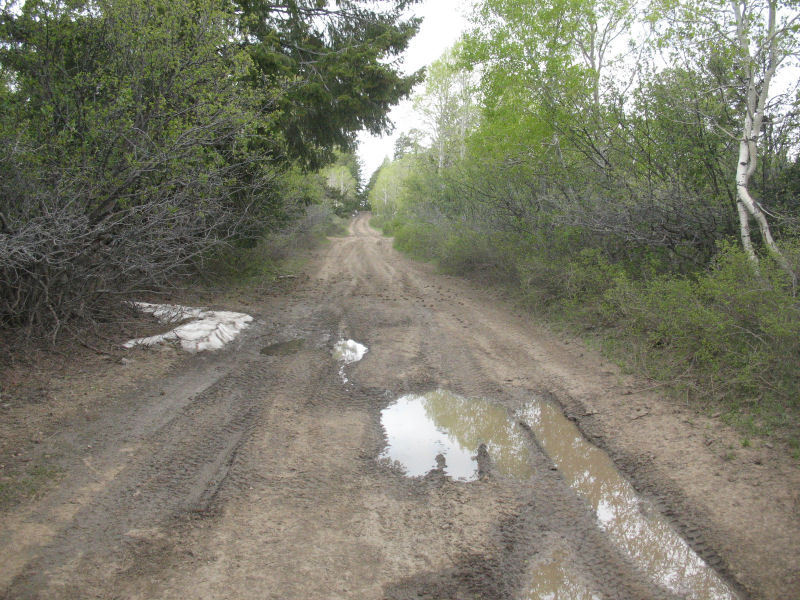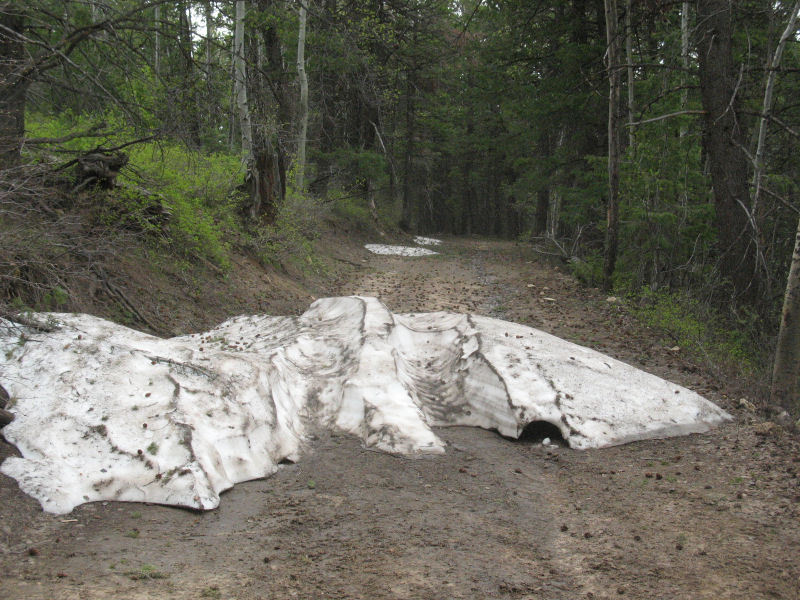 I finally bogged down in a muddy trench next to a big patch of ice and snow. The Mefo tire wasn't knobby enough to pull through, but it was knobby enough to dig a hole. The bike was too heavy to pull itself out. I had to unload the bike, setting all the boxes and bags aside, and finally work the bike out and up the road a ways. I made a few trips back on foot to get all the gear and reload the bike. That was tiring. It was drizzly, cold, and windy, too, so that didn't help.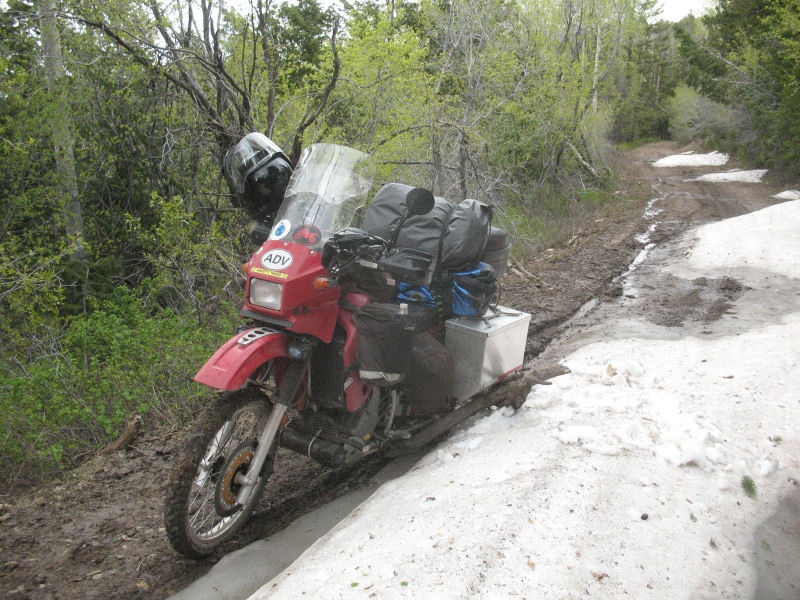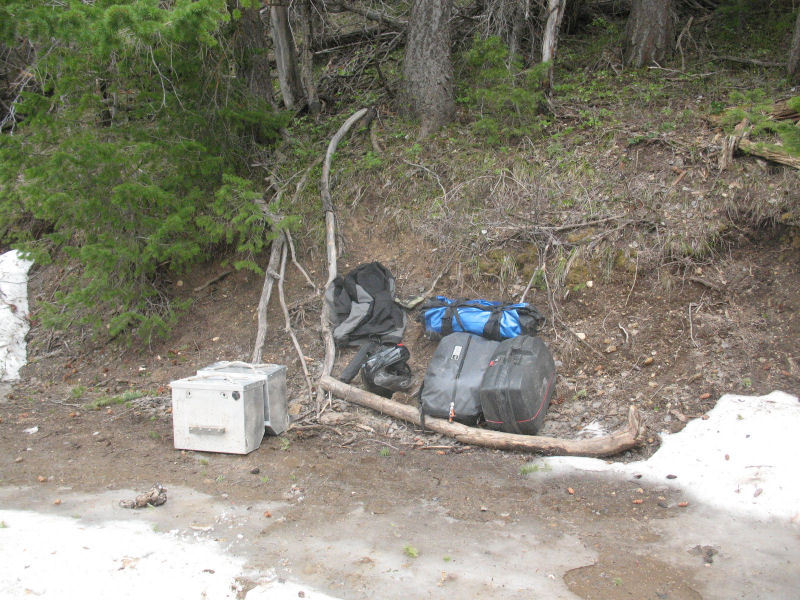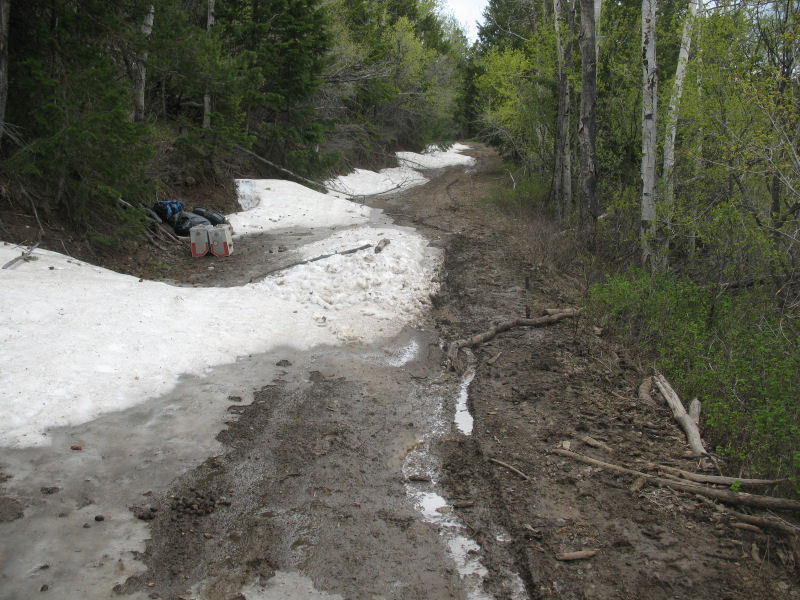 The road soon crested the mountain range, and after some more mud and sand areas, it got much better.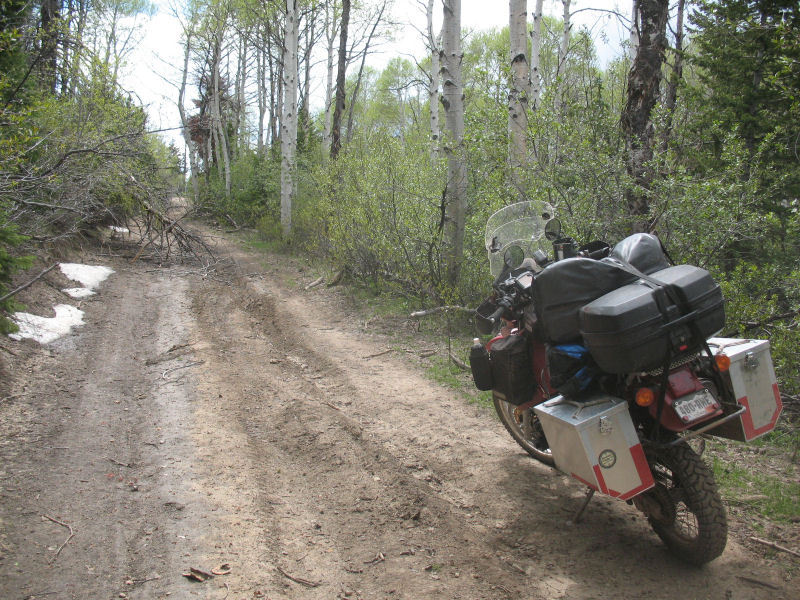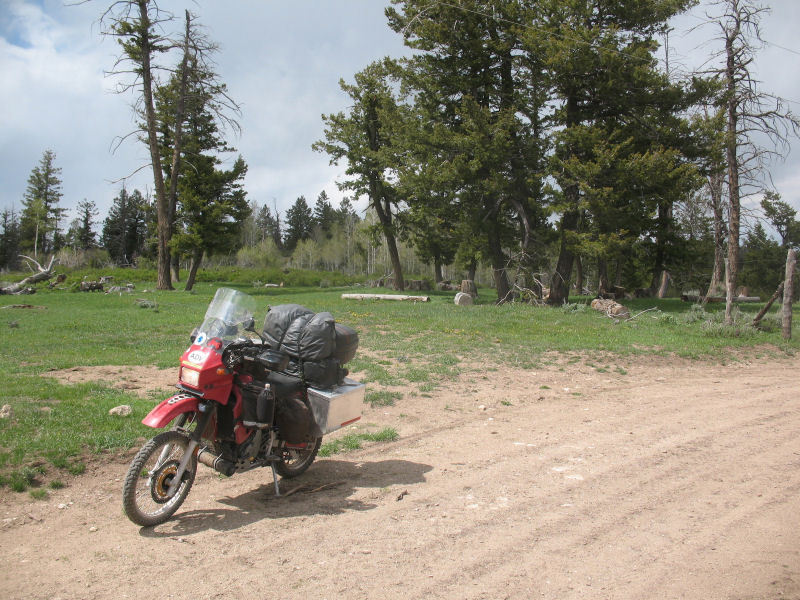 What the GPS hadn't indicated was that the road became a private road at some point. There was no alternative, no fork in the road, just a big steel cable locked across the road with a "No Trespassing" sign. There was no way I was going to backtrack several hours through all that crud, so I managed to slip the cable over the post and proceed. I replaced the cable behind me and hoped that the local residents (if any) would understand. As it turned out, the road was nice, although I did have to ride over a fallen small aspen tree across the road. I never saw another person or a house, just more cattle, one elk, and a few deer.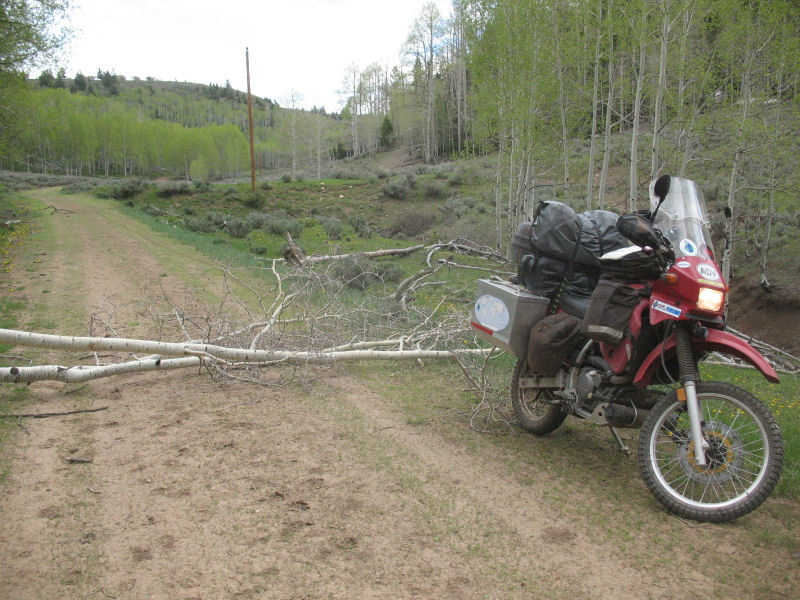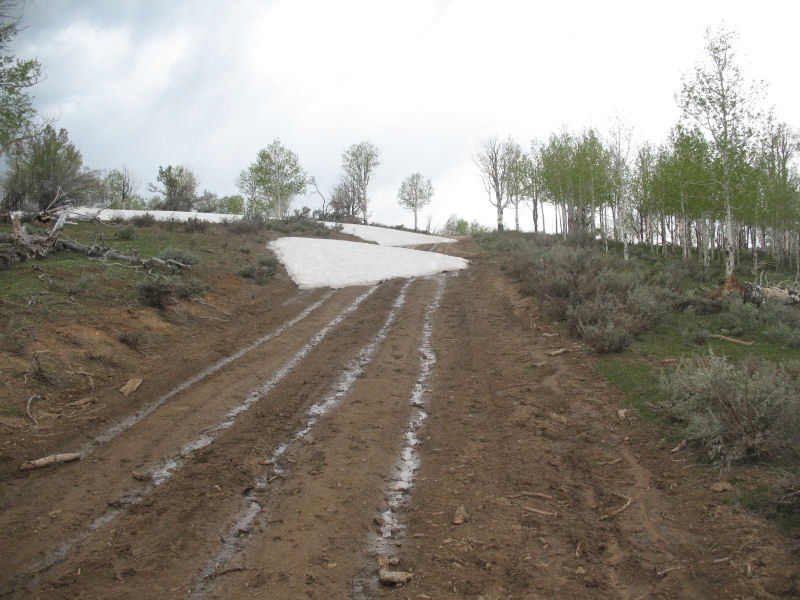 After several miles, I came to the other end of the private section of road. The iron gate here was much more formidable, and there was no way I could pass it. The fences and ditches on either side had me concerned, too. Eventually, I figured out a way to backtrack a short distance, get past one barbed-wire fence, ride back near the gate and bypass it. Near the gate was a section of strung steel cable instead of barbed wire. Also nearby was a big piece of cast iron pipe. I lugged the 8-foot section of pipe to the cable and laid it across to pull the cable to the ground. This allowed me to ride over the cable very carefully. Freedom! I put everything back the way I had found it and motored on.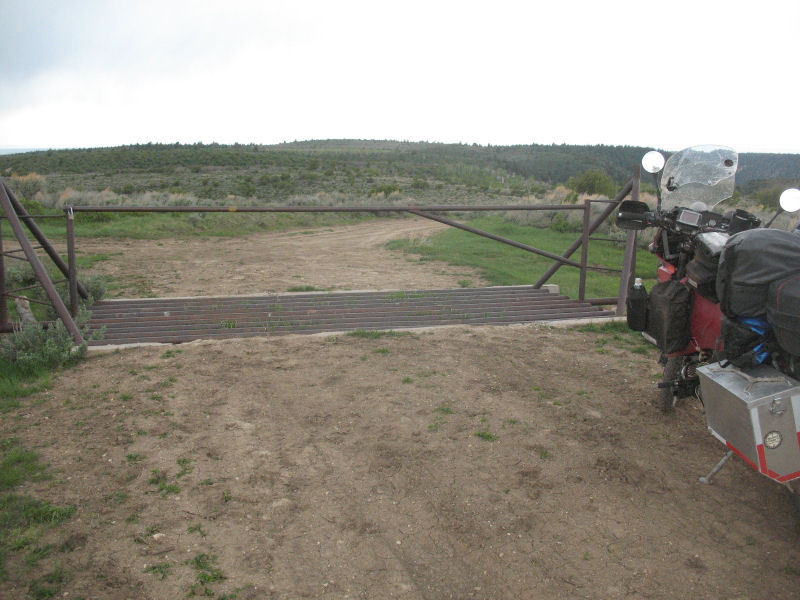 The roads now were obviously well-traveled and well-maintained. It eventually came to a recreational area with off-road trails and camping areas. Lots of signs pointed out the various (as yet unseen) activity areas in the scrubby wilderness, but I just wanted to keep heading north. I hadn't seen a soul for four or five hours. The mountain crossing would have been a disaster if I had been stuck or injured, but this area was probably pretty active, at least on the weekends.

Then it was more hills again.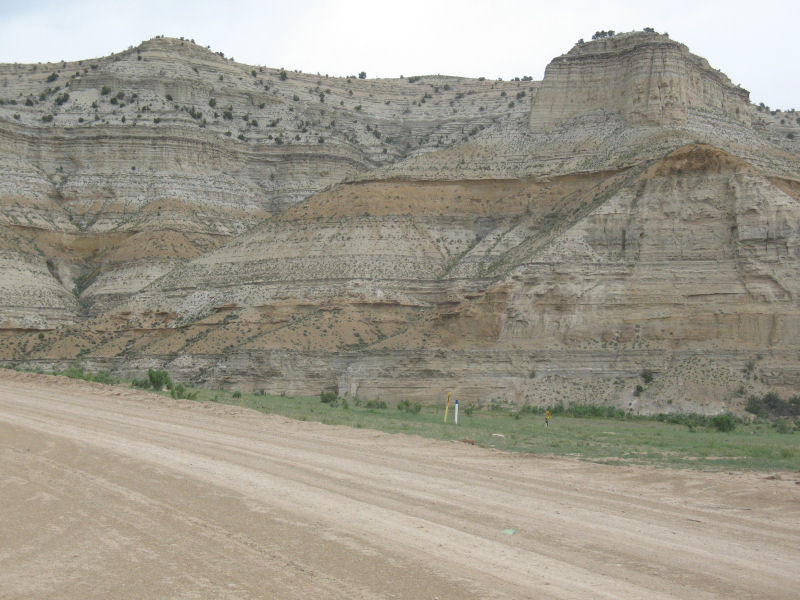 Eventually, the GPS led me to the Rainbow mine area and a ghost town named Dragon. I figured any ghost town named Dragon was worth seeing, but it turns out that I was wrong. Dry, dusty roads led me to a few evident remains of old fences.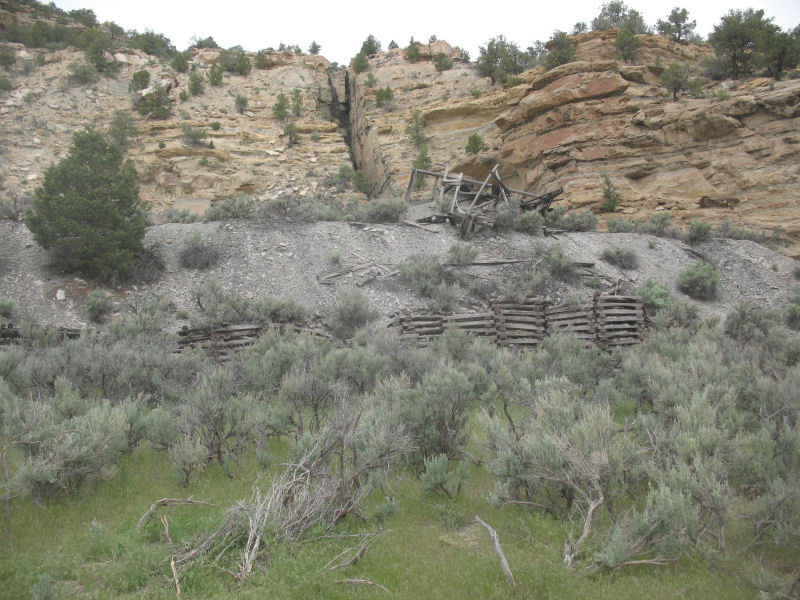 There was a chain-linked fence around the Dragon cemetery. Maybe a dozen or more grave markers.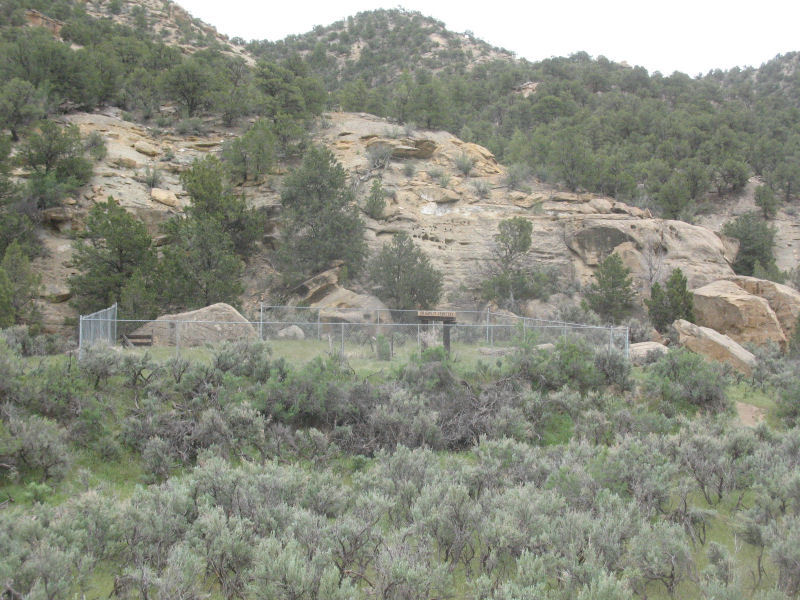 The road was very rutty and hard to ride with the heavy bike. The surface of the road was like brown flour, very fine powder, and it was surprisingly slippery stuff. Trying to stay up on the hump in the middle of the road was proving impossible, and I kept sliding down into the deep tire ruts.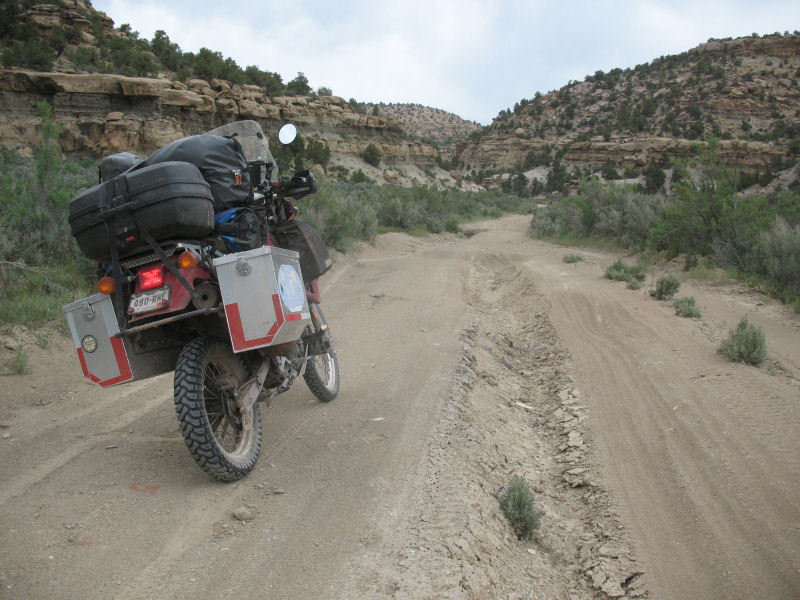 Eventually this bit me, and I had a slow-speed crash into the dirt embankment on the side of the road. Fortunately, the ground rose a bit there, and the bike didn't go over very far. I was able to right it and move on.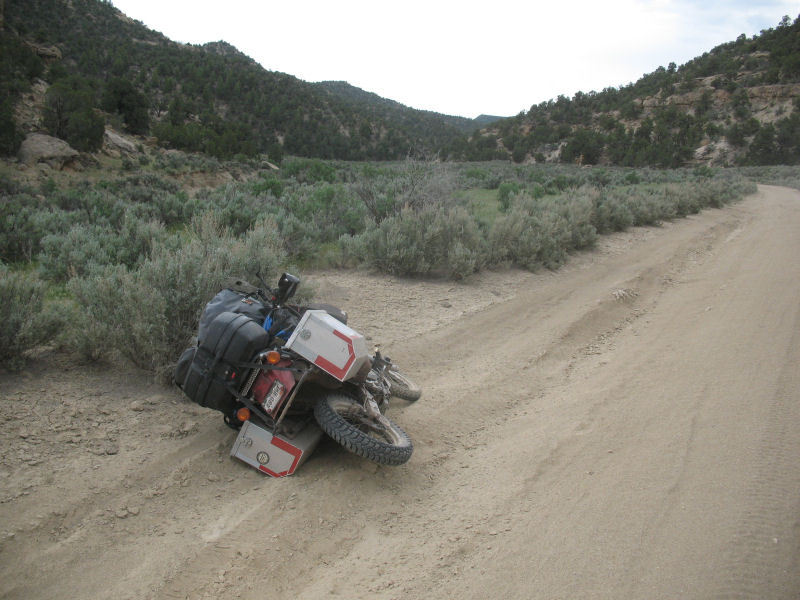 That tip-over, and several more to follow as the ride continued, again proved the vulnerability of the aluminum boxes. The back side of each box (where it was mounted to the rack) was getting misshapen with each minor impact. I had to bend the boxes out again by pulling on them several times over the next few days. Still, the boxes remained serviceable, so the un-bending repairs became a matter of routine.

By the way, this was my view from the cockpit.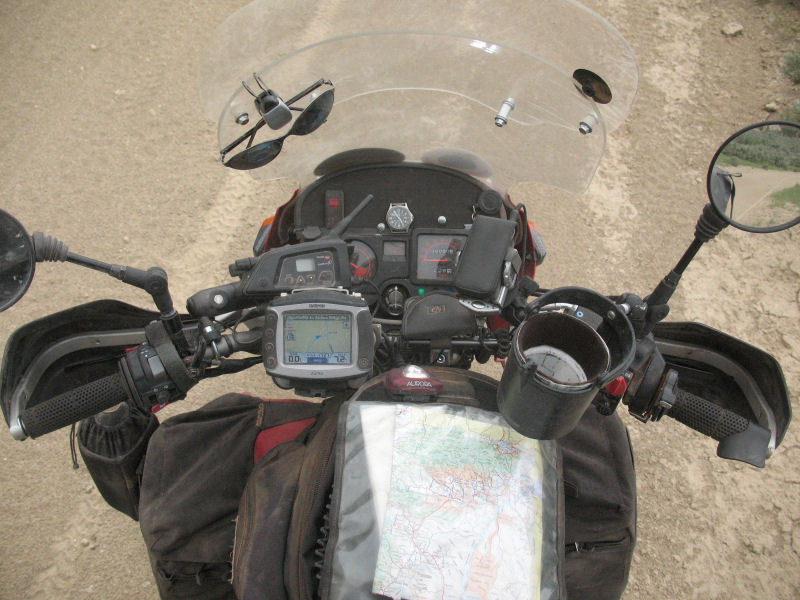 After learning my lesson about blindly following the GPS to ghost towns, I headed for Vernal, Utah on better roads.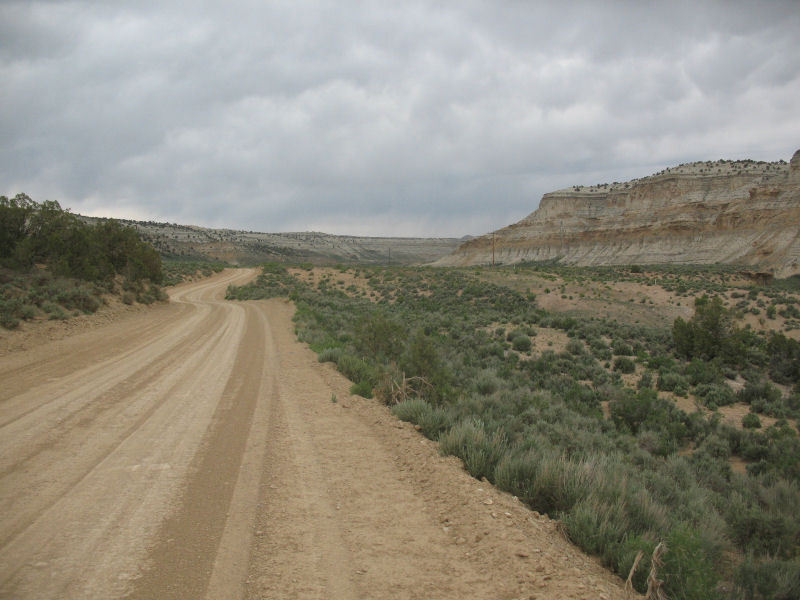 Just as I neared an intersection with another dirt road, I decided to turn around and get a photo of something. The u-turn on the off-camber dirt road was poorly done and I flopped the bike over again. It was fully on its side, with the tires pointed uphill. I was unable to lift it, so I decided to unload it as it lay there. Just then, not two minutes after I tipped over, the first person I had seen in six hours came driving along on the other roadway and saw me trying to pick up the bike. He was a trucker, but he stopped his big rig and jogged over to help me pick the bike up. His timing could not have been better. I thanked him profusely, but he thought nothing of it. He also thought that my plan to ride that bike to Alaska and South America was the coolest thing he had ever heard. He left with a wave and I forgot what I was going back to take a picture of, so I ended up following his rig for a while on the dirt and then on pavement toward Vernal. We waited with a few other cars at another road construction blockage. We later gave each other a wave when he turned off.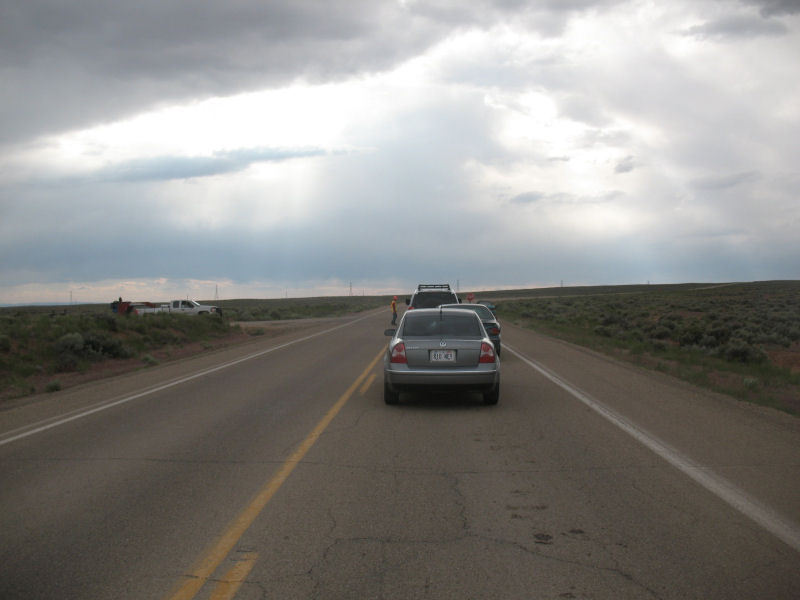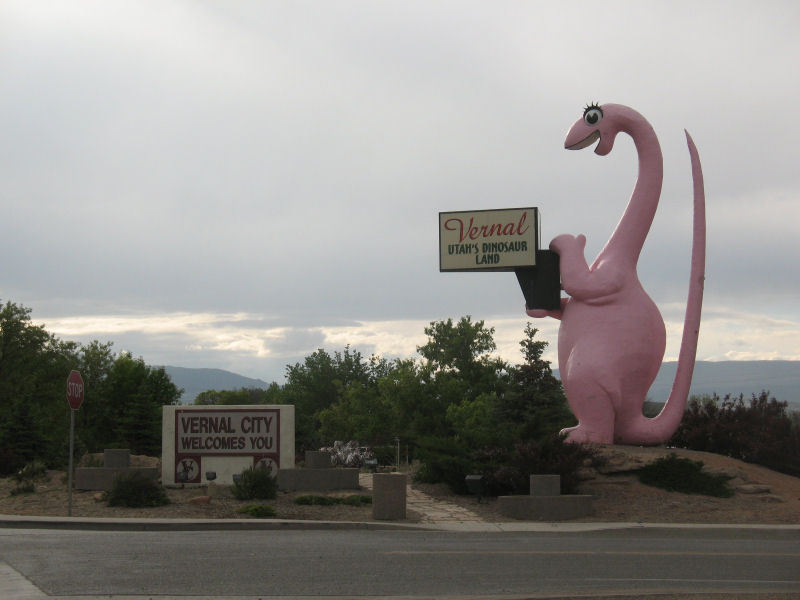 Some of the scenery was nice, but it was always cool and very chilly at times. I didn't take as many photos as I now wish I had taken. It drizzled most of the day, on and off, and I really didn't want to stop or dawdle much. Just ride, baby. I got into Vernal at 18:30, then headed toward the Flaming Gorge area to look for a campsite.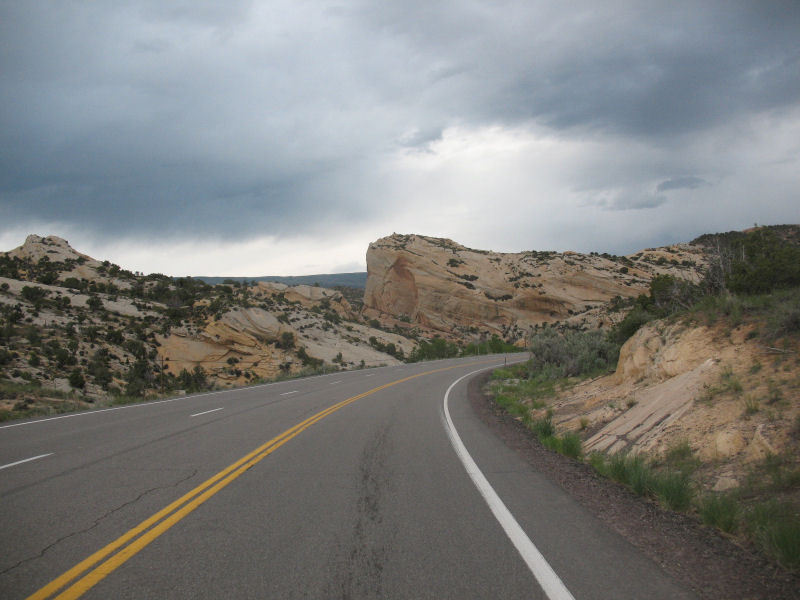 What I found was a big day-use picnic area with some RV trails. Good enough for me, especially since I was wet and tired after the 250-mile day. If a Ranger had a problem with me camping in a picnic area, he would have to find me first, and then he would have to stand in the rain to chew me out. Hah!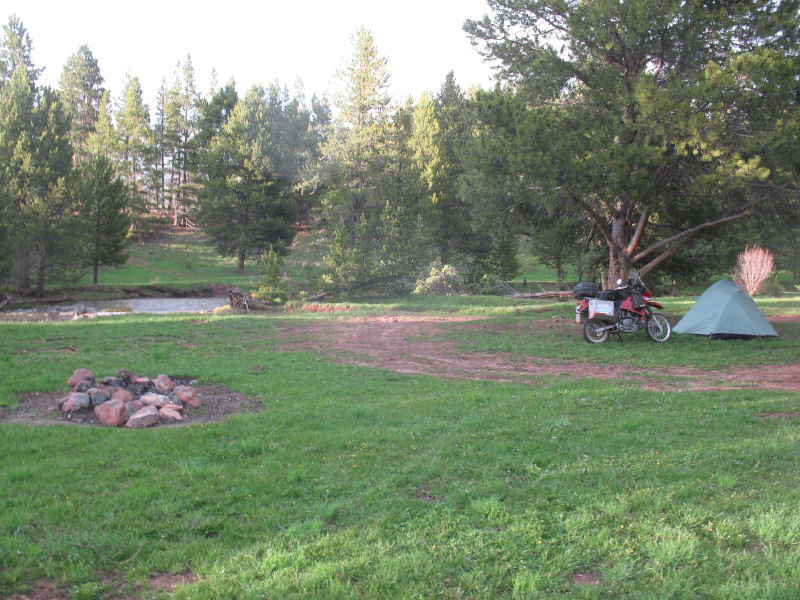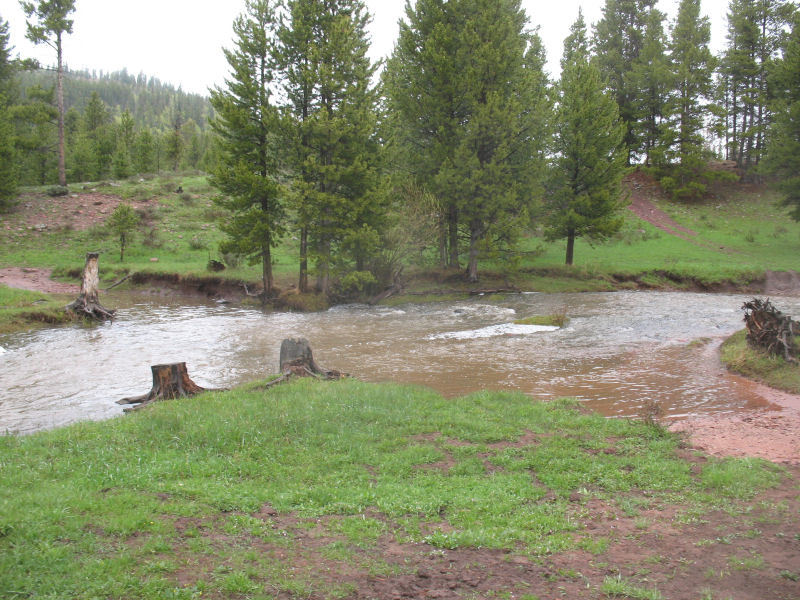 I found a nice site next to a swift river. I got the tent set up in the drizzle, and then the sky dried up for me while I scrounged fire wood. The reluctant fire finally took hold in the damp wood and things got better. I heated some water in the fire and enjoyed a freeze-dried meal in the cool breeze. Everything was just wonderful for a while and although I was tired, I didn't want to go to sleep and miss the wonderfulness. I finally ran out of firewood, doused the embers with water from the river, and got to bed just as the rain started again. It rained all night. Lightning in the distance, too.


I was HERE




Wednesday, June 4, 2008
-----------------------

I was up at 08:30 and packed up the wet tent as quickly as my stiffness and soreness allowed. I had slept well, and was fully rested, but my butt and back were sore from the riding and lifting. An increasing arthritic condition in my lower back is getting my attention more and more as life goes on. Such is mortality.

Once loaded up, I started out of the RV area, but the roads were all muddy and much worse than they had been the night before. The roads were big mud puddles in places, and I almost went down several times. It was even hard to power-walk the bike, paddle-foot style, when the hills were slick or the ruts were deep. I did make it out in one piece, but I was already tired when I got back to pavement. I made an early stop in some town for breakfast and decided to pass up on the rest of the Flaming Gorge area, heading north-west instead.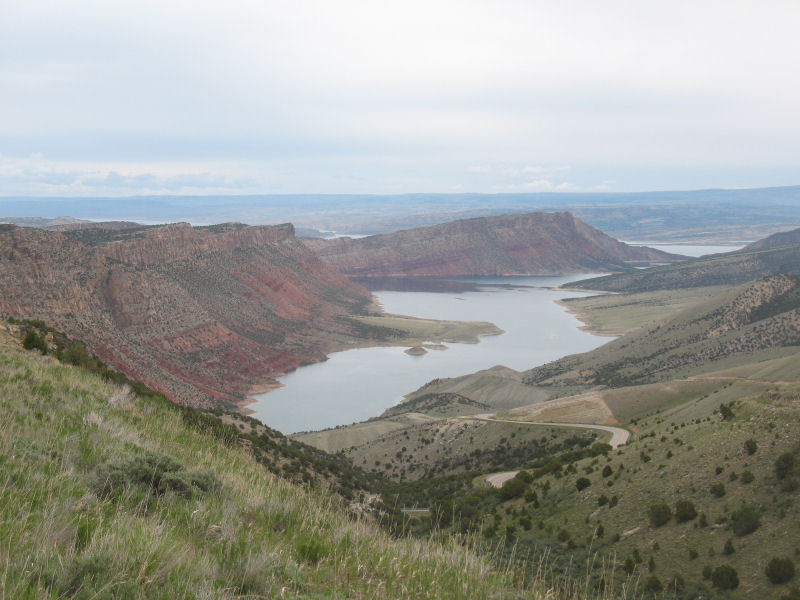 A couple hundred cold, dreary miles later, in Kemmerer, Wyoming, I gassed up and figured that I was getting about 38 mpg loaded and riding the way I was. That was less than I had hoped for and expected, but it proved to be a consistent rate from then onward. At times I noticed that I was getting over 40 mpg, and speed of travel was the greatest variable.

There was lots of nice scenery, if only in the distance at times, but the Zen-like ride was worth it. Having music to listen to, through the helmet speakers, was also very helpful. My MP3 player has about 800 songs on it, and I have lots more on the laptop that have yet to be loaded into the player, so it's about a week's worth of riding before the songs repeat.

At a mountain pass called "The Rim," the road was twistier and much more enjoyable. There were few opportunities to relax, with sharp turns and steep climbs. The road was good, but tourist traffic was heavier.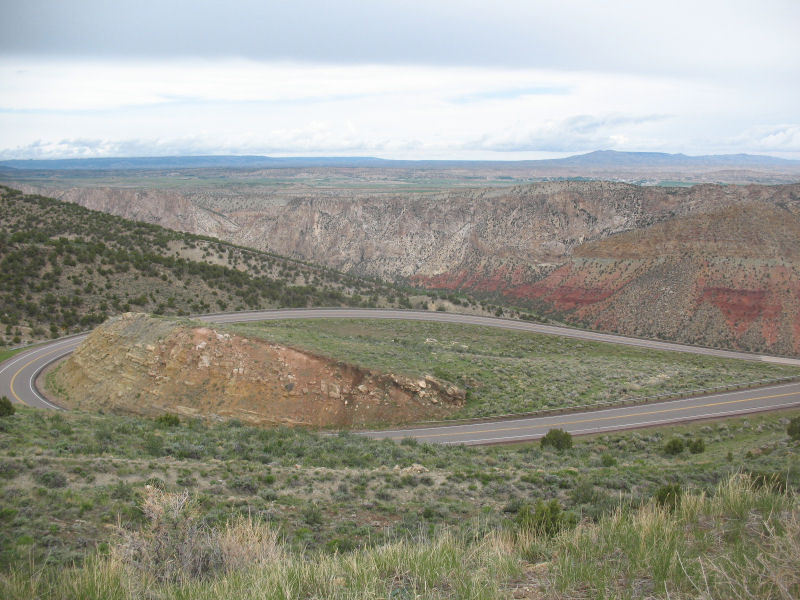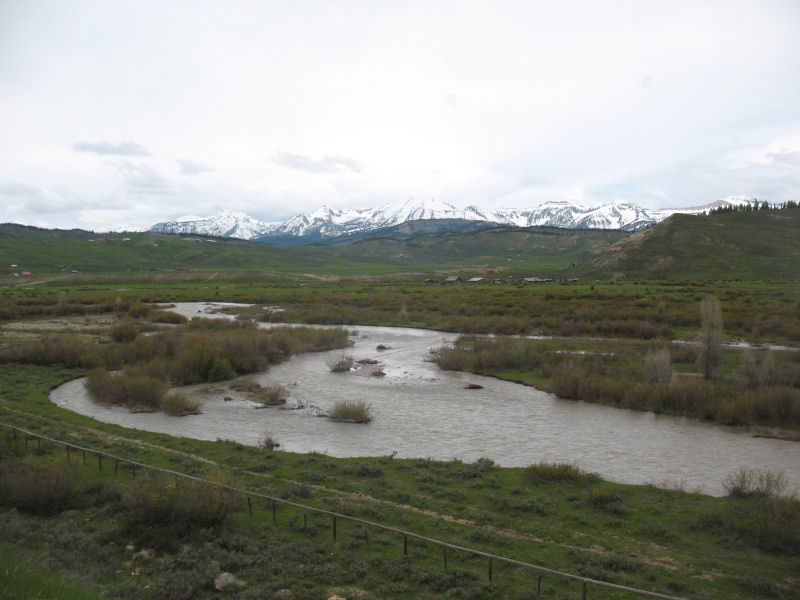 I got in to Jackson Hole, Wyoming at about 16:30, about 160 miles from Kemmerer, Wy. Only as I neared the town did the sun fully break out and the light rain stop. I suspect that the Chamber of Commerce and the celebrity population had something to do with bribing the weather gods in the area. I stopped in the center of town just to walk around the small park and absorb some sunlight.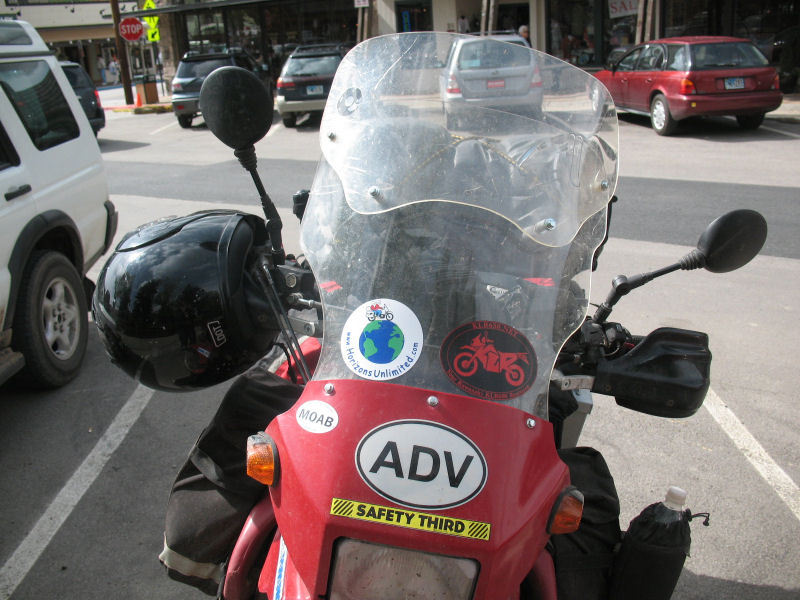 Absolutely nothing about the town was attractive to me. I've seen tourist traps before, and this was just another one. I could believe that there might be an actual city with a real community behind the gaudy facades, but I saw no evidence of it. I took one photo of the town center and got the hell out of there.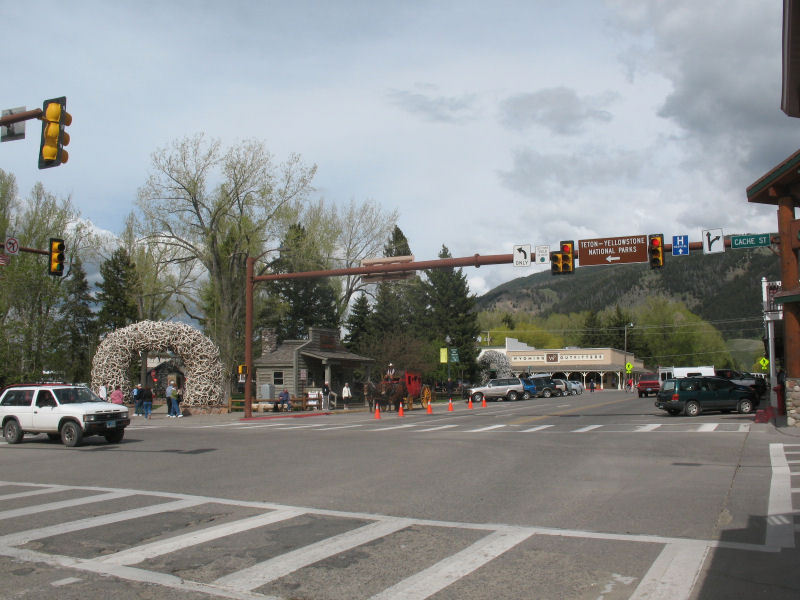 I loved the views of the Tetons north of Jackson Hole; they were very rugged and very wintery-looking.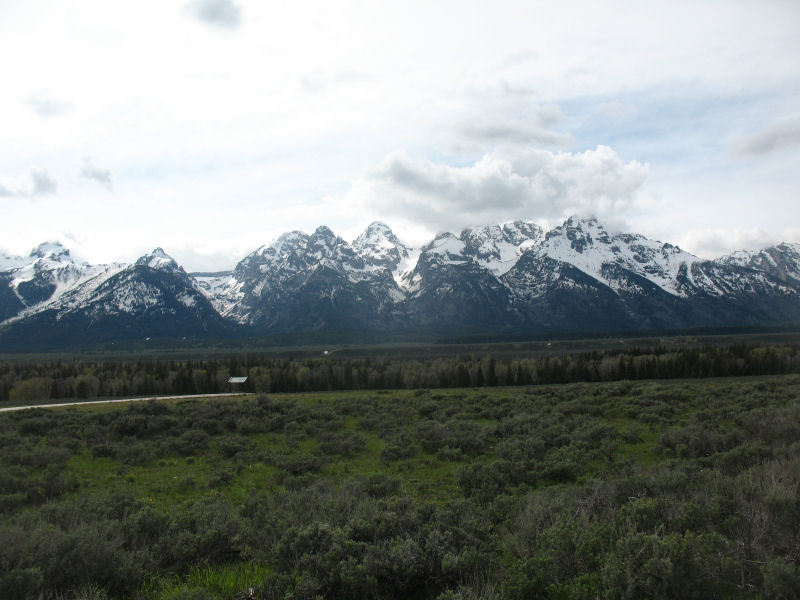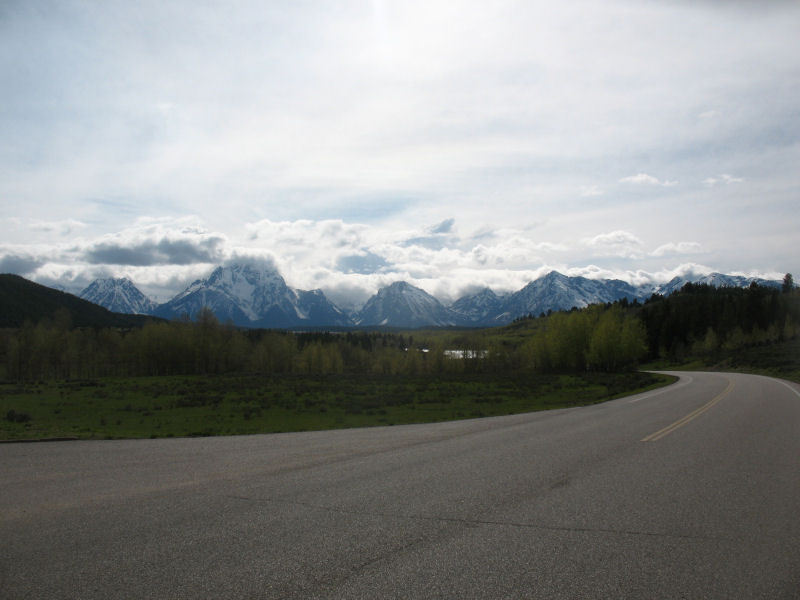 The ride up to Teton National Park was cold again, and some light drizzle reappeared. When I asked about camping in the park, the ranger at the entry station told me that there was a forecast for 2" of snow that night. Hmmm...

Passing through Teton N. P. got colder and colder, and the slow tourist traffic was making me hotter and hotter. Farking idiots. I swear some of these coots were actually dead while driving their huge rented RVs. I exited Teton and entered Yellowstone with gritted teeth (partially from the cold and partially from aggravation).

I decided to take the western route through the park, and reluctantly stopped at the Old Faithful lodge to seek shelter from the rain. I was surprised to hear myself ask for a room in the expensive hotel, but relieved to hear that they were full. I started to leave, but just looking out at the bitter weather turned me around again. Back at the reception desk, I asked the young lady there to see if there were any lodgings available anywhere in the park. She found a few vacancies in other parts of the park, but all were far more expensive than I was willing to pay. Finally, seeing that I was not falling for her sales pitch, she found me a room in the Mammoth resort area, at the far north end of the park, for just under a hundred bucks. I booked it with her and set out for the two-hour ride up to Mammoth.

After about thirty minutes, the weather broke and the riding was easier. What ruined the ride was that since the weather broke, the tourist traffic picked up again. What should have been a two hour ride turned into almost three hours. I can easily understand that the deer, elk, and bison are nice photo ops, but not every single animal is worth stopping in the road for. I actually contemplated violence a couple times. I recognized that my frozen discomfort was contributing heavily to my desire to skin a few people alive, but that recognition did little to lessen the desire. At one point, I waited for at least a hundred cars and RVs to slowly inch past a few bison standing along the side of the road. It's hard to slow-crawl a motorcycle for a mile at less than a walking pace. I actually memorized a couple license plates, just in case I ever saw those vehicles again.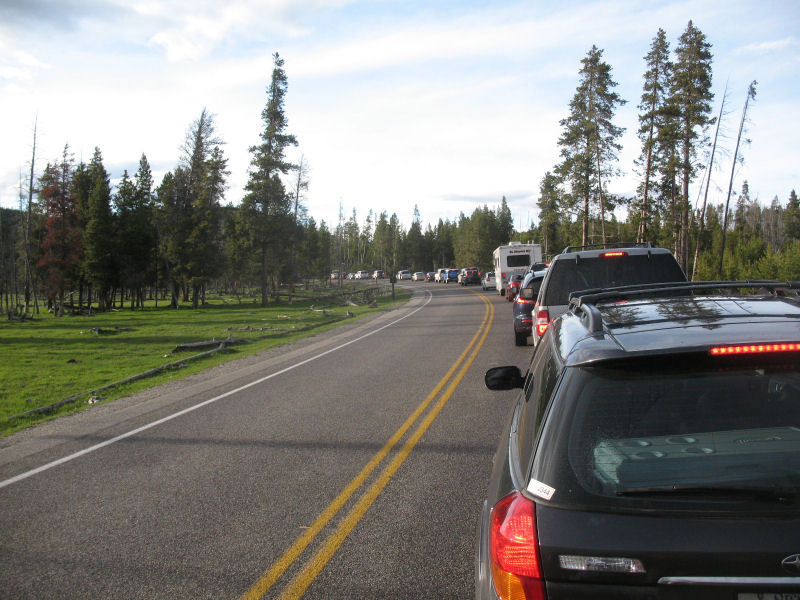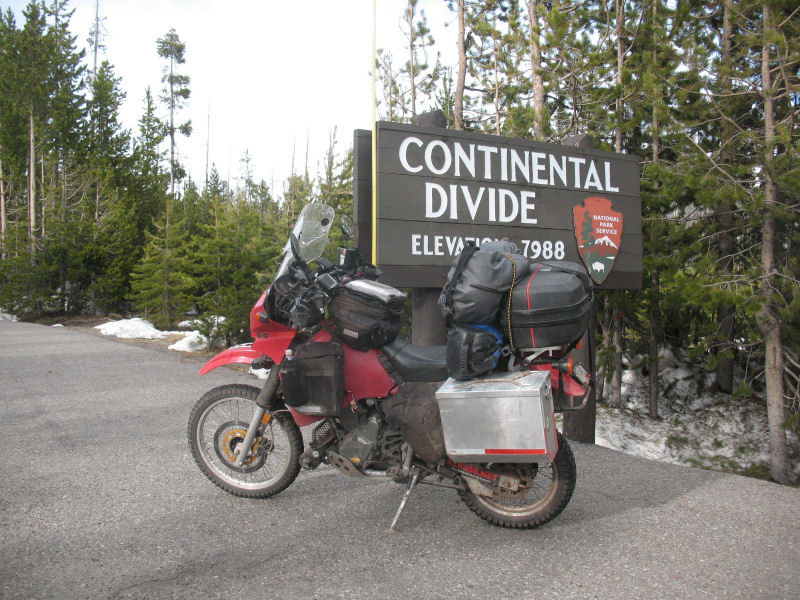 I had to force myself to relax. When I had the chance at one point, I passed a line of cars by riding past them on the right shoulder of the road. That seemed to miff a couple of drivers, but at that point I didn't care. The reward for passing them was immediate. I had mostly clear roads for the next hour in the clearing but still cold evening.

I got to the Mammoth Resort area at 21:00, while it was still very light out. Checking in to the old hotel was quick, but I was disappointed to learn that they had no internet access in the hotel. This proved to be a very common disappointment as my journey continued. I had expected more placed to have internet access, but that was not the case. My room was on the 4th floor. No elevator in the old building. Oof.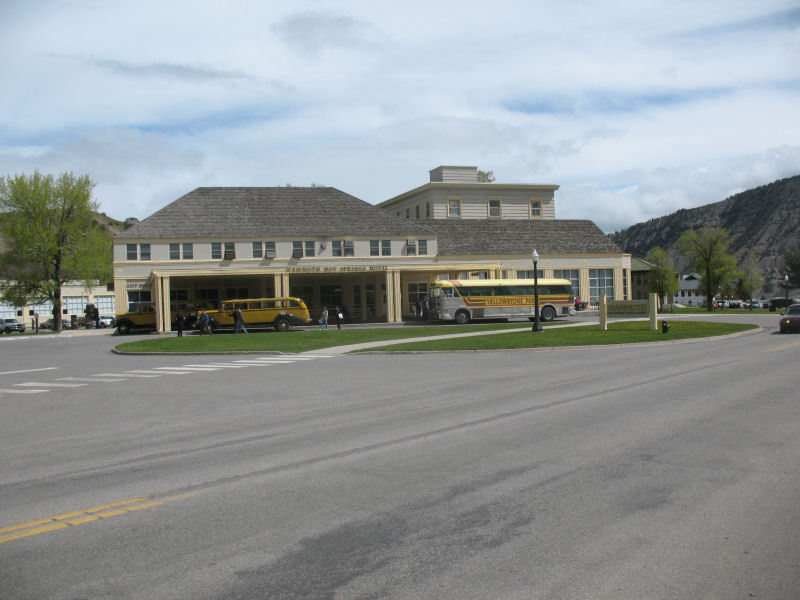 I barely made it to the restaurant before they closed. The food was okay, but it was pricey. The beer was the best part.

I worked on the laptop, sorting and resizing photos for a couple hours before zonking out.


I was HERE




Thursday, June 5, 2008
----------------------

I was up at 09:00, and I was ready to get on the road. I brought the bike to the front of the hotel to load it up, and this was a mistake. The tourist traffic and taxi buses were continuously weaving through the drive-through area where I was prepping the bike. I still did not know if the SPoT had gotten through last night, so I activated it again and set it down next to the curb, facing south, to do its thing. After a few minutes of packing the bike, I saw that the SPoT was gone. Instinctively I did not fear its loss, and I went into the hotel to see if someone had turned it in. Sure enough, there it was with a note attached. I set it back out on the curb and kept a better watch to ensure that another well-intentioned tourist didn't pick it up again.

Cool (as in almost cold) ride out of Yellowstone. Some nice sights in the short ride to the end of the park, but I only stopped to take a couple photos. It rained in spurts. The road north was mostly flat, scenic mountains in the distance.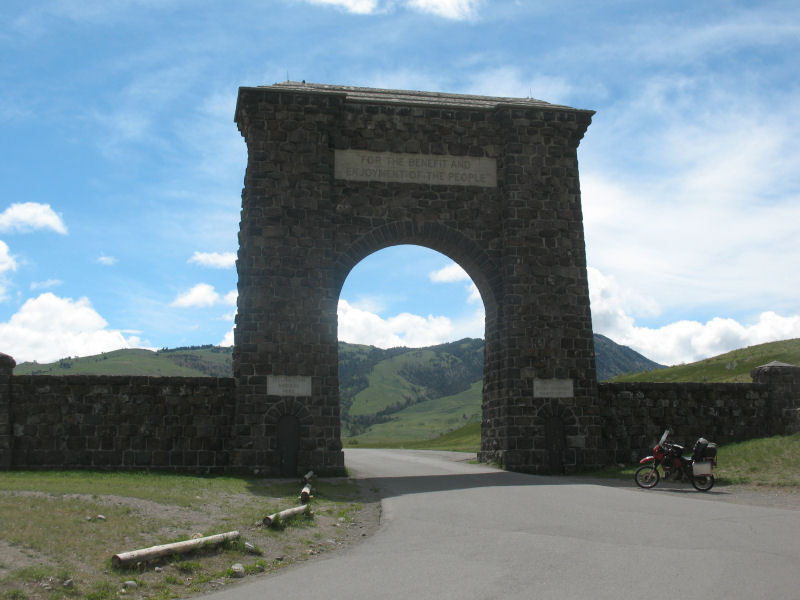 I got to Livingston, east a bit on I-90, then north again. For a couple of hours, riding north to White Sulfur Springs, it got pretty boring and I realized that I was almost zoning out--not sleepy, but not quite tuned in to the ride, either. I would sing along with the music more, but I've heard me sing and it's not good. I stood on the pegs for a while to get refreshed in the cool air.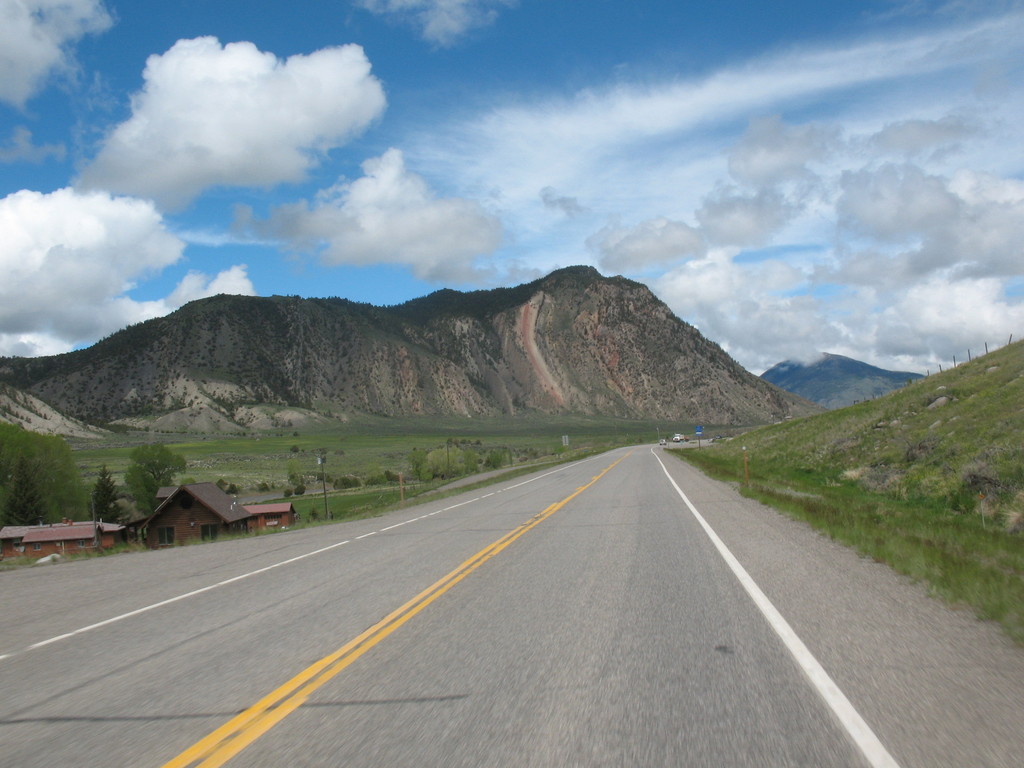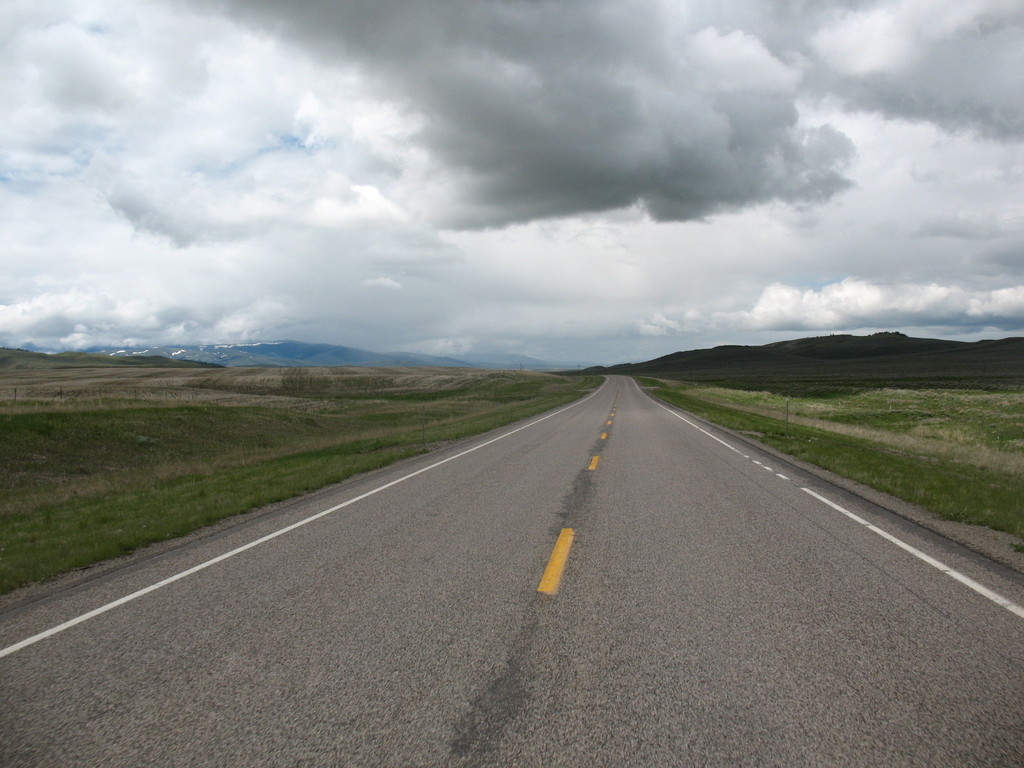 I stopped in White Sulfur Springs for gas. I was having trouble getting my Sansa MP3 player to take a charge on the bike, so I sat on the sidewalk in front of the gas station (where I also bought a bottle of wine--very civilized state) and plugged the charger into an outdoor plug for a while. No good. Battery in the player must be bad. It's always something.

I basically ran the MP3 player straight off its charger for the next several days, wired to a power cable in my tank bag. It worked fine, just one more wire to tend to. (Although about a week later, the battery somehow healed itself and started taking a charge again. Weird.) I have to say again that the music has been great to listen to while riding long distances. Some mellow songs with the occasional 70's heavy metal guitar rock mixed in seems to suit me fine. Eventually, I'll load some of the newer songs on my laptop to the MP3 player and mix it up more.

The heated liner is nice at times, but it was inadequate when things got really cold (again, this was largely due to the poor choice of riding jacket). All the heated liner could do was relieve some of the chill. And I've decided that the First Gear heated gloves are completely non-functioning. Don't know why, since they are new, but they don't do anything. I wear the big rubber rain gloves over them most of the time to cut the chill. To be fair to the heated liner, I must note that I never turned the thermostat over 50% power, due to the KLR's meager wattage output. I also have a volt meter on the bike, and I can sometimes watch the meter register between 11-12 volts in sync with the thermostat. At higher RPMs, it stays solid at 12 volts, and sometimes flickers between 12-13 volts as the heater kicks on and off. I think I'll add an aftermarket stator before South America. I'd like to run the liner and (working) gloves and still use my high beam without draining my battery.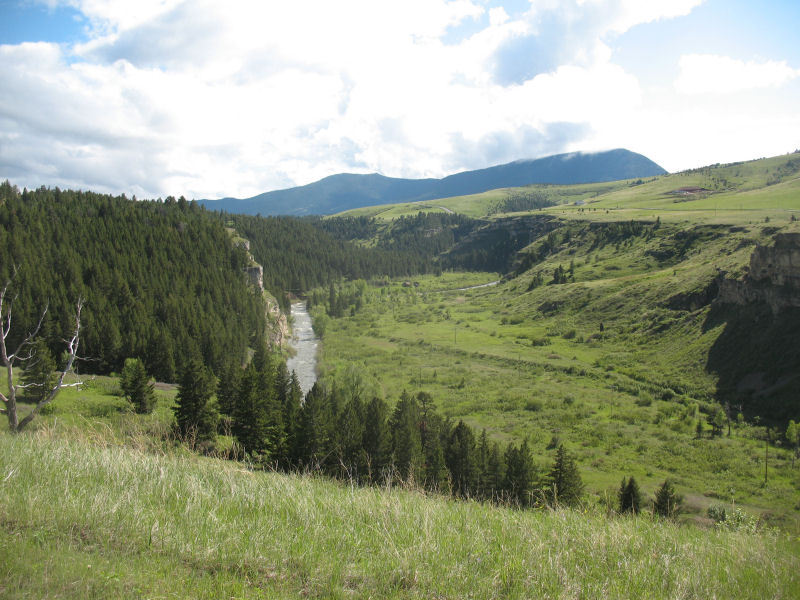 Through Great Falls, then north-west to Choteau, Montana. Nice town. The KOA in town looked dismal and uninviting, so I almost camped in the middle of town at the City Park campsite. It would have been okay, but honestly I would have been a little uncomfortable in the middle of town. There looked to be a group of "regulars" just hanging out around the park, as if they lived there. I ate at a local diner, and when I asked, the waitress referred me to a campground north of town. I took her recommendation, and it was a good decision.

I rode a few miles north, turned at the sign to the ski resort, then again at the sign for the lakeside camping area. It was $12 into the metal drop-box, pick your own site. I chose the water's edge, where a picnic bench was next to a firepit that had the most unburnt wood in it. Some cardboard bits, too. I pitched the tent away from the fire, further from the lake, then set about getting the fire started. All the wood I could scrounge from the area was damp, so it took all the cardboard to finally get the tinder burning and chase the gnats and mosquitoes away. Lots of driftwood, but all wet. I walked around all the other campsites (there was only one other site occupied, pretty far away) and carried all the wood bits back to my skimpy fire. After almost an hour, the bigger chunks of wood were dried out enough to burn and start drying out other wet driftwood. All was good.

The Yellowtail Merlot (from the gas station) was also good. In fact, it was very good. I've had it before, so I knew I would like it. Truth be told, I kept liking it until it was all gone. It didn't get dark until after 22:00, and the waxing moon was very pretty over the lake. I tried to take a photo of the moon reflecting on the lake, but it was too faint for the camera and I was too fuzzy from the wine.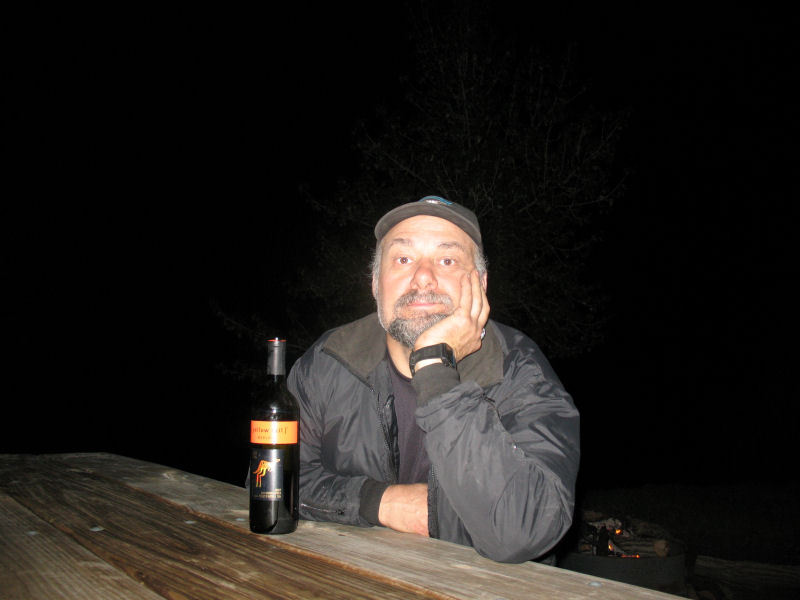 Very light breeze off the water. Mostly because I was tired and it was nice out, it was all I could do to crawl into the tent instead of sleeping on the picnic table. I anticipated a cold morning, so after dousing the fire, into the tent I went. Slept great.


I was HERE




Friday, June 6, 2008
--------------------

Up and about at 08:30. Sunny and very windy.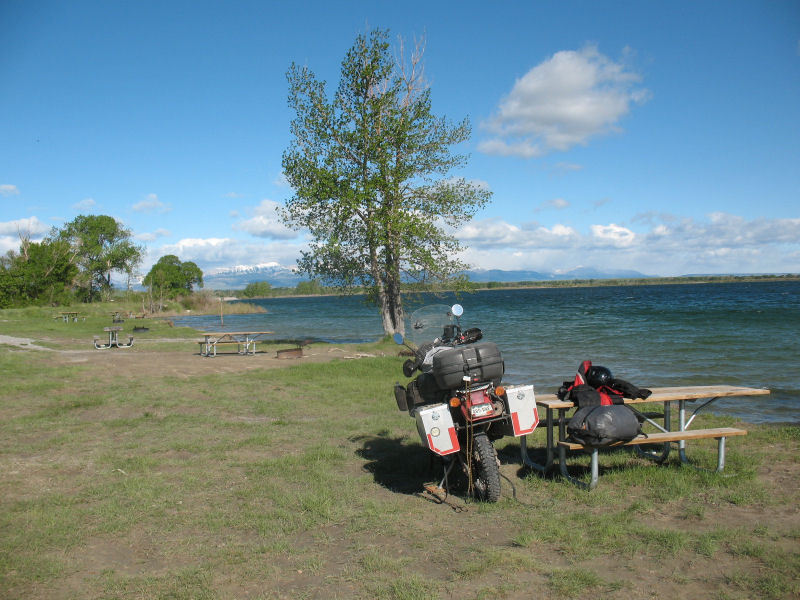 The wind made breaking camp difficult; things kept blowing away. Once packed up, I went back into Choteau for gas (hadn't planned ahead when I was here yesterday), then north again. The wind was gusty and hard to anticipate. It knocked me around some, but it was manageable.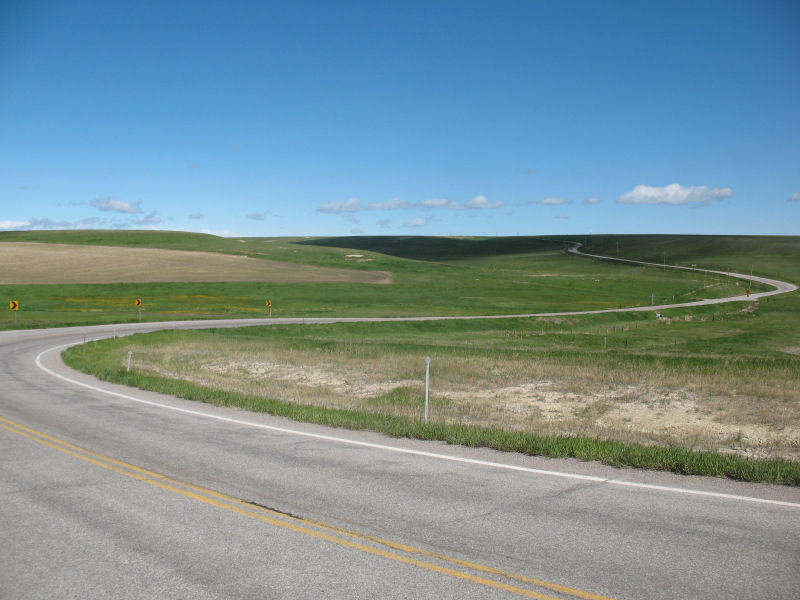 I stopped in Dupuyer for food at 10:30, and it was more of a bar than it was a diner. A couple of locals got up and left as I walked in, so I had the place to myself. The old gal tending bar was also the waitress and cook, and was the only other person there. I got the impression that food was not much of what they served, but she did manage a couple of burnt pancakes and a decent McMuffin-style breakfast sandwich. The syrup had probably been left over from World War II, and it came out of the can like glue. She made a pot of coffee just for me, so I had several cups just to make it seem worth making a whole pot. The sink in the men's room was partly missing, broken no doubt by someone falling down because the floor of the room was severely tilted. The sink was held up by a piece of lumber propped up under it. So, okay, the place had "character."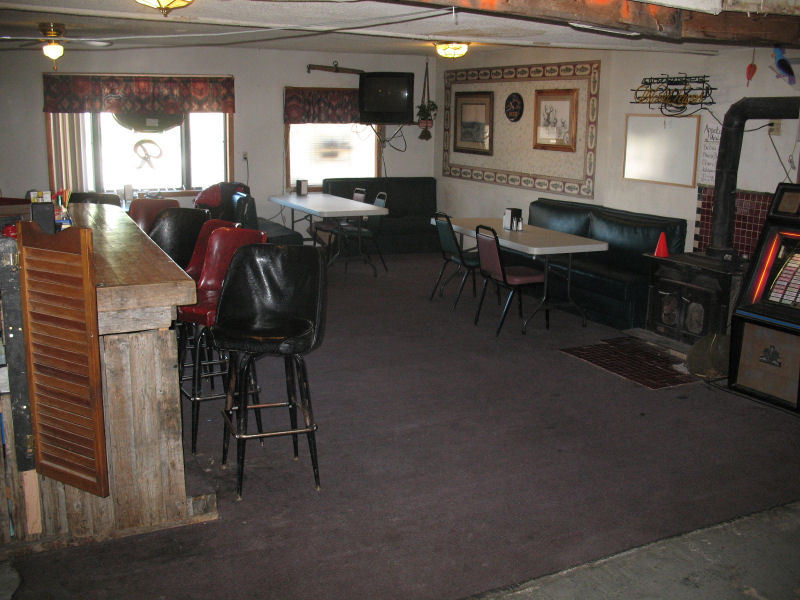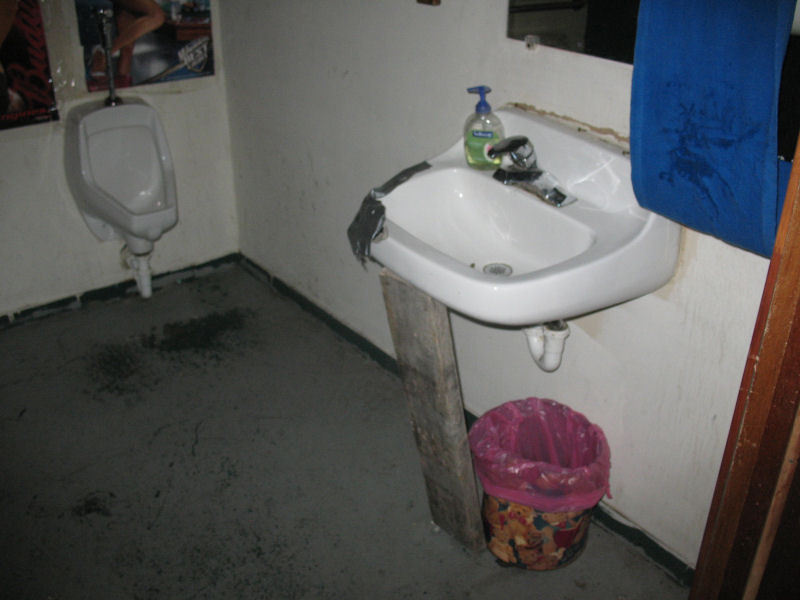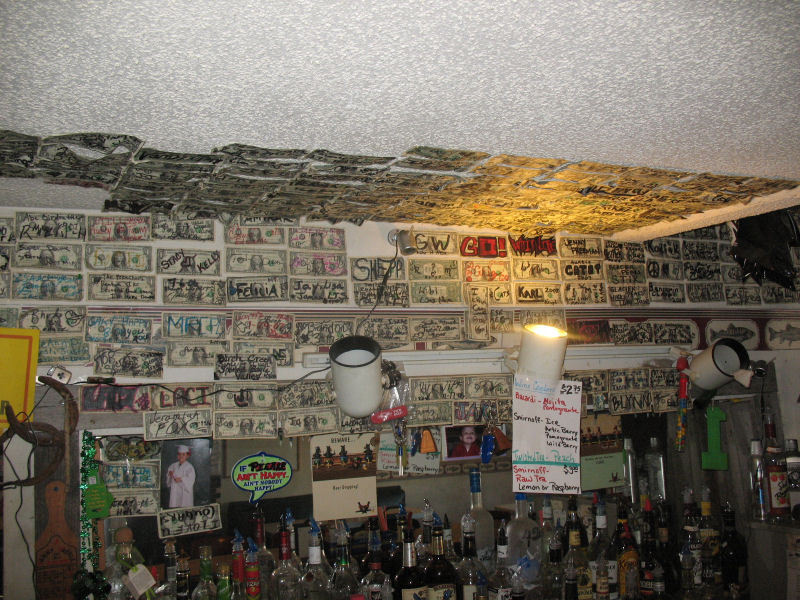 The bartender and I talked about the wind, and she gave me the usual, "You call this windy? Hah! This is nothing!" speech, which led to tales of cattle being blown over and whole lakes being blown dry. She was a hoot. Breakfast, coffee, and a bunch of local weather lies cost me $9.

I did learn from her that this was the wettest Spring they've had in eight years, which explained why things were so green and why fields were flooded. As I got my riding gear back on, I told her that I had been riding in rain most of the day. As I left with a wave, she was still telling stories about what real rain was like back in the old days. Mostly, I think she was talking to herself.

Went through the Blackfeet Nation Reservation. Nice statues at the border.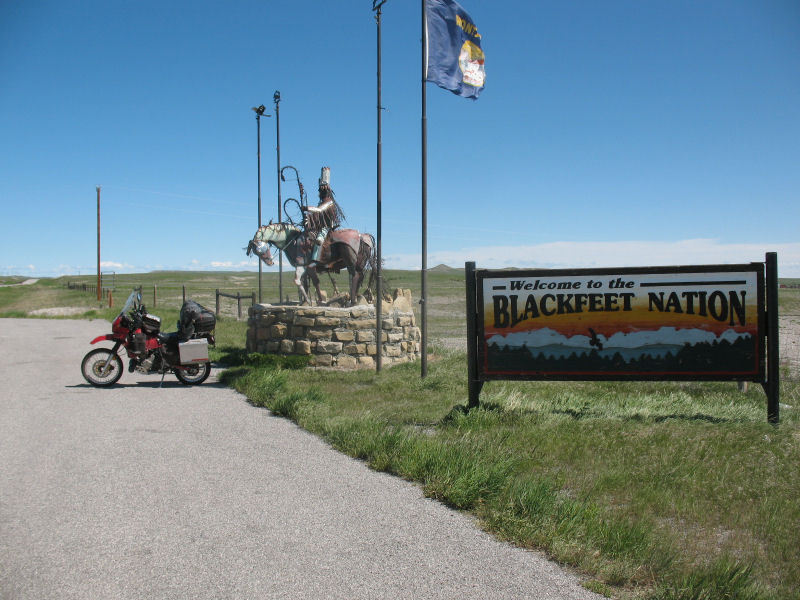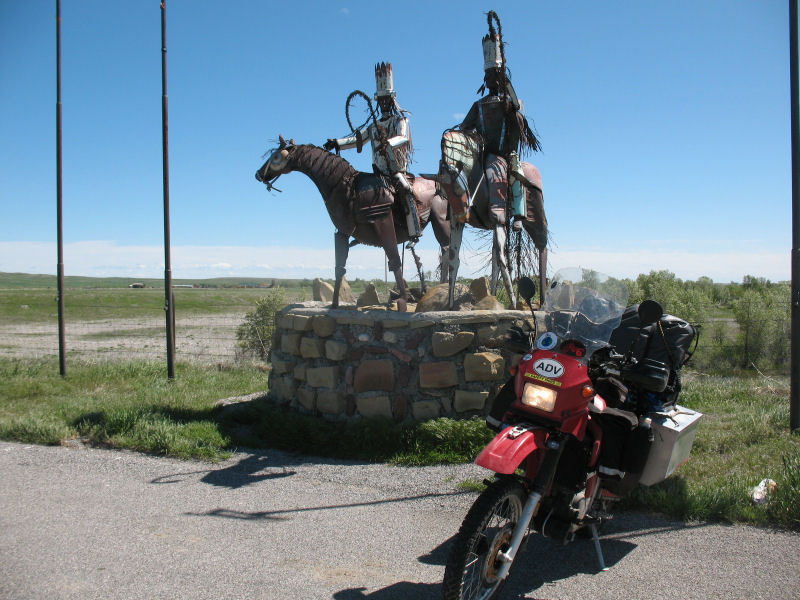 I kept to my described strategy of "riding north and sometimes turning left," which was serving well enough. When I neared Glacier National Park, I was so cold and the ragged mountains were so wrapped in clouds that I chickened out and took a southern route, bypassing the park. Nice ride, but rained constantly.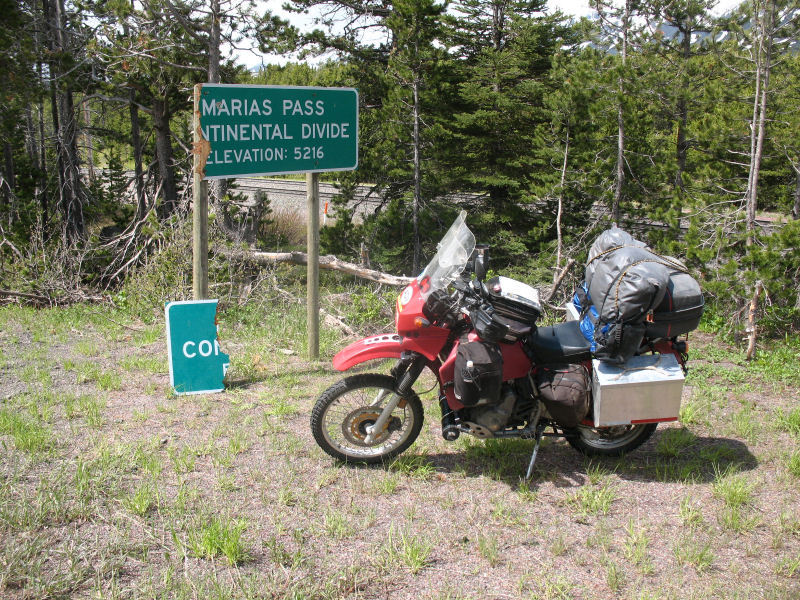 I pulled into the Wal-Mart in Kalispell, Montana, to get a few things. Wal-Mart is not one of my favorite retailers (don't care for some of their practices), but they sell a cheap generic seat pad that others have used and thought was a decent value. I found the seat pad and a few other things, and spent an hour parked under their front overhang attaching the seat pad and making a few repairs to other things. Of course, it had stopped raining and gotten sunny by the time I came out of the store, so now I was overdressed and sweating. Back on the road.

In the town of Happy's Inn, I had a late lunch in a bar/diner/casino that also had character. There were the typical few local regulars staggering around inside, shooting pool (badly) and occasionally dropping coins into the slot machines that were lined up against one wall. Some of the men were having an argument that probably started in the '70s. It had become so familiar a debate between them, that at one point, one of the men actually turns to where I sat at another table and says, "Here's where Larry takes his shirt off to show his bullet wounds and tattoos." Sure enough, Larry got to talking about Viet Nam, and after being ignored by the dozen or so people in the place, he dropped his pool cue to the floor and angrily pulled off his shirt. He systematically pointed out each of the many tattoos and explained (to no one) why he had gotten each one. Everyone in the bar continued to ignore him. He didn't seem to notice. Finally, a woman at a slot machine told him to put his shirt on, and he shut up and did so. It seems that she is the boss of him.

I pretended to take some photos of the taxidermy on the walls (there were a lot of dead animals and animal parts on the walls), and snuck in a partial photo of the bar area. I didn't get the shot I wanted, because one of the bearded veterans started staring at me warily. He's only pretending to drink his beer in this photo... he's really watching me.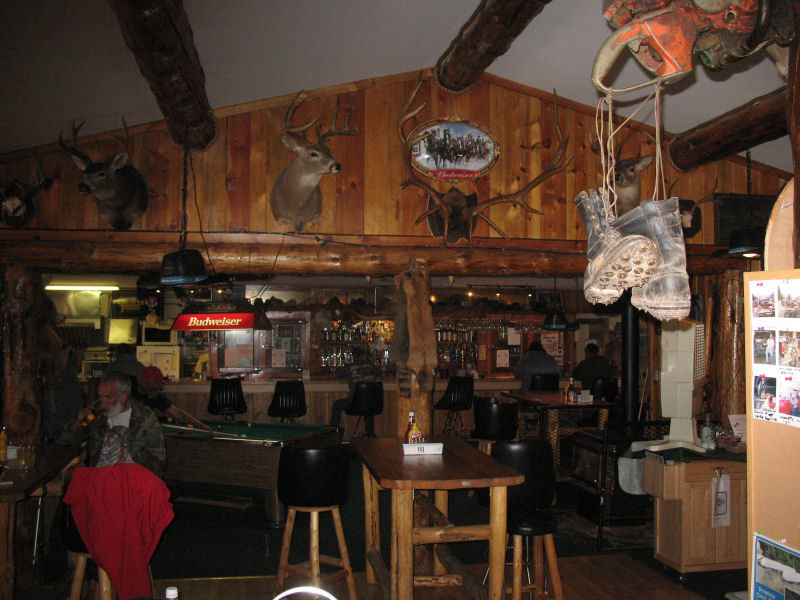 Just as I was getting up to leave, the guy who had predicted Larry's tattoo tour offered me a drink. He told me that they were all war buddies and former motorcycle riders, but mostly they just hung out there anymore. I thanked him for the offer, but told him that I had a lot of riding to do, and any drinking would have to wait until later. He understood, and said that he didn't have to worry about when it was time to drink, because he just stayed drunk all the time. I had very mixed feelings about war veterans who had done their service but had ended up like this. But, who was I to judge? Maybe this is exactly how they want to be. I'm a military veteran, and who knows how I'll end up? Phooey! Too much philosophy.

I bought a bottle of wine from the bar and hit the road.

I crossed into Idaho and quickly found the Twin Rivers Canyon Resort campground just before getting to Moyie Springs.




Campsite cost $15, but my AAA card got me a 10% discount. Still a bit drizzly as I pitched the tent under thick pines. Lots of damp wood around the river banks, plus lots of things to use for tinder. Sat on the picnic table again and tended the fire while writing my notes for the day (something I have forced myself to do). I tried doing some writing on the laptop, under an umbrella on the picnic table, but that was just wrong, so I put it away and stared at the fire. Something about a campfire, you know?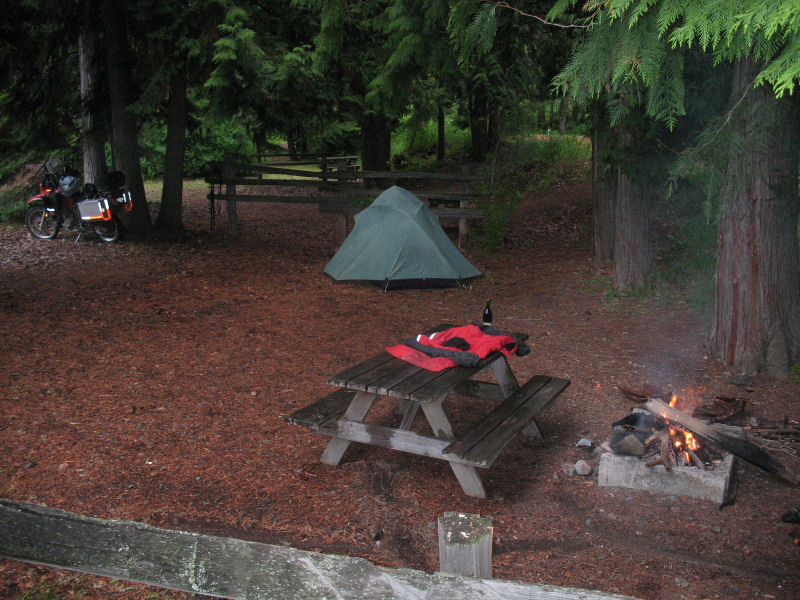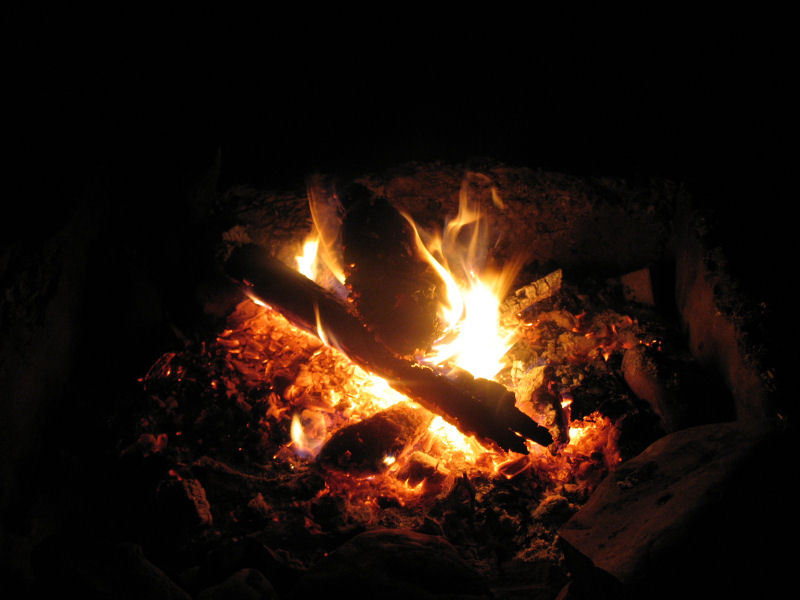 I charged my cell phone at one of the RV hookups nearby, send the SPoT location signal, stared at the fire some more. Finally got semi-dark out well after 22:00, and I dozed on the table during a lull in the drizzle. Doused the fire and went to sleep at 23:00. Yeah, I'm sticking with military time, so that's 11:00 pm.

There was a constant drone from the lively river, and from a motor of some kind at a lumberyard that I later learned was nearby. Train rumbling through on the other side of the river now and then. Sleep was easy.


I was HERE




Saturday, June 7, 2008
----------------------

Woke at 05:30, already daylight. The light rain put me back to sleep.

My watch alarm got me up at 08:00 and I was packed and on the road by 09:00.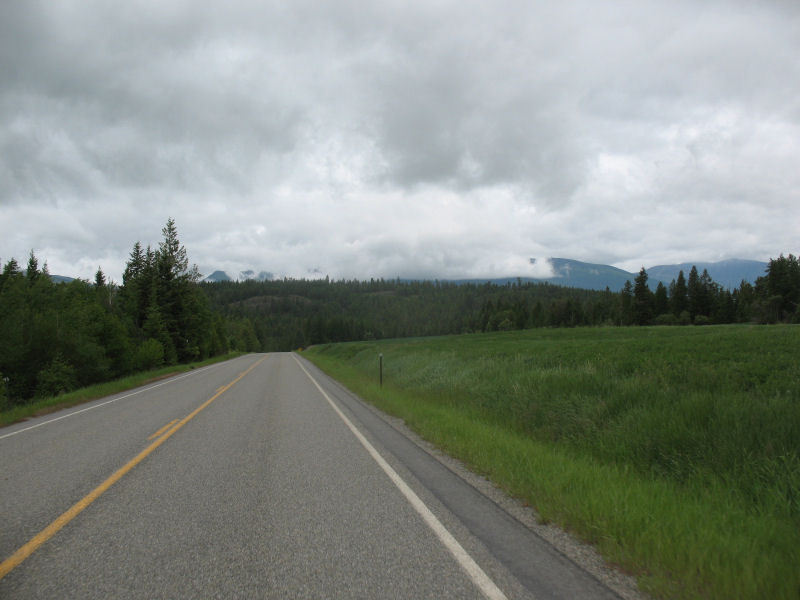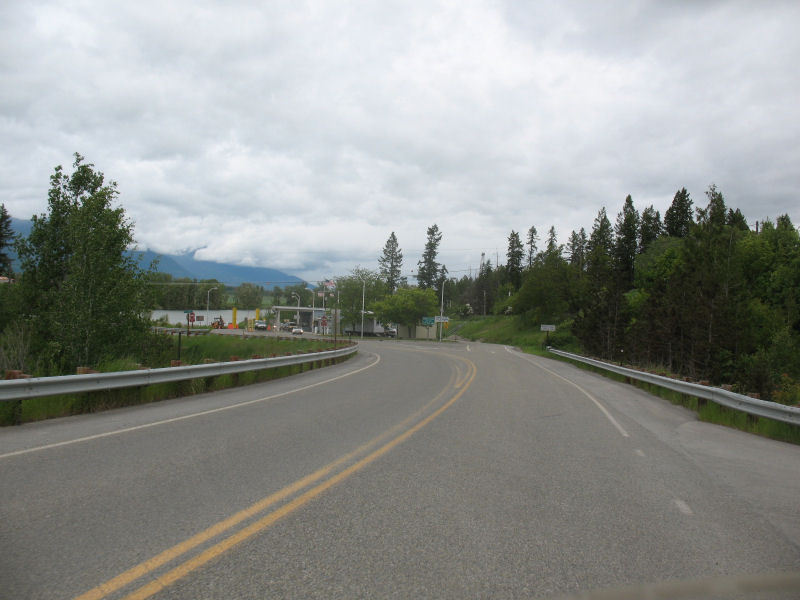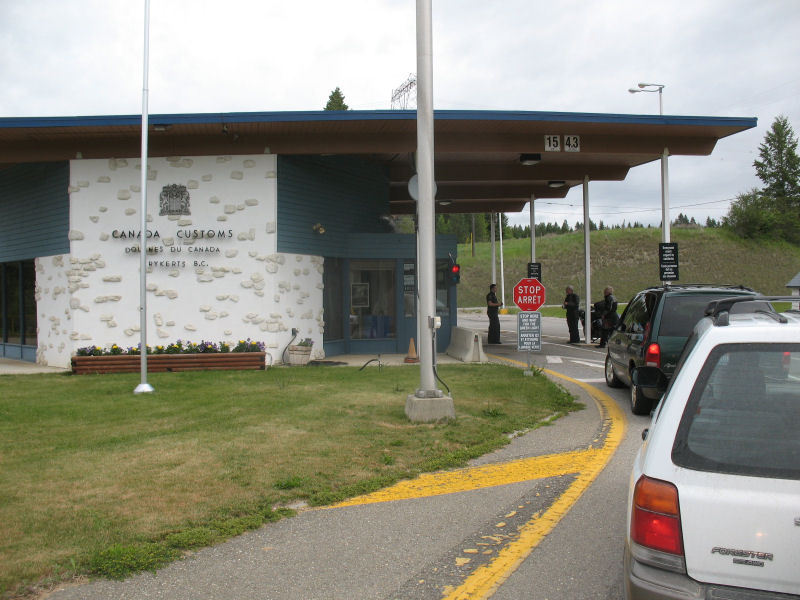 I hit the Canadian border at Porthill, behind two riders on sport-tourer bikes (forgot to note what kind of bikes). Both were in FirstGear one-piece riding suits, which they said were great in the rain and cold. They were from southern California, had come up through Nevada and Yellowstone Nat. Park just ahead of me. They were only headed into Canada for a while, not going far north.

With the two riders' passports still in hand, the border guard briefly checked through a car with Canadian plates, never asked for ID from the driver or passenger. He then came over to me.

I handed only my driver's license to the young but serious-looking border guard when he asked for my ID, and he asked for nothing else. He asked me where I was from, where I was going, how long I was going to be in Canada, what my purpose was for traveling, if I had lived anywhere other than Colorado, if I was carrying alcohol, tobacco, pepper spray, fruits or vegetables, if I had any guns with me (and then he asked if I owned any guns and where they were at this time). I answered "no" to all the contraband questions, told him that I did own guns and that I kept them safe at home, away from the Canadians. He asked me what I did for a living, and he suggested that maybe I was a comedian. I told him that I was retired and left it at that. Actually, the exchange was brief and light-hearted, so my joking didn't influence him at all. He went inside to check my ID (and they check for past DUI convictions, too, which is why he wanted to know where else I might have lived in the States). He was back out pretty quickly, gave all three of us our IDs back and wished us safe riding in Canada. The whole thing took less than ten minutes.

The other two riders left with a wave while I was zipping back into my layers. I passed them and they passed me a few times over the next half-hour as we stopped to take photos. I headed west, then north toward Nelson. Kootenay Pass was miserably cold. Rain turned to sleet, wind picked up, visibility dropped. At the summit of the pass, there was about 2" of slush in places on the road, so it was slow going for me as I stayed in the tracks of the trucks that had passed before me.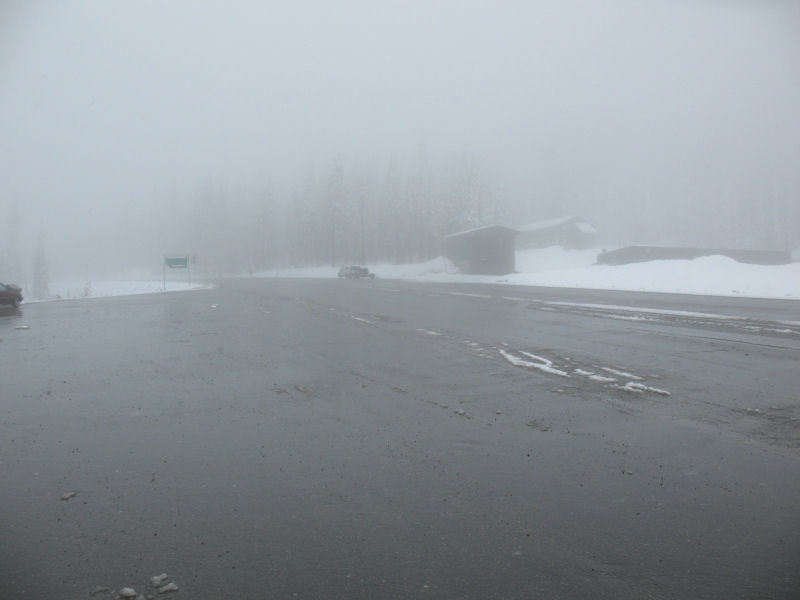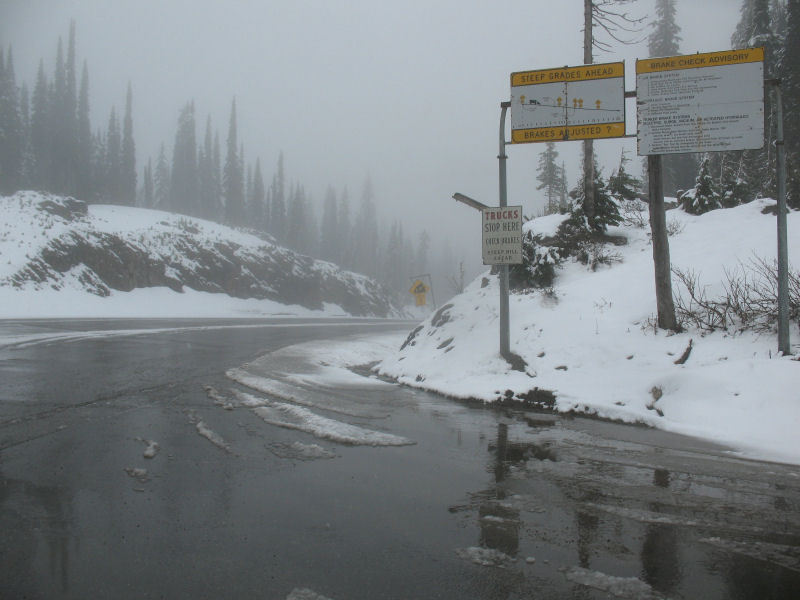 With the drop from elevation, sleet became rain and the wind eased up. Never passed a single vehicle going back the other way.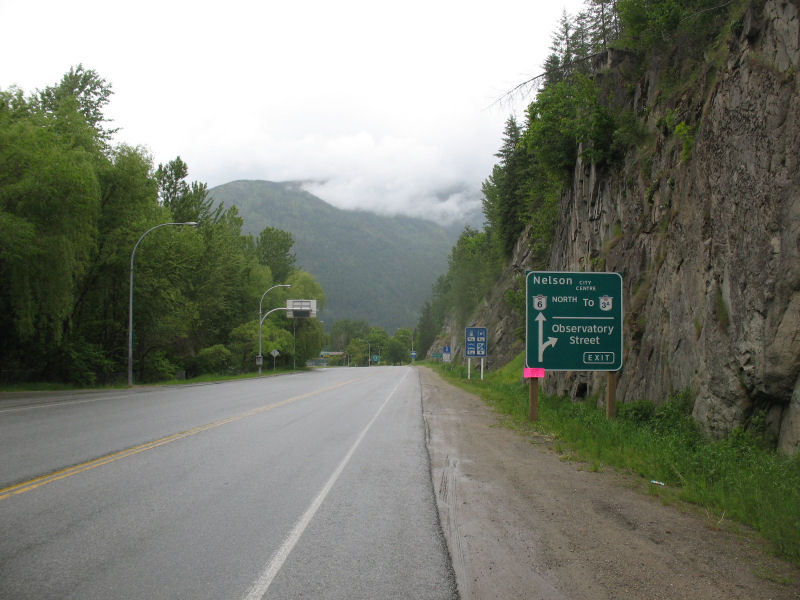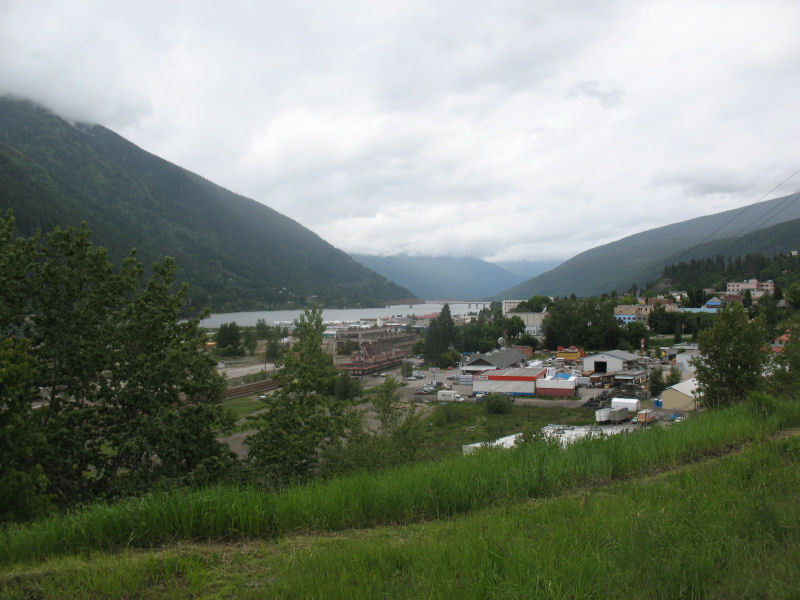 I got into Nelson at about noon, and the weather magically broke clear and warm. People were walking around the touristy town in shorts and t-shirts. I looked like the Michelin Man compared to them. I found a parking spot near some Harley riders (who gave me a nod). They were carefully backing their big bikes into a curbside space, as if they had never backed their bikes to a curb before. They had on all the expected costume bits--vests, minimal helmets, sunglasses, chaps, boots, mustaches, etc., but they didn't quite have the knack for parking their bikes. They managed it well enough, but it was ugly at times. I parked a few spaces up the road, put my quarter in the parking meter (15 minute time limit) and started getting out of my excess clothing. The three Biker Dudes ambled up the sidewalk and went into a leather shop (leather clothing, biker gear, B&D accessories, lingerie...), and I went the other way looking for a coffee shop. As I passed their bikes, I stopped along with a few impressed tourists and looked at the Harleys. I don't know HD bikes well enough to know what they were, but they were bad-ass looking (of course). They also looked brand-new. The tires still looked new. One of them still had a sticker on the instrument cluster. Probably came out of the dealership yesterday.

I found a coffee shop on a typical corner, had a snack and a large hot Chai at a window seat while I worked on some crossword puzzles and did some people-watching. Many young women (teens) were walking around in ball gowns and jewelry. I confirmed my hunch with one of the local customers; there was a big to-do at the school that afternoon. Prom or something.

As I made my way back to my bike a couple times to pop another coin into the meter, I saw the Harley riders standing across the street from their bikes. They were watching people admiring their bikes. These guys were three more insurance salesmen who had sold their souls to the Harley-Davidson marketing department, most likely.

When I togged up and headed out of town, it didn't take the rain long to return. Weird.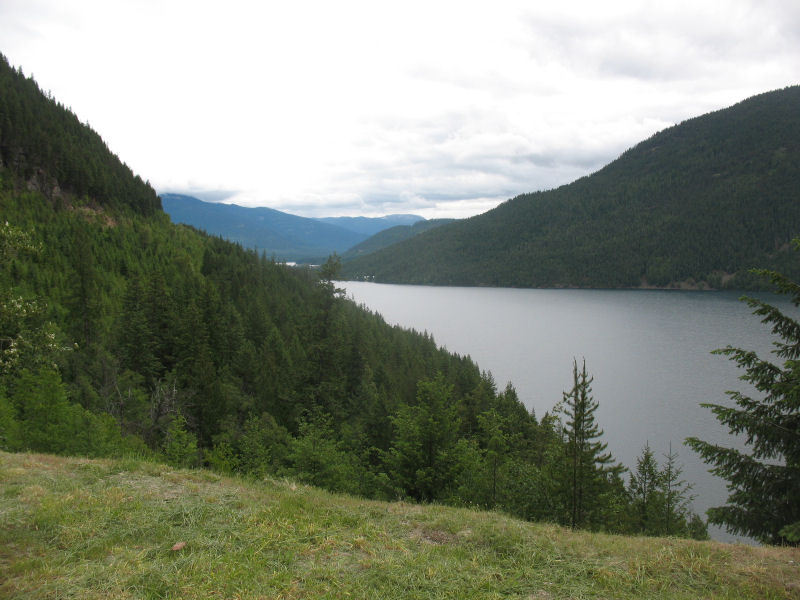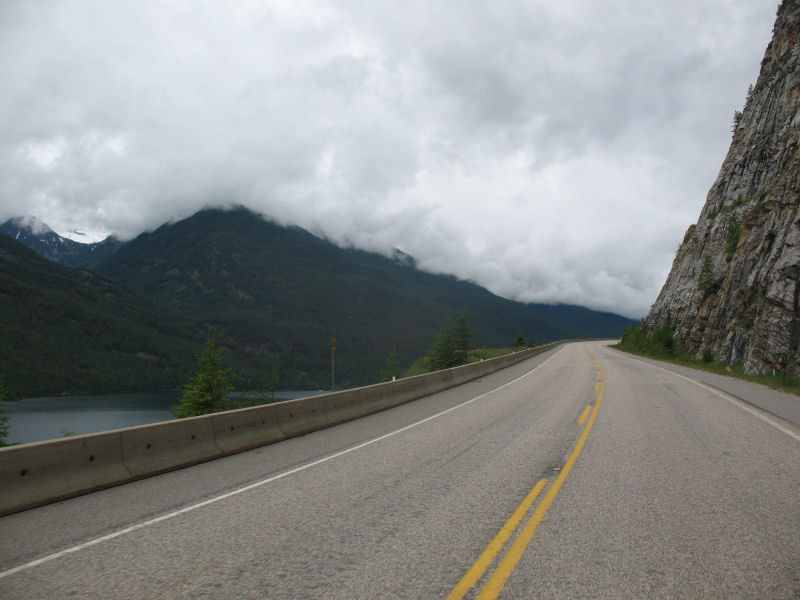 The scenery on the way up to Nakusp was great, and the weather never got too bad. Went through Silverton and New Denver on the way. Wasn't Colorado back that-a-way a couple thousand miles?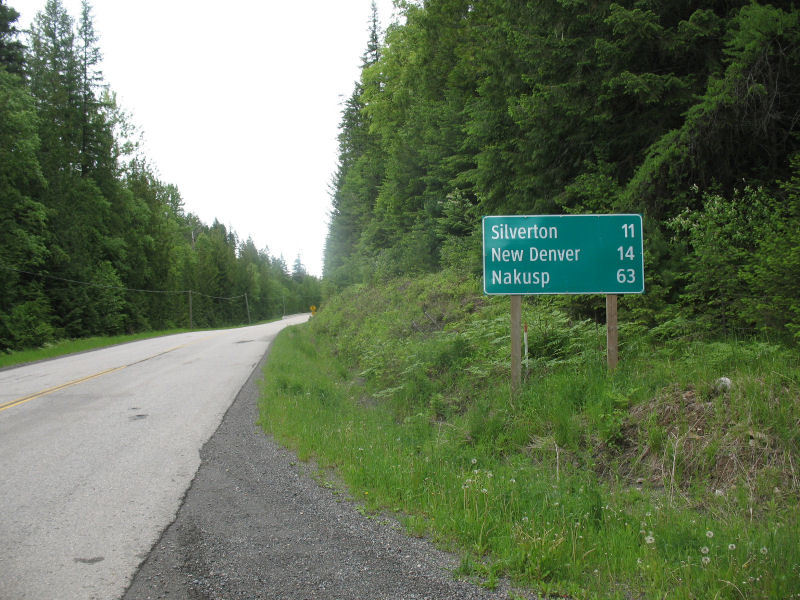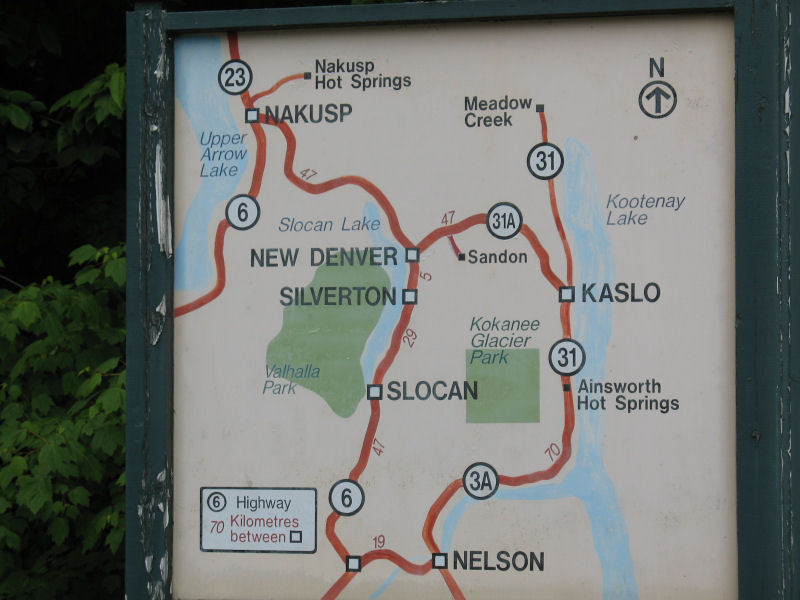 The road took a southern curve around a very long lake (as in hundreds of miles long), then the road ended at a ferry crossing in a town called Needles.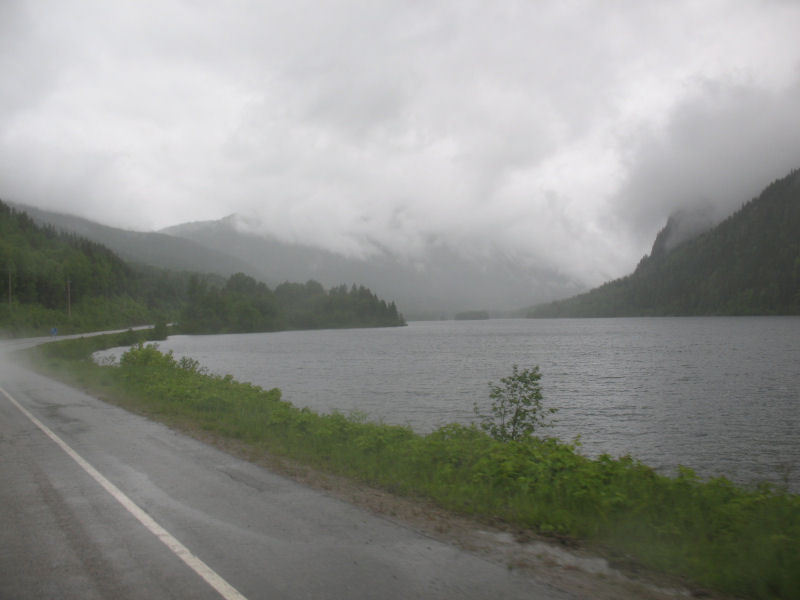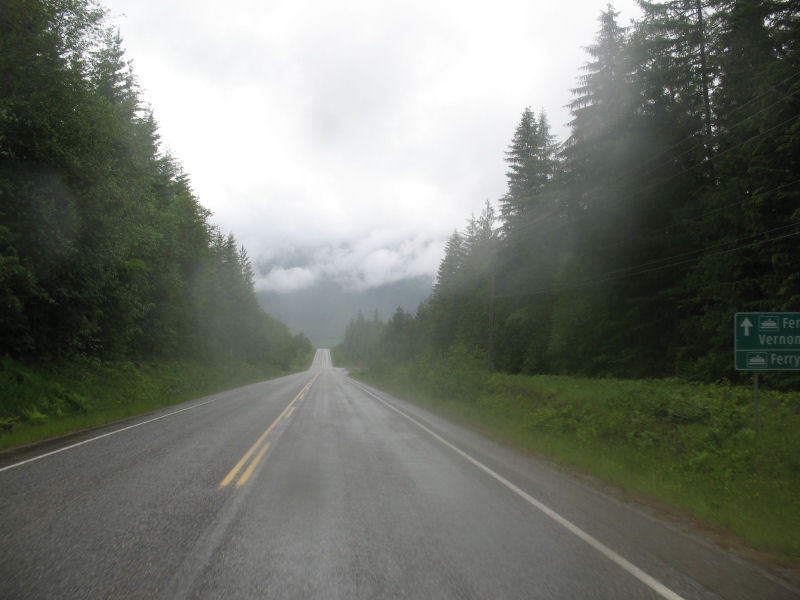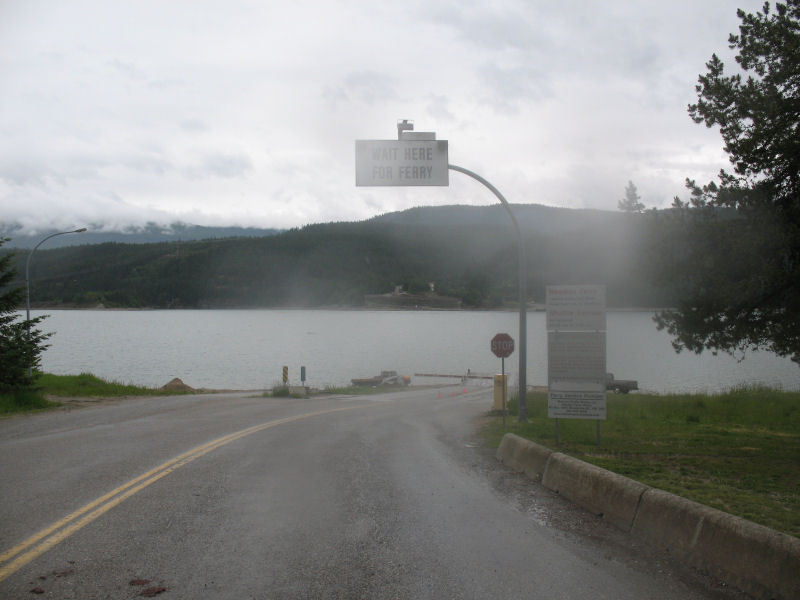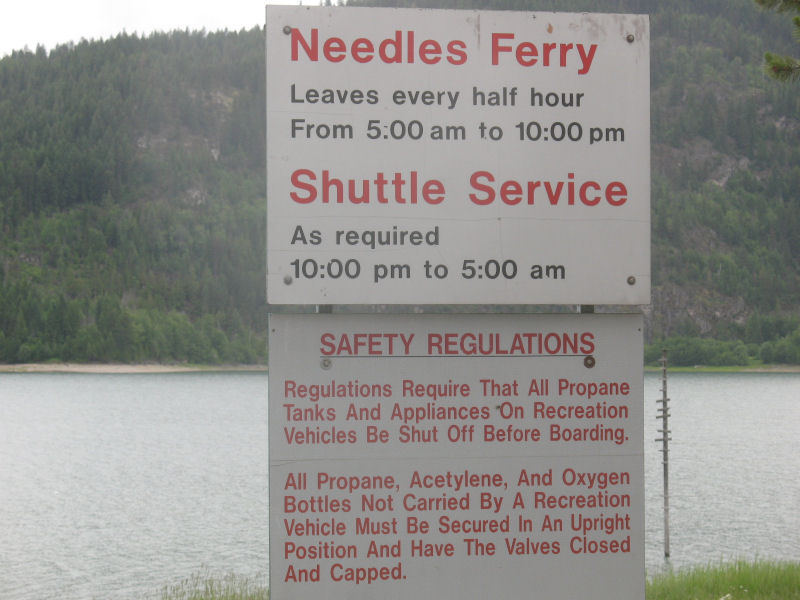 The sign said that the ferry crossed back and forth every 30 minutes, and I saw it docked on the other bank. I waited by myself for a while, walked around a bit, and just before the half-hour, several cars showed up all at once. I guess that when the local ferry is a regular part of your commute, you know when to show up.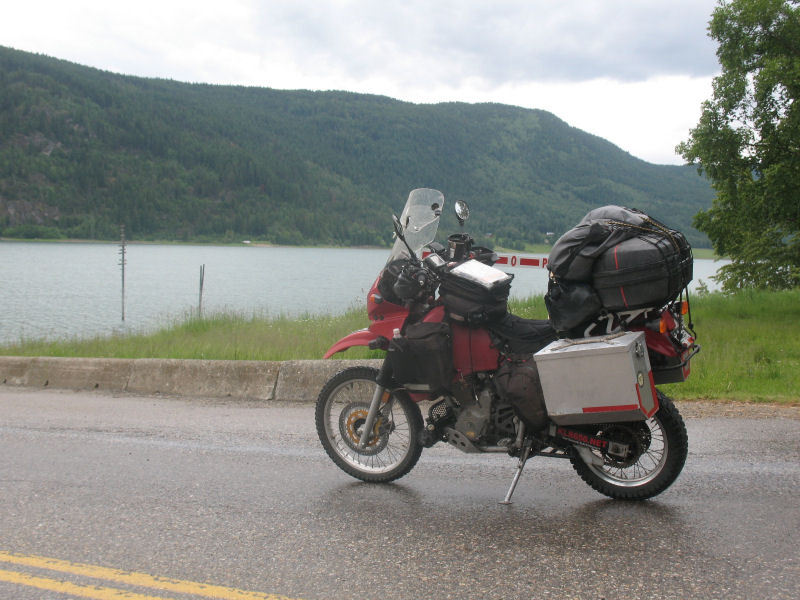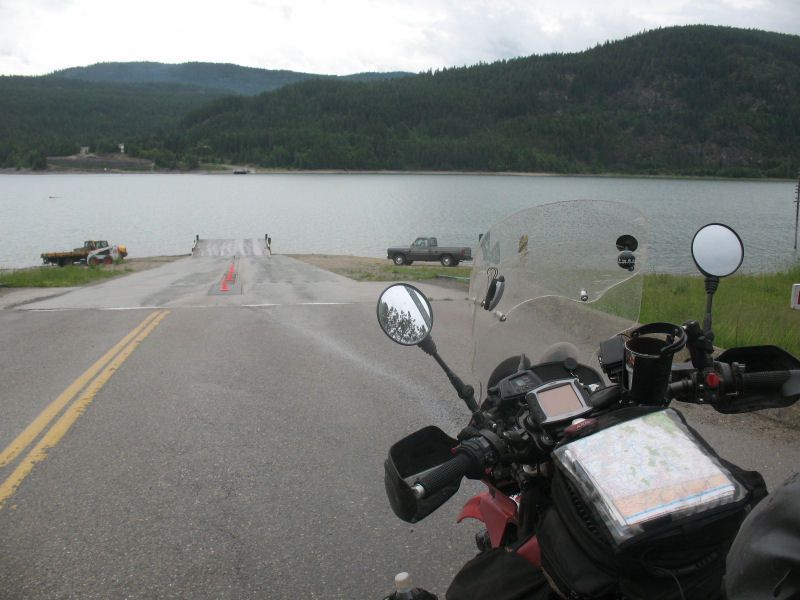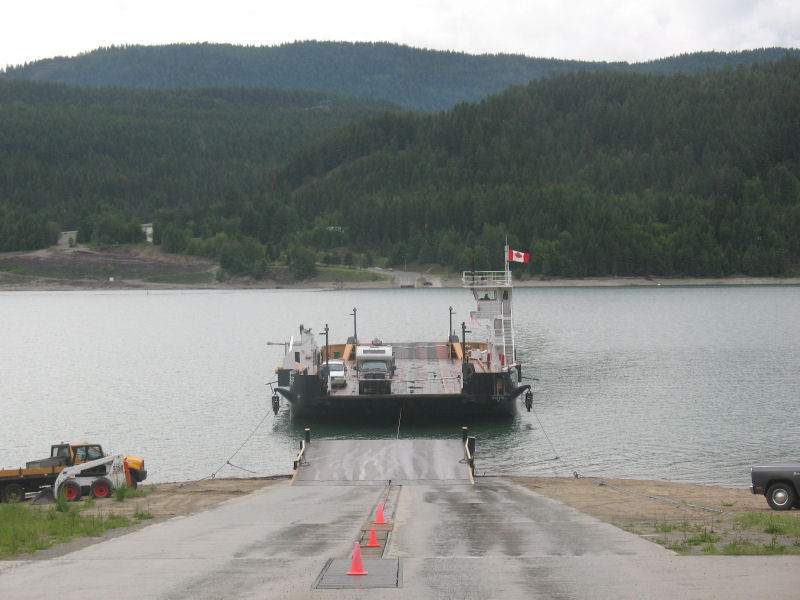 When they dropped the ramp, I mounted up. Had to wait while they off-loaded the cars, and I saw that those cars that had parked off to one side on the big deck were the last ones allowed off. When they lifted the gate that barred our way, I motored up onto the ferry like I had done so a thousand times (this was my first). Once onboard, I rode to the right side of the deck, out of the direct line of traffic, put the sidestand down and shut off the motor as the big, bold sign instructed. I also stayed "in the vehicle until the ferry is underway," as the sign required. Once we were moving, I walked around the deck for a bit, but it was a pretty quick crossing. From a display I saw, there was apparently a duty-free (?) shop on board, but you would have to make a dash for it.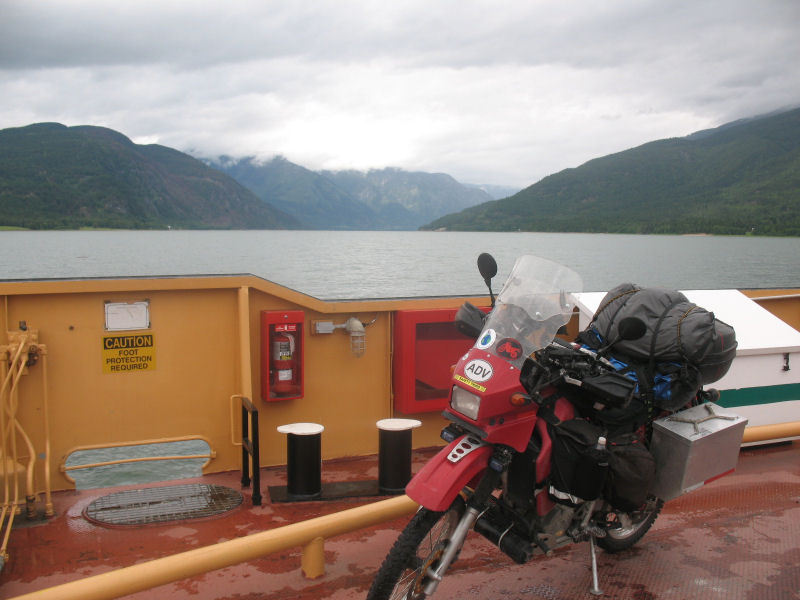 As we neared the opposite bank, a ferry worker came and deliberately stood in front of my bike, which was not a surprise (since I had moved out of the direct line of traffic). He and I chatted for a bit in the drizzle while they lowered the ramp and the other cars drove off. He asked if I followed hockey, then he told me that Detroit had taken the cup before I could answer. Then he moved aside and let me ride off.

The sun came out for the rest of the day, but it was still cool enough while riding that I left all my gear on. The roads and mountain scenery were great all the way to Vernon, BC.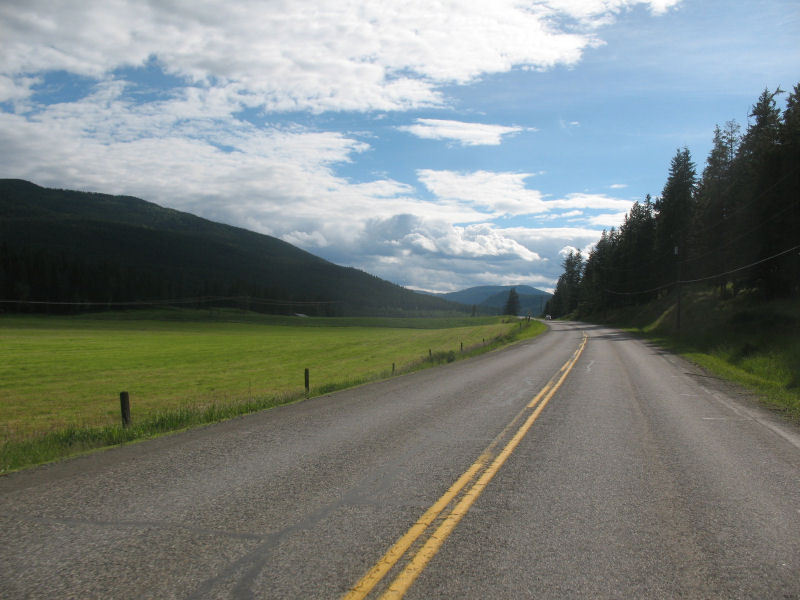 The first Canadian police that I had seen were making radar stops on the road, waving violators to the side of the road. On-coming cars had flashed their lights to warn us, so we were mostly a parade of well-behaved motorists going by them.

The small towns were like small towns anywhere, the cities were the same. The greatest variety was in the mid-sized towns that were big enough to have developed a sense of character but not yet big enough to become a commercial wasteland. The gas pump at a Shell station in Vernon did not like my credit card, and it took several trips inside to finally get some gas. The teems in charge of the place had no idea how to do anything aside from run the cash register, so I finally just pre-paid for $20 and rode away with a half-full tank. Gas prices ranged from $1.35 - $1.46 per liter. Much more expensive than in the U.S. Anyone else for $6 per gallon?

As I had ridden into Vernon, I had seen one Golden Eagle swooping down for something in the scrubby trees and a few deer along the road. Not as much wildlife as I had expected to see.

I had an early dinner at a Chinese buffet, and the middle-aged waitress who was responsible for my section was very chatty. She insisted on going outside to see my bike, then came back in and asked me all about it. She seemed almost desperate for conversation, but that's just my take. She did give me some advice on local scenic roads, and when I told her which way I was thinking of going and that I was hoping to camp again that night, she bounded off to make phone calls. She returned with a slip of paper that had the address, phone number, directions, costs, and the campsite owner's name written on it. She had all but made a reservation in my name. When I told her that I had changed my mind, and was going to detour south to go through the vineyards and orchards, she seemed distressed. She complained that she had called Luke and told him that I was coming, and she kept trying to hand me the info-splattered slip of paper. I took the paper and apologized for causing Luke such confusion. She slumped (but no longer bounded) away to tell Luke the bad news. It was sad.

Heading south was a choice to spend more time around the lakes and mountains in the area. There were brochures in every gas station and restaurant that bragged about "The Wine Capital of Canada" in the area of Oliver, BC. Okay, let's go see.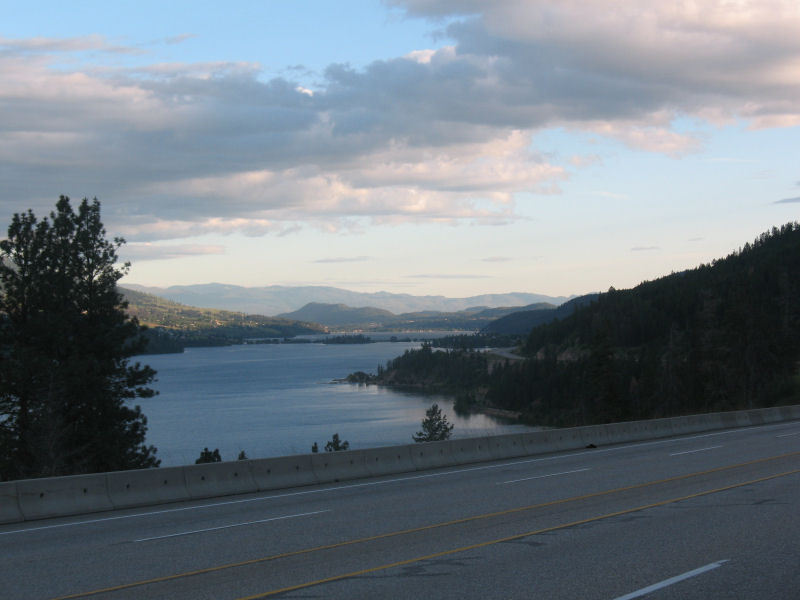 The lake was pretty, and I crossed one very large bridge. Canada must be big on golf, since they mark every golf course with big, government signs along the roadway and there were many such signs. But then, they also had signs for every B&B, inn, restaurant, campground, motel, gas station, winery, all in the same tourist-info blue color.

It was getting late, getting dark due to the mountains (the lake was in a deep valley) and I was searching for a camping place. There was no hope of finding a wilderness site, since the whole region was well-developed and strewn with vineyards and orchards. I finally chose a municipal campground in a town marked Summerland on my map. I never saw a Summerland sign on the road, though. The campsite was totally full, the steward informed me. Big end-of-year ball tournament in the area. I assumed he meant baseball, but what do I know? There certainly were enough teens running around and whooping that I was happy to move on. The steward suggested another campsite on the lake's edge just a few kilometers down the road.

I followed his directions, found the Ilehie Beach campground and RV park. Actually, it was more of a mobile home park, with trailer homes and RVs that had been there for decades. Maybe 10% of the site was available for guests passing through. I filled out a registration form with fake information (all in fun, eh?) and put my $20 into an envelope, dropped it through the mail slot (as directed on the envelope and the sign on the locked door of the office), and puttered quietly in the semi-darkness to find which camp site I had selected, sight-unseen.

The tent sites were all together along one side of the grounds. Each numbered site had exactly one big tree, one small tree, one picnic table, one combined water spigot/sprinkler head, and a lot of deep, rich, luxurious well-mowed grass. It was wonderful to just lay on the lush grass in the cool, light breeze coming off the water, listening to the lake sounds and distant passing traffic on the highway.

I snored myself awake and sat up abruptly to look around, embarrassed at myself. There was one other tent a few sites down the row, but no evidence of life. Whew.

As I was setting up my tent (it was a shame to punch holes in that thick sod), a van with a plumber's logo on it drove slowly up to one of the mobile homes across from the tent sites. The guy got out wearing his plumber's coveralls and carrying a big bucket of tools that said "plumbers lay more pipe" on it. He saw me and came over to say hi. I asked if he was a plumber by chance, and for some reason he thought that was the funniest thing he had heard all day. We chatted for a while, but we were both tired and we said our good-nights.

For the first time, I set the tent up without the full-cover rain fly. The tent (Hammerhead 2, from Mountain Hardwear) has big screened sections that can be covered or uncovered, so it is very versatile. The sky was clear, stars aplenty.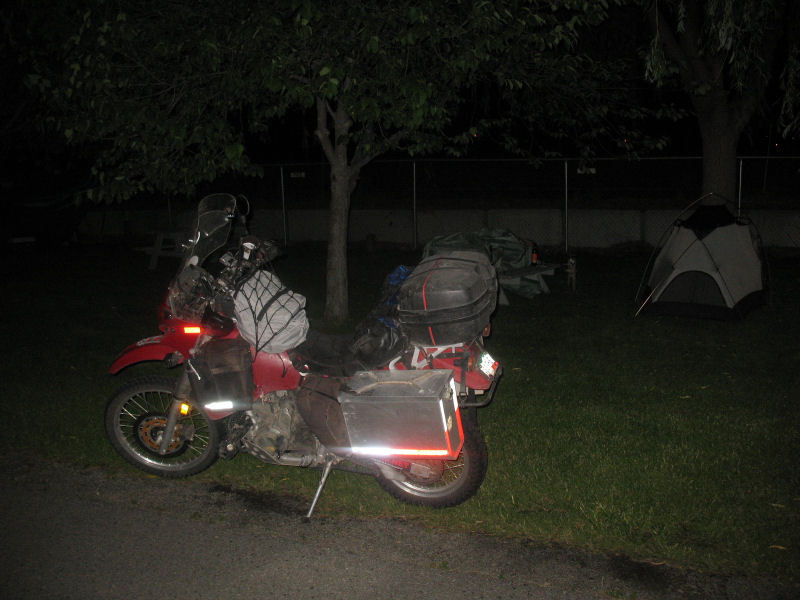 I sat on the picnic table and had some wine. The facilities were on the other side of the grounds, so I walked around the place, admiring some of the landscaping that had been done around the permanent mobile homes. I was used to trashy mobile home parks and crappy facilities in such places, but this was all very well done and well-maintained.

I would think that some of these homes were vacation homes for people who live elsewhere part of the year. They did not all look as if they were currently occupied, but most did.

For the first time in 3 days, I got out of my Darien riding pants (worn over lightweight nylon pants). Gonna need a shower and do some laundry soon. I fell asleep as soon as I stretched out in the tent.

No, it didn't rain.

Wonderful.


I was HERE




Sunday, June 8, 2008
--------------------

Up at 06:30 to a sunny, clear day, already warm.

I was on the road and looking for breakfast by 07:20, and the ride through the orchard and vineyard region was very nice. Lots of fruit stands, but none appeared open (too soon in the season) and many appeared to be abandoned.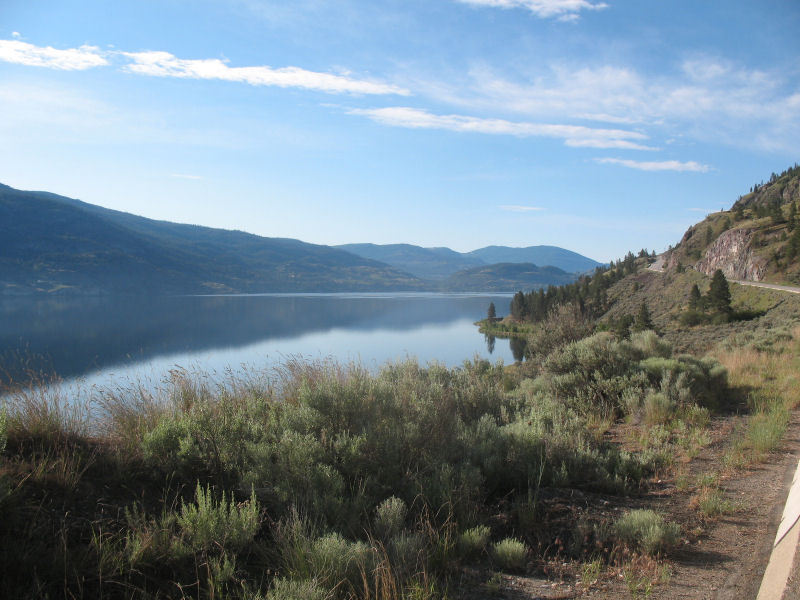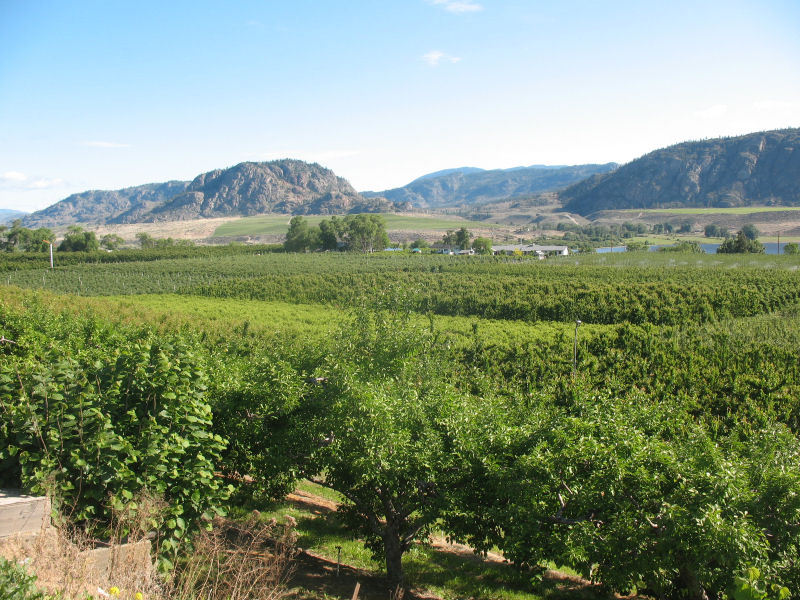 A truck stop in Osoyoos was my choice for breakfast. It was a popular place, and I lingered there, catching up on my notes and doing the puzzles in all the newspapers that I could find.

I was seated near the entrance, so I got quite the show as the regulars (truckers and farmers) and the hitchhiking hippies crossed paths between the dining area and the convenience store area. Each group had much to quietly say about the other group.

The big table nearest the door was obviously reserved for known regulars. While I was there, the occupants changed regularly, but there were always at least three men at the table, talking local gossip and telling lies. One guy (trucker) with a heavy French accent told outrageous stories about things he's seen on the roads, and another guy (farmer) called him a liar after each tale. When the trucker with the great imagination told the waitress to fuck off, I thought there might be some stress to come, but she told him to fuck off as well, and all seemed okay. Everybody knew everybody at that table, and the waitress knew them all, too. Good times.

After a couple hours of local character entertainment, I headed west to Princeton, BC. From there, I would head for Hope, and make the next decision. The riding was good, a bit colder and cloudy as the altitude changed. Princeton was a big town, the ride to Hope was very nice. Lots of scenery--mountains, the Fraser River valley, several tunnels cut into the canyon walls.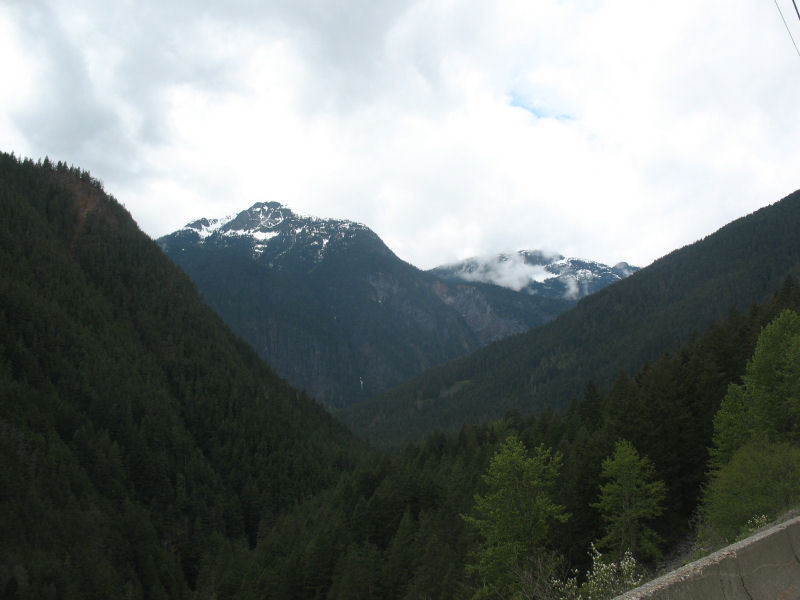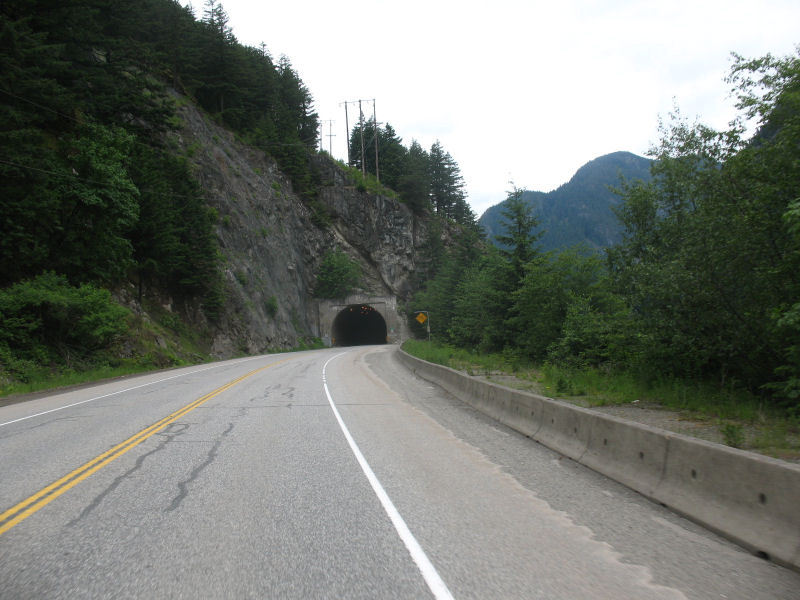 Approaching Hope, there was a monument and a historical marker that documented the Hope Landslide. Seems that in 1965, one whole side of the canyon collapsed during a series of earthquakes and filled the valley floor. The river was dammed, lakes filled in, the old highway was buried under 75 meters of rocks. Several people were killed, and the monument was to them and others who died in various ways in the canyon that year. The valley floor still looks rugged and ragged with rocks and boulders strews about. The current highway was rebuilt over the debris.

The Fraser River is one of the world's great rivers, flowing twice the volume of Niagara Falls as it passes through Hell's Gate--a narrowing of the river, where it is very deep, very turbulent. It's a tourist trap now, with a minimal gift shop next to the highway and a cable tramway that will take you ($16) down to where the restaurant, fudge shop, and real souvenirs could be found. There weren't even any restrooms available at the top.

*cough, cough* RIPOFF *cough, cough*

I took a photo of the tourist shops at the opposite, lower side of the Gate, and of the cable cars. Then I got the hell out of Hell's Gate. The place once had some historical significance, but not anymore.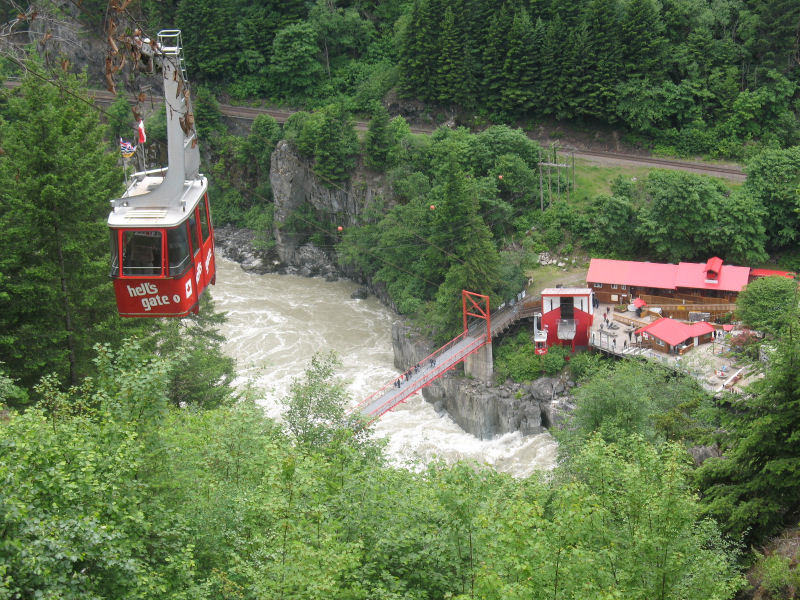 I saw lots more motorcyclists, even a few other KLRs. Most waved. Some seemed loaded for adventure, as I was.

Photo interlude: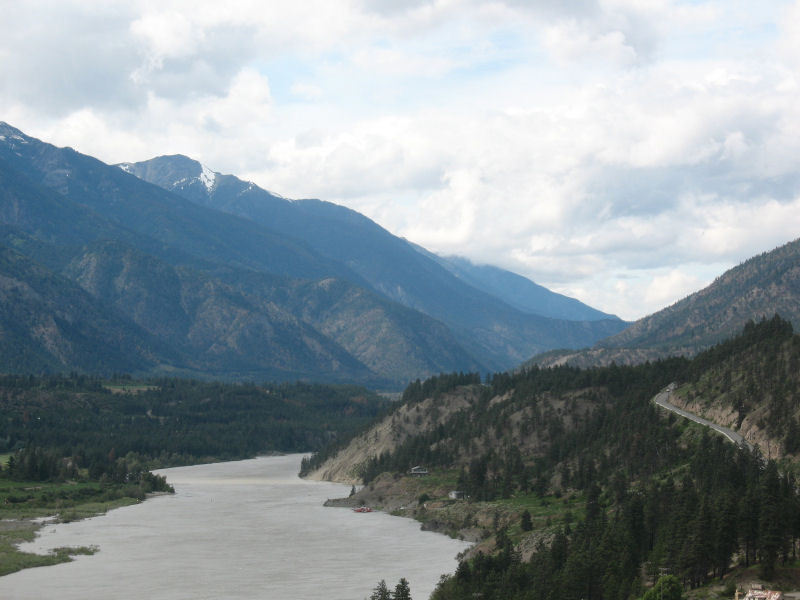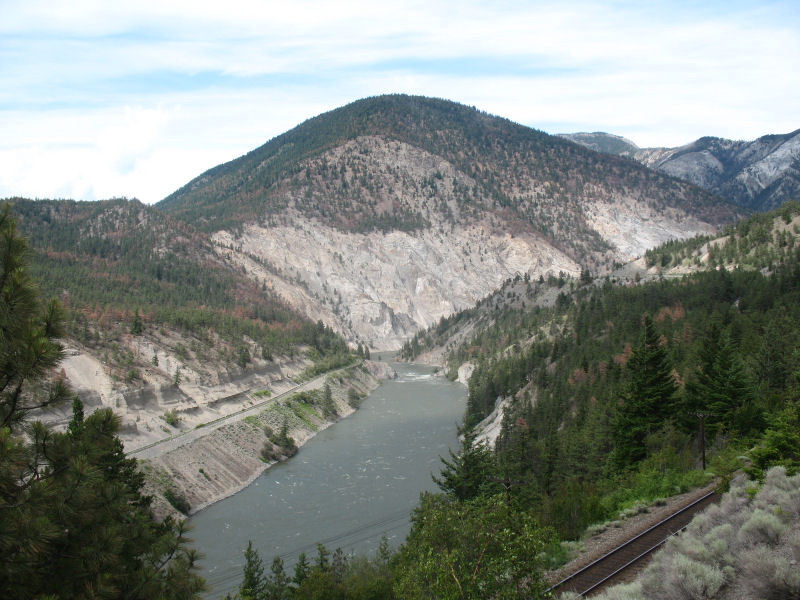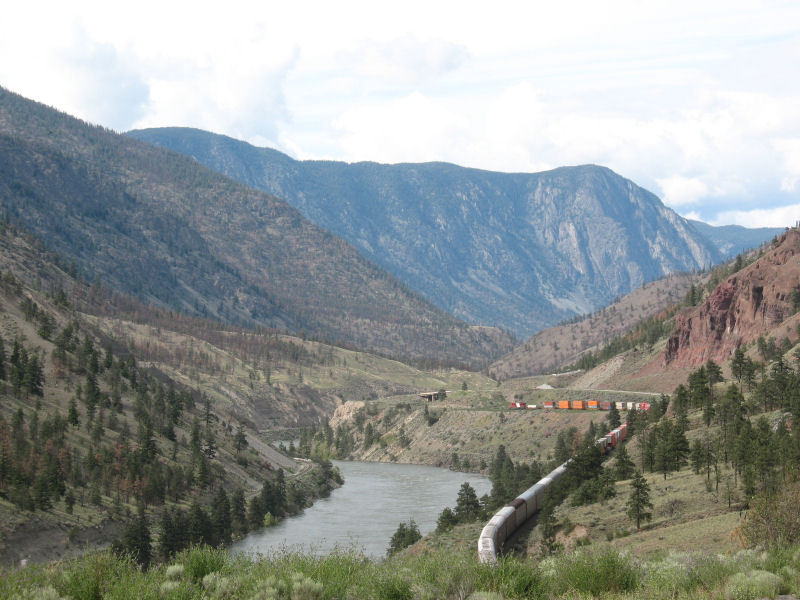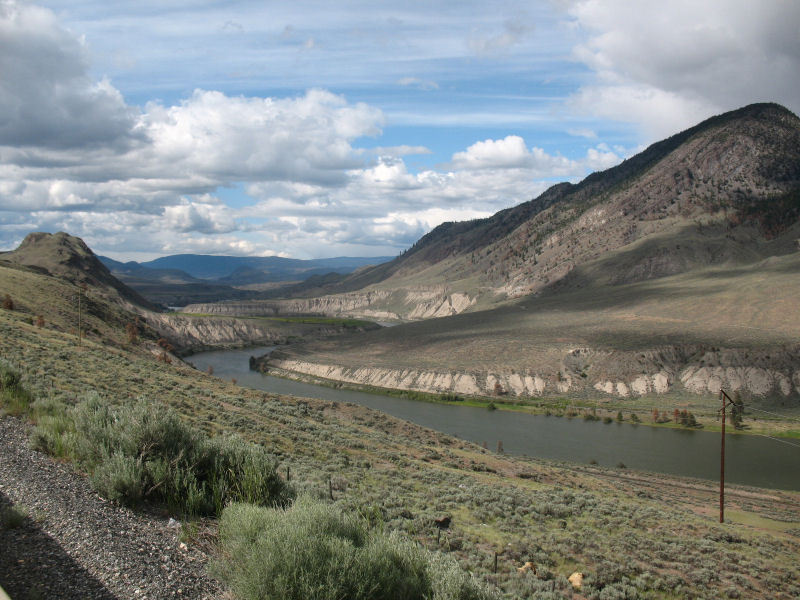 I really wanted to spend some time online, so I started looking for a motel with wi-fi. I was continually disappointed by how rare it is in Canada to find a public hot spot for getting onto the Internet. Coffee shops and other hang-out places that would have had access in the U.S. had nothing in Canada.

In Cache Creek, BC, I saw a couple motels with wi-fi advertised on their signs. I stopped at one and found that their cheapest room was $59. I mewed that I needed to stay at a $40 budget, and the Asian girl at the counter took pity on me. She had their best room, with a strong wi-fi signal, for $49. Plus tax, came to about $55. Nuts.

She insisted that I try my computer's wi-fi connection before she charged my card for the room, so that shows some customer consideration. We had a lot of trouble getting my computer to connect and I feared that I would be moving elsewhere for the night. She would have none of that, and she futzed around with my laptop (while I watched), then she had me come with her to the stockroom while she fiddled with their router. Finally, she reset the router and after it started up again, I was able to connect. Victory!

Once I was settled in the room, I asked for her advice on dinner. She sent me to a big motel lodge restaurant down the road (I walked), but they were closed by the time I got there. Once again, the odd lightness of the evening had me confused about what time it was. It was well after 22:00, but still fairly light out. I ended up walking back past the motel to a late-night burger place. After trying to kid around with a young native boy (who just stared at me like I was an alien creature), I tried saying hello to his mother. She ignored me completely. Okay, then.

I had the Monster Burger to go, and it drooled out of the bag and onto my foot all the way back to the motel.

After wanting to get online for several days, I found that I was too tired to stay up very long and the connection was not very fast. I browsed around some of the usual forums, but before I ever got to looking at my email, the wi-fi router crashed. There was no cell phone service in town--which was typical. Screw it.

Sleep.


I was HERE




Monday, June 9, 2008
--------------------

I was up early, and worked on the laptop for a while resizing photos and writing (still no internet connection). Got the bike packed up and then found a bolt missing from one of the muffler brackets. Even though I had used threadlock fluid on everything, this one still managed to fall out. I had plenty of spare bolts, so replacing it was easy. I worked around the bike for a while, re-tightening everything. Only a couple other fasteners seemed loose. While I was at it, I moved my passenger pegs forward to the highway bars, since the footpegs there had started to bend. Those stamped-metal pegs got put back into the passenger peg mounts, where the side bags rested on them. Took an hour to get all that done.

Did about 150 miles before stopping somewhere for a late lunch. Honestly can't remember where I ate; didn't take a photo or mention it in my notes. Couldn't have been too interesting.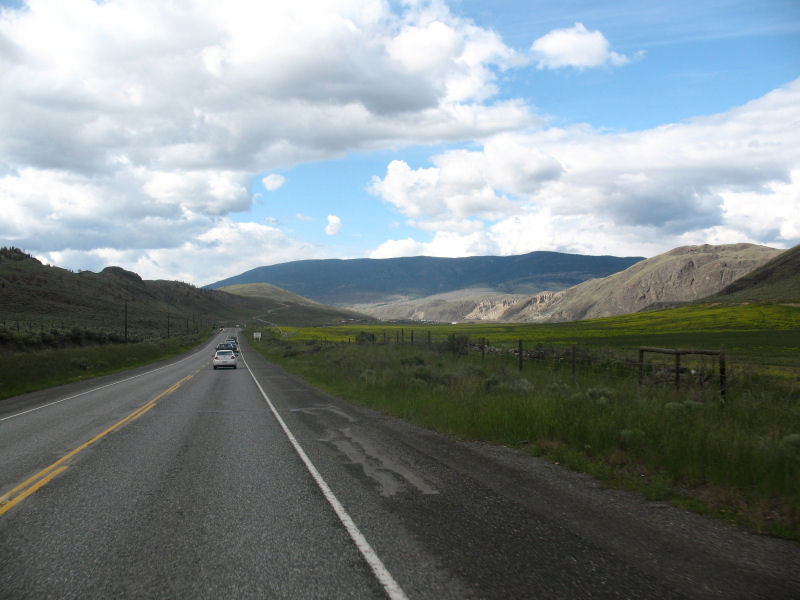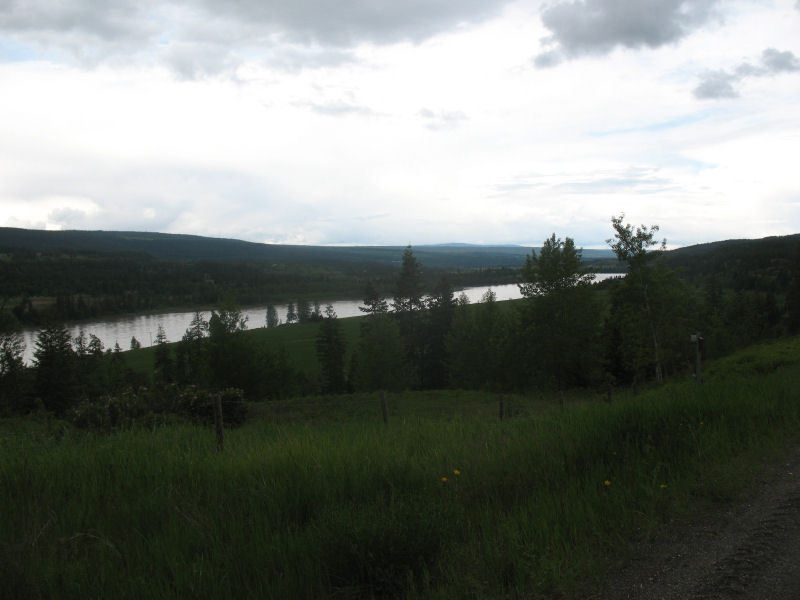 I got rained on for the next four hours, all the way to Prince George. I had been smelling something odd whenever I stopped or slowed down, but I checked the bike a couple times and all seemed okay. While I was behind other traffic entering Prince George, I noticed something about the reflection of my headlight on the car in front of me. Like Holmes' dog that didn't bark in the night, what was wrong about my headlight reflection was that it was not there.

How long had me headlight been out? I have no idea. Fortunately, I had installed a set of highway lights for both extra lighting and for redundancy. I finished the ride in the rain with the highway lights.

It was about 18:00 when I started looking for a motel. I saw the sign for a typical motel chain, and pulled in there. The cheapest room they had was $103, and the gal at the counter told me that no "decent" motel would be any cheaper. I asked about the indecent motels, but she had no other suggestions for me. I tried a few other motels, found them all to be surprisingly expensive. When I asked one clerk if there were any flea-bag or scary motels that might be cheaper (I told her that I was a bit scary myself, but she didn't laugh), she referred me to a big, old motel up the street a bit further. So up the street I went.

The tattooed, nose-ringed clerk (who looked as if she had paid for only half a haircut) was a very helpful spitfire of a Goth punk-rocker chick. She had only smoking rooms available, but she took it for granted that I would want a room on the ground floor (to watch the motorcycle) and she had no rooms that would do. She also didn't recommend leaving the bike unwatched. When I asked about camping in the area, she thought for a moment, then told me that the University had cheap rooms. I thought she was talking about another motel, and it took her another try to get me to understand that the University of Northern British Columbia (UNBC) rented rooms by the night, and it would be cheaper than any motel. Good enough for me.

Armed with directions from the gal at the scary motel, I found UNBC with no problems, found the residences easily enough, and just happened to park the bike at the building that had the offices in it. Sweet.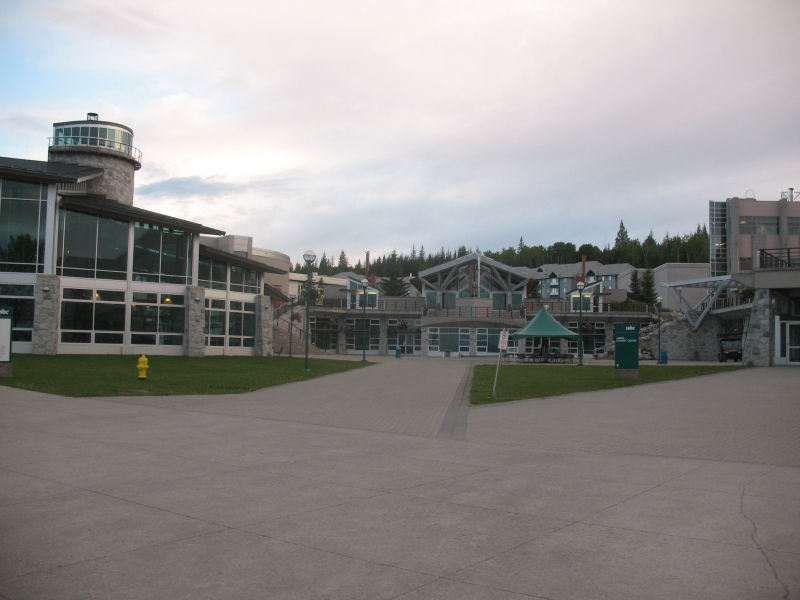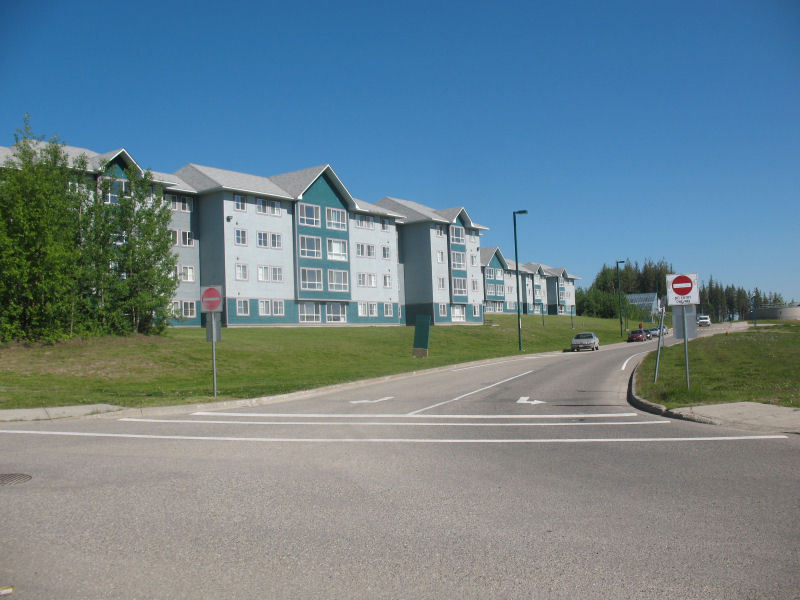 The student employee working the office asked me about my travels while she checked for room availability. I thought that maybe they had nothing open, since she scoured through several pages in a ledger book. Turns out that they had almost everything open (the semester had ended), but she was finding me something easy to carry my gear to and where I could watch my bike out the window. Such accommodating people in Prince George. Since it's the biggest city in the area, and a bit of a crossroads in the area, I suppose they are used to bikers renting rooms here.

"Nope," she told me, when I asked about bikers staying there often. "You're the first one I've seen here."

Anyway, she gave me the keys to a bedroom in one of the quad apartments, and charged me $24 for the room only, no towels, bedding, etc. It would have been $30 for the room plus those items. What a bargain! This might be a good place to spend a couple nights, get some time online, do some laundry, etc. Had to work on the headlight problem, too.

I got settled in the room, a tiny cell with a twin bed (mattress wrapped in plastic) and a desk. That's it. There were three other locked rooms in the hallway, and a twin sink common bathroom area. The rest of the place looked like a typical small apartment. The gal from the office came by to work out a problem with where I should park the bike. Like most places, parking is always a problem. All parking on the small campus is either assigned or paid parking. She gave me an assigned space in a parking lot down at the end of the building, and that was the best she could do.

I checked out the headlight problem in the parking lot. I have some aluminum brackets that I added to help stiffen the KLR's faring (keeps it from flexing in the wind), so I had to remove those to get the headlight socket unstuck from the bulb. Couldn't understand why it was so hard to remove...

But I found out why. The socket was burnt and melted, misshapen and defunct. That odd smell I had noticed a few times was my headlight bulb and socket melting. It appears that one of the prongs on the back of the bulb had broken off, and was making intermittent connection. That would have caused sparking and heat. The broken prong was still stuck in the socket.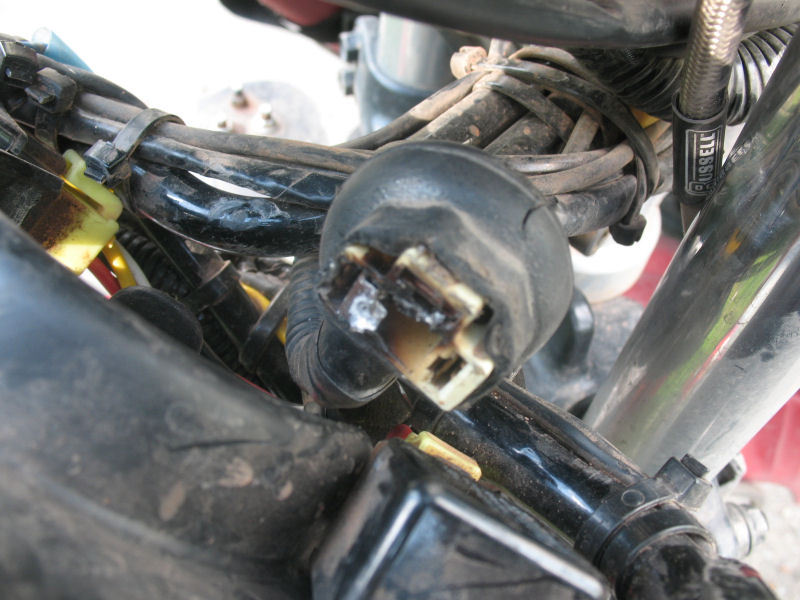 Well, okay then. I'll deal with that tomorrow.

The headlight problem really vexed me because it's happened to me before. On my other KLR, a blue '99 model, a similar thing had happened while I was riding at night. Suddenly the light went out, then flickered for a while. I found that the socket was fitting very loosely on the bulb's prongs, and was not making a secure connection. The sparking had caused heat damage to the socket--as it had now done on this bike. I had replaced that other bike's bulb socket with a "high-temp" version that I had gotten from an auto parts store, and then I had made an aluminum bracket that pressed lightly across the back of the socket to keep it in place. I had made a similar bracket for this KLR, but now it seems to be the bulb that failed. I think that--in the future-- after having bashed the KLR around Moab, it will call for a significant examination and rebuild before heading off on a long trip.

I figured that repairing the socket was an easy enough wiring job, and I was not concerned.

When I asked about finding a wi-fi hotspot, the gal in the residence office referred me to Starbucks. Duh, that should have been obvious. With most of the luggage off the bike, it was much more fun to motor around on. I took a tour of the city, found out where most of the auto parts stores were (on the "industrial side of town," along the railroad tracks on the north-east side of Prince George).

Prince George, seen from the UNBC campus on the hill: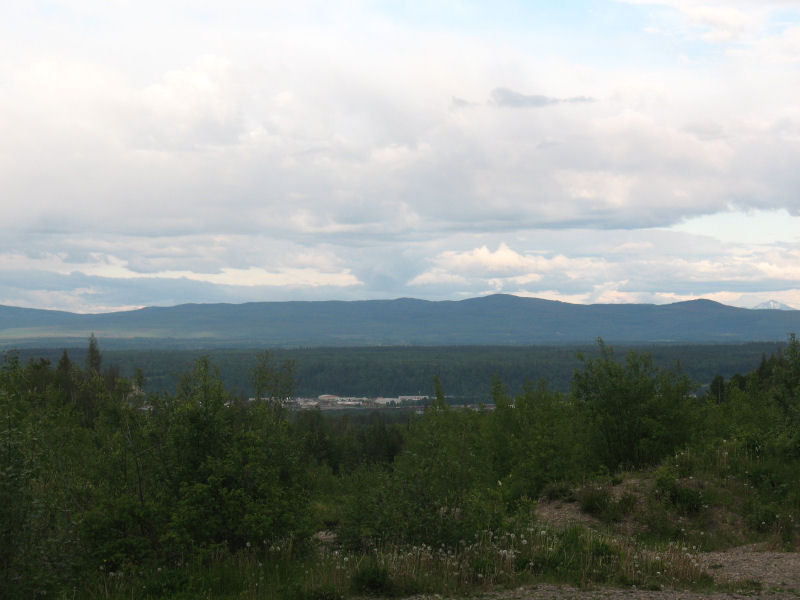 I found a Starbucks, got the laptop out of the aluminum side box, went in and ordered a large Chai and a couple snacks. I got settled into one corner and asked one of the employees about getting to the internet. She went into a long, complicated spiel about the log-in process, the separate screens I would have to get through before getting to where I entered my credit card number... Excuse me, I interrupted. Isn't there free access here? She explained that, sadly, free internet access at Starbucks shops in Canada probably won't happen until maybe next year. For now, it's $7-8 per hour.

I finished my snacks and left. I tried a few other places where I would expect to find internet access, but no luck. Finally, I stopped at Red Robin for a burger, and the bartender there told me that McDonalds had wi-fi access for customers. She also suggested one of the campuses in town. Maybe their library had wi-fi?

I got back to the UNBC residence, found an open wi-fi hotspot, but never could get connected. There was no one in the office to ask, so I decided to try the library on campus tomorrow. Might need an oil change on the bike, and the tires were showing some decent wear. I did some work on the laptop, but got sleepy sooner than I expected.


I was HERE




Tuesday, June 10, 2008
----------------------

I was up by 09:30, paid for another night, then went shopping for a few things.

I didn't find the exact H4 bulb socket that I was looking for, but I found a couple H4 sockets that would do. I would use the beefier one and hold the other in reserve.

I bought lunch at McDonalds, had the manager explain how to get onto their hotspot, and after a couple tries, I was successful. Yay! Not a real fast connection, but it worked. I started reading through several forums that I am active on, but I had only finished reading and posting on ADVRider.com, and had just started on KLR650.net when the McDonalds connection "timed out" and rudely cut me off with no warning. I checked the connection card the manager had given me, and right there on it was the message, "This access code grants you 45 minutes of internet access time. One card per customer per day."

Frick. Was I a new "customer" if I bought something else? Actually, I didn't care. The sudden disconnect had pissed me off so bad that I was done at McDonalds.

I went back to the UNBC parking lot to make repairs. I won't bore you with the details, but the wind, my butane soldering torch failure, the mosquitoes and gnats, the teasing, taunting rain showers... they all contributed to my misery for the next couple hours. Other than that, the weather was peachy. Not too hot, not too cold. After finally crimping some spare connectors to the wires, the new headlight socket was in place. I prefer soldered connections for such things as this, but a cigarette lighter didn't get the wires hot enough in the wind for the solder to melt.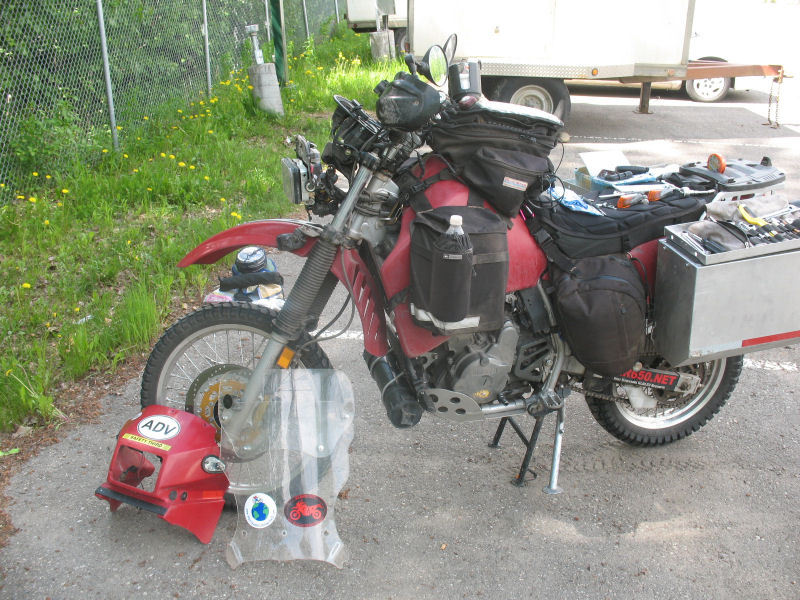 Back together, the bike seemed fine. I rode around to some hardware stores and got new crimp connectors to replenish my stock, some Shoe Goo to try to seal a leak in my riding boots, some batteries for the camera. I had decided not to bring rechargeable batteries and a charger unit that could plug into the bike's power outlets, and now I regret that decision. I was going through four AA batteries almost every day. When riding, I found that it is faster to leave the camera turned on, so quick shots can be managed. Also, turning it on and off with rain gloves on is very difficult to do. So, the camera goes through a lot of batteries.

Buying a new butane soldering torch was a challenge. Several typical places didn't have them, and said they decided not to carry them anymore or never chose to carry them. It seems that the small butane torches are a controlled item, due to being stolen by addicts who use them for smoking drugs. When I finally found one in a Canadian Tire, it was behind a locked case, and the salesman who retrieved it for me had to carry it to the cashier and actually stand there with it until she was ready to ring it up. Geez... all that for a $6 butane torch? It did work well though, as evidenced by the scorched spot in my left palm.

I ate at a nice Italian restaurant, chatted with the bartender for a while. He knew everything about the area. When I told him my woes about getting internet access, he referred me to the big new casino nearby. I had seen it a couple times. It was hard to miss, right on the side of highway 97 and another main highway.

When I went back out to the bike, it was completely dead. Nothing. No lights, no starter, nothing.

I got out the tools and started in on it. The fuses were all good except the main system fuse, which I replaced. It blew out immediately when I switched on the key. I blew out a few more fuses trying to diagnose the problem. I took the faring off again and unwrapped all the headlight wiring that I had just done earlier. All looked well. What I finally discovered (about two hours later, tools and parts scattered around the bike in the parking lot), was that a few things had combined to cause the problem.

Before starting out on my trip, I had replaced the stock turn signals with small, streamlined aftermarket lights. They were pretty basic, and the bulb socket was grounded to the metal base of the signal assembly, which was bolted through the plastic faring into the steel faring bracket. Because of this condition in the signal housing, polarity of the wiring became more important than it would have otherwise been. (Since it was a standard incandescent bulb, it would not normally matter which way the wires are connected. The current will flow, and the filament will glow.)

After I had made the headlight socket repair earlier, I had connected the wires for the right turn signal in reverse polarity, which made a short through the signal bracket as soon as I switched on the key and used the turn signal. Easy enough to fix. I reversed the plugs for the turn signal and all was well. Almost.

Why had the fuse not blown out earlier than it had? I had ridden to a few places after the headlight repair (using my turn signals) and it had not blown the fuse. The second problem was finally found. My turn signal flasher relay had gone faulty during the last short ride, and was now stuck "on." Once it had failed to a closed "on" condition, the first time I used my right turn signal, the fuse blew. Once it is running, the bike will still run, since the running ignition system from the stator is separate from the other electrical systems, but once you turn the motor off, the blown fuse will not allow the starter motor or any other systems to run.

So, if the problem was initially the short in the right turn signal, why hadn't it blown the fuse before the flasher failed? Aw, screw it.

Anyway, that's my diagnosis. All I ended up changing in the parking lot was switching the wires to the turn signal. Everything ran fine, but my turn signals were steady instead of blinking. All the bulbs work, so sometimes I just manually turn the signal on-off-on-off and become my own blinker mechanism. Low tech.

I should have taken photos of this repair scene, but I was only focused on getting it done.

I rode to the casino, found the restaurant/lounge the bartender had directed me to and carried my laptop inside. I confirmed with one of the gorgeous waitresses that free wi-fi was to be had there, and I planted myself at a corner table on the upper section of the lounge, and there I stayed for almost six hours. I had a beer to start with (since I knew I was going to be there a while), then had one of the other gorgeous waitresses bring a very nice sushi appetizer and I asked her to keep the coffee coming until closing time. They weren't very busy, and the lounge was mostly empty all evening. They must have some serious hiring standards here. Every one of the waitresses and bartenders was stunning.

I was finally able to get a lot of photos uploaded to Photobucket, get the photo links copied and pasted into my ride report (on the laptop), and get the ride report started on one of the forums. I called home, too, since my cell phone finds little joy in most of Canada.

I suppose I expected to find that there were other boarders in my apartment back at the residence, but apparently I had the place to myself again. I had seen some backpackers coming out of the office when I was leaving earlier, but they must have been housed elsewhere.

It was about 01:00, and knew that there were people in some of the other dorm apartments. I wanted to do some laundry, but it was too late.

I intended to be in Dawson City in nine days, and had plenty of time to ride up and down the Dempster Highway before that.

You can probably already predict that things did not go as planned.



Wednesday, June 11, 2008
------------------------

Woke at 08:00, took a shower, did some laundry (machines in a room down the hall, bit of detergent left behind by someone), and was on the road. Weather was great, cool but not cold, sunny and almost cloudless. It was a rare day.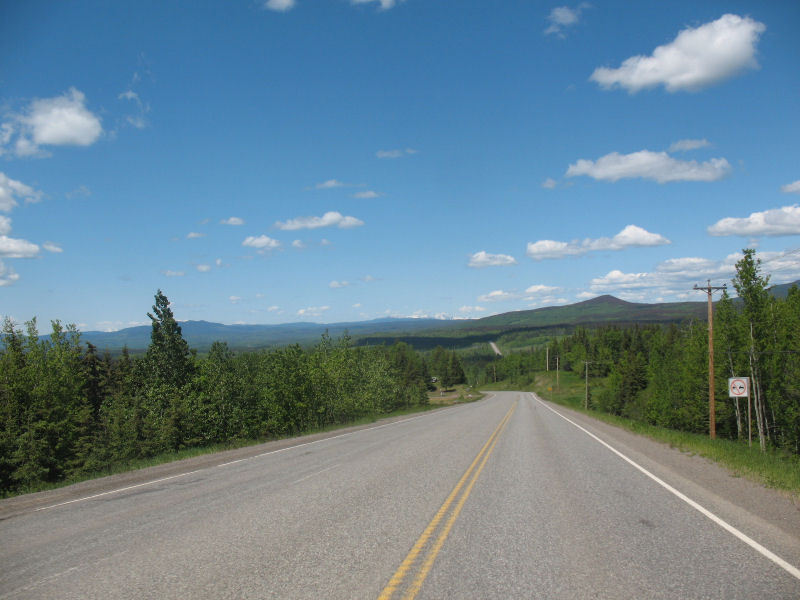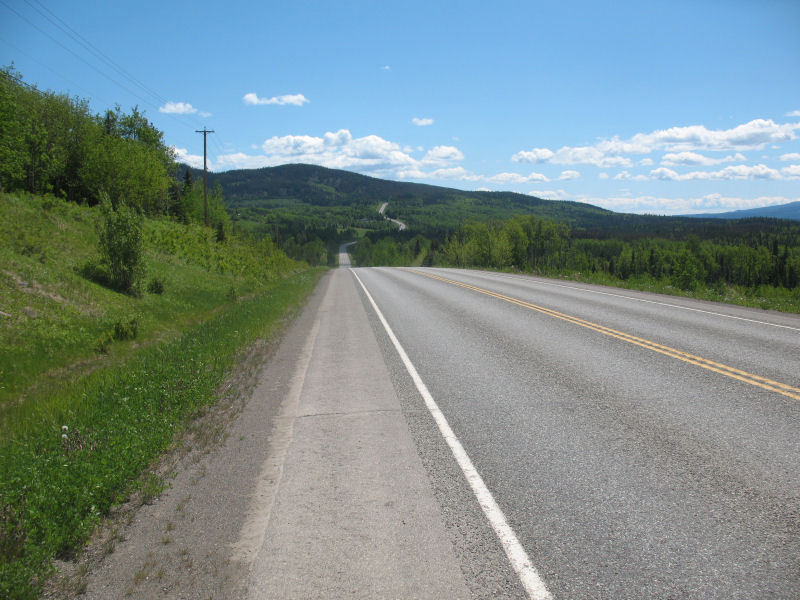 I stopped in Houston, BC, for gas and chatted with a couple guys from a group of Harley-Davidson riders. They were Americans, three license plates from New Jersey, three from Virginia. Nice guys, interested in my overloaded KLR and where I was headed. Turns out, we were all headed for Hyder, Alaska. They hit the road before me, and I chatted with a local guy who had an older KLR. He insisted on giving me a detailed explanation of every mile (he used miles, not kilometers) between here and Hyder. That's a lot of miles, so I had to make my polite escape when I could.

Lots of rivers and lakes again. That was the biggest difference between this area and Colorado. Much more water here.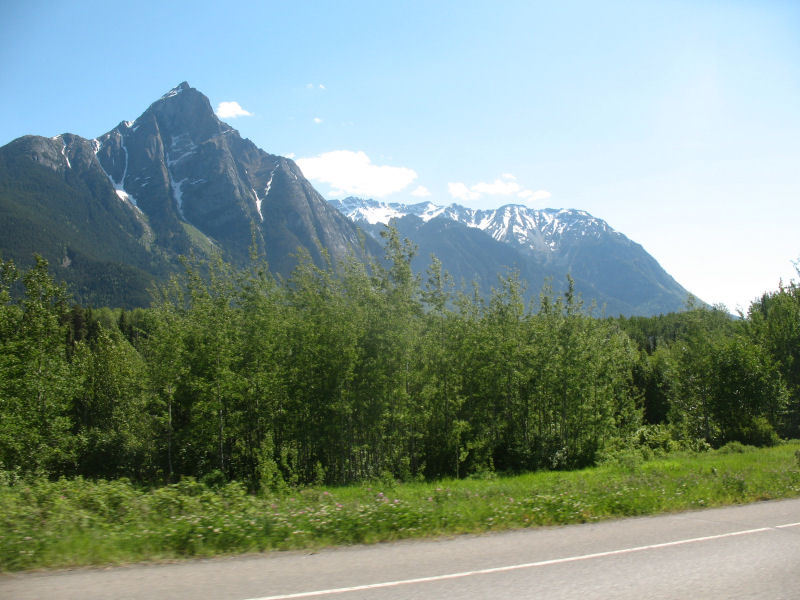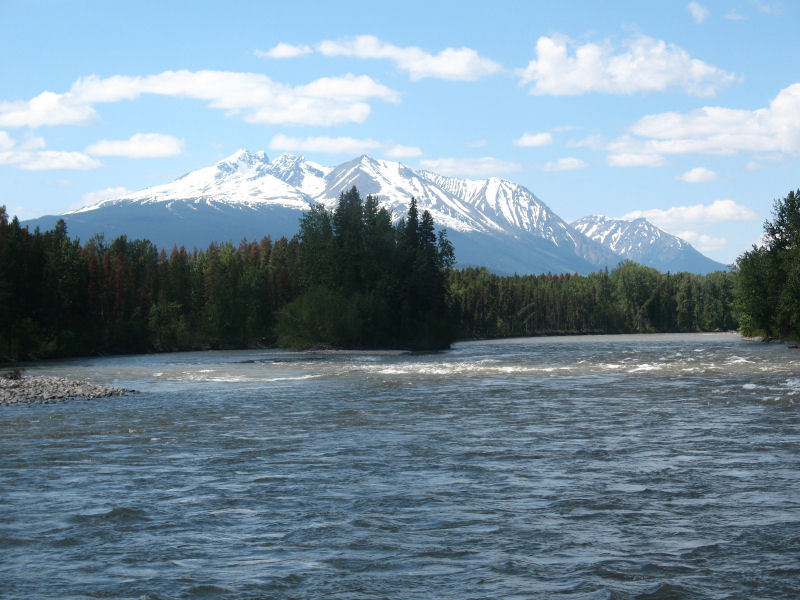 I was on the Yellowhead Highway, and it was very nice. When I got to the gas station at the intersection for the start of the Stewart-Cassiar Highway, near Kitwanga, the Harley riders were there, posing for photos at the big iconic sign. One of them said hi to me when he went into the store to buy something. I was having a snack when they all left, watching several truck-loads of young men and women from a wilderness fire-fighting team arrive and invade the convenience store for cold drinks and ice cream. They were all covered in black soot and dirt. They had a mobile first aid truck with them.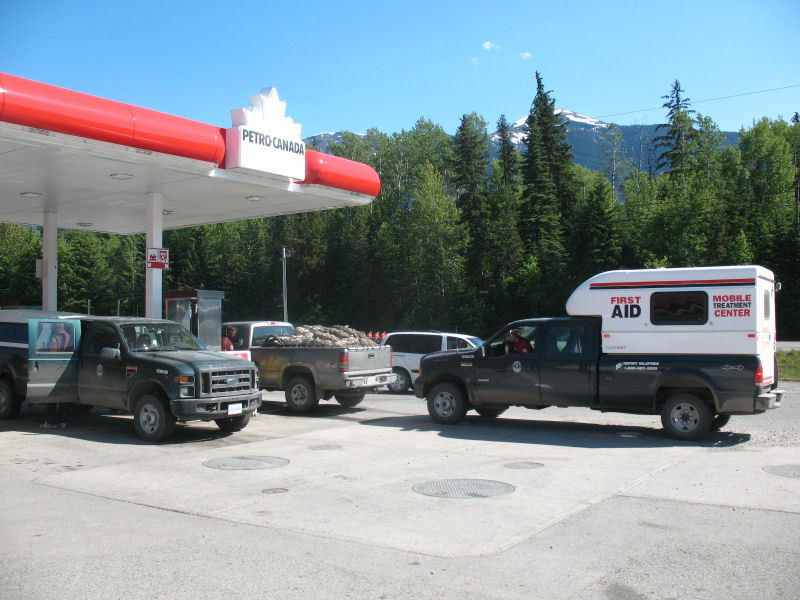 Afterwards, I rode over to the sign for my own photo of the bike.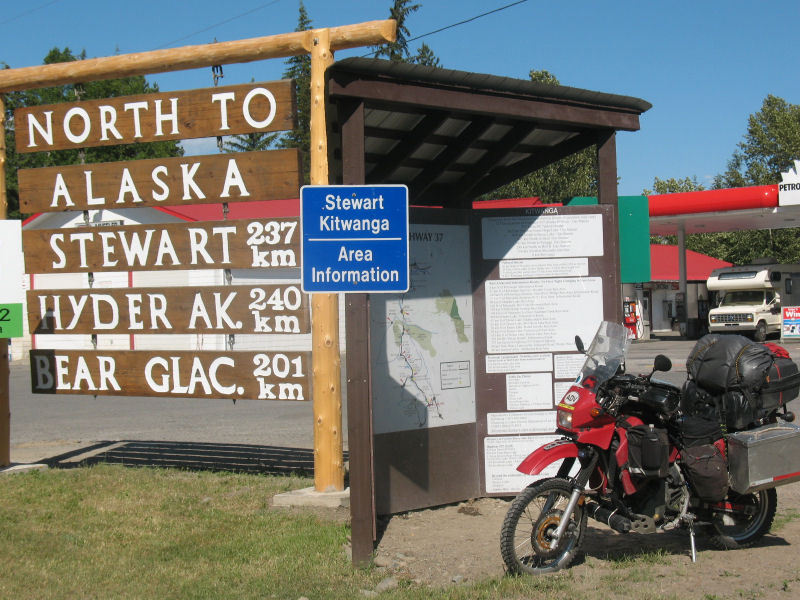 I was toying with the idea of making the there-and-back ride to Prince Rupert, but I didn't like the idea of backtracking on the same road. The KLR guy in Houston had told me that Prince Rupert wasn't worth the ride both ways, and unless you were taking the ferry from there, it wasn't worth it at all. I decided to skip Prince Rupert and head for directly for Hyder.

It was what? Maybe 140 miles to Stewart, then Hyder just beyond that. No problem.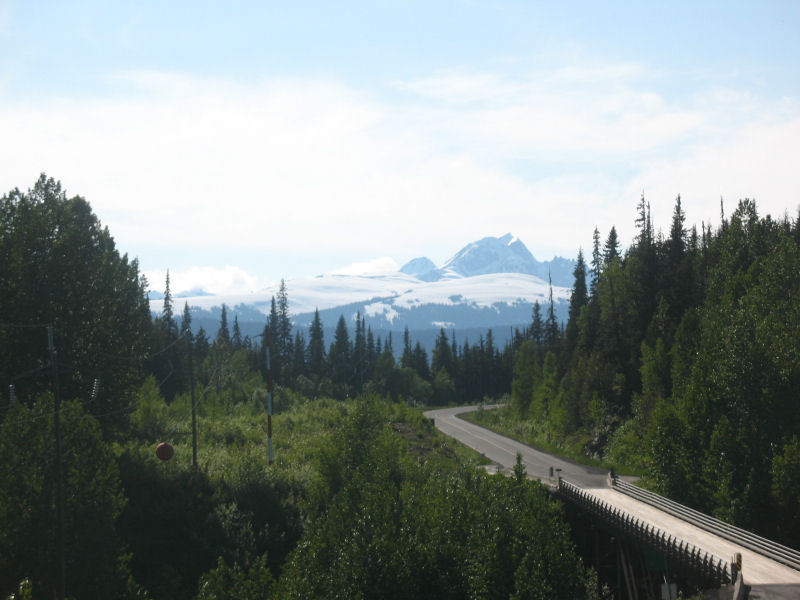 After about 30 miles or so, it occurred to me that I had forgotten to fill up my gas tank at the start of the Stewart-Cassiar Highway. So I rode on, calculating in my mind how many miles I would have already had when I started up this way, and I figured that I might just have enough gas to get to Stewart. I had learned that at moderate speeds, I could expect over 250 miles from a tank, but at higher speeds, I was getting much less. I should have turned around and gone back for gas, but no... I eased up a bit on the throttle and kept going.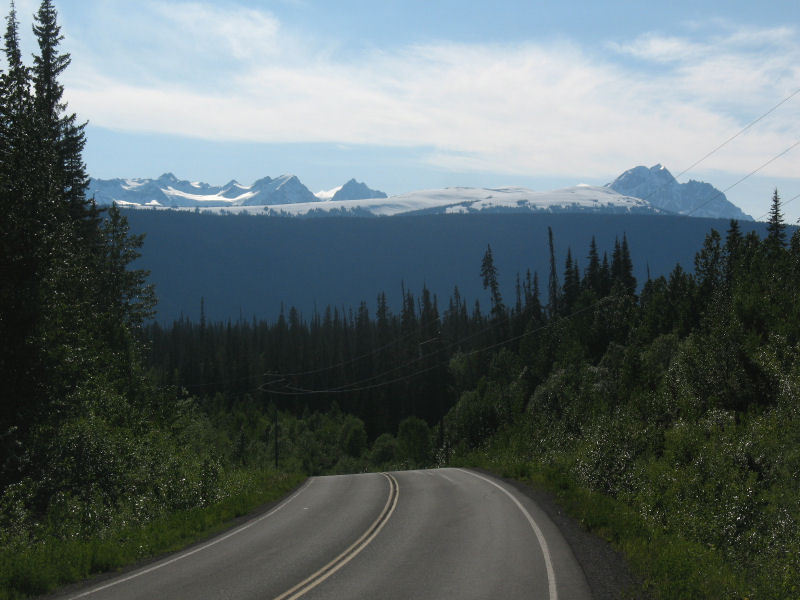 I got to thinking again that I had been hauling some pretty good speeds since Houston, and had been doing warp factor four before slowing down. I began to doubt my fuel range. I passed the Harley guys, taking a group photo on the side of the road. A couple of them waved as I went by. I saw two black bears along the road. Both ran off as I neared.

At Meziadin Junction, where the road to Stewart and Hyder turns off, I hit reserve with 209 miles on the odometer. Uh, oh. I already knew that the IMS tank did not carry much fuel after switching to reserve. There was no way I was going to make the 40 miles to Stewart. I stopped and considered what to do. I could flag down a tourist or a truck and beg for fuel. Only one RV came from the direction of Stewart/Hyder, and it only slowed down to take a photo, then it kept going.

From this point, the Stewart-Cassiar Highway continued north, and going to Stewart/Hyder was the nearest hope for any services. I knew I would run dry before getting there, but I turned left and rode slow. I had deliberately decided that whatever happened, it would be okay, and something would work itself out.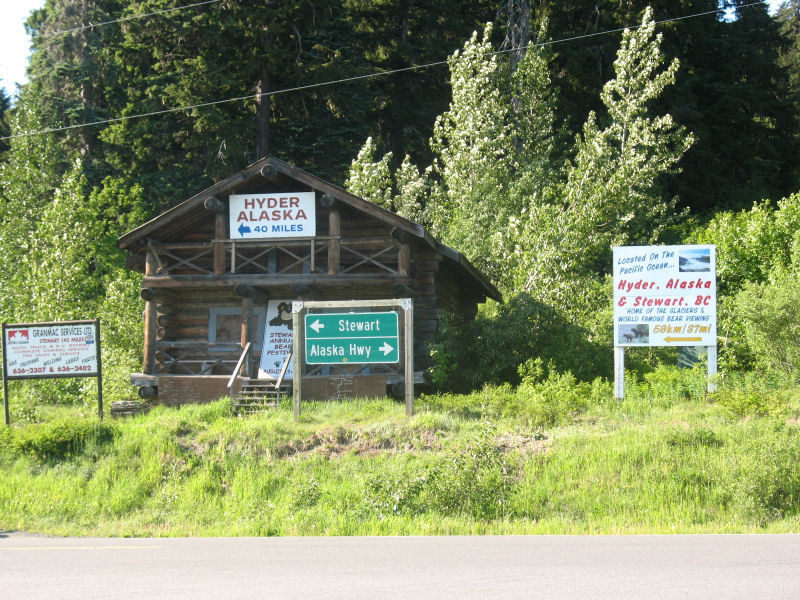 This was one of the most scenic sections of road that I have ever ridden. Big, looming mountains, close up and patched with scattered avalanche fields and small glaciers. I only got a few photos, though, since the road was very twisty and narrow. A couple trucks came at me and blasted by at high speeds with inches to spare. Maybe centimeters to spare.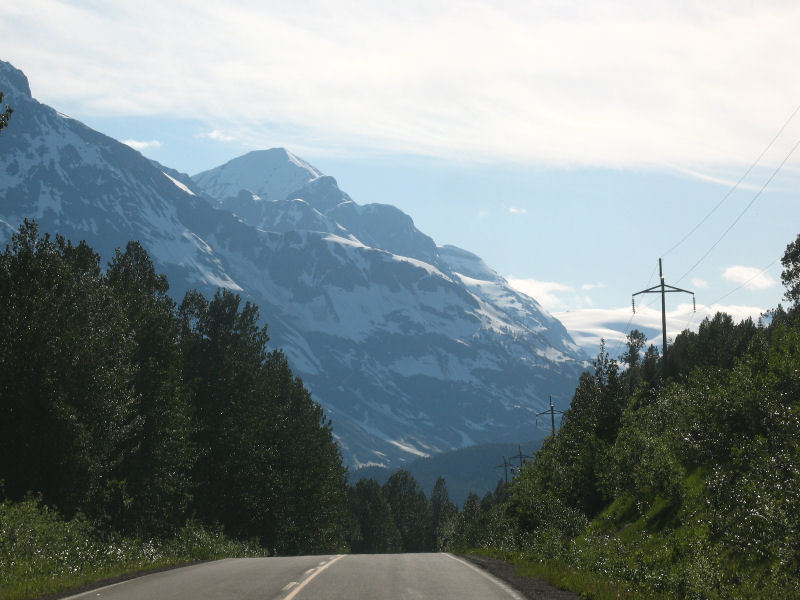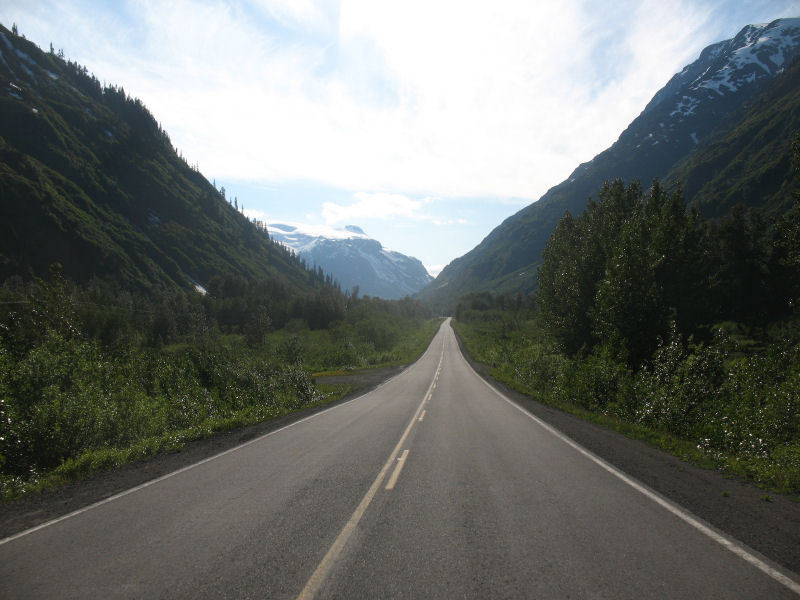 It was sunny and clear, and all was well in the world. But not all was well in my carburetor. I ran dry after about 25 miles--much further than I had expected. I had coasted down several hills, accelerated slowly when necessary, kept my speeds at about 50mph. I coasted to a stop along the shoulder of the road. At least it was a safe enough location, no hills or curves right there.

I got off the bike, watched a truck speed past me without even looking my way. Right after that, an RV with an elderly couple came by. Grandma pointed at me and Grandpa nodded that he saw me. They drove on by. I didn't wave them down or anything, so they would not have known that I had a problem. Still, it had been my experience in most of Canada, that motorists will almost always ask if I was okay. Not elderly tourists or truckers, apparently.

I had been off the bike for maybe two minutes when the pack of Harleys came into audible range. The first two went past, the others slowed down and asked if I was okay. I shook my head no, and they went into herd-protection mode. The two riders up front set their bikes up and watched for on-coming traffic. The last guy went back up the road a ways and did the same. The other three pulled their bikes close to mine.

When they found out that I was dry, one of them turned his bike around and got out a badly kinked fuel line. His line never worked, so I got out the shorter one that I had with me (see, Don, I remembered where it was this time). After several tries at a couple of their gas tanks (they were running low, too), I finally managed to siphon a half gallon into a collapsible gas bag than I carried with me.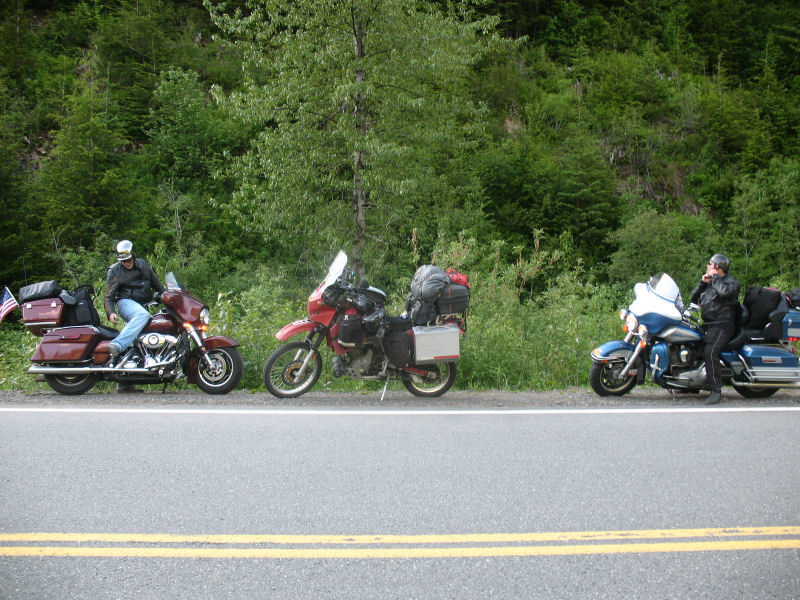 After dumping the fuel in my tank, one of the guys let me have a swallow of his orange juice to wash the gas out of my mouth (high octane!), and another gave me a cold beer. Must have had ice in his tail box. I gotta tell you folks, I chugged that beer and never enjoyed one more than that. After that, we were biker buddies. Me and the Harley guys.

None of the guys was a kid; they ranged in ages from, say, mid-thirties to early sixties. Each of them looked a little rough around the edges, but they were nice guys.

I was very surprised that they never said one thing about my Japanese bike, about me running dry, about anything other than it was a wonderful day for a ride to Hyder, and wasn't that last 30 miles just beautiful! They were nearly giddy with joy in their surroundings. They were a slightly crude lot, to be sure, but they treated me as well as I could have imagined.

So, we biker buddies rode the final 15 miles into Stewart, me in the middle of the pack. I just had to take a photo of this craziness.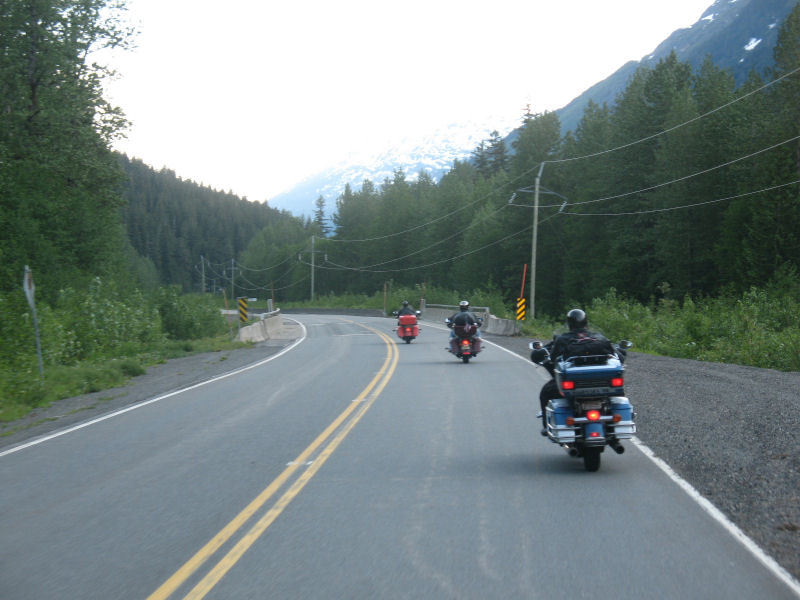 As we got to the edge of Stewart (a small town with a few motels and a gas station), the pack all got ahead of me. They had talked (earlier, while they were stopped with me) about crossing the Canada-US border, and a couple of them seemed as if they had something to worry about. I suspect that as we neared the border, they wanted to get their group together and put their "game face" on. I followed, content to no longer be in their midst.

Their frickin' bikes were so loud, I couldn't hear my own motor and kept thinking it had run out of gas again.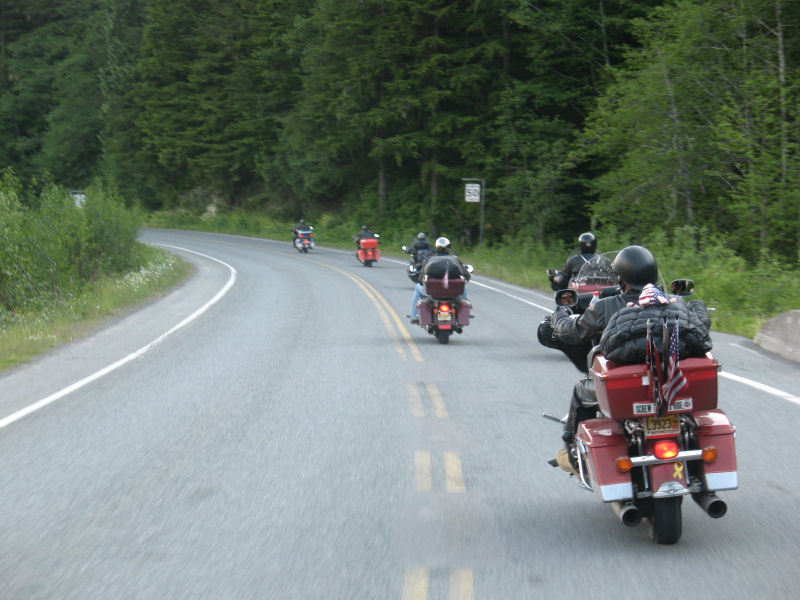 In Stewart, one of the guys and I turned to the first gas station we saw for fuel. The lady walking away from the front door was not a customer, she was the owner. She had just closed up for the day, but she gladly unlocked the doors and turned the pumps back on for us. I couldn't remember if this other guy was the one I had gotten the gas from, and I didn't care. I paid for his gas too, although he tried to resist. I finally locked him out of the store while the gal tried to get her computerized cash register to turn on. The Harley guy laughed and pounded lightly on the door with his money in his hands. I waved my credit card at him and shook my head, no.

Well, he unlocked the door with the keys that the gal had left in the lock, and we argued inside about who was paying for what. In the end, she got the register to work, took my credit card but refused the other guy's money. I had already told her that he had let me take some of his gas, so I needed to buy his fuel now. She understood.

My gas came to $35, his came to $22, but it was worth it. Karma likes these kinds of things, right? He added some octane booster to his gas (no premium gas anywhere in the area), and we re-joined the rest of the pack.

The crossing from Canada to the USA was nothing. Literally. There was a Canadian guardshack on the other side of the road, but nothing going out of Canada and into Hyder, the Alaskan town closest to the other continental 48 states.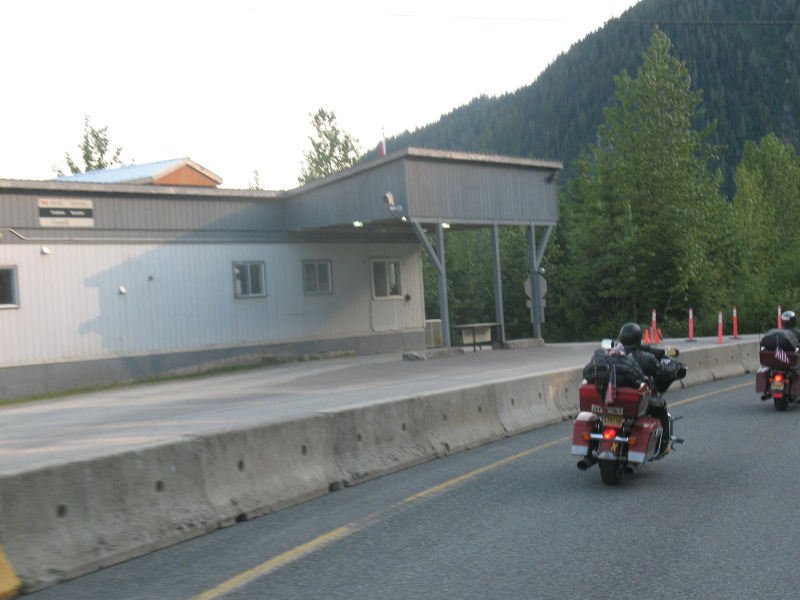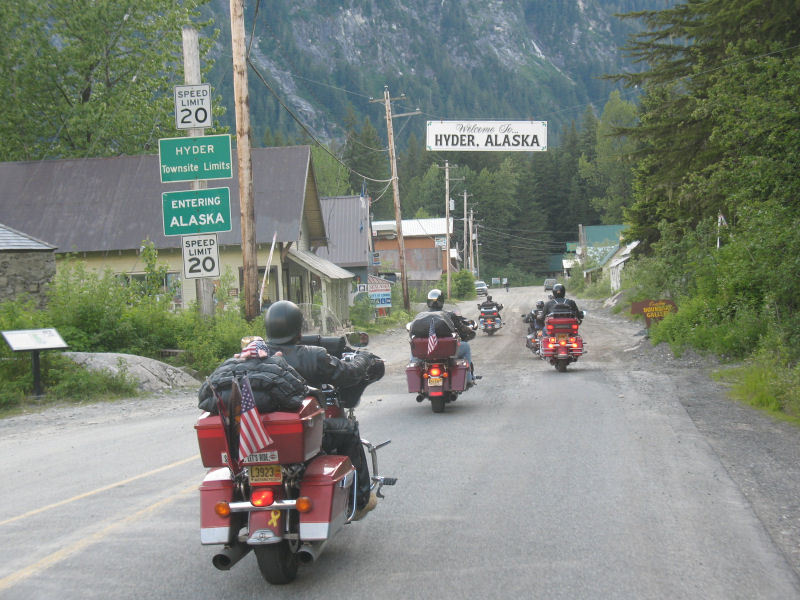 The pavement ended at the border, and it was a dirt road past some tourist shops and other stores. Everything was closed except for the bar where you can get "Hyderized." Getting Hyderized was when you paid too much for mystery "liquor" and have to down it in one gulp. Only afterwards will they tell you what you just drank. No thanks, not appealing to me.

The KLR guy in Houston had told me about the SeAlaska Motel, and said it was a kind of biker bar/motel, cheapest in Hyder, and very popular. That was where I was headed, which was good, because that's where the Harley crew ended up. Really, it was probably the only place available. I saw a couple small B&B-type places, but not much else. I later learned that a huge H-D crowd had been here the previous weekend, and another H-D group was coming next weekend for a Father's Day rally of some kind. During the week, it was a lull.

At the SeAlaska Motel, the Harley guys gave each other big hugs and congratulated each other for, "Making it to Alaska, motherfucker!" I took a camera from one of them and took their group photo in front of the SeAlaska Motel sign, painted on the front of the building. There were a few other bikes in the lot, plus a couple cars.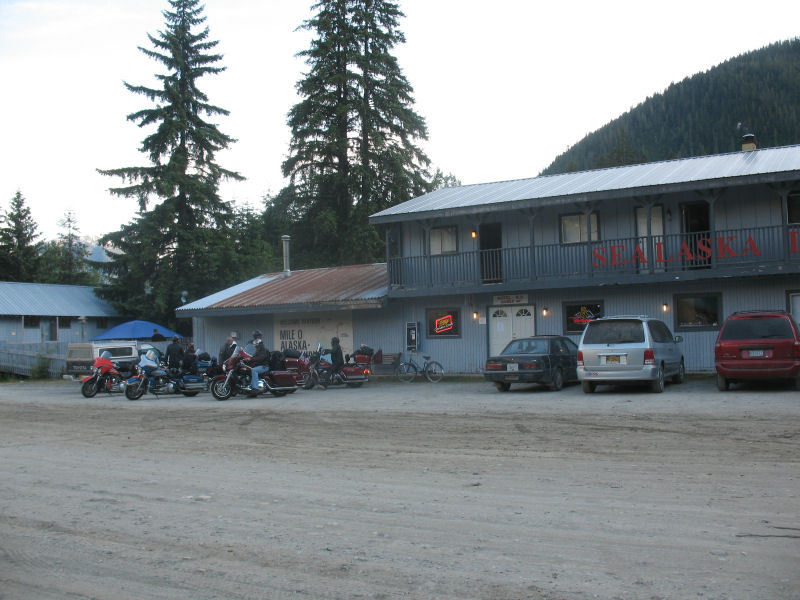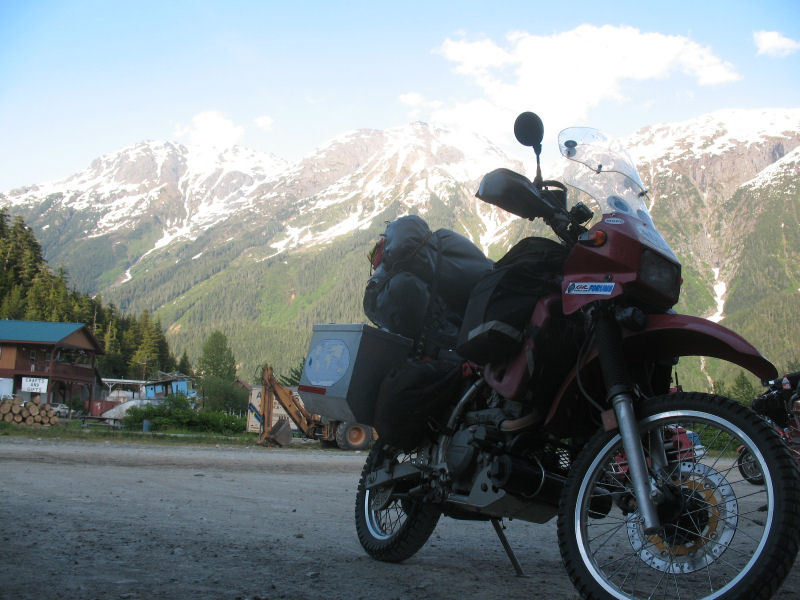 Inside the bar/motel, there were fewer than a dozen or so folks. Some were obviously locals drinking, others were obviously tourists, also drinking. The two waitresses looked like they had been in a fist fight earlier that day, but they had nice attitudes to some of the loud, rude behaviors from this newest wave of knuckleheads.

We crowded the bar, and I started to feel uncomfortable with some of their predator-like banter and the way they almost teased others there who had arrived on Gold Wings. I guess their "brotherhood of the road" attitude to fellow riders ends in the parking lot, sometimes. They still treated me like an old friend, though. The guy whose gas I had bought insisted on buying my first beer, and we all got that first drink out of the way. A good amber ale for me, canned Canadian beer for most of them.

When the other Harley guys heard that I had bought the guy's tankful of gas, they grew warmer to me, and started acting like they had known me forever. They got so relaxed that I think some deeper, unchecked behaviors started seeping out. One of them pointed to the TV over the bar where two boxers were fighting, and he said very loudly, "Hey, look. One n----- beating another n-----."

The room went quiet, the air got thick, and no one spoke. One of the waitresses looked like she expected some stress, but the other totally ignored him. Because he was standing right next to me, I turned and just looked him in the eye. He looked at me as I stared at him, then he looked back to a couple of his buddies and repeated what he had said. They said nothing. None of his friends spoke to him for a while after that, and he just walked around the bar for a while by himself. I don't know if they approved or disapproved of his behavior, but he was the only one who said such a thing, and it was an isolated behavior. The mood of the bar soon returned to normal. Thank goodness.

In one corner of the bar, past the well-worn dance floor, there were a couple computers set up. The sign said that internet access was free to guests of the motel, time limited to 10 minutes. A couple of the guys went to check email, and the rest of us inquired about available rooms.

The Harley guys had called ahead, so they knew that there were plenty of rooms available. I just asked for the cheapest room possible, or maybe a campground nearby. I got a single room, toilet and shower down the hall, $36. I would recommend reservations for any weekend during the fairer months.

After unloading the bike, I chatted with one of the New Jersey Harley guys (I never got any of their names). He was nearly bouncing up and down on his feet, he was so excited to be in Alaska. He told me that their group had been riding from the East Coast for 3 weeks together, and Hyder had been their goal. Now, they would take a winding route back to the States and back home. Might head down to Las Vegas. They had originally had 20 riders planned, but only the six of them had been able to make the trip when the time came. He had recently retired, and had been riding a long time, but only locally. This was his first ever long road trip.

I rode the KLR around Hyder, though there wasn't much to see.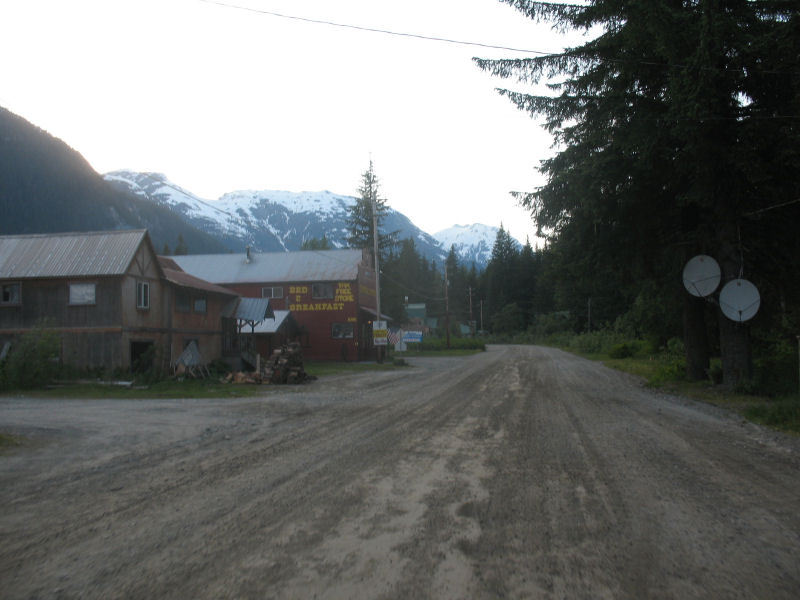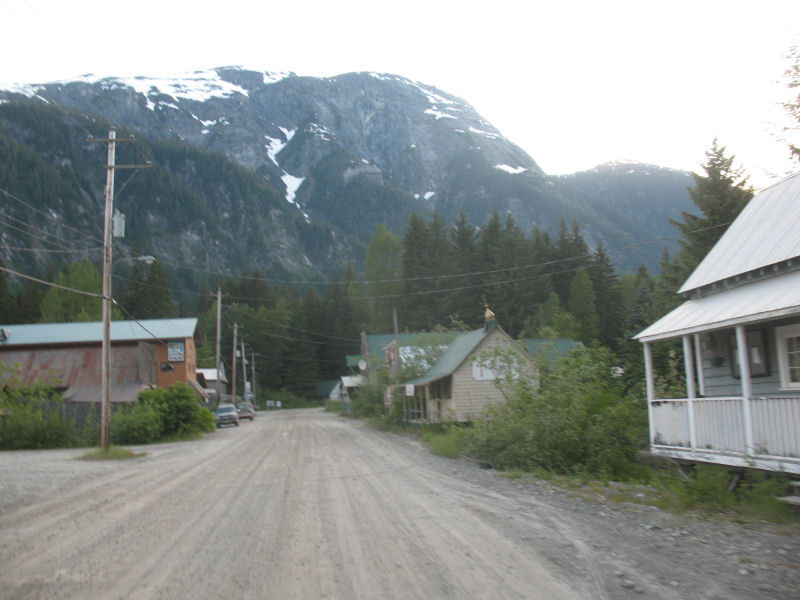 I rode out onto a long, narrow wooden pier (dock? jetty? wharf?) and took a couple photos. This was the end of a long north-south inland waterway. To the west (Alaska), was the Misty Fiords National Monument lands, and to the east (Canada) were the rugged mountains we had passed on the way in.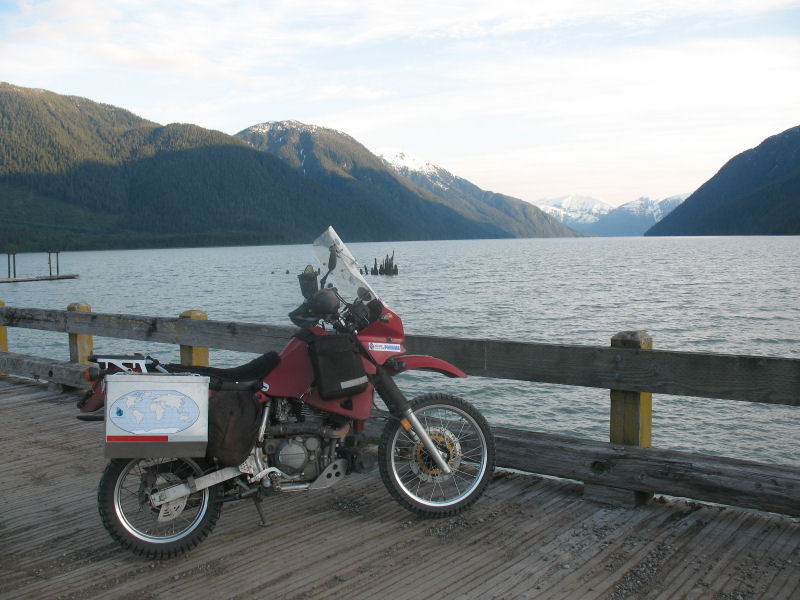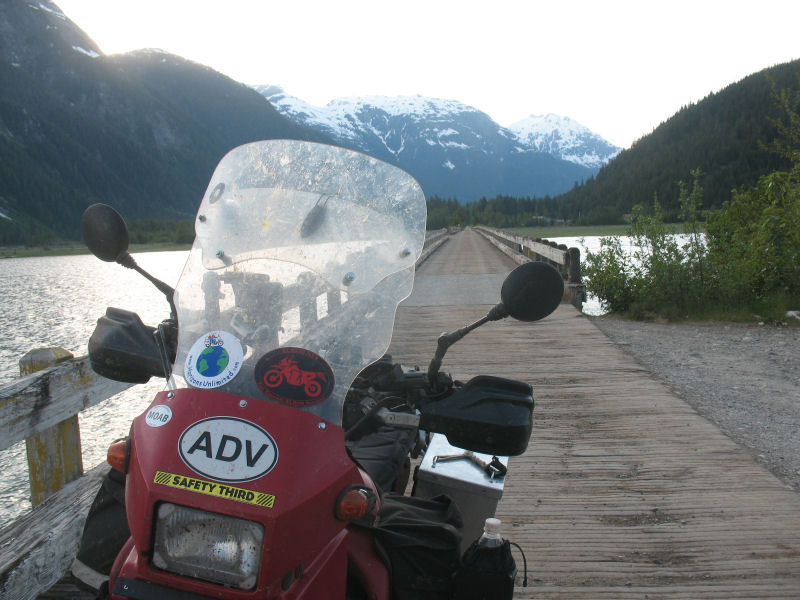 At the Canadian border at the edge of Hyder was a small stone building with a marker describing it as the first masonry building in Alaska. It was built as a military warehouse, but has been used for various things. Next to it is a bronze marker, like a miniature Washington Monument, marking the U.S.-Canada border. Lots of other signs marked the border, too.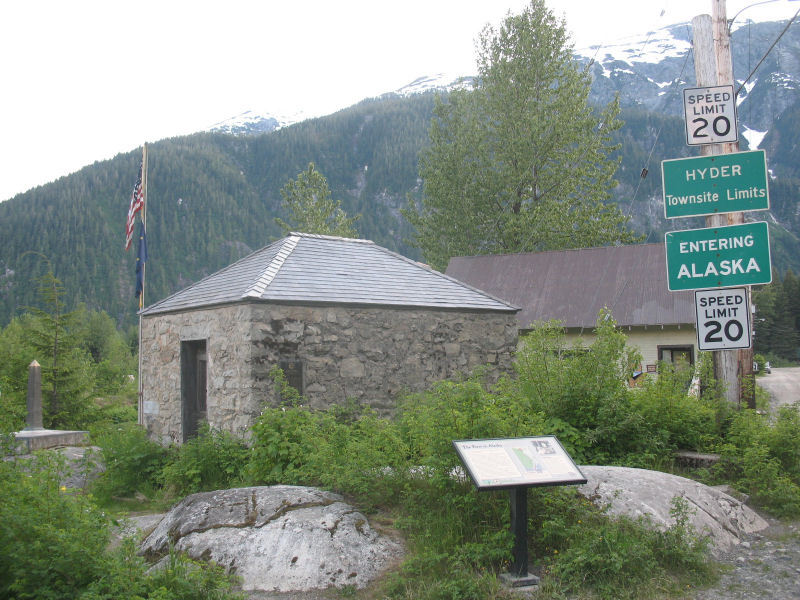 The Canadian border guards we had passed when crossing into Hyder watched me the whole time I was taking photos of the area. Bored, probably.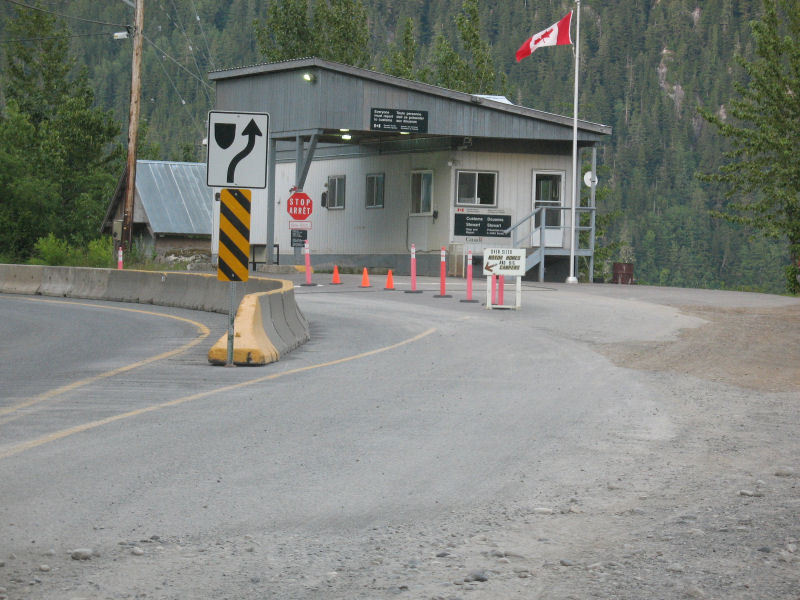 I bought a few souvenirs (don't know why, really), and some of my Harley buddies came into the shop to buy post cards and t-shirts. Alone, or two or three at a time, they were just ordinary nice guys, but when all six of them were together, the change in their demeanor was immediate and obvious. They did some typical tourist things, like have their photos taken under the big, stuffed Grizzly in the bar. Oh, well, enough about them. They started keeping more and more to themselves, and that was fine.

I spent a while on the internet, but the connection was slow, so I handled some email and that was about it. Had some more amber ale. As I headed off to bed, we were all warned not to leave any food with our bikes. Because of the bears, you see.

That seemed to bother the Harley guys more than it bothered me, so I left them to their worries. All I had in my aluminum boxes on the bike was an unopened military MRE meal, and a pouch of freeze-dried stew.

As was becoming typical, I was asleep soon after getting into bed.


I was HERE




Thursday, June 12, 2008
-----------------------

It was a foggy, wet morning when I roused at about 08:00. I had heard the Harley guys leave this morning, but when I had asked yesterday about the check-out time, they told me it was "eleven-ish or whenever." I chose "whenever" and went back to sleep. When I checked out of the motel later, I was the only person left to do so.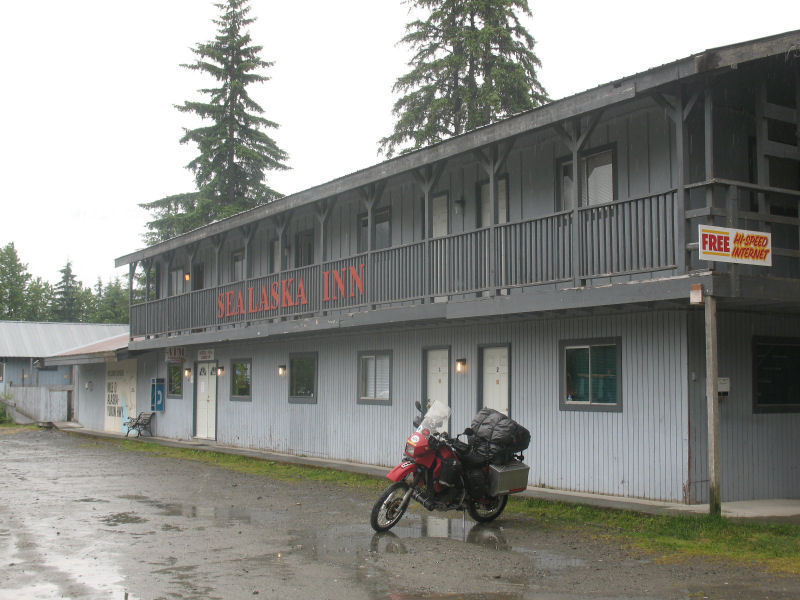 The air was crisp and moist. The surroundings spectacular, but with a different aspect to them in the weather.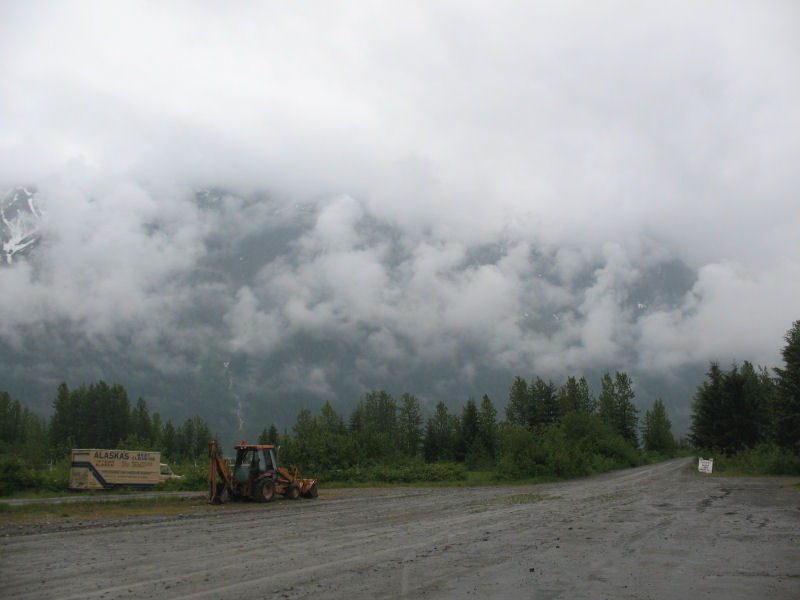 I had a hard time starting the bike. I needed full choke, lots of cranking, caught and coughed a few times, finally catching and running. That was different.

I loaded up and crossed back into Canada, a bit concerned that the bike was running ragged, back-firing and chugging. I stopped at the Customs building, not sure if I should go inside of if someone would come out. As soon as I rolled off the throttle, the bike died, so I rolled to a stop. The young border guard who came out did so reluctantly, pulling on gloves. He never asked for ID, but asked me (in the most bored manner possible) where I was coming from and what the purpose of my visit was. What the hell? I mean, c'mon, the only place I could have come from was Hyder, and the only way I could have reasonably gotten there was to have ridden past this very station the day before. I know it was his mandatory canned speech, and he did fine, but it was ludicrous from my perspective.

He then asked if I had any guns, tobacco, liquor, pepper spray, etc., and I said no, no, no, no, etc., until he was cold enough to go back inside. I motored on. He has a sucky job. Probably a starter location for rookies.

Passing through Stewart, I saw a few of the motels and businesses I had missed on the way in with the Harley gang. The bike back-fired and died again when I let off the throttle, and I thought, "Oh, no... what now?" It started up fine, but it still seemed to run badly. I began to suspect that someone had tampered with my bike. A quick check found nothing amiss, so I continued. At steady speed, the bike ran fine.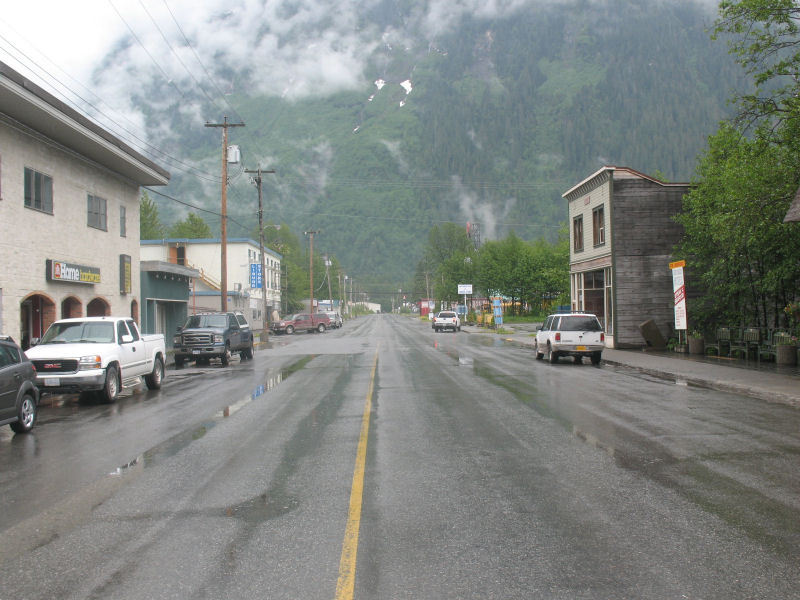 The ride back along the mountains and the glacier was very nice, albeit a cold ride. Very wet air.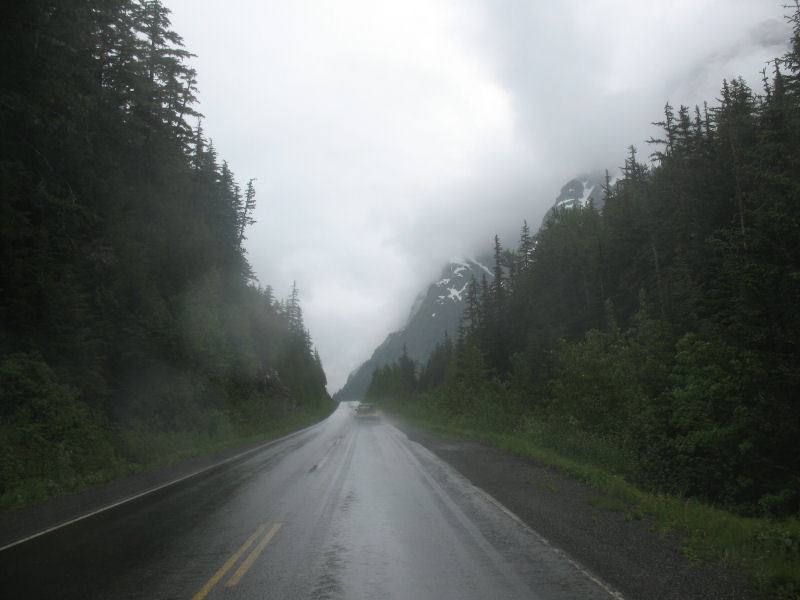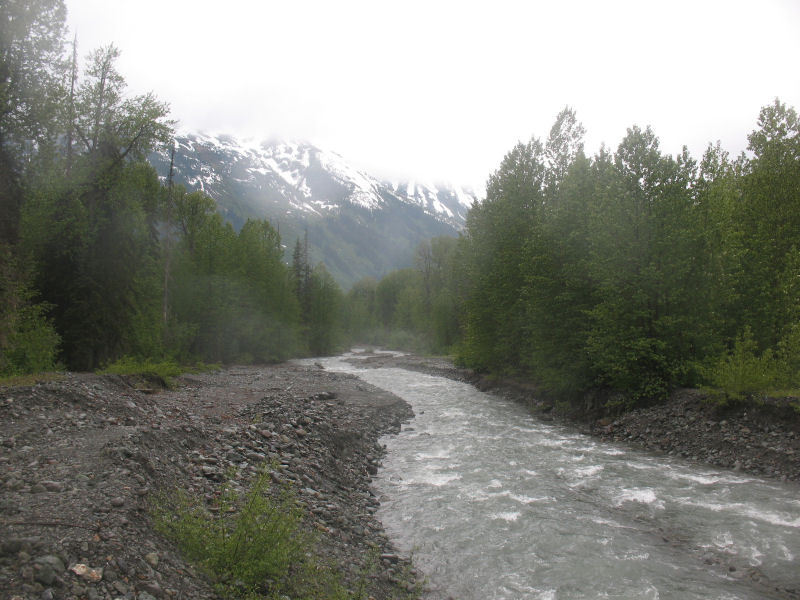 I noticed that the utility poles (electricity? phone?) were fortified with a huge pile of rocks at the base of each one. Reinforcement against the heavy snow, maybe? Bears? Elephants? Beavers? Yeti?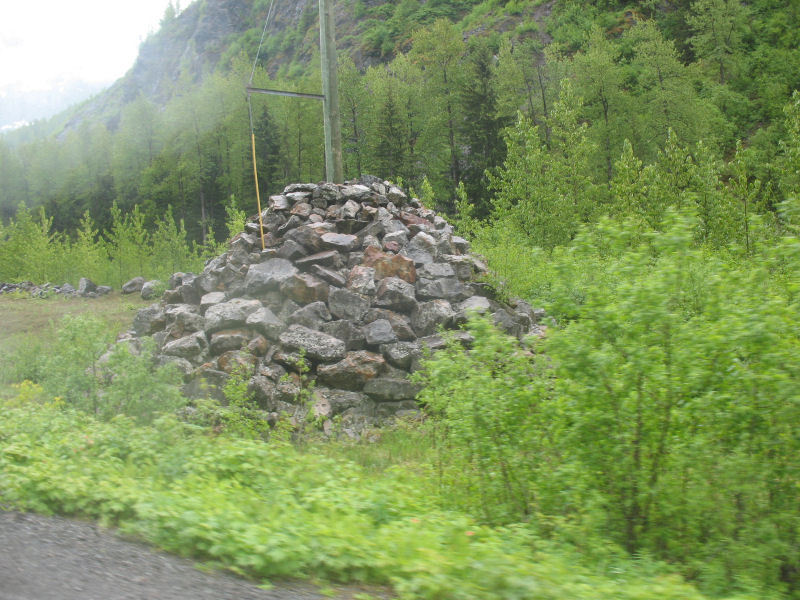 When I got back to Meziadin Junction (where I had hit reserve on the way in), I continued north, back onto the Stewart-Cassiar Highway. I had a nearly-full gas tank, but I had no idea where the next service area was. I was totally in a "whatever" state of mind, confident that even if it got difficult, it would be okay in the end. As it turned out, I came to the Bell 2 Resort area pretty soon, and stopped for gas and food. It was self-promoted as the largest heli-skiing area in the world (or maybe North America), and it was a well-kept, modern resort and service area. Helicopters were parked within sight of the road. The salmon roll appetizer and lasagna were good.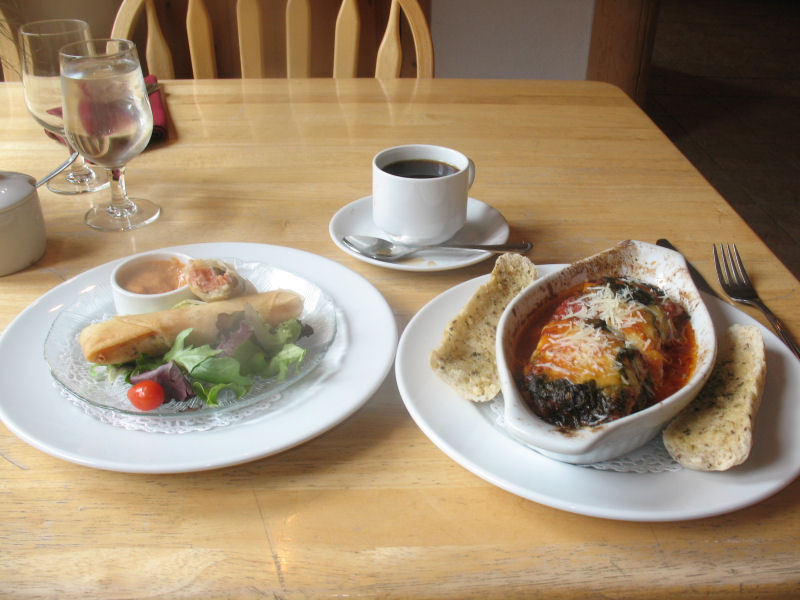 I lingered over breakfast/lunch while I wrote my notes, enjoying the people-watching in the resort restaurant. Most were routine tourists, some were hard-core hikers and bicyclists, lean and firm. One dread-locked dude, in flip-flop shoes and a tie-dyed t-shirt, flirted with the pretty receptionist, and I enjoyed the way she bantered with him but didn't fall for his line. He left disappointed, and she just kept working at the computer terminal with a smile. I don't blame him for trying, she was very pretty.

The bike ran much, much better after I topped off the gas at the Bell 2 Resort. Maybe it was just some bad gas in Stewart, or maybe something in the float bowl? Whatever, it started and ran fine after lunch. More weirdness.

It rained.

The rain became constant, although light at times. My camera batteries died again, so I missed some nice shots of mountains and foggy vistas.

As usual, there was construction or road work along the road. There was one crew following a HUGE mowing machine that was maintaining the brush and trees at the sides of the road. It was more of a mower/chipper, and it mowed a wide swath off the side of the pavement that left debris on the road the size of firewood chunks. Eventually, this would get cleaned up, but I was waved through while things were still a mess. Some of the small trees it was mowing down were several years old, so they must not do this very often. Didn't get a photo of the mower/chipper.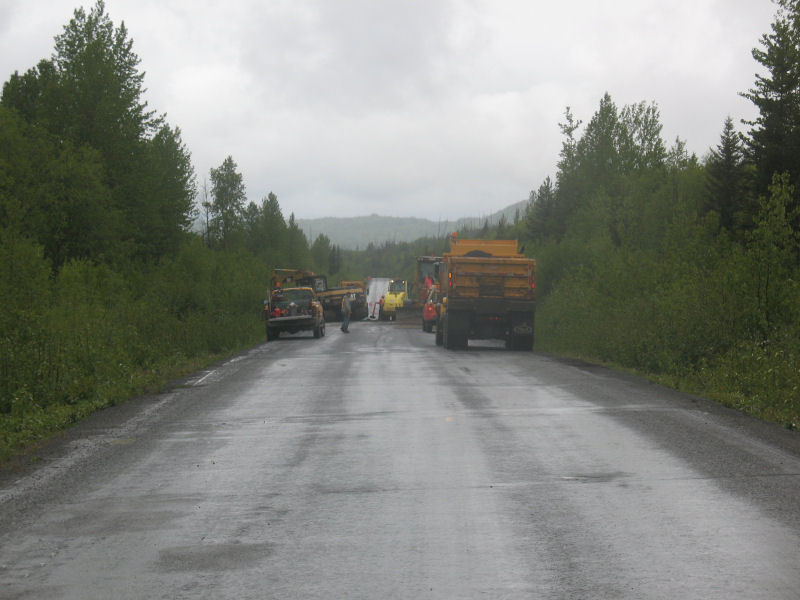 Saw a few other gas stations like this one. Probably harder to bury the tanks in the ground.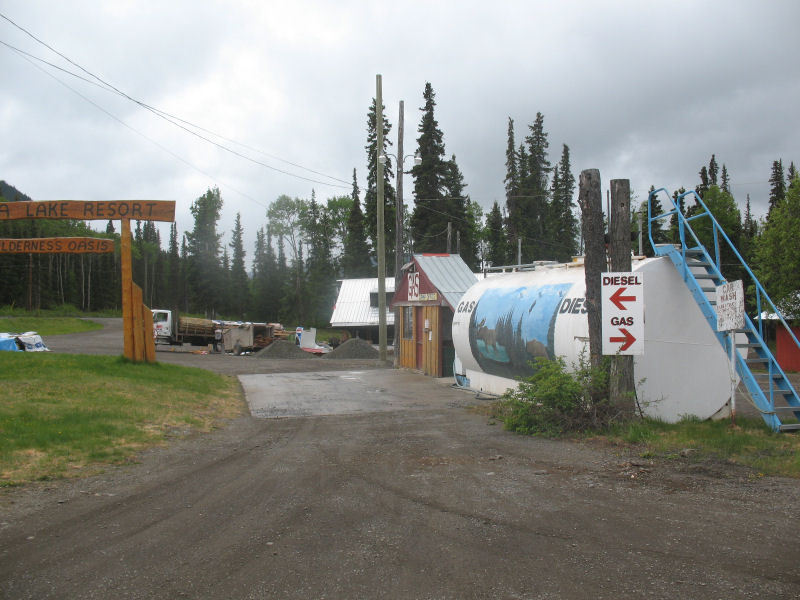 As always, the road paralleled water of some kind, and there were some bridges. Some of the bridges in Canada were surfaced with wood, some had metal grating. The metal grate caused the usual steering issue of the tire tread tracking wildly on the pattern of the grating. Best to just ignore the dancing tires; they will find their way.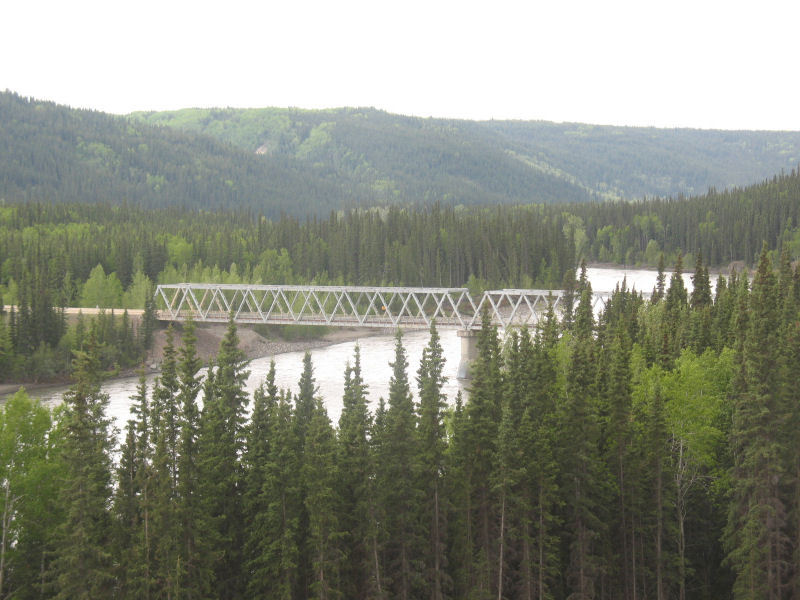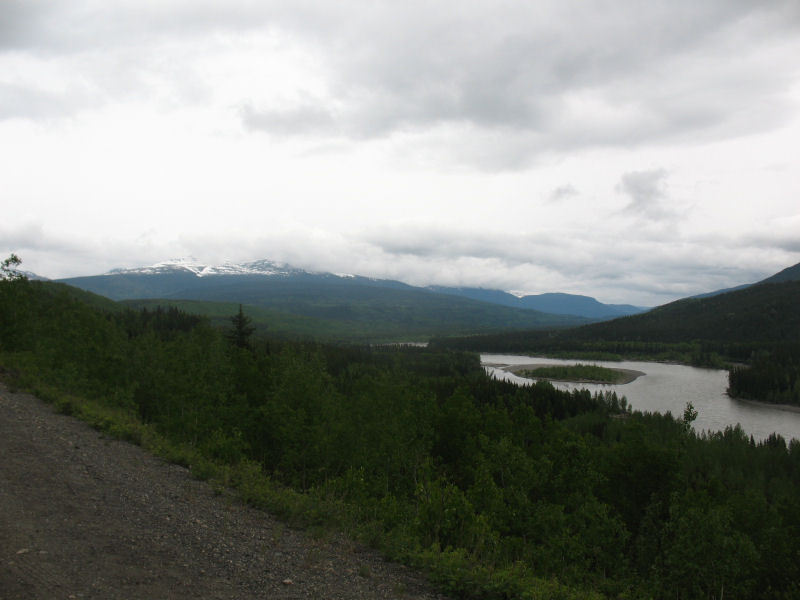 In another construction section, they seemed to be replacing the whole road bed. It was often soft dirt, and sometimes very rutty. There was very little traffic on the road. As before, I knew I was missing some nice scenery due to the weather.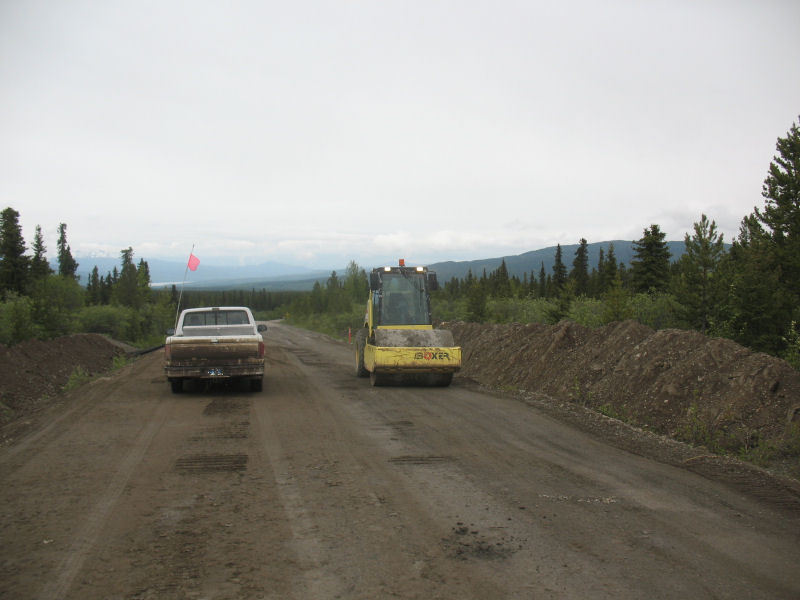 There was also a crew cutting trenches across the pavement, laying drainage pipe, then packing the rough chunks of pavement back into the trenches. Those were like speed-bumps, sometimes.

After a couple hours, I came to a gas station and pulled in next to the pump. A young native-looking girl was walking away from the pump and she told me it would be ten minutes before gas was possible. I still don't understand why, but after I walked around for longer than ten minutes, she came back out of the building and told me it was okay now. I don't know if that was a mechanical problem or a potty break.




When I went inside to pay, I asked her a few questions about the next gas station, the history of the area, anything? Whatever I asked her, she shrugged and said she didn't know. I think that maybe she just didn't want to talk to another idiot tourist, but she also seemed a bit clueless. She knew how to work the register, and that was good enough for me.

I continued north, just enjoying the wet ride.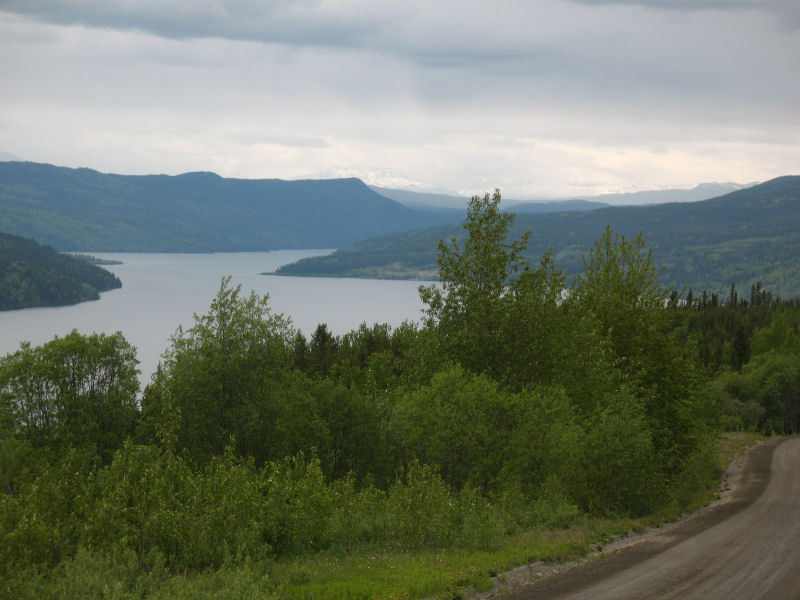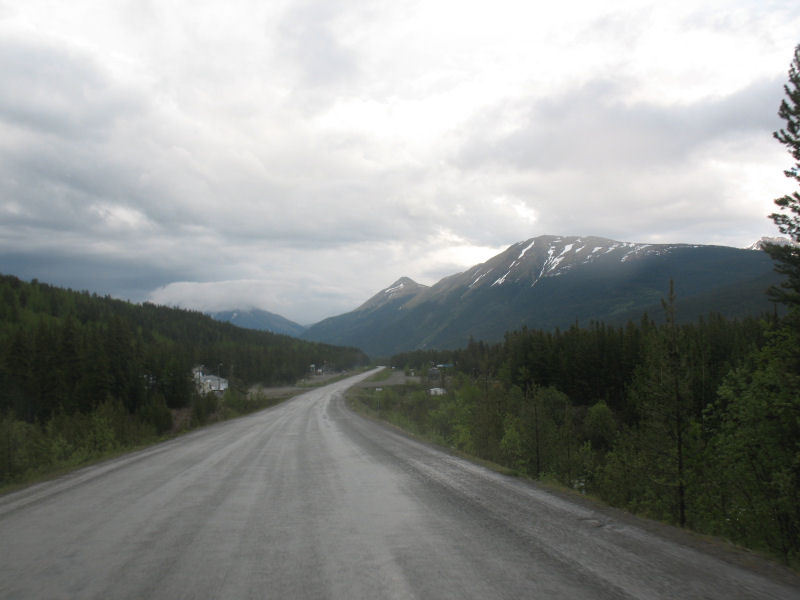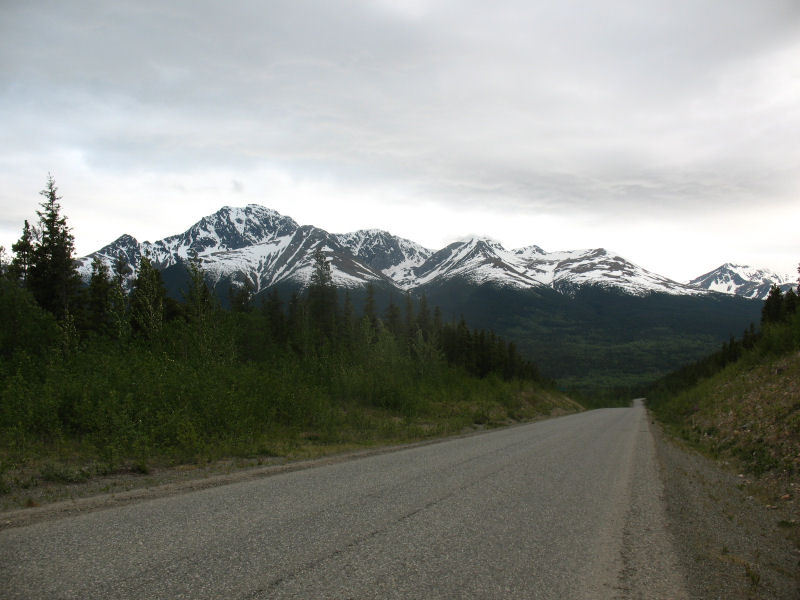 Gnat Pass was cold, but then, I was already cold. I didn't take note of the names of other passes or landmarks. I finally hit the Yukon border and the rain eased up some. Eventually, it even got a bit sunny, but it was too late in the day to get warm.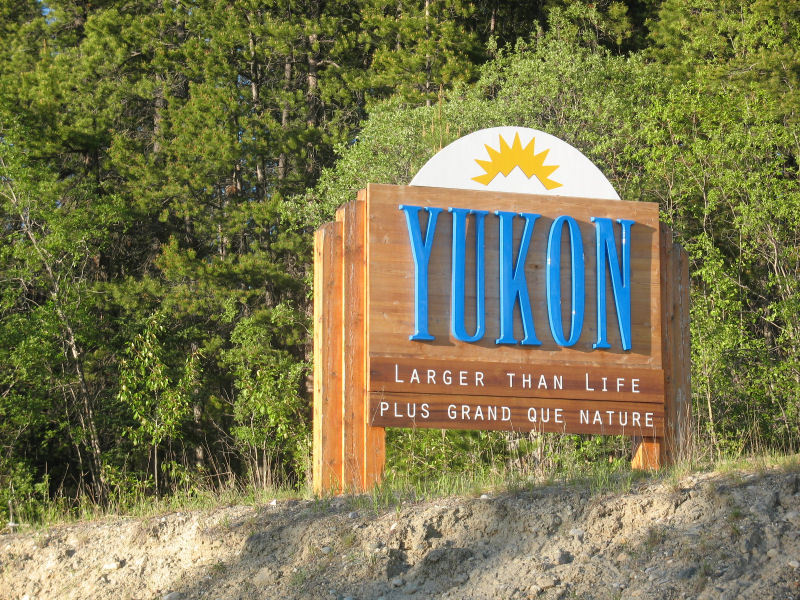 When the pavement changed suddenly to non-paved sections, you had to be ready for anything. Sometimes dirt, sometimes gravel, sometimes mud, usually ruts. The round river-rock gravel on hard-packed dirt or clay was the worst, like riding on marbles.

I was continuously disappointed at not seeing more wildlife. Now, understand that I didn't want to see animals in the road staring back at me, frozen in the shock of on-coming death, but I was looking forward to seeing more, particularly moose. But those moose (moose? mooses? meese?) were avoiding me. At the Bell 2 Resort, another rider told me that he had seen a moose about 30 miles back the other way, and he started to tell me exactly where it had been. I just smiled and nodded as if his half-hour-old information was somehow useful to me. Silly mooses. Meeses?

I stopped for gas again at the next opportunity, almost fanatical in my intent to NOT run dry again. The next Harley crew might be cannibals, you know. Hah!

I got into Watson Lake at about 21:30, which meant the sun was still well above the horizon. Took a couple photos of the famous Signpost Forest. It was started in 1942, by Army roadbuilders, and has been added onto ever since. There was an info sign explaining that in 1992, the guy who started it all was brought back for the 50-year ceremony and he was shocked by the magnitude of it. Over 55,000 signs now, from all over the world. It's like a city park, maintained and expanded as needed. No need to go looking for it; it's impossible to miss on the main highway through town.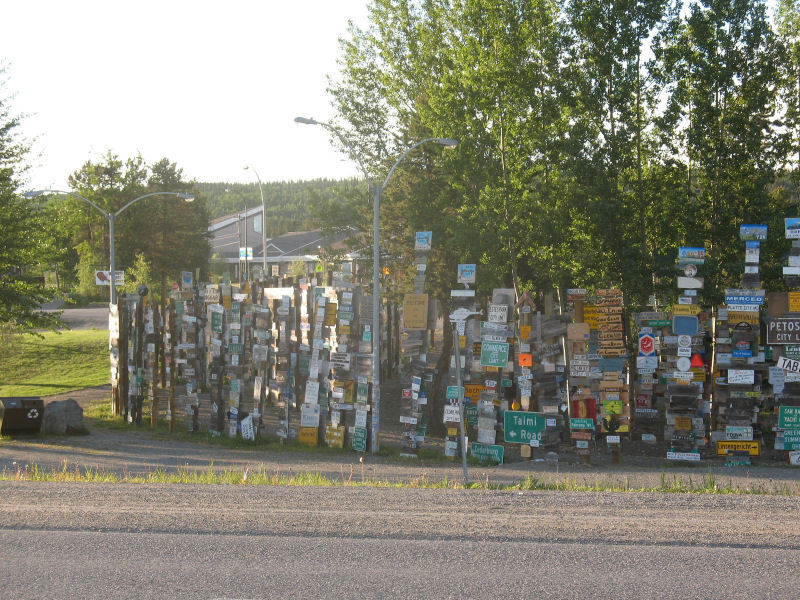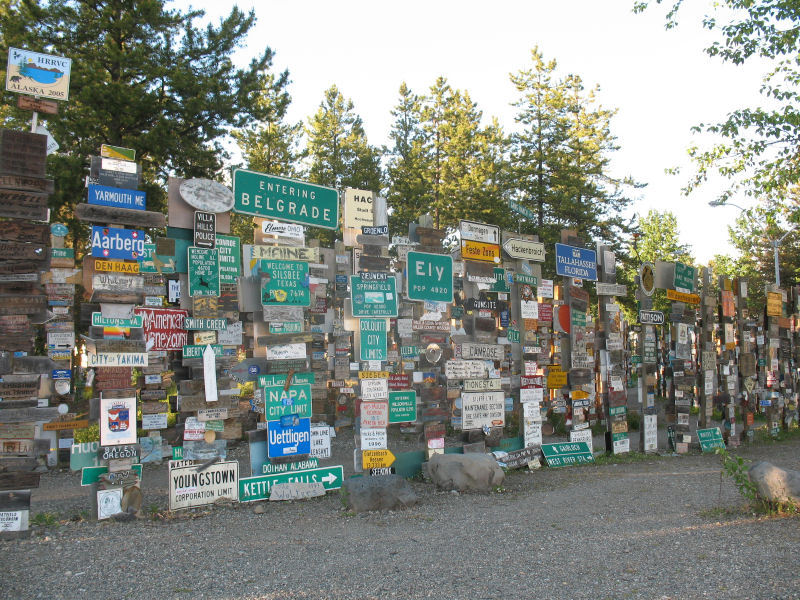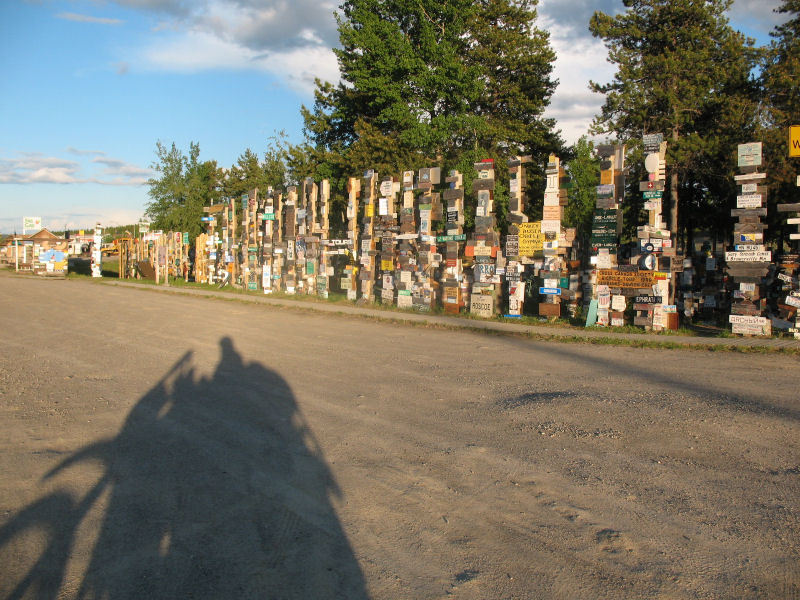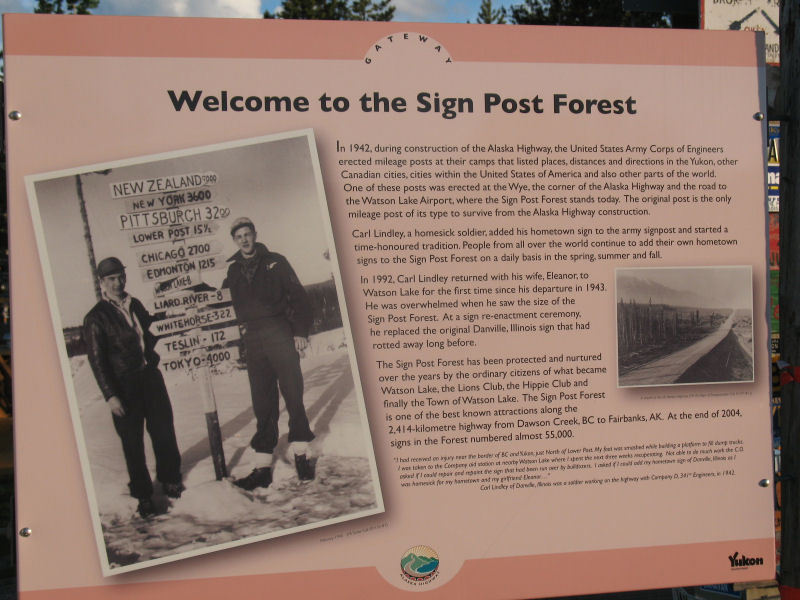 Although my budget was being stretched, I was again too tired and wet-dog-smelly too camp. There were several motels and hotels in town but vacancies were few. The tourist season was almost in full stride. The last room available cost me $119, but it was a decent room. It would have been just as decent a room for about half that price, but as I said, tourist season.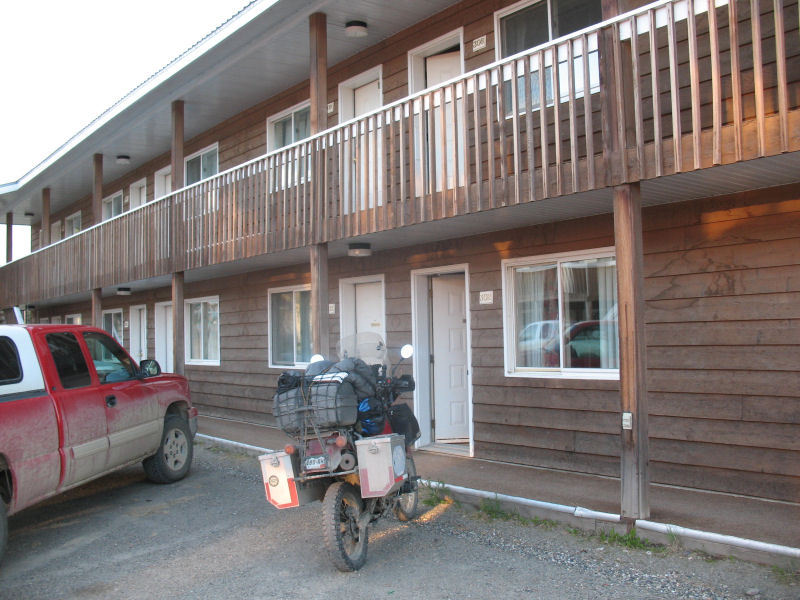 I sent a SPoT locator message, took a photo of a thunderhead cloud that looked like a massive, cartoon mushroom cloud in the distance. The photo is inadequate (as usual), and the sight was much more stunning than it looks here. Most of the colors look washed-out, too. You had to be there. This photo was taken at about 23:00, and it stayed this light out until about 02:00.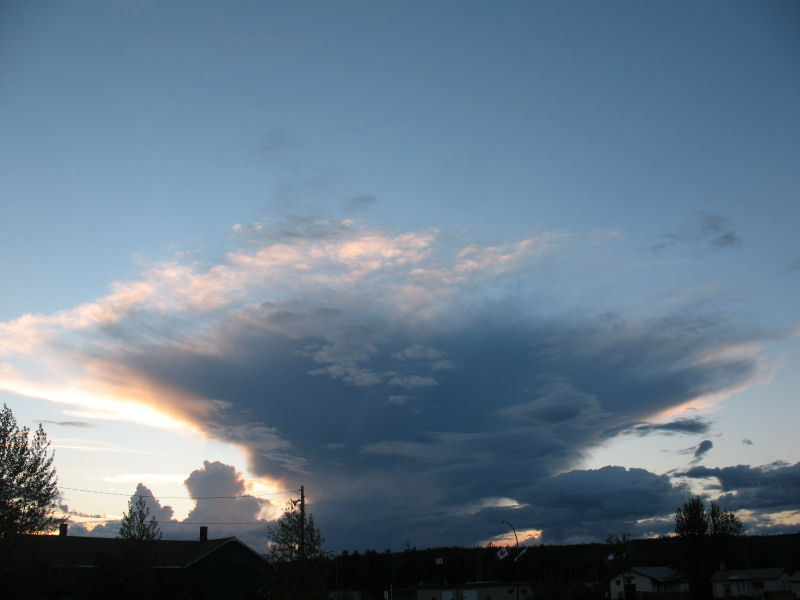 Three BMW 1200GS bikes loaded with gear were parked in front of another motel, and they had ADV decals on them. As I walked past, the riders came out and started unloading their bikes. I mentioned the ADV decals and said I was a member, but they didn't understand. They were from Mexico, and only one of them spoke a little English. He eventually got me to understand that they were enroute to the Arctic Circle, but that he alone wanted to go all the way to Prudhoe Bay. He hoped to change his friends' minds about how far north to go, but he was doubtful. Sadly, we were on different schedules.

The hotel restaurant was closed, so I got a burrito-looking thing at a gas station and microwaved the hell out of it. After the first bite, I'm not even sure that it was "food," but it was chewable. Digestible, too, I hope. We'll find out later.

I worked on the laptop (writing this report, mostly) for a while, then conked out at about 02:00.


I was HERE




Friday, June 13, 2008
---------------------

I was awakened by other motel guests beating their trucks and cars with hammers (or so it seemed). Back to sleep.

Later, after lingering over a very good, big breakfast burrito at the hotel...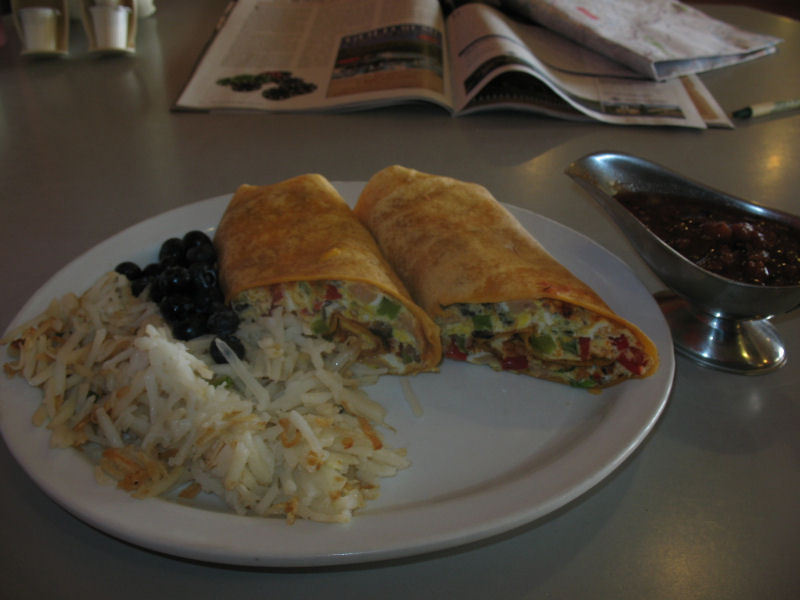 ... I got some gas and bought a couple of 5-liter gas cans, strapping them on top of the aluminum boxes with a couple of the tie-down straps that I been carrying. (I carried four straps, in case a 4-point tie-down was needed on a boat or a UFO or whatever.)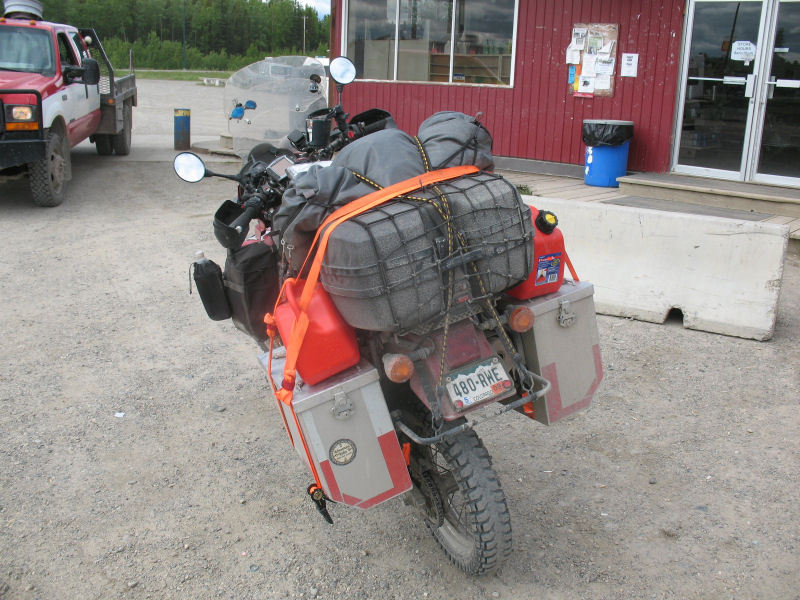 I was on the road by noon, another blustery day but no rain yet. The waitress had called around trying to find me a road and gas report between here and Ross River, but she finally referred me to the weigh station down the highway for the latest information. She did find out that the gas station in Ross River closed at 18:00, and there was nothing else in that area. I wanted to make a long ride today, refueling in Ross River and moving on to Carmacks or beyond, but that's not what happened.

With a full tank and about two and a half gallons to spare, I headed north, determined to get beyond Ross River today. However, I barely got out of Watson Lake. Just outside the north edge of town, the pavement ended at a road construction site. The flag waver got out of her truck when she saw my bike coming, and she stopped me to warn me of the conditions ahead. She told me that I would have to work my own way between the construction equipment, but to avoid any hoses on the road. Then, as an afterthought, she told me that I had to ride with my headlight on in Canada. My headlight? Wasn't it on?

No, it was not. In fact, the volt meter was not working, and the GPS, the Chatterbox, and the MP3 player were all running on their batteries. What the hell? The bike was running fine, and it started back up with no problem.

A quick check of the headlight bulb and socket showed that they were good. All the accessible main fuses were good. Fark!

I rolled off to the side of the road and parked the confounded machine. Ten minutes later, with most of the luggage and the seat off the bike, I checked the other accessory fuses. All were good. Hmmm...

I got to thinking about the problem, and was just standing there looking at the bike without moving at all (visualizing the electrical system), when two young guys in a truck came up to the flag waver and were stopped right next to me. They were towing a boat, and were told by the gal who had stopped them that the road ahead was pretty rough for towing a trailer. While the driver talked to her, the passenger just watched me, only a few feet away. I had my sunglasses on, and saw that he was watching me, but I don't think that he knew that I was watching him. I was just standing there like a statue for several minutes, then I suddenly loudly said to him, "Hey! Want to buy a motorcycle cheap?"

I think I scared him, because he jerked in his seat so hard that his baseball cap fell off. After he started laughing, the other guy asked if there was anything they could do for me. I told them no, I was just going to have to take my motorcycle apart on the side of the road. No problem. At least it wasn't raining.

After the flag lady let the truck go on, I started searching for the problem. Neither the headlight nor the highway lights I had installed were working. Brake light worked, turn signals worked (although still not blinking). None of the accessories were working. The bike started okay, and the power socket I had added to the back of the bike was getting juice. Why was that? Everything dead was at the front of the bike. At the front of the bike...

Aha!

I knew that all the other accessories were running through a powered fusebox behind the faring, and everything was grounded through a ground block there. What was confusing me the most was the main headlight being out. It was not powered through the accessory fusebox; it was a heavy-duty harness coming right off the battery. That harness was, however, grounded through the common grounding block.

Once again... Aha!

It had to be a grounding problem. The block was grounded through a wire that was bolted to the left side of the frame's steering stem, under the main wiring harness guard bracket. Or was it? I knew what it had to be, and I dreaded it.

A while later, I had the rest of the soft bags off the bike, the gas tank off, and there it was. The ground wire's ring connector was not connected to anything. It was just hanging there next to the main wire harness guard bracket. Apparently, when I had assembled the wiring harness, I had not managed to get the bolt through the ground wire's ring connector, and had only pinched it in place. Eventually, after Moab and a few thousand miles later, it had vibrated loose this morning, killing the circuit for everything that was grounded through it. The fix itself took ten seconds.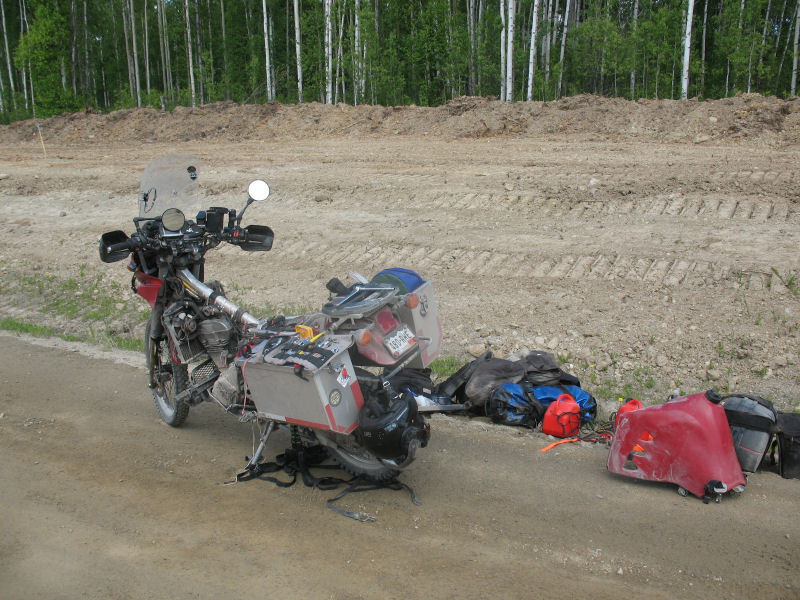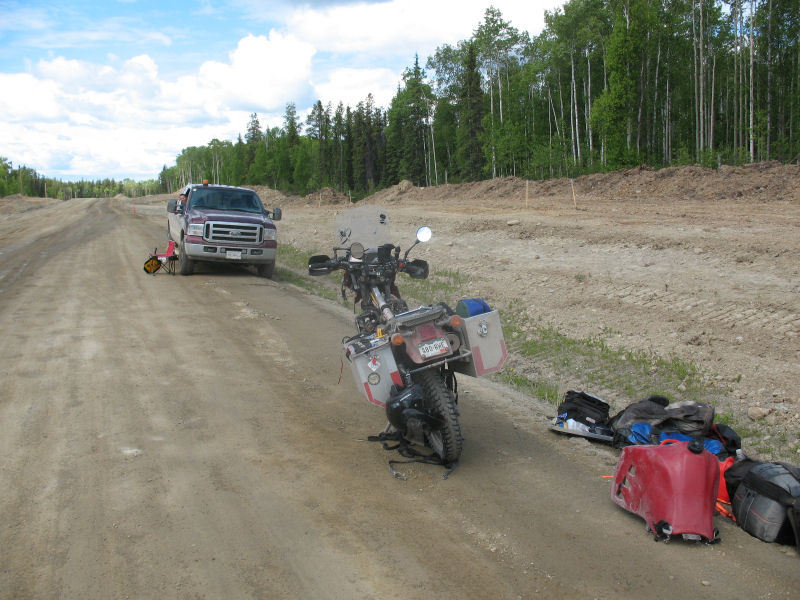 After two hours of bike repair, with an audience consisting of one flag-waver gal who had not been distracted by anything else, I was ready to go again. I decided to make Ross River my destination, since I lost a lot of riding time. I knew that I was going to be too late for gas there.

The construction destruction of the roadway was horrendous. No solid ground to ride on, huge ruts from the big trucks, some deep sandy spots where they had tried to fill in the muddy spots, areas where they had laid down gravel but hadn't yet packed it down. It was terrible. I almost dropped the bike a dozen times, but somehow managed to ride through it without a fall. I did paddle-foot through some sections, stood on the pegs for a lot of it, too. The going was slow because of the constant passage of trucks, dumpers, steam rollers, and water trucks. There was never an opportunity to get up to any comfortable speed for several miles, and I was getting tired. It didn't help that my rear Mefo tire was essentially bald.

So, it was time for more rain.

Eventually the destruction ended at pavement again, and I was cruising. Over the next four hours, the pavement was interrupted several times with sections of dirt and gravel. The soft, muddy areas that had been rutted by trucks were still the worst. A few spots had been oiled to keep the dust down.

Photo interlude: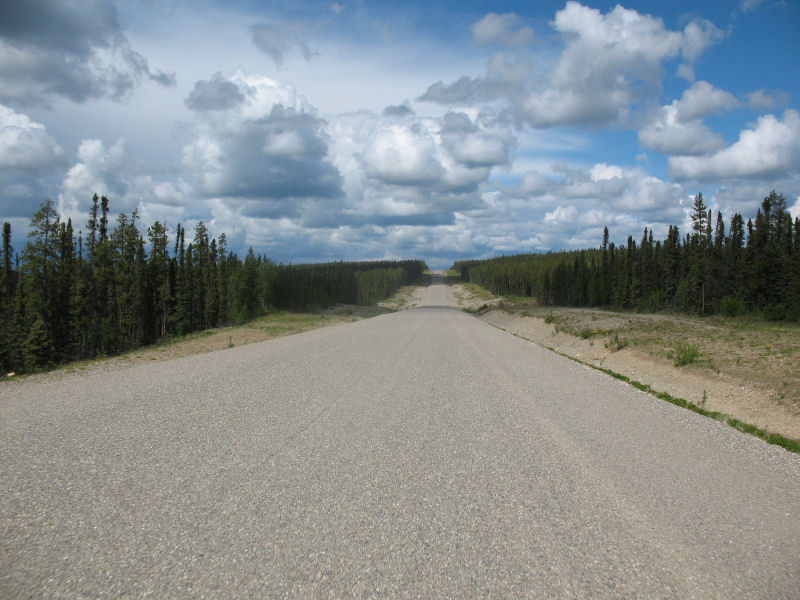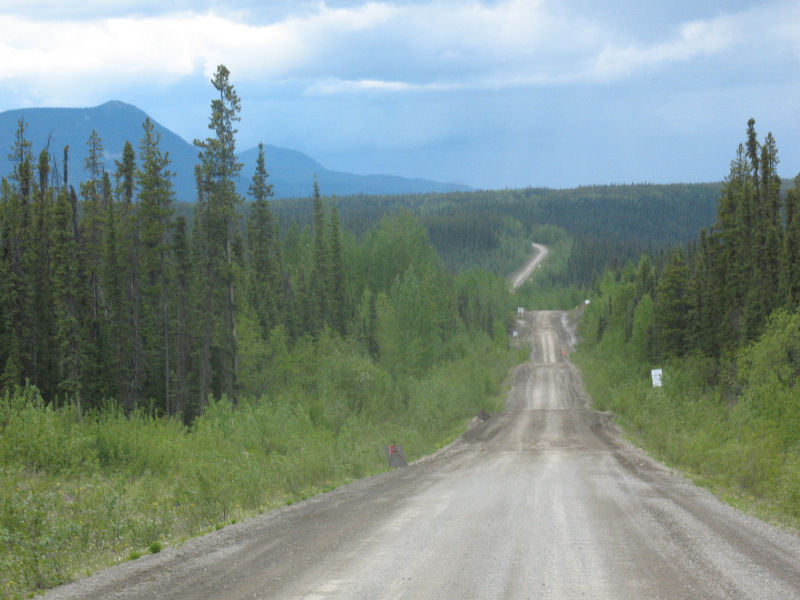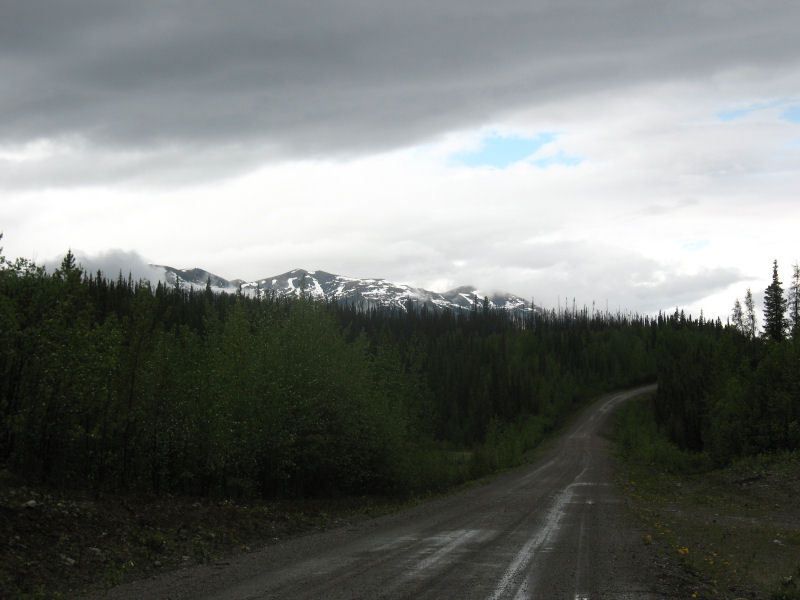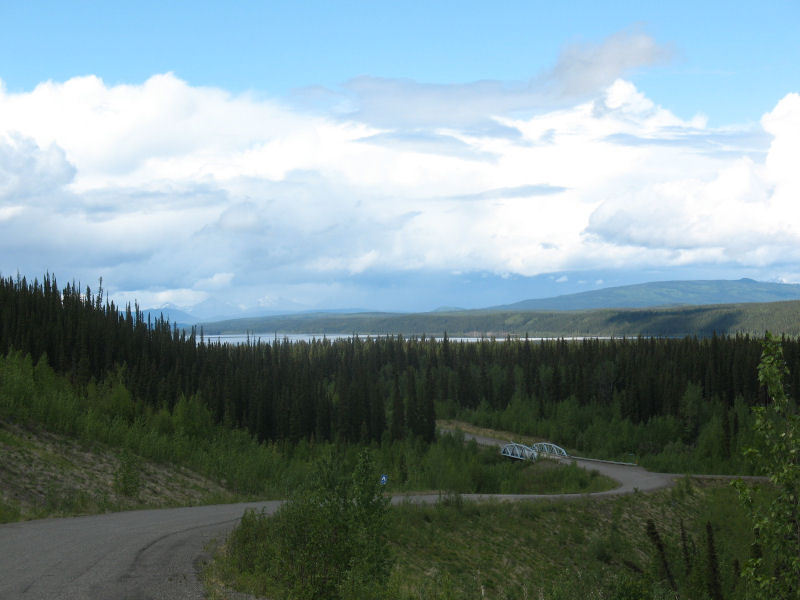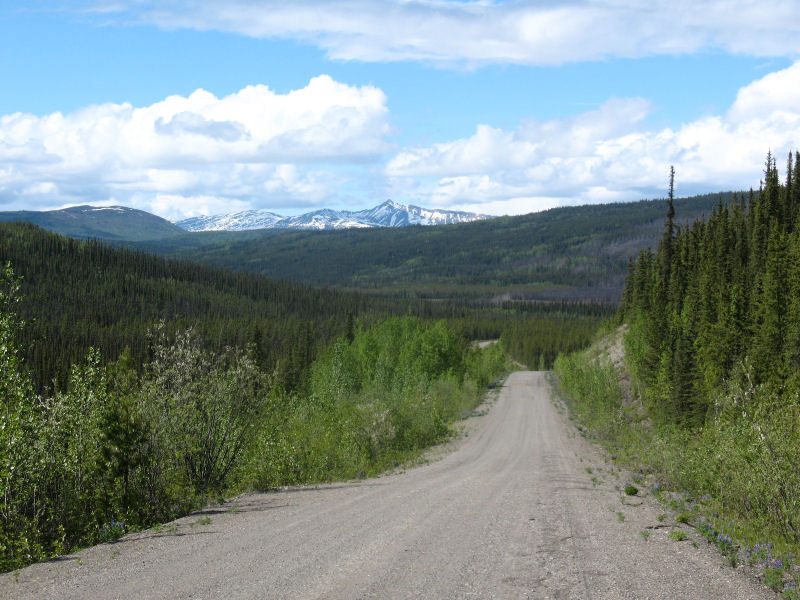 Rest areas every 50 miles or so. Bike getting heavier with dirt and crud.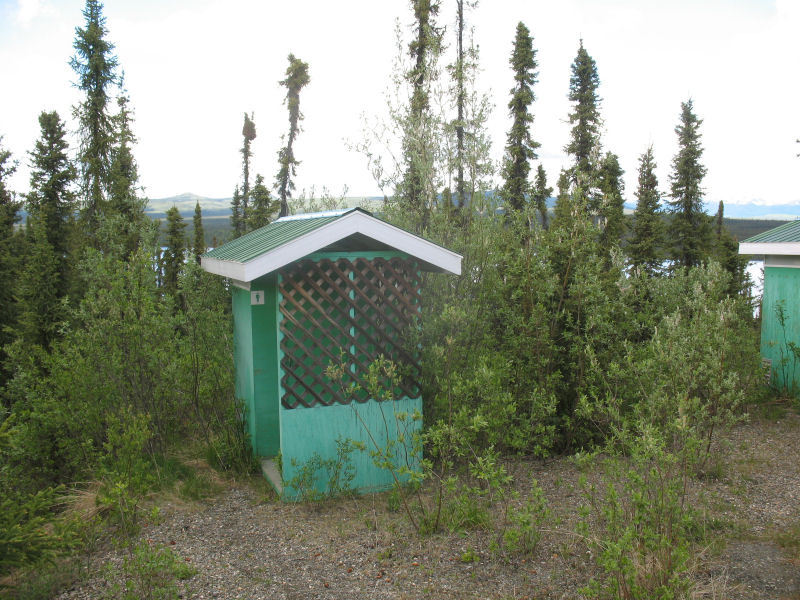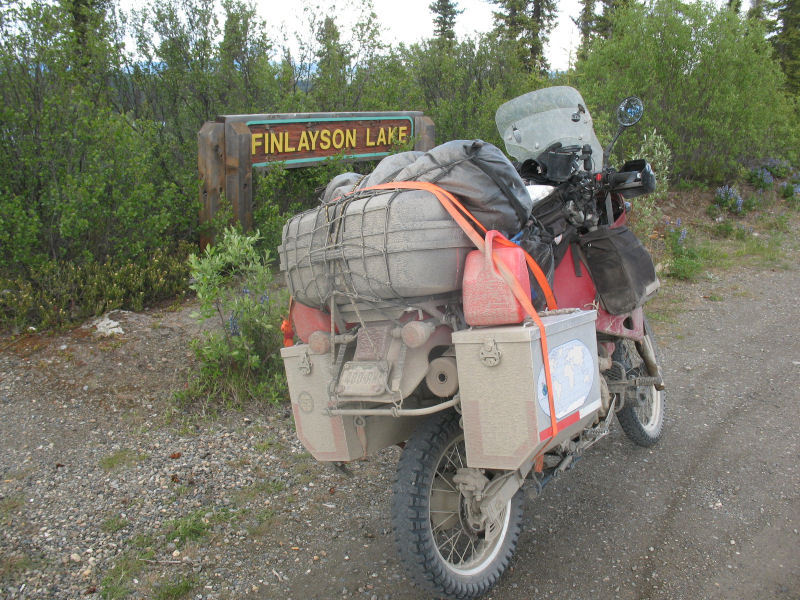 More photos. My second-ever self-portrait while riding.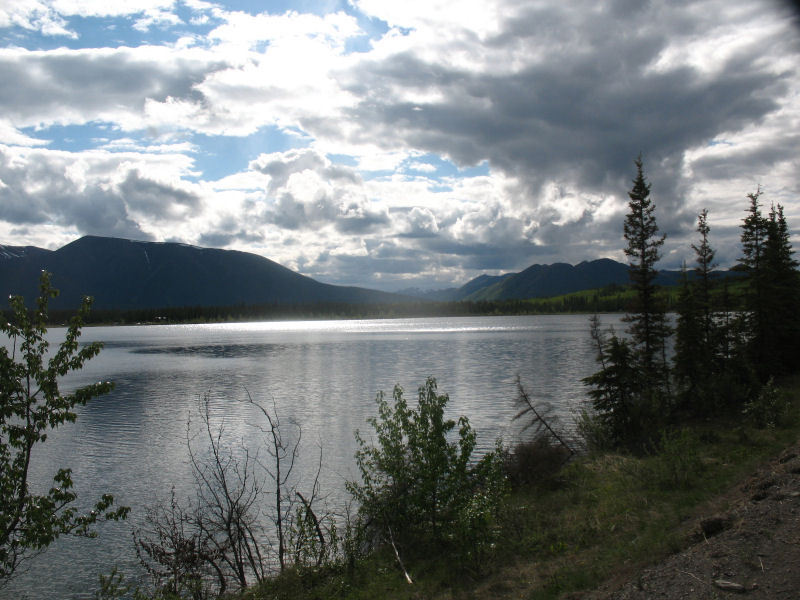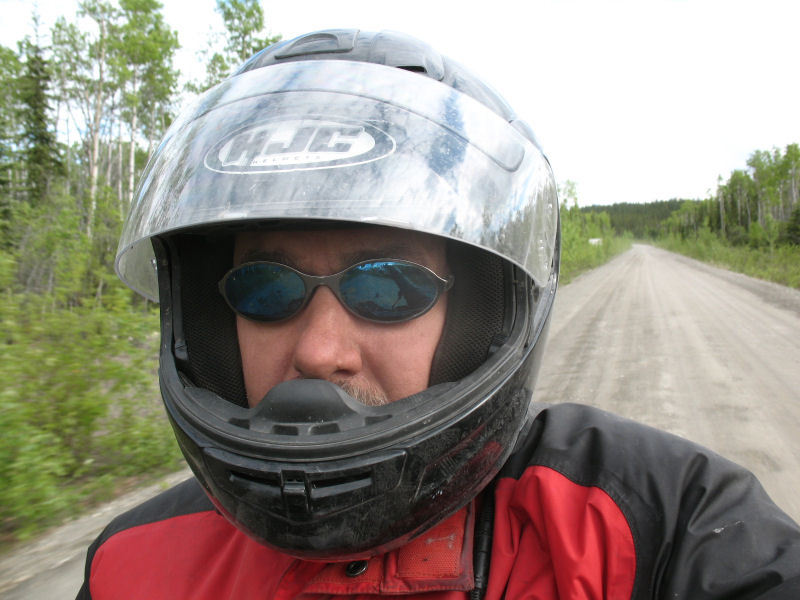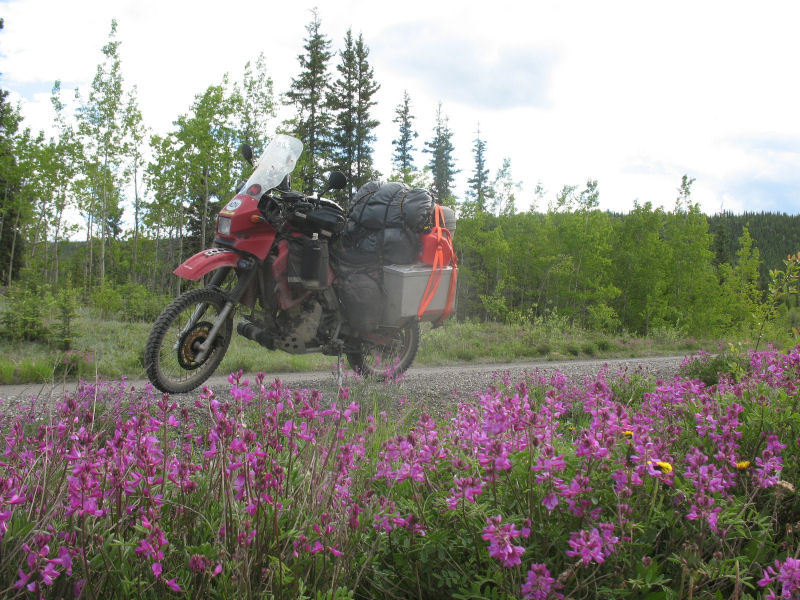 There were brief periods of clear sky, but it stayed cold. Again, I knew that I was missing some great views, but the low clouds and distant rain were hiding most of it. At times, the tall trees alongside the roadway were so close that they blocked the view of anything beyond. Couldn't see the mountains for the trees.

Before getting to Ross River, I passed three BMW bikes going the other way. We waved to each other, all of us loaded down with too much stuff, but kept going. I felt sorry for them, knowing what was a few hours' ahead of them. And they were on heavier bikes.

The last 100 miles before Ross River were dirt, but not so much gravel. My tires and I were grateful.

I rode through the town and took a photo where the road ended at a ferry (shut down for the day). I later learned that the road goes on past the river a long distance to various mining areas. It's a dead end up in the mountains somewhere.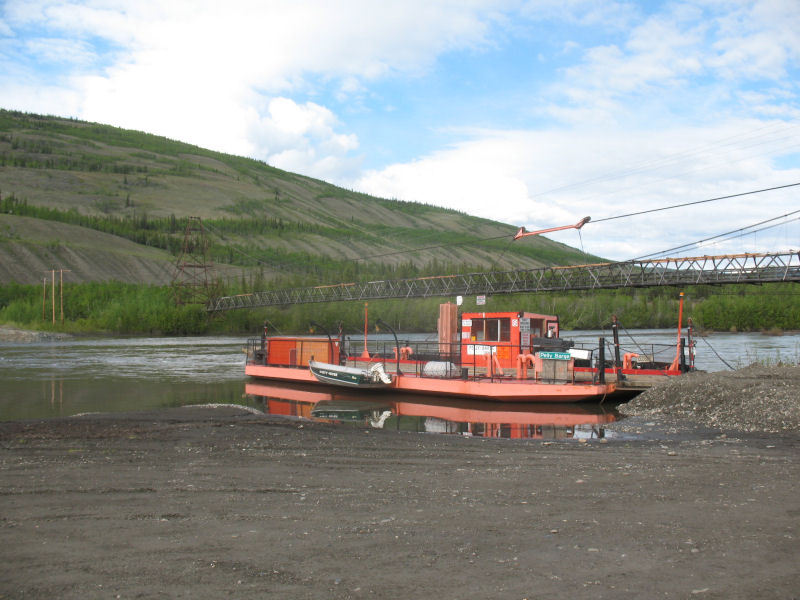 I parked in front of the T-N-D Motel, the only motel that was obvious. Don't know what the T, N, or D meant. I saw that there was a growing build-up of grey crud all over the bike, and some oily-looking areas on the highway pegs and front of the motor.

A guy smoking in front of the motel asked the usual questions, where I was from, where I was headed, etc. Then he pointed at the bike and asked if I had a spare tire. We got to talking about the roads, and he told me how the shale rock they use for gravel is very sharp and eats tires up quickly. So, that's it, eh? I told him that I had expected to get another 1000 miles out of those tires, but there were already shot. When I told him that I had over 5000 miles on those tires, he was stunned, and I had to explain that it was only about 1000 miles of BC and Yukon gravel. He told me that I wouldn't find motorcycle tires anywhere in the area. Whitehorse, the capital of the Yukon, was the nearest hope.

By the way, there are only 32,000 people in the Yukon, 23,000 of them in Whitehorse. The second-largest city, Dawson City, has only 1,200 people. Ross River had maybe a couple hundred residents. Maybe.

The cashier/waitress, a Native Kaska woman, ran the dining room, but she had to call the owner to rent me a room. A short while later, a tall, rough, gaunt woman with a baseball cap drove up and parked her pickup next to my bike. She rented me the only room left, saying she was surprised that the miners hadn't already filled the place up. The room was $85, and checkout time was whenever I wanted it to be. "You can sleep until about 3 p.m. before we'll care," she told me. Cool.

I asked her about the miners, and I learned that zinc and other metals were mined in the area. If the table full of loud, crude men in the dining room were any sample, then the hills around Ross River were full of obnoxious louts. One guy was telling the others about the time he was dying in the wilderness and he sold his soul to the devil to survive. The other guys totally believed him, and were dead serious when they said they were sorry that he was lost for all eternity. Then they took turns telling Bigfoot stories. They were just as serious about that, too. I kid you not.

The motel owner didn't know much more about the area, since she'd only been there a few years and had only been leasing the motel for a few months. She told me that Ross River was widely known as the roughest town in the Yukon. I asked her if she had contributed to that reputation. She scoffed, obviously used to better flirting than that from the miners, and said that all I had to do to find the true nature of the town was to walk up the street to the local bar. I told her that, no, I would certainly not be going to the bar tonight, that the road had already beat me up.

The business and banter finished, she stomped out to her truck and sped off, leaving another layer of dusty of grey crud on my bike. The miners left, having eaten and ready to go drinking.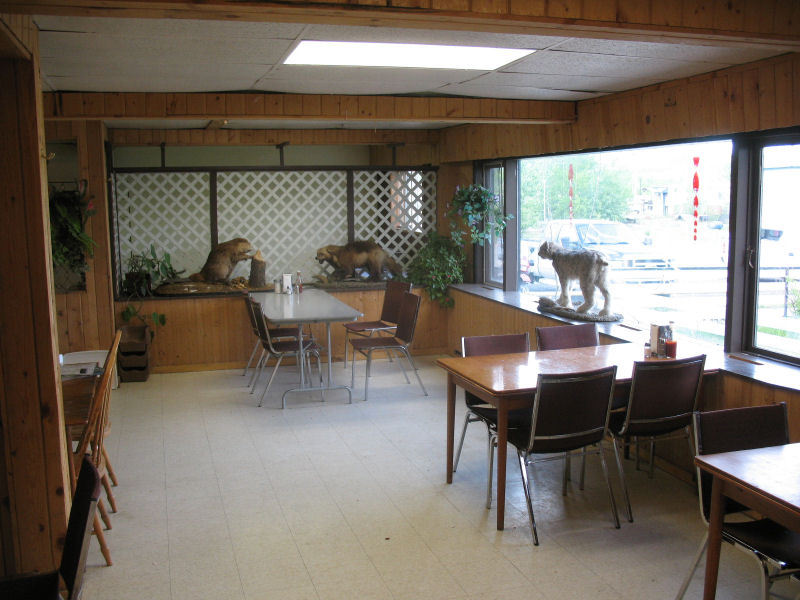 The Kaska waitress told me that the dining room was only open until 22:00, but the take-out window at the kitchen was open 24-hours. I asked why that was, and she slowly explained that the locals, mostly the boys, were up all night now that school was out.

The menu looked decent, but the food was expensive. The pizza I was in the mood for was $24, and it was the cheap one. The cook came out of the kitchen to ask me about how I wanted my pizza, and asked if I was in a hurry. I told him that I was determined to be in the opposite of a hurry, but he didn't get it. So, I told him that I was not in a hurry, and that was a short enough sentence that he understood. Turns out that he was very chatty. Couldn't shut the fucker up. Should have told him that I was in a hurry...

Instead of getting to work on that pizza, he went outside and took his cigarette break. I took the opportunity to set my SPoT messenger out to send its signal. We got to talking about satellites. Somehow, that led to thirty minutes of him telling me about his time in the Antarctic, helping build a runway for a British survey/mineral/seismology company (he was a heavy equipment operator at the time). Very hush-hush, he assured me. Secret buildings and lots of paramilitary security. No country is supposed to be doing any mineral exploitation in the Antarctic for another few years, by international agreement. Nudge, nudge, wink, wink.

After he went inside to see about building that pizza, I watched the birds (swallows? starlings?) that had built mud nests under the eave, directly over the front door of the motel. The porch was covered in bird droppings. Looked as if every now and then, a dried-mud nest came crashing down, too. I took this photo later.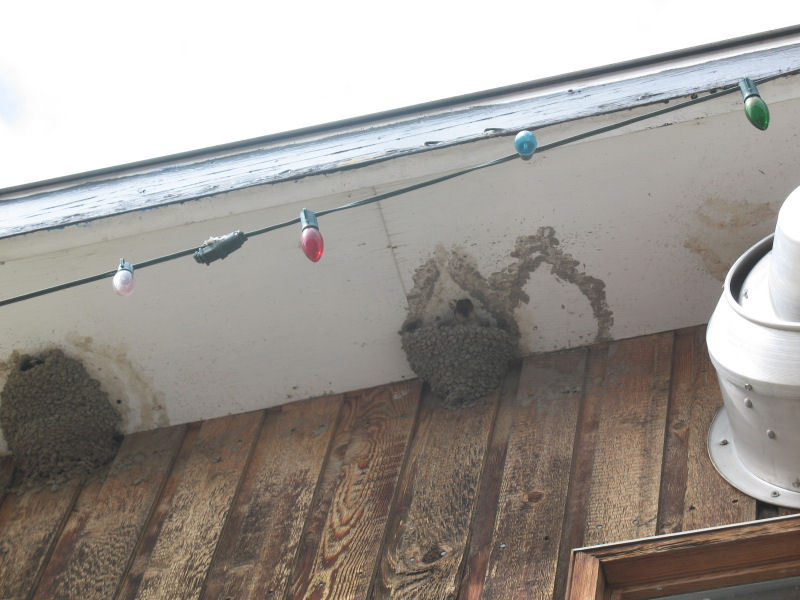 I then sat in the dining room to work on my notes. The cook came back out and told me about his time in Chile, and how Santiago was going through rough political times while he was there. I think he said it was in '92. Stories of locals and tourists alike being killed for talking to the soldiers who were stationed on every corner. The streets of Santiago were open sewers, hospitals were cesspools. I got the impression that he didn't care for Santiago.

It's too bad that the pizza took a long time to cook. Not long enough, though, for me to fashion a crude weapon from raw materials and kill myself to get away from the insistent cook/story teller. I was his victim for the evening, and that's all there was to that. Along the walls and windows in the dining room, a bobcat, a beaver, and a wolverine were stuffed and mounted. I tried to talk to the Kaska woman about there being wolverines in the area, but the cook kept interrupting. She seemed to know that she was not going to be able to tell me about wolverines, so she hardly tried. She told me how the color of wolverines changed in the winter, but that's as far as she got. The cook would not relinquish the imaginary speaking-stick, and she finally gave up.

When the pizza was done, the cook brought it out to me in a box. When he started into his story about when he was driving trucks in Siberia, and how the men treat their women very badly up there, I had to either leave or kill him. I picked up all my gear and made clear that I was headed for bed. He sulked back to the kitchen. I snuck one photo of him while he was cooking something. The flash caught his attention and I was afraid that he would come back out and talk to me, so I bugged out of there, helmet full of stuff in one hand and a huge boxed pizza in the other.

This is the gabby bastard. If you are ever Ross River, go ahead... chat him up. I dare you.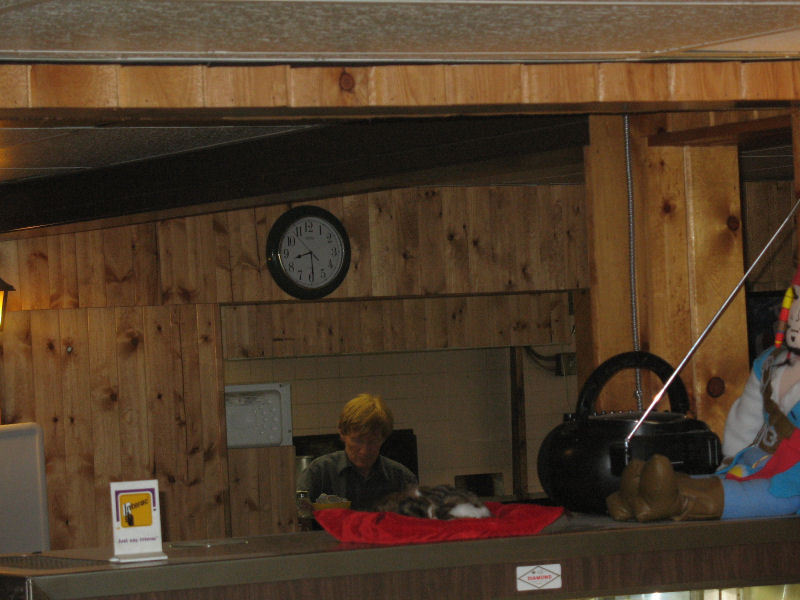 I made the decision to head for Whitehorse instead of going in the direction of Dawson City and the start of the Dempster Highway. It turned out to be a good decision, but it led to other complications that stranded me in Whitehorse for a few days. Whitehorse was south, and I wanted to go north. Rats. At least it was paved most of the way.

Up in the room, I tried to work on the laptop for a while, but the bed was on wheels and had no headboard, so when I sat up with my back against the wall, the bed rolled away from the wall and I did a backroll, getting stuck upside-down between the bed and the wall. It would have looked funnier if I had been wearing a clown suit, but I think it was funny enough.

I finally jammed a chair between the foot of the bed and a desk so that it couldn't roll away from the wall. The pizza was very good, and it was huge. I ate that pizza over the next few days.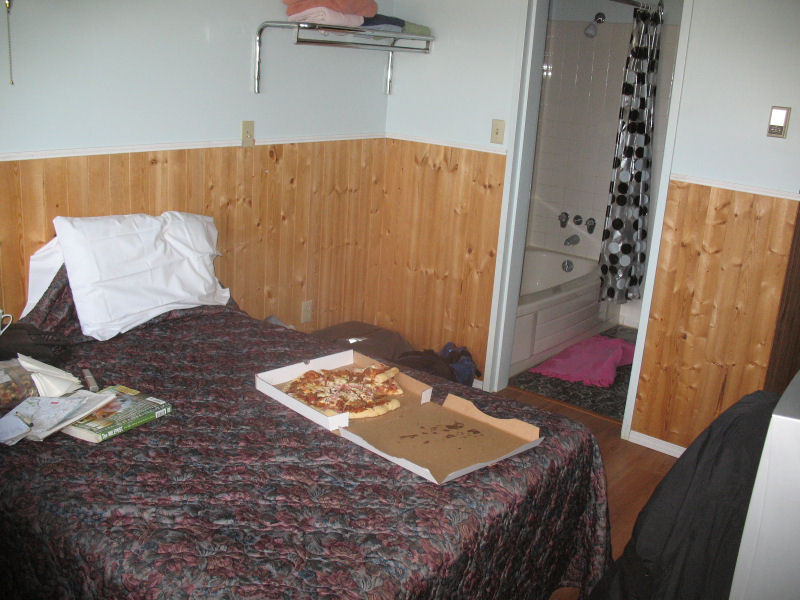 After a shower and some more writing, I saw that it was almost midnight. Still not used to how light it is at night. When I tried it, the one lamp in the room had a broken light bulb. I can see why they don't need it much in the summer.

I opened the window to try to cool the room down, but there wasn't much breeze. Teens were running around yelling outside. It was almost midnight when I took this photo before trying to sleep. Friday the 13th hadn't been too bad after all.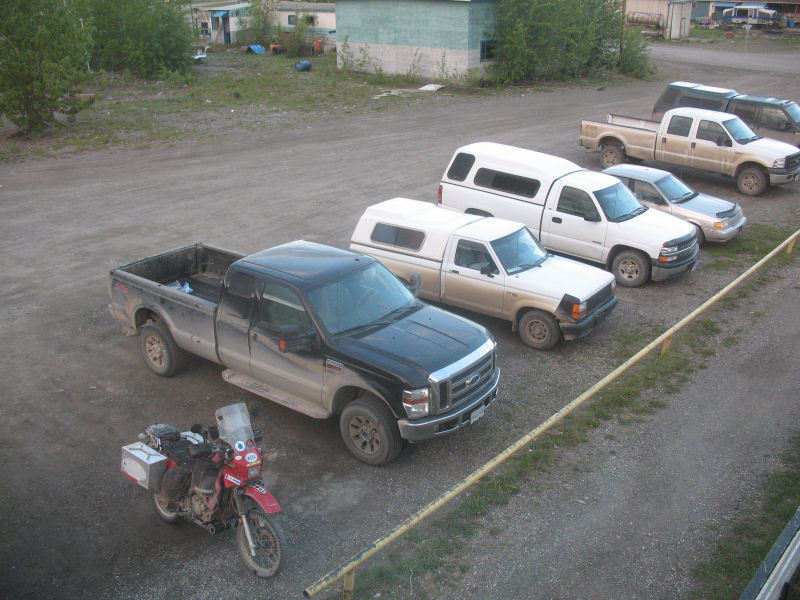 I was HERE




Saturday, June 14, 2008
-----------------------

The light and noise kept me up later than I wanted, and then the light woke me earlier than I wanted. I pretended (to myself) to sleep a while longer, but finally gave up on it. At 10:00, I got up and packed the bike. I went to the dining room for coffee, but got stuck in another bizarre conversation with a local truck driver.

The old, bearded three-toothed coot told me that he was too old to work in the mines anymore, so he mostly drove trucks and gave people good advice. Uh, oh, I thought, here it comes. Sure enough, he did most of the talking. He told me a bunch of things about Canada that were just wrong, then after pausing to learn some things from me about Colorado, he took over again. I cannot recall how we got on the subject, but somehow he talked about the asteroid belt and how it was formed 3,600 years ago when another planet hit the earth (nearly killing everyone!). The impact knocked out debris that formed the moon and the asteroid belt. He told me that the native people still talked about how loud the impact was.

He didn't look like he was on drugs, but he certainly wasn't "all there." When another local man, a native Kaska, came in, the coot told his friend about my trip to Alaska, and that I was from Colorado. "Don't know Colorado," the Kaska man said. The coot then proceeded to tell his pal everything that I had just told him earlier, as if he knew all about Colorado and was an expert. His friend seemed impressed that the coot knew so much about other places.

The coot had sat at a table next to mine, but he kept inching his chair closer and closer to me, until he had just about joined me at my table. He was a bit hard of hearing, so in those rare moments when I got to speak to him, he nudged a bit closer to hear. Eventually, he told me about the time he went to Alaska. "Can't go there anymore," he finished. "Got into a scrap with a local cop and now I can't go back." I asked him when that trouble had been, and he thought it had been in 1961. Or was it '71? He hadn't thought about it in a long time, so he wasn't sure anymore. I comforted him that they probably weren't looking for him anymore, but he didn't want to take the chance.

The Kaska natives that came into the dining room were a quite group. Didn't speak to each other, said little to the waitress. Just sat there. Sometimes the serene, quiet demeanor of native peoples seems spiritual to most European descendents, but I've come to suspect that they just don't have anything to say. Not that there's anything wrong with that.

The town was very quiet since the kids were probably still asleep, exhausted from having kept me awake most of the night. The miners were all gone from the motel, leaving early in a cussing, boot-stomping stampede.

I left Ross River, back the way I had come, intending to head south to Whitehorse on the bald rear tire.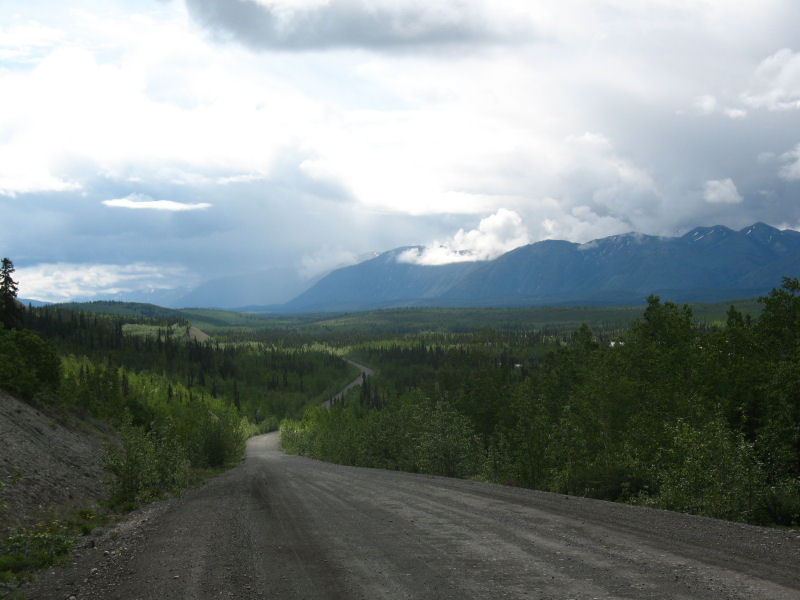 The guy who ran the only gas station in town told me that he drives the road to Whitehorse in 4-5 hours, but thought that I could do it faster on the motorcycle. He looked out the window at my overloaded bike, and decided that I might want to go slower. He said the direct road was not heavily traveled, was all dirt, and could be rough in places. He said most folks took the longer paved route through Carmacks.

I turned south, found the turn-off to Whitehorse, and was immediately stopped by signs indicating that there was a bridge out somewhere ahead. The barricade had "road closed Rose #1 (no bridge)" on it, and was dated June 11th, but it looked like lots of vehicle had driven past it. There was another sign that suggested that a road to Quiet Lake was not open yet. I thought that maybe the bridge that was out was perhaps not on the main road to Whitehorse, but was on a side road. Maybe. Perhaps.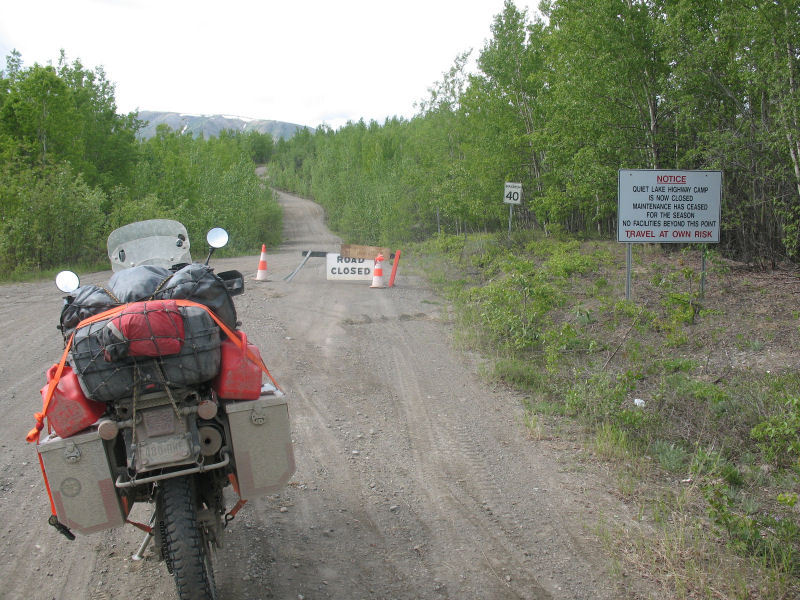 I once again decided that I was adventuring, so I rode around the sign and headed south. After a few miles, and one bridge, the recent tire tracks were fewer. I came to a place where melting snow had washed mud across the road and there were no tracks across it. Not a good sign. After another few miles of interesting road and great views, I chickened out.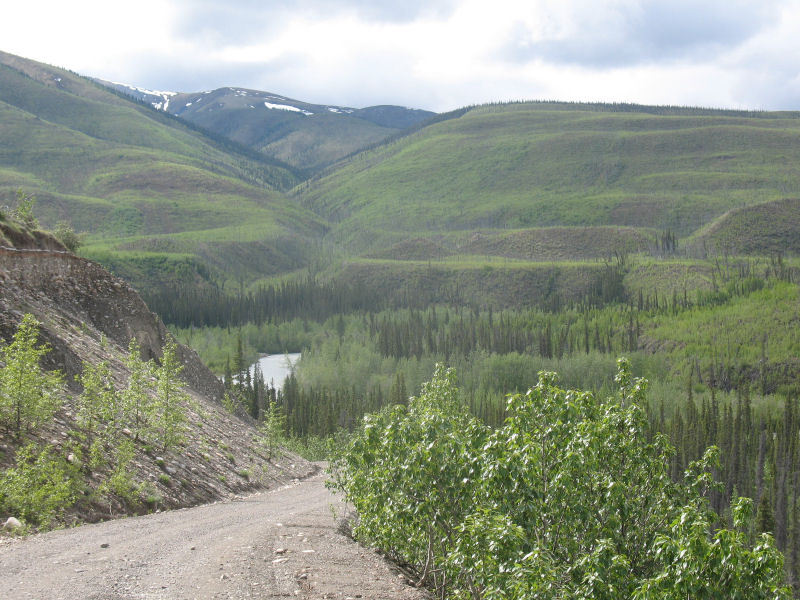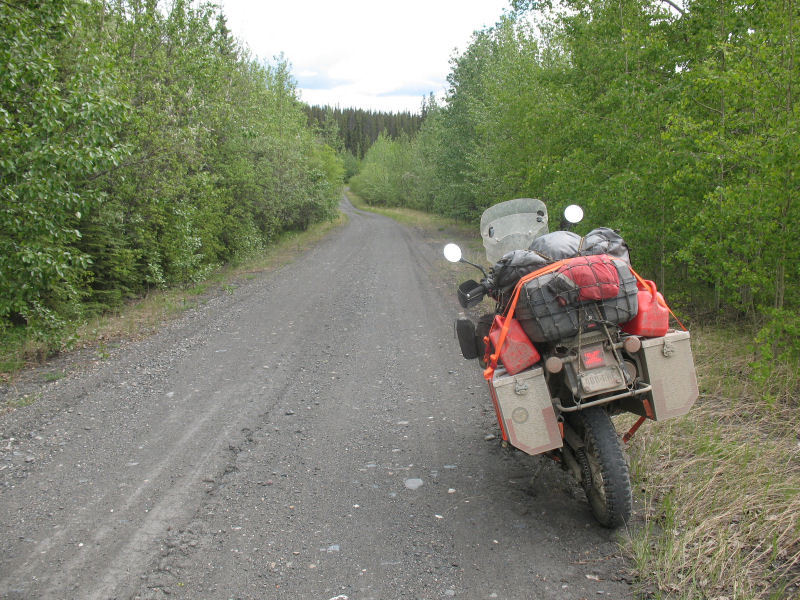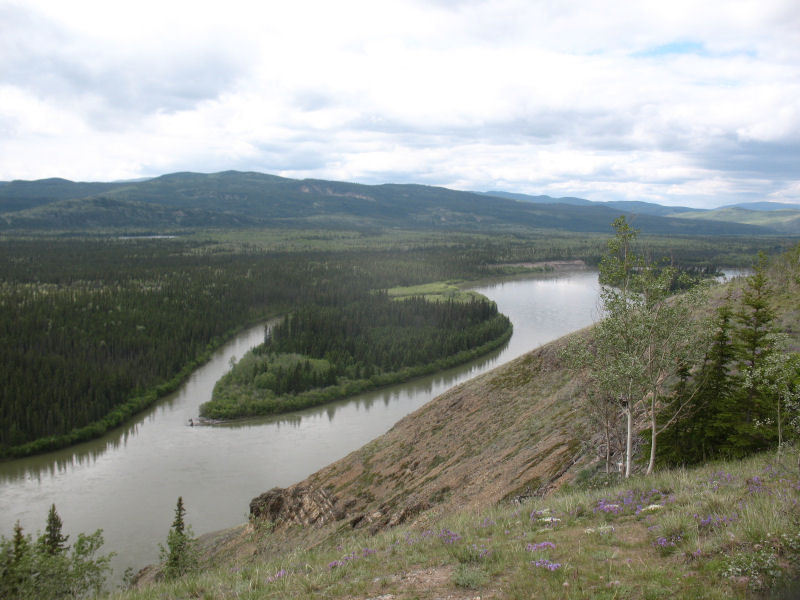 If the road was indeed closed ahead, Quiet Lake was about 200 miles down the road. If I got that far and had to turn around, there was no way I had enough fuel for the round trip. The gas station guy hadn't said anything about the road being closed, but the "closed" sign was only three days old. So I turned around, 40 miles wasted, put more tracks across the mud wash, and headed north for Carmacks on the paved road.

The way was often paved, with the usual sections of weird road experiments. More of the shale chip gravel. Nuts.

The frequent rain showers were light. The grey dust from the shale was caking heavier on my bike, and the oily areas at the front of the bike were starting to look suspicious.

The rear tire played around on the dirt and gravel, but was okay on the pavement. I kept my speeds moderate, sure that I could make the turn at Carmacks, head south to Whitehorse and get there before it got too late to shop for tires. Silly me.

It was a Saturday, and I expected more tourist traffic, but I passed only ten other vehicles going the other way. Most were trucks, and couple RVs, and a couple smaller cars. It took four hours to get to Carmacks, and I crossed the bridge confident that all was going well. I rolled up to the shale-chip parking lot of first gas station (there were two in town) and topped off the tank. After paying for the gas and buying batteries inside, I came out to find the rear tire was totally flat.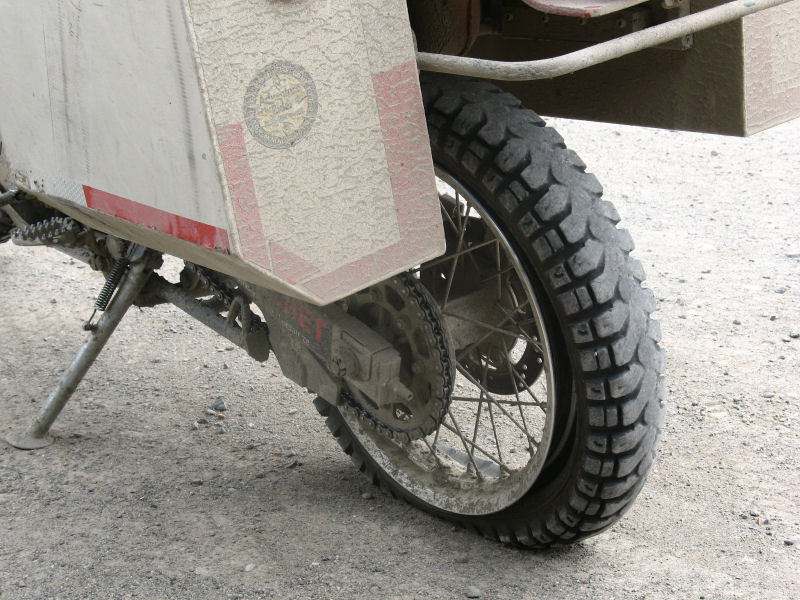 In a glance, I saw a cut in the side of the tire.

The tire had been fine up until the gas pump, so I'm ashamed to admit that I suspected some of the local teens that had been hanging around the front of the gas station might have slashed my tire. The clerks inside played back the security video and confirmed that no one had gone near my bike, so I felt better that there had been no misbehavior.

A closer inspection revealed a couple things. The cut I had glimpsed in the side of the tire was actually one of many cracked lugs. The outer lugs of the tread (what remained of the lugs) had each cracked all the way around the tire. The Mefo tires are known to crack here if you don't keep them aired up where they belong. I had noticed slight cracking over the last few days, but this was a severe increase in the cracking. Love these tires, but they have their quirks. I had gotten a lot of good riding on that tire, so I wasn't disappointed in it. The timing of its demise was just inconvenient for me.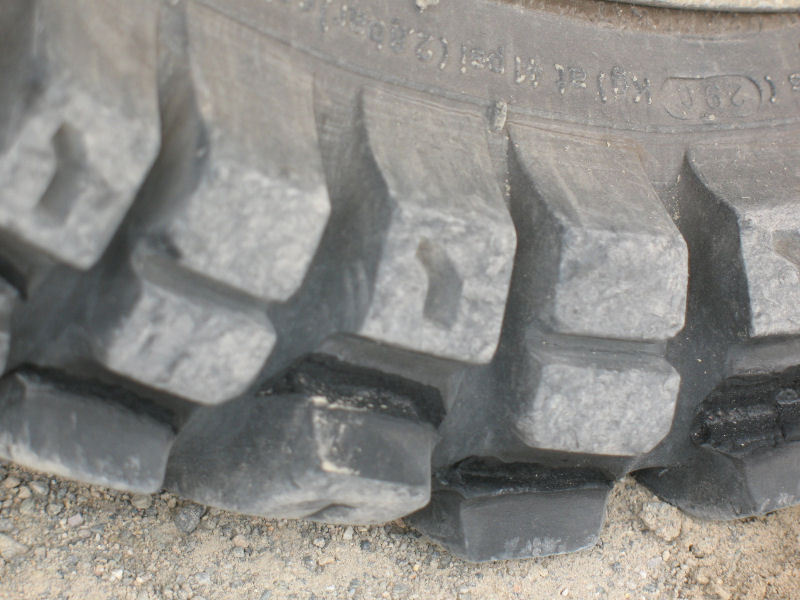 Another thing I noticed was some small splits across where the center of the tread would have been. These looked odd, and also looked like someone had stabbed the tire.

The third thing I noticed about the tire was that it was worn so thin, that I could make an indent by pushing into it with my finger.

I hadn't had cell phone coverage since Prince George (different carrier in this part of Canada), so I had to buy a phone card to call to Whitehorse to see about tires. Eventually, I got Yukon Honda (a car dealership that also handles several brands of motorcycles) and John, the parts guy I spoke with, said they had three types of tires that would fit my KLR. I chose the dependable TKC 80 tires, and gave him my credit card info over the phone. The problem now was getting the tires to Carmacks, about (aboot, as they say here) two hours north of Whitehorse. John suggested that he might drive them up to me after work, and we could work out the cost. Eventually we worked out that he would take the tires home with him (since I would get to Whitehorse after the store had closed), and when I got there, I would pick them up from him. Because we had the deal worked out, I made no other arrangements for tires in Whitehorse.

I rolled the bike to one side of the dirt parking lot, unloaded it got it up on the centerstand with the help of a very drunk local guy who almost pulled the bike over sideways, and removed the rear wheel. After taking the tire off, I found that the tube had a split in it, matching one in the tire. What had happened was that when I rode off the pavement to the gas pump, the sharp shale chips had punched through the tire in several places, finally getting to the tube.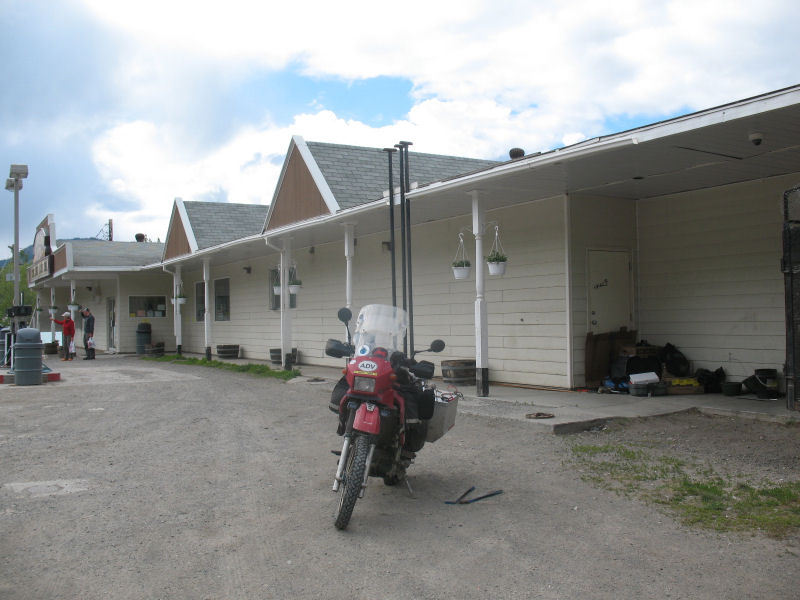 I put a spare tube into the tire, mounted it, aired it up and put the bike back together. The mosquitoes gave me suggestions and advice as I worked. For their trouble, they took payment in blood. Some DEET helped a bit, but I was only using 30% DEET, not the stronger stuff. It was very warm, too, so the bugs really liked me when I started sweating.

There was no alternative, really, so I headed off to Whitehorse. The rain had let up while I worked on the bike, and didn't start up again until I was on the road. I was grateful for that. The repair, mosquito killing, and phone calls had taken a couple hours.

I rode a conservative 50-60 mph all the way, stressed at every rough spot in the pavement. I knew the tire was vulnerable to road hazards and slick in the rain. Maybe the tire would just give up the ghost and blow for no reason. Fun.




The ride itself was nice. A few past forest fire areas were marked with signs, so you got to see how the wilderness had recovered from fires in the 1950's, '70's, and 1998. Because I was basically puttering along, lots of trucks overtook me at high speeds, but they all gave me a wide safety margin. One truck passed me, then stayed in the on-coming lane for a long time. It was at least a half-mile in front of me when it finally drifted back to the right lane. Now that's a big safety margin.

It was about 19:00 when I dropped down into Whitehorse.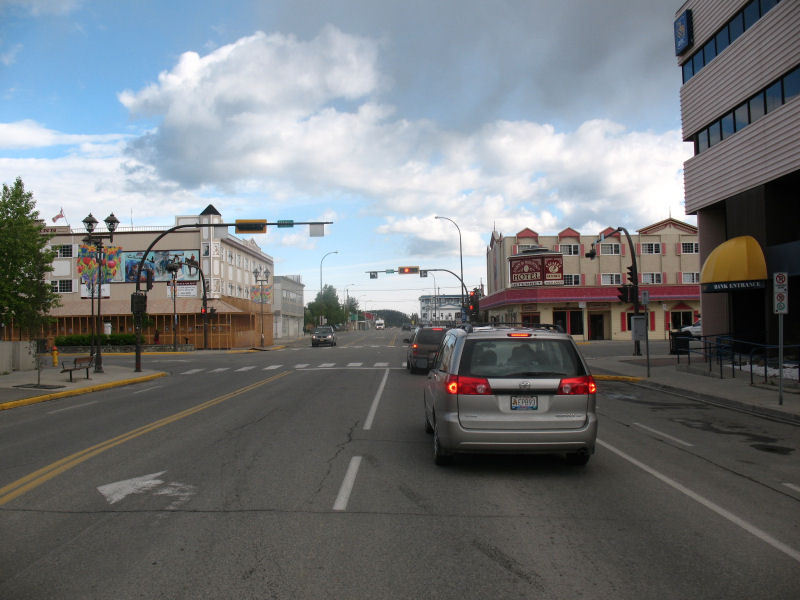 The Zumo GPS helped a bit, but mostly I followed John's directions to his house. After chatting a bit, he got down to business. As he walked me back out to his car, he told me that their inventory of KLR tires had been wrong, and they didn't have TKCs in the sizes I needed. He pulled a set of Avon Distenzia tires from his car, and said that they were the next-best tire they had for me. The Distenzia is almost a pure street tire, but has some decent grooves that almost made big, wide lugs of the tread. I was hugely disappointed, and John picked up on that.

What irked me most was that since they had sold me the tires I wanted over the phone, I made no other calls to Whitehorse for tires. Had they told me accurately over the phone that they had no dual-sport or dirt tires, I would have called other places before the shops were all closed. Frick frack. (Sorry about the harsh language.)

The Avons were much more expensive than they would have been in the States, but then, anything that got imported or hauled any distance got pricey very quickly here. I didn't want the Avons, but I had no choice that night. I wanted to put the tires on this evening and get back on the road early tomorrow (Sunday). There was no hope of shopping for tires tomorrow, and I didn't want to stay in Whitehorse at all. Hell, I hadn't even intended to be in Whitehorse in the first place. This was another instance of fate messing up my plans.

Fate had more in store for me in Whitehorse.

After strapping the tires to the back of my bike, hillbilly style, I left John's place with a recommendation for a cheap motel (I decided that I wasn't in the mood for camping). That place was full, but they directed me to the 202 Hotel, where I decided I would wait until morning to put the tires on. The hotel room was very nice, $89 per night, and they had internet access! No wi-fi, though, and the receptionist handed me an Ethernet cable to use.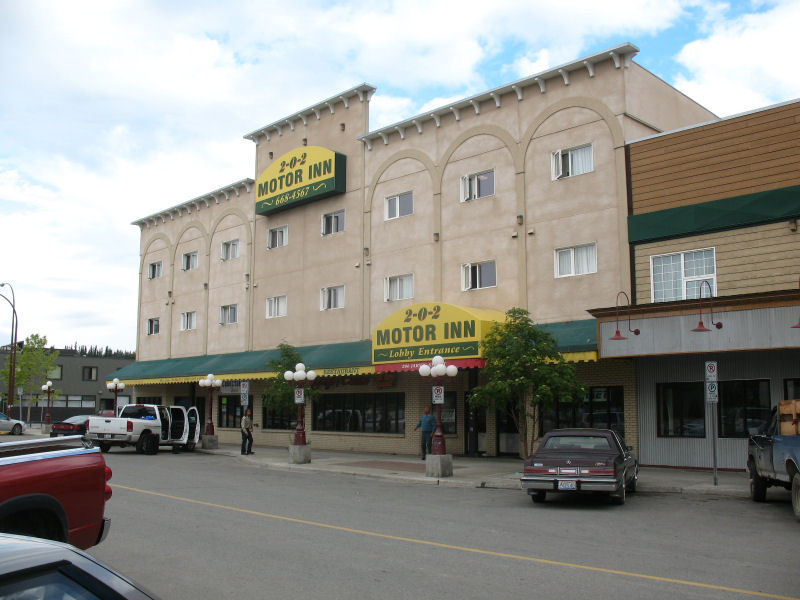 After a shower and catching up on these notes, I went down to the bar where I had a glass of wine and some bar gab with whoever was there. A pack of women in town for a physical therapists' convention were in the place, and were very chatty with the good-looking guy tending bar. I was surprised to realize it was midnight, again caught by how light it was outside. I went up to the room and spent some time in the internet. It got a bit darker by 02:00, when I called it a day.


I was HERE




Sunday, June 15, 2008
--------------------

I wanted to be checked out of the hotel by 11:00, so I got up at 09:00, and rode the bike to the back of the hotel to change the tires. I found a passer-by to help me get the bike on the centerstand. The centerstand that I have on the KLR is a type that does not have a good place to put your foot while heaving the bike backward onto the stand, so it's hard to do solo when the aluminum boxes are attached. If necessary, I could have removed the boxes and gotten the bike onto the stand by myself. I removed the rear brake caliper (which makes it easier to put the wheel back on later), and took the wheel off.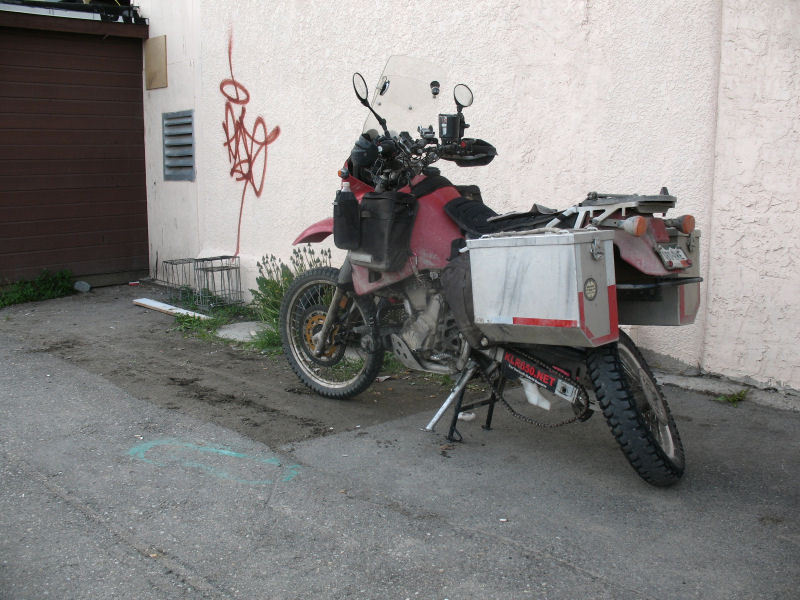 Getting the dead Mefo off was no problem, and I used the sidestand to help break the bead.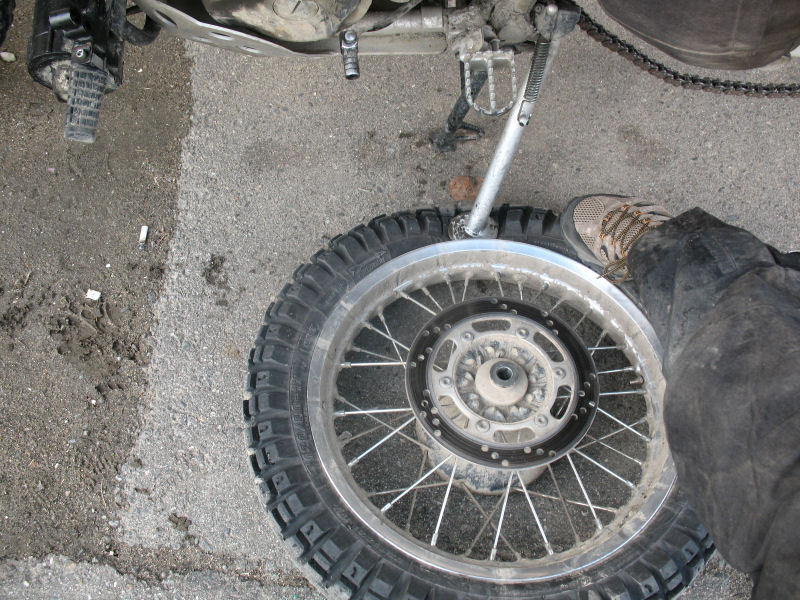 It took me a long time to get the Avon mounted. The tire is a tubeless type, so it is very stiff. I was unable to get the valve stem through the rim after the tire was partly on, so I had to remove the tire, put the tube in place and carefully mount the tire over the tube and rim without damaging the tube. I hurt my hands some while working with that rear tire, cutting and cracking the skin in several places.

I was completely unable to get the final bead onto the rim with the tire irons. For those who don't know, to get the last of the tire levered onto the rim, the opposite side of the tire has to be pushed down into the depressed center of the rim. This is because the wire-rimmed bead of the tire will not stretch.

The Avon was so stiff, that I was absolutely unable to push the bead down into the rim center. I suppose I could have called a taxi to take me to see if I could find a garage to mount the tire, but I was determined to remain self-sufficient when it came to regular work on the bike. I decided to use the bike's sidestand to push the tire down on one side so that it might sink into the center of the rim (the same process as using the sidestand earlier to remove the tire). This was going to be tricky. Since the bike was on the centerstand, using the sidestand meant leaning the bike over to the left and using the sidestand to press down on the almost-mounted tire which would be laying on the ground, and trying to use the tire irons at the same time. If I had someone to help stabilize the bike, it would have been easier.

I put the wheel on the ground, lined the foot of the sidestand up with the bead of the tire, and pulled the bike to the left to press down on the tire. Once there was pressure on the side of the tire, I saw that it would indeed get the tire to sink into the center of the rim. However, I leaned the bike a bit too much, so all its weight was on the front wheel and the sidestand. This allowed the centerstand to fold up automatically (under the pressure of its springs), and this was a bad thing. When I looked down to see what the loud "thunk" had been, the bike leaned away from me and had nothing to land on except the ground. Crash.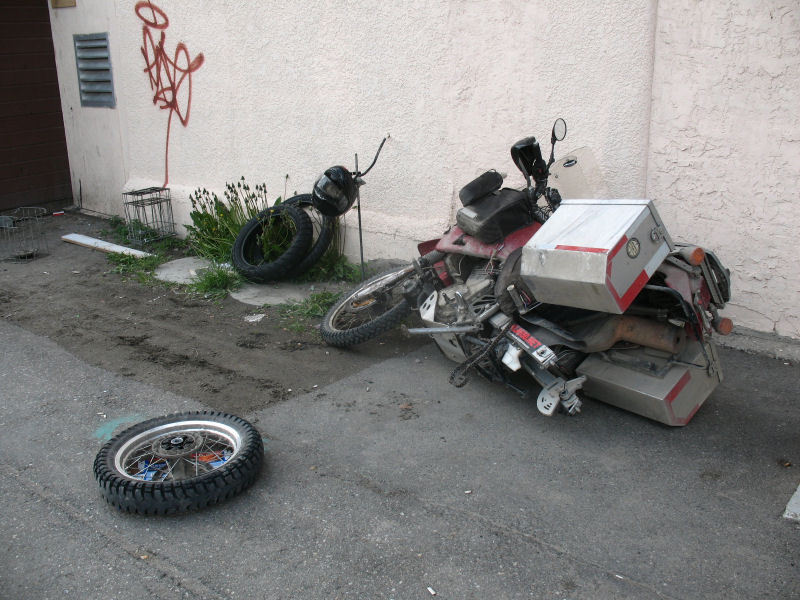 I thought there was no damage, so I didn't worry. A guy coming out of the back door of the hotel helped me get the bike back onto the centerstand (not such an easy trick with no back wheel). He regretted agreeing to help when he realized how much work it was going to be. Once the bike was back up, I strapped the centerstand in place to keep it from being able to fold up again. This was something to remember for the future.

Again, I used the sidestand to push the tire into place, then put a big rock under the right side of the centerstand to keep the pressure on the tire. I was able to lever the tire into place with a might (and angry) heave. Success! And, to add to the joy, the tube was not pinched anywhere! Yay! I pumped it up to pressure, bounced it around the parking lot until the bead finally seated fully, and was very proud of myself.

I sat down to start putting the back wheel back on, when I saw that the rear brake caliper was laying on the ground all by itself. Hmmm... Never saw that before. It took me a few seconds to realize the magnitude of the problem. I picked up the caliper and saw that the hydraulic brake line was severed, snapped off cleanly right at the banjo connection. I won't bore you with the descriptive details. It must have been kinked and snapped when the bike fell over. This was bad.

I sat there for a while, not quite sure how to proceed. There was nothing to do; the line was not repairable. Stores were closed. It wasn't likely that any local stores would have a brake line in stock, anyway. I had never heard of anyone busting a brake line, so I had no stories to help me along.

With a slightly fatalistic numbness, I just went ahead and mounted the rear wheel, then replaced the front tire (much easier) and got the bike back together. While working on the front wheel, I saw why there had been oily patches on the front of the bike. My fork seals were both leaking severely, fresh fork oil all over the place. I had attributed the oil on the bike to the roads, and I had not noticed what the actual cause was. I wiped off all the oil that I could get, and rode the bike around the parking lot for a while (front brake only). There was no new oil to speak of, so either it was a slow leak or most of the oil was gone already. The front brake had been a bit mushy the last few days, come to think of it, and it was now obvious that leaking fork oil had been spraying on the brake rotor.

I was not carrying extra fork seals, had never replaced fork seals before, and doubted that there would be any in town. I knew that the rough trail riding in Moab had been a factor in the early failure of the seals. Again, I should have done more work on the bike after the rocky riding in Moab, before heading north. Silly rabbit.

Two ladies from the hotel staff (cleaning women in maid-like uniforms) came out a few times on cigarette breaks, and they always sat nearby to watch me work on the bike. After a couple hours, I was a dirty, sweaty, mottled mess, and I really think that they expected each time to find me dead, trapped under a partially-disassembled motorcycle.

It was early afternoon, and I had already registered for another night in Whitehorse.

I took a long shower, but couldn't quite get my hands clean. I got a bucket full of ice water, and spent a few hours re-hydrating in the room, air conditioner blasting away, writing and browsing a few internet forums. At 21:00, I went down to the restaurant, watched the gals from the physical therapists' convention flirt with a different cute bartender, and had a very good sausage pasta dish, heavy on the sausage.

I worked on resizing and uploading photos for an hour or two, which was the most productive thing I had accomplished all day.



Monday, June 16, 2008
---------------------

Since I didn't want to be in Whitehorse at all, I really wanted to get out of here today. I went looking for the Yukon Honda motorcycle shop, but it eluded me. Its address was 1 Chilkoot Way, which sounds like a business district, but I never saw a motorcycle shop and never found Chilkoot Way. A local bicyclist shrugged when I asked him for directions. "Never heard of it," he apologized.

I knew that the bead on the front tire had not fully seated, but thought that it would settle in once I rode it a bit. It never did, and it was wobbly as soon as I got over 15-20 mph. And only one brake. I was not a high-performance guy that day.

I found the local Kawasaki shop, but that was worthless--except for one incidental bit of advice from another customer. The shop mostly dealt with ATVs, boats, and snowmobiles. They had no parts for the KLR, and were not helpful in trying to find any. They did assure me that no shop in Whitehorse would carry the brake line I needed, and it would take a week or more to get anything trucked in. Another rider came in and they found a tire for his V-Strom. He didn't like the choice they had for him, but he took it. I know the feeling.

A customer looking for boat parts heard my problem about the broken brake line and he gave me directions to Industrial Electric, a shop that made hydraulic lines for anything. He told me to ask for Jason. I never would have thought of trying that, so I thanked him and went off to the north side of town where the heavy industries were.

At IE, Jason was finishing up a 2" diameter hydraulic line for a customer. Whatever that line was for, it was big. Jason used the crimping press like it was a musical instrument. Very precise and experienced work going on here. He finished with that customer, and gave me his attention. In fact, he gave me six hours of his attention.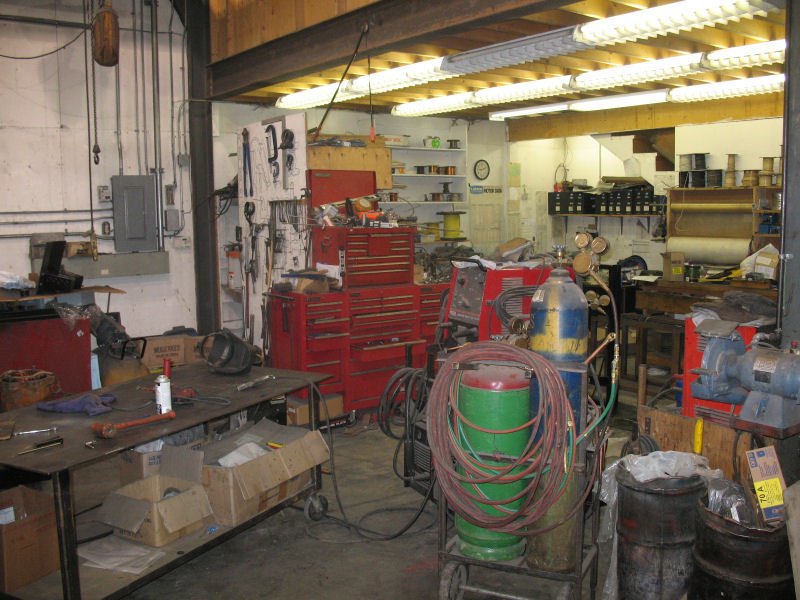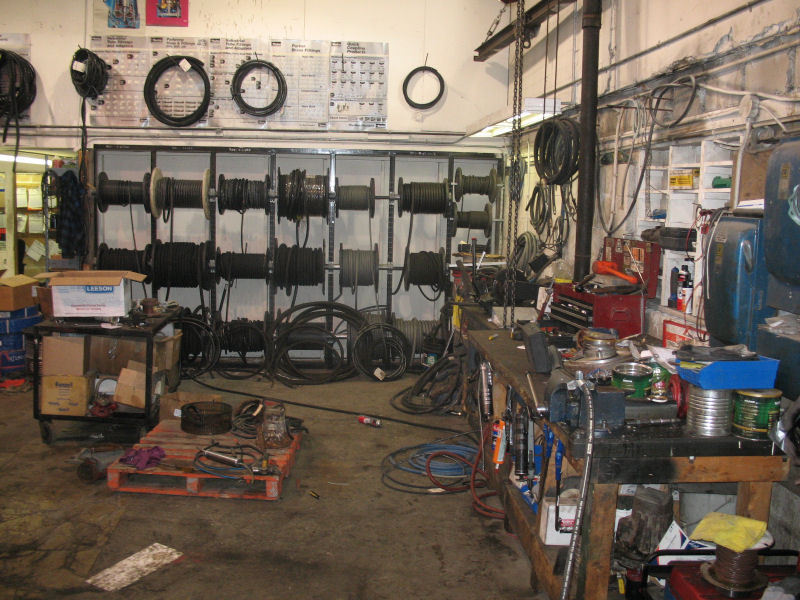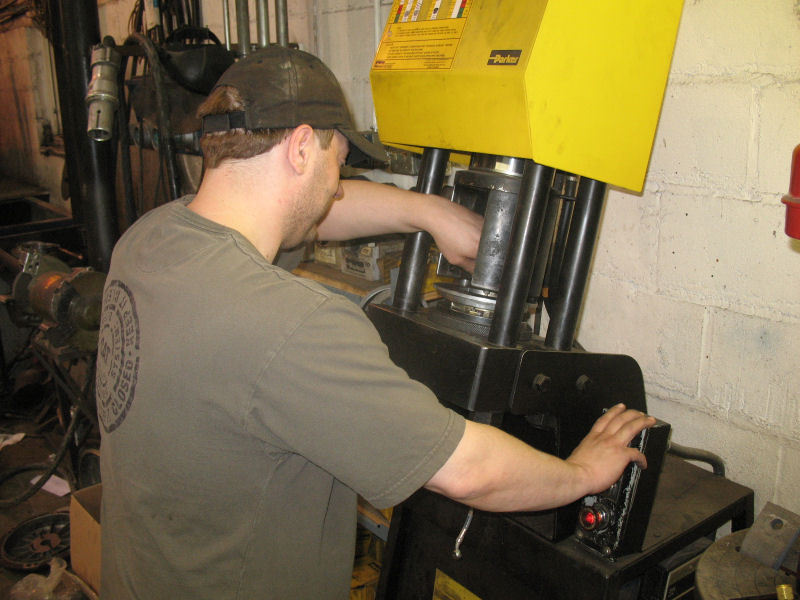 I called the hotel and registered for another night.

Jason wasn't used to working with such small lines, and although he could manage it, he didn't have the banjo fittings for the ends of the line. (The banjo fittings are hollow attachment points where the line bolts into the brake system. The banjo fittings are hollow, as is the bolt that goes through each end, so the hydraulic fluid can pass through.) Jason called a couple possible suppliers, including one in Edmonton, but found nothing. He is a problem-solver, though, and he sent me off to another metal fabrication shop outside of town to have a guy braze the broken banjo fitting to a part that he could crimp to the line.

Off I went to Quantum Machine Works, where the guy charged me $20 to cut and braze the parts together. He did good work, and it looked great. Back to IE, in a wobbly and frumpy manner.

Jason was happy with the part, but his crimp piece turned out to be too big internally for my brake line. We ended up futzing with that line for hours, fixing leaks, trying different combinations of connectors, splices, segments of other line, etc. At every splice, we carefully drilled out the thick nylon lining inside the line so that the new parts would fit in. Those ended up being the weak points, and every attempt failed, leaking or spraying brake fluid on me, the bike, most of Whitehorse, and notable sections of the Yukon Territory. In the end, the line--a Frankenline by this time--was more of a curiosity than a brake line. We had tried to salvage the line because it still had a good banjo connector at one end. Here's the brazed-on banjo connector, attached with Jason's crimpable part to the old line.




A bit later it looked like this. After that, it just got worse.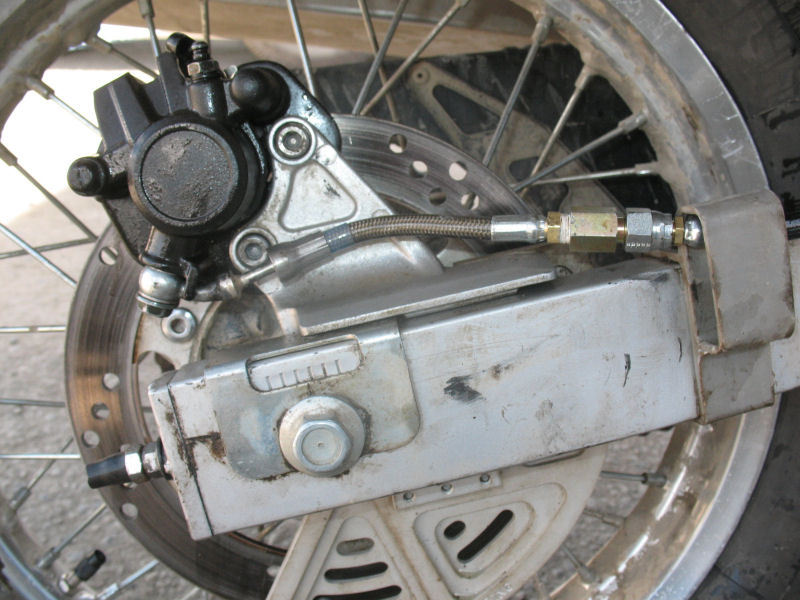 Eventually, we gave up on saving my brake line altogether, and Jason called Quantum to see about having both of my banjo fittings cut and brazed to new crimpable parts, so that Jason could just use a new, larger line. Should have done that in the first place. Jason's time and the many, many parts cost me $200.

The guy at Quantum was too busy, but agreed to do the work at some point and have them ready the next morning. I took him the freakish line (it was mostly connections and splices, with not much line left to it) and the parts that Jason had sent me with. He said he would have it done by 09:30 tomorrow. We did not agree on a price, and that was a mistake.

The customer at the Kawasaki shop had also explained to me that Yukon Honda was the car dealership that I had seen, and their motorcycles were all kept inside the showroom.

I got back to the hotel and adjusted the chain which was loose. The countersprocket was showing some more wear than I expected. The grit of Moab and since had done its abrasive work.

I went back to Yukon Honda and spoke with John, the guy who had taken my new tires home with him on Saturday. He was surprised to see me still in Whitehorse, so I gave him the short story of my brake line. He took enough sympathy on me to stop what he was doing and give my bike an oil change and re-mount on the front tire to fix the wobble. A high-pressure air source is really helpful for getting a stubborn tire to fully seat. No luck with finding fork seals, though. I walked to a BBQ restaurant for the only meal I managed that day.

I found that there was a Yamaha shop on the south side of town, past the airstrip. They were a decent shop, lots of parts. Bikes, snowmobiles, watercraft, chainsaws. They didn't have the parts I needed, of course, but lots of stuff on the shelves. When I asked the sales guy if they had any kind of hydraulic line with banjo connectors he rooted around for a while and came back with a couple snowmobile hydraulic extension brake lines. They looked serviceable, but were way too long. The length was less important, and I took one out to the bike to see of the banjo connectors would do. Yup, looked good. I bought the shorter line, $60, and went to a Canadian Tire store for brake fluid and a new 12mm socket to replace my broken one. I also got a pair of mechanic gloves to save my hands, and few other things.

Back at the hotel, I installed the snowmobile line, a very pretty braided steel line that I had to loop above the swingarm to manage the extra length. Full of fluid, it seemed to work fine. Problem solved.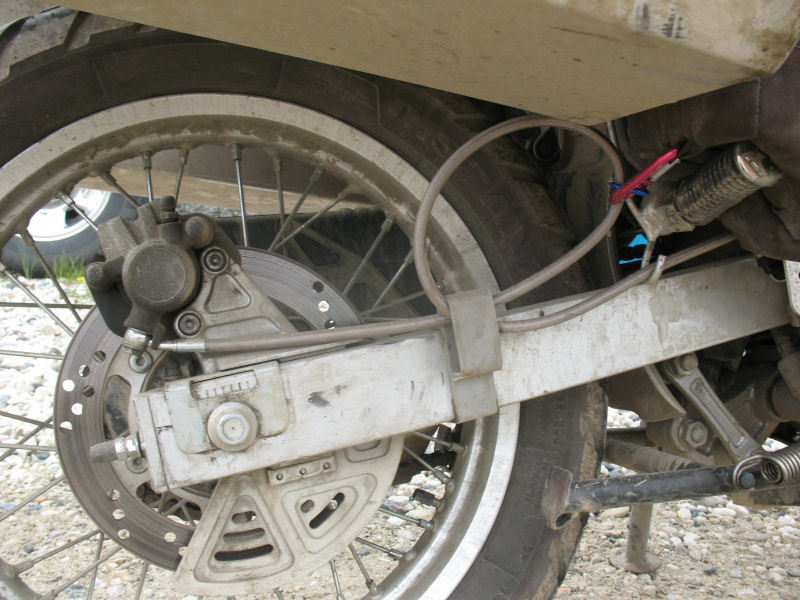 After a shower, I bought a bottle of wine and lazed in the room for a while. Other tourists in the hotel were planning on going to the local Follies show. It was "the thing to do" in Whitehorse, so I wandered down the street and joined a nearly-dead crowd of elderly bus tourists for a 90-minute show in vaudeville style. Songs, skits, comedy, can-can girls, all of it in a Yukon Gold Rush theme. A few of the performers were very good, but most of them would have made good cashiers at any of the local fast-food restaurants.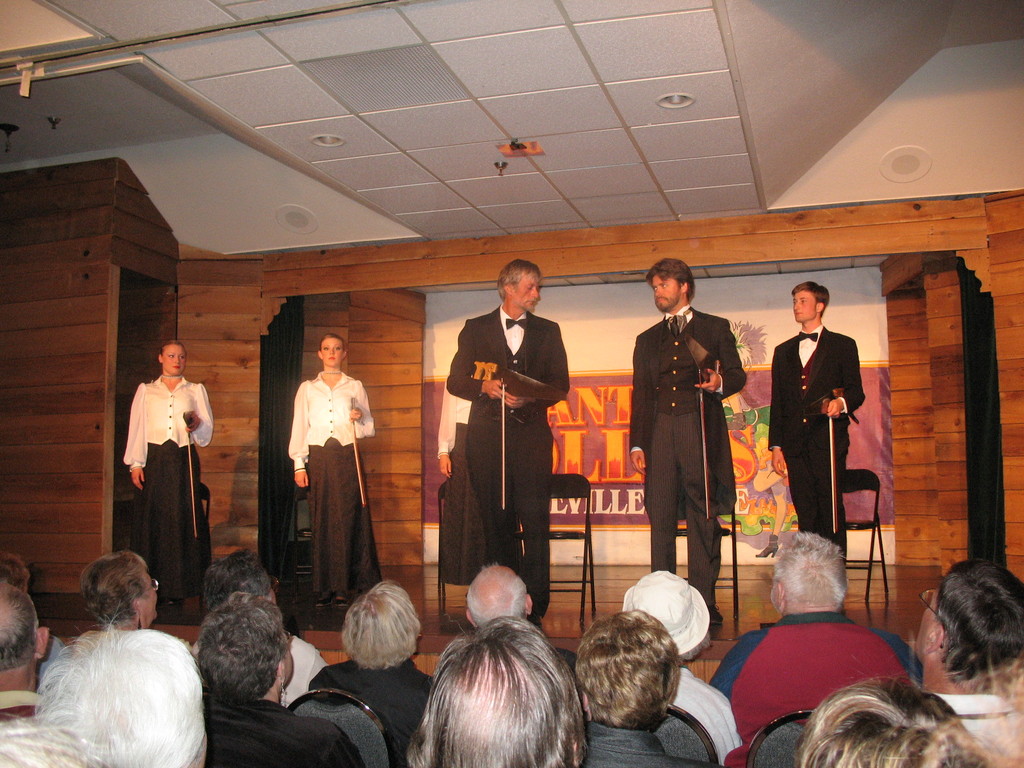 I did a load of laundry, did some writing, got to bed by 01:00.



Tuesday, June 17, 2008
----------------------

I was up and out of the hotel by 09:30. Although I no longer needed the brazed parts, I felt the need to honor the deal I had made with the guy who had worked on them. I got to Quantum and the parts were ready. Good craftsmanship. Since we hadn't made a price agreement, I was shocked when he told me it was $60 for the work. He explained that he had to re-cut and re-braze the one that he had already done yesterday. I thought that it would have been no more work than cutting and brazing the one in the first place, and the second was the same. Plus, he made me wait overnight for them and he did the work at his convenience. So he charged me three times the price for only twice the work. Personally, I think he saw me as a mobile victim, just passing through. I handed him the money and walked away, kinda wishing that I hadn't honored our deal and had instead just left Whitehorse. That's part of the price of being an honorable guy.

I rode on.

So, it cost me $340 for a $60 brake line, plus almost $300 for the hotel. Plus $24 for a mediocre melodrama. Plus $440 for tires I didn't want.

Whitehorse owes me money, as far as I'm concerned.

About an hour north of Whitehorse, back towards Carmacks, I stopped at a diner. The soup was very good. I saw the other portions of food that people were served, and they were huge (the meals and the people). The place was apparently famous for its humongous cinnamon rolls, nearly the size of a basketball. They were big, cartoon versions of cinnamon rolls, far too big to be reasonable. No way to eat part of one and carry the rest on the bike.

I chatted with a couple riders who stopped in on GS1200s, headed for Dawson City from Seattle. They were just passing through Dawson, not staying for the Dust To Dawson rally this coming weekend, so we said our goodbyes after talking for a while.

Photo interlude: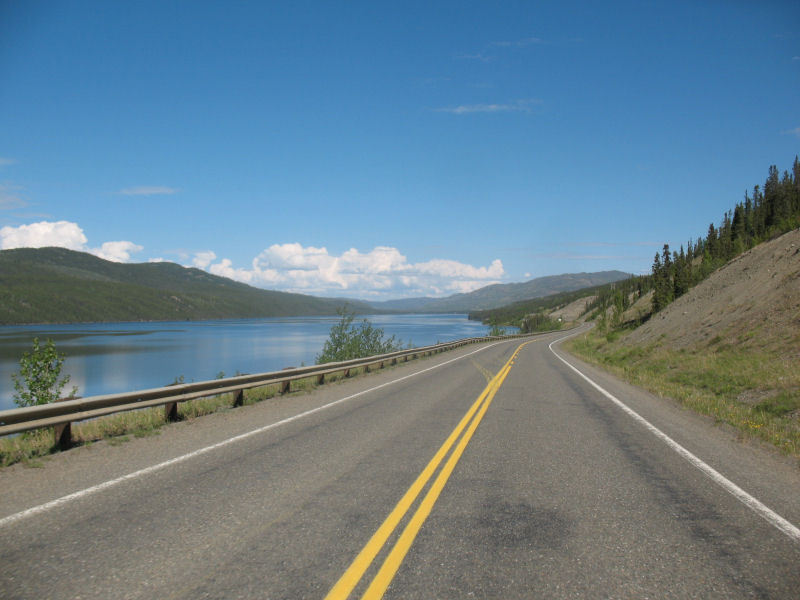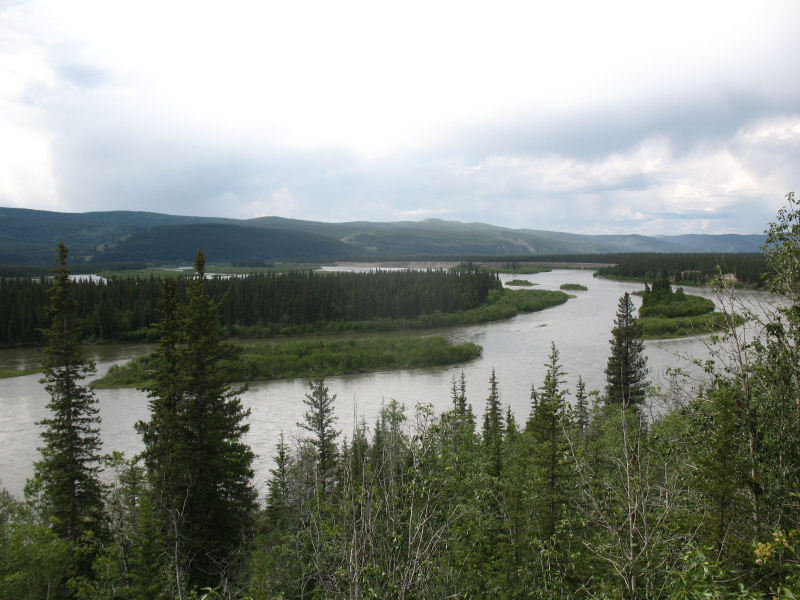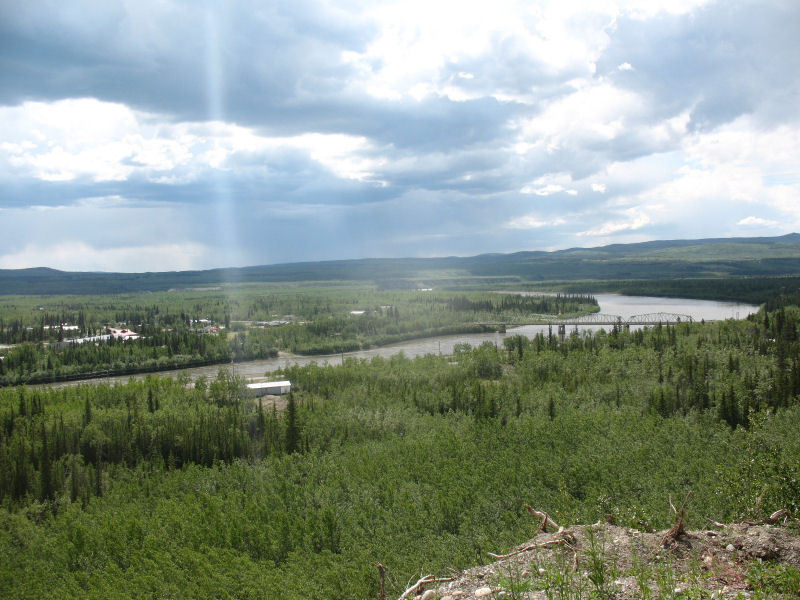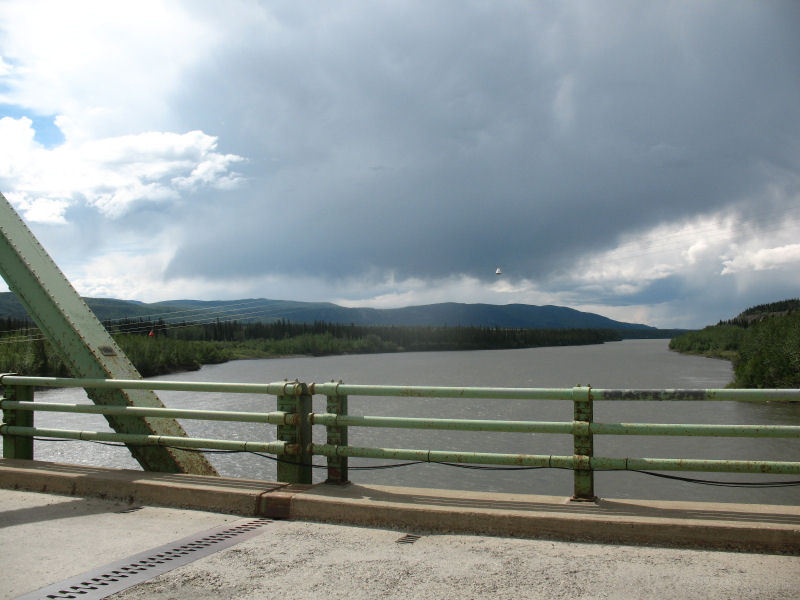 The Avons were great on the pavement, but skittered around on gravel more than I was used to. I hit one patch of fresh roadbed that was so soft, the bike almost bogged down on it. I stopped and took a photo of my foot having pressed a hole in the roadbed.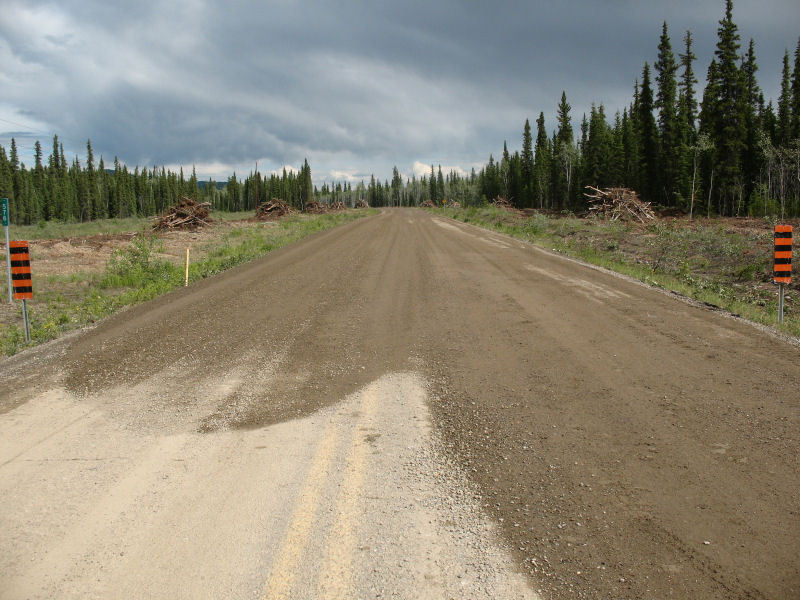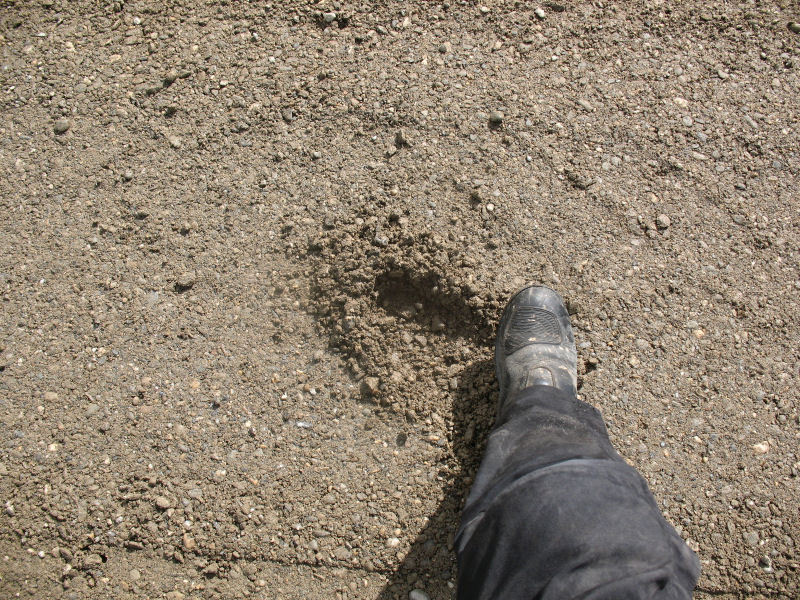 When I was over 100 kph/60 mph, there was an odd wobble in the bike. It didn't feel like the front wheel, but I suspected that the rear wheel wasn't aligned right and once the bike got to a certain speed, the harmonics of the bike on the road made the alignment start tracking off a bit. It actually got better at slightly higher speeds, but I kept it at 100k/62m per hour and it behaved.

I gassed up in Carmacks, at the "other" gas station. I didn't like the shale in the parking lot of the gas station I had been to on Saturday. Then, back on a road that was new to me, I was adventuring again.

I later stopped for a stretch break at a scenic rest area, and a tour bus that I had just passed a few minutes earlier stopped there as well. The khaki-clad middle-aged (and older) excited tourists from Canada and the U.S.A. thought I was pretty cool, because they surrounded me and took photos of me and the bike. They were impressed at my ride, at how I had the bike loaded, about my plans to go all the way north and south, spanning the American continents. Mostly, they didn't understand that there were different kinds of motorcycles besides dirt bikes and Harleys. No use explaining it to them. When the photo and potty break was over, they herded back onto the bus in a marvel of efficiency, and I barely got a photo of the last of them before they were loaded up and gone. I also took a photo of the great view of the Yukon plateau.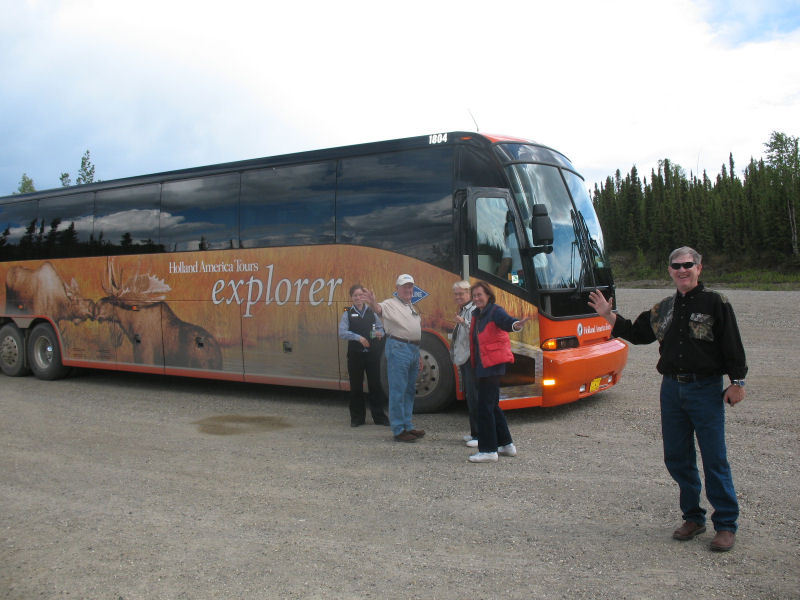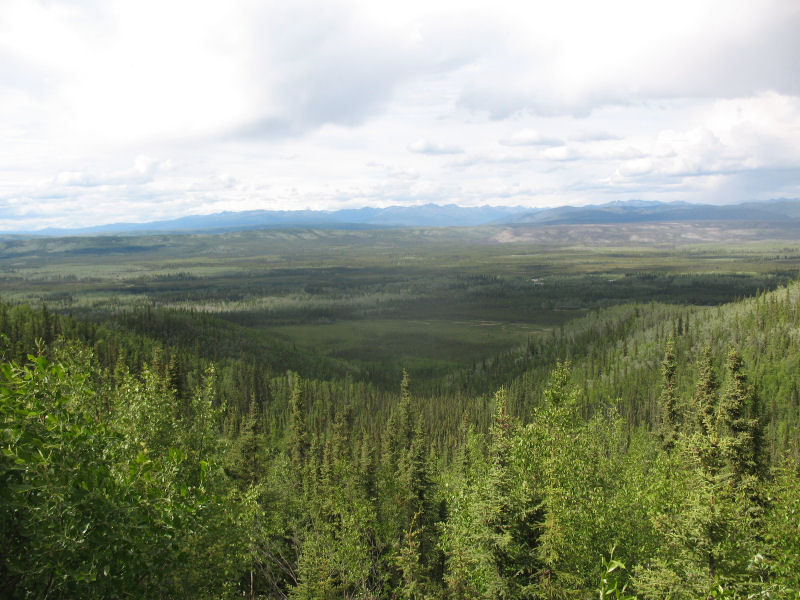 I passed the tour bus again quite soon, but its windows were tinted so I couldn't tell if they saw me or not. I waved as I zoomed past, assuming that they were waving back.

At the start of the Dempster Highway, I gassed up (let's see... 195 miles in 21 liters... is that good?). I had a meal (musk ox burger, nothing special), and decided to skip the Dempster for now and go into Dawson City a few days early. The delays in Prince George and Whitehorse made me too late to do the ride up the Dempster to Inuvik and back in three or four days (and still make the D2D rally), and I didn't want to risk running that road fast in only a couple days, especially on these tires.

A half hour later, and I was in Dawson City, Yukon. I had seen the satellite photos of the area, and I was curious about what the dredge tailings looked like from the ground. Honestly, they look more interesting from the aerial photos. Almost century-old rows of gravel and rocks that had been scooped up, filtered for gold, and dumped back out the back of the dredge barges looked like huge worms from the air, but just looked like piles of gravel from the ground. I took a few photos as I arrived and some later during my stay.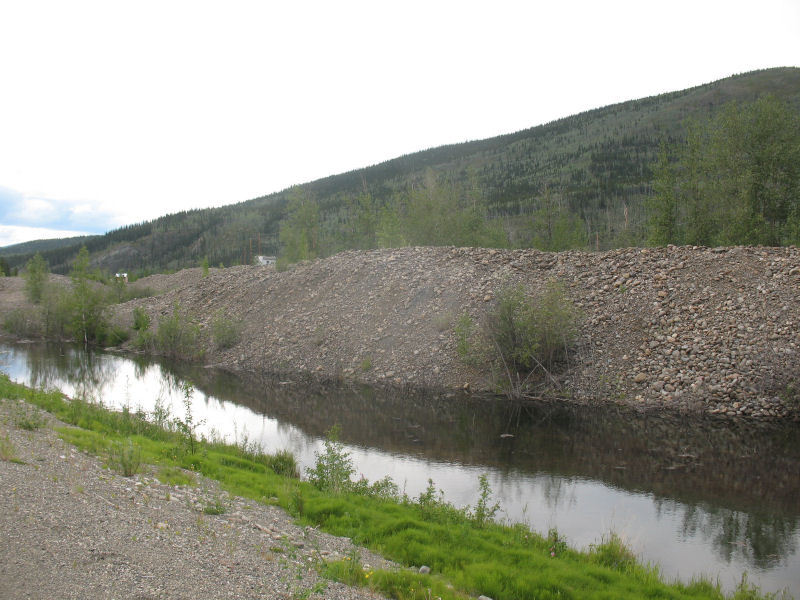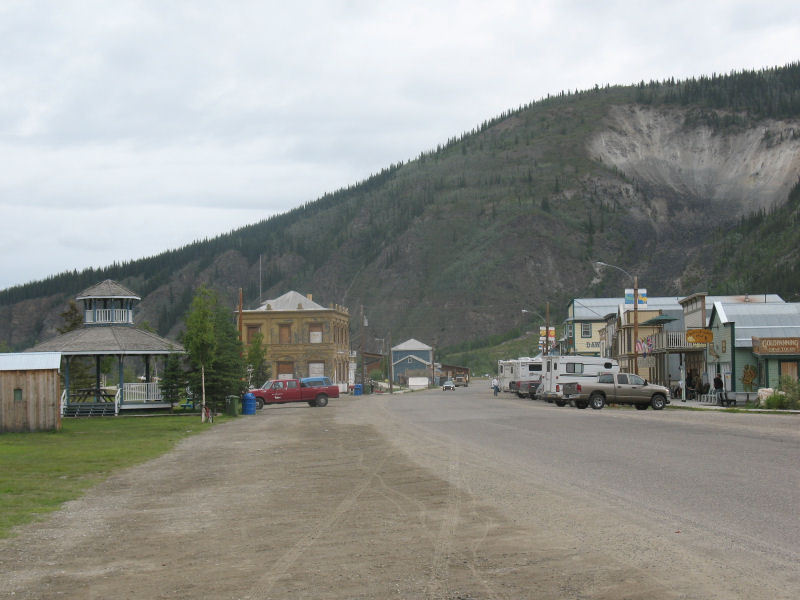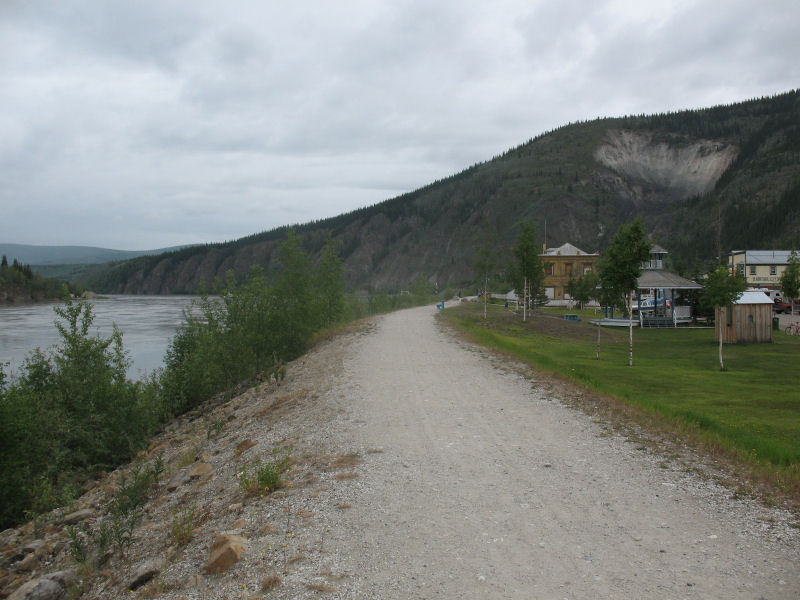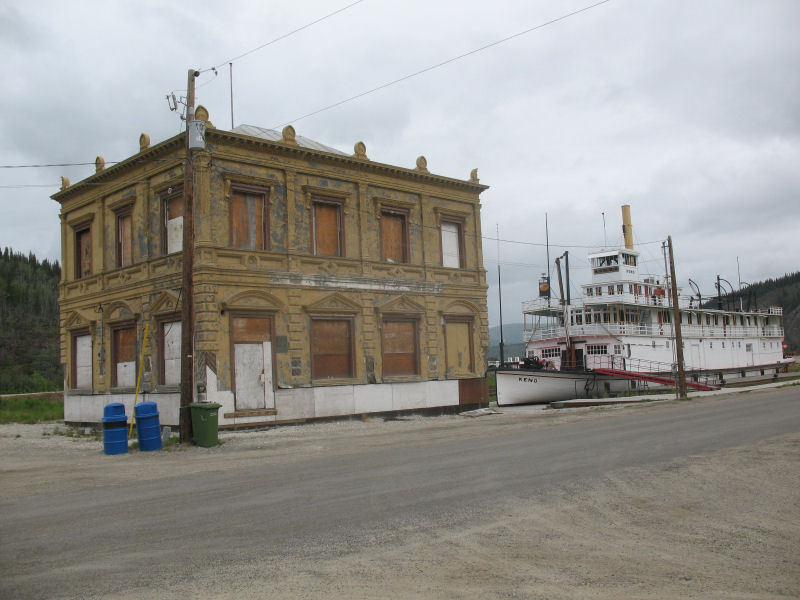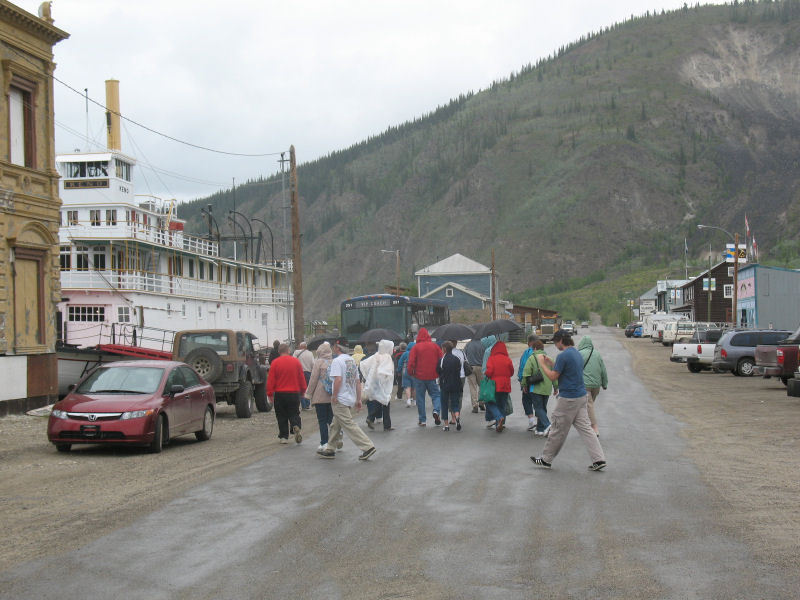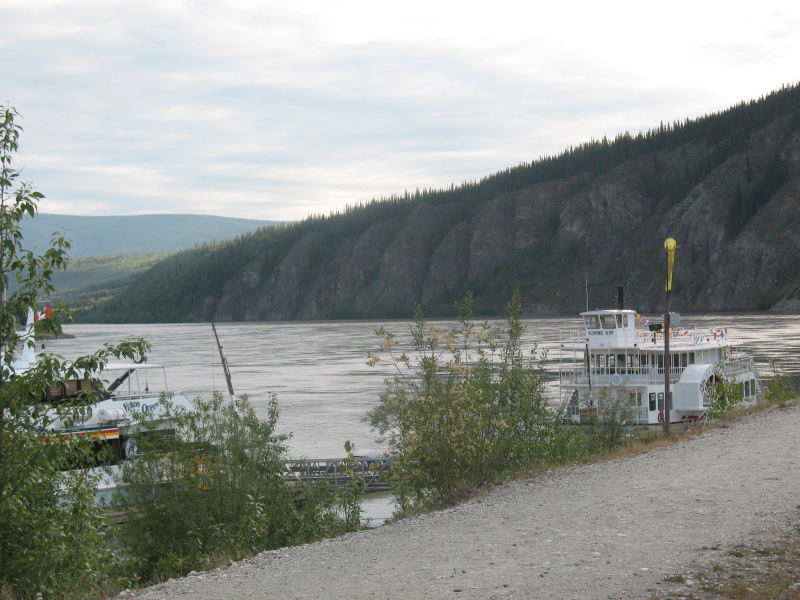 It had been mostly clear all day, but it rained as I got to the Gold Rush Campground at 20:30. They had no problem checking me into my camp site a couple days early, but they thought they would be full for Saturday night, so I'd likely have to be out by then. It was a well-maintained facility, with cleaning and organizing going on constantly. Showers took $2 tokens for six minutes of water flow (which was plenty). The cheapest sites were $19, no water, no electricity. The $30 sites (and up, depending on size and other needs) had water and electric outlets.

I got the tent set up eventually. The ground was all large gravel, and getting the stakes in was tough--not a single one went in cleanly. I bent a few thick pegs and broke one. I carry several extras, since this was to be expected. Putting the rain fly on the tent was a no-brainer.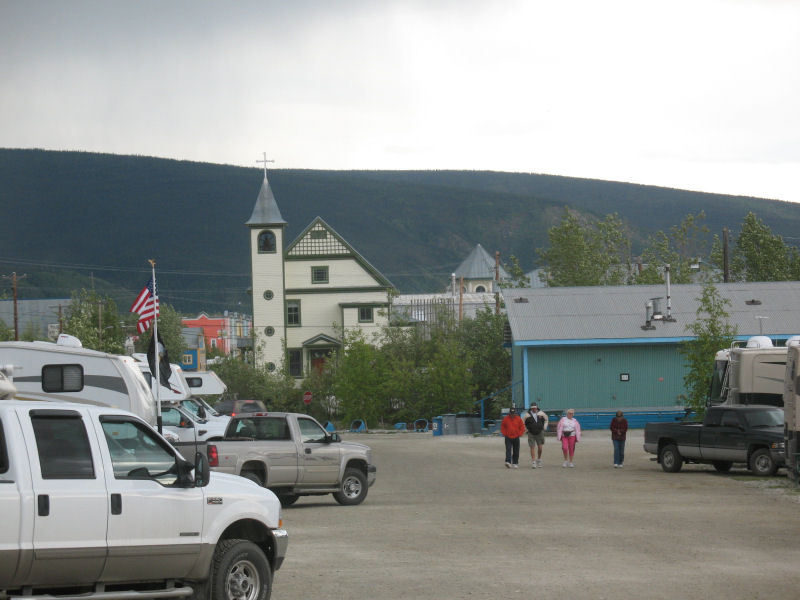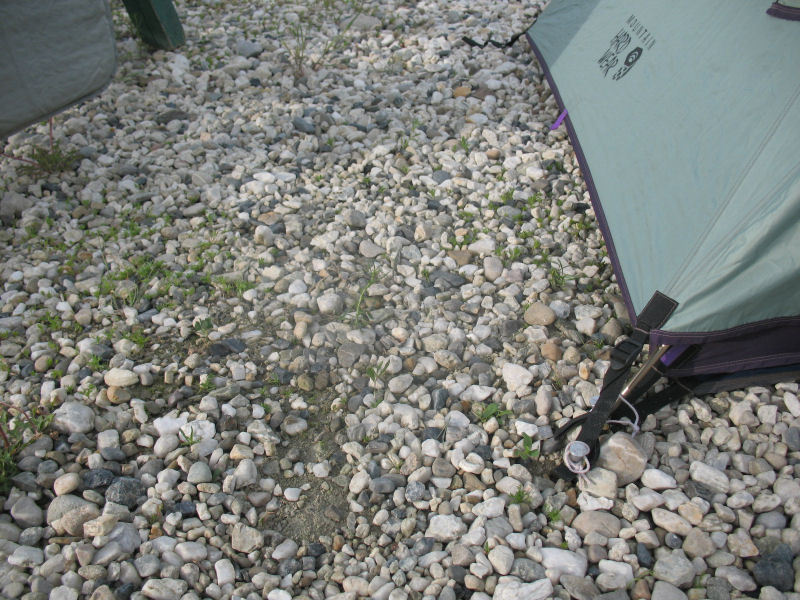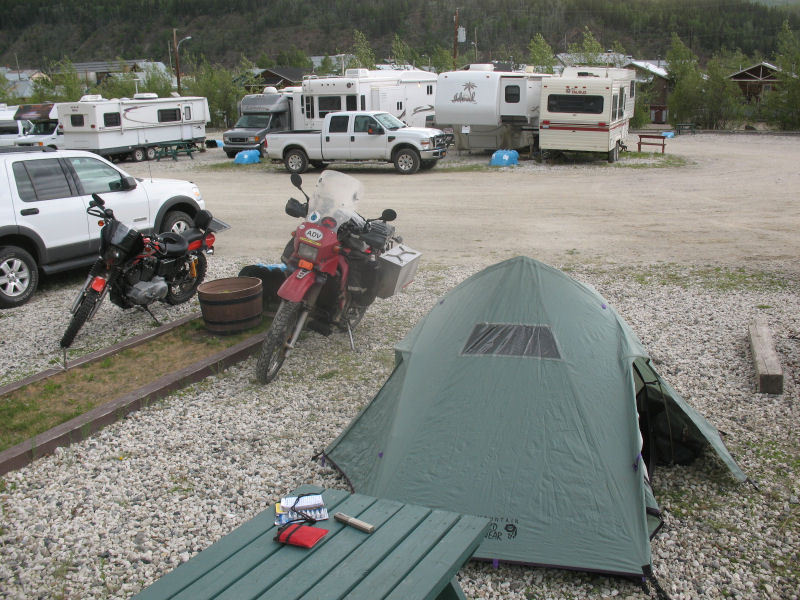 Other groups were used to clustering in campgrounds.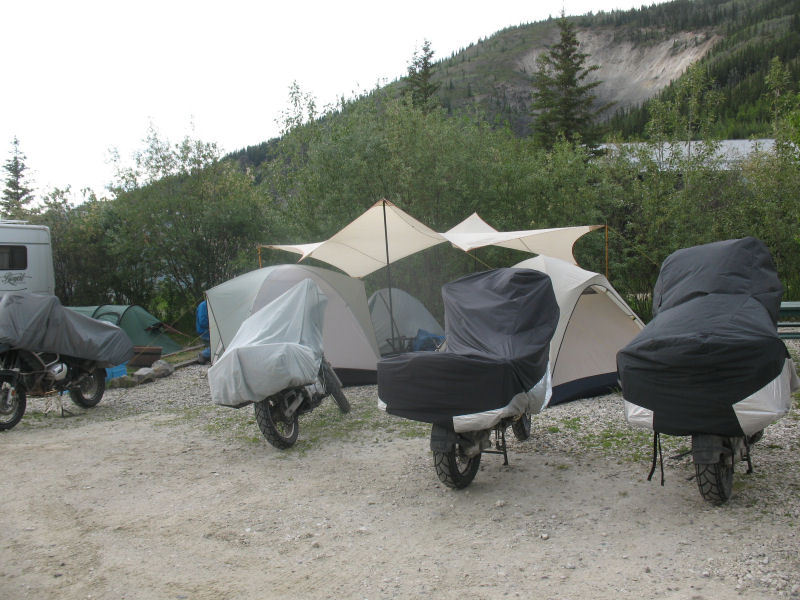 After getting settled in, I wandered down to the Downtown Hotel, the center of activities for this coming weekend. I had a couple beers, watched the end of the NBA championships on the TV, and watched a few people do the toe.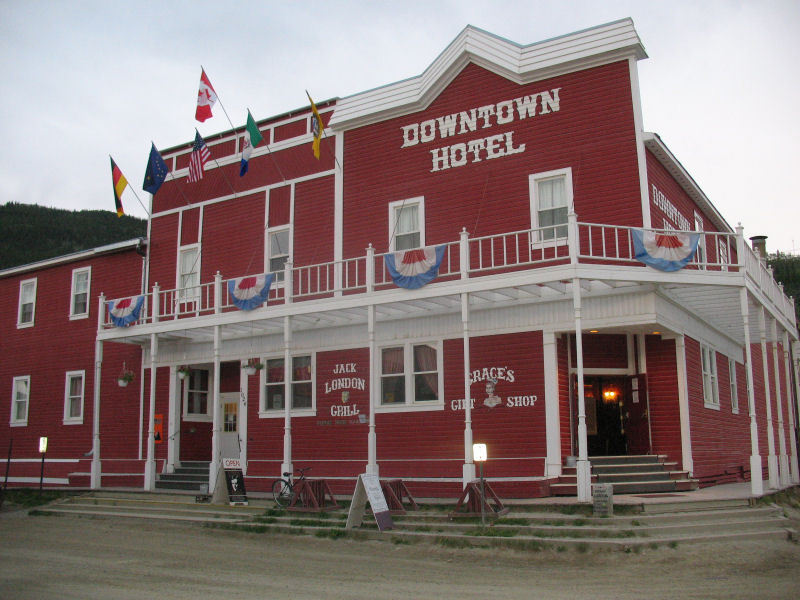 Okay, "do the toe," needs an explanation for some readers. Long ago, a mummified human toe was used for this ceremony, but after having been lost, other toes have been used in its place. The common belief is that the current toe is a fake, although it looks quite real.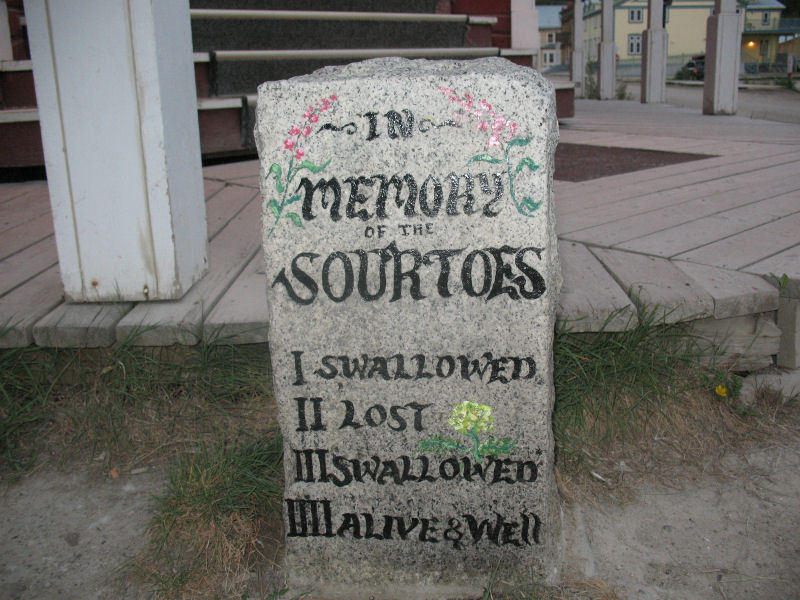 For the Sour Toe ceremony, you get a shot of liquor (your choice, your cost) at the bar, take it to the guy running the show, and give him $5 and put on the nautical cap. You sign the book, participate in a brief ceremony, and he drops the toe into your drink. You have to down the liquor, letting the toe touch your lips (at least), and that's it. You get a certificate and a story to tell. Several people took the toe fully into their mouths, just to be more dramatic.

A German man, who had done the toe a few years earlier, had returned to do it again. He handed his digital camera to one guy in the bar and handed me his video camera, asking us to photograph and film him while he did the toe again. I used my right hand to use his video camera, and my left hand to take my own photo of him. That's the German guy on the right, the Captain of Ceremonies (du jour) on the left.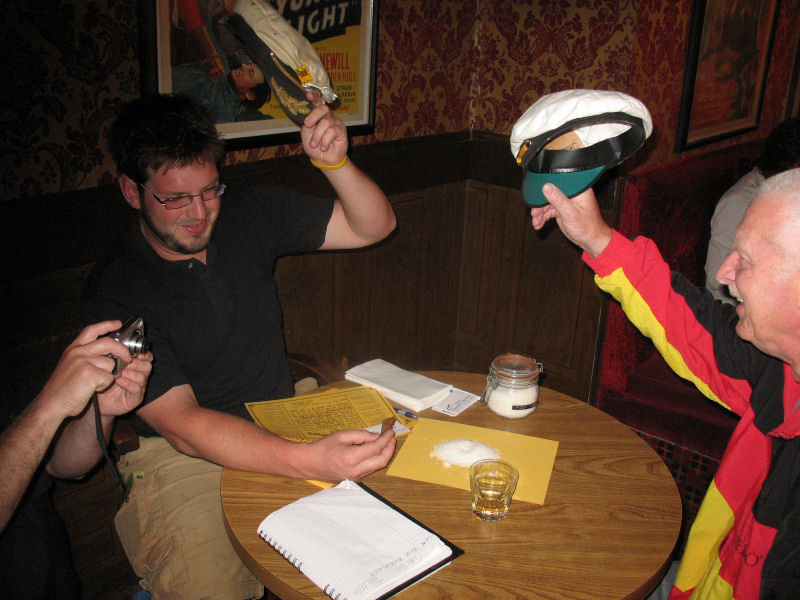 He swallowed his drink, sucked on the toe a bit, finally returning it to the Captain with a hearty Teutonic Spitooey! He was very happy with the video footage I took of him, but was a bit disappointed at the photo the other guy took. Bad timing with the shutter button, I suppose. A few other, younger people did the toe and giggled.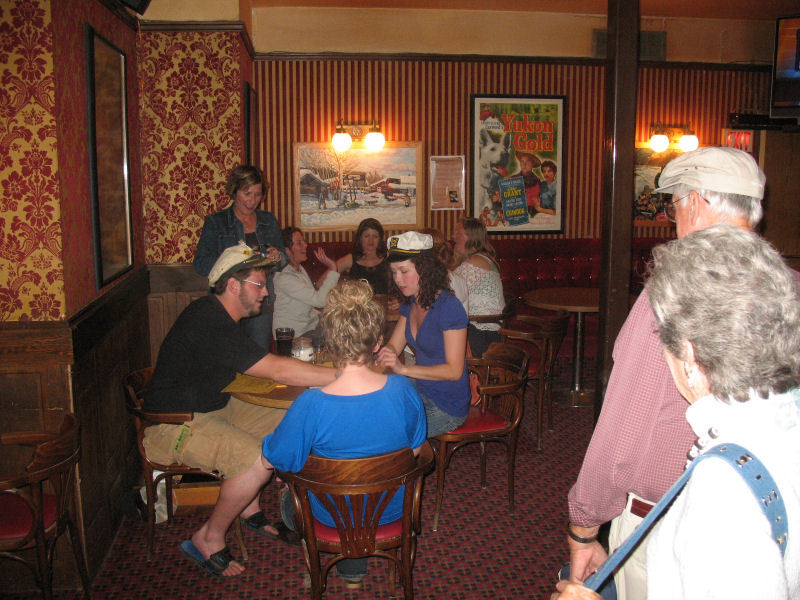 Then a tour bus showed up. The place was instantly a crowded chaos of khaki-clad middle-aged (and older) excited tourists from Canada and the U.S.A. They were somehow familiar to me. Yup, it was the same group who had met me at the rest area hours earlier. They must have taken some sight-seeing detours. Some of them recognized me, and we were old friends again. They emboldened each other, and eventually most of them did the toe. When the bus crowd was finally gone (took almost two hours), the big barroom seemed almost deserted.

My camera's memory card finally got full early in the excitement, and I wasn't able to take photos of frightened grandmothers daring each other to do the toe. When I left the bar, it was 23:00, still daylight out, although it was cloudy in the distance.

I went to Diamond Tooth Gertie's, the casino, and played Blackjack for an hour or so, leaving with exactly the same amount of money that I had started with. Got to meet other arriving riders back in the campground, many of us grouped together in the tent area. Some of us recognized each other from our online interactions, and that's always cool.

At some point, I sent a SPoT signal, but I don't remember when that was. I pointed the SPoT to the southern horizon and hoped for the best. It got through.


I was HERE




Wednesday, June 18, 2008
------------------------

I was awakened by the noise of RVs and trucks loading up and leaving. The gravel was very uncomfortable; much more so than I would have expected. Well, that turned out to be because my Thermarest mattress was flat. Grrr....

The people in the camp office allowed me to use a large laundry basin in their utility room to dunk my mat and find the tiny pinhole leak at the foot of it. I found no other leaks. I have no idea what is causing these tiny leaks. It's almost a new mattress, yet I had two holes in Colorado last fall, and two pinholes in Moab that were teeny tiny.

I put some patch goop on the area of the new leak and it later seemed to hold air fine. Many of us talked for a while in the campground, mostly about bikes and where we've been. I went for breakfast, lingered for a while over coffee. Nothing specific planned for the day. I found an internet cafe, bought some tea and used my laptop to do some email. For some naive reason, I assumed that access was free for customers, but when I heard the guy tell another customer that the rate was $3 for a half-hour, I shut the laptop off. He had given me the wi-fi access password with no other discussion, so maybe he wouldn't charge me. He did. Three bucks and tax.

I had heard that the campground had free wi-fi access for customers, so I got their password from them and spent a few hours online, hanging around the camp office area browsing web forums and doing some ride report postings. The SPoT signal had gotten through, too. The internet connection went down now and then, probably storms somewhere.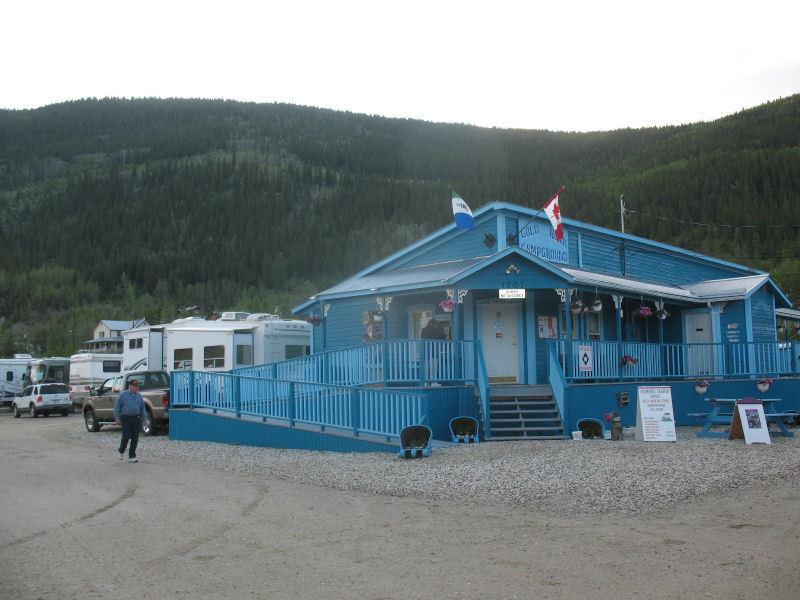 On a tip, I called Alaska Leather, a company in Anchorage that did a lot of motorcycle business. Their truck had already left for Dawson City, I learned, so my timing was too late. I later saw (online) that they were already out of tires for the KLR anyway. I had a few sets of nice tires at home, but getting them to Dawson City in a few days would be nearly impossible, and very expensive if managed. I tried calling Laurie, but she didn't answer her phone. I sent her an email and asked her to leave her phone on.

I found Dick, the owner of the Downtown Hotel, and asked him about tires that he might have stashed away. I had been tipped off by another rider that Dick sometimes hoards tires that other riders have left there, and if they were still any good, he gave them away to whoever needed them. Dick and I rooted around in his storage shed at the back of the hotel, but the only 17" tire he had was a dead Kenda 270 that was as bald as my Mefo. He told me that riders were welcome to have tires shipped to the hotel ahead of them, and he would hold onto to them.

I did some research and called Fairbanks Motor Sports, bought some TKC 80 tires from them, and had them hold them for me there. Then I just unplugged from any desire to accomplish anything for a while. After getting bored pretty quickly, I plugged my laptop into an outlet in the camp laundry room and worked there for a while. It got so busy in there after a while that I was always in someone's way, so I moved out to the porch near a payphone (that was the only electrical outlet I could find outside the building yet under the eave) and worked there for a while. I finally got lots of photos selected, resized, and uploaded, then finished editing and published a few story installments online. Yay!

One guy I met in the campground was carrying an extra new Mefo rear tire, and he offered to sell it to me for $175. I agreed, but for some reason he withdrew the offer and said he might need the tire. I still don't understand why he would have made the offer in the first place if he needed the tire. Maybe he just got caught up in the conversation and got ahead of himself (I'm being generous on his behalf).

Lots more riders arriving, seemingly half of them KLRs and half BMWs. I saw two Tigers, one Ducati, a few KTMs and other bikes. A few Gold Wings were in the campground with trailers. Pretty much every one of the many hotels and motels seemed full, and all the rental cabins had BMWs and some KLRs parked in front of them.

Two guys on KTMs had just ordered tires from Whitehorse to be sent on a truck to Dawson City before Saturday. Huh? I got the number for the Whitehorse KTM dealer, but it was too late to call now. I'd try calling them first thing in the morning, hopefully before their truck left.

Some of the campers were moving their tents around, grouping and sharing picnic tables and rain awnings. We gabbed for a while.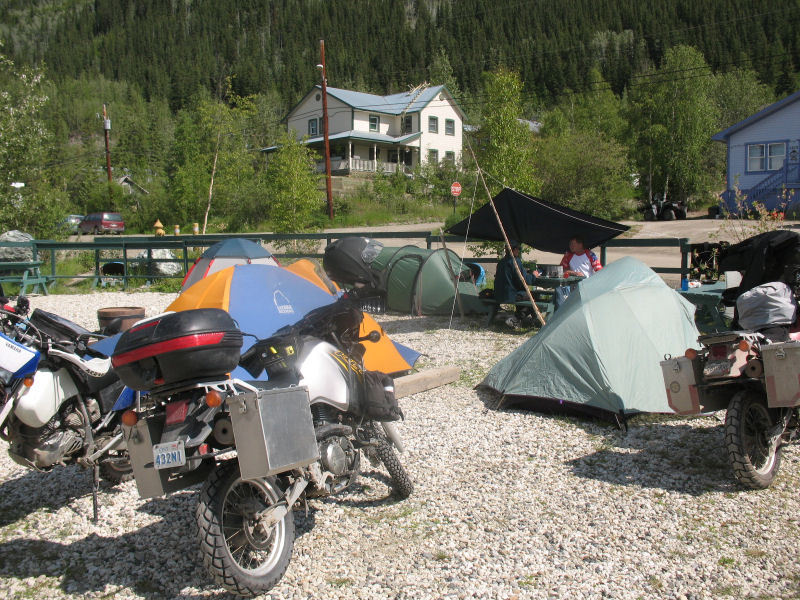 Met a few more guys I had had exchanges with online. I spent most of my "social time" with a nice group. Clockwise from left, Andy from Juneau, AK; Brian and Andrea from Red Deer, Alberta; Dave from Juneau, AK; Alexander (Sander) from the Netherlands; then there's me; Mike from somewhere on Earth; Ben (an ice road trucker) from Yellowknife, Northwest Territories; then Kari who had ridden the Dempster with Ben, Andy, and Dave. Mac from Ohio wasn't in this photo.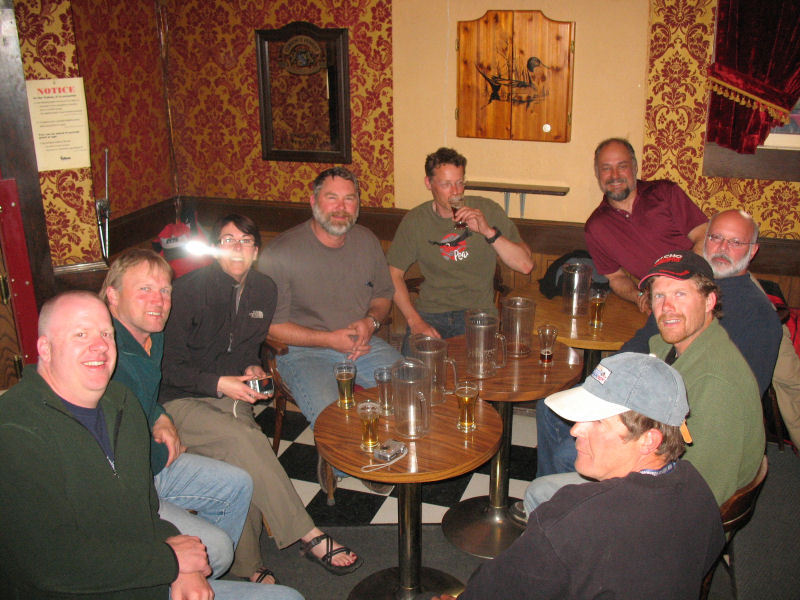 Others were good company, too, but I can't remember everyone's' names. We met with and drank beer with others in the Downtown Hotel, but they close up at 01:00. Other bars seem to stay open later. None of us joined the Sour Toe club.

Some of them had already ridden the Dempster Highway--some in two days, some in four days--and they confirmed what I had always heard. The road conditions change daily, even hourly, depending on weather and road maintenance activity. I was leery of riding the Dempster on the Avons already, but I was still undecided about doing it or passing for now.

We left the bar, and this was about as dark as it had gotten the whole weekend.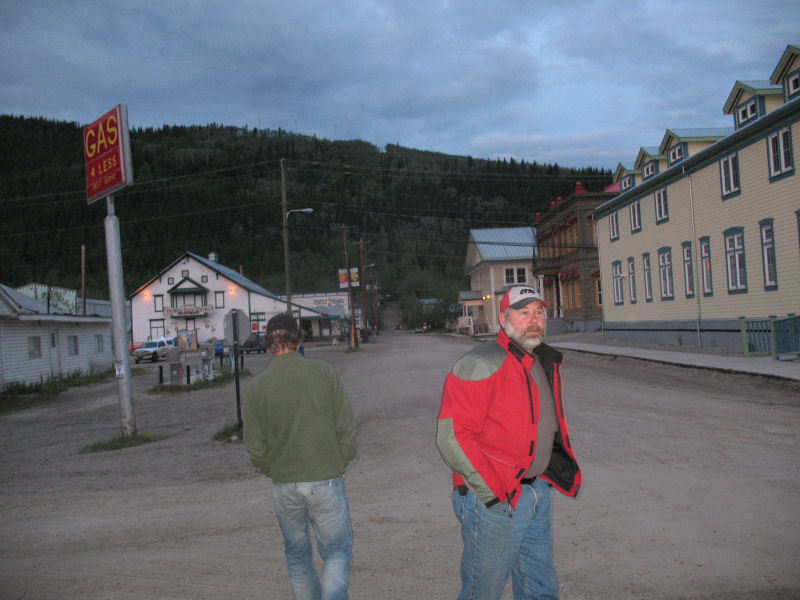 Back to the tent to sleep on a Thermarest mattress that went flat again before morning. Frikken rocks...



Thursday, June 19, 2008
-----------------------

At 04:30, there was an incredible racket. Why someone would pack up their camper and leave that early is a mystery. Again at 07:00, more people leaving woke me again.

I had breakfast at a bakery, owned and operated by "The Chef and The Redhead." The baked goods were very good and I had a cinnamon roll and coffee, and I also had them also make me a sandwich for later. For some reason, while I was walking back to the campground, I felt the need for protein (the pastry hadn't been enough), so I had eggs and sausage in the Downtown Hotel restaurant. My tummy was much happier.

At 08:30 sharp, I called the KTM shop in Whitehorse. Fate being what it was, the KTM shop in Whitehorse turned out to be the same Yukon Honda dealership that had already proved fruitless for tires. I thought the phone number had seemed familiar...

Fook.

The problem seemed to be the availability of 17" rear tires. Some other dual-sport bikes used a 17" tire, but many more used 18" tires. I was already planning on having 18" rims mounted on the KLR rear hub before South America. Hopefully, that will increase the possibility of finding a tire in other countries. Hopefully.

So, I plugged my laptop in next to the campground payphone again and updated the ride report. The wi-fi signal at the campground was a decent speed, so that helped.

It rained on and off while I wrote. Damp and grumpy tourists slogged to the campground office from their monster-sized RV castles, as if that 30-foot walk in the rain just ruined their whole lives. "It don't rain so much back home," one hippo-sized retiree complained to his equally-wide wife.

When it cleared up for a while, I rode the KLR around the town. The chain again seemed loose, and I could hear it slapping. I tightened it a bit, and checked it for alignment. It looked okay, maybe aimed just a tad to the left. I didn't ride it again to test it out because I didn't want to ride far enough out of town to get up to the speeds I would need to see how it tracked.

A group of us went to the hotel to buy tickets for the D2D dinner ceremony tomorrow night. We hung out on the boardwalk in front of the hotel like we were bad-asses looking for a fistfight. I offered two women a nickel if they would pinch any of the other guys on the ass. This offer, yelled at them from across the street, seemed to confuse them and they looked around. When they finally realized it was just some goofy guy with a camera, they laughed (that's them on the right). The guys seemed amused that I would just talk to strangers like that. Hell, it was all in fun.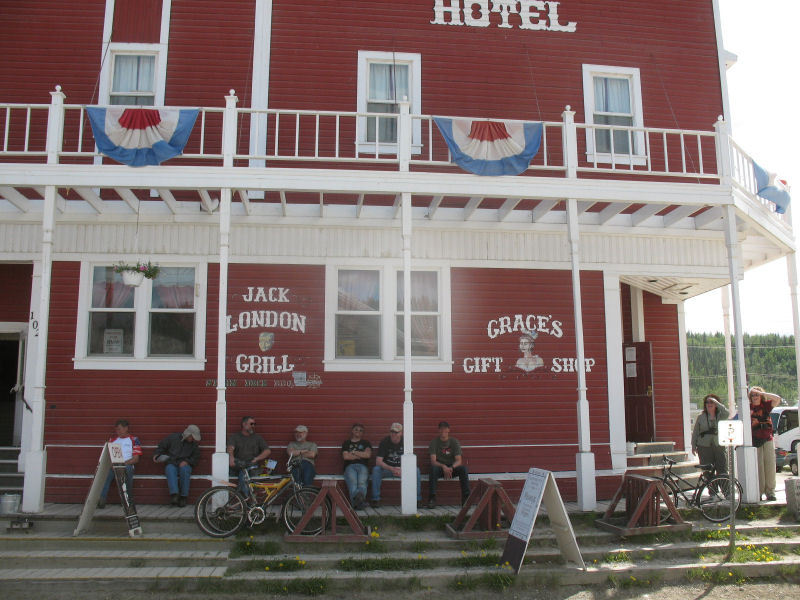 I bought a foam pad from a hardware store to put under my traitorous sleeping mat. Once back at the campground, I borrowed the laundry basin again and found the same spot as before was still leaking. I let the mat dry in the afternoon sun, then slathered more patch goop on the area.

I recognized a KLR pulling into the campground. Calvin and I had met in Colorado earlier this year at a bike-oriented coffee shop in Ft. Collins, Colorado. We chatted a bit. He has a nice ride report going on ADVrider.com, very similar to the trip that I am on--although he is well ahead of me. I'm still on the way up, he's on the way back down.

Calvin's ride report (he is LostAussie on ADVRider), with his great photos:
http://advrider.com/forums/showthread.php?t=346420

Andy, riding a Ural sidecar rig, wanted to go see the historic Dredge #4 site, and I went with him. The dredge is huge. I learned more about how the dredge barges scooped up and sifted the gravel, laying a corrugated berm of rocks and gravel behind. I used the opportunity to play a bit on the dirt roads and a hill, testing the tires. Never got fast enough to see about the tracking issued, but the tires were still not leaving me feeling great about their behavior off pavement. Maybe I'm just a weenie.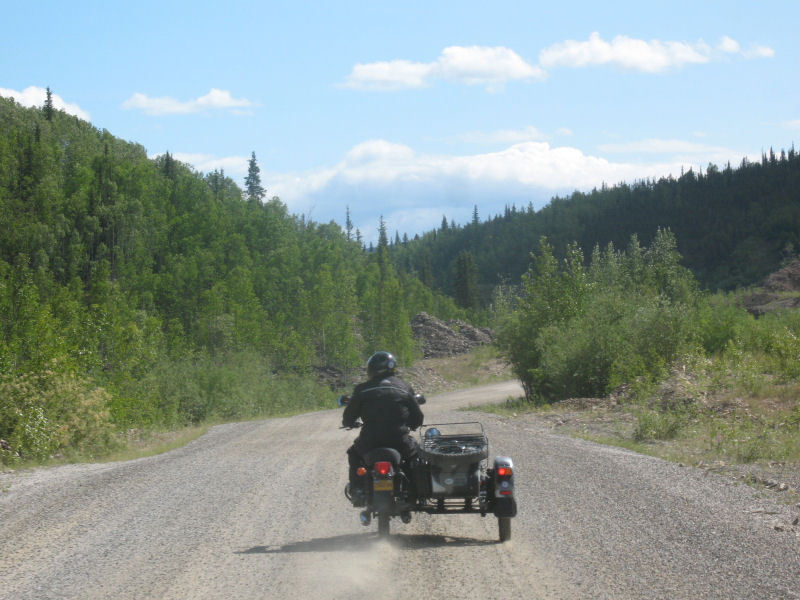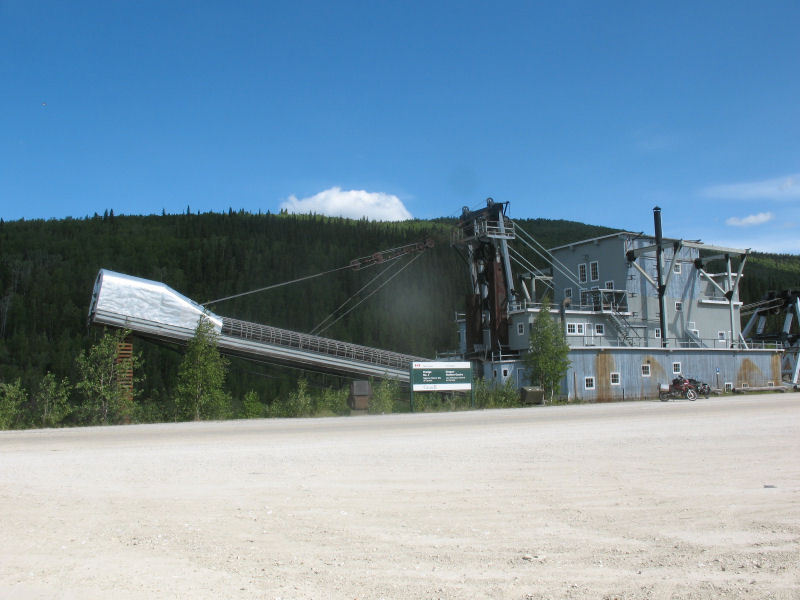 Beyond the dredge site, you can ride to where the first gold strike was made that sparked the Yukon gold rush. We didn't go that far.

We then rode up the Dome Mountain, a nice paved road. The view from over Dawson City was great. Couldn't see the whole town or the campground from up there, but the south end of town and the in-coming Yukon River were very pretty. Other riders were already enjoying the best view from the little bench at the very top of the Dome.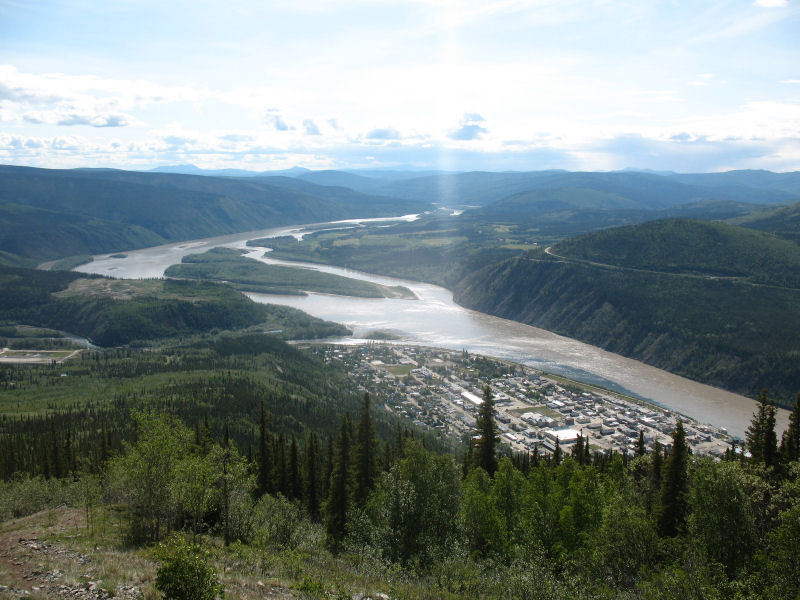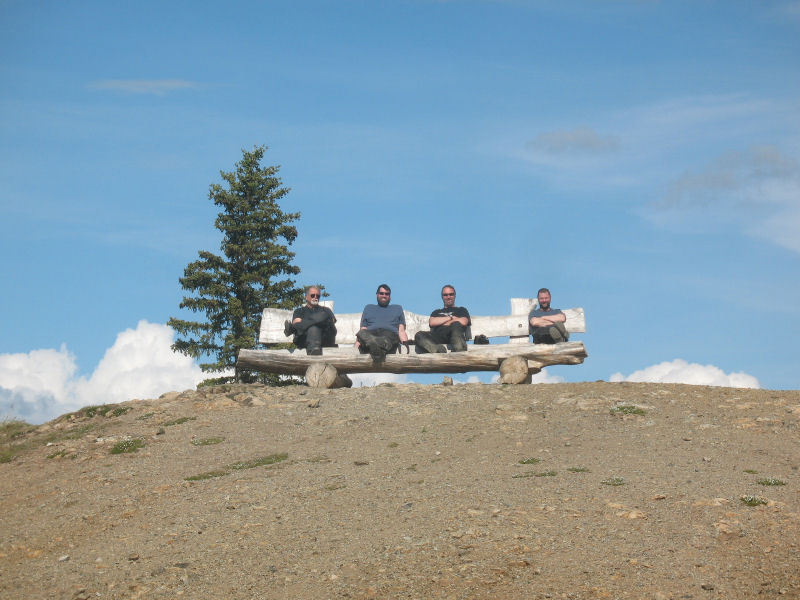 I took yet another look at my chain, and now it seemed too tight. I was not feeling good about my chain at all. There were no parts in Dawson City, and no bike shop. I loosened it just a tad, gave the alignment another tweak, and we headed back to town.

I saw that many bikes were being parked in front of the Downtown Hotel, where all the main activities for the D2D event would take place tomorrow. I decided to park my bike there now, to get a good spot. I'm not sure what made for a good spot, but I ended up right in front of the hotel, between a bunch of BMWs.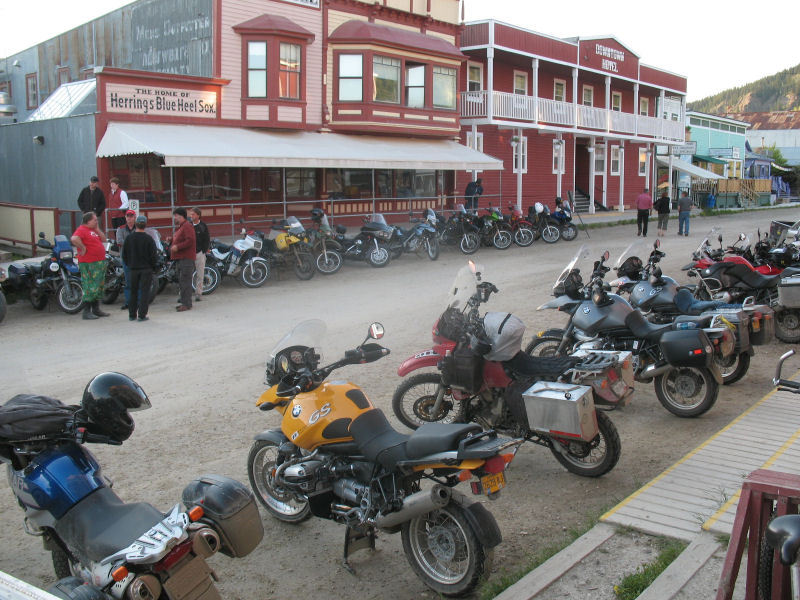 I went to Klondike Kate's restaurant for a lamb pot pie, iced tea, and a decadent ice cream/espresso dessert. I stuck a pin in the "Where are you from?" map, since there were none between Denver and Colorado Springs.

The day got very sunny and warm, even late. The clouds were mostly gone. The sun was going to just skirt the northern horizon, and it would be very light all night long. We were two days from the Summer solstice, and it never got dark anymore.

This poem by Robert Service was painted on one of the buildings in Dawson City. He was one of the most prolific and famous writers and chroniclers of the Yukon gold rush days. His cabin is here in Dawson City. I never did any of those touristy things.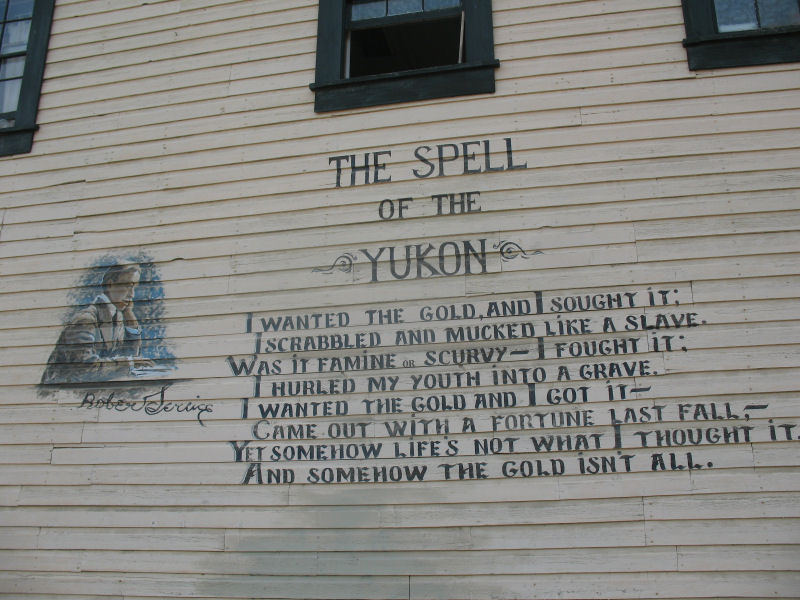 The forecast for the next few days called for sunny, dry, warm weather. It was already too warm for me, but relief from the drizzle would be nice. It was too warm to sit around the campground for long, so I went back to the casino and eventually gave them the money I had allowed myself to lose. Back to the hotel then, where several of us hung out for a while.

I talked with another retired police officer on a KLR. Chuck was from Illinois, and he had a Patagonia sticker on his bike. He also had a lot of military, Marines, Viet Nam, and American stickers. One saddlebag had a big SPAM logo painted on it. Don't know why, never thought to ask. We talked about his South America ride, and I picked his brains for info for a while. We talked about police work, too, but that got old quickly. He had been a shift commander from a much smaller police department than mine, and there were many contrasts to talk about. Mostly similarities, of course. We settled finally at the bar and were the only ones there at 01:00 when the bartender finished doing things to delay kicking us out. We said our good-nights and I took this photo on the way back to the campground. It's actually lighter than this photo makes it seem (due to the camera being blinded by the awesome Alaska light).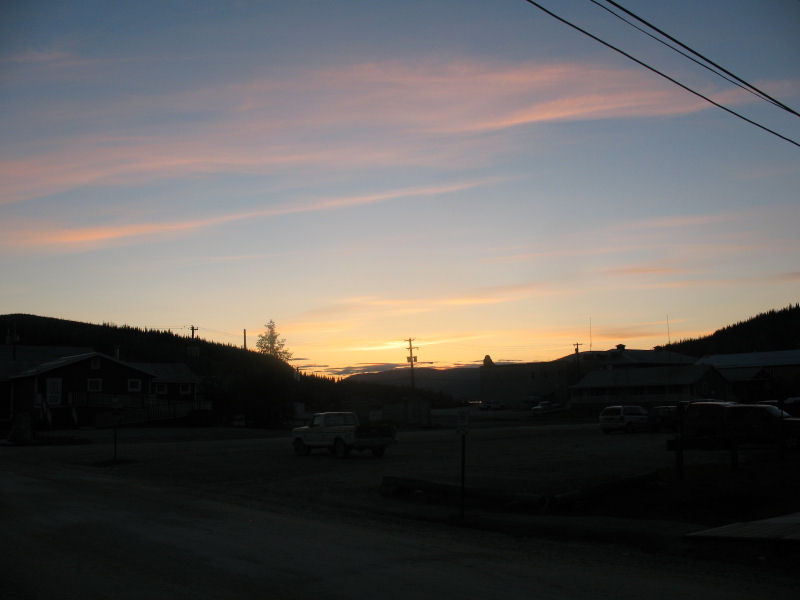 Friday, June 20, 2008
---------------------

I lazed around after waking at about 08:30 on the again-deflated sleeping mat, then showered and had breakfast in the Chinese restaurant at the Midnight Sun hotel. The waitress let me linger at my table, writing on the laptop until the lunch crowd started showing up for the Chinese buffet. I left her a big tip for being tolerant of my malingering and for telling me a few local tales.

A local old gal in an electric cart (towing a trailer) was a daily sight. She slowly made her way through town collecting cans, bottles, and other recyclables, sorting them out into her bins. We had a few *ahem* beer bottles around our hippie-like tent village, so one of the guys invited her to our grubby corner of the campground. She eventually showed up, tiny little dust cloud behind her oh-so-slow cart.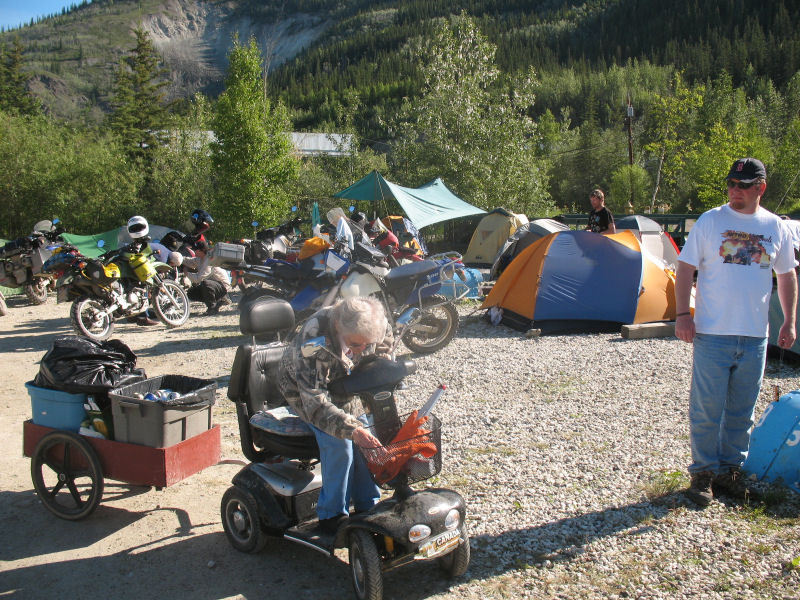 We tried to get her to pose with an obscene gesture ("the bird" is the ADVRider salute), but she just calmly said no, that was just nasty. We were all laughing (her, too) at the imagined image of her flipping us off. She was great.

After doing a few errands, I sat at the Downtown Hotel for a while watching new riders come into town. The street at the hotel was being taken over by bikes, and I was glad that I had gotten a good parking space earlier. When many riders left to do the Poker Run, the group that I had been hanging out with got all their bikes parked together on the other side of the street, so I moved my bike over next to theirs.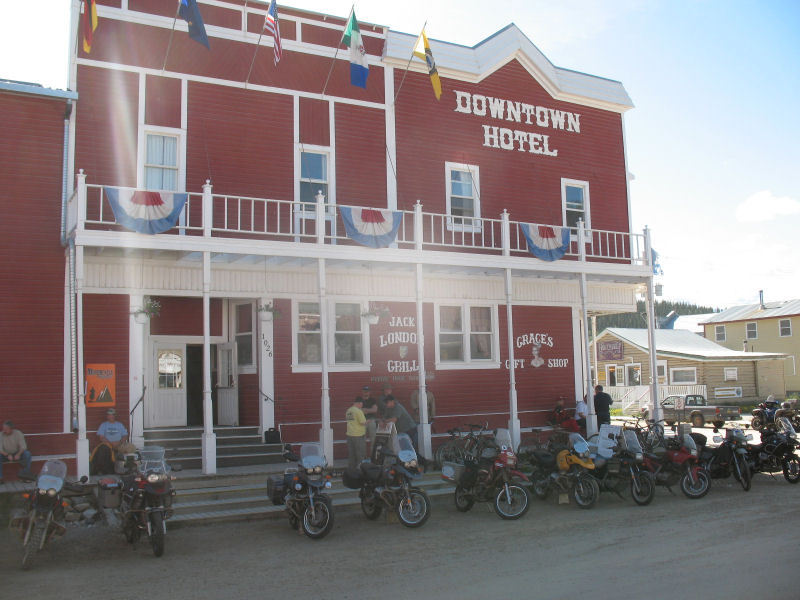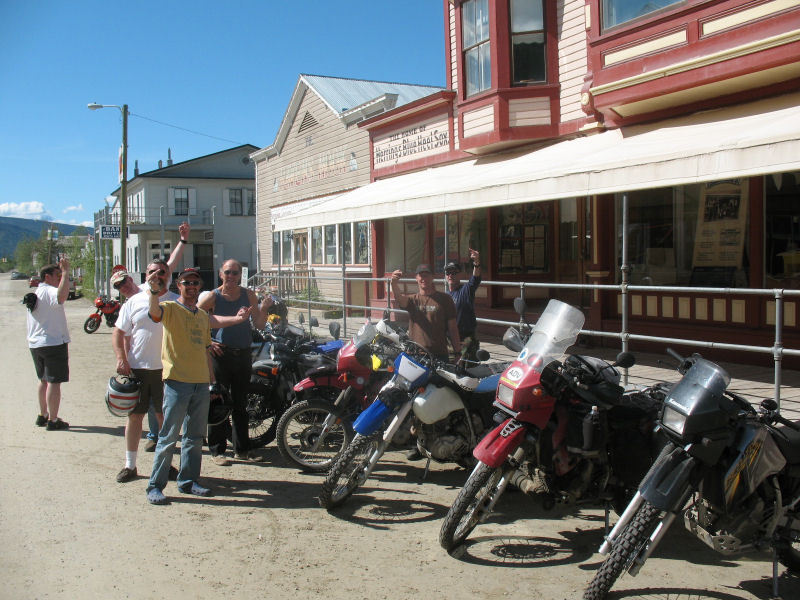 I chose not to participate in the Poker Run activity, so I hung out in the hotel bar, doing more writing and working on photos. I also called the bike shop in Fairbanks again and found that they had a chain for my bike. They would try to find a sprocket set for me too, and would have that waiting for me whenever I got there. I could pay for those parts when I picked them up.

By the way, condoms are free in both of the restrooms at the Downtown Hotel. Just so you know.




Calvin told me that he was finishing his ride, and was headed home to Colorado on pavement. We made a deal to swap tires, since he had a Mefo front tire and a TKC80 rear, and they were in pretty good shape. My Avons still looked new, so it worked out for us.

At 18:00, the D2D dinner started, and 135 riders gathered in the old Theatre. Nice building, the interior having been refurbished very nicely. There were some speeches and awards (for who came the farthest, who crashed along the way, etc.), and some door prizes. The dinner was nice, but the steak was a chore. The plastic knives were not really up to the task, and I saw some pocketknives being used instead.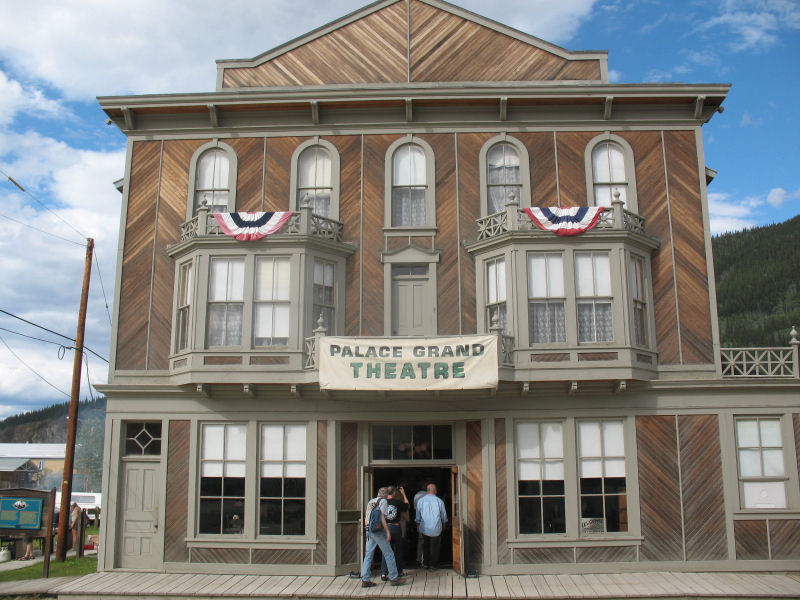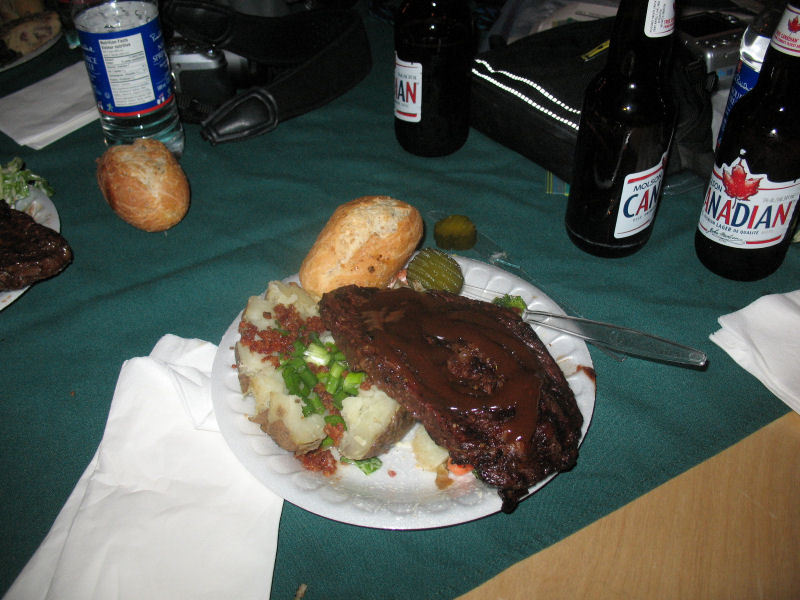 The Dust To Dawson event started sixteen years ago as a memorial ride for a rider who had died, and his ashes are under a tree somewhere nearby. The "dust to dust" sentiment became "Dust To Dawson," and there you go.

At 21:30, the biker games started on the closed-off street in front of the Downtown Hotel. They had set up a tall ladder at one end of the street, and several folks (including me) took advantage of it for photos. The local hotels and motels must have told their guests about the games, because the flocks of gawkers came out in crowds to see what was going on. One very round woman with an ice cream cone knocked over someone's '08 KLR, but seemed more distressed that she had dropped her ice cream. Didn't seem to be any damage to the bike after the owner came to pick it back up.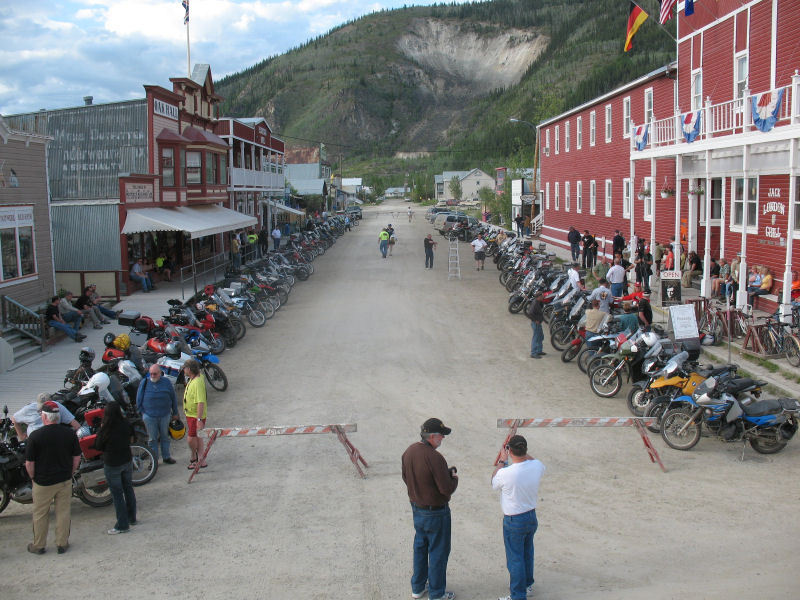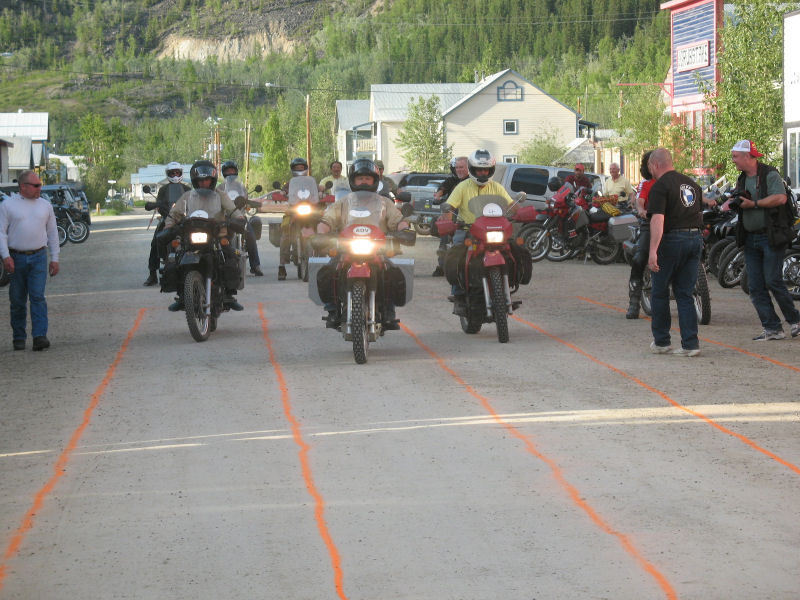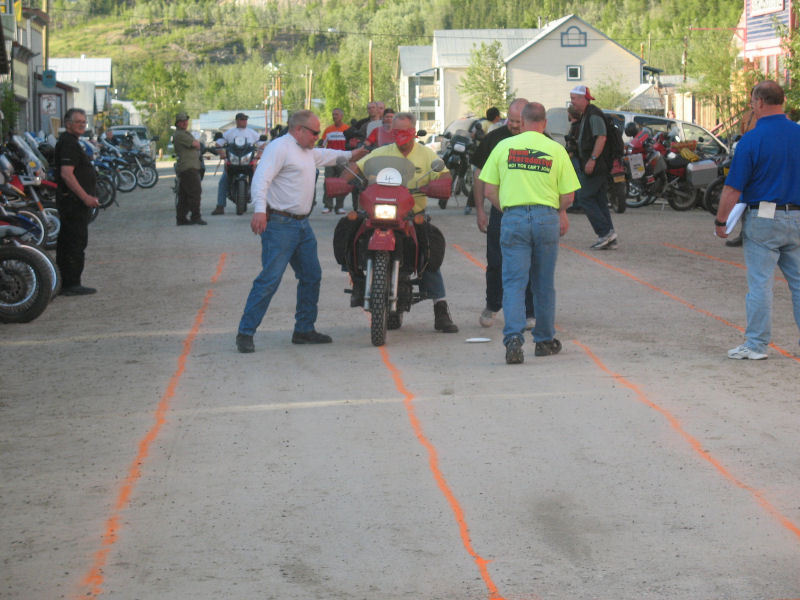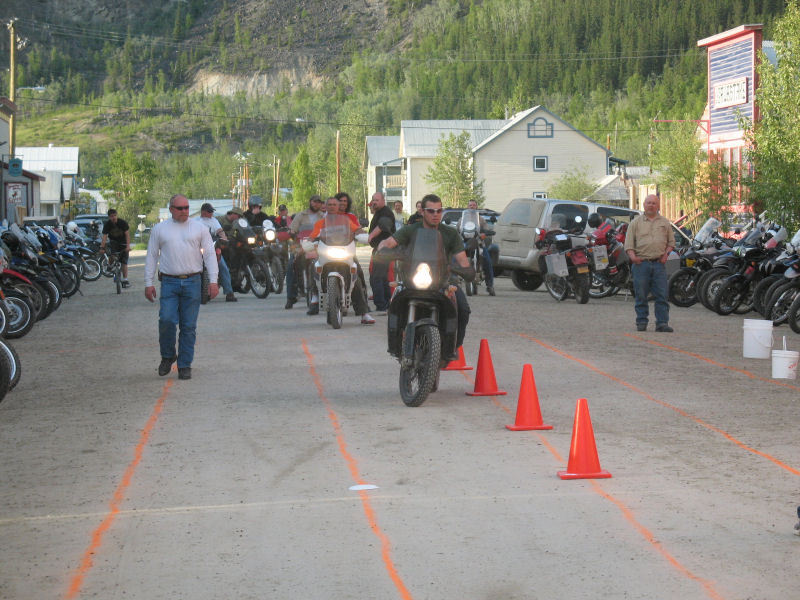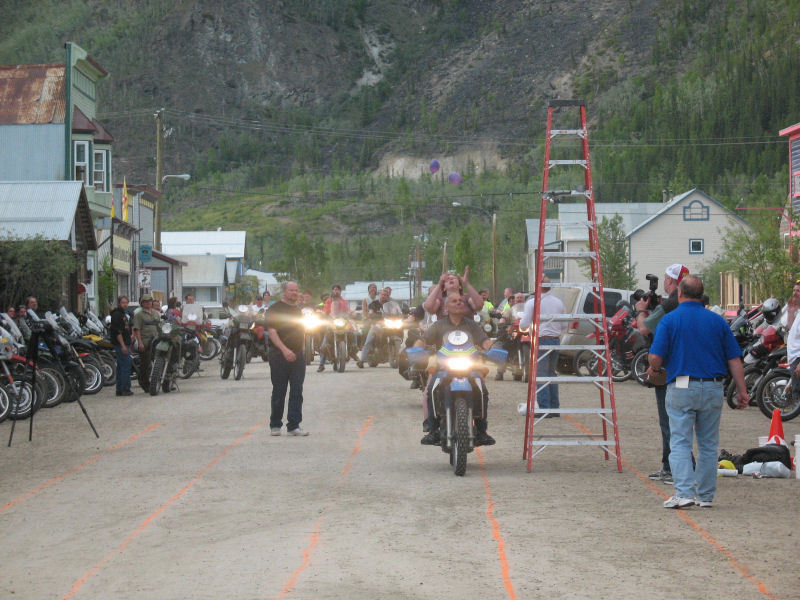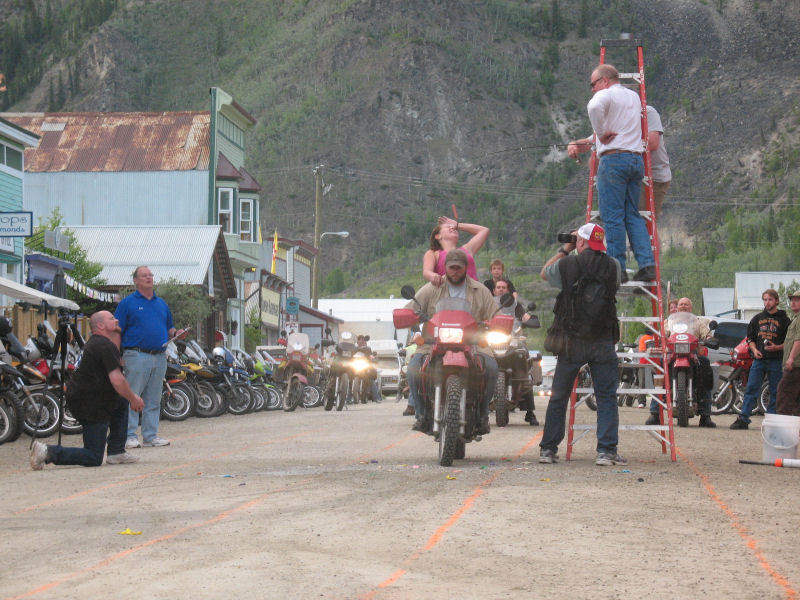 There are plenty of better photos of the biker games (and other things) posted online, so I will put some ADVRider links here and not bother with any more of the photos that I took. One of these links goes to where the bike game photos begin. The whole discussion thread is much longer (each link goes to a discussion thread that is multiple pages long--look for the page numbers at the bottom of each thread), and the whole thread won't be worth your time (for most of you).

I'm even in some of these photos!

http://advrider.com/forums/showthread.php?t=354663

http://advrider.com/forums/showthread.php?t=295576&page=67

http://www.advrider.com/forums/showthread.php?t=355117

When the tourists kept standing in front of the exit point for the riders, I finally couldn't stand it anymore and went over there to direct traffic (which is why all my "biker games" photos are shot from the same spot at the end of the street). I guess I haven't been retired long enough. I told several idiots that the big, loud thing coming straight toward them was a motorcycle, and that it was going to hit them. I told others that when they got killed by one of the riders, I was going to sell all their stuff on eBay. I stopped several cars as the riders zoomed out of the competition area and into the intersection. Work, work, work.

I think I put on some weight in Dawson City. Photo by Andy (Spicy McHaggis):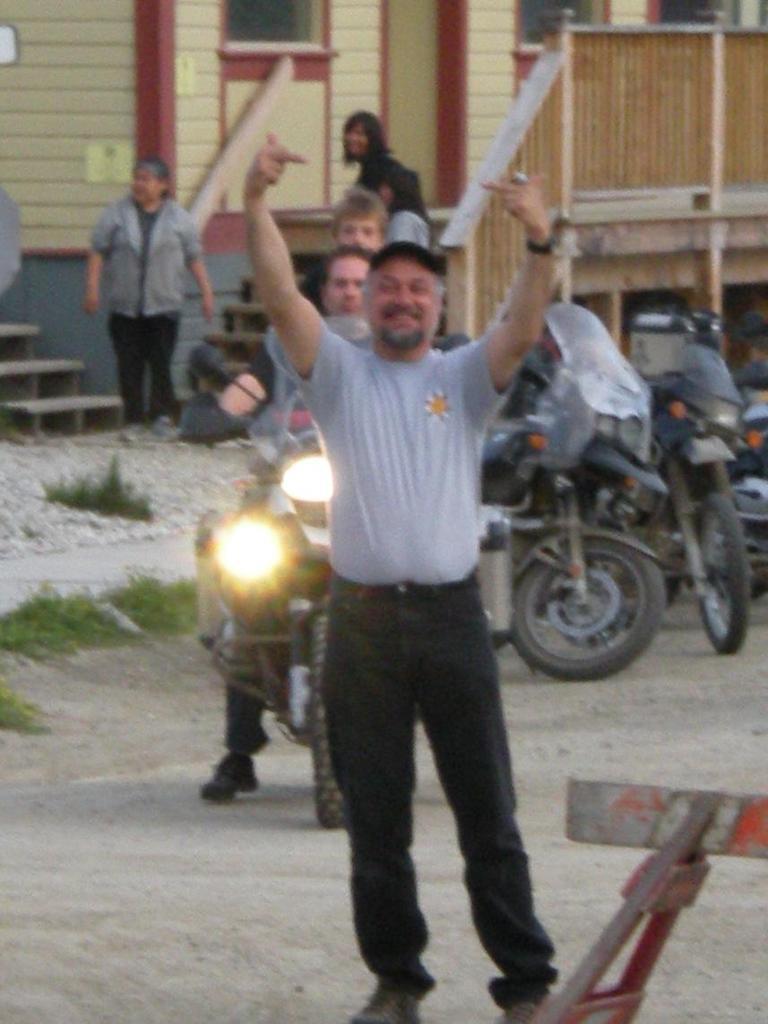 Someone please remind me who took this next photo: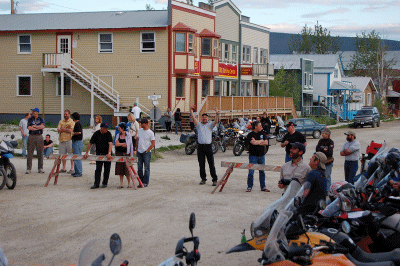 I saw that my new buddies were photographing me and enjoying my antics, so I clowned around a bit for them. When the herds of bus tourists thinned out, they rescued me back into retirement, and we went inside for beer. I decided to do the toe, since this was the last night in Dawson City.

Photos by Ben (Squonker):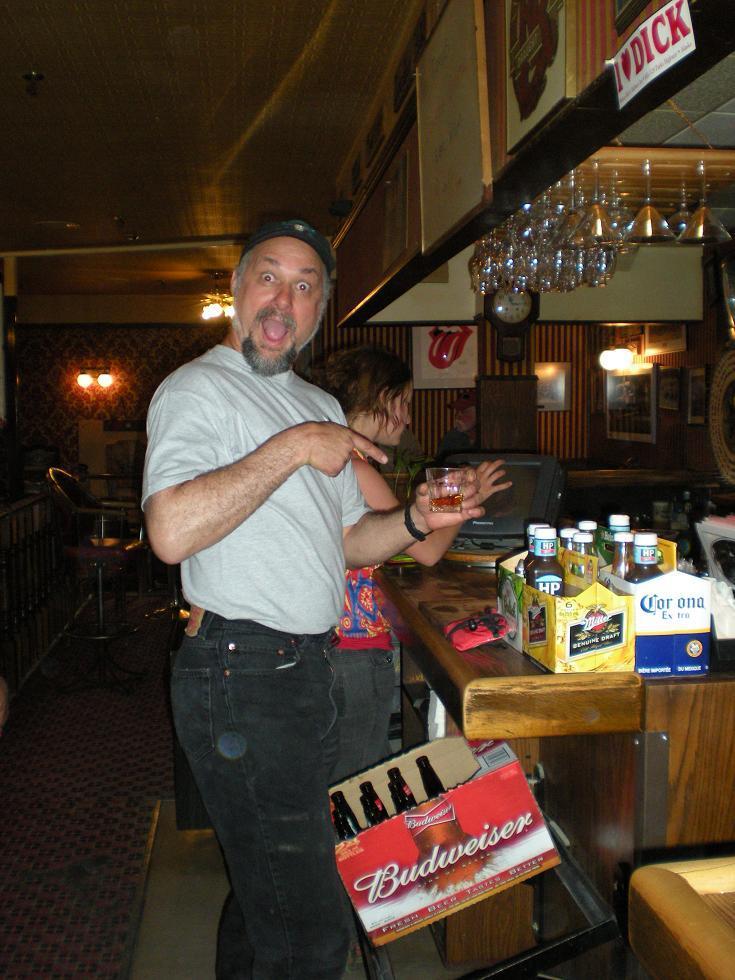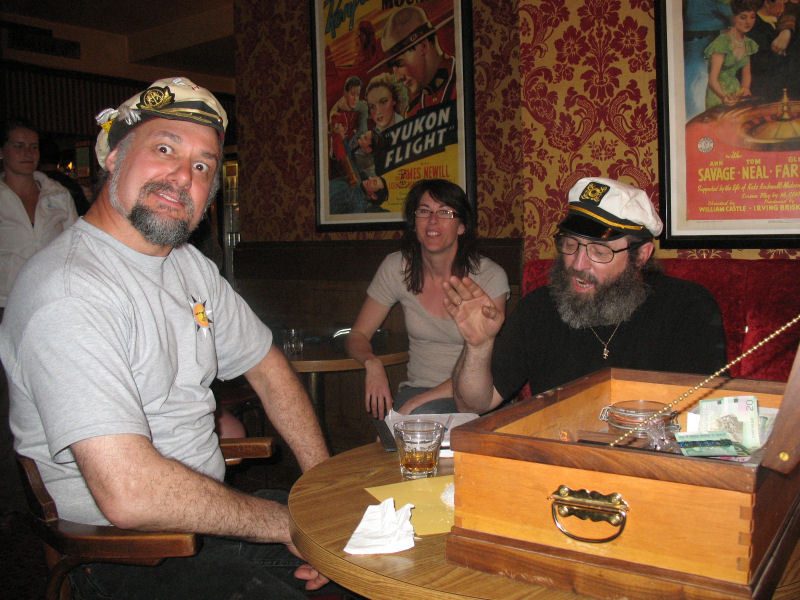 I was goofing around for the camera (Ben was sitting too close to ignore), and not really startled when I heard the grizzled story of how the current toe came to be acquired. If you want to hear the tale, you have to go there yourself.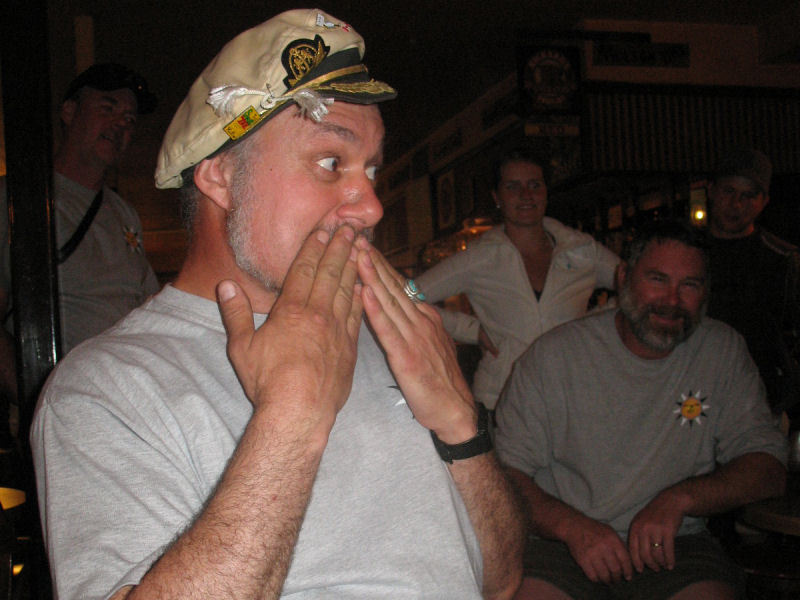 The Captain must have been afraid that I would goof around too much with the toe, because he kept cautioning me to "be nice, now." Maybe he thought I was going to eat it, or something.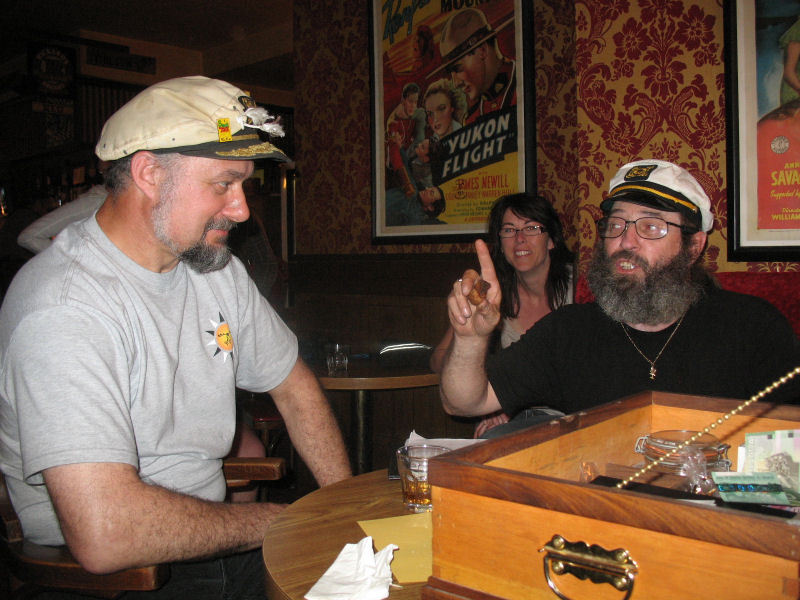 Down the hatch with the Yukon Jack (the liquor of choice)...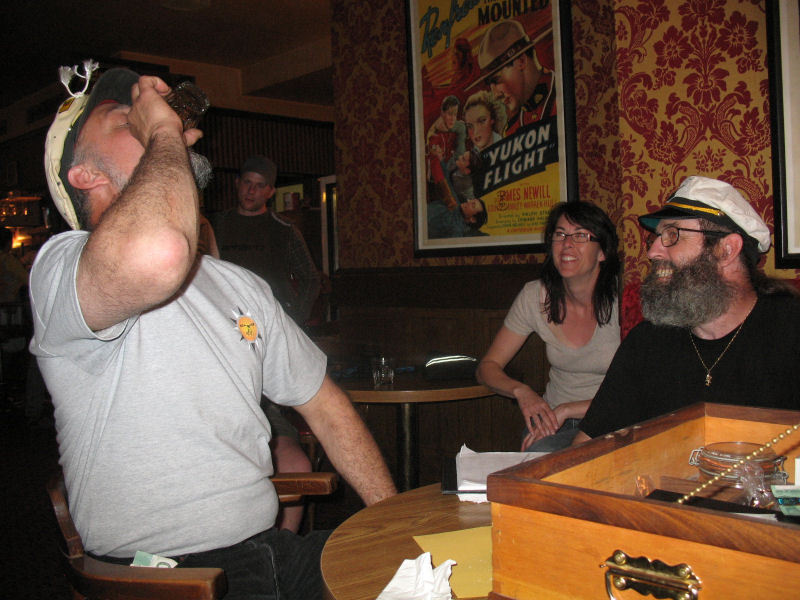 And there's the toe.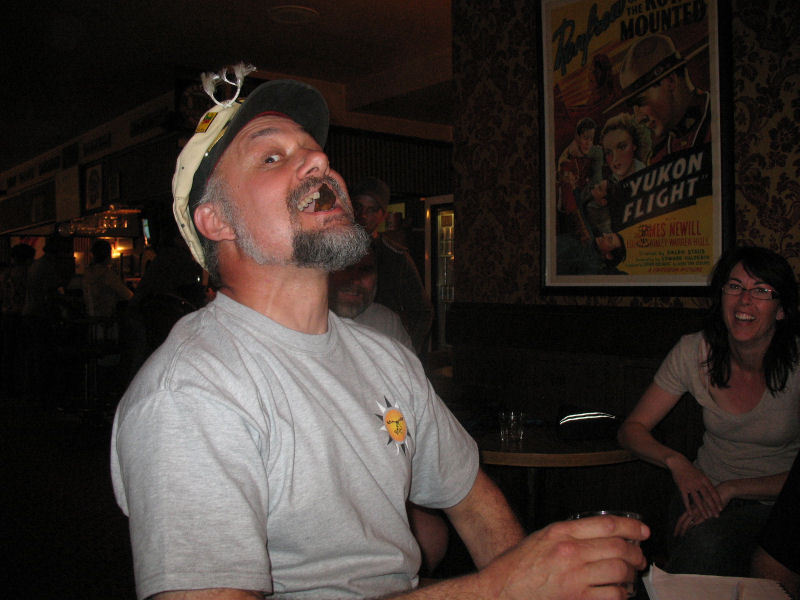 I got a certificate and everything. "Five dollars, please."

We went back outside to see Andy's Ural get inducted into the Fukengruven club--a secret society, apparently, with a special handshake and everything. Andy let women get their photos taken while sitting in the sidecar of the bike, and when I asked for "more nipple," it was ANDY who rubbed his chest for the desired effect. Somehow, they got that wrong. Bummer.
Not everyone was comfortable in the Ural sidecar.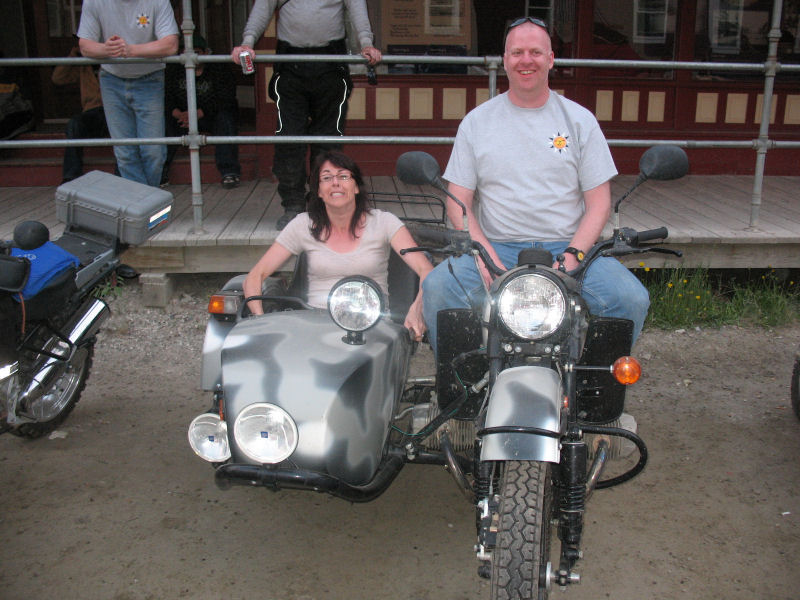 At midnight, they handed out the D2D stickers to bikes on the street and tried to take a group photo, but this was an independent crowd and some had no interest in hanging around for posing. I got the colorful sticker on the bike's faring, next to the ADV sticker.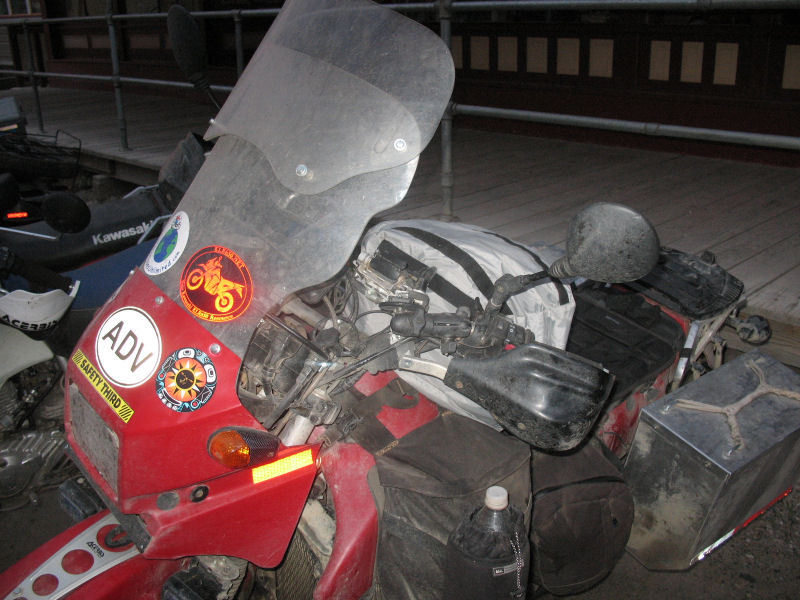 I took a photo of the interesting effect of the sunlight reflecting off the river and back up into the clouds. A bit of a rainbow there, as well. Again, it was lighter out than these photos look, the sun just barely below the horizon and not for long.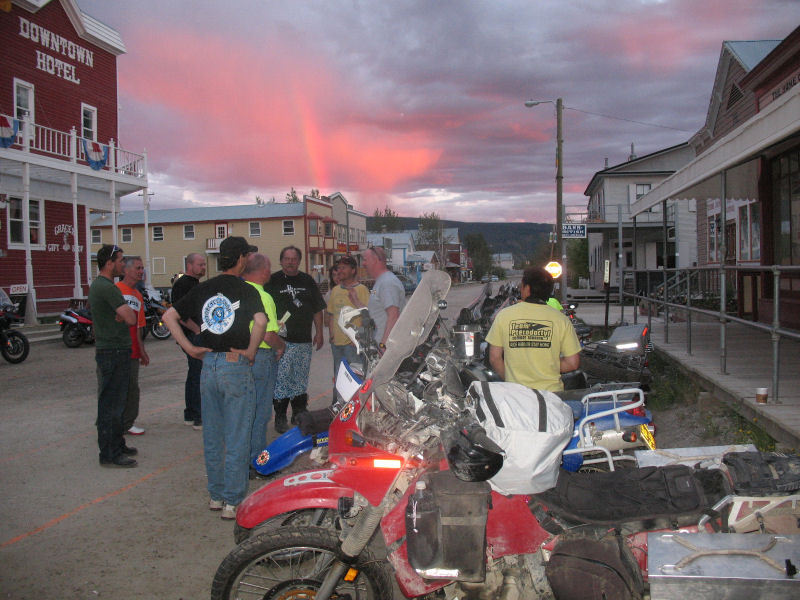 Back inside for more beer. The bars were open later than usual tonight, since tomorrow was the Summer Solstice. Back to drinking!

Andrea let out a very manly belch and we all thought that it had come from Ben, who thought that it had come from a platoon of drunken soldiers. Yes, there was alcohol involved.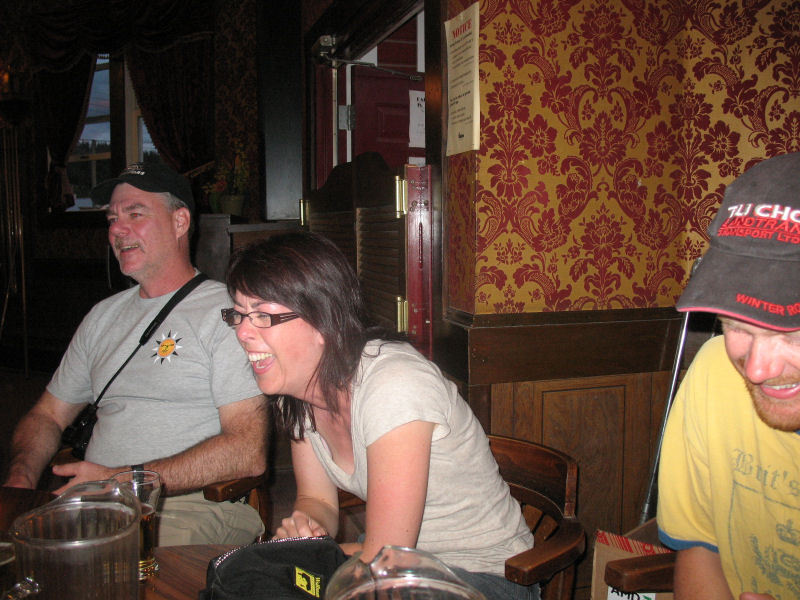 When the bar started closing, we agreed to meet for breakfast at 10:00 tomorrow at a bakery we had all come to know. We grouped for a photo in the street and after taking a typical shot, I decided we needed something more dramatic. I ran off and fetched the tall ladder from where it had been set aside, and set it up in the middle of the street. A passer-by was recruited to take the photo, and this is what we ended up with. That's me at the top, the ladder swiper.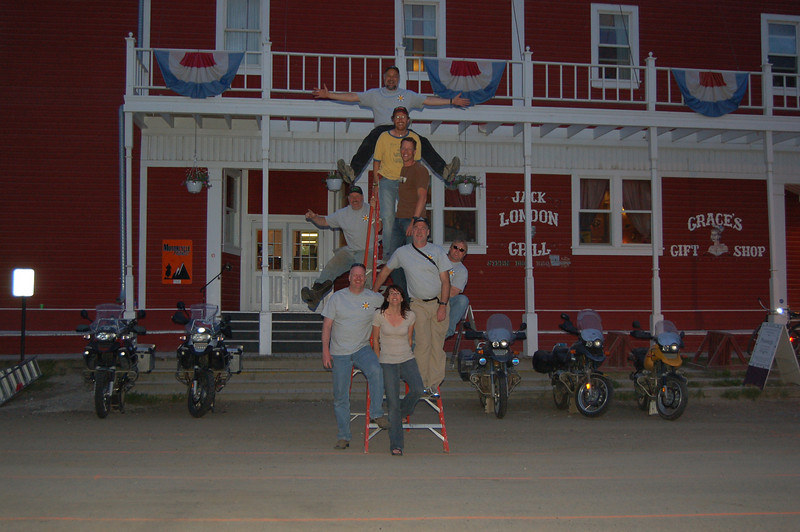 I had forgotten to patch my mat again, so the foam pad was nice under the deflated Thermarest.

The batteries I had bought at the service station at the start of the Dempster Highway were totally dead when I took them out of their package. They were inexpensive, but they turned out to be worthless.



Saturday, June 21, 2008
-----------------------

Lots of activity at 07:00. I was packed and ready to swap tires with Calvin by 08:00, so I chatted with other guys and gals as they loaded up and left.

There was a new tent next to mine last night when I got back to the campground, and the guy introduced himself to me as John and offered to pay me something for having shared my site. I assured him that he had been welcome to my little flat spot on the earth. He was riding an army-green KLR, Givi boxes attached as saddlebags. It turns out that he and I had exchanged some messages on the internet recently.

Calvin ride up and we got to work. Instead of swapping tires, we agreed to just swap the wheels. I had to switch out my big brake rotor, too, but that was easy. He also got the minor benefit of my double-sealed bearings. If we manage to swap the wheels back in Colorado later, fine. If not, fine. Life is easy.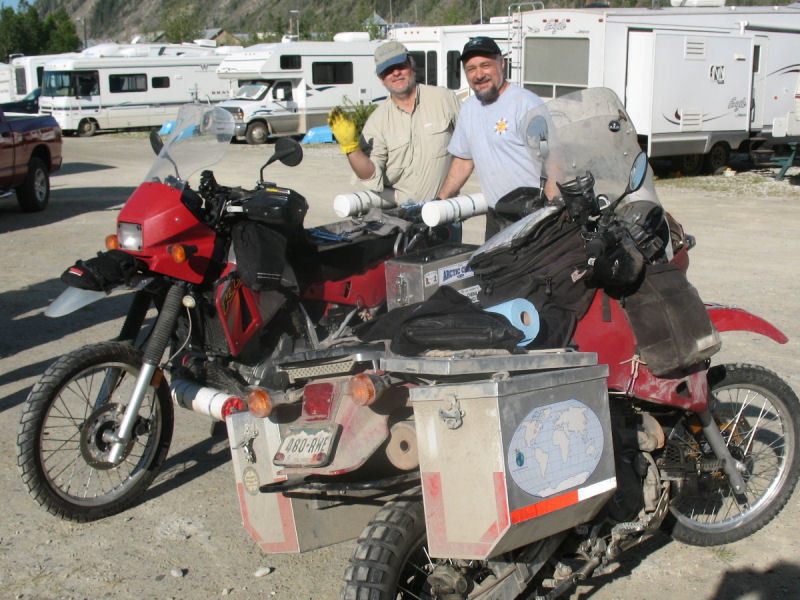 Andy was still giving the ladies a chance to sit in the exquisite agony of his Ural sidecar. This was Clair, the French gal who worked at the campground office.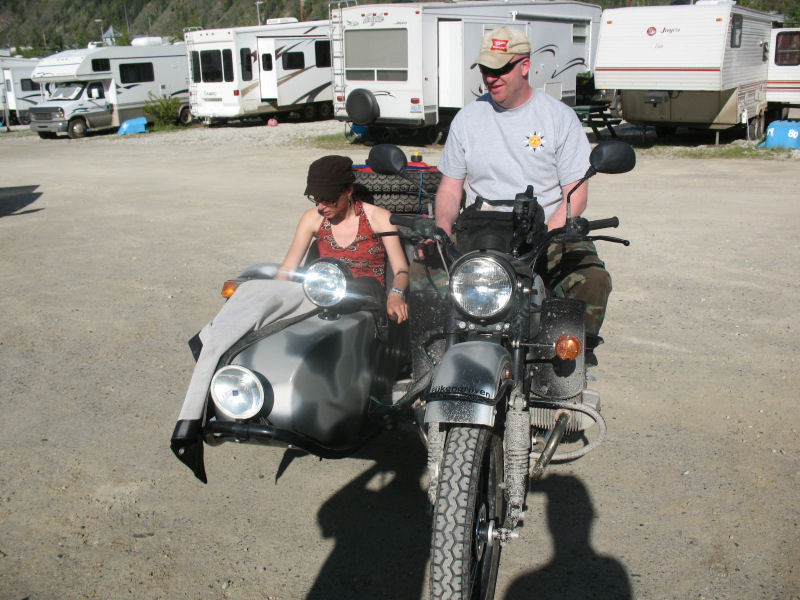 I got showered and finished packing just in time to join others at the bakery for breakfast and our good-byes.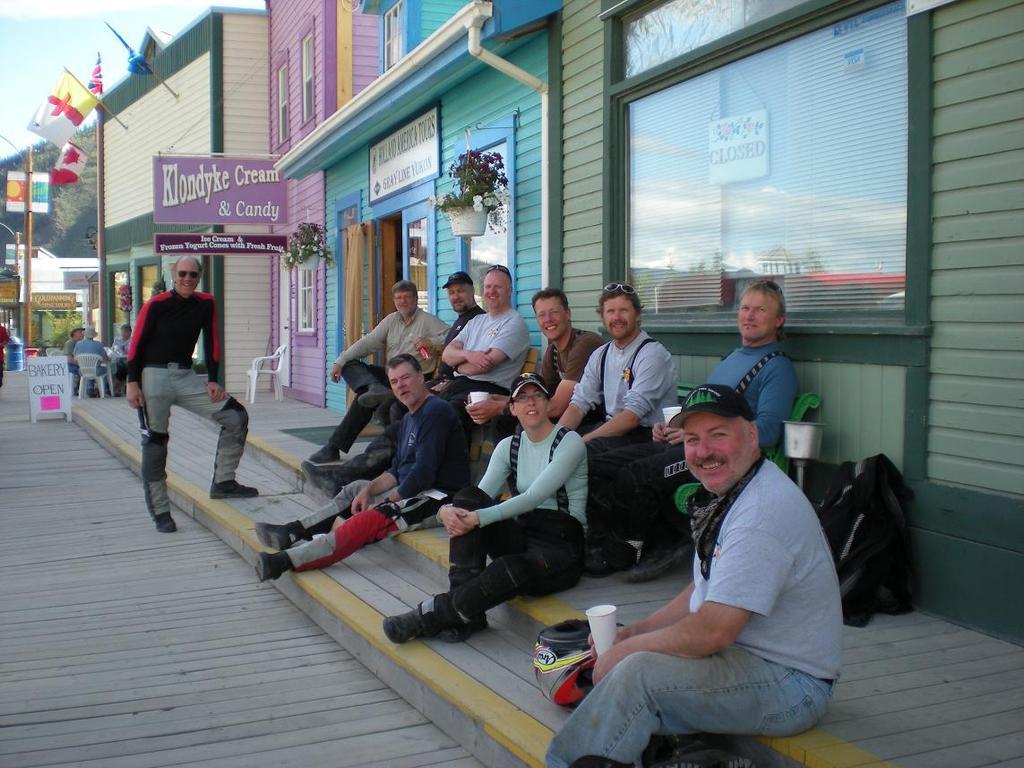 The coffee was good, but I spilled one cup inside the bakery, and the second cup outside on the boardwalk. The third try was better. We hung out until 11:00, then went our separate ways. Sander was also planning on the Dempster Highway, but seemed to want to ride it alone, so he took off.

I went to the Dempster Highway information center just to grab a map, but ended up being almost kidnapped by the gal who ran the center. She had me and other folks listen to her talk about highway, then had us watch a short video, then gave us maps and tips on the areas we would be going through. I had just stopped in for a map, but I was glad she was so persistent.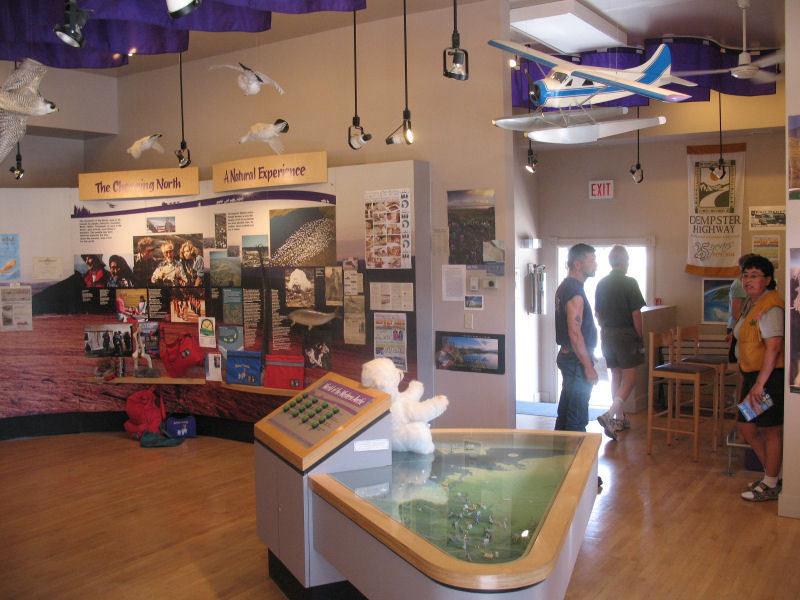 Today was the Summer Solstice, and was Canada's National Aboriginal Day. They were setting up for festivities that would start late in the day and go through the night.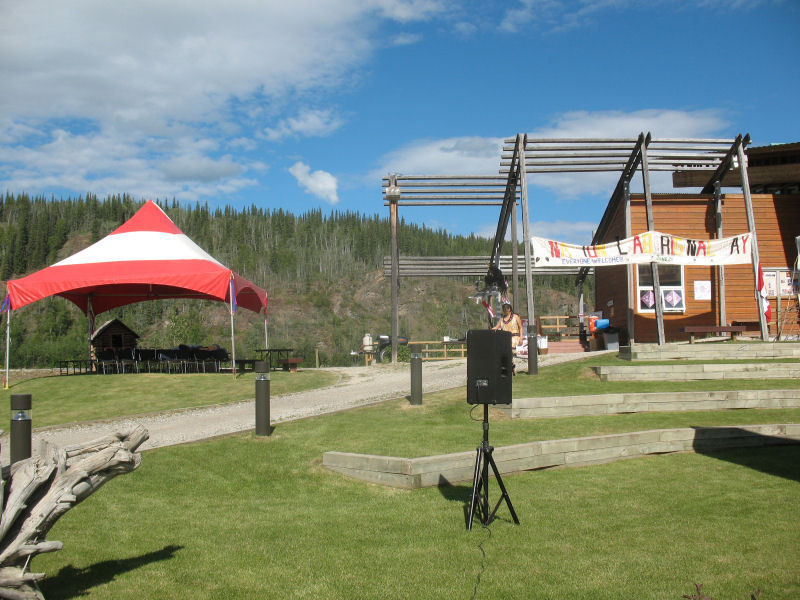 I gassed up at the start of the Dempster Highway, told the new cashier in the service station about the dead batteries I had bought there (she didn't care), took a photo at the Dempster Highway sign, and headed north right at noon.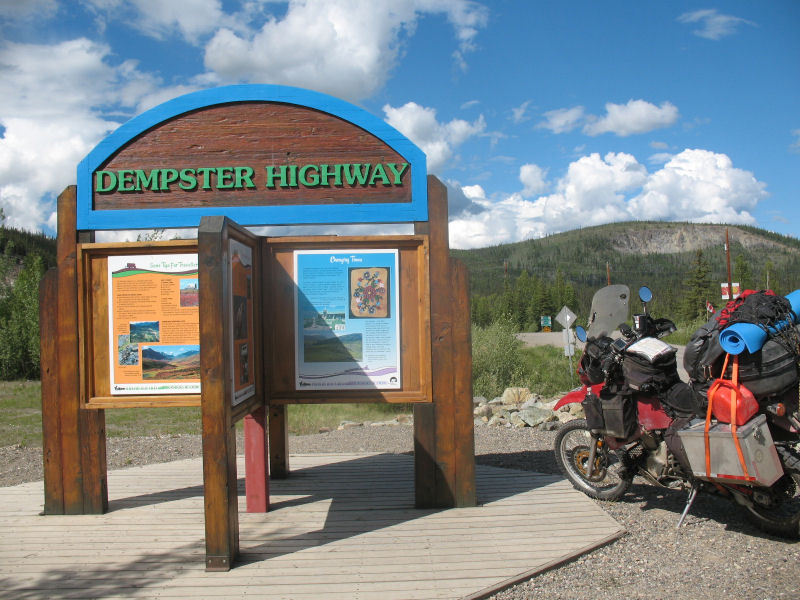 After five miles of pavement, the dirt and gravel started. Nice road, really. A hundred miles later, there were a couple sections of pavement, but they were brief. The highway was built in the late 1970's, crossing the Arctic Circle in 1977 (I hope I got the facts right). It's the only road in Canada that crosses the Circle, and one of very few in the world that does.

On the way to Inuvik, the Dempster Highway goes through various terrain. It starts along a nice river valley, rises up onto a plateau, crosses forests and grasslands, crosses large tundra areas, then more hills, two metal grate bridges (and other bridges), crosses the Arctic Circle, enters the Northwest Territories (and back one time zone), two ferry crossings, and after a few dusty hours on flat land, arrives at Inuvik.

Photo interlude: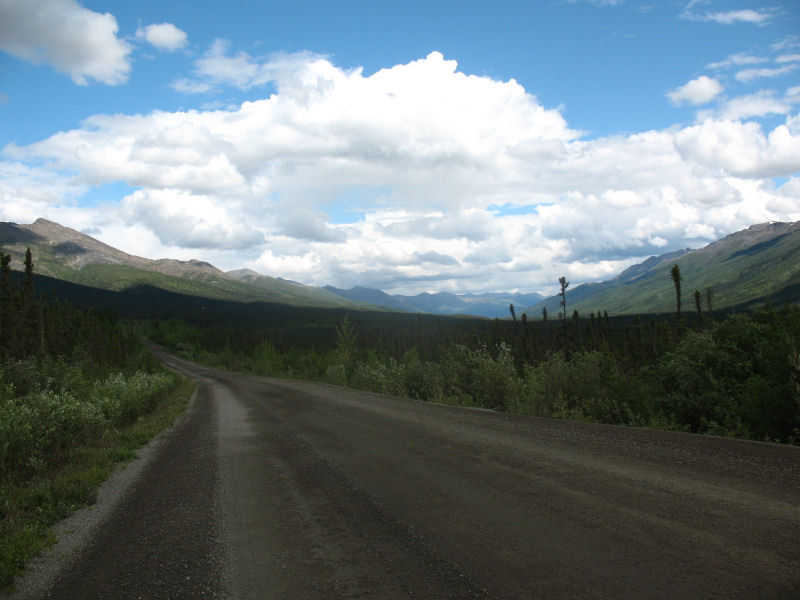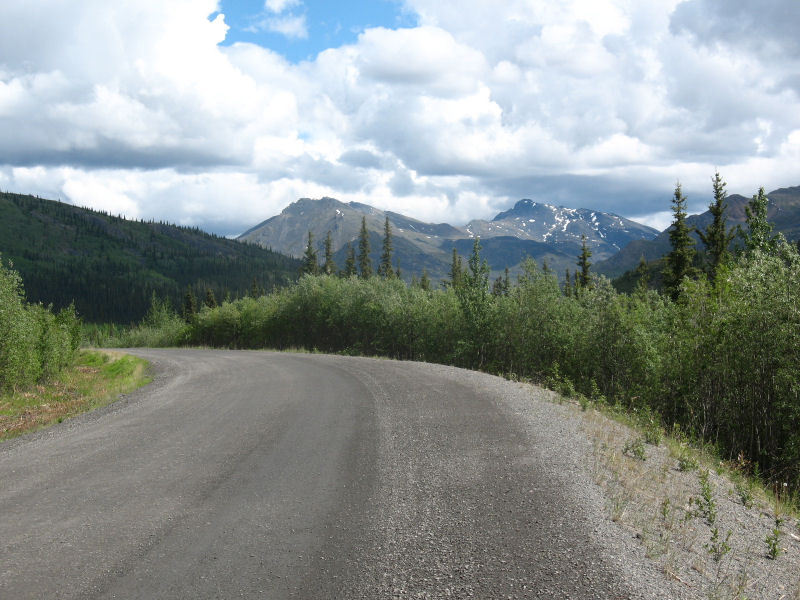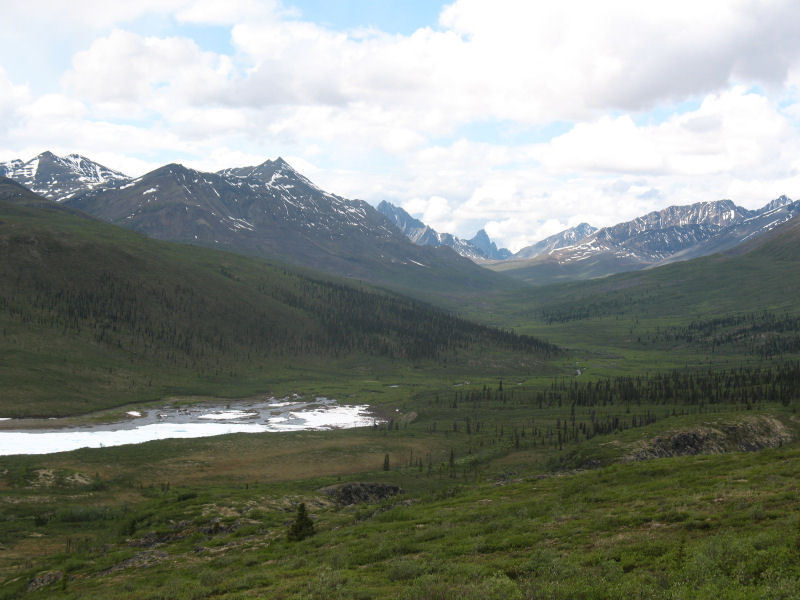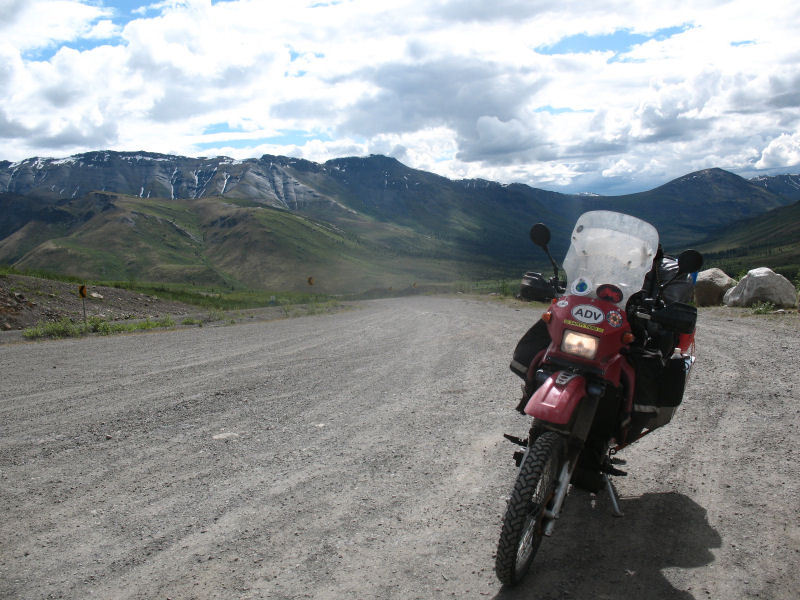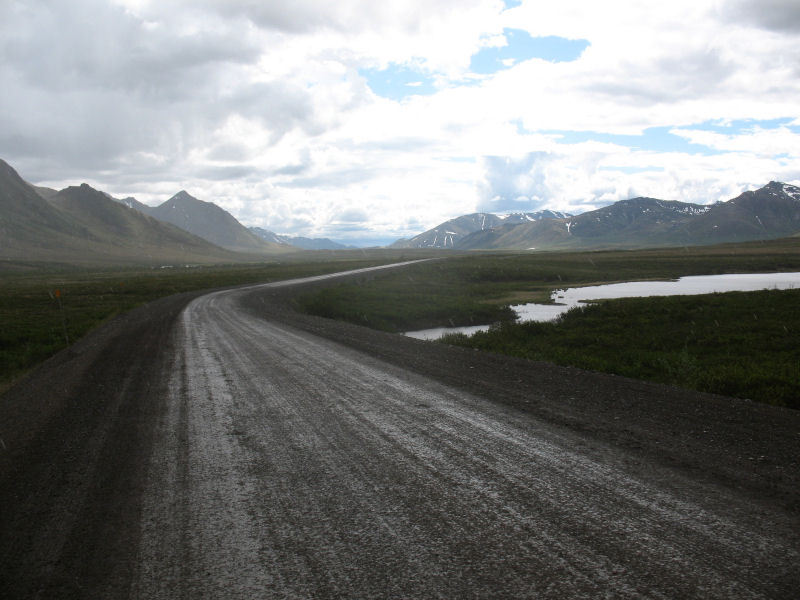 A couple hours into it, I found Sander taking photos. It had rained only briefly, not much to speak of. We rode together for a while, him setting a pace that was a bit too slow for me. I find that more momentum helps me in the deep gravel areas. The Mefo/TKC 80 tire combination was great, and I was again grateful for Calvin's offer to swap tires.




After we stopped again for photos, I gave Sander a wave, and I rode on ahead.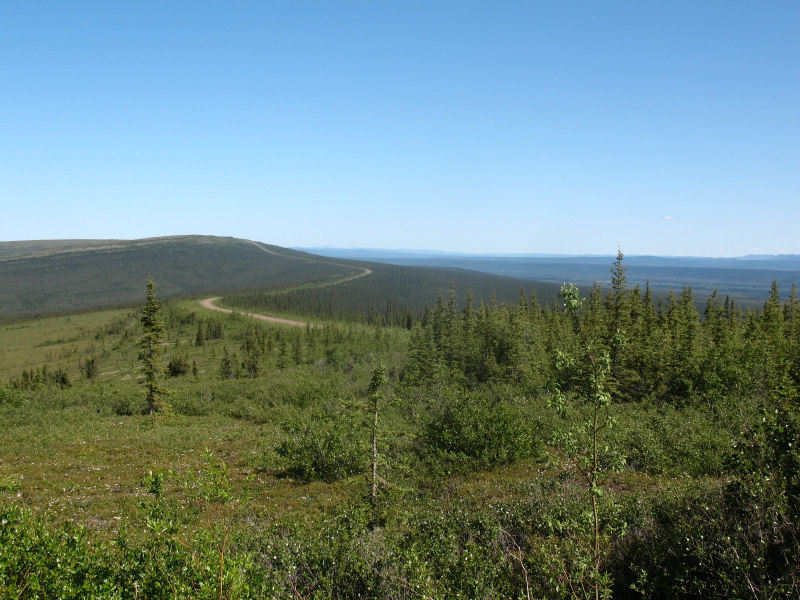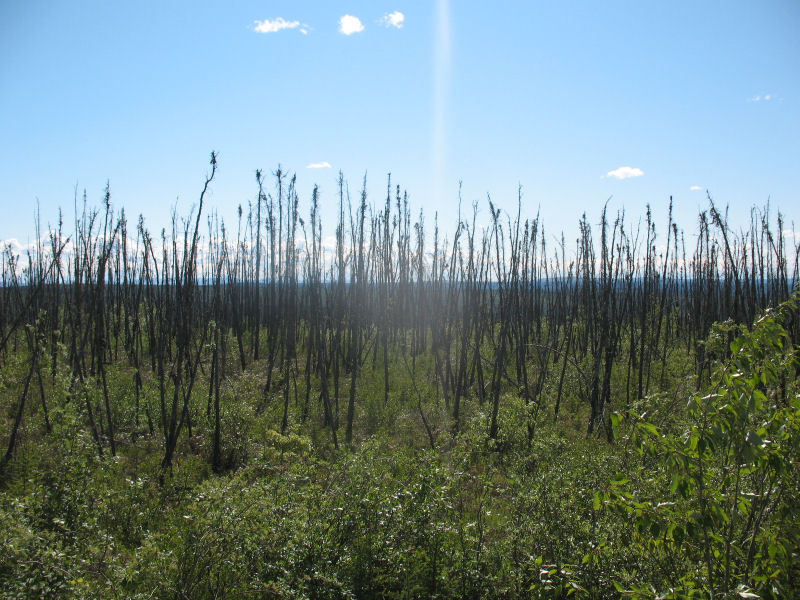 Tires with ice studs would be bad on these steel-grate bridges.




After about four hours, I arrived at Eagle Plains and I stopped for gas and food.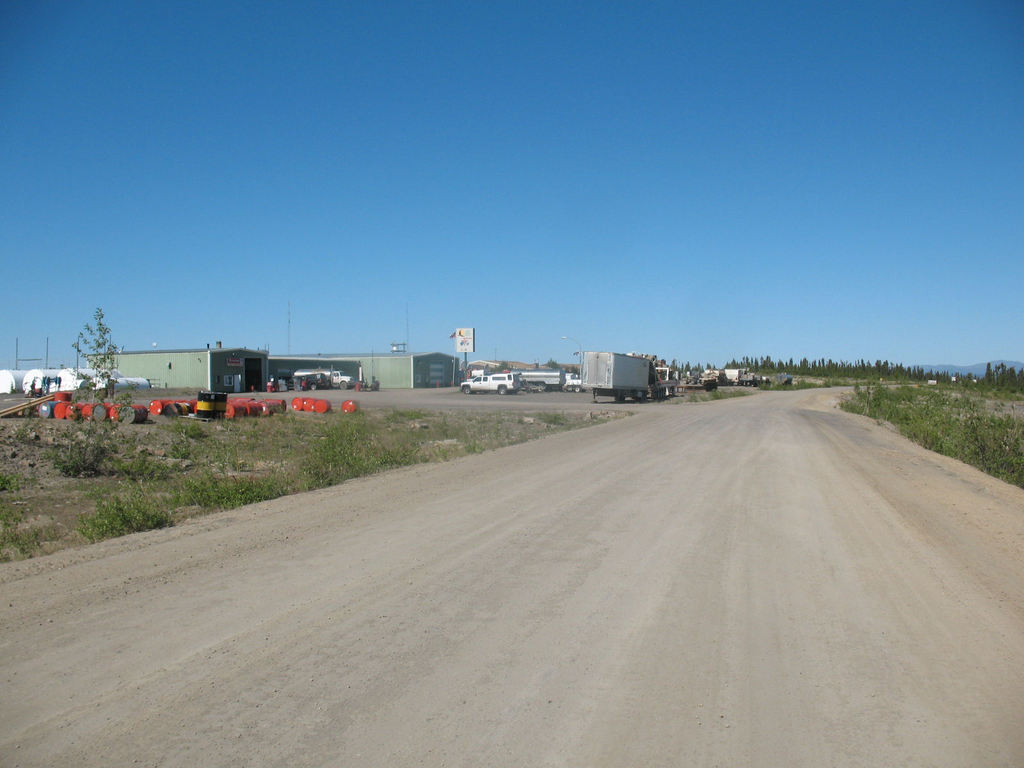 I had hit reserve at 226 miles, and I got into Eagle Plains with no problem. Besides, I was still carrying 2 1/2 gallons (10 liters) of gas with me. Another rider came in from the other direction and I asked him about the road ahead. Construction and new gravel lay in store for me. Oh, goodie. The other rider (a local who had just ridden up the Arctic Circle for a photo) sat with me and we talked for quite a while. Then two other locals came in and I ended up chatting with them about local mining issues. I got educated on placer mining, and heard all about the controversy over the use of water cannons. I told them that I thought the use of water cannons was prohibited in the USA, and they were astonished. "Just using water to move the dirt around," they argued. The incredible destruction of the local terrain and wildlife habitat was no concern to them, since they had terrain and wilderness to spare up here.

Before I left the restaurant, Sander arrived. We were on different schedules by then. I don't know if he intended to stay the night there at the motel or not, as I had initially intended, but I was ready to ride on. I had been told that the second half of the ride was harder and slower, but I was already well ahead of where I expected to be.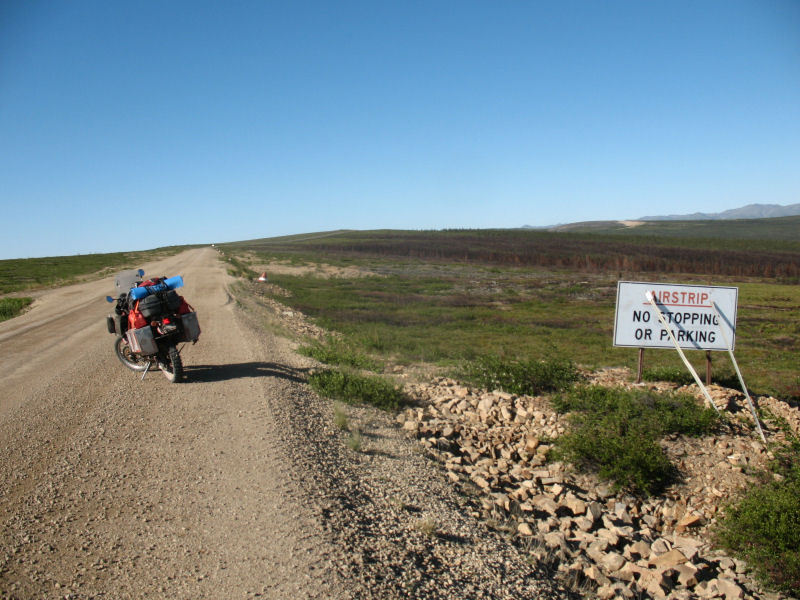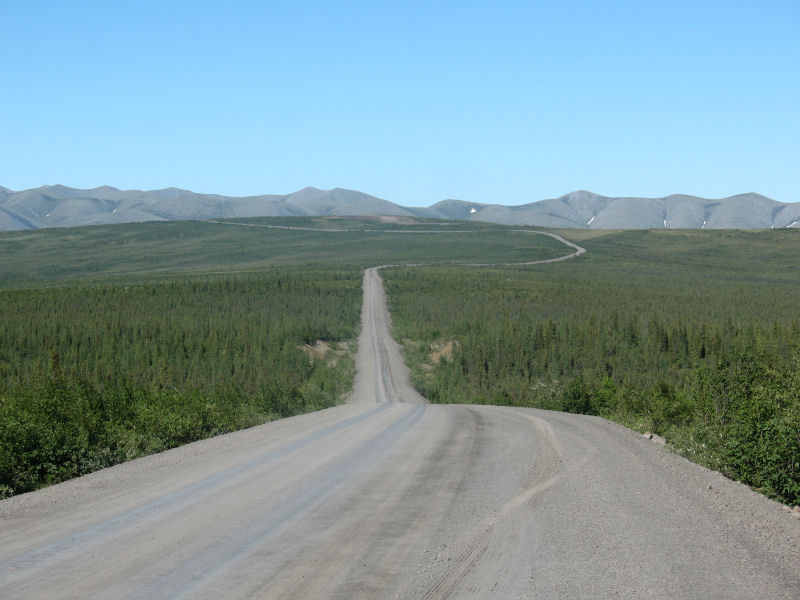 I rode to the Circle and did some tripod shots for posterity. I used a rock under the sidestand to keep the bike from sinking into the loose gravel.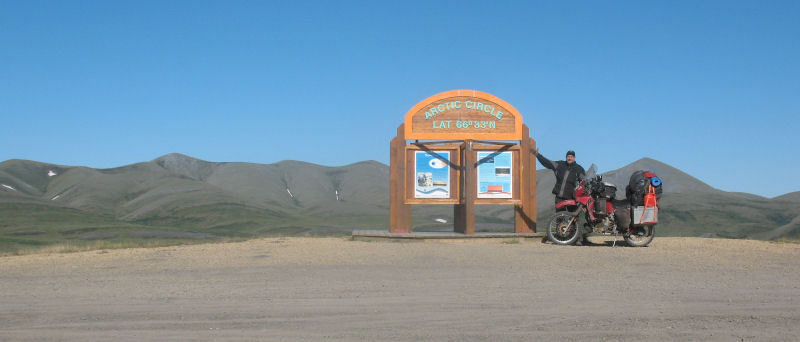 A couple drove up in a minivan and we talked. They had been here 39 years ago, and were surprised at how the road had been improved. Back then, there had been a big tractor tire hung from a rack to mark the circle (back in Eagle Plains, I had seen the photos of the tire). Another guy drove up, heading home from Inuvik. He told us that two days earlier, on his way north, he had taken photos of a grizzly bear chewing on the Arctic Circle sign that we were posing in front of. He showed us the spot, and sure enough they looked like big chew marks in the timber post.

When I got back on the bike, I decided to keep the rock that I had parked the sidestand on, and the lady from the minivan got it and handed it to me when she saw me trying to lean over to grab it. It went into one of my side bags.

I headed north, got about twenty miles when I came over a rise in the road. On the opposite side of the road, facing me, was a motorcycle parked along the shoulder. The rider was just standing next to the bike, and I saw some of his luggage on the ground. I crossed to his side of the road and stopped in front of him. I put my sidestand down and asked the guy if he was okay. He looked familiar. He shook his head.

As I got off my bike, my feet sank into the loose gravel on the shoulder of the road, and the sidestand went into the ground like there was nothing there. As the bike starting tipping over to me, my feet kept sliding, and over the bike came. The other rider rushed over while I was struggling to keep the bike from flopping completely off the road, and together we managed to stand it back up again. The aluminum box had helped the bike from going upside down--with me under it. We steadied the bike, and I told the other guy that I would move the bike to firmer ground, but he didn't look quite right. He looked dazed. Then I saw the blood on his hand and the scrapes on his riding jacket. I glanced over to his bike and saw the damage to it. Oh. Now I see. He had crashed.

I dug my Arctic Circle rock out from the side bag and stuck it under the sidestand. Even with that, the bike barely stayed up. The shoulder of the road looked stable, but since it never gets driven on, it never gets packed down. It was several feet thick, but not solid. You can see where my feet sank into the road next to my bike.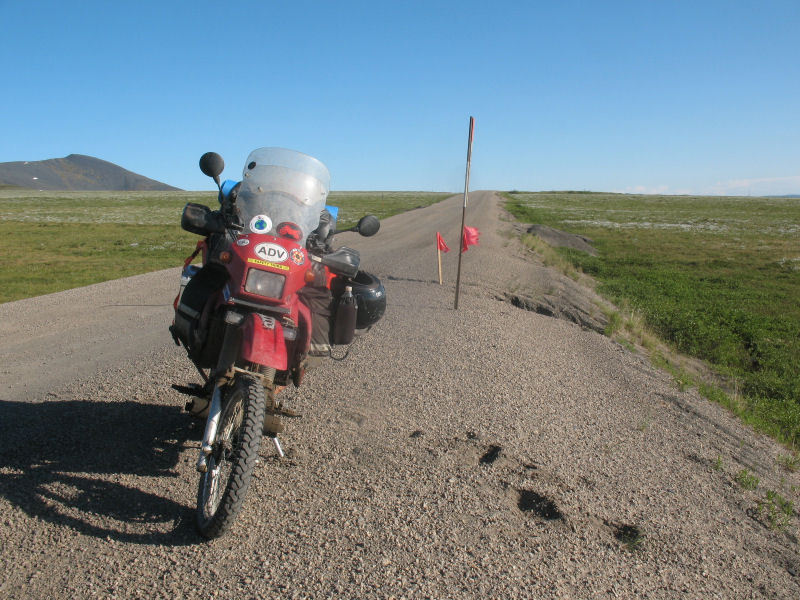 I just left my bike there, and walked back to the damaged bike. It was an army-green KLR, one Givi box still attached, one Givi box on the ground. Broken bits of plastic scattered around. It was John, the guy who had pitched his tent next to mine in the campground. It took him a few minutes to get his wits back. He had been rattled pretty good. He had apparently crashed just before I rode up on him, and had just managed to stand the bike up when I came into view.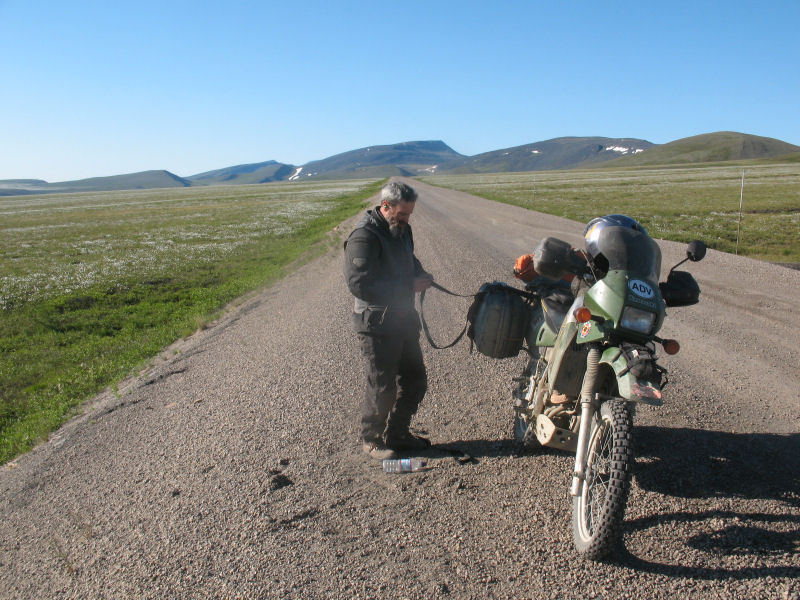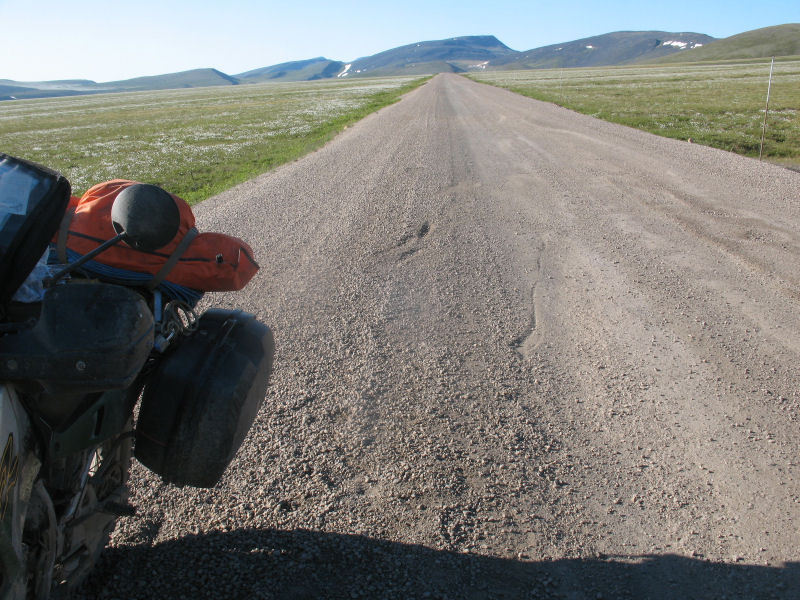 John told me that he had ridden up to the Northwest Territory sign for a photo, and was headed back south. He had been going pretty fast when he started to wobble on the soft shoulder of the road, and he made the mistake of letting off the throttle. The big scrapes and gouge marks in the road told the rest of the story. His helmet was badly scraped up, and I was concerned that he might have had a concussion, but after a short while he was feeling much better and was much more articulate and clear-minded. His body was still burning off the adrenalin rush, but he seemed okay otherwise.

John strapped on his saddlebag to secure it to the rack, and after we duct-taped his scarred visor back to the helmet, he said he was ready to ride. Only one other vehicle passed us while we got him fixed up. I suggested that he ride back to Eagle Plains and no further today. That was about 50 miles back, and the motel would be better than pushing his luck for four more hours.

I was confident that he was okay, but I still felt a bit bad that I didn't ride back with him. He didn't want me to bother, of course.

After I watched him ride on (and doing well), I had a hell of a time getting myself going again. The bike damned near fell over a couple times while I tried to get on it. The gravel was so deep and loose that I finally just power-walked the bike (walking along side, working the throttle and clutch levers) into the middle of the road where it was hard-packed. I went back and dug my pet rock out of the ground and continued riding north. I had spent almost an hour with John on the side of the road.

I went through some road construction areas that were both bad and good. Sometimes a grader will scrape the road surface clean and neat, and sometimes it will gouge and dislodge the surface. Depends on the road. Some big rollers were puttering along, too, compressing the new surface. Still, the views were awesome as I worked my way up to the Northwest Territories.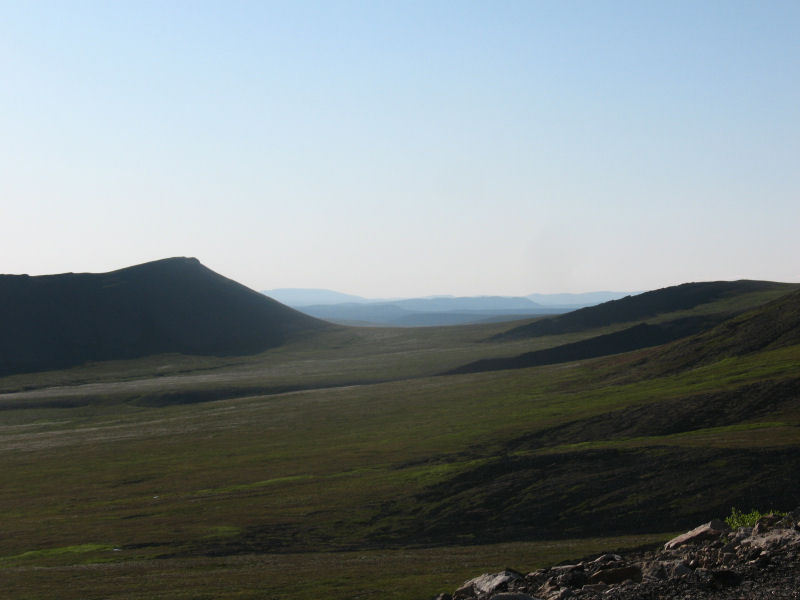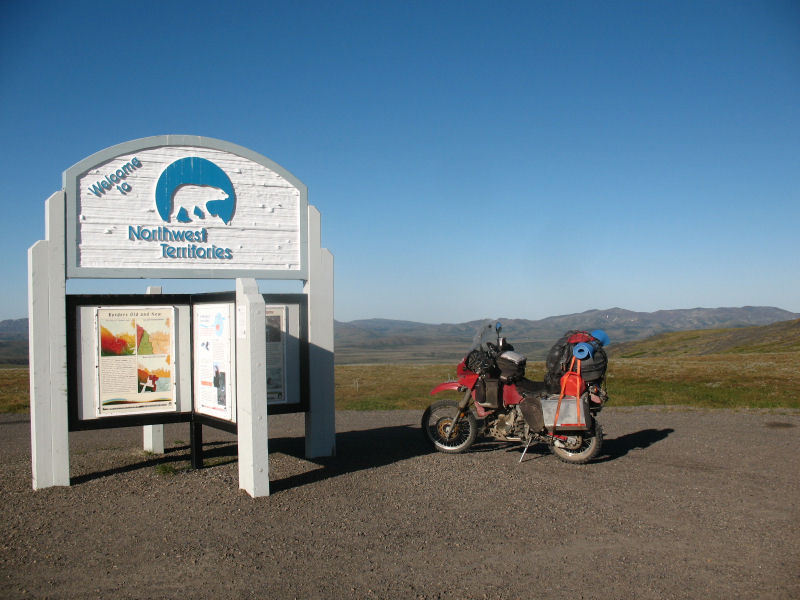 More roads that just keep on going.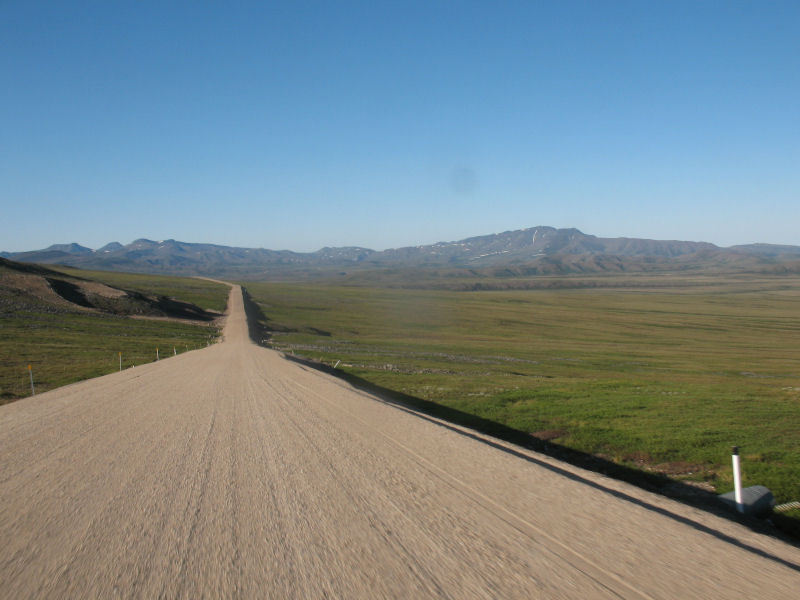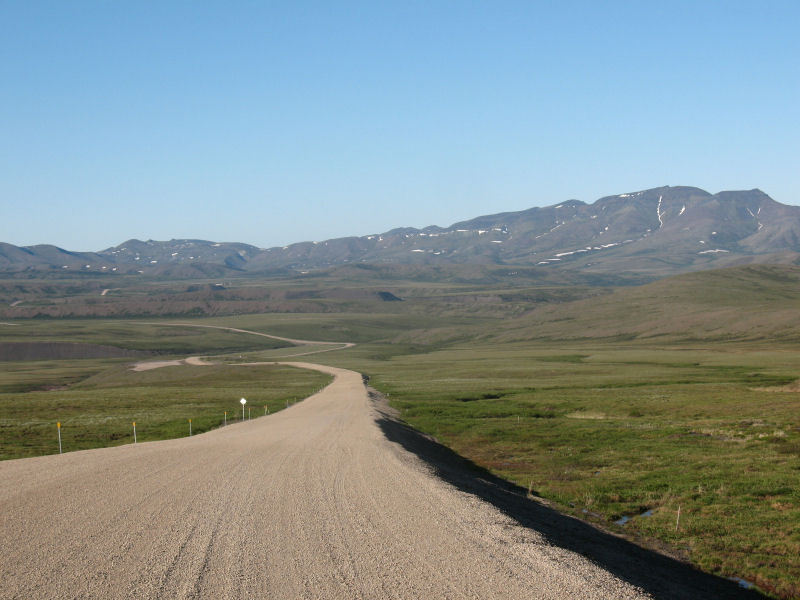 At the first river crossing, at the Peel River, I was the only person there. The ferry was at the other side, but as soon as I rode up, it started across to get me. The ferry came across guided by a steel cable that spanned the river. The pilot kept the motors revved while it pressed against the bank. The riverbank where the ferry dropped its ramp was just loose dirt and rocks, and it was obvious that it was constantly being re-built and manicured because of the erosion. I suppose that they rebuild that bank every day with new rock and dirt.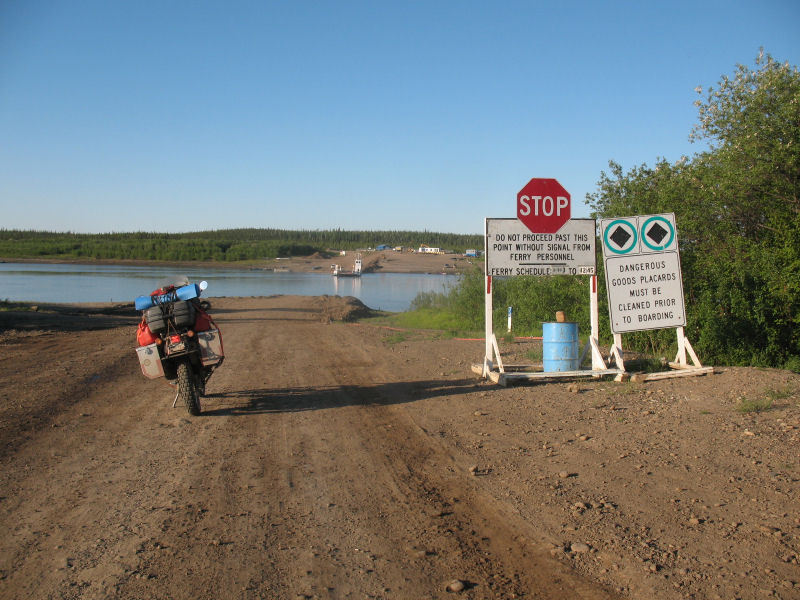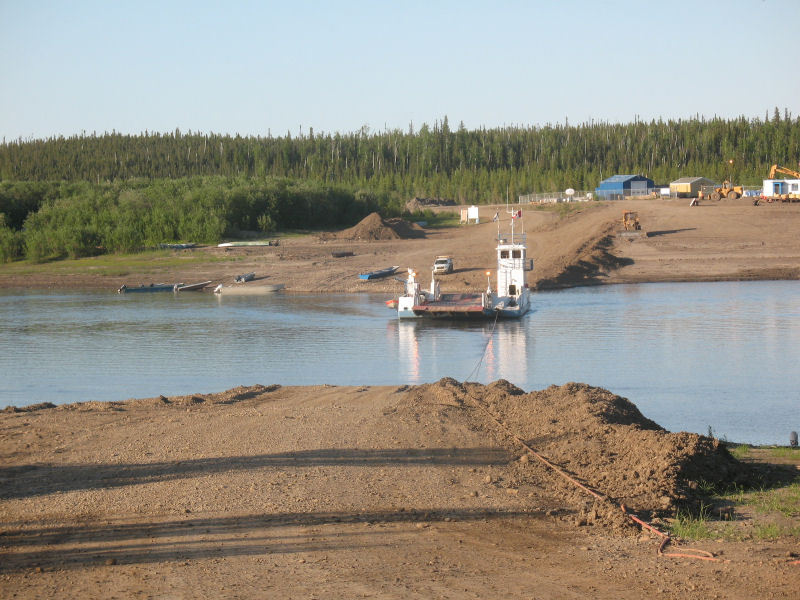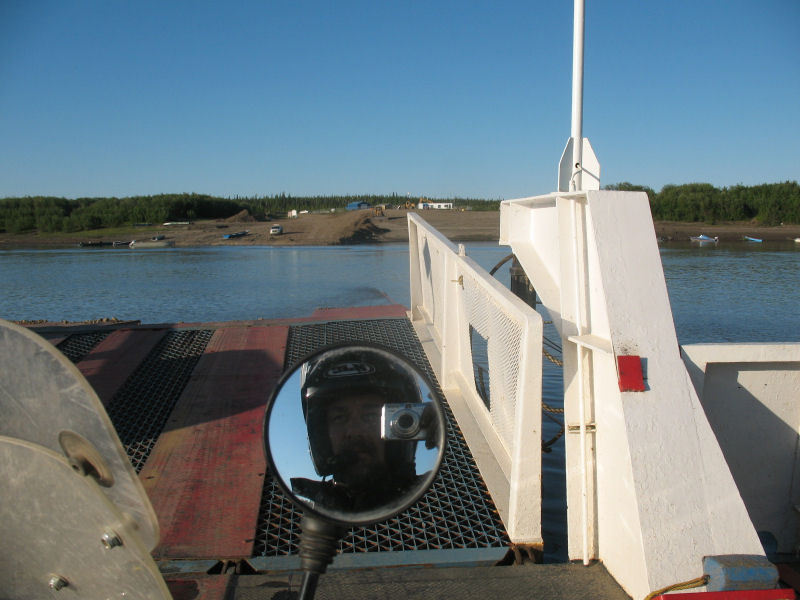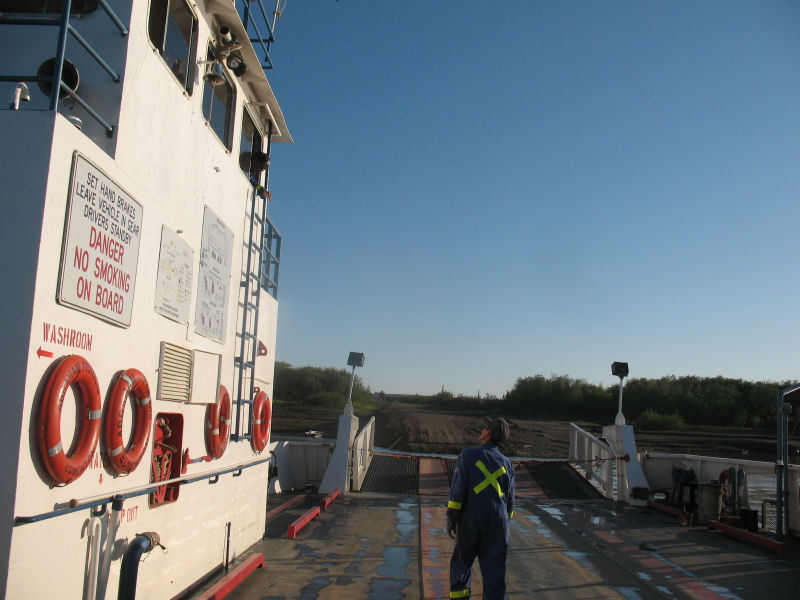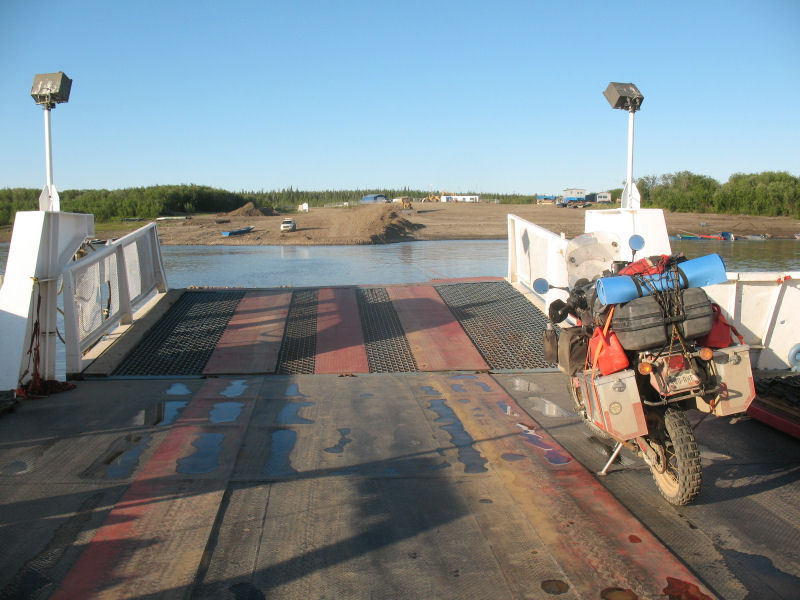 The lone deckhand asked me about the bike, and again, it was obvious that he had this same conversation with lots of riders every day. During the short but slow crossing, the pilot came down to the deck. He was older, asked me about Colorado (he saw my license plate), and asked if the road had been very rough. The crossing didn't take long, and we only had a couple minutes to chat. The men (both natives) wished me a safe ride and the pilot went back up to the bridge. They dropped the other ramp, I rode off onto more loose dirt and rock, and finally up onto a firmer road surface.

Before I got to the second river crossing, there were some bad sections of new gravel, more construction (a permanent activity when the road is not frozen), and only a few other vehicles.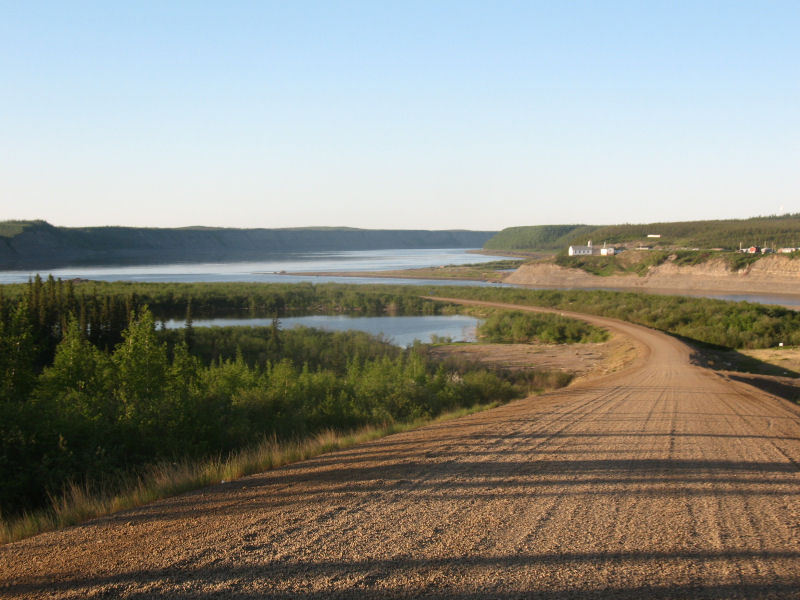 It was an hour between river crossings, and I had been warned that the Mackenzie River ferry stop running at midnight, but I had plenty of time. I waited at the Mackenzie River crossing behind two other passenger trucks. The ferry here was much larger, and so was the river. The big boat was doing a zig-zag route across the river that seemed odd. It went upstream quite a ways and seemed to go to the shore, but I couldn't quite see what it was doing. When it came to us, it dropped its ramp and gunned its motors to press against the shore and drop its ramp. We got a wave from the deckhand, and I followed the trucks onto the ferry deck.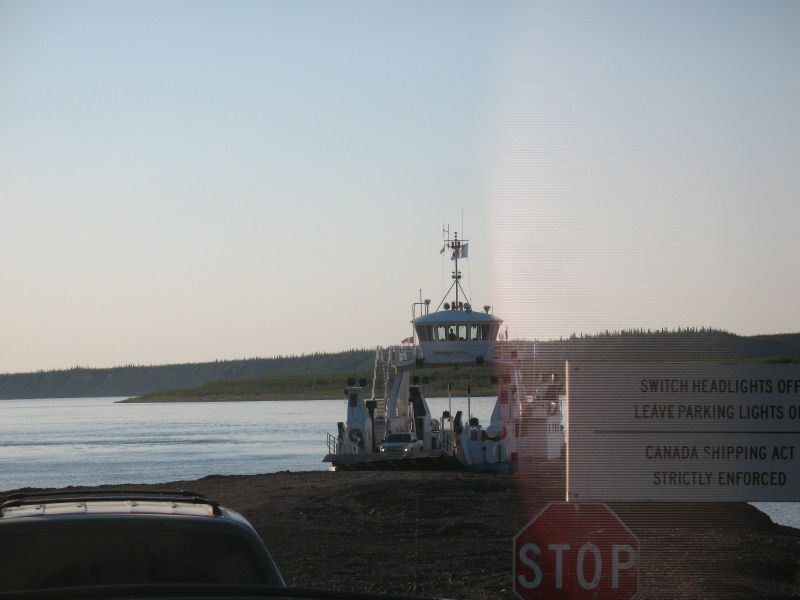 I parked the bike and just sat on it, writing some notes. All the passengers from the other vehicles got out and started walking around the deck. Some kids were carrying rocks and dropped some on the deck. A deckhand (there were several this time) yelled at the kids and made them pick the rocks up. I guess this was a regular commute for the people in the trucks, since they were so casual about everything. The kids threw all their rocks into the river as if it was the whole purpose for crossing the water.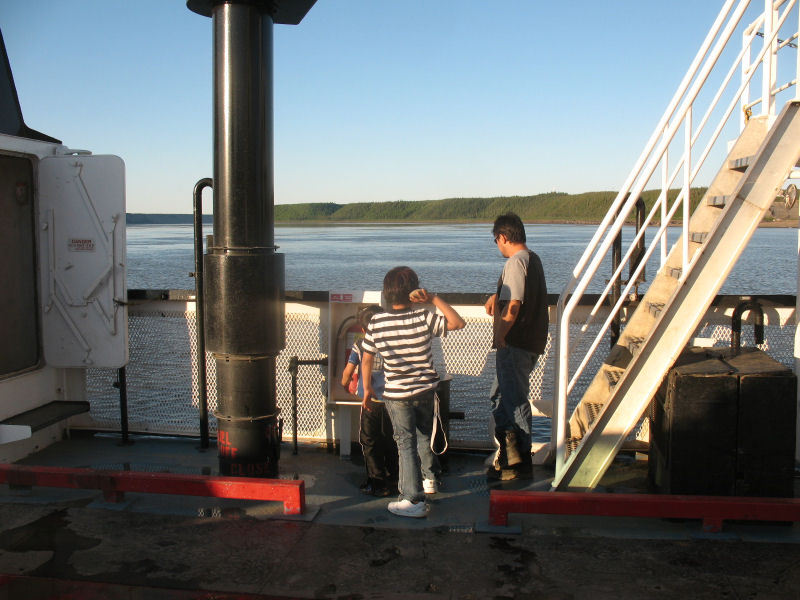 One of the older deckhands came over to me and just started talking. He had a German accent, but spoke good English with only a few German words mixed in. He saw me writing in my notebook and asked about what I was writing down. I told him that I was just making notes about the Dempster Highway, so that I would remember things later when I wrote about it. That was all it took, and he went on and on (in very friendly fashion) about the road, and about the region. We introduced ourselves, and I learned that his name was Roger.

Roger had a tendency to lean in close while he was talking to me, and the bill of his baseball cap kept bonking into my helmet. Bonk, bonk. Most of the time we talked, I felt as if I were in a staring contest, and continuous eye contact was absolutely required. And he talked too loud for being that close, and I was still sitting on the parked motorcycle, so was kinda trapped. It was a bit uncomfortable, but he was a very nice guy. Bonk.

He asked me about my ride, told me about all the places he's been and places he wanted to go someday. We had a while to talk, because the ferry was working its way slowly upriver. I asked him why, and he bonked my helmet again as he told me that there were three stops that the ferry made; the two stops that let people continue along the Dempster Highway, and one stop at the village of Tsiigehtchic upriver. The village of what? I asked, and he repeated it. I'm sure that with a lot of practice and a linguistics coach, I could pronounce it right some day. Not today.

Roger excused himself while they pulled up to the shore just long enough for him to drop the ramp and let a passenger walk off to the village, then he lifted the ramp as the ferry immediately pulled away. That took about ten minutes to work upriver and 4-5 seconds to drop a guy off. The ferry was the only public access to the village, it appears. Probably some local trails, I would think. I saw small boats tied up along the shore.

I took a photo of Roger while he worked the ramp and the warning web-strap thingy. It was hard to get a photo of the guy otherwise, since there was precious little room for the camera between us while we talked.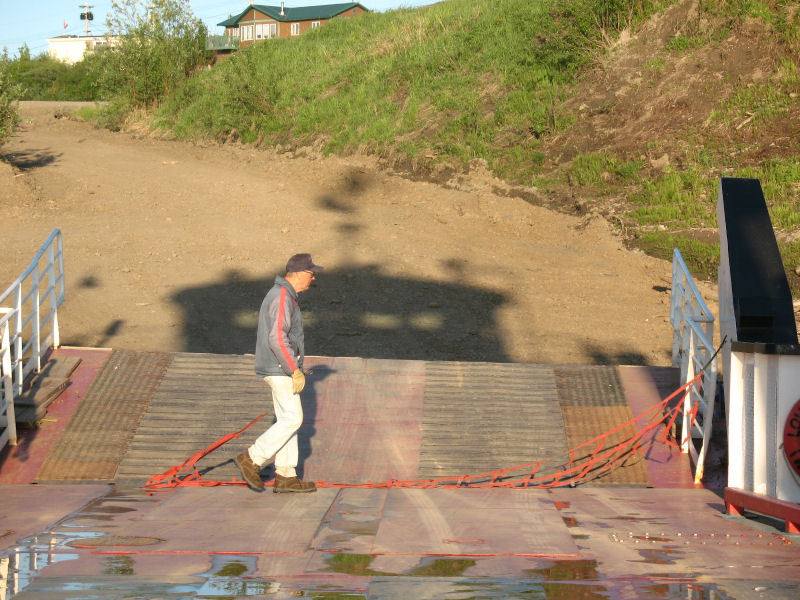 Roger came straight back to me like an incoming missile. Bonk. We talked up close like that for a while, as if we were in a conspiracy. He told me about meeting motorcycle riders who had been traveling for a long time. He had been to a lot of places since joining the Merchant Marines when he was 15 years old. He worked wherever he happened to be when he needed a job, and for now, he was working here. He had few possessions, and was impressed when I told him that I could travel and live on the road with only the things I had on the bike (plus fuel). "Vell," he said in his heavy accent, "You have a lot of stuff on that bike." I told him about my "dress rehearsal" theory for this ride, and when I told him that I was planning to ride this bike up and down South America, he just beamed and grinned. That led to several minutes of him talking about a few more places he had been.

Bonk, bonk, bonk.

As we neared the opposite shore, he asked me if I would like some water or anything, and I said that I had some water with me, but I could refill one of the bottles. He took the bottle from me and sped off, disappearing down to a lower deck. I used the break to hop off the bike and head for the public toilet. The heavy steel door to the head was opened and closed by cranking on a big lever that caused a creak and a loud clang.

I got back to the bike just as Roger came up with my water bottle. Bonk. "I give you the last of my iced wasser," he assured me, telling me to feel how cold it was. I thanked him, not sure what else to say. Then the crossing was over and we said good-bye. He went to work the ramp as the families got back into their trucks and we all started our motors. As soon as the ramp was dropped, the trucks sped off the ferry as if their lives depended on it. Zoom! Bang!

The drop from the steel ramp to the bank on this side of the Mighty Mackenzie was not as smooth as the other side had been. The ramp didn't quite make even contact with the ground. I stood on the pegs and rode off the ramp with a big thunk, then started up the steep hill past some trucks that were parked next to a house. I thought to take a photo of the area from the top of the hill, and I looked down to where I usually keep my camera in a cupholder mounted to the handlebars. The camera was not there.

I knew immediately what had happened, and I turned around and headed back to the ferry. I've had the camera bounce out of the cupholder before on rough roads, and I usually put it in my pocket when I expect it to be at risk. As I made the turn to the final descent back down to the river, I saw Roger on the shore waving at me. He held up my camera for me to see. I rode up to him, and he told me that he was about to jump in a truck and chase me down. He had seen my camera bounce off the bike as I thumped off the ferry. The camera was fine, and I thanked him very much. He waved as he trotted back to the ferry. They lifted the ramp and I barely managed a photo of Roger giving me a "thumb's up" as they started to pull away.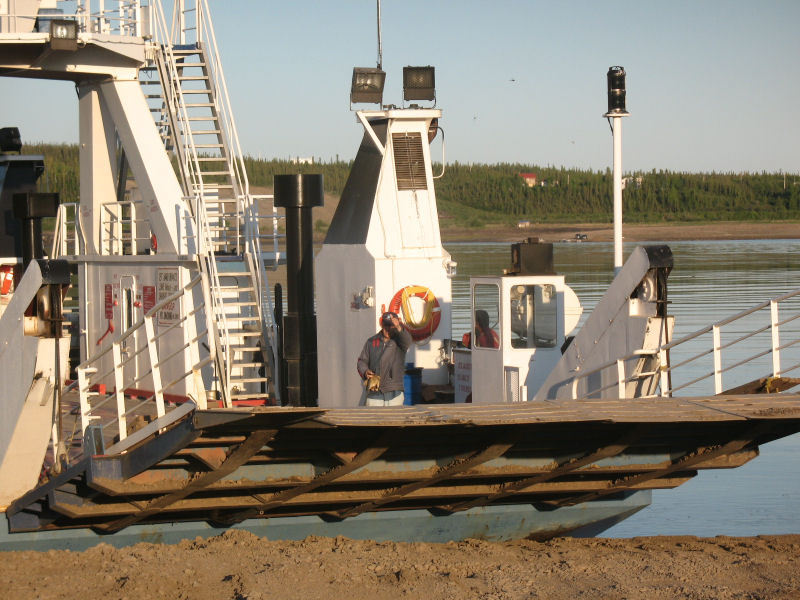 I rode north on the dustiest road I have ever experienced. The two trucks ahead of me were going too fast for me to catch or pass, but they weren't going fast enough to get far ahead. I rode in their dust cloud for the next two hours. We rode north, which is where the sun was, well above the horizon. Weird.

When the conditions were right, the sun lit up the dust cloud like a Hollywood special effect. The gray dust almost glowed like neon, sunrays sometimes piercing through dramatically. I tried to take some photos of the effect, but such views as this are better to the eye than they are to the camera.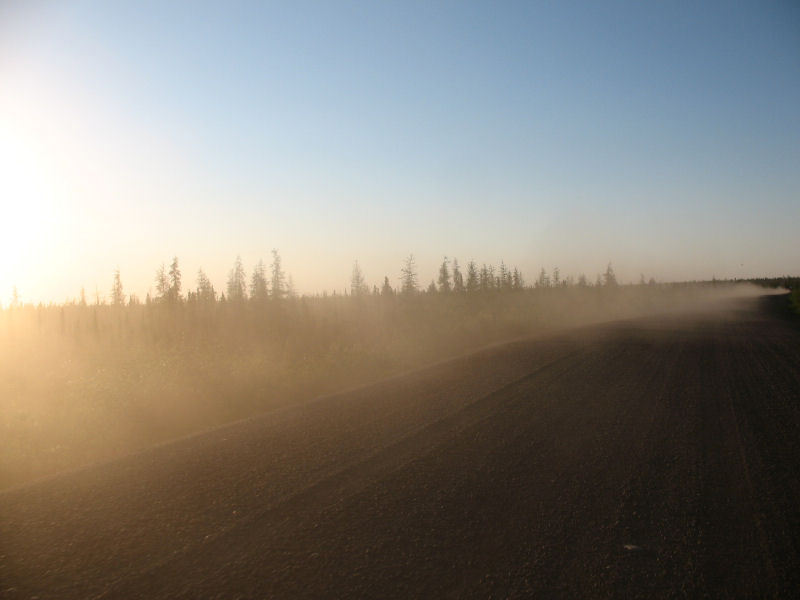 I saw that the trucks took turns being the lead vehicle. That was interesting, that they didn't eat each other's dust the whole way. I did, though. The dead air was very unkind to me, and the dust just hung there waiting for me.

Finally, after almost 12 hours of the Dempster Highway, pavement once again! It was almost 01:00, local time, and a few miles later I was seeing a lot of people walking along the road nearing Inuvik. Kids were sitting at tables alongside the road, too. It looked like they had lemonade stands set up every mile or so, and I finally caught on to what was happening when I saw some walkers wearing number flags on their shirts. A marathon, it seems. It was still quite warm out, and that was something I had not expected. It shouldn't be this warm, this far north... right? Of course, the sun hadn't set in the last three weeks.

The local National Aboriginal Day activities were still going on in town, and there was a band playing and people dancing in the city center. This was the night of the solstice, and there were hundreds of people out and about. I took a slow cruise around Inuvik, passed a bar that was obviously the hot spot for youth activity. I found a gas station and filled up. I had hit my reserve fuel at 222 miles, then got into Inuvik soon after. Never had to use the gas I was carrying, although I should have put it into my gas tank before I filled up at the pump. Gas was about $6.50 per gallon.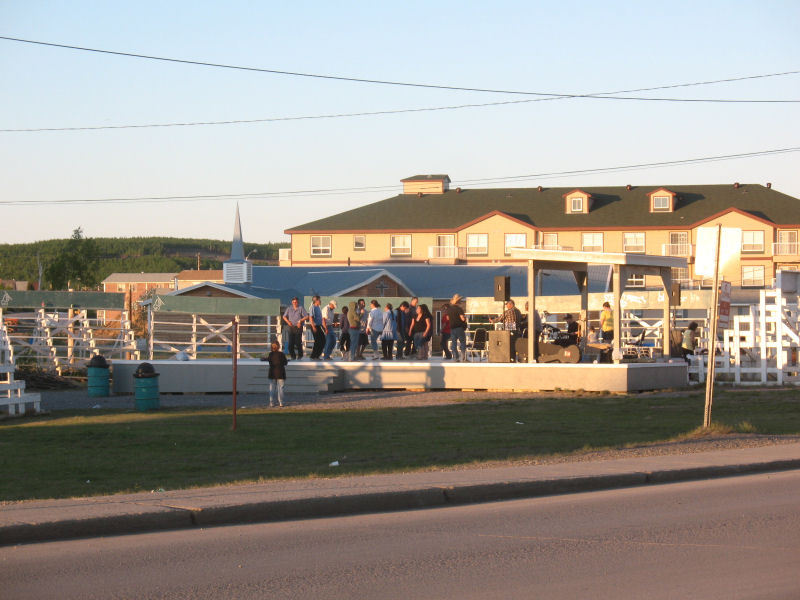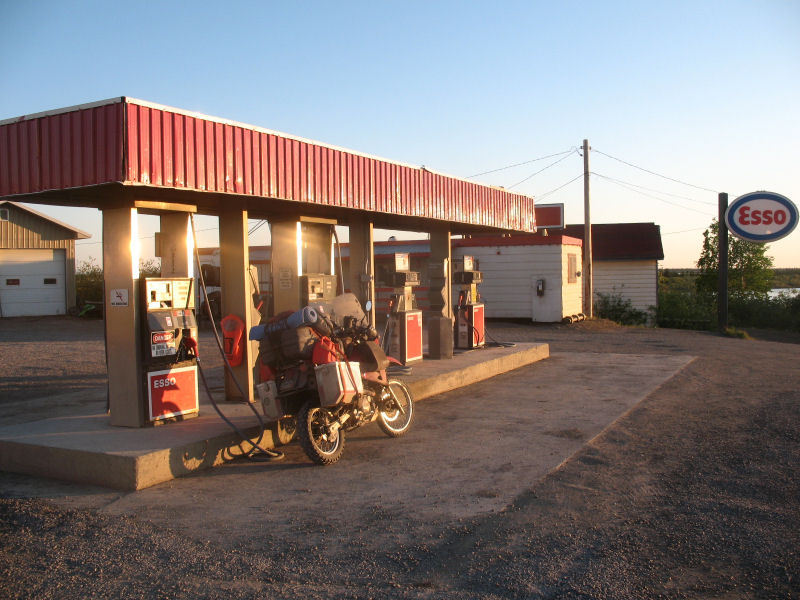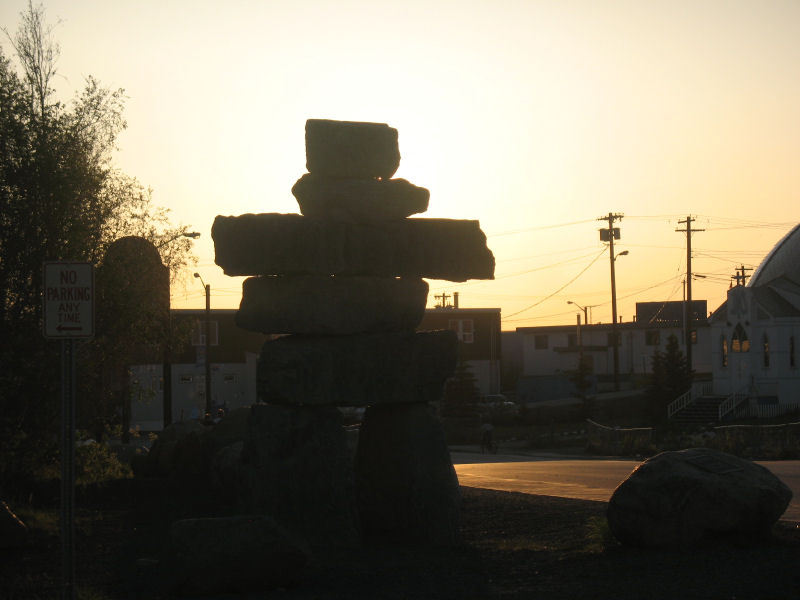 The chain was slapping again, so I tightened it up--a few cranks on the adjuster nuts. I thought about sending a SPoT Check signal from Inuvik, thought about getting a sticker or pin or something, but I all I really needed was a place to sleep. I rode back through town, asked at a couple hotels but everything was either full or too expensive. Lots of people come up for the solstice, it seems. The clerk at one hotel had maybe been in some ceremony or performance that day, because it wasn't normal to have eyebrows painted huge like that for no reason. He gave me directions to a campground, but I just kept staring at his massive, fake eyebrows. If he noticed, he didn't say anything. Maybe some odd Goth thing up here.

I found the campground easily enough, and I went into the office cabin to ask about putting my tent up. The guy who ran the place was pretty casual about interrupting his sandwich to greet me, and he told me to go put my tent wherever I wanted and I could pay him in the morning. The rate printed on the sign was $15 per night. Fair enough. I had seen lots of RVs in the campground, but no tents. I asked about the tent sites, but he already had a mouth full of sandwich, so he pointed which way I should go. I asked what time I should check out, but he shrugged and said, "Noon, whenever," around whatever he was chewing on. I told him that I liked his style. He swallowed and told me that he was mostly "just kinda lazy."

I found the tent area, where there were wooden platforms to keep the tents off the ground. There was a BWM 1150GS motorcycle parked next to one of the platforms and light snoring coming from the tent. Two sets of boot and some luggage were on the platform. There was a lake or drainage pond just beyond the campground, and I feared the worst.

As I got off my bike, my fears were realized. Swarms of mosquitoes found me instantly. I kept my helmet on until the bike was partly unloaded, and I dug out some DEET. I sprayed my hands and rubbed DEET on my face and neck as soon as I took the helmet off, but it was already too late. I was even getting bitten through my synthetic shirt.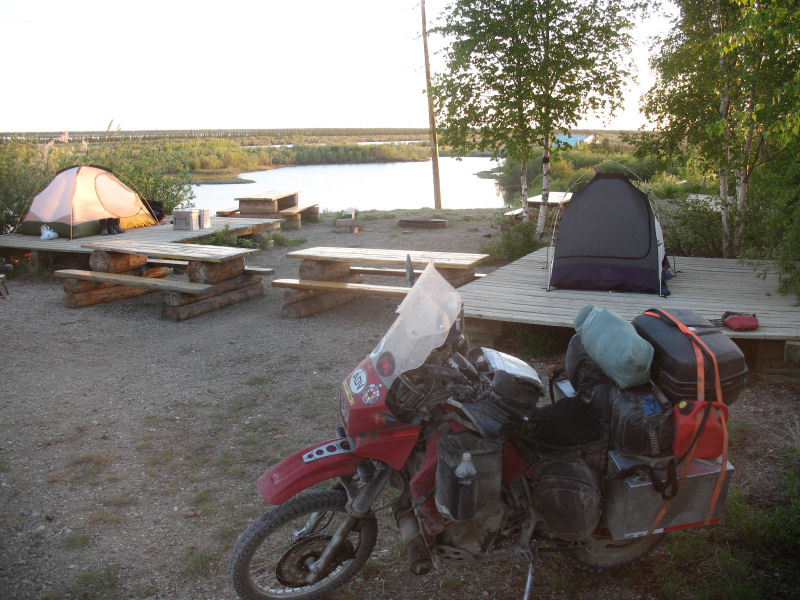 I pitched the tent on the wood deck, threw all my riding gear into it and zipped it up as fast as possible. Then I walked around for a bit while I wrote my notes and ate some trail mix. I was followed the whole time by the buzzing pests, and I was afraid to stop. I had this mental image of a gang of mosquitoes knocking me down and eating me.

A couple of campers were walking by, too. Canadians from the east, eh? When they stopped to chat with me, the swarm got us. The Canadians ignored the buggers, and I did my best to do so, but it was hard. They told me that they were in a Toyota, and cautioned me against riding the motorcycle on the Dempster if it was raining. I assured them that I would be careful while riding back south.

When I got back to the tent, the biters were there in force. I walked from the tent until I thought most of the mosquitoes were following me, then quick-like-a-bunny ran to the tent and zipped myself into it. Hah! Fooled them! Fooled most of them anyway, so after swatting a few mozzies, I felt that I was safe. All of my riding gear (that I had tossed into the tent earlier) was still saturated with dust, and now the inside of the tent was just like the road to Inuvik. I coughed for a while before it finally settled.

It was already hot in the tent, and I lay there, sweating reviewing photos on my camera. I took a photo of this guy who had just ridden up the Dempster Highway (a few stops along the way) in 12 hours. This is the very tired nut job.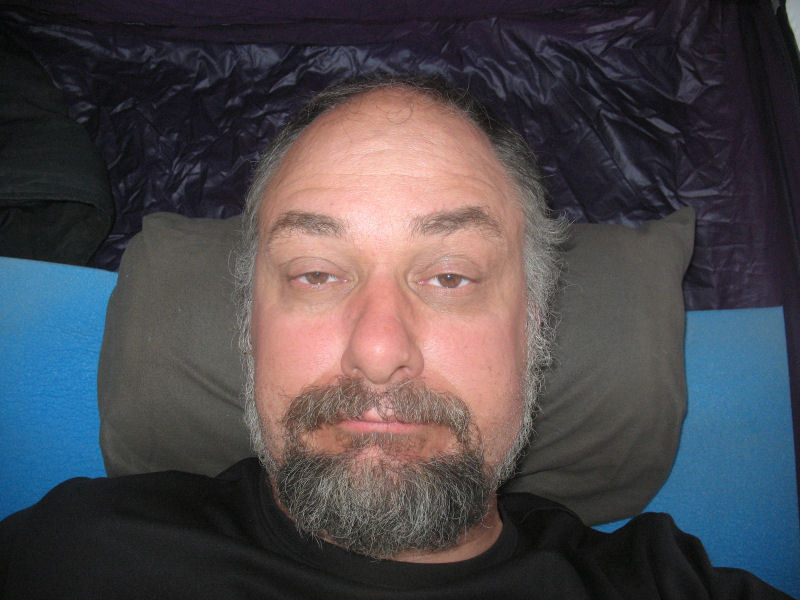 I heard the mosquitoes outside the tent, actually heard them hitting the fabric of the tent. I think they had knives.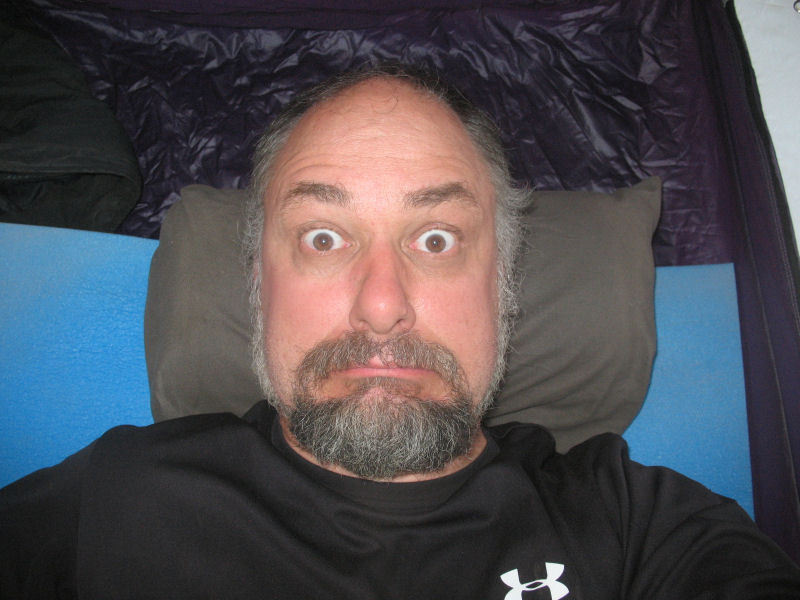 It was far too warm to even think about unrolling the sleeping bag, so I stripped down to the synthetic base layer that I usually wore, and just laid on the foam pad that I had picked up in Dawson City. Laid there and sweated until I finally fell asleep sometime around 03:00. There were some people talking in the campground and a dog barking somewhere. A generator or some other motor running somewhere nearby. That didn't help.


I was HERE




Sunday, June 22, 2008
---------------------

I woke after only a few hours, wet with sweat. I unzipped some of the tent's mesh-covered vents, angry at myself for not thinking to do that earlier. I snoozed a bit longer, but it was just too hot.

Finally, I just wanted to get back on the road. The mosquitoes weren't quite so bad in the hot, dead air, so I got busy and had the tent packed and the bike ready to go in short order.

The campground guy was in his office when I came in to pay. He looked at the time and decided that I hadn't been there long enough to matter to him. "No charge," he told me. I gave him $10 and told him to have some beers on me, but he gave me $5 back and said he would only have one. I liked his style even more.

I gave the bike a quick check, scraped bugs off a few places, but it wasn't worth the effort.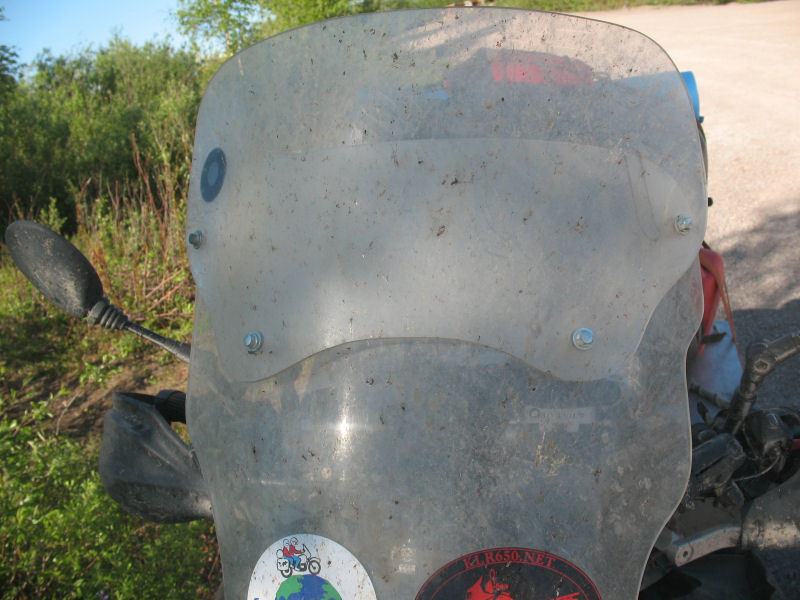 Very little activity in town, almost no one to be seen. I thought I saw Sander sitting on the steps in front of a hotel, but it was some other guy. Since I had already said Hi! before I realized my mistake, I felt compelled to say something more. I asked if he knew about the weather or the road conditions, and he gave me a surprisingly detailed report. I asked why it was that he knew all that stuff, and he told me that he worked on the Mackenzie ferry. I wanted to ask if he knew Roger, but then decided that it wasn't worth getting into.

I suppose it was about 07:00 or so when I tightened my chain a bit and motored on. South again. At least I knew what to expect.... sort of.

I forgot to send the SPoT Check signal, forgot to get a sticker or memento of any kind. I have a gas pump receipt, a few photos, and a GPS track to show that I was in Inuvik. For some reason, I had wanted a sticker to put on the bike. No matter.

Several BMW bikes rolled into town just as I was getting on the bike. Pretty early in the day for arrivals. They stopped near me and I learned that they had probably been an hour behind me on the way up yesterday, but the gravel road and the sun constantly in their eyes had worn them out. They had pitched their tents somewhere after crossing the Mackenzie and had gotten up early this morning to ride the dust with the sun mostly behind them. Fewer cars on the road, too. Sounds like experience to me.

I detoured a bit once out of Inuvik, and went to take a look at the airport. Looked decent sized, with a lot of cargo activity. I saw a guy at a fence watching me with binoculars, so I didn't take any photos.

I had no traffic in front of me, so the road back to the Mackenzie was a much nicer ride. When I got to the ferry crossing, the couple that was walking around their car was the same Canadian couple who had talked with me in the campground earlier this morning. They must have been there a while, because I had seen no evidence of their dust on the road. They were re-packing the trunk of their car, complaining that the trunk didn't seal very well. What they meant was obvious--everything in the trunk was gray. They were wiping things off and putting them back in. This is them: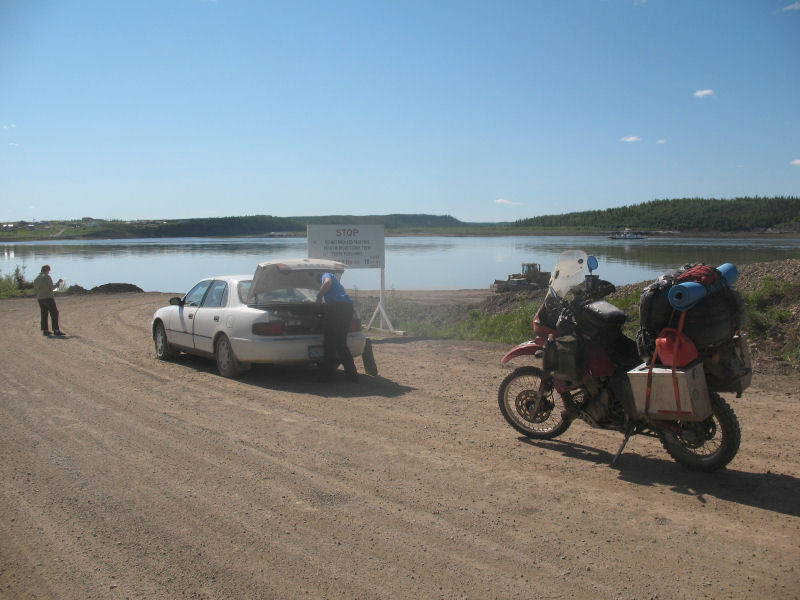 The guy started telling me about the mosquitoes he's seen in other parts of the world. He nodded to himself and agreed (with himself) that the mosquitoes were worst in the Amazon. I didn't have to say anything. He managed the whole conversation himself, so it was quite efficient. When the ferry started heading our way, he told me that the Mackenzie was the third-largest river in the Western Hemisphere; only the Mississippi and the Amazon were greater. I knew that, but I was determined to not interrupt his monologue.

A white pickup came from somewhere and was now in line behind me.

The ferry gently rammed the bank and the ramp dropped. I followed the Toyota onto the deck, and saw as I passed that the entire bank had been bulldozed and reshaped overnight. It would be rough again late in the day, but it was easy now. When the Toyota stopped on the deck, I casually rode around and parked in front of them. I was not going to eat their dust, and I knew that it was common for bikes to go to the front. I just hadn't bothered until now.

Also, I had seen Roger working the ramp as I had ridden onto the ferry. That was a surprise.

I parked the bike, flipped up the front of my helmet and started to write some notes. I heard my name called out from somewhere behind, and I turned to see Roger homing in on me. This is him aiming in my direction.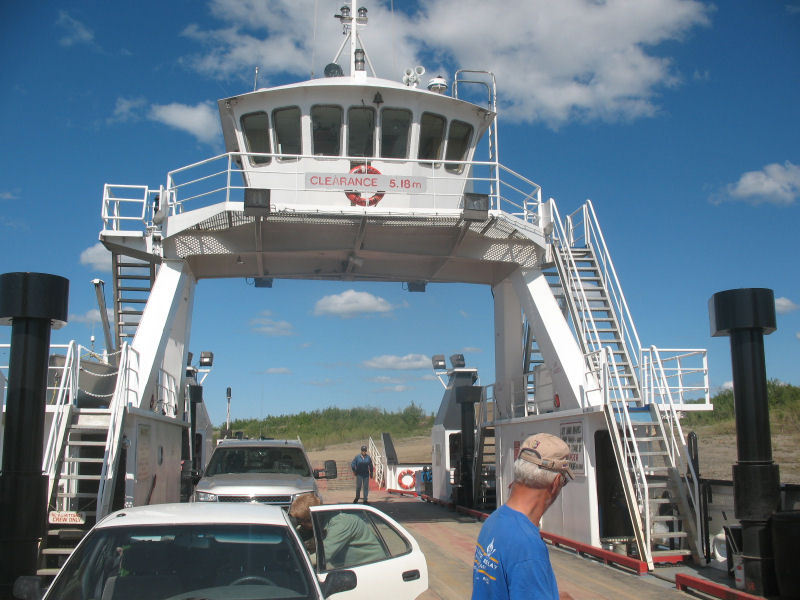 Bonk. It might be that he is a little deaf, so he was used to getting up close when talking to people. He had seen me ride past him as I got onto the ferry, so he had come to see me as soon as they were underway.

He said that he hadn't expected to see me this early, but I told him that Inuvik had just been a turn-around point for me. I thanked him again for saving my camera. I assured him that it was working fine.

It turns out that he had just started his shift when I saw him last night (this morning) and he was at the end of his shift now. So, I thought, the ice water he had given me this morning was supposed to last him until now. It made me appreciate him even more.

We got to talking about travel again, and he told me that he was going to work up here for a few more months then maybe go work in Mexico for a while. I got the impression that within two minutes, he would be ready to leave anywhere to go anywhere.

There were no passengers for the village, so straight across the river we went. Roger went to work, so we said good-bye. When the ramp went bang, I went zoom, and with a wave farewell, I was off.

The construction sites were different from yesterday. The road conditions in several areas were different from yesterday. The sun being in another part of the sky made the road look different. I decided to ride the road as if I had never done so before. That was a good decision. Some of the curves handled differently due to new gravel and the work of the grader.

The largest black bear I have ever seen walked very casually across the road a few hundred yards in front of me, but my camera was still in my pocket (because of the drive off the ferry), so I didn't get the photo. When I passed where he had crossed, there he was sitting in the bushes just off the road watching me go by. Maybe he needed to bum a ride somewhere.

Another road grader was working farther ahead, and somehow I ended up on the wrong side of the road. There was suddenly a high ridge of rocks and gravel down the middle of the road, 10-12" high. It was obviously loosely piled, but had a lot of big rocks mixed into it and some of it looked like old asphalt, so I was not going to just ease across it. The best thing to do was to slow, make a turn and try to hit the ridge as perpendicular as possible. The road was barely wide enough in that area to be considered a two-lane road, and the bike was heavy and sluggish, so I just kept going on the wrong side of the road. The sight distance was good, and I could see more than a mile off. I could see the grader and other construction equipment ahead.

The grader was on the side of the road I should have been on, so thought I was in a good position to pass it. What I hadn't seen was that it was headed toward me, not away from me, so I was upon it pretty quickly. I still felt good on the "wrong" side of the road, until the big road roller came out from behind the grader and was now on my side of the road. I had yet another "Oh, shit!" moment, and as I passed the grader I had to just cross the ridge down the middle of the road as best I could to avoid the million-ton roller monster coming at me. Fortunately, the roller was going very slowly, and there was no near-collision, but crossing the rocky ridge without much time to prepare for it had me weaving for a few seconds, fighting for control. Bikes are hard to manage going slow, in case you still don't get the idea. I kept it on the road, got past that construction zone, and the road got better, if only briefly.

The white pickup truck was coming up behind me, gaining on me, and I was reluctant to stop for photos because I didn't want him to pass me. The dust, you know.

When the road did get better, I picked up my speed, averaging 70-75 mph in those sections. That was enough to keep the pickup well behind me. This was a good thing, because I came around a sweeping curve in the road and there (right there, in real life!) was a grizzly bear. It was freaking huge. It was already in a slow gallop, crossing the road from right to left at an angle away from me. It looked back at me with tiny, beady eyes, and just as it got to the opposite shoulder of the road I was coming right up next to it. It spun to face me as I went by, as if ready to fight, but mostly I think we just scared the shit out of each other. Well past it, I slowed and finally stopped. I looked back, considering going back to try to get a photo of the grizzly, but then I saw the pickup truck coming around the curve, dust plume in its wake. The grizzly was gone into the trees, so I shook the surprise out of my brain and motored on.

First grizzly sighting. Cool. I just have to say it again... the thing was freaking huge.

Someone had altered the Fort McPherson sign to "Fart McPherson," and for some reason that cheered me up for many miles. Maybe I was still giddy from Mister Griz.

At the Peel River ferry, one BMW 650GS got off, I got on, and that was all the traffic there was. I tried sending a SPoT Check signal, but there wasn't enough time for it to cycle through.

On another section of narrow road, a semi rig came around a turn and before either of had a chance to react, I was already splattered with hundreds of small rocks and pea-sized gravel. The trucks were very good about slowing down and moving away from the motorcycles--every rider I spoke with had commented on this--but this one had just been bad timing. It also reinforced my caution on the turns. An on-coming collision at a turn would be instantly fatal. Duh.

I remembered some sections of road. One area in particular was very vicious-looking. It was as if they took football-sized chunks of concrete and embedded it in the roadway with all the points sticking up out of the ground. It was a very stable surface, but it was horrible bumpy and ragged. I took it easy going back over this section. There are a few areas where the road also serves as an airstrip, and those short sections are very smooth.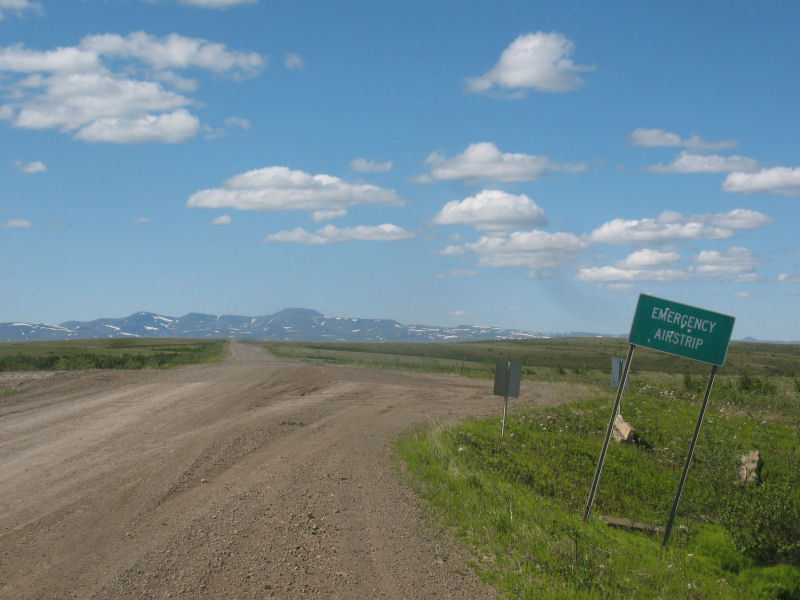 Here, it looks like they completely removed and were rebuilding a section of the road.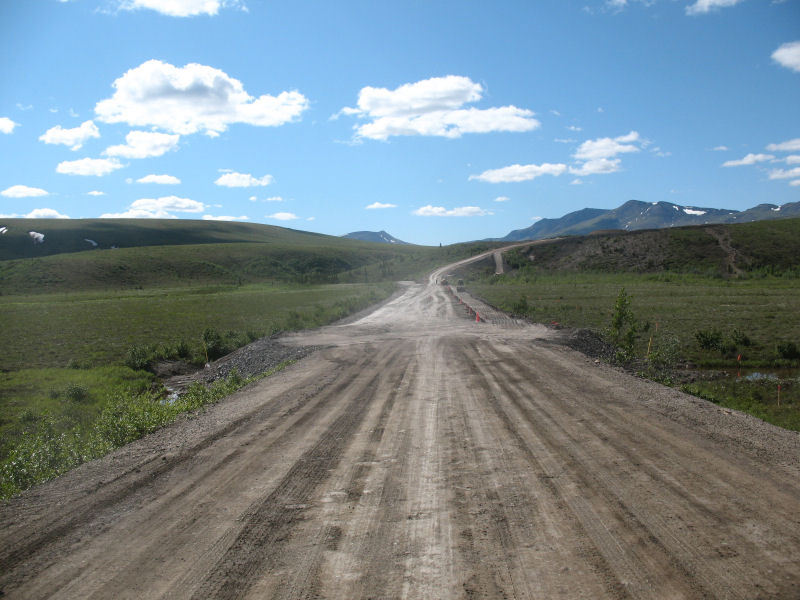 I crossed back into the Yukon Territory, then later stopped again at the Arctic Circle for some more photos. I also sent a SPoT Check signal from here.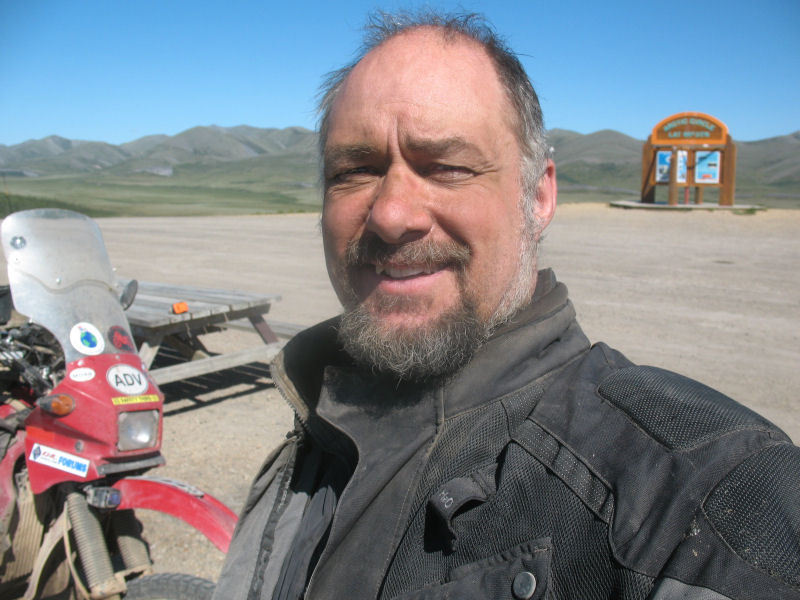 Again, I was HERE



I switched my gas tank to reserve at 218 miles and made it to Eagle Plains with no problems. After topping of the tank, I motored over to the adjacent restaurant again, but hit a big pothole in the dirt parking lot. My camera got launched off the bike and the LCD screen got smashed. Phooey. The camera still acted like it was taking pictures, so I did the best I could to take more photos on the way back to Dawson City. Some came out, some didn't. Some were totally blank, so there was some other problem in the camera. Hell, I'm surprised the camera survived as long as it did, since I had dropped it many times, dunked it in a river (fell out of my jacket pocket), and coated it in dirt and dust for thousands of miles unprotected.

The camera was replaceable, the memory card was not. It was the images that were important.

In the restaurant, I sat at the same table, but had to go back to the kitchen after a while to hunt down the waitress. She seemed miffed at me after that, but maybe it was my imagination.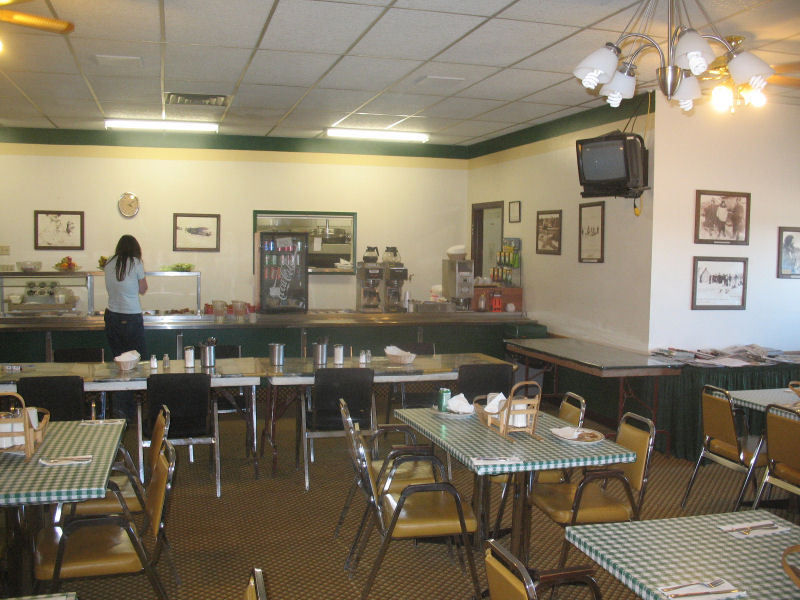 I had a burger, coffee, and lots of ice water. I read a local newspaper that was only a week old, read the comics, did the crossword puzzles. It was nice to relax after eight hours of riding.

I watched the two hotel dogs. They obviously belonged to a gal who worked there and followed her whenever she left the dining room. When she came back, they froze at the step down to the dining room and just stared at her. When she started to pull out a chair, they started to sit, but when she kept standing to talk to someone, the dogs stood back up, still staring like maniacs. They had been well trained, and they knew they were not allowed in the dining room, so they leaned as far as they could into the room without falling off the step. When the gal finally pulled a chair out at a table, the dogs sat down in unison. When the woman sat, like a signal, both dogs flopped over on the ground. It was fascinating. When the woman stood to get some coffee, the dogs sprung to their feet and stared at her until she sat back down, then they flopped again.

The road was tamer after that, but still had its moments. Lots of white-footed rabbits, all over the place. Suicidal buggers, too, judging by their behavior. Back up and over the mountains. A big RV camper almost ran me off the road, and it was a straight section of road! The fuckwad was probably taking pictures as he drove into my lane and I barely skirted the shoulder of the road above a sharp drop-off. He was a middle-aged white guy with a white mustache and glasses. If you see him, would you kick his ass for me, please? Tell him it's from me.

The sky was getting "interesting," and I knew that there was weather ahead. By the way, this section of road is exactly like where the grizzly crossed in front of me, so watch out for animals when the vegetation gets thick alongside the road.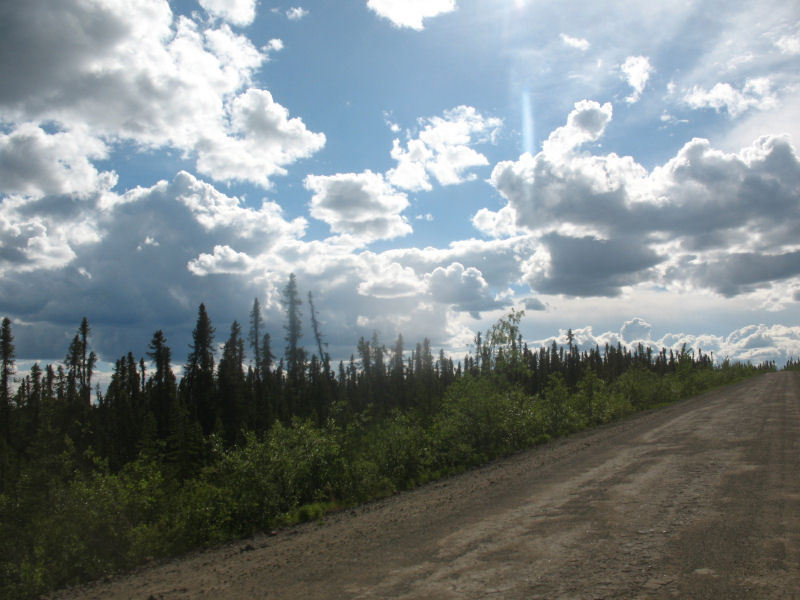 Some of the road went along a nice river, with great views every moment. For a long while, the rocks along the river were gold- and orange-colored, as if stained. I might have been imagining the smell of sulfur, because I thought that there was some mineral in the river that was coloring the rocks.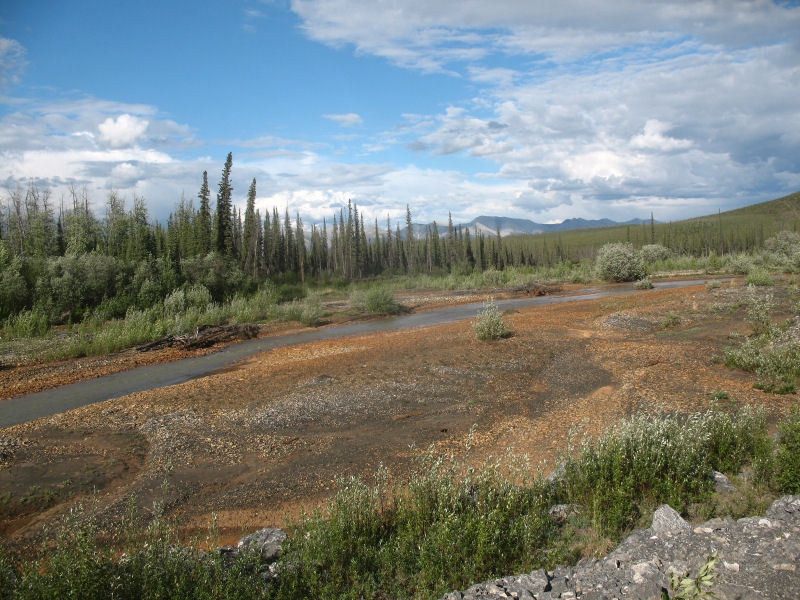 On the mountain crossing, it started raining. Then it got serious about it. Holy crud, the sky got darker and darker until I was sure that the clouds were casting more than shadows on the ground. The cloudcast seemed thick with doom and despair, too. I hardly had time to pull over to the next safe place--a rest stop at Two Moose Lake--so I could get my rain jacket on. After stopping the bike next to the lake, I saw some ripples in the water, like something had just gone under. As I watched, out of the water came the unmistakable head of a moose. At last! My first moose sighting! The animal was totally submerged, but after seeing me, it moved with amazing speed to the shore and I barely got a photo of it (with a broken camera) as it crossed the road right behind me. I didn't get to see if the photo came out until later that night when I popped the digital card into my computer to see if the camera had been working. It was!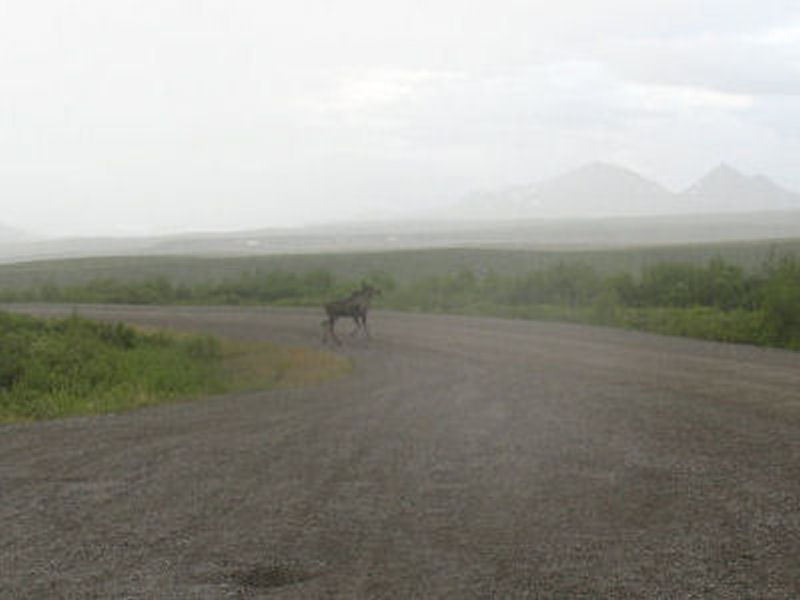 A grizzly and a moose within hours of each other. Wunderbar!

I rode in the violent rain for a while, going slowly. The many warnings about riding the road in the rain were ringing in my ears. Where the road was hard-packed, it got slick as an ice rink and my speed was slow, slow. When it got rockier, higher speeds were manageable. The opposite of what it was like when dry.

Finally, the rain started to let up just as I hit the final pavement stretch at the end of the road. The sky cleared up, turned blue and cheery, and that was the end of the Dempster Highway. Almost 12 hours exactly, just as it had been on the way up. I had a delay going up (John's crash), but I had a long stretch riding slower and the way back (rain), so it evened out.

After refueling at the service station there, I saw that the cashier on duty was the brunette one who had sold me the bad batteries several days earlier. I told her about the batteries being bad, and that I had told the blond cashier yesterday. She told me that the blond gal didn't care about anything. She rang up a refund from the cash register and tried to refund the money I had paid, but I told her that I just wanted to warn them that the batteries on display might also be bad. I left the money on the counter as I left, so I have no idea what she did with it. As far as I cared, I hope she kept it, since she cared enough for the customer that she tried to force it on me.

On the nice, clean paved road back into Dawson City, I hit the only pothole in the Yukon (on a paved road) and the camera got launched again. Not only the camera, but the cupholder too, sprung from the Ram mount. I parked the bike and scoured the thick roadside brush until I found the cupholder, then kept looking for the camera. I had been riding fast when it all got knocked off the bike, so it could be anywhere. Again, it was the memory card that I wanted to recover more than the camera. That was good, because when I found the camera, it was totally dead. One too many smashes. C'est la Vie. The photos survived, and that was all I cared about.

In Dawson City, I saw John's KLR in front of the Downtown Hotel, but when I went to ask about him, they didn't think that he was registered in the hotel. He wasn't in the bar, either. He could be anywhere, and perhaps just left the bike there, parked in a safe place. I was glad to see that he made it okay.

Almost every hotel was full, and I didn't want to sleep on rocks again in the campground, so I persisted until I found a room in the Midnight Sun. They gave me a discount, since it was so late. The Euro-rock/punk band in the bar downstairs was supposed to play until 02:00, so after a shower and a few beers I had bought to take to the room, I copied and worked on photos until they finally quit playing. When the band quit sometime after 02:30, so did I.

zzzzzzzzzz...

Tomorrow was going to be another "adventurous" day, but I didn't know it yet.


Again, I was HERE




Monday, June 23, 2008
------------------------

I slept fairly well until 09:30, then went down to the Chinese diner again for breakfast. The same waitress that had entertained me with local stories the last time I was here was busier this time, so we didn't chat as much. Three young women came quietly into the restaurant and one of them snuck up behind the waitress and scared her. Turns out (as I learned later) that the girl was a former employee at the diner, a French tourist who had stayed and worked for a while last year. All three girls were dressed in a similar manner, sloppy clothes that were too big for them, sandals, cloth bags slung over their shoulders. Looked like they were hitch-hiking across Canada.

I found the only camera store in Dawson City. They also did those old-time photos of tourists dressed up like gunfighters and hookers, but I limited my fun there to shopping for a new camera. There were three choices in digital cameras, all similar. One took xD digital cards, so I had to choose between the two that used the SD cards that I had with me. Armed with a new camera, I checked out of the hotel and made my way through town and to the Yukon River.

As I rode down to the ferry crossing with other tourist traffic, I heard the chain slapping. Crud. While waiting in line, I tightened the chain, and was glad that I had parts waiting for me in Fairbanks.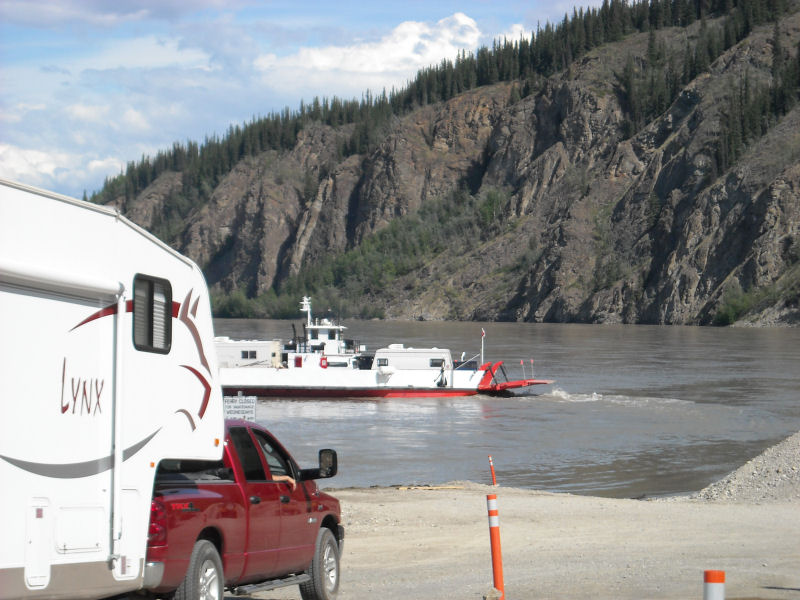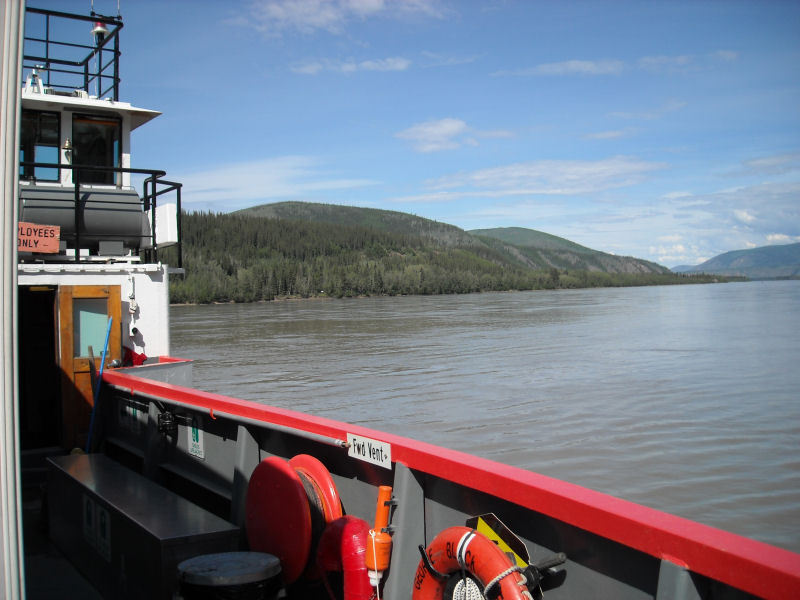 When it was time to ride onto the ferry, I felt the chain jerk a few times. Not good. I could stay in Dawson City and have the parts mailed here, or I could ride a day to Fairbanks.

Ride, baby, ride.

The ferry wasn't big, and it carried a couple big motor coaches and a few cars on each trip. They squeezed me into a space on the deck, which I appreciated, since otherwise I would have had to wait for the next crossing. Like other ferries, it ran into the dirt shoreline and dropped its ramp right away. The big coaches were slow, so I was able to pass them immediately on the other shore.

The Top Of The World Highway is the only other way out of Dawson City. It is a high, scenic crossing into Alaska and then to the city of Tok (pronounced "toke"). Along the way was the tiny, meager town of Chicken, long famous for having no running water. I was about to learn all there was to know about Chicken, but I'm getting ahead of myself.

The road went over hills and plateaus, through heavy forests and grasslands. The dirt and gravel was well-traveled, pounded continuously by the summer tourist traffic.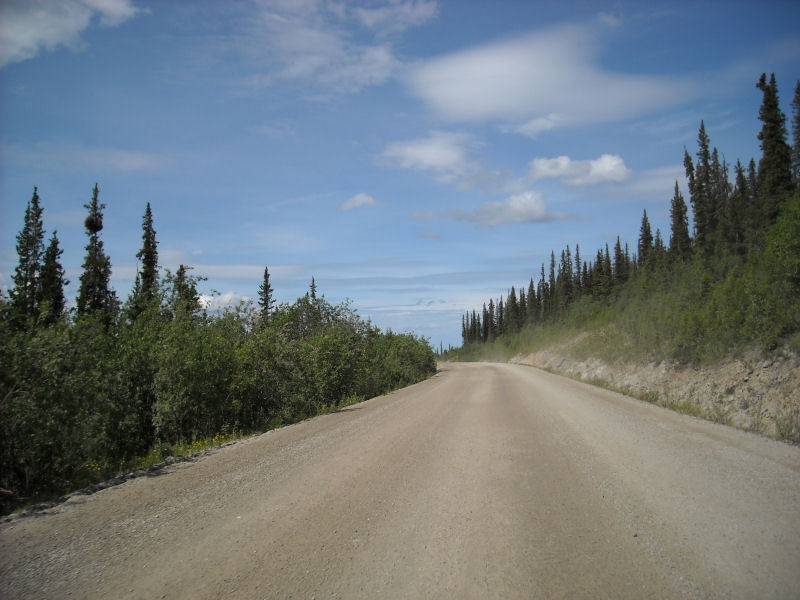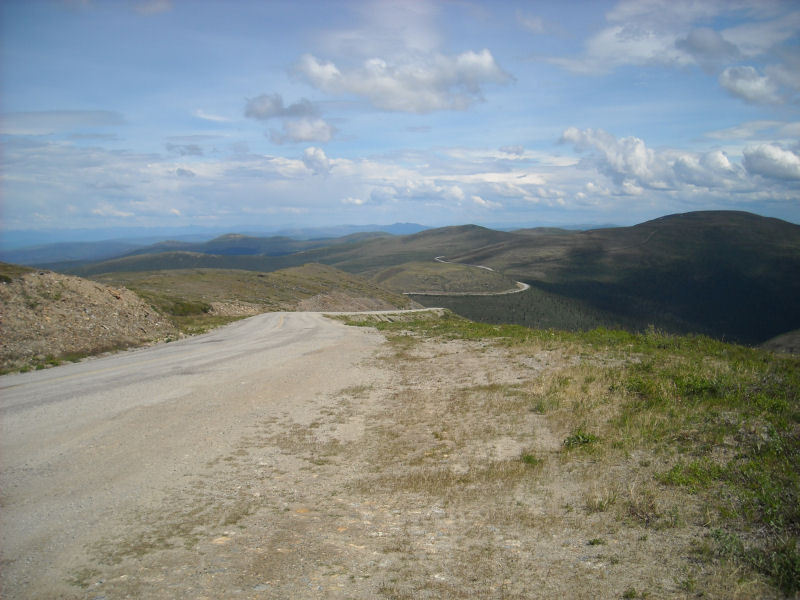 And that got me to Alaska.

I was HERE


<< Link to PREVIOUS report: Home to Moab >>
<< Link to NEXT report: Up To Prudhoe Bay >>
[ ERRANT-RONIN HOME ] [ Prudhoe Bay to Ushuaia Home Page ] [ Ride Reports Home Page ]