Part 1. Home to Moab, Utah
====================
Tuesday, May 27, 2008
------------------------

I finally got the bike done early this morning. I was pretty fuzzy at that point, having been up and active for close to 40 hours straight by the time I zonked out. I expected to get a few hours of sleep before the alarm went off, but as it turned out, Laurie had reset my alarm and called Don that morning and arranged for him to come to my place a couple hours later than we had agreed on. So, after having slept through the newly set alarm, my body clock woke me at 10:30 in a mild panic. I then saw the note that Laurie had left advising me of the new time. So, after a quick shower and some yogurt, I went down to the garage. Just after I opened the door at 11:00, Don rode up.

We spent a couple hours finalizing my packing and Don's repacking, then we were off. We had put some stuff in the truck for Laurie to bring to Moab on Thursday. Still, we were over-loaded--especially me--and the bikes were heavy. Since I had never managed to do a test ride, I wanted to try the bike out on something other than paved roads right away. So, we did the typical thing and rode to Monument and took Mount Herman Road over the Rampart Range. The dirt road was in pretty good shape, but it took some time getting used to the bike being so heavy and sluggish.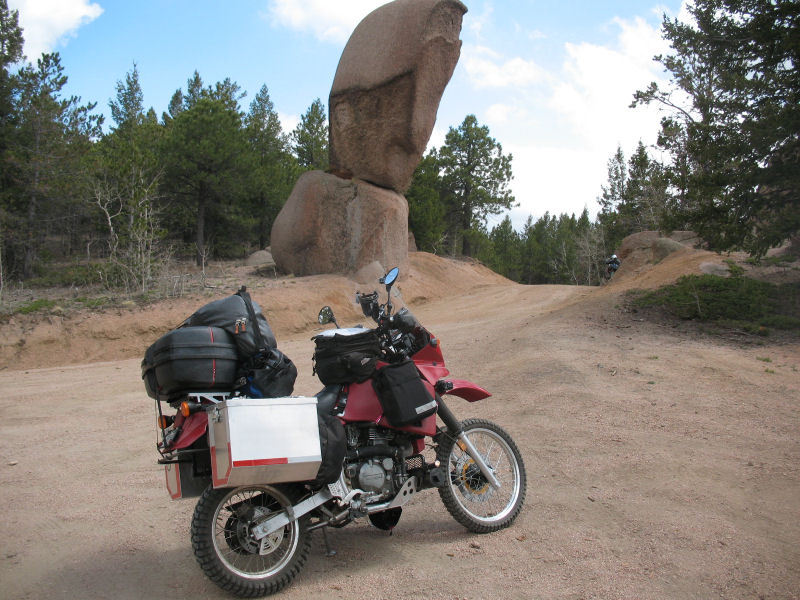 I have had ridden the old KLR loaded for camping before, and was used to it being top-heavy, but with the aluminum boxes and big Givi tailbox, this was the heaviest it had ever been. Making quick leans and fast track adjustments were out of the question. This led to a few "Oh, shit!" moments, but I managed okay. Then the first semi-drama occurred.

I was riding in the lead, coming up to a sharp right blind curve. As I neared the apex of the turn, a big pickup truck came around in my side of the road. There was nowhere for me to go, so I rode into the drainage ditch, off to the right. I dabbed with my right foot, which was a bad thing to do with side boxes. My right foot got caught between the box and the right berm, and it turned my foot outward. As the bike fell off to the right, my foot was trapped under the aluminum box and the ground, pointed backward. This was a very ugly position, and I couldn't move at all. I couldn't lift the bike off me, I couldn't turn to my right to relieve the stress to my leg since I was still astride the bike and couldn't swing my left leg over it, and I couldn't pull my foot out. I just stayed there until Don rode up and stopped to lift the bike off my leg. As I stood and assessed any damage, I saw the pickup had stopped just up the road and the driver was watching me hop around on one leg. I wanted to hurt him bad, but I just waved him away. Off he went. I hope Karma bites him soon.

Turns out that aside from a sore ankle and knee, I was okay. We rode on. After gas in Woodland Park and a late lunch at Amanda's Fonda in Manitou Springs, we headed south and west on Old Stage Road/Gold Camp Road to Victor (more dirt roads). I like this route; it's easy, varied, and scenic. Because I'm a doofus sometimes, I again got off into the right ditch on a gradual climb. The bike stayed upright, but was tippy and I had to strain to keep it from going over. I head Don behind me grumbling about something, and I looked back to see him trying to find someplace to park his bike where it would not fall off the sidestand. I kept trying to keep my own bike from flopping over, so I missed Don's fall. Turns out that he got too far into a lean while parking, and his bike flopped over in the road. I let my bike go and it fell over onto the right side box, and I went to help Don. As we lifted his bike up, one of the mirrors caught the new tall windshield, and the big plastic sheet just snapped in half. What a waste. Oh, well.

A couple guys in a truck came and saw our comedy act, but they took pity on us and got out to help us get situated. After getting Don settled, they helped right my bike and push me out of the ditch. I rode to the opposite side of the road (better angle for parking) and promptly dropped the bike over again while parking it. Duh.

We continued through Victor and on into Cripple Creek with further misfortune. Don hadn't done Shelf Road before, so we took that south to U.S. 50. No cattle on Shelf Road this time, but we did scare up some mountain goats or female Bighorn sheep or whatever they were that scrambled up the mountain in a hurry.

We went West past Canon City, then followed a map to a friend's property between Canon City and Westcliffe. It was late when we got set up and ready to camp, and the wonderful views were made hazy and faint by low clouds with a blustery disposition. Don hung his hammock in a canvas shed and I pitched my tent in the dirt. After a bit of fireside chat, we were ready to call it a day. Wow, that reflective ADV sticker is really shiny.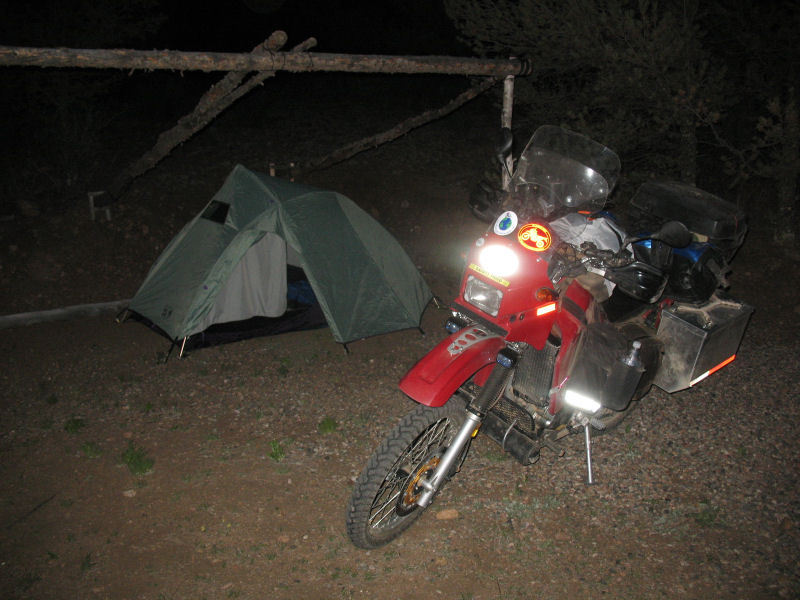 Wednesday, May 28, 2008
-----------------------

The views were only slightly better in the cold, drizzly morning, and it was still very cloudy. We were on the road by 07:30, headed for Cotopaxi for breakfast. We made a short detour through Salida to see if a couple friends were at their businesses, but both were goofing off elsewhere.

After running up to Buena Vista and finding out that both Independence Pass and Cottonwood Pass were still closed due to the unusually high snowfall this Spring, we backtracked to U.S. 50 and over Monarch Pass.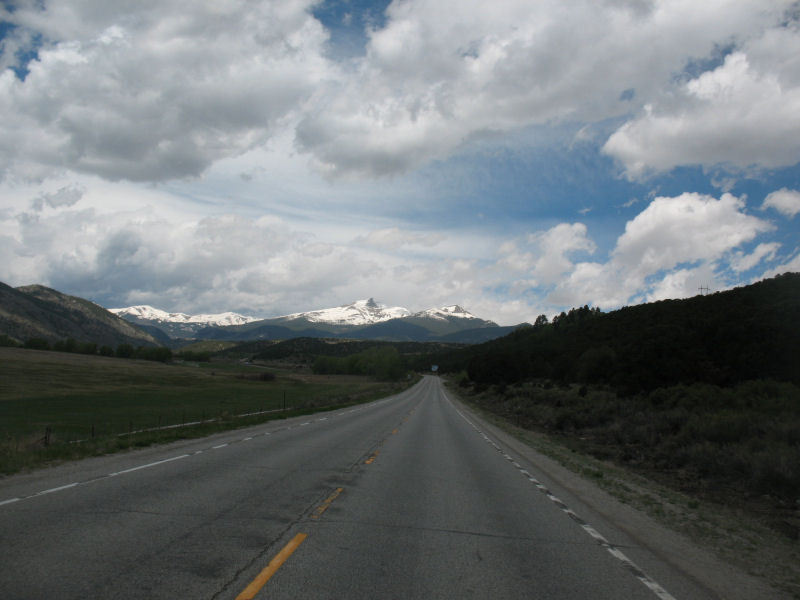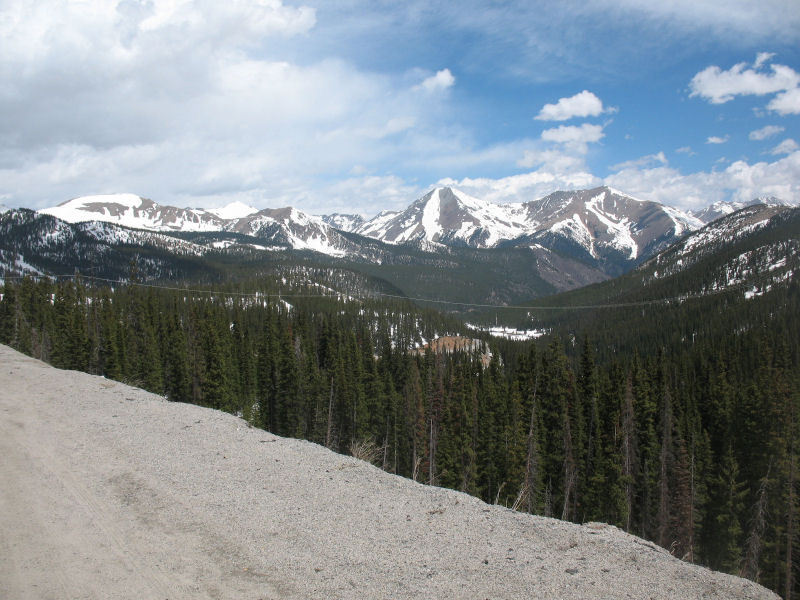 I hit reserve on the bit IMS gas tank at 246 miles, about what I expected. What I didn't expect was that I only got 13 miles on reserve before the tank went dry right next to the gift shop at the top of the pass. After hot chocolate, Don rode back down to a service station and fetched a siphon pump and hose, returning just after I finally found my own extra fuel hose. More silliness.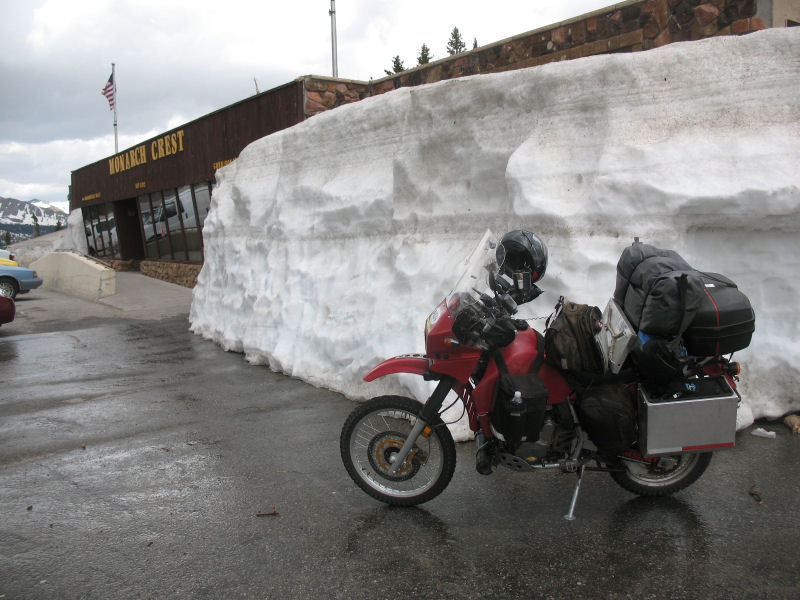 I took some of Don's gas and we got down from Monarch Pass to the town of Sargents, where I topped off. Don had been keeping his gas tank full, but I had deliberately let mine run down to see how its capacity played out. I guess that I learned what I needed to know. The IMS tank, due to its thick plastic shell, has very little fuel left when you switch to reserve. Plus, the bike was too heavy to lay on its side to get to the few "secret" reserve ounces of fuel in the right lobe of the tank.

The water level in Blue Mesa Reservoir was lower than I had ever seen it. Maybe they let it flush out?




We had lunch in Montrose at a nice Chinese buffet.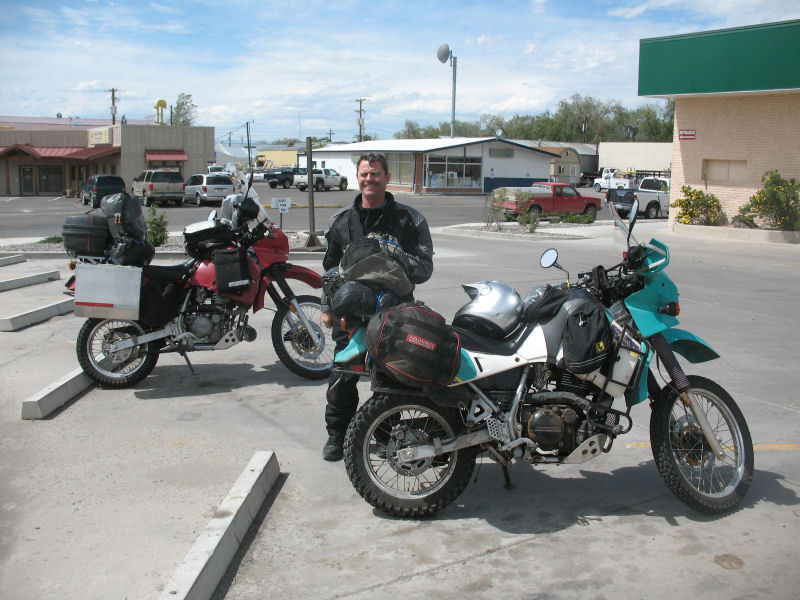 A couple locals advised us that the Uncompagre Plateau was not yet passable to anything other than 4-wheel drives, so that plan was also scrapped. We went south to Ridgeway, then west toward Naturita, intending to find a camp site somewhere along the way. The San Juans were gorgeous, snow-speckled and stark.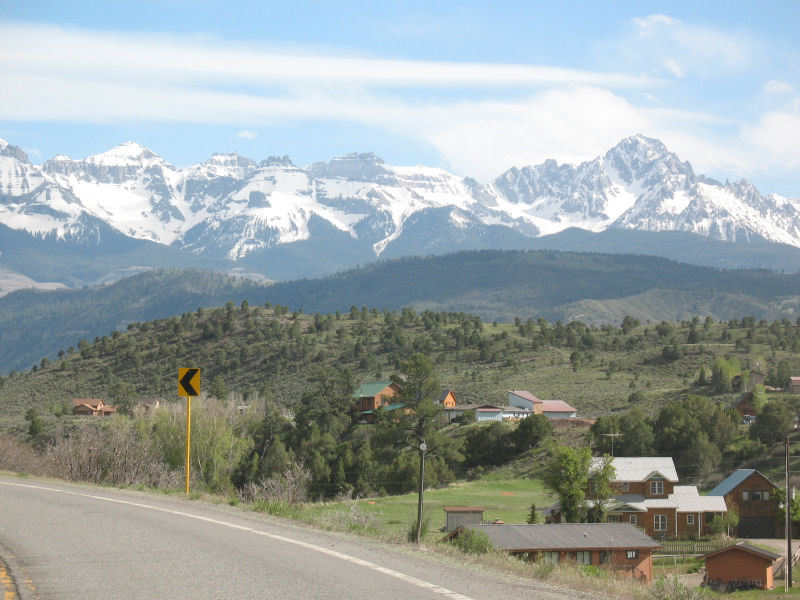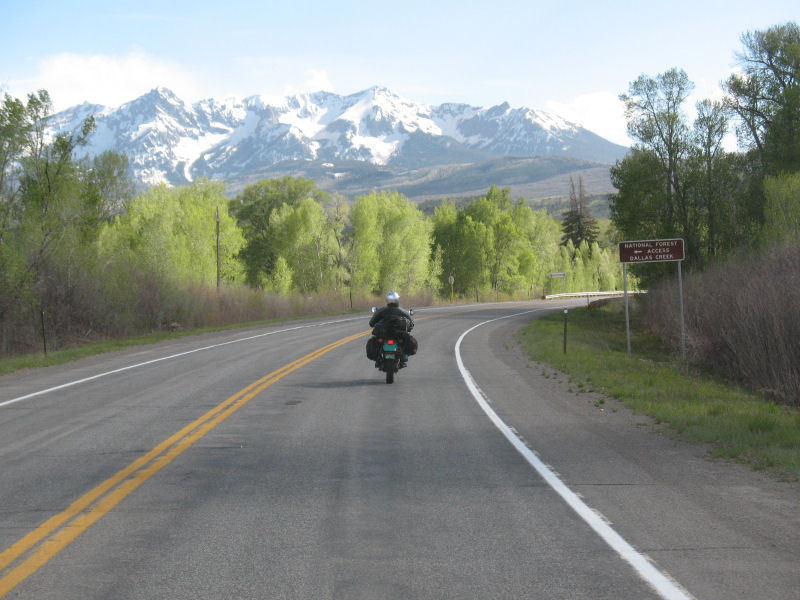 Don was having trouble shifting, and almost got hit by a red convertible when he pulled out in front of them and then missed a shift and almost stalled out. They flipped him off and sped past. Turns out that they got in front of me for the next 20 miles or so.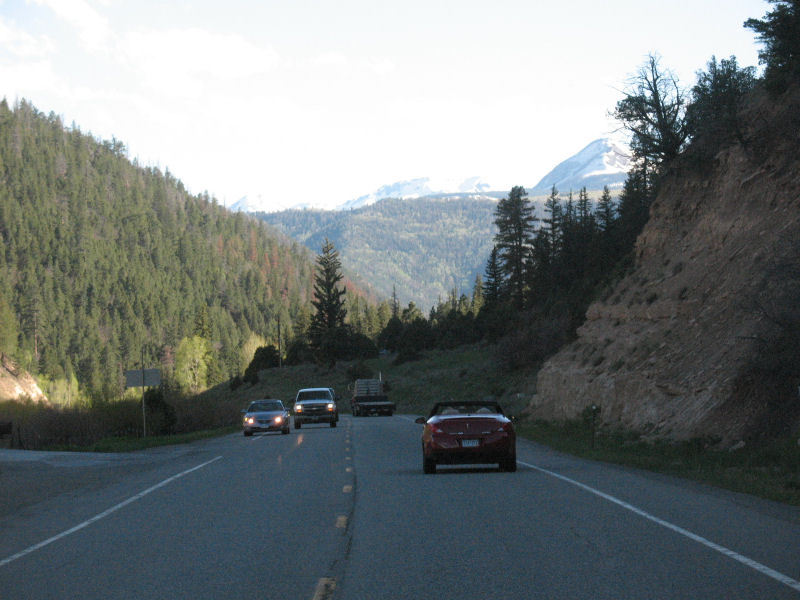 Locals in Naturita had no recommendation for camping, so we decided to find a wilderness camp somewhere. We rode on until we found a dirt road that turned off the pavement and headed into the hills and we went exploring. I wanted to get far away from the main road so our fire would not be seen, so I blasted up some rough rocky sections before finding a nice spot. When I stopped, Don radioed up to me that he had fallen and needed help. I walked down to help him pick up his bike. I forgot to take a photo of his tired bike, but remembered the camera as he headed back down.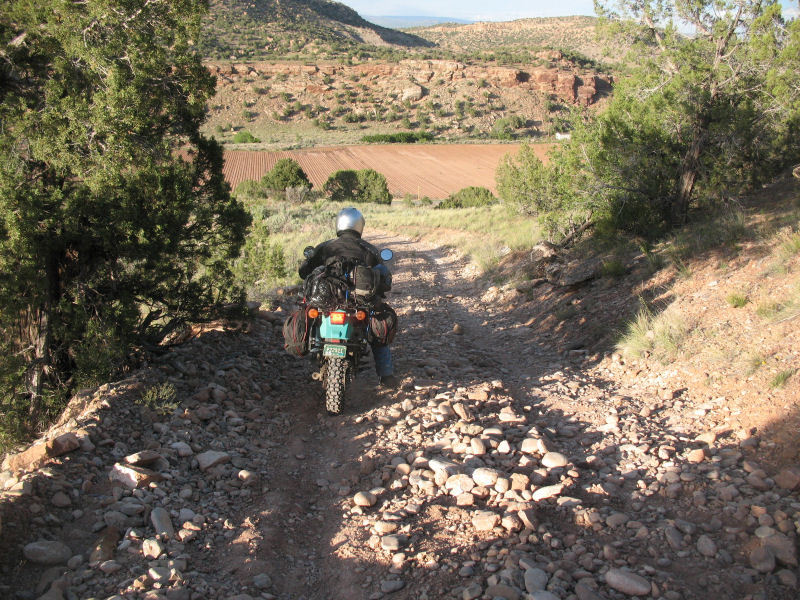 He had fallen on a steep slope, on baseball sized rocks. We agreed that a lower camp site would be good enough, so I brought my bike down and we settled into a nice spot. After we got set, a truck started to come up the dirt road toward us, but saw us and turned around and left. Don't know what that was about. The fire chased the gnats away, the weather was cool but clear, and all was well. Don camped in the open, on a plastic sheet, me in my tent.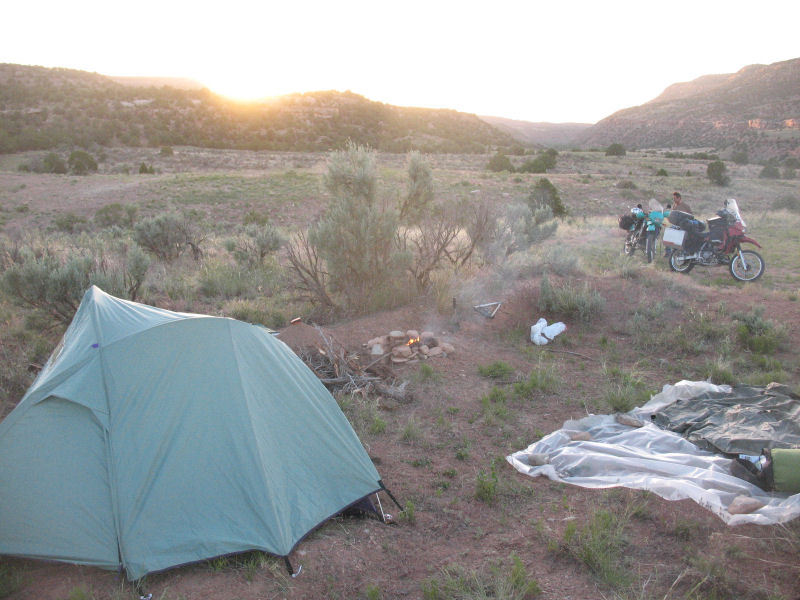 I stayed up later than Don did. Took a rare self-portrait.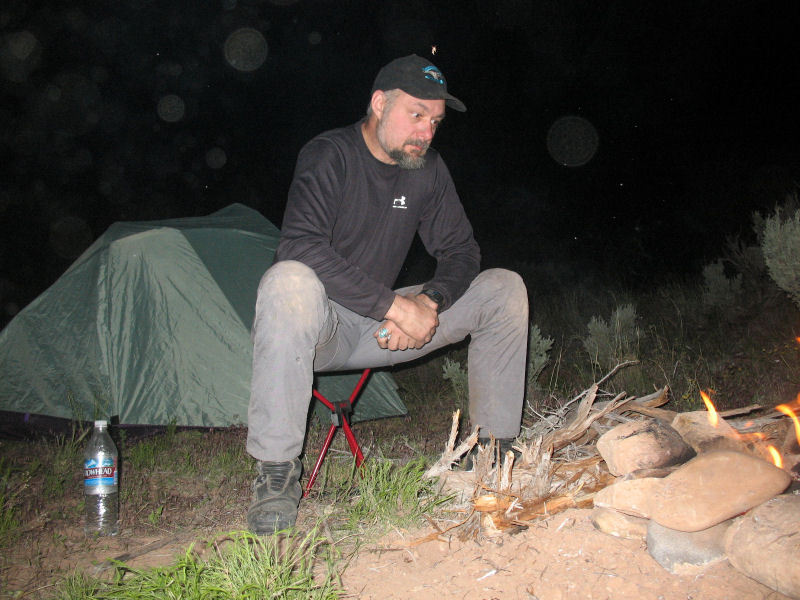 We were HERE




Thursday, May 29, 2008
----------------------

We got up at 07:00, broke camp and road up the San Miguel/Dolores river canyon to Gateway for breakfast. A cool, beautiful ride in sharp morning shadows.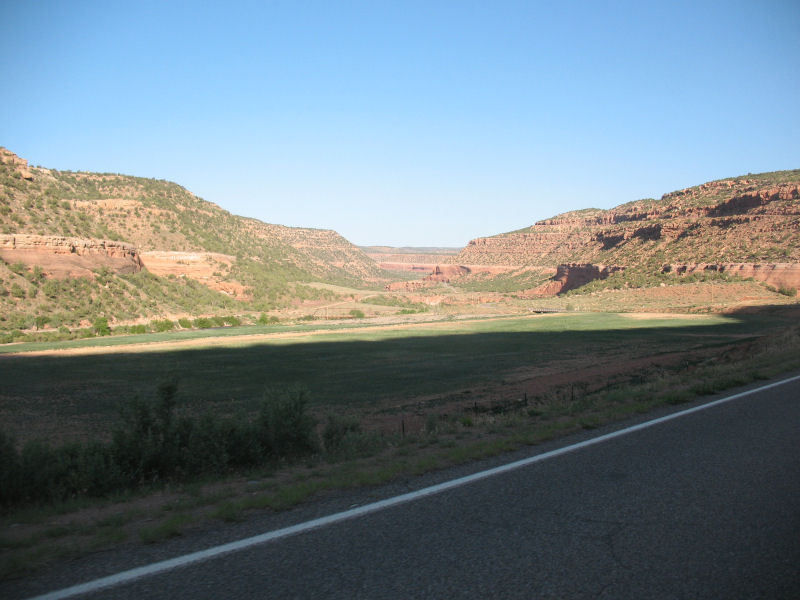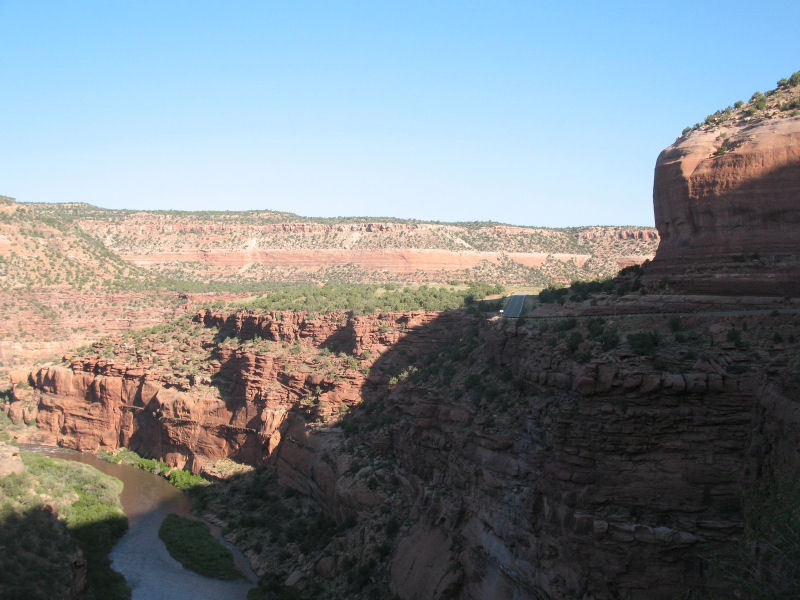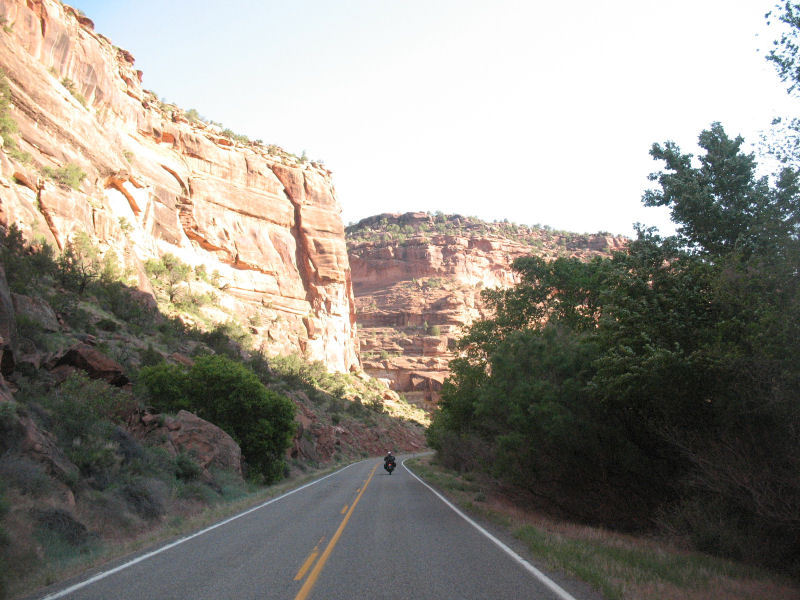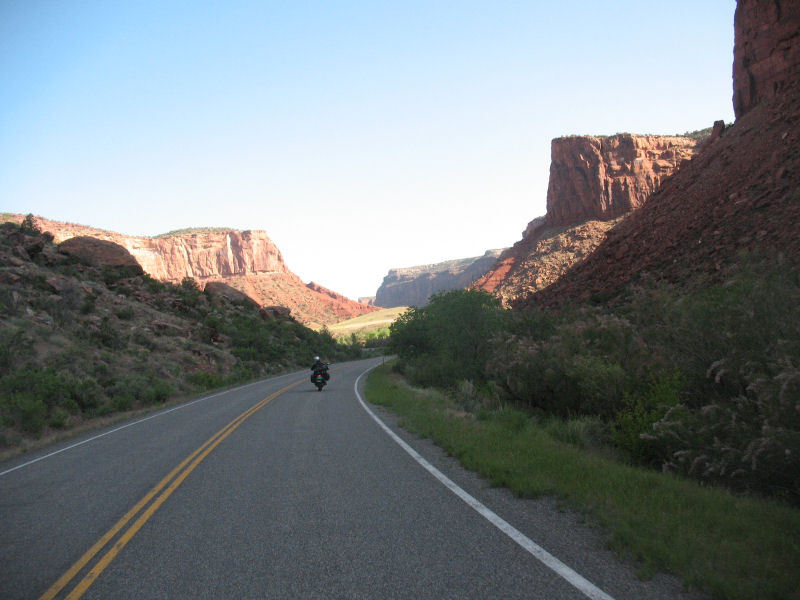 We then took John Brown Canyon over the shoulder of the La Salle Mountains as we had done last year. A nice ride, but colder than last time.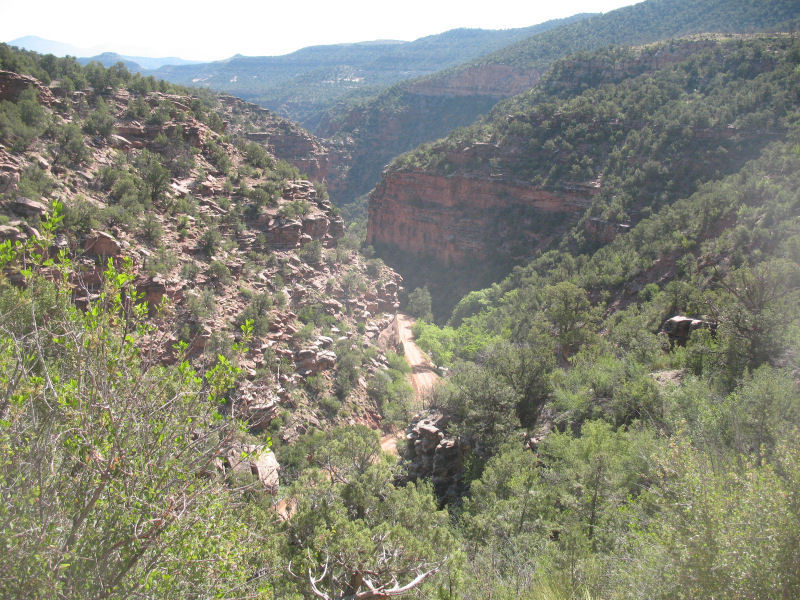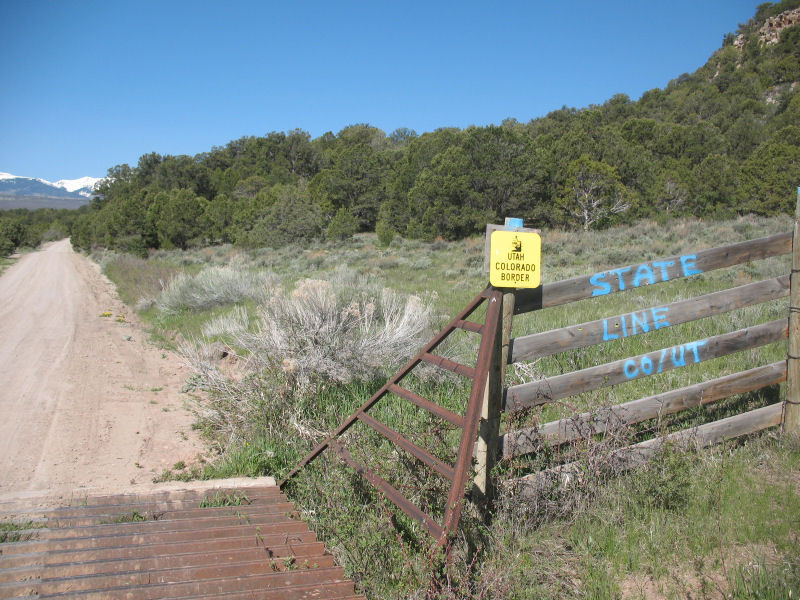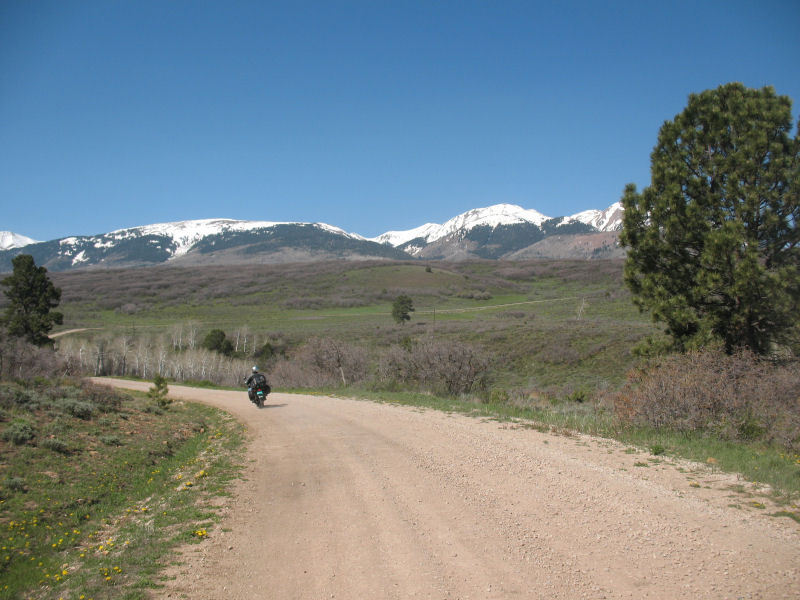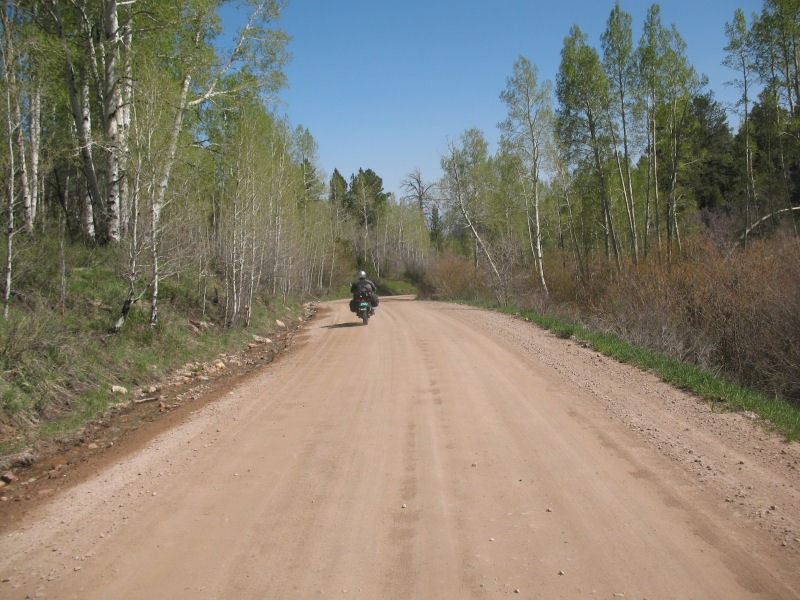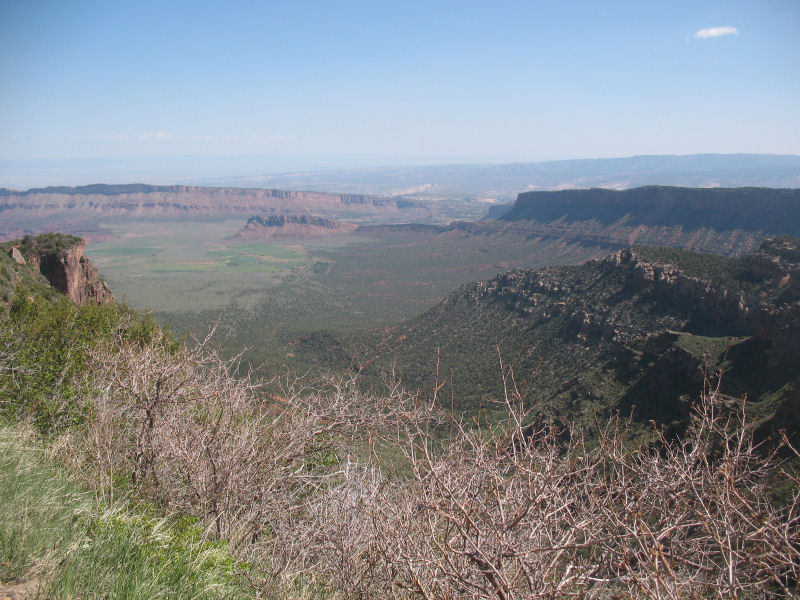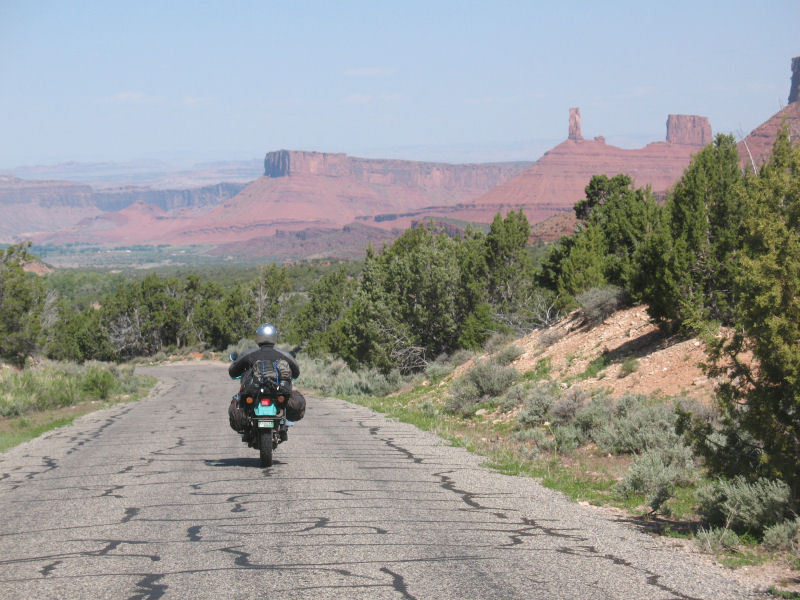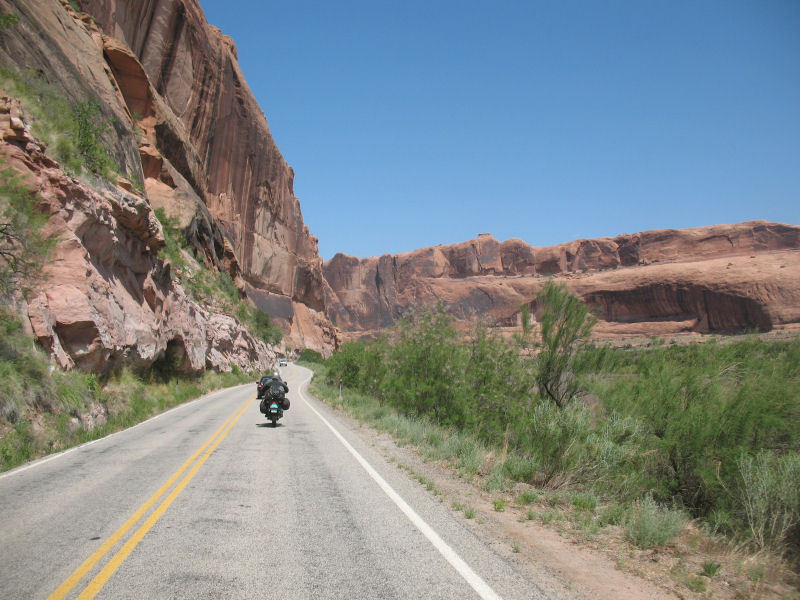 We got into Moab at about noon, too soon to check into the campground, so we rode down to Fred's shop (Arrowhead Motorsports) to putter around a while. The bike rudely tipped over in Fred's gravel driveway when the sidestand dug into the ground. It's a good thing that Don and I didn't make the common "drop fee" agreement before we started out. The score so far was three for me, two for Don.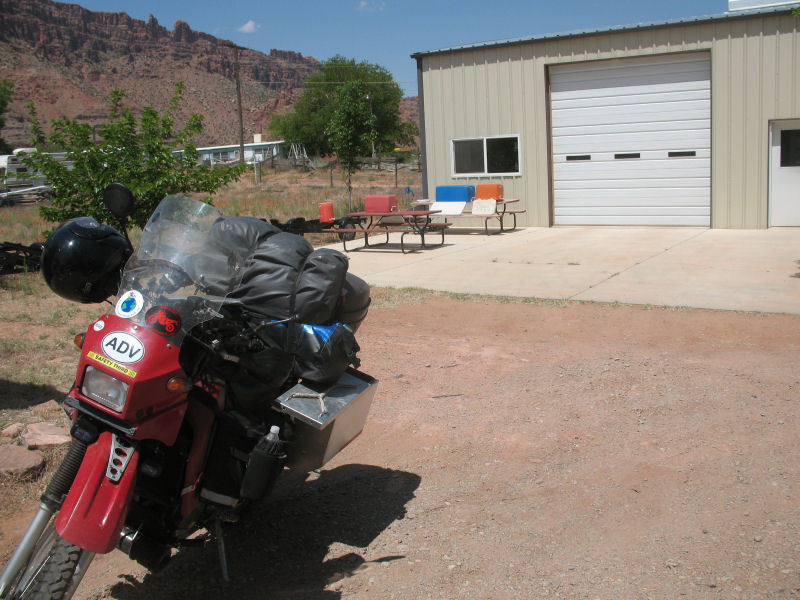 After getting our cabin and getting cleaned up, I called Laurie to add a few things to the list of stuff that she would be trucking and trailering in later that night. I found that one of the Rox straps had melted on the muffler, so I would need a new strategy for that strap next time. On the two-night ride here, I had also learned that some of my attachment points for the side bags needed to be altered, and the tank panniers would need to be mounted higher and further forward to clear my knees. It was all manageable, given time. Some of the cheap aluminum caribiners that I had used to attach the bags had bent, and I would need to replace them with real caribiners or other clips.

Both of the aluminum boxes were bent from the tip-overs. I was surprised at how vulnerable they were. I had to bend them back out to get the lids to fit right. Surely some of the boxes out there are sturdier than these. The aluminum alloy in these boxes is pretty soft.

We met several other arriving riders, stopped back by Fred's shop briefly for a chat with folks, then headed for the Moab Brewery for dinner. Laurie arrived after midnight, but she got settled in for bed quickly. We would unpack and unload her bike in the morning.


We were HERE




Friday, May 30, 2008
--------------------

Breakfast Friday morning was at the Moab Diner. There was a group ride plan for Friday, and the White Rim Trail awaited us. Don was very leery of his shifting problems, but Laurie volunteered her XT225 for Don to ride. She spent the day relaxing, reading, napping, sight-seeing. Almost like a real vacation. We, on the other hand, spent the day beating the hell out of ourselves.

The group got organized for the White Rim Trail (WRT) and headed out at about 08:30, with 21 riders. Going by memory, I tried to get us to the counter-clockwise start of the trail, on the plateau near the Deadhorse Overlook, but my memory on this issue sucks. After I was corrected a couple times, we finally got started by descending the zig-zags down to the Green River. The weather was good for the ride. Not too hot. There were a couple more orientation challenges early on, but we managed okay.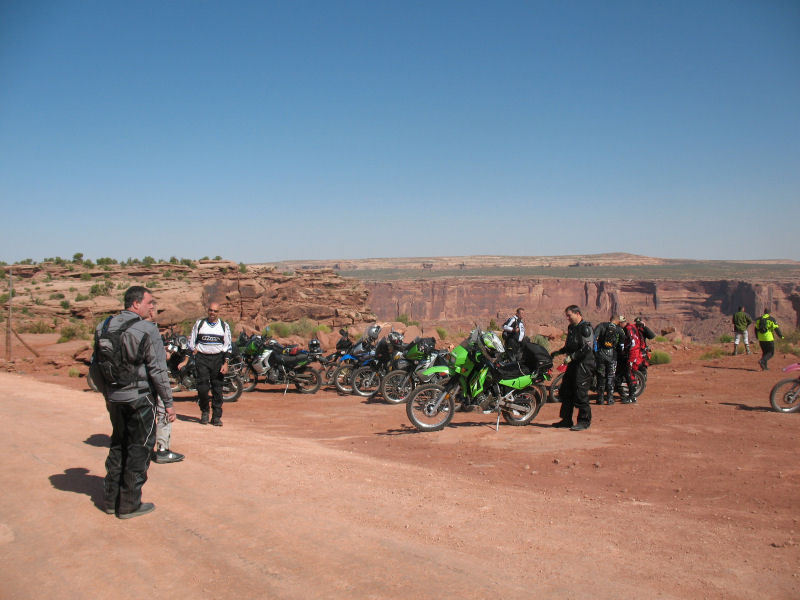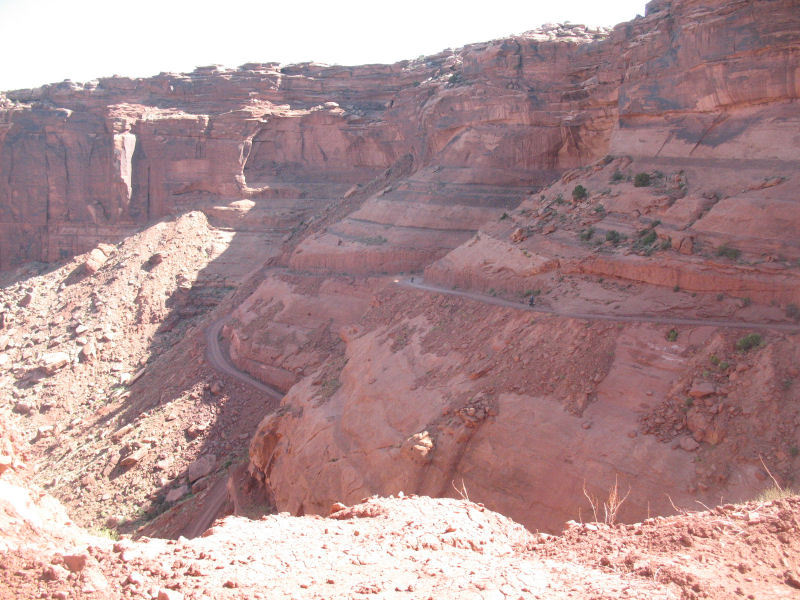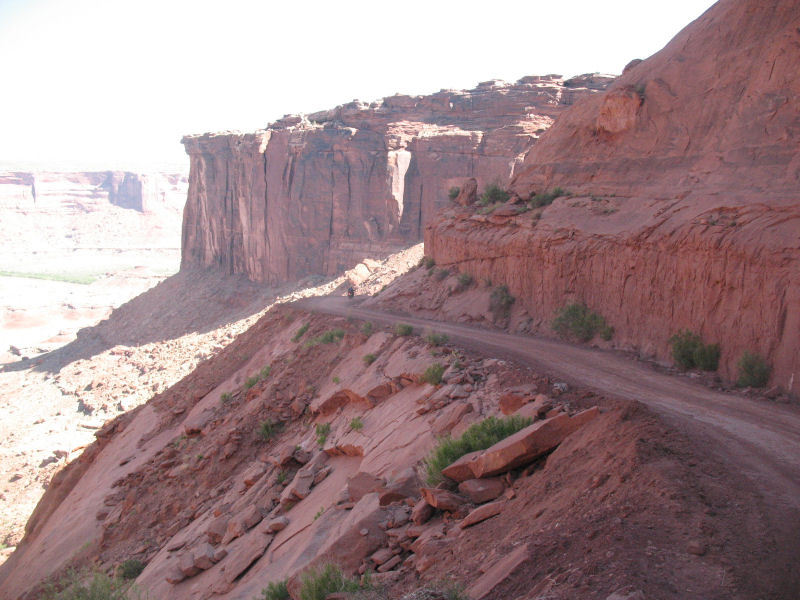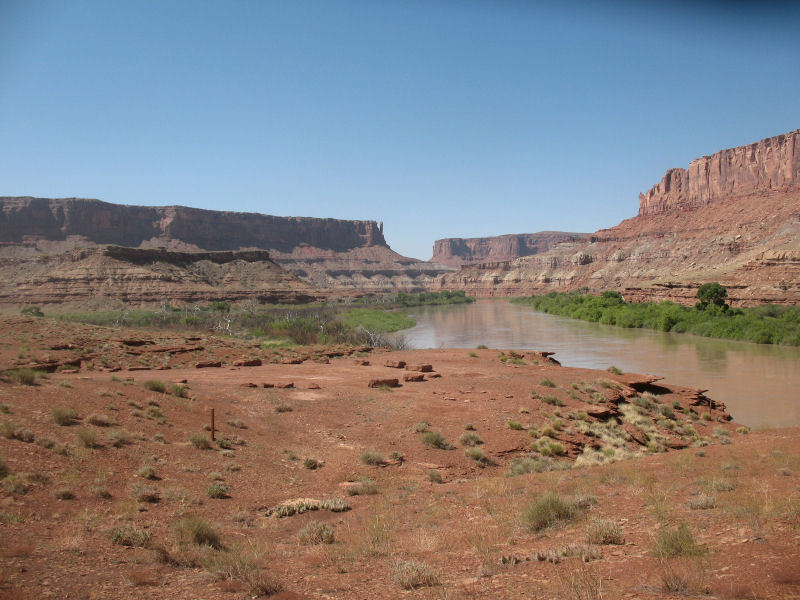 I had my first tip over on a steep, rising turn when the rider in front of me seemed to chicken out and stopped. I was just leaning and accelerating into the turn, and I couldn't keep the KLR from tipping over. I had to pivot the bike a bit before getting it back upright. The KLR still had a couple sets of soft side bags, but the other luggage had been removed. Still, it was heavy.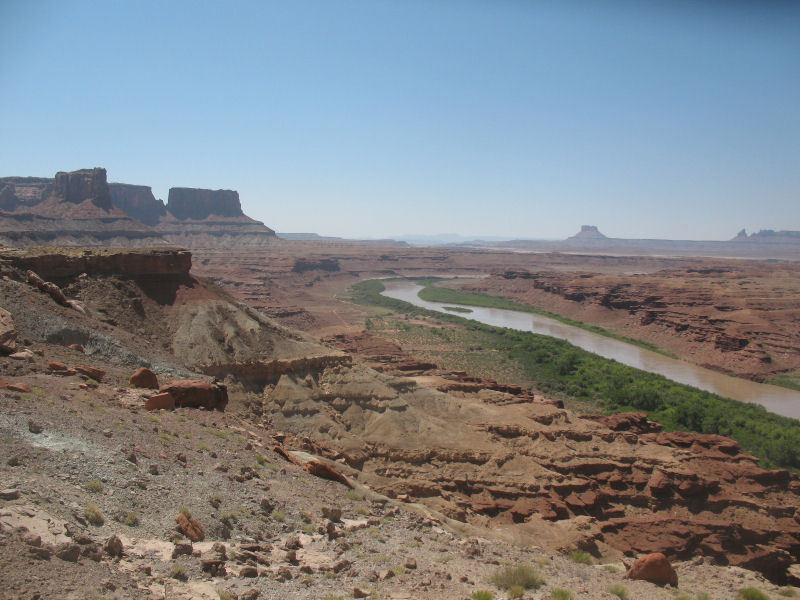 I later got hold of some photos of me that others had taken and posted on one or more of the forums. I hope those who took these images will remind me, so I can give the proper credit.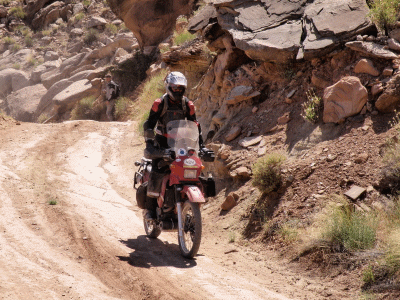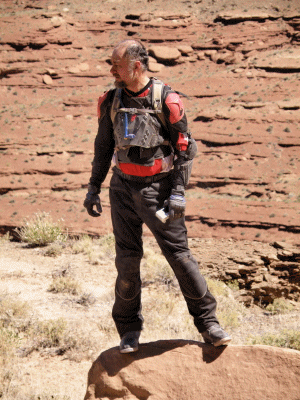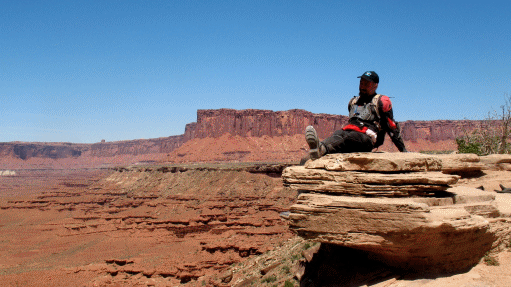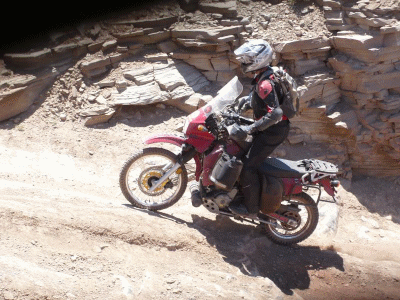 Some riders had great trouble in the deep sand areas, and Don seems to have no knack for it. Even on the XT225, he goes into a wobble and fights for control when he's in sand. I managed to do a bit better, but I was really babying it since this bike had to get me to Alaska after this weekend. I had forgotten to remove the tall windshield (as I had planned), so I considered that to be the most vulnerable item to protect.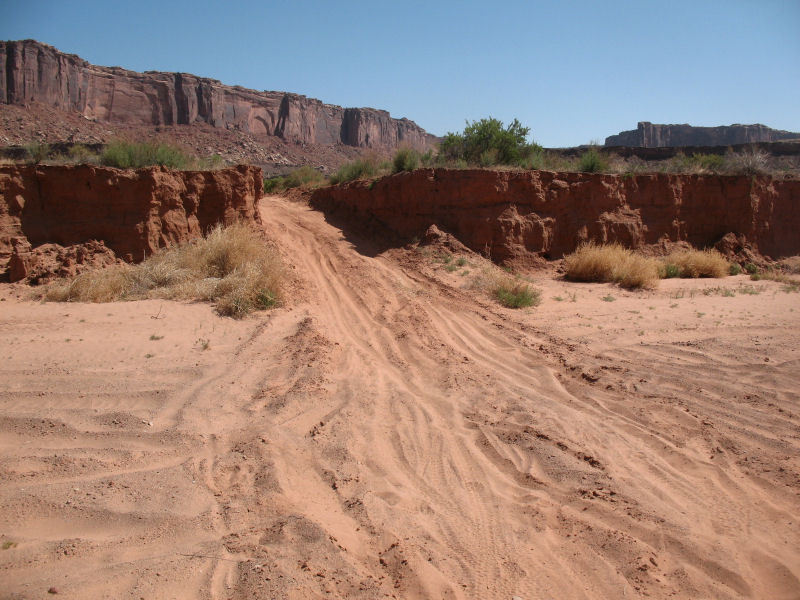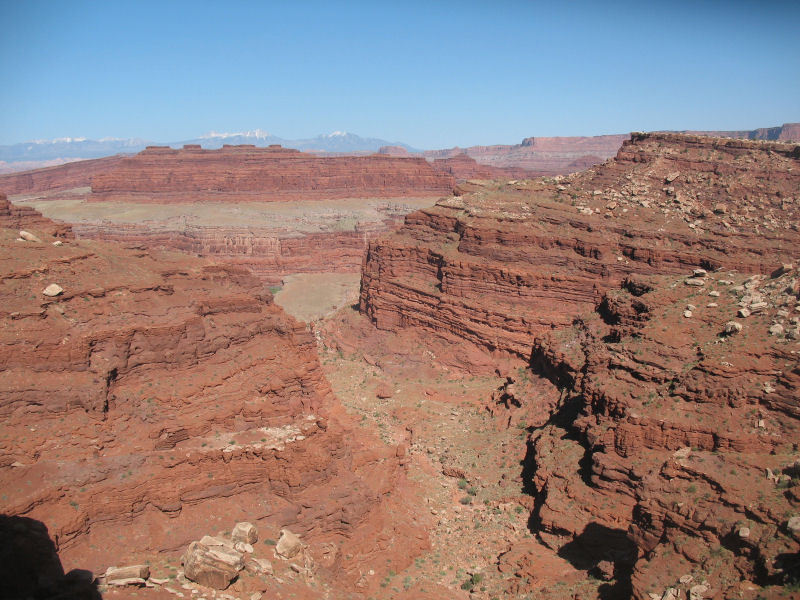 I helped one rider get her bike out of some sand, first by helping push and then by riding it out. She was pretty tired at that point. She was too short to get her legs down to paddle-foot her KLR250 through the sand, so every time she had trouble in sand, down she went. I even got one photo of her in a sandy mid-crash. (She is a good rider; the sand just caught her wrong.)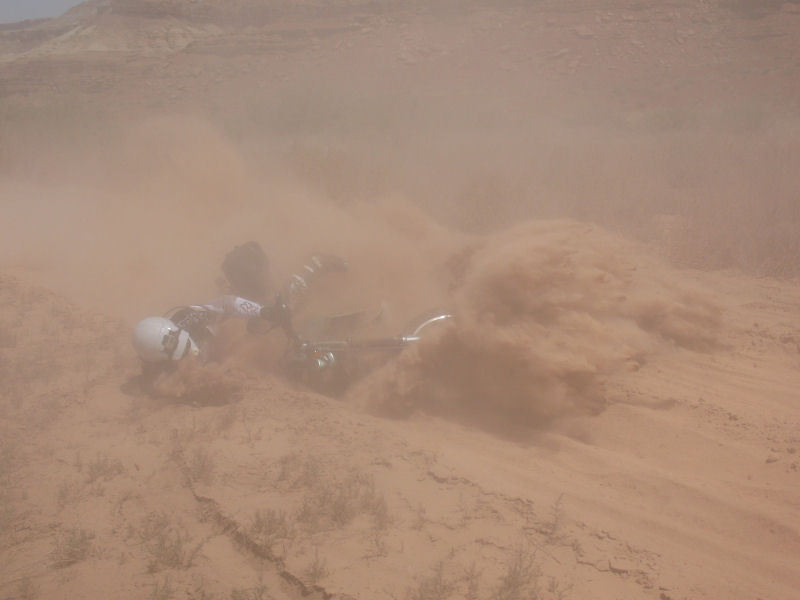 This sand area was very deep, and caught several riders. One guy dumped his bike on his leg and the footpeg tore a hole in his calf. Some first aid on the trail and a few stitches later in the day and he was all fixed.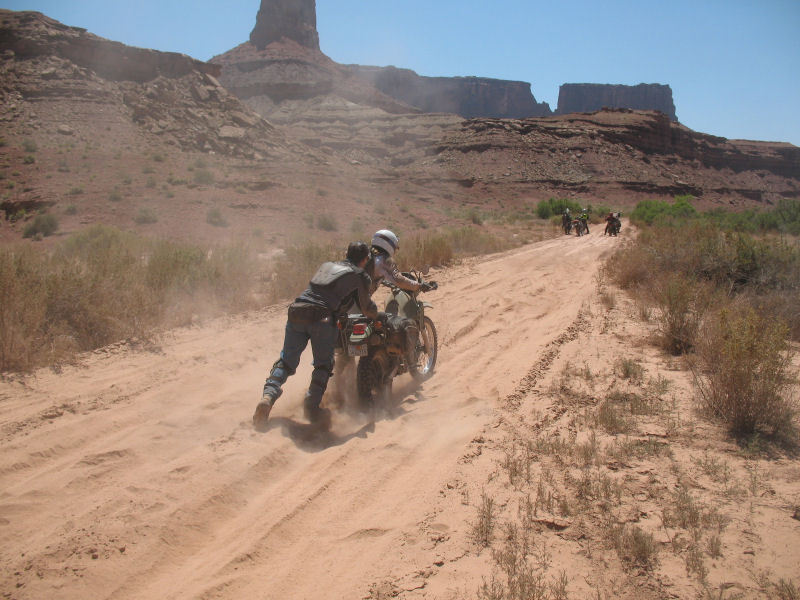 I had coached everyone at the start of the ride to not bunch up, yet I made that mistake myself while riding through some sand behind Don. He had his usual fall and I wasn't able to stop in time and ran my front tire into his back. I will always feel bad about that, but I'm glad he wasn't injured from my error.

We made several stops as a group, including one long group lunch/photo stop. The faster riders were taking off early, and Don and I soon followed. We caught up with some of them and rode as a small group for a while. Murphy's Hogback was easier this time, going downhill, as was Hardscrabble Hill.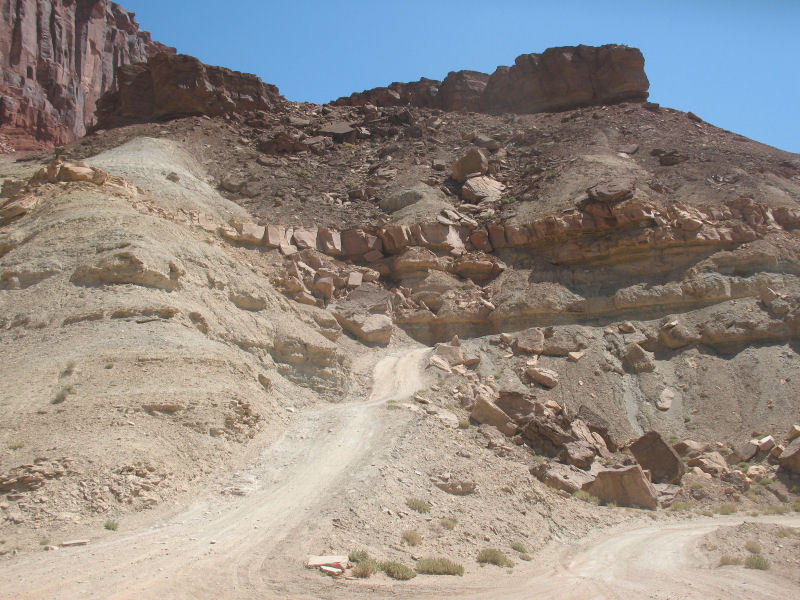 The climbs up the other sides were still challenging. I decided that either way you go on the WRT, it will be a different experience and equally adventurous.

Last year, we had done the WRT in the opposite direction, but I had apparently blocked out huge sections of the trail from my memory. In the last third of the WRT, almost none of it seemed familiar to me. We were on the right route, but coming from the other direction had been a completely different experience. I had forgotten about the seemingly endless miles of rough, pot-holed rocky road that battered and shook us to pieces (literally). Straps on the side bags had torn loose and clips had broken and bent. I used a length of nylon rope (from my stash in one of those side bags) to tie the bags to the bike and keep them from flopping around.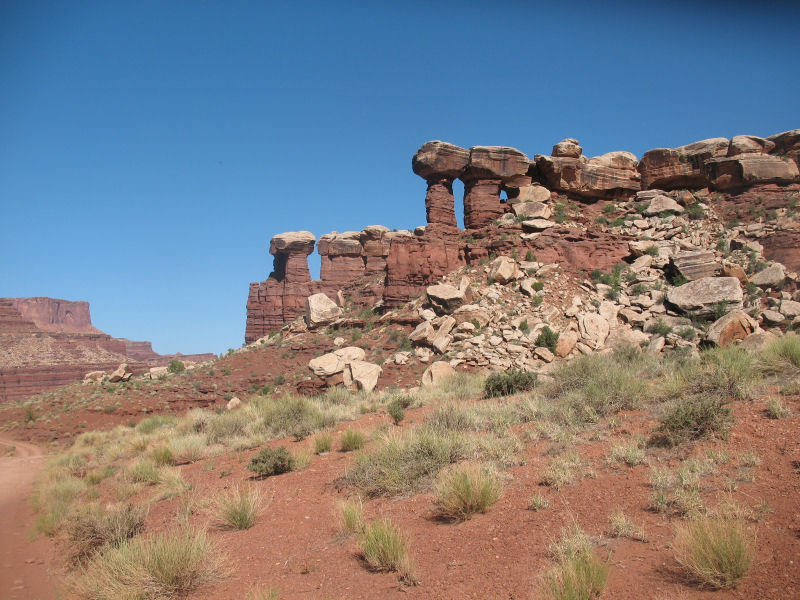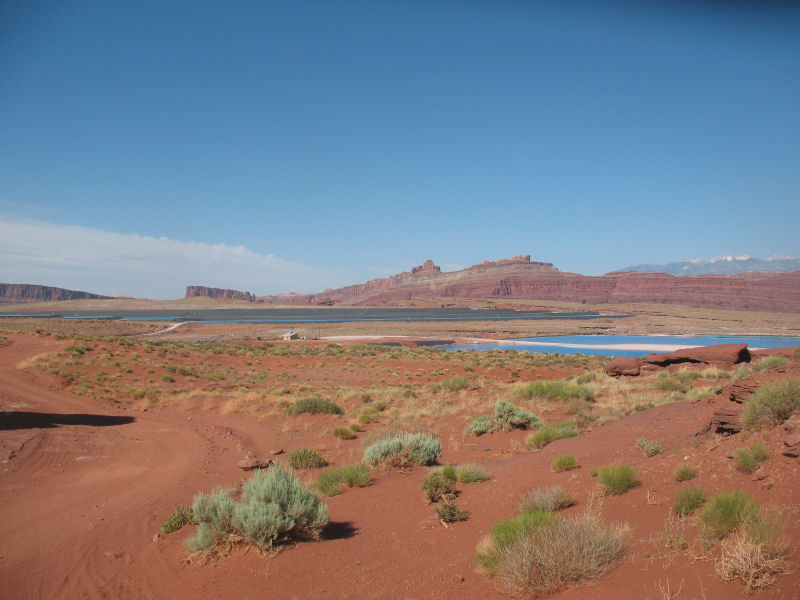 Don somehow managed a fairly high-speed crash on the XT225. I came up behind his debris field, saw the tire skid marks and the gouges in the rocky trail. The evidence led right up to where he was still laying next to the bike. He was okay, despite the battering, and the bike had only minor damage. He got back up and we rode on.

It took us almost ten hours to complete the WRT, same as last year. With a much smaller group, and fewer and shorter stops, it could easily be managed in 6-7 hours (assuming no catastrophe). We had expected to siphon gas from my big IMS tank for the XT225, but the smaller bike did the whole WRT, over 150 miles, on one tank... without hitting reserve! That was over 75 miles per gallon! Goodness! We headed for camp to collect Laurie and learn about her lazy day.

Later, we learned that one of the riders had suffered a severe ankle injury on a fall, and a couple bikes had broken their footpegs off. Been there, done all that.

At Fred's shop, we hung around for the drawings, and we each won something.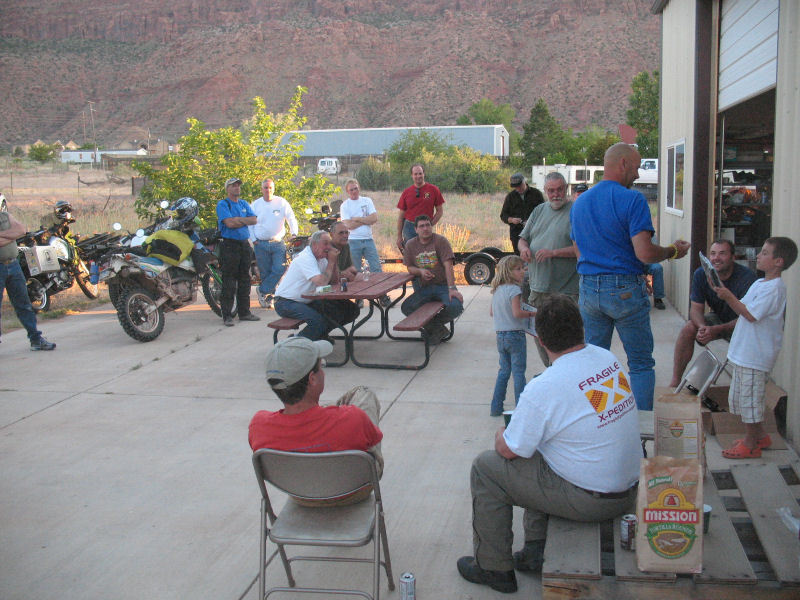 We headed back to camp for a group meeting of the WRT riders (and more gift drawings). I had my "Prudhoe Bay to Ushuaia" t-shirt for people to sign, and I promised to wear it into the Arctic Ocean and again at the southern tip of South America.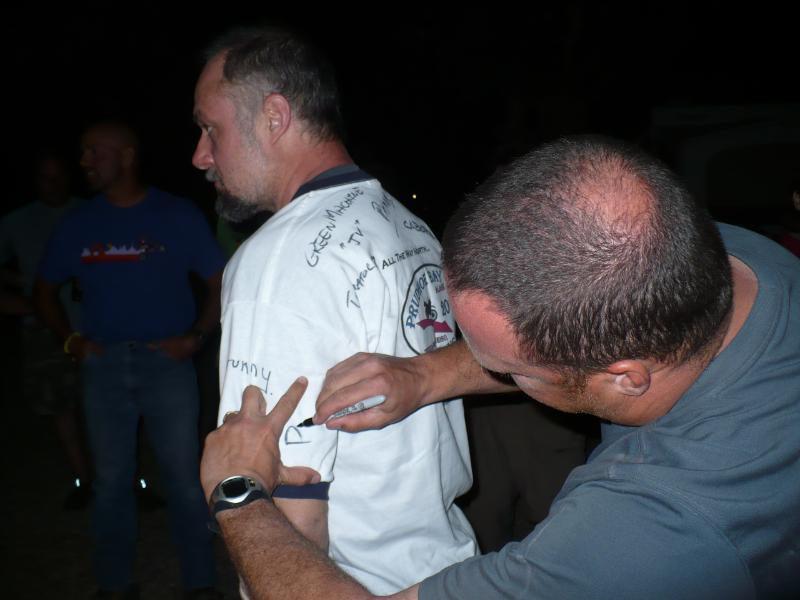 Later, we hurried into town for dinner at McStiff's, then back to the cabin to spend some time in a coma.



Saturday, May 31, 2008
----------------------

We changed our initial plans for the day after deciding we needed an easier day. I was done with challenging riding, Don agreed, and Laurie needed some easy riding for her part of the adventure. We had breakfast at the Jailhouse (as good as it gets) and later set out for Hurrah Pass on the Kane Creek Road.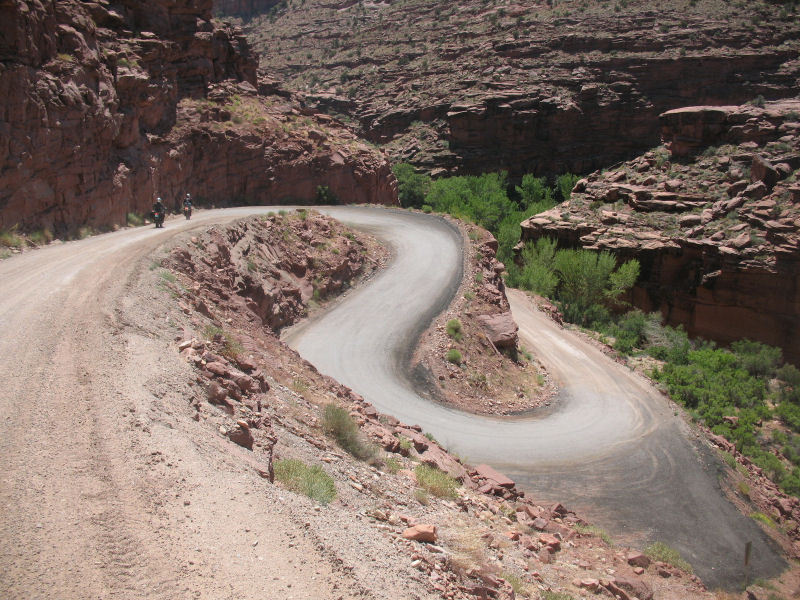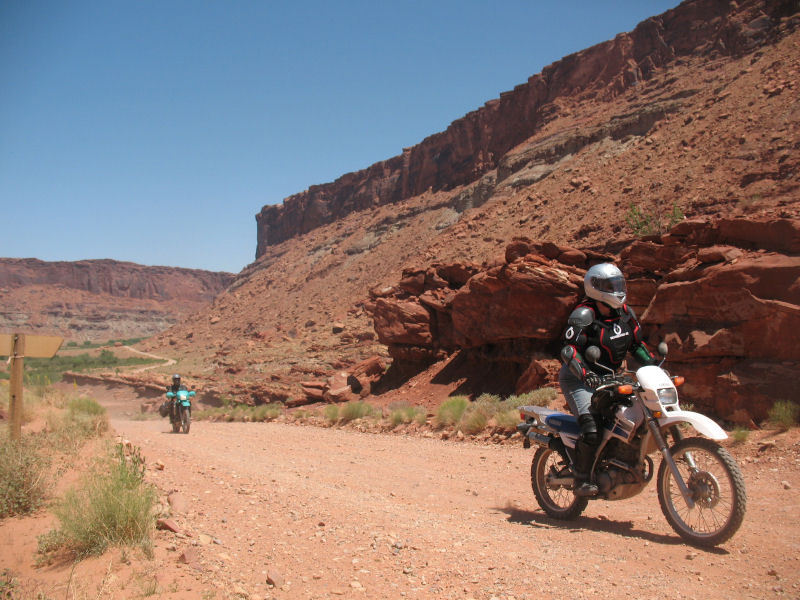 It was a bit challenging for Laurie, but she did great. One big sand pit bit her, but she motored on. She did great with the rocky bits, and developed enough confidence to get over some stuff that I thought would intimidate her too much to try. I took photos and some video while Don coached Laurie through some spots. The helmet radios were good for this.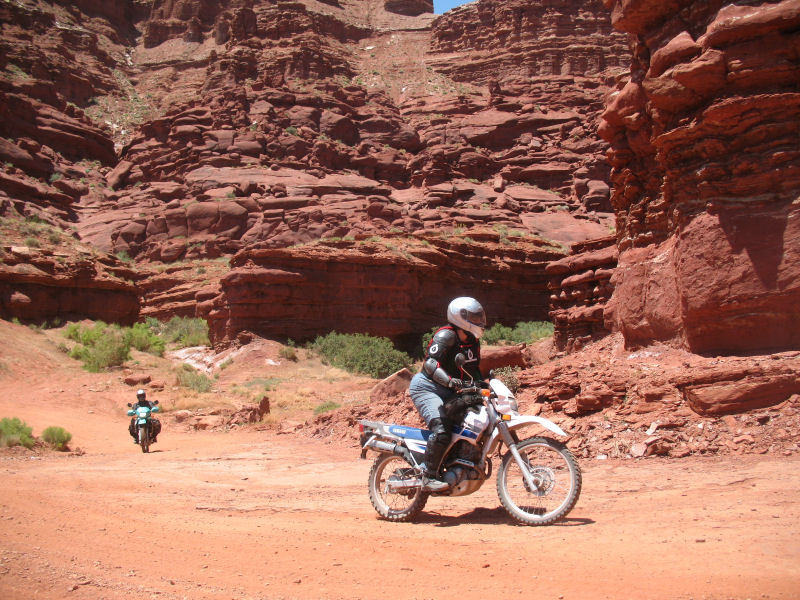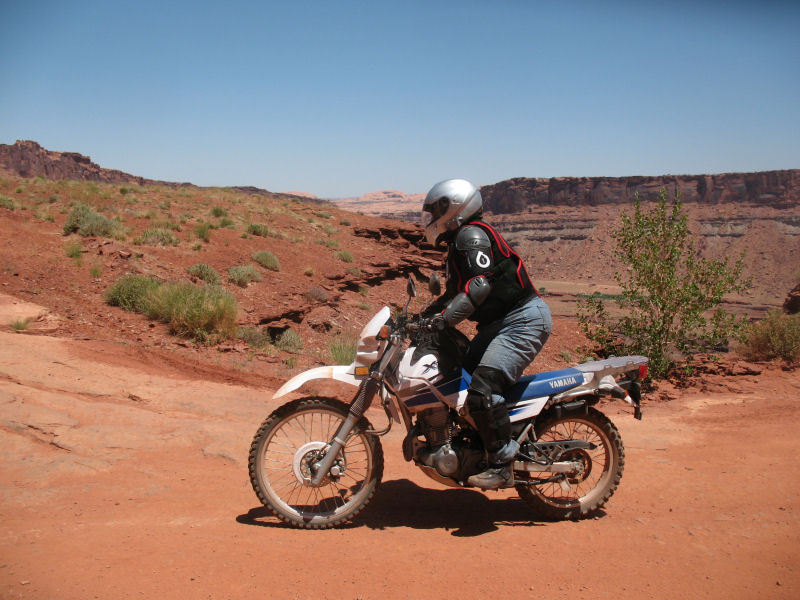 At Hurrah Pass, I'm sure Laurie felt victorious. The scenery was good, too.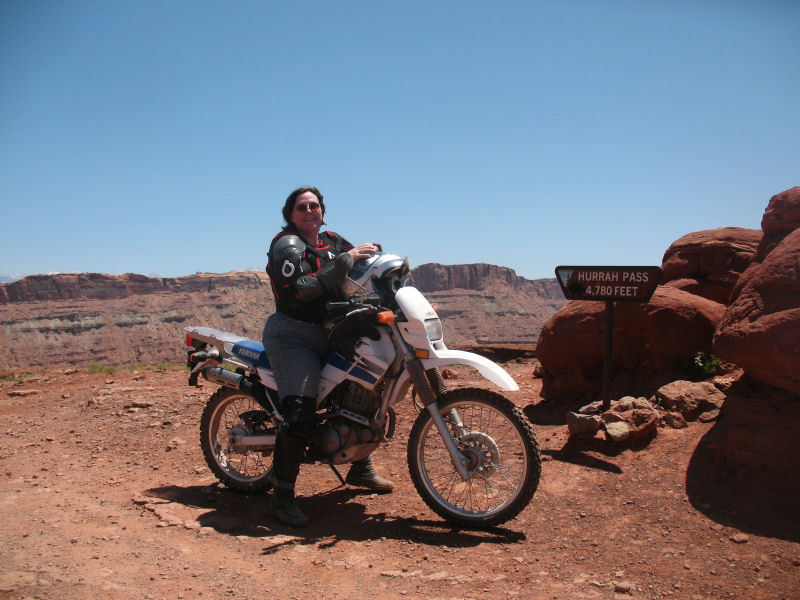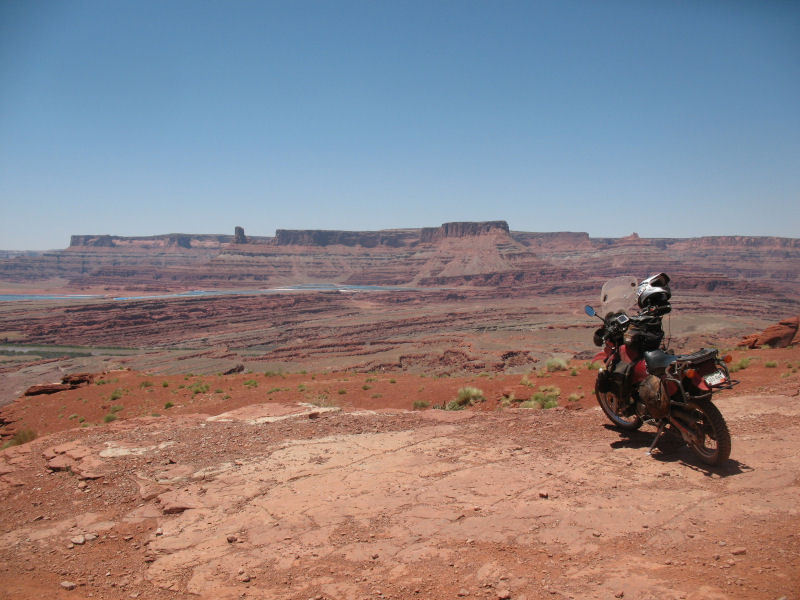 Don was still having some shifting problems, and it suggests a transmission problem (since we later ruled out just about everything else). We'll try a clutch rebuild later in the summer before sending it to the shop for work.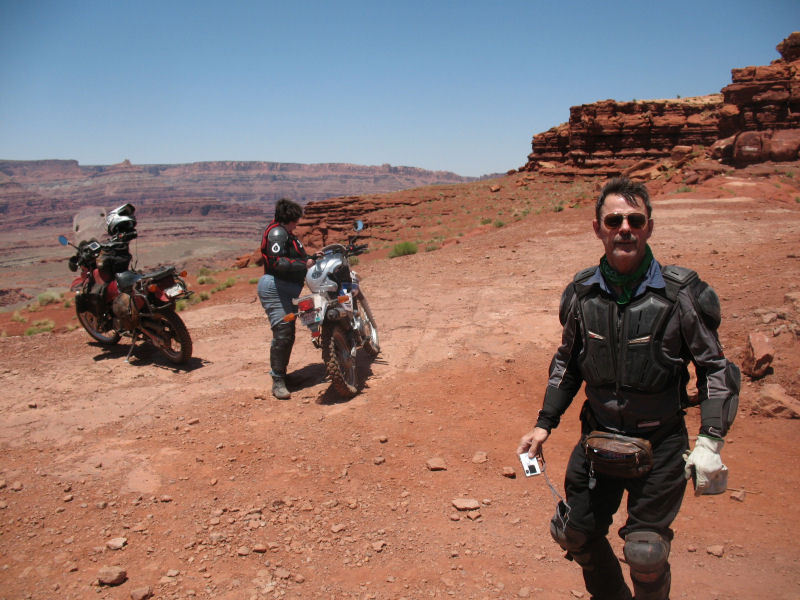 From Hurrah Pass, we turned around and returned the way we had come. I had told a couple other riders that we met on the trail that I would be late to the planned tech session at Fred's shop, so I didn't hurry back. After we had made most of our return trip, I left Laurie and Don to manage the rest on their own and I buzzed ahead to the shop. It turned out that a few riders who had planned on my help (doing valve checks and other work) weren't there, so I puttered around helping other people with various projects. Don arrived a bit later, and Laurie followed in the truck with my tool bags. When we were done tinkering, we returned to camp for showers and comfortable clothes. Another trip back to Fred's shop for another round of gift drawings (we each won something again). Don and I met one of our former co-workers at the shop, and we chatted with him for a while. Later, we chose a Thai restaurant in Moab for dinner.

Back in the camp, several riders were watching helmet-camera footage of the WRT and other rides that they had done that day. Don and Laurie zonked out, and I soon followed.



Sunday, June 1, 2008
--------------------

We slept in late, since there were no group plans. Most of the riders were headed home that morning, and we said our good-byes to those we saw. We had breakfast at a hotel restaurant that had old photos of Moab, including behind-the-scenes shots of John Wayne during the filming of "Rio Grand" in the Moab area. We did some shopping in town, finding some useful things in Gearheads, an outdoor sports shop.

We then decided to ride Onion Creek, which Laurie had heard a lot about. The many (shallow) water crossings had made her apprehensive, but her ride the previous day had improved her confidence.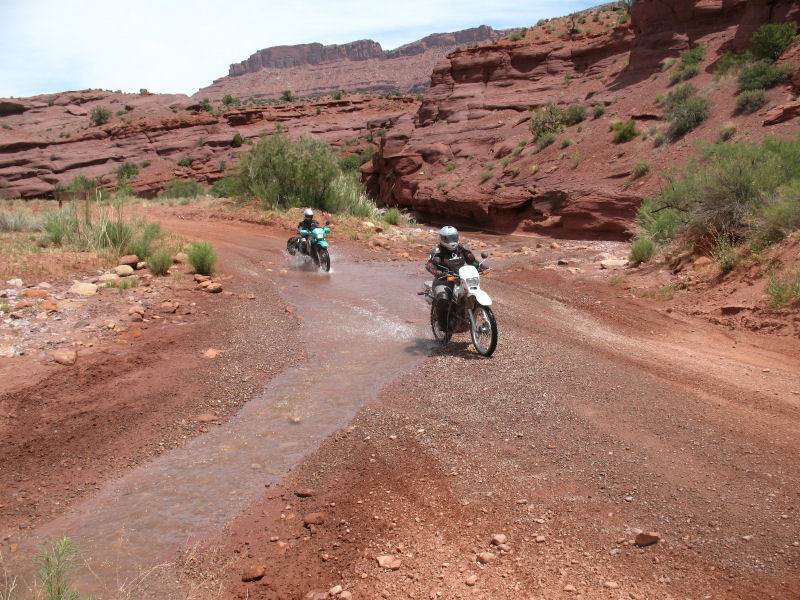 Laurie made the ride up Onion Creek with no problems, and even had a few celebrations along the way. We posed for a photo at the top, and I took some more photos and a few videos of Laurie and Don on the way down.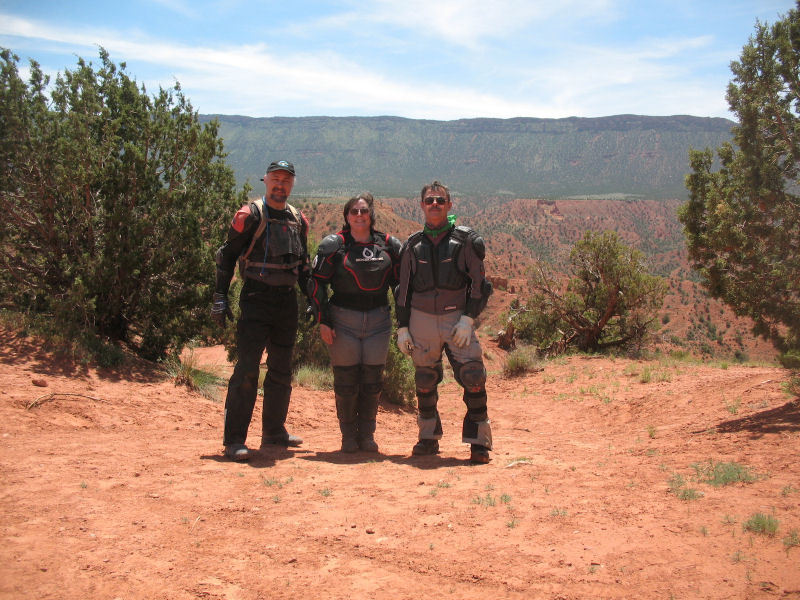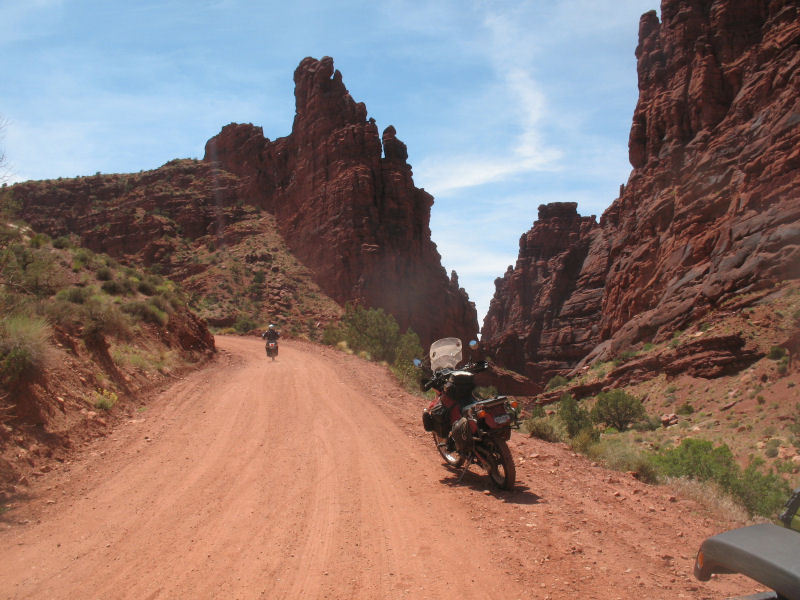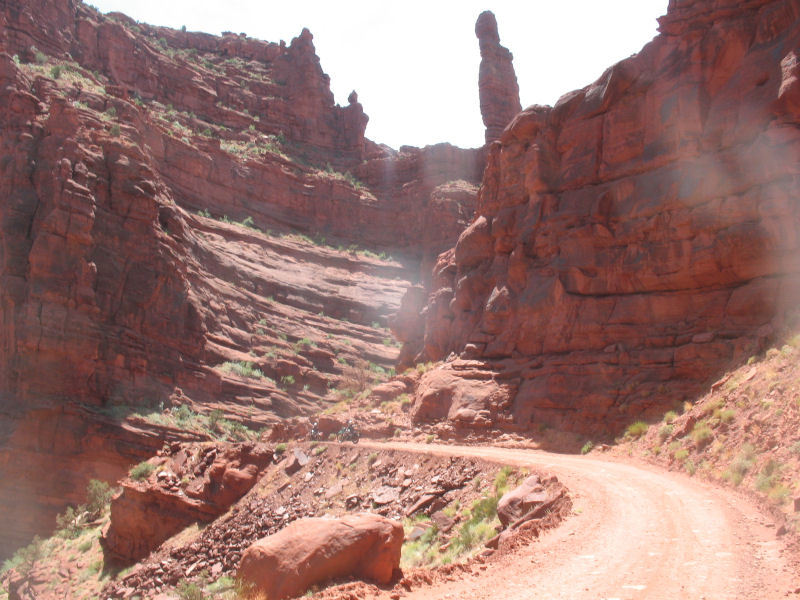 Unfortunately, I had the camera set to a low resolution when recording video. Fellow riders will find all this a bit tame, but family members will get a kick out of it. Laurie in the lead, with Don following.
(Sorry, the following video clips just won't run right, so you have to view them from where they are hosted on Photobucket. It's always something... Just click the link as you normally would, then click the 'Back' button after viewing it.)
http://s7.photobucket.com/albums/y265/SgtMarty/2008%20CMC/?action=view&current=MVI_1494.flv

http://s7.photobucket.com/albums/y265/SgtMarty/2008%20CMC/?action=view&current=MVI_1491.flv

http://s7.photobucket.com/albums/y265/SgtMarty/2008%20CMC/?action=view&current=MVI_1487.flv

http://s7.photobucket.com/albums/y265/SgtMarty/2008%20CMC/?action=view&current=MVI_1485.flv

I caught her one biff on video; coming down a sloping road into the creek crossing where she hit a rock or something under the water and came out of the water on a bad line. She ran into the hill alongside the road, and made a cloud of dust. Nothing worse than that. After I got the bike off her foot, she rode on.

http://s7.photobucket.com/albums/y265/SgtMarty/2008%20CMC/?action=view&current=MVI_1496.flv

Back near Moab, we took a side route to see some petroglyphs in the rock face along the Colorado River. Don and I had seen them, but Laurie had not. It was hot, and we needed ice cream after that. To the Moab Brewery for an early dinner, then back to camp where Don and Laurie got packed up.

I sorted through the things I had brought and the things that Laurie had brought for me, and made my final choices for things to take with me to Alaska. The semi-mesh jacket was the worst choice I made. Once I was out of Utah, it was never again warm enough to wear by itself, and I pretty much always had the heated liner under it and the rain jacket over it as a wind barrier. The Aerostich Darien jacket would have been a better choice.

I had two digital-card based video cameras to choose from, and I chose the better of the two to take with me. Unfortunately, I should have tested it first, because when I tried to use it a few days later, it was dead. The other one probably worked. Bah!

I carried another video camera kit, still in its box, but I had never used it before so it was a total gamble. It was a good camera (if it worked), so I was prepared to experiment with it along the way. I sorted through the clothes I had packed, and sent some home with Laurie, but I still ended up taking too much stuff with me.

We said and hugged our good-byes, and after Don and Laurie had left I did some maintenance work on a few things, then I walked down to the movie theater for the new Indiana Jones movie. I was reminded yet again that more digital special effects does not make for better movies.



Monday, June 2, 2008
--------------------

I registered for another night in the cabin after deciding that I needed to spend an uninterrupted day working on the bike. I spent about ten hours fixing the panniers and side bags on the bike. I made several walking trips to Gearheads for nylon straps, buckles, caribiners, more heavy sewing twine, and other bits to make the necessary repairs and upgrades. The stitching on the bags was vulnerable at every seam and strap attachment point, so I re-attached the torn straps and reinforced each of these areas with the sewing awl and waxed twine.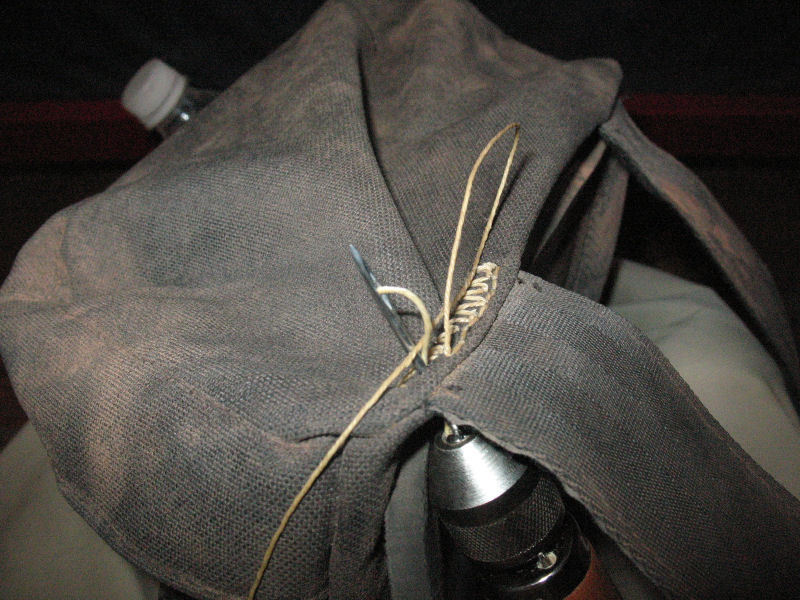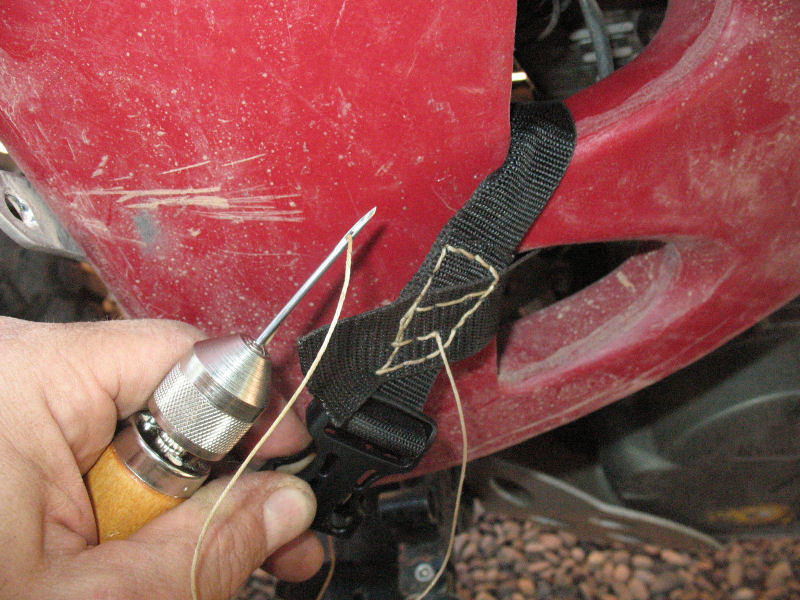 I then re-did some of the strapping, adding buckles and clasps to several places so that I had more flexibility with securing the bags and removing them. I worked from a plastic lawn chair that I kept moving around the bike every half hour or so. Without company or distraction, I got everything done by 19:00, and then did some pre-packing.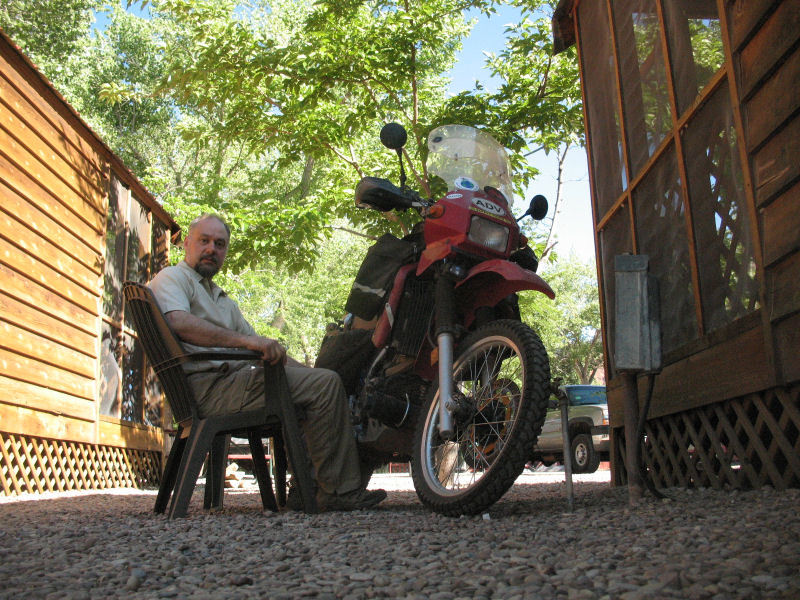 I showered and dragged myself over to the Brewery for dinner, several beers, and the 2nd and 3rd overtime periods of the Stanley Cup game. Back at the cabin, I spent a couple hours online, but the wi-fi connection at the campground was slow, so I only managed to get a little done.

Tomorrow, I'll ride north.
<< Link to PREVIOUS report: Bike Preparation >>
<< Link to NEXT report: Moab To Alaska >>
[ ERRANT-RONIN HOME ] [ Prudhoe Bay to Ushuaia Home Page ] [ Ride Reports Home Page ]