Part 30. Colombia Again
==================
Monday, 4 May, 2009
-----------------------
Right after I crossed the bridge to Colombia, the stick-on convex mirror that I had put on that morning fell off in the street. I immediately pulled over to the curb and got off the bike to save the mirror, but the very next car that passed by completely crunched it. I was miffed, but I knew that Frank had bought me a spare, so I would take better care attaching that one later.
I saw the border checkpoint just ahead.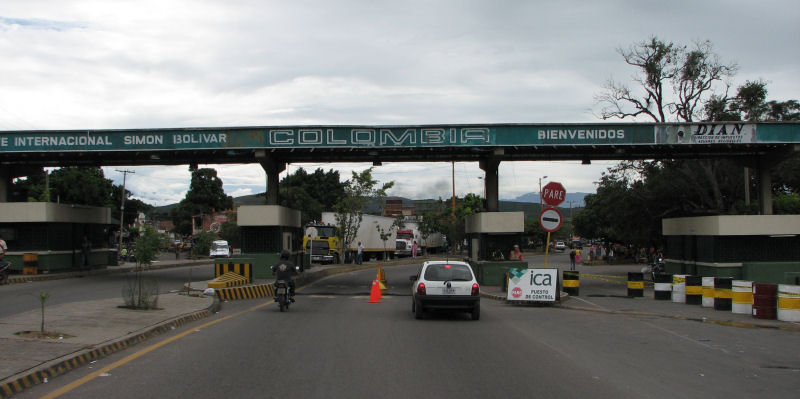 But first, I parked and went into the Immigration office on one side of the road.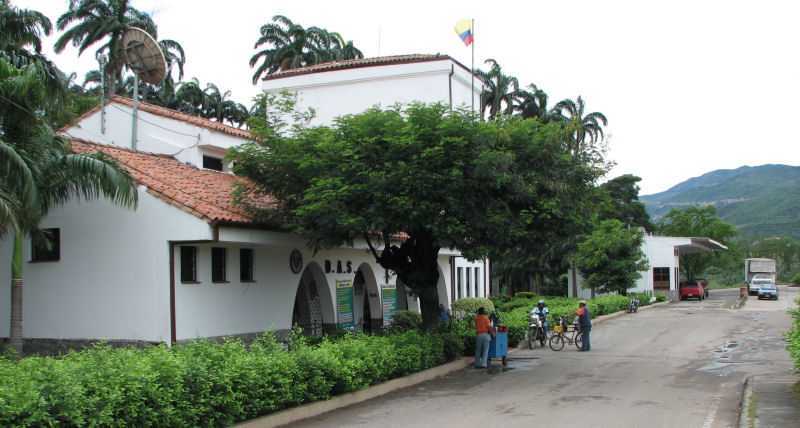 Getting stamped into Colombia was quick and easy. I asked for directions to the Customs office in town, but they couldn't help me. I rode up to the border checkpoint to ask them, and they gave me very general directions that involved turning right at some point in the city. Okay, let's go see.
I was glad to see again that motos get to bypass the toll booths.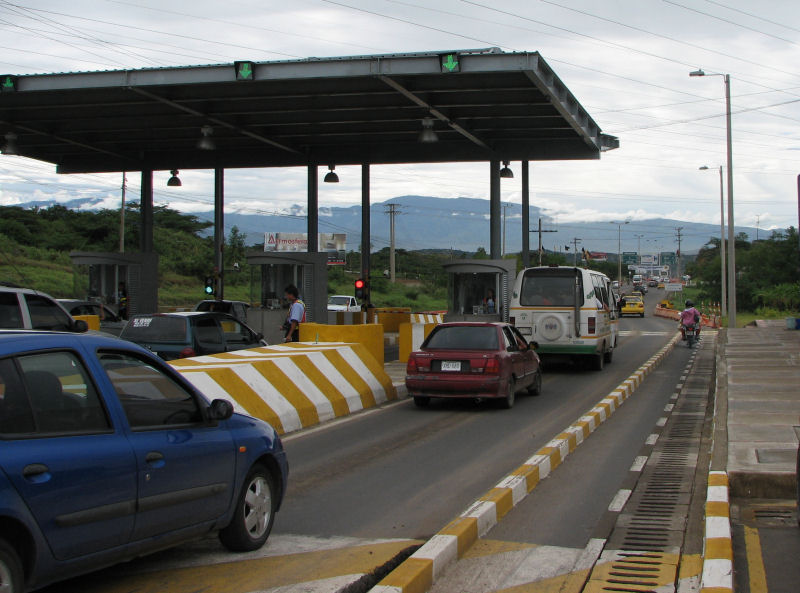 I spent the next hour trying to find the DIAN customs office. I asked lots of people, including several police officers, but I got different directions each time. This was the photo I took coming into Cucuta, the first city in Colombia. See that suspension bridge in the middle of the photo below? Past that, there is another traffic circle where I needed to turn right, but it took a long time to get that information.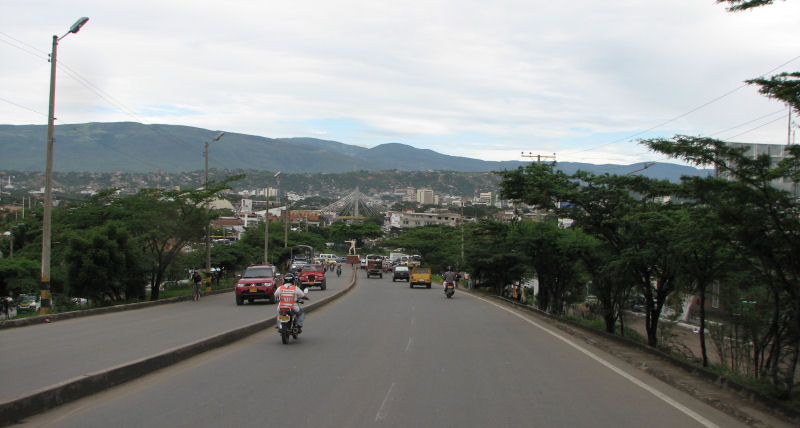 In the end, I was on the road to the airport when I finally got two very helpful guys in a totally trashed station wagon to help me. When their pointing and explaining didn't come across to me, they said, "Siga me," so I followed them. The road was in horrible shape, and every car and truck was at a slow crawl. I barely managed to do a bit better, but I had to stay behind their car.
They took me here. This is the DIAN office. The concrete sign is NOT very obvious.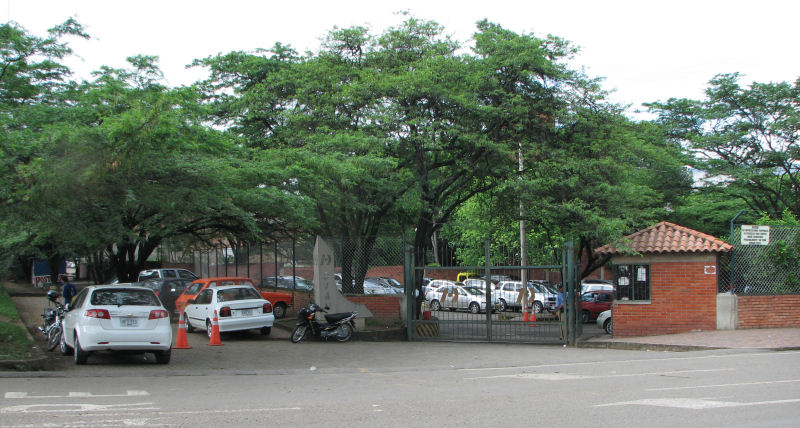 I went to the gate with my bike papers in my hand, but the guard there pointed across the street and told me to see the functionario (employee) over there. He was sitting in a hut between vendors. He's in front of my bike in the next photo.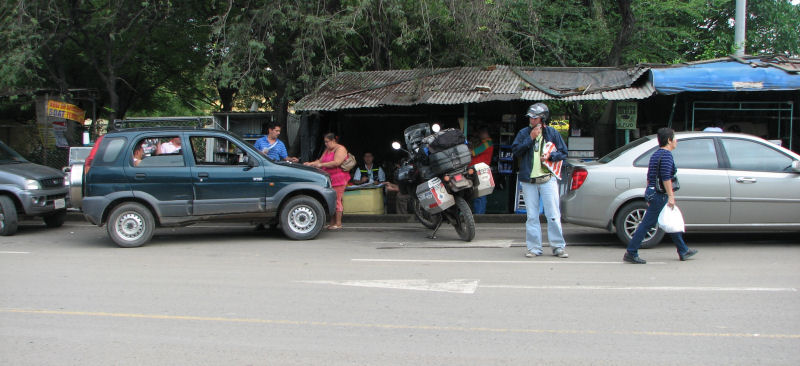 The DIAN agent needed a copy of my bike title, copy of my passport identification pages, a copy of the Colombia stamp in my passport, and a copy of something that I think he called a "cedula." Since I had left all my copies at Joelmir's house, I walked a couple blocks to where he told me I could get copies made. I had the gal at the copy shop make me a few extras while she was at it, and I asked her what a "cedula" was. She tried to explain it to me, but then she dismissed the matter and pointed to my passport. I later learned that a "cedula" was a local form of identification.
Back at the hut, I filled out a form and the agent stamped it. He asked again for my "cedula," but I told him I didn't have one and I pointed to my passport. He shrugged and didn't care anymore. He sent me back across the street to the main office complex where the guard let me pass through (on foot) once he saw that I had the necessary papers.
In the DIAN offices, I was directed to a service counter where the agent completed the import process. All the officials in these offices (Immigration and Customs) were wearing surgical masks and gloves, which I assume was intended to protect them from the swine flu.
Okay, I was now back in Colombia. No one asked to see insurance, and I didn't intend to buy any if I could avoid it. I only expected to make a two-day ride to Bogota.
That's not what happened.
First, I needed to exchange my Venezuelan money into Colombian Pesos. I rode back to the main street and asked a group of taxi drivers where I could exchange money. They pointed to the building we were standing in front of. That was easy.
The official bank agent could exchange dollars, but not the Bolivars. She sent me to a guy in the back corner of the lobby, so I went to his small booth. He gave me a slightly short exchange rate for the Bolivars, but I couldn't be too picky. I made a mistake then, by exchanging a couple hundred dollars with him, because I lost about US$30 at the exchange rate he gave me. I should have gone back to the bank teller with the dollars. Oh, well.
The best thing to have done would have been to find an ATM, since I later learned that the ATMs gave a good exchange rate. In the six months since I had last been here, I had forgotten that.
When I went back out to my bike, there was a small crowd of taxi drivers and passers-by. I told them of my trip and they took turns telling other people who came to see what was going on.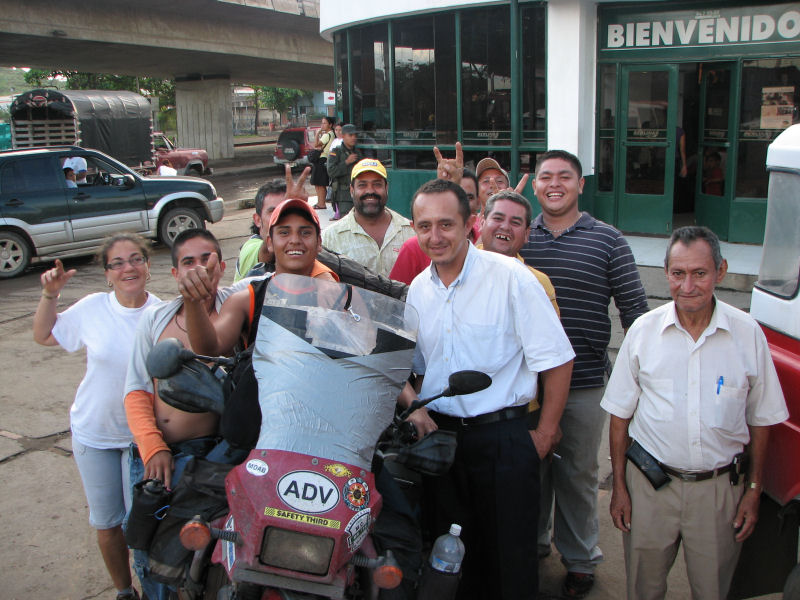 I found a car-parts shop that had another convex mirror, so I bought one. That still left me with a spare. I like having spares. This time, I stuck the mirror on and pasted in all around with ShoeGoo to hold it in place.
It was too late to get anywhere that evening, so I rode to the Centro and settled into the Hotel Lord (US$34), and went out walking around Cucuta. There were a lot of shops selling clothes and fabric, so it's either a local industry or it was common to import (smuggle?) clothes across the border.
I found a nice plaza and stopped to take a photo of a cathedral there. A guy on a bench saw me take the photo, so he came over and told me the name of the cathedral. San Antonio de something-or-other. Then he told me everything else it was possible to tell another person in forty-five minutes. It took me that long to get away from the nut job. If the bicycle next to the park bench was his, it was an appropriate vehicle for him. It was in really sad shape. Those tires hadn't had air in them for a long time.
His name was Alberto, and he was an odd duck. He lectured me without pause, tapping and sometimes grasping my arm. I understood almost nothing that he said to me, but I listened none the less because it was very entertaining. He went from one subject to another with no connection at all between subject material. Was he a crazy college professor? An escaped lunatic?
He wore a pair of glasses that were broken and the left lens piece was missing. I don't think he noticed.
When I asked to take his photo in front of the cathedral, he got all goofy and tried to hide his face while grinning and rolling his eyes. I finally got him to stand still for a few seconds and wave at me. He waved really fast like a small kid.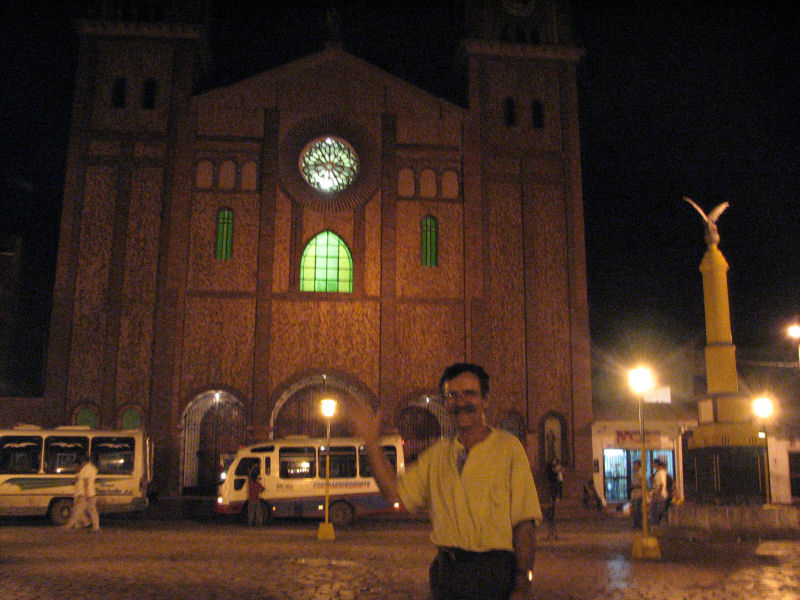 The monologue continued. He talked about space aliens, about Roswell, about Hitler, about large whales, about very tall people being from outer space, something about semen being imported from Africa, about the Bible, about reincarnation (he had been reincarnated three times, he told me--probably all crazy people), and then about prostitutes and sex.
I think it was the chubby prostitute who had come to sit on a bench near us that had gotten him on the subject of sex. He turned to her (as she re-applied some makeup) and said something loudly to her about Luxor, Egypt (I'm not making any of this up, folks), but she totally ignored him. Didn't even look up at him. He then re-focused on me.
He continued touching my arm with every other word and used my name repeatedly. He must have tapped my forearm and elbow a thousand times, and when I kept moving away from him, he kept advancing in small steps. I back up and turned in small circles to avoid the park benches, and he chattered and pursued me in what must have looked like a slow-motion bullfight while he talked about the History Channel and about thermonuclear war. Atlantis got a couple minutes of his time. And about someone named Charles.
He was very happy when I took some notes, and he wanted to write something for me so I handed my notebook to him. This is what he wrote (in very shaky handwriting):
SAMAEL AWM WEOROBEOR GNOSIS
Okay, Gnosis was probably related to whatever he was ranting about when he talked about the Bible, but the rest of it was nonsense to me. It was probably very important to him, though. I nodded when he showed me what he had written and he seemed satisfied that he had passed this crucial information on to me.
After nearly an hour, I was exhausted from his intense lecture. I took my camera out again, and again he got embarrassed and self-conscious. I really wanted a better photo of him, and I had to grab his shoulder to keep him from hiding. You can see the missing left lens piece in this next photo. (Well, more accurately, you can see that it's missing.)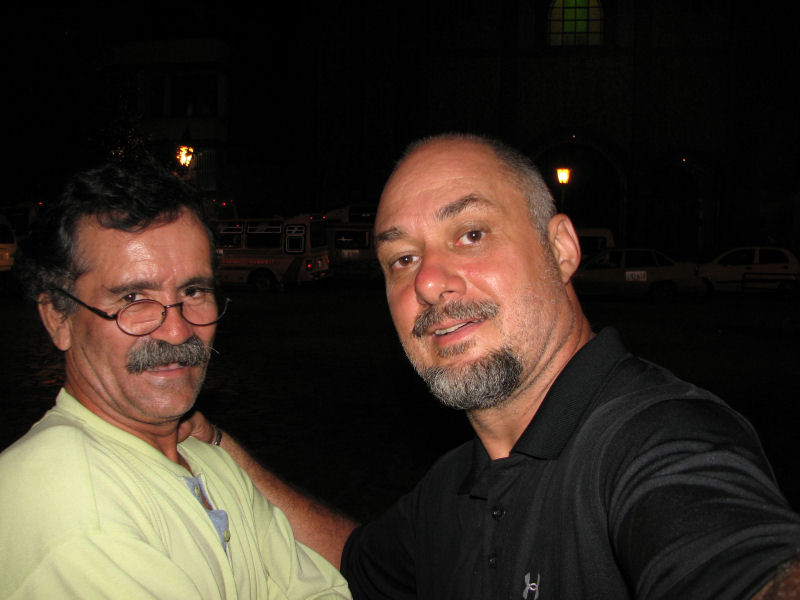 After I took the photo (above), he started talking again, but I pointed to my watch and said goodbye. He kept talking to me long after I had walked away. When I looked back, he was sitting on his broken bicycle lecturing the prostitute again.
I ate some snacks as I made my way back to the hotel. For a souvenir, I had a street vendor make me a vest with my KLR's license numbers on it. Very cheap. The first vest that fit me had a malformed and defective zipper, the second was absurdly large and the two halves of it were different sizes, the third one had the zipper sewn in backwards, but the fourth one I selected looked okay. The defective ones went back into the pile for sale. Be advised to inspect your goods first.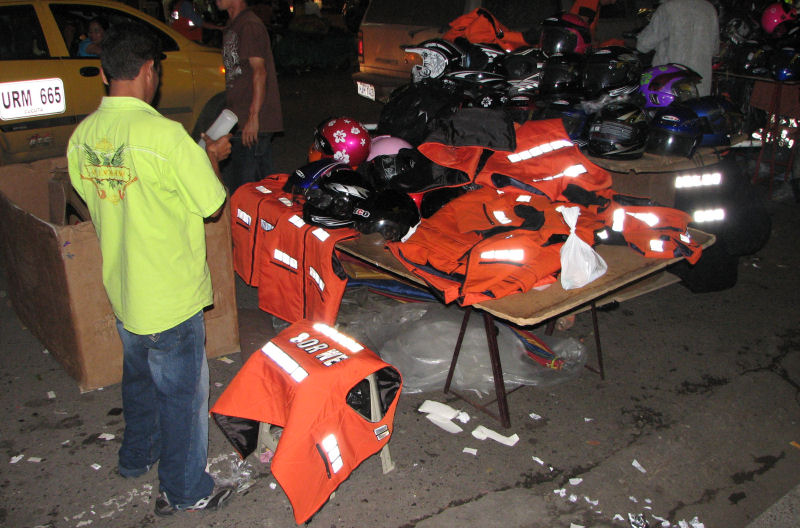 I was glad to get back to the hotel and relax a while. Alberto had got me wondering about what happened to the Incas, and whether or not there was a UFO landing site in the middle of the Gobi desert.
Bah! Now I was going to have trouble sleeping...
Chuck called me from San Cristobal to check on my progress, and I got several text messages from others I had met there. They were all worried that I hadn't contacted them when I got to the border. Very nice guys.
There had been a time change at the border, so it was an hour and a half (and a half--what's up with that?) earlier than it had been. I did some photo management before drifting off to sleep thinking about men and women really being different species.
I might have to find Alberto again and beat him up.
Tuesday, 5 May, 2009
-----------------------
The GPS was not much help getting out of Cucuta and onto the right road to Bogota. After a few false starts, I found a sign that got me going the right direction.
Outside of the city, there were dozens of street vendors selling cheap gasoline that had been brought across the border from Venezuela.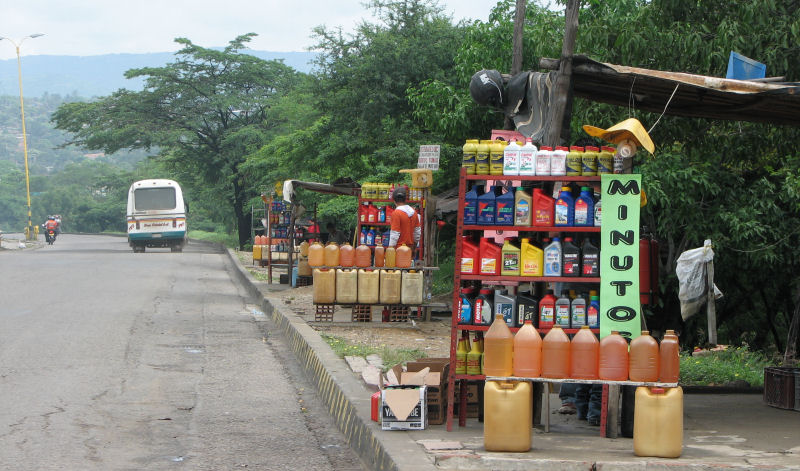 The mountain road was very twisty and heavy with morning traffic. It was scenic, though, as the road climbed higher and higher.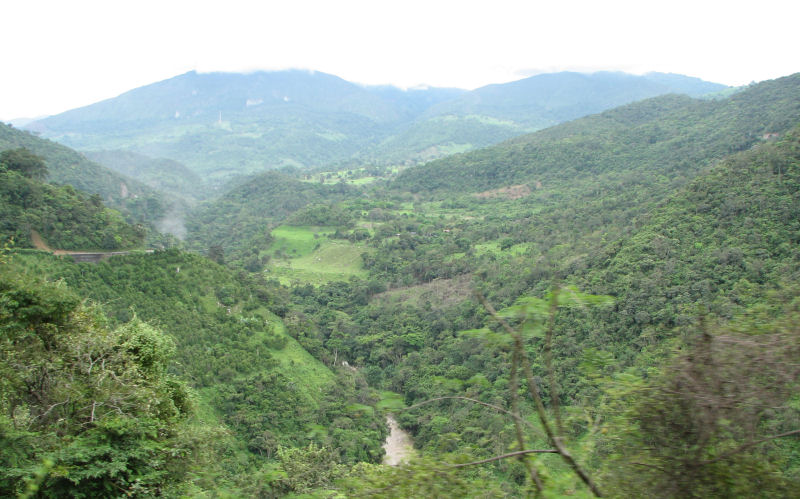 In some places, there was barely a road. I don't know if it was erosion or bad road construction that caused some sections of road to get so bad, but surely such an important road as this should be better maintained.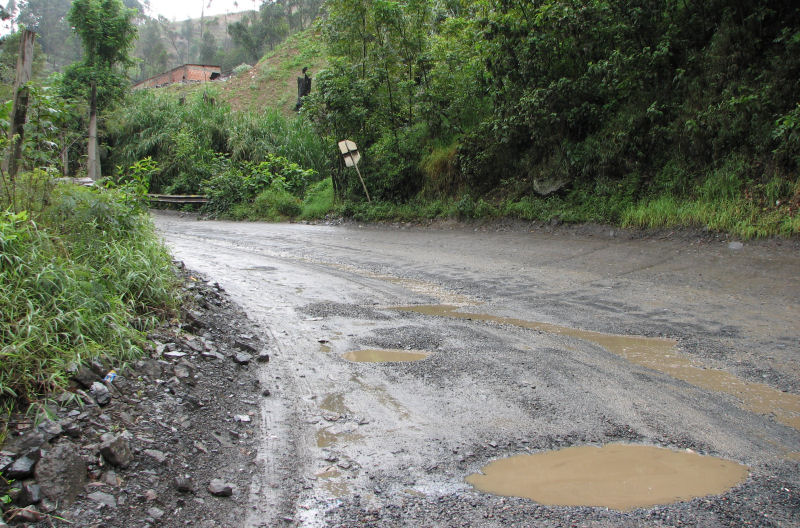 I passed several military checkpoints, but none of them stopped me. They were stopping lots of cars, though.
Several towns and small cities. As usual, there was no bypass and you had to wend your way through the small streets.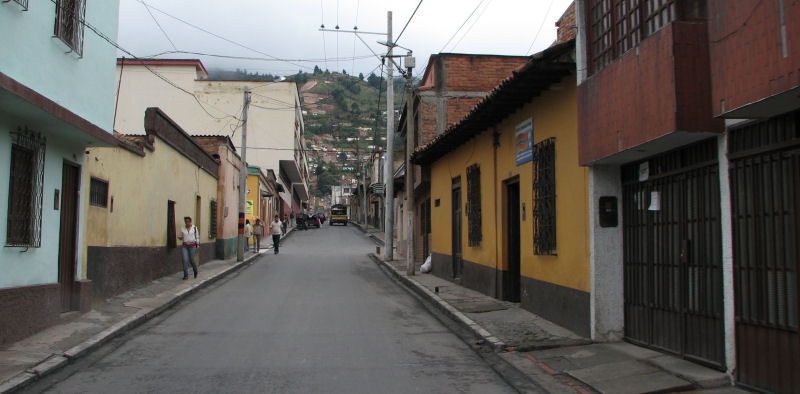 There was weather ahead, and a low cloud cover that suggested cold and wet ahead.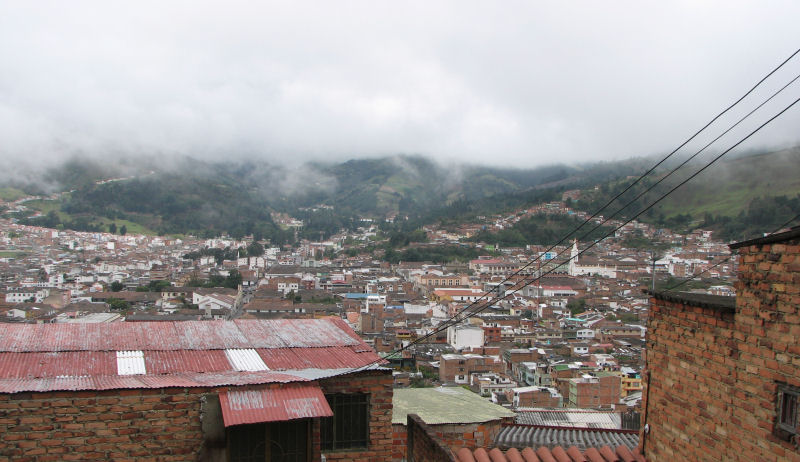 Yup.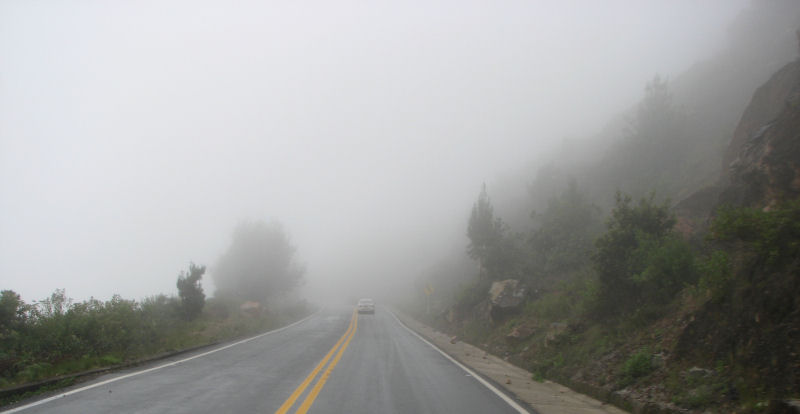 A hour or more of riding in cold fog, and the wet road and limited visibility really slowed me down.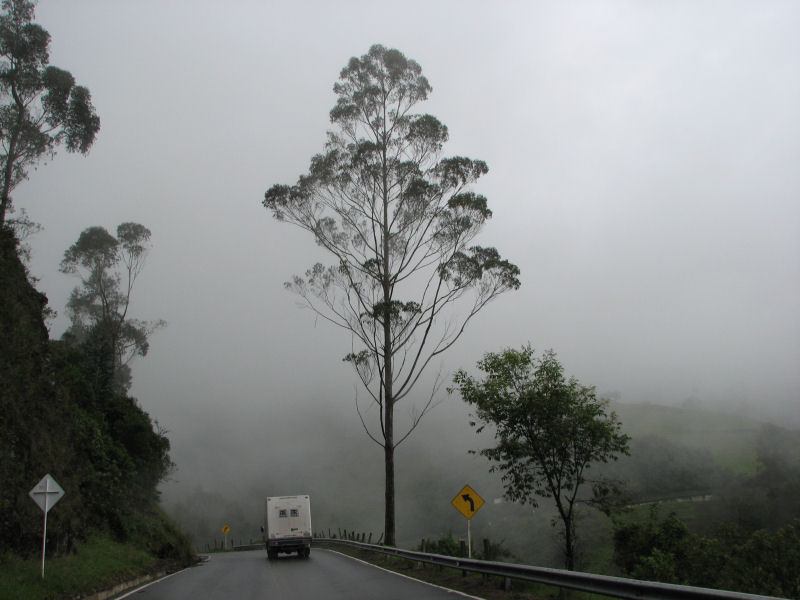 Most vehicles drove without their lights. I don't understand this at all.
In clearer weather, this would have been a great ride.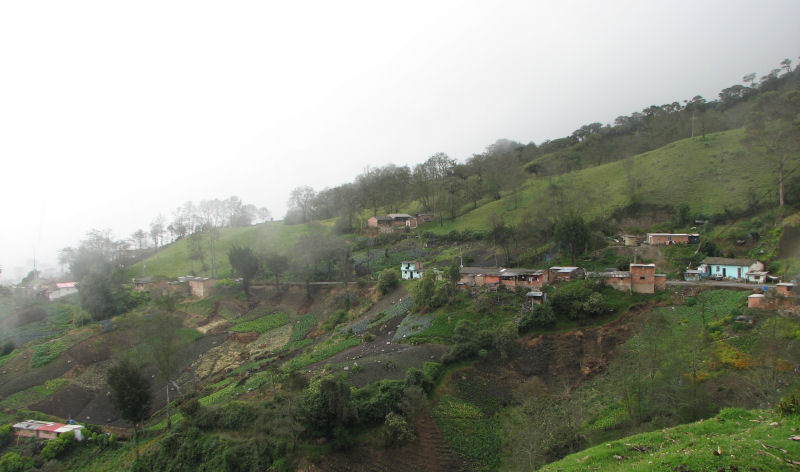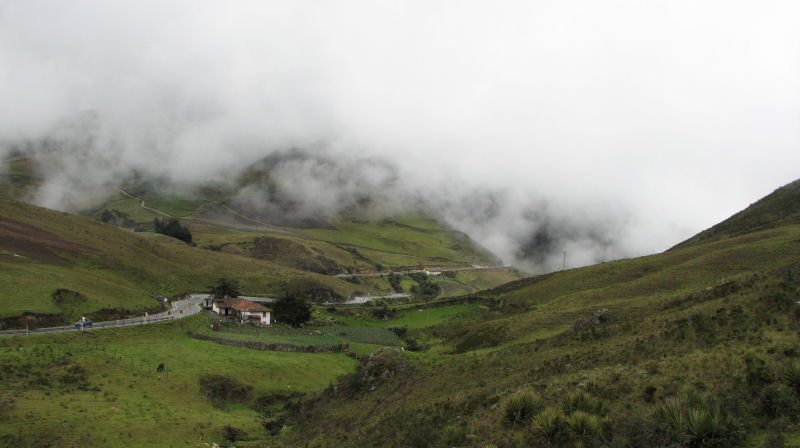 In the high areas, there were cattle along the road.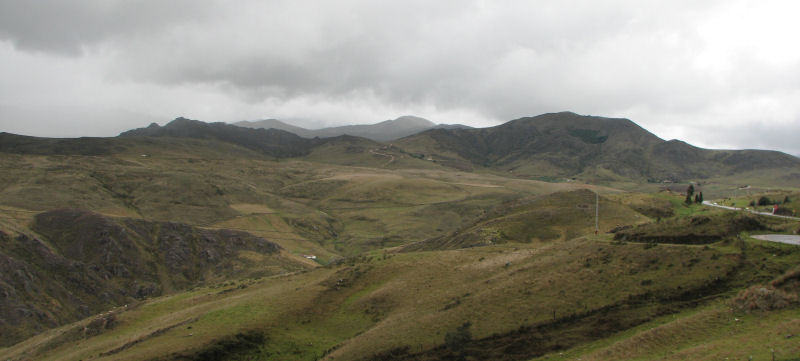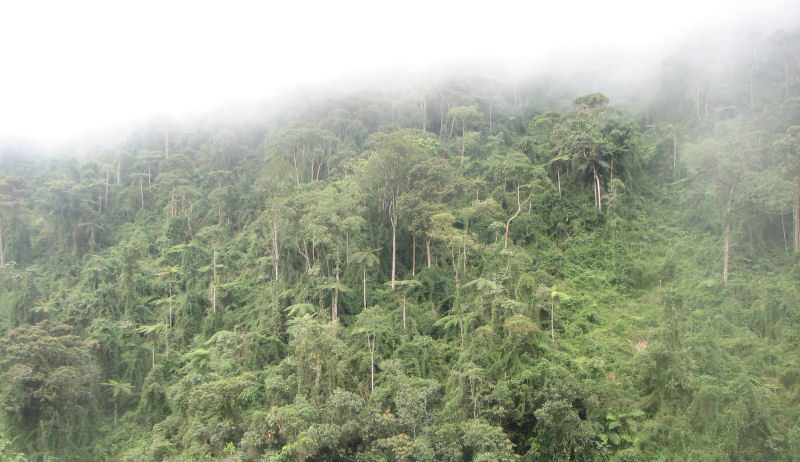 Finally, I dropped below the weather line again, and the road was dry and speeds picked up. The last twenty minutes of fast, curvy descent to Bucaramanga was very nice.
Bucaramanga is a large city, maybe a million people. It has a large university.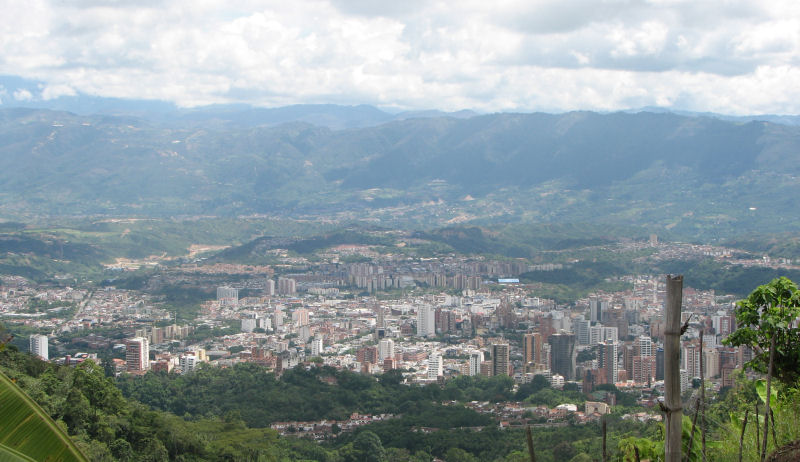 The road was under construction on the outskirts of town. On a bike, I passed a lot of slow-moving trucks.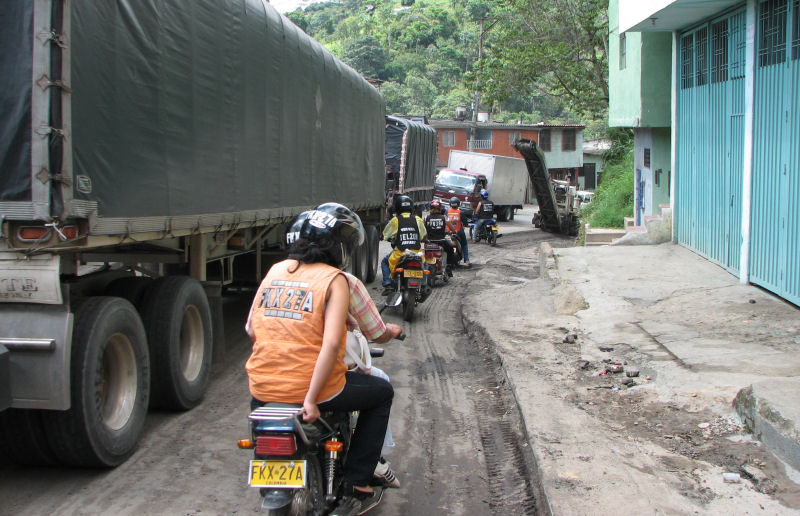 I rode straight through most of the city, then stopped at a gas station to fill my tank before continuing. After gassing up, I had another starter problem with the bike. There had to be a broken wire or bad connector somewhere that I hadn't been able to find. I shoved the wires around some but that didn't make much difference. I finally got the bike started and crossed the parking lot to take a break.
When I sat at the convenience store to relax and drink some juice, two young women at another table started talking to me. They were very flirty and asked me to come sit with them.
Meet Milena and Fernanda.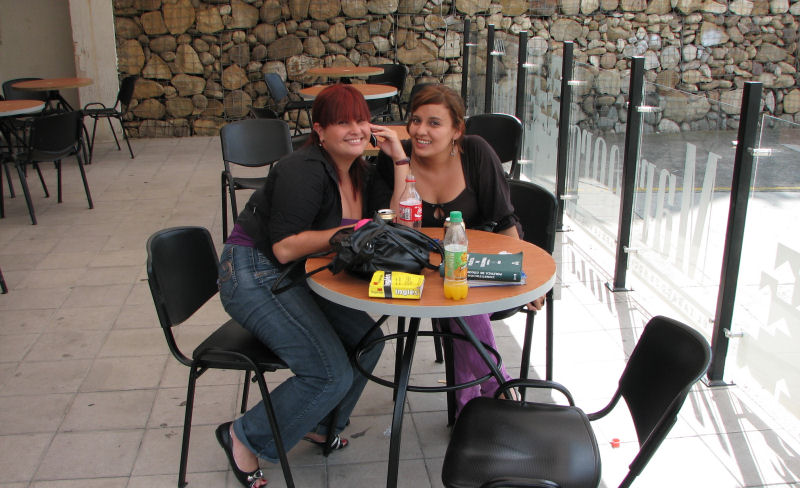 I sat with them a while and we tried to talk but they didn't have much English. I asked how long it would take me to get to Bogota, and they told me that it was another 6-8 hours. More mountain roads ahead. The gals then made several cell phone calls while I wrote some notes.
When I went into the store to get more juice (I was feeling dehydrated), I met a customer, Juliana, there who spoke good English. I asked her about the road to Bogota, and she also said that it would be about six hours. Since it was mid-afternoon, I decided to stop for the night here. Juliana agreed to lead me to a hotel in the city, but first she had to take her groceries home. She would return in a few minutes and I could follow her car.
I went back outside, and Fernanda insisted that I sit and talk with them some more. They were students at the nearby university, and they were having a beer before going home. I got my dictionary out and we enjoyed trying to talk about my trip. Fernanda had a little English, and it got better with practice. I wish I could say the same with my Spanish. She had a better language foundation to build on.
Two young men on motorcycles soon arrived, so I got to meet Andres and Wilmar, both friends of Milena and Fernanda. I later learned that the gals had called these guys to come meet the American gringo motorcycle rider. (Again, the word "gringo" had no negative connotation down here.) Andres spoke very good English, so they also wanted him to help talk with me.
We chatted for a while, and when Juliana returned to lead me to a hotel, the college kids recommended a certain hotel in the center of the city. They said that if I wanted, they would meet me there later and take me out to see the city. I agreed and Andres gave me his phone number. Juliana knew the hotel and I followed her there.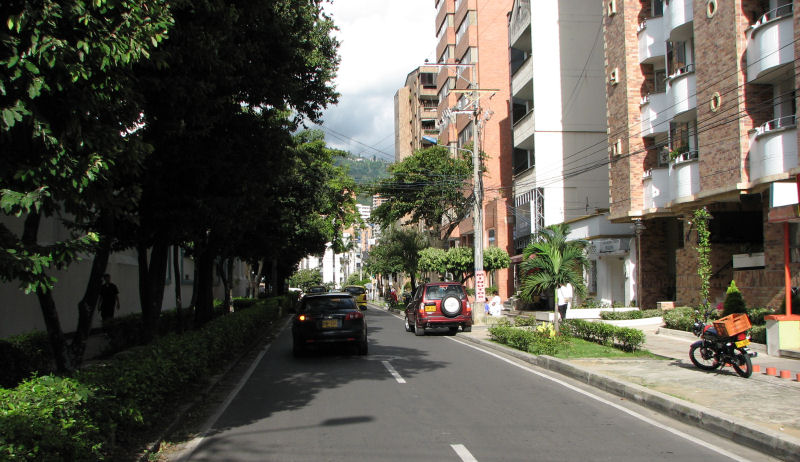 She had to stop and pickup her daughter from daycare along the way, then we went into the city's central district. Once at the hotel, she said goodbye with a wave and a smile. Nice lady.
The hotel the kids had recommended was the Hotel Chicamocha, but it was very expensive. More of a corporate hotel.
The clerk at the hotel recommended a smaller hotel right up the street, so I went there. The Hotel Prado 34 West was much better. US$40 per night. The room was very nice, with two beds. The second bed was nice, since I could spread all my crap out on it. They didn't have a parking garage, but they did their best to have me park my bike in their lobby. No, I told them, it was far too large and far too dirty to put in their nice, clean lobby.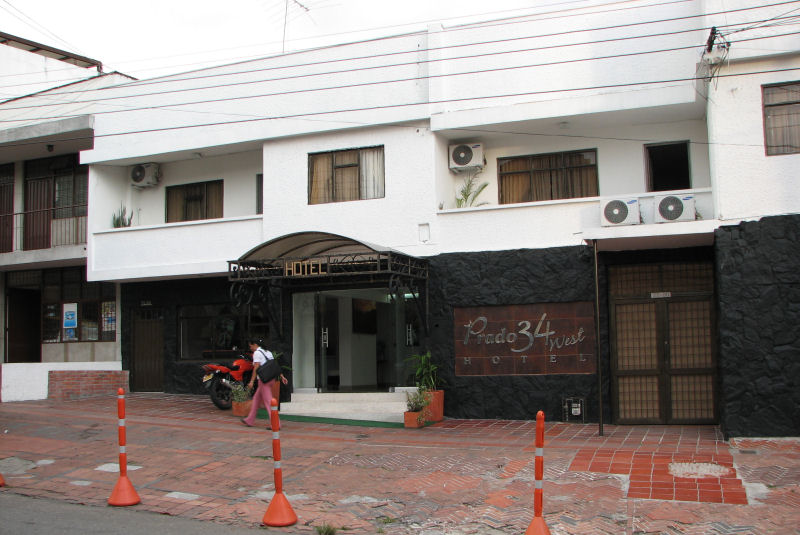 The hotel manager (or maybe the owner, since his name was on the hotel's business card) was Mauricio, and he had me follow his bike to the next street where he had me put the bike in a parking garage. He talked to the attendants in the garage and made sure that they knew I was a guest at his hotel.
I hopped on the back of Mauricio's bike and he gave me a lift back to the hotel. It would have been as fast to walk around the block, given how busy the traffic was. The hotel was just off one of the largest streets in the city.
I showed Mauricio my web site, and he was excited to see a photo of me on the Internet. (Later in the day, I passed through the lobby and he was still browsing the photos on my website.)
There was Internet access in the room, but I found that my Internet cable was dead. Everything fails. Mauricio loaned me a cable, and I found that the hotel's Internet access speed was incredibly fast. I got a lot of photos uploaded very quickly.
I called Andres and told him about changing hotels. He soon arrived and we walked to a nearby bar for a couple beers. Andres told me that Fernanda and Milena would show up later. He rolled his eyes and said that women were always late for everything. I totally agreed with him.
Andres had scars on his hand and forearm, and he told me they were from rugby injuries. He didn't care about those injuries, but was thankful that his knees were still healthy. He told me that his favorite American sports team was the Colorado Avalanche. I would never have guessed that hockey would be popular down here.
Andres was twenty years old, working part time and attending the university part time. He said that Fernanda was his best friend (or girlfriend, I wasn't sure exactly) and that she was twenty-one, a full-time student (to become a lawyer), and that she liked me very much. He told me that when I had ridden up to the gas station, she thought that I was very interesting. Oh, geez... Here we go again.
Sure enough, when Fernanda got our of her taxi, she was dressed up for a real date.
Andres, Fernanda, me.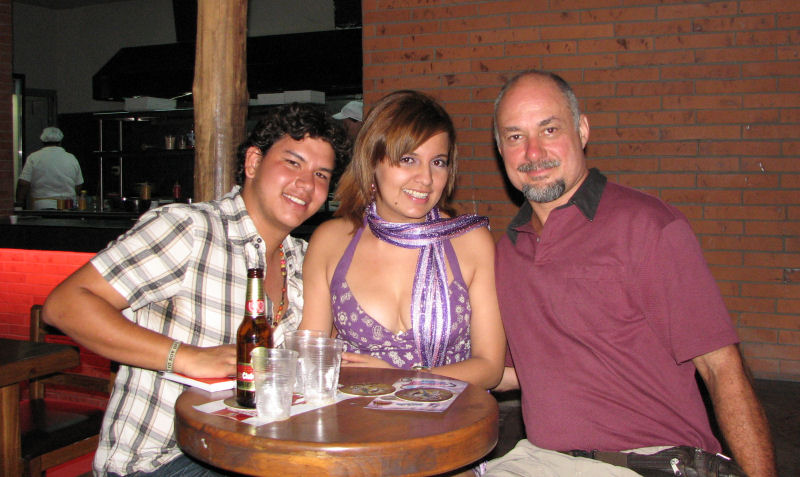 Milena arrived soon after, and we walked to a restaurant for a mixed grill of typical local foods.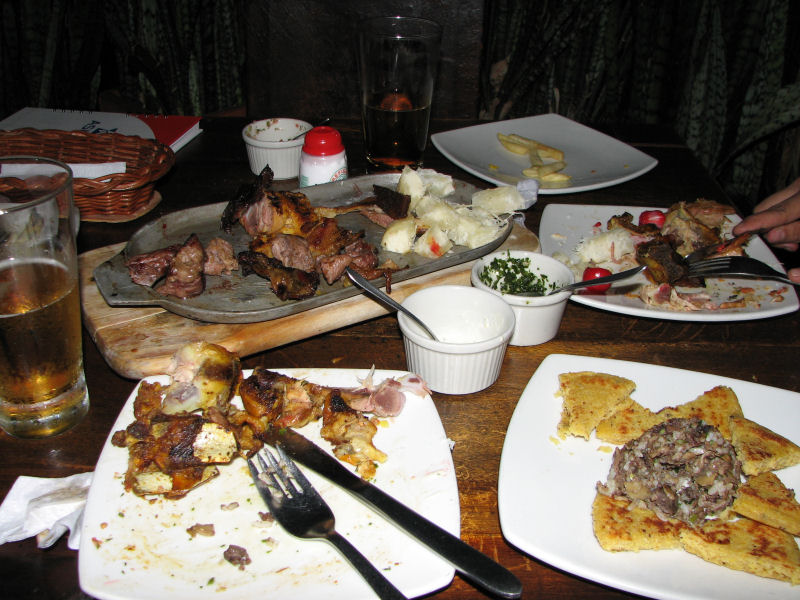 Andres told me about two of the most popular games in Colombia. By his description, I didn't get either one. So, we went to play them. A taxi took us to an indoor field.
First up was the game Tejo. It involved throwing heavy, flattened metal balls back and forth at targets that were set in clay boxes. Kind of like horseshoes, except the target was a paper triangle that had a little explosive powder in it. When you hit the target, it exploded in a loud, harmless bang. It was harder than it looked, especially if you were dressed for a different kind of date.
You have to buy the targets, but otherwise you only have to drink alcohol. That's how they make their profit.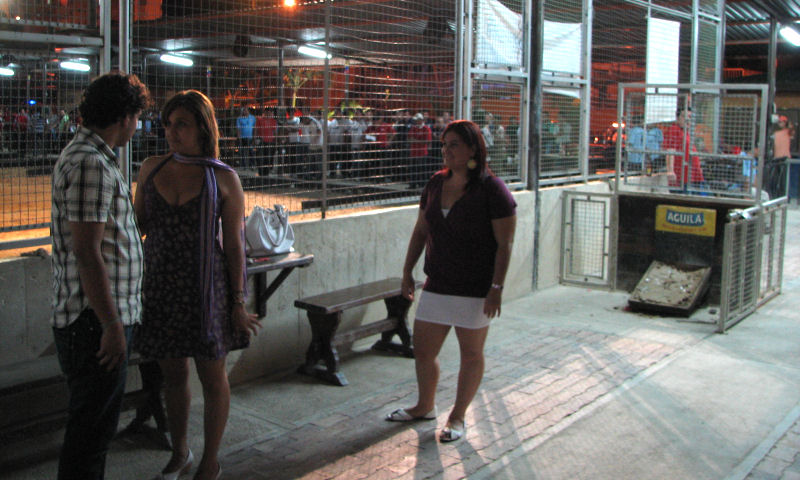 Yeah, let's mix alcohol with people throwing heavy objects in a crowded room. At things that explode...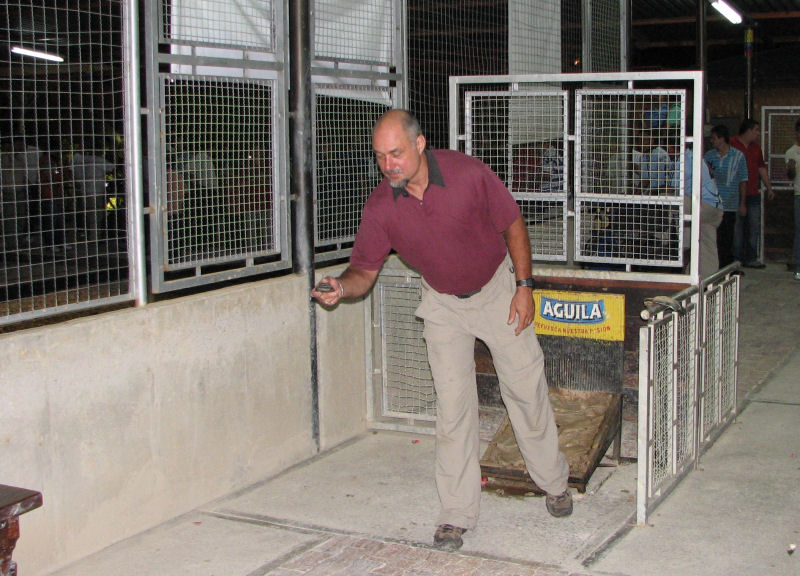 That's what I normally look like when I'm watching something carefully.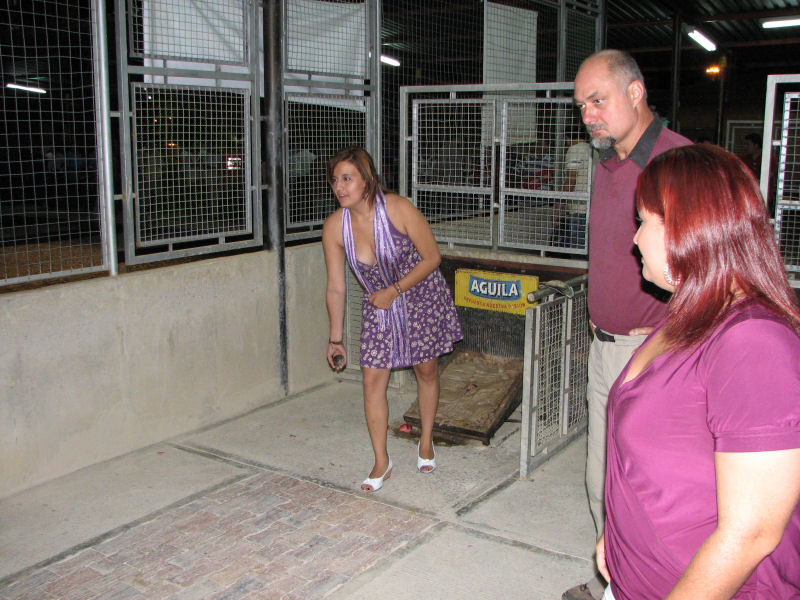 None of us managed to hit the targets, so I kept them as souvenirs. I hope they don't explode in my luggage.
Next up was a game similar to bowling, except different. At the far end of the field were three tall pins in the sand. The goal was to knock down as many pins as possible, but the large metal ball that you threw at them (underhand only) had to be thrown in the air. If the ball hit the ground before reaching the pin box, the throw didn't count. Again, there's a knack to it and it took me a while to get a feel for it.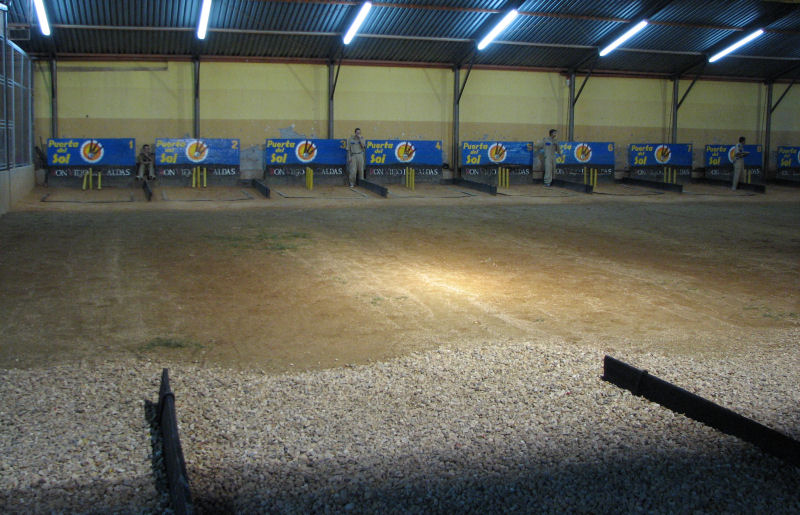 The attendants who threw the balls back to you were constantly in harm's way. I wonder how many get hit in an average day?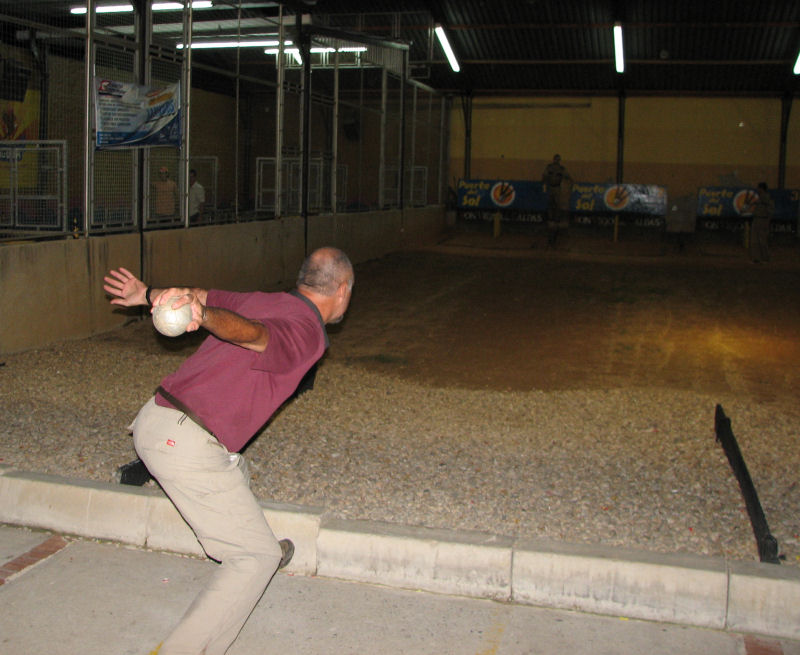 The gals quit playing right away, and Andres won the game (just barely, I'll have you know) that he and I continued. There was a refundable charge for the balls, but otherwise the game was free as long as you kept ordering drinks. We had a strong anise-flavored liquor that needed to be chased with water and limes.
We then went to a nightclub, but the place was empty except for one other couple. The music was very loud.
I'm not much for dancing (and it wasn't a good idea to make an actual date out of this). I told Andres that it seemed strange to me that 20-something college kids were interested in hanging out with me, but he insisted that it was fun for them, too. Yet again, I saw that age didn't matter down here.
By that time, it was late. Andres told me to call him in the morning if I needed anything.
At the garage, I went to get something from the bike, and the garage attendants were interested in seeing it. I took the cover off and showed it to them, but when I tried to start it... nothing. Even turning the handlebars and pushing on the wires made no difference. The garage attendants were not impressed.
Wednesday, 6 May, 2009
---------------------------
When I went down for breakfast (included), Mauricio told me that he wanted to have a photo with me and my bike. I promised him that we would do that before I left. He told me that if (no, WHEN!) I returned to Bucaramanga, I must stay at his hotel and the room would be free.
I worked on the website a while, then went to the garage work on the bike. I took the faring off and removing the ignition wires, checking them for continuity. Everything looked good. Maybe the wires to the starter button were to blame. Maybe something else. After putting the bike mostly back together, it worked, so I left it alone.
I didn't have my camera with me, so no photos.
I went to a small computer shop down the street from the hotel and had them make me an Internet cable. The men there browsed my website, then showed me some photos of a national park and large canyon nearby that I would pass on the way to Bogota. That would be the Chicamocha Canyon.
I called Andres to check in with him, and he said that he would call me back later at the hotel to plan something to do that afternoon. That left me more time to work on the ride report.
At 15:00, Andres called to say that he was stuck at work. He told me that he would call Fernanda and Milena to see what they were doing tonight. I went out to eat (a very large chicken breast, nicely cooked) and then went to get some AA camera batteries from my bike. I don't know what can change on a motorcycle that just sits there doing nothing, but I couldn't get it started when I tried to do so. The garage attendants probably wondered how I had managed to get all the way around South America.
At 19:00, Chuck sent me a text message and then called to check on how things were going. Was I in Bogota yet? I filled him in on the bike's electrical problem, but I assured him that I would get it fixed eventually. He insisted that I let him know when I got to Bogota safely. I tried to send Chuck an email with the photos I had taken of him and his family in San Cristobal, but the photos were too large for AOL or my site's email system. I would have to send the photos separately.
The woman at the reception desk called my room and asked me to come down to the lobby. When I did, Fernanda and Milena were there to take me out. They had caught me by surprise, so no camera again. We went to a nearby bar, and Andres arrived soon after. After a beer, we went to another place for burgers. Very good burgers for a change.
They were college kids, so they wanted to talk about everything and solve all the world's problems over a beer. We talked about war, politics, different countries and cultures. From popular media, they had a better perception of the U.S. than I had had of the countries in South America, but they still had some misconceptions. There was no way to address all the issues in the time we spent talking.
Andres asked me why I didn't like to read. I asked what he meant, and he said that he saw something on my website that indicated that I didn't like to read much. I had no idea what that could have been, but I assured him that I read lots of things.
In a typical act of Latin sincerity, Andres took off the rosary that he had been wearing and gave it to me. He insisted that I wear it whenever I ride the bike, to help assure my safe arrival home. He refused to accept any gift in return.
I assured them that when I returned to Bucaramanga with my wife some day, I would let them all know and would like to meet with them again. They all thought that it was a nice plan. In six months? Andres asked. In three months? Next month? Someday, I assured them. That was the best plan I could commit to.
We went to a pool and billiards parlor for a while, but Milena was soon bored and decided to leave. Andres and Fernanda stayed a while longer, but they had things they needed to do the next morning, so we called it a night.
When I got back to the hotel room, I managed my email and spent some time on the forums, conking out at about 22:00.
Thursday, 7 May, 2009
------------------------
When I got up, I had several text messages waiting, and some voice mails that I was unable to retrieve. In some countries, you don't see the phone number that called you--you see a long number that is some kind of local call routing identifier (I think). I called Laurie to see if she had called me, but it hadn't been her. Most likely it was the guys in San Cristobal.
There was some road construction in the neighborhood, and all the water was shut off. I got the bike reassembled and rode it back to the hotel where I loaded it up.
Mauricio and his wife had a hotel employee take our photo with several cameras.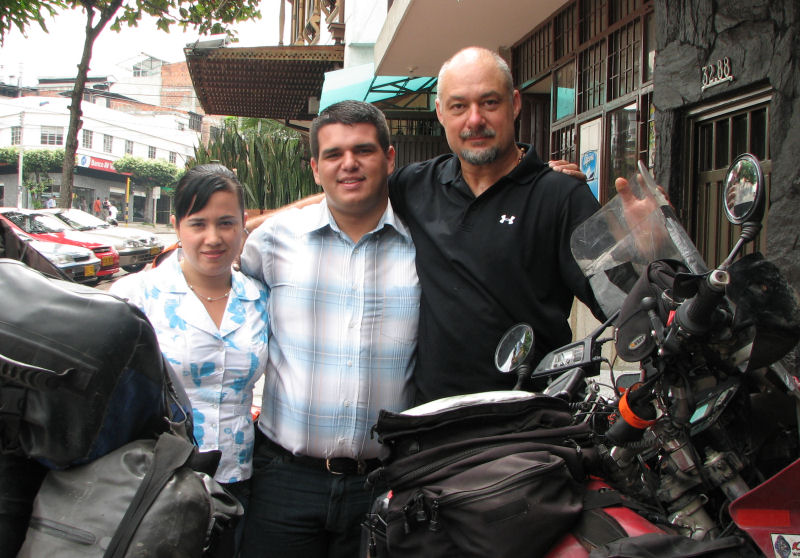 I said goodbye to Mauricio and rode to the same gas station where I had first met the others. I had promised them that I would call when I got there so they could say goodbye. Andres made me promise again to return and stay longer sometime soon, but he hadn't guessed how soon that would be.
Fernanda and Milena arrived in a taxi and we chatted a while, saying goodbye. They watched me fiddle with the ignition again, concerned about me making it to Bogota. I was concerned as well. I didn't want to have a problem on the road in the mountains, so I decided to work on it again before heading to Bogota.
The gals knew of a good hotel nearby, so when I got the bike started again, I followed their taxi. They had to return to school, so after getting me to the hotel they left right away in the same taxi.
When I got settled into my room, I called Andres to let him know that I was still in Bucaramanga. He was very happy, and said that they would all take me to see an historic city that afternoon.
I took the bike's faring apart again, tested the wires and the connectors, checked the starter button, kicked the tires, made a sacrificial offering of a cockroach that kept circling my feet, and swore a lot. When I tested the starter, it worked. In fact, when I pushed and pulled on the wires, I was unable to re-create the problem. I had been here before, and remained skeptical.
After a shower, Andres called to say that he was stuck at work, but would be free later in the evening. Fernanda and Milena would soon come to the hotel to get me.
We took a taxi to San Juan de Giron, a very old pueblo on the edge of Bucaramanga. It had become very touristy, which was unfortunate but was also probably unavoidable. Simon Bolivar, the liberator of much of South America from Spain, had lived here as a child.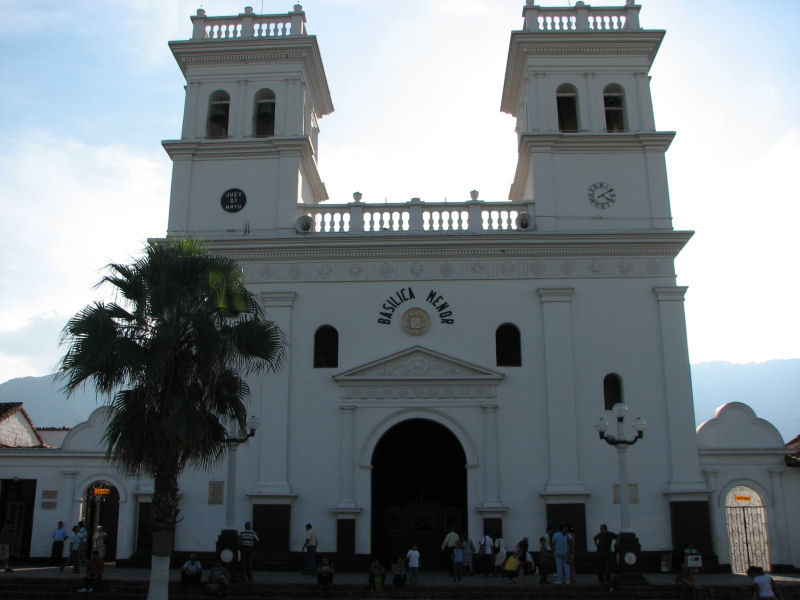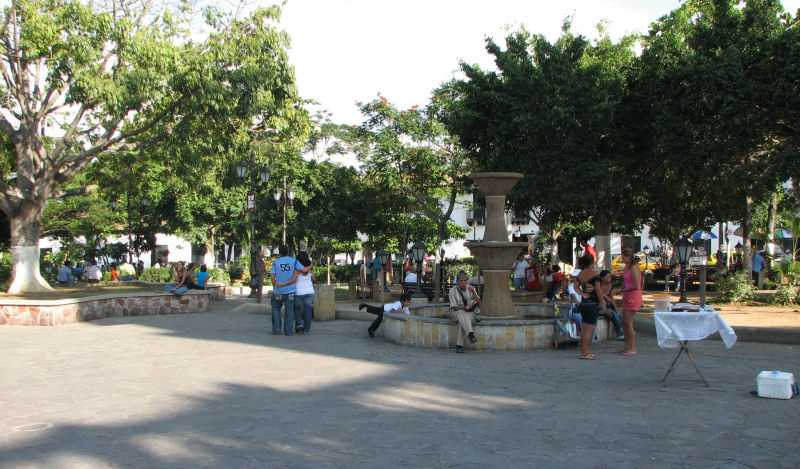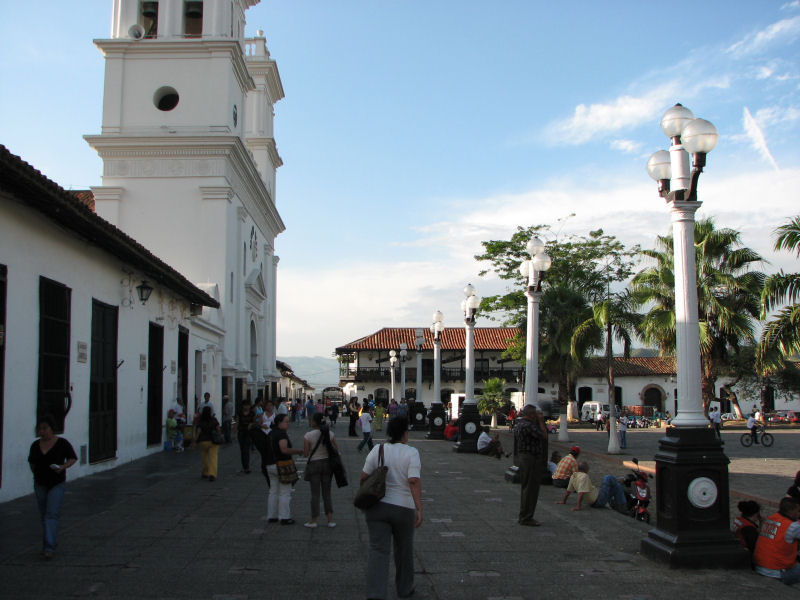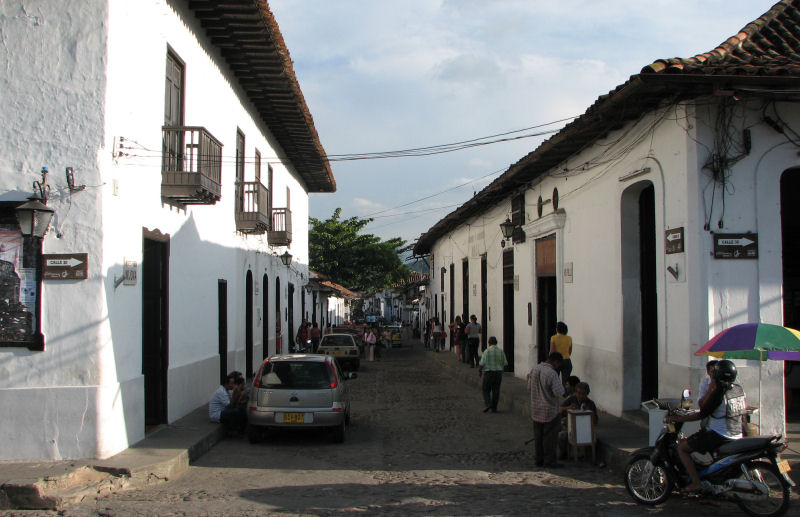 The cobblestone streets were hard to walk on, and the sidewalks were narrow, so our feet hurt after a while. We had some snacks and some flavored-ice drinks before settling in a bar to wait for Andres. Milena pulled a deck of Uno cards from her purse, so that's what we did for the next two hours while waiting for Andres. Beer and Uno.
Since I don't think I had ever played Uno before, they had to teach me. I learned how to cheat at Uno, too. They were very sneaky.
Andres called to say that he couldn't make it to Giron, so we took a taxi back into the city. Andres met us at another burger place. This time, the burgers had shredded chicken meat on top of the beef patty. Yummy.
Since the hotel had its own parking garage, it was quick and easy to check on the bike. I found that I had last checked the starter with the handlebars turned to the left, and when I turned them to the right, the starter circuit sometimes didn't work. Fark. Aside from a complete re-wire of the starter circuit (and replacing the Molex connectors), there was nothing else I could do right then, so I left it alone. I could usually get it started, and the handlebar trick seemed to help.
I saw that my email to Edgar had bounced back. That ain't good. I sent him a text, but I wasn't sure he got it. Gotta stay in touch with these guys. They had been too good to me to abandon now.
Friday, 8 May, 2009
---------------------
I got up too late for the hotel's breakfast service, so I went walking around the neighborhood. Some chicken-and-rice empanadas hit the spot. I was also looking for a couple more USB memory sticks, but I didn't see any at the small shops in the area. I waited at one shop while a guy ran around to other shops for me, but no luck.
My friends came to the hotel later, and they took me to a shopping mall. I found the memory sticks I was looking for, so that was good.
Outside the mall, there was a snack cart selling something wrapped in cellophane. It looked like small, chocolate bits, and Fernanda said they were "hormiga." Ants. Okay, chocolate-covered ants aren't that bad. She opened a package and popped one in my mouth. What I bit into wasn't a chocolate-covered anything. It was just a huge, fat ant that had been fried or sun-dried. About the size of an olive seed. It crunched and popped in my mouth, and I would never describe it as good-tasting. Not to me, anyway. It was very earthy, but very bitter. It was a big joke at my expense. Apparently, the ants are a local native food. Not really intended for the tourists.
Okay, I can take a joke. Fortunately, I had some Tic Tacs with me.
Fernanda gave me a rosary bracelet from her wrist (she wore several) as a gift, and maybe as a partial apology for the ant joke.
I wanted to buy another phone while we were out. The battery on Don's cheap phone wasn't lasting very long, and it was a total pain to send a text message out on, so I wanted a better phone. We went to another mall, and Fernanda took charge of finding me a phone.
There, I saw some shady cell phone dealers that looked like the ones Don and I had seen in many Latin American countries. I hadn't seen any like this since Chile, where Don had bought the phone that I was now using.
Fernanda knew that I needed a quad-band, unlocked GSM phone that would work with my AT&T SIM card, and that I wanted it to be easy to send text messages on. What we found was an HTC Hera100 phone, very similar to the AT&T Tilt phone that I had broken in Salvador, Brazil, while working on getting Don's bike shipped out. The HTC phone was a couple years old, had some messages (in Spanish) stored on it, and showed a little bit of wear, so it had either been stolen or had been hocked. It did work with my SIM card, and I was familiar with its controls (although it wasn't as full-featured as the Tilt), so I bought it. It was a lot cheaper than the Tilt, that's for sure.
The others had things to do, so I went back to the hotel and worked on getting the new phone set up the way I wanted it. I had to do some searching on the Internet to find a user's manual for the phone.
I called Laurie to say that Andres and Wilmar (who I hadn't seen since first meeting him at the gas station) were going to some kind of ranch or farm on Saturday, and that I had been invited to join them riding there. I didn't know if it was an overnight thing, or if it was a day-long thing, but it was worth checking out.
I had originally planned on being in Bogota for a few days, doing a few touristy things while getting the bike ready to ship out to Miami. Now, the plan was to spend those days here (which I had already done), and spend as little time in Bogota as possible. Besides, I would certainly be in Bogota again some day.
Saturday, 9 May, 2009
------------------------
I made it down to breakfast this time, and there were a few choices. A ham and cheese sandwich was easy enough to understand and reject, but the other choices were unknown to me. I couldn't understand the giggling waitress and there was no menu. I ordered the second option she gave me, and it turned out to be a breakfast soup of potatoes and a poached egg. Why hadn't she said sopa? I understand that sopa is soup.
Andres called at 11:00, but he couldn't get away until later. I settled down and dozed a while, but Fernanda showed up at the hotel to take me out to eat. She had been visiting her brother's new-born baby this morning, and she showed me some photos of the tiny girl on her cell phone.
A restaurant near the hotel had a decent beef and chicken lasagna in a nice tomato sauce. We talked a while, but she had to go back to her family, so I went back to the hotel.
At 17:00, I assumed that there wasn't much going on today, and maybe the ride to the farm wasn't going to happen. I did manage to get the ride report caught up to this very sentence in real time, so that was a major accomplishment. Not having taken any photos lately made updating the report go faster, but it is less interesting to those who only look at the pictures.
Sorry.
I had no idea what--if anything--would be happening later in the day.
At 19:00, I called Andres to tell him that I should leave for Bogota the next day, and that I wanted to say goodbye. He was quite upset, and he insisted that since I hadn't been able to say goodbye in person, I was obligated to stay and see him tomorrow. He was stuck at his boss's house and couldn't get away tonight. He made me promise to stay on Sunday so we could ride somewhere and say our goodbyes in person.
An hour later, Fernanda came to the hotel and took me out to eat. She had been at her grandparents' house (this was Mother's Day) for a family gathering of more than thirty people. We took a taxi to a fancy mall and had very nice chicken and mushroom crepes. She made some phone calls, but all her other friends were busy with other Saturday-night activities. We went to a bar and talked for a while just for something to do. It turned into a language lesson, and we passed my English-Spanish dictionary back and forth a lot.
Fernanda is from a military family, but all of her siblings are in the medical profession. She told me that when she finished her law degree, she will begin a military career as a lawyer. She was very excited about that. She also told me that her 22nd birthday was later that week, but I had to turn down her insistence that I stay for the party. Goodness, these are gregarious and social people.
She said that she had talked to Andres earlier, and we would all ride to the Chicamocha Canyon tomorrow. It's about an hour away, and we would spend a couple hours there. Aw, heck... I had planned on seeing the canyon on my way to Bogota anyway, so I agreed.
We took a taxi to my hotel, but before she continued home in the cab, she told me that she or Andres would call or come to the hotel for me in the morning.
Sunday, 10 May, 2009
------------------------
I was up early, but no one called and no one showed up all morning, so I worked on the computer and watched a couple DVD movies.
Andres called around mid-day and said that he would call again later to see what we might do today. There had been a plan to ride to the National Park at Chicomocha Canyon, but I had thought that it would be earlier. No matter.
When Fernanda showed up at the hotel, she said we were to go to the canyon. Okay, I guessed that we would meet others there.
That's not what happened.
She rode on the back of my bike and it took about an hour to get to the park, which was high in the mountains on the road to Bogota. That's the road that continues to Bogota, which was a couple hundred miles away.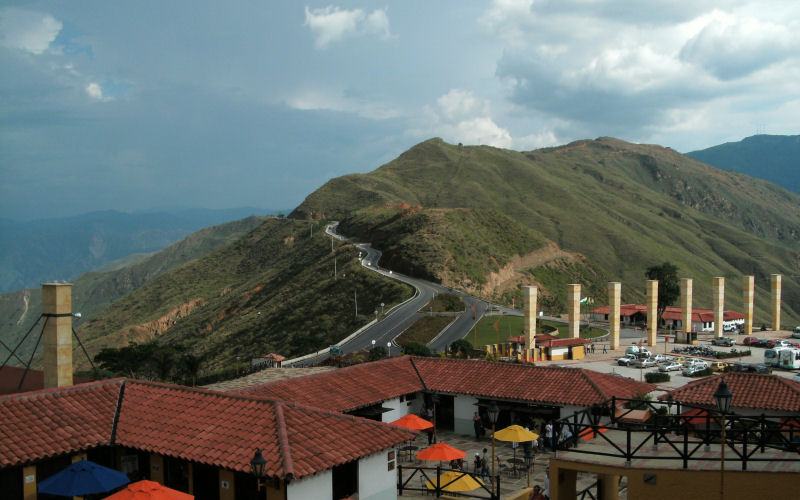 We met no one there, so it was just us. I think she was standing in for the other who couldn't make it, and she was keeping their promise to show me the park. There were two main attractions to the park, as far as I could tell. One was that it was located on a high point and the view was spectacular. Two, it had a great sculpture depicting the rebellion against Spain that led to independence.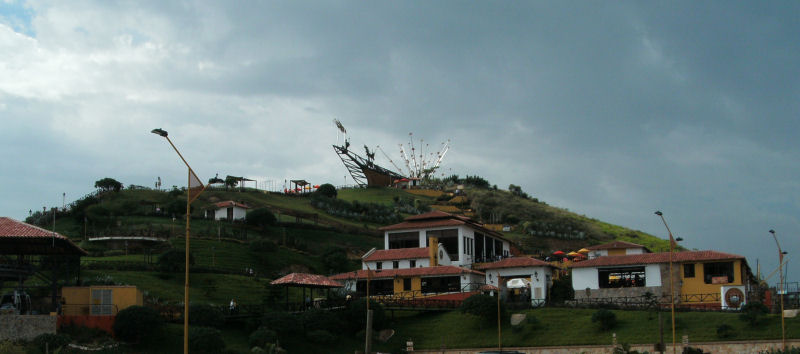 You could walk all over the sculpture, and it extended out over a lot of empty space.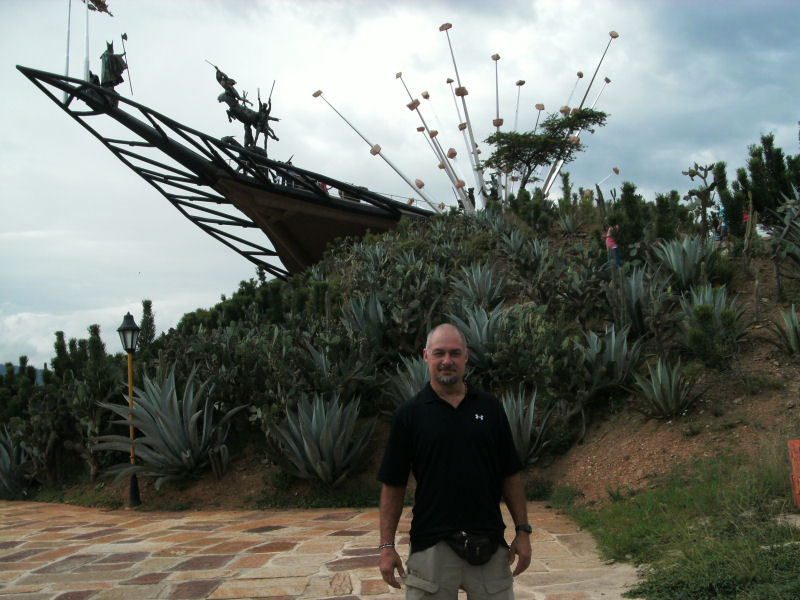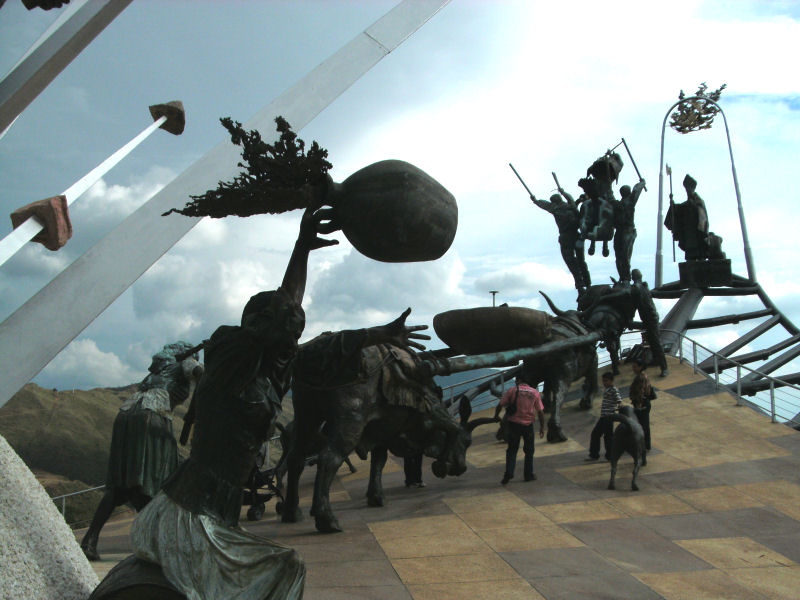 There were other diversions and activities at the park, but those seemed to just be extra things to do while you were there. Go-kart racing, an ostrich zoo, a small museum of artifacts, a few other activities. There was a cable car that went up and down the canyon, and a zip-line ride where you are strapped into a harness seat and you slide across to another lower peak. A shuttle bus brings you back.
Fernanda wanted to do the zip-line ride, so we did. It was a short ride, tame enough for anyone.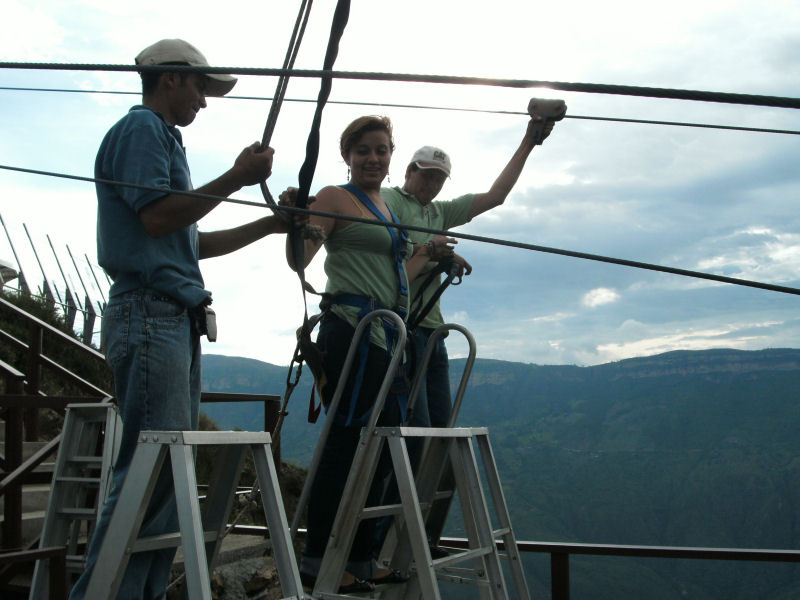 This was the view of the road that worked its way over this mountain ridge.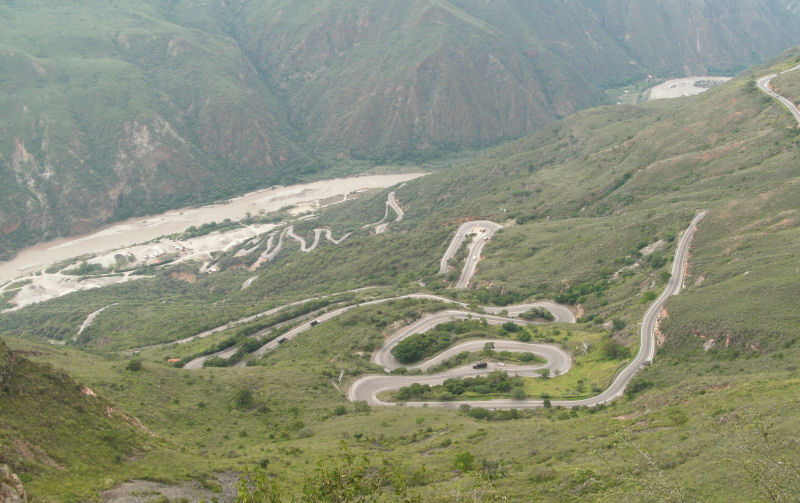 After a snack, we rode back to Bucaramanga. It was an hour each way, and my KLR's hard Corbin seat was not comfortable for Fernanda. I had changed some of the foam in the front part of the seat, but the back part was still very hard.
We called and met Andres near his apartment building. We hung out a while and talked, and I took Andres on a long, fast ride on the KLR. He liked the fast part, so we went out onto the highway for a while. When we returned, Fernanda was looking fairly abandoned, with another gal on the bench who looked like her date had stood her up.
One final photo of two nice friends. Milena hadn't been able to make it, so I included the other gal in the shot as a placekeeper for Milena. Andres gave me a t-shirt that had a Colombia logo on it. Another gift. Nice guy.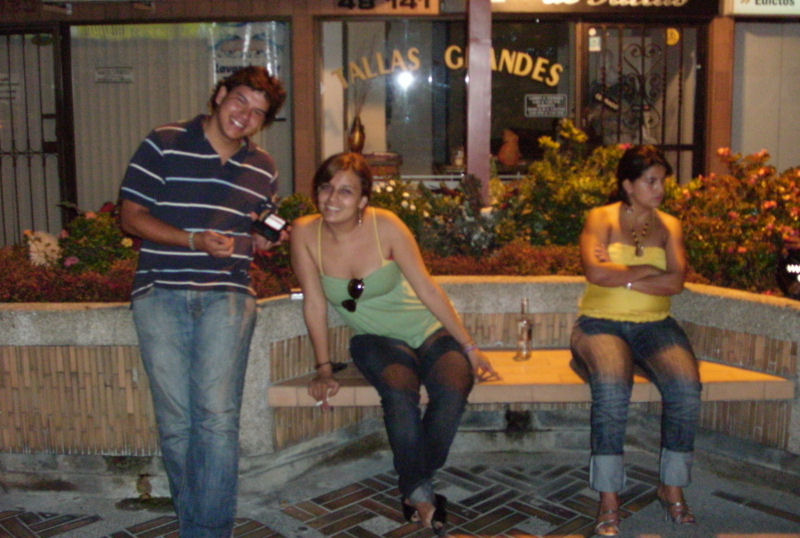 We ate nearby, and I said goodbye to Andres there. I gave Fernanda a ride to where she could take a taxi home. (She didn't think it would look good to her strict family if she showed up on the back of a tourist's motorcycle.) She asked me to stay two more days, which would be her birthday, but I had to decline the invitation. I needed to be home soon, and I had to leave for Bogota in the morning. We said goodbye and she left in her taxi.
I had had no problems with the starter circuit on the bike all day, so I considered it good enough to head out the next day.
Monday, 11 May, 2009
-------------------------
I got up and had breakfast, then got the bike packed up. My credit card wasn't working in the hotel's scanner, and they had no other way to use the card, so that caused some anxiety. I would certainly need to use that card again. I had another credit card in my boot, but we finally got the scanner to accept the card by running it through at various speeds. The magnetic strip was in sad shape.
Advice to the traveler: Carry more than one kind of credit card, and more than one type of debit card. But keep one of each stashed away someplace safe.
The weather was good and the traffic somewhat light in the morning as I left Bucaramanga. I was already familiar with the first hour of the ride, so I got to the Chicamocha park area quickly. From there, the road remained twisty and steep in places. The trucks and buses had to take the tight turns wide, so I had to give them my lane several times. The views were nice.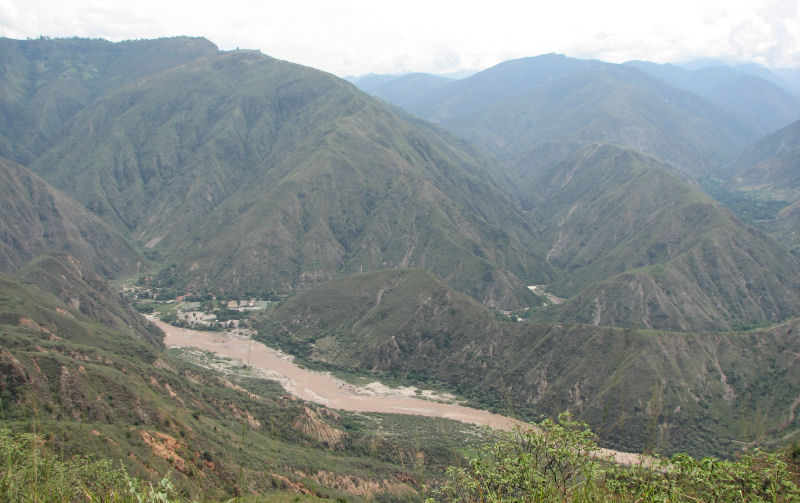 A traffic backup was a long delay. When they opened it up, we all squeezed past the wreckage of a truck that looked like it had rolled over on the road.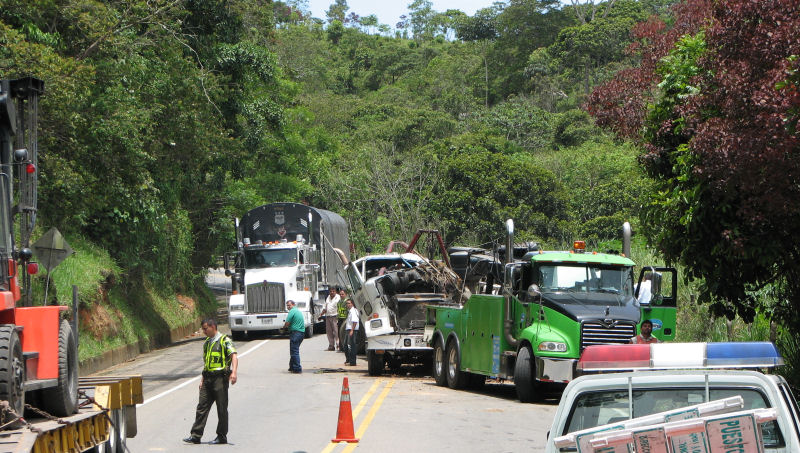 It got downright chilly as the ride got higher and higher, and when the ride crested at over 3100 meters, I stopped to put my riding jacket on--something that I hadn't worn in quite a while.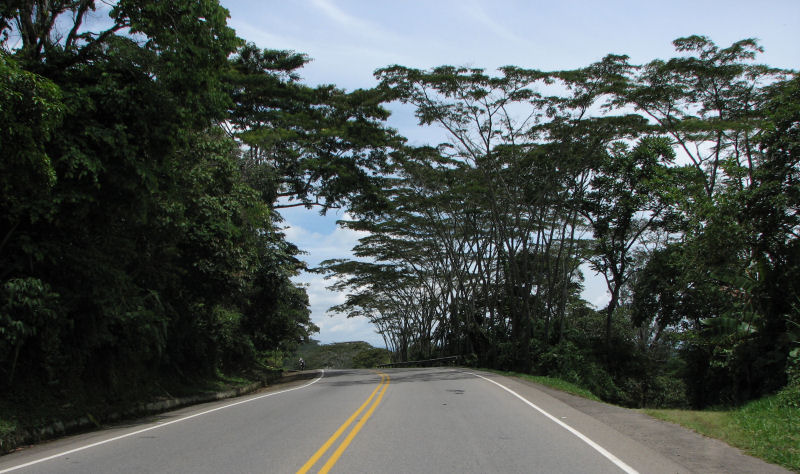 In one small city, school kids heading home for the siesta break were all over the road. They were among the greatest hazards of the whole ride.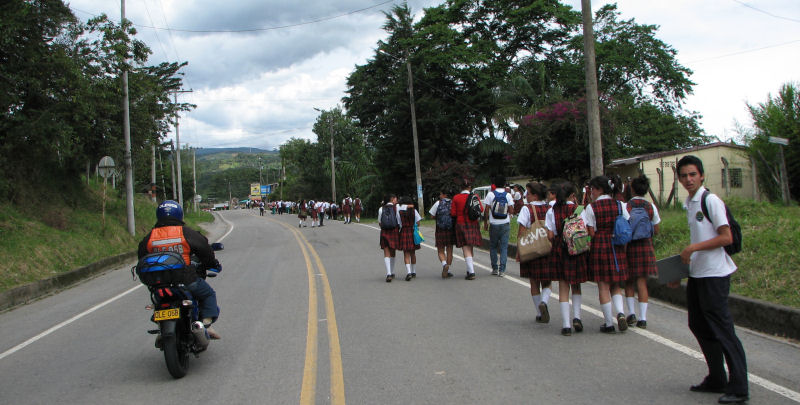 The descent to Tunja was nice, and it got warmer. In the city, the highway went into a traffic circle that had none of the exits marked. No sign to Bogota. I guessed which exit to take and watched the GPS, but you have to ride a while to see what the GPS shows. When I saw that I was on the wrong road, I tried to back-track to the traffic circle, but some of the streets were one-way. I got lost in various neighborhoods for about twenty minutes before finding a major road again.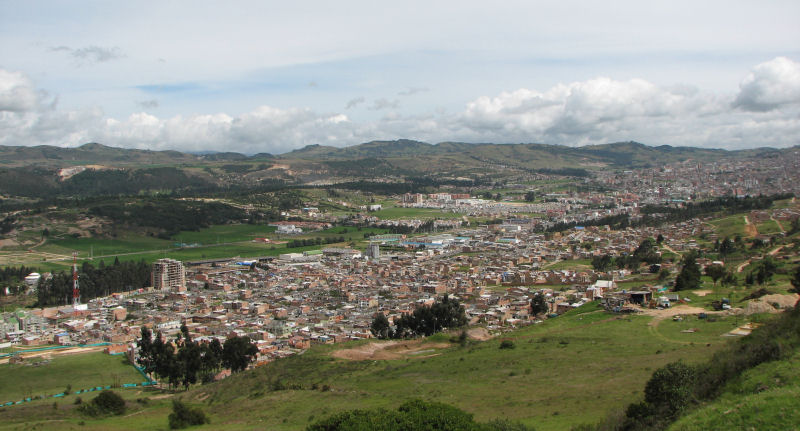 I eventually found the road I wanted, and it was smooth riding until I got to within twenty miles of Bogota. The crush of traffic was amazing. On the motorcycle, I was able to ride past or through a lot of the other traffic, but at times the cars and trucks were too crammed together.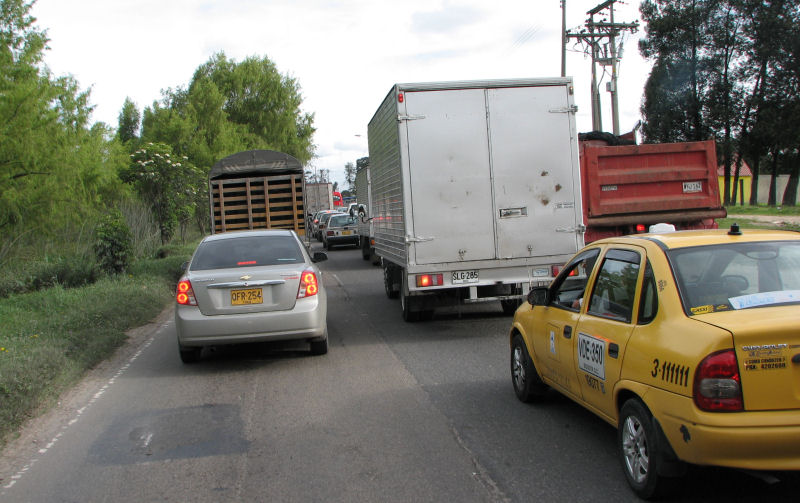 I worked my way into the center of Bogota, an area that Don and I had come to know well when we were here six months earlier. We had walked a lot and had taken taxis and buses at that time, riding our bikes very little once we got them out of Customs. On the bike, now, it was a different story. The traffic remained bad in the late afternoon rush, and some major streets were being repaired. That led to detours and my getting lost again. It was all I could do to eventually make it to familiar ground, and that took an hour.
There is a reason why there are so many small motos in Bogota--it's the only way to get around efficiently. Lots of moto shops, too.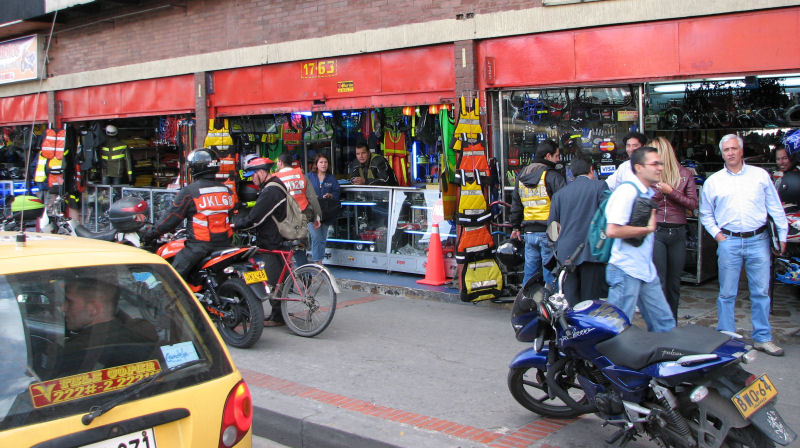 Whenever traffic stopped, all the motos would work their way to the front of the line.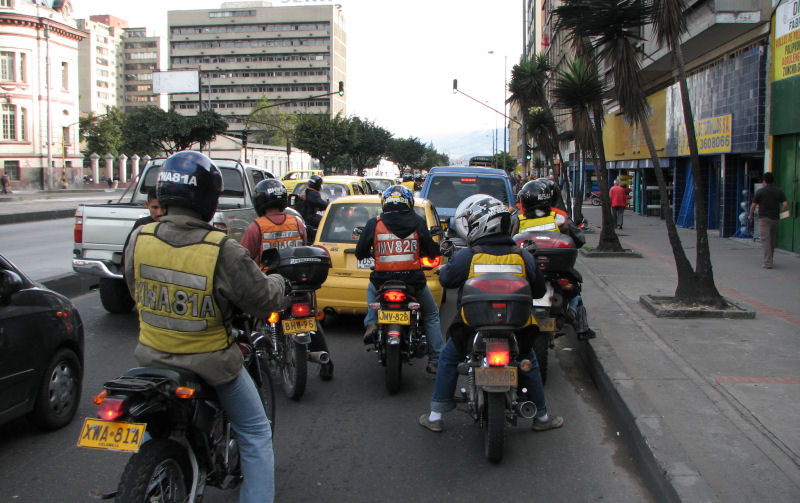 I tried to find the airport, since I wanted to be near it when I had to deal with getting the bike shipped out. I never saw one single sign for the airport on the highway I was on, but I had a general idea where it was, so I headed that way.
Well, that didn't work, so I started asking people. That didn't work either. I gave up and looked for a hotel, but didn't see any on the edge of the city. I headed back downtown with mixed feelings. I liked the idea of being where things were convenient and interesting, but it was a long, hard ride to get there. I saw some hotels that were obviously too expensive for me, and some that were trash pits. It took another hour to go back and forth on a major road twice, trying to get to a hotel that I had seen and thought might be worth a try.
I spent over twenty minutes looking at this: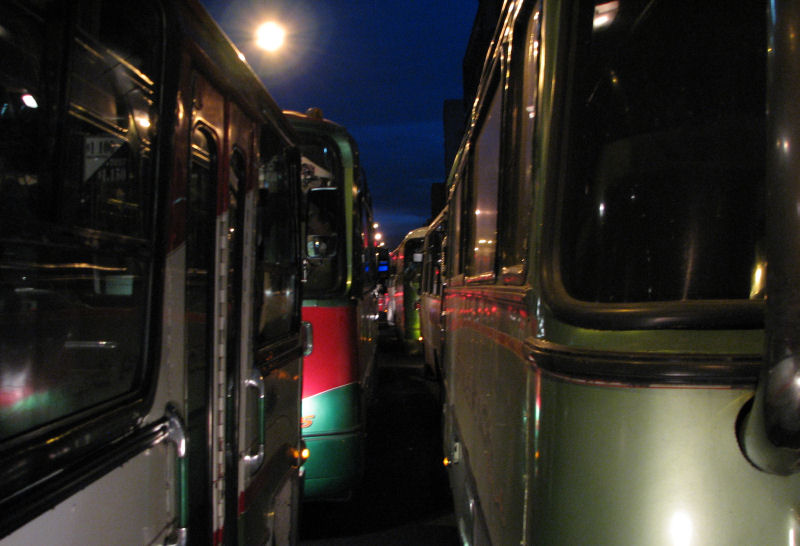 There was a bad accident in an intersection ahead (I had seen it before I got on this street, but I couldn't avoid getting caught in the snarl).
Several times, I knocked on the bus next to me and got them to let me get ahead of them, but they were packed like sardines. My bike was too fat to go between them most of the time. I gave up on the one hotel I had seen and turned off the street as soon as I was able. I went down a side street and found a hostel with a parking garage, but they didn't rent rooms by the day--only by the week. There was another hotel across the street that worked out for me, but they had no parking. I got the hostel to let me park in their garage for a few bucks each day I was there. I only hoped that they knew I had paid if I came and went while another employee was working.
And the starter problem returned, so I could only start the bike with the handlebars turned to the left. I might have to re-wire the whole bike later.
I ate a nice mixed grill of meats at a corner shop next to the hotel, and the beer was nice after the hectic riding of the last few hours.
The hotel was decent and cheap, but had no air-conditioning. Their Wi-Fi only worked in the lobby, so after writing a while, I had to go down there to get online before bedtime.
Tuesday, 12 May, 2009
-------------------------
I got up at 09:00 and took my laptop down to the hotel lobby where the Wi-Fi signal could be used. My email to Veronica (the woman who works for LynCargo) had bounced back to me. I checked the email address and it looked good, so I don't know what the problem had been. This company had been recommended to my by Chuck Weaver, the rider that Don and I had met in Ushuaia and Buenos Aires. Veronica speaks very good English and took care of all Chuck's bike needs, getting him to Miami with no problems.
I checked the information that Chuck had sent me, and there were two phone numbers for LynCargo. The office number didn't connect, but the cell phone rang through and I spoke with Veronica. She told me that they had had some kind of email problem the previous day, but it was working again now. She asked me to send her an email, and she would respond with all the information and instructions that I needed to start getting the bike ready for shipment.
I decided to get the bike washed today, so I retrieved it from the hostel across the street. I had been wrong about why the wouldn't rent me a room last evening. They don't rent rooms by the day, they rent rooms by the hour. Not really a hostel at all.
I rode my bike away from the downtown area, since there wouldn't be a car wash there. The traffic was already very heavy, and it took me a long time to get onto one of the major streets that led out of the central area. I did a better job of finding the airport (and saved its location on my GPS), then worked my way back into the city while looking for places that washed cars and trucks.
Most gas stations had car washes, but it was usually a couple guys with a hose and a bucket. I needed something with a spray nozzle to get the grime off the bike. I finally found a place where they were washing trucks and buses. I asked if they would wash my bike, and the guy with the clipboard laughed. I thought that he was telling me no, but then he gestured for me to park the bike next to a bus. I took the tankbag and drybag off, but left the other soft luggage attached. The worker who washed my bike asked about the map on my right sidebox, and he whistled when I told him that I had been on the bike for nine months in the last year, riding in seventeen countries. That's a lot of dirt to wash off.
I ate breakfast/lunch at the truckstop, and it was a large plateful of nice food. The meal, with a Coke, was less than US$2.50. The bike wash was five bucks. It wasn't a spick-and-span-clean wash, but it was what he could do with what he had. A high-pressure steam nozzle would be needed to get some of the crud off the swingarm and suspension. The bike did look a lot better after the scrubbing he gave it.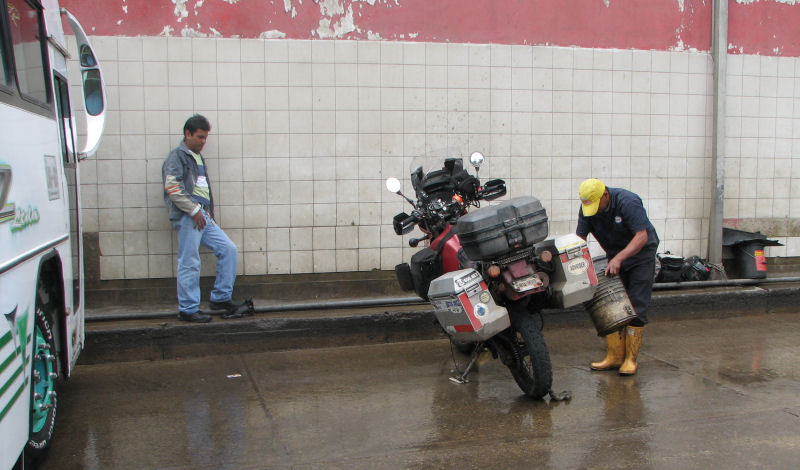 I rode the wet bike back to the hostel and parked it. No one said anything to me, so I guess the dayshift people had been told that I had paid for another day of parking.
In the hotel, I paid for another night, then got my laptop to check email. Still no response from Veronica. I don't think anything will happen with the bike today. I walked around the city center for a while, bought a few small things, but I had been here before and it wasn't that interesting for me right then. There was San Montserrate again, overlooking the city.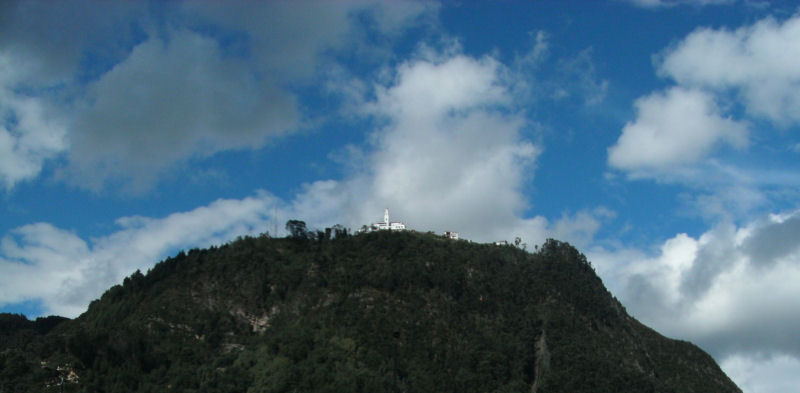 I had promised Laurie that I wouldn't dawdle here doing touristy things, so I decided to just go back and hang out in the hotel. I had several DVDs to watch, and I was easily amused by doing small things.
There was a tailor shop near the hotel, so I took my Darien pants there to have the left leg zipper replaced. It had failed again on the ride to Bogota, and now one of the zipper heads was missing. I made sure that the new zipper material that she would use matched the size and quality of the zipper she would replace. It would be ready the next morning at 10:00, and would cost about six bucks.
I watched a couple DVDs on the laptop, went down to the lobby to get the Wi-Fi signal and handle some email, and on a whim I checked my spam folder. There was the reply from LynCargo. In the spam folder? WTF?
Veronica had sent me the basic information and rough estimates for shipping the bike to Miami, and she said that she would send me some more information to my hotel. Rather than wait for that, I sent her another email advising that I would find my way to her office the next morning.
When I called Laurie later, we discussed the possibility of her coming to Bogota for a short while. After shipping my bike to Miami, we could fly there together. She was interested, so we would make plans the next day.
Wednesday, 13 May, 2009
----------------------------
The phone in my hotel room needed to be put out of its misery. It didn't actually ring, and it didn't actually croak like a deformed frog, but whatever it did, it did it at 07:40. I couldn't understand the gal on the other end, so I assumed it was someone at the reception desk. I got dressed and stumbled sleepily down to the lobby.
I was handed another phone, and it was Veronica from LynCargo. She said she would send a car to bring me to her office, and I said that I would be ready at 10:00. That was nice of her, I thought.
I tried to sleep some more, but it was no use. Once I was awake, the traffic noise kept me awake. I went out at 09:00 to eat, but the eggs and rice that I had wasn't enough. I went into another small diner near the hotel and had some juice and a strange but very good pancake and cheese sandwich. The two pancake pieces were more like honey-sweetened cornbread, and the thin slice of cheese was a nice addition.
The security guard from the hotel walked down to the diner to tell me that a car was waiting for me. It was early, but that was okay. I took my GPS with me and hopped into the car after verifying the name of the driver. That's Jober (in the red car) waiting in front of my hotel in the next photo.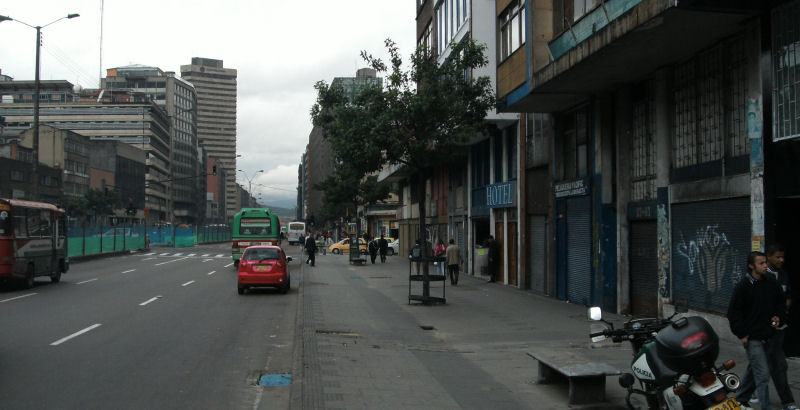 When we arrived at the LynCargo office, I saved the location on the GPS so I could find it again on my own later. I went up to the office and met Veronica. She spoke very good English and asked if I wanted the driver to wait for me. I told her that I would take a bus or taxi back to the hotel. That's when she told me that I had to go pay the driver for delivering me. Well, that was a surprise. I had assumed that they were providing the car. In hindsight, I should have clarified the transportation since I wasn't actually a customer yet.
[edit: I later found an email from Veronica that had been sent to me the morning before Jober arrived to drive me to the LynCargo office. In that email, she told me that I would pay less for the ride with him than I would in a taxi. So, okay. Everything is okay.]
Veronica was very nice, very efficient, and very familiar with the entire process. She had copies made of my relative documents and gave me a run-down on what needed to happen when I was ready to ship the bike. She told me that their company had shipped many bikes to the States, usually to Miami or Houston, but they are now arranging shipment of two Colombian bikes to Los Angeles.
She told me that I would pay for the bike's shipment when I receive the bike in Miami, so I didn't need to pay here in Bogota. Also, she needed a telephone contact number in Miami, so I gave her my cell phone number. This would be needed by the shipping company in Miami.
I asked if they also handled bikes being shipped from Houston or Miami to Bogota, and she said that they work with partner agents in the States to manage in-bound shipments. I asked her to send me that information, and she said she would. The next time I come down here, I will likely ship my bike directly rather than ride through Central America again.
For those who might be interested in their services, here is the LynCargo information:
Shipper Company name Lyncargo S.A. (Centurion Carrier)
Shipper Contact person name Veronica Mosquera Oviedo
Shipper Contact person email veronicam@lyncargo.com
Shipper (Veronica's) Cellular (311) 223-7841
Kra. 103 No. 25B-96 2nd Floor
Bogota, Colombia
Office phone (57-1) 742-5850
I told Veronica that since my wife might be coming to visit Bogota, I didn't know when I would be shipping the bike. She said it was no problem; she would hold on to my paperwork until I contacted her again. I would need to let them know a day in advance when I expected to deliver the bike to them, and it would ship the next day. They fly to the States Monday-Friday, and this was currently a low-peak season for cargo, so there were no expected problems. In peak cargo season (I don't know when that would be), perishable goods and high-value cargo has precedence, and there was always a chance that the bike might be delayed a day or more. She told me that if I got the bike to them early in the morning, the process would be done by noon. If I got the bike there after noon, it would take much longer, and might take all evening. I told her that when the time came, I would have the bike there at 08:00.
Rather than take a taxi back to the hotel, I decided to take a bus. The LynCargo office was near the airport, so this was semi-familiar territory to me. I waited until I was able to flag down a bus that had "Germania" on its sign, and rode it all the way back to within a couple blocks of the hotel. There was a large protest march on the busy street. Lots of different signs and banners, and there didn't seem to be a common theme to them. Maybe it was a general-purpose protest. Anyway, there were thousands of people, followed by lots of police.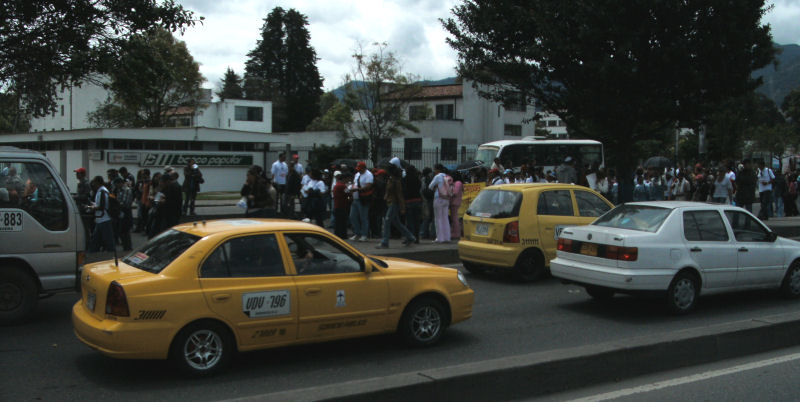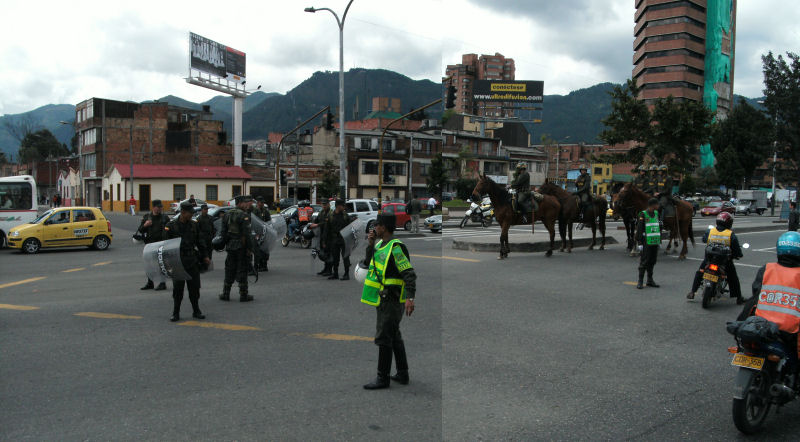 On a whim, I stayed on the bus until it was further into the Centro area and went walking around. If Laurie decided to come to Bogota, I wanted to move to another hotel. I checked out a couple possibilities near the main tourist area, not far from the Museo del Oro. A bit more expensive, but they had secure parking included, and it was in a better location.
When I got back near the hotel, I retrieved my Darien pants from the tailor. The new zipper was out of alignment (the ends didn't match up), so I told the gal very directly that it was not acceptable. She saw what she had done wrong and told me to come back in two hours.
I watched a movie, went to get the pants, but she was still working on them. She told me that the material was very tough to work with. I told her I would come back again later.
When I had ridden around the central area looking for a hotel the first night back in Bogota, I had seen a neighborhood filled with motorcycle shops and accessory stores. I walked there and found that there was also an indoor mall that was exclusively dedicated to motorcycles. When Don and I had been her six months earlier, we had walked right past this place and never seen it. There was maybe a hundred shops and stores with all kinds of rider clothing, helmets, boots, gloves, vests and jackets. The street behind the indoor mall was filled with motorcycle repair shops and more stores. If I had been looking for anything else at that time, this was the place.
I did look at a couple different styles of boots, since my Gaerne Explorers were about worn out. None of them were likely to be more waterproof than the Explorers, but they had nice tread and other nice features. Either would be decent boots, and had a unique style that I hadn't seen in the States. I would think about it more later.
The pants were ready when I returned to the tailor, and it looked a lot better. Not perfect, but serviceable. She told me again that it had been hard to get her sewing machine to work through the material of the pants. I paid her for the zipper, and gave her a decent tip.
I paid for another night at the hotel (and for the bike parking), then watched a couple more movies.
Laurie called with a tentative plan to be here in a couple days.
Thursday, 14 May, 2009
--------------------------
Laurie sent me a text message at 04:30, so I assume she had been busy making plans all night. She would arrive on Friday and stay five days. We would fly together (after I send the bike off) to Miami. Back to bed.
I slept past my alarm again, so it was lunchtime when I got up. The only thing I had to do that day was make a reservation at another hotel that I had found. The Hotel Santa Maria de Jesus was cheap, and a good deal for the price, but I wanted better parking for the bike and Internet access in the room. Plus, a better hotel for Laurie wouldn't be a bad thing.
I walked and found a nice little seafood restaurant on a side street. My breakfast/lunch was a very good breaded fish filet covered with a seafood sauce that had calamari, shrimp, and some other tasty bits. Salad, rice, french fries, and fried plantain on the side.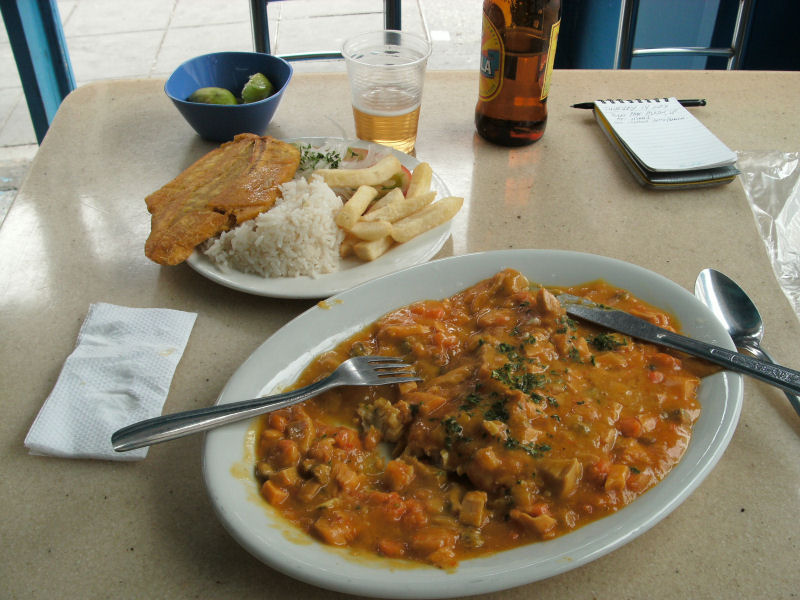 The Hotel el Virrey looked a bit upscale, but it had its own parking garage and a restaurant. The price was P/120,000, which is less than US$60 per night. It was also very near the Museo del Oro and other centrally-located sites. I made the reservation and then had all day to kill. On a television in the hotel lobby, I had seen something about a large funeral in Bogota that morning. When I walked through the central area, the funeral procession went right in front of me. Don't know who it was for.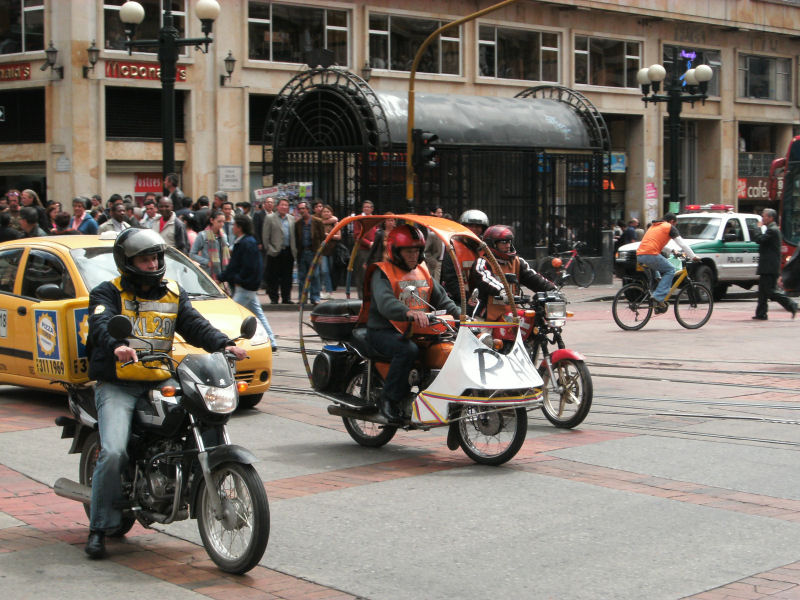 I hopped on a bus that had a sign for destinations I didn't recognize, and just decided to see where it went.
The bus was a local commuter, so it made lots of stops, avoided major roads, and took about an hour and a half to get to the extreme north end of the city. Some of the neighborhoods obviously had a certain character to them, and others seemed to have a specific merchandise or industrial theme to them. For several blocks, every store sold kitchen cabinets and sinks, then it was half a mile of clothing stores followed by blocks of shops that made headstones and caskets.
When the bus pulled into it service garage, I was the only passenger left onboard. I walked until I found another major road and hopped on another bus. That one skirted the west edge of the city and went to the extreme south end of town before working its way up into the high neighborhoods. When you are in the central part of the city, the rolling hills keep you from being able to see how large the metro area really is.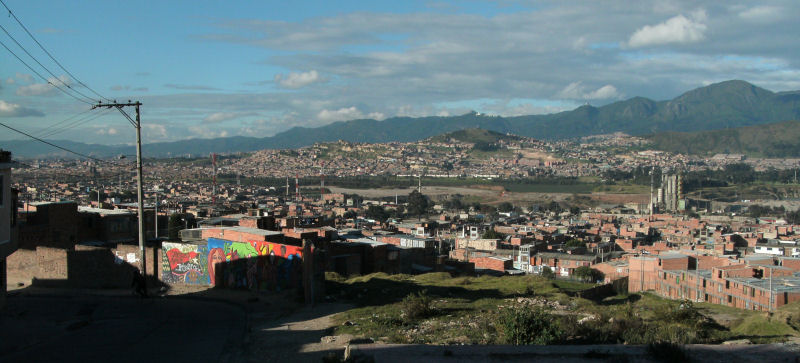 When I saw that the bus was just going to keep going, I jumped ship (bus) and walked back to the last major road we had passed and caught a bus that had Centro on its sign.
That bus eventually worked its way through the massive construction and road repair projects that were everywhere. Don and I hadn't seen any of this, so it was all new work. When the bus finally got to within walking distance of my hotel, I hopped off while it was stuck in a gridlock. I paid for another night for the bike and the hotel, and took a couple beers up to the room to just relax a while. It had been over four hours on buses, and had worn me out. Several miles of walking were mixed in there, too. The exercise was nice, actually.
I played on my computer for a while, then caught up the ride report. At 21:00, I went out to eat and walked into the first restaurant that I hadn't been in yet. There was a dark bar in the back of the restaurant, and several local men were sitting together in silence. They likely sat there every evening and had nothing new to talk about.
The waitress recommended the chicken from the menu, but what she brought me was another very tough beef steak. I have decided that most people in Latin America either don't like their beef tender or they don't know what a tender steak is. All in all, the chicken is always more dependable.
As I ate, I watched out the window and saw many street people rummaging through trash bags that were set out at the curb. At least a dozen men and women looked through the same bags while I was at the restaurant, and most didn't take anything. It was a surprise, then, when a few of them managed to find something that they took with them. Mostly, I think they were looking for food, but anything that could be resold or recycled had some value to them.
After dinner, I had some ice cream on a brownie. The brownie was just a piece of chocolate cake. The coffee was okay, but like the beef, it didn't live up to all the hype. Colombian coffee was supposed to be the best in the world, right?. I've heard it said, however, that the best Colombian coffee gets exported.
Back to the hotel. The next day would see me changing hotels in the afternoon and fetching Laurie from the airport in the evening.
Friday, 15 May, 2009
-----------------------
I slept late and went out for breakfast after doing some light packing. I was surprised to see that most shops were closed at 11:00 on a Friday. Siesta? Holiday?
Breakfast was papaya juice, coffee, and a nice, steamy tamale with chicken meat. I would check out of my current hotel in the early afternoon, so I had plenty of time. I got the ride report updated, but it's just a tourist diary at this point. Some friends and family might be interested, but for those interested in the riding journal, they would have to wait until I got the bike back to the States and started riding from Florida back to Colorado. even then, it wouldn't be as interesting as it has been in Latin America.
I had been told that it was the Spring rainy season in Bogota, but it had only sprinkled lightly once since I returned. The weather was mild, even a bit cool at times--which I really liked after all the heat in Brazil and Venezuela.
After I got packed up, I parked the motorcycle in front of the hotel on the sidewalk where the hotel security guard could watch it. I made a couple trips and got it all loaded up and checked out of the hotel. Checking out consisted of handing in the key, since I had been paying in cash prior to each night's stay.
Okay, nothing to do but ride several blocks to the other hotel. Nothing to it.
Except that two taxi drivers made a suicide squeeze play on me on a narrow street and I crunched into one of them.
It was completely stupid and unnecessary. I was in the left lane, following a taxi--not lane splitting or anything. The taxi in front of me pulled to the left curb (it was a one-way street) and stopped. The taxi next to me in the right lane stopped at the right curb to pick up a fare, so I started to move to the right in front of him. Then, both taxis started moving again at the same time and I was right there between them. If they had done it deliberately, it could not have been done more efficiently. I was doomed.
When the taxi in the left lane pulled away from the curb (with his passenger still in the car), he cut me off, and the taxi in the right lane made no allowance for me when he accelerated away from the person who had been trying to hail him.
Crunch.
No damage to the bike, but there was slight body damage to the taxi's right rear quarter panel from where my gas tank and handlebars had scraped and dented it. The taxi in the right lane stopped right next to me (almost in contact with me), so I couldn't straighten the bike up and get it away from the taxi I was leaning against. Still sitting on the bike, I smacked the driver's window of the taxi in the right lane and gestured angrily for him to get out of the way. He started cursing at me (I assume--his window was still up), but he moved ahead.
I got the bike straightened up and rolled it back away from the taxi I had hit. The driver of that taxi had gotten out to see the damage, and when I asked him loudly in English if he was stupid, he got back in the taxi and locked the doors. His passenger unlocked her door, got out and left.
While the taxi driver made a cell phone call, I walked up and down the street to calm myself. There were maybe thirty or forty people standing next to the taxi and the bike, watching.
When the driver of the taxi got out again, I glared at him but said nothing. He still had his phone in his hand, and I assumed that it was still connected to someone. It was possible he had called the police, but I doubted it. In a clear voice, I asked him in Spanish what it would cost me for the repairs to his taxi. He got back in the cab and continued his call. That told me that I was right--he was talking to his taxi company.
A bystander in a nice suit told me in broken English that the damage wouldn't cost me much, but when the taxi driver got out, he had written down the cost for the bumper (which had some cracked plastic and paint) and to the body panel. The total was P/470,000. At the ATM exchange rate, that was a little over US$200. I showed him the exchange rate on my calculator watch and he agreed to accept the US$200. The man in the suit was outraged, and started yelling at the taxi driver. The popular opinion from the onlookers, however, was that I was the moto rider, I was the tourist, and I was therefore at fault and should pay. It was clear that this was my best option.
I gave him the money and told him that he was an idiot. He understood. So did everyone else. Nobody cared. After that, the show was over and the crowd started breaking up. As soon as I was able, I passed the knucklehead and left the whole thing behind.
In hindsight, I can accept that I was partly at fault for having hit the car in front of me, regardless how it happened. Any other moto rider splitting between those taxis would have been in the same position. It just happened to be me. I was also a little ashamed for having called the taxi driver an idiot. That was just venting and it served no purpose. I'm not much for name-calling, and I do my best to avoid hostile profanity and obscene gestures. I got out of that behavior pattern many, many years ago.
I quickly found my usual Zen place, and then I was done with the business with the taxi. So far, Bogota had been pretty cheap, so that had just evened things out, budget-wise. I probably wouldn't be buying souvenir Colombian motorcycle boots, thought, since they were (on average) about US$200.
At the Hotel El Virrey, the attendant confirmed my reservation and opened their secure parking garage for me. I parked the bike and made two trips to get all my crap from the bike. Much of that stuff would be going into Laurie's luggage when we left Bogota.
The Internet access in the room was spotty, dropping out fairly often. But it was a decent speed when it was connected.
I got a text from Laurie advising me that she was in Miami, about to board the flight to Bogota. I still had a few hours before I needed to be at the airport.
I spent some time online, then went out. The main street near the hotel was closed to vehicles for some reason and was a pedestrian zone. Don't know why.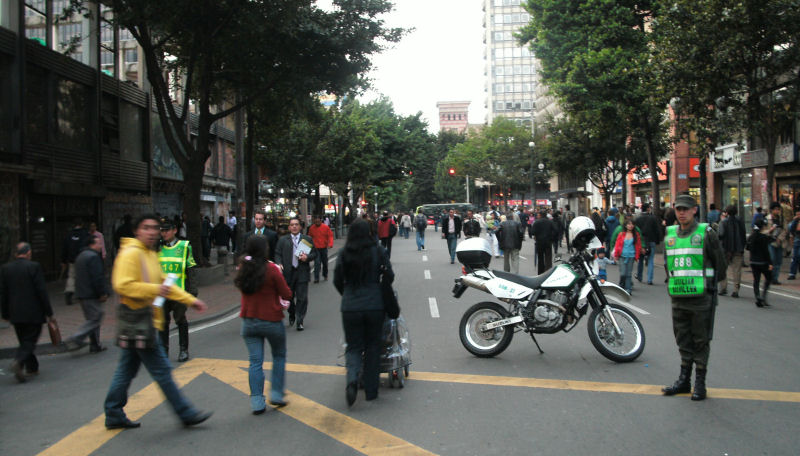 I took a bus to the Modelia neighborhood because I didn't see a bus to the airport after waiting a while. That's where Don and I stayed when we were here the previous November, and I knew it was relatively near the airport. An hour later, I had no idea where I was. If the bus went through Modelia, it was on a different street that I had known and I didn't recognize anything. I got off the bus when I knew it was going the wrong way and hopped into a taxi to the airport. The taxi ran on natural gas, and he refueled on the way. The station attendant was surprised by my camera and she scowled at me afterwards in a cute way.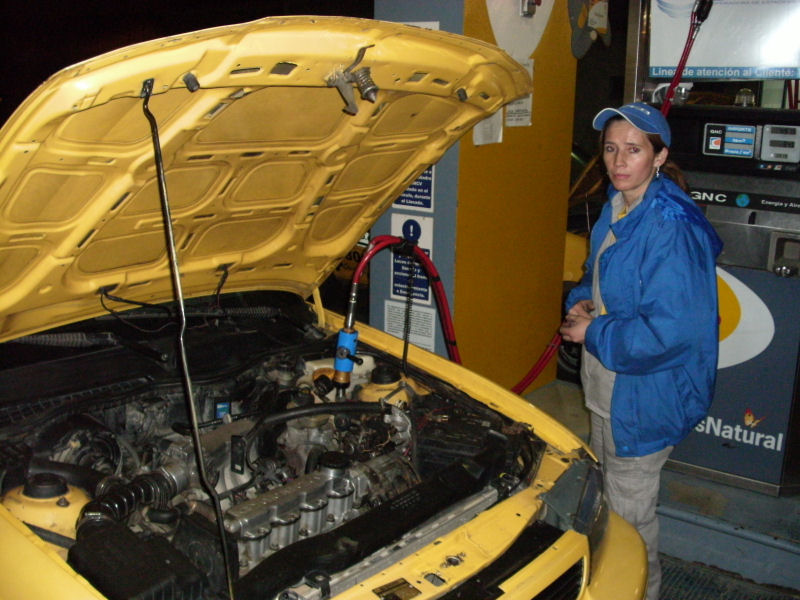 Laurie's plane was a tad early, and she cleared Immigration and Customs in about forty minutes. A taxi back to the hotel and we were all set. She was traveling with a large bag full of SCUBA gear that we would need in Florida.
We walked around the neighborhood, past the Museo del Oro (Gold Museum) and through some other areas that had some nightlife.
We watched a guy park a very odd motorcycle at the curb, and I asked him what it was after I helped push him back over a bump in the road. He said the motor was Honda, and pointed out the Hondo logo, but I didn't understand what he said about the rest of the bike. The motor was a side-by-side V-twin, and it looked kinda like an old rotary engine. The seat was fiberglass and very uncomfortable. The Frazetta air brush artwork was familiar to me.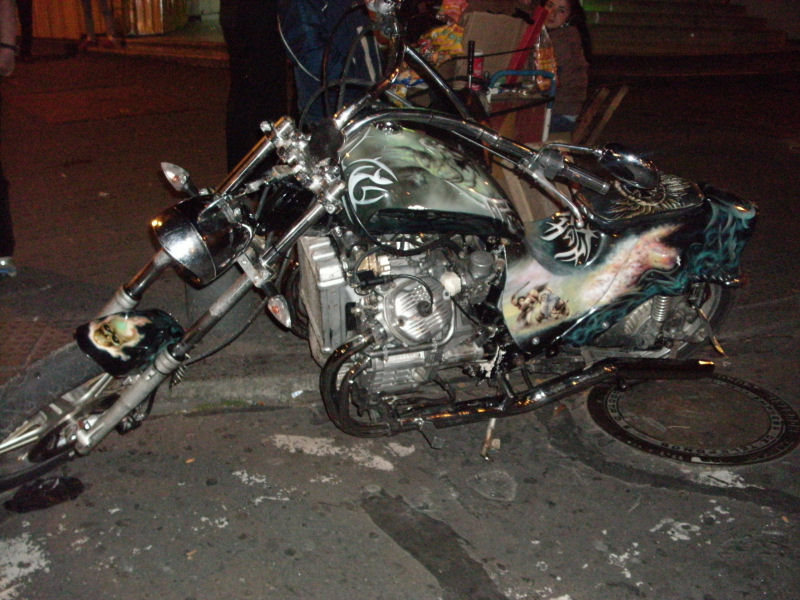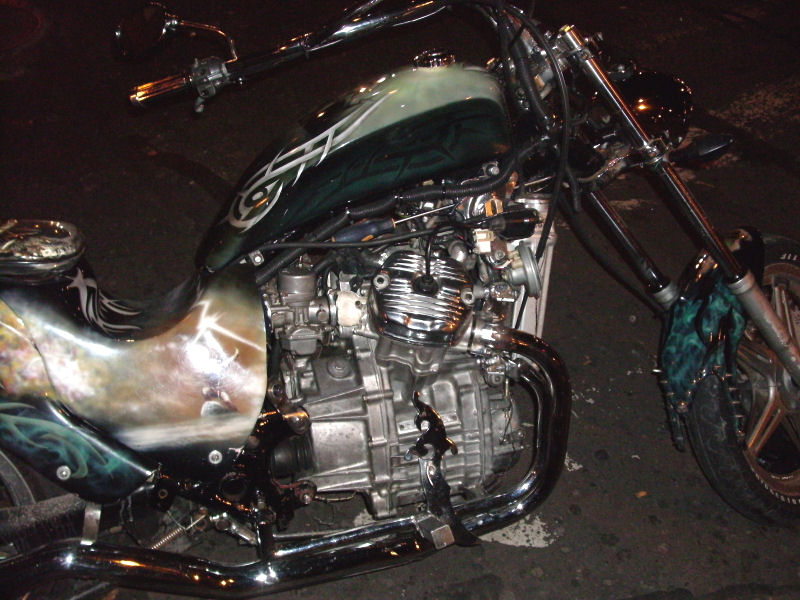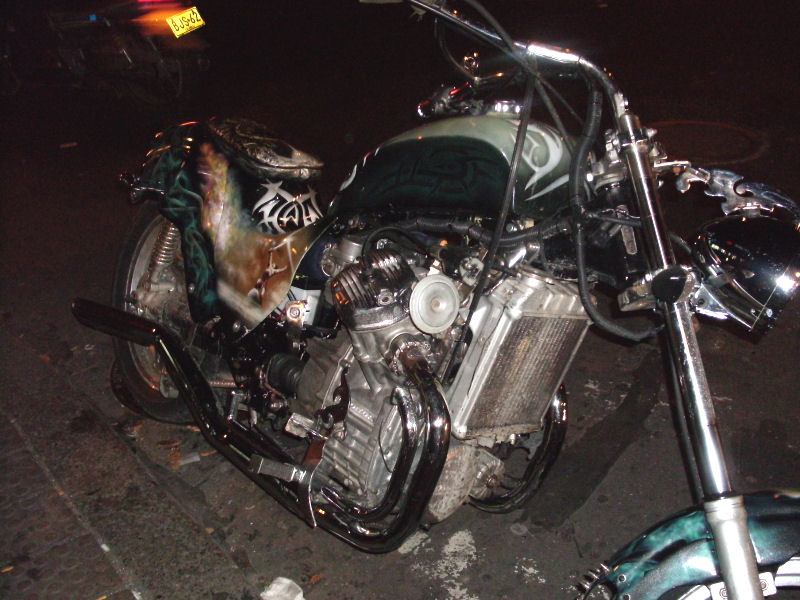 The bike's rider went into a bar for a beer after taking my photo on the bike, and one of his buddies told me that the motor had been custom built by his friend. Maybe the rest of the bike had been a custom job, but the Honda motor had been taken out of some other motorcycle. Out of what, I have no clue. Any ideas, anyone?
(Okay, I've been educated by MANY faithful readers. The motor is from an old Honda CX500, probably not the turbo model.)
We bought some juice to take back to the room and finally called it a night at 23:00.
Saturday, 16 May, 2009
-------------------------
We got up at 09:00 and had a basic breakfast in the hotel before heading out to the Gold Museum. We took a guided tour in English for part of the Museum and learned some things that I hadn't learned the first time I had been there. The museum has over 55,000 pieces, but only about 6,000 are on display. It is the largest collection of pre-Hispanic gold artifacts anywhere, and has some of the most important pieces of ancient American art and relics in the Americas. There are lots of photos in the Colombia-Down report.
Afterwards, Laurie and I wandered around some of the local shops.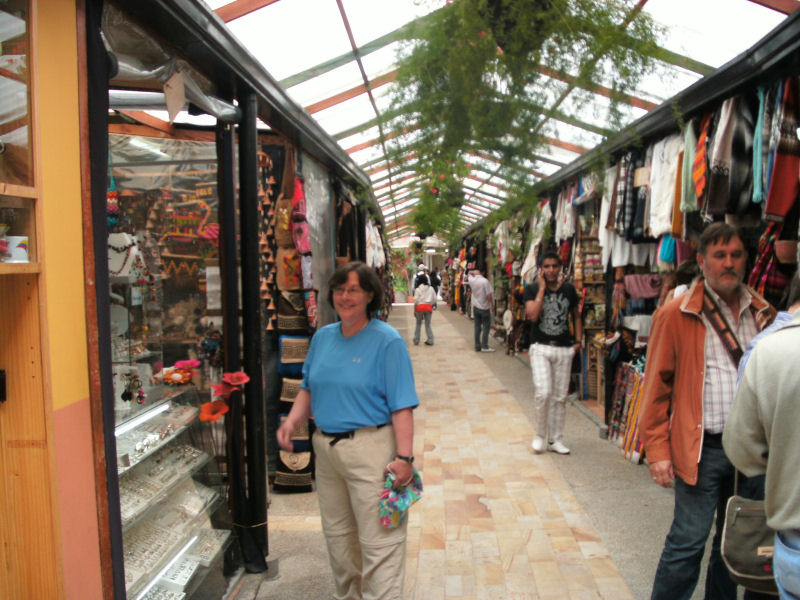 We did a lot of walking (about six miles, according to her pedometer), and used a tourist map to find several interesting places. Don and I had stumbled on some of them before.
Once again along the small river that now flowed in an artificial channel.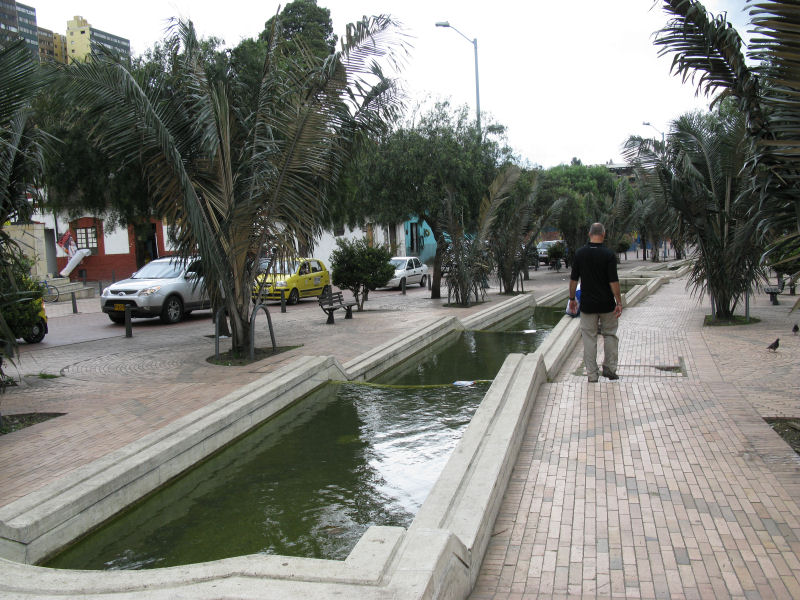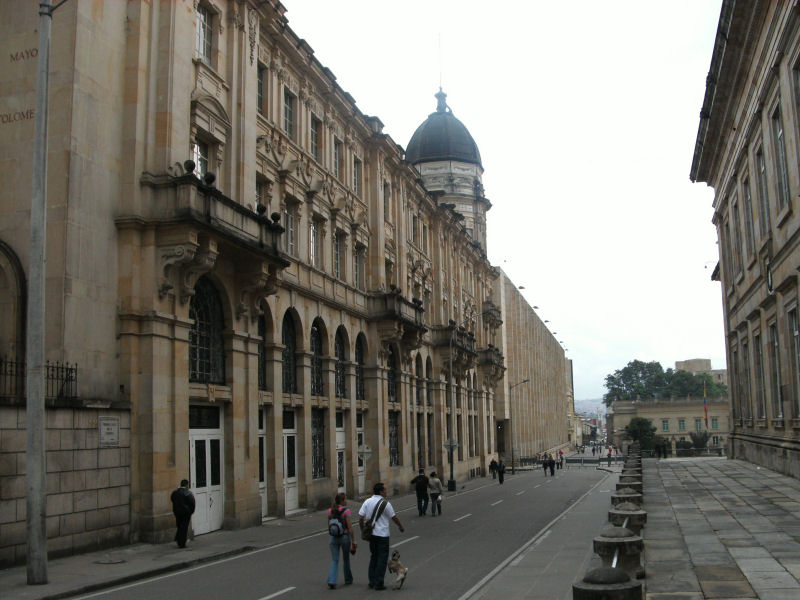 The Military Museum. I might have been interested in seeing the displays inside, but we were in a different mode.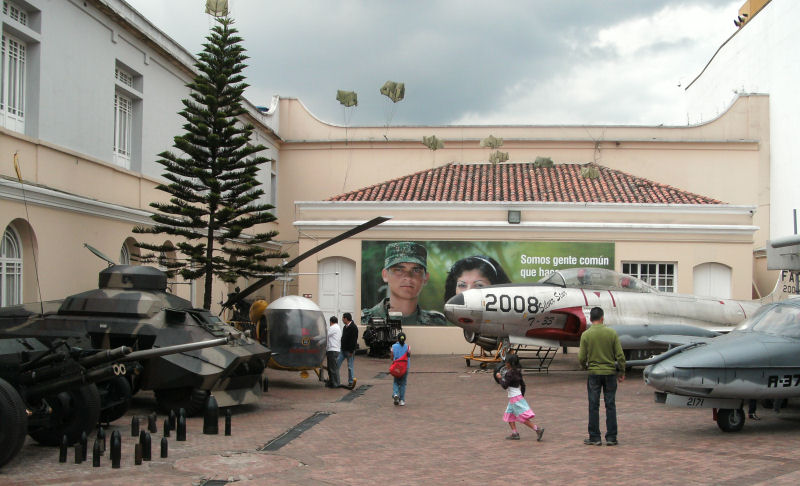 Back in the Plaza de Bolivar where Don and I had seen a political demonstration six months ago.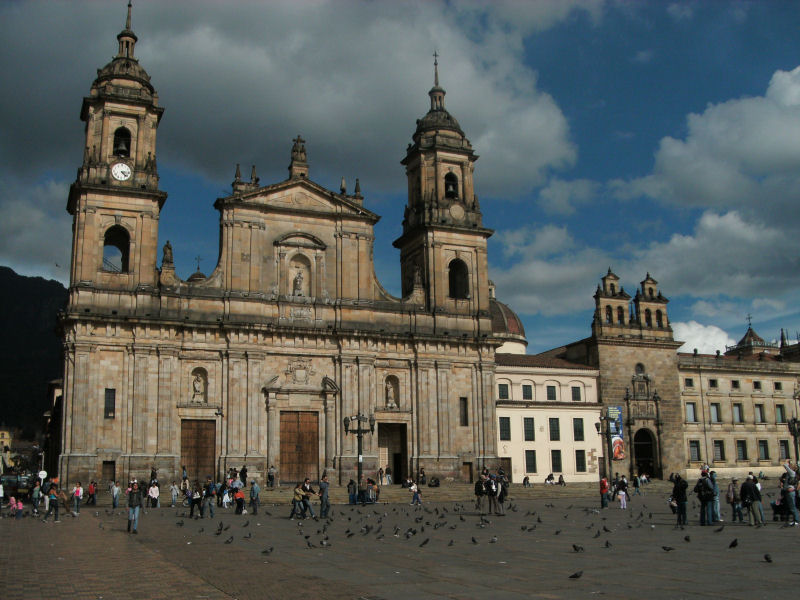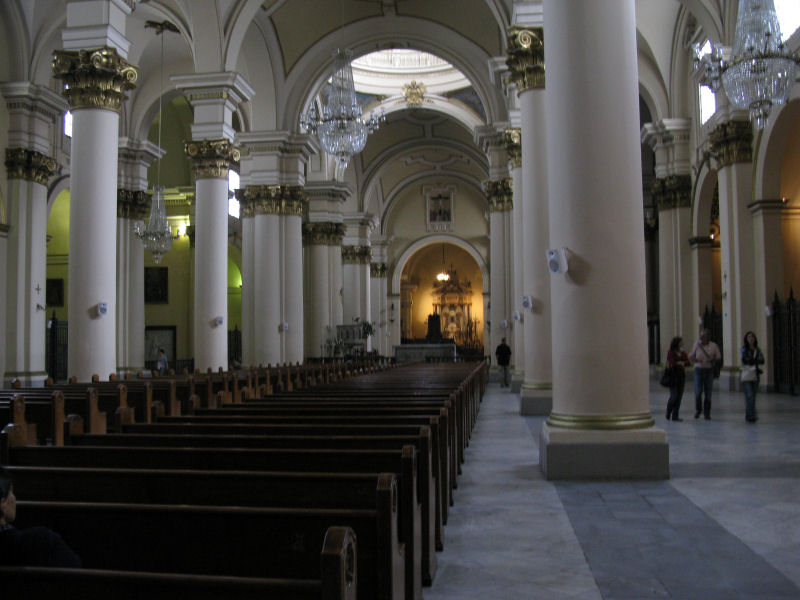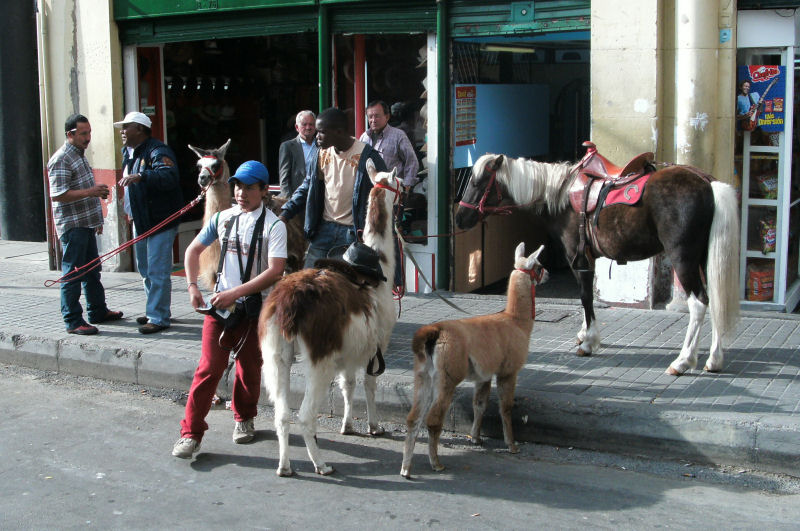 Behind the Plaza de Bolivar were several government buildings, including some Presidential offices and Congressional buildings.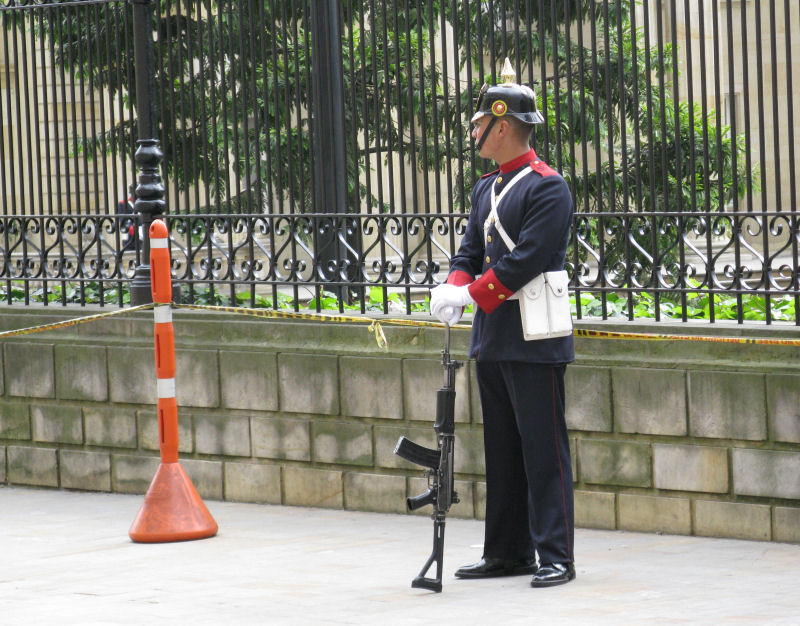 This is the Iglesia de Nuestra Señora del Carmen. Very ornate, but difficult to get a photo of, due to the crowded neighborhood.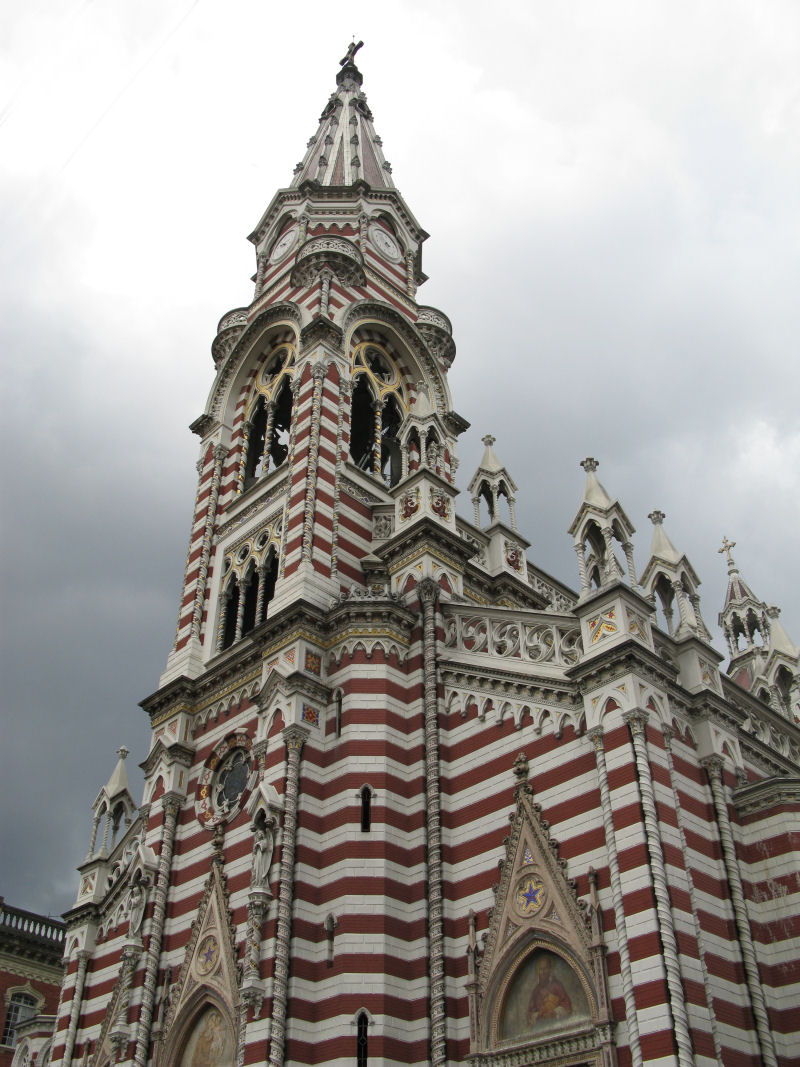 After a few hours, we stopped in a small restaurant and had some soup. It was a heavy chicken soup that apparently doesn't like to be photographed. I couldn't get my camera to focus on it. The cob of corn in the soup was a little tricky (and messy) to eat, but the soup was very good. That's a slice of a huge avocado that came with it. This is a very traditional soup, but I forgot its name.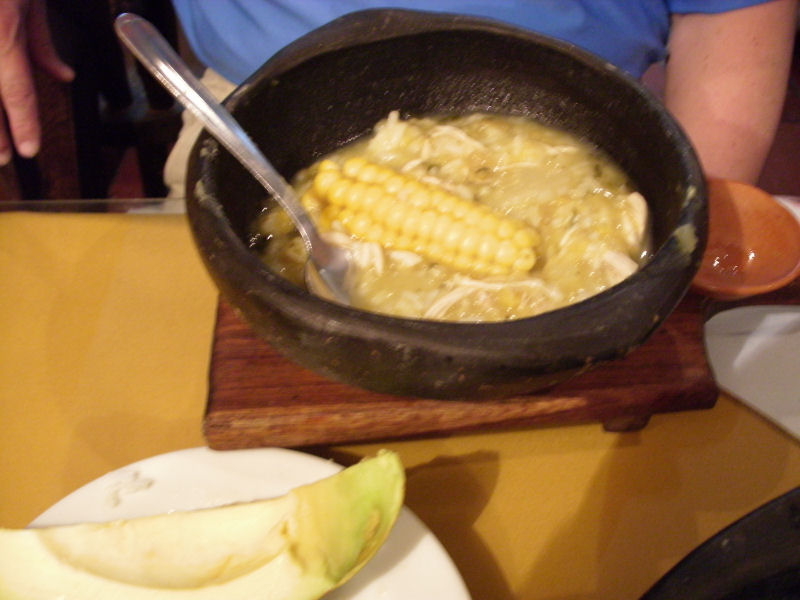 Laurie and I wandered down to a main street and decided to ride the buses for a while. We chose the north-bound line the Don and I had ridden before, and again we had to stand most of the way. Once we were at the north terminal, we chose a different line that eventually took us to the south-west edge of the city. At least we got to sit the whole way. We got some advice from a bus driver, and got onto a final bus that took us all the way back to the Museo del Oro, and that was only a short walk to our hotel.
We relaxed there for a while, just happy to be off our feet.
When we went out to eat, we walked in a different direction until we hit a main street and found a restaurant there. The young street hawker spoke excellent English, and we talked with him for a while. His name was Sebastian, and he is finishing an advanced course in English in college. He asked me for some pronunciation tips, because he wanted to minimize his accent. We had a mixed grill of meats there, but it was only so-so.
Sunday, 17 May, 2009
------------------------
After breakfast, we headed up to Monseratte again. It was a cool, overcast day, and the weather looked threatening all morning.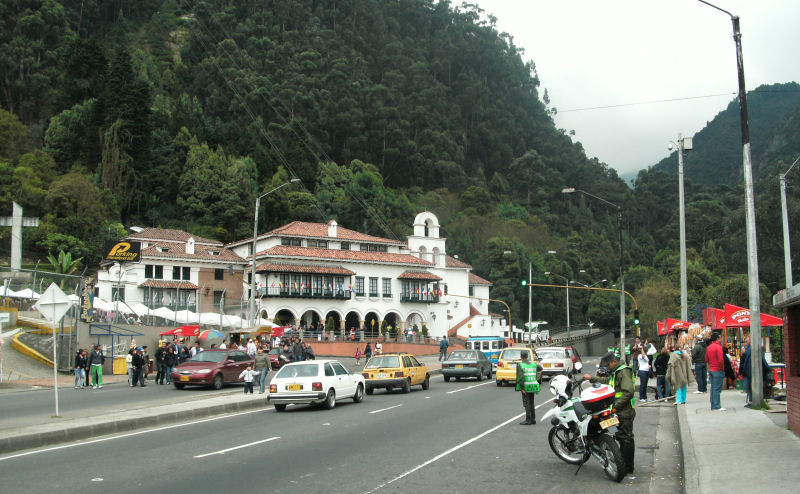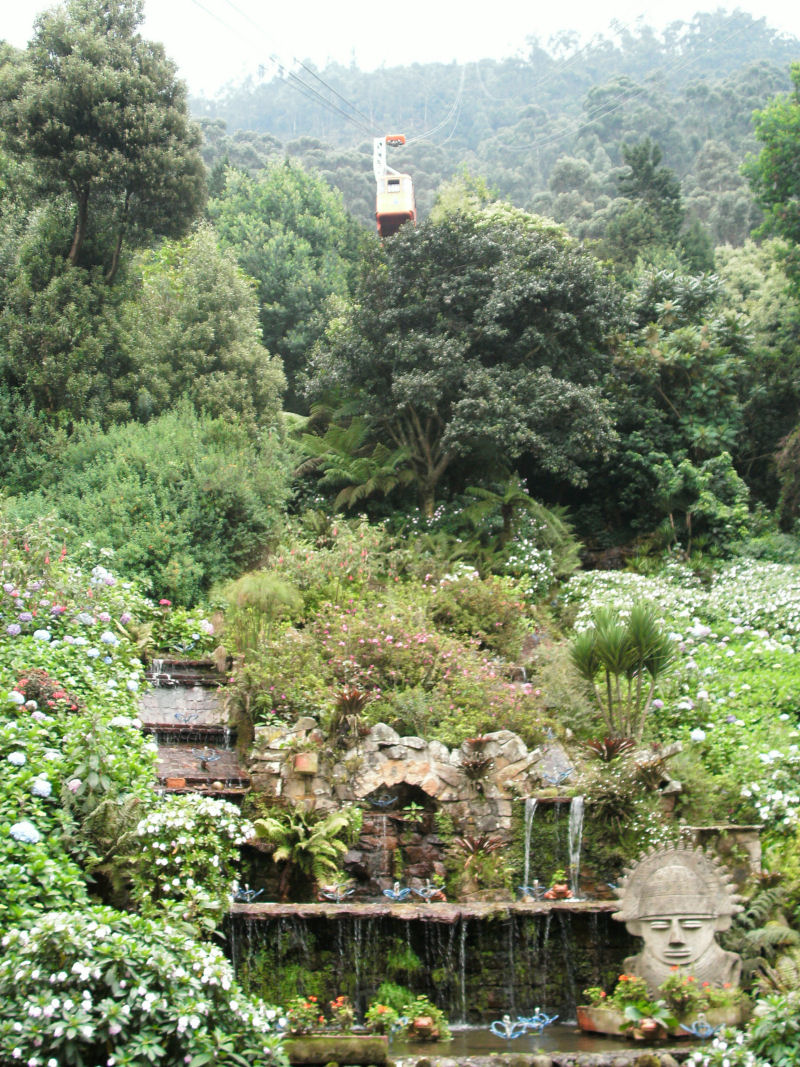 That's not smog. It's just low clouds and mist.
Since it was Sunday, there was a service in the church. Overall, the place was nearly deserted compared to how crowded it had been when Don and I had visited.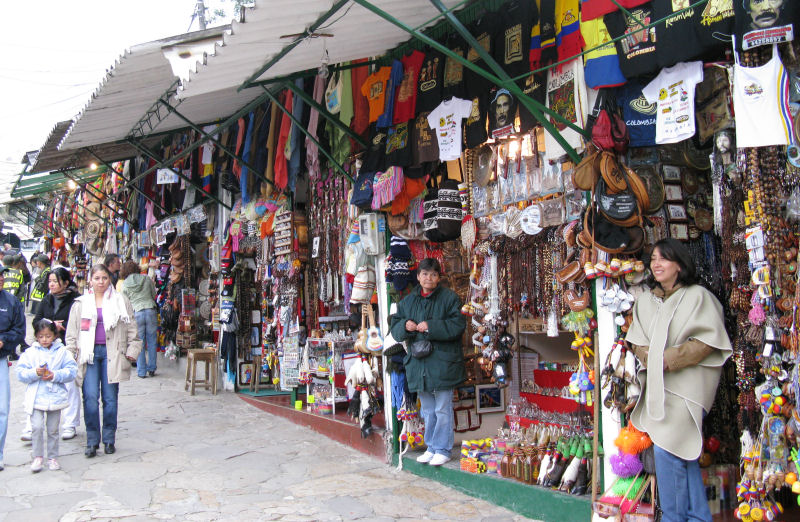 The Canon Powershot A650 camera that Laurie had brought for me had been acting up the previous day, and it died altogether on Monseratte. The LCD screen just went dead. We later looked at photos she continued trying to take, but the camera wasn't working anymore. It had been a Canon factory refurbished camera, and hopefully there will be a warranty. She'll check when she gets home. More trouble with cameras. I had hoped to keep that camera and send her home with the other one I had been using. Rats.
After Monseratte, we walked to the city's planetarium and watched a space show in Spanish. Next to the planetarium was a bullfight arena. It wasn't the season for that sport yet.
We looked briefly into the Colombia National Museum, but aside from looking at some side displays, we weren't interested enough to pay the entrance fee.
We hopped on a local bus and rode it for over an hour. When we got tired of that, we got off and had a snack in whatever neighborhood we were in.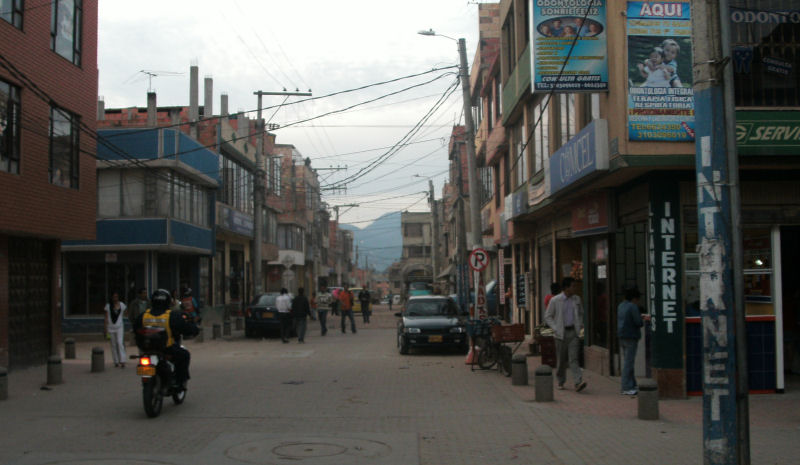 Another bus got us back to the Gallerias mall where we had dinner, and yet another bus got us back to the neighborhood or our hotel. With the stops included, it was a four-hour cheap tour of the city. At least it wasn't an express bus that stayed on the crowded highways.
Monday, 18 May, 2009
-------------------------
At 08:00, I called Veronica and asked if I could bring the bike in that morning. I was supposed to give them a day's notice before bringing the bike, but it was worth a try. She said that it would be fine, so I told her I would be there soon.
Breakfast came first, then I hit the road. I had been deliberately running the tank low on gas, since that would make it easier to ship, but I wanted to have enough fuel to get to a gas station in Miami. My bike went on reserve on the way to the LynCargo office, and since I knew that the IMS plastic tank didn't have a large amount of reserve fuel I decided to put more gas in it before dropping it off for shipment.
I knew there was a gas station right at the airport, so I went there first. Their pumps were all blocked off and a sign said that they were out of fuel. Rats.
Back out onto the highway for a 20-minute trip back into the city trying to find access to another gas station. I missed a couple exits that would have worked, and other gas stations were on the other side of the divided highway. As usual, it was impossible to make a left turn anywhere. I ended up getting off onto another highway and using some cloverleaf exchanges to get turned around.
I put a gallon of gas in the tank and headed back to LynCargo. Once there, Veronica had me sign their shipping contract and introduced me to Linvardo, who would be my handler for the whole process.
I followed Linvardo (I'm spelling his name the way it sounded to me) to the cargo terminal area.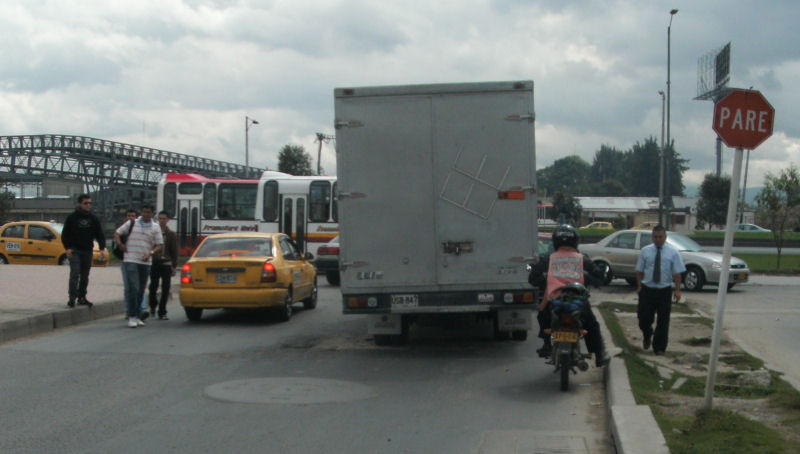 Once there, he had me park in front of the Centurion dock area. I took the windshield and mirrors off the bike, and it was immediately lifted up into their cargo loading area.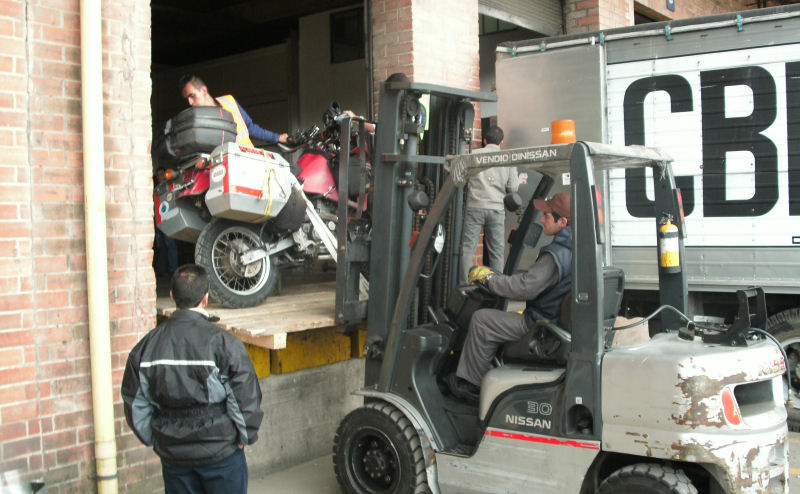 This is where they had me park the bike after they weighed it (277 kilos, about 610 pounds).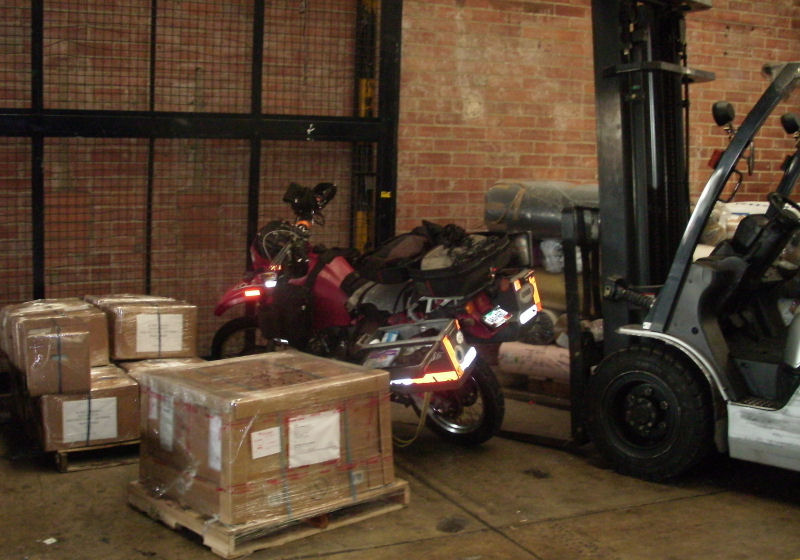 That is where the bike stayed for many hours. The lone police officer was inspecting everything that went through there. He was busy at that time with a shipment of books. About thirty boxes of books. He opened every box and sniffed and leafed through every single book individually. That took a while.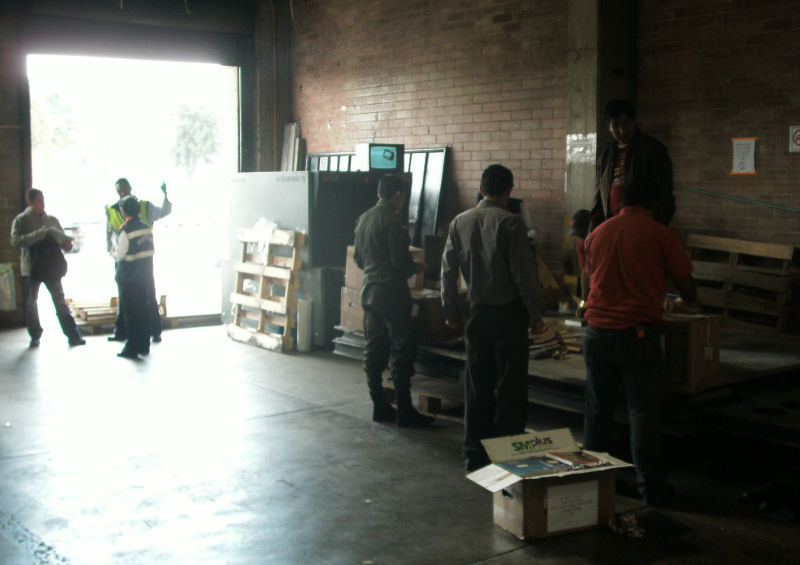 Linvardo went off to do some administrative work with my papers, and it was 11:00 when he returned. He led me across the street to the same Customs office that Don and I had used the last time. He knew the process, however, and the exportation of the bike took less than ten minutes. Instead of a physical inspection of the bike, Linvardo showed them digital photos of the bike, its license plate, and the VIN plate. We were out of there in no time.
Next, we went to the police station that was near the Centurion docks and made arrangements for the police to inspect the bike. I noticed that almost all of the police who came and went from the station were unarmed. Worse, most had empty holsters.
Back at the bike, however, nothing was happening. The police officer there was inspecting other cargo, and that took us to noon. Almost everything stopped at noon, and Linvardo told me that we needed to come back at 14:00 for the police inspection of the bike. Linvardo had things to do so he left, but I chose to wait there at a small diner in the dockyard area.
I ate with the truck drivers, and it was a pretty good meal for the money. I tried to take a nap, but I don't nap well. The two hours took longer than that (it seemed) to pass and for things to start happening again.
At 14:00, the docks got busy again, and more and more cargo was piled up around my bike. That wasn't good.
At 14:45, Linvardo returned with a large box strapped to the back of his bike. He was in the middle of delivering it somewhere, I suppose. Two police officers arrived soon after and started inspecting stuff. I watched one police officer, two security guards, and two dock workers take a large brand-new copier apart to inspect it. They had trouble getting it back together and even had parts left over that they just put into the box with the copier when they were done. I'm sure that copier will never work again.
Sometime around 16:00, they were ready to inspect my bike. They made me remove every single item in each of the boxes and bags before they even started looking at any of it. It looked like a flea market of crap all around my bike. One of the security guards and one of the policemen casually poked through all the stuff, closely inspecting only a few things. When the policeman started looking at the bike, things slowed down even more.
He wanted to see inside the gas tank, so that caused me some concern. I had told them that there was very little gas, so I hoped that the shape of the KLR's IMS tank would keep it from looking like there was a gallon of gas in there. They took turns looking in the tank with a flashlight, but eventually decided that they were satisfied.
I had to remove the bike's seat so they could see the battery. They didn't make me disconnect the battery cables, so that was good.
Finally, the policeman just stood and stared at the bike. After a few minutes, he had me start the motor and rev it a bit. Then he made some phone calls and wandered off somewhere.
Laurie had been sending me text messages to let me know that she was out wandering around the area near the hotel. She was never able to call my cell phone from hers, but her texts got through.
It was after 17:00 before the drug-sniffing dog and a supervisor arrived. They had me reposition the bike in the middle of the loading area, then had the dog give it a once-over. That finished, they told me that I was done, and I could put everything back together. Linvardo had the loading stickers already. He attached them to the bike and we were done just that suddenly.
The biggest surprise of all was that no one seemed even remotely interested in the tool tube on the bike. The one item that everyone else seemed most curious about didn't even catch their eyes. They never asked me about it, and I didn't volunteer to open it. Weird.
With all the bustle around me, it took a while to get all my stuff rounded up and re-stowed in the boxes and bags. I strapped the windshield down on the seat and wrapped it all with a locking steel cable. I parked the bike back where it had been before and went looking for Linvardo to see what we had to do next. I couldn't find him, so I called Veronica and asked her what I should do. She said she would call Linvardo and would call me back.
Before she called me, I found Linvardo at a service window next to some of the docks. He waved me over and I waited while he finished some paperwork. Vernonica called him and he told her that he was with me now and we were okay.
A few minutes later, Linvardo handed me a stamped copy of the export paper and my copy of the shipping contract. Total cost shown on the contract was about US$850. There would be some final costs in Miami, but probably less than fifty bucks.
Linvardo wished me happy travels and he was off on some other errant. Finished. Eight hours total. Not a typical time, I'm sure.
I would pay the full shipping cost in Miami after I collected the bike, so my total expense in Bogota for the day's business was exactly zero.
Carrying my helmet and tankbag (full of tools, GPS, other stuff I usually keep in it), I walked to the street and hailed a bus back downtown.
At the hotel, I took a shower and relaxed. Laurie and I were both hungry, so we went walking around for a while before settling into a small restaurant. After a nice meal (about the only tender beef I've had in Colombia), we hunted down an ice cream shop before returning to the hotel.
We had nothing else to do that evening, and nothing that we needed to do the next day (aside from checking to make sure that the bike got out of Bogota).
We'd try to do something touristy on our final day there.
Tuesday, 19 May, 2009
-------------------------
The hotel breakfast was a typical serving of scrambled eggs and bread, coffee or hot chocolate. We walked to the area that had all the moto shops and goofed off there for quite a while.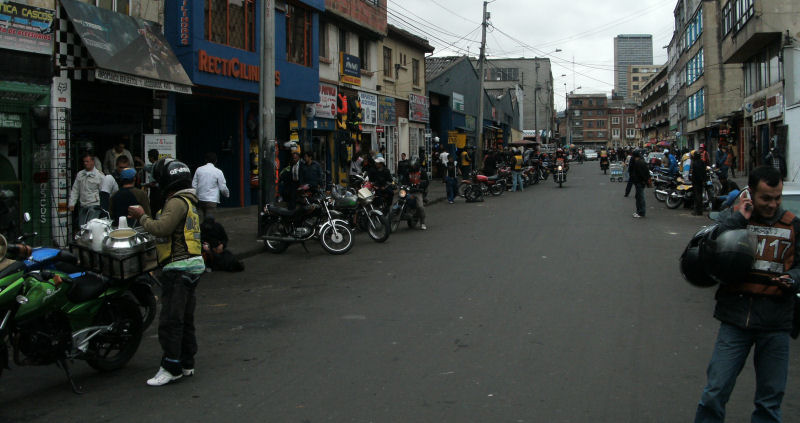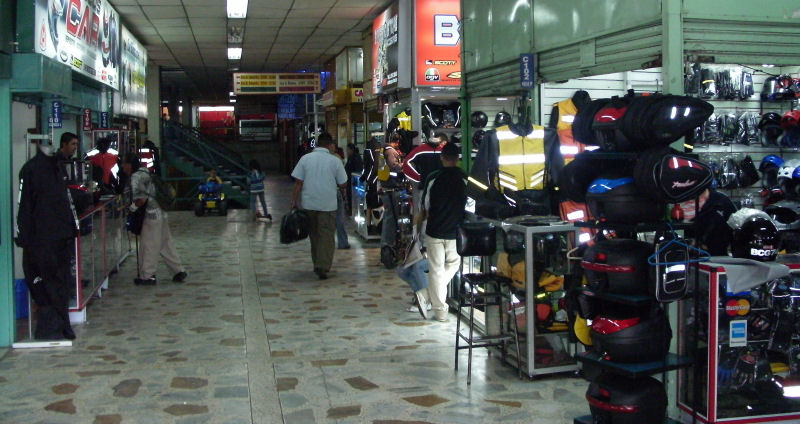 Laurie found a reflective vest she liked and got it and the reflective characters for her Magna's license plate to go with it. I ordered another vest (but asked them to make some alterations to it) and paid for it in advance. I'll come back in the morning to pick it up.
We took a long walk back to the hotel, stopping along the way for a snack. It wasn't noon yet, so we considered a tour or something for the afternoon.
Nyah... we blew that off and just vegged in the room all afternoon. I got everything done that I needed to do online, so that was a relief. Laurie and I watched a bootleg DVD movie then went out to eat. We wandered around to find someplace different, but ended up at a small diner that was trying to close for the night. We ended up with whatever they were willing to make for us and it was edible. Nothing special for our last dinner in Bogota, and my last dinner in South America.
For the time being, that is.
<< Link to PREVIOUS report: Venezuela >>
<< Link to NEXT report: -- >>
[ ERRANT-RONIN HOME ] [ Prudhoe Bay to Ushuaia Home Page ] [ Ride Reports Home Page ]