Part 11. Peru down
==============
Thursday, 27 November, 2008 (continued)
--------------------------------------------
We parked the bikes right next to the cones that a policeman was tending in the road.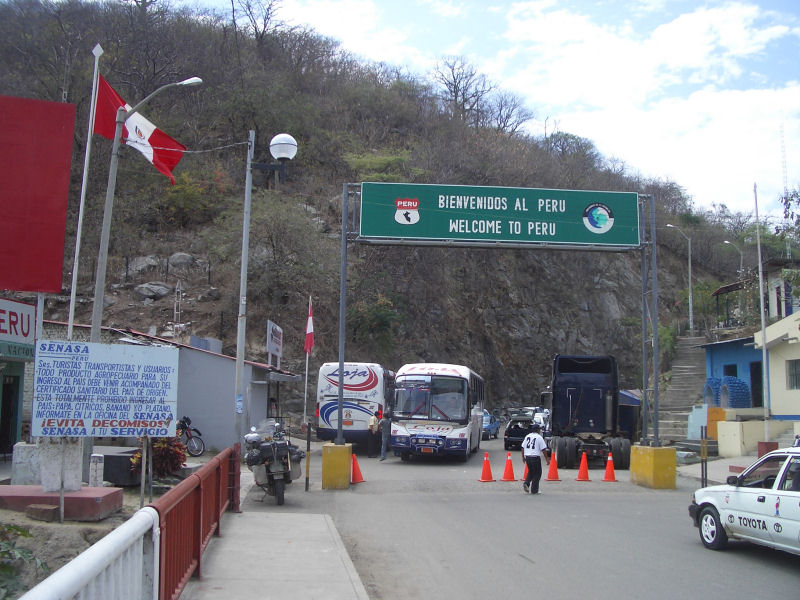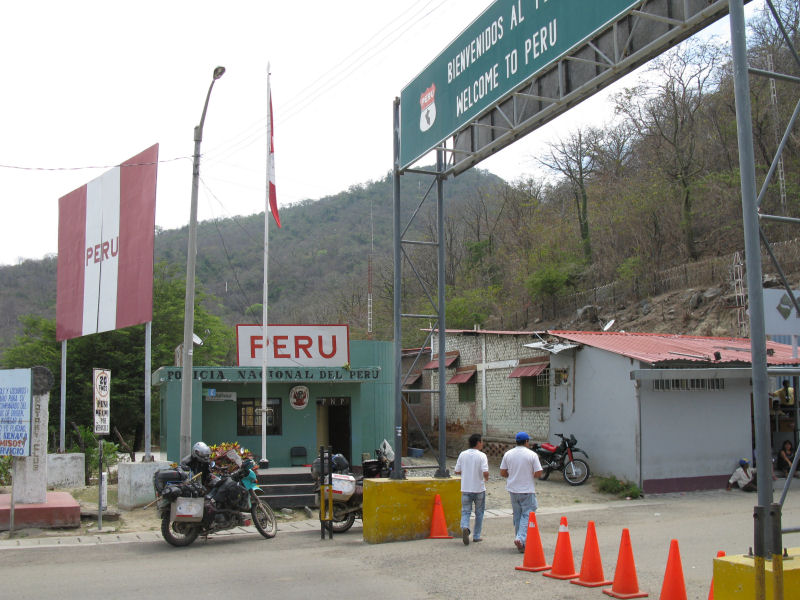 To enter Peru, we first went to Immigration and filled out a form similar to the one we had done in Ecuador. The nice lady tore the lower part of the form off and gave it to us to keep with the visa she stamped into our passports. We were then directed to the police station (small green building in the above photo). There, the friendly policeman wrote all our information into a journal, asked us a few questions, and looked at all our documents. He wrote the bike information into his book, too. We went next to the Customs/Aduana building (SUNAT), which is the white building next to the police building.
It took a while, but the dogged bureaucrat there eventually got the paperwork finished. We had to fill out one form (in duplicate), and I had to re-do one because he made an error on it. The surprise was that when they needed copies, they made the copies themselves! That never happened before. Also, we paid exactly nothing. Nada. They gave us stickers to put on the windshields of the bikes and we were done.
The whole time we waited at the border, a black goat and a gray pig ran riot all over the road, looking for handouts and scraps. They were quite entertaining.
Before leaving the border area, we got something to drink from one of the raggedy vendor shanties along the road. They took our Dollars, but Peru uses the Sol, which was worth just a tiny bit more than 33 cents at the time. Basically, three Soles per Dollar. S/3=$1.
Onward. We passed police and customs checkpoints, but they waved us by. The big stickers on the bikes were pretty obvious.
The road was very nice, and we found at the first toll booth that motorcycles were exempt from the tolls. At each one we passed in Peru, somebody always made sure to wave us off the toll lanes and through whatever form of bypass was at that location. Sometimes it was an obvious lane, sometimes you had to go around a barricade. Once, nearing Lima, I missed the bypass and ended up in a toll lane where a very patient policeman made me turn around (into on-coming traffic!) and go back a hundred yards to the bypass. So, take that as a head's up. Here, you would go past the cones on the right.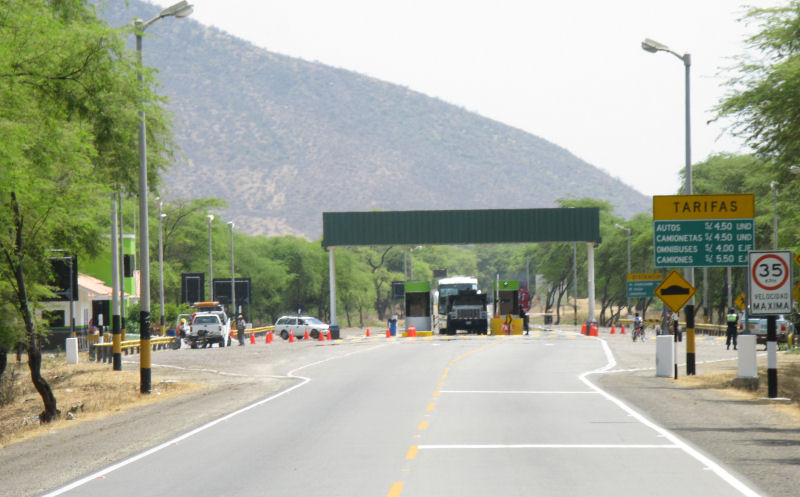 Once in the towns, we started seeing the triciclos, three-wheeled taxi motorcycles. They were everywhere. They were ubiquitous. They were omnipresent. They were insidious. They were dangerous as hell. They paid no attention to lane usage, crossing traffic, pedestrians, or even what direction traffic was flowing. They barely paid attention to the law of gravity. They were like swarming insects. At night, they were not illuminated. Beware.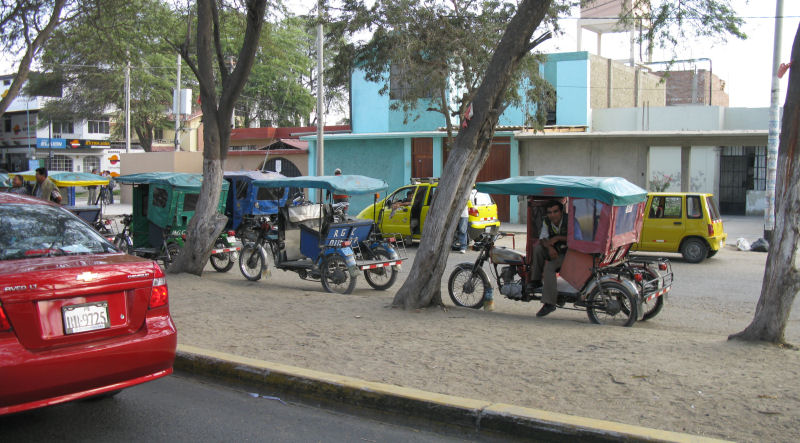 Speed bumps were back with a vengeance. Some were broad and tall, some were narrow and pointed (instead of rounded). Don eventually developed a leaking fork seal that was probably from these poundings.
We worked our way to Piura, Peru, where we once again joined the PanAm, which was (usually) designated as Highway 1 in Peru. We did find a few sections where the PanAm and Highway 1 went separately for a while, but locals got us straightened out eventually.
Piura has an altitude of about 40 meters, and we could feel the ocean air. We were several miles from the coast, but close enough to sense it.
When we stopped to find an ATM and start looking for a hotel, a local kid hung around us, fascinated by the bikes. I lifted him to my bike's seat, where he couldn't decide if he was happy or terrified.
We bought some ice cream from an old lady with a push-cart. I have her a S/50 bill from the ATM, but it was too large for her to change, so we watched her cart while she wandered off to find a store that would break the bill. Eventually she returned with my change.
A guy was parked next to our bikes, and he talked a bit with us. He said that he knew a nice hotel that he would lead us to, if we wanted. Don thought we could trust him, since he had a "Jesus is Lord" bumper sticker on his car. We agreed to follow him, and off he went. We barely kept up with him. He led us here.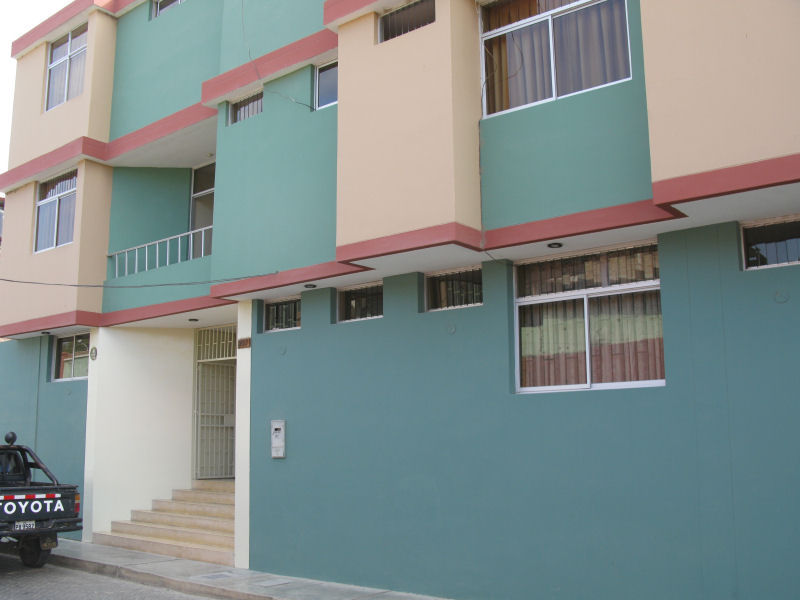 It didn't look like a hotel, but it turned out to be a quasi-love motel and part regular hotel. While we were there, several couple came in with an urgent need for a room. They left soon after. No problem. It was all very civilized.
This was actually the Hospedaje Lima, and they gave me their business card. The room was right next to the office (the cheaper, short-term rooms were upstairs). The room cost S/50, which was about $17. They said they had Internet, too! Parking was in an enclosed parking lot next to the building.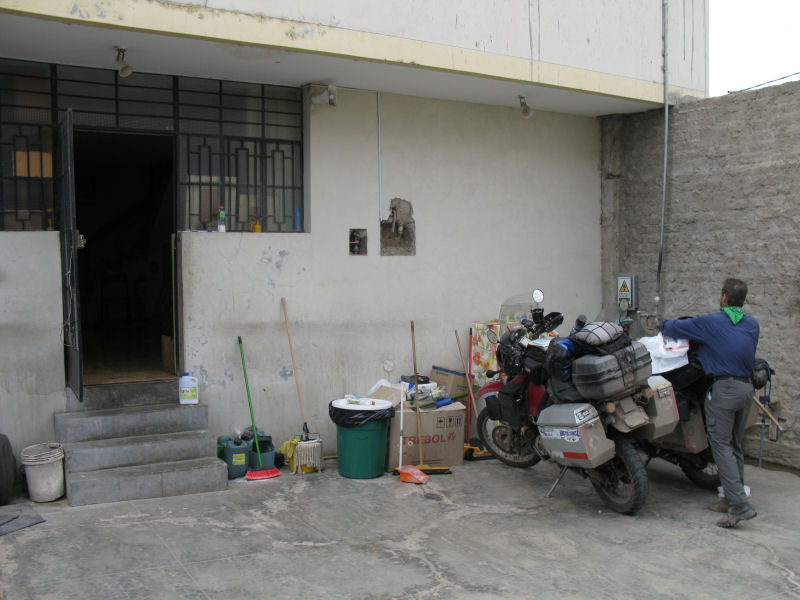 Once we settled on the room, the guy who had led us there asked for S/5, since he had done us a service. (He said he was a taxi.) He should have had a "Money is Lord" bumper sticker. It was only about $1.35, so I paid him and waved him off.
We walked around the main business street and Don bought a SIM card for his phone. That was a very complex process that defies explanation. Then he had to go to another Movistar (pronounced mo-bee-star) shop across the street to buy more minutes for it. (You have to have a certain amount of minutes before you can make an international call.) My AT&T phone got no signal at all in Piura (although it did get a signal again further into Peru).
We were a bit tired of chicken, so we strode into a Chinese restaurant and had the worst Chinese food either of us has ever had. It was terrible. But it was variety, so that was worth something.
The traffic was maddening. Constant honks and beeps. Some cars, buses, and trucks had sirens and musical synthesizers, so it was chaos. So much so that it was impossible to know who was honking, why they were honking, and who they might be honking at. Therefore, everyone ignored all the honking. You would think that might lessen the din, but no... it was like a cultural insanity.
The small El Centro plaza was having a health fair, and a Hepatitis-B banner hung over the square. Lots of food and trinket vendors had taken the place over, but it was pretty.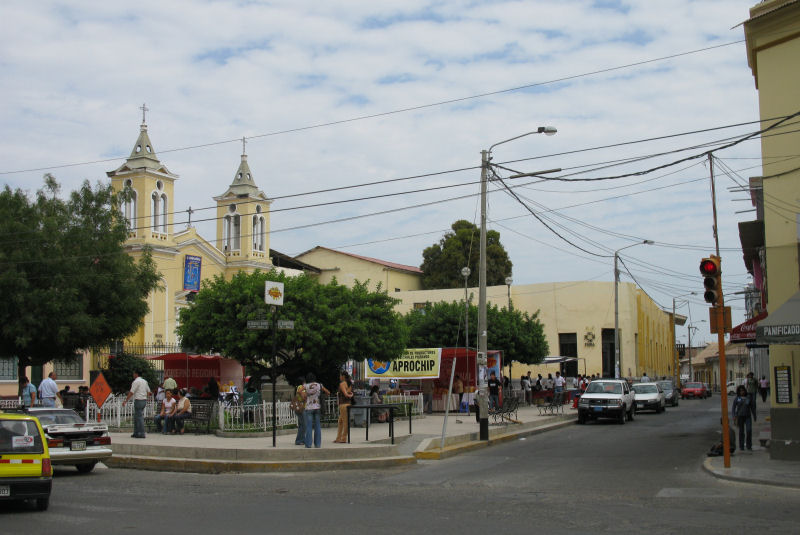 Back at the hotel, I found that I could not connect with their Wi-Fi signal. The office crew worked for a long time, and eventually dug up a network cable for me to use, and that got me online. I had to stand at their registration desk since the cable was quite short, but it was good enough.
I did email and a short ride report update, and Don Skyped his wife.
In our room, there were no blankets on the bed, and none were needed. Sheets were enough. There was a ceiling fan over the bed I had chosen, and a very powerful floor fan that we also ran all night to keep the air moving. It was hot, you see.
Friday, 28 November, 2008
-----------------------------
We found a cafe off the main street for breakfast. We wanted to get away from our hotel, since they were routing-out the sewers on our street. The smell was off-putting.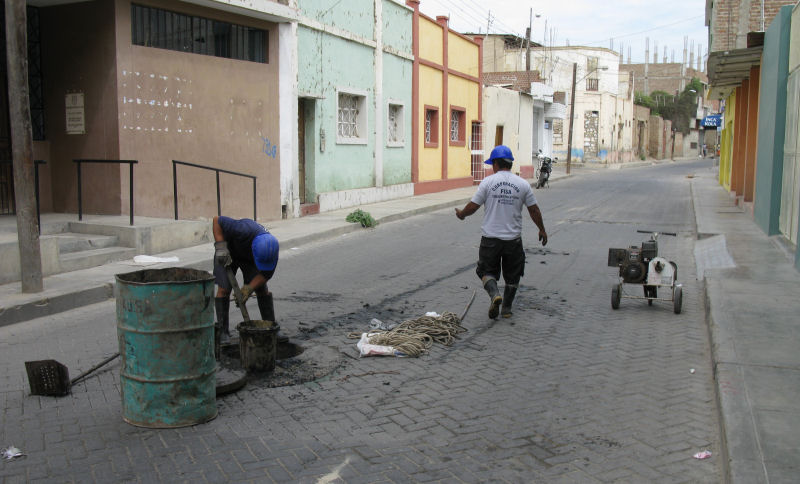 My coffee came in the form of a cup of hot water, a small carafe of strong tepid coffee, and a small serving of milk. Okay, I poured the coffee into the hot water (which produced lukewarm, average coffee) and added the milk. It was okay, but nothing special. I got coffee in this manner a couple more times in Peru. In one place, there was a glass carafe of coffee on each table, and they only brought you a cup of hot water.
There was a map of Piura on the restaurant wall. We were in the red section, next to the river, where the center of town was.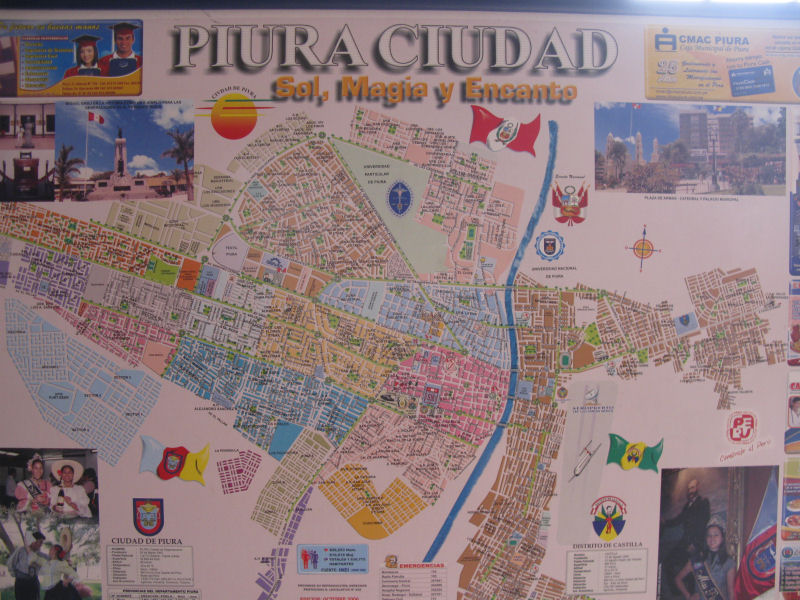 We left Piura on Highway 1, the PanAm, headed east. A triciclo was delivering someone's hogs (they were already dead).
The road was very good, but the towns and villages we passed through were desolate and severe. Most of the construction was adobe brick, and many buildings had no roofs. The villages were mostly clean, though, so it was contrasty when one village was strewn with trash. A trash dump was nearby and had been ravaged by wind, so the trash was all over the place.
In one town, I almost smacked into two donkeys that were playing or fighting in the road. They ran from one shoulder to the other, ramming into each other and rearing up on their hind legs. I coasted toward them as I got my camera ready, and they ignored me. The wide-angle lens makes this look like it was not a close call, but I nearly got them.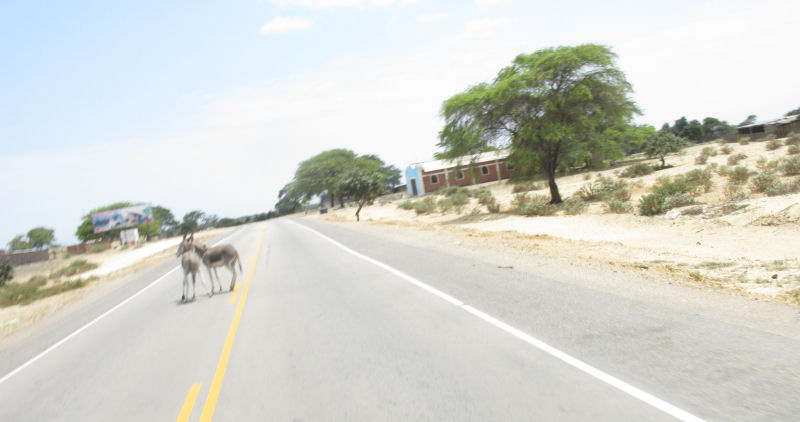 On toward the mountains, then.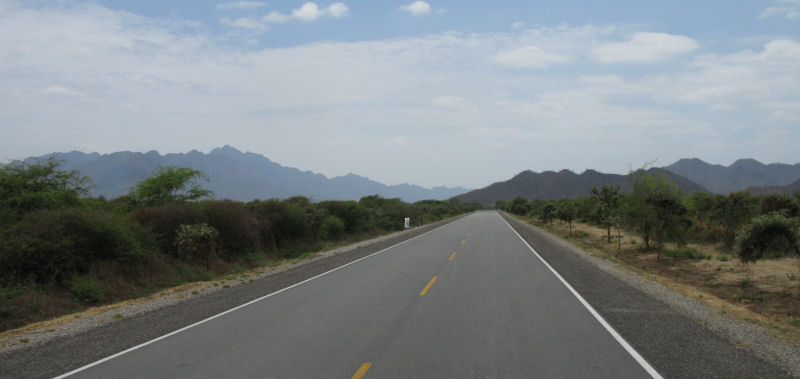 We saw lots of school kids in uniforms (as they were throughout Latin America), and many goats and sheep on the roads.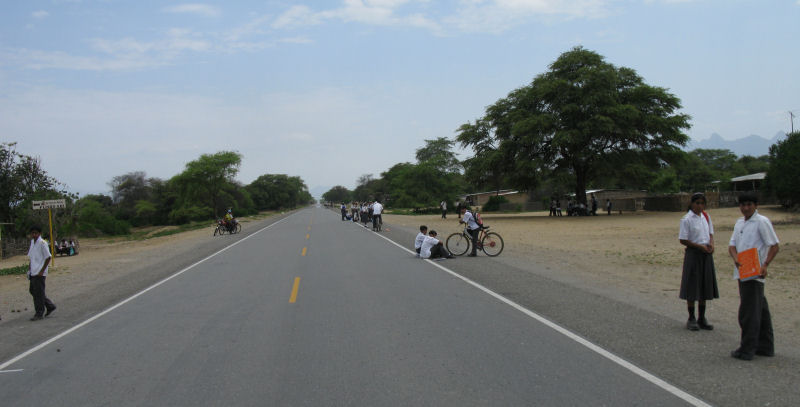 That's not to say that I would lump the animals and the kids together as equal hazards, of course. The kids knew to get out of the way. Their school bus apparently wasn't driven by someone with equal smarts. This bus made a six-point turn on the road, backing up and moving forward in a series of short turns before getting itself pointed the other way.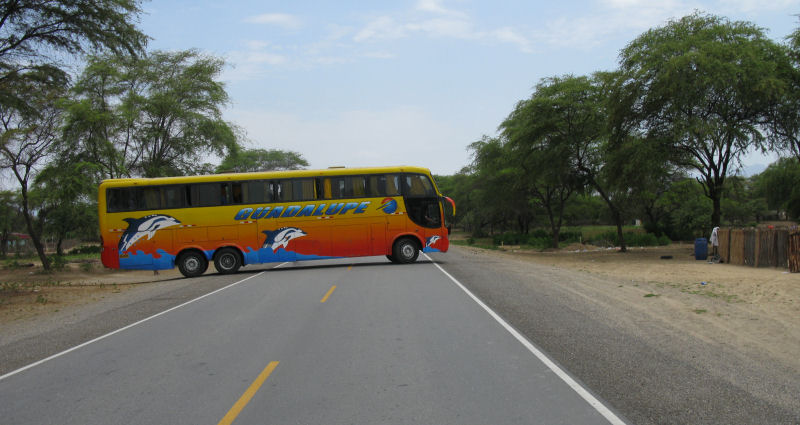 The bridges were over rivers that were almost always dry. Only a couple had small trickles of water. Average altitude was still under 200 meters.
In one town, a water truck was very popular. People were lined up along the highway with buckets and barrels. Electricity seemed to make it no further than the plumbing.
We got to Chiclayo, and I had a need to see the ocean, so we diverted several miles to the coast and the city of Pimentel. We took a couple photos...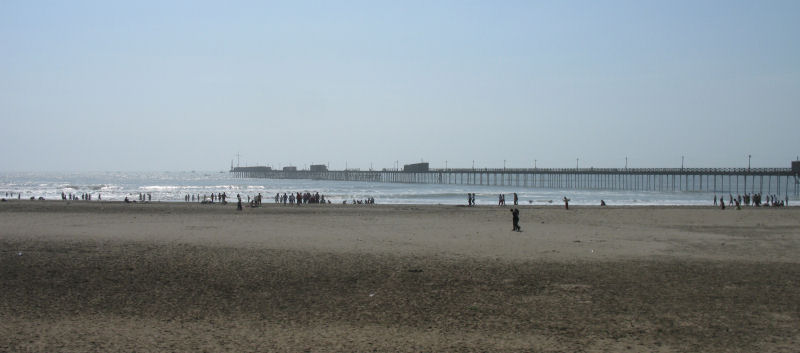 ... and looked for someplace to get a drink and maybe a snack. In another parking lot, we sat in a restaurant where we could watch the bikes. We had a very nice meal of shrimp (with crispy kernels of roasted corn), and it was the best meal we had since starting the trip. About $12 for both meals. The bathroom had neither a seat nor paper. Again, be forewarned.
One of the local vendor kids kept touching my bike, and I couldn't see from what I saw what he was fooling with. I yelled across the parking lot and wagged a finger at him. He shrugged and moved away a bit, but he was working here, so he didn't go far. He came over to me later trying to sell me some trinkets. Before we left the parking lot, I gave him a mint. He would rather have had a few dollars, I'm sure, but I didn't want his wristbands or sunglasses.
Before heading out, we needed ice cream from another cart vendor.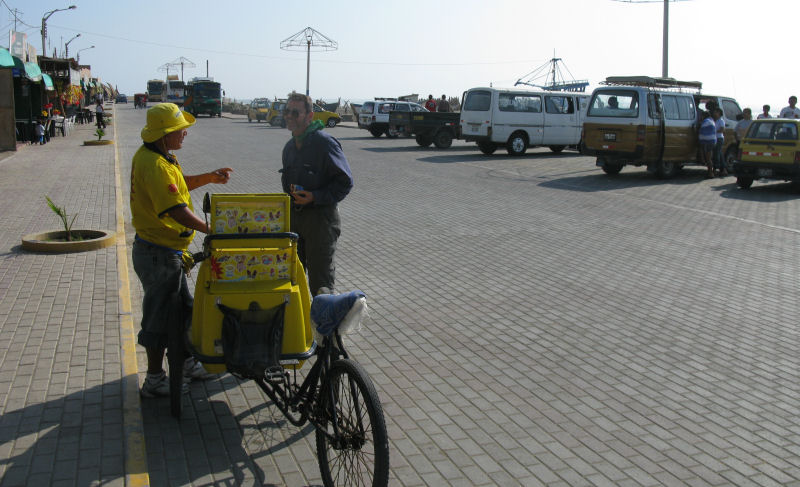 We headed back inland, back to the PanAm...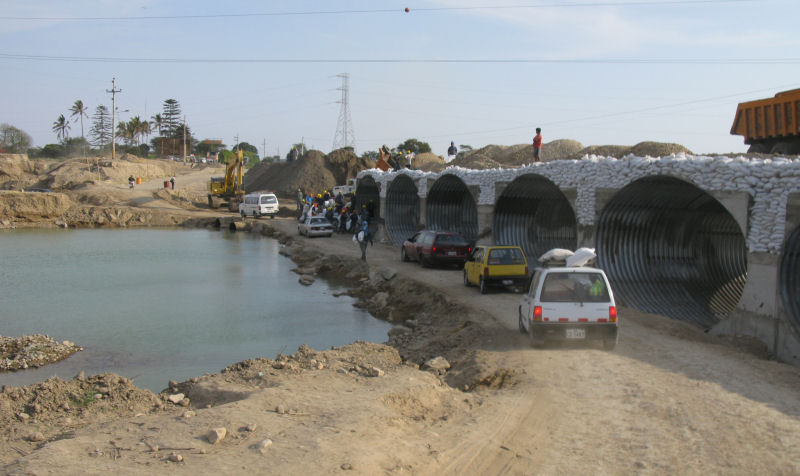 ...and started into the desert. Small dunes along the road were interesting. Small dunes IN the road were not.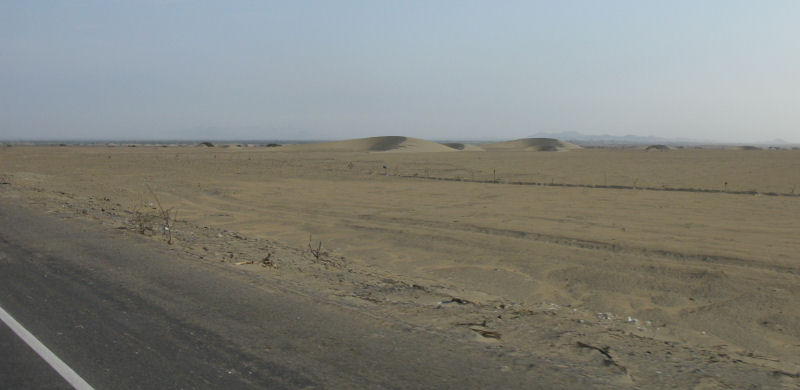 Some dunes were creeping across the highway, and the strong cross-winds made the sand-on-pavement conditions very hazardous. Suddenly there was green! This was unexpected. Apparently, there were experimental farms here and some serious watering issues to work out.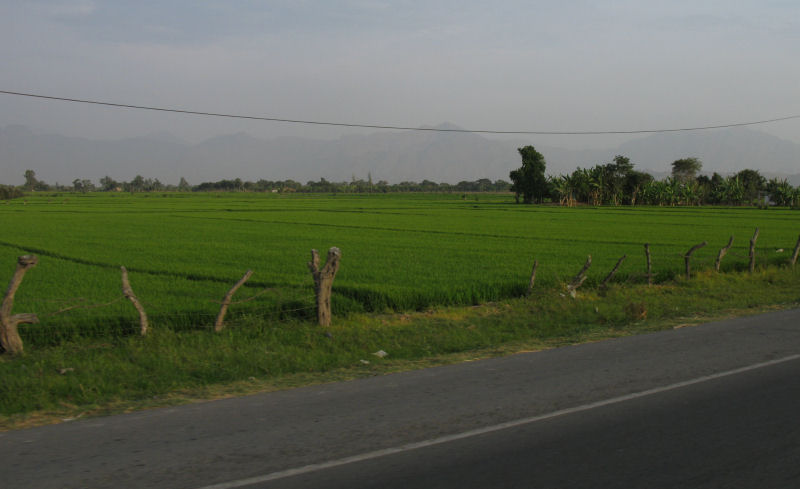 The sun set before we were ready to stop riding. The pace was high, and we were burning up the mileage. There wasn't much to stop for (aside from gas), so we roared onward.
We were stopped in a small town by the police, who were standing along the side of the road. We had apparently by-passed a traffic circle and had gone the wrong way. The main policeman looked at my passport and chewed us out. Then they let us go. They waved over other cars behind us. The traffic circle was not typical, and was impossible to understand as you approached it, so I'm sure they are busy there. There were no signs, of course.
On-coming lights were hard on our eyes, especially with the mist from the ocean. I finally paced behind a large truck so that it helped light up the road ahead and blocked the on-coming headlights. We made it to Paijan, where we finally found El Centro (off the main highway) and the only hotel there. Their restaurant was closed, so they let us park in the dining area, where they moved the patio furniture aside for us.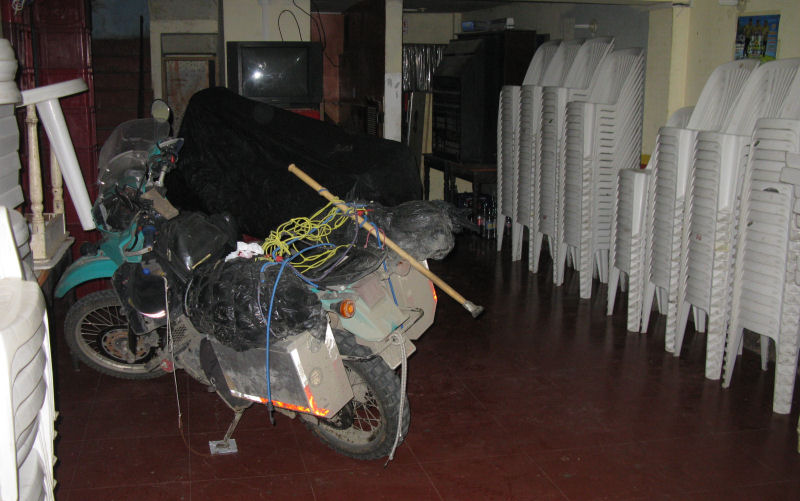 To get to the dining room, we had to go over a 8" step, so I used a metal gate to make a ramp over the step. The ramp made a loud Bang! sound as I rode over it, and a policeman moved up to hold it steady as Don rode over it. The policeman almost got whacked for his trouble.
The room was basic, but it was only $8. I missed having a fan, though.
We went out for chicken and pasta (instead of rice, yay!), then to an Internet cafe to make calls and do other on-line things before calling it a night.
Saturday, 29 November, 2008
-------------------------------
Since the whole building was concrete, it was cooler than I had feared it would be. There had been a disco party across the street last night that was loud and pulsating, but we had managed to sleep through it. Don's bed had a big dent in the middle of it, and both our pillows were hard, but we have taken to comparing such trivial things with our night in La Bufa (Mexico, where we slept in the mud as a hurricane went over us).
"At least we're not in La Bufa," has become a saying between us. Good times.
We found breakfast where a local guy had pointed us. We later found that the local guy worked there. Hmmm... The place was not very good, but it was good enough.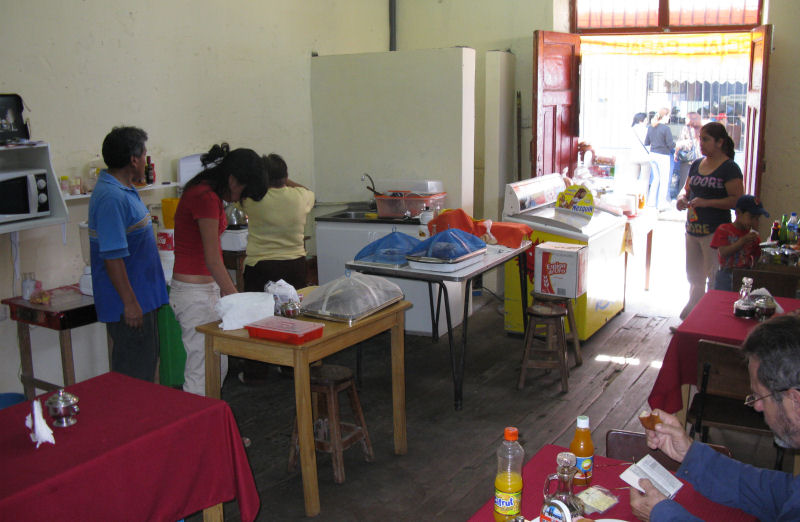 As we walked back to the hotel, we saw burnt plant material all over the road. We later saw a big fire nearby. Probably a fallow field being burnt.
This was our hotel (the green building).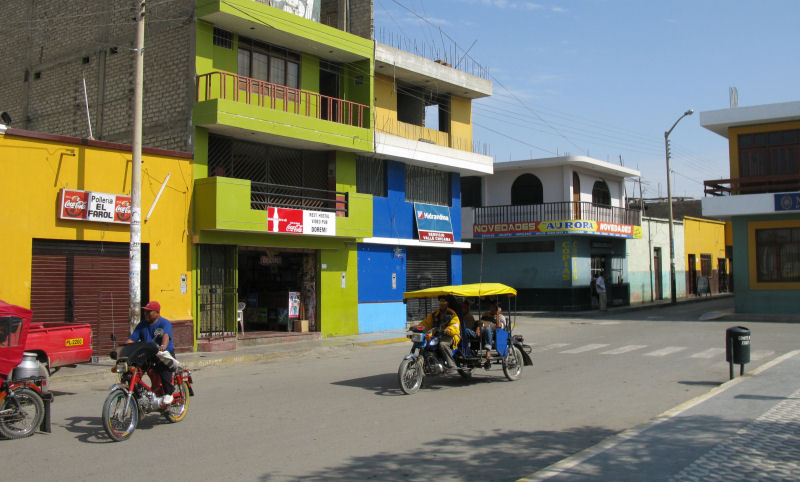 As we exited the restaurant with our bikes, we had a hard time getting the pedestrians to stop for us. I rode out quickly, then traded with Don directing traffic. As I was preparing for this photo, men walked in front of Don and he had to stop suddenly, tipping over into the plastic furniture. We got him back up quickly, and tried again, this time with more success keeping the pedestrians back.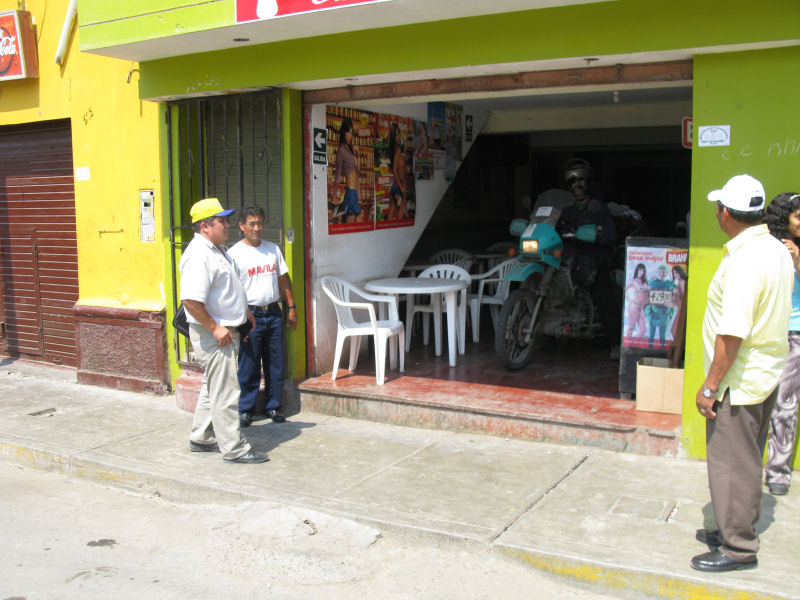 We saw a lot more farms in the sand, and wondered why there weren't wind farms there. The wind off the ocean was strong and persistent.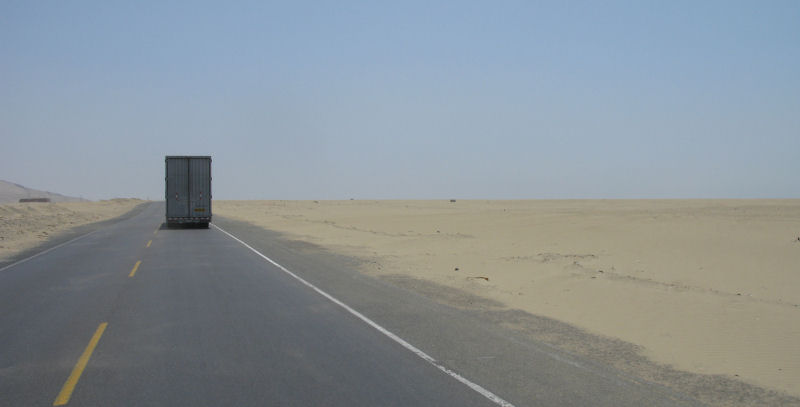 We stopped in Trujillo, a large city, to find an ATM. A small kid kept hanging around the bikes, so I got a photo of him with Don just before we rode off.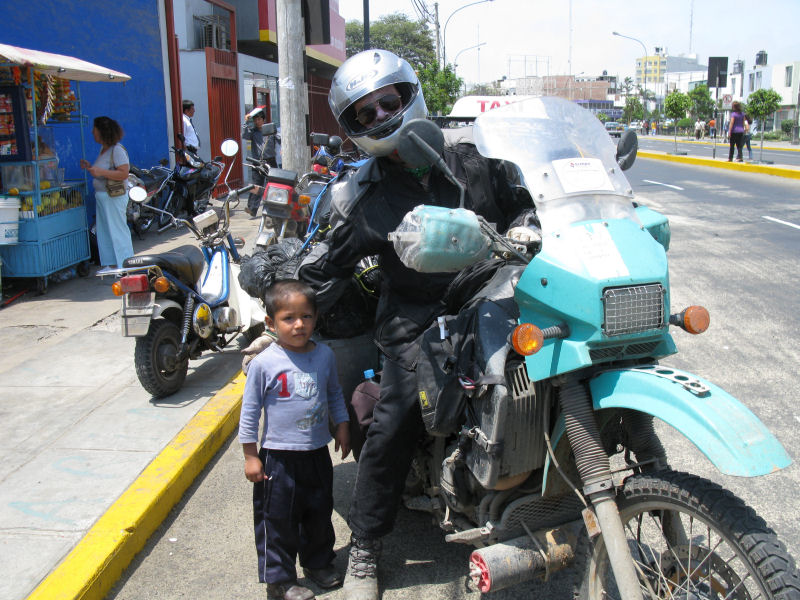 More desert and mountains...
More odd farms. This time, they were rice paddies. We had seen corn, peppers, and sugar cane, too.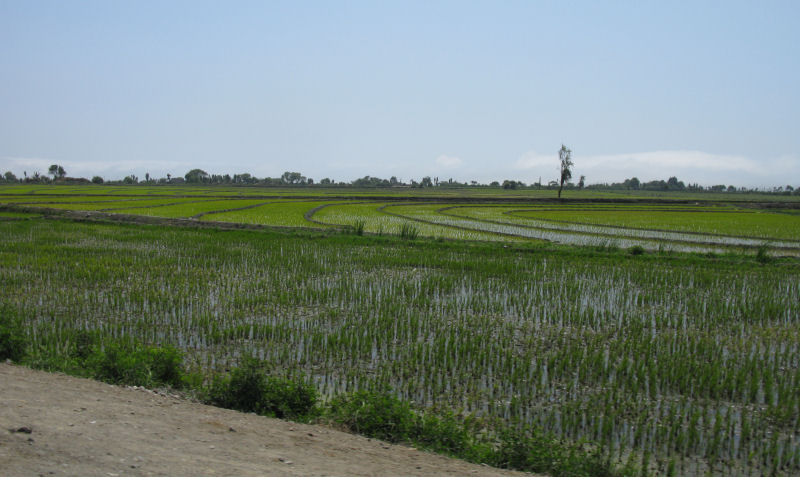 I saw a large black SUV that had just rolled over, going off the road. People were standing around it, but no one seemed badly hurt. Don't know if it was from wind or the usual bad driving. This, by the way, was a typical mid-sized city: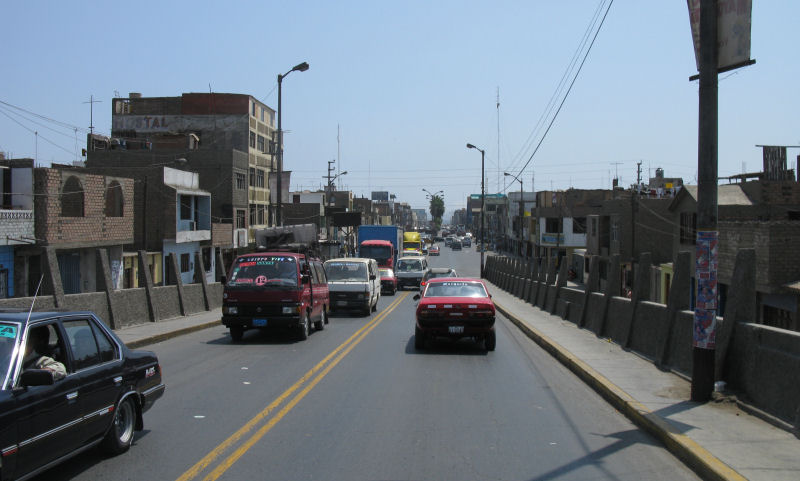 Into the mountains again. Lots of riding up and down. Great views, if you can appreciate the beauty of this area.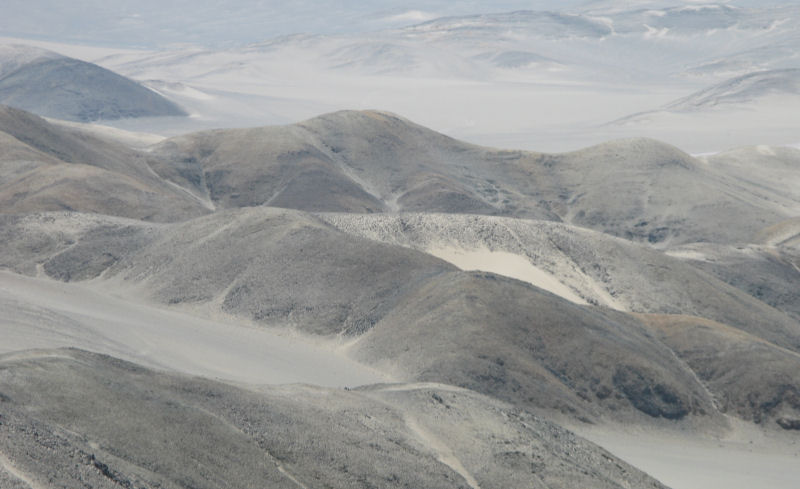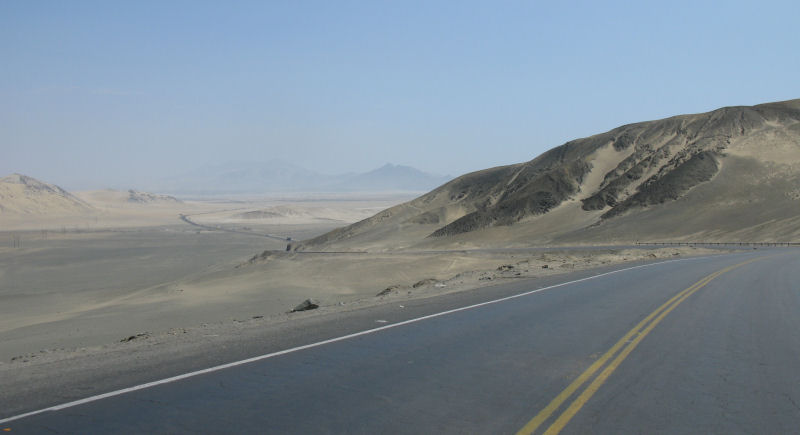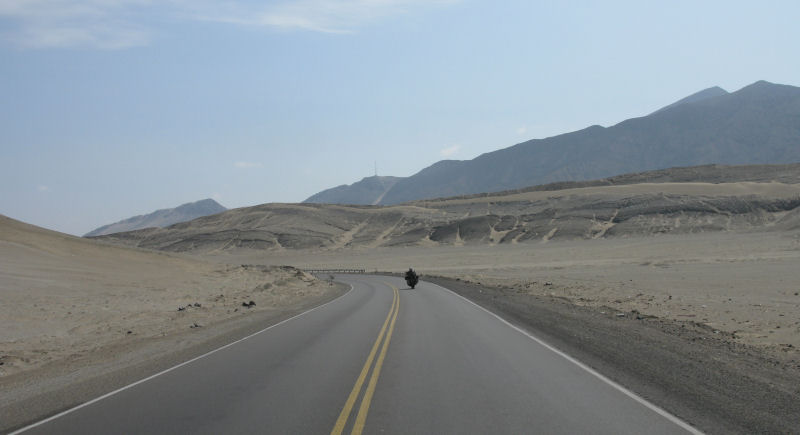 We have noticed that on-coming vehicles, passing other cars and currently in YOUR lane, will not move aside for you in Peru. Once they have that lane, it's theirs. You have to move onto the shoulder of the road. I rode toward a few on-coming vehicles to test this, and found that they would rather die in a blazing fireball than yield to me. More advice for the future traveler.
We stopped for gas. Typical gas station-out-of-nowhere.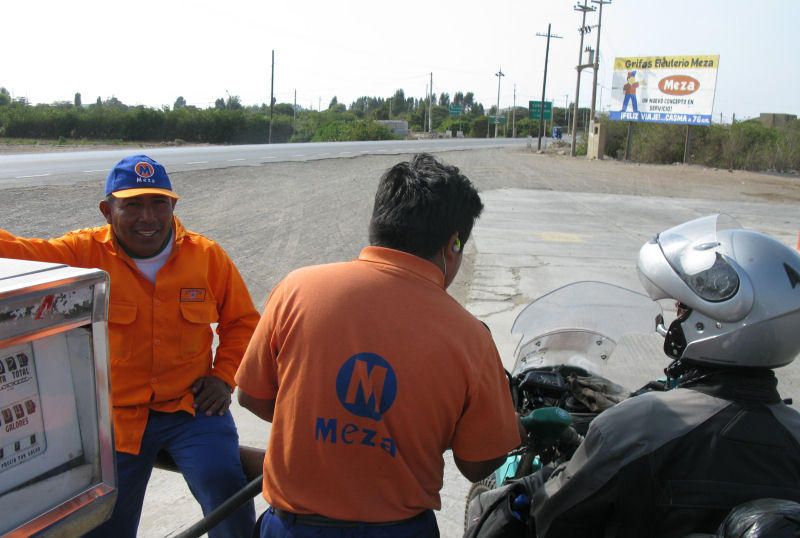 We were averaging about 60 mph along this stretch, and were right along the coast for some sections. You could smell the sea. But it was wiser to pay attention to the road. You can't always take the shoulder of the road. Sometimes, it's already taken.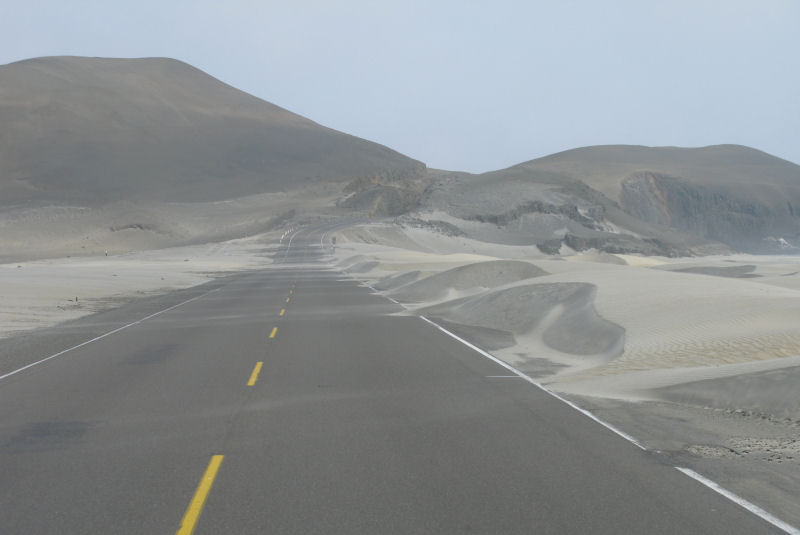 Coming toward some weather, we stopped to put on rain gear. I noticed that my left lower subframe bolt was missing and replaced it with a spare that I was carrying. The larger, drilled-though upper bolt (an upgrade) was much more substantial than the stock bolts, so there was little fear of failure, but it was a reminder to perform routine maintenance checks on all the nuts an bolts.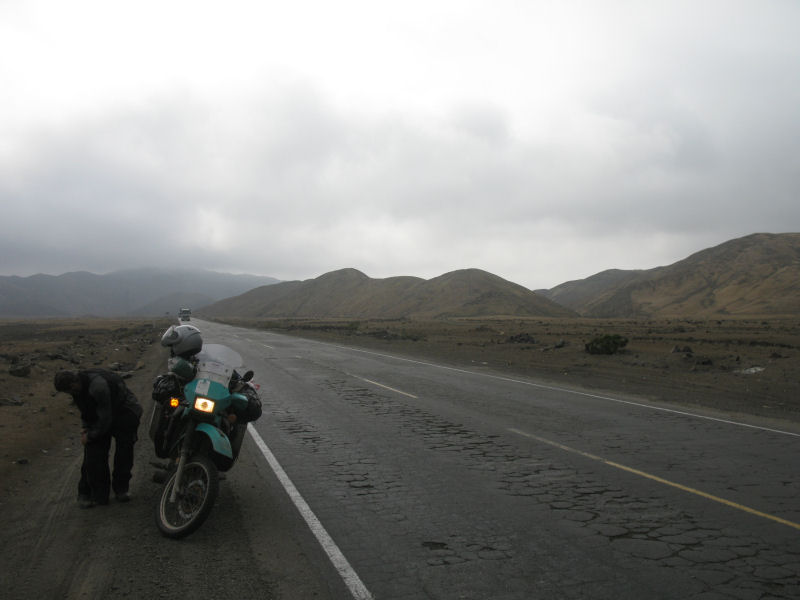 It was darker than the above photo depicts, so we had our turn signals on to give more warning to the passing trucks. They typically had no lights on. You can see one coming in that photo. Onward. The Pacific was out there, somewhere.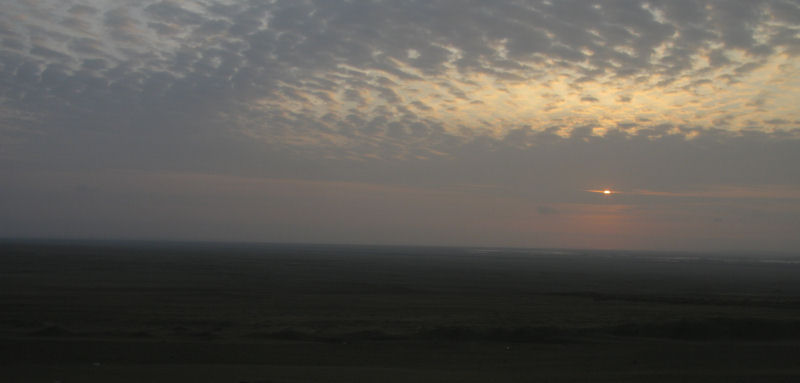 Later, I was ahead of Don, and I knew he was behind some trucks that were behind me. Several miles later, I wondered why he hadn't caught up, so I rode along the shoulder for a while, letting all the trucks pass me. Then I stopped and waited a bit. He was nowhere to be seen. I turned around and headed back.. Several miles along, I saw him parked on the shoulder of the road, and across from him was a police truck with two policemen leaning against it. I knew exactly what had happened.
I saw the policemen waving me over, too, but I ignored them and crossed the road to pull up next to Don. He told me that we needed to get out of here, so that's what we did. As I rode off, I saw one of the policeman grinning from ear to ear. He made no further effort to get my attention.
I had read in other riders' reports that the police north of Lima were the most corrupt they had encountered in all of South America, and this became Don's experience, too. After I had gone past the police, they had ran out into the road and stopped Don. They claimed that he had been speeding and they wrote him a citation. Then, as you might expect, they demanded that he pay on the spot. First, they demanded $100, but after some haggling, they took $60 from him before returning his documents. They then made sure to recover the citation they had written him, so that Don had no evidence.
We just rode, trying for a Zen-like attitude about things that just seem to happen. Part of the expense of traveling.
Twice more, police standing on the side of the road tried to wave us over, but we rode past them, totally ignoring them. Nothing ever came of it. In fact, I have never seen a police officer make a traffic stop in all of Latin America. They only wave vehicles over from the side of the road. We agreed between ourselves to ride past any police who did anything less than jump in front of us with guns drawn.
Don got ripped off for $60, so we need to get $60 worth of value from the experience.
The GPS was again deceiving at one point, where it showed that we needed to stay along the coast, but the road seemed to curve inland. The only sign there was no help, as neither Variante or Serpentine were on any of my maps (GPS or paper). What would you do?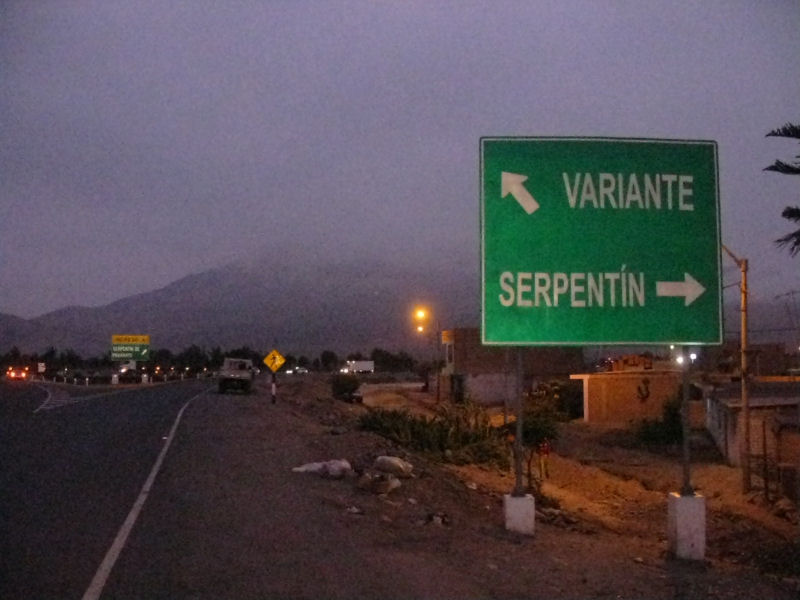 We stayed on what looked like the main road (to the left) and that was going 90 degrees in the wrong direction, so we went back and tried the other. After asking several local people, we returned to the previous road and that proved to be the right one. It climbed up into the hills and curved back toward the coast.
As we neared Lima, we entered a fog zone, and the highway got eerie. On-coming headlights panned across foggy mists through the trees and across the road. It was an X-Files kind of thing for a while. Another Twilight Zone moment. The highway was multi-lane and divided at that point, and traffic increased as we neared the Lima metropolitan area.
We had decided to spend two nights in Lima, to provide for some time to work on Don's leaky fork seal and do some other maintenance.
In the north suburbs, we passed a bunch of hostals (most were love-motels that rented by the hour) that were on a frontage road, so we eventually worked our way back there. That was a bee-otch getting through the Saturday night traffic. There appeared to be a party everywhere, and everyone was going there. We didn't like the area, so we crossed the highway and found more hostals in a big retail zone. Lots of restaurants and nightclubs, too. Pedestrians in the road reminded me of the herds of sheep and goats that we had encountered along the way. If you slowed down, people stepped out into the street in front of you even though you were still moving. It was a crush of people; hardly even a roadway anymore.
Everything past those headlights was solid pedestrians.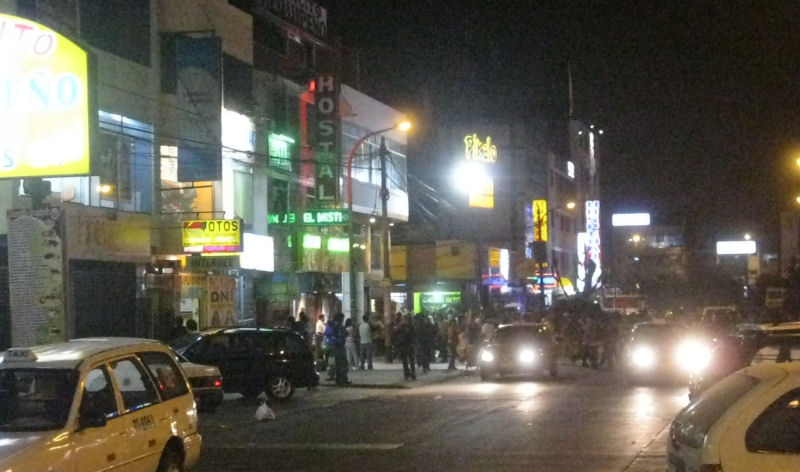 When we asked at more hostals, we were told (essentially) that we were not their typical clients, and we would not be allowed to stay past the morning. We were not welcome to spend two nights. Well, okay then.
We left that area and tried to find our way off the highway corridor. That took us through Lima's Chinatown and more shopping and dining districts. A major road cannot be trusted, I'm just telling you. Four lanes became two, and then were diverted off by barricades that served no obvious purpose. I finally got fed up and rode off the road, over a median and curb, and onto a parallel road that seemed to have been closed off. It wasn't. There was on-coming traffic. In my lane. Typical, in other words. I finally pulled into a restaurant parking lot and told Don that I needed to take a mental health break.
This was a three-lane road. The cabs and buses will stop at any moment, will criss-cross with each other and turn any direction from any lane. Most of the traffic is cabs and buses.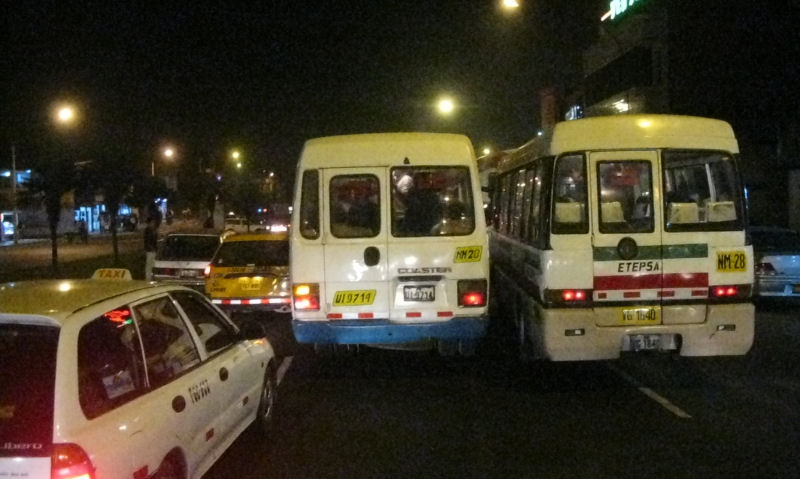 This was a two-lane road. I was nearly killed taking these photos, so I hope you appreciate them.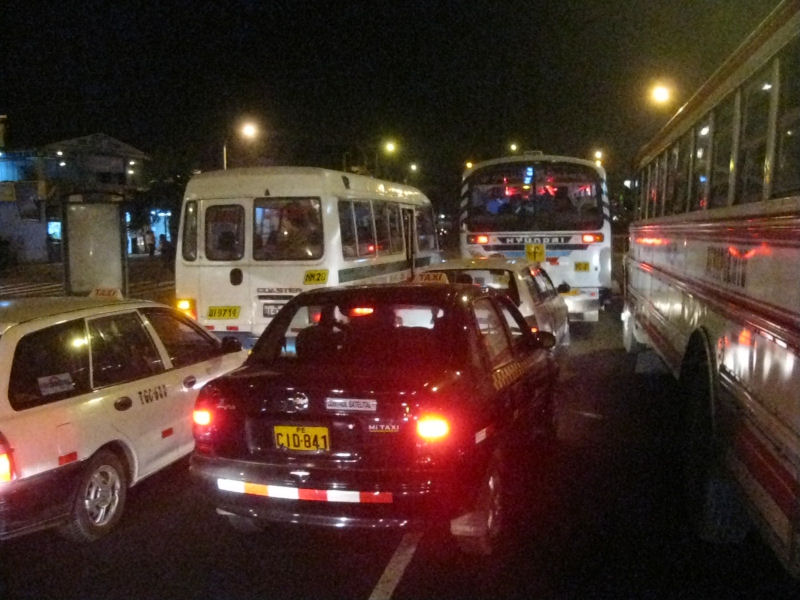 You have to be flexible and find a way to merge and meld with the flow of traffic. Typical U.S.-style driving (or riding) just doesn't fit here, so get over it. You have to swim your bike like a fish through a gurgling stream of carnivores.
We eventually found our way to the main central plaza of Lima. Once around the plaza, and I rode up onto the wide sidewalk to check the only hostal I saw there, the Hostal San Martin. I liked the name. We ended up in that second-floor room right under the yellow-lit hostal sign.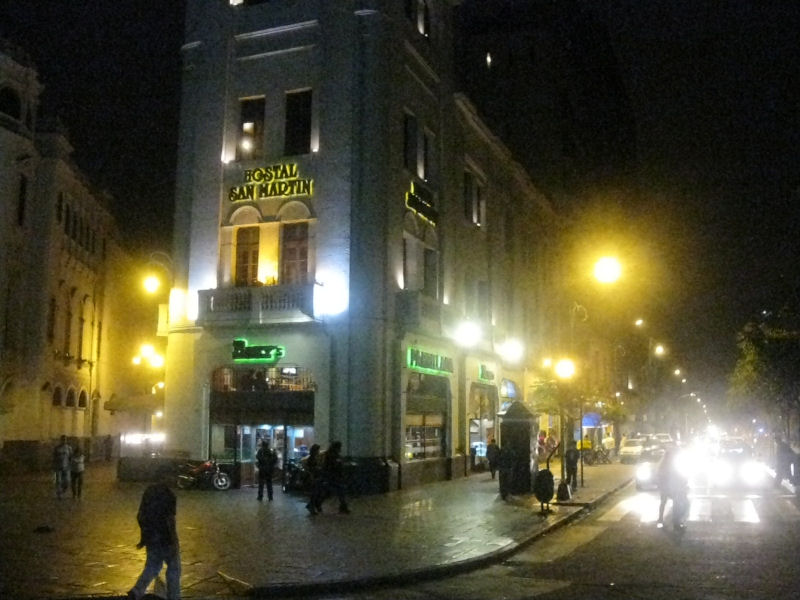 People stopped on the sidewalk to talk with us about the bikes and our trip.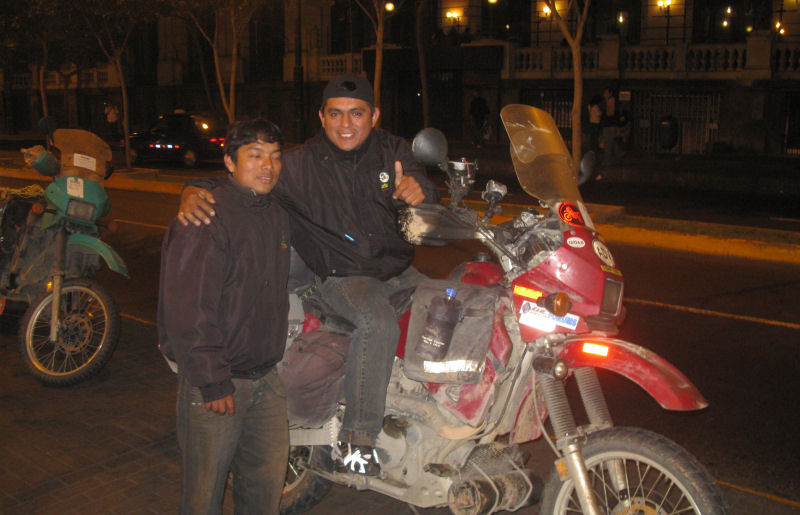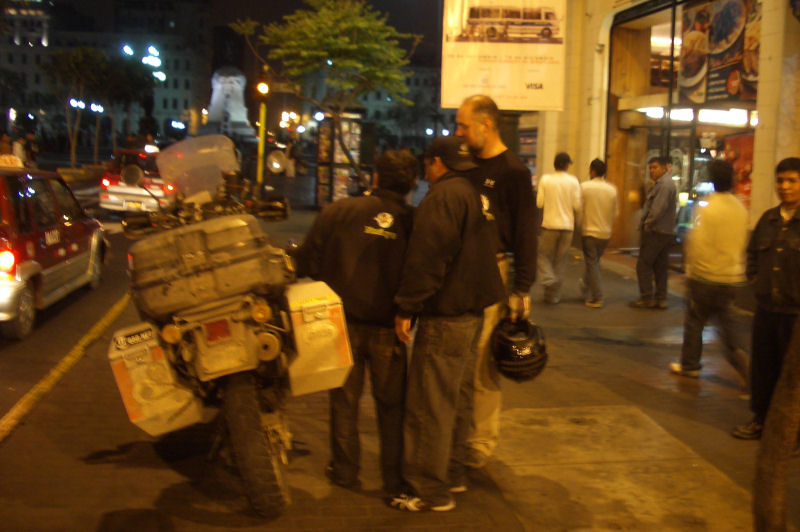 Parking, unfortunately, was not to be found at any of the hotels in the area. There were private parking structures, and the manager of the Hostal San Martin walked with me down the block to find one that would let us park our bikes there. It cost us as much for parking as it did for the room. They charged us the same rate for each bike as would cost for a car for one parking space, and had us park in a space that you couldn't even park a car in.
Oh, well, never mind. We were in Lima, Peru, right on the central plaza, and all was well. The room was very nice, and cost $30. That was less than we expected.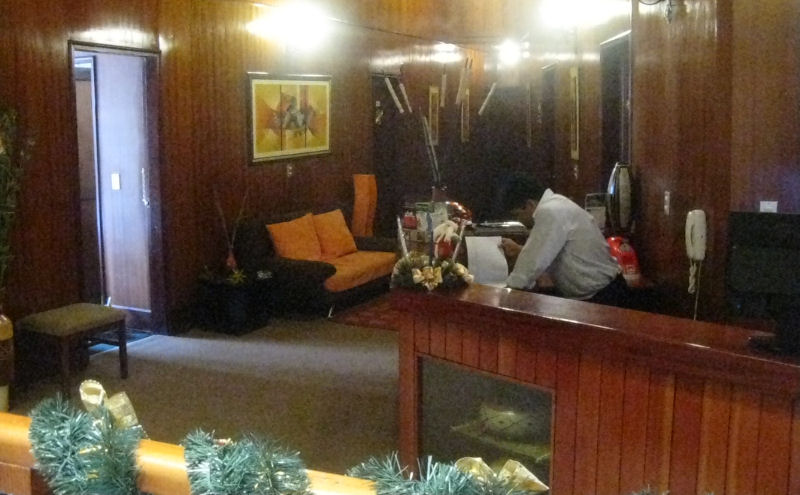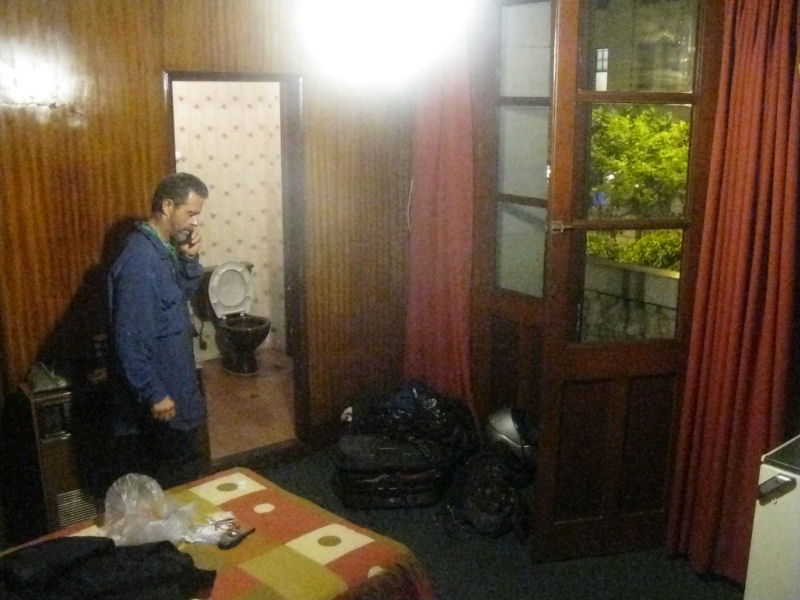 The view from our room. Again, a quick patch job.

We were in serious need of comfort food, so the Pizza Hut across the plaza drew us in. They were about to close (it was after 22:30) and that may be why it took a long time to get our pizzas. Anyway, the gals at the counter were fun to joke around with.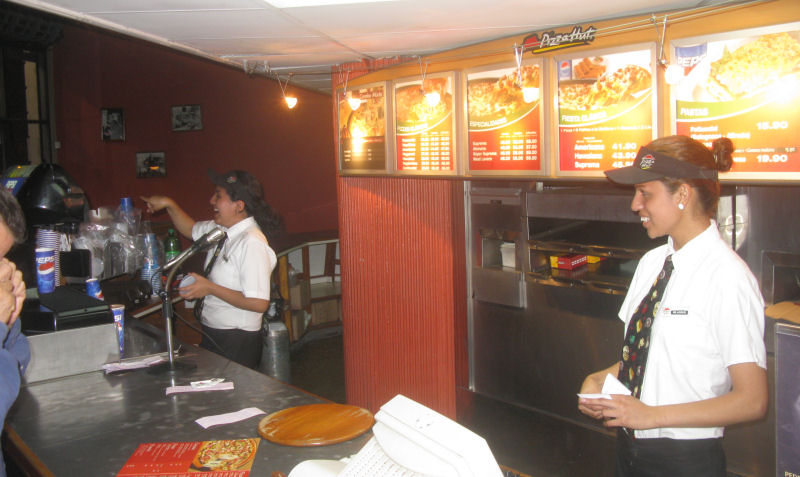 We took our pizzas out to the plaza, where we chowed down. We were sure that some of the men walking around in athletic suits (and each wearing red tennis shoes, a baseball cap, and carrying a small empty plastic water bottle) were undercover police, so that was entertaining. One of them sat on a bench next to us while we ate. After a while he walked off to stalk other people.
We had explored some of the pedestrian zone before invading the Pizza Hut, so we knew what was in the area. We would look around there more tomorrow. Tonight, we were done. The traffic noise outside (all of it was honking and squealing and beeping) was annoying, but we have been getting used to it. I wrote until about 01:00, but Don didn't last that long.
Sunday, 30 November, 2008
------------------------------
Someone (probably a maid) knocked on our door about 09:30, but when we looked, no one was there. We roused ourselves and collected tickets for a complimentary continental breakfast at the restaurant downstairs (owned by the same company as the hostal). Before we went down the stairs, we had to pause for a gay couple arguing and kissing and groping and arguing some more on the stairs. Both guys looked like they had been partying all night. One had no shoes on. They eventually agreed to go up the rest of the stairs (to get a room, I would hope), so Don and I were able to get past them.
We added eggs to the toast, coffee, and juice for a minor charge, so breakfast was complete. We walked down to the bikes and worked on them for a while. I tried cleaning out Don's leaky fork seal, but the thin plastic tool I had gotten for that purpose was uncooperative, so we removed the tube and pulled the seal out. I wasn't sure how much oil was left in the tube, so that side might be spring-only and no hydraulics. We cleaned the seal, and since it looked good we pressed it back into place rather than replace it. We have extra fork seals with us, if needed.
Since it's Sunday, shops will likely be closed. We'll look for a motorcycle shop tomorrow on our way out of Lima, and get fork oil (or automatic transmission fluid, which many people prefer) and maybe new motor oil then.
We worked around the bikes, tightening nuts and bolts, and I put some threadlock fluid on the subframe bolt that I had replaced last night. We decided we were done and headed back to the hostal. After a quick clean-up, we took my laptop and went walkabout.
My camera didn't have enough wide-angle for this first shot on the pedestrian mall.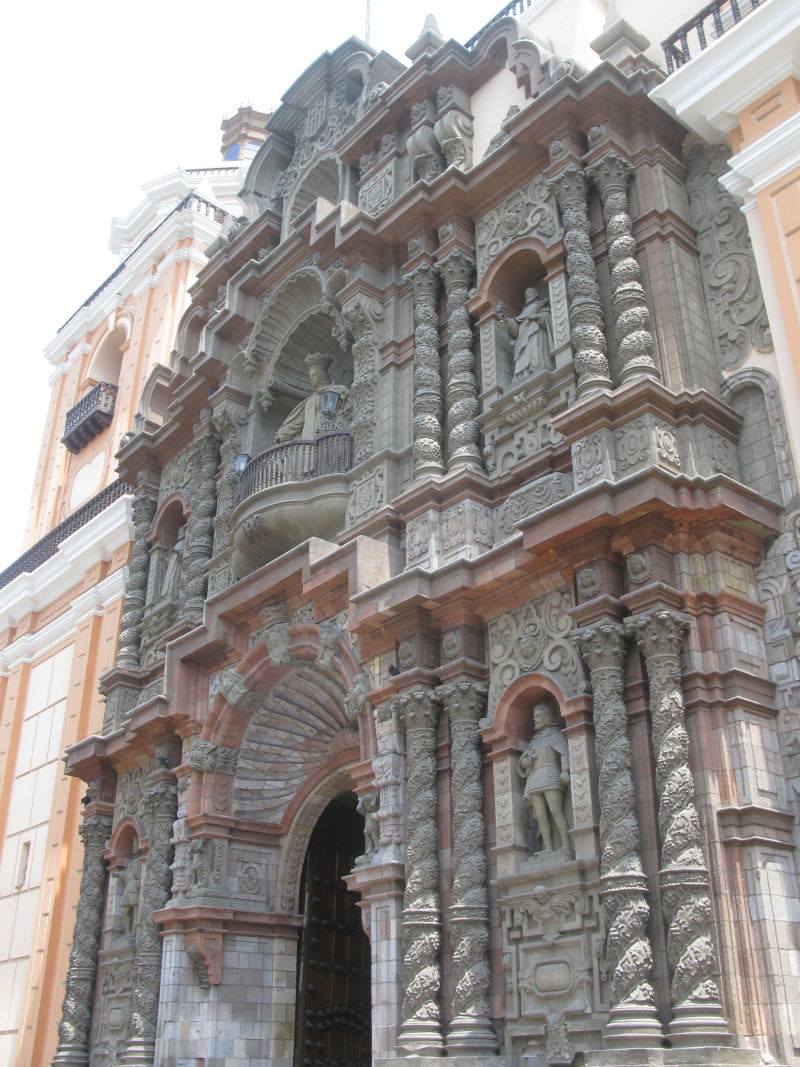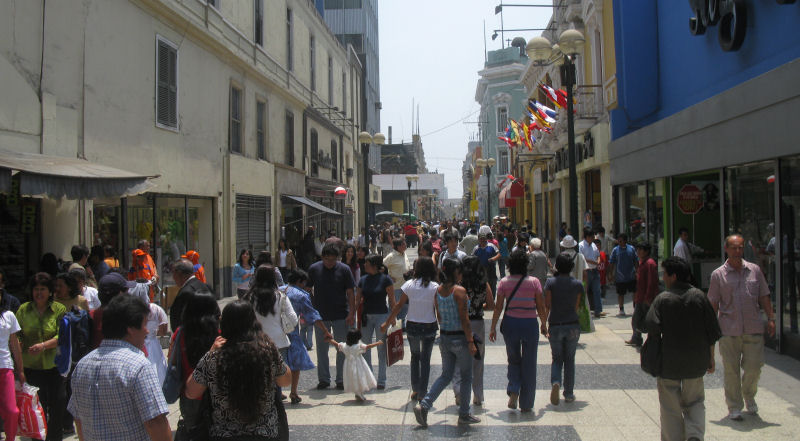 The pedestrian mall took us to the Plaza de Armas, another central location.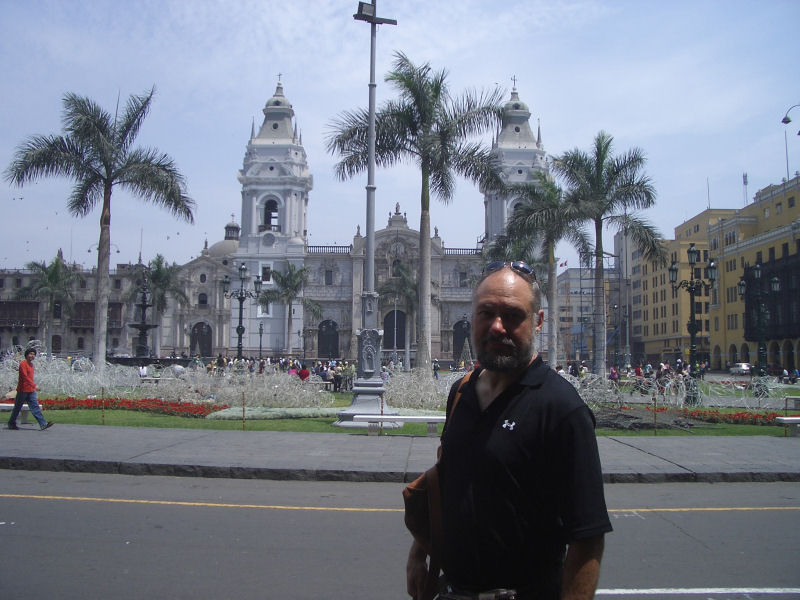 Here, there were riot police lined up in various places, leaning on big, plastic shields. They had SWAT vehicle parked around, too.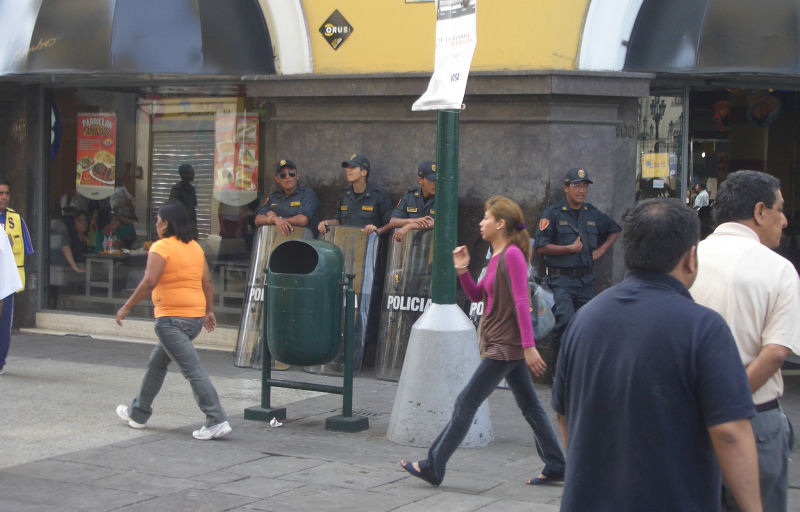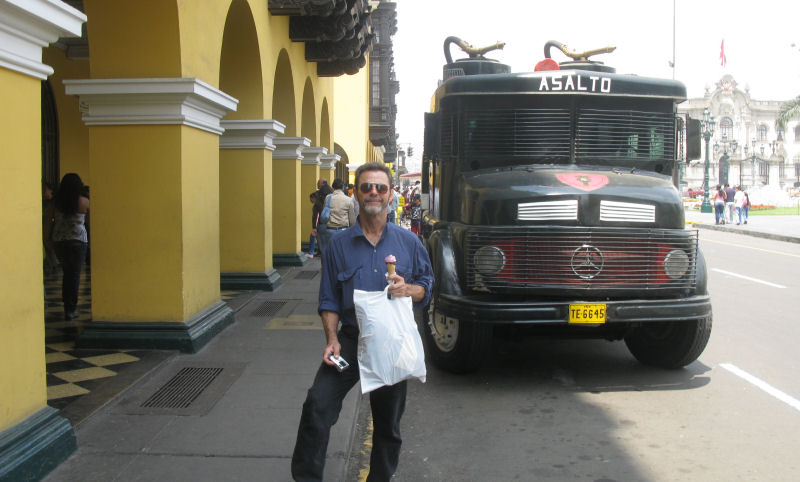 That's an ice cream cone Don is holding, so get your mind out of the gutter.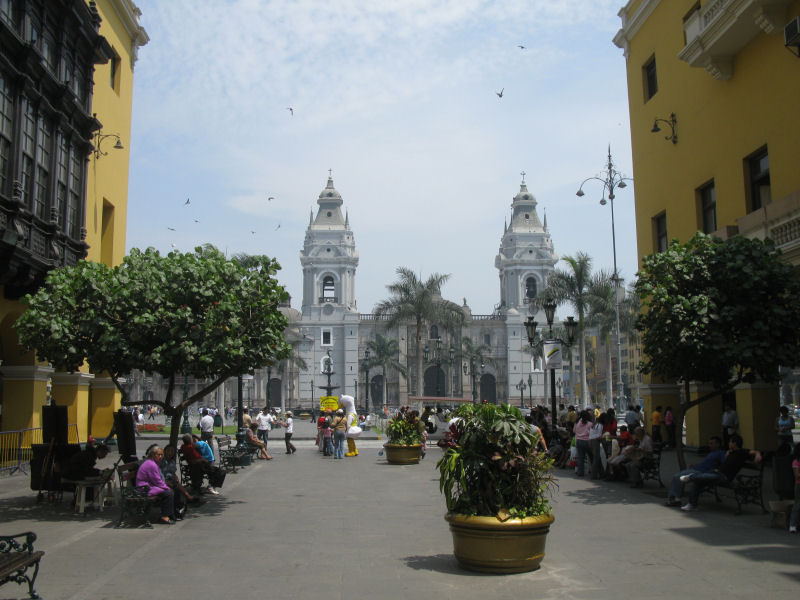 In front of the Presidential Palace, we met and talked with two sisters from the U.S. One of them lived here now, and the other was visiting. They were busy with things to do, so we didn't get to ask them much about living here, but they said it was pretty cheap if you can own your own home. I take it that renting is not worthwhile.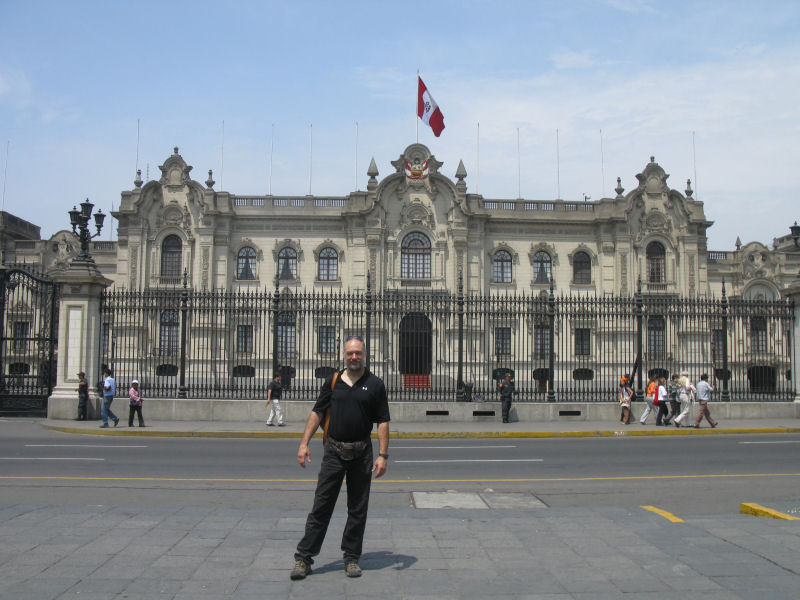 We parked ourselves in one of the many, many restaurants around the Plaza de Armas, and we had a light lunch. I had a couple of beers, so that was refreshing, too. Don went exploring while I wrote for a couple hours, but they finally kicked me out when they closed for siesta. They'll open again in a few hours.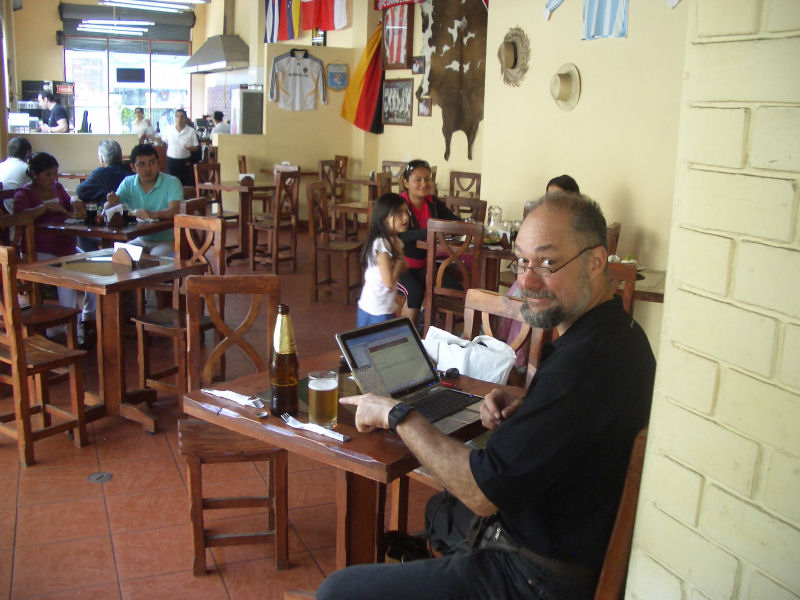 I went back to the room where Don was repacking his stuff into some new waterproof (?) bags that he had bought. I wrote this very sentence at about 18:45, and we were then ready to go out now for munchies and an Internet cafe. Gotta get the report updated, you know.
After stopping in the hotel room for a while to write some more, we headed out again. All the Internet cafes we stopped at were full, so we kept looking. Near the Plaza de Armas, I snagged a Wi-Fi signal from somewhere and started to upload the report update. We sat in an outdoor cafe for something to eat, but I accidentally ordered chicken gizzards, so that was less fun than it was supposed to be. We tried Skype calls, but it kept breaking up and had a bad delay. Not all the report photos got uploaded, so again the report was incomplete.
We settled in for the night, but I was awakened (at about 04:00) by a fight outside our hotel. I looked out to see guys right under our room. One guy got cold-cocked and went down while the others pushed and shoved each other. Two policemen casually walked over and called for an ambulance on their radio. The guy is still laying on the ground in this photo.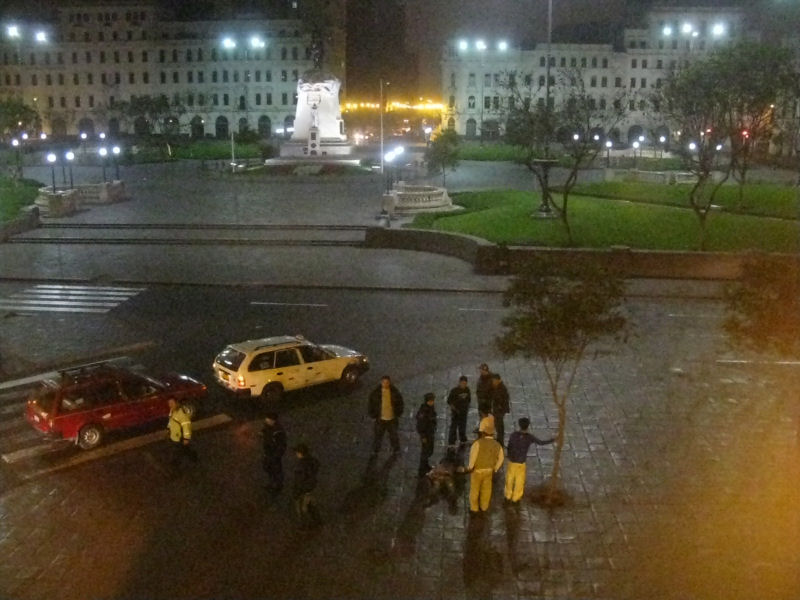 After the patient was taken away in an ambulance, the police walked off with two of the other guys and put them into an SUV that was parked nearby. Who knows what came of it all? I was past caring and went back to bed.
Monday, 1 December, 2008
-----------------------------
After breakfast, we rode south to the outskirts of Lima. We got gas and asked several people for directions to a motorcycle shop so we could get an oil change and maybe some more fork oil. It took a while, but we found a bike shop that had oil.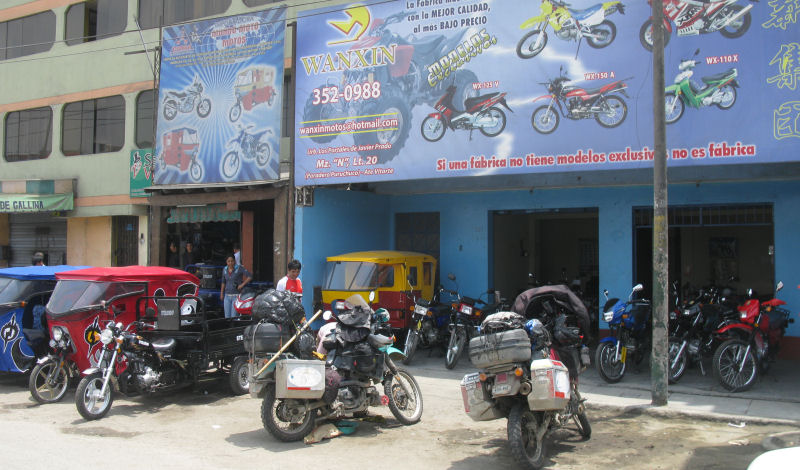 We got 5 liters of oil and some automatic transmission fluid for the fork tube. That cost us more than we expected, especially since we used my tools and I did half the work. Still, I made friends with the passing locals.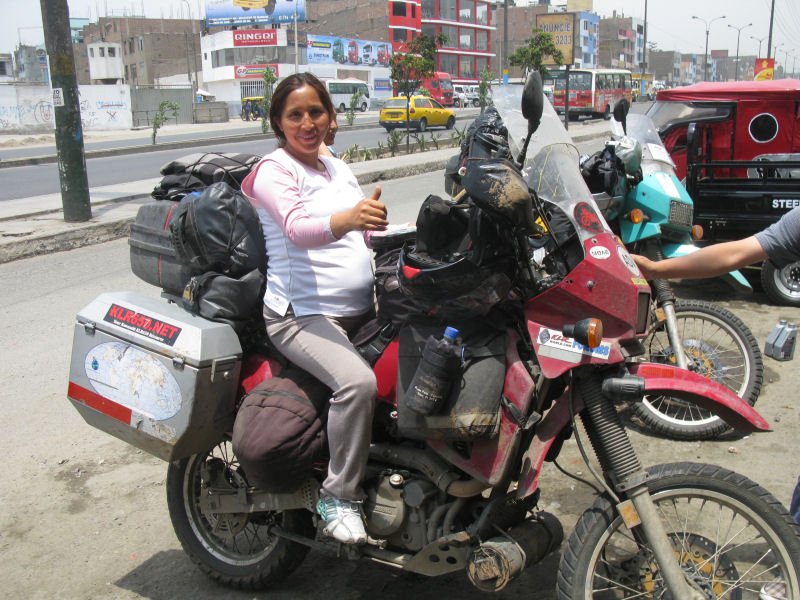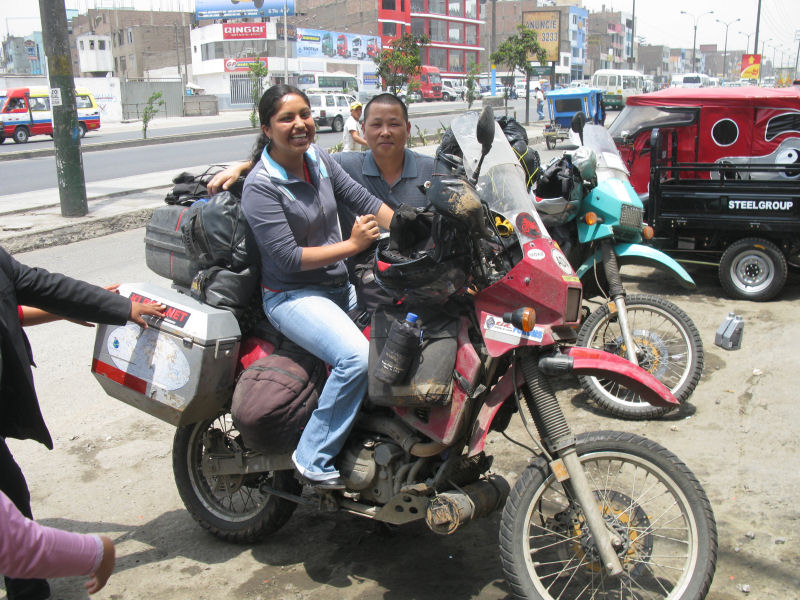 Next to the shop was a building still (as in eternally) under construction. The workers hooted and jeered at the passing women, just like anywhere. When we were done, we headed back to the PanAmerican Highway, getting fouled up with the ramps only once. It still took us a while to get away from the Metro area. The density eventually faded into odd neighborhoods of shacks on sandy hills.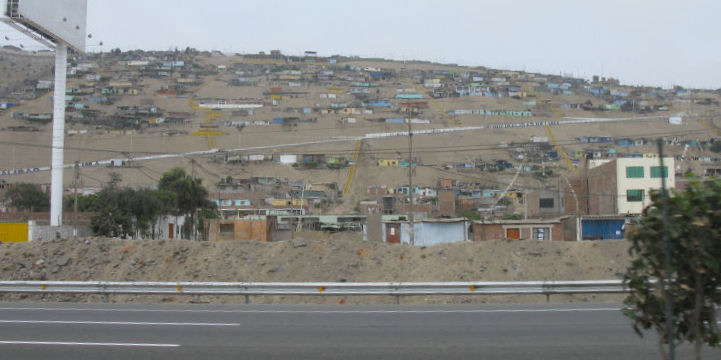 It was a cloudy day and the next few hours of riding were a bit coolish. It felt good to me. It got warmer as we descended and headed for the coast.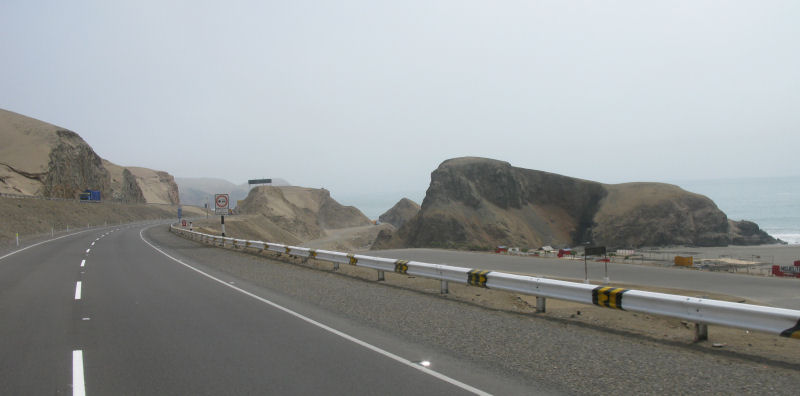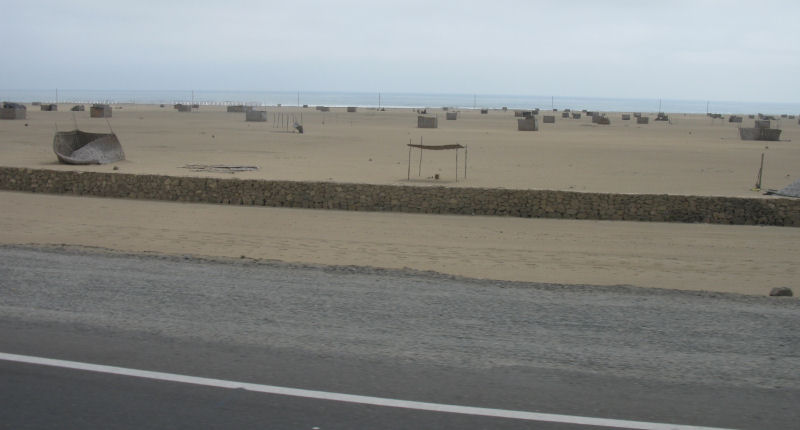 We stopped for gas and ice cream near Pisco. We later learned that Pisco had once been a more developed area but had been smashed by an earthquake recently. That's why it looked terrible. We kept riding and didn't go to the shore there.
Some of the dunes looked fossilized, and the road-cuts showed packed sand and rocks. More green areas were always a surprise.
Photo interlude: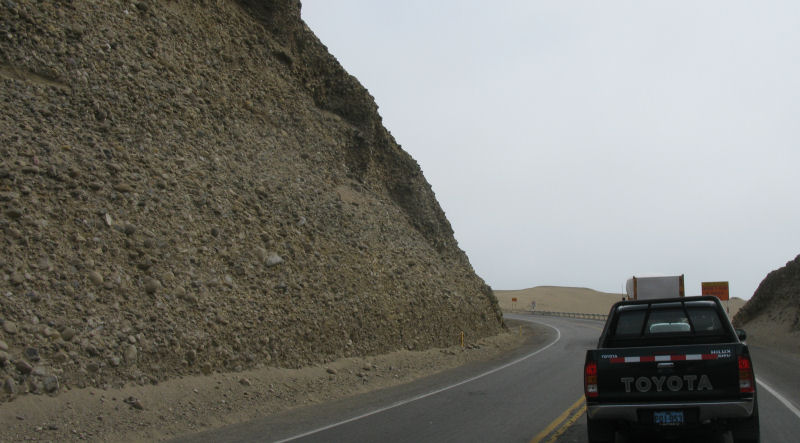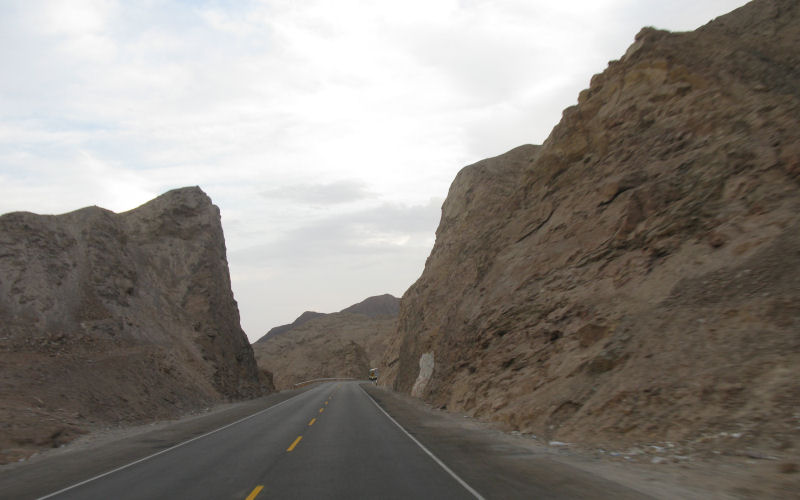 The city of Nasca (or Nazca) was only a couple hours from Pisco, on the way to Cusco and MachuPicchu, so that was a bonus. We rode into the sunset and into Nasca. We stopped at a viewing tower on the side of the road, and from the top of it, we could see two of the famous Nasca Line formations--the Hands and the Tree (shown).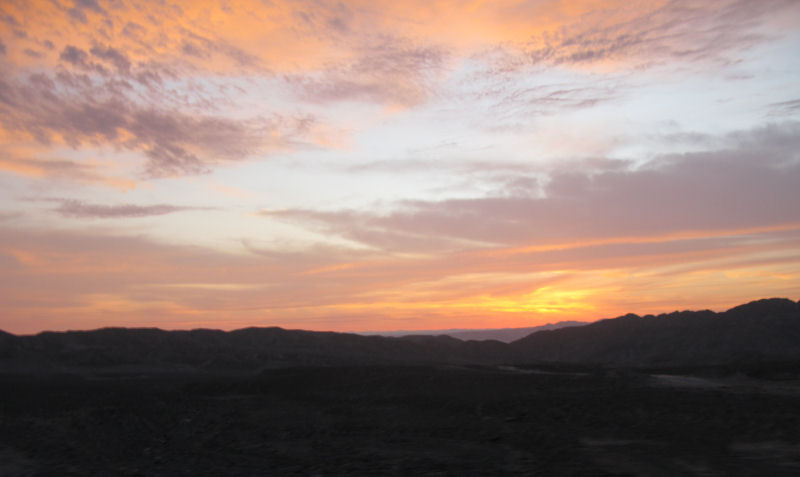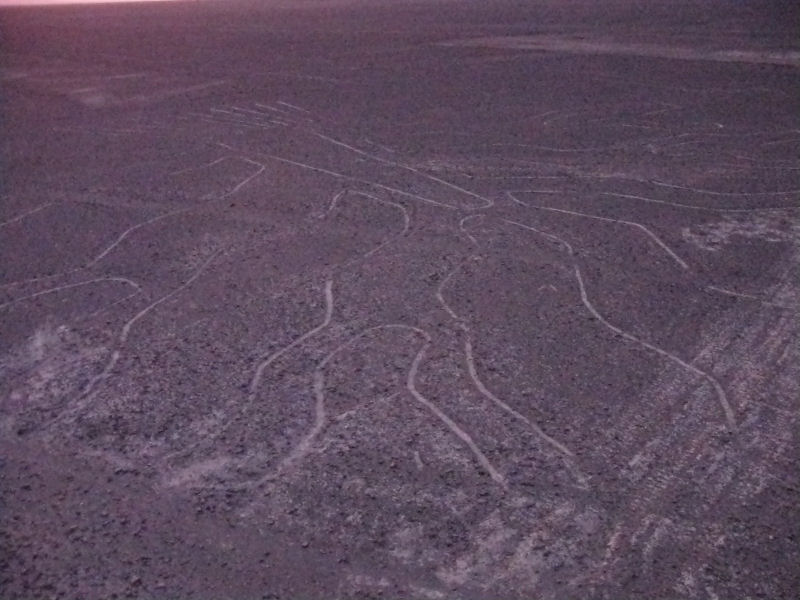 In Nasca, we stopped at the first restaurant that caught our eye and I immediately signed the wall, adding my moniker to the thousands of others. "SgtMarty wandering the earth."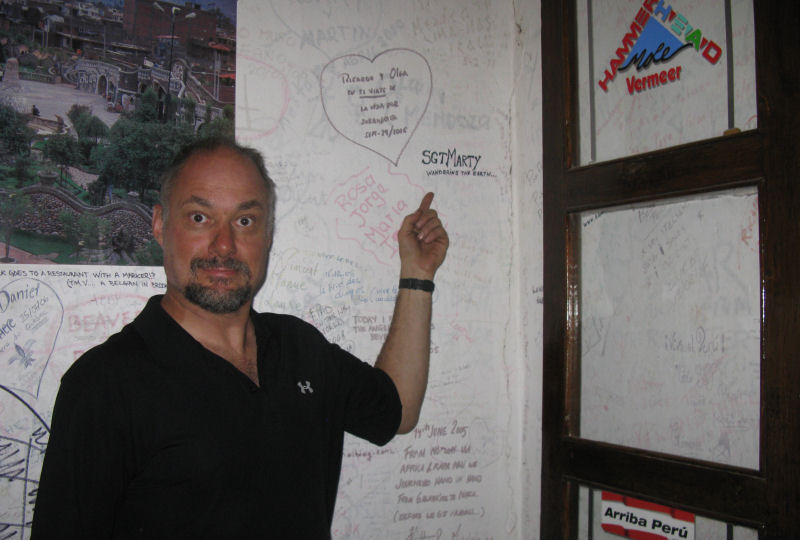 After we ate, two familiar faces popped in the door. It was Rob and She Who Will Be Known As "S", the Canadian couple that I had met in Panama at the Copa airline office. They had gotten into Nasca a few hours earlier. We chatted a while, and then we went to the same hostal they were in. We squeezed my bike down the hallway, and put Don's bike with their 1200GS in the lobby.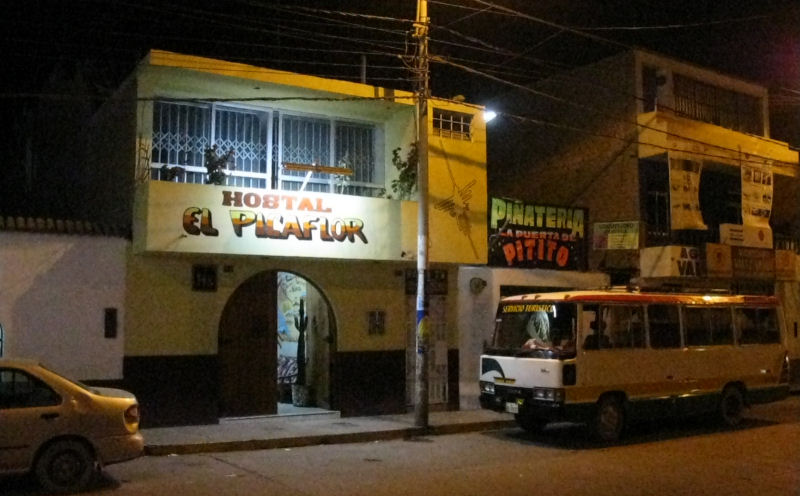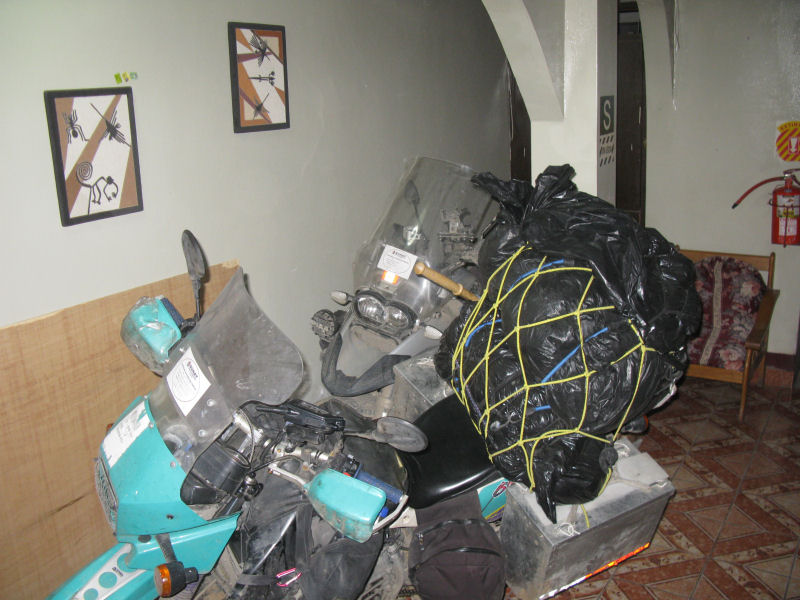 We all wanted to do a fly-over to see the Nasca Lines in the morning, since it was a rare opportunity. A gal that apparently works for either the city or the hotels (or the airlines, or the Chamber of Commerce, or maybe some guy named Pepe) pressed us to buy our tickets from her, and she gave us her spiel.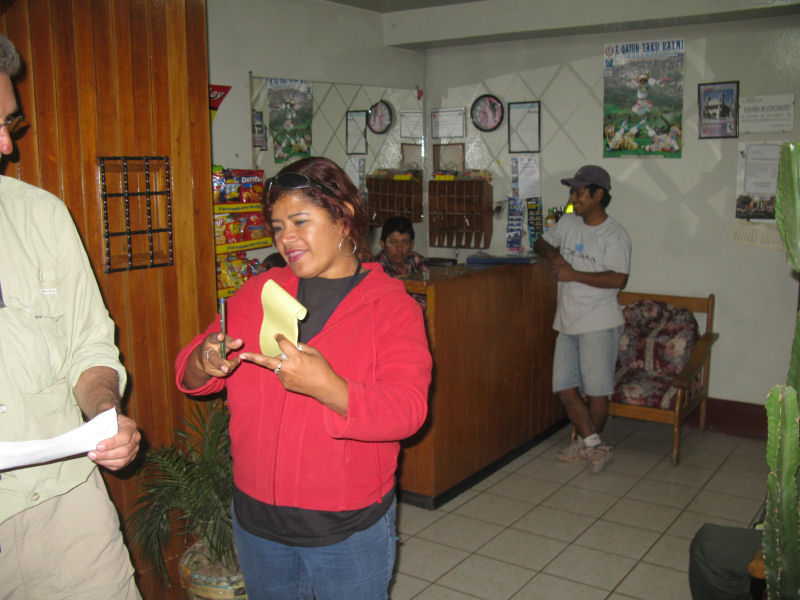 Rob played like he was going to steal her fine ride.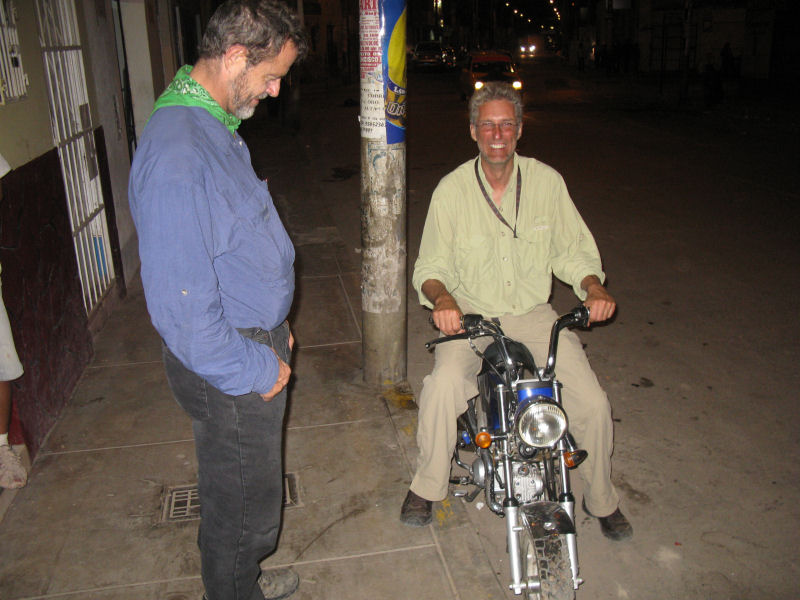 Rob and S had done some research already and knew that the going rate was about $50 each (for a larger plane, higher altitude, and shorter flight). We opted for a smaller plane and a longer flight, and haggled down to $60 each. We later learned that you can buy tickets directly at the airport, too. There is no need to use one of the in-town ticket offices, although I can't say what deal you might get at the airport.
We walked around Nasca for a bit, then found an Internet cafe where I fixed the report upload and Don made a Skype call.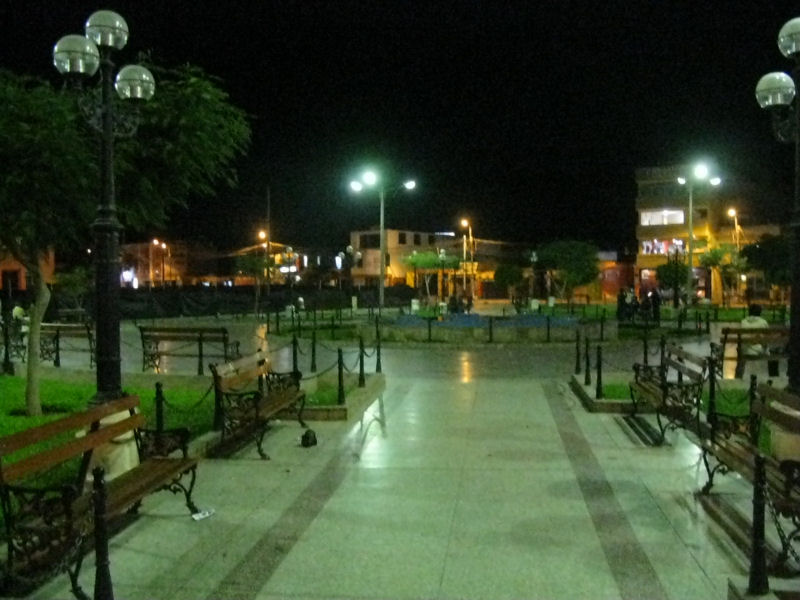 That was about all I wanted to do there, since the toilet next to my cramped computer cubicle smelled really bad.
Back to the room and to bed. Early flight tomorrow.
Tuesday, 2 December, 2008
---------------------------
We were up early and on the advice of the gal we booked the flight through, we skipped breakfast. (That was good advice.) I did walk around Nasca a bit, watching people do business with the local vendors on the sidewalks. This guy was making some kind of beverage that started with scraping the slimy gel off agave leaves.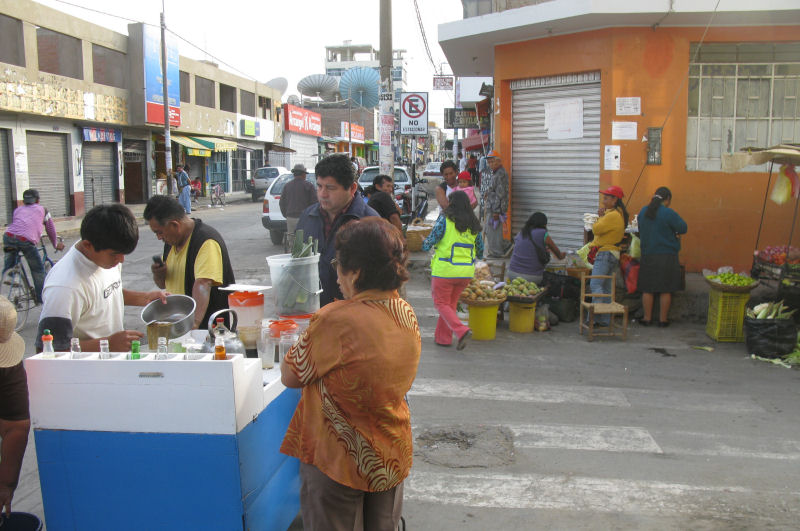 There is a dry riverbed through Nasca, and it serves as a convenient dump. You can see a dirt road crossing the riverbed there, but I am standing on a bridge for this photo.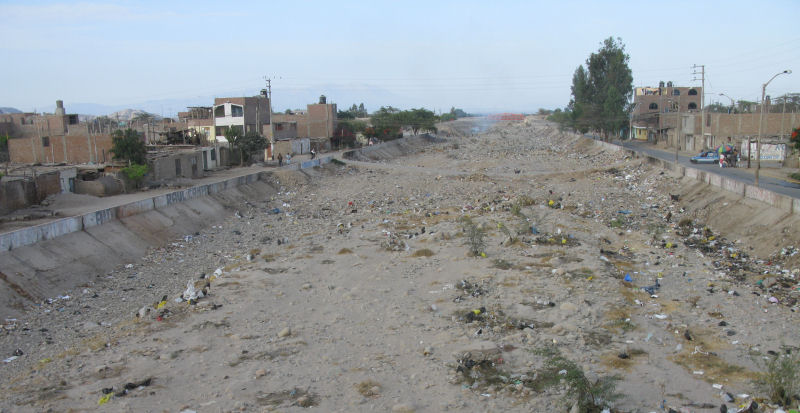 The arranged taxi showed up at the hostal and took us to the airport offices where we finished paying. We were joined by a British gal, Amy, who has spent the last year on a round-the-world trip. Amy has been traveling mostly by bus, and had only a backpack and a small duffel bag. That made five of us (plus the pilot) for the mid-sized plane. We got into a minibus that took us around the airport to the terminal, where we each had to pay S/20 as an airport tax.
Amy, Rob, S.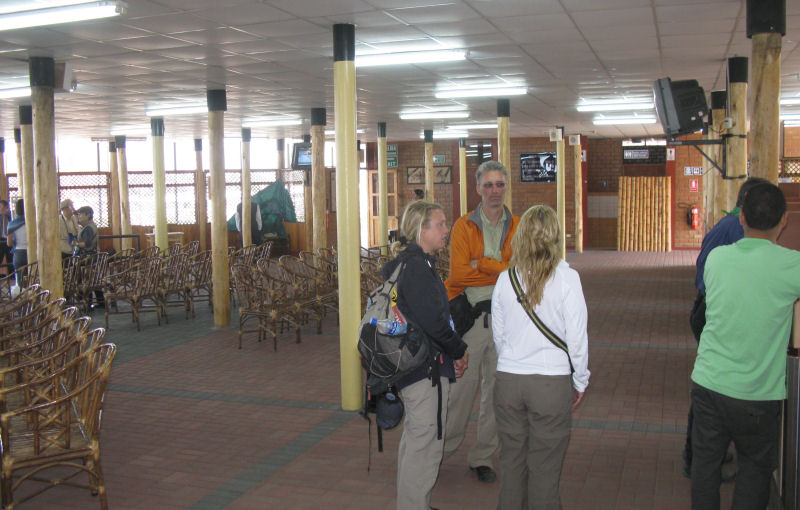 The had a security scan, in case we wanted to hijack a plane to Cuba or something. Don had to leave a knife behind and get it back later.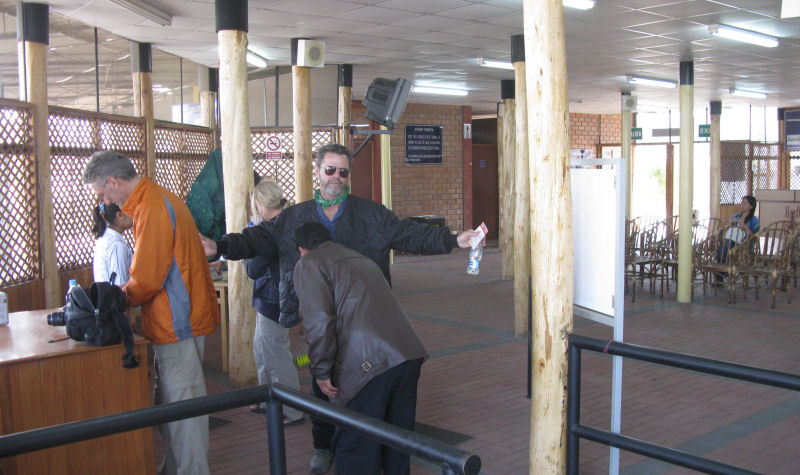 The pilot put me up front, the ladies in the back, and the other guys in the middle. Weight distribution, I suppose.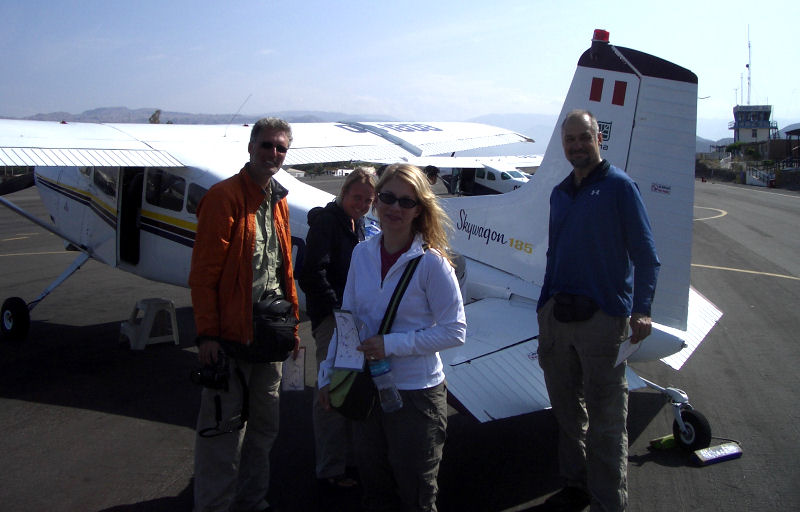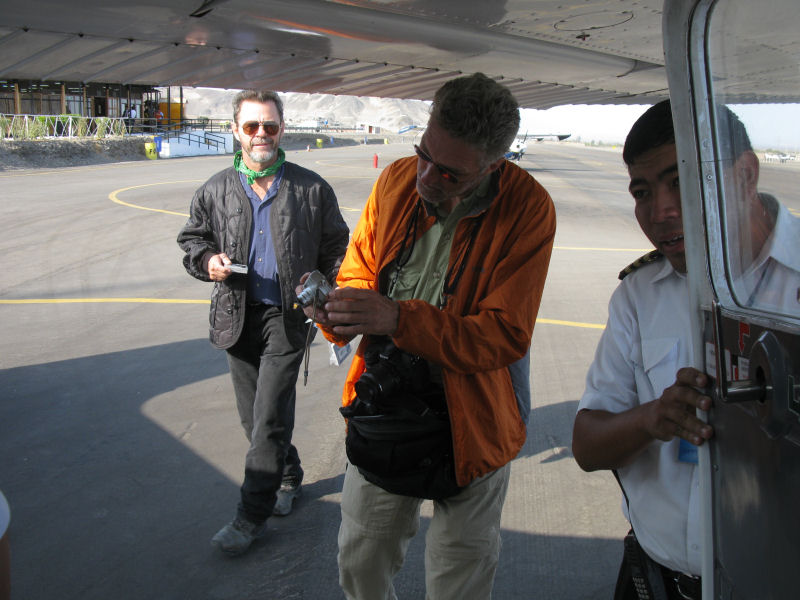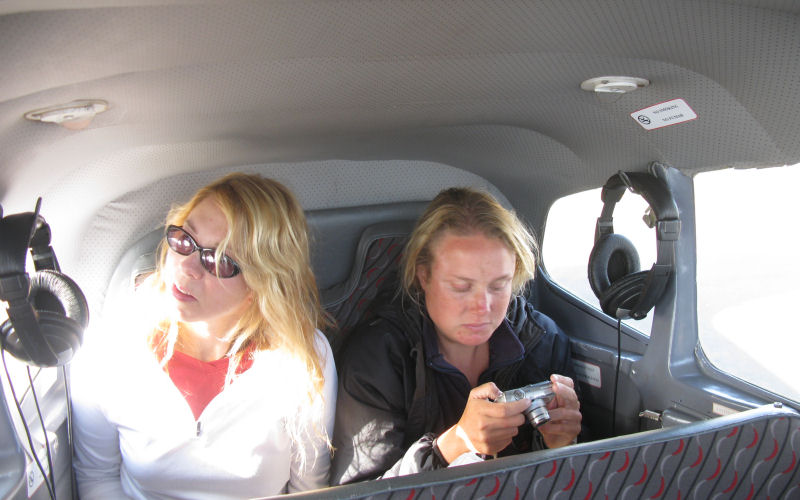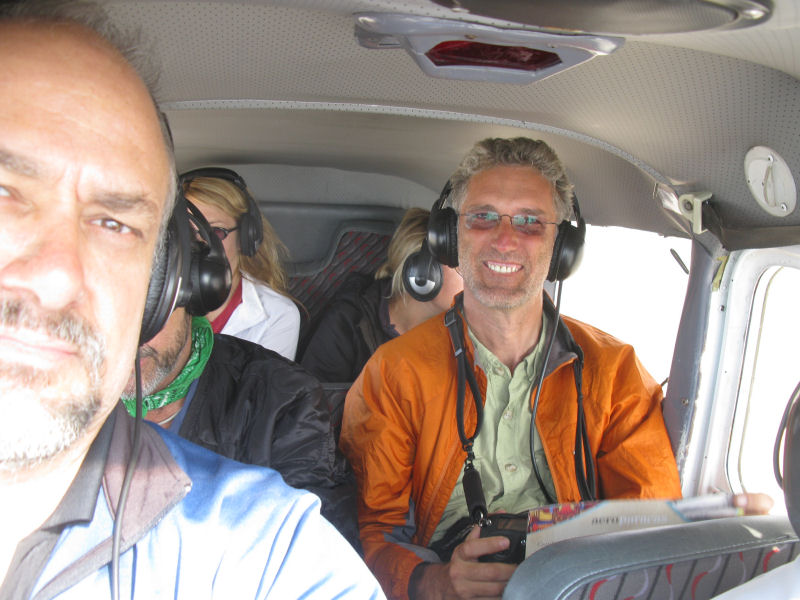 At first, the pilot held up the card showing the route he would fly, but after I took this photo, I took the card from him and held it up each time he needed it to point out the next sight. We each received one of these cards, which the pilot signed (on the other side) and it became a certificate of sorts.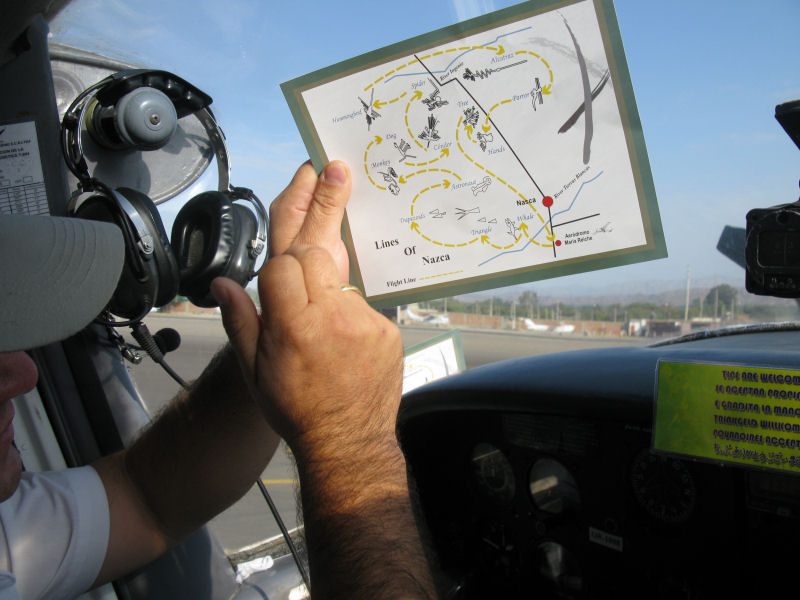 Nasca Lines photo interlude, starting with the farm area around Nasca (I manipulated most of these photos to increase the contrast and bring out the lines better):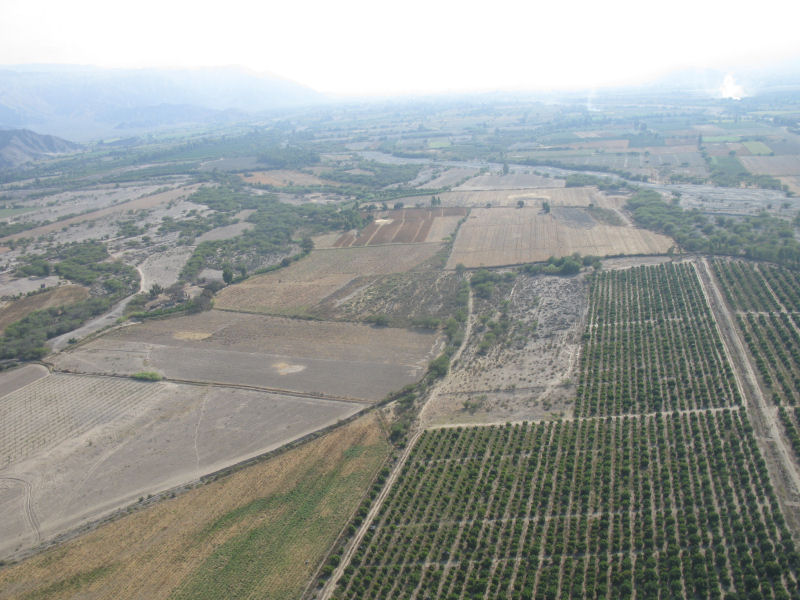 Whale: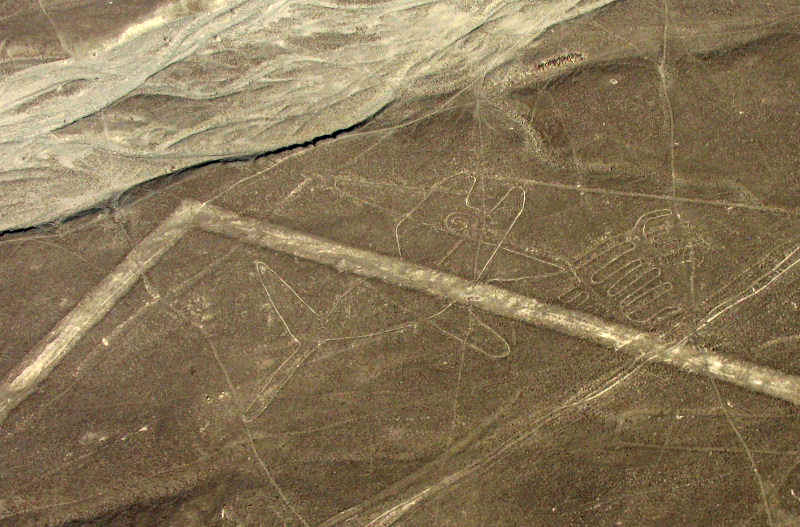 One of the trapezoids (on the left):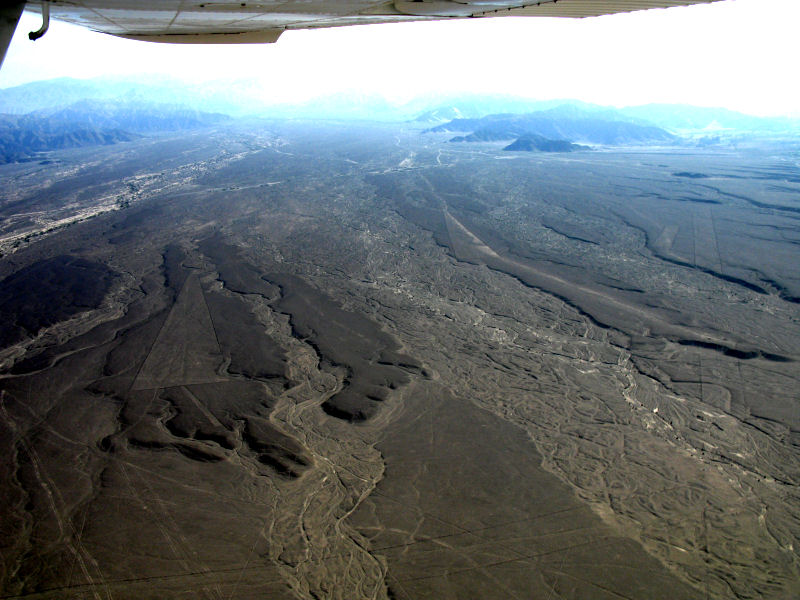 Astronaut: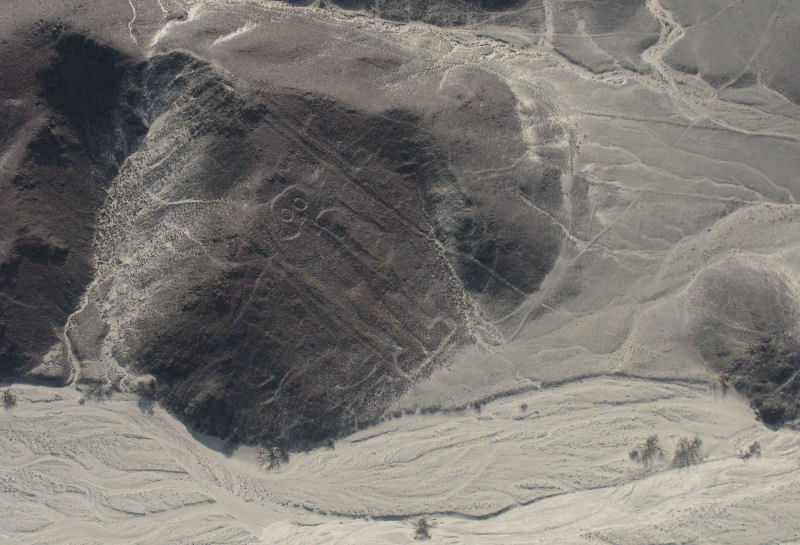 The plane spent a lot of time in steep-banked turns, so having skipped breakfast was a good thing. If you get motion sickness easily, do not take one of the smaller planes (or any at all...).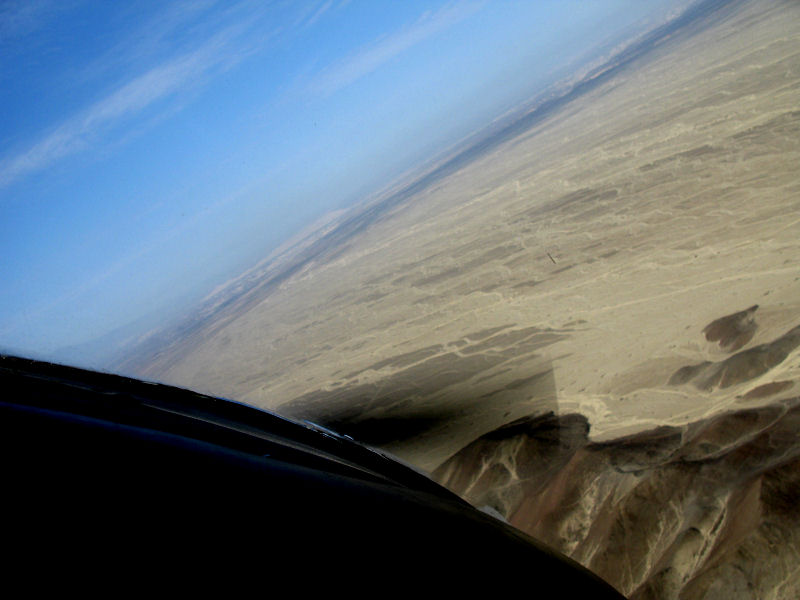 Monkey: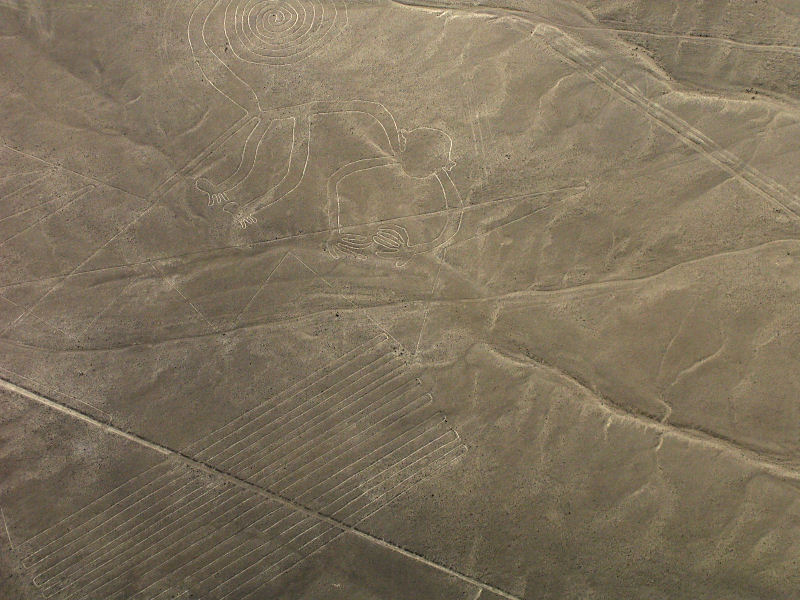 The whole area was scattered with lines and geometric shapes. Don thinks all this was a big prank by drunken Incan High-Schoolers.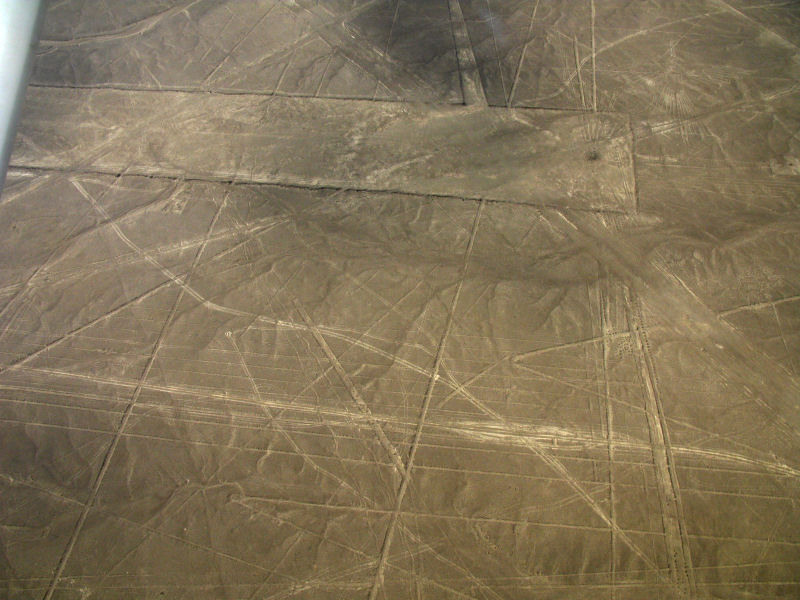 Hummingbird (that is part of the wing strut in the photo):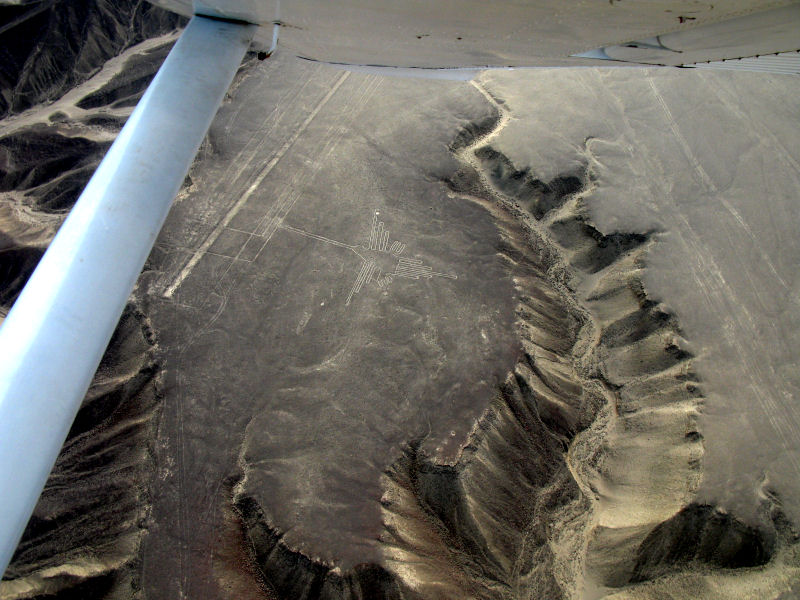 Some other thang...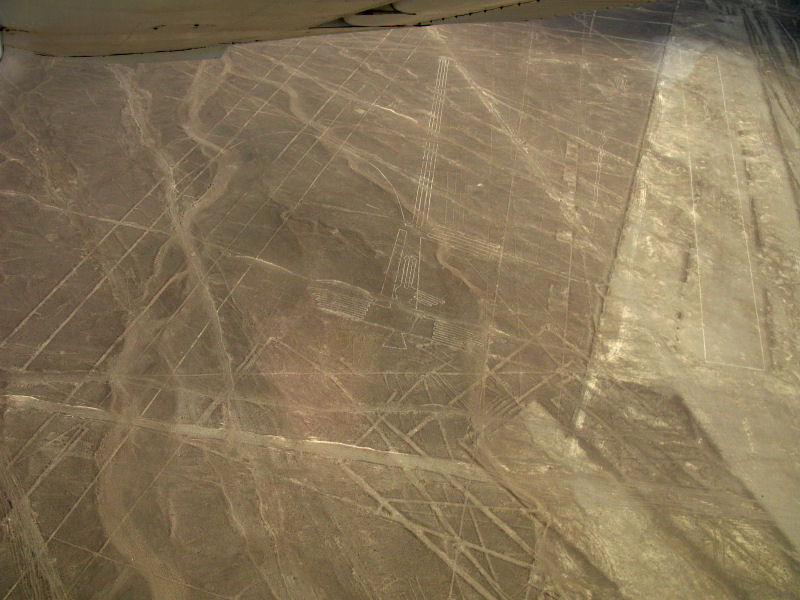 The Parrot (deformed, obviously):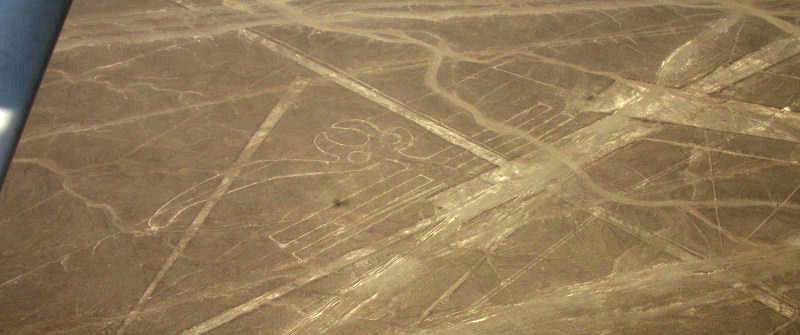 Another Parrot? (upper left, looking more like a midget dinosaur):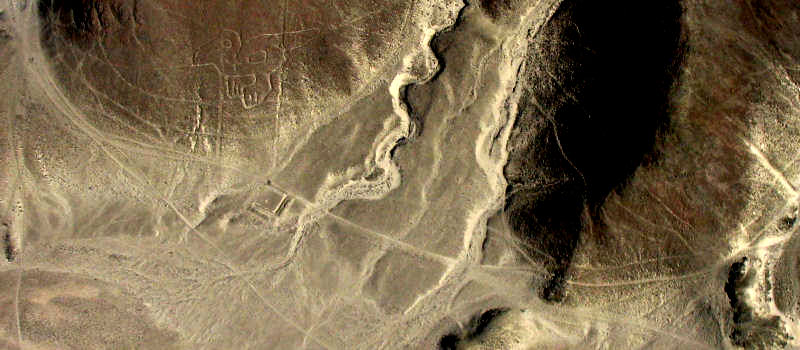 Coming back to the airport. This is the only time I felt like I was going to be sick. I suppose it was because I had nothing to pay attention to and focus on. Weird. All in all, I was glad to have done it, and surprised that it was all in such a localized area. I had long had the impression that the lines and formations were spread out over a very large area, but they are all in one small plain (and on some of the surrounding hills).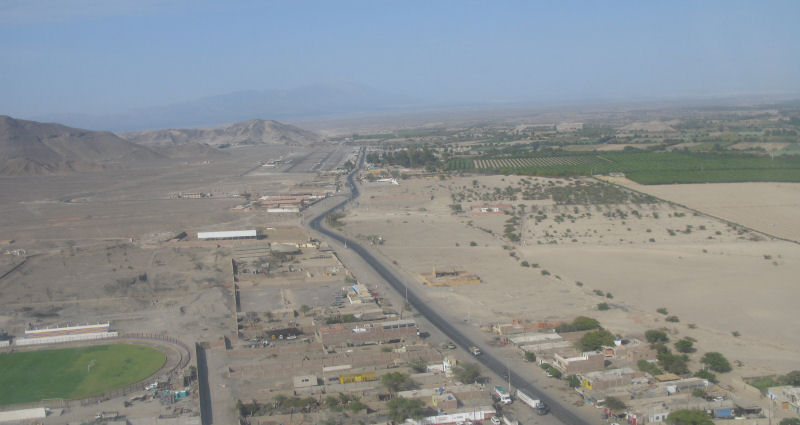 Back on the ground, the pilot completed and signed our certificates and we took photos of him (but not with my camera). He took a photo of our group (but not with my camera--I must have simply been happy to be back on the ground).
We wandered around the terminal for a while, mostly avoiding the tourist shops. Mostly.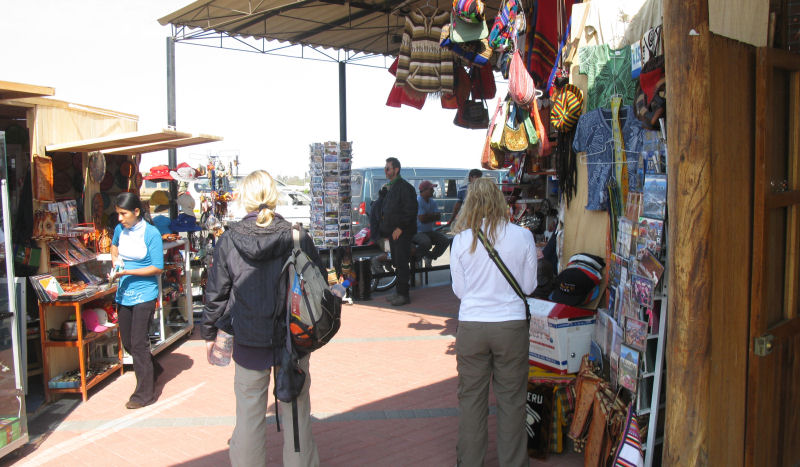 The minibus took us back to the airport offices where we said good-bye to Amy, and then dropped the rest of us off back at our hostal. We had a quick breakfast nearby and made ready to leave Nasca. We loaded up the bikes after easing them out of the hostal and onto the sidewalk.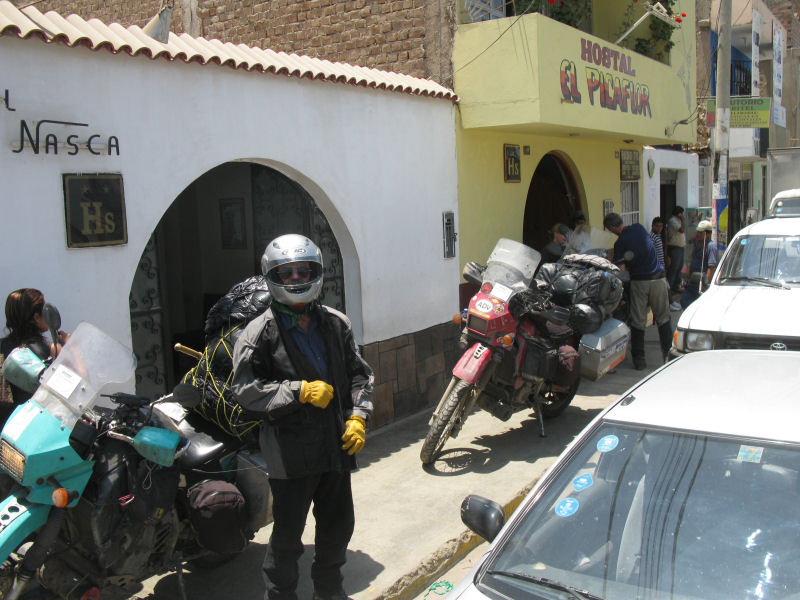 We thumped down off the sidewalk and into traffic, stopping only to get gas before leaving Nasca. The day was clear and warm, but we knew it would get colder as we climbed into the mountains so dressing for the day was a challenge. First was more high desert riding.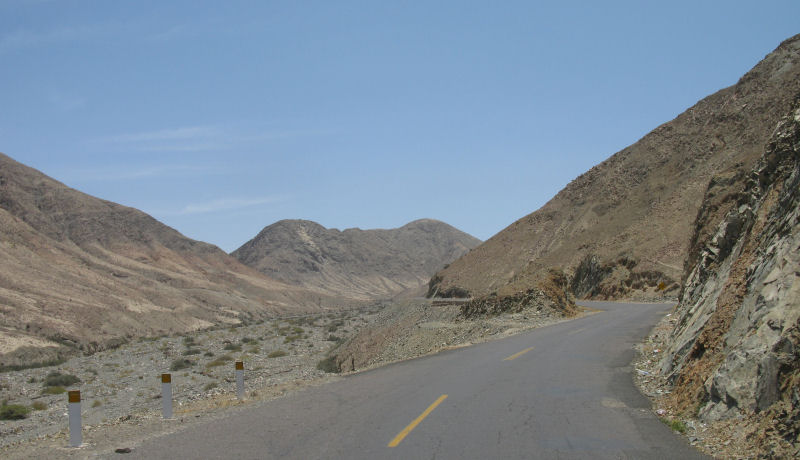 Once on the high plains, it got cold and vegetation was little more than sparse grass. We stopped to put on rain gear (as windblock) and other layers. I tolerate the cold better than most, so only my fingertips were cold. Small, llama-like antelopes crossed the road ahead of us as I was preparing to take this next photo. They blended in perfectly with the yellow grass. They looked like short-haired, long-necked deer with the face of a camel. Altitude here was about 3500 meters.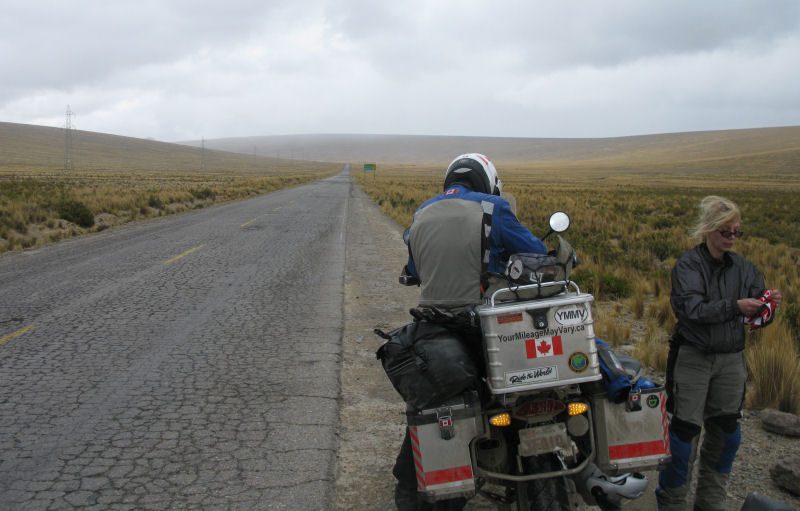 Having crossed one high plateau, we descended a bit and it warmed up a little.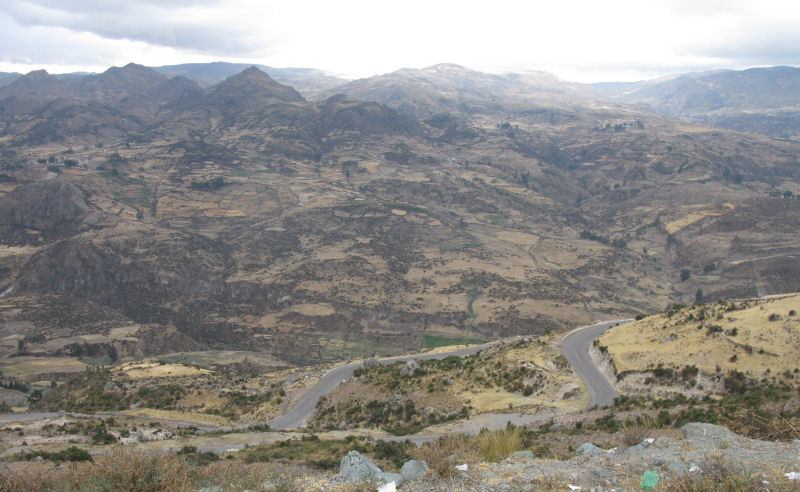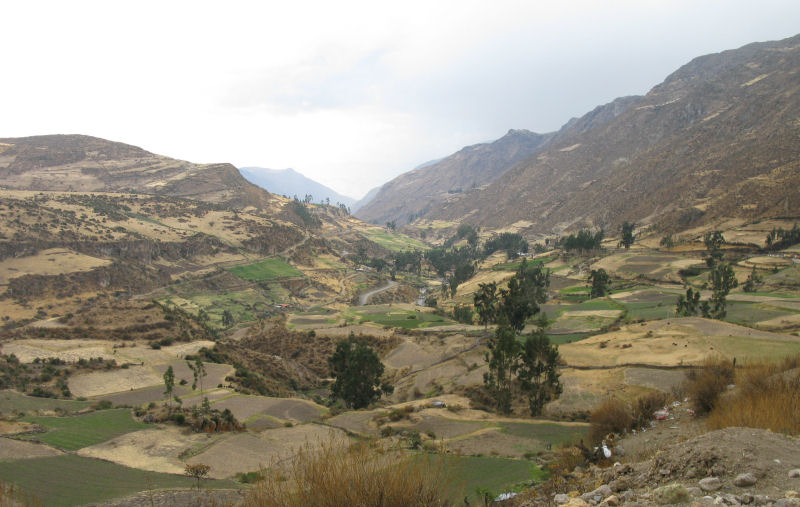 At one long construction delay, Rob got impatient and started honking at the worker who was standing in front of our bikes. I don't think that was helpful.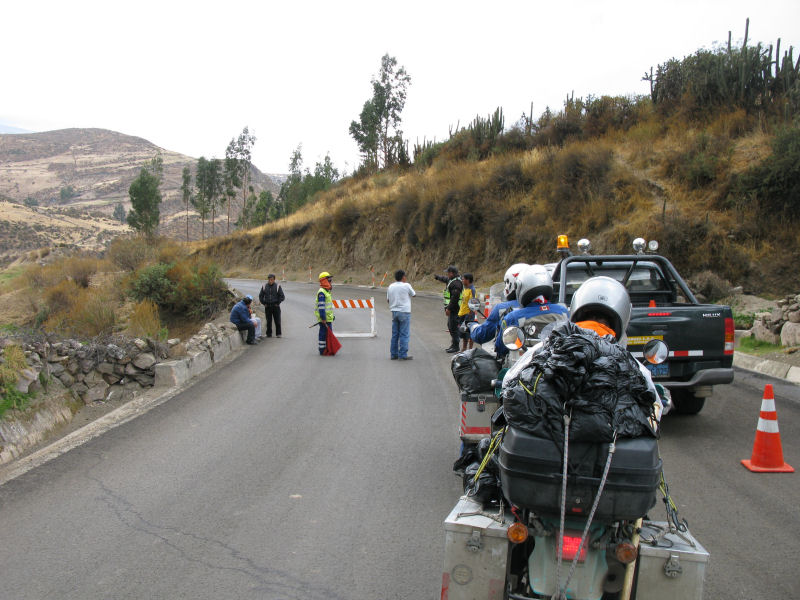 Went through several more small towns, mostly adobe brick construction. In this town, signs pointed the way to Cusco, which was good, because that was the only way we stayed on course.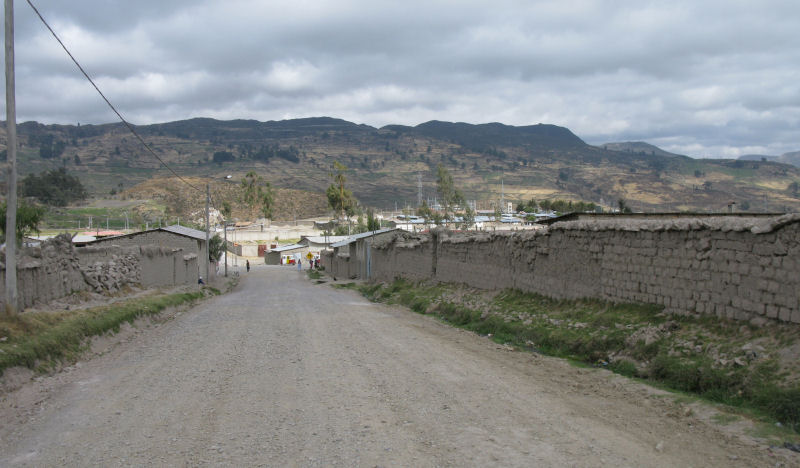 Then back to the high country. Again, well over 3500 meters. Some of these shallow lakes were frozen. We stopped when Rob's bike alerted us to a freeze warning. After getting bundled up again, we went on cautiously, wary of ice on the road. In some of the towns, I saw kids running around and some were playing volleyball. Acclimated, of course. We got some icy sleet for a short while, but the road never iced over.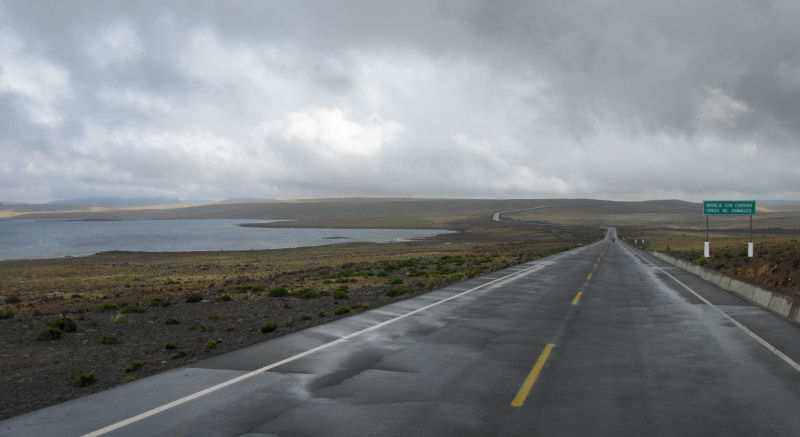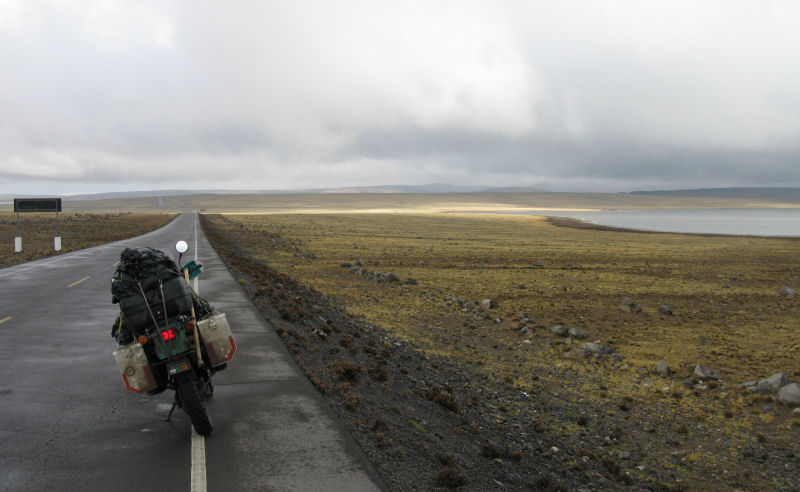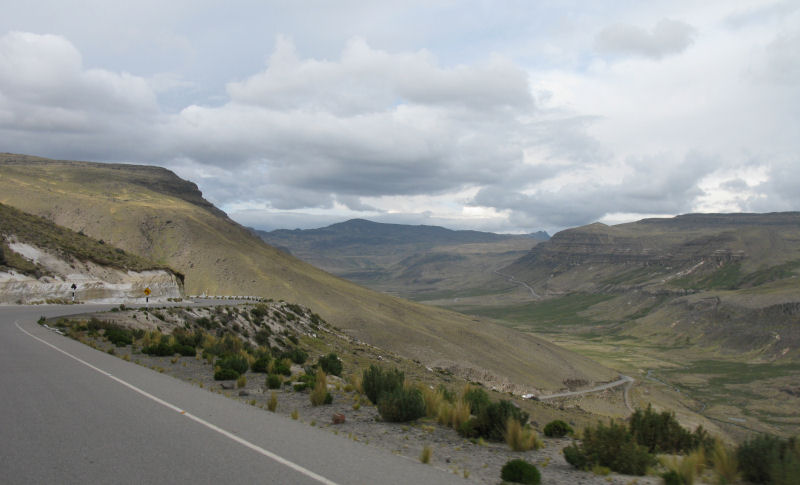 Off the high lands, it got warmer again, and looked like Colorado in many places.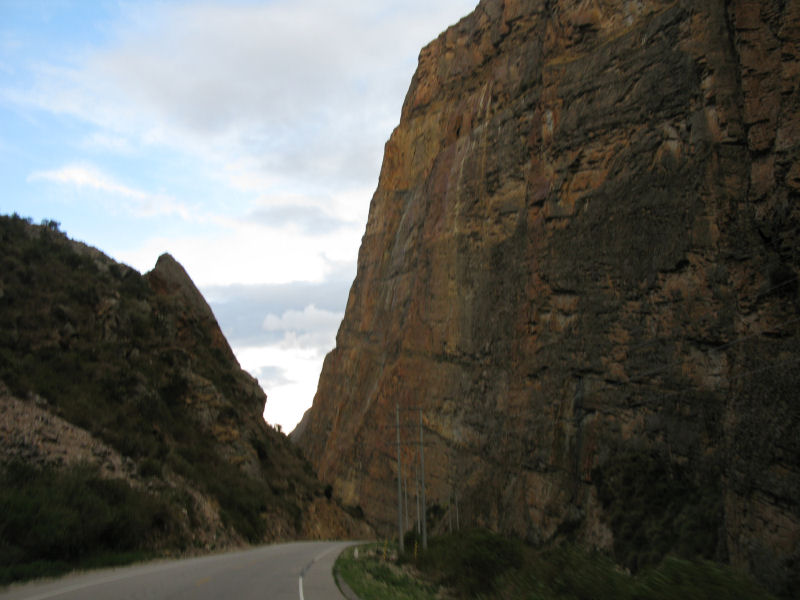 It was over 200 miles from Nasca to Chalhuanca where we got gas and decided to stop. Heck, it was almost dark by then, anyway. We looked at a couple hotels on the main street and chose one. There was a parking lot out back with big metal gates. The view from the 3rd floor of the hotel looked across to the small central plaza and the police station on main street.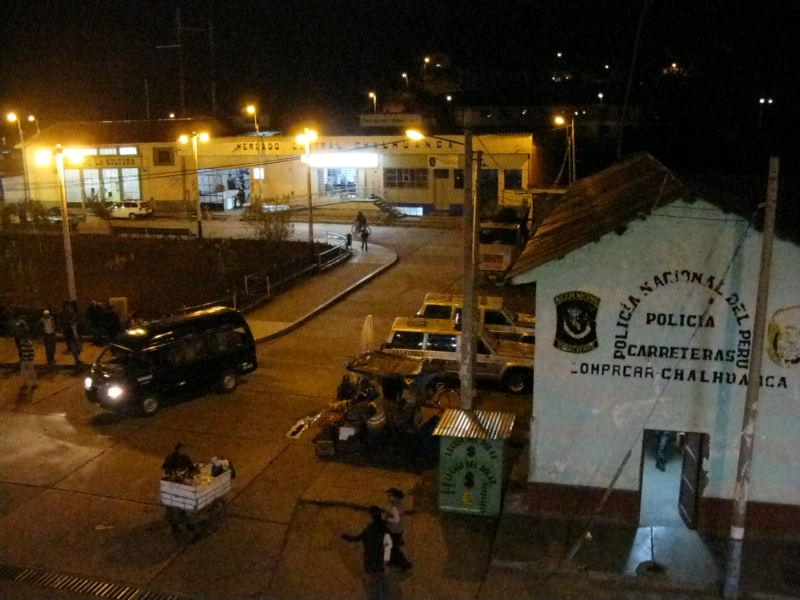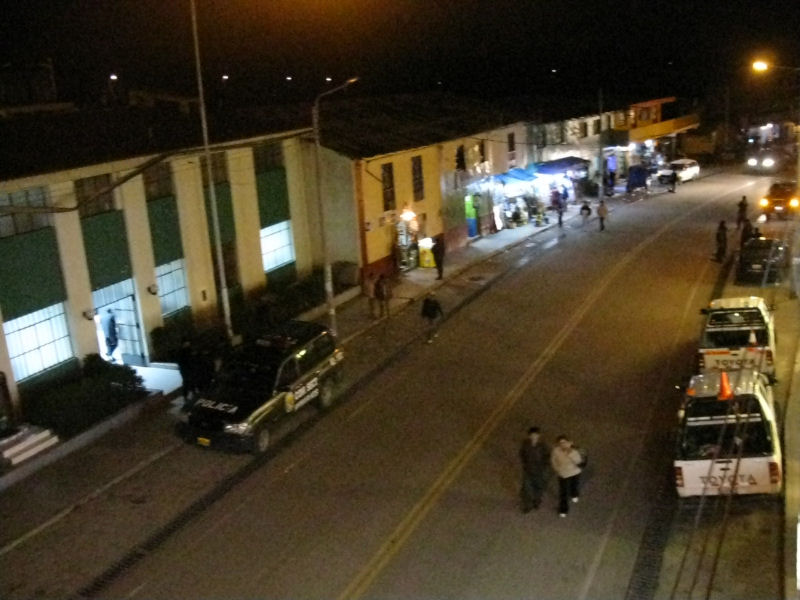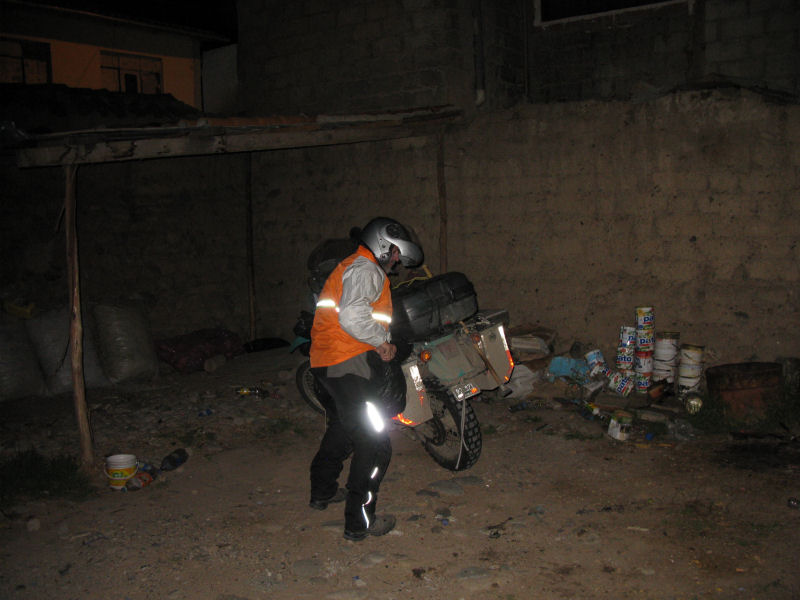 Unfortunately, Don and I would come to know that police station all too well over the next two days.
But that's another story in this ride report, so hang on. Meanwhile, we walked around a little. There wasn't much to see.
Rob and S here.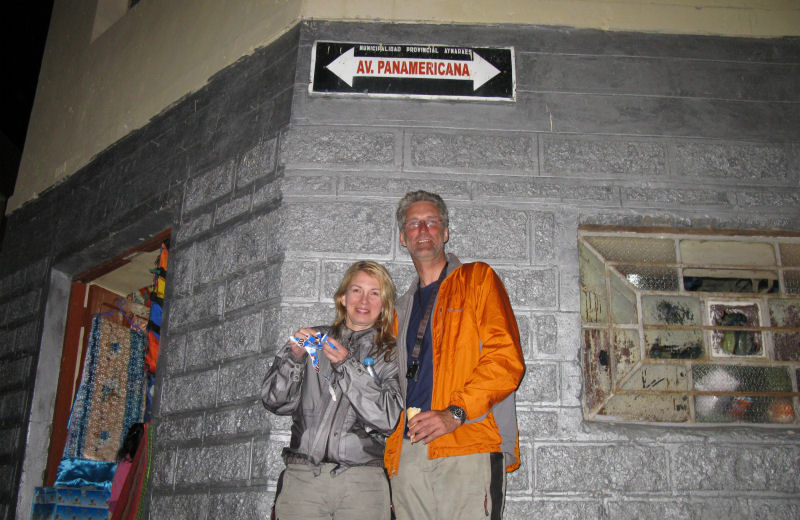 Enough for today. To bed.
Wednesday, 3 December, 2008
---------------------------------
The town got noisy at about 06:30, but I stubbornly stayed in bed until 08:00. That wasn't worth the effort.
The restaurant at this hotel wasn't very good, and Rob and S warned us away from it. We went down the street to the other hotel and had small breakfast sandwiches that were like Egg McMuffins, but with crustier bread. We watched the police across the street send out teams of officers (some in combat uniforms, some in civilian uniforms) in various directions. Many were carrying AK47's.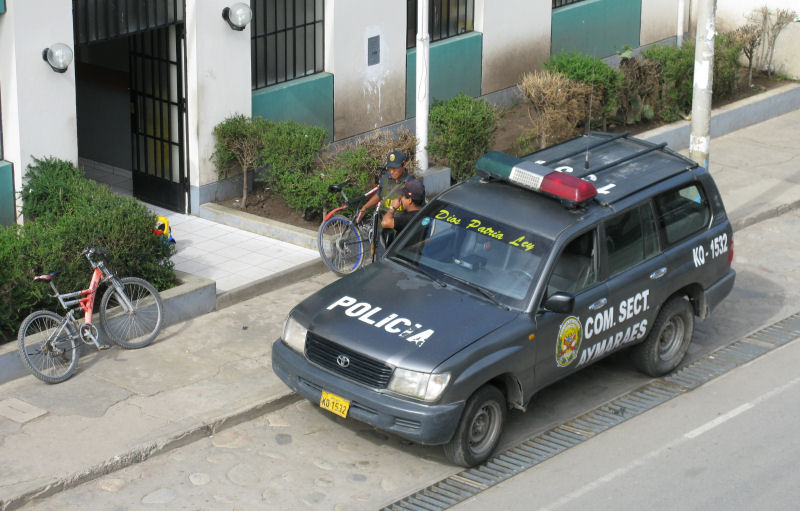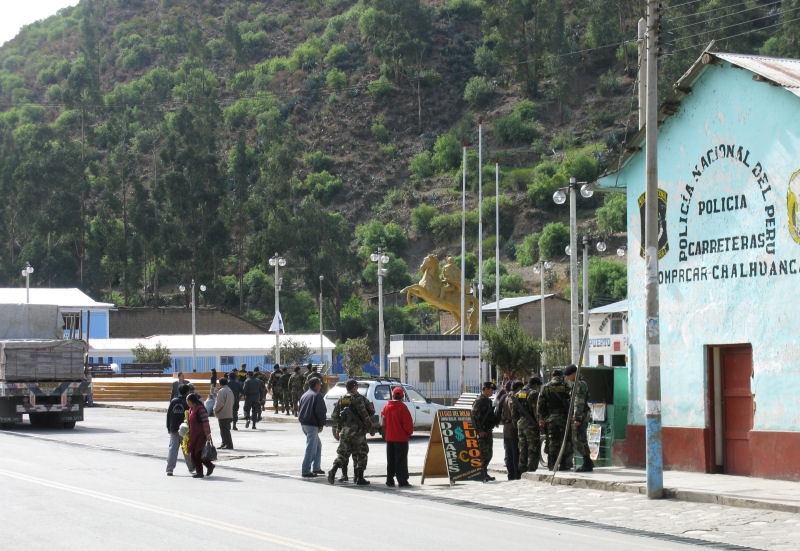 We loaded up the bikes and started out of Chalhuanca at 09:40.
I had passed Don (who likes to ride a bit slower), and Rob and S were ahead of me. I passed a large bus and then passed a guy on a bicycle, noticing that he looked very sleepy or maybe just hanging his head down. He was weaving along the edge of the road. After a while, I noticed that Don was not behind me, so I turned around and went back.
I saw a lot of people standing around the bus, stopped in the road, then saw the motorcycle on its side. As I rolled up, I saw Don sitting on the street next to the bike, then saw the bicycle and the other guy on the other side of the street. I checked their injuries (Don told me that his ribs and leg hurt, and a man who spoke English told me the bicycle rider had a broken leg), then I rode back into Chalhuanca for help. I saw a police truck (the same one as in the photo earlier) stopped on the street, and I told them that an ambulance was needed. They followed me back to the crash scene, where they briefly (as in very briefly) asked the people what had happened. I took a few photos of the scene.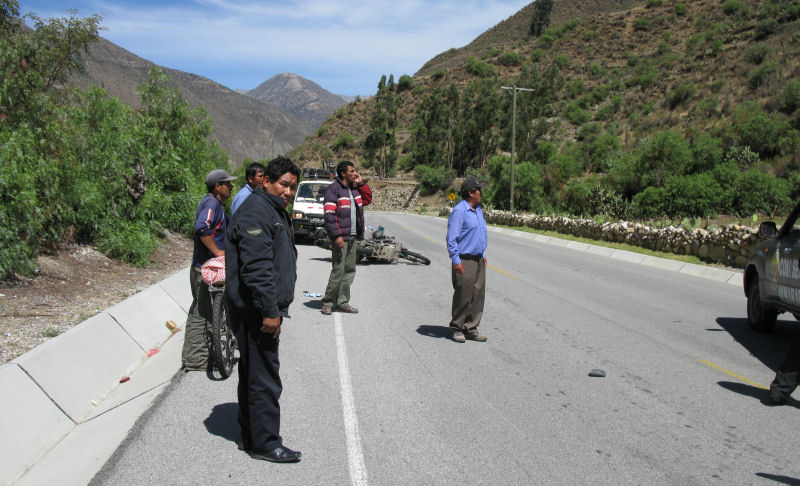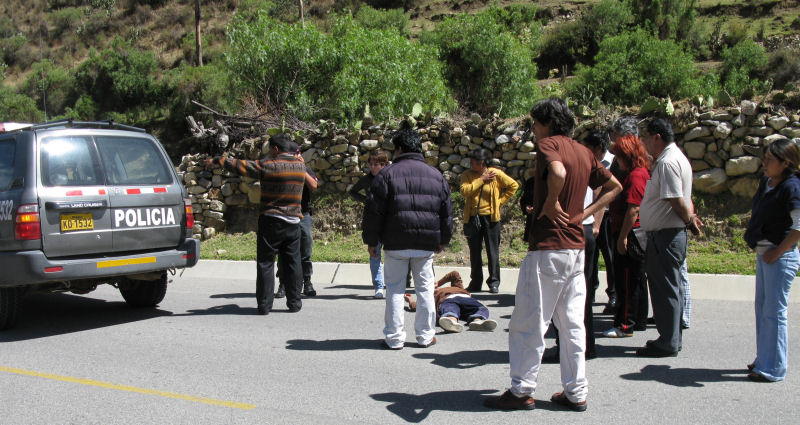 One of the policemen stayed and the other raced away in the truck. I saw the bus driver give his driver's license and a business card to the remaining policeman who gave the license back. I picked up Don's bike and the equipment that had been scattered on the street. We never did find some of his tools.
The police truck came back with two hospital people (didn't look like paramedics) who were very excited and animated. They provided basic aid to the broken leg and managed a basic splint from their gear bag. An ambulance soon arrived. Don was up and walking around by then. I helped hold the young man down as they splinted his leg--he was in a lot of pain. I then got a small umbrella from my bike and held it over the guy's face to keep the sun out of his eyes. I did this mostly because no one else was doing anything to help, and also because I wanted everyone to see that we cared about the guy. Don came over and spoke to the young man as well. Don told me that the bicyclist had suddenly turned in front of him and was impossible to avoid. I could believe that easily, seeing how the guy was riding when I passed him.
After the ambulance was gone, they took Don to the hospital as well, but he rode in the police truck. That didn't look good. From all the gestures and from what I could understand, it was clear to everyone that the bicyclist was at fault. No one acted with hostility toward Don at any time.
Don had told me that as he was passing the bus (which was a good thing, since the bus driver was a great witness), the bicyclist was on the right edge of the road ahead of him. The rider suddenly turned left into the road and crossing in front of the bus without looking or raising his head. That brought him in front of Don, who had nowhere to go. Don hit the guy on the left leg, which was broken above the knee. (At the time of this photo, the police truck hadn't come back yet, the bus and all the witnesses are gone, the bicyclist is still laying on the road, and you can see some highway workers standing around with Rob and S who had also returned.)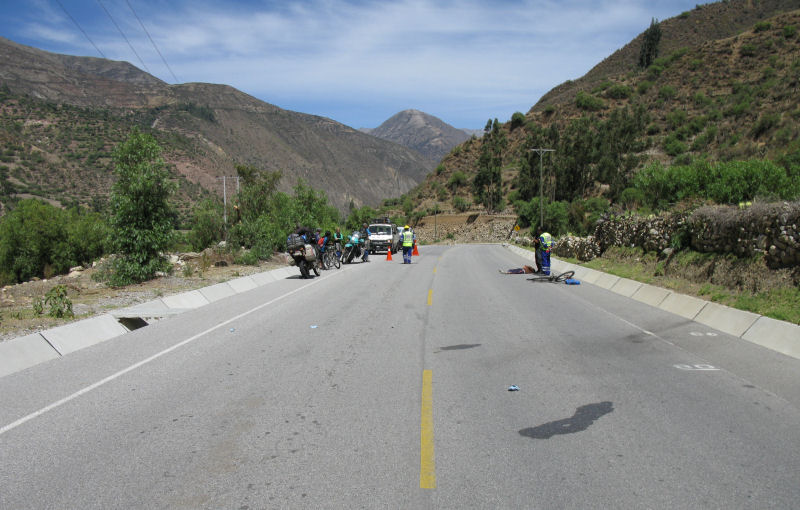 The other miscellaneous splatters on the road were probably from animals (and maybe other bicyclists) being hit by other cars, but they are not from this accident. The puddle in the foreground was condensation from the exhaust pipe of the parked bus.
One of the policemen said he would ride Don's bike back to the police station. I later found that this was Captain Carlos Bela, the station commander. His English was pretty good. I tweaked the faring on Don's bike so it would steer well enough, then test-rode it around a bit to make sure the brakes were working. I then followed the police Captain back into Chalhuanca.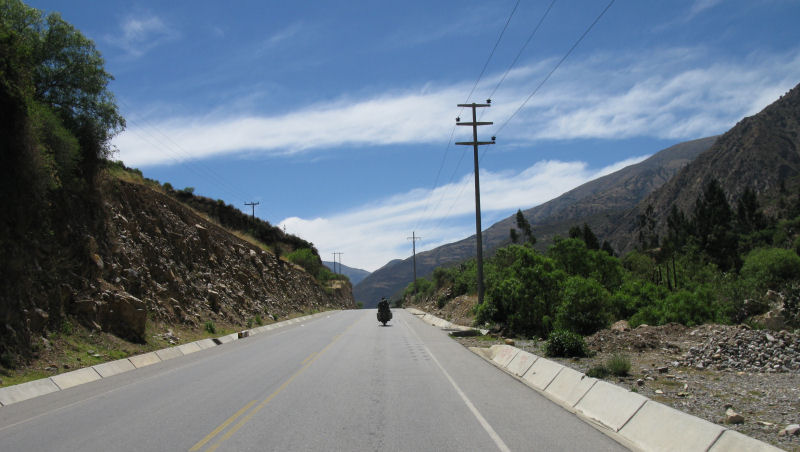 The Captain parked Don's bike in front of the police station and immediately dumped it over on its side. Other policemen standing around helped me pick the bike up, and I re-positioned it and put a block under the sidestand to keep it upright. (Don's bike has a shortened sidestand which makes it tippy when not parked on the right slope.) Rob and S showed up and waited with Don's bike.
I got directions to the small hospital in town, and rode there. Lots of people were standing around outside, but only the younger kids would approach me.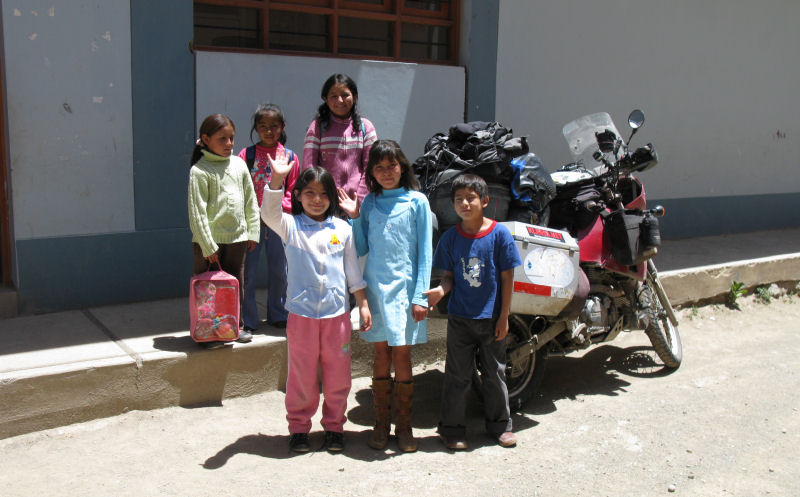 I gave out the rest of my candy, and that's when the older kids and adults crowded around to get their share. The adults made no allowance for the kids getting candy first, I noticed. Until I re-stock, that's the end of my Candy Diplomacy for a while.
Don and the other guy were in the same treatment room. Don was having a hard time moving around, and his ribs were the culprit. The guy with the broken leg might have been drugged by this point, since he was pretty out of it. They stitched up a laceration on the back of his head, from where he had hit the ground.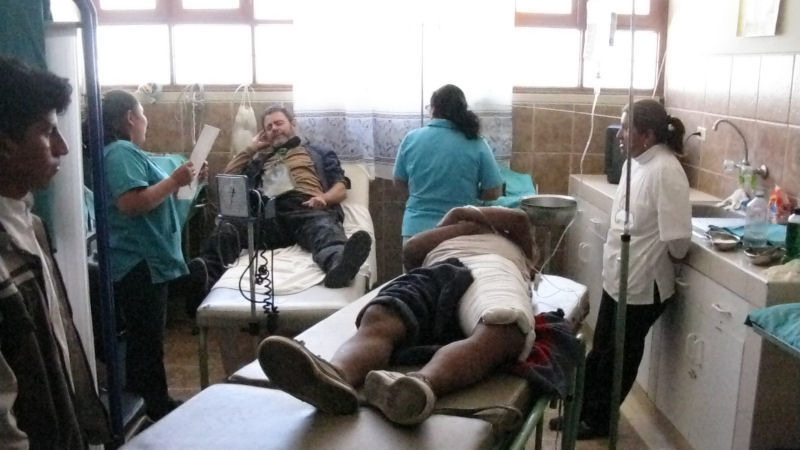 Don's jaw had a vivid impact mark and small cut on the right side, and that was really hurting him, too. Maybe a cracked jaw. In every other way, he appeared to be fine. His helmet and riding gear took a lot of damage, but saved him. ATGATT.
No one in the hospital spoke English, but we got through it. They recommended that Don go to another hospital for X-rays. Don got an injection for inflammation, and lots of cautions not to ride his bike for several hours or to go to Cusco or MachuPicchu for at least another day (due to altitude). His treatment done, all the drama then centered around who was going to pay for the other guy's treatment. The hospital staff pressed Don very directly to pay, but we acted as if we didn't understand. Family and friends of the other guy (including the mother who later showed up) waited in the hallway.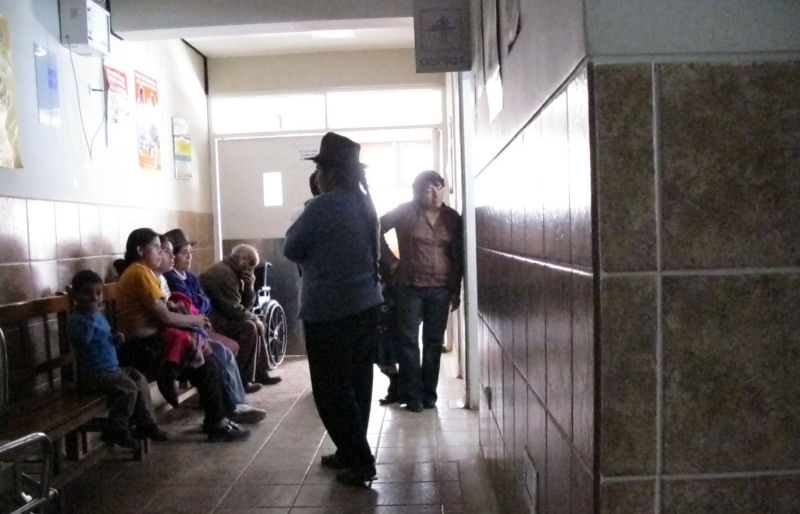 The hospital made clear to us that the only place to get the broken leg X-rayed and treated was in Abancay, two hours away. When they said it was a S/70 taxi fare, I thought it was a joke. They had an ambulance, right?
It was no joke, and the broken leg was staying right there until someone paid to move it. Don and I agreed to pay for the costs in this hospital, and to get the guy to the other hospital. For Don's treatment, the other guy's treatment and transportation, the cost was a total of S/155, which is about $50. No problem, we thought. We gave S/300 ($100) to the hospital staff for the costs, and got them to agree to give the rest to the mother of the inured man. So, about S/145 should have gotten to the mother. That didn't happen, exactly. It later turned out that only S/104 made it to the mother, so someone in the hospital made S/40 on the deal.
Up until this time, we thought the bicyclist was a teenager, but on a closer look, he looked older. We later learned that he was either eighteen or nineteen years old, no longer a minor.
The police took Don to another part of the hospital and had him pay a few more small fees for things we don't really understand. The total was about $10, so it wasn't important. They mad Don also pay for a blood draw, to check his blood-alcohol level. This vial of blood became something of a running joke for the next two days. It got carried around in the pockets of various policemen, and I think they never really intended to do anything with it. They asked about insurance, and we admitted that we had not gotten any for Peru. This became the biggest issue.
There was a complete understanding that the accident was not Don's fault, and I saw a policeman tell this to the doctor and hospital staff. He also made this very clear to the family, who were not happy to hear it.
When the police told Don to come back to the police station with them, the family got upset. A woman from the hospital (wearing a blue blazer that seemed to mark her as an administrator) made a huge fuss about Don leaving before all the costs for the bicyclist's future treatment were paid for. She was a major drama queen, waving her arms around and saying that the "boy" with the broken leg might also have a brain injury and might die. I recognized her as one of the adults who had crowded the children aside to get to the candy I had given out earlier. It's a different culture.
When the police forged through the crowd and told Don to follow, I went out and took a photo as they left the hospital.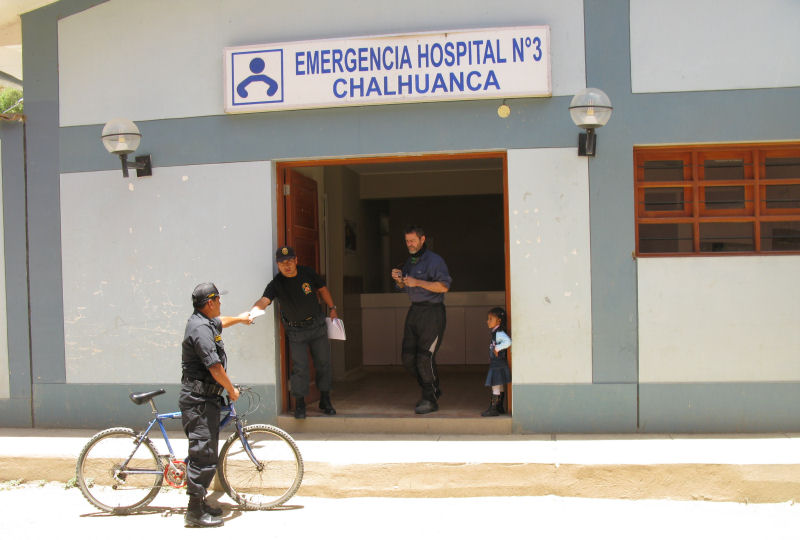 The one policeman handed Don's paperwork and vial of blood to the bicycle officer, then walked back to the police station (only a few blocks) with Don. The crowd from inside the hospital came out here and started gathering more people, curious to see what the noise was about. Rob and S had also come to the hospital, and Rob started to object to the administrative woman's hysterics. I asked him to leave it alone, and we all went back to the police station.
The hospital woman and the crowd followed, and although it never got violent or even very hostile, there was a pressure put on the police to ensure that Don paid for all possible costs to the other guy, who they again insisted was on the verge of death. We were then ushered into the Captain's office, where we got to meet Captain Carlos Bela again.
All the police officers were always polite and friendly, never showing animosity or aggression at all. The only matter left to resolve was our lack of insurance. If we had thought to buy it upon entering Peru, we would soon be on our way, but that failure cost us two days, and eventuually cost Don over $1400. Everyone understood that the bicyclist was at fault, but the medical expenses had to be paid by someone, and with no insurance, the family would never be able to afford the costs. That left Don. Like it or not, that's the way it was. The Captain politely explained that Don's motorcycle would be kept here until the issue of medical expenses were settled somehow. They also suggested that the blood test results might take up to 25 days. Yeah, right. That didn't happen.
We learned from Capt. Bela that the bicyclist's name was Diomedes LLachua, and he was 19 years old. Or maybe 18. They didn't seem sure themselves. In any case, he was no longer a juvenile. We weren't sure if that was a good thing or not, but it probably was.
Capt. Bela was very friendly with us. We learned that he had been in the States for some time, and that he understood English better than he can speak it because he had no opportunity to practice anymore. His father is retired from the Peruvian Navy and now works in the U.S.A. at Fort Knox. His mother works in the cafeteria at West Point.
Capt. Bela made lots of calls, and eventually managed a call to the U.S. Embassy, so Don was able to speak to a woman (who spoke only moderate English). The woman helped translate, and we came to understand that Don needed to pay the initial medical costs at the other hospital, and needed to sign a financial release in settlement with Diomedes' family before the police could release the motorcycle. More phone calls. I got the impression that they don't deal with this much, so they had no experience to go from.
Adding to this frustration was that they made Don use his own cell phone for a lot of the calls that were made, and that ate up all the minutes on Don's phone. They used mine for the last calls. The Captain allowed some calls to be returned to his desk phone, so that was decent of him.
We learned that the police report of the accident was a brief statement by one of the officers at the scene. The statement simply said that a motorcycle and a bicycle had crashed. No witnesses were listed. No fault was assigned (in the written report). We asked about the bus driver that I had watched give his ID to the officer on the scene, but they didn't know who he was anymore. I don't believe there was any intentional misbehavior to their actions, I just believe that police work here is not much to be proud of. If the witnesses had told the first officers that he accident had been Don's fault, that would have become the official determination. There was no actual investigation. They never examined the crash scene--not even as cursorily as I had done when taking photos.
They were all very polite and in nice, clean uniforms, but that was about it.
If something like this happens to you, take photos, take notes, get the names of witnesses. Your investigation will be all there is.
And do buy the insurance. This crash could have happened to anyone, and nothing could have been done to avoid it.
Anyway, they made lots of copies of Don's documents, gave him back his passport (but kept his license, bike title, bike registration), and let him go. They typed up a bunch of forms that were intended to serve as the settlement agreement between Don and Diomedes, and said that another police officer would go with us to Abancay. There, the plan was to find a notary public and have a settlement between Diomedes' family and Don hashed out. That was the plan, anyway.
We said our good-byes and good-lucks with Rob and S, and they continued on their ride. There was nothing else they could do, and Don was feeling bad about delaying them. We appreciated their willingness to stay and help.
I registered and paid for another night in the hotel room, and I hauled our luggage back up there. I then rode our bikes to the rear courtyard of the police station where they directed me to park Don's bike. Might as well keep them together. We expected to be back here in five or six hours and back on the road.
You already know that didn't happen... right?
We went with the policeman (who had changed into slacks and a tee shirt) in a taxi to Abancay, almost a two-hour ride. The taxi ride cost us S/70 ($23), which was a decent deal considering that it was such a long ride. Another passenger--a woman with her four-year-old daughter in her lap--rode in the back with Don and I, and the policeman slept in the front seat. He snored. (I asked his name, but I couldn't understand it and soon forgot it. He was some rank above a sergeant, but we didn't pry too much. We think he said he was a Technician, but what that meant in Peru, we don't know. He spoke no English.) Don and the woman had a very friendly chat. The taxi driver played a music CD by Olivia Newton John all the way to Abancay.
Abancay was certainly a larger city than Chalhuanca. Most of the businesses seemed closed, though, and there weren't as many taxis as we had gotten used to seeing. We walked around while the policeman checked a few places he seemed to know well. He also seemed to know a lot of people he met on the streets. No notaries could be found working, and it was getting late. He took us to the hospital to see Diomedes, and we met his mother there again.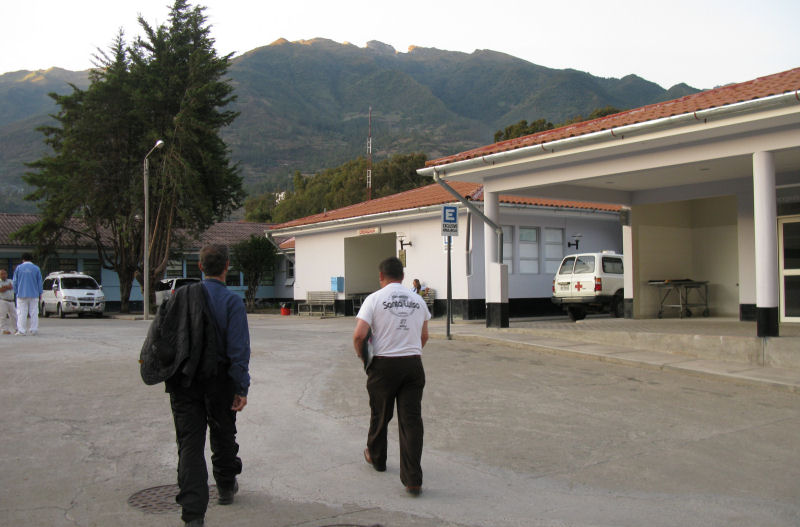 We also met her brother, Diomedes' uncle, who became the primary negotiator in the matter. He was dressed very sharply and seemed to be from Abancay. His sister was a peasant woman, but he seemed to be doing quite well.
The policeman explained to the uncle that the accident had been Diomedes' fault, then he talked for quite a while with the hospital staff and the doctor. The initial estimate for Diomedes' treatment was S/2000, and maybe more. The policeman pressed Don to get a more comprehensive medical exam as well, but Don declined.
There was an agreement to meet back at the hospital at 20:00 for the final meeting, and then go to a notary in the morning. We pretty much had to spend the night here.
Today was a very warm, sunny day. It would have been a good day to ride.
Back at the hospital (we had a hard time finding a taxi), we sat and waited with Diomedes' mother and uncle. I offered her the bottle of water that I was carrying, and she took it but never drank from it. When Don tried to talk with her, she started a very dramatic, fake show of crying and being pathetic. I had to get up and walk away to keep from snapping at her.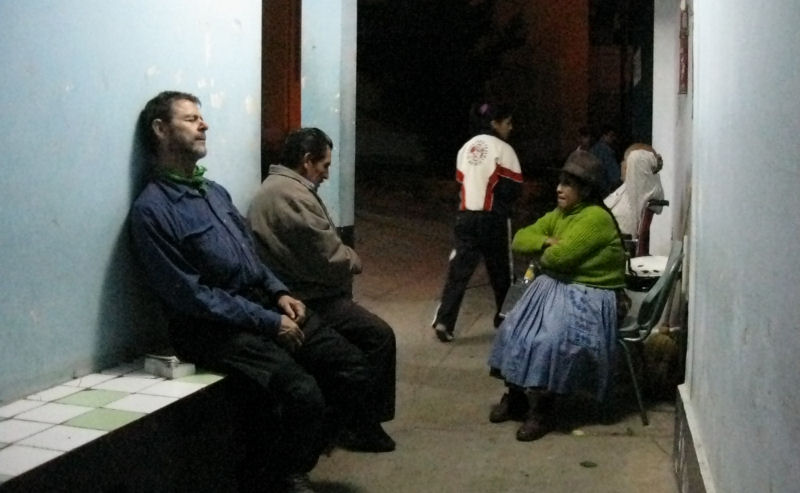 When the policeman joined us again, we waited some more. That is Diomedes' mother and uncle with their backs to the camera. The Technician is talking with Don. (The other guy in the wheelchair seemed to be a watchman at the gate to the hospital, and everyone greeted him with respect.)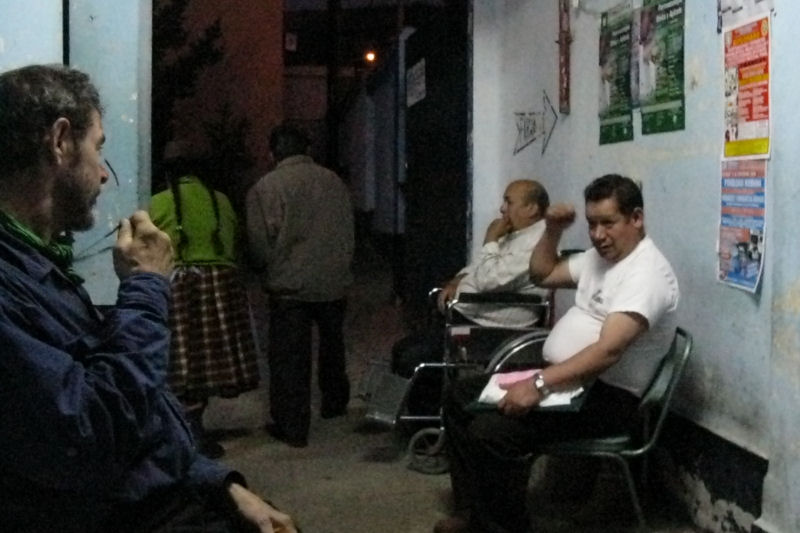 We were possibly waiting for the doctor who treated Diomedes, or maybe someone who could give us a firm estimate on the cost of his full treatment. In any case, we eventually called it a night and agreed to meet here again tomorrow at 08:00. The policeman took us to a moderate hotel and we ate in the hotel restaurant. The policeman ate with us, and was happy to be our guest. I've known people like him; happy to join you for a meal as long as you were paying. Fortunately, the meal was cheap. He then walked with Don to find a pharmacy, since Don needed a cough suppressant. He was very helpful finding what Don needed. I walked around Abancay and had a very nice apple tart at a bakery.
I thought that maybe he was expecting us to get him a room for the night. But no, he said goodnight to us and clearly stated that he would be there to meet us in the morning at 07:50. That didn't happen. You see a pattern here, right?
Thursday, 4 December, 2008
------------------------------
We got up early and had breakfast. Don managed scrambled eggs, but just barely. Then we waited for the Technician to come fetch us as he had promised. He never showed up.
By 08:30, we were looking for a taxi, but none could be found. We saw patrols of police, and they seemed to be in larger groups than usual.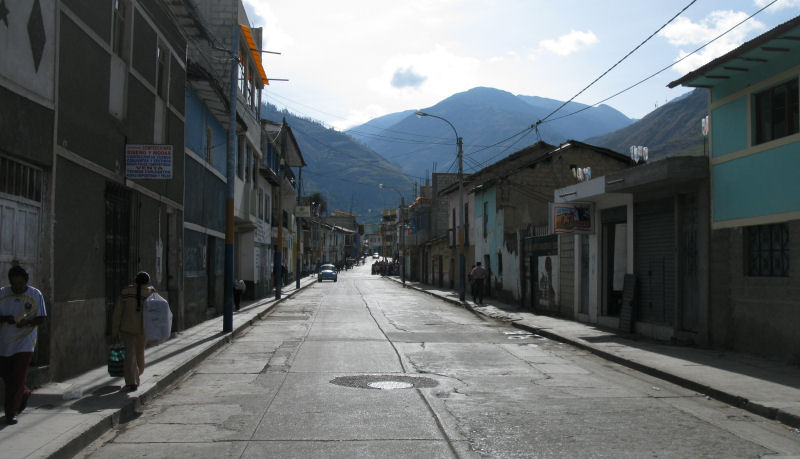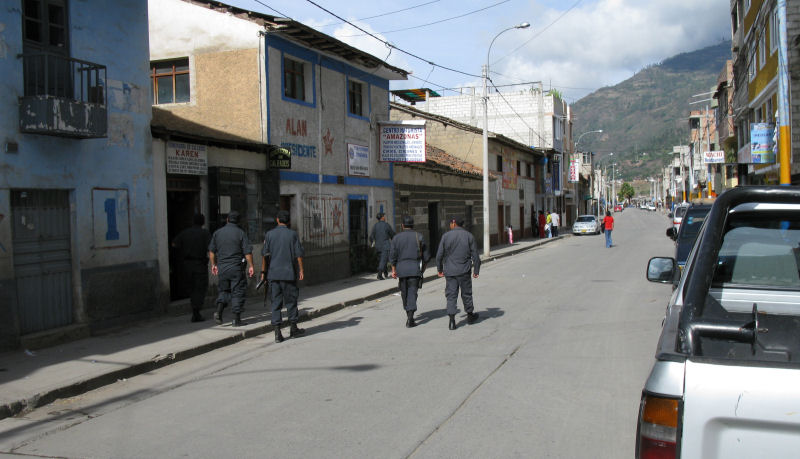 The hotel manger told us that there was a problem with the taxis, and we later found that yesterday and today were the days chosen by the taxi drivers to have a strike. That was also why so many businesses were closed. The hotel manager found someone on the street to show us the way to the hospital, and we walked. When we got the the hospital, the Technician was waiting at a bus stop with Diomedes' mother and uncle. The guy in the blue and white striped shirt is the man who guided us to the hospital. Don tipped him.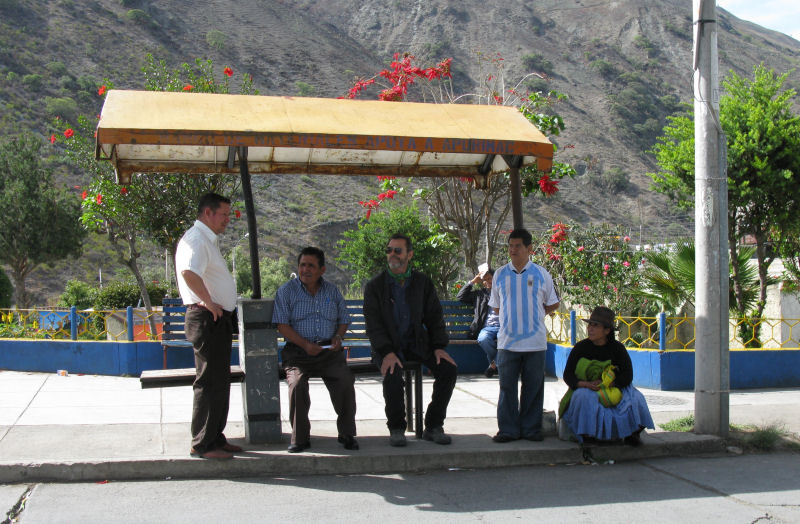 We were waiting for something again, but who knows what. The Technician managed to find a taxi and we all crowded into it. We went to a school that teaches English, but no one answered our knock. Another taxi to find a notary, but no luck. We walked to a busy street where the Technician walked and talked to a lot of people. We found that he used to work in Abancay, so he knew everyone. (He found a change of clothes here, too, and said that he stayed in one of the police stations.)
The uncle made calls at a payphone while the Technician kept looking for someone to translate to English for us. No luck.
Eventually, we returned to the English school, and met a woman who did some initial translation for Don. The uncle had a handwritten list of medical costs that came to S/2300. When Don agreed to pay that, the uncle added another S/600 for something that he just remembered. That total of S/2900 ($966) became the final cost that they focused on.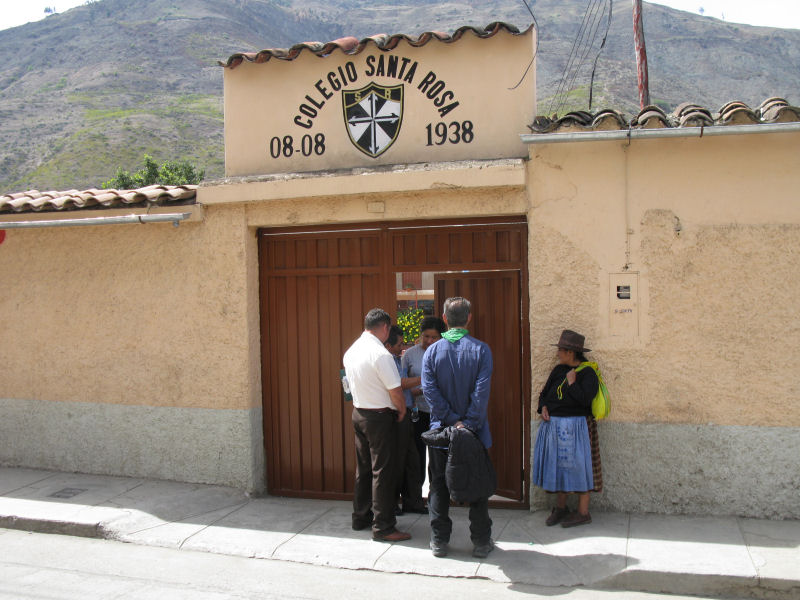 The woman who did the translating agreed to go back to the hospital with us, and told Don that he could pay her whatever he thought was fair. They took another rare taxi to the hospital, but I walked back, stopping at a bank to change some Dollars to Soles. When I got to the hospital, everyone wanting to get to the emergency department was waiting outside the gates.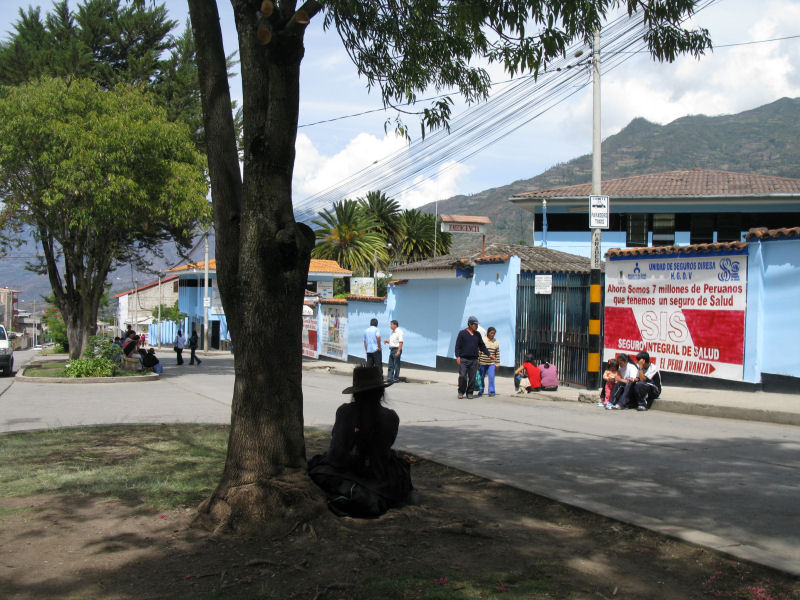 Don walked over to a group of police who were at a bus bench and got one of them to show him the baton that they carried. It was a hard rubber club.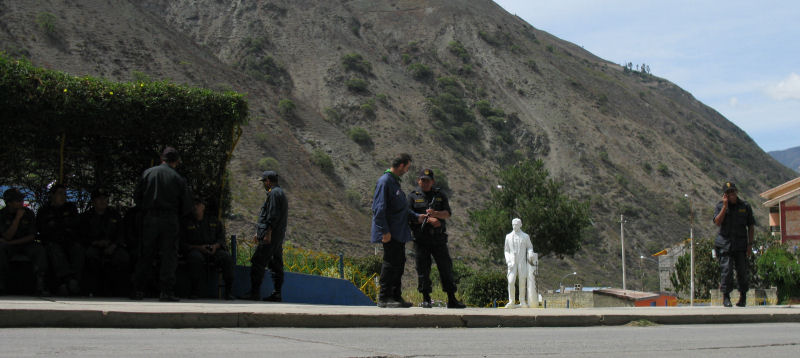 The Technician said that we could meet here again in an hour, so everyone went their separate ways for a while. When we were back together, an agreement was made to settle for the S/2900 and not wait to see the doctor for a more detailed cost breakdown. We hailed some guy in a station wagon to take us back to another notary office that they had found. We crowded into the notary's office and dictated the terms of the settlement, then agreed to return in an hour to sign the forms.
While we waited and walked around, we saw a protest march go past. Police escorted the march back and forth across the city. Shops closed their doors as the march went past and re-opened after it had gone past. It was all due to dissatisfaction with the President's handling of the economy. The protest march was quite large and it ended in the El Centro plaza where speeches were being made.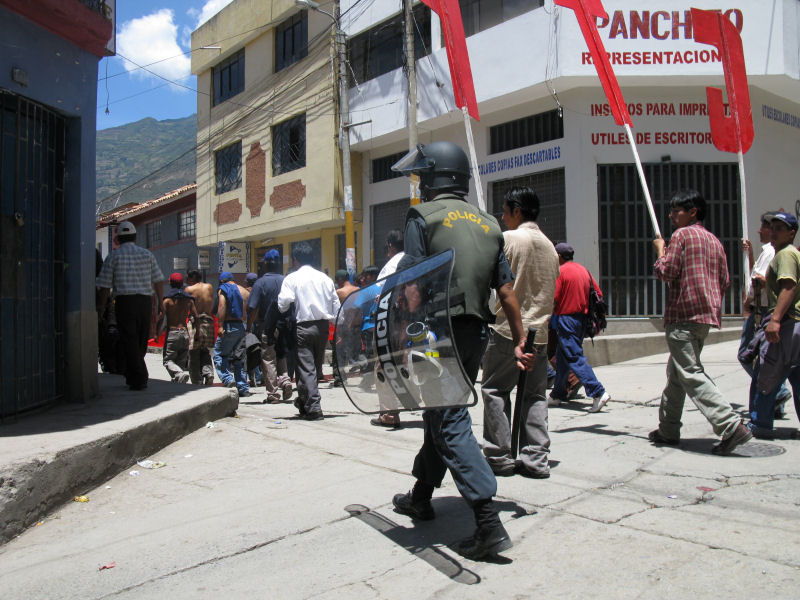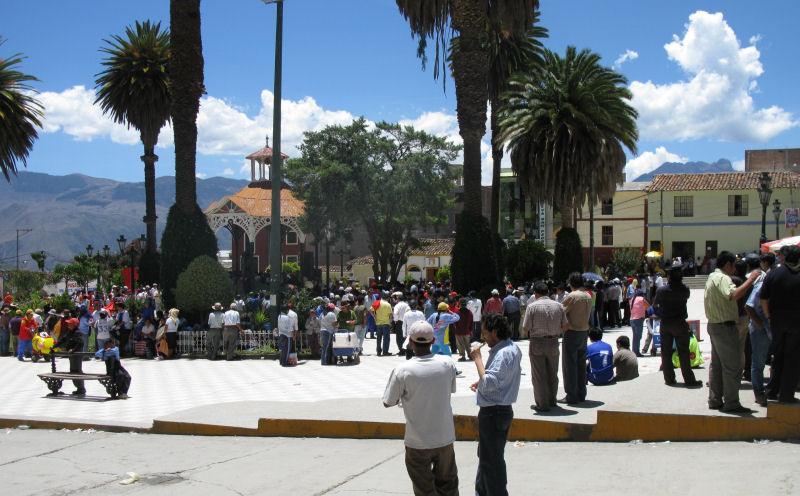 Don was in a lot of pain walking around. I went off and found some semi-cold drinks for us, and Don found an open shop that was able to recharge his cell phone SIM card. We were back at the notary's office at the appointed hour, but we were the only ones. Eventually everyone returned and broke into two groups to read the settlement forms. The forms said nothing about the accident being Diomedes' fault, and stated that Don would also be responsible for related future costs. There was no more room for negotiation, so that was that. Don paid the S/2900 to the uncle, paid S/200 to the notary, and the police Technician seemed satisfied that all was well. He gave Don back his license, title, and registration.
Don paid the translator for her time. She was very helpful.
I thought we were then ready to get back to Chalhuanca, but the Technician wanted to get something to eat first. We had a light lunch (at our expense) and the Technician said he had a few final duties to attend to. He made a point of showing me the vial of Don's blood, but I don't know what he was saying about it. I'm sure that without refrigeration it was worthless as evidence, but I don't think they ever cared about the blood sample in the first place.
We went with the Technician to a police station where he apparently did some official duties and had the local commander sign his papers. We hung out there for a while. The police at the station seemed a bit edgy, and like every police station we have seen there were several heavily armed police officers standing outside. They weren't very careful with handling their weapons, though, and I had an AK47 pointed casually at me a few times. Muzzle discipline was not something that they were aware of.
The Technician then led us to a garage where a couple of taxis were waiting. We found the same taxi driver who had driven us yesterday (coincidence?) and agreed to pay S/60 for the ride back. We packed into the cab and thought we were on our way. We were wrong. First, the Technician had a bunch of errands to manage.
He had the taxi first take us to a smaller police station where he disappeared for quite a while. Maybe this is where he slept last night. He finally came back out and said that he had turned in the blood sample for testing. Yeah, right.
The taxi driver was then directed to the "Snack Bar Neptuno," where the Technician went inside and came back out (several minutes later) with a small table that he loaded into the back of the taxi. What the heck? Was he shopping? He was certainly using our taxi to take stuff back to Chalhuanca with him. Off we went, to yet another business where we waited and waited. He came out with long pieces of angle iron. I snapped a photo of him on a second trip.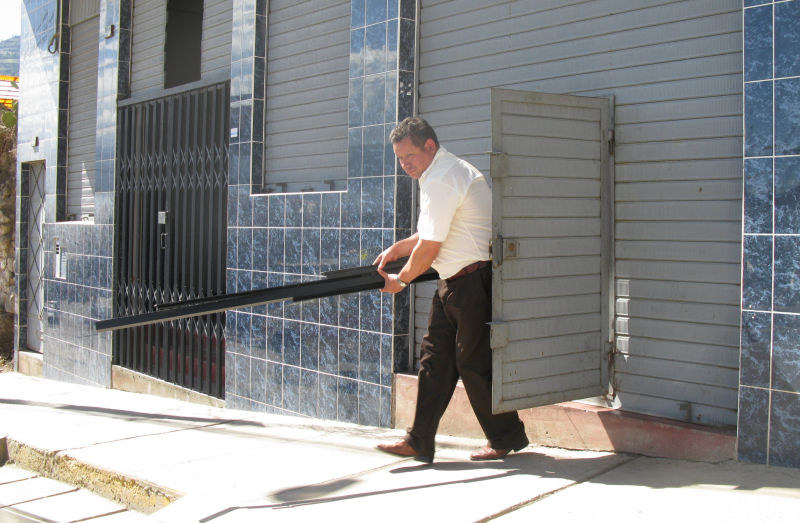 The angle iron and the small table got strapped to the top of the taxi, and two guys carried out several sheets of glass that were carefully loaded into the back of the taxi (which was a small station wagon). Maybe all these pieces make a display case or shelving unit. What surprised me the most was when the two other guys then got into the taxi with us. One guy got into the back seat with Don and I, and the other squeezed into the back of the station wagon, careful not to sit on the glass. About forty-five minutes after we had started in the taxi, we were finally on the road back to Chalhuanca. The music was Latin pop this time, so Olivia Newton John got a rest.
The taxi dropped us off first at the police station where we waited and waited for the next thing to happen. I went across the street to check our unused hotel room and found that all our gear was still there. We were already past the checkout time for last night (even though we hadn't stayed there last night), and I had been a bit concerned. The hotel guy was unbothered, though, so we were good. I told him that we were staying another night, and he said okay. Back to the police station. Where we waited some more.
An elderly man with blood all over him came into the station and was taken from one room to another by various officers while a woman (probably his wife) followed. One of the police officers told us that he was an assault victim. Then they left the station with him. That was the closest thing to actual police work that we witnessed in Peru.
Eventually the Technician returned and we were cleared to get Don's bike and leave. But first, they needed more copies of Don's documents. This was really getting to be too much. They had already made copies yesterday, and I again had the impression that they didn't know what they needed or didn't need, so they were going overboard on everything. With the copies delivered, we went out back and got the bikes ready to ride. I straightened Don's faring a bit more, and he did what he could with duct tape to repair the damaged soft bags. That's their 2-cell jail there in the background. One of the cells is full of tires and trash. The laundry is the Captain's, since it appears that he lives here with his wife (one of the police officers) and small son.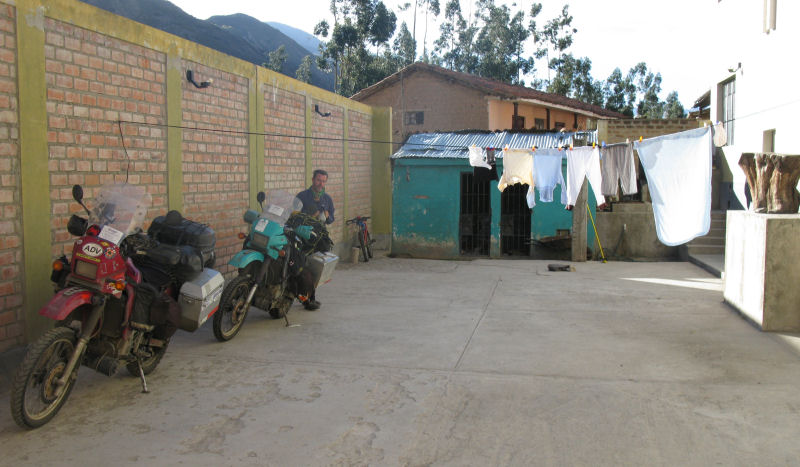 Then we waited some more. This time, the hold up was the Captain's car, which blocked the driveway.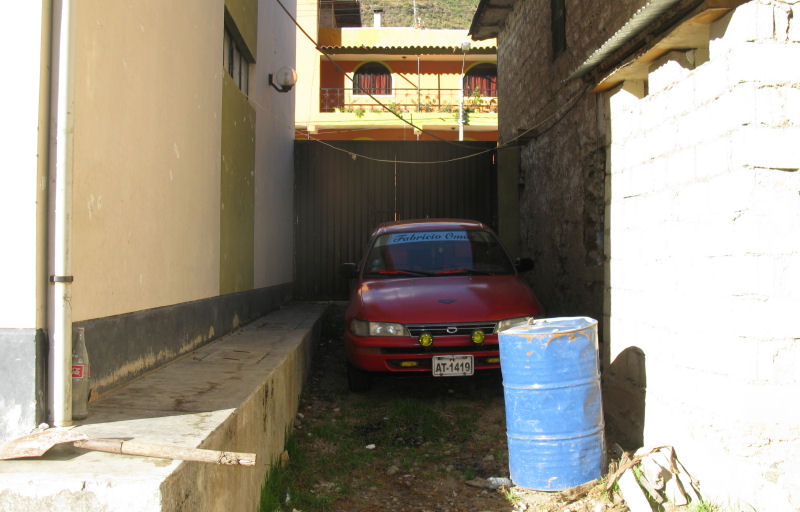 When the Captain was finally located, he moved the car and I rode my bike out and across the street to the hotel. Don wasn't ready to ride over the bumps yet, so I rode his bike out, too. He was free!
We parked them again in the back lot of the hotel and spent some more time getting the damaged bike in riding condition while there was light. Honestly, I'm surprised there was as little damage as there was. Both aluminum boxes had some sliding damage to them, but the left side of the bike had the most damage. One corner of the left box was almost completely ground through, and the left soft bag had been torn open. The faring was bent and scraped badly, and the windshield was broken all the way across the lower section. What was holding the windshield onto the bike was the sheet of Lexan that we had heated and bent into shape as reinforcement at the start of the trip. It still seemed quite solid, so we left it alone. That is tough stuff. I think we'll just make windshields out of Lexan in the future. Plexiglas is too brittle. (Yes, I know about the various characteristics of the plastics, so please don't email me about it. Thank you.)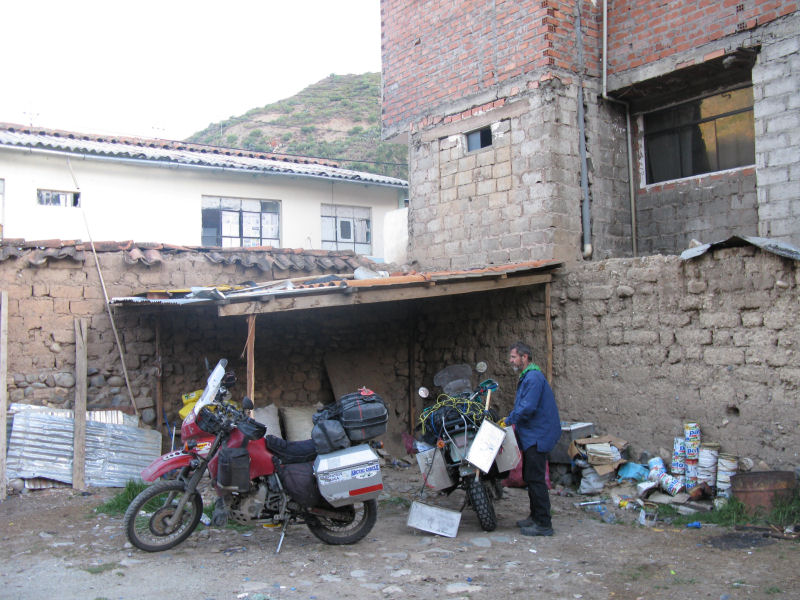 Done with the bike for tonight, we staggered to a restaurant and sat to relax a bit. Soon after we ordered our food, in came the Technician with another uniformed officer. Oh, crap! I thought, and I got ready for the next zinger. But, as it turned out, they just needed Don to sign documents stating that they had returned all of his documents to him. Then they brought out an ink pad and had him leave a fingerprint over his signatures. Geez... I suppose that having a document assuring everyone that they gave him stuff back was pretty important. Don got one copy of the document after the uniformed officer went across to the police station to have them stamped.
The Technician assured us that it was done, and there was nothing more. He wished us a happy trip. We wished to never see him again.
We clambered back up to our room where Don zonked out and I wrote until about 21:00. We would get out of here tomorrow, and that is something that actually happened as planned.
Friday, 5 December, 2008
---------------------------
We got up early, eager to done with Chalhuanca. Don couldn't chew anything, so scrambled eggs, juice, and tea were it. His lingering cough from the cold he had in Quito was causing him very painful spasms.
Everyone in town stares at Don, since they know he was the one in the accident. Mostly just curiosity.
When we rode the bikes out of the lot, we encountered the Technician again, so our wish to not see him again went unfulfilled. He was in uniform and waved hello to us. We waved back but didn't talk with him. We loaded up and rode away.
We didn't pause where Don had the crash; we just cruised on. It was a nice, sunny day again, so that was nice. Don set a conservative pace. We had twice seen the first two hours' worth of road to Abancay, so we knew where to expect some sharp turns, dangerous bridges, and bumpy areas. Looked just like Colorado to me.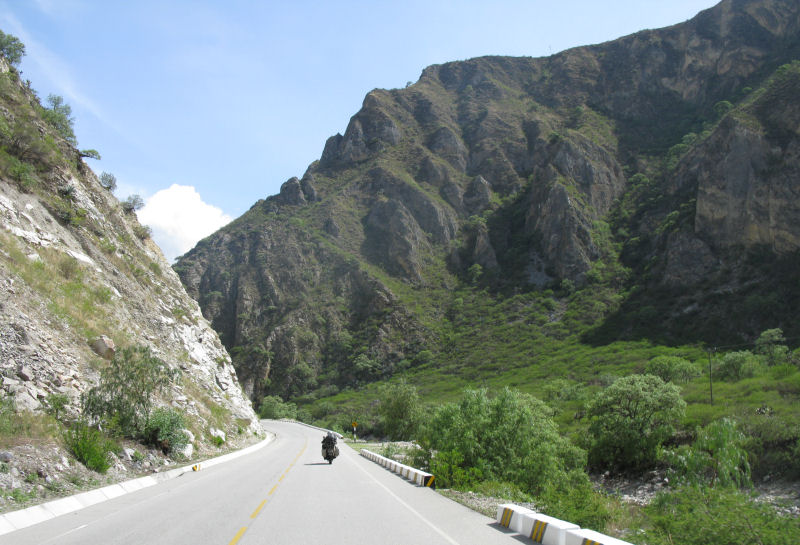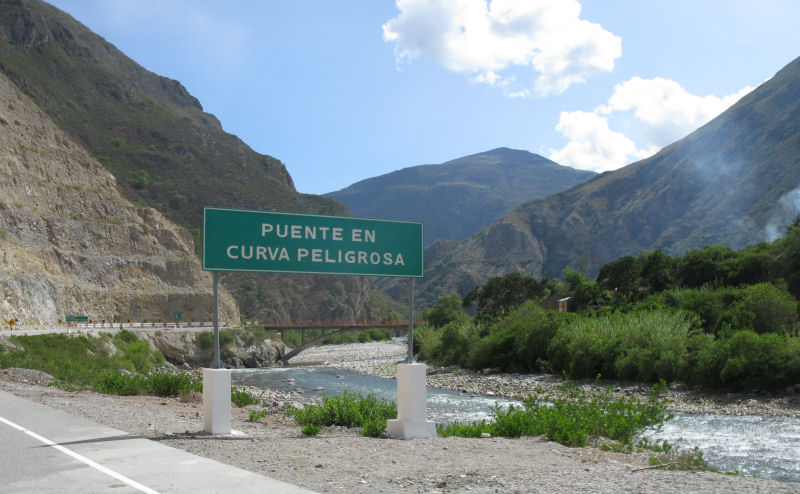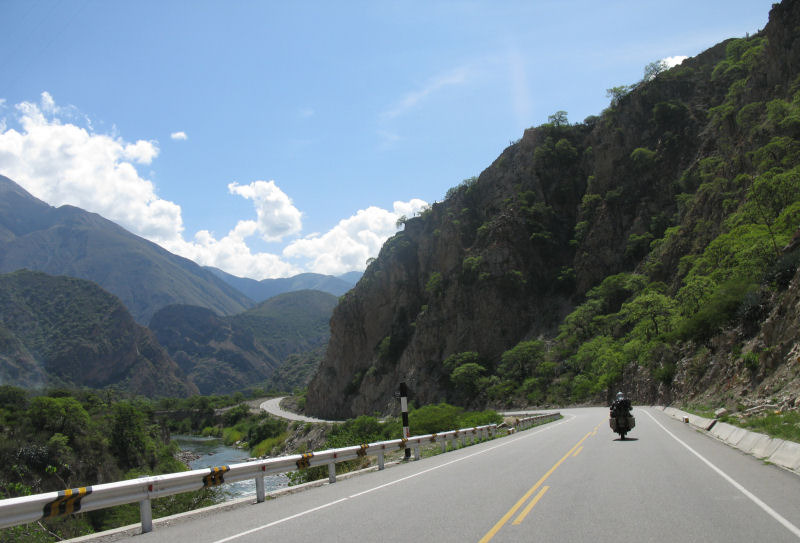 We didn't stop in Abancay, either, but went through and up the mountains beyond.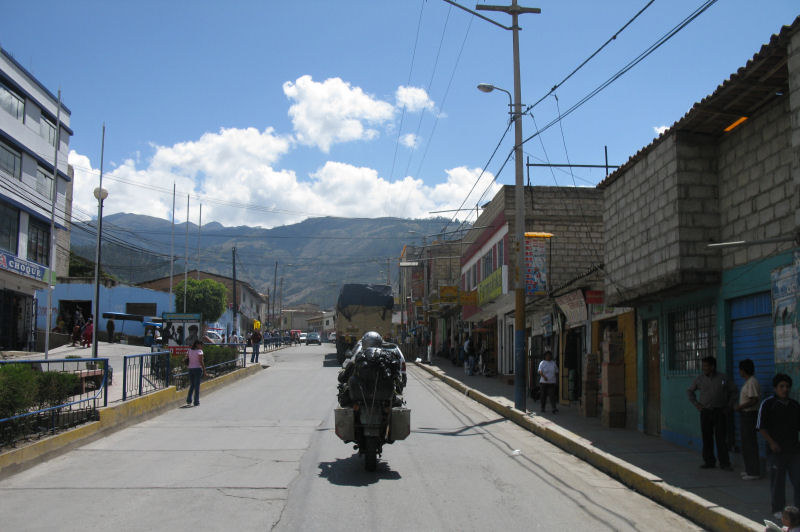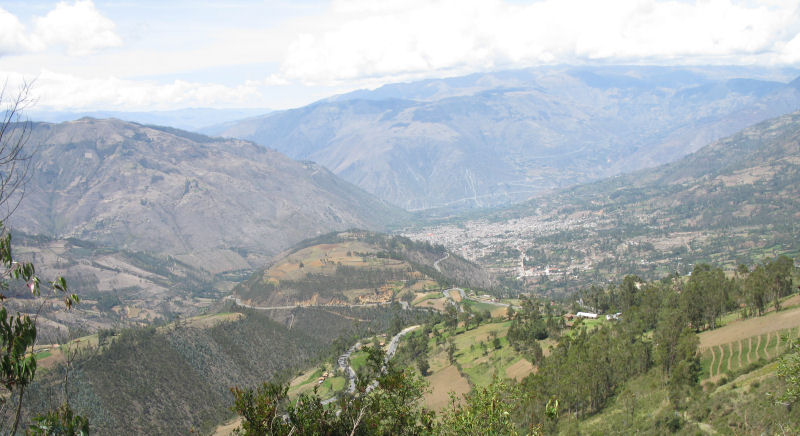 On one of the sharp turns rising up from Abancay, there was water running across the curve. It looked like a permanent drainage area. When I went through the curve, my back tire slid sideways and I almost went down. There appears to be moss or some other slime on the road here, since it was always wet.
Lots more animals on the road. I had to stop briefly to let a small flock of sheep cross the road, then I had to wait for the long ropes they were dragging to get pulled clear. We crested the mountains here at 4012 meters (13,159 feet) and it was quite a bit cooler. Then a long, steady descent into a large farming valley. I saw horses on the road that had been hobbled (both front hooves tied together). It was strange to see them hop and skip to move forward. I suppose there was a reason for it, but I saw no one tending to them.
A work crew was cleaning out potholes and packing them with new dirt. A temporary solution that would have to be done over and over. We hit a section of unpaved road that was very rough. It looked like it had never been paved. Must be unstable ground or something in that area. The quality of the towns and villages was definitely improved over what we had seen before. There were very few ruins, and nothing that was unfinished construction. Almost everything had red clay tile roofs.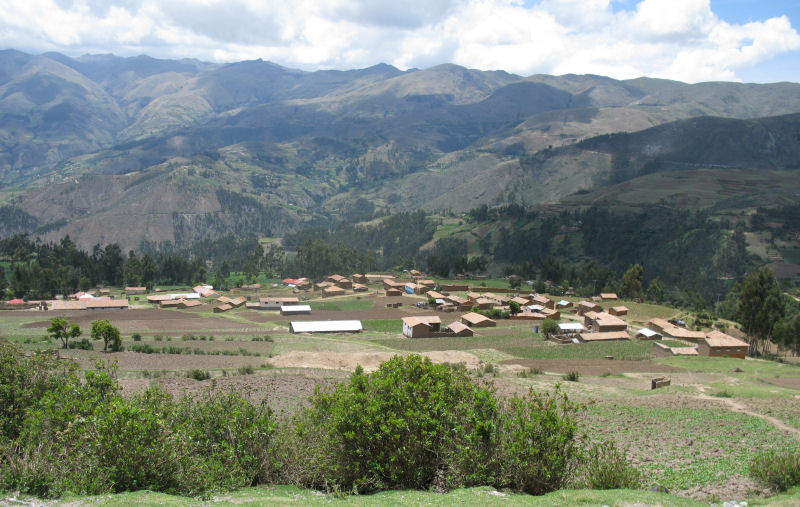 The soil was very red everywhere, so the tile was explained. Even a river was red.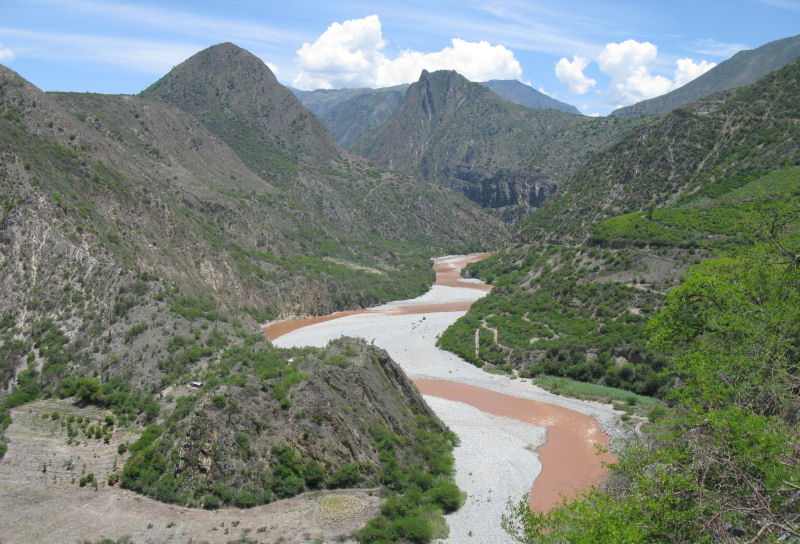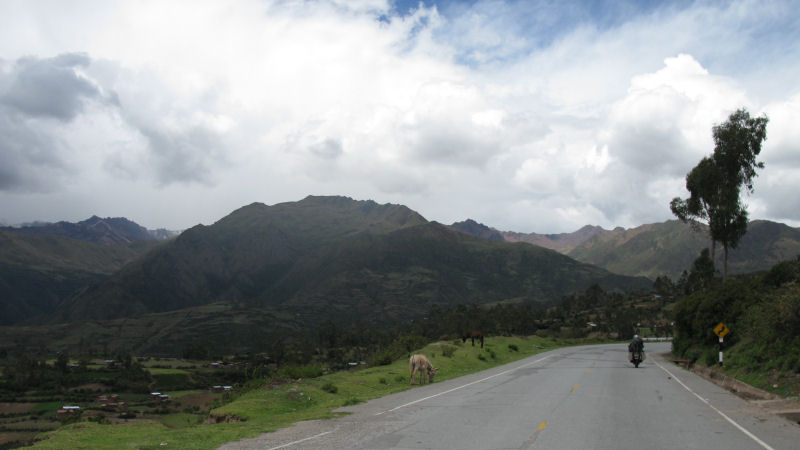 In one town, there appeared to be a stock show or some other fair involving cattle.
It took us three hours to get to Cusco from Abancay, so that was better than we had expected. Cusco is an old city, the ancient center of the Incan Empire. It was bigger and more modern that I expected.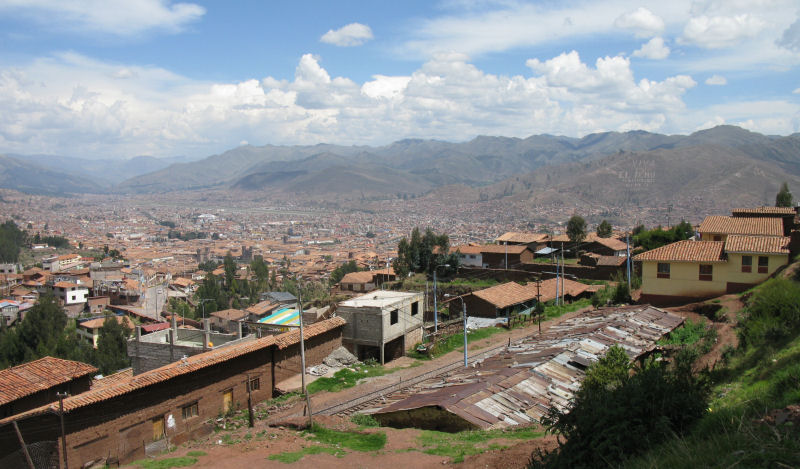 In the foreground of the above photo, you can see the rail tracks for the train that goes to Machupicchu. We'd do that tomorrow. Right now, we used our instinct more than our GPS and found El Centro. Cusco has a lot of plazas, and we eventually found one with a descent hotel just up the street. This had been our habit--to find the center of town and go from there. When riding, it was easy to miss seeing things in the cities, and we later found that we had ridden past several hostals and hotels that had not been obvious. A suggestion to the future traveler would be to park the bikes at a plaza and walk around.
The hotel was a nice one, better in some ways than we had used before. But it was a luxury of a sort, so the extra expense was worth it. We had to ride the bikes over a tall curb and a step (coming off a steep, narrow, busy, one-way cobblestone street) and through some glass doors, so it could be tricky.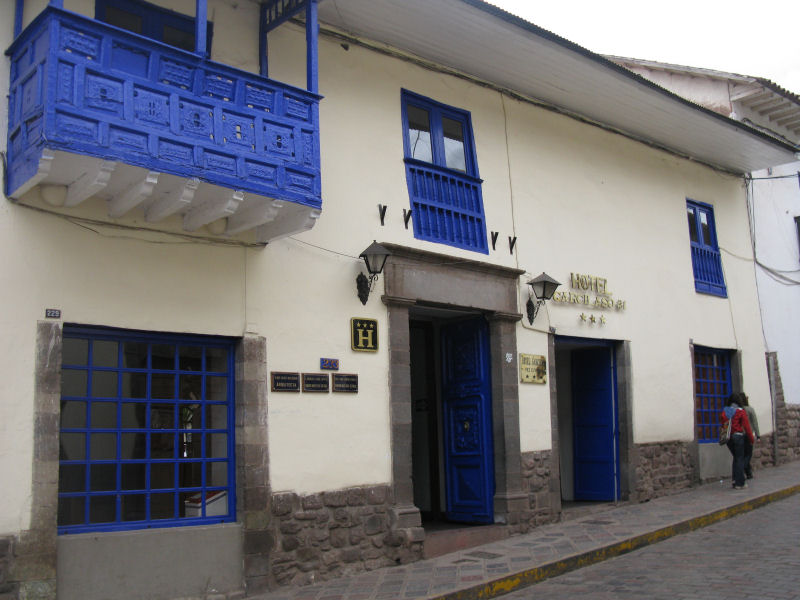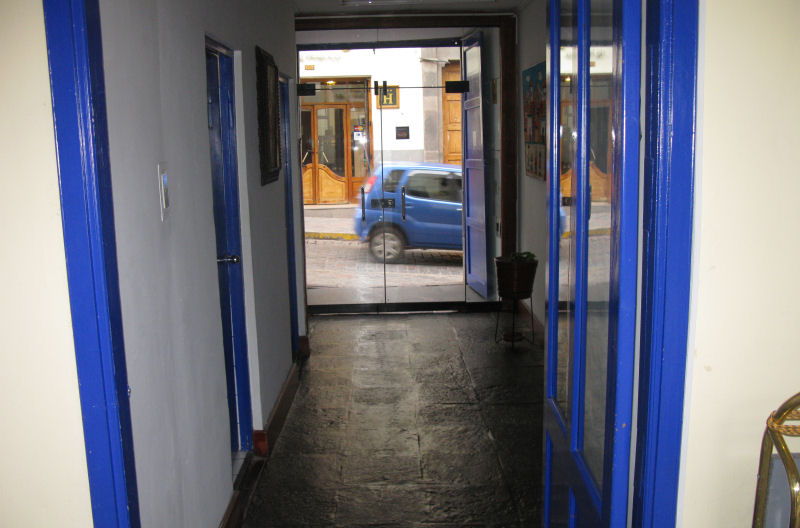 I took my bike first, then rode Don's bike. The bump going over the tall curb would be hard on him, and any balance problems would be difficult for him to manage. Once the bikes were settled into the inner courtyard, we chilled out for a while. We needed a nap. Our room was right above the bikes. In the courtyard was a service table for the guests to help themselves to coca tea. Coca leaves in the glass bowl, coca tea bags there, too. It was to help deal with the altitude, of course.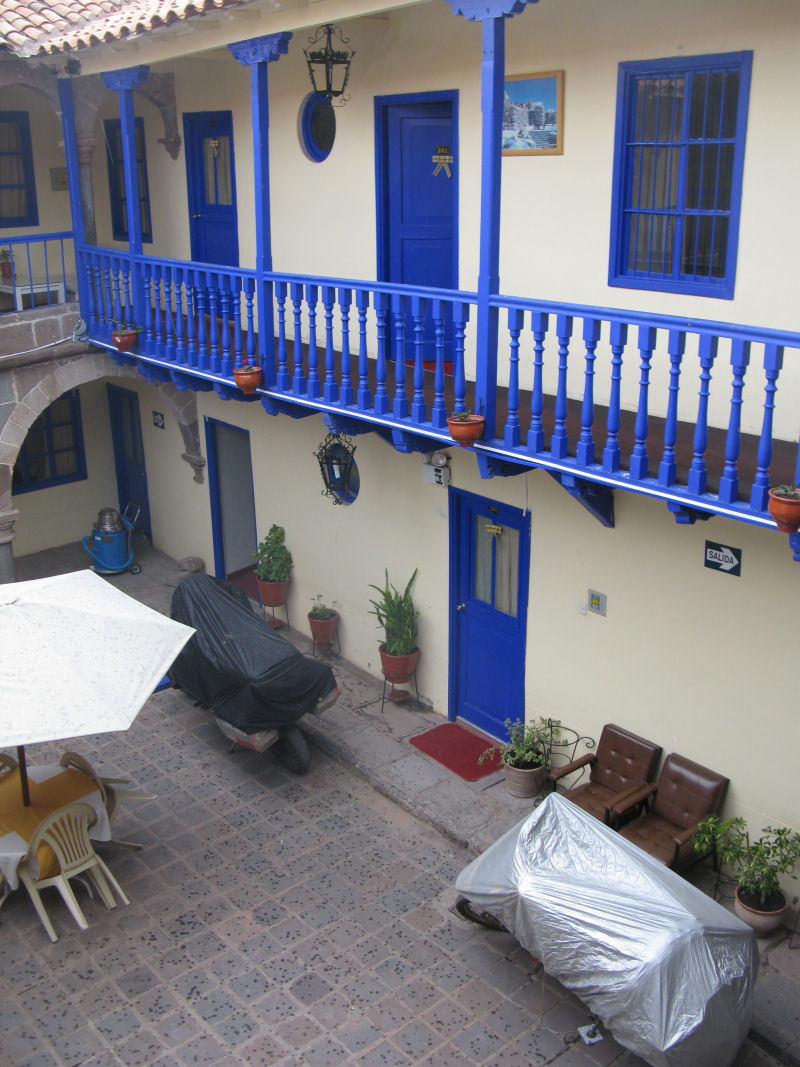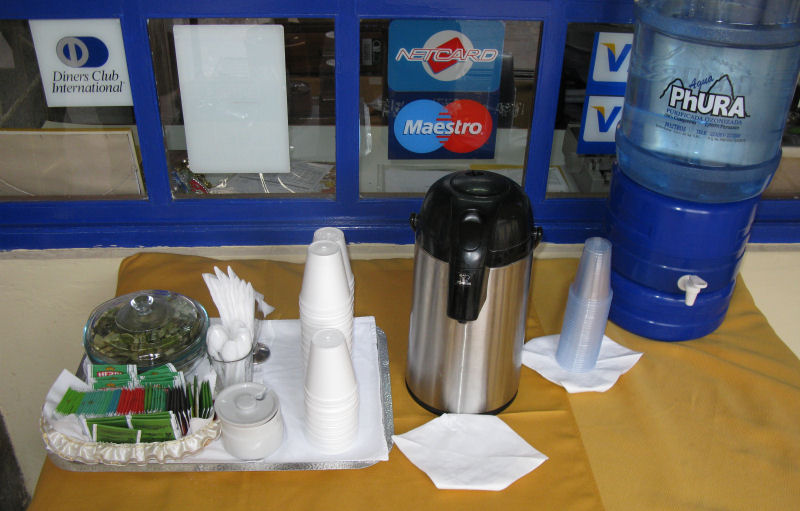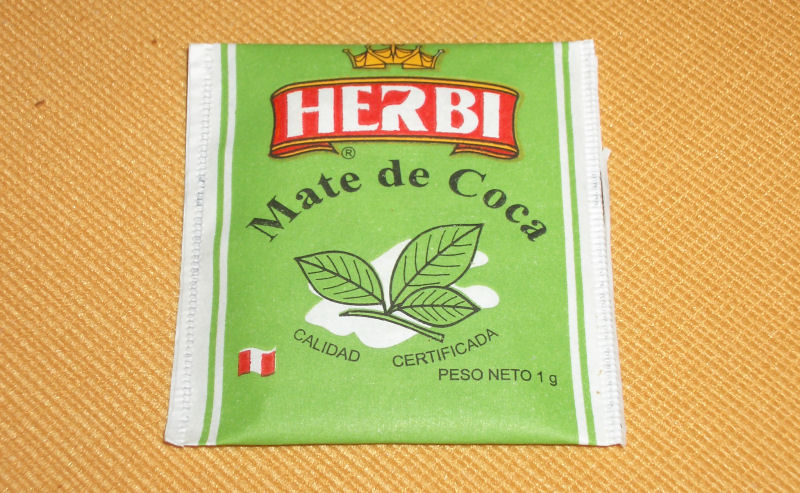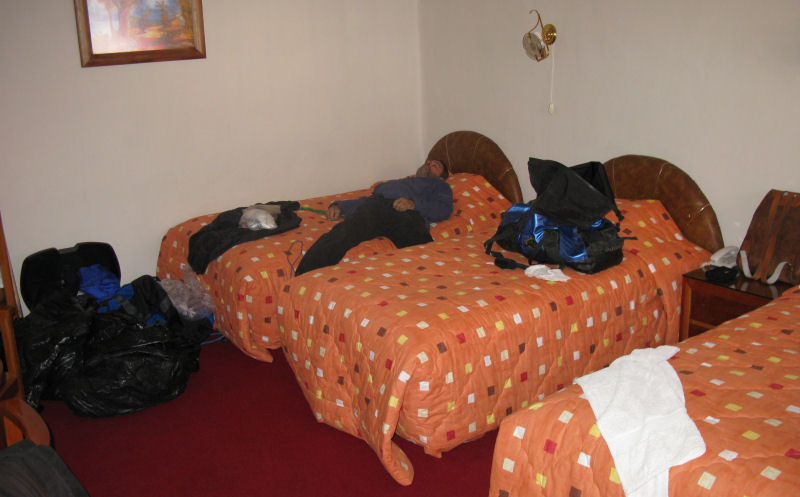 After a nap, we took a taxi (they were cheap) to buy train tickets to see Machupicchu tomorrow. The hotel staff (all spoke decent English) had told us that you had to get tickets a day in advance or first thing in the morning for space available. The taxi dropped us off at the ticket office, which I thought was a train station. It wasn't. There are only a couple places to buy the train tickets (if you aren't using a travel agent or tour organizer), so there are signs warning tourists not to buy tickets from other sources. Either here in Cusco or at the San Pedro station for getting the tickets on your own.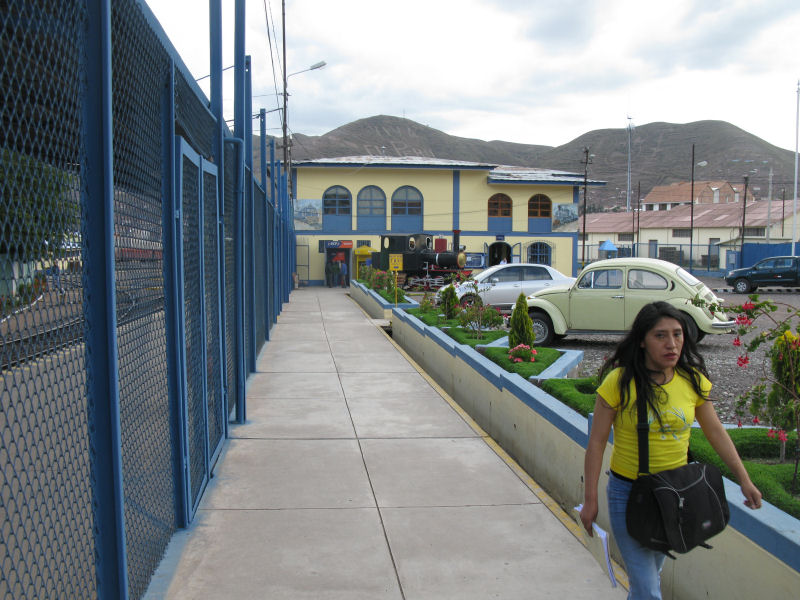 We also talked to a tour operator across the street just to get an idea of the prices and package deals. If you have a group and want a tour guide in your language, go to one of these offices.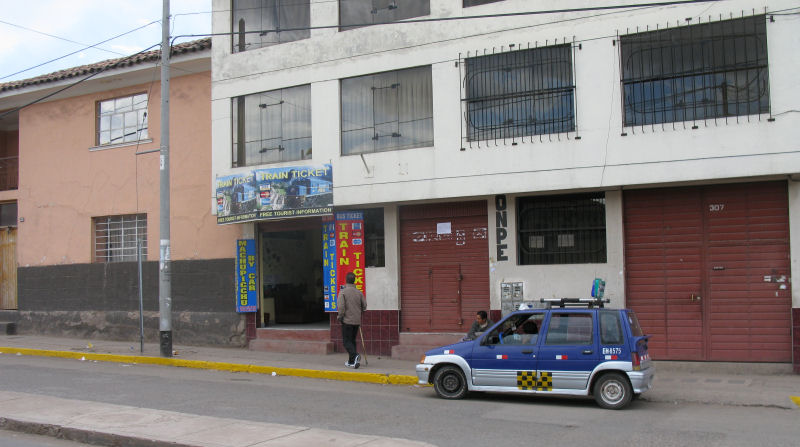 In the ticket office, we saw an area where you can buy your tickets online, and there was an attendant to help. She got us into the program and let us choose what tickets we wanted. The more expensive tickets get you a better seat and probably a better view from the train. We chose the backpacker tickets, which were a lot cheaper. We got round-trip tickets for tomorrow, and Don paid with his Visa card online. The attendant printed our tickets, complete with seating assignments, and explained everything we needed to know. Easy as pie.
Don felt up to walking, so we skipped the taxi back to the hotel. That got us onto the Av. del Sol, and right past one of the most famous old Inca walls in Cusco. The darker stone wall is very old, and the Spaniards built again on the older ruins. The museum (museo) is underground, under this grassy lawn.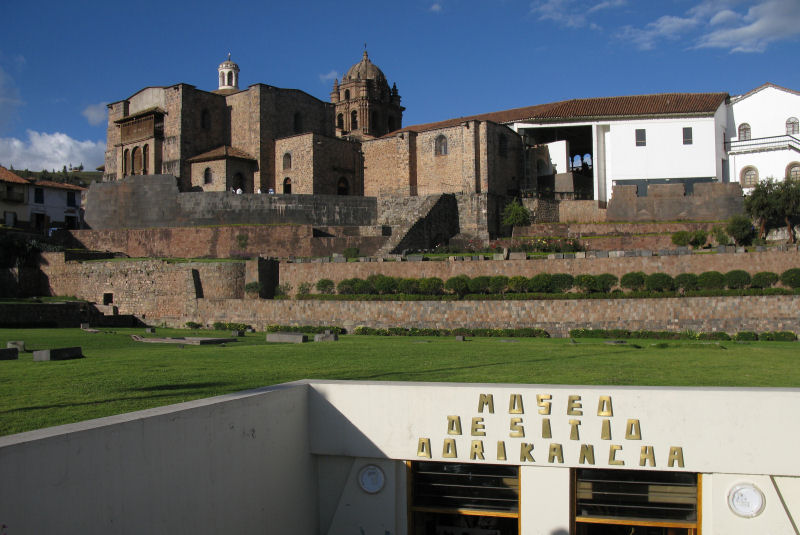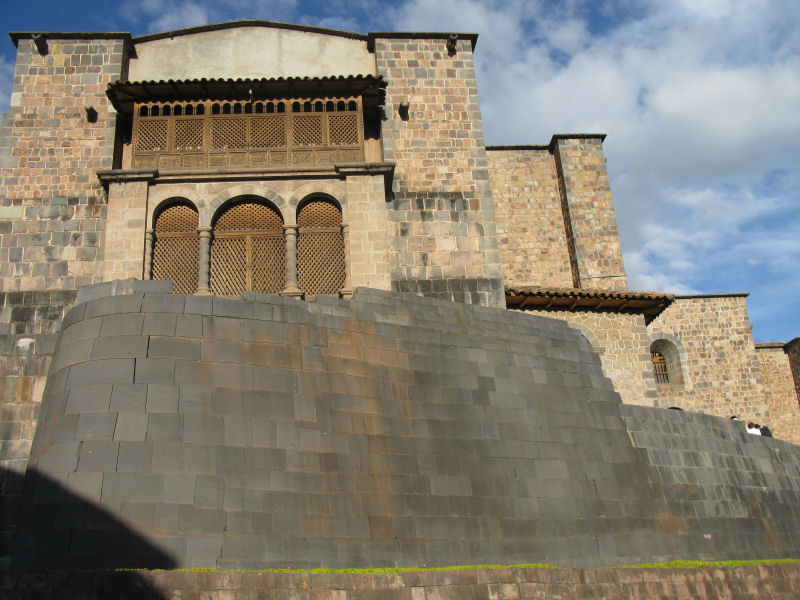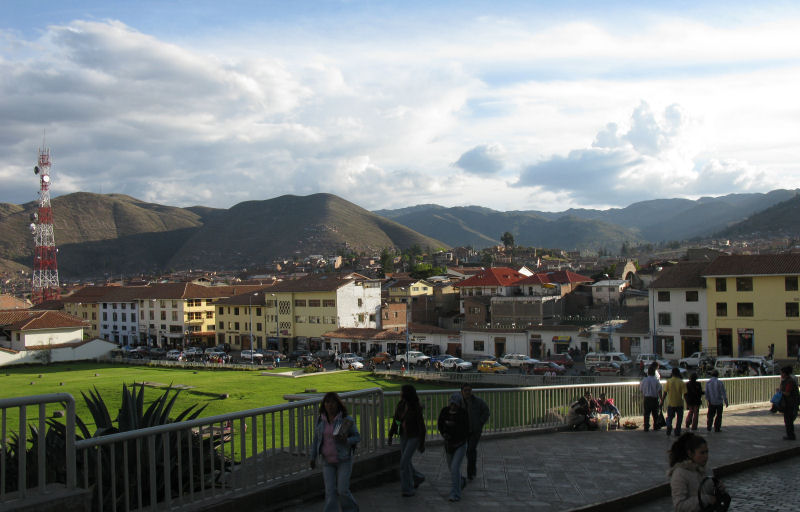 The walk also led us past the Palace of Justice...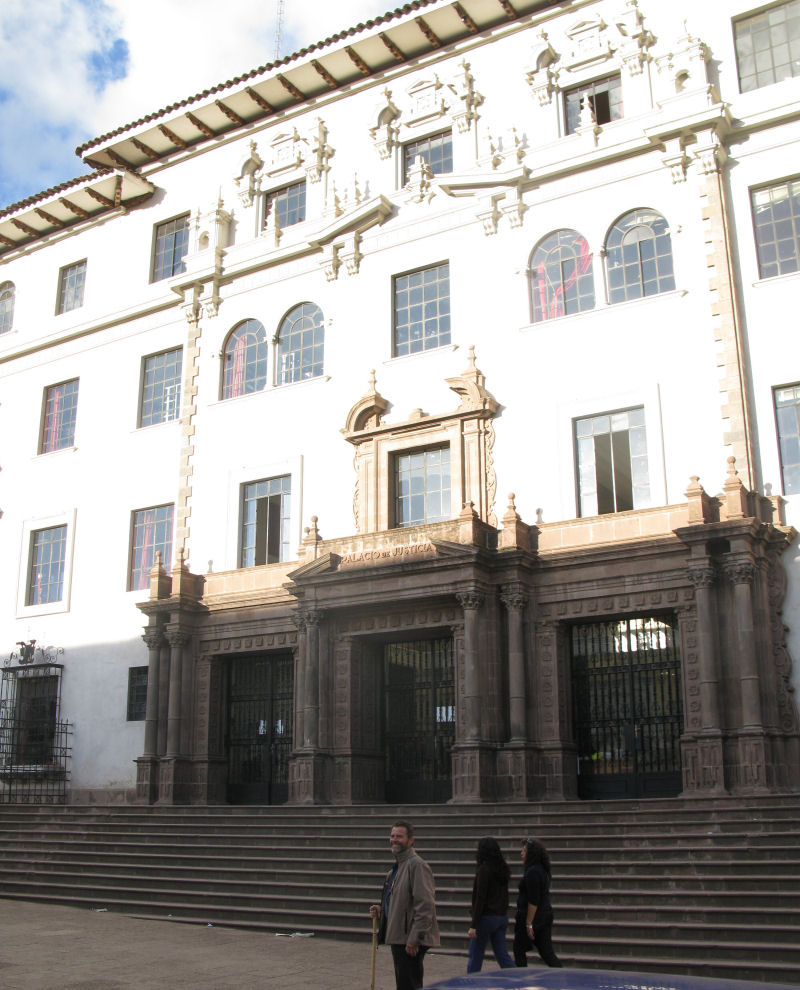 ... some banks that had big crowds at the doors...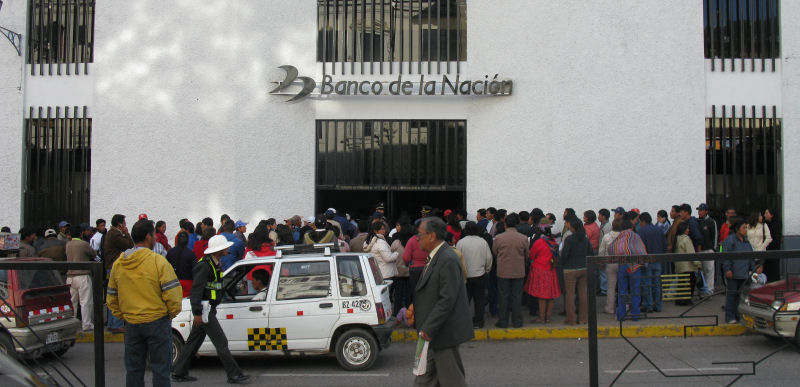 ...and eventually to the Plaza de Armas.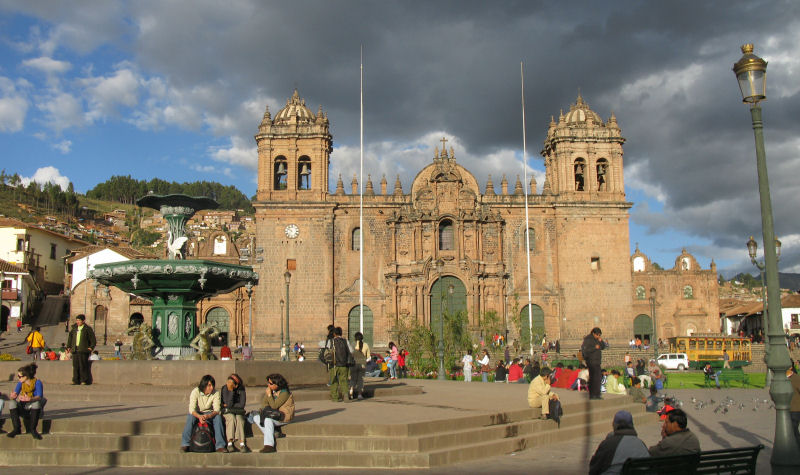 Our hotel was only about three blocks from here, so it was again near the center of the city, just off another small plaza that had the Governor's Office.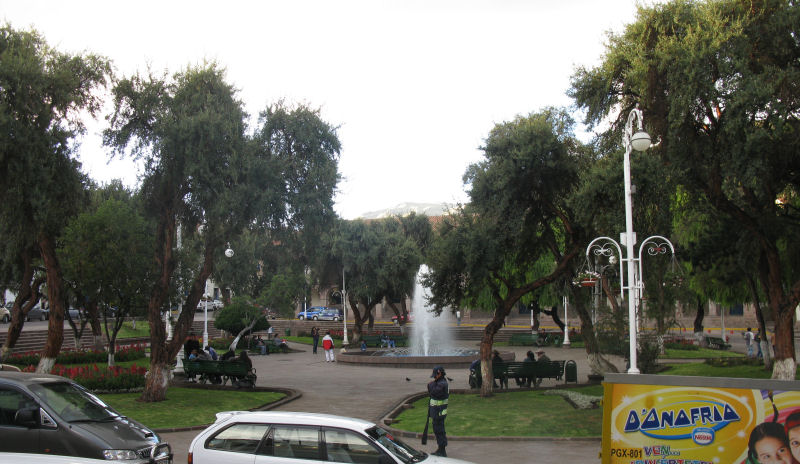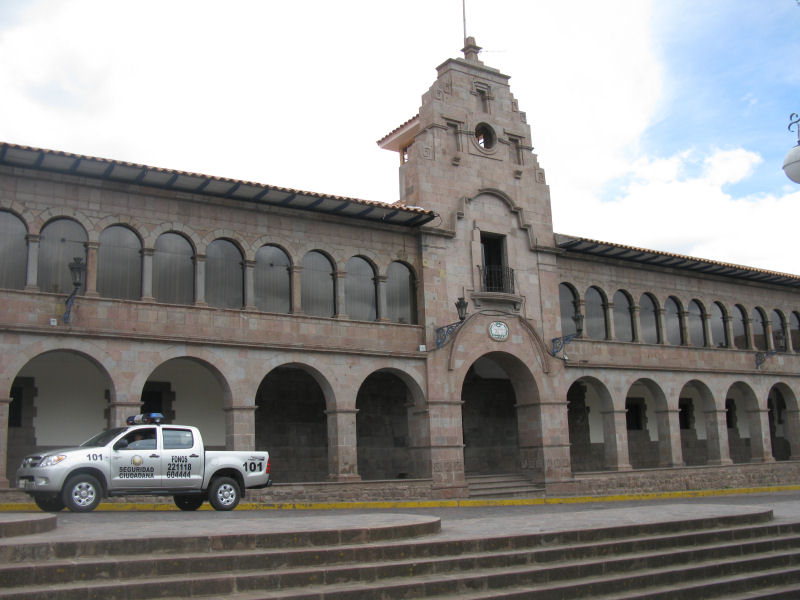 More small plazas nearby, each with some impressive structure (usually a church).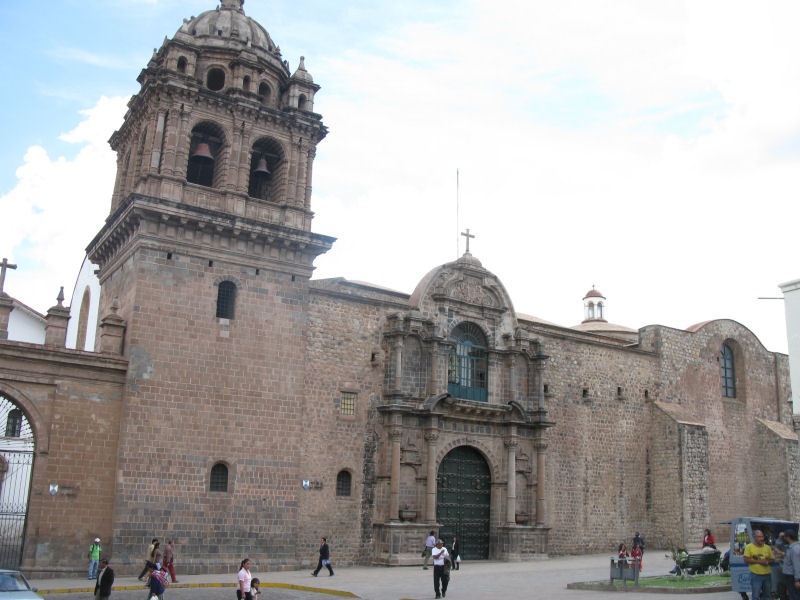 We stopped at our small plaza for some chow, and bought alpaca knit hats from one of the many walking vendors.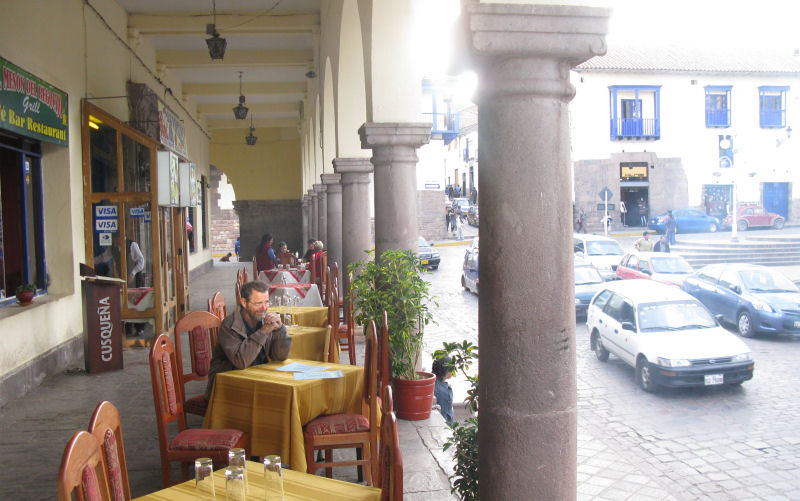 I wrote until about 21:00, but Don was zonked out long before then.
Saturday, 6 December, 2008
------------------------------
Since we had an early train to catch, we were up at 05:00 for the buffet breakfast (included with the room, so that eased the cost somewhat). A taxi to the San Pedro station was less than $1, and our tickets meant that we didn't have to stand in any lines. Lots of tourists from the U.S., Germany, Japan, France.
According to an historical display in the station, the railway to Machupicchu was conceived in 1907 and went into operation in the 1920's. The extreme end of the rail line was destroyed by earthquake, so the train only goes to the hydroelectric plant at Aguas Calientes now, and a bus is taken to Machupicchu from there (unless you want to hike it).
We found our train car and seats with no problems. The train was to depart at 06:50, and it departed at exactly 06:50.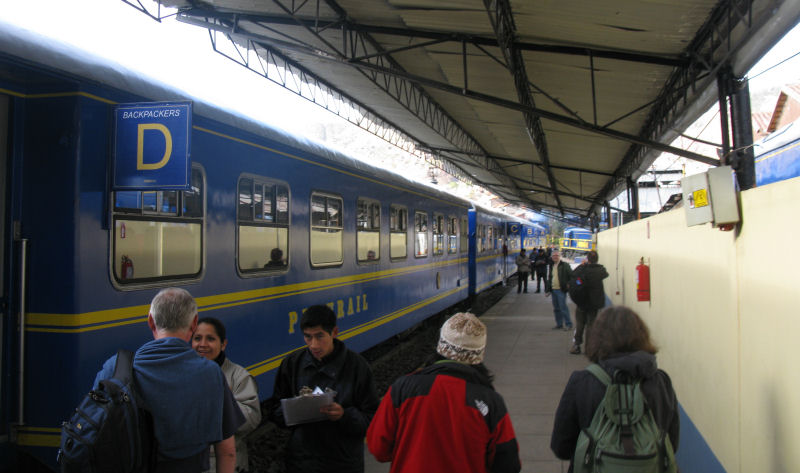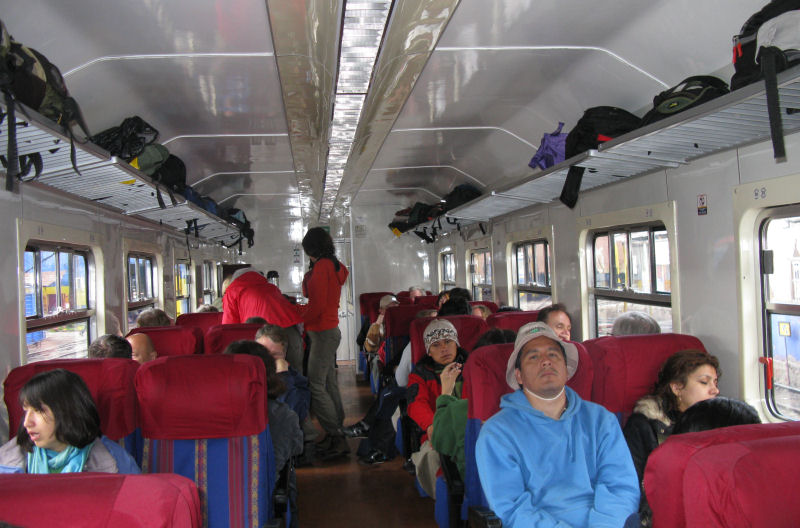 Many of those onboard were hiking partway to Machupicchu, so that's why there are so many backpacks in the train car.
Like many others, we had snacks and drinks with us in a backpack. There was a beverage and snack service on the train, too, as well as a toilet on each car (a good thing for a 4-hour train ride).
The train followed a river down from Cusco. I had thought that Machupicchu was higher up than this, but I was wrong. You can catch the train at a mid-way point if you prefer, at Ollantaytambo. This is where some hikers got off, but most got off the train at the start of the Inca Trail.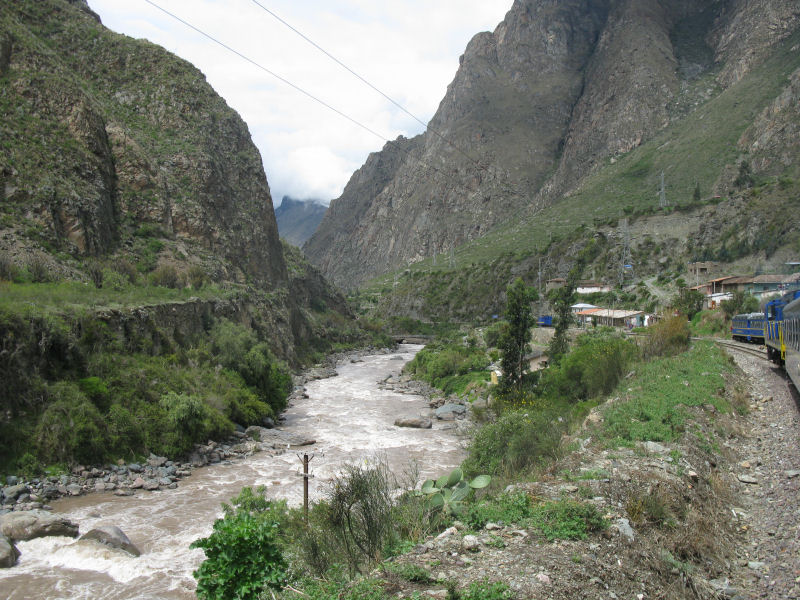 Sure enough, soon after the hydroelectric plant, the train stopped at the end of the line. By this time, it had started to rain. It was a blustery day.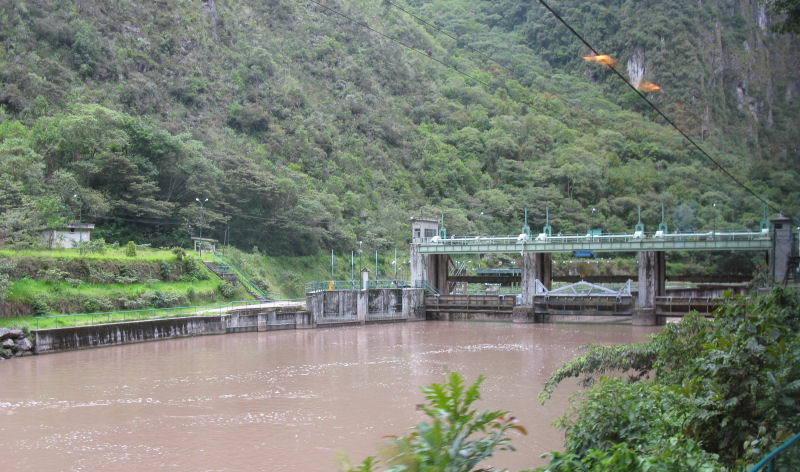 From the train station, we made our way through the tourist shops and into the town where buses were lined up. We bought our bus tickets (round trip, please) at a window there and were directed to the first bus in the line. Right after we got on, the bus was full and took off immediately. It worked its way up the mountain, zigging and zagging over the dirt road. When it dropped us off at the top twenty-five minutes later, we worked our way through the crowds of European tour groups and bought tickets to Machupicchu itself.
Lots of the tourists were elderly or had a hard time walking and climbing the many steps, so the going was slow at first. Once we got to the first overlook to Machupicchu, things opened up more and people could go at their own pace.
I won't go into all the descriptions here. It's easy enough to research, but better to go there yourself.
Photo interlude: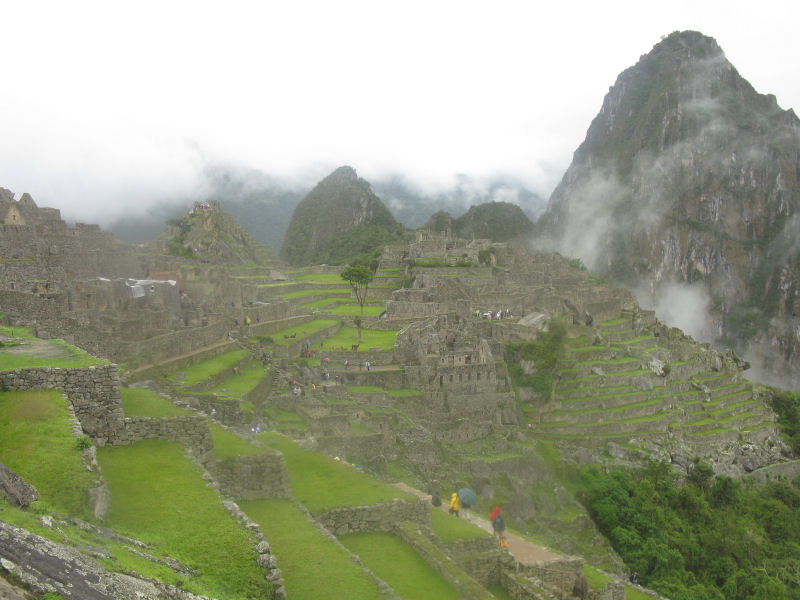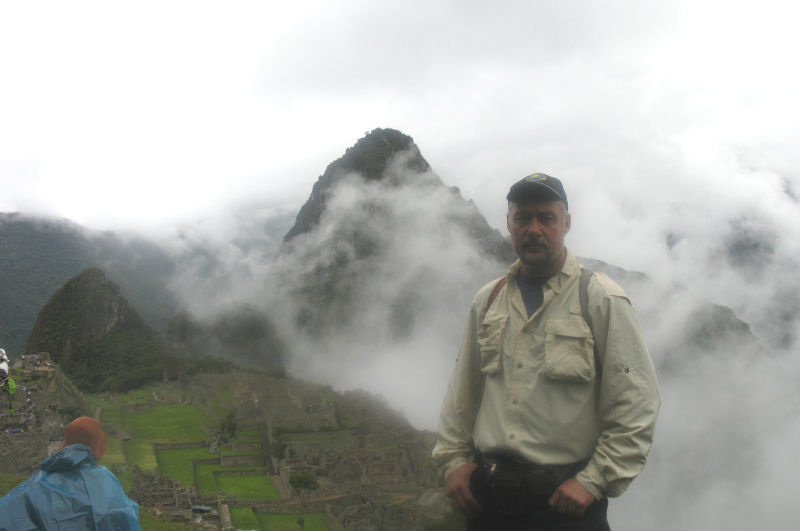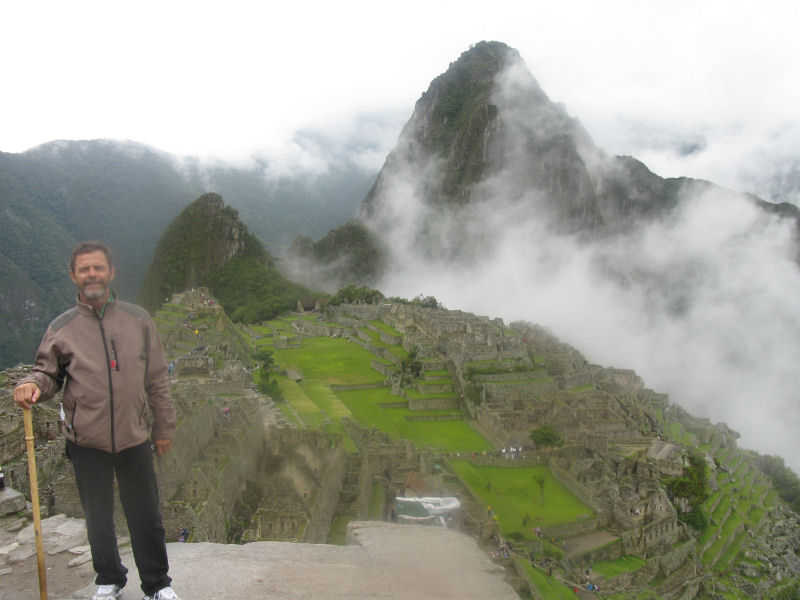 This is me holding a small stone. This photo is for someone who knows what it means.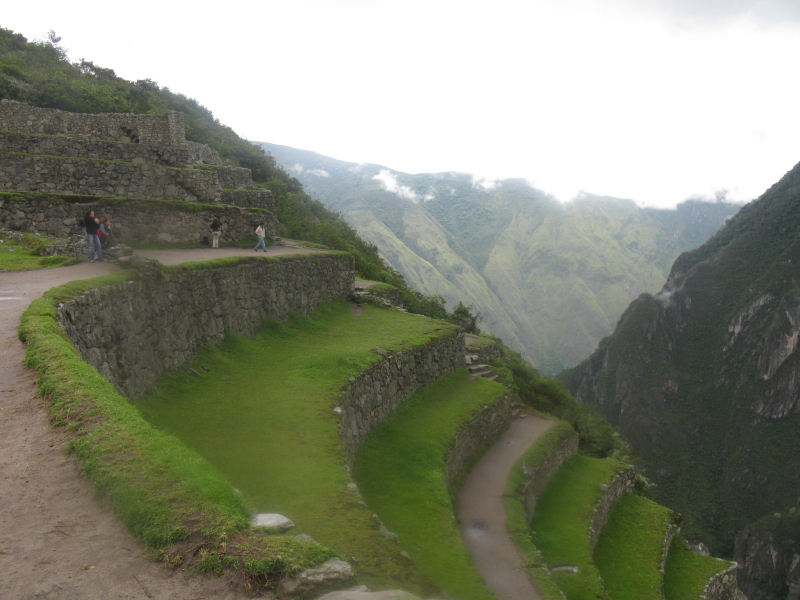 (I really like this next shot, because it shows clouds drifting in from the right and being blown back upwards by winds coming up from the valley on the left.)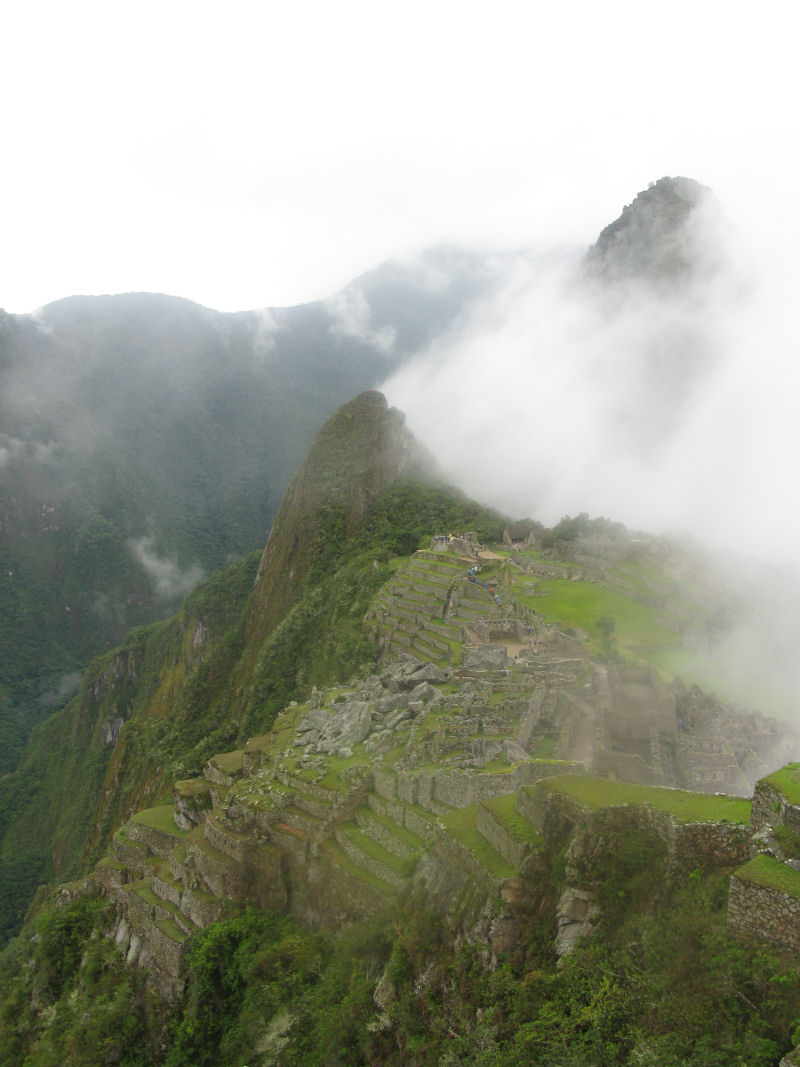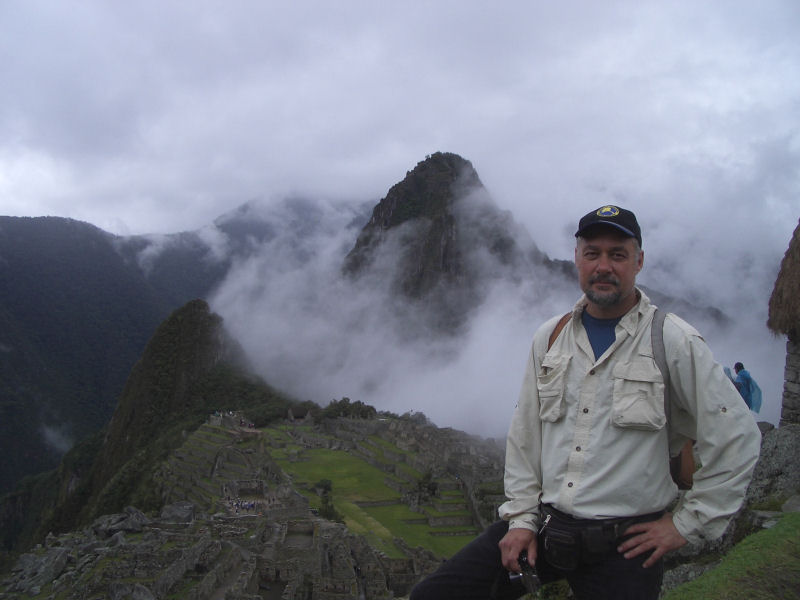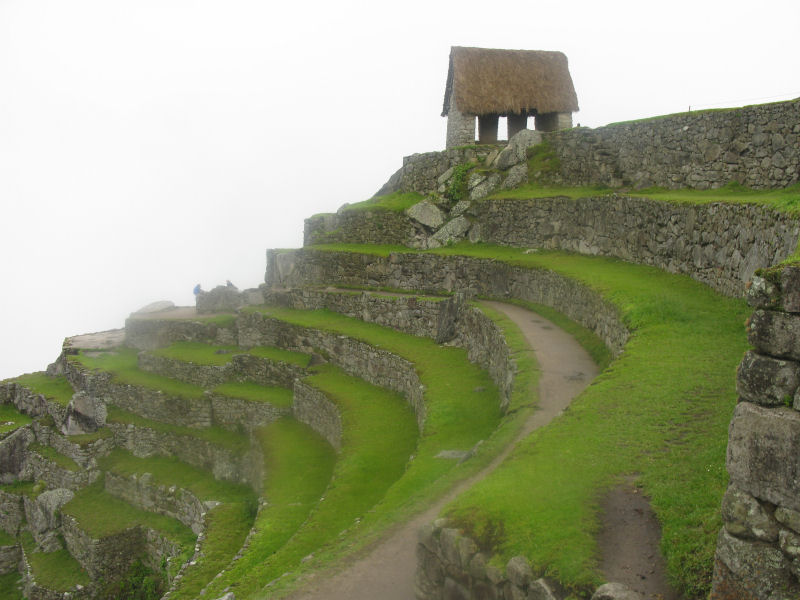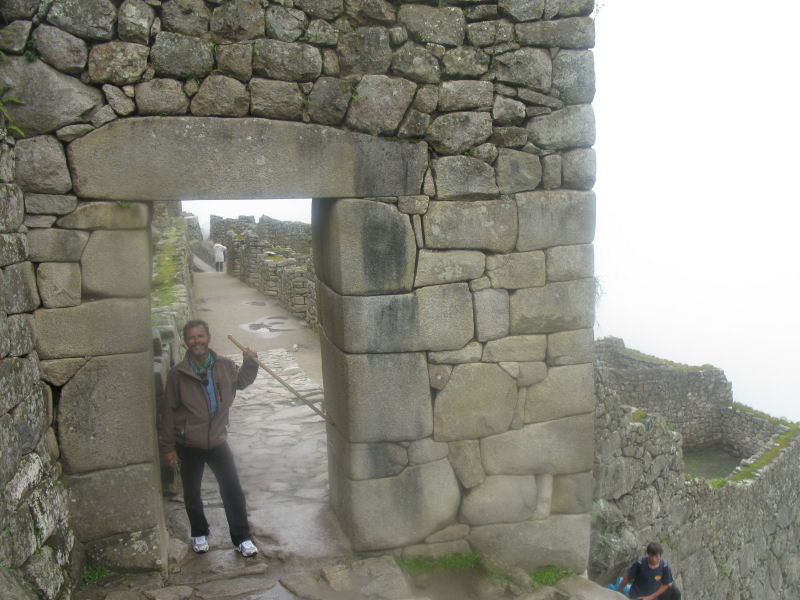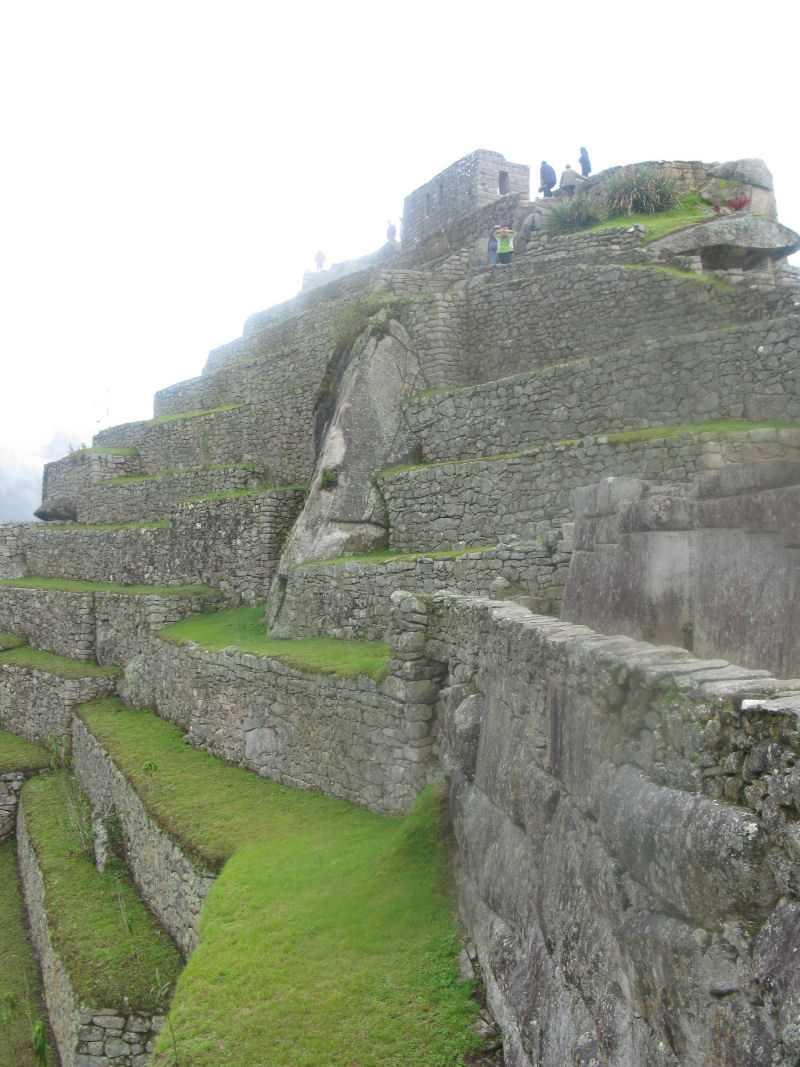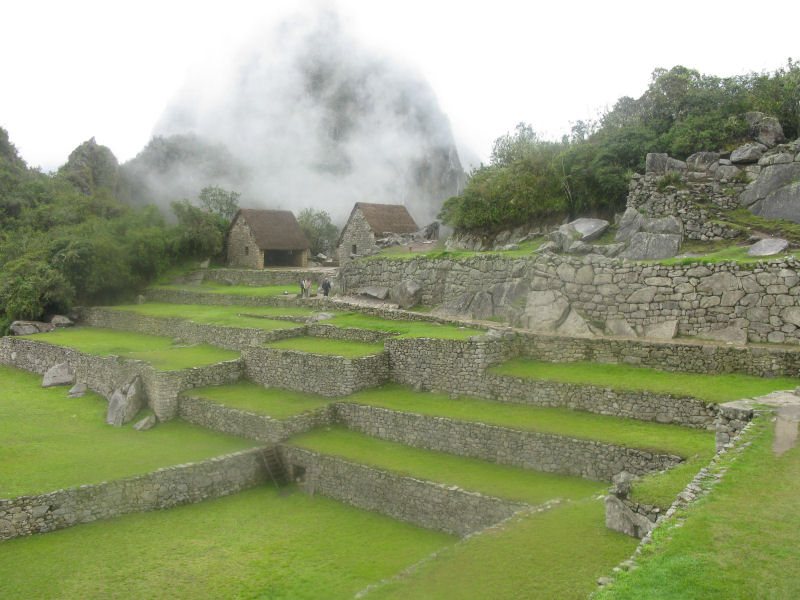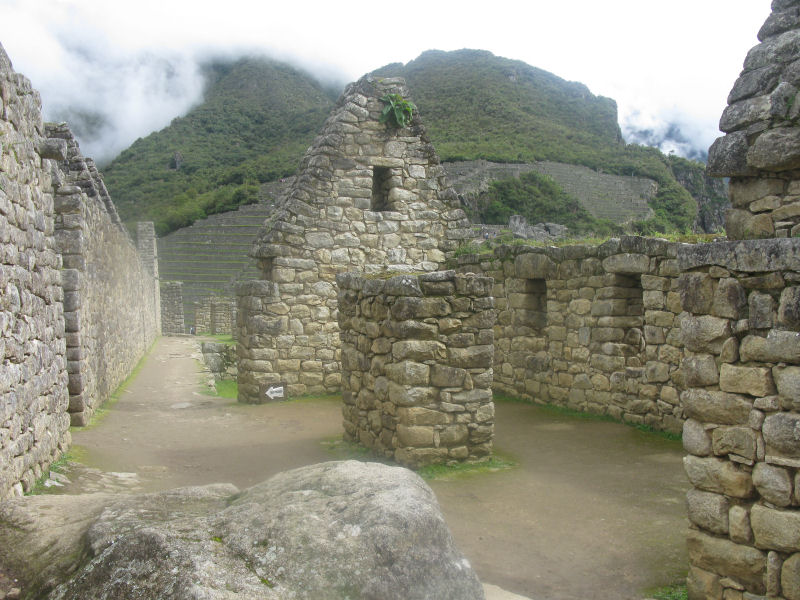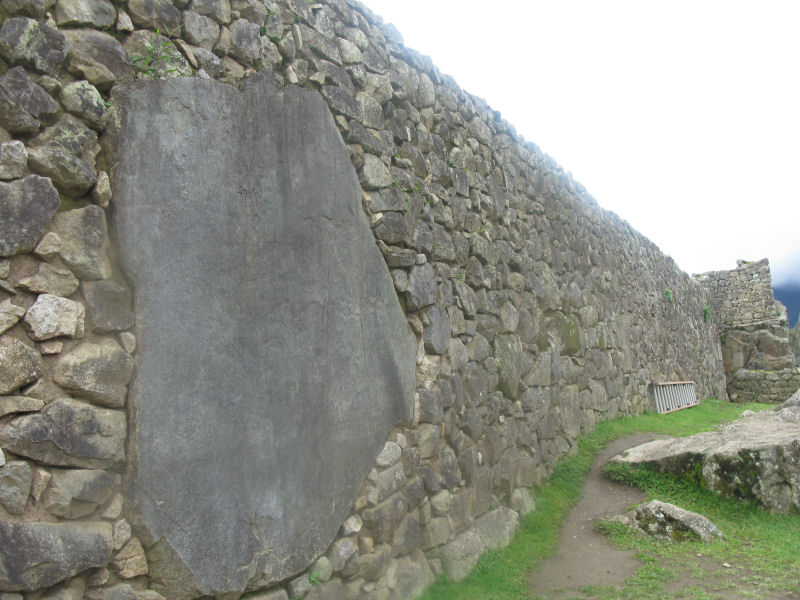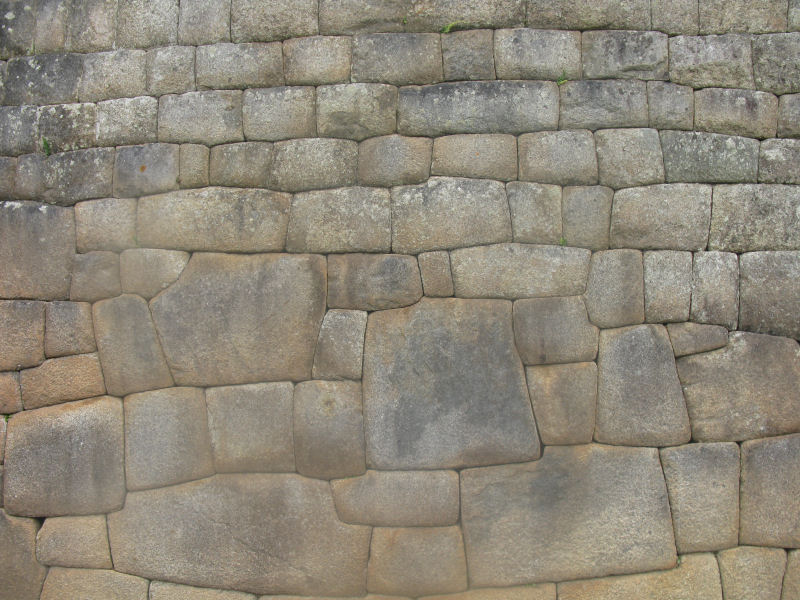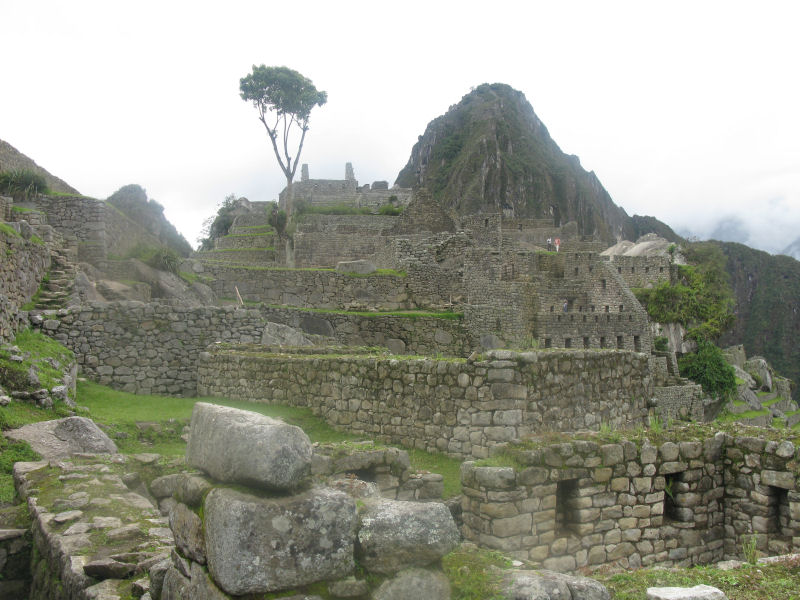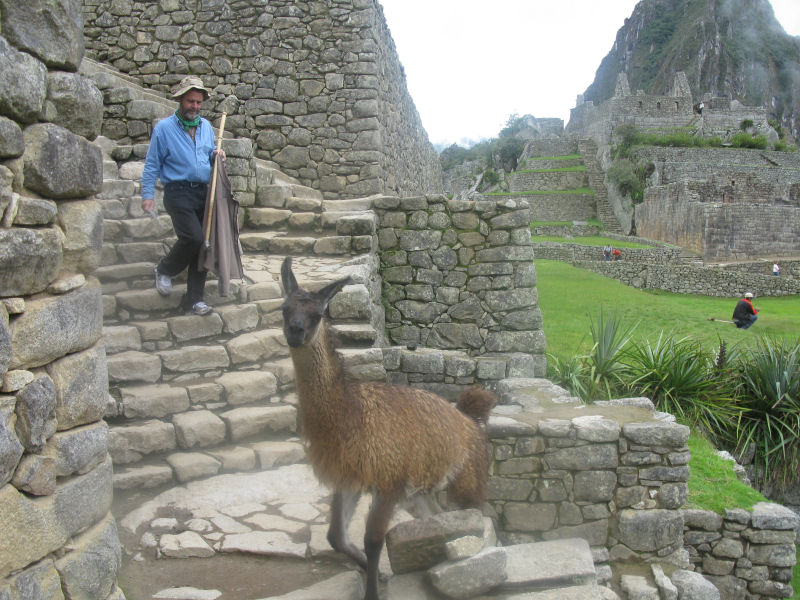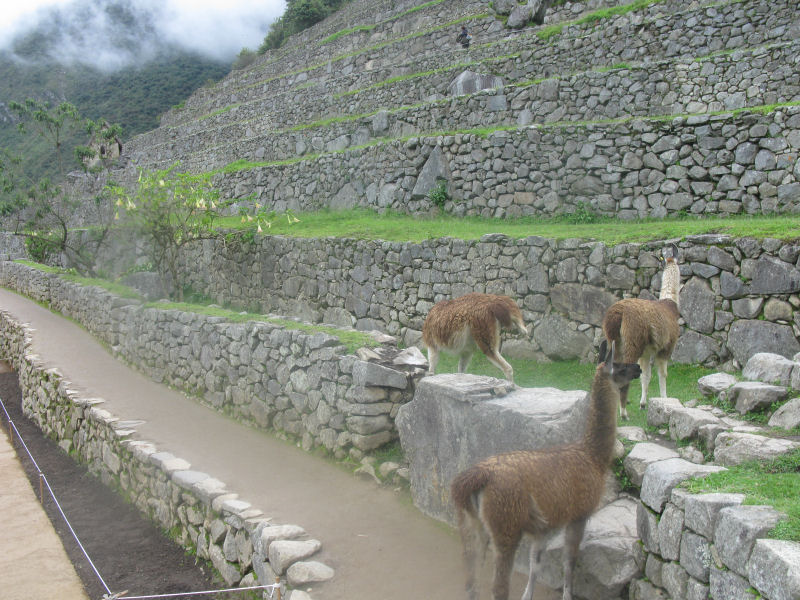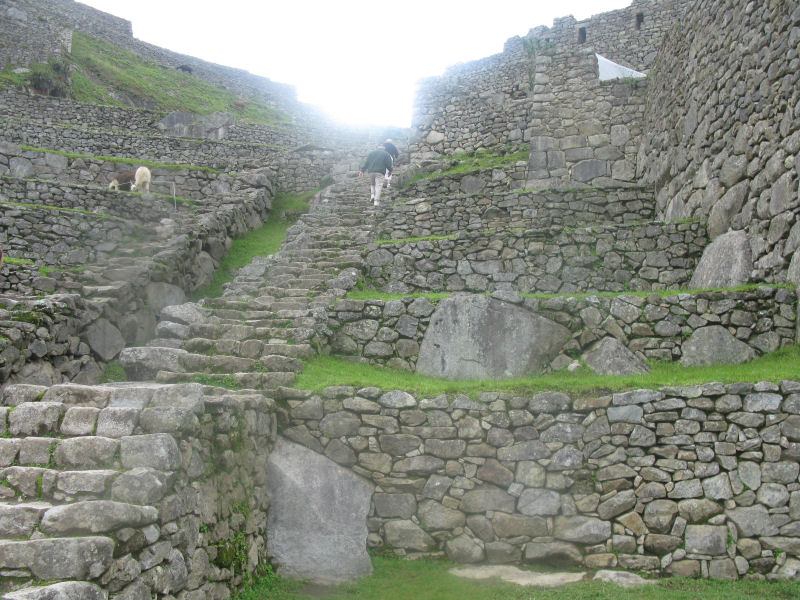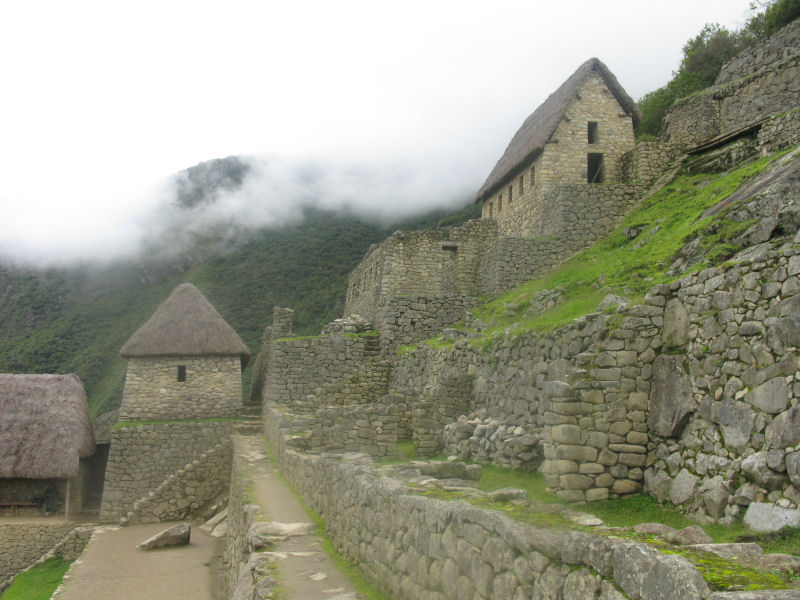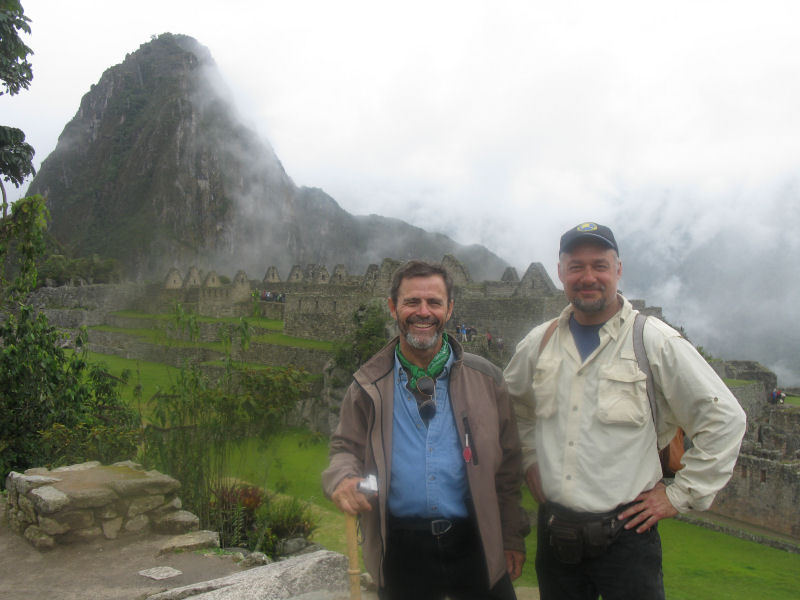 The peak in the background is Waynapicchu, the lesser mountain. It is almost always seen in photos of Machupicchu. Don had his Chinese waxwood staff with him for support, so we gave it a try.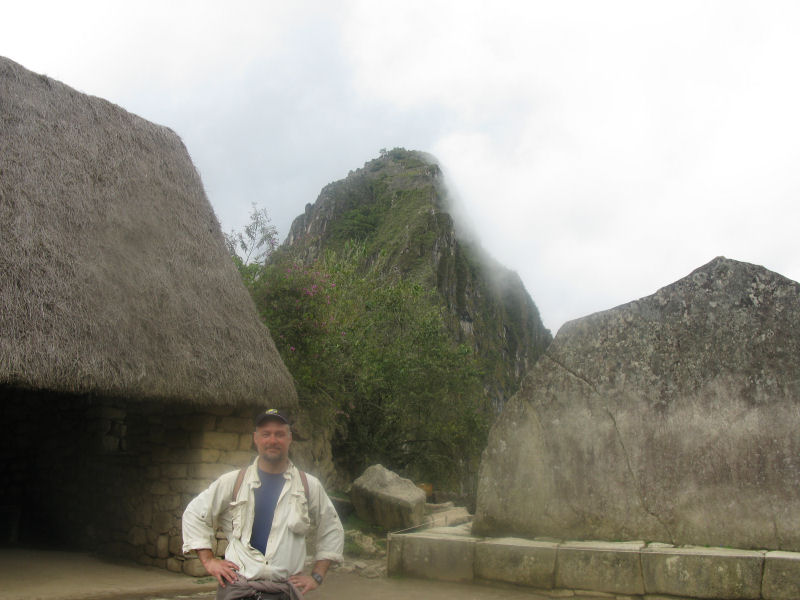 They only let 400 people a day on the trail to Waynapicchu (or Huanapicchu), but we were lucky. We signed the hikers' book at the start of the trail (so they know who is out there at the end of the day), and started down the wet steps. It didn't go downward for long, and it rose over 1300 feet before reaching the top. It took us an hour, which is the suggested time. Very steep in places, with some tall steps and some very tiny footholds. Not recommended for most people.
Don had busted ribs, a cracked jaw, no cartilage in his left knee, and a nagging cough. But then, he's not like most people.
Photo interlude: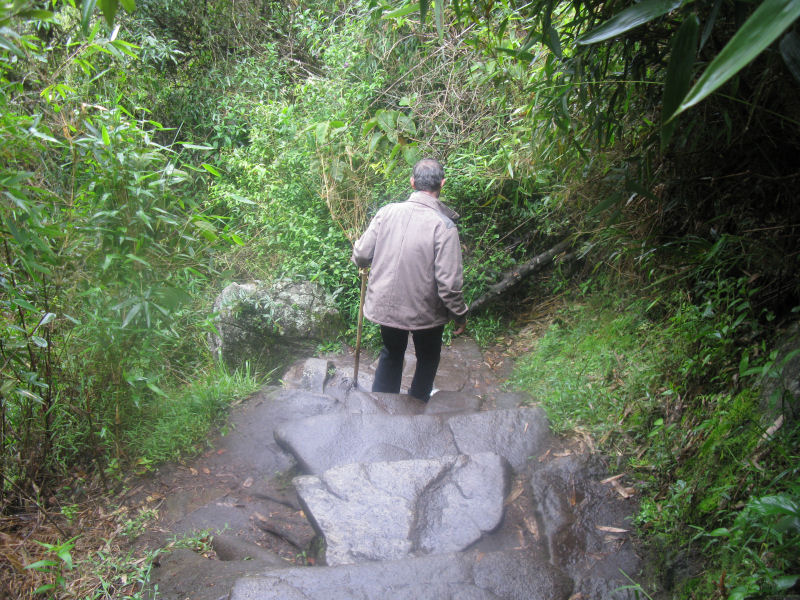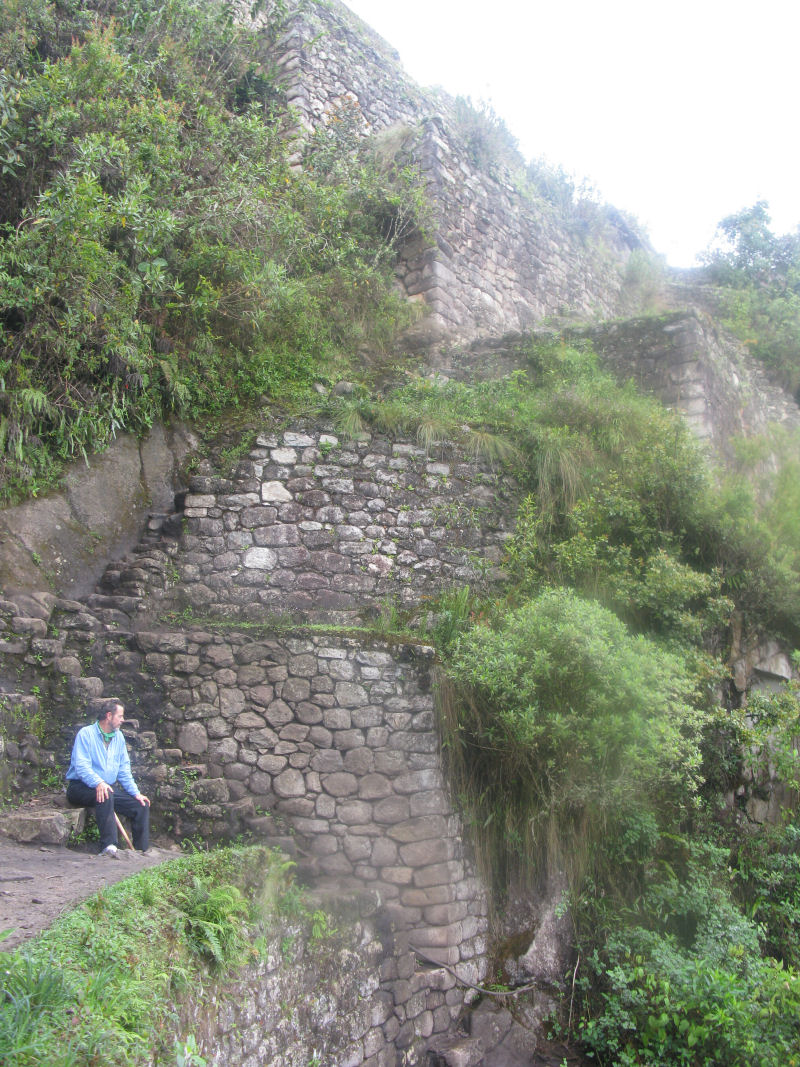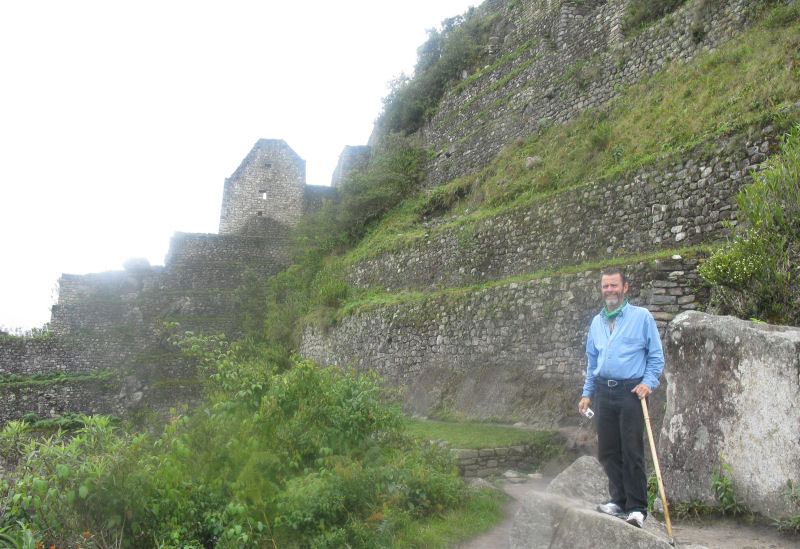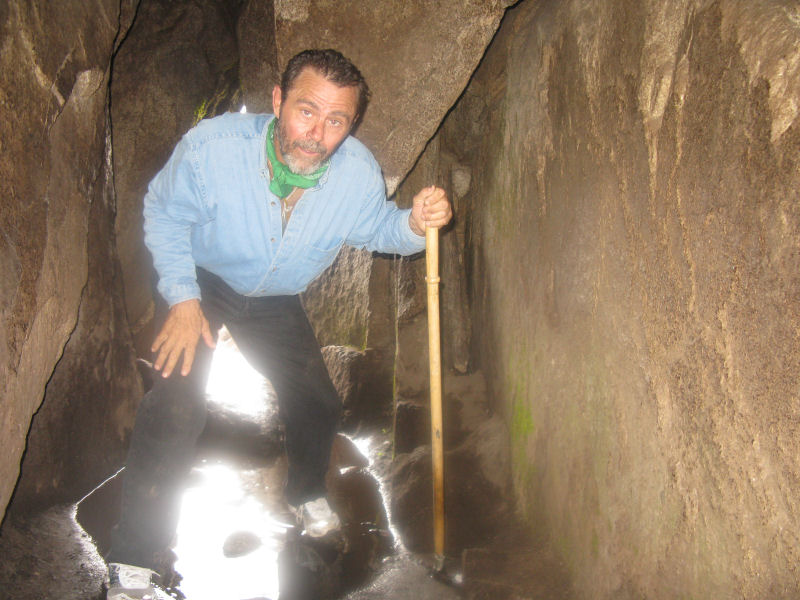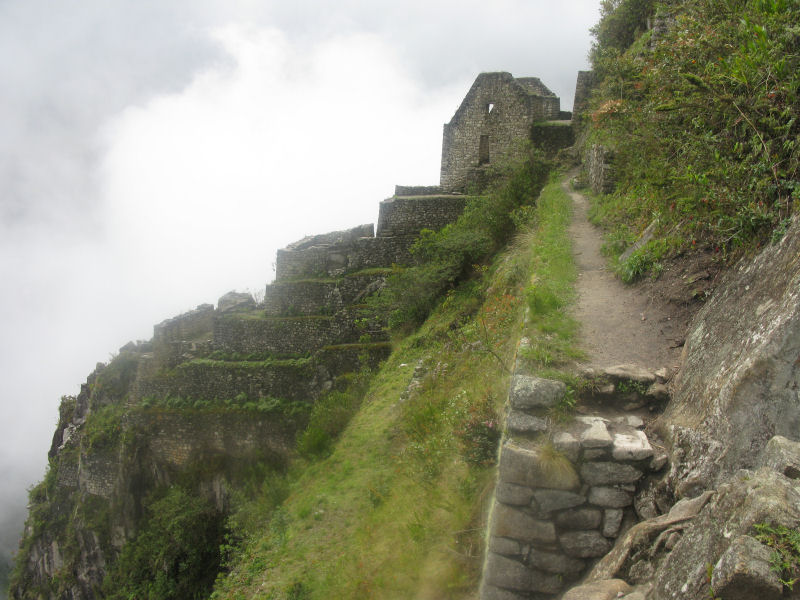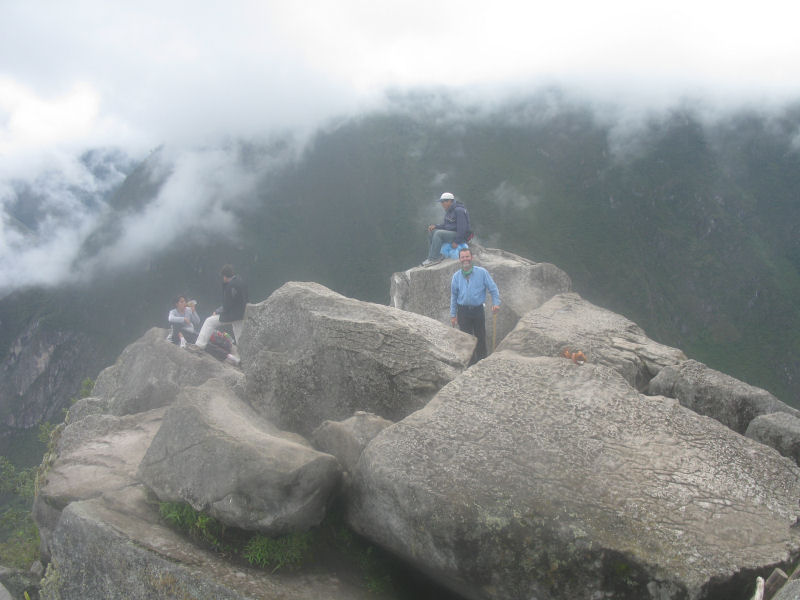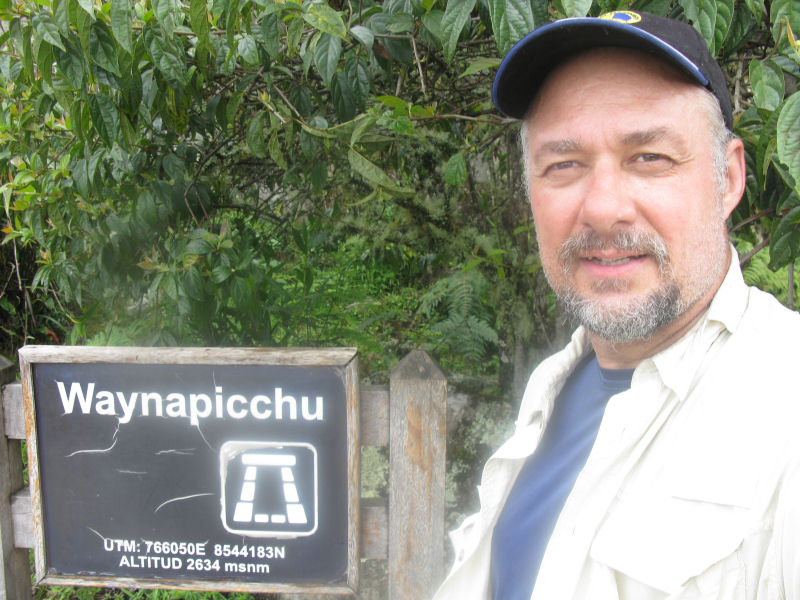 The weather cleared quite a bit while we were hauling ourselves up and down Waynapicchu, so some of the photos of Machupicchu were from after we went mountain climbing. (That was for those who noticed that the sky was sunnier in some of the shots.)
After over five hours at Machupicchu, we made our way back to the bus station and rode back down. We were early for the return train ride, so we sat in one of the many restaurants for a meal and a long talk about stuff. That long talk turned out to be too long, and with a start we realized that we were going to miss our train. We hustled, but sure enough, the departing train was right on schedule and we were not.
We dragged our pathetic asses into the train ticket office and they explained that they could only put us on the next (final?) trail to Ollantaytambo. Well, that was good enough for the time being, so we joined a couple of tour groups in another backpacker train car. Two hours later, we were all booted off the train, and we went looking for a bus back to Cusco. The many taxi drivers have experience, too, you see, so they were waiting. We picked one of the drivers and settled for S/50 back to Cusco. That's about $17 for a 2-hour taxi ride. Cheaper than the train...
Our taxi was a minivan, and we kinda dozed during the ride. Once back in Cusco, I asked the driver to take us to the Plaza de Armas, which was near enough to our hotel. The route he chose took us right past the hotel, so with a shout, I had him drop us at our door.
We made Skype calls and then basically passed out.
Sunday, 7 December, 2008
----------------------------
We got up when we darned well felt like it. I lazed around after breakfast and did a lot of writing.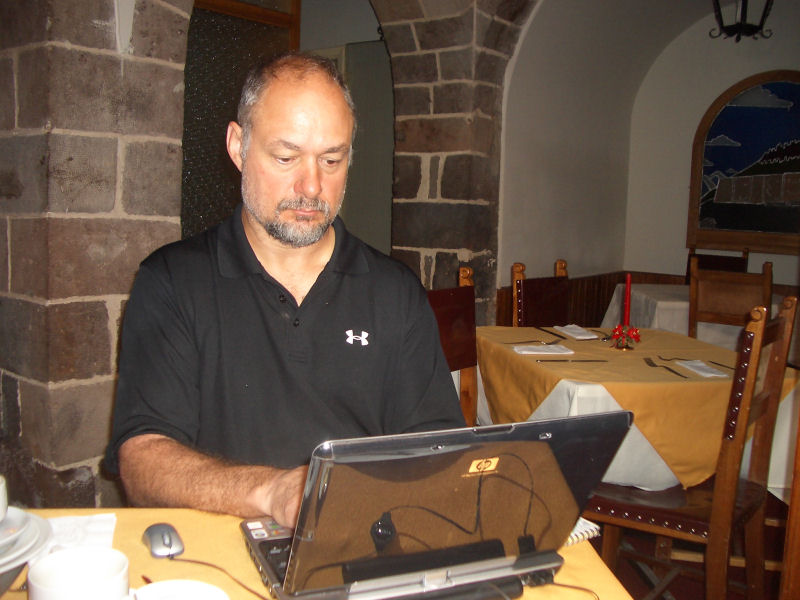 I went looking for a DHL shipping office that should be nearby. I found it, then found a laundry, then the main tourist office where I got a map of Machupicchu that I wish we had had with us yesterday. We looked at a lot of stuff without knowing what it was...
I also managed to find an Irish Pub, so I took a break.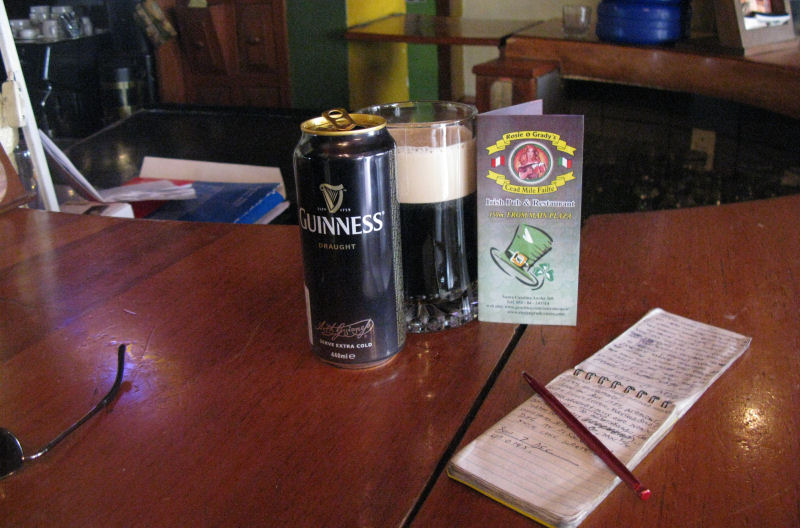 On the way back to the hotel, I saw a rally or protest or something in the Plaza de Armas.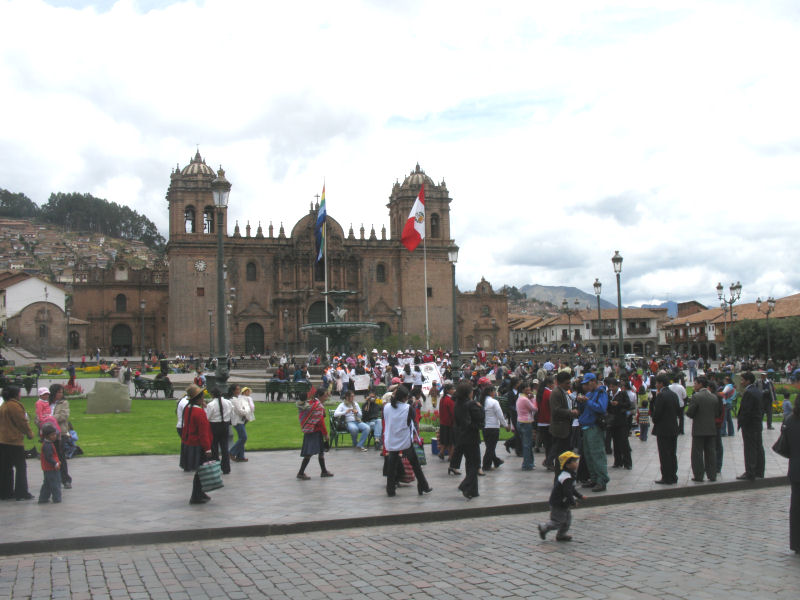 I watched a blind guitar player and was fascinated by his playing style. He might have been picking with both hands, but I couldn't tell. He was very good. I left him a big tip after taking his photo. Another time when a video would have been better.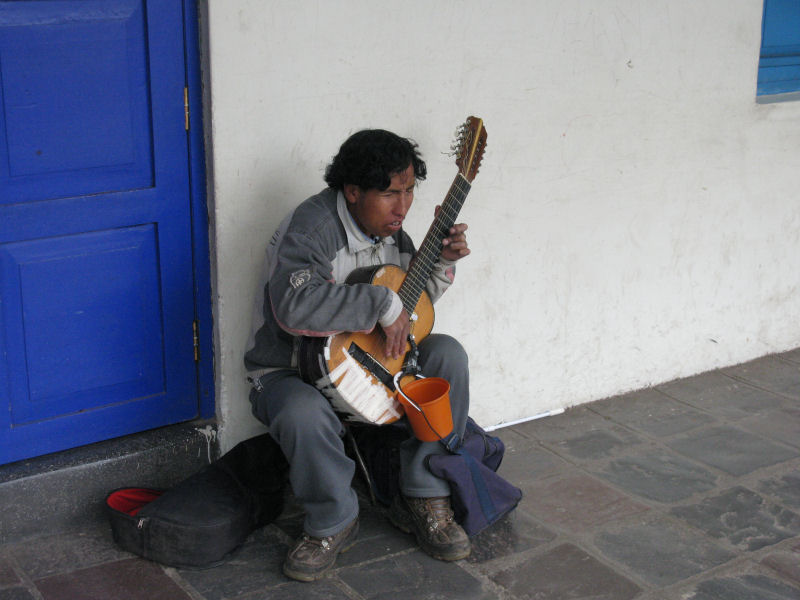 When I got back to the hotel, Don and I packed up our dirty clothes (which was most of them) and lugged them back to the laundry. They would be ready for pickup at 19:30. After lunch, we found that what we needed most was a nap. That worked wonders.
There was work to be done on Don's bike, so we got started on that. We had removed, cleaned, and replaced his left fork seal in Lima, and it was still looking good, but the right seal was now leaking. We pulled that fork tube and serviced the seal in the same manner. Since we still had almost a full quart of automatic transmission fluid (a suitable replacement for fork oil), we decided to balance out the fluid levels in both forks. With the left tube removed, we noticed that it was bent. A remnant of the crash, of course. The bend was slight, and right where the fork brace was located. I decided to re-mount the upper tube with the bend going outward (rather than rearward as it had been), so the steering would be relatively equal with both fork tubes. Just needed to flex the tube a bit to get the front axle into place. No problem.
Don's steering stem was very loose, so we got that adjusted and tightened back down. A few other small jobs, and by the time it was dark, all that was left was to clean the air filters on both bikes. They really needed it. Don brought the proper attire for such a job.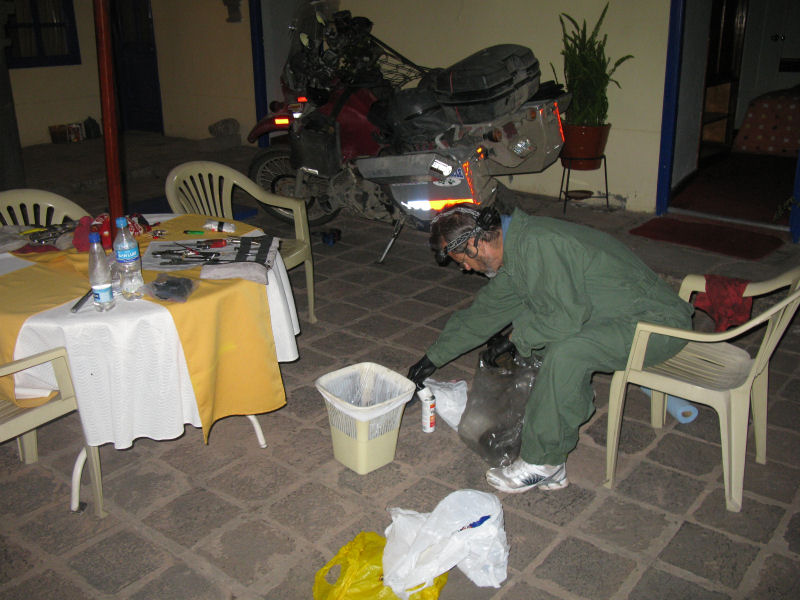 Here, you can see the damage to Don's faring and left handguard. Stock handlebars would almost certainly have crumpled. I had bent the faring brace back to a workable position, but it was still tweaked a bit.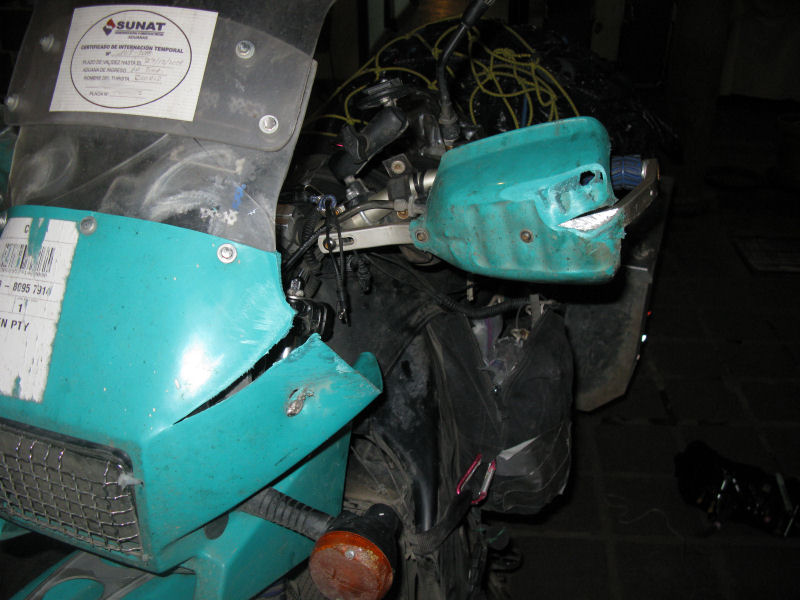 Both aluminum boxes had damage, but the left box had almost been ground through on one corner. Fortunately, the weather seal is still intact and is inside the hole through the lid.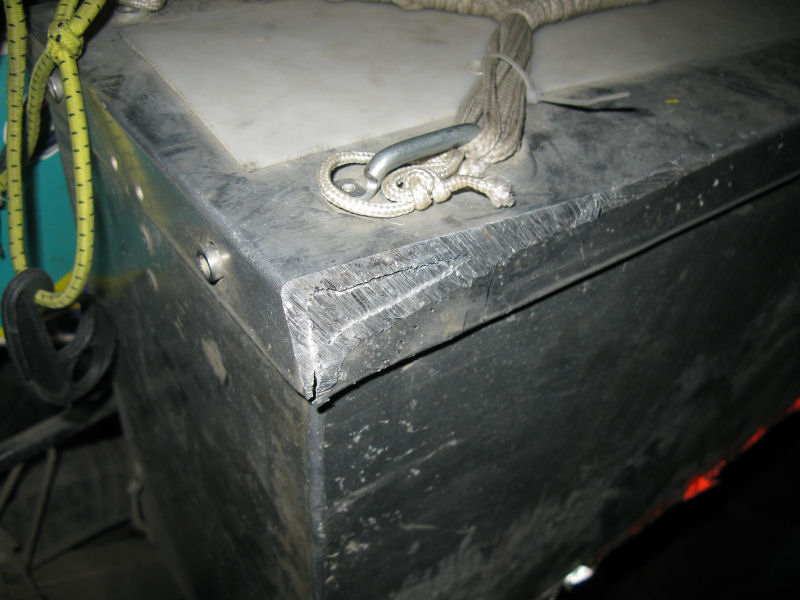 The bottom of the windshield is broken all the way across, but the Lexan is holding everything in place.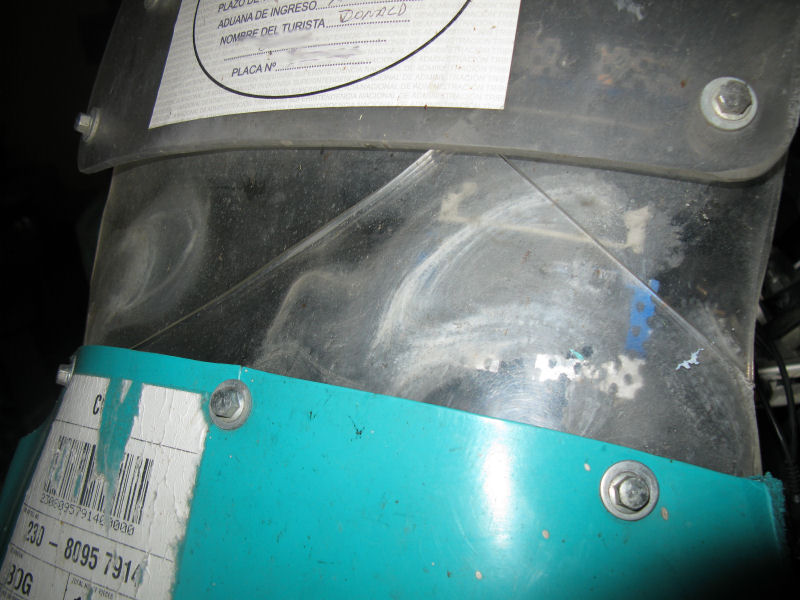 While Don cleaned the air filters, I went to pick up our laundry. I was there before 19:30, but our laundry was not, so I had to come back a bit later. When I asked if she would take a S/100 bill, she seemed stressed. She hopped up on a washing machine and rooted around in the rafters, where she apparently keeps her stash. I couldn't get my camera out fast enough, sorry.
She didn't have the necessary change, so I went back across the street for another Guinness to break the big bill. Some things you just have to do.
When I returned to the laundry, it was after 19:30 and the place was closed, a barred gate across the door. Huh? I knocked and the lady came to let me in. Apparently, when they say pick up your laundry at 19:30, they mean exactly 19:30 and not a moment later. Geez...
I lugged the two big bags of clothes back to the hotel, we finished cleaning up after ourselves since we had made a minor mess in the courtyard while working on the bikes, and decided that we had earned a nice dessert.
Near our hotel was a coffee shop and dessert shop, so we relaxed and indulged ourselves a bit. As we were leaving, two BMW 1200GS bikes came around the corner. They were both loaded with luggage and spare tires, and we recognized that look. We chatted with them a while, learning that they were from Costa Rica. They had shipped their bikes to Lima, and were headed for Ushuaia, where they would send their bikes back home in a crate. Lightweights.
Anyway, we might see them again, so we all wished each other well. Never did get their names.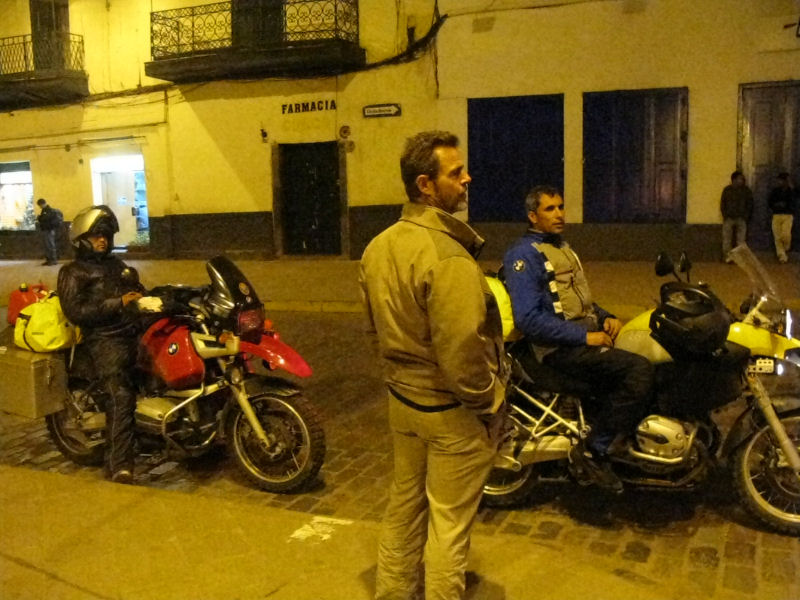 We sauntered back to the hotel and spent some time online. I wrote until about 00:30.
Monday, 8 December, 2008
-----------------------------
We rose at 08:00 and after a quick breakfast, I walked to the DHL office that I had found yesterday with a package I wanted to send home. They were supposed to be open at 08:30, but were still closed at 08:45. I waited until after 09:00 but they hadn't opened yet. I watched the pretty gals open the office next door, so that was nice.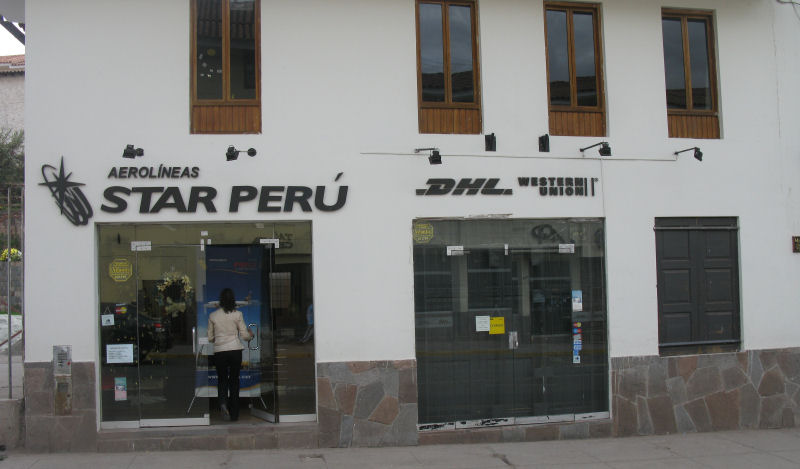 I went back to the room and sent in a report update. After getting packed, we hit the road at about 11:00. We went past the DHL office again, but they were still closed. Figures.
We lost the highway before getting out of Cusco, and had another unintended tour of some forgettable parts of the city.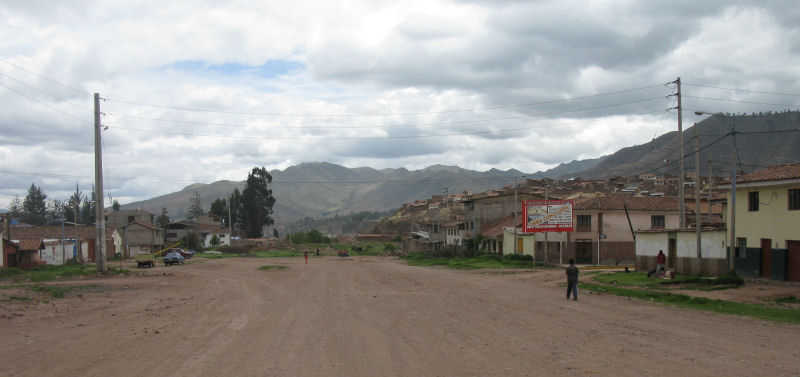 After getting straightened out again, we were on our way. In the median of the highway there were men making large adobe bricks, laying them out in the sun to dry.
We started climbing into the higher mountains again, and passed through lots of interesting towns and villages. In one small town, there was a parade or religious procession on the main road, so all traffic was backed up. We waited with everyone else, and I got to stare at two guys (in the back of a pickup truck) as they stared at me for a long time.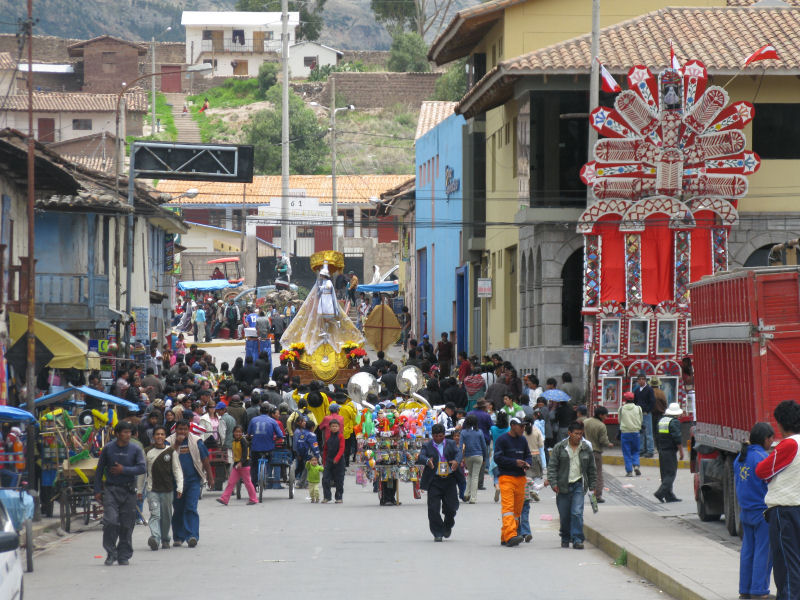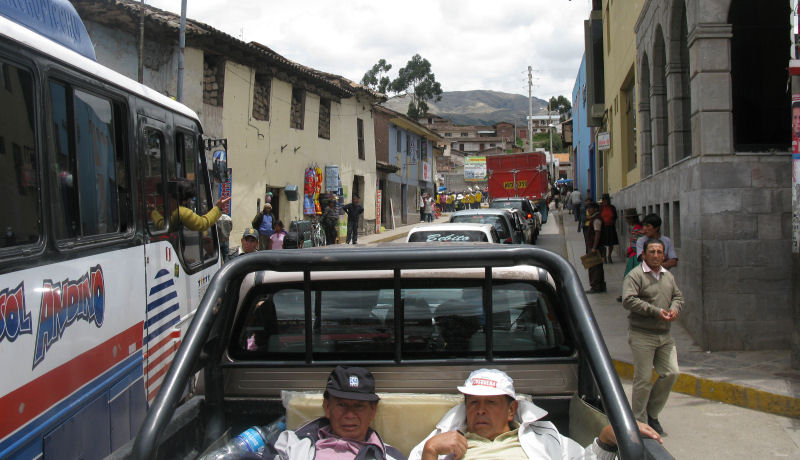 Finally, things got moving and Don and I sneaked past some of the vehicles. Eventually we got to the front of the line and basically ignored the policeman who tried to stop us and rode past the procession (which wasn't moving at the time).
As we rode through the mountains and valleys, I noticed large agave plants that had matured and sent up very impressive central stalks that were new to me. I though they looked like alien plants from some Sci-Fi show. They were very tall.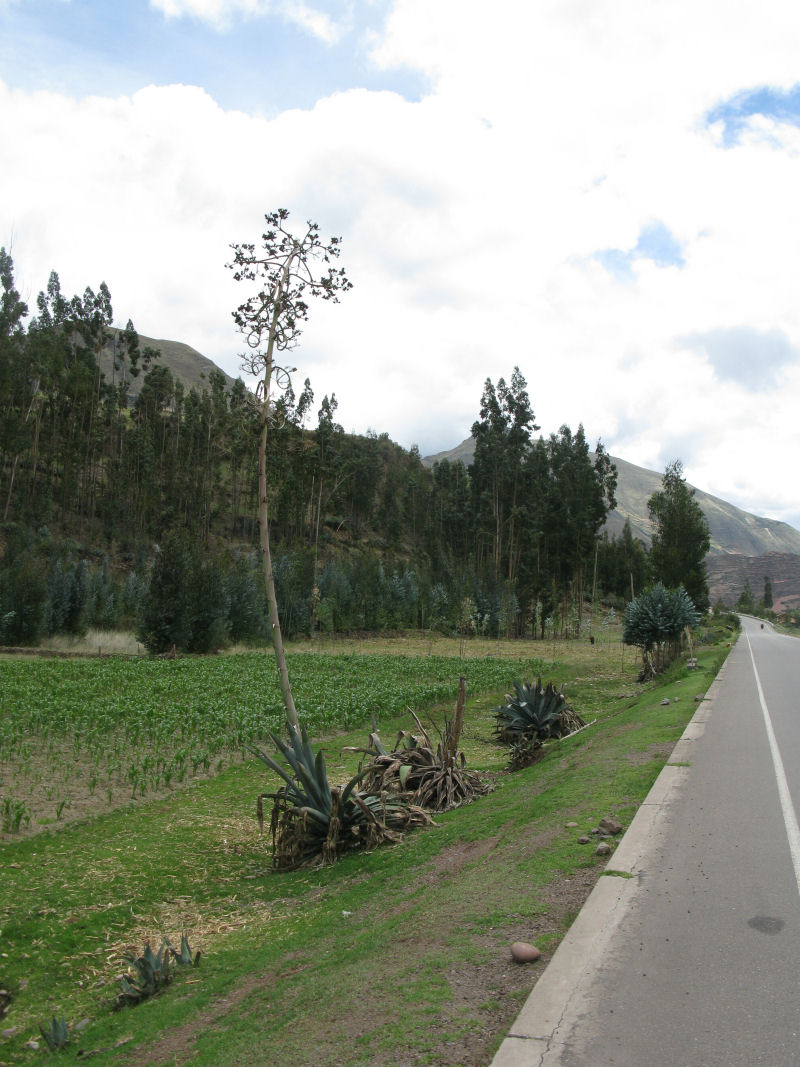 The villages were in better shape than we had gotten used to. Much of the ride was very pretty. For many miles, all the buildings were painted with a stylized Inca face that was often used for political ads and sometimes for commercial ads. It was very pretty for a long while.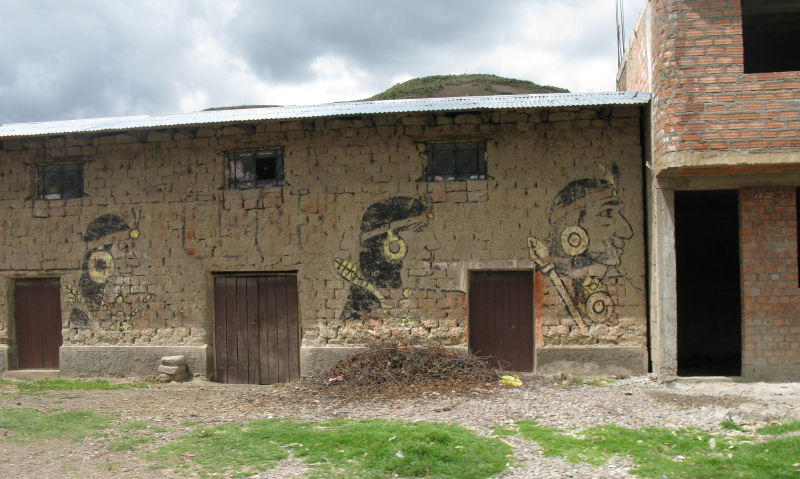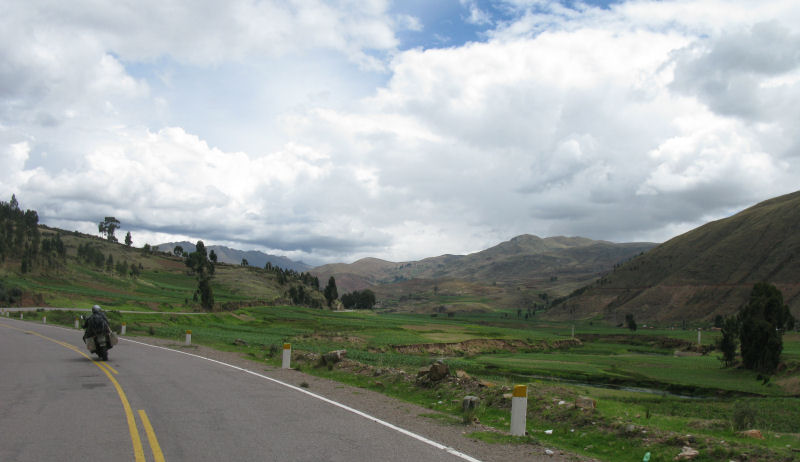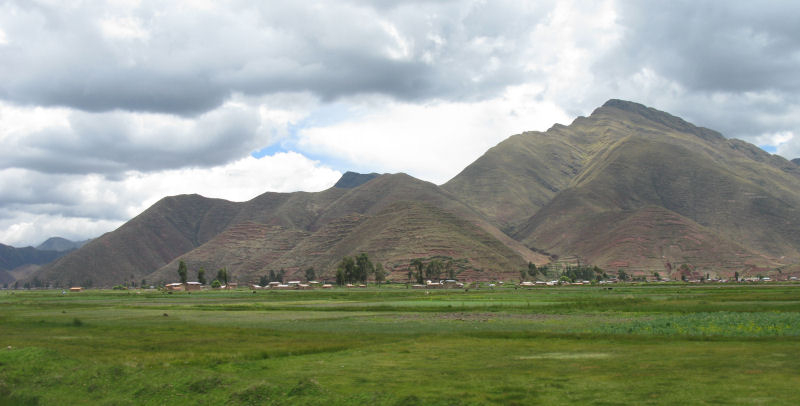 As we started climbing higher, it got a lot colder. Eventually we went over a nearly-frigid pass between Cusco and Puno (4354 meters per my GPS, 14,281 feet) where local vendors had tourist trinkets on display. They had several vehicles full of prey stopped there. Don's bike was running poorly all day at higher altitudes, but we couldn't account for why. His bike and mine were carburated and jetted the same. We were running on 84 octane, unable to find anything else.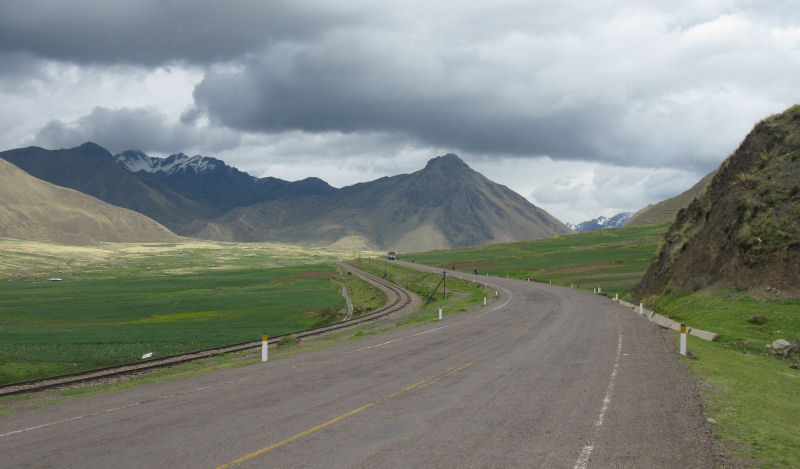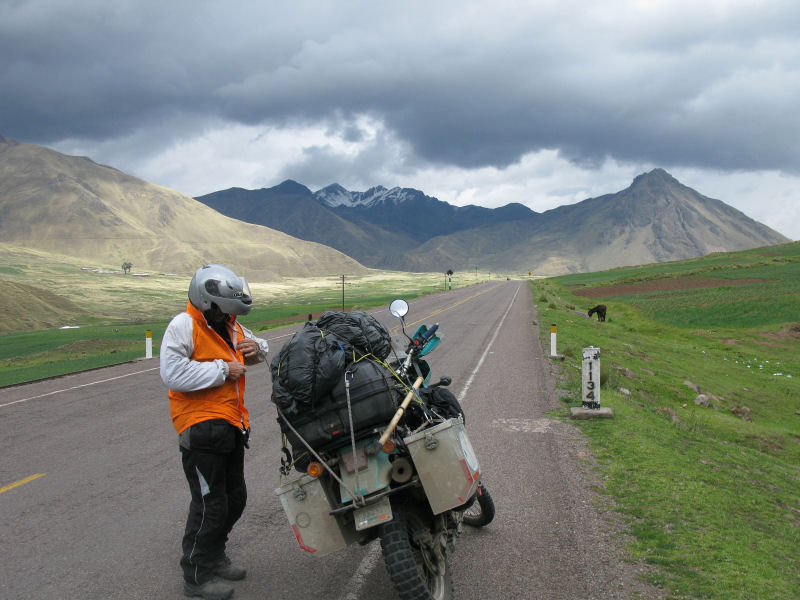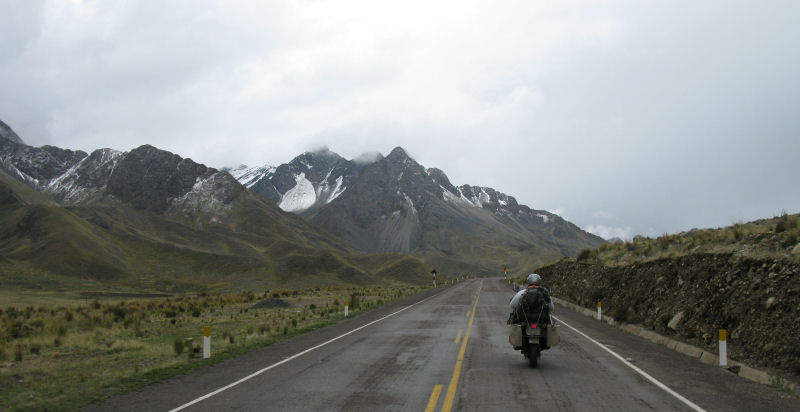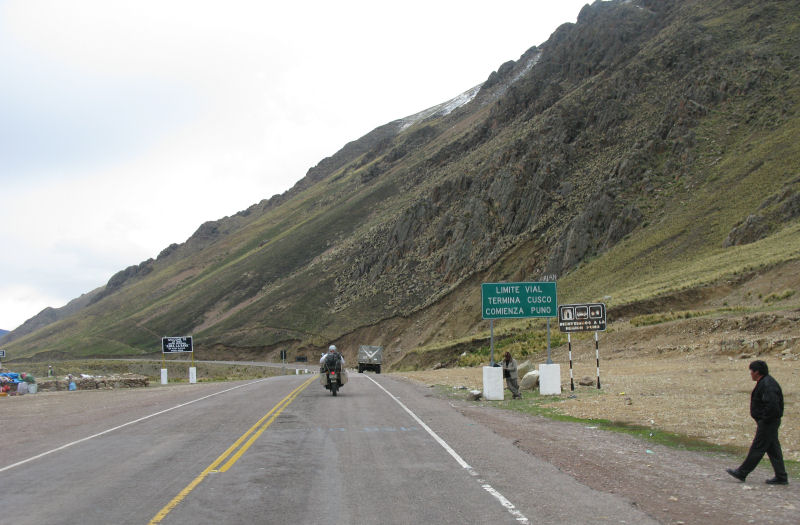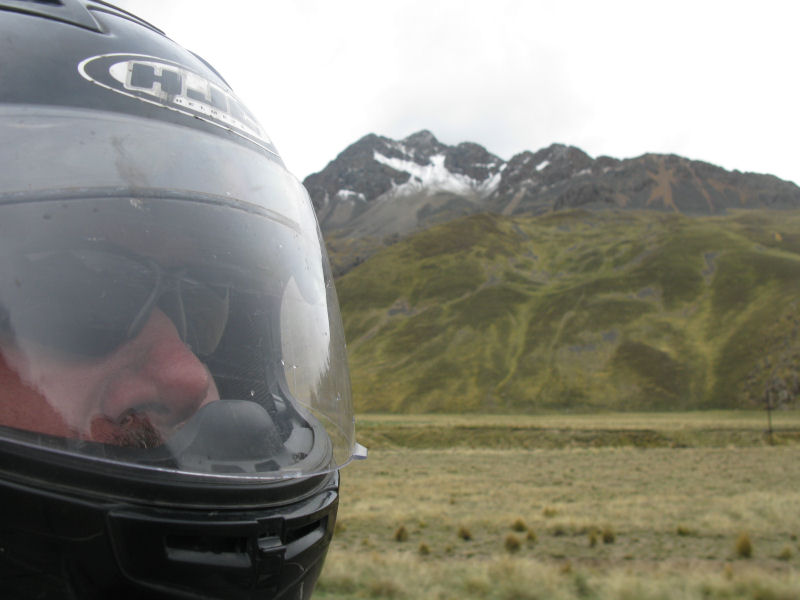 We descended to a wide valley that was scenic. We eventually pulled into Ayaviri and found El Centro. Many of the tri-cabs had a Batman theme, which was something I have seen all over South America. We found a small restaurant that had soup for Don. I decided that soup sounded good, so I had a bowl, too. It was good, rich in barley and other veggies--and had a big neckbone from something that didn't look like chicken. Maybe it was a small dog. Just kidding. Soup and drinks for us both was S/4, which was about $1.33.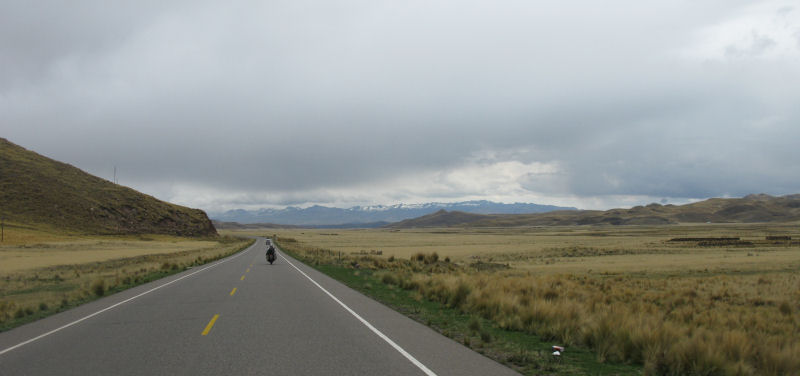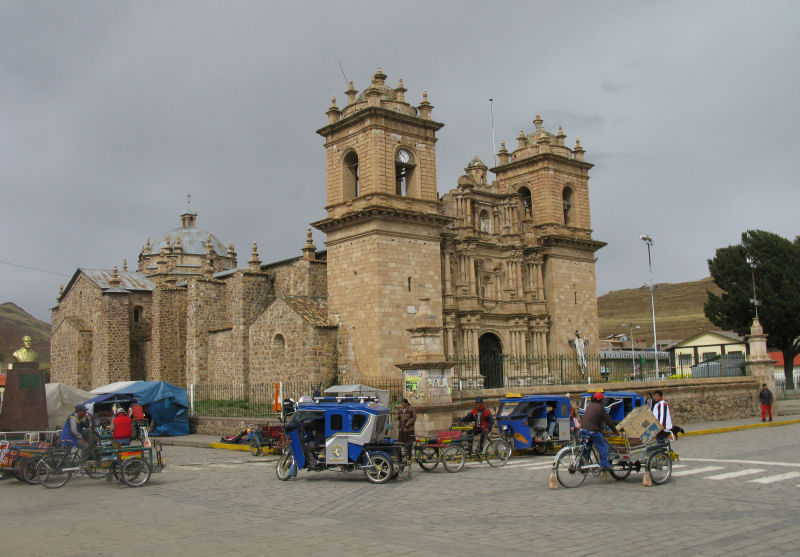 It took us about four hours from Cusco to Ayaviri, and then we started uphill again. There were people (mostly women) out in the wilderness tending to their sheep and cattle.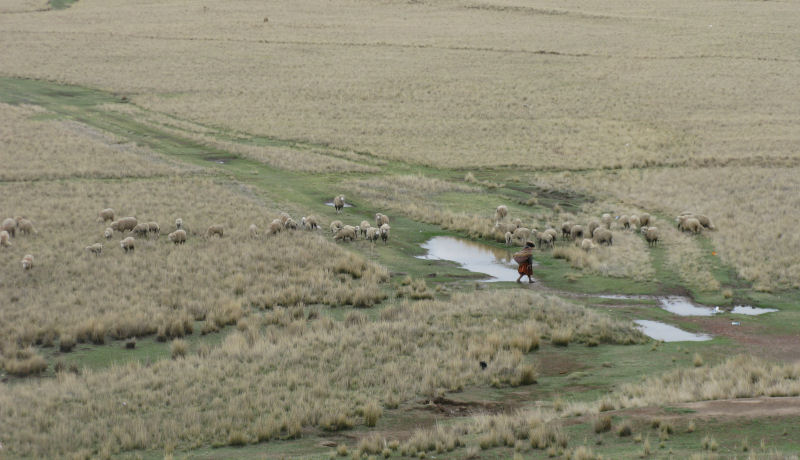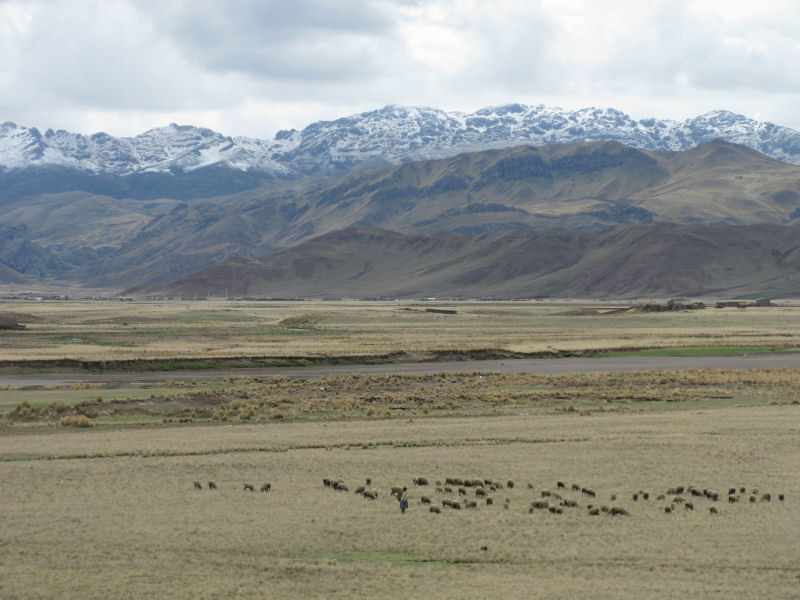 We saw lots and lots of dogs standing and sitting along the road for miles and miles. They were always alone, spaced apart evenly about half a mile apart. They must be cared for by someone, and must be herd dogs or something. They mostly seemed to be staring at the road waiting for their owners to come by and feed them. The things looked absolutely miserable in the wet and cold.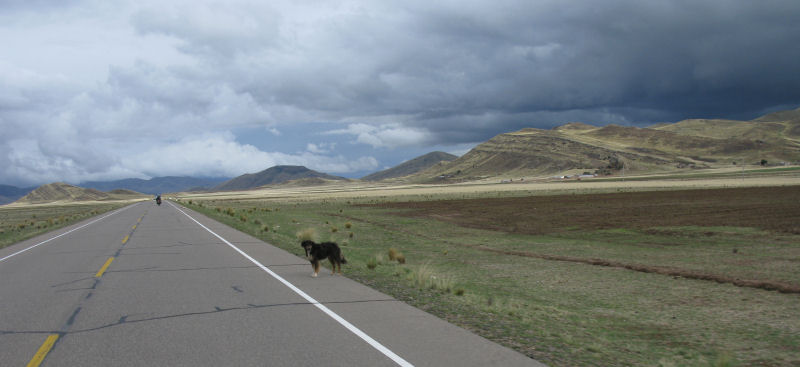 We could see stormy clouds ahead, and it soon became clear that they were aiming for us. Yup, the rainstorms found us again, and we rode for quite a while in near darkness due to the heavy, black rain clouds. Getting through the city of Juliaca, where the highway funneled down to a small market street like it always did in most Latin American cities. That was hard to get through. Eventually, we put it behind us and neared Puno, the main city on the shore of Lake Titicaca.
We checked a few places and slogged around in the rain before finding the merely suitable Hotel Don Julio, which had parking for the bikes. The cost was initially the equivalent of about $55, but when I started to leave, the negotiations began and we settled on $20.
Parking was up over a tall curb, around a sign post, up a tall step, down a narrow hallway with glass walls, and into a small glass room that had no practical purpose other than to display trapped motorcycles. We had a hard time getting the bikes through the silly glass doors to the silly glass room with glazed tile that became very slick once we made it wet. The hotel clerk impatiently told us to get from the bikes whatever we needed, because she was locking the room and we would have no access until morning.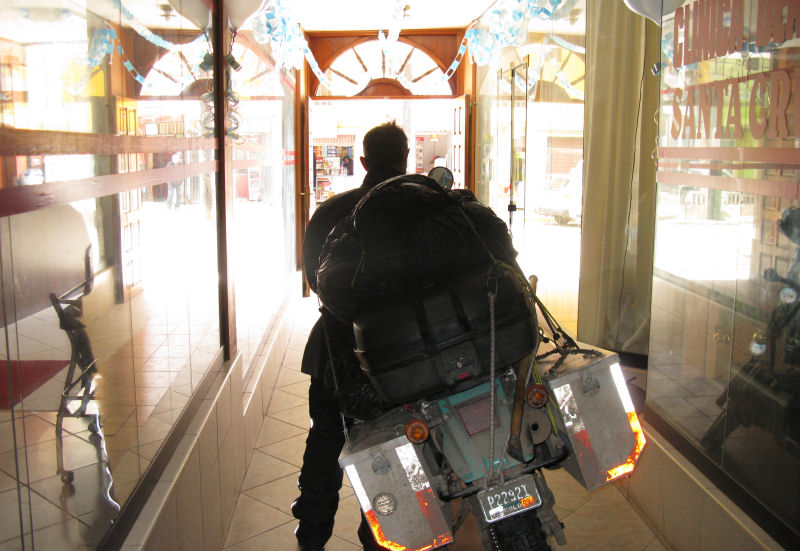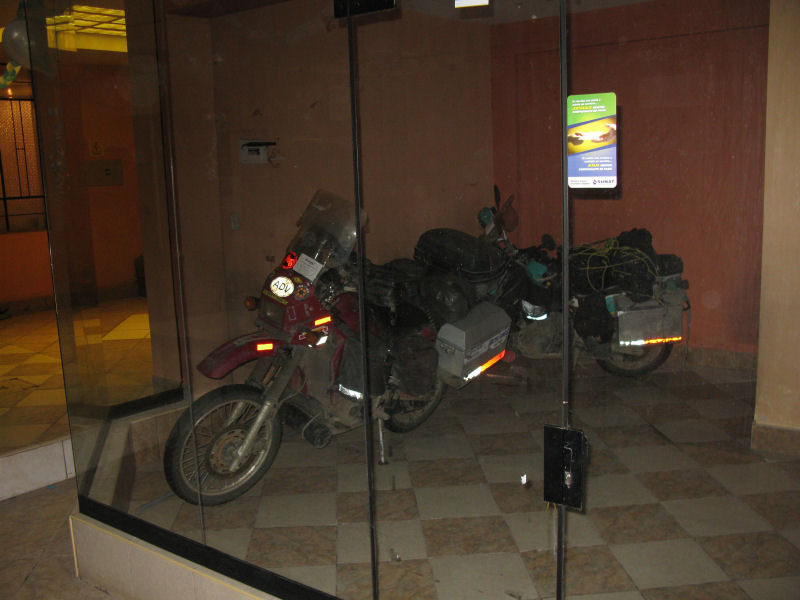 The place had an elevator, so that was a first for this trip. Fifth floor, please.
We needed warm food, so we quick-walked through the rain to the nearest place that was open. That turned out to be a pizza place, so I had the Machu Pizza special (I'm not kidding). White cheese, red bell pepper, mushrooms, ham, bacon, sausage. Light on the meat, heavy on the cheese. It was wonderful. Don had something less interesting that he could push around with his cracked jaw.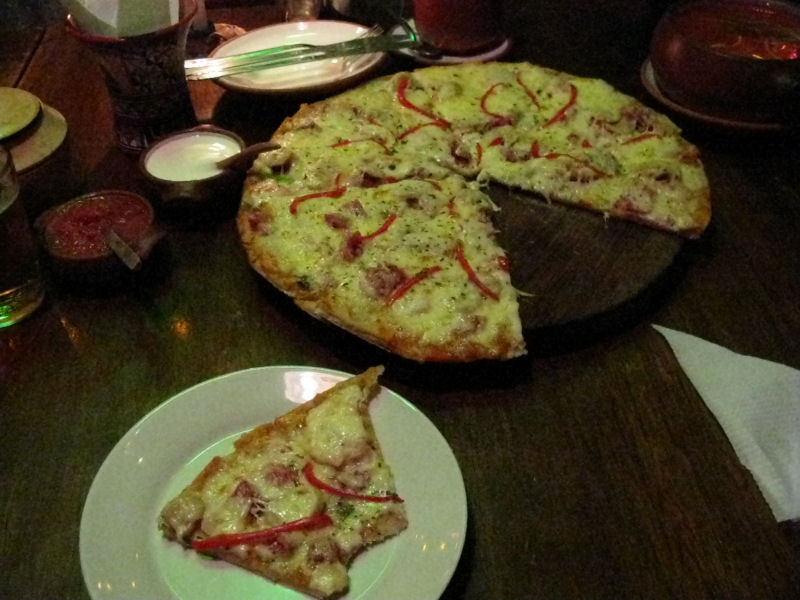 Back in the room, we dried off and did what we usually did. Don slept while I wrote for a couple hours.
Tuesday, 9 December, 2008
-----------------------------
Bad days come around now and again. Don's bad day had come and gone, so now it was my turn. I'll get to it in a moment.
The hotel had a nice cafeteria, and breakfast was included. It was good, and it came with great bread and eggs that Don could manage. I think he's losing weight. I'm not.
We got our bikes out of the glass prison without shattering everything, so that was nice. Getting out of Puno was tough due to the traffic crush. When a taxi hit Don in an intersection it spun him around and put him down, so that hung us up for a little while. One of the footpegs dug into his leg, causing a bad scrape, but otherwise he was fine. The right side box was a bit crumpled, and one corner weld had cracked open. A policeman and other witnesses helped Don pick his bike up, and Don just wanted to leave, so he rode away while the people were still standing in the street.
We managed (after a while) to find our way out of Puno and back onto the road we wanted. We didn't want to backtrack, so we decided on the direct route south to the PanAmerican Highway at Moquegua. That was a harrowing decision, as it turned out.
We climbed away from Lake Titicaca and up to colder riding at 14,828 feet.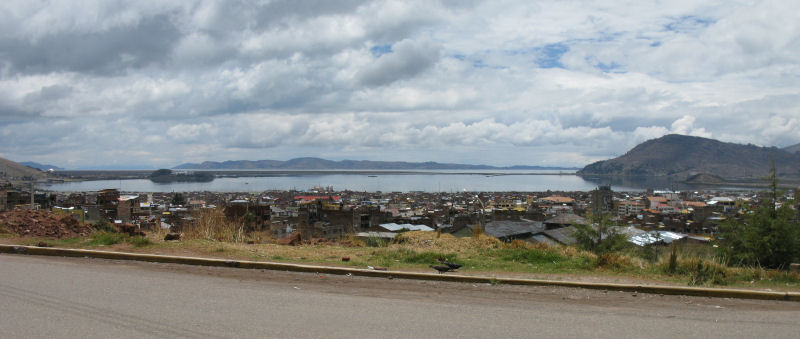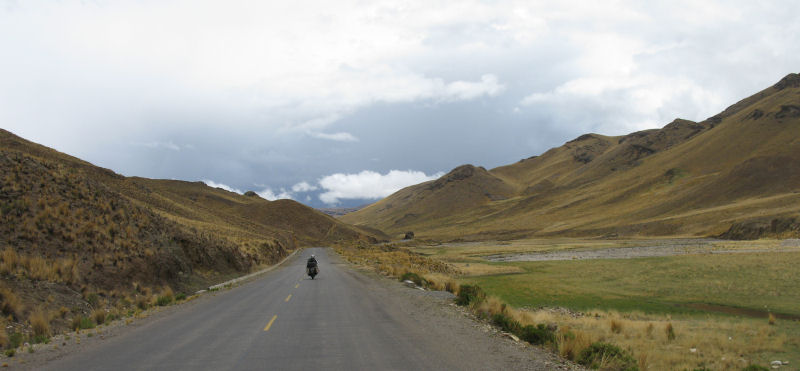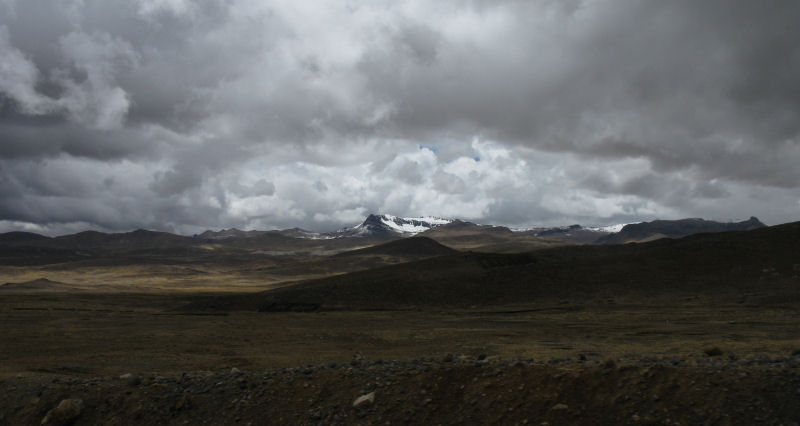 When the road stopped being pavement and started a series of macabre experiments in roadway construction, the drama was heightened by a sudden hail storm. That was exciting.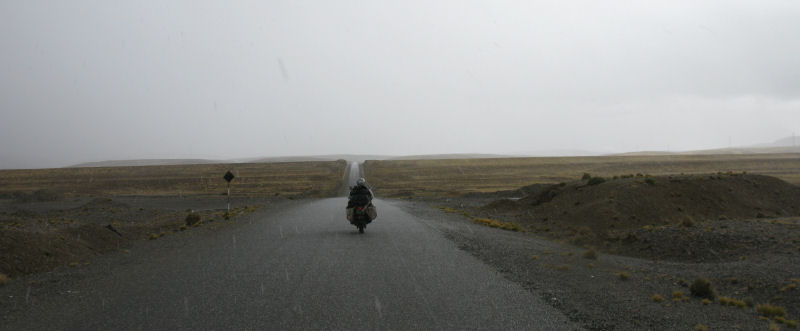 The hail had done its job, so it let up and let rain, snow, and sleet follow (in that order) to keep us on our toes. At least the road was paved in some sections. Visibility was really bad in an area where the hail built up on the road enough that it was hard to keep going up a slight incline. That was a double whammy.
After nearly an hour of these conditions, the sky opened unexpectedly and there was blue! Yippee!
Of course, that's right where the road destrucors had finished for the day (yesterday, probably) and the mud was impossible to get through smoothly. Don couldn't work the bike through the muck, due to his ribs, so I rode it through the last uphill part. His TKC80's were barely up to the task. My very worn Avon Distenzias were not up to much, but I was able to stand on the pegs and keep the throttle open, so I got through.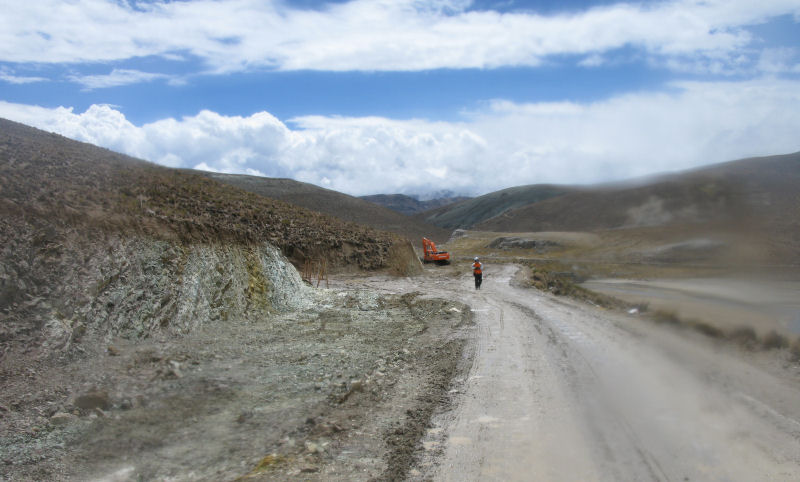 We were then at 14,897 feet, and the road again started changing surfaces. Now pavement, now sand, now gravel, now a mile of wet washboard... Road crews were actually working in some areas, and we had to squeeze past a couple of big machines.
Where they were widening the roadway, you could see the green oxidation in the ground. Probably from copper ore, I would think. Chile is the world's leading producer of copper, so Peru can't be far behind. My camera was very wet for the next few shots, so please forgive the fuzzy pics.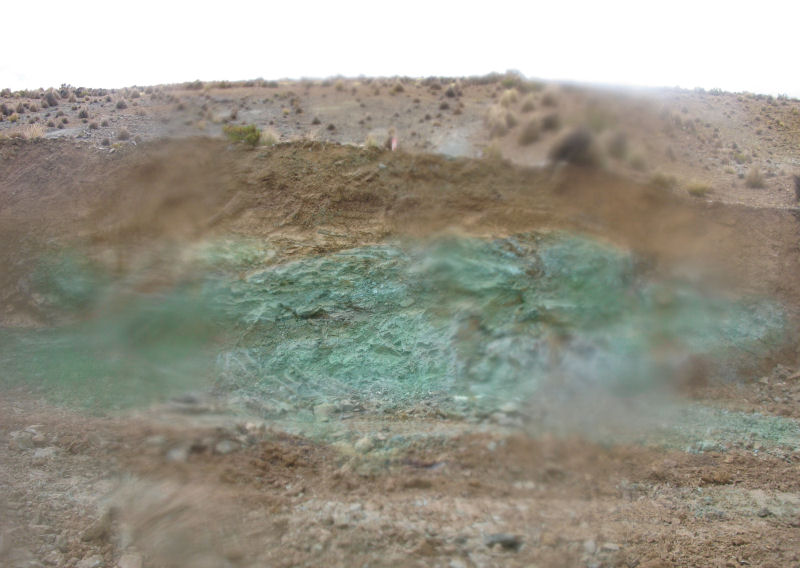 Other than the weather and the challenging road, the area was scenic and interesting. There were a few water crossings, one of them was pretty deep.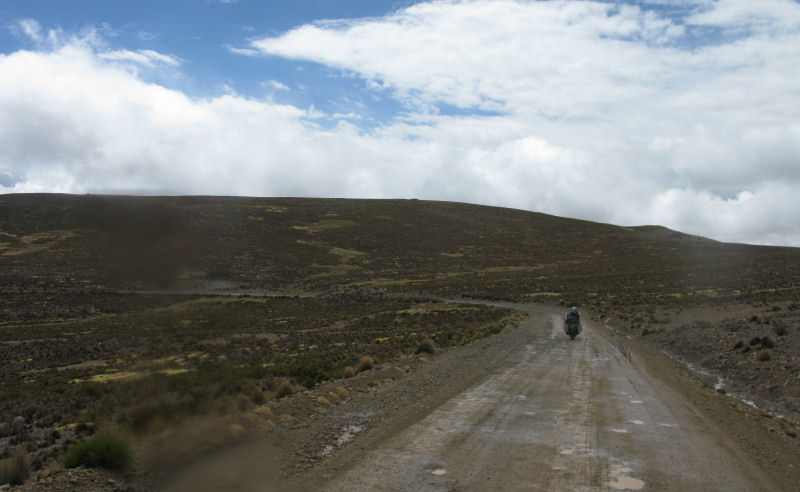 The blue skies came and went quickly, but then they held for a while. We were feeling better.
That victory behind us, it was time for a flat tire. Don had a double puncture in the front tube, but we never found what caused them. The weather held clear just long enough for a speedy tube swap and slammed shut over us just as we put the axle back in.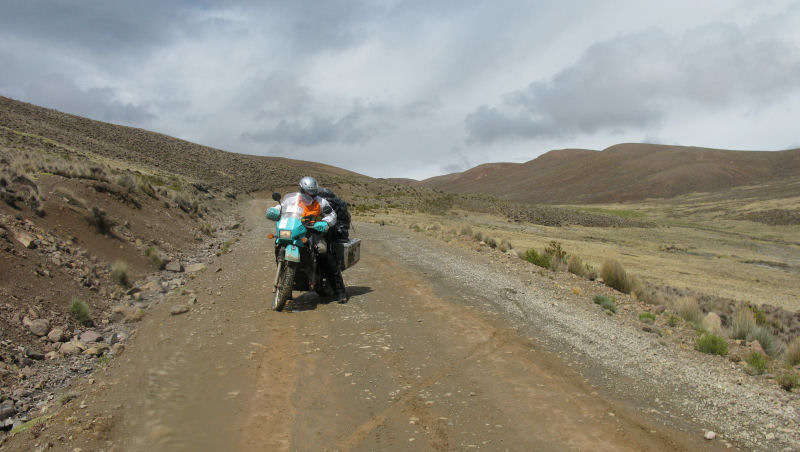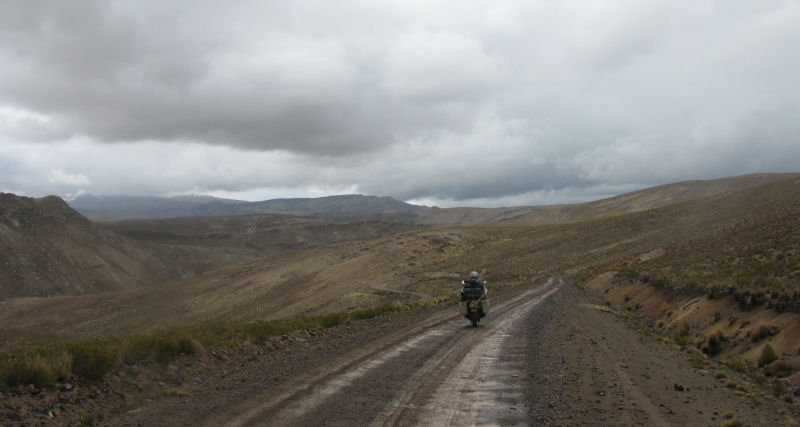 This is when things went really bad. Soon after the above photo was taken, I saw a lot of vehicles parked on the left side of the road ahead. It looked like a road camp for construction workers. Several semi-tractor rigs were lined up, along with lots of smaller cars and trucks. I was well ahead of Don, and I slowed as I started passing the long line of vehicles.
I saw two small boys running down the road in front of me, going the same direction as me. They were carrying something between them that was heavy and had straps that they were holding on to. It looked like a car battery. As I came up behind them, I honked my horn a few times and they both moved off to the left, still running alongside a long tractor-trailer rig. I was going maybe 15-20 mph as I started to pass the boys, but suddenly the boy on the right decided to cross the road in front of me and the other boy kept running straight. For a brief second, they had a tug-of-war over the battery, but the boy on the right either won or the other kid let go, because the kid on the right suddenly came across in front of me and I ran straight into him. Never had a chance to brake or even pull in the clutch.
I saw him come up onto my front faring and he fell away to the right as my bike crashed hard to the left, grinding itself and me into the gravel road.
Folks, let me tell you that the image of that small boy being lifted and tossed aside by my bike will never leave me. Another image that will never leave me was when I looked up from where I was laying and seeing the boy getting back up before I did.
People came running from all over the car-camp, and a couple of the men were yelling angrily at the boy that I had run into. None of them ran to me, I noticed. I got up slowly and had a few sore spots, but was mostly okay. I went over to the boy and checked that he was okay, and was so relieved that he seemed alright that I hugged him lightly for a moment. I then went back to my bike. People helped me get the bike up, and then their anger turned on me. It wasn't really hostile, it was accusatory and there was a lot of finger-pointing.
My left shoulder was a bit tweaked, and my left elbow had taken a blow, but the riding gear had protected me from any serious damage. When more men came over to me, I went to one knee and acted like I was hurt worse than I really was. A couple men were watching me pretty closely. Don came riding up and I waved him over to me, telling him that I was actually okay and that we might have to get out of there.
The crowd was now definitely on the boy's side, and I soon went to check on him again. He still seemed stunned, and I saw him spit out some blood. Uh-oh. I checked him for shock, and checked his abdomen, but he seemed fine. When he spit blood out again, I saw a serious gash on his tongue where he had bitten into it. He looked like maybe ten or twelve years old.
I had a hard time identifying a parent for the boy, as several men claimed to be the father. One man, wearing an orange work vest, seemed to do most of the talking while I was checking the boy. Another man then snatched the boy from me and quick-marched him over to the side of the road where he knelt next to the boy and conducted what must have been a religious ceremony. I knelt with them as the man waved his hat over the boy's head while praying, made the boy eat some dirt from the ground in front of them, then repeated the ritual, jamming another pinch of sandy soil into the kid's bloody mouth. It was interesting, I must admit, but it was also very uncomfortable.
Soon, of course, the matter turned to money.
It was very clear that I would have to pay something for the boy's treatment, and once the issue of money was raised, popular opinion swayed almost fully over that side. I asked again who the boy's father was, but the man in the orange vest and the man who performed the ritual on the kid each seemed to making some claim. When I asked what it would cost to have the boy seen by a doctor and treated, there were many demands for hundreds of dollars. Dollars, I noticed... not Peruvian Soles.
I took all the money I had in my pants pocket out and just handed it to the man who had done the ritual. He counted it where people could see, and they collectively decided that it wasn't enough. One man lifted the boy's shirt as if to display a massive wound to the boy's back (where the bike had struck him), but all that could be seen was a large scuffed area that wasn't discolored or bleeding. I'm sure the kid will have a bruise later today, bur for now, there was nothing.
Don added to the sum, with both Soles and Dollars, and that seemed to calm people down. One guy had written my license plate (and Don's) on his hand with a poorly-working ball-point pen.
I was torn. I wanted the kid to be alright, certainly, but his worst injury appeared to be a cut tongue. He was at fault for running in front of me at the last instant, but I was apparently at fault for being on a motorcycle in Peru at the time. We had already paid enough to get him to a doctor for stitches in his tongue, and I didn't want to get into a multi-day mess as had happened to Don. We still hadn't gotten insurance, you know. Getting cleanly out of Peru had been our goal after Don's crash, and that didn't happen.
I'm trying not to make light of it all, because it was very serious, but it was already well out of proportion.
One guy said something to us about not paying anything more to the boy's father (whoever the father was). Don and I made ready to ride on, and no one seemed to be stopping us. They were still counting the money.
My left Jesse box--the one that had been damaged and repaired in Costa Rica--was again bent all to hell and partly detached. The same lower-front mount that had broken before and been flipped over was now broken again, and there was nothing to flip over and use anymore. It was solid enough, though, so I mounted up and we rode slowly on.
(No photos. I was busy and Don was watching my back.)
After riding a while, I was starting to have surges of guilt. I then did what has often worked for me in my life. I decided to think (and feel) about the accident later, and I turned my mind to trying to enjoy the ride. The views were nice.
The road then got itself all lost in a sea of sand. It split, rejoined, split again into a spaghetti of roads.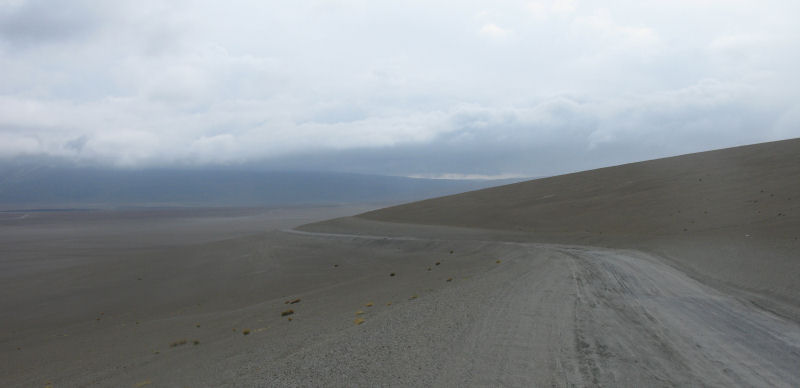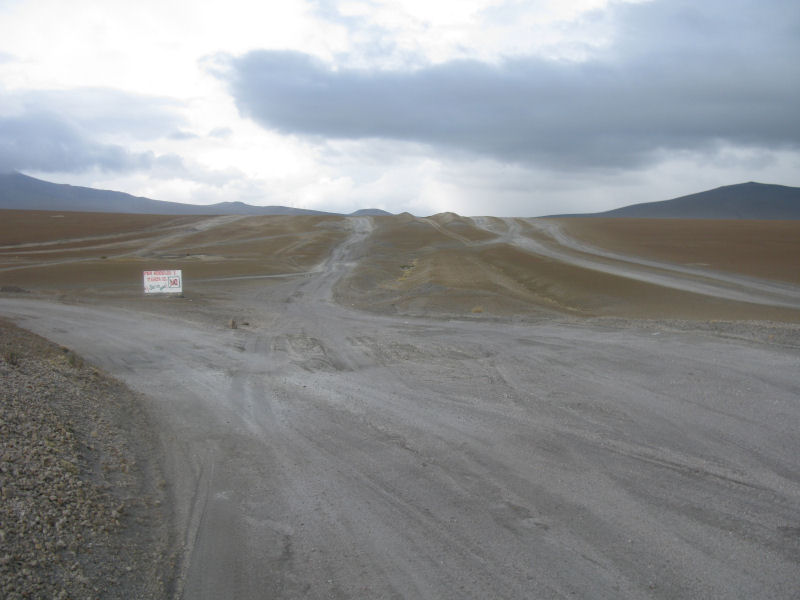 We just kept heading south and stayed on the path that looked most worn.
From behind us, I saw a dust cloud nearing. It was a truck, and it was going very fast. It chose a different path than the one we were on, and it soon passed us and continued onward. That did not reassure me.
Sure enough, we soon came to a small village where the truck had stopped and the two men in it had enlisted the aid of another man wearing what appeared to be a utility worker's uniform. They waved me over as I neared, and I stopped. I couldn't out-run the truck, even if I had wanted to. In the truck were the two men who might have been the boy's father.
What followed was predictable. The crowd had decided (after we had left) that the boy's injuries needed much more money to make better. The man in the orange work vest was finally identified to me as one of the elders of their pueblo, and he was named by the other man as the authority figure for the people of the pueblo. That sort of explained why he was speaking for the boy back at the accident scene. The other man appeared to be the boy's actual father. They claimed to have already sent the boy to the nearest hospital.
I asked the boy's name, but that seemed to confuse the man who was the authority for the pueblo. He thought about it for a while, then told me the boy's name was Juan Medina.
The utility worker (who had been dragged into helping settle this matter) made it clear that I would have to pay a sufficient fee (for the doctor, of course), and would have to sign a paper with the terms of the payment. I had read of this being the case in other riders' experiences, and it paralleled Don's experience.
There, in the desert, far from anywhere, I offered $500 and they accepted. I signed a paper that the utility worker had written, and handed over the cash. Handshakes all around, and I was given directions to the nearest hospital where I could get myself examined. That "nearest hospital" was further ahead on our current course, so they obviously hadn't sent the boy this way. Oh, well. No matter.
We rode on unmolested, and made firm our resolution to be out of Peru before we stopped riding today or tonight--however late it took us to hit the border.
It's not Peru that we had come to have a sour opinion about, it was just a series of bad experiences that had added up. Our failure to buy insurance had reared up once more. That won't happen again.
I re-focused on the ride.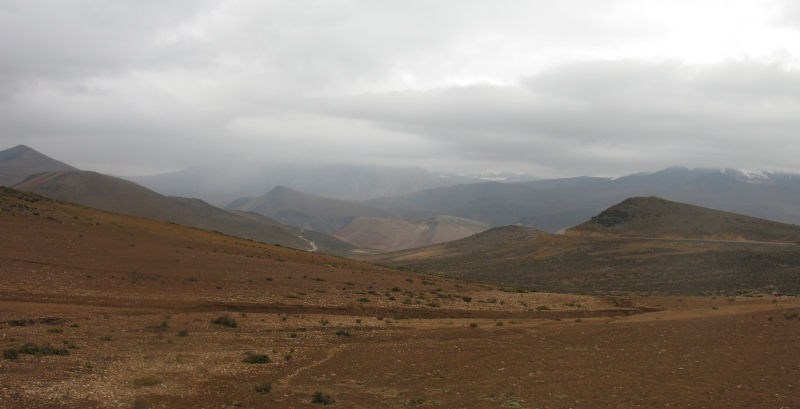 The dirt road came to a new, paved road, and that took us into Moquegua, where the hospital was. The descent from the high plateau (we crested over 15,000 feet) was a very nice motorcycling road. Twisty and very nicely paved. Good views as the sun dropped lower. It started getting a little chilly, but warmed up as we got lower.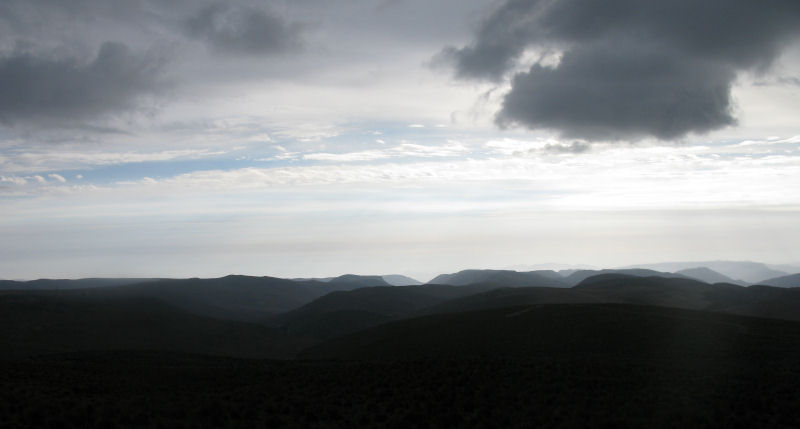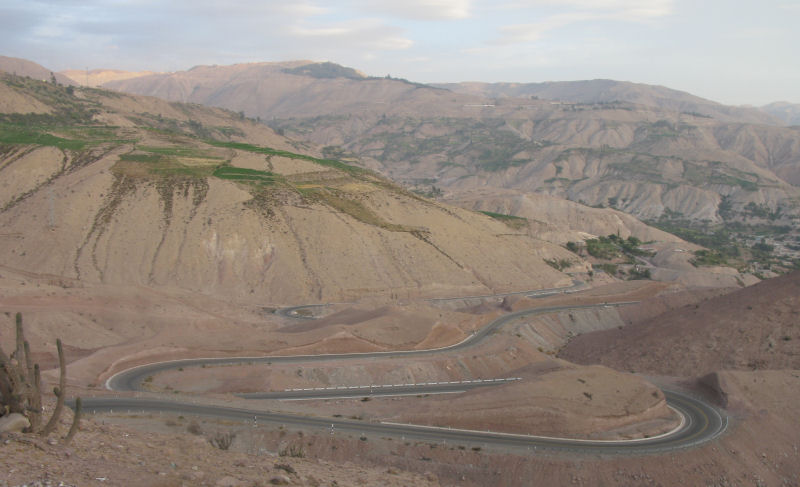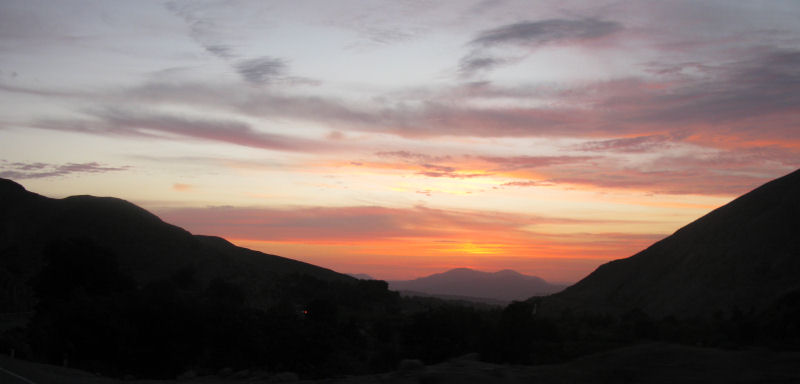 We stopped for gas (both 84 and 95 octane available) and a hot meal. Near the Plaza de Armas, we found another small restaurant where soup and soft drinks for us both was again under two dollars.
We went fast along the PanAmerican Highway, happy to be near the border with Chile. Although it was dark, there wasn't much to worry about; the road was straight and clear through Tacna and onward toward Chile. Clear, that is, except for the dog that ran out and bit Don's ankle as he passed--just as if it was a final farewell from Peru. Fortunately, the bite didn't break the skin, and the riding gear again saved the day.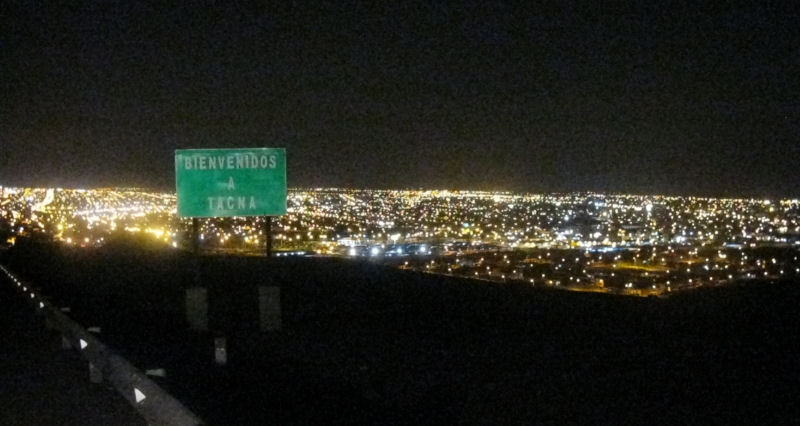 Our escape from Peru wasn't saved though. After buzzing another twenty miles to the border, we discovered that the border was closed! There were people coming through from the other direction, but the polite-but-firm border guard said we could rest for ten minutes in the parking lot and then we had to leave. Apparently, Chile had closed their border, so no one could pass from this direction tonight. We had to come back in the morning.
We looked for the ankle-biting dog on the ride back to Tacna, but it was probably laying low, snickering. We were not happy about seeming to be re-entering Peru.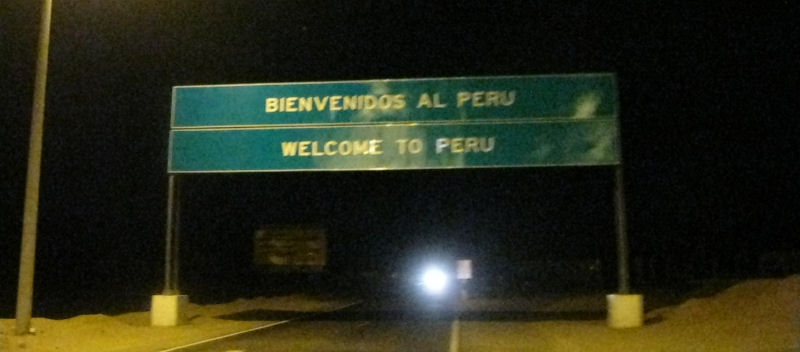 We checked into a hostel, got a room with four beds but no toiler paper (bring your own, folks), then went out for a walk. We saw several small casinos, and found a street with lots of cafes and nightclubs. We had something to eat, but I don't remember what it was. Back to the hostel, where I finally let myself think (and feel) about hitting that kid.
Eventually, I managed to sleep.
Wednesday, 10 December, 2008
----------------------------------
We rose and ate at 08:30, then got ready to go.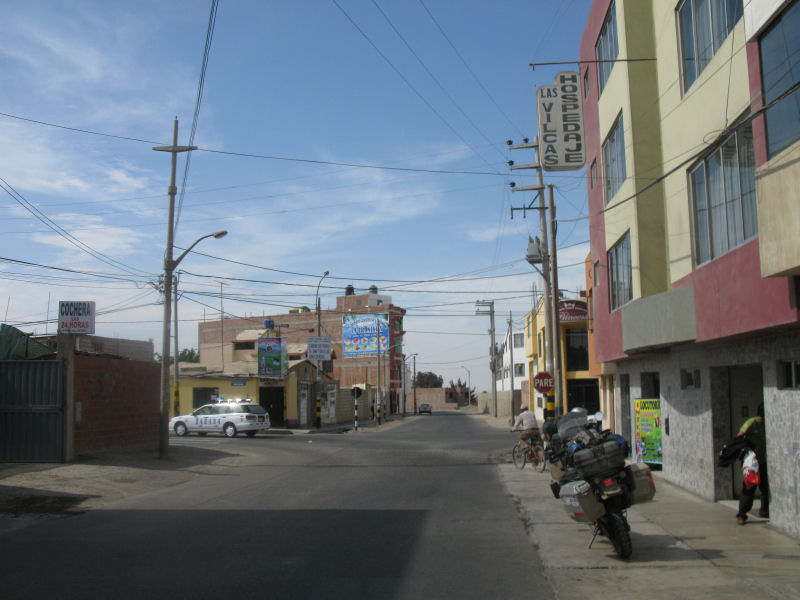 My bike has been running rough since the kid threw himself in front of me yesterday, so I started it up and wondered what the problem might be. Everything looked okay.
Thinking about the crash didn't help diagnose the problem. The impact on the boy had been nothing, really, but the bike went from 15-20 mph to zero all at once and hit the dirt road hard. I had seen nothing that looked like damage when I had picked the bike up, but the bike wouldn't start and I couldn't pull the clutch lever in. After rolling the bike a bit, everything loosened up and the bike and clutch worked fine again. I rode it from the crash without noticing anything amiss, but I had thought that it was a bit rough on the long descent from the high mountains.
This morning, it again sounded rough but seemed to run okay.
It was a sunny day, warm and clear. As we finished loading the bikes up, a guy walking along the sidewalk with a pair of scissors went by mumbling that the scissors were for sale for a dollar. I couldn't help but think that somewhere nearby, someone was looking around for their suddenly- missing scissors.
We rode again to the border, and we got to see the area in the daylight. It was basically a desert again, so not so interesting. We came again to the new border building.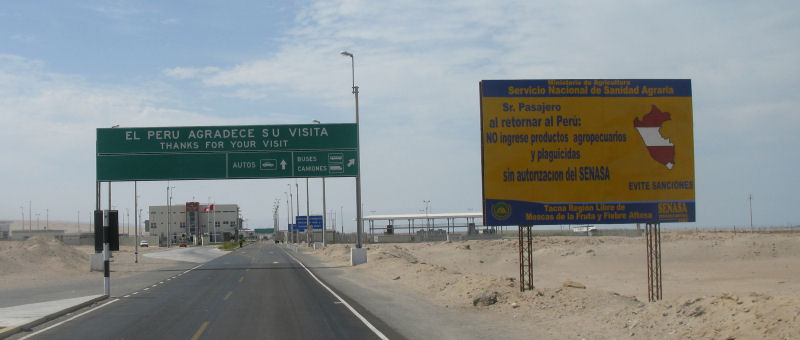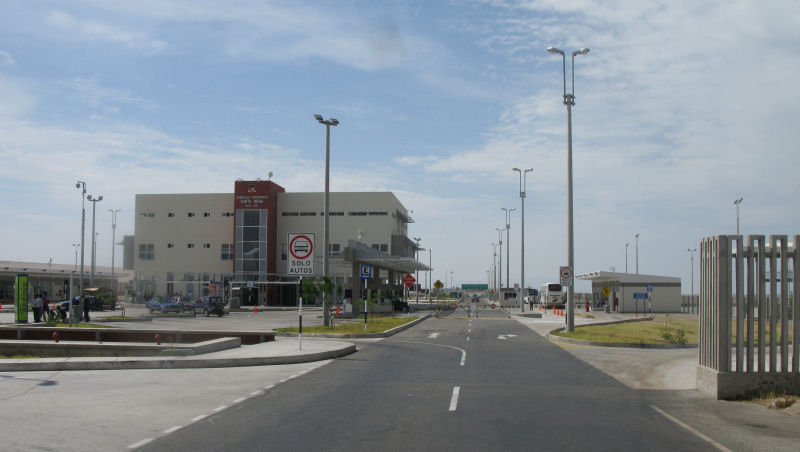 A police official took pity on us and led us through the exit process, which only a bit more complex than we had seen elsewhere in South America. We filled out an exit form and another policeman stamped us out and filled some information into his book. We had to hand in the bike import forms and the tourist stubs that we had filled in when we entered Peru. It's best to keep these tourist stubs with your passport. No charge to the process, no copies needed.
We were out of Peru and headed for Chile! Yay!
<< Link to PREVIOUS report: Ecuador Down >>
<< Link to NEXT report: Chile Down >>
[ ERRANT-RONIN HOME ] [ Prudhoe Bay to Ushuaia Home Page ] [ Ride Reports Home Page ]