Part 22. Brazil To Recife, Fortaleza, Belem
==============================
Sunday, 1 March, 2009
------------------------
Time to say good-bye to the Salvador area. I was up early and had one more breakfast of a ham and cheese sandwich, fruit, juice, coffee. I paid for last night and got the bike packed quickly. As I got dressed for riding, I had to evict a lizard that had taken up residence in one of my riding boots. They had been cool, dank, and stinky when I took them off ten days ago, so he must have thought they were perfect.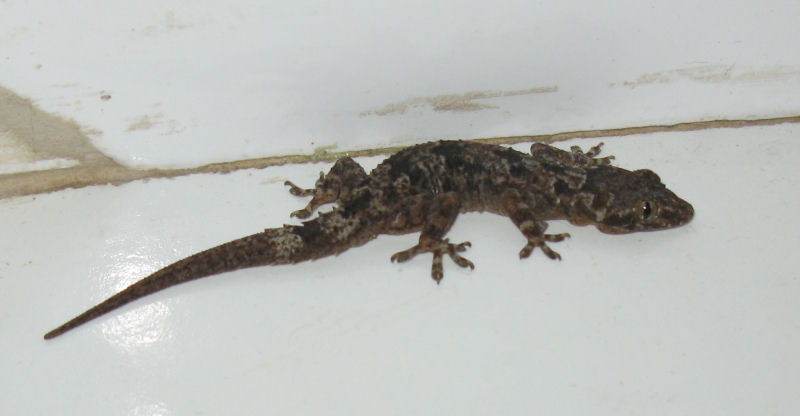 I got on the Litoral Norte highway, but the Garmin map didn't even show this major road. I had to ignore the GPS for a while and keep heading north on the very obvious highway under my tires. There were some very nice, new condo and townhouse developments north of the metro area on the Atlantic coast, most of the ones I could see were in a development called Paradise Lagoon.
The road went through several twisty sections where it had been deliberately blocked to route traffic toward the beach access roads.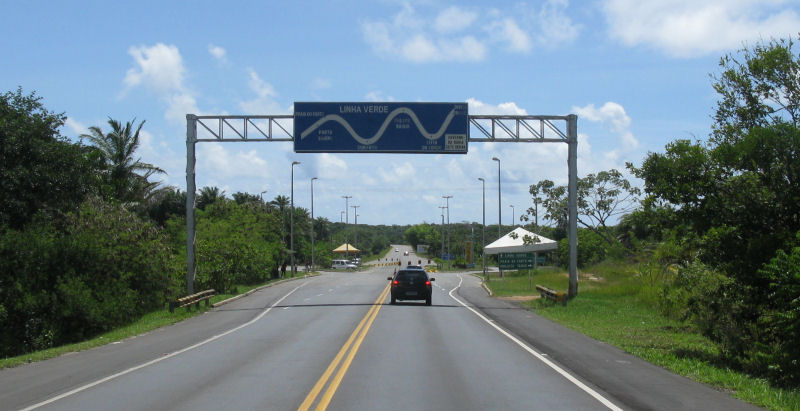 After about 200 miles, I stopped for gas, but then just kept riding. There were several police checkpoints in the road, but they never seemed interested in me.
I went through more towns that had soft asphalt. The trucks had smashed down huge ruts in the pavement, showing where inadequate roadbed preparation had been done. Some of the ruts were 8" deep. Even some of the speed bumps were mashed down where the tires had hit them repeatedly.
There were a lot more horses and mules on the road, since this was farm country. The animals were either ridden or were pulling heavily-loaded carts and wagons. Some of the horses were ridden by very small kids, less than ten years old.
Another 150 miles later, I stopped for gas and food. There weren't as many roadside buffets as Don and I had seen in southern Brazil, but I found one that looked nice. It was okay, and it was cheap. When I went to the men's room, a woman was cleaning in there and she directed me to use the women's room. When I stepped out of a toilet stall fumbling with the buckle on my riding pants, I totally freaked out a woman at the vanity and I thought she was going to scream. Two other women walked in just then and they saw me, saw the freaked-out woman, and they froze. I tried to explain, but I didn't have time. A man followed the two women into the women's room and said that he had been told to go here because the men's room was not available. He saved me, if only from having to continue trying to explain myself in a language they didn't understand. Whew!
On the road again, I passed a couple areas with straw huts along the road. They didn't look like people lived full-time in them, but some had laundry hung outside. Maybe they were huts for local workers. Don't know.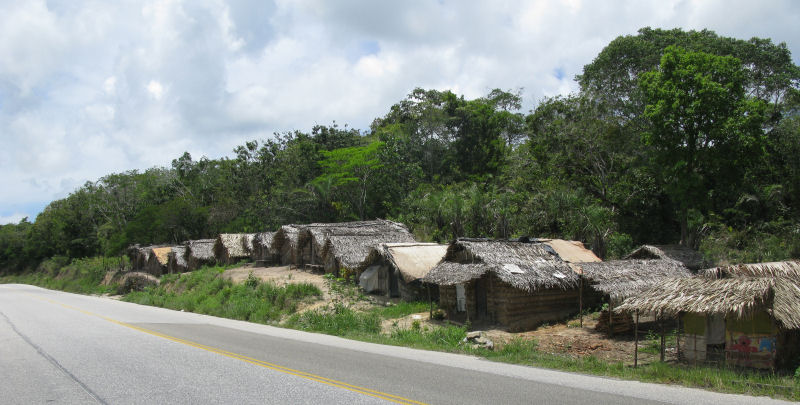 There was a lot of sand being blown up by the wind, but otherwise the stiff breeze felt good in the heat. The bugs going *splat!* on my faceshield and sunglasses felt less good. I crosses a couple rivers, one on a long steel bridge with a tall arch and suspension cables.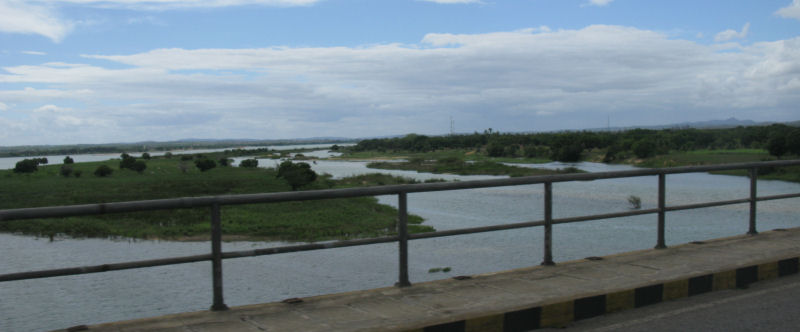 A couple fires in the distance looked very large. Not likely deliberate, due to their size, but perhaps old farm fields were being burnt. The smoke from fires nearer than the ones in the next photo was very irritating to my eyes. I guess I'm sensitive to smoke.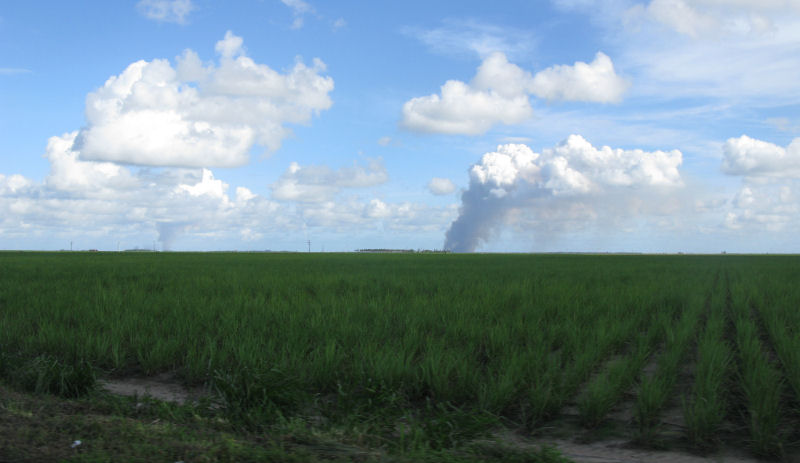 It got cloudy and cool later in the afternoon, and it was perfect riding weather. When I was on a nice road over rolling hills in a cool forest, it was very nice indeed.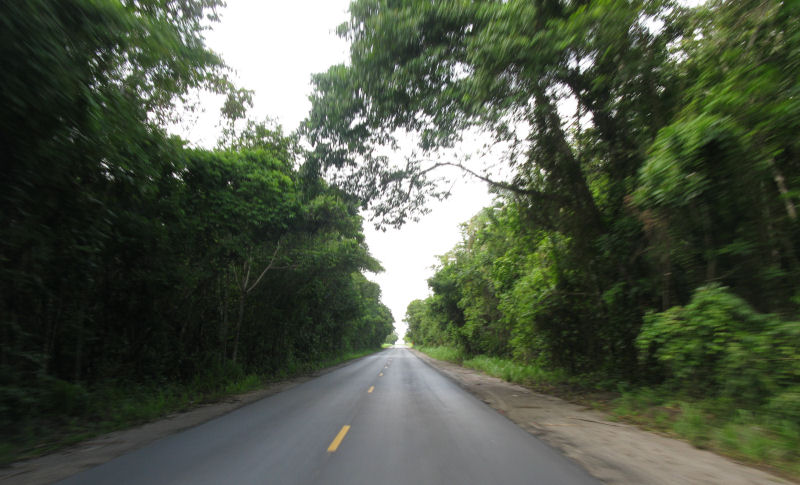 It didn't last. I saw the rain coming, so I had time to get my rain jacket on, but just barely. It rained solidly for the next two hours, and my leaky boots were again fit for another lizard more than they were fit for my feet.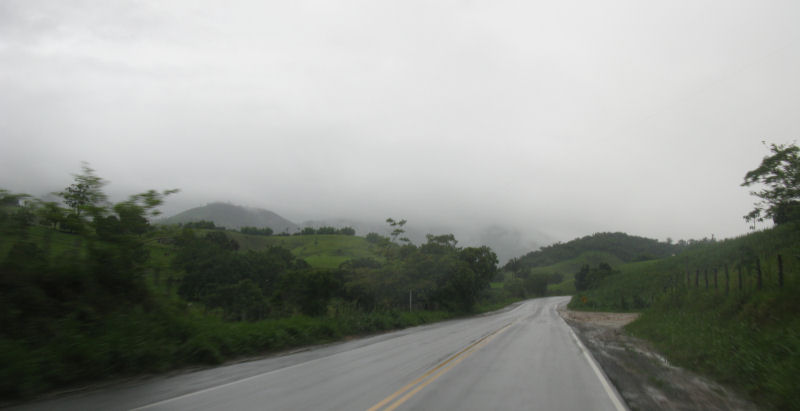 At 18:00, it got dark enough in the rain that I stopped in Palmares at a hotel. R$/60 got me a large room with AC, a large bathroom that would have made Don happy, and Wi-Fi Internet access. I wrote this report update in their bar, where breakfast will be in the morning.
There was no AT&T cell phone service in Palmares, probably none on the road between major cities. I'll pass through Recife early tomorrow, and head for Fortaleza.
I had recently gotten an email (or private message from a reader on one of the forums) asking about why I didn't include my mileage in this ride report. I wrote back that some of the driest, least interesting stories I had read were mostly about mileage, miles per gallon, how long it took to get to wherever, etc. I also concede that I never really paid that much attention, thinking that I could research the distances later when I finalize this report and make edits such as including SPoT location links. (I had done the SPoT links that way in the Prudhoe Bay part of this ride report.)
I'm now sure that it would be impossible to re-create the exact route or mileage for this trip, so there is no hope of going back later and putting in the mileage. So, when I notice and pay attention, I'll add mileage to the report. Today, for instance, was over 400 miles, but that's as close as I'm going to try to get.
Okay, maybe closer to 430 miles.
Monday, 2 March, 2009
-------------------------
Breakfast was very nice. Lots of fruits and juices, bread, several kinds of cold and grilled cheeses, some broiled root vegetable (yucca?), two different types of fried bananas, a very nice mix of chopped hot dogs and onions in a mild chili sauce, and a big steam-table tray full of scrambled eggs! I had two platefuls of food before hitting the fruit table.
Entertainment during breakfast was not so juicy. On the TV was a woman in way too much makeup doing some kind of talk show. Or maybe it was a show where she counseled people on their personal problems. She talked to a mother and her adult son, and seemed to be trying to get the son to help around the house more. The mother and son argued a lot. Later, they both cried and the overdone woman seemed smugly satisfied. It didn't help that the host of the show had to share screen time with a brightly-colored rubber duck puppet that someone off-camera was operating. Every now and then, the duck would interrupt or say something funny and the studio audience would laugh.
The show's logo looked like it said, "Mais Voce," but the logo was hard to read. Doesn't that mean "more of you" in Portuguese?
"Who watches this crap?" I thought. Me, apparently, since I even took a photo of the Tammy Faye impersonator. Couldn't get a shot of the duck because he was only on the screen for a few seconds every now and then.
The host also had a small black lap dog when she and guests were sitting on the sofas. The dog looked completely drugged at first, and didn't respond to anything. I don't think she ever noticed, but to me it later looked as if the dog had died during commercials.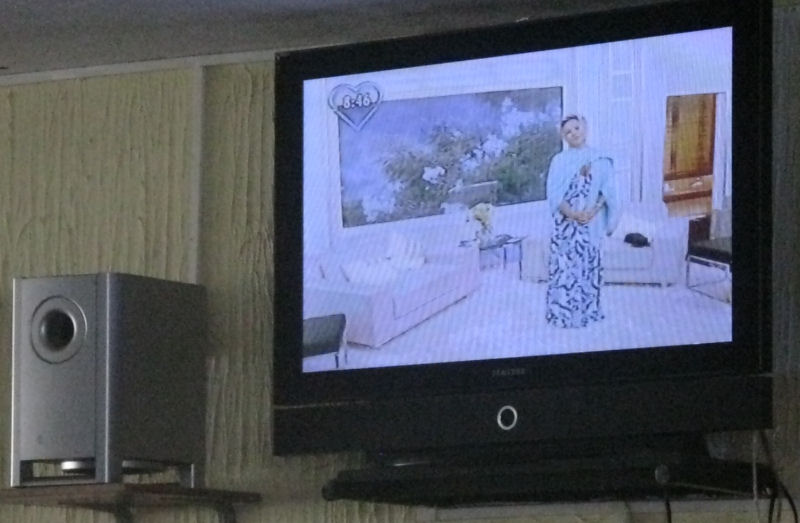 Others in the dining room/bar were staring at the screen as if it was the most important thing they would do all day. I had mileage to do, so I didn't linger any longer.
This was my room. Very nice.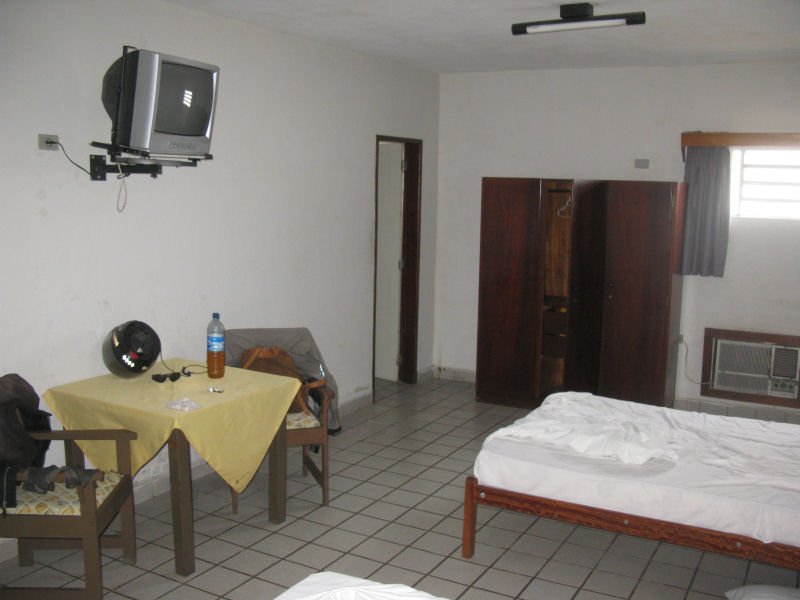 The hotel had a pool, but I had been rained on enough that it wasn't attractive.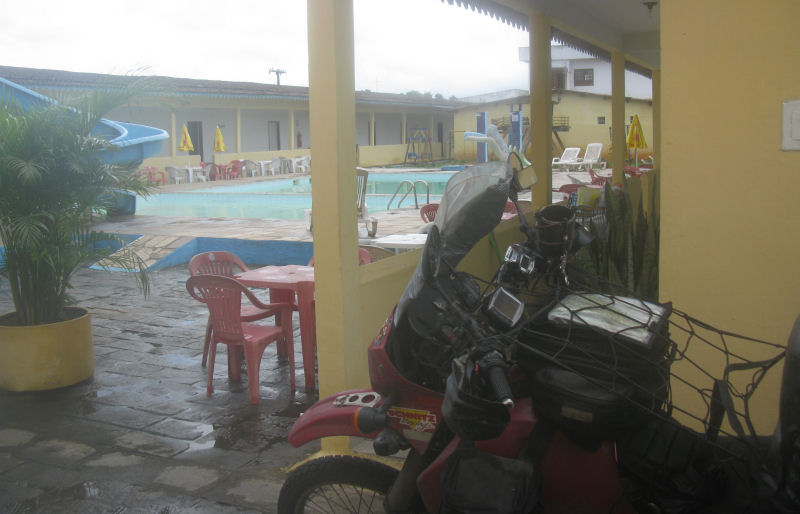 I was on the road soon after 09:00, and it was cool and overcast. Perfect weather, actually.
The road was terrible; broken very badly and with miles of potholes. Next to it was the construction for a new road, but it would be a long time coming, given the state of things. It looked like work was going slowly. I saw bushes growing out of some piles of dirt that had been moved aside. I also saw some more straw shacks along the road, and I think they must be for the thousand-or-so workers that were standing around in big crowds doing very little.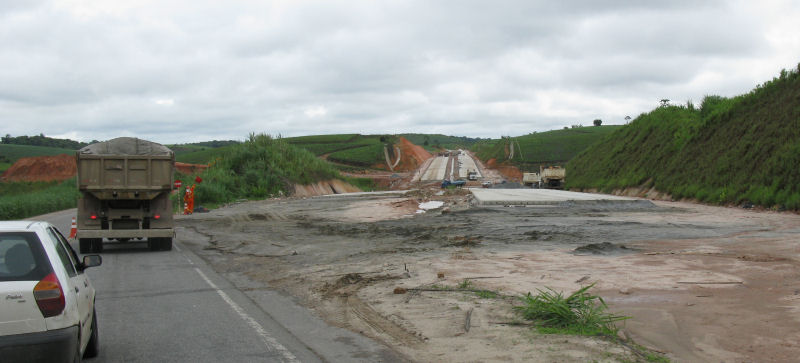 I got rained on several times today. The first was a long-lasting moderate rain that seemed to follow me. You could see that it was a localized storm (blue skies all around), but it kept turning left whenever I did.
I got to Recife early, as expected, but the highway went along the uninviting waterfront and dockyards. Then it was mostly industrial. The rain didn't follow me into the city, which was nice.
By the time I saw the turnoff to Centro, I just wanted to keep going. My interest in seeing the central part of each city and town was waning, and the mid-sized towns were the most interesting ones. Big cities were okay, but less unique.
I crossed a large river and could see some very nice areas of the city to the north, but didn't see how to get there. As I worked my way through late-morning traffic, I also passed a couple of parks and lakes. My camera was still tucked away in my rain jacket, so I didn't get many photos.
I stayed on BR-101 north, headed for Natal, but getting out of the metro area got surprisingly difficult. Not since Peru had I seen such poor signage and had such a hard time following a major roadway. The highway divided into smaller streets, and that was the end of the highway. Using dead-reckoning, I just tried to keep going north.
North of Recife was more of the same countryside. More construction, more nice rolling hills. When I got to Jauguaribe, I couldn't find out how to get out of there and back onto BR-101. At times, I could see the highway, but it took half an hour of puttering around to find the on-ramp.
The small motorcycles zipped and swooped through traffic like gnats. When I was able to fit between the cars and trucks with my much wider bike, I did the same.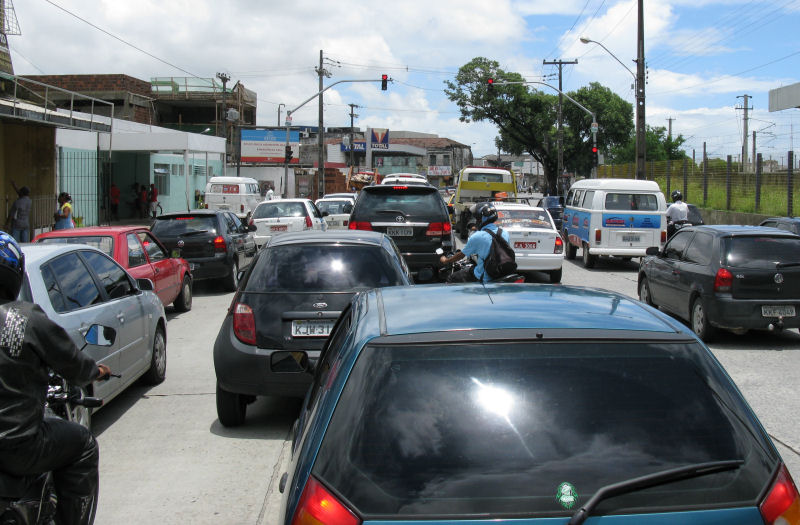 I saw some more large fires in the distance. Must be deliberate. Too many to be accidents.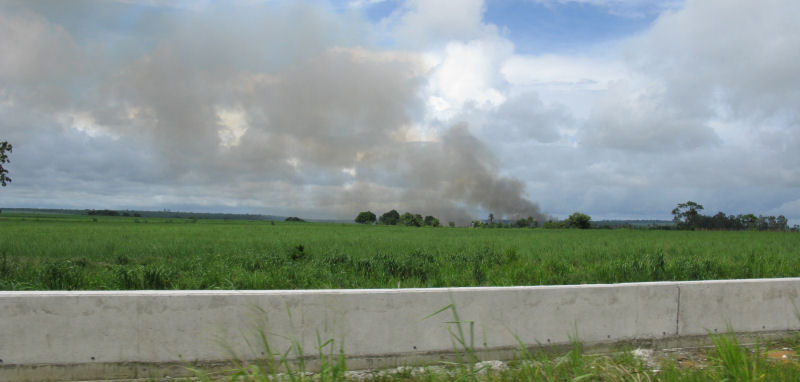 When it got sunny, I could feel the sunburn on my nose and neck. Then it got cloudy and cool again, so I never stopped to put sunscreen on. That was a mistake. I finally sprayed some sunscreen on my face while stopped at a construction site, but didn't do my neck, so that got sunburned.
For two hundred miles, there was evidence of slow road improvement projects. There was going to be an overpass in this small town, but I didn't see another highway to go over anything. There must be plans for a new highway, too.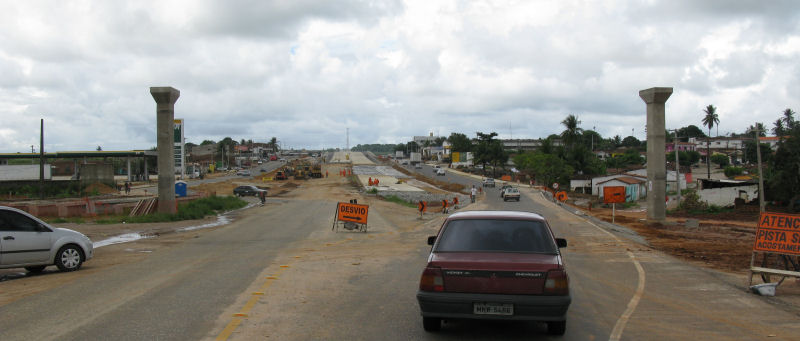 I turned off onto BR-304 toward Fortaleza. More construction there, too.
I saw large groups of soldiers in camouflage uniforms in some of the construction areas, so I assumed they were the Brazilian Corps of Engineers. They had some heavy equipment and surveying teams in these areas as well.

The traffic was fairly light, and I was averaging about 60 mph for long stretches. I passed the same Chevy pickup truck several times, and he would pass me back. I always got him at the speed bumps and traffic backups, since I was able to manage those faster. A few minutes later, he would blast past me again at 80 mph.
The habit of drivers here was to use their left turn signal to indicate there was on-coming traffic and it wasn't safe to pass, and their right turn signal to indicate when it was clear. You still have to look for yourself, of course, but they were all pretty good about this signal routine.
The price of gasoline got more expensive as I went north. It was R$/2.40 per liter in Salvador, but it was R$/2.60 up here.
Another difference I saw along the highway further north was that the truck stops and gas stations didn't have small hotels like they often did further south. Also, they didn't have as many restaurants as before. I rode all day without eating, something I had done a lot of in Canada and Alaska. Between 09:00 and 18:00, I had stopped only twice, both times for gas. Both times, I had trouble starting the bike, and had to roll it around the parking lots with the starter button mashed down. Once, I was able to jiggle the ignition switch and that worked. Maybe I have more than one problem in the starter circuit?
When it started to rain again, it got dark fast and it came down heavy. When a driver alerted me, I saw that my headlight was out again. I had just replaced it not long ago. Can't account for why it failed again. I flipped on my two highway lights, and I was happy once again for having planned on some redundancy with lights.
Nearing 18:00, I started looking for a hotel, but saw nothing along the highway. I exited into the town of Angicos, which looked large enough to have a hotel. I had to stop for the local traffic crossing the road.
After splashing through town once, I returned and asked a woman about a hotel, but she just waved back the way I had come and muttered something. A gas station attendant was kinder and got me onto the right street, but I still didn't see a hotel. I asked a woman with two pre-teen kids, and she pointed across the street. I didn't see a hotel anywhere. The kids though it was funny, so they ran across the street in the rain and opened an iron-gated door for me. It just looked like someone's house, but they kids giggled and waved me inside.
I was met by a man who handed me off to a woman with a mop. She took me to a cement-and-tile room, took my R$/25, and gave me the key.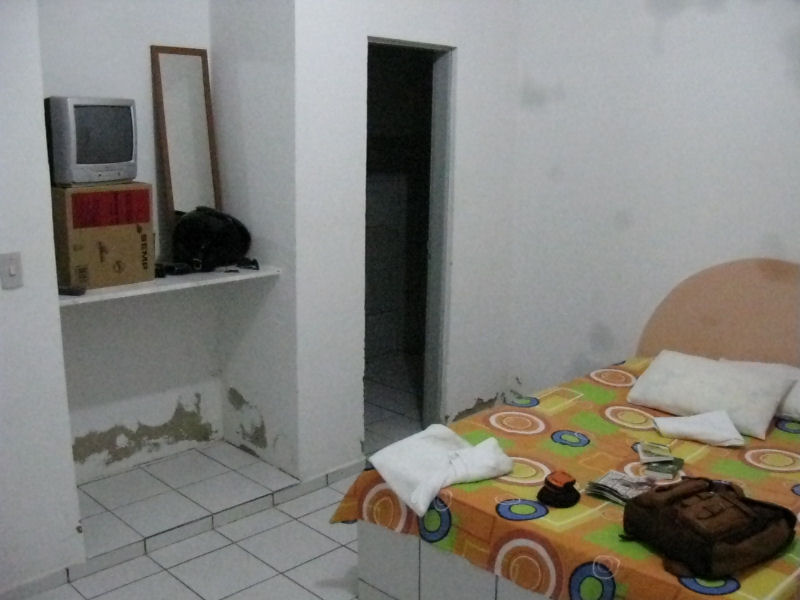 When I asked about my bike, she showed me how to get to the back lot, and went down to open the gate for me. It was not easy to get the big bike over the stones that were piled up at the bottom of the gate, and not easy to do that while squeezing through the only side of the gate that she opened. I'm still surprised I didn't dump the bike in the mud.
When I parked the bike, I rotated it around on the sidestand to make it easier to exit in the morning. That was trickier than usual, because of the mud, but I managed that as well.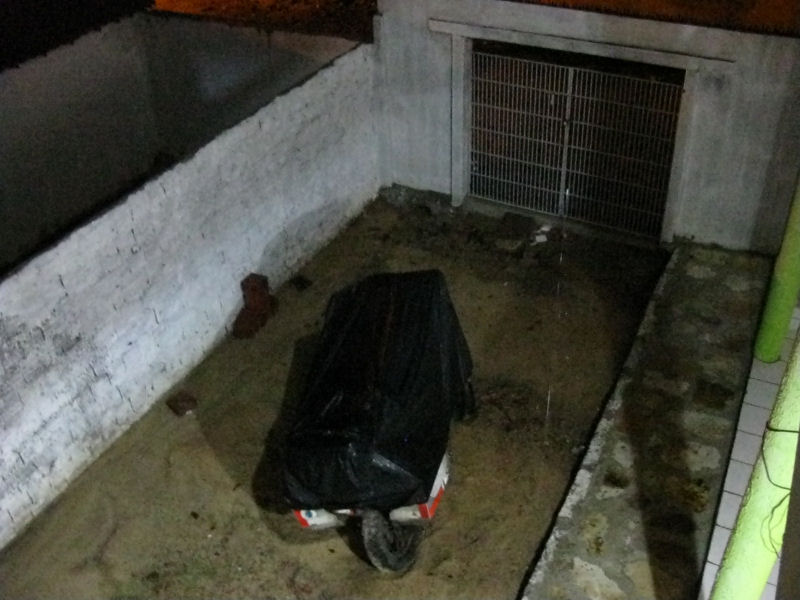 About 350 miles or so today.
The only restaurant anyone could point out to me was nearby, and it just looked like someone's house. It did have a small restaurant sign, so I walked through the gate and up to where three people were sitting on the porch. I asked if it was a restaurant, and the older woman nodded and said yes. I asked if they were open, and the younger woman said yes. I said, "Ummmm...'" and the young man pointed me to the door on the side of the porch that went into the house.
When I walked in, it was just like walking into someone's grandmother's house. I stood there in the nice, neat living room, feeling awkward, but the women had followed me in and they directed me to the dining room. I decided to act just as if I knew what I was doing, so I sat down at the table, which had place settings at each chair. Next to the table was a large display chest, filled with knick-knacks and fine china.
The young man from the porch came in and turned on the television. I don't get why they do that in all of Latin America---gotta have the TV on. I did like that he also turned on an oscillating fan. I had hung my wet rain jacket and cap on the back of my chair, but no one seemed to mind.
The old woman pointed out the two thermos jugs on the table, one for coffee and the other for milk. Then she went into the kitchen. When she came out, I suppose I expected a menu, but what I got instead was a small kettle of very nice beef noodle soup. She made two more trips to the kitchen, and I eventually ended up with a small steak, two bread rolls, some boiled (yucca?) root vegetable, and another interesting treat to go with my soup.
The other interesting treat was something that Don would have been interested in. It was a soft, cold, moist tapioca tortilla-crepe-thing. Maybe more like a soft pancake, thicker than the ones we had so enjoyed in Itapua. It had maybe been steamed, but it certainly had never been crispy. It was all floppy and it came apart easily. Maybe it had been lightly cooked until it merged into a crepe, then put into the refrigerator. With it, on the same plate, was a small slice of ham.
The old woman asked me something, but I didn't understand. She asked me again, but that didn't help. She threw up her hands and went into the kitchen muttering, came back out with an egg and held it out in front of my face. She repeated her question, and I finally got that she was asking me if I wanted an egg. No, thank you... um, Obrigado. She sighed and went to put her egg away.
The other foods I could manage, but I wasn't sure what to do with the ham and the tapioca pancake thingy. As I worked on the soup and the steak (which was tasty but was overcooked as of two days ago), three other guests came in, sat down and were served the same meals. The two men and young woman chatted as they ate, and they seemed to be familiar with the place. The old woman leaned on another chair and watched us eat. Mostly, I think she was watching me because I hadn't known what an egg was. Sheesh.
I wanted to see what they did with the floppy tapioca thingies, so I ate slower, hoping to watch them go first. I was almost out of delaying tactics (slowly pouring a cup of coffee and stirring it too much to be normal), when one of the guys asked the old woman for something and she went into the kitchen. In a bright, shiny moment of humor, she came back into the doorway and dramatically held up an egg for me to see, and she said, "Ovo!" I laughed and she did too, but the others at the table were not in on the joke, so they looked at us both but didn't say anything.
The woman later brought the scrambled egg (pronounced OH-voo) to the guy who had asked for it, and he spread it out on his floppy tapioca crepe and ate it like a sandwich. It fell apart as he did so, but he managed to finally stuff it all into his mouth. Less worried now about the etiquette involved, I stuffed my piece of ham into my crepe thing and picked it up. I, too, had it fall apart, but was also able to cram it all in. Not much of a taste treat, but not objectionable.
What I really wanted was a beer, but there was no way I was going to ask for one in this old woman's house.
I didn't see what they paid, but when the other guests suddenly left, they handed some money to the old woman who put it in her pocket without counting it. I wrote some notes in my notebook and lingered over my coffee, but I got the sense that this was an eat-and-get-out sort of place. I got that sense from the old woman who stood next to me and casually started picking up my plates and utensils. Well, okay, guess it's time to go.
I asked how much the meal was and she held up one hand with all the fingers spread. I gave her 5 Reals and that was the best price I have paid for one of the best meals I have had in a long time. I really wanted to take a photo of her and the dining room, but the feeling of being in someone's grandmother's home had never left me.
Instead, I slogged back to the hotel in the rain and took a photo of this guy, giving the evil eye to a dead cricket outside my room's door.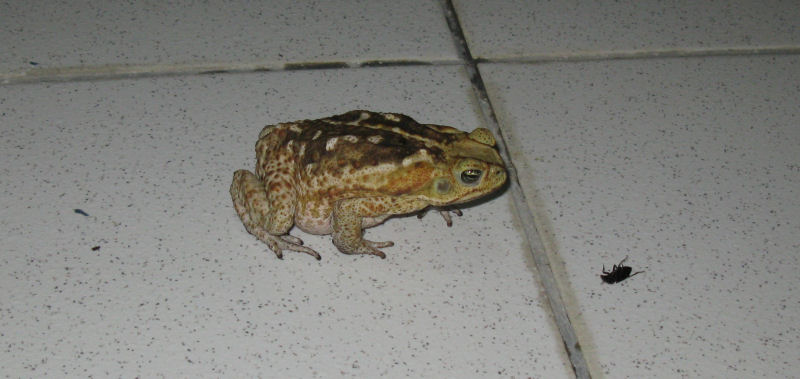 I put the SPoT device out on a wall to do its thing. I had no cell phone signal, no Wi-Fi, and no way to know if the SPoT signal got out or not.
I also had no hot water in the shower, so it felt just like being rained on.
Again.
Tuesday, 3 March, 2009
-------------------------
I was up and out by 09:00, ready to head north. I had another starter problem when I tried to get going, but I found that if I pressed on the bottom of the ignition switch, the starter would work normally. I now suspect there is a loose wire or broken connection in the key switch. This is good news, since it's easier to get to and probably repair. Also, it takes two hands, but I can usually get the bike started faster now.
It was very warm already, and mostly clear. The mostly clear didn't last long, though, and I started seeing rainstorms in all directions. I stopped for gas, and took advantage of the fact that the rain hadn't zonked me yet to adjust and lube my chain. I also replaced the burned-out headlight bulb. That was my last spare, so I need to get a couple more.
A short while later the weather caught me, so I pulled in to a roadside restaurant with all the flies that were also escaping the rain. R$/7 got me this meal, and a soda. The fruit came first, so I ate that right away and waited for the rest of the food. The (yucca?) root was so overcooked that it was almost mush, but it was okay. The steaks were chewy but also not bad. The rice was okay. The yellow stuff is couscous, and it was very dry. I dumped some hot sauce in it to make it easier to eat, since there wasn't anything else to soak it in. The fried egg was a treat.
I entertained some truck drivers in the parking lot by fumbling around trying to get my bike started, and one of them kept offering to push start me. No, I assured him, it's just an electrical problem. He didn't understand that, and he stood behind my bike making pushing motions. When the bike finally kicked over, he was very happy for me.
BR-304 was in bad shape in places, and again there was more construction. This is going to be a nice highway someday. Not in my lifetime, maybe, but someday.
A lot of people ride motorcycles while wearing flip-flops. They must each have a big callus on top of their left foot.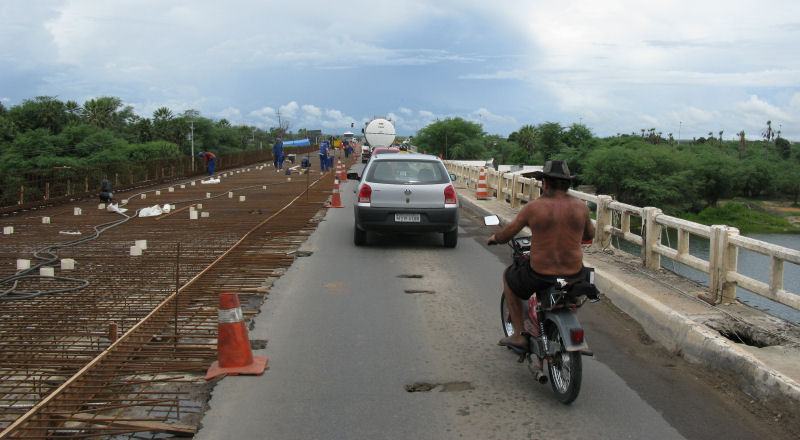 I came to an intersection where I could choose to stay on BR-304 inland to Fortaleza, or take a lesser road along the coast. I chose CE-040, because I thought it would be more interesting. I was wrong. After passing some odd lakes with small paddle boats (must be for farming fish or growing some water crop), there was nothing to see but heavy rain and tall vegetation along the road. Never saw the ocean once. It was in better repair than BR-304, so I made good time.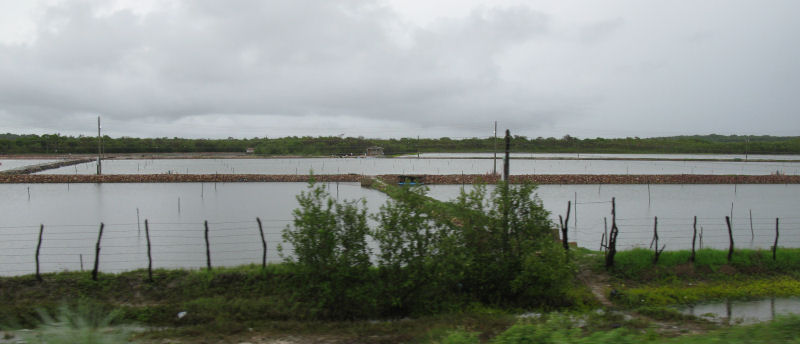 I had gone a bit more than 200 miles today, but it still took some riding to get into Fortaleza proper, since it is a large metro area. The rain stopped for a while, which was nice. For several miles, it looked like this: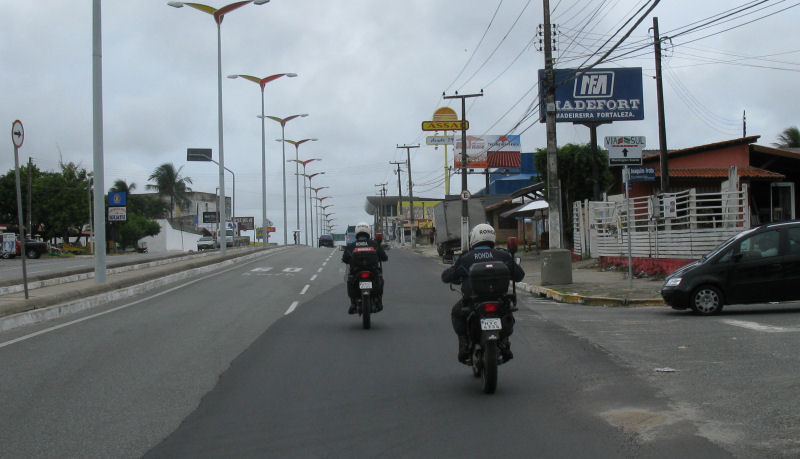 Those are motorcycle police, but I don't know what RONDA means on their helmets and jackets.
Fortaleza seems a nice city, looking more European again. All the tall buildings seemed new.
I stopped at a pharmacy and got more Doxycycline, in case my supply runs out. For the best protection, you need to keep taking the anti-malarial medication for a month after leaving the affected area. It was easily available without a prescription and it was very cheap.
In the next photo, there is a sex shop called Via Libido. More dead women in Birmingham if they saw the stuff the mannequins were wearing in the window.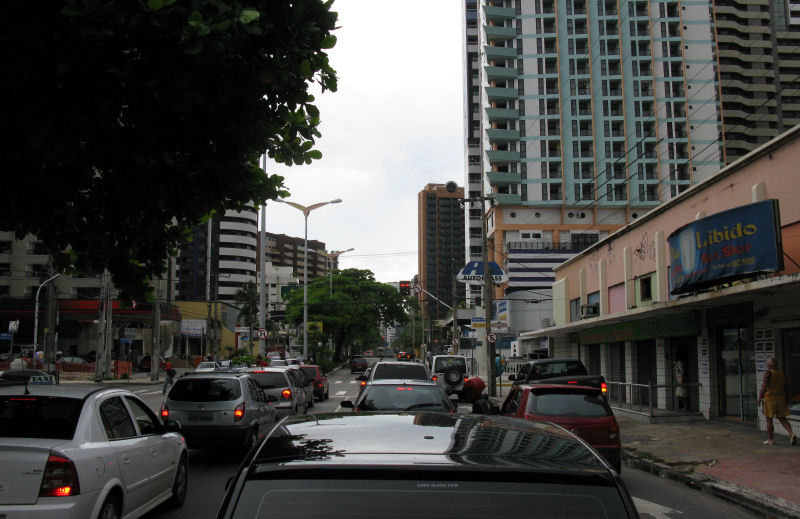 The rain came again in a steady drizzle. I rode down to the main beach area and stopped for a while (down there by the trees).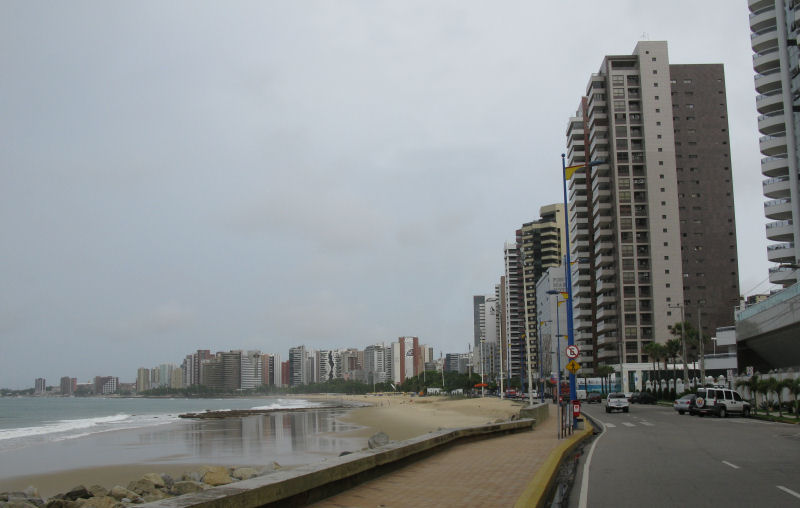 I parked the bike and walked down to the sand to sit under a leaky straw umbrella and relax. The waiter had seen me come from the bike, and he asked me a lot about it. He started telling other people under the other umbrellas about me and the bike, but no one else seemed to care. That was fine with me, since I just wanted to relax.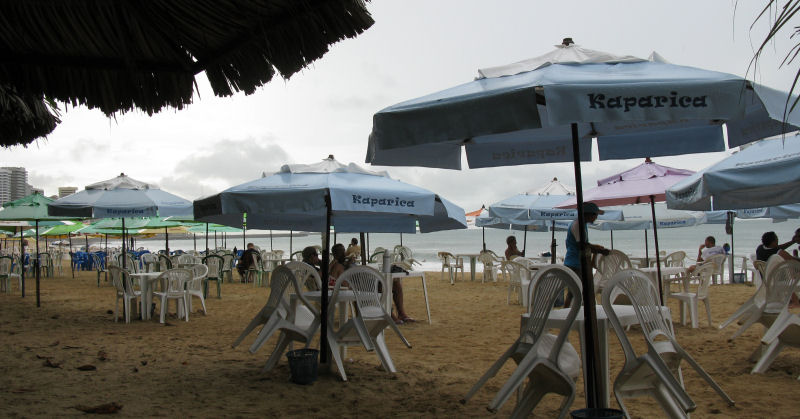 My camera started acting all weird, and when I opened the battery compartment, water drained out. Oops. I had kept it in a pocket of my Darien rain jacket most of the day, but that obviously hadn't protected it well enough. I took the batteries out and will try to let it dry overnight.
My cell phone (Don's phone, actually) got a strong signal, now that I was in a large city, but I never could get a text message sent out. I called and was able to get in touch with Laurie, so at least that worked. I learned from her that Don's bike was still in Brazil, but Don had flown home from Houston. I offered to ride back to Salvador to see what I could do, but she said it looked like a cargo-space problem that would work itself out eventually. He may get his bike back eventually, but not yet. Nothing for American Airlines to be proud of.
So again I tried to just relax on the beach, but that was hard to do in wet riding clothes and heavy (water-filled) boots.
I was very tempted by a beach vendor selling small, cooked lobsters that he carried around in a bucket. I'll look for him later, since I just then decided to stop here for the night. When I asked, the waiter recommended the Pousada Imperial and gave me directions. I wish that I had known yesterday that "pousada" meant hotel. I had seen several while looking for a "hotel" in the rain last night. I had thought that a pousada was some kind of diner or small restaurant. Ignorance is another kind of adventure. Not a good kind, mind you.
The room I ended up with was okay, and I paid a little extra for one with an air-conditioner. When I asked if there was hot water in the shower, the gal simply said no, it's cold. Well, at least they were up front about it. They didn't offer a room with hot water. This wasn't the Ritz, you know.
No Internet, either.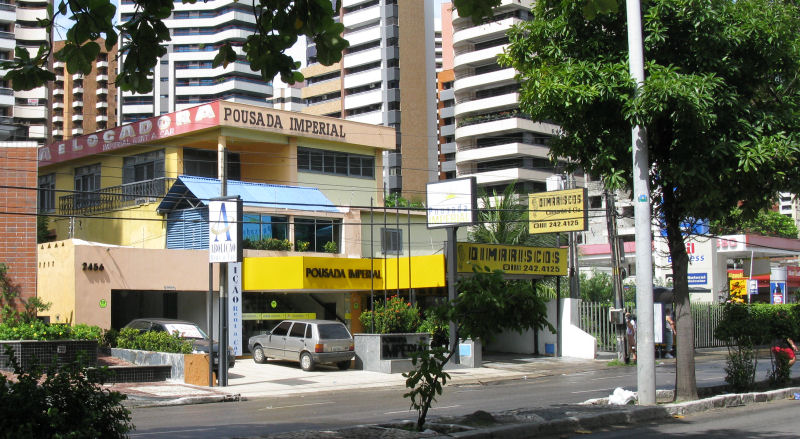 My shower was brisk and I set laundry out to dry in front of the air-conditioner. A fan would have been better, but the AC was the only thing moving air around. I did some writing while letting the day wear out, and when it was finally gone I went out into the night to get something to eat. Where's that guy with the bucket o' lobsters?
It was only a block's walk to the beach, and already I regretted not having my camera. Hundreds of market stalls and tents were set up along the waterfront and it was very colorful. Mostly clothing and handcrafts, there was something to catch your eye everywhere. Lots of wood carvings, woven items, knitted things, jewelry, etc. I had missed this part of the beach when I rode into the area, so it was a surprise. I walked a while then stopped on the waterfront walkway for some food. Fried shrimp, French fries, rice. What a starch bomb. The beer was good.
There were a lot of police along the well-lit waterfront, and it was fun to see them zipping around on the 2-wheel Segway scooters. On the upper part of the beach, away from the surf, were several playing fields enclosed in nets. People were playing soccer in the sand, which I'm sure is harder than it looks. What was even more interesting to watch was the men playing volleyball without using their hands or arms. They were great at popping the ball up with their chests, heads, feet, setting the ball, and spiking it with violent head moves.
Lots of joggers and roller-bladers on the wide walkway. Across from where I ate was a large gym. On an outside balcony on the 3rd floor, dozens of people were exercising on step machines, music blaring. Exercise groups moved along the beach in matching outfits, stopping to do the next stretch or the next exercise together. Like Buenos Aires, there seemed to be a nice percentage of the population that was into fitness.
I walked further east and saw some very large hotels in the distance. Maybe they were casinos? Strolling vendors doing their best to sell sunglasses at night (and so many other things as well).
I saw one incredible pair of breasts coming at me from a long ways away. The woman sporting them was tall, mocha-colored, and very pretty. She walked at a fast pace with another attractive but less enhanced woman, chatting or singing to their I-Pods. The Amazon woman was in tight Spandex and an over-stressed bra that simply wasn't up to the task. As she neared me, two young men near me stopped and pointed at her and started laughing. Her dimensions were astounding, but I hadn't thought they were laughable. As she went by (mostly ignoring her audience), I got a better look. Yeah, they were laughable. Each breast was the size of her head. The gal with her was of more human dimensions, and I found her much more appealing than her cartoonish companion.
I stopped for ice cream at a shop that had fifty flavors and a menu that was also in English. Fifty? Really, that seems to be stretching things a bit much. I don't know what flavor "Prestige" is, or if I had the courage to try anything called "Crunchy of sharp cheese," but I knew that I wasn't interested in the Avocado ice cream. And it just seems wrong to have beer-flavored ice cream. In the end, I settled for a scoop of "Crunchy of Macadamia" and a scoop of Cherry.
Taped to the middle of the huge flavor menu was a new ice cream flavor called "Obama." Hmmm... I wouldn't think that it would be fruity or nutty, but would it perhaps be creamy or crunchy? Sweet, I'm sure. Would it have substance? Would it be a good decision? Too soon to tell.
Turning back to my hotel, I walked back the way I had come, I counted dozens of seafood restaurants on the road across from the beach. Most looked expensive, but some looked reasonable. One was having a 50th Anniversary, with reduced prices on their menu. Still looked expensive, with at least ten well-dressed waiters standing in a row on the sidewalk, waiting for the next customer.
Plenty of street performers, lots of people in the surf, which was lit up with huge lights on tall poles. Part of the shore was rocky, and there were some people fishing there. Small fishing boats on the sand, larger ones moored off shore. The sandy beach areas looked very nice.
All that, and me without a camera.
Damn you, rain gods!
Wednesday, 4 March, 2009
-----------------------------
The rain gods got back at me today, unhappy with my blasphemy.
It started well enough, with a nice breakfast that included more hot dogs in mild chili sauce, ham, cheese, chunks of roasted potatoes, bread, wedges of dry couscous pasta that had been mashed together, bits of what seemed like regular pancakes, some pastries and cookies, several fruits, and cups full of a firm, heavy custard that was pretty good. My camera had dried all night in front of the air-conditioner, so that's why it fogged up over my breakfast.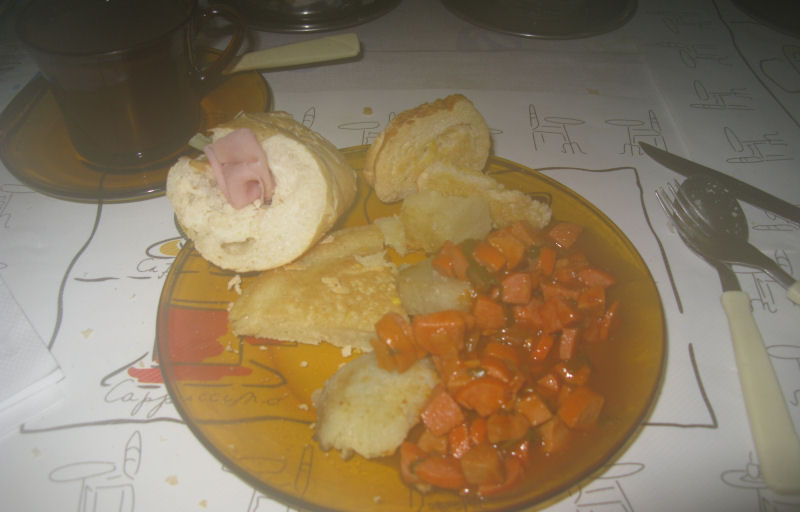 I loaded up and rode down to the beach, taking a few photos. I still wish I had had my camera last night. All the market stalls and tents were now gone; only a large concrete plaza remained. It was still early, but people were out jogging and walking in the damp, mostly-cloudy morning.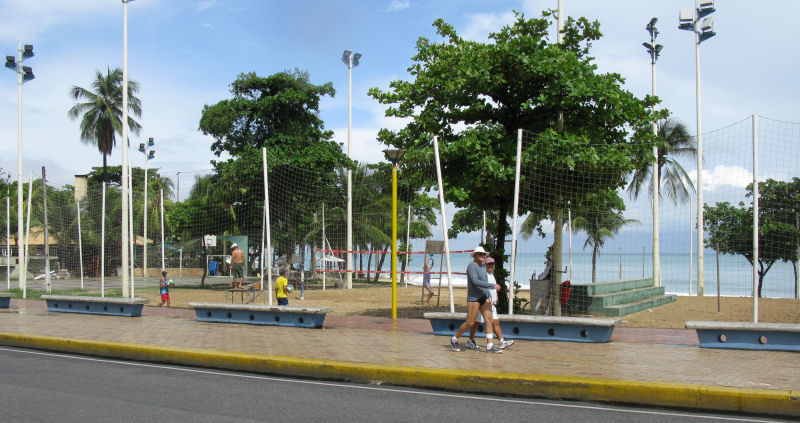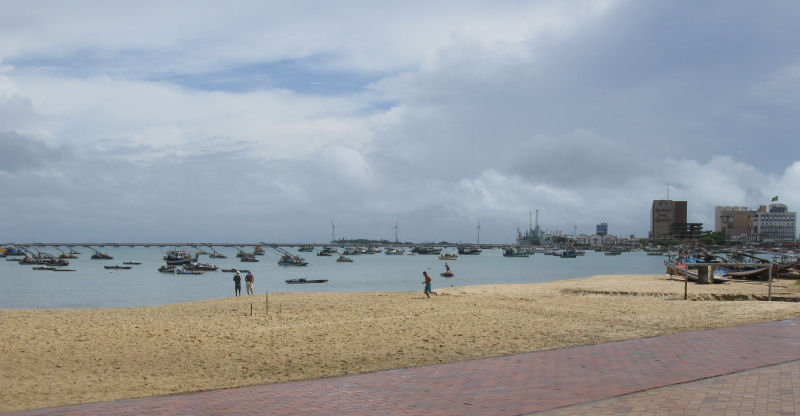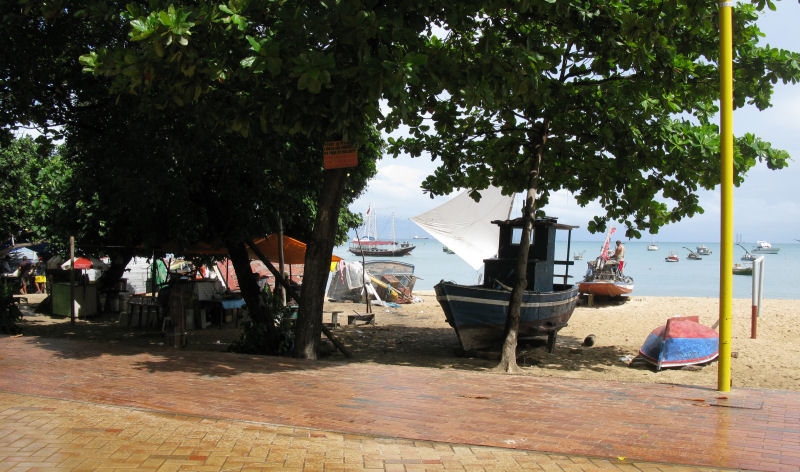 Into the suburbs I rode, heading away from the beach and working my way west and south. There was no continuous coastal road to Belem from Fortaleza, so I would have to go inland quite a ways before going north again. I would take BR-222 from here. It rained briefly as I worked my way out of the city. This rain was just a teaser. It didn't last, but it foreshadowed the day ahead.
My camera was getting wet in the RamMount cup, so I put it in my rain jacket's pocket.
I had a heck of a time getting on the highway I wanted. According to the GPS, I had crossed the highway several times, but it just wasn't there. Even the extra GPS map that I had installed (usually more accurate than the Garmin World Base Map) showed the highway, but I got stuck in a cobblestoned hell for about an hour. Once in this neighborhood, I had a hard time finding any major road again. The trail I had left in the GPS was so convoluted that it was hard to back-track.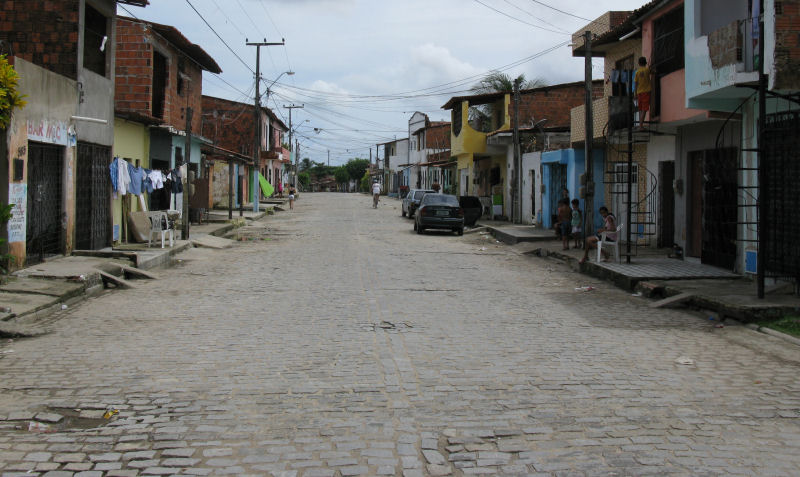 I finally got back to a busier street and pulled into a store parking lot to ask directions, but they sent me back where I had already been. I was a bit frustrated, and not being able to start the bike easily added to my foul mood. I fumbled under the ignition switch but couldn't find the magic spot to press. I finally got off the bike and fumbled behind the faring for a while. Since I couldn't see well, I took my helmet off and set it on the bike. I also took my camera out of my jacket pocket and set it back in the RamMount cup on the handlebars. This was its usual place when I was riding, and I now usually clip it to a tether for safety. This has saved the camera many times over the last few months, but because of my current distraction with the ignition problem, I didn't clip the camera to the tether.
When I got the bike started again, I rode off, trying to find the access road to the highway. Back on the cobblestoned roads, it was slow going. No one that I asked knew anything about the highway I was looking for. There were speed bumps in these neighborhoods, too, and they were bad ones. One in particular had a depression just in front of it, so it was like a launching pad. The bike and I went up, but when we started coming back down, the camera kept going up.
I realized that it wasn't clipped to the tether as I watched it fall away and crash to the ground. I stopped right there in the street, since people had seen the camera fall and were coming to investigate. The damage seemed minor, but there was no way to tell if it was taking photos since the LCD screen was dead. Fark.
I jammed the camera into my jacket pocket again and rode off.
I'm hard on hardware. Having the camera out where I can quickly take photos while riding also makes it vulnerable. Thousands of photos in this ride report, and that's... what? The fourth camera smashed on this trip? Fifth? I'm including the ones lost on the Alaska part of this ride. And the one I broke in my garage taking photos of the bike rebuild. Okay, the sixth dead camera?
There's a button on my home page for PayPal donations, just in case you suddenly wanted to buy me a camera.
Just kidding.
I had to ride back into the city to find the highway I wanted, and I saw where I had made my mistake. The sign for BR-222 was partially broken off, so it looked like road 2 went that way. Who's in charge of signs around here, anyway?
Probably the same person in charge of local road maintenance. The road was terrible in the suburbs, completely busted up old pavement in several sections. The traffic was taking turns going one-at-a-time (alternating directions) through some places where there was little road surface left. Some bureaucrat probably re-paved his own neighborhood when he should have repaved this street.
Several work crews were using picks and shovels to tear up some potholes, but all they were doing then was filling them with wet dirt. I've seen this before, and it is sometimes okay as a temporary fix, but it's raining now folks. That mud isn't going to stay in the hole for long.
Once clear of the city congestion, I stopped for gas. I remembered that I had another camera with me, so I dug it out. It was one that worked, but its flash was dead, so it wouldn't take photos wherever it thought a flash was needed. It would work as long as it was light out, or if I took it off the Auto setting. I swapped the current memory card into the "new" camera and clipped it to the tether. I packed the other camera away.
As I left the metro area, the road got better, but it didn't last. After several miles of country riding, the road got bad again. It had recently stopped raining, and everything was mostly still wet when I stopped to take this next photo. There was room for one vehicle at a time to worm its way through these breaks in the road, and the SUV coming toward the camera is a police vehicle. As they passed me, they honked and both gave me a thumb's up sign. I suppose they were checking to see if I was okay, but I wanted to shove their thumbs up someone's...
Oh, never mind.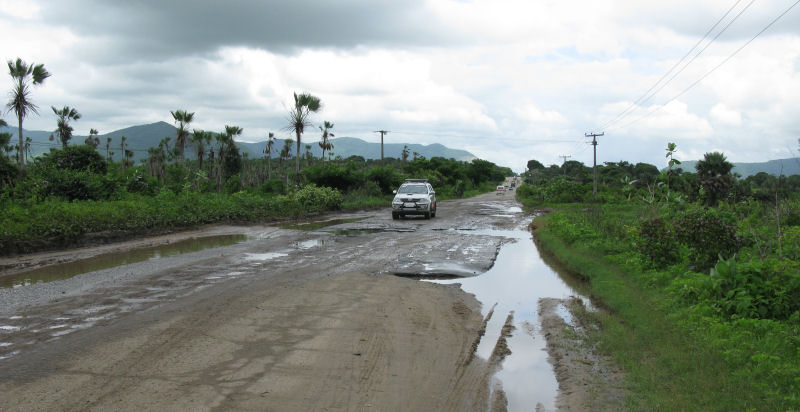 It was at least thirty miles of broken road and increasing rain from that point on. Every time the road seemed to improve, the rain got worse. To make up for it, the rain eased when the road was at its worst.
A hundred miles later, the road must have entered another political district, because it abruptly turned into a nicer road and mostly stayed that way. It still got pretty rough in some towns, where there were dirt shoulders and the trucks had to slow down for the speed bumps. I only took photos when the rain let up or stopped briefly. Didn't want to kill my last mostly-working camera.
For a time, the sky seemed to clear in front of me, and I had hope. I wasn't going much further south, so I might miss the worst of it. Ahead was a mountain zone that was very nice scenery. It reminded me a lot of the mountain roads in Colombia. As I have said before, it would have been wonderful riding but for the rain.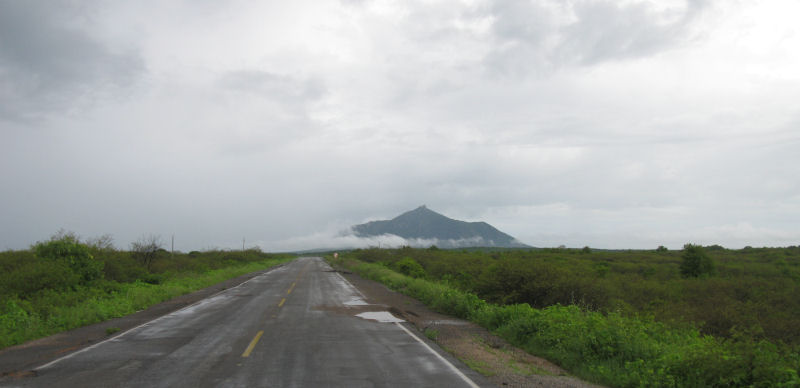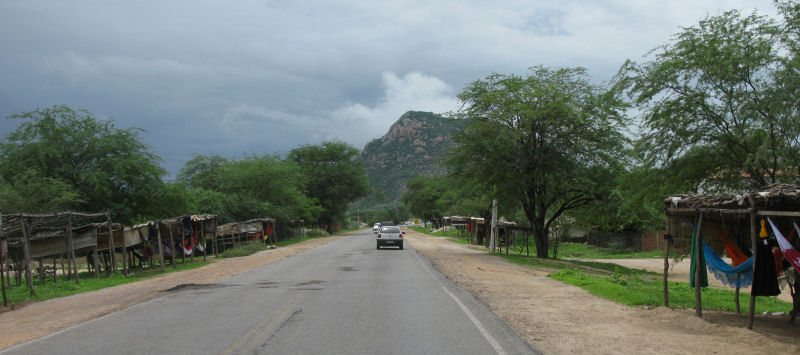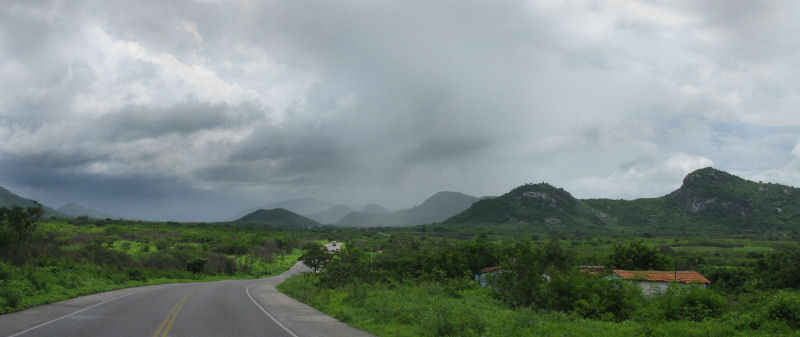 As the afternoon passed, the sky got darker and darker. To my left (south), there was a huge black weather cell that could easily have been the center of a hurricane that had blasted inland. I had seen and heard no news whatsoever in the last several days, so I wouldn't have known if earthquakes had shaken California into the sea. Maybe this was another hurricane come after me. Shades of La Bufa!
Water running across the road in several places was laying down muddy sections that were very hazardous. I went into a mild slide once when the truck in front of me started doing the same. We were going slow, so there was little drama. It was that red, clay-like dirt that gets real slick when it's wet.
Lakes were flooded over, fields were flooded, my boots were flooded, and my mood had sank.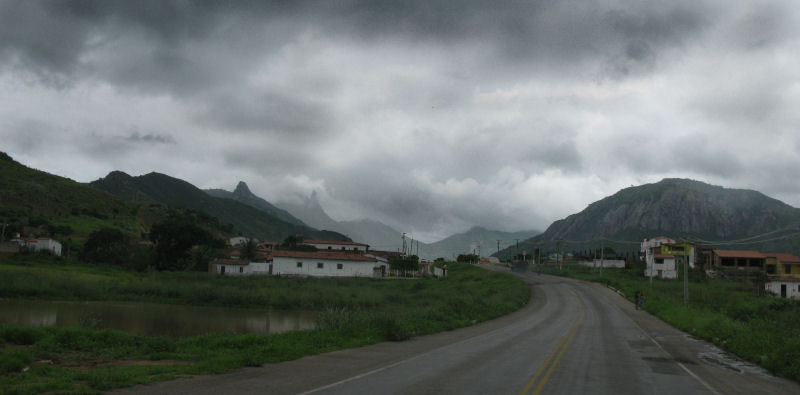 It was NOT good that my Chatterbox headset started cutting out again. This was the new one that Don had left behind, and it had worked fine for the last few days. Now, there was another intermittent break somewhere in the headset connector. These damned things are too delicate for adventure riding. And too expensive to keep replacing. Besides, Carol King and Jim Croce deserve better than to be cutting in and out.
Okay, my music selection is mostly from the '70's and '80's, but there is newer and older stuff in there, too.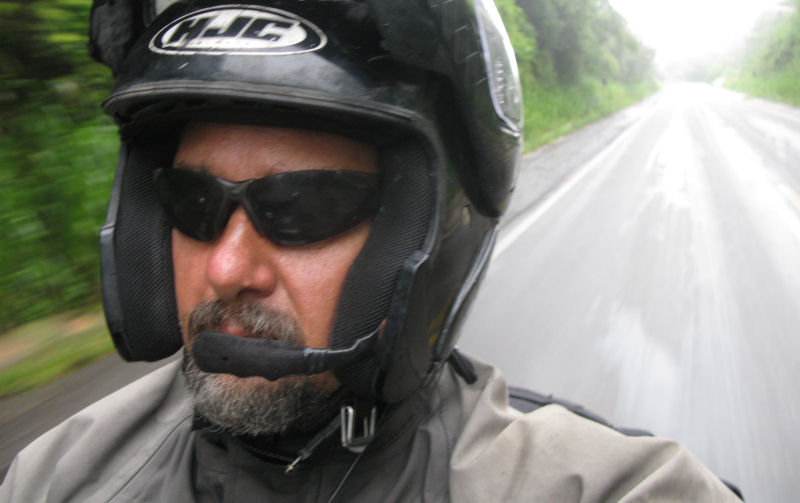 I couldn't usually ride with the helmet's chinbar raised like that in the rain. I did that when I could so that the wind would blow the rain off the visor, and hopefully off my sunglasses as well.
The water came again, in a white wall of wet. (No charge for the alliteration.) I took this next photo and immediately jammed the camera into my pocket.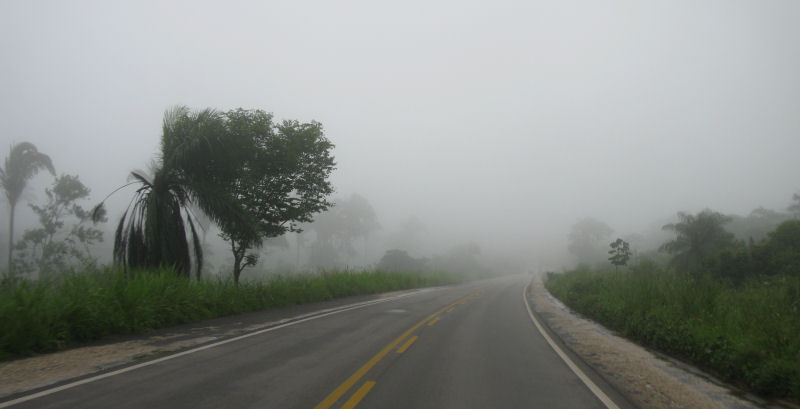 After a half-hour on slow, twisty roads, the way ahead leveled out again. There were a couple places where work crews were re-paving the road, and one of those crews was the military again. Camera was getting wet. Not good.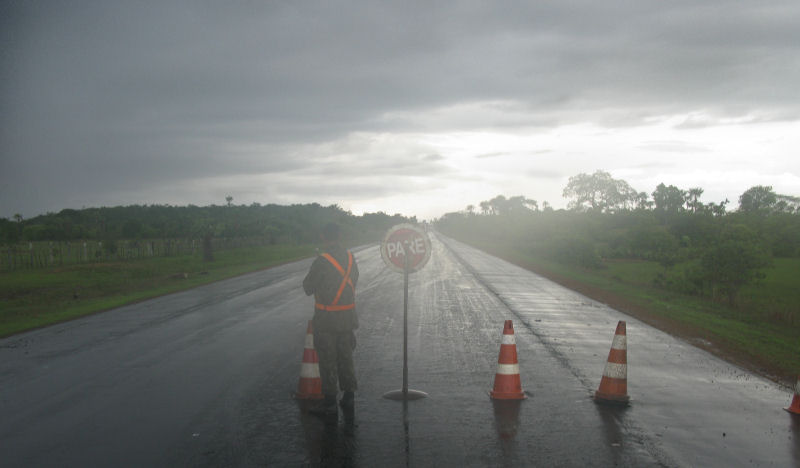 In the photo above, you can see some light area of the sky, and that was about all there was to see. Everywhere else was dark, and darkest to the left. For a short while, the rain hit so hard it was a total blackout. I couldn't see anything. Not my own hands, not my bike's windshield. Nothing. It had hit suddenly, and lasted about a minute. I quickly slowed and came to a stop on the road, not wanting to go off the pavement. I was sure that there was no traffic close behind me, but it was a very uncomfortable feeling being stopped on the road like that. When the deluge eased and I could see the immediate road again, I started moving. I didn't see any other cars for a mile or more, and they were all stopped on the side of the road. I continued, slowly.
I saw a small hippopotamus come out of the shrubs and run across the road ahead of me in the heavy rain. That was different. What the hell?! As I went past it, I saw that it was actually the largest pig I have ever seen. Then I saw more pigs along the road. Gotta ride even slower now.
I stopped for gas again, and there were a dozen small motorcycles parked under the gas station's canopy. A couple trucks and a few cars, too. When I gassed up and made to ride off again, the crowd started yelling at me and waving at the weather as if to alert me to the fact that it was raining really hard. They clearly wanted me to wait with them under the shelter. I looked around, shrugged, and rode off. I was totally soaked anyway, so what difference would it make?
My Darien jacket and pants had lost their waterproofing long ago. I had even given them a fresh TecWash when I had been at home fetching new motor parts, but that hadn't helped. Both pieces were soaking through in several places, so I assume that the waterproof membrane is shot.
When I got to the town of Piripiri, I asked some men walking in the rain for a hotel. They pointed ahead and something to the right. Indeed, just ahead and to the right was a small hotel. I parked and tried to find a way into the office, but there was no one around and the door was locked. Great.
As I started to get back on the bike, I heard a voice yell at me. It was a boy on a bicycle, next to the hotel. He gestured and shouted for me to follow, and when I went to him, he told me to bring the motorcycle. I rode into the back yard area with him, and he led me to a covered porch in front of another building. These were the guest rooms, apparently. There, waiting out the rain, were another girl and the mother of both kids. The kids were about ten and twelve years old, the woman in her portly thirties.
We established several things right away:
I was a crazy American motorcycle rider who had been on the road for five months and still didn't know to get out of the rain.

I needed a room for the night. The room here was R$/30, and that was okay with me.

I didn't speak Portuguese, and none of them spoke English, Spanish, French, German, Japanese, or American Sign Language. I only asked about all those languages because I know how to ask in those languages. I thought it would be funny to them, and I was right.

It had been raining here for three days straight.

There was maybe a restaurant open somewhere, but it wouldn't be near and there was no certainty that it would be open.
The room was large and had two beds. The air-conditioner worked, but it made occasional *thunk* noises that made me wonder about its life expectancy. No hot water in the shower, and I think the woman told me that it was usually too hot outside to need hot water. Right now, however, it looked like this outside: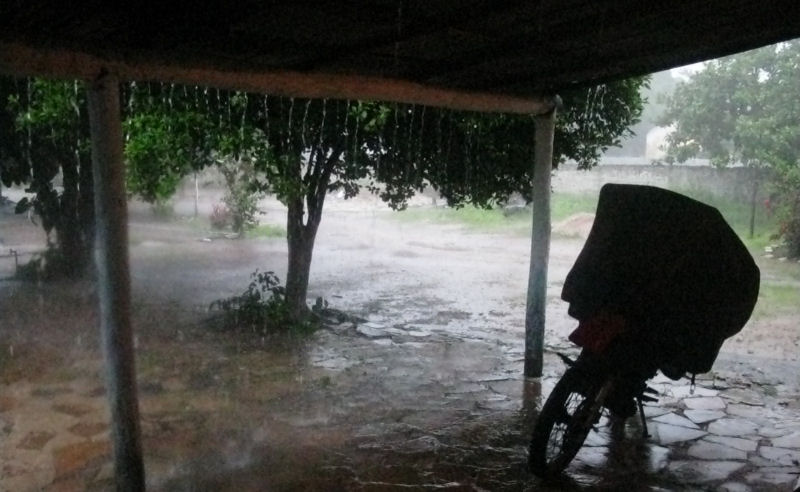 After I got settled in the room, I stepped out into the patio area, and the woman and kids were still sitting there, still waiting for the rain to ease up. I paid her for the room, but she didn't have change for the R$/50 bill I had given her. She made gestures about making change later, and I said okay. The kids thought that everything I said and did was terribly funny. I thought that I might tell them my Buddy Hackett (or was it Rodney Dangerfield?) joke about the alligator on the bus, but I decided that even thought they wouldn't have understood a word, it was probably not good Karma to tell dirty jokes to kids. Even in a foreign language.
I opened my camera to dry it out again, and I noticed that some of the rechargeable batteries were starting to corrode. I put some other batteries in a charger to get them ready. I was doing some photo management and swatting the occasional mosquito, when the noise from the rain suddenly stopped. The rain hadn't stopped completely, though--just enough for the woman and kids to run for the main house. I put the SPoT messenger out to send its signal while I could. Water really impedes the radio signal, so it might not get out at all anyway. No cell phone coverage, either.
The boy came back with my change, then he splattered away again with a wave.
I rinsed out my socks and hung them where I could, hoping they would be semi-dry by morning. There was no hope for the boots.
Let's see... I hadn't stopped to eat since breakfast, and that was over 260 miles ago. I had some food with me. The military MRE wasn't very appealing right then. The Clif energy bars were pretty dried out. I still had some dried turkey meat that Don had abandoned about four months ago. I had some imitation Oreo cookies that were all crunched up. I still had some Fanta orange soda left over.
So I wrote until about 22:00, covered in cookie crumbs and bits of turkey jerky. Nummy nums.
Thursday, 5 March, 2009
--------------------------
The laundry that I had hung about the room was not dry when I put it back on. Needed a fan to move the air around more.
When I went out to the bike, the hotel mother and her husband (sporting their new logo t-shirt) were taking photos of my bike.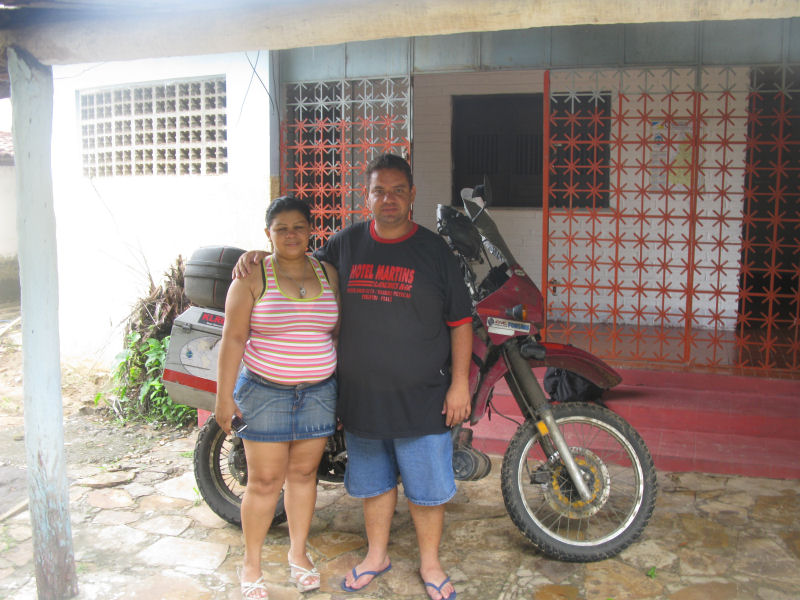 I hit the road, taking BR-343 to Teresina. The morning threatened to rain again, but all it managed was a light sprinkle now and then. The sun actually peeked out a bit, too. At times, the road was wonderful, and there were bits of interesting scenery.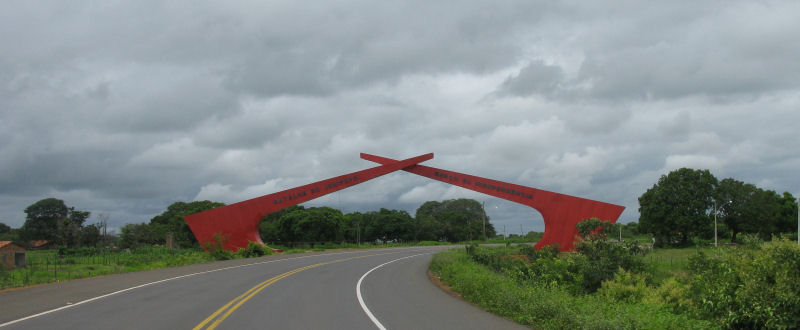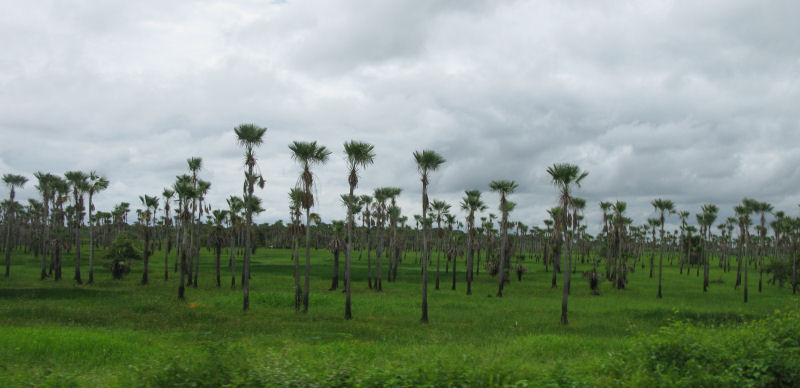 These were all fruit stands, selling melons and other things that I did not recognize.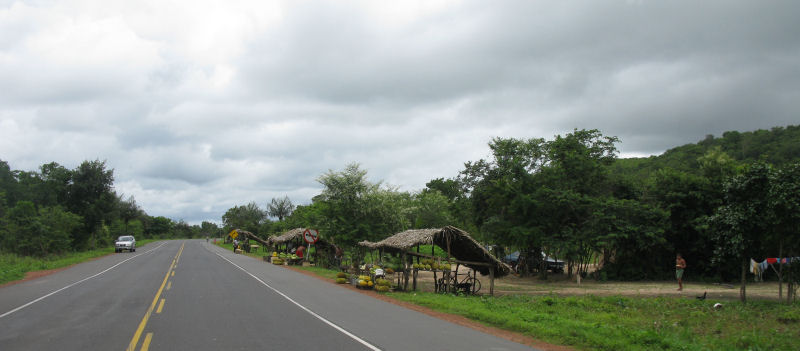 I stopped for gas after a couple hours, and more than a dozen men gathered around my bike to point and murmur. They were very forward about approaching; much more so than when Don and I were traveling together. I had read in others' ride reports that people were more likely to approach a solo rider or a couple (man and woman) than they were to approach two male riders. It's true.
My chain was loose, so I tightened it. I didn't like the look of the sprockets, and the rear sprocket didn't look like it would get me all the way home. I hoped that it would get me out of South America.
After another hour, I stopped for my first meal of the day. It was a roadside diner, and there was no menu. I asked for food, and this is what I got. The yellow stuff is a type of corn meal, not couscous this time. There was the typical chewy steak, some grilled chicken, a nice sausage, and a very tender piece of pork stewed in onions and green peppers. The salad was the biggest surprise. Rice, beans, pasta as well. With a soda, it came to about five bucks.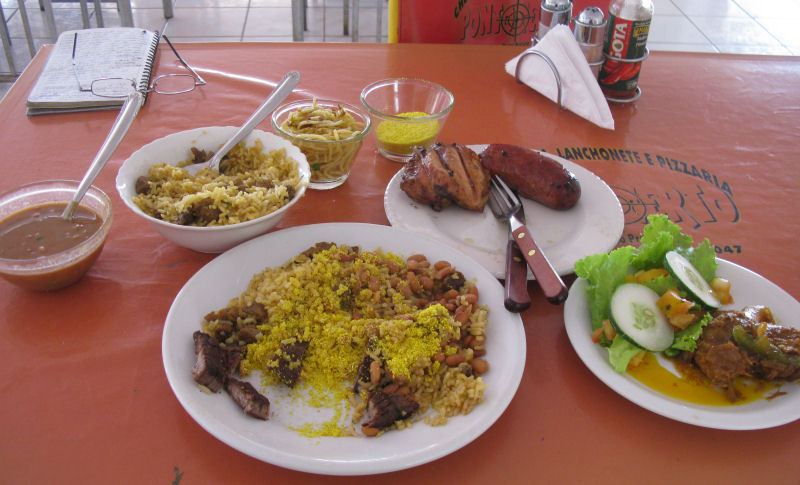 From Teresina, I took BR-316 to the north-west. It got sunnier, and my nose got burned before I noticed. The humidity was very high, and the trees were tending more toward palms.
There were lots of pigs, goats, and donkeys along the road, and most of them seemed wild. They were a constant hazard. This donkey was also a hazard, but only because its rotting flesh had attracted scavengers that didn't even fly away when I rode between them. One of the birds got smooshed by something there in the road. No surprise.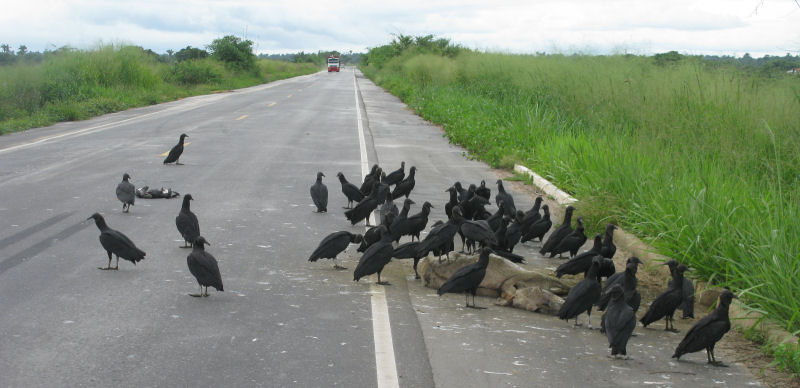 Fewer cities, more villages.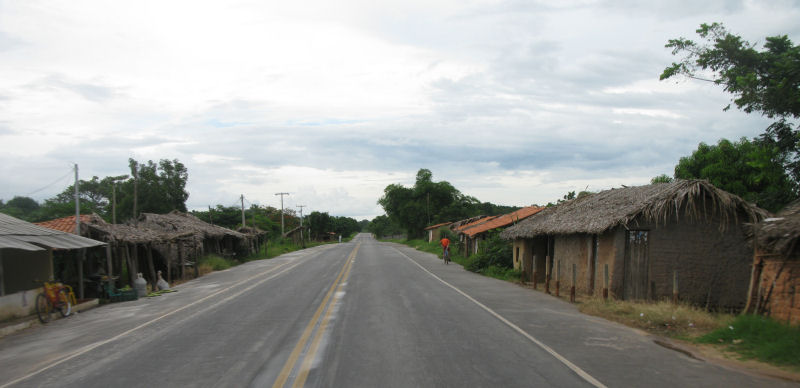 When I stopped for gas again, I had to tighten the chain more. Not looking good. I had another chain, but the rear sprocket was hooking so bad that it might start rounding off soon. I lubed it again and rode slower.
It was about 16:00 when I got to Santa Ines, a decent-sized city. It didn't look like an inviting city, though, with a general sense of decay. The newer parts of the city were off the highway, but I never saw much of it.
When I saw a Suzuki shop, I turned around and went back to it. It was part of the Chevy dealership, but they didn't have any parts there. There was one guy who spoke a little English, and he told me that there weren't many Kawasaki shops in Brazil. I'd heard that before. The guys in the moto shop looked at my sprockets and shook their heads.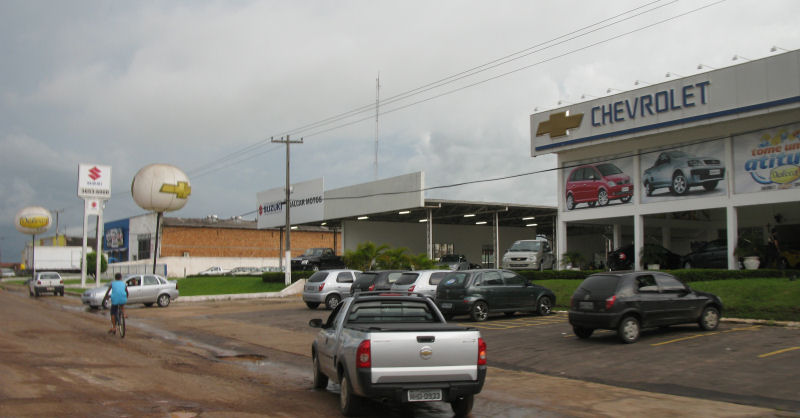 The guy from the Chevy dealership was Rafael, and he said that he knew a motorcycle shop that might have parts I could use. He got into a truck and I followed him a few blocks to this shop. Rafael in the middle with the white shirt, the shop owner on the left with the red and white striped shirt. The others were either customers or were just walking down the alley at the time.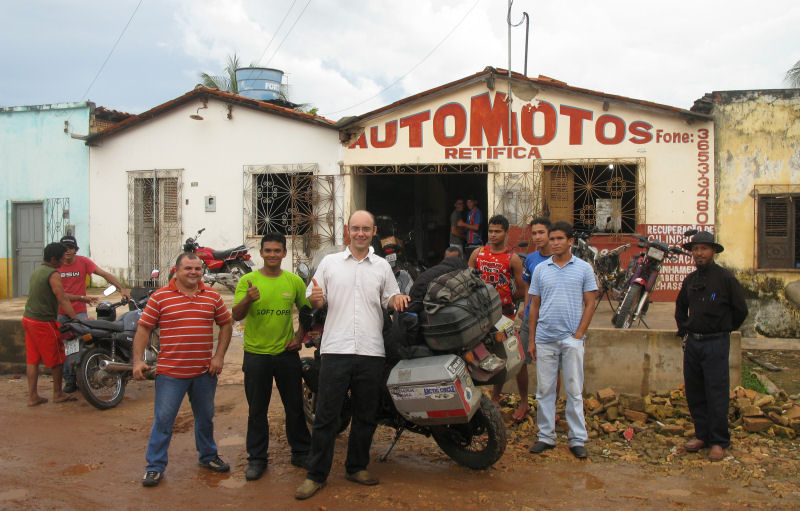 The guy who owned the shop didn't have sprockets I could use, but he had a 43-tooth sprocket that would fit my chain. He offered to cut both sprockets and weld the tooth ring from the new sprocket to the inner part of my original sprocket. He didn't look like he had the precision machinery to ensure that the Frankensprocket would be centered, so I passed on his offer. He had me ride the bike up to the porch of his shop and he took the back wheel off my bike. Why, I'm not sure. After a while looking at the worn sprocket with others looking over his shoulder, he told me that there was nothing else he could do. Well, duh.
I put the wheel back on and used the opportunity to put in new rear brake pads. We had gotten nothing accomplished, but it was kinda fun to watch those guys talk about my sprocket for so long.
I went with Rafael back to the dealership where he worked, and he did some online research to see if there was a Kawasaki shop in Belem. There was rain coming in, and when I went back out to my bike to get my helmet, there were other employees taking photos of my bike. The gal with the camera was funny. When I took this photo of her taking my photo, she laughed and gave her camera phone to one of the other guys to have her picture taken with me.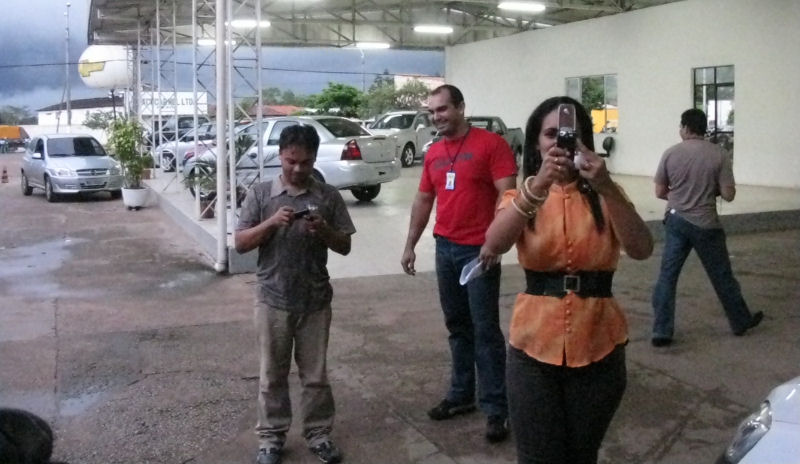 Rafael didn't find information about a Kawasaki shop in Belem, but he thought there was one there. On his work PC, he had a photo of himself with someone in a Shrek costume. He said it was taken in Orlando, when he was in Florida last year. He has family there, and visits each year.
A guy came up to me and started talking in Portuguese about my bike. I thought he was one of the salesmen, but Rafael interpreted and got me straightened out. The man who had approached me was happened to work for Global, the largest television station in Brazil. He had heard from others in the dealership that I was from the U.S. and was riding around South America. He was interested in interviewing me on camera for some kind of show. Really?
Well, maybe. I had read in Bausenhart's book, 8 Around The Americas On A Motorcycle, that he had been interviewed in one country down here, so maybe it happens fairly often. The man asked me if I spoke any Portuguese, then told Rafael that he would get someone from an English school to do the interpreting for him in the interview. He seemed quite serious, and when he asked where I was staying tonight, I said that I hadn't found a hotel yet. He told Rafael to take me to a certain hotel, and Rafael knew the one he mentioned.
I gave the TV guy one of my business cards and he left. We'll see what happens with that. Meanwhile, the weather was building, and it was getting darker fast. I think the guy in the red shirt was the gal's boyfriend. He asked me (through Rafael) if it would be okay for her to ride to Belem with me. He said that he would let her use his motorcycle. That must have been an inside joke between them, because no one else got it.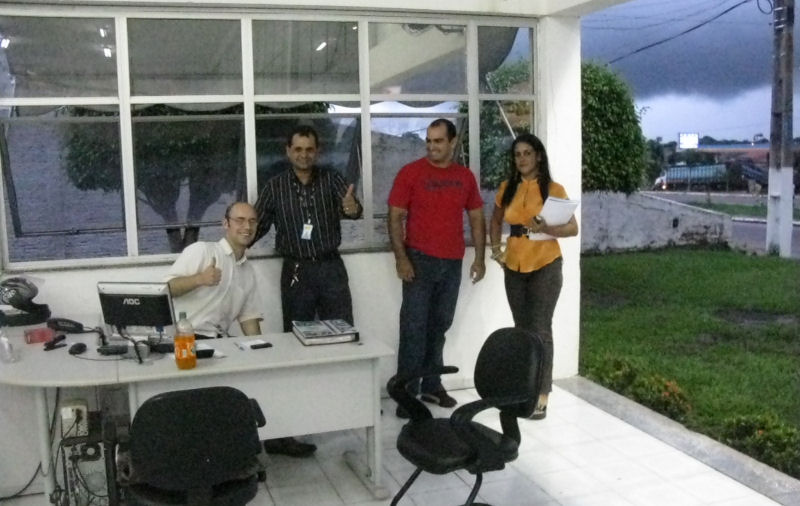 After I took the above photo, it started raining like crazy. Most of the employees left, but some stayed. Rafael had to stay a while, so I showed him photos from my web site. His desk is right next to the open wall of the showroom, so we were getting lightly splattered with rain.
I called Laurie, since I had cell phone coverage again. I alerted her to the possibility that I might need sprockets sent to me in Belem. If necessary, I would stay in a hotel while the parts were shipped.
An hour later, Rafael's work day was over and he invited me to join him and his wife for dinner at a restaurant. I accepted, and I followed as he sped off on his small motorcycle in the rain. I noticed that he slowed but rode through all the red lights that we came to. He led me to the hotel that the TV guy had recommended. I was still paying my own way, but the room was cheap. Rafael said that he would be back at 20:30 to pick me up.
I took a shower and did some laundry in the sink. I didn't know what to expect for the restaurant, or if there would actually be a television interview. I did know that I had limited clothing options, and most were wet, dirty, or wrinkled beyond repair.
I chose wrinkled, and went down to the lobby just as Rafael walked in wearing a t-shirt, shorts, and sandals. Okay, a casual restaurant, I take it.
He introduced me to his wife, Adriana, and a co-worker of hers, Albert. Adriana was a knockout who had very good English. She was tall and lean, looking like an Italian movie star. Albert was older, didn't talk much.
We got into their car, and went to a small restaurant nearby. I learned that Adriana was a veterinarian who worked for Brazil's Department of Agriculture, inspecting cattle that were going to slaughter. It was that job that brought them to Santa Ines, a city which both she and Rafael hated. They were both from southern Brazil, and were eager to move back south soon when she could get a transfer. He was also looking for a government job, and was interested in getting a job with the Federal Police. They are both in their mid-twenties, and have been married a couple years.
Albert was only interested in the fish stew, which was very tasty. He talked a little with Adriana, but mostly just watched us talk.
We talked about the differences between the U.S. and Brazil. Rafael told me that cars not made in Brazil are crazy expensive. What might cost $20,000 in the States would cost at least twice as much here. Adriana said that labor was cheaper here. She and Rafael have a full-time housekeeper that they pay less than $100 per month.
We talked about a lot more stuff, but I won't bore you. I was annoyed with myself for not bringing my camera from the hotel. I had left it in the room, open and drying out.
You would have liked Adriana.
Rafael cautioned me that Belem was a large, dangerous city. Again, people from everywhere think that every other city and country is dangerous. He also told me that the road from Santa Ines to Belem was a good one, but there would be few towns, and most places were not likely to take credit cards. He estimated that it was maybe 400 miles to Belem.
We split the check for dinner, and they dropped me off at the hotel after 22:00. Nobody was there from the TV station, which was not a surprise.
The hotel had laundry on their list of services, but when I carried a bag of clothes that had been washed in the shower too many times, they said that they no longer offered that service. I'll look for a coin laundry tomorrow. The hotel has Internet Wi-Fi, so I think I'll stay here another night.
Friday, 6 March, 2009
-----------------------
Breakfast was okay. Their juices were all pretty bland, something that I noticed at the hotel in Fortaleza. For protein, there was a pizza-like quiche and small ham and cheese sandwiches. The pizza-quiche was ham and cheese, too, just so you know. Other breads and pastries were accompanied by fruit. Thin, cold tapioca crepes were rolled up and cut into small pieces. They only had some butter in them, so they didn't have much flavor. They were very chewy, though.
I brought my laptop computer down to the dining room and set it up in a corner by myself. The Wi-Fi took a couple tries by the guy at the reception desk to connect, but it eventually got me online. I sent in a ride report update and handled email and forum chats.
I saw that Chuck Weaver had been cautioned against shipping his bike out from Venezuela, since it was as bad or worse than it was for Don in Brazil. A local guy on ADVRider.com had plenty of experience with this, and he recommended shipping from Colombia. That's what Chuck ended up doing, and he is now back in Texas just fine. I think I will do the same, maybe heading to Medellin this time, instead of Bogota. Don't know yet.
I asked again at the hotel desk about getting laundry done, and the guy said it would be no problem. He took my bag of wet and smelly duds from me and went away with it, telling me that it would be ready tomorrow morning.
I went out and asked around for a bank, and got directions to the Bank Do Brazil. In the outer lobby, at least a hundred people were crowded in front of the ATM machines. There were lines, but there was no effort to stay in them. I noticed that people crowded around whoever was at the ATM at the time, watching the transaction. My first reaction was discomfort with the open lack of privacy. As I watched (I had a lot of time, since the lines barely moved at all), I saw that no one seemed annoyed or self-conscious about having people stand next to them as they entered their PINs and withdrew cash. I decided to not care about it.
When I finally got to the ATM, I found that my card wouldn't work in their machines at all. Everyone was using cards with the bank's logo, so I suppose these were the only ones that could be used here. I left and asked for another bank. I got general directions further into the city, and walked in the heat until I saw another big bank.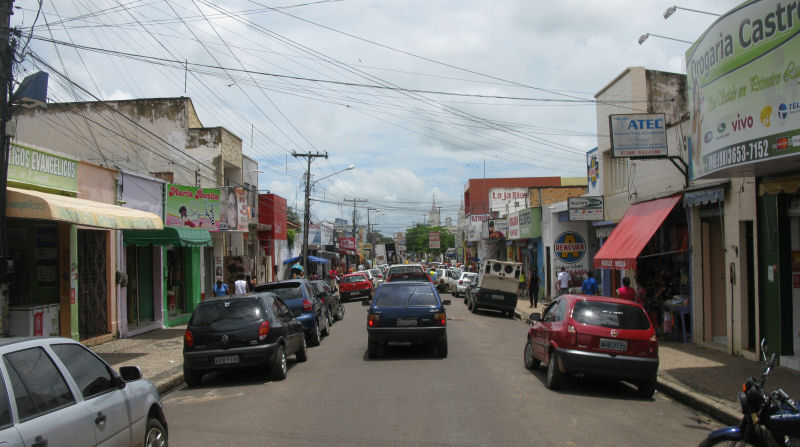 Again, the lobby was crowded with people, all in line for the one ATM that seemed to be working. An employee from the bank was attending the ATM, and she looked pretty burnt out. I saw that she was having to take each customer's card and do all the ATM functions for them. Most of the customers were older or looked like laborers. It's possible (based on several observations) that they couldn't read. Each person handed their card and a piece of paper that had their PIN written on it to the employee who would type it in and do the other button-pushing tasks. She then took the money from the machine and counted it out for them, dealing the bills into their hands. When it was my turn, she tried to take my card from me before she even looked at me, and then she was surprised when I put it in the ATM slot by myself. What we learned together was that my card wouldn't work in this ATM either. Only cards from this bank, she seemed to explain. Next!
Okay, my guess is that if I rode to Belem with the cash I had on me, I would be okay as long as I didn't need a hotel. In a single day's ride, I should be okay. I'll look for another ATM on the main road before I leave town tomorrow. I'll change some Dollars to Reals maybe.
I got some small empanadas from a shop on the street, and there were a bit too salty for me, but were pretty good for about forty-three cents each. Two were ground beef and the other two were (you guessed it) ham and cheese.
Back at the hotel, the receptionist saw me coming and made gestures for me to follow. We went into the back parking lot where he passed me off to a very tiny old woman. It took a while, but she got me to understand that she would do my laundry, but I had to pay her, not the hotel. Okay, that shouldn't be too expensive, but it would be more cash. I agreed, and we actually shook hands on the deal.
It was too hot out to do anything and there didn't seem to be anything to do but wander the streets, so I went back to my room and turned the air-conditioner back on. When the maid makes up your room in most hotels, she also turns off the AC in many cases. I also treated myself to a beer from the mini-fridge, since the price was good.
I have a few things I can do on the bike, such as work on the ignition switch problem, but that will wait until it cools off. I found that neither of the banks near the hotel will change Dollars to Reals, so I hope to find a working ATM tomorrow.
The hotel had set up a dinner buffet, so I had a plate full of good food (charged by weight, so the fruit cost as much as the meat) and another beer. The waiter had me sign a receipt so it could be charged to the room. Not a bad meal for about five bucks.
When it started to get dark, it had yet to start cooling off, so I will let the bike work wait as well. Plus, the bike was in an uncovered parking lot and it rained again.
I wrote and did Sudokus until 22:00, finally getting tired enough to sleep. When you have put three 1's in the same column, it's time for night-night.
Saturday, 7 March, 2009
--------------------------
Not that I slept well or for long.
For some reason, I woke after a few hours and couldn't fall asleep again. I suppose I was thinking too much about the ride to Belem.
I wanted to get an early start so I could get to Belem in one day, and I already knew that the riding would be slower than I would like. Slower partly due to taking it easy on the sprockets, partly because I intended to stop at every gas station along the way that accepted credit cards, and partly because I knew that it would rain a lot. The rain makes the road surface harder to see and makes vision in general pretty sucky.
Also, I was concerned about having enough Reals on me. I expected to pay about R$/20 for the laundry, and would need a couple tanks full of gas. I could go all day without eating, but would rather not. If something delayed me, I might have to stay the night in a small town, and I might not have enough local money for all that. As it turned out, none of that was a problem.
I had breakfast at about 07:30, and some of the food choices were different. No pizza-quiche this time, but small dough-wrapped meats were just as good. The orange juice was better than yesterday. Today, the tapioca treat looked like bite-sized twisted pieces of crepe that had been wrapped around some cheese and deep-fried. They were cold, not crispy, golden brown and still chewy.
I set my laptop on the table with me and did some email and online tasks. I had to wait for my laundry, and the tiny woman finally brought it to me. The cost was R$/29, which was a bit more than I expected, but it was still okay. By the time I got the bike loaded up and was ready to go, it was 09:30. The room for two nights, a couple beers, and one dinner buffet cost less than $45, and I already knew they would take my credit card.
I had a hard time starting the bike. For some reason, my new trick of pushing on the bottom of the ignition switch while pressing the starter button didn't work as well as it had before. I poked and prodded for several minutes before the bad connection finally did the right thing and the bike fired up. This would plague me all day.
The ride was very sunny, and I was mostly north-west bound from Santa Ines. I was currently less than two degrees (latitude) south of the equator, so the sun was mostly overhead all the time. I started with a full tank of gas, so at the very least, I would need two more tanks to get to Belem. I had the cash for that, but not much more.
Some nice towns along the way.
Based on what Rafael had told me, I expected to see only desolation and small villages along the way, but I passed through several good-sized towns that had gas stations and restaurants that took credit cards. Not all did, but I found ones that did. In the middle of the day, I had a nice meal at another buffet diner, and talked with several young men who came over to watch me tighten and lube my chain. Mostly, they talked and I grunted.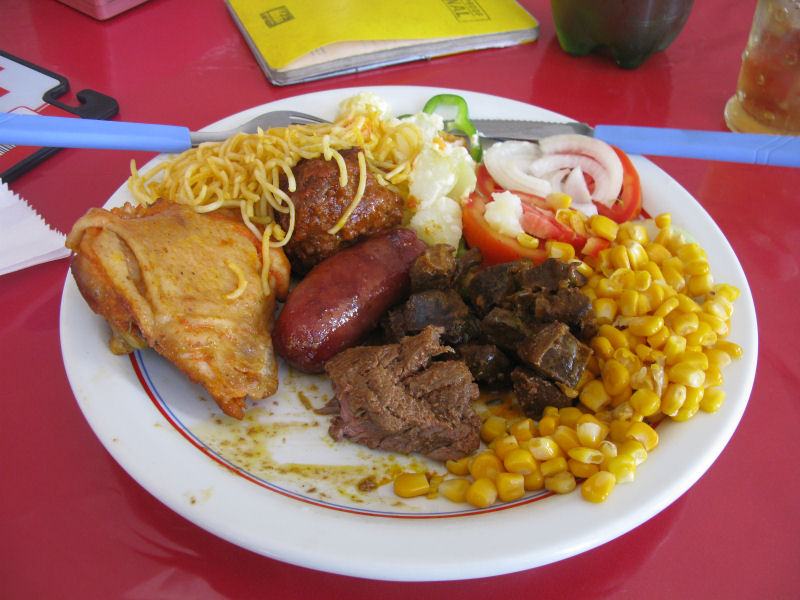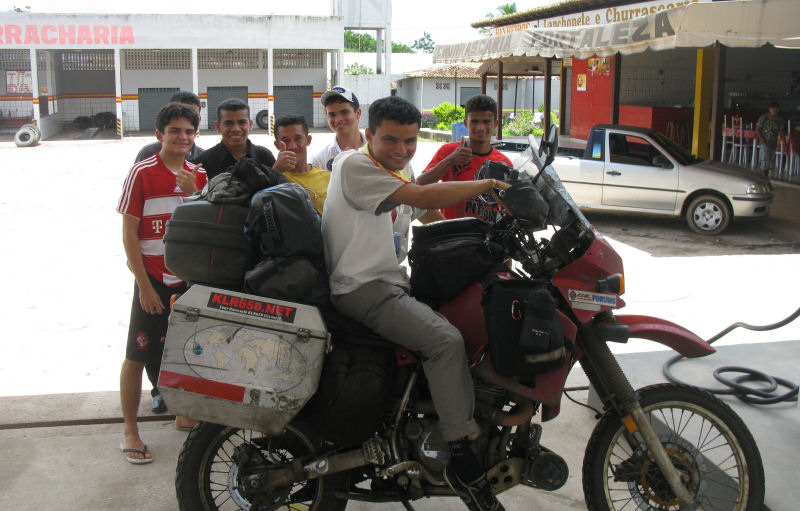 At another gas station, a guy who was looking at my GPS (while I was lubing my chain) knocked my helmet off the bike. As soon as it hit the cobblestones, I saw a white piece of plastic shoot out of the hinge assembly and knew that the hinge ratchet piece had broken again. I think that Laurie had brought me another spare, so I will work on fixing that later. I tried to show the fumbly bastard my GPS, but since I was under a big steel canopy, it was taking a long time to display the map. After a couple minutes of watching a blank screen, he decided he had seen enough and he wandered off. He must have thought that all the GPS did was light up and show a display that said, "Drawing..."
I saw the road ahead blocked at one point, but it took a while to recognize what it was.
STAMPEDE!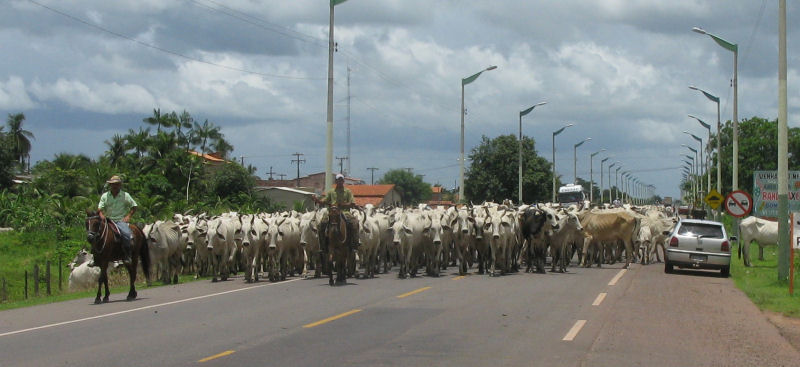 Well, not an actual stampede, but cattle all over the road meant that I waited until they went past. When I stopped on the right shoulder, they actually moved back to their side of the road, so I suppose they are pretty used to this.
I saw lots of farms and fields that were still flooded. Horses and cattle were wading around, up to their bellies in water.
I averaged about 60 mph when the road and traffic let me. Actually, the traffic was lighter than I expected. Maybe because it was Saturday. Then the rain came and my speed dropped. Going 40 mph is pushing it on these roads in the rain. You can't see the water-filled potholes and other damaged sections, and sometimes can't even see the speed bumps. Since I was keeping my chain pretty tight (to prevent it from rounding-off the worn sprocket teeth, as had happened in Alaska), I didn't want to bounce over the speed bumps very much.
I saw one road sign that indicated that Belem was 287.7 kilometers away. Point seven? Where did that sign-maker come from?
Gas was R$/2.80 per liter at one station, but that was as high as it got. Look for gasolina comom at the pumps, or for the Extra if you want higher octane. Sometimes the pump says Additiva and it costs more. Your choice.
At one gas station (where the futz broke my helmet), their MasterCard machine wasn't working, so I had to dig my Visa card out of my boot. It's a good thing to have more than one type of credit card on a trip like this. They used a different machine for Visa. I have two different ATM cards for the same reason.
Each time I started the bike, I had trouble finding the magic spot under the dashboard to push on the bottom of the key switch. I always managed to get it going, but several times it took a while.
The last time I tightened my chain before getting to Belem, it started making noises that I didn't recognize. I stopped to look at the sprockets, but they didn't look like the teeth were breaking or rounding off. The chain itself looked okay. When I started riding, I heard the sound again and stopped again. I couldn't account for the sound of the chain grinding on something that sounded metal. When I was off the bike, the swingarm and suspension were in a different position from where they were when I was sitting on the bike, and I knew that. Still, I could not figure out what the chain was rubbing against. After continuing, the noise seemed to decrease, so I decided that whatever it was, it would either work itself out or eat itself up. I rode on, gently.
I saw several restaurants called Tapiocarias along the road. I should have stopped at one to see what they were serving and how they were doing their food, but I just wanted to get to Belem before nightfall.
It rained and rained.
I had put plastic bags over my socks before putting on my boots this morning. This helps to keep your feet dry when you have leaky boots. I should have found better plastic bags, though, because they leaked and I could feel my toes gooshing around in the wet boots.
I thought that maybe I had entered the Belem metropolitan area when I had gone several miles through a commercial area that had lots of stores and supermarkets. But no, the GPS showed that I was still 50 km from Belem, and this was just a larger outlying city.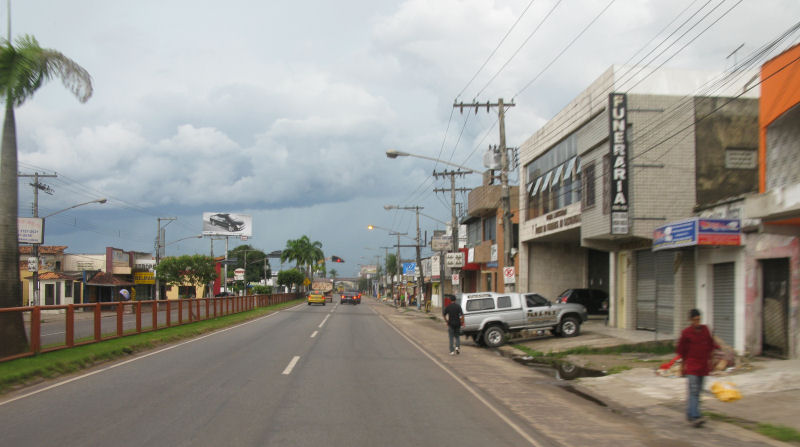 When I did enter the Belem area, it looked about the same as entering any other big city. There was nothing exotic or "foreign" about it. It was just another big city.
It was just starting to get dark, so I had made the 350 miles or so without difficulty. I saw a few banks, but I had already decided to head for the airport, where I expected to find an ATM that would work with my cards. I followed the signs and parked on a wide sidewalk in front of the arrivals terminal. A man in an airport uniform warned me about parking on the sidewalk and made a pantomime of my bike getting a ticket and maybe getting towed away. I tried to tell him that I would only be a couple of minutes, but he started texting on his cell phone.
Screw him, I thought. I went inside and saw a bank right away. Their ATMs didn't like me, so I went on the hunt again. I didn't have to go far. Less than a hundred feet away was a Banco Do Brazil. I hadn't had luck at their location in Santa Ines, but this was a decent-sized airport, right? As it turned out, one of the three ATMs had a Plus logo on it, and I was saved. I took out a fair amount of Reals, and would do so again tomorrow. (There is a limit to how much you can take from your account each day.)
When I went back out to my bike, a gal in another type of uniform was taking a photo of it with her camera phone. I ignored her and put my helmet and gloves on. I fumbled with the secret starter handshake, and finally got the bike running. When she started walking over toward me, I just casually rode off the sidewalk and back into the traffic circle. No need for discussion.
I rode down to the waterfront dock area, using the GPS for the most general type of navigation. It had switched automatically to night mode, which diminishes the brightness, changes the color scheme, and limits the amount of information displayed on the map. It did show the rough outline of the coastline, and that was enough.
This was the mouth of the Amazon river, and it smelled like it (not bad, just that 'big river" smell). It wasn't much to see, since it was a working dockyard, but after a while, I rode by some areas where, like Buenos Aires, the old warehouses and dock area had been converted to new, trendy shopping and dining areas. It wasn't as large as the one in BsAs, but it was nice. None of these had been converted to condos and offices, either. Next to it was what looked like a fish market, but it was closed at this hour, and the workers were just hanging around talking.
I knew that I would be here a while, so I didn't bother taking photos in the dark. I rode into the historic center of Belem, saw some very nice plazas, buildings, and parks, then wound up on a wide, one-way, tree-lined avenue. The trees were lit with colored lights, and it looked like going through a tunnel. I stopped at a gas station, partly for a soda, but mostly to ask for directions to a hotel. I got plenty of directions from employees and customers alike, but it was all a jumble. There seemed to be some agreement that there were many hotels down the avenue and either to the right or the left, either before of after the Plaza of the Republic, and then either to the left or the right on either the first, second, or third streets. I thanked them all and went in search for someone else to ask.
At a gas station, I topped off my tank and asked again. The attendant who pumped my gas gave me rough directions, but another customer at another pump took over. He gave very specific directions to a hostel, gesturing and pointing exactly how I should go. When he was finished, his wife took over. She gave me a card for the Amazonia Hostel and tried to tell me how to get there but she didn't really know. Her teen-age daughter (in the back seat) took over. She started to draw a map on the palm of her hand (hey, I said she was a teenager!), but her mother came up with another business card for the hostel that had a map on the back. The father took over again. He didn't like the map, so he drew over it and showed me where I needed to turn...
Okay, you get the idea. In the end, he added that, unfortunately, the Amazonia Hostel didn't have a place to put the motorcycle.
I put the two business cards in the map pocket of my tankbag and thanked them all. I rode down to where the avenue ended at the Plaza of the Republic, turned right, and that took me back to the dockyards. I fumbled around with the one-way streets for a while, finally stopping at a corner where several taxi drivers were standing around talking. There was a hotel there, but they had no place for the bike. I left the bike there and walked down a side street where I had seen a hotel sign. That hotel didn't have garage, but a woman in the lobby seemed to have a solution. She asked me if I spoke French, but I told her that I spoke English and a little Spanish. No matter, she led me down the street.
She went into a parking lot and clapped her hands for the attendant. He stood up from where he seemed to be hiding between some cars and came over to her. She tried to negotiate a price for my bike, but he seemed to resist her suggestions. They argued between themselves for a while, and I might as well have been a tree stump for all I contributed to the goings-on.
The woman threw up her hands and stormed from the parking lot, waving for me to follow. Yes, Ma'am.
She went across the street and down the block a little, and there was the Hotel Unidos. Garage and everything. As she rang the buzzer, I looked across the street, and there in all its coincidental, pastel glory was the Amazonia Hostel. Wonders never cease. Hippy-looking backpackers in their 20's were standing around the doorway of the hostel. It looked full.
The manager of the Hotel Unidos wasn't Lurch, but he had about the same demeanor. He didn't really speak, but his sad grumbling often seemed like words. The cost was R$/70, and the hotel had large rooms, AC, Internet (via cable, which they supplied), hot water, and a secure garage. It was more than I wanted to pay for a hotel that I might be staying at for several days or a week, but the garage would make a nice work area.
Just so Don will be happy, I would describe the bathroom as very nice, with only a couple goofy things about it. Such as the fluorescent light that flickers constantly, so it's like showering during a movie's battle scene.
After showering and getting settled in the room, I spread some wet laundry around and booted up the laptop. For whatever reason, I couldn't get the Internet connection working. Usually, when you plug in a live Internet cable, the connection pops up and that is that. This time, the computer showed nothing at all. Maybe the cable was faulty.
I wrote for a while and lazed a bit. When I went down to ask about the Internet connection, one of the younger employees was there. He assured me that the Internet connection would be repaired tonight.
On a whim, I asked him if there were restaurants in the area, and he handed me a map of the downtown area that had touristy sites marked on it. He seemed to be directing me to the dockyard area, so that's where I went. I wanted to get off the main roadway, so I walked through some dodgy neighborhoods that I would not recommend others try. Honestly, I felt fine doing so, and being down here for a while has changed my comfort level about such areas. Not that I was being naive or foolish, mind you--it was just that I enjoyed the local color and atmosphere more than I enjoyed the well-lit commercial zones.
When I got to the revamped dockyards, I noticed a lot of nice cars in the parking lot. Private security guards were giving the eyeball to all the people who came through the gates. There was a very large wedding reception taking place in one of the buildings' event center, and hundreds of people were pouring into the area wearing fine suits and formal dresses. Big money at that wedding, to be sure.
Further down, there were some pubs and food booths, but most things were closed at that hour. I walked out of the revitalized dock area and through the closed fish market. Men were sleeping on the ground, either on cardboard or on the pavement. Dogs were doing the same.
It was a warm night, and it didn't feel like rain was looming, so I just kept walking. I had gone out without my camera, so I missed some nice photos, but I'll go down there again.
Eventually, I worked my way back toward the hotel, and ate at a vendor's trailer on the sidewalk. It was rice and steak. It was cheap. It was edible, but only if you were serious about it. I was, so I ate it. Half the steak was gristle. The food was $2, so who are you going to complain to? I had two cans of beer, just to make the meal worth the trouble. The first can of Skol was semi-frozen, which was nice to hold against my forehead and temples. By the time I got to the second one, it had thawed out, but was still very cold. Another two bucks well spent.
Back in my hotel room, I checked and saw that the Internet connection was still dead. If it's still dead tomorrow, I might go looking for another hotel.
I wrote until midnight. The air-conditioner was very efficient.
Brrrr.
(It was wonderful.)
Sunday, 8 March, 2009
-------------------------
I woke early, woke again a bit later, and then woke again at 08:45. Don't know why I wasn't sleeping well. I did turn off the over-achieving air-conditioner, so that helped a bit, but the room started warming up too fast to laze around much longer.
Breakfast was very good. Several types of cakes and breads, small finger-foods with meat in them, other usual stuff. At the last few hotel I've stayed in, the furniture has been made of very heavy wood. The chairs are heavy enough that they are hard to move around. Must be Ipe or some other tropical hardwood. Wrong grain texture to be teak.
The Internet connection worked for about 30 seconds, but wouldn't come up again. I got the desk clerk to let me try another cable, but after that failed, they let me move to another next room where the Internet connection came up right away. I was able to get a ride report update done and handle all email and forum duties.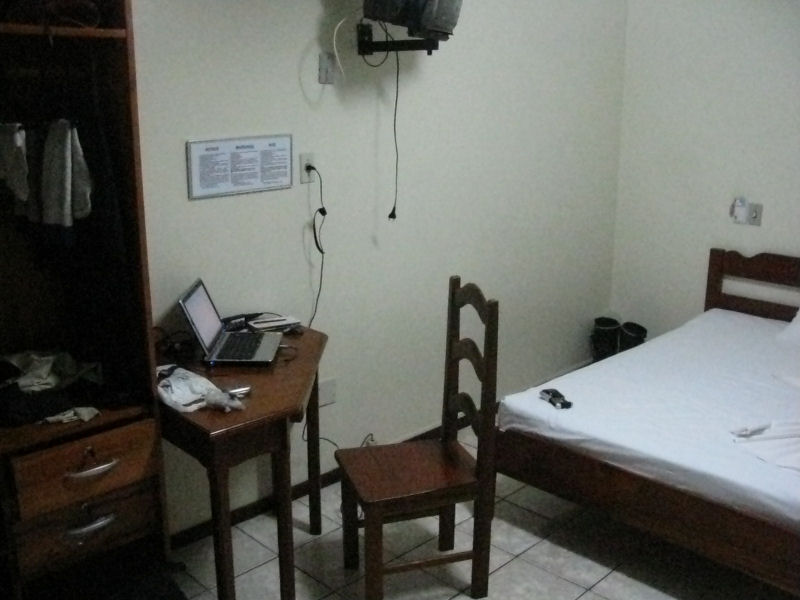 I had an extra hinge piece for my helmet, so I got that fixed as well. Then I got other things sorted out and did some computer maintenance such as software updates and I started a hard drive backup. I use a program called Casper to backup my hard drive, and for some reason it didn't like my portable drive anymore. I had to stop Casper and start it again, then I noticed (several hours later) that it had locked up. I'll try again later.
One of the rubber buttons on my Garmin Zumo 550 had fallen off on the ride to Belem, so that would need some kind of repair. There was now a gaping hole on the front of the GPS that would let an entire ocean into the darned thing. I didn't even know those buttons would come off; I thought they were molded into the rubber face. If it had been molded, it tore out in a perfect circle.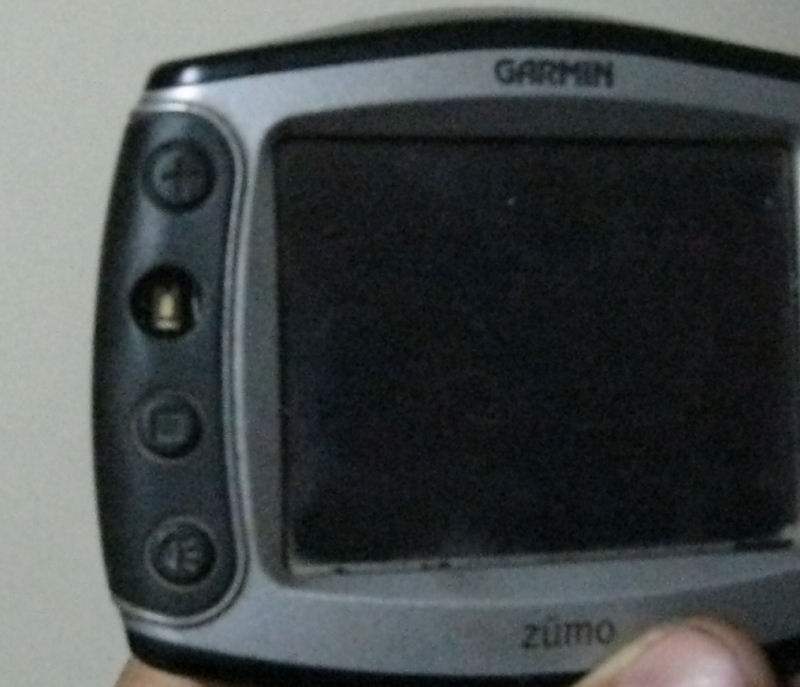 (Sorry, but my wounded camera won't take photos with a flash, so I have to use the ISO-3200 setting for low light. It's then more sensitive in low light, but it makes for grainy photos.)
I walked down to the renovated port area again and ate at a large buffet that was very good. This is a touristy place, so the prices were higher, but it was worth it.
Like Buenos Aires, these were old warehouses that had been gutted and re-done. There were at least a dozen restaurants in each of the large buildings, all in an open space. The buffets were upstairs with some other shops. Each warehouse had someone playing guitar and singing softly on an overhead platform that would very slowly move back and forth overhead. That was an interesting bit of ambience.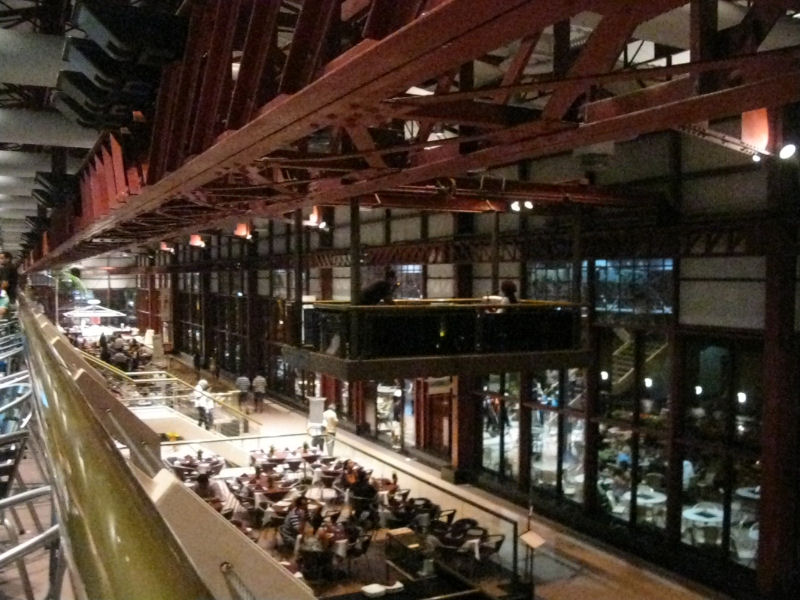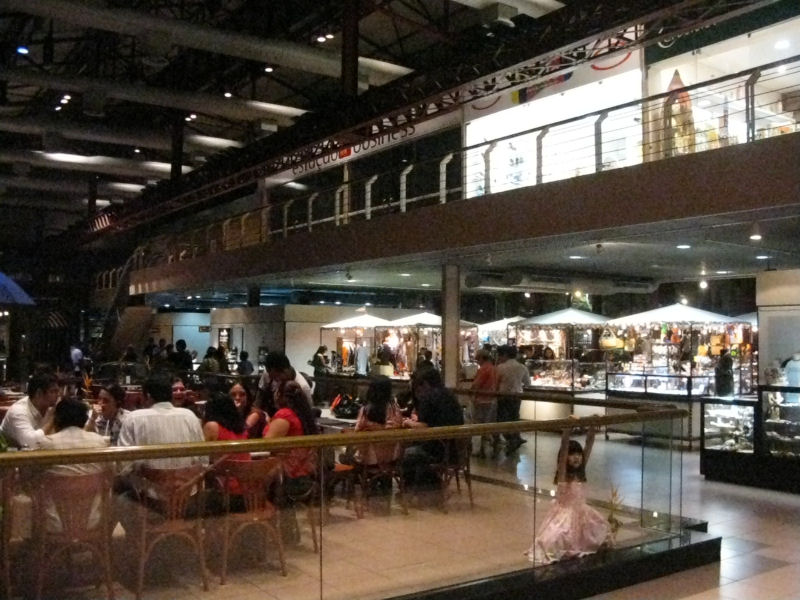 After eating, I wandered around outside in the light drizzle. It was still warm, so the dampness actually felt nice. Synthetic clothes really help, since they don't absorb so much water.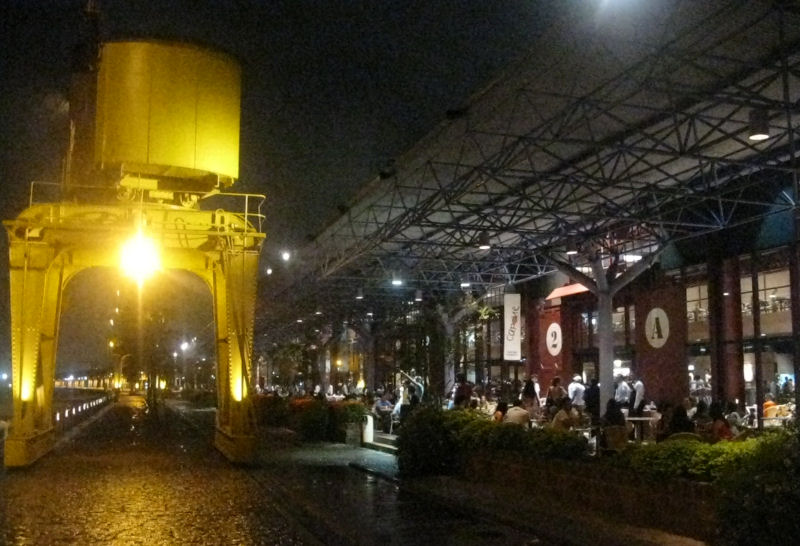 At the end of the line of warehouses was a large pub area. Some of the tables had these tall beer dispensers on them. I don't know if you bought the whole two gallons of beer, or if they charged you according to how much of it you drank. The latter, I suspect.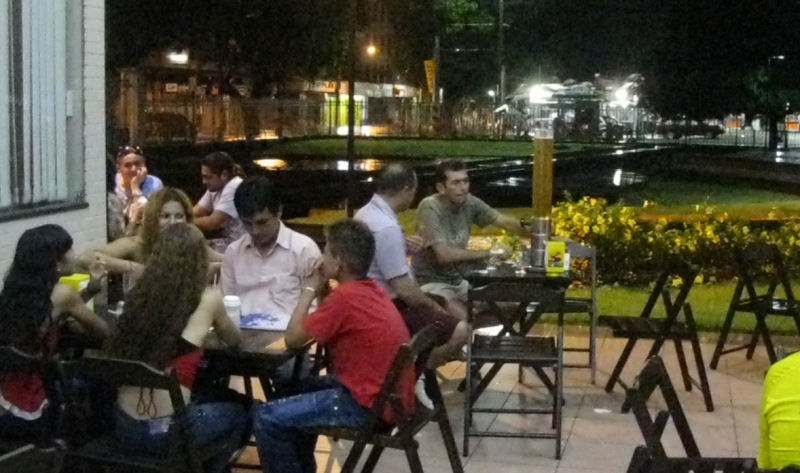 Back in the hotel, I relaxed a while, then fiddled with my laptop computer's power cord where it had been pinched through somehow. I was getting occasions where the power wasn't getting to the computer, so there might be a cut wire in there somewhere that I'll need to fix at some point.
I chatted online with Laurie, and she told me that she has also been in contact with a local rider who helps other motorcycle travelers in the area. I had swapped emails and private messages (PMs) with Alex Reis on the Horizons Unlimited website, and he knew I was coming to Belem, but he didn't know when I would arrive. Alex had been very helpful to Chuck when he was here. I checked, and there was an email from Alex. I saw that he recommended that I stay in the Hotel Unidos when I get to Belem. This must be a good place for riders, since he recommended it. I was lucky to have stumbled into this hotel. Alex also sent me his cell phone number and the phone number for Silvio, one of the mechanics who works at the motorcycle shop that Alex owns.
Local riders who are as helpful as Alex really deserve a lot of praise. If you might be in Belem, he can be reached here: alexreisxt600@hotmail.com
I still wasn't tired yet, so and did Sudokus until about 22:40.
Monday, 9 March, 2009
-------------------------
I kept waking up through the night, partly because the room was cold (and I knew that if I turned the AC off, the room would be too warm), and partly because I had started the backup process again and it was running really slowly. That made me wonder if the portable USB hard drive was failing, if the cable was bad, if the USB connection on the computer was faulty (one other USB port on my laptop went dead a long time ago), or if the hard drive in the computer was acting up. For some reason, the failure of the computer--if that happened--would bother me as much or more as a bike failure. I am too much a modern traveler, and I need to get online now and then. Internet cafes were okay, but I wasn't seeing as many of them in Brazil as I had seen in other countries. Also, this web site was published from my laptop, not from an online resource. I might have to address that someday.
Anyway, I got up at about 03:30 and started the hard drive backup program again. I saw that the program estimated another 28 hours to completion! Oooh... that ain't good.
I dozed until it was too late for breakfast, then I saw that the backup program was frozen. Nertz.
I rebooted the computer and started the backup program again. The power went out on the laptop, and I knew it wouldn't run long enough on battery, so I did my regular first-level problem solving techniques. I smacked the power brick a few times, and then I wiggled all the wires and connectors. That worked! Power restored. I got some electrical tape from my bike and wrapped the pinched cord, but I don't think that is the problem anymore. The pinched cord has only exposed some of the shielding wire under the outer insulation, and the inner wires still look good.
I was in a fix-it mood, so I went to the garage and took the whole front faring assembly off the bike. I wanted to find and fix the starting problem, and I had determined that the failure was in the keyed ignition switch somewhere. It's not easy to get to. I semi-removed the instrument panel, but it is connected to my bike through some electrical accessory cables that I had added, so it couldn't be easily removed completely.
The garage has a very low ceiling, and I kept bumping my head on the concrete beams overhead. I was tempted to put my helmet on, but that would only have made my head bigger, and there would be even more bumping. I decided that bitching about it and swearing aloud when no one else was in the garage was the best way do deal with all my scalp-bashing.
When I could get to the bottom of the ignition unit, I saw that one of the fasteners for the ignition switch retaining unit was missing and the keyed assembly was moving around. The other fastener looked like a rivet, and didn't look like it could be removed without drilling it. Where the fastener was missing, I could see that there was a threaded hole. Since I couldn't remove the remaining fastener, I put a spare 6mm bolt in to replace the one that had fallen out. The upper ignition switch assembly is held in by two small Phillips-head screws, so I took those out and removed the unit.
I hadn't done this before, so I took a while to examine it and determine what everything did. The rotating contact piece (in the lower part of the next photo) was dirty, and the contact plate (upper part of the photo) was also in need of a cleaning.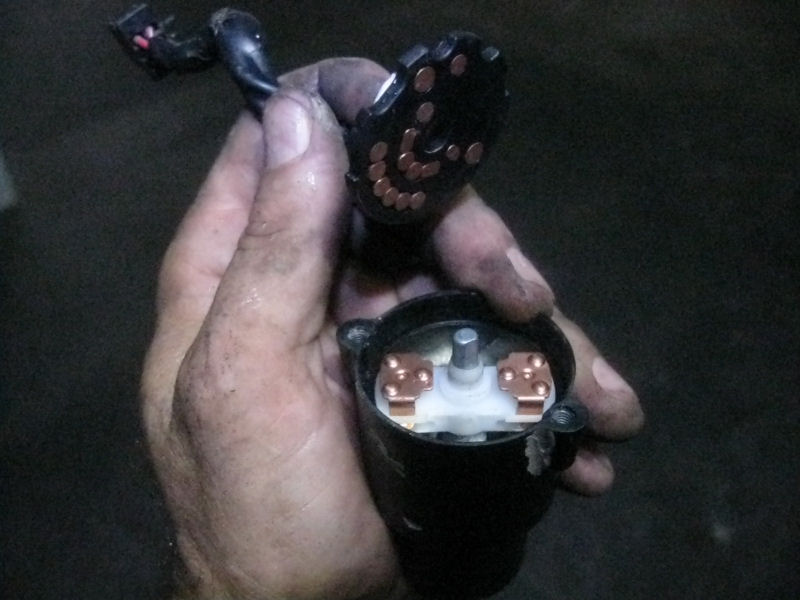 After getting everything shiny again, I used a continuity tester to determine that all the wires were intact. That was good. I put everything back together, reinstalled it, removed it, took it apart again, replaced another piece that had fallen on the ground and had gotten missed the first time, reassembled it, put it back in, and gave it a try.
Worked perfectly. Even after wiggling all the wires and pushing things around, there were no problems. Wunderbar!
That was about four hours well spent. I put the bike back together, took a shower, and called Alex. There was no answer the first time, but when I called later, he greeted me and said that he would come to my hotel at 20:00. Alex had fairly good English, learned in school, but he doesn't get to practice very much. Over the next few days, he got much better. I remained at my current, inadequate level of Portuguese the whole time.
I had more time to kill, so I went to a local market and got some snacks and things to keep in the room. Then I focused on the missing Zumo button.
I put a big dab of Shoe Goo on a piece of plastic, and when it was semi-hard, I squeezed it into the shape of a large nipple. I was trying to fashion a replacement button that would fit into the open hole on the GPS, not making sex toys, just in case you considered that. Still, it was a pretty good looking nipple...
Nyah. I left it alone to harden overnight.
Alex arrived at the hotel at the designated hour and he took a look at my pitiful sprockets. The teeth on the back sprocket had hooked so badly that the tips of some had already broken off. The front sprocket was only a little better. We would deal with that tomorrow.
He had me grab my helmet, and I rode on the back of his Yamaha XT 600 to meet his wife at a supermarket. We parked the bike in an underground lot, took the escalator up the one of the largest grocery stores I have ever seen, and went to the food court.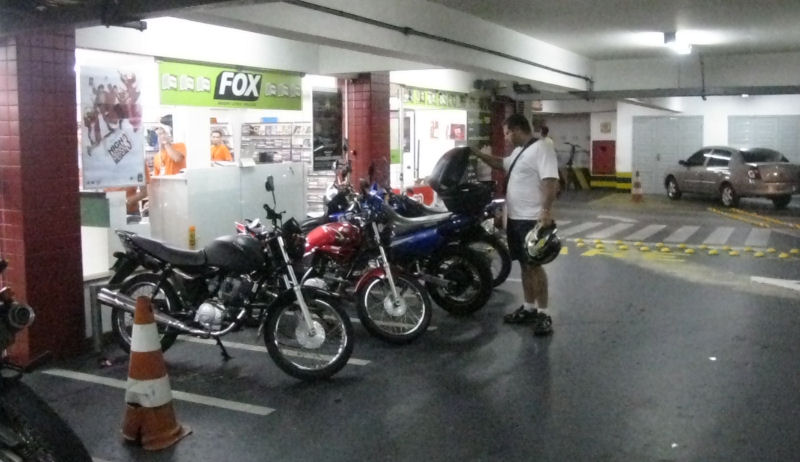 Alex's wife, Fabiani, is a total cutie. She and Alex have been married for six months, and it shows. They met in Rio de Janiero (where she's from) when he rode through there last year.
Fabiani staked out a table while Alex and I got in line for pizza. I told him that pizza has been a disappointment to me all over Latin America, but he told me that they would make the pizza any way I wanted. I had them put extra tomato sauce on it, then we kept adding toppings until it looked good.
It was very good, and this is what it looked like soon after we took it to the table.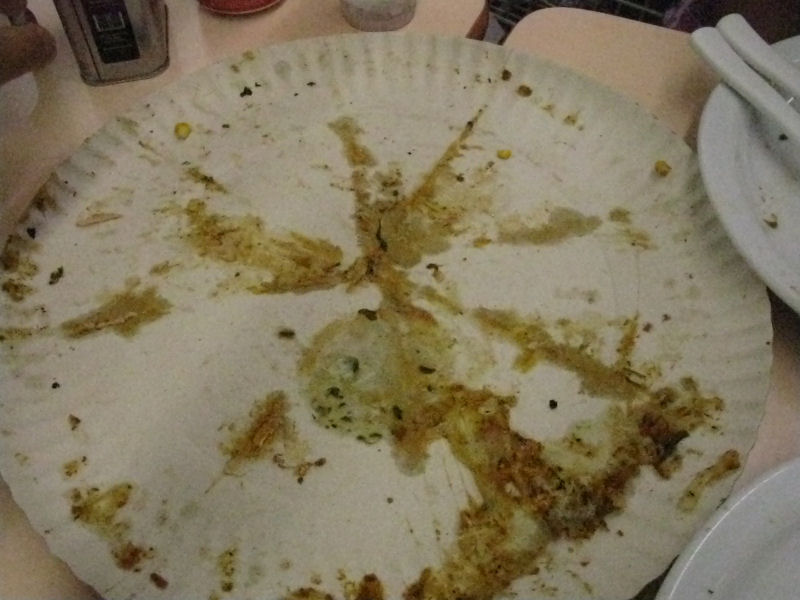 Yum.
Alex was wearing a Jiu-jitsu t-shirt, and I asked him about it. He told me that he has studied a lot, mostly the Gracie style of Jiu-jitsu. He said that many of the Gracie family live in Rio, but they live part of the year in Manaus, where I am headed later. Alex informed me that Helio Gracie, the founder of Gracie Jiu-jitsu, had died last month in Rio de Janiero. This was news to me.
http://en.wikipedia.org/wiki/Helio_Gracie, if you're interested.
Alex told me that he also teaches boxing, and he showed me a broken bicuspid tooth that he will need to have fixed tomorrow.
Alex then gave me a tour of the unfamiliar fruits and vegetable in the store while Fabiani did some shopping. There were a few fruits that grow only in this area where the Amazon meets the ocean. One fruit looked like an overgrown pecan nut. It was Cupuaçu. Almost the size of a football (an American football, Don), hard as a rock, and covered with a powder that smelled almost like cinnamon. He said it was better than it looked, once you cracked it open.
We agreed that Alex would meet me at the hotel at 08:30, and Fabiani drove me back to my room while Alex followed. When they dropped me off, Alex said I could remove the sprockets from my bike tomorrow and we could see what we could find locally before calling other cities for the parts.
In the room, I saw that the Casper hard drive backup now needed another 38 hours to finish. WTF? The "Tips for faster performance" list was worthless, which is typical with most computer programs.
Grrrrr...
Tuesday, 10 March, 2009
---------------------------
(My camera started a slow death, so no photos for a while. Sorry.)
I didn't want to keep Alex waiting this morning, so I got up early and went down to the bike. I removed the rear wheel, took the sprocket off, and put the axle back through the wheel. I cut the riveted chain with the chain breaker I carry, and removed it and the front sprocket.
I took a shower and had breakfast, but I hadn't been feeling well all morning. Tummy ache only, I hoped. I went back down to the garage to get the sprockets, and that's when Alex arrived. He saw the now-disabled bike and groaned. He needed to be at the dentist soon, and he wanted only to lead me to a shop. Now, he had to take me. We jumped on his bike and away he went.
At a motorcycle shop, Alex handed me off to Silvio and went to his dental appointment, for which he was now late.
Silvio was an older guy, goatee beard and mustache much like mine. He looked European, which I later learned was a problem for him. He looked around, but couldn't find sprockets that would work. The men in the shop discussed welding another sprocket's tooth-ring to my sprocket's hub (as had been suggested in Santa Ines), but I didn't want that.
Silvio had me get on the back of his old Yamaha motorcycle and we rode to another shop. He said he used the rusty old bike a lot, since it was less likely to be stolen, but he kept it in good running shape.
I was uncertain whose shops we were going to. One or both must belong to Alex, and I had thought that Silvio worked for Alex at the first shop, but at the second shop, Silvio left my old sprockets there for Alex to have whenever he returned from the dentist. (Alex would call a shop in Sao Paulo to get the sprockets sent here overnight.)
That left Silvio and me a lot of time to talk, which was cool. Silvio was Argentinean, but had spent a lot of his life in Brazil, so he is fluent in Spanish and Portuguese. He's from Eastern European ancestry, and he grew up speaking German and some Slavic languages. While we talked, he kept switching from German to English to Spanish, each of which I was able to follow to some degree. He avoided Portuguese, thankfully.
Silvio would start a sentence with, "Ich bin..." and end it with "muchos anos." There would be some English in there somewhere. He was an animated and relentless talker. It was a while before he told me how much he enjoyed talking with someone in German and English. (Truthfully, my German was very little, but it was enough for whenever he went there.)
After more than an hour standing in front of the shop, I suggested we walk down the block to a sidewalk diner and sit in the shade. We did, and that led to another hour of sentences such as, "Martin, you haben eine moto con muchos problemas, ja?"
I didn't know whether to say, "Si," or "Ja," or "Yes."
It was fun talking with Silvio. I told him that I had been in Germany for three years (while in the Army, back in the '70's), and that is where I learned a little of the language. That got us talking about the military for a while. Silvio had been an officer in the Argentinean Army for five years, doing something with diplomatic security or safety escorts. He looked like a pretty capable guy, even now, in his 60's. He told me about a few years he spent working on motorcycles in Paraguay and Brazil, and one year when he rode an 80cc motor scooter around South America. He jumped out of his chair to re-enact crossing the Andes on the tiny bike, and show me how he had lost his luggage from the bike in a wind storm. His ID and passport were in the lost boxes, along with his money and most possessions. When he had run out of gas in the Atacama desert in northern Chile, he had been captured (he first used the word "detained," but used "captured" later) by guerilla fighters for five days. He was in trouble because he looked like a Gringo in a place he shouldn't have been.
When his captors finally confirmed his identification with Chilean authorities, they released him. They had treated him well the whole time, although he was bound up.
Silvio had been a motorcycle racer in his youth, and he bragged about the one (and only) big race he had won. He also bragged about coming in second and third a few times.
Somehow, we got to talking about the police in the USA and in South America, and I told Silvio that I was a retired police sergeant from the U.S. He smiled, took out his wallet, and showed me his own police identification. We shook hands and got to talking about police work. He did most of the talking, as usual.
Silvio told me that he had worked undercover for many years in Argentina, doing some kind of investigation. He said it was good, because his cover identity was working as a motorcycle mechanic in various shops. His appearance hindered his investigation, because he didn't look like a local person. Everyone assumed he was a foreigner.
This is where the conversation got a bit odd. Almost everything he said he had done while working undercover, he was doing right now, but in Brazil. He was moving from one bike shop to another, staying at each for a short time. He was still buying and selling various motorcycles on and off the record. He was still traveling in Argentina, Paraguay, Bolivia, and Brazil, as he had done while working the secret operation.
Silvio told me that he had been a police officer for twenty years, and he could get his retirement in eight more years. What? Was that a confirmation that he was STILL working as a police officer undercover? I must have misunderstood, since he would never have admitted that, if it were true. I think that what he meant was that he could start collecting his retirement money in eight years. Right?
He seemed pretty upset with a previous Argentinean president who had seized all personal retirement funds in the banks to make up for a national deficit. He had lost over US$5,000. That was more than ten years ago, and he's still pissed about it.
Silvio had some harsh things to say about the recent growth of African immigration to Brazil. He didn't think they came to earn a living. I'll leave it at that.
Alex called Silvio's cell phone and said that he was going to have oral surgery done, so he wasn't coming back today. Silvio gave me a lift back to my hotel. I hope to meet Silvio again; he was a lot of fun to talk with. I'll get a photo if I can, too.
On my own again, I went to a market and bought some supplies to clean the bike some. I would be on the boat to Manaus for five or six days, so that would give me some time to tidy it up. Also for the boat ride, other travelers (most recently, Chuck) had suggested taking a hammock, rope to hang the hammock, lots of sunscreen, insect repellent, batteries, bottled water, a towel, a bed sheet, soap, toilet paper, books, maybe some snacks. There are meals served on the boat, but I wouldn't know what else might be available. I had a few of those things, but would need to get the rest later.
Next to my hotel was a Japanese buffet restaurant, so I ate there. Very good, and a decent price. I hadn't had sushi in a while, so that was nice.
The silicone nipple that I had made as a replacement button for the Zumo looked okay, but the tip was too soft for reliable usage. I found a bit of scrap plastic and glued it to the top of the nipple, so that should be more dependable.
The hard drive backup showed that it still needed 28 hours to finish. I shut it down, rebooted the computer, fiddled with the power cable and transformer to get it to work again, and switched the USB cable to another one. I gave it one more try.
I Skyped Laurie and told her to hold on to the sprockets, since Alex should be able to get what I needed in Brazil.
Alex called my hotel room and told me that he would order the parts now, and would call me back. I did some Sudoku puzzles, and waited, but this was taking a while. Two and a half hours later, I called his cell phone and he said that there was a problem identifying the necessary sprockets. He said he would call me at 20:00.
There was a hell of a racket coming from down the hallway, outside my room. I went out to see workers tearing up the ceramic tiles in several of the rooms on my floor. Oh, great. They were using big hammers and chisels, so I could feel the vibes.
At 19:30, my room phone rang and Alex told me he was in the hotel lobby. I went down and met him and a friend of his whose name I was unable to understand or remember. Alex needed to look online to specify which Kawasaki part numbers were needed. We went up to my room and did some research, but there appeared to be no rear sprockets for the KLR650 in all of Brazil. This isn't a bike that is sold here.
Well, okay then.
I told Alex that I would have Laurie send the parts right away, and they should only be a few days in coming.
I went with Alex and his friend (who drove) to dinner, and we met Fabiani at a Yakissoba restaurant. The restaurant was very nice inside, and the food was excellent. Alex and Fabiani like fish a lot, so that's what we had. It was a variety of fish, with some shrimp and calamari, two kinds of rice dishes, fries, salad. I think there were a few chunks of chicken on the platter, too.
Alex was still suffering from his oral surgery to repair the tooth and from having a cold, so he was achy. He will have to go back another day to complete the tooth replacement. Alex's friend had to leave, but we lingered while I ate most of the food. I insisted on paying, and they let me. That was fair.
Fabiani drove us to an ice cream shop, where Alex tried to explain all the varieties of fruit flavors that came from the Amazon region. I remember having Açai (ah-sah-EE) and something maybe called Bacuri (bah-koo-REE). One was a creamy color and the other was purple. Both were good, exotic flavors.
There were a lot of tall apartment buildings in Belem. Alex said they were mostly new construction. Belem was in a major growth spurt. Since it is the gateway to the Amazon river and the city of Manaus, Belem was well-positioned.
As we sat outside on a bench, a taxi delivered a load of U.S. tourists at the ice cream shop. Alex said this was the most popular ice cream shop in this part of the city. A distinguished-looked man with a goatee and mustache (again, like mine--but his looked "distinguished" and mine looked "too lazy to shave") got up from another bench and dropped some trash into a bin. He nodded and greeted us just as if he knew us, then wished us a good night before returning to the distinguished-looking woman on their bench. Alex told me that the man was the most recent Governor of the State of Para. Alex and Fabiani thought that he had been a good Governor.
Fabiani drove us to my hotel, and Alex wanted me to do him a favor. Since my wife was sending a package, would she maybe buy some shoes for him at an American store and send them along? I wasn't worried about Alex doing anything dastardly, it's just that the shoes he wanted weren't available in Brazil, and buying them online would cost a lot, due to import duties and international shipping. Alex did some research online in my room, and I showed him the REI website. There, he was able to make a short list of boots and sandals that he wanted, and he marked them by preference, just in case not all were available. He wanted boots and sandals, if possible. He would pay me up front, as soon as we know what Laurie was able to come up with at an REI store in Colorado.
I managed one final photo from my "not quite dead yet" camera. Fabiani and Alex, researching shoes.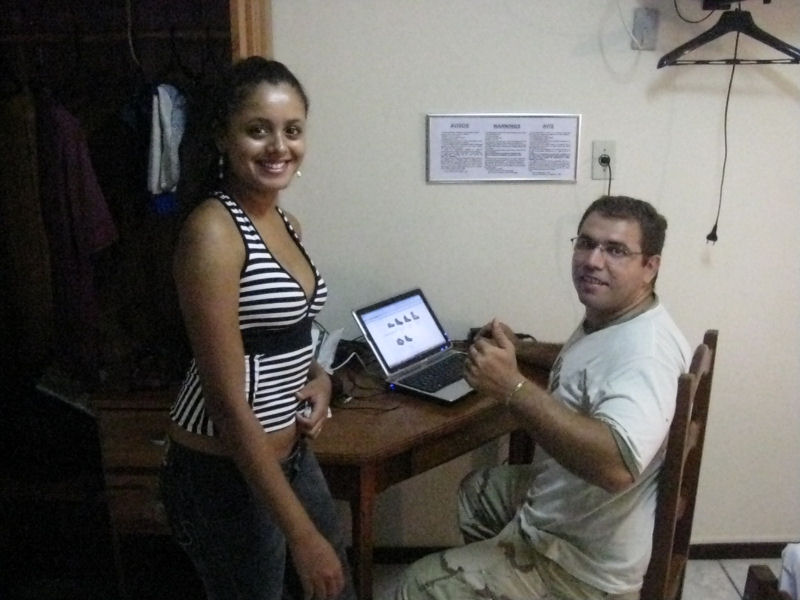 Alex likes his camouflage pants. He had been a Marine in the Brazilian military service for four years.
I told you. Fabiani is a total cutie.
After Alex and Fabiani had left, I Skyped Laurie and gave her the boot and sandal information. She would see what she can find tomorrow.
The hard drive backup was making progress, but slowly.
Wednesday, 11 March, 2009
------------------------------
The hammering started again at 08:00 sharp. Time to get up.
Another good breakfast, this time with some flan and more fruits added. Remember the Mais Voce gal that I wrote about earlier? The gal with too much makeup and has the parrot puppet on her show? She is apparently a very popular morning show personality, and she is on every TV in the hotel lobby and dining room. I have had to amend my initial opinion of her for two reasons: First, because after seeing the variety of her shows and more of her personality, I have to admit that she does a pretty good job. Second, I think I've got a crush on her. She is pretty hot, and I've had breakfast with her for several days now.
Okay, too much television.
I told one of the guys at the reception desk that I would have a package coming in a few days, and I'm about 50% sure that he understood. He then informed me that they would have to change my room again due to the renovation taking place. I was all in favor of that, and I ended up on the 4th floor after moving all my stuff. Thank goodness their elevator worked.
Alex called to see what he owed me for the shoes, but I told him that I hadn't heard from Laurie yet. I also told him that he wouldn't have to pay me until the shoes arrived, but he insisted on paying up front. It was late enough that I called Laurie for the cost, and then called Alex with the total. He said he would bring the money to the hotel later. I spent some time online, and got caught up on email and forums.
When I got bored, I went out for a walk and to do some shopping. Just a couple blocks north of my hotel was the Plaza of the Republic.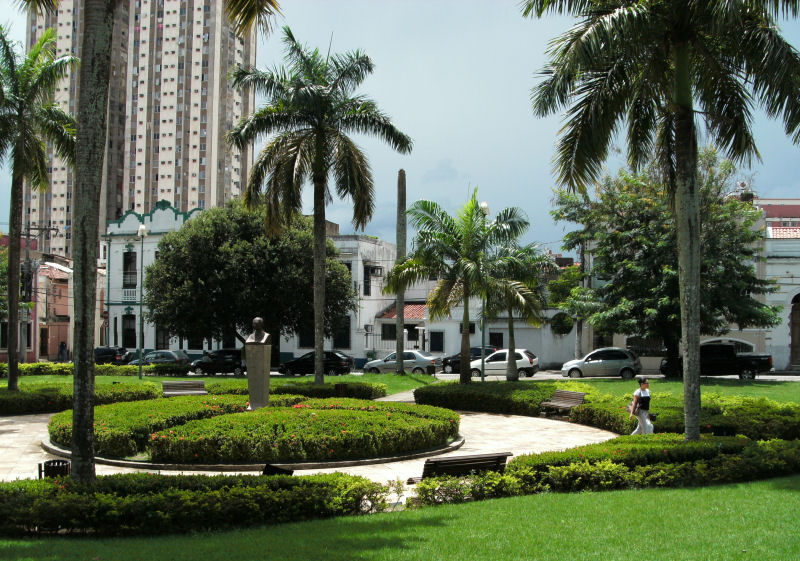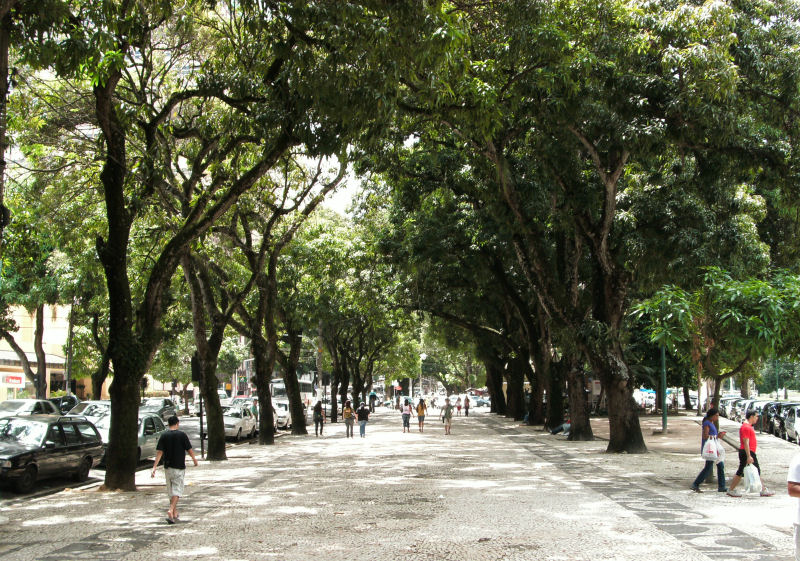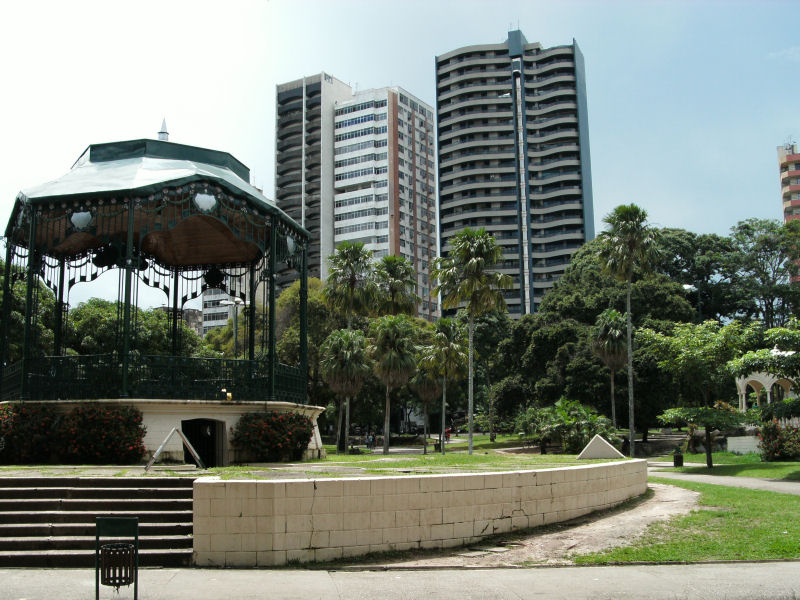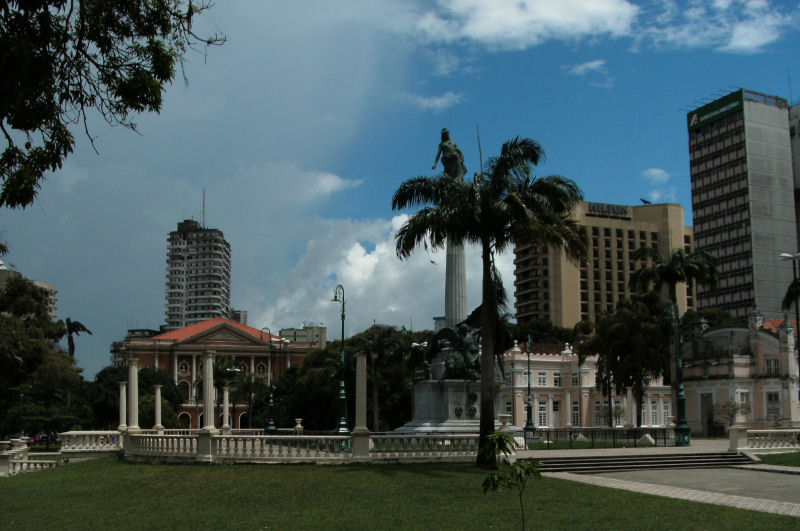 I found a store where I bought a camera. Not a camera I was happy with, just the best one they had that would take my SD memory cards. There isn't much selection in cameras around here; they are all small, pocket-sized cameras with limited features. I practiced with it as I went along, and I found that it wasn't very good at action shots. It was also slow to start up and shut down--things that would make it difficult to use on the motorcycle. Plus, it was small, which is also bad when wearing riding gloves.
I walked for about a mile on a side street that was crammed with small market stalls. This next photo doesn't do it justice, since it was hard to capture the feel of the place where it was really crowded with shops. Lots of places selling backpacks, clothing, typical small trinket items, and maybe a hundred stalls selling bootleg DVDs and CDs. I admit that I was curious about what you got for the price (less than a dollar for a DVD movie, and less than US$2.50 for a PC-compatible game), so I bought a few of each. I might want to watch some movies on the boat to Manaus. (If you want to give me some grief over buying bootleg disks, just suck it up and keep it to yourself; I'm feeling guilt pangs already.)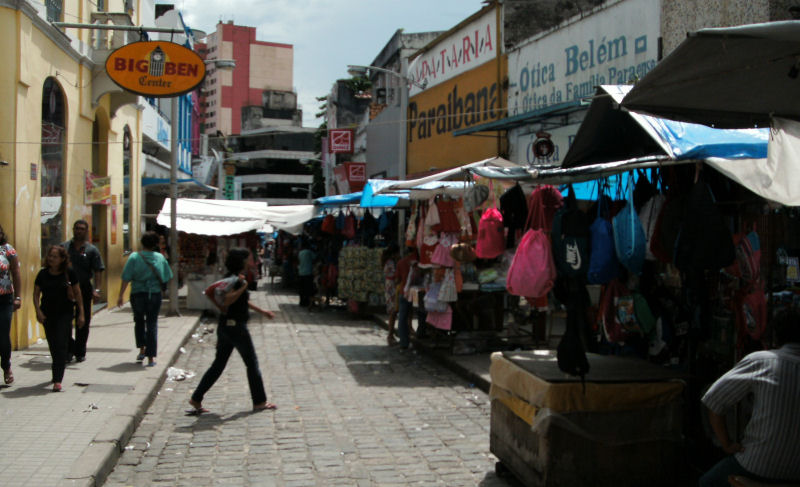 I headed back to my hotel. That's it on the left, the Hotel Unidos. There are two other hotels and at least two hostels on the same street, just off Av. Presidente Vargas, which is a major street.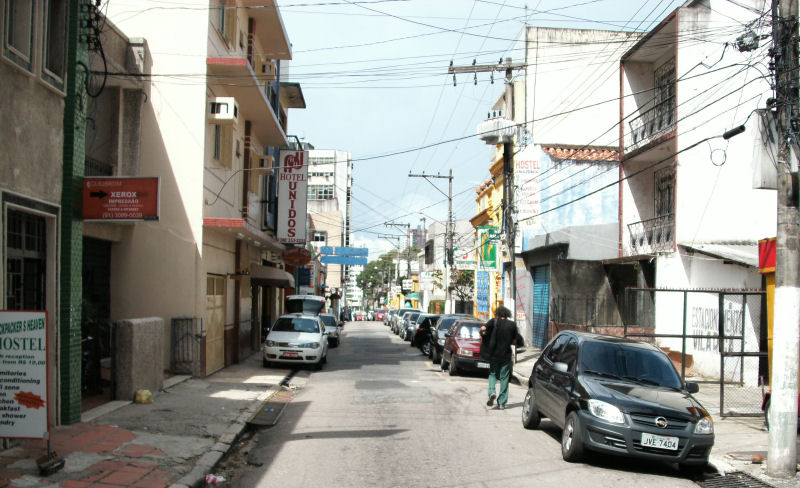 Alex and Fabiani showed up at 15:00 and took me to the office of a tour boat company. I had told them that I would be in Belem for a few more days and that I wanted to take one or two tours while I was there, so they were giving me some help with options. I chose a 3-hour boat tour around one of the many islands off the coast of Belem. The Amazon River splits into so many separate waterways here at the Atlantic coast, that it is hard to identify which is the official Amazon River. I've seen two maps that identified different courses as "the Amazon River," so I suppose it doesn't really matter. The widest waterway was right off the coast of Belem, but the official river was probably much further north. Some of the waterways had their own river names, some did not.
After making arrangements for the tour tomorrow, they took me back to my hotel. Alex paid me for the boots and sandals, having gotten the U.S. currency earlier in the day. They would be back later to take me to dinner.
I watched one of the DVDs. "Body of Lies," with Leonardo DiCaprio and Russell Crowe. The video quality was not the best, and the Portuguese subtitles blocked out the English subtitles (which appeared whenever a character spoke Arabic or Farsi). The sound was a bit muffled. All in all, it was watchable for the dollar I paid.
When Alex and Fabiani showed up, they took me to a restaurant that no tourist would ever find on their own. The place had no outward signage, was located at the dark end of a dead-end street, and was in a "bad" part of town. The restaurant is on the second floor.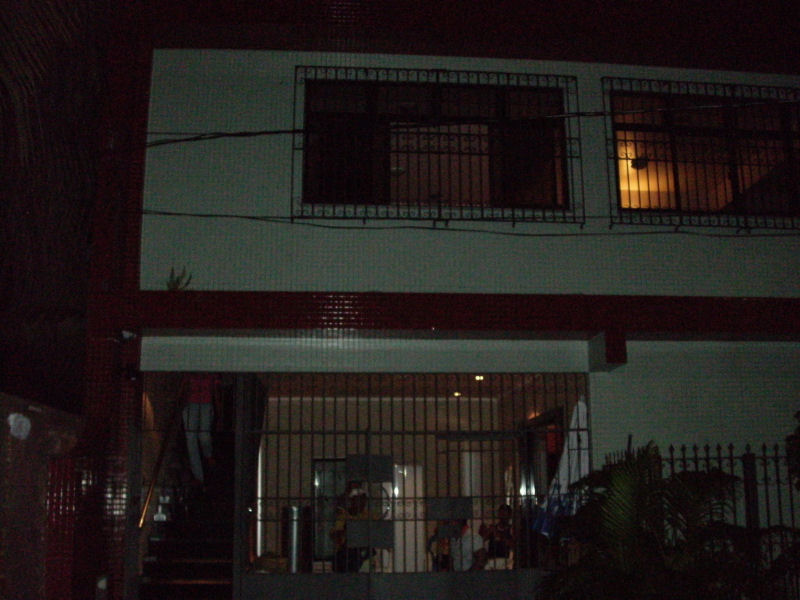 It was a fabulous place, and the dinner was excellent. Alex and Fabiani know all the good places to get local cooking. We ordered two different fish entrees, one with a creamy sauce and one with a tomato sauce. Both had crab claws with the fish meat. Both were very good. My friends freaked out when I put a lot of the local hot sauce on some rice, and they told me that only the locals use the sauce. I admit it was very hot, but I like spicy foods, so I managed it okay.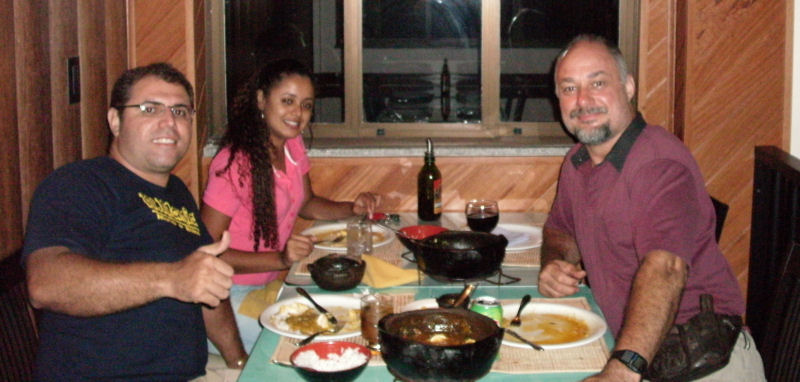 Fabiani = hottie.
Dessert was some type of custard (with a noticeable alcohol content) topped with a fruit marmalade. The fruit was from a Cupuaçu, the big, hard nut-thing that Alex had shown me in the supermarket. Never would have guessed that.
Alex was suffering from the peak of his head cold, so he wasn't feeling well. I was a little concerned about catching his cold.
Fabiani speaks no English, and every time she would start to talk to me, she would stop and giggle.
I paid for dinner and we went to Alex's motorcycle shop where he asked me to ride his bike back to their apartment. His cold made riding the bike too difficult for him. His helmet was in the tailbox, and it fit well enough. It was fun, riding such a light bike after so long. I was zipping and swooping around as I followed them.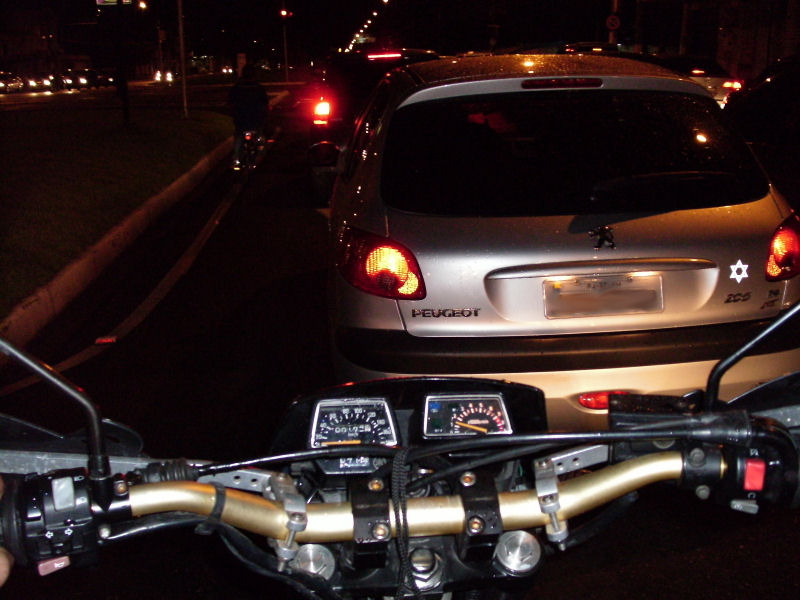 At their apartment building, I parked where they pointed, and they took me back to my hotel. On the way, Fabiani told me (through Alex's translation) about her father, who had been partially paralyzed in a motorcycle accident twelve years ago. He still lived in Rio, and has built a 3-wheeled motorcycle from an old car. Good for him.
Thursday, 12 march, 2009
---------------------------
More variety at breakfast again, so that's very nice. The Mais Voce lady (I have no idea what her name is yet) was doing some cooking on her show this morning. A local Martha Stewart/Dr. Phil/Regis Philbin type of person. I still don't get the reason for the parrot puppet; she doesn't seem to talk to it, and it mostly just makes wise-cracks on the side.
The laptop computer had gone into sleep mode overnight. That meant that its battery had gone down too low, and that meant that it wasn't getting power from the cord. Time to deal with that.
Regardless what I tried, I could not get any power to come from the power brick (the transformer). I got my circuit tester from the bike and checked all the cords and connections, including the extension cord, and all appeared well. What's the risk of breaking open the power brick? Nothing, really, since it was useless right now.
So, I busted the plastic shell open, which proved hard to do. I then carefully pulled away the aluminum housing, folded and taped back the inner housing and the insulator sheet, and exposed the guts. See the electrical cord's connector plug on the left? I suspected the problem to be there, somewhere, since I had earlier been able to wiggle it and get it to work again.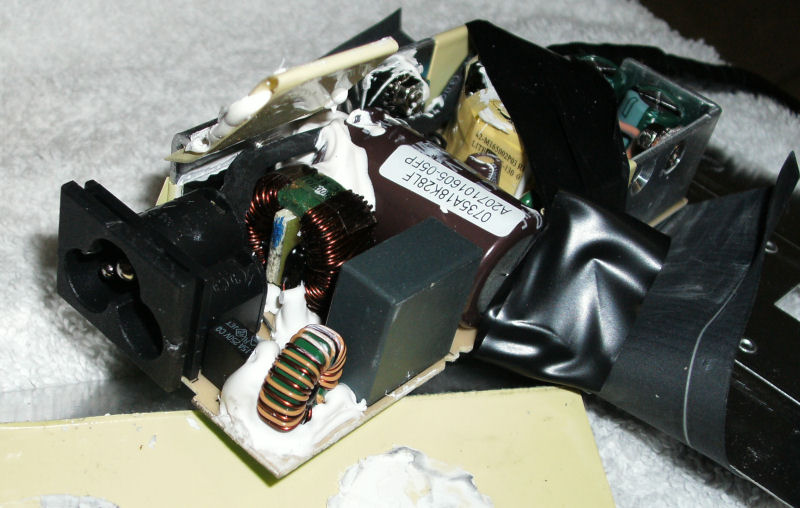 Turn the unit over, et voila! The electrical cord's connector plug is partially retained by two plastic stubs that go through the circuit board, and the top one in the photo below wasn't holding very well. The connector plug was moving around, and one of its soldered connections had come apart. It's the one with the red arrow. It looked like it had been sparking for a while, and it was a bit scorched. (The white stuff is some kind of adhesive sealant.)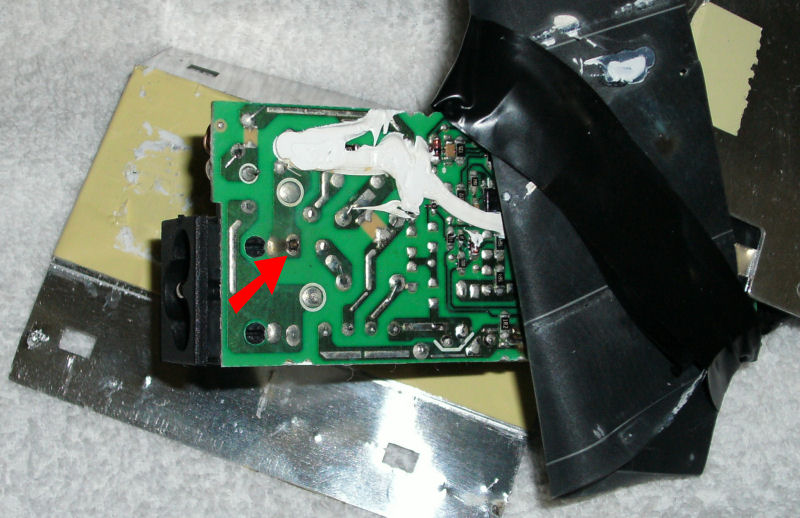 I cleaned it up, went to my bike for the electric repair kit, and got to work. I didn't want to use the butane torch directly on the circuit board (duh), so I used one of the tips on a cheap multi-tool as a makeshift soldering tool. I used the torch to heat the tool (wrapped with a small towel since it got really hot) and quickly applied it to the faulty connection on the circuit board. It took several tries, getting the small bit of solder to stay where I wanted it while getting the connection itself hot enough to accept the solder. Once, when I put the butane torch down, it kept burning and set the hotel's towel on fire. You can see that in the photo, below.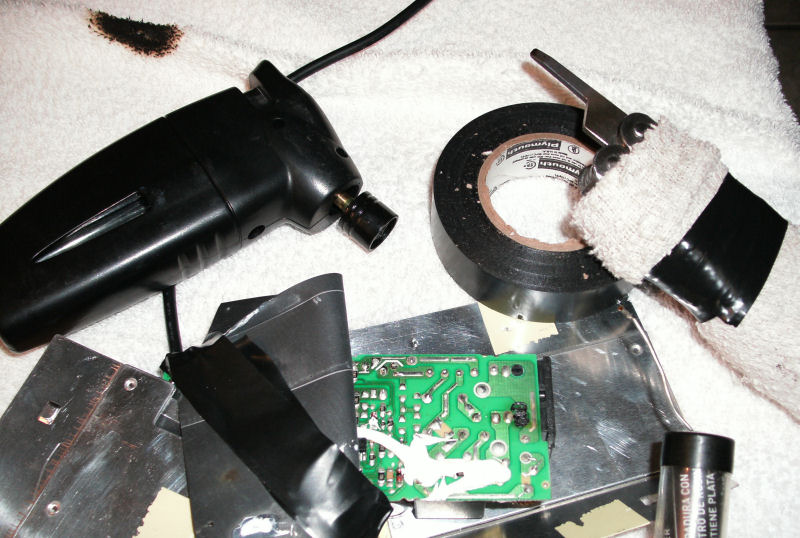 When it finally worked, it worked very well. Looks like a factory solder job, right? I tried to melt and widen the retainer stub for the cord connector plug, but I got it too hot and essentially melted it away.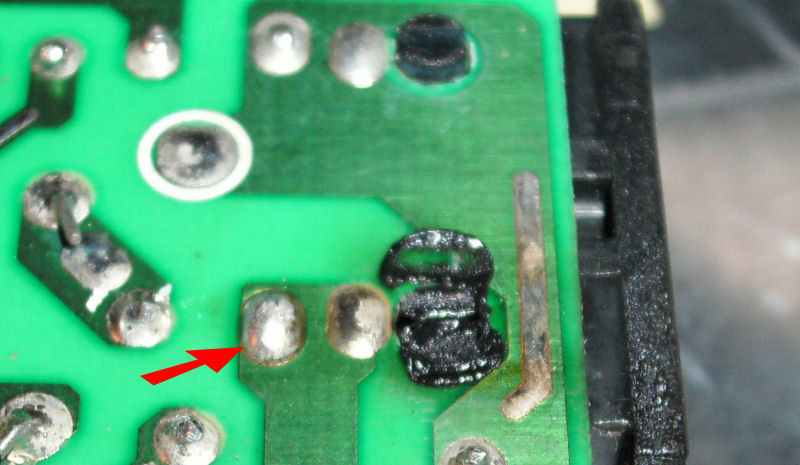 I fashioned a zip-tie to keep the connector plug from wiggling around, and carefully put everything back together. I had to do some carving on the plastic outer case, since the zip-tie caused the inner unit to be a bit wider than it was designed to be. I taped it all up, and not only did it look good, but IT WORKED!
[]
That was a relief. The laptop powered up and when I wiggled all the cords and connectors, so that was another success.
While I had been working, there was an incredible thunderstorm outside. As the middle of the day came and went, I was worried that my afternoon boat tour was going to be miserable. The rain eventually stopped, and I went down to the lobby to wait for the tour company to pick me up.
The van came to get me, and it already had two German tourists aboard. They spoke a little English, but not much. They were an older man and his nephew, but we didn't talk very much and I never learned their names. We made another stop to pick up a Japanese woman. The tour guide, Cicero, had been hired for our small group because he spoke English and German well. The Japanese gal said that she preferred English over Spanish, so the guide only had to repeat things once.
We did a short drive past a few interesting sights in the old section of the city while Cicero told us all about the trees and the vines and the flowers and the grass and the insects and the... Good grief, was he a botanist? He then briefly waved toward a huge, impressive Cathedral and said, "That's a church."
I learned that there were 29 types of mangoes in Brazil and over 5,000 types of orchids. I learned and immediately forgot the Latin names of the trees and flowers and birds, but only learned that the centuries-old cathedral was a "church." Wrong tour guide for the inner city, but he was the right tour guide for our boat trip.
We got to the southern coast of Belem, along a wide waterway that had its own river name. I think he said this was Black Point Port, where we boarded the Amazon Queen. It's the boat with the orange trim.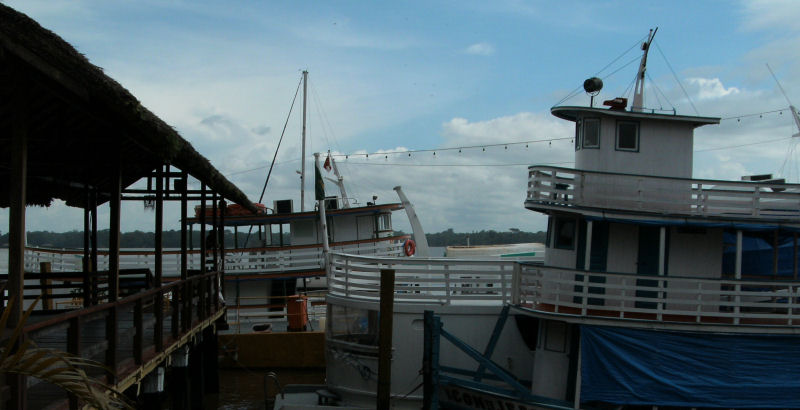 While we crossed the two mile-wide river, Cicero used two maps (different scales) to orient us to where we were going. The tour was only three hours, so we would be an hour on the boat, an hour hiking around in the local jungle, and another hour returning on the boat.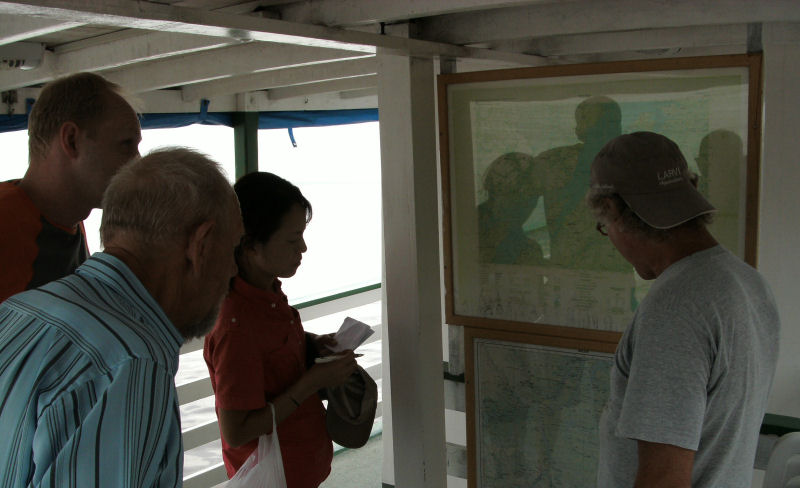 It's hard to take a photo through glass sometimes, so this was the best I could do. We went from the red arrow, south-east between the islands to the yellow arrow where we walked around in the jungle, then back the way we had come with a detour up and back down a river channel where the blue arrow is.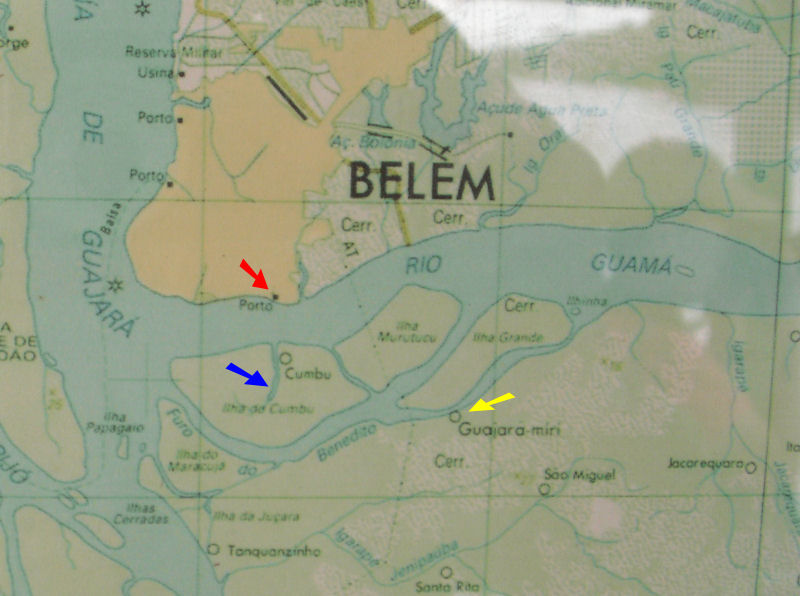 Cicero was all about being relaxed, man. He knew his stuff, though. He knew every tree, plant, animal, insect, island name, and river name. He told us about how the soil in different areas led to different types of mangrove trees, about how much faster the plants at the waterline grow during rainy season (so they don't get drowned), about how the Açai fruit is harvested, about how the local people made their living by fishing and selling the fruits of the forest. Anything we asked him, he knew. I couldn't remember or take notes fast enough, so most details were lost on me.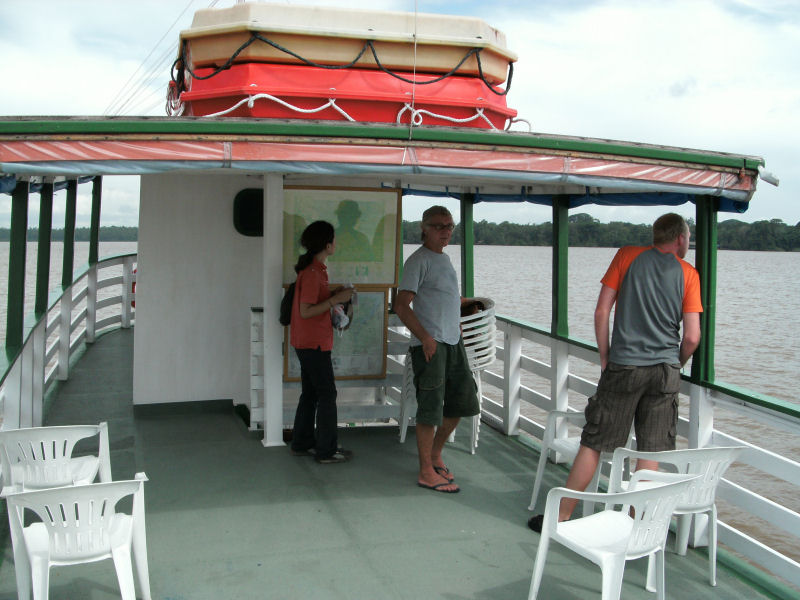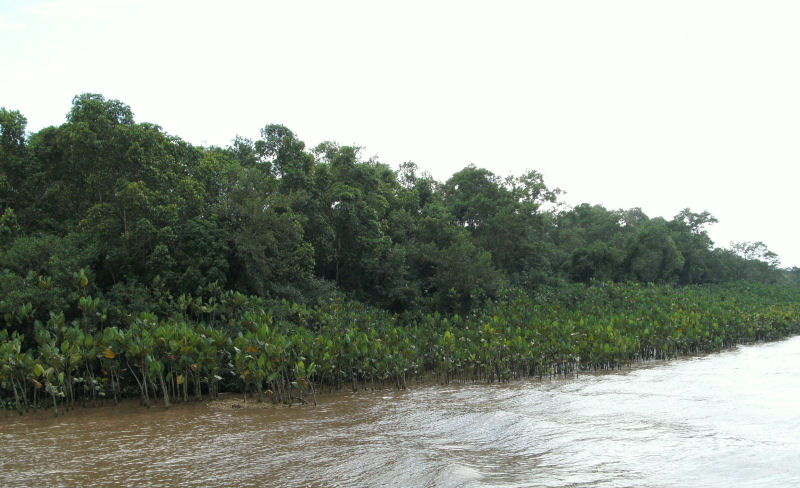 Cicero told us about the seasons (dry, rainy) and how conditions sometimes occurred that caused a "big wave" phenomenon that came crashing down the Amazon and flooding everything. Rainy season + high tide + full moon = big wave conditions. It was like the river flushing itself out once or twice a year.
Those are Açai palm trees below. The small fruits grow on the brushy stems under the leaves. The principle source of palmito (palm heart) is the Açai palm tree, although other palms are used as well.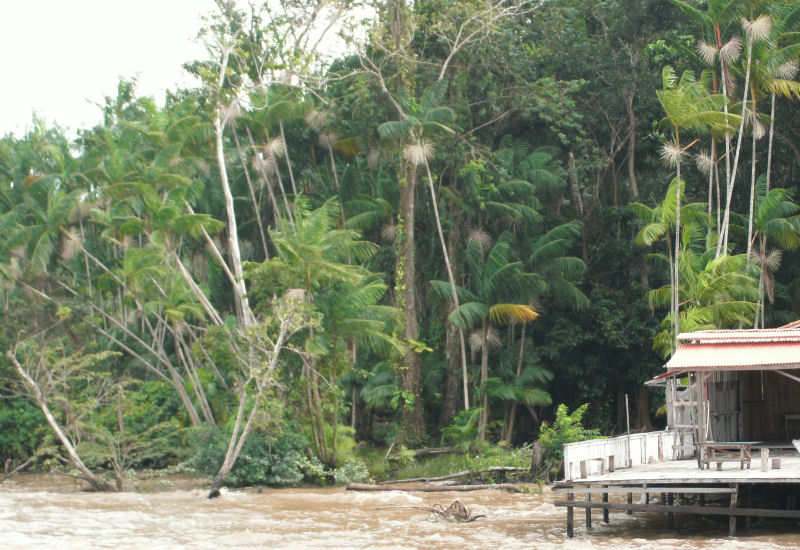 My new camera really let me down several times. It didn't focus well when things were moving, and didn't take a photo quickly when you pressed the shutter button. This is a common problem with most digital cameras. I missed some shots of birds in their hanging nests and some monkeys because the camera wouldn't focus well if the image wasn't stationary.
(I have gone through three Canon Powershot A650 cameras, and they are definitely my choice for traveling as I have been doing. A good, full-feature camera with a swiveling LCD screen, yet compact and easy to handle. It takes quick photos, too. I wish they were easier to find in stores. Oh, well.)
Cicero told us that the local people made a good living on fish, shrimp, and fruits that they sold in the markets. They were not poor, he told us, but they did prefer simple lives.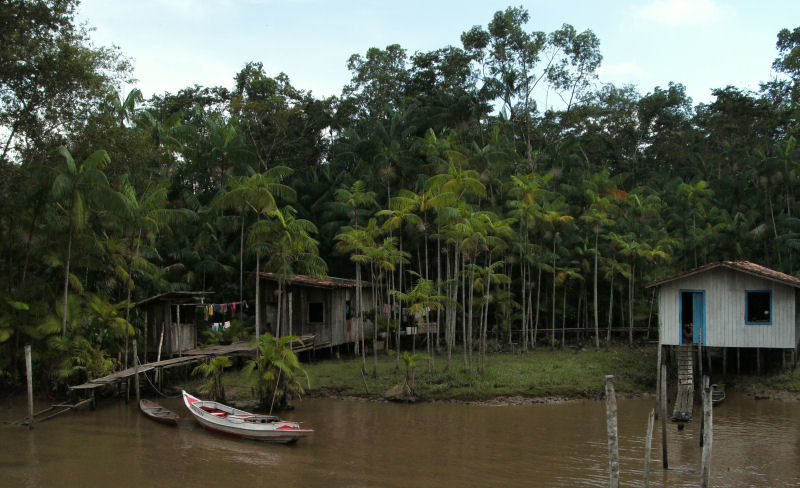 We came to a small village and tied up to this dock.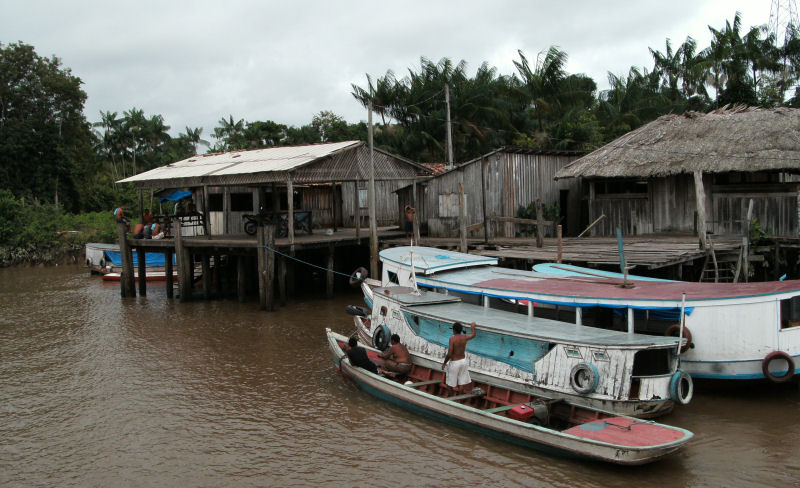 Once on land, Cicero was able to point out anything and everything. Close-up of Açai fruits. The dark purple ones are ripe.
We got to touch and smell a large number of plants, and I was surprised at how many smelled familiar yet were unknown to me. Varieties of lemon grass, wild garlic, a leafy vine that was related to mangoes. We played with plants that moved when you touched them, which the Japanese gal found fascinating. He knew the vitamin content of each plant, and which ones were used for commercial pharmaceuticals.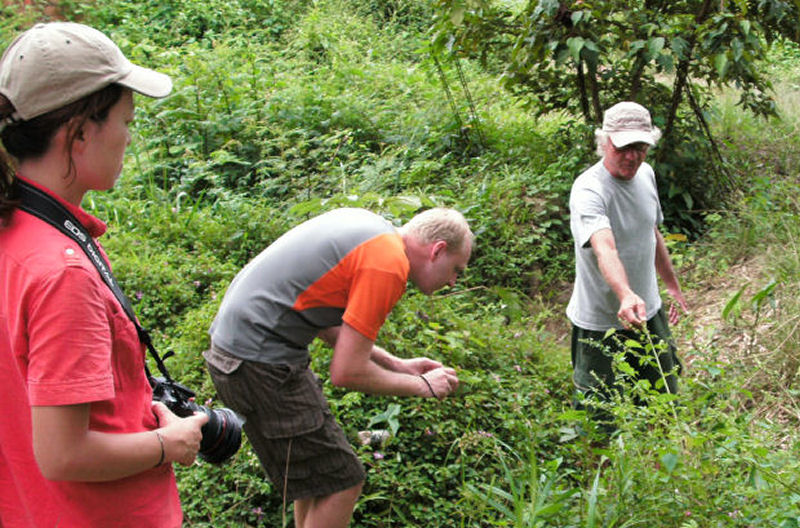 Cicero knew what plants were good for earaches, which would cure diarrhea, how the natives used this weed or that grass for any number of medicinal or spiritual needs. He showed us a variety of marijuana that didn't look like any I had seen before. It was pretty weak, Cicero pointed out, and you had to smoke a lot of it to get any effect. He preferred the regular marijuana. He told us that he has tried smoking almost everything in sight, and some were pretty good.
Cicero will always be known to me as the Hippy-Dippy Guide Man. (There is a tribute to the memory of George Carlin there, for those of you who didn't get it.)
We left the village and went inland. These power lines carry electricity to Belem from the largest hydroelectric plant in Brazil, over 250 miles away to the south.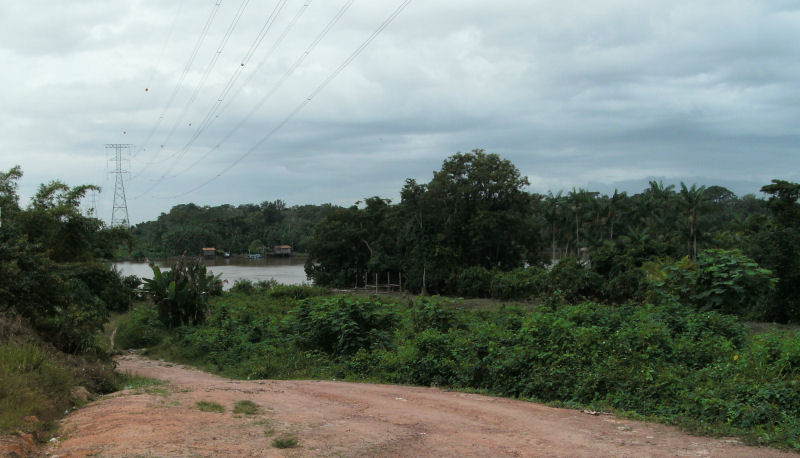 I took a lot of photos, but won't use many here. These are cocoa nuts, used to make chocolate.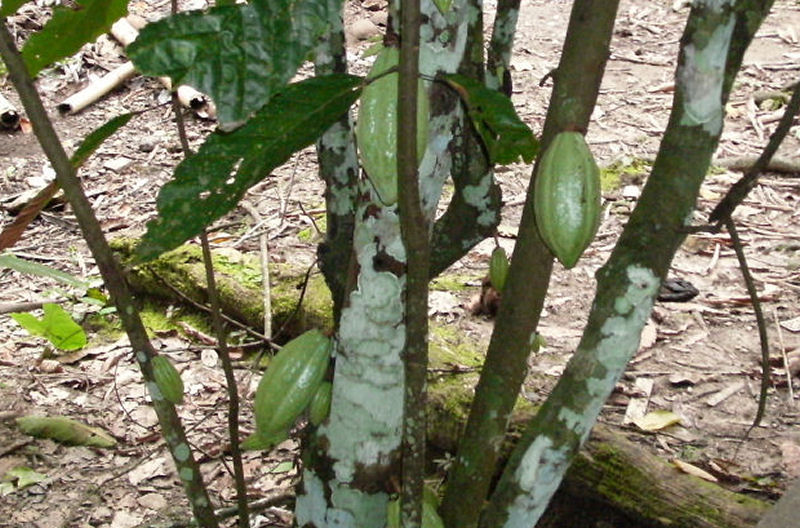 I forgot what kind of thee this was--probably something obvious. It was huge. Most of the vines are not parasitic and they don't harm the trees. They climb them to get to the light.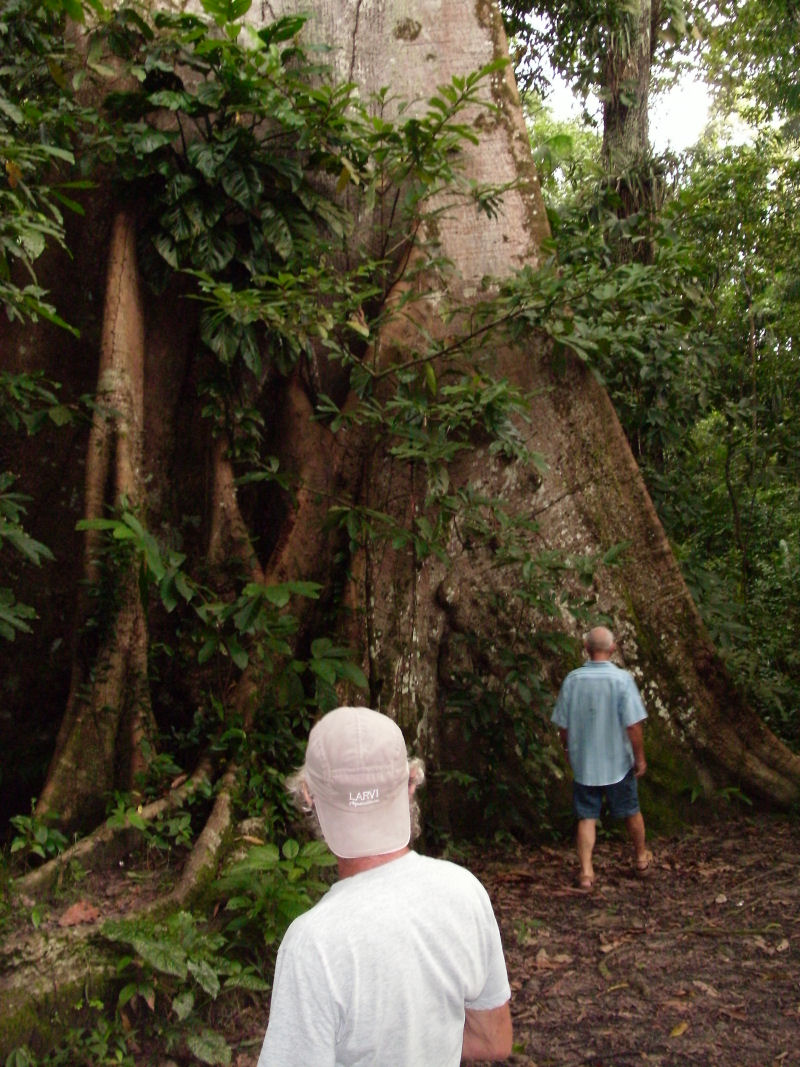 We had pecan trees pointed out to us, and saw where rubber trees had been cut to collect the latex.
Cicero pointed out some "mystic" plants. These were usually shrubs and vines, but were sometimes trees and grasses that the shamans and medicine men would use for spiritual release or enlightenment. Some would make you fly, Cicero told us with confidence. I suspect that he knew what he was talking about.
We were met by the local elder, the man who owned this land. He resisted clearing the land for farming, preferring to keep it natural. He was kind enough to allow these tours and to demonstrate a few things. He showed how the Açai trees were climbed, using a ring of woven leaves around his feet. The man is 66 years old, and has been climbing these trees his whole life.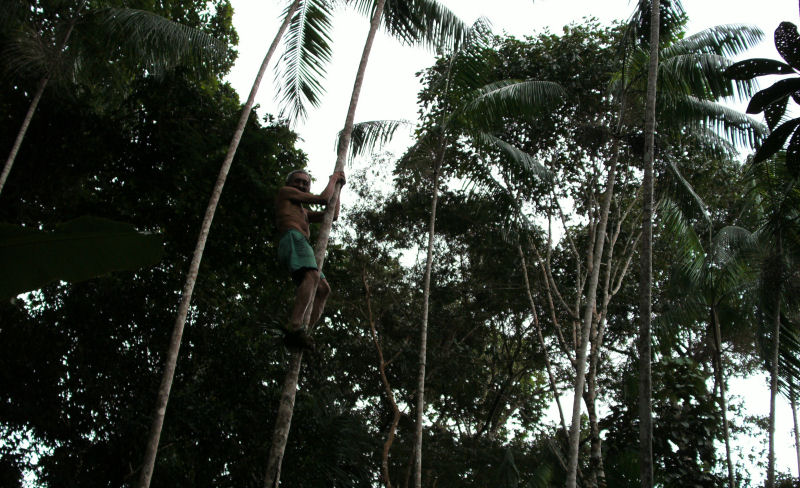 He got the one tree swinging and transferred to another, just to show us how it was done. He's way up there, trust me.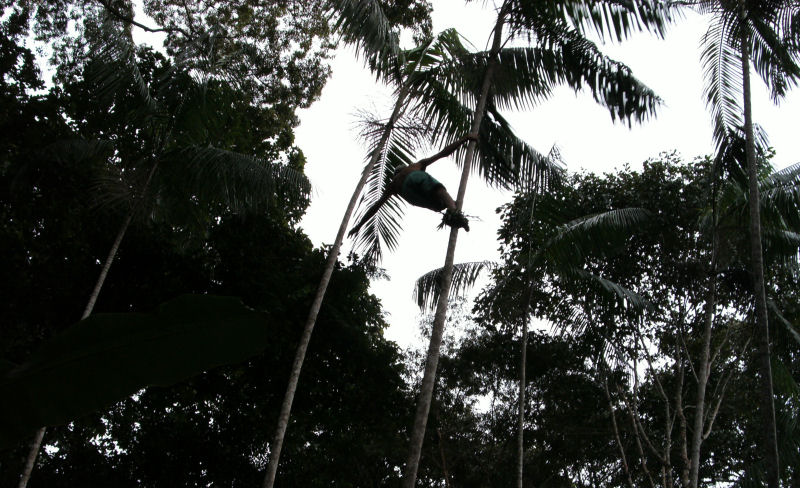 Then he let go of the tree and fell straight down, clamping the tree with this leaf-encircled feet just before he hit the ground. He laughed when the Japanese gal cried out.
We continued our walking tour, ending up at the old man's home. He showed us how Brazil nuts are harvested from their coconut-like outer shell. He was pretty good with his small machete. He peeled many of the nuts for us with the same sharp knife and let us eat them. I had always thought that Brazil nuts were roasted like most others, but apparently not. This was fresh and was very tasty.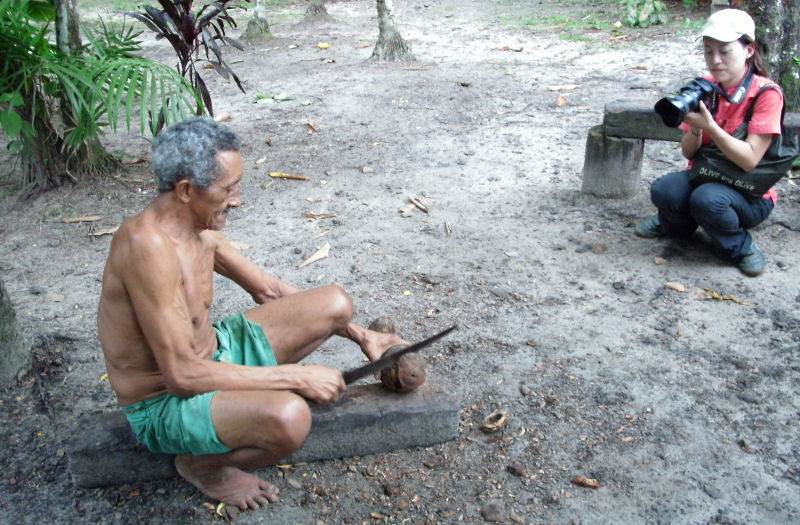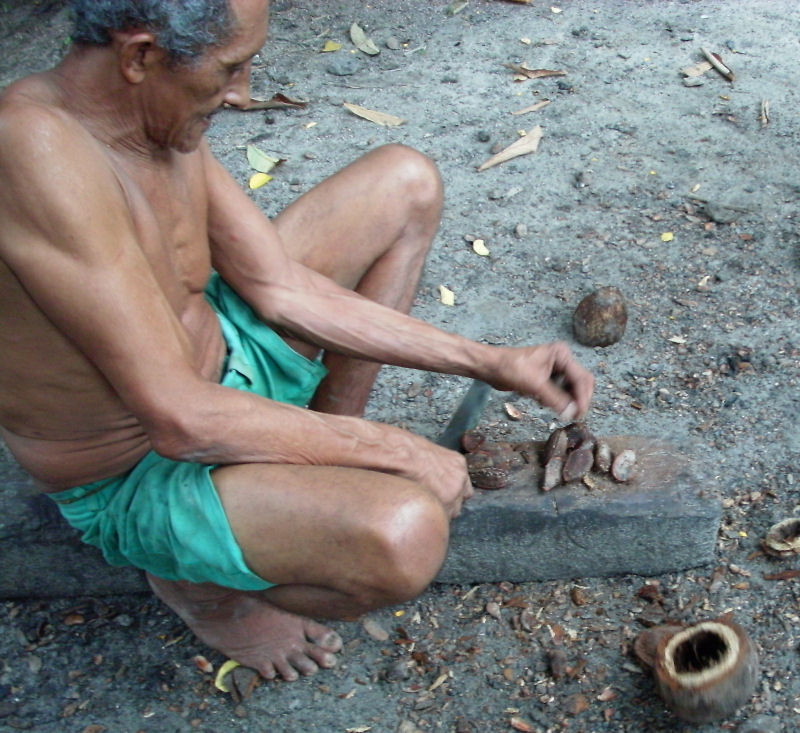 The Japanese gal was very forward with her camera, something I find hard to do sometimes. She was not shy about sticking her camera right up to the face of the local people. This kid with the parrot was worth about twenty photos. I noticed that she didn't give any money to them.
When the old man fetched his pet tarantula from its leafy cage, the younger German guy stiffened like a board. I let the spider crawl on my arm, then let it climb up my shirt. That was a bunch more photos for the gal's camera. This was a small tarantula, and as a kid I had played with much larger ones when visiting my uncle's cattle farm in Oklahoma.
The old man finally talked the frightened German into holding the spider, and he went absolutely rigid so his uncle could take the photo as fast as possible. He couldn't even give the spider back, because he couldn't move. The old man took his pet back and let it walk on the Japanese woman's arm briefly, but she was about to fling it away, so he rescued it again.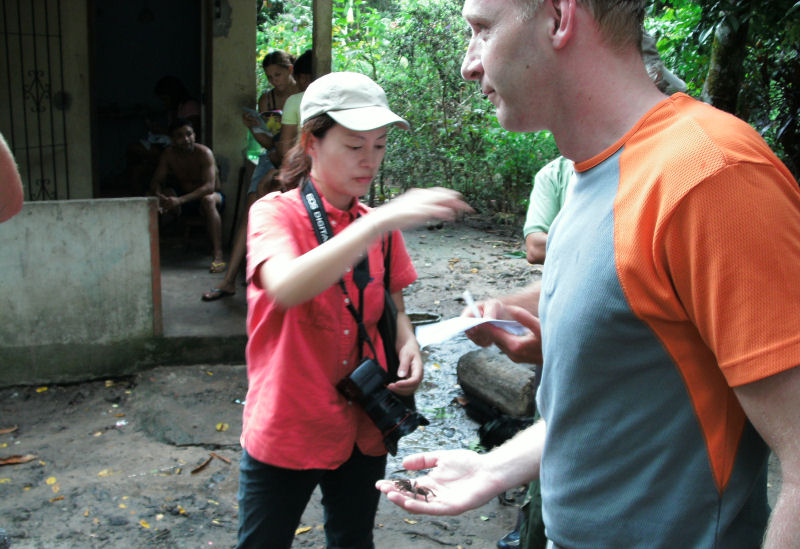 As we left the village, I asked Cicero if the old man made any money from the tour, and he told me that any tips we gave would be the only money he gets. I gave the old man a big tip. No one else did, which disappointed me.
The weather had held all afternoon, even though it was raining in the distance. As we neared Belem, I thought we were done.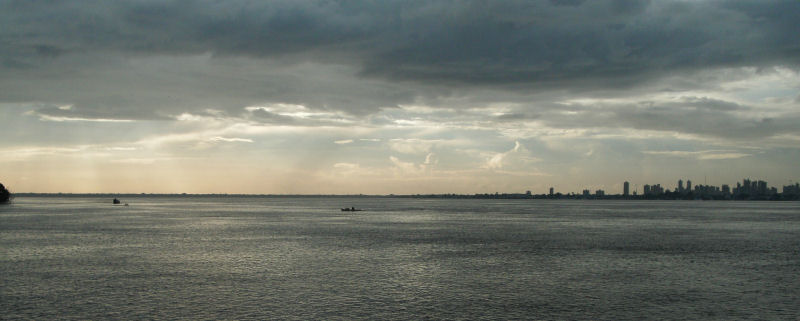 But, no. The Amazon Queen steered into another river channel on one of the islands. I think this was just to use up more time.
Cicero gave me his home phone and cell phone numbers, and he said that if I wanted him to help me with anything that I could call him. For a fee, I'm sure, but that was okay. I didn't think I would need his services, but I thanked him.
We returned to Belem, and the van dropped us back at our respective hotels. Alex and Fabiani came by again at 20:00, which I expected. They took me to a small diner that only the locals eat at. There was only room for a few people, so we waited before being able to sit at the only table. We had a variety of soft empanada things, but some of the fillings were unknown to me. One was fish, but the others...?
We shared a large bowl of soup that was very good. You used the sharp bamboo stick to eat the greens, spear the shrimp, and poke yourself in the lip. Well, that's what I used it for.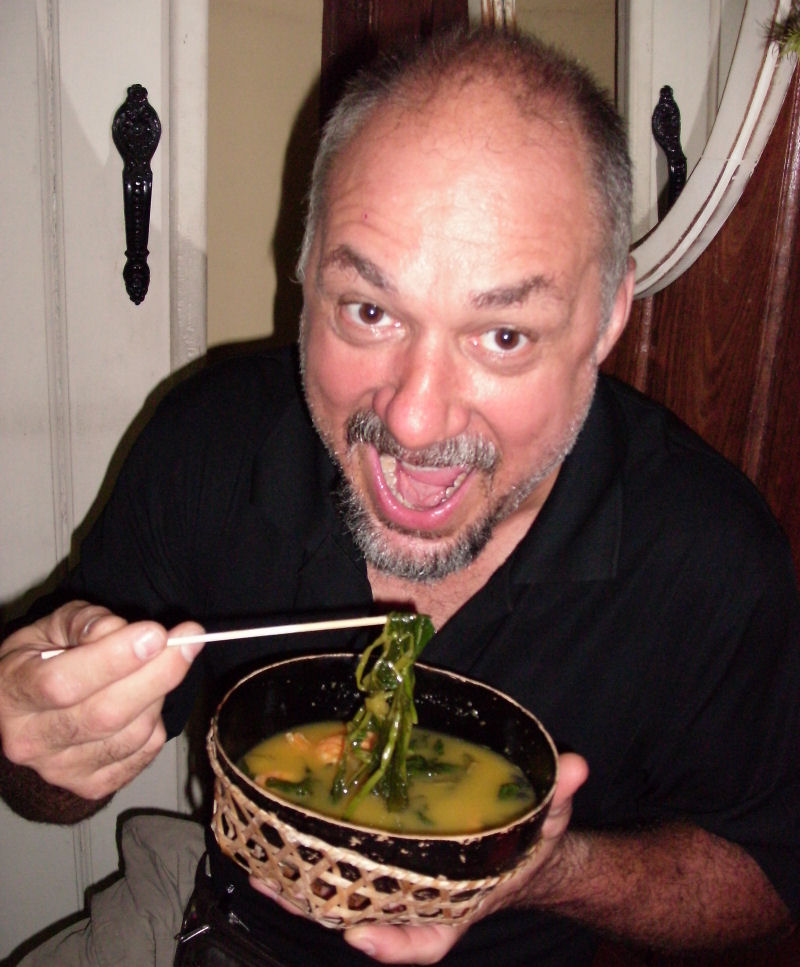 Alex knew that he shouldn't share the gourd bowl with me after he used it (he hadn't fully recovered from his cold), so I had some soup first, then he and Fabiani finished it. It was good. The jambu greens were a little chewy, the shrimp were decent, but the broth was superb.
We took a quick drive through some of the historic areas of the city and Alex pointed out a few things. I had seen some of this when I had first arrived in Belem, but I hadn't known what most of it was. I saw a tapiocaria that looked interesting. I might have to do some more research for Don. Yummy.
When he dropped me at the hotel, Alex told me that there was an American KLR650 in Belem, and the owner wanted to sell it because it had been in Brazil too long and was now an illegal bike that could never be registered or legally taken out of the country. (I didn't take this opportunity to tell him Don's woes with getting his bike out of Brazil, or that anyone could ride any bike out of the country with no worries.) Alex wanted to buy an old, cheap, local KLX650 and put the newer KLR650's motor into it, to make it legal bike that would run better. He showed me the KLX he wanted to buy, but we couldn't see on the Internet photo if the engine swap would work. I wasn't familiar with the KLX, but I thought they were maybe too different. Alex asked me to see what I could find out for him and I said that I would. Alex will take me to physically look at the KLX during the weekend, just to see what I thought me be possible.
After Alex left, I did some research online, and it looked like the frame was too different to simply swap the motors. Some user forums had discussions about this, and they didn't think it was possible. I would need to look at the motor and frame.
I wrote until it was late, and got a ride report update sent it.
Tomorrow, I just wanted to hang out at the hotel, in case the package from Laurie got delivered when they said they would deliver it. This was DHL, remember?
Friday the 13th of March, 2009
---------------------------------
The date didn't bode well.
Breakfast with the Mais Voce lady. She was in a fashionable t-shirt and flouncy skirt today. I think she wants me. And I want to shoot that damned rubber parrot puppet. I'll try to get a photo of it, but the show might not be on during the weekend.
Someone got to all the flan before I got there, so I had to make do with all the other goodies.
I wrote and surfed the Web until about noon, when DHL called. Could it be? Nope. They needed my passport number to be able to start the customs-clearance process in Sao Paulo, but the package would not be delivered until Monday. Rats.
Back to relaxing and doing very little today.
Work, work, work.
In the afternoon, I went out shopping. I found a large store and managed to buy a sheet. When I finally got them to understand that I needed a hammock, they showed me the few they had, but they were large, heavy, and not mesh. I walked around a lot more, but couldn't find a hammock anywhere else. I'll have to keep working on that over the coming weekend. I did buy another electric soldering iron, just in case.
I picked up some empanadas near the hotel and ate them in my room. I wasn't sure if Alex will come by today or not.
He didn't, so I lazed in the cool room and watched another bootleg DVD movie. It was something called "XIII" and looked like a straight-to-video movie starring Stephen Dorff and Val Kilmer. It was three hours long, not great but pretty good. Looks like there might be a sequel.
Saturday, 14 March, 2009
---------------------------
I almost slept through breakfast, but managed to get down there before they locked the door to the dining room. There were several other guests lingering, and there was still plenty of food. The owner of the hotel offered to cook me an egg, and what I got was softly scrambled in butter. I wasn't going to need lunch today, considering how much I ate and how late it was.
No Mais Voce lady today. It was too late, and maybe she wasn't on during the weekends. Some other game show was on. Very much like Family Feud, except it pitted hottie guys and gals against each other. The guys all wore jeans, t-shirts, stubbled beards, and sneering looks. The gals were all slim and pretty, flimsy dresses and high heels. The high heels came off when they had to race against the guys to ring a bell and see who got to answer the question first. The guys always won the race.
I did a lot of writing, and managed to fix some things on my web site. The "Donate" button I had shamelessly put on each report page wasn't working, and a friend pointed this out to me. I needed to fix this, just in case some drunk millionaire needed to get rid of some cash to avoid the IRS. I really do need to buy a better camera.
After working on the computer for quite a while (partly to wait out the horrific thunderstorm that came through in the early afternoon), I went out. I walked for several hours, found some sights I had wanted to find again while I had a working camera, and eventually found a hammock in a clothing store.
Belem Centro photo Interlude: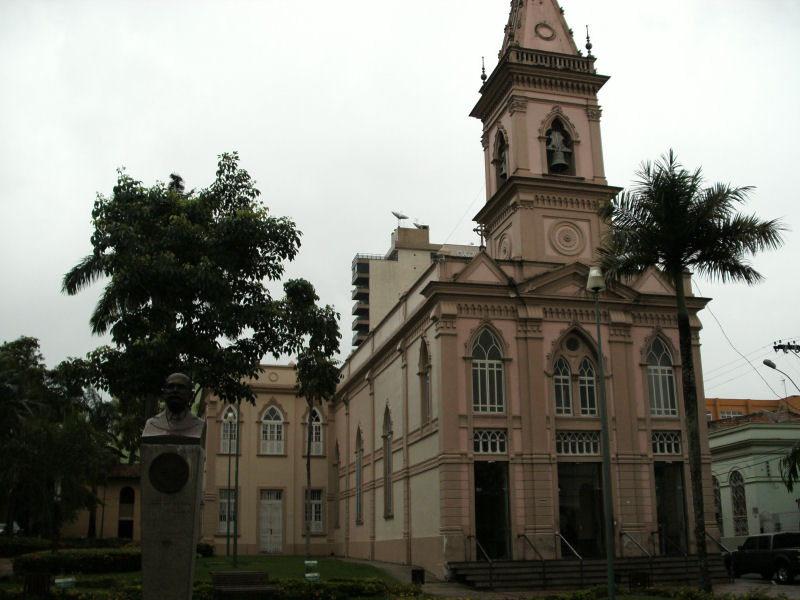 These are the kinds of gutters you have to watch out for. Many were deeper than these.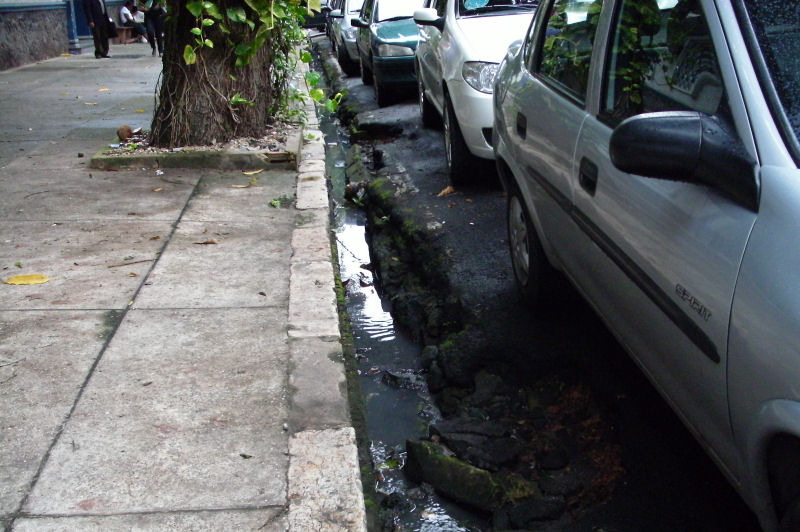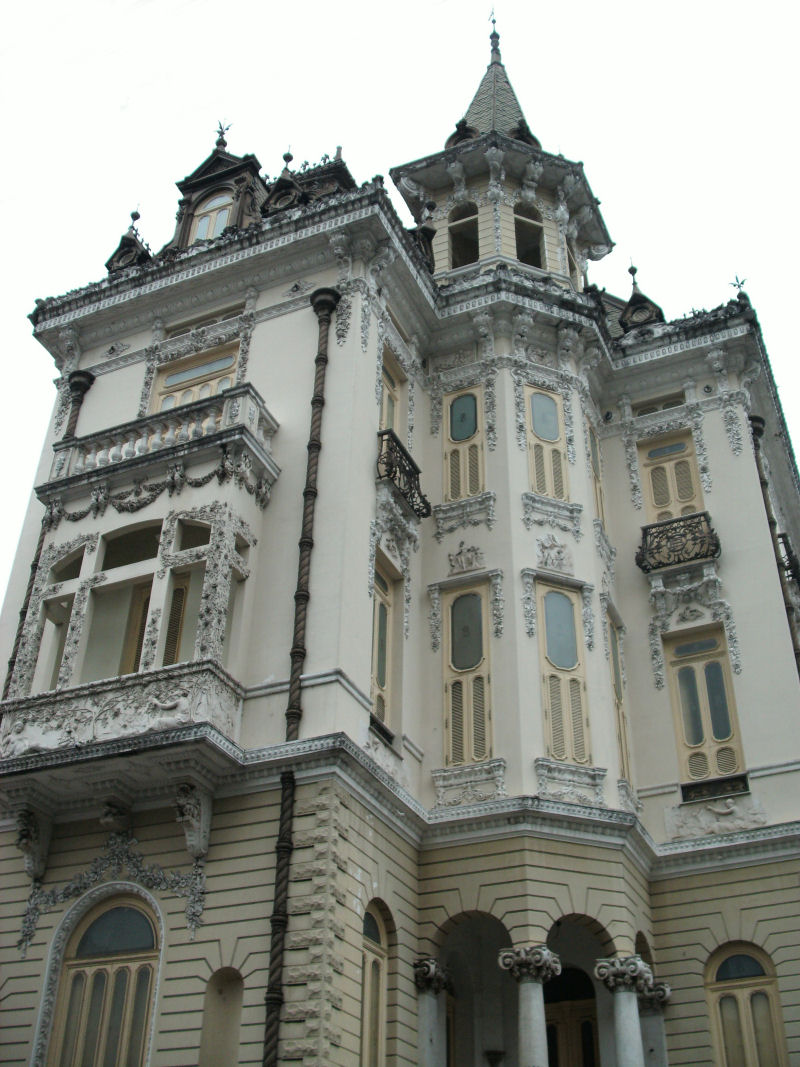 I went down the market stall street again, looking for a hammock, but I ended up with a few more DVDs instead.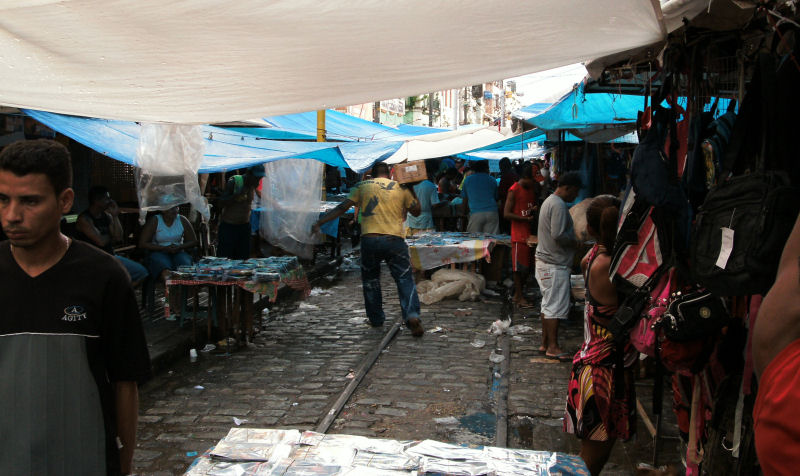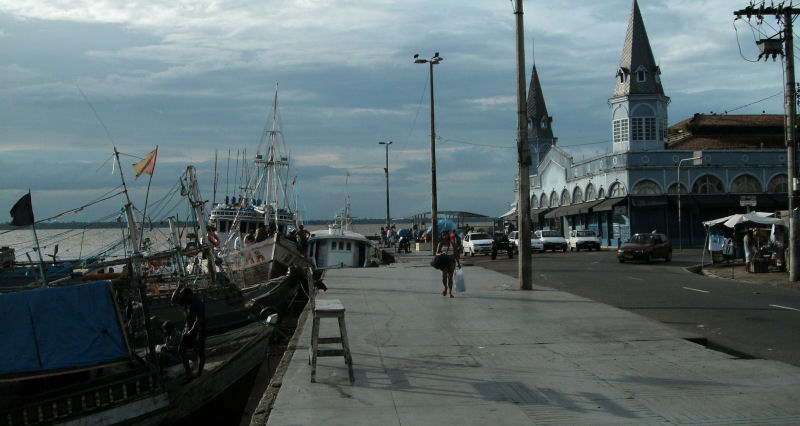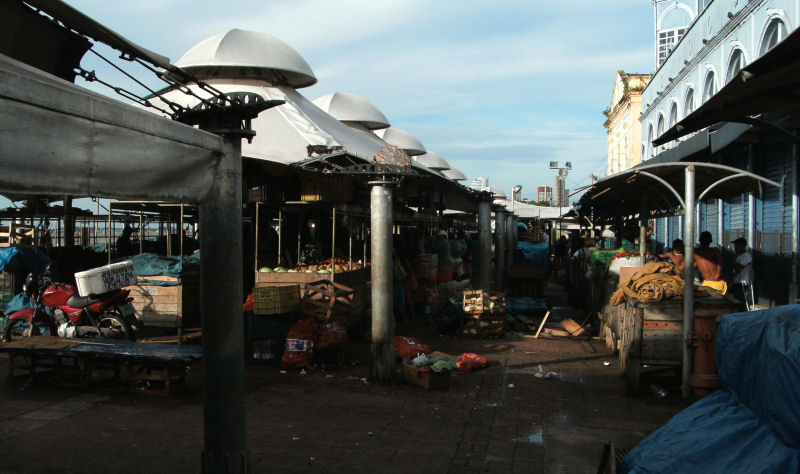 Not quite in focus. This camera has a sucky auto-focus mechanism.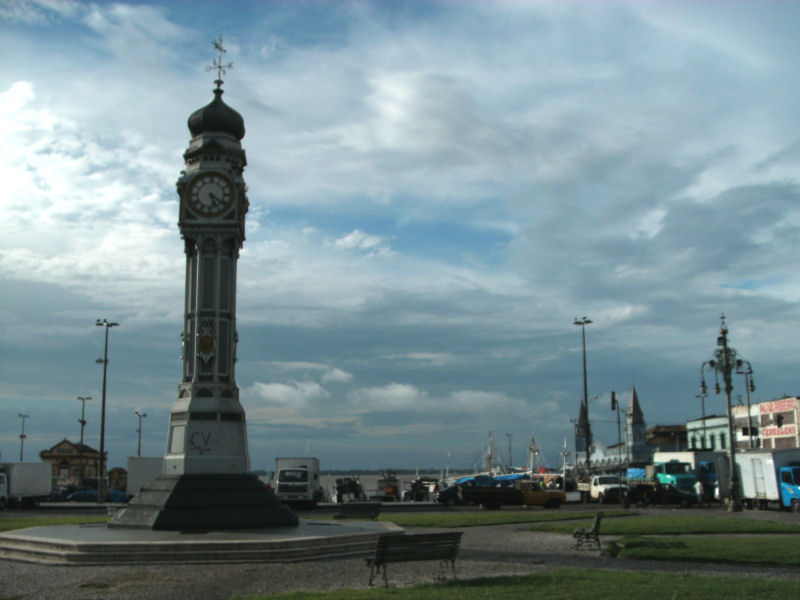 The new Cathedral.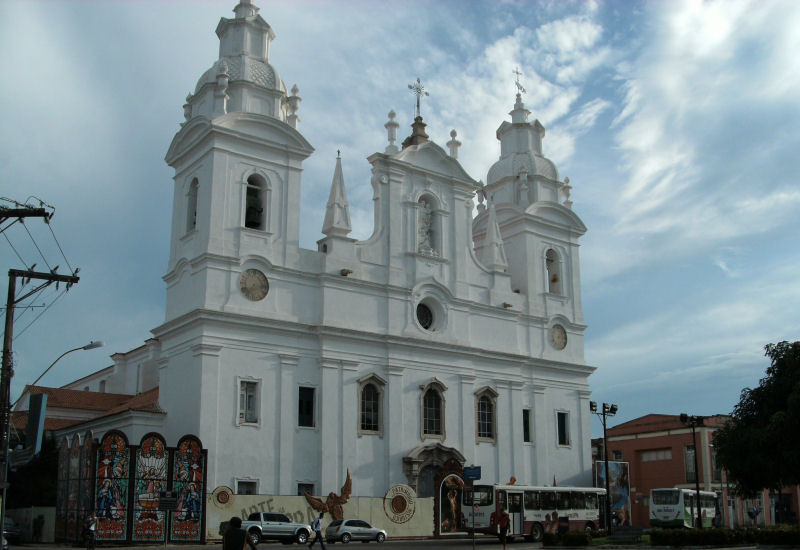 The old Cathedral, which was hard to photograph on the tiny street. This camera has a sucky lens.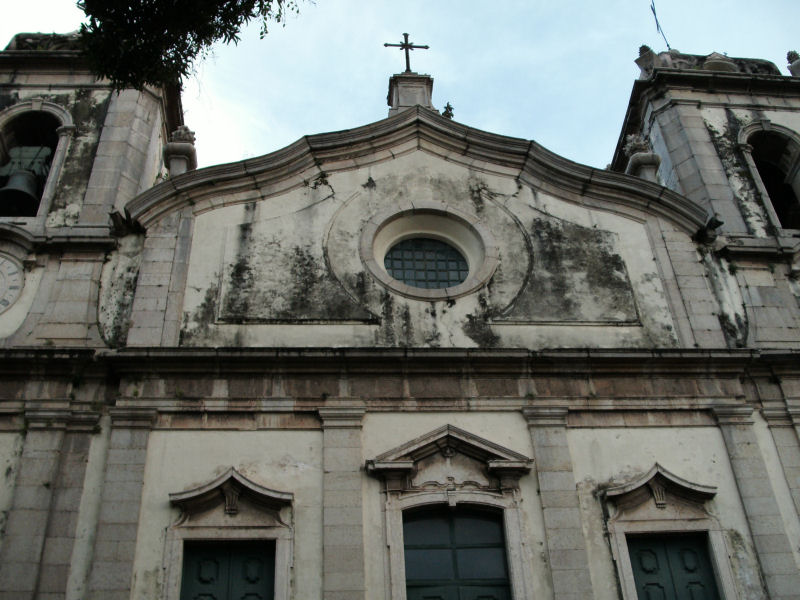 The old fort.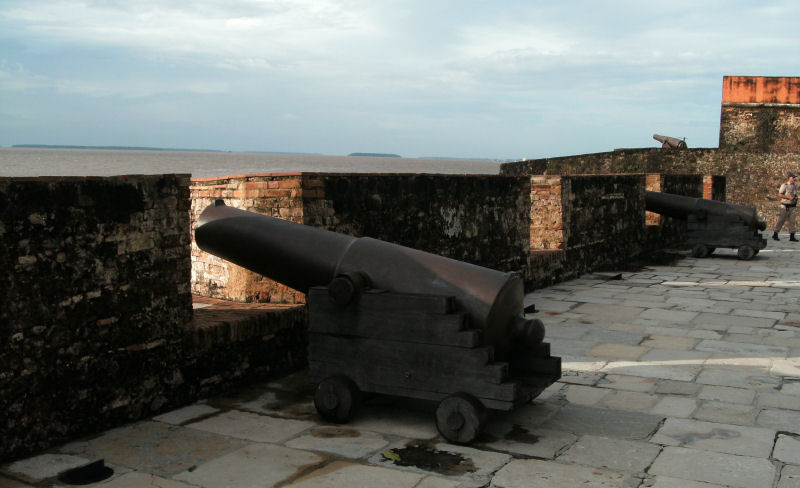 I had seen this Tapiocaria when I had first ridden into Belem, so I found it again and did some research for Don. Yes, I photographed the menu.
Connected to the restaurant was a night club that was setting up big speakers in side. Is that a gal pointing a gun at her head on the front of the building? Fun place.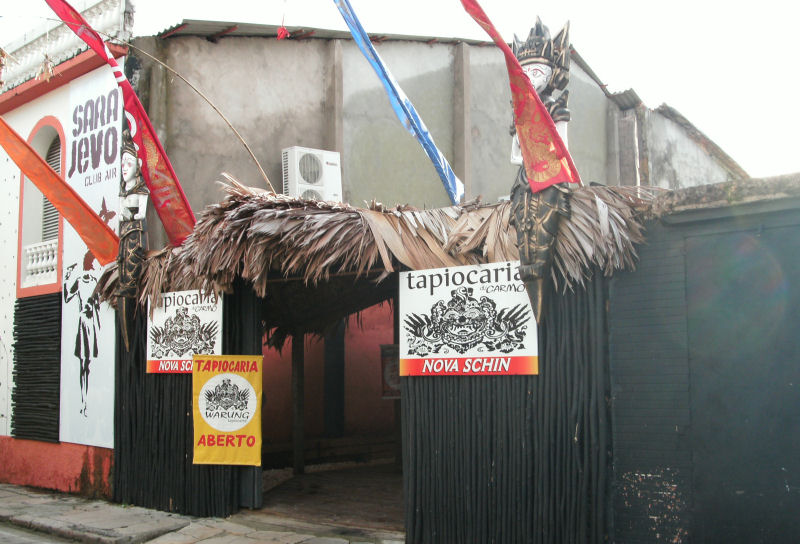 That's the Amazon river out there, in the light. This camera has a sucky exposure meter.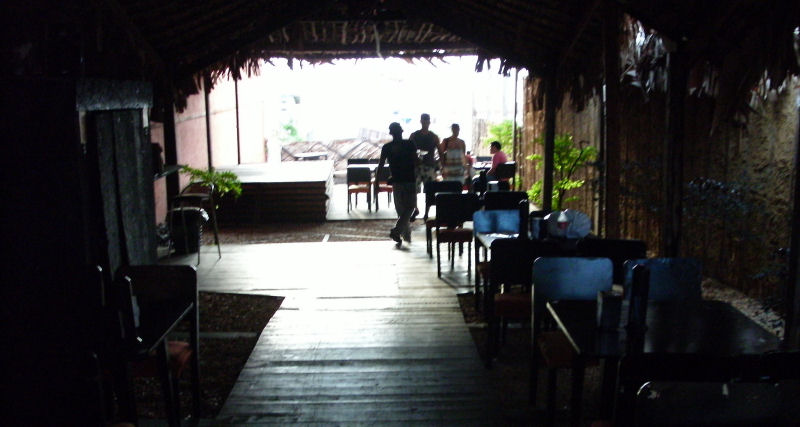 The Carimbo, with fried shrimp, jambu (the chewy greens), gorgonzola, mozzarella, and something called "regional." Maybe that's the sauce.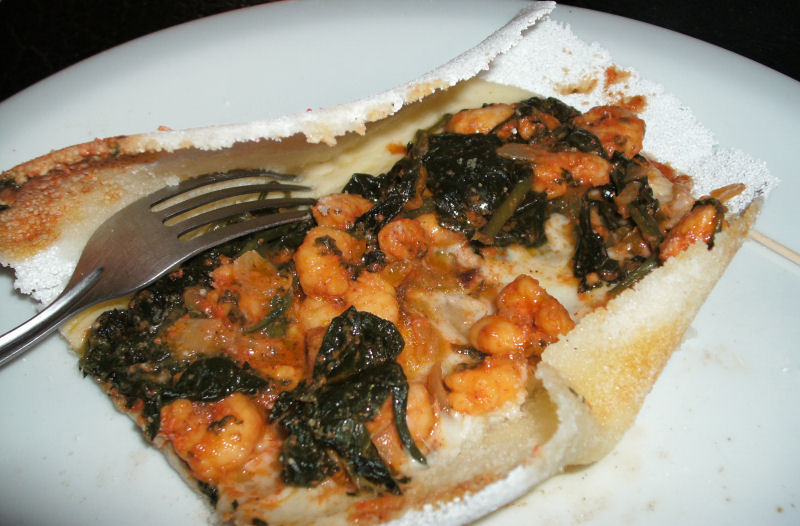 The Lundum Marajoara, with mozzarella from buffalo milk, more jambu, olive oil, oregano.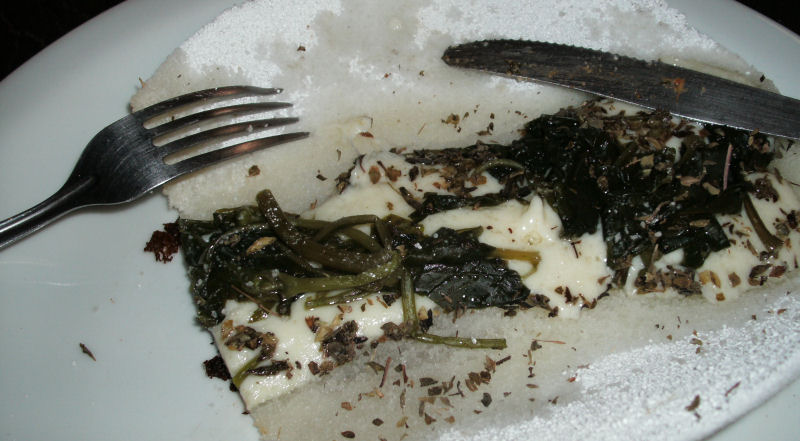 For dessert, the Cupuaçu with cuia, filled with a very tangy and sweet jam made from the hard-shelled, brown fruit, and what looked and tasted like cheddar cheese but was called cuia cheese. Don't know what the red bits are. All were tasty, fast, and cheap.
The tapioca crepes were very thin, a bit crispy and chewy, and they came to the table very fast. When I tried to fold them back up, they tore apart, since they were hardening as they cooled.
I took my sucky camera and wandered back in the direction of my hotel, going back through the market street again. I got some more DVDs, and I think that since it was the end of the day and most vendors were packing up, I got some sweet deals. Five DVDs for less than US$2 from one vendor, eight from another for less than three and a half bucks.
Many porn disks (with very graphic packaging) were out on open display too. Kids and old folks alike were sorting through them. One old lady pointed out a few to me that she thought were better than most of the others. This weirded me out a bit. An old gent was looking at the DVDs she was showing me, and he bought a few of them. She seemed to know the guy, and they chatted as he picked out a few more anal-themed disks. Gotta love that attitude, even if it did weird me out.
I took streets like these back to the hotel. If you are more likely to be a victim-looking tourist, I wouldn't recommend it. The bigger, busier public streets were probably safer.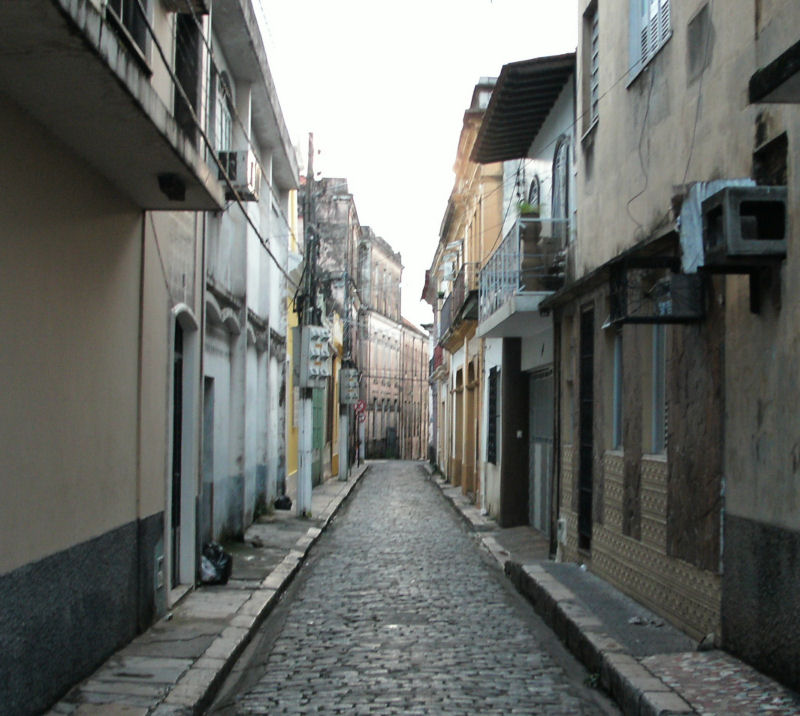 I called Alex and he said he would come to the hotel. It was after 21:30 when he showed up, and we talked more about is idea of putting a KLR motor into the KLX frame. He also told me that he knew riders in Manaus who would meet me when I got there, and he had friends in Venezuela and Colombia who would be available if I needed any help there. We went to my laptop and looked at the websites for some of his friends. He is genuinely interested in being helpful to riders who come through Belem. He said that he wrote to Javier at Dakar Motos several times over the last few months, trying to make himself known to Javier. He wanted riders leaving Buenos Aires to know that if they came north to Belem, he would be here to help them. Alex said that Javier never wrote back. Too bad.
Alex invited me to join him and Fabiani tomorrow morning on a trip to some kind of natural springs, or a lake or something. I didn't quite get what he was saying when he described it. He also said we could go look at the KLX that he wanted to buy to see what the frame looked like. He also wanted me to see the KLR and give him my opinion of it. We'll do that tomorrow, as well.
I tried to show him my photos from Alaska, but the Internet connection was very slow tonight. When Fabiani called to see where he was, he said he needed to go. He's still a newlywed, you know? Off he went.
I got this report caught up and got it uploaded at about midnight.
*yawn*
Sunday, 15 March, 2009
--------------------------
Alex was supposed to come pick me up early, so I ate and hung out in front of the hotel for a while. Three very exhausted English backpackers arrived and were told that they would have to wait until noon to get a room. The renovation work had taken one floor out of commission for a while. After they stashed their backpacks behind the reception desk, I took them to the main street and pointed out the local shops, banks, restaurants, etc. They told me that they had just gotten off the boat from Manaus, so I asked them for some tips for the boat ride. I don't know which boat they were on, but they recommended the middle deck (less noisy) and to put my hammock up early to keep from getting too crowded by the hundreds of other hammocks that people will basically live in during the trip.
Alex arrived and took me to his apartment. Fabiani wasn't feeling well so she stayed home. He took me out of the city, to a semi-private natural lake in a small river. The place was called Neopolis, and you can buy club memberships by the month.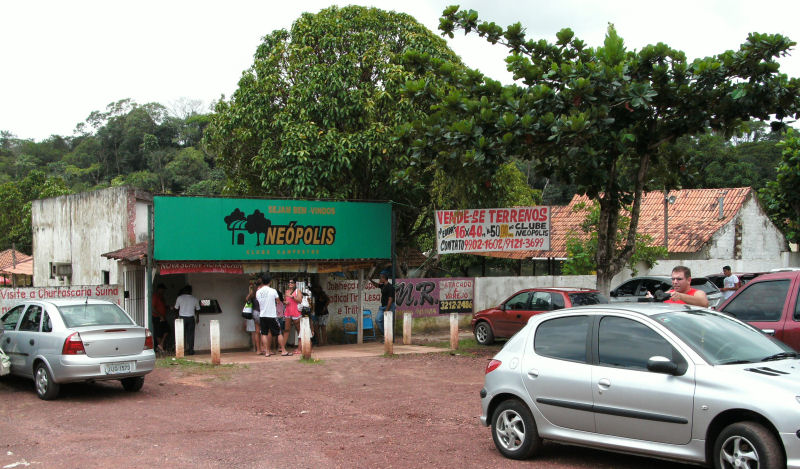 The water looks dirty in the photos, but it's clear. The river bottom is a clay-sand mix. This is a wide, shallow area on this small river, so the water flows through it and isn't stagnant.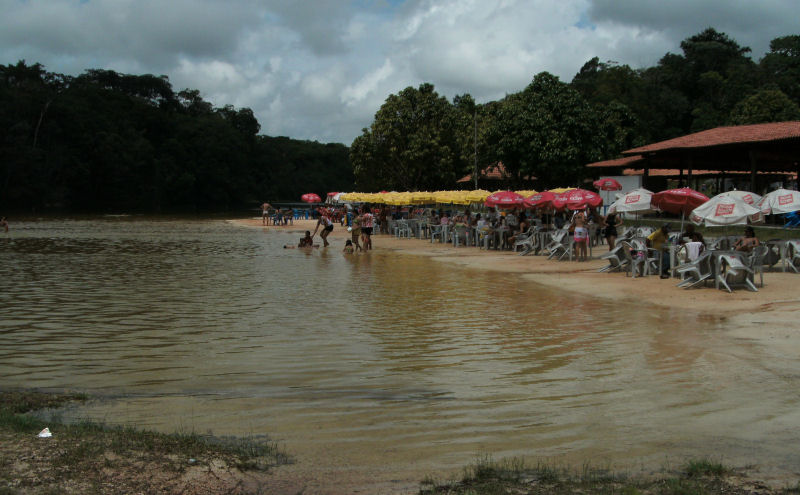 I didn't feel like swimming, but they had a long cable you could zip down and splash into the lake that looked interesting. We were going to do that, but a heavy rainstorm came through and that just made me want to sit under the shelter and drink beer for a couple hours. Many families looked like they spent the whole day there, and most of them stayed in the water during the rainstorm. The food that was being served looked very good. Lots of big fish dishes. I'll spare you the photos of older women in thongs.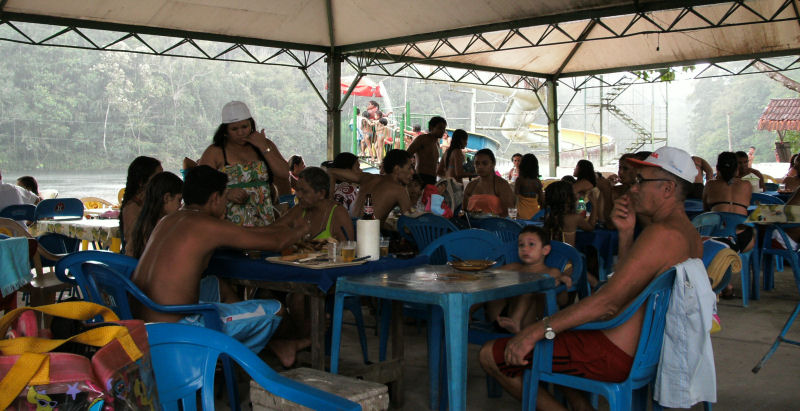 The many smaller tables and chairs under the trees became deserted during the storm, otherwise they were where most people sat during the day.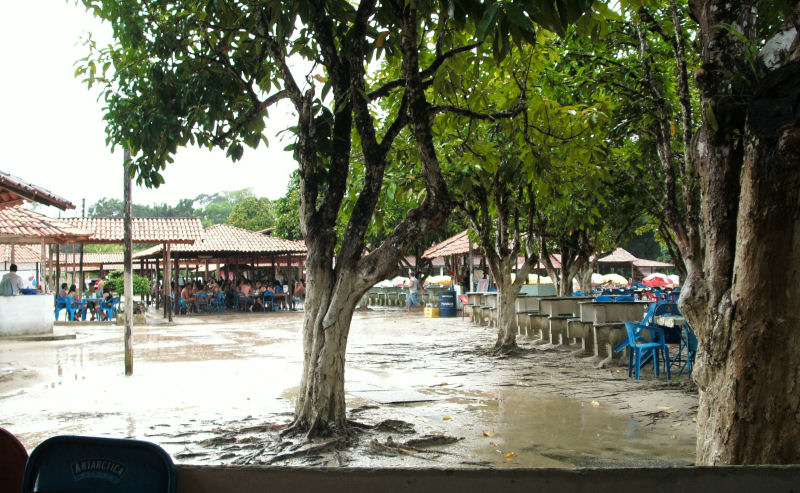 Alex and I had a long time to talk. He told me of some of his experiences in the Marines, where he worked for four years in the Amazon jungle. He and most other military units were there to fight drug smugglers more than anything else. The Amazon River is a major transport corridor, since there are few roads deep in the country. The Marine units would sometimes work on the roads and rivers, but mostly stayed in the jungle looking for drug camps temporary airstrips. He described how the small planes would almost crash-land on the short runways, then to take off, they would tie a rope to the tail of the plane, rev the motor up, and someone would cut the rope. This allowed the plane to get into the air quickly. Most of the drugs came into Brazil from Colombia, but some from other countries. It pretty much all came to Belem, and then was distributed to the rest of Brazil.
Alex said he would like to come to the USA someday, and he would like to go someplace cold, since that would be different for him. I told him he and Fabiani would always be welcome at my place in Colorado, and he said that within a couple years, they would like to do that. He then asked if I knew someplace in Colorado where he could do some charity or volunteer work while he was there. He said that he liked to give back to the community when he could (this is also why he drives a flex-fuel car). He makes himself up like a clown to visit hospitals and nursing homes, and he apparently enjoys this very much.
We talked about what it was like to live in Brazil. He said that before he was married, it was typical to go to any party and leave with a woman to make love to. He thinks that sexual education (and STD awareness) in Brazil is far better than in most other countries, and this is why there is a more open attitude about sex. The economy was okay, he said, but it should be better in a few years. Alex owns a couple of apartment buildings that he rents out fairly cheaply. He was able to buy them several years ago, and they have been steady income for him ever since. The smaller apartments go for about US$100 per month.
Alex and Fabiani want to start a family in the next few years, too. She is a civil lawyer, but I'm not sure what that means here, since they don't really do lawsuits here like they do in the U.S. She doesn't work with the criminal justice system, Alex assured me. That was too difficult and too much corruption.
On our way back to the city, Alex stopped at a roadside stand and bought several 2-liter bottles of fresh yoghurt. Some were blended with small chunks of a variety of local fruits. Very tangy and sweet, if a bit odd. Two of the bottles had yoghurt blended with the Cupuaçu fruit, and I liked this better. He gave me one of the big bottles for the boat trip to Manaus. The yoghurt was made from a variety of cattle that were raised right there behind this building, and they made cheese as well.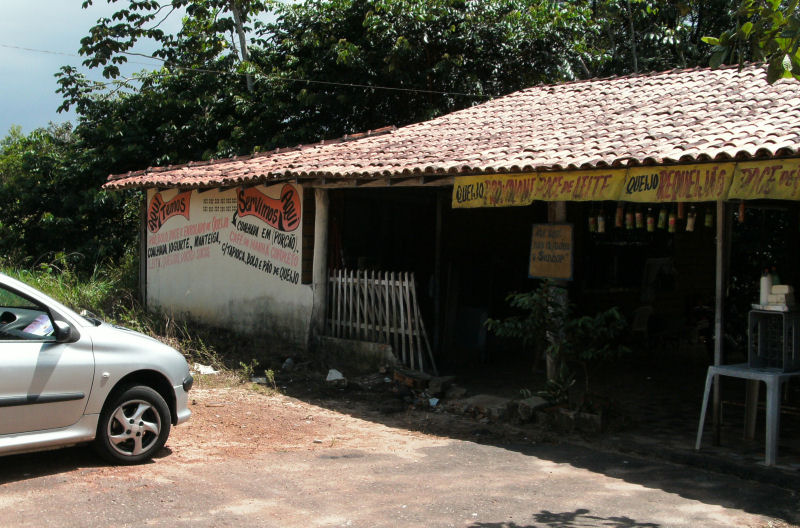 One more stop before getting back to his apartment. Alex got a plastic bag full of Açai juice and a bag of tapioca kernels. I asked him if this was the same tapioca granules that were used to make the crepes or pancakes, and he said it was. It looked larger in kernel size to me, and it appeared to be lightly toasted, so I'm not sure.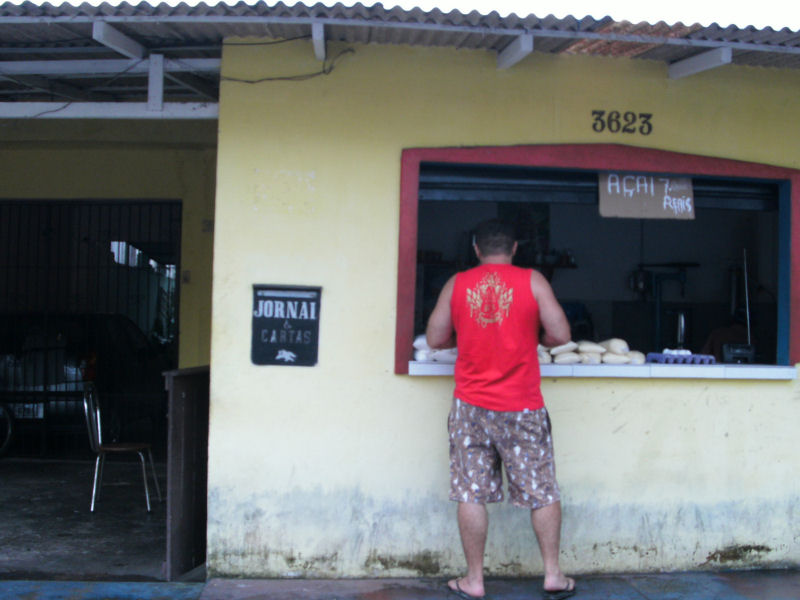 Alex said he needs to lose some weight, so he's become a bit of a health nut. He drinks the yoghurt and Açai juice every day and doesn't drink carbonated sodas at all anymore.
Fabiani was feeling better when we got there, and she had a meal ready for us. (They had made this meal for me last night, but I had told them that I just wanted to stay at the hotel.) Reheated, it was still very good. I don't know how to spell it (maybe "feijoada"), but it sounds like "feh-ZWAH-dah." It's beans with some meat and small sausages in it, and it was served with rice. Very heavy, very dark. I had seen it and had some at a buffet once, but I didn't know what it was. There were small pork ribs on the side, too.
Alex poured the Açai juice (very thick and syrupy) into small bowls and added a lot of sugar. I tasted the juice, and I do recommend the sugar. He then sprinkled on some of the (toasted?) tapioca kernels for a crunchy texture. We ate it with big soup spoons. It was good, but also very heavy and rich. One serving was enough for me, but Alex finished off the rest.
He thought that if someone could import the Açai juice to the States, it would be a money-maker. Maybe, I thought, but getting the U.S. consumer to adopt it would take some serious doing. He said that some French company has found a way to make it into a powder and is importing it to France.
I was really tired for some reason, and I kept yawning. Alex told me I could sleep there in his apartment if I wanted, then he extended the invitation and told me that if I wanted to move from the hotel to his apartment for the next few days, that would be okay. He has often hosted motorcycle riders who pass through Belem, and he has an extra bedroom in his apartment for them. It was a nice offer, but I liked having my own private space in the hotel, and the garage was handy.
Alex drove me back to my hotel, and asked if I wanted to join them to see a movie tonight. I thanked him, but I really just wanted to get to sleep early. Besides, unless it was some action flick, I would have no idea what was going on and it wasn't likely there would be English subtitles. I told him that I would call him tomorrow when the package with my bike parts and his footwear arrived.
I dozed for a while--enough to take the edge off my sleepiness--and did some online stuff. When I tried to watch the movie "Valkyrie," a recent release starring Tom Cruise, it turned out to be an old German film about the same plot to assassinate Hitler. Dubbed in Portuguese, of course. So I watched "Eagle Eye" instead.
Monday, 16 March, 2009
---------------------------
I made it to breakfast in time to chat a bit with the English backpackers I had met yesterday. They were moving to a cheaper hostel, now that they had a night of civilization and a shower.
I stood in front of the TV until I managed to get a photo of the Mais Voce lady (Ana Maria) and the parrot puppet. She was doing some more cooking, and the big rubber parrot was dancing and making jokes (I think). A good sniper in the TV audience could improve this show by 50%.
Ana Maria is dressing down even more now. She must know that I'm still watching. The freaking parrot is Louro José.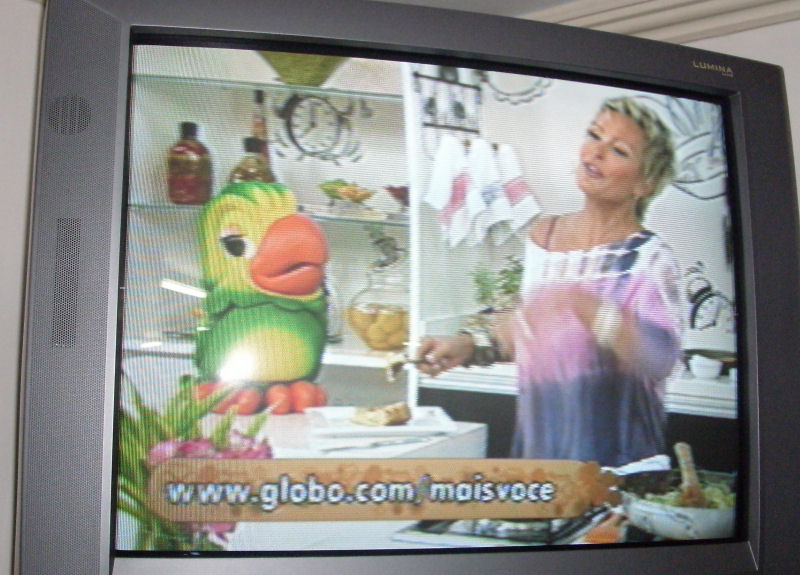 Still waiting for the DHL delivery. Early afternoon, now.
Okay, I finally called them and got nowhere with the woman who answered the phone. She had no English and acted like she tried to find someone to talk to me without success. She did take my tracking number, but after being on hold for a while, I got hung up on. I called back right away and got the same woman. I didn't even try to speak Portuguese or Spanish with her this time. After being transferred twice, I got a woman who asked if I was going to be back in Brazil anytime soon. What? She seemed to think that I had left the country.
She asked for my email address and I gave it to her. She said she was going to send me some information about my package. I finally got her to understand that I was still at the hotel waiting for the package. She said okay, and that they would send it out to be delivered right away. I never got an email from her.
"Right away" turned out to be quite a while. I worked on cleaning some of the chain lube crud off the bike, then whacked my head on the low ceiling a few times just to stay alert. I killed more time by washing more of the bike, but it would take a dip tank of solvent and a power washer to make much progress.
When the DHL guy showed up, he was sent down to the garage to get me. I had been told that the delivery man would be able to make change, but that was another lie. If the hotel receptionist hadn't taken pity on me, I would have had to go out to buy something cheap just to break a bill. In the end, I still overpaid, because no one had any coins and I didn't want to go back to my room for twenty centavos.
I think that DHL (or Brazilian customs) screwed me on the final charges, because it cost way too high for a package valued this much. I knew that importation duty was high, but damn!
Anyway, the chain I had been carrying and the new sprockets are on the bike now. It's too late for a test ride, so that will be tomorrow. Alex wants me to look at a couple bikes he is thinking about buying, and he wants to show me some beach in the area. I called him to let him know his boots and sandals had arrived.
Alex came on his motorcycle and I jumped on the back to go look at a local KLR that he might buy. This is the one that someone from the U.S. rode here from Ushuaia and sold. It has been in Brazil too long now, and it's illegal here. The price is good, but he could never register it and might lose it if it ever gets checked for any reason. He has given up on the idea of swapping the newer KLR motor into an old KLX frame that he can buy and register legally.
We got to the the house where the current owner of the KLR lives and I got to meet Moacyr Pamplona. Well, I got to meet what was left of him. He was so drunk that we had to call and wake him up, then wait a long time for him to find and use the key to open the 5-pound brass lock that secured the heavy iron gate at his front door. When he finally managed it, we were welcomed inside. He made a point of showing me his home office. One wall was covered with certificates and legal degrees. Moacyr was (or used to be) a big-time lawyer in Belem.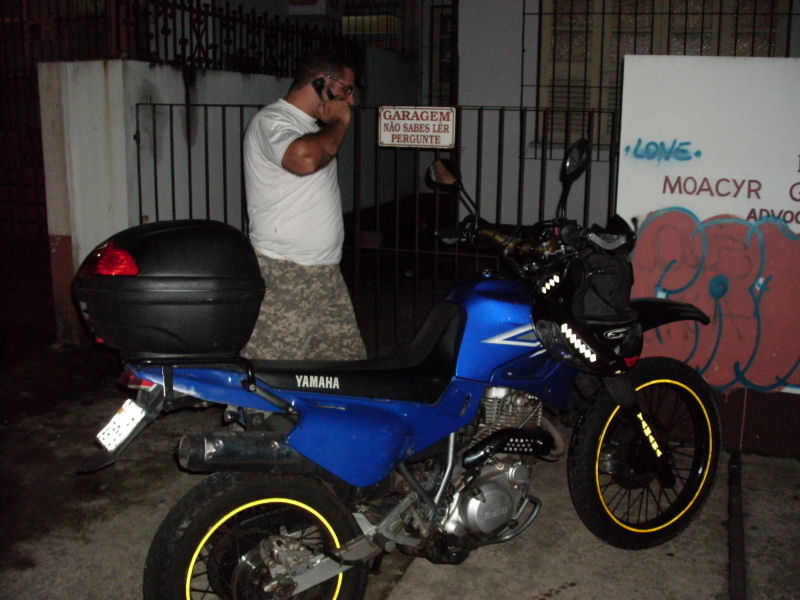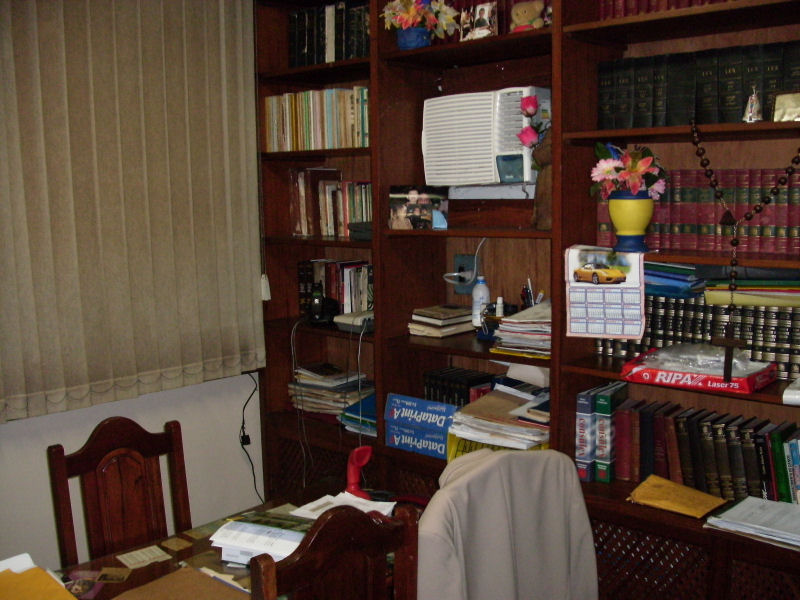 Alex reminded him that we were here to look at the KLR that Moacyr had bought from the Gringo who had left it here last year. Unfortunately, Moacyr couldn't find the key to the lock on the back door, so we didn't get to look at the bike. The back yard was small, and the only access was through the house. I suppose that's how they got the bike back there. Moacyr tried to get us to join him finishing off a bottle of whisky (?). Alex tried a sip to be polite, but I passed. When I tried to take a photo of Moacyr (pretending to take a photo of the bottle), he was wise to that trick and he hid his face while he cackled. He waved the camera away, so I only got the bottle. The Coke bottle has gasoline that Alex had brought along. We left it there, and I hope that Moacyr doesn't drink it.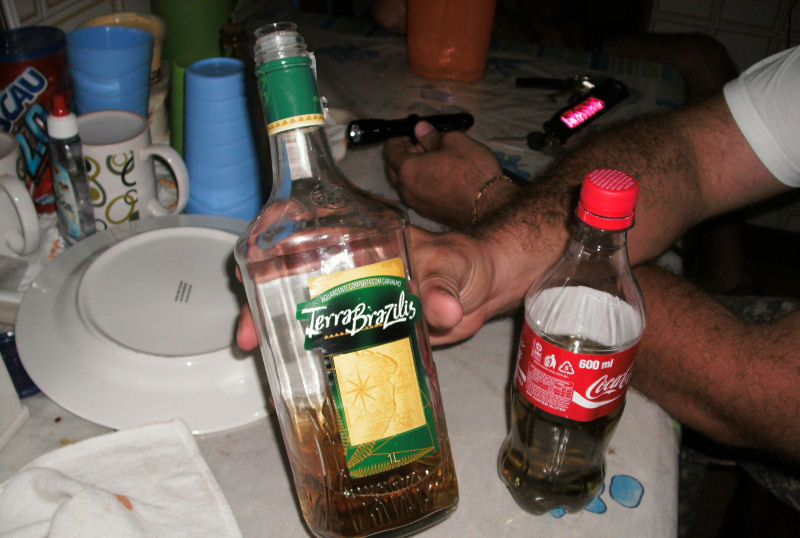 We'll try to see the bike again tomorrow. For now, we managed to extract ourselves from Moacyr's overly-demanding (almost desperate) hospitality and rode to Alex's apartment. There is an Internet cafe next to his building, and we spent some time there looking on eBay for things that Alex wanted my opinion on. The problem, of course, was getting things shipped to Brazil. This was always too expensive. He also showed me the boats to Manaus, and he recommended the Navio Amazon Star. He had put other riders on this boat, and he recommends it over some of the other boats. We looked at photos, and it looked okay to me. Alex knew the captain's cell phone number and called him. The Star was in Belem now, and would leave for Manaus on Wednesday. Perfect. Alex told the skipper that I would want a cabin and that we would come to see the boat tomorrow.
We took Alex's car to a pasta restaurant and had a nice meal there.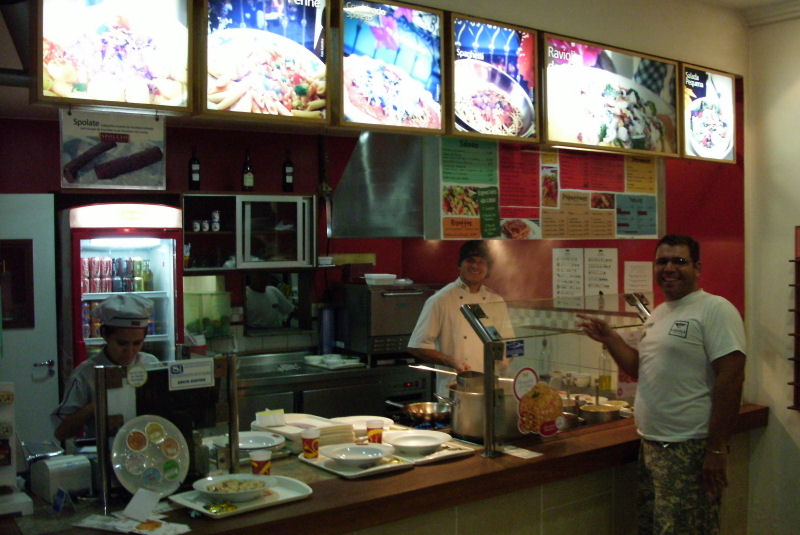 He then dropped me off at the hotel. On the way, he pointed out a Jui-jitsu academy that he said was the first one in Brazil. He told me that Japanese immigrants started the school long ago, and students and teachers from this school then opened other schools in Brazil. This included the Gracie family in recent generations, but they all moved to Rio de Janiero. Brazilian Jui-jitsu is most popular in Belem, Manaus, and Rio. Not so much in Sao Paulo, for some reason.
The plan for tomorrow is to go do some local riding and sightseeing (probably not), go look at the KLR (maybe), and go see about booking a cabin on a boat to Manaus (definitely). Alex will call me in the morning when the dentist is done experimenting on him.
Tuesday, 17 March, 2009
---------------------------
The dining room was crowded for breakfast. I lingered over a Sudoku puzzle, but finally got motivated and took the bike out for a test ride. The ceiling beams in the basement garage are so low that when on the tall KLR, I have to bend over and put my head behind the windshield while maneuvering the bike in the cramped space. Up the steep ramp and out into the crush of heavy traffic on the narrow street.
It felt good to be on the bike again, and it ran fine. The new chain and sprockets felt and sounded better, too. I tried to do some sight-seeing, but every single street was stop-and-go traffic without exception. It was terrible. When I started back toward the hotel to wait for Alex, I took some smaller streets, but those were often blocked by construction or some taxi stopped while the driver was away doing something. My clutch hand hasn't been used like this for a while, so it started to ache a lot. I need to put a hydraulic clutch on this bike. Easier to squeeze it.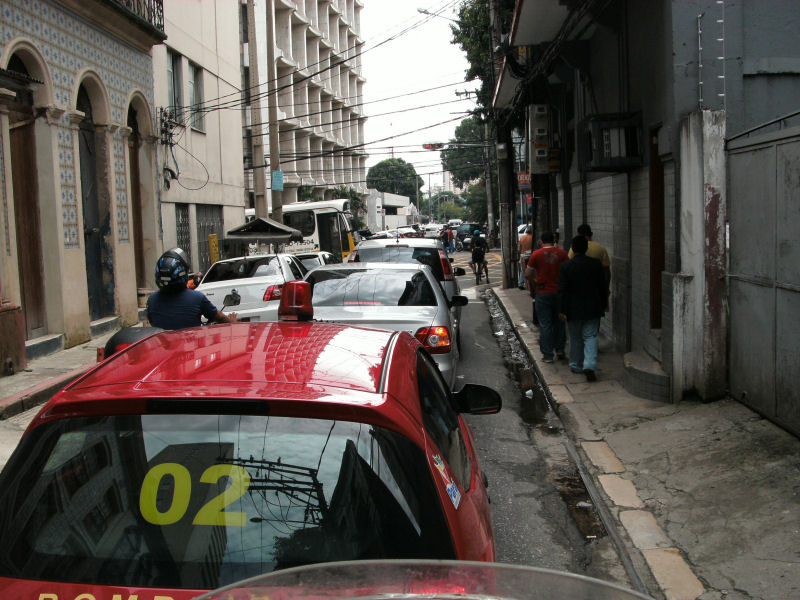 When I made it back to the hotel, it was after 11:00, and I was dripping with sweat. After stashing the bike in the garage, I went up to my room and let the air-conditioner do its magic. Alex will call when he calls.
I used some ShoeGoo to glue the silicone nipple into the hole on the Zumo GPS. I also noticed that the "+" button had come loose and was at risk of falling out, so I glued over it with the ShoeGoo. Hope that works. If not, I'll just have to tape over the buttons and not be able to use them. I think they are the only way to adjust volume on the Zumo.
At 14:30, I decided that Alex must be having trouble at the dentist. He has my cell phone number, so I went walking around for a while toward the docks. I found a hammock store on a side street that I wish I had found earlier. I got some lengths of rope to tie the hammock up, so that was another thing for the boat taken care of. I also found another Valkyrie DVD that I hope is the right movie this time.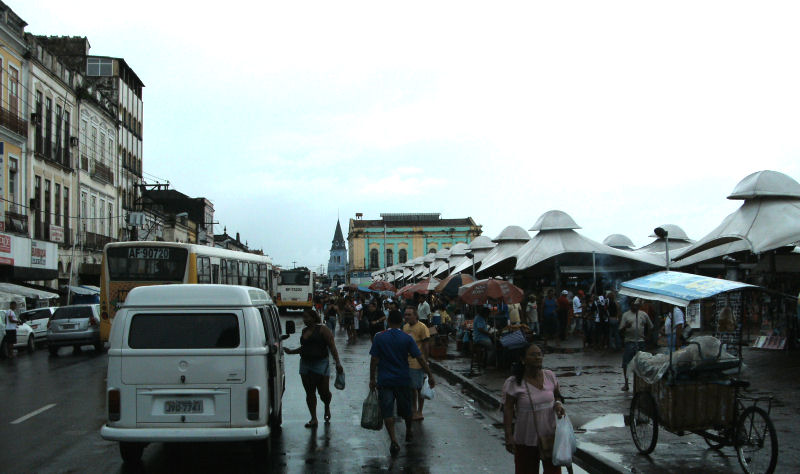 Another old church (1640!) that was hard to photograph due to the narrow streets.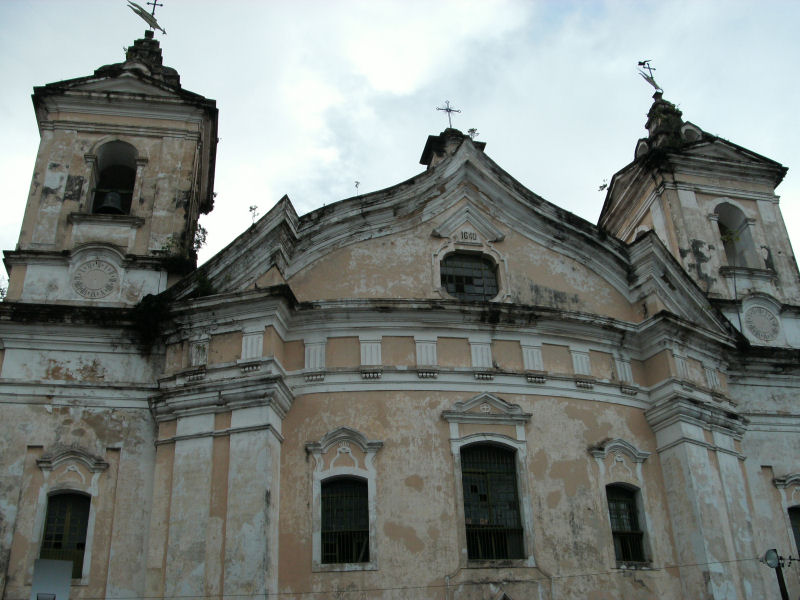 When I got back to the hotel, Alex had left a message for me to call the boat booking agent. Instead, I called Alex and found that he was still near the hotel. He came back to get me. I apologized for not being there when he came earlier, and he made me feel worse by telling me that he had come to the hotel twice while I was out. Sorry, sorry, sorry.
Alex has one more dental surgery later this week to finalize the tooth replacement. He's eager to get back to boxing. He drove me by the boxing studio where he teaches, just to show it to me. We were on a mission to get me a boat to Manaus.
Near the docks, we drove through a very dreary neighborhood, and he said that this is where all the crack users lived. I almost snorted with laughter when he asked me if there was a problem with crack in the U.S. Yes, I assured him, there are drug problems all over the world.
Alex also told me that he had spoken to Maocyr today about looking at the KLR again. Apparently, Moacyr hadn't been too drunk last night, after all. He told Alex that he believed I was an undercover police officer trying to seize his illegal motorcycle. The reason he thought this was because I tried to take his photo (true), and because I took a photo of his home office (also true). Also, when he offered me a sip of his hooch, I had declined. So, it seems that Moacyr then very deliberately "forgot" where the key was to the back door last night. His finely-tuned lawyer instincts had made him all twitchy.
No problem, Alex said with a laugh. He had found from a friend that there was a KLR650 in a police impound, and it would be auctioned off sometime soon. In a few days, he will go look at it to see what condition it's in. I'm not sure why Alex is so interested in the KLR, except that he is interested in a ride around South America, and the BMW bikes are too expensive. I told him that his Yamaha XT600 was fine for the ride. The KLR was a bit more powerful, but it was also heavier. He could fix up his XT600 to suit him and have no issues. The Yamaha was much more common in Brazil, and parts would also be more available in other countries.
When we got to the docks, Ales called Udivan, a booking agent for Enart, the company that runs the boats between Belem and Manaus. He came out to where we were parked and we started negotiations. The cost for the motorcycle was R$/400, with no negotiation, but my accommodations were yet to be determined.
There are several classes of passage, with a wide range of prices. Those who live on the open decks in a hammock for the whole ride (which is most people) only pay R$/150 or so (I think). Then there are some First Class suites. There are maybe some community bedrooms full of bunk beds. For a cabin (cabini, or camarote), you have two choices: A two-person cabin without private bathroom was R$/500, and with a private bath was R$/600. That's about US$215 and US$258. If you wanted the room to yourself, you had to pay for both bunks.
Alex immediately got Udivan to drop R$/50 off the price for each room, but when I told them that I didn't want to share a room (and access to my computer and other stuff) with a stranger and that I wasn't willing to pay the full price for both bunks, that started Alex and Udivan into a long discussion. I became a tree stump again.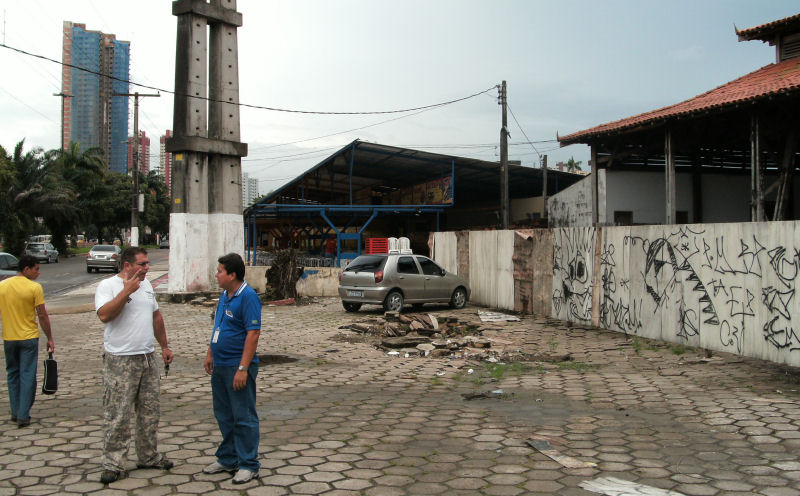 When they were through, Alex said that maybe there wouldn't be another passenger in the room, but there was no guarantee. Not good enough, I told him, and I asked if another boat leaving later in the week might be cheaper. I told him that I had enjoyed my stay in Belem, but it had been expensive for me and I needed to save some money. When I asked about another boat, Udivan understood that well enough, and he made Alex another offer. He would rent me a private room without a bathroom for R$/800, or with a bathroom for R$/1000. I chose the R$/800 deal and that was that.
He would take payment now, and only in cash. I had managed to amass R$/1100 in cash, and Alex loaned me the extra hundred. I got two receipts, one for the bike and one for me. Each was the lading/boarding pass, as well. These are very important papers, so take care of them. I was to load the bike tomorrow at 13:00, when the tide was right for rolling the bike aboard, and I could board anytime before departure at 18:00. It would be wise, I think, to be aboard well before that. I was to be in cabin 26, but I had no idea what deck that was on. The middle deck, I hoped.
Alex said it was a shame that there was no competition for Enart, the only company that runs these boats. The prices should be lower than they were for such a regular service.
Alex took me back to the hotel and we made plans for our final dinner together tonight. I took a shower and re-did the repaired Zumo buttons, since they hadn't turned out well. I was miffed that the battery in the GPS was dead, because it hadn't been used since it was removed from the bike. I hooked it to my laptop via a USB cable and let it charge up.
Alex and Fabiani picked me up and took me to a casual restaurant for my final meal in Belem.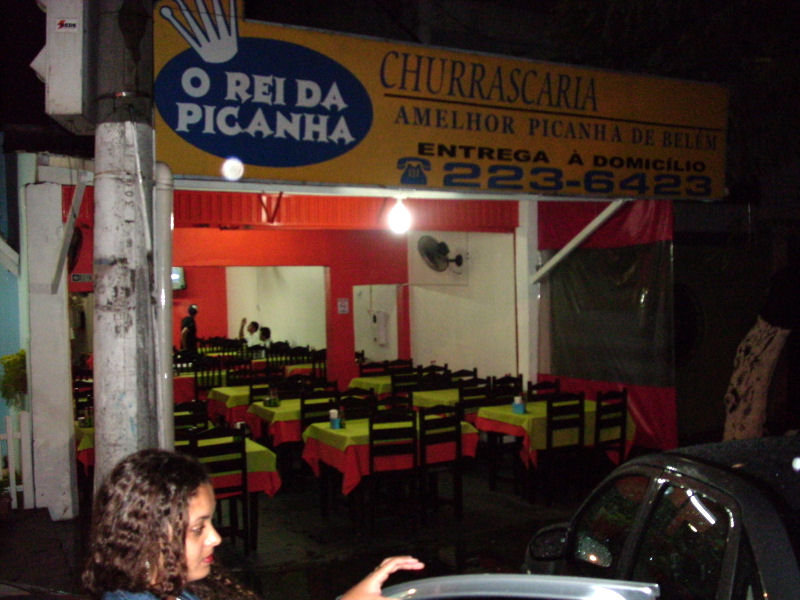 It was a combination meal that Alex said had all the typical Brazilian foods. Beef, chicken, beef tongue, rice, beans, farina, another dry mix of some grains, baked potato, a creamy cheese sauce, fried cheese, roasted mozzarella cheese, and a chopped veggie relish in oil. The tongue was the best I've ever had; very well prepared. The steak was chewy (Brazil is not famous for its steaks). The chicken looked good. Alex ate it all before I got to it. Hey, the meal was "family style," so you snooze, you lose.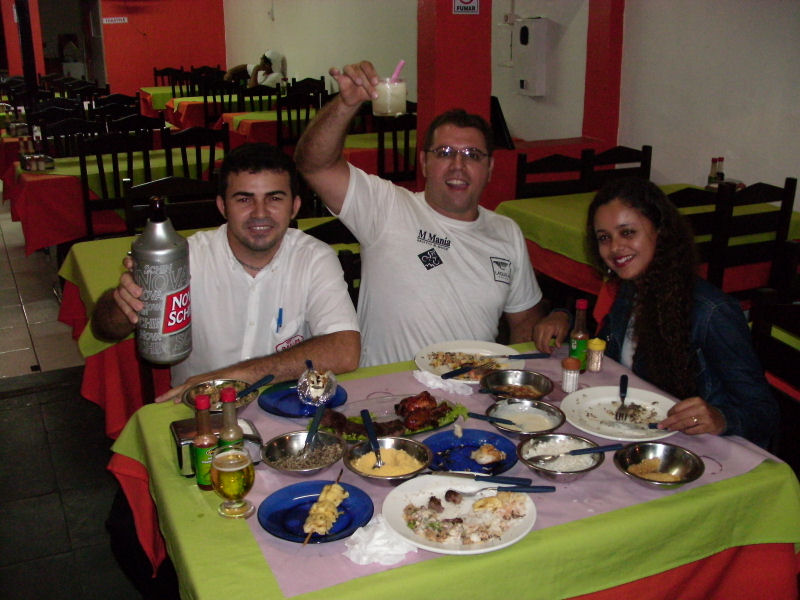 The other guy in the photo was our waiter. He and Alex knew each other, and he sat with us the whole time we ate. I felt compelled to include him in the photo. I was the first person from the U.S. that he had ever met. Maybe he wanted to see if I used the utensils correctly, because he watched me eat with an eerie fascination.
Alex gave me a couple Brazil Riders stickers to put on my bike. He also gave me the name and phone number of his friend in Manaus. I am to call Givanildo when I get there, and he will take custody of me. Or something like that.
Next door to this restaurant was a dessert shop, so we didn't have far to go for sweets. We shared a very sweet and creamy slice of pie made with Cupuaçu and cheese. Couldn't eat much (too rich), but it was tasty.
I got one more drive around town to see some sights, but most of it I had already seen at this point. They dropped me off at the hotel and Fabiani and I said our goodbyes. Alex said he would come to see me off tomorrow, but I'm not sure what the plan is. I have to check out of the hotel before noon, I need to load the bike at 13:00, and I can put things in my cabin then, too, I think. The boat leaves at 18:00, but I'll be aboard earlier and find a place for my new hammock.
Three people have now warned me (by email, forum private message, and relayed by telephone call) not to dangle my hands or feet in the water of the Amazon, because the piranhas will eat them. Yeah, I used to have those old images in my mind, too, so I think it's funny. It would be hard to dangle anything in the Amazon anyway, since the Navio Amazon Star is a 600-passenger steel freighter and not a canoe. The canoe might be more fun.
I won't get a report update sent in for maybe a week. In the meantime, go back to whatever you were doing.
<< Link to PREVIOUS report: Salvador, Brazil >>
<< Link to NEXT report: Up the Amazon River >>
Part 22 - Brazil, to Recife, Fortaleza, Belem
[ ERRANT-RONIN HOME ] [ Prudhoe Bay to Ushuaia Home Page ] [ Ride Reports Home Page ]