Part 17. Argentina Up
===============
Saturday, 3 January, 2009
---------------------------
We lazed a bit, and didn't get our of the hotel until 09:45. We went back to the moto mechanic shop that we had visited briefly last time. This was the place where I had left my nylon parking pad, so I looked around the shop for it but it wasn't there.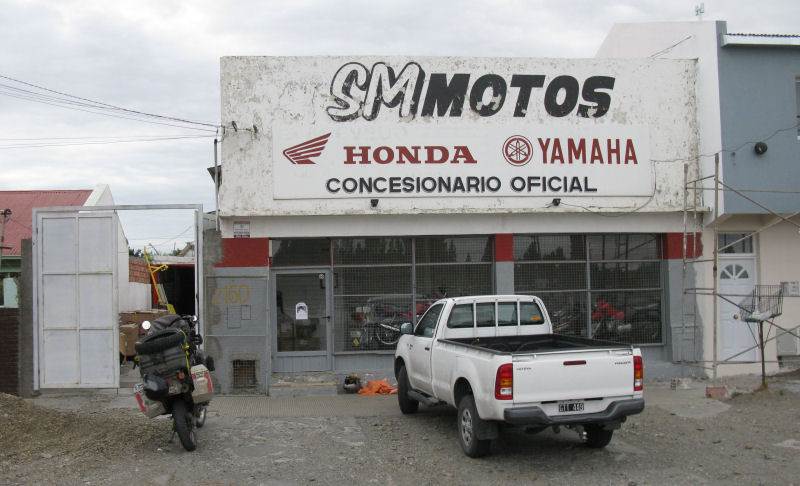 The kid in the shop this day wasn't able to offer any help for Don's blown shock, but he pointed us down the street to another motorcycle parts shop that we had completely missed when we were here last week. The guy behind the counter at the parts shop looked familiar, and it took me a while to recognize that he was the guy we had met at the mechanic shop the last time. It turned out that he was Sebastian, the owner of both shops.
Sebastian was hesitant to offer any help with Don's shock, but we put on puppy dog faces and looked pathetic until he took pity and agreed to help. He sent us back to the mechanic shop and met us there. Don rode his bike into the work area and we removed the shock. Sebastian runs a very professional shop, and cleanliness and orderliness were obviously stressed. Very nice.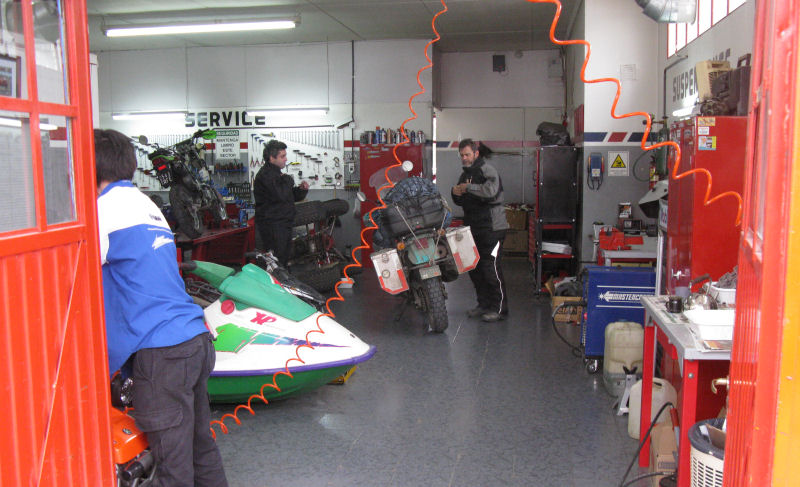 That's Sebastian taking the shock apart. He knew what he was doing, and he wasted no time.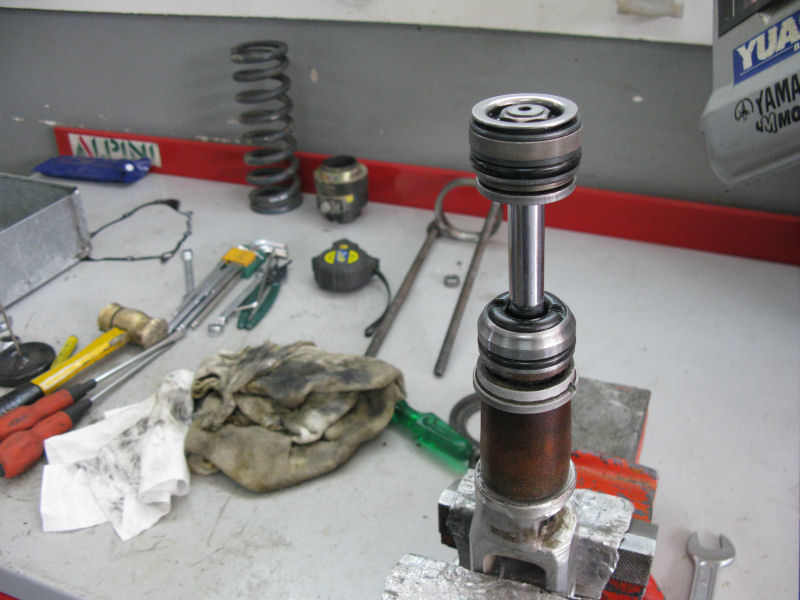 The failed parts were quickly identified and he sent his son to the other shop for the parts that were needed. He told us that the new parts were from Honda, but were identical. He had the shock back together and recharged with an easy efficiency, and we mounted it back into the bike at about 12:30. The cost for the rebuild was about US$300, but we got to watch Sebastian work and knew that it was done well.
While mounting the shock, I noticed that Don's brake pedal return spring was bad. It was malformed, bending only at the very tip instead of all around. It was due for failure at the bend, so I called Laurie to have her bring the one from my Ol' Blue KLR.
Before leaving Rio Gallegos, we ate at an unexpectedly good restaurant next to a gas station. I had the lasagna, and it was very good. We were back on the road at 14:30.
Police checkpoints again delayed us only briefly. We got written into their books again and that was all.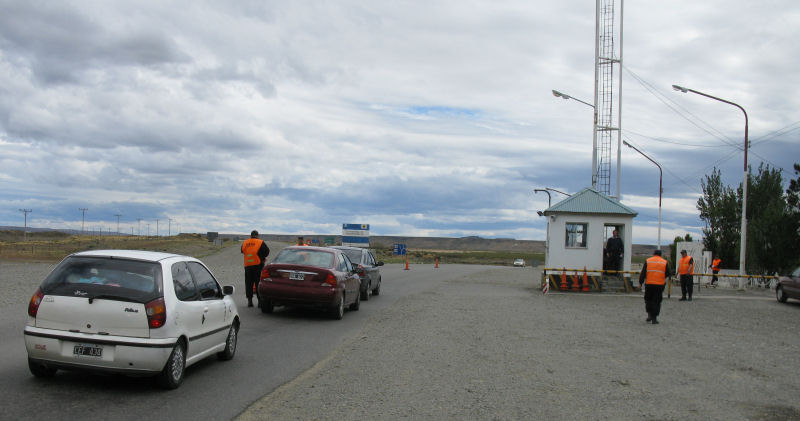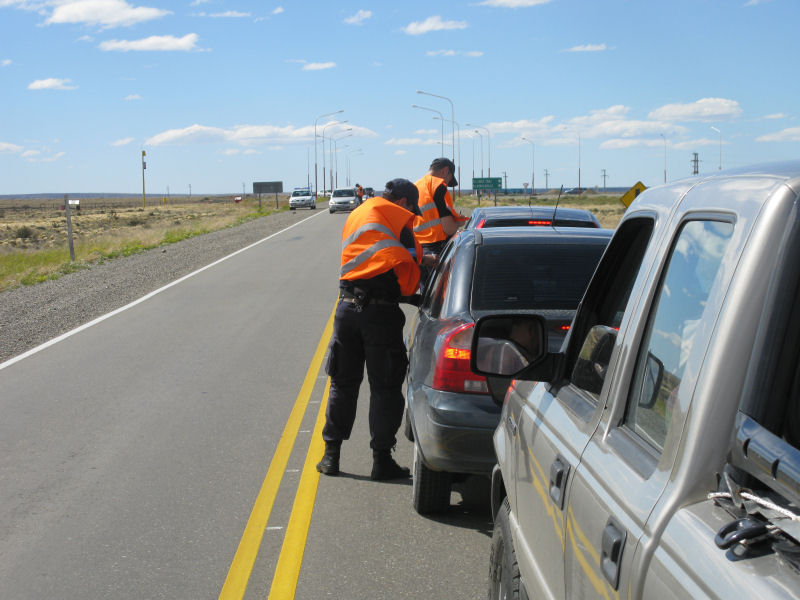 There were many, many shrines along every roadway. This one was popular. It had a walkway up the hill. If it was something else, it wasn't advertised.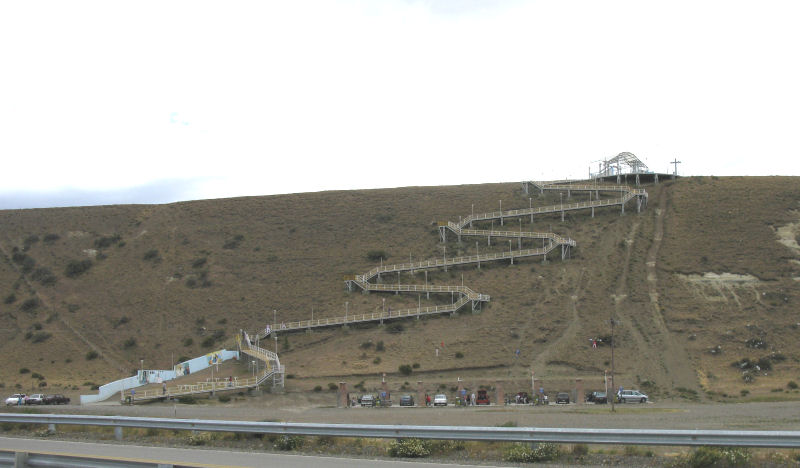 We rode to Tres Cerros for a gas stop. Again, we saw lots of alpaca herds on the road.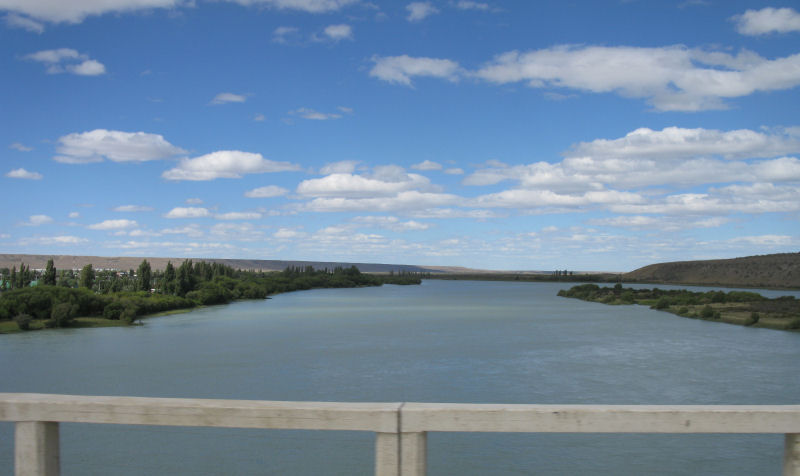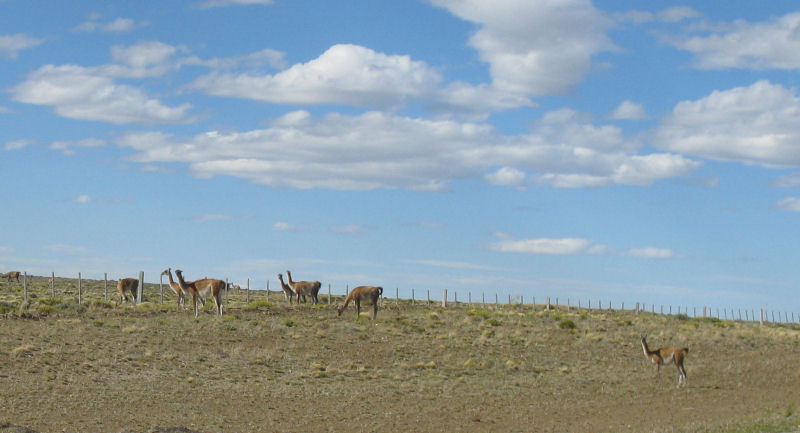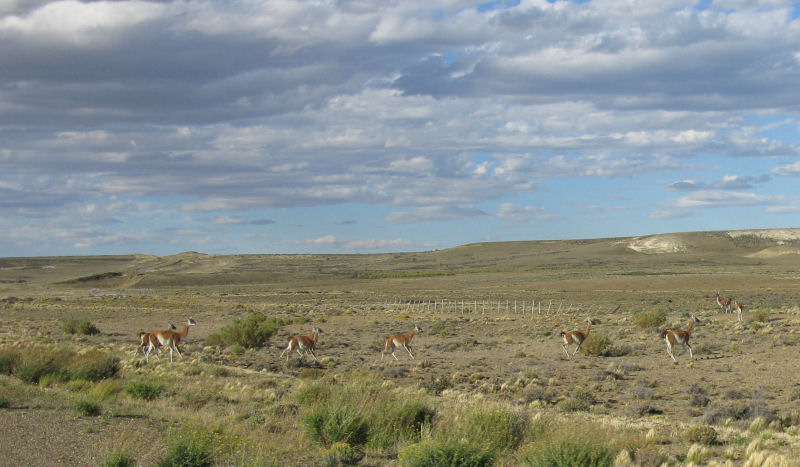 I also saw some wild emus along the side of the road, but Don missed seeing them. Off the roadway, there were other emus or rheas behind fences. Didn't get photos of them.
The wind eased up a lot, and it was cool and clear all the way to Comodoro Rivadavia. It got late as we rode.
The replacement HID light that Laurie had brought to me was nice. It lit up the roadway well.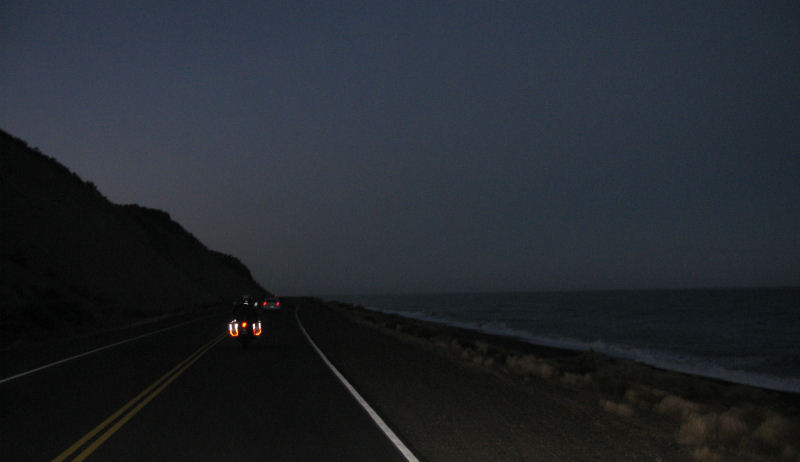 Once again through this town south of Comodoro Rivadavia.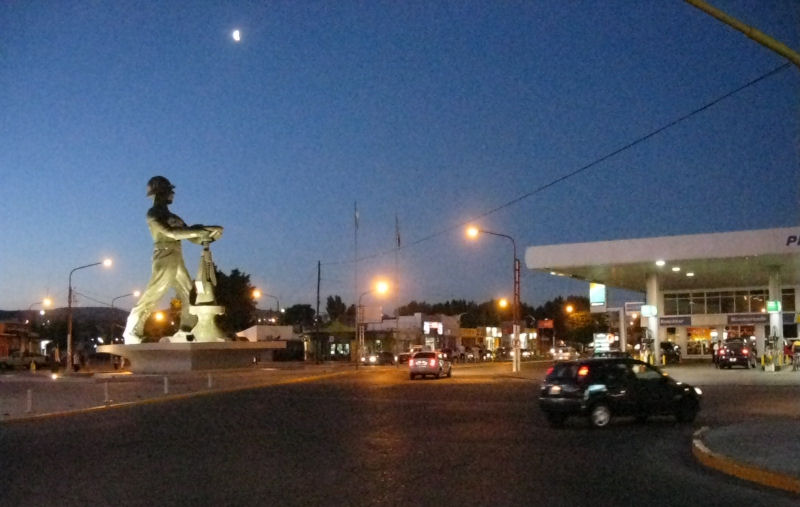 We made for the Hotel Atlantico, but we were disappointed to learn that they were full of tourists. Bummer.
We got gas and ate at another gas station, then we finally found a hotel that rented us a small apartment. Complete with kitchen and refrigerator that we were unprepared to use. We left the window open for fresh air, and during the night, about fifty pounds of sand blew into our room and covered everything. Including Don's laundry.
Sunday, 4 January, 2009
-------------------------
It had been necessary to park the bikes a couple blocks away in a secure lot, so we got up a little earlier to fetch them. Before leaving the city, we returned to the gas station where we had had our Christmas Eve munchies. This time, we had breakfast, checked the air in our tires, and I swapped in a new set of rear brake pads.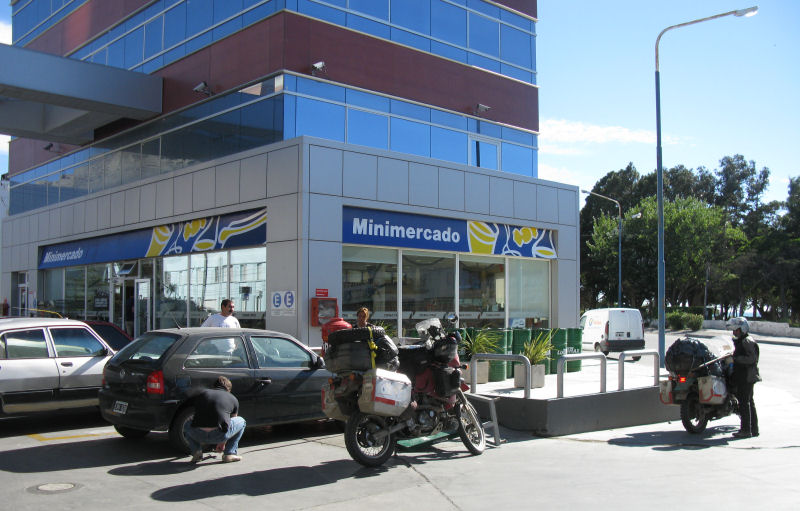 Continuing north, we had a nice ride. Two gas stations were out of gas. Also, be advised that it was cash only in most of the remote areas and often in the cities.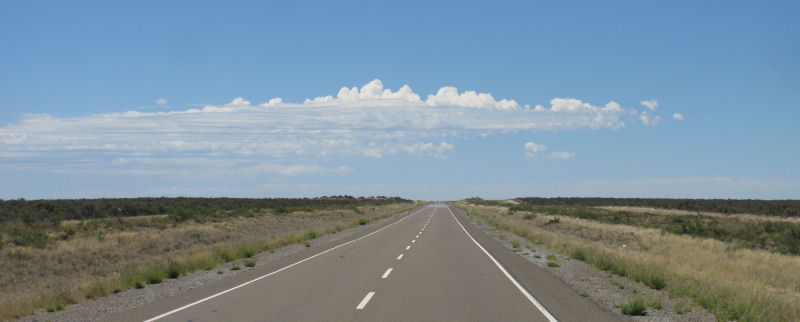 The station in Trelew had gas, so we took a break there. Since I am sometimes a clumsy oaf, I managed to whack myself right in the forehead with the door, so I sat and ate ice cream with a 1" bleeding laceration between my eyes. The waitress didn't know whether to be afraid of me or laugh out loud.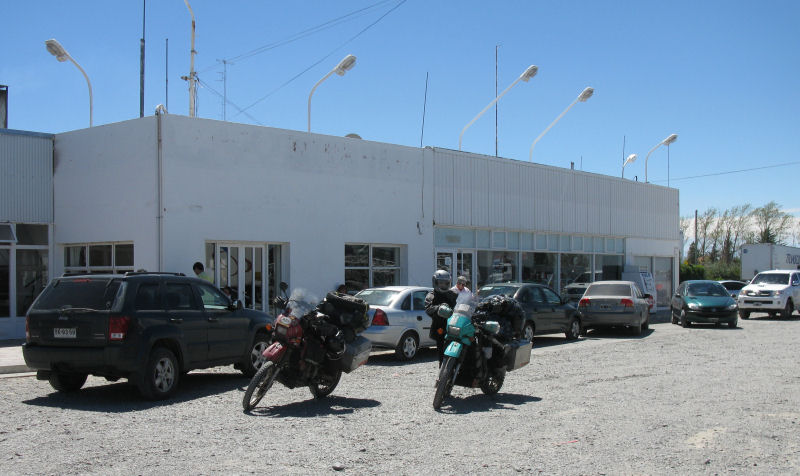 It was hot. I'll say it again.
It. Was. Hot.
I was sweating like crazy, streams running down my back and off my neck. I don't handle hot, humid weather so well. It makes me sluggish.
The winds had eased up some, but now they were kicking up a lot of sand. There was more open desert in the area, and that, friends, is why the Dakar race was moved here this year.
You either already know about the Dakar race or you don't. You already know why it was moved from Africa this year or you don't. Either way, I won't use space here to explain it all. Suffice it to say that the Dakar was here, and so were we. As we rode north, we saw signs of activity. Crowds and helicopters. Police were actually directing traffic, for God's sake!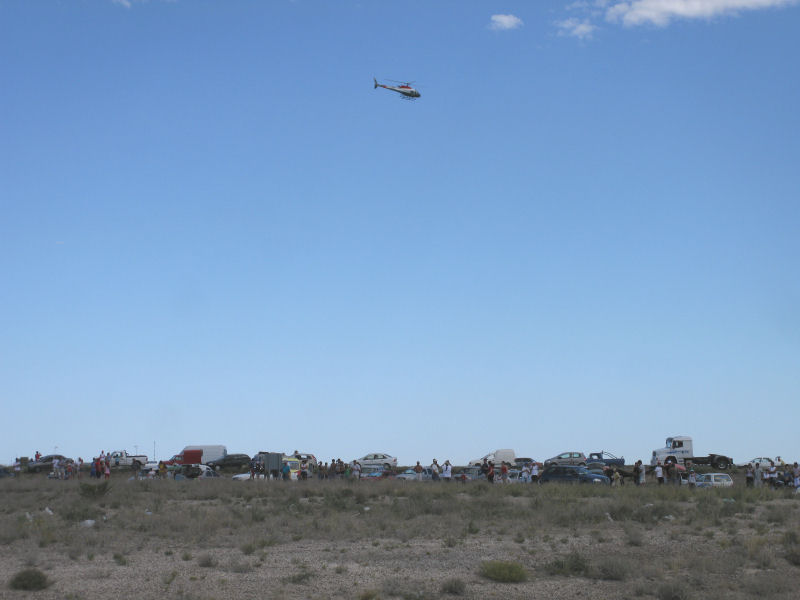 The Dakar race began in Buenos Aires and was now working its way south. We passed them as they were on a relocation stage, not actually racing at this time. Race cars, bikes, quads, trucks, and their support vehicles were stretched out for miles and miles. We were going in opposite directions, so we saw them on-coming for a long time. Twice, I was ran completely off the road by cars passing other cars in my lane, and once both Don and I were forced to the edge of the road by a car that was almost out of control. Farging idiots.
Photo interlude: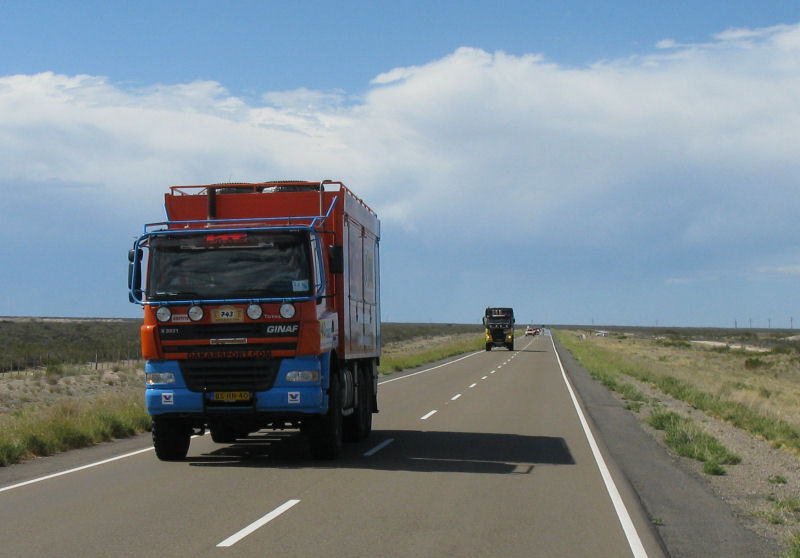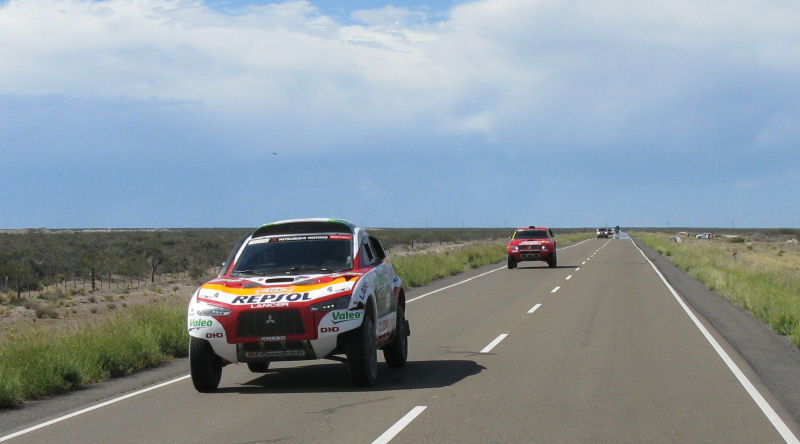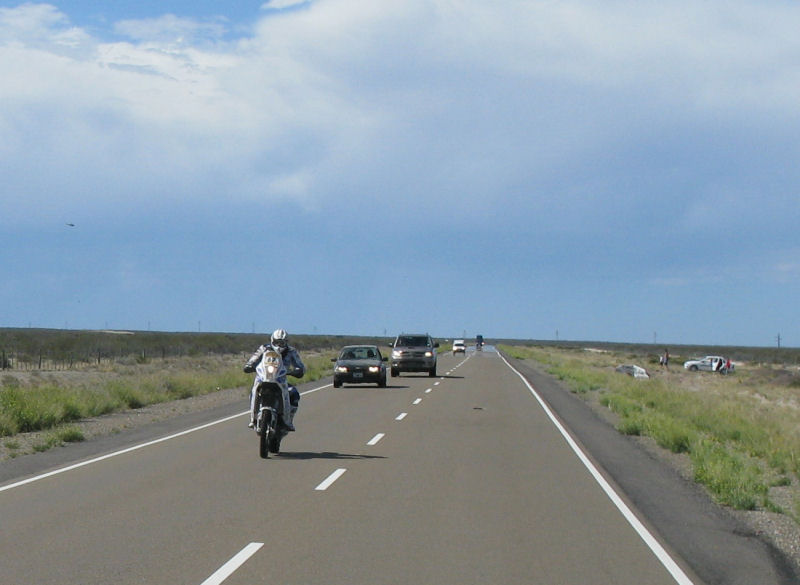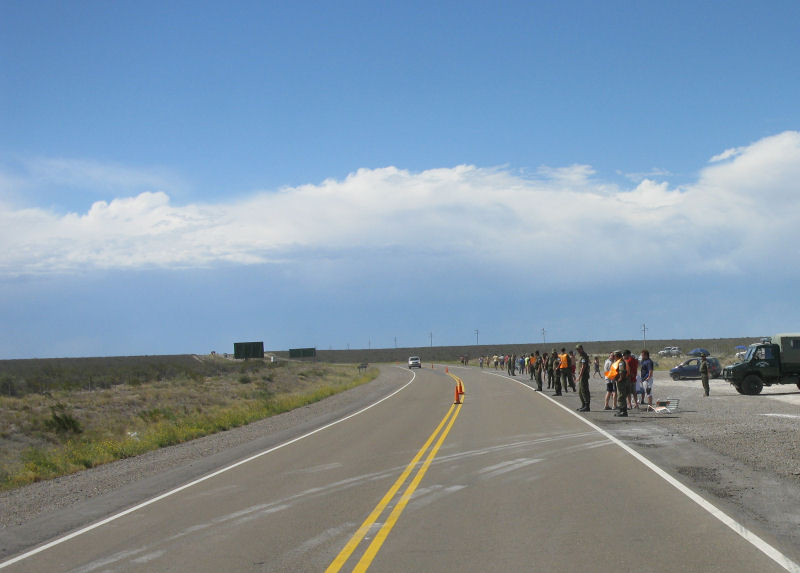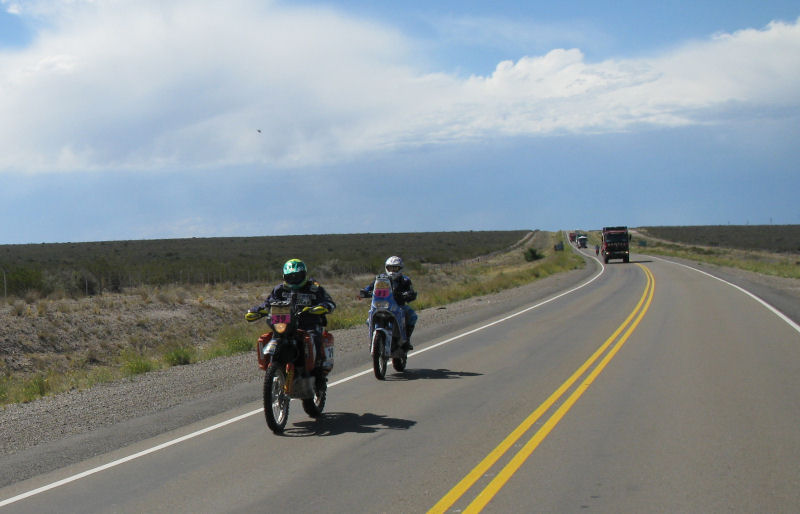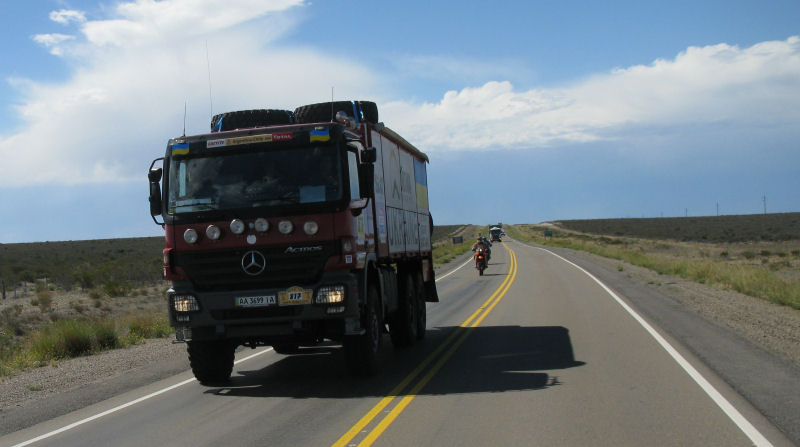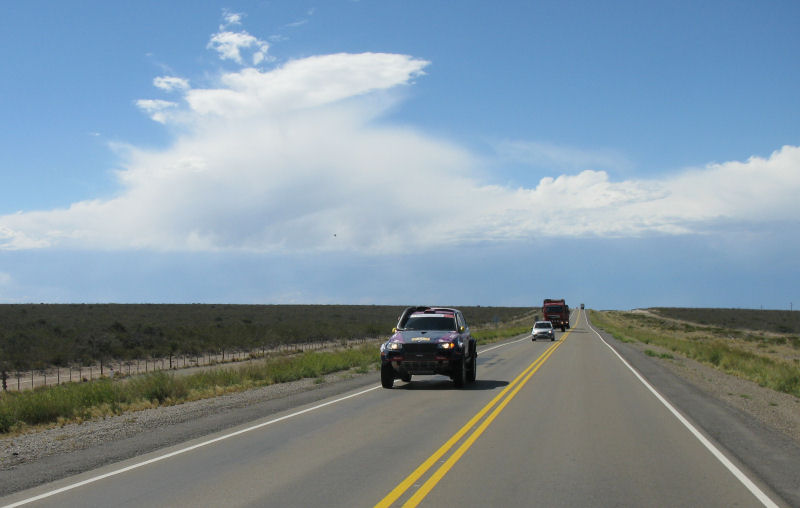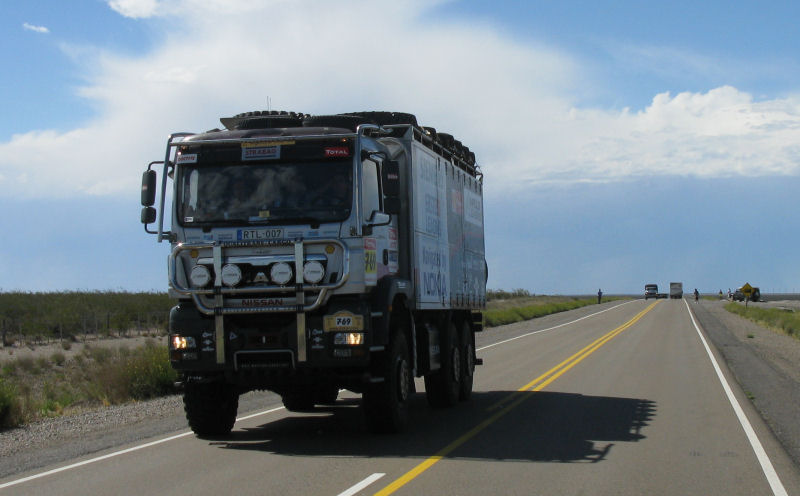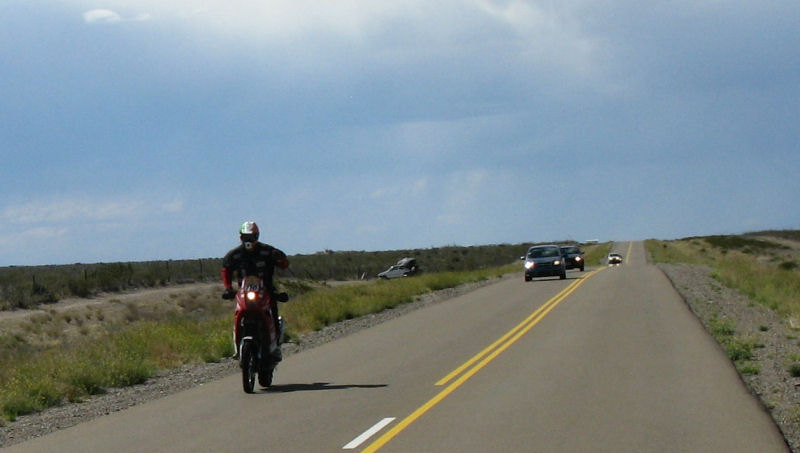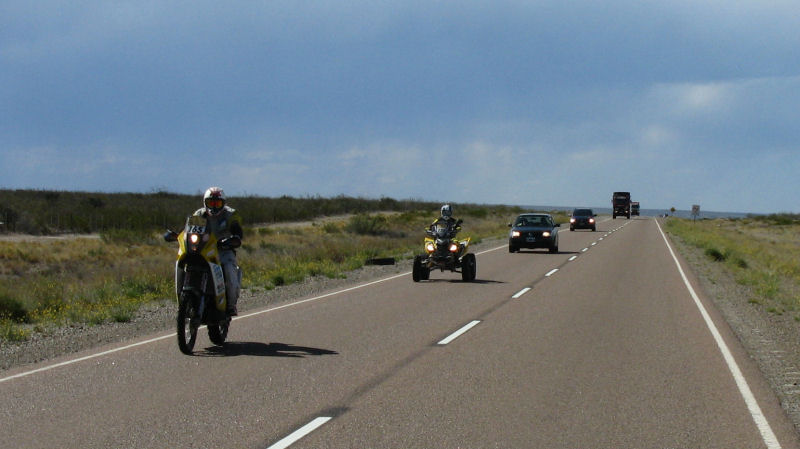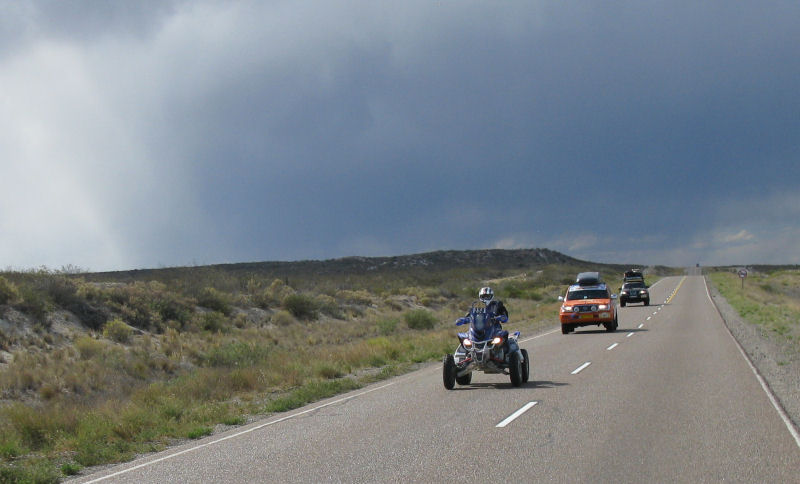 This is another idiot who started to pass someone else before he was past me! I had my camera in one hand when he cut into my lane.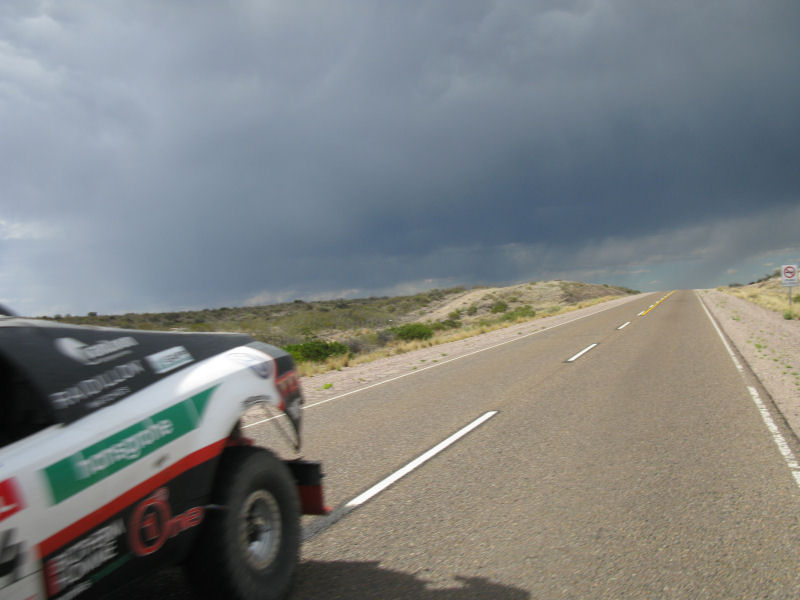 Maybe you've been noticing a change in the sky in those photos. There was weather ahead. Half the visible sky was turning dark. Lots of lightening, as well.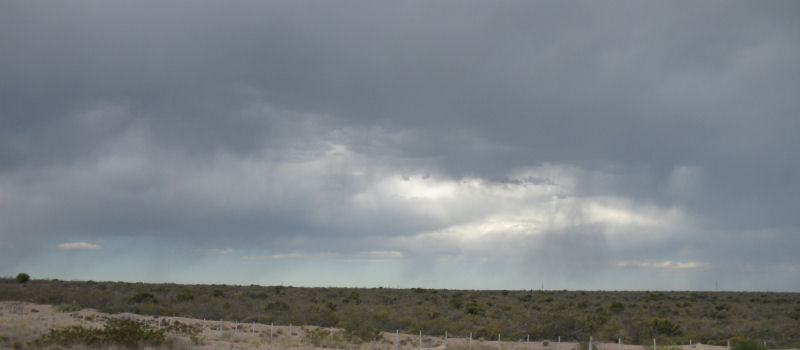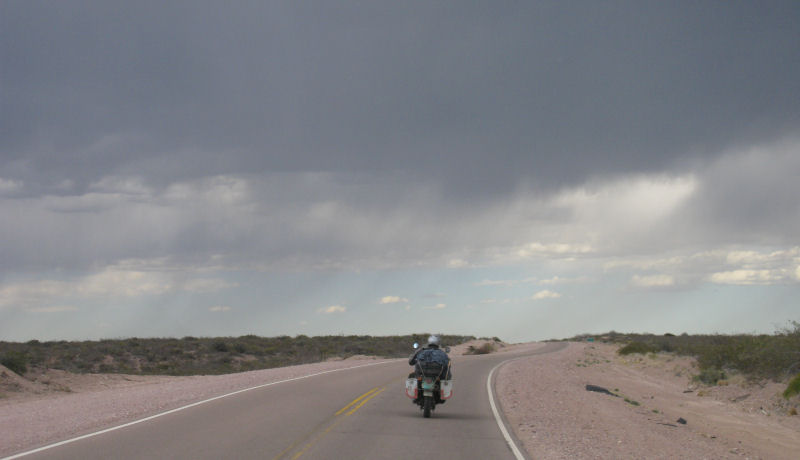 We stopped to put on rain gear, which was needed immediately. The rain turned to hail briefly, then went back to being rain.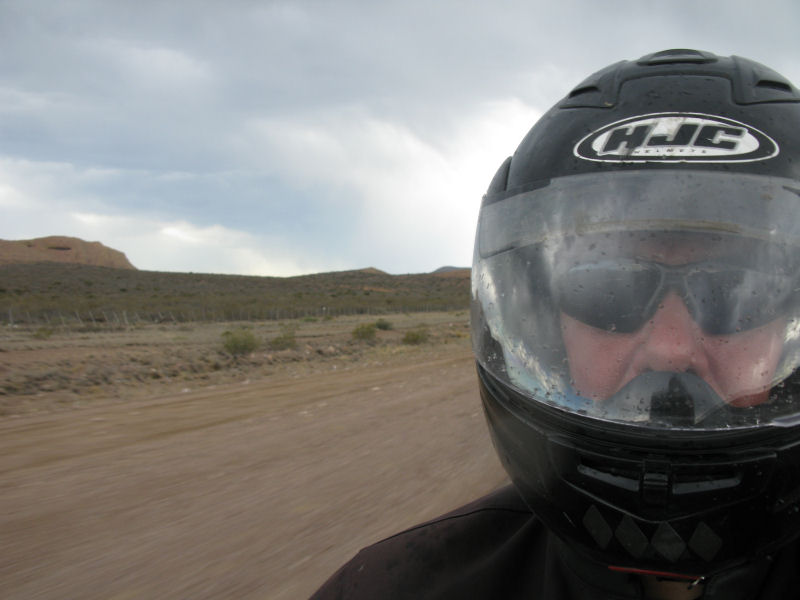 All the gas stations in the area of Sierra Grande were full of vehicles from the Dakar group. Since this was an administrative relocation leg, there was no hurry. Racers and support vehicles were filling their tanks and washing their vehicles. The racers were signing autographs and posing for photos. It's amazing to me that we were mistaken for racers several times. I signed autographs for a couple kids since they seemed so excited.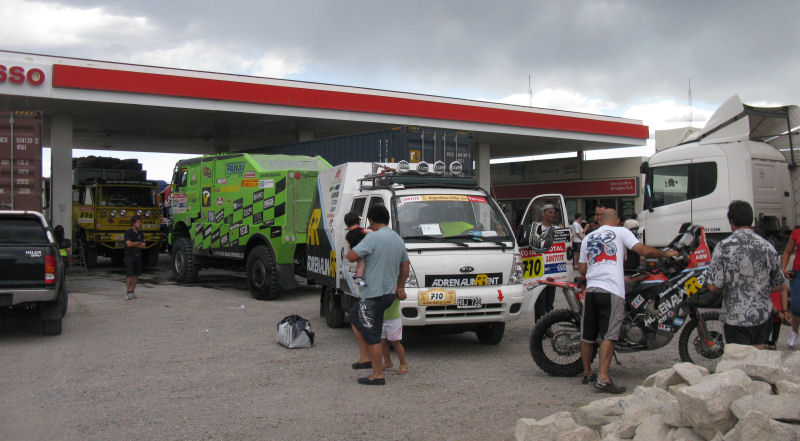 Back into the storm, now. The rain ahead was very obvious.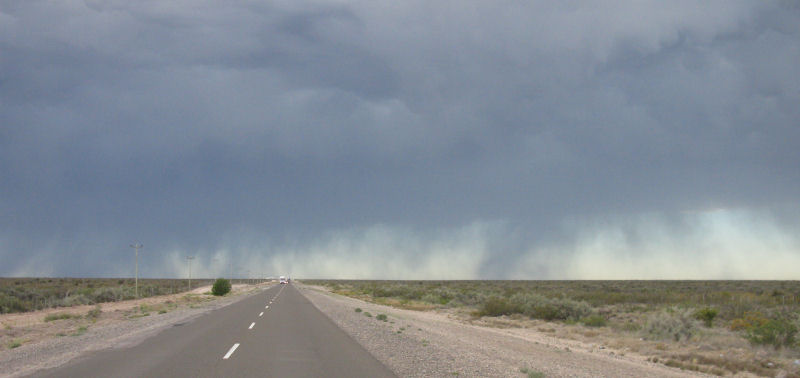 It was less obvious what the dark stuff off the ground ahead was. Was it smoke? Was is rain being blown back up from the ground?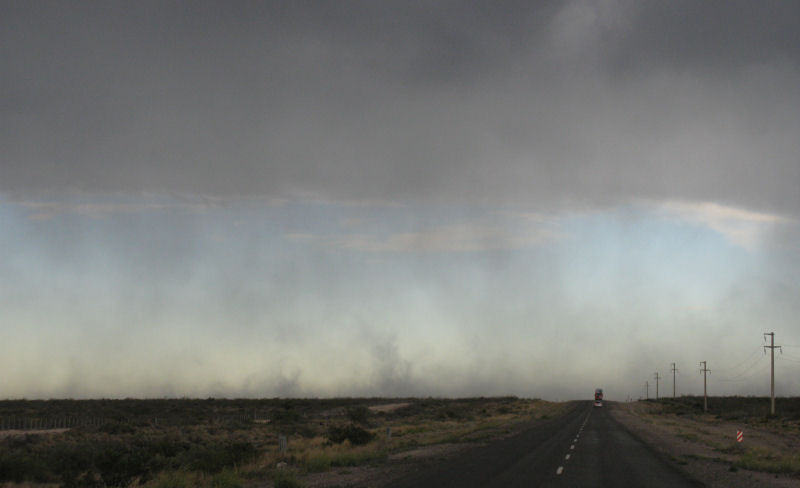 Nope. It was sand. As in sandstorm. It was terrible and was blinding at times.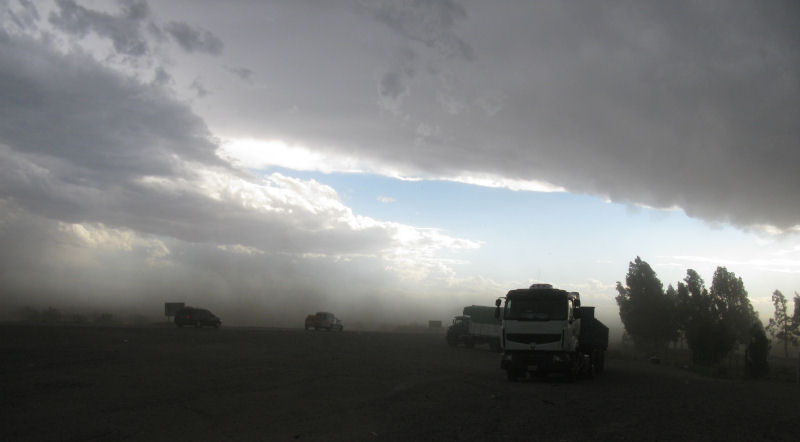 The clouds looked kinda cool, though.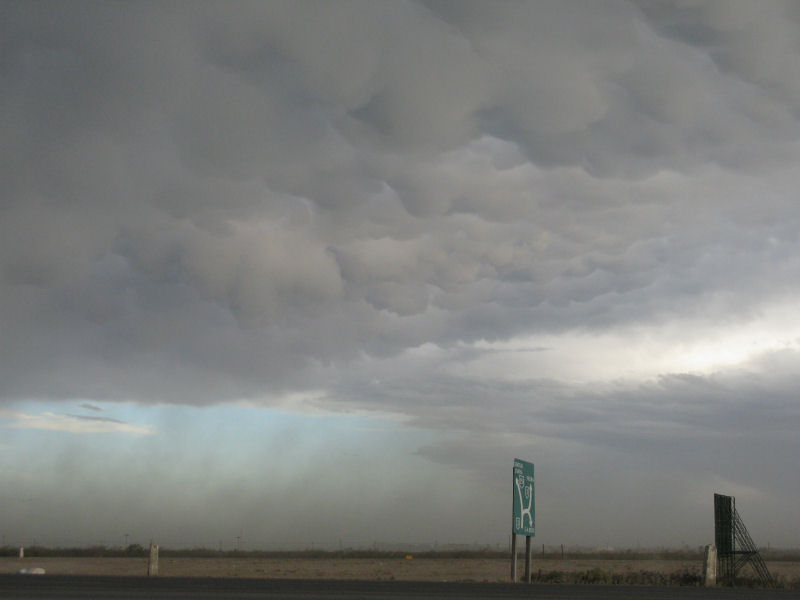 We stopped at the first hotel we saw in San Antonio Oeste, and then found that the electricity was out or service everywhere. People were lined up at the gas station next door waiting for the power to come back on. They had to wait a long time.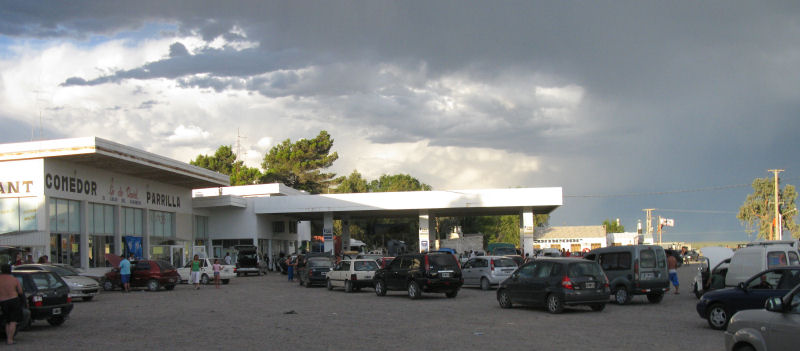 Locals were lined up along the road to cheer at the Dakar teams as they went by. They were quite enthusiastic. It was all new to them, and they seemed to be enjoying it.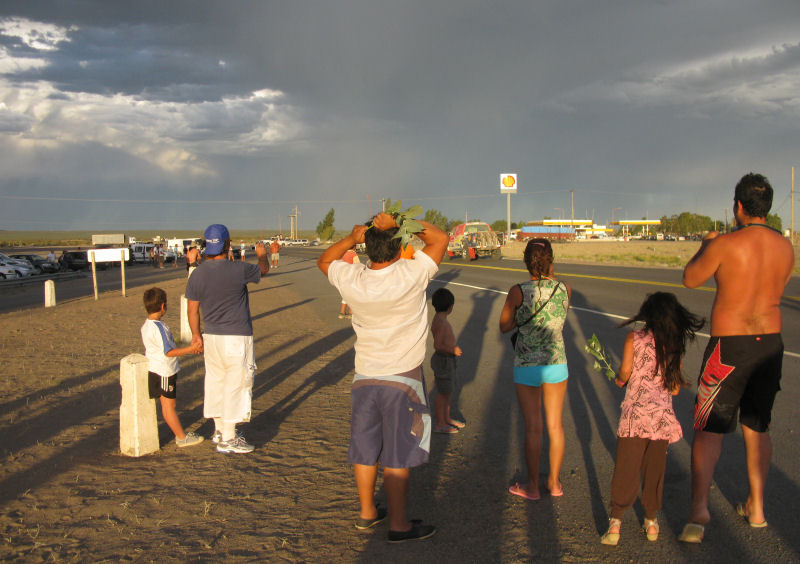 I begged off when more people asked for my autograph. I told them that I was just a tourist, and they seemed disappointed.
Don's headlight bulb had died sometime today, so we switched it out with a spare that we had. It took two spares to do this, actually, since I dropped one and broke it.
At this latitude and humidity, the insects were everywhere. We had gotten used to not seeing any lately. Back to reality.
Our room was hot since the air conditioner wasn't working. The gnats were working, though, and they got busy. I put my Permethrin-treated bug net over the window in the room, so maybe that killed a bunch of them. The electricity came back on during the night, and the air conditioner came to life! That was very welcome.
Monday, 5 January, 2009
---------------------------
The gas pumps were back to life, so we got in line in the morning and topped off. It took 40 minutes to work our way up to the pumps.
Some Dakar organizing crews were still around.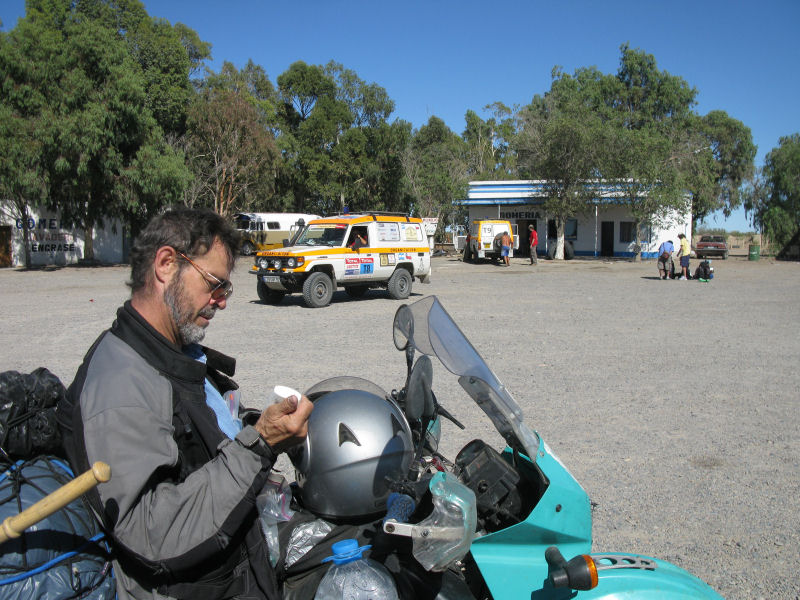 We headed for Viedma, which is where the Horizons Unlimited South America riders meeting had been in December. It was a pretty town, especially near the river.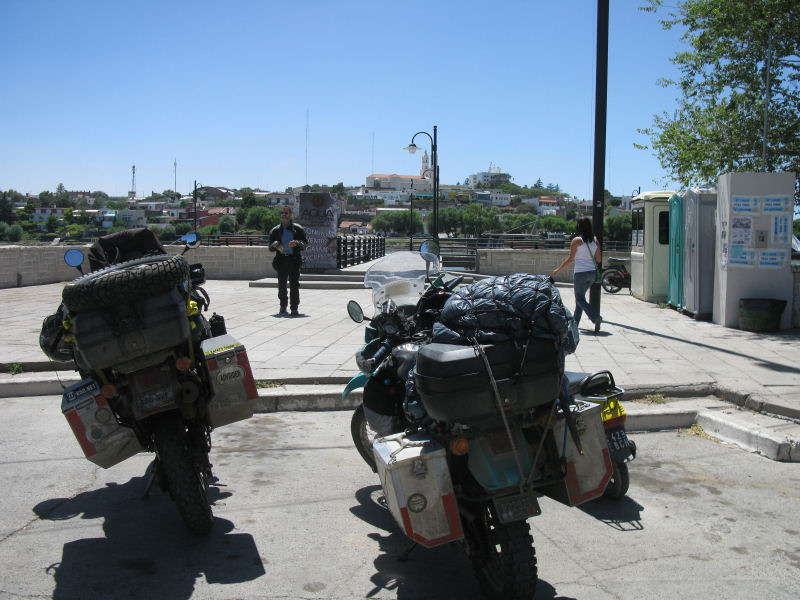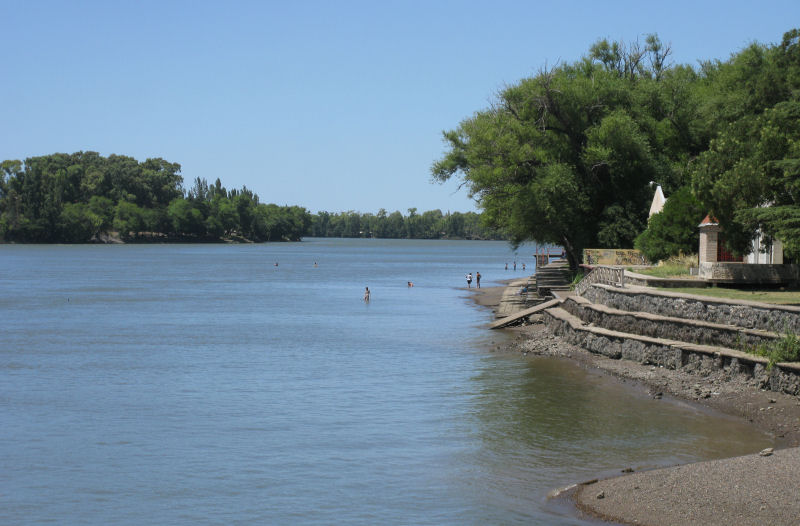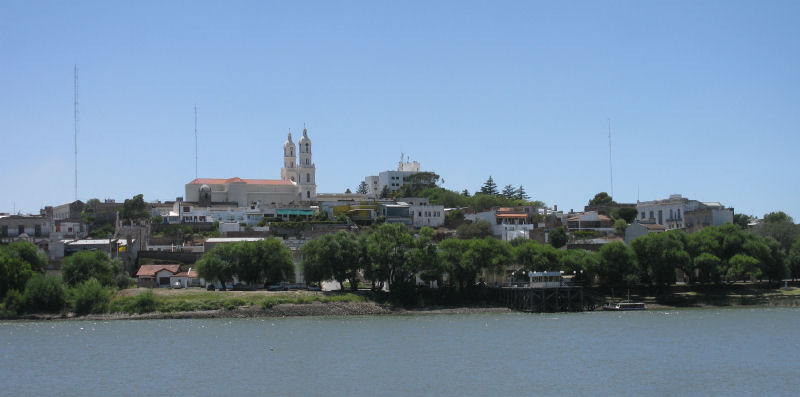 After stopping to relax, we found a moto shop and bought some oil and a couple more headlight bulbs. Then it was across the river and onward.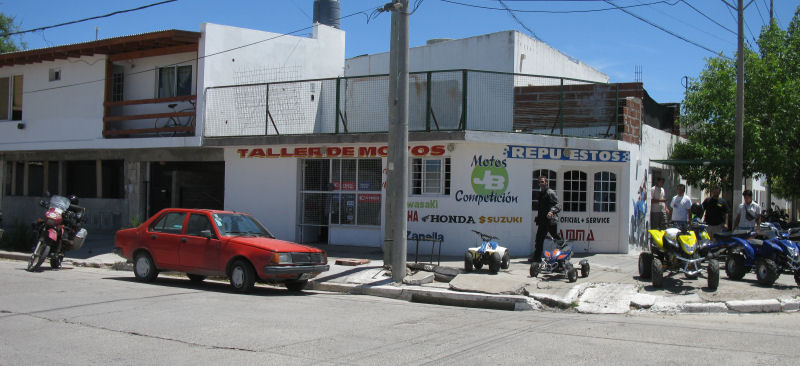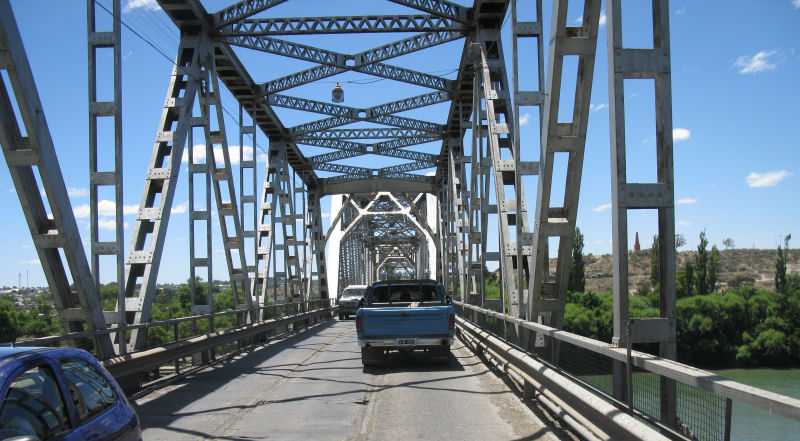 The weather was much better as we headed toward Bahia Blanca.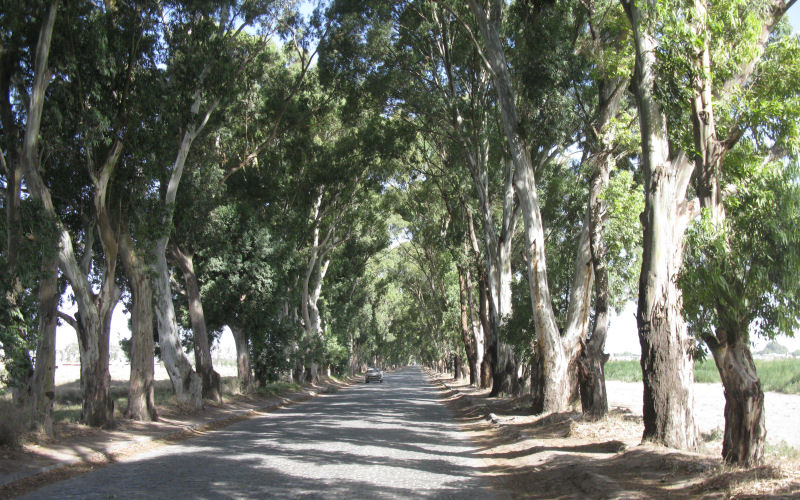 I thought Bahia Blanca was a nice city, but after working our way to El Centro, Don said he wanted to get out of town. When I went to walk around the park, he stood by the bikes impatiently until I returned. Then he explained that while he was behind me coming through the city, a car had knocked into his left side box. The other driver had been trying to edge Don over in the lane. We didn't want any more hassles, so we bugged out.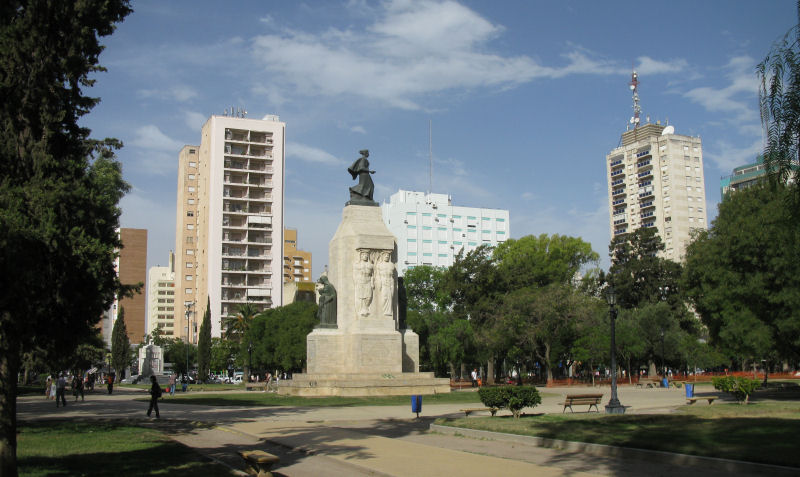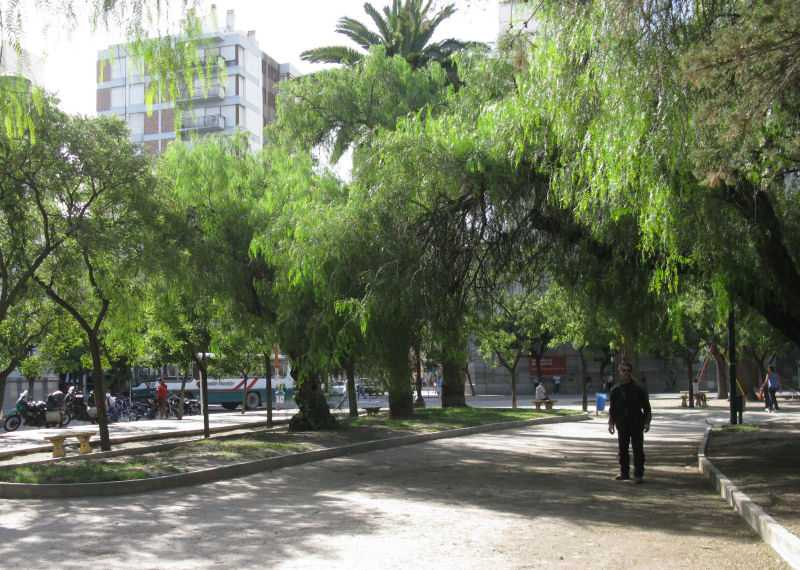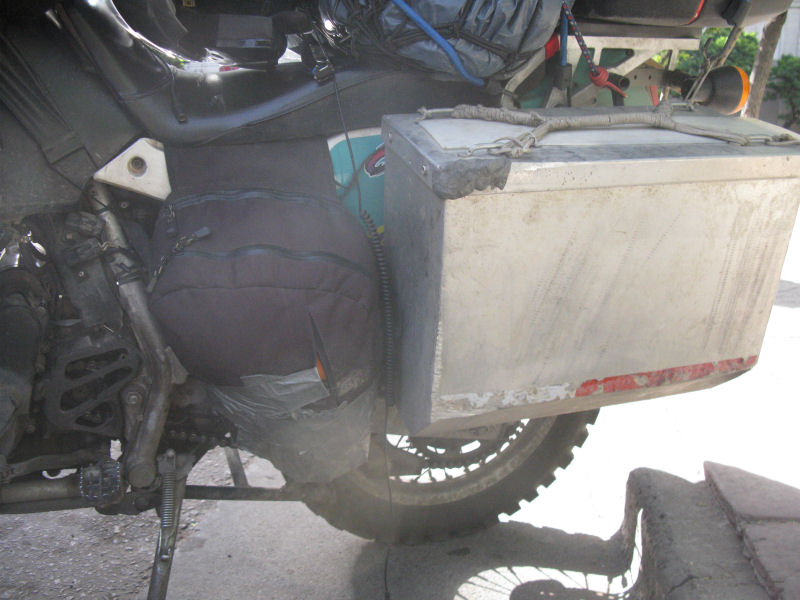 Rather than go back to the main road, we chose a parallel road to the east. It was a very rough road. I went back to my Luke Skywalker X-Wing mode, swerving and swooping around the potholes as if I were a fighter pilot. Some of the holes were tire-eaters if you hit them wrong.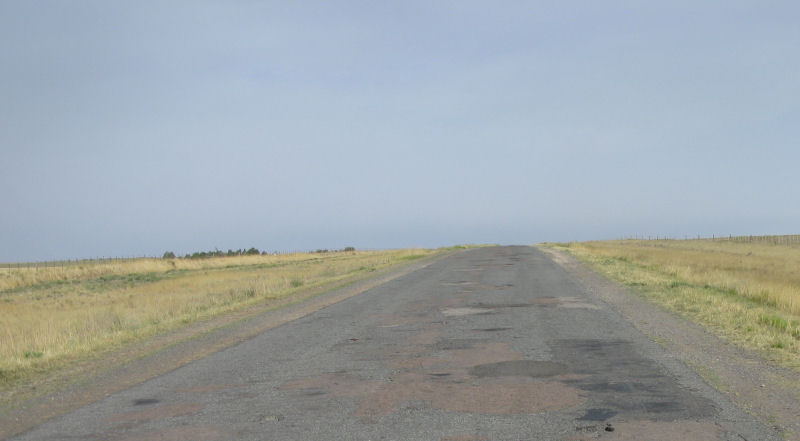 Once on the main highway again, we passed two gas stations that were out of fuel. That had us rolling toward Colonel Dorrego at a fuel-efficient speed. After a while, I noticed that Don wasn't behind me. I waited for him a while, but then went on the last dozen miles and got gas. I had 224 miles on that tank, and hadn't hit reserve yet.
When I went back for Don, he was getting back on his bike. Without a speedometer or odometer, he hadn't realized we were low on gas, so when his motor died, he feared that it was his stator wires again. Only after checking them did he realize it must be fuel, and he had switched to reserve just as I arrived. Once he was also refueled, we pulled into a roadside motel and parked the bikes on the porch in front of our room. Don was parked under a bird's nest, so they crapped on his bike cover all night. Such is life.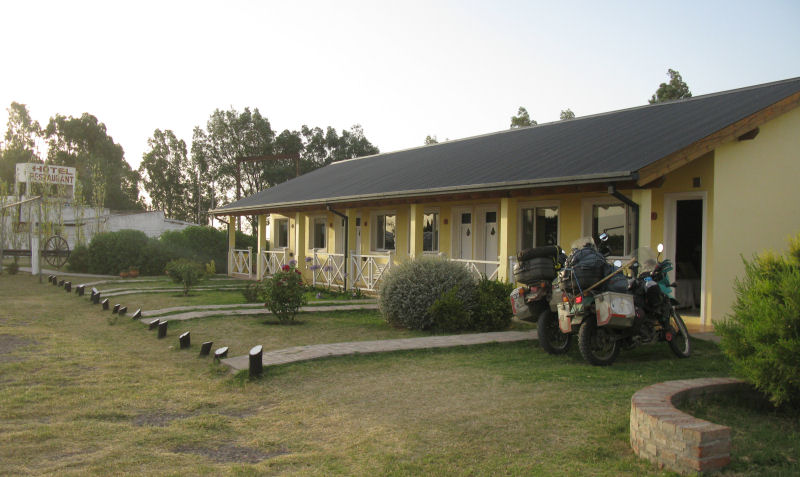 Tuesday, 6 January, 2009
--------------------------
I had set my watch alarm for 09:00, but we slept past that and woke after 09:30. After eating at the gas station cafe, we got moving. We saw lots of farms and orchards, including sunflower fields and these olive trees.

I saw an armed woman dressed in black military fatigues trying to hitch a ride at a bus stop. She must have been in a hurry and couldn't wait for the bus.
Along most major roads and highways there were emergency phones where you could call for help. They were of different designs, but usually had SOS marked on them.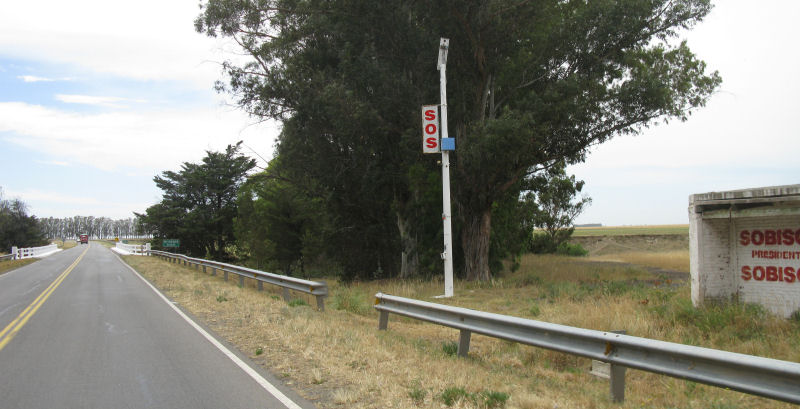 We came to the first toll booths that we had seen in a while, and found that they were free for motorcycles. As usual, you bypassed through a narrow lane on the right side.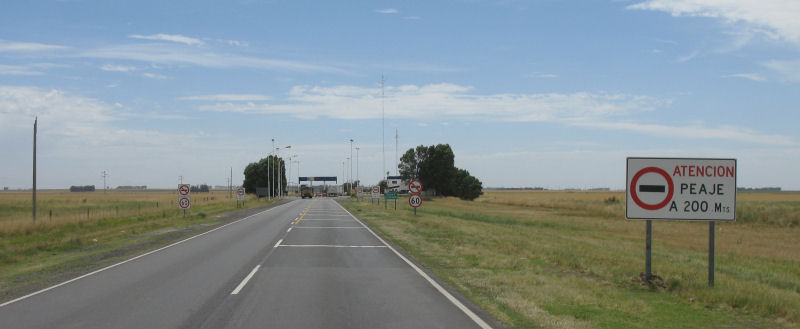 We decided at Tres Arroyos to stay along the coast rather than head inland to the north, so we headed for Queqen. It rained before we got there, and we were sodden when we arrived in Mar Del Plata.
A guy had drawn us a map to a Kawasaki shop, but that turned out to be just some shop that mounted tires. We stopped under the canopy of a gas station for a while, and the attendants there were very nice to us. They asked about the bikes and let us stay there by one of the gas pumps. We ate some snacks in the gas station, and the cost was very low.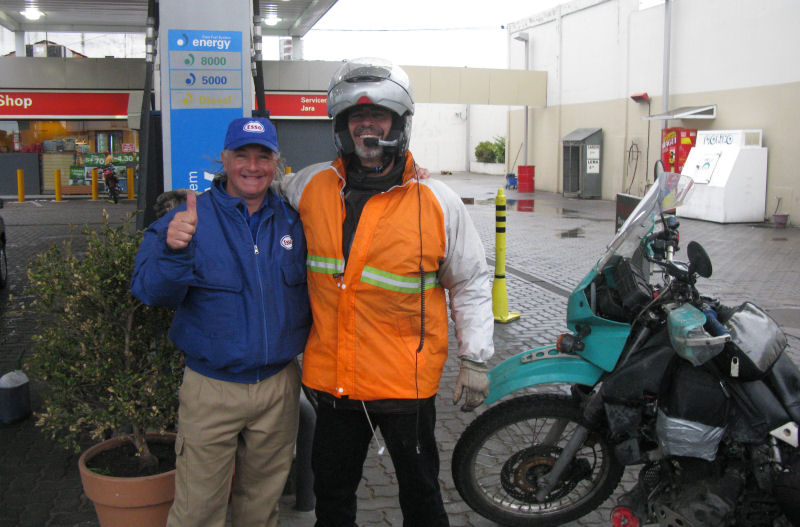 We didn't like any of the tires we saw at the shop there, so we rode on. Along the Atlantic coast, there was more weather.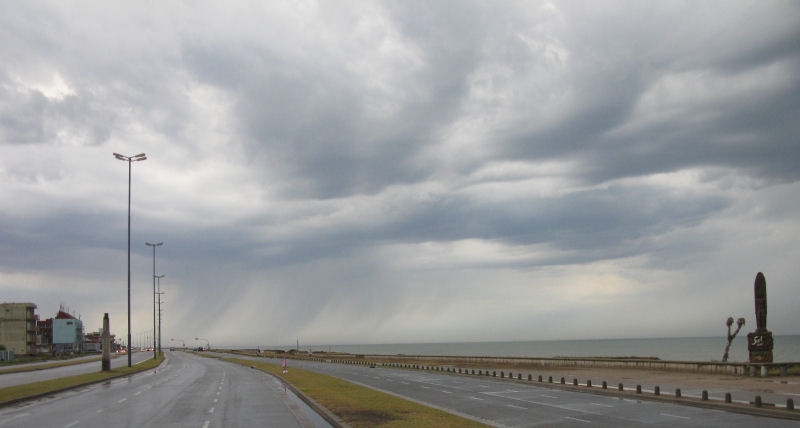 We rode north after finding an ATM in the city for cash. There were huge granaries and silos in the area, so there must be many more farms than we were seeing.
The road was good and the weather didn't get any worse. Traffic on the open road was very fast, and we again noticed that drivers here didn't have very good lane discipline. Your lane does not belong to you.
We rode to the resort town of Villa Gesell. It was very touristy, and we passed several motorcycle and quad shops before we got to the inner city where everything was designed for the hoards of vacationers who came for the beaches and the sand dune riding.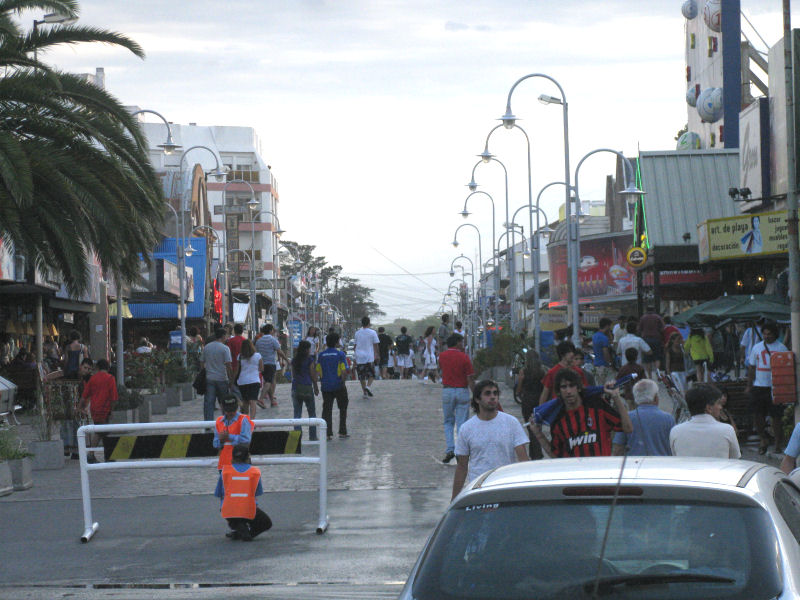 We saw lots of hotels, but most looked expensive. I asked one of those gals who were directing traffic (above) for a economical hotel, and they directed us a block away to a couple hotels. The one we asked at was P/230 cash (plus 10% with a credit card), and for this city that was probably fair. It was about $80 or so. While I inquired, tourists mobbed Don and asked about the bikes and our trip. Like always, they were surprised that we had ridden all the way from the U.S., and there was never anything other than welcome from them.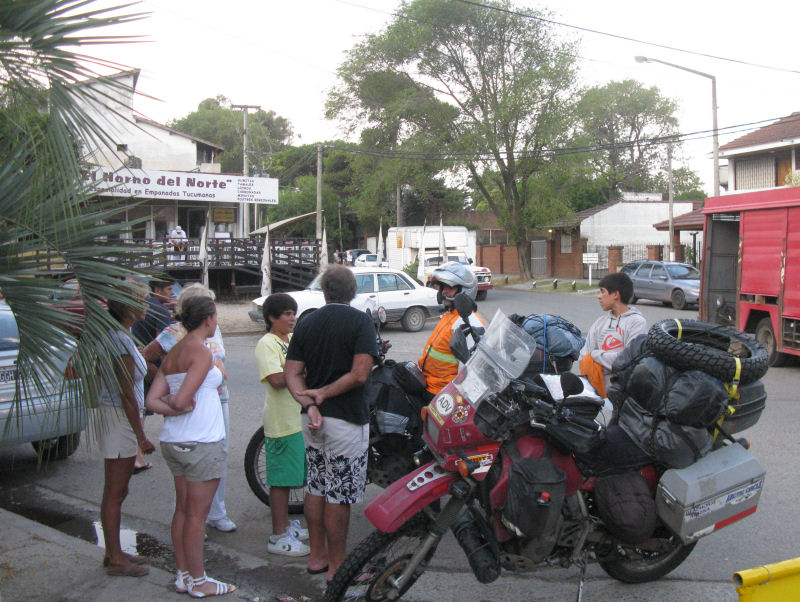 After getting settled in, we walked down the long pedestrian street. It was warm, and things were still getting more active as the evening approached. The beach was a few blocks to the left, parallel to this street.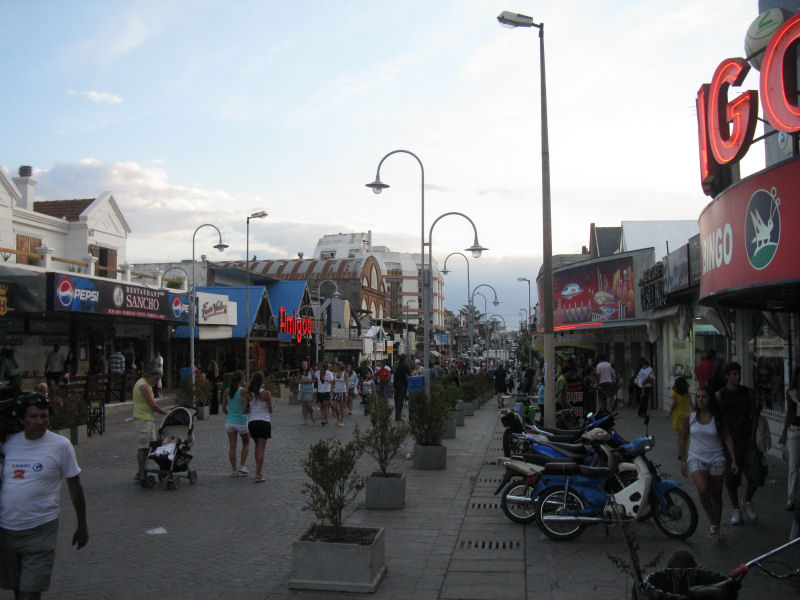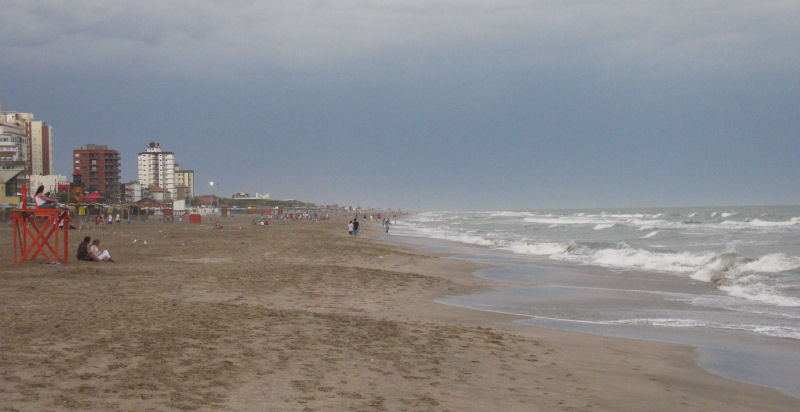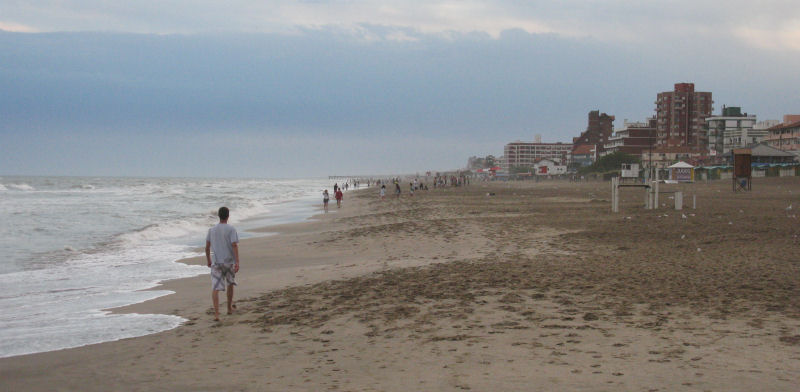 We had so many restaurant choices that we had difficulty choosing one. This time, Don wanted sea food, and I didn't care, so he finally chose one and we sat and ate as it rapidly got dark. Street performers and musicians were everywhere. They were very annoying. And loud.
Then it rained like hell, so that shut the street bands down. That was about 22:00, and that is when most people go out for dinner here, so every restaurant filled up. Our waiter (seen in the next photo with the black t-shirt) really appreciated our tip, since we accidentally tipped him by about 40%.
The rain finally settled to a light drizzle as we worked our way back to the hotel. Along the way, we stopped in a different restaurant that had a better dessert selection. That was important.
There was a band playing on a stage in a small plaza. They were protected from the rain. I don't know what this statue was, but people posed for photos with it.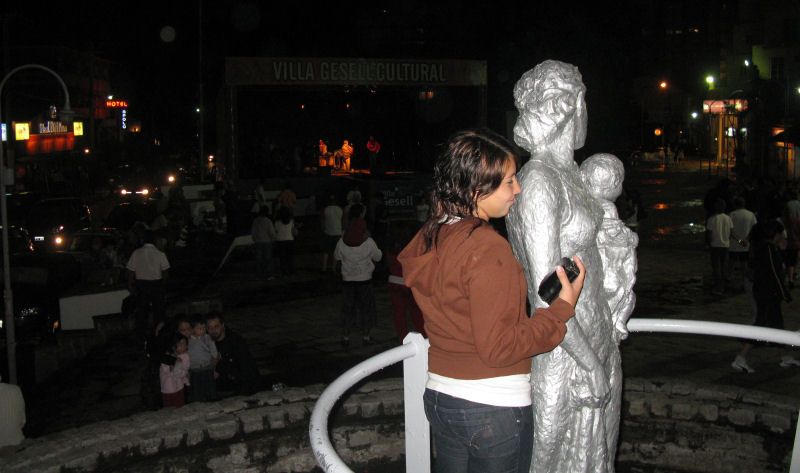 At the hotel, we used their Wi-Fi to spend some time online, then we fizzled out at about midnight.
Wednesday, 7 January, 2009
------------------------------
We rose late, about 10:45, had the included breakfast that included small ham and cheese sandwiches, and hit the road.
We saw a lot more police along the highways, and most were either parked alongside the road or were standing under some shade nearby. I saw these two police motorcycles, but never saw the officers anywhere.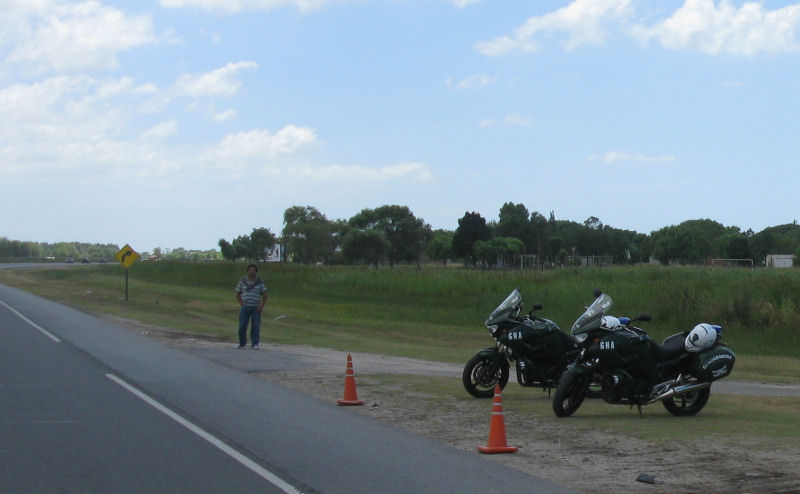 There was a section of Ruta 11 that continued along the coast as a dirt road through a national park. We skipped that section, turned inland and continued more directly for Buenos Aires. As we neared the metro area, I saw a large cloud in the distance that eventually turned out to be from a large fire. Don't know what it was, but it was a large area on fire.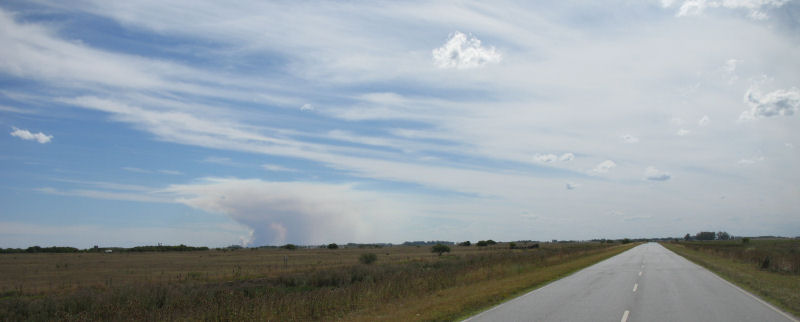 At the first toll booth in the Buenos Aires area, we didn't see a motorcycle bypass lane, so I rode around one of the crossbars (an a booth with no one in it) and that set off an alarm. Nobody seemed to care, so we pulled over to see what to do. No one ever reacted to us, so we rode on. We learned later that tolls were expected from motorcycles in Buenos Aires. Oops.
At our next toll booth, we were directed by police there to one of the booths, so we couldn't even pretend ignorance there. It was P/2 per moto, as I recall.
Also, there was a lot of controversy in the city since the toll fares had just been raised.
We saw a lot of industrial areas along the coast.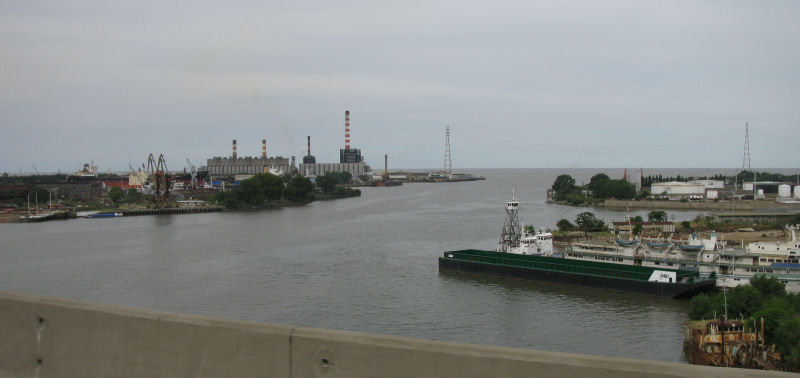 Traffic on the highway was very dense, despite the appearance of this next photo which was taken while we were still on the outskirts of the city.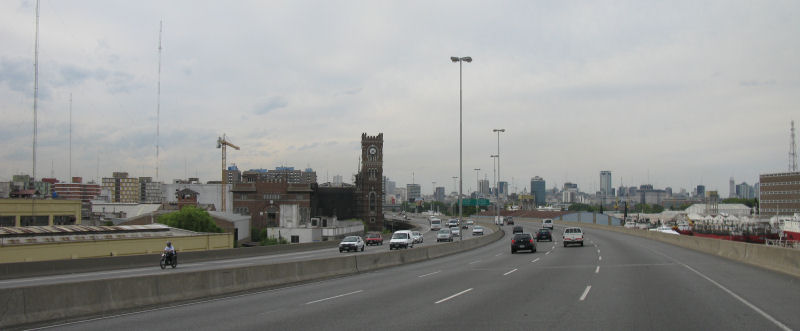 In the city, we rode around and found the downtown area and saw some nice places along the water. After maybe an hour, we hadn't seen many hotels, and when we decided to find one, we saw no more. We finally parked on a sidewalk (parking was a major issue) and walked down to the cafe you see behind the bikes.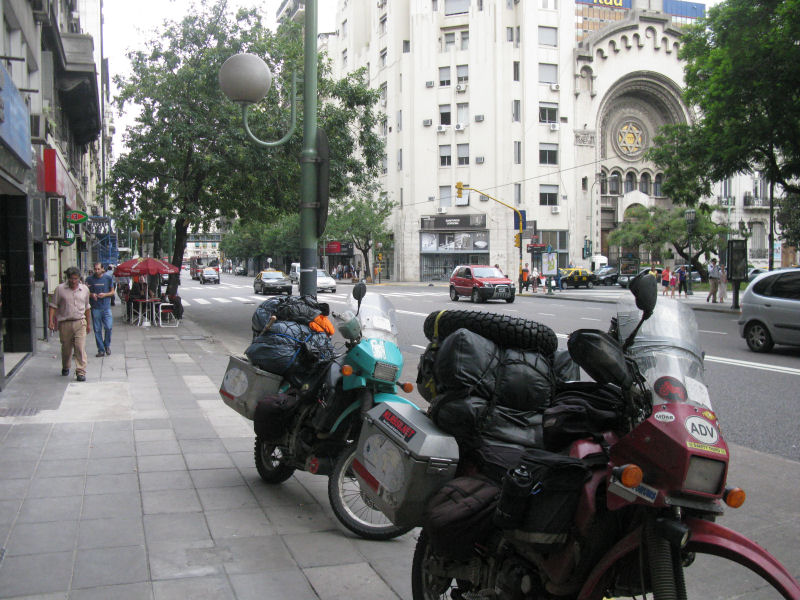 We sat and relaxed with cold drinks, and we asked the waiter for some information about the city. We had the address for Dakar Motos, but didn't know where to start looking for it. I finally took the GPS off the bike and tried to get the waiter to point out what part of the city we should start looking. A businessman then stopped and asked us in English if we needed any help. He then went back to his office and returned with a map and helped get us oriented. He said that he had been to the States earlier in his working life, and he understood how difficult it was in a new place. His name was Juan, and he was great.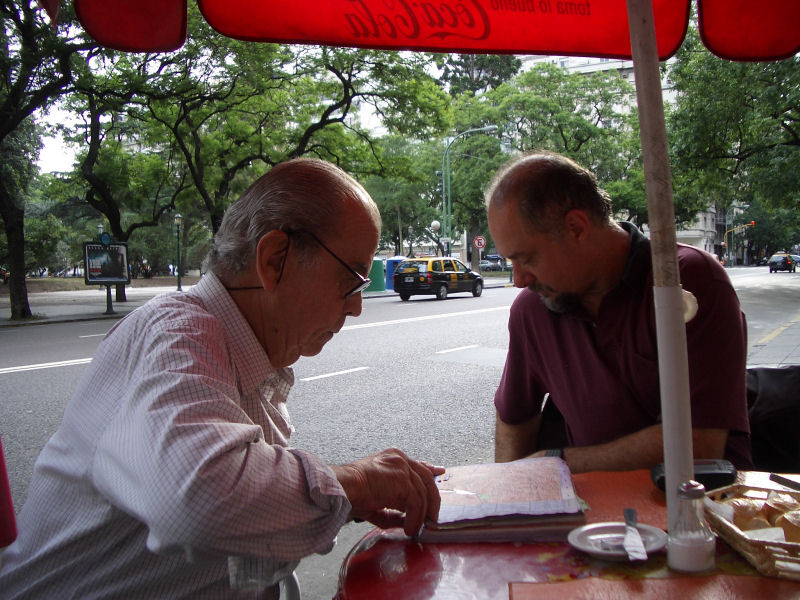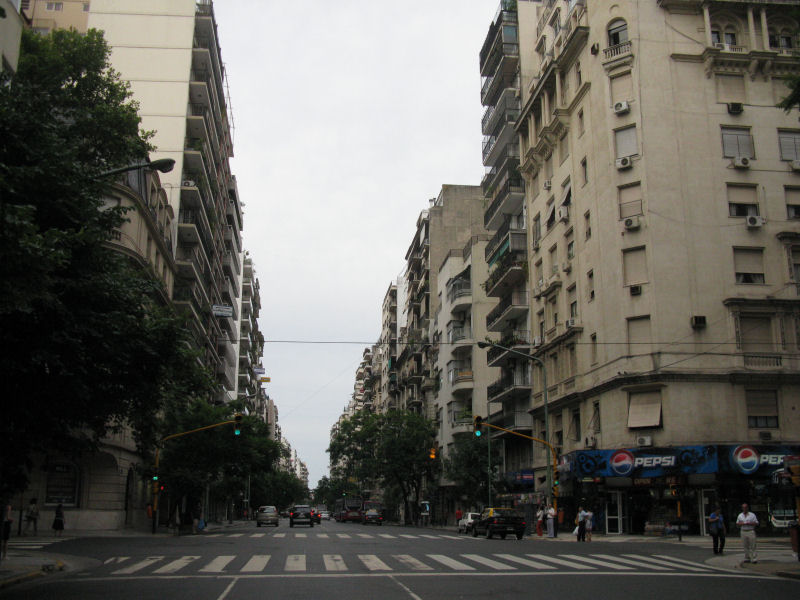 We worked our way to the west side of town, to the Florida-Vincente Lopez neighborhood. We had been told by Juan and others that where we were headed was a "bad" part of town. We've heard people often talk about other areas with extreme paranoia, so we didn't pay this warning any heed. We passed some very nice areas, including some nice parks where people were jogging or doing Tai Chi.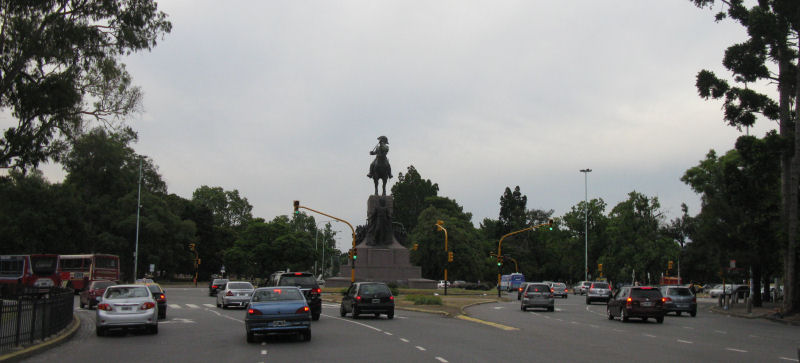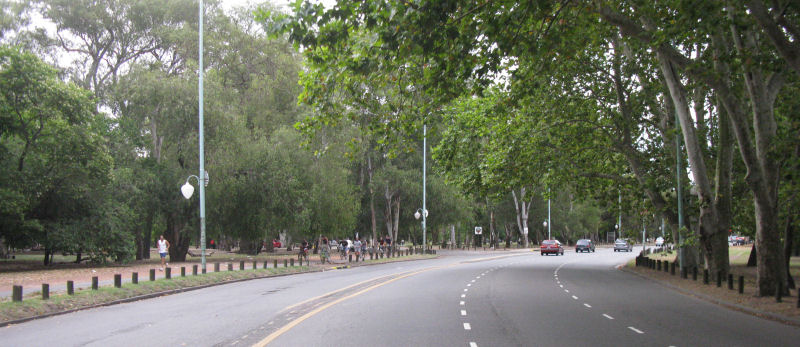 We wandered around in some areas (okay, we got lost a few times) and got to enjoy more cobblestone streets and commuter train crossings.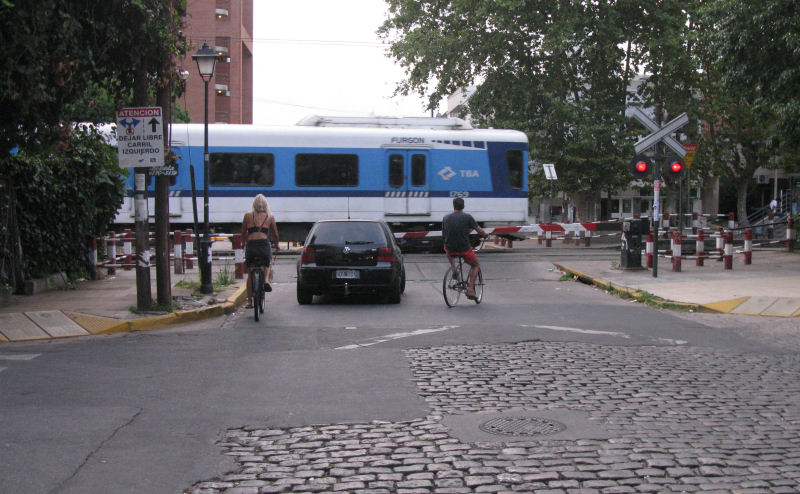 We found what we thought was Dakar Motos, but it didn't look like much, so we weren't sure. Just to check, I asked a few young men in the area if they knew where Dakar Motos was, and they quickly indicated the same building and rang the doorbell. When no one answered, we said we would return and we rode away. We later learned that the doorbell they rang was to a separate residence above Dakar Motos. I hope they were not upset.
We rode back toward the center of Buenos Aires to look for a hotel. I have no memory of this next sunset photo, or where I took it, but it was from somewhere around Buenos Aires. It's hard to place in my mind where we would have been to see this view, but here it is anyway. The photo doesn't suck, so I included it. I'll admit to having painted out a couple of power lines just to clean it up.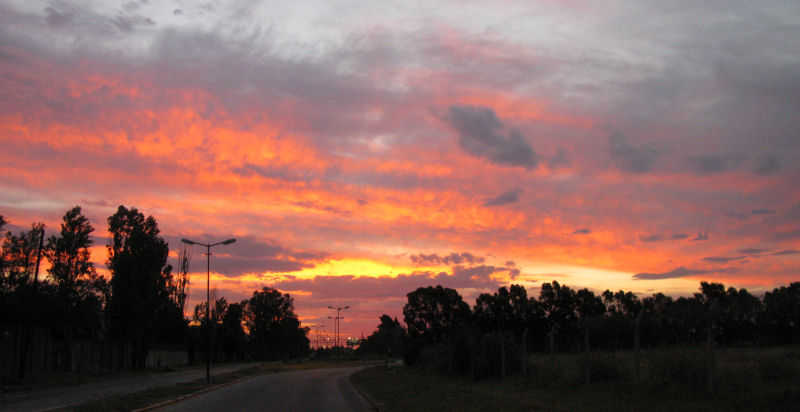 We rode around for a couple hours and checked lots of places (which were full) before we finally found a hostel. Even this one wasn't obvious. It's the middle building in this photo. Our room was up on the 3rd floor, off an interior courtyard. Bathroom and shower down the hall. A large ceiling fan is the only thing that saved us in the very hot room.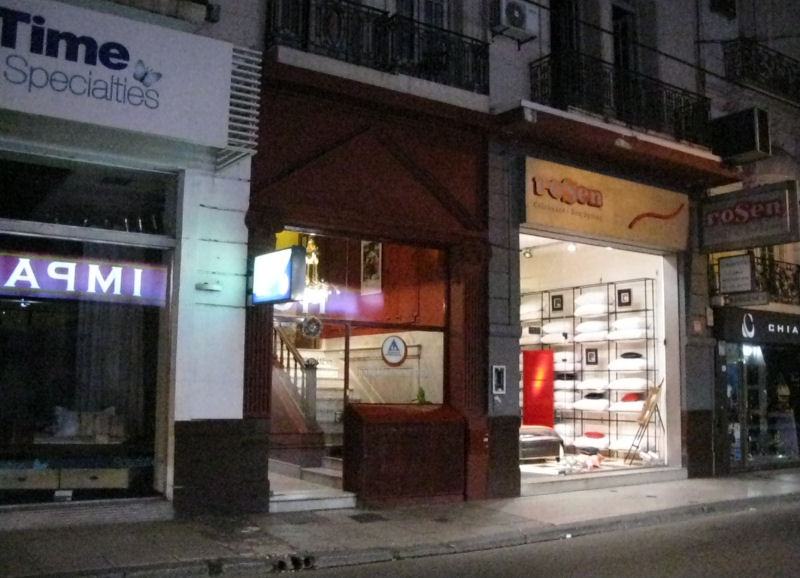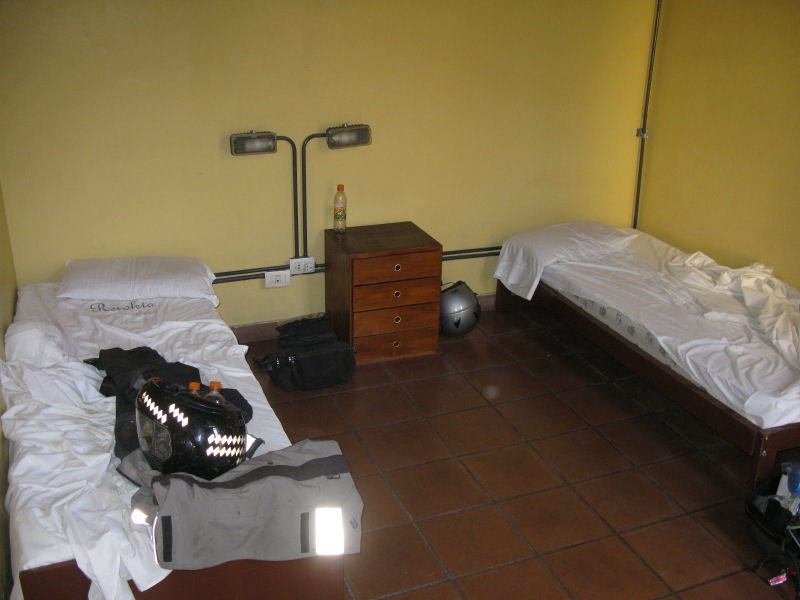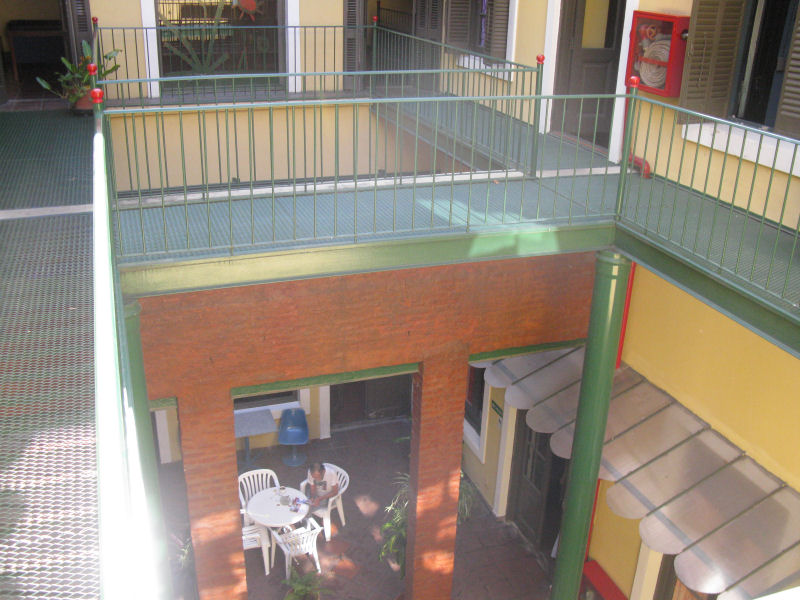 We had to use a parking garage down the street. We rode our bikes into an elevator and the guy took us up one floor and we covered the bikes in a corner.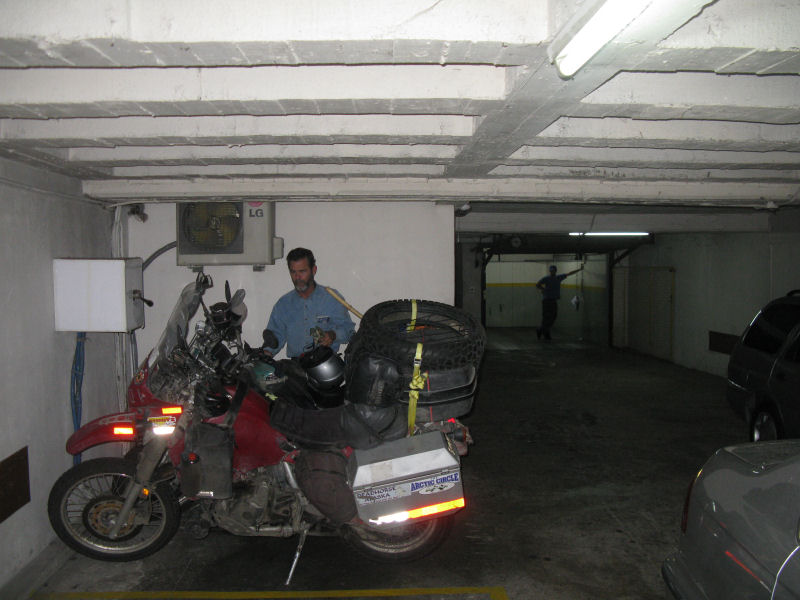 Thursday, 8 January, 2009
---------------------------
We failed to adjust for the time change in Buenos Aires, so we missed breakfast. It was an hour later here, now five hours later than Colorado.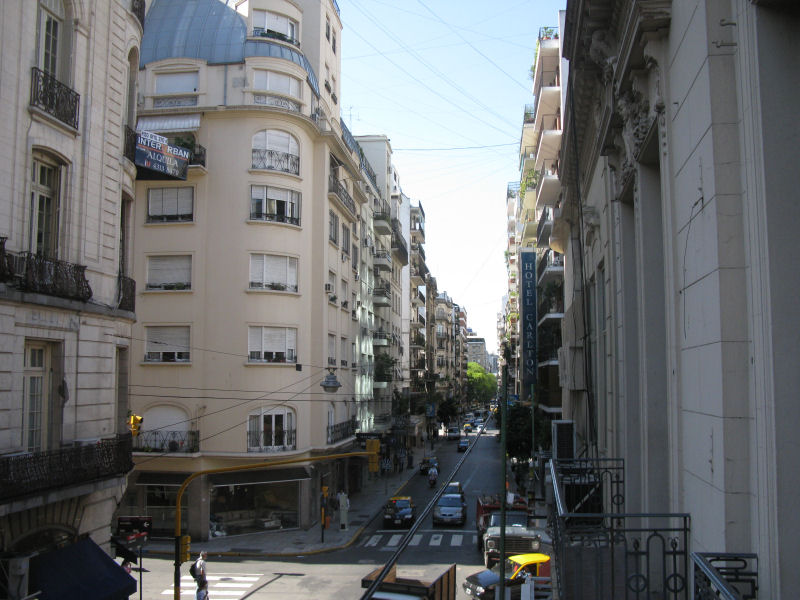 After rescuing our bikes, we rode down to the waterfront again and settled for McDonald's for breakfast.
I called Dakar Motos, but I got no answer several times. Javier and Saundra get great reviews on the Horizons Unlimited forum, so I had allowed myself to become optimistic. I had hoped to get some recommendation from Javier for a mechanic shop to take a look at my clutch, which was slipping at times. Don had gotten some odd feelings from his clutch as well, but it was mostly acting okay. We both needed new tires, but I intended to mount the generic tire that I had been carrying around for quite a while. We'd try Dakar Motos again later.
We found a Kawasaki dealership along the waterfront, and they referred us to the main parts shop in the city, so we went there. Note the early model KLR650 that pulled up out front. The shop was at Rivadavia 10799.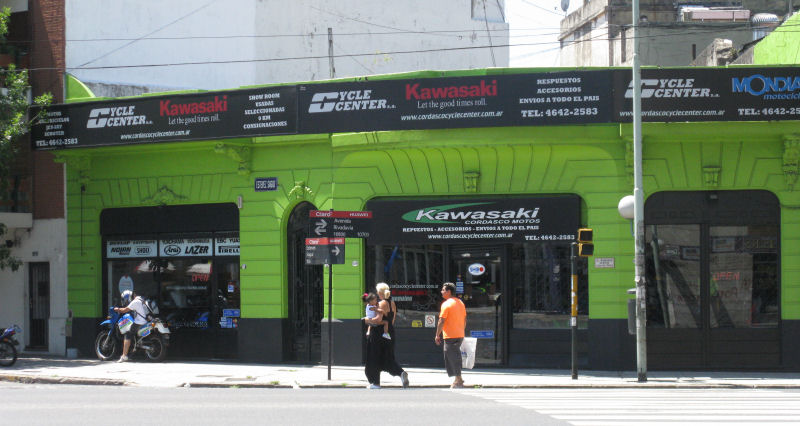 We asked about tires and parts for my clutch (plates and springs). They were not able to help with tires, but they could get parts to rebuilt the clutch by tomorrow noon. The guy at the counter helped us during the siesta break, and he used his computer to manage translations through Babblefish or some other translation site.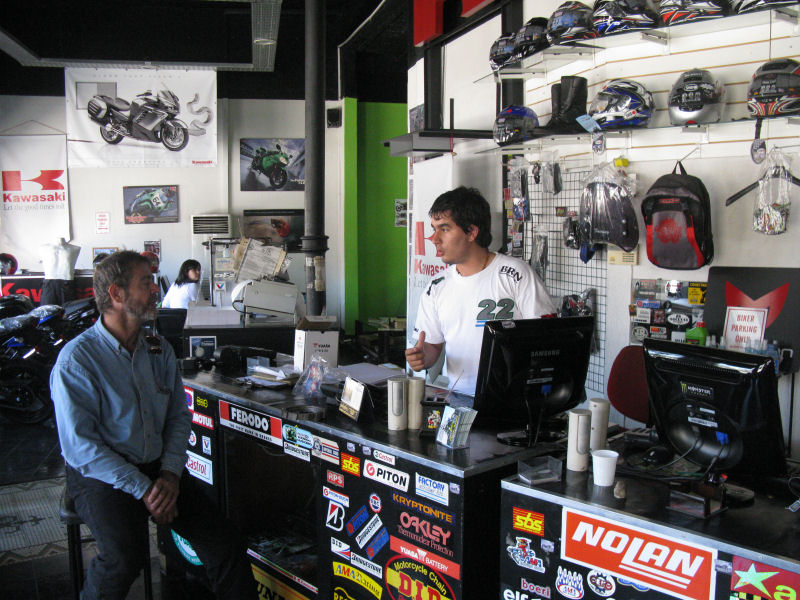 Don ordered a new speedometer hub, and I ordered the clutch parts, and I bought oil. The guy referred us to the mechanic shop across the street for the work. The two business had a close relationship as it turned out. We had to wait for the mechanic shop to open after siesta, so we chilled at a nearby diner.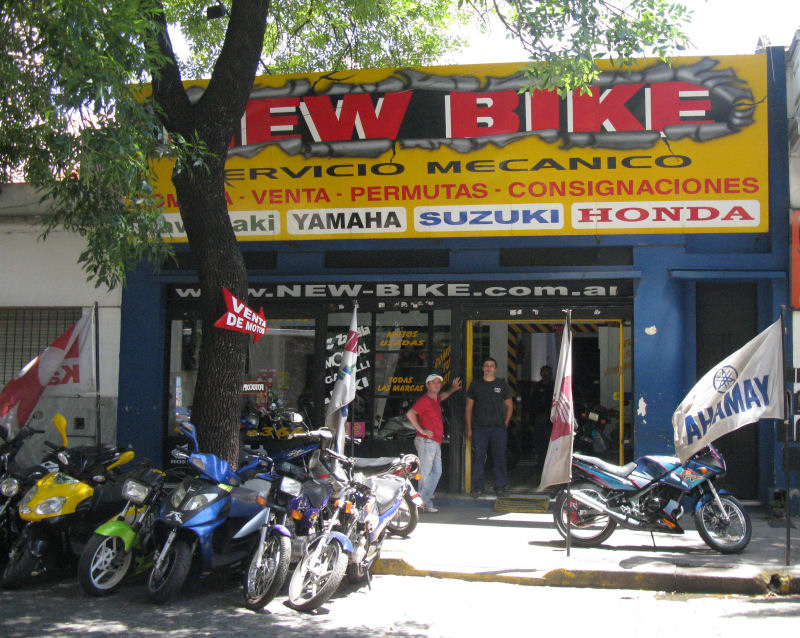 When they opened, we talked to them and they agreed to re-do my clutch tomorrow after the parts arrived. We went tire and battery shopping.
I had some doubt about my bike's battery. I've had a few nagging electrical issues that I blamed the battery for. I had considered replacing the batter with a new one when I had returned from Alaska, but I knew that it was a fairly new, sealed battery, so I didn't. Now, the turn signals were acting all weird, sometimes not working at all. Sometimes the bike started sluggishly. The headlight brightness would sometimes change with the engine revs, and that often pointed to a bad battery.
We looked for a tire for Don first.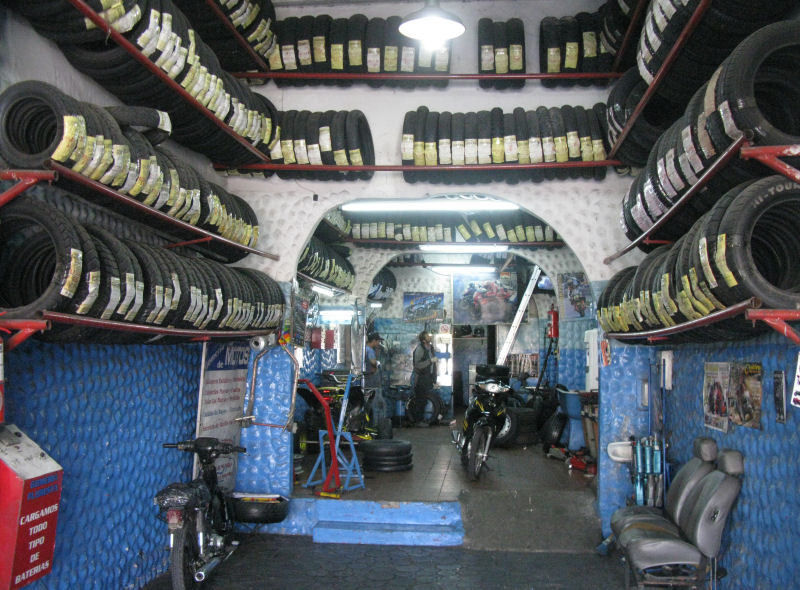 After looking a several shops like the one above, we had found nothing good. Some shops directed us to other shops, sometimes we stopped at shops we saw along the major roads, sometimes we asked police or other people for directions. In the end, we decided to look more tomorrow, and we went battery shopping.
Again, we looked at several places but were unable to find a sealed, maintenance-free battery anywhere. We did find a shop that said they could get one by tomorrow, so I told him to get it and I would come back.
We were burned out shopping for parts, so we went searching for a hotel. That should be easier, right?
It was bizarre how a large city like this had so few obvious small hotels. We found very few, and they were either full or absurdly expensive. At one point, we stopped in a neighborhood that obviously had a strong Italian influence (and we did see some mafia-related graffiti). At a street corner, we asked an older man for directions and he basically took us under his wing for a while. He locked up his business and took me down the street where he rang the doorbell on a house and talked the woman into renting us a room for a very cheap price. I'm sure it wasn't a hotel, but he obviously knew she had room to spare. The problem was that there was nowhere in her house or in the neighborhood for our bikes. My guide, who seemed like the local Godfather in Bermuda shorts and sandals, then went around to businesses to see who might be able to put our bikes up for the night.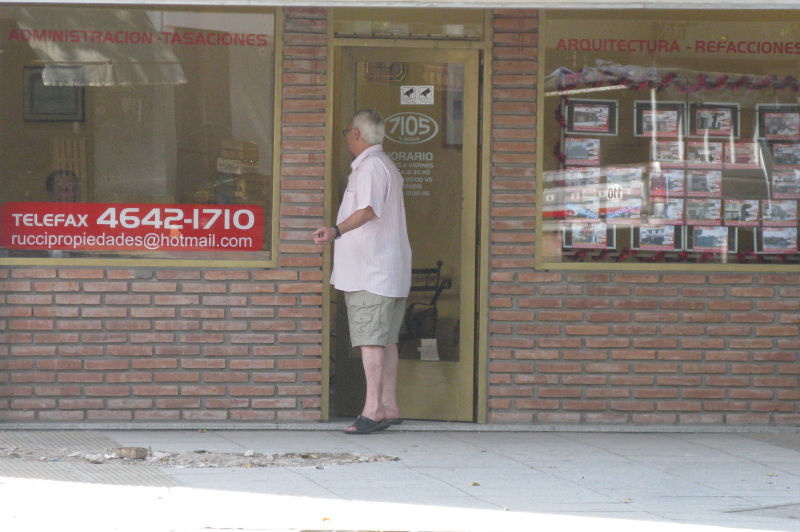 With no luck, he gathered other people passing by and they collectively worked on my problem.
Like an infinite number of monkeys typing forever on an infinite number of typewriters, something was eventually achieved. The group fussed and drew others into the discussion until all possibilities were exhausted and the only thing that remained was one--and only one--hotel recommendation that wasn't far away.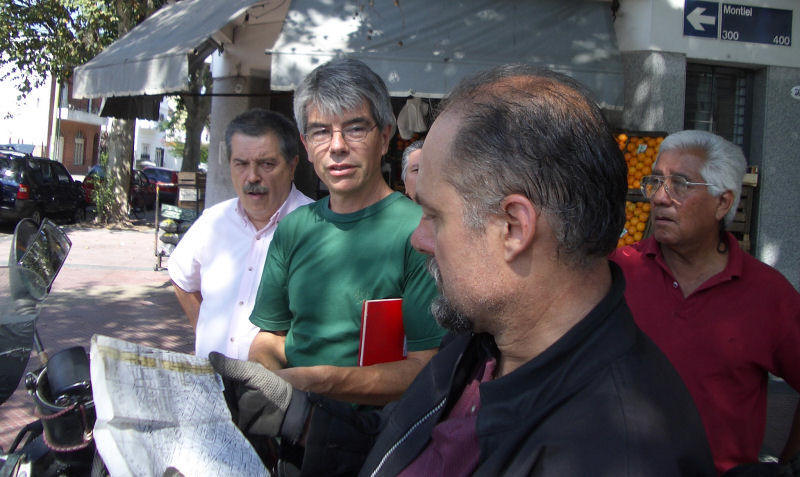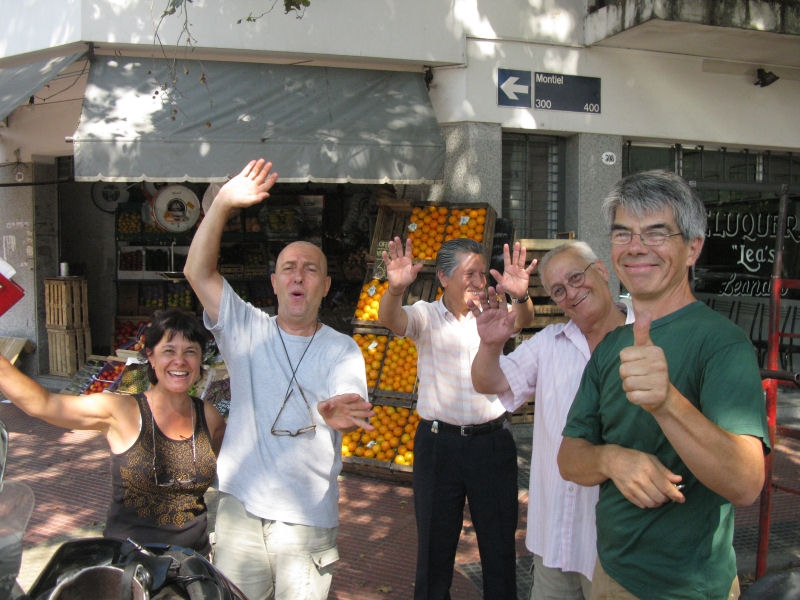 The gal in the above photo spoke a little English, so she became the committee liaison. They all finally agreed that the Hotel Pizarro was a good place, and it had parking for the bikes. We got the directions and were mildly surprised that the directions were actually pretty good. Unfortunately, the hotel had no parking for the motorcycles, but there was a parking garage nearby (10 Pesos for 12 hours.)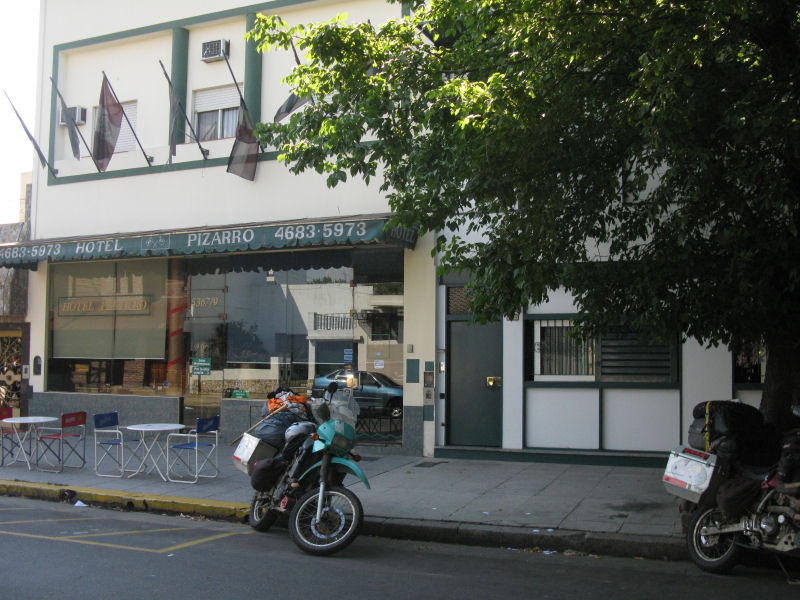 The bikes were looking well worn, but mostly like they were when we started. Looks can be deceiving.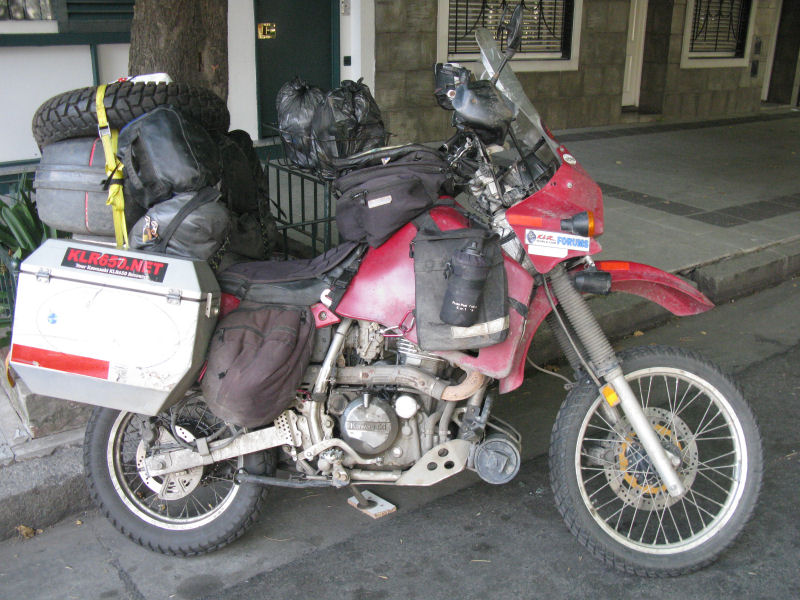 The hotel was pretty nice, and it had its own small restaurant/bar. Better yet, they had Wi-Fi, the air-conditioner worked, and breakfast was included. We decided to stay two nights.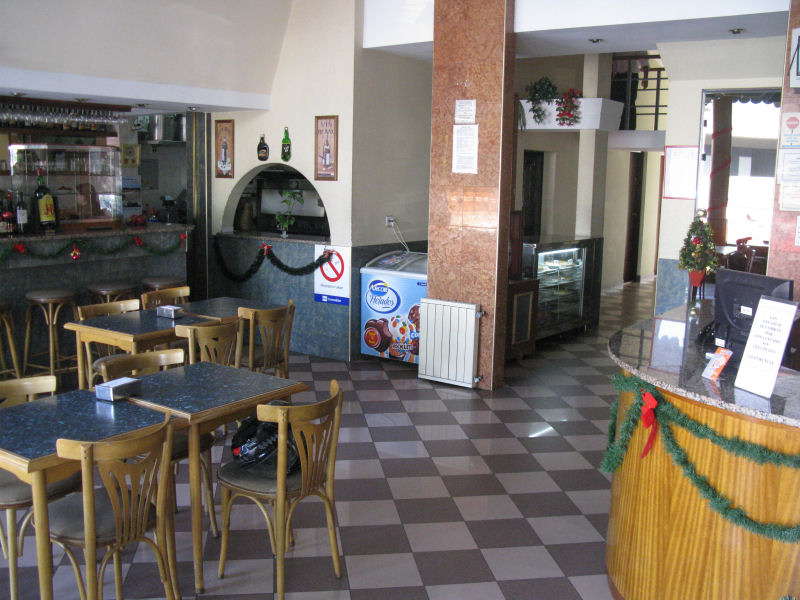 Friday, 9 January, 2009
------------------------
After breakfast, we must have lost our minds, because between us, we couldn't find the parking garage that was only two blocks away. It was another Twilight Zone moment. We walked a long way to finally find the place and get the bikes out. We went in search again for tires. One of the main roads in the area was another cobblestone pain-in-the-ass. It makes road repairs easier, I understand, since they can just remove and replace the stones, but it sure is hard on the drivers.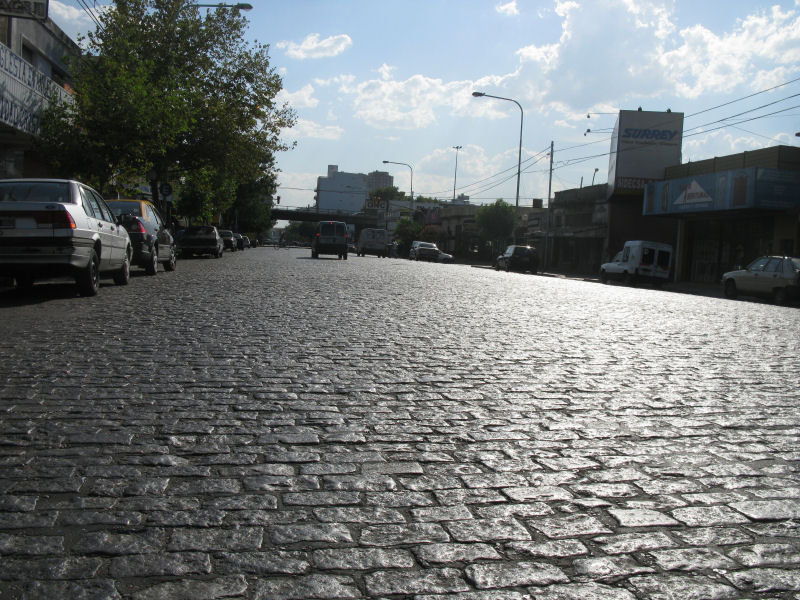 We lucked into a shop that had a set of tires on the sales floor that were marked with a client's name. With Don standing right there, they decided they wanted the quick money, so they cut the tag off the tires and sold the rear one to Don. Almost next door was a shop that would mount the tires for us if we would remove the wheels. We did that, on the sidewalk where such work is naturally done down here. 'Gomeria' is another name down here for a tire repair/mounting shop, by the way.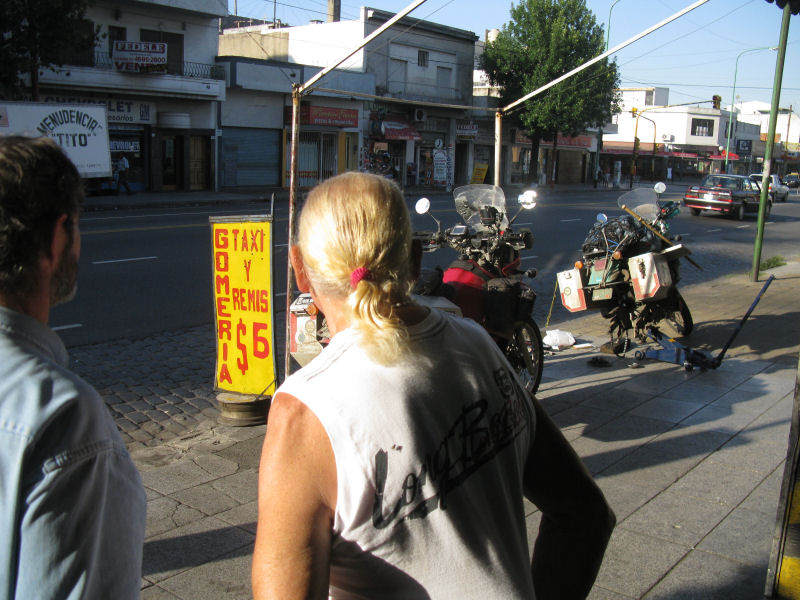 My 'new' rear brake line (from several weeks ago) is again too long, and has a loop in it, just as the snowmobile line from Canada had. I had gotten this brake line when I got the tire that I was having mounted now.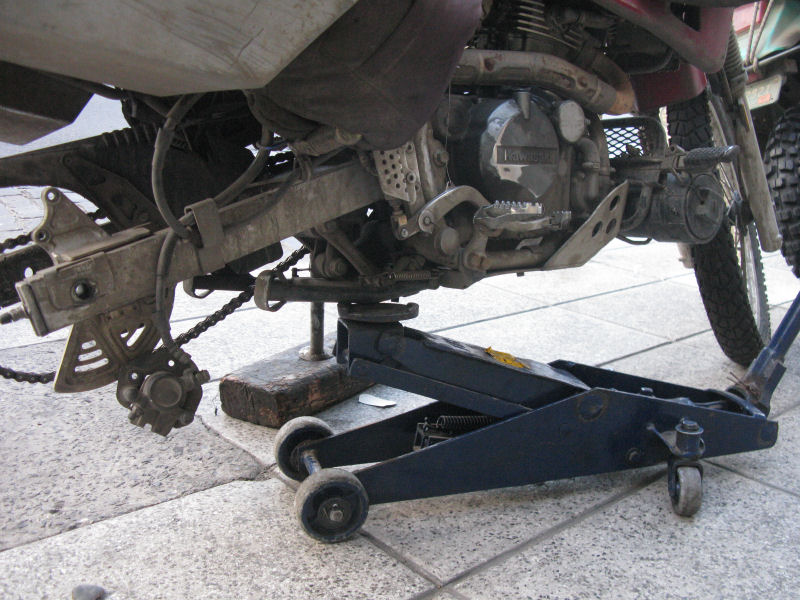 This is the generic Taiwanese tire that I have been carrying. It looked decent, although the molding strip down the middle didn't look very well done. Also, some of the sidewall writing was badly done and hard to read.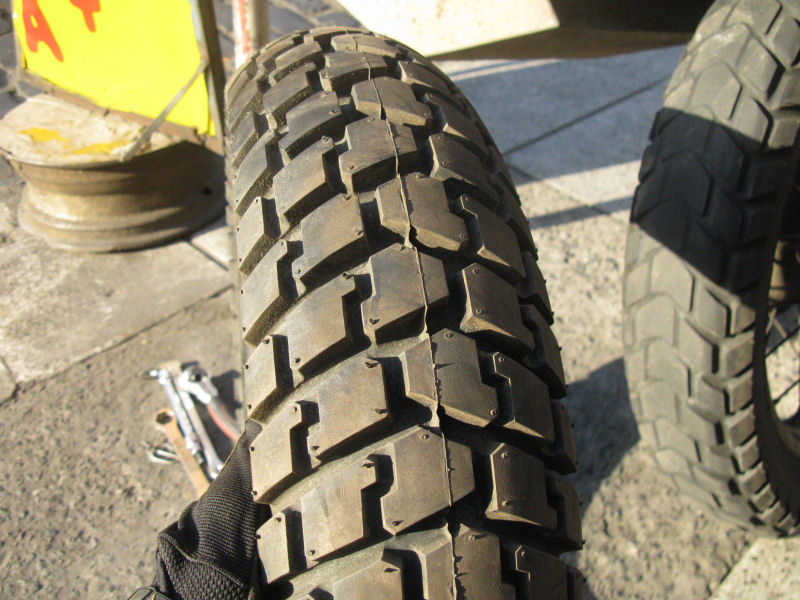 The guy mounting tires got Don's tire on with no hassle, but the guy had some difficulty getting my tire mounted with the machine. He ran the machine back and forth a few times as if the bead wouldn't go over the rim. Eventually, he got it on and I got it back on the bike.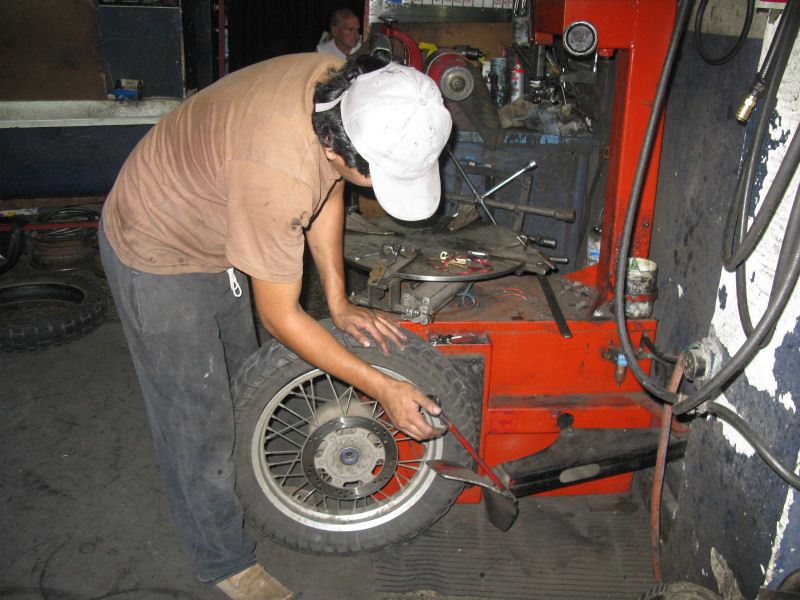 We rode back to the mechanic shop where they immediately put my bike on a lift table and started taking it apart. I started working on the bike, too, but they asked me to go rest. Hey, it's their shop, and I understand. I packed up my tools and slinked away.
This is Sebastian, who did most of the work on my bike. I had to point out that the coolant impeller had to be removed before the clutch cover came off, but other than that he didn't have any issues. They were an experienced crew. I got each of the people in the shop a large, cold bottle of Coke when they started working on our bikes.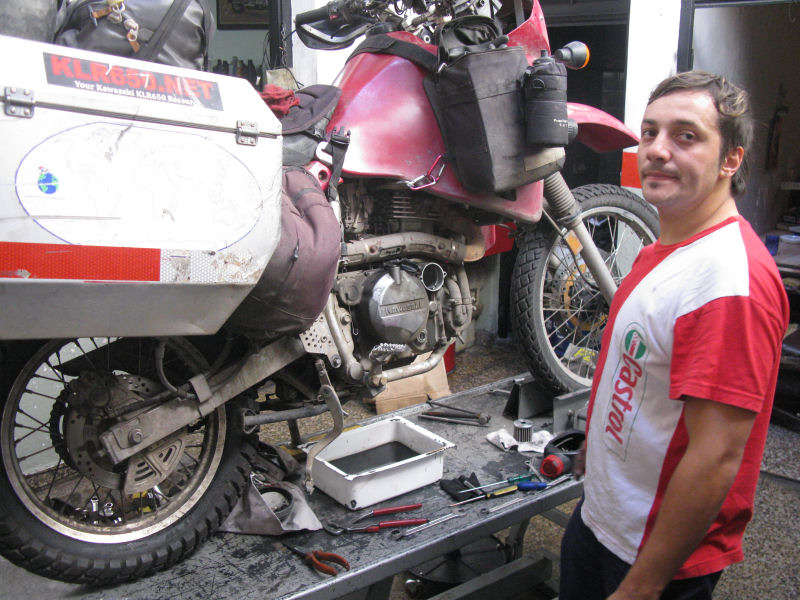 Fernando did the actual clutch rebuild. They were all very concerned with the amount of metal bits in my oil screen and filter. Yes, I assured them, I was also concerned. It had been running roughly since the crash in Peru, but I wasn't going to have the motor rebuilt just yet. There was no obvious damage anywhere in the outer motor, so it looked to all be in the transmission.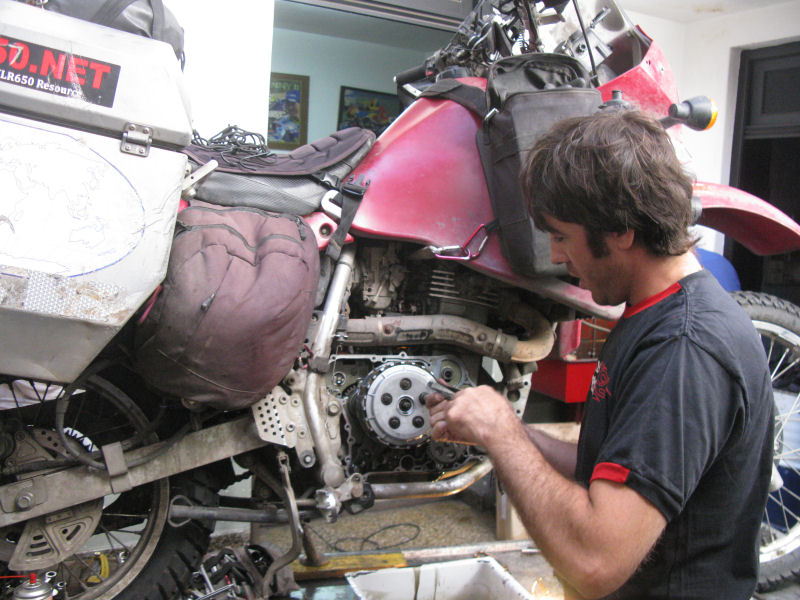 Fernando removed the clutch basket to inspect it and look for damage behind it. There was none to be found. This is first time I've seen a clutch removed. The tool he's using is to hold the clutch basket while the big nut is removed. He tried a small air-powered hammer wrench to try to get the nut off, but finally resorted to a large breaker bar.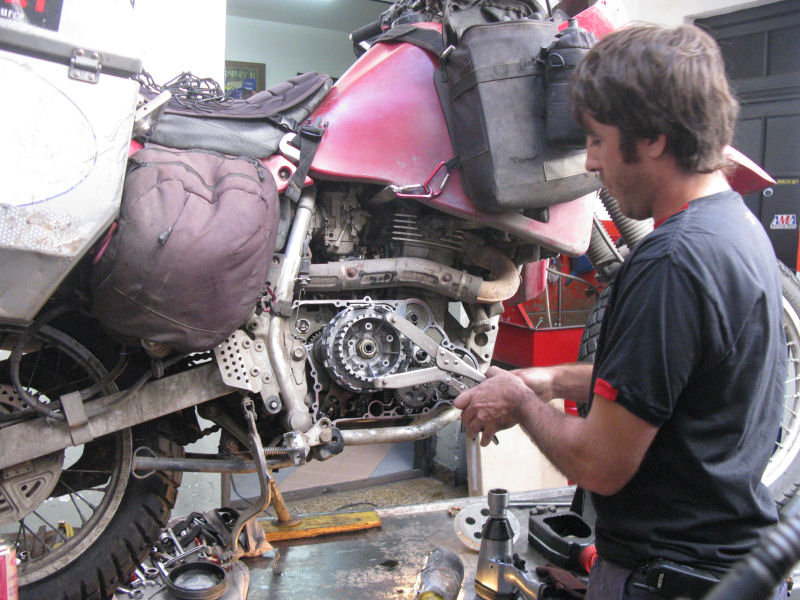 The clutch parts came in to the Kawasaki shop across the street at noon, and Alejandro (the guy who either owns or runs the shop) went and picked them up. He told me to go pay for them sometime today. Okay. As I said, the two shops had a close relationship.
The clutch plates were soaked in oil while the guys took a look at Don's speedometer hub. I went across the street and found that there was no speedo hub anywhere in Argentina, and one would have to be shipped from the States. I paid for my clutch plates and springs, then brought Don the bad news.
Fernando called other shops looking for parts to rebuild the hub. The worm gear had gone dry and was torn up. He found no parts, so he took the worm gear out and worked on it with a file and a chisel to re-create the gear teeth as best he could. He did a decent job, greased it up and put it all back together. He also lubed Don's speedo cable and re-attached it. (As I write this, more than a week later, the repaired hub is still working.)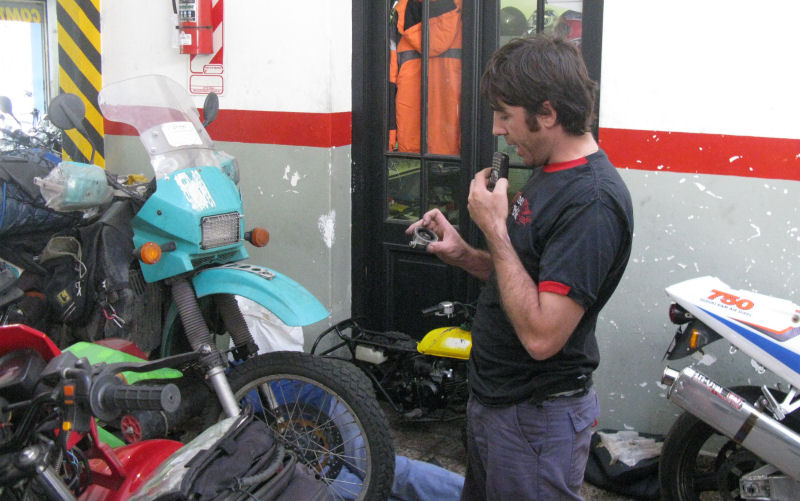 Meanwhile, Sebastian had taken my clutch's friction plates out to someone who sandblasted them. He was only gone a short while, so he knew where to go.
The crew quite suddenly stopped working and it was time for lunch. They asked if we wanted empanadas, and we said sure. They got the food from right next door, and I went across the street for several more bottles of Coke. That was an even deal, and everyone was happy. As we ate, we talked about women, Barack Obama, motorcycles, women, countries we've been to, what roads were good north of Buenos Aires, women.
This is Sebastian, Fernando, Alejandro, Don. (My soon-to-be-doomed bike is in the background, but that is getting ahead of my story, so let's get to that in its proper time.)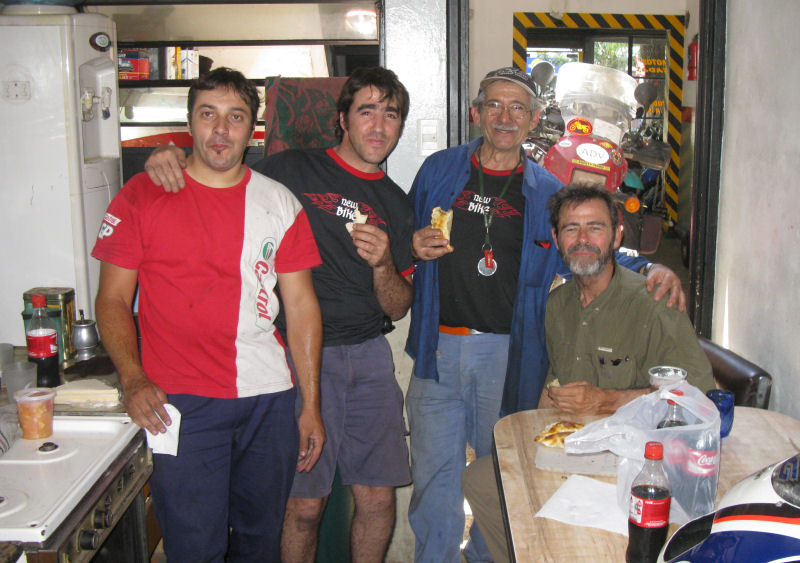 Don's bike got an oil change and he was done. Fernando re-assembled my clutch and Sebastian put everything else back together and filled it with my new oil.
Don went out to the battery shop and learned that there was no way to get a sealed motorcycle battery. The salesman told Don that sealed batteries were allowed for cars and trucks, but not for motos. I'm not sure if that's true or not, but that's what he was told.
When he returned, I decided to get a new battery from the Kawasaki shop here, and I did so. They sent me back across the street with the new battery and a liter of battery acid, and they told me to have Alejandro charge the battery up for me. I gave it to Alejandro, and he told me to come pick it up in the morning.
All these conversations with these great guys was done with difficulty, since our Spanish was very limited, and only Alejandro spoke a tiny bit of English. Still, when people generally know what they are talking about, there is a lot that can be anticipated and intuited. When one of the guys pointed at a large-chested woman walking past the window, nothing that was said afterwards needed translation. Especially when there were gestures.
There were a few "guy" moments like that.
We rode back to the hotel and I called Dakar Motos. The guy who answered the phone in Spanish quickly switched to English when I spoke. He was another guest staying at the hostel there, and he said that neither Javier nor Saundra were there. He confirmed that there was room for us at the hostel if we wanted to stay there, but then he asked if I had a tent. Huh? No matter, we'll stop there tomorrow.
We rode out in search of the Brazilian Embassy, since we would need it later when we returned to Buenos Aires. Brazil requires pre-approved visas for U.S. citizens (and maybe for others), so we would deal with that when we were here next week with our wives.
We rode down 9 de Julio, supposedly the widest street in the world--something like 18 or more lanes total. Here is a section near the Obelisk. On either side of the main roadway were other lanes that were like frontage roads for access to the businesses.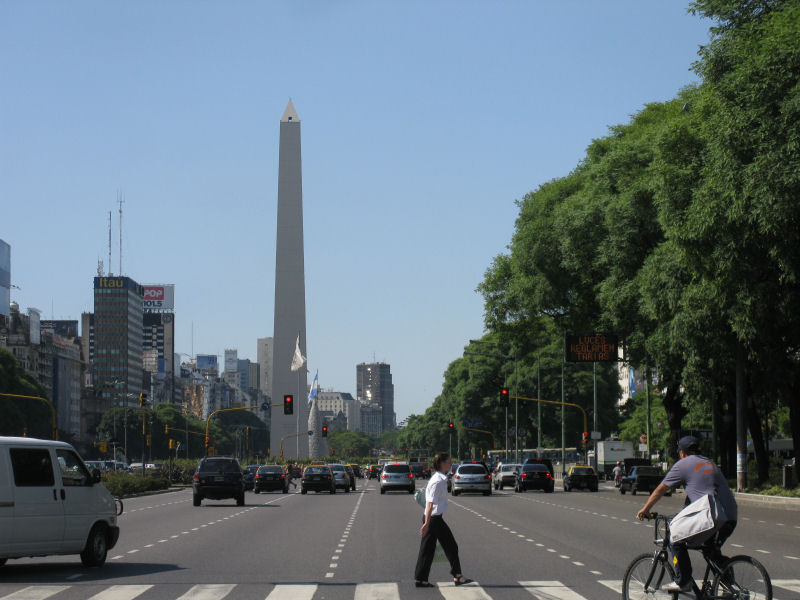 I goofed up on the GPS and missed the exit from the road, so we ended up on a toll highway by mistake. After the toll booth, we had to ride a while to the next exit and work our way back to the area we wanted. We parked on the sidewalk and I walked past the French Embassy and down to the Brazilian Embassy. It's the one with the dark cement and plants on the balconies.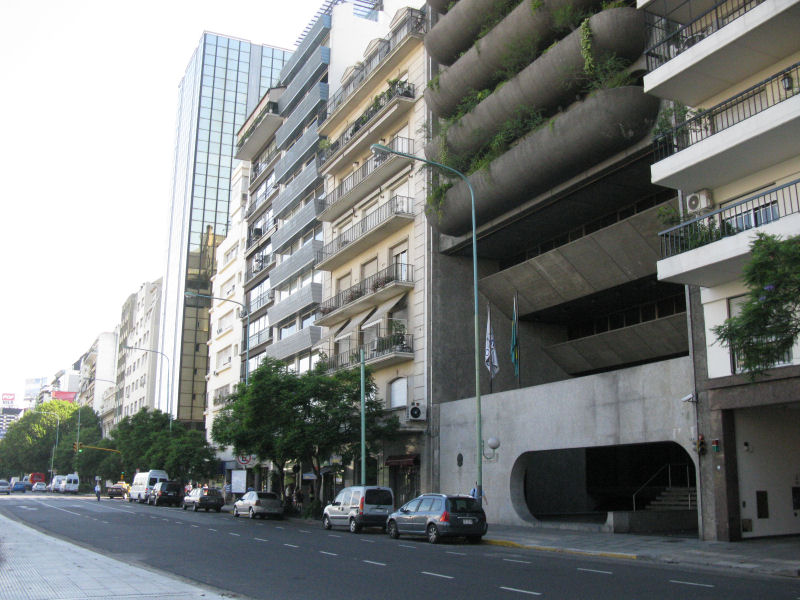 To be fair, the Embassy is a larger and more ornate building that it appears from the front. It wraps around behind the building on the right and continues around the corner. Inside, there was an austere lobby with stone walls and floor. One security guard behind the counter. Behind the control point, there was a set of doors and a spiral staircase. Very stark.
The guard spoke no English, but he understood my routine questions. He handed me a small paper slip with the address of the Brazilian Consulate Office, Carlos Pelligrini 1363, and told me that I had to go there for the visa. It wasn't far from here, as it turned out. We would deal with that next week.
I returned to where Don waited with the bikes and we rode back into the city to find where our rented apartment was. When we first found it, I was not impressed. The street was covered with an oil slick that was amazing. You could barely stand on it. The building looked okay, though. We walked to the corner and ate at one of the three restaurants that were there. According to the map, this was a decent location, so it looked like it would be okay.
We went back to 9 de Julio and found an ATM at one of the many banks. All cashed-up now, we headed back to our hotel. The cobblestone road and the bright sunlight in our faces wore us out, so we stopped at an ice cream shop and sat at a table on the sidewalk until the sun sank behind the buildings.
Once back at the hotel, we went down to the restaurant area and spent some time online. (We couldn't get a Wi-Fi signal in our room.) Don then went to the room to crash, but I stayed up until about midnight, surfing and writing.
Saturday, 10 January, 2009
----------------------------
We got the bikes from the garage and packed up. After checking out of the hotel, we went back to the mechanic shop where Alejandro had the battery all ready to go. He checked the voltage and tightened all the caps before handing it off to me. We said our good-byes and I put the new battery in one of the aluminum boxes. Unlike a sealed battery, you have to be wary of a standard battery leaking acid.
We rode out of the city and to the Florida-Vincente Lopez suburb, back to Dakar Motos.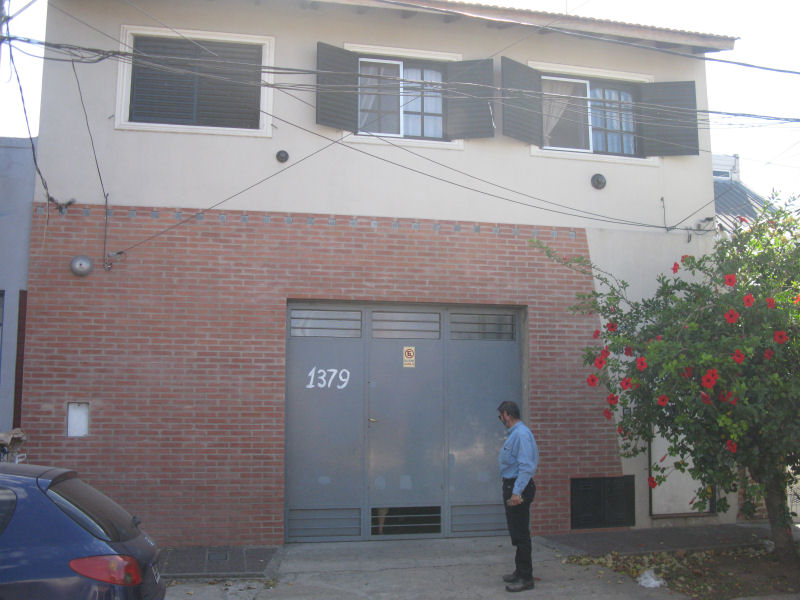 We knocked on the metal doors and it was answered by Gavin, a Brit who was one of the guests. He said that Javier probably was gone for the day, but there were two bunk beds available. Inside the metal doors is the bike storage area. Beyond it to the left is the workshop, which Javier keeps locked when he's not there. To the right rear is the tiny hostel area with two double bunks and a small kitchen. Out back is a small yard, where Gavin had pitched a tent. There was also a Canadian couple, Daniel and Marie. It had been Daniel who had answered the phone yesterday.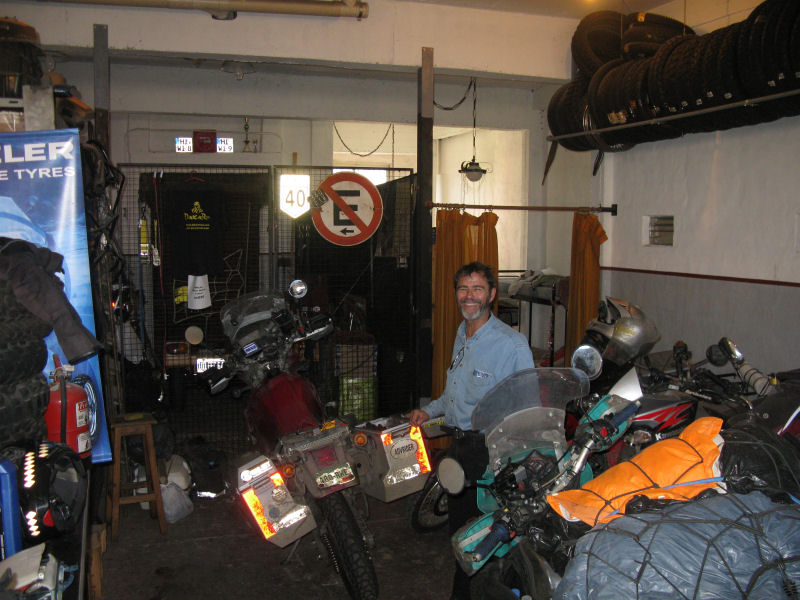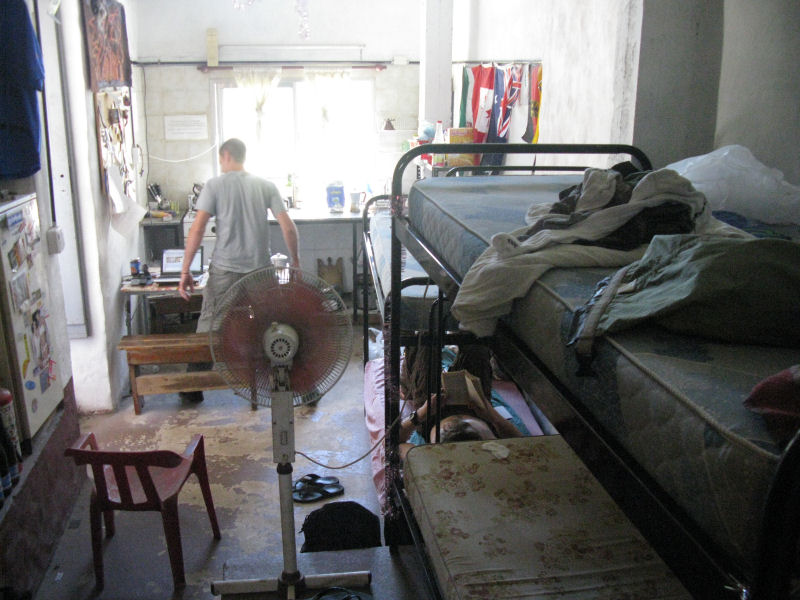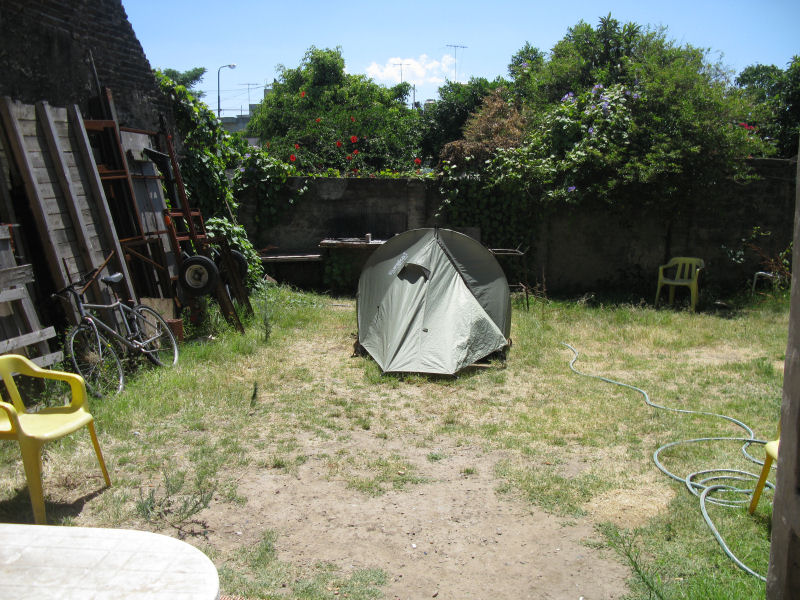 Daniel and Marie had been there for several days while Javier worked on their bike. They were 2-up on a big BMW GS. Gavin was on a KTM 640 Adventure. Daniel said that they have been on the road over a year, including a total of four months of down-time with various bike repairs.
Gavin had just come from Iguazu, and we told him that we were going up there to see the waterfalls. We had thought that it was a two-day ride, but Gavin said that he felt better doing it in three. He also warned us about the many corrupt police checkpoints on Ruta 14, and he said that he had been stopped several times. There is information on the Internet about this stretch of highway being rife with corrupt police getting money from the drivers they stop. Don and I decided not to stay here at Dakar Motos tonight, but to ride north today. First, I wanted to work a bit on my bike.
We rolled our bikes inside, since we were asked to do so. They said that Javier doesn't like to make it obvious to passersby what was in here. Some of the bikes there looked like they were in long-term storage. Javier had a lot of tires on hand, too, but we didn't look at the sizes or types. Too bad we couldn't reach anyone here earlier and ask about tires.
I took the opportunity (a secure work area) to pull my bike apart and look at the battery. All the connections looked good. I had been unable to recreate the varying headlight brightness or starting problems lately, so that left the turn signal problem.
Before I starting all this madness, I had replaced the stock turn signal flasher relay with an electronic one, so that had to be checked. A stock flasher won't work right if one of the bulbs is burned out--this is by design--but an aftermarket electronic flasher will still flash. I pulled the flasher off the bike and replaced it with the stock unit (which I had carried along) and the turn signals worked just fine.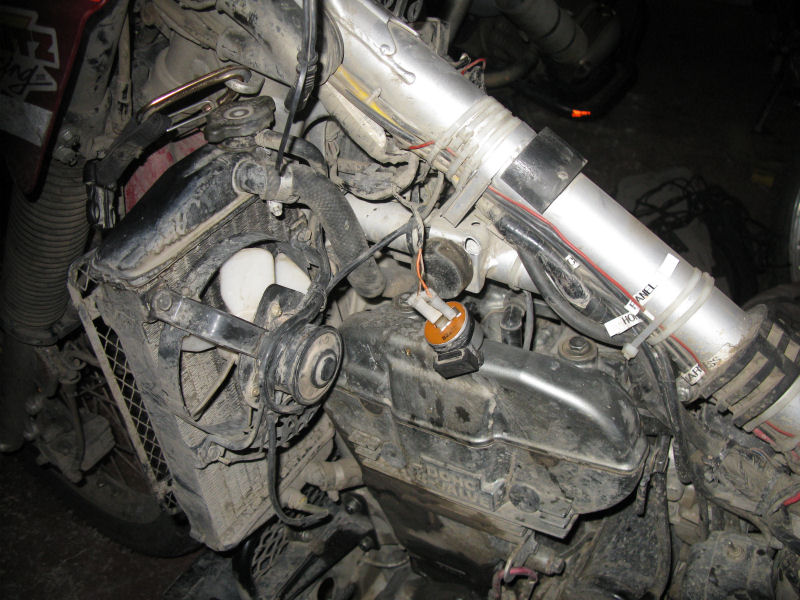 The problem had been the flasher all along. The electronic flasher still looked okay, so I don't know what went wrong with it.
Phooey. I had just spent $60 on a new battery that I didn't need or want. I put a business card on it explaining that it was new and anyone was welcome to it, and I left it in the shop. Don and I backed out of the workshop and prepared to leave. Just then, a taxi pulled up and unloaded a couple of British guys with luggage. We would get to meet them next week.
We hit the road and it hit me right back. As we were cruising on the highway, still in the city, the wind caught my faceshield and snapped it right off the helmet. POP! and it was gone. No biggie, I carried a spare. (You begin to understand why we look like we are loaded so bulky.) With no rain, the lack of the visor was no big deal, since I wore sunglasses anyway.
Then, still before we made it all the way out of the city, my bike began to wobble a bit. When I shook the handlebars to test the road surface, the bike almost crashed, then it started wobbling worse. Now I recognized that feeling. I saw an underpass just ahead, so I eased the bike into the shade and stopped. Don came up behind me and said that it looked to him like I was having steering problems. I pointed to my flat rear tire.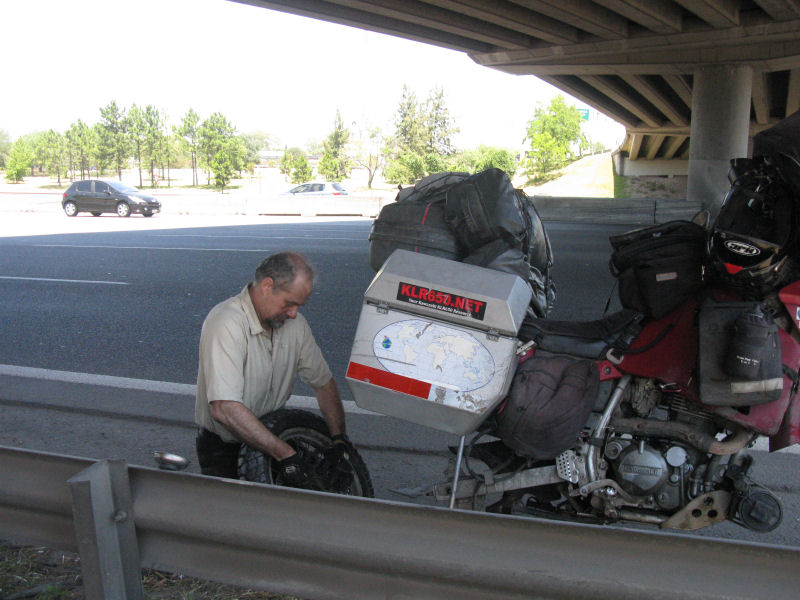 There wasn't much to talk about, so I took the wheel off and moved to some grassy dirt (dirty grass?) away from the traffic to change the tube. When I pulled the tube out, there was a 3" split along one side of it. I suspect that the tube was damaged when the guy with the tire-mounting machine kept having trouble getting the tire on the rim. Dig the pattern on the tube. It come from the inside of the Pirelli tire that I had taken off yesterday. Another thing to notice is how wrinkled the tube is. It had kinks on it that were larger than the ones visible in the photo. This is supposedly the correct size tube for a 17" tire, but for some reason it felt too big when I first installed it. Maybe it was mis-marked, and it was actually an 18" tube.
One of my original riding gloves has become a set of working gloves since they have been soaked with oil, brake fluid, automatic transmission fluid, snot, blood, sweat, tears...
I put one of the vulcanized tubes back into the tire and we were on the road about 40 minutes after stopping. It was about 15:00 when we got off Rutas 8 and 9 and turned onto the infamous Ruta 14 north.
Over the lowland marshes north of Buenos Aires, there are some long, tall bridges to cross rivers and raise the highway off the bogs. We mostly saw them only from end-on, but at a slight angle the tall, spanned sections looked like masts and sails of huge sailing ships.
We crossed river that divines Argentina and Uruguay here.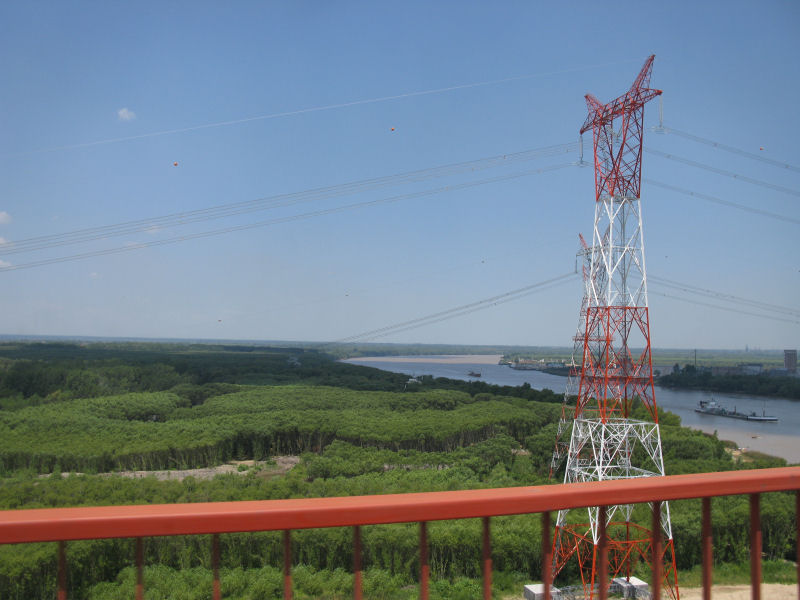 After getting off one of the long bridges, we passed several places where they were burning the weeds and shrubs alongside the road. There were maybe a dozen areas burning, some quite large. A couple of the fires looked like they had gotten out of control and were burning in some farms. You can see a low section of one of the bridges in the background.
At a toll booth, we were again able to by-pass without paying. We were back in the countryside. We rode for long stretches along tree farms. Lots of palm trees and signs indicating that they were for transplanting. Eucalyptus and other trees made good-sized forests, all the same age and planted in straight rows.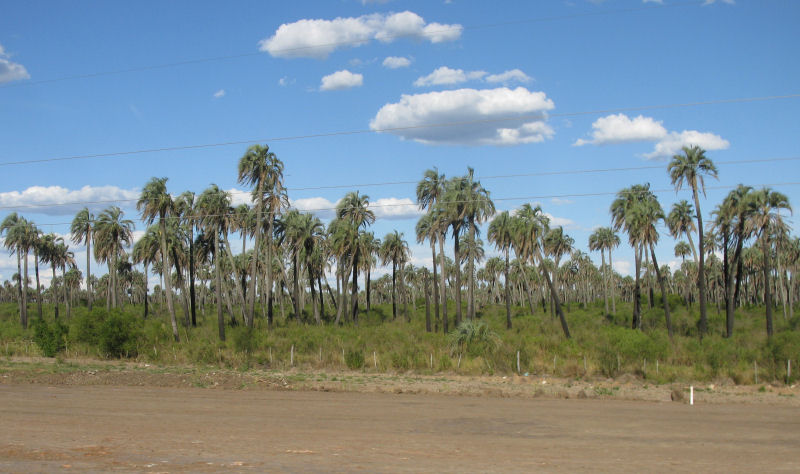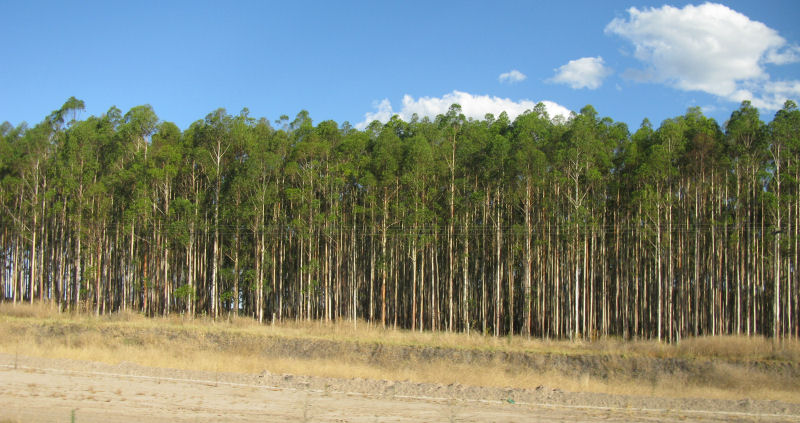 Back at Dakar Motos, Gavin had warned us about the police on Ruta 14. He was right. So were the many people who have reported police demanding payoffs from motorists on Ruta 14.
We had passed a few police checkpoints without incident, but at one spot, I was waved over by a young officer in the street. They seemed to mostly be under bridges and under shelters from the hot sun and rain. Some of the checkpoints were like semi-permanent stations, with office trailers and small fleets of vehicles.
The officer that waved me over told me that my headlight was required to be on. This was news to me. I switched it on when he wasn't looking (I have an aftermarket light switch that allows me to separately control the headlight and all other lights), and I asked him to look at it again. He did, saw that it was on, but he directed me to get off the bike and go into the trailer. He led me there while Don followed with his camera. I made no attempt to speak Spanish at all, taking that position as my first strategy. I refused to understand anything that was said to me in Spanish.
The young officer passed me off to an older, more senior officer who had me sit at a table just inside one end of the office trailer with my back to the door. He then sat across from me and asked me for my name and my documents. I finally told him my first name, but didn't give him any other name. Nor did I give him any documents. What made this a little difficult for me was the fact that the officer spoke a little English.
When he told me that I had made a violation, I played dumb. I also told him (completely in English) that I had been told by police elsewhere to leave my headlight off during the daytime. This was a lie, but as I understand it, using headlights during the day is prohibited in many places.
The officer got out a very thin book of traffic violations and started to show it to me, but I just kept talking to him in English the whole time.
When he told me that I was going to get a citation, I said that I didn't know what he was talking about.
When he asked me for my license, I kept saying, "What?"
He said the fine was very large. I said, "Huh?"
He muttered, so I muttered back at him in bad German. I'm sure that he doesn't know what 'Scheißekopf' means.
Down the hall in the trailer was another room, and other officers started peeking out to see what we were doing. The officer showed me a citation that had been written out to some other driver and pointed to the fine block. He said that the citation fee was high. He then very clearly told me that the fine I would pay to him was 225 Pesos. That was it.
I leaned across the desk toward him and told him quite loudly, "No. I will pay you nothing." I said it again louder while looking him right in the eyes and drawing a slash through the air between us; "I will pay you NOTHING." I said it without anger or hostility, just very directly. Don took a photo from just outside the door of the trailer as this conversation was taking place. By the way, the other officers had nametags on their yellow jackets, but this guy had only an empty Velcro patch. He saw Don take his photo, so he had two reasons to look surprised.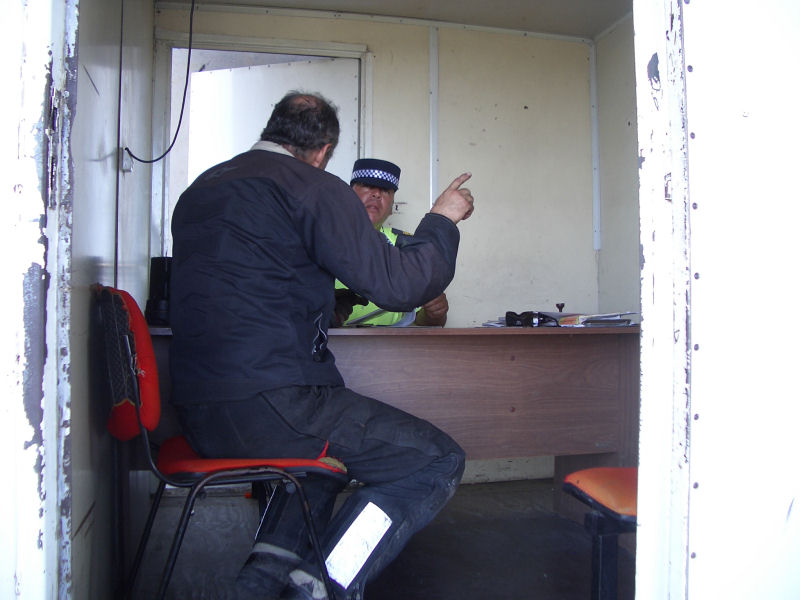 Don also took photos of the other officers who were still waving over violators. You were a violator if they wanted you, regardless what you might have been doing at the time.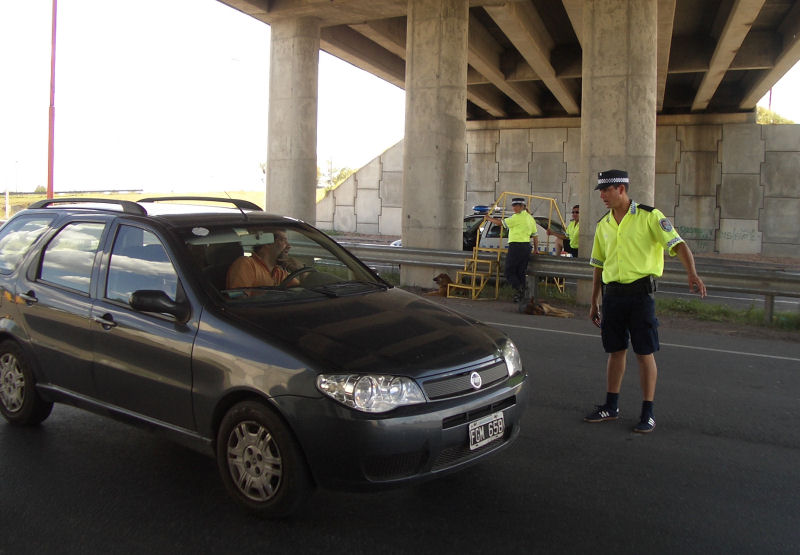 Don and I had previously discussed taking this tactic--one taking photos of the other and of the police--and that's what Don was doing. We had also been told by others that demanding to see the officer's identification was sometimes productive. (Once in Nicaragua, I took a photo and very obviously wrote the officer's name and badge number in my notebook, but I'm not sure if they were good cops or bad cops in that case. Anyway, they had eventually let us go.)
Okay, back to the story of the moment:
The officer seemed surprised by my declaration of defiance, which he clearly understood. He said something to me in a mix of English and Spanish about me paying, but I couldn't tell if he was saying I would pay or if he was saying I didn't have to pay. He asked me my name again, and again I told him it was Martin. He then addressed me by my name and asked me what I did for work back home. I told him I was retired, but then he asked what my profession was. I simply said, "police," and he leaned back in his chair. An older officer came from the back room and the two of them had a quick exchange that I didn't catch.
My police officer then became my friend and he walked over to the open door behind me (Where Don was waiting) and looked around as if to see who was watching. He then waved me out the door with a "shoo!" gesture, and told me I could go. Out the door I went. Don and I got on our bikes and rode away. Both with headlights on.
As we rode north, I only then noticed signs posted on Ruta 14 indicating that headlights were mandatory. Had there been signs posted before I was stopped? If so, I hadn't seen them. So, as it turned out, maybe they had a legitimate violation on me, but the police officer asking me to pay him directly was his own violation, so screw 'em. We had paid police twice before on this trip, and we were determined to not do so again.
So, if you are on Ruta 14 north of Buenos Aires, keep your headlights on. Okay? Okay.
It was another hot day, even though it was partly cloudy. We passed several police vans parked alongside the road, and found that they were photo radar vans, manned by one bored guy in a lawn chair. When we went by, they were mostly in the south-bound lanes. We went through a few more police checkpoints but weren't stopped. The police in green uniforms were maybe a different type of police, since they always seemed above suspicion. When they stopped us, it was for a quick check of papers and that was all.
We stopped in Concordia, intending to take a break. Getting into the city was a bit of a pain since there were barricades on the main road. We had to follow other traffic around a long detour. It was odd, because lots of people were sitting and standing around as if waiting for something.
The 'something' came. It was a very large marathon. When we got back to the main street, we stopped and watched the leaders go past. First came the bicycles, then the racing wheelchairs of the paraplegics and right behind them were the runners.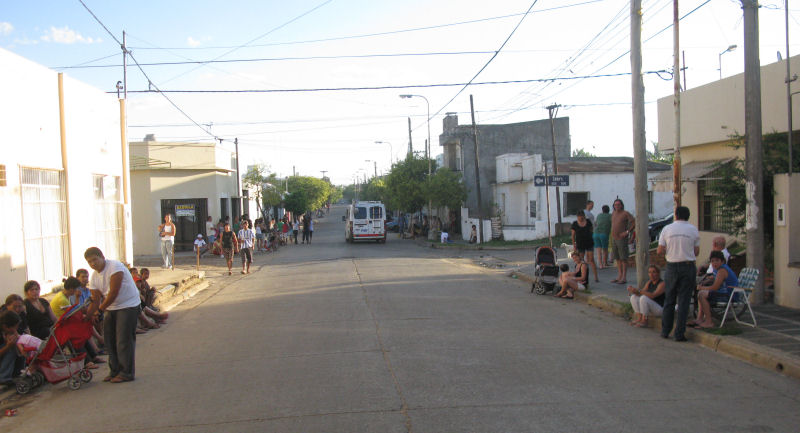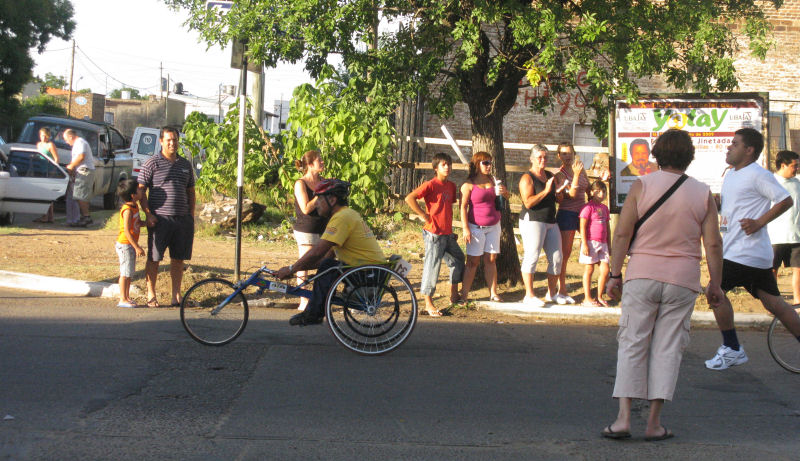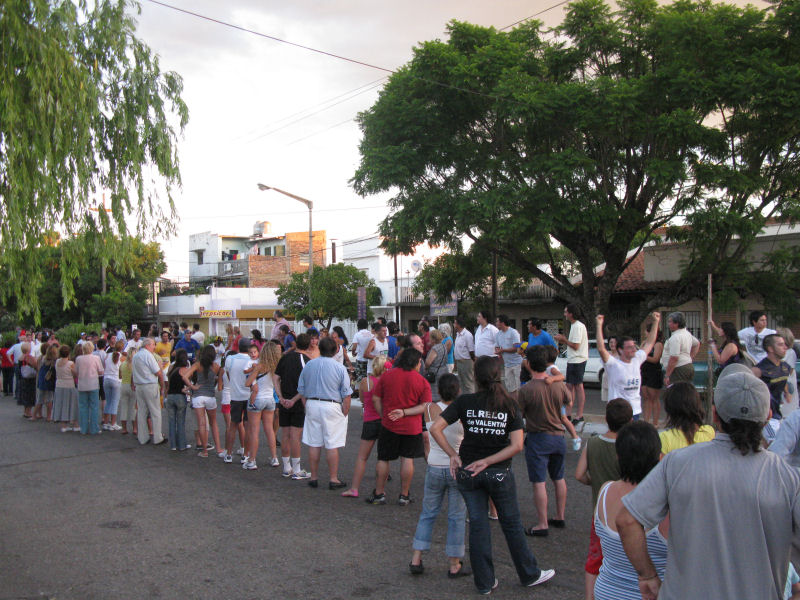 We asked some of the other spectators about the race, and that became a long conversation about the local area, the roads around here, the highway to the north, the next few cities we would pass through, where the best hotels would be, etc. The small crowd around us gained some members, lost some, but we were in good company for a while. One gal spoke some English and she told us about a hot springs not far north of here that was a nice town to stop at. I looked at my raggedy traveling companion and decided against a romantic hot springs hotel. Again, not that there's anything wrong with that.
After the leaders raced past, there was a lull and traffic was allowed to cross. We found that many of the lesser roads were dirt, so we worked our way back to the center of the city and stopped again with others to watch the next group race by.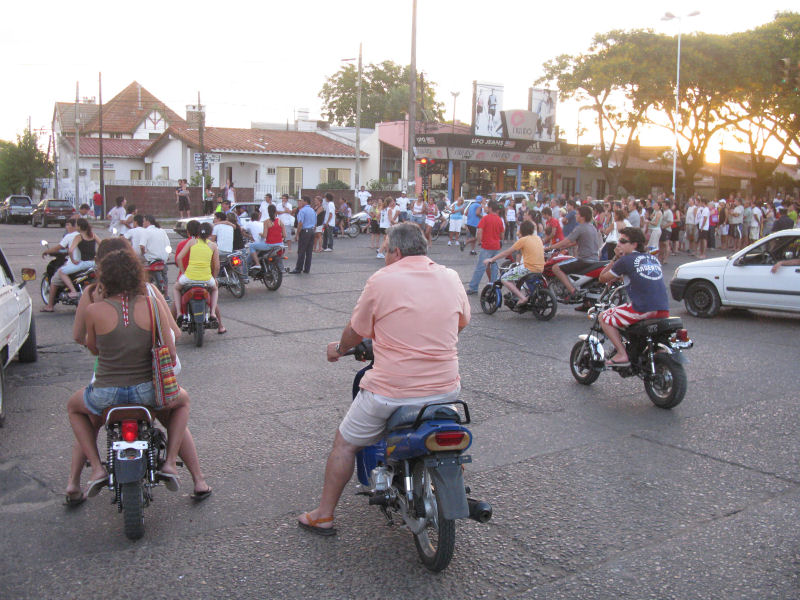 We decided to park the bikes and take a break. When we parked, some older guys at a sidewalk cafe thought we were interesting, so they chatted Don up for a while.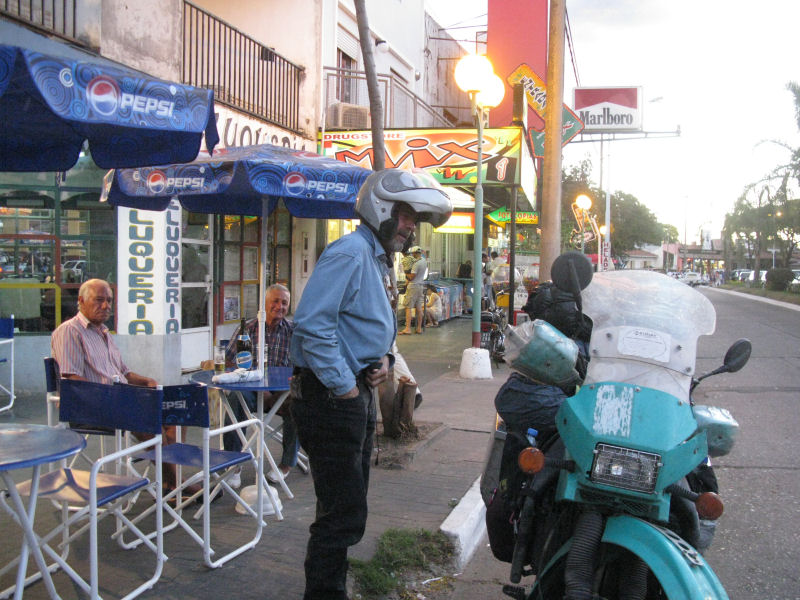 We found a cafe/ice cream shop and took a break. I walked to the corner and watched more runners go by. This was a large marathon, with hundreds and maybe thousands of participants. I saw a group of students in Tae Kwon Do uniforms run by. They were all sweaty and miserable in wet, heavy cotton uniforms. I can sympathize.
After having a snack, we saw that it was getting late and decided to call it a day and stay here for the night. We asked around and got bad directions to a cheap hotel. We got screwed up with all the barricades for a while, but we finally managed to cross the street and get into the hotel. We parked the bikes in a small courtyard after the ghoulish, sallow night attendant slid the big, noisy iron gate aside. My bike got parked under some laundry that was hung from a cord strung across the space.
The hotel was okay, but had obviously been re-fitted with the new facilities. Like the shower head. It was a different kind of electric-heated shower head, but it was mounted right over the toilet. The bathroom was so small, there was no other place for it. There was also no place to hang a towel in the tiny room without it getting wet.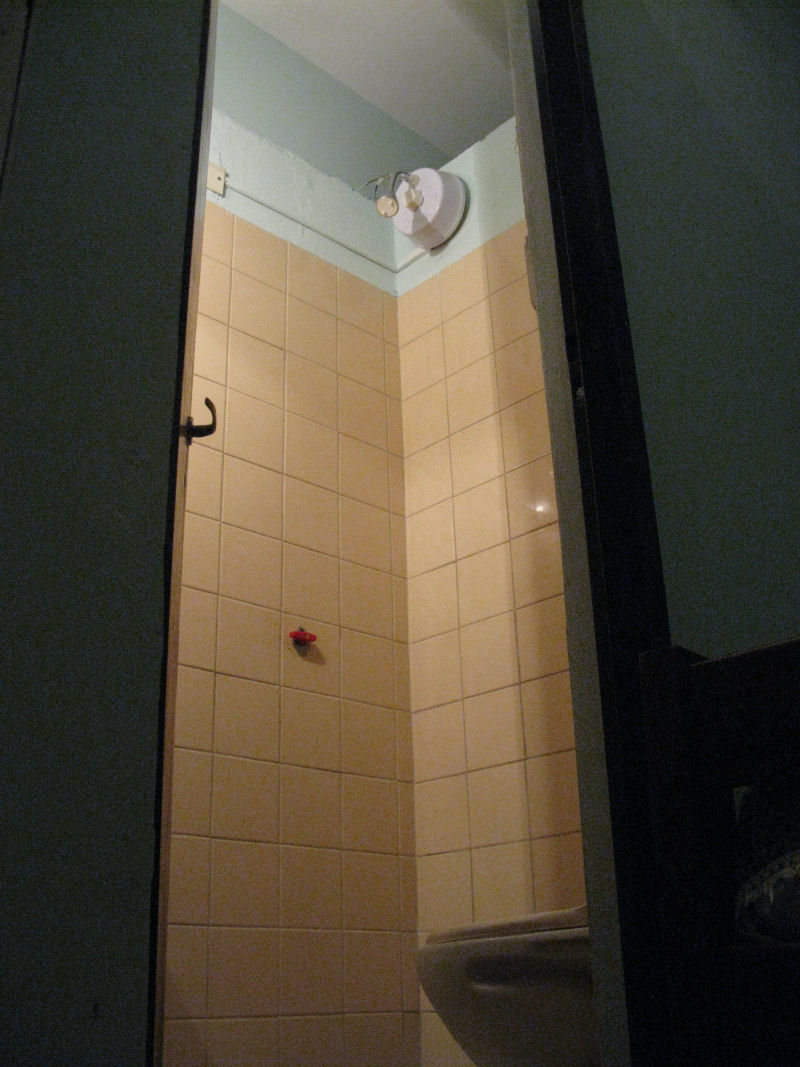 These electric shower heads activate when the water flows. You need to keep the water flow low if you want it hot. Don has been zapped twice by these, so I don't recommend touching them.
After getting settled, we went out to a nearby cafe and enjoyed just sitting there in the evening with nothing else to do. Lots of people were out, so it was pretty active. Walking back to the hotel, we stopped to identify the Southern Cross. It was a rare night sky in that it was clear and cloudless and we were out walking around under it at the time.
Our ceiling fan in the room was like a helicopter blade. This wasn't the first one that seemed like a chopper was coming in to land on us. It was huge and noisy, but it moved a lot of air, so that was good.
We left a window open, and despite the turbulence the mosquitoes managed to find and bite my ankles all night.
Sunday, 11 January, 2009
---------------------------
Backing down the steep driveway out of the hotel's courtyard, I thumped into the gutter and into the street and promptly tipped my bike over. We haven't had as many tip-overs lately as we had early on. It was just as embarrassing, though.
We got fuel and breakfast at a gas station outside of town before getting back on Ruta 14 north.
Every tree we saw looked as if it had been deliberately planted there. None looked as if they had grown there naturally. This would change a bit further north, but these were all managed forests.
We somehow managed to get past a few police checkpoints, but eventually Don got waved over. I saw in my mirror that he had been stopped, so I turned around and took over my role as the official photographer of the incident.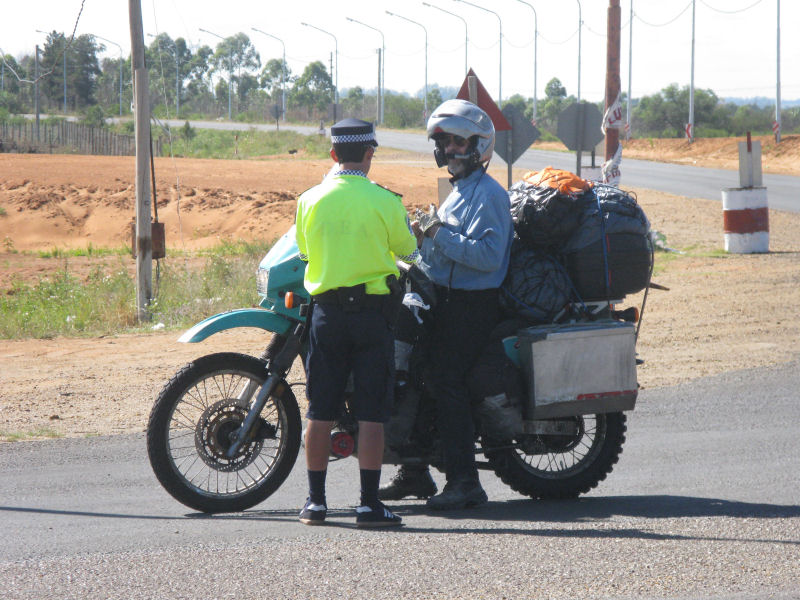 Again it was the very young officers who were out in the street making the stops. The more senior officers were in the blue building you can see in this next photo. That is where the corruption really happens.
The officer had no problem with me taking his photo. In fact, he waved at me and later taunted me to take his photo while he posed with the other officer in the street.
The officer initially told Don that he had been speeding, but when Don pointed out that they had no radar gun, the officer said that a radar gun had been used further up the road. We had passed no radar vans this morning, so that wasn't true. In any case, Don had started his bike this morning with his headlight turned off, so that was the violation the police officer settled on. Off the bike and into the building they went.
When I started to go in the building with Don, the officer prohibited me from entering. Then he went back out into the roadway where he kept yelling at me to take his photo again. Instead, I took a photo of the sign that had the name of the commanding officer for this station, photos of the building and the surrounding area. I wanted to get a photo of the officer who was going to do the scam, but as it turned out, Don took care of that himself.
I could partially hear the conversation through the door, but didn't get the details. Don seemed to be stalling them. I heard something about going to a bank, something about a citation, but I missed most of it.
Don later told me that he just kept playing along with them, giving them a copy of his International Driver's License (you can get one from AAA even if you are not a member) and refusing to give them anything else. They didn't know what to make of the IDL, and they had probably never seen one. They said that the fine was large, and he would have to go to a bank to pay the penalty if they wrote him a ticket. He said okay, they should go ahead and write him the ticket.
While they mulled that over, Don took out his camera and took a photo of the officer who was trying to squeeze him.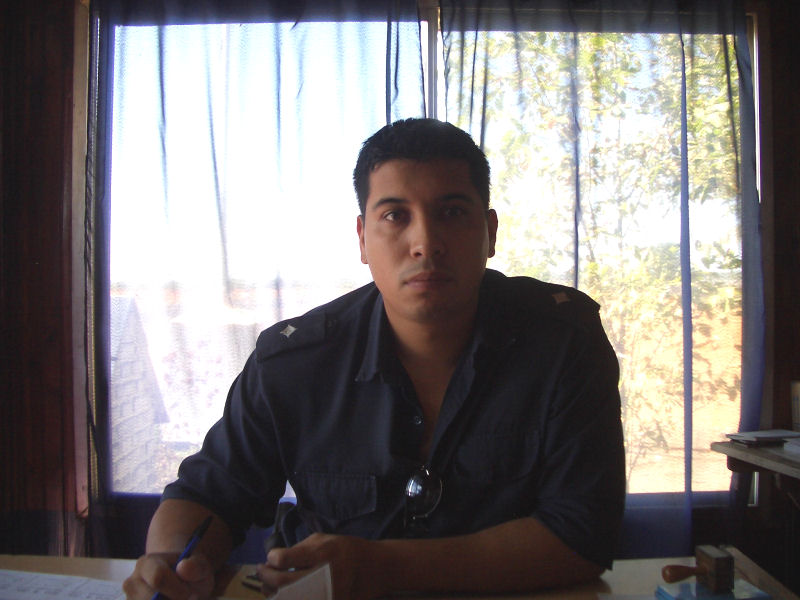 Then he turned and took a photo of the senior office who was watching the scam.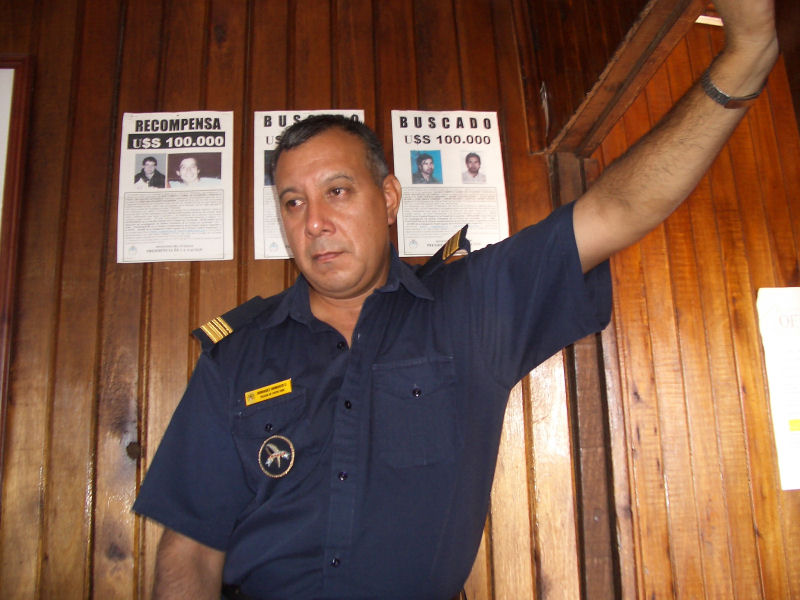 The senior officer then left the room, came back with a camera and took Don's photo in return. Don said that he laughed and told the senior man that it was all good, right?
They finally griped something about Don being a tourist and told him he could leave. He got up and did so.
While all that was happing, I was waiting outside. The rookies had waved over another victim, a middle-aged woman. I watched as she parked her car on the shoulder of the road. When the same officer that had stopped Don went over to her car, she got out and held her hand up right in front of the officer's face and stormed past him toward the office building where I was standing. She refused to talk with the officer at all, so he shrugged and went back out into the street. She fumed and griped to herself while she took some money from her pocketbook and stood there next to me holding it in her hand. It looked like a 50 Peso bill. When Don came out and told me that we were okay to leave, the woman immediately went into the building uninvited. As we walked to our bikes, I looked back and saw her come out without the money in her hand. She stomped across the street and got in her car. She had been in the office building maybe 20-30 seconds, and she drove off before we were even on our bikes. She must have been a local, because she certainly understood the corruption and the routine.
So, dear traveler, either accept that there are additional travel expenses such as these (50 Pesos is about US$15), or crank up your courage and refuse to pay. Your choice.
We passed more police, but they were the ones in green uniforms. They gave us no hassles.
The road itself was nice, and they were working on widening it.

At a gas stop, some kid was taking video of our bikes while his dad directed him. When I took out my camera, the father kept telling the kid to look at me, but the youngster was too intent on our bikes. Finally, the dad told the kid to stop taping and smile for the camera. This was as close as we could coordinate a smile between us.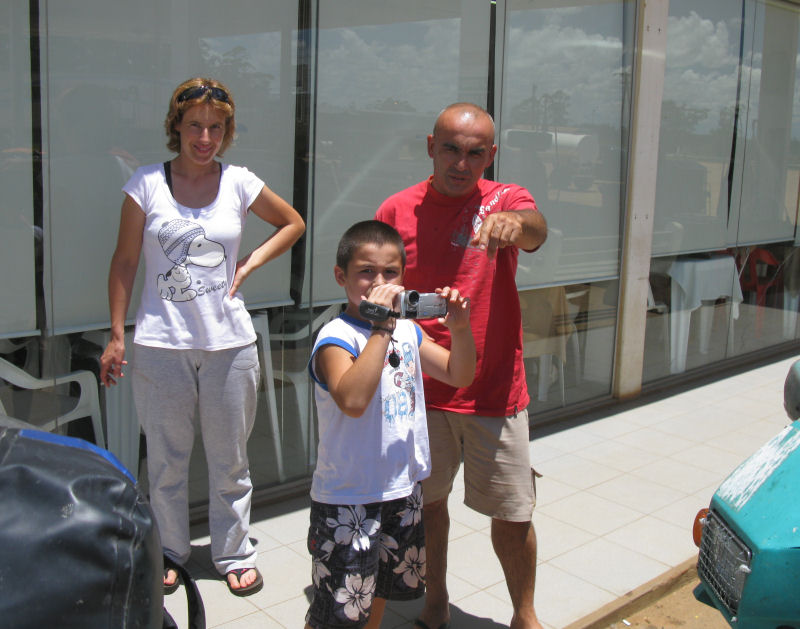 Every farm and open space for several miles was dotted with these anthills. Maybe they were termite mounds. Sometimes they were three or four feet tall.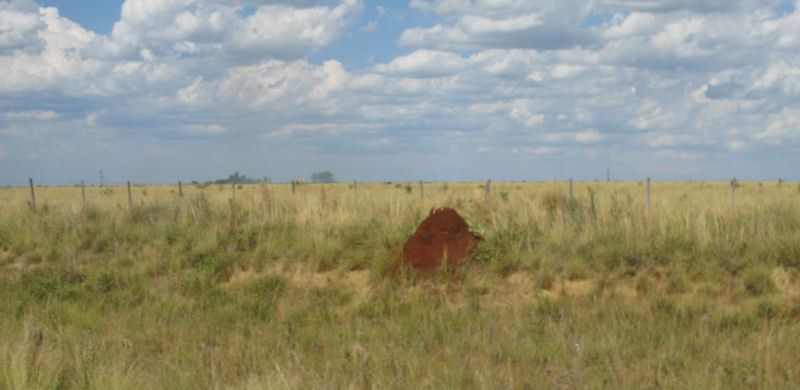 The smoke from burning fields helped keep the bugs down after a while.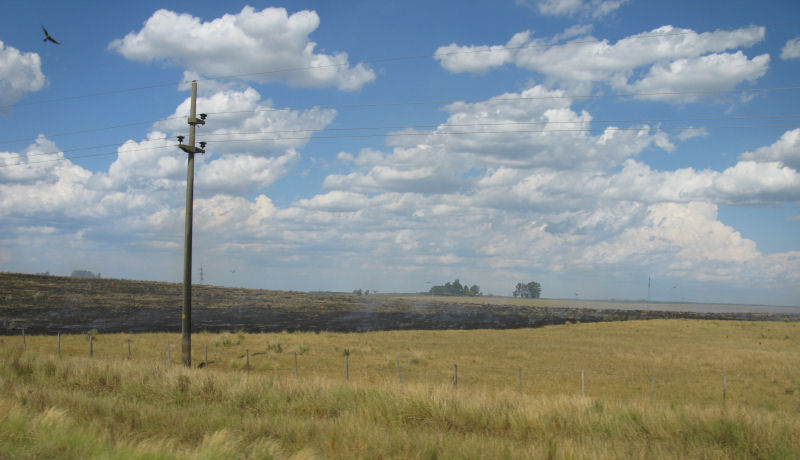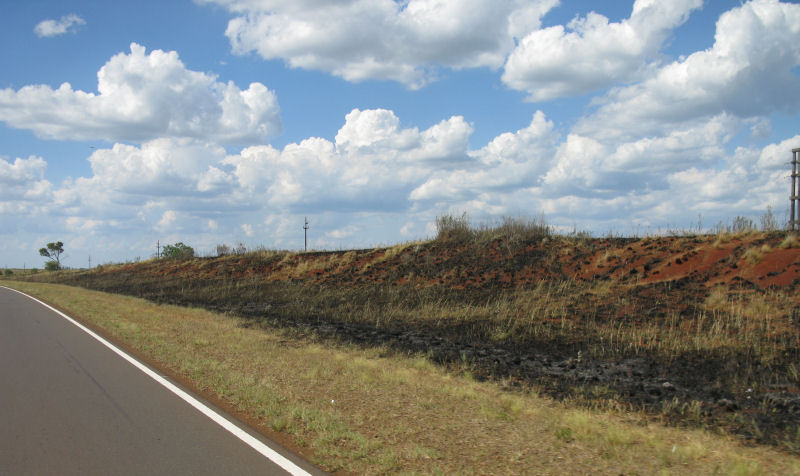 I'm not sure where the photos show our change to Ruta 12, but we were finally off Ruta 14 near Posadas.
Riding onward toward Iguazu, we started to see natural forests and more vegetation everywhere. The humidity in the air was obvious.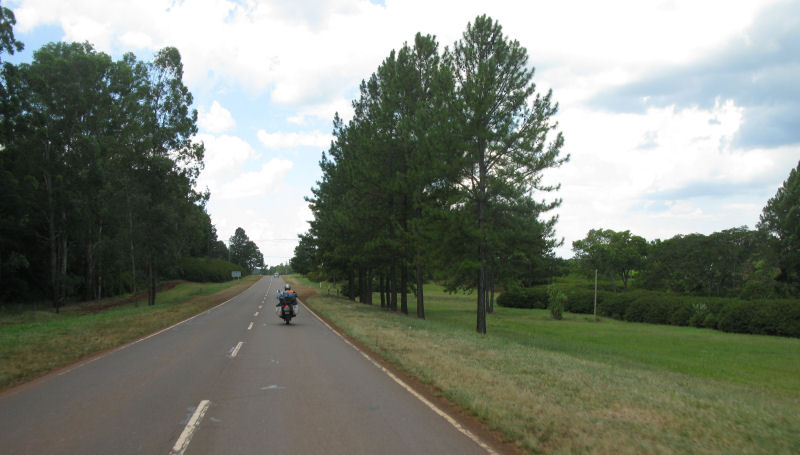 We saw lots of people in the rivers, trying to cool off in the early evening heat. There were also more city waterparks and pools. The police checkpoints were fewer and they just waved us through. In some cities along the highway, we saw these odd bumpers in the right lanes. They were like speed bumps, and were very tall, but they were only in the middle of the right lane. No idea what they were for, but we would have been in trouble if we hit them at speed.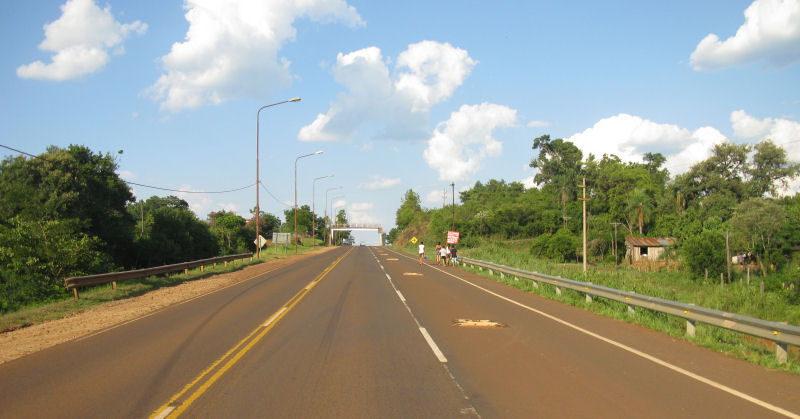 As we neared El Dorado, it was getting late. We pulled into the town and quickly found a hotel. They first told us we could park in a garage around the corner, but when we made motions to leave, they opened the double-wide glass doors and moved some furniture to let us park in their lobby with the mini quad. The office and rooms are upstairs.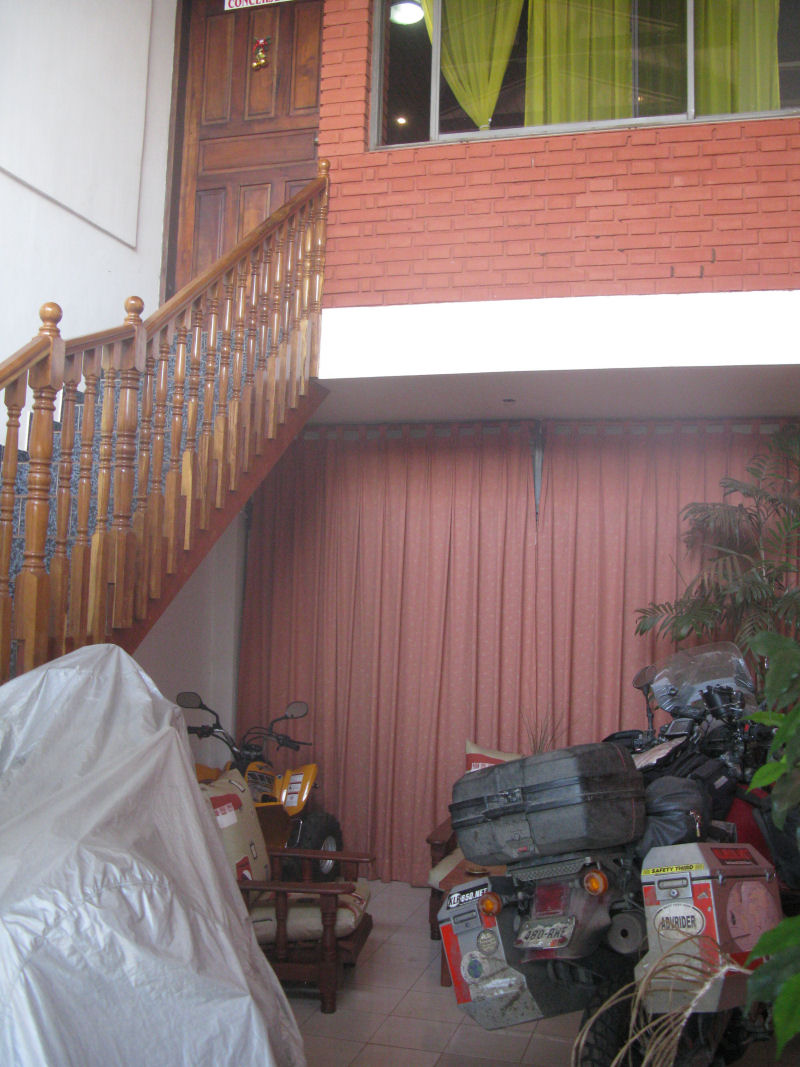 We walked around the town some, but we were tired. One of the streets was made with this rough stone that stuck out of the concrete. It was hard to even walk on.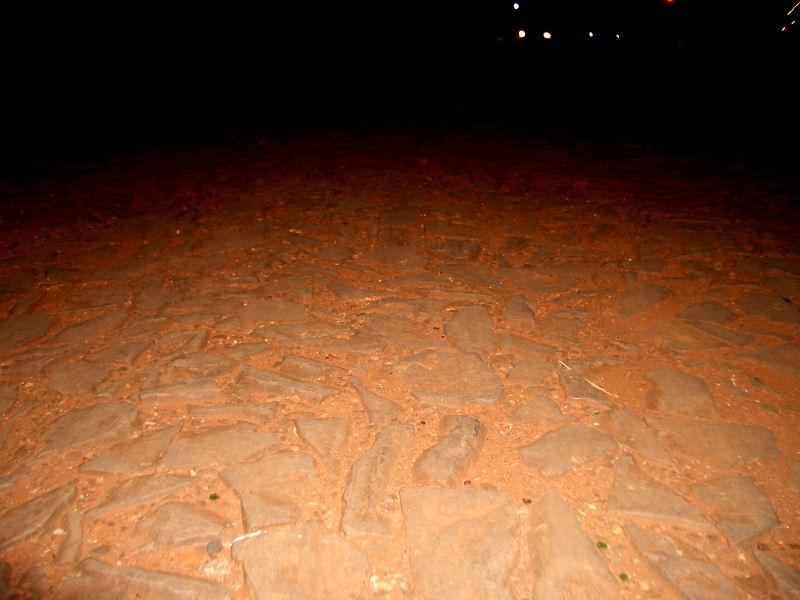 We had a quick snack and after looking at the people in the popular central plaza, we went back to the hotel and enjoyed the air conditioner and wall fan. Don conked out, but I wrote for a while.
Monday, 12 January, 2009
---------------------------
We were up and having breakfast (included) soon after 08:00. They even had some little sandwiches, so that was nice. The place seemed new, and it was all very clean. In my notes, I wrote that it was the Hotel Monteresco, so I hope I got it right. It's on the main street, right off the highway near the plaza.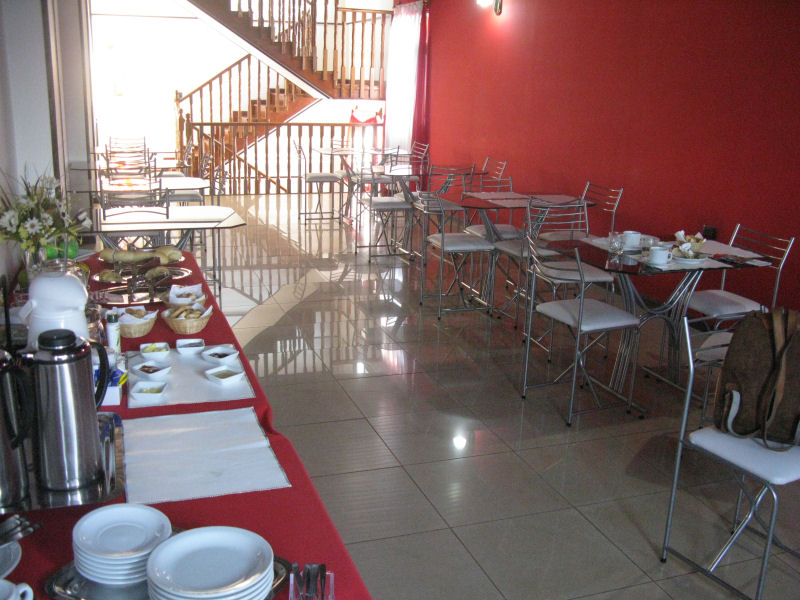 It was a nice ride to Iguazu, although it was already hot and humid.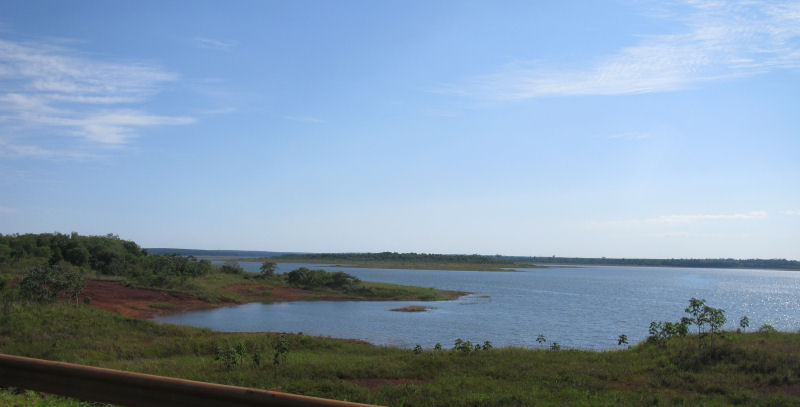 It cost P/60 to get into the park. A short ride to the visitor's center and we were there.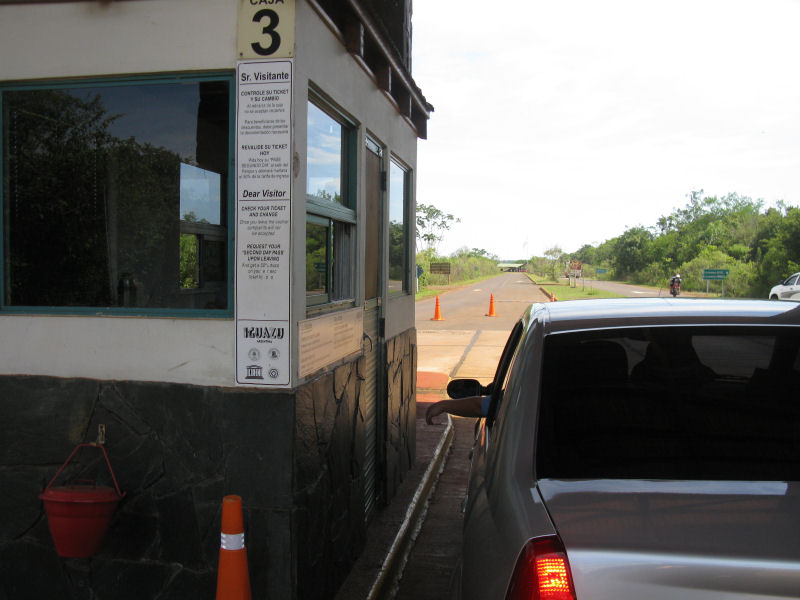 We had been warned not to leave the bikes in the outlying parking lots. Cars and other vehicles that can be closed and locked would be okay, but motorcycles were vulnerable to having things stolen off them. We did as was suggested to us, and rode up onto the courtyard and parked with other bikes under a shade covering. Since we were leaving helmets and riding jackets on the bikes, we covered them, too.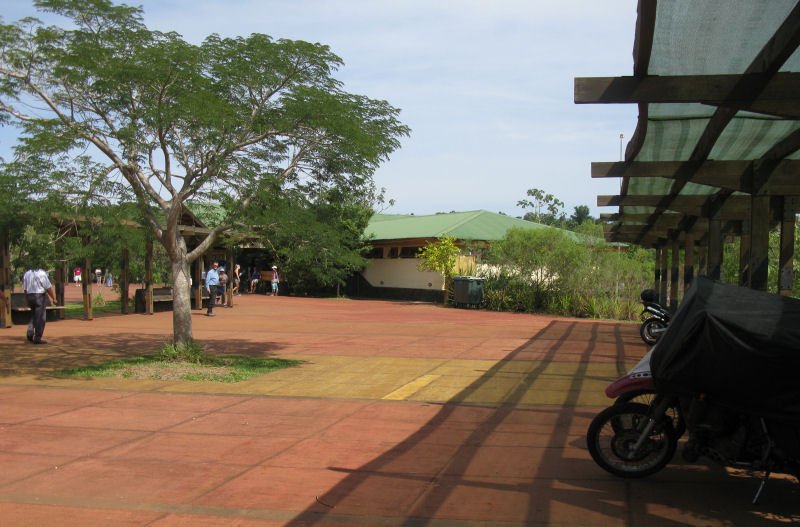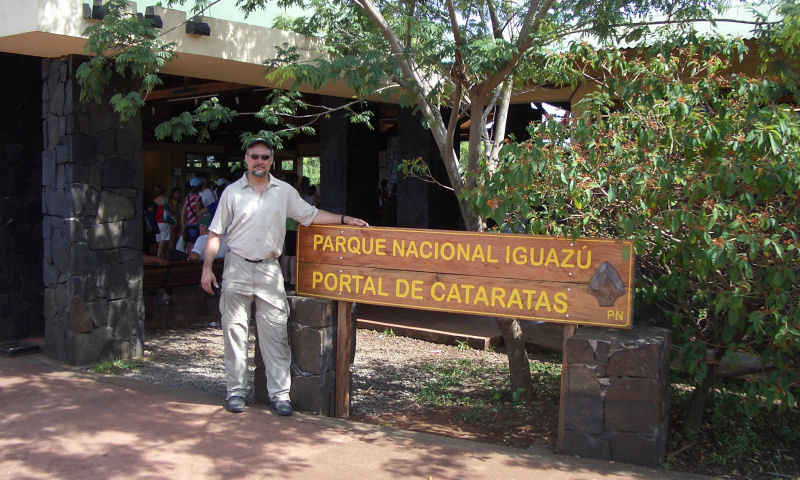 We we in perfect time to get onto one of the common jungle/river tour rides. We paid and were hustled onto a waiting truck that immediately took off. Our tour guide was a pretty gal who did the tour in Spanish and English. She pointed out the various vegetation and some animals.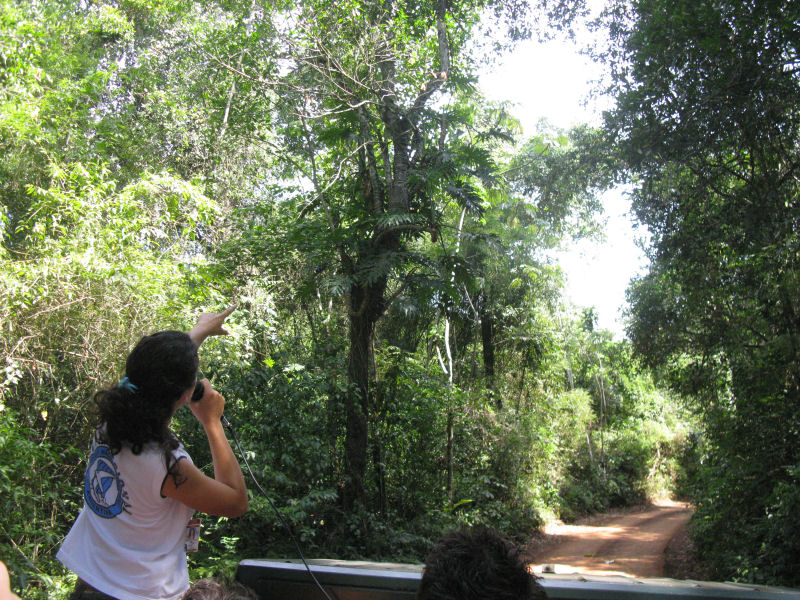 This is climbing bamboo, a vine-like variant of the bamboo tree. It flourished here because of the extra sun created by the road-cut through the sub-tropical jungle.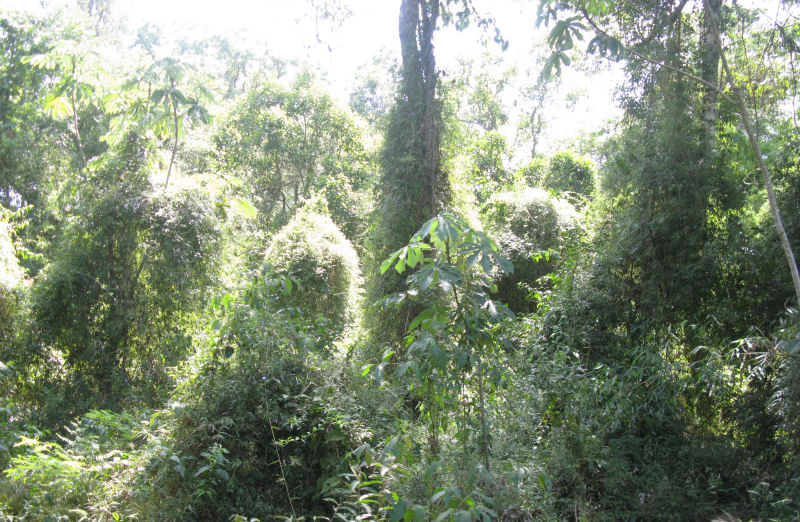 This is the truck we got off of, and we headed for the river.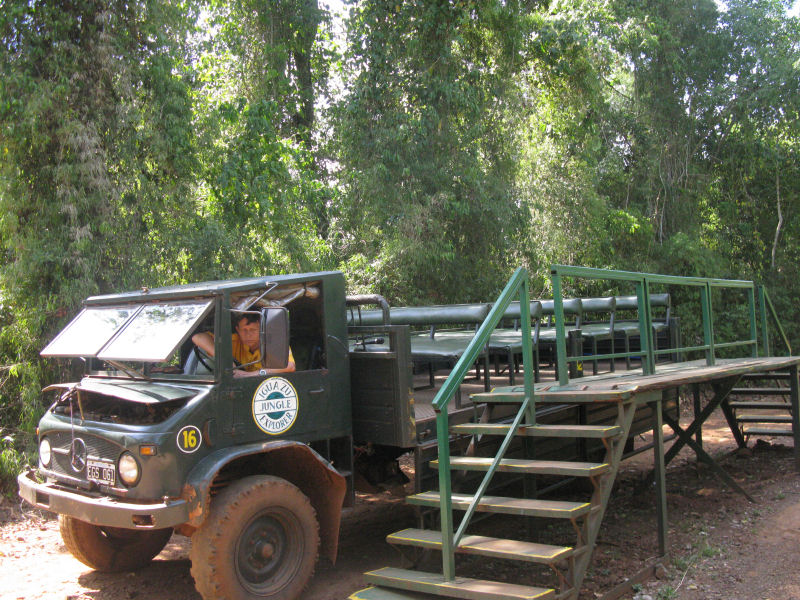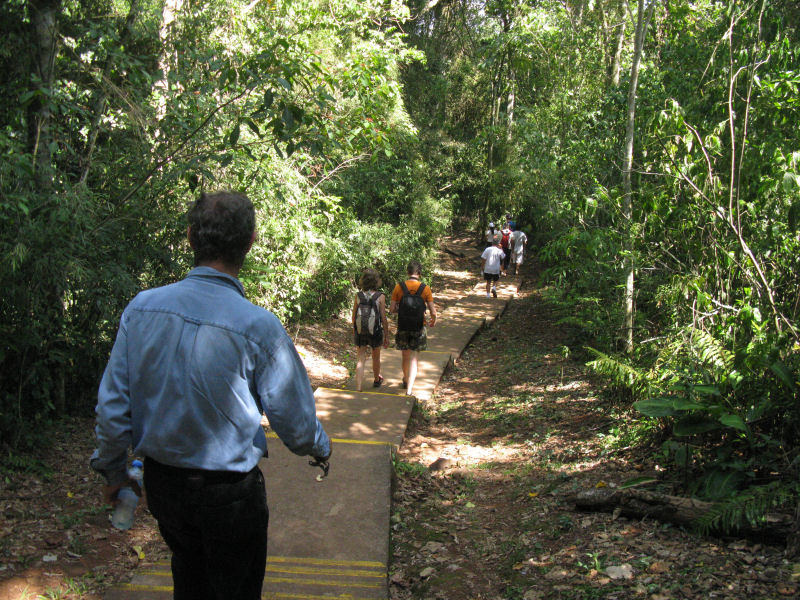 Don stopped to pick a fight with a very large ant. We left before the insect could call on its army of friends.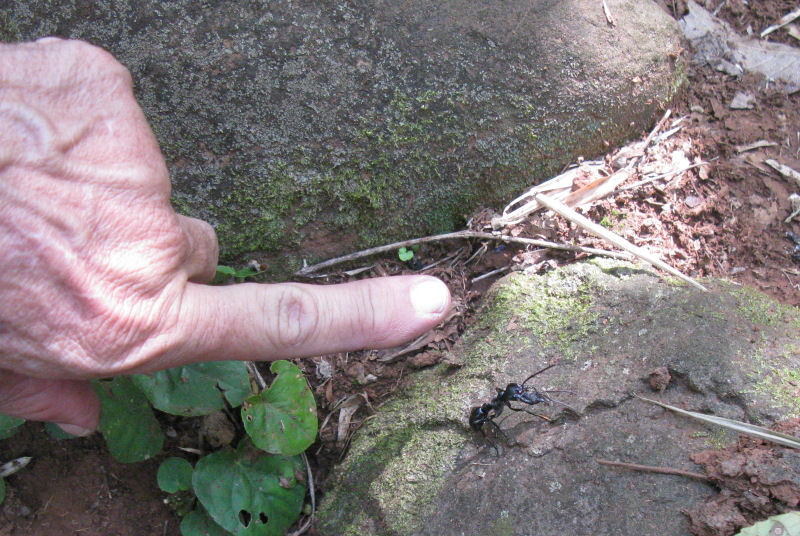 We piled onto the waiting boat, where we were each given a dry-bag to put our valuables into. We were going to get wet.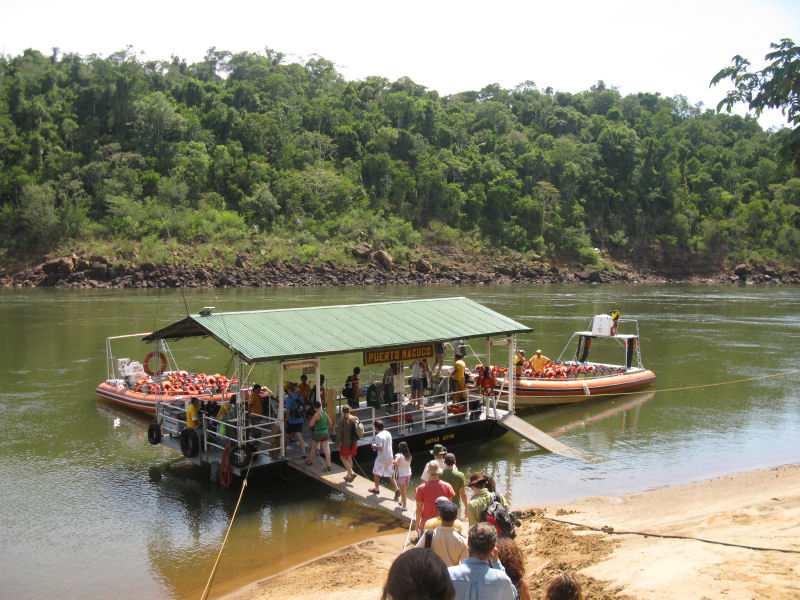 The waterfall area is very large. The boat took us up part of the river, then came back to dunk us twice in the heavy spray of one of the falls.
Photo interlude: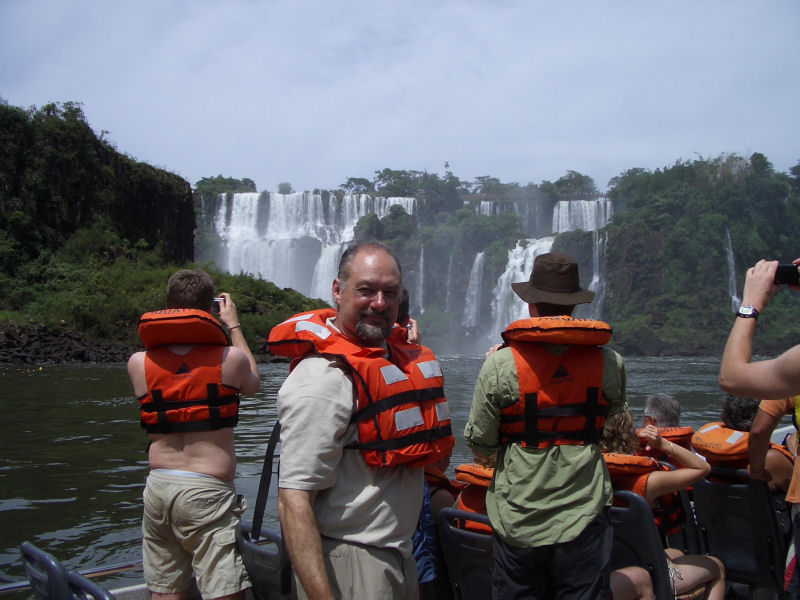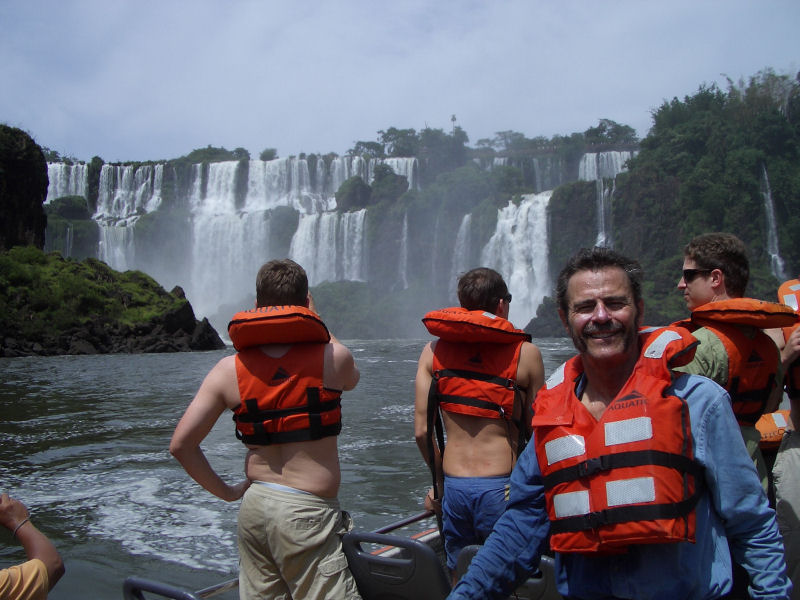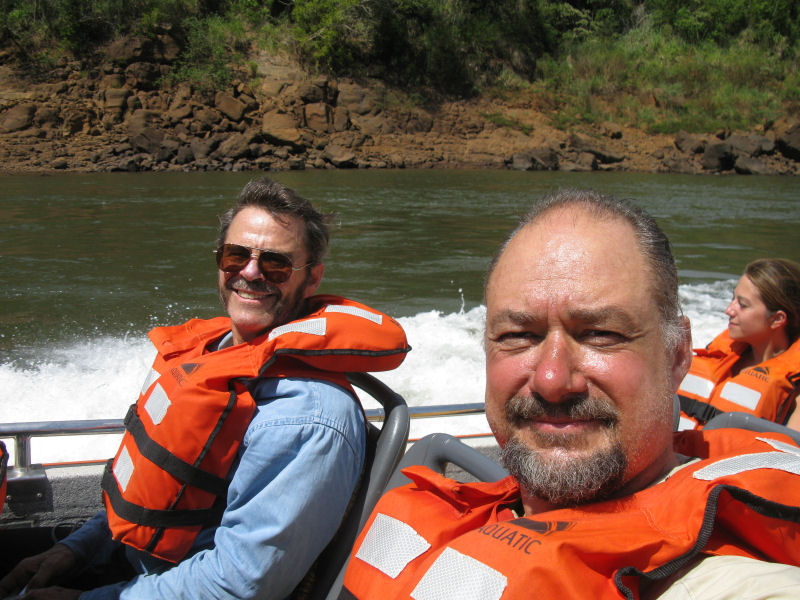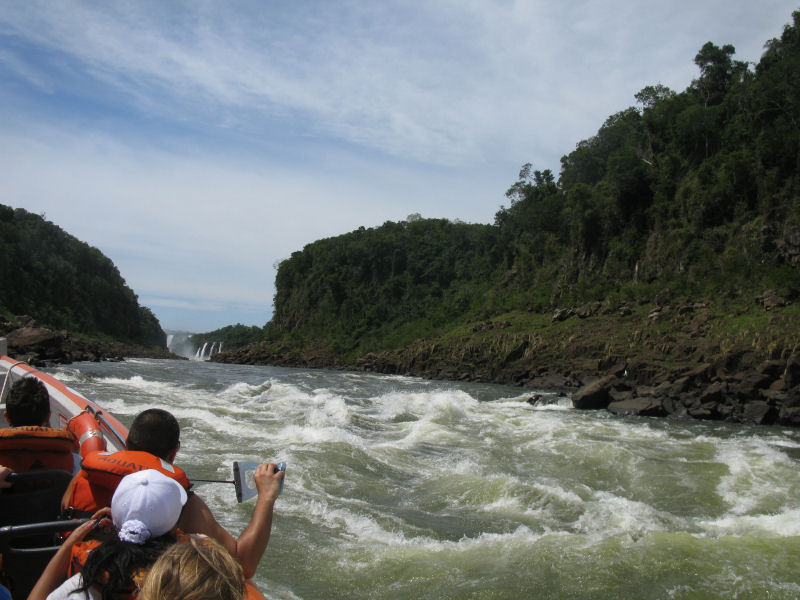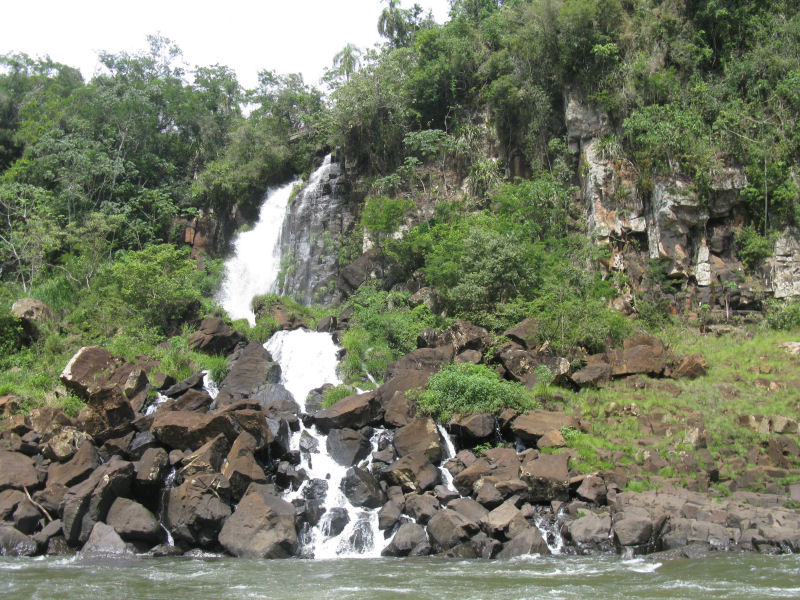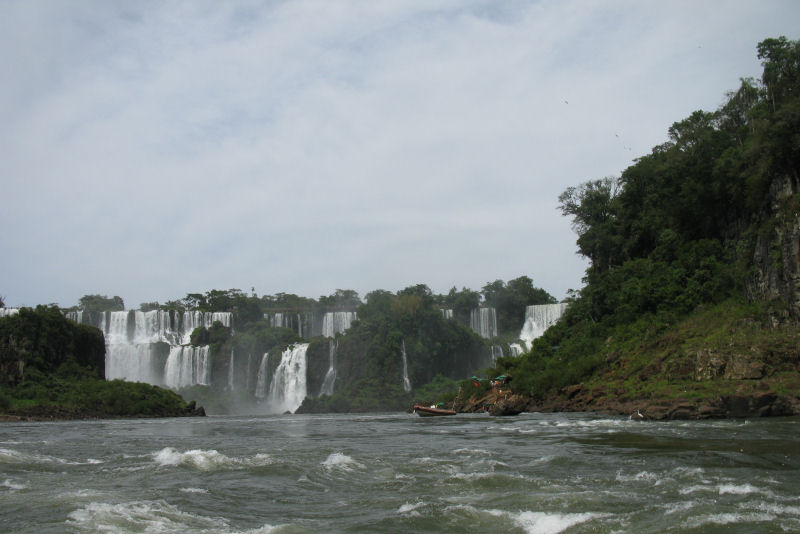 This is the island between two parts of the river. Once in the park, you can take a boat shuttle to and from the island for no charge. Lots of people--especially families--seemed to be spending the day there on its small beach.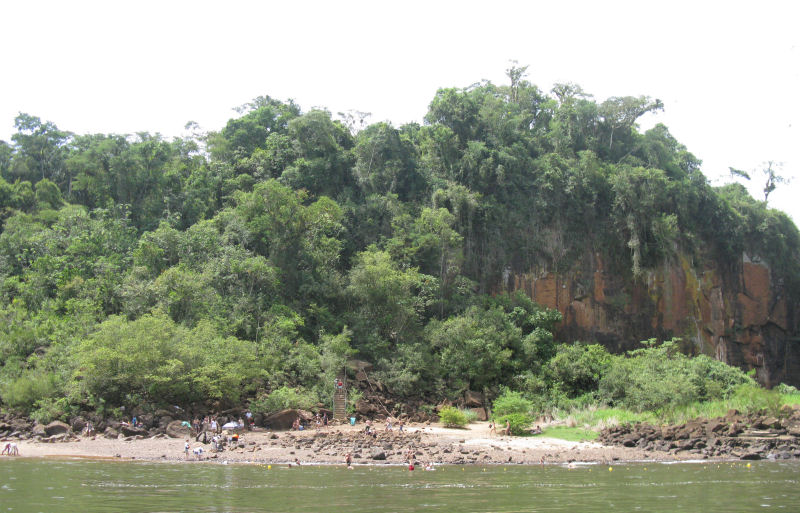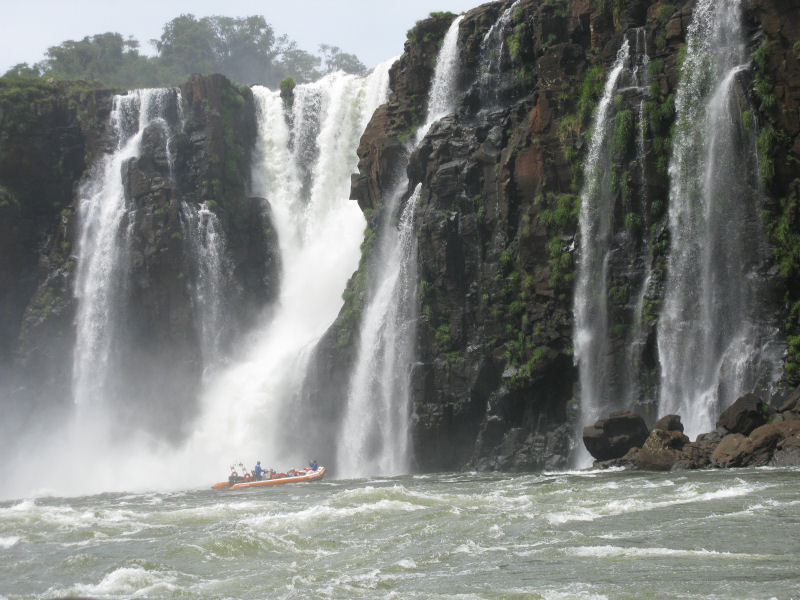 After getting nearly drowned, the boat dropped us off where you have to walk out. There are several trails along the upper and lower falls. You can choose to go a long way or to head straight for the train station. We chose the long way.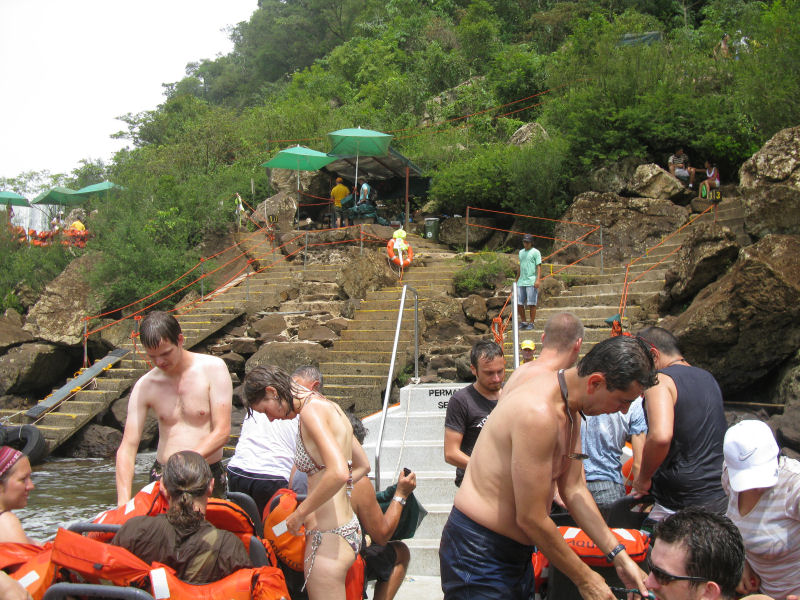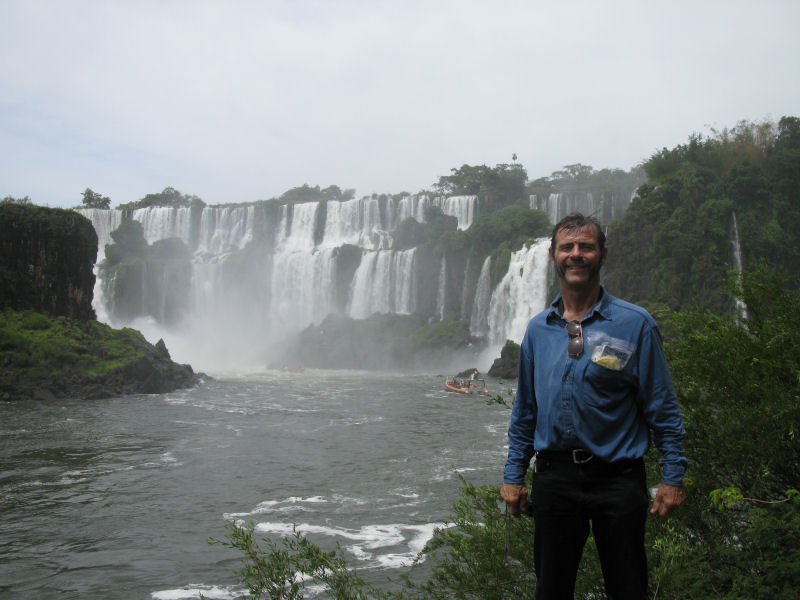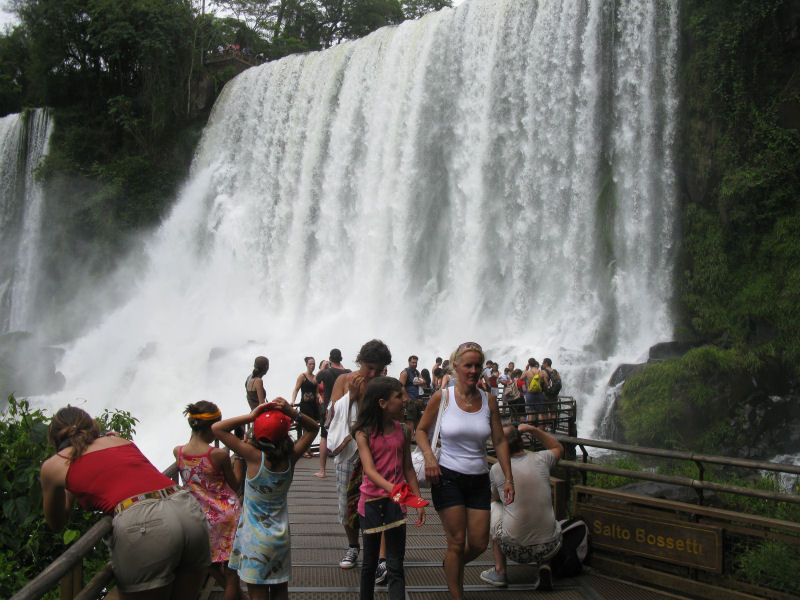 Some people have a yerba mate addiction. They can't go anywhere without the drink. Look it up if you need to.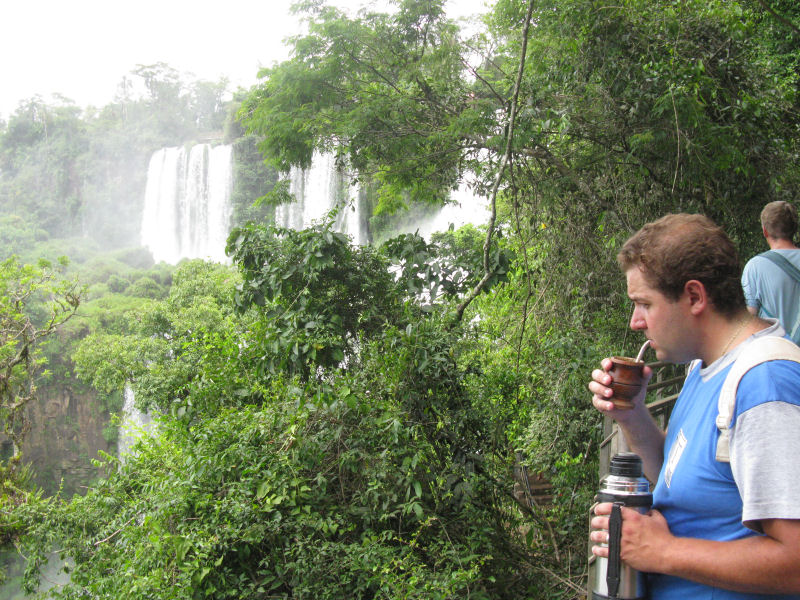 Koatimundis were all over, begging for food. When Don stopped to rearrange some of his soppy clothes, this koati though there might be snacks involved.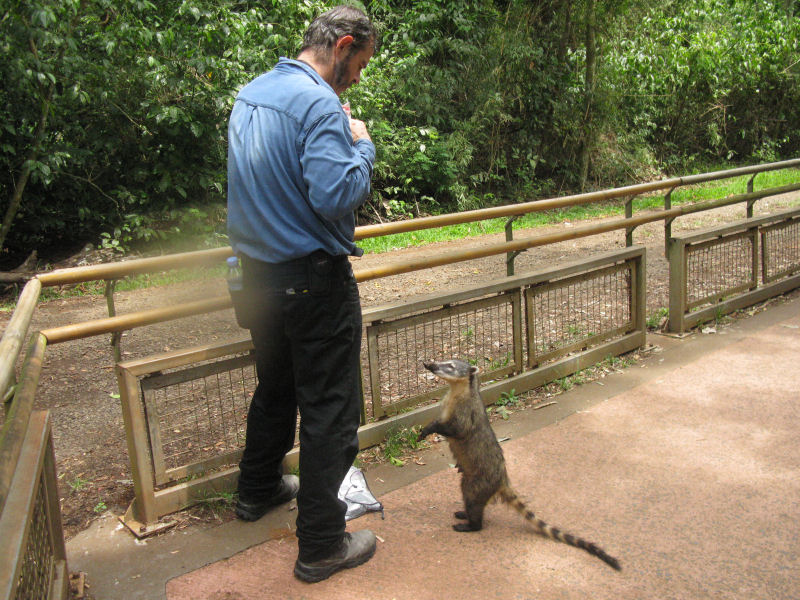 This lighthouse was a central landmark in the park, and paths crossed here.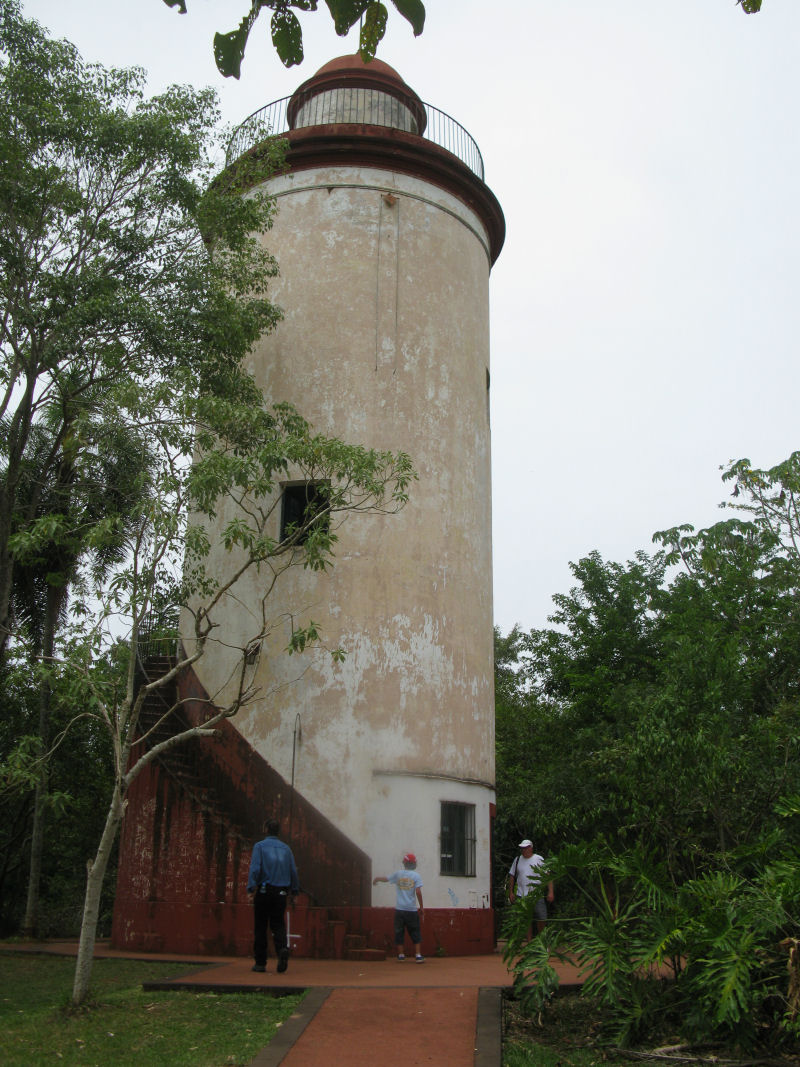 The only reason these gals are photographing these birds is because the birds demanded to be photographed. They jumped back and forth on that bench and screeched and whistled with incredible volume for such little buggers. I would have demanded that the pretty gals photograph me, but I couldn't yell that loud.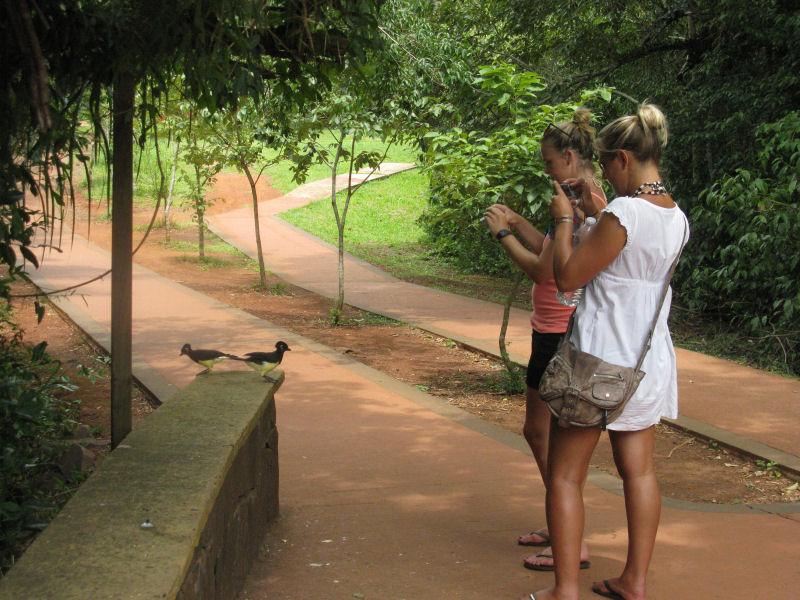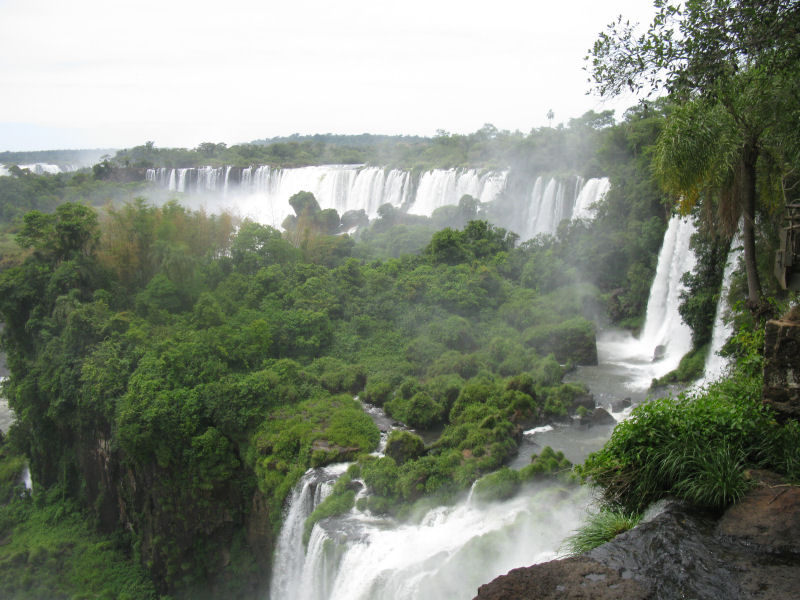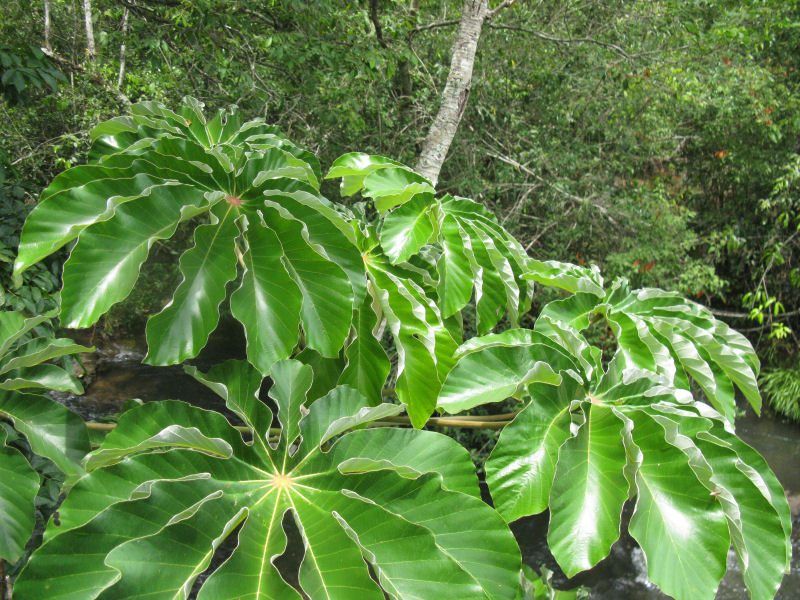 Don's experimenting with his beard. He shaved the chin, so he's left with mustache and lambchops.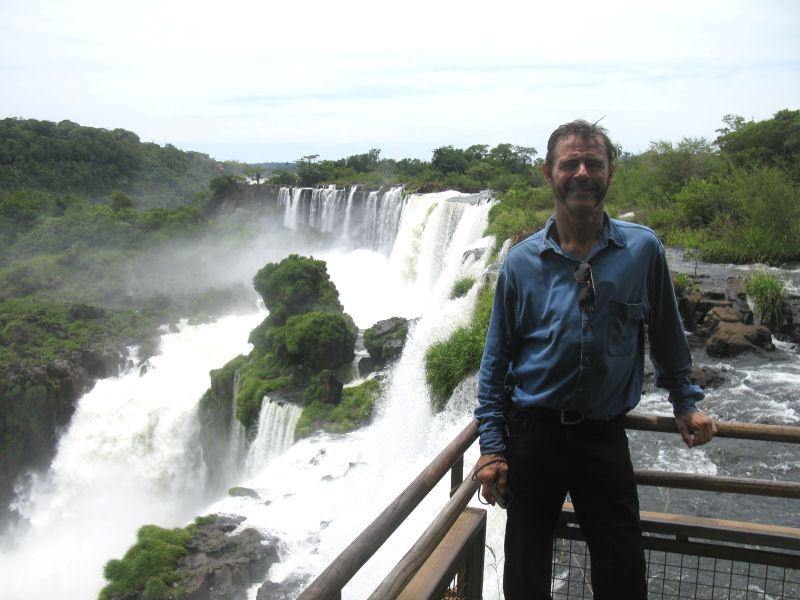 I'm a rebel. The sign specifically said not to do that.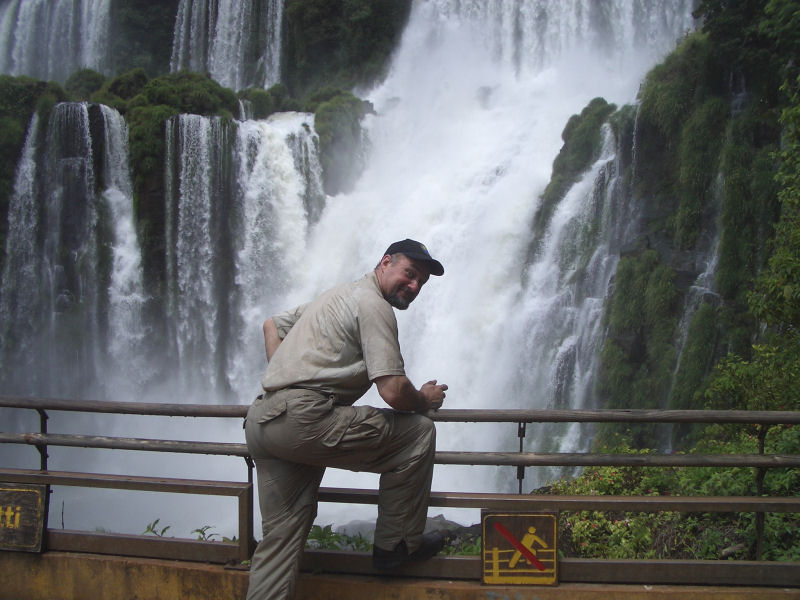 After the closer walkways, we took the narrow-gauge train to the outer falls.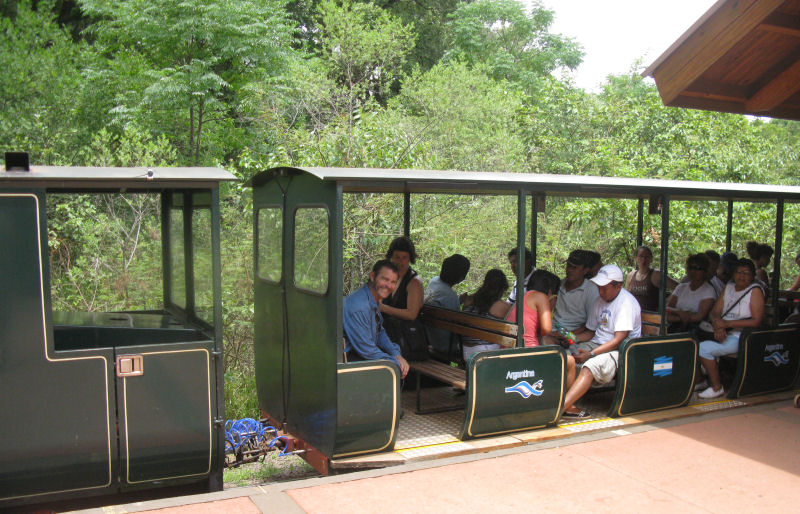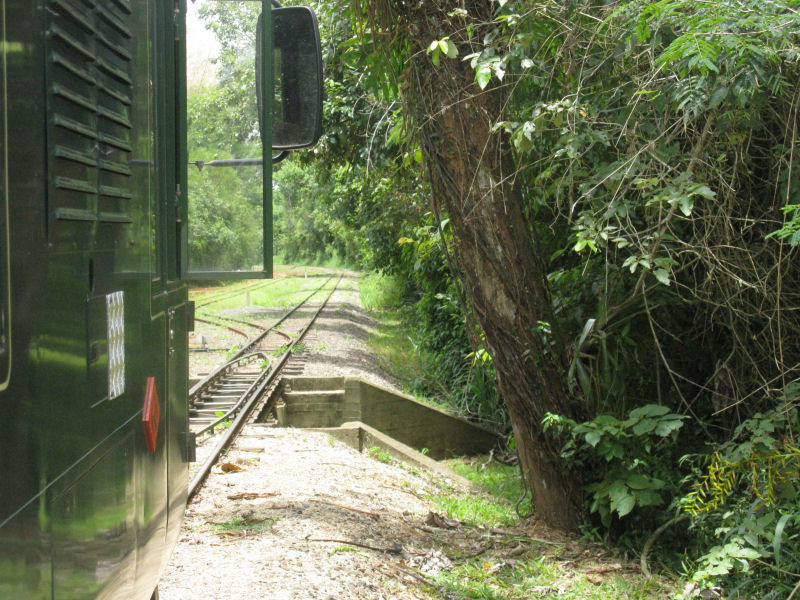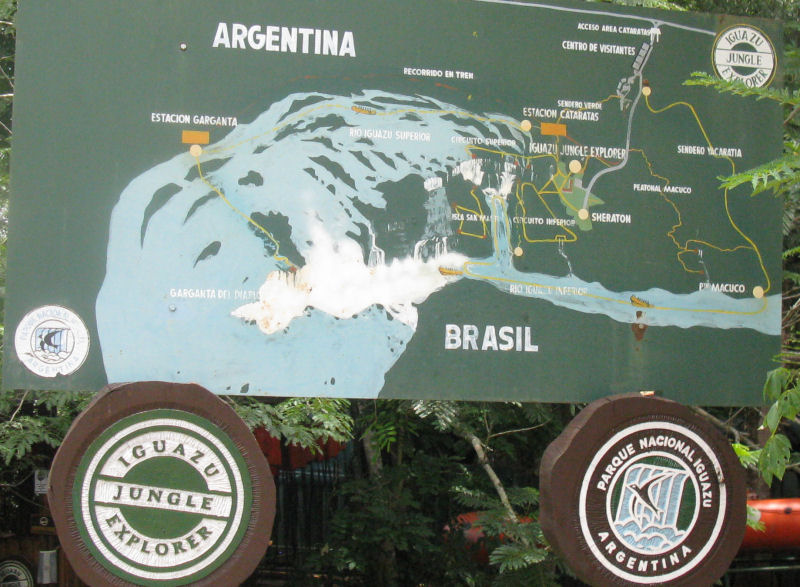 At the end of the line, you took a long walk on a new walkway. The older one was destroyed by a flood. I can't image how much water it would take to flood this huge area.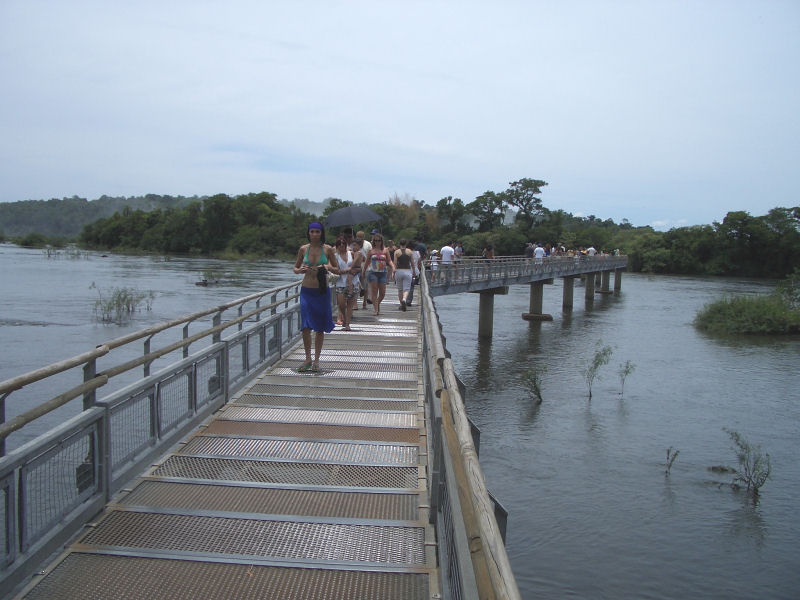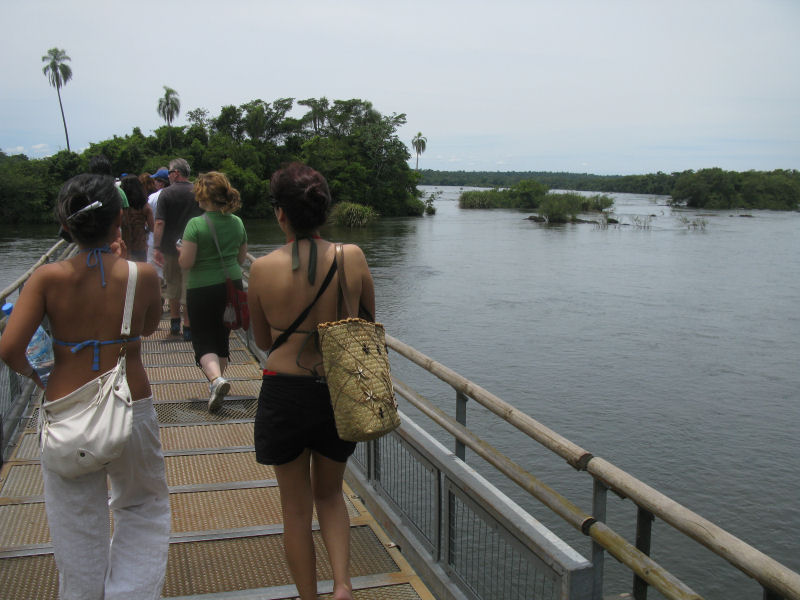 Another yerba mate addict. Some of these mate picnic kits were works of art.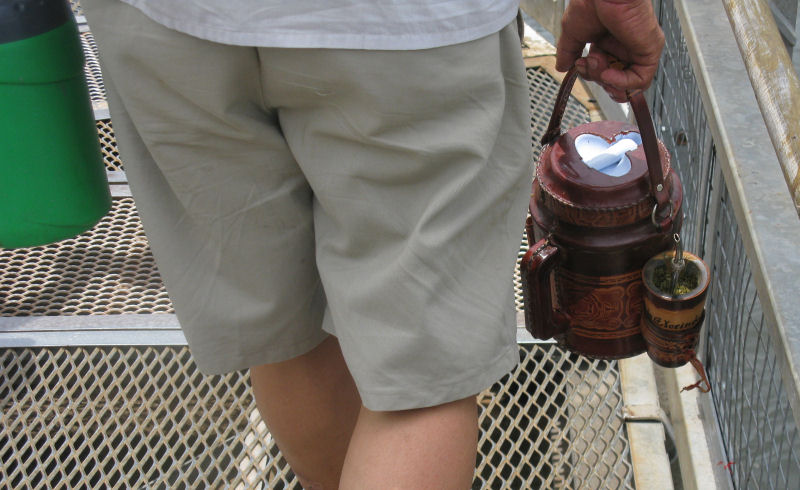 You did NOT want to fall off the catwalks.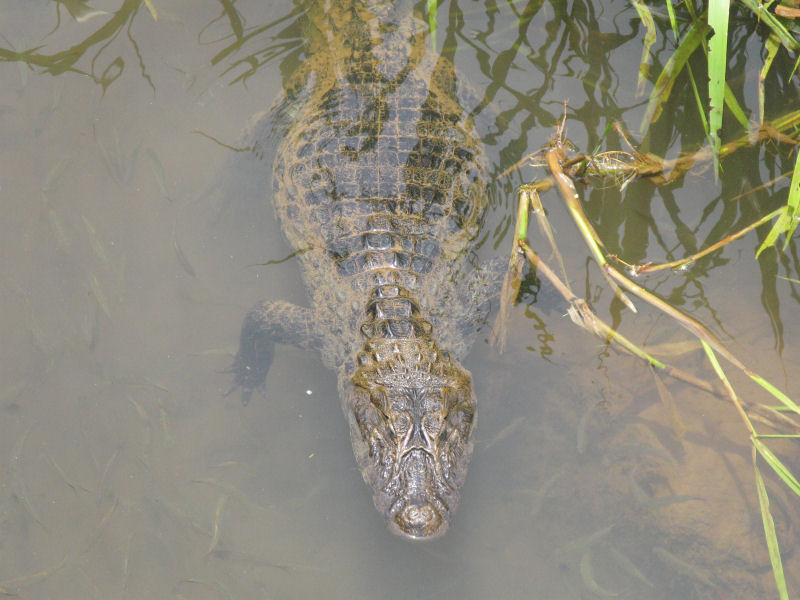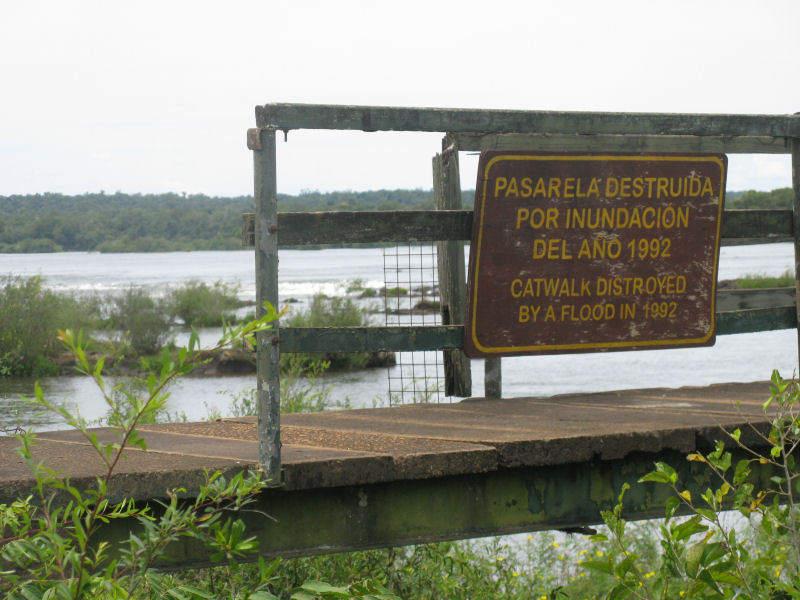 At the end of the long walk was the main falls, the Devil's Throat. It was loud and wet.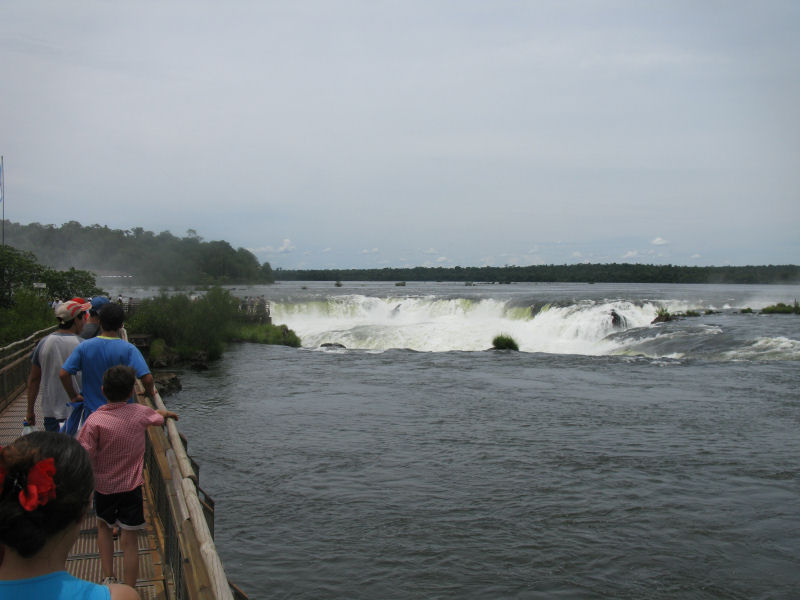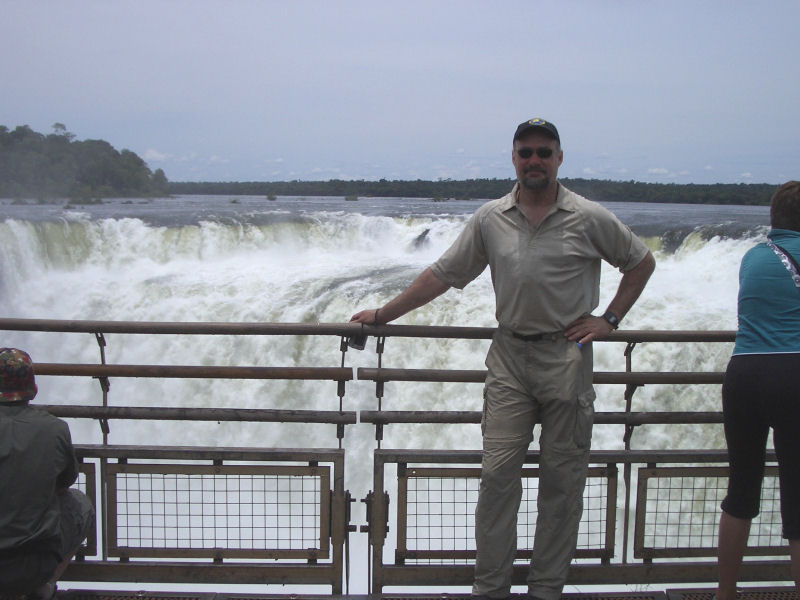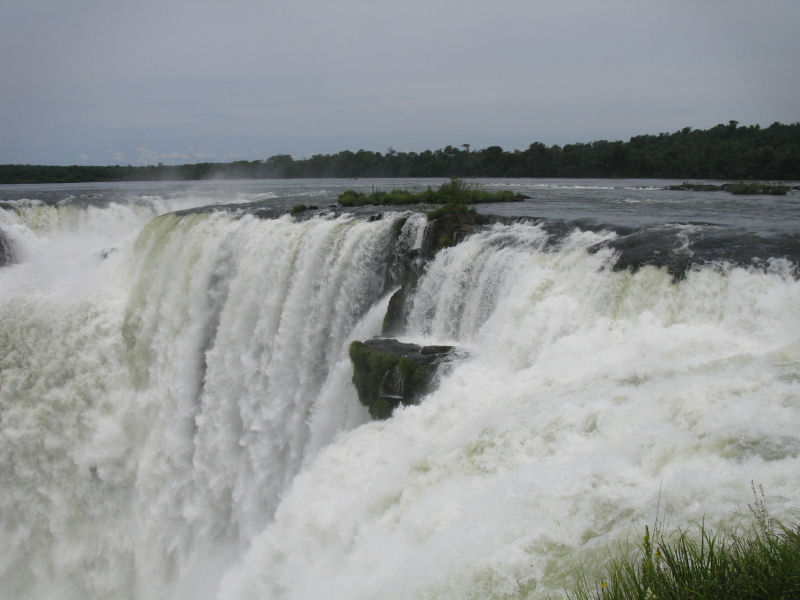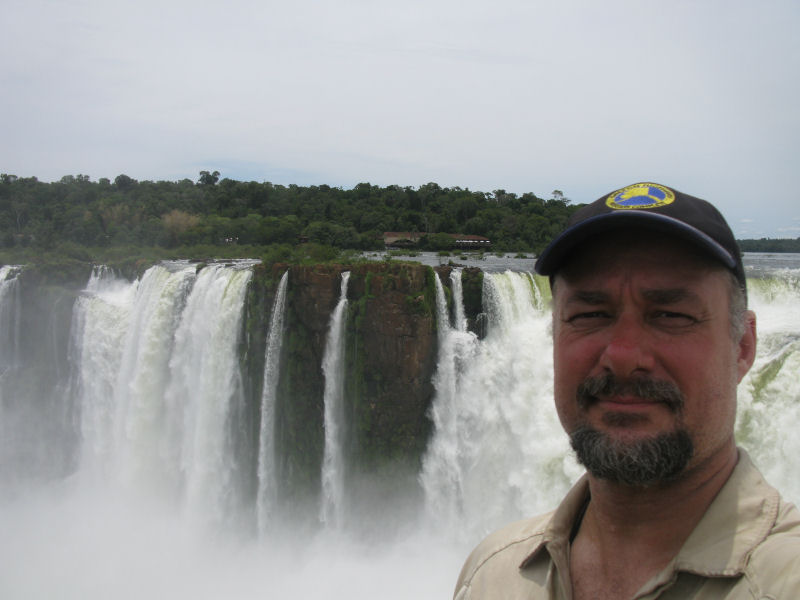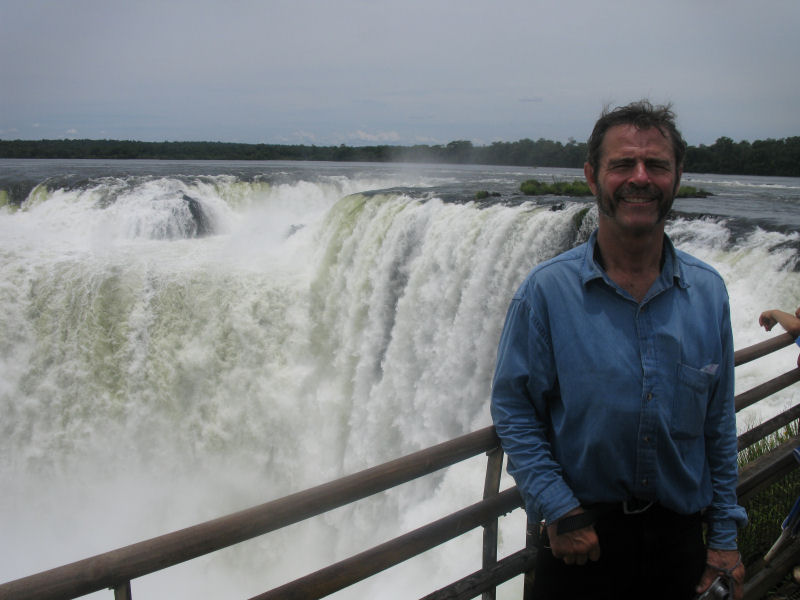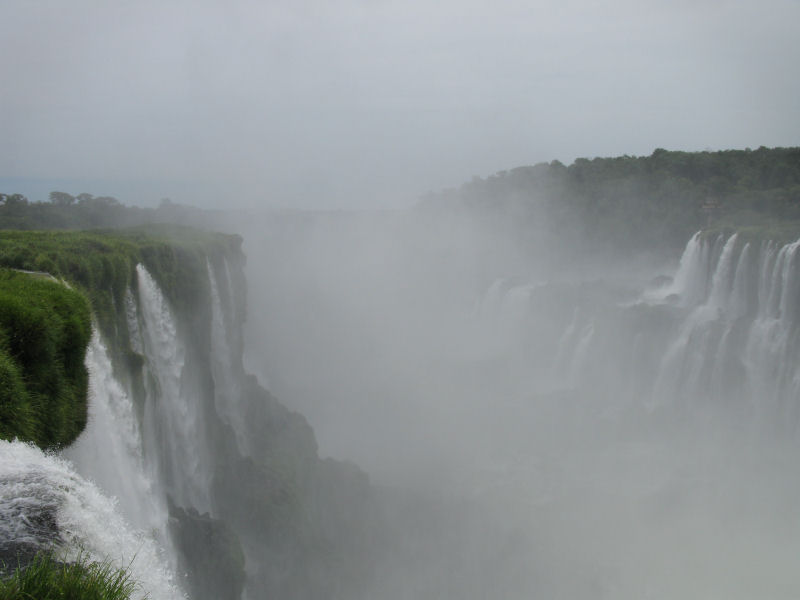 Okay, back to the train.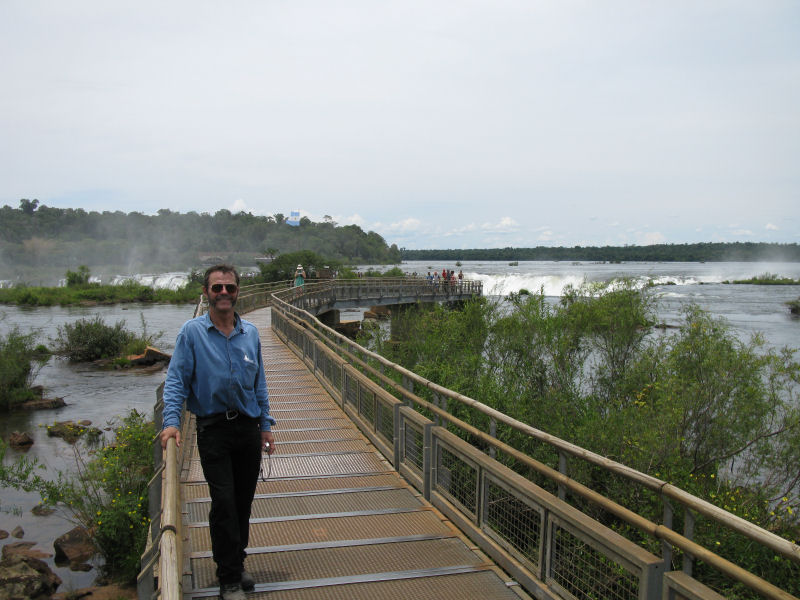 At the station, we couldn't resist a huge fruit salad cup. It was chilled and really hit the spot.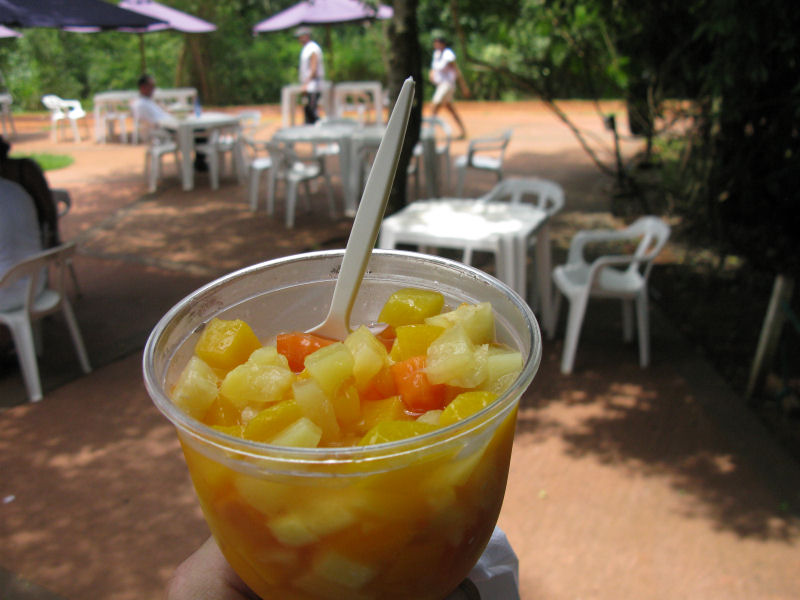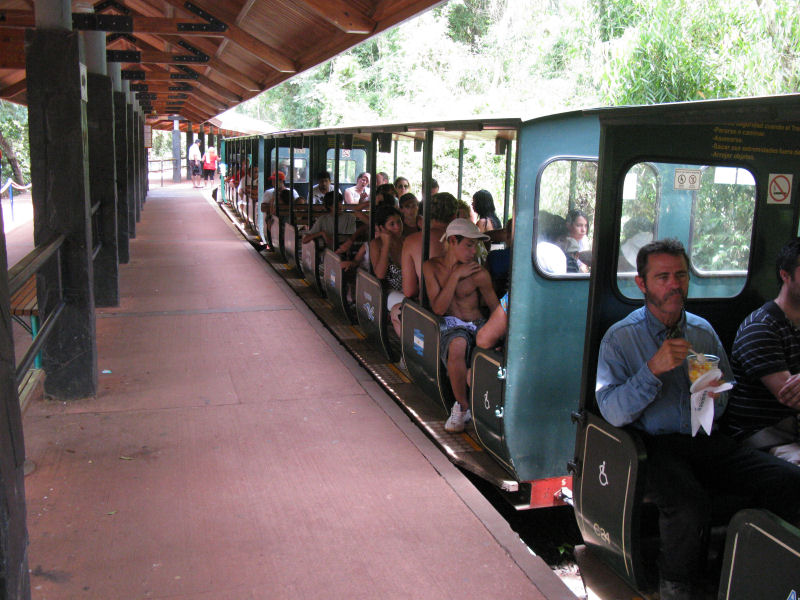 The train goes back the way it came, and you can get back off at the trails or you can stay on the train and it will take you back to the visitor's center.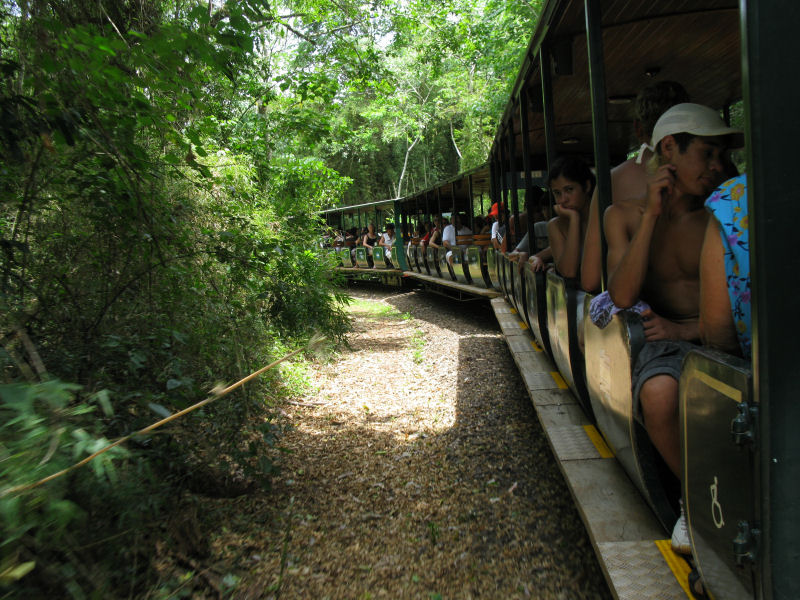 It was an interesting visit, and only a couple long days from Buenos Aires (BsAs), so I was glad I went.
Back to BsAs now to meet Laurie when she arrives on the 17th, and Bev when she arrives on the 19th. We had time for a short detour through Paraguay, so we gave that a try.
We rode past the city of Iguazu, straight to the bridge that crossed through a bit of Brazil and then into Paraguay. We were stymied when we were told that without a pre-approved visa, we could not enter Brazil. (Note: We have since learned that others have entered Brazil to pass through to Paraguay without a visa. It seems that for less than 24-hours, no visa might be needed. We're not sure, though, so don't rely on this info.)
We rode away from the border and back into town. Someone told us that there was a way to cross the river directly into Paraguay there.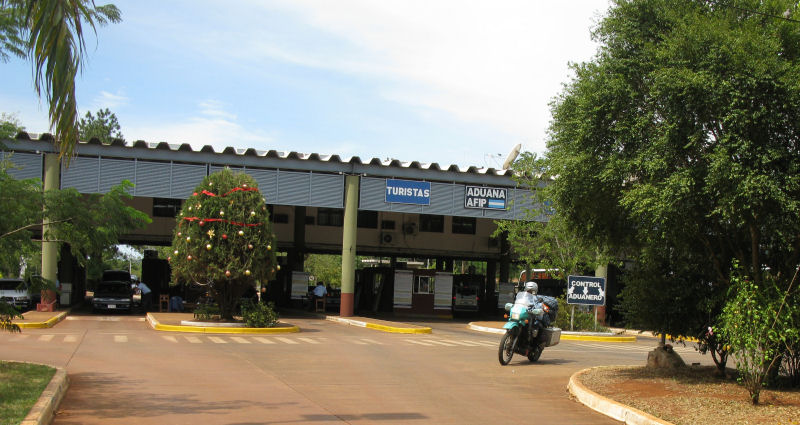 We did find a ferry service in town, but the customs people there told us that without a pre-approved visa for Paraguay, we could not cross. Rats. Another country with a bad attitude toward tourists from the U.S.
We were also told that there was an Consulate for Paraguay in the city, and we were given directions but were warned that it would be closed for the day.
We settled in a corner restaurant for some food. The sweat was rolling down my back when we sat down. It had to have been over 100 degrees, with 100% humidity. It took a while to start cooling off, being still in the shade.
Sitting there, finally relaxing, we discussed what to do next. We could ride south to Posadas and try to cross there tomorrow, or we could stay here tonight and try the Consulate in the morning. We relaxed and mulled it over. Then we relaxed some more and decided to stay right there. I walked around looking for a certain hotel, but it turned out to be very expensive. I also checked a couple of small hotels and hostels, but they were either full or had no place for the bikes. Finally, we looked up and saw that the restaurant we were sitting at had a hotel. Well, duh.
Parking was still an issue, though. There was a dirt lot across the street that had a guard at night, but we ended up just parking and covering the bikes right in front of the hotel doors. Don got them to switch us from a 3rd floor room to a 2nd floor room by telling them that we had a lot of things to carry up. We ended up in a 4-bed room with AC and lots of towels. The room was P/100, which is about $30.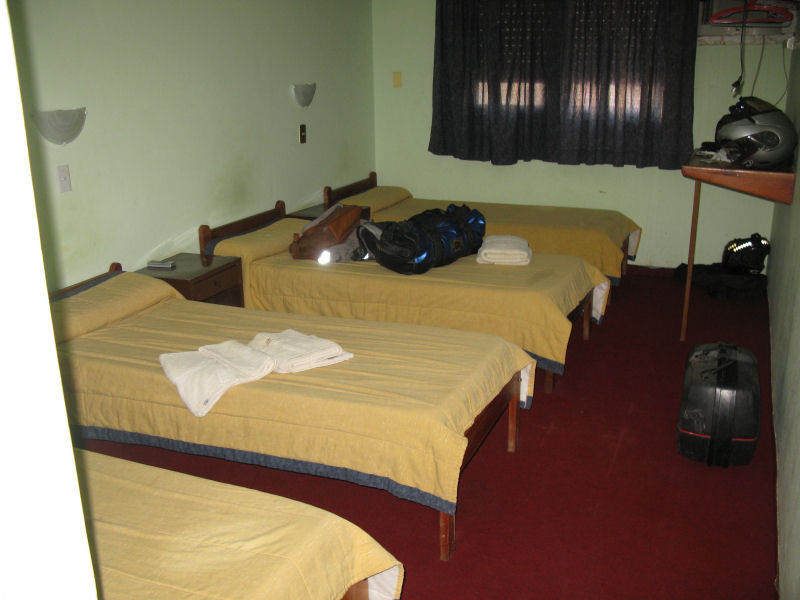 We showered and went back down for dinner at 21:00. It hadn't cooled off at all. It was 22:30 before we heaved back up to the room for sleep.
Tuesday, 13 January, 2009
----------------------------
There had been thunderstorms during the night, so we didn't know what to expect for the weather today. It was cool but very damp when we went in search of the Paraguay Consulate. We found where we had been sent, but it was some customs office. They sent us to another address.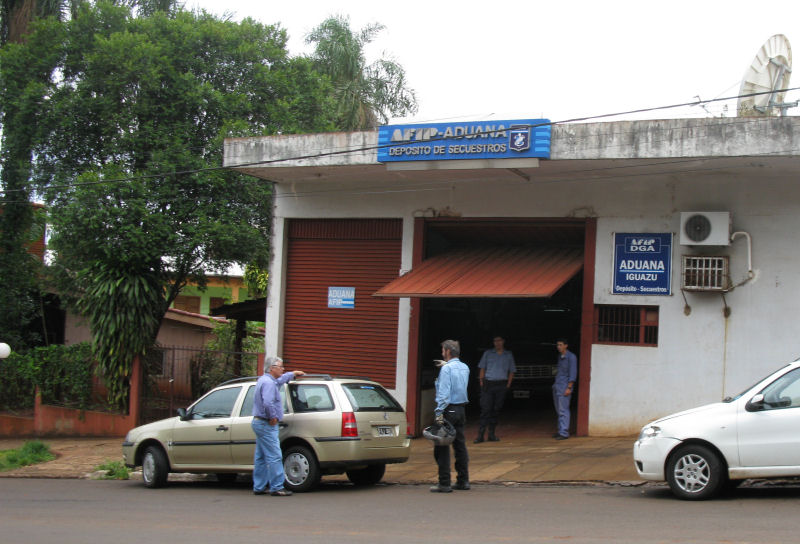 This, then, was the Consulate. The middle-aged guy inside told us that a visa for Paraguay would cost us $149, but we could only get one at the bridge we had been at yesterday, or far south at Posadas.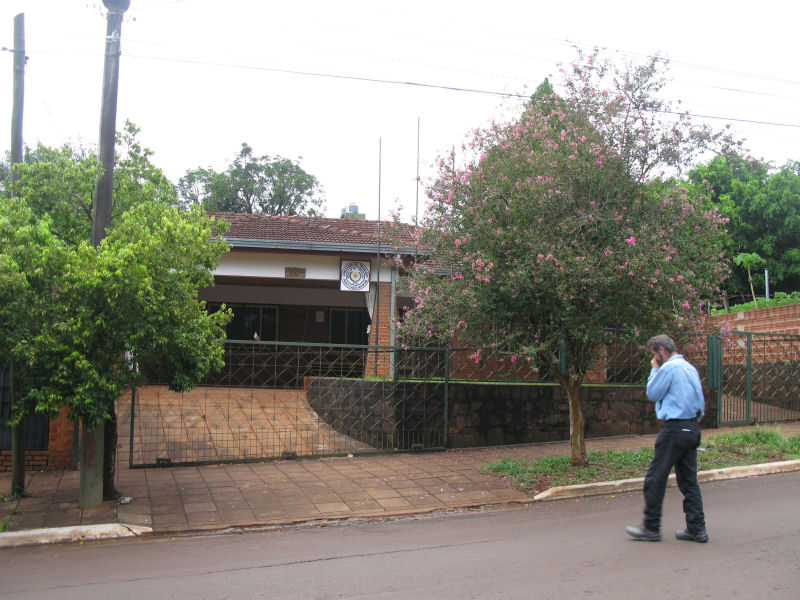 We knew (erroneously or not) that we couldn't cross at the Foz do Iguazu bridge because we didn't have Brazilian visas. I wasn't sure the guy in the Consulate knew what he was talking about, but he sure wasn't wasting much of his time with us. We decided to ride south to Posadas.
Before we got far, the weather hit us hard. Before we could stop, we were soaked. Should have seen it coming. Since I had lost my visor leaving BsAs, I dug out my spare. But, as fate would have it, it was the wrong visor for my helmet. When I bought it, I saw that it was marked correctly, but it certainly didn't fit. I ended up taping it on with duct tape. In the rain. I was smart enough to leave a small gap at the bottom so it wouldn't fog up too badly.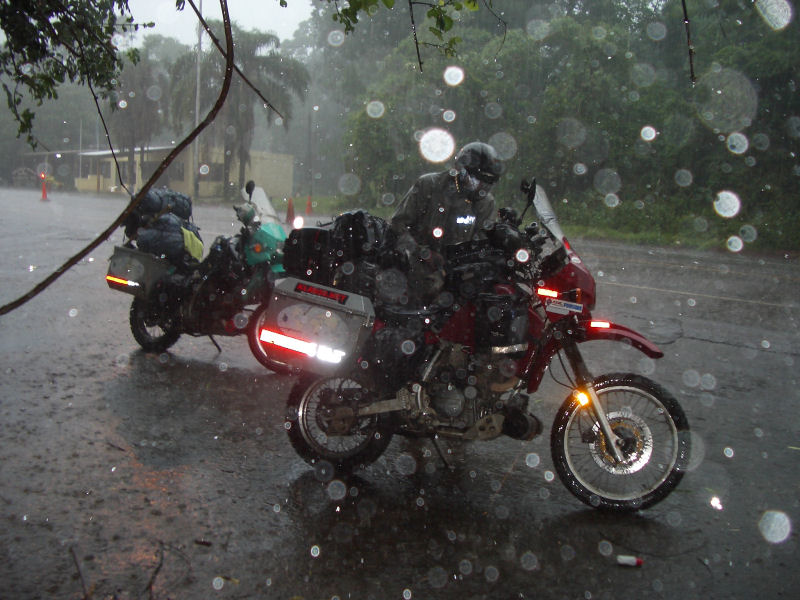 It was a very heavy rain that had the look of lasting a long time. It did. My Aerostich Darien gear didn't seem to be very waterproof anymore. I had treated the jacket and pants with Tech Wash right before I left, so they should have been good for a while. But then, they had been rained on a lot since leaving Colorado. My boots were also full of water, but I knew that they had started coming apart in a few places.
We rode south, slower than before, and we soon passed another police checkpoint. They were under a large shelter, and they waved Don over after I had gone through. That happens a lot. They stop the second bike.
When I walked back up to take photos, one of the police officers blew his whistle at me and waved me away. He pointed to my camera and wagged his finger at me. No photos. I ignored him, as if I didn't see or hear him, and turned to take a photo of my bike.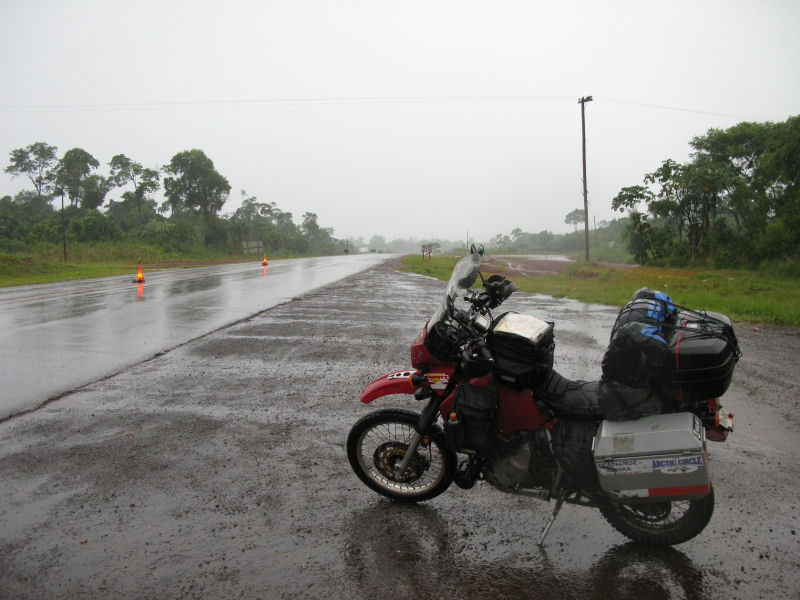 Then I turned with my camera at my chest, but the police officer in the middle of the street was still watching me. He blew his whistle again and waved me away. I saw that Don was starting to ride off, so I shot a quick photo just as he came over to me. In this shot, he is blocking the officer who was blowing his whistle at me. The stop turned out to be only a paper check, so we were good to go.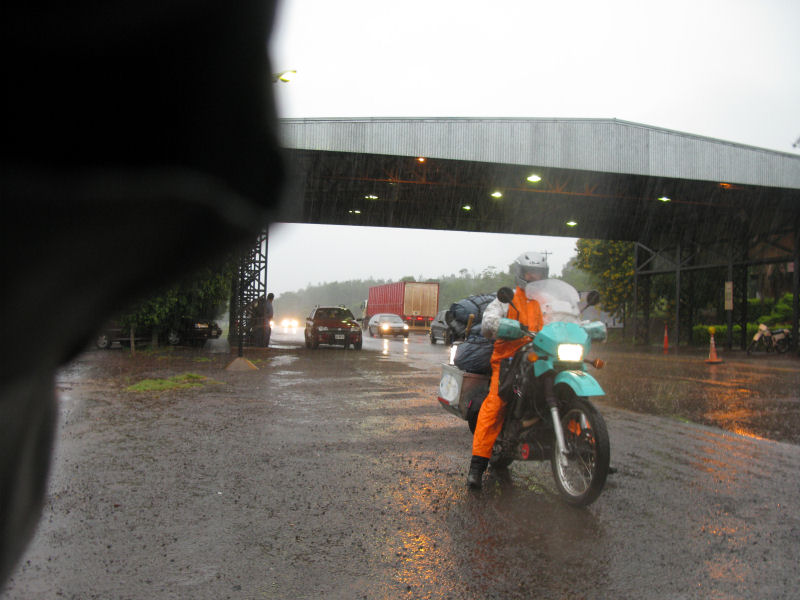 The road was very slick at times, usually from oil mixing with the rain, but sometimes due to a coating of mud that had dropped off the many trucks working at the construction sites. We eventually stopped for hot drinks somewhere, but I didn't put it in my notes so it must have been a gas station.
We got to Posadas at 15:30, and went directly to the river border crossing.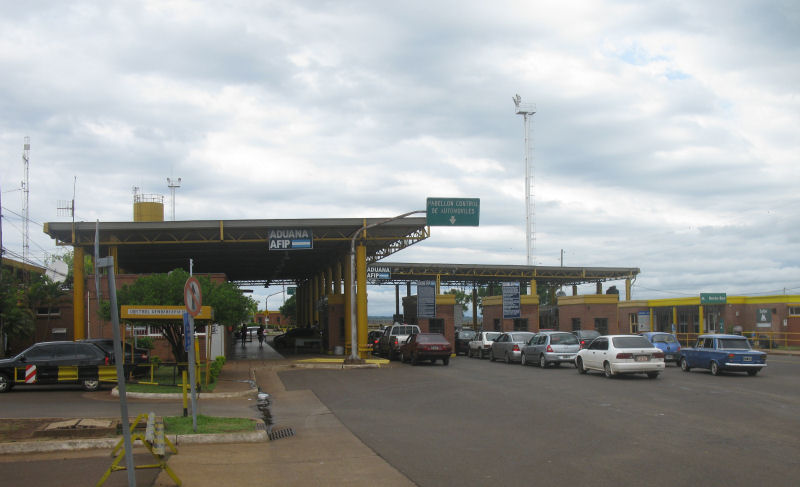 Argentinean police there told me that no visa was required to enter Paraguay, only a passport needed to be shown. That wasn't likely, so we asked other people. We were told that a visa would be required, and we were given directions to the Consulate. We went into town and found it, but it was closed for siesta. We walked to the corner and had empanadas to wait.
My camera was acting all weird. It would sometimes turn on, sometimes not. Sometimes take a photo, usually not. I assumed that it had water in it, so I took the batteries out of it and put it someplace dry.
Back at the Consulate, I buzzed at the gate but couldn't tell if the buzzer was working or not. Nothing happened, so after a while, I opened the gate and went up and knocked on the door.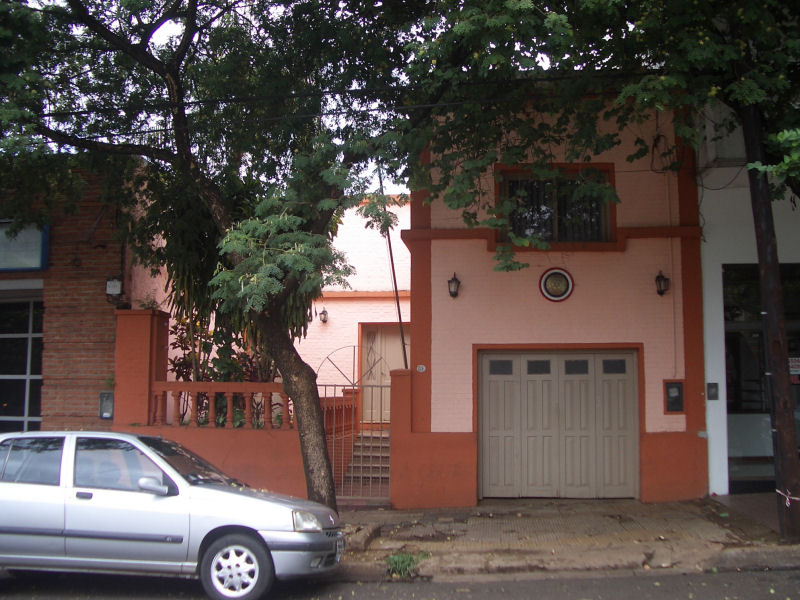 A small viewport next to the door opened, and a young man told us that nothing could be done today but we should come back tomorrow. We asked about getting visas, and he told us that we needed a variety of documents and three color passport photos. That was enough. We decided to skip Paraguay.
We went to a gas station where we checked our tire pressure. Mine were both low, so I added some air. That's how I noticed my tire.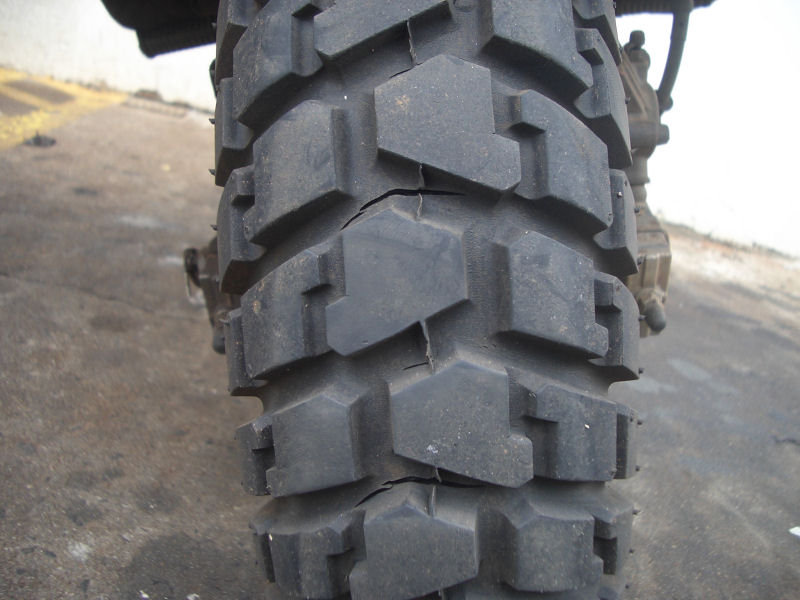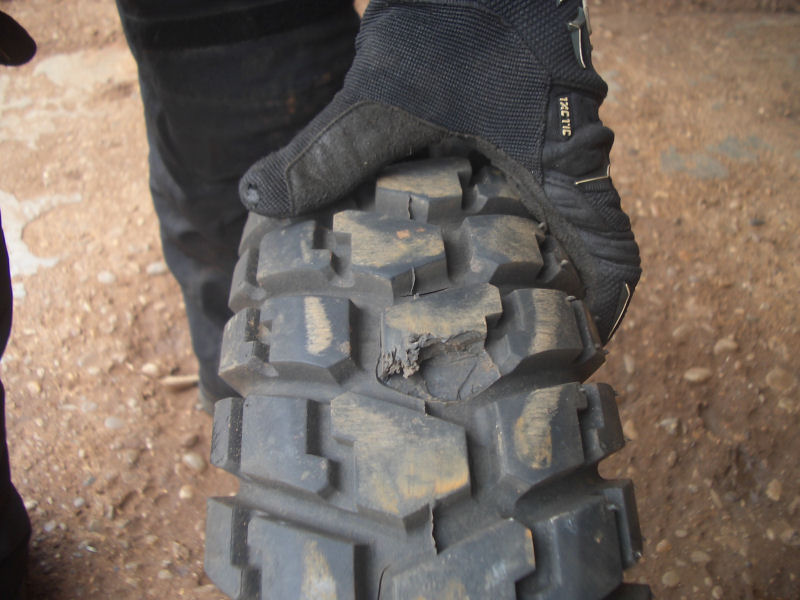 Holy crap! That was the generic Taiwanese tire that I had been carrying around for weeks and had mounted in BsAs a few days ago. Really cheap rubber. It had cracks like those all the way around the circumference, and a few knobs missing.
Ok, back to tire shopping. We found a main street and asked at several places, eventually finding a shop that had two decent 17" tires to choose from. I chose the Michellin Sirac, although I wasn't familiar with it. At least it was a brand name and looked okay. At the tire shop, they gave us directions to a place that would mount the tire for me cheaply. A few blocks away and we found this shop. It was a busy place.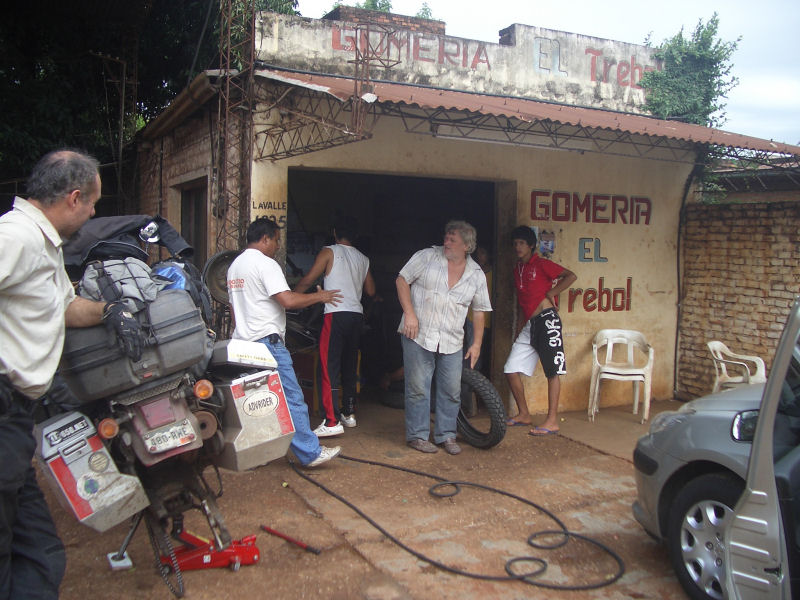 The guy in the center of the photo above either owned the place or was a regular customer. He knew all the people there and made himself at home, but he was an odd duck. He kept trying to tell us something, using wild gestures and emotional narrative, but we had no idea what he was saying. We understood only a few words, and we had no context for whatever he was telling us. We hadn't asked him anything. He took one of our maps and continued making high-and-low gestures that I couldn't quite catch with Don's camera. It was quite exaggerated, whatever it was.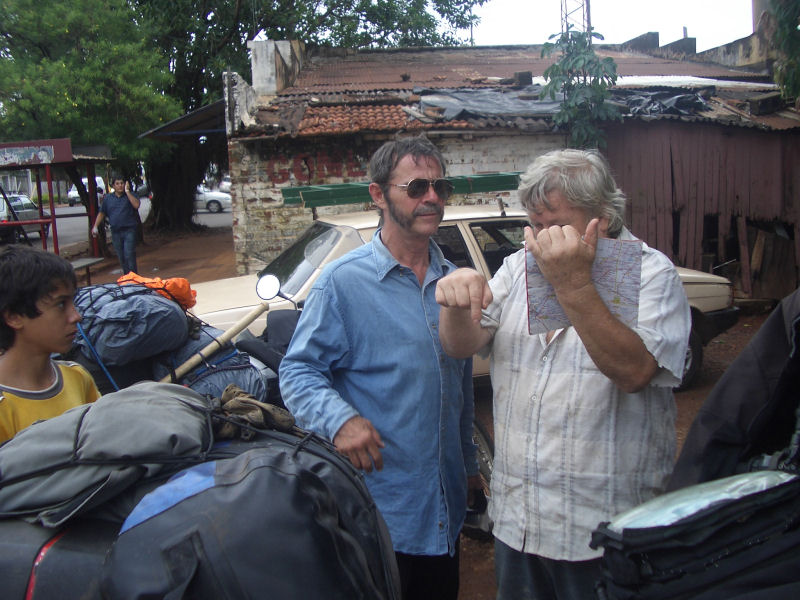 Anyway, I took the wheel off and they quickly mounted the tire for 5 pesos. Cheap, right? It turned out to be the most expensive tire change ever. As I was putting the wheel back on the bike, one of the workers asked me if I was a mechanic. I told him no, and I made the mistake of telling him that I was a retired police officer. He seemed to think that was funny, and he laughed and shook my hand.
I hadn't told many people that I had been a police officer, and this was the one time that I regretted it. Read on.
We chatted with the guys a bit more and finally mounted up and rode out of town. It was another hot day, which helped camouflage the problem that was developing with my motor.
The ride north and east was okay, not much to see for much of it. There were some marshy areas with cattle wading up to their bellies in the water. We were also splattered with bugs for quite a ways. Some of the beetles were big and very hard, some were tiny and very hard. It was like being pelted by a kid with pellets and a slingshot. The softer bugs went *splat* with bright colors, usually yellow. We also saw lots of eagles and other birds alongside the road. They seemed to be feeding on road kill carrion, but some seemed to be hunting alongside the road. I saw some snakes on the pavement, but most were already dead.
At sundown, the temperature started dropping, but not by much.
We had gone 160 miles and were slowing down to stop for gas when I felt a lot of extra heat on my right leg. After I got off the bike, the problem was obvious. Someone had removed my oil filler cap, and oil was all over the right side of the bike and my leg. The motor was really hot.
Obviously, someone had taken the oil filler cap off at the shop that had mounted my tire. That is the one time (of the few times) when I shouldn't have told anyone that I had been a police officer
Dammit.
Dammit!
DAMMIT!
Had the vandal put sand or something else in the motor? No way to know right now.
I was carrying an extra liter of oil, so I poured that in the motor. It was not enough, but it was enough that the oil level showed in the sight window. The guy who pumped our gas looked at my hot oil-covered bike and my oil-covered baggage and my oil-covered right leg and my anger-covered attitude and he wisely said nothing.
I let the bike cool down a bit while I wiped some of the oil off things, but it was a mess. Because of the heat of the weather, I never noticed the hot oil on my leg while I was riding. My Aerostich Darien pant leg was completely covered, and the light nylon pants under then were also soaked with the dirty oil. Those pants will never be clean again.
Fark.
When I had started this adventure, I had put an aluminum security oil filler cap on the motor. This requires a tool to remove (one of the axle wrenches works), but it can easily be over-tightened. It had started to round-off, and using the wrench on is was getting to be a challenge, so in Ushuaia I had replaced it with the stock plastic cap. I should have tightened it down more.
I now put the aluminum cap back on and we rode on into Corriente, another 40 miles.
The new HID highway light was very nice in the dark. My bug-splattered headlight was a bit dim, so the extra lights really helped.
The bugs were again like being hit with rocks. They had come out in force at sundown and were drawn to the headlights of traffic on the road.
We got to Corriente and rode a circuit around the city. It had a nice riverfront area, and lots of people were out walking and driving. We saw another very large well-lit bridge across the river, almost like the Golden Gate Bridge, and it would cross into Paraguay.
The bike was running rough and noisy, but it was running. There was no obvious loss of power. I got optimistic and decided that the bike would get me back to Buenos Aires. What followed (the next day) was what I deserve for being optimistic.
We didn't see squat for hotels, so we started asking people. That became a typical comedy of misdirection and confusion. A couple of really drunk guys tried to give us directions, but after a minute or two, we simply rode away from then while they were still pointing and arguing with each other. We finally stopped at a small cafe for some food, and we recognized that we were tired and getting snippy with each other. It happens.
Two hours later and after having found a few hotels that were full, we rode past some people standing around their scooters on a downtown street. I stopped to ask them for a hotel, and they took us under their wings. A few of the men jumped on their scooters and waved for us to follow. They took us to a couple hotels that we had already checked, then we asked about the bus station (where another person had suggested to check). They took off and we followed them to the area of the bus station. There were a few more hotels there, and the first one we checked was good enough for us. They let us park our bikes in a storage area that had once been a parking space (behind the grey metal doors in the next photo, which was taken the next morning after we got our bikes out).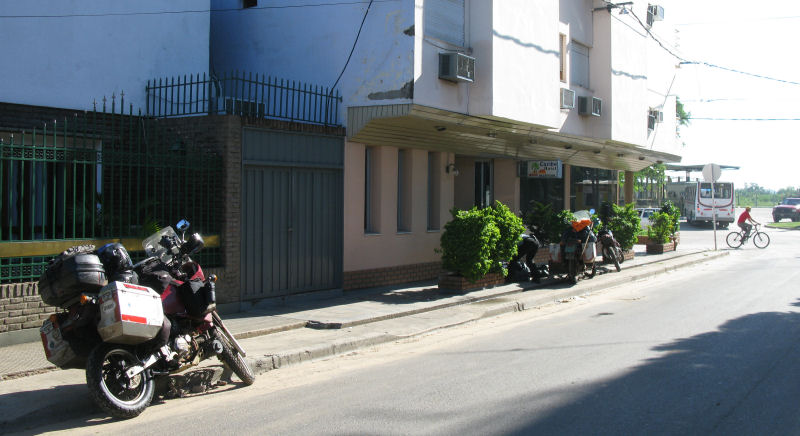 When I asked if the bar in the hotel was still open, the guy at the desk said no. When I asked where I could get a beer, he asked what Don wanted and said he would bring drinks to our room. He was true to his word, and brought the drinks up, telling us that we could pay for them and the room in the morning.
Wednesday, 14 January, 2009
-------------------------------
After getting out of the hotel, we again had trouble finding a place to eat. We also needed to find a shop where I could get more motorcycle oil. Most small restaurants were still closed, and in all the places where we expected to see placed to eat, we saw nothing. It was an odd city in that regard. We didn't want to go back downtown, so we cruised out to the south side of town. After making a U-turn on the main street, we had stopped on a side street to get ourselves oriented. A guy on a scooter pulled up next to me, casually talking about something and pointing at my bike. It took me a while to realize he was wearing a municipal employee shirt and he was saying something about me making a traffic violation. I thought that he understood that I was a stupid guy from the U.S., but he waved me up the street to get out of traffic. I pulled over and Don stopped behind me.
I tried to ask the guy about where I could get some oil, but he was focused on getting me to understand that I was getting a ticket. I ignored him, because I started having doubts about who he was. He only had a shirt that had the city logo on it, the scooter didn't look like an official vehicle, and he was handling a radio that he pretended to use once. Maybe he was an official ticket-writer, but he wasn't a police officer and I had other things to do. After the guy walked back to talk to Don, I told him that I was going to a motorcycle shop nearby to get some oil. I just rode away, and I saw in my mirror that he wasn't reacting at all to me driving away.
After I turned the first corner, I started to wonder if I should have stayed. I stopped to see if Don would follow, but he didn't. After a few more minutes waiting, I went back but because of the one-way streets it took me a while. When I got there, Don and the other guy were gone. Don and I finally met on the main street where he told me that the traffic-enforcer had gotten frustrated and let Don go after a while.
We eventually found a place back near the center of town to eat. Parking was along the curb, and you pay an attendant who notes when you arrived and when you leave. The old guy looked so miserable in the heat that I took him a cold soda. He seemed very pleased, but he took it inside one of the other businesses and came back out without it. Maybe he put it in a refrigerator.
It was a late breakfast. It was already so hot and humid that the ice they finally gave us caused our drinks to start sweating and causing puddles on the table. The typical useless napkins that everyone uses in this country were worthless at soaking anything up.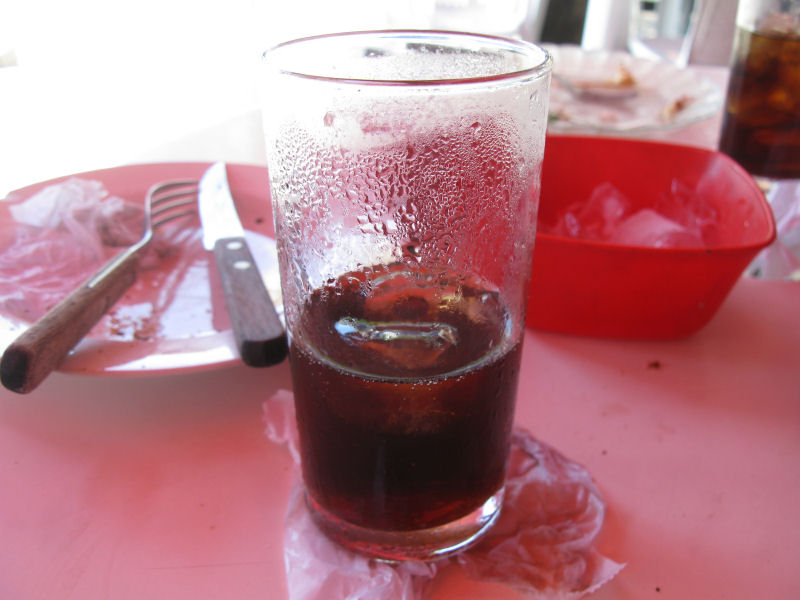 I found a motorcycle shop and got some oil, topping off my motor and stashing the rest. We were as good as we could be, so we rode on, still aiming for BsAs.
The road south to Goya was nice, but nothing very interesting.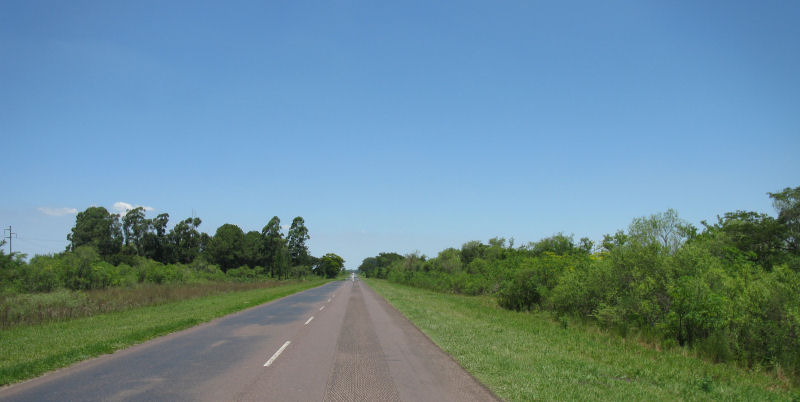 The bike was complaining a lot, and I started feeling new vibrations in my footpegs. They vibes were all wrong. Don told me that he was seeing black smoke from my exhaust when I opened the throttle. At Goya (pronounced GO-sha down here), we stopped for gas and something cold to drink. When I started the bike up, it made new noises, but it started and ran. What else to do out here?
We rode on.
Not for long, though. About 25 miles south of Goya, the motor skipped a few times, then started shaking. I pulled in the clutch and it immediately seized and died. I was able to coast to a stop in the shade of some trees, and that's where the bike stayed for a while.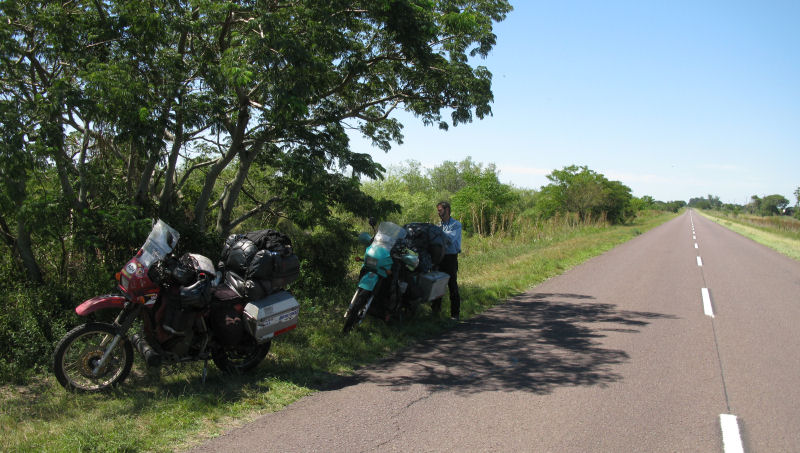 Neither of us could get a cell phone signal out here, so we made a plan. Don unloaded his bike and set up a small camp right there under the tree. I rode his bike back to Goya, stopping at the first YPF gas station. That's where I stayed for a while.
It was a large, busy gas station on the 2-lane highway at the main exit into town. Trucks and buses regularly pulled in to refuel or to load or unload passengers.
My cell phone had a connection, so I called Dakar Motos and spoke with a gravel-voiced man who I later learned was Javier, the owner. His only suggestion was to find a shipping company to take my bike back to Buenos Aires, which was over 500 miles away. Goya didn't have any type of cargo company there, so I had to look elsewhere.
I asked the employees if any spoke English, and one of the cashiers (a cute teenager) spoke a little. I got her to understand my problem and she made a few phone calls to someone. Later, one of the managers came out of an office and he spoke enough English that we were able to communicate. While I drank cold sodas and had an ice cream (all YPF gas stations have a convenience store and a small dining area), he made more phone calls. When he came back out to verify a few things, he suggested that he had found a trucking company that would take me to BsAs. I envisioned having my bike put in a crate or something. Really all that was needed was a pickup truck and someone willing to drive for ten hours (and back). That didn't happen.
What happened was that my plight started a small crowd to gather around me. People were calling other people to come and try to help. Twenty or more people were soon arguing with each other about how to get my bike to BsAs. I finally went back inside and sat by myself for a while. That didn't stop them from arguing.
The station manager came to tell me that he had found a tow truck business that would take me to BsAs, but they were located up north somewhere and would take three hours just to get here. I had to agree and commit to do business with them before they would come down here. The cost was huge--$1,350 in U.S. Dollars. It was the only company the station manager could find, and he didn't know anyone with a truck who would be willing to take me, so my choice was expensive but simple. I told him that I had no other option, and I asked him to have the truck service come get me. He said he would tell them to come.
A customer of the gas station came over to me and asked how he could help. His English was excellent, and when I asked, he said his name was Ruben and he told me that he had gone to school in the States for many years. He went out and talked to someone in the crowd, he made a phone call, then he wished me good luck and left. He had made the right phone call, though, and a man soon arrived in a nice car and asked where the stranded American was. He and I discussed my problem, but language was again a problem. He had to call Ruben's cell phone a couple times to have him translate. What I learned was that Ruben had called the city Jefe (the town boss, equivalent to the Mayor), who had sent this next man to help me. My new personal assistant called another man he knew and told me that I could pay this other man to get my dead bike back to Goya.
Three men soon showed up in a pickup truck, and the older man asked me to pay them $100, but we negotiated that down to $80. I rode Don's bike back to where he was lazing in the shade, and the truck followed. We stripped my bike down while the truck's driver drove off the road and backed up to the berm to help with loading the bike. With the two younger men helping, we had the KLR in the truck in no time, and I used my tie-down straps to secure it. After we piled all my luggage into the truck, we jumped in with it and went the 25 miles back to town. Don followed after he got his bike loaded up again.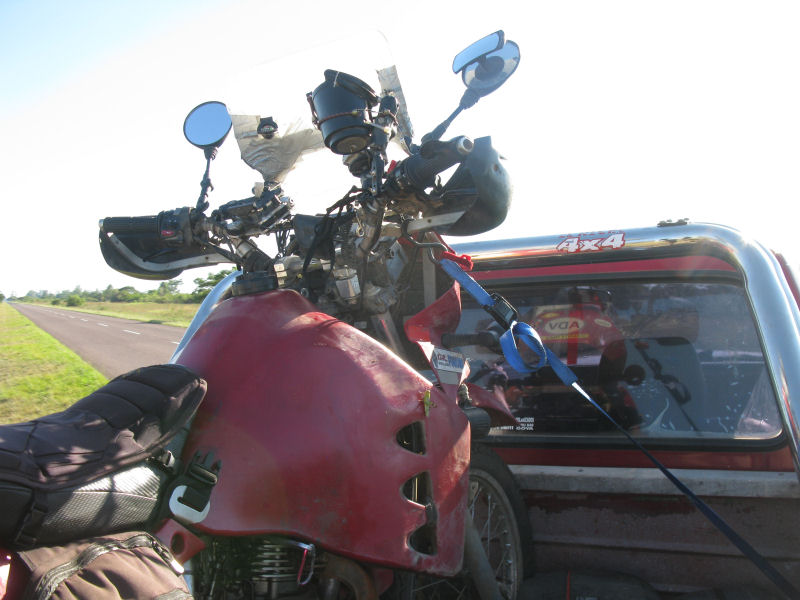 Back at the YPF station, we unloaded the bike onto a nearby pile of concrete rubble and I paid the guys. (As it turned out, I didn't have exactly $80 in Dollars, but I had a $50 and a couple $20s, so he got $90 for his service. He was happy.) Off the guys in the truck went. They weren't interested in taking me to BsAs and they knew no one who would do that. I carried all my gear into the gas station's cafeteria area, and Don soon arrived to help. (Much of the gear is behind that corner bench. The parking lot is well lit, but it is now night outside.)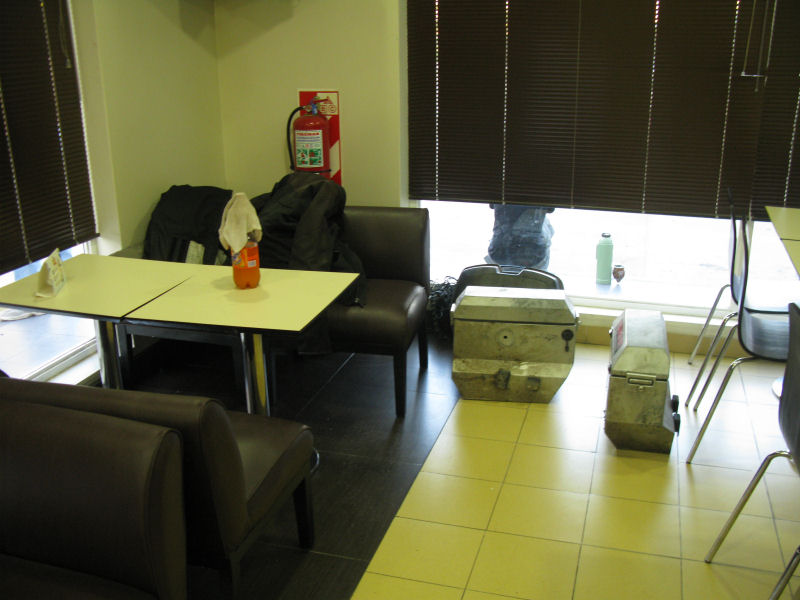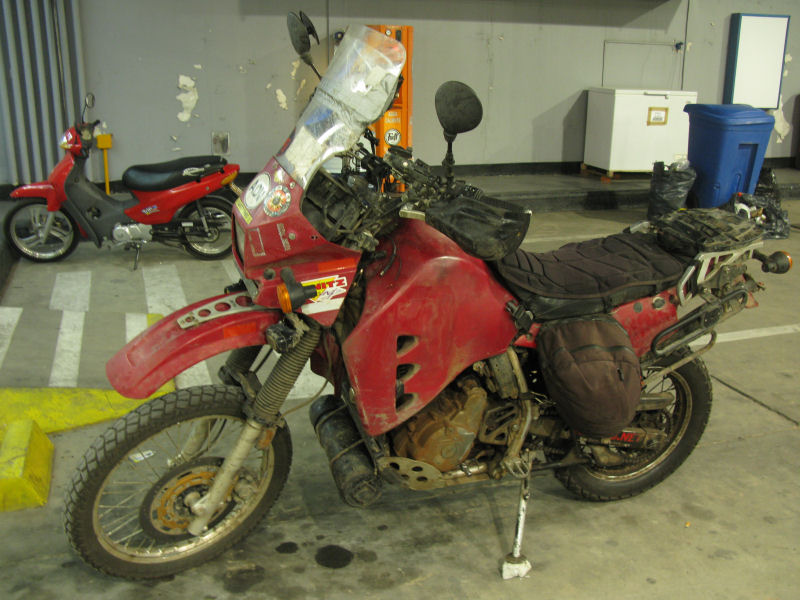 After I pushed the dead bike to the front of the station, the cute cashier called me over to her phone. Did she have a cute older sister (much older...) that wanted to meet me? No.
The manager was now gone, but he had told her to call the tow company again after I arrived with the bike. She handed me the phone and I had a completely confusing conversation with a curt guy who seemed to have no idea what I wanted. Did I need a truck? For what? To where? Where was I? What was my name? What color was the bike?
As it turned out, he knew all of that, but was making a contract with me over the phone. It took me a while to catch on. They hadn't even started down to Goya yet. Crap.
Yes, I assured him, I had the payment in Dollars with me. Yes, I would be waiting. Yes, yes, yes...
I understood that he didn't want to send a truck for three hours here to find me gone, so I was patient with him. Being patient has never been a major part of my character, but I'm learning. World travel does force one to move slower. I suppose that's okay.
Once the truck was confirmed to be coming for me, Don decided to head straight for Buenos Aires now rather than wait with me. He'd ride until he found a place to sleep, then would get to BsAs tomorrow. I wasn't sure if I would take the bike to the shop that had rebuilt my clutch or to Dakar Motos, where I understood that Javier could do the work. We agreed to meet tomorrow at Dakar Motos, regardless what happened. Away, he rode off into the night.
I found that if I waited outside, I was constantly approached by friendly people asking again and again where I was from, where I was going, how much did the bike cost, what size was the motor, how fast would it go, etc., etc., etc. It was nice enough, but it was endless. I finally went inside where it was very hot and tried to write on the computer. At least there was a tiny breeze outside. Inside, it was stifling. When I couldn't stand it anymore, I went out for a short walk and sent a SPoT signal.
Several large buses arrived at the same time and the parking lot and cafeteria became packed with people taking a break from the road. It was very hectic for a while, so I just sat inside to watch all my gear while the hoards came and went. I was a sweaty mess before long, since the place was like an oven.
The truck arrived at 23:40, gassed up and then backed up to my bike. The driver was Daniel, a young guy who helped me roll the bike onto the big tilt bed. Honestly, the truck was overkill; a smaller truck would have been fine. After we got it strapped down and all the gear stowed, I got Daniel a large cold bottle of Coke and we started toward BsAs at midnight.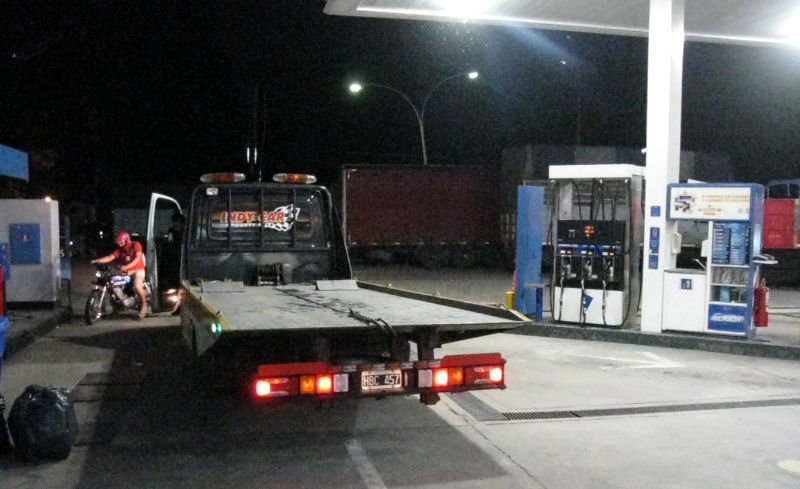 Thursday, 15 January, 2009
----------------------------
I tied to chat with Daniel, but he had no English at all, so that didn't work. The roads that Daniel chose were hard to figure out. He didn't take the major highways and we were often on rickety bridges and such bad pavement that for miles it seemed as if it had suffered aerial bombardment. We followed some buses and other trucks for a while, and we all went from one shoulder of the road to the other shoulder seeking the best path through the carnage. When we got to a better road, I tried to doze, but napping really doesn't work for me. Can't sleep on aircraft, either. The night was clear, so I watched the stars. Orion was easy to identify, but he was upside down, and it looked as if the Pleiades were chasing him for a change. But no, they were still going east-to-west, just upside down.
It was good that Daniel liked to leave the windows open, which I also prefer. The wind was nice in the hot night. We stopped a few times to get fuel and scrub the incredible bug splatter off the windshield.
I was surprised to see how low Daniel had the headlights aimed. They were pointed almost straight down and barely lit the road ahead of us. He would often flash his bright lights to briefly see the road ahead, but rarely left the high beams on. I didn't understand why. At the speeds he was traveling at, his low beams would have only shown him what he was about to hit just before he hit it.
Daniel had a music CD playing for part of the trip, a collection of disco music from the 70's. Later, he switched to 80's pop music. For Daniel, that was good, since he was driving. But for me, it was another reason I was unable to relax. I was over-stimulated. Too much Boy George, Wham!, and Flock of Seagulls.
When we neared Buenos Aires, Daniel asked where we were taking the bike. I used my GPS (which I had thought to have with me in the cab) to guide us to Dakar Motos. We arrived at 09:30. While Daniel waited with the truck, I knocked on the locked door and the man who answered the door was Chuck Weaver, whom I had last seen in Ushuaia.
Chuck was here having his nagging oil leaks checked. He was going to be here a while, just as I was. His ride blog is http://ChuckWeaverRides.com.
Also present were the two Brits, Steve and Pete, who were just arriving at Dakar Motos when Don and I were leaving for Iguazu. They were waiting to get their old Norton motorcycles (circa 1940's) out of customs. They were intending to ride Che Guevara's route around South America, actually completing the circuit that Che never finished. They were video-taping their ride for some project of theirs. Their website is http://RevolutionRoad.com.
Gavin and the Canadian couple were gone. Dakar Motos was a hub for adventure riders in Argentina, so we met lots of riders from various countries who came and went on a regular basis. Sometimes there were four or five tents in that small yard.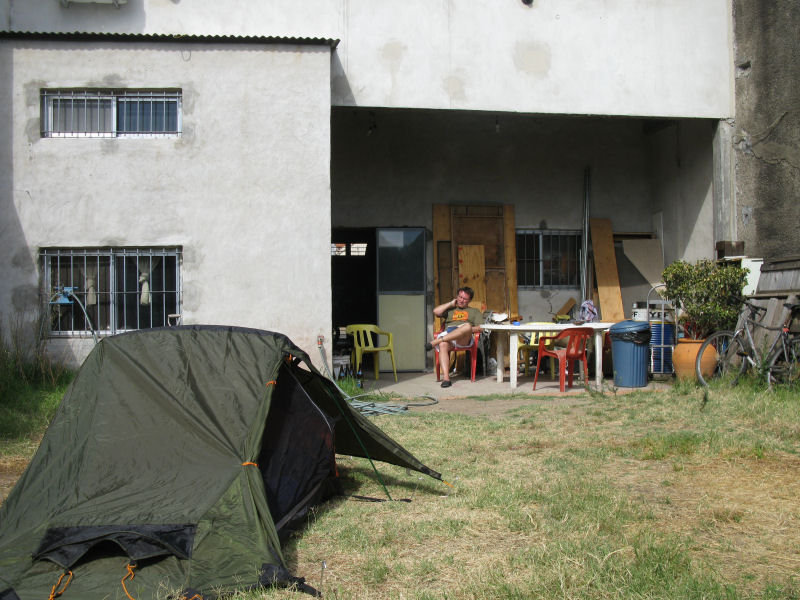 This is Chuck, Pete, Steve.
Pete gave me Sandra's cell phone number. She is Javier's wife and manages the shipping and import/export of bikes for many riders. I called her and she was surprised that Javier was not at the shop. She said she would text him and let him know that I needed him. Javier arrived soon after. He was shocked (SHOCKED, I tell you!) to hear what it had cost me to have the bike trucked here. "You can almost send the bike back to the United States for that much money," he complained. Yes, I agreed, but that's what it cost to get the bike here from Goya on short notice. He just stared and shook his head. I told him that if I had better Spanish, I might have been able to negotiate more with someone or argue the cost over the phone, but as it was, I had to pay what they charged me. As I write this (almost two weeks later), I wish that I had tried harder in Goya to hire someone with a pickup truck. Javier's shock (SHOCK, I tell you!) at what I had paid made me upset at myself for being such a wimp with $1300 in his sock. Oh, well. Too late now.
I asked Javier if he could work on my KLR's motor, but he seemed doubtful that he could get to it anytime soon. He still had other work to finish and then had to fix the water-filled drive shaft housing on Chuck's R100GS. Next week, maybe he could look at it. I told him that I would leave the bike here with him and stay here a couple days with Don, who would be arriving later. After that, our wives would be arriving and we had an apartment rented for a week. He said that would be okay, so I told Daniel that we could unload the bike here. Daniel didn't care; he just wanted to get started back on his 12-hour drive back home. I asked if he was staying here tonight, but he said no, he was going back immediately. Oof.
We unloaded the dead bike into the street, and I paid Daniel. He counted out the money, waved okay, and drove away.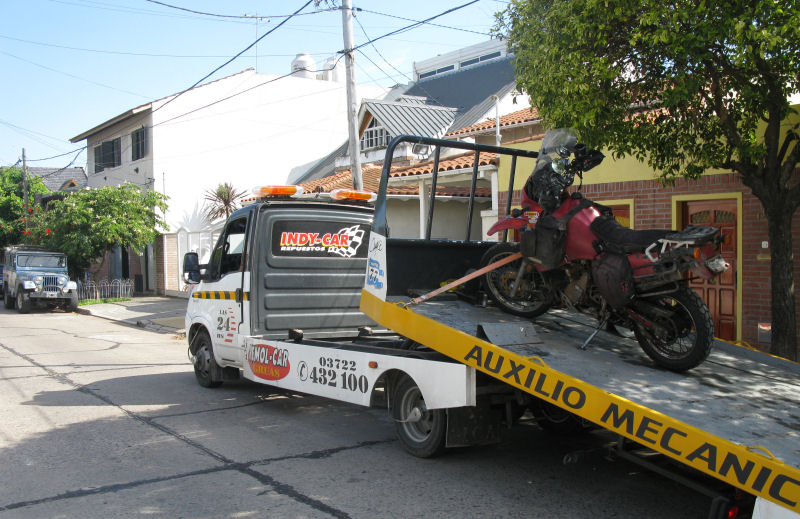 I rolled the bike into Dakar Motos and wedged it between the many other bikes that were stored there then stacked my boxes on an upper shelf and found other cubbyholes for the soft luggage. I happen to know whose boxes those are next to mine. They've been here a while.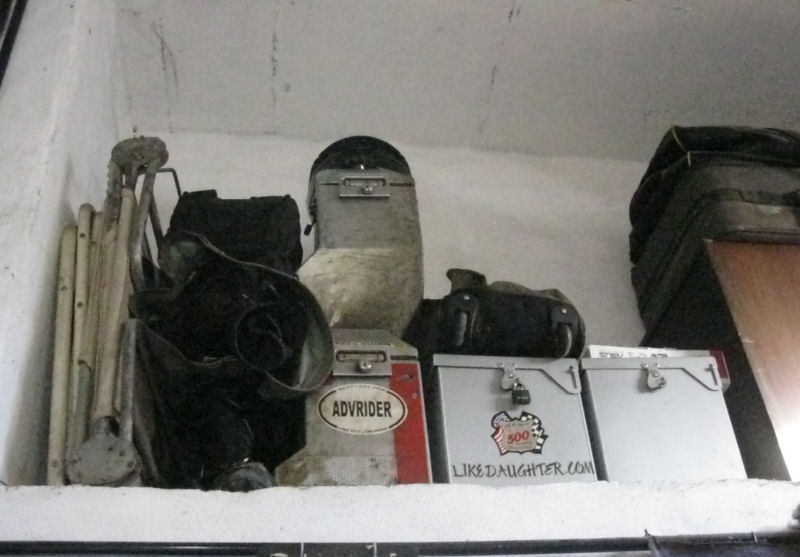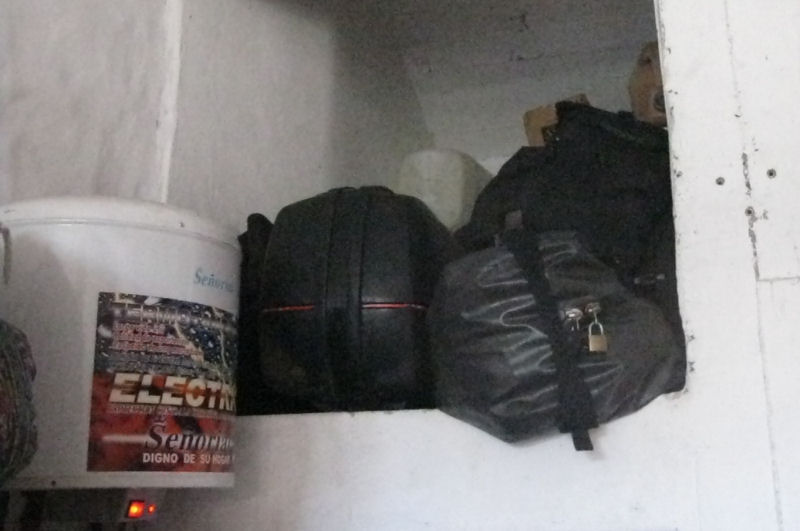 Some of the bikes and gear looked as if they had been there for years. That's because they had been there for years. There was a big KTM bike there that has possibly been abandoned. Javier hasn't heard from the owner in over a year and hasn't had a reply to his email inquiries.
There were two other KLRs there. One was listed on some Internet forums as being for sale, but it was out of my price range. The other was newer, and apparently had recently been sold to someone by the owner who had left it in storage. (As it turned out, it was bought by a Dutch backpacking couple who rode off on it while I was there.)
The hostel facilities at Dakar Motos are very basic, and are not a major component of the shop. The shower was once again located almost over the toilet, so you have to ask if anyone needs the facilities before you take a shower. I did that, and the shower felt great, even if was crude.
Don had left a voice message on my cell phone at some point. He had found a nice hotel in some small town last night.
I walked to a nearby market and got some snacks and drinks, then returned to the shop to write. Chuck cleared some stuff off one of the available top bunks, and the other was cleared for Don. After writing a bit, I was too sleepy to stay awake. The long drive during the night had left me rested but mind-weary. I snoozed for a while, but the shop was too hot to really relax for long. Don finally called to ask where I was. I told him that I was at Dakar Motos, and he said he would meet me there.
After Don arrived, we discussed whether to stay here or find a hotel somewhere. I leaned toward staying here, even though it wasn't very comfortable, because the bike was here, because it was inexpensive, and because there needed to be some other discussions about my bike at some point. Don wasn't thrilled with the idea, and in the end he eschewed the bunk in favor of putting his Bug Hut over his cot in the back yard.
We again met "Cat," who was just as friendly as before, just as playful, and just as flea-infested.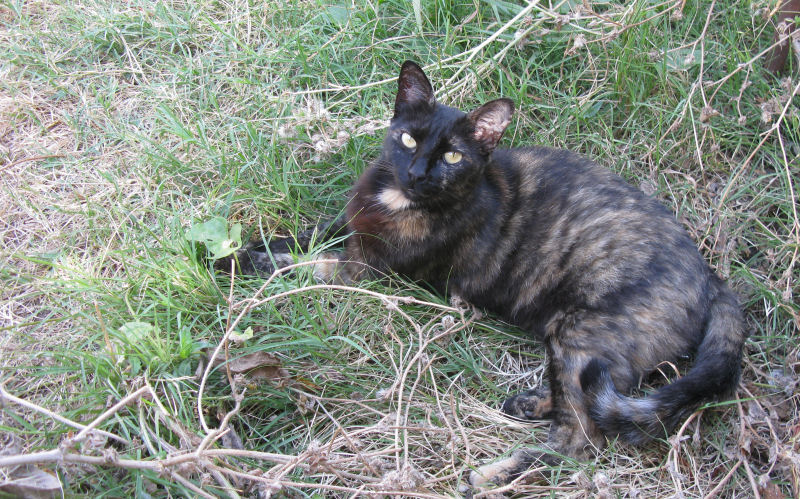 We walked toward the local train depot (really just a platform where the train stops) and went into a small pizzeria there. This is the road to the train stop. We saw lots of dog walkers around BsAs.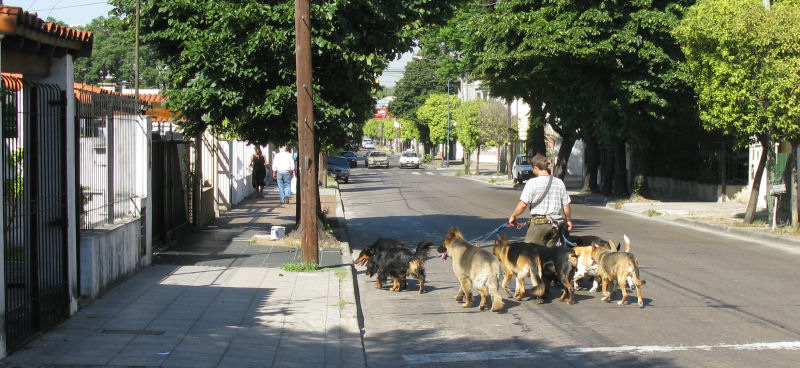 In the pizzeria, we saw on the TV that a U.S. Airways plane had landed in the Hudson river. News is something you miss a lot of when traveling like this. We had very little awareness of what was happening in the U.S. or in the world. I learned from Laurie when she arrived that a jet had crashed at the Denver airport recently, and that was also news.
Back in the hostel, we spent some time online. The shop had a Wi-Fi hotspot, so that was nice. This is also where Don made camp later.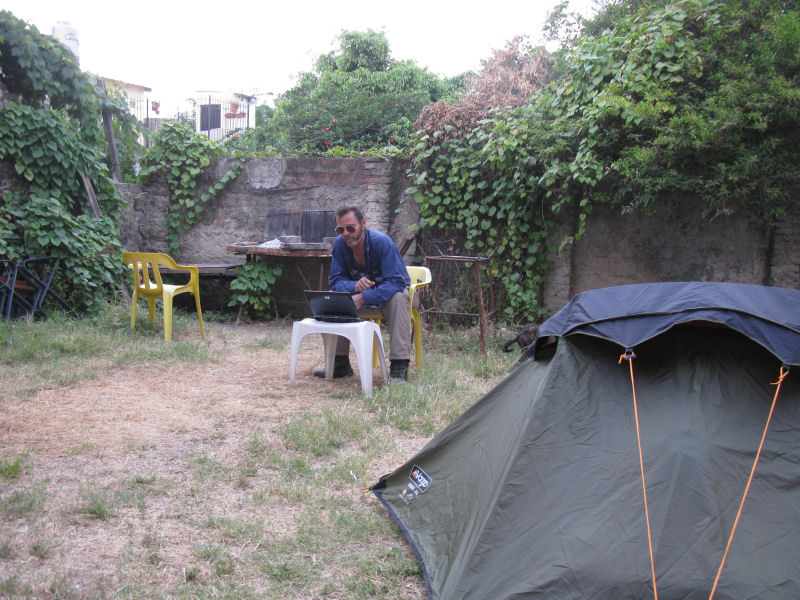 The bugs outside were worse than the heat inside, so we Skyped and did some email. Talking with Laurie about my dead motor brought up several possible solutions. One possibility was to order parts (once they were identified) and rebuild the motor. Another option was to find a cheap local KLR and swap the motor. That would lose the 685 motor upgrade, but it would be easier and maybe cheaper. A third option would be to remove the motor from Laurie's KLR (already partially disassembled) and bring it here for my bike. We would worry about replacing her bike's motor later when there was no time pressure.
Laurie had packed parts in her luggage before, but a motor? Split into two suitcases, would they come in under the 50-poundl limit? I would think so, since the motor doesn't weigh a hundred pounds total (does it?). Shipping the motor by a commercial carrier was not a good option. There are huge fees for imported parts, and one person told me that a motor was illegal to import to Argentina. What to do, what to do?
What I decided to do was not think about it (any more than I had to) for a week while our wives were here on vacation.
I was going to be in Buenos Aires for a while anyway.
<< Link to PREVIOUS report: Ushuaia and Tierra Del Fuego Up >>
<< Link to NEXT report: Buenos Aires >>
[ ERRANT-RONIN HOME ] [ Prudhoe Bay to Ushuaia Home Page ] [ Ride Reports Home Page ]