Part 26. Finish Brazil
===============
Wednesday, 22 April, 2009
-----------------------------
It was hard to leave. I had gotten settled in a nice home with good people, and it was comfortable. I could have easily stayed another month, or at least a couple more weeks until my visa expired. But it was time to move on.
I had set my alarm for 06:00, but I was up before that. I heard others moving around, so I went out and had a final farewell with each Fabio and Rayane before they left for work. I started getting packed up, and Joelmir came out to watch me load the bike up. It was emotional again, and we had another good-bye hug.
It had been a while since I had ridden the bike fully loaded, so it felt again like a reluctant water buffalo.
Before leaving the city, I stopped to fill up the gas tank, get a bite to eat, and grab some juice to take along. I planned on riding the entire 500 miles to Boa Vista, so I hit the road a little after 07:00 and got onto BR174 again. Better luck this time, I hoped.
It was overcast and cool, which was nice, but that also meant rain. And rain it did. I put my Darien jacket and pants on, but they haven't been waterproof in some time. Still, they helped. When it got sunny again, I took the jacket off, but the pants helped protect my legs from the heat of the motor.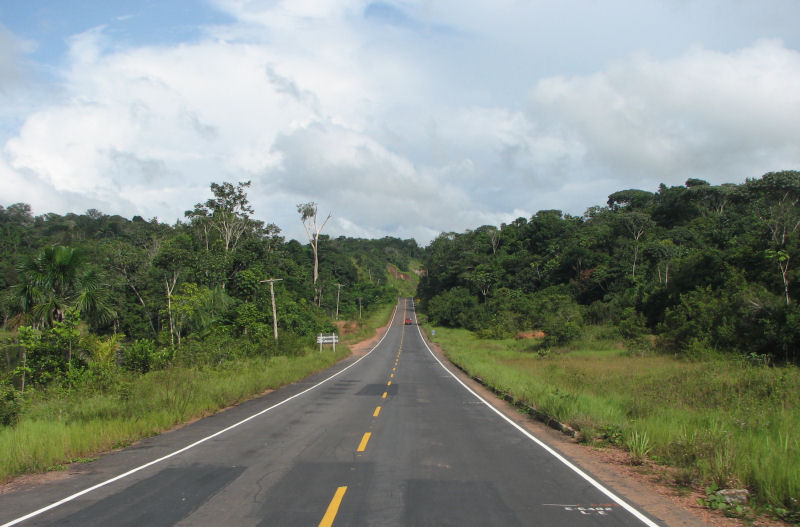 I stopped at the gas station where I had spent the night before finding a truck driver to take my cripple bike back to Manaus. The pump attendant recognized me and pointed at the clutch. I returned his thumb's up sign, and his smile as well. After topping off the tank, I also added a little more oil to the motor, lubed and checked the chain, and checked the tires. I didn't want any surprises today. Onward.
This time, I took a photo of the sign where the indigenous reservation began. No stopping or photos allowed after that.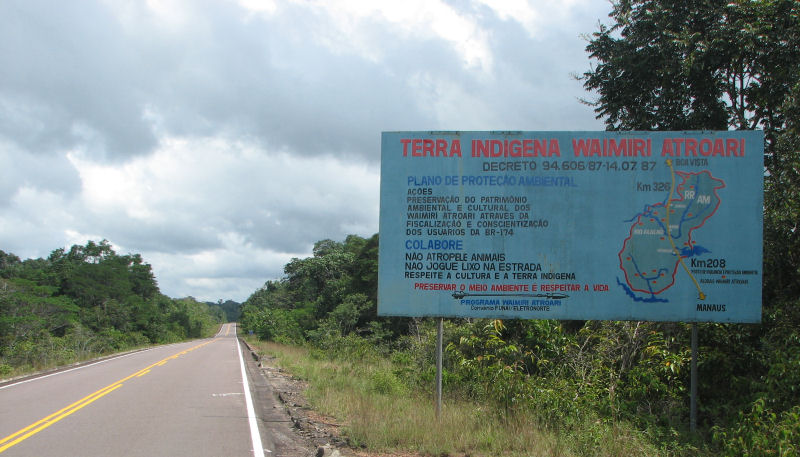 When I passed the point where my clutch had died, I was on new roadway. The road was in poor condition for some stretches, looking like it had been bombed in places. I kept my speed above 60 mph, and dodged the holes as best I could.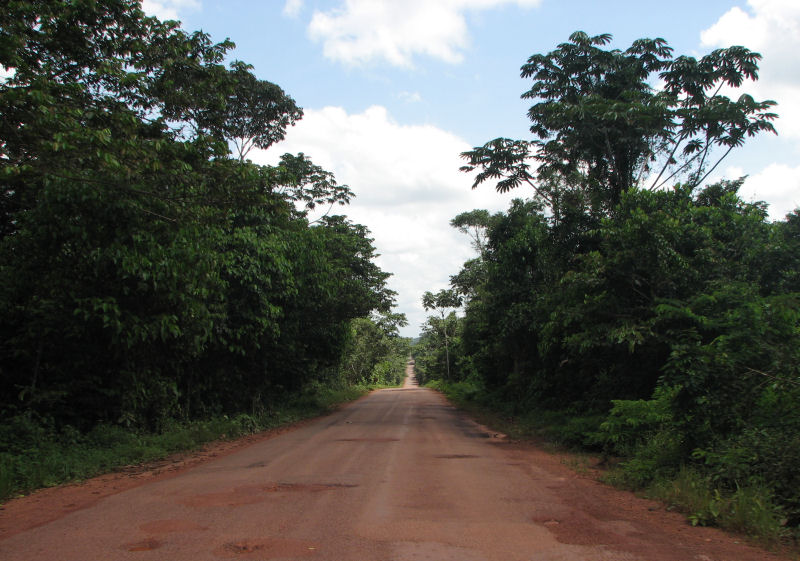 Past the reserve, I gassed up again, and kept going. The landscape changed a lot during the day.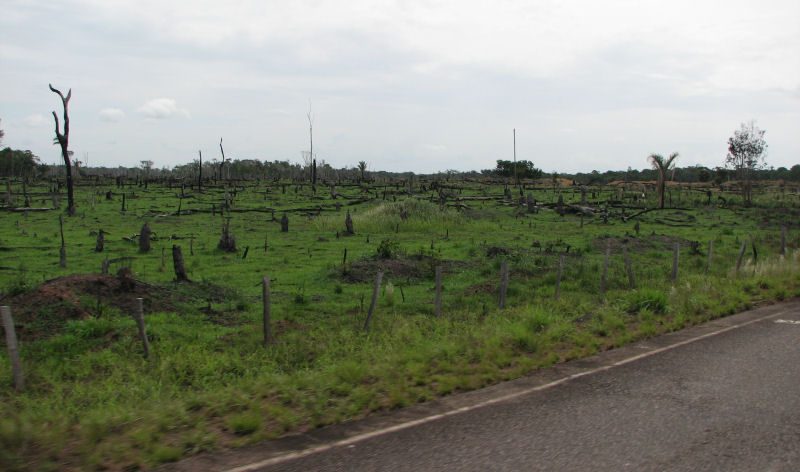 Several large rivers were crossed.
Several decent-sized towns and cities.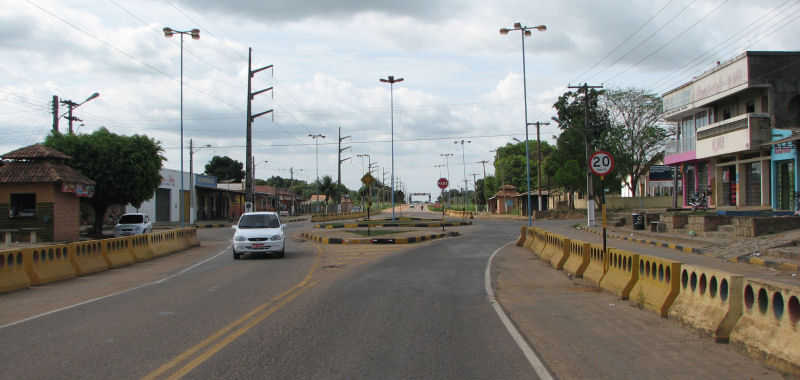 And something I hadn't seen in a while. Mountains!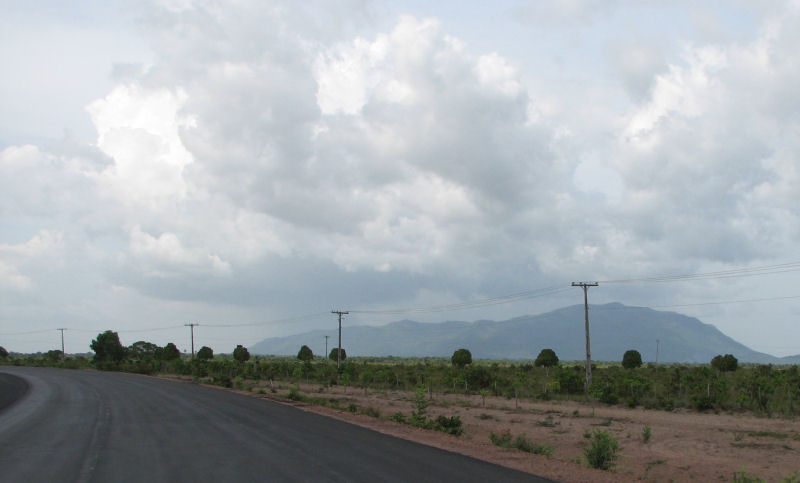 I got to Boa Vista at about 16:30, and rode around the city for a while. It was larger than I expected, with a good-sized airport.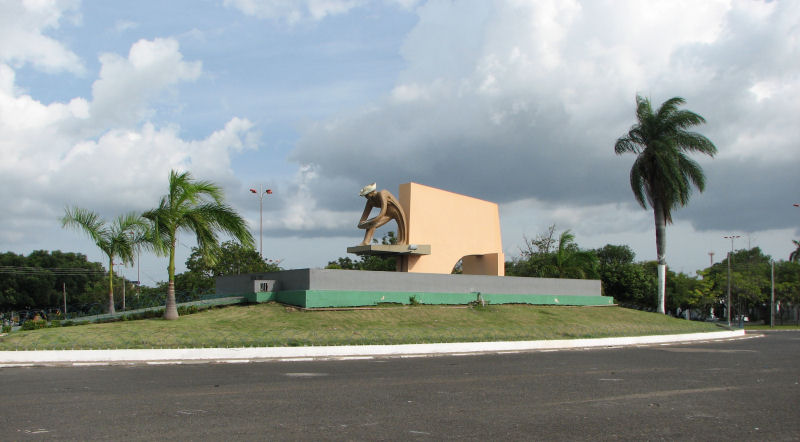 I finally found a hotel, and met an English backpacking couple in the lobby. They were traveling by bus, and were waiting for visas for either Surinam or Guyana (or both). We didn't talk for long, since they were headed off somewhere.
After a shower, I wrote for a while, then went out in search of an Internet cafe and some food. All I'd had to eat all day was an empanada in Manaus. The first Cyber Cafe I found wouldn't let me hook my laptop up to their network. The geek stud did walk down the street with me and point out a Wi-Fi zone, so he wasn't a complete waste of my time.
The Wi-Fi zone was in a combination cafe/clothing store. Some of the women customers from the cafe were trying on dresses. All the place had in the way of food was more empanadas, so I had three of those and some juice while I tried to get my laptop to connect to their hot spot. It finally connected, but it was very slow and kept dropping its Internet access, so all I was able to do was reply in a few forums. I never got around to updating the ride report or handling email at all. When the connection dropped out again during another attempt to upload some photos, I had some ice cream to cool my attitude. That, folks, used up all the time I had there, because the cafe closed quite suddenly at 20:00.
Screw it. Back to the hotel.
Thursday, 23 April, 2009
--------------------------
I was up at 07:30 and ready for breakfast. It was a nicer selection of food than I had expected for a budget hotel like this, so I was full and ready to ride soon after.
I needed to complete the exportation of my motorcycle before leaving Brazil, so I would try to do that here in Boa Vista before heading for the border two hours away.
I had noticed when I first got to Boa Vista that it seemed a more affluent city than most others. Many houses were very large, very stately, some with large yards which was very rare. I remember being told that Franco had family in Boa Vista, and that they were well-off. There were the regular, concrete homes there, of course, but a high percentage of people living there had money. Maybe this was a kind of resort town, or a place where wealthy people kept second homes.
The ride north was nice. The road was good to great, with many sections of new pavement. Another rider had passed this was a couple months ago and reported that it was in terrible shape in places. That has been fixed.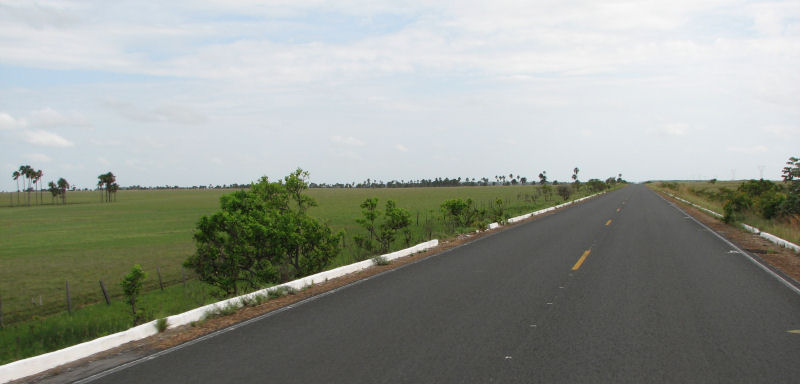 I had no rain all day, and it was warm but not hot most of the time.
I passed through another indigenous reserve where there were again signs about not stopping.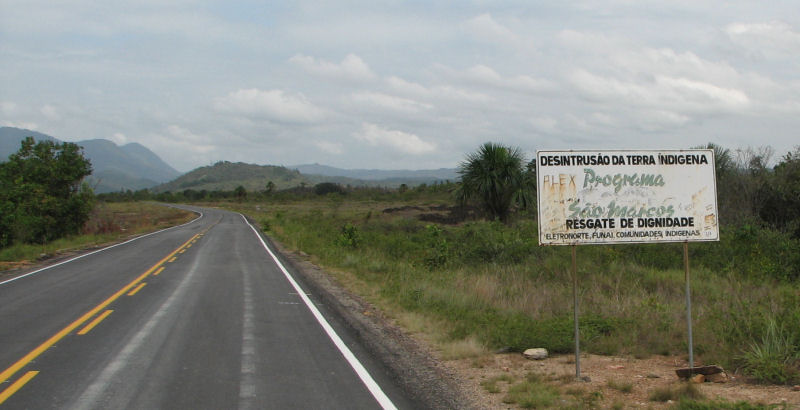 As I neared the border of Venezuela, there were some nice hills and twisty roads that I hadn't seen in a while. I didn't take photos on the twisties, because I was busy twisting.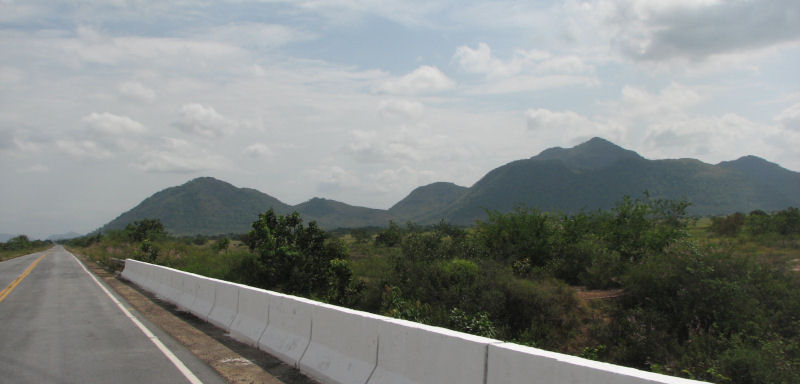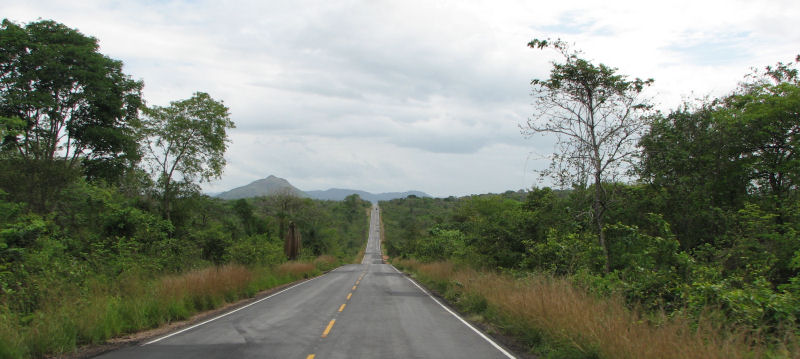 Some side roads were tempting, but not with this over-loaded bike.
At the first police checkpoint, I asked about exporting my bike, but they sent me on to the actual border where there was a customs office.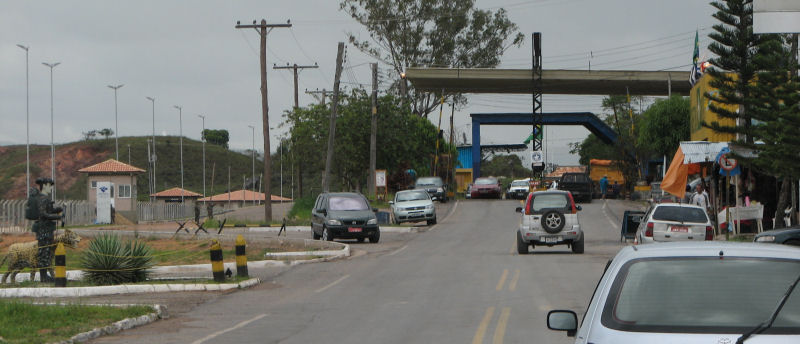 At the border, I got stamped out of Brazil easily enough, and they pointed me to the customs office where they took my special import papers and canceled them.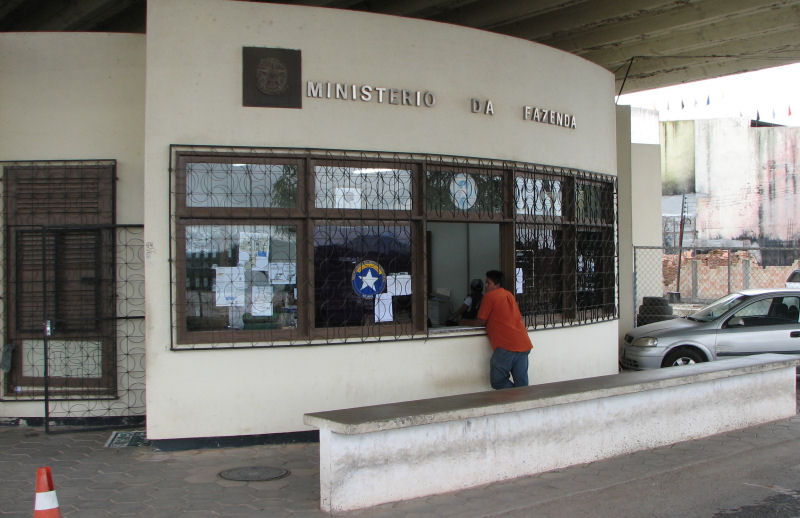 They gave me a copy of the completed export, so all seems well. That was a relief. The customs guy who helped me spoke excellent English, and he asked me how I had liked Manaus. Then he asked if I knew Ceara! Wow, the world is small.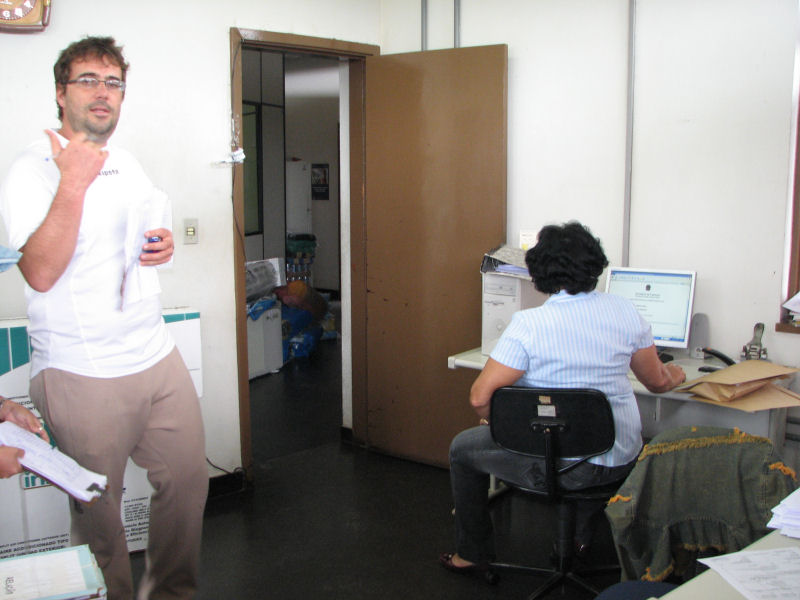 I was out of Brazil just like that. No problems.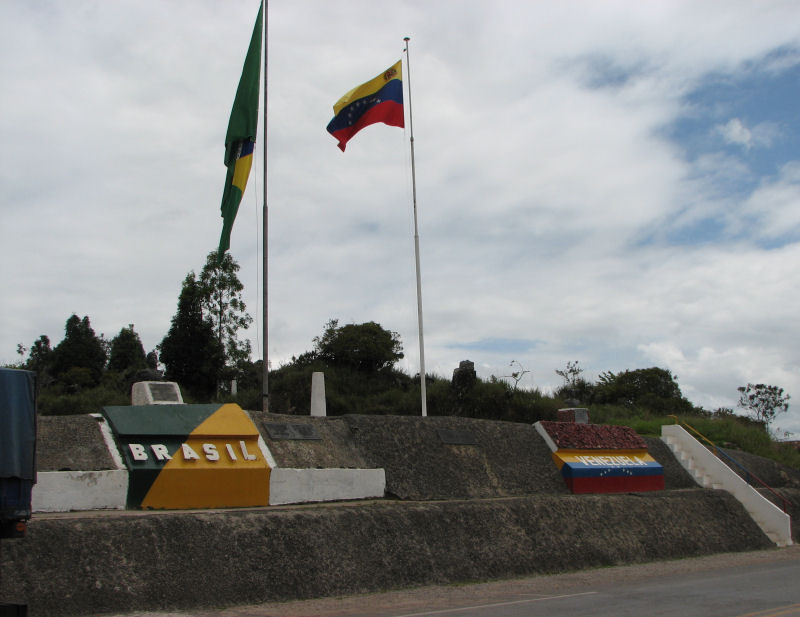 << Link to PREVIOUS report: Manaus... again >>
<< Link to NEXT report: Venezuela >>
[ ERRANT-RONIN HOME ] [ Prudhoe Bay to Ushuaia Home Page ] [ Ride Reports Home Page ]