Part 29. Finish Venezuela
==================
Monday, 4 May, 2009
-----------------------
The first part of the ride out of San Cristobal was the same route we had done the group ride on, so it was familiar.
When I got to where the road to the border with Colombia turned off, I didn't see a sign. No worries though, because unknown to me, Edgar had followed in the truck. He honked to get my attention and pointed to where I was to turn. He pulled up next to me when I stopped, and I asked him what he was doing. He said that he wanted to make sure I didn't miss this turn, since it was poorly marked. What a guy.
I thanked him and said I just needed a full tank of gas and I was good to go. He led me back the way we had come to the nearest gas station, and we made our final goodbye there.
After another half hour, I was away from the San Cristobal area, and passing through some smaller cities and towns.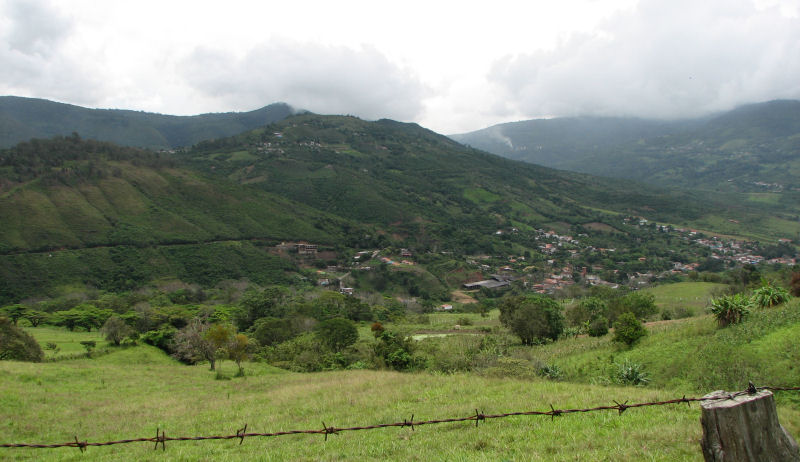 It rained lightly for most of the ride to San Antonio, the border town in Venezuela. More small towns on the way there.
The roads were mostly good, but there were the usual sections of really crappy repairs.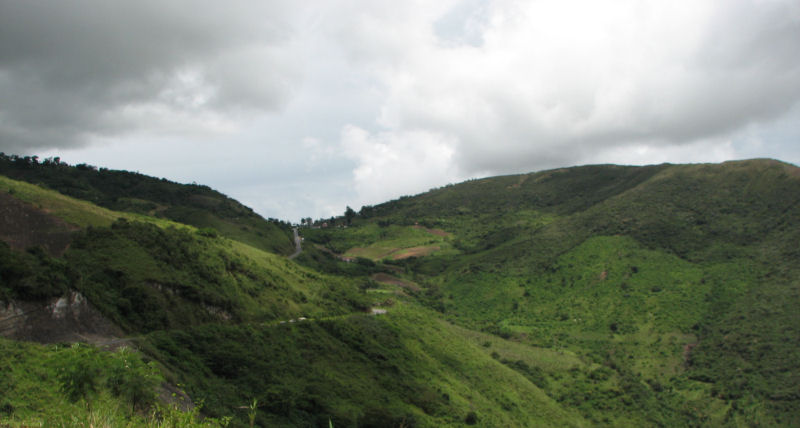 There were some gorgeous views as the ascent got steeper. It also got colder.
It took less than two hours to get to the border. San Antonio itself was a traffic-clogged mess. In a car, you would be stuck a long time. On the bike, I was only stuck for half a long time. Finally, the exit from Venezuela appeared.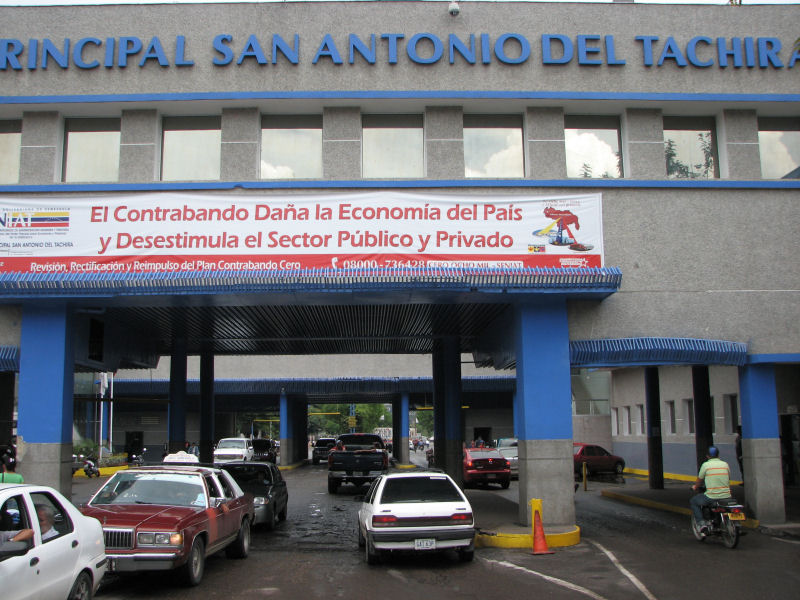 The Immigration and Customs offices are in the courtyard on the left as you pass through this complex (above).
At the Onidex Migracion office, I filled out the form the agent gave me through the window. In the block for my profession, I wrote "Jubilado Policia," instead of just "Jubilado" as I had normally done. Jubilado means "I am retired." When I passed the form back to the agent, he stamped my passport and waved goodbye. I knew that I had to pay an exit fee, and there was a sign on the window that clearly showed the cost of the exit stamp was BsF/55. When I asked about needing to pay, he pointed to where I had written that I was a retired policeman and waved me away again. No charge. What a country.
Across the courtyard was the Customs office, but it had a sign indicating that they were closed. Siesta, I suppose. I wandered around a little, watching hundreds of people drive, ride, and walk across the border in both directions. It was another free trade zone, so as long as you stayed near the border, no one cared. I got in line when one formed in front of the door and waited a bit longer. After about 45 minutes, the office opened and we filed inside. I was fourth in line, but it took over half an hour to be my turn. I handed my papers to the agent, but he immediately handed them back to me. When I put on my best "I am stupid" face, he pointed back outside to a different office. Duh. That was an hour and a half wasted.
Once in the correct office (which had been open the whole time), I was directed to a service window where they took my bike importation paper (with all the police stamps on it) and they stamped and canceled the bike importation information that they had printed in my passport. I think this was only the second country that put vehicle import info in the passport itself. I hadn't even noticed that they had done so until I saw them cancel the bike stamp.
I was out of Venezuela and headed for the bride to Colombia.
<< Link to PREVIOUS report: Manaus... again >>
<< Link to NEXT report: Colombia Again >>
[ ERRANT-RONIN HOME ] [ Prudhoe Bay to Ushuaia Home Page ] [ Ride Reports Home Page ]