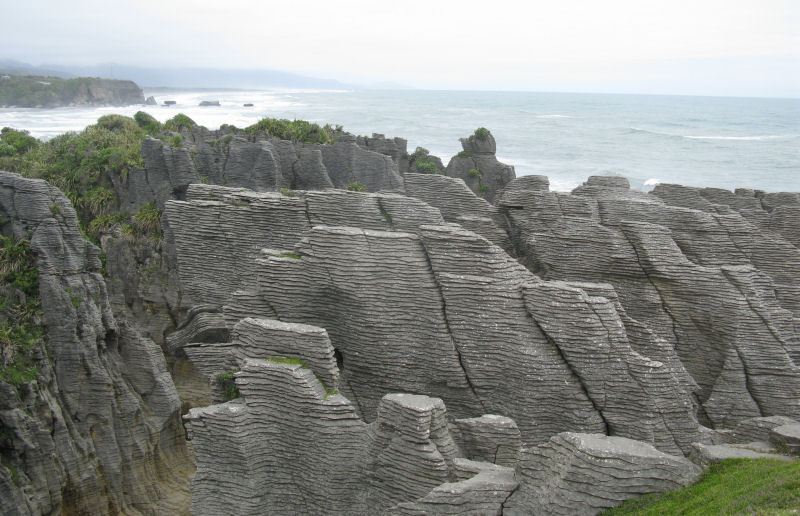 Part 4. New Zealand, South Island, Week 2
==============================
Friday, 2 December, 2011
--------------------------------
Our plan was to just be tourists all day. We had breakfast at a bakery and lingered for a while over some local crossword puzzles. They are different enough that I was having difficulty with them. We called John, and he said he was still working on a solution and that he would call us back.
We knew that we wanted to do a JetBoat trip on the Shotover river, so we made plans for that.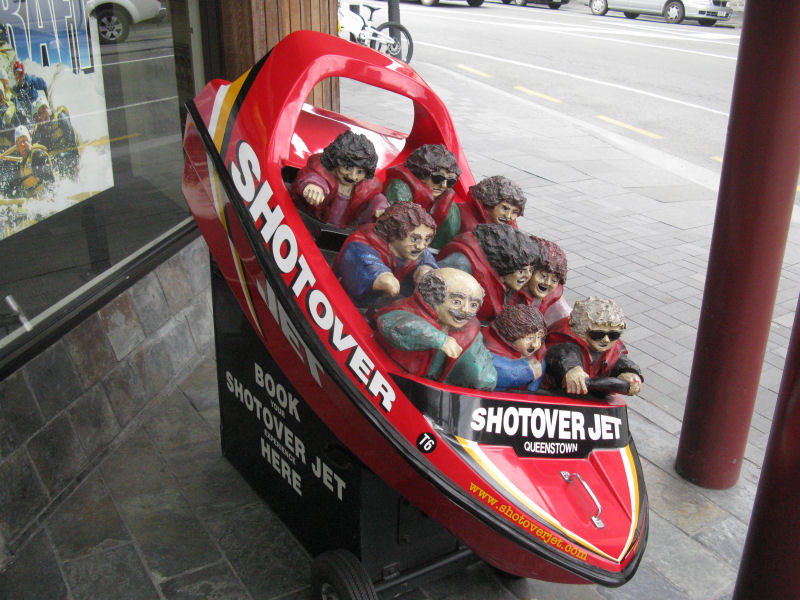 In the meantime, we toured the local kiwi zoo and bird sanctuary. It was a private operation, so it was quaint and not overly-touristy. Again, the kiwis were being kept on a reverse day-night schedule, so we got to see a female run around its glass-enclosed pen searching for insects. The male was in the lair sitting on an egg. No photos allowed of the kiwis.
Out in the open-air zoo, we used an audio device to tour the displays and cages, listening to the descriptions and explanations. We had one audio device and two headsets, so we had to stay within arm's length the whole time. Since we walk at different speeds, this was often a challenge.
I didn't take a lot of photos; only a few of some of the birds.
Kea parrot. Looking for some mischief to get into.
I took no notes, so let's call this a green parrot with a yellow forehead.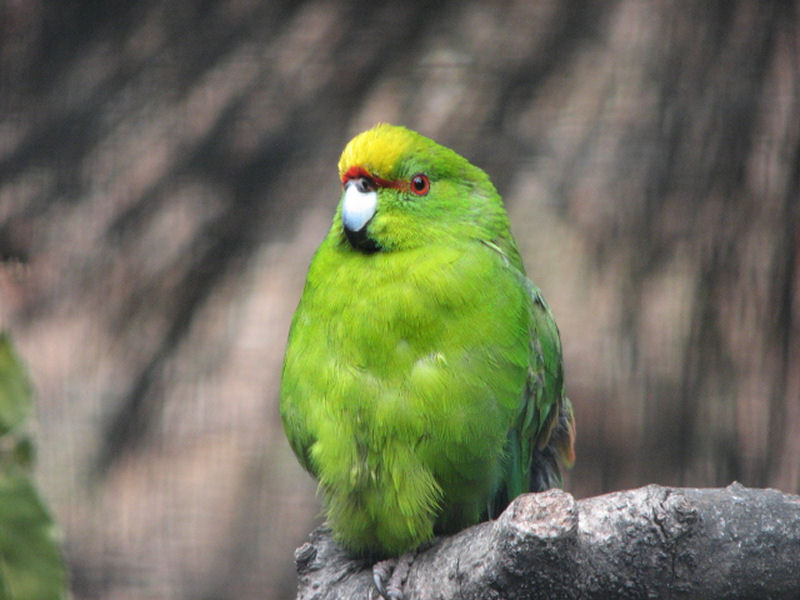 This is a Tui. The bird, not the beer. That bit of white fluff at the throat is its feathery bow tie.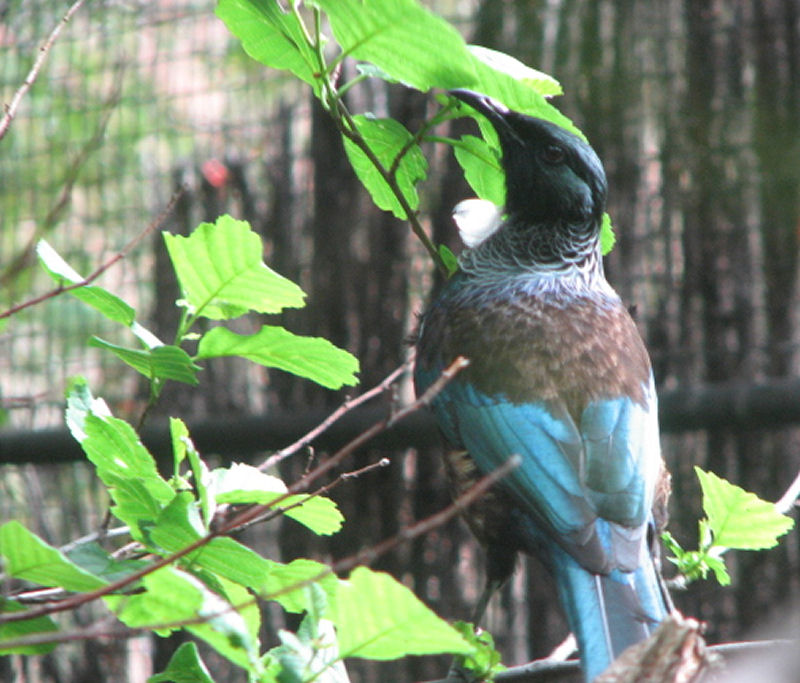 Outside the bird sanctuary was an old cemetery. A very nice view over the city and the lake from here.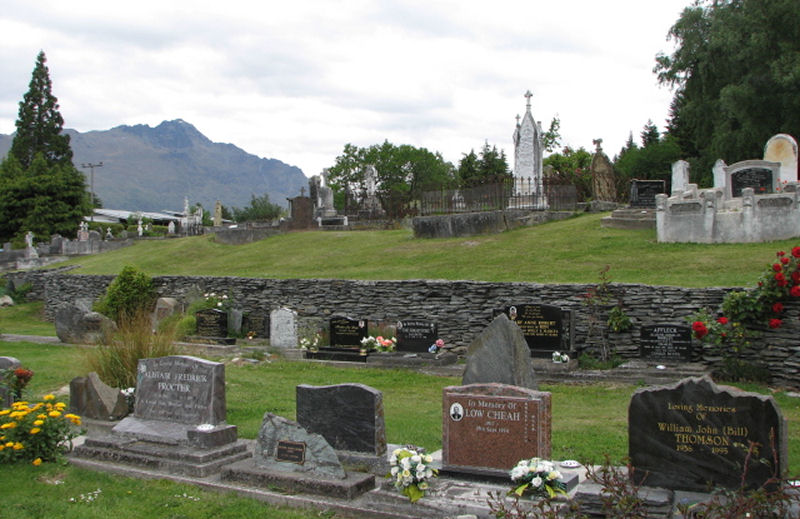 Next to the bird sanctuary was the gondola lift to the top of the hill. A very steep ascent. You could do lots of things from the top, such as jump off... with a parasail pilot leading you to a gentle landing in a school's athletic field below.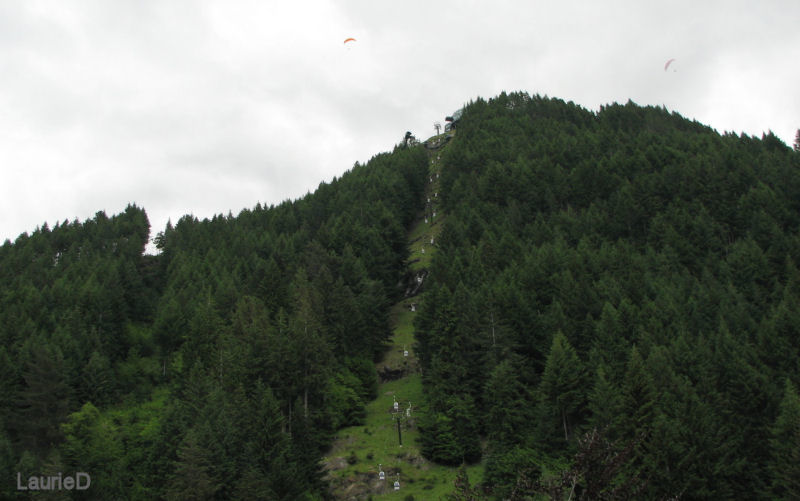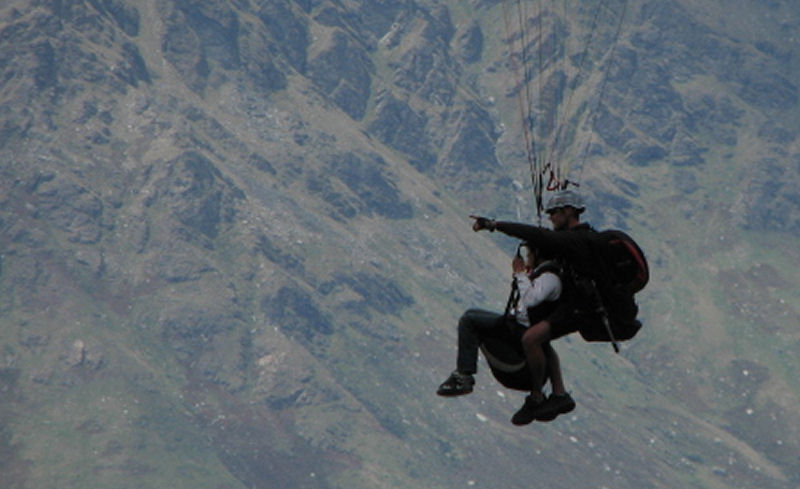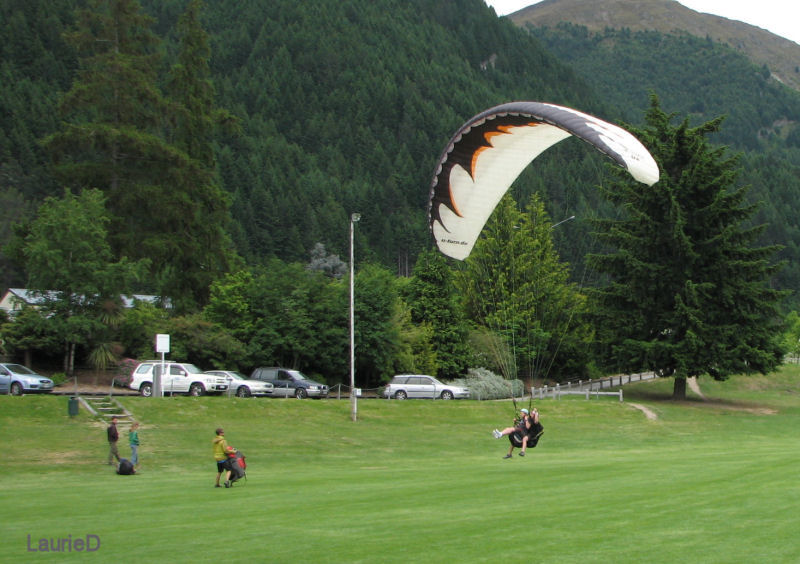 The view from the top was very nice. The center of activity for Queenstown is right in the middle of the next photo, along the artificial waterfront. Our motel was off to the left, just above that small park area--very close to everything.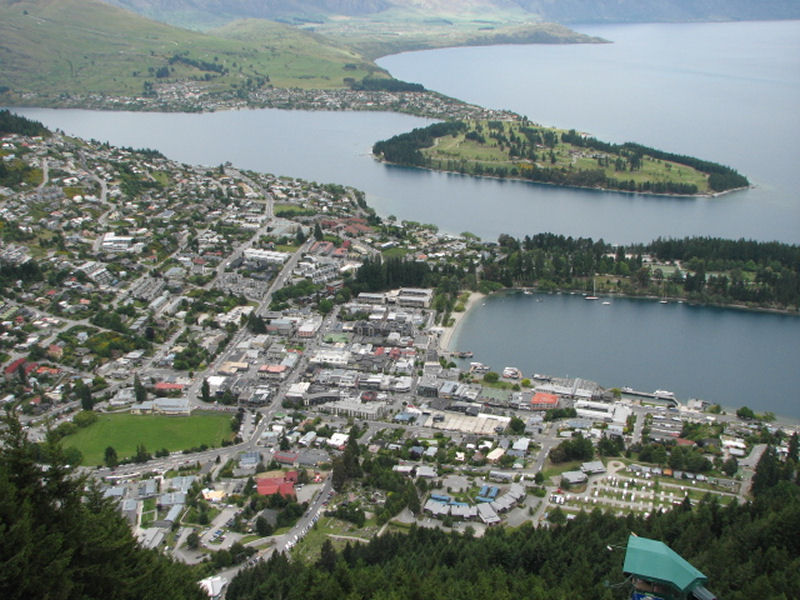 All you wanted to know about Lake Wakatipu.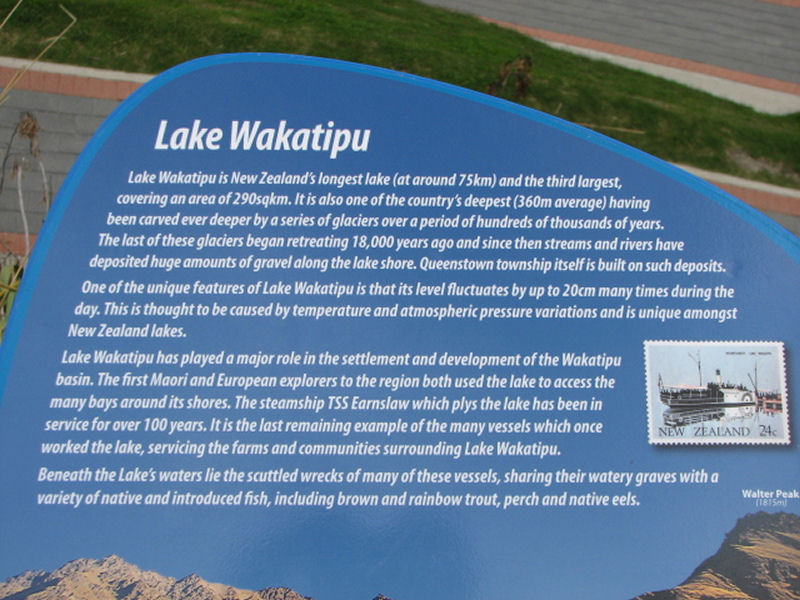 From the top of the gondola ride, you can hike, bungee jump or swing, take a paraglider down, zoom around on some alpine-slide carts, do some tourist shopping or eat in a variety of establishments.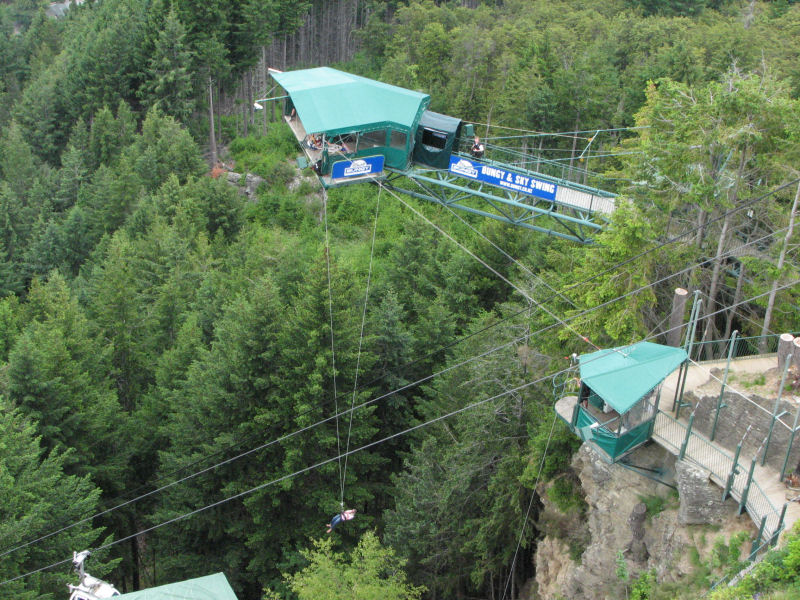 And, again--yes, you can get there from here.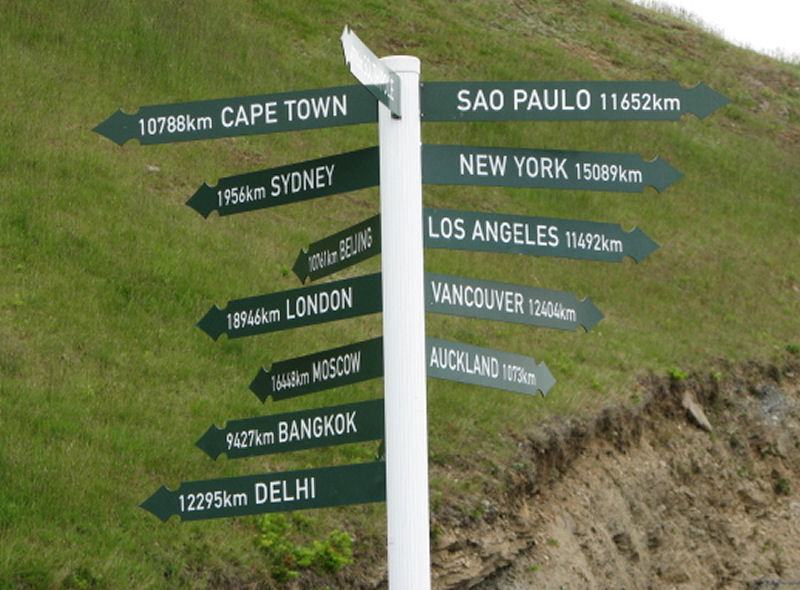 The TSS Earnslaw has been in service for a hundred years. We caught sight of it as it returned from a day cruise on the lake.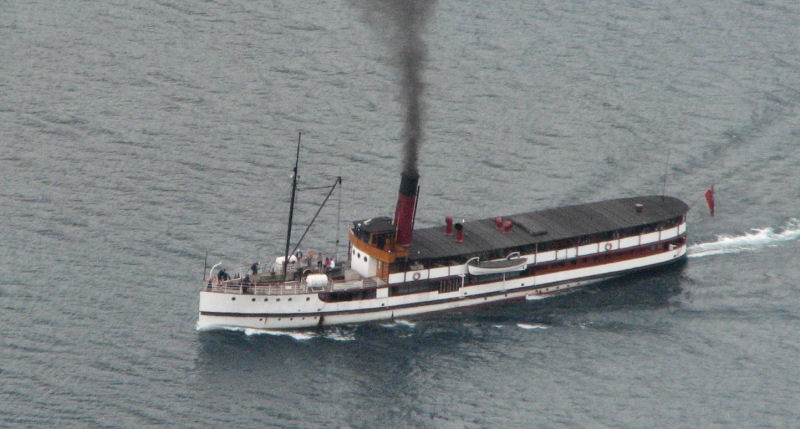 We had a snack and then took a bus tour around the Queensland area. The driver/tour guide did a good job, and we learned a lot about the region and its history. She was sometimes used to help drive the production vehicles for the Hobbit production, and had another such gig in the morning.
I didn't take many photos, but I learned about all the trees in the area being introduced by European immigrants for aesthetics, lumber, and firewood. The trees went wild, and now they had completely covered mountains that had been naturally rocky and almost barren.
After a short wait, we caught the bus for the JetBoat ride. The ride went up and down the Shotover River, sometimes within inches of the jagged rocks. The boat pilots deliberately scare you with the frequent near-misses. The company photographers know where to be and when, so you can buy their photos at the end of the wild ride. These boats are famous for their speed and maneuverability, and they do 360o spins on the water. Needing only a few inches of water when moving fast, the boats cruise right over shallow, rocky areas when it seems like you should be scraping the bottom.
Here we are, sliding sideways along the river.
We only got splashed a little, and we were pretty much dried off by the time the bus returned us to town. We headed for Fergburger, since it had been recommended to us.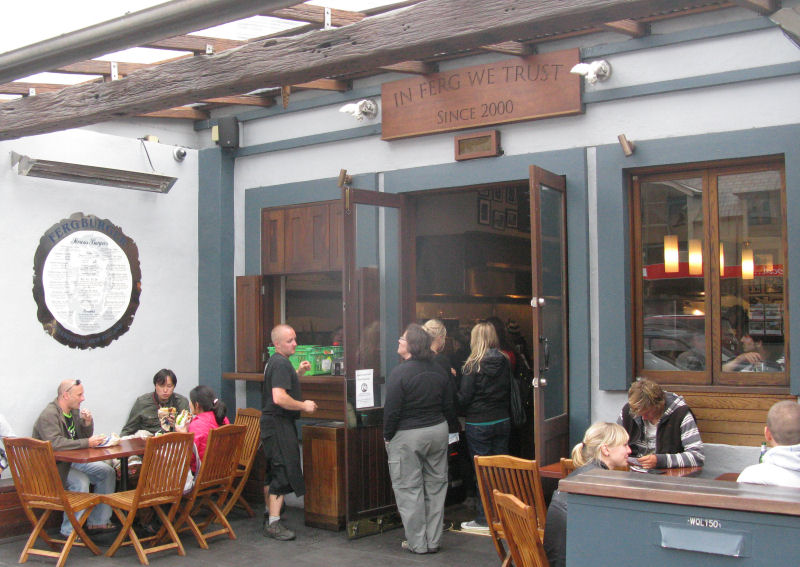 The burgers are quite large, and a decent value. One order of fries was easily enough for two people.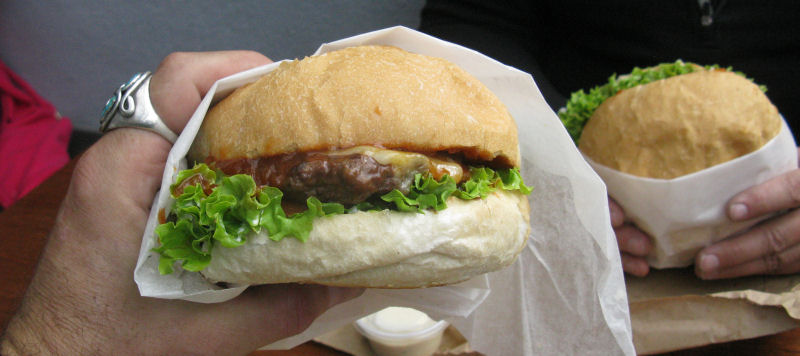 It was a good thing we got there when we did, because right after we got our food the place got crowded. Popular with the locals as well as the tourists, so that's a pretty good reputation.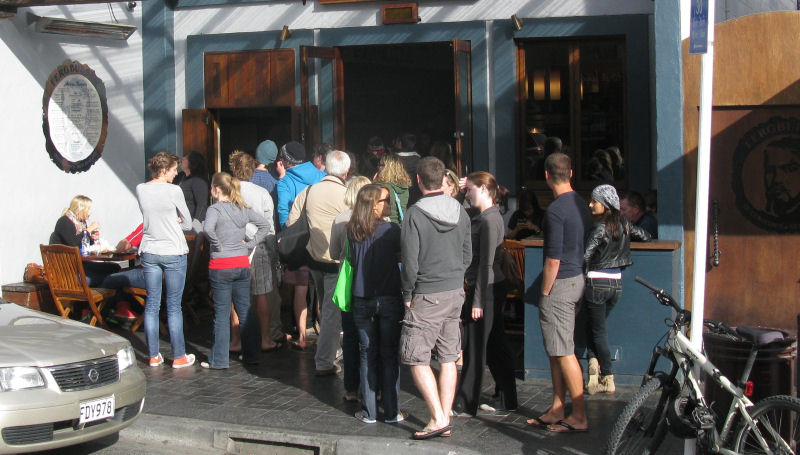 John called and was having a replacement part sent overnight to our hotel, so that was already underway. He was going to divert in our direction and meet us in Queenstown in the morning to do the repair.
We looked for some nightlife, and found that many places had live music that night. Rather than a trio of Punk bands at one watering hole, we opted to start the evening at an Irish pub. Besides, I think I might have done some slam-dancing to Two Buck Titties in the '80's.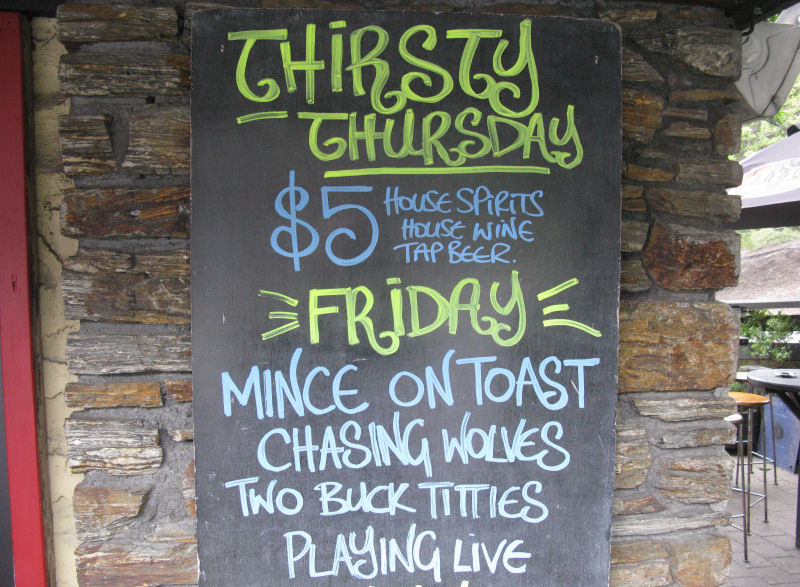 Okay, not really.
We went to Pog Mahoney's and found a table right in front of the Irish band, and they were very Irish indeed. I could barely understand most of the lyrics, but that doesn't always matter. I had the Guinness because... well, because it was an Irish pub. Simple, yeah?
At one point, the guitar player started playing Dueling Banjos, but when the banjo player kept messing it up, the guitar player told the audience they would have done the song, "But yer fooking banjo player don' know it!" Hey, isn't that part of Banjo 101?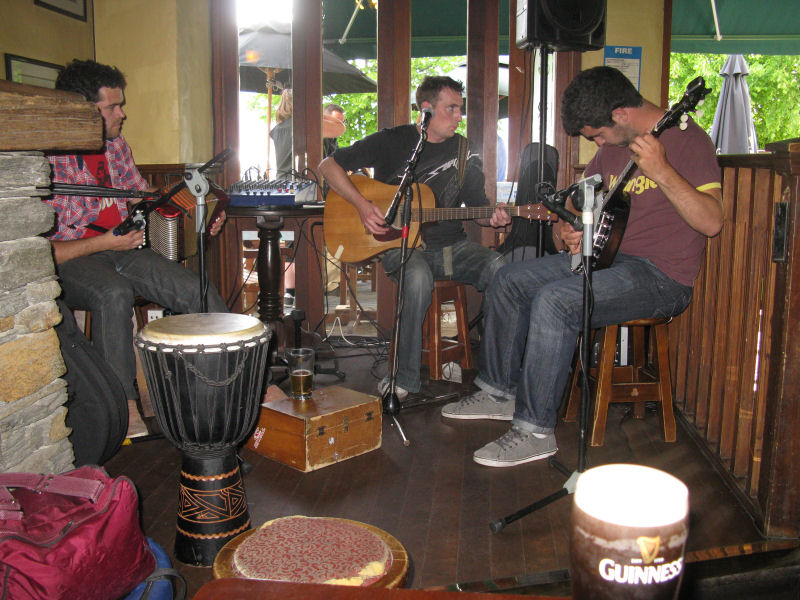 After a couple hours at Pog's, we went back to the Pub On The Wharf, where we had been the previous night. The band that set up and started playing there was not nearly as good as the couple who had played the night before. This trio were WAY TOO LOUD!!! and their sound mix was terrible. It was painful to sit inside at all, and almost as bad outside where all the smokers were gathered. What a shame. We didn't stay long. In fact, no one was sitting anywhere in front of the band, and you would think that a manager would have noticed that all those tables remained empty. Oh, well.
We had a nice pastry at the bakery next to Fergburger. I think it was the Ferg Bakery, so probably the same owner, Ferg.
Laurie was briefly stalked by the world's last living Moa bird, but she managed to escape it by affecting the mannerisms of another Moa. Mainly, this meant standing perfectly still, as if made of concrete.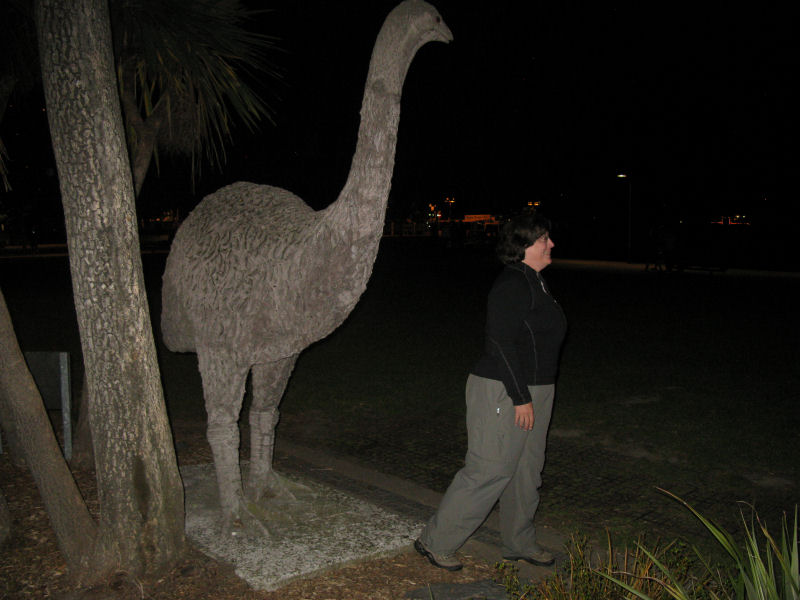 Saturday, 3 December, 2011
-----------------------------------
We packed up and checked out of the motel, then walked a couple blocks to a bakery for breakfast.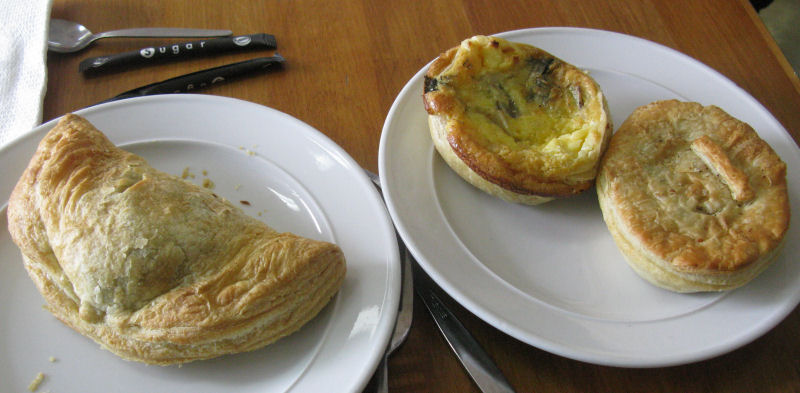 Just as we returned to the motel, John pulled up in his van. Right after his arrival, the delivery truck appeared with our part! Perfect timing all around. The replacement part that John's mechanic had sent us had been scavenged from another bike. We got it installed after several minutes figuring out how to switch out the lock mechanism.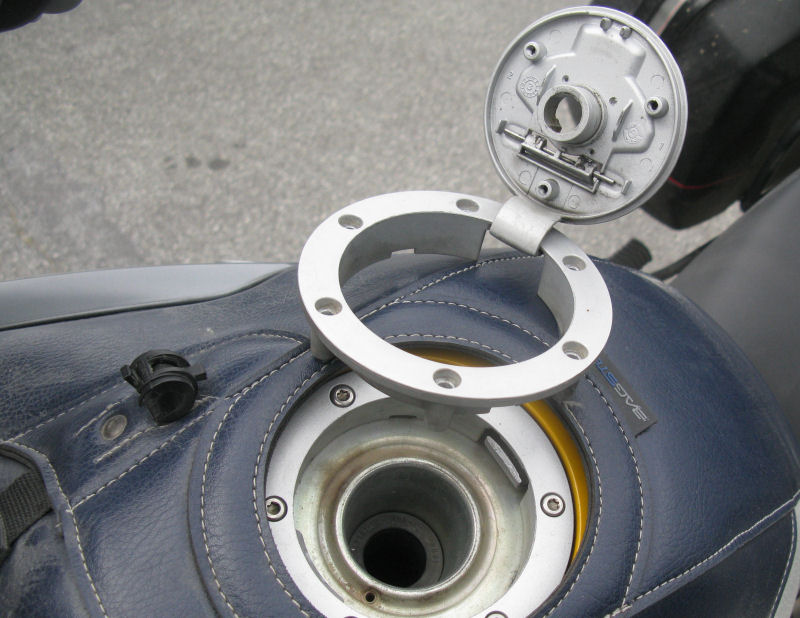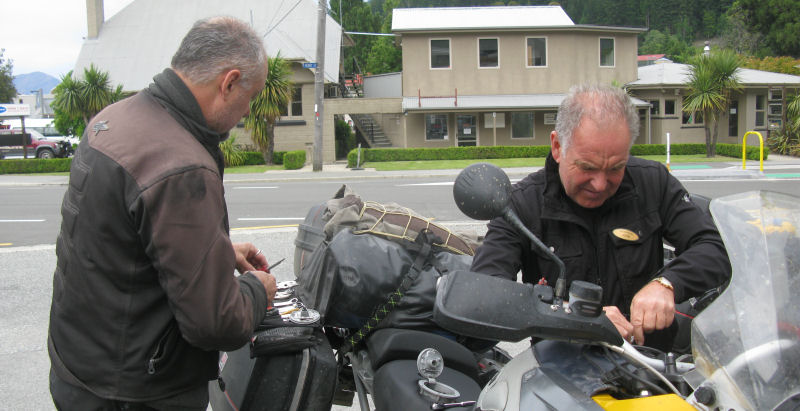 We rode east out of Queenstown, then north.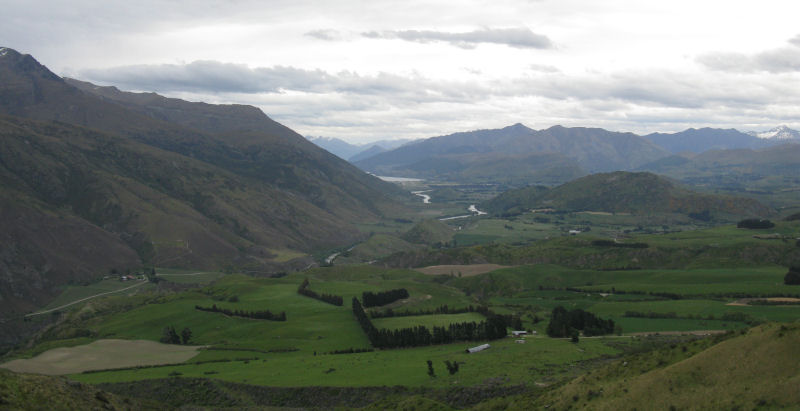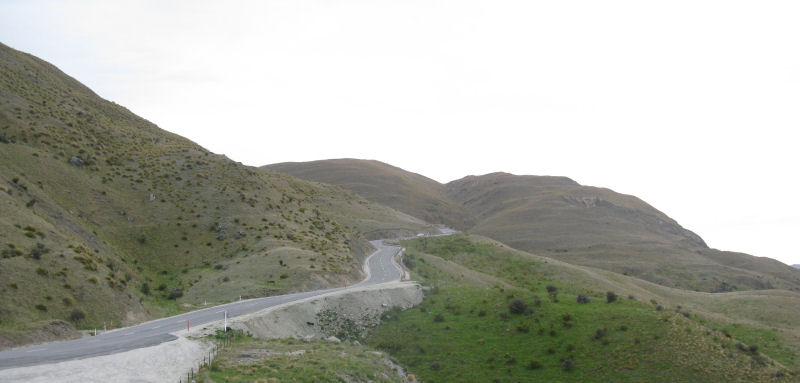 After stopping on the side of the road for some photos, Laurie made the tourist mistake of pulling back out onto the roadway on the wrong side of the road. An on-coming vehicle caught her by surprise and she dumped the bike when she snapped back onto the shoulder of the road. The other motorists stopped to make sure she was okay. All of this had happened behind me, and I found out about it when I turned back to see where she had disappeared to.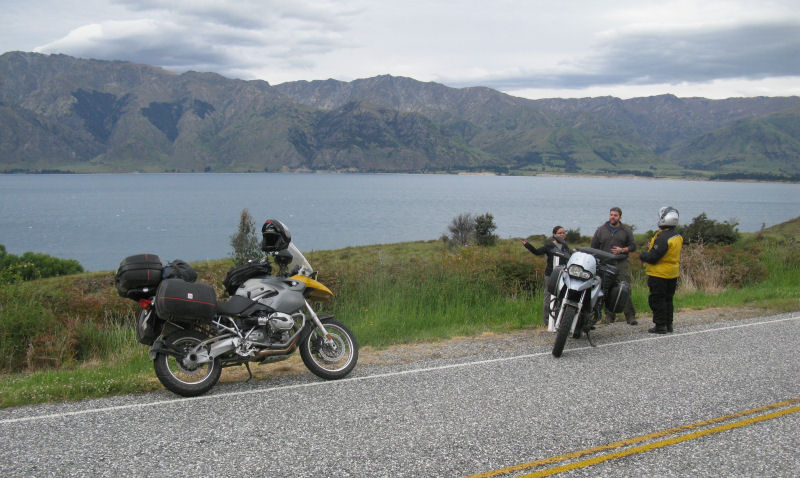 Onward.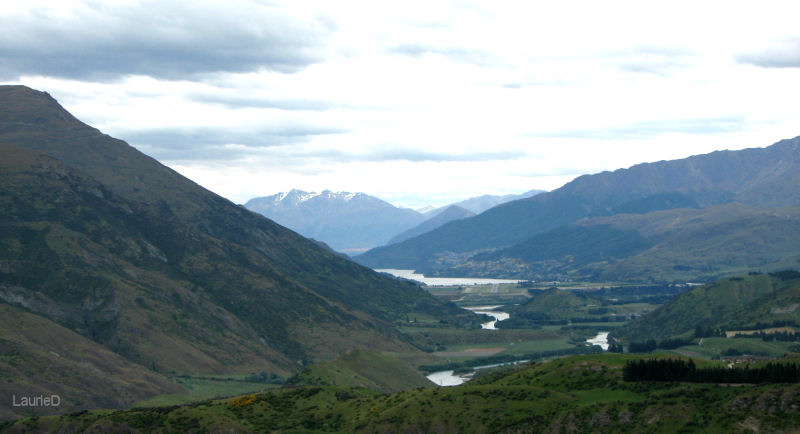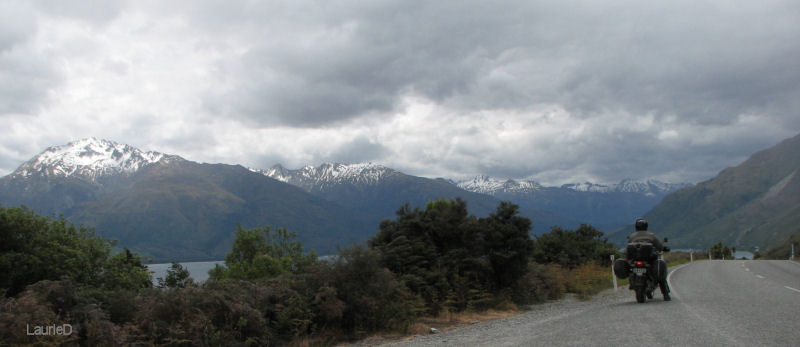 The weather got windier and cold as we gained altitude, then the road got much twistier. The curves were nice, but there was an increase in slow-moving RVs and other tourist traffic.
Along one stretch of rainy beach, many people had used the white rocks to write graffiti or their names.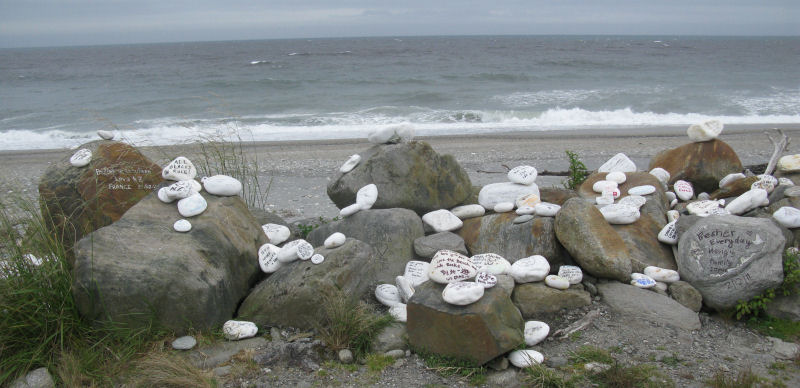 We went over Haast Pass, and as we approached Franz Josef another light rain started. I think there was a glacier up there somewhere, but we couldn't see them due to the weather.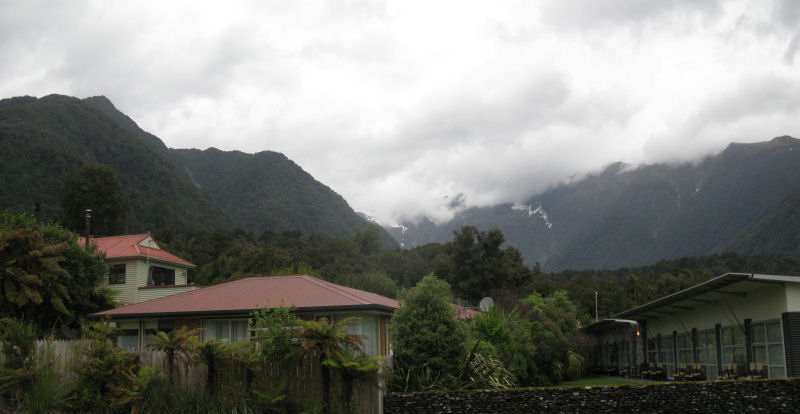 We found another backpacker's hostel and got a room there. The place was mostly full of kids and a few older tourists. We managed to snag a room to ourselves, but not one with a bathroom. No problem.
The drizzle became a heavy rain by the time we headed out for dinner. After the wet walk, we were happy that the restaurant lit a fire for us. After our chowder and combo platter, we lingered over crosswords and Sudokus, waiting for the rain to let up. No luck.
I eventually resorted to asking the waitress to explain the game Cricket to me. It was the only thing being shown on the televisions, and she seemed to be watching with some interest. She started by telling me that Cricket was "very English," as if that explained everything. When I persisted, she gave me more of the details. The game (or tournament, or whatever it was) on the TV was expected to take five days to complete. In the end, I wished that I had accepted her explanation that the game was simply very English, since none of it made any sense to me. Watching the game certainly didn't help one to understand it.
No matter. I remember my friend Joelmir, in Manaus, Brazil, telling me that he could never understand baseball.
Sunday, 4 December, 2011
----------------------------------
It was a damp morning, but it wasn't raining. We had breakfast in a cafe bakery while we watched a large bus get repaired on the street. All the Septuagenarian and Octogenarian tourists were huddled in the cafe, pretending to have a coffee and a chat. Mostly, they were just trying to be patient.
Our day got better as the weather improved.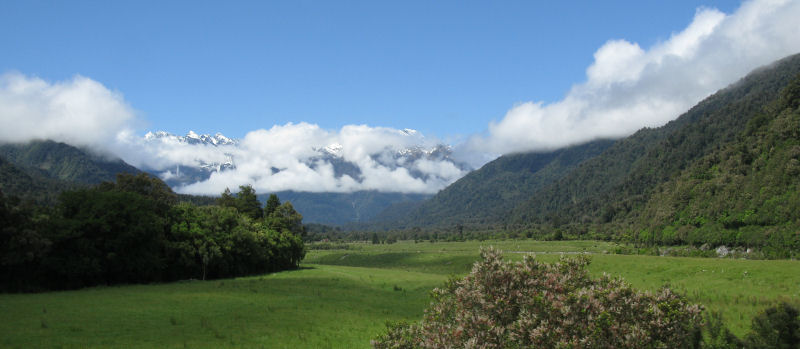 There was only a very light drizzle in the early afternoon.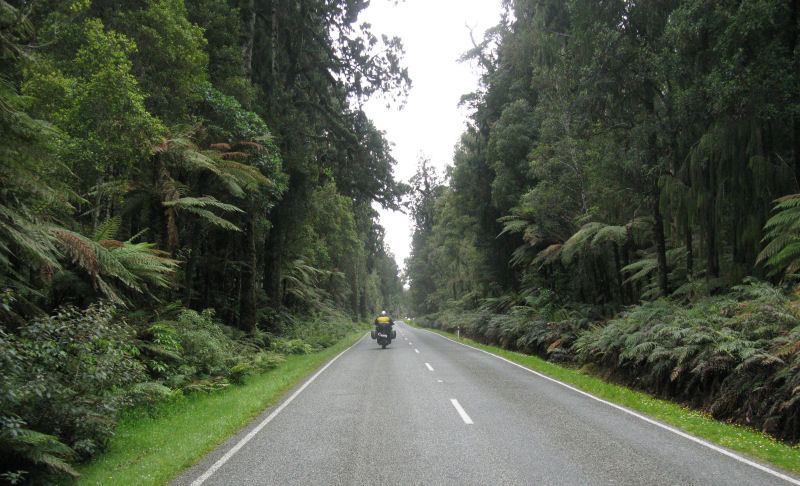 At one fuel stop, I made a point of photographing a few things in the store. An 8" bungie cord for $5? Or worse, $22 for a roll of duct tape? Good grief! Most imported things have a high import tax. As in Canada, disposable batteries have a heavy punishment-style tax.
t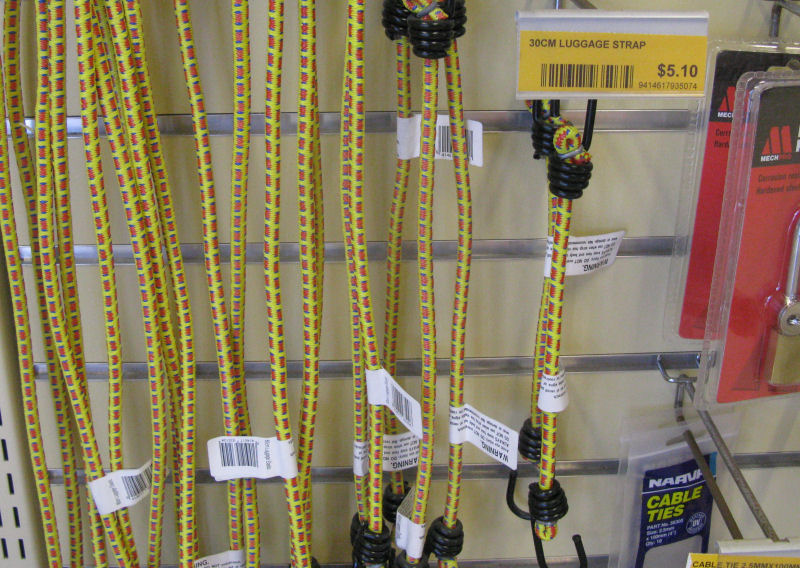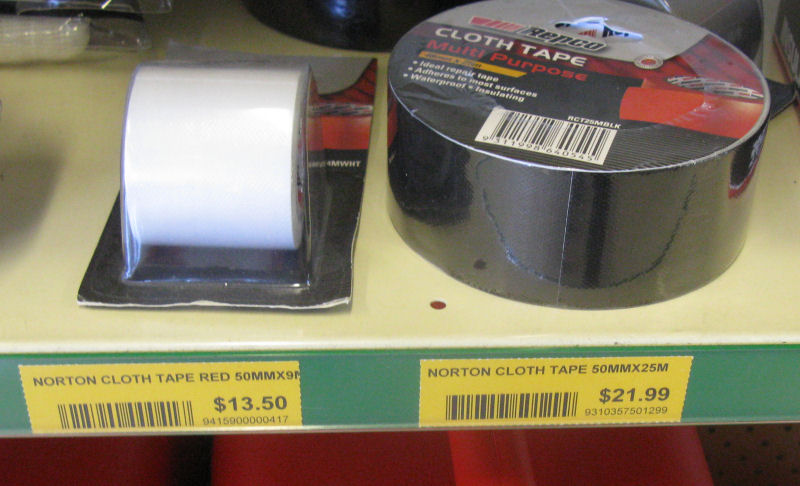 Sometimes the coastal road was forested, sometimes it was barren.

We stopped at the Pancake Rocks scenic area, at Punakaiki. The 10-minute walking loop started through dense flax bushes. Some of the flax plants were 8-10 feet tall, with taller palm trees scattered around.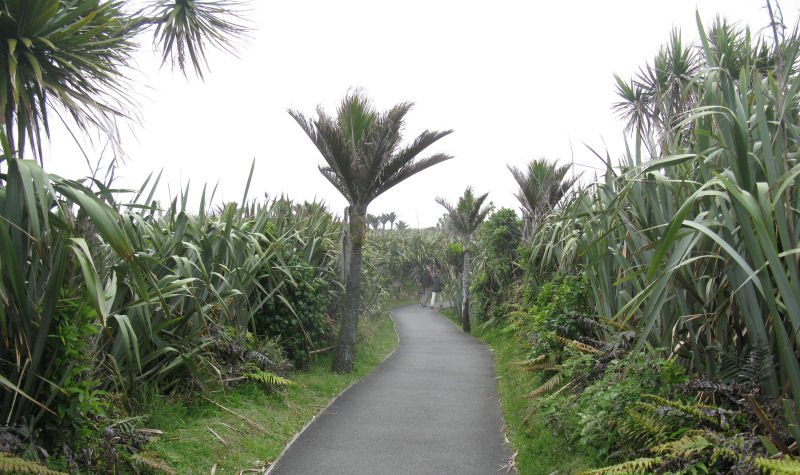 I played with twisting the flax leaves into separate fibers, in case I ever needed to use them to make ropes and build a raft to rescue myself from a deserted island after my pirate ship had crashed.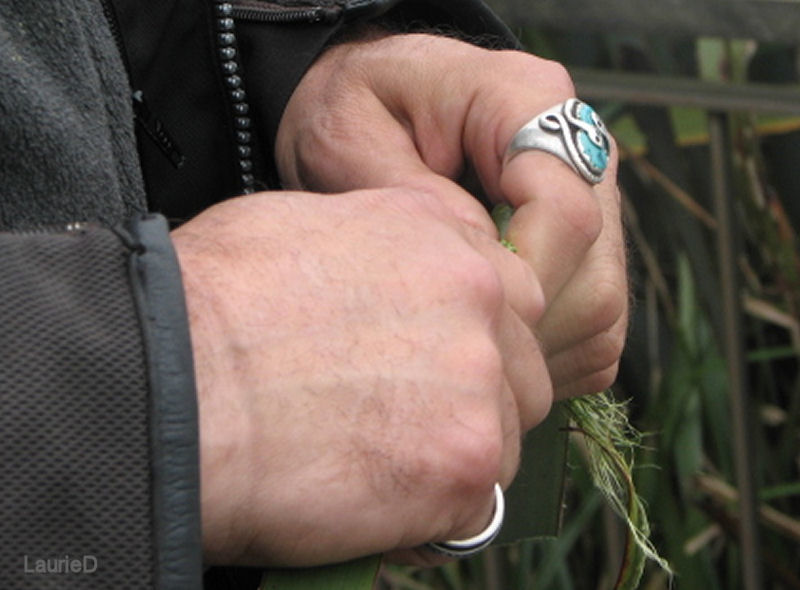 The rocky coast in this area was very interesting. There were a few arches and blow holes that would spew water when the tides and waves were in the right state.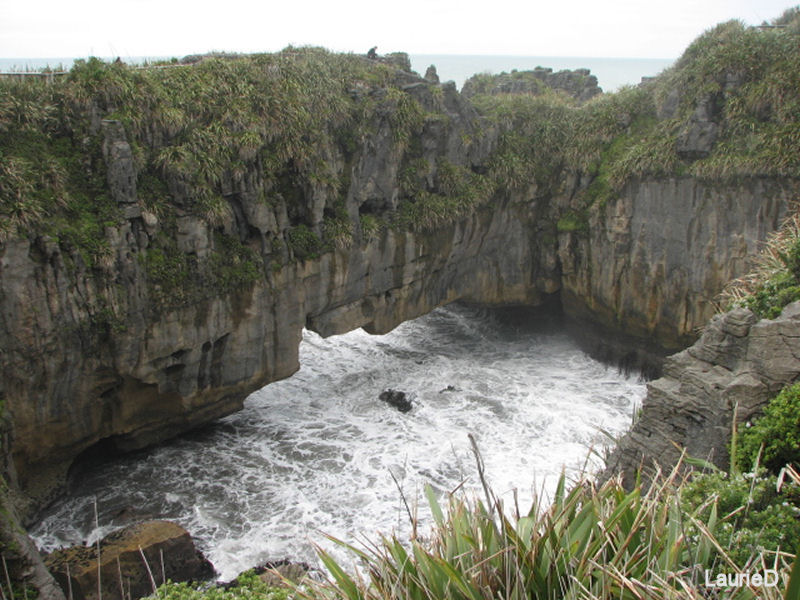 We took lots of photos of these rocks, but I'll only use one.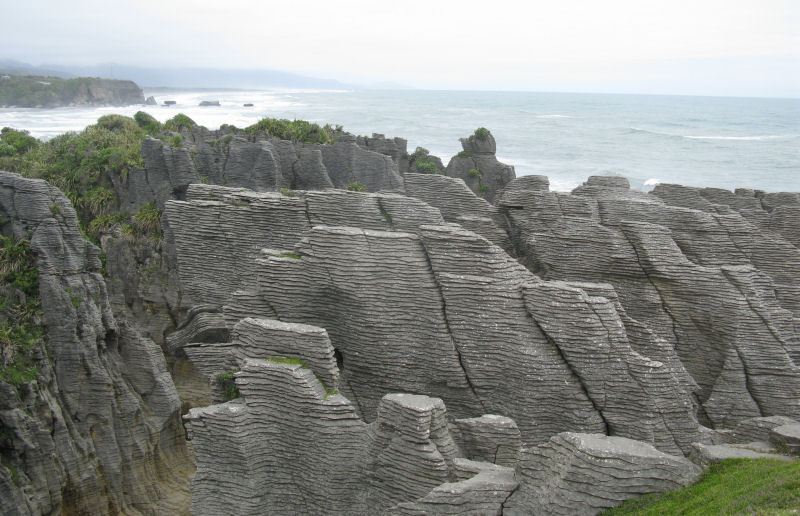 The Pancake Rocks themselves were evident all along this coastal area, but were more obvious where the sea had battered them. There were no convincing theories about how these layers formed so distinctly or so evenly.
Back at the road, we had a snack at the cafe and watched a Weka bird (I think that is what it was) scavenge loose bits. Like a Kiwi, it was flightless, but I saw some of them run with their wings outstretched as if for balance.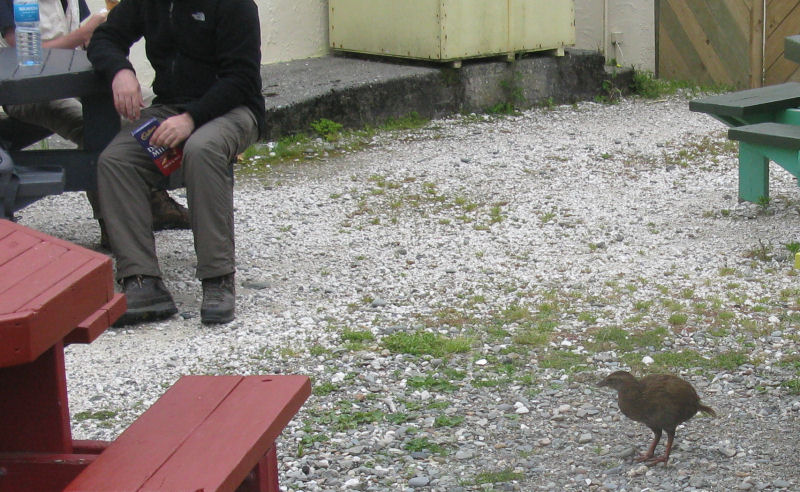 We got to Westport by late afternoon, I was able to get some website maintenance and ride report updates done. Since they had free wi-fi in their large, upholstered lounge I set up in there, luxuriating on one of the huge couches. The other dozen or so pieces of furniture were empty--but not for long. After about ten minutes, a large group of well-dressed middle-aged women converged and completely took the place over. I moved to a smaller couch in a corner of the room to have some privacy. That didn't last long, and I ended up scrunched at one end of the couch with my computer and all my other accessories piled on my lap when two large women asked to share it with me. It was so funny that I finally put the computer on the floor and chatted with them. I learned that they were a group of women who run various charities and benevolent organizations, and this was their one night out together for the month. They come to this hotel for the buffet dinner, as we had done.
Fortunately, the wi-fi speed was very good, and I got a lot pf photos uploaded before bedtime.
Monday, 5 December, 2011
-----------------------------------
Rainy again. Blah.
As we rode into the hills, the clouds came down on us in a cold, sloppy, splat.
The visibility was very low at times, and the going was slow.
The first goal of the day was to ride up to Karamea and back, and it was very nice and scenic once we were out of the clouds. The views were better on the return trip when the weather was better. We didn't take many photos since it was so wet.
Coming back from Karamea, a large Pukeko bird took off from the side of the road and flew into the side of my bike. I saw its body go spinning away in my rear view mirror, but I couldn't tell if it hit my left cylinder head or the left sidecase, but at least it didn't hit my leg.
At lower elevations, we followed some rivers for a while.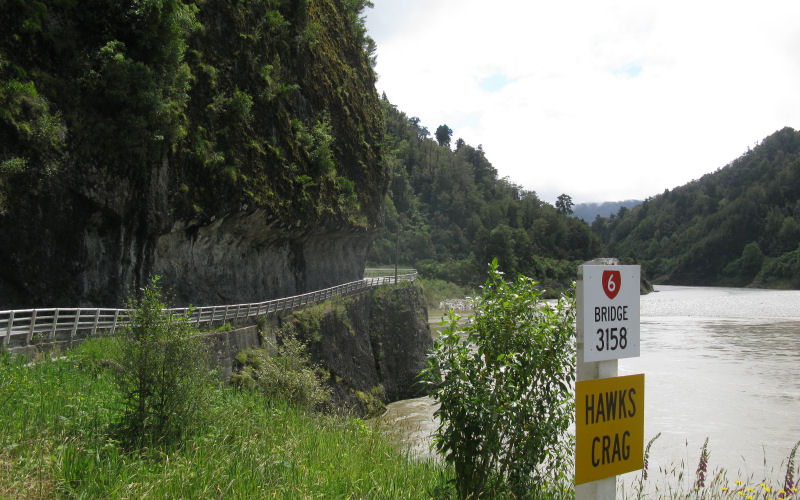 We turned east from Westport, and some sunshine greeted us.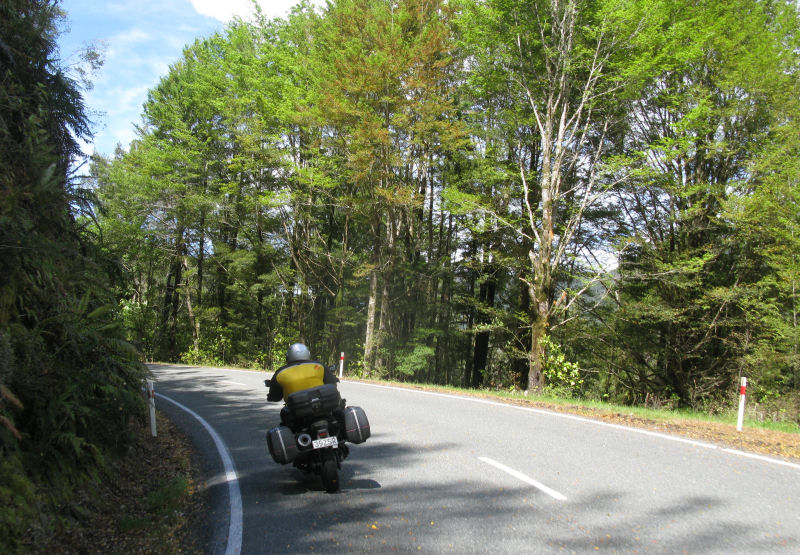 Some sprinkles and light clouds dampened things a bit near Springs Junction, but overall that stretch of road was very nice.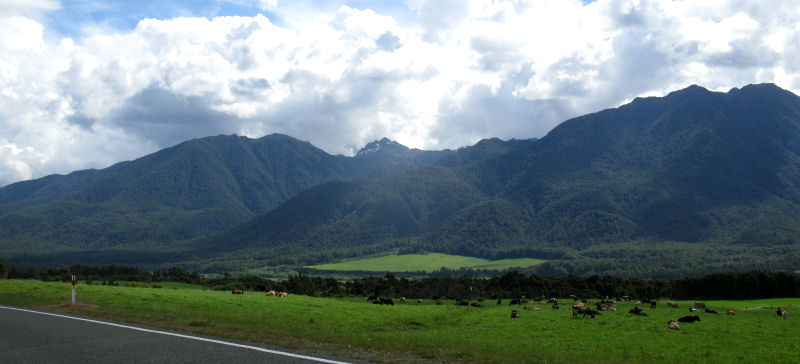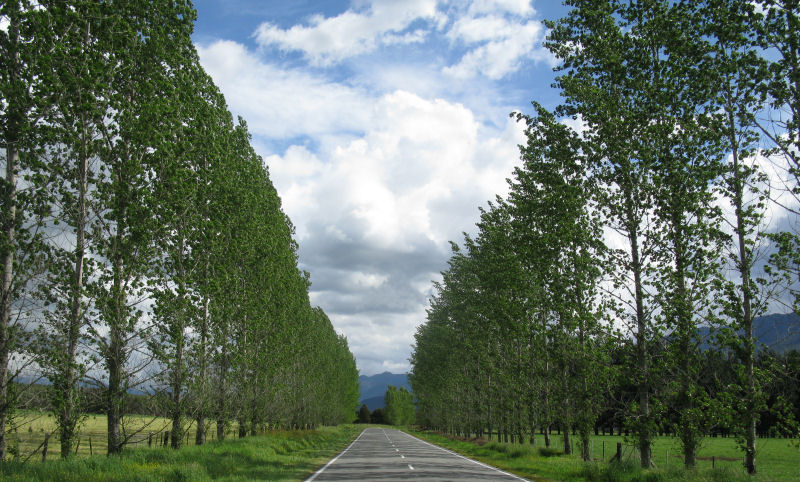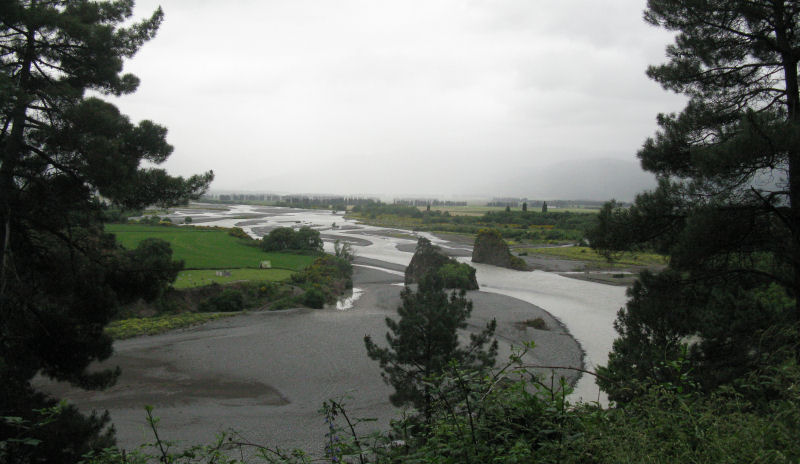 Crossing most of the south island on this route had one major disadvantage, and that was all the traffic. There was no alternative, of course, since only a few roads cross the island. So, we puttered when we had to and we passed cars and trucks when we could. Passing opportunities were rare and difficult in the high hills, due to the twisty road. We crested Lewis Pass along the way, but there was no sign or marker to indicate where it was exactly on the gentle pass.
Hanmer Springs was a total tourist town, catering to all the visitors who come to enjoy the free natural hot springs. We picked a hotel from the many, many that lined the roads.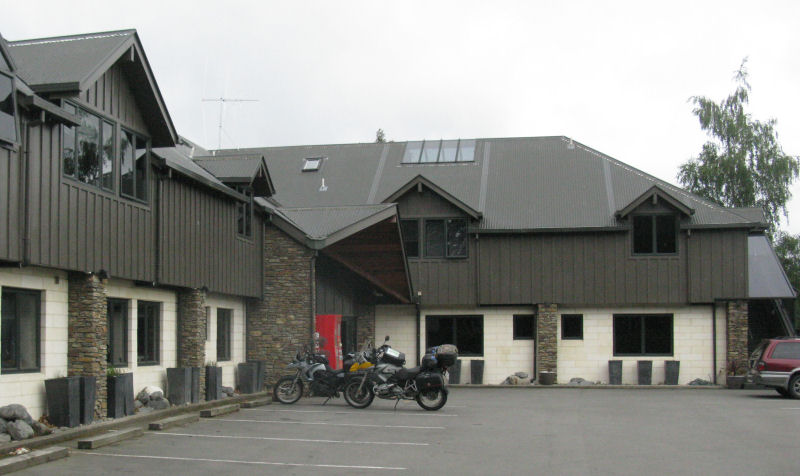 Dinner was a short walk away, and we were surprised to find the other riders who were touring around with John. We chatted with them a bit, but they had another dinner date nearby. We had a nice meal, steaks on mashed potatoes with mushroom sauce. That tiny side dish of vegetables was six dollars. The waitress had assured us that it would be enough to share, but share with whom? Munchkins?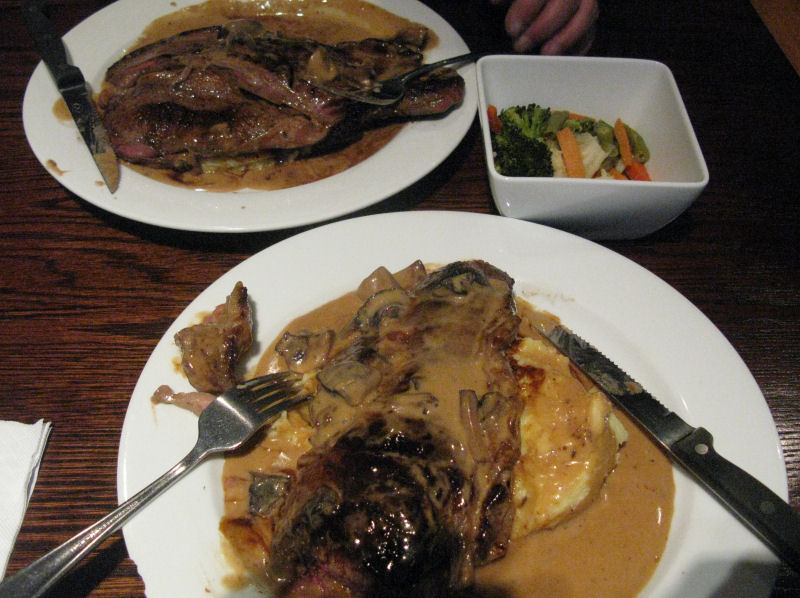 The beer didn't disappoint. The small personal pitcher of beer cost about the same as the vegetables.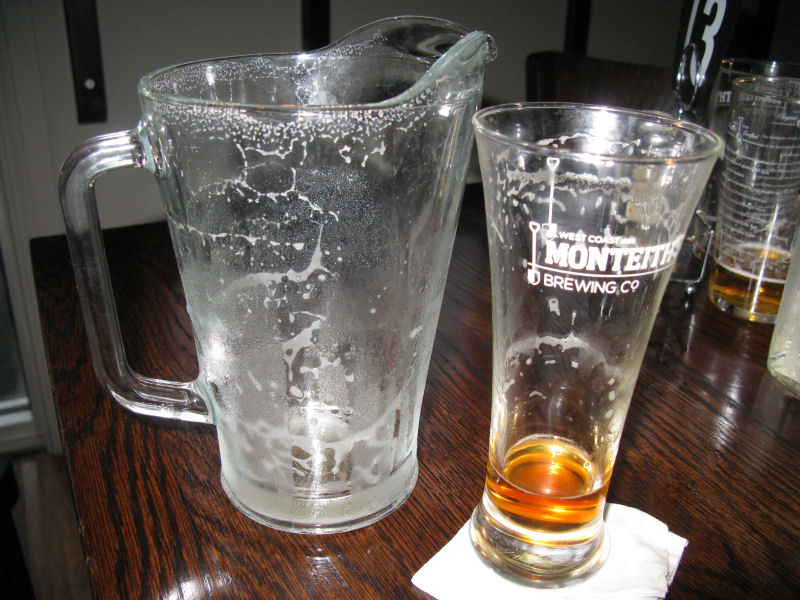 Tuesday, 6 December, 20011
-------------------------------------
We found a bakery along the road for breakfast. The morning had started with a very light rain, but by the time we stopped to eat it was really pouring.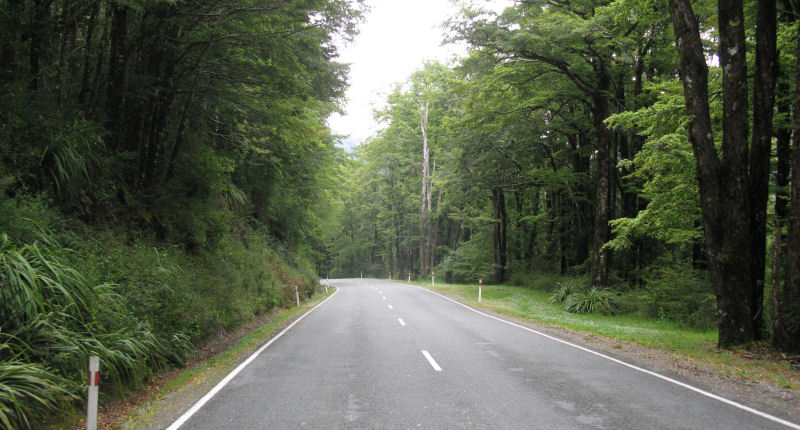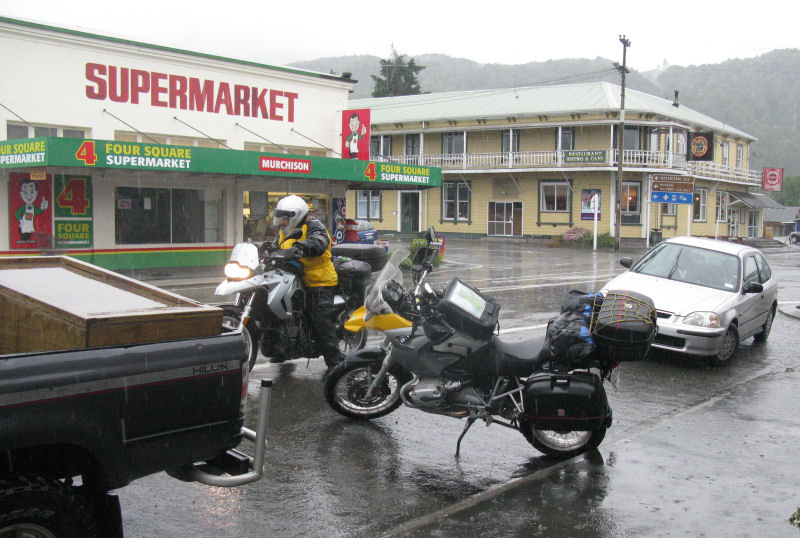 I saw a few signs like the one below, each of them hand-made and posted at someone's home or business. When I asked, I learned that the 1080 refers to some kind of poison that is being used to kill wild opossums. Apparently, it kills more than that.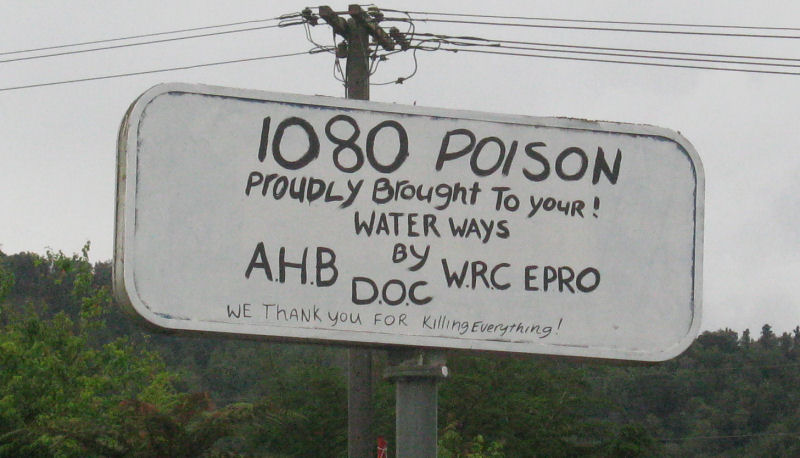 We back-tracked a fair distance, just so we could do another road that crossed the island over another pass. The rain again dampened the views and our sprits.
There were few sheep in the area, more goats and some cattle. The mountains in the photo below look like they have a treeline, but they aren't nearly tall enough for a true treeline. It's probably just how far the trees have encroached up the mountain since they were introduced here.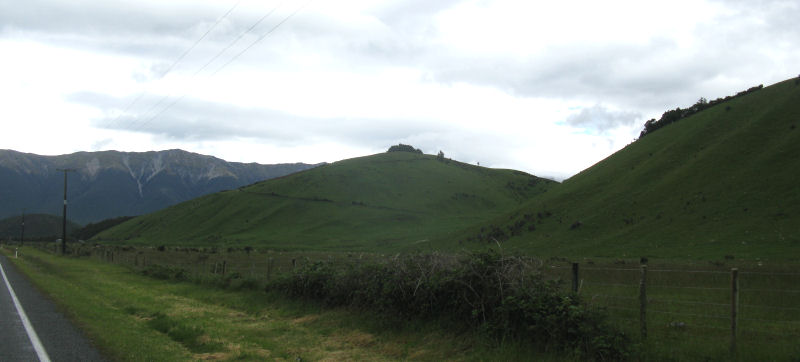 We found a decent motel/hostel in St. Arnaud. The manager had the foresight to call the only restaurant in town to tell them we were coming. Otherwise, they might have closed before we got there. The restaurant was in the Alpine Lodge, a short, wet walk from the motel. As it turned out, they had enough customers to remain open for a while. We chatted with some Brits while Laurie stood in front of the fireplace. They had been doing a lot of walks and hikes in New Zealand, and by their stories, they had been doing so for a long time.
The mixed grill was good.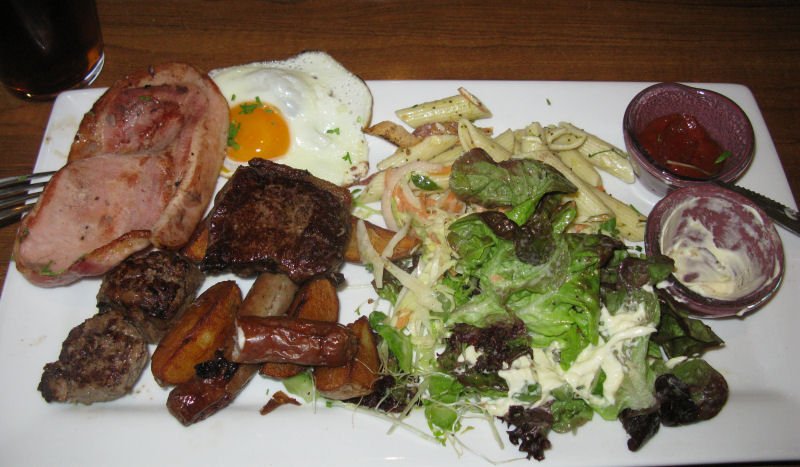 Also, let me just add: Fire good. Beer good.
Wednesday, 7 December, 2011
---------------------------------------
It was a little sunnier in the morning, but it didn't last. We rode north and wended our way up into the hills. The broom bushes are encroaching into young pine tree farms on these hillsides.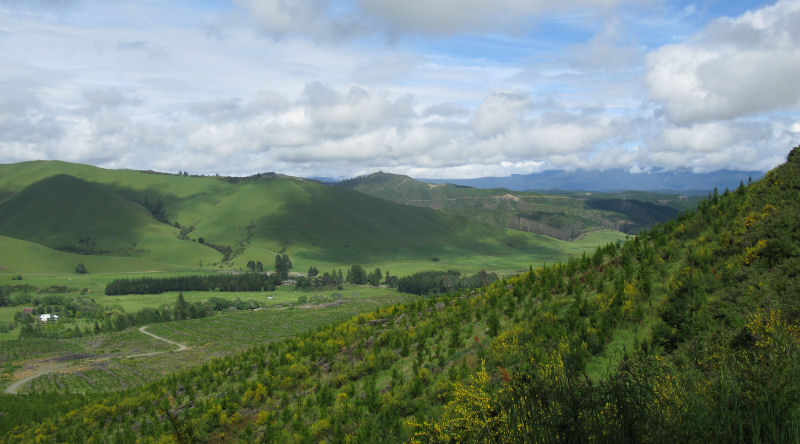 We saw lots of orchards all the way up towards Richmond. In the next photo, you can also see in the distance where some mature tree farms are well-defined on the hillsides. These were neat, rectangular patches of trees, grown mostly for lumber and firewood, I think.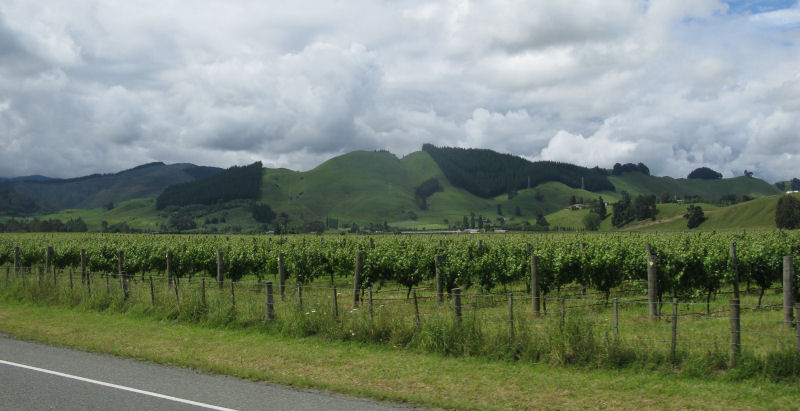 We went west along the northern coast, toward Cape Farewell and the Farewell Spit. The ride along the coast was twisty and nice, aside from all the tourist traffic. Lots of art galleries and boutique eateries. We continued up toward the Spit, stopping someplace for hot chocolate.
The tide was out, leaving huge shallow areas exposed. Lots of small boats were grounded, which must be a normal thing.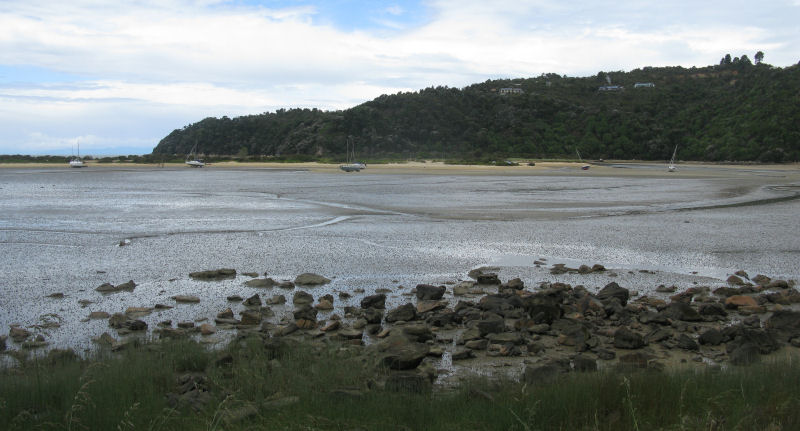 A tractor with an empty boat trailer had been left out on the draining flats, along with a sight-seeing tourist pontoon boat. I expect that the owner of the tractor will return with his little boat and drive out of there before the tide gets too high.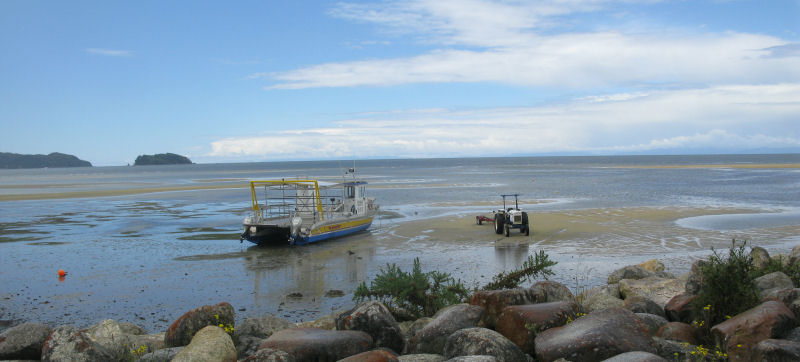 To get to Cape Farewell, there is a high mountain ridge that must be crossed. As we crossed it westward, it was raining and foggy. Laurie tipped her bike as she was pulling out onto the road from a scenic overlook. She needs to stop doing that. Especially in the traffic lane. There was no traffic, so I got the photo before helping her pick the bike up.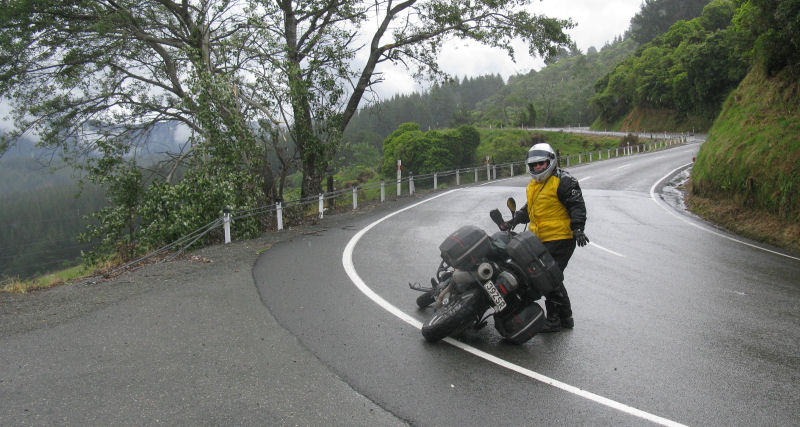 This was the ridge we had crossed. The road would have been great in better weather.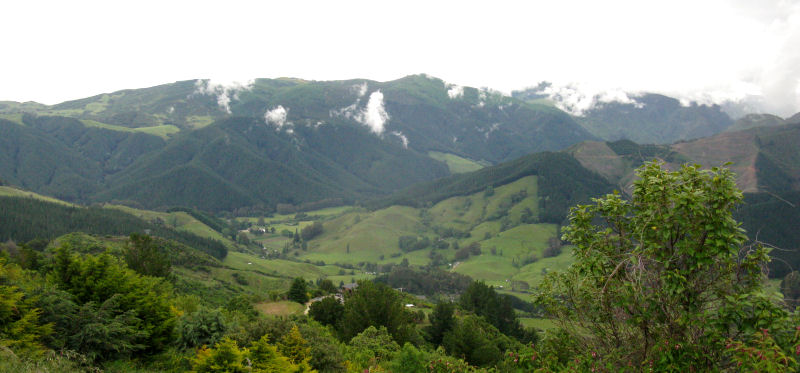 When we got up to the Cape, the rain was heavy and it was getting colder. We didn't stop for long, and we gave up going all the way to the narrow Spit itself. I'd been to the Homer Spit, in Alaska, so there was no novelty in this for me.
It was a LOT colder when we crossed back over the mountains, and the winds had picked up tremendously. It was actually hazardous on some of the curvier stretches of road.
We stopped in Takaka for fuel, and I bought a bag of Golden Kiwi fruit. I had learned that the entire species of Golden Kiwis were about to be extinct. Apparently, some kind of scourge or blight had affected the species, and they were being eradicated within the next year or two to contain the spread.
We headed south again, planning on picking up a different route back north the next day. This was because we had another day to spend on the bikes before we had to be back in Nelson. As we went south along a river, the weather eased a lot, and it was an enjoyable ride. The light drizzle was nothing to us by this time.
We kept planning on stopping in "the next town," but it turned out that most of the towns on our map simply weren't there. In any case, we got to Tapawera before the afternoon was out, and we pulled into a motel on the main road. Maybe it was the only motel, but it was the first one we had seen.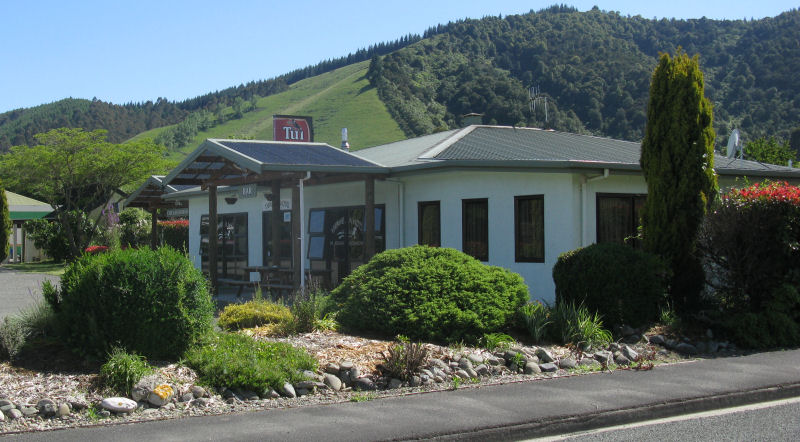 The woman who greeted me grabbed a room key as soon as I walked into the restaurant-half of the business and took me back across the parking lot behind the building. She didn't mess around at all with getting us into the room and getting us some bread and milk for breakfast. She told us we could pay in the morning, and she didn't even seem interested in us registering.
We had a nice meal and charged it to our room, and I bought a bottle of wine to take back to the room. It was the cheapest place we stayed in New Zealand, and the friendliest. It wasn't along the main tourist routes, so that's why.
Thursday, 8 December, 2011
------------------------------------
In addition to the bread and milk the gal had brought us last night, there was cereal, jam, margarine, coffee and tea already in the room. We finished off the kiwi fruit with breakfast, so we were all set when we checked out.
We rode through St. Arnaud again, making our final run for Nelson. We'd detour onto a stretch of different road for part of the ride, but most of it would be a repeat for us. This was okay, since it was good road, and the weather had improved a lot.
As we were riding through a slightly hilly area, people were getting out of a car that had just quick-stopped on the side of the road. They started waving and yelling at us, so I stopped to see what had happened. They told us that a car had just driven off the road ahead, and a truck driver was on foot, looking for where the car had gone into the trees.
I radioed ahead to Laurie to watch for traffic, and I stopped when I saw the truck driver (who had been running along the side of the road) wave to me and point into the trees. As I got off my bike, the other man dove into the trees. I followed him.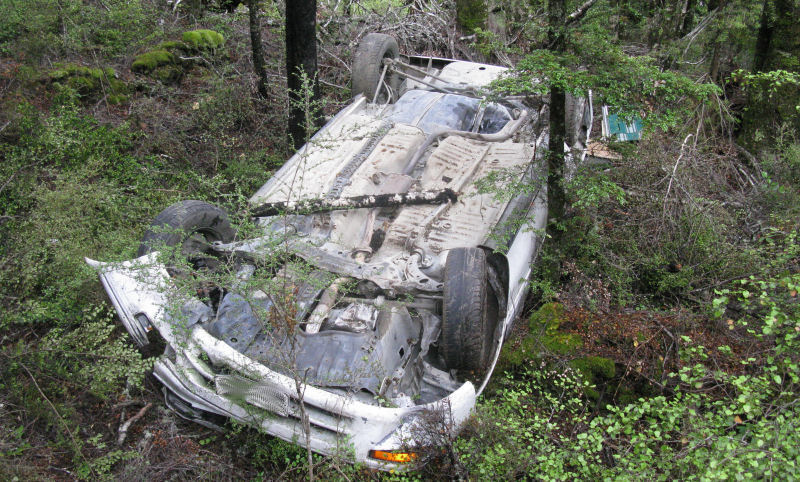 We got to the upside-down car together and we could hear a woman calling out to us from inside the car. The rear window had been smashed, and we met the driver as she was trying to crawl out. Amazingly, she was completely uninjured, and she was even joking with us as we helped her out of the car. I never even had a chance to assess her for any injuries before she was up and walking around, embarrassed and very talkative.
A few other people came down from the road, but there was nothing else to do at that point. I crawled back into the car to retrieve the woman's purse and cell phone, and had a harder time getting out than she had, mainly because my riding jacket had gotten caught on something inside the car, and partly because it was a small car and I was a lot bigger than she was.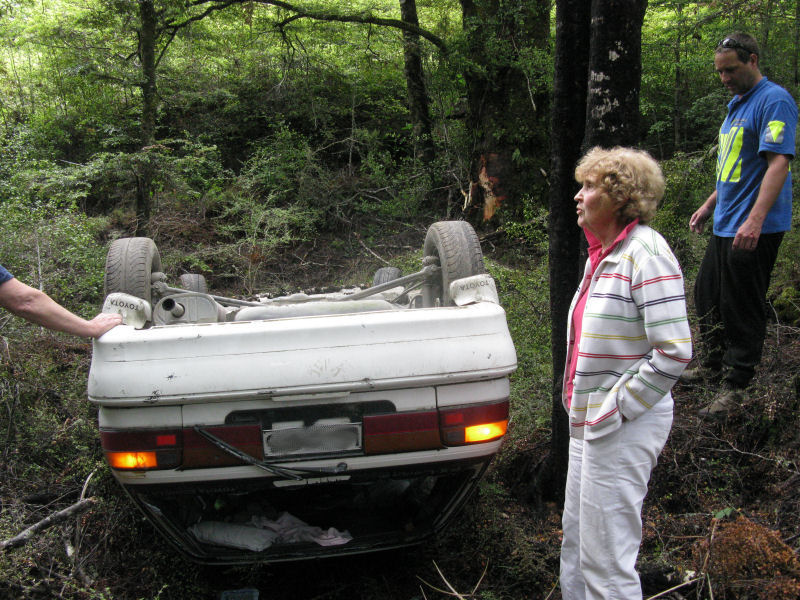 That's the truck driver in the photo above, with the lady driver. He said that when she had crossed the center of the road and gone into the trees, she had done so pretty much right in front of him (he had been in the on-coming lane, so it would have been a head-on crash--remember she was driving in the left lane). She told us that she thinks she had fallen asleep, and she woke up as she was going off the road. She was one very lucky lady.
After she had drifted off the road (you can see her tire marks along the shoulder of the road, below), her car started to flip over as it went down the steep embankment. The car was almost upside down when it hit a tree and that's what turned her car 90o. If no one had seen her drive off the road here, there would have been no hope of even realizing what had happened or that she was down there.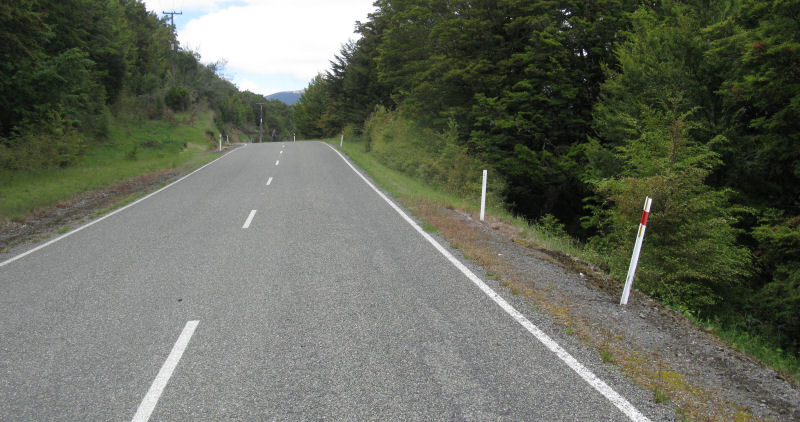 She was a pretty spry and agile gal, so I have no doubt that she would have eventually crawled out of her wrecked car on her own and scrambled up to the road to get help. The people from the car that had waved for me to stop were also still there. They ended up giving the gal a ride back to St. Arnaud where she could get a tow truck to retrieve her car. The truck driver and I piled stones into a cairn to mark the spot where her car was, since you couldn't tell otherwise. Laurie had waited up on the road in case she had to ride off to get help.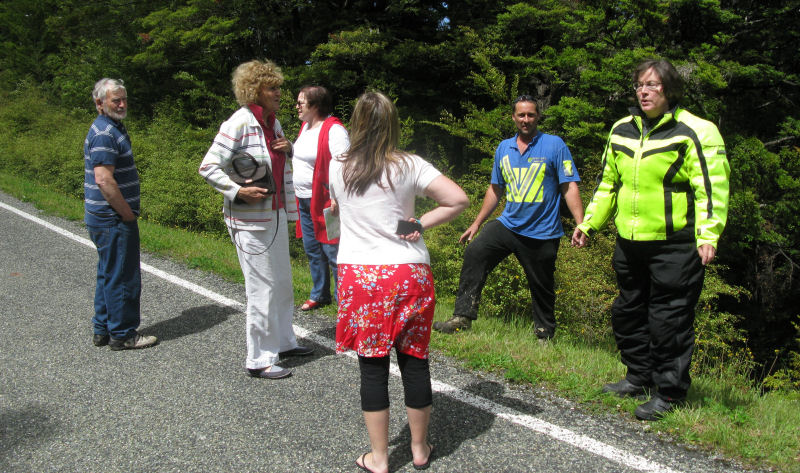 So, the gal had an eventful but non-tragic day. I'm not using her name here, but I hope everything worked out for her.
The truckie jogged back to his log-hauling rig, and we gave him a wave as we passed him. We saw his truck again a while later, after we tried another side road and he had gotten back in front of us. If you see this truck somewhere around St. Arnaud or Richmond, give him a wave for us.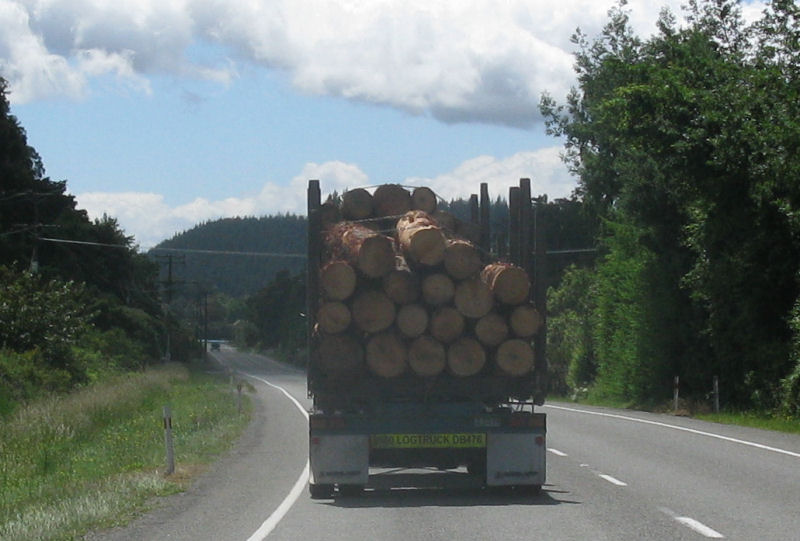 Ironically, our last day of riding turned into a beautiful day. We became separated as we got into the Richmond-Nelson metropolitan area. From my perspective, Laurie had trouble with the round-abouts and doesn't know how to follow signs to the City Centre. I'm sure that from her perspective, I got too far ahead and she couldn't see where I went. That doesn't change my perspective, though.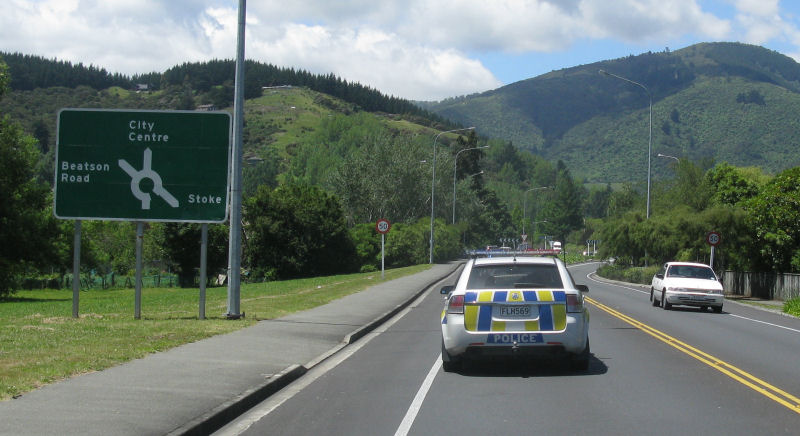 Anyway, thanks to radio communication, we managed to re-connect and find our way back to the B&B that we had started from.
John and the other riders had already returned from their own journey, and he met us at the B&B. The plan now was to meet the next day for lunch, and he would then drive us to the airport. That was very convenient. One of the other couples would be on our flight to Auckland, so we'd see them again, too.
We walked back into the restaurant district for dinner, passing through the nearby park. A very nice part of town.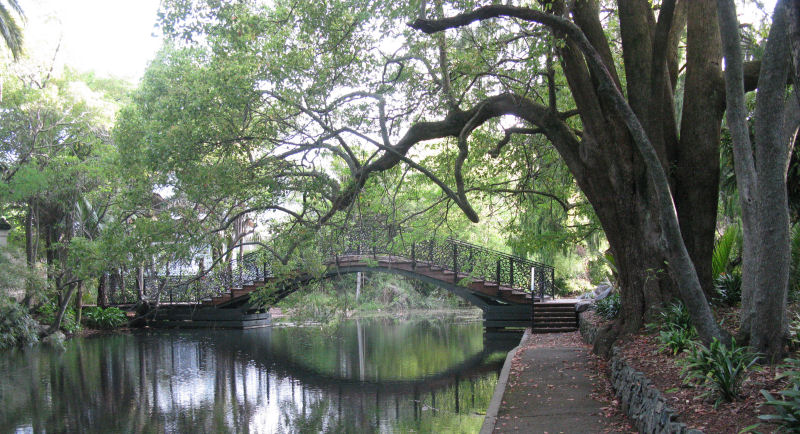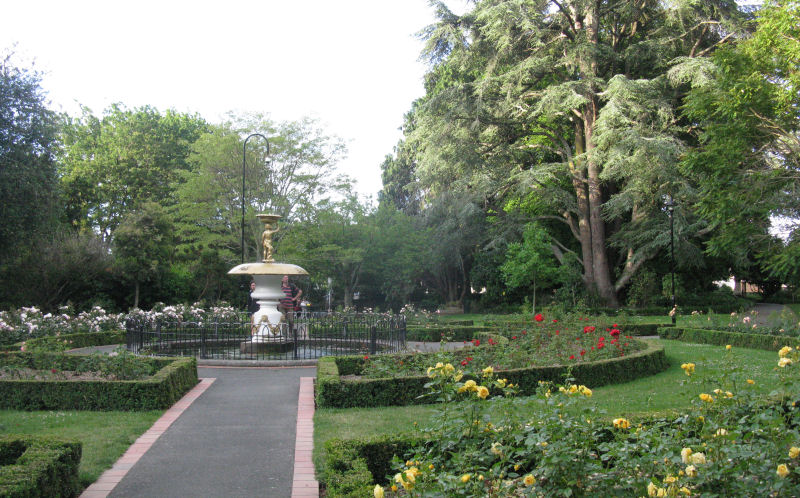 Friday, 9 December, 2011
---------------------------------
We got up early for breakfast, then tried to take a nap before checking out. When that didn't work, I did some writing in the common living/dining area of the B&B.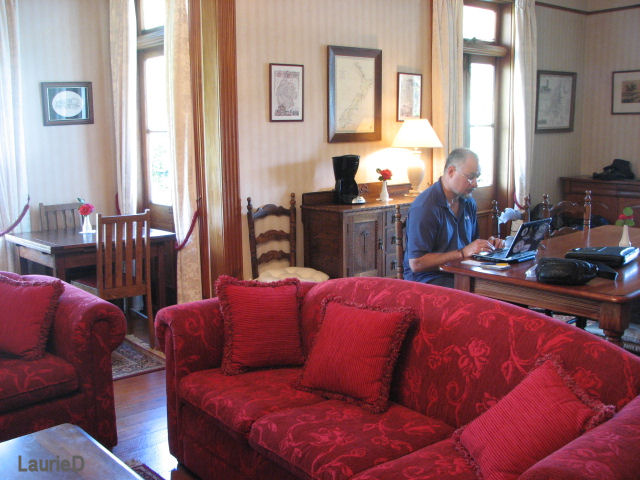 After we had officially checked out, we moved our luggage into this common room. We had been tipped off to a private collection of old motorcycles nearby, so we strolled over there to take a look.
The private collection was going to be moved into a display venue within the year, but for now it was crammed into a large complex of connecting garages. The owner was out, but the mechanics who were working on the bikes allowed us to take a quick look before they had to close up and go to some nearby event. In the outer garage, I took some photos, but when we entered the main garage, we were asked not to take any pictures.
This wasn't exactly a motorcycle, but it had a small V-twin mounted in front.
There were at least a couple hundred bikes back in the main room, most of them from the very early years of motorcycling. All I can show here are the few photos I took in the outer room.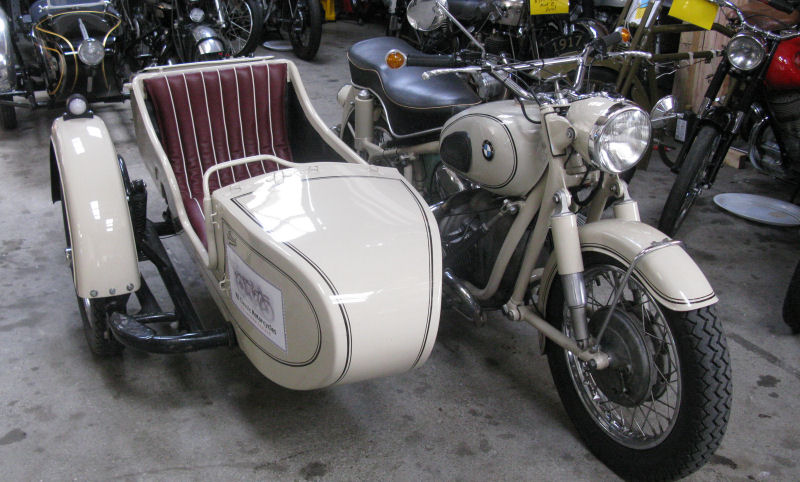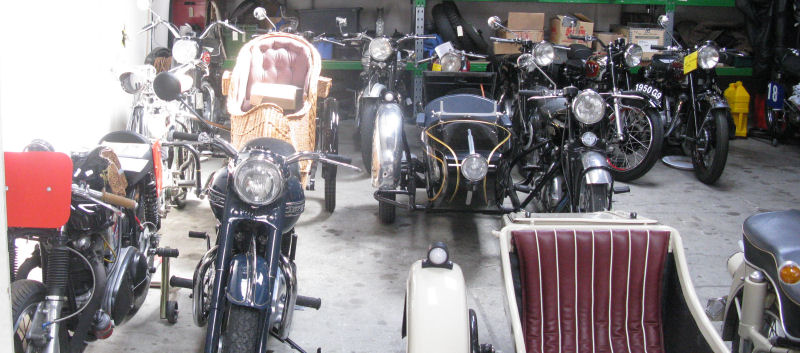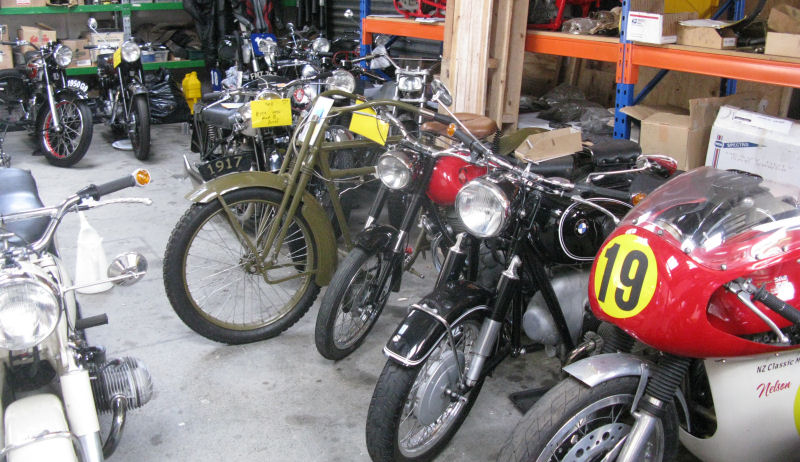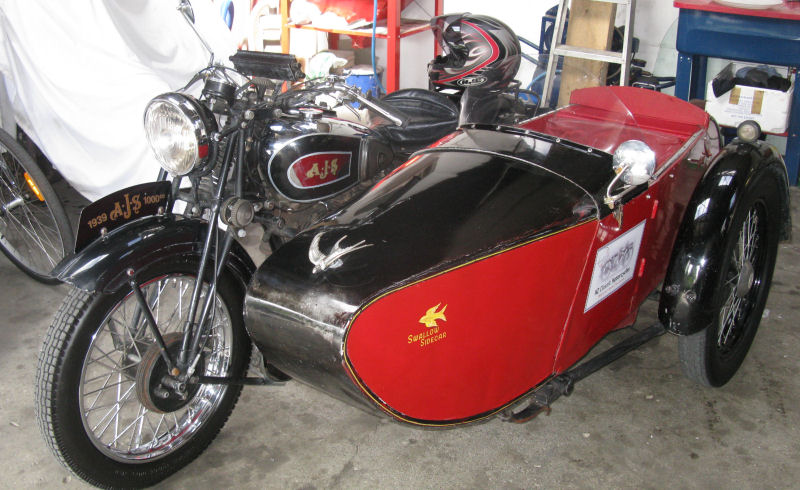 Even though I'm not a real vintage-bike buff, I can appreciate seeing very old bikes being restored. Some of the bikes were familiar makes, but some were new to me. I'd never heard of Ariel, Whizzer, Velocette, The Flying Merkel, or Thor, but there were lots of each. The oldest bike was a 1902 Indian. Other Indians, including a very nice Chief, were lined up in a long row all to themselves. Other old classics included BMW, Douglas, Royal Enfield, Harley-Davidson, Moto Guzzi, Ducati, Vincent, Triumph, Norton, etc. A 1936 Brough Superior was the hand-made equivalent of a classic Rolls Royce, according to one of the mechanics. I'd never heard of it, but I trust him. A matched pair of blue 1916 Thor bikes, made in Aurora, Illinois, were in perfect condition.
If you're in Nelson, New Zealand, sometime after next year, look for this antique motorcycle collection, which should be housed somewhere near the airport by then.
On the way back to the B&B, I saw a restaurant sign that made me glad we hadn't eaten there.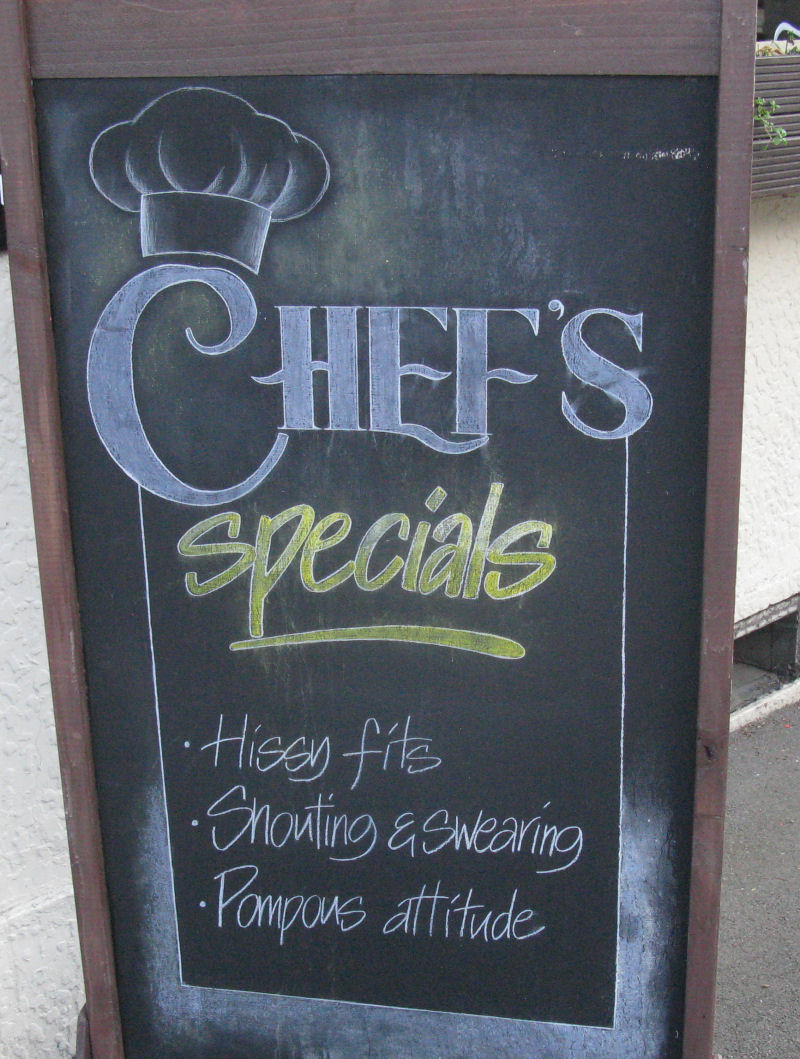 John met us (Laurie and me, and the other couple, Doug and JoAnne) at the B&B, and drove us to lunch and back to the B&B, where we did the final sign-off on the bikes.
The owners of the B&B had a large collection of books, most of them related to English history. I found a copy of The Autobiography of Benjamin Franklin on a shelf and read it about halfway through before John returned to take us all to the airport.
We didn't have a long wait before our flight to Auckland. Laurie got one more photo of Mt. Egmont as we passed over the southern end of the north island.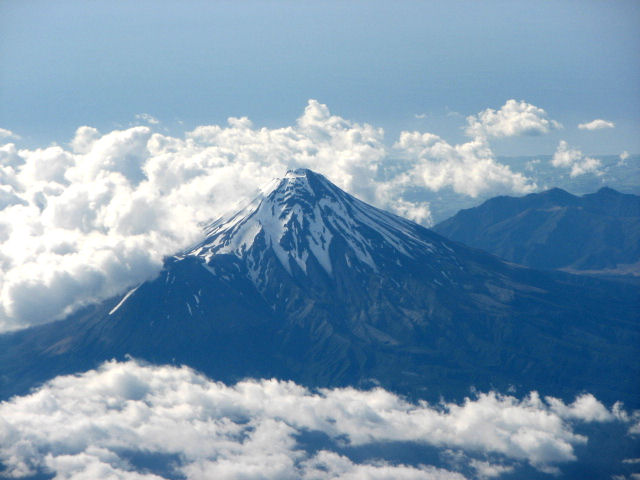 We said our good-byes to Doug and JoAnne and caught a shuttle to our hotel for the night.
At some point along this stretch, I got an email from Lynette and Colin (who were back in the States by then, I think), showing off what a real margarita looks like and what a better price was. I think they still look a little small, but the price was certainly better than the tiny $16 drink Colin had in New Plymouth.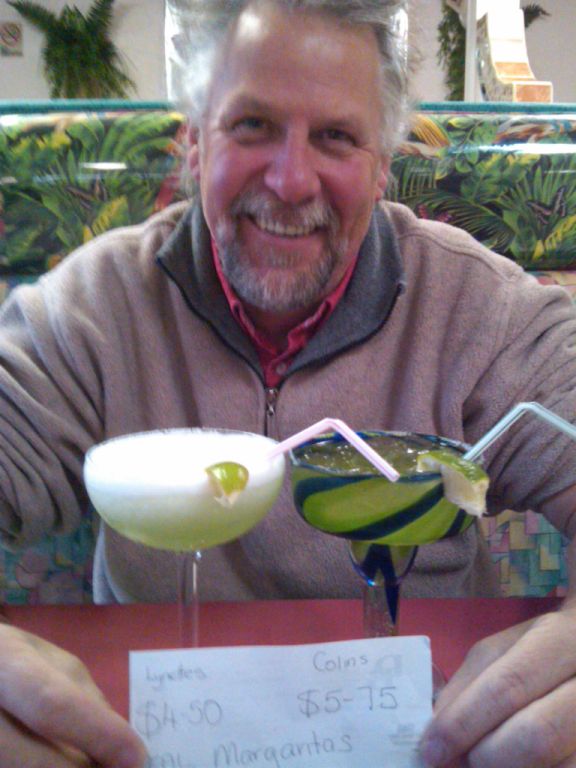 Saturday, 10 December, 2011
-------------------------------------
The shuttle took us back to the airport, and we made our 3-hour flight to Sydney with no problems.
<< PREVIOUS report -- New Zealand, South Island, Week 1 >> << NEXT report -- Australia, Sydney to Brisbane >>
[ ERRANT-RONIN HOME ] [ Prudhoe Bay to Ushuaia Home Page ] [ Ride Reports Home Page ]