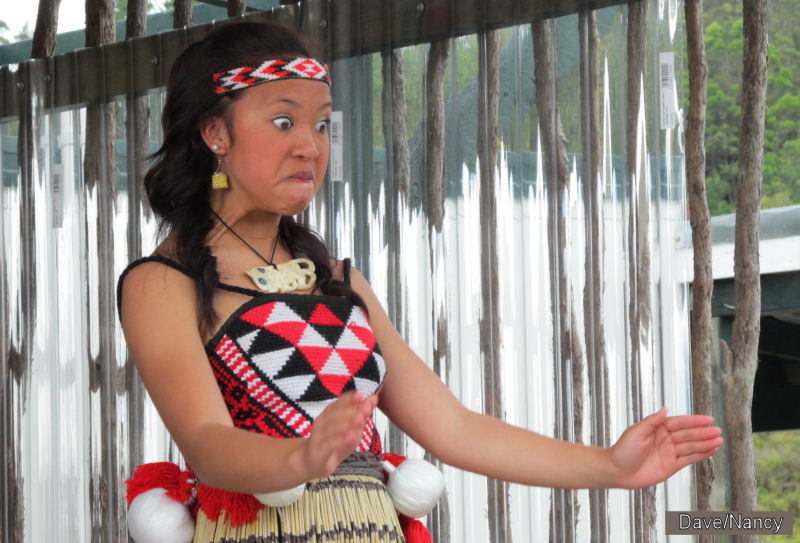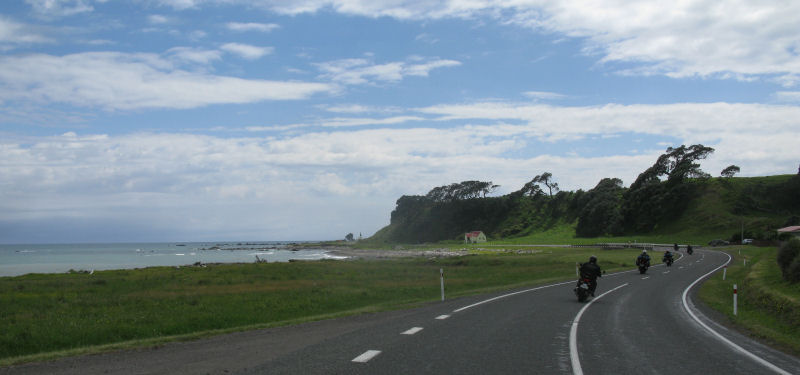 Part 1. New Zealand, North Island, Week 1
==============================
A few words from Laurie to start things off:

Before you dive into Marty's ride report for our first two weeks in New Zealand, I just had to insert my two cents.

First, we are so grateful to Colin and Lynette for putting together such a wonderful trip. They really did their best to share the best of the North Island with us: great roads and scenery and sightseeing, fascinating museums and cultural displays and the glowworm cave, terrific food, and - most of all - wonderful people. We enjoyed it all more than we can say.

Second, as mentioned above, we met a host of wonderful people - starting with our riding buddies for the full trip: Colin and Lynette, Pat and Sheri, and Dave and Nancy. We couldn't have asked for better companions. In addition, we made a host of other new friends: Tony and Greta, Graeme and Myrna, Frank and Colleen, Craig and Robyn, Christine and Henry, Tony and Maureen, John, Rex and Lynn, John and Diane (and if I missed anyone, I apologize). We also got to meet Colin's aunt, uncle, and mum. We had a terrific opportunity to stay in people's homes, share home-cooked meals, enjoy home-prepared snacks - so much better than you can ever find in a motel or a restaurant! So, our sincere thanks to each of you who fed us, or housed us, and a special shout out to Tony and Greta who housed and fed us for several days. We will always cherish the hospitality and can only hope that someday we get a chance to return the favor.

One other thing - as you read through Marty's report, see his photos and see some of us in our helmets, you may occasionally get a glimpse of - what's that? Red white and blue pigtails? Huh?

Yep, you're not dreaming. The four gals in our USA group had matching accessories, as you can see in the photo below (that's Christine in the Mohawk and Graeme in the plaid tam and red wig). It was a perfect touch ...
Wednesday, 9-11 November, 2011
-------------------------------------------
Laurie and I flew to Los Angeles with plenty of time to kill. Our connection punished us with an 8-hour layover, spent in the International Terminal. The VIP lounge would have been more comfortable, but at $55 per person, the comfortable chairs and quieter atmosphere and booze weren't worth it. So we watched people arrive, variously-clad travelers coming sometimes from Hawaii and sometimes from colder places. Flip-flops and mukluk boots walked side by side.
We were to meet three other couples for the 13-hour flight to NZ, but we had only met one of those couples previously. Last year, Colin and Lynette had organized this two-week group ride around NZ's north island. This allowed them to return to their former home and connect with family and friends. We knew them from our common involvement in a Colorado motorcycle club, but we didn't know the other two couples.
Our trip plan was to spend the two weeks riding on the north island with our friends, then Laurie and I would go by ourselves to the south island for another two weeks of riding. We've rented big Honda cruisers in the north, BMW dual-sports in the south. After a month in NZ, we'll fly to Australia and rent a car (or Jeep, or whatever is cheapest) and spend three weeks driving up the coast from Sydney to Townsville to do some scuba diving. The last time we were here, many years ago, we hadn't seen much of Australia itself aside from the airport and a hotel, so we were looking forward to experiencing more of the country. Unfortunately, a few weeks weren't enough to get into the Outback and still do some diving. We should be home just before the end of the year.
When our group was finally assembled, we spent the remaining layover having drinks, food, and conversation. We finally got to meet Pat and Sheri from California, and Dave and Nancy from Colorado. I might have met Dave in passing but I couldn't recall. I've been to the motorcycle shop where he works many times. Colin and Lynette have arranged a great two weeks for us, and we were eager to get started.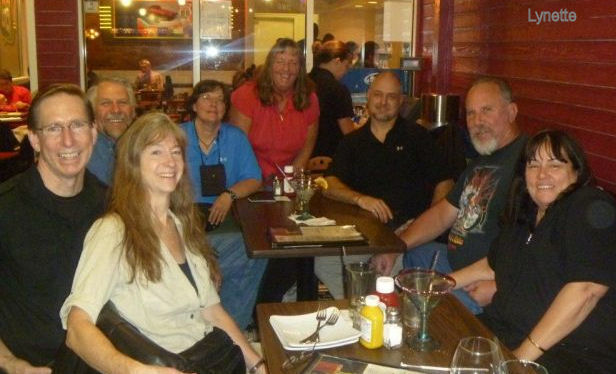 The flight itself was long and largely uneventful. An almost-full aircraft meant that there was no room to stretch out or re-arrange seating. I normally don't sleep on flights, and this was no different. I watched a few movies. The Green Lantern was not very good--more evidence that special effects do not make a better movie--but a few others were okay. I did some crosswords and other puzzles in a book I had brought, but more mindless amusement suited me and I ended up watching a couple more movies.
Because we crossed the International Date Line, we lost a day in flight. We took off on Wednesday the 9th, and landed on Friday the 11th. We'll get a day returned to us when we fly back home.
Laurie took some photos of our arrival over the New Zealand coast. (BTW, I rarely use photos from others, but I will give credit when it's due. I can't always vouch for who pressed the shutter button, but I've credited those photos by whose camera it was.)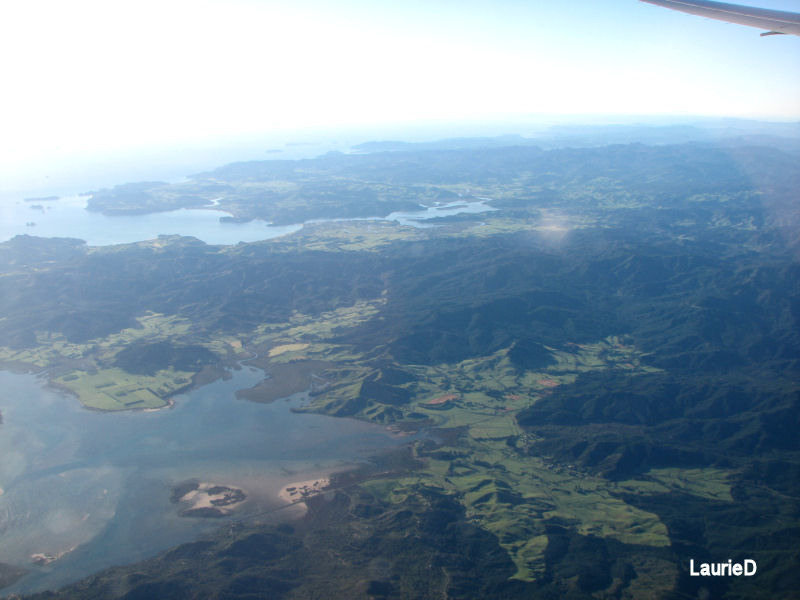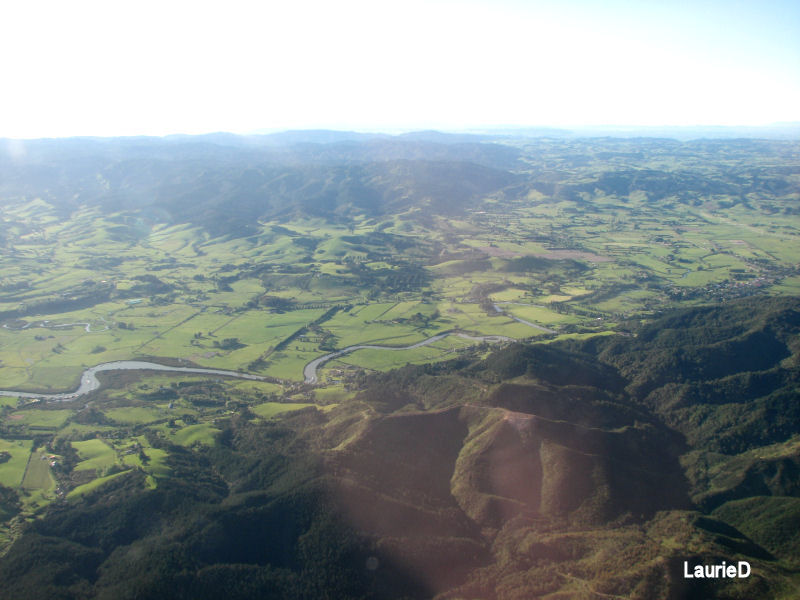 Finished with Immigration and Customs, we paused for a photo in the airport. From the left, by couples, are Pat and Sheri, me and Laurie, Dave and Nancy, Colin and Lynette.
Outside, we were met by Lynette's brother Tony, Colin's brother Graeme, and their friend, John. We packed ourselves and our luggage into their vehicles and made our way to the bike rental location. Laurie and I got into Tony's ute.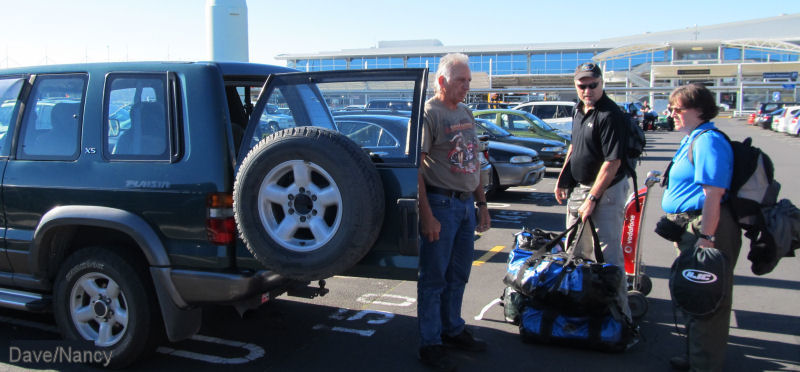 We finally found our bike rental shop. See it? There between the computer repair shop and the deli.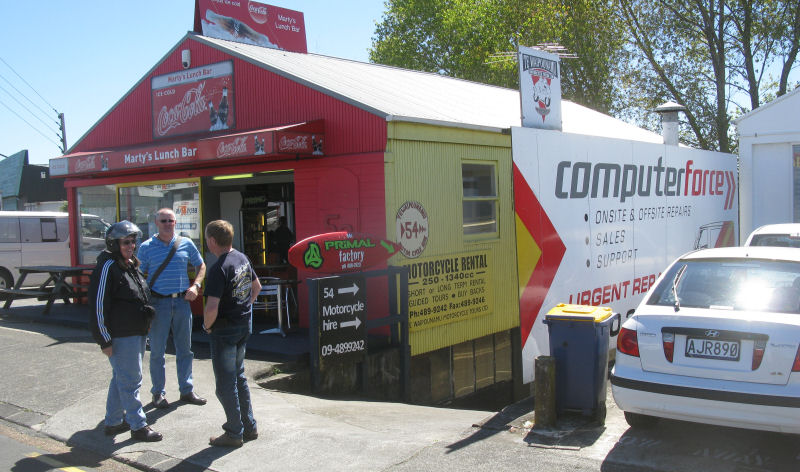 Down the narrow, steep ramp to the back of the basement, and voila, there we were. The bike hire shop shared the basement with a surfboard manufacturing shop.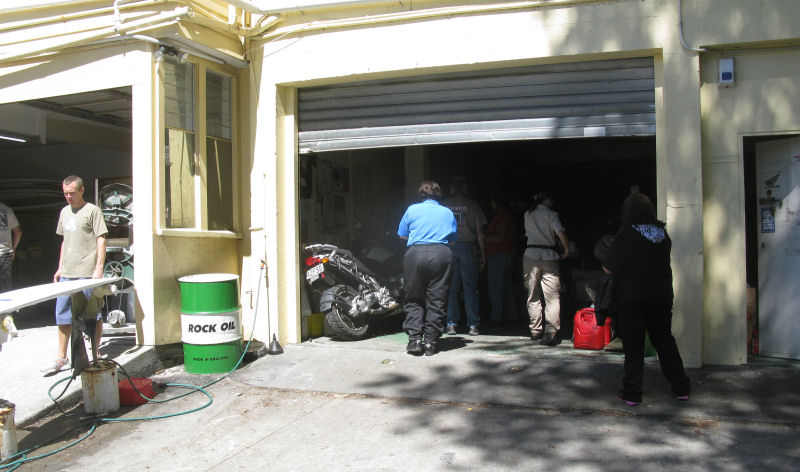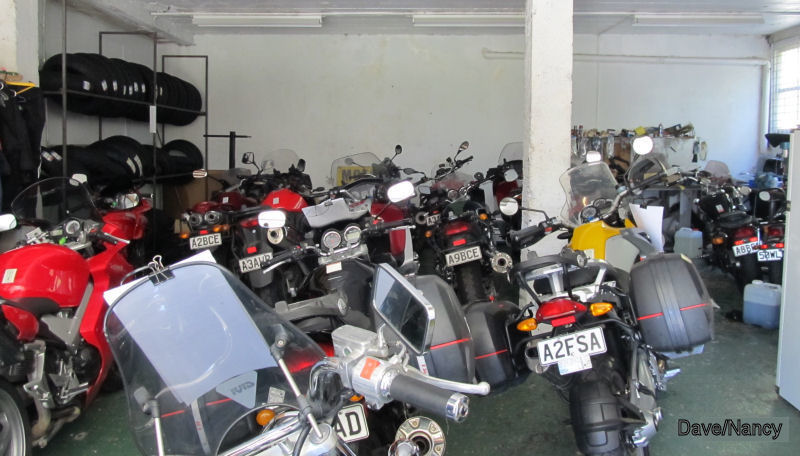 Pat's bike was a Honda Goldwing, rented from another shop down the street, but the rest of us got our bikes here. They were lined up and ready for the pre-rental inspections. Each had its scratches and dings, but nothing serious. Here's my Honda Shadow 1100, which had the added thrill of a malfunctioning shift pedal that was way, way out of adjustment. I thought I'd get used to it, so I didn't make a big deal of it. All the bikes came with hard luggage, which was nice. I had also rented a tankbag, which I find very useful.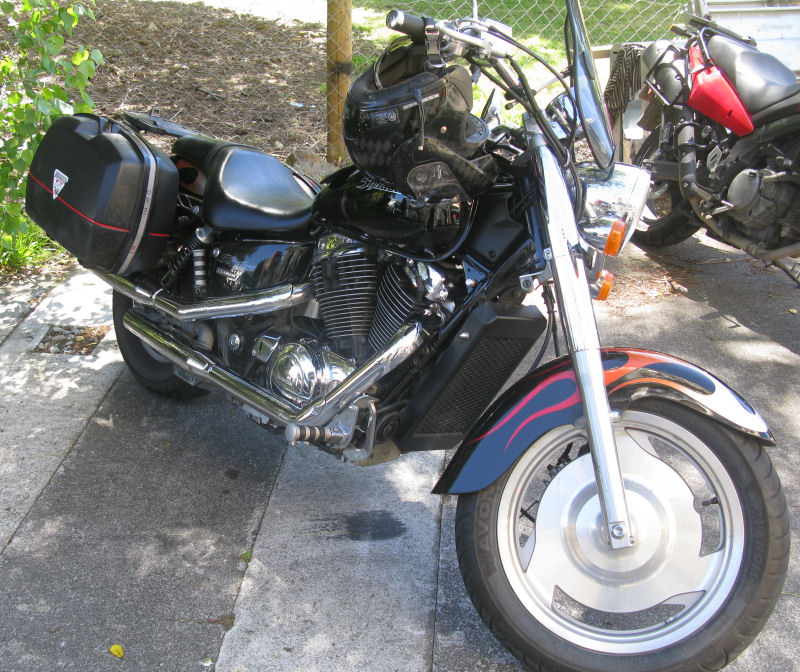 Laurie's Shadow Ace 750.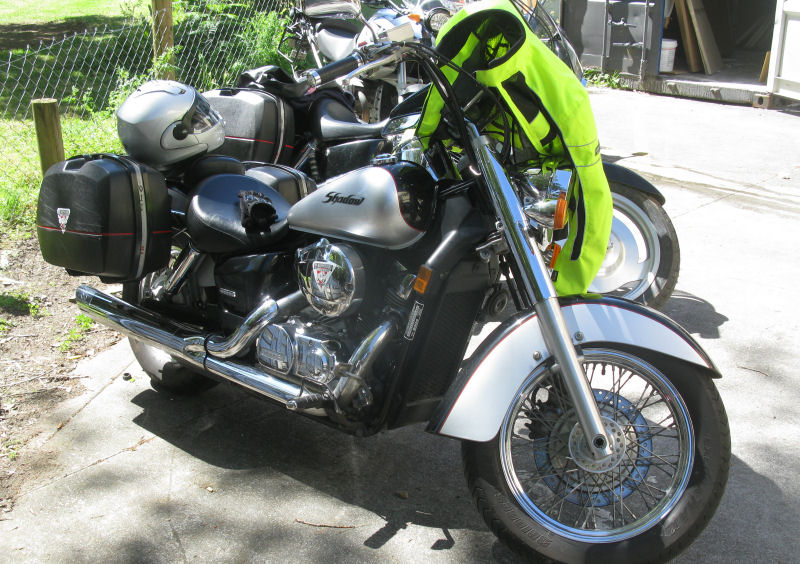 One by one, we got the inspections, paperwork and payments done. The lone employee in the shop had only worked there a week, and he wasn't very efficient. The process took a long time. Still, we were happy to get the bikes. Nancy and Lynette also got the 750's, while Colin got an 1100. Dave opted for the Suzuki Bandit 1250.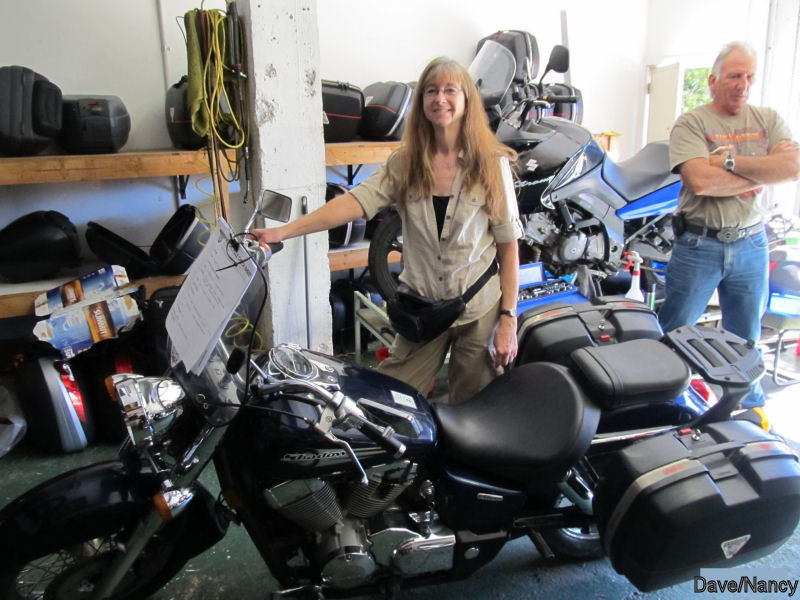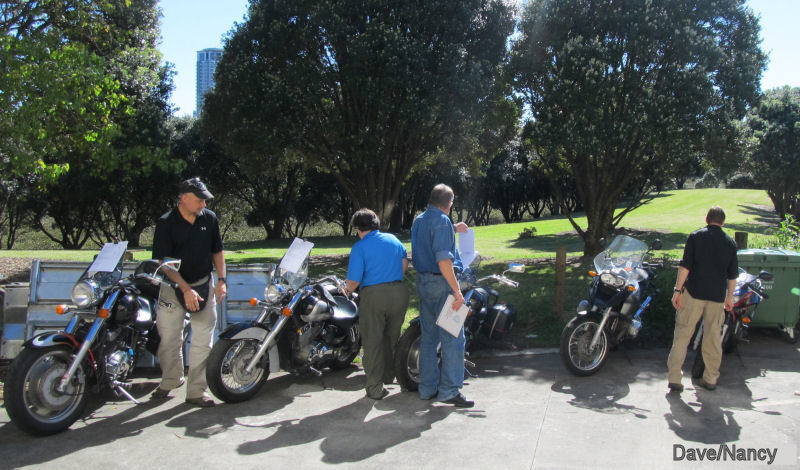 Most of our luggage stayed in the cars for now, so we changed into our riding gear and got the heck out of Auckland and its heavy traffic. My bike's tendency to not down-shift cleanly was getting more annoying, but I was still getting used to the bike.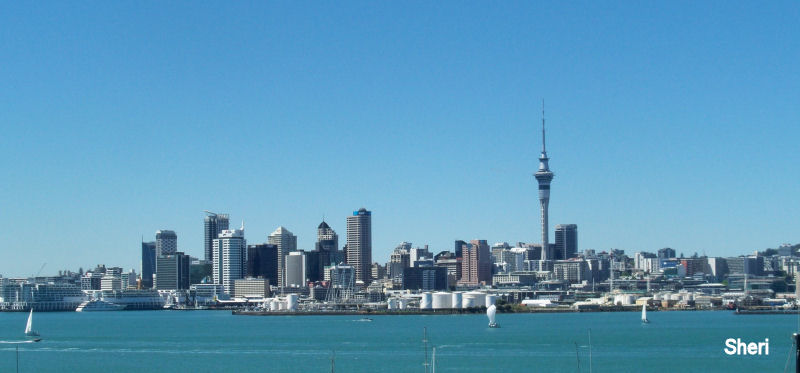 Most of us were not used to riding on the left side of the road, so it was good that we had Colin and Lynette to follow. It was a couple hours (with one rest stop) to get down to Cambridge, where Lynette's parents lived. Frank and Colleen met us and we were happy to meet such fine people. Their home was wonderful, and the animals on their property kept rural life interesting.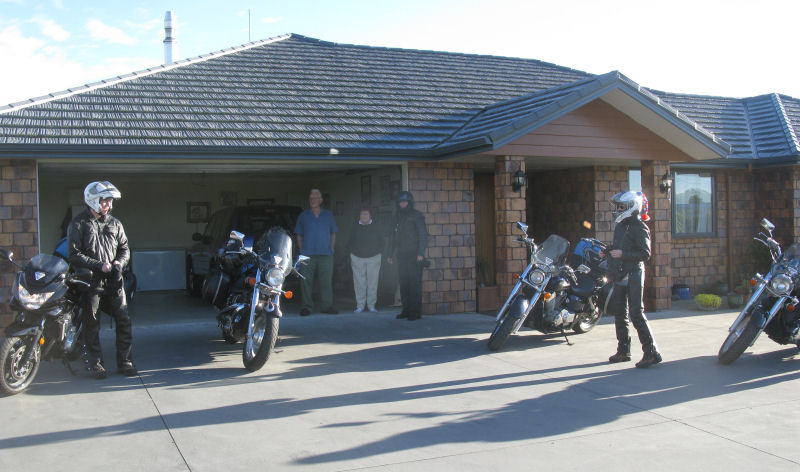 Colin and Lynette, and Dave and Nancy stayed with Mum and Dad, while Pat and Sheri zipped off to stay nearby at friend John's house. Laurie and I were taken home by Tony and his wife Greta, who have the terrific house and stock property behind Mum and Dad. Laurie and I hooked up some accessories to our bikes (power cords and mounts for the Chatterbox radios, my GPS power cord, and an SAE power plug for any other accessory, such as an air pump). I had brought a tool kit (which got used several times), a puncture-repair plug gun, an air pump, CO2 cartridges, and a well-stocked first aid kit (which also got used a few times, unfortunately).
After getting settled, everyone gathered at Tony and Greta's place for a group BBQ dinner. Tony is a hard-core Harley-Davidson guy, and had lived and ridden in the US in the past. That's Greta on the left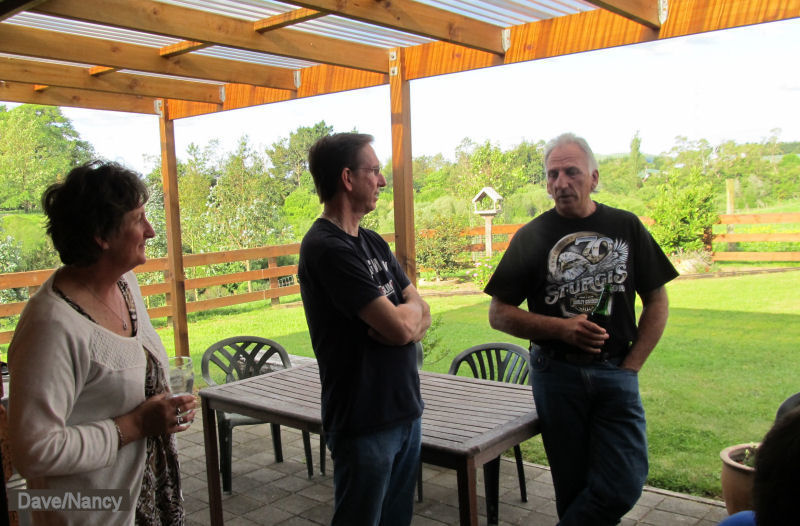 John helped with the grilling.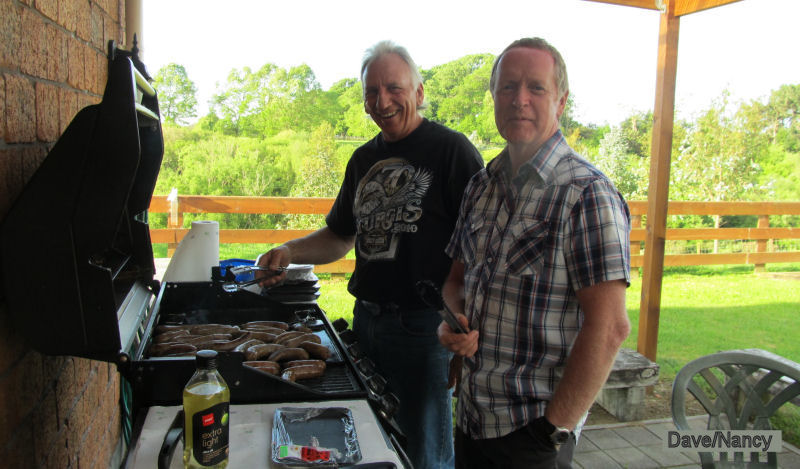 Sheep, horses, cattle, and dogs were everywhere.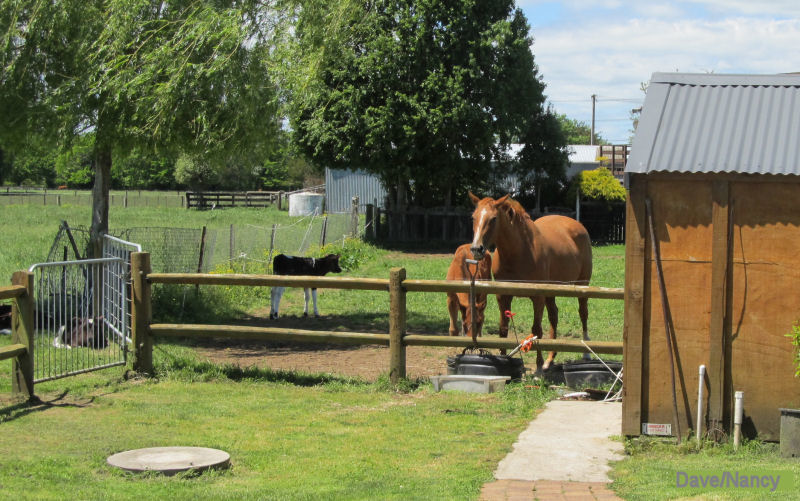 And we got a good night's sleep after all that.
Saturday, 12 November, 2011
-------------------------------------
Once we were all sorted out and ready to ride, we said our temporary good-byes to our hosts (we'd be seeing them again in a week) and hit the road. We stopped for gas and orientation, then again for a group photo. Graeme was kind enough to carry some of our baggage in his VW Beetle. A few of the local friends and family joined us for part of the ride.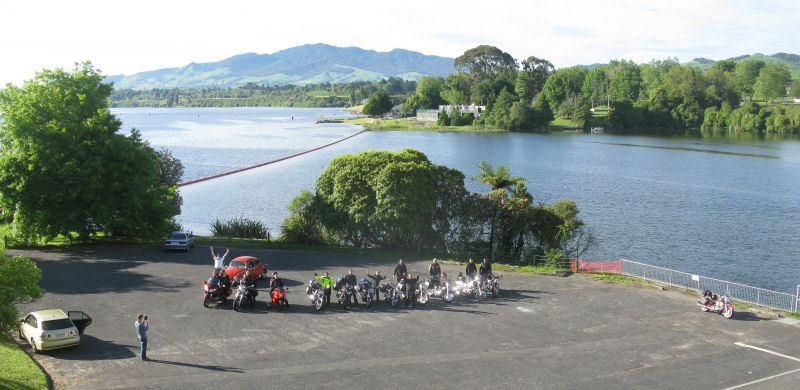 We made a tourist-shopping stop in a small town, Tirau. The corrugated-steel shops were shaped like a sheep and a sheepdog. Hard to miss.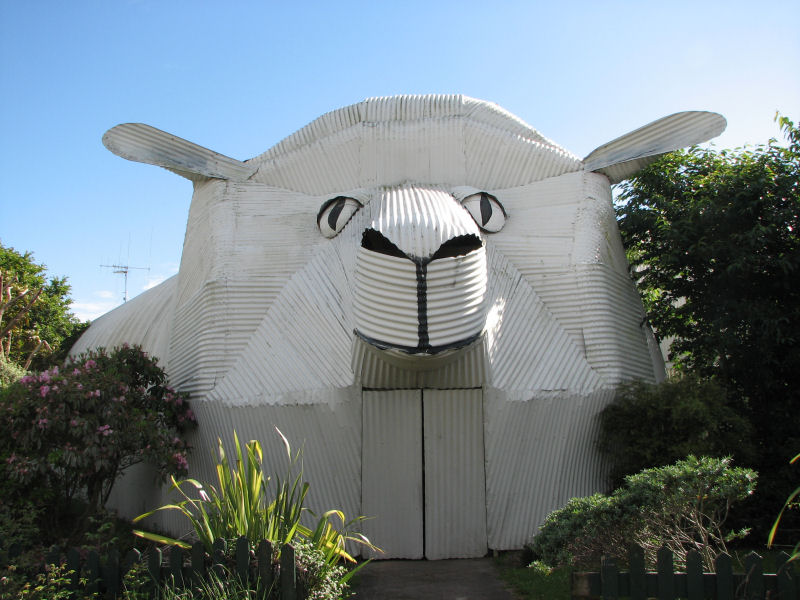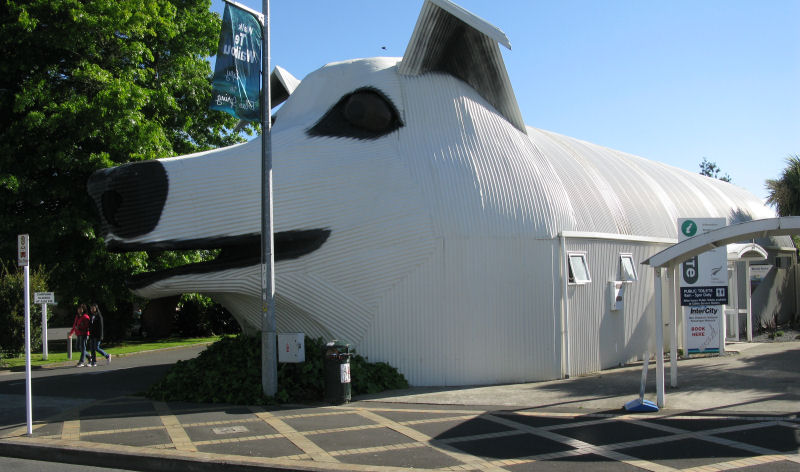 East, then to Rotorua, where we visited a native village that was famous for its "penny divers," its hot springs, and its geysers.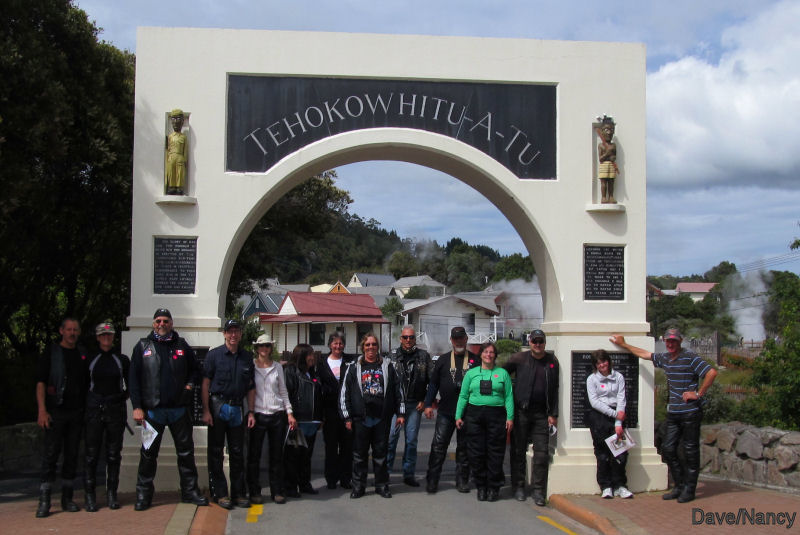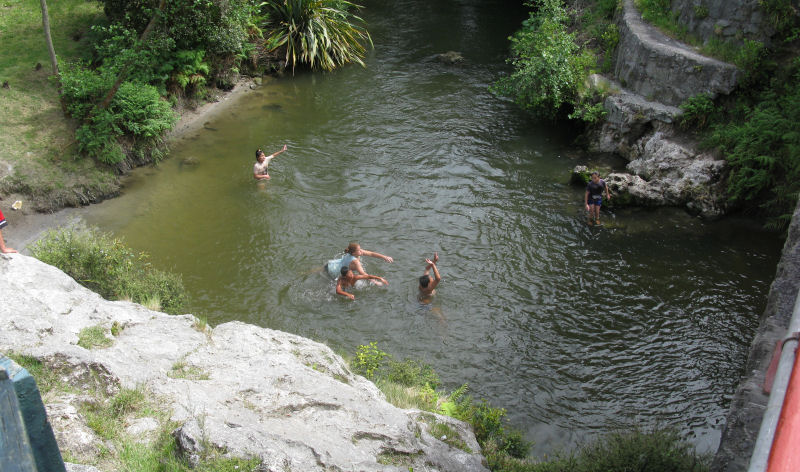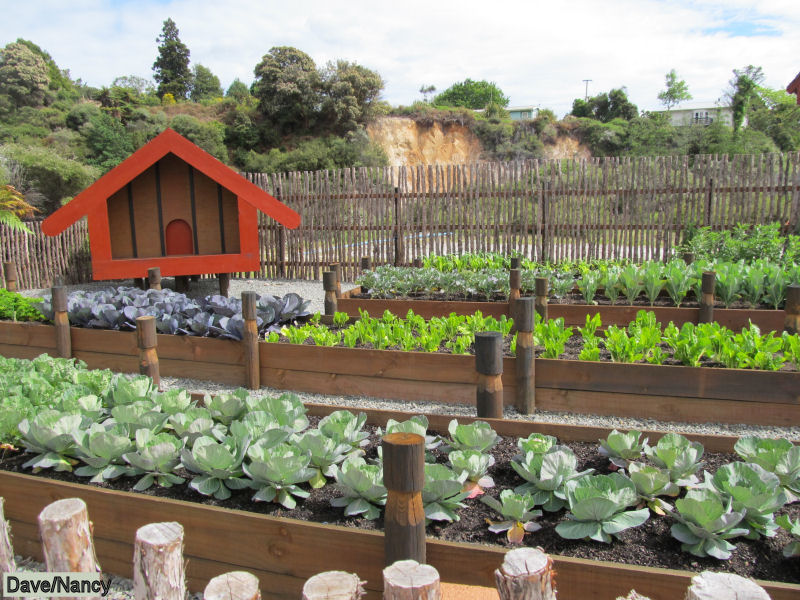 Since this was a living village, these were people's homes, not just for show.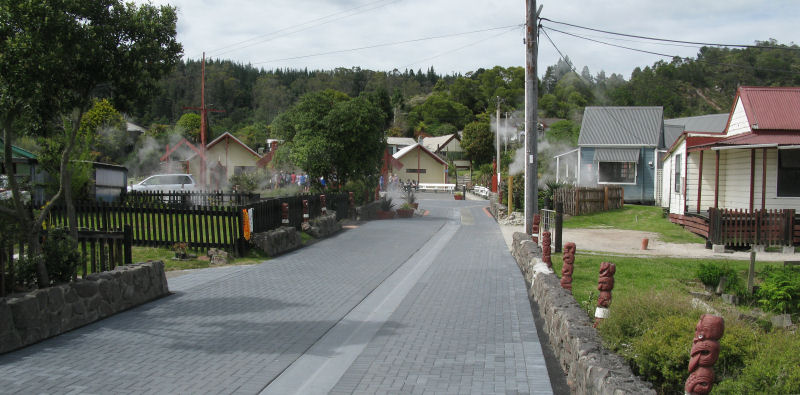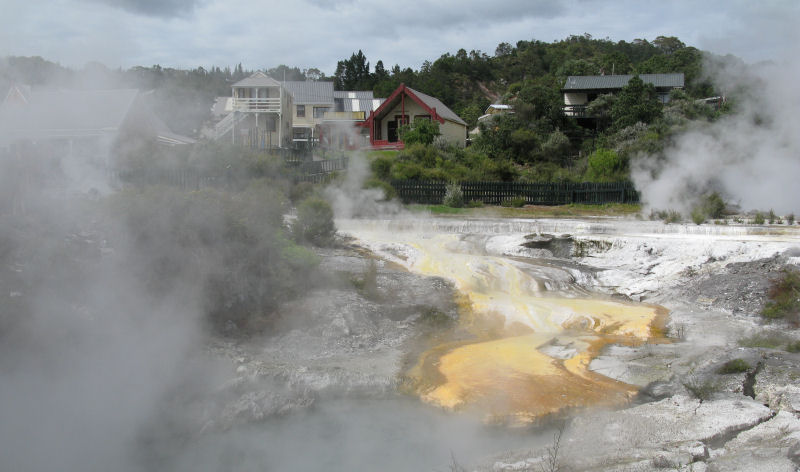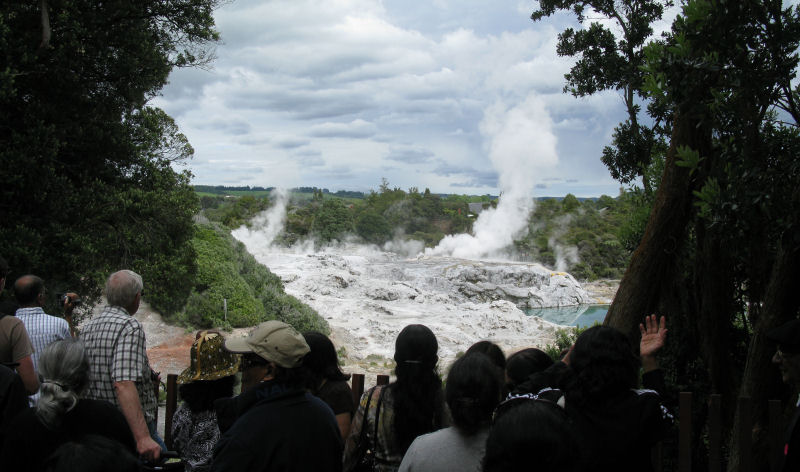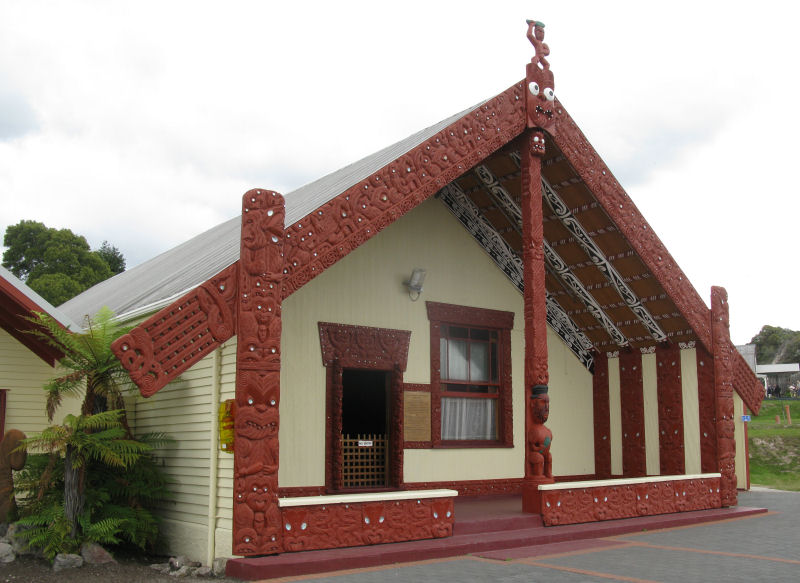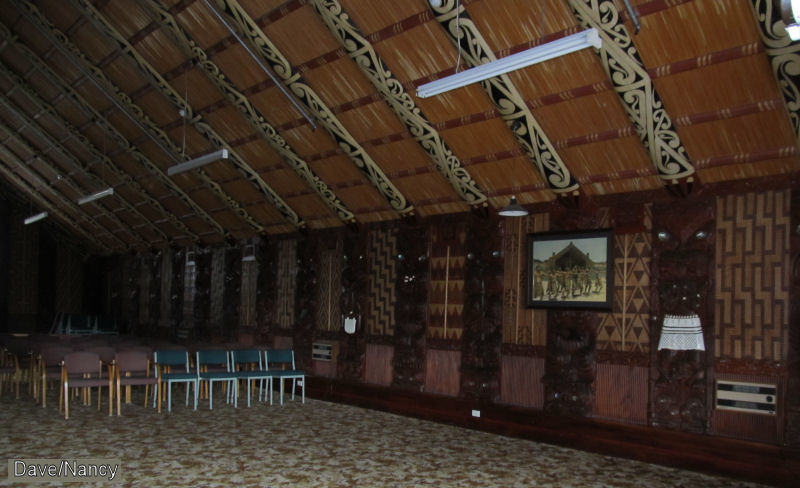 The native cultural show was brief and limited, but was also very nice and sincere. The men make faces and stick out their tongues to intimidate their enemies, and the women make "big eyes" for much the same reason.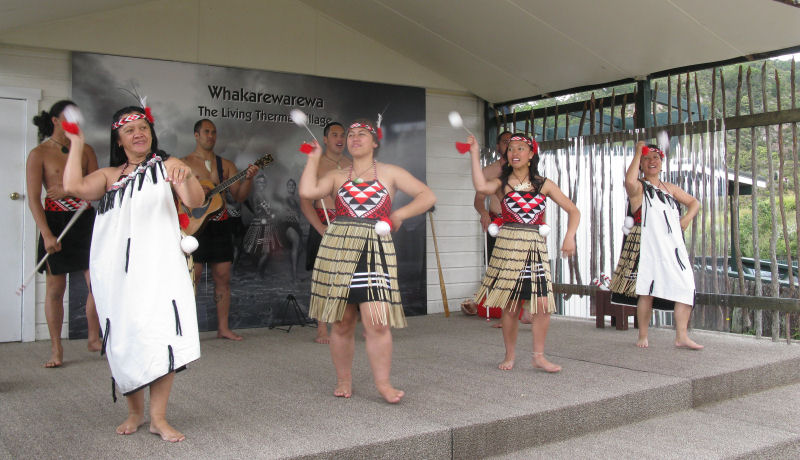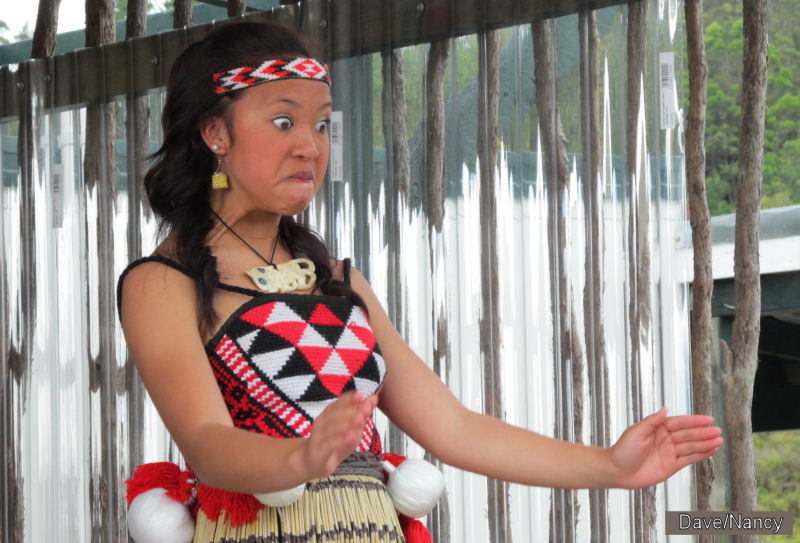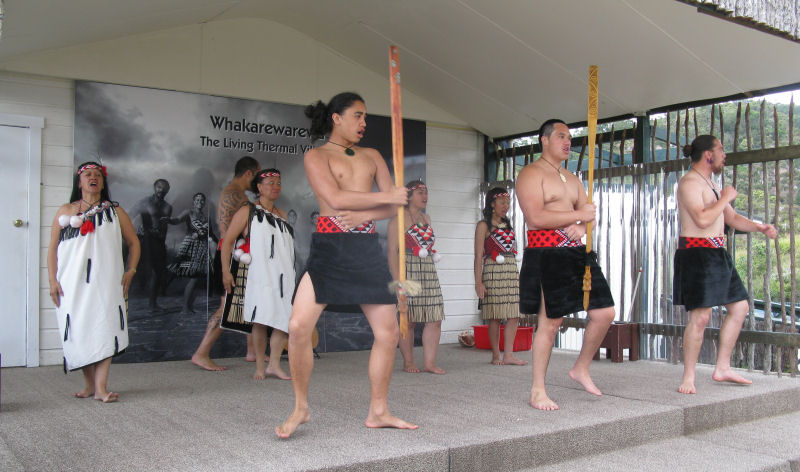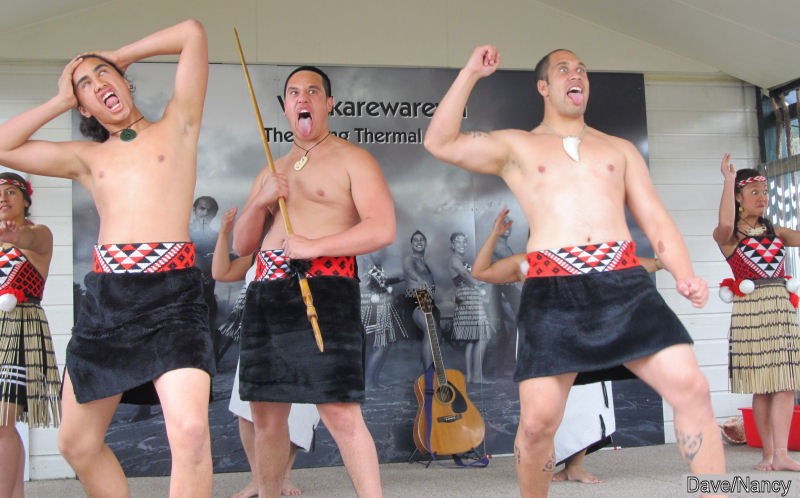 Dave and Nancy didn't seem frightened by the Maori war-faces.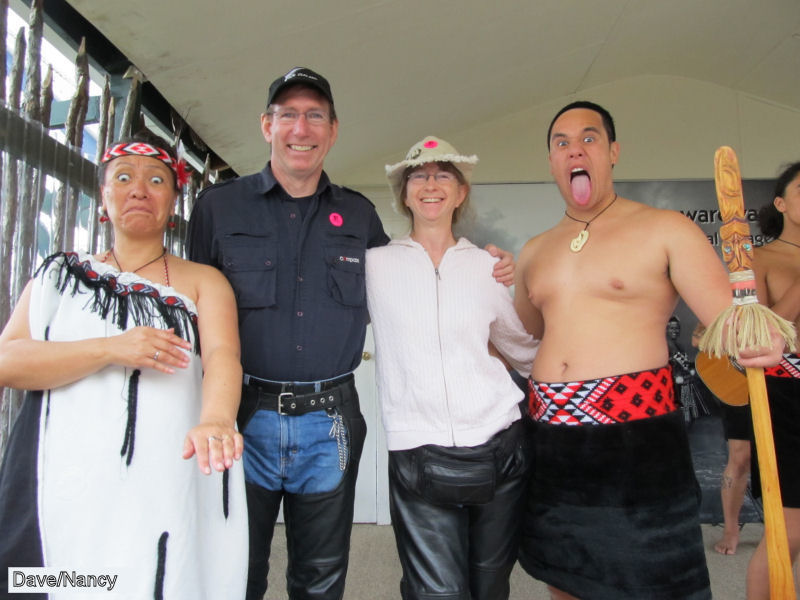 Our ride then wandered eastward toward the coast. We stopped several times at scenic stops, usually involving a lake.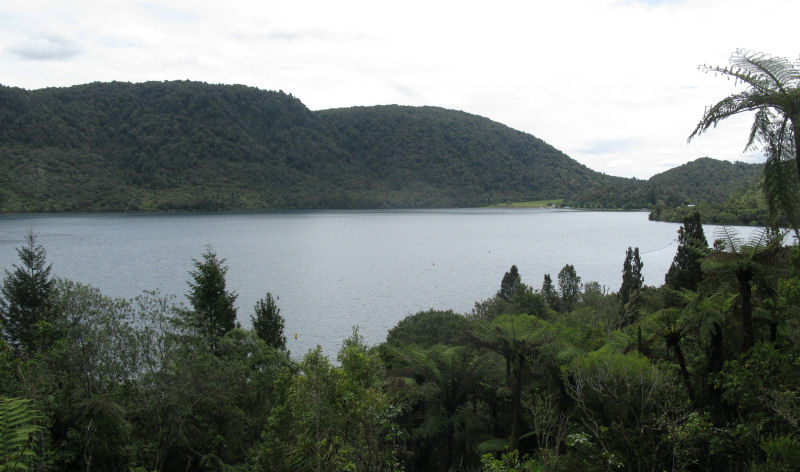 Tony (who would very fortunately join us again with wife Maureen for the second week), Greta, me, Lynette, Colin, Craig and Robyn (riding 2-up on his Triumph Rocket 3).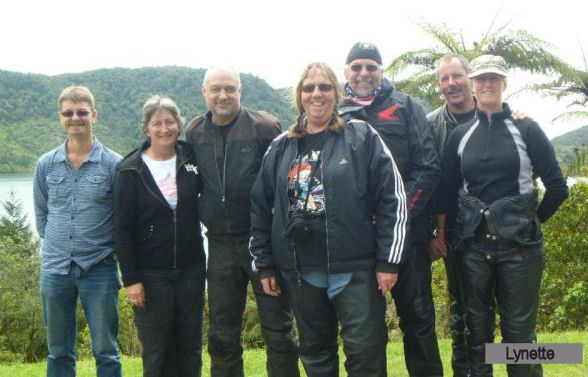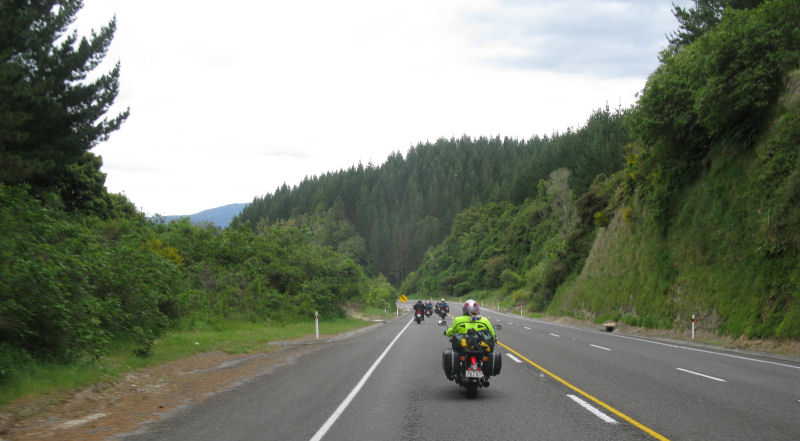 At Ohope, we were graciously welcomed at the home of John and Diane, friends who had ridden with us. We collected the bikes in the back yard, sat on the deck passing around beers and potato chips, and relaxed. I had gotten frustrated several times by my shifting problem. There was no way to know if the bike had down-shifted until I let out the clutch. Sometimes it felt like it was shifting but it wasn't. Dave suggested a fix, and we took the shift linkage off the splined shaft and moved it up one notch. That made a big difference, and down-shifting was now much surer. Up-shifting was now a minor problem, since I couldn't shift by simply raising my foot anymore--I had to hook the shift lever with my toe and pull back with my whole leg to get it to move far enough to shift up. It was better than it had been, so that was an improvement.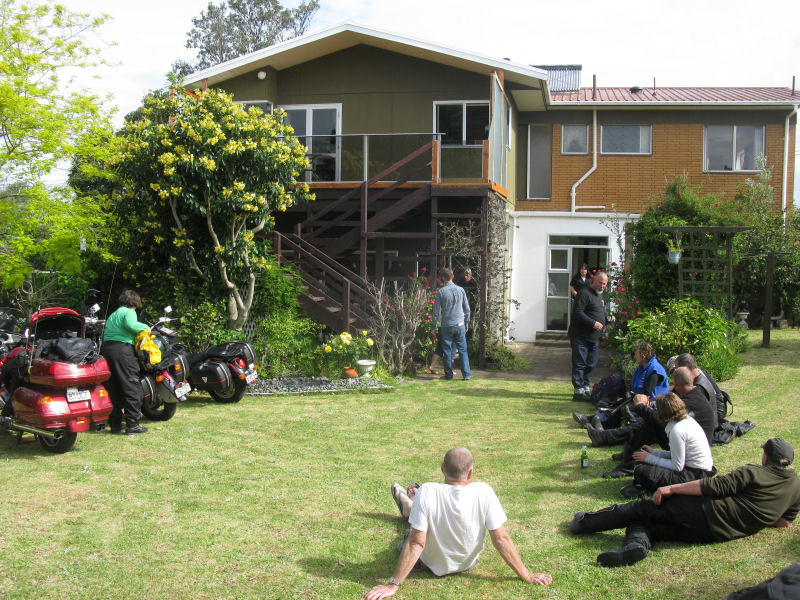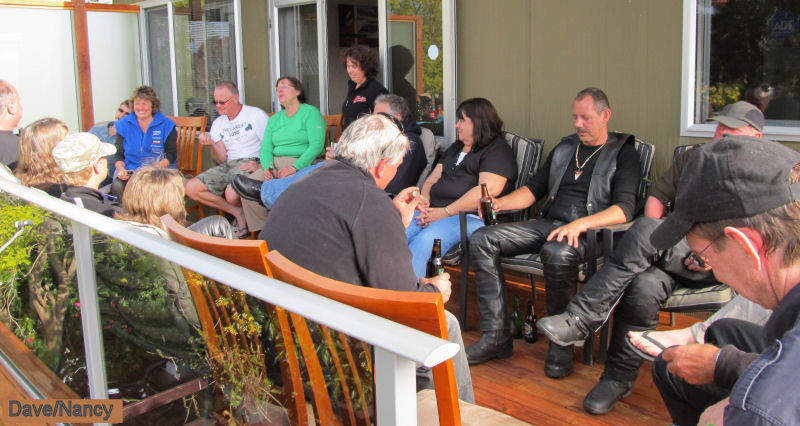 John called a local dinner club and asked their shuttle van to come get us. It took two trips, but we all got to the restaurant. The place wasn't far away, but we didn't want to ride the bikes or walk.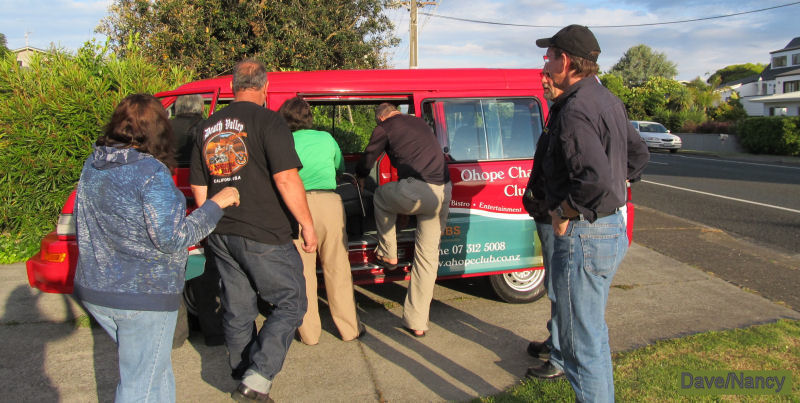 I was reminded that tipping is not done in New Zealand, because when I left some change for the bartender at the dinner club, she was concerned that I had made a mistake. Our local friends again reminded us not to tip our waiters and waitresses, or anyone else for that matter, because they don't want it to become expected of the tourists. The minimum wage laws are different here, and food-service and service-oriented pay rates are the same as all other wages. For that reason (and others), meals and other services are higher than I was used to seeing. Maybe it all works out in the end, but eating in a restaurant in New Zealand is shockingly expensive. Eighteen dollars for a hamburger? Are you kidding me?!
Most of the dinner club was occupied by a local golf group that was having its tournament awards and prize-drawing ceremony.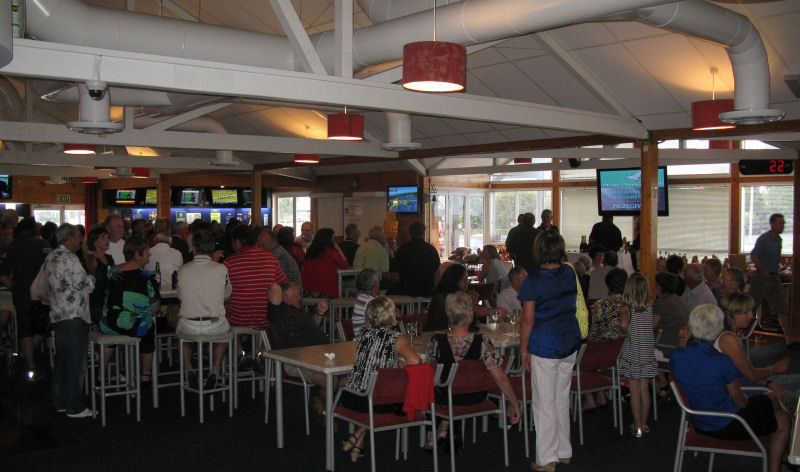 We didn't all manage to make it into our group photo.
When dinner was over, we waited for our turn in the shuttle van. The golf club had ended its ceremonies, and they were leaving at the same time. In the photo below, the couple in the middle waited with us. He had won two hams in the prize drawings and he was pretty happy about that, and she was completely drunk and happy about everything. She had to hang on to him to keep from falling, but she somehow managed to stagger over to me at one point and use me for support. She told me that she was Danish and that I was very handsome, then she staggered back to hubby, who was also swaying pretty badly. She had to carry her shoes because her feet were too drunk to wear them properly. We let them take the shuttle van first, partly because they were going in the opposite direction from us and partly in case one or both of them threw up in the van.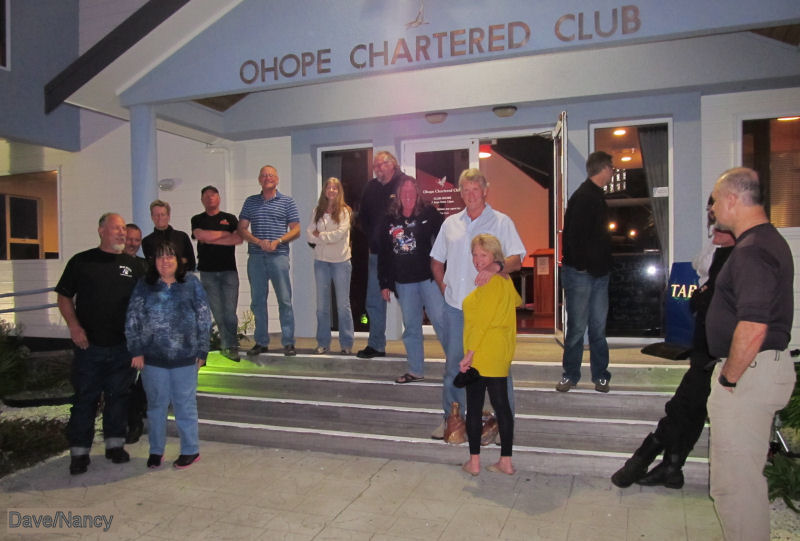 Sunday, 13 November, 2011
------------------------------------
Nancy and Dave got up early for a walk on the near-by beach.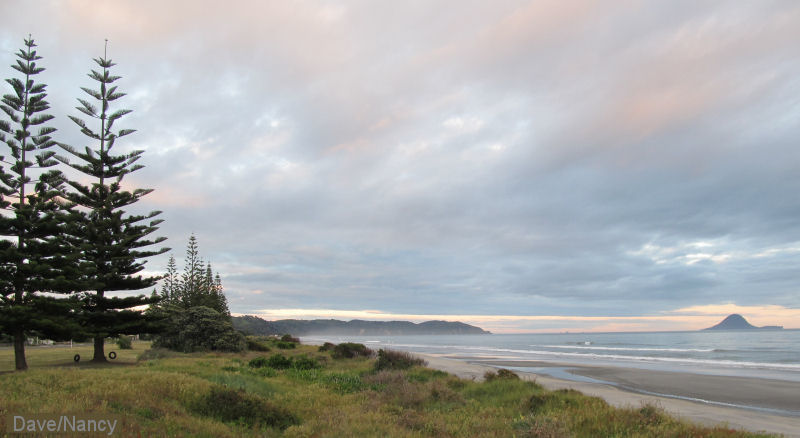 We were treated to breakfast by our hosts John and Diane (embracing below), and we made our way out of town.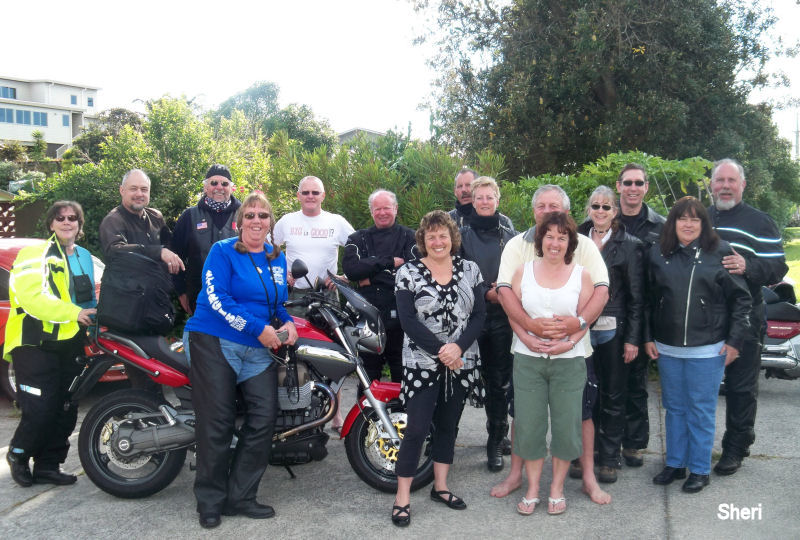 The day's ride was planned to be a long one along the east coast. Fuel was expected to be scarce, and that proved to be the case. Most small towns and villages didn't have much in the way of tourist conveniences.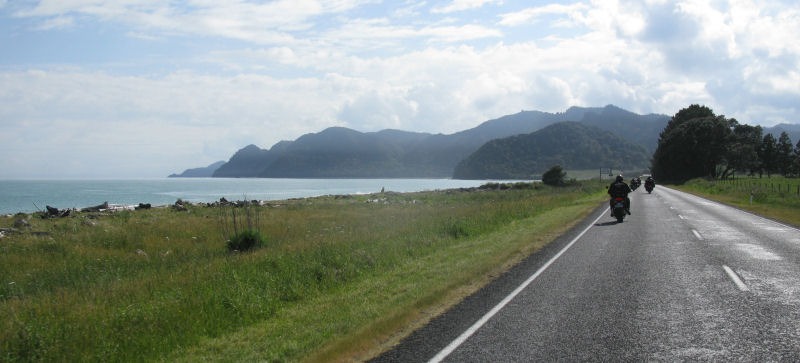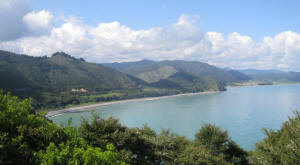 A passing truck threw a large rock that hit Sheri's gloved hand and burst a blood vessel. Her hand bled and swelled up alarmingly, but there didn't seem to be any broken bones or knuckle damage. When the bleeding stopped I put some antiseptic cream on the wound and bandaged it. Mine was the only first-aid kit in the group. (I had the only tool kit, too, and each got used several times.)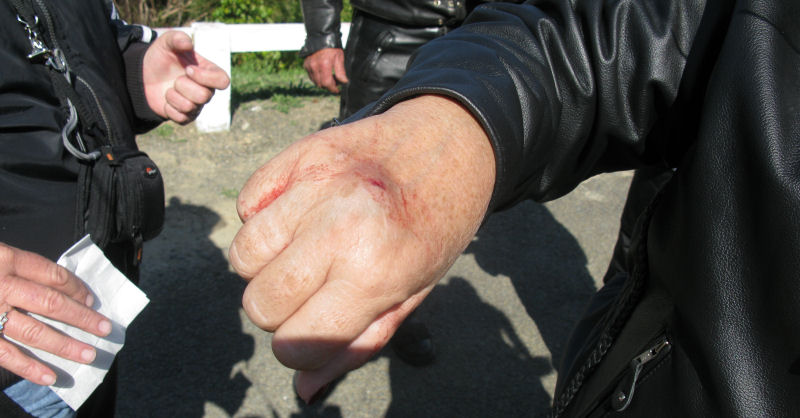 After treating Sheri's wound, I must have been quite proud of myself, otherwise I have no idea why I'm standing like that.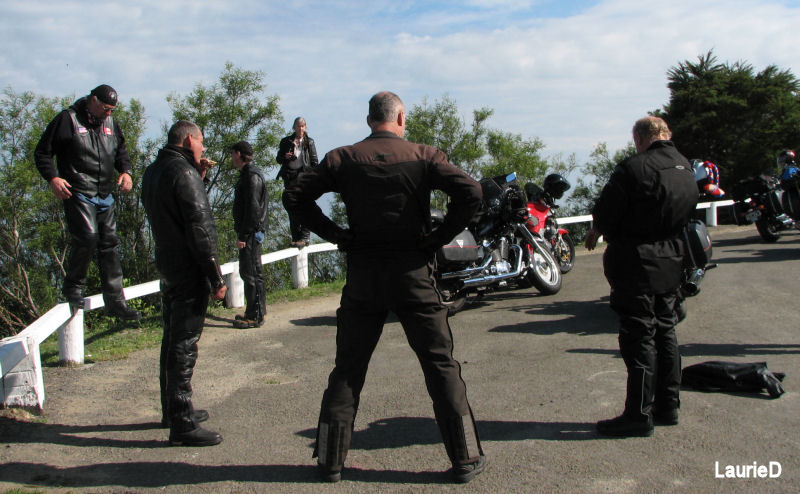 The coastal road was sometimes right on the water, sometimes more inland, sometimes higher, sometimes lower.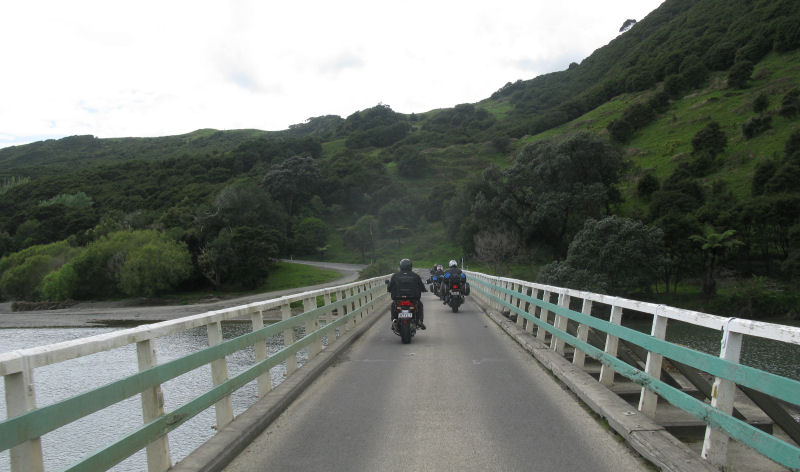 It was often windy, too.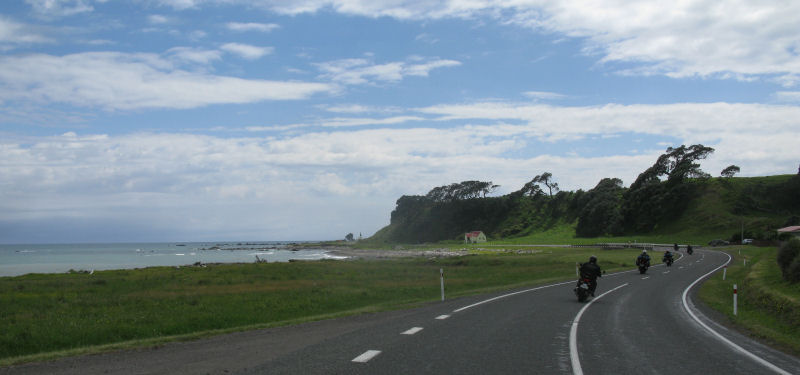 We stopped somewhere for lunch. Honestly, I had a hard time remembering place names and didn't take enough notes. Wherever it was, you can get to other places from there.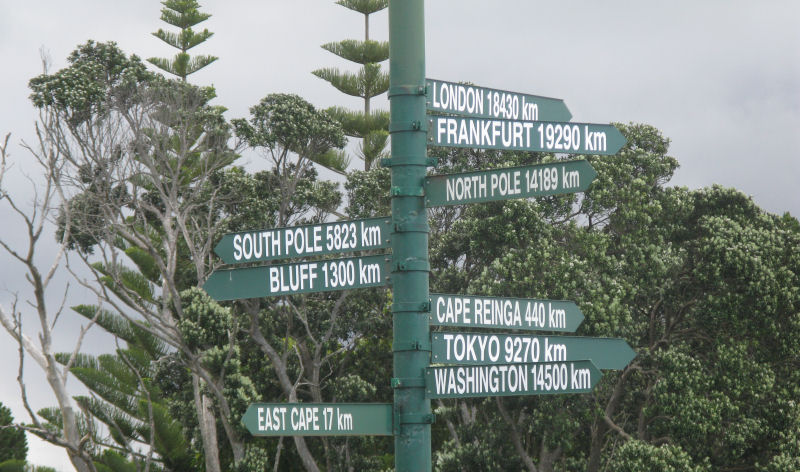 Sheri's hand was numb from the wound and the swelling. The numbness eventually wore off and it was sore, but it seemed to be healing nicely as the next couple of weeks went by.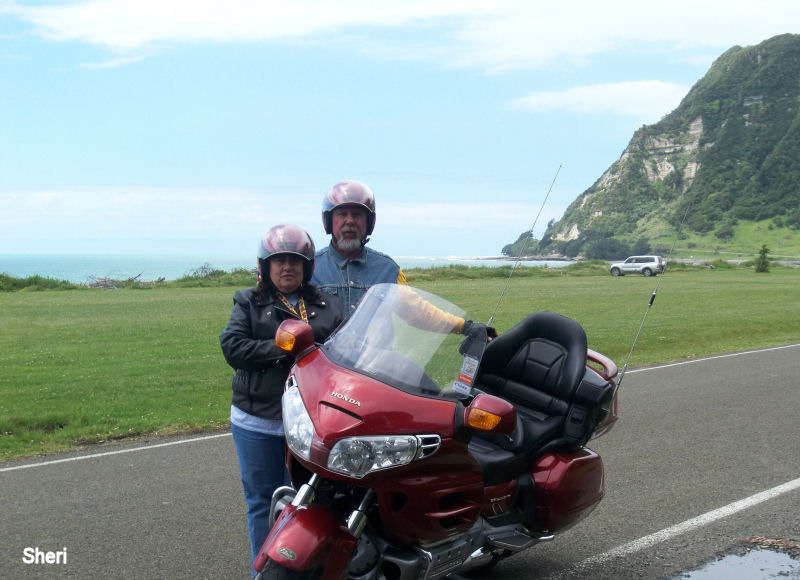 We stopped to look at some tree. Well, a really big, old, famous tree.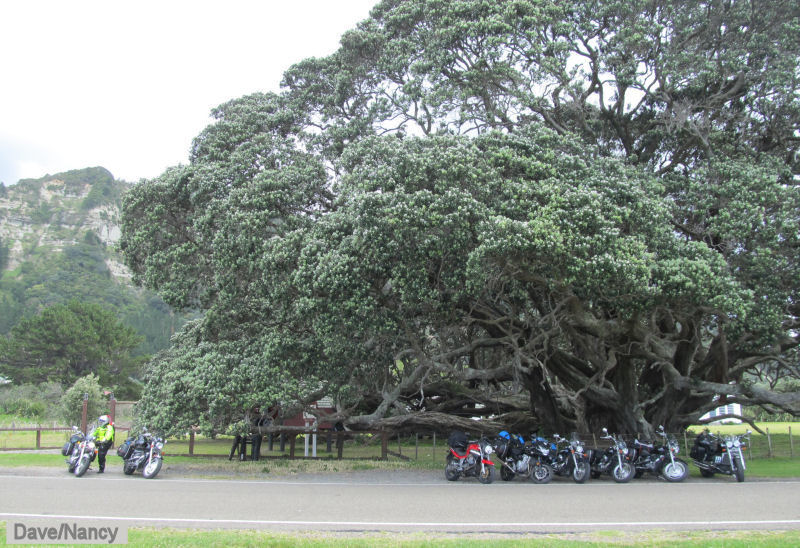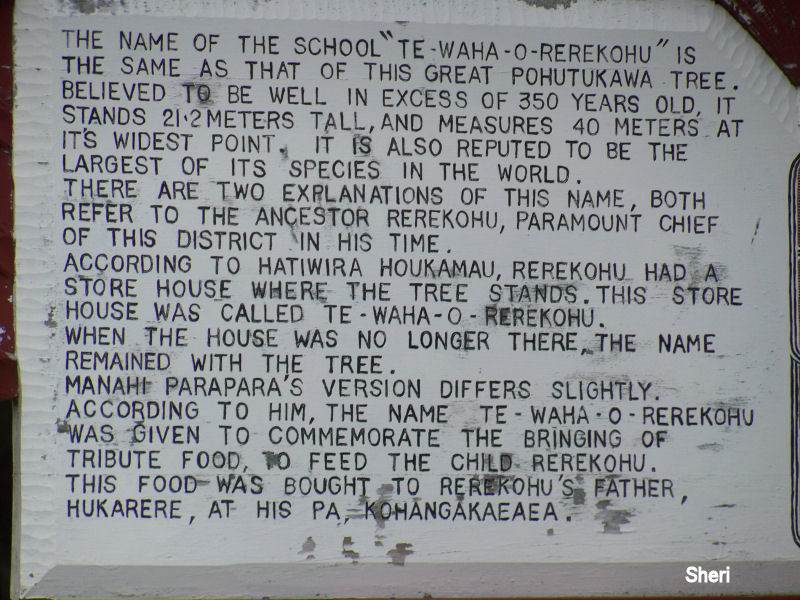 We could have topped off our fuel at the lunch spot, but we were assured that the next gas was only "fifty kilometers" away. Yeah, right. Every town we passed had nothing for fuel, and mine was the first bike to go on reserve fuel.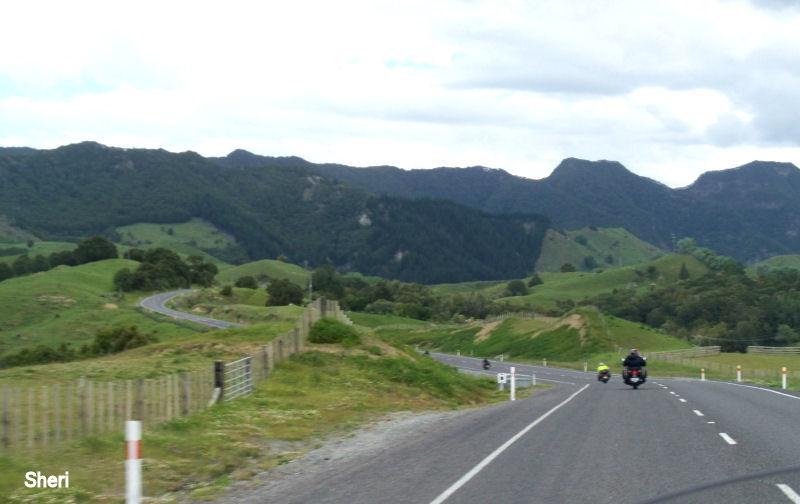 Thirty miles later, my bike was dead dry. A few other bikes had hit their reserve fuel level, but Colin (also on a Shadow 1100) was getting much, much better mileage than I was. Weird. I later thought that maybe I had been running along in 4th gear instead of 5th, since up-shifting was now a challenge. With no tachometer on the bike, and the noise and vibes feeling the same, I couldn't always tell if I was in fifth gear or fourth.
Pat brought gas back to me from the next town, and after a damp delay, we were on the road again. Fuel in New Zealand (petrol, not gas, please) is well over NZ$8 per gallon, and along this eastern coast it was even more expensive. NZ$20 got me about a gallon and a half, maybe.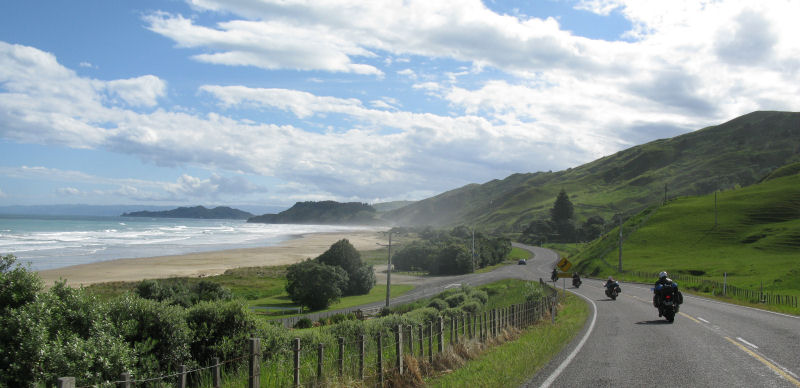 We stopped at Poverty Bay, a site rich with Captain Cook history. This coast is one of the first places to see a new day dawn, since it's only a couple of degrees west of the International Date Line. The observatory here is the eastern-most one on Earth.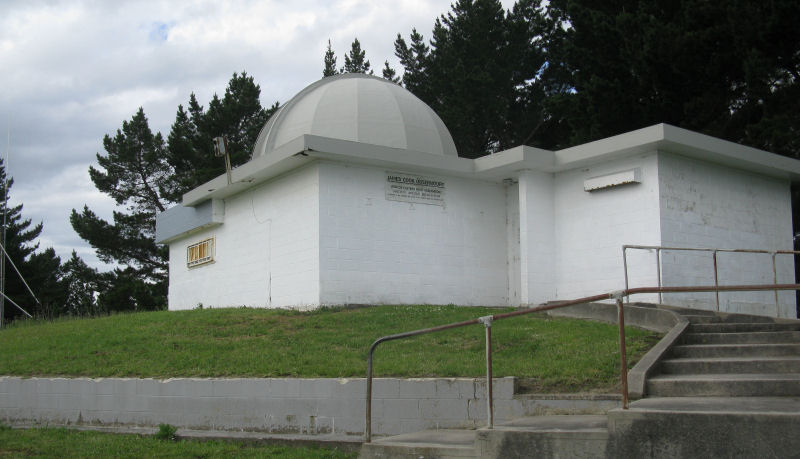 We soon came to Nuhaka, where another friend of Craig's ran a sheep station. Hilton and his wife Jo have a new baby boy, which gives them plenty to do, since he mostly runs the operation by himself (with the help of several dogs and horses, and other men when it's time to shear or slaughter the stock).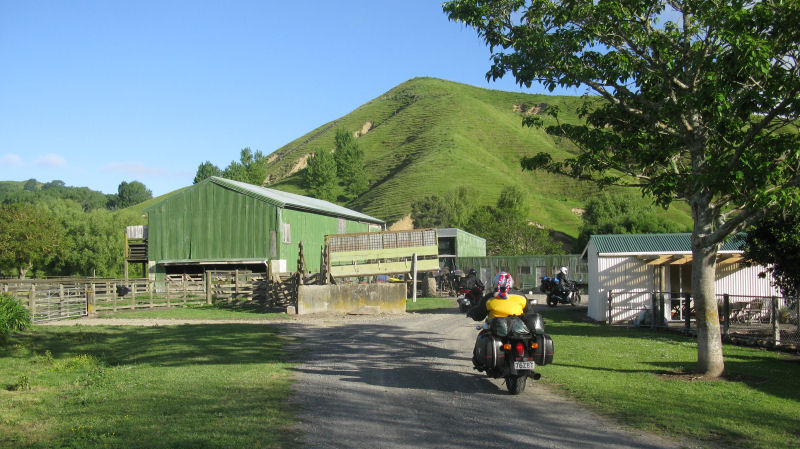 They have only recently started running a B&B here, and we were the second group to stay over. We had no sooner gotten settled into our rooms when it was time to pile into a sheep-hauling truck for a tour of the station. Lynette and Colin got up in the front of the cage and the rest of us crowded in. Someone had the sense to bring a case of beer.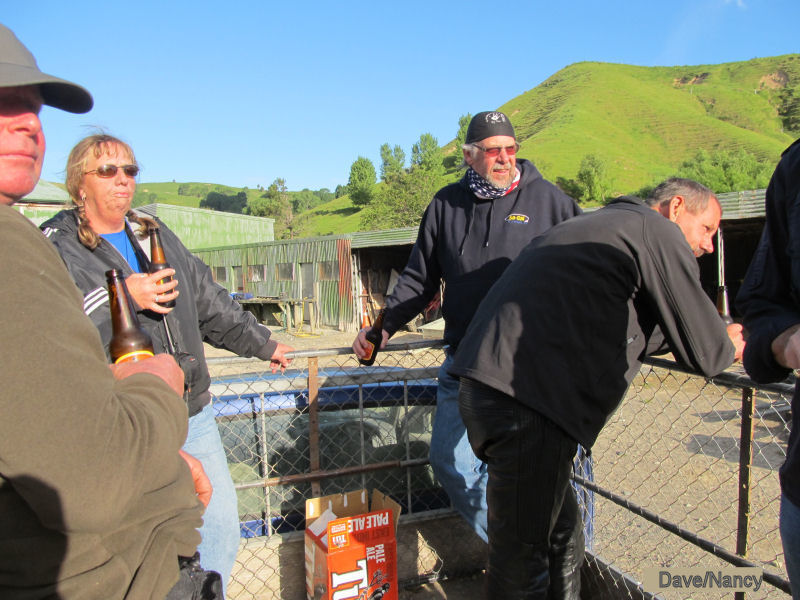 Hilton has other properties in the region, but this is the main one. His 1,500 acres were generally open to cattle and sheep alike. I think he said he had about 800 sheep, a few hundred cattle, and several horses. He knew the exact numbers, but I didn't write them down. Hilton drove the truck with a bottle of beer in each hand, and Sheri kept him company in the cab. The rest of us screamed and giggled as the trip to the top became an Indiana Jones-like thrill ride. Hilton took our shrieks as encouragement, and made a point of finding rougher roads.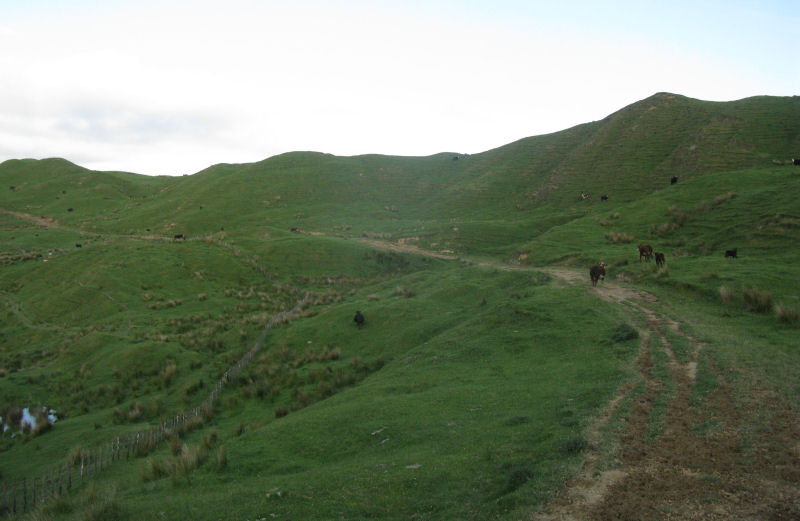 Jock, the farm dog, got a late start, but caught up to us before we got to the top, then he led the way. That little dog was in phenomenal shape! A city dog would have died within the first quarter mile up the steep road.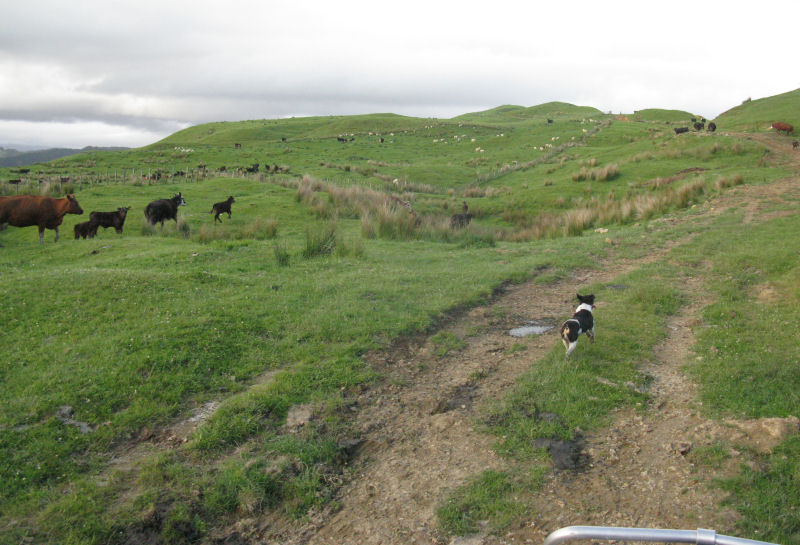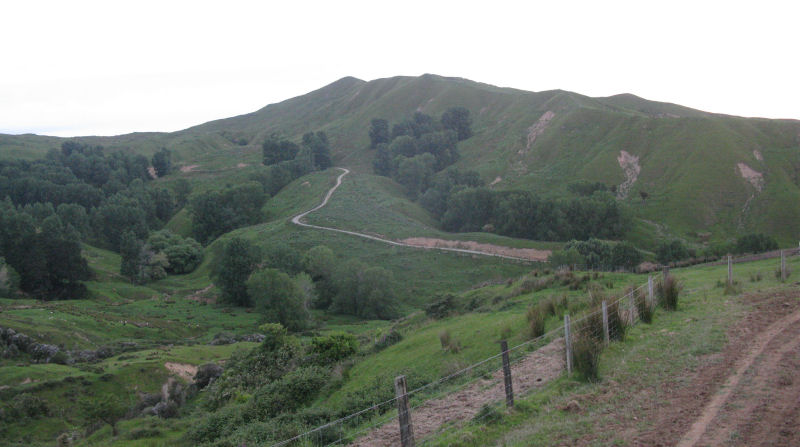 When we got to high ground, Hilton stopped and we hiked the last bit. Amazingly, Jock stopped panting in just a few minutes and started running around in circles just from being over-stimulated by all the new people showing him so much attention.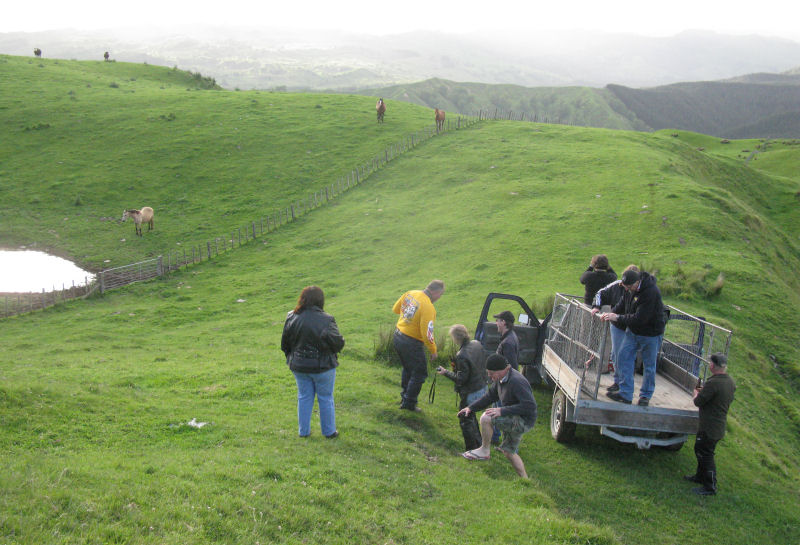 Hilton (center, below) then gave us an education on what it was like to run a station like his. He had every fact and figure, current prices for everything, and all the local politics stored in his head. He knew who owned every bit of land you could see from here.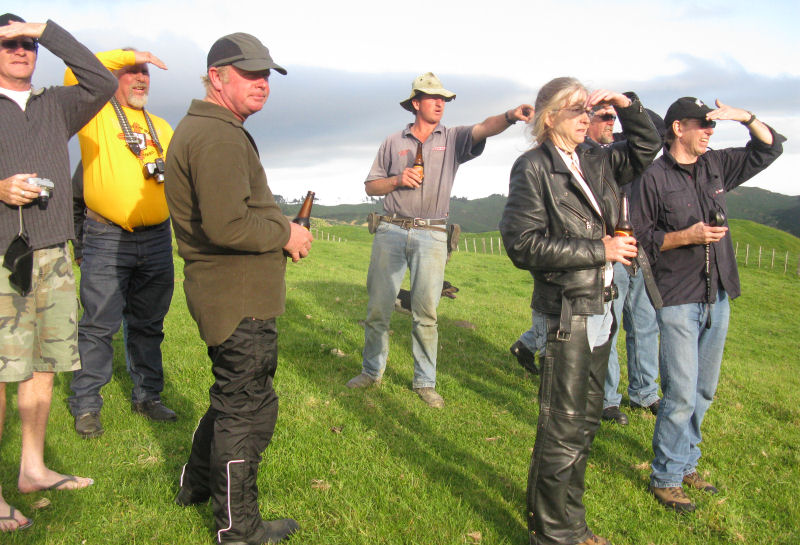 Everyone thought I was taking a photo of Hilton's butt, but I was actually interested in the brass tags on his work-pouch belt. He told me that they were the ear tags from all the rams he has had to kill over the years. Ewes and lambs get slaughtered often, but a good ram lives a long time. Half his belt was covered with these tags, each one bearing the name of the ram.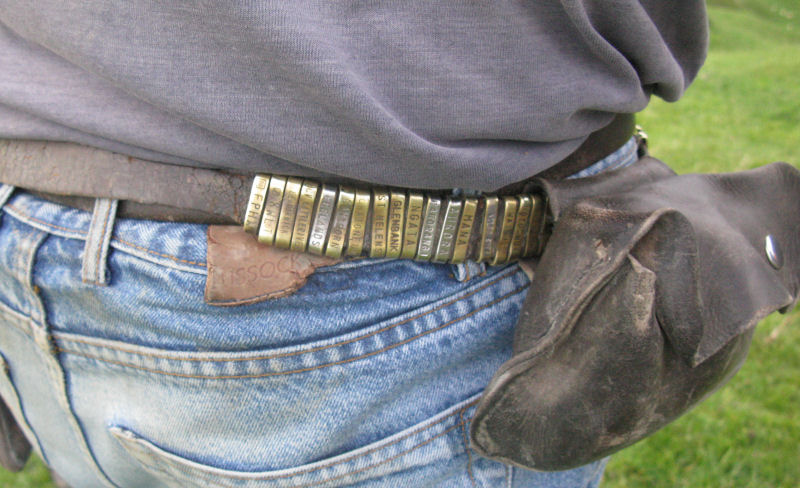 On the way back down--just as perilous a ride--Hilton stopped to point out his former work horse. This 25-year old guy had been a good worker, and it was obvious that Hilton still cared for him and kept him in good health. He might be at stud, now. I forgot the horse's name.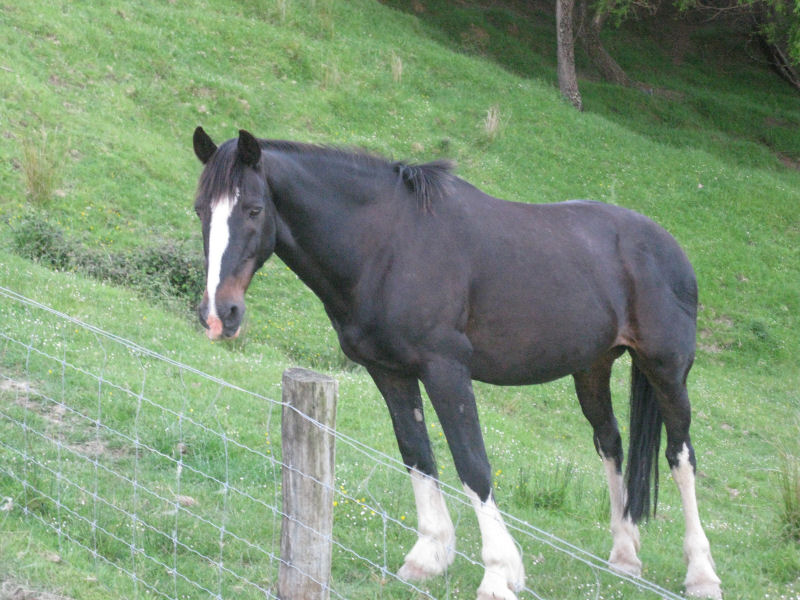 The sheep and cattle ran wildly away from the truck, and Hilton explained that when he comes up here he is usually on horseback. He does most of his work from the horse, with six herd dogs helping.
For property or taxation purposes, Hilton told us that a ewe was worth one livestock unit. A cow was worth six units, and a good horse was worth "fuckzillion units." I took that to mean that a good horse was worth a great deal. A lot of his cattle were black Angus, and he told us with no little anger that if an Angus was born brown or red it was nearly worthless to him. Same cow, different color. It was all about the "Black Angus" name recognition, and it made no sense at all.
The rooms were nice and after freshening up, we gathered in the yard for an outdoor dinner. Ham, venison, potatoes, homemade sausages, salads, desserts, beer and wine on the table... all this and more made this my favorite stop on the north island.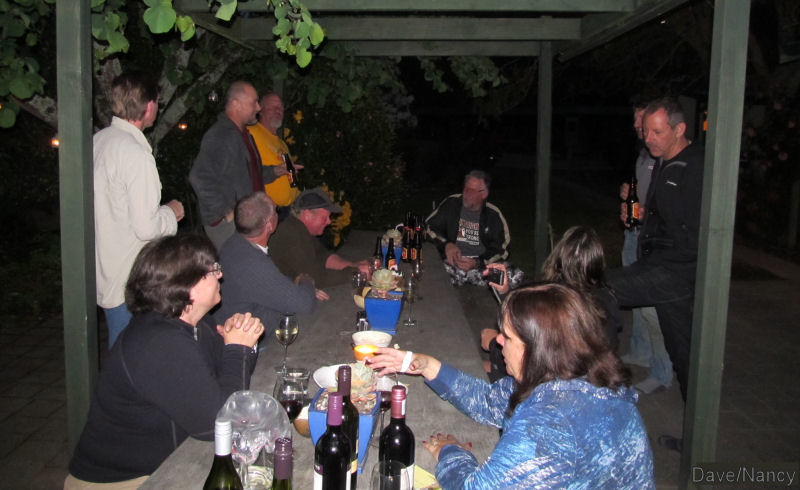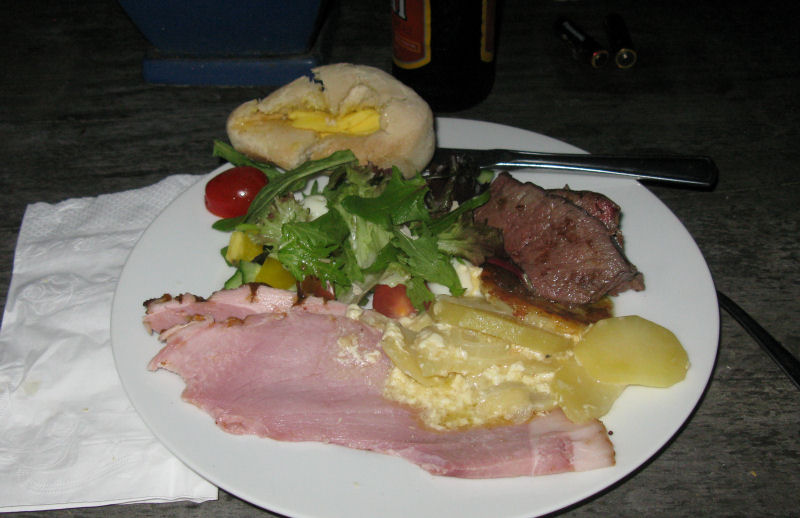 Monday, 14 November, 2011
-------------------------------------
It had started drizzling after dinner last night, and it was still a dreary and damp morning. Breakfast was served in Hilton and Jo's home, and we got to meet Harrison, who has only been around for a couple of weeks.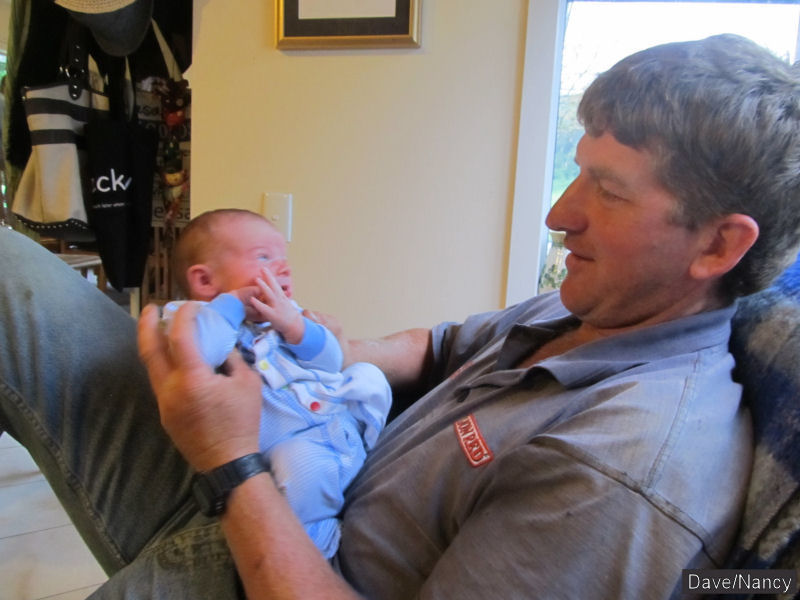 Hilton gave us s sheep-shearing demonstration, taking a few minutes to finish the job. He told us that a professional shearer would do a thousand sheep a day. That's a sixteen-hour day, spending a minute or so on each sheep. Can that be right? Maybe I didn't hear him correctly.
It was still damp when we packed up and got ready to ride.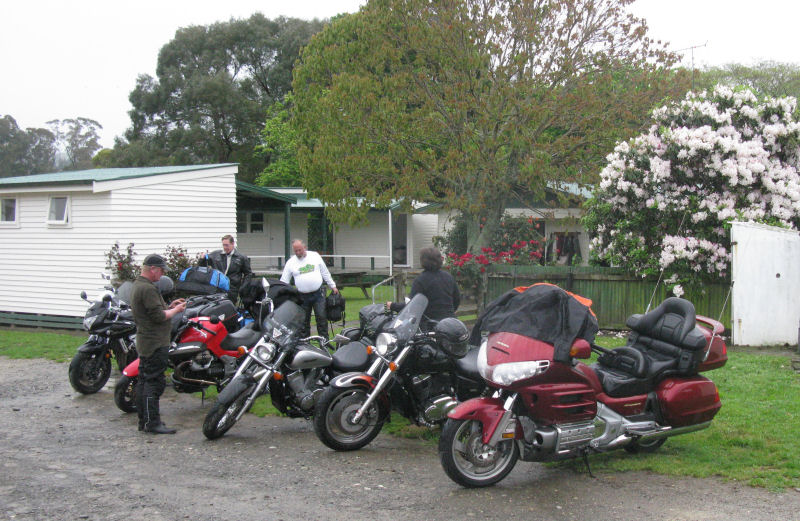 We got Hilton, Jo, and Harrison to join us for the group photo. Also, Colin and Lynette usually gave a small gift packet to our hosts at motels, and Hilton and Jo certainly deserved our gratitude. Even Jock got into the photo.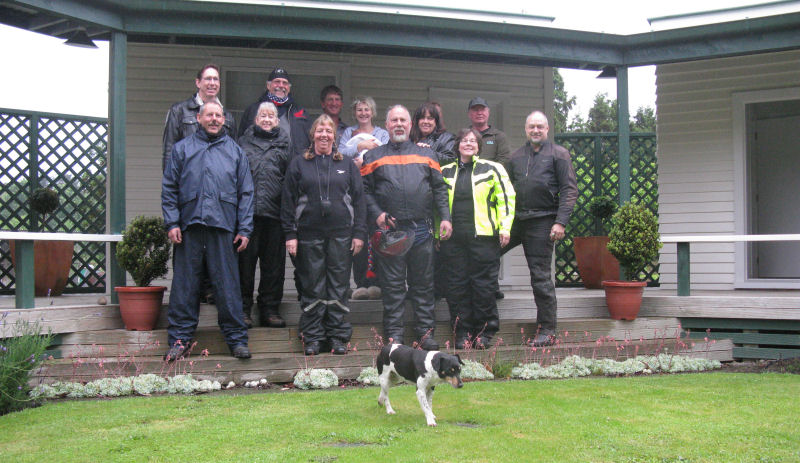 Local friends, Craig and Robyn, were riding along with us for a few days, and they led us to the home of friends of theirs, Lee, Bruce, and Linley. We were happy to get out of the rain and enjoy another round of good snacks and hot drinks.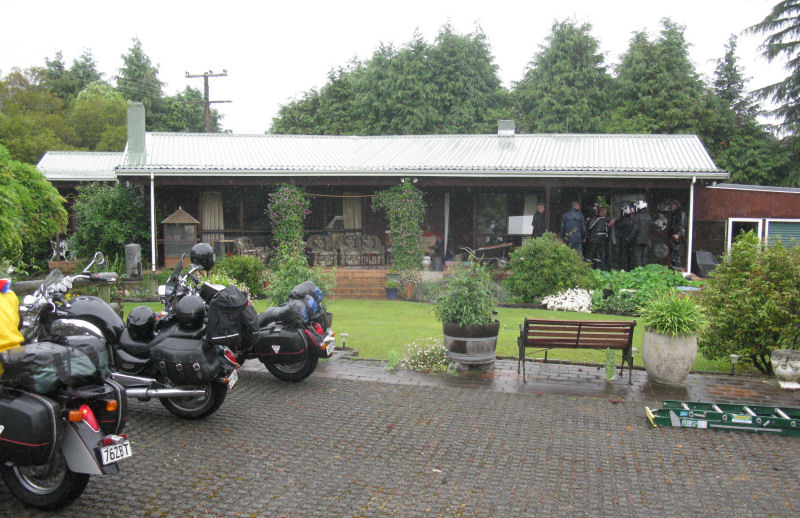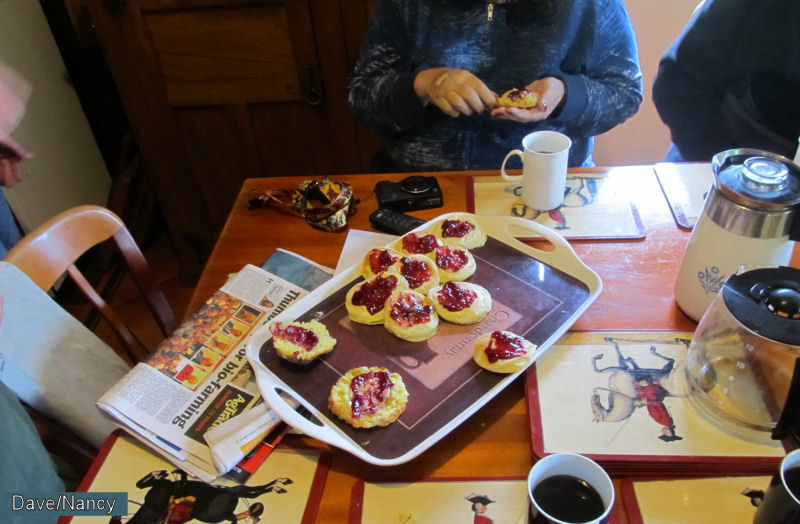 The rain was easing up when we got to Napier. Apparently, a tourist simply must stop at Opossum World.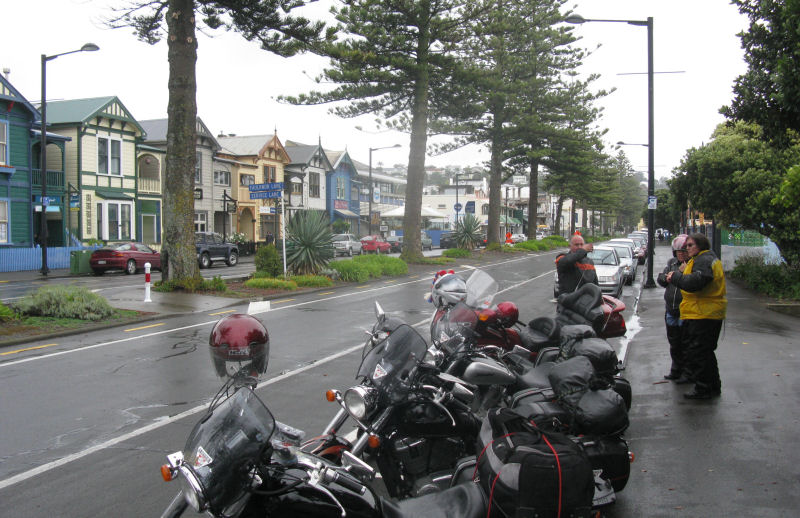 Most of the road kill was opossums, but since they are nocturnal we haven't seen any yet. I bought a nice leather hat, but it wasn't opossum skin.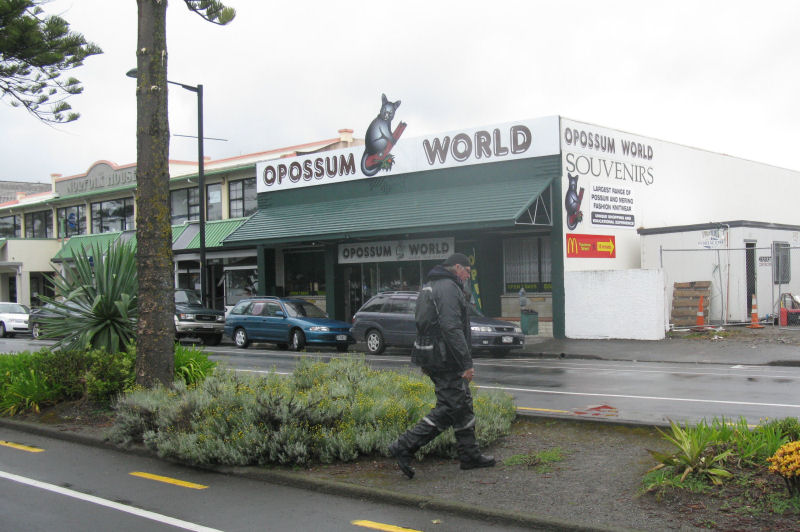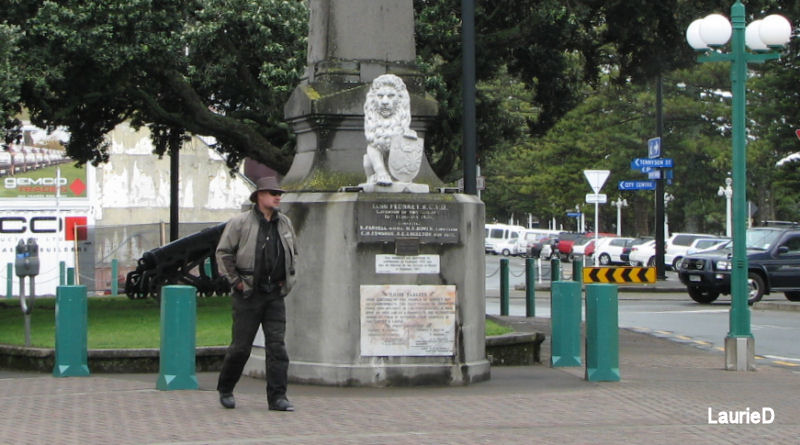 Everyone spent an hour wandering around Napier, then we gathered up and continued.
Okay, when you aren't there to see the photo get taken, you can't always be sure what the heck was happening. For instance: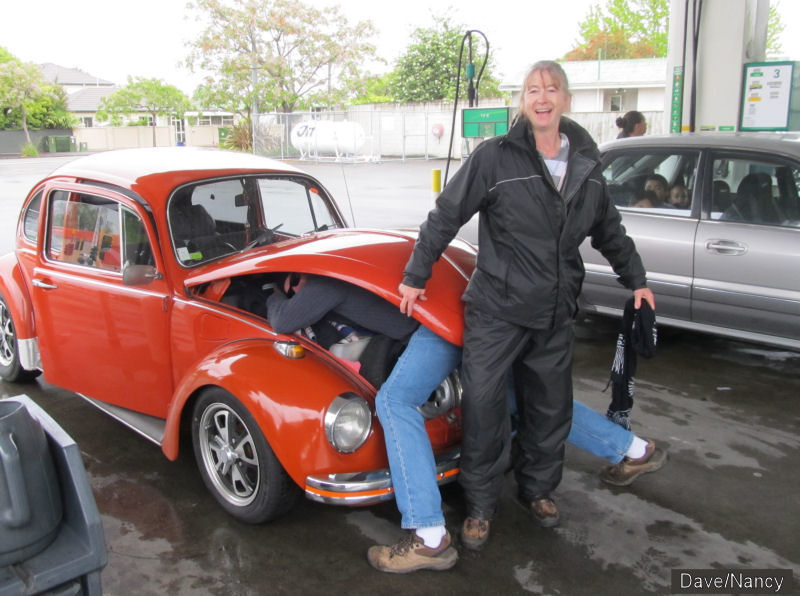 Just south of Napier, nearing Hastings, the bike slid out from under me and suddenly I was sliding down the road on my side.
I still don't know what happened, although I must have locked up the rear brake for it to go down like that. Anyway, I have no sense whatsoever of the rear tire sliding or anything. I had just started to slow down when the bike went sideways and down all at once. Since I had been in the middle of the group, I worried (as I slid down the road) that my bike might slide into another rider, but the bike decided to flip over instead and come to a stop. Great--now it was all scratched up on BOTH sides.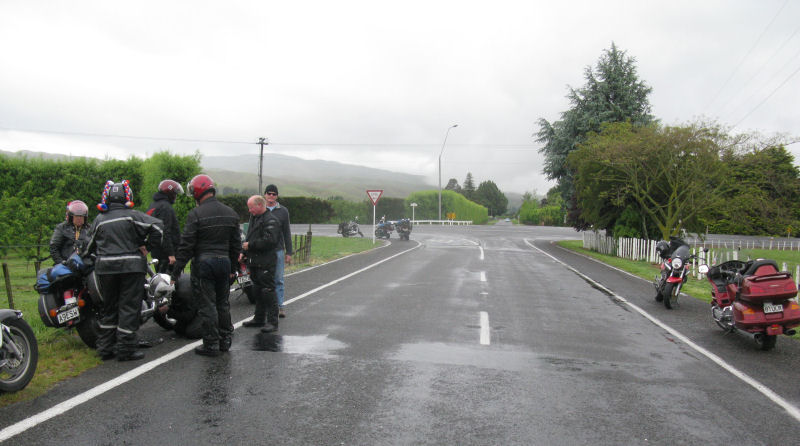 The right-front footpeg had been sheared off, and the left mirror was smashed. Everything else was cosmetic. We moved the right side passenger peg up to the front and I removed the broken mirror. Problem solved. The Givi luggage boxes are very durable, and the rental company put them on all their cruisers for that very reason--to protect the bike and the rider.
The road had some oily spots that were obvious on the wet road, but no one else had a problem. Somehow it was my fault, and I accept that.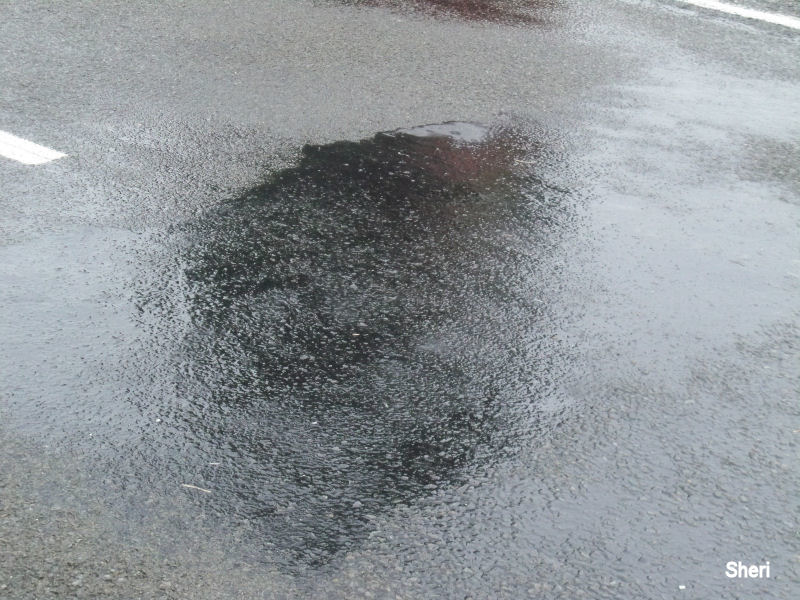 For myself, I was fine except for a badly jammed left thumb that had a pinch-cut on it. My gear, on the other hand, took most of the beating (which is why it's there, of course). The Darien jacket had ground through one shoulder and had a few other small holes in it. The Darien pants (both from Aerostich) had a dozen small holes down the length of the right leg. Under the Darien jacket was my armored riding jacket (Alpinestars). Aside from some heat abrasion on the shoulder, it was fine. Since I had slid on my right side, none of this was a surprise, but I was really surprised to see that my new-ish Sidi Adventure boot had a hole worn completely through it at the toe. Not waterproof anymore. The Aerostich gear had gotten me all around Alaska and South America, and was money well spent, but the new Sidi boots were a great loss.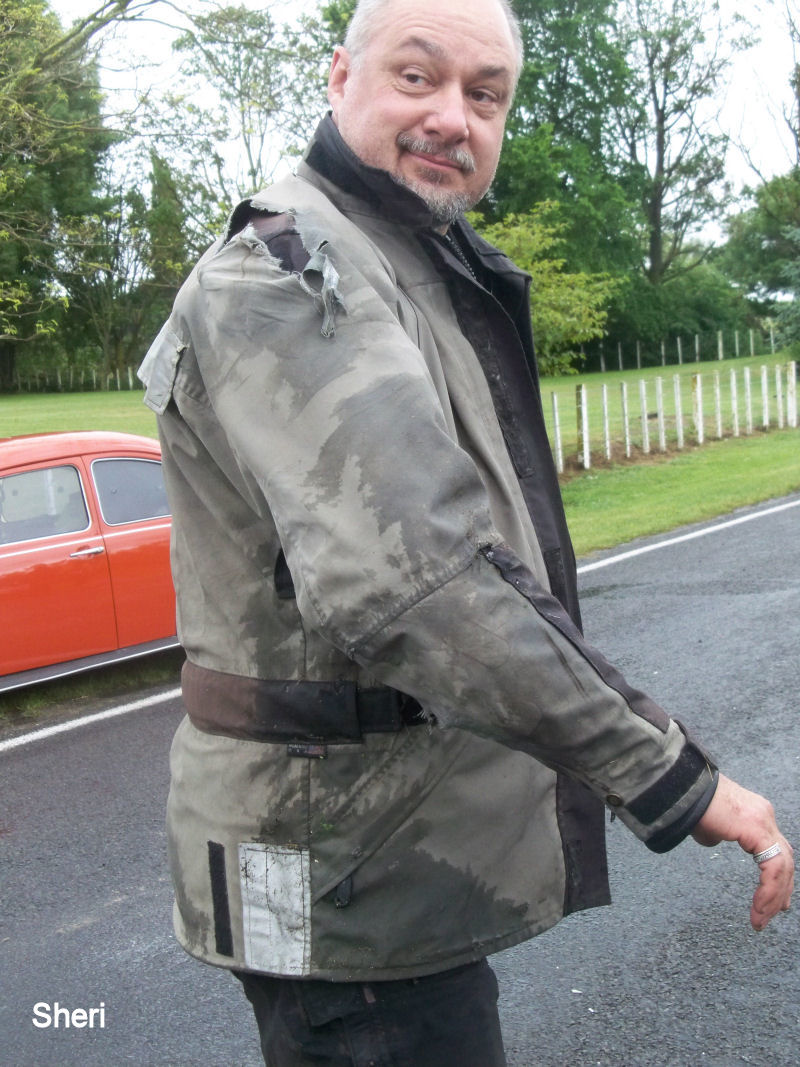 So, after that drama, we rode into Hastings and stopped for fuel. From there, Laurie called the rental company and advised them of the accident. Since no one else had been involved and there had been no other property damage, they didn't require a police report. Good enough for us. We'll settle for the damages when we return the bikes. We rode onward.
The rest of the day was spent riding to Palmerston North. Often the views were excellent, but I didn't take any photos. The road was often patched with new chip-seal sections, which we had gotten used to.
At a motel for the night, I used some seam-sealer repair goo to patch up my Darien jacket. I bought some common silicone sealant and used that to seal the many holes down the right side of my Darien jacket, but because that stuff turns a milky-translucent color, it looked I had snot all down my pant leg.
We walked to a nearby hotel for dinner, but we picked the wrong place. It was very expensive and the portions--although tasty--were all quite small. A tiny lamb shank on mashed potatoes was about $36.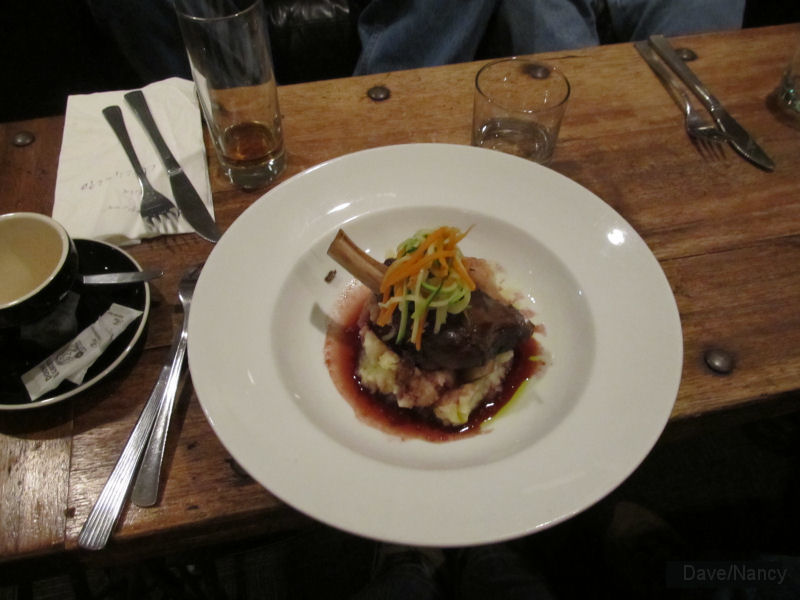 To make amends for bumming everyone down today, I paid for all the desserts. It turns out that desserts are expensive in New Zealand, too. Sheesh!
Tuesday, 15 November, 2011
-------------------------------------
As usual, we hit the road early and looked for breakfast on the road.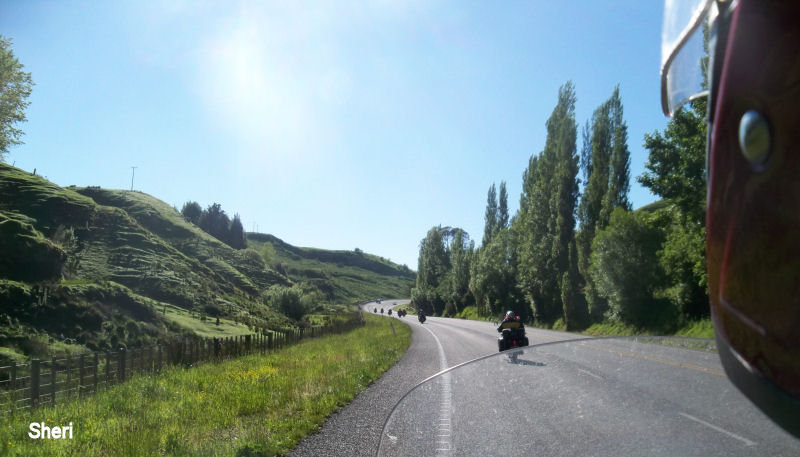 We stopped at a cafe outside a small, regional airport for breakfast. The place was slow, slow, slooooowwww... I had gotten into the habit of getting the ready-made meals like meat pies, but anyone who had ordered a fresh-cooked breakfast was still waiting for food long after most were ready to go.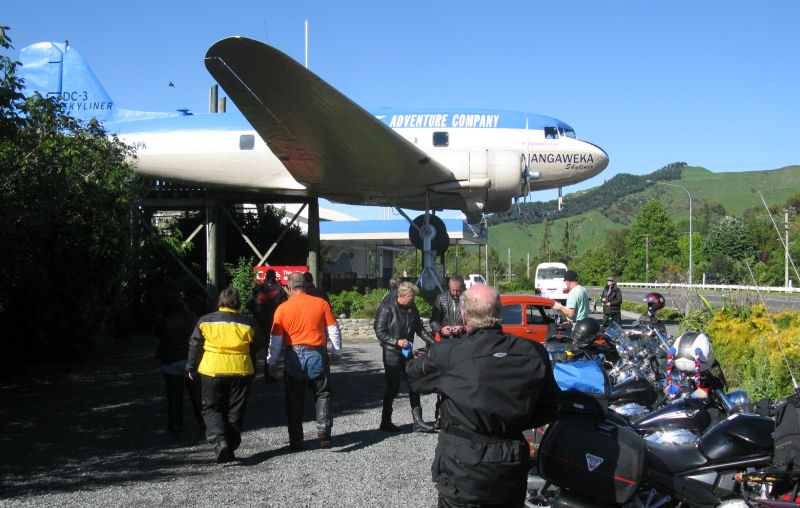 Next stop was the New Zealand Army Museum in Waiouru. Mt. Ruapehu in the background. We spent a couple hours here, and it was interesting. From the early Maori battles to the modern era, New Zealand's military history was pretty well chronicled. The 18th-19th centuries were the most interesting to me.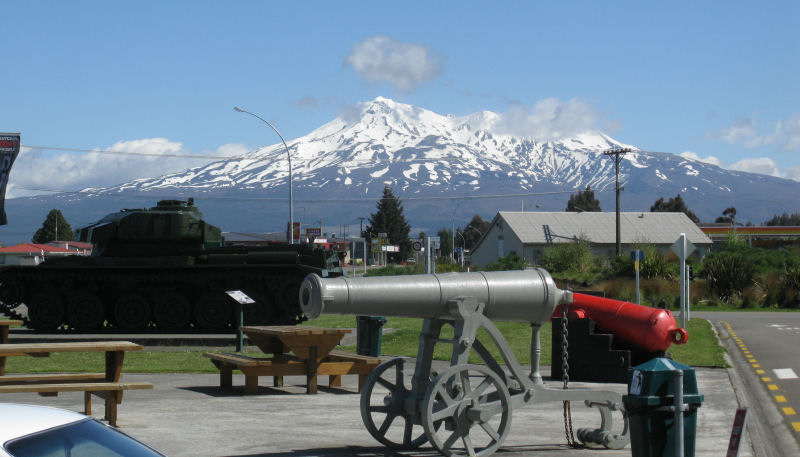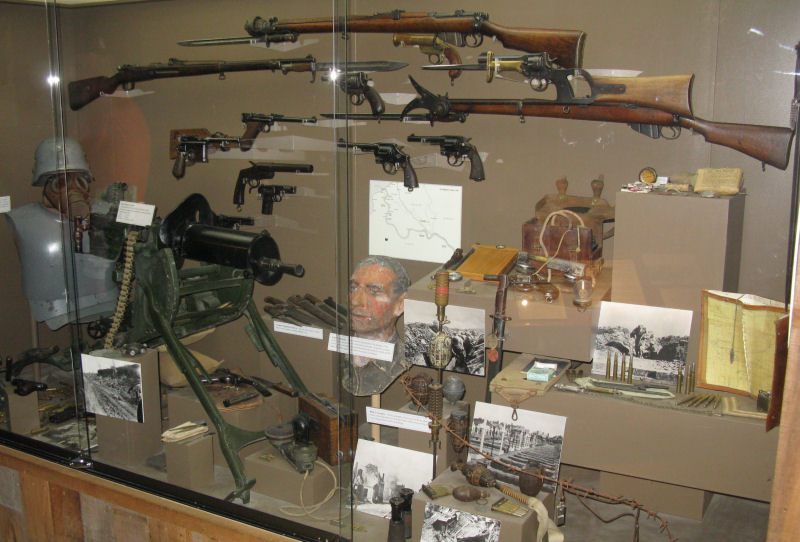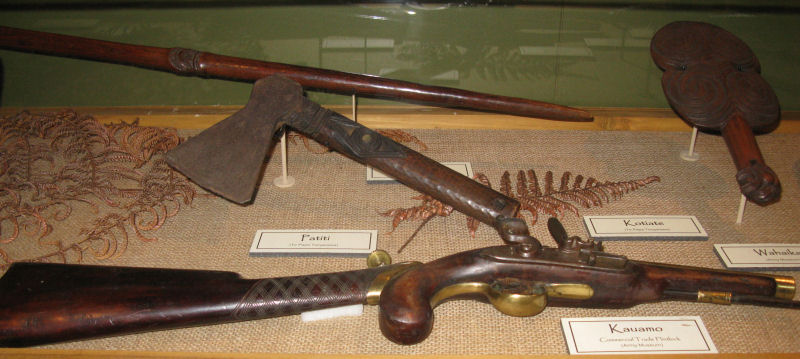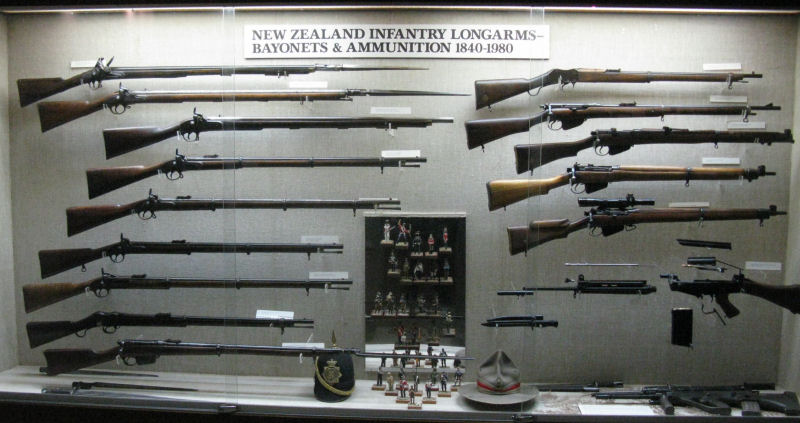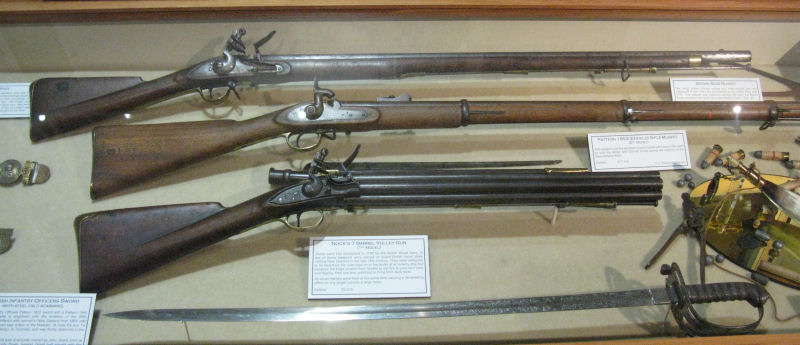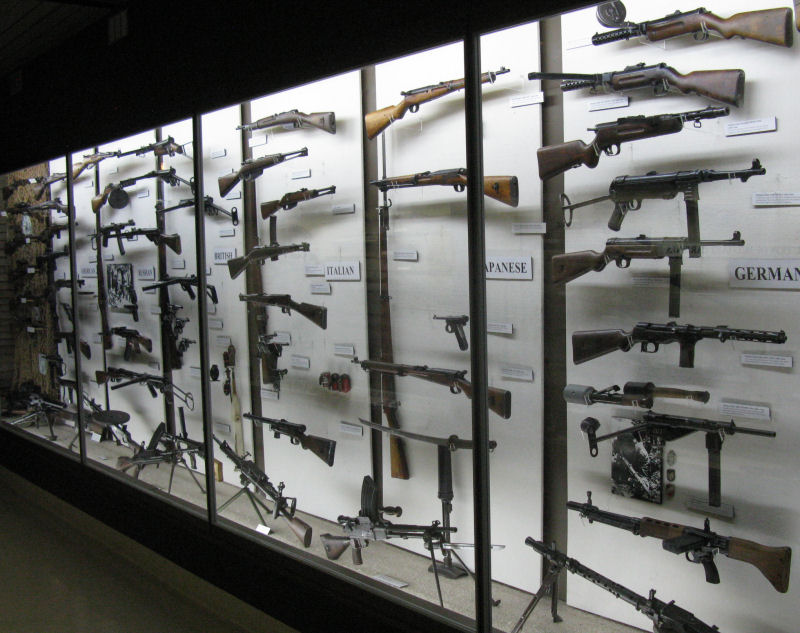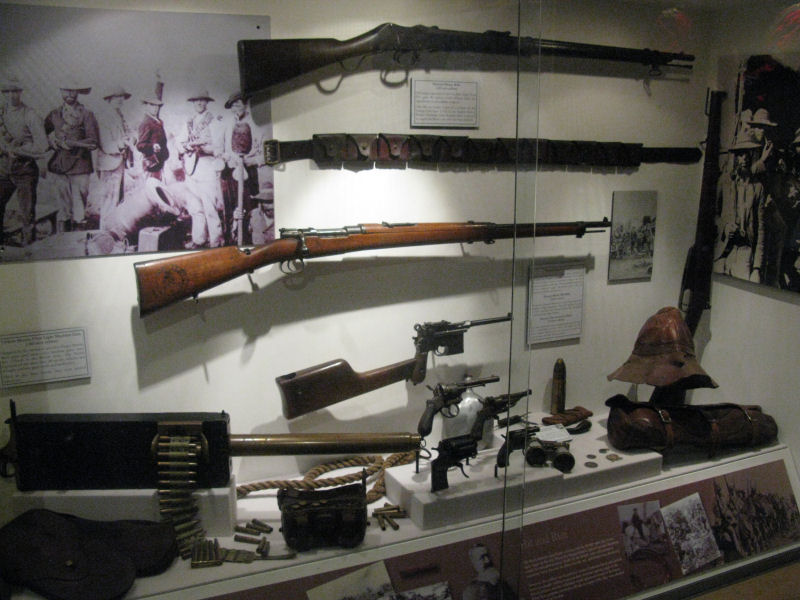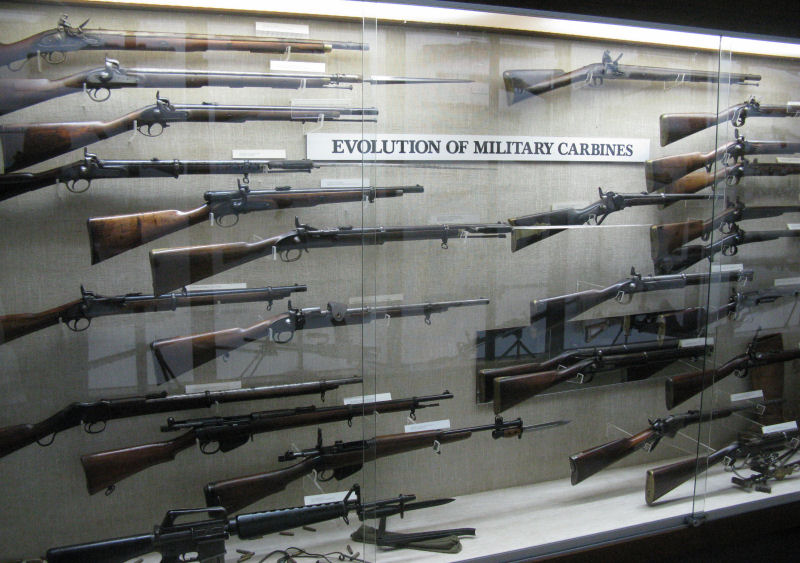 The U.S. Army and Marines use the Kawasaki KLR650 (converted to diesel fuel) for desert use, but it looks like NZ prefers the KTM.
At the museum, I learned that New Zealand's national rugby team, The All Blacks, started early in the 1900's as a military team, giving them something to do after the South African War and WWI. Their uniforms evolved over time to an all-black motif, hence the current team's name. That's about all I know about rugby, aside from having seen the movie, Invictus.
As we neared Mt. Egmont (Taranaki, to some), we made a surprise stop at Colin's Aunt and Uncle's home. They had obviously been expecting us, and they had tea, coffee, and the inevitable snacks (pikelets, I think they were called--usually on mini-pancakes, sometimes on scones). Another nice pause in the journey.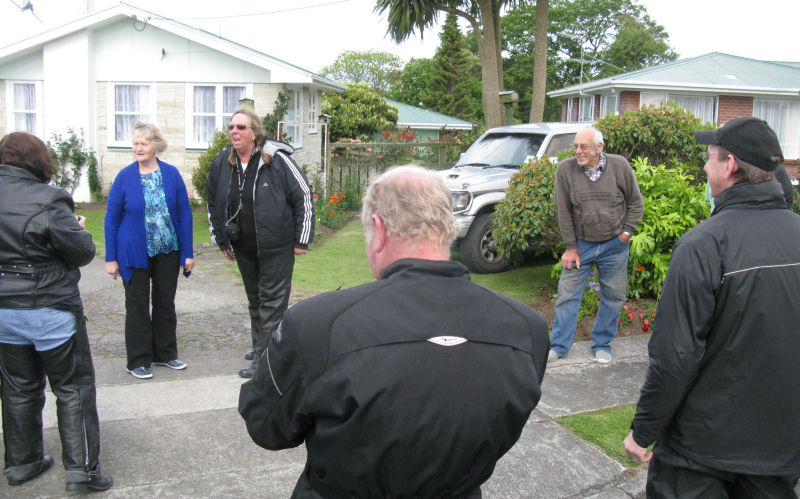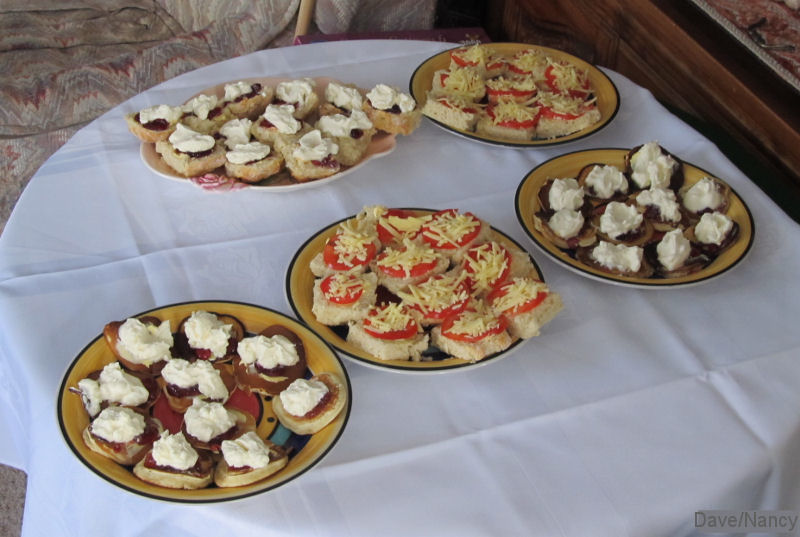 Some of the small, narrow farm roads we rode on next were very nice. The weather was clearing and only a little blustery, and there was virtually no traffic in the rural area. Good pavement and gentle curves and hills. Wonderful.
We rode into New Plymouth early enough to have a short rest before heading out for dinner. The folks at the motel recommended a restaurant up the road, but we decided to walk down to the waterfront instead. Another mistake. Restaurants are closed on odd days, it seems, and the only place we found open was a seafood place that again should have been out of our price range if we had a choice.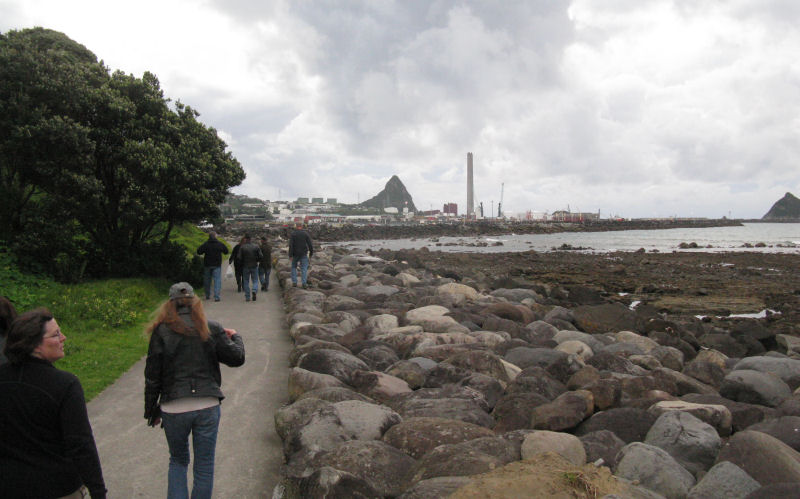 Take a look at Colin's $16 margarita. In a martini glass. Sheri had one, too, but it looked even smaller in Colin's big hand.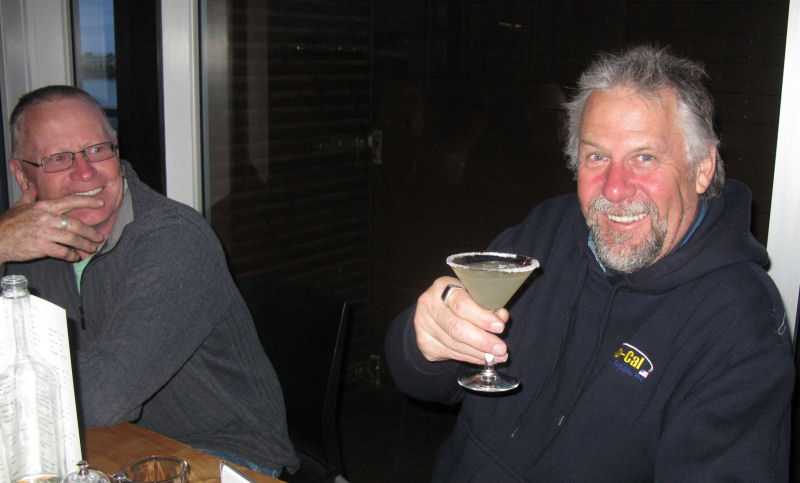 (There are a couple photos at the end of this report of better margarita values--but them just about anything would have been a better value.)
During dinner, Craig gave us a lot of suggestions for our ride on the south island. He used to live down there, and Laurie marked up a map while he gave us his recommendations.
Wednesday, 16 November, 2011
-----------------------------------------
A bit later than usual, we hit the road at about 9:00 am. Cloudy and cool with a light rain.
A big fuss was made when we passed through a very short tunnel, since tunnels are almost non-existent in New Zealand. You are required to honk when entering a tunnel, so we all did so with gusto.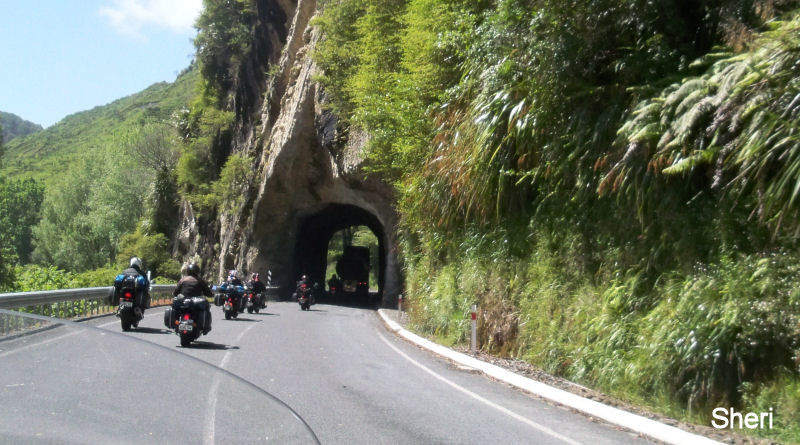 Breakfast was again meat pies at a roadside cafe, and that was fine. Good food and a decent price.
In Waitomo, we diverted for a tour of the glow worm caves. Not spectacular as a cavern tour, and not spectacular for the sight of the odd glow worms that hang from the ceilings, but overall it was a nice, cute side stop. No photos allowed in the cavern, so I took one at the entry gate and we were allowed to take photos from the boat at the exit point. Most of the short tour (longer tours were available) was walking, but the exit was by boat.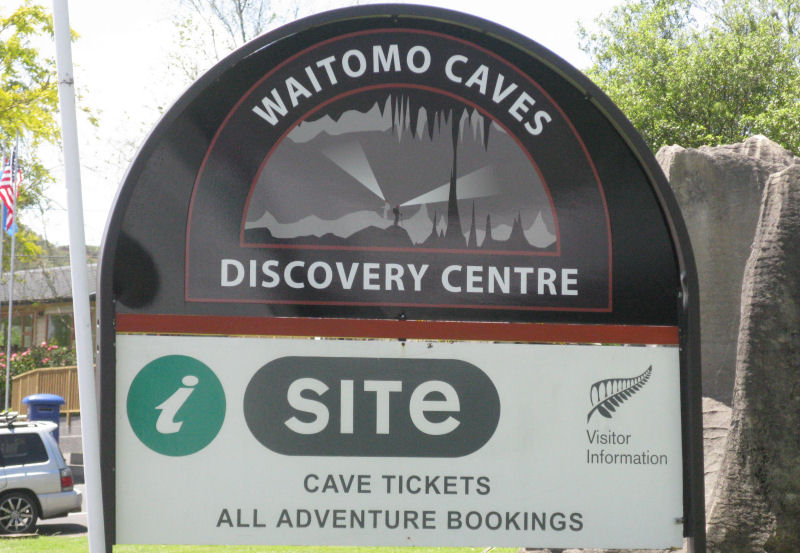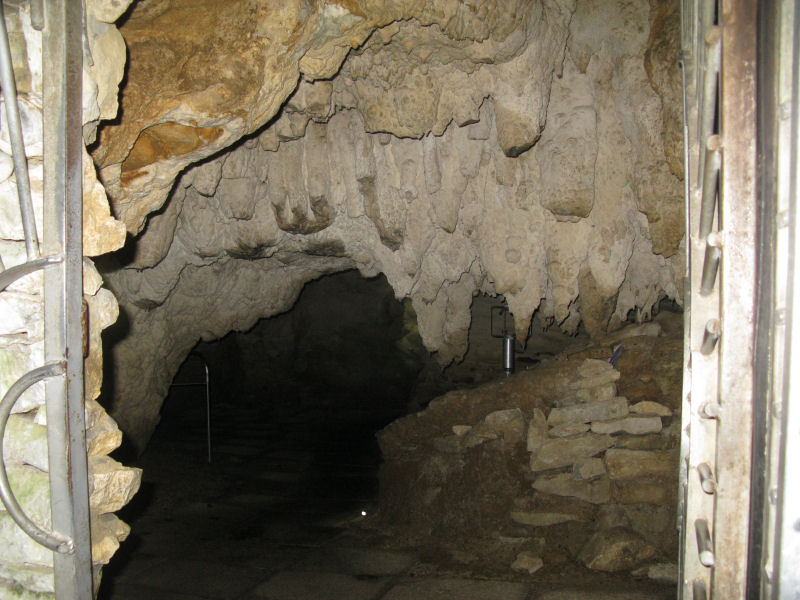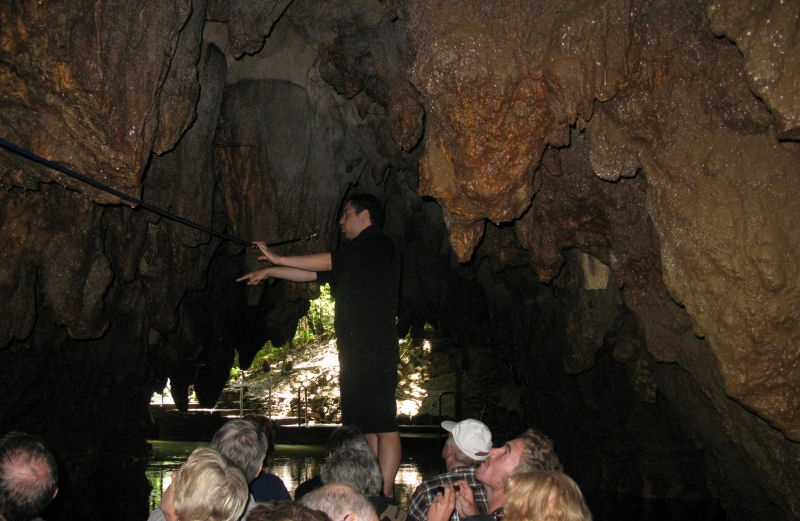 During the exit boat ride, I saw Nancy point her camera back over her shoulder, so I mugged for her.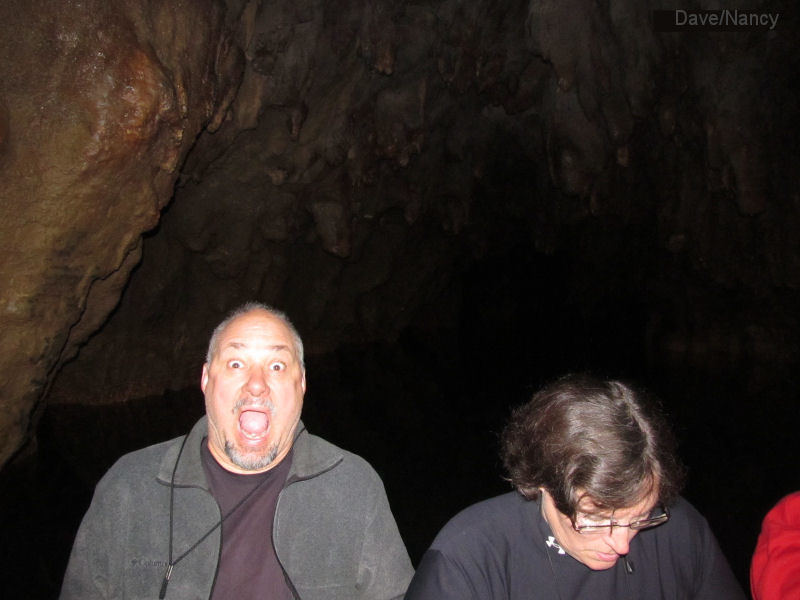 After a quick ride and a lunch stop, we stopped at the Kiwi House, a sanctuary/zoo operation. They only had two live kiwis on display in a large glassed-in habitat (kept dark, since the birds are nocturnal). I don't think photos were allowed there either, since no one took pictures of them. They were the only kiwis we saw on the whole trip, and they mostly just darted back and forth over the familiar terrain of they pen looking for bugs.
Well, we did see this one other kiwi, but it mostly just stood there.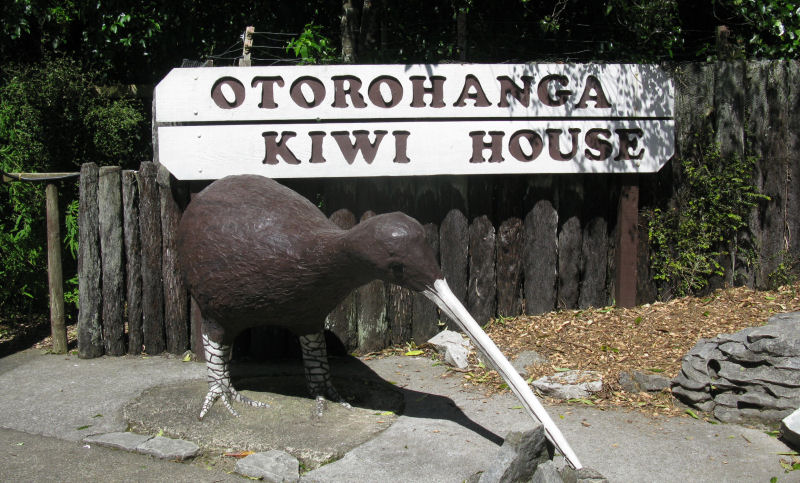 Being mighty hunters, we had little difficulty subduing the kiwi, which again just stood there.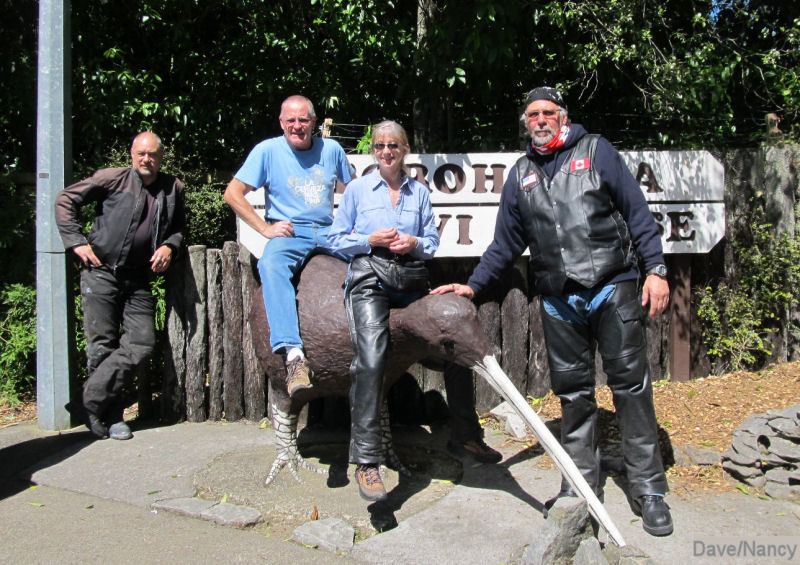 Most of the grounds were an outdoor, sometimes caged-over zoo. The big eels of NZ were on display. This one must have liked the rush of oxygenated water from the circulation spigot, since it hung out right there a long time with its head under the flow. Well over a meter long, that one.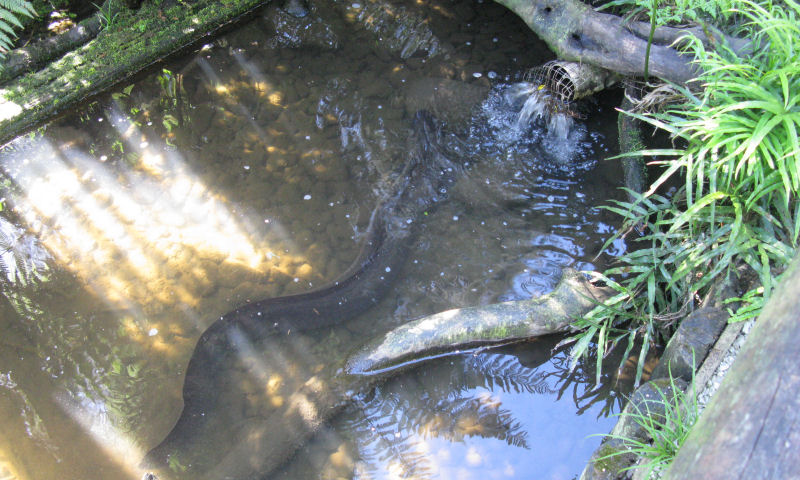 These kiwis were stuffed and on display in a diorama.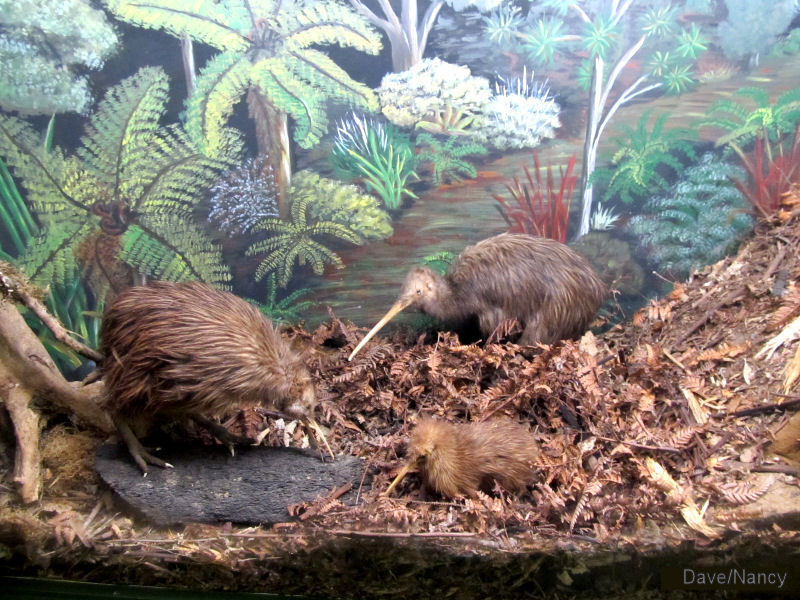 We rode back to Cambridge and left Colin and Lynette at his mother's house.
The rest of us went back to Lynette's Mum and Dad's house (and to Tony and Greta's house for Laurie and I, and to friend John's house for Pat and Sheri). The first week of riding New Zealand's North Island was over, and we'd spend a couple of nights here around Hamilton before heading for the northern part of the island.
<< PREVIOUS report -- >> << NEXT report -- New Zealand, North Island, Week 2 >>
[ ERRANT-RONIN HOME ] [ Prudhoe Bay to Ushuaia Home Page ] [ Ride Reports Home Page ]