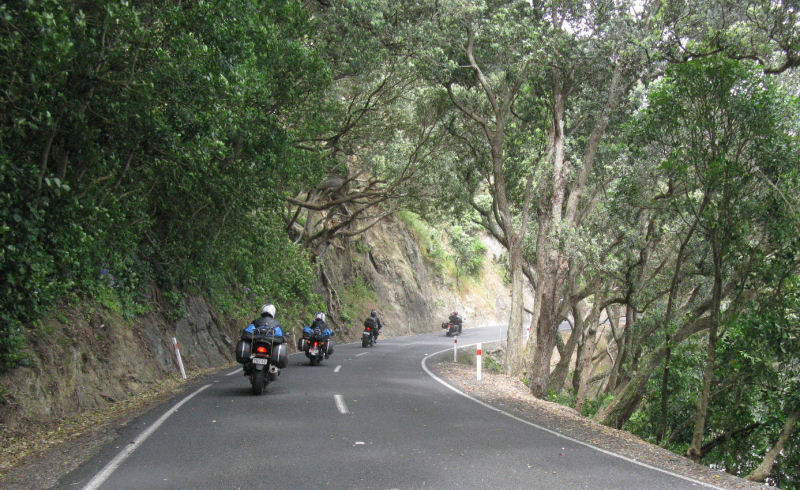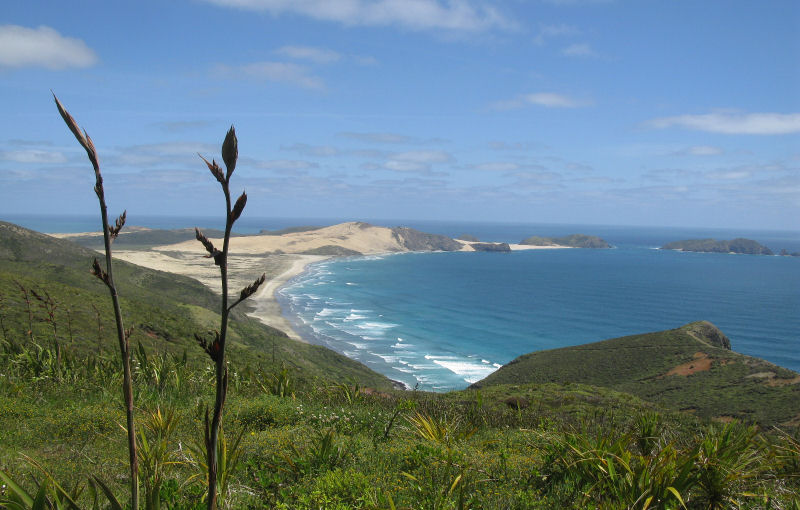 Part 2. New Zealand, North Island, Week 2
==============================
Thursday, 17 November, 2011
--------------------------------------
We finally had a chance to sleep late, yay! Tony and Greta were gone for much of the day, so we chose to laze a bit and get some personal chores done.
I hadn't been able to use my GPS yet because I had neglected to download a New Zealand map for it. Also, the power cord that I had attached to the rented bike had never worked properly. Maybe a broken wire or blown fuse; I'd check it when we got to the south island, since I really didn't need it up here with the group ride.
I eventually used the lazy day to get the GPS loaded with a very nice free map that even had topographic lines on it. Nice.
The bike rental company had sent some parts for my battered bike to Lynette's Mum's house, although all I really needed was the left mirror. I put the other mirror and the footpeg aside for now.
During the day, I swapped photos with Dave and Nancy, and got copies of Pat and Sheri's photos, so that's how I had them to use up until now. After this time, however, we didn't manage to get photos swapped again, so all the photos to follow are mine or Laurie's.
We gathered up for lunch and then rode into Cambridge for some shopping. The store we went to first was once a church, and we learned that Colin and Lynette had been married here. Very nice souvenir shop now.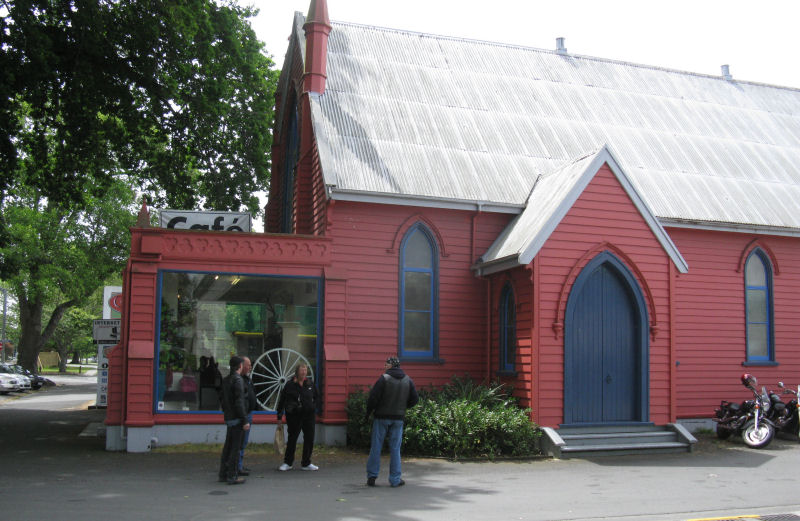 Back with Lynette's parents, we gave our group's gifts to them in appreciation for their hospitality.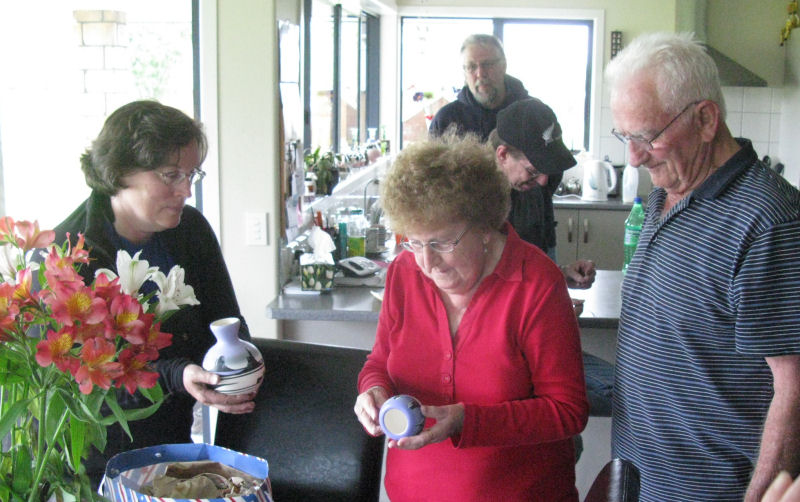 Later in the day, we jumped into various cars and trucks and caravanned to Craig and Robyn's home for a lamb and steak dinner. Other friends stopped by, and we had a very nice meal.
Craig has a nice spread of land, and among his many animals was The World's Friendliest Boar. The thing trotted to the fence and wagged its tail as we greeted it. I was more accustomed to boars that wanted to kill you, so this took some getting used to. Laurie adapted faster.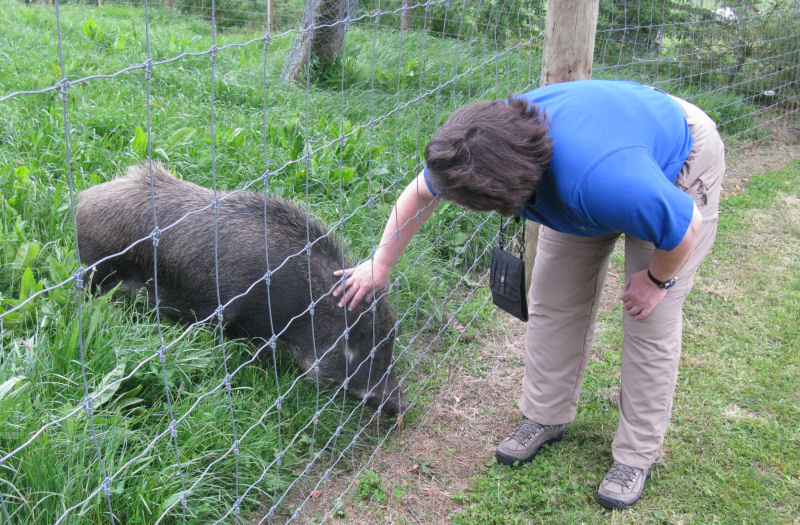 Maybe Craig and Robyn were training their sheep and goats for a circus. They took turns knocking each other off the barrels in the field and log-rolling the barrels back and forth.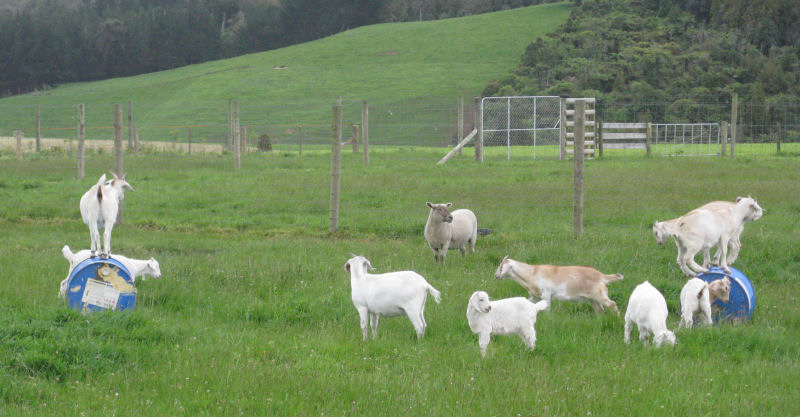 The fresh-grilled meats were great and the whole meal a delight.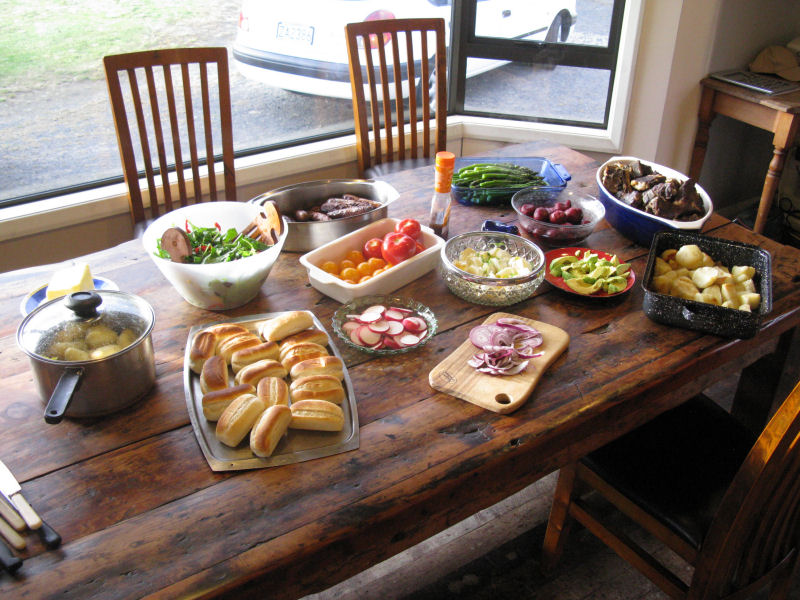 Friday, 18 November, 2011
----------------------------------
Lynette's sister Chris and brother-in-law Henry joined us for the week's riding up north. They were each on their own sport bikes and seemed to know the roads well.
We stopped in Paeroa for breakfast. The town is famous for its natural mineral springs, and for the popular L&P soda that is made there.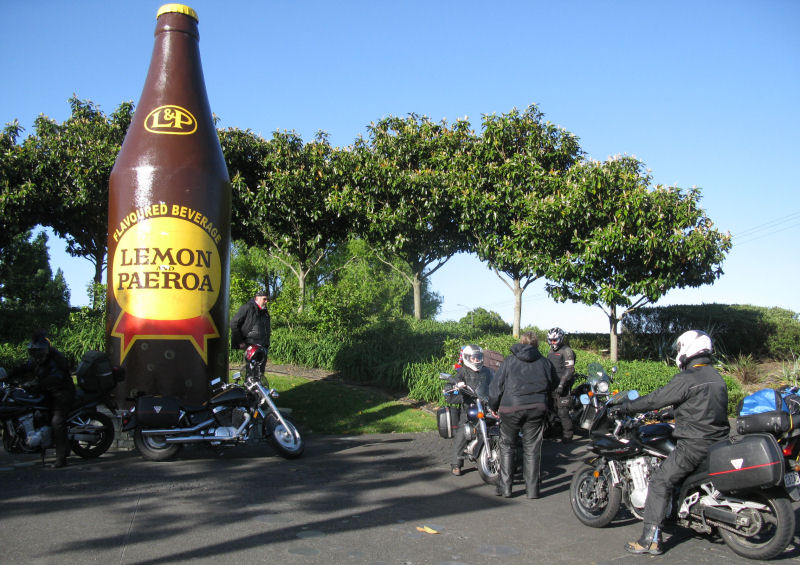 Onward.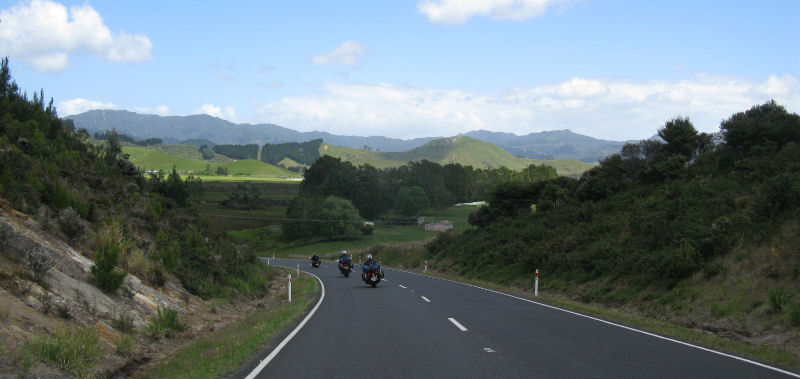 We stopped for lunch in Coromandel. When we made a sudden course change, Laurie tipped her bike over in the road. Fortunately, the on-coming truck wasn't going fast. Others ran to help her before I realized what had happened, so all I got was a photo after they got the bike back up.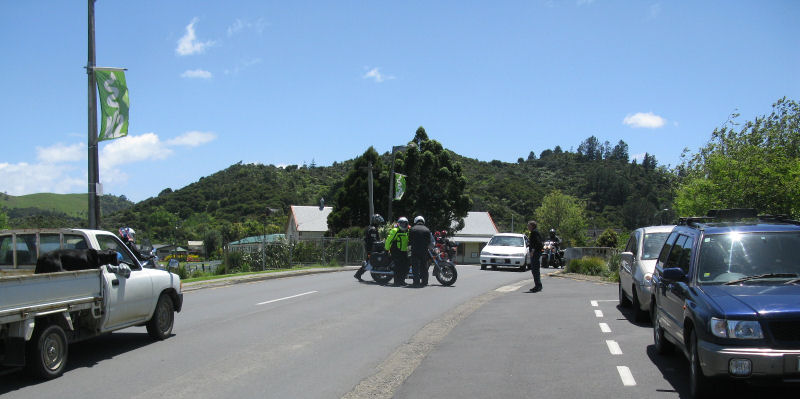 Onward again. NZ is very good with road signage, I'll give them that. Pretty much every single limited-sight turn on every road has a speed advisory sign. Some of the curves were quite tight. Below, the advised speed is 25 kph, which is about 15 mph. This curve also had a convex mirror to help see on-coming traffic.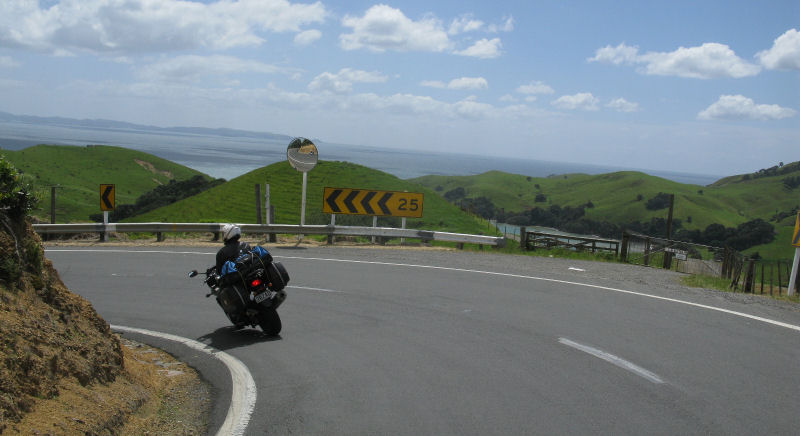 As is often the case on the roads on the north island, the roads in the forests can be totally canopied by trees.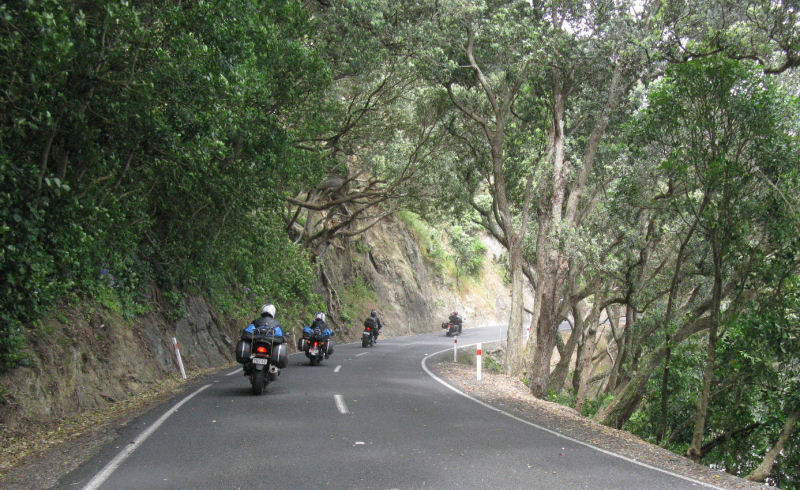 We got to friend Rex's house in the afternoon, just in time for snacks. Rex had ridden with us earlier the previous week, so it was nice to see him again. Rex's back yard was full of on-lookers.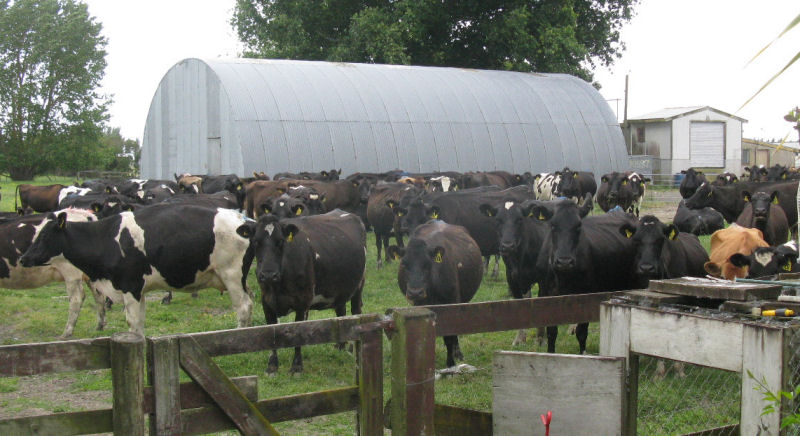 It was raining slightly when we left Rex behind, and I even got a quick splatter of what seemed like sleet or light hail.
It had mostly cleared up by the time we worked out way through Auckland's rush hour traffic. Stop and go, stop and go. Same as it ever was.
Chris had a Mohawk on her helmet, so she was always easy to spot.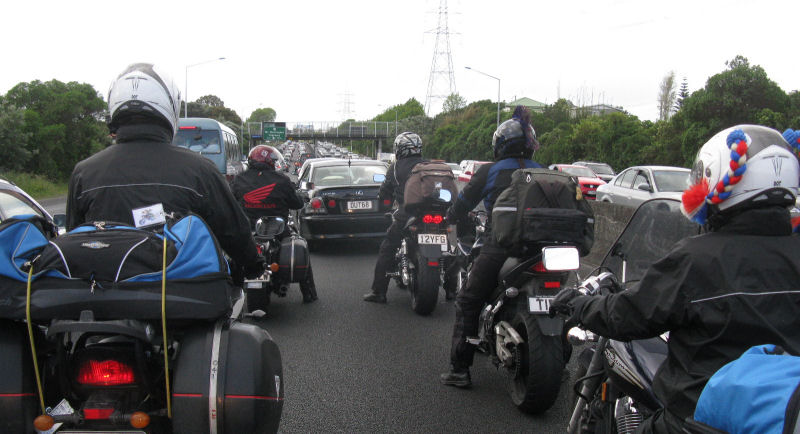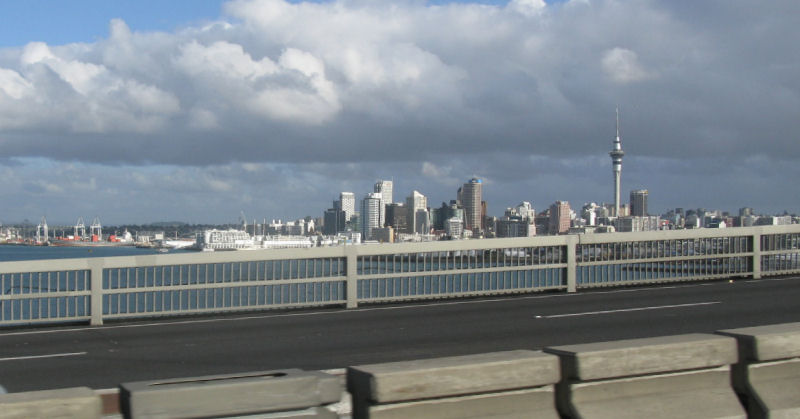 The motel we stopped at was right on the beach, and we had great rooms. We'd stop here again in a few days on our way back south.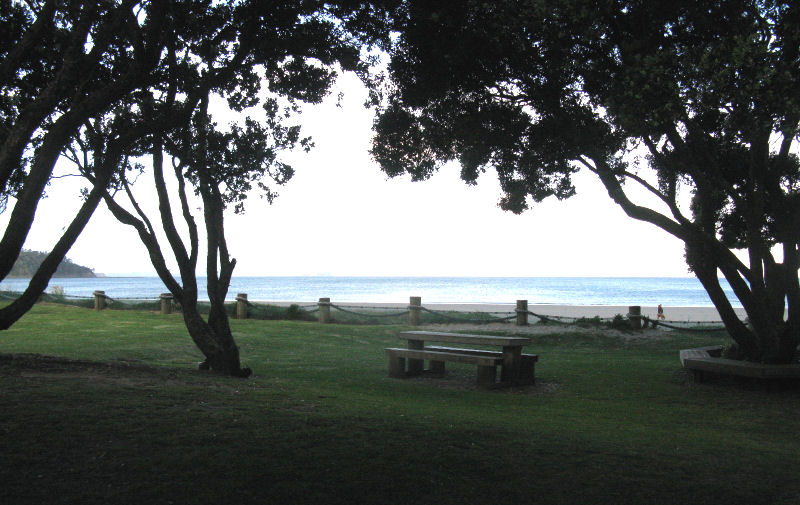 The plan for dinner was to send Graeme in the VW for fish and chips. Mission accomplished, because we ended up with an absolutely huge batch of fish and chips that we dumped out on a table for all to enjoy. A bit greasy but very tasty and there was plenty for everyone.
Saturday, 19 November, 2011
-------------------------------------
We stayed in town for breakfast, riding only a few blocks to a nice place to eat. I ordered a slice of the breakfast pie, and was served a massive slab of egg and cheese and pastry and vegetables that was almost too much to eat. Should have taken a photo of it.
The ride was simply great. On all the narrow bridges or roads, signs let you know if you have the right-of-way or if you have to yield to on-coming traffic. Long narrow bridges often have one or more wide spots along the way for cars to pass one another--with the yielding traffic required to be the one to pull aside. Short narrow bridges, like the one below, were very common.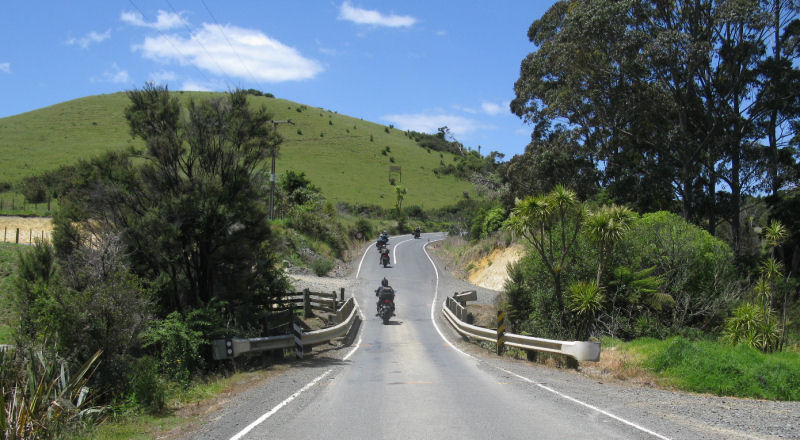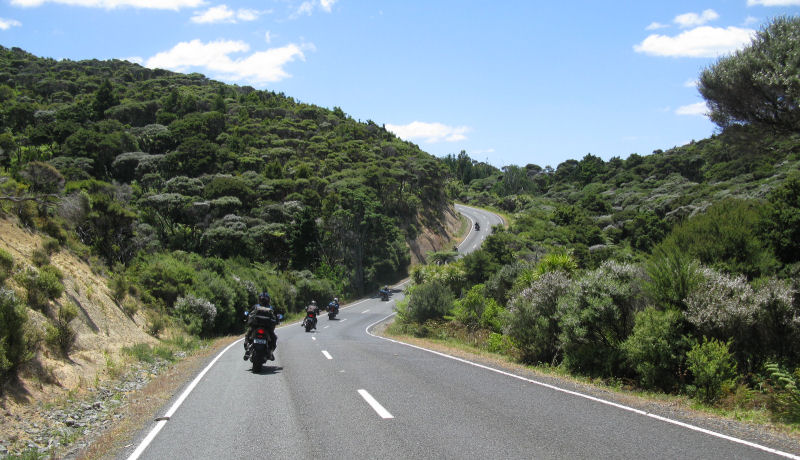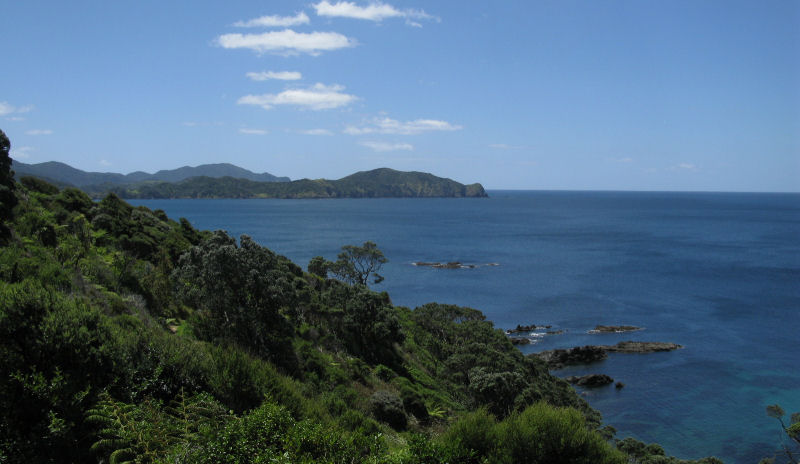 At a lookout point along one stretch of the coastal road, we encountered some German girls who were lost. First of all, it wasn't possible to get lost on the only road along the coast, and secondly--how German can they really be if they didn't have a map and a meticulously planned route?
I only took their photo in case they really did get lost and a search party had to go looking for them. You believe me, don't you?
If anyone had to go searching for them, this is what they looked like. You're welcome.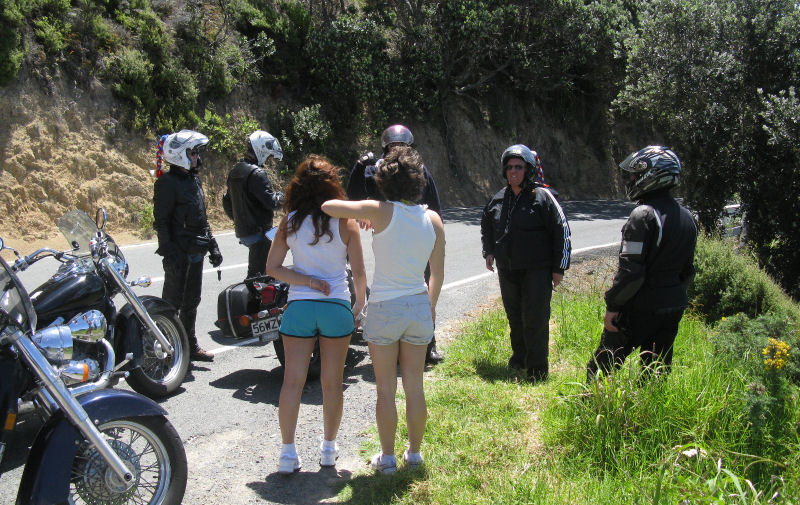 We grabbed some lunch before catching a ferry across the Bay Of Islands, from Russell to Paihia. Both towns were very touristy and expensive.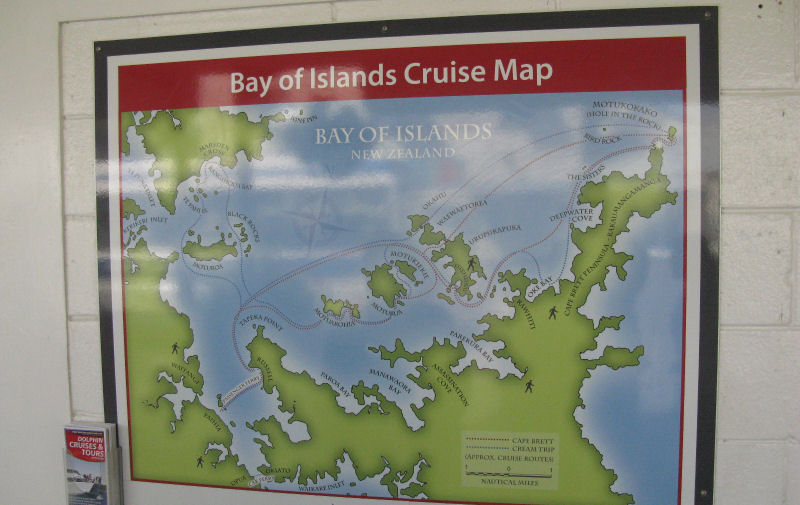 The ferry ride was NZ$6.50, but it was a lot faster than riding a long way around the bay.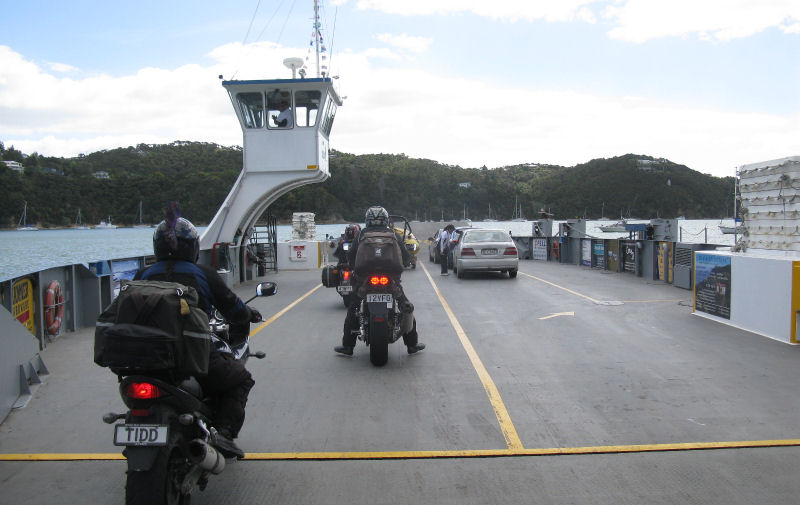 In Paihia, we settled into our motel and strolled along the beachfront before doing some shopping (not much was in our price range) and settling down in a restaurant for dinner. The beach looked inviting, and the air was almost warm. The water was quite chilly, though. It was still Springtime here, and Summer was another month away.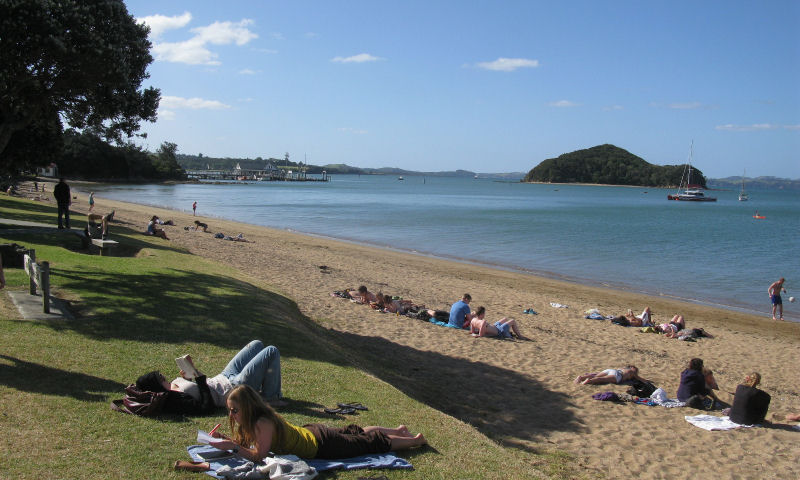 We found a rare phone booth (probably there just for the tourists), and we had to do the expected thing. It turns out that you can easily get eleven tourists in an English phone box, and another blocking the door.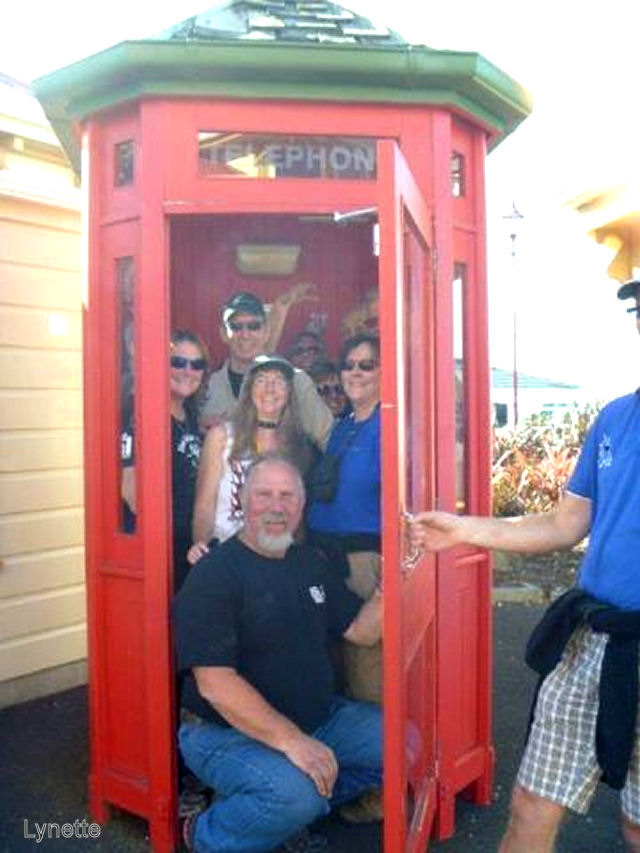 The Bay Of Islands is an historical place in New Zealand history. The Treaty Of Waitangi was signed near here, and that spot has its own museum and visitor's center. The treaty effectively ended the war with the native Maori people.
A wee bit of drinking at the motel and we called it a night.
Sunday, 20 November, 2011
------------------------------------
It was cool and damp when we rose to ride to Waitangi for a quick stop at the historic center. It turns out that history can be expensive, so we all passed on the museum visit. The day warmed up as we arrived in Keri Keri, where Colin has grown up. He gave us the quick tour, including pointing out the oldest European house in New Zealand and the Stone Store, one of the oldest trading posts and still in operation.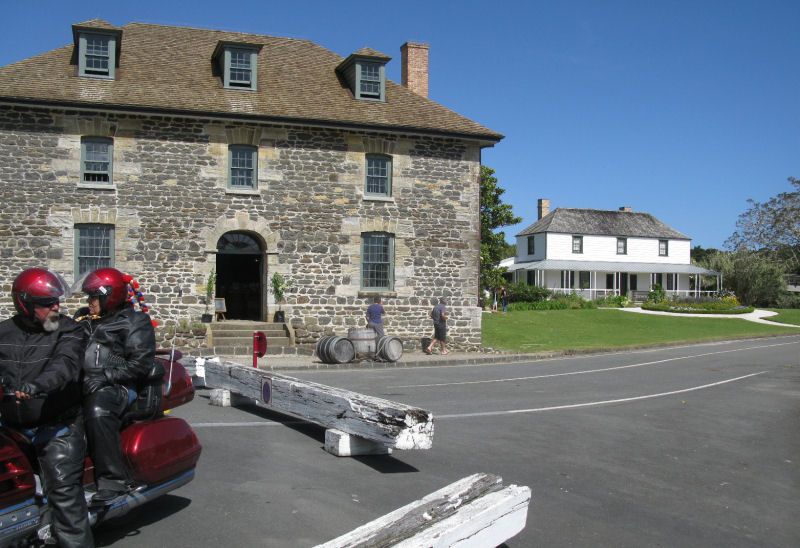 The area had changed a lot since Colin has been a child here. It was a lot of nostalgia for him--and a bit for Lynette--but it was still interesting to the rest of us. An artisan wove reed baskets while Colin led us around.
Cable Bay was pretty.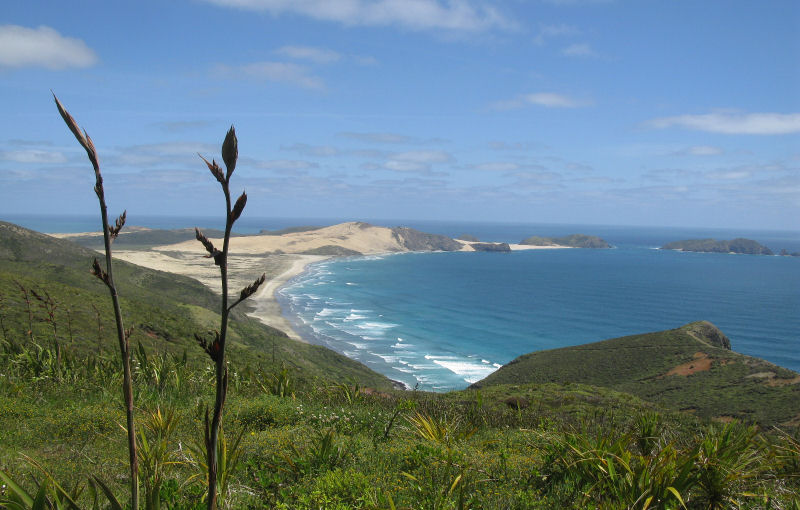 There was a lot of opossum roadkill, as was typical all over New Zealand. The occasional rabbit (on the south island), and a few birds, but almost every red and brown splatter was a possum that was too stupefied by the headlights at night to get out of the way.
I saw some hand-made signs warning locals to be on the lookout for wild ginger, so I suppose there must be a break-out of the weed.
The road was very good, even with the frequent repair patches, and we had a nice ride up to the Reinga area. We checked in to our reserved rooms at the only lodging available, then continued riding up to the Cape.
Cape Reinga is as far north as you can drive in New Zealand. Technically, nearby North Cape was a bit further north, but there were no roads we could access. Cape Reinga is famous for several reasons. The Maori belief is that the spirits of the deceased arrive here to enter an underworld passage back to the distant ancestral lands. It's all explained by the signs along the walkway that takes visitors out to the lighthouse.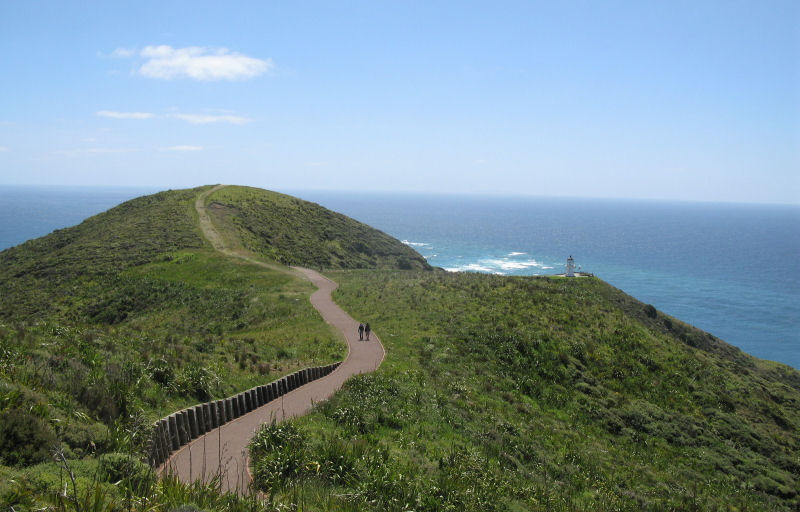 The lighthouse is another reason for Cape Reinga's prominence. It's historic, but I didn't take any notes about it.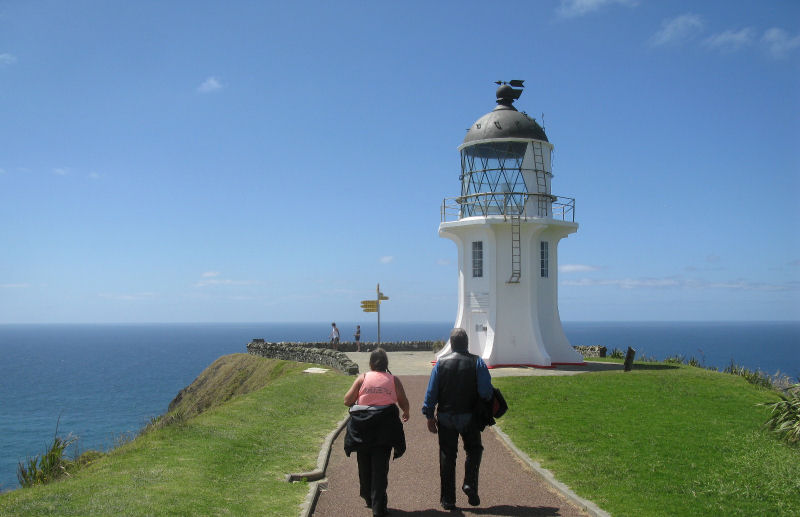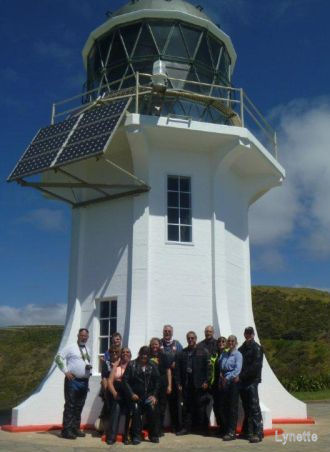 From the Cape, you can see another reason visitors come here. This is officially the meeting point of the Pacific Ocean and the Tasman Sea. The conflicting currents meet at the tip of the cape, and the shallow waters make a noticeable playground for the two waters.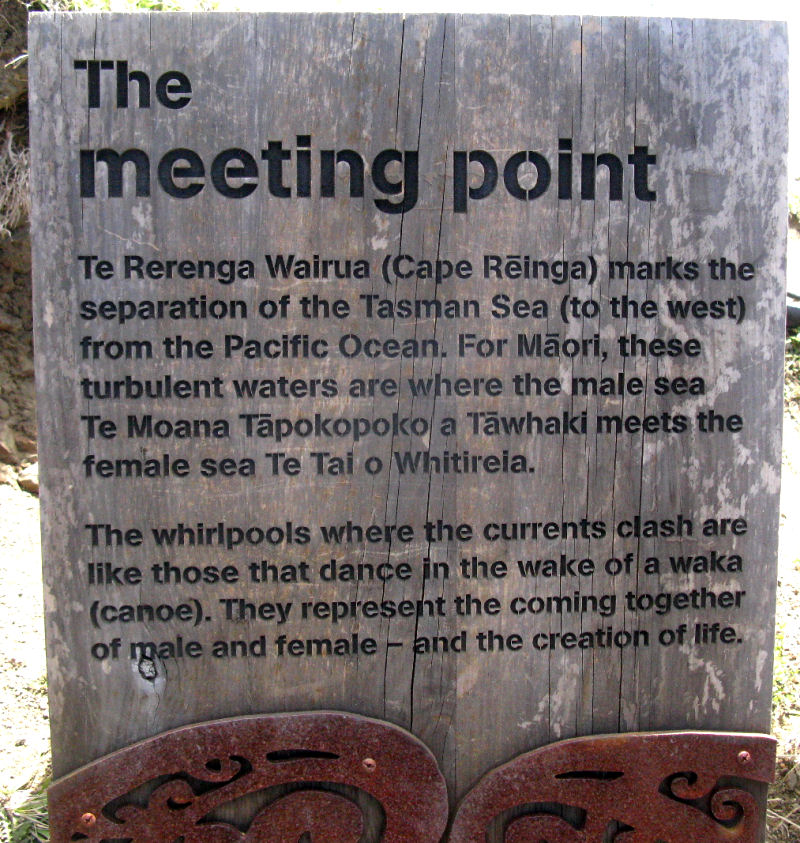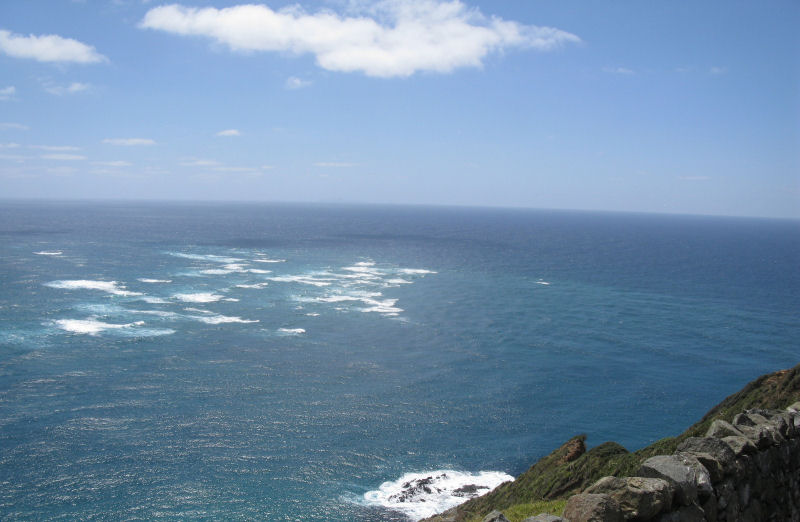 Back at the motel, we had nice meals in the cafe and settled down for some drinking and gabbing. The power at the facility kept going out, and the people running the shop didn't seem surprised. We were happy enough to have some wine, some beer, and some Jim Beam and Pepsi.
Tony (in the blue shirt below) and Maureen (across from Tony) were doing Sherpa duties, replacing Graeme's VW with their Ford Falcon Ute. Tony didn't have a bike to ride at present, so that worked out for us--especially considering what happened the next day.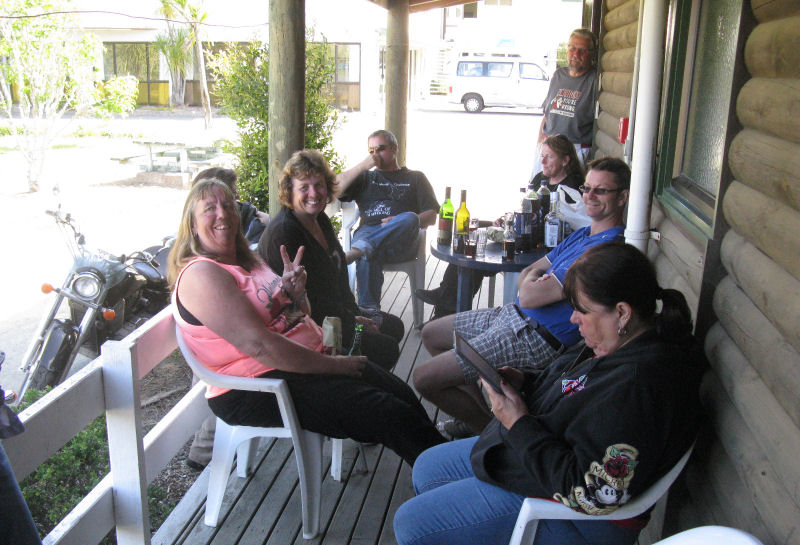 As the evening dwindled, we considered that our situation had all the makings of a slasher movie. Group of bikers, remote motel far from any other civilization, mystic and mythical lands... add some alcohol consumption and a power outage and you've got it all covered. The only thing we were really missing was a nubile teenage girl in a bikini, but we decided that since he was the youngest of the group, Tony would have to be the sacrificial bimbo for our slasher flick.
The power came back on before bedtime, so we didn't have to huddle in the darkness. And Tony was still with us in the morning, so the slasher script must have gotten lost somewhere.
Monday, 21 November, 2011
-------------------------------------
When I woke up, I was in a lot of pain. Three weeks before flying to New Zealand, I had undergone a short-notice gall bladder removal, and although two of the arthroscopic incisions had healed well, two of them had not. The large incision through my navel had been causing me fits, but I was keeping things to myself. For some reason, that wound chose now to become seriously infected and swollen. Very, very painful to the touch. The smaller incision was reddened, but not as bad. There really wasn't anything to do, so I kept it all bandaged and otherwise tried to ignore it.
We had breakfast on the road as we headed to 90 Mile Beach. New Zealand had converted to the Metric System after the beach got its name, but it was far from ninety miles long, so how it got its name is a mystery. Others had been driving around on the beach, but we were prohibited from doing so by our bike leases. Rats... I've yet to ride a motorcycle on a beach.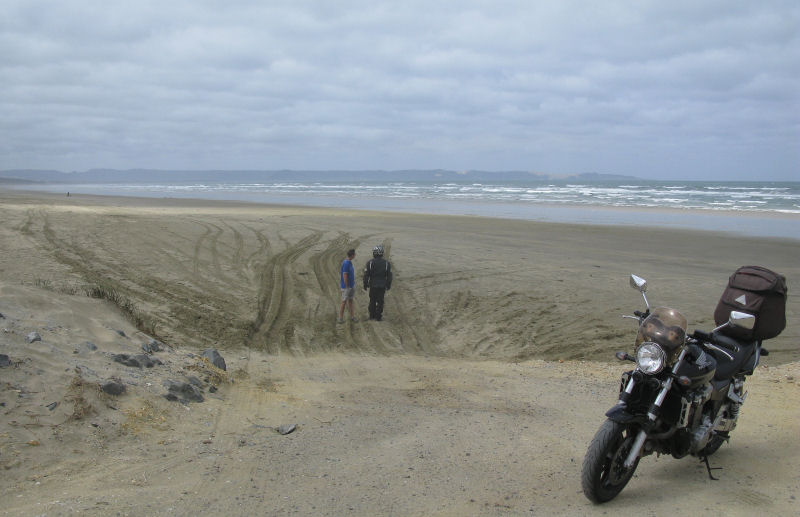 It was a nice, long, smooth beach and it will be much more inviting once Summer arrives.
Colin, Dave, and I walked down to the water's edge for no particular reason, but the incoming tide forced us back. We were pointing at something interesting when this next photo was taken. You'll have to go there yourself to see what all the fuss was about. But then, you'll probably see something different.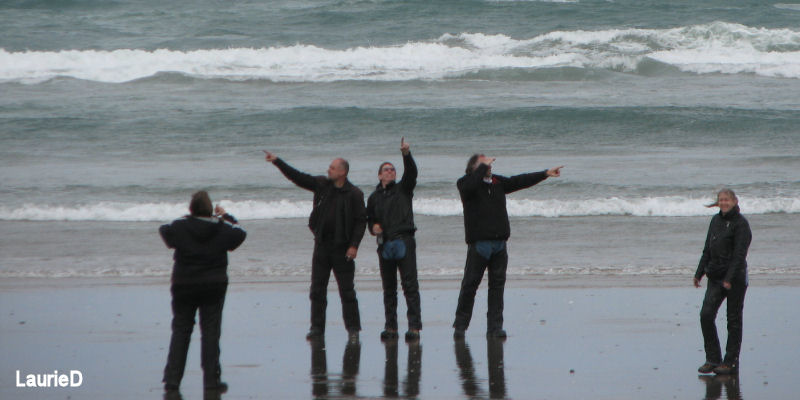 Nancy's bike got bitten by the deep sand in the parking area. Whoops.
We had recently bought some new AA batteries for Laurie's camera, but they turned out to be dead and worthless when she tried to use them. So here's a dual tip for New Zealand visitors: Bring lots of batteries with you because they are obscenely expensive and of dubious quality, and better still, bring rechargeable batteries. Paying NZ$18 for a 4-pack of AAs is bad enough, but paying that for dead batteries was worse. Better for the planet to use rechargeable ones, anyway.
</ecological_editorial_mode_off>
We saw a distant forest fire as we neared the ferry for Rawene. The day was sunny, but still a bit cool.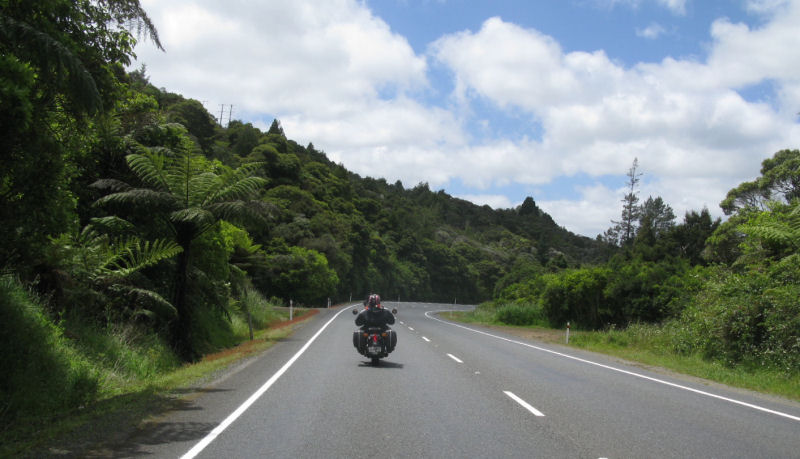 You just ride onto the ferry and pay your fare there. All of our ferry crossings were blessed by perfect arrival times. Colin takes the credit for that.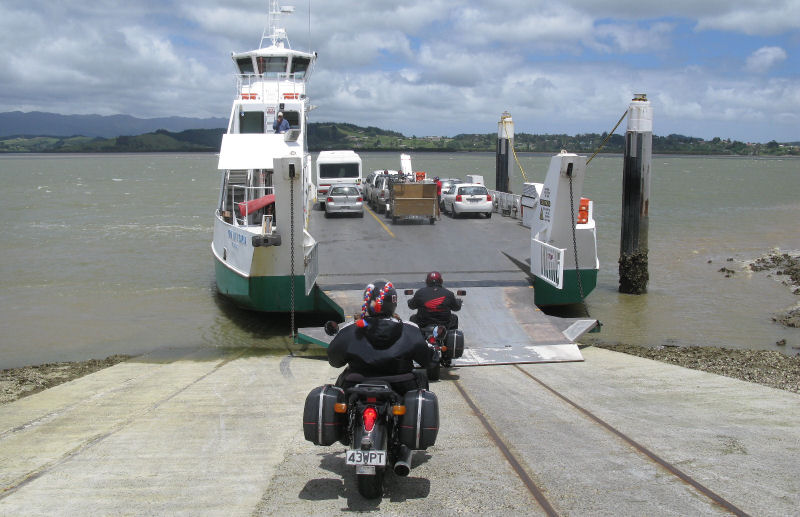 That is Cape Reinga at the top-left of the ferry map, where we started today. Colin is pointing to the ferry location.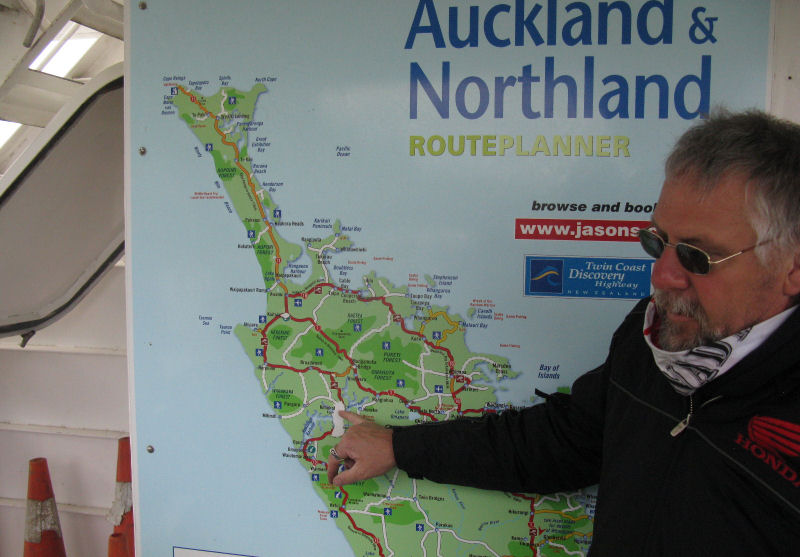 The ride on Highway 12 through Waipoua forest was very nice. Very twisty, lots of vegetation and trees hanging over the roadway.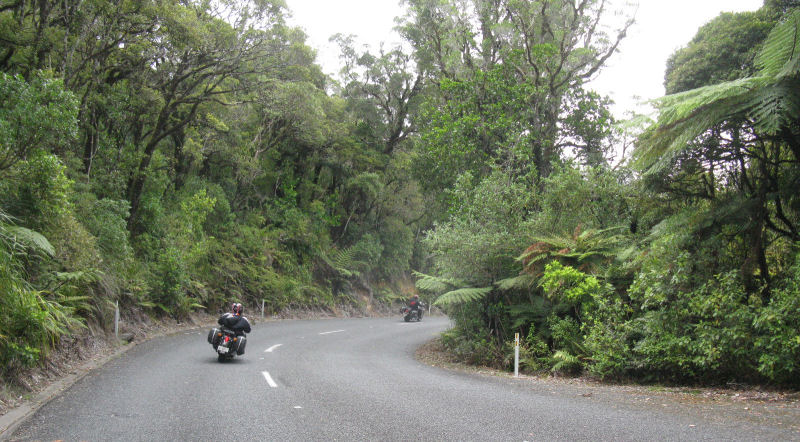 We made a stop at Tane Mahuta, the God Of The Forest. This oldest-known kauri tree is huge--far larger than my touristy camera can depict. Not enough wide-angle in my lens. The tree was only a short walk from the road.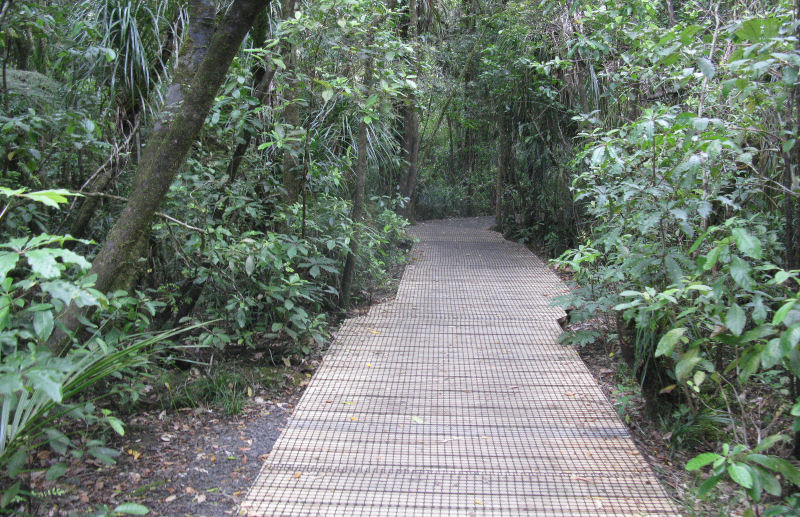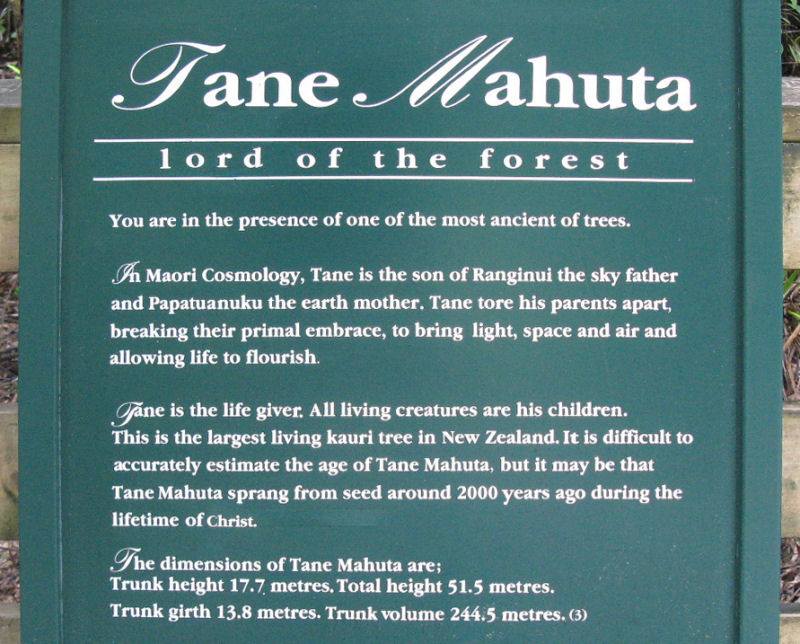 Below, the tree is pretty far away, beyond the distant people. Up close, the camera again fails to capture the sense of it. Kauri trees are odd-shaped anyway, with cylindrical trunks that branch out all at once at great height.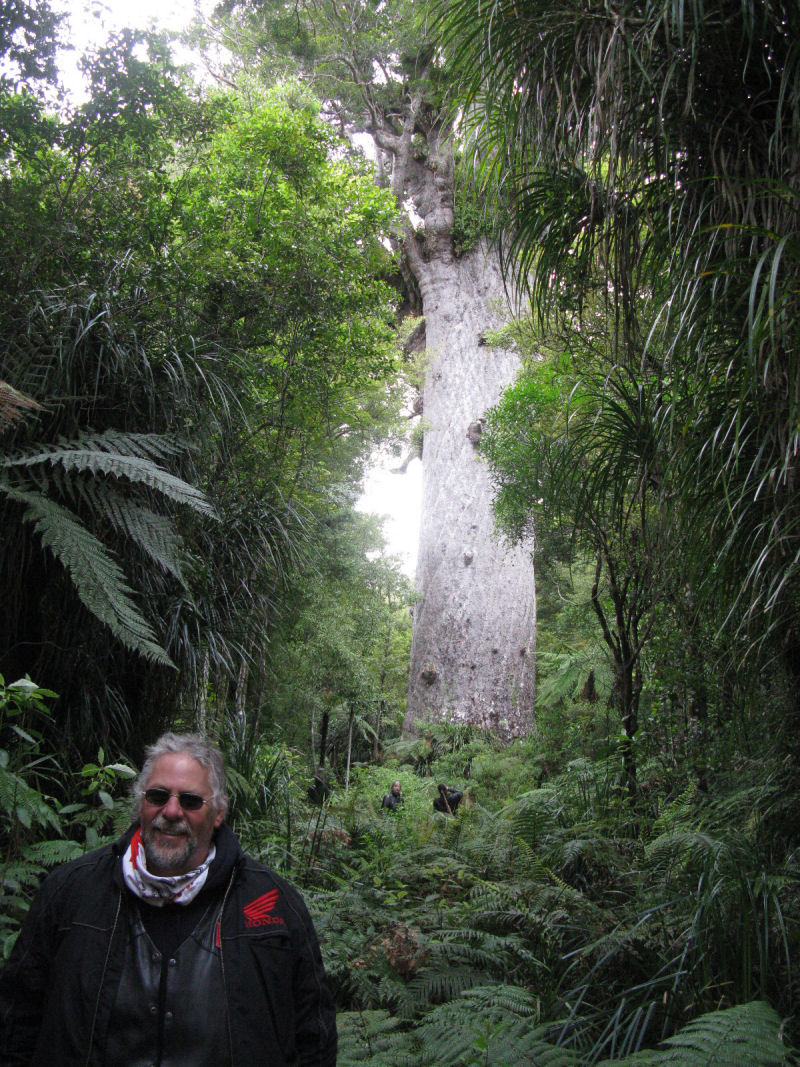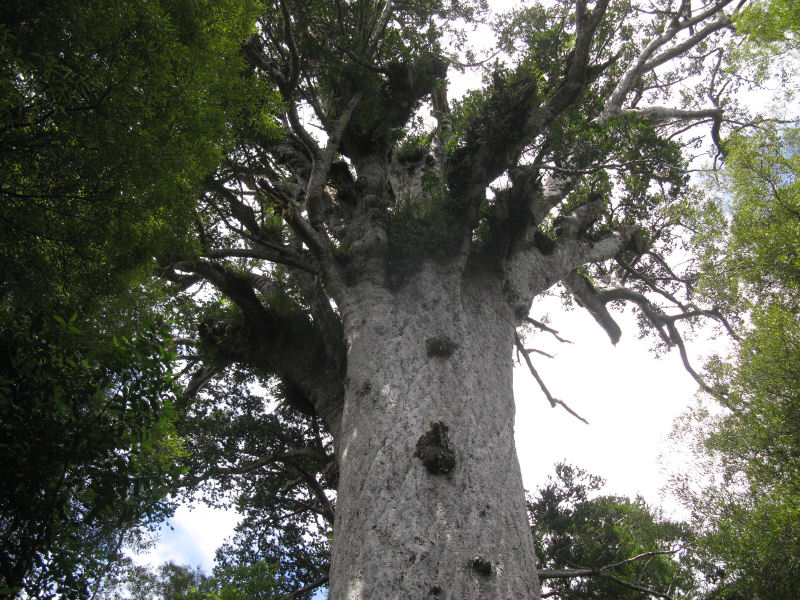 Onward, between much younger kauri trees.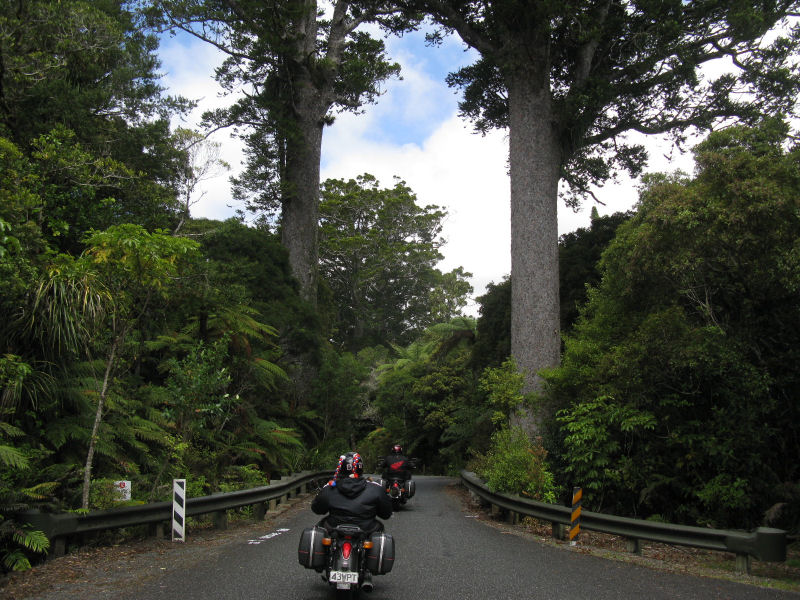 It was along this wonderful stretch of twisty road that Nancy went wide in a turn and laid the bike down in front of an on-coming camper van. The camper left some skid marks just before impact, so most of its forward momentum was gone. Chris sped ahead and caught up to alert those of us at the front of the riding group, and I turned around to go back and help. When I arrived, I saw Dave's bike down, but it turns out that it had just fallen off the sidestand when he had stopped quickly and jumped off to go to his wife's aid. Henry parked his bike in the road to block off passing cars.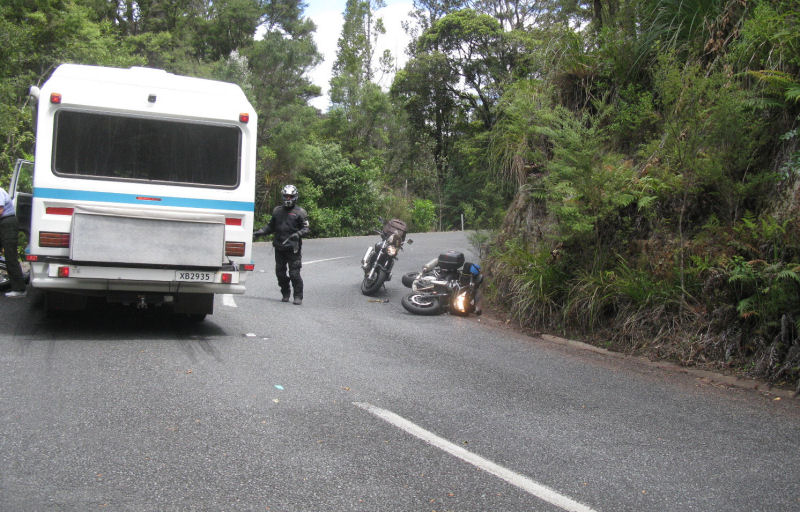 I won't use a lot of photos here, just these next two. Nancy had laid the bike down and separated from it, her body sliding into the grill of the camper while the bike slid into the guardrail. She was semi-conscious when I arrived, but she had a severe concussion and complained of pain in her wrist and right leg.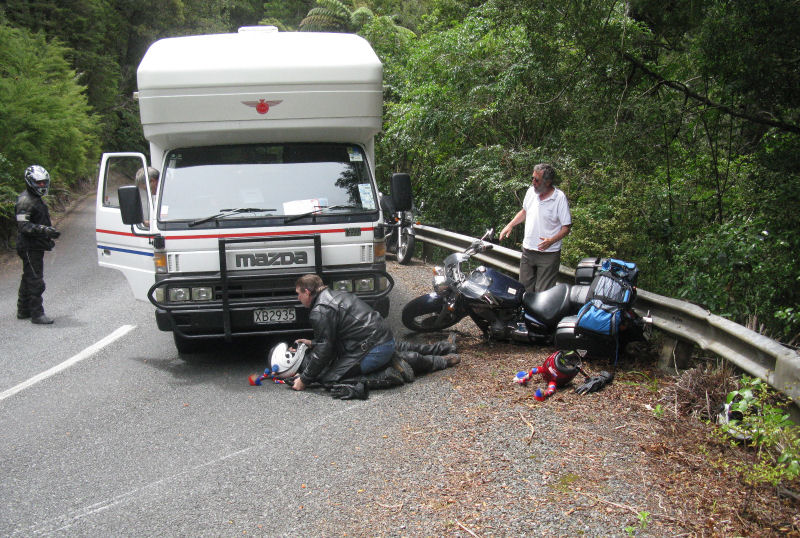 I stayed with Dave and Nancy while others managed traffic and emergency notifications. Colin rode out of the forest to get to a telephone (no cell phone reception in the forest).
Dave and I kept Nancy still while examining her. She had no recollection of the crash and a 10-second memory duration. Dave explained to her what had happened over and over again, but she wasn't retaining it and kept asking. This was a very common symptom of concussion and I have seen it many times.
From Laurie: When Nancy crashed, I was a few bikes in front of her, so I stayed up ahead to do traffic management for people headed up the hill towards her. I didn't know how badly she might be hurt or what was happening. My job was to slow down the idiots (and there were more than a few of those) and alert the other drivers to help them make sure they didn't add to the problem.
The first responders to arrive (which took about 30-40 minutes, I think) were non-EMS volunteers who simply helped assess and stabilize the scene. It was another 10-15 minutes for the first ambulance, and a second one arrived soon after (they had come from both ends of the forest highway, in case one of them was closer than the other). There wasn't anything more to do for Nancy at the scene, so we got her helmet off and they put a neck brace on her. They loaded her up and headed for Dargaville, which was the nearest hospital. Dave went with them.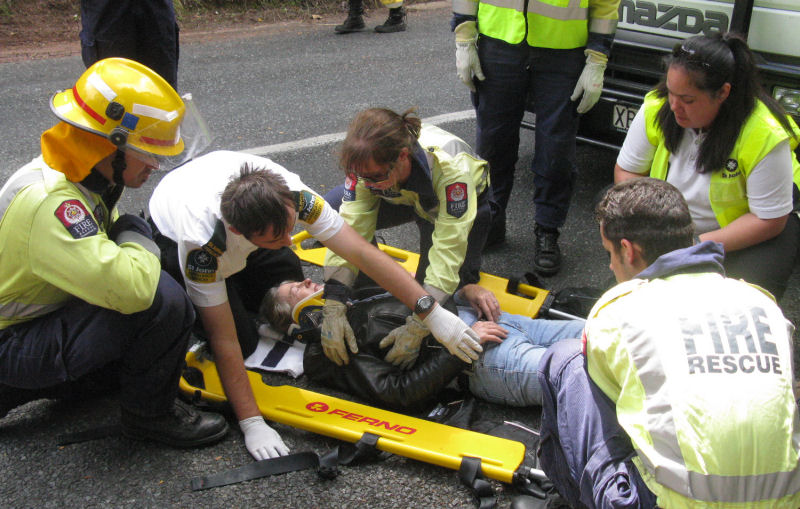 The police responded and took the report, and they saw to getting Nancy's and Dave's bikes towed as well. Dave's bike had some minor damage from the tip-over, but Nancy's bike was no longer rideable. We would deal with that the next day.
The rest of us changed our accommodation plans for the night and found a motel in Dargaville.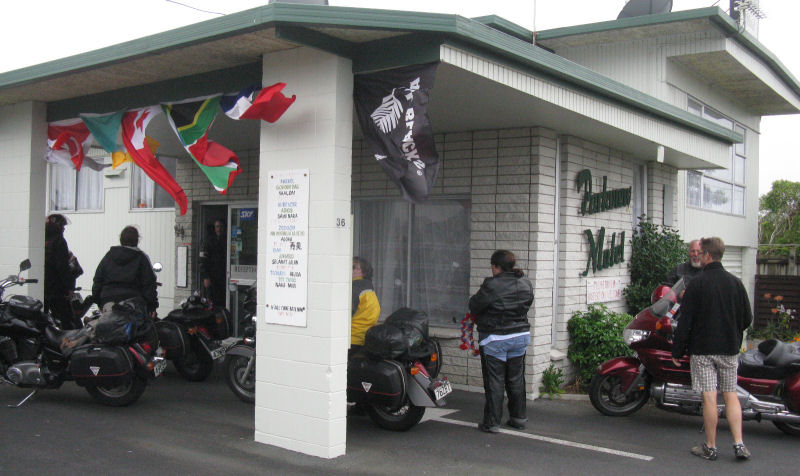 We spent some time at the hospital, and were very happy to see that Nancy had recovered greatly and was much more alert (although she was still in pain). After speaking with her and Dave, we left them in peace. The doctors would determine her needs as the evening progressed.
In the end, and after some prolonged and lingering concern about her apparently-broken wrist, Nancy was released and Tony fetched her and Dave to our motel at a very late hour. It would have made more sense to keep her overnight, since she had a severe concussion and had been directed to return early the next morning for follow-up treatment. New Zealand's public health system at work.
Tuesday, 22 November, 2011
-------------------------------------
While others went with Dave and Nancy to the hospital, Colin, Pat, and I went to find the garage where the bikes had been towed.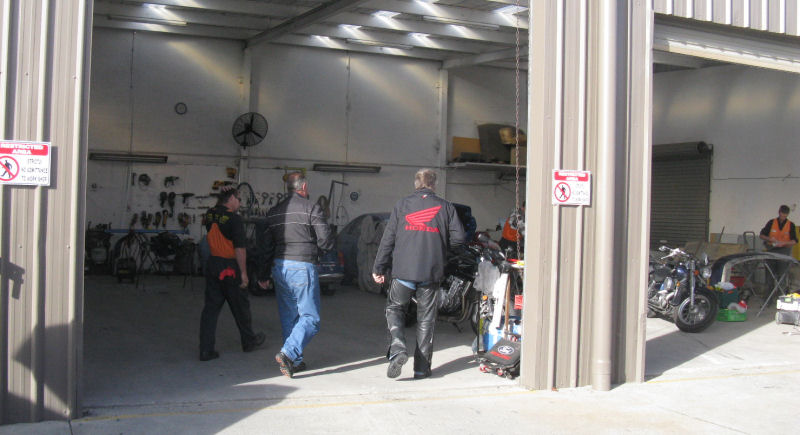 The rental company will deal with getting Nancy's bike back to Auckland, but Dave's bike was okay to ride. We collected again at the hospital, where Nancy finally got her broken wrist set into a cast. A plan had been made for Maureen to use a helmet that we borrowed from a local motorcycle shop and ride on the back of Chris' bike. In her place, Nancy would ride in the ute with Tony. Without Tony's vehicle, our situation would have been much worse. (The borrowed helmet would be mailed back to the bike shop from Auckland, and their generous trust with their shop helmet was much appreciated.)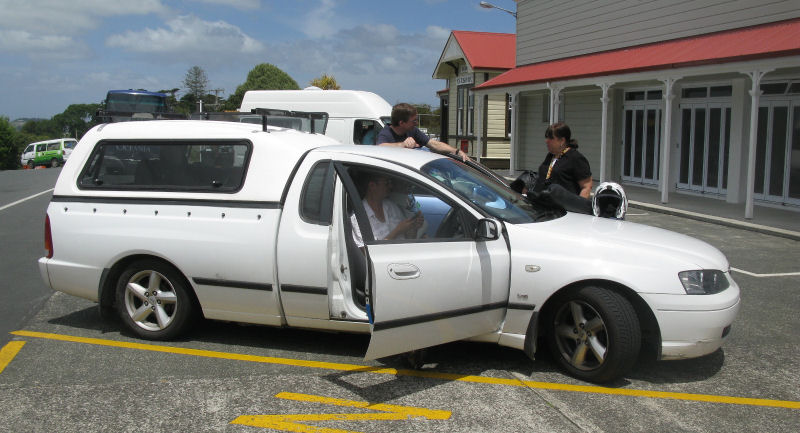 We motored onward, with a stop at the Kauri Museum. The kauri tree was famous for its beautiful wood, and the local lumber industry had largely been shaped by the huge trees. The amber (gum, as it is known here) that the kauri sap creates is its own industry, and one room of the museum is devoted to gum carvings and jewelry. I skipped the gum room, which others described as spectacular. Displays of ornate wood furniture and carvings were very nice.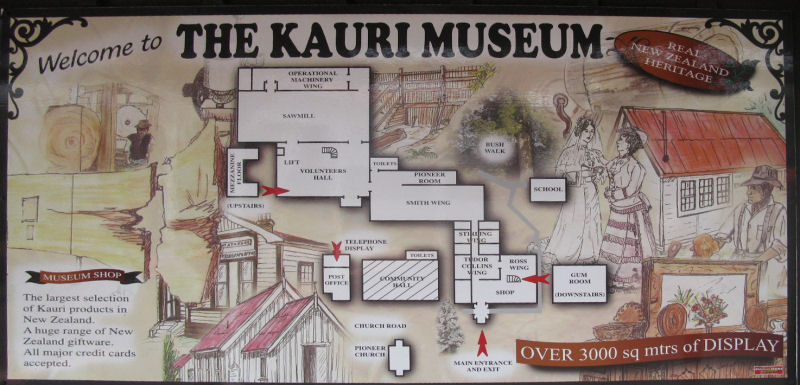 I found the displays involving the 19th-early 20th century lumber and mill works to be very interesting and I spent most of my time there. As usual, my squeak-squeak-squeeeeeeeky boots were a constant embarrassment. Churches, museums, and other quiet places were all assaulted by my footwear. (I had tried lubing the hinges with WD40 in the past, with no lasting benefit, but when I later dosed them with chain lube that really helped. Something to remember for the future.)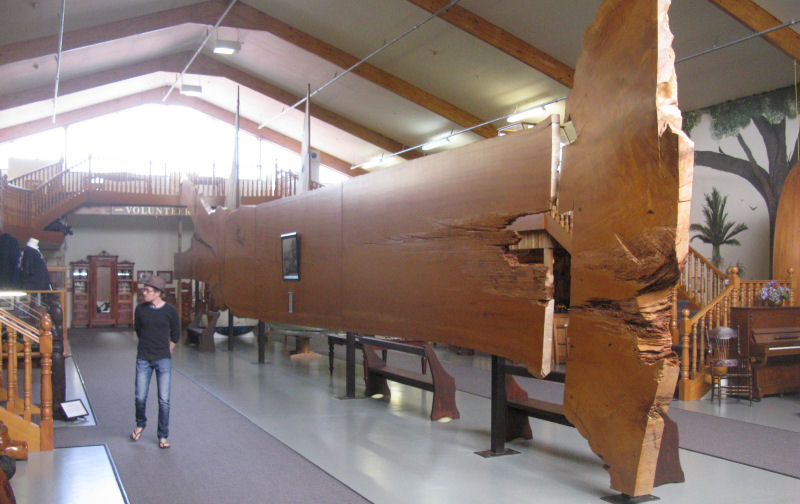 Nancy was moving slowly, but she was moving--badly bruised leg, broken wrist, strained neck and all. With her concussion, she really shouldn't have been moving at all. (We didn't know until after she had returned to the States that her concussion had been very severe. The U.S. doctor that did her follow-up examination was shocked that she had been released as soon as she was from the NZ hospital in Dargaville.)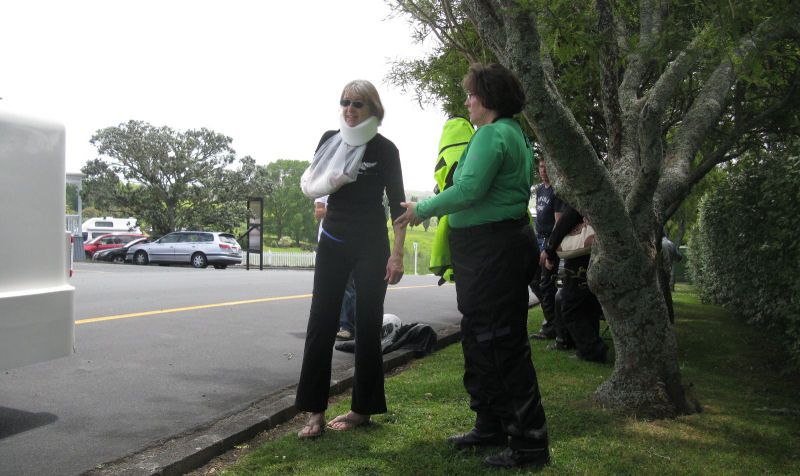 We rode to a hot springs that Colin and Lynette wanted to stop at, but most of us went straight to the motel that we had stayed at a few days earlier. A soak in the springs sounded nice, but I mostly wanted to stretch out and relax. Plus, with my infection becoming more painful, I wasn't willing to risk the hot springs.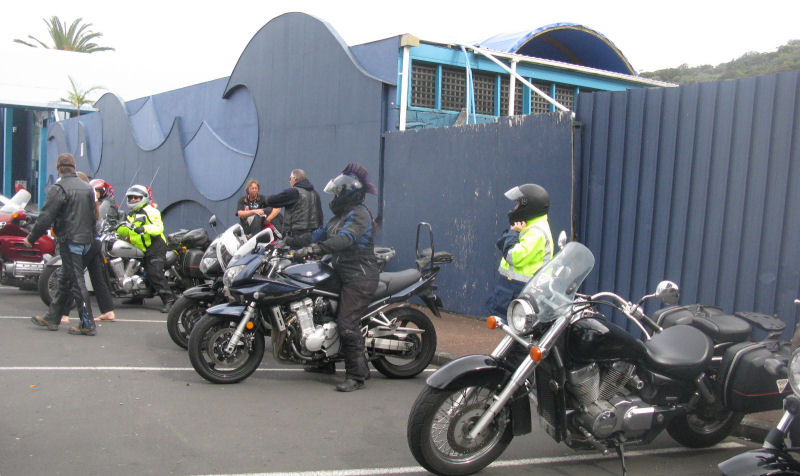 The beachfront motel was again very welcome. These were our rooms, facing the beach.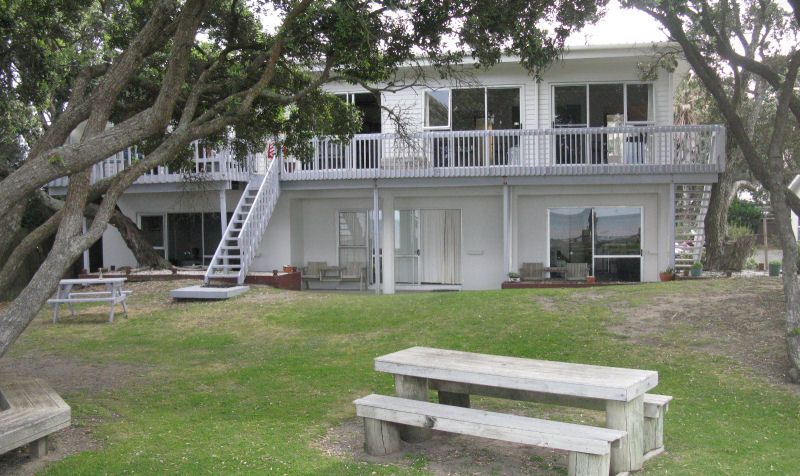 Later in the afternoon, we again gathered for a community meal of fish and chips. I knew that we had a case of Tui beer somewhere, and when I asked where the Tui was, this was the response I got:
It turns out that there was a Tui bird in the tree above us, and they thought I was asking about the bird rather than the beer that was named after it. Confusion was averted after both the bird and the beer had been located--each enjoyed appropriately.
Colin had been carrying a bottle of Maker's Mark with him, and to celebrate the last full day of our ride together, everyone had a shot. Yum.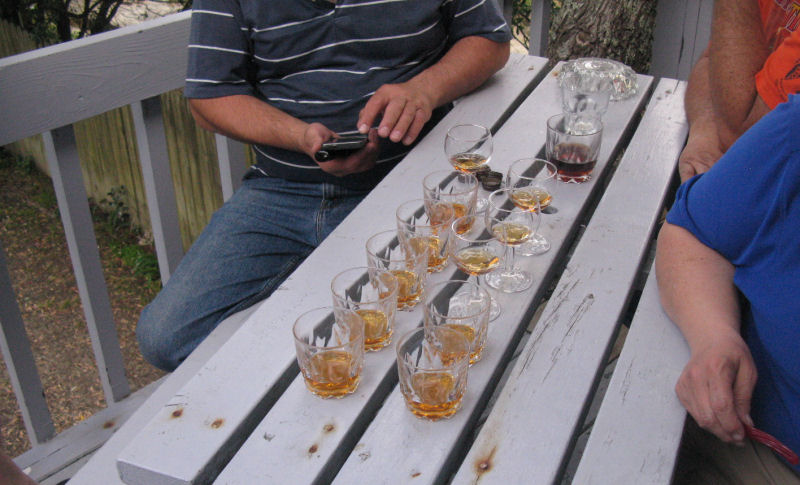 Our group had a modest gift for Colin and Lynette for arranging and leading our trip, and they had done a great job.
The swelling and painfulness of my infected navel incision was so bad that at times I was having trouble bending over. I should have had it looked at while we were at the hospital in Dargaville. Oh, well. I wasn't thinking about me while we were there.
Wednesday, 23 November, 2011
-----------------------------------------
The stop-and-go traffic through Auckland again was a pain. We gassed-up the bikes and returned them to the rental shop.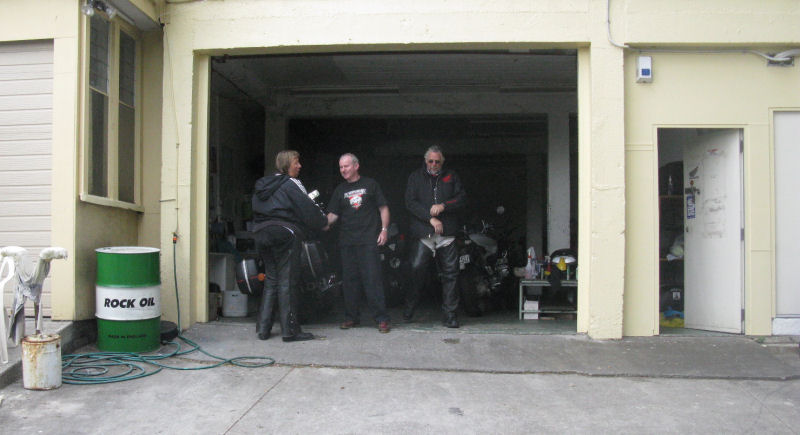 Most of the check-ins went quickly, but Dave's and mine would need to have an assessment done on them before we would know how much of our damage deposits we would get back.
Lynette went to rent a passenger van, and it was big enough to get all of us and our gear out of Auckland and to the airport at Hamilton, where we dropped of Dave and Nancy for their flight home. They had several hours to wait, and we wished them well from there. Hugs and best wishes were passed around.
The rest of us got back to Lynette's family's homes and got settled in. By that evening, my two unhealed incisions were so inflamed and painful that I couldn't stand it any longer. Greta drove me and Laurie to a clinic in Hamilton, where I had the privilege to pay $76 and wait 90 minutes to be seen by a doctor. Others in the group were also waiting, having met in Hamilton for dinner. I sent them on and returned to wait another 30 minutes for another doctor visit. I'll spare you the details, but the end result was a prescription to a 3-day treatment of IV antibiotics and pills to enhance the effect of the dose. Each dose would cost me $35, and I just told them to get started with it. After the IV was administered and a 20-minute observation period had passed, I was released with instructions to return tomorrow for the second dose.
I walked to where the others had finished dinner and had a beer. Back at the house, I was ready for a sandwich and some sleep.
Thursday, 24 November, 2011
--------------------------------------
It was Thanksgiving Day for us Americans, and the plan was for a large family-and-friends dinner. Laurie and I did a lot of laundry and other tasks before having lunch with Lynette's family. I returned to the clinic for the second $35 dose of meds and was sent away with the third dose in a box since I would be flying to the south island the next day. The doctor-of-the-day assured me that all I needed to do was have any clinic administer the dose for a minimal fee, and he sent me away with his highly professional instructions in writing. (As it later turned out, his highly professional instructions in writing weren't worth shit.)
There were about 50 people gathered for dinner, and the garage had been converted to a dining hall. Pat gave all our Kiwi friends a short explanation of the meaning of the Thanksgiving dinner tradition, and we all had a wonderful meal. I didn't have my camera with me, so no photos.
Friday, 25 November, 2011
----------------------------------
We got up early and got packed after swapping good-byes with Tony and Greta. They had been wonderful hosts and their hospitality had been very warming. We hope to have the chance to be as good hosts for them whenever they might find themselves in Colorado.
Colin and Lynette showed up in the rental van with Pat and Sheri, and they whisked us to the Hamilton airport where we made our good-byes with them. They are now good friends and we hope to see them again in three years (if not before). The current plan is to get together again for another two-week ride somewhere around the world. Pat lost the lottery and has the burden to choose and plan the next ride trip. The popular opinion at this time is for Ireland. I'm okay with that.
We paid a mysterious NZ$5 (each) departure tax and had an hour to wait for our flight through Wellington and then on to Nelson on the south island. Most of the local flights were turbo-prop planes, and they all looked like this: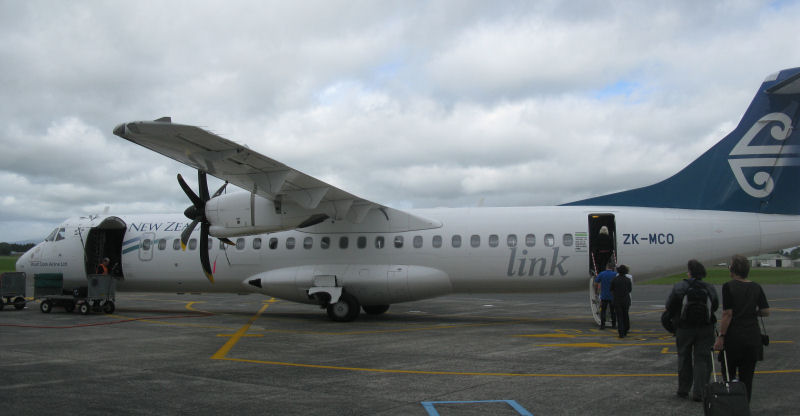 We were offered coffee or tea and a cookie during the short flight. We got another look at the snow-covered mountains that we had seen last week south of the Army Museum.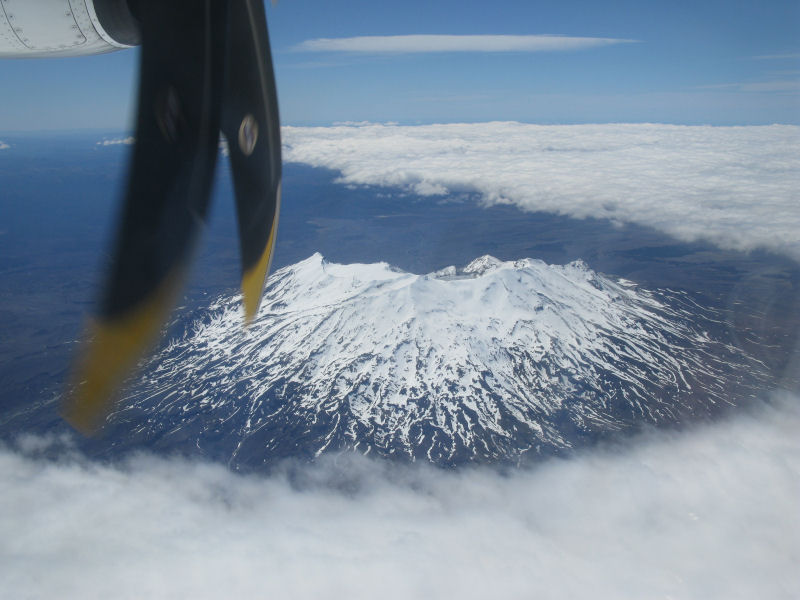 The layover was an hour in Wellington, and the flight to Nelson was about 30 minutes.
We were ready for two weeks of riding the south island on our own.
<< PREVIOUS report -- New Zealand, North Island, Week 1 >> << NEXT report -- New Zealand, South Island, Week 1 >>
[ ERRANT-RONIN HOME ] [ Prudhoe Bay to Ushuaia Home Page ] [ Ride Reports Home Page ]