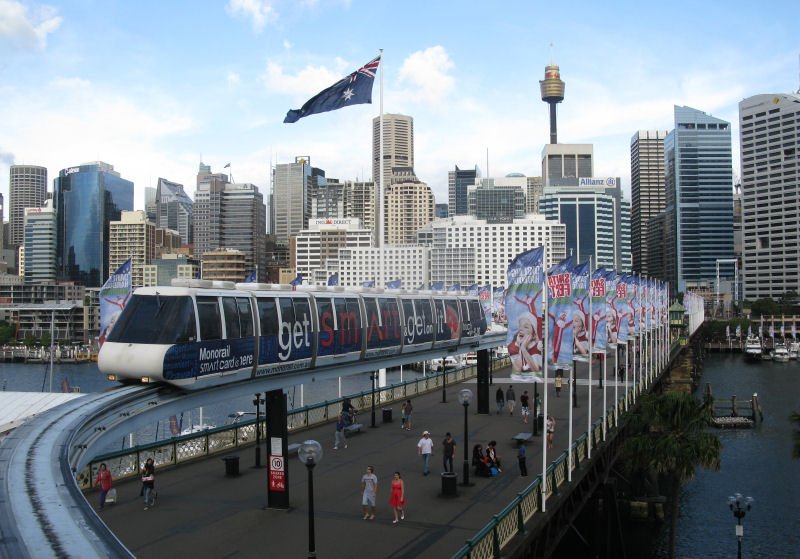 Part 8. Australia, Christmas in Sydney
===========================
Friday, 23 December, 2011
----------------------------------
After a lot of waiting at the Townsville airport, we finally got off the ground and arrived in Sydney without further incident. We picked up our rental car an immediately felt grateful for the Corolla we had spent the last two weeks with. This was a much smaller car without power steering. We only planned to take a few day trips outside of Sydney, so a smaller car was not a problem.
The turn signal lever was still on the wrong side of the steering wheel, though, dammit!
We got lost again right away, just as we had done when we got out of Sydney a couple weeks ago. This time, we weren't even trying to get out of the city. Laurie (aka The Navigator) was having a lot of trouble relating the map to the real world, so we kept taking the wrong turns.
Eventually, I pulled over near a cafe and Laurie went in to ask for help. Once they had her oriented on the map, it only took us another six days to find our hotel. Okay, maybe five minutes, but I was already pretty irritated by that point, so it seemed longer.
Our hotel was right in the center of downtown Sydney. Parking was at the Hilton Hotel on the other side of the block, and our hotel offered a discounted fee. (As it turned out, we never used that car until our last full day, so it was not a good investment.)
The Castlereagh Boutique Hotel was in one of the oldest commercial buildings in Sydney, one of the very first built with reinforced concrete. There is a Masonic lodge in the building too, for those who might be interested. A small-ish hotel, it was also reasonably priced. Unfortunately, the restaurant and lounge were essentially closed for the holidays.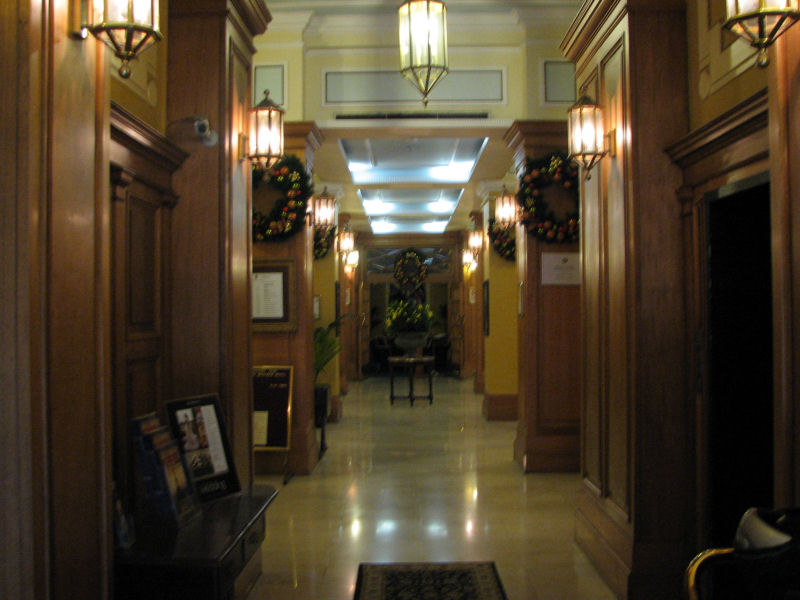 We were only a block away from the Sydney Tower (and close to everything else, it seemed). We got settled in and went out for a walk. Nearby was a pedestrian mall, but it was filled only with shops; no restaurants at all. I thought that was odd, but we then found that there were three levels of restaurants in the Westfield building from which the Sydney Tower rises, right alongside the mall.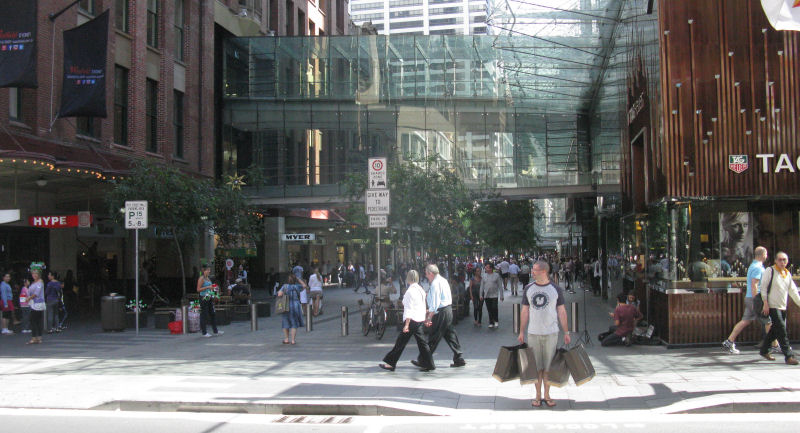 The fourth, fifth, and sixth floors were like a huge food court, with a wide variety of food choices. We ate here at some point almost every day.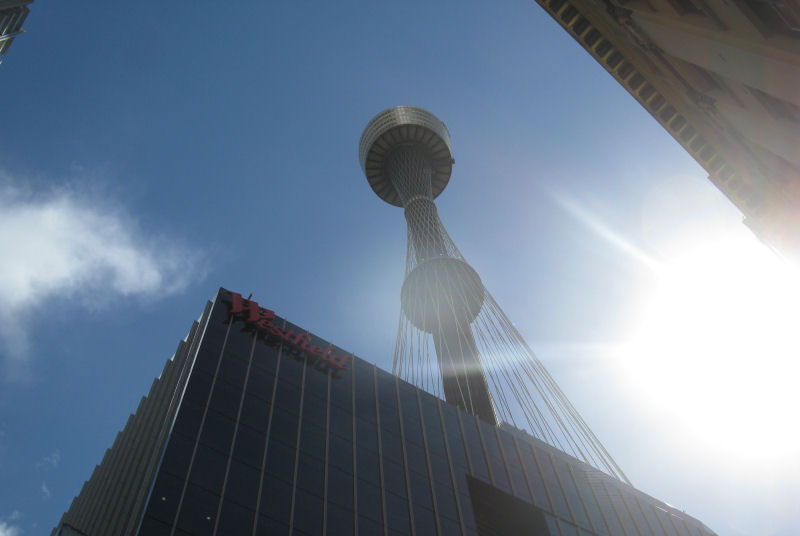 After eating (rolled meat crepes, kind of like burritos), we headed back to the hotel but found a sports bar near our hotel that was showing the end of an American football game (and a darts tournament), so we watched the Colts beat the Texans, which was apparently a big upset. Laurie has been keeping up with football back home, but I'm not that interested. Okay, the Broncos have had quite an amazing mid-season, I must admit. Laurie forces Broncos updates on me, interested or not.
Saturday, 24 December, 2011
-------------------------------------
Christmas Eve seemed out of place in the heat of early summer in Sydney.
Breakfast was in the food court, and since we were already there, we took a ride up into the tower.
The Sydney Tower is not a particularly tall tower. It's the middle one in this graphic display of towers.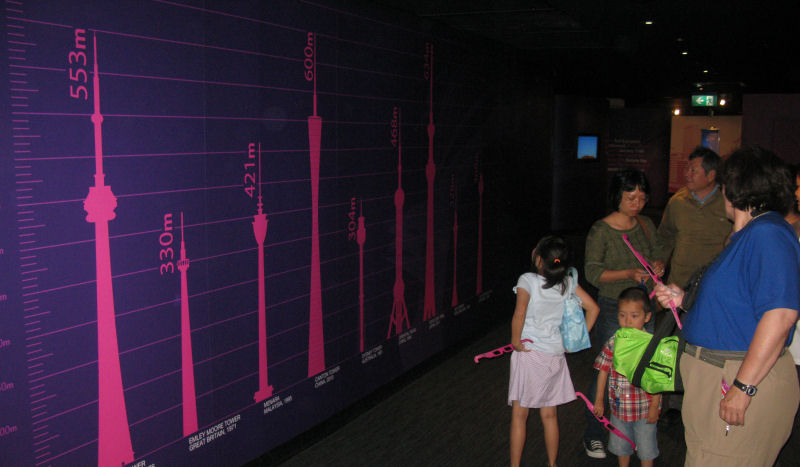 Before going up in the tower, the same ticket got us into a 3-D IMAX type of show. It was a short show, but it did a pretty good job. When waves were splashing on the screen, we all got misted with a light spray of water, and during an underwater segment we were showered with big soap bubbles. Oh, and the floor shook and vibrated. They call it a 4-D show, to account for the added sensory stimulation.
We passed on the more expensive options, such as an outdoor (tethered) walk around the top of the tower. A stroll around the indoor windowed viewing levels was good enough for us.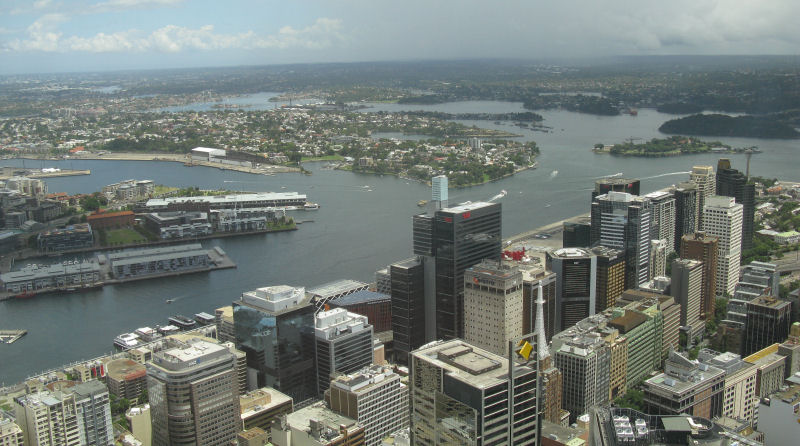 On the next block away from our hotel was Sydney's Hyde Park, and near that were many other historic and significant buildings. All within a couple minutes' walking time.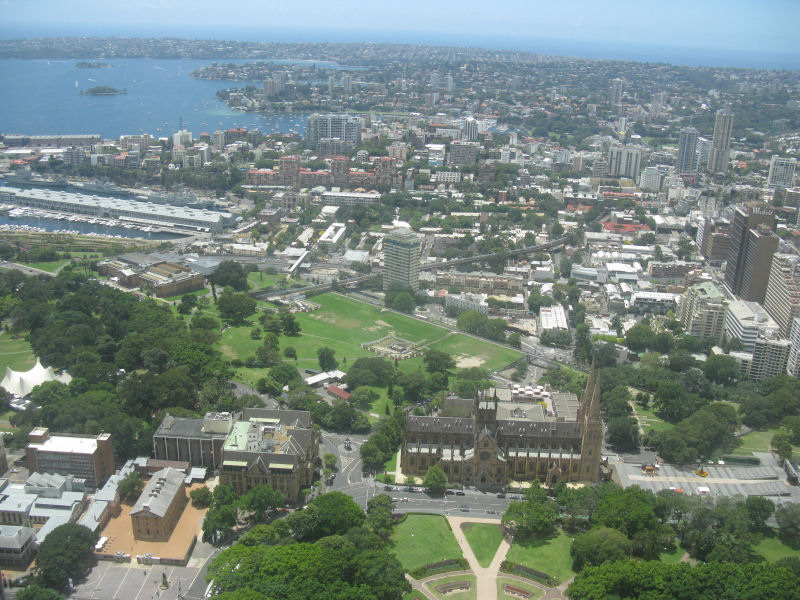 The Sydney Olympic Park wasn't far off. Maybe a couple miles.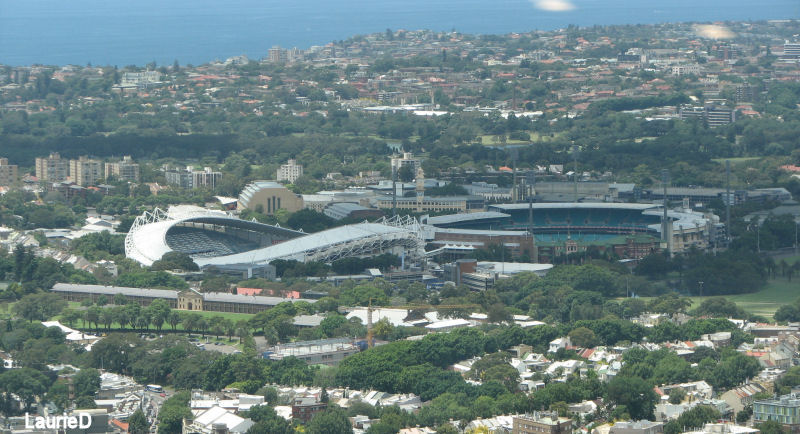 The city's Hop On-Hop Off bus tour was like others we've seen. This one was better than the one in Brisbane, partly because the bus drove slower, and partly because the narrative was pre-recorded and the sound was pretty good. It was a double-decker bus, so of course we had to ride on top--which most people choose to do.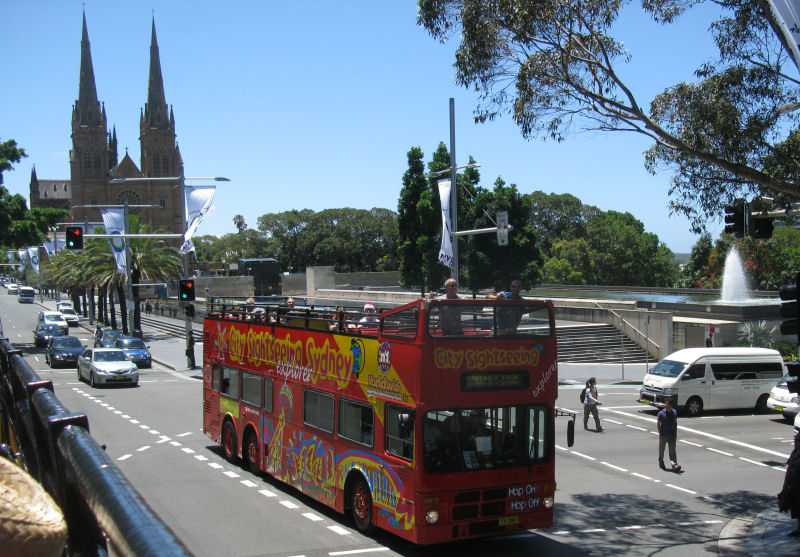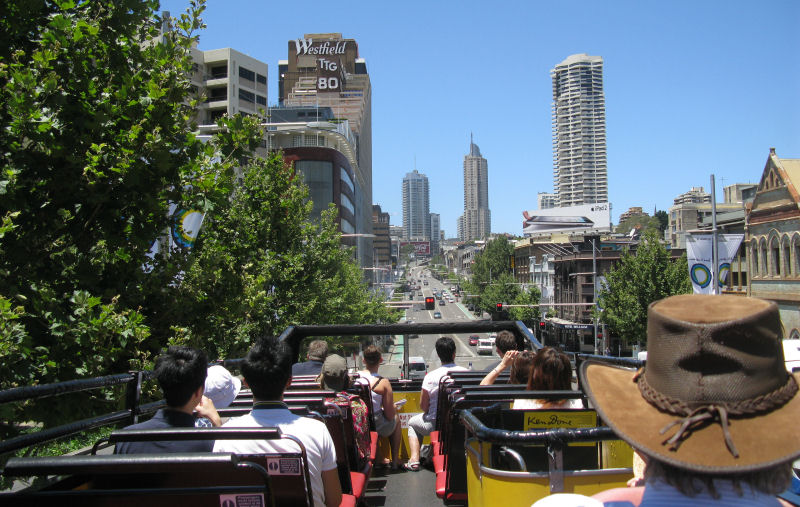 We could have hopped off at any of the stops and caught the next one to come past, but we chose to ride it for its whole route. We'd be here a few more days, and most things were either within walking distance or reachable by the downtown monorail.
We'd come back to the Opera House another time.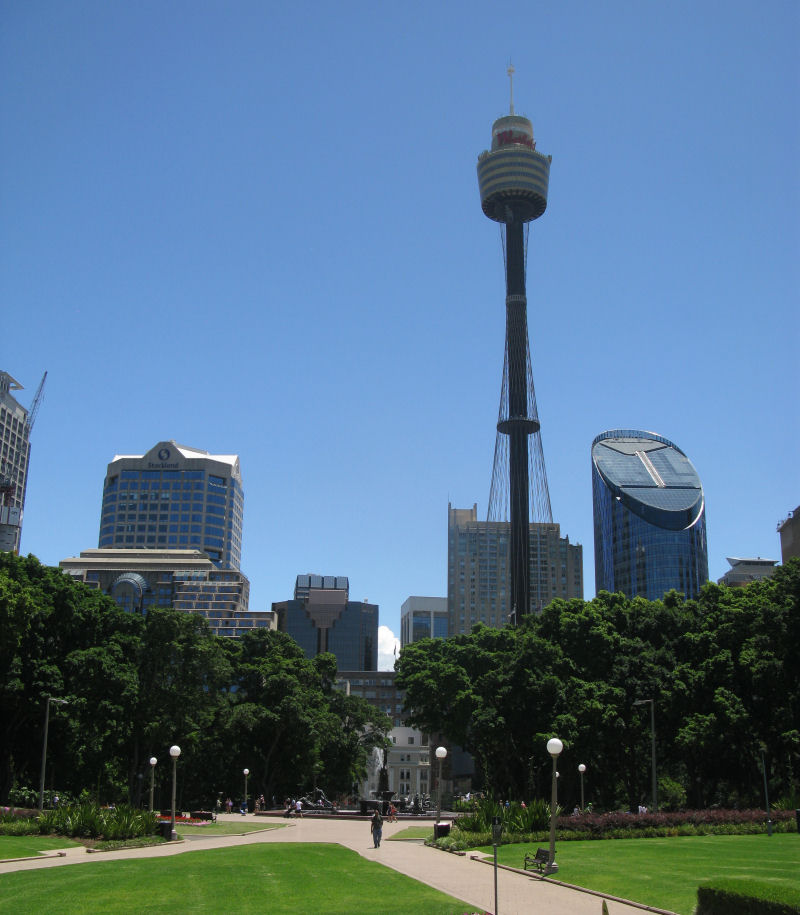 There's the monorail going by.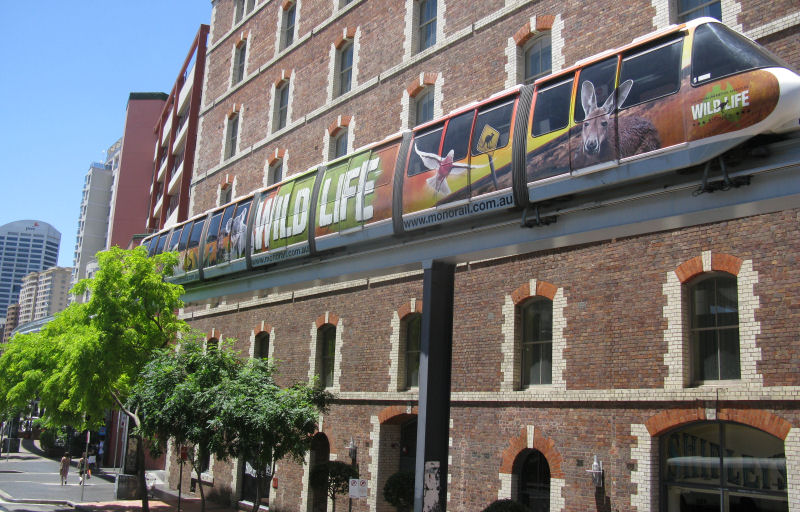 Down by Darling Harbour's Cockle Bay area, there was even more evidence of Christmas coming.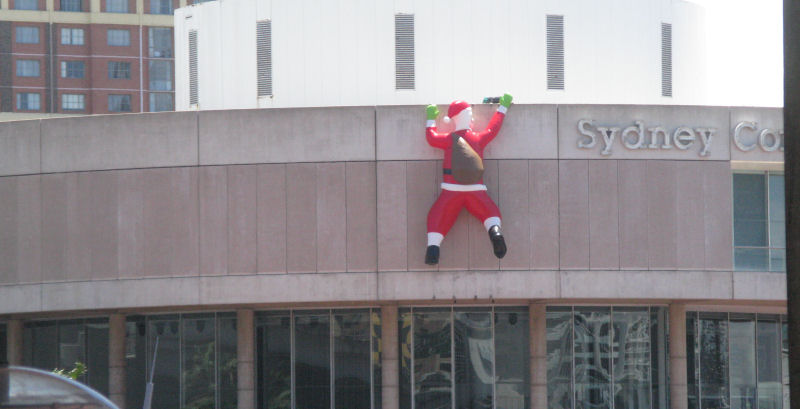 We changed our mind about staying on the bus in The Rocks region. We hopped off and walked down to get a closer look at the Harbour Bridge and the Opera House. Yeah, they spell 'harbour' with a U.
Right where we got off the bus in The Rocks, we found a street market. Mostly trinkets and handicrafts, but a few nicer things.
After sitting a while outside a pub for cold drinks, we walked through the Circular Quay (they pronounce Quay as "key") wharf area, where most of the local water ferries and tour boats operate from. Street performers, too, and no, it wasn't a gay balloon show.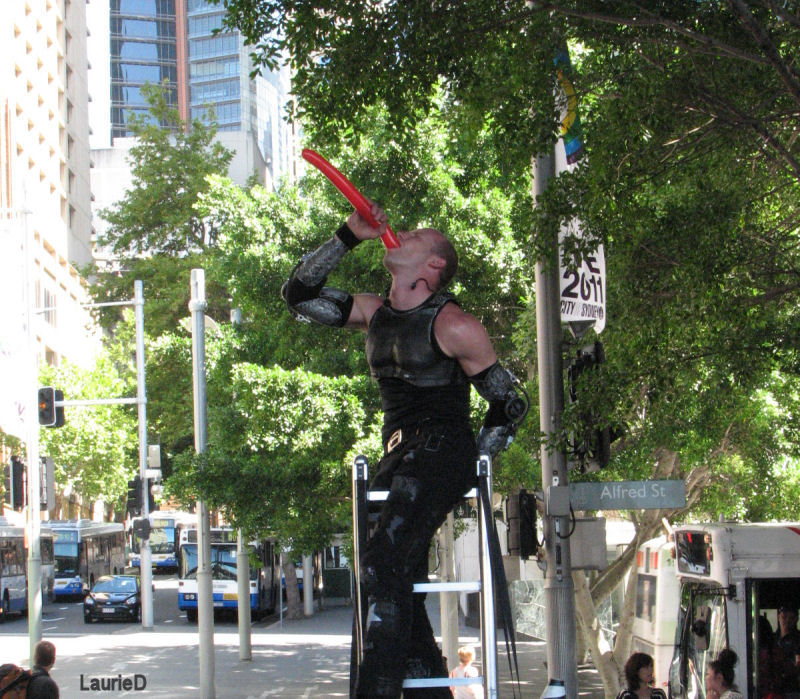 The Harbour Bridge has the nickname "The Coathanger" because of its shape. It was a revolution in 1932 when it first opened, and it is still the world's widest long-span bridge (having eight traffic lanes, two rail lanes, a foot path and a bicycle path).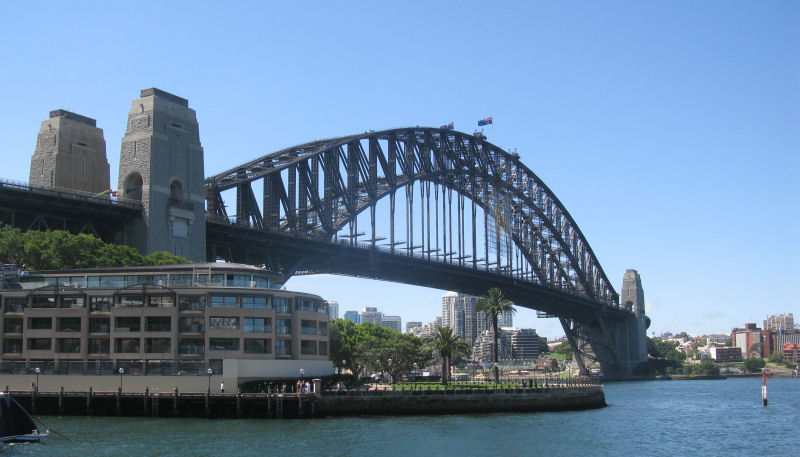 I wanted to do the Bridge Climb until I found that it cost over $200. Pass.

On the other side of Circular Quay, it's only a short walk to the Opera House.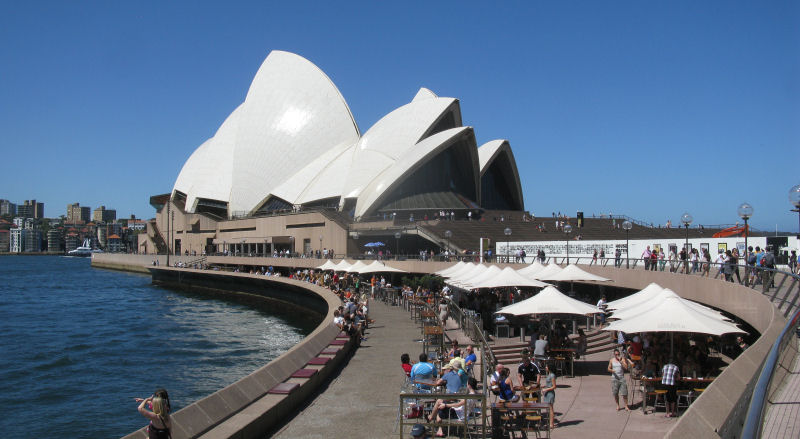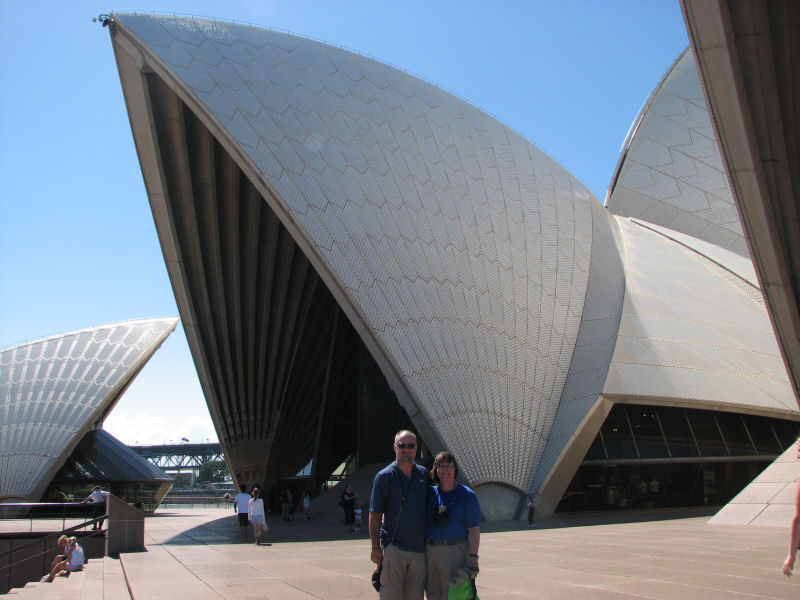 The structure is covered by more than a million ceramic tiles. Every one still in place since the Opera House first opened.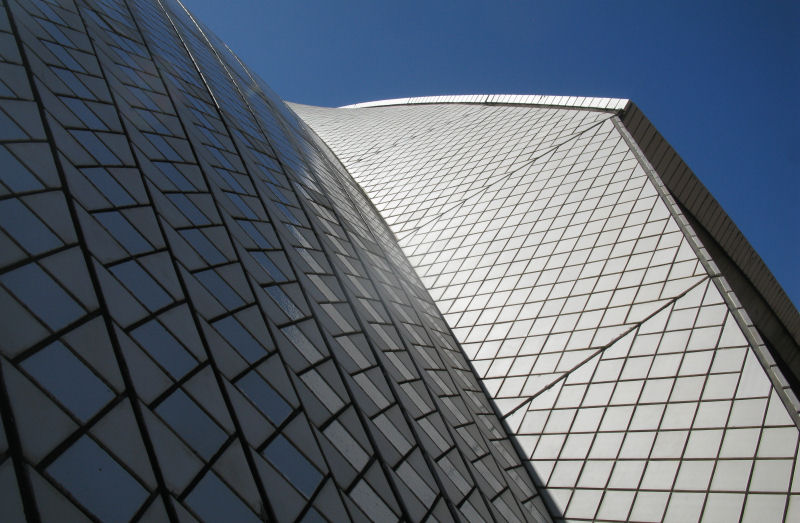 We signed up for a walking tour, and when the tour photographer started to take our photo I took out my camera and took her photo instead. She seemed shocked.
The greatest problem with the design of the Opera House was the curved sections. There is a long story about how the design was selected and how the engineering problems were overcome, and we saw a few video segments on these issues as the tour wandered around.
The problem of the curves was finally solved when the original architect discovered that each section could be designed as if it were a section of a sphere. Until then, they had been trying to design it with parabolic curves.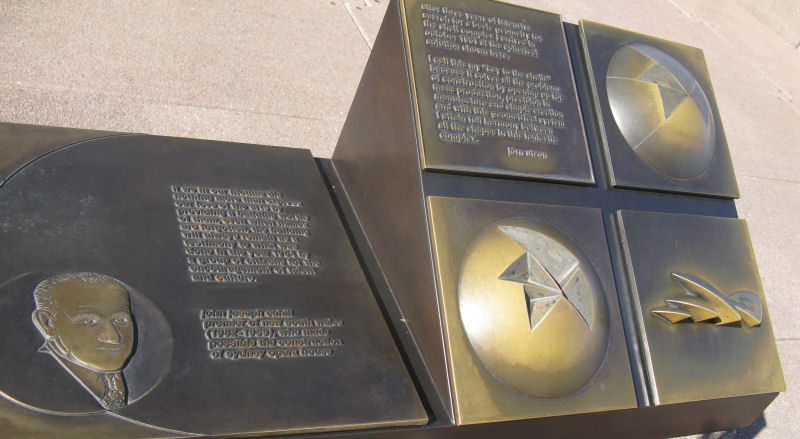 The general interior of the Opera House is not very interesting. A simplistic motif, baring the reinforced concrete sections and using unadorned wood panels. The Concert Hall and the Opera Hall were much more ornate, of course.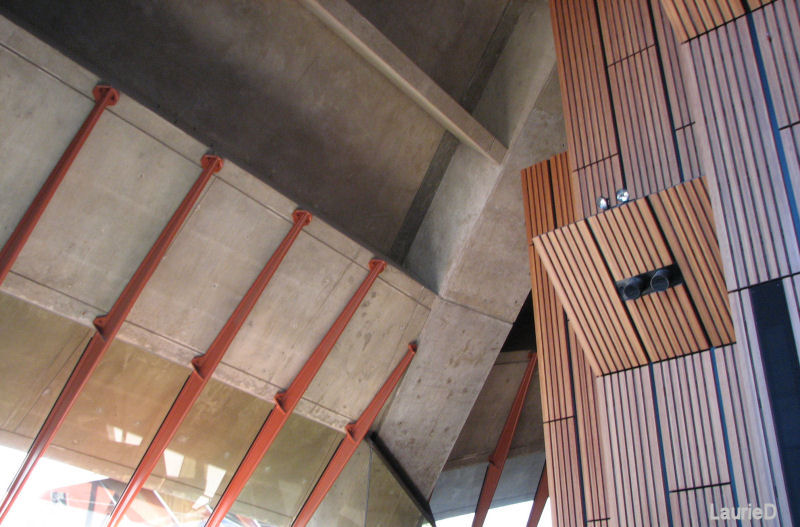 They Opera Hall was being set for Puccini's Turandot, so we snuck in and didn't stay long. No photos were allowed in any of the performance venues that we visited, including a couple of very small ones. The Concert Hall had thousands of little kids participating in some big event, so we stayed well clear of there.
Honestly, the tour was underwhelming, but mostly because I expected the architecture to be amazing inside. The information about the Opera House and its history was the only benefit of the tour, and that could have been Googled.
We picked up the Hop On-Hop Off bus at the Opera House stop, and rode it until it neared Hyde Park.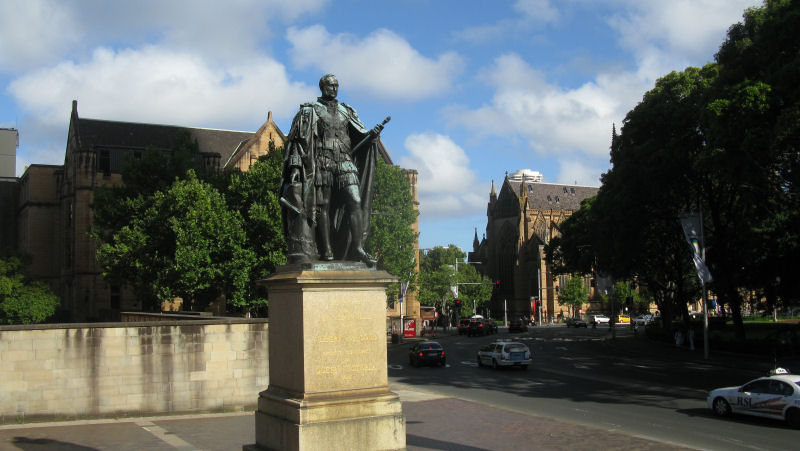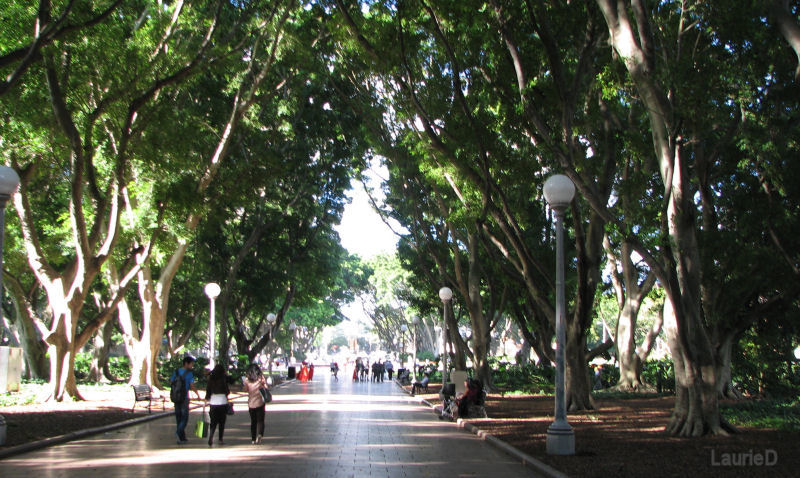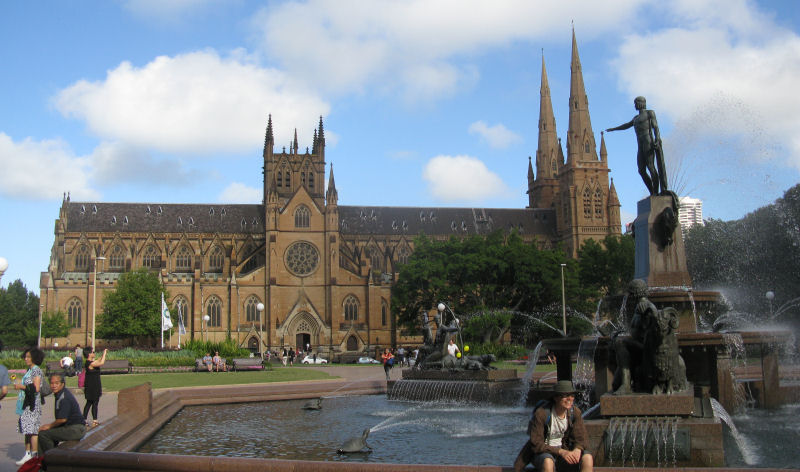 A couple blocks from our hotel (I told you our hotel was in the center of downtown, didn't I?) was the old City Hall. Sydney had done a good job long ago of preserving its architectural heritage.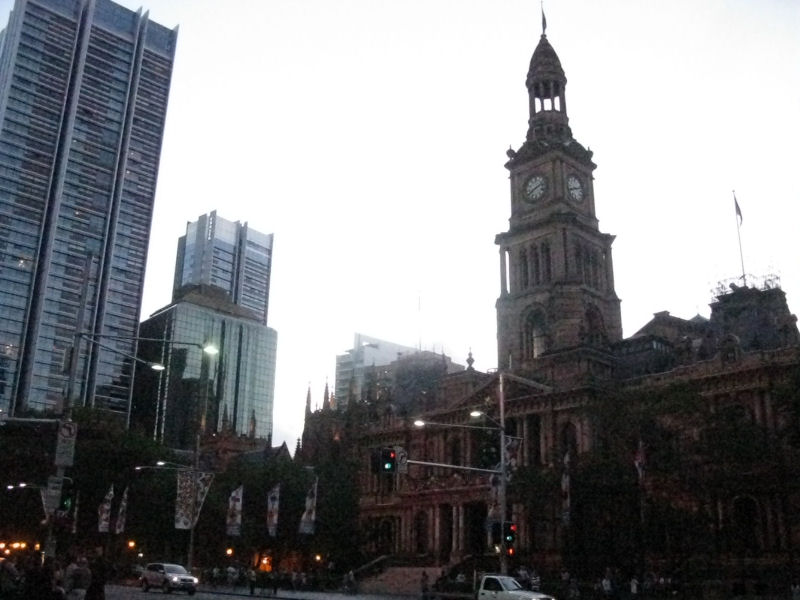 We ate at the food court, choosing a Chinese place. I was in the mood for Dim Sum and noodle soup, but the soup turned out to be better than the Dim Sum. When we left, I was still in the mood for Dim Sum. I knew that we'd do better in Sydney's Chinatown.
I lounged at our corner sports bar while Laurie went back to the hotel for a nap. No football this time, and not even cricket. It was horse and dog races.
When Laurie returned, we walked to the City Hall. We had learned that there was to be a light show on the building. Since we didn't know what "on the building" meant, we went there with expectations of fireworks. It turned out to be a light show being projected onto the building from across the street. I suppose that it's a bit of a new tradition here, since many locals came to watch the slowly-changing kaleidoscope display. The colors were more vivid to the eye than to the camera, and it looked better in person than it does in this photo. Plus, it wasn't dark enough yet.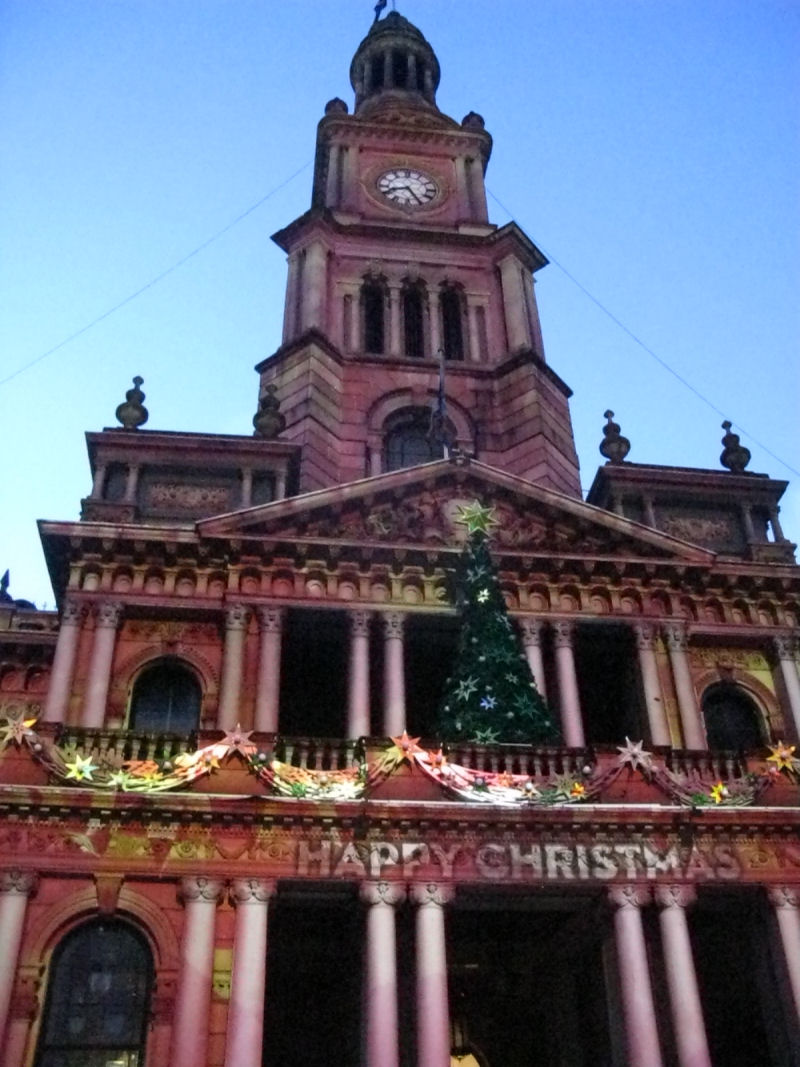 We wandered around a while, then ended up near City Hall again. We stopped at one of the cafes, but the service was very difficult to figure out. I'll spare you the gory details, but we eventually got a couple of drinks. We chatted with a couple at a table next to us, and they agreed that the service there was "unpredictable." This conversation continued, and we talked for quite a while. So, that's how we got to meet Luis and MaryAnne.
Our new friends told us that there would be a fireworks display down at Darling Harbour soon, so we decided to put off dinner until after the show. As we talked further, Luis and MaryAnne learned that we had just arrived in Sydney and had no plans for Christmas. What came next was an invitation to their home for lunch tomorrow. "Nothing fancy," Luis told us, "just some simple seafood and snacks." We accepted their gracious offer and made plans for the next day.
Laurie and I walked down to the waterfront and waited on a bridge with lots of other people. Thousands more were down below.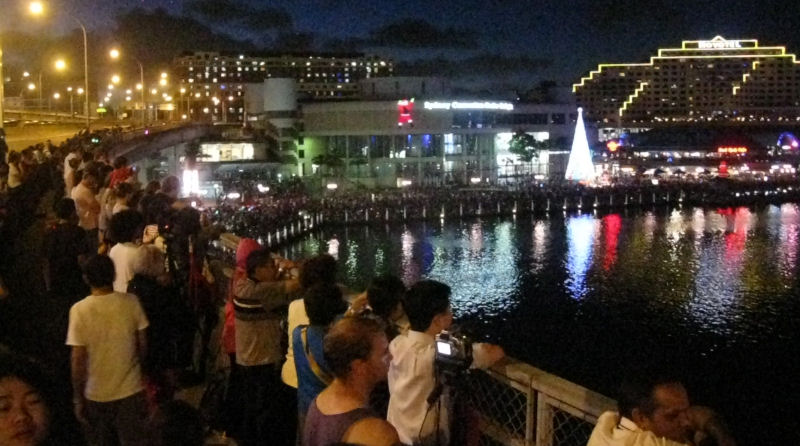 The fireworks were fired off from large rafts in the harbor, and, as usual, it was hard to capture fireworks with a simple camera.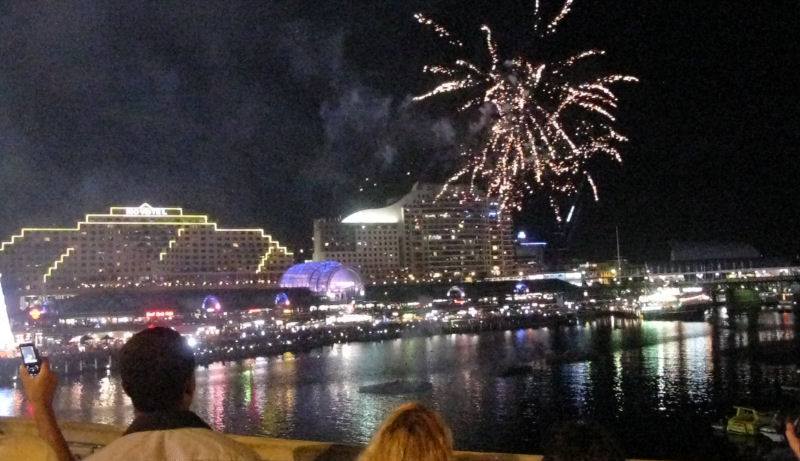 Since we were to be guests the next day, I was happy to find a bottle shop open on Christmas Eve. You had to know what you wanted when you entered the small shop, because they were a high-speed operation. Get in, tell them what you want, pay for it and get out. Next! There was room for only four or five people at a time in the place.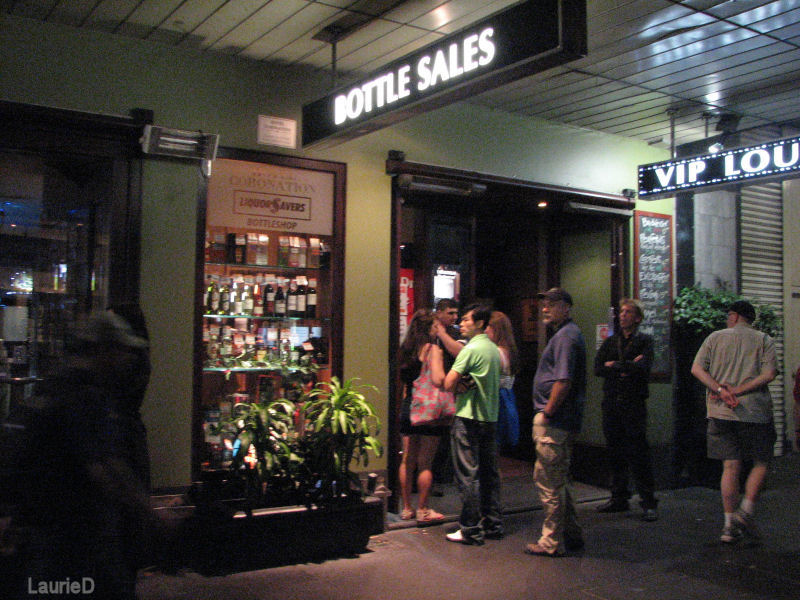 Cyclones were still threatening Queensland and Darwin.
Christchurch had been rocked by yet another sizeable quake.
The air-conditioner in our room had died.
Chaos and suffering everywhere.
Sunday, 25 December, 2011
-----------------------------------
After sleeping late, we walked down to Darling Harbour and parked ourselves at a coffee shop. Laurie called Luis and he said he would come to get us. As we waited, a family of tourists from Adelaide settled down next to us, and the father immediately apologized to us "for the impending behavior of my children." After that quick laugh, I then apologized to him for whatever Laurie's behavior might be.
Actually the kids were a lot of fun, wired up from all the activities. We learned from the parents that the Sydney-to-Hobart yacht race was starting tomorrow. A Boxing Day tradition, it seems.
In only a few minutes, Luis arrived and walked us back to his apartment. He didn't live far from the Harbour, so it was a short walk. We were introduced to Penny, a long-time friend of theirs. After a while, another old friend, Andy, showed up.
We had quite a good time, chatting and getting to know each other as we snacked on prawns and oysters. Luis was pouring the wine, and there was plenty of that. Since they had already had their official holiday dinner a couple weeks earlier, this was really just an informal gathering for dinner. We didn't care, we were just happy to have been included.
We exchanged life stories, and got to know each other very well. I won't share all the details here, but they are very interesting people.
The early dinner was a nice, large meal, home-cooked by MaryAnne, with some additions from Penny. More wine from Luis. We each had party hats and favors, just because it was a holiday.
Andy, MaryAnne, me, Penny, Luis. Laurie was the photographer.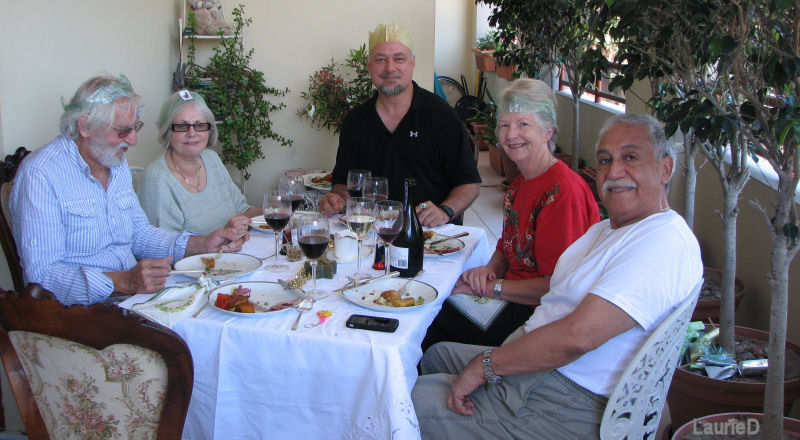 After dinner there was a lot more conversation. Being from Argentina and having attended University in Ecuador, Luis was interested in the motorcycle ride I had done around South America. We talked about that for a while. I learned (from MaryAnne) that Luis had first come to Australia in 1973 as part of a anthropological experiment, seeing if it was possible to cross the Pacific Ocean on a raft, navigating with only a crude sail. I would have liked to heard more about that, but the conversation went in other directions.
The wine came from all directions, red, white, port. Yum.
Daughter Elise arrived wearing a lifeguard uniform and sprinkled with sand. Very pretty gal. She is a volunteer lifeguard at one of the beaches, part of a club-like society of beach volunteers. For work, she administers workers' comp and injury issues. She had a lot of stories about fraudsters and cheats, which happens everywhere. A friend back home is an injury-fraud investigator who has the same stories. Some were very funny.
As the evening snuck in, we had sandwiches and more wine. Later still, there was Christmas pudding (flaming, thanks to a liberal application of brandy and a match). The port wine that Luis served to end the evening was the last of a family-bottled vintage from over thirty years ago!
We talked until 23:00, and it was a day well spent.
In front, Elise and Luis. In back, Laurie, MaryAnne, Penny, Andy, me.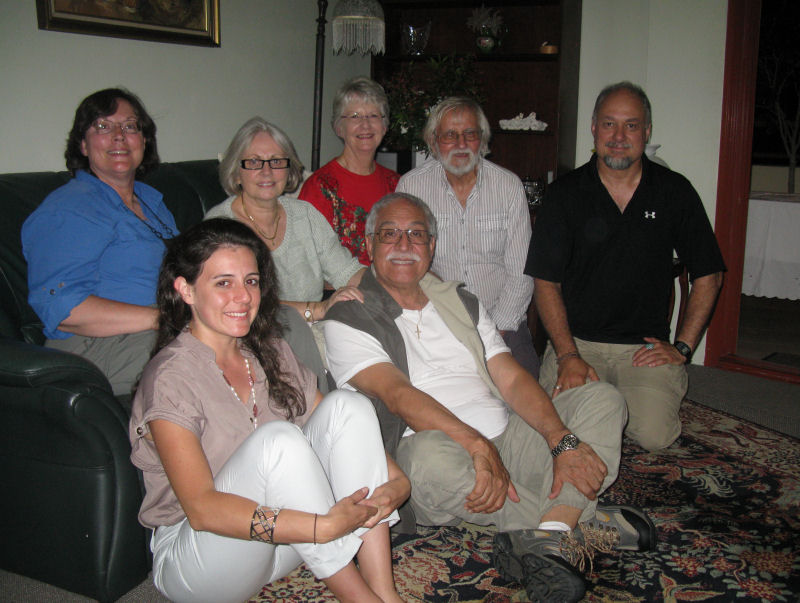 Hugs and contact information were exchanged and Luis was kind enough to walk us back to Darling Harbour. He and MaryAnne are wonderful new friends, and we hope that when they next come to the U.S., they will pass through Colorado and know that they will be welcome in our home. Penny, Andy, and Elise, too.
It was still warm out, and the light breeze off the water made it very nice. Lots of people were still out, still enjoying the last moments of Christmas partying.
The hotel had been unable to fix our air-conditioner, so we would move to another room the next day. They had loaned us a fan, so that helped.
Monday, 26 December, 2011
------------------------------------
We swapped rooms, had meat pie breakfasts in the food court, and headed for Circular Quay to catch a ferry to Watsons Bay, where Luis had suggested we go to watch the yacht race start out.
Since the "thing" to do today was watch the race start, many of the ferries were running special routes to Watson Bay and other viewing sites without making all the regular stops.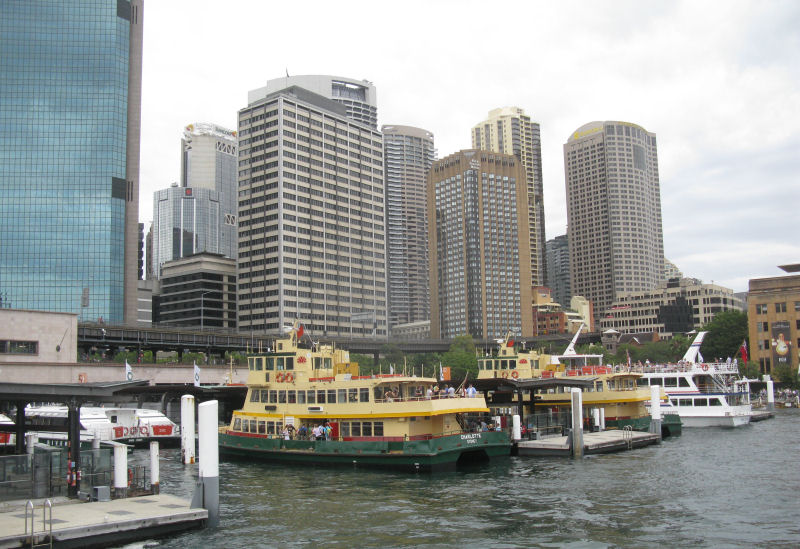 The ferries were coming and going pretty quickly, so the wait wasn't very long.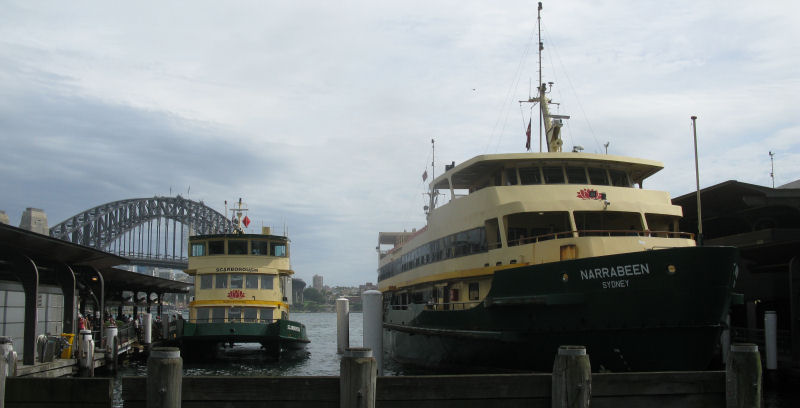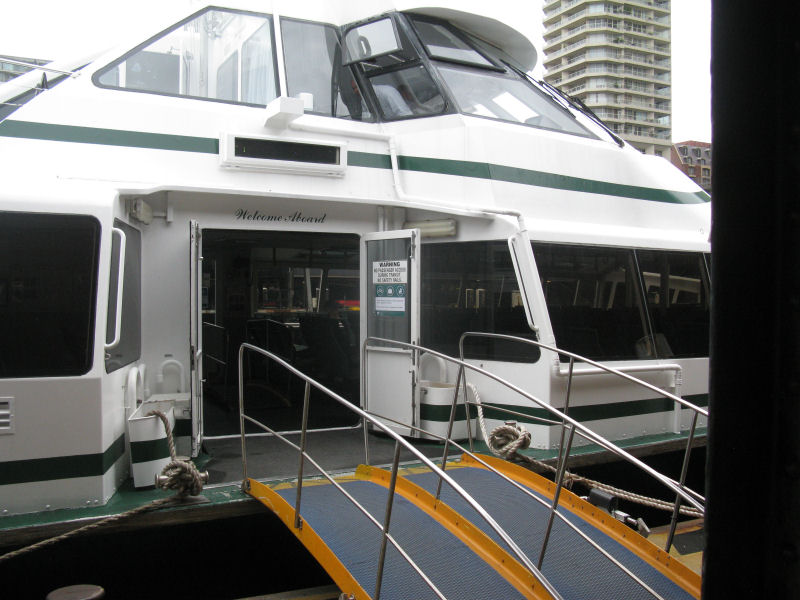 The ride itself to Watsons Bay was maybe ten minutes or so. The day was hazy, and not too hot.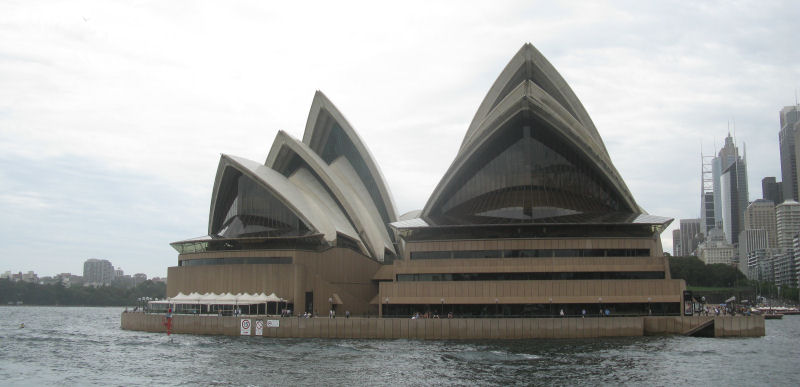 Watsons Bay was a popular recreational area, with nice beaches (including a nude beach) and restaurants. The homes all seemed very upper-upper-class.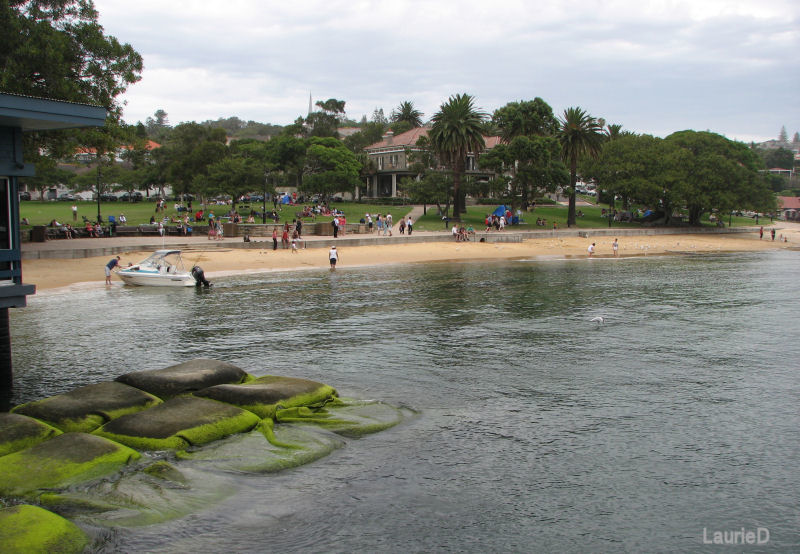 Where we were headed was Laing's Point, at the bottom of this map.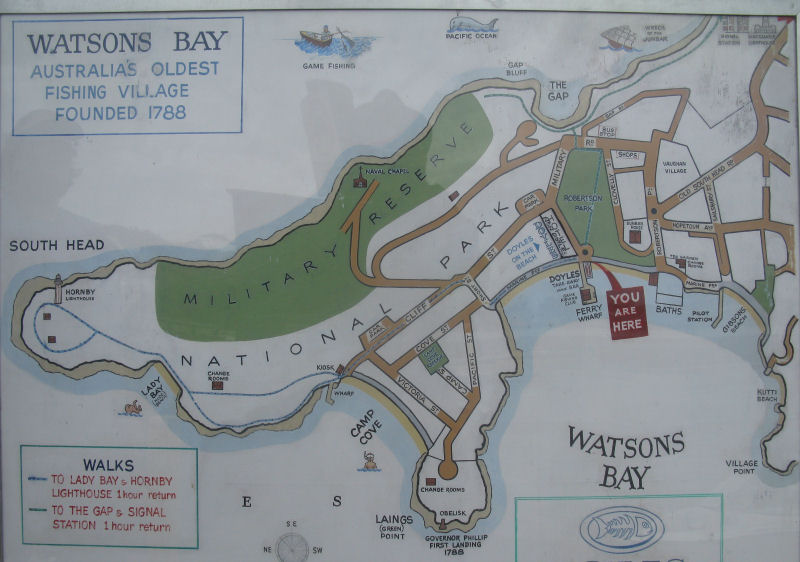 The small Obelisk at the left of this photo is an historical marker, recognizing one of the earliest European landing sites.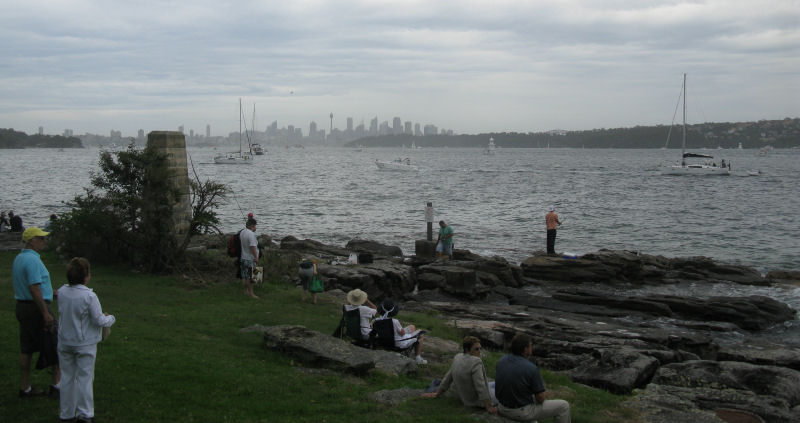 Our vantage point was popular with the locals, so it was good enough for us. Laurie chatted with a lady near us and got some scoop on the race and who the favorites were. Me? I snoozed on the grass.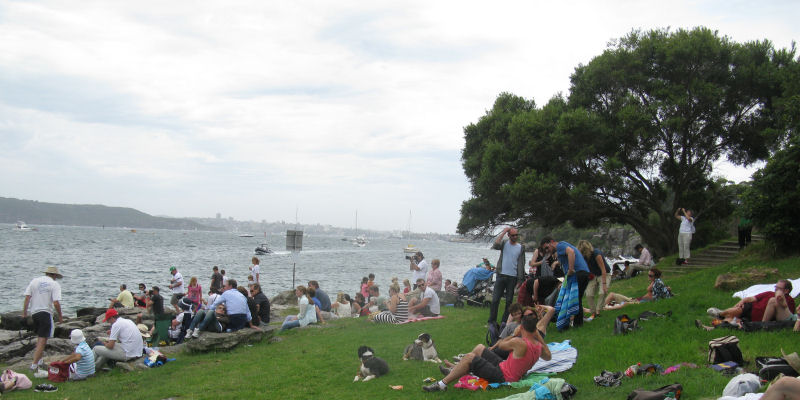 The police were on the water.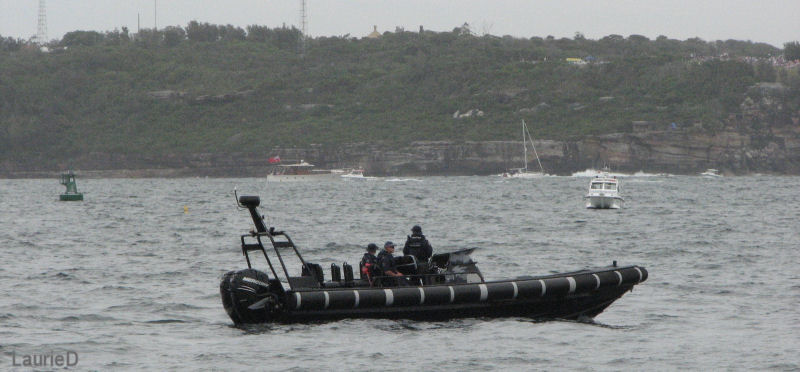 The racing yachts were circling in Sydney Harbour, waiting for the official 13:00 start time. Lots of private and commercial boats were motoring around, too, waiting to pace the racers out of the harbor.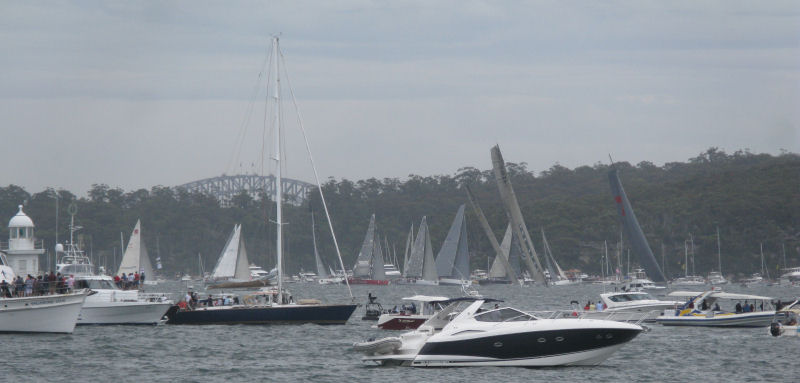 When the time came, the yachts straightened out and headed into the headwinds, tacking back and forth furiously. All the other spectator boats on the water made it hard to see anything of the racing boats.
According to the locals, these two boats were the favorites. (I think they were the first two finishers, a couple days later, but there had been some technical protest over who actually won. I never heard the official outcome, but then I really don't care.)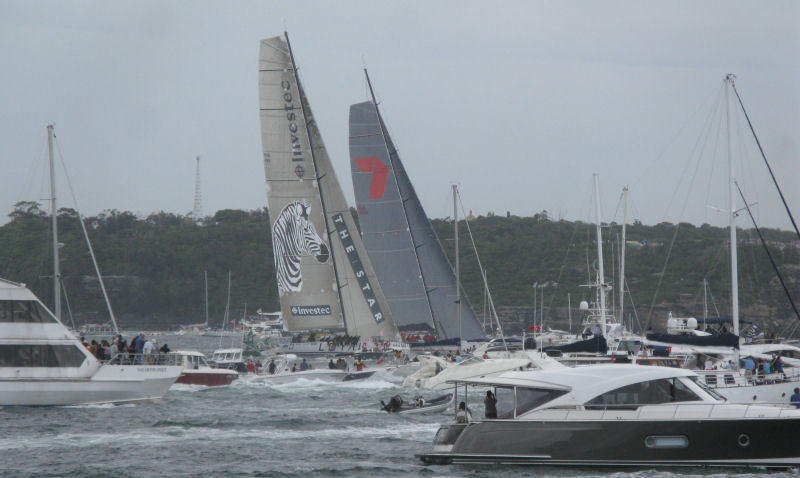 Fifteen minutes later, most of the boats were out of the harbor, and the spectacle was over. Good timing, too, since it started to rain lightly as we headed for the ferry dock.
After the ferry ride back into the city and the sprinkles done, we walked through the Botanical Gardens. It was a large park-like area, very nice.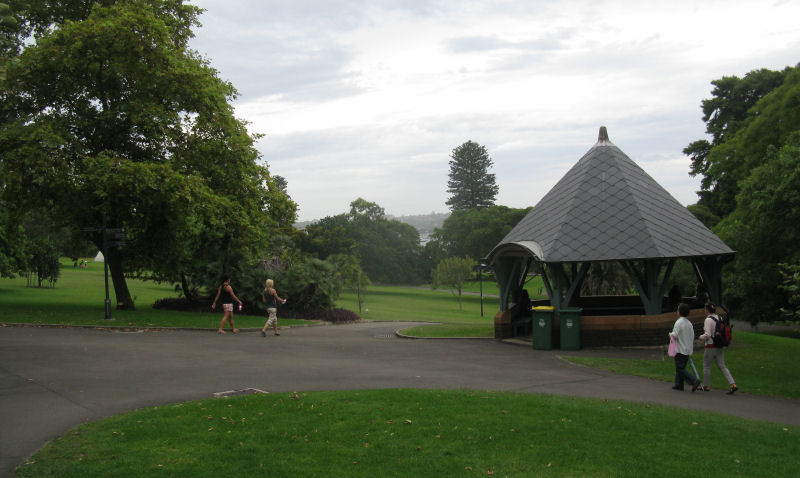 That's a greenhouse pyramid in the middle of the gardens.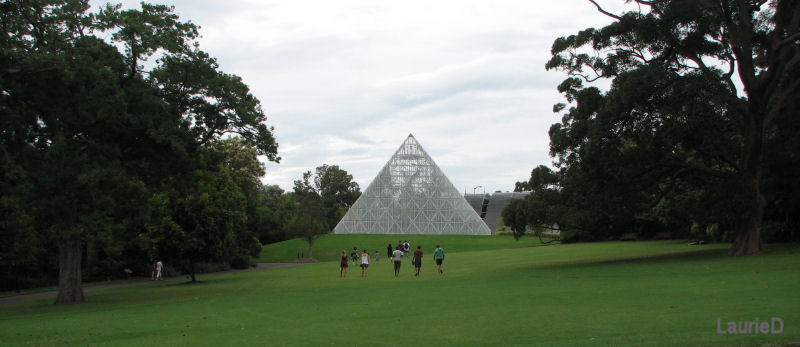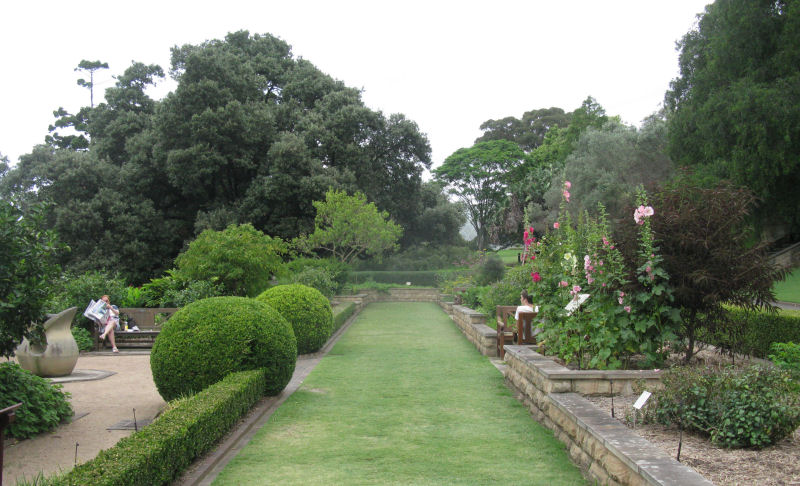 We continued to Australian Museum and gave it a try. Frankly, I think the Denver Museum of Nature and Science is much better, but I'm probably biased. Still, it had some nice displays. One section was dedicated to skeletons of many different animals.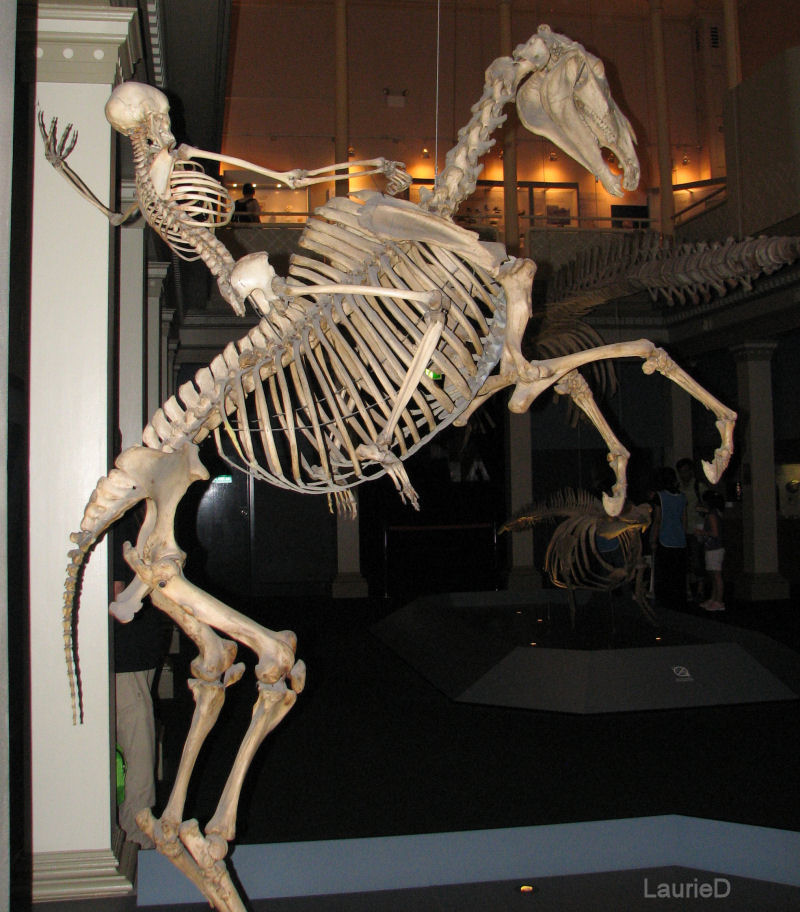 Several dinosaurs, too.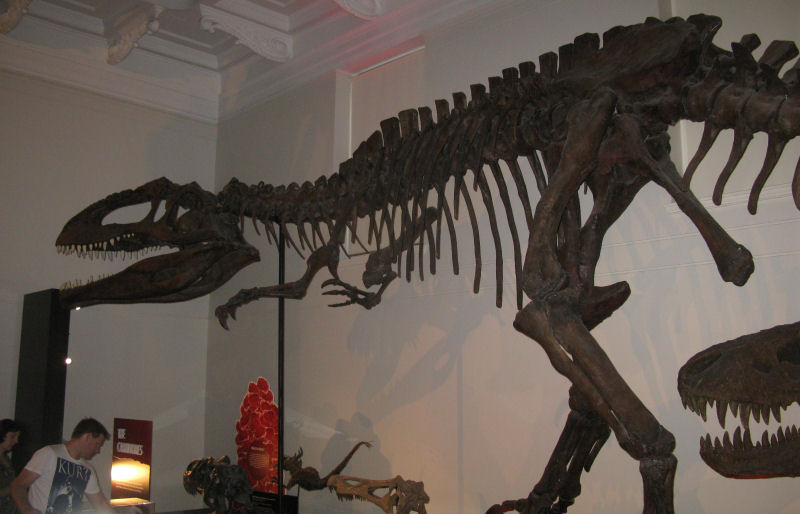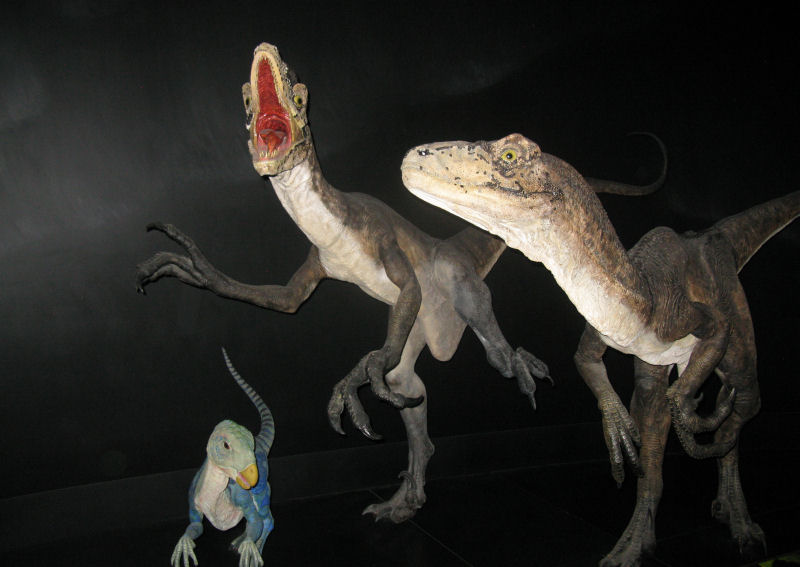 We spent over an hour in the museum, then went through Hyde Park again. There is a veterans' memorial in the south end of the park.
Our goal was Sydney's Chinatown to find a good Dim Sum restaurant.
The Chinatown district was quite small, only a few distinct blocks.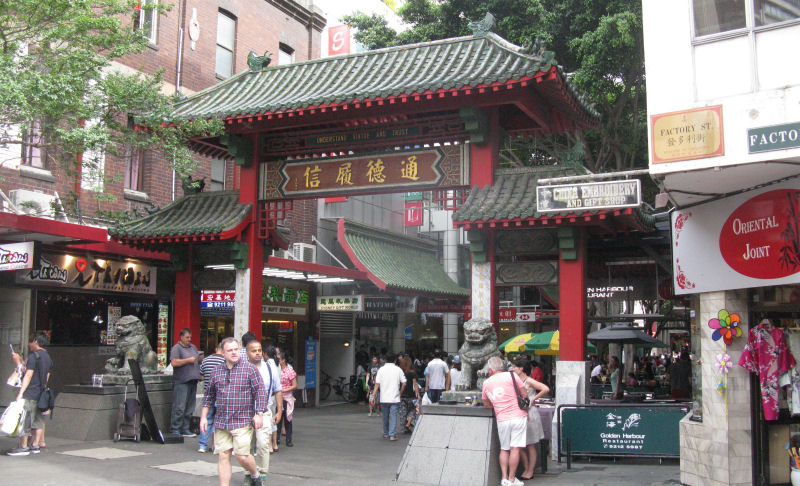 I found what looked like a good Dim Sum / Yum Cha restaurant, so we planned to come back the next day for lunch.
South of Chinatown was a huge indoor flea market. Marked on maps as both Hay Market and Paddy's Market, it looks like it was once a freight warehouse. The lower level was hundreds of small stalls selling various kinds of crap. Upstairs is where you found the up-scale shops and the restaurants.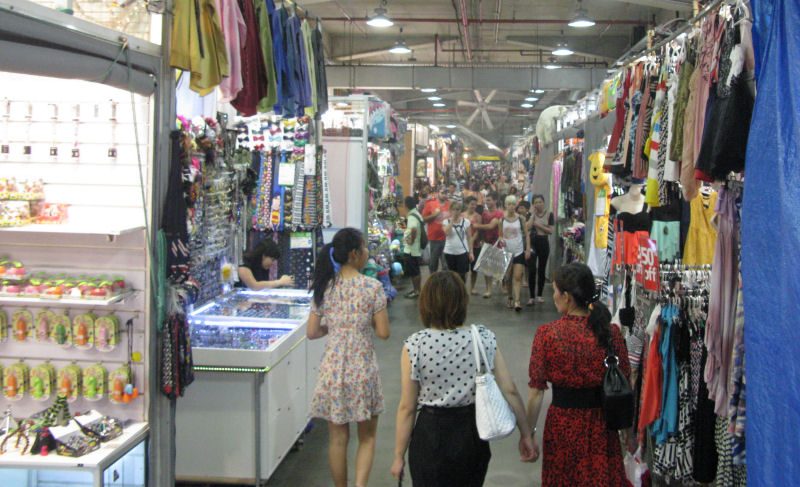 We walked back toward the downtown area, going first to see the Chinese Friendship Garden. It turns out that Chinese friendship costs eight bucks, so we passed on it.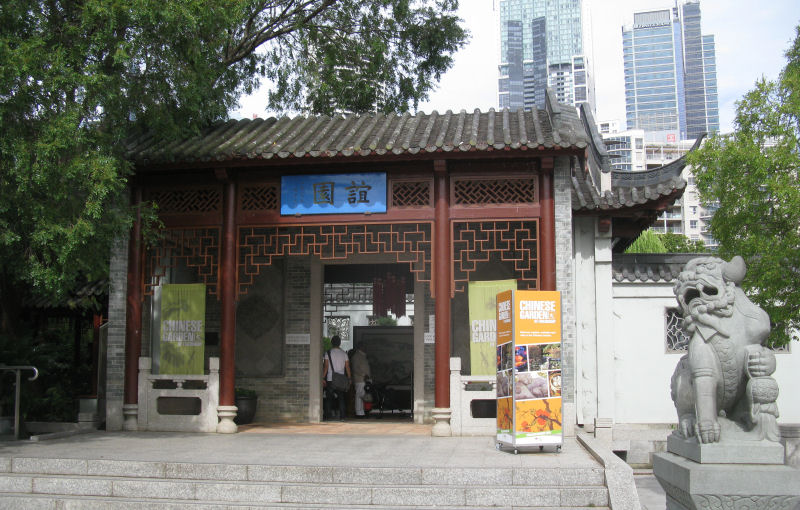 Near the concert and entertainment district, there was a large playground that was nice. Lots of different kinds of water features made it easy to cool off. This is only a small part of the water park.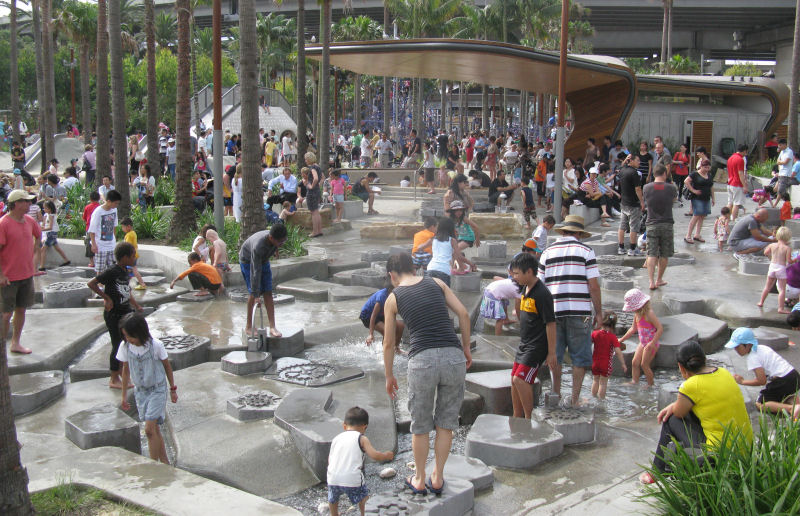 Geez, they didn't have playgrounds like this when I was a kid! No fair!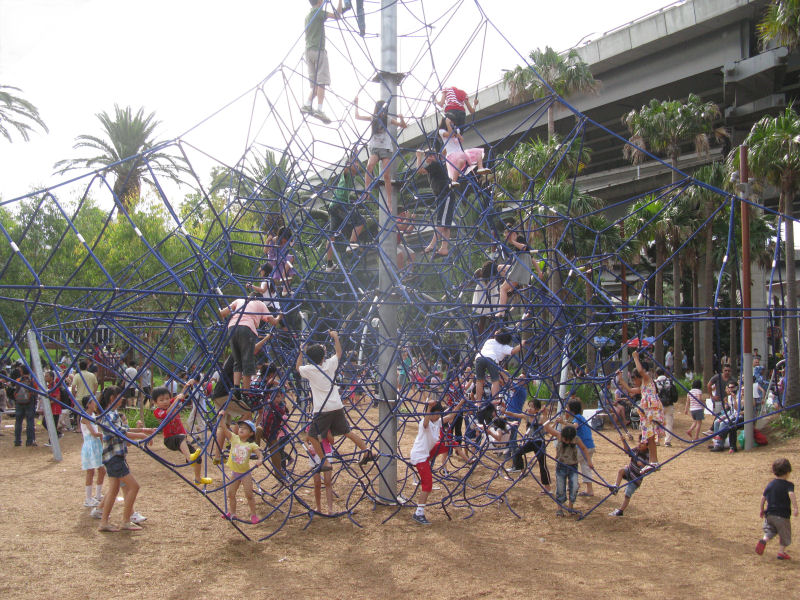 Our feet were pretty tired by then, so we plopped down in the Tokio Hotel lounge at Darling Harbour and had a pitcher of white wine sangria. Yum.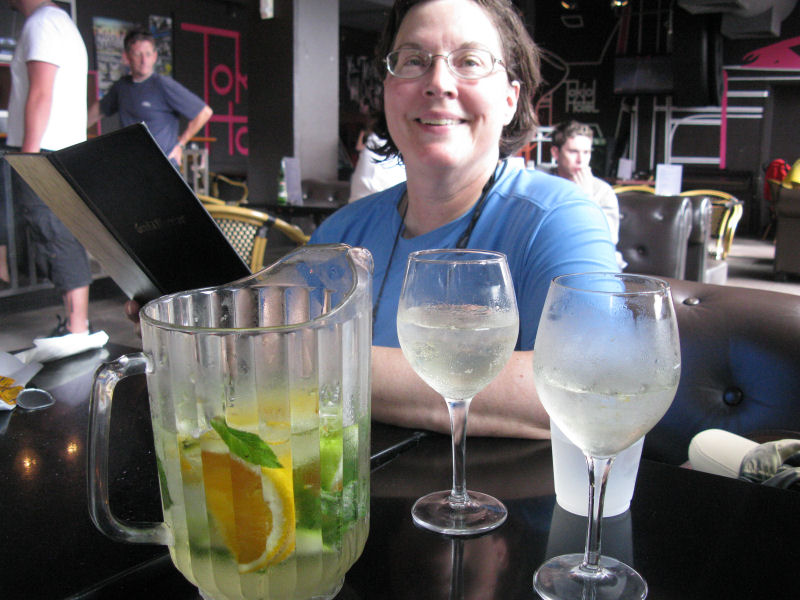 Since we had no other plans for the day, we stayed quite a while, snacking on a seafood platter and some meat sausages. Those aren't onion rings, they are calamari and they were the most tender I have ever had.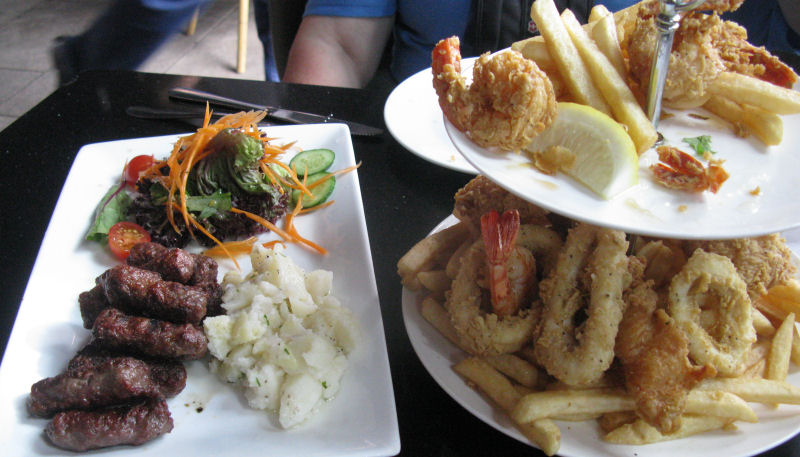 After a couple hours, we went out and walked up and down both sides of the harbor. Another large spiral water feature was captivating. Water was flowing down and around the spiral, corrugated steps creating a dazzling optical illusion that you had to see to appreciate. I was sorely tempted to take off my shoes and splash around,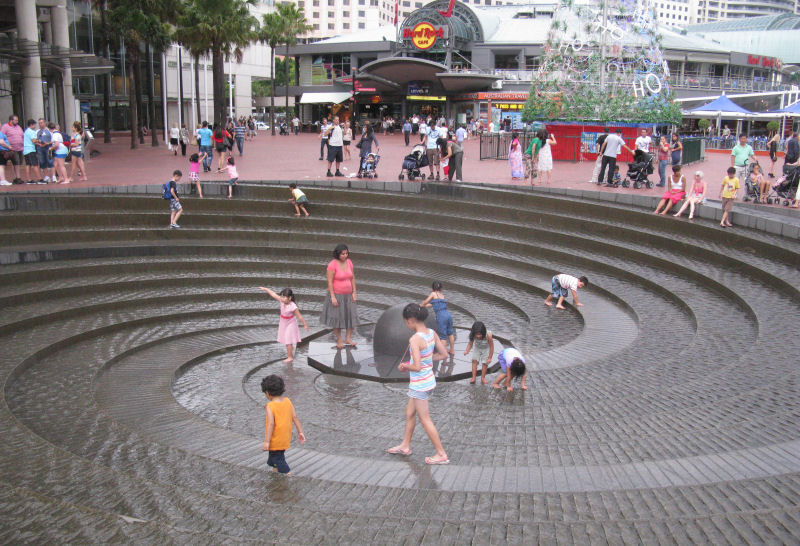 I'm sure that the National Maritime Museum here was better than the one we had seen in Townsville (it would have to be), but it was too late to see it today and we weren't likely to get to it another time. I've seen others, including the one in San Francisco, which was fascinating. If I return to Sydney, I'll make a point of seeing the museum.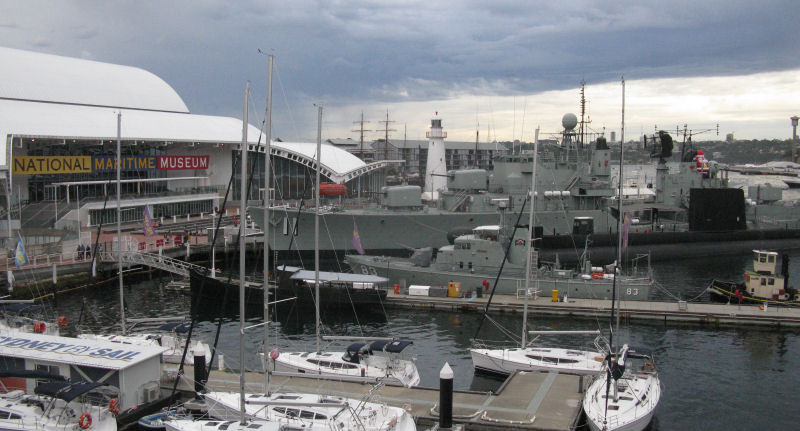 We did get to see the Krait, which we had learned about in Townsville.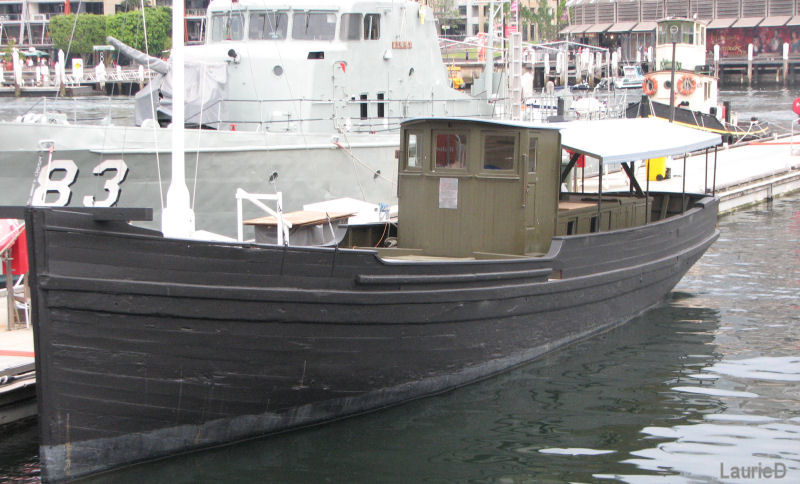 Older and newer war ships were moored here.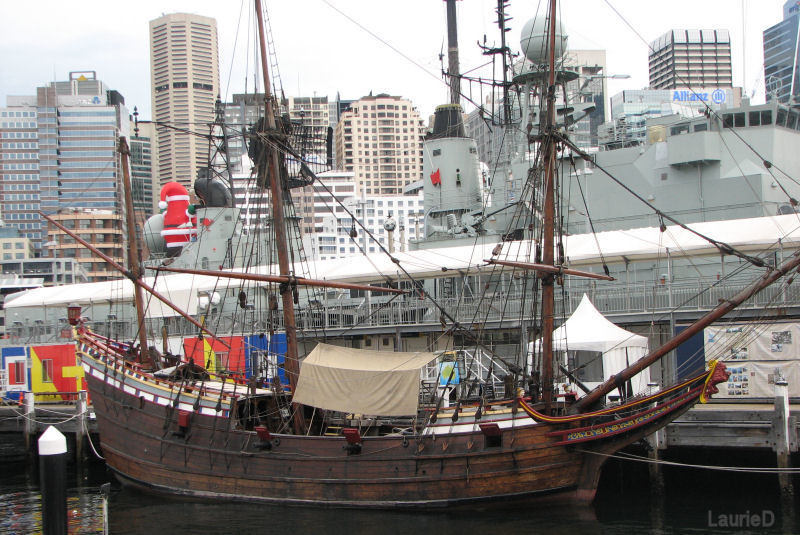 We ended up back at the Tokio Hotel lounge, and since there was going to be live music, we staked out a table near the stage. Another couple of pitchers of wine sangria later, and we got to watch the band set up. At first, it didn't look encouraging, but the group ended up being pretty good, covering a lot of songs and doing some of their own. They were apparently popular locally, since a lot of people knew their songs and sang along. I never even saw the name of the group anywhere, so I don't know who they were.
The gal in the middle with the sax was also the lead singer. Unfortunately, she tended to sing like Betty Boop, which didn't always suit the music.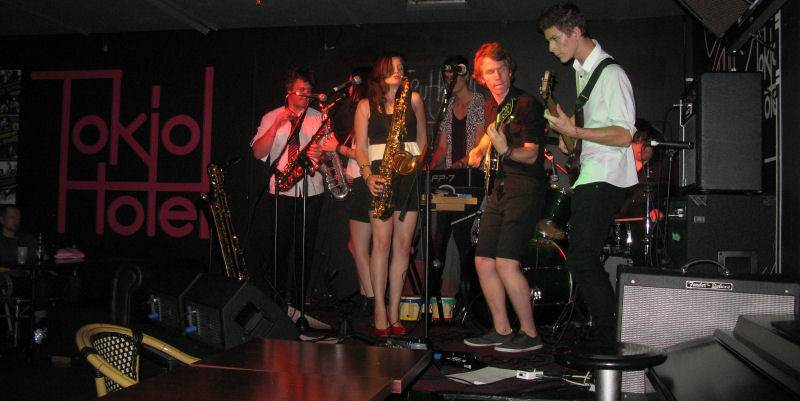 At about 22:00, we gave up. The competing throbbing noise from another nightclub (disco) above us finally wore us out. We headed back to the hotel and I did some writing.
Tuesday, 27 December, 2011
-------------------------------------
We slept late enough that our planned Dim Sum lunch was going to be our breakfast. We bought Monorail tickets that were good all day, and hopped on just a block from our hotel.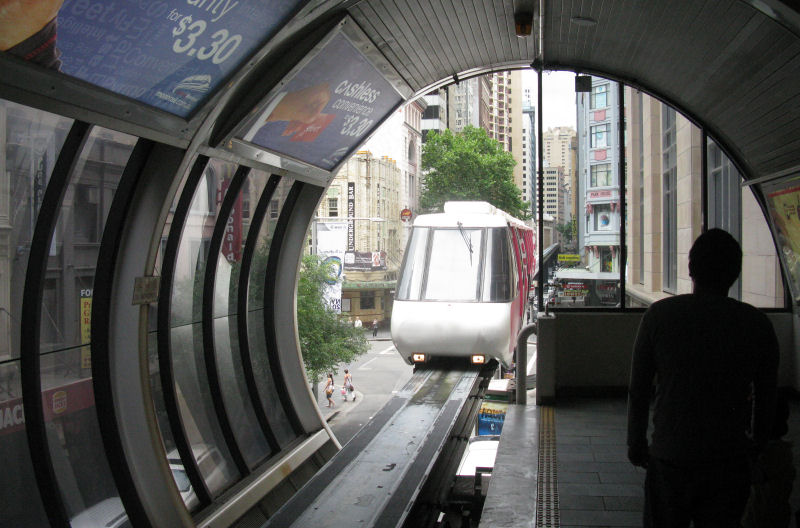 We got off near Chinatown and within sixty seconds of walking into the restaurant, we were seated and ready for the food carts to come around. Very efficient, but then you would have to be, in a place as large and crowded as this.
As with most Yum Cha and Dim Sum restaurants, servers come around regularly with different types of steamed, fried or baked foods and sometimes soups. You indicate what you want and they mark in on your table's bill. Most of the patrons were Chinese, but there were lots of tourists, too.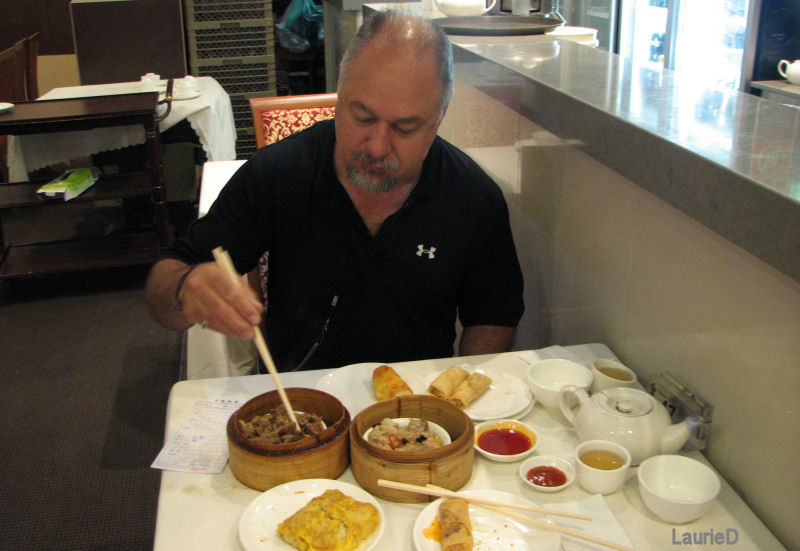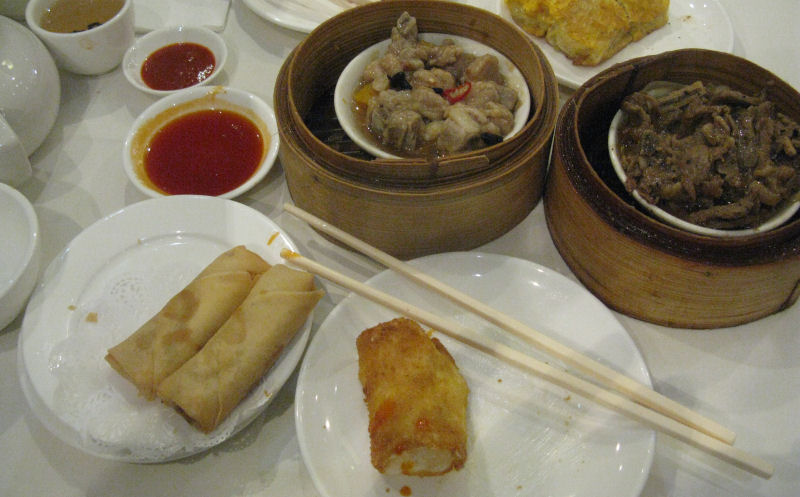 After ten different servings, we had some mango custard for dessert and walked out of the place well satisfied.
We walked the short distance to the Power Museum, which had been recommended to us. The building was once the city's power plant, but has since been expanded with more modern additions. Large sections of the museum were under renovation, so a lot of it was off-limits.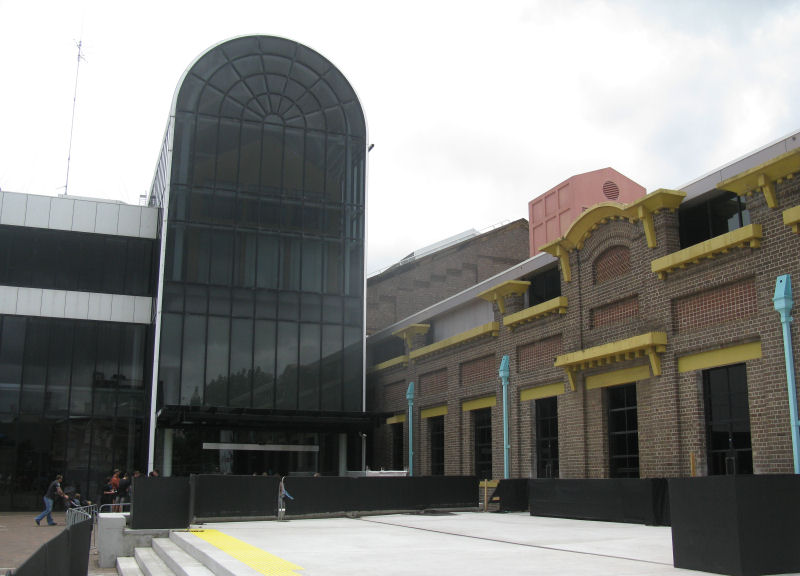 The museum was currently hosting a Harry Potter World exposition, so most of the people here had come for that. Huge lines of pre-teens crowded the foyer and initial displays.
Since this was a power museum, most of the major displays were about steam power, including locomotives from Australia. There were also some huge old steam engines used in mining and other industries.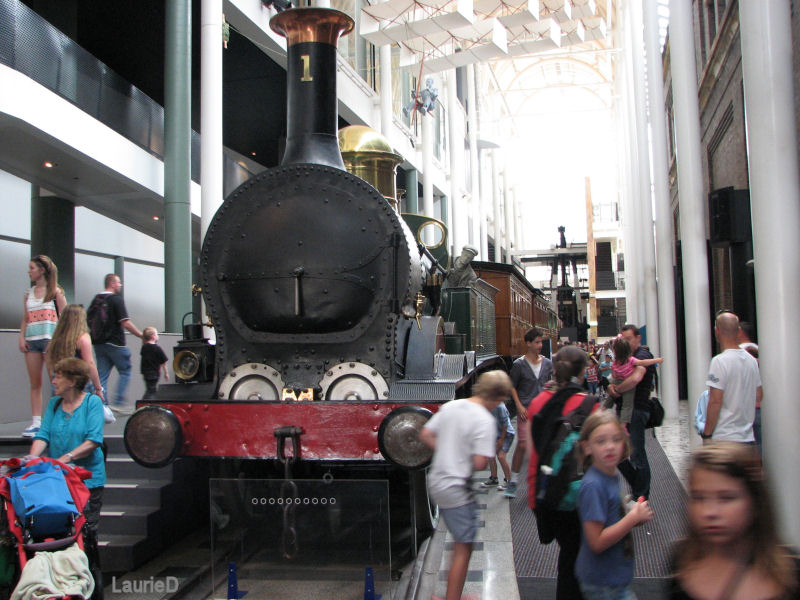 I was once again foiled by my camera's limited wide-angle lens. Fooey. The museum didn't have large open areas, so I usually couldn't get far enough away from things to get them entirely into the photo.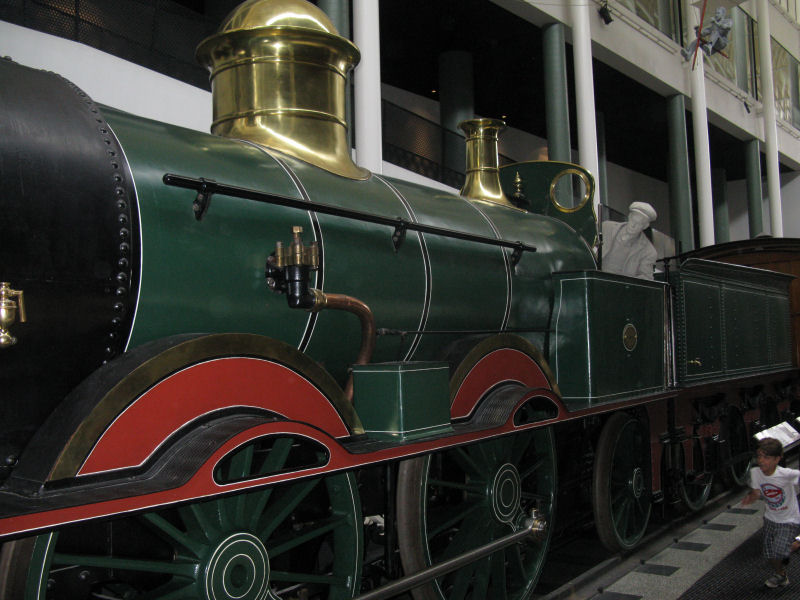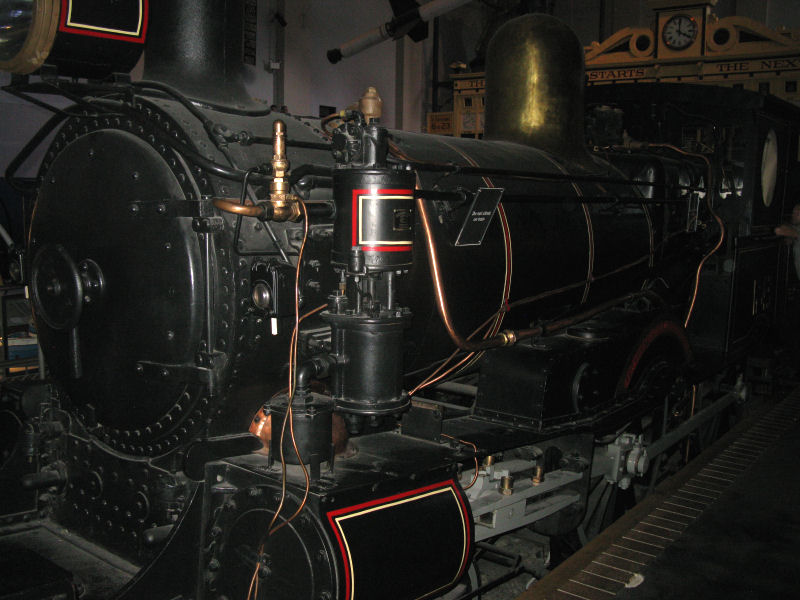 Transportation was another theme, from horse-drawn to spaceflight.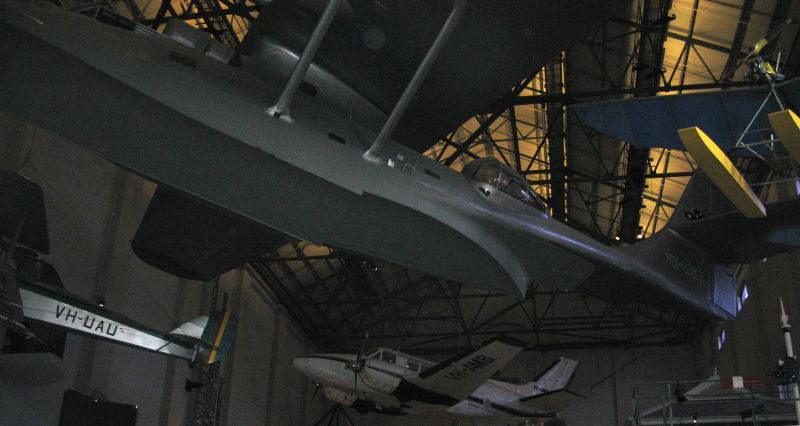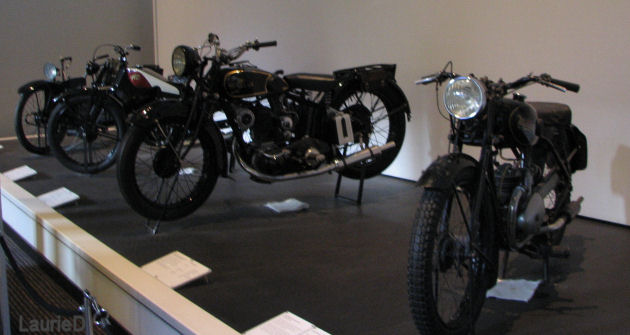 A mock-up section of the International Space Station.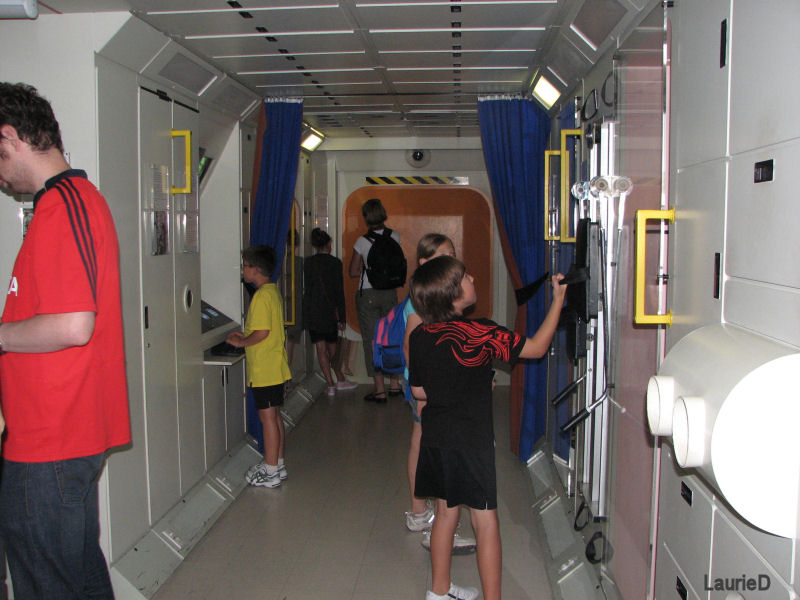 There was a small but interesting display of ancient Korean metalworking, but I forgot to take photos.
One small wing was dedicated to the evolution of musical instruments.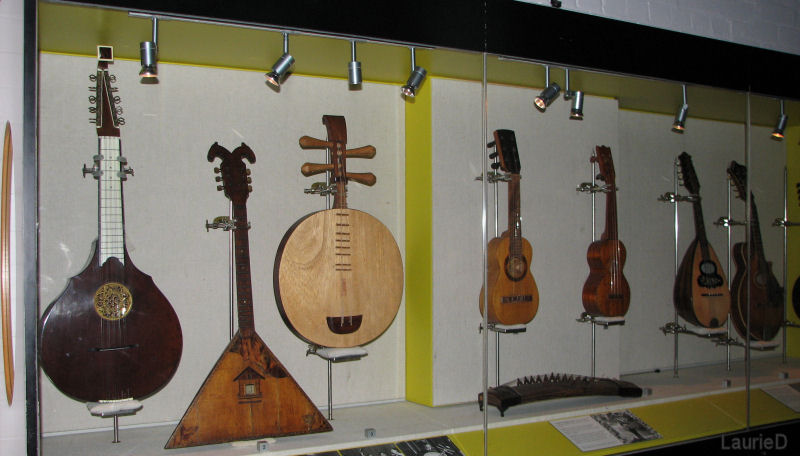 Again, I enjoyed the visit but left a little disappointed. My favorite museum so far (this entire trip) has been the Army Museum in New Zealand.
We relaxed in a pub for a while then walked a short distance to Darling Harbour and caught the Monorail at the Pyrmont Bridge.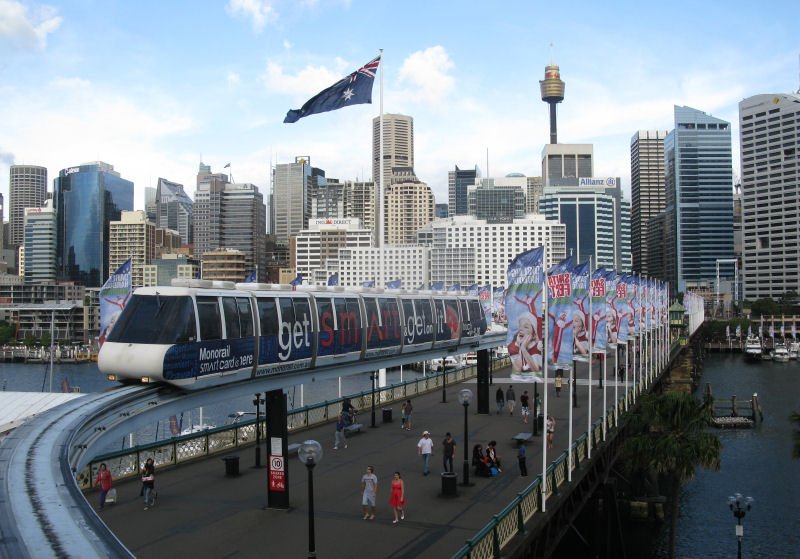 I did some writing in our room, and we watched TV to catch up on the news. The Boxing Day Test cricket match was still in the news, and updates on the yacht race were always coming in.
Wednesday, 28 December, 2011
-----------------------------------------
We finally made some use of the car and got out of Sydney. We drove into the Blue Mountains region and stopped at an information shack for suggestions on how best to spend the day.
Armed with a couple of maps, we went to several overlook stops. Most of them were packed with cars and parking was always a problem. Some of the overlooks were near the parking area, but many required a longer walk than we were willing to do. We did some of the short hikes.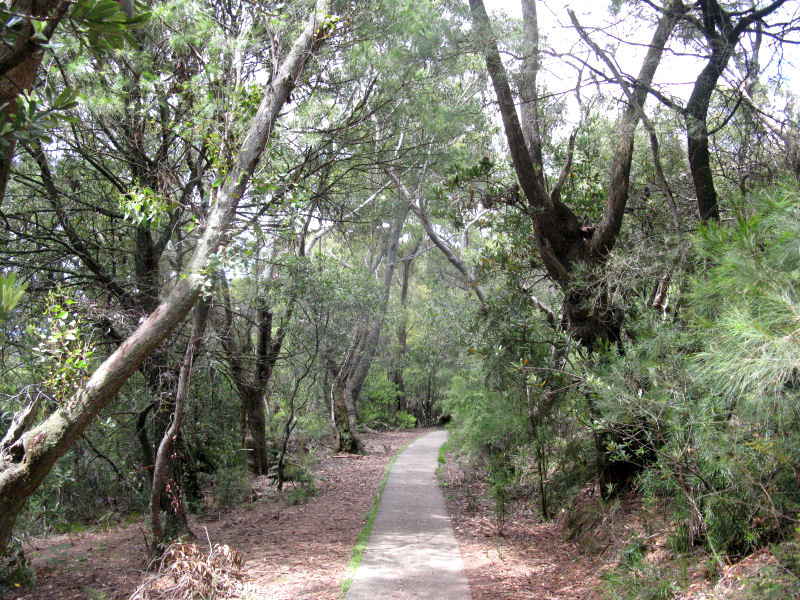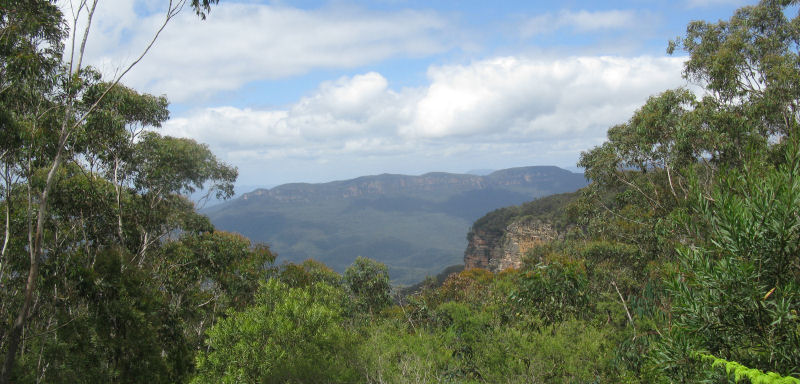 It was a slightly hazy day, but that kept it from getting very hot.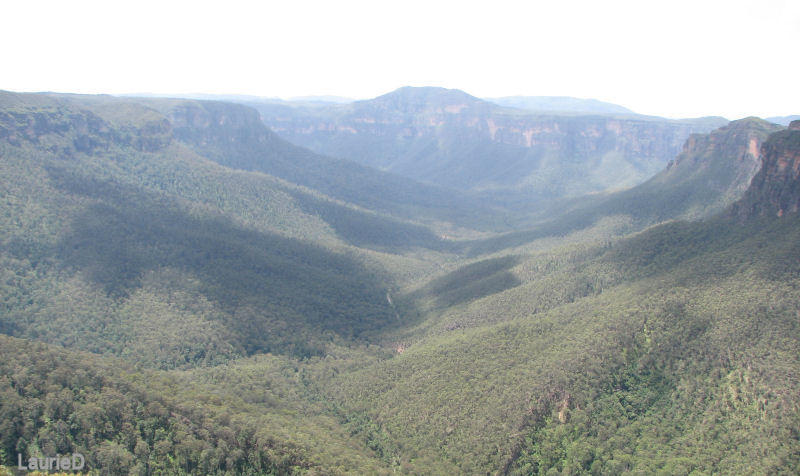 Overall, most of the views were nice, but they were pretty mundane for people from Colorado and other mountainous areas. We walked down to one "waterfall," only to find this.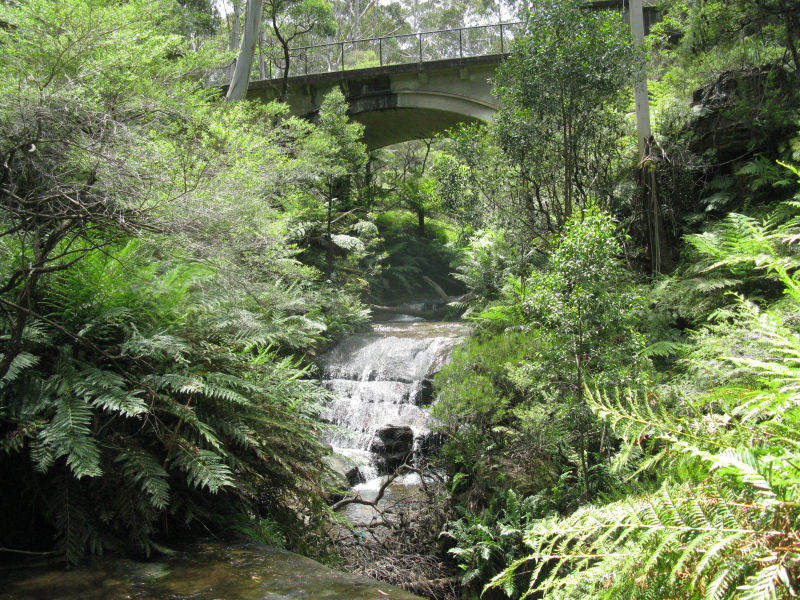 Okay, it was cute, but it wasn't much of a waterfall. The restrooms on the trail had been sculpted in concrete to look like a big rock, and I thought it was more interesting than the waterfall.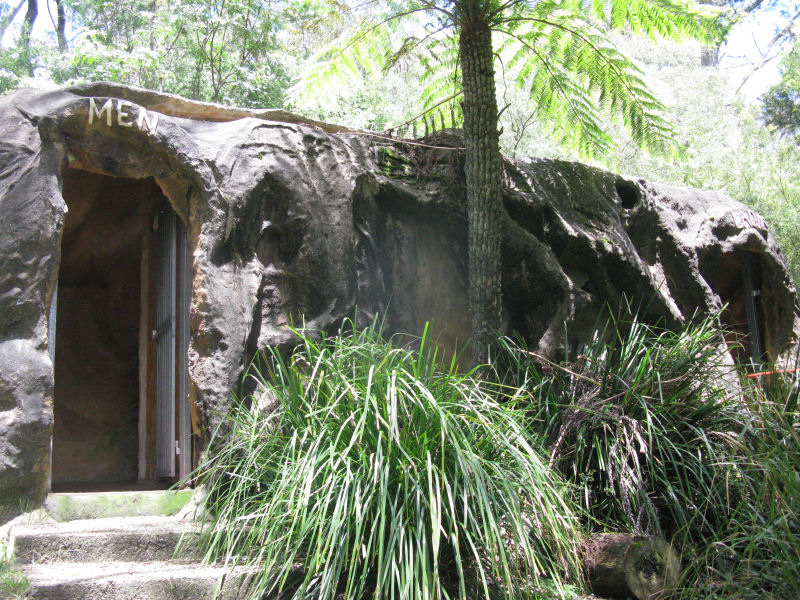 I don't mean to demean the beauty of the area or to discourage anyone from enjoying it, so don't take it that way, please. If we had been in a mood to take some of the hikes, we might have enjoyed the area more.
The Echo Point destination was very touristy. There was another amusement park-type of development nearby, but we skipped it.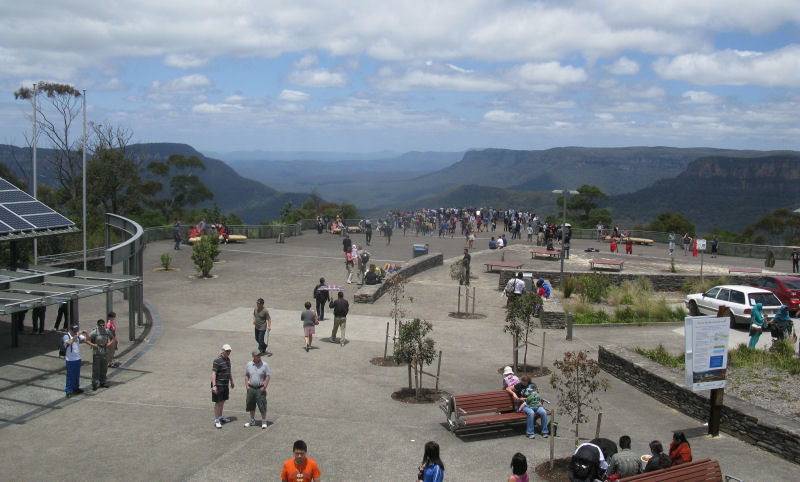 The Three Sisters were a well-known formation at Echo Point.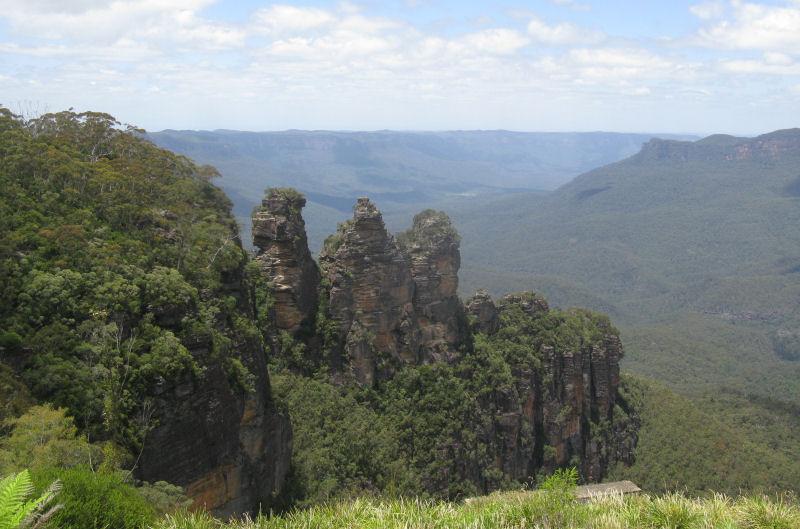 After some ice cream, Laurie found a bottle of [yellow tail] merlot, so the stop had been worth it after all.
We drove and walked around several more locations in The Blue Mountains, and some of the lesser roads were very nice. They would have been better on a motorcycle.
One of the tourist roads went to the Jenolan Caves, so we headed there.
You couldn't miss the caves. I mean, you really could not miss them. The road went right through one of them.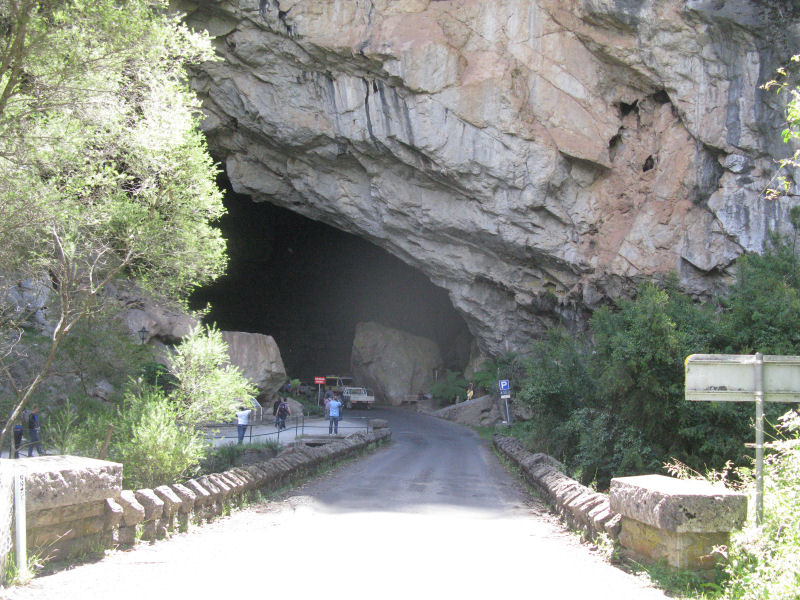 The only way to walk through the main cave was to walk on the road itself, so you had to watch for traffic.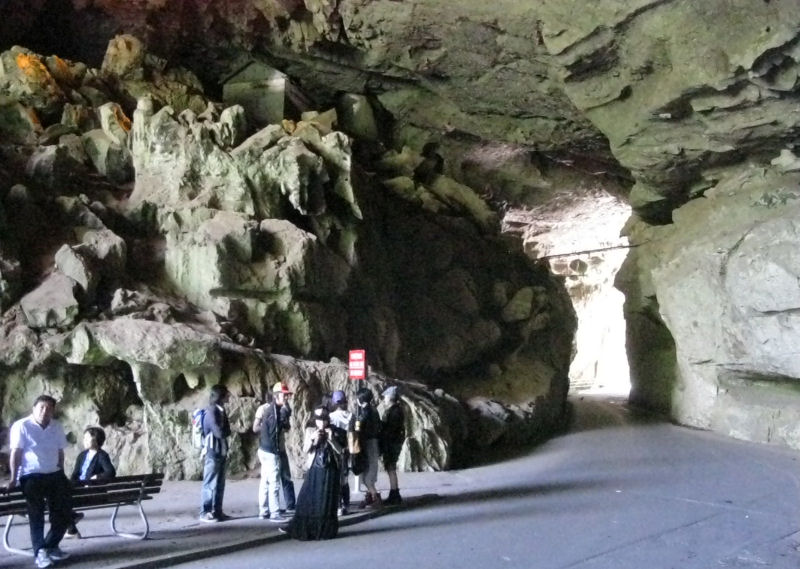 The passage through the cave was fairly short, and we came out the other side to find a lodge and some shops. Walking tours (for which you must pay) of the better caves can be booked here, and they leave fairly often each day.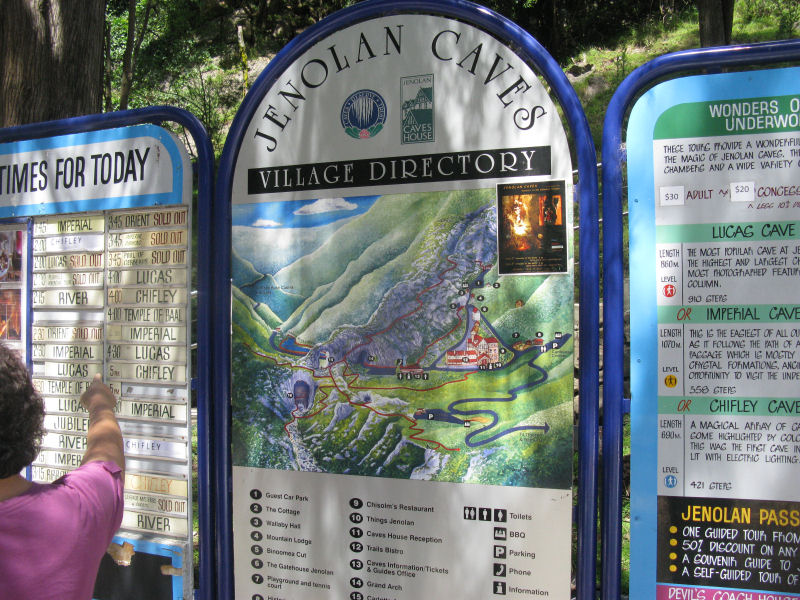 We spent an hour or so walking through the free caves and trails. The caves that you had to pay to see were either secured with gates that you needed a ticket to pass, or you could only go with a paid guide. If we were staying locally, it might have been worth it to spend more of our day here.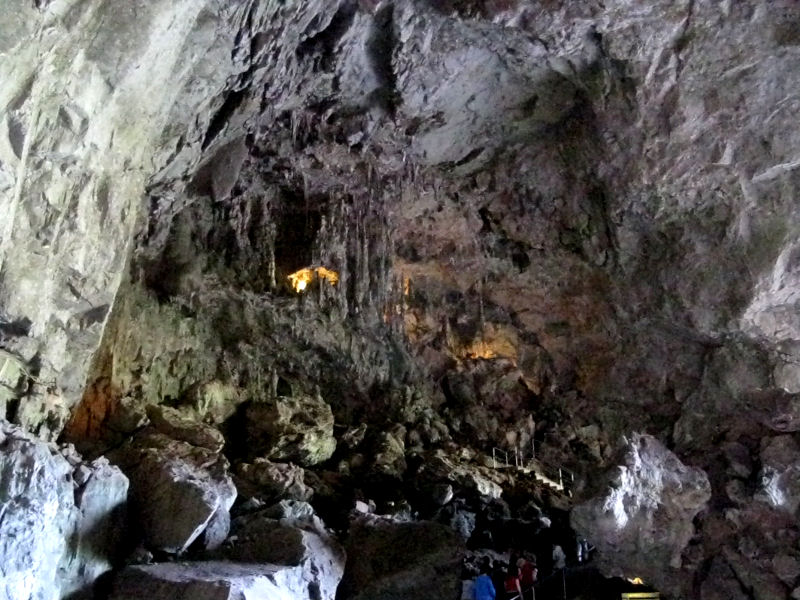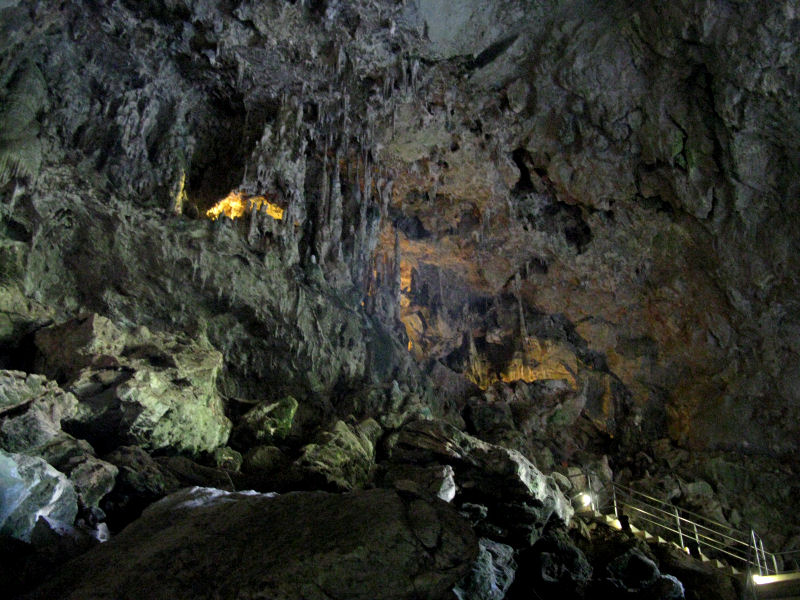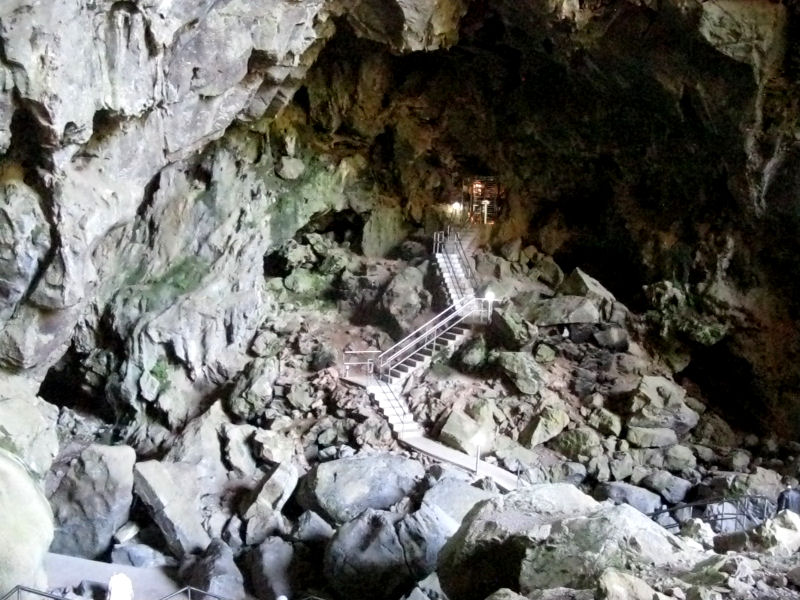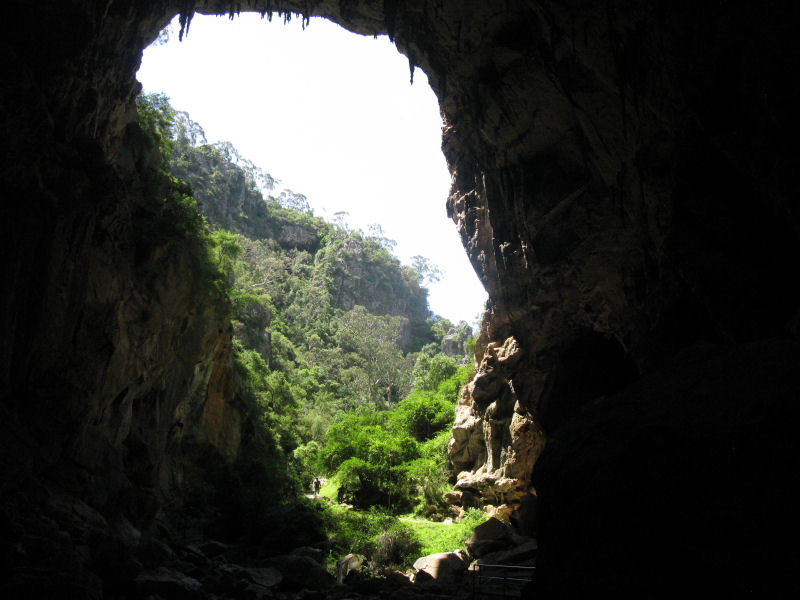 We had a late lunch at the lodge and took off again. One region was thick with fruit orchards, and was apparently famous for its apple pies.
Back in Sydney, we grabbed sandwiches at Subway and headed back to our hotel. I did some laundry and spent the rest of the evening writing.
Thursday, 29 December, 2011
--------------------------------------
Since we had to check out of the hotel much earlier than we needed to be at the airport, we packed up and loaded everything into our tiny rental car.
We fueled up the car (before planning to drop it off at the airport) but then decided that we had a lot of time to kill before our flight. So, we drove around Sydney at random, just seeing more of the suburbs. We found a shopping mall and had breakfast there.
Even after we had turned the car in, we had to wait a while before we could check in for our flight. During the check-in, I somehow managed to drop my favorite fleece jacket in the airport and never found it again. Rats.
The return flight to Los Angeles was on United, which was a bummer, since we didn't have in-seat video screens and freedom to choose from a large selection of movies and TV shows to watch. The few movies that were shown on the flight were okay, since I hadn't seen them before, but none of them would have been my choice to watch. And the one-year-old kid in the seat in front of me was very well behaved and didn't bawl the whole way home. That was a blessing in itself.
We had a lot of time to kill in LA again, so we found a sports bar and stayed there watching football news on the TV.
The flight to Denver was easy, and my brother-in-law was there to drive us home.
So, that's all I have to say about that.
Oh, and for those who were as shocked as we were at what a $16 margarita looks like in New Zealand...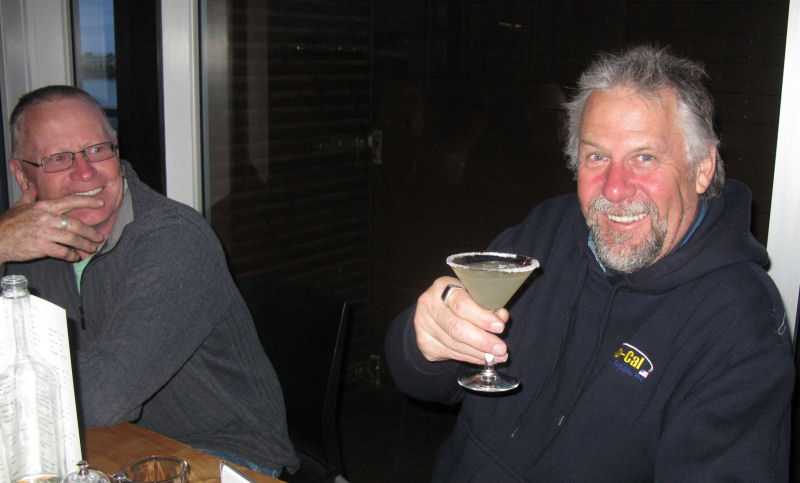 Rest assured that there are better values back in the States.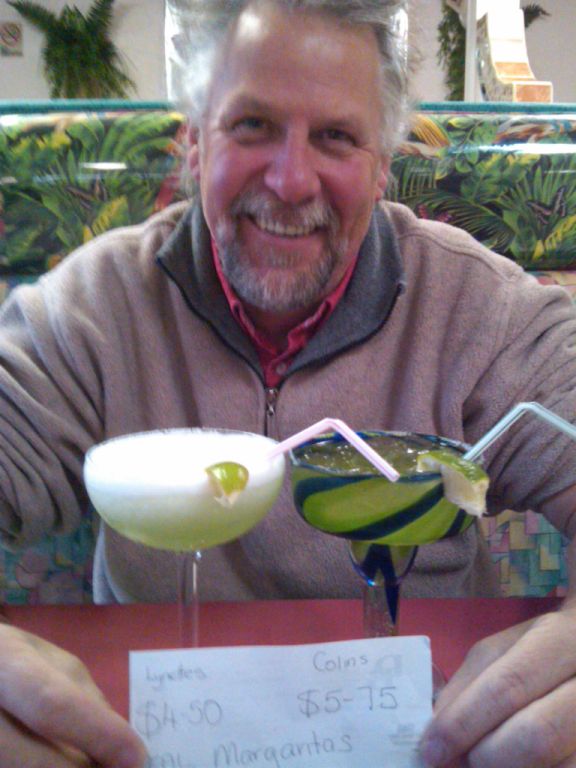 Better values, still, at El Senor Sol's, on the south side of Denver.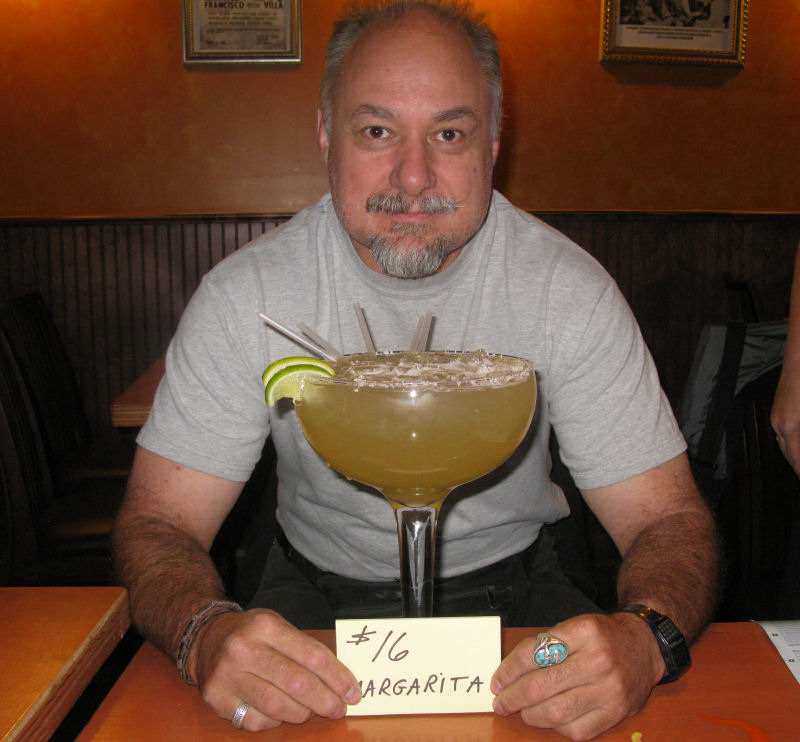 Now, THAT'S what a $16 margarita is supposed to look like, Colin.
<< PREVIOUS page -- Australia, Brisbane to Townsville >> << NEXT page -- Afterthoughts >>
[ ERRANT-RONIN HOME ] [ Prudhoe Bay to Ushuaia Home Page ] [ Ride Reports Home Page ]