Back to the Yukon and into Alaska again, June-July, 2010

Montana, Yellowstone Park, back to Darby, Montana
=======================================


Wednesday, July 14, 2010, continued
----------------------------------------------

The U.S. agent warned us about free-range cattle just ahead, and he was right.




When we got to St. Mary, we found that it was infested with bikers, and there wasn't a room to be had. Laurie started calling around for a room (she needed to get a calling card, since there was no cell phone signal on either of our phones). She skipped an available room nearby because it had shared bathroom facilities and booked a room at the Aspenwood Inn, further away toward Browning.

The ride south from St. Mary was twisty and nice.

We rode past the Aspenwood (which looked like a converted farmhouse with not much else around it) and went several miles farther into Browning to see what might be available there. The guy in the first motel we stopped at said that everything around the area was booked and he suggested we go back to the Aspenwood, so that's what we did. The Aspenwood has camping and RV spaces behind the main house.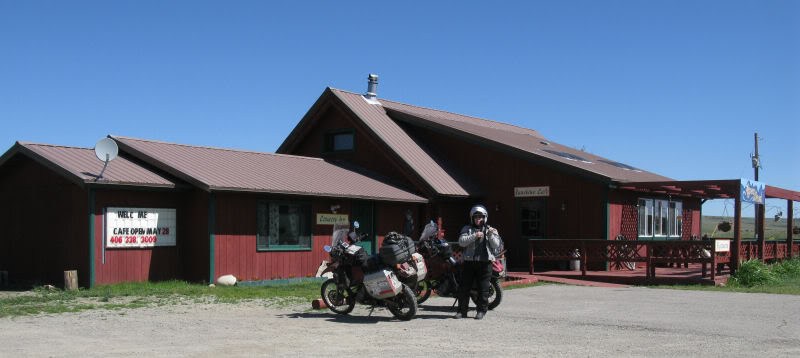 The room we got at the Aspenwood was the remodeled attic. Rustic and big, it had some odd angles and an inconvenient layout, but it was nicely done.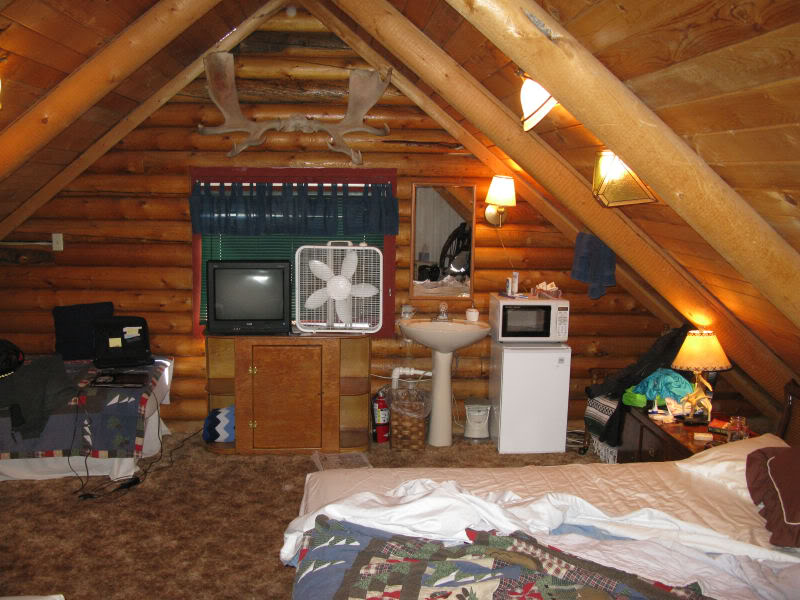 We had a chance to talk with the current owner, Terri, and she told us about the farmhouse's original owner converting her home into a B&B some years ago. Terri and her husband, John have been slowly getting some needed repairs and remodeling done. The cafe in the Inn was closed on Wednesdays (because that's when they go grocery shopping each week), so we hadn't met her until now.

We told Terri that we had unexpectedly stayed another night in Canmore, but had planned on being in this area last night. She told us that we had been very lucky to have stayed in Canmore last night, because the weather had been so cold and windy that all the campers from a hundred miles around had taken every available room in the region. The next couple of days were supposed to be completely clear and warm, so our timing for riding in the Park was good.

Terri gave us some advice on riding Glacier Park tomorrow, and we told her that we might do that and stay here again the next night. As of now, the room was still available, so that was an option.

Since she is the cook and the boss, Terri told us that breakfast was whenever we wanted it, and checkout was noon-ish.


Thursday, July 15, 2010
------------------------------

Bacon... bacon... bacon. Bacon!

We had told Terri that we usually set our alarm at 09:00, and it was about then that the aroma of breakfast wafted up from the kitchen below us.

Everything on the breakfast menu was included with the room, and the food Terri served us was ample and excellent.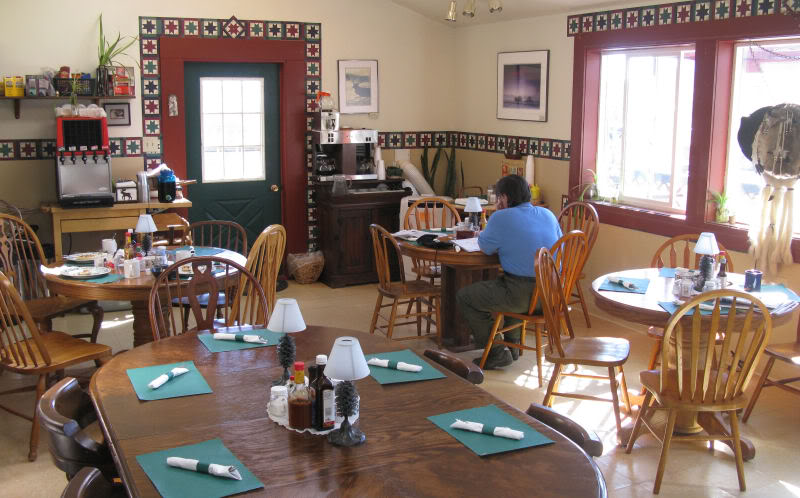 When other guests left the dining room, we had a chance to talk more with Terri. We learned that she had attended the U.S. Air Force Academy in Colorado Springs for a few years before having a knee damaged too badly to continue. It wasn't until a couple of years later that knee-repair surgery improved enough to give her full use of her knee again. It had been the end of her military career, but she had prevailed. She did well at finding a new course to her life. Good for her.

Myself, Terri, Laurie.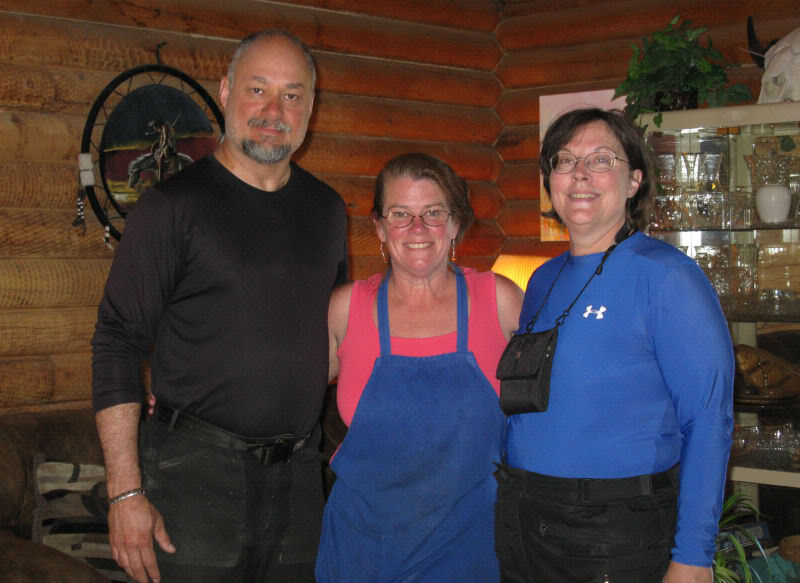 There is a continental-style breakfast setup in the common area on the main floor, and all guests are welcome to it. (We had scarfed some muffins last night, since the kitchen had been closed and there was nothing else around.) All in all, I thought the place was very nice.

Laurie and I got geared up and headed back toward St. Mary and the east entrance to Glacier National Park. The large tree-damaged area was due to a fire in 2006. The conifers still looked charred but the aspens and other deciduous trees had shed their bark and now looked bleached.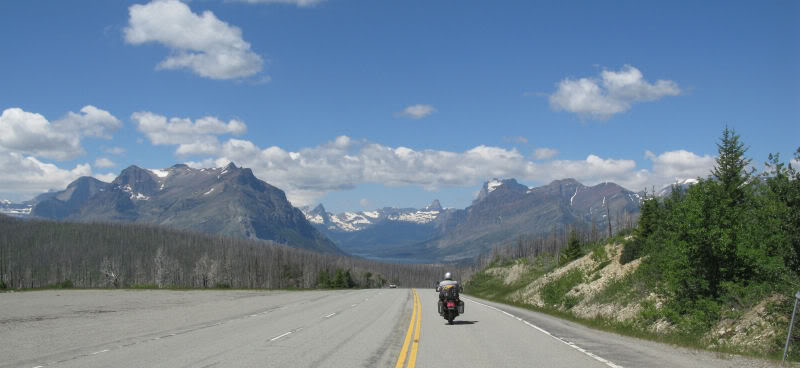 Laurie stopped in St. Mary to put on her rain jacket, thinking that it would get cold as we got into higher altitudes. Actually, it stayed pretty warm, and you aren't moving very fast once you are in the park, so light jackets proved good enough for most riders. The red buses were all over, taking tourists through the park and giving them a narrated tour.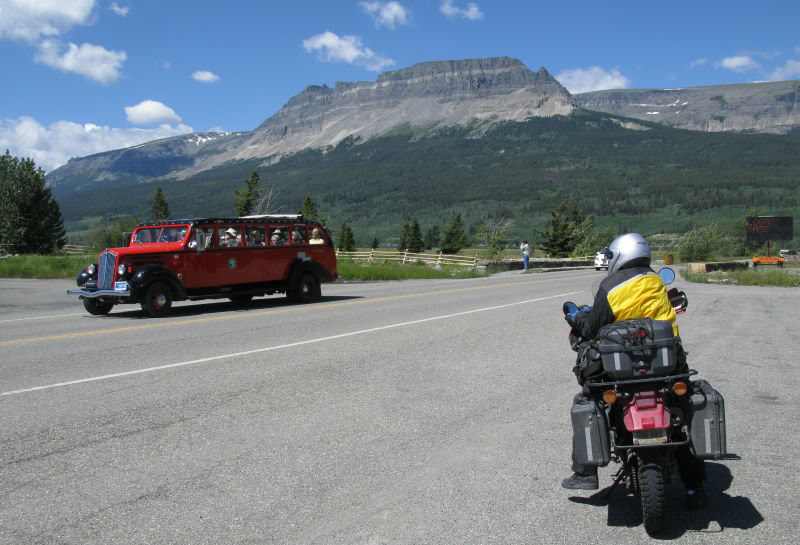 Despite several road-work areas, the ride was nice and scenic.

Photo interlude: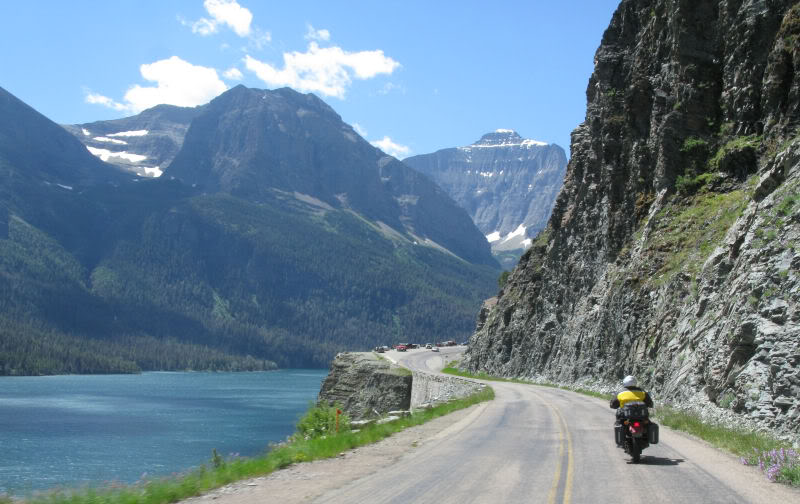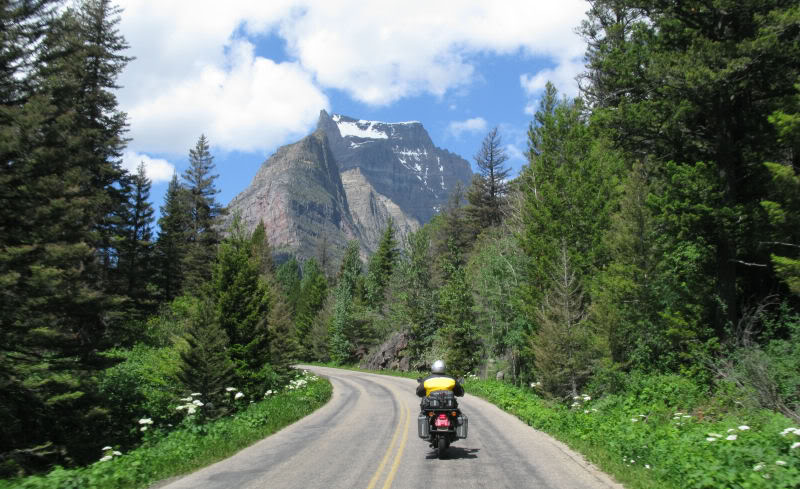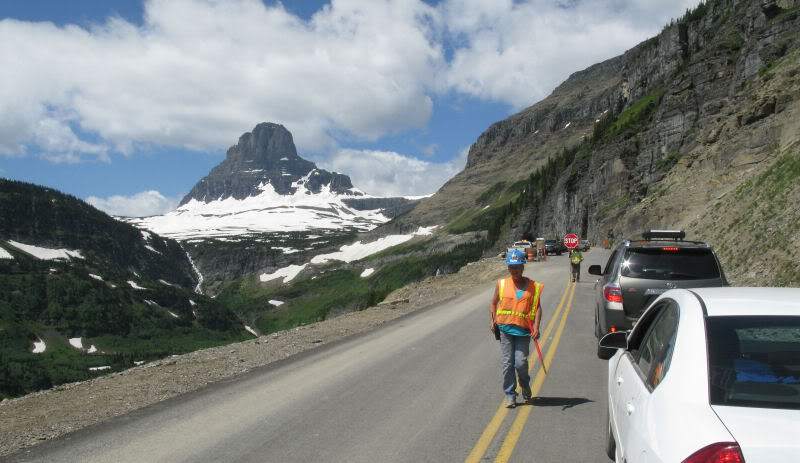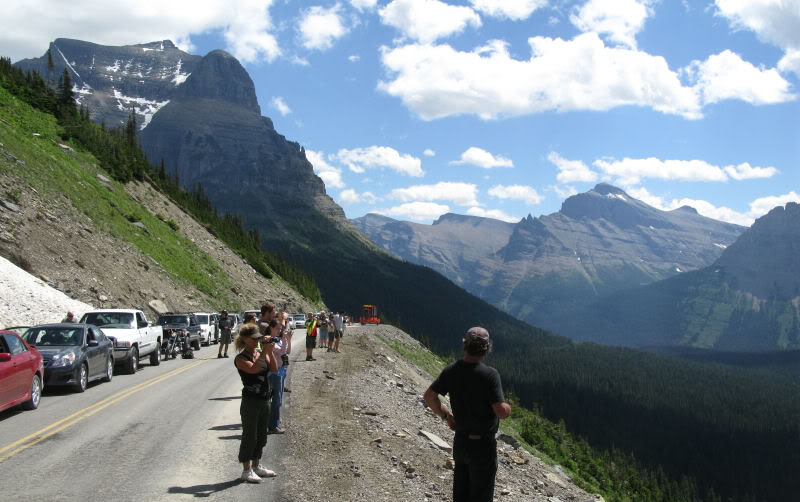 We stopped (as did virtually everyone else) at Logan Pass to walk around a while. Lots of people hiked up onto the snow-covered ridges.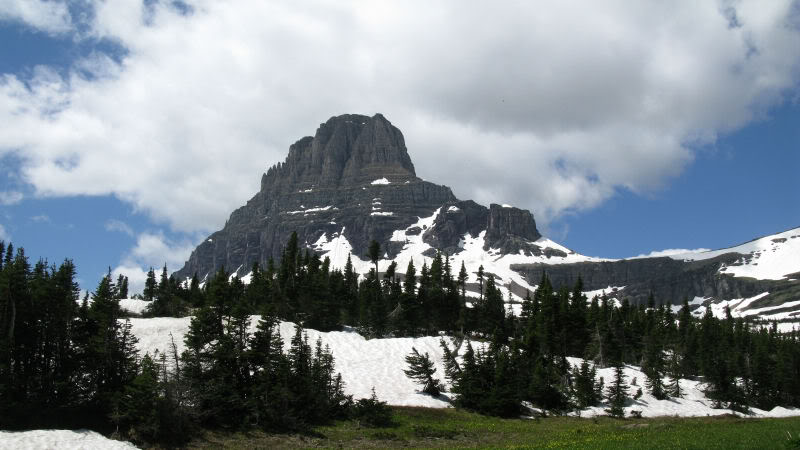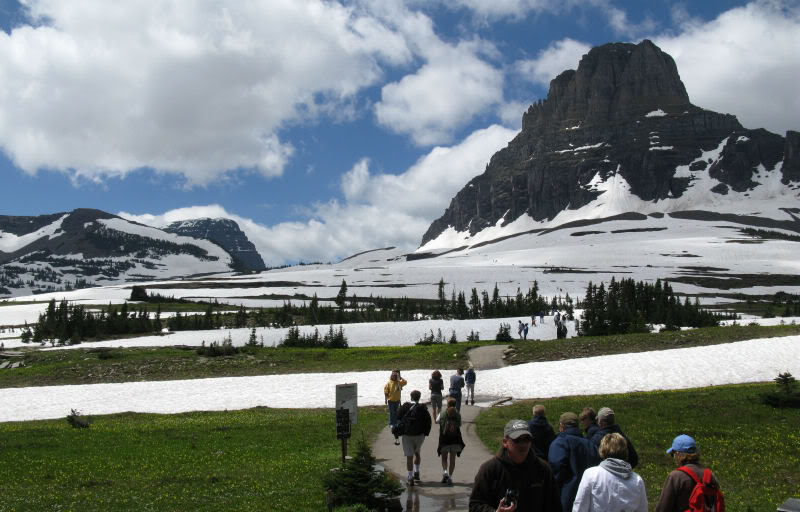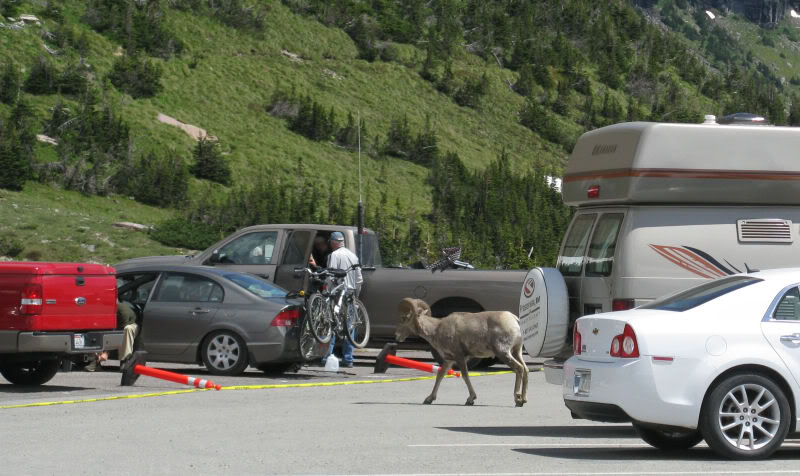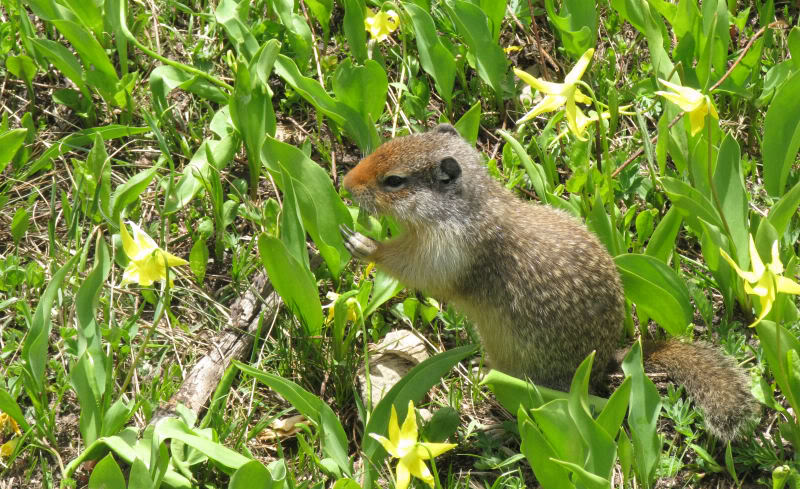 The descent to the west was long and I just let the bike coast for most of it. Since I was running quietly, I noticed that I was hearing some chain noise coming from Laurie's bike ahead of me. I'd have to check it later.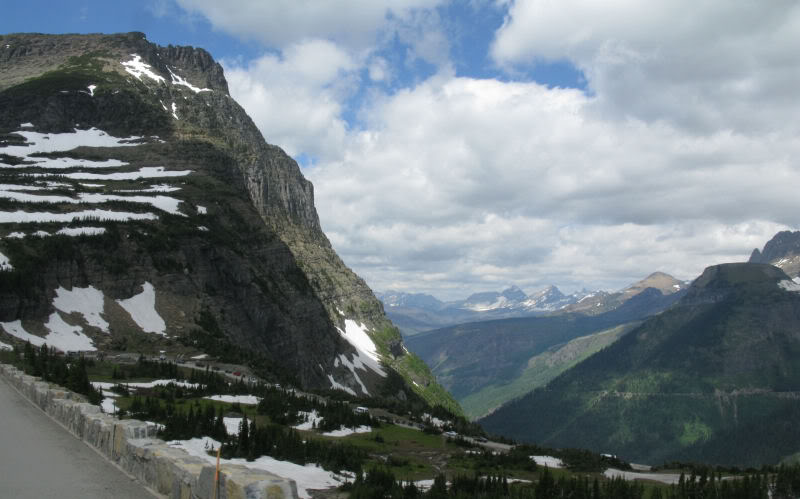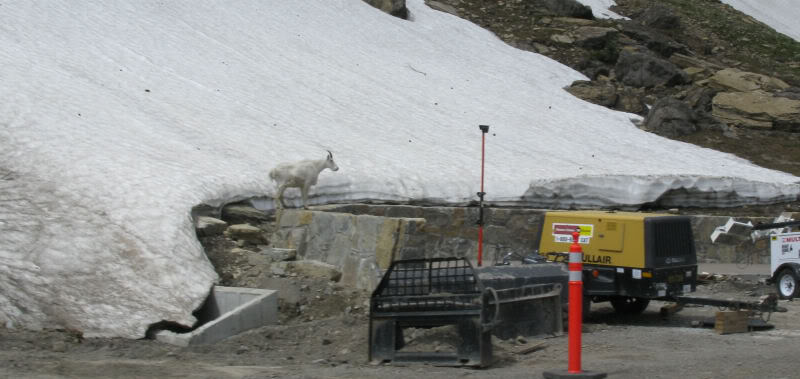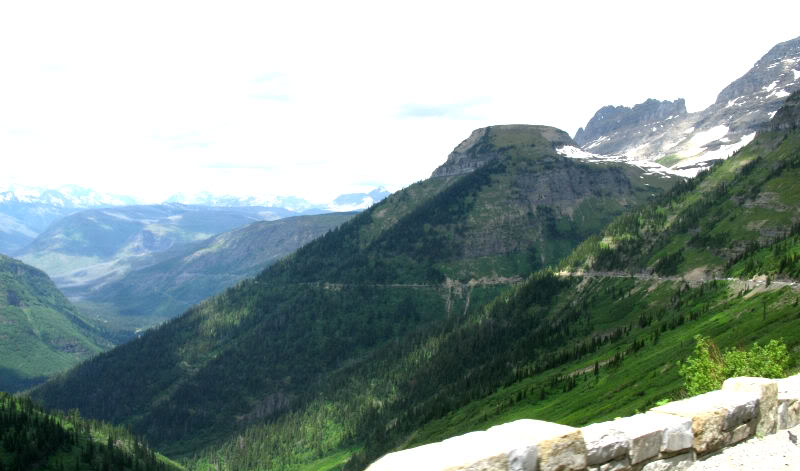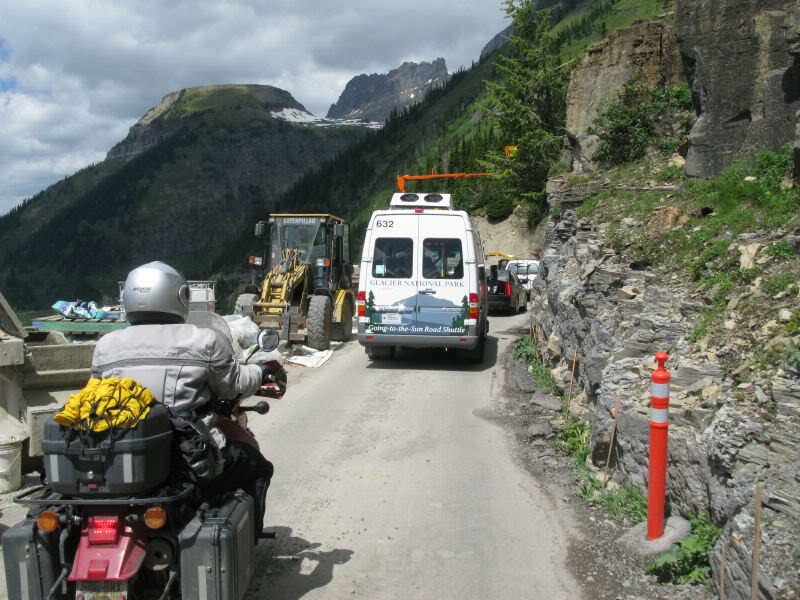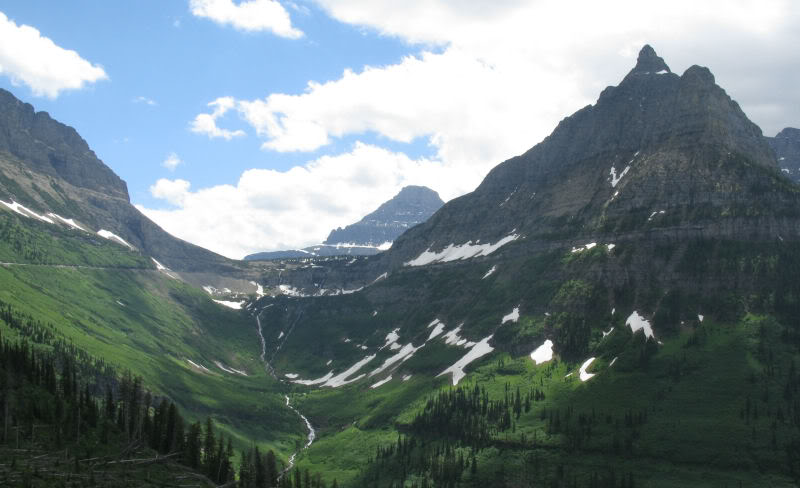 As we dropped out of the mountains, a medium-sized black bear zipped across the road right in front of us. Having my camera in the handlebar bag allows me catch a shot like this quickly.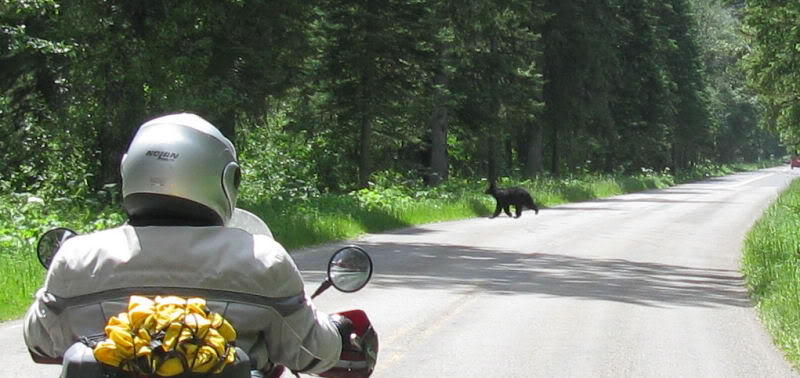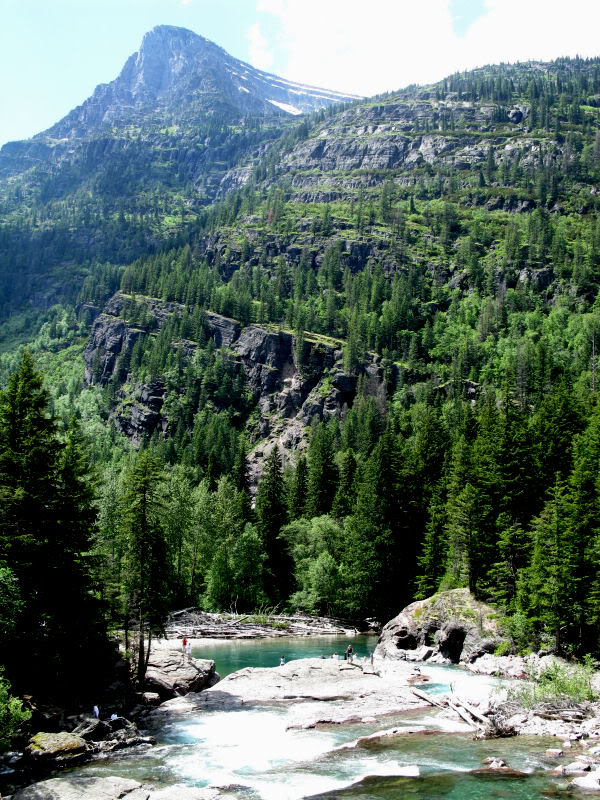 After leaving the Park, we took U.S. Highway 2 back to the east. I had ridden this section two years ago, so it was familiar to me. An easy ride. When we got to the town of East Glacier Park, we took Highway 40 north through another section that I hadn't seen before. Very nice ride, and it ensured that we didn't miss seeing the World's Largest Purple Spoon.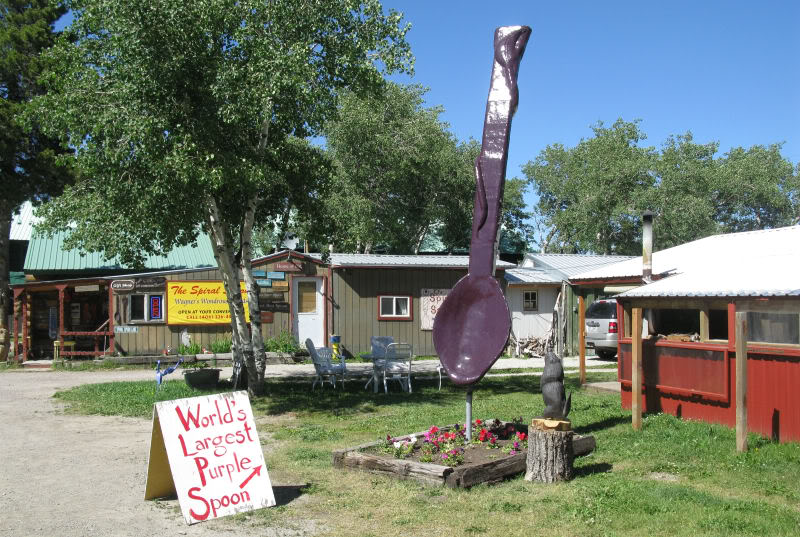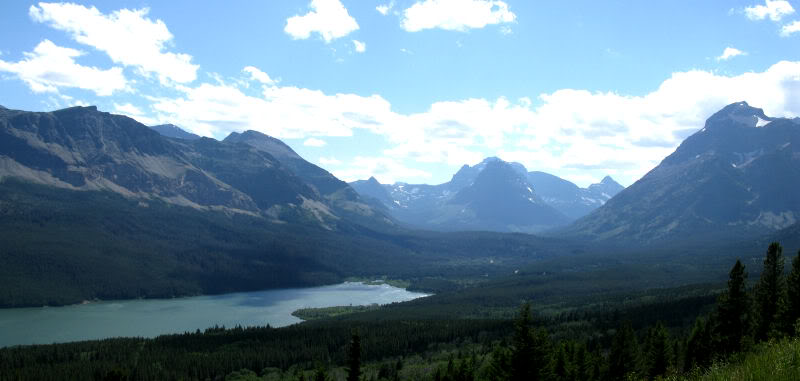 Back at the B&B, Laurie relaxed while I sewed up one of my side bags where a seam had torn apart a week ago and had now gotten to the point that it needed to be repaired. The sewing kit that I carry is equipped with heavy thread and a variety of straight and curved needles, so it got the job done. I took a look at Laurie's chain and it certainly needed adjustment. After that, I did photo management and some writing before it was dinner time.

Terri's menu was surprisingly varied, and the food was good and reasonably priced. Afterward, I went out and played toss-the-ball, toss-the-rawhide, and toss-the-cow horn with Terri's dogs. Cosmo, with the blue ball, was very persistent. If you were on the deck, he would bring the ball to the edge of the deck and push it to you with his nose.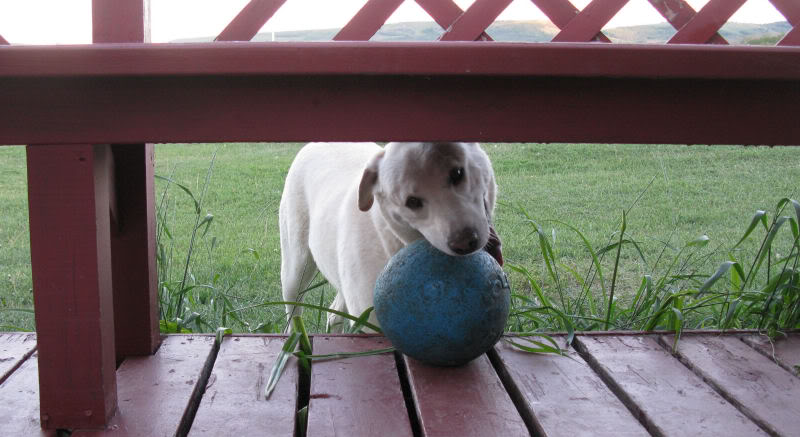 Friday, July 16, 2010
--------------------------

Another good breakfast followed by good-byes started our ride south. The day was already hot, and it was again very windy.

After leaving the Blackfeet Nation lands (I had taken a similar photo here two years ago), we stopped at Pierre's Hideaway for a break. There was another woman working there now, so I didn't get a bunch of local weather lies. Instead, Laurie and I talked for a while with some of the locals about our ride.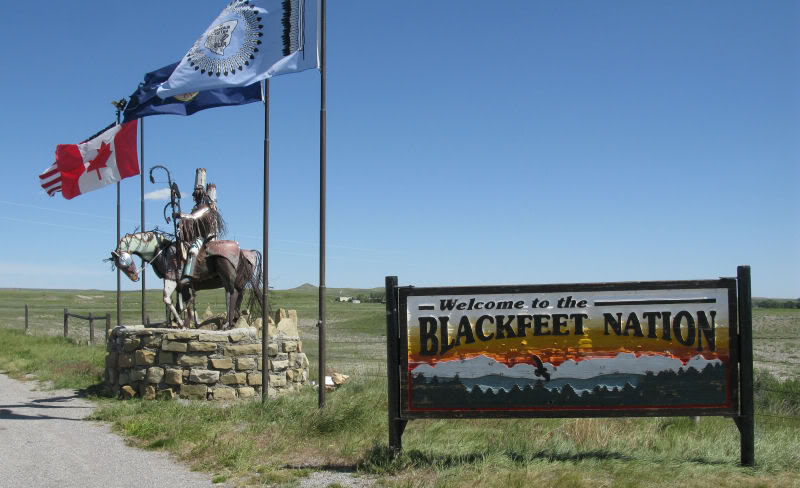 From there, we took U.S. 287 south. I saw a lot of beetle-killed forests. Throughout the Rockies (and perhaps elsewhere), the scourge of the pine beetle is devastating.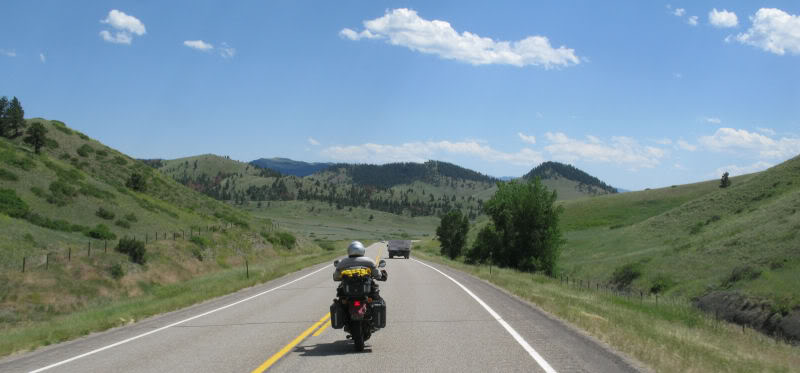 Several mundane miles on Interstate 15 got us into Helena. Laurie had some points for Holiday Inn Express, so that's where we stopped.

Laurie found a motorcycle shop and we took the bikes there. Laurie needed front and rear tires, I needed a front. We didn't get much of a choice, but we got tires that worked for us, and it was so hot that I was happy to pay them to mount the tires. In the showroom, there was a red 1994 Honda GoldWing in pristine condition, with about 50,000 miles on it. The price was only $5995. Ever felt tempted to buy something just because it was such a good deal? No, we didn't buy it, but it was close.

The hotel desk clerk directed us to a local steak house, and after eating, we just stayed at the table and played cards for over an hour. The waitress finally asked us if we were waiting for something, and we told her that we just didn't want to hang out in the hotel room. We paid rent on the table by getting dessert, but the chocolate caramel cheesecake was too rich to finish.


Saturday, July 17, 2010
-----------------------------

I chose to sleep through breakfast since I had eaten so much and so late the night before. Laurie had snagged some yogurt and a banana for me, so when we were ready to go, I was all set.

Still hot and windy, the riding was getting monotonous to me.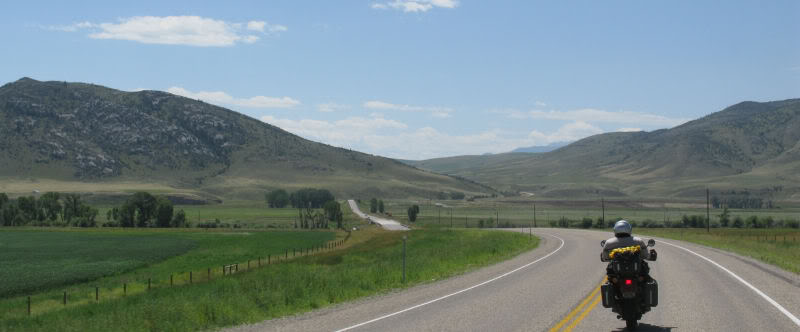 From Ennis, we detoured a short distance to Virginia City, a semi-preserved historical city. We parked the bikes and walked right up to the afternoon showing of a stage show. The first part of the show was a nicely-done performance of Voltaire's comic play, The Miser. The 18th-century Italian costumes were matched by fine performances by most of the players. After an intermission, another half-hour of Vaudeville skits and songs completed the show. It was worth the $18 each.

We walked around a little, but after a snack we were ready to move on. Being dressed in riding clothes and boots made it too hot and clunky to walk around much. Many buildings and businesses are preserved in their actual condition from long ago.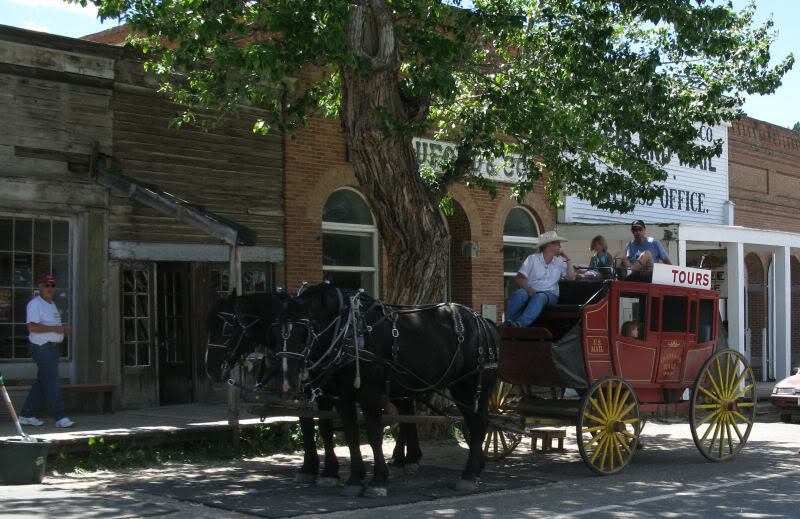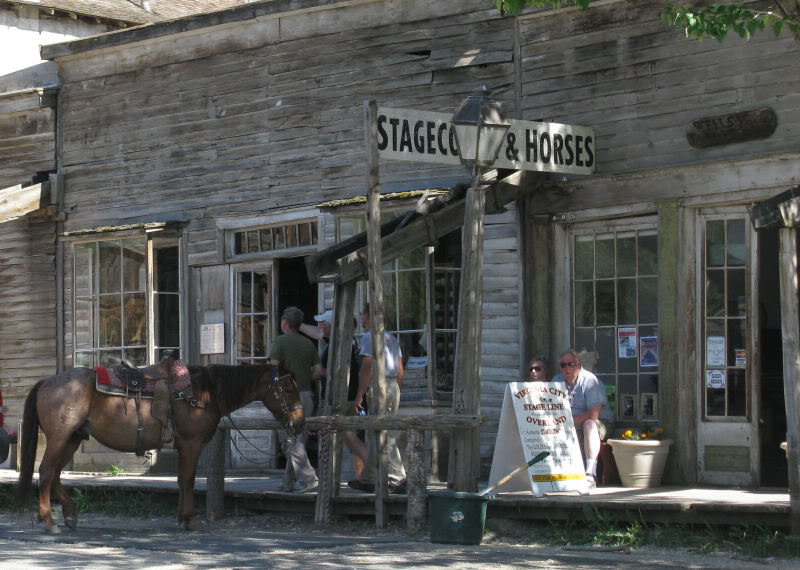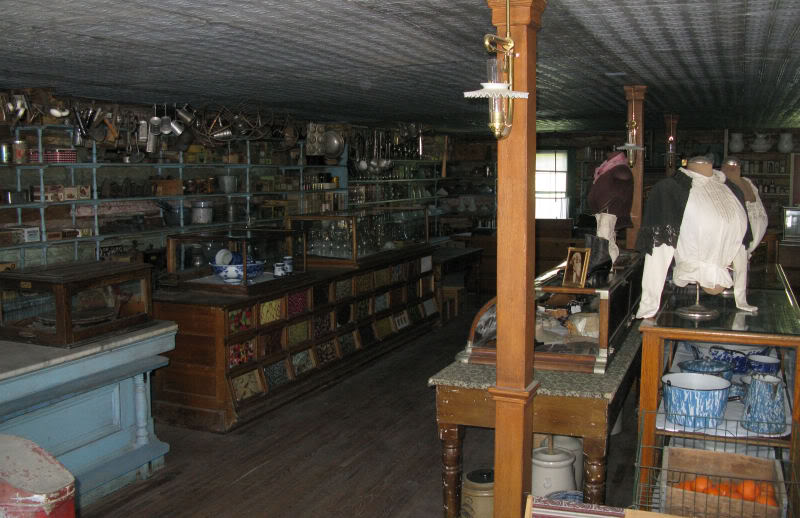 Back to U.S. 287, we rode over Gallatin Pass and along Earthquake Lake, which was formed in 1959 when a large quake caused a landslide that covered the highway and blocked the river.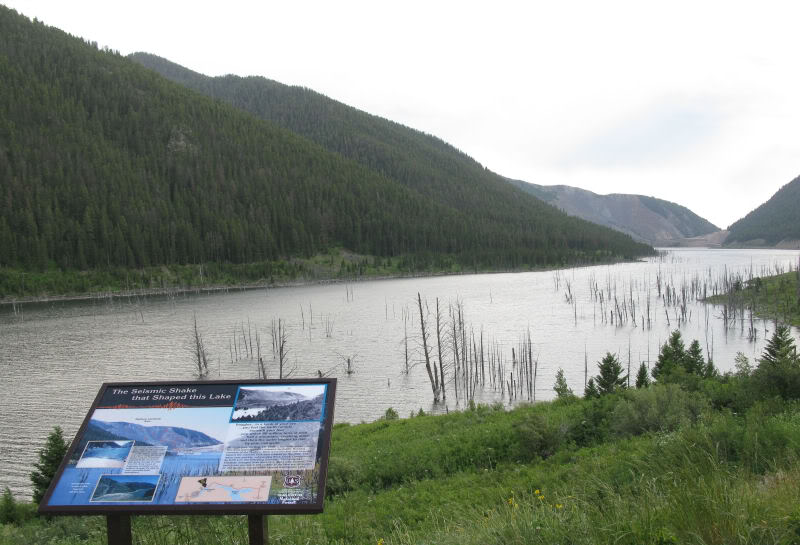 A heavy rain briefly cooled us off as we rode from West Yellowstone to our Super 8 hotel, which was eight miles west of the town. There was nowhere to eat except back in the town or at the KOA campground nearby, so we had buffalo burgers there.

We were going to be here for four nights, planning to ride in Yellowstone Park for two or three of those days.


Sunday, July 18, 2010
---------------------------

Didn't do much of anything. Another day lazing in the hotel. I had gotten the ride report updated online yesterday, so that was done for a while. We rode eight miles back into town for dinner and ate at a bar that had a nice buffet. An elderly couple sat a couple booths away from us and I heard them tell the waitress that they had been married for sixty years as they ordered a bottle of wine. Before we left, I had the waitress put the wine onto our tab (but she wasn't allowed to tell the couple who had treated them). A small, anonymous gesture, but what the heck.


Monday, July 19, 2010
----------------------------

We did a 142-mile ride around the southern loop of Yellowstone Park in the afternoon and early evening. I knew the afternoon would be hot, but hoped that the evening would cool off. It didn't, really.

The heavy traffic entering the park and throughout the ride was to be expected. As usual, if there was any animal in sight, traffic came to a complete stop as gawkers gawked and everybody piled out of every vehicle with cameras in hand. It just seemed silly when four or five people got out of the same vehicle, each person with their own camera (or camera phone) and taking the same photo of the same deer, or moose, or fox, or squirrel, or rock that kinda looked like it was maybe a bear or something...

Photo interlude: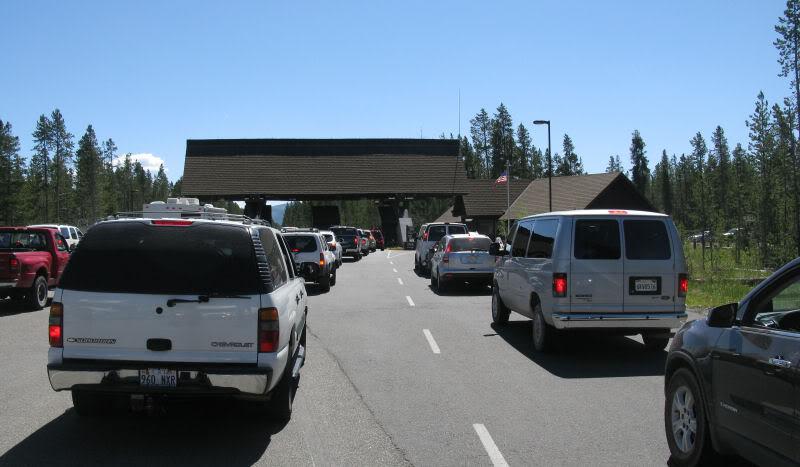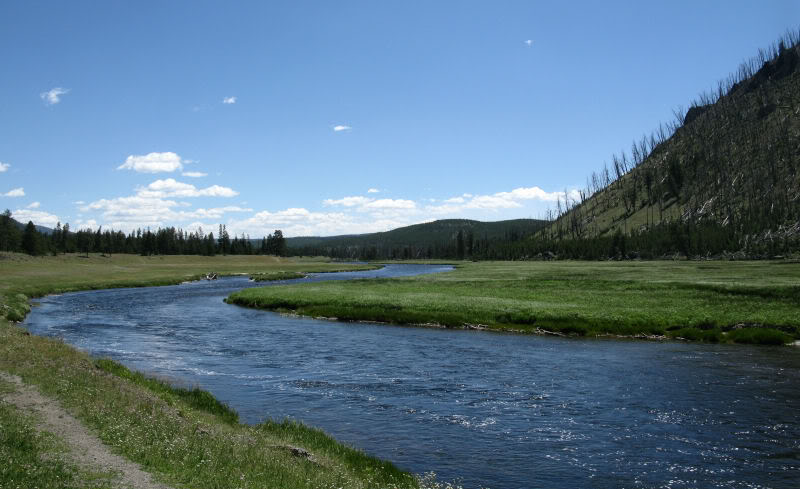 The recovery from huge wildfires years ago was going well, with incredible dense new forests growing back naturally.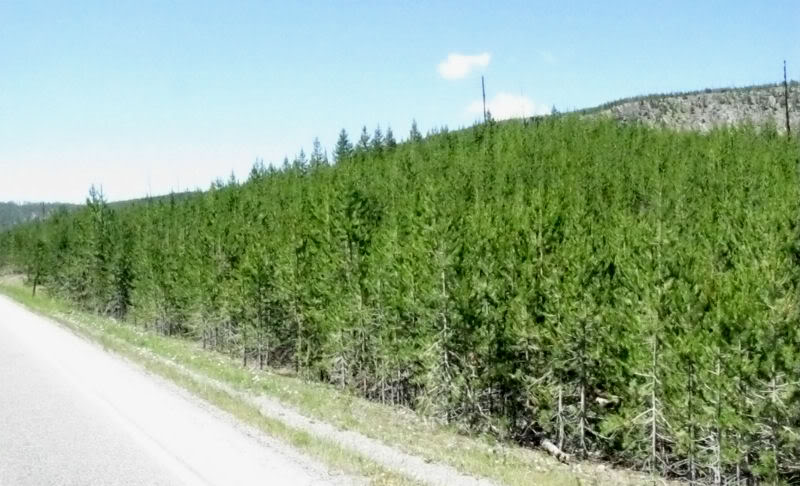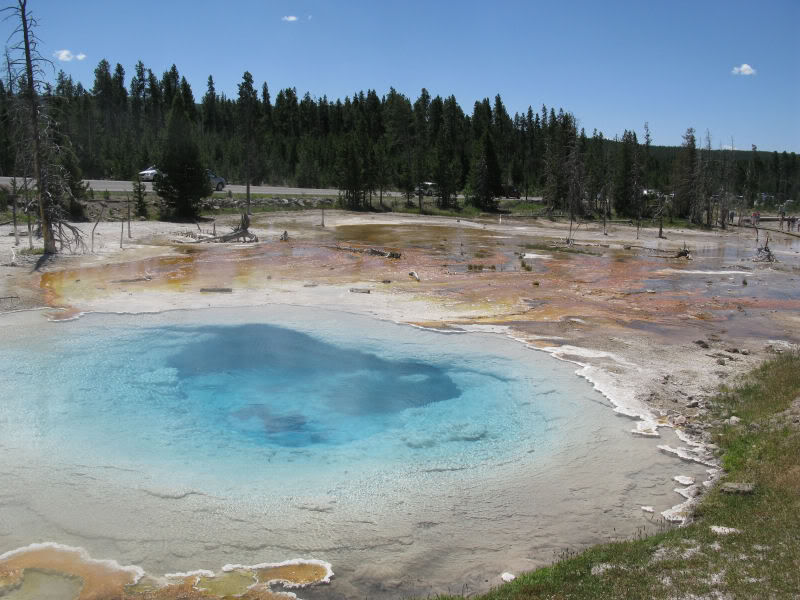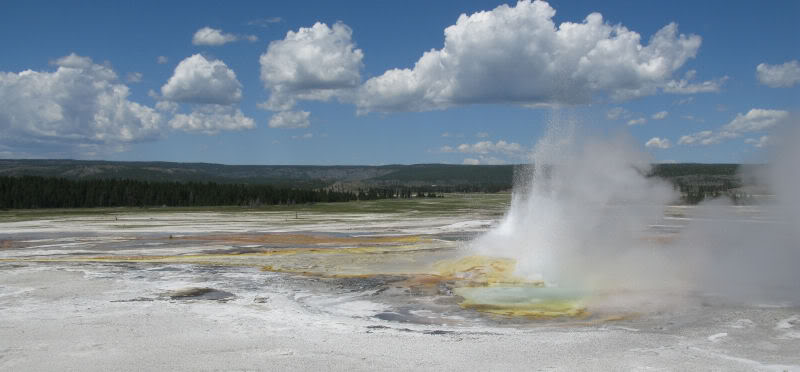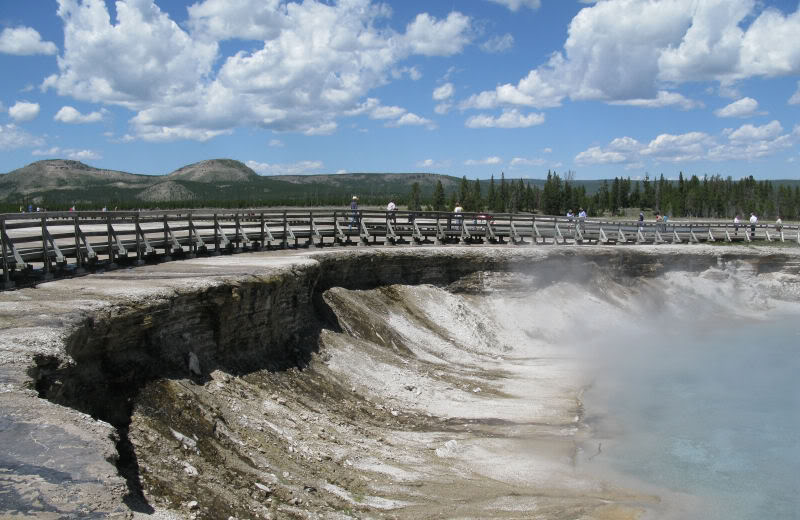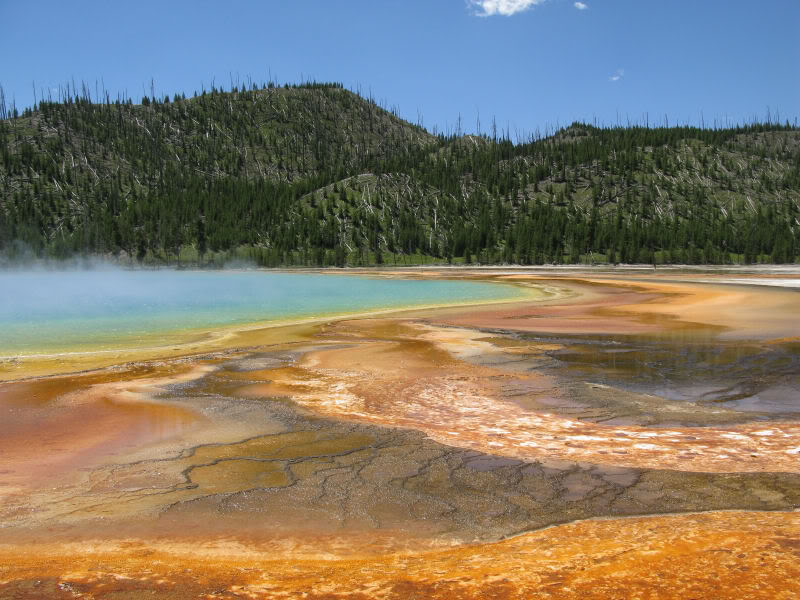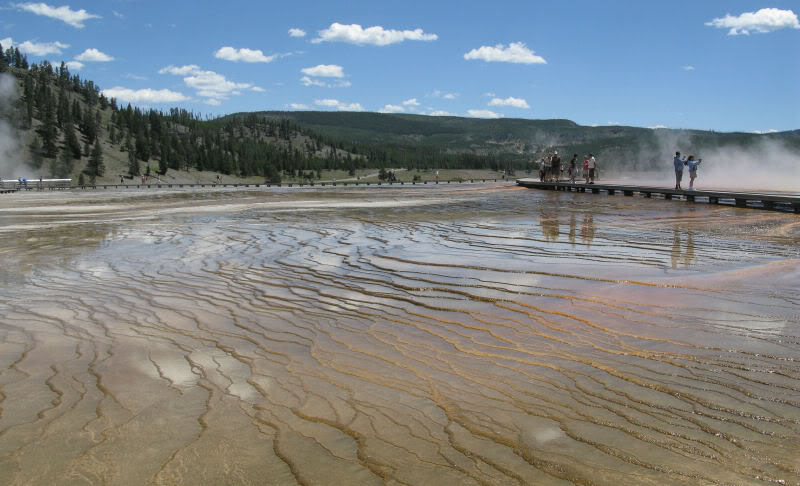 We got to the Old Faithful site just twenty minutes before it erupted, so we didn't wait nearly as long as most people had waited.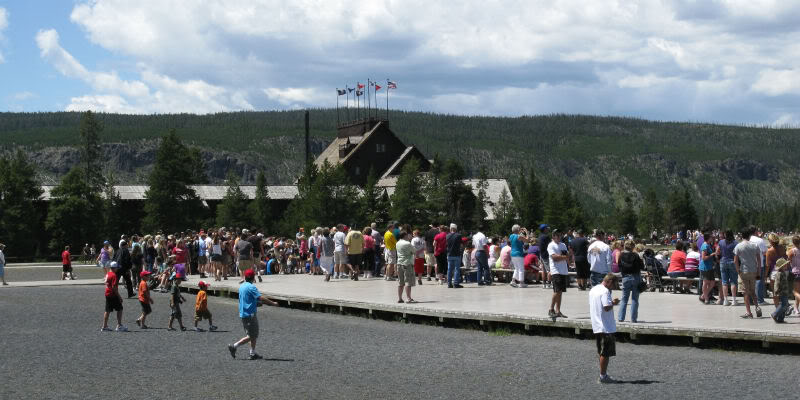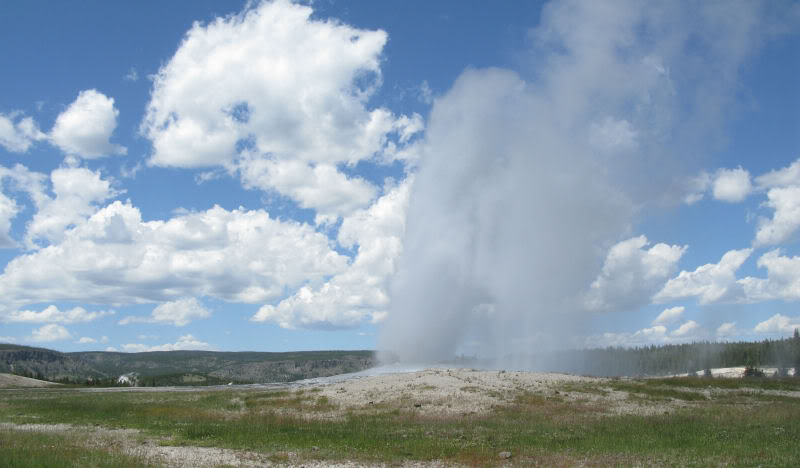 As we continued around the south loop, we saw the smoke plume from a large fire and watched a helicopter with a water bucket make a couple of runs to a lake.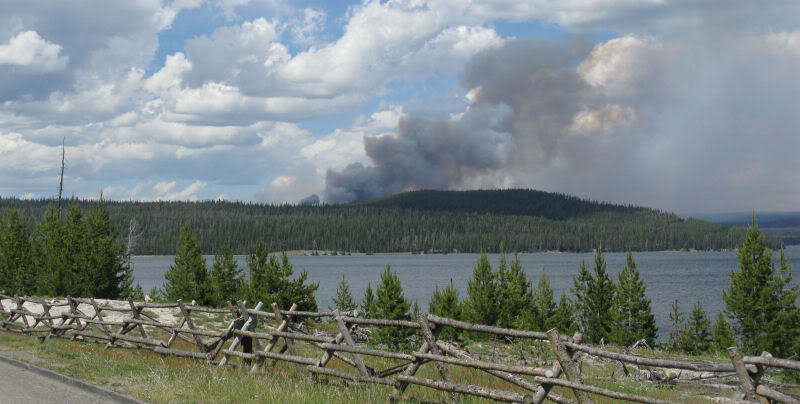 Many warnings to NOT approach the wildlife went ignored by many, many stupid people.




Although it wasn't always possible to avoid the critters.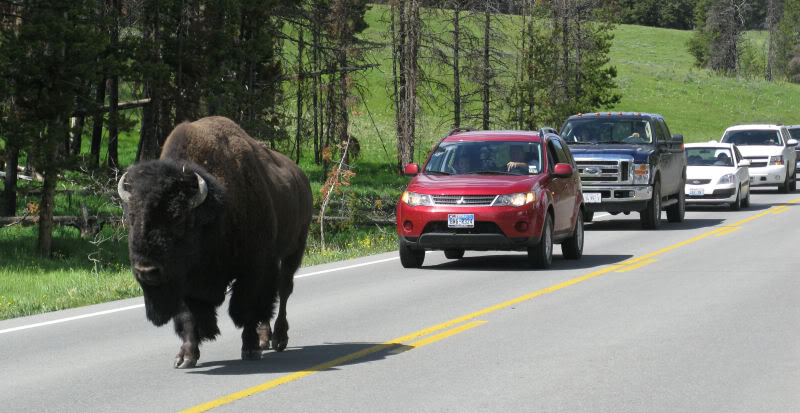 We didn't do many of the hiking trails to see the sights. The hot riding clothes were part of the problem, the boots were the main hindrance. And since I have had a nagging plantar facitis irritation in my right heel for over a year, longs walks were not attractive to me. We did a few short walks, though. You can't see much from the road.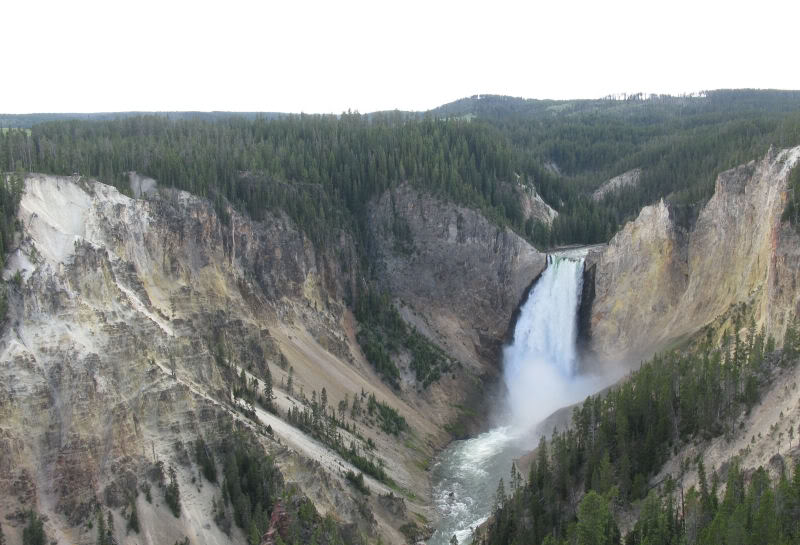 There was an unavoidable zone of road work between Norris and Madison, but only a very short section was in really bad shape (photo of that section coming up later).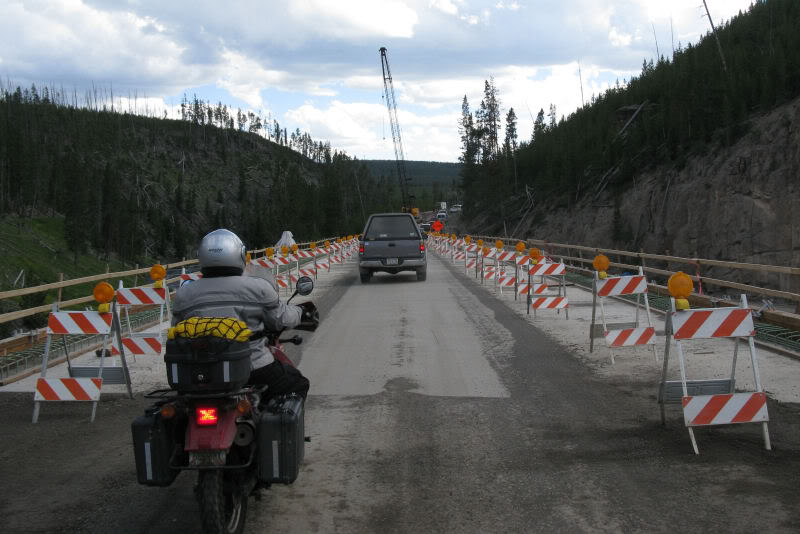 The day had been dry and hot, with the south loop taking us about six hours to do. The restaurant we chose for dinner didn't have a liquor license, so I went beer-less. Rats.


Tuesday, July 20, 2010
-----------------------------

We again slept late before heading out to ride the north loop of the park. Another hot, dry day. Another day spent behind slow-moving, frequently-stopping traffic. Slow, stop-and-go riding like this is hell on two wheels. So be it; you can see more from the bike anyway.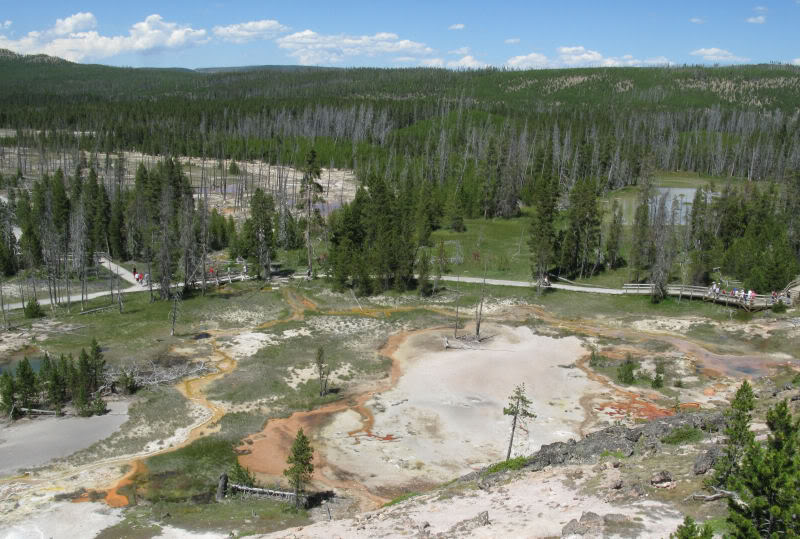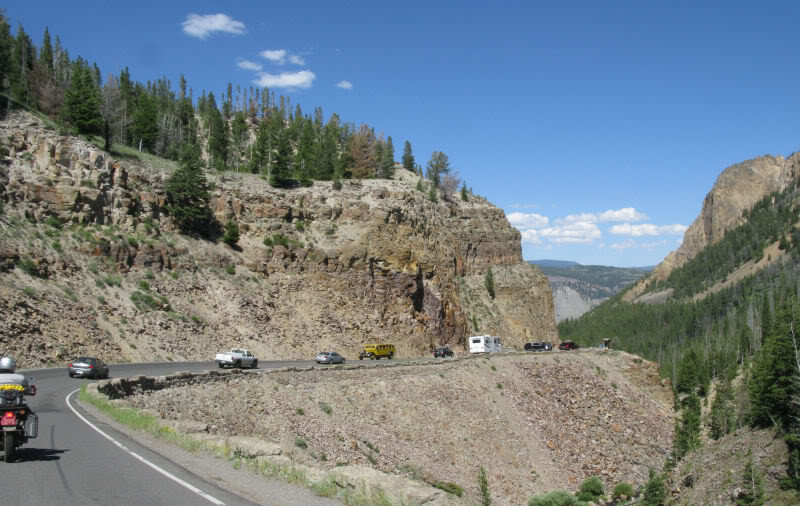 We took one side route through some nice hills.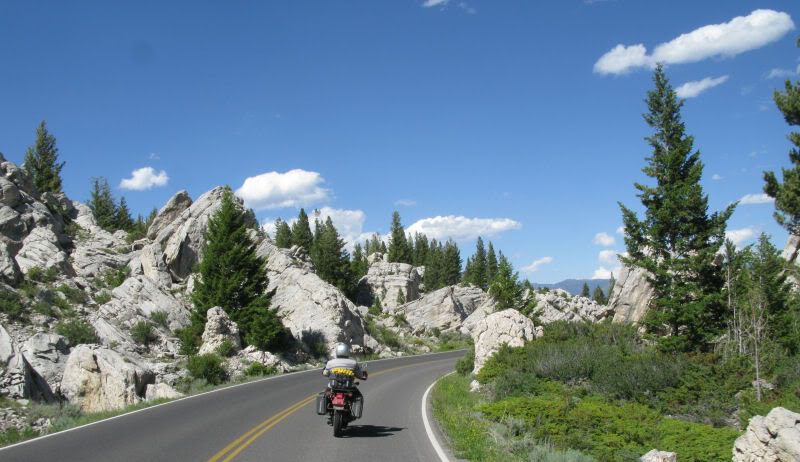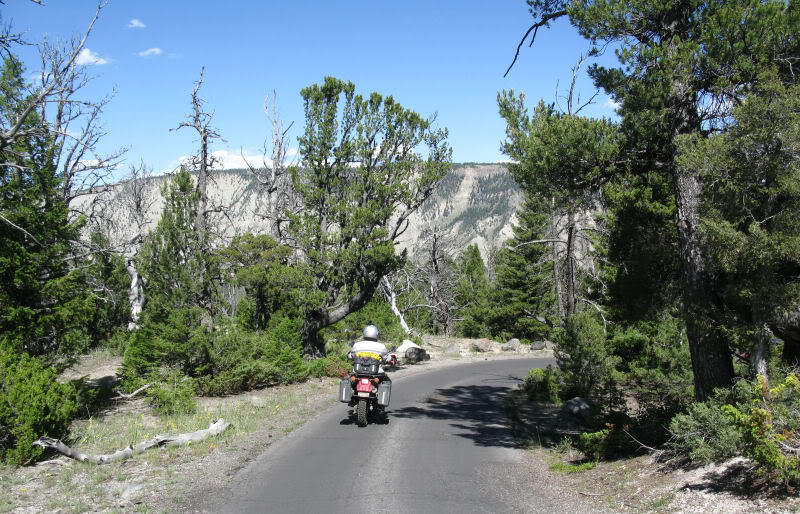 Near the Mammoth area, we did one final, short walk to see the Mammoth Hot Spring Terraces. Much nicer to the eye than to the camera, especially in the afternoon sun.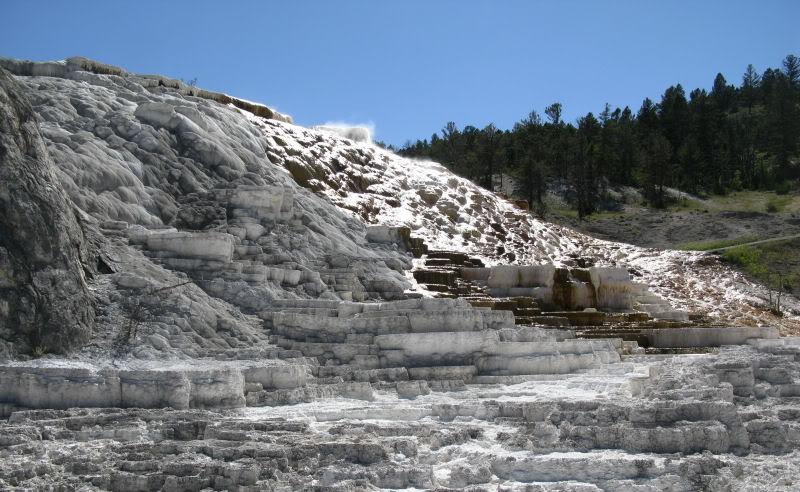 We did the short detour to the north entrance gateway arch, then back to the north loop.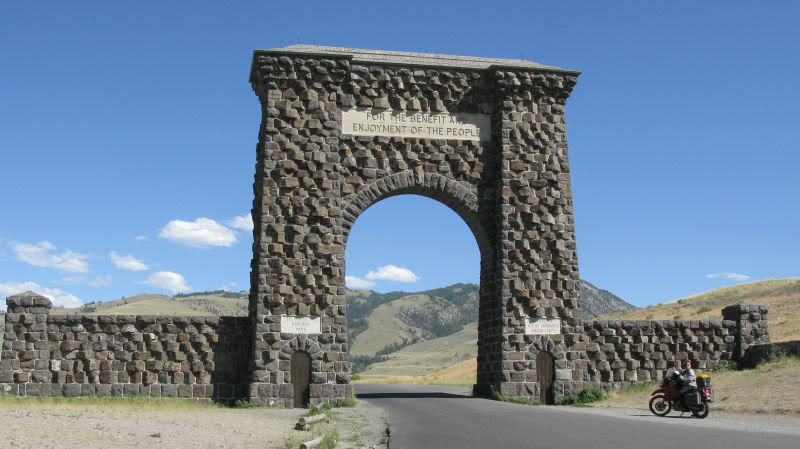 I wasn't taking as many photos today, and we didn't walk the trails as much as yesterday. When I had a chance to pass a half mile-long stretch of vehicles that had stopped in the road to photograph a bear in the distance, I took it. That got Laurie and I separated for an hour or so, but that's no matter. Part of this loop is alpine, and I enjoyed the mountain riding and the longer views.

I waited for Laurie to catch up before we headed back through the construction zone. The one real bad section of road was right next to a hot spring, and the asphalt was melted and smooshed. You'd think they would build an above-the-surface bridge (steel, maybe) in this area, rather than constantly re-pave it. I'm sure there are issues involved that I don't understand.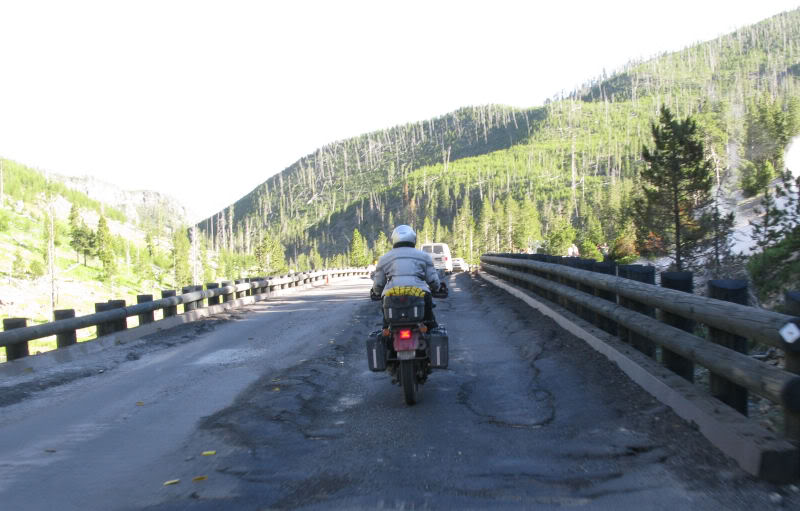 It was late again when we got back to West Yellowstone, and after a nice Italian dinner, we went across the street to the PlayMill Theatre, where lucky timing once again got us seated immediately for the 20:30 performance of The Foreigner. It's a familiar comic play, and the mostly-young cast did a fine job of it.

We rode back to the hotel in the dark--the first night riding we've done in two months. Laurie's accessory lights might have a problem with the wiring or the switch, but we weren't able to re-create a possible intermittent fault. Not a major issues, since they were always intended to be back-up lights.


Wednesday, July 21, 2010
--------------------------------

We didn't make it out of the parking lot before Laurie tipped her bike over into the flowers in front of the hotel. As it turned out, it was her last tip-over for the trip.

It was a cloudy, cooler day as we headed south-west on U.S. 20, then we skirted storms as we turned east.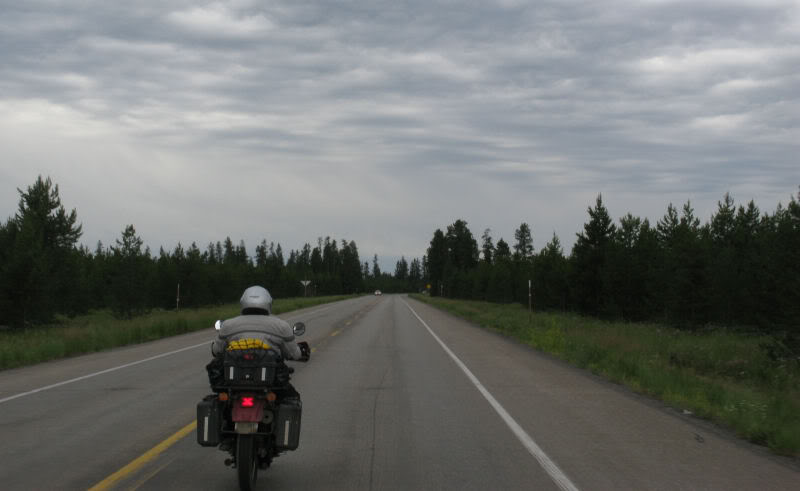 Once north on highway 93, we continued along near grumpy weather, but it barely touched us. We decided to not go see what was on display at Beaver Dick Park.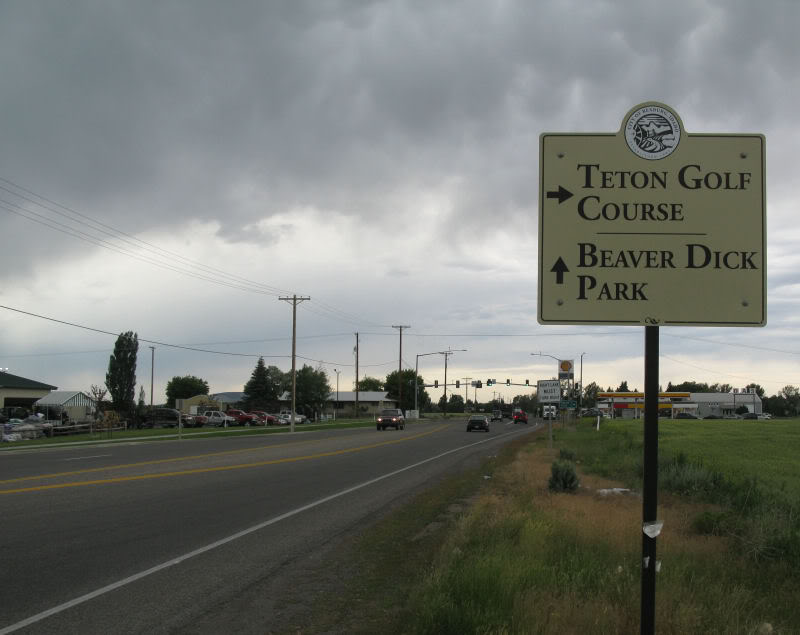 There is a large fault line that runs along the mountains here.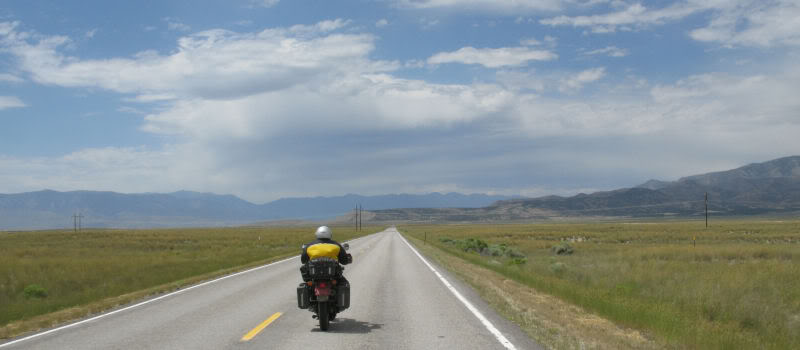 We saw a lot of anti-meth billboards and signs all over the U.S., just as we had seen more of them on television.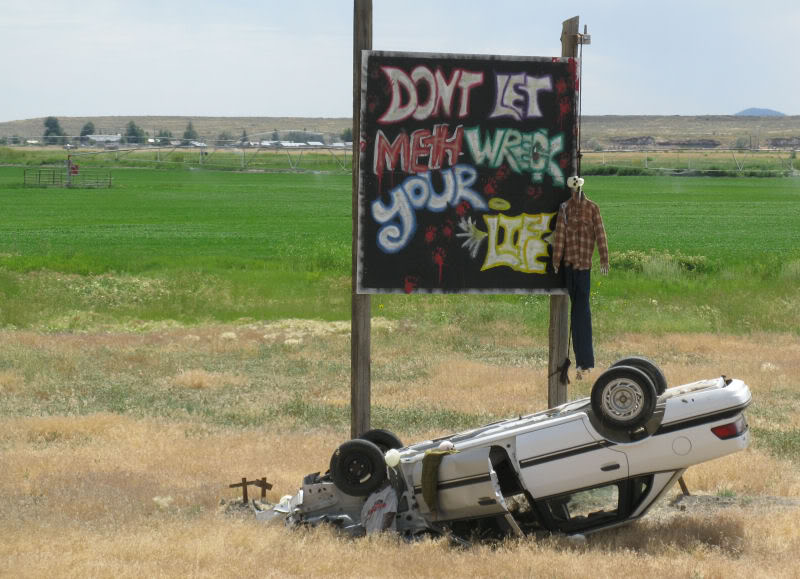 Another hour or so of this: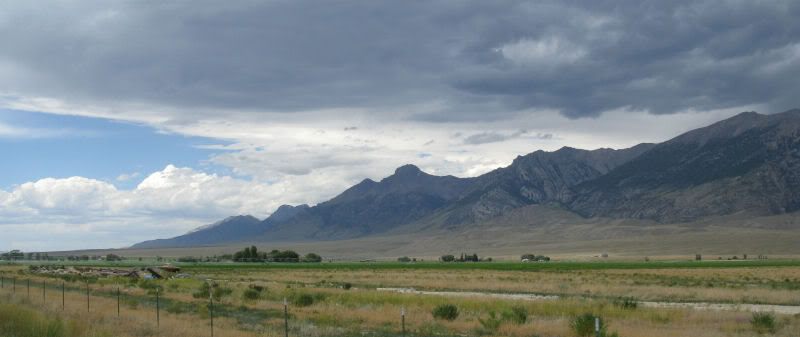 Before getting to Challis (270 miles for the day), we passed through some more rocky areas.




The Village Inn Motel seemed okay, but after checking in I found that their Internet access was no good. I wanted to get another update uploaded, and we had stopped here because they advertised Internet access. I spoke to the manager and he assured me that he would have someone come fix it. Laurie and I went to the restaurant and hung out for a couple hours, playing Uno after we had eaten.

When I went back to the motel manager, he told me that he would notify the owners that the Internet was not working. I asked if he had called a technician as he said he would, he shrugged it off and told me that he hadn't. For some reason, that really irked me and I told him that we would check out, pay nothing, and move someplace else. He didn't care, so that's what we did.

Fifteen minutes later, we were comfortably relocated in another hotel and I spent a couple hours getting photos and the ride report updated.


Thursday, July 22, 2010
------------------------------

It was a short day, riding back up to Darby, Montana--only 140 miles.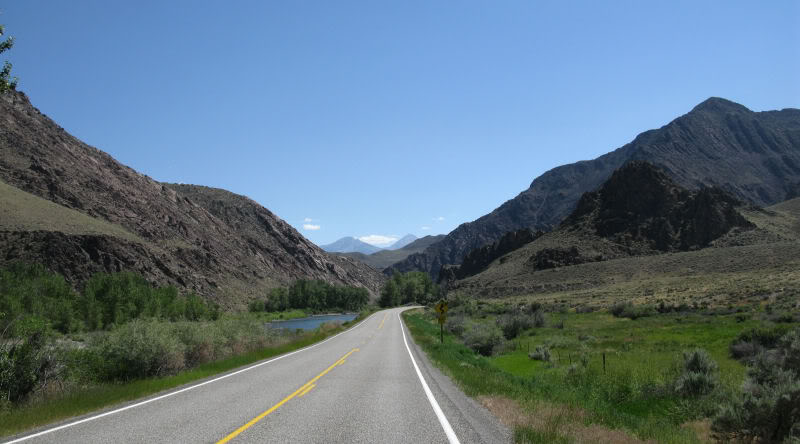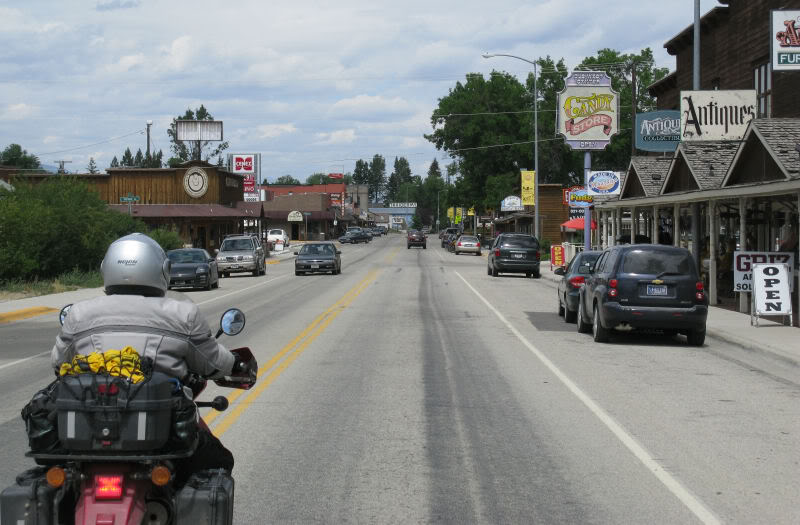 After getting checked into our hotel, we ate with other riders at a pizza/burrito restaurant next door. The guy who (slowly) made the burritos was very testy. When it was my turn to tell him what I wanted, I just said I wanted everything in it. He froze and stared at me for a couple seconds, then said, "I need to ask you some questions, or don't you care?"

I almost laughed, but I went through the Burrito Nazi's routine of clarifying each ingredient when he was ready to add it. Laurie learned from my experience, and she obediently side-stepped along the counter and said "yes" and "no" when each ingredient was offered to her.

After a while, we rode to the campground to see what was going on there.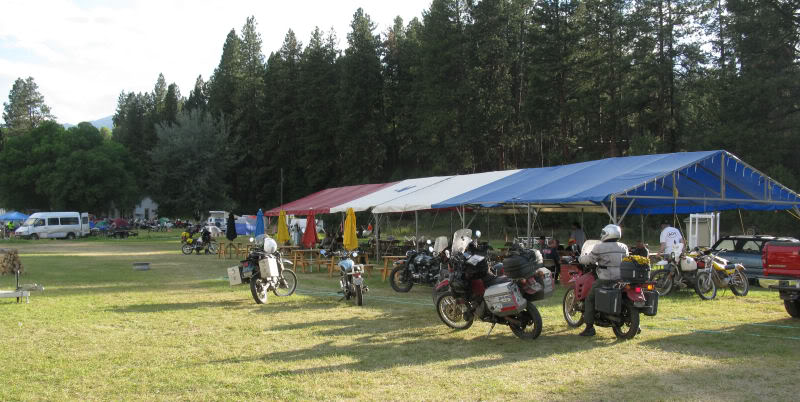 Many riders had been there for a few days already. There had been a lumberjack competition in this same campground/event field the previous weekend, so there were a lot of logs and bits of wood laying around. Everyone had decided to call those scraps "firewood," so it worked out very well.

The folks who were doing all the cooking for our gathering had brats and chicken on the grill, along with side dishes. Even a beer or two managed to land in my hands.

The West Fest organizer for this year's event, Putts, got us checked in and I found out that I was again being drafted to officiate over the de-noobing ceremonies. (New attendees to West Fest, or "noobs," must go through a simple, quick routine.)

I had done the de-noob ceremony two years ago in Lake City, Colorado, and I was happy to do it again. Just had to figure out what the activities would be...


Part 5 - Montana, Yellowstone Park, back to Darby