Back to the Yukon and into Alaska again, June-July, 2010
Canada, bits of Alaska, Dawson City
===========================

Thursday, June 10, 2010
------------------------------

Once again, we left the hotel as late as we could, but the rain didn't care. It waited for us.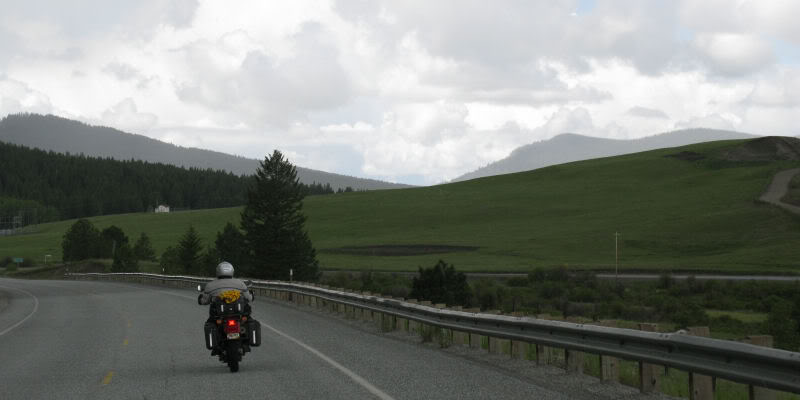 We headed north and crossed into Canada with virtually no delay or hassle. Just the usual questions about where we were going right then, how long we were going to be in Canada, what our ultimate destination was, whether or not we knew anyone in Canada and were going to visit them, if we were carrying any weapons or alcohol or money in excess of $10,000, what our professions were (and "retired" wasn't good enough), if we were carrying gifts intended for residents of Canada...

Well, okay, the interrogation was a bit of a hassle, but it's their country, eh?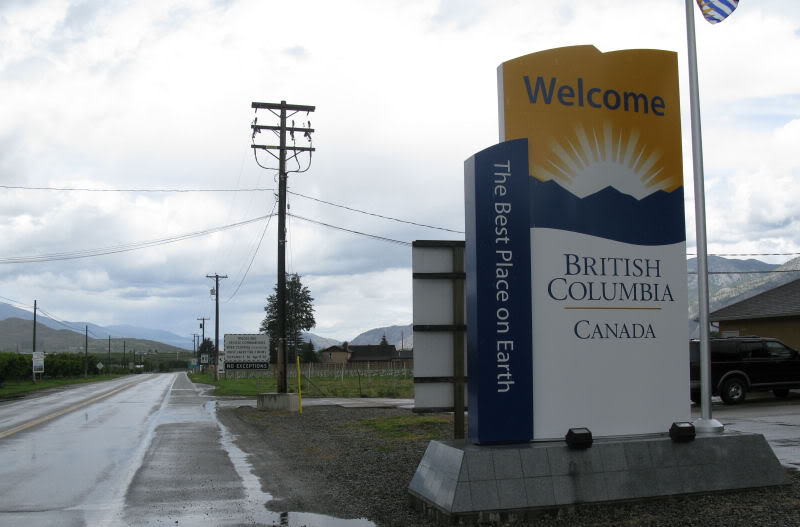 Wauconda Pass was again cold, rainy, and dreary. But once we had crested the pass the weather got much better and the sun poked out now and then.

For the rest of the day, we were in and out of rain and sun.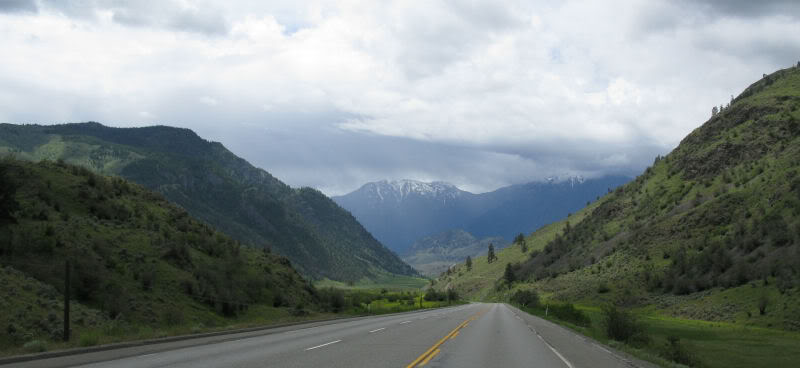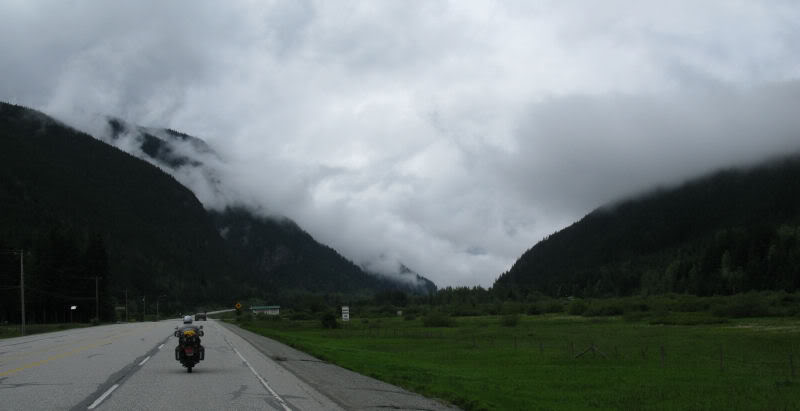 As we worked our way through the Fraser River canyon, we came to a long line of cars and trucks backed up by construction. We passed by all the waiting traffic on the shoulder and went to the head of the line. I struck up a conversation with the flagman, and the driver of the lead truck joined in. No one seemed to mind that we had gone to the front, and this was a common practice for motorcycles all over Latin America. When the flagman waved us on, we were careful not to hold back any of the other traffic.

We passed by the Hell's Gate tourist trap and zoomed down the mountain until passing lanes finally allowed the big trucks to get zooming on their own.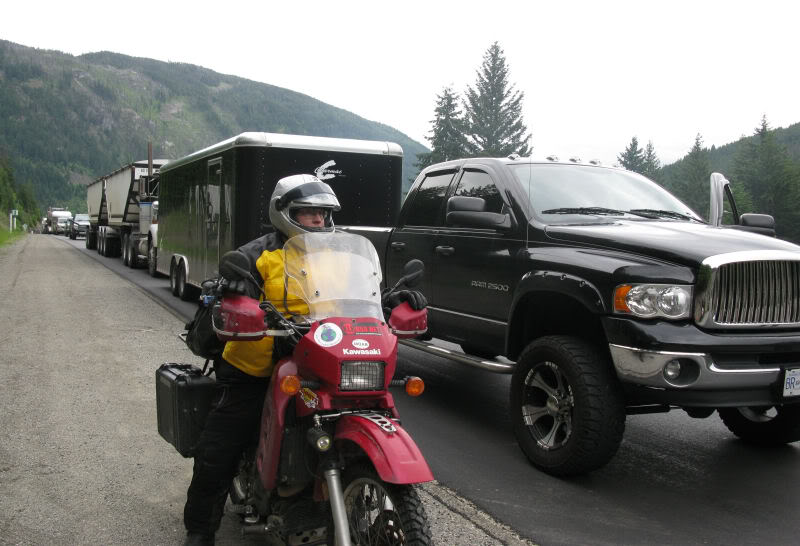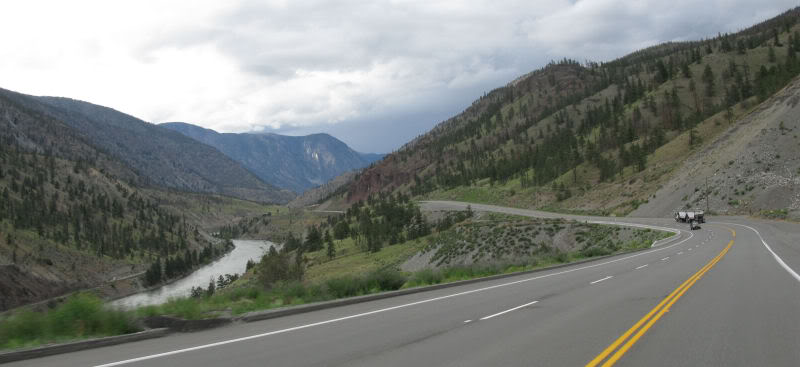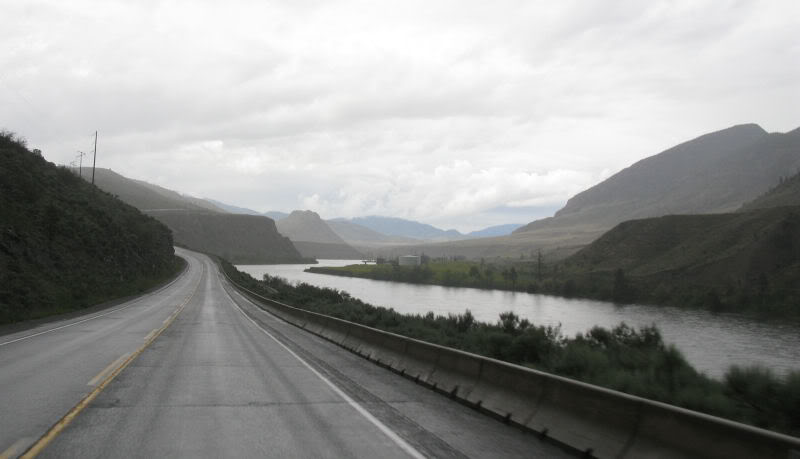 We stopped in Hope, BC, to take a break and chat with a local KLR rider. The U.S.-Canada dollar exchange rate we got was 1:1, which was a little better than I got when I was up here two years ago.

When we were ready to ramble again, we found that the remainder of the day was cool but only a little bit wet. We made great time to Cache Creek, where we found that most of the hotels and motels were full. Workers on the region's railway lines had taken up most of the rooms, and people arriving for this weekend's car show and races had taken up the rest. We were lucky to find a room, but the typical $76 rate was another grind on our budget.

Our mileage was 340 for the day (or 548 kilometers for the locals), bringing our total so far to 2,021 miles.

It was a longer day than we had planned, but the last couple of hours were just good, fast riding (even if still on the chilly side).


Friday, June 11, 2010
---------------------------

We got up at 09:00 and Laurie managed some email and Skype calls. Breakfast was the remainder of the pizza left over from a couple days ago. Yummy.

I did an adjustment on the balancers (doohickeys) and we were on the road by 11:00. The first few hours were cool and rainy, as has become typical, but we made good time on nice roads. There were a few areas doing road construction, but the delays were minimal.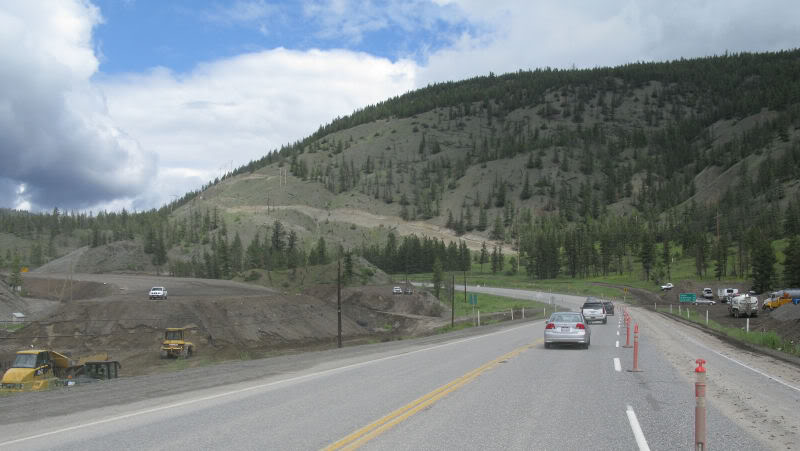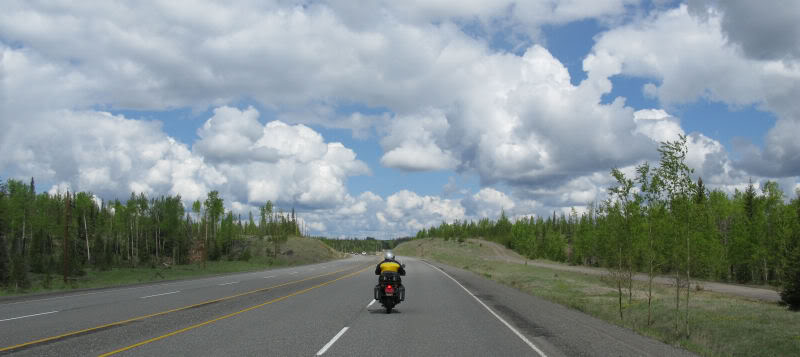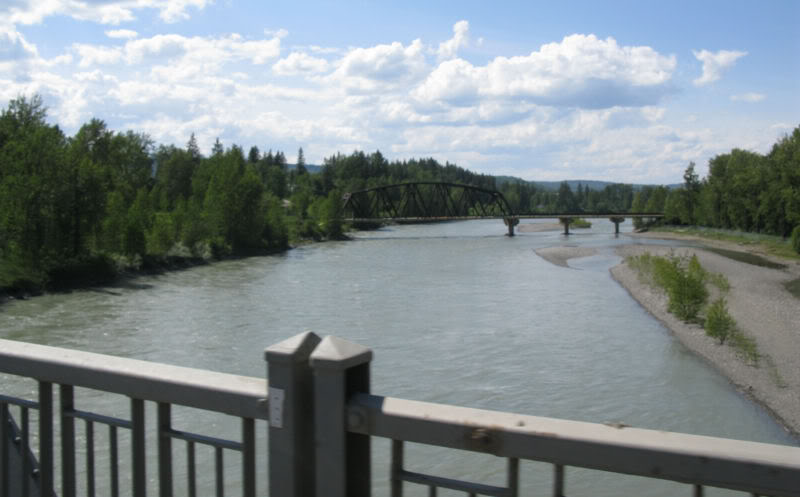 The afternoon got warmer as we went, and it was clear and sunny by the time we arrived in Prince George. I found a tailor shop, but they couldn't do what I needed done to my Darien pants and after trying a few other places, we gave up for the day. It was after 17:00, so most places were closed. Another disappointment was that the UNBC campus residence rental office was also closed for the evening (closed at 16:00). When I had passed through here two years ago, the dorm was the cheapest place I stayed by far, but this time we'd have to find a hotel.

We landed at a small dive motel, which was still expensive. The fees and taxes in Canada keep any hotel or motel from being cheap. $70 for the room we got wasn't worth it, but it's what ended up with.

We started to ride in to the downtown area looking for a restaurant, but as soon as we turned onto the street we saw a Japanese sushi restaurant right across the street and pulled in there. It wasn't cheap--especially after the Deluxe Sushi Combination--but it was a nice break from the routine.

Laurie's KLR had an oil leak from either the oil filler cap or the oil filter cover, and I worked on trying to figure out why that was happening, but I couldn't find anything wrong. I'll keep an eye on it.

We had done 292 miles (497K) today, and with the easy roads it felt like a light day.


Saturday, June 12, 2010
------------------------------

I took my Darien pants to a dry cleaners across the street to see if they could do the zipper repair, but their seamstress was out of town. They sent me to other shops, but no one could do the repair today. I tried a shoe repair shop, and upholstery shop, and a sewing shop, but none could do the work while I waited. No biggie--the upside-down leg zipper was an inconvenience but not a major problem. The fly zipper had blown out also, so that might need to be replaced. Everything fails eventually.

We checked out of the motel and found breakfast before leaving town. The riding on the Yellowhead Highway was fast and easy, even if it was again cool and drizzly at times. The scenery was sometimes hampered by the weather but was usually nice.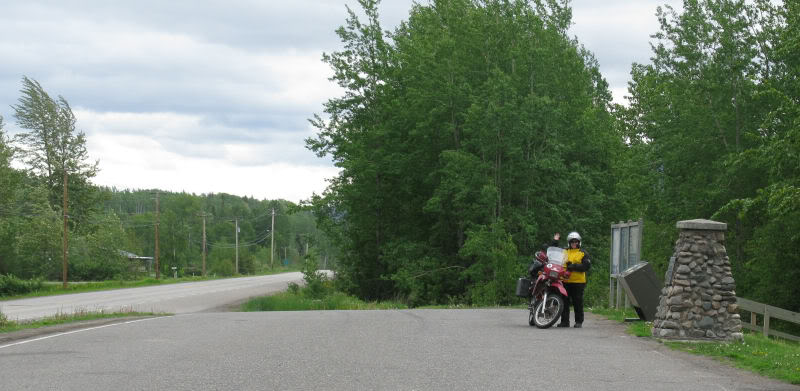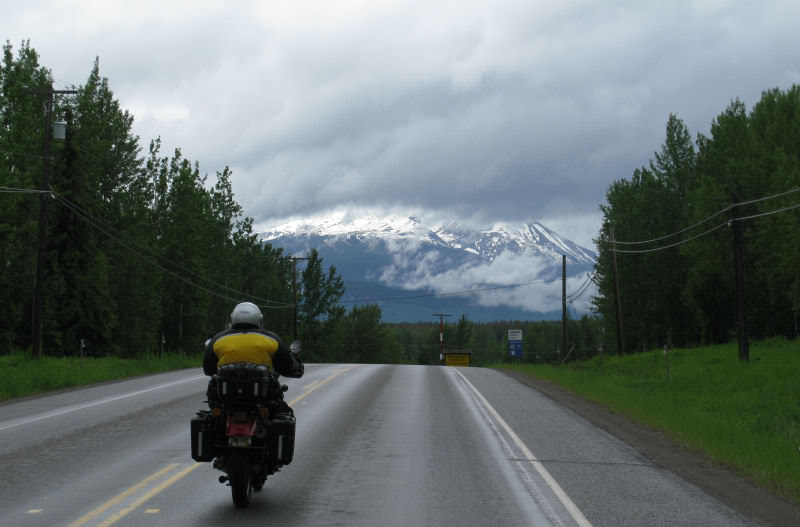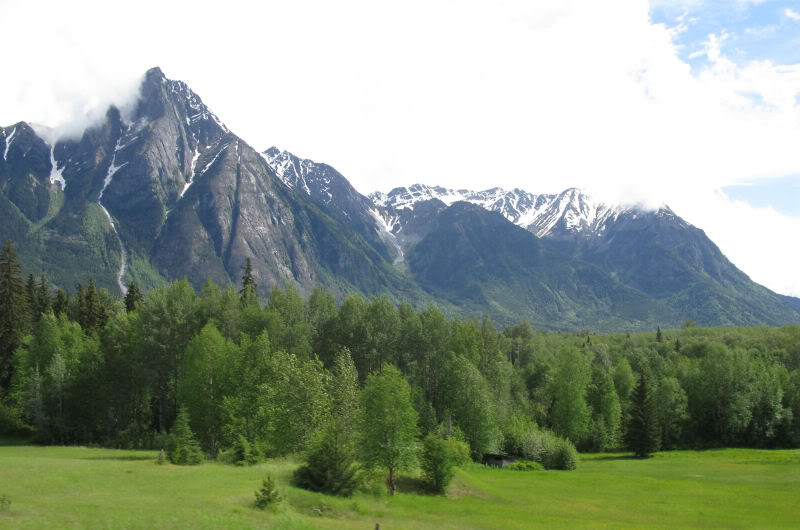 We got to the Stewart-Cassiar Highway near Kitwanga at 17:00 and stopped for gas and a bowl of soup. I had forgotten to get gas here two years ago and had run dry before reaching Hyder, so we didn't make that mistake this time. It was about 140 miles to Hyder with no guarantee of gas until then.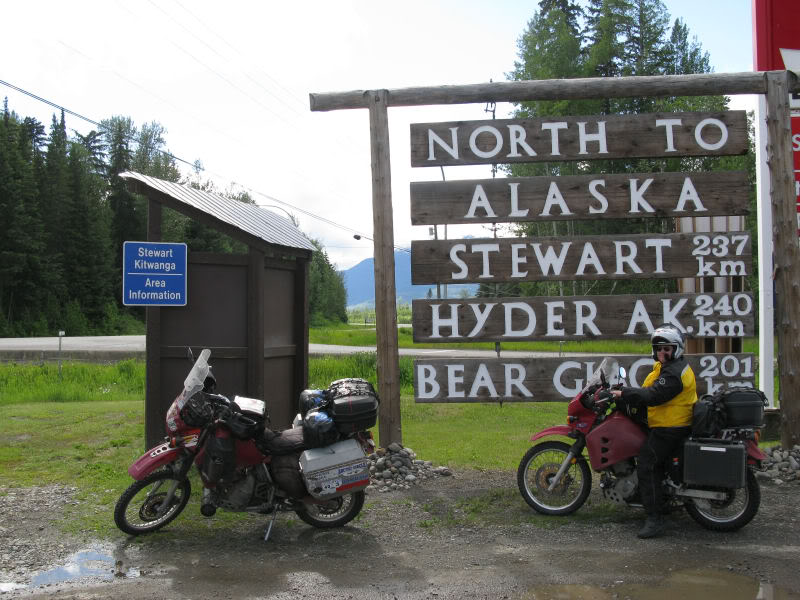 We zoomed up the highway and saw very little other traffic. It was mostly clear and cool, but there was one weather cell that got downright cold and rainy for a short while. We were moving at 60-65 mph for most of the way, a bit slower at times.




At the turnoff to Hyder, the weather ahead looked pretty good, but still a bit cool.

We saw two bears along the side of the road as we approached Bear Glacier. I thought that it seemed appropriate. They were a few miles apart, each munching on berries or something alongside the highway. Neither of them paid much attention to us as we passed by. The glacier itself is very near the road and is photogenic.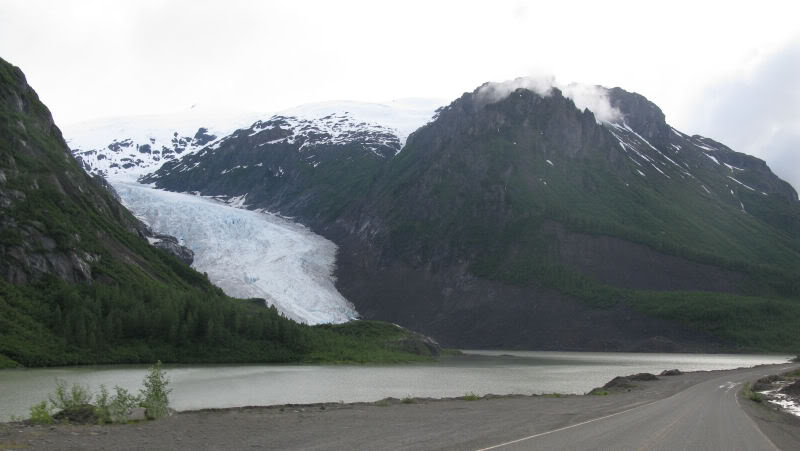 We passed through Stewart, BC, and rode into Hyder, Alaska at 19:45. Technically, Alaska is in another time zone, but the locals tend to keep to the time in British Columbia. There were several bikes parked at the SeAlaska Inn. Most had BC license plates, but one had tags from Ohio. Another bike behind the hotel was from Texas. We ended up in room #12--the same room I had been in two years ago. Very basic and crowded for two people, but this was the USA now, so the room was only $48.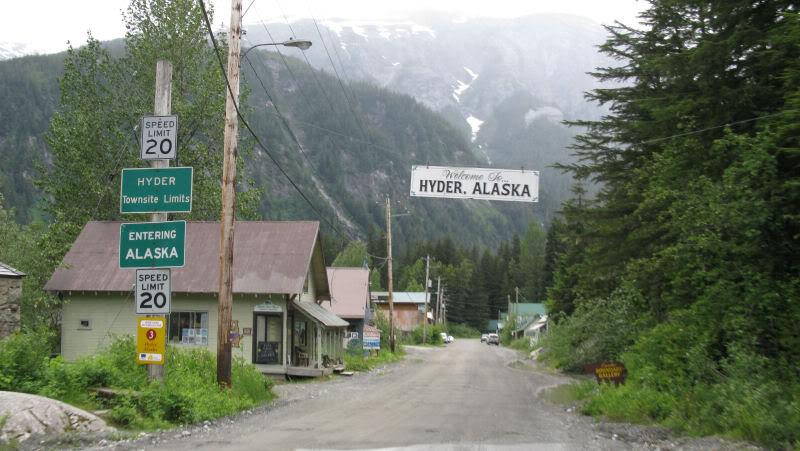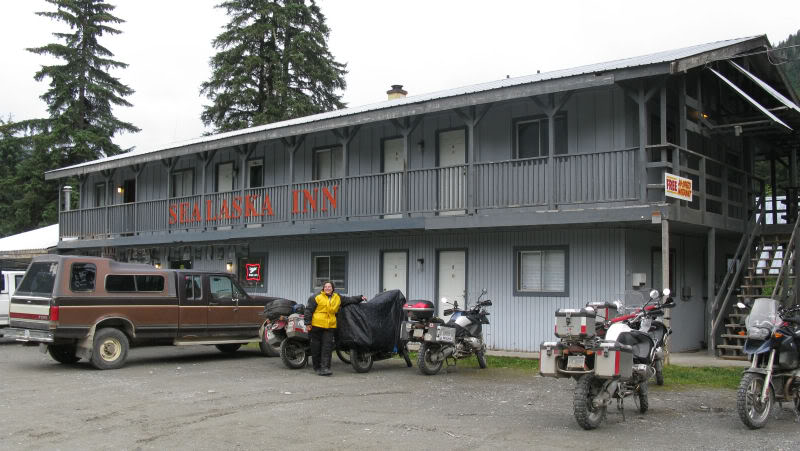 We found and chatted with the riders at the Glacier Inn (where you can still get "Hyderized" if you want to, but the liquor they use now isn't what it used to be). A couple of them recognized me from my online ride reports. That always surprises me. Bob talked with Laurie and I for a while, and he told how he had fixed up a KLR for this ride, but when he had some last-minute mechanical issues with it, he decided to take his Honda sport-tourer instead.

Back at the SeAlaska Inn, we talked some more, but it was late and we were tired. Most of the other riders were on their way back to Vancouver, but we'll see some of them (at least Kelly, from Iowa) again in Dawson City for the D2D gathering.

From Prince George to Hyder had been 431 miles (694K), our longest day so far.


Sunday, June 13, 2010
----------------------------

We checked out and went to the Glacier Inn for breakfast and a chat with other tourists. The weather was semi-clear, so we bought a few souvenirs and rode out onto the jetty for photos before heading out of town.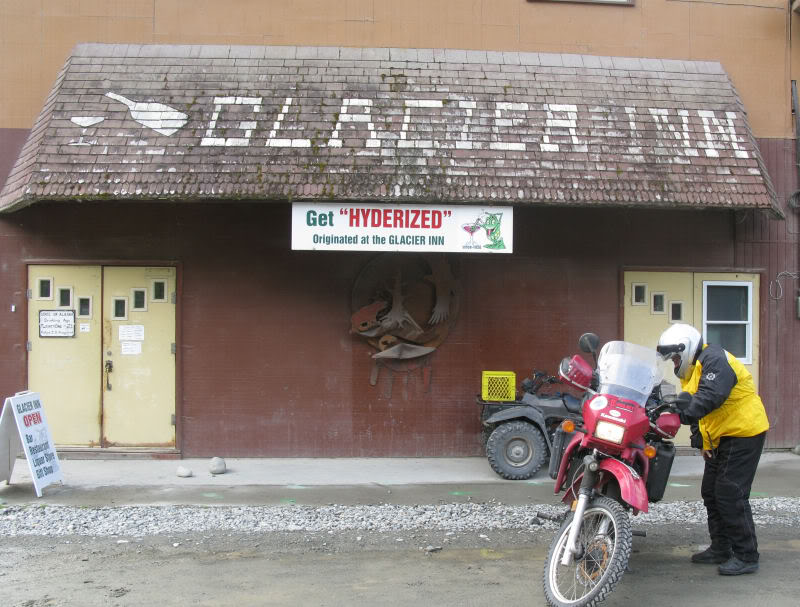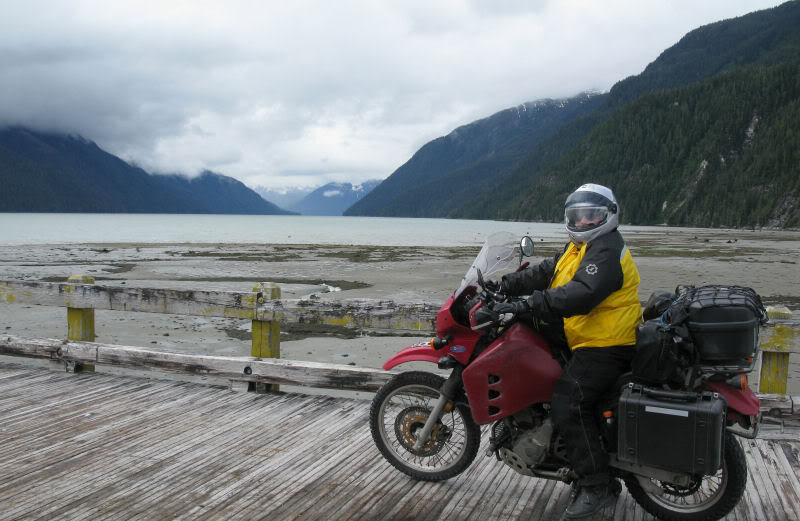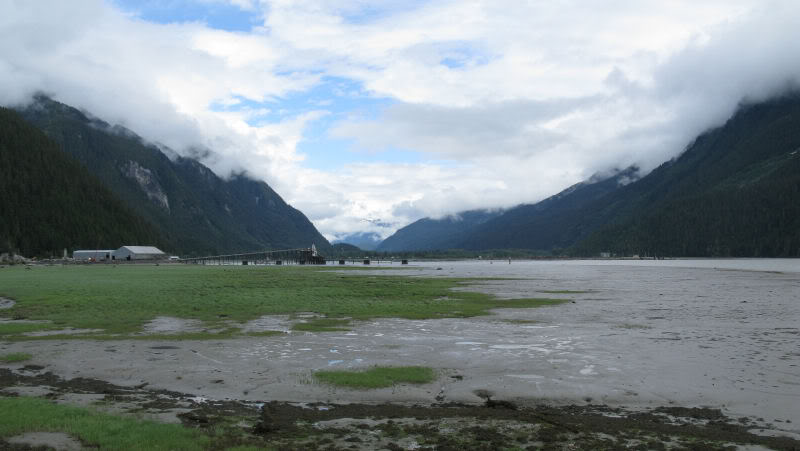 It was still colder than it had been for me the last time I was up here, so we cruised at a slower speed. That allowed us to avoid two more bears on the side of the road, so that was good. We did the 100 miles to the Bell II resort (heli-skiing) for gas and hot chocolate. They threw some more wood on the fireplace for us, which was nice. I needed batteries for my camera, and was reminded that Canada likes to impose huge taxes and fees for such items. Four AA batteries cost me $14.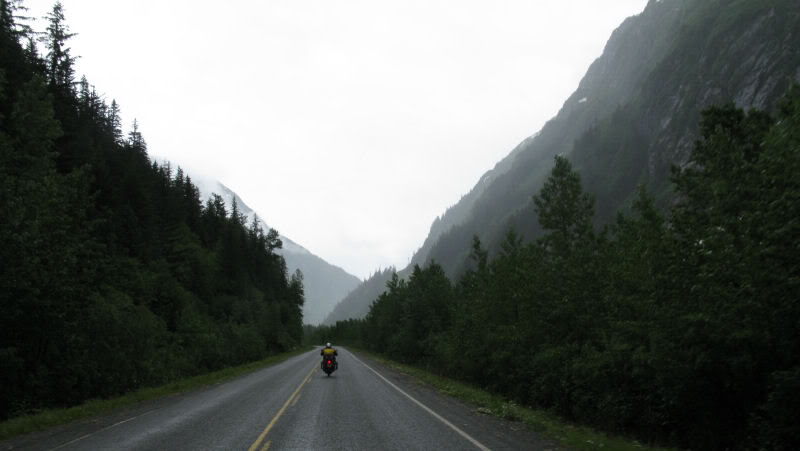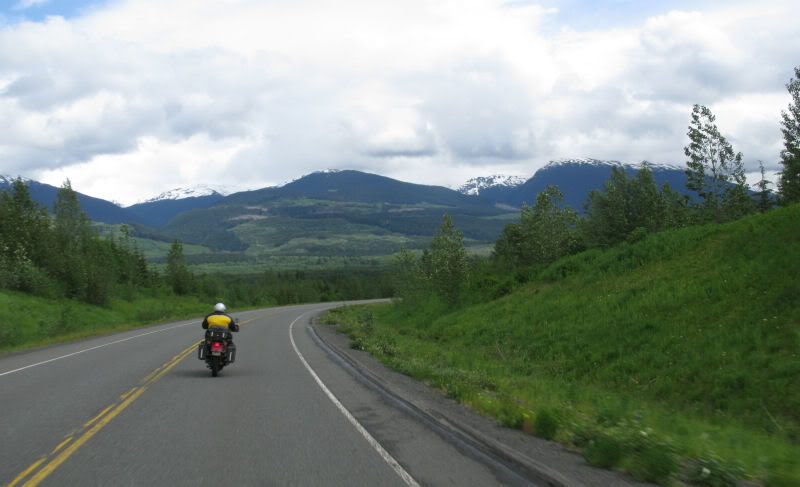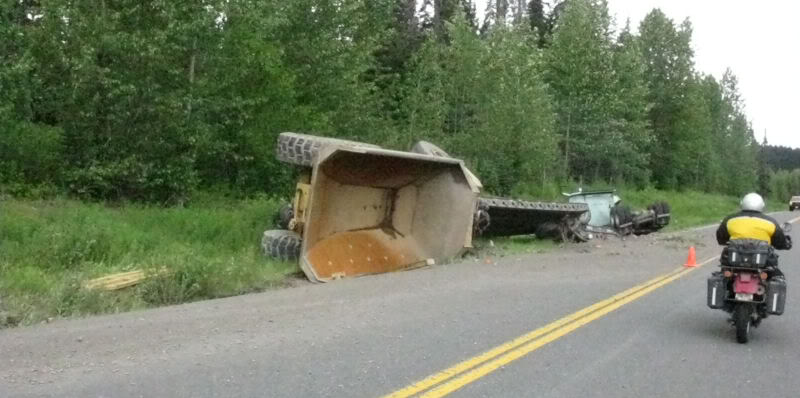 We were both getting about 42 MPG at the speed we were doing so far this day. On one of the last few days, I had gotten about 53 MPG on one stretch. Riding slower and at a steady speed really helps.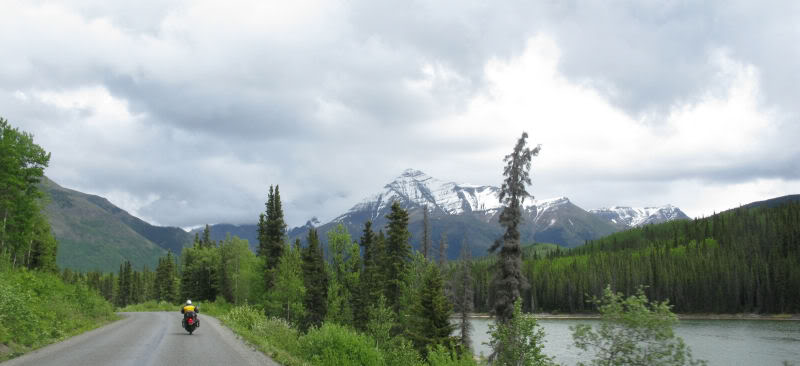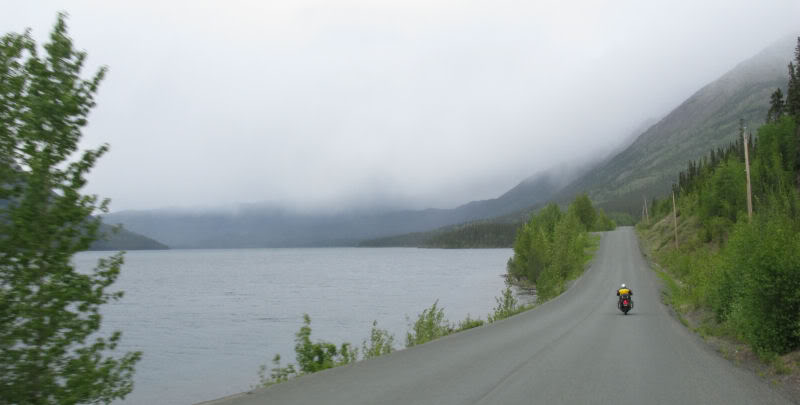 There were several steel-grate bridges along the way. If you haven't ridden a motorcycle over one of these before, be warned that it's worse than grooved pavement. The tires squirmed and shimmied a lot, but at least the steel was dry.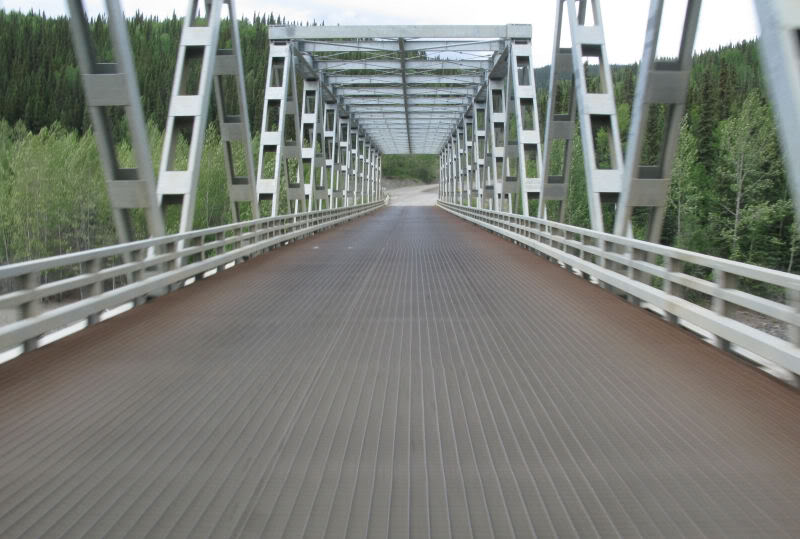 I hadn't remembered the unpaved sections from my previous ride through here, but other locals reminded me. The dirt sections were hard-packed and easy to ride, but Laurie still took them very slow, so I zoomed past her and waited for her to catch up.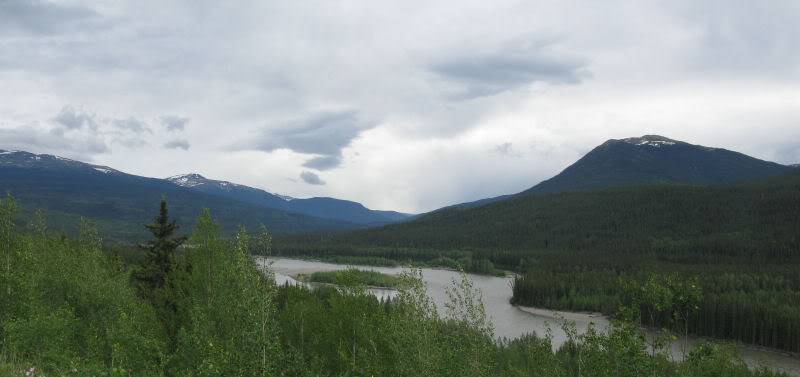 It got colder and colder as we went over a few low passes, so we stopped and hooked up our heated gloves. Good thing, since Gnat Pass was frigid and we were scraping snow and sleet off our face shields. Brrr...

We had considered going on to Watson Lake, but when we got off of the Pass, we decided to stop in Dease Lake and stay the night. There are a couple hotels, and neither is cheap. Dinner at Mama Z's was very good, but Zora hadn't had a chance to do any baking, so there was no dessert.

If the weather had been better, I might have ridden up Telegraph Creek, but as it was, the beer I had with dinner was decent compensation. Telegraph Creek will have to wait. I might do it in the morning while Laurie waits in town. We'll see.

We had a few days to kill before we rolled into Dawson City, so we would come up with something to do along the way.

Only 249 miles today, most of it cold.


Monday, June 14, 2010
-----------------------------

I had been up until after midnight working on the computer, so I slept in as late as I could before needing to get up for the continental breakfast. After lazing a while longer, I decided to skip Telegraph Creek and save it for another trip. That was just as well, because we learned later that the road was under repairs and was closed at some point.

We checked out of the lodge, gassed up, and headed north. In one wooded community, we passed a sign that said, "Watch 4 horse." We later passed the horse, which was walking alone along the side of the road. It knew where it was going, and it stayed off the pavement, so that worked out for everyone. Nice riding, generally.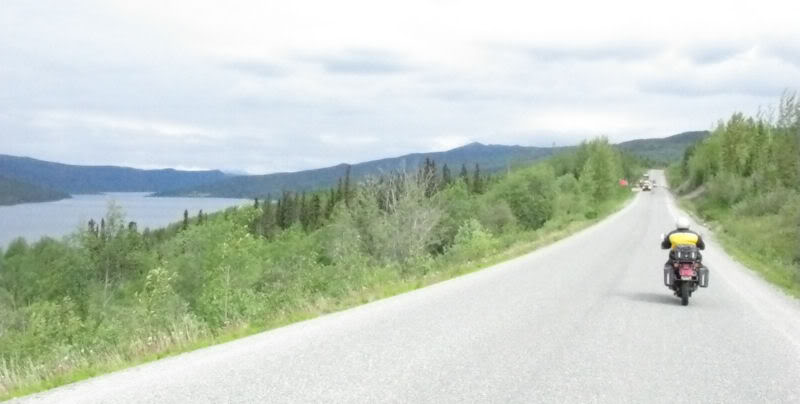 More bears. One was walking in the road until it heard Laurie coming up behind it.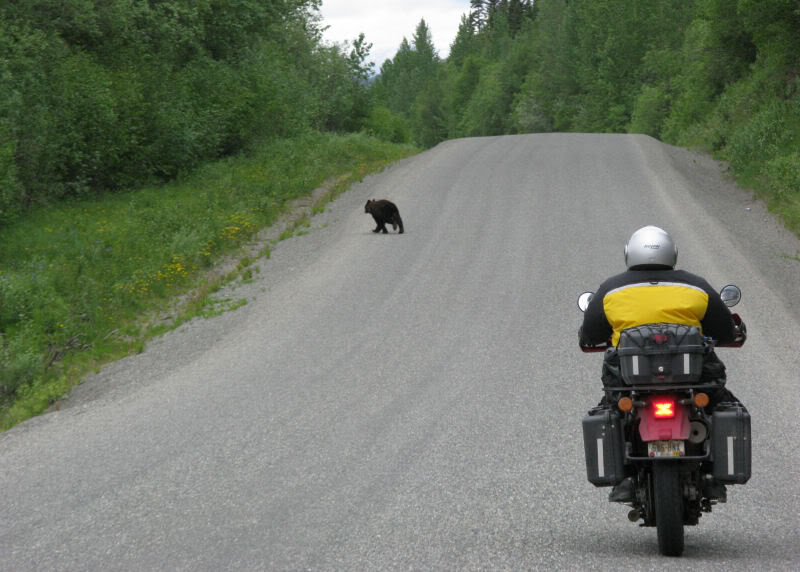 The whole day was cool with only a very brief, light sprinkle. Best day in a while.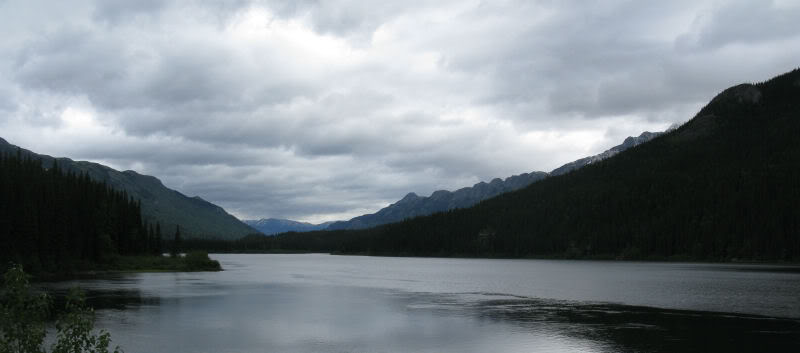 In Jade City, we stopped and bought a couple of trinkets. According to their literature, 90% of the world's jade supply comes from these mines. There were huge chunks of jade stone in the work area, ready for sawing.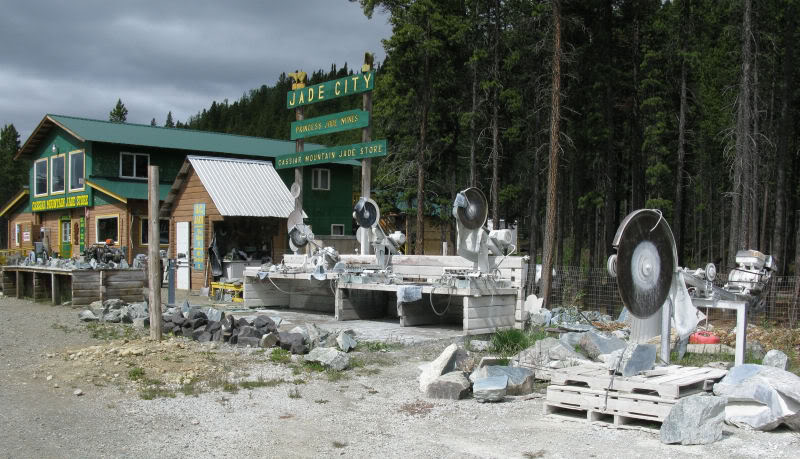 Another bear was ambling along the road, munching on berries and flowers.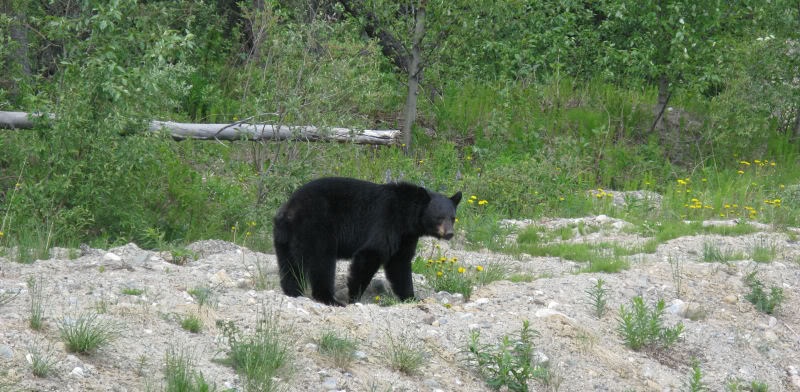 More construction sites, but only a couple of them caused any real delays.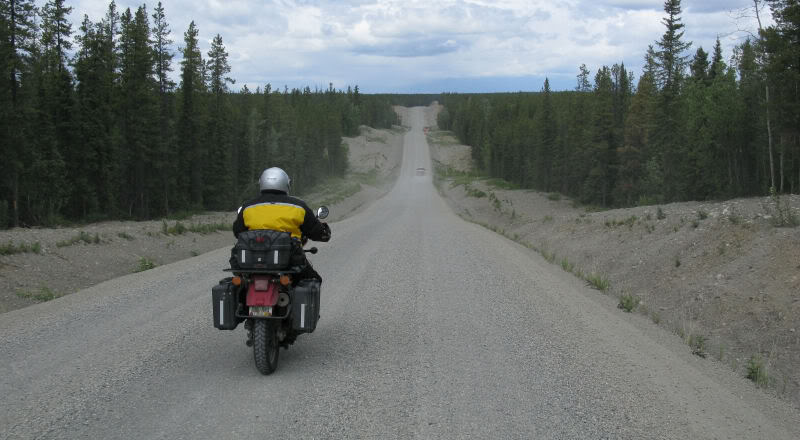 Arriving on the Alaska Highway at last, we detoured a few miles east to Watson Lake and the Signpost Forest.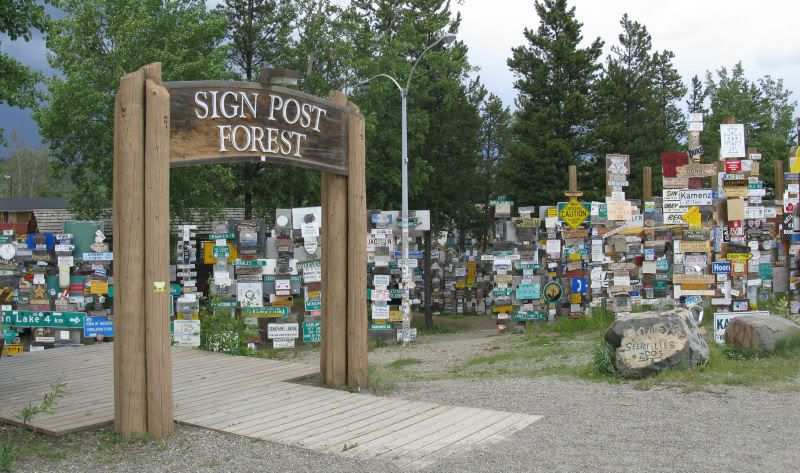 The cheapest place in town is the Air Force Hotel, but it is very basic (and still not cheap at over $90 total). There were two places renting cabins or rooms in the $90-$100 range. We decided on the Big Horn Inn for about $120, but it was a much better room. Since we had ended the day early, we walked over to the Downtown RV Park and had dinner in their BBQ tent.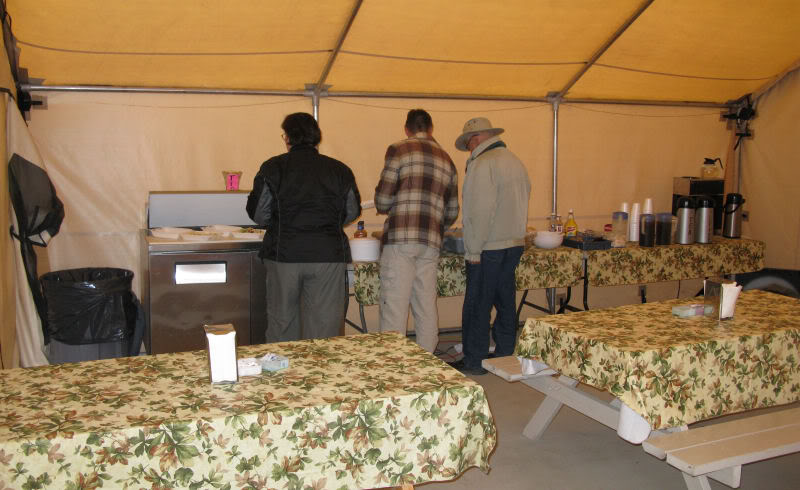 After the okay-but-not-great meal, we walked back to the Signpost Forest and meandered around it for a while. I had seen it before, but it was new to Laurie. Across the highway was the Northern Lights theatre, so we caught the 18:30 show that was partly about the Aurora Borealis and partly about space exploration and the size of the universe.

We got a bottle of wine from the Belvedere Hotel next to the Big Horn Inn and took it to our room. Off-site sales from bars is common here. It was still early, so we played a couple of games of Canasta. We hadn't played in a while, so we had to agree on what the scoring rules were. I think we got most of the rules correct. In any case, I kicked her ass both games.

Laurie still has a couple of annoying oil leaks from her motor, but I don't think it's worth messing with on this ride. It'll wait until we get home.

Only 163 miles today, so it was our shortest day so far (since our first day leaving home).


Tuesday, June 15, 2010
-----------------------------

The Belvedere Hotel has a decent restaurant, so we had breakfast there before checking out of the Big Horn and getting on the road. The plan was to ride the Alaska Highway to Whitehorse and stay there for a couple days, doing day rides to Skagway and other local places. The day started cool and cloudy, but the clouds steadily faded through the day and the sky was mostly blue in the afternoon.

We passed long lines of RVs and trucks, saw lots of motorcycle riders, and crossed the long, tire-shaking steel-grate bridge at Teslin. I saw that Mukluk Annie's Salmon Bake was no longer in business, which is a shame.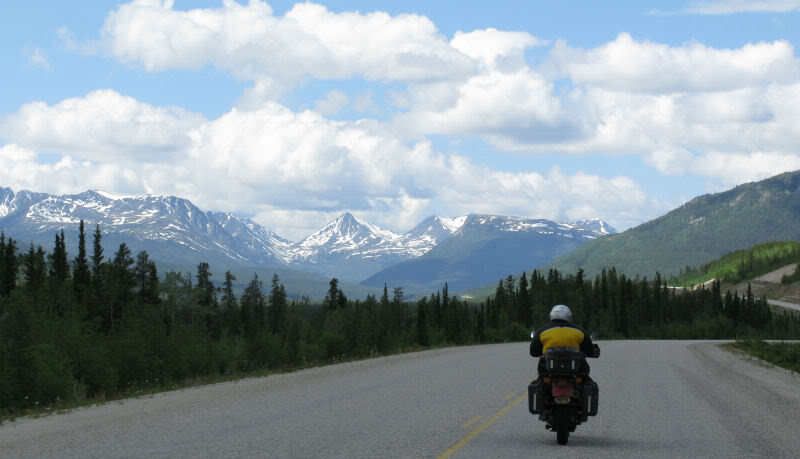 We gassed up at Jake's Corner and changed our plans. We decided to head for Skagway to spend a couple days doing touristy things, then ride back north to Whitehorse. We might take a ferry from Skagway to Haines and ride back to Whitehorse. Didn't know yet.

The road from Jake's Corner to Tagish was new to me. I had taken the Klondike Highway to Skagway last time, but this route was a shortcut from where we were now. The ride was good, with only a little section of gravel.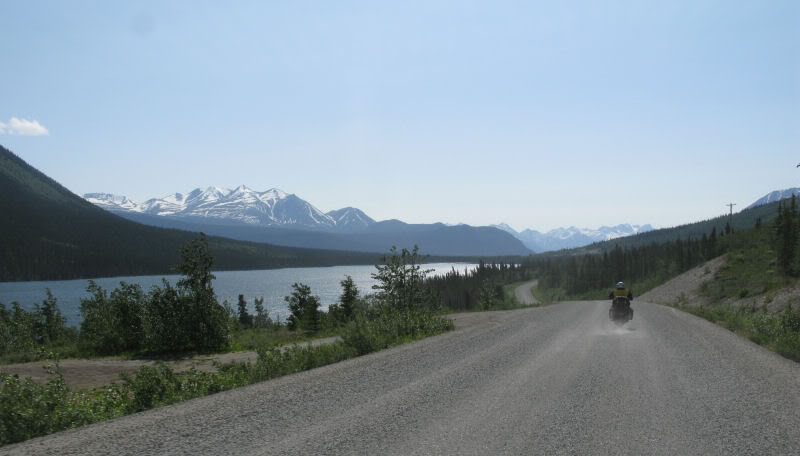 At Carcross, we joined the Klondike Highway, and back onto a road that I knew. Carcross has some significant history in these parts. It was here that the final, golden spike was driven in the White Pass & Yukon Route Railroad, connecting Skagway to the interior of the Klondike territory. Laurie got her passport stamped with a tourist stamp while here.

I led Laurie to the old rail bridge, and we rode across on the narrow boardwalk next to the rail line. Coming off the end of the boardwalk, there's a bit of a drop-off, and it's easier if you stay to the right (from the rider's perspective), nearer the rail. If you stay to the left, as Laurie did, there is a 18" drop into deep, loose rocks.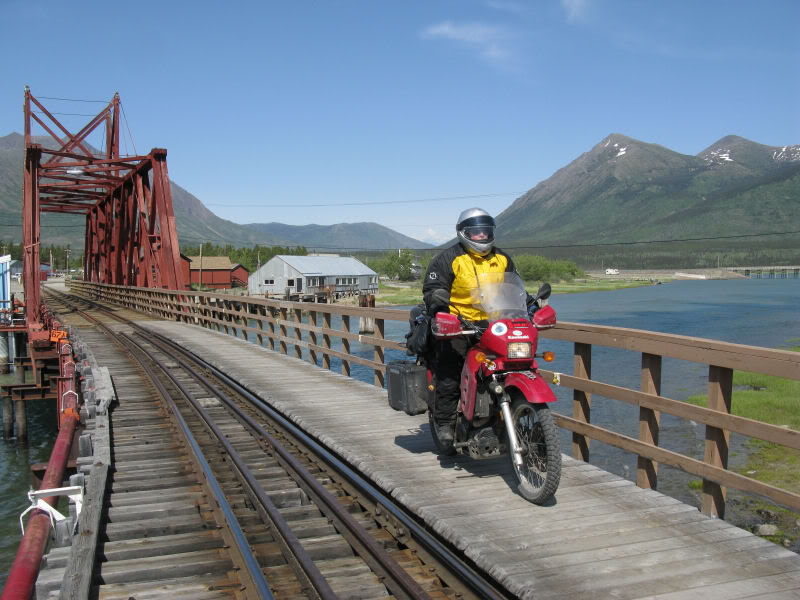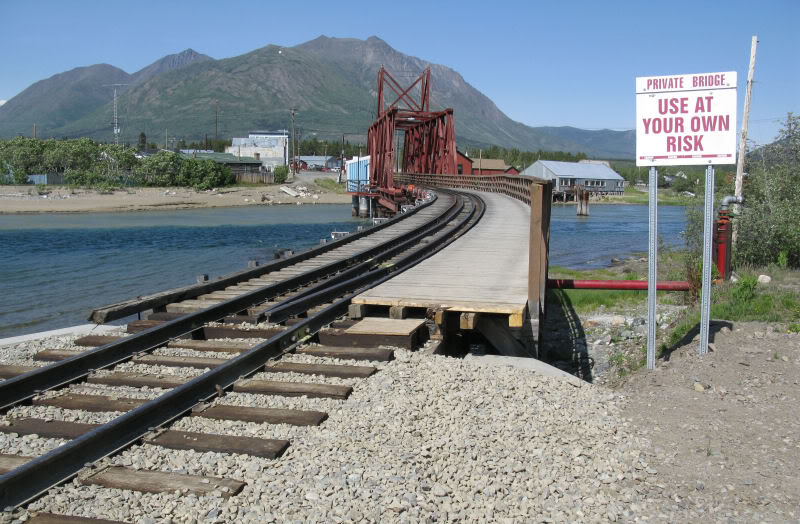 She did okay in the rocks, but then braked too much and dumped the bike. She wasn't hurt, but her right foot got pinned under the bike, so I forgot to take a photo and first went to get the bike off of her. I was remiss in my photo journalist duties, I know.

The ride over the pass and across the Canada-U.S. border got colder as we went higher, but we didn't get rained on, so that was good.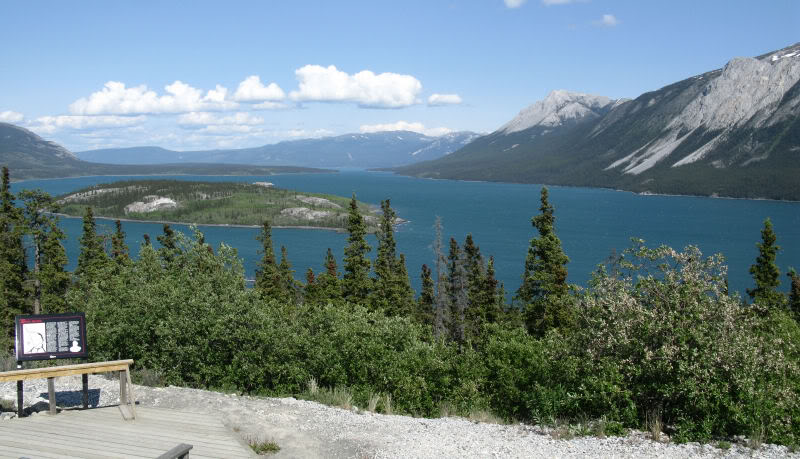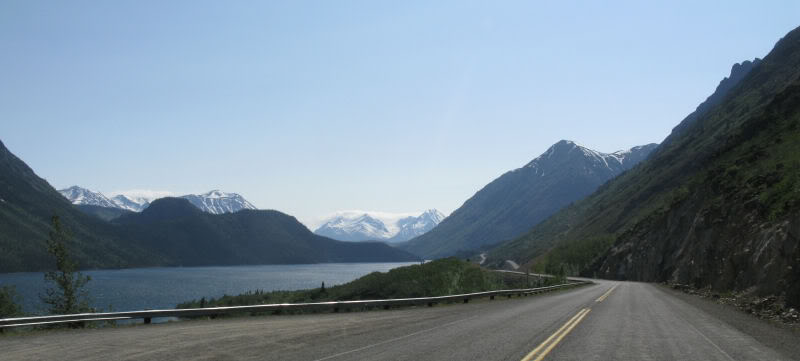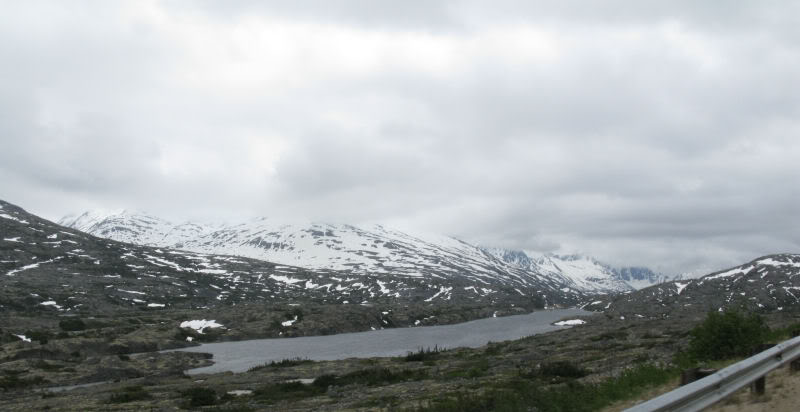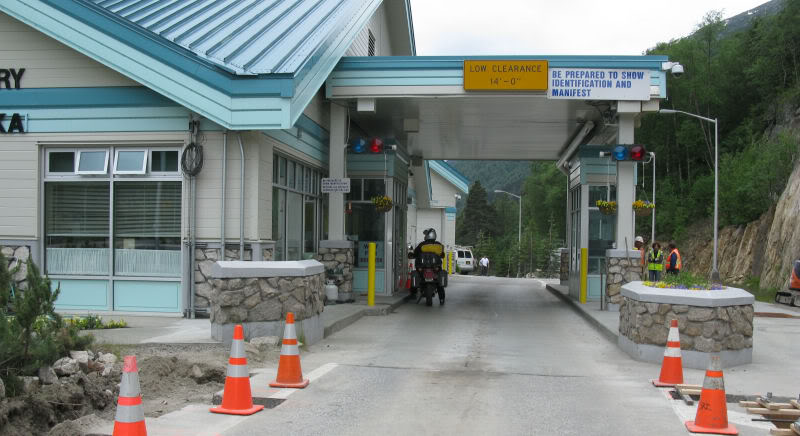 In Skagway, we rode to the marine ferry depot to check info on possibly taking the boat to Haines and riding back to Whitehorse from there. That's what we made plans to do, so we decided to stay in Skagway two nights and spend tomorrow doing touristy things here.

There were three big cruise ships at Skagway at the time.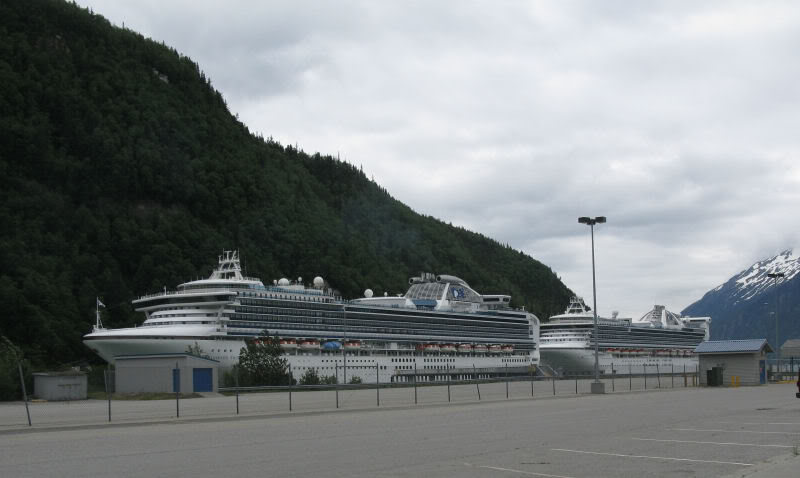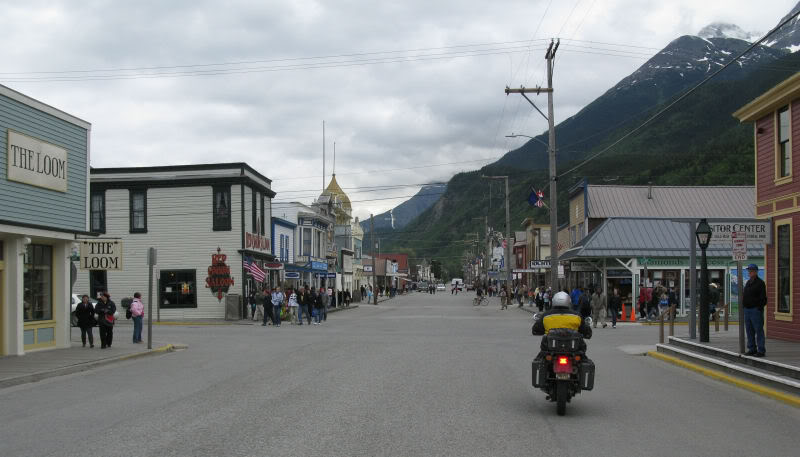 We chatted with a local guy who was interested in our bikes, then got settled at the Westmark Inn. There were only a couple of inexpensive places in this town, but "inexpensive" is a relative term in tourist towns. Our room was $120 for Tuesday night, and $110 for Wednesday night. Don't know why; don't care. It was expensive either way. We had picked up a $25 coupon in Watson Lake, so the actual rates were higher. I think.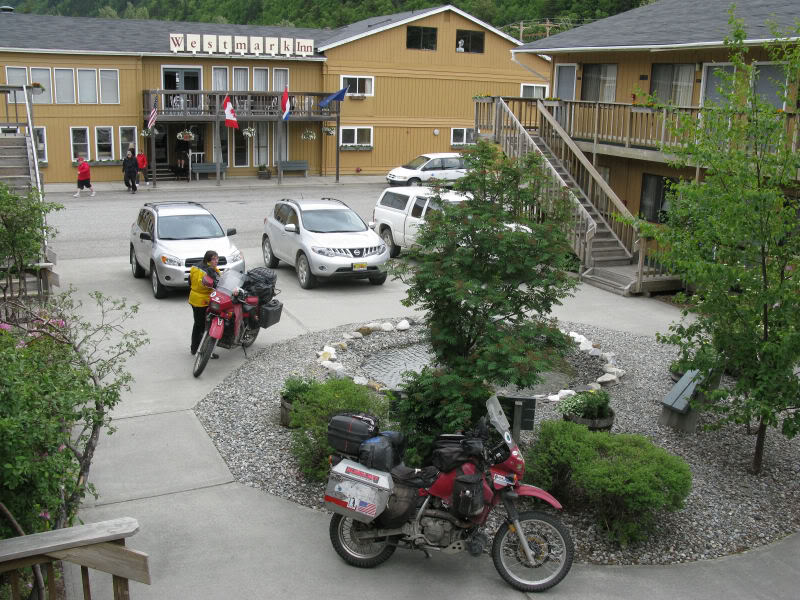 The local historical follies show didn't have an evening showing, so we settled for a short one-man show at the Westmark. It was a few songs and some Robert Service poems, then a short video about the Klondike gold rush of 1897-98. It was free and mildly interesting. Everyone else in the audience was from one of the cruise ships.

Dinner choices seem limited in the small historical downtown mainstreet of Skagway. Lots of pizza places, with burgers and sandwiches being the most common options. I did see one curry restaurant. We ended up at a pub and grill for a burger and sandwich.

The ride from Watson Lake to Skagway was 324 miles. Very scenic over the mountains.


Wednesday, June 16, 2010
---------------------------------

Laurie called and got us reservations on the WP&YR railroad tour for the mid-day ride. The early ride is cram-packed with folks from the cruise ships. After a bit more snoozing, we had the breakfast buffet at the hotel and wandered around before arriving for the 10:30 showing of the "Days of '98" follies. The simple musical was preceded by a guy singing a few Gold Rush-era songs and telling even more Robert Service poetry, including "The Cremation of Sam McGee."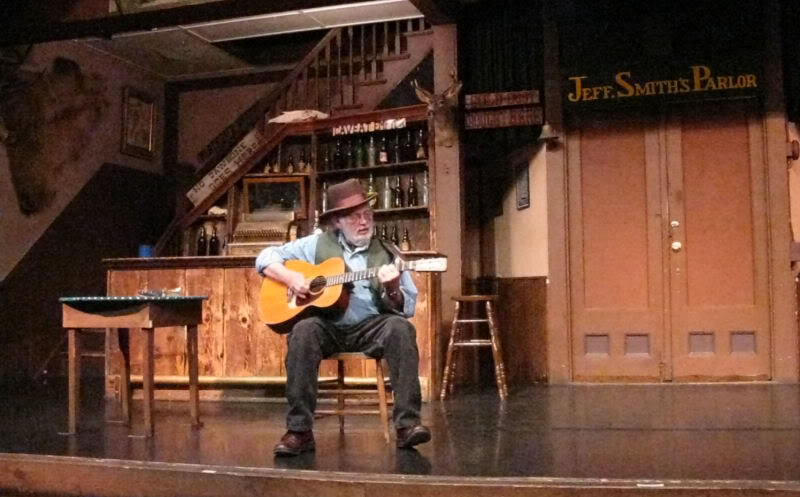 The main show was decent enough for $20, with the added bonus of me being the guy they dragged onto the stage to fulfill the role of a customer in Soapy Smith's whore house. I was probably the youngest guy in the audience, so that made me their victim.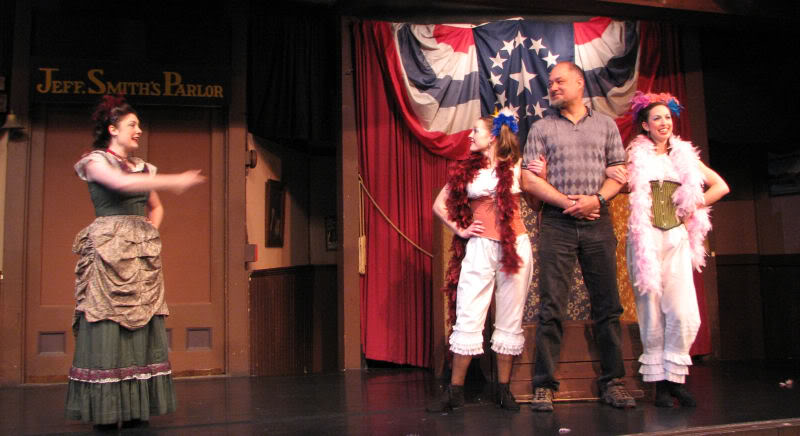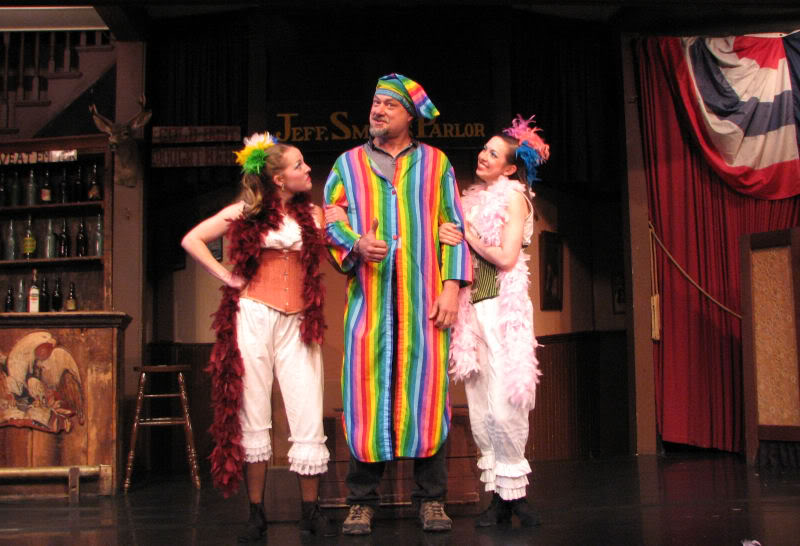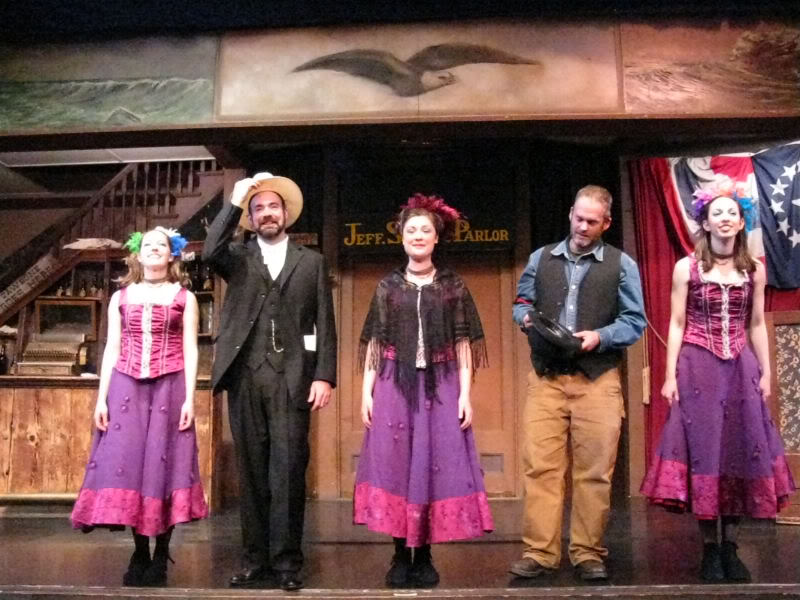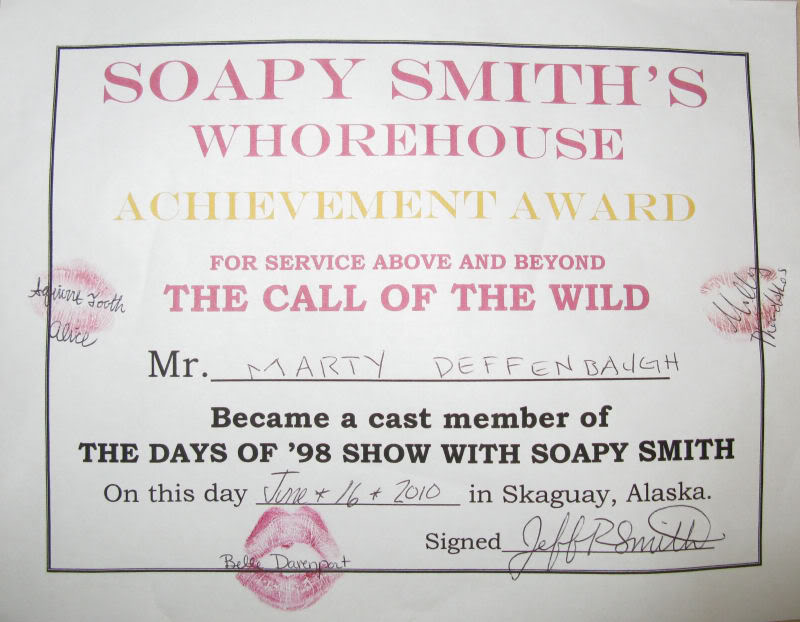 We then boarded the train for the 3 1/2-hour ride up over White Pass and back. We crossed the U.S.-Canada border back and forth along the way, but since we didn't stop we didn't have to bother with immigration.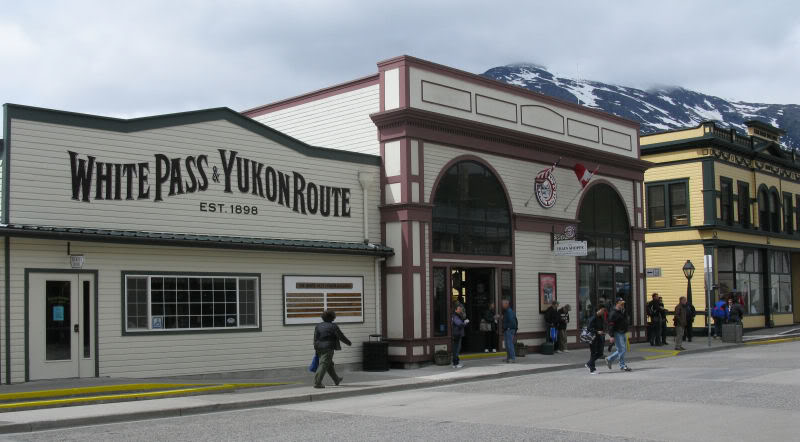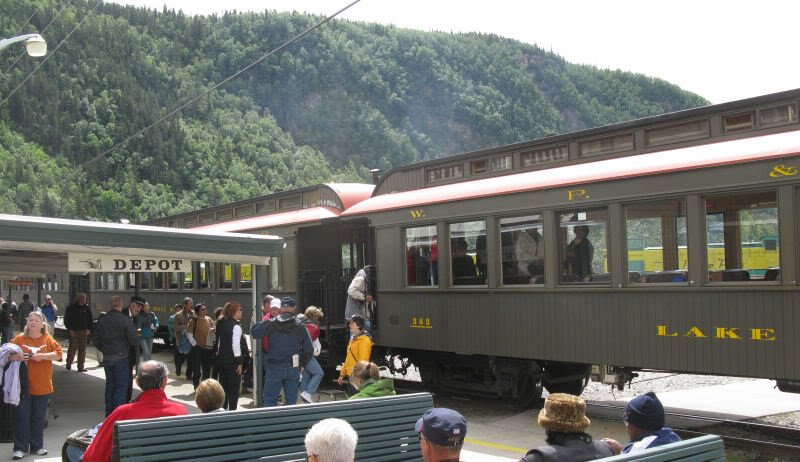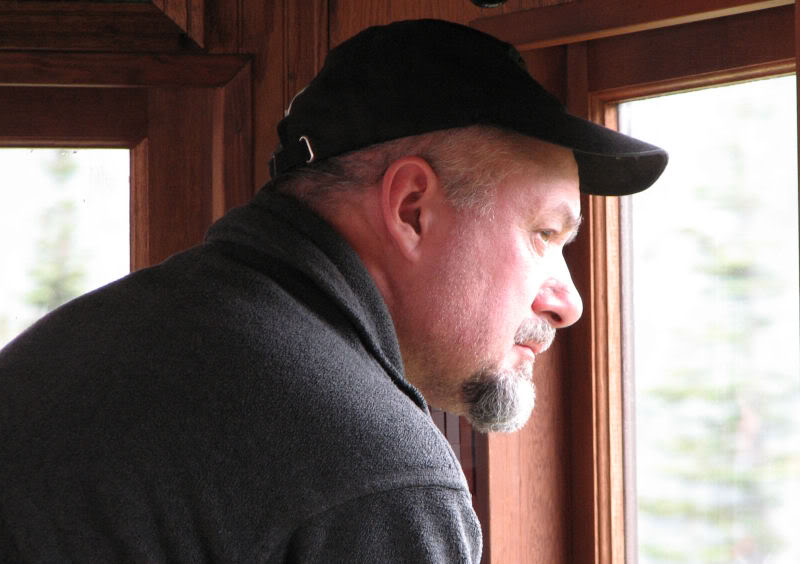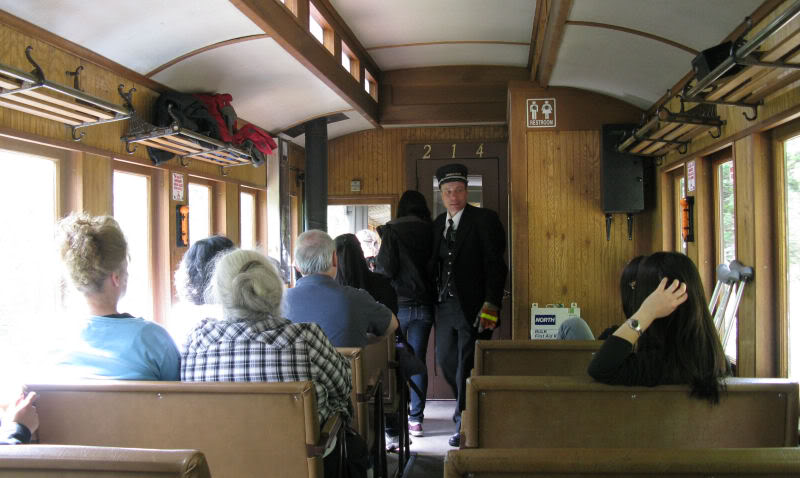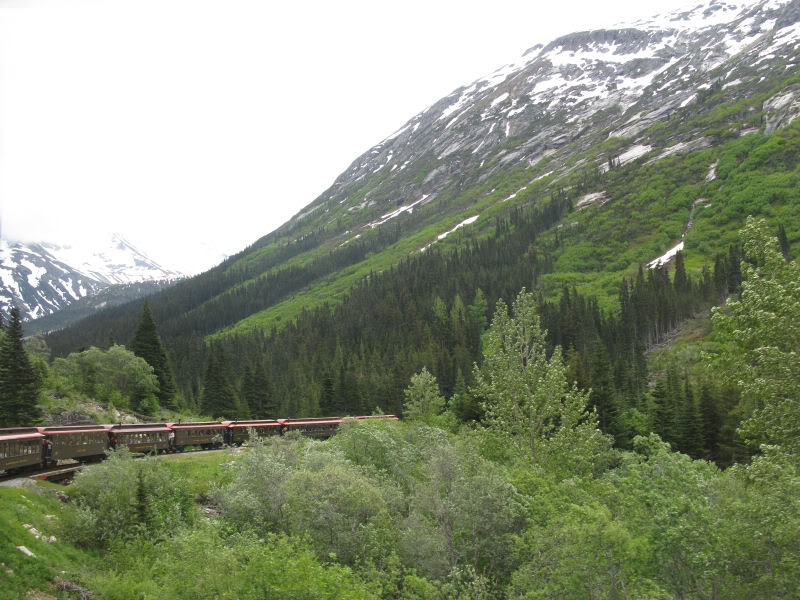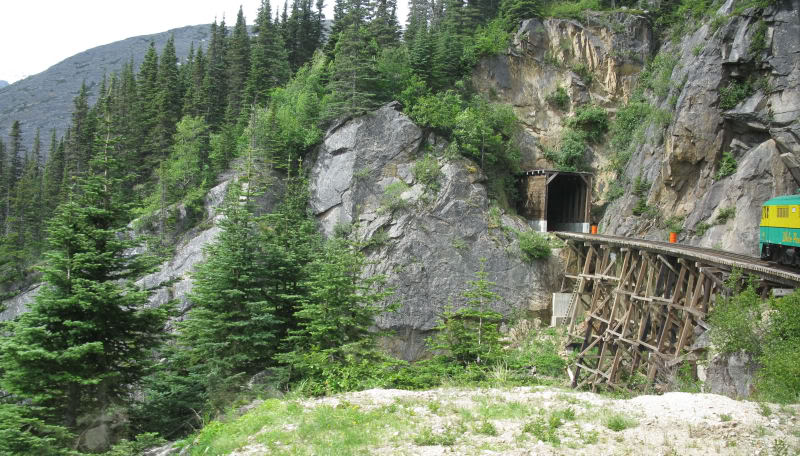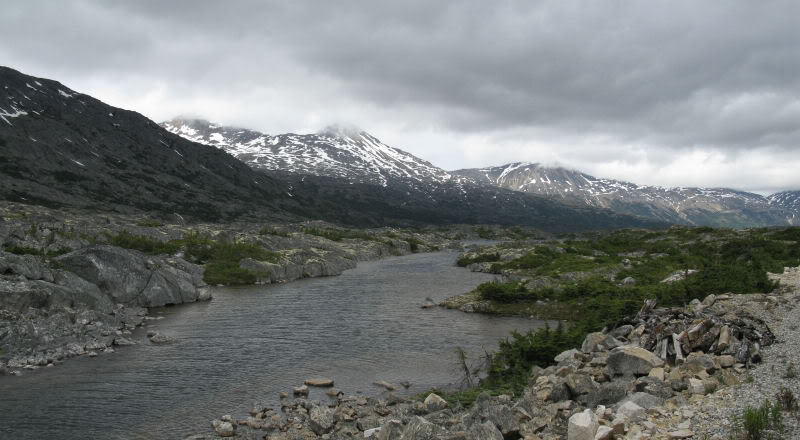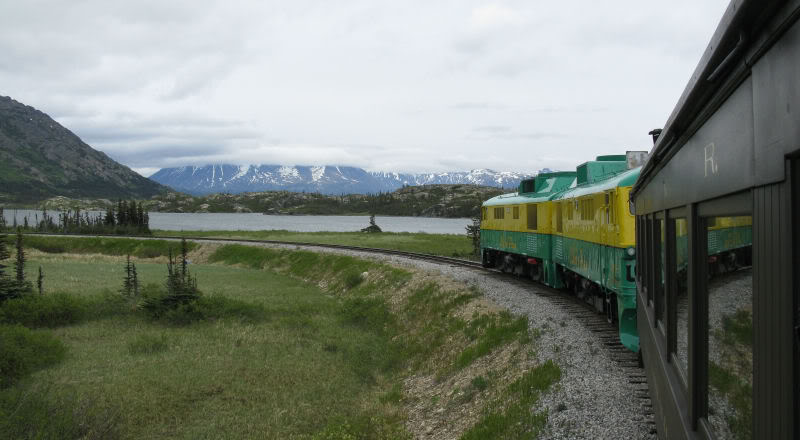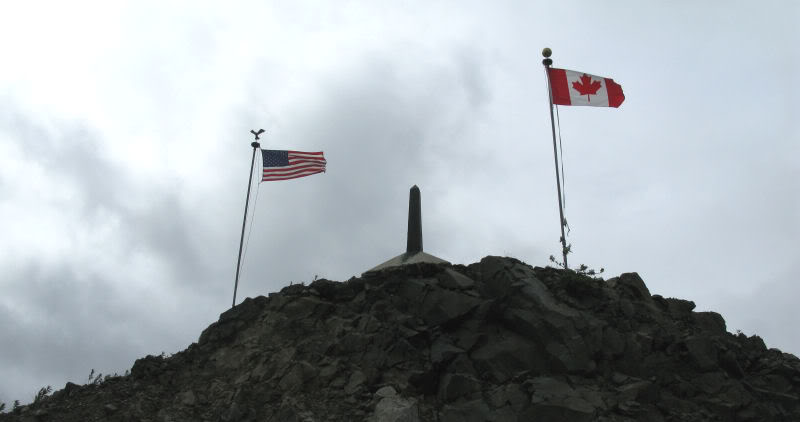 After the train ride, we bought some more tie-down straps that we would need on the ferry to Haines tomorrow. I had a couple with me, but we might need two for each bike.

Dinner was at Bombay Curry, which was a nice change. They had a game called Tridarts set up, and the rules were posted next to it--not that it helped any. Despite reading the rules and looking at the diagrams, I was still confused by all the magnetic colored balls and token markers that adorned the big T-shaped scoring post (which had numbered badges and other designations on it). The dartboard itself had colored geometrical shapes on it, and I had no idea what the Defender was supposed to do with the defense dots that got put on the dartboard somehow. And forget the wooden gray line block--it's a mystery. I should have taken a photo of the game, since I'm still not sure if it was a real game or a parody of a game intended to confuse customers like me.

We were done for day's activities, so we vegged in the room and finished off a bottle of merlot. [ yellow tail ], of course.

Sixty miles or so by train, zero by bike.


Thursday, June 17, 2010
------------------------------

After breakfast, we loaded the bikes and rode to the docks. We got our boarding tickets and windshield tags for the bikes, but still had a lot of time before we needed to be ready for loading. We killed some time by riding to the Skagway graveyard. Jefferson "Soapy" Smith, the town con man from the Gold Rush days, is buried there, as is Frank Reid, the town hero who killed Smith in a gunfight (and later died from his own wound).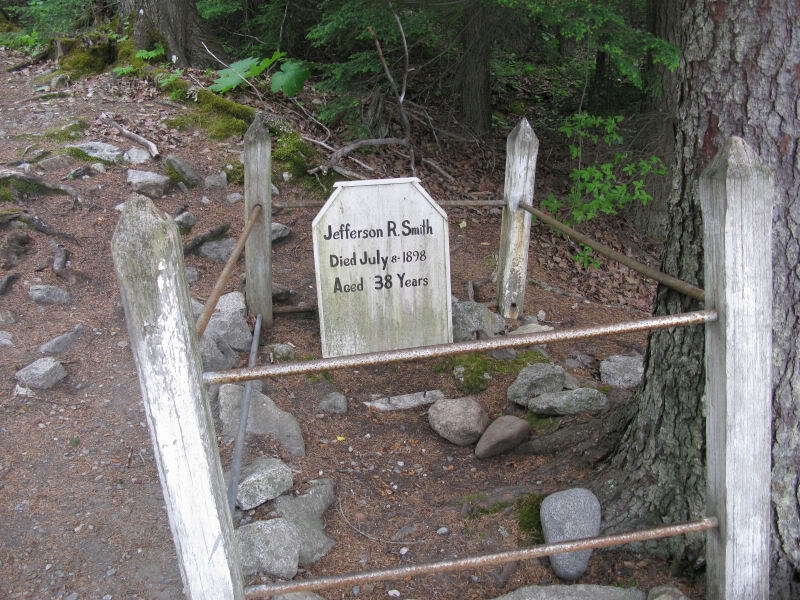 We also met two riders on BMWs who had just come into Skagway on the ferry from Haines. They were lost and asked for directions out of the city. I pointed the way, but felt a bit silly telling them to just keep heading up the valley, since it was really the only way to go.

We were back at the dock at 10:30, as directed, but we had to wait a long time before the started boarding the ferry. All the cars, trucks, RVs, and campers got loaded first. We and another KLR rider who had arrived behind us were the last aboard. Once on the ship, we parked where they told us, and used tie-down straps to anchor the bikes to a low rail. Really, it was just to help ensure that the bikes stayed on their sidestands, since the ride was very smooth and mellow.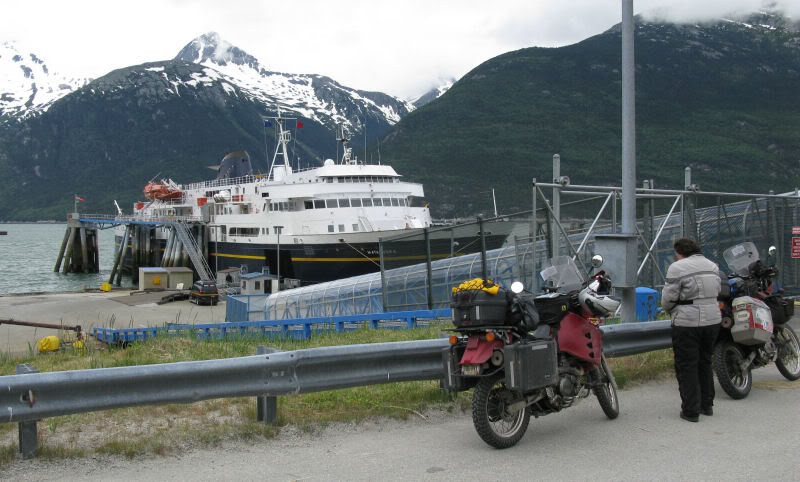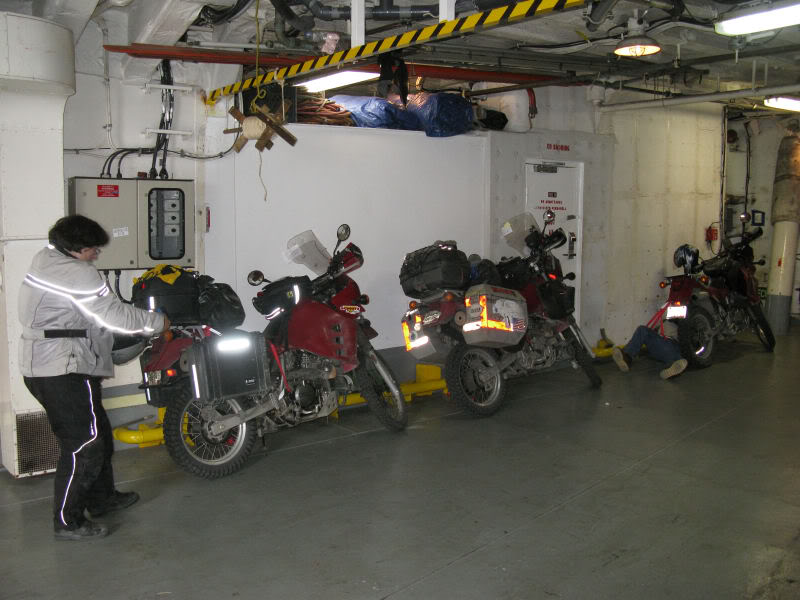 The boat took a little over an hour to cover the fourteen miles down the inlet to Haines. We strolled around the decks a bit, but it was very windy and cool. A parks service guide gave a short talk about Haines and recommended a few touristy things to do. For some reason, the Hammer Museum came highly recommended.

The docks were a few miles from Haines, so we rode into town and stopped at the Visitors' Center for guidance on a place to stay. Of the three places they suggested, Laurie called each of them and we settled on the Eagle's Nest Motel on the north side of the city. Again, there ain't no such thing as a cheap room anywhere in Canada.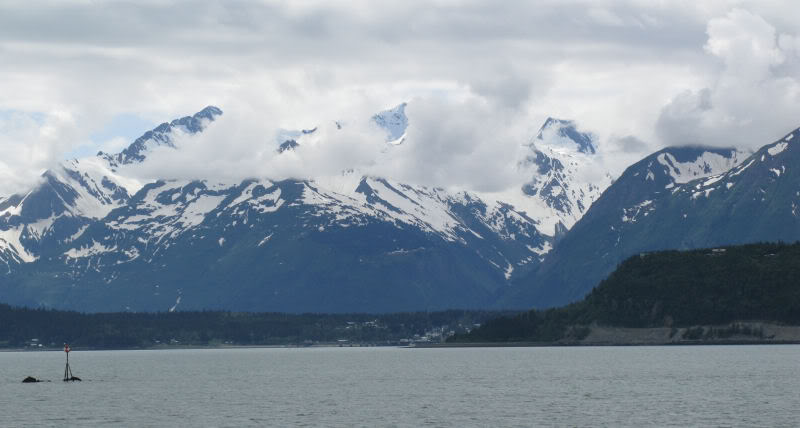 We walked the mile back into town and went down to the waterfront and up to look at what remained of Fort Seward.

It was still too soon for prime Bald Eagle viewing, but this area is one of the best places for that in all of North America. It was also too soon in the season for the all-you-can-eat crab dinner at the restaurant we chose, but the other food was good.


Friday, June 18, 2010
---------------------------

Breakfast at the motel was limited to coffee and muffins, so we scarfed that and hit the road. It was partly sunny and almost warm, but clouds were looming. The morning got cooler as we gained altitude and crossed back into Canada.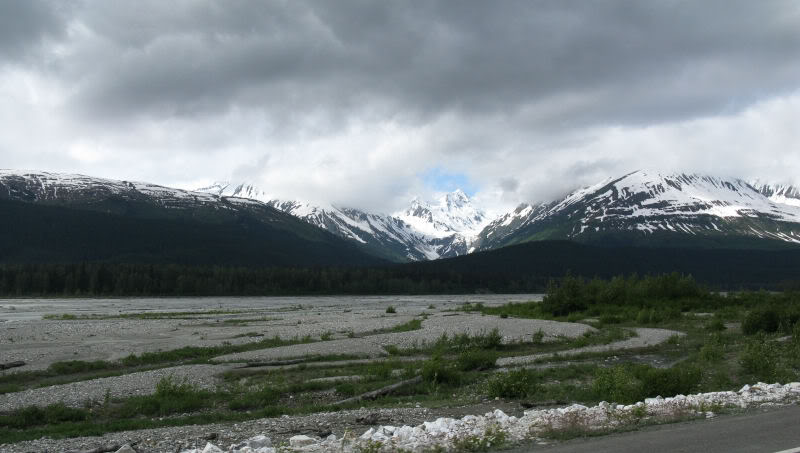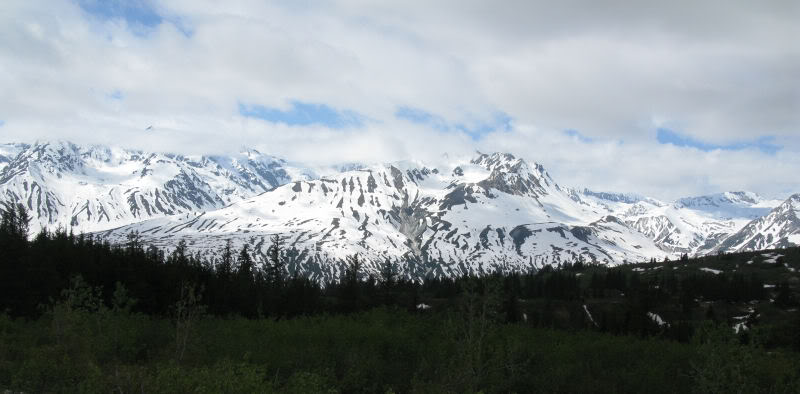 Haines Pass was cold, but mostly sunny. When we stopped for any reason, the sun felt very nice. Moving, we got cold again.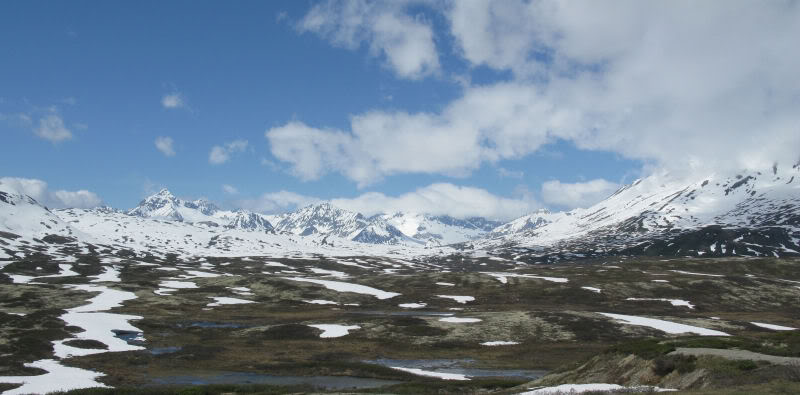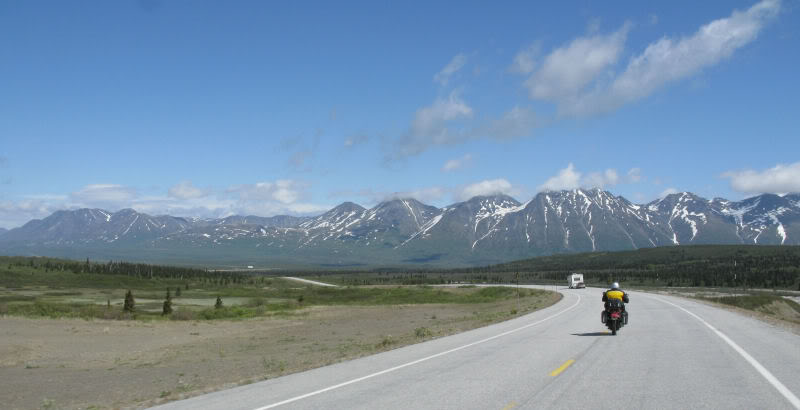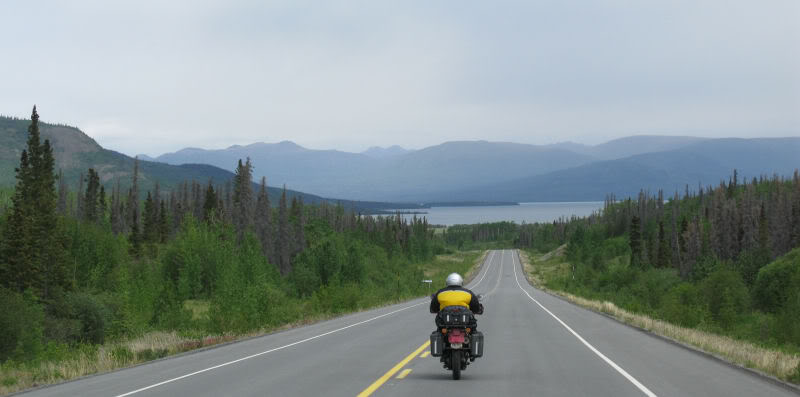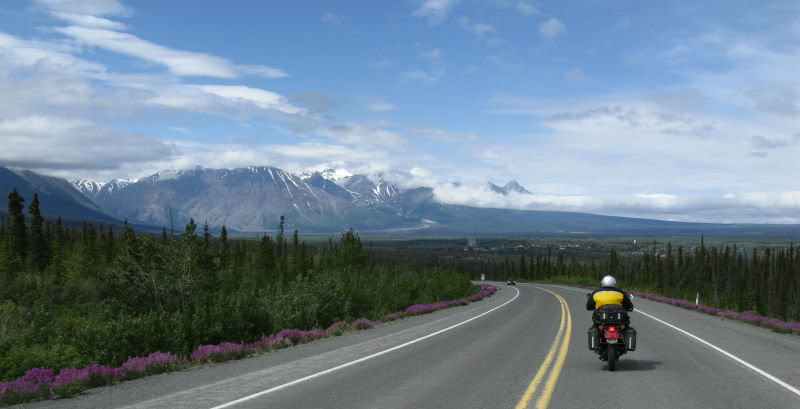 I had spent the night at a motel in Haines Junction two years ago (where I got to watch a group of Athatpascan lesbians play pool), and that's where Laurie and I stopped for a late lunch. We met a rider from Italy and spoke with him briefly. He had been on his Africa Twin for a little over a hundred days, coming up from South America and having just returned from Prudhoe Bay. He was headed back to Vancouver to ship his bike back to Europe. I should have fetched my camera because he had dozens of patches and pins on his jacket and stickers all over his bike.

The final hundred miles into Whitehorse on the Alaska Highway was sunny and a little warmer.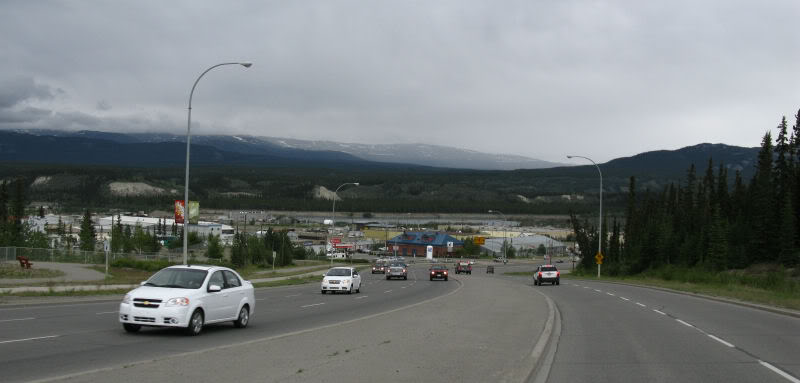 We checked several hotels, but ended up at the same 202 Motor Inn I had used the last time I was here. There was a book conference in town, so only a few hotels could accommodate us for four nights and only a couple had Internet access via Wi-Fi.

The last time I was here, I snapped my rear brake line while changing a tire in the parking lot, but our tires were holding up well this time. (Of course, I had ridden a lot of dirt and shale roads on my earlier solo ride, and Laurie and I were now staying on paved roads as much as possible.) Actually, my rear MEFO tire was wearing a little faster than Laurie's, probably because I was loaded heavier than she was. Her rear tire might make the whole ride, but mine might not.

We had four days to kill before we needed to be in Dawson City, so we would have time here to do tourist things. Maybe get my rain pants fixed, too. That upside-down leg zipper was very inconvenient.

Whitehorse was going to be expensive... again. I'm willing to believe there are cheap places to eat aside from fast-food places, but I've seen no evidence of it yet. Even the local Tim Horton's restaurant is more costly than a typical U.S. diner. Gas is also more expensive than in the States, but that's true all over Canada. Dinner at Giorgio's at the 202 Motor Inn was very good, and the prices reflected that. The bar at the hotel had a country and western band that was supposed to be popular, but we decided to call it a night.

The Wi-Fi signal at the hotel kept going dead every few minutes, so Laurie got very frustrated trying to manage some financial matters and I gave up trying to do any website management or uploads.

Total mileage for the ride from Haines was 240 miles, 387 kilometers.


Saturday, June 19, 2010
-----------------------------


After sleeping in late, I dropped off my Aerostich pants at a tailor who could replace the leg zipper with a longer dual-head one as well as replace the fly zipper that had blown out. Labor was the main expense, so it was going to be $70. Yeeks! I suppose I could have ripped out the upside-down zipper and sewn it back in by hand, but it would have taken me a couple of hours and the end result would have been crudely done. Also, the material of the pants isn't easy to sew by hand. So, I suppose the expense was worth it. The pants were promised to be ready for pickup Monday afternoon.

Laurie and I went to the Tim Horton's to eat, then walked around the historical riverfront area for a few hours, stopping in all the museums and some of the gift shops. It was very sunny, and very warm--almost hot. Kids playing in the water fountains in the park were fun to watch.

Whitehorse boomed with the Klondike Gold Rush, and had a second boom time with the construction of the Alaska Highway before and during WWII. It's the capital of the Yukon, and the home of over half the total population of the Yukon Territory (which totals only about 30,000 people). Most of the museums are related to those times. The Visitor's Center is very nice and has a lot of information.

I didn't have my camera with me as we roamed, but I'll take it when we go out again.

We bought tickets for tonight's Frantic Follies, which I had seen before. I hoped that they mixed up the shows over time, so that it wouldn't be exactly what I saw before. Since the usual bus tourists aren't likely to ever see the show more than once, I feared that it was the same thing over and over. We'll see.

Back at the hotel, I expressed my dissatisfaction about the Internet service being a general failure yesterday, and the gal at the reception desk told me that they had received other complaints. She promised me that she would "make a note of the problem," but that didn't sound very promising. We could have stayed at the Stratford Motel for $20 cheaper per night without Wi-Fi service, so we felt that we were over-paying that amount to stay here. We're not stressing over it, mind you--this is vacation after all.

It took a couple hours to get some ride report updates done over the hotel's undependable Internet signal. I gave up finishing that task and we went out for dinner and the Follies.

Dinner at the Westmark was pretty good, but we confirmed that any "good" restaurant is priced about the same--with entrees in the $25 ballpark.

As for the Follies... I may be the only person who has ever seen it twice, so I may be the only person who can say that it was almost exactly the same show as two years ago. One musical number was different, but every other skit and gag was a repeat for me. Not that I would recommend against seeing the show, but I don't recommend seeing it twice.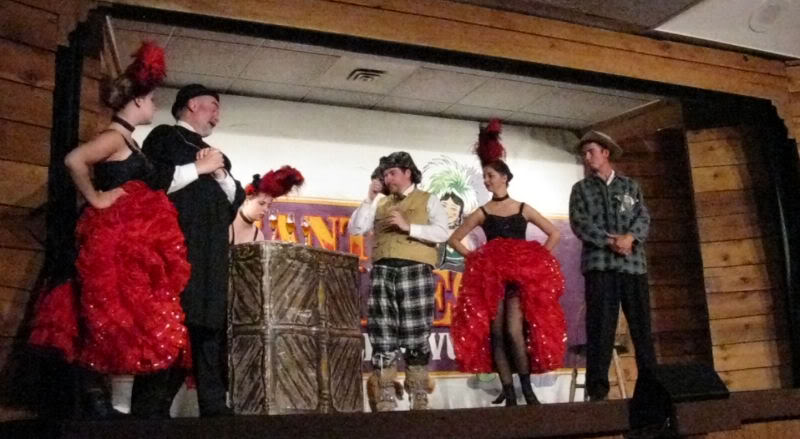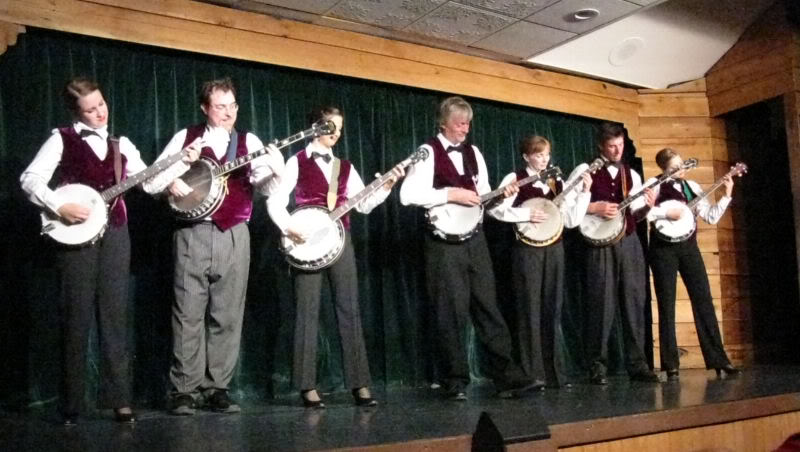 After giving the Internet another try, I gave up.


Sunday, June 20, 2010
----------------------------

We completely lazed in until nearly noon. I went down to complain about the Internet access, and the manager finally switched us to another room that had a cable connection. That was much better than their Wi-Fi signal.

We walked back to the MacBride Museum of Yukon History, but we discovered that we had somehow escaped the $8 fee yesterday and we didn't want to pay it just to go back through for a few photos. We put some money in their donation jar instead. I do recommend spending the eight bucks if you are in Whitehorse.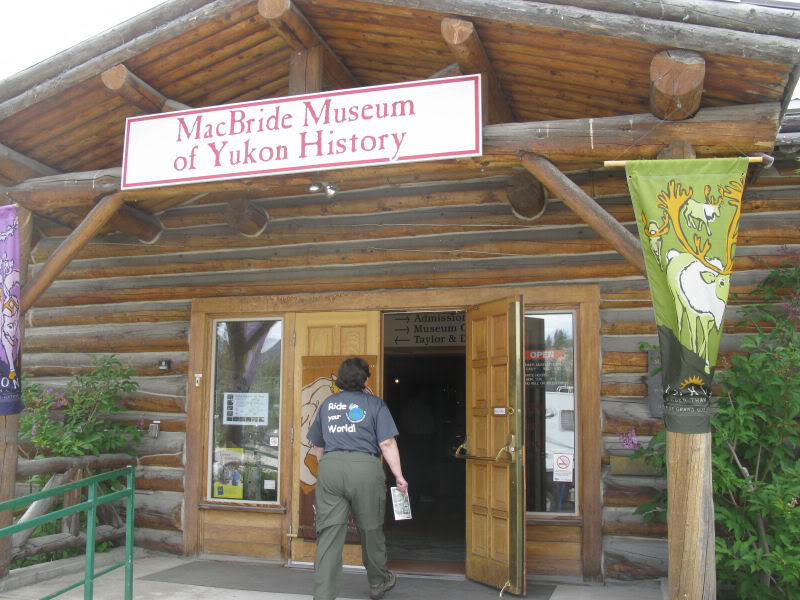 We took the SS Klondike tour for $6 each, which was very reasonable. Now a national historical site, the Klondike was the last working sternwheeler working on the Yukon river. A short tour, but interesting.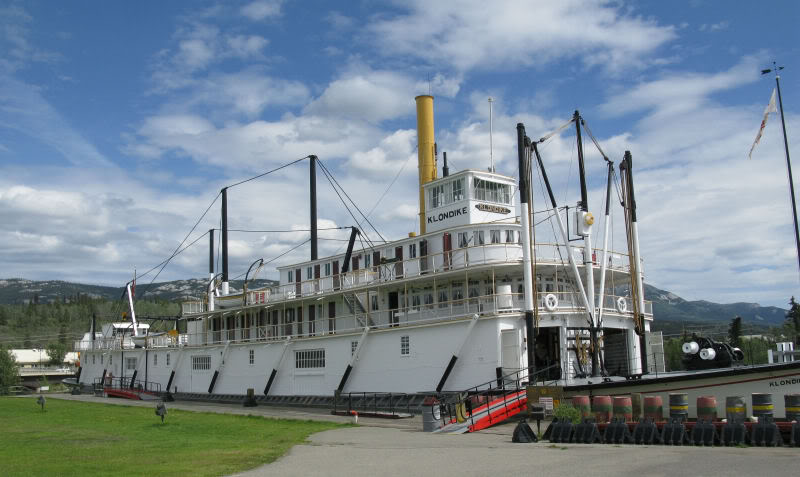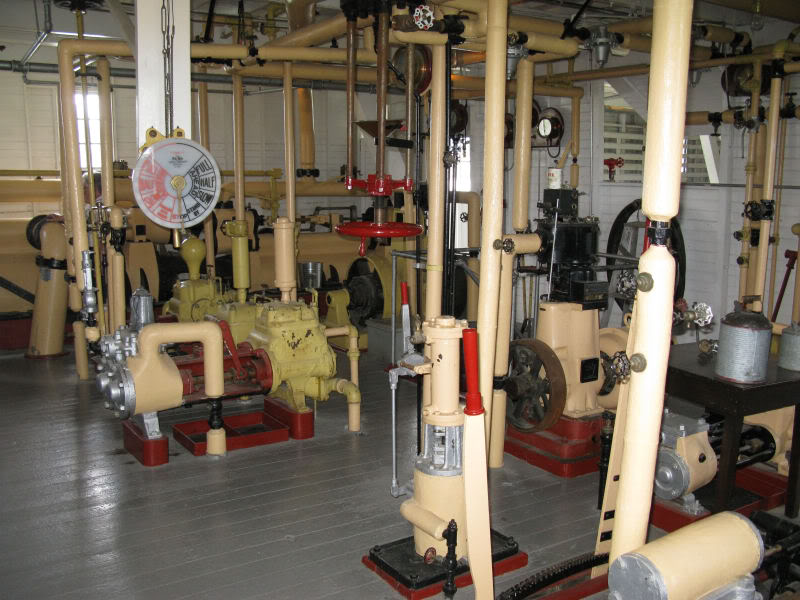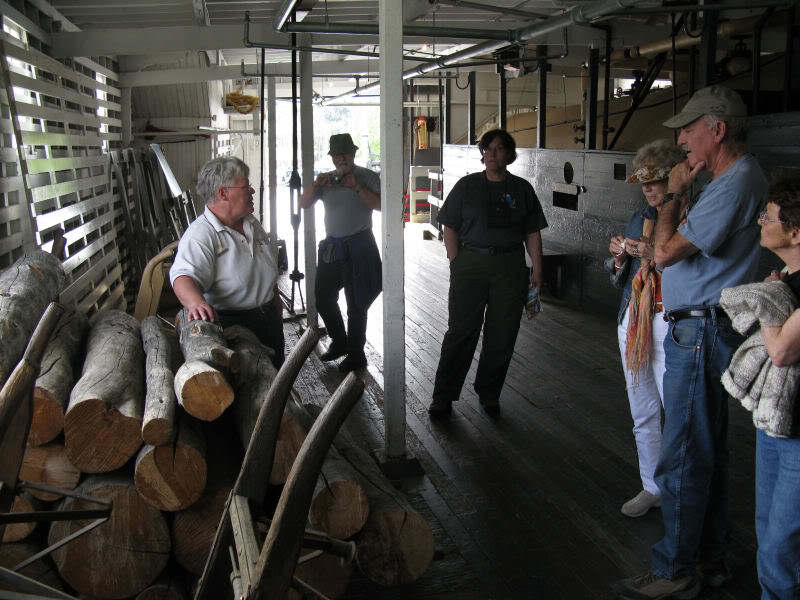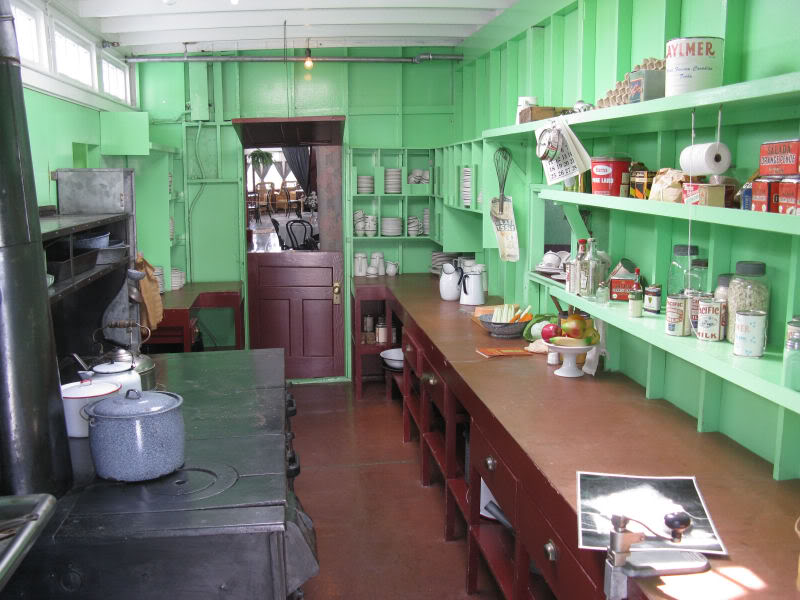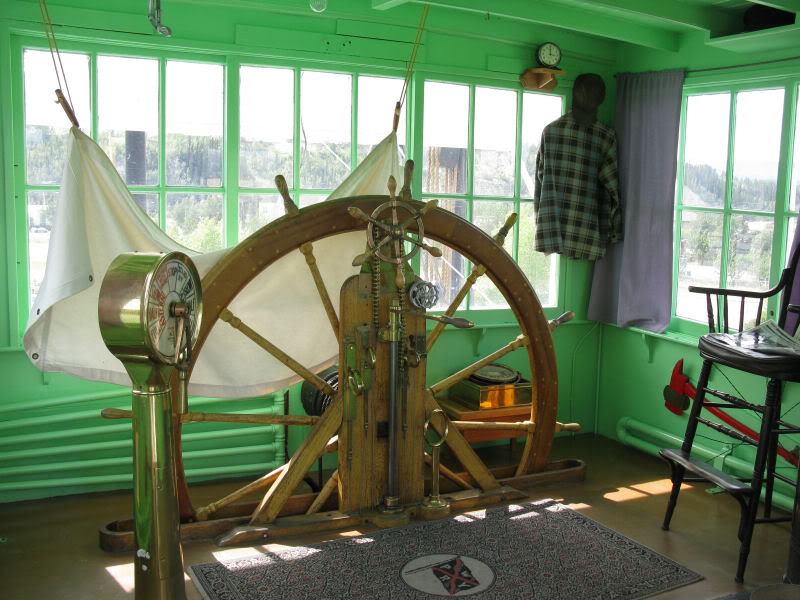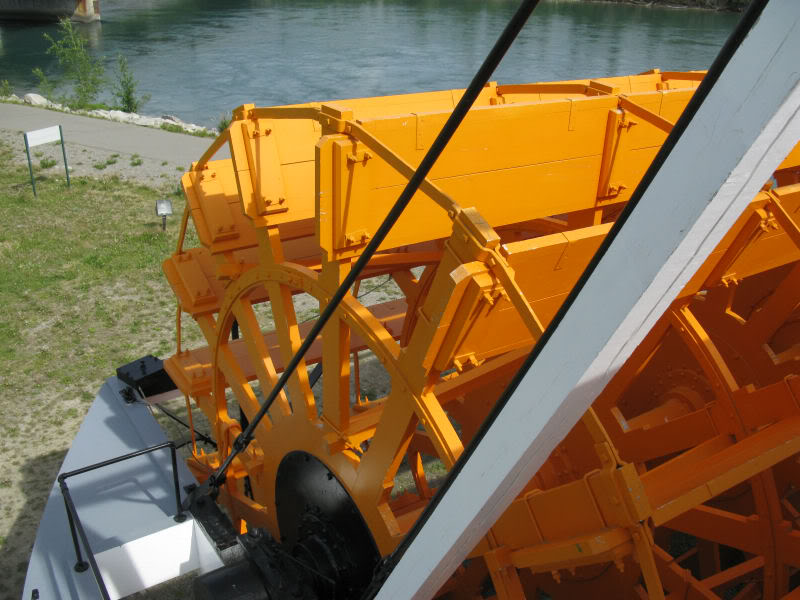 The afternoon got hot, so we just headed back to the hotel. We got some snacks and something for breakfast at a grocery store. The cashier made a point of confirming that we actually wanted two small apricots at $2.50 apiece. Uh, no... not at that price, thank you. Fresh fruit is especially spendy.

We retreated to the air-conditioning of the room. I made a few repairs to my well-worn helmet. The liner was coming apart in a few places. Electrical tape and super glue did the trick for now.

The cable connection was working great, and the Internet speed was really good. I got all the ride report updates done and Laurie was finally able to manage some financial matters.

Not much else to do today, so we got lazy again.


Monday, June 21, 2010
-----------------------------

Today was the Summer Solstice, and that also made it the Canadian National Aboriginal Day. After Laurie finished some administrative tasks and mailed off the results of her effort, we had lunch at a Chinese buffet and made our way to the park where the festivities were being held.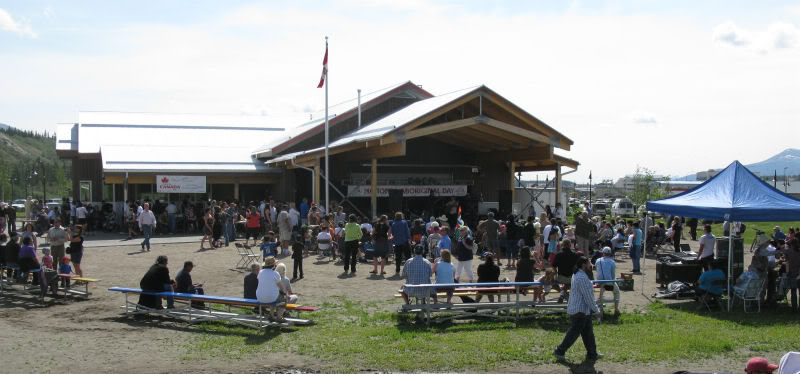 Native arts and crafts were being displayed and sold, but most people were there for the music and cultural presentations. We watched kids and adults compete in a two-step jigging contest, but it was too hot for us to hang around outdoors.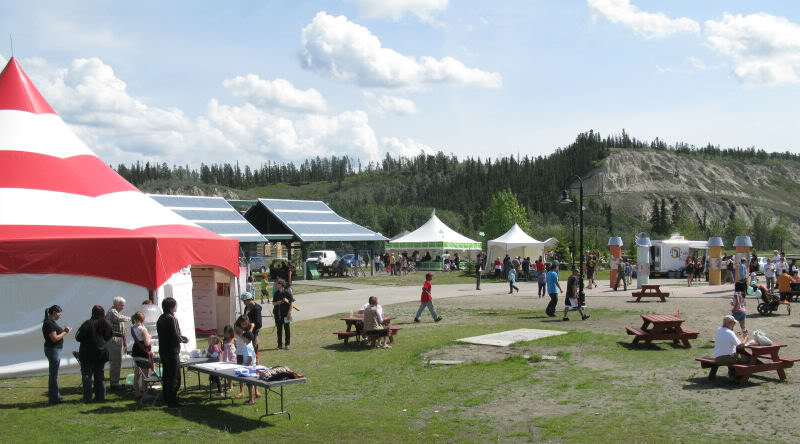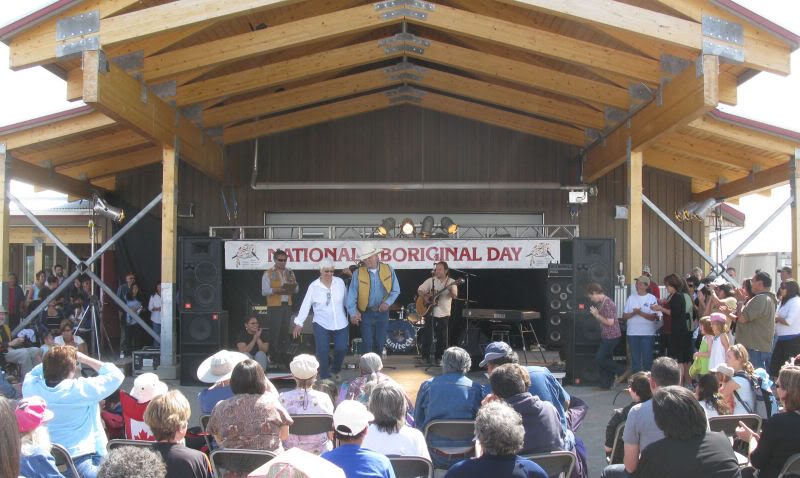 I picked up my Aerostich pants from the alteration shop and they looked okay. Suddenly, there wasn't anything else to do. We weren't interested in doing a float down the Yukon river, nor were any of the other local activities attractive to us. That's when the hotel room's air-conditioner and an episode of Mythbusters became comforting.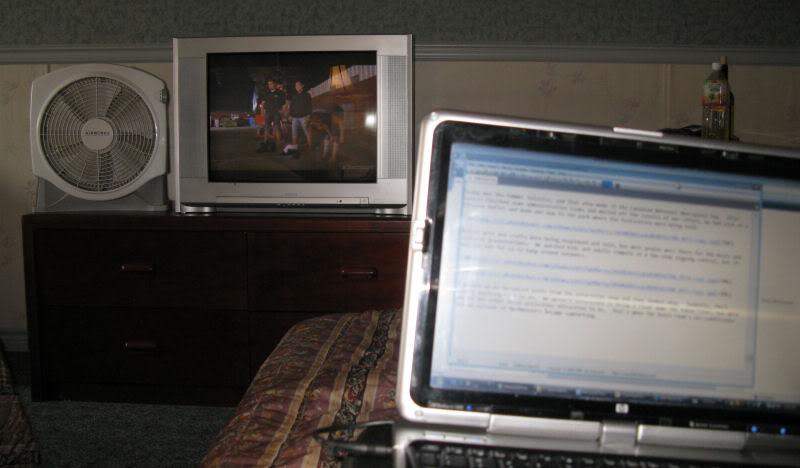 Actually, it turned into an evening of TV and a few games of Canasta. Laurie started one game strongly, but she finished it the same way she finished every game so far--with a loser's melancholy.


Tuesday, June 22, 2010
-----------------------------

The day was partly sunny, partly hazy, warm when just standing around but pretty cool once we got riding at 10:45. It took us a couple hours to get to Carmacks, where we gassed up and ate. Breakfast had been snacks in the hotel room, so we were ready for hot food.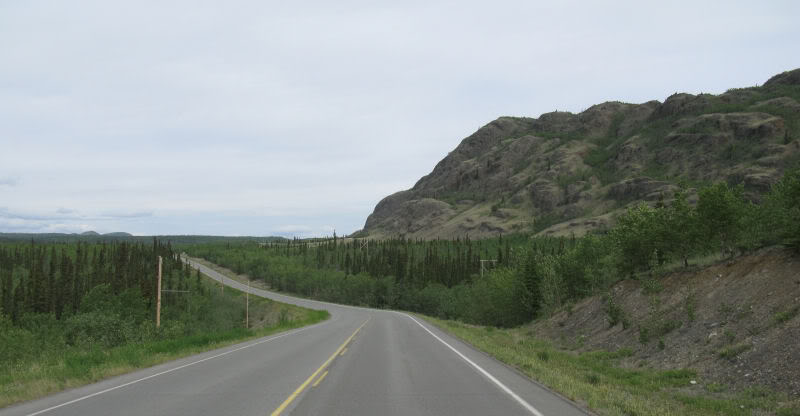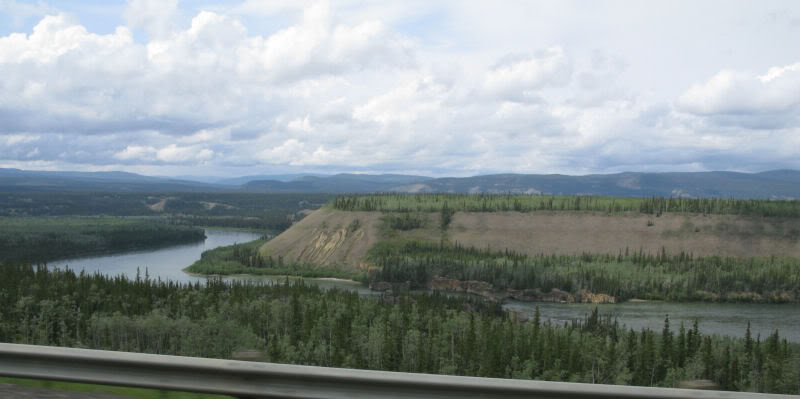 We talked to a couple of Gold Wing riders at the restaurant, and they informed us that the Top Of The World Highway, crossing through Chicken, Alaska and down to Dawson City, Yukon, was closed to some traffic due to heavy rains. They said that they had planned on riding the TOTW Highway, but had to ride back down to the Alaska Highway instead. That bummed us out, since we had planned to ride the TOTW Highway from Dawson City into Alaska. We would have to wait and see what the road conditions were when we got to Dawson City.

There were several road construction sites north of Carmacks, and we had to wait with other traffic for the pilot truck at a couple of them. At one stop, we had a talk with Canadian riders who were on KLRs and BMWs. They weren't headed for Dawson City, but were just doing a big loop in the Yukon.

On one of the road construction zones, a road grader was tearing up the road surface and they were laying new gravel. That was a few miles of tense riding, and Laurie almost went down once. I let her (and the last car in our group) pass me, so that I could be there if Laurie did dump the bike. She didn't, so that was good.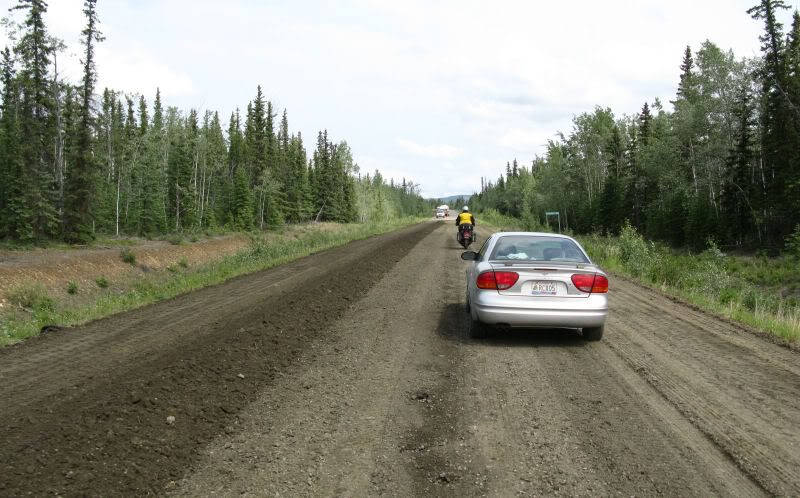 When we got to the Stewart River crossing, I saw that it was raining heavy to the east and it was looking clearer to the West. Luckily, we turned west and it was mostly clear (but still cool) all the way to Dawson City.

We stopped briefly at the start of the Dempster Highway so Laurie could read the info signs. We might come back and ride part of the Dempster as a day ride out of Dawson City.

When we got to Dawson City...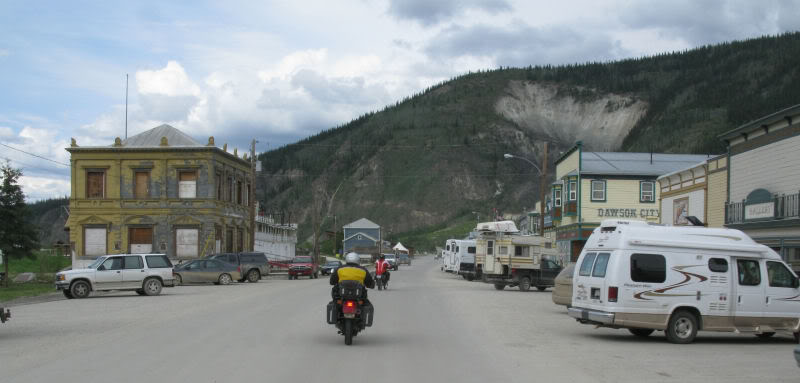 ... we stopped at the Visitor's Center and learned that it had been raining for three days in Chicken, Alaska, but the TOTW Highway hadn't been closed at all to any traffic. The Gold Wing riders must have just been afraid of riding on the wet gravel roads.

We checked into the Midnight Sun hotel and got a nice room in the Caley Building, a historic building that had been restored and was being operated by the Midnight Sun.

The ride from Whitehorse had been 330 miles, about 530 km.

My Chatterbox intercom unit had been operating on battery power for some reason, so the power cord must have failed somehow. After we got settled into our room, I used a multimeter to diagnose the cord, finding that there was no continuity in either the power wire or the ground wire. The problem turned out to be in the plug connector that connects to the Chatterbox unit. Somehow, the wires had been pulled and had detached from their soldered connections. I learned this after I cut the power plug apart and saw the problem. It was easy enough to fix, since I had brought along a soldering iron (yeah, I have learned to anticipate electrical problems even before my South America ride) and other items needed for electrical repairs. After a quick solder job, some epoxy to glue and insulate it, and some tape to wrap the molded plug back together, it worked as good as new. Probably more robust than it was originally.

We walked around a little, didn't see many bikes in town yet, and ate at Klondike Kate's. In the Downtown Hotel bar, we ran into Kelly again. We had last seen him in Hyder, Alaska. He and another rider he had been hanging around with, Wade, were "doing the Sour Toe cocktail," so we watched and laughed with them. We then hung out at the bar and chatted for a while. When a local drunk tried to crowd in at our table, the husky gal at the bar zeroed in on him and physically grabbed him and rousted him out of the bar. It was something to see--this no-nonsense woman literally shoving the guy out through the double swinging saloon doors! Heck, I thought those days were gone!

After talking a while with another rider who had joined us, we realized that it was after midnight. It gets disorienting when it doesn't get dark outside.


Wednesday, June 23, 2010
---------------------------------

We were lazy slobs, finally rousing ourselves a little after noon. It was a drizzly, cool day, and all the streets were muddy.

Here's the Palace Grand Theater, where dinner will be held on Friday.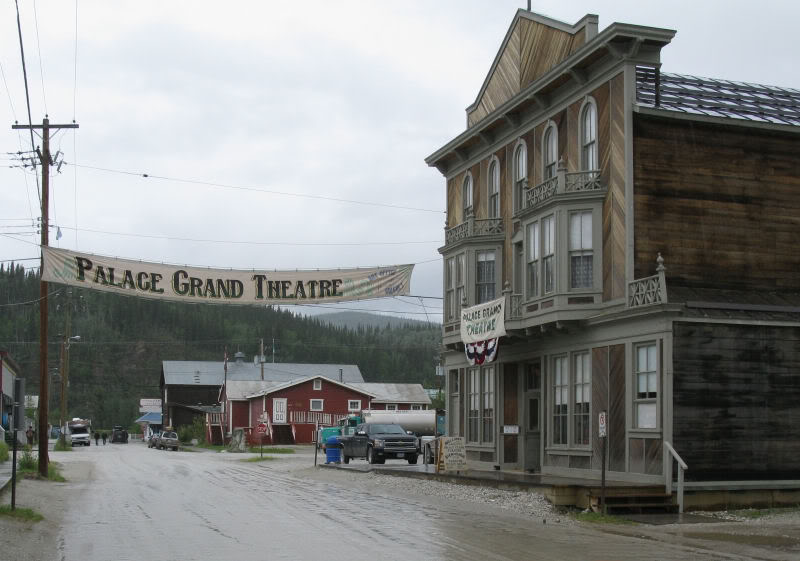 Here's the Caley building, where our room was.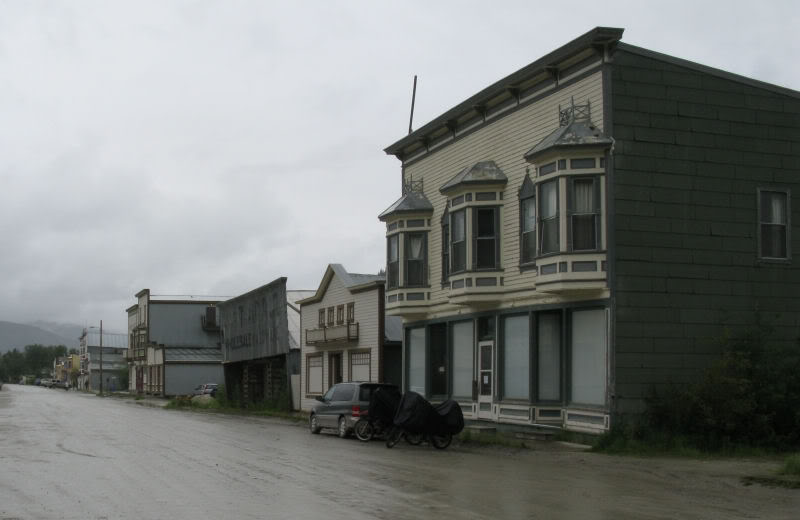 Breakfast/lunch was at the Chinese restaurant at the Midnight Sun, but we only had some appetizers and (very large) bowls of soup. We wanted to be hungry for dinner, since we were going to the Greek restaurant that everyone has recommended to us.

Meanwhile, we walked around town a little, stopped in to the Dempster Highway info office, and then bought walking tour tickets at the Palace Grand Theater. Actually, we got the 3-ticket packet, since we also wanted to do a couple of the other tours in the area. I hadn't done any of the touristy things when I was here last time.

At 14:30, we sat through an episode of "Sergeant Preston of the RCMP" that was very nostalgic. The walking tour started after that. It was still raining lightly, so our tour guide lingered in a few of the buildings. All in all, it was worth doing.

We then went to the Dawson City Museum, a separate entrance fee of $9. It, too, was worth the visit.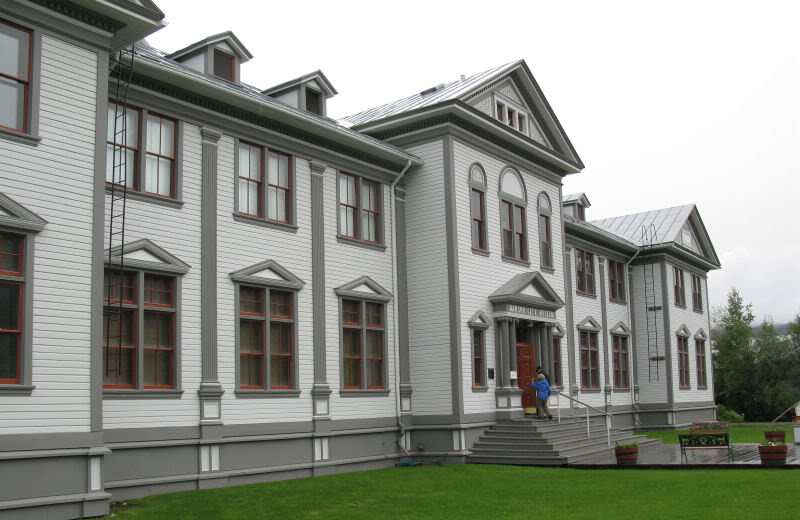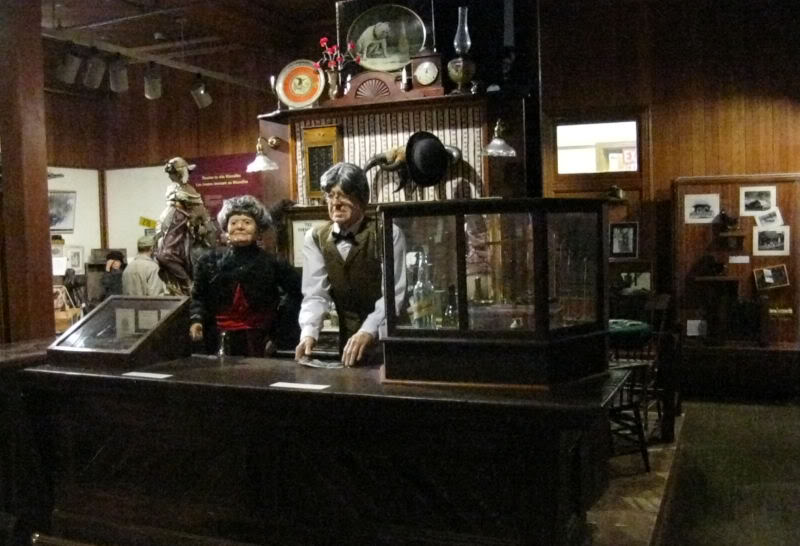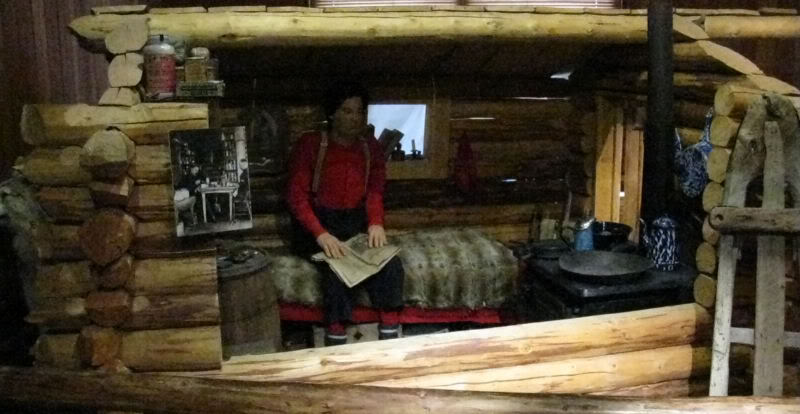 After that, it was too late for any of the other tours or site visits, since they pretty much all close at 18:00. We walked along the Yukon River waterfront a while, then took some groceries back to our room to relax a while. There was no refrigerator in the room, but we put the groceries in the open window (behind a window screen) to keep them cool.

The day had gotten sunny at last, but it was too late to get warmer. Tomorrow should be a clearer day.

We went out to the Drunken Goat, a Greek restaurant that had been recommended to us. It was certainly popular, and there were people waiting for tables. When we were seated, we offered the other half of our table to the next couple and they joined us. Such moments are usually good. So, we met Roger and Carmen from Anchorage. They were on a fishing vacation and had intended to drive to Eagle, Alaska today but the weather and road conditions on the Top Of The World Highway were so bad that they skipped the road to Eagle and continued into Canada to Dawson City instead.

We were disheartened to hear about the bad road conditions again, but we still had a few days before we would decide our route from here. Dinner was great, and I recommend the place to anyone.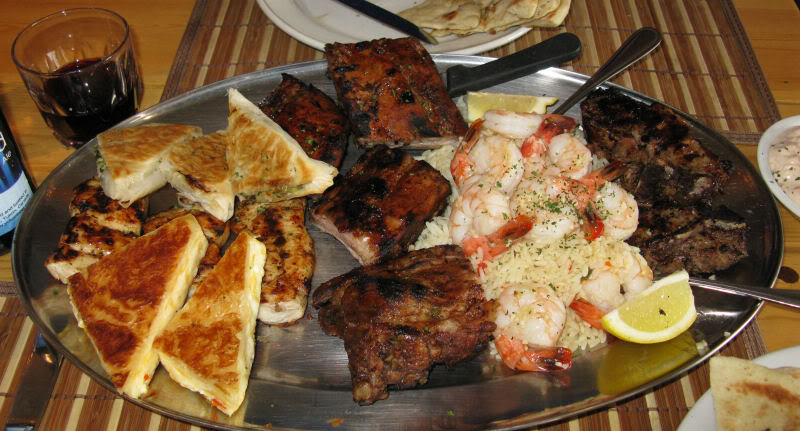 After exchanging contact information with Roger and Carmen, we agreed to call them when we got to Anchorage--if we went that far.

After a brief stop at the Downtown Hotel bar, we headed to Diamond Tooth Gerties Casino and Show Hall for the midnight performance. The casino is operated under a special gambling permit, and the proceeds are directed back to promoting tourism in Dawson City and the Yukon. The show was a surprise, mainly because we had expected the typical Can-Can type of show. Instead, it was a mix of Motown hits and other more modern songs and dance numbers. It was a half hour long and it was okay.

Laurie isn't much for casinos, but I do like to play Blackjack now and then. Laurie headed back to the hotel, but I stayed. I had played to even money last time I was here, but I did better this time and made fifty bucks by the time they closed the casino at 02:00. Yay!


Thursday, June 24, 2010
------------------------------

We had breakfast in the room, having bought some groceries yesterday. The day was sunny, but weather rolled in by the time we got out to do some tours. Since we were going to the dredge tour, we rode to the Robert Service cabin and sat through the drizzle for a recitation of Service's life. A few poems came with the presentation, and the guy who gave the talk was very knowledgeable. Just up the road was Jack London's home just after the Klondike Gold Rush, and Pierre Berton's home was just across the street. All three were famous for writing about the Klondike region and that era.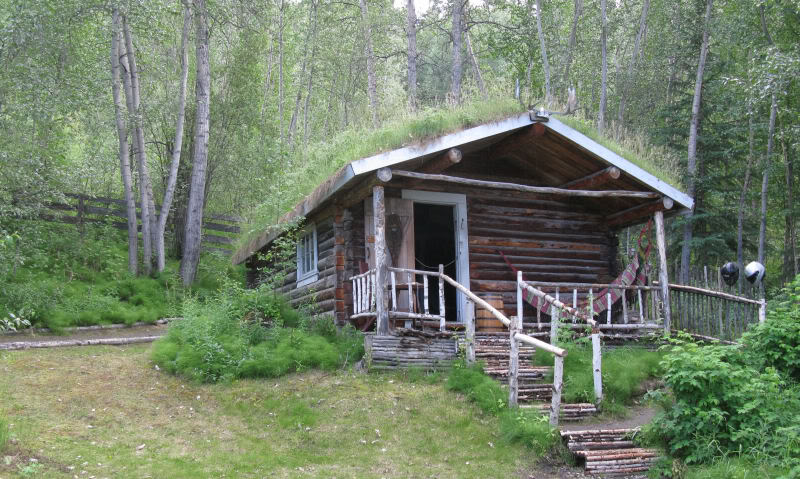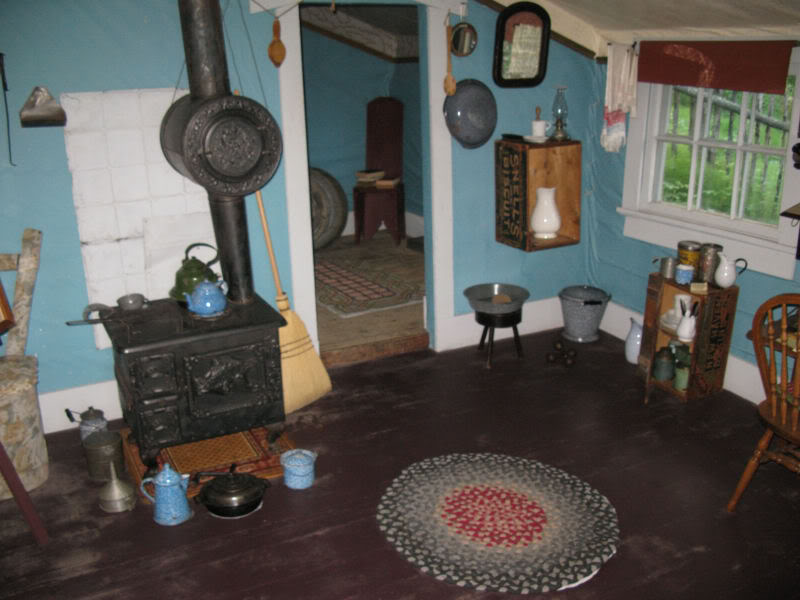 We passed by the city graveyard, then rode to the historic dredge #4 and took the afternoon tour. It was one of the largest gold dredges ever to operate, and is in fairly good shape after Parks Canada took it over.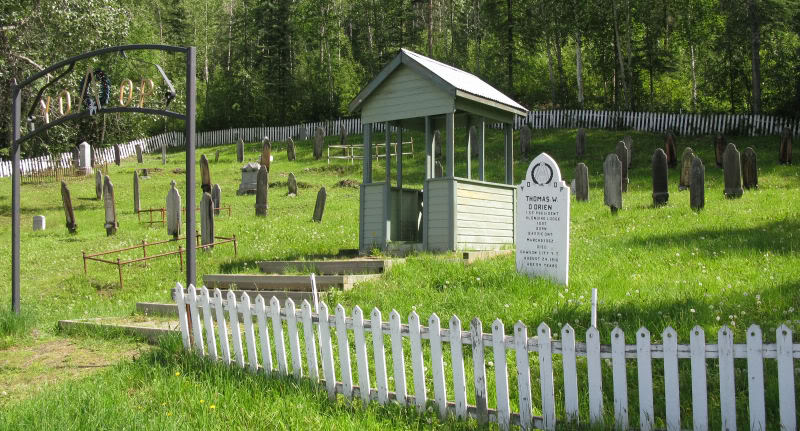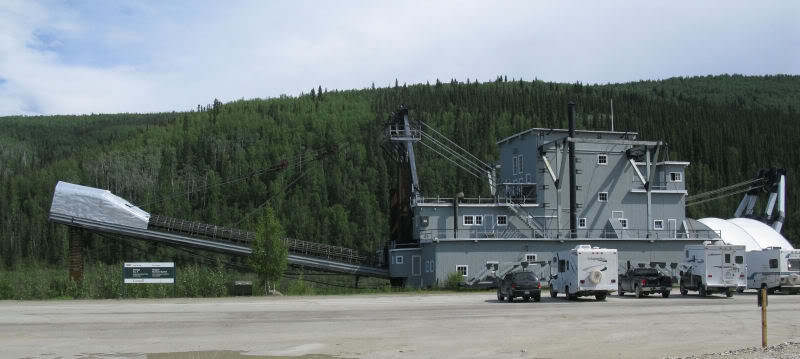 The interior of the dredge was very different from what I expected; it was a far more open structure than I thought it would be. It was sunny again by this time, and it was getting hot. The dirt road to the dredge was dusty.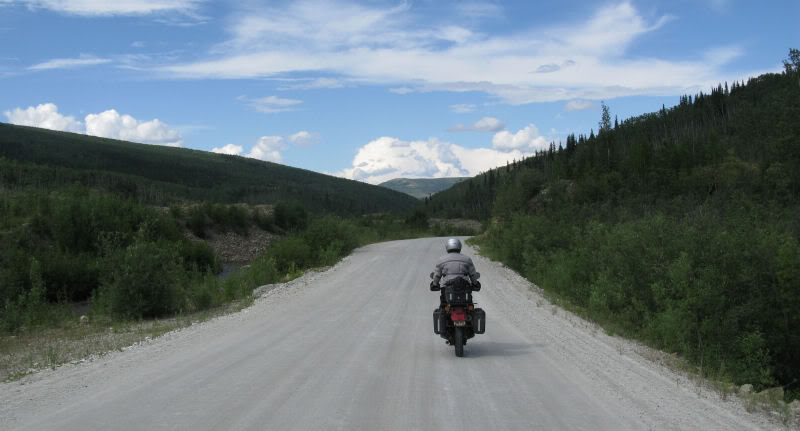 On the way back, we detoured up to the Dome for a few minutes.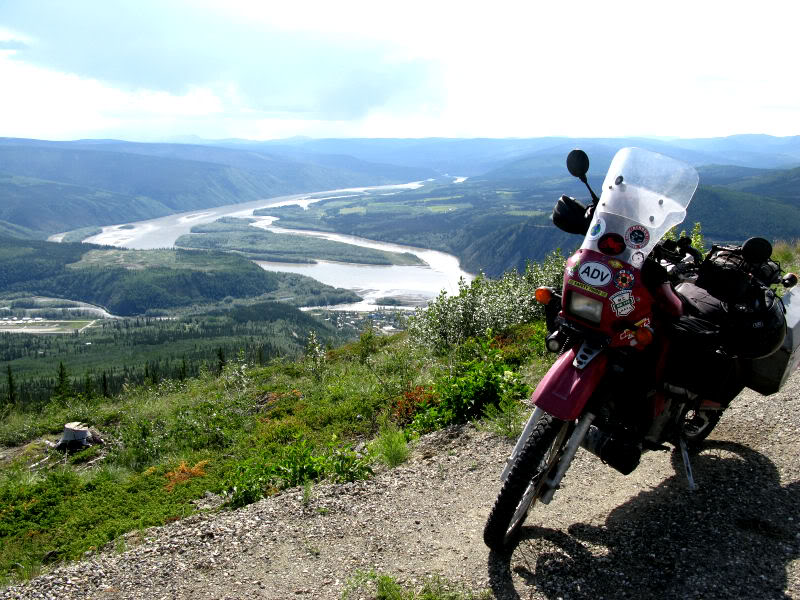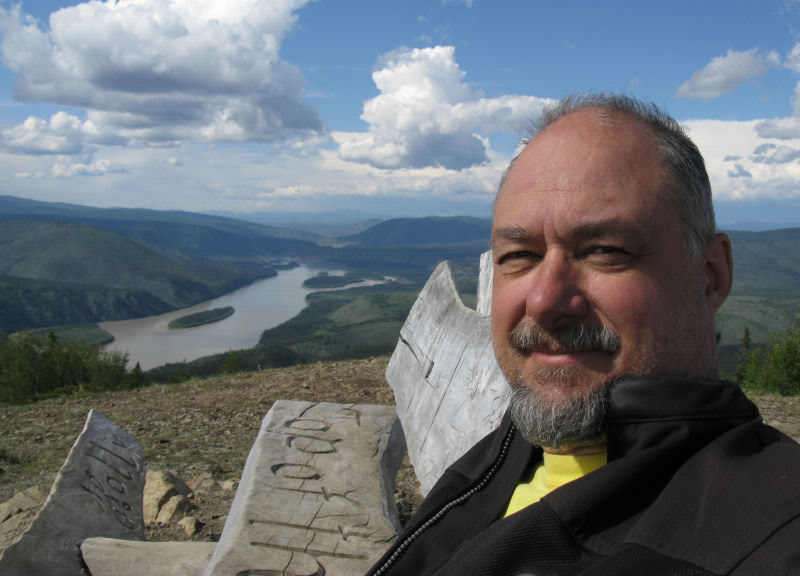 We then parked our bikes in front of the Downtown Hotel so we wouldn't have to look for space tomorrow, then bought tickets for the dinner tomorrow night.

After a shower, we went back out and chatted with other riders before checking out the shows at Diamond Tooth Gerties. We saw both the 20:30 show and the 22:30 show, and although they were different, they were fairly similar in their formula. A few older songs, some dancing girls, some pestering of the tourists in the audience. Each night, they repeat the exact same three shows.

I gave my winnings back to the casino (and a bit more), so that was typical.

A bit more chat with other riders, and our day was done.


Friday, June 25, 2010
---------------------------

Again we ate in our room and then packed some things up that we had collected (and some clothes that we had over-packed). We mailed that stuff home from the post office across from our hotel.

We could have done some riding since it was a gorgeous, sunny day, but we were in relaxation mode and just hung around town all day. We had some snacks at one of the shops along Front Street and hung out at the Downtown Hotel while other riders were doing the Poker Run. When they started returning from those rides, we were glad we had already parked our bikes on the street last night since the street got packed in a hurry. There were about 170 riders collected here for the D2D gathering.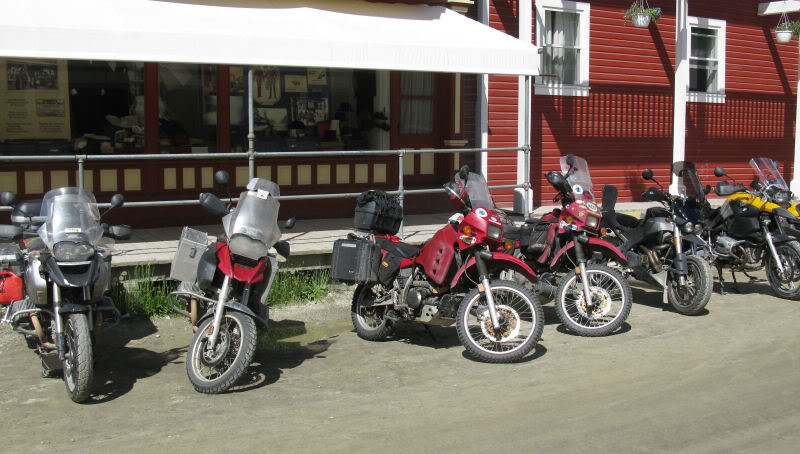 There were a lot of KLRs at the gathering, but the percentage had dropped enough to notice. Many more big BMWs and other bikes. None of the KLRs were stock, and most had lots of add-ons and modifications. One had a side car, and Willys' uni-wheel trailer also caught my eye. Willys and I talked for a while. Like others I have met while traveling, we had known each other from the online forums, but this was the first time we had met face-to-face.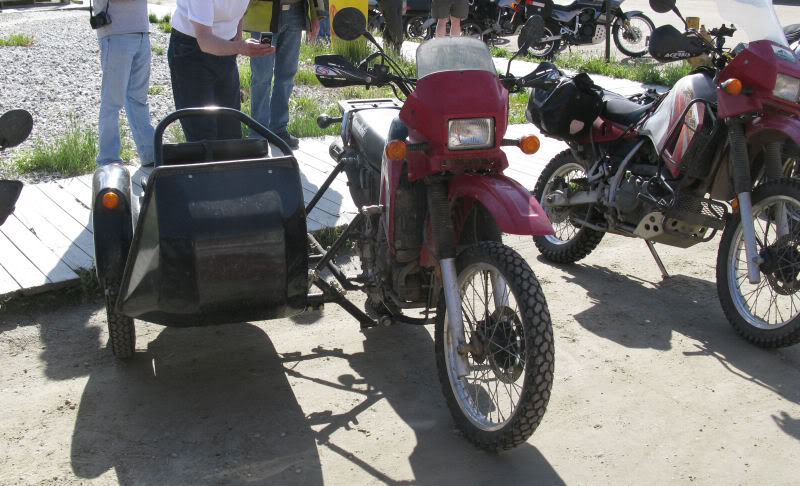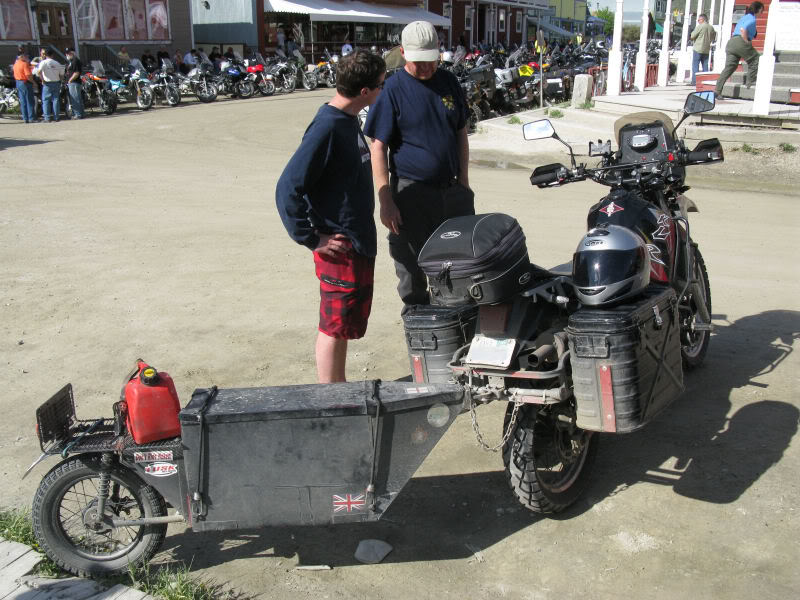 Dinner at the Palace Grand Theater was at 18:00, and we sat across from MotoAdventureGirl (Alisa) and Questor (Edward). We had met Alisa (I hope I've spelled her name right) last summer in Colorado at the Horizons Unlimited riders meeting in Gunnison. Edward had passed through Colorado recently and stayed with a friend of ours (Jinny) in Castle Rock. Many people won raffle prizes at dinner, and Laurie and I each got something. I gave my prize (DynaBeads) to Edward, since he could probably use them more than we could. Laurie won an aluminum water bottle that she can use.

Dinner was great, and the steaks were better than they were in '08.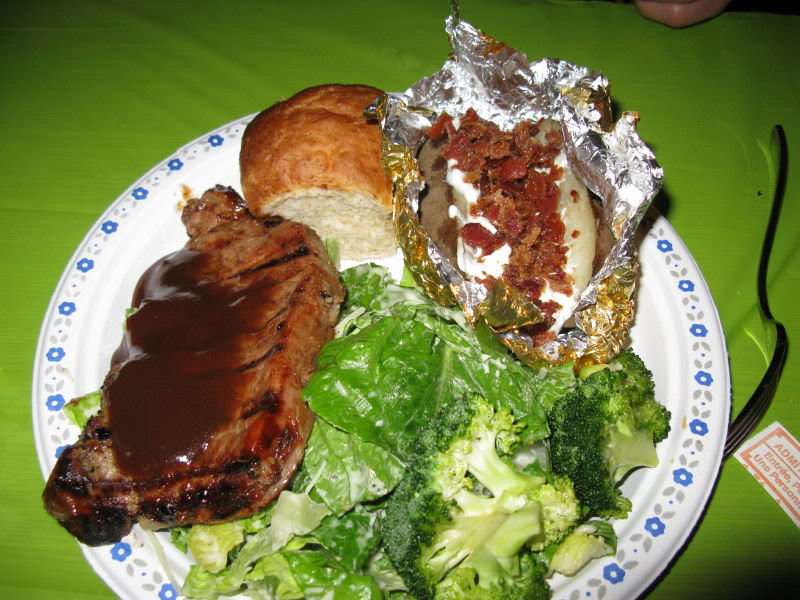 The dinner ended with the final prize drawings and a few sentimental awards.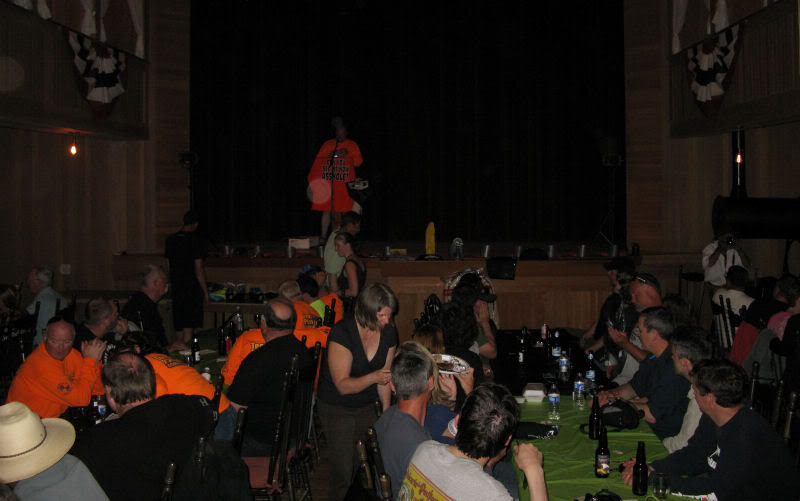 Soon after dinner, people crowded at the DT Hotel to watch the rider games. Like the last time I was here, it was all in fun, no one got hurt, and there was much to laugh at.

The slow race:




the drop-the-balls-in-the-buckets contest: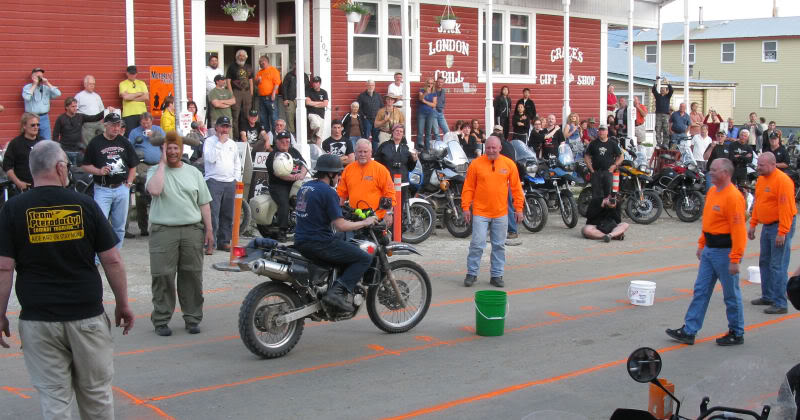 The blindfolded ride to aim for a target on the road: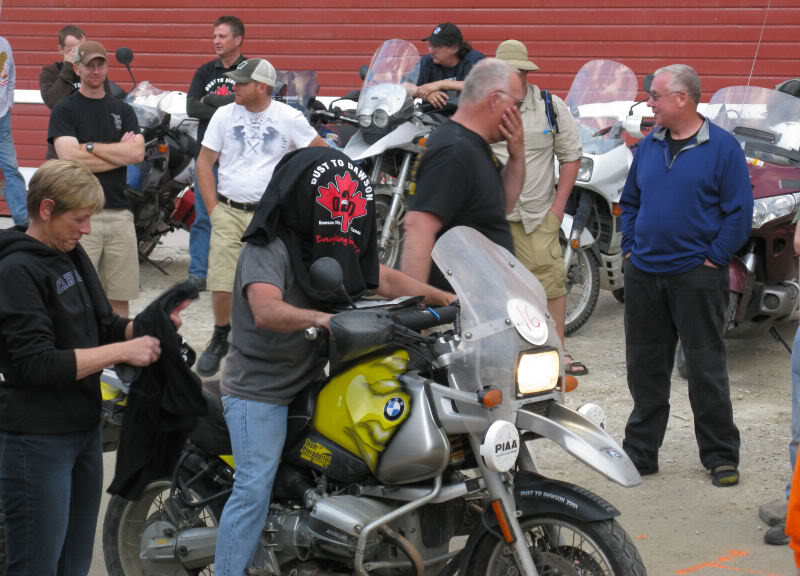 The slow slalom course: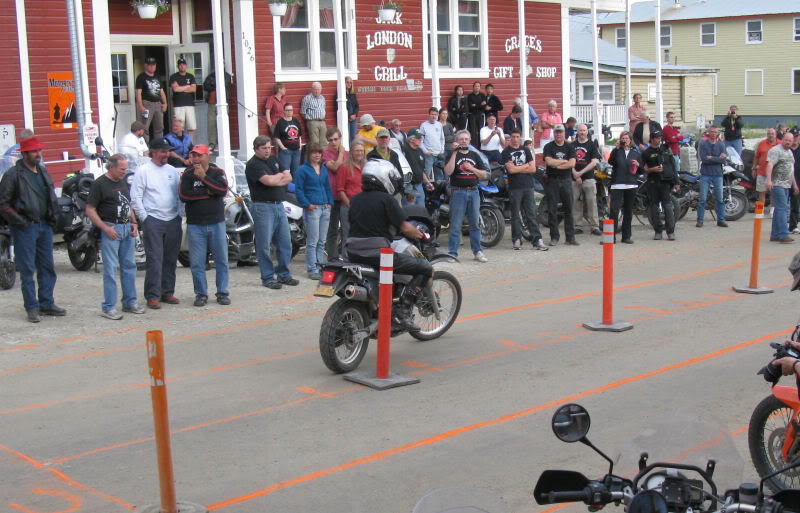 The water balloon toss over the bar:




And the weenie bite: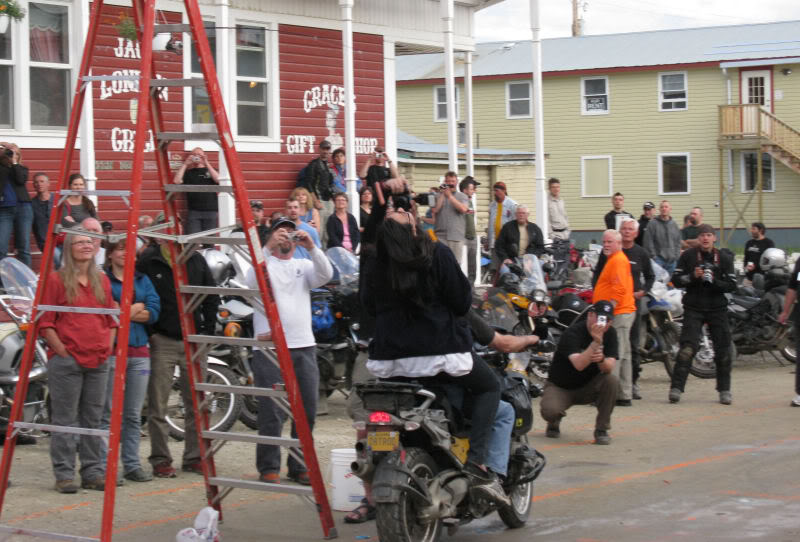 Okay, not the best photos this time, but you get the idea.

As usual, they took the group photo near midnight, then passed out the participation decals to end the event.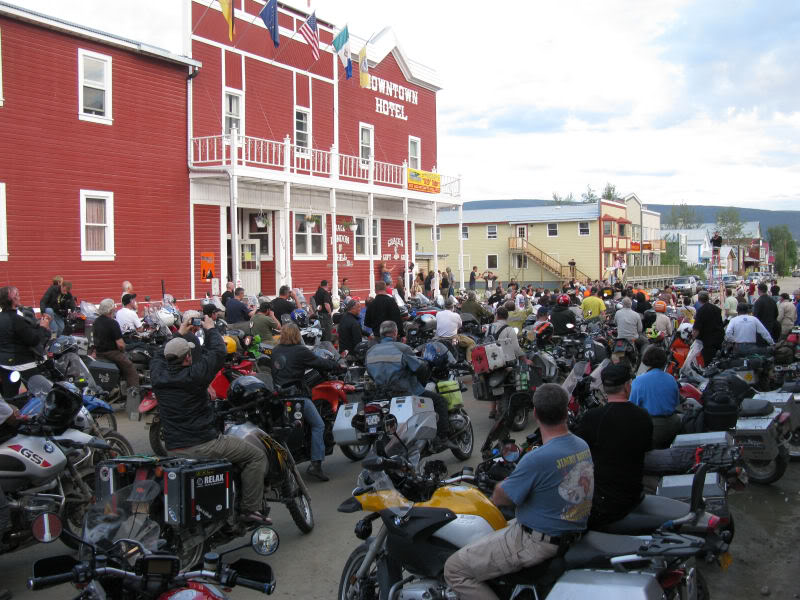 The lack of darkness really throws a person's internal time clock off, and we forced ourselves back to our room. We had to be leaving tomorrow morning.

Maybe.

If the in-coming weather messed things up, we might not ride the Top Of The World Highway. Laurie won't do it if the road is wet and muddy. Depending on the forecast, we'll decide what we're doing in the morning.


Saturday, June 26, 2010
------------------------------

We dragged ourselves out of bed at 10:30 and had some more of our groceries for breakfast. The weather forecast for the TOTW Highway was rain, so Laurie decided to skip that ride and head back south for the Alaska Highway again.

At noon, we left Dawson City, stopping for gas and some oil to top off Laurie's motor. Her motor's leak wasn't bad enough to work on, but it would need to be topped off now and then.

We passed and were passed by several riders who were also heading out of Dawson City. It was a mostly sunny day, with lots of wind gusting.




We stopped again in Carmacks for gas and food, then continued on to the Alaska Highway. It was a nice day for the ride. There were a few sections of the highway that had been damaged by frost heaving, and some gravel parts. As we neared Haines Junction, I saw a red Gold Wing towing a trailer stopped on the side of the road. I saw what they were looking at as I went past, so I turned around and went back.

It was a baby bear at the treeline. Looked like a grizzly to me.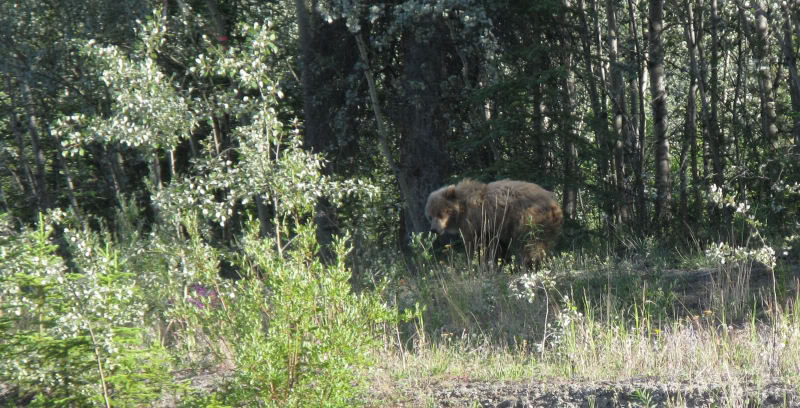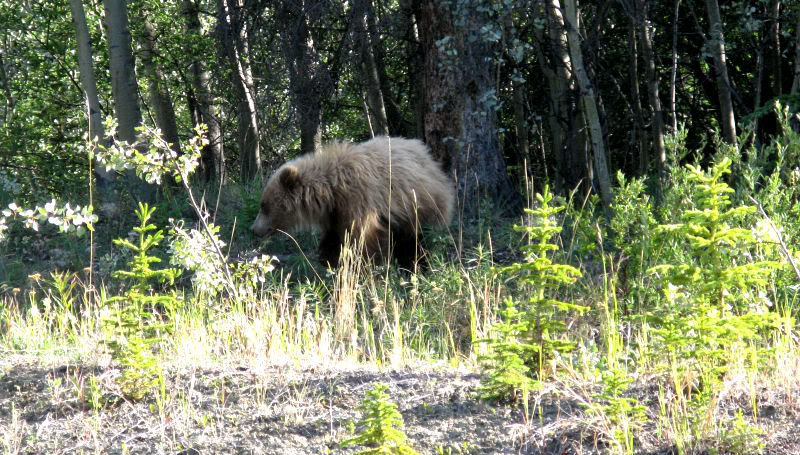 The cub was munching on flowers or something. I didn't see the mother anywhere, but she probably wasn't far away. Laurie stopped but didn't come back, so she didn't see the cub.

It was only a few more miles into Haines Junction.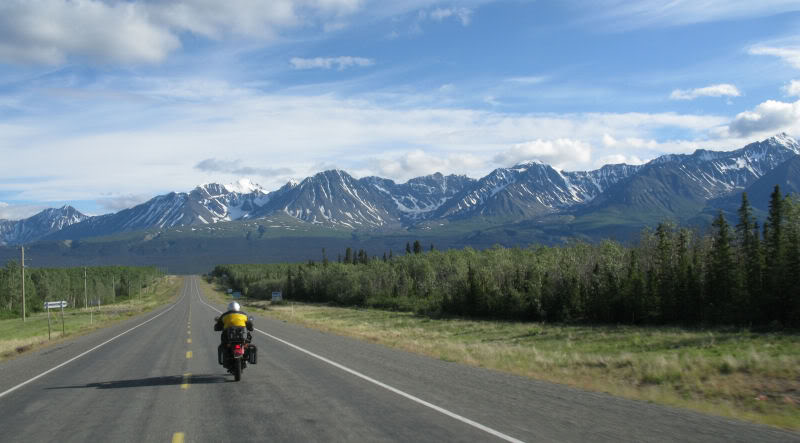 We took one of the first hotels we came upon, the Glacier View Inn, and got settled in. I got settled quicker than Laurie, and headed to their restaurant for some food. After choosing a booth where I could plug in my laptop computer, I asked the tall blond gal who seemed to be the owner if she could tell a black bear from a grizzly and she said she could. She joined me in my booth and as she rolled a coarse cigarette she looked at the photos I had taken. She confirmed that it had been a baby grizzly, probably about a year old.

The next customer who walked in looked like a motorcyclist, so I greeted him as he sat at the next booth. Laurie arrived just about then and we talked with the British rider (we had parked next to his 650GS Dakar at the hotel). He was on a year-long ride from Prudhoe Bay to Ushuaia for a charity. We chatted for a while, but I never got his name. I did get his blog's web address, so take a gander on your own. I'll look at it later, but I'll trust for now that it is a worthy cause.

www.bri-journeyforhope.blogspot.com

There was no Internet access at the hotel, and I didn't care to go elsewhere to look for a Wi-Fi connection. Instead, I did some writing and got caught up to this entry.

Another customer staggered in and wobbled at the door for a while before stumbling over to the cash register. The employees tried at first to get rid of him and told him that the restaurant was closed. They appeared to know him and were very patient with him, but he whined and mumbled about needing some food. The manager asked if he had some money and the man said that he did. The manager had the guy take a seat and fed him soup and a sandwich. When it was time to pay, the customer admitted he had no money and the manager reminded him that he already owed $35 and now owed more. The man argued a while, but never got hostile. He was too drunk to get very animated.

After the local drunk had left, we learned from the manager that the restaurant actually had closed just after I had arrived, but he didn't mind staying open a while for us. I was still writing on my laptop, so we had some dessert to rent our booth a bit longer. That gave us a chance to talk with the manager, and we learned that many of the local businesses run tabs for the local population. He said that his restaurant was owed maybe $20,000 from the "natives," as he called them, and he said that another business in town was carrying a $100,000 debt from the locals. He seemed resigned to this fact, and didn't seem to think he would ever collect the money owed.

We thanked him for staying open for us, then headed back to our room.

Our ride from Dawson City had been almost exactly eight hours, 383 miles/617 kilometers.


Sunday, June 27, 2010
----------------------------

We watched news of the Toronto riots as we ate the last of our breakfast groceries. The G8 and G20 groups were always targets of rioters and vandals. I think it's a cultural insanity that some idiots actually believe these criminals when they claim that they are "revolutionaries" trying to "take back the streets." They are just recreational rioters who get their jollies from the media attention. Makes me want to reach through the TV screen and slap some sense into some of those naive and ignorant media buffoons.

Corporate media... don't let me get started.

The day was warm, but the warmth of the sun gets overwhelmed by the wind once a rider gets moving. I wore my mesh jacket for a while, but I added my Darien rain jacket as a windbreak soon after we got moving. Good thing, too, because it rained on us all day, on and off--even though it looked like it was going to be a mostly-clear day to start with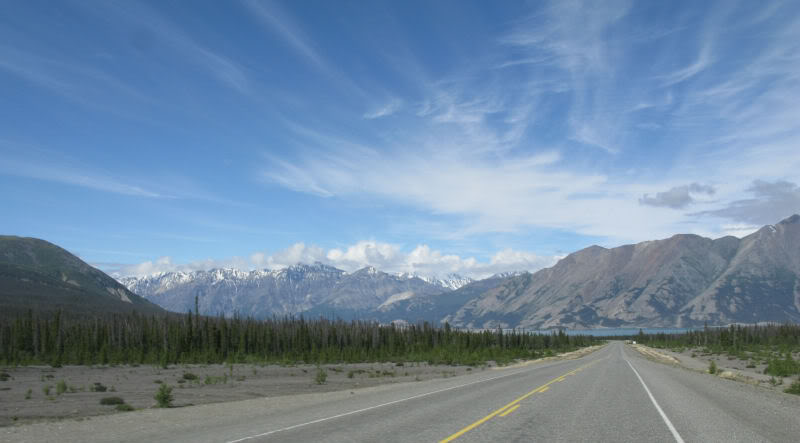 It sprinkled for a while as we rode along Kluane Lake. We passed lots of other riders going both directions, and several bicyclists.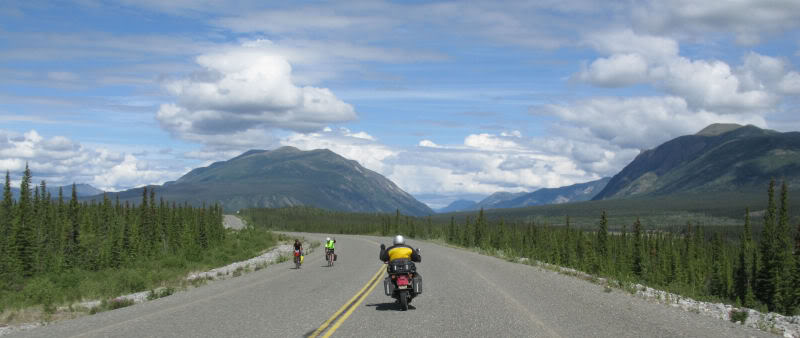 We got gas and took a break at Beaver Creek, and that gave us a chance to talk with another rider on a BMW. Another Brit, this one doing a years-long round-the-world ride. He had been on the road for fifteen months, but had spent the last winter in a cabin in Montana.

Another guy in an RV was fascinated by our bikes and talked with us for a while. He and his wife had leased their house for a year and taken off for Alaska. Their son was a fishing guide in Homer, and he proudly showed us photos of several monster fish they had caught together. He took our photos as if we were celebrities, and we said our good-byes.

The clouds were low and they made the air heavy with moisture. We rode through several rainstorms.




There were lots of areas with road damage and several road construction and repair zones. Long stretches of gravel were made worse by the rain.

After getting held up at one construction site, we were behind a long line of RVs and trucks when we got to the U.S. border.