Back to the Yukon and into Alaska again, June-July, 2010

Back down through Canada
====================


Tuesday, July 6, 2010, continued
----------------------------------------

Along Lake Kluane, the weather was warm but very windy.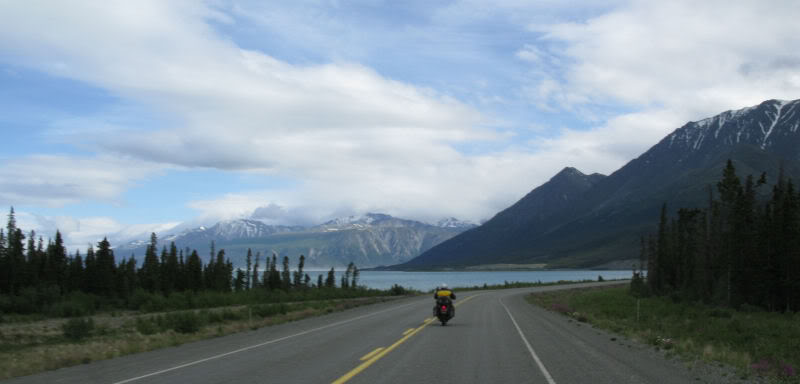 The clouds being shoved over the mountains were dramatic at times. I missed some of the best photo-ops.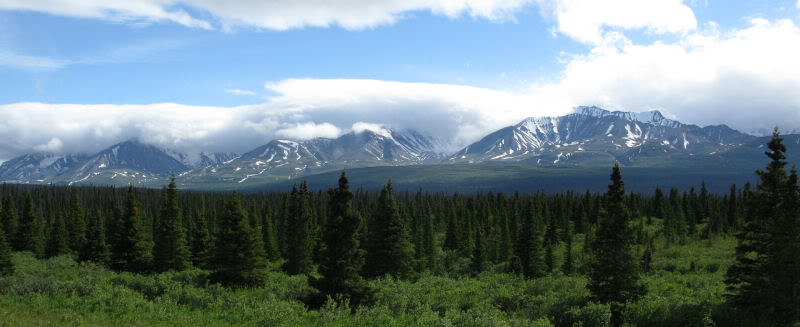 We stayed in Haynes Junction at the hotel with the Chinese restaurant. No lesbians at the pool table this time, but we did meet Geoff, an Australian rider whose BMW F800 was parked next to our bikes.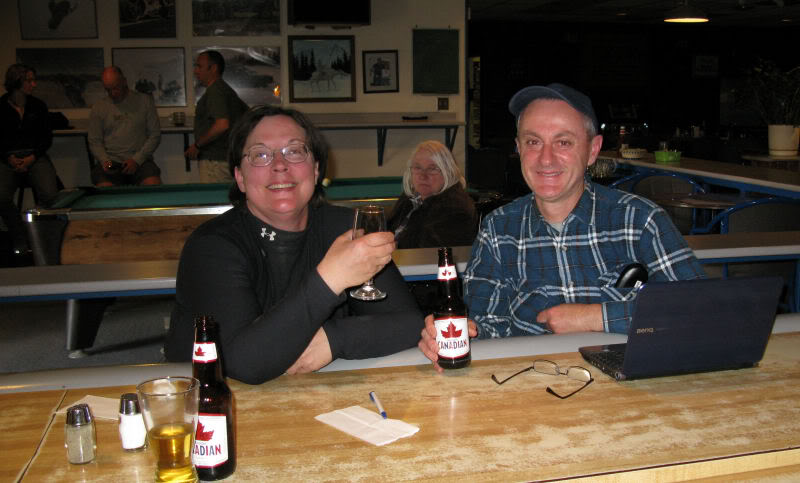 Geoff was taking a year from work to ride around the Americas and was now returning from Prudhoe Bay. He had worked for eight years without any vacation to save up the time to take this trip, and he expects to spend 54 weeks in the Americas before he heads home to Sydney. Geoff bought his F800 in Reno, Nevada after a dealer in Las Vegas refused to sell him a bike out of some weird concern that the bike would end up in Australia. (When Geoff then called BMW USA, he learned that there was no real concern with their bikes being exported from the USA, and they recommended that he buy from another dealer.)

We might see Geoff again in Darby, Montana later in July, at the ADVRider West Fest rally.

Laurie and I ate at the bar for the sole reason of being able to talk with the locals. Meet Janice, who works for the local Social Service agency, and Vern, who works at a sawmill.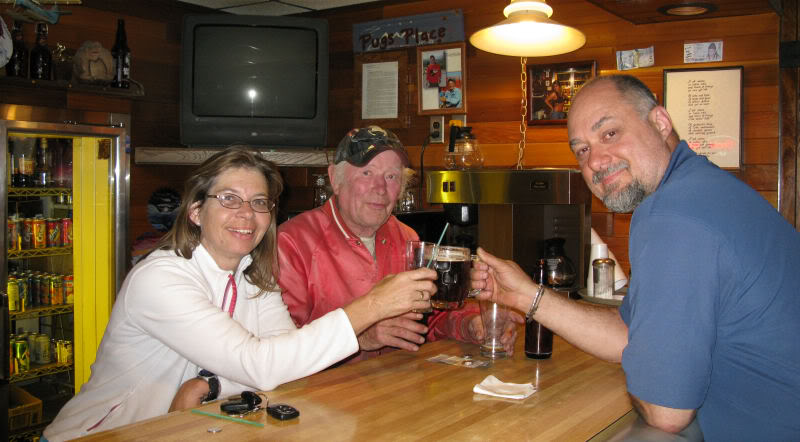 We talked about a lot of things, including the local native population and their relationship with the merchants. I told them about the guy who basically scammed/begged a meal from another restaurant the last time we were here, and Janice had lots of venting to get out of her system. I asked Vern about the riots during the G8 conference, and he could only talk about how expensive it was for the Canadians who had to pay for it.

There were a couple others in these conversations but we didn't get photos of them. Steve worked at whatever jobs he could find from month to month, and another local guy who was still hung over from having partied too much the night before. Still hung over at 22:00 the next evening? Good lord, that must have been a hell of a party. Allison, the bartender, didn't say much but sat with us at the two-sided bar and nodded her head in agreement occasionally.

Another thing we talked about was Canada's relatively-new smoking laws. They were all smokers and and various opinions about the matter. They shared the habit of frequently stepping outside to "feed the addiction" as Janice put it.

Several other riders checked into the hotel, but we only met Clark, a Harley rider who had placed 8th in the recent Harley-Davidson Hoka Hey ride from Key West, Florida, to Homer, Alaska. He was now working his was back home to upstate New York, but was first going to visit his son who was in college in Kentucky. Clark had a cousin, Kevin, who worked on a police department in Colorado. I asked, and found that Kevin worked for the Aurora, Colorado Police Department! I told Clark that I had retired from the Aurora P.D., but I didn't know his cousin's name (although I might recognize him). Much to my regret, I had spent the last two years of my career out of the Field Training Program, so I had less awareness of the newly-hired officers. I spent my final couple years on a late swingshift working with a great team of veterans and new officers that kept me, as the sergeant, in a happy place.

There was a weak Wi-Fi connection, but I didn't feel like spending time on the computer.


Wednesday, July 7, 2010
-------------------------------

Last night at the bar, a guy had mentioned a bakery in town, so we went looking for it. I have been through Haines Junction a few times, but my awareness of the town was limited to the hotels, gas stations, and restaurants along the highway. That's not fair to the town, of course, and it was proof enough of that when I got directions to the bakery. Only a couple blocks off the highway, it was a great place to hang out. Lots of deck space, a Wi-Fi hotspot, live music on Fridays, a variety of nummy-num munchies. Everything a traveler needs. I would never have guessed it was there if I hadn't asked.

We shared a veggie quiche and a spinach-filled Spanikopita, then added a couple of fruit-filled strudels. Okay, ready for the road.

It was mostly-sunny for most of the day, but it was again very windy. We zoomed through Whitehorse with only a brief pitstop. The gas station attendant told me that it had snowed a half inch just a few days earlier, but it was warm again and there was no evidence of it.

We came on some RVs stopped on the side of the road and people standing outside. I stopped to see if anything was wrong, but they pointed at something moving along a frontage road.




I moved closer and the young grizzly started toward me, as if curious. It turned away by the time I took the next photo.




The day was warming up.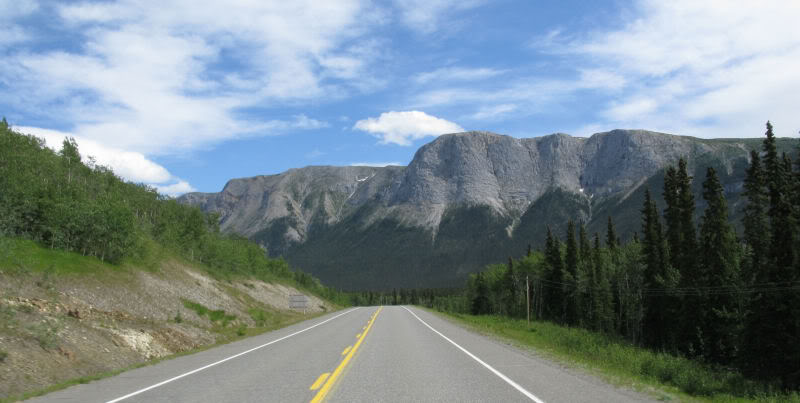 Near Watson Lake, I saw people picking something alongside the road, so I stopped to see what it was. It looked like tiny raspberries (but I was later informed that they were strawberries). Small, but the ripest ones were semi-sweet.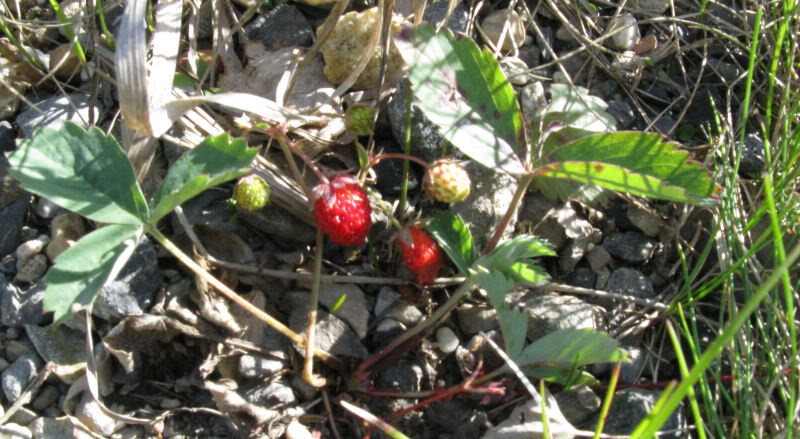 I'm not sure what road chemicals might be used here during winter, but they would have probably have been healthier further from the roadside. They were very scrawny. Each plant looked like the one above.

At 258 miles, Laurie hit reserve, which was much less than we have managed before. I attribute it to the heavy winds and the fact that I led all day (at a faster pace than Laurie would have set). She had also run faster for a while catching up to me after a construction zone. My bike wobble wasn't kicking in until well over 70 MPH now, which was still confusing. Maybe the balancing job done on the wheel was bad, and the imbalance only happened at a certain harmonic frequency.

We got to Watson Lake and found a hotel. It had been 370 miles/595 Km, but it was still fairly early. I noticed a significant oil leak from the bottom-left of my motor, but it wasn't obvious where it was coming from. Was it coming from the countershaft seal? From the shifter shaft? I'd wait to see what kind of oil puddle was under the bike in the morning before I would invest any worry in it.

We ate in the hotel, but I could never get their Internet connection to work.


Thursday, July 8, 2010
----------------------------

It was a hot, nearly cloudless sky that greeted us in the morning. Now away from the rainy costal and mountain regions, we were likely to see more hot, clear days ahead.

At breakfast, two riders from Argentina talked with us. They saw the stickers on my bike and asked if I was from Argentina or had been there. I gave them the short version of my ride around South America, but Laurie took over and gave them the details. They were on big BMWs, which one of them said was nice on the highways but too heavy on the interesting roads.

Laurie called the Liard Hot Springs Lodge and booked a room there. It was only three hours away, but the next logical stopping place was Ft. Nelson. That was a day's ride for us (300 miles has become typical for Laurie's pace), but the Liard Hot Springs was worth stopping at. The last time I was there, it had been the middle of the night, not long after I had almost ridden into a herd of bison on the road. I had stopped there because I had been nearly out of gas and I needed some rest (I ended up sleeping in a chair in the lobby). This time, we would have a better plan.

We hit the road, dressed lighter for the heat.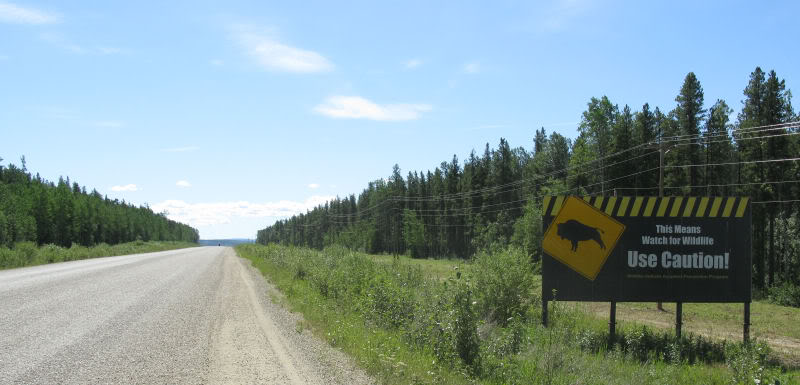 The bison warning sign are there for a reason.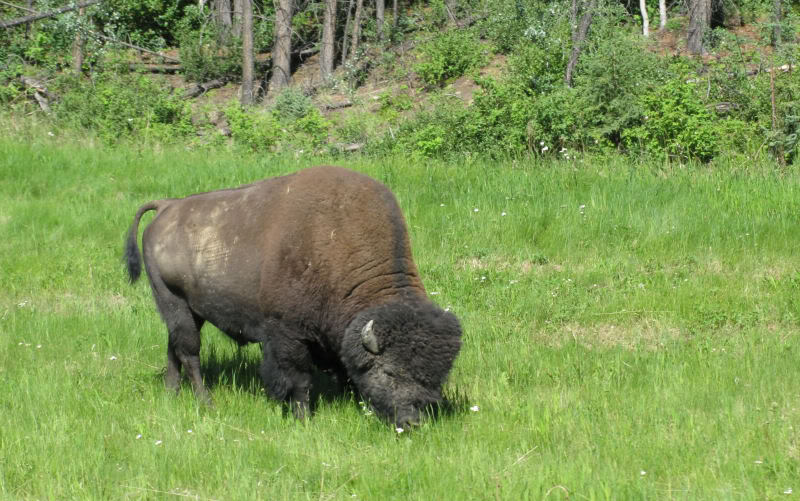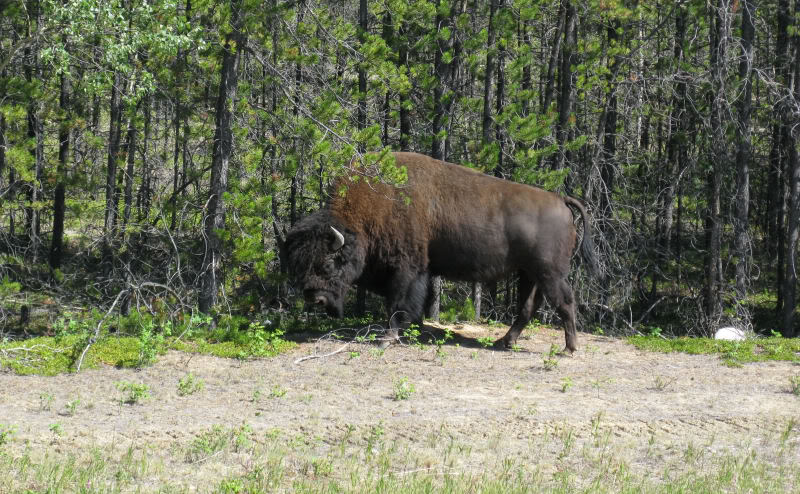 We didn't see herds of bison this time; only a few solitary brutes and later there was a cow and calf by themselves.

Only one major construction zone today, but after passing the other waiting cars and trucks we ended up behind two loud Harleys. They had apparently been on the Hoka Hey Harley ride, and one of them had a "Hoka Hey" patch on the back of his vest.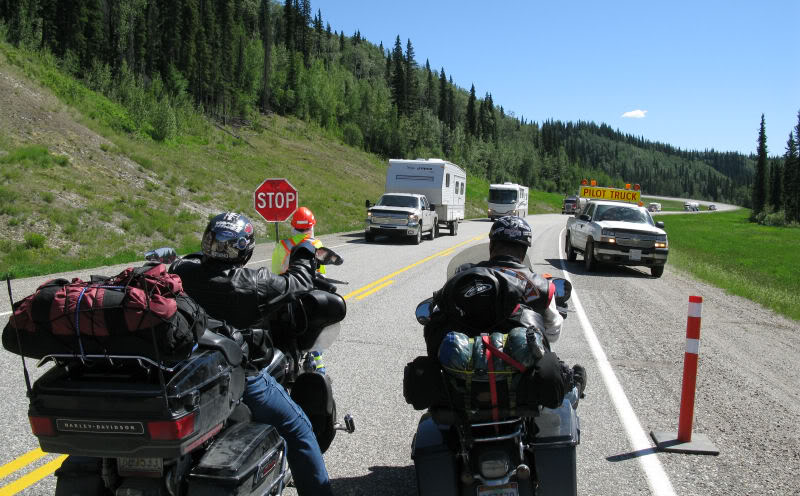 Lots of easy riding on a good section of the highway, with most of it spent along the Liard River.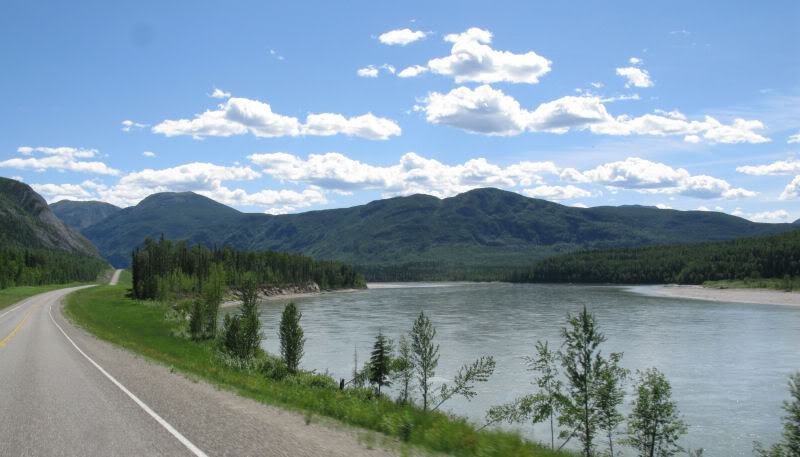 My bike wobble and engine stuttering both got so bad that I pulled off the highway at a campsite, determined to get out my tools and pull the bike apart to see what was wrong. I found some shade and examined the vacuum line from the carb to the fuel petcock. It still looked okay--not kinked or split anywhere that I could see--but the symptoms were indicative of borderline fuel starvation. If the vacuum line was leaking or pinched, the vacuum-operated fuel valve would be only partially open, letting less fuel flow than was needed. The other possibility was a defective petcock diaphragm, and either way I had the necessary parts to fix it.

The bike wobble was still a poser. I did notice the oil leak was more pronounced. If it was coming from the countershaft seal, that was a problem I couldn't solve on the side of the road (only because I didn't have a spare seal with me). The leak wasn't causing enough of an oil loss that I worried for that, but it was still something that would have to be fixed. I decided to ride the remaining half-hour to the Liard Hot Springs and work on it there. It was only 14:00, so the day was young.

When we got to the Lodge, it was so hot that I was soggy with sweat. Laurie got us checked into the Lodge while I parked the bike in some shade. I found a piece of plywood and we got the bike up onto the centerstand. I unpacked and stripped the soft bags from the bike, then pulled off the gas tank, countersprocket cover, and bash plate.




I removed the vacuum line and discovered some small holes under the wire retaining clip at the petcock. Okay, if that was all there was to that, it was an easy solve. I cut a half-inch from the line and put it back on. That should solve the engine stuttering.

One other curious thing was that when I removed the fuel line from the petcock (the vacuum line was already removed), fuel was free-flowing from the petcock. That shouldn't happen to a vacuum-operated fuel tap. I turned the tap to "off" and then back to "on" and the fuel stopped flowing as it should (since there was no vacuum pulling the diaphragm open). I couldn't re-create the free-flow issue, so maybe there was something temporarily clogging the vacuum nipple, or maybe the internal diaphragm was dying. I had a couple of petcock repair kits with me--and I had done the repair before in Venezuela--so that didn't cause me much concern. Just needed to remain aware that a leaking fuel tap combined with a stuck float valve in the carburetor can cause fuel to fill up the cylinder above the piston, and even leak down into the crankcase. That would be what we call a "bad thing."

[mental note to myself: CHECK THE FUEL TAP NOW AND THEN, TURN IT TO "OFF" IF NOT SURE!]

I then scraped and wiped up all the accumulated oily crud from the lower motor and from around the shifter.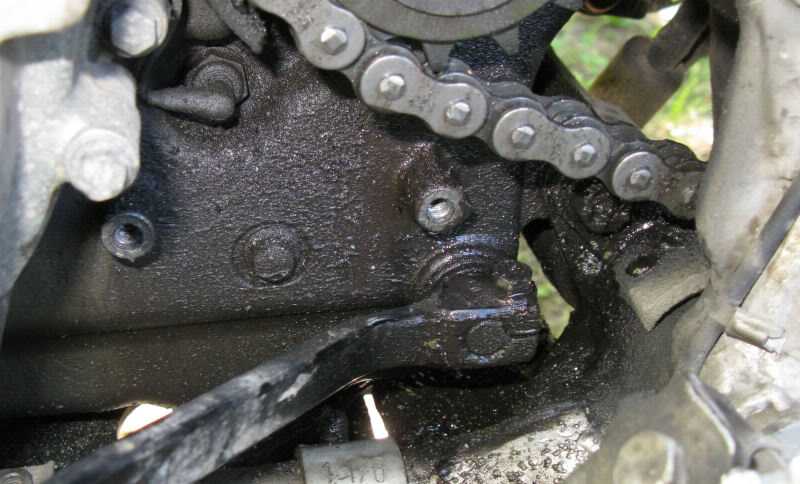 That revealed nothing. A leak from the shifter shaft was almost unheard of, but a leak from the countershaft was a common problem when the chain was too tight. I keep my chain on the loose side deliberately, so it wasn't going to cause a leak there. As I was staring at the countersprocket, the problem finally soaked into my brain.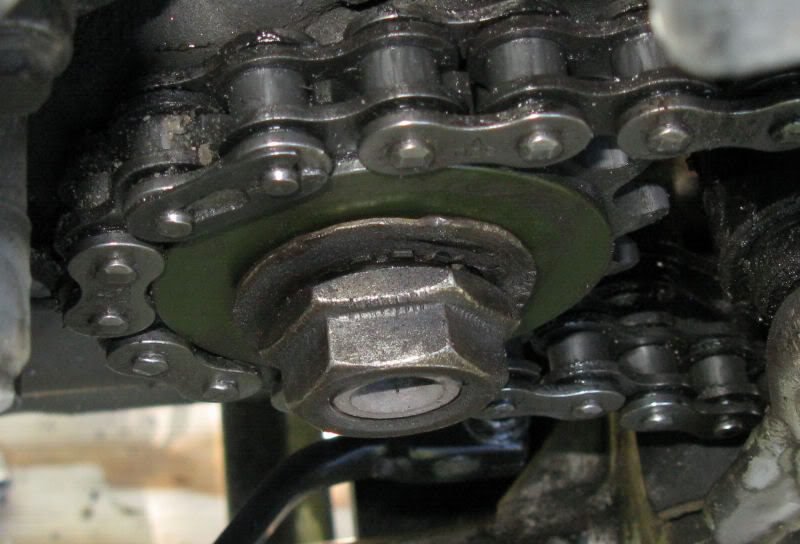 The retaining nut for the sprocket was completely loose, and would have spun off if it weren't for the sprocket cover that had kept it there (but my chain's master link still looked good, eh?). What should have been the folded-over edge of the washer under the sprocket nut was flat. Had I forgotten to fold it over when I mounted the new sprockets and chains? Had the nut vibrated loose and pushed the washer's folded edge back?

I hate to admit it (such a simple error), but it's more likely that I had neglected to fold over the washer. With the sprocket playing back and forth on the shaft, that would have caused both the bike's high-speed wobble and the oil leakage from the over-taxed shaft seal.

I got out the breaker bar and got that nut tightened back down while Laurie stood on the rear brake pedal. The convenient little multi-tip screwdriver that I carried was completely inadequate for bending the washer over, so that would have to wait until I had a larger screwdriver.

[mental note to myself: BEND THE COUNTERSPROCKET NUT WASHER OVER SOMETIME SOON!]

I hoped that there was no damage to the countershaft seal, but time would tell.

While I worked, several people came over and chatted with us. (Mostly, Laurie chatted with them while I was swearing under my breath.) One family was traveling in an old school bus that they had converted into an RV camper.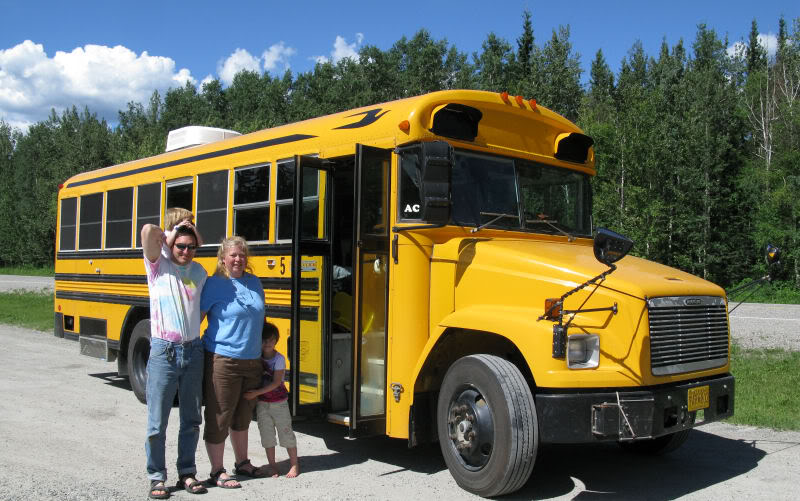 Another couple were driving the Alaska Highway, scouting roads and routes for future motorcycle rides. Graham had ridden a motorcycle around the world recently and was still working on a DVD of his long ride. Right now, he and Jane were taking a long (tax-deductible!) ride around Canada and Alaska to prepare for their new business of leading motorcycle rides over here. That's not a bad plan.

Not that I'm promoting their business or anything, but their site is ToursAreUs.co.uk if you're feeling pent up in Britain and need to release some energy on a long, guided ride.

I got the bike back into riding condition and took it for a test ride. No issues at all, as far as I could tell. But then, a few earlier test rides hadn't felt bad, either. Tomorrow would tell.

I got the bike fully re-assembled and got washed up. Our room in the Lodge was very spartan. Two double beds, table, chair, bathroom... that was it. No TV, no refrigerator, no clock, no telephone, no masseuse, no hot tub, no French maid in skimpy clothing...

Okay, I took that too far.

The room was an oven--too hot to even relax in. The tiny ceiling fan in the room wasn't even near the beds, so it did no good. Laurie went down to ask if they had a table-top fan we could use, and she came back up with a brand-new large floor-standing fan. The Lodge had just gotten a shipment of them in today, and the handyman was putting them together just then! Woo hoo!

We put the fan at the window and things got much better.

The hot springs weren't much of an attraction during the heat, but we thought we might walk over there later when things were cooler. We ate and played cards for several hours just to kill time, but it wasn't until 22:45 that the evening got cool enough to be inviting.

We walked across the road and through the locked gates that kept cars out of the park and camping area. It also locked in the cars that were inside the park after 22:00. Past the camping area, there is a long boardwalk through the bogs, and you can smell the sulphur in the air. The mosquitoes were many and they were voracious.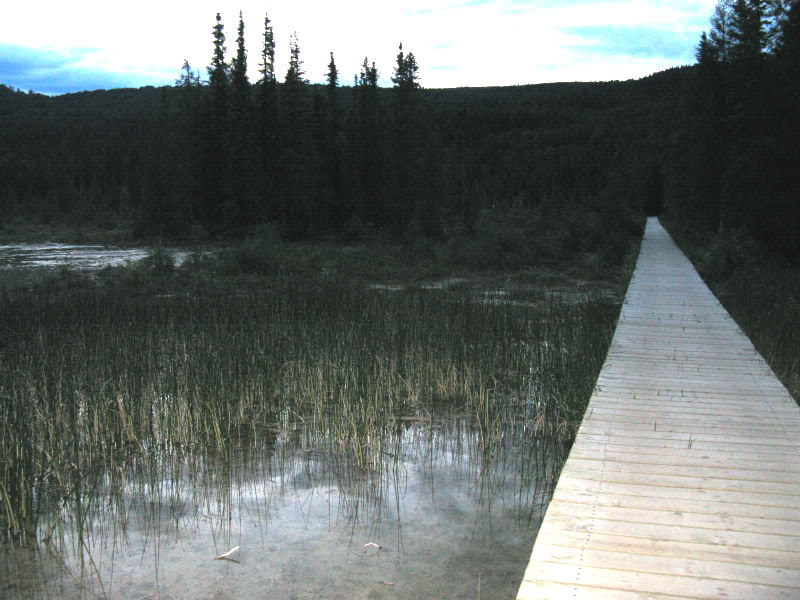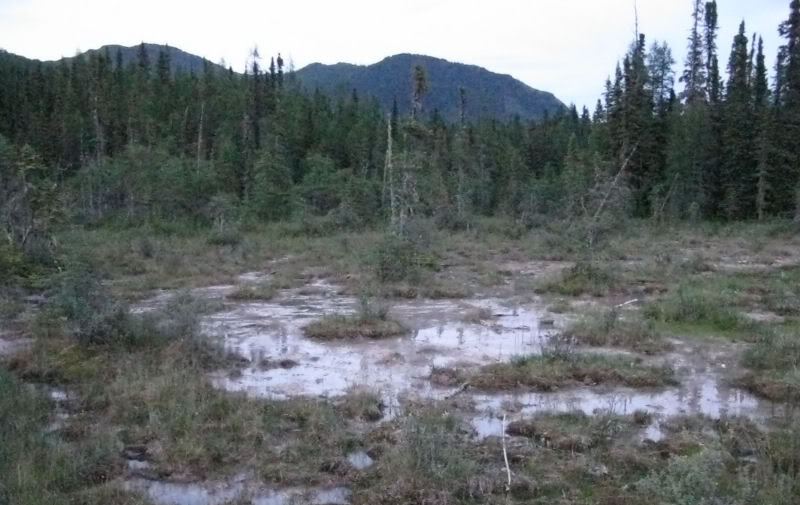 At the springs, the boardwalk connected the toilets and changing rooms to the two pools. The upper pool is hotter, the lower pool is much less hot. There were several people there, people from the campgrounds, I suppose, and more came and went during the hour or so that we were there. The little kids were not handling the water's heat very well. The sulphur smell was less than I expected. The odor was much stronger in the larger springs I've been to in Colorado.

This is the upper pool.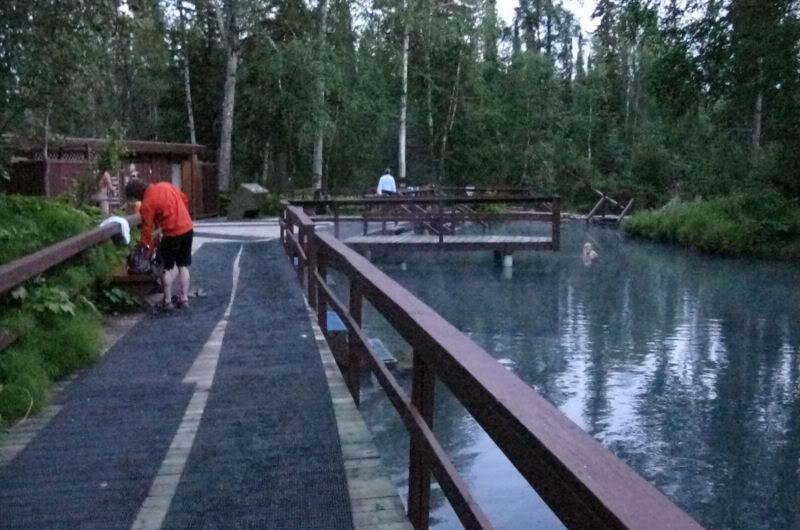 The old guy soaking by himself in the photo above started talking to me while I paddled past him in the shallow water. When he learned that we were riding motorcycles, he started suggesting various routes that we should try. That turned into a 30-minute description of almost every "good" road in lower BC and Alberta. I tried to politely end the conversation by telling him I was going to join my wife in the lower pool, but he got out of the upper pool with me as if he were attached. While we were toweling off, he started telling Laurie all the same stuff he had just told me. The guy's wife finally gathered him in and shuffled him back to the campground.

We wiped ourselves with an anti-mosquito towelette for the walk back to the Lodge, but the biters still got me a few more times.



Friday, July 9, 2010
------------------------

After breakfast, we kept heading east. The day was sunny and warm so we didn't dress as heavily as we had been doing. Before long, we came to yet another construction stop. I rode to the front of the line of waiting trucks, and as soon as I stopped behind the two Harley riders there, my engine died. It cranked but wouldn't fire.

Laurie rode up next to me, but I was already getting a bad feeling about things. I rolled the bike backward to the shoulder of the road and started checking things out.

I pulled the fuel line, and again the fuel was free-flowing. When I turned it off and back on, the fuel flow continued but at a trickle. Still not good, but at least there was fuel flowing to the carb. As I moved from one side of the bike to the other in the heat, traffic kept piling onto the waiting line.

I was so focused on the fuel and vacuum lines that I didn't notice at once that there was a small stream of fuel flowing to the ground from the carb's overflow/vent line. That gave me a bit more information. The carb's float bowl was full of fuel, and more fuel was still flowing into the carb. Did that suggest that the float valve was sticking open as I had mentioned yesterday? Why it was still getting fuel at all was another problem.

I hadn't done any maintenance work on the fuel system after returning from South America, and I was now paying the price. The petcock valve was probably sticking open or about to fail, the float valve was possibly sticking open, and there still might be a problem with the vacuum line.

I drained the float bowl and rapped on the side of the bowl in the vain hope that if there was some grit in the valve, that would knock it loose. I pulled the fuel line from the petcock again, but there was still a trickle of fuel with no vacuum being applied to the diaphragm. I'd have to remember to turn the petcock off each time I parked the bike.

Lastly, I removed the vacuum line completely. That was the only way I was able find a break in the underside of the line. I had looked at that line several times in the last month, but had never seen the split. It had probably been getting worse over the weeks. I only have this fuzzy photo, but it'll have to do. The problem looks pretty obvious in this photo, even out of focus.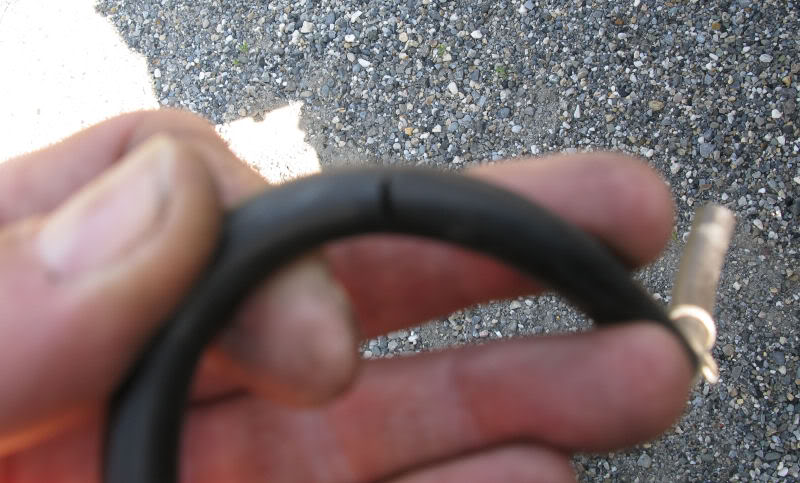 Fortunately, I carried a few bits of various hoses, so I cut a new length of vinyl hose and replaced the vacuum line. It would do for a while, but I'd replace it again later. The bike fired up after enough fuel had flowed to fill the float bowl.

Not only had I fixed it quickly, I had done so while we waited for the pilot truck to lead us all through the construction zone. I got back on the bike and we were ready to go without any extra delay.

The next several miles were spotted with lots of dusty gravel patches that had been baked dry in the recent heat wave. When big fast-moving trucks pounded over these sections, it was a white-out condition for a while.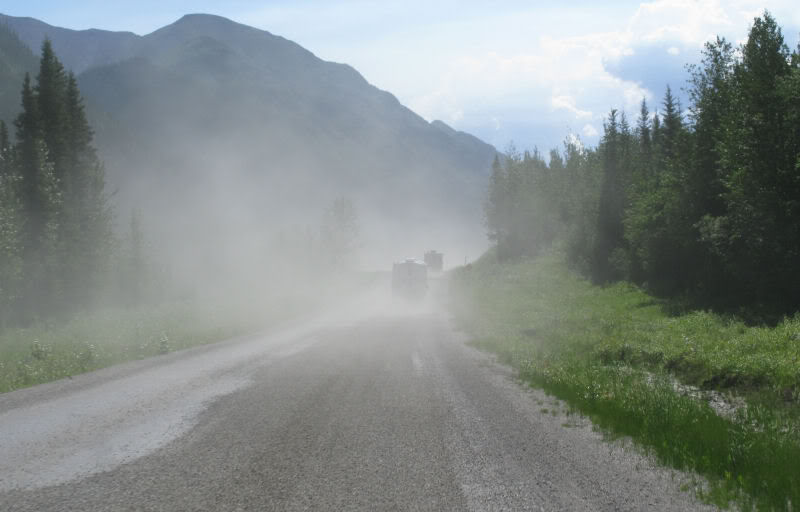 The warm weather didn't last the day, but it held for a few more hours.

I was behind yet another truck towing a camping trailer when I saw a beer can come flying from the left side of the vehicle. That one was followed by another and I formed a very low opinion of the truck driver. That's when I saw a window frame on the left side of the trailer flapping open. The turbulence was slamming the window frame open and closed, and some curtains were streaming out in the wind. That situation didn't last long, and the whole window frame was suddenly ripped from the trailer and went soaring. It smashed on the road next to me, glass shattering everywhere. More trash came out of the now-gaping hole in the side of the trailer and I realized that is where the beer cans must have come from.

I finally had a straight section of road that allowed me to ride up next to the truck driver and get his attention. When he pulled over, I showed him the problem. He seemed to shrug off the problem, and said that there was nothing he could do about it now. I told him that he had left glass all over the road behind him, and that he should probably tape up the open window. He agreed that was a good thing to do, and I rode off. I don't know if he ever went back to clean up the glass.

Muncho Lake was worth a brief stop to enjoy the view. Mineral sediments in the water make the water look a vivid green when the light is right. But for now, see that dark cloud on the left?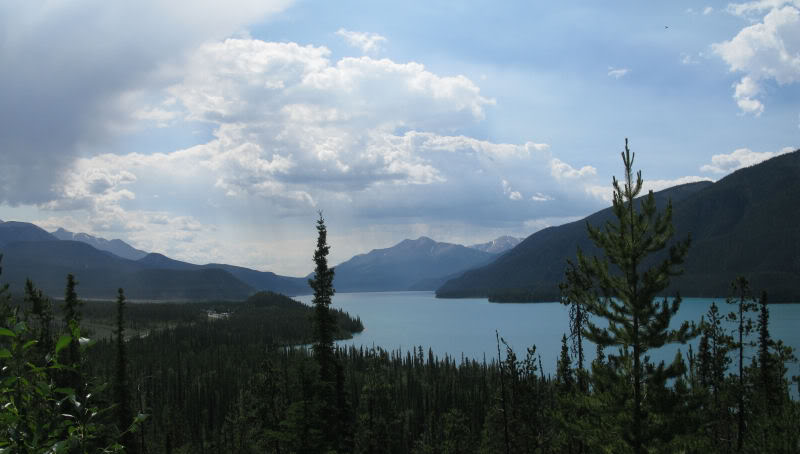 That cloud was part of a large weather system that ruined the warm, sunny day for us.

As we worked our way up over the northern tip of the Rocky Mountains, the air started cooling off quickly. There were sheep all over the road, some nibbling at the sand, some actually laying on the shoulder of the road. I only got a few photos, but they were everywhere.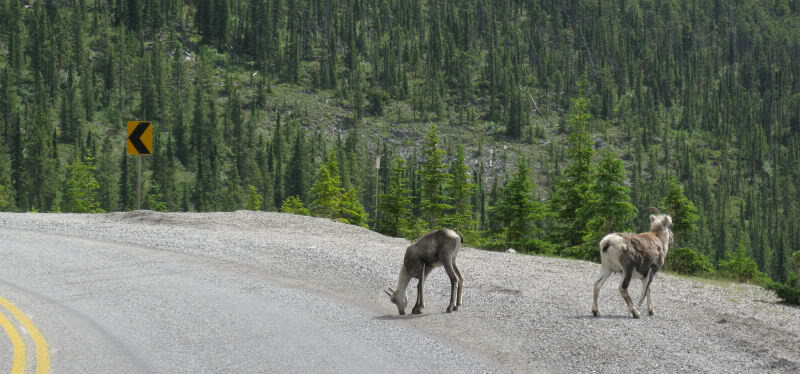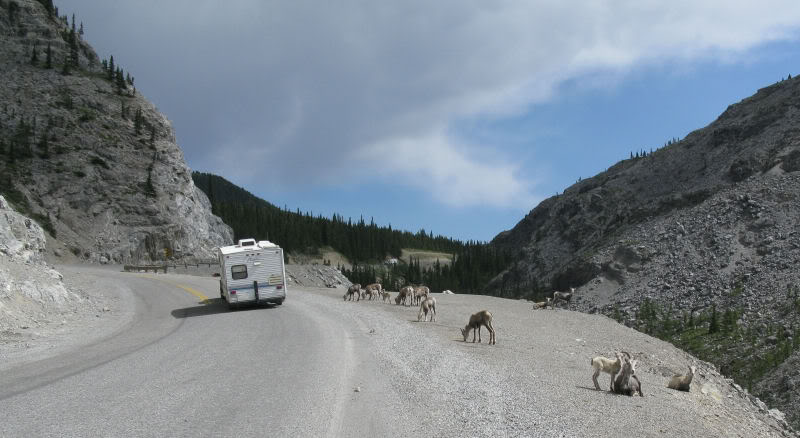 Once over the pass, there was a brief warming, but it wouldn't get hot again today.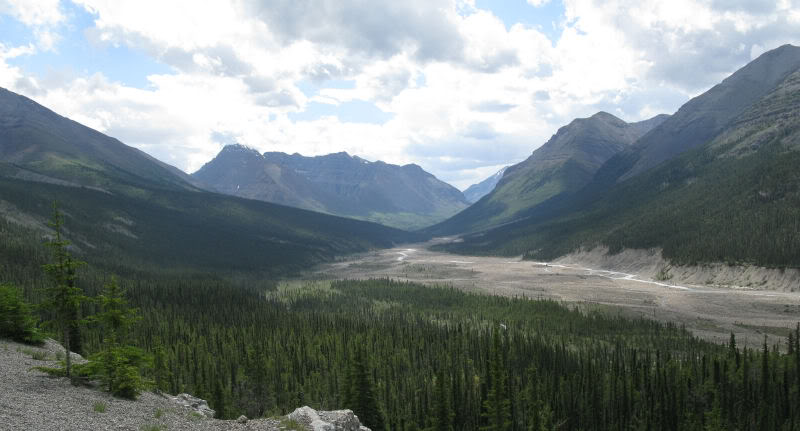 Another pilot truck led us past some road work next to a grader. At least the grader was accompanied by some rollers that were packing the road back down.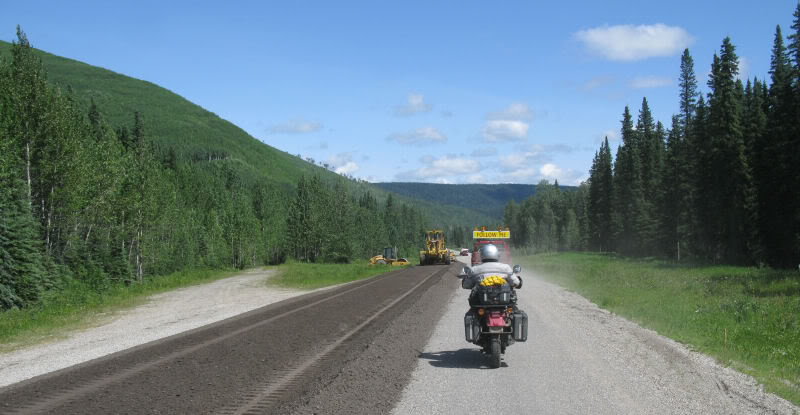 I really enjoyed the ride down off the mountains. Twisty roads that were in good condition were a fun ride for about an hour.

We got to Ft. Nelson and Laurie decided that she was good to go onward to Ft. St. John, another few hours ahead. Since Ft. Nelson was a decent-sized city, I checked out a few hardware stores but couldn't find a large screwdriver anywhere. All that the stores had were cheap ones with soft rubber handles. I needed a durable screwdriver that could stand being pounded on with a hammer. I still had to fold over my countersprocket nut washer at some point.

When Laurie had stopped, I heard an odd noise from her motor just as she shut it off. She said that it had done that a few times before. Starting the motor and shutting it off again didn't cause the noise, so I wasn't sure what it was.

Soon after leaving Ft. Nelson behind, we passed a large cow moose and its calf running through the shrubs alongside the road. They were gone into the woods before I could get a photo. It was the first moose with a calf that Laurie had seen.

We got rained on for a while as the cloud got all grumpy and frumpy. It actually got cold for a while.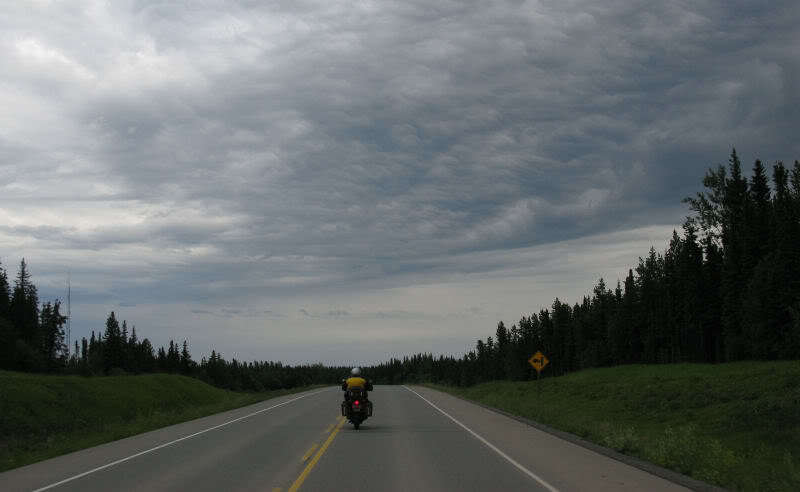 At Ft. St. John, we settled into a hotel with the first decent Wi-Fi access we've had for a while. Breakfast included, too, so that was another bonus.

The liquor store next door didn't have any [ yellow tail ] merlot, but they did have some Black Tower, a fruity German white wine that I hadn't had in many years.


Saturday, July 10, 2010
-----------------------------

After adjusting the KLRs' doohickeys (if you have to ask, you don't need to know) and lubing the chains, we set out into a warm morning.

From this point east, there was much less wilderness than was apparent all along the rest of the Alaska Highway. It was rural now, with farms along the road. We got to Dawson Creek with no sense of being away from civilization.

At the big, touristy "Beginning of the Alaska Highway" sign, there was a group of classic car rally fans taking turns in front of the sign for photos.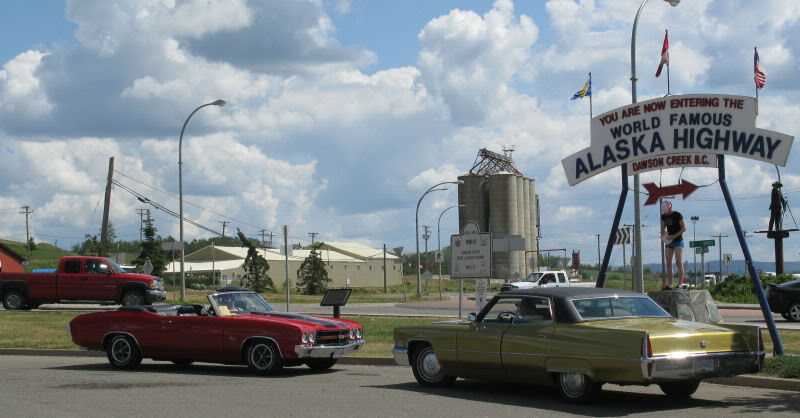 While we waited in the hot sun for our turn, some of the women in the rally came to us and asked if we were tourists. When we said yes, they showed me some pins and rally participant papers that they needed to complete. They had to have photos of two tourists that they had given pins to, so we posed for the pics while we waited. I took a photo of one of them in return, but I didn't have a pin to give her.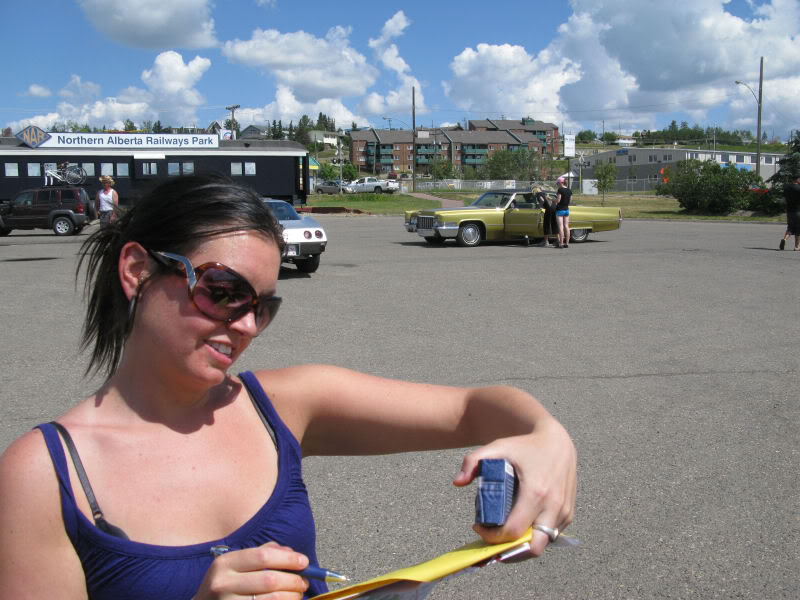 Another gal from the rally group took our photo when it was our turn in front of the sign.




There is a smaller sign marking "Mile 0" of the Alaska Highway in an intersection in town, so I waited until Laurie went past it to take her photo there as well.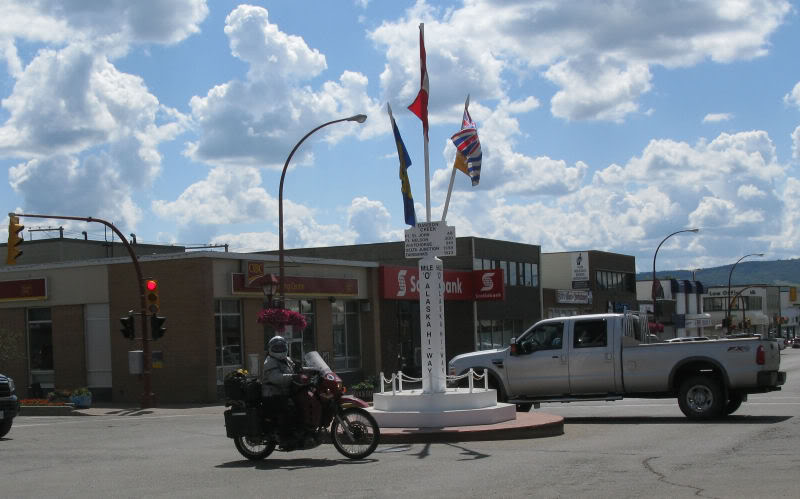 All of the classic cars had British Columbia license plates, so I didn't know if they were all locals or were on a ride. I asked the guy driving this old car, but all he said was that they weren't on a ride up the Alaska Highway.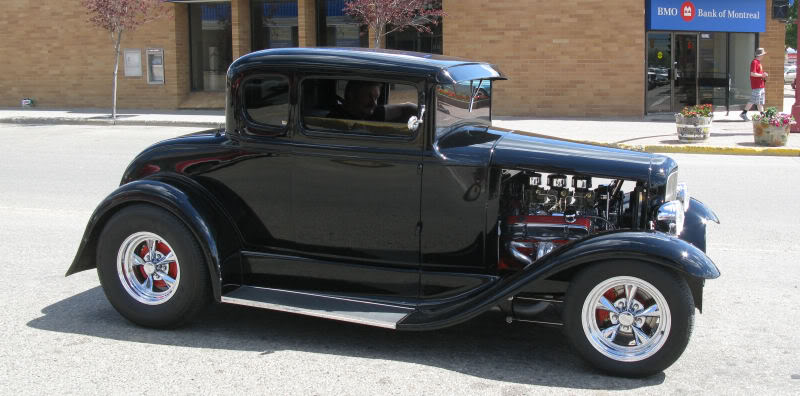 The local events arena was having a concert by Meatloaf soon, so that was a point in their favor.

The road from here was more heavily traveled than we had been used to for some time. Lots of local commuter traffic and old ladies puttering around, lots of trucks, lots of farm road intersections. At Grande Prairie, we turned off the main road onto highway 40, a new road to me. This would take us down to the Jasper National Park area. It was a nice road, sometimes straight and boring, sometimes nicely winding around through the hills.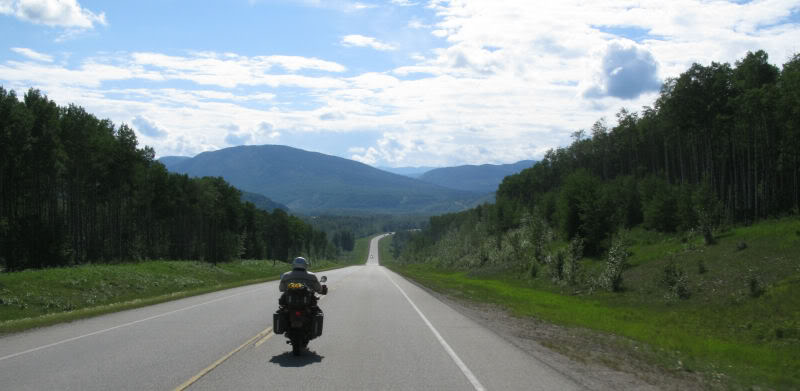 It was only 247 miles, or 391 kilometers, from Ft. St. John to Grande Cache, so another light riding day. I saw foxes and small red deer along the treeline, but Laurie missed them.

Gasoline is cheaper now that we are out of BC.

After settling into a hotel, I went out and found a sports bar to park in for a while (Laurie had chosen a hotel whose restaurant was shut down). It was only mid-afternoon, so it was still warm out. I had a beer and started writing. I knew that Laurie would wander over eventually, so I ordered a pizza. The double-meat was tasty, but the added shrimp somehow threw the taste off, so it wasn't as good as I had expected.


Sunday, July 11, 2010
---------------------------

Laurie called ahead and booked rooms in Jasper. Neither of us had ever been in the Park, so it would be new for us.

The day started cloudy and cool, and it stayed that way until mid-afternoon. It rained most of the morning as well. I saw deer and moose along the way, but Laurie only saw some of the deer.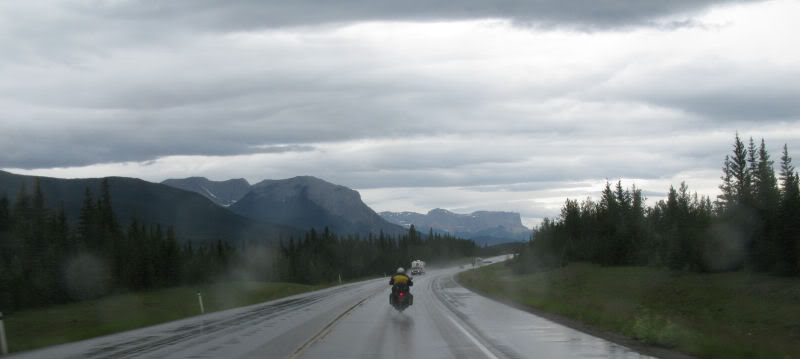 The road was in good shape aside from a several-mile section that was cracked with lots of small potholes. After the rain fizzled into a light drizzle, we got to the Park.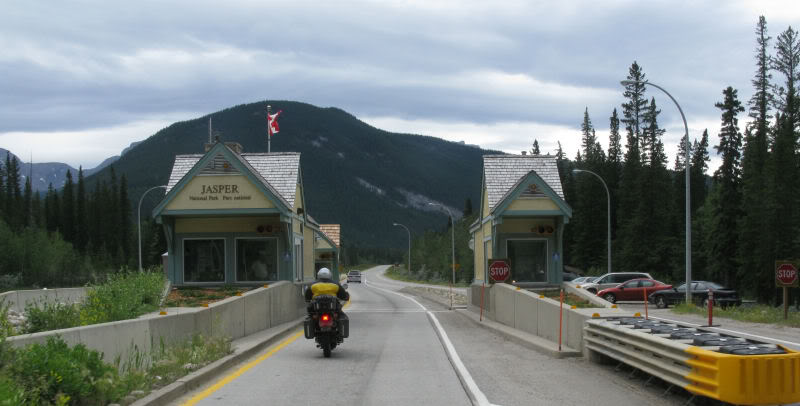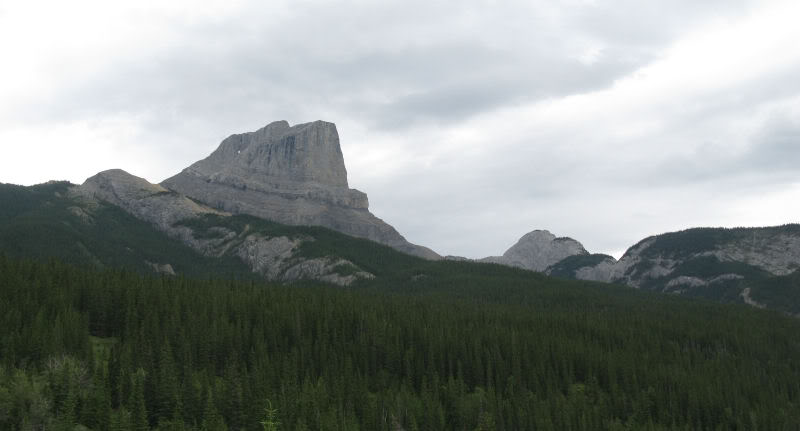 Laurie consulted her map and we went past Jasper instead of stopping there. Tomorrow was supposed to be worse weather, so we went sight-seeing now.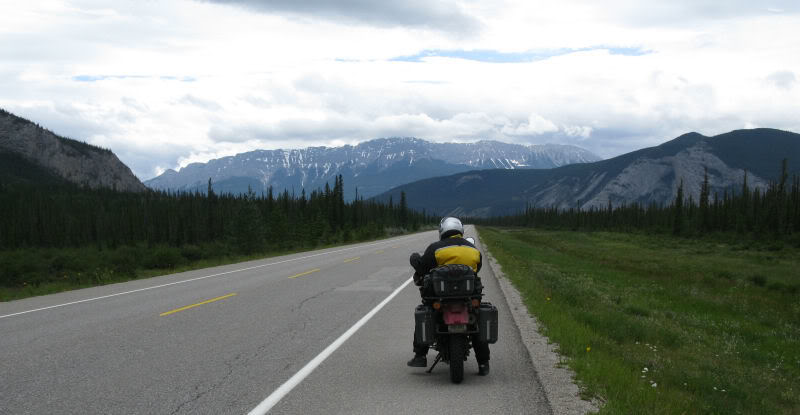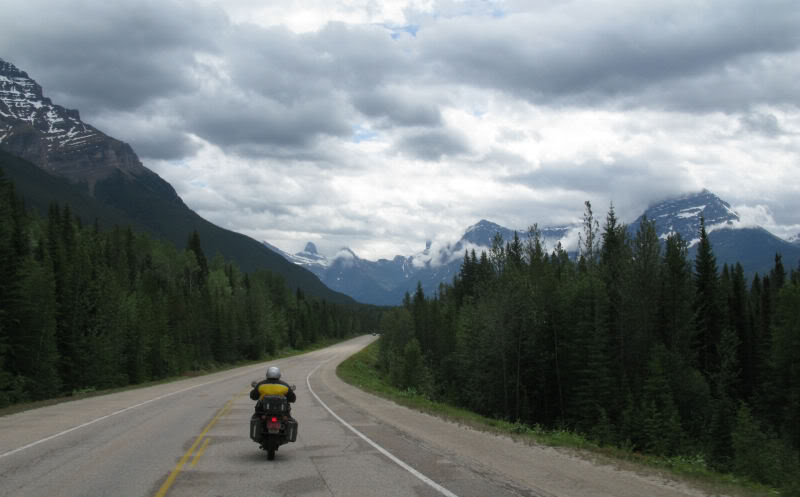 We stopped at the Athabasca River Falls and walked around for a while. The falls themselves are a small but turbulent affair, but you could also walk down where the water channel used to be long ago.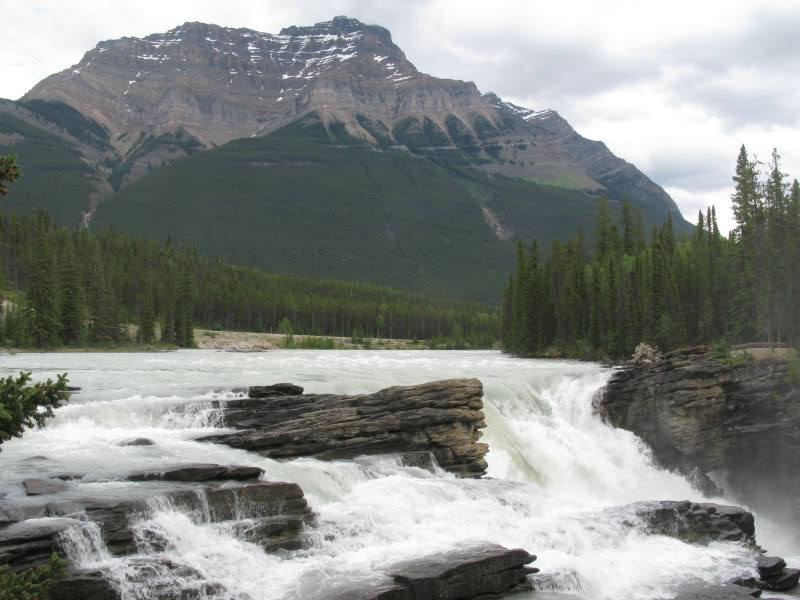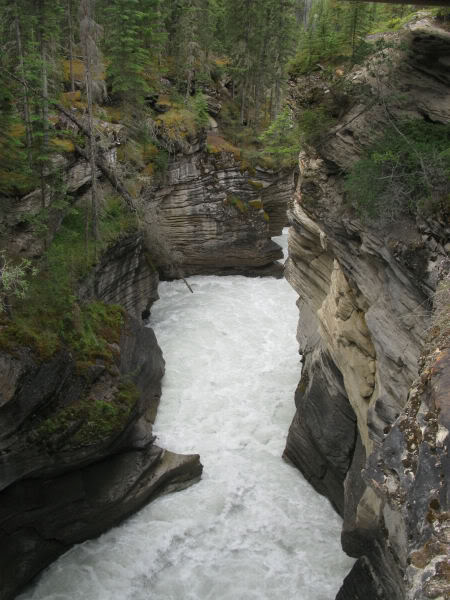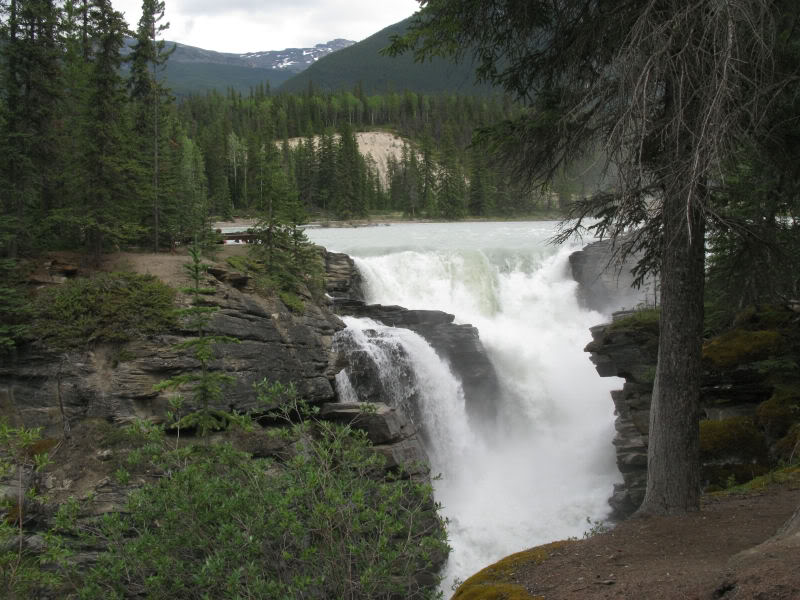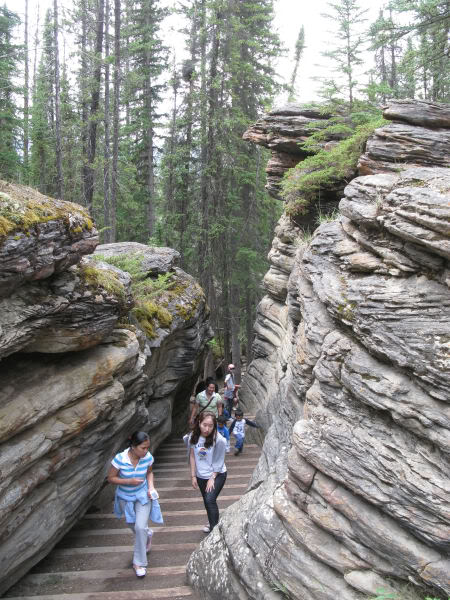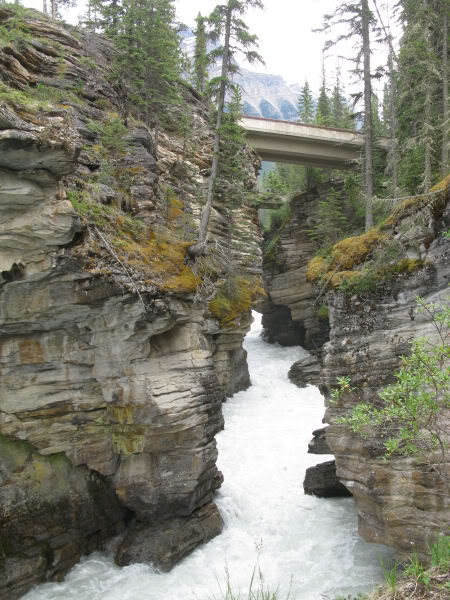 Taking advantage of suddenly sunny and warm weather, we continued south. Along the way, we (and lots of other tourists) stopped and watched a very large black bear scavenge along the side of the road.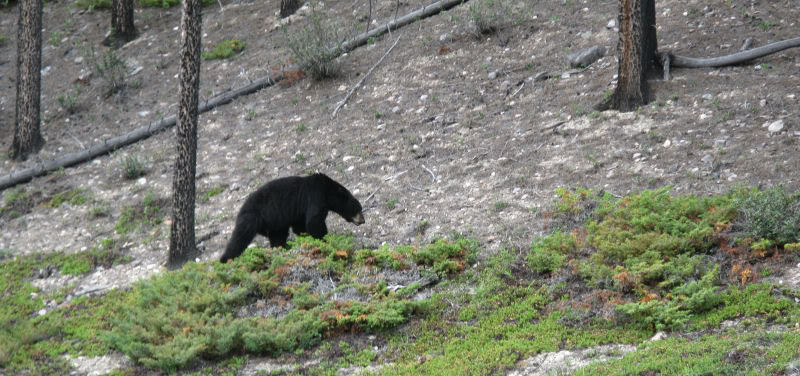 We turned around and took the Yellowhead Highway west to the edge of the Park before finally turning around and heading back to Jasper.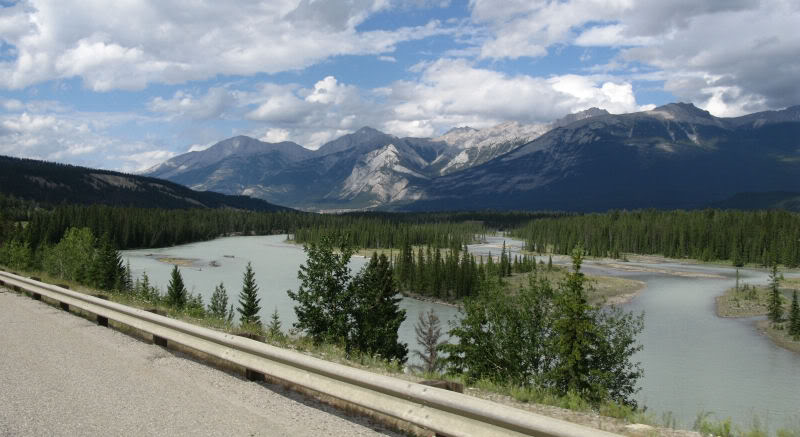 I didn't note the mileage for the day, but it was somewhere around 360 KM / 226 miles. After checking into the Tonquin Resort ($154 if you booked online, a lot more if you just walk in), I took a shower and staked out a table in the restaurant's lounge while Laurie did a load of laundry (mostly my laundry, but her laundry needed special settings while mine could survive being washed in a muddy river just as well).

Overhead in the lounge was a large screen TV showing the FIFA championship game between The Netherlands and Spain. The game had been played earlier in the day, but this was a re-showing for this time zone. The hard-fought game was still 0-0 as they started the extra time (overtime) period. Just then, a very harsh thunderstorm exploded on the valley and the satellite signal was lost. Most of the outside diners retreated to shelter, but one couple grabbed their umbrella and waited it out despite the waitresses urging them inside. When the winds let up, I took their photo just in case you know these people and want to make fun of them.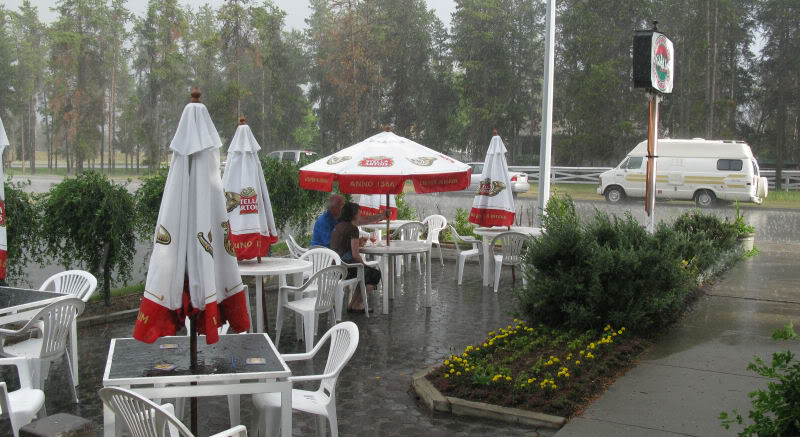 I didn't really care about the soccer game, but I finally took the bartender's offer to tell me the results of the game. So, when the replay finally came back on, I was even less interested. Anyway, Spain managed to score and win in some strange added-time period after the expiration of the extra time period. I don't understand the timing of soccer games.

Prime rib was the restaurant's specialty, and both it and the Mediterranean Pasta were very good.

The beer was good, too.


Monday, July 12, 2010
----------------------------

Very little to write about today since it was a short ride (200 miles) and it was mostly in the cold rain.

Photo interlude: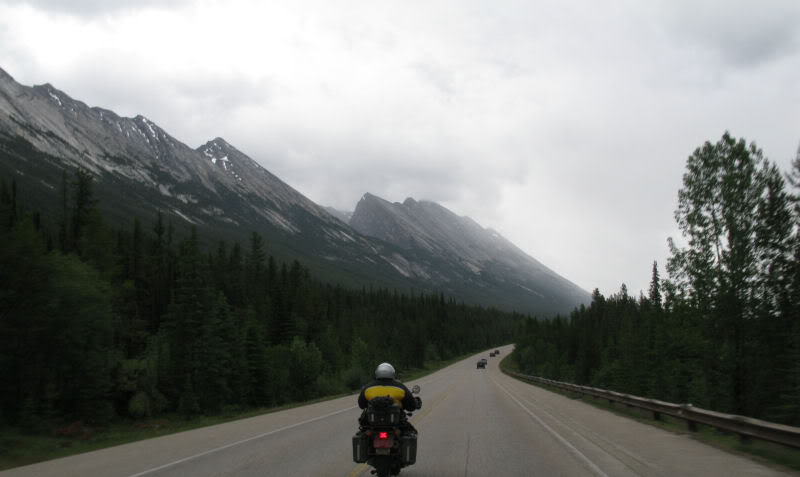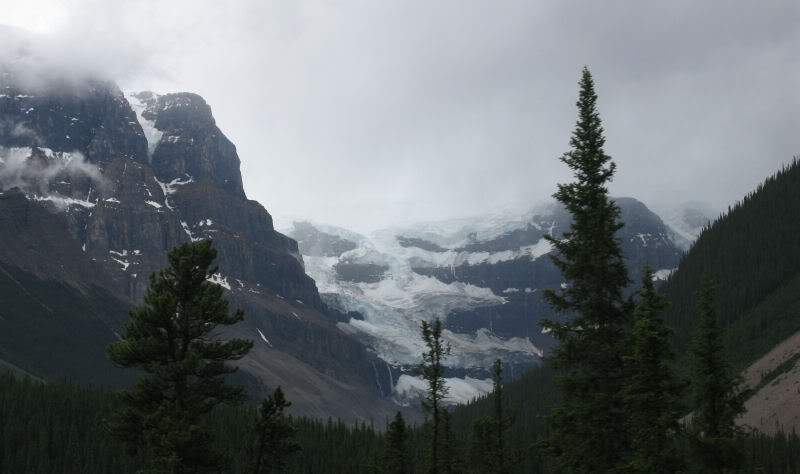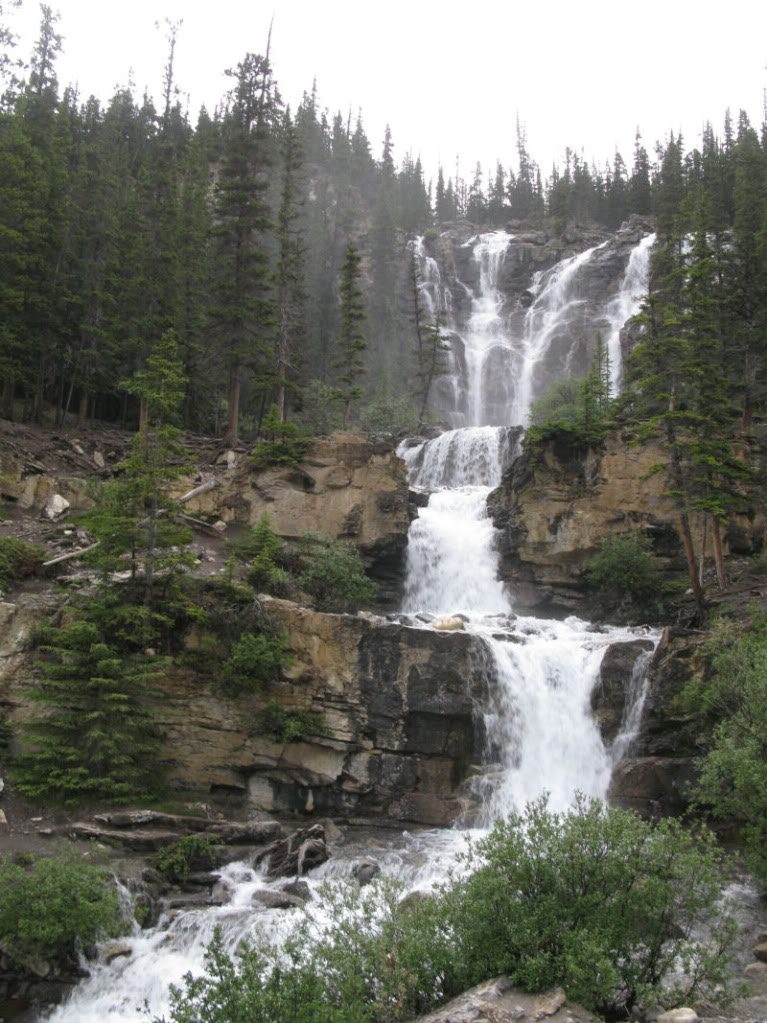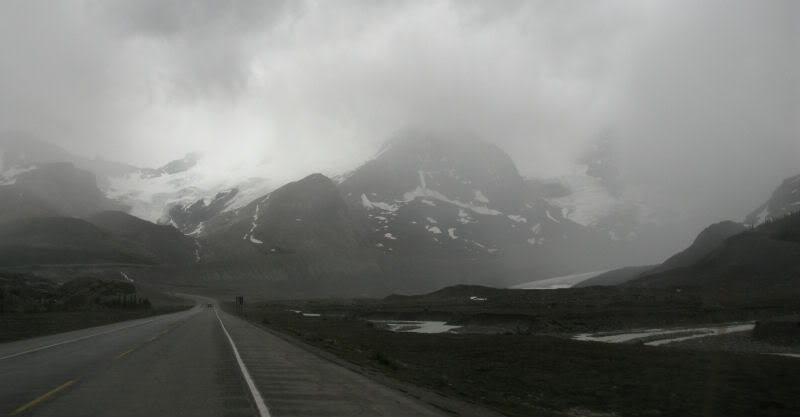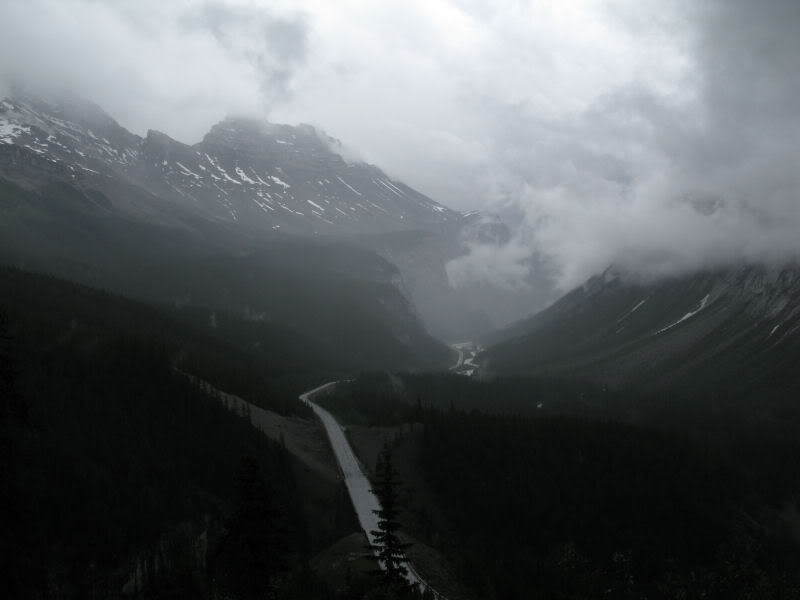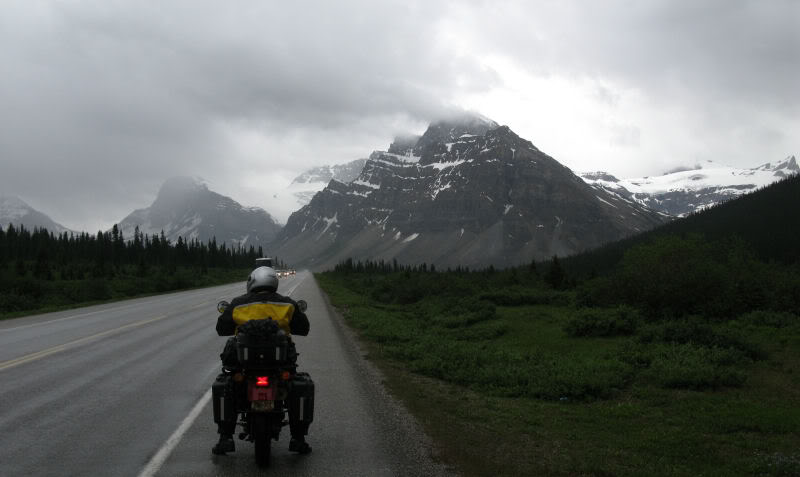 We stopped for hot chocolate at this lodge at Bow Lake. I don't remember the name of the lodge.




The weather cleared for a while, but it got drizzly again before we got to Canmore.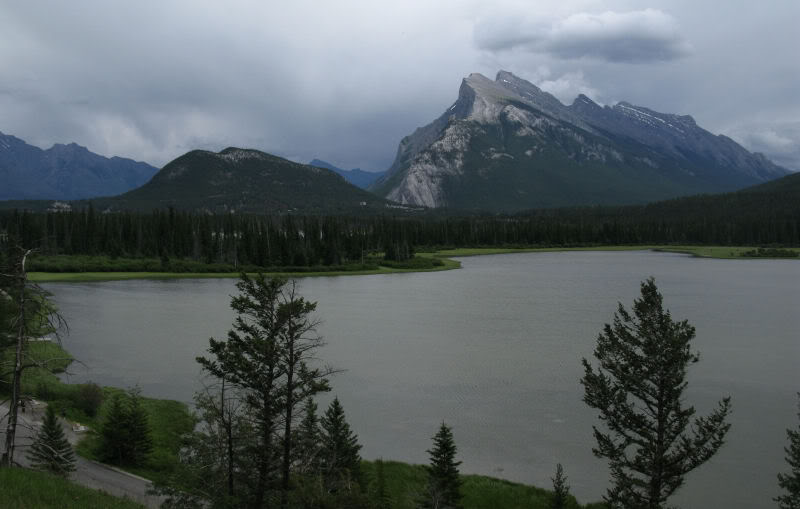 Canmore is a well-developed city, with lots of year-round activities. The Towne Centre was a bit nostalgic, but still aimed at lots of tourists.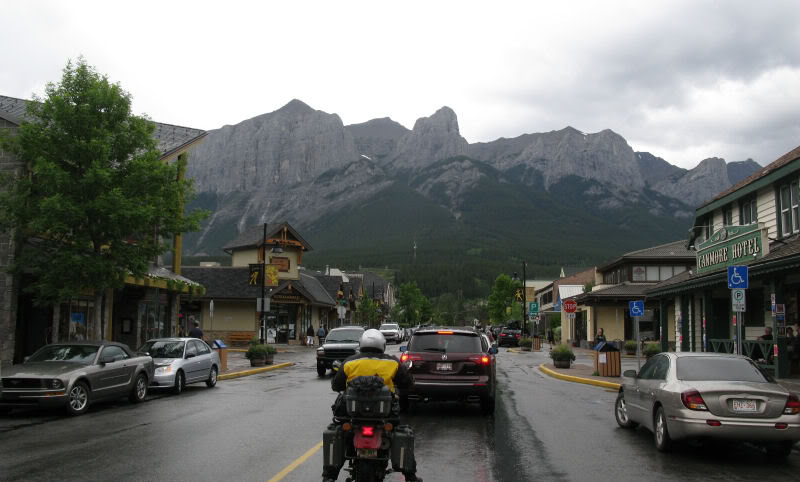 Our hotel was more like an apartment complex. We stayed in a 2-bedroom unit for $130, the train that ran right behind the complex was included at no extra charge.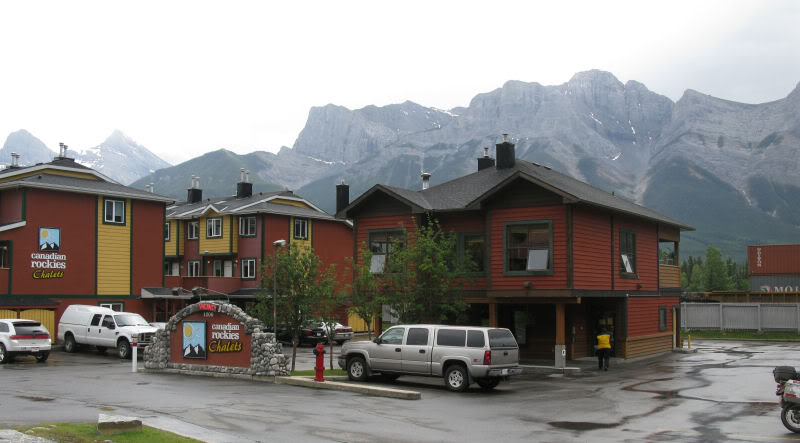 Tuesday, July 13, 2010
-----------------------------

Breakfast was some groceries we had picked up last night on the walk back from an English pub that we had found for dinner. Soon after eating and getting packed up, Laurie suddenly didn't feel well and threw up. Although she didn't actually feel sick, she wasn't sure she wanted to start riding just yet. We delayed our check-out time so she could think about it, and after another hour, she decided she wanted to stay here another night just in case.

We watched TV all day and played cards, sending out for Chinese food when Laurie felt that she could eat.

That was all there was to today.


Wednesday, July 14, 2010
--------------------------------

Laurie still didn't feel ill this morning, and why she had been sick yesterday was a mystery. We finished the Chinese food for breakfast and rode out into a cloudy late-morning.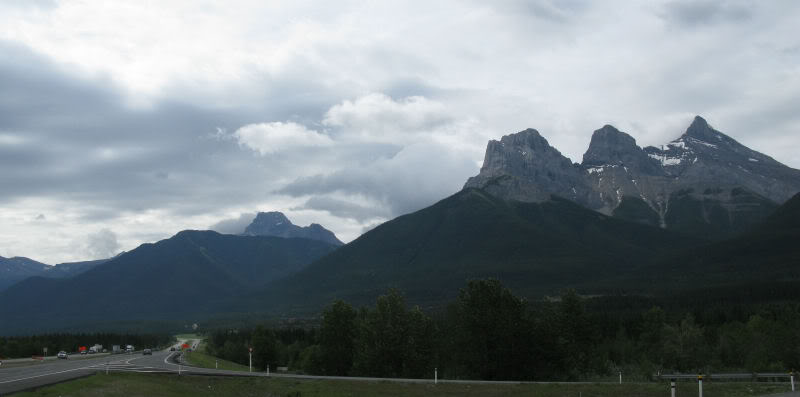 We took the highway east for a while before turning south on lesser roads that were nicer to ride. A lot of the ride was mundane and even boring, but some of it looked like this.




It got very windy as the skies cleared and the afternoon wore on.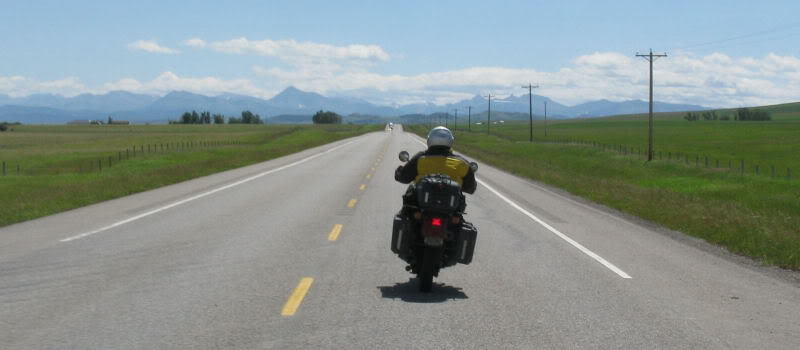 We arrived in the Waterton Lakes National Park area and although we hadn't planned on entering the park (or paying the $8 fee for each bike), we learned there was no fuel at the U.S. border. The park was the nearest place to gas up, so into the park we went.

This is the northern part of the park that is known as Glacier National Park in the U.S.-side of the border. Up here, there was one road that went in to the resort area and came back out.




We briefly considered staying the night here, but there wasn't much to do for motorcycle riding in the area. We certainly weren't going to stay at the Prince Of Wales Hotel.




In the resort, we refueled and parked to find someplace to eat. Instead, someplace to eat found us.

As we were getting off our bikes, a guy came up to us and asked about our bikes and where we had been. He had seen the Ushuaia sticker on my KLR, and told me that he and some friends were planning on riding down there someday. After a while, I noticed his T-shirt had a logo for the Trapper's Mountain Grill on it, and we learned that he was the owner of the grill. So that made finding a place to eat very easy.

The grill owner's name was Steve, and he talked with us a while longer as we ate. When we left, he cut us a deal on our meal and I gave him a card so he could find my ride report to Ushuaia and get more information that might help and encourage him to make the ride.

As we were riding back out of the park, I saw the side road to Pass Creek and took it up the valley. It was only a 20-minute ride, and aside from a few nice views and one moose, there wasn't much to it.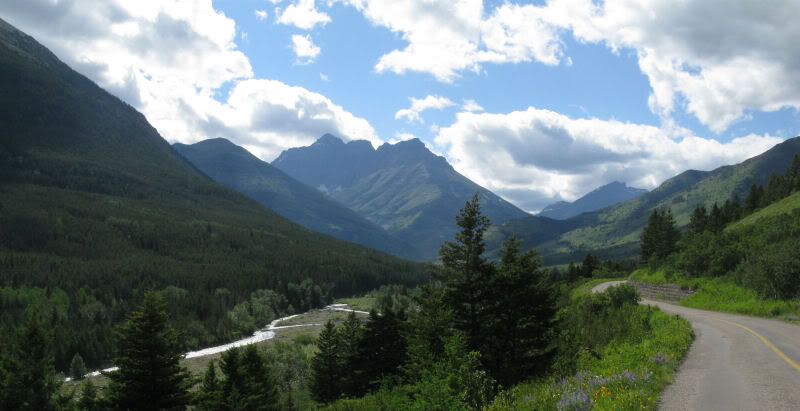 After leaving the park, we continued south toward the U.S. border. Laurie tipped her bike over again when we stopped at a scenic overlook, but I again failed to get a photo.

At the border, there was nothing except the Canadian and U.S. control points, not far apart.