Back to the Yukon and Alaska again, June-July, 2010

I had been home from my North America-South America ride for a little over a year. A few months ago, friends I had made in Dawson City, Yukon, emailed to ask if I was going again to the Dust-To-Dawson rider gathering in Dawson City this year and the idea appealed to me. Laurie was now retired, so she had the time to go as well. When I suggested the ride to her, she initially seemed hesitant but soon decided that it would be something she could do. She started managing all the things that would allow us to be on the road for at least six weeks.

There was a lot to do to the bikes in the meantime. My KLR needed some serious rebuilding, and Laurie's needed to have its motor reassembled (I had earlier scavenged parts from it for my own bike's damaged motor). Her bike also needed some adventure-worthy prep work done to it. I had many of the necessary parts, but some parts needed to be ordered.

My bike got another lightly-used motor installed (along with a complete overhaul of the entire bike) and both motors got 685cc motor upgrades. Lots of other work and modifications were made to her bike to suit her for long-distance travel, and to get a luggage set-up that worked for her.

It took a couple months to get it all done, but in the end we were ready. I won't bore you with all the details. Thanks go to Rick at Cogent Dynamics and the guys at Faster Motorsports (in Denver) for expediting Laurie's suspension needs.



Colorado to Canada
===============

Last-minute work included making my own polycarbonate windshields (Plexiglas/acrylic is just too brittle for my taste), Laurie's new Cogent Dynamics Moab short shock and getting her fork tubes shortened locally, mounting her Pelican luggage and making hinges for the lids, mounting new tires and tubes, new brake pads, new chains and sprockets (43-tooth for Laurie, 45-tooth for me), bleeding my brake lines, and re-packing everything we were taking with us. I was not as heavily loaded as I was when I last rode it, so that was nice. After its re-build, my KLR685 was essentially identical to its condition for the 43,301-mile ride to Alaska and all around South America. Well, except that the motor had been replaced after that ride.



Friday, June 4, 2010
-------------------------

We finally got packed and ready to roll at mid-day, which was later than we had planned. Getting the final house-prep done took longer than we had expected. Our neighbors were aware that we would be traveling for a couple months and my family members would be house-sitting, but we still had a hard time getting away from the place.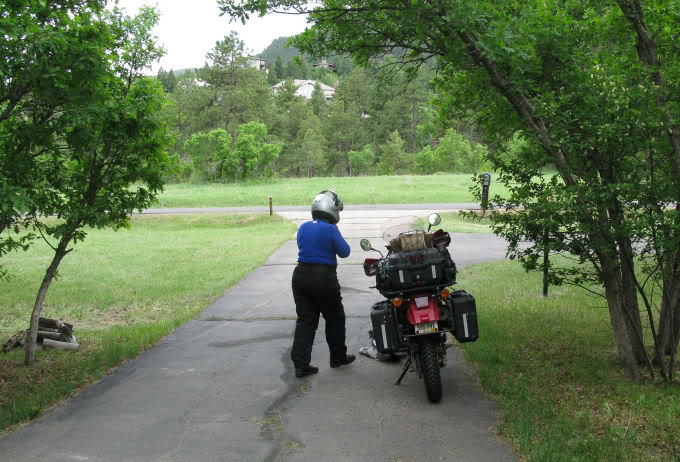 We hit the road at half-past noon, and headed for Buena Vista, Colorado. There was a gathering of ADVRider friends at the Four Mile riding area, and we hoped to drop in and say hello this evening.

Soon after we started riding, I felt my rear shock starting to bounce. That wasn't a good sign. This is the 3rd KLR that shock has been mounted on, and it's got well over 50,000 miles on it that I know of. It is a stock KLR650 shock with a heavy #550 spring mounted on it, and I had bought it years ago from a guy in Iowa who had put the monster spring on it to deal with his great weight. The shock had gotten me around Alaska and South America with no attention from me whatsoever, but that was apparently all it had to give. Like my friend Don's shock did in Tierra del Fuego, when it died, it did so all at once.

Oh, well. The fluid-less shock was easy enough to deal with most of the time, but every now and then the bike would get into a bouncing rhythm that caused me some anxiety spikes. We motored onward.

The ride down to US24 was easy and familiar and the weather was good.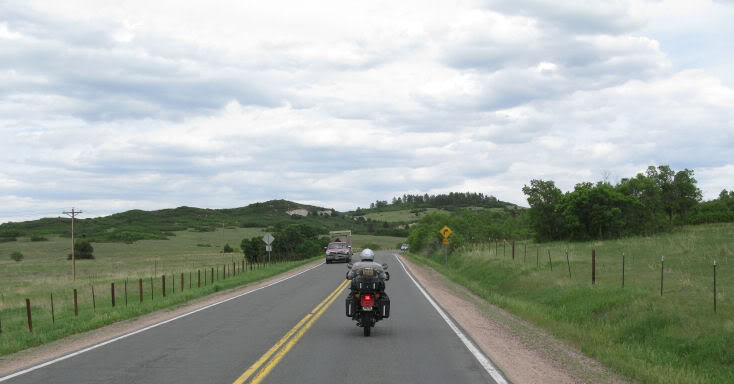 When we neared the area of Buena Vista, we decided to skip meeting friends at the Four Mile OHV area and we just found a cheap motel.


Saturday, June 5, 2010
----------------------------

It was late morning when we finally got moving toward Montrose. Again, we had ridden these roads many times, but Laurie hadn't done them on her KLR. We stopped for a snack at the top of Monarch Pass and then got moving again.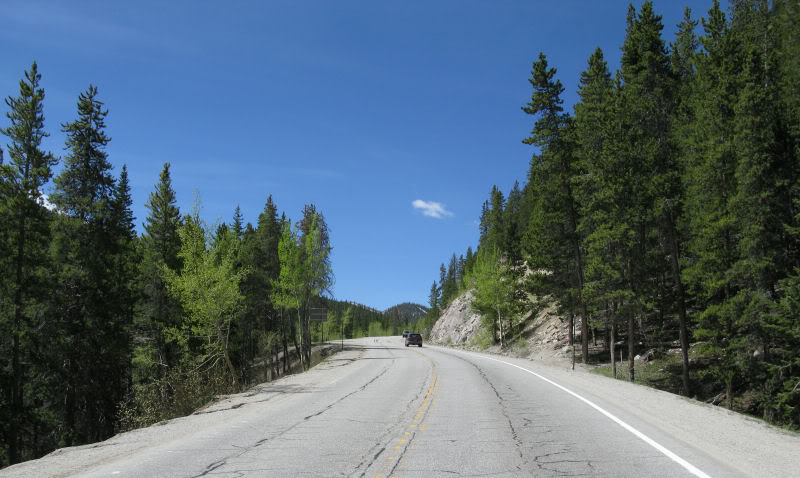 It was nice to see Blue Mesa Reservoir full of water again.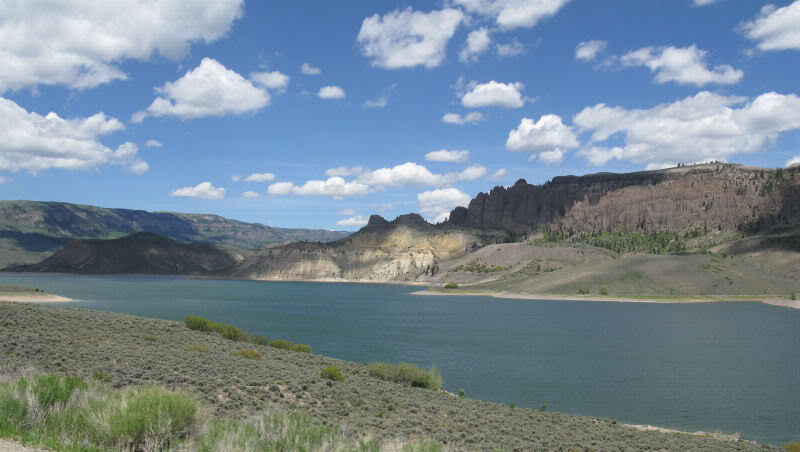 For some reason, I was getting slightly better gas mileage than Laurie was, which was not expected. I was loaded heavier (I was carrying all the spare parts, tools, etc.) and I had installed a larger rear sprocket. We decided that her throttle control wasn't very smooth or efficient, and that was using extra gas. Everything else (aside from the sprocket) was the same on both bikes).

From Montrose, we rode up through Delta and then west through the Unaweep canyon to Gateway. Since we didn't want to ride a lot of Interstate highway, we chose to take John Brown Road straight west into Utah. The dirt road was very slow going, since Laurie didn't like the big KLR on dirt. She had two tip-overs on sharp turns, earning her a fat lip and a bruised elbow.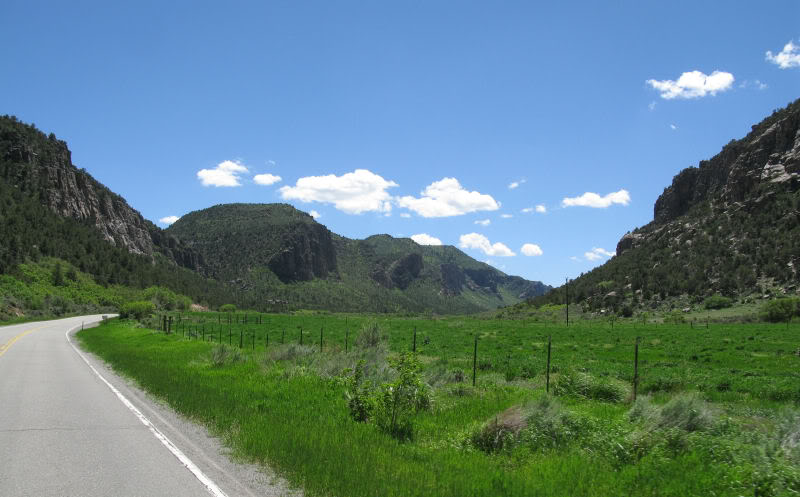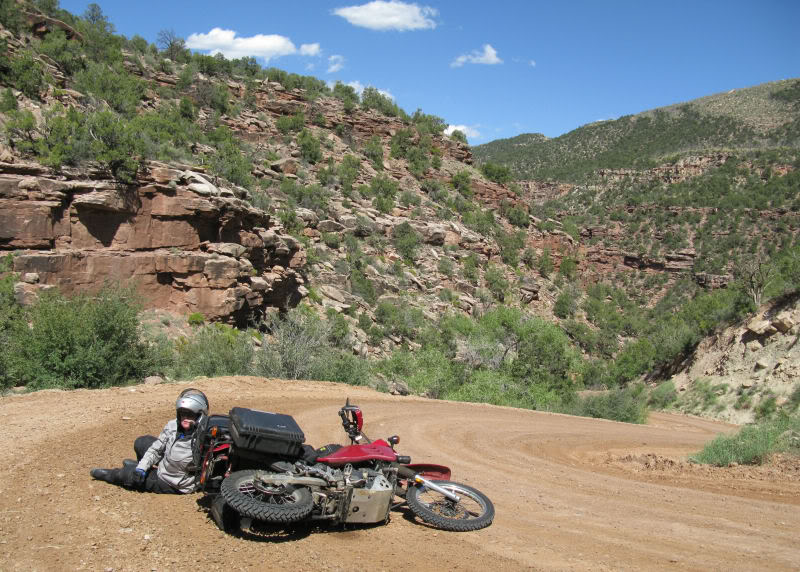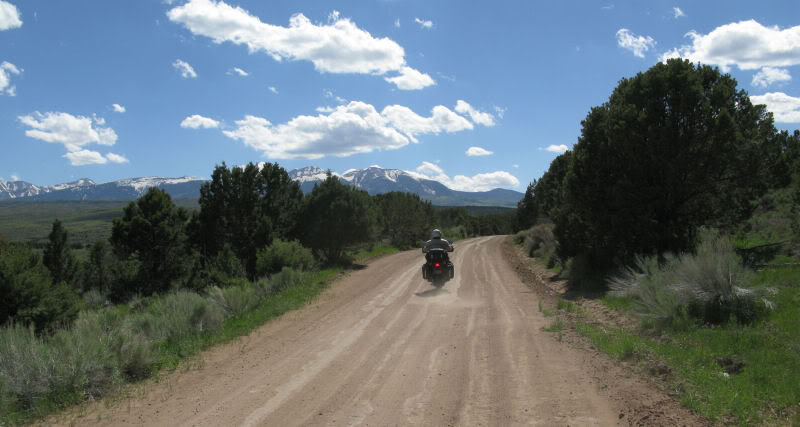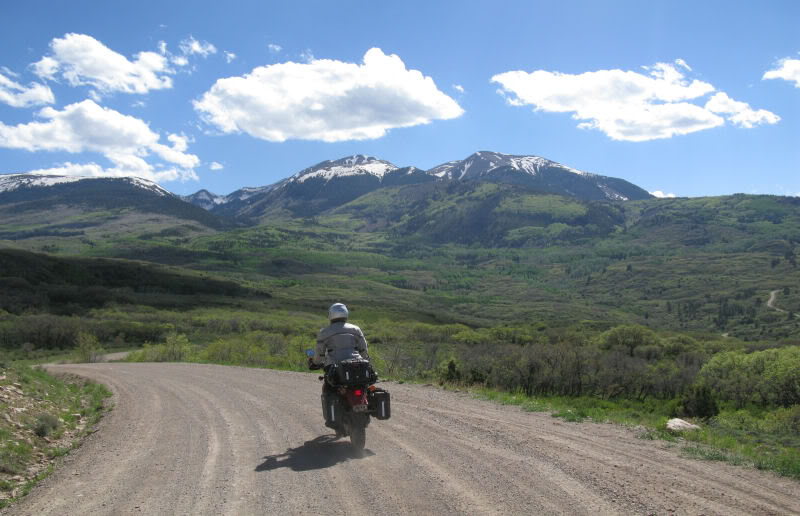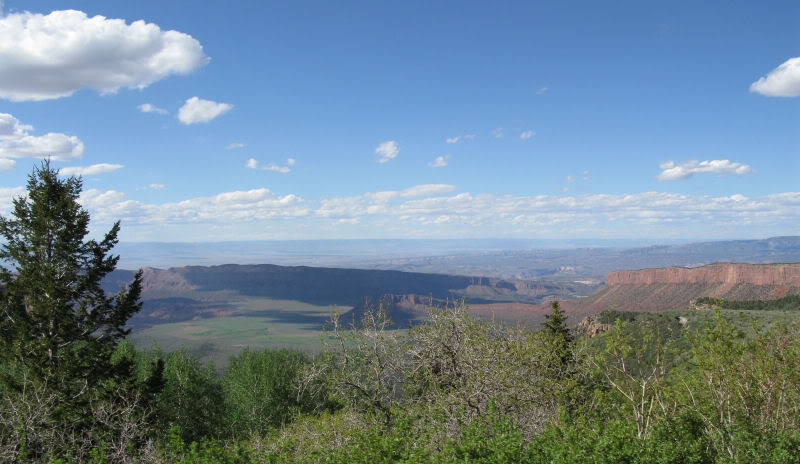 After a three-hour crossing, we dropped down into the Colorado River valley and cruised into Moab to find that all the other riders were gathered at Fred's Arrowhead Motorsports for the last day of the Canyonlands Motor Classic. We had a burger and hung out there chatting with friends. Fred was being kept busy in the shop and in the garage. Everyone brings their broken bikes to Fred.

There was a doohickey cake. It's a KLR thing.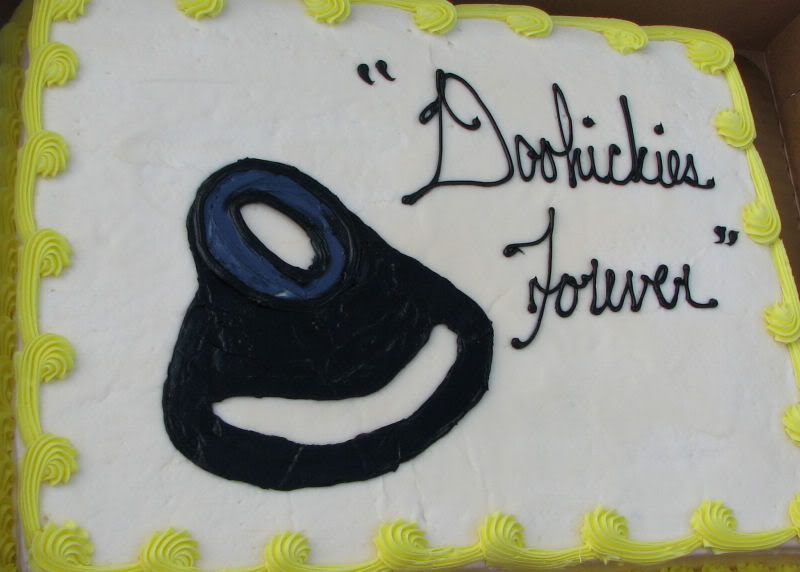 I met Tim and Sherry Bernard of Happy Trails, an adventure motorcycle accessory shop that has taken a lot of my money over the years. I've had several sets of their highway bars, crash bars, luggage racks and aluminum boxes on my KLRs over the years. Fred had a used KLR shock in his garage, but it's condition was suspect. It might get me to Boise, Idaho, where Tim said they could rebuild either shock to get me riding smoothly again. Tim and Sherry offered to put Laurie and I up for a night if we made it to their shop, so we made rough plans for that.

Laurie and I found the last motel room in Moab, then walked to the Canyonlands Campground to hang out with others for a while. After a long chat (and a few beers for me), we said good night and went back to the motel.


Sunday, June 6, 2010
--------------------------

I was up early and back at Fred's shop by 08:00, and the plan was to remove my dead shock's spring and mount it on the other used shock. Despite our efforts, we couldn't get the heavy spring off my shock with the equipment that Fred had in his garage. It's a beefy coil, and it foiled us.

In the end, I bought a new Progressive Suspension 465 shock from Fred (made for a 2008- model KLR, so I also needed a shorter shock mount bolt). The 420 series of Progressive shocks had an iffy reputation with many riders, but the 465 shock certainly looked and felt more robust. I tossed my dead shock into a pannier and took it with me, planning on shipping it home from somewhere along the road. I wanted to keep that spring, if nothing else.

Fred and I had a long talk about the various KLR web sites, the issues and conflicts between the forums and their owners. Most of the talk was familiar to me, but Fred enlightened me on some issues that I hadn't paid attention to a couple years ago when things had gotten pretty heated. Most of the conflict was business-oriented (which is why I generally tuned it out), but some of it became personal between the participants. What a shame. The conflicts had caused Fred a great loss of business, had hurt his relationship with vendors and manufacturers, had created drama where none was needed, and lowered his reputation with on-line forum members who didn't know any better. Those who knew Fred weren't influenced by the mess, which was good. I won't mention any other names here, but the others involved in the conflict are all good people in my opinion. They just had some friction that got unnecessarily exaggerated on the forums. Some people got too involved, considering that they had no particular involvement in the conflict in the first place.

Bah, enough of that.

Since I had a new shock, Laurie and I didn't need to plan on riding to Boise. We had been given some good route advice last night in the campground, but we decided that we would head directly north to cooler weather. The desert was stifling, rising over 105 F before it relented. My KLR started stumbling in the heat and I couldn't figure out why. The revs seemed to stay consistent, but the bike jerked and lost rhythm in no particular pattern that had me wondering if it was the chain or the clutch acting up. The only thing that I fiddled with while trying to solve the stumbling was to check all the fuel and vacuum lines. They all looked good, so I didn't really change anything. Later in the afternoon, the odd behavior ended and that was the end of that. I must have a magic touch.

We did want to avoid that Salt Lake City metro mess, so we stayed east of there as we zigged and zagged some nice roads toward Wyoming. The heat of the desert finally yielded to more comfortable riding once we gained some altitude.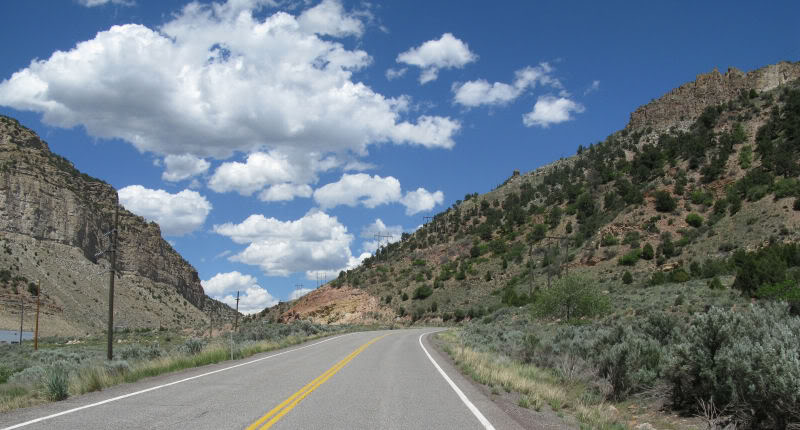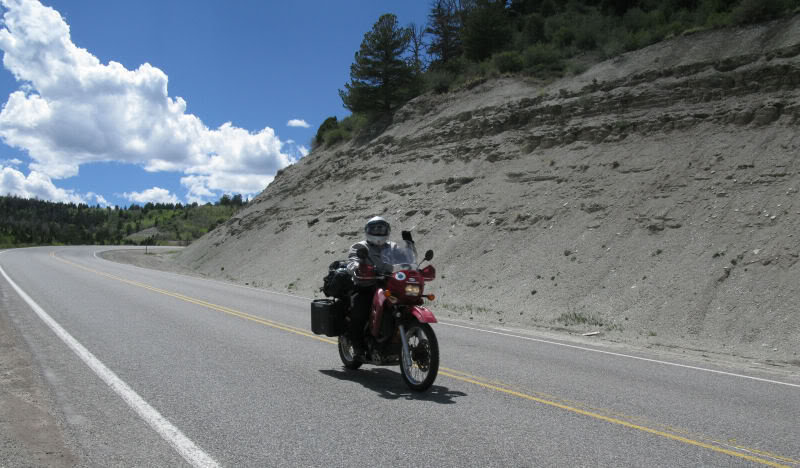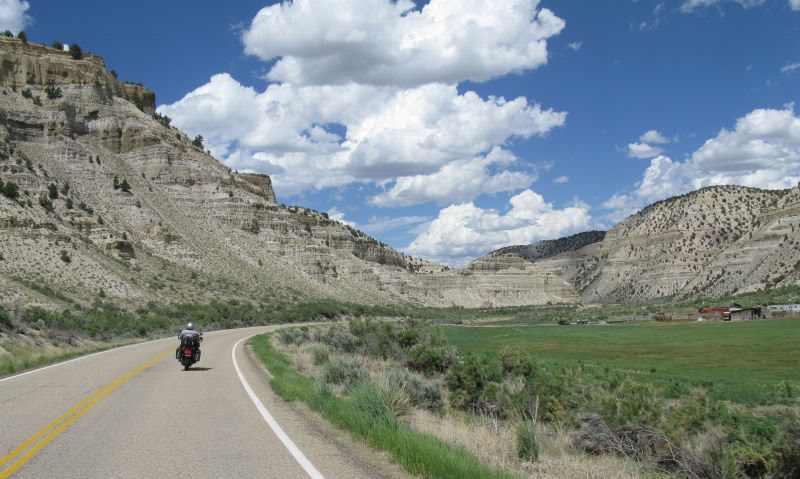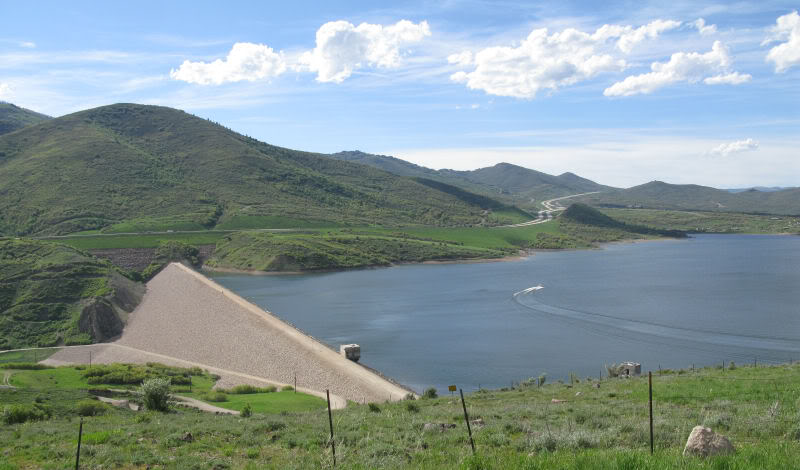 The 465 shock was certainly stiff, especially since I had cranked the preload down another six turns from the factory setting. I like a firm shock and that's what I got. I might have to let out the preload a few turns later.

We crested a mountain range before entering Wyoming, and it got bitter cold on the pass. Well over 10,000 feet, there was still a lot of deep snow alongside the road. On the descent, it warmed up quickly, and the melt-off caused gushing torrents of water that washed rocks and logs into the road.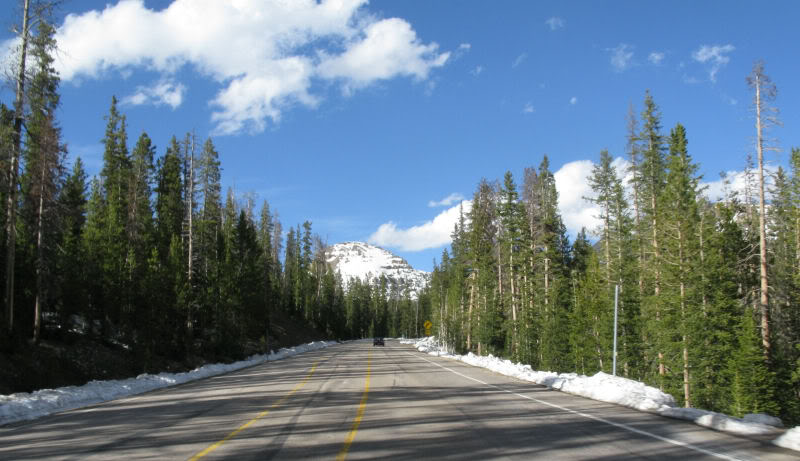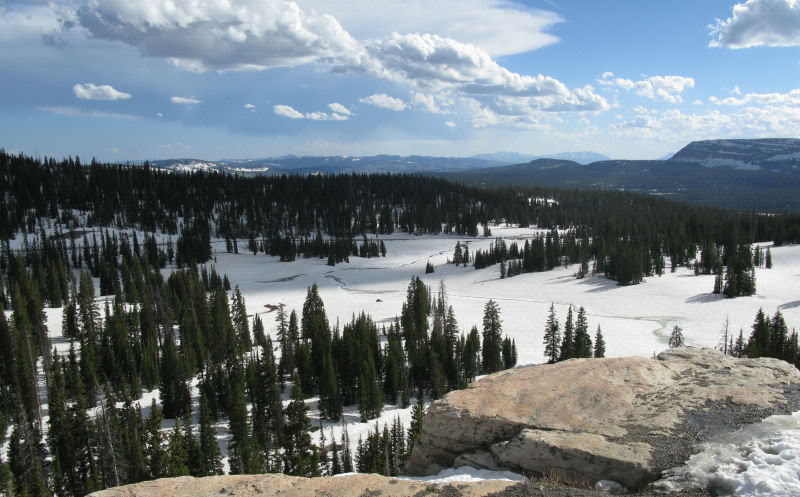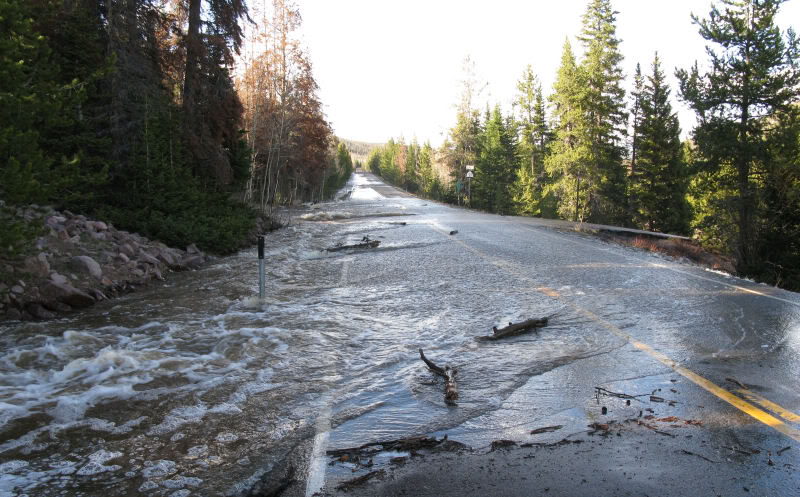 We called it a night near Evanston, Wyoming and found a $59 hotel. The large restaurant nearby didn't serve alcohol--we figured that it must not have a liquor license or because it was Sunday.

We caught up with email, and I learned that none of my friends from the 2008 Dust To Dawson rally were going to make it this year as planned. They all had more important things to do... which made me wonder if there was something else I should be doing. Nah, that can't be right.


Monday, June 7, 2010
---------------------------

As I was getting ready to ride this morning, the zipper on the right leg of my Aerostich Darien pants snagged and blew out. I had to have the left leg zipper replaced in Bogota, Colombia last year, but the right leg had been fine up until now. I have no idea why it failed. Oh, bother. I'll get it fixed somewhere along the way.

The ride was warm and nice as we cut back and forth between Wyoming and Utah, then it got cloudy and cooler. I asked in the small towns, looking for a tailor or alteration shop that could repair the pants, but no luck. When we got to Montpelier, I stopped in a motorcycle accessory shop and asked if they knew where I could get the pants repaired, but the guy had no idea. I asked again later in a hardware shop and the clerk there referred me to a well-known local seamstress who did such repairs, and she was located a couple blocks from the motorcycle accessory shop. An hour and $25 later, and I had a new zipper in my pant leg, although I had her put the zipper in upside down. My fault, but I didn't realize it until later. I'll have to get it turned around at some other town.

When we got riding again, it got cold and rainy. The scenery was very nice as we passed lakes and rivers, but the conditions were uncomfortable. A few breaks in the weather were welcome.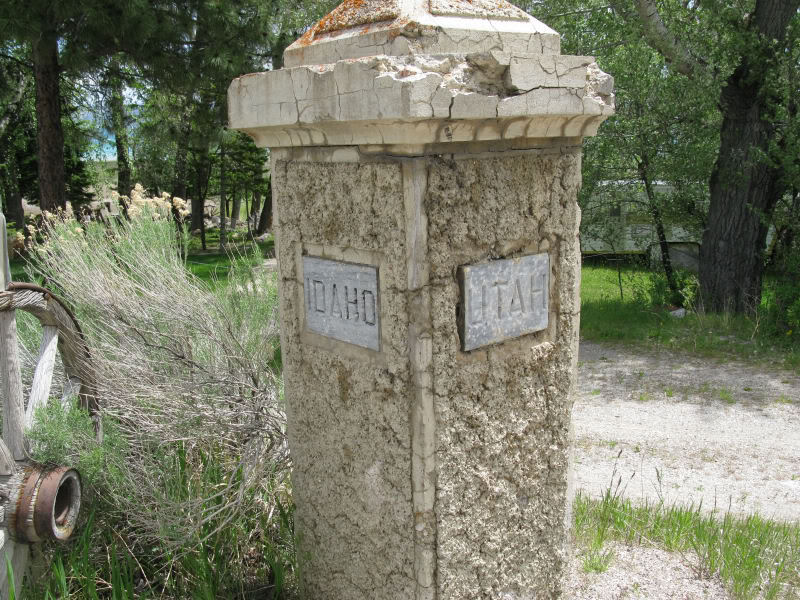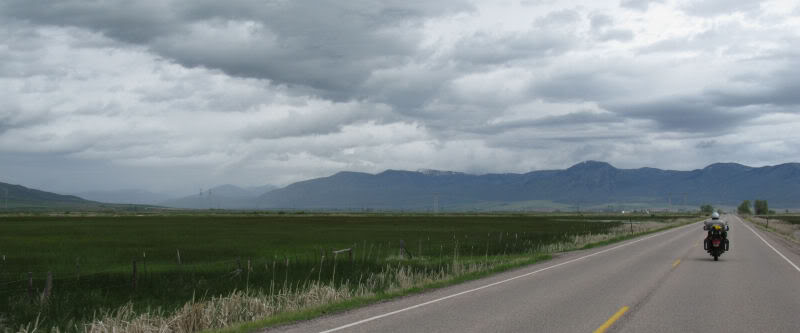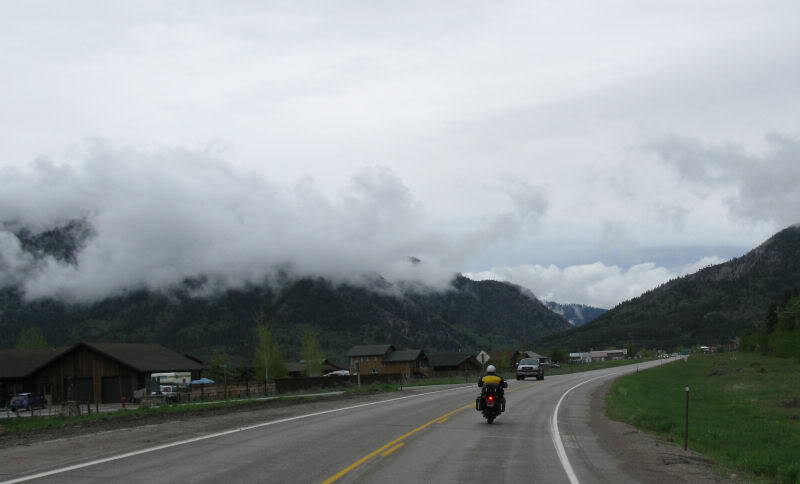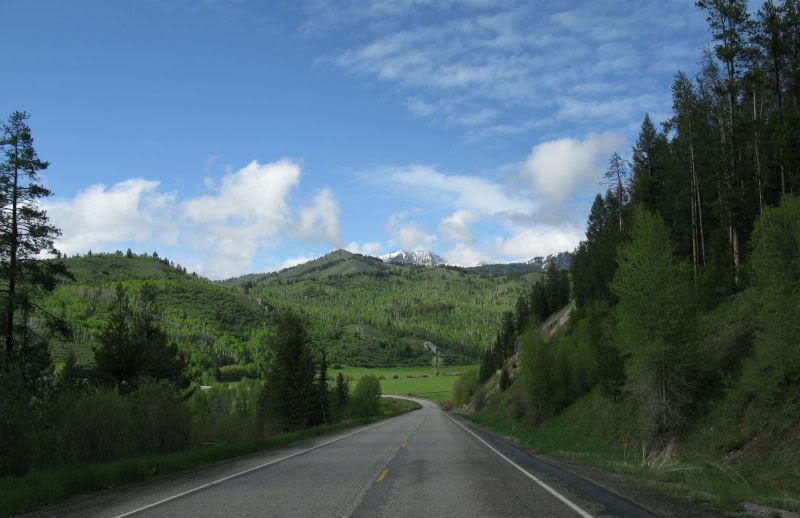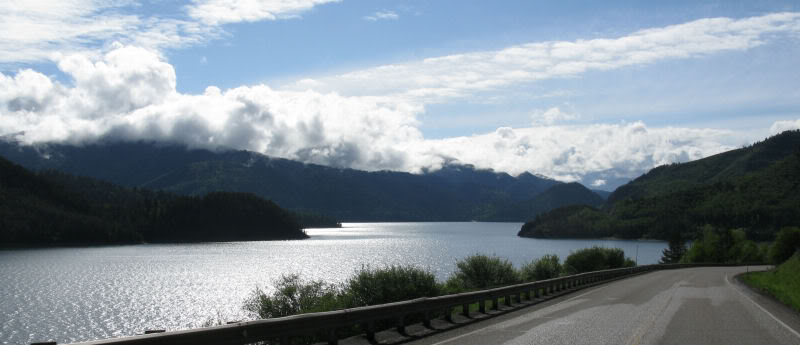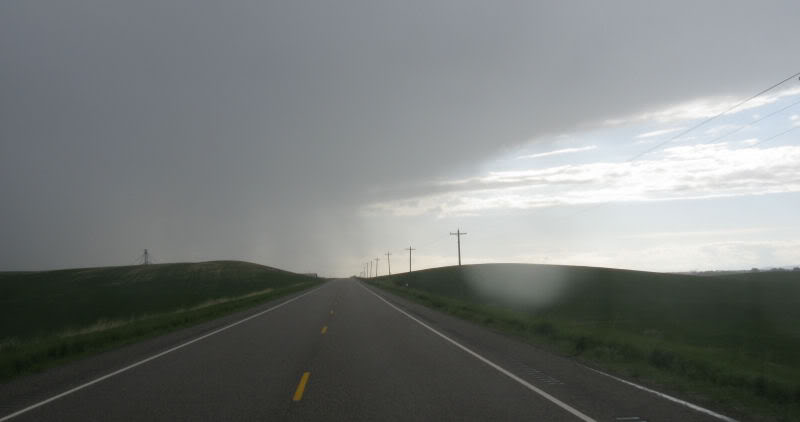 Near the end of the day, a rainbow teased us with the promise of an end to the weather.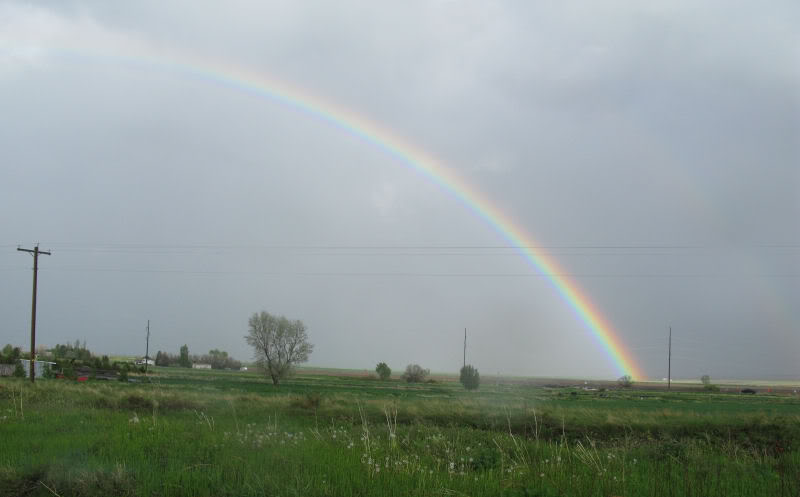 We wanted to skip the larger towns, but we ended up backtracking to Idaho Falls to find a motel, and the weather cleared up and got very nice as we cruised by the Snake River park area (which was very pretty). We finally found the cheapest hotel in town and grabbed dinner at a nearby steak house.

We had done only 247 miles today, due mostly to the weather and the mountain pass. We were at 1,036 miles total so far. The bikes were both behaving well, so that was good.


Tuesday, June 8, 2010
----------------------------

After breakfast, we found a place to send the dead shock back home, so that was some weight I got rid of.

The ride to Salmon, Idaho was very nice, and the weather was cool but calm the whole day. The forecast was rain for the next few days.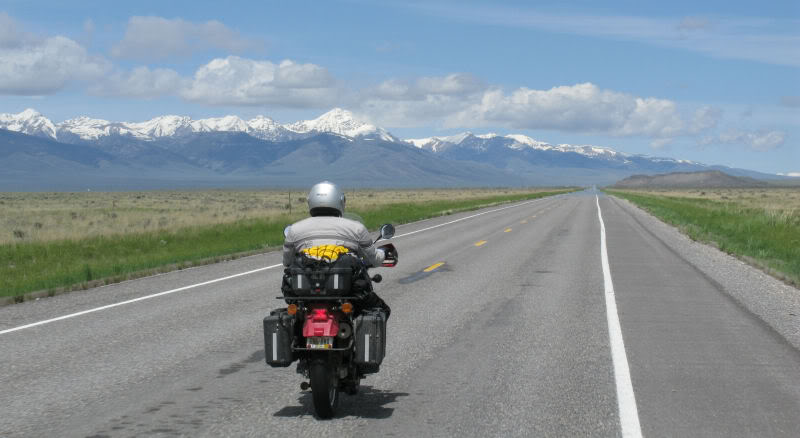 If you needed a potty stop, just anywhere would have to do.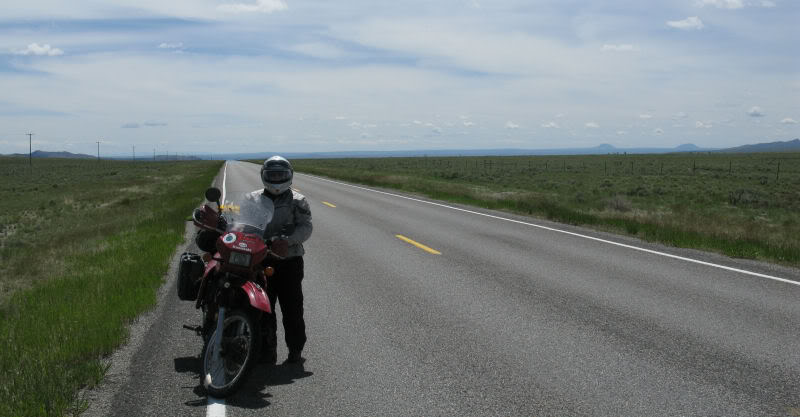 For some reason, I had the camera on some weird setting when I tried a self-portrait.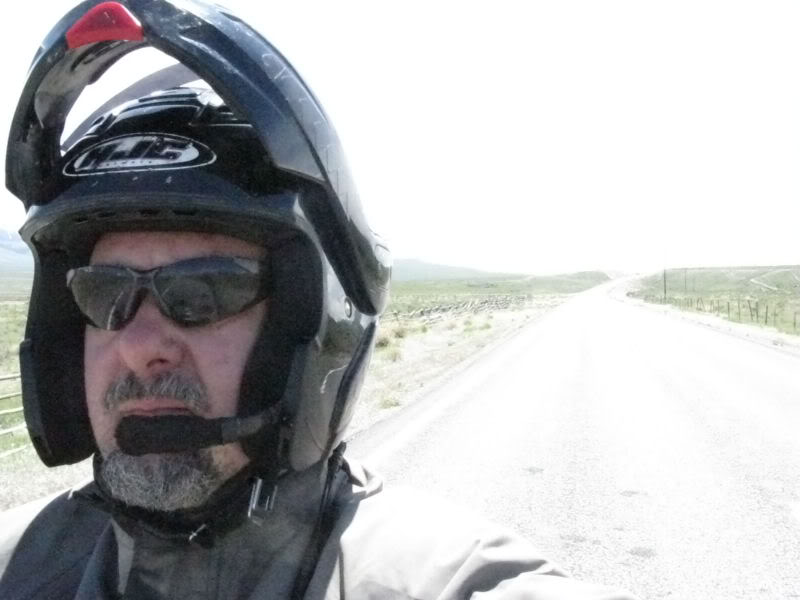 We rode 170 miles or more of the Sacajawea Memorial Road, which is also part of the Lewis and Clark Trail. There were lots of historical markers and educational signs along the way. We stopped to read many of them, but not all.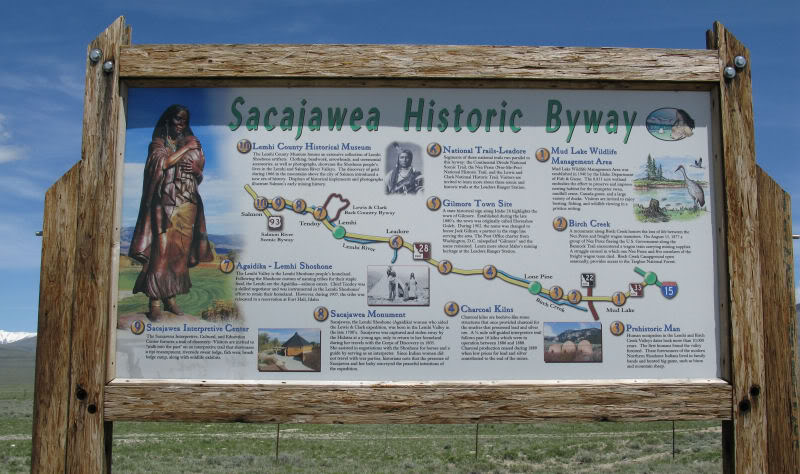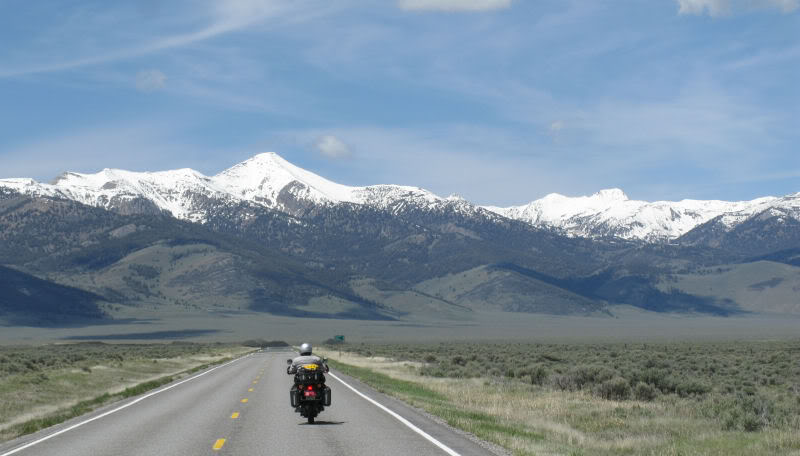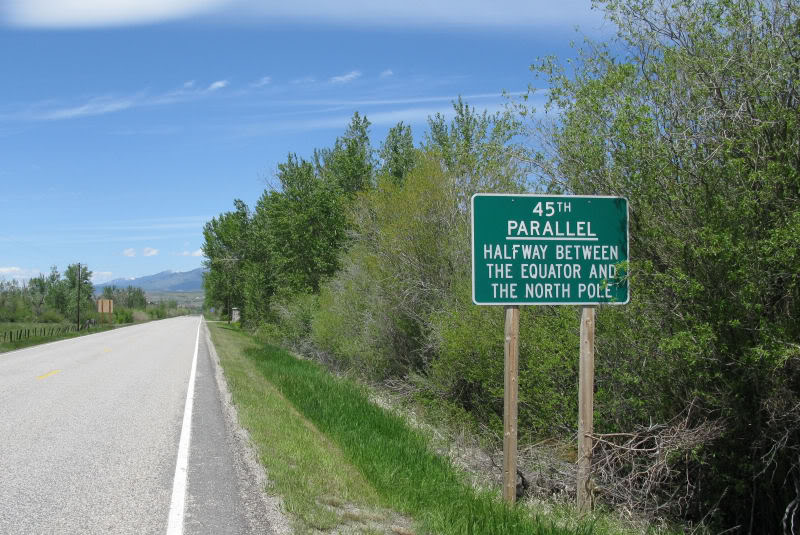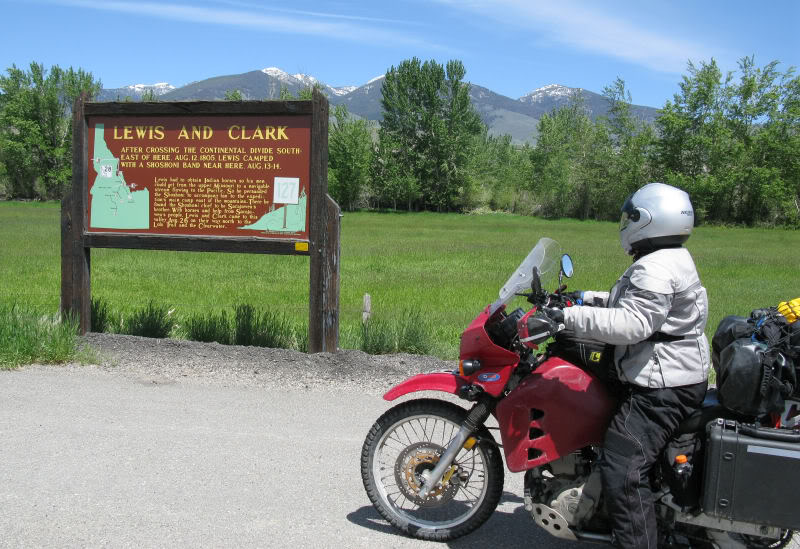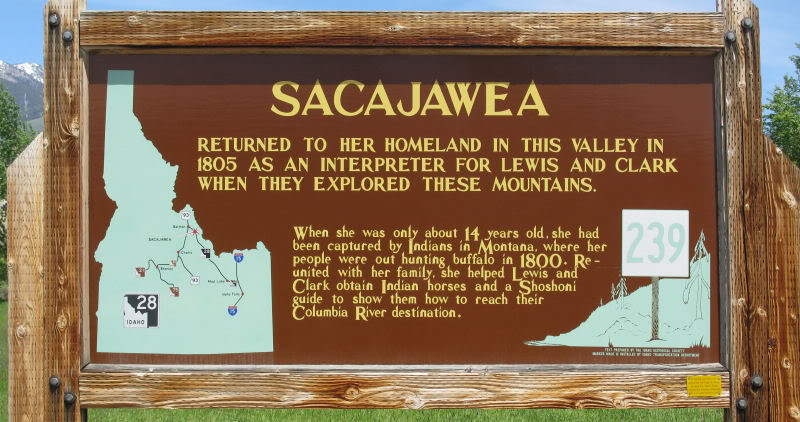 The Bitterroot Mountains to the east marked both the Continental Divide and the border between Idaho and Montana. When we stopped in a desolate area to take a break, Laurie showed me where her tank bag harness had come free. In fact, the bolt was missing. In greater fact, both of the right side IMS gas tank bracket bolts were missing. Good thing I carry extra bolts and other hardware. It took only a couple minutes to replace the bolts and add some threadlock fluid to them. We were on the road in no time.

We stopped for a break and some burgers in some small town, and took the time to rough-out our intended route for the next day or two. No firm plans, mind you--just an idea of which way we wanted to go.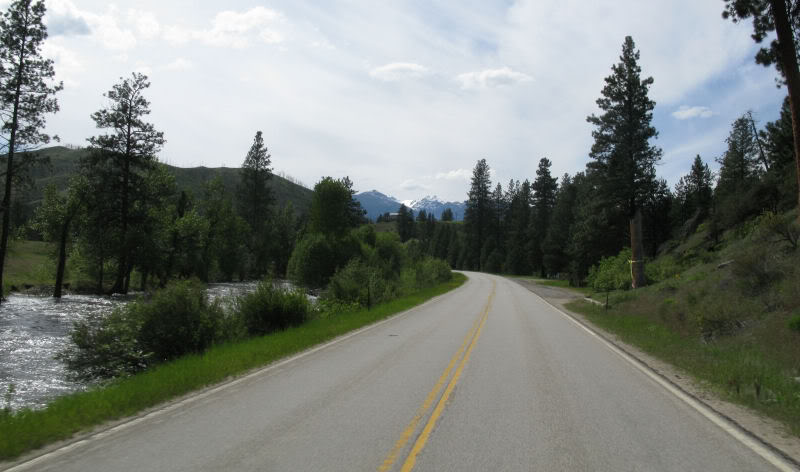 We passed through Darby, Montana, and knew that we would be back here in less than two months for the ADVRider West Fest gathering, on our way home from Alaska.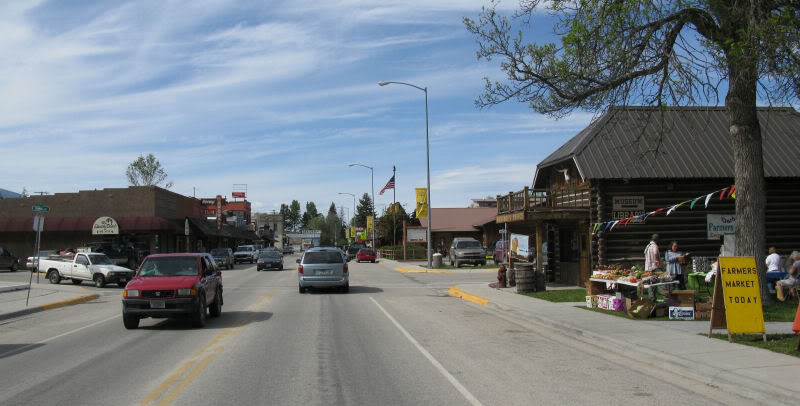 Anyone know how to pronounce this in the Flathead language?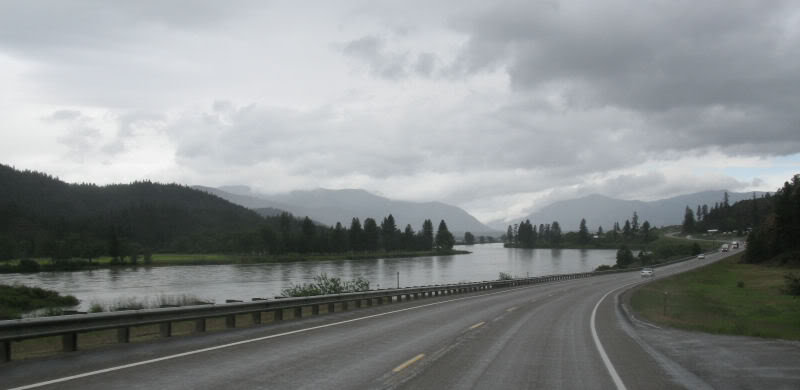 When we got to Missoula, Montana, we had covered 313 miles for the day, so we pestered a few hotels until one of them gave us the "trucker rate" for a room. That saved us about $20. The hotel gave us coupons for free pie at the diner next door. Bonus!

A bottle of [ yellow tail ] Merlot (a favorite) capped off the night.


Wednesday, June 9, 2010
-------------------------------

I had taken some time last night to sew up some velcro that was coming loose on my riding pants and to swap out some songs on my MP3 player (which was in my GPS). I had enough songs on the laptop to cover over a week's worth of riding, so I would only have to swap them around every few days. I had also caught up on writing this narrative, although I hadn't even started to do any photo management.

As usual, we slept late and got out of the room at check-out time. Also as usual, it was a dreary and drizzly morning.

We entered the Flathead Reservation, and the valleys were like wind tunnels. The weather was coming in fast, and it was right in our faces.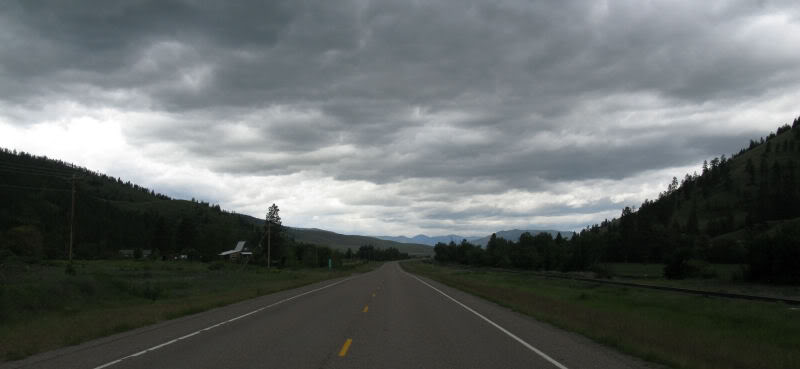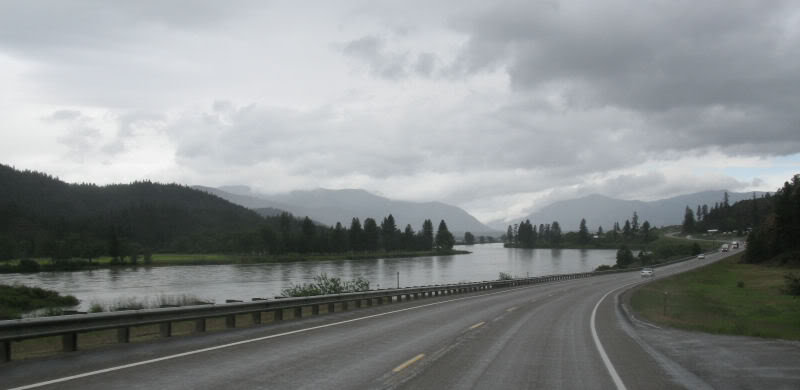 We took a brief detour to see the Noxon Rapids Hydroelectric Dam up close.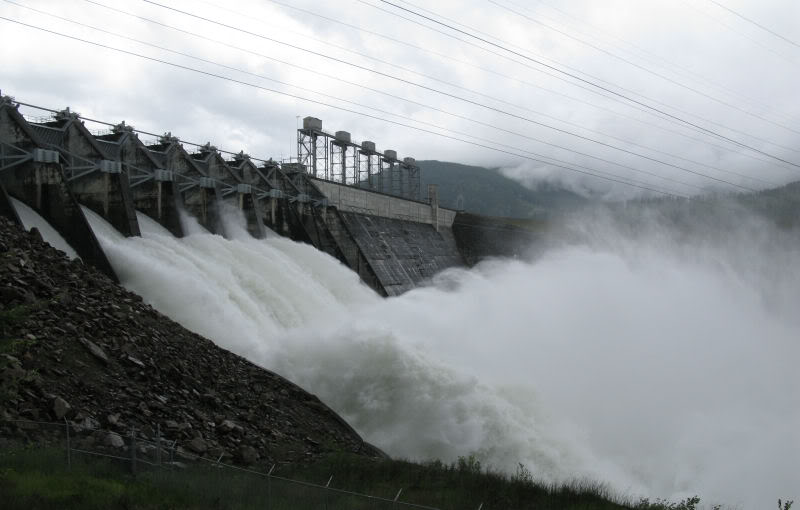 By the time we rolled into Sandhill, Idaho, the weather had gotten tired of itself and had decided to take a break.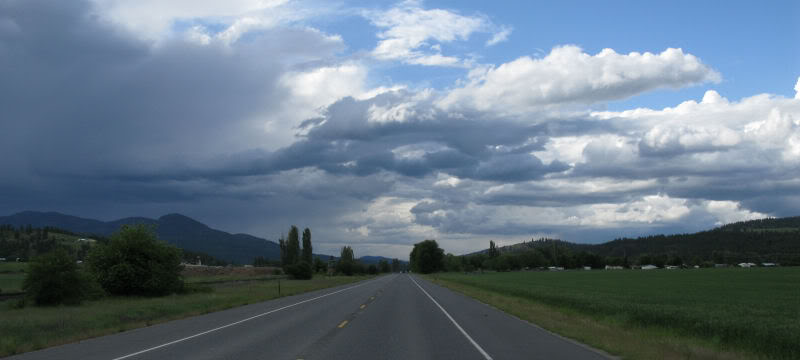 We crossed the Idaho panhandle and entered Washington State on a smaller road that was nice. We had gained an hour with the time change. Sherman Pass was a bitter crossing, with sleet and heavy wind hampering us (the coldest so far). On the west side, it suddenly cleared up and we cruised down off the mountain into sunshine. In Republic, WA, we found one hotel that wasn't full--and that was only because another guest had failed to show up. I suppose that $70-80 is going to be typical "cheap" rates.

This guy was traveling in an older, quaint style.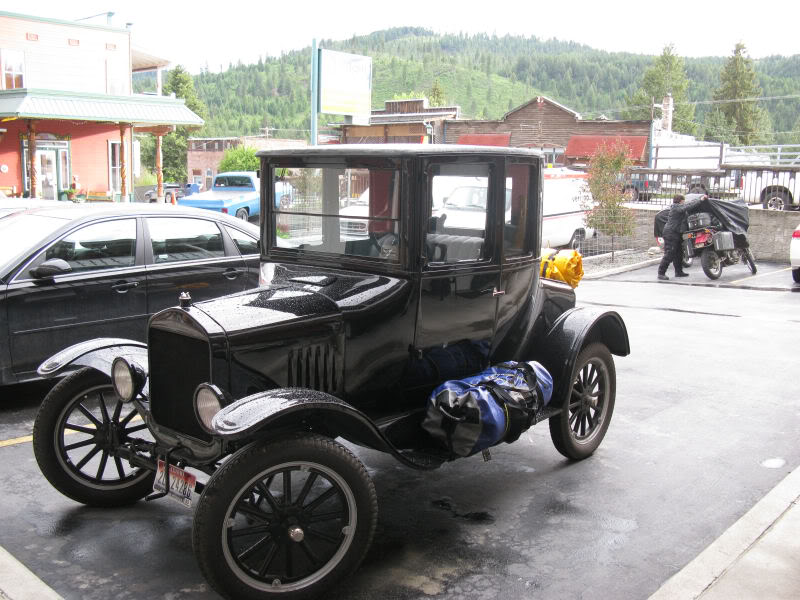 We had logged 330 miles today, and our rate was more than enough to get us to Dawson in time for the D2D gathering, so we decided to start slowing down and riding shorter days.

There were several restaurants in town, but only two were serving food this evening. We chose the pizza place. The pizza was huge and very good. The first slice went right into my lap, so I was well-marinated all evening.

I was up until 01:00 writing and doing some route management and planning.

Tomorrow, we'd enter Canada.