Back to the Yukon and into Alaska again, June-July, 2010

Alaska
=====


Sunday, June 27, 2010, continued
-----------------------------------------

More construction greeted us on the American side.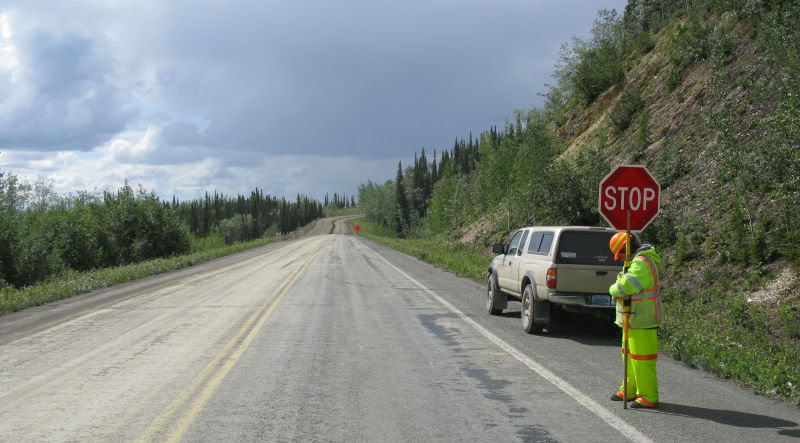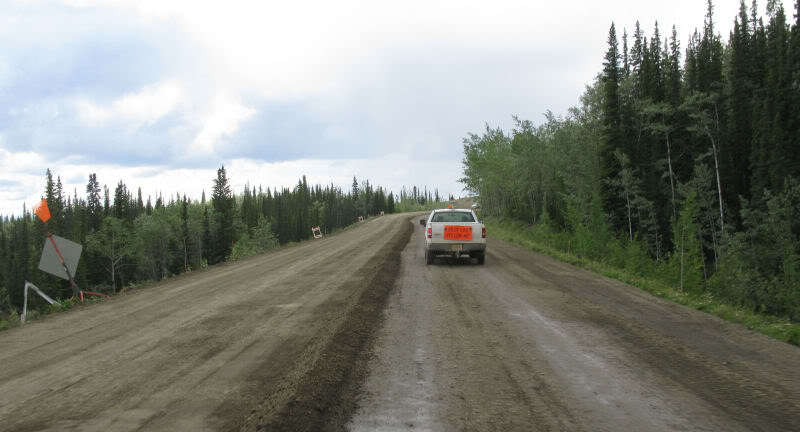 I must add, however, that where it wasn't being worked on, the road was in very good condition and was brand new for many long stretches.

After riding in the heaviest rain we had experienced yet on this trip, we got to Tetlin Junction. We considered a trip up to Chicken, Alaska and back, but that would be a 130-mile side trip and it was getting late. The road to Chicken was mostly paved from this end (but would have been dirt and gravel from the Dawson City end). Laurie would decide about Chicken tomorrow, so we took a hotel in Tok and had a big meal at Fast Eddy's. The rain finally quit.

Only 295 miles today.


Monday, June 28, 2010
-----------------------------

It was raining heavily when I got up. Laurie had been up a while and told me that the weather forecast for the next couple of days was partly sunny and partly rain. But after that, it was expected to be steady rain for more than a week. Anchorage and Valdez looked the same. Rats.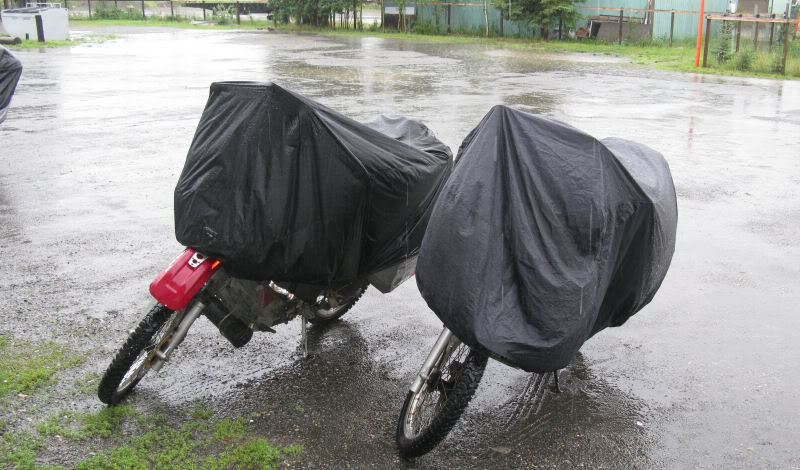 We didn't bother with breakfast and just got out into the wet. After an hour, thankfully, we and the weather parted company.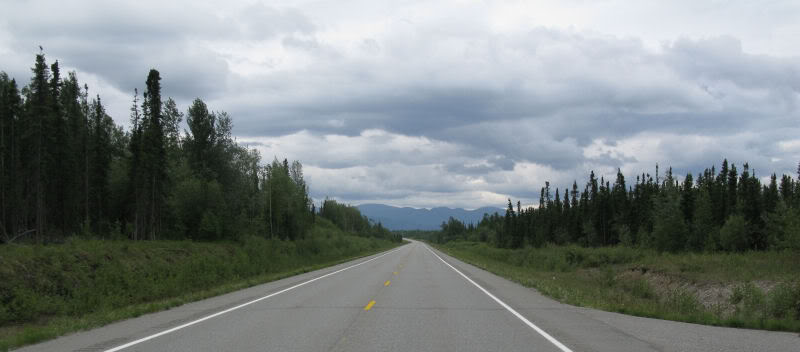 We rode steadily to Delta Junction, the official end of the Alaska Highway. A couple of years ago, Governor Palin had dedicated the Alaska portion of the highway as the Purple Heart Memorial Highway. Another tourist took our photo for us at the tourist info depot.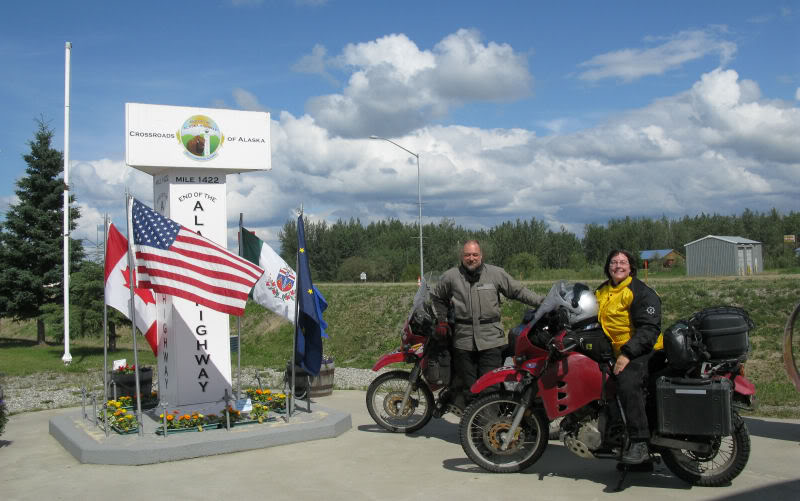 Since we hadn't eaten yet, we needed to eat before we continued. The tourist info employees were forbidden from recommending any specific place to eat, but described the various options. In the end, we ate at the deli in the local grocery store.

There was no particular plans for Fairbanks, so we didn't even stop. After passing through the metro area, we continued on toward Denali State Park. We had spend the last few hours--in rain and shine--riding through numerous road repair areas, with dozens of short gravel sections. They were mostly well-traveled and packed down, so they were easy going.

South of Fairbanks, however, there was a major re-paving job in progress, and we waited a long time for the pilot truck to lead us through the maze. Even with the pilot truck, we had to stop and wait several times.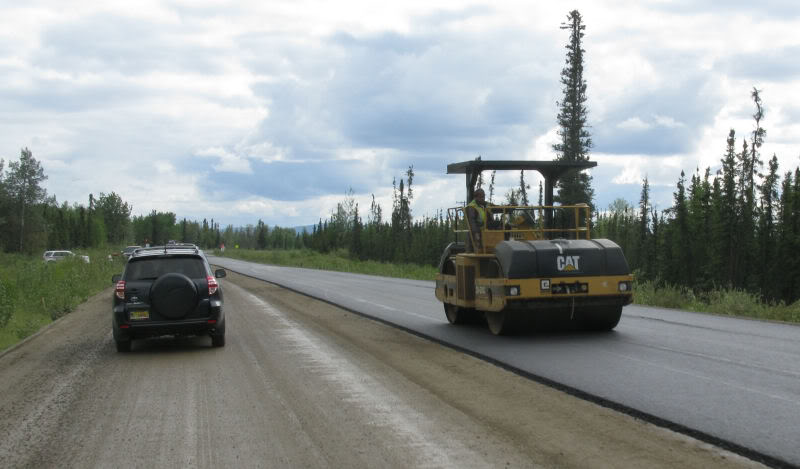 After that delay, it was easy riding to the park.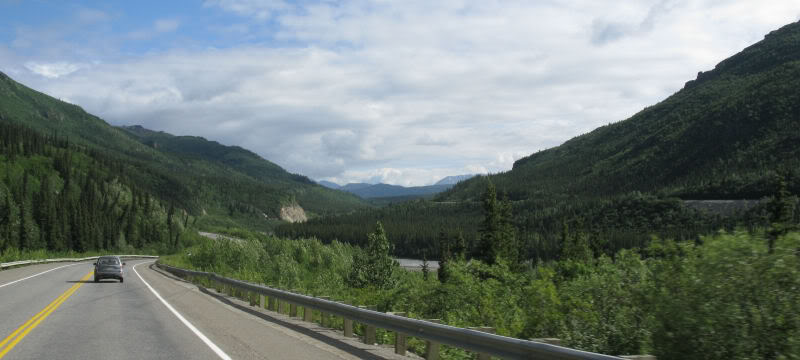 I had camped when I was here two years ago, but this time we would have to bear the exaggerated expense of the local hotels. We went to the tourist information station just inside the park entrance so Laurie could book a bus tour into the park. I wasn't interested in doing it again, so I would spend tomorrow doing minor repairs and other tasks.

We ended up at in a cabin north of the park, rented for two nights. Back to the cluster of shops and hotels for dinner at the Salmon Bake. The special was listed as "three Alaskan crab tails" in a creamy sauce. I had never heard of crab tails as food, and when I asked the waitress about them, she had no idea. She assured us that they were large chunks of crab meat, but she didn't know what part of the crab was actually used. Maybe crab tails have meat in them. I'll have to find out another time, because I had a surf-and-turf that was quite good.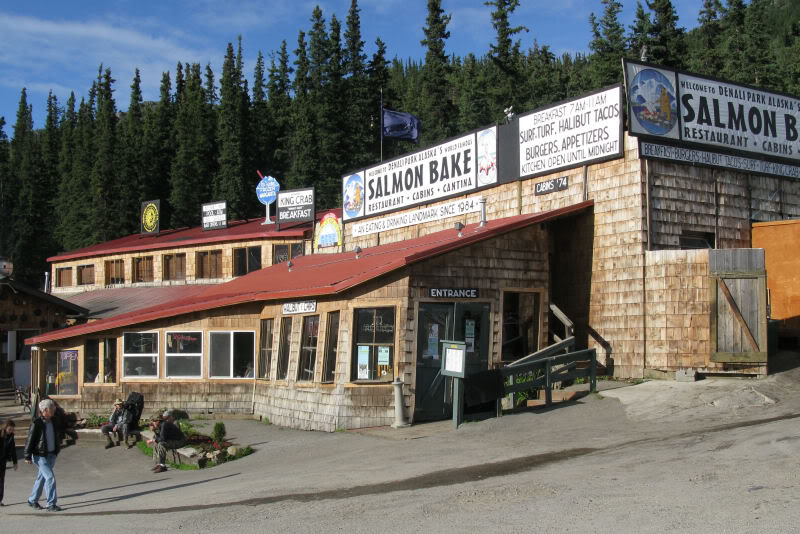 Oh, and I hate it when restaurants require ID from people who are obviously of legal age. It's not flattering (and I certainly don't need the flattery), and it's annoying. All I wanted was a beer.

Laurie had an early tour bus in the morning, but I didn't, so I stayed up to write and play some online poker. The free kind.


Tuesday, June 29, 2010
-----------------------------

After Laurie left for her bus tour of the park, I made the command decision to stay in bed and snooze some more. My cell phone woke me, and I spoke for a while with a friend who I used to work with. She was about to retire as well, and she was curious about a few things. We chatted for a while, then I reasserted my earlier decision to go back to sleep.

It was after noon when I finally roused myself and tried to check email. The Internet connection was so bad that I finally gave up. I watched TV news for a while, then rode the ten miles back to the tourist "town" but nothing was interesting there. I rode to the park and got to the tour depot just as Laurie's bus returned. After watching the video presentation (which Laurie had missed seeing before her tour had departed), we rode to the visitors' center and looked at the displays.

We really didn't have anything else to do, so we had pizza back in town and watched the last several innings of the NCAA baseball World Series. South Carolina defeated UCLA (each team's first appearance in the championship series) in the bottom of the 11th inning with a ground ball that drove in the winning run. I'm not that into baseball, but an interesting or meaningful game in any sport has its own appeal.

It had drizzled all day, but when we rode back to our room at the RV camp, it rained more heavily. Laurie dumped her bike trying to turn quickly into the gravel driveway, but it was another slow-speed tumble and no harm or damage resulted.

This ride was mostly for Laurie's benefit, so she could do whatever she wanted to do. Neither of us wanted to ride in the steady rain that was predicted for the next week or more, but it was hard to flee Alaska after riding this far. Laurie made up her mind at last and decided to skip the southern regions of Alaska and ride back into the interior where it would be drier for the next couple of days.

Last year in Bucaramanga, Colombia, Fernanda and Milena had re-introduced me to the card game Uno. I hadn't played it since I was a kid, so they had to teach it to me. I had picked up a deck of Uno cards recently, so Laurie and I played a game. I know that Fernanda and Milena played with some different rules, and the printed rules that came with our cards wasn't completely clear, so we made our own decisions of how we were going to play some of the action cards, and made a few changes as we went along.

Laurie finally found a game that she could win at.


Wednesday, June 30, 2010
---------------------------------

In the morning's news broadcast, we saw that a large crane had tipped over in Fairbanks and had fallen across the river that flows through the center of the city. We were headed back to Fairbanks, but we hadn't planned on stopping there; our aim was to get back to Tok today.

It wasn't a heavy rain, but it spit and splattered on us all the way to Fairbanks. The road construction had progressed nicely in the last two days, and there was much more new pavement (which meant less gravel) for Laurie to enjoy.

As we neared Fairbanks, I saw several small forest fires burning south and west of the city. I didn't know if they were deliberate or not, but it seemed to be too many to be accidental. (I later learned that they were all accidental, set by careless campers.)

The low clouds and drizzle made for a somber panorama as we started dropping off the ridge and down into the Fairbanks region.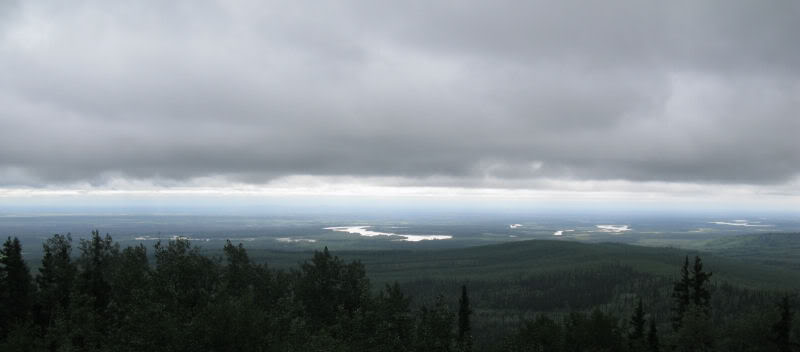 As we zoomed through the city on the highway, I thought that I should replace my rear tire here, since we weren't likely to find a tire in any of the cities we would pass through over the next several days. I took the exit that brought us out next to the Harley-Davidson and BMW dealership.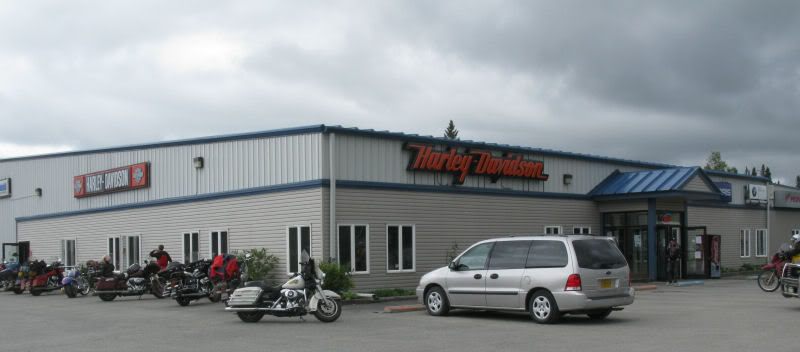 They had a tire, but I knew from my previous visit here that they wouldn't mount it for me. Their prices on oil were also too high for my taste.

We went back to the Alaska Fun Center, where I had spent some time two years ago. They had an Avon Distenzia tire and motor oil that would do, so I had them mount the tire for me while we changed Laurie's oil. I still can't figure out why her motor is leaking oil from around the oil filler and oil filter cap area. Everything there looks fine. It's still a mystery.

The shop guy showed me that my heavy duty inner tube had a split in it near the valve stem. This seemed very strange to me, since that had been a new tube when I put it in a few weeks ago, and there was nothing to account for the damage. It also didn't look like that split could have held any air, yet the tire had been fully inflated when I rode it here. I suppressed any suspicious thoughts, content to stay mellow. I carried an extra tube, but it was a thinner one, so I bought another heavy tube from them. They were happy to sell me a new tube. Like Canada, everything is more expensive up here.

After getting my rear wheel back on, we changed my oil and got back on the road. It had taken a couple hours for the tire and oil change, so we decided to stay here in Fairbanks. I led Laurie to the city center and we checked out a few hotels before landing at one right on the river. In fact, the Bridgewater Inn was right across from where the crane had fallen yesterday. The remnants of the crash were still there, but the crane had been removed from the river.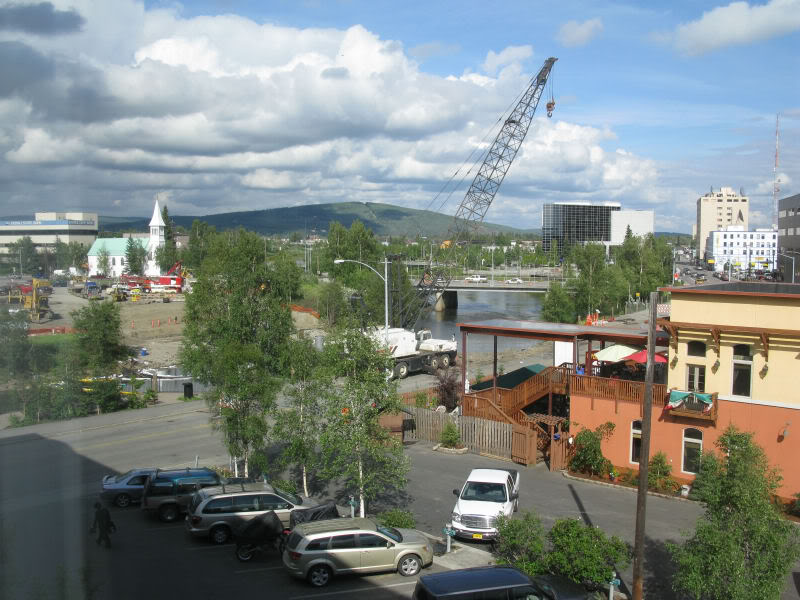 When I checked in to the Bridgewater Inn, I asked the gals at the service desk for a room that wasn't raining. They didn't understand (which is normal), so I explained that I was getting tired of riding in the rain and I wanted a room that didn't have any rain in it. One of the gals got the joke and assured me that it wasn't raining in any of their rooms. The other gal caught on and added that rooms without rain were fifty dollars extra. Fifty dollars! Well, I conceded, I was getting used to the rain, so I'd take a cheaper room with rain. Everyone laughed.

It was still early in the day, but we didn't want to go "do" anything. Fairbanks now had an antique car museum that someone had recommended to us in Dawson City. The weather was supposed to be mostly clear tomorrow. Okay, we decided to stay two nights in Fairbanks and do touristy things tomorrow.

We ate at the Italian restaurant next door (where I had eaten before) and I fetched some beer and wine from a nearby store while Laurie chatted with other motorcycle riders and local folks outside the hotel.

Despite still being cloudy, it had become a warm evening. In the nearby park, a band was playing and many people were gathered. There would be another band tomorrow night.

We watched TV to catch up on all the national and international news, just vegging out in the room while Laurie did her email duties.


Thursday, July 1, 2010
----------------------------

The hotel's breakfast buffet called to us, so we forced ourselves up earlier than was otherwise necessary. After stuffing ourselves, it was the room that then called to us, so back upstairs we went. Laurie snoozed out right away while I got this diary caught up.

There was a free trolley shuttle between many of the hotels, and it also stopped where the car museum was located, so we would catch that later in the afternoon. The antique car museum wasn't here when I was here last time, but the owner has had the cars for a long time.

We took the trolley bus to the Wedgewood Resort Hotel, which was actually a large apartment-type complex that used to house the families of the men working on the Alaska pipeline back in the '70's. The car museum might be owned by the same guy who owns the hotel, but I got mixed answers when I asked people. In the hotel complex were several small displays, including a relocated old trapper's cabin.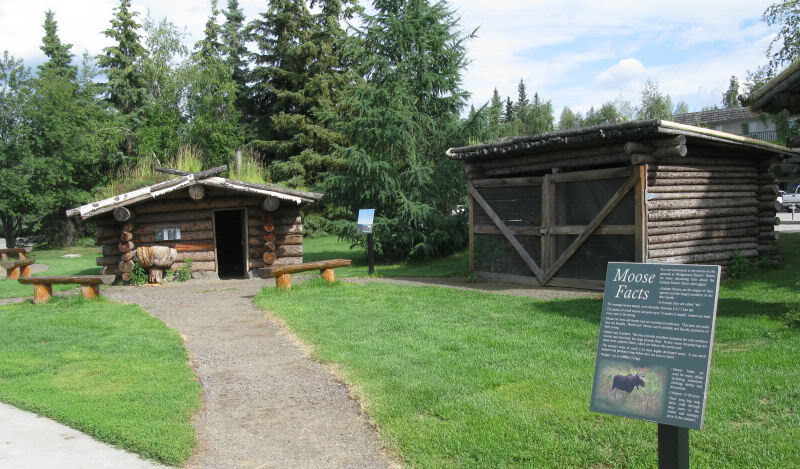 There is also a bird observatory and some kind of aircraft exhibit on the grounds, but we didn't see them.

The museum reminded me of the one in Gateway, Colorado. This one had more cars, some of which aren't on display currently. These cars are all from the 1898-1936 years, each with a detailed explanation. Many of these cars were the first of their kind to have certain innovations, and several were the last of their kind. We spent a couple hours there, but I'll only include a few photos.

The cars were arranged in order of their year of manufacture, with a special display of significant cars from Alaska history. There were also lots of photos and movies of old cars and motorcycles in Alaska, and many displays of period clothing. Entry was $4.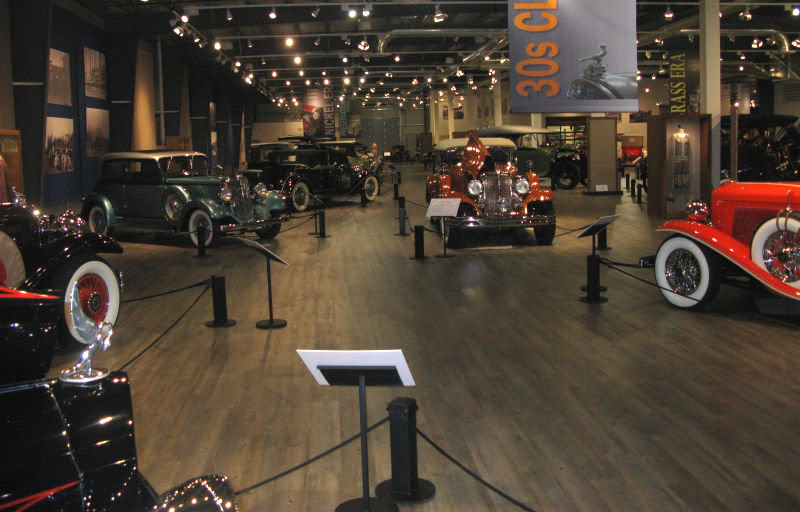 1904 Rambler: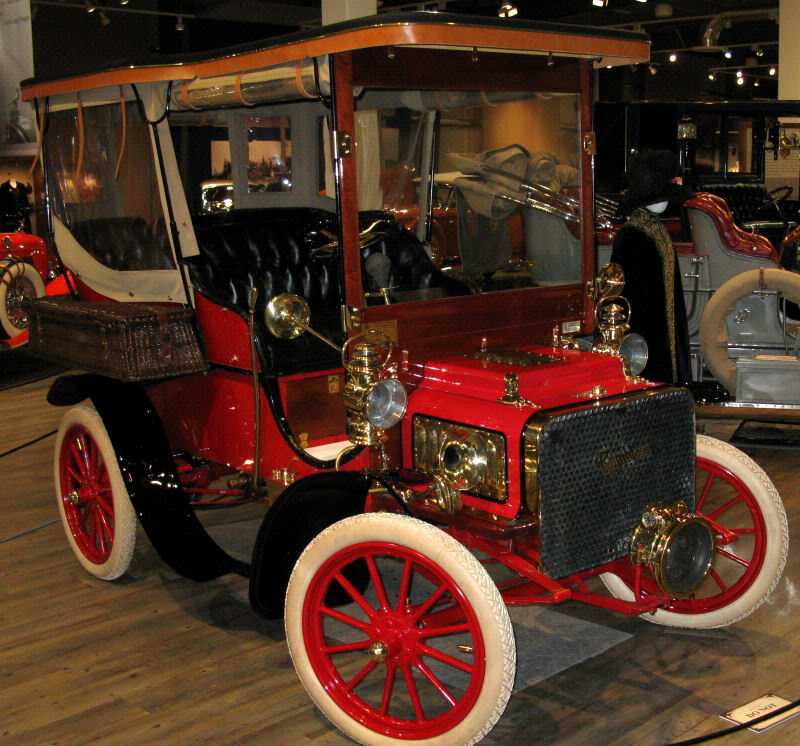 1907 Franklin: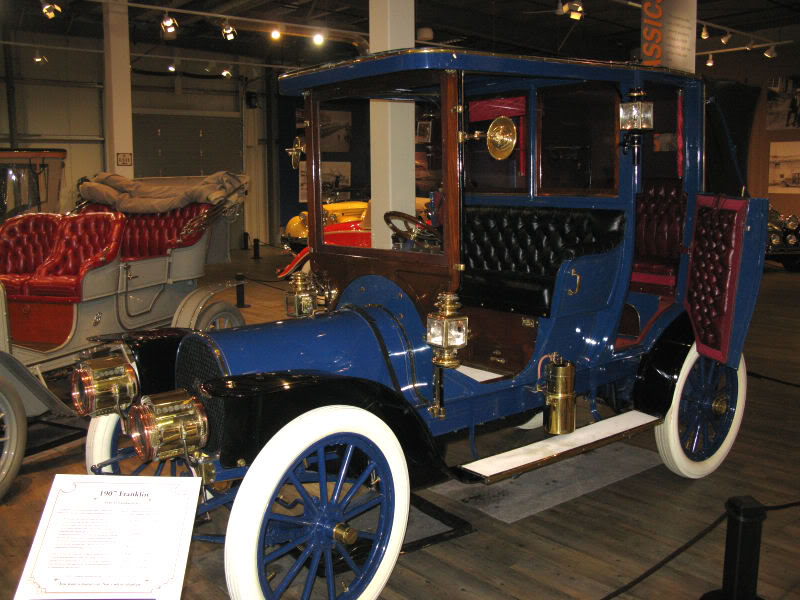 Um... a white car: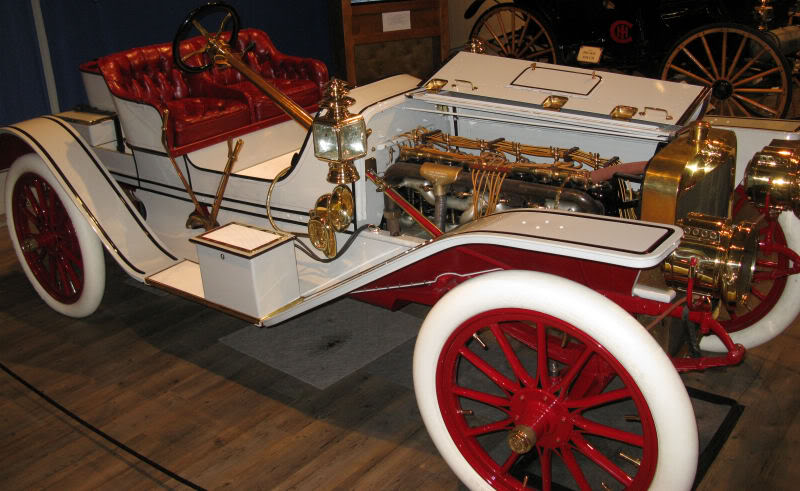 Okay, I thought to take a photo of the signs of many of the other cars.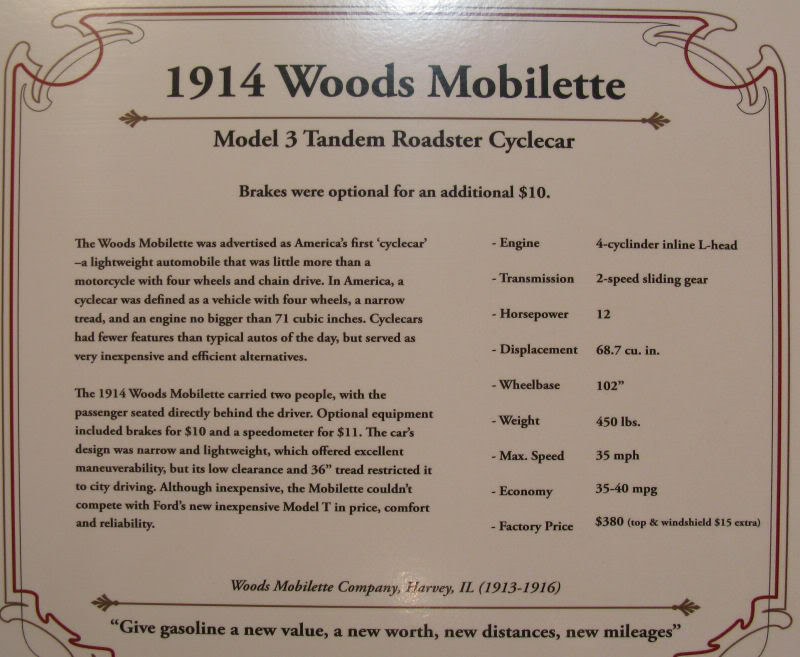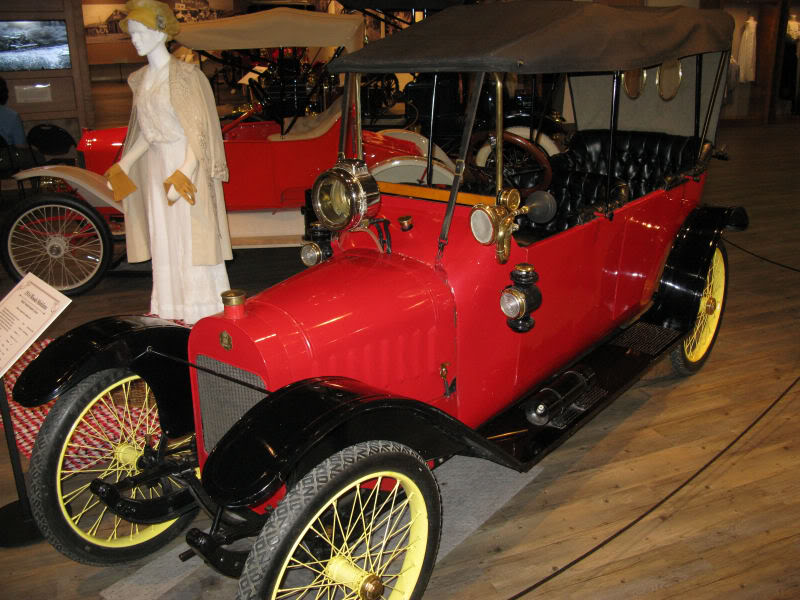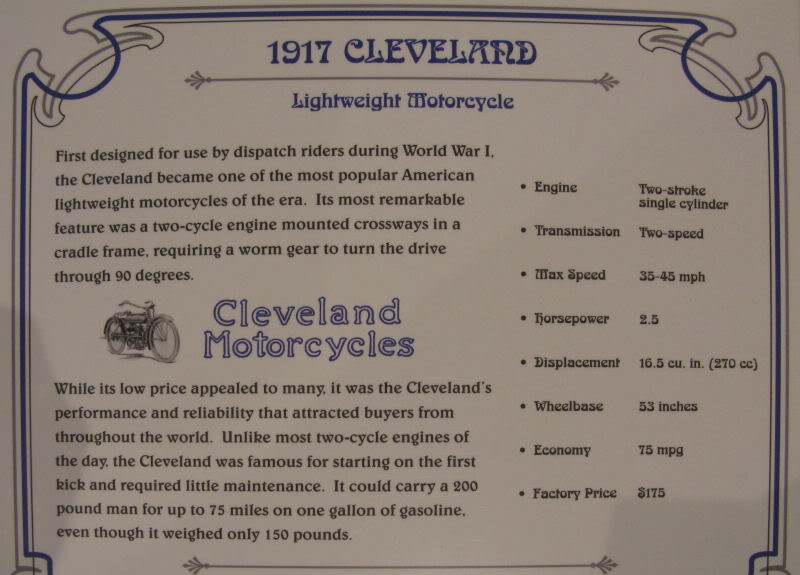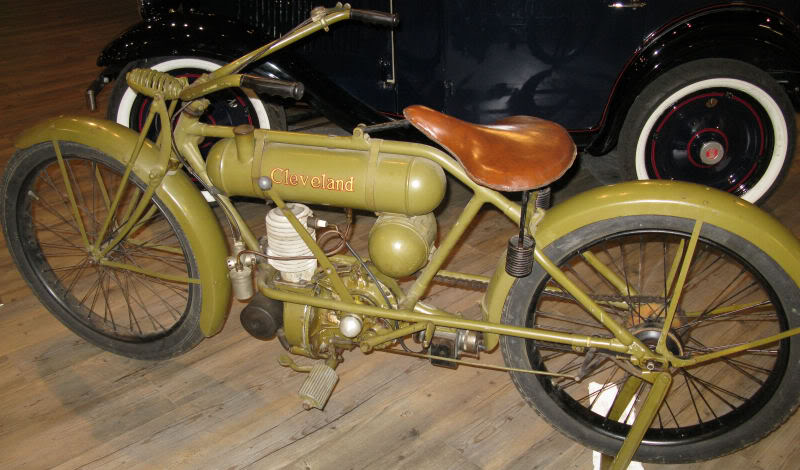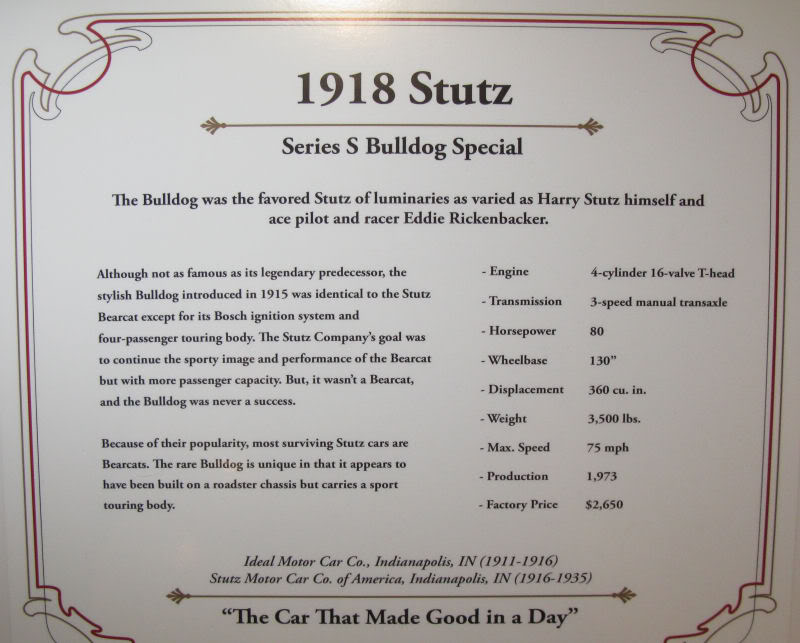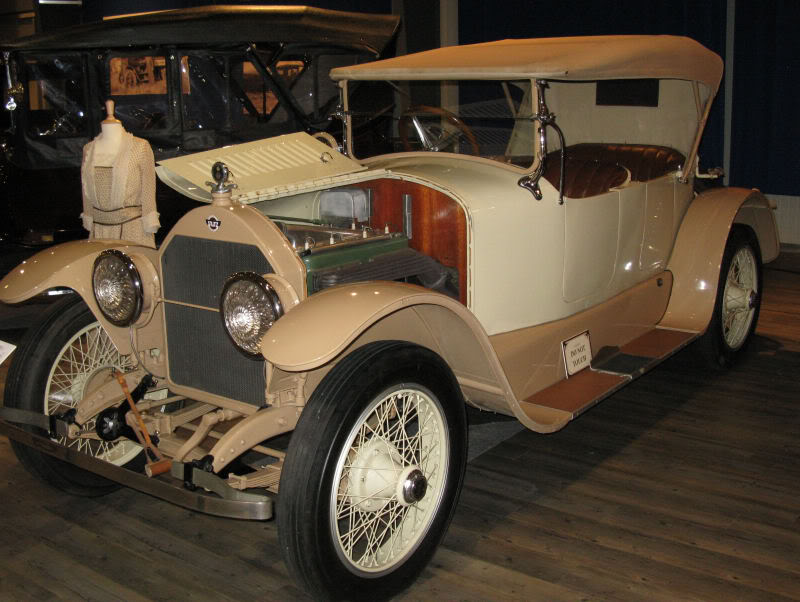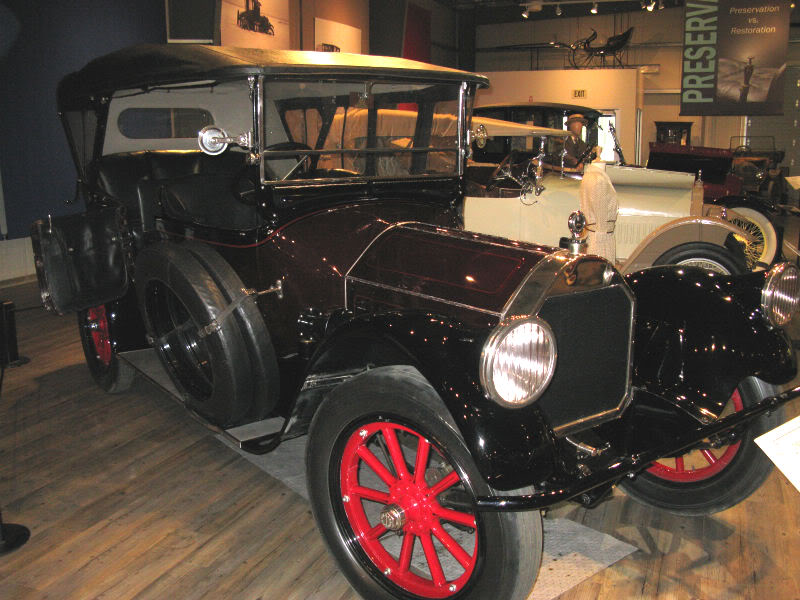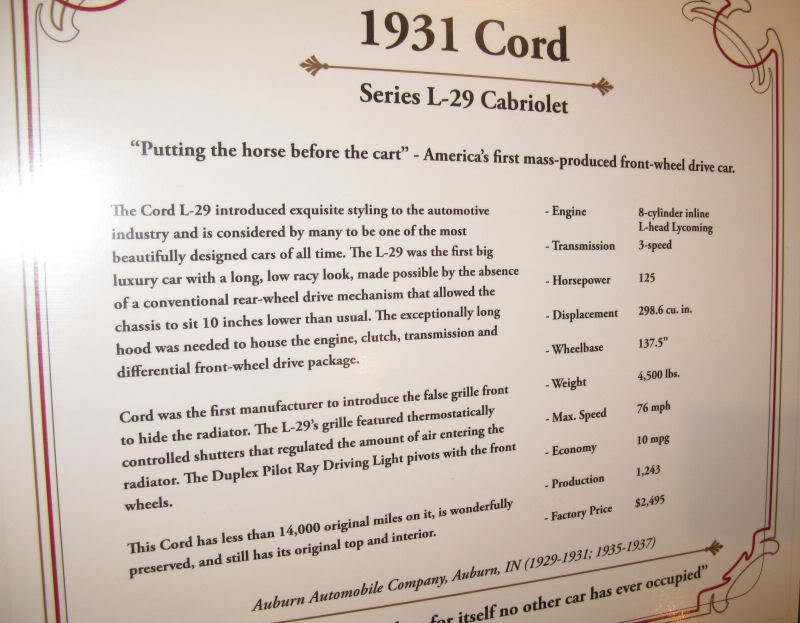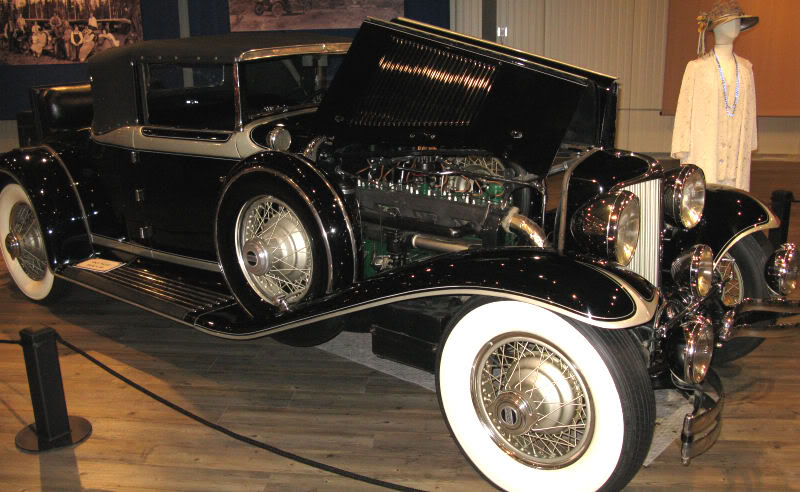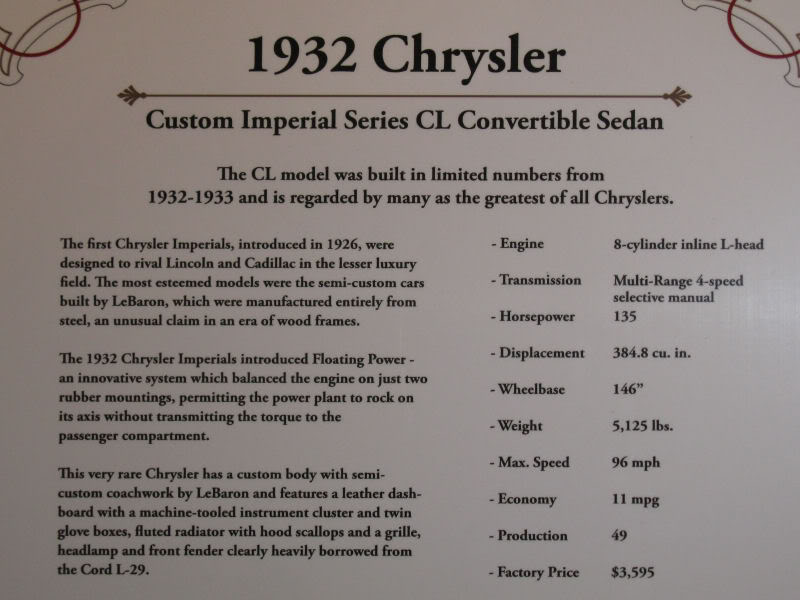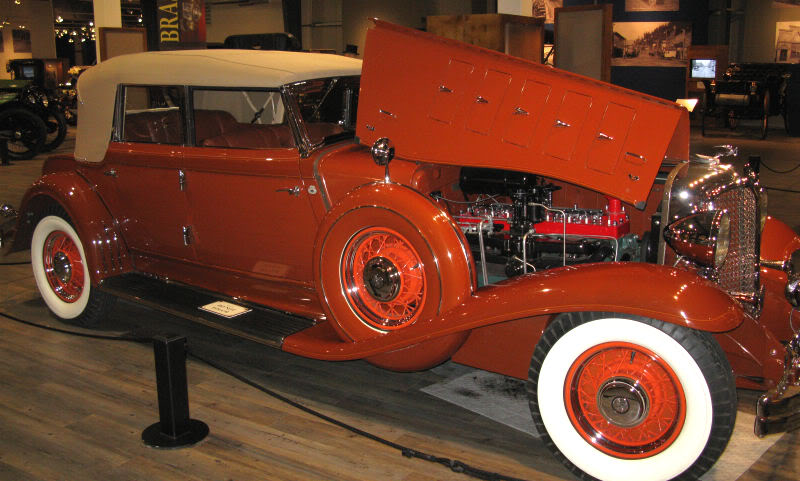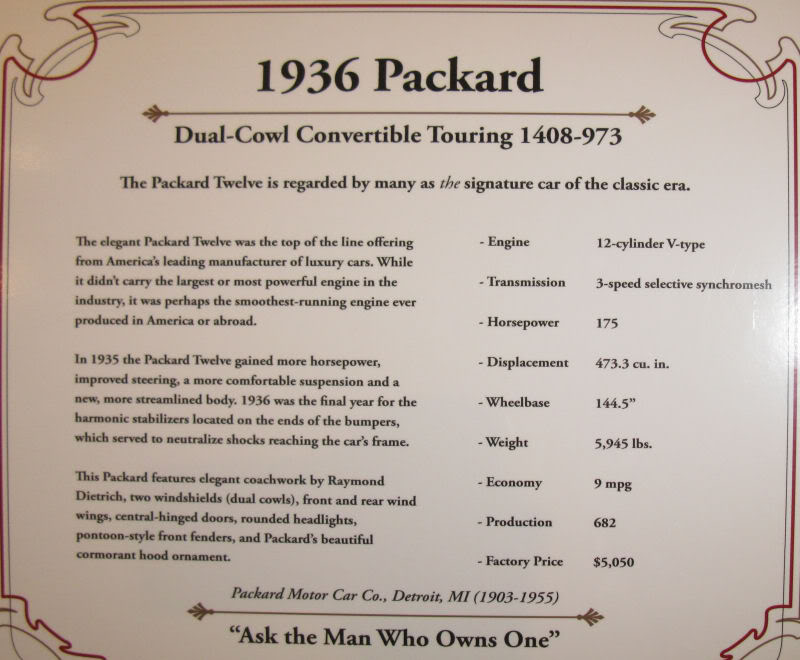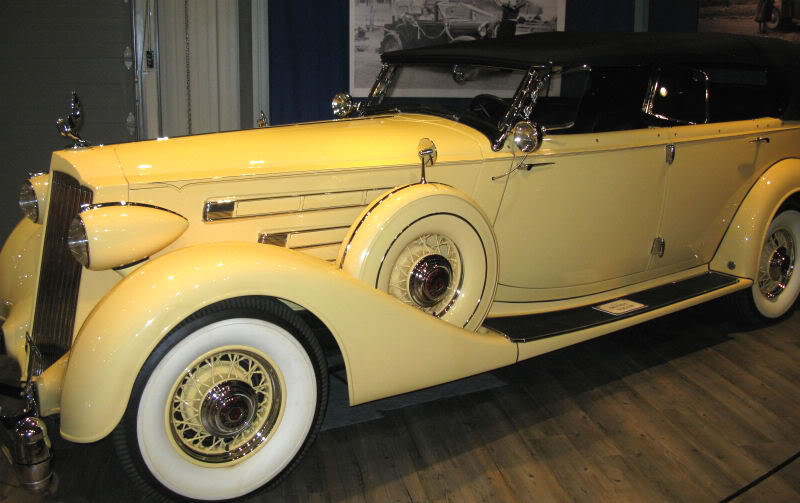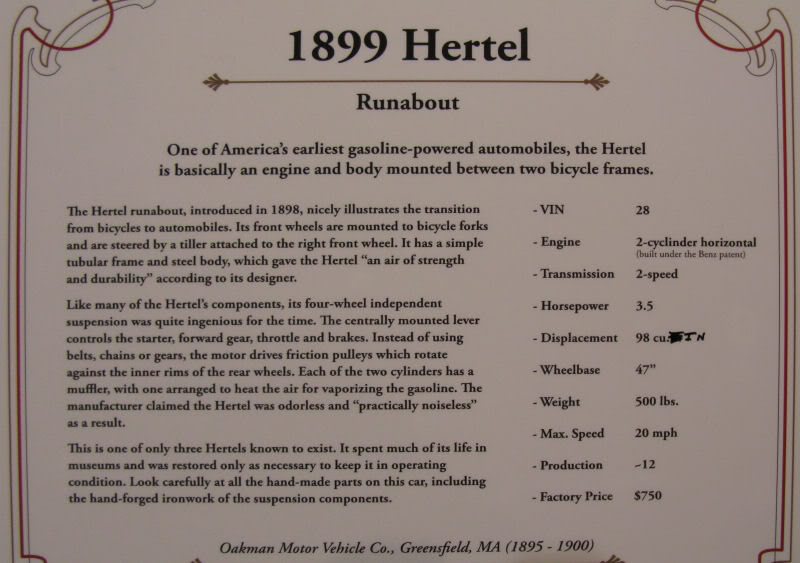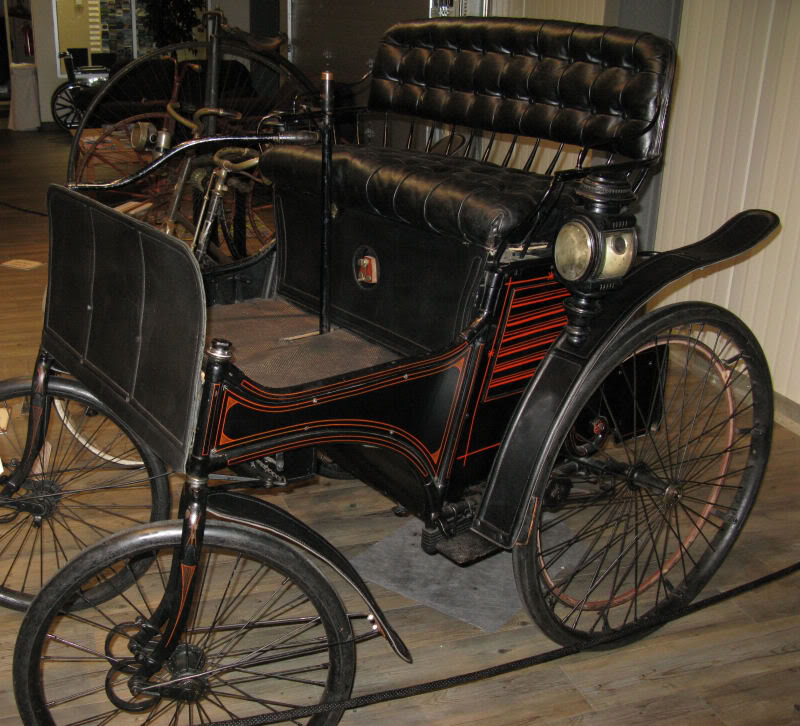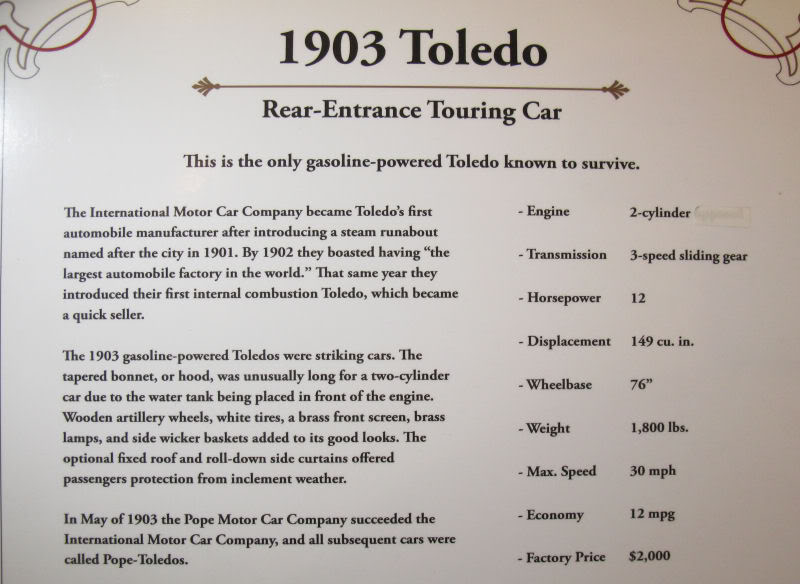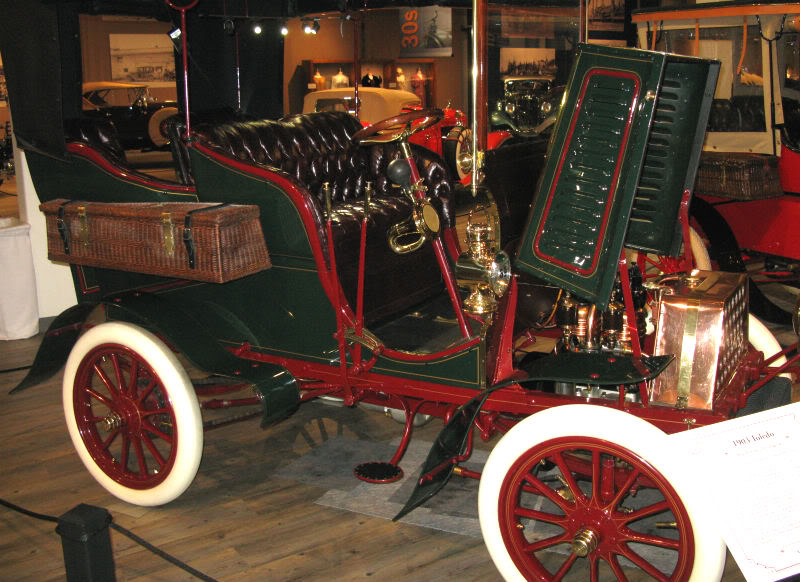 The trolley bus had broken down (a common occurrence, we were told), so we had to wait a while for its replacement to take us back to our hotel. On the way, it stopped at several other hotels and shopping sites. It also stopped at Pioneer Park, which might be worth visiting to see the historic displays. We weren't that interested, so we skipped it and went back to the hotel.

The day was partly sunny and warmish.

Next to our hotel was Big Daddy's BBQ, where we had a great platter of meat. Yum.

We played Uno again for hours, but this time Laurie didn't stand a chance.


Friday, July 2, 2010
------------------------

Laurie made calls to check in with folks back home, including our house-sitter. All was well.

We had slept through the breakfast buffet, so we went back next door to Big Daddy's BBQ for their lunch buffet. A very meaty breakfast.

We hit the road on a mostly sunny day, and it pretty much stayed that way. There was a brief period of cloudiness and brief sprinkle, but it was nice ride. Well, aside from riding the many gravel patches and construction delays again.

There is a large river expanse in this area, but it was still a surprise to see a fan boat on the side of the road with a "for sale" sign on it.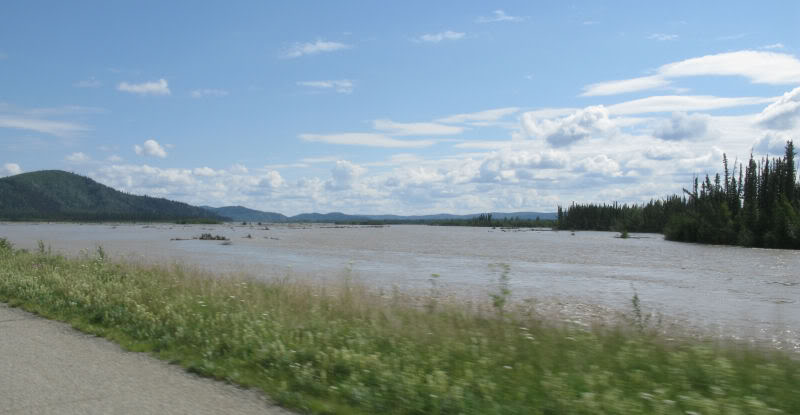 My bike's rear wheel was wobbling when I got to higher speeds. I had somehow managed to leave my regular axle wrench at home, so I had used a small crescent wrench when I had put my wheel back on yesterday. I suspected that the axle nut wasn't tight enough, so I stopped and used a larger wrench (which I had the foresight to buy this very morning!) to snug everything down. Yup, that fixed it.

Next was a renewal of the engine stuttering and jerking that I hadn't had in weeks. It wasn't the fuel or vacuum hoses, so it was either air or spark. It got bad enough that we stopped in Delta Junction where I cleaned and re-oiled my air filter. I ride faster in the long gravel sections, so I eat a lot more traffic dust than Laurie does. The filter looked dirty, so it benefited from a cleaning, but it didn't look bad enough to account for the engine stumbling. I drained the carb's float bowl as well, just in case.

Onward. We passed two moose along the road. The first one got all self-conscious when we circled back to take a closer look and it disappeared into the woods. The second one just ignored us, so we got a few pics.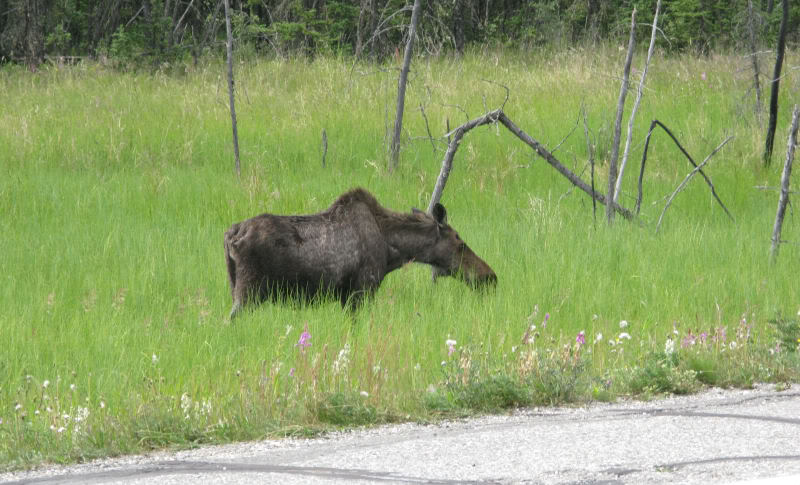 The engine got all jerky again, stumbling and stuttering worse and worse. I almost stopped on the side of the highway to work on the carburetor. For no reason, it then smoothed out and ran fine for most of the way to Tok. I hate when something goes wrong with how the bike is running. I hate it more when I don't know why it was running badly. I hate it worst of all when it mysteriously heals itself, making me think that it isn't really healed... it's just waiting to spring a whole new shitstorm on me at any time.

The day mostly looked like this: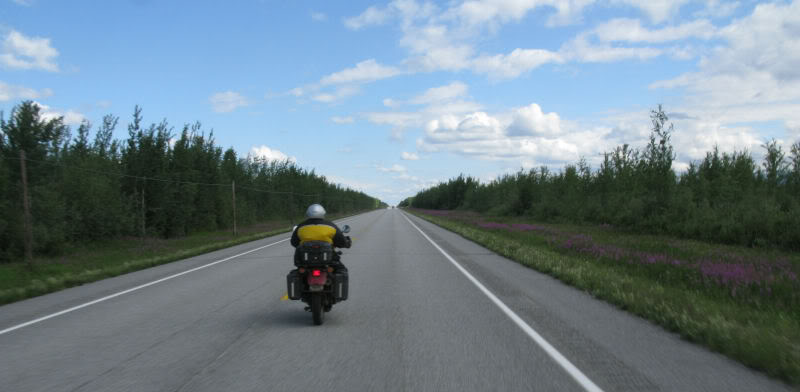 But looked like this briefly: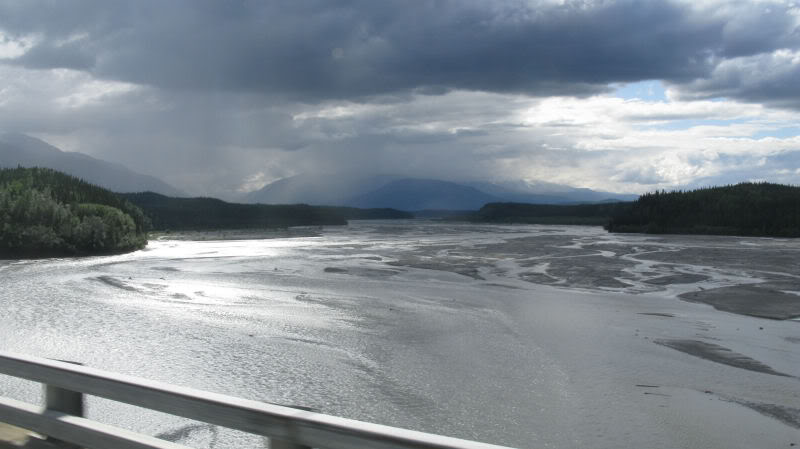 We only rode back to Tok, which took about four hours with my maintenance stops.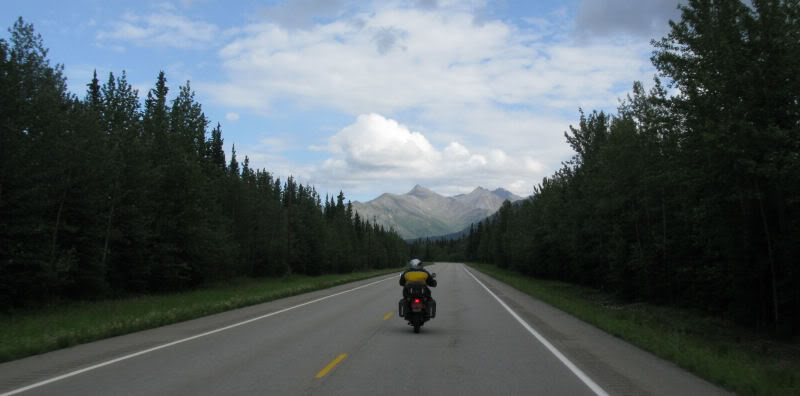 This time, we were able to get a room behind Fast Eddy's. We had made the whole ride from where we had last refueled prior to Fairbanks (274 miles ago) on one tank of gas, and hadn't hit reserve on either tank. My mileage had been 47 MPG for that stretch, averaging about 55-60 MPH on the highway. Not bad, loaded the way I was.

After eating at Fast Eddy's, I worked all the Sudoku and Crossword puzzles in the local paper and then did photo management and got this narrative caught up.


Saturday, July 3, 2010
---------------------------

Our plan was to get back into Canada today, which seemed wrong since tomorrow was the 4th of July. Shouldn't we tarry in Alaska for a day? For the Fourth?

Well... shouldn't we? Hmmmmm...?

Yes, we should.

We bailed out of Young's Motel...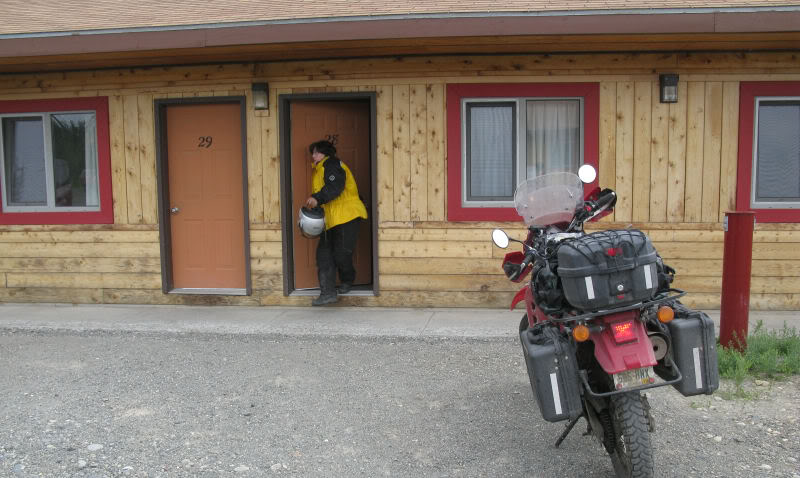 ... and headed out into another cool day. The mostly-cloudy day became all-cloudy before we had gotten very far.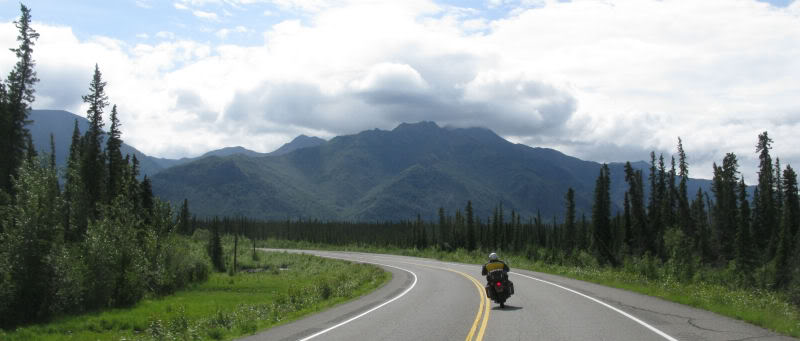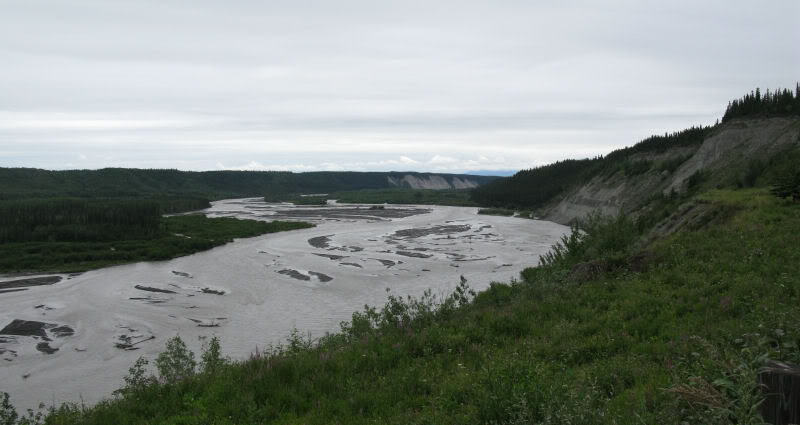 When I stopped at a pull-out area to take a photo, Laurie stopped to wait for me. For some reason, she stopped partly in the traffic lane and the truck behind her had to lock up its brakes to keep from running into her (and it almost got rear-ended by the next car behind it). It was a brain-fart moment for her, which shows that a rider has to be tuned-in at all times. She was very lucky not to get wiped out by that truck.

We made a pit stop in Gakona to relieve ourselves at their top-notch facilities.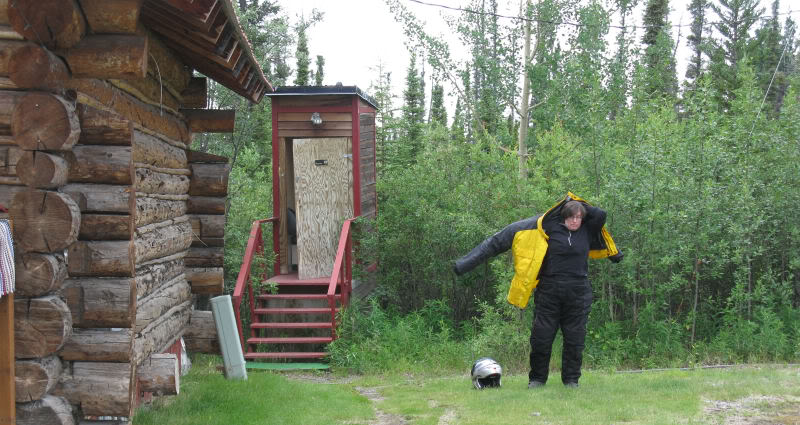 After clearing through the Glenallen area, we grew worried that the weather ahead would be terrible. It might even be snowing on Thompson Pass.

No worries proved justified, and the sky even cleared a bit as we worked up the Pass. That made it worth stopping at the Worthington Glacier.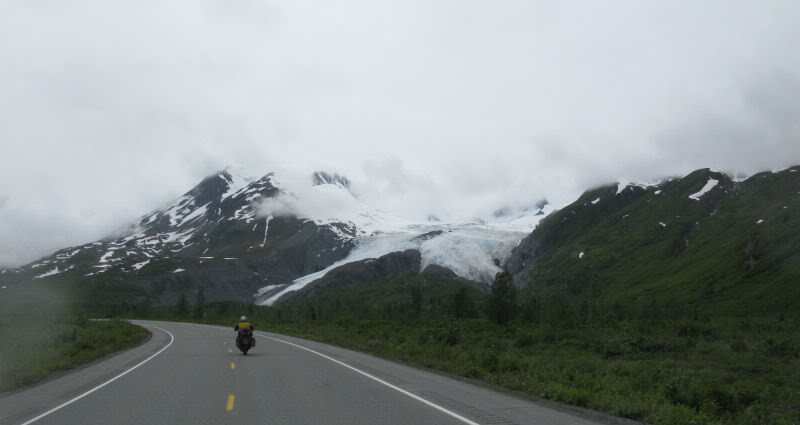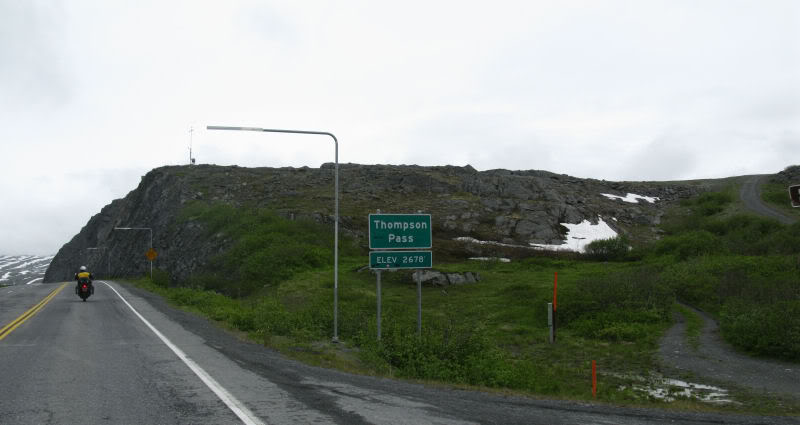 There are a lot of small waterfalls alongside the road as it descends toward Valdez, but the road was twisty and I didn't take many photos.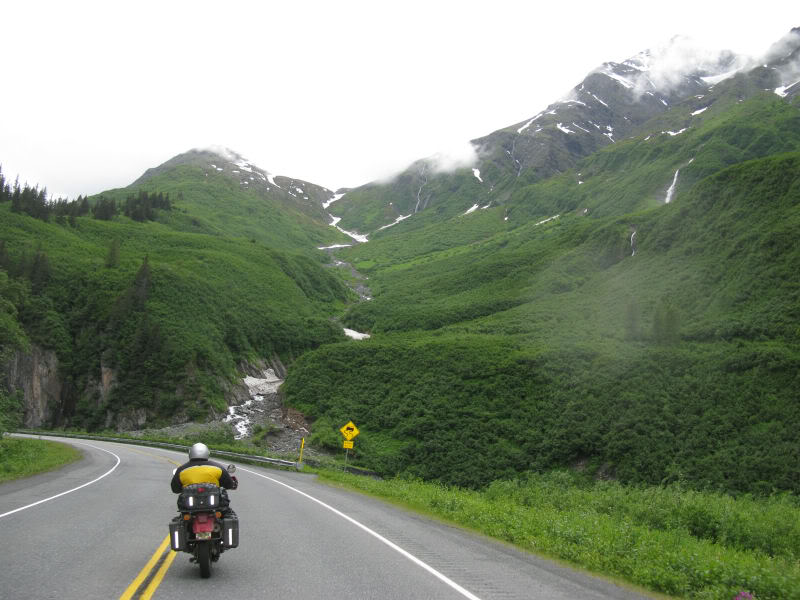 In Valdez, we rode to the dock area first.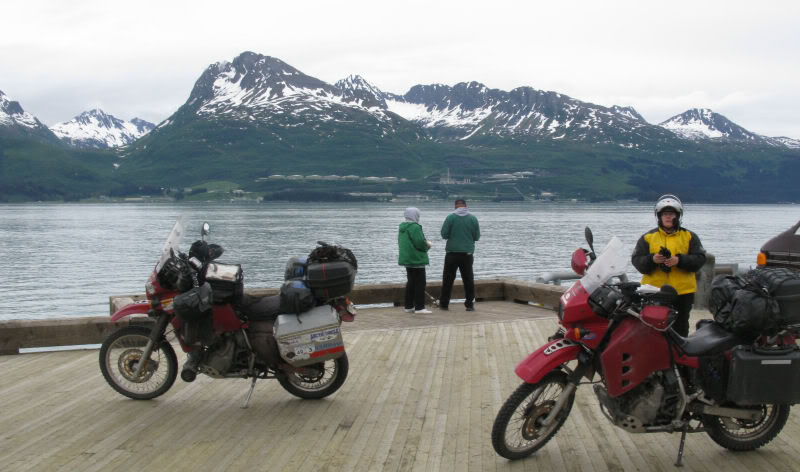 Valdez was packed, partly for the coming holiday weekend and partly because it looked like there might be a fishing derby taking place. We found from the hotels that there was also a convention and some large travel groups in town. Every hotel was full, all cabins were rented, and the visitors' center could only point us to a list of B&Bs to call for availability. Laurie finally found the Headhunters Inn in town the had just gotten a cancellation, so we were very lucky.

When we arrived at the Headhunters Inn, we found the B&B manager, Suki, cutting a customer's hair in the downstairs salon. She checked us in while the customer and I chatted about things to do in Valdez. He recommended one of the tour boats, so that's what we planned to do tomorrow. Like most B&Bs, this was also Suki and Ernesto's home, so it was very homey. We had gotten the last room, tiny with no window but with a private bathroom. It also had the fire escape door for the second floor, so we could get out in a hurry if necessary.

It had been 255 miles to Valdez, and we were thankful that we didn't have to sleep in our clothes or ride back to Glenallen.

The Pipeline bar was going to have a live band tonight, but it's one of the remaining bars where they still smoke indoors, so we skipped that. When we stopped in at the Glacier Inn's bar for a drink, Bob the bartender remembered me from two years ago and we had a chat. He used to work for the San Francisco P.D., so we didn't need much to be comfortable in each other's company.

Laurie borrowed Bob's laptop computer to book us on a wildlife and glacier tourboat tomorrow. There is a 6-hour tour and a 9-hour tour that goes to a second glacier, but we thought the shorter tour was good enough for us.

Bob gabbed with us for quite a while and bought a round of vodka shots (from a bottle that was printed entirely in Cyrilic--not from around here). When the night had worn thin, Bob refused to take any money for our drinks. I left a $5 bill on the bar and told him to throw it at somebody. He said he would.


Sunday, July 4, 2010
--------------------------

Breakfast was included at the B&B and we had been given a chit for each morning. The Mexican food restaurant was in the same building, operated by Ernesto, and the chit was good for anything on the breakfast menu. That made the value of the chit about $24 with the food we ate.

We were at the marina for our trip at 11:00. Our boat was the Glacier Spirit.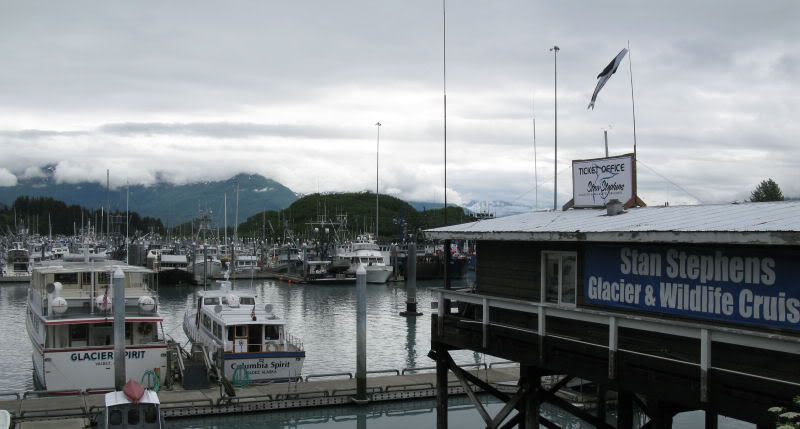 The day was cool with occasional light rain. Lots of small glaciers around Port Valdez.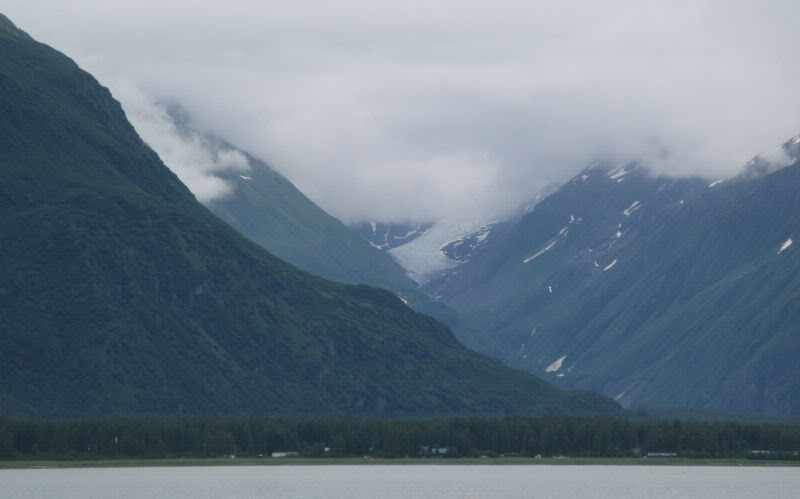 Our skipper was Stan Stephens himself, and he puttered around in the local area so we could see the sea otters.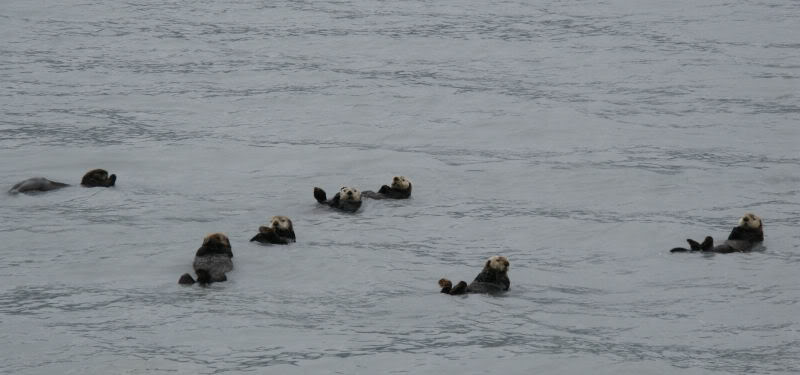 Stan had been in Valdez forever and knew everything about everything. He kept up a narrative for a long time, explaining everything that tourists would usually ask about.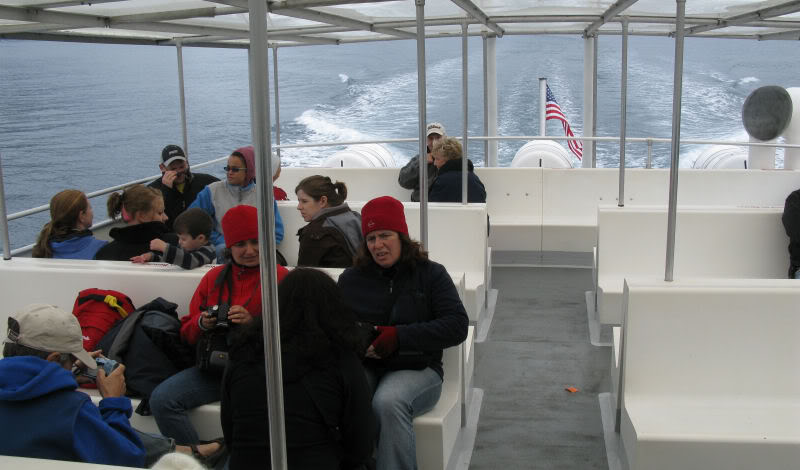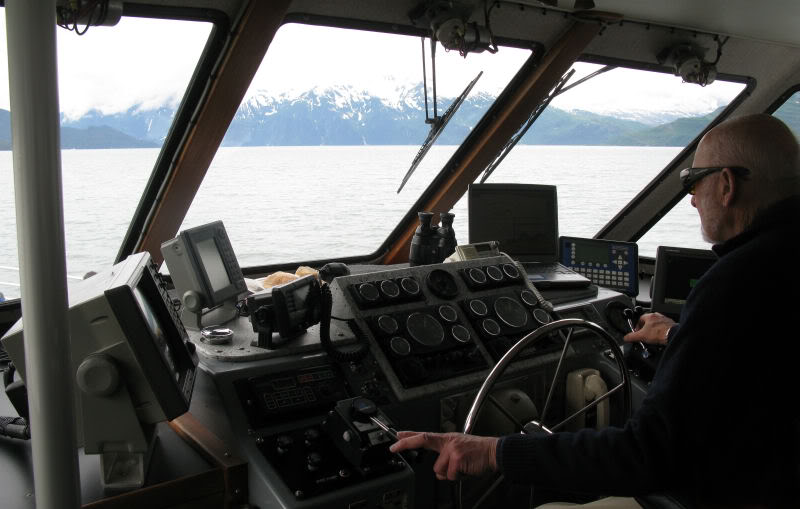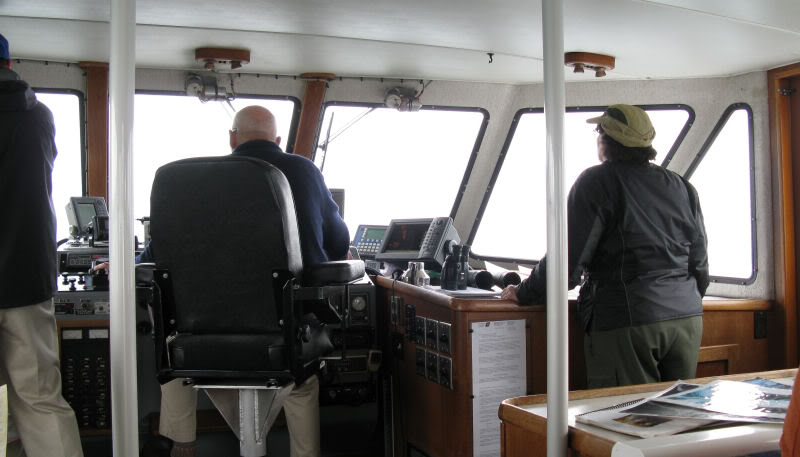 Here is the termination of the Alaska Pipeline, across the water from the town.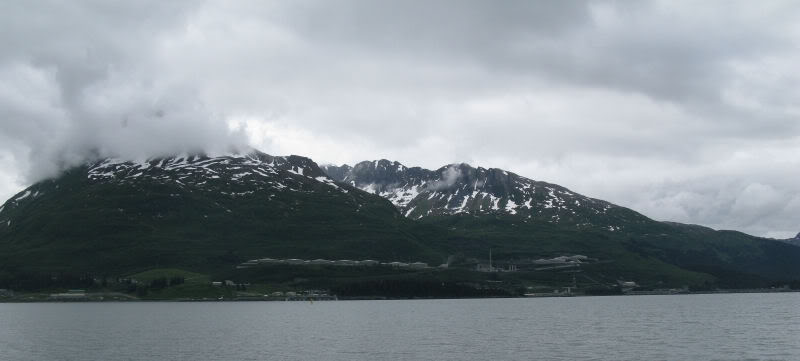 Stan went slow past the net boats. One of the boats anchored in the Port was the Northwestern, featured on the TV show, The Deadliest Catch. He explained the whole fishing process to us, but we couldn't stay long enough to watch these other boats pull the nets in.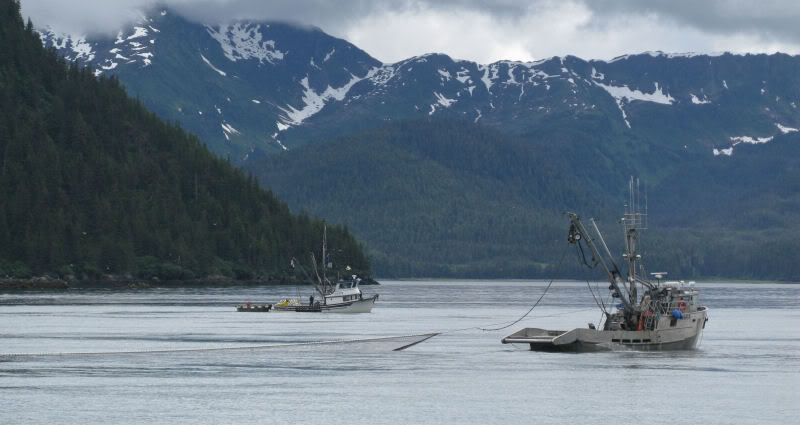 Once out of Port Valdez, we went through the Straight of Valdez and headed across the sea lanes while soup was served on the boat. Clam chowder, unless you wanted a veggie stew.

At the Bullhead coast, Stan took us past some sea lion beaches and chased humpback whales around for an hour. The seals were cooperative, the whales were not. We never got close to any of the humpbacks, but we did get a few glimpses of them.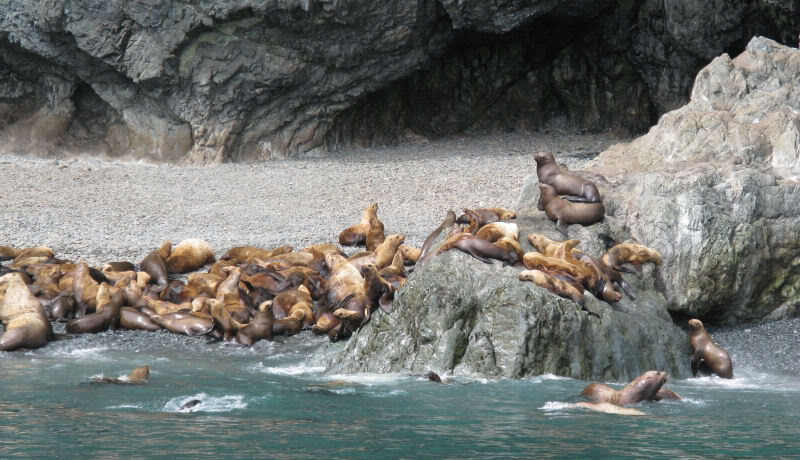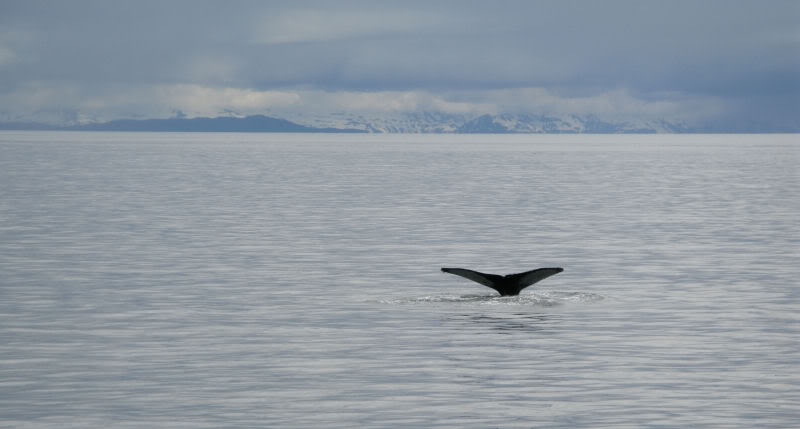 Stan then took us toward the Columbia Glacier ice field. This is a tidewater glacier, which flows from the mountains directly into the water. Most of the lower part of the rapidly-retreating glacier is underwater, and when the icebergs break off, they just float up and create a huge iceberg field.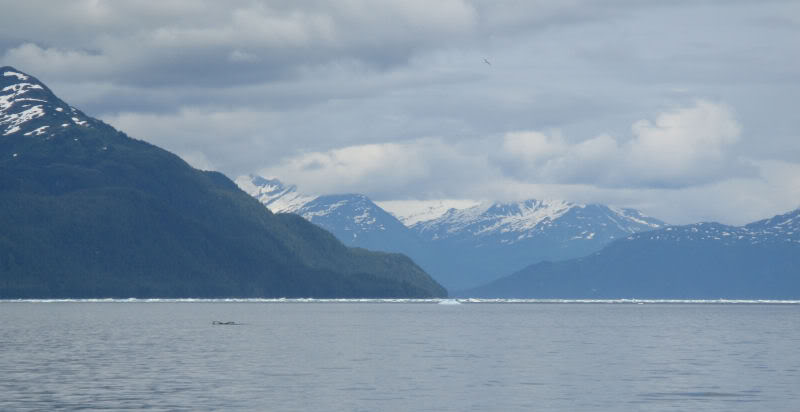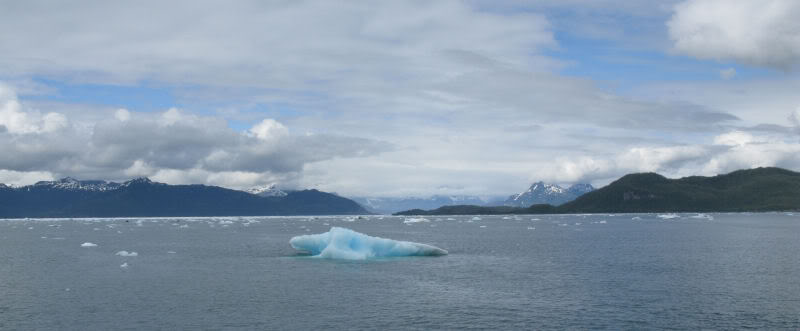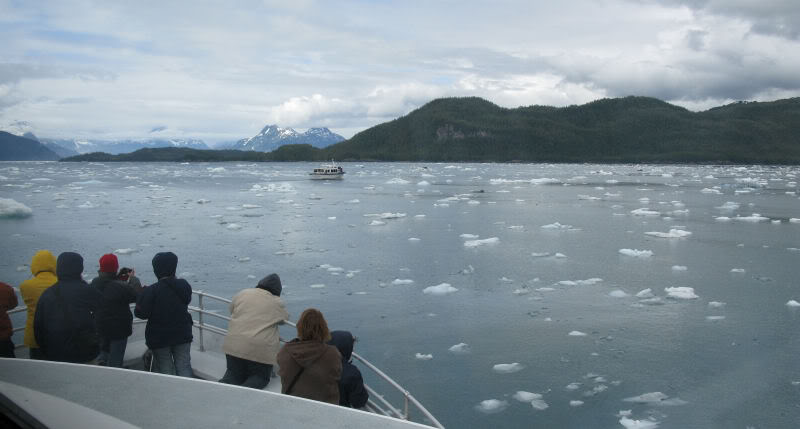 The surface of the water appears different, depending on whether it is fresh water or salt water, the temperature of the waters, and if the water was sheltered by the bergs or exposed to the ocean currents. The glacier has retreated twelve miles from this point in the last couple of decades.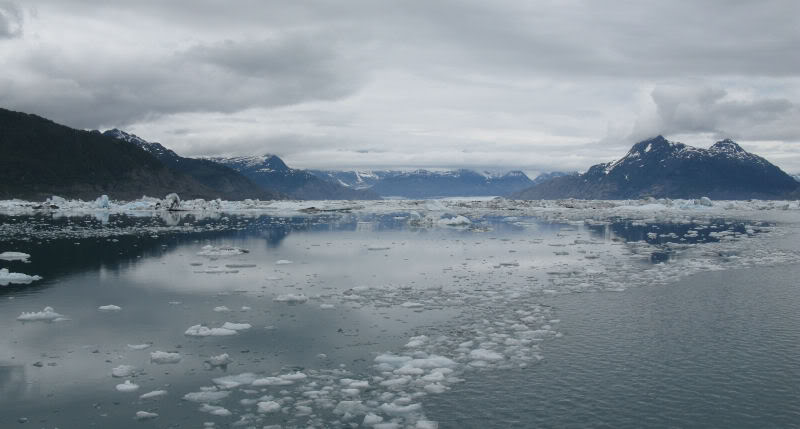 We hugged the other side of the Straight and Port Valdez as we worked our way back. Stan told us about the huge earthquake of 1964 (the largest ever recorded in North America) and all of the destruction it had done in Valdez and other coastal cities.

Lots of coves and waterfalls. Stan had stories about them all.




Before getting back to dock, we watched another salmon boat unload its catch to another boat for transport to shore.




We had dinner at another hotel's restaurant and stopped in at the Glacier Inn's bar to see Bob. He wasn't in, but the gal behind the bar said that Bob would be in at midnight.

We eventually wandered down to the bonfire, which had been burning for a few hours. The community 'Smores were all used up, but there were mini-marshmallows all over the parking lot. Smaller kids had been playing in a local pond, so the fire attracted them like it attracted the mosquitoes.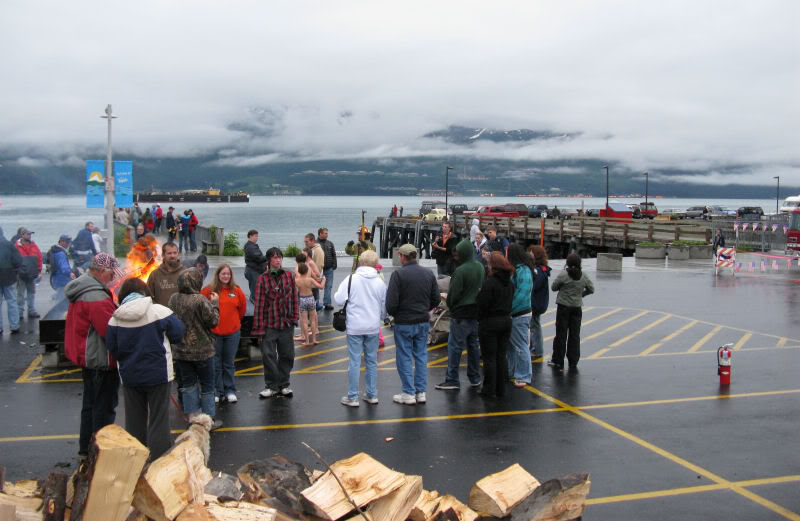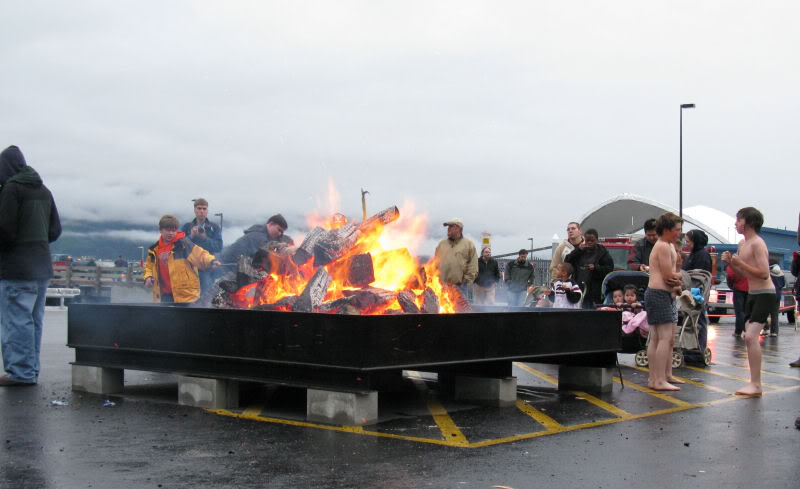 The city's fireworks went off at 22:30, launched from another pier. Not very dramatic, given how light the sky is up here at this time of year. A few other large fireworks displays were going off nearby, probably from hotels or RV parks.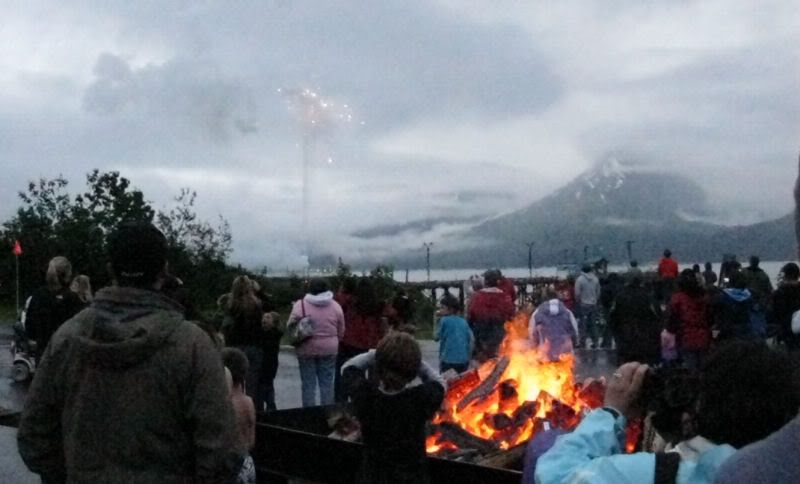 Before midnight, we walked back to the Glacier Inn bar and talked with the bartender, Sunny, who told us all about how she had come to Alaska as a tourist but ended up meeting a guy and staying. There weren't many customers, so she wasn't busy. Sunny told us all about her favorite places in Alaska, but most were related to hiking and fishing. She also liked Argentina, so we talked about the places we had each been down there.

Bob came in at midnight, but he was busy with business, so we just said our goodbyes and let him get to work.


Monday, July 5, 2010
---------------------------

It was a dreary breakfast, and we weren't feeling chipper about the rain.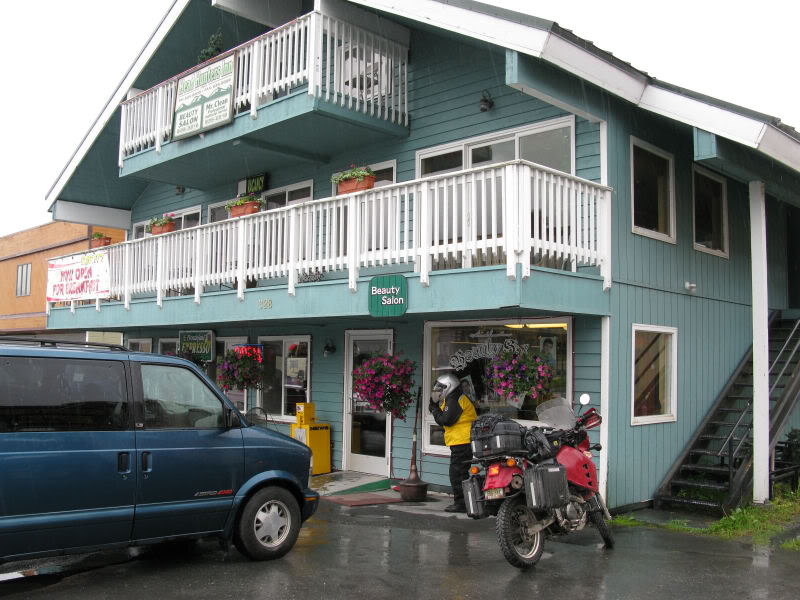 We gassed up and Laurie's bike suffered a sudden failure of the sidestand lockout switch. I had long ago installed a bypass on my bike for this potential problem, but Laurie had wanted all of her safeties left in place. With some bikes (the KLR650 is one of them), either the clutch switch or the sidestand switch can get corroded or out of alignment.

I pushed her bike under an overhang to get out of the rain and got to work. I removed the starter lockout relay and jumped the wires, but I must have been doing something wrong because I couldn't get it to work right. Very odd. In the end, I disconnected the sidestand cable from the switch, effectively bypassing the safety.

At Glenallen, the temple piece of my sunglasses fell off. The tiny screw had fallen out. No problem, since a pair of pliers and a paperclip was all I needed to repair it. Small fixes like these are constant when you travel like this.

The ride back to Tok was nicer than we had expected, since the skies eventually cleared up.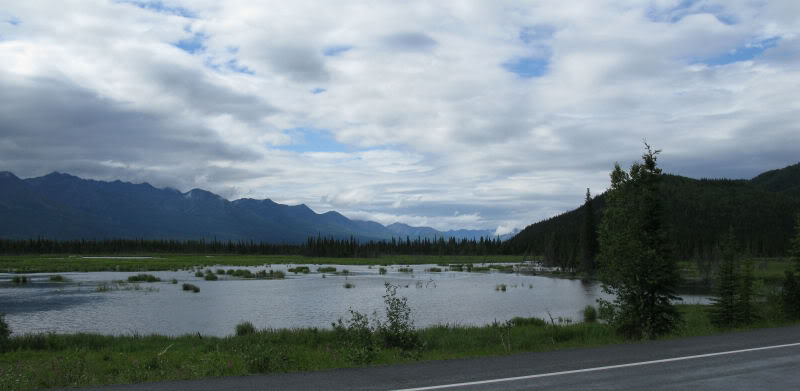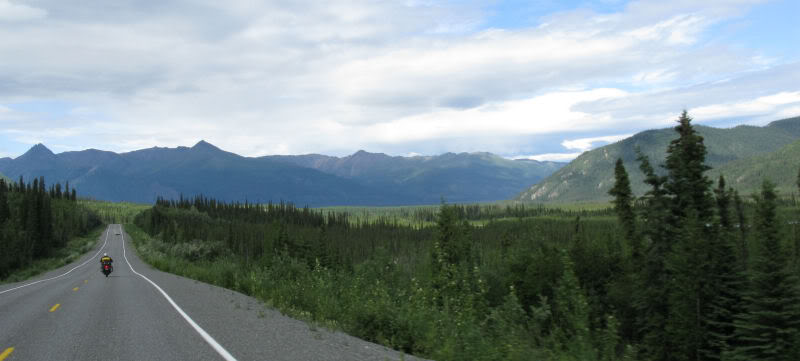 My bike was still wobbling at 70 MPH, and I couldn't figure out why. It didn't feel like it was coming from the front wheel, so I was back to wondering why the back wheel was all goofy. The tire was fully on the rim, so it wasn't a problem with the bead not being popped all the way around.

255 miles later from Valdez, we checked out a couple different hotels in Tok, but ended up at the hotel at Fast Eddy's again. One of the hotels was next to a craftsman who carves bears with a chainsaw. He wasn't working while I was there.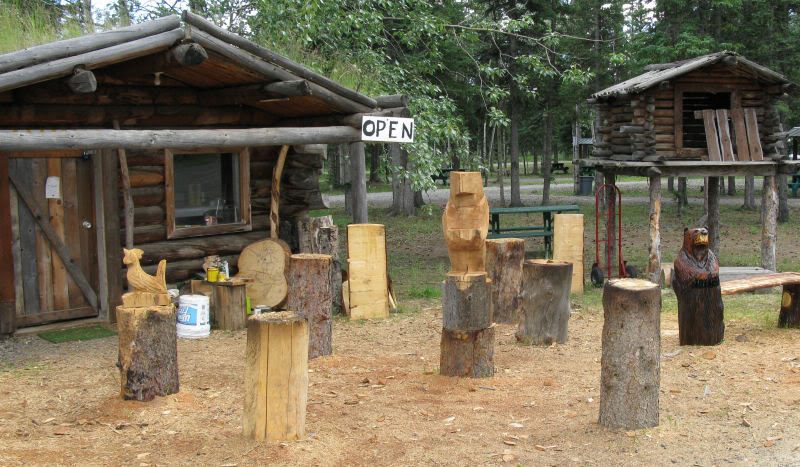 At the hotel, I removed the rear wheel and examined the bearings. As far as I could tell, they seemed fine. Nothing else was amiss. Weird.

I also noticed that my cush drive in the rear hub had a lot of play in it. I cut up a soda can and made small shims to put under the rubber cushion, and that took a lot of the looseness away.

A test ride seemed to indicate that the wobble was gone, but I was riding with less weight on the bike during the test. I hadn't really done anything to fix the wobble, but I hoped that removing and reinstalling the wheel might have solved something. Loaded again in the morning, I would find out if it was still wobbling.

In the middle of the night, there was a major power outage throughout the town. We opened the curtains to let the light in so we could continue our game of Uno. It was a long game, but I finished stomping Laurie soon after the lights came back on.


Tuesday, July 6, 2010
---------------------------

It was a clear but very windy day when we gassed up and checked our tire pressure. Five miles out of Tok, Laurie realized that she had left her valve stem caps behind. I told her that I didn't care (I had some extras with me), but she went back for them. I puttered along slower until she caught up.

The skies were partly-cloudy or partly-sunny all day, but the wind gusts were tremendous. Not like Patagonia, but they were still enough to cause an unintentional lane change if you weren't careful.

These are tree-covered sand dunes. Yes, sand dunes in Alaska. Not big ones, but still...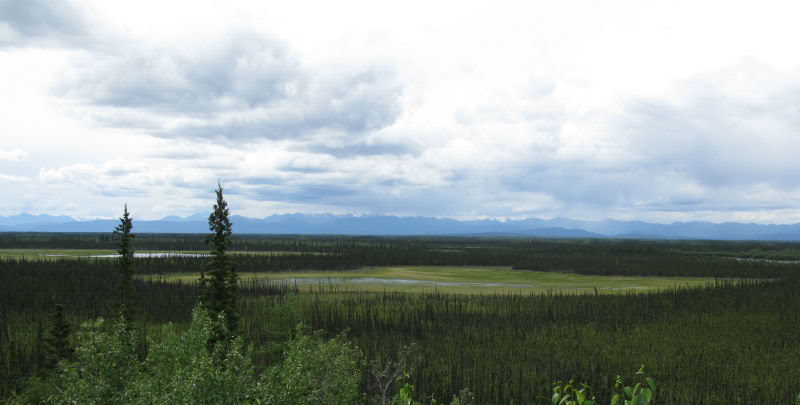 Lots and lots of construction and road-repair zones.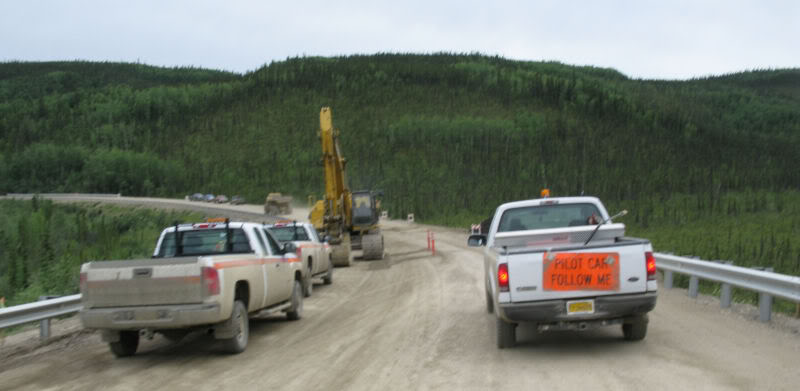 Near the border, there was a long construction zone that was rough and dusty. After crossing back into Canada, we were greeted with another long construction zone. Most of it was hard-packed gravel and dirt, but some of it was a new-laid gravel layer that was butt-puckering at times.