This is the third (fourth?) time I've done this ride, and I really enjoy it. Something usually goes wrong though, either for me or for the bike. It's a 3-day camp-ride around Dinosaur National Monument between Colorado and Utah, and it's a mix of easy-, medium-, and high-challenge riding, depending on your route selection. Weather plays a role, too. Your group (or your self) can choose from GPS routes provided or you can do your own thing to each of the planned campgrounds. Most riders were loaded with their own camping gear, but Laurie always hauls some gear for some riders (and a lot of community gear, water, firewood, beer...) to each campsite in our Tahoe.
I had really struggled with my KLR's handling last year, and its shimmy and shake caused me about 20 falls. So after completely replacing the wheel, swingarm, and suspension bearings since then, I hoped it had lost its wobble and would be back to its dependable self for this Dino Ride.

Hmmm... Not so much.

Anyway, only about 30 riders this year. A much more manageable group. Norm's launch pad in Craig, Colorado wasn't nearly as crowded as it had been in recent years.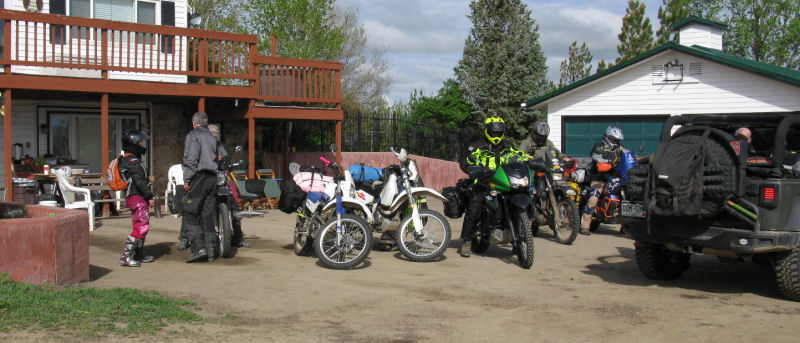 Our groups had a staggered start, but we bunched up a couple times. Much less mud on the high plains, so that was nice.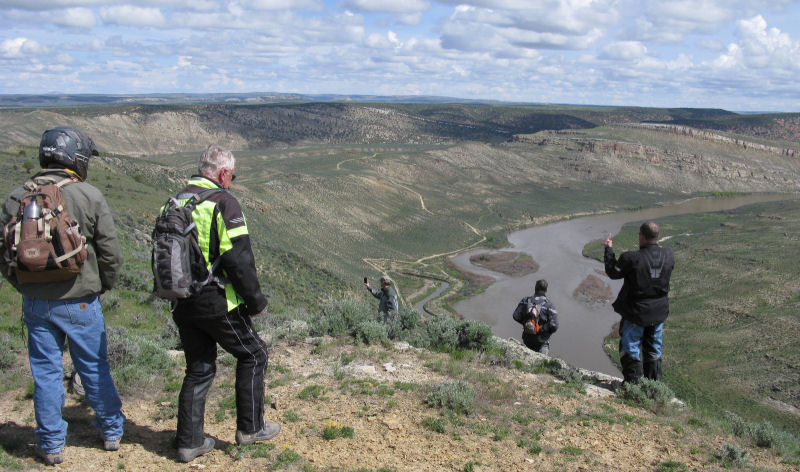 We stopped for lunch at Net's cafe in Maybell, as usual. Typical wonderful food and service.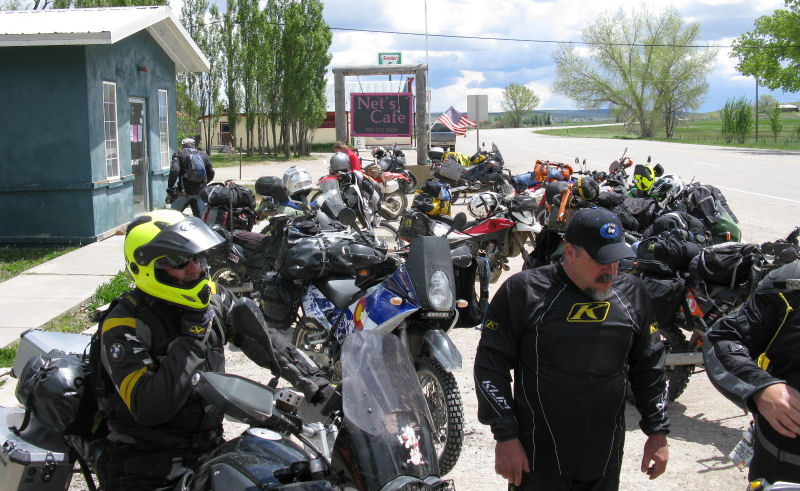 We got back to the high roads, saw lots of sheep, cattle, antelopes, and some goats. Some of the cattle showed some agitation as we passed.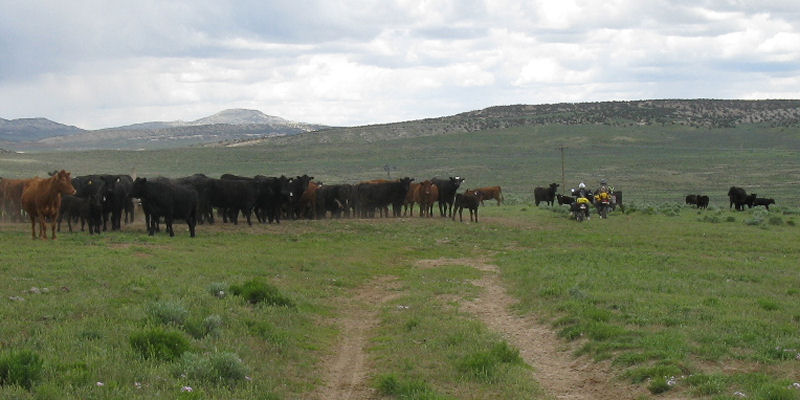 My KLR started having the same wobble problems as last year, and the steering got harder. Whatever the main wobble is, I still haven't diagnosed it, but the steering stem bearings certainly seemed to be grabbing and releasing randomly. In the wet sand, I couldn't keep the bike straight and finally launched myself off the road sideways. I went airborne briefly and landed fully on my right shoulder. I've done that before, so it was a familiar dislocation sensation. But worse, maybe. Took a while before I had any strength back in it. Maybe broken, maybe not.

Bobby rode back to pavement with me, and we took the easy road to The Gates Of Lodore campground. I parked the bike and called it a day.

Everyone showed up in groups and the weather didn't get as bad as we feared. I kept an ice pack on the shoulder, so that helped. The internal medicinal application of alcohol didn't hurt.

The next morning, Uli rode my bike out through the loose gravel, and I then rode it back to Norm's place in Craig, where I parked it. Laurie followed me, picked me up, and we went to that night's planned alternate wilderness campsite (since Echo Park was full of campers) and we got set up while we waited for the riders to show up.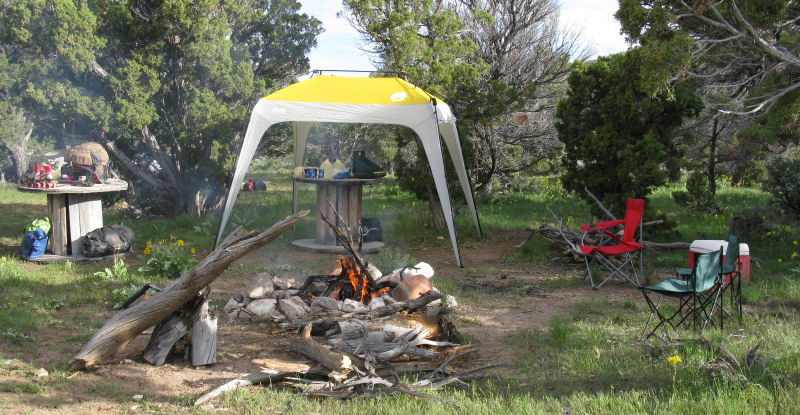 Since I had some time, I dug a shallow latrine pit (lots of rocks in the area), and put up a tarp. I also laid some logs down to form a path to the latrine pit for those late-night visits. Later that evening, some Christmas lights got strung up on the latrine tarp, and that made it even easier to find at night. (Okay, who goes on a ride like this carrying battery-powered Christmas lights...? No, not me.)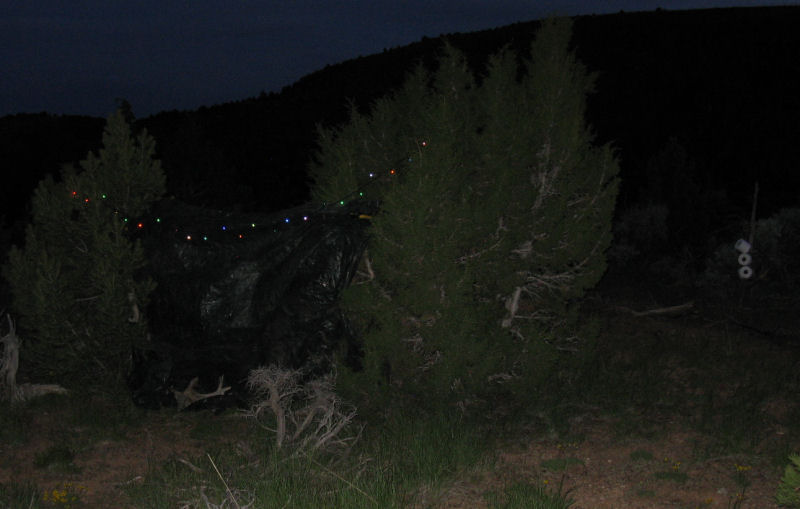 Everyone found the rough camp, although some got there sooner and others had a more adventurous day. I was sorry to hear that Jim had had a worse tumble than I had, so we got him into an ice pack when he was ready to relax. A few of the other mishaps resulted in bike damage, but no other noteworthy injuries (that I knew of).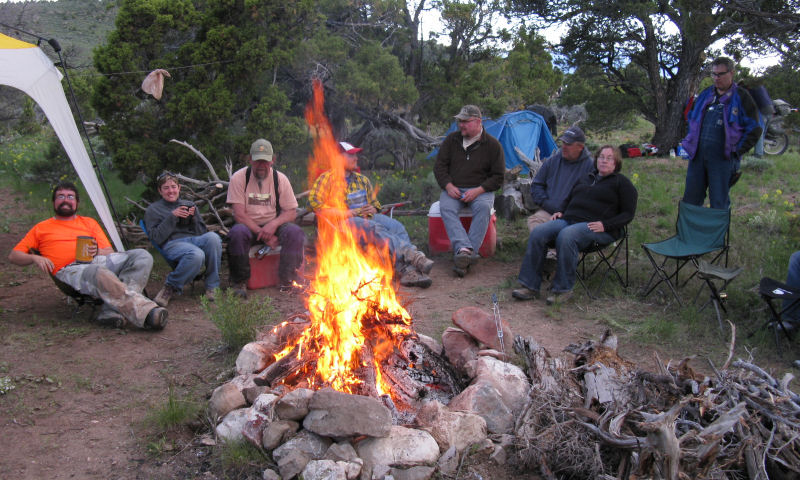 A 6mm bolt came loose on Matt's KLR suspension, and the leaf spring fell out.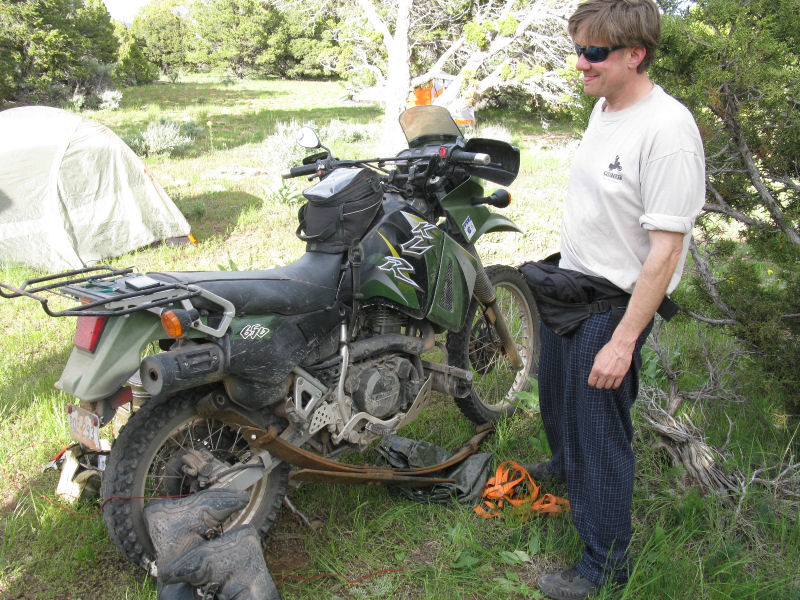 Everyone was pretty much settled in by the time the beer started getting low and CJ was finally cajoled into the skates that we had brought along just for him. Last year, he had skated at Lodore, so now it's a Dino Run tradition. A scrap piece of plywood found in the area provided a skate-dance floor for him. We should have put the plywood down on level ground, but CJ survived.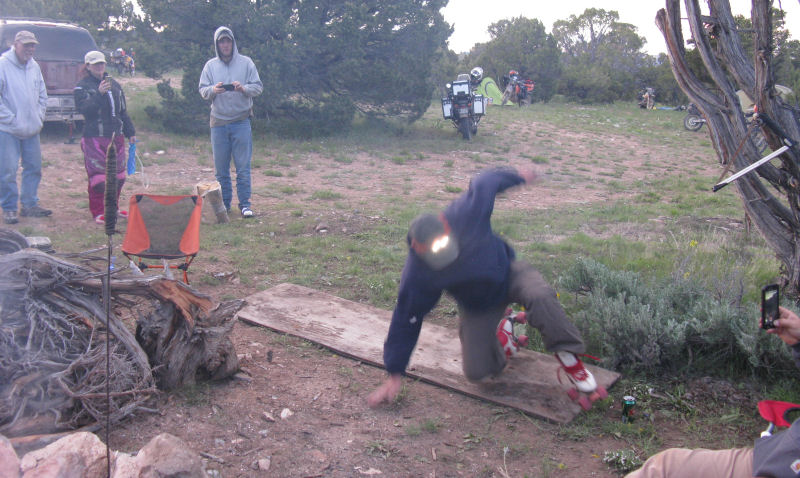 I plan on having the KLR ready to give it another go next year.

The x-rays were negative the next day, but I had what looked like a 1" separation at the AC joint, and the doctor called it a level 3 or 4 separation. I'll see an orthopedist on Tuesday to get it x-rayed again and probably get it strapped down for a few weeks. So... yay.

I'll plan on replacing the steering stem bearings and races. And I'm still hoping to find the cause of the rear-end wobble.

Update: Level 3 separation and I'll hold off for a year and decide on surgery later.

Update 2017: It's been a year now and the separation hasn't impacted my life very much. Can't fight a dirt bike through tough trails anymore, so I'll be doiing a lot less "adventurous" riding.