2012 Kokopelli's Trail Ride
This ride was organized on ADVRider.com, and we had over twenty riders take part. We met in Fruita, Colorado on Thursday, March 22, 2012, then got started early Friday morning.
BigJohn did the ride briefing in the campground before we rode to Rabbit Valley to break into riding groups.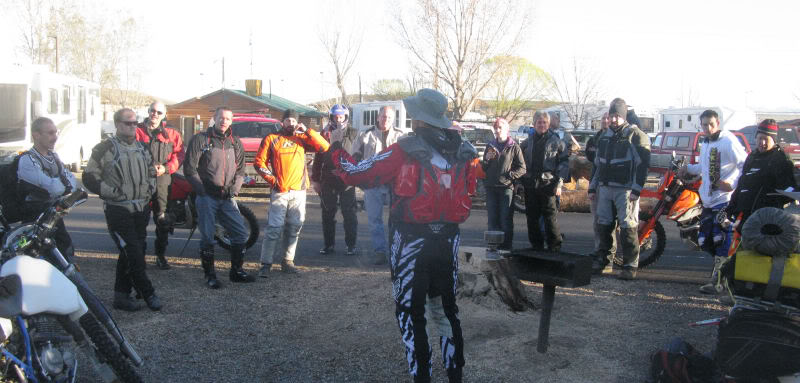 At Rabbit Valley, we took a group photo and broke into several riding groups, depending on riding speed and other preferences.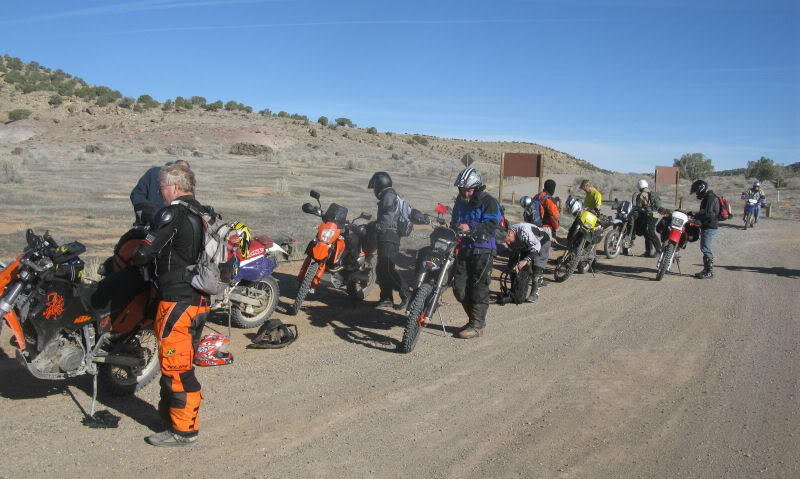 The last time I had done this ride, my DRZ400's wiring harness fried early and I ended up being towed out. Before that, I had done the ride with an overloaded KLR650. The DRZ was a better bike for this ride--especially the hard parts--but my bike was running badly and that caused me to have to work it too much.
Still, it was a bright, crisp morning.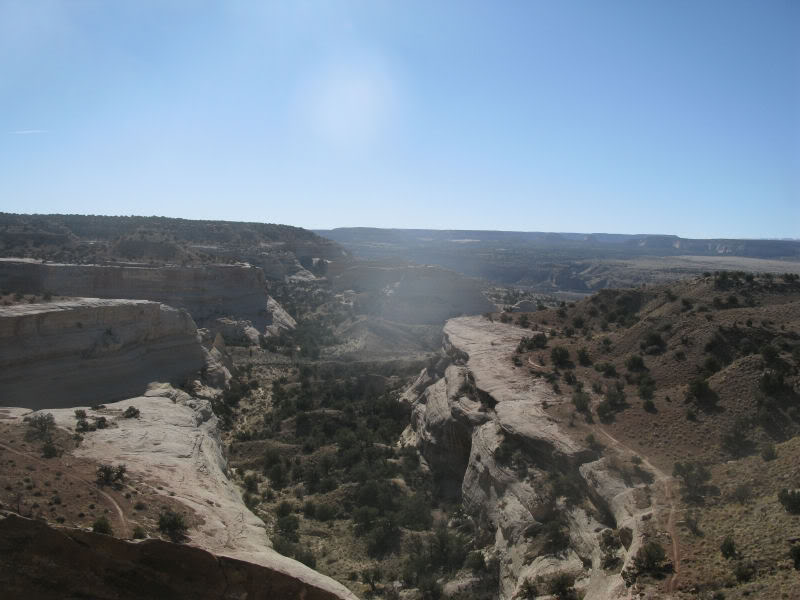 As noon approached and we left the desert behind, the riding got harder and the temps got higher. I don't handle heat very well, and I forgot to remove an insulating base layer I was wearing under my riding gear. That was a mistake that would cost me later.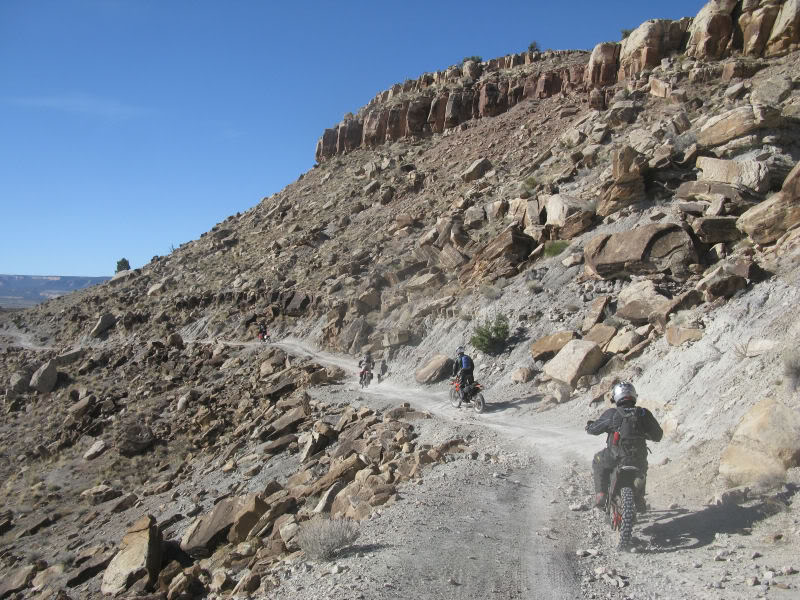 As usual, photos never show how steep some sections are, and the really tough stuff is hard to stop and photograph. Most of the photos therefore seem tame.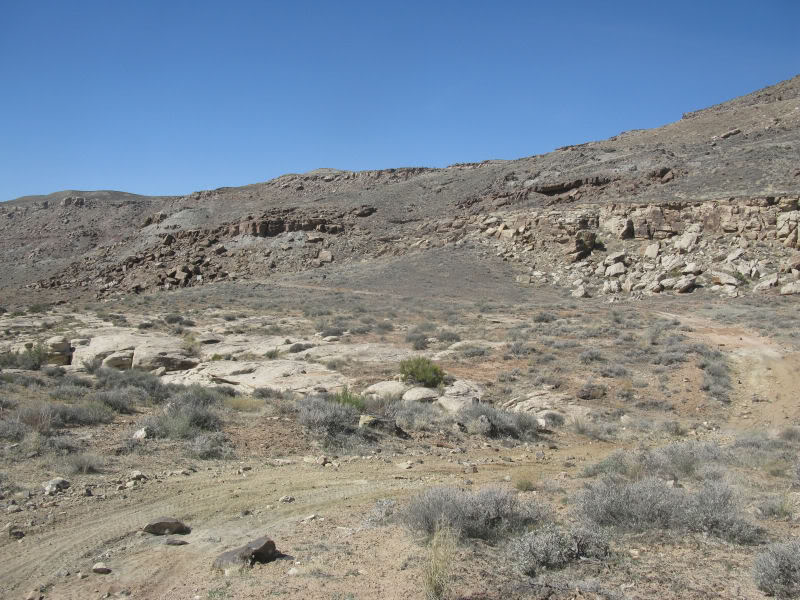 This wash-out section has been getting worse and worse over the years. You have to be very careful getting through here.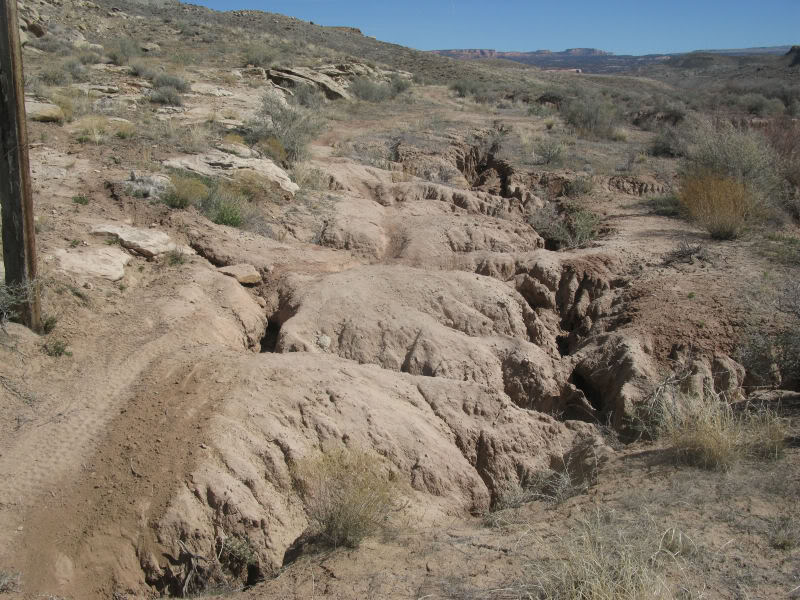 When the DRZ is running well, it's a pleasure. When it's dying and popping all the time... well, not such a pleasure. At least my license plate is still there in this photo.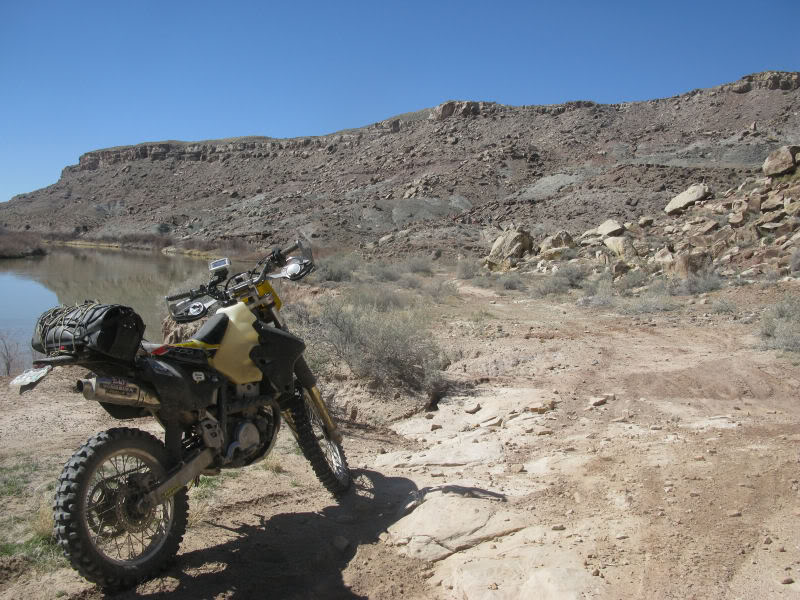 Each group stopped to help the next group up this hill before riding onward. The ditch at the bottom of the climb made it hard to carry any momentum into the hill.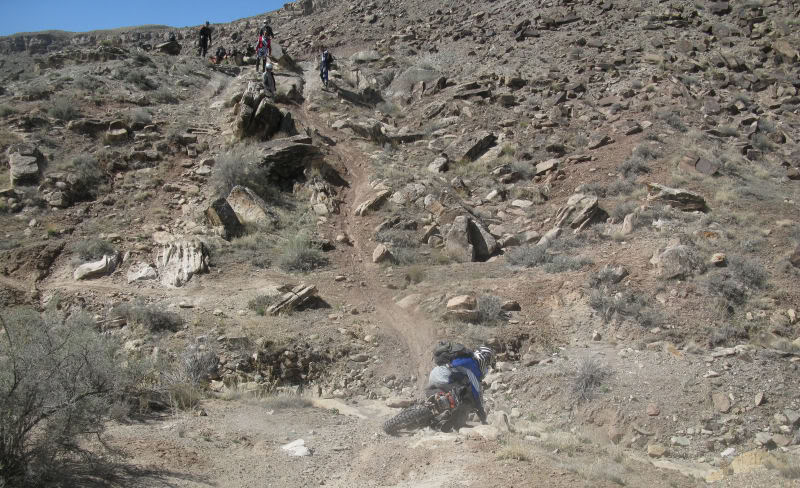 Most riders needed some assistance at the top, since it was steep, narrow, and had loose traction.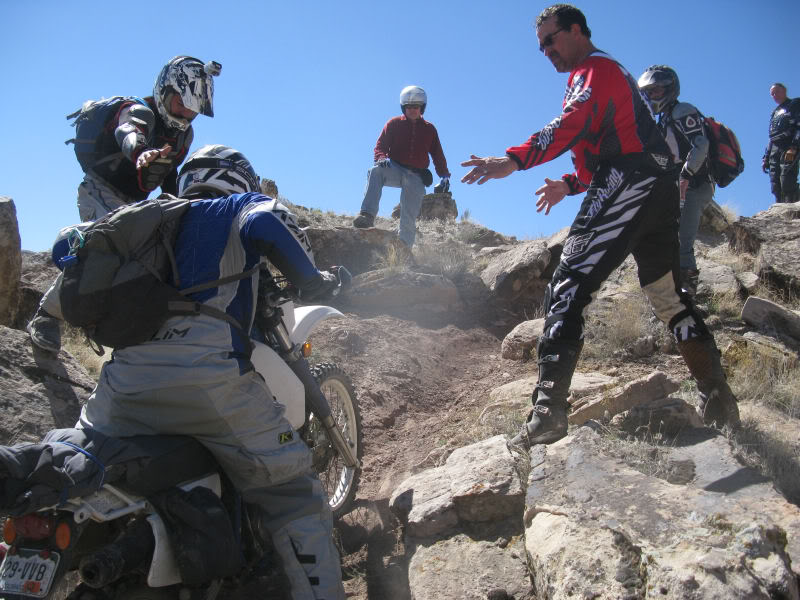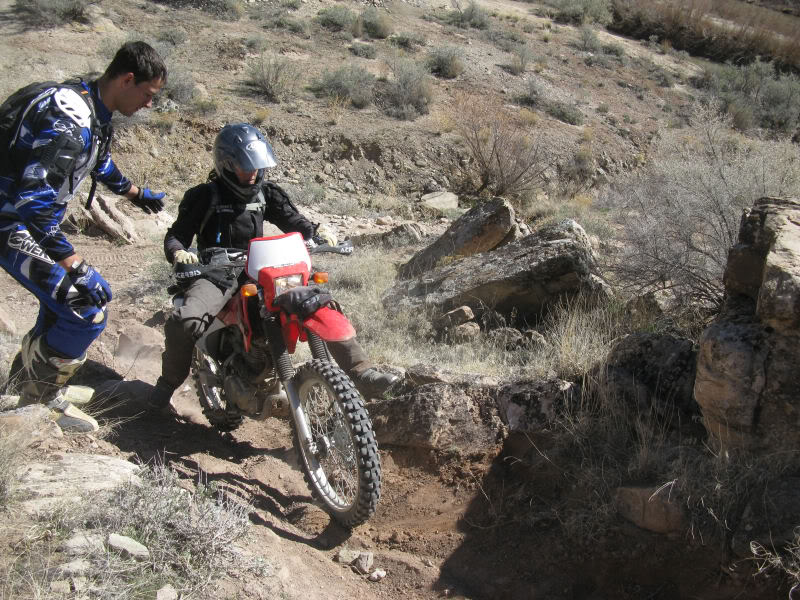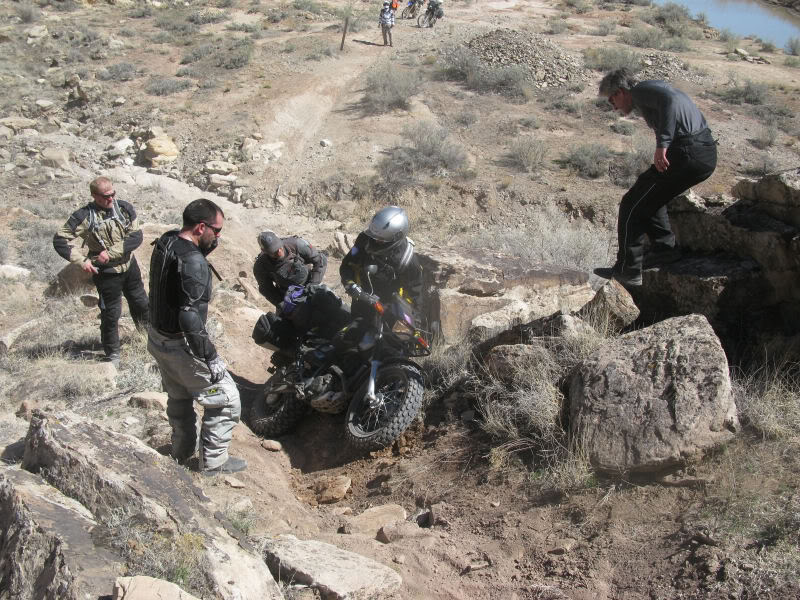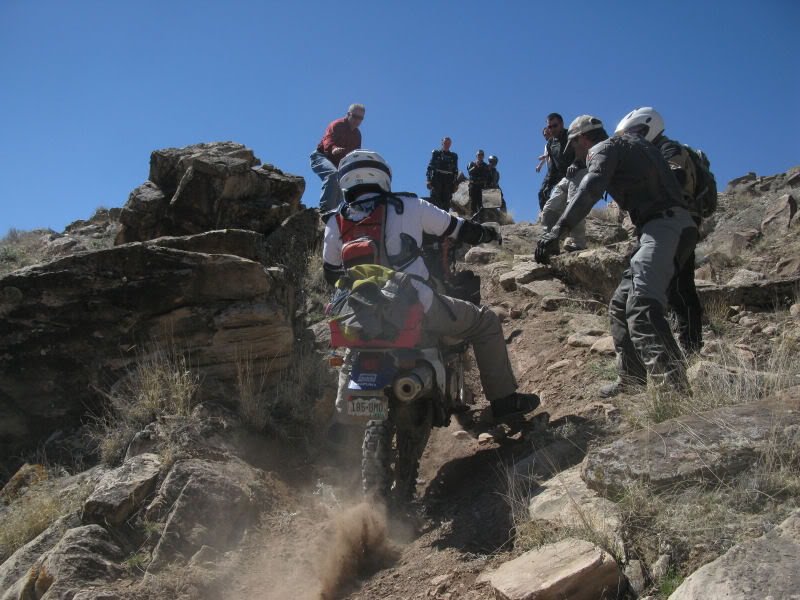 We made our planned stop at Dewey Bridge, but much later than we had expected. Laurie and others were waiting there with fuel, food and drinks. Some shade would have been nice.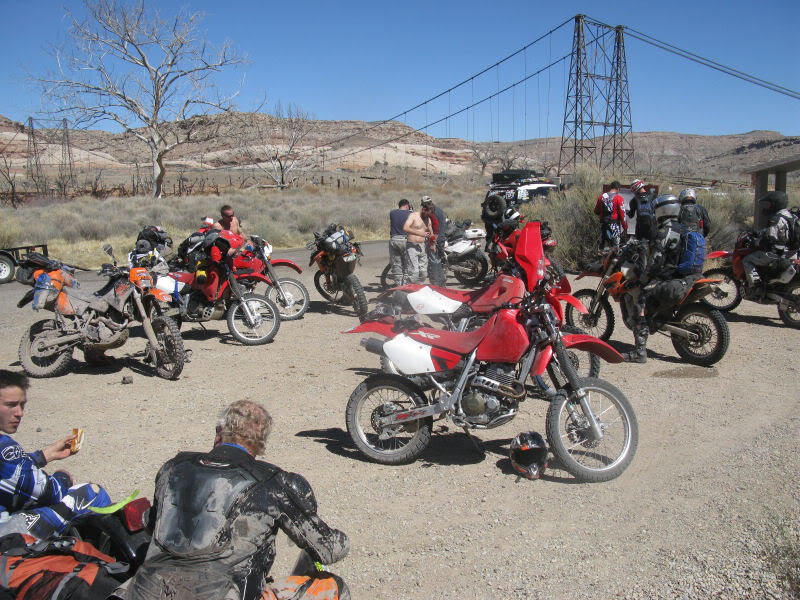 I had not done Top Of The World before, and I should have skipped it this time, too. The DRZ was running so badly that it overheated and boiled off a lot of its coolant. Before reaching the top, the bike had lost a lot of its power, so I turned around and waited at the bottom for everyone. The endless rocky steps were a real challenge, and I think it was along this stretch that my bike's license plate snapped off and was lost. Again, the worst sections didn't get any photos.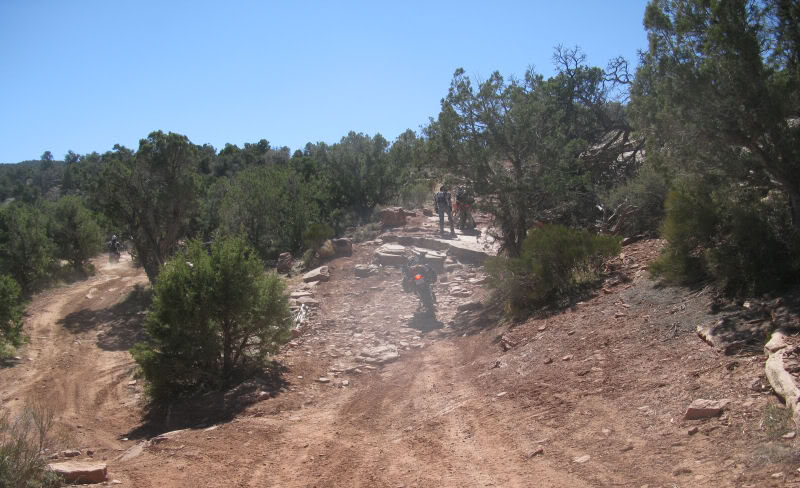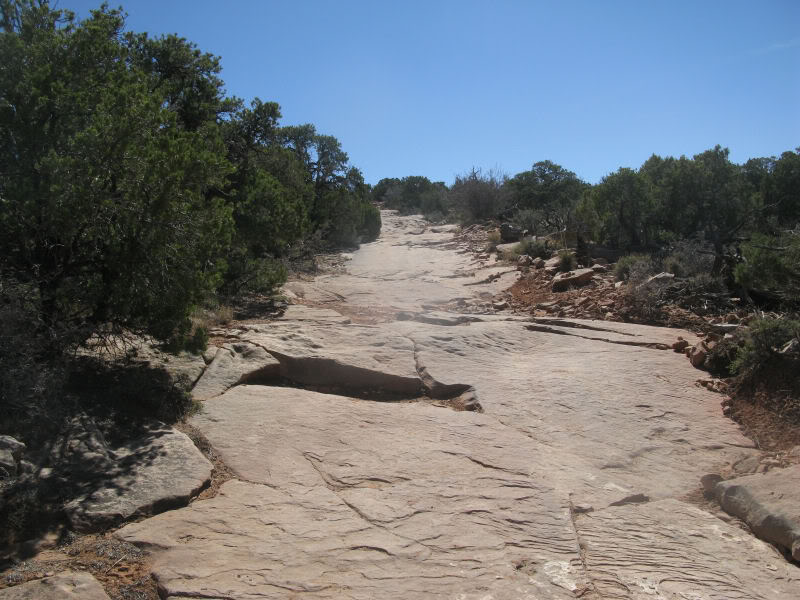 When we again got back onto Kokopelli's Trail, I was starting to fade. Since I had neglected to remove my underlayer of synthetics, I was overheating and I soon gave out on a steep, rocky section that really beat me up. My endurance was gone, and I was crashing the bike over and over again. My GPS mount got broken, as did one of my folding mirrors. My VaporTech dashboard instrument popped out of the cradle at some point, so that was lost.
When everyone else was moving on, I had to make a hard decision to turn around. John, below, generously rode back down with me. Once I had removed the insulating undershirt and cooled off, I was a lot better with the wind on me again.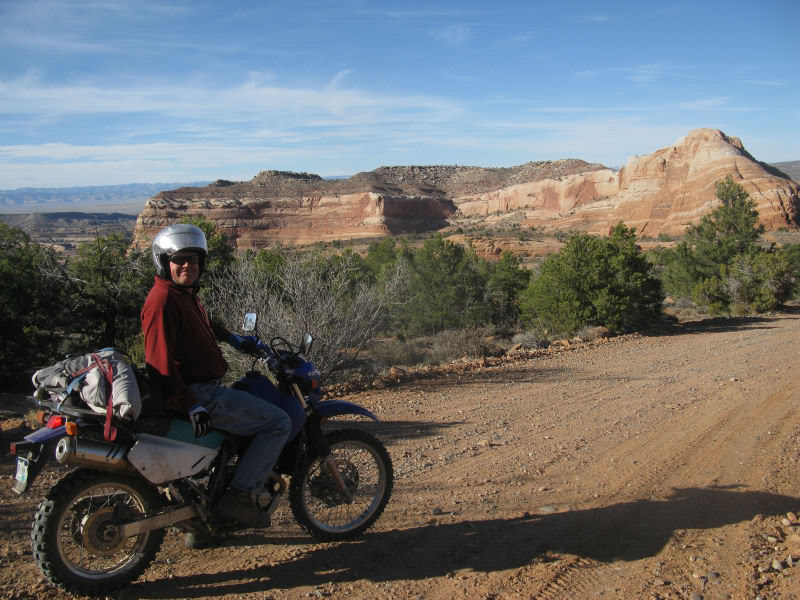 When John and I got back to Dewey Bridge, we zoomed up the road to Onion Creek and somehow managed to get separated. No matter, since it was all easy by then. I met the other riders coming the other way and we stopped to rest and share fuel. Many bikes were almost out of gas. I gave away a liter of my fuel, and that was really pushing it. We had to stop again to move some fuel from bike to bike before we got into Moab.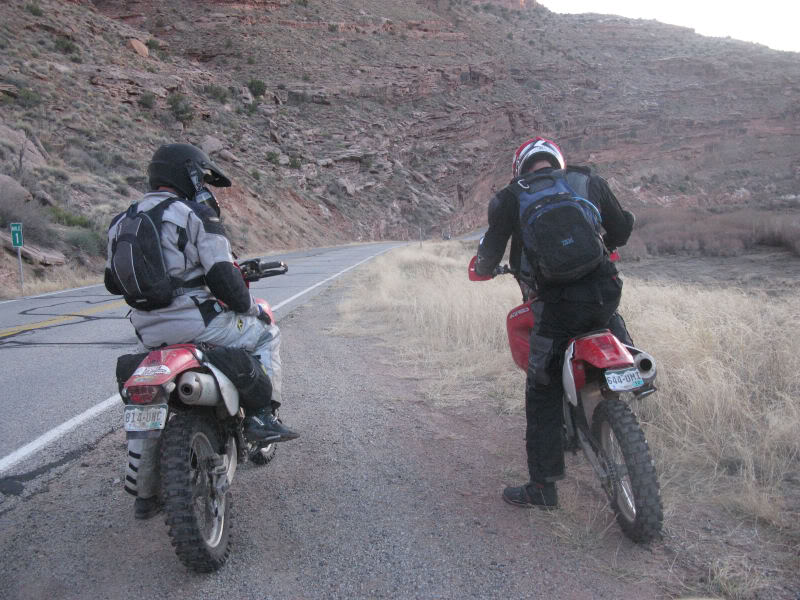 Since it had been a really hard day, there was little activity in the campground that night. With my bike (and myself) in poor running condition, I sat out the riding on Saturday, choosing instead to laze around the camp and arrange for a campfire that night. I think everyone else had a good day's ride, so I envied them. Laurie did a street ride with a friend through Arches National Park.
There was more socializing around the campfire that night, which is always fun. One of our riders needed a trip to the hospital after suffering a severe allergic reaction, but it seems like all the other owies and boo-boos were manageable in the campground.
I'll look forward to another Kokopelli attempt in the future. Gotta dress better next time, gotta get in better shape, and gotta get the bike in good running order.